Welcome to Class 2
---
Class Teachers: 2023 - 2024

Seahorses
Mrs Conyard
Learning Support Assistant
Miss King
Miss Warwick




Oysters
Miss McGill


Learning Support Assistant
Mrs Clarke
Miss Cooke








---
Science Scheme of Work Year 2
---
The latest news from Seahorses & Oysters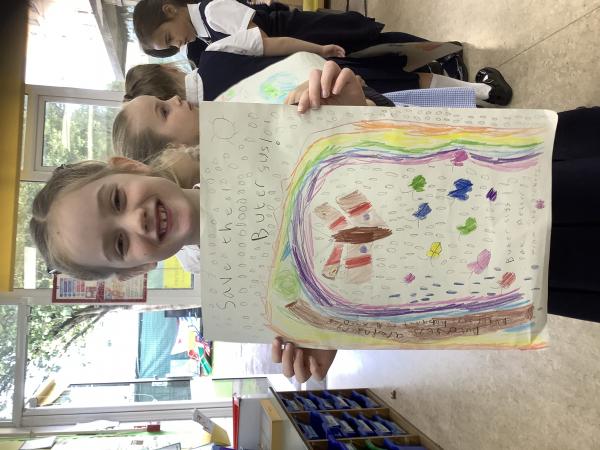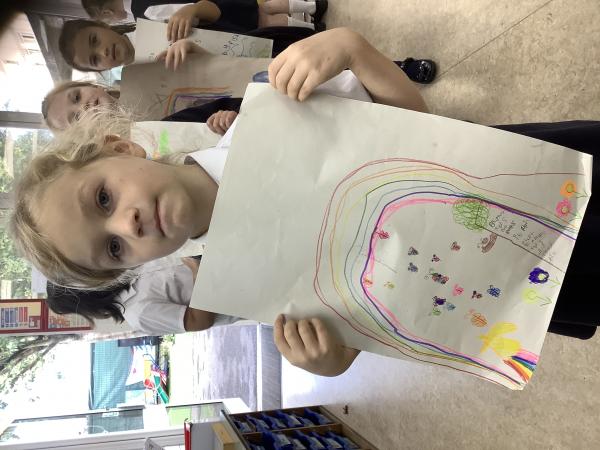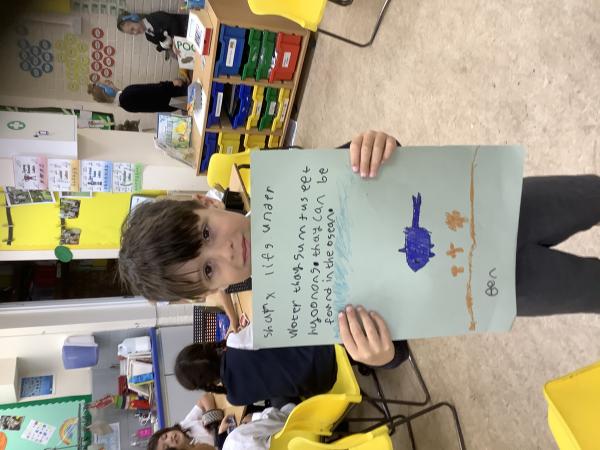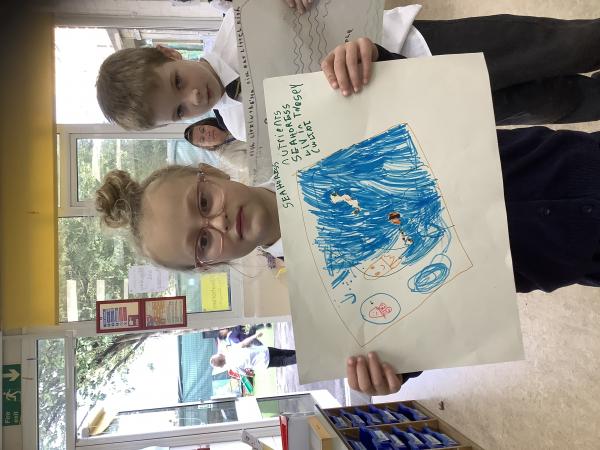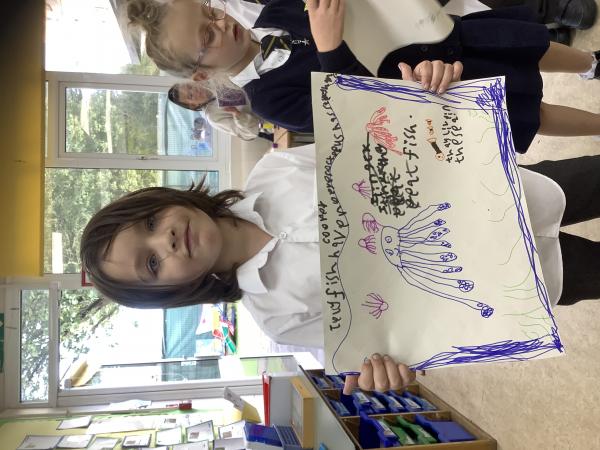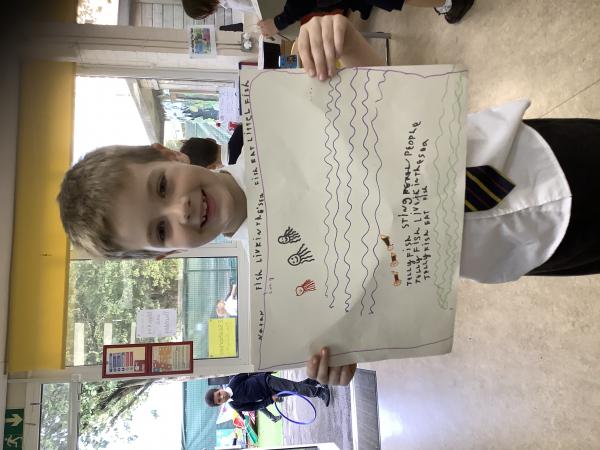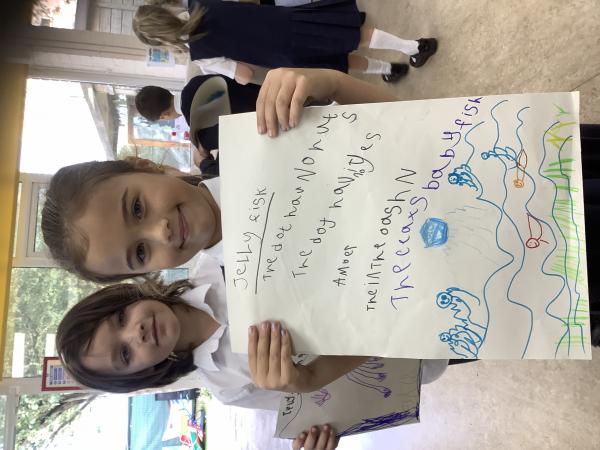 Building habitats
Seahorses spent an extremely windy afternoon in the nature area yesterday. As their Science topic is Living Things and Habitats, they decided to build habitats for some creatures. They undertook bug hunting and tree identification. They also enjoyed playing and eating popcorn.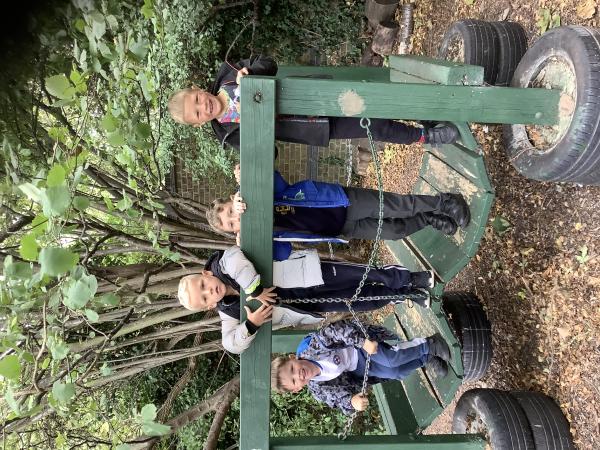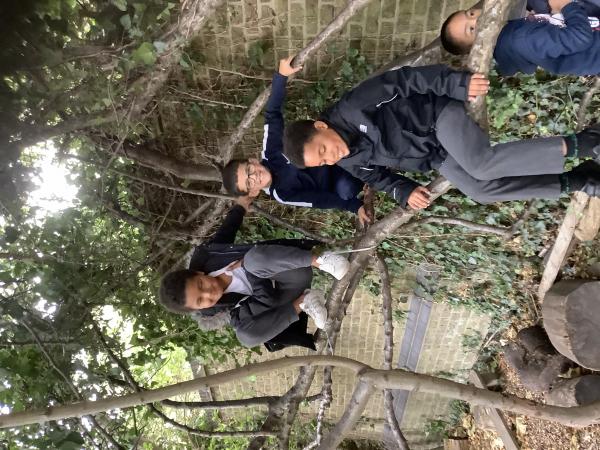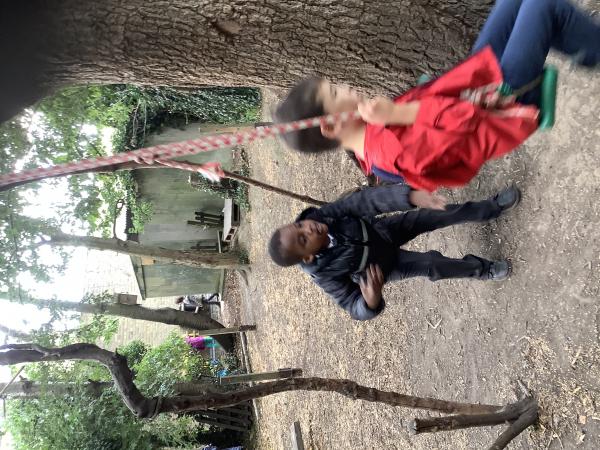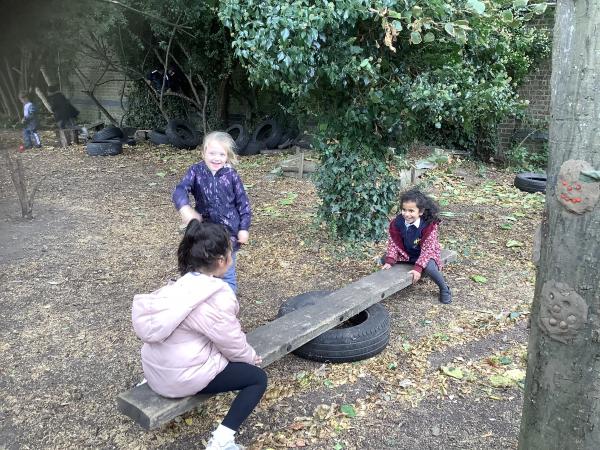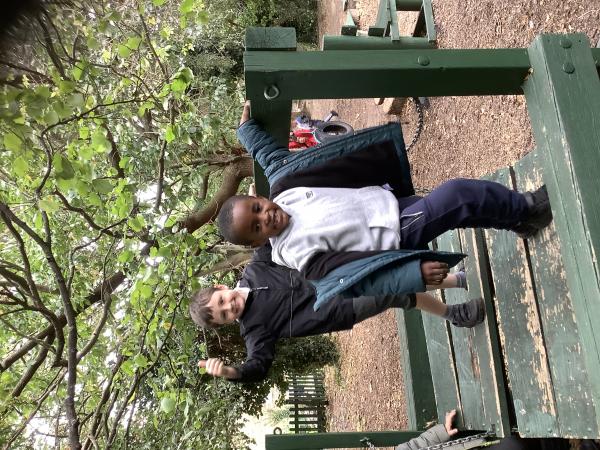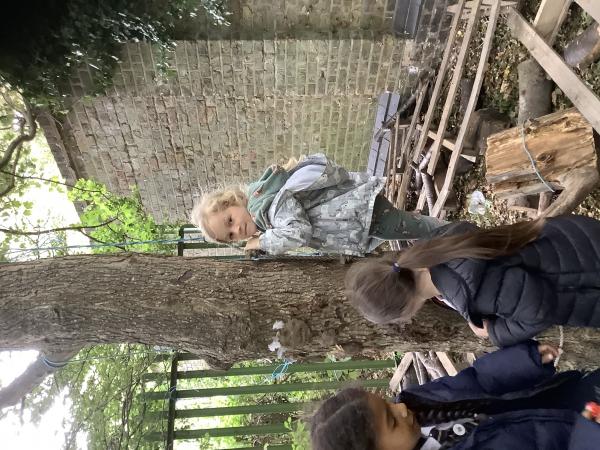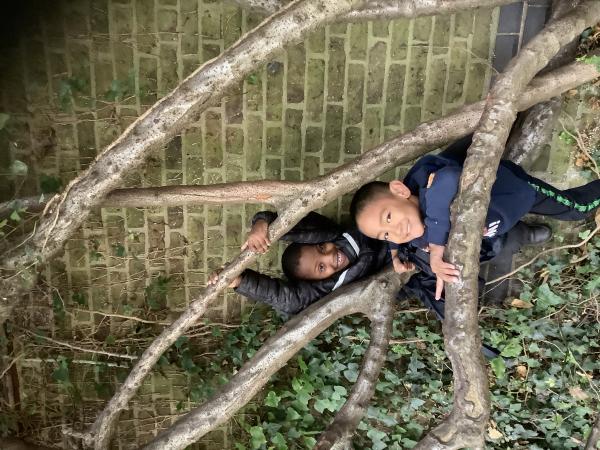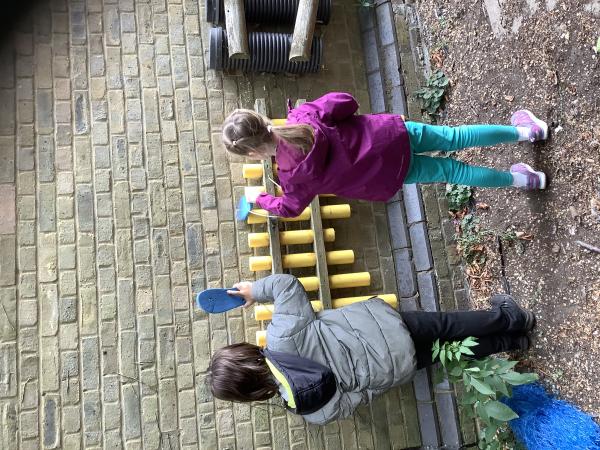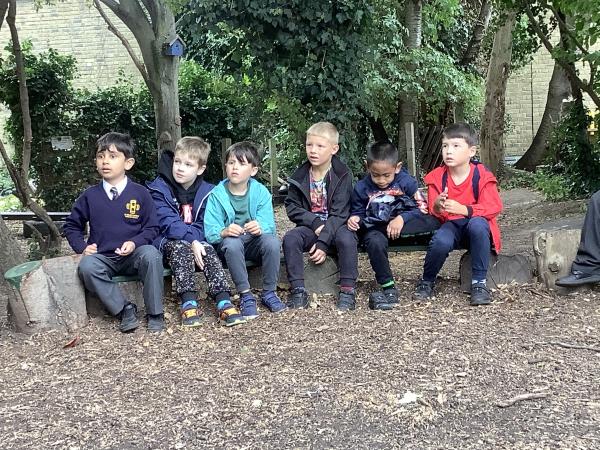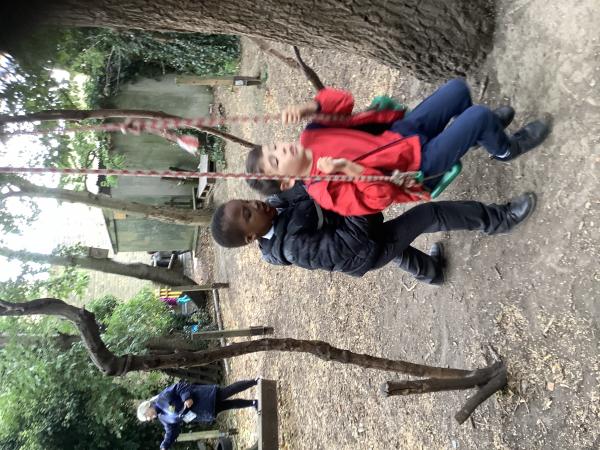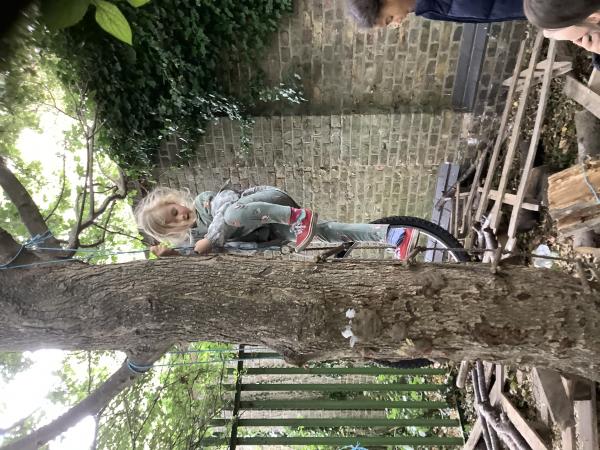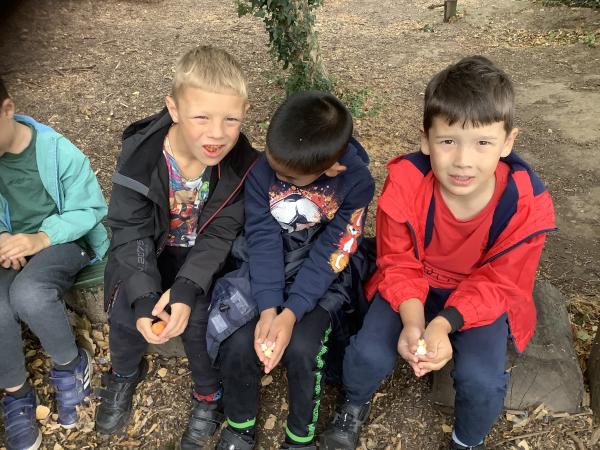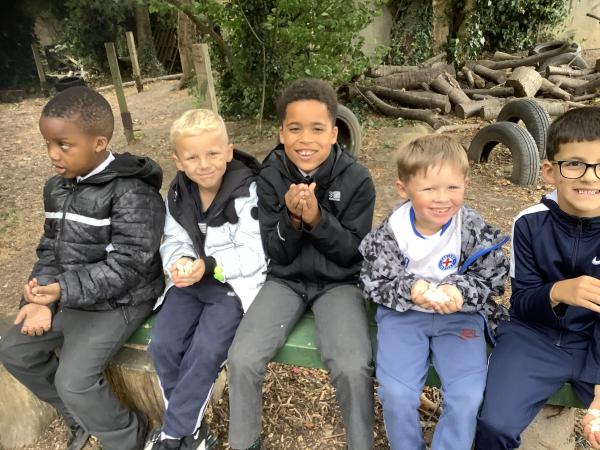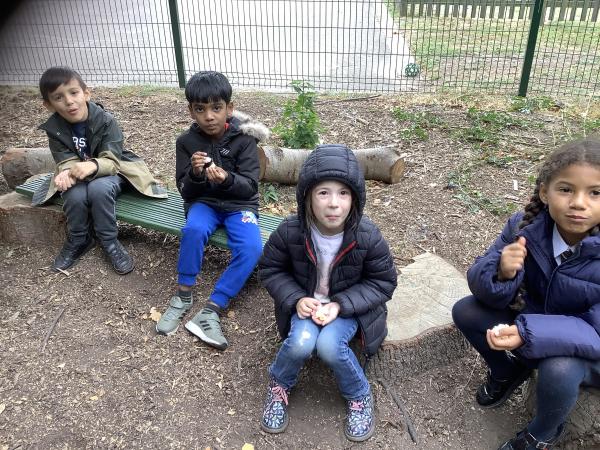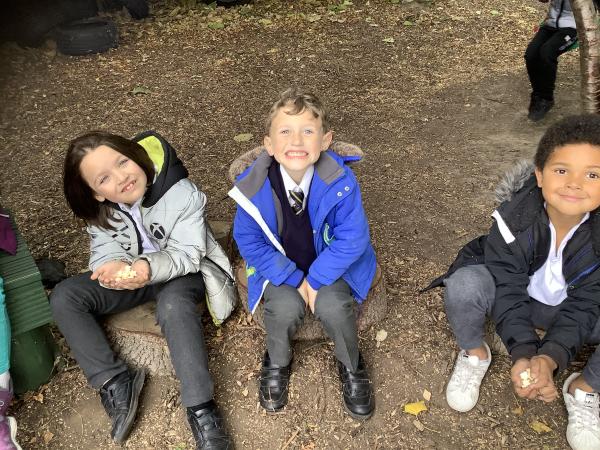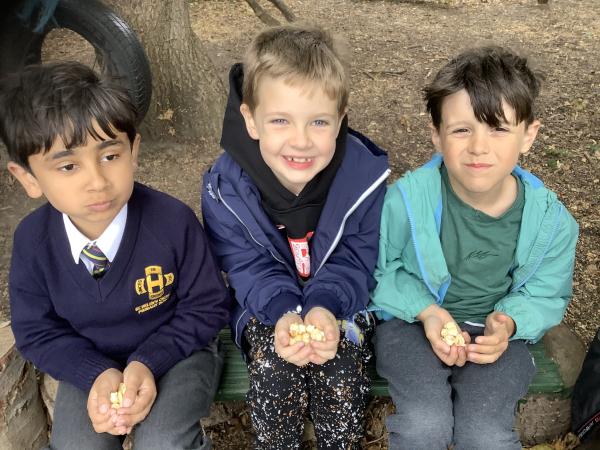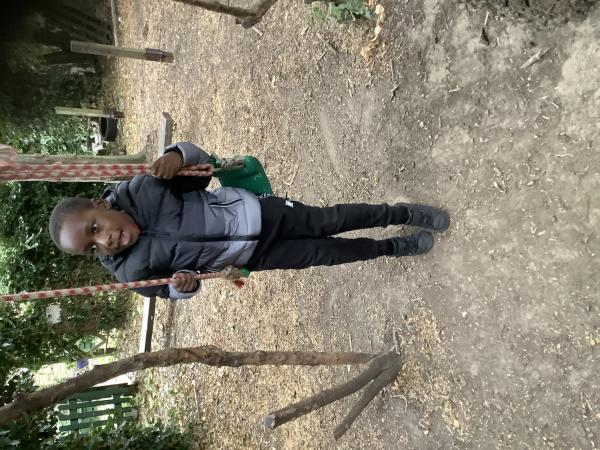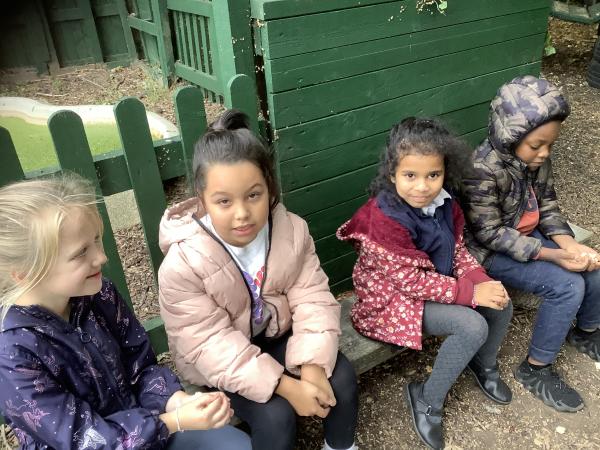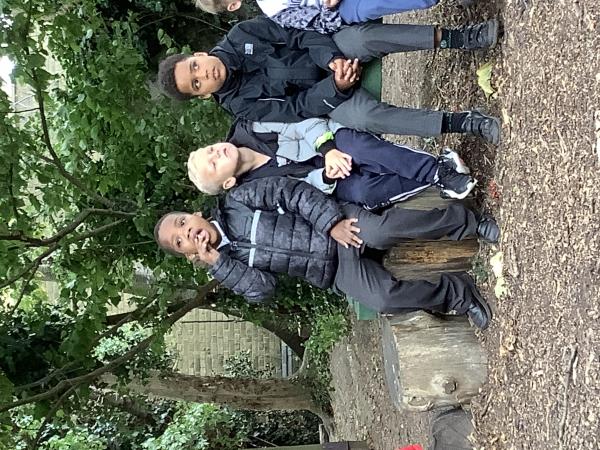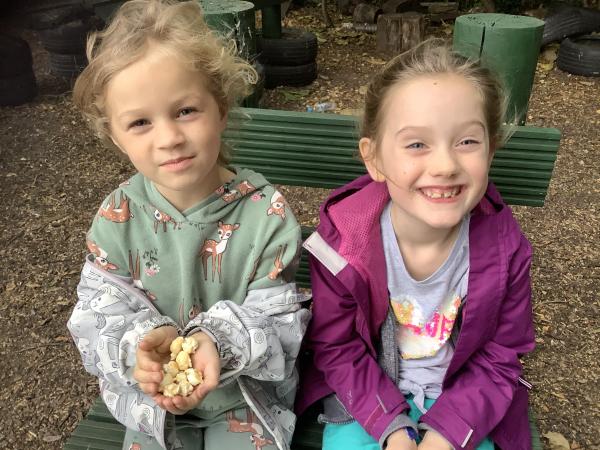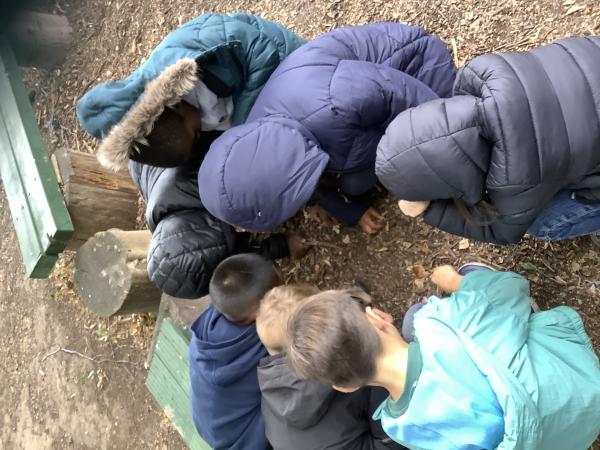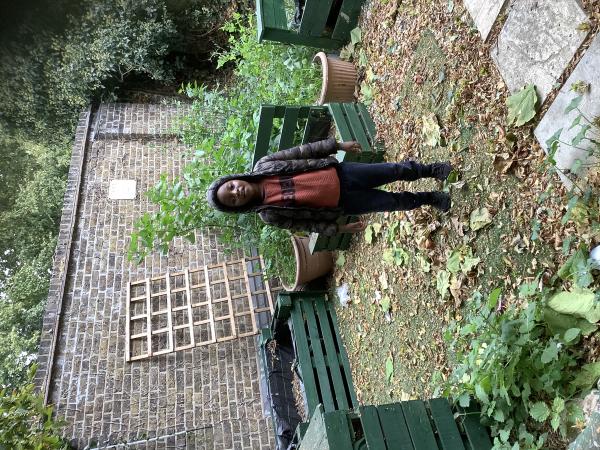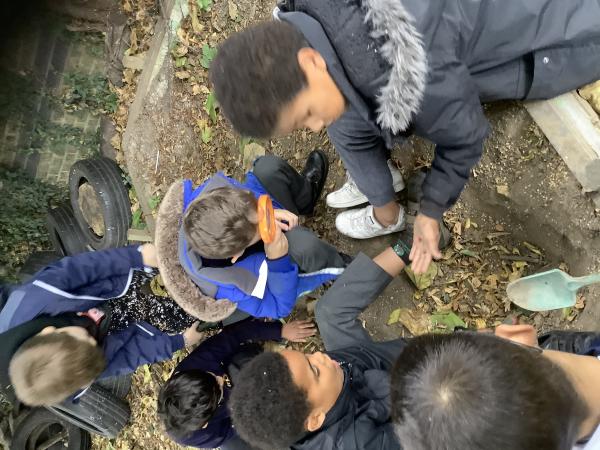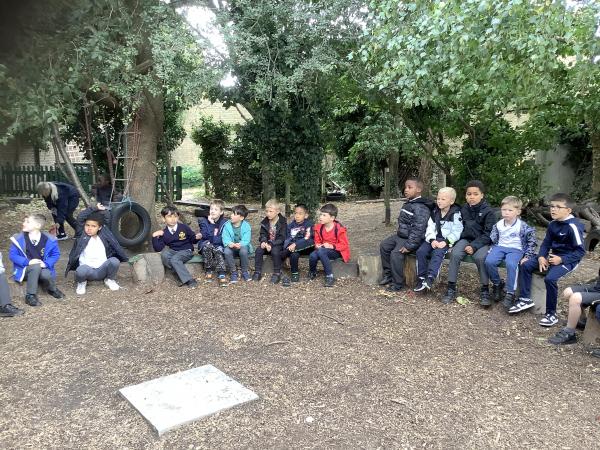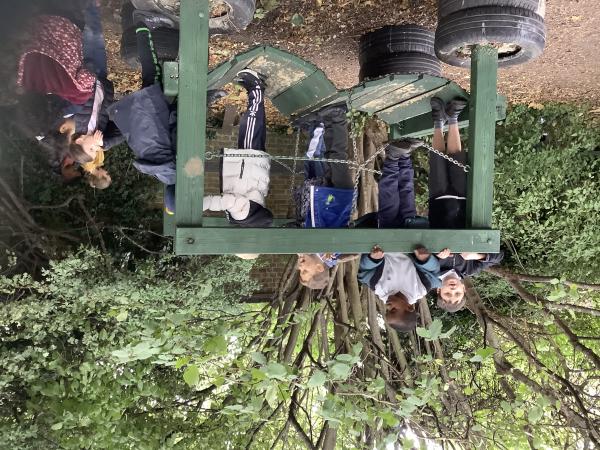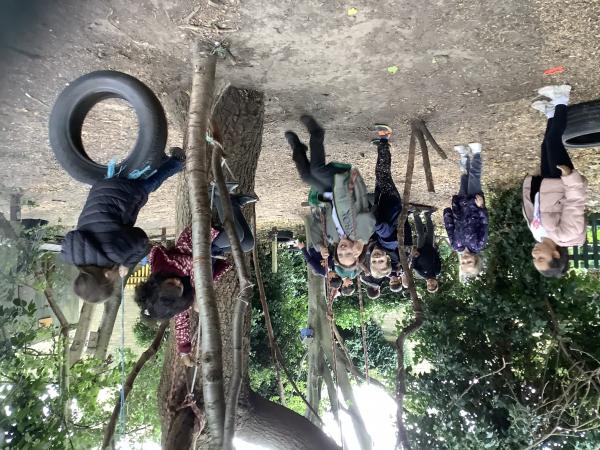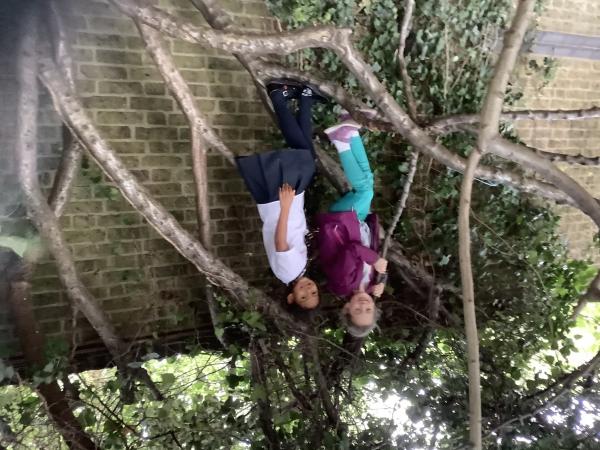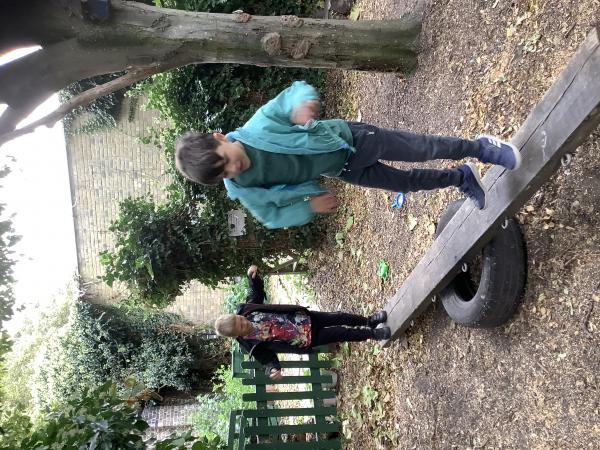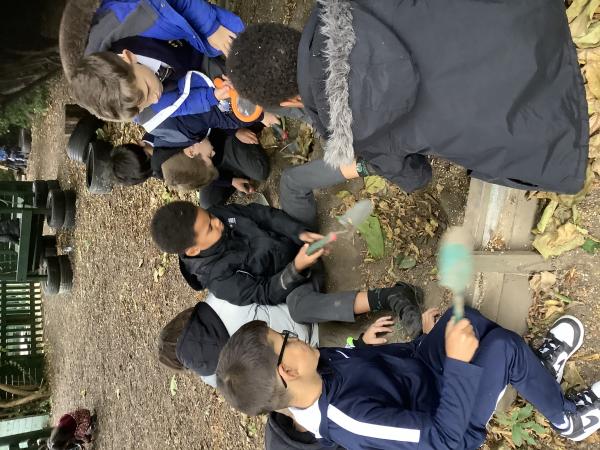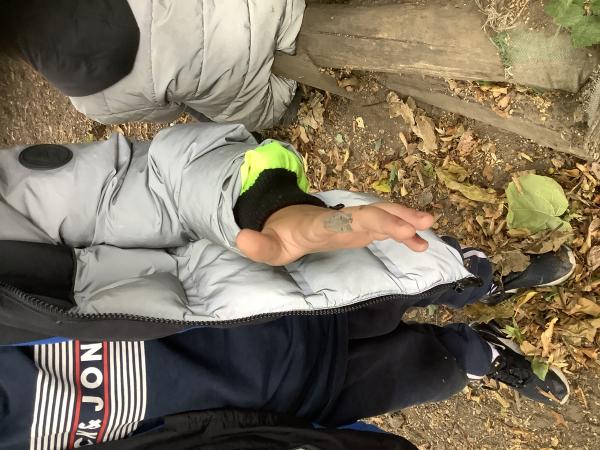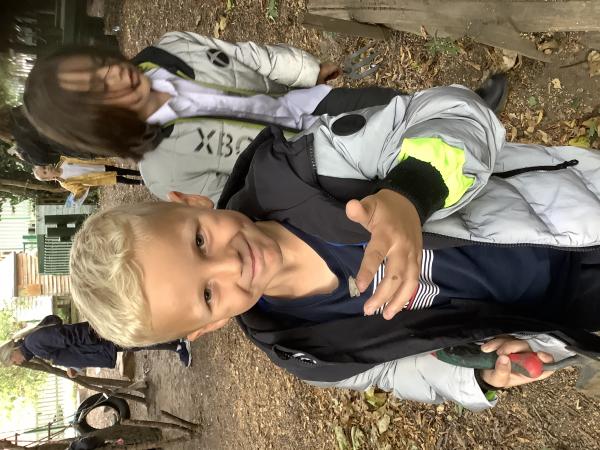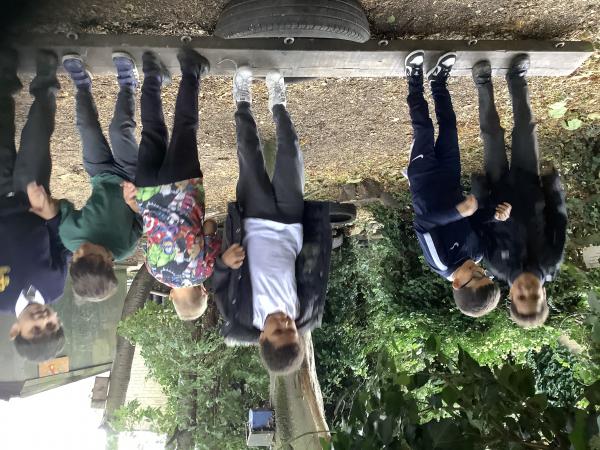 In the first week of school, Oysters learnt about Stevie Wonder, who is our musician of the month. They also worked in groups to create their own music piece.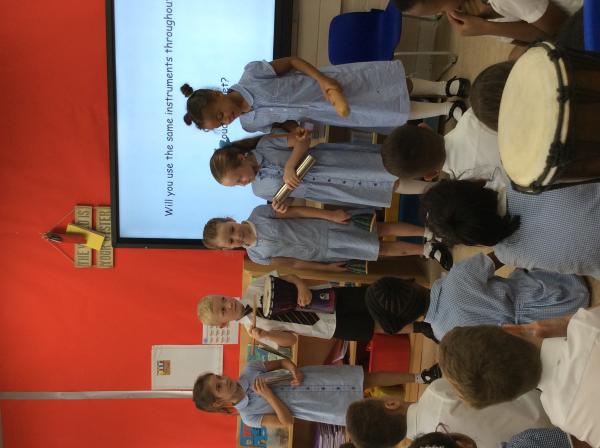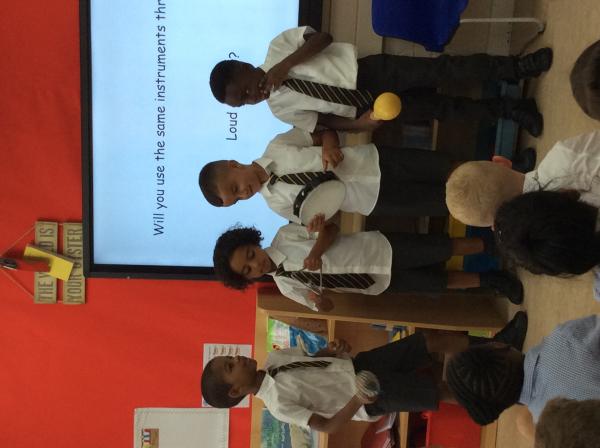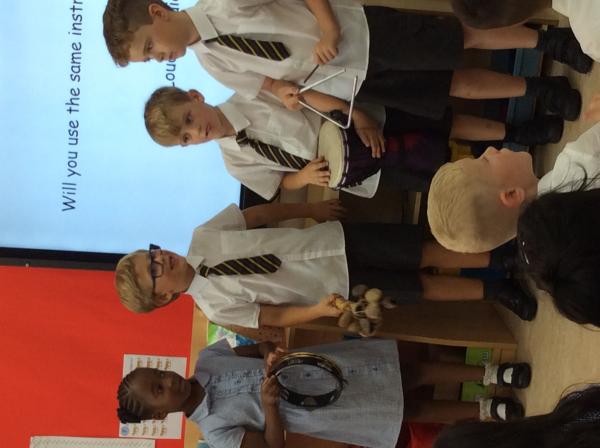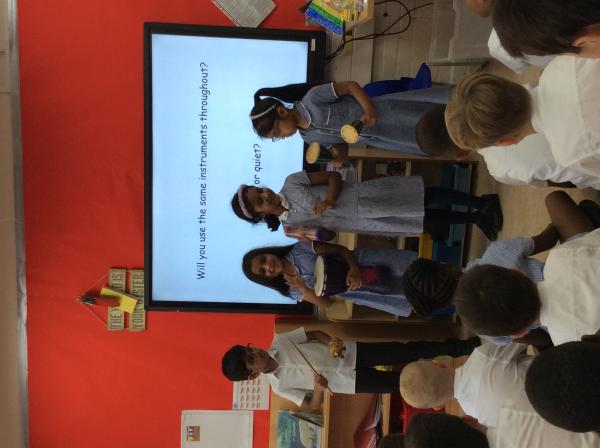 This week, Oysters have made great use out of the outside area. They worked together to create a marble run in provision.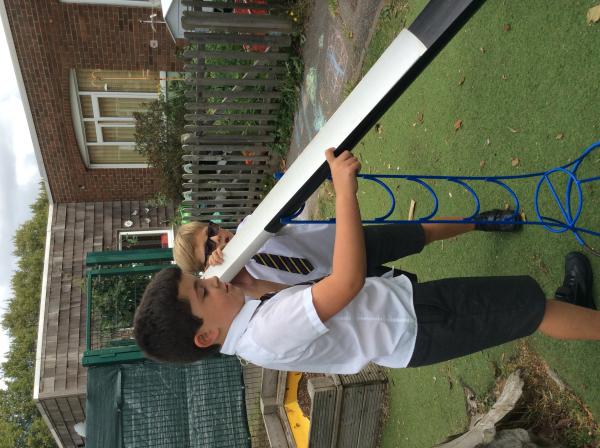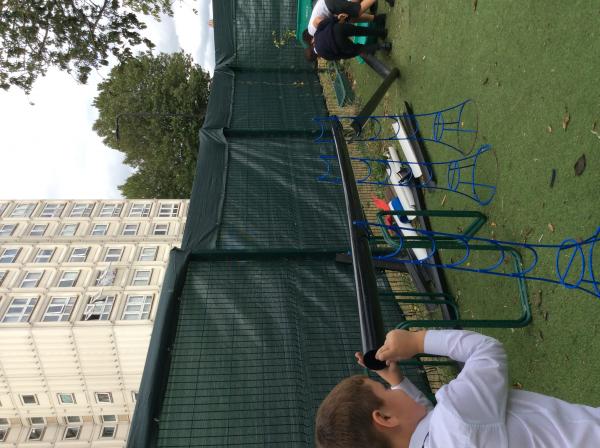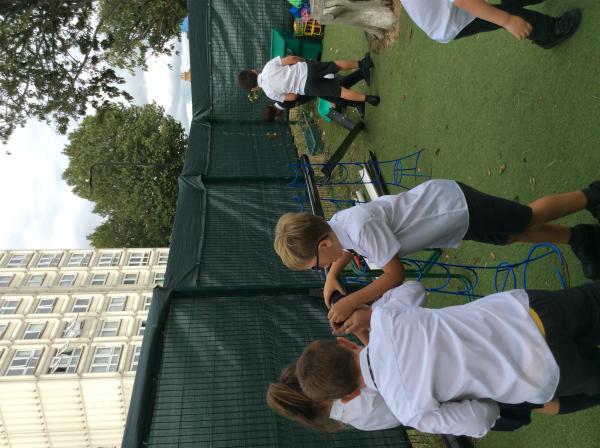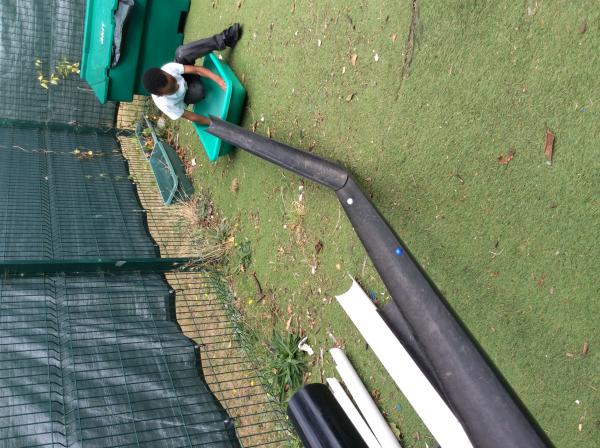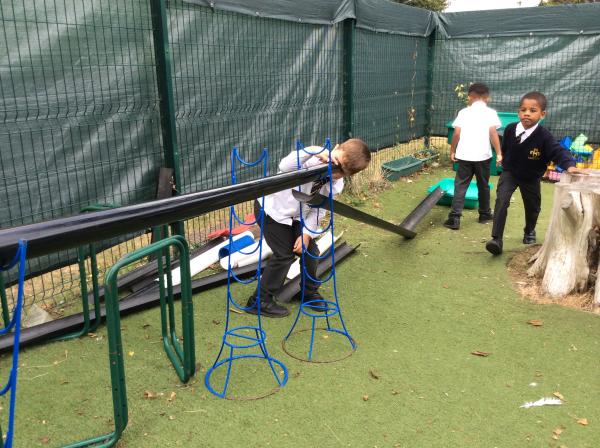 Art Science Investigation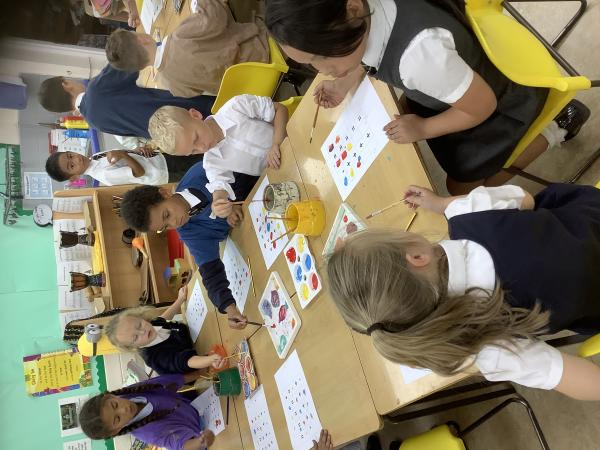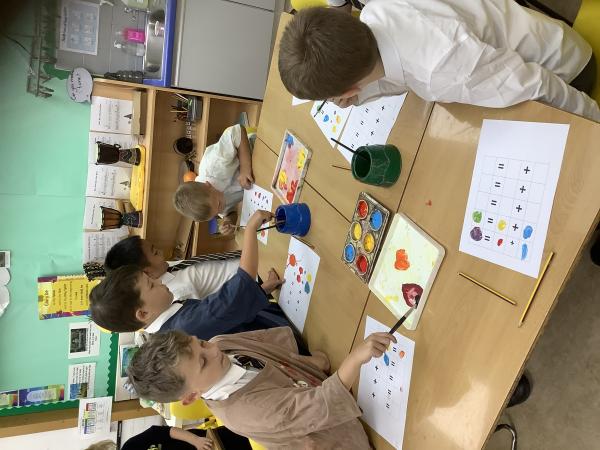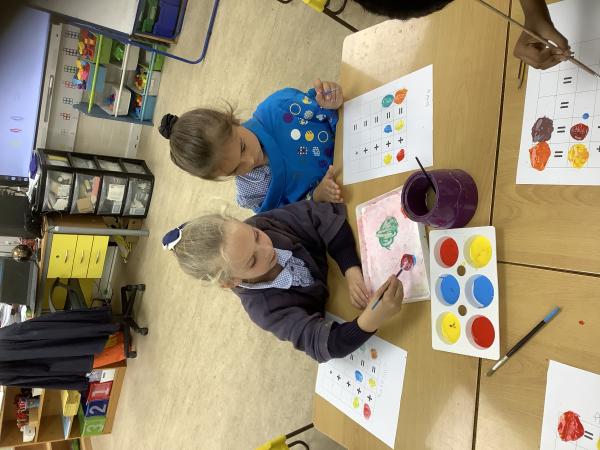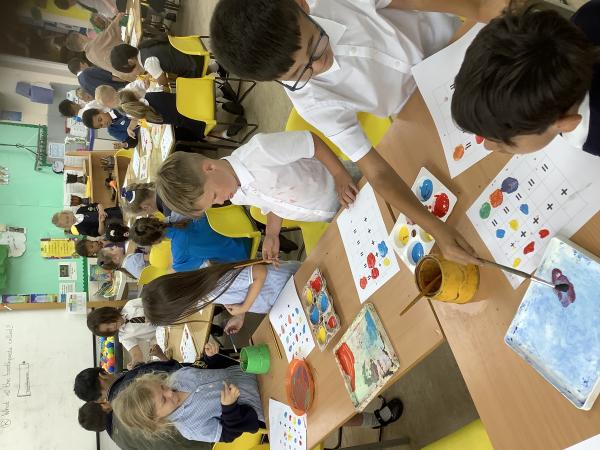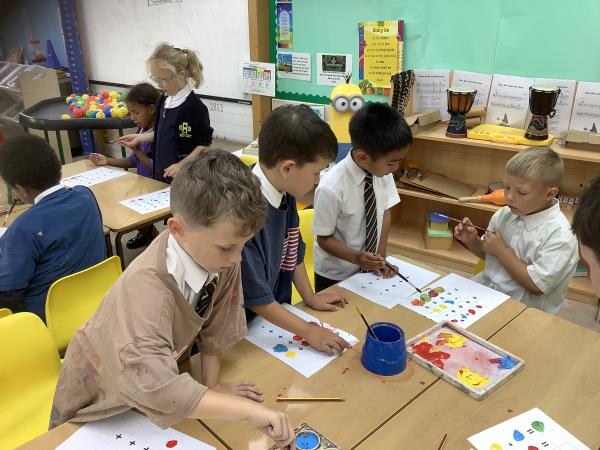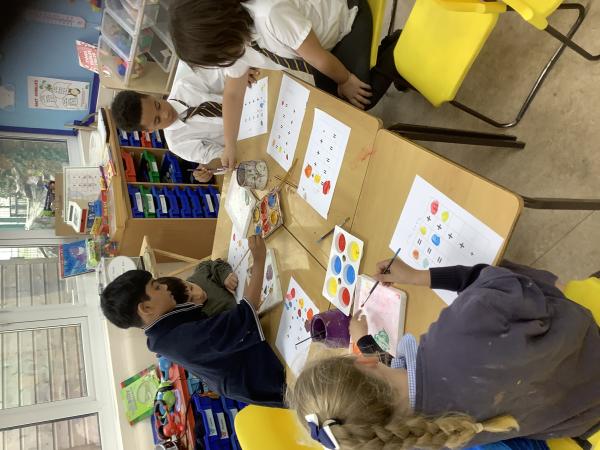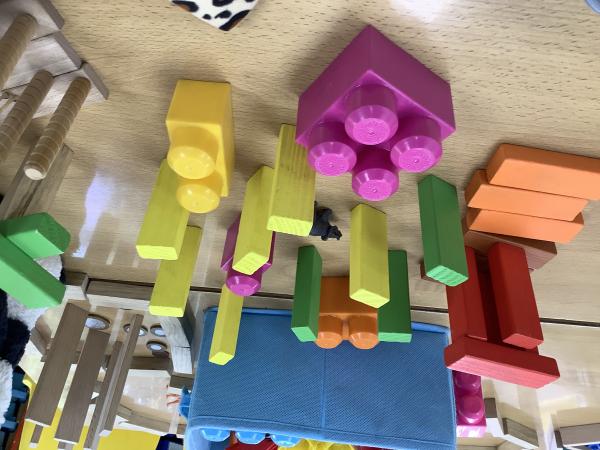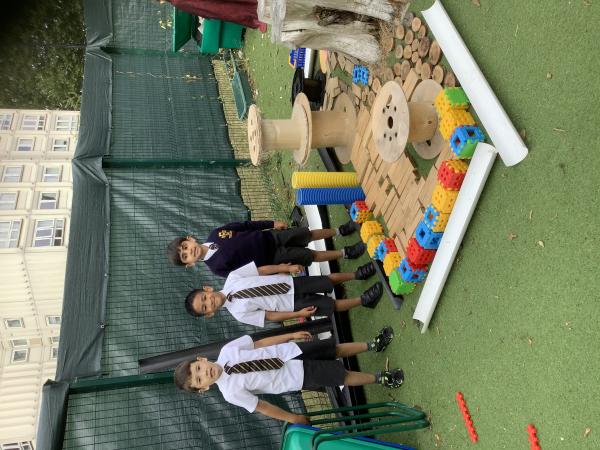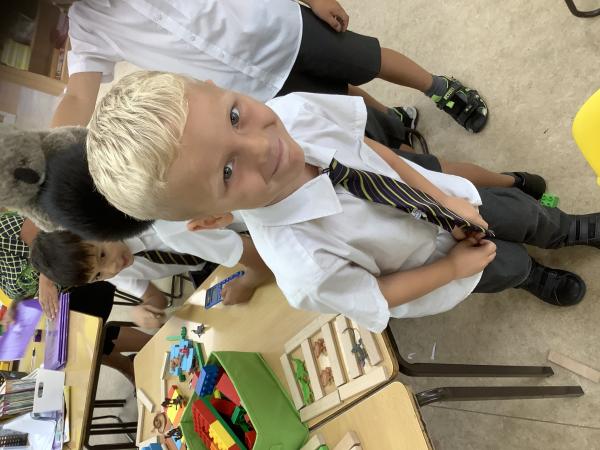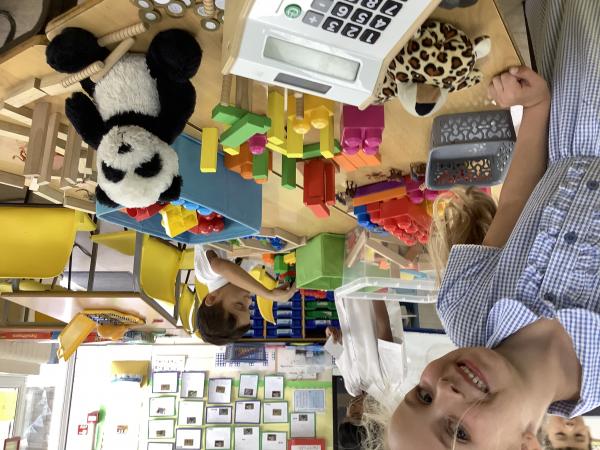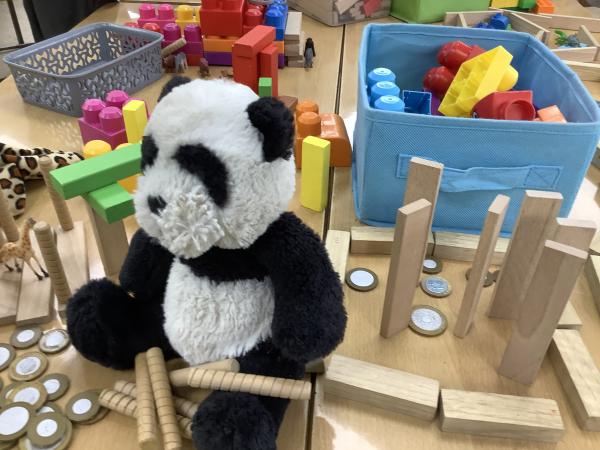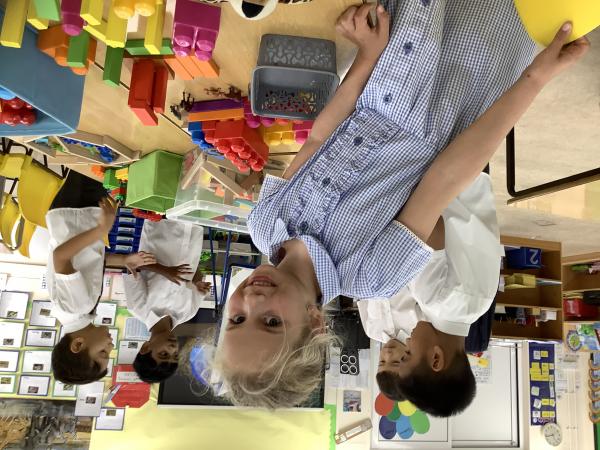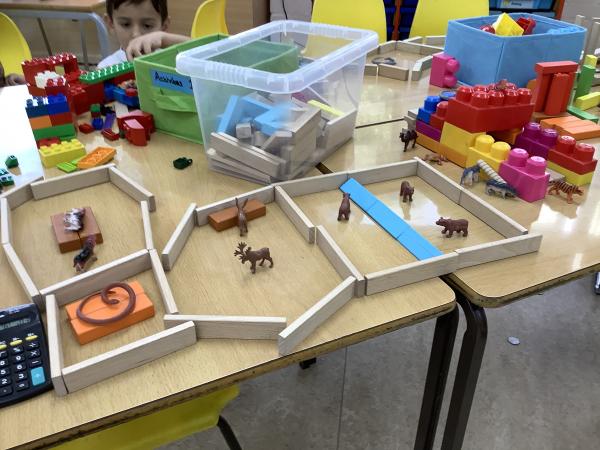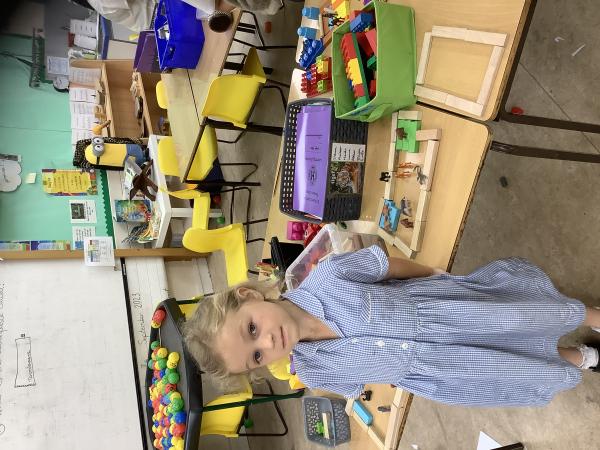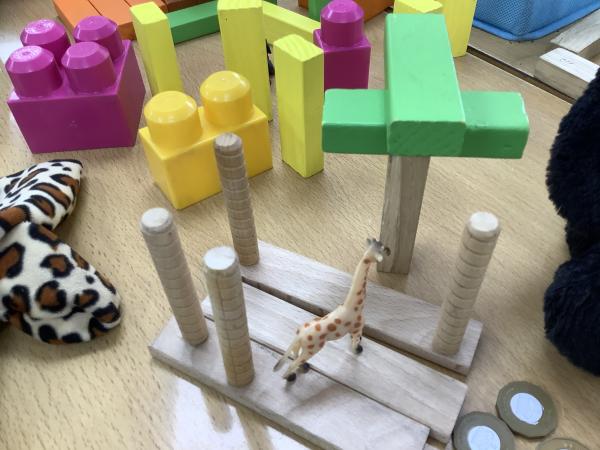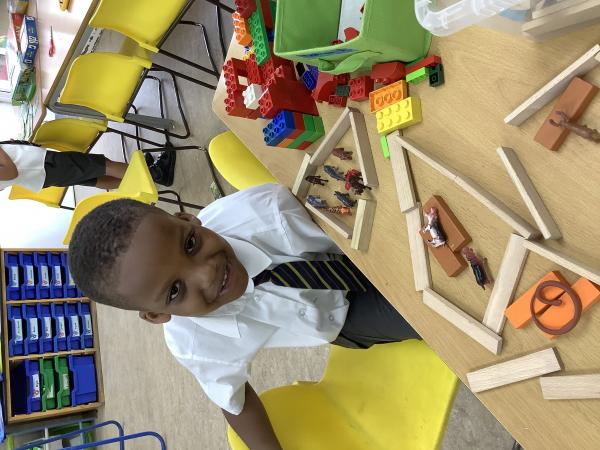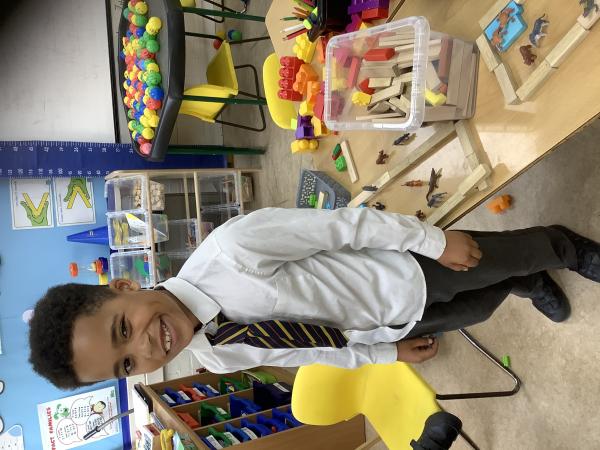 Settling in
The children in Seahorse class have settled well into year 2 and have enjoyed meeting up with their school friends after a long summer break. Our topic Amazing Animals has already created some lovely writing and fantastic science work.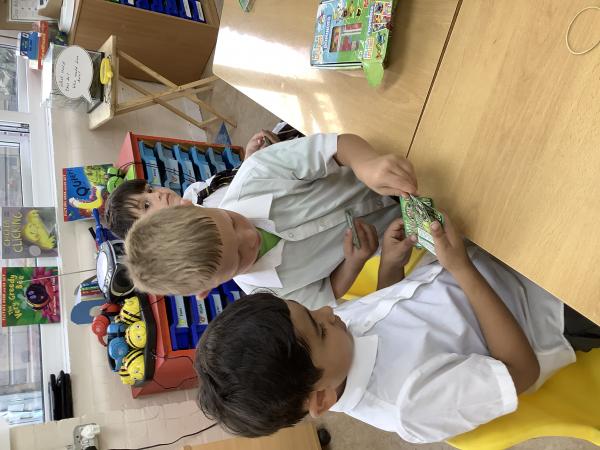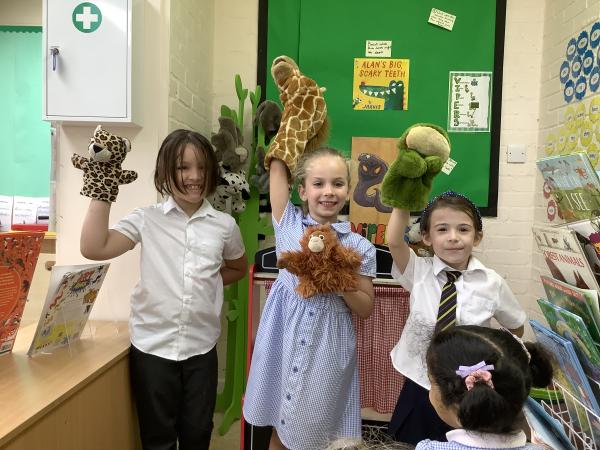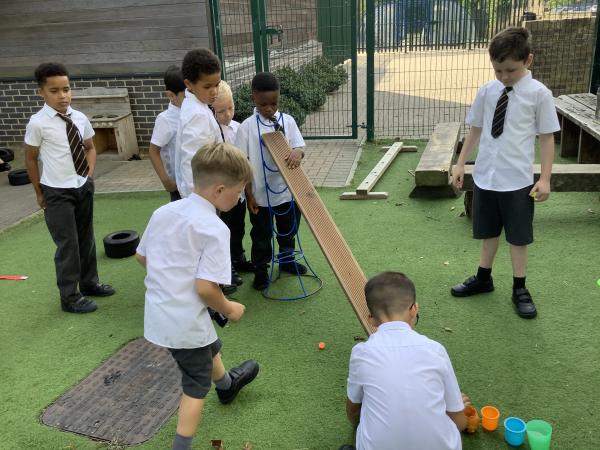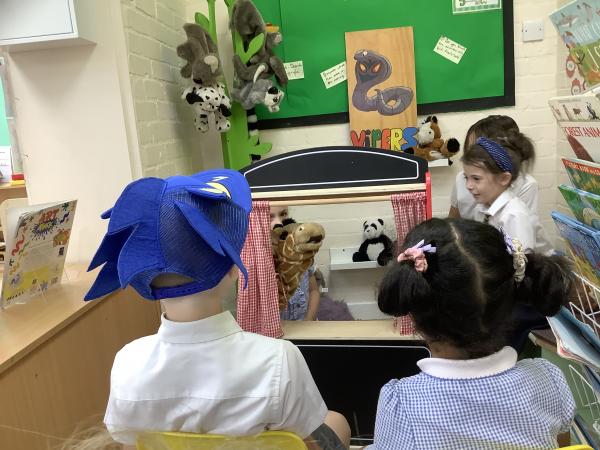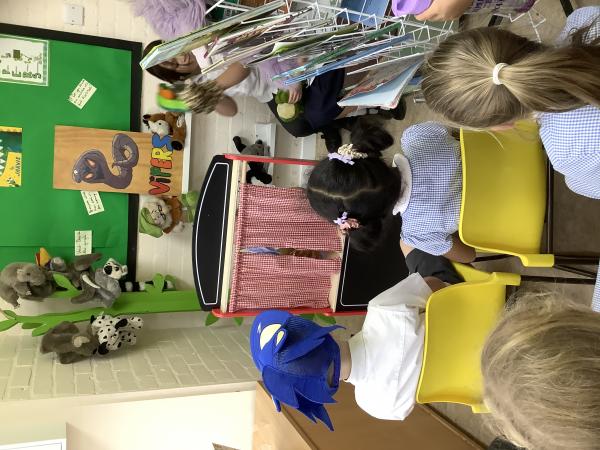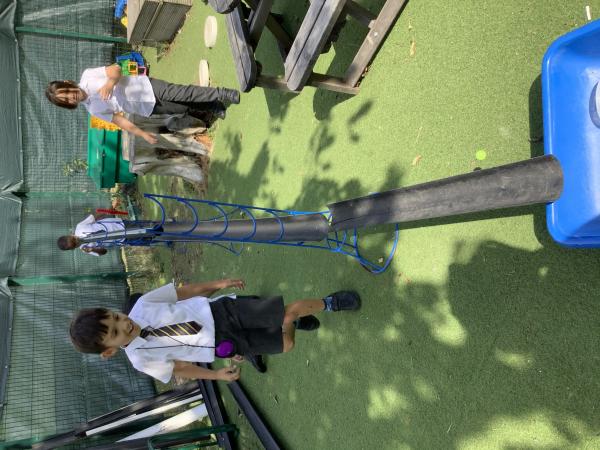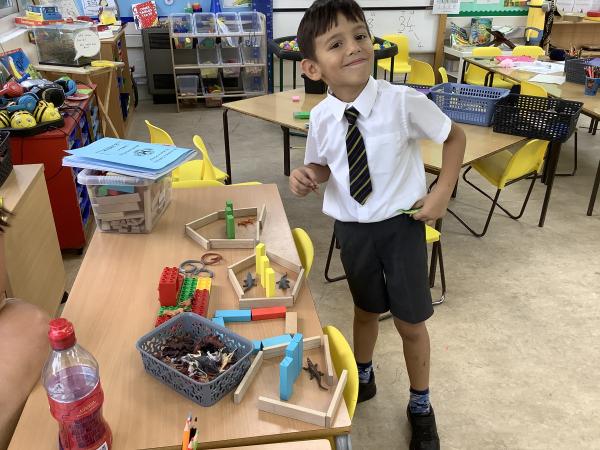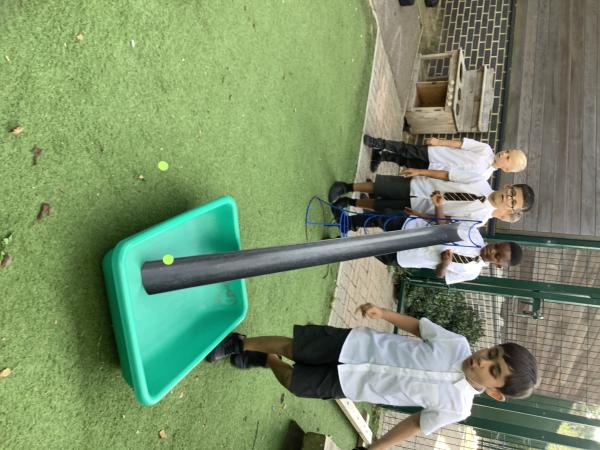 Adventure in the nature area
The afternoon saw Year 2 Seahorses continue their adventure in the nature area. They also helped develop the sensory garden, tidying the area, moving soil and laying new patio stones. Year 2 built dens for each other and played Eagle Eye.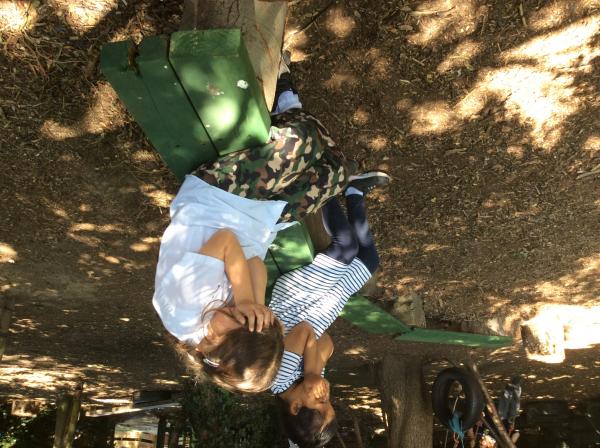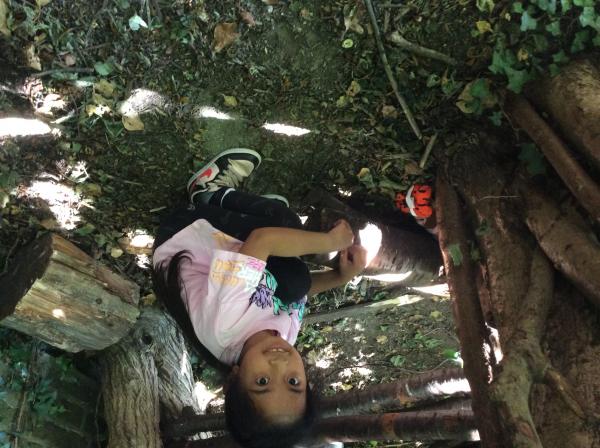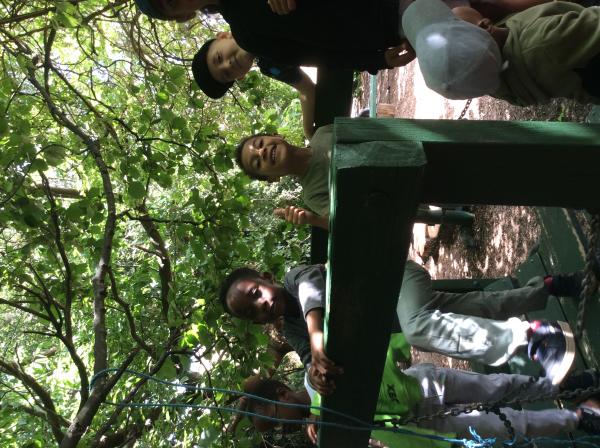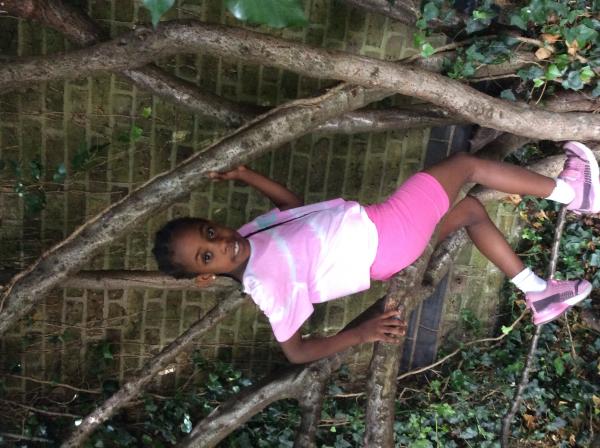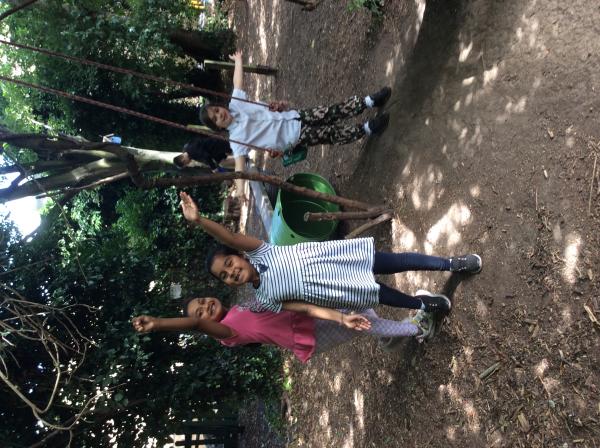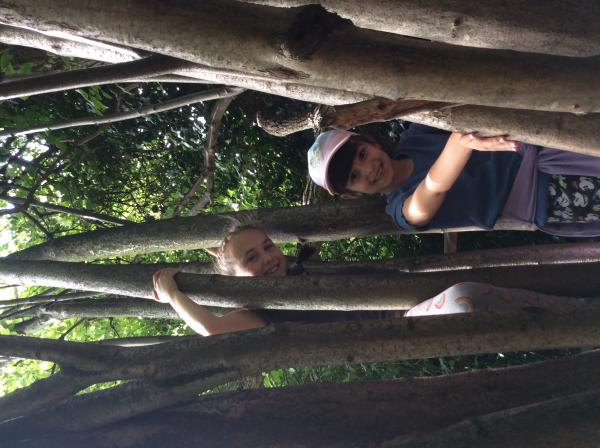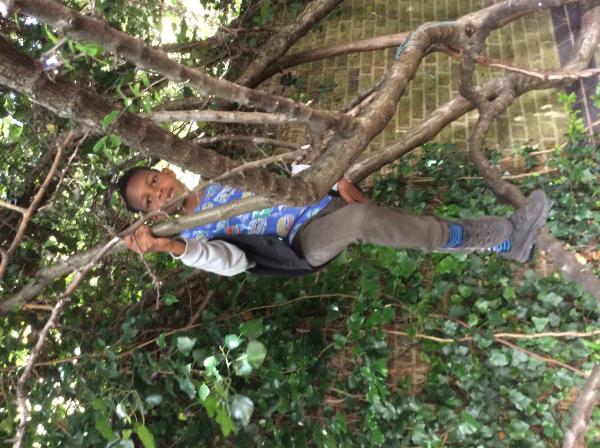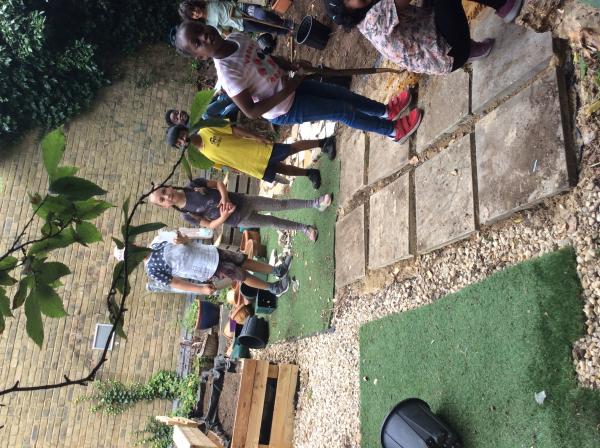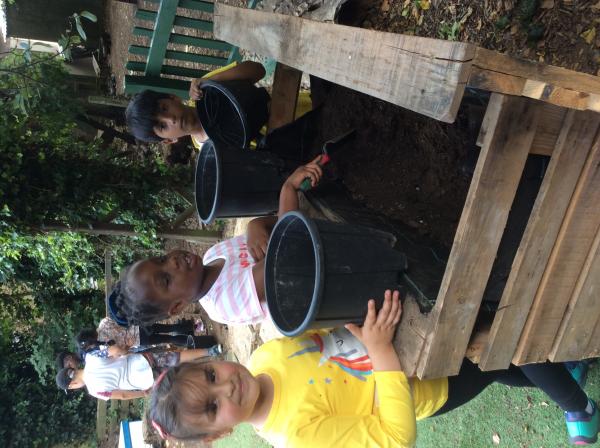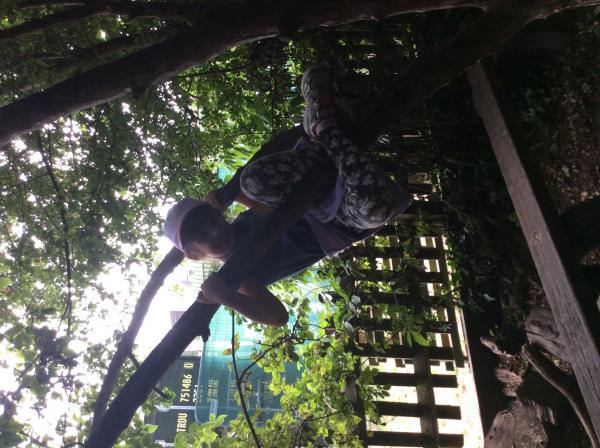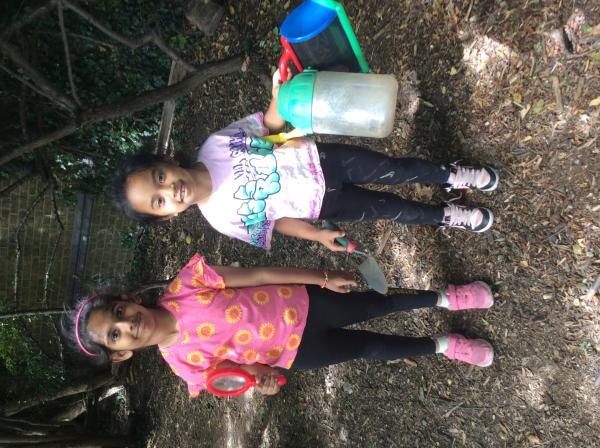 Seahorses in the Nature Area
Year 2 Seahorses had a very busy afternoon in the nature area. They built obstacle courses for each other, made dens to hide and enjoy time together. Also, they moved soil for our new sensory garden and played eagle eye. Many children hid successfully! We managed to escape the nature area before the wind and rain arrived!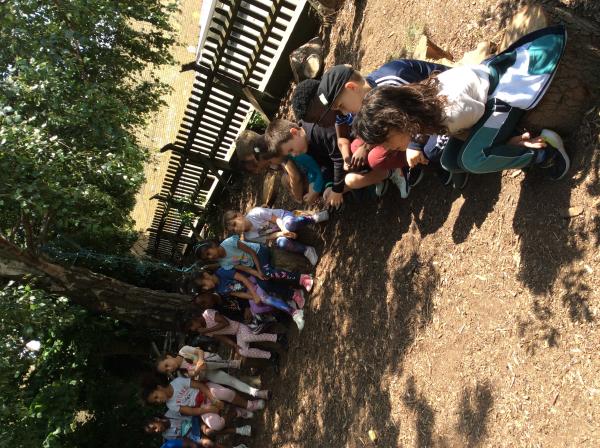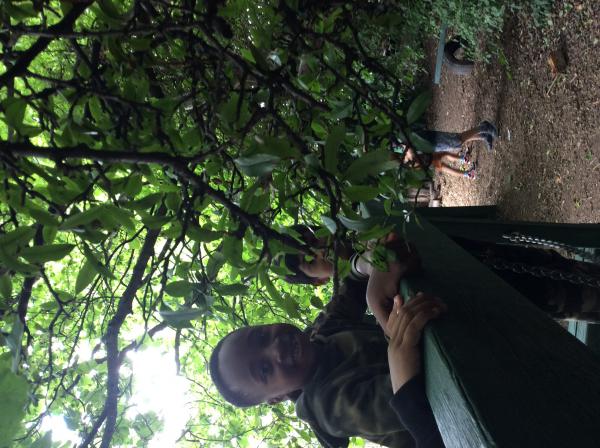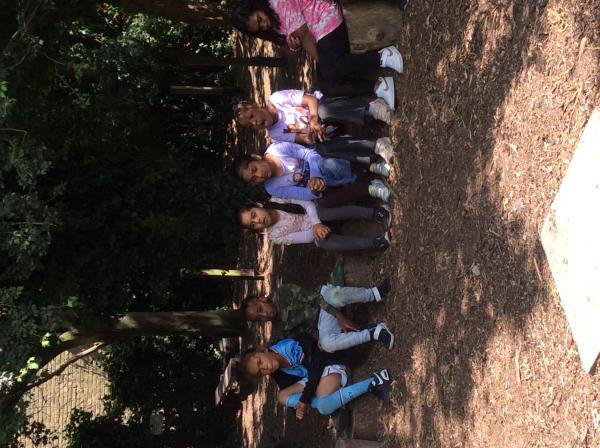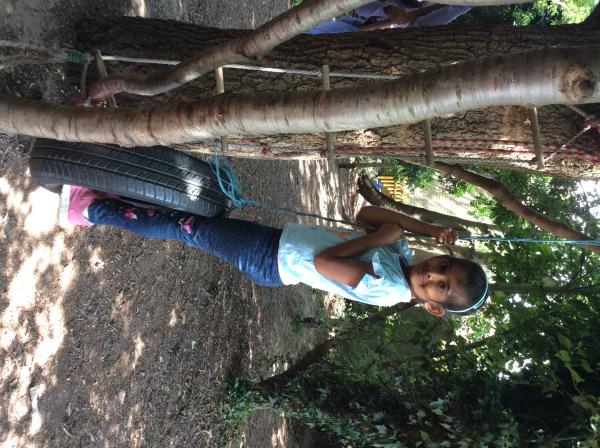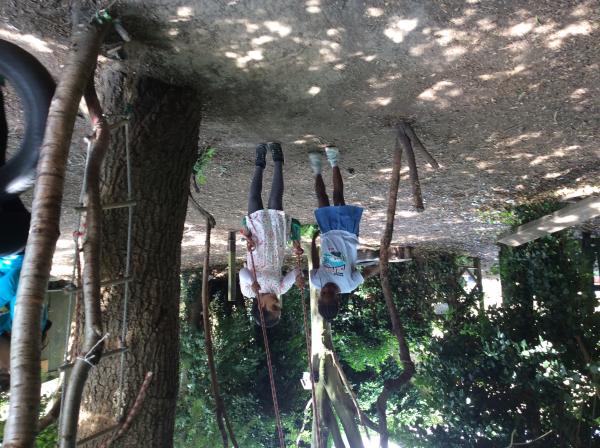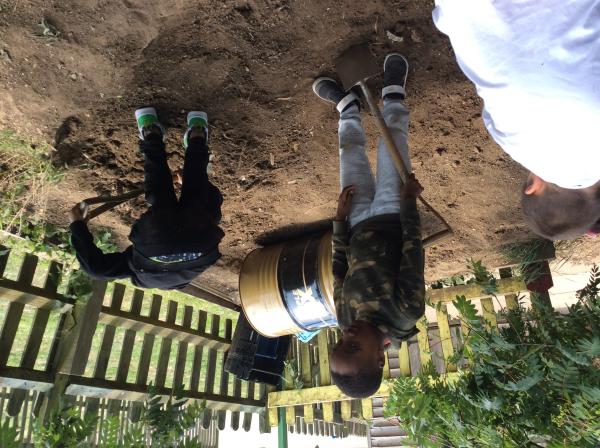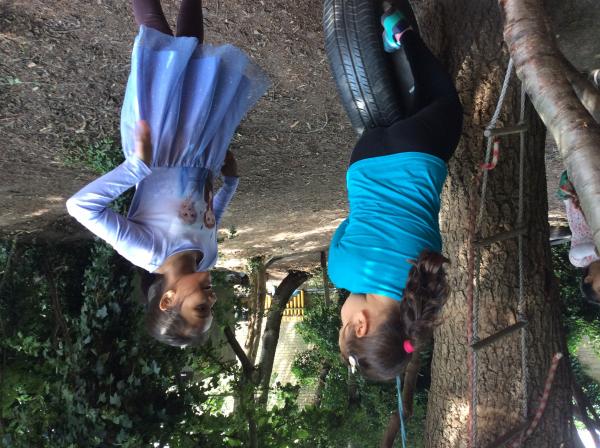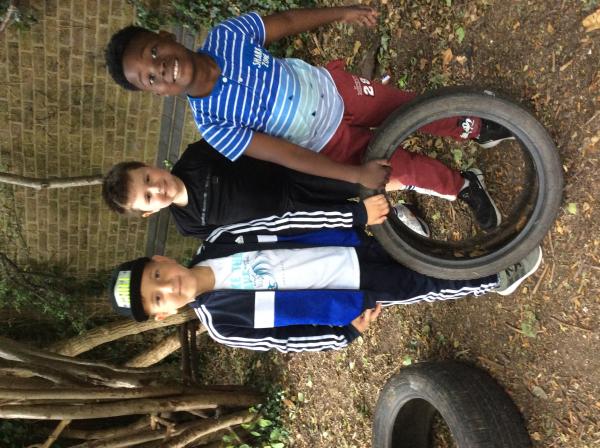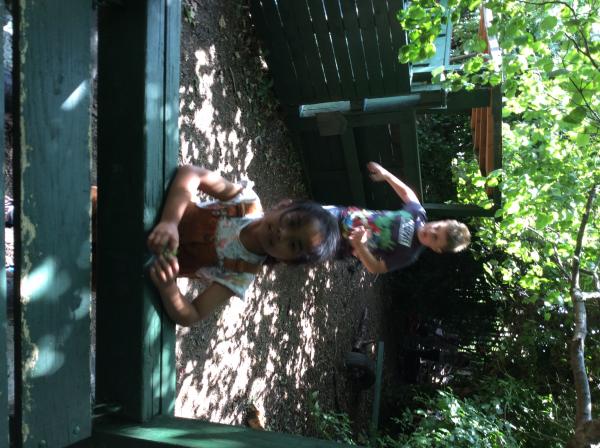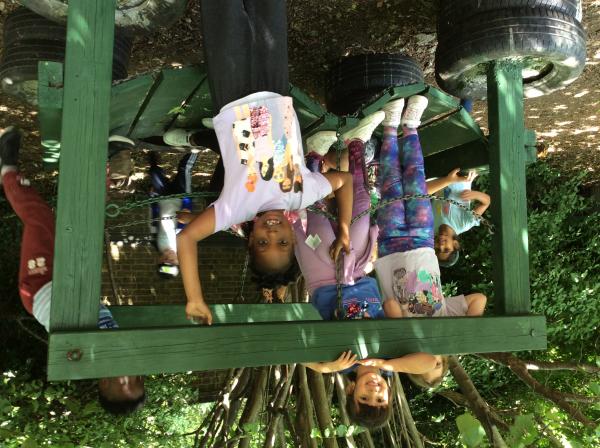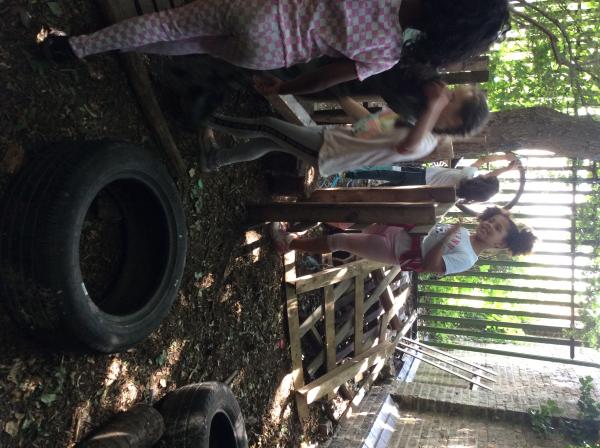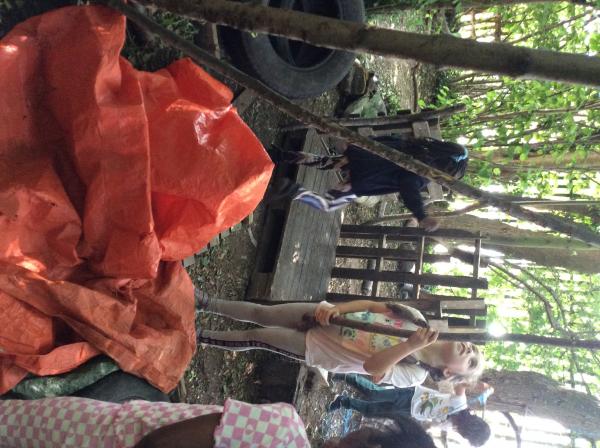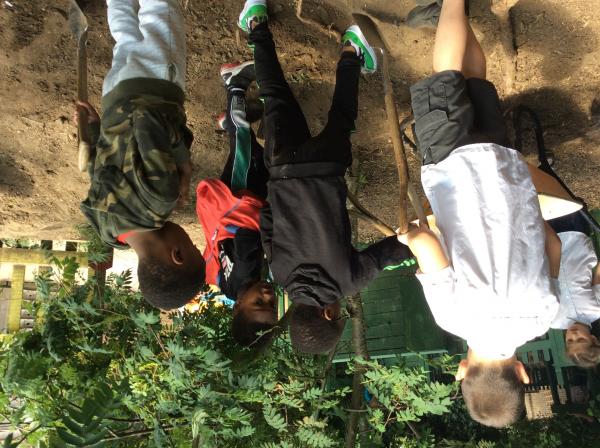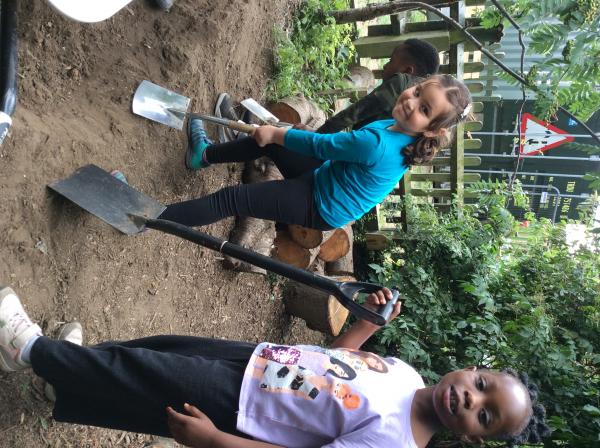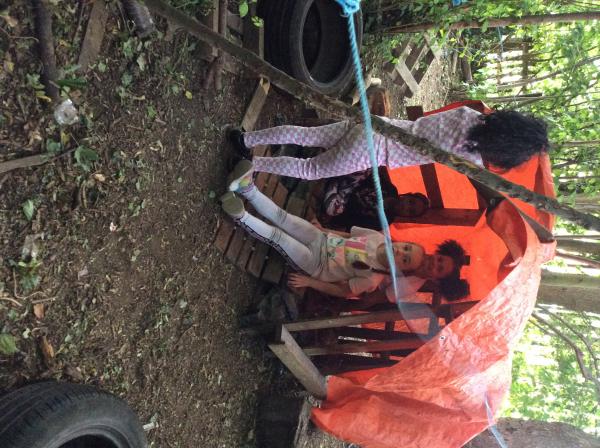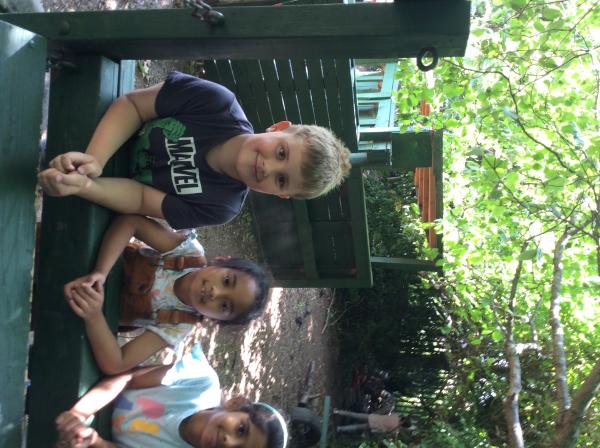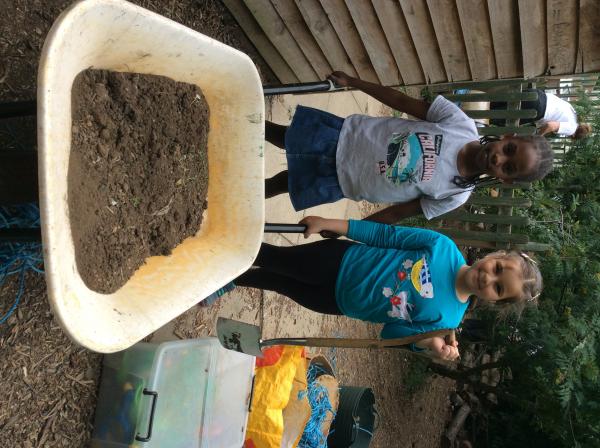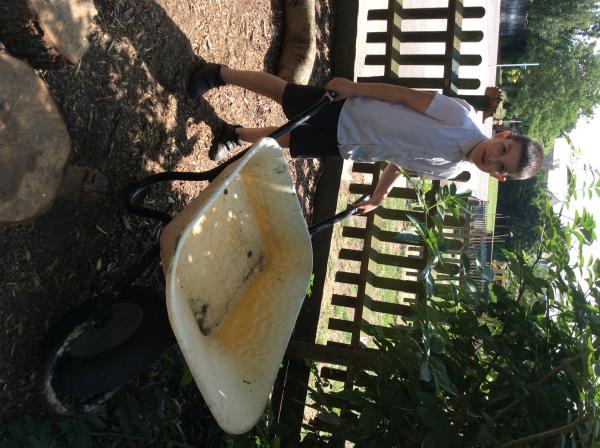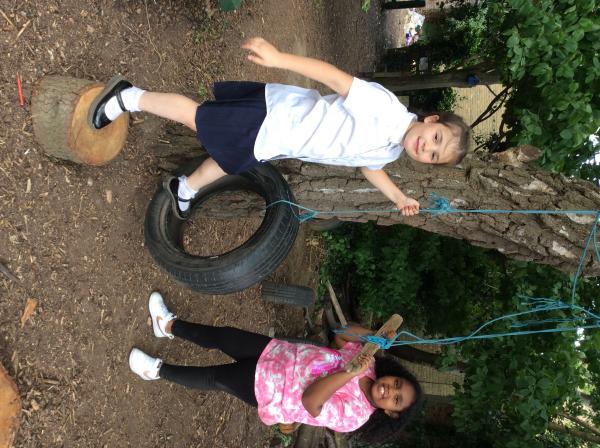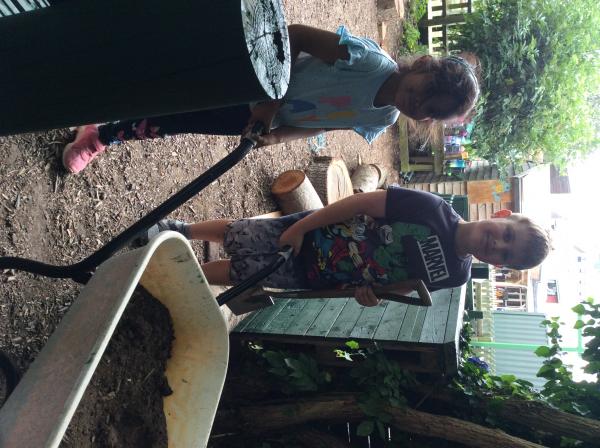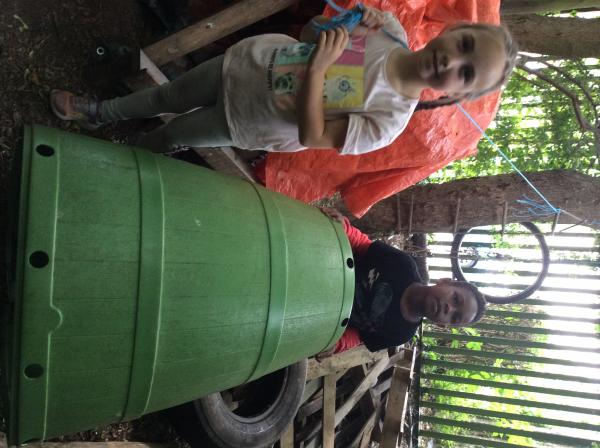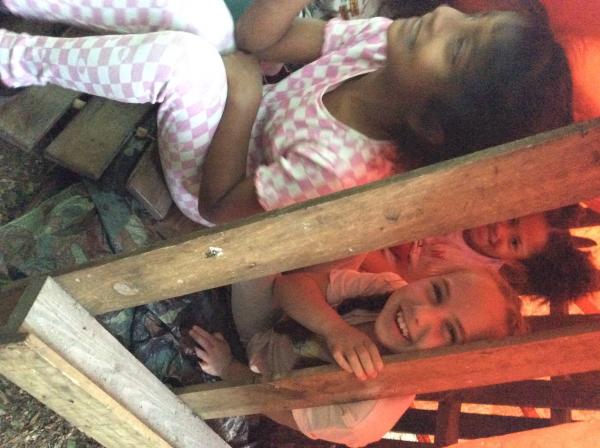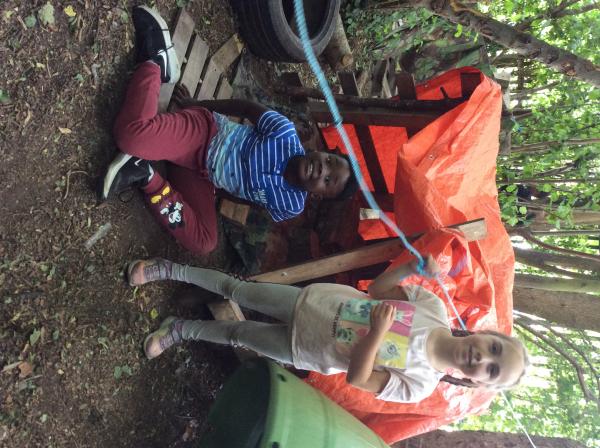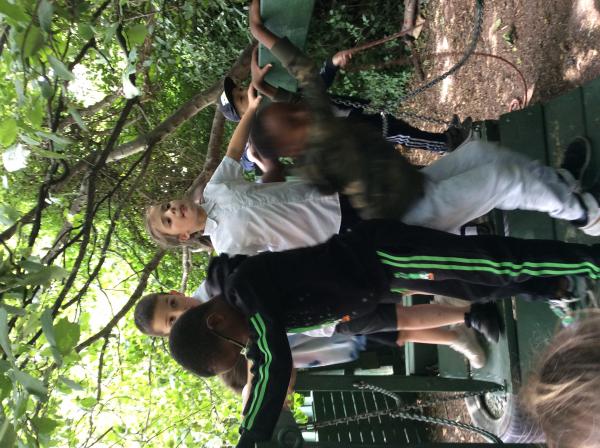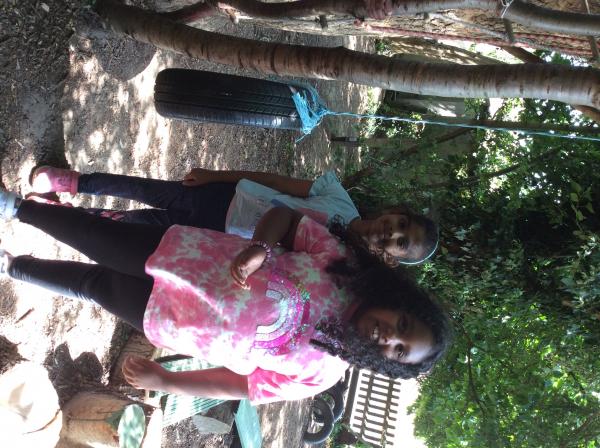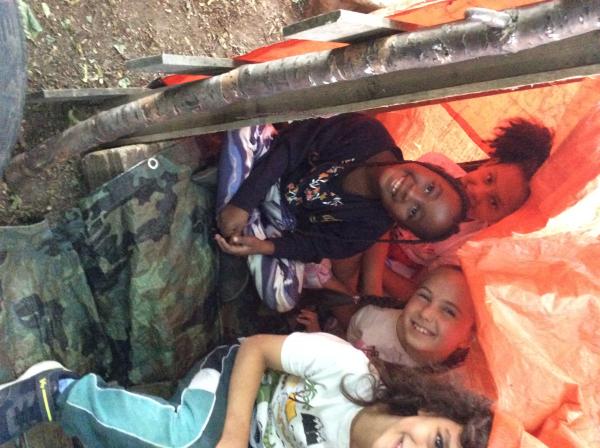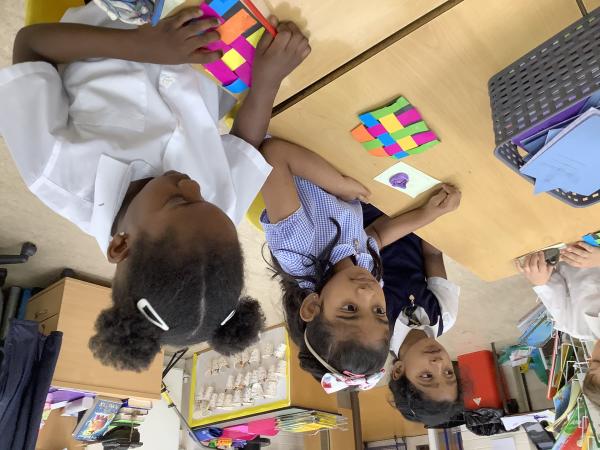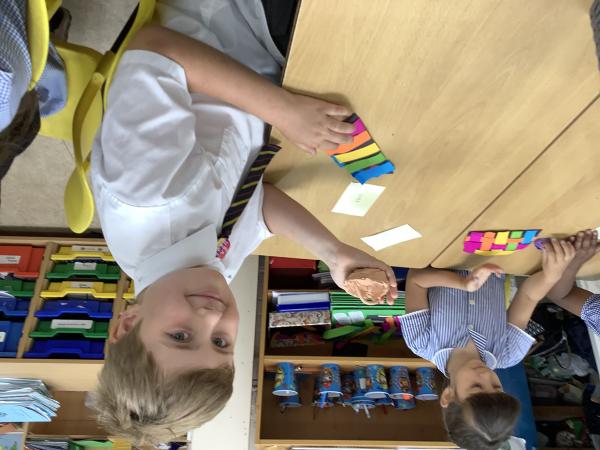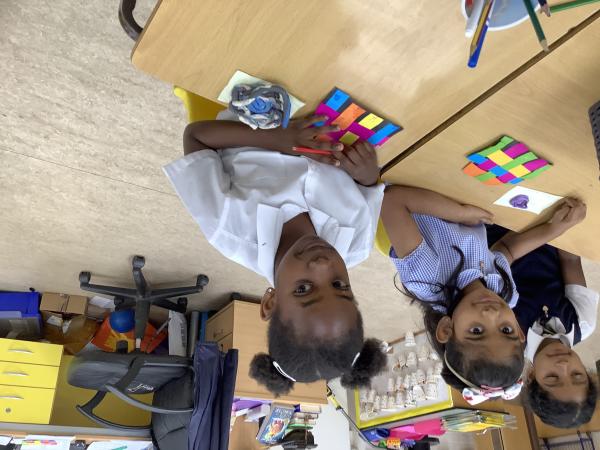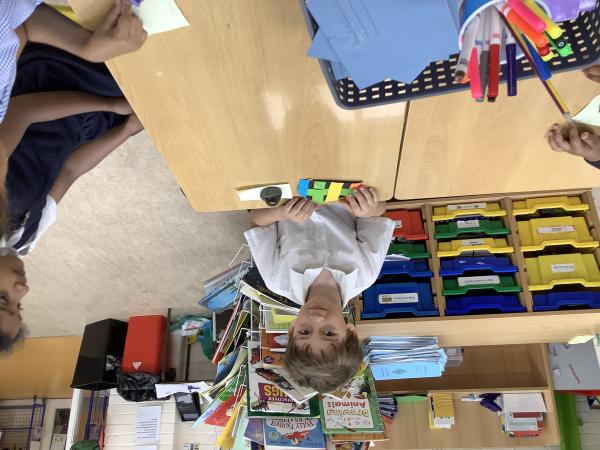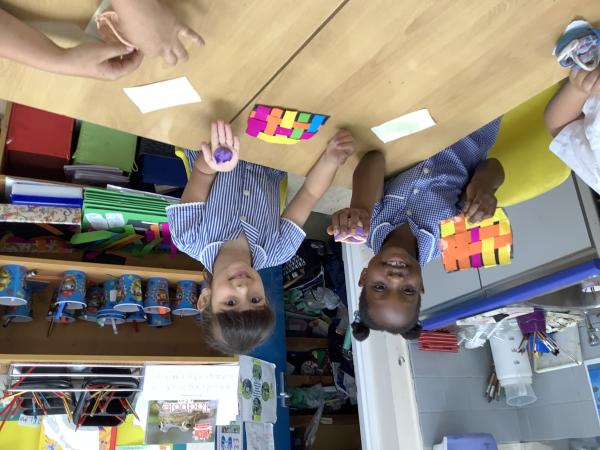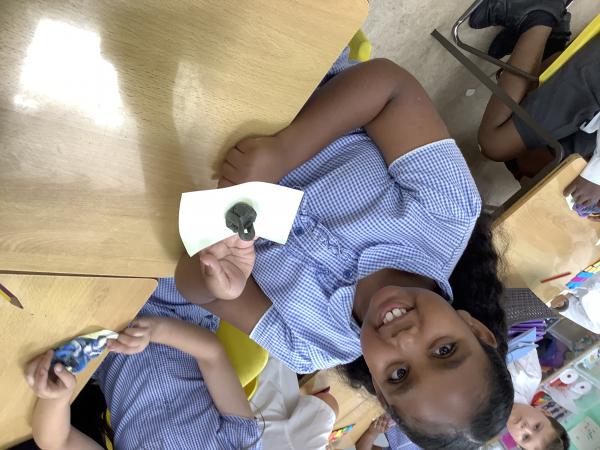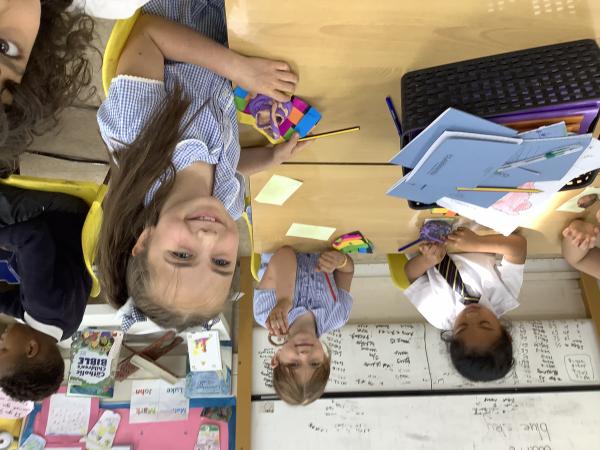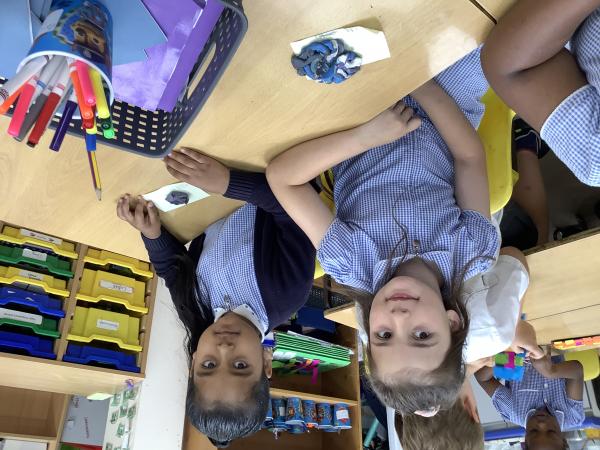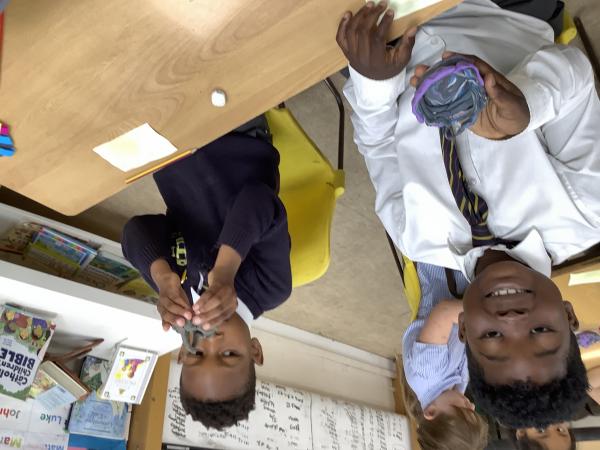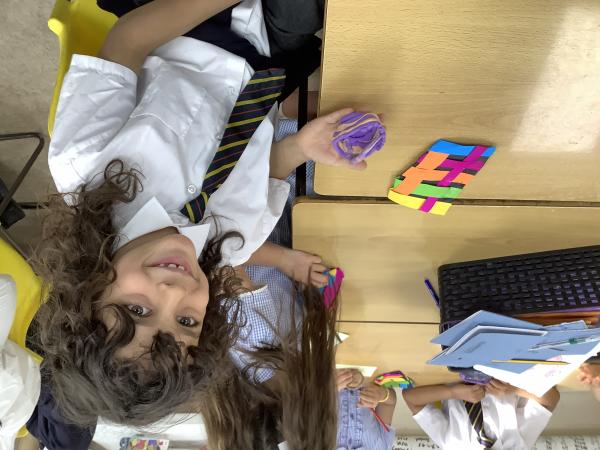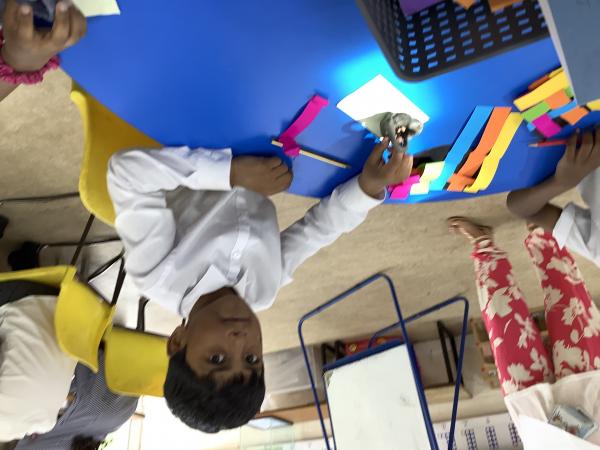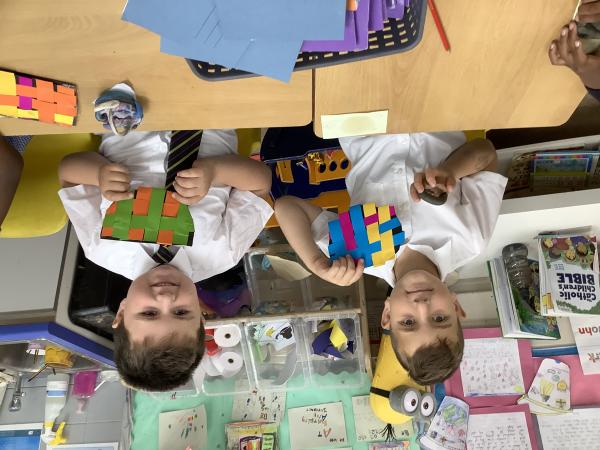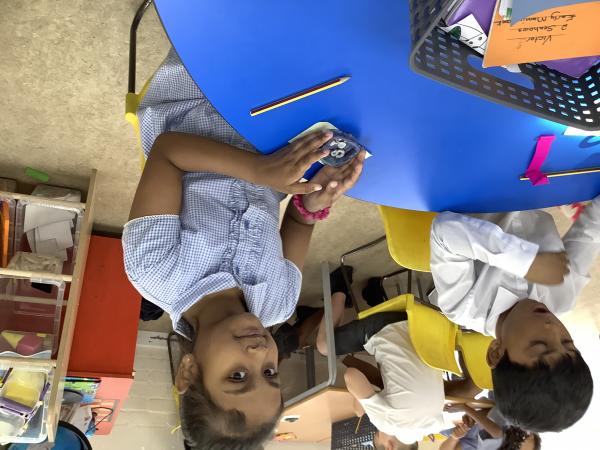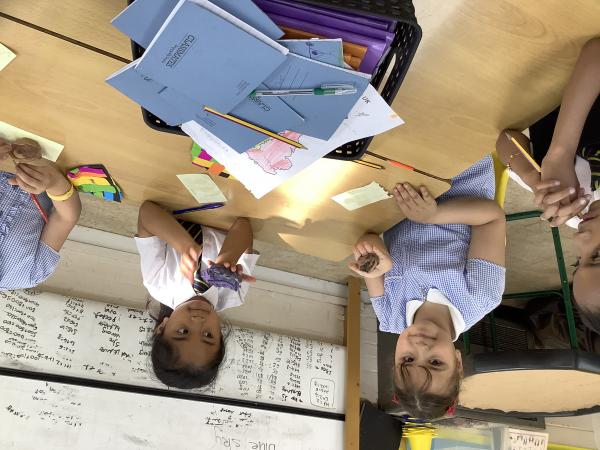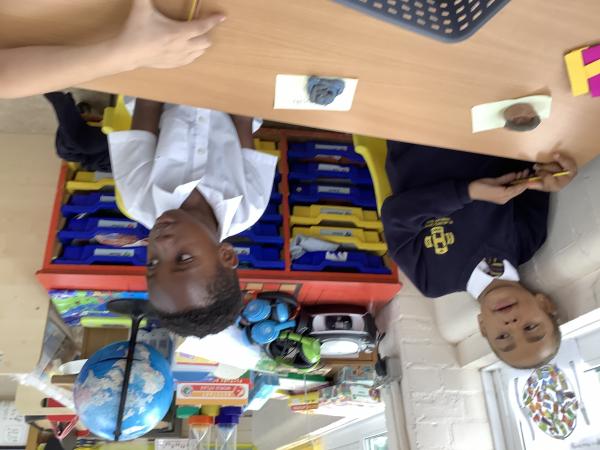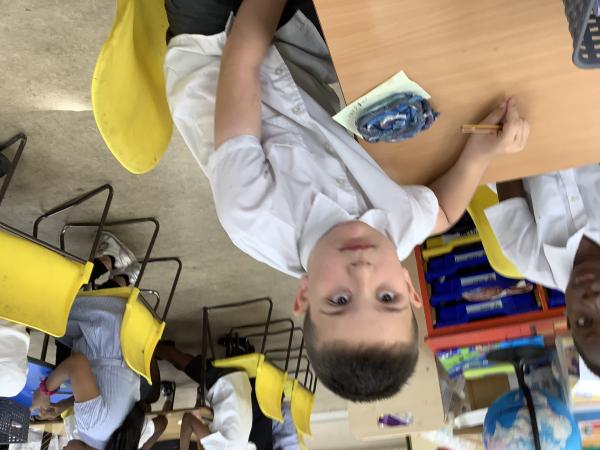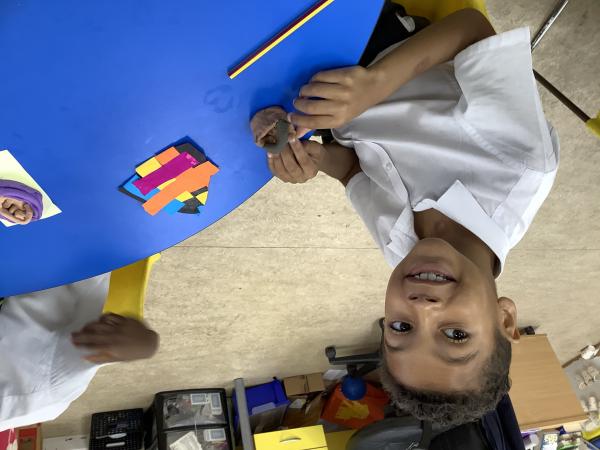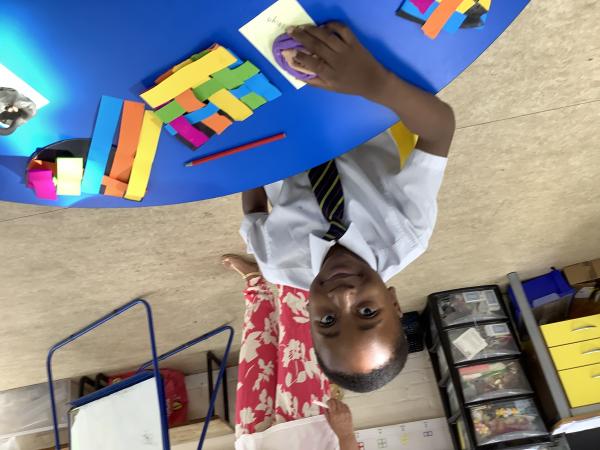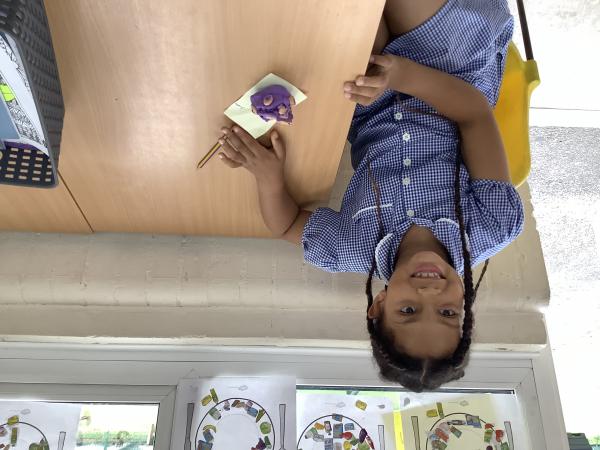 Thank you for Bee-ing awesome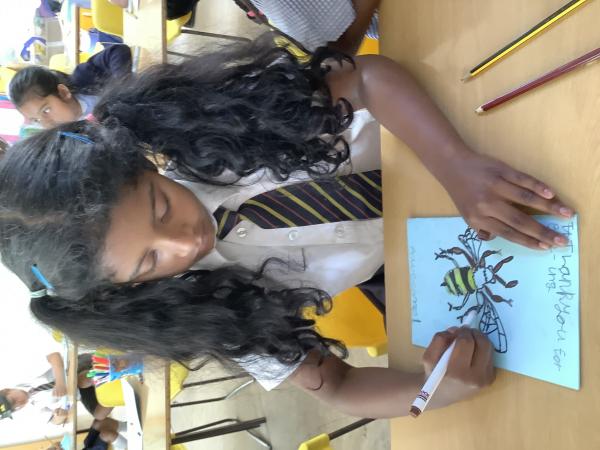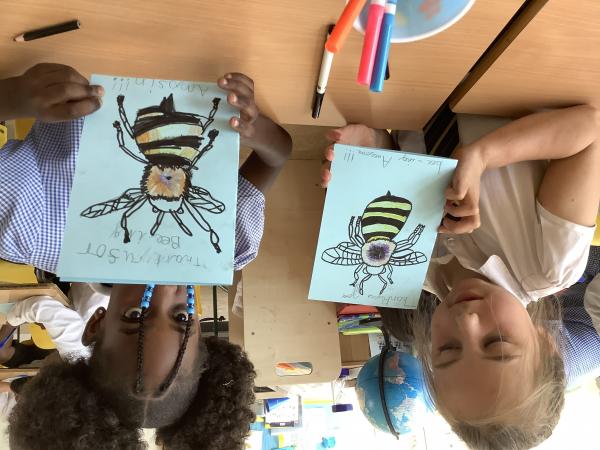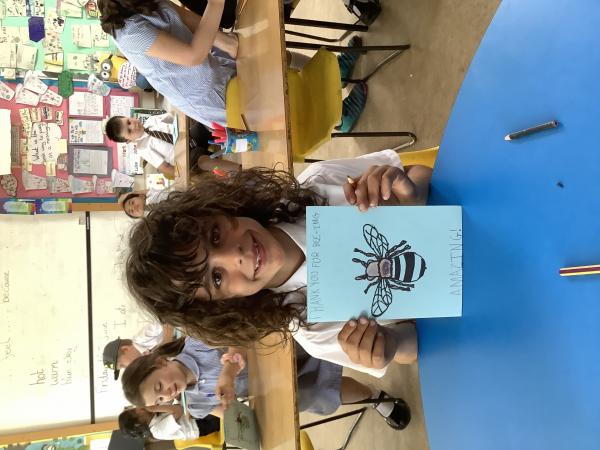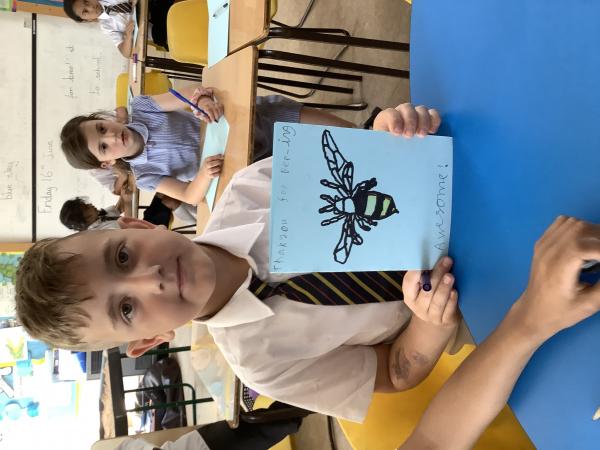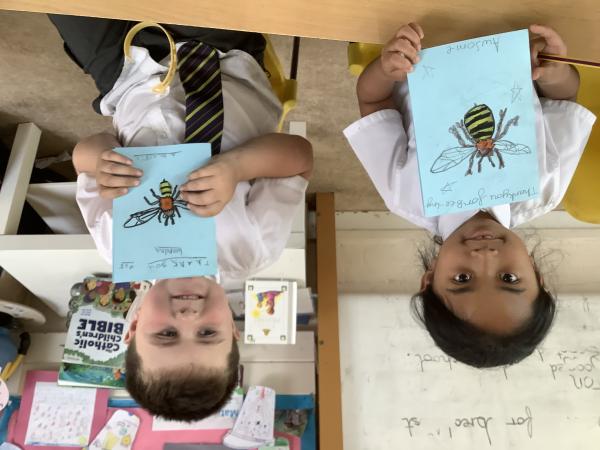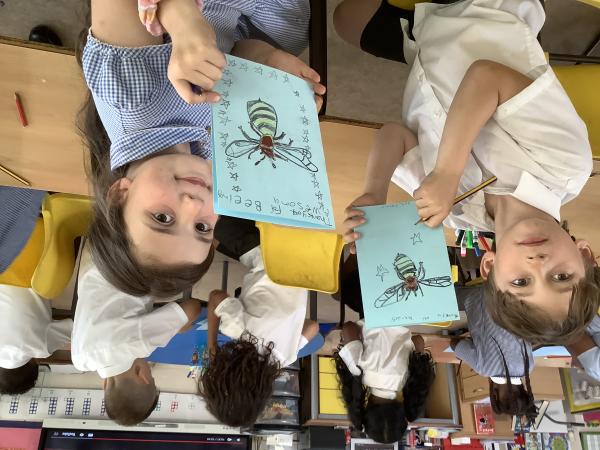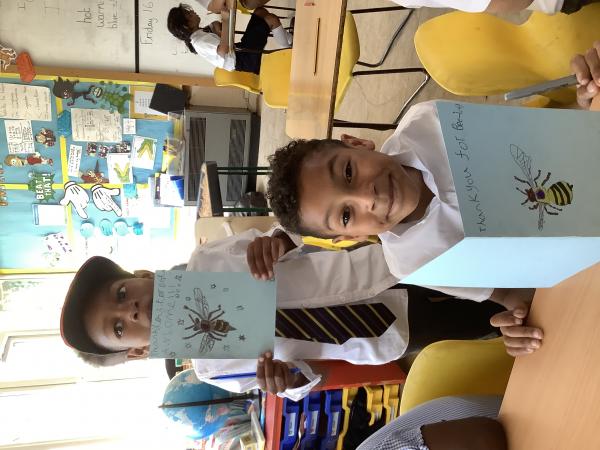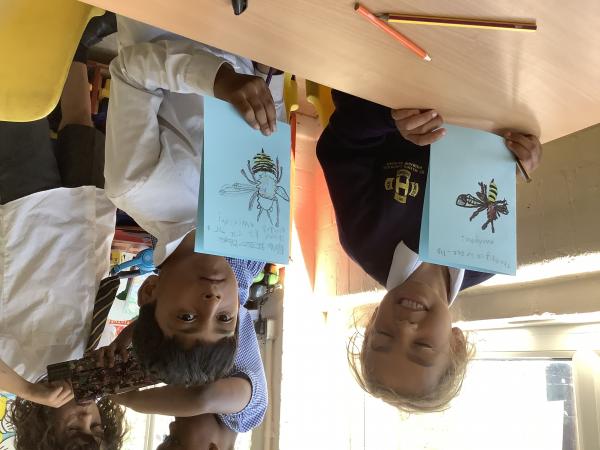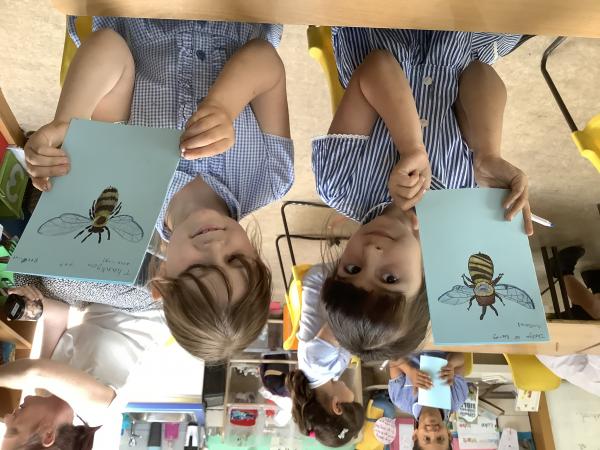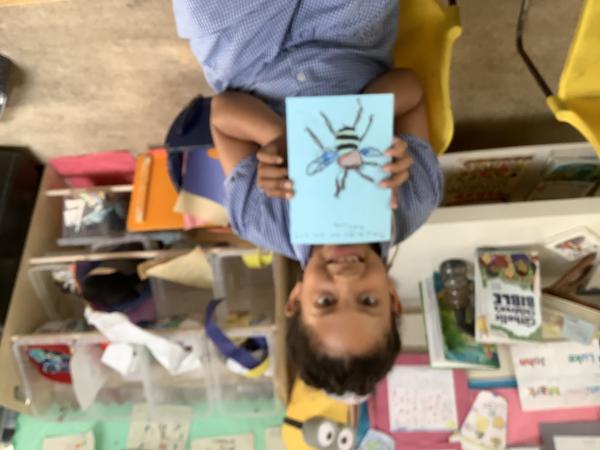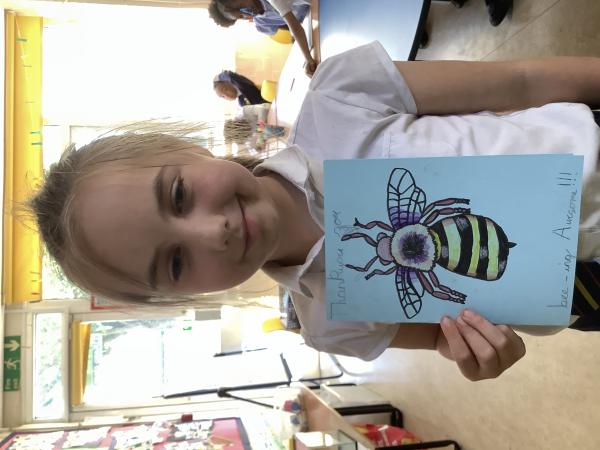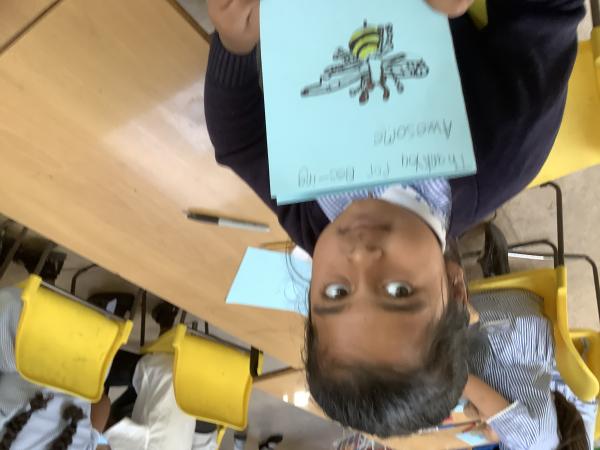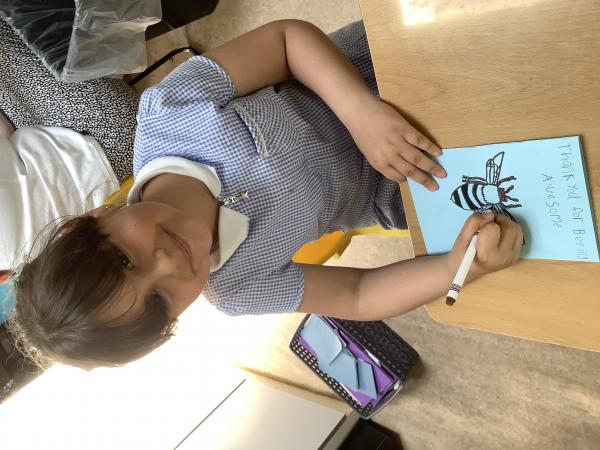 Enjoying the nature area and our pond
Year 2 spent an enjoyable but hot afternoon in the nature area. Many activities were covered including pond dipping, bug hunting, see-saw balancing, tree climbing and eagle hunting. Year 2 were very impressed with all of the creatures that are living in the pond including the newt.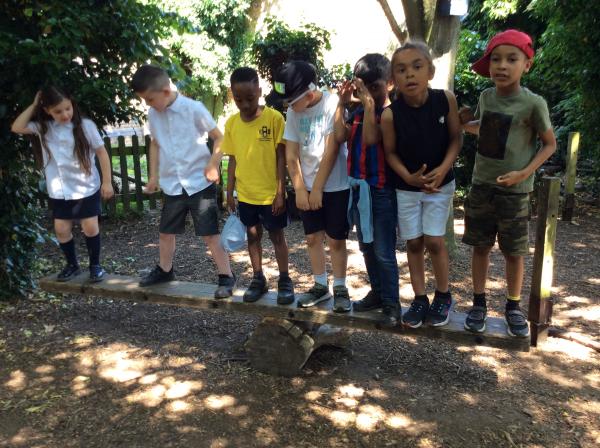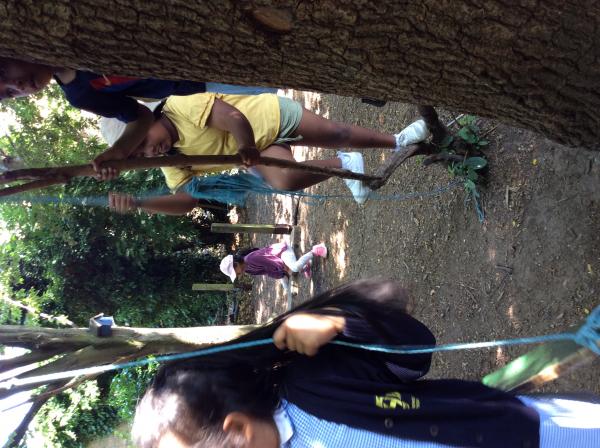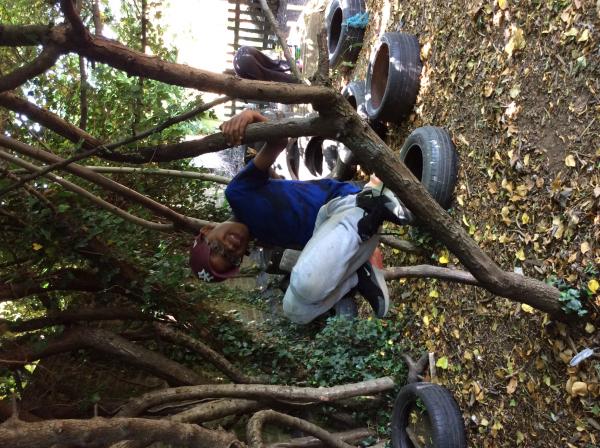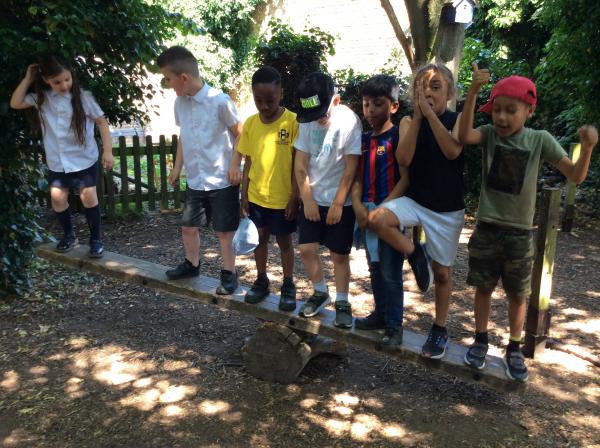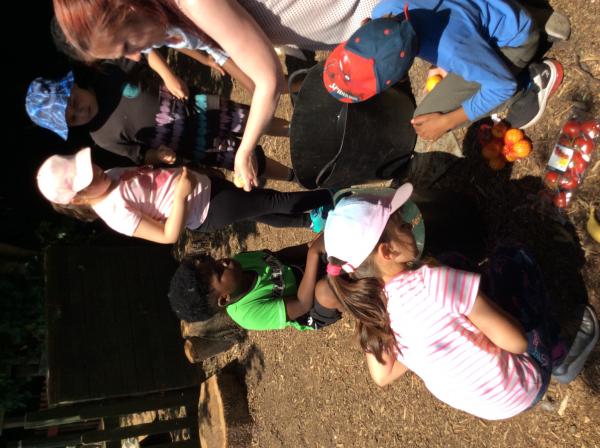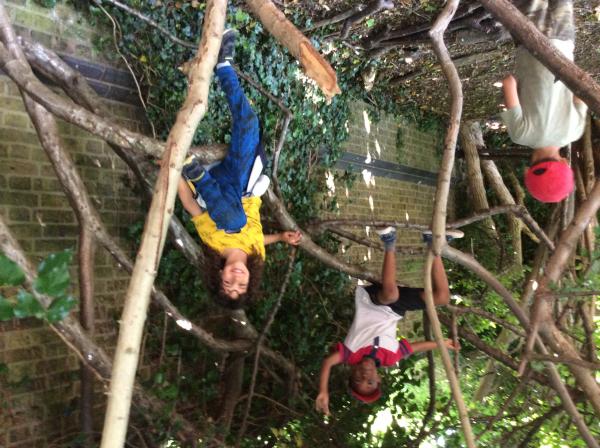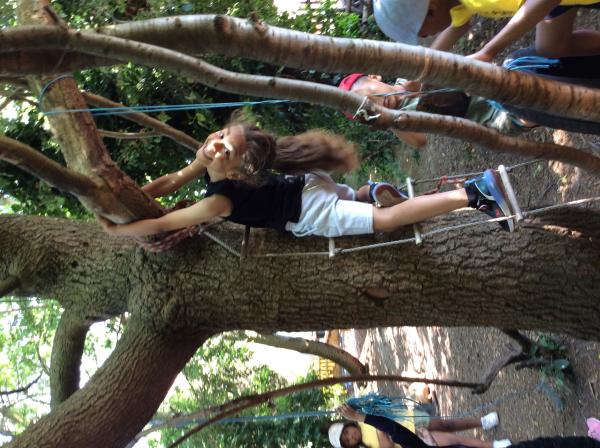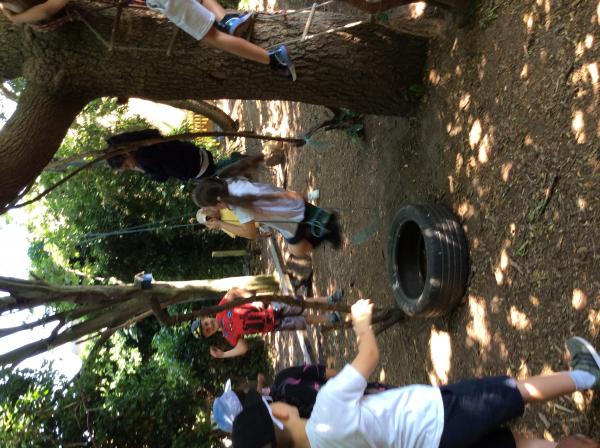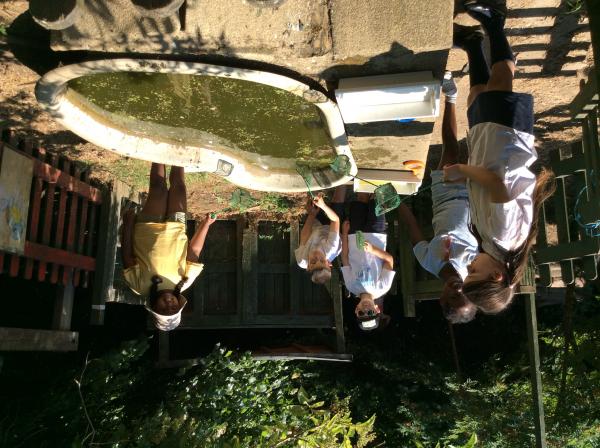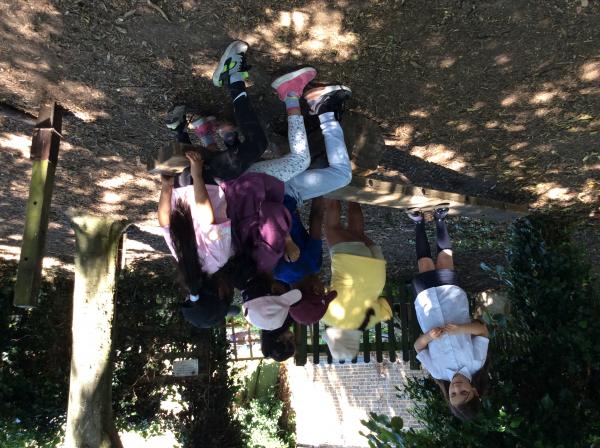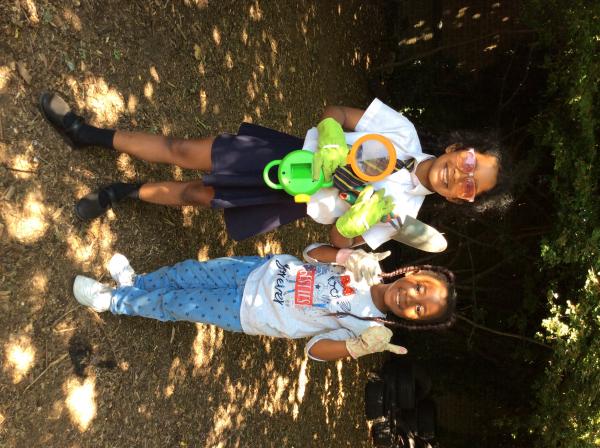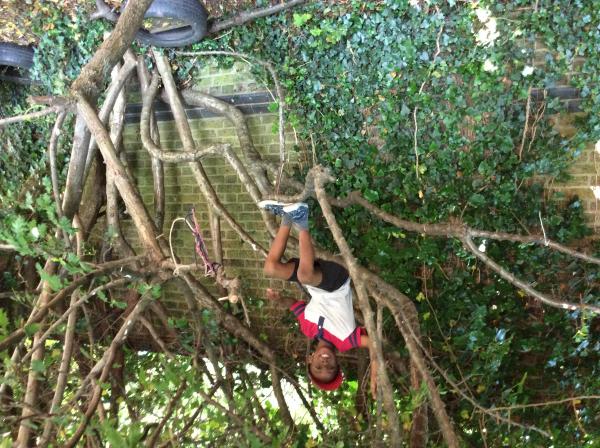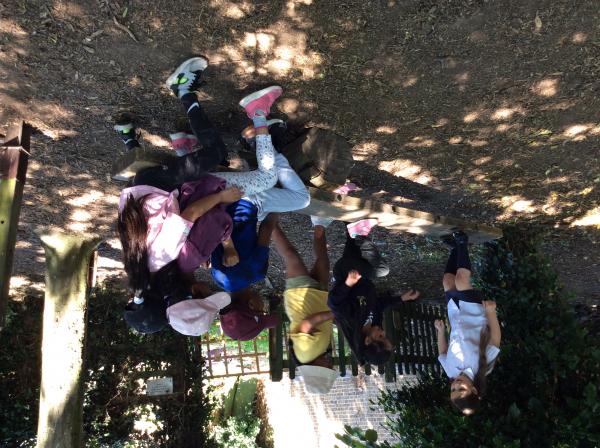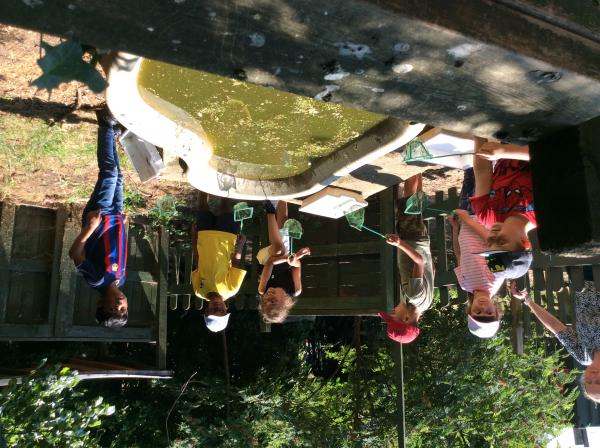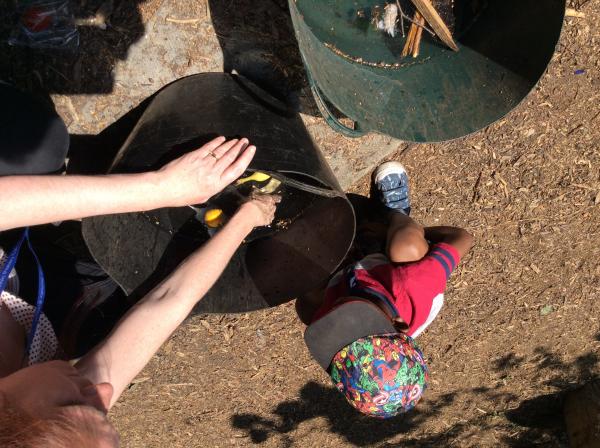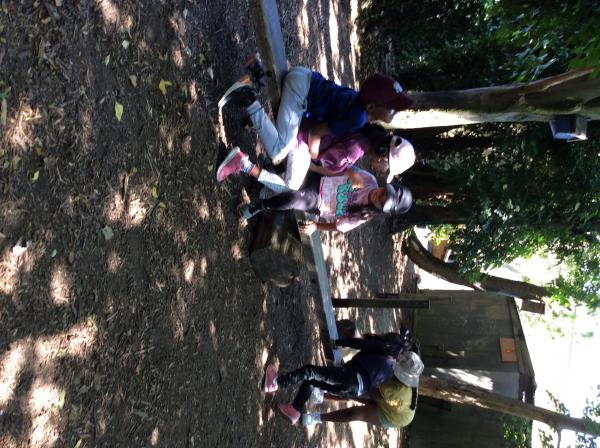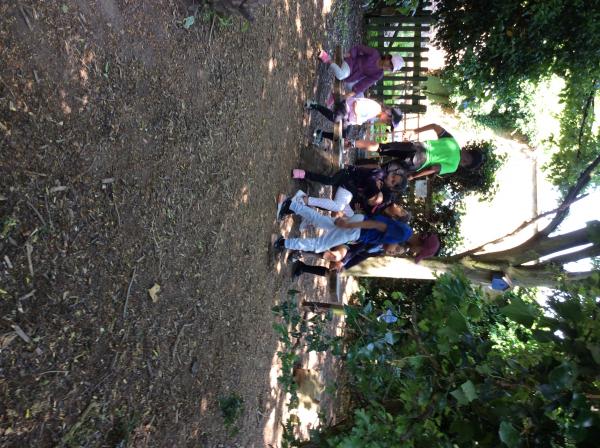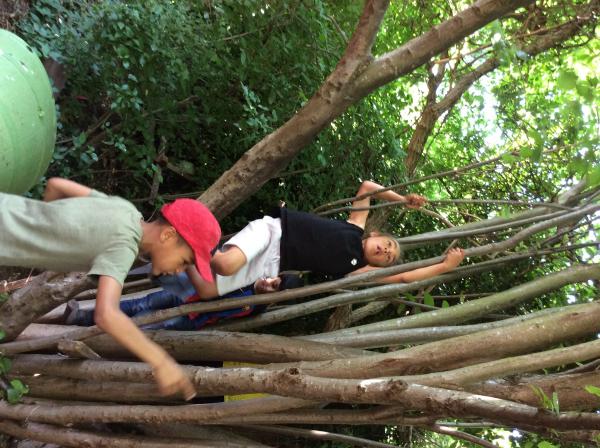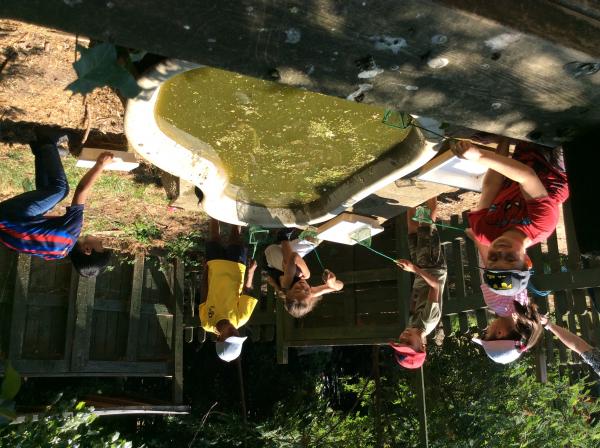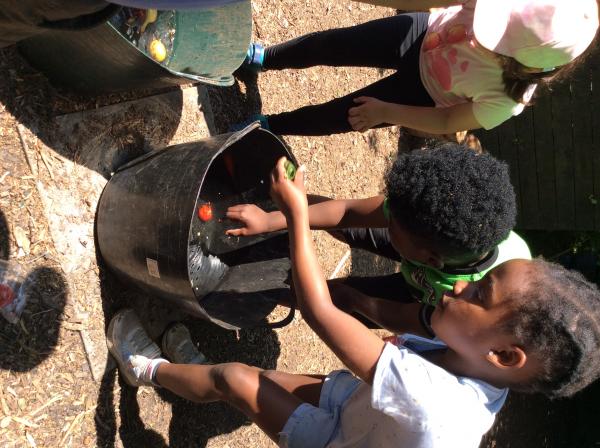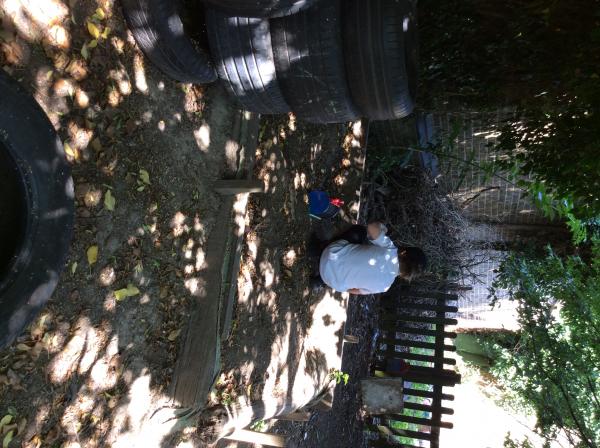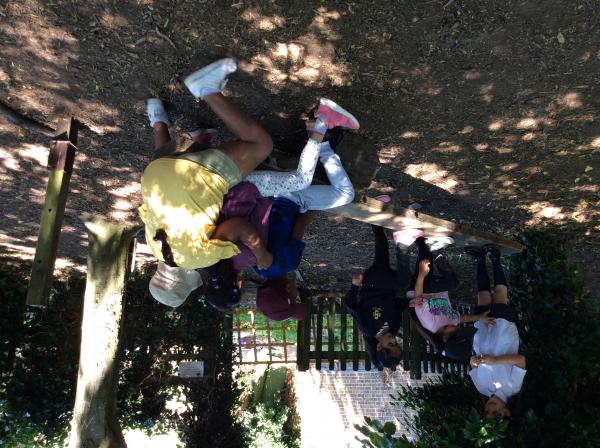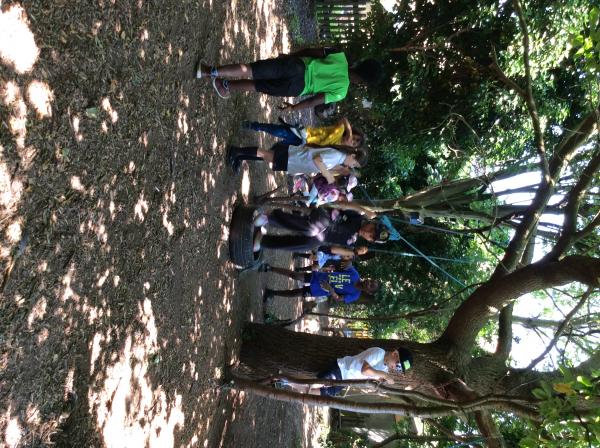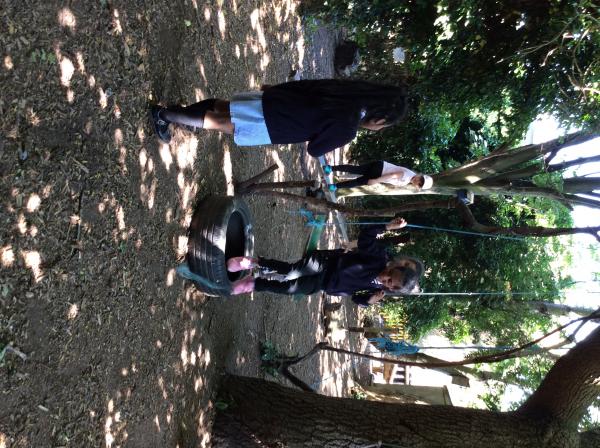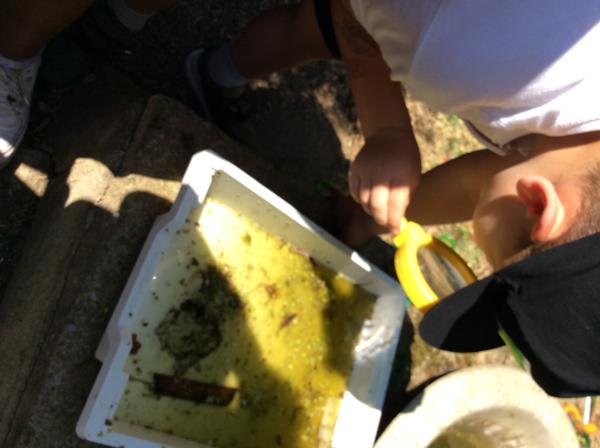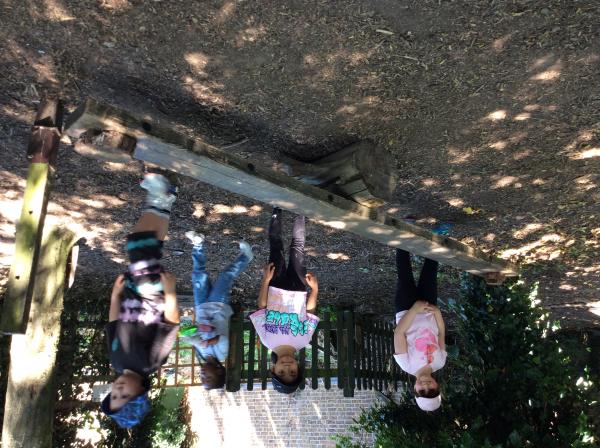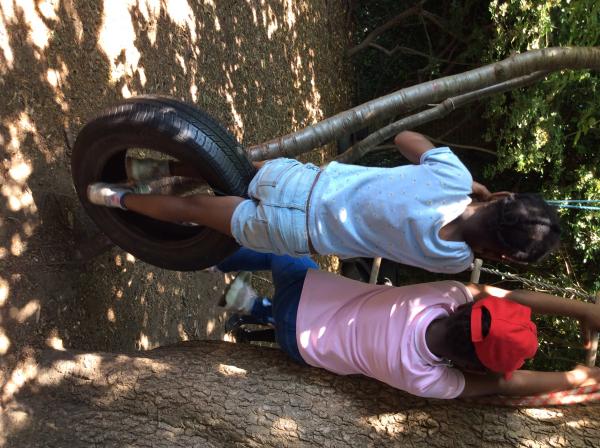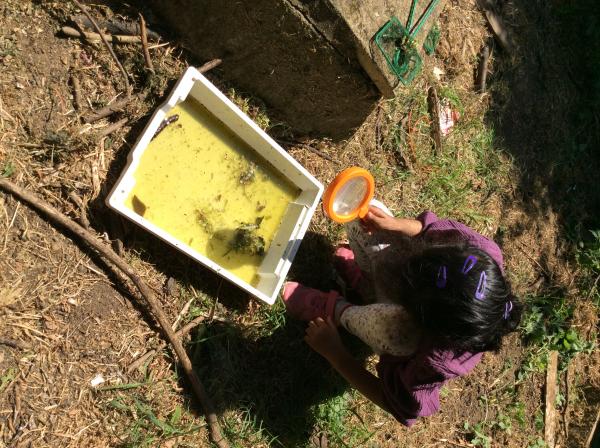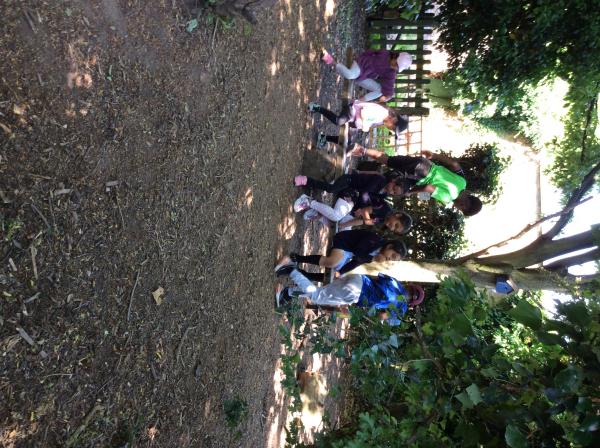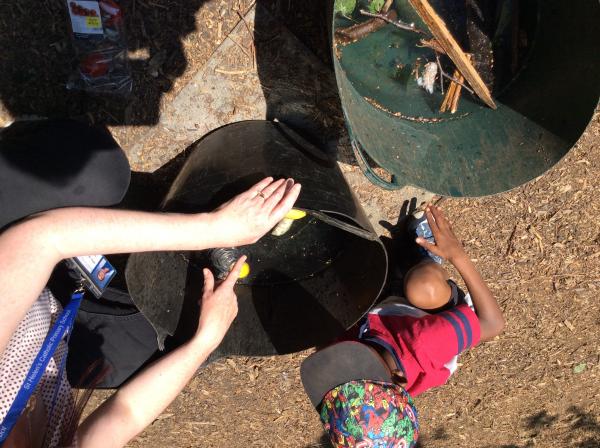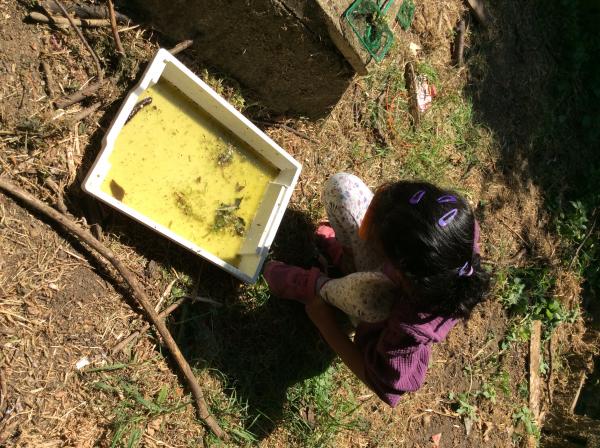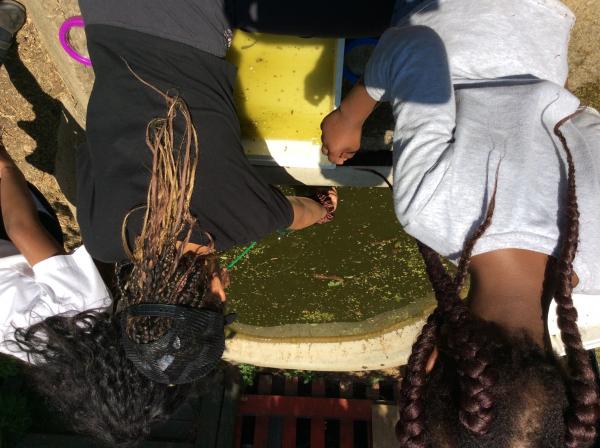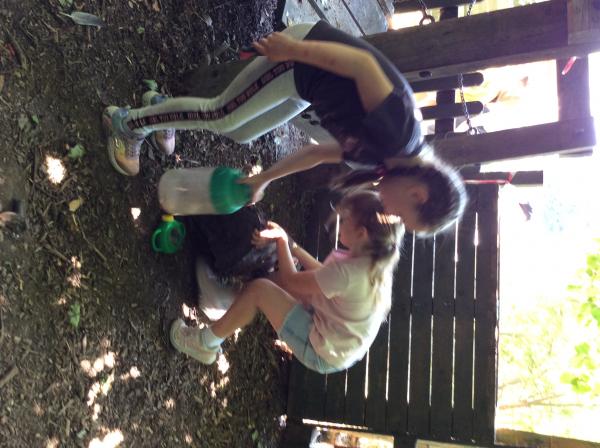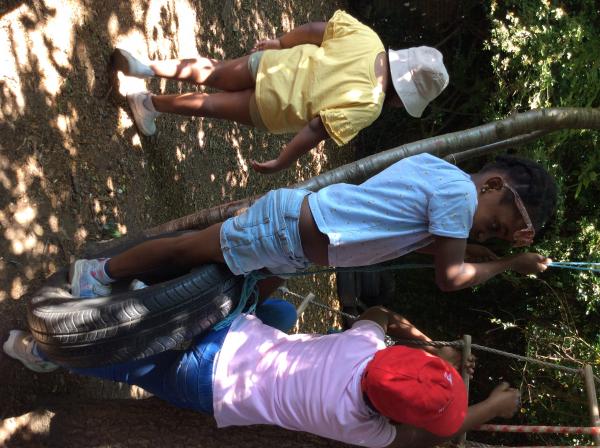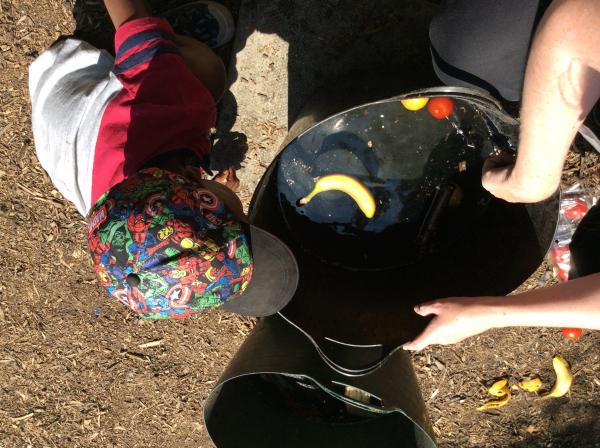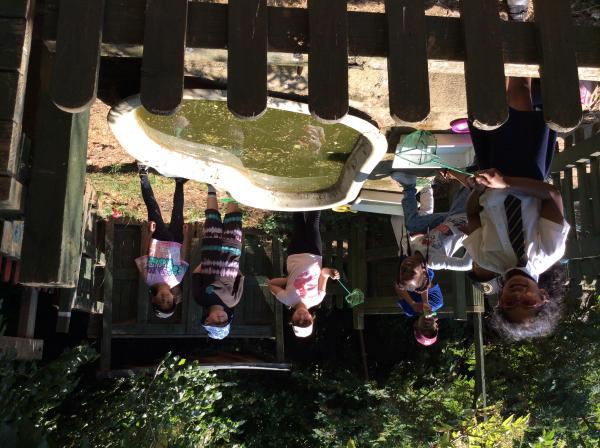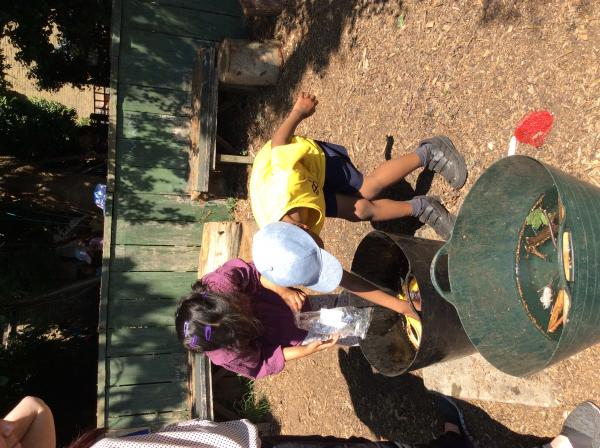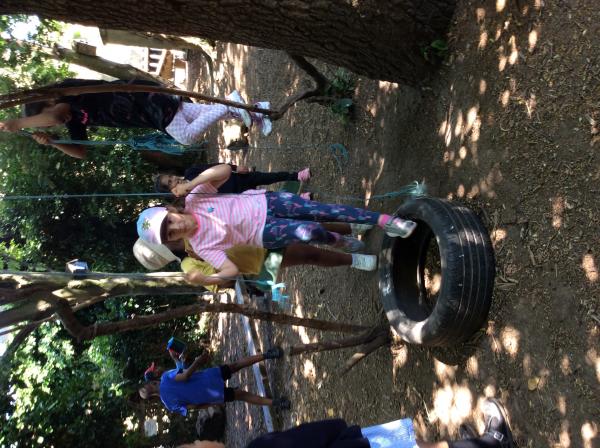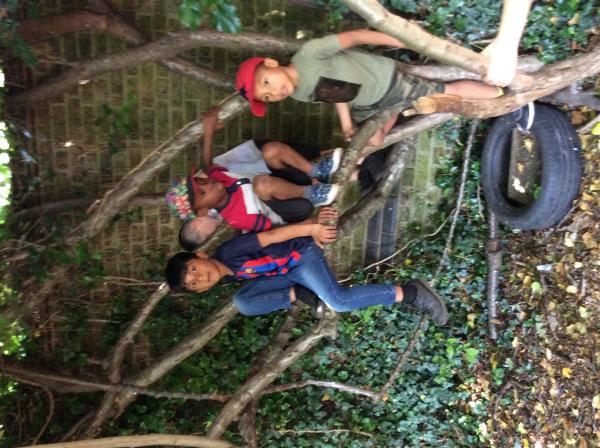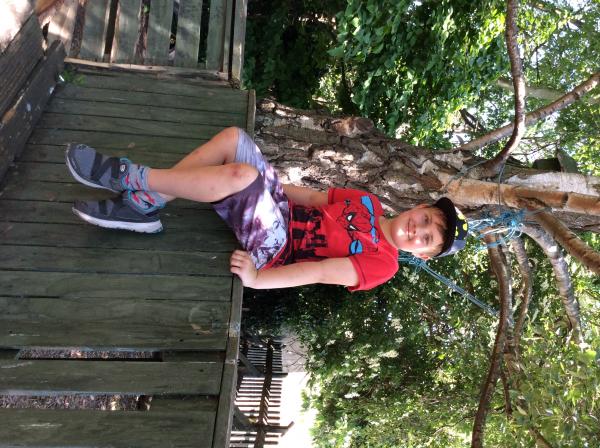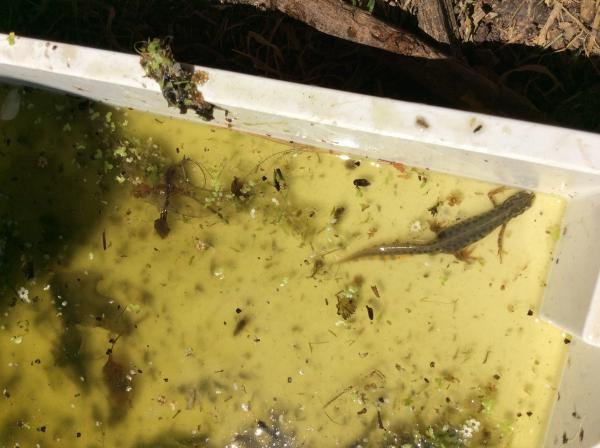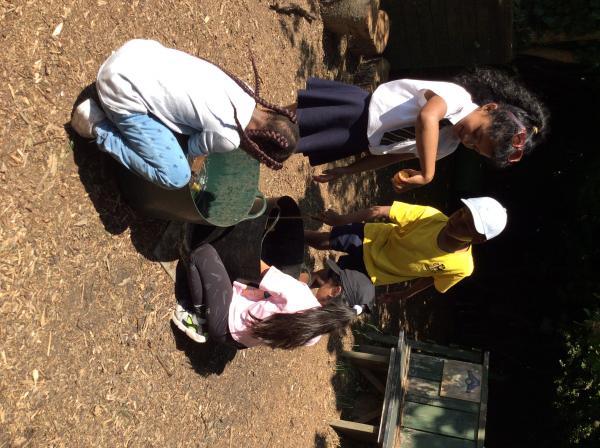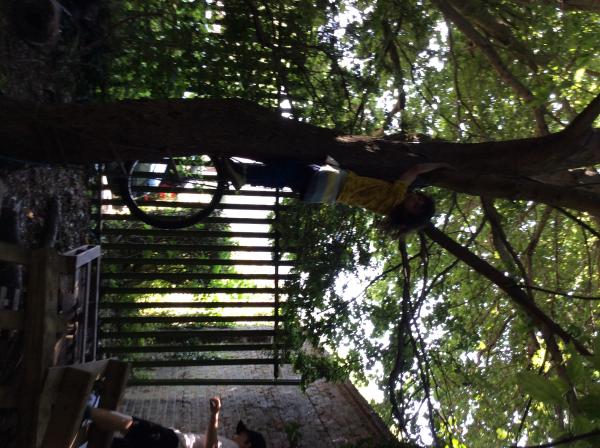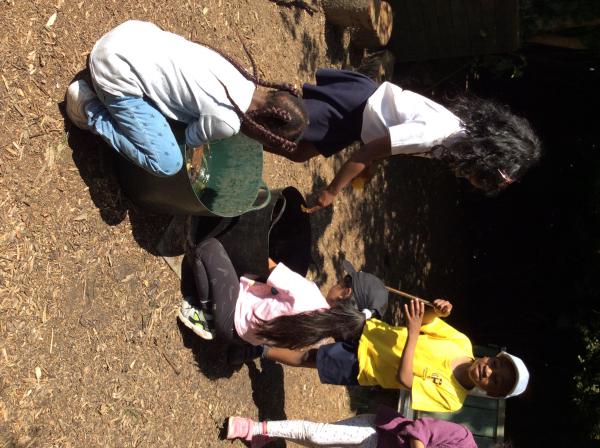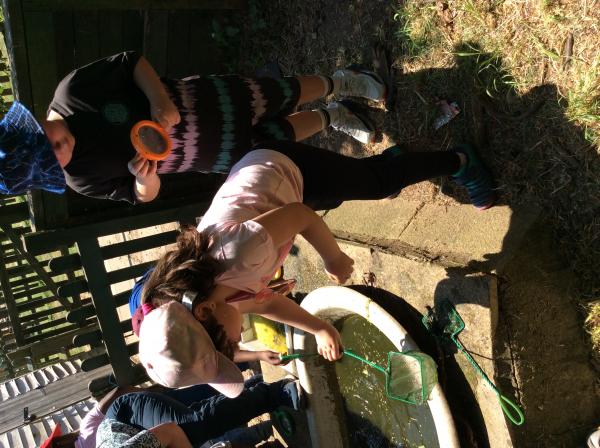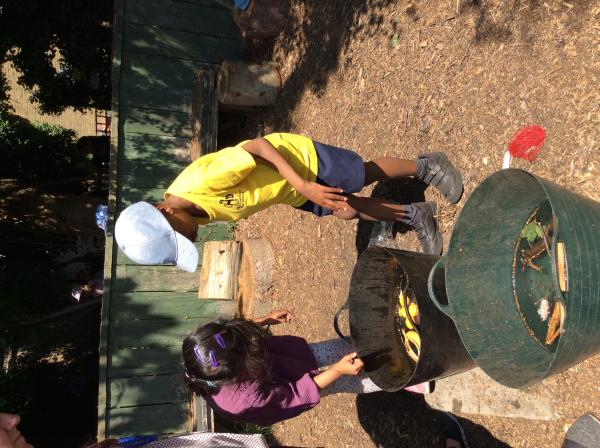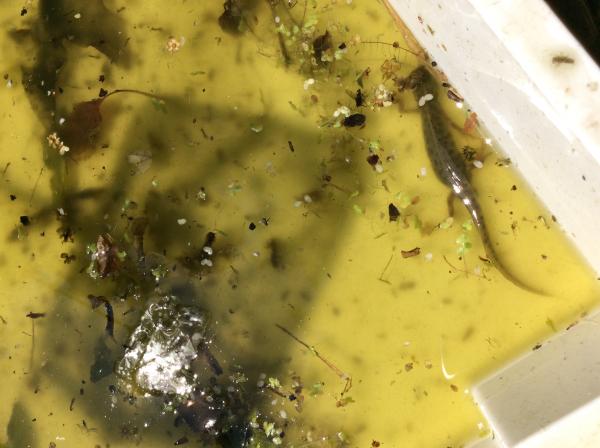 A great Assembly from 2 Seahorses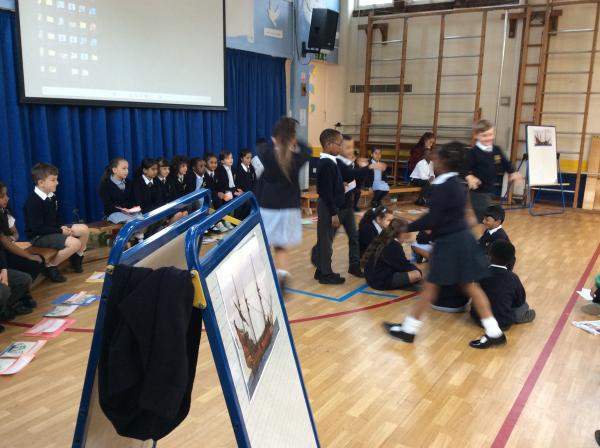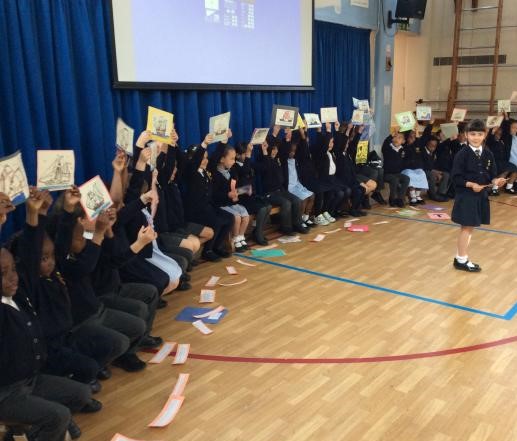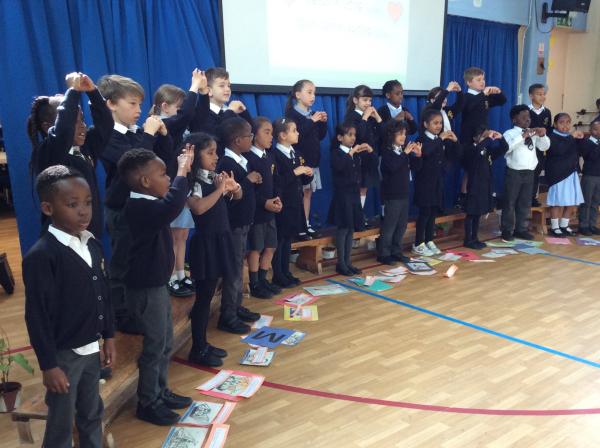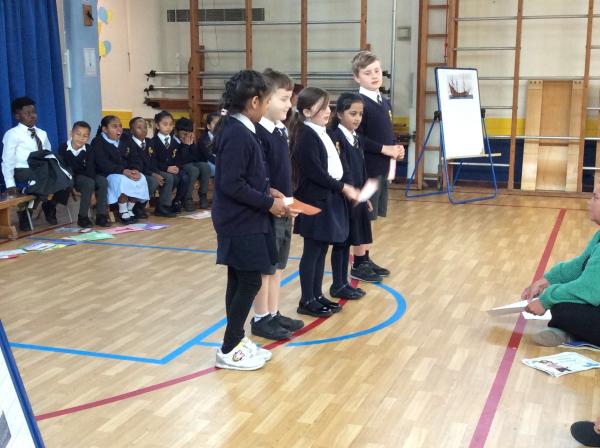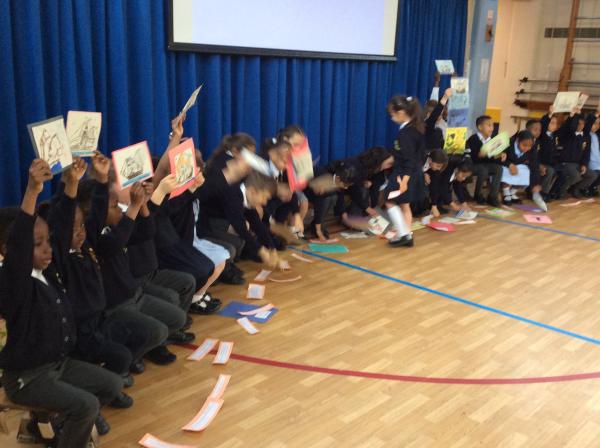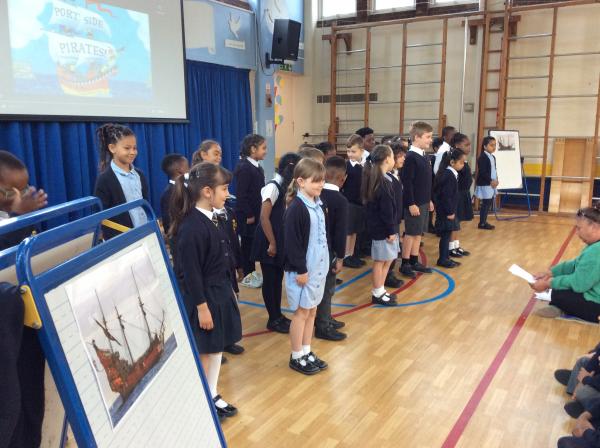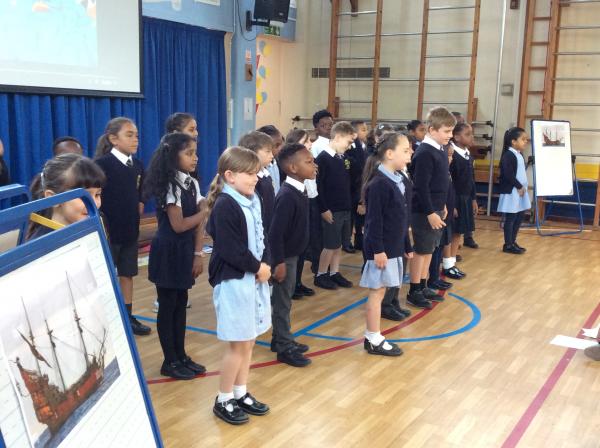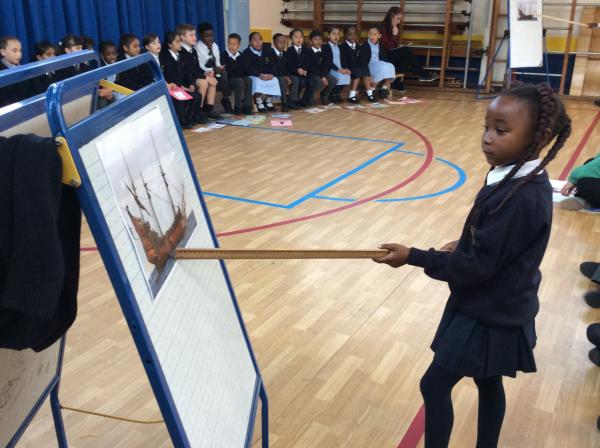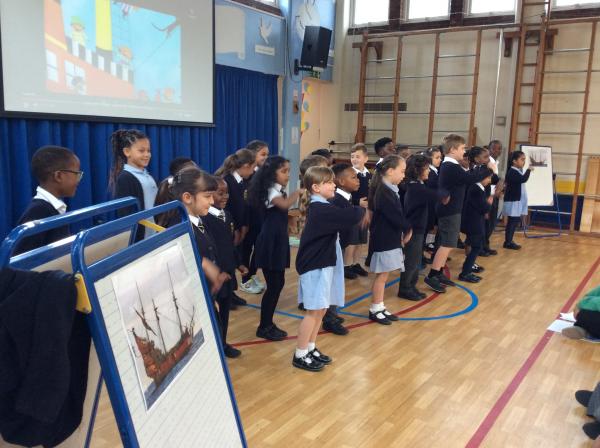 Our trip to the Pier and Galleon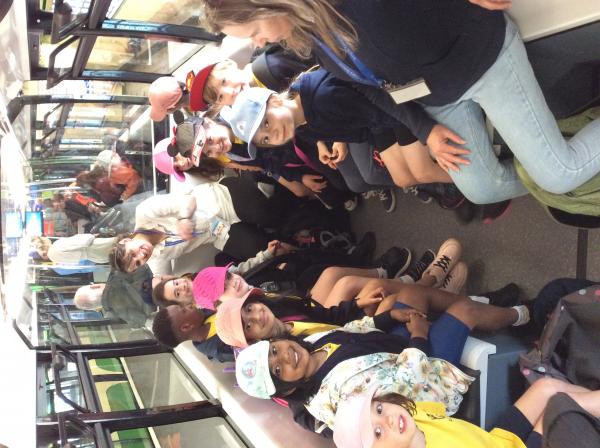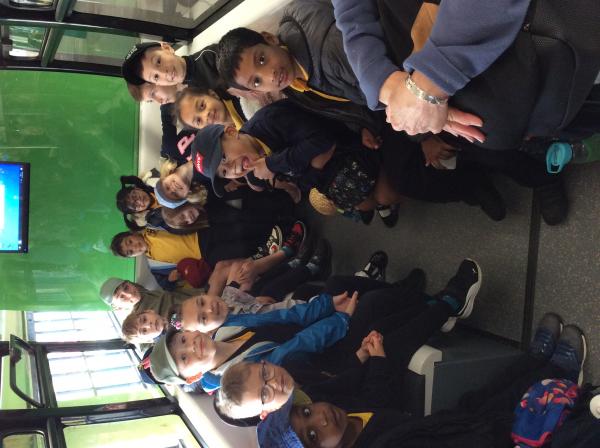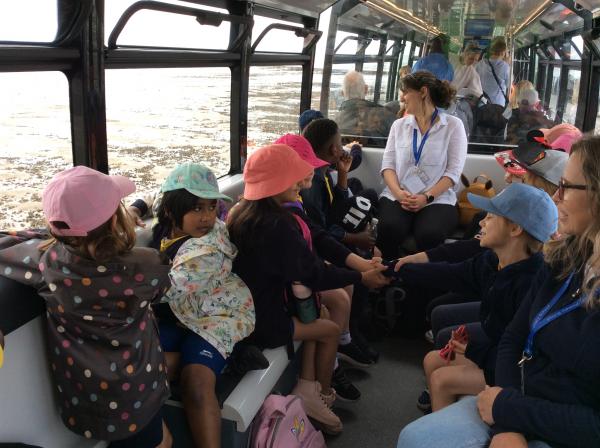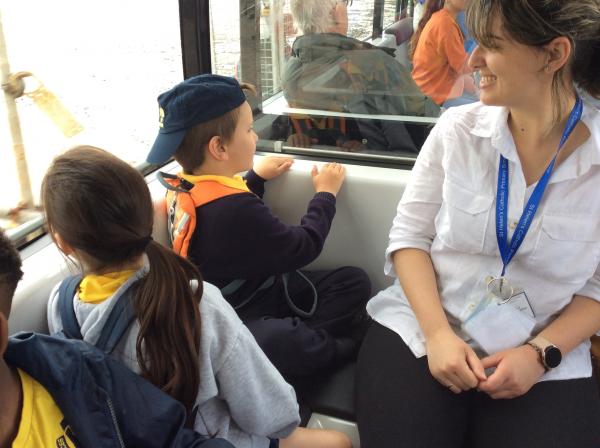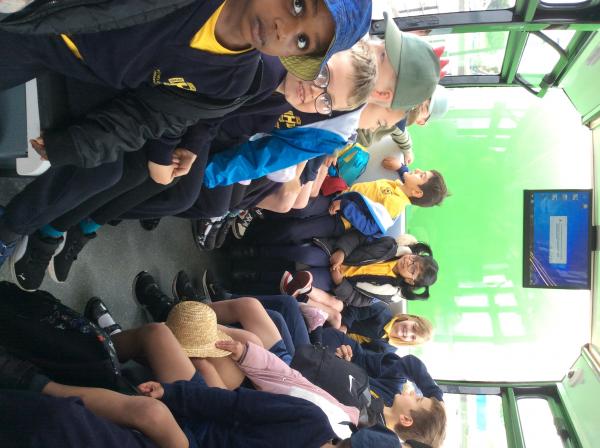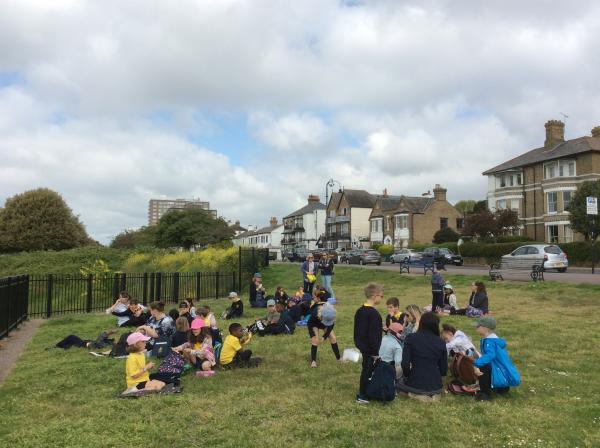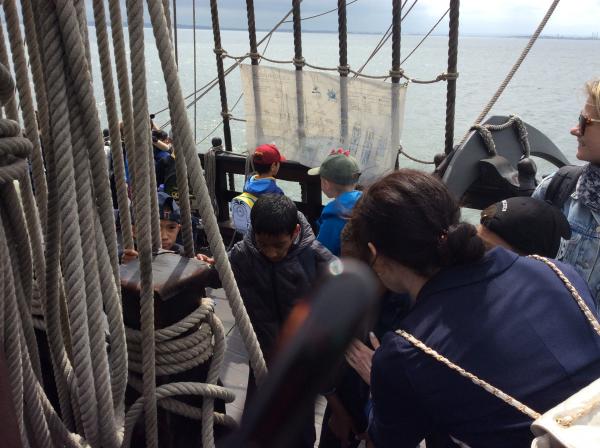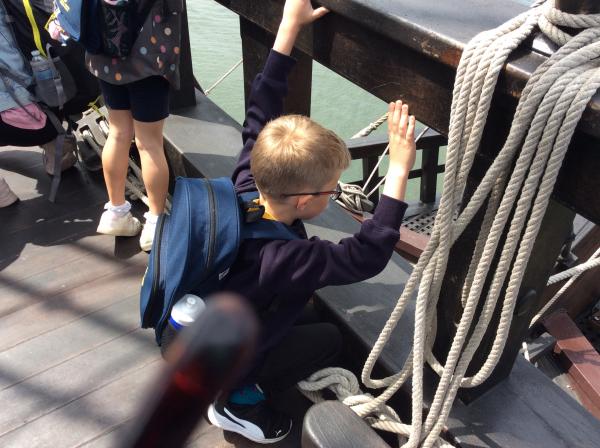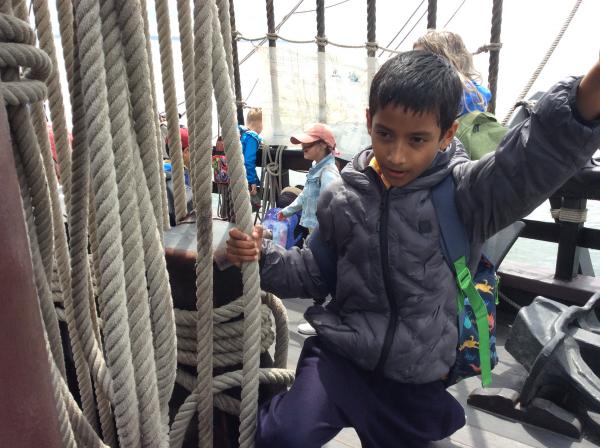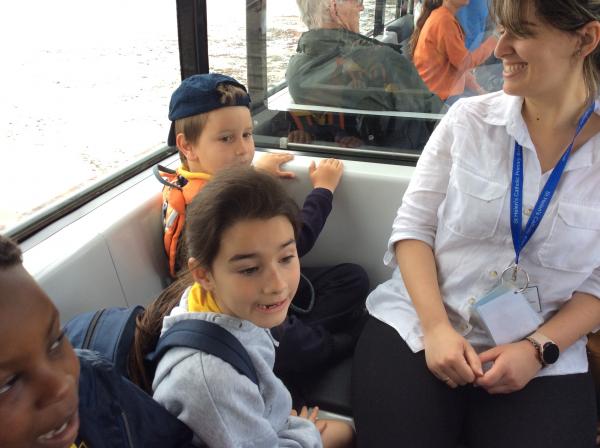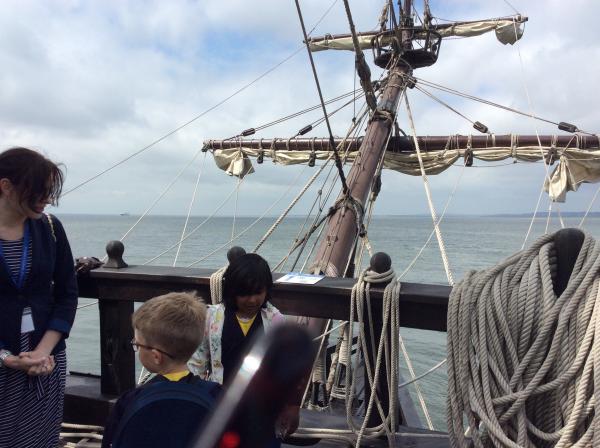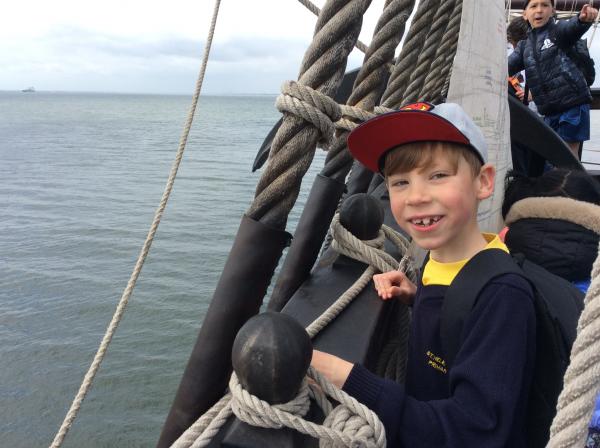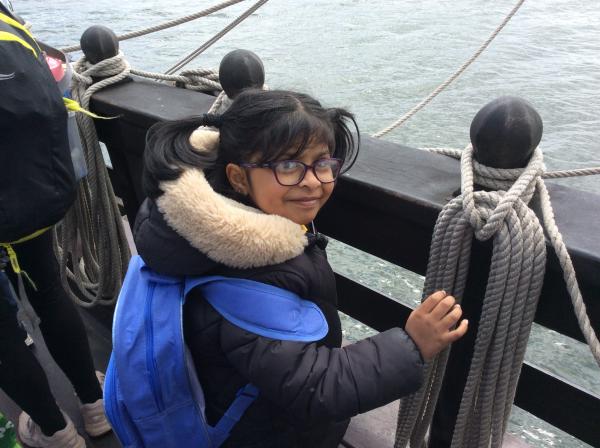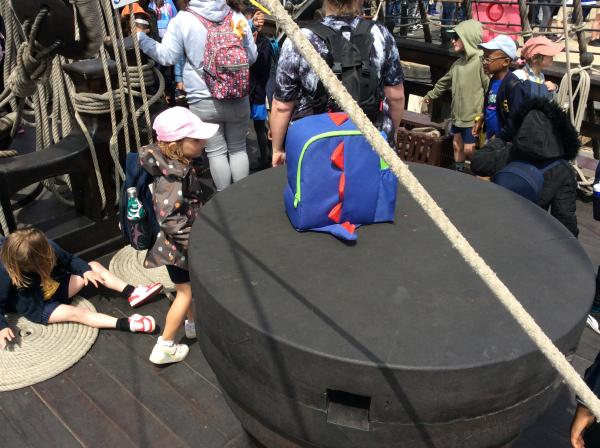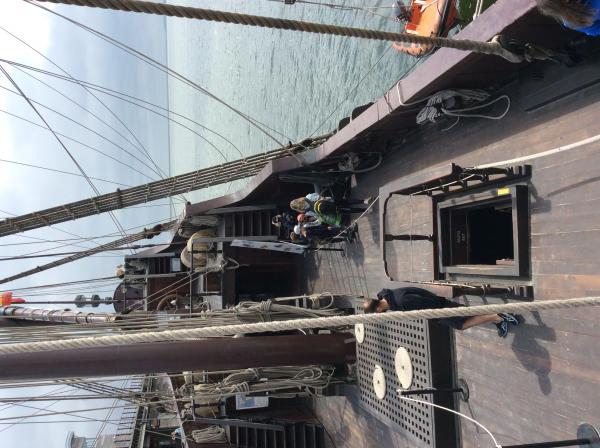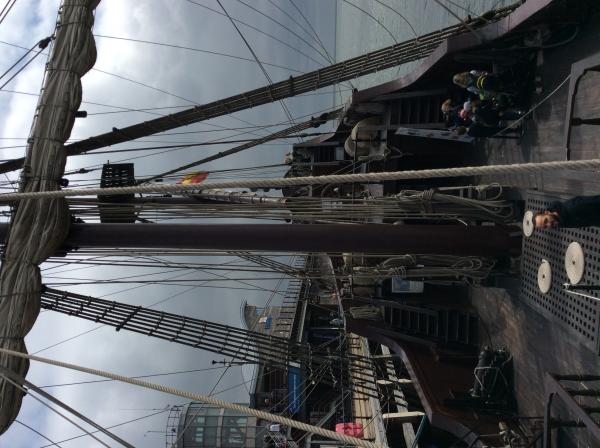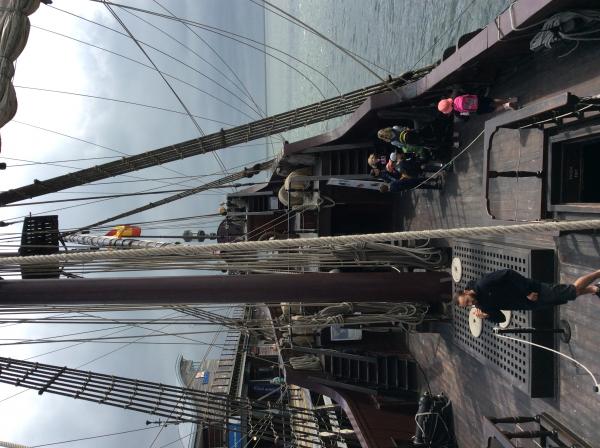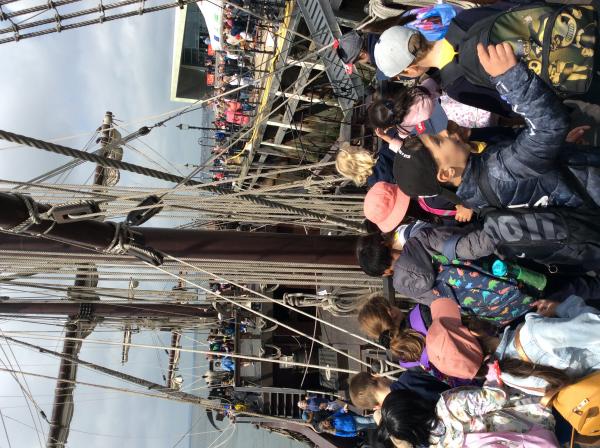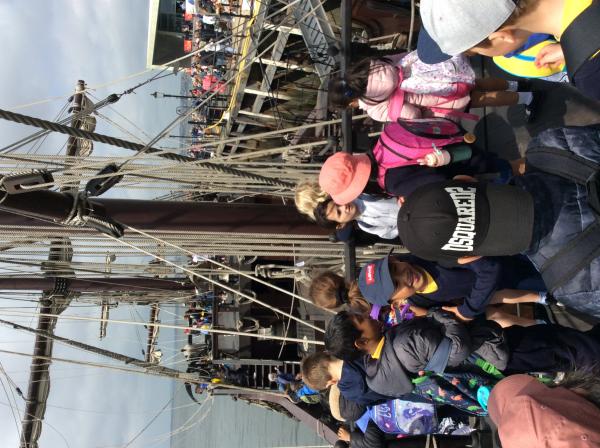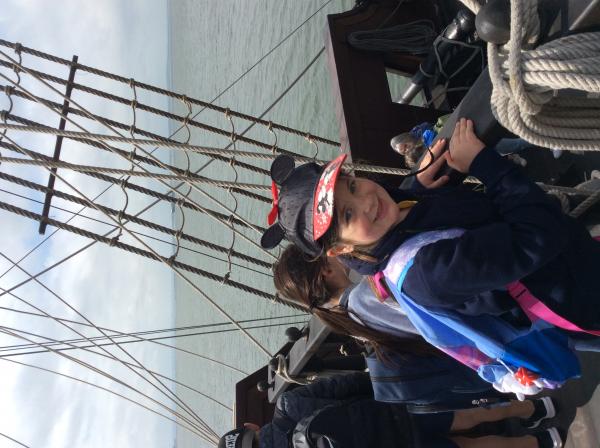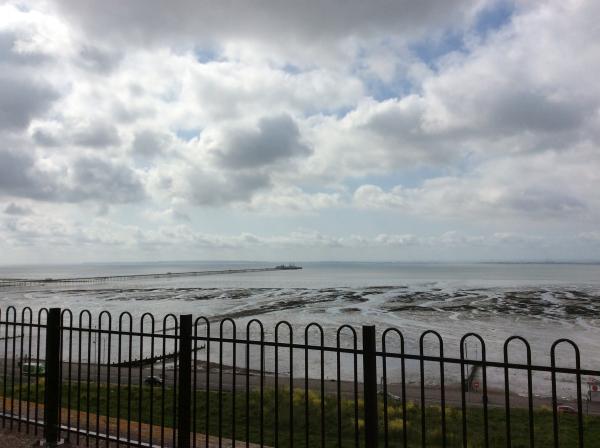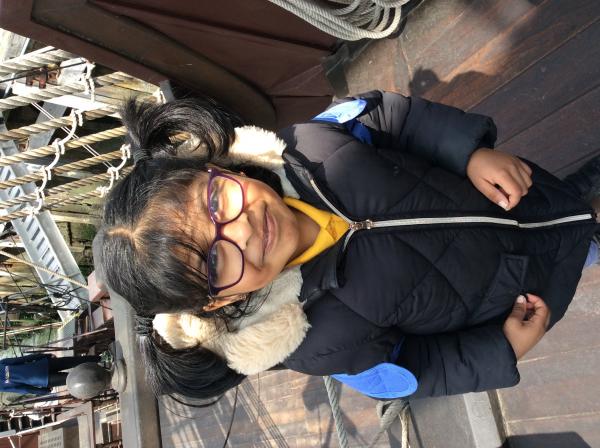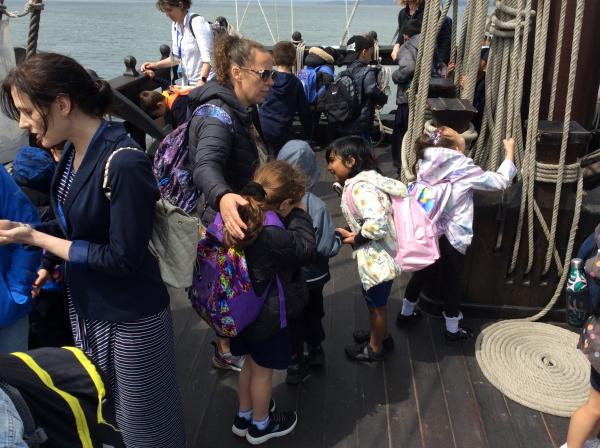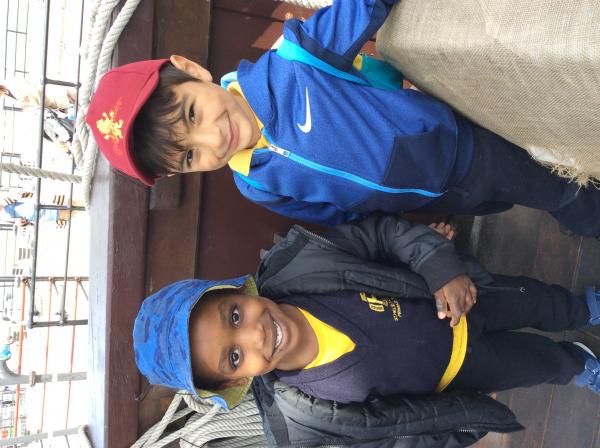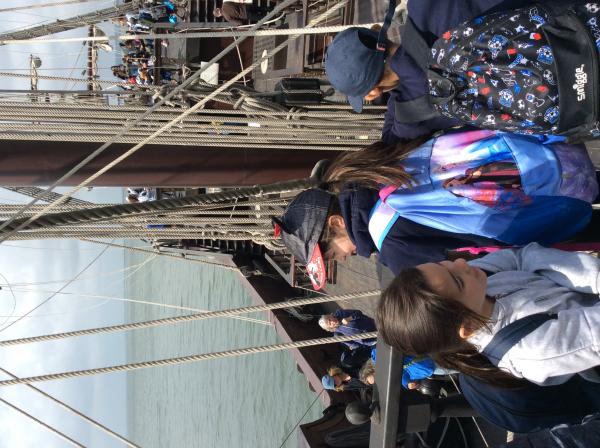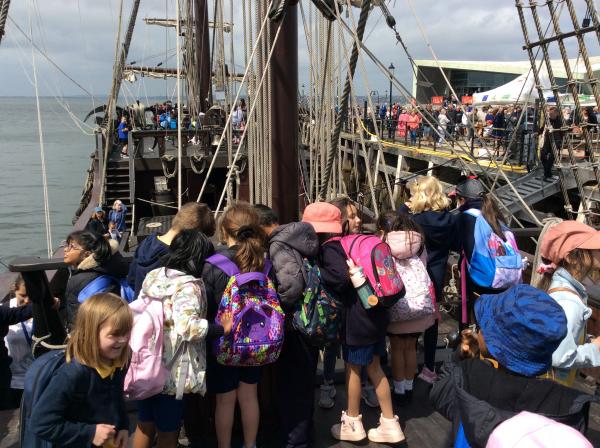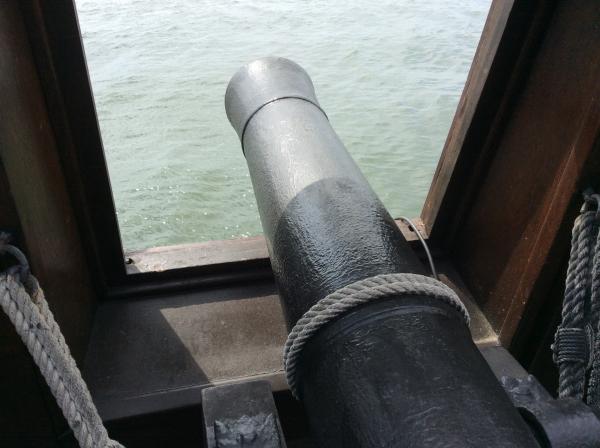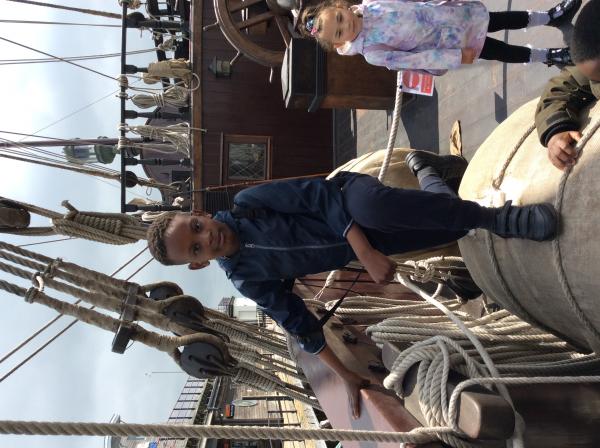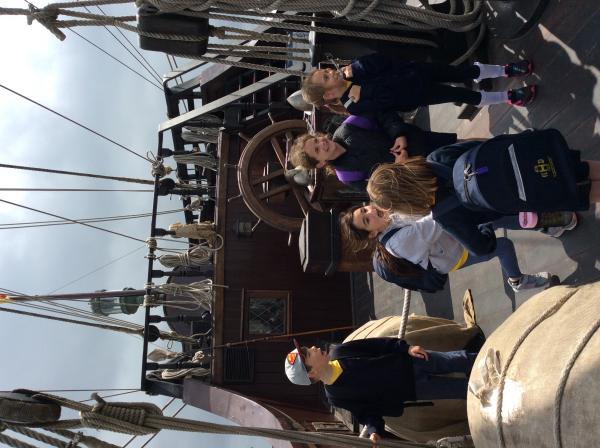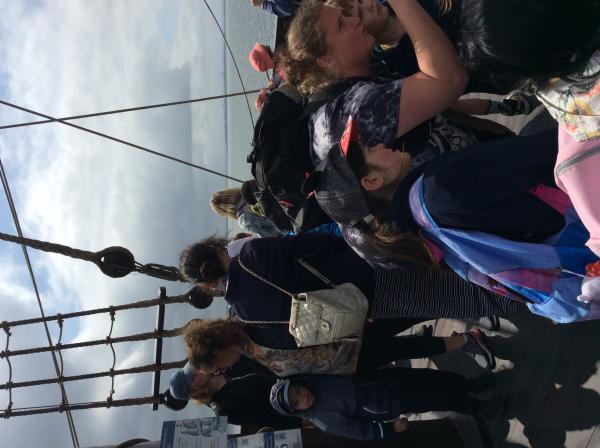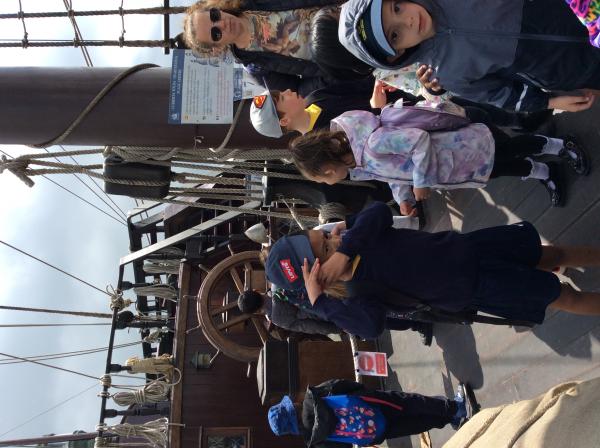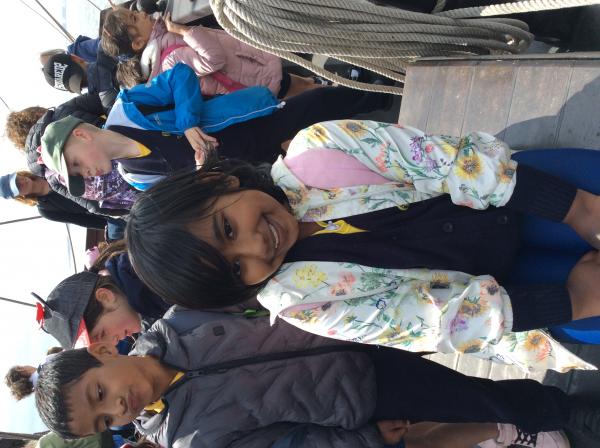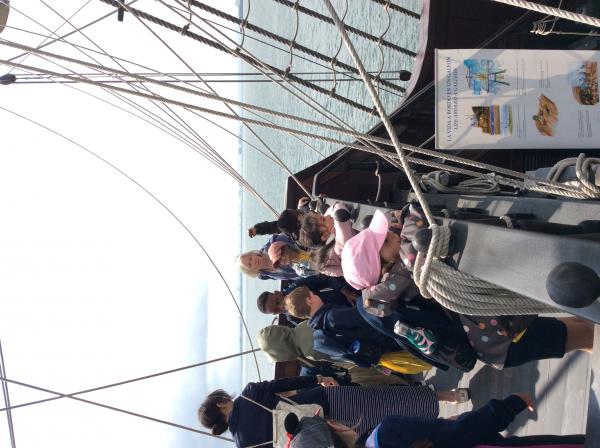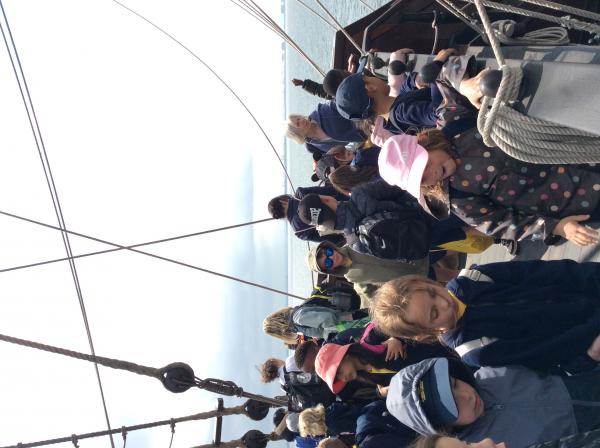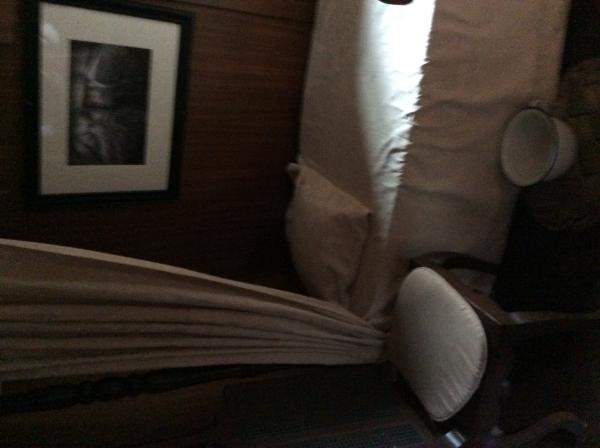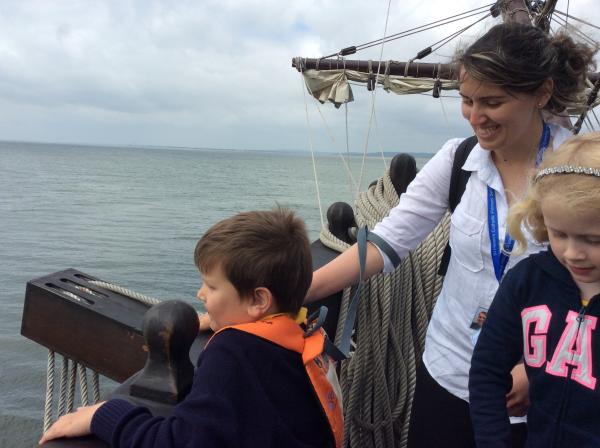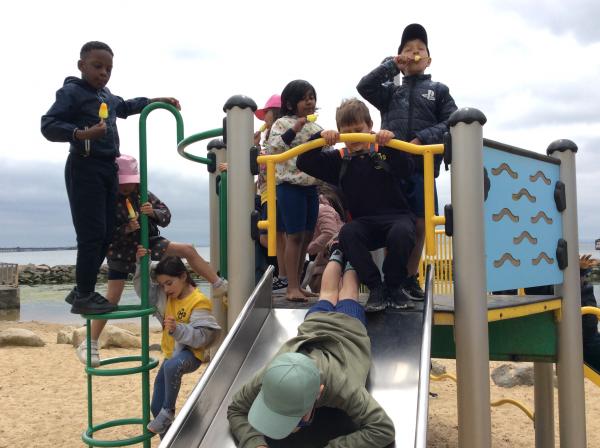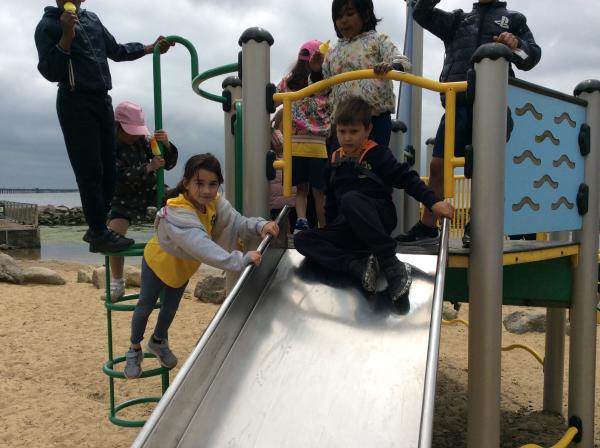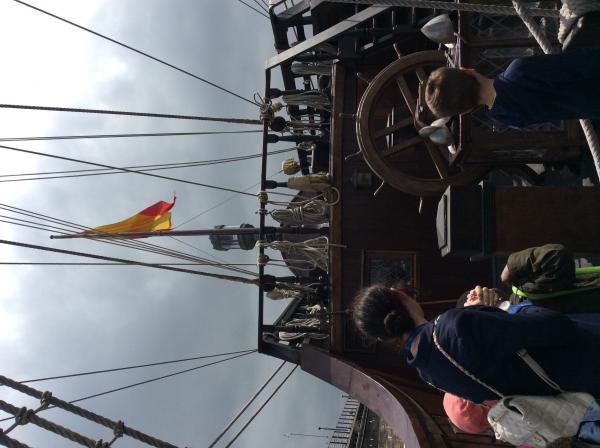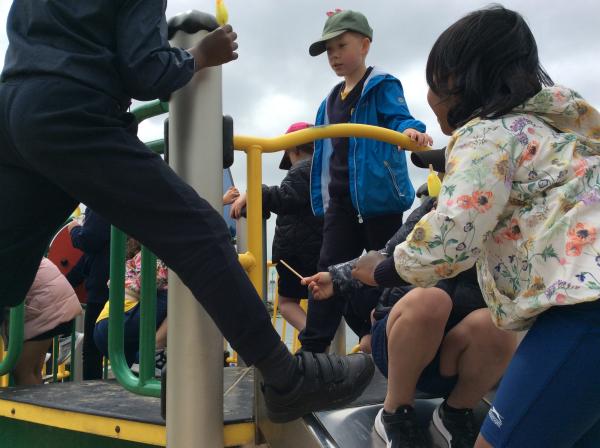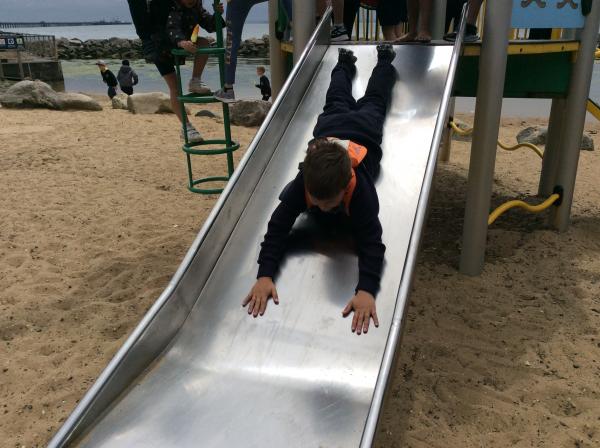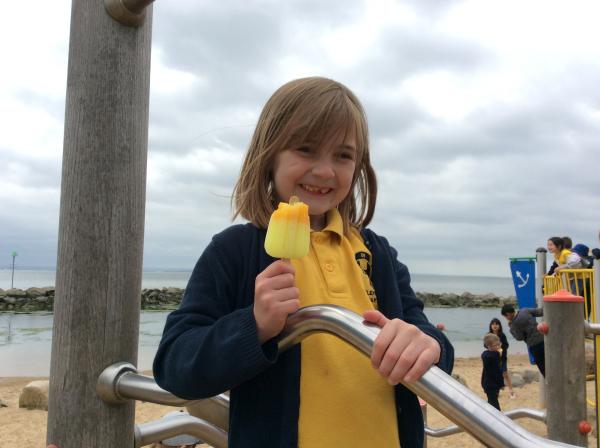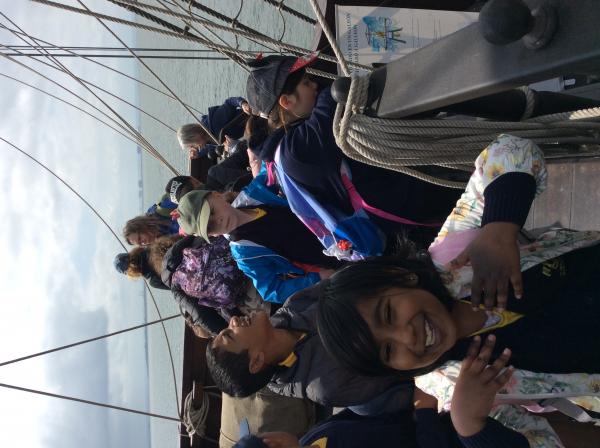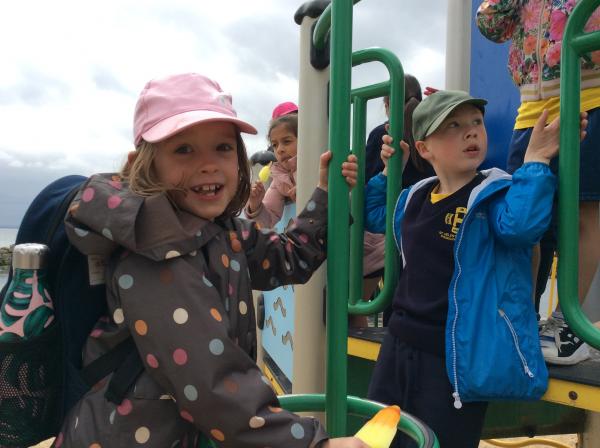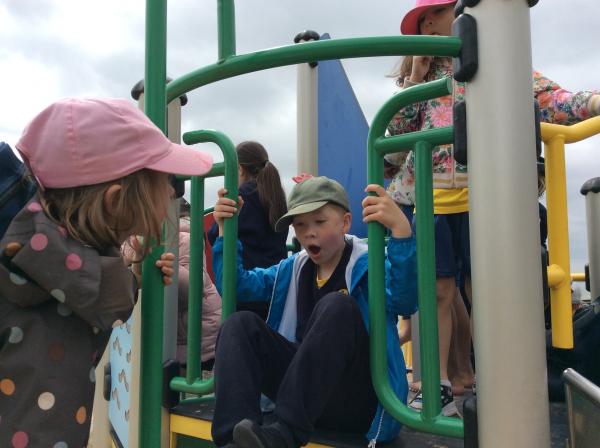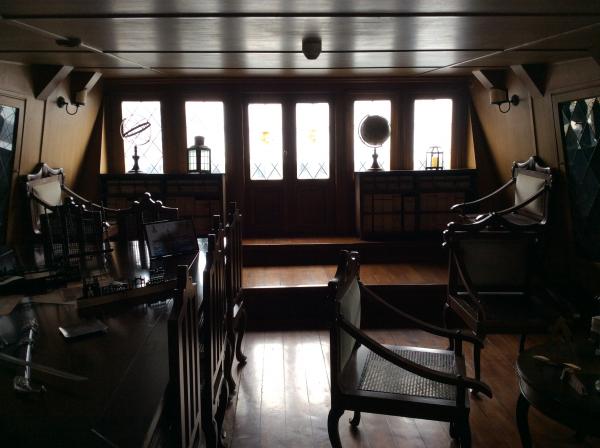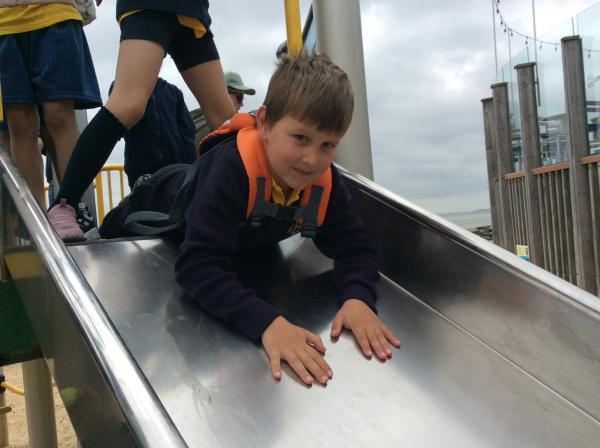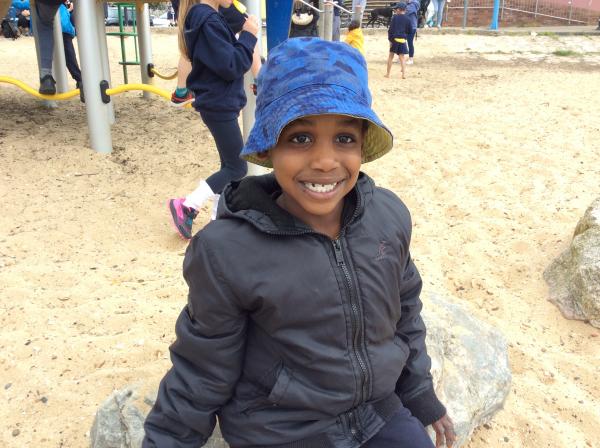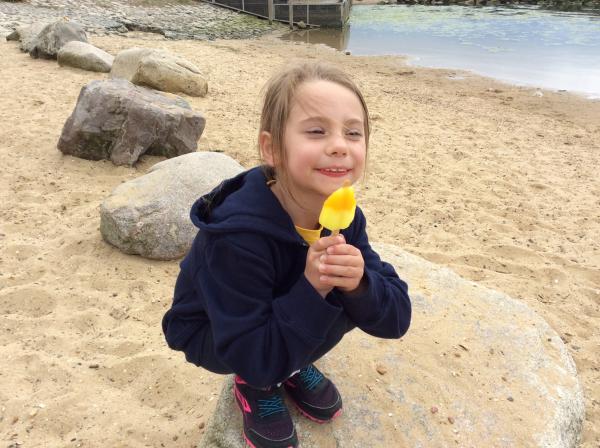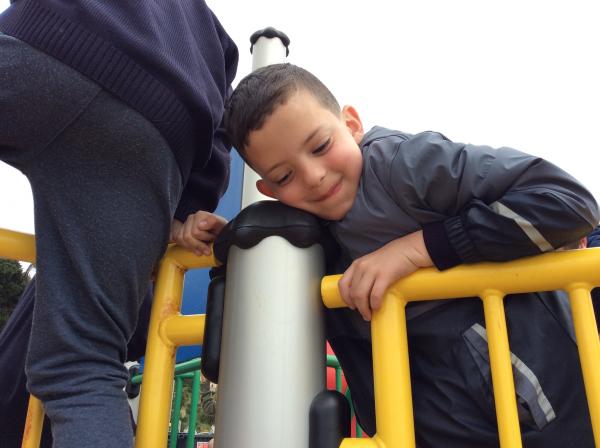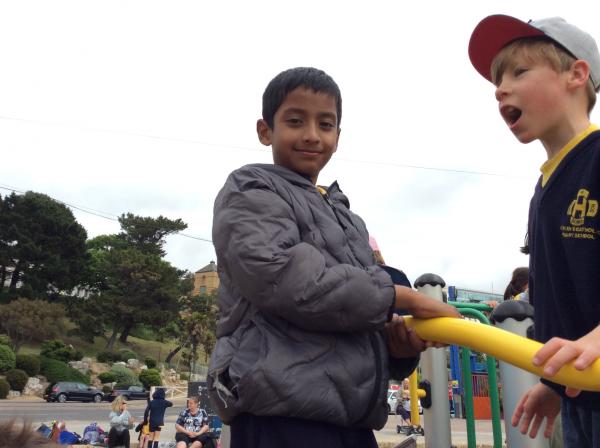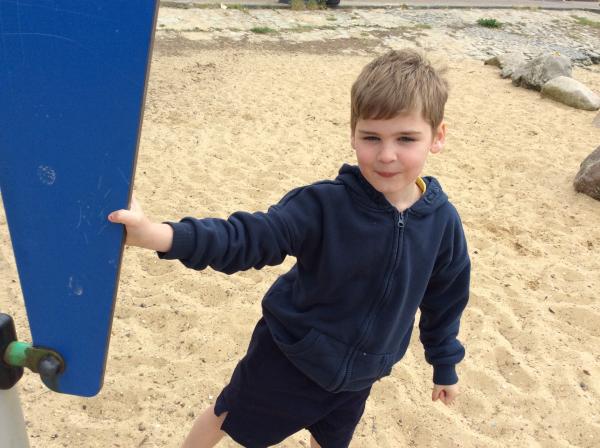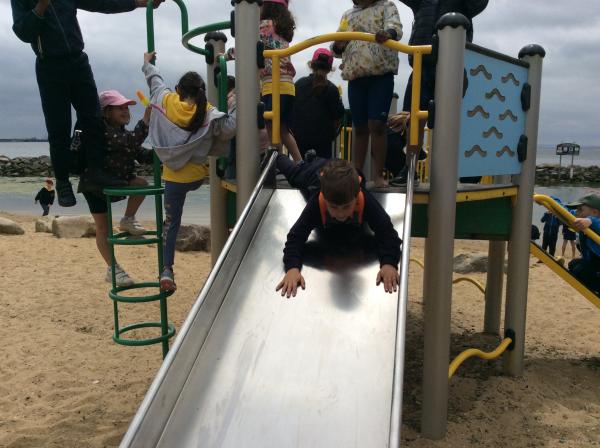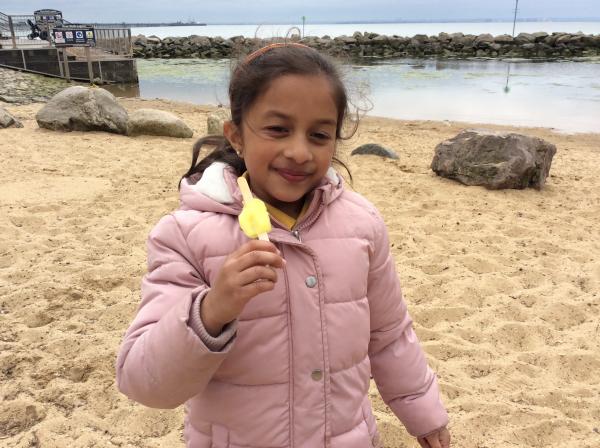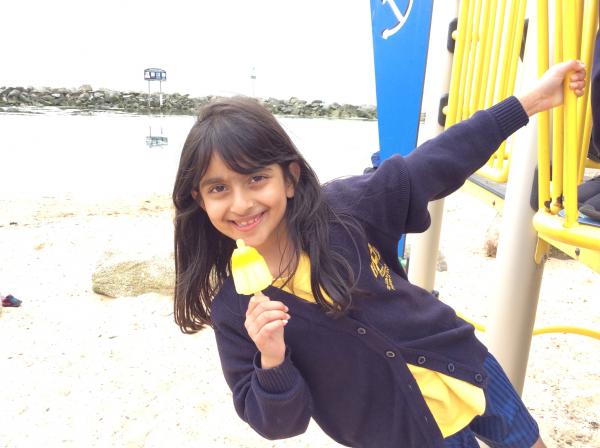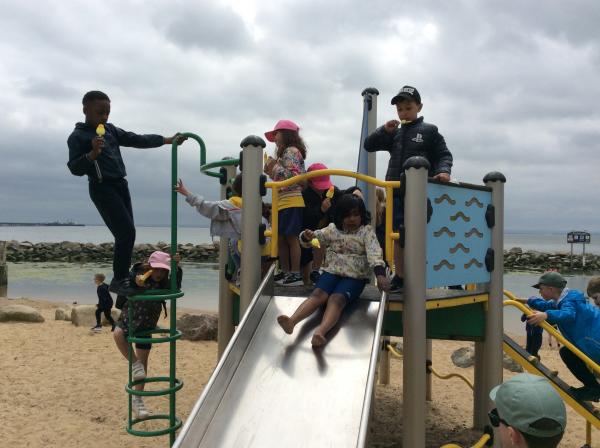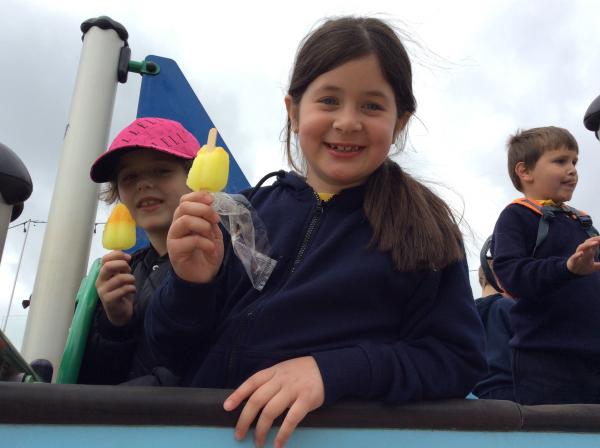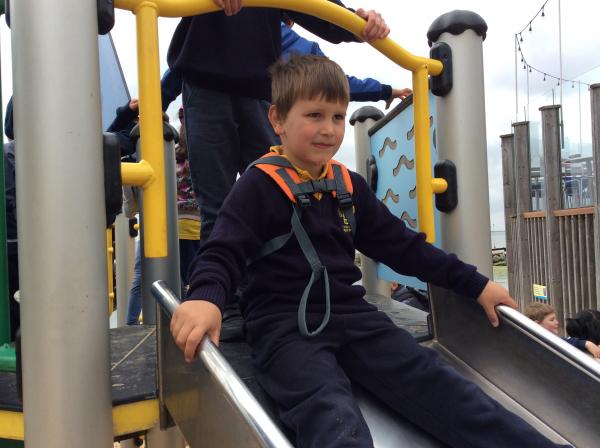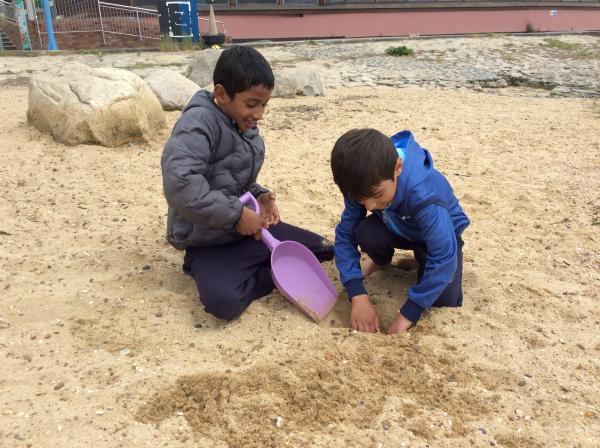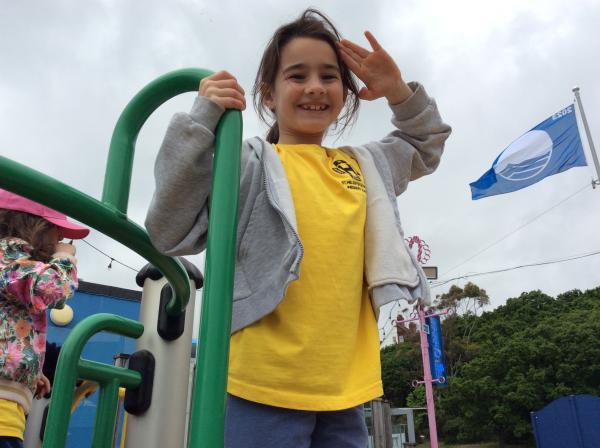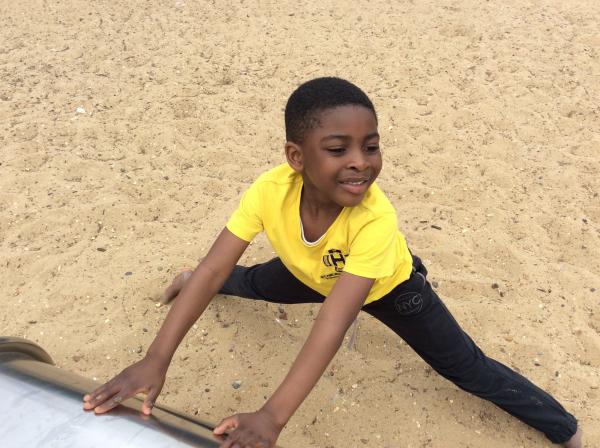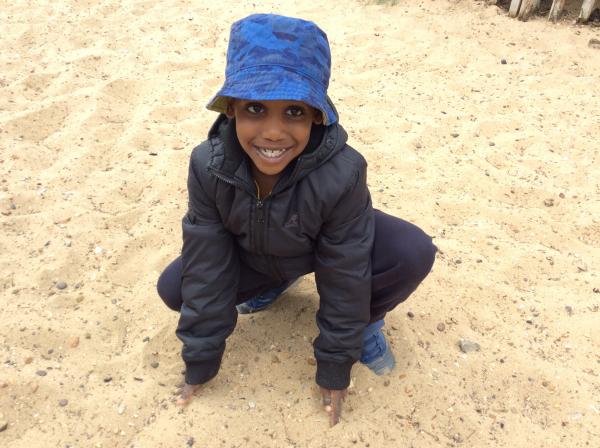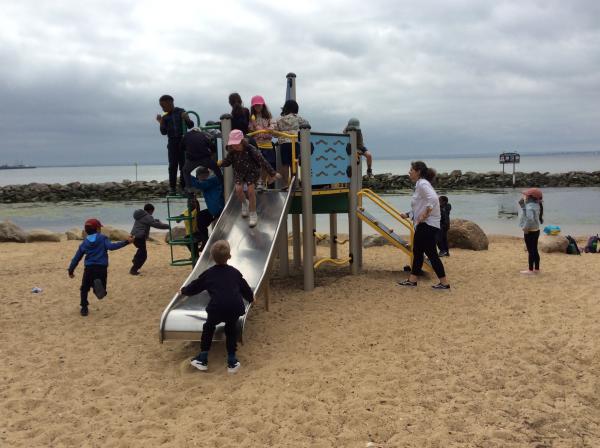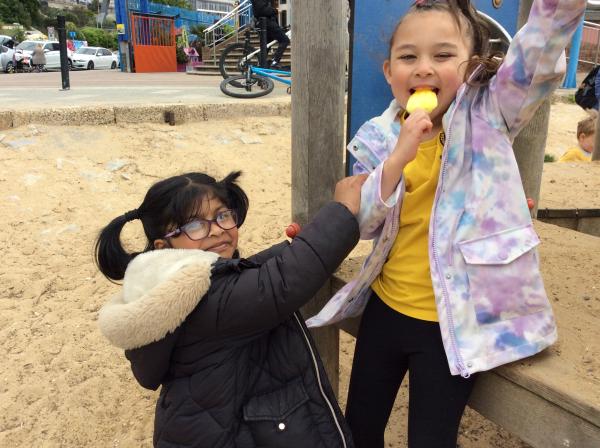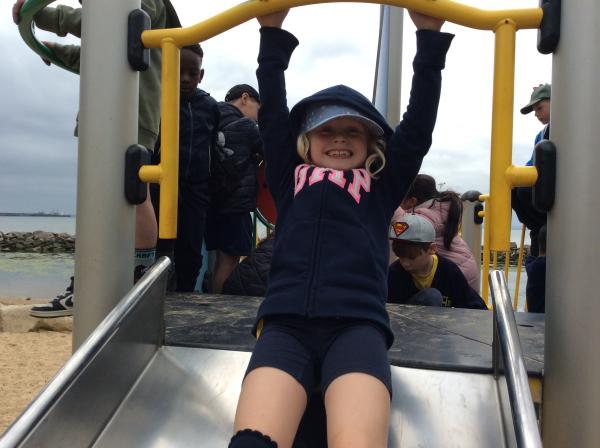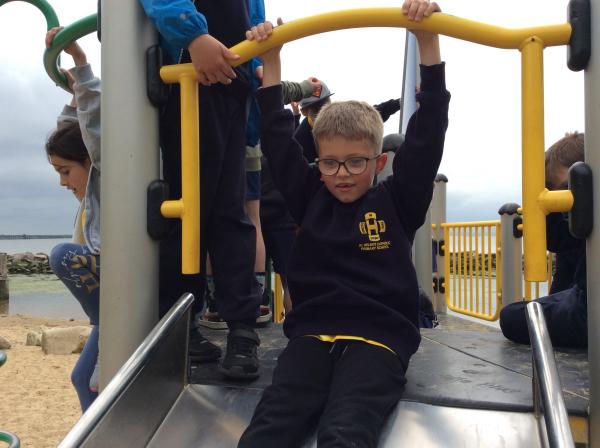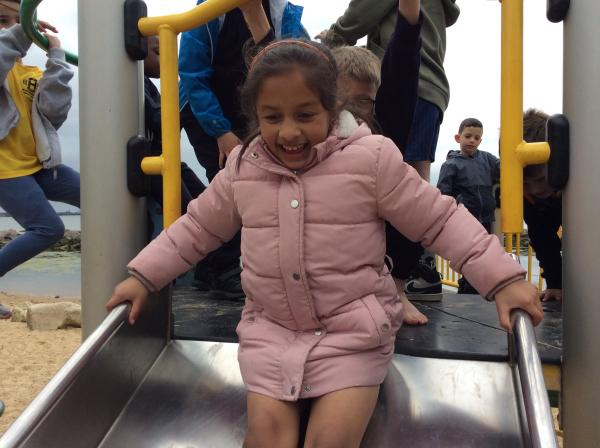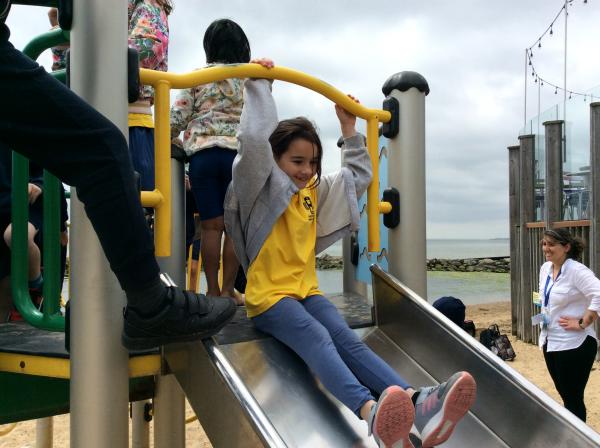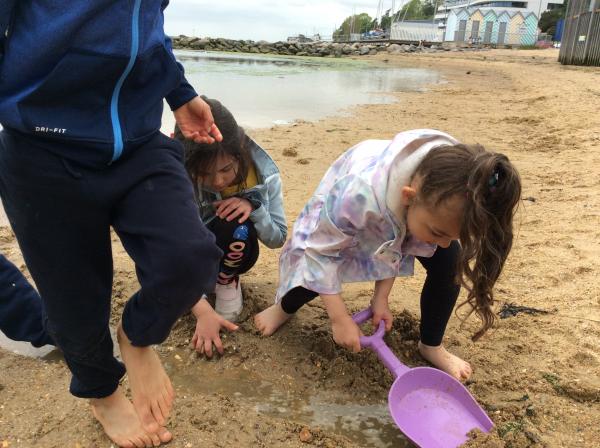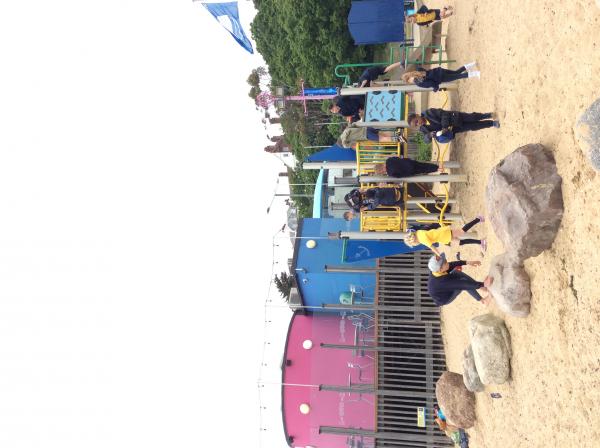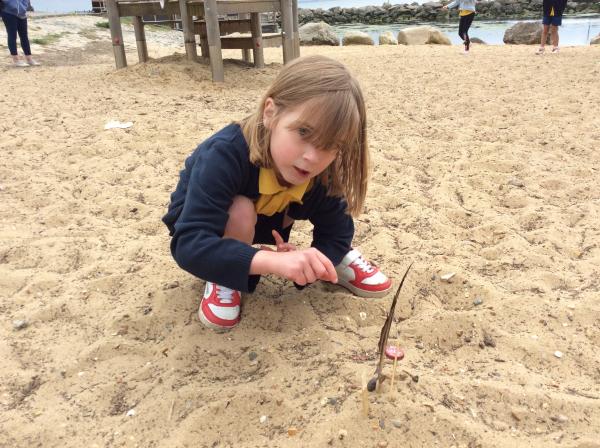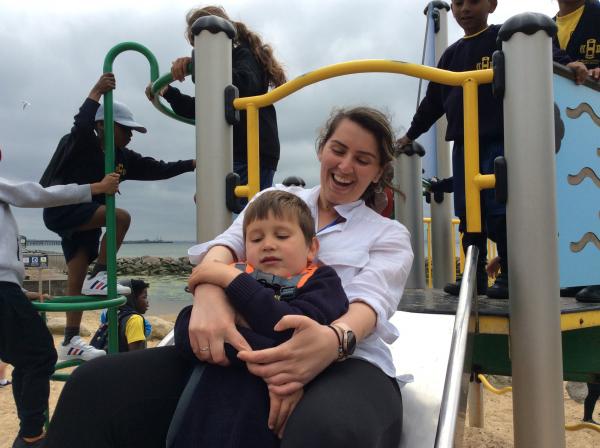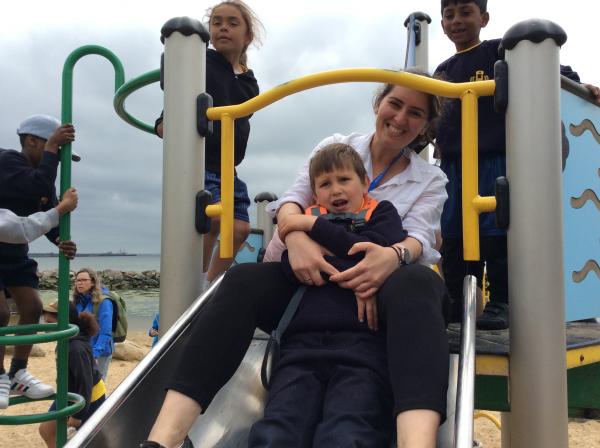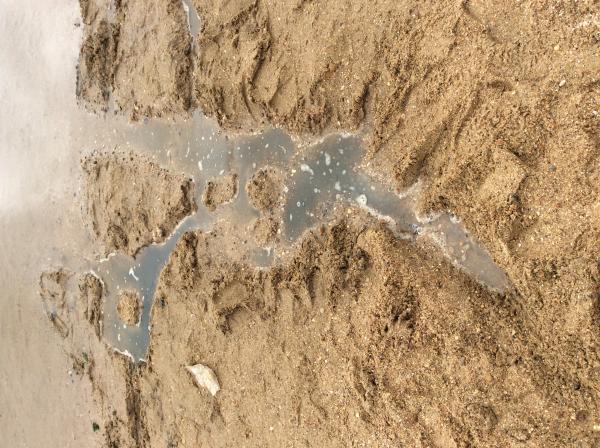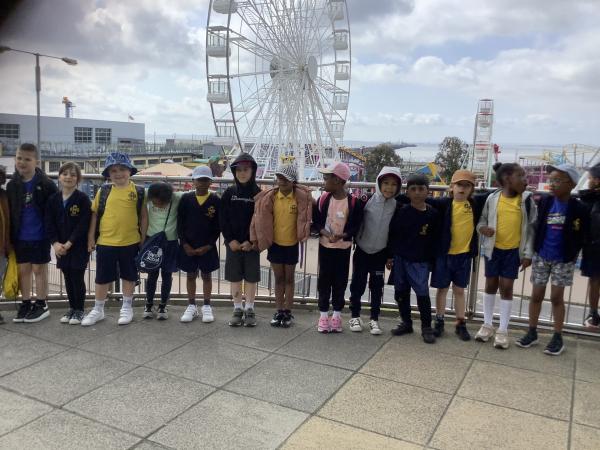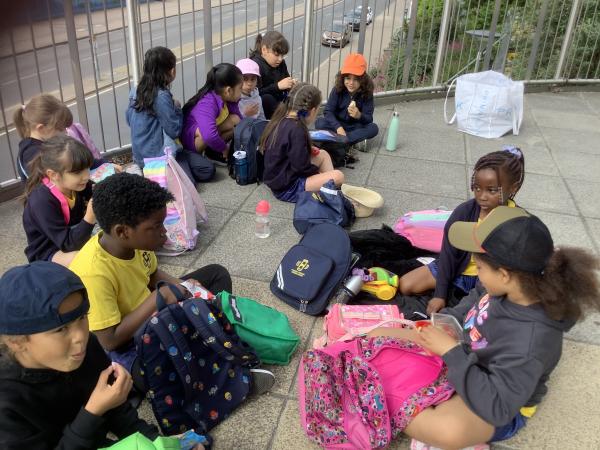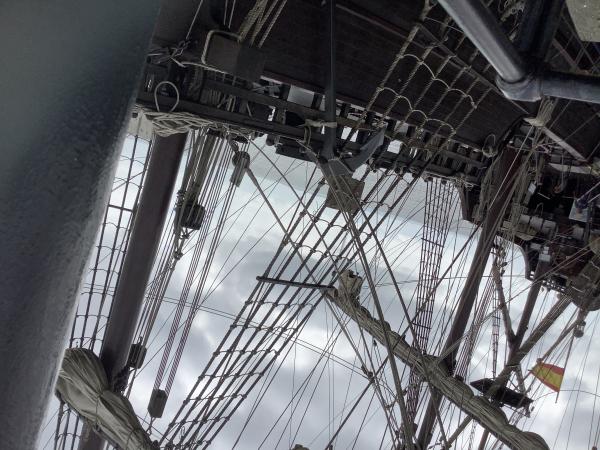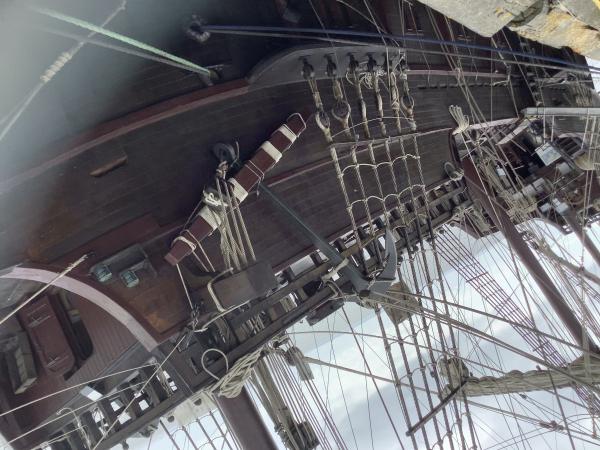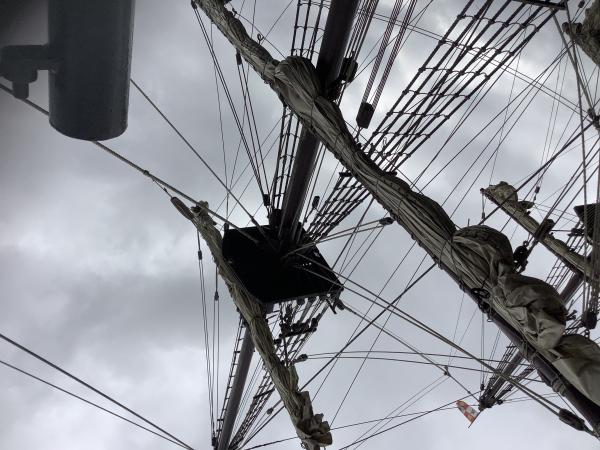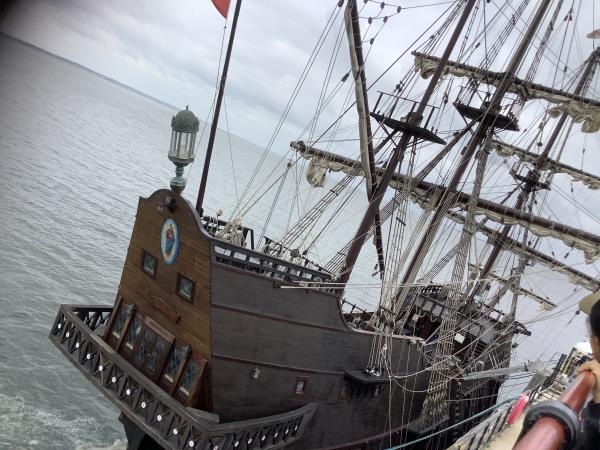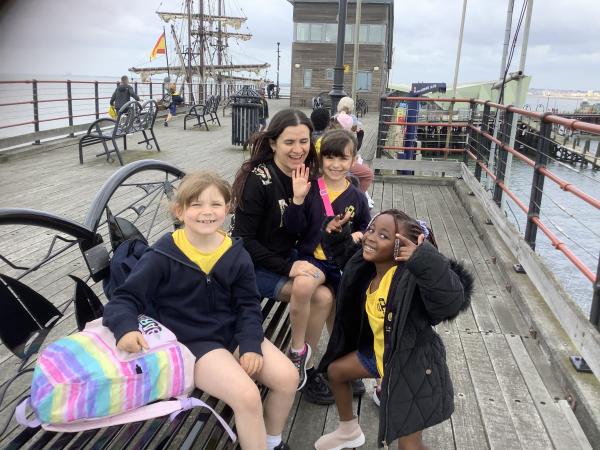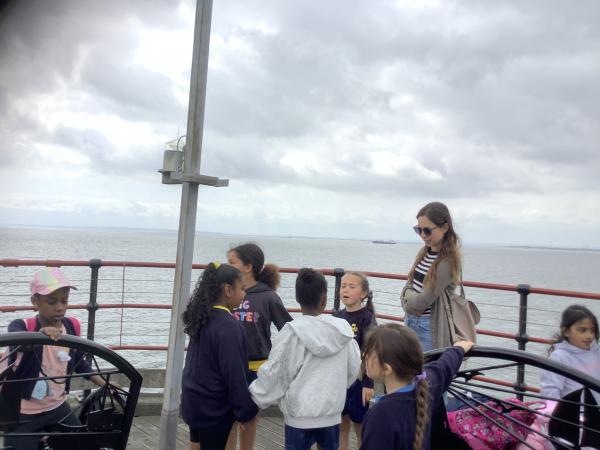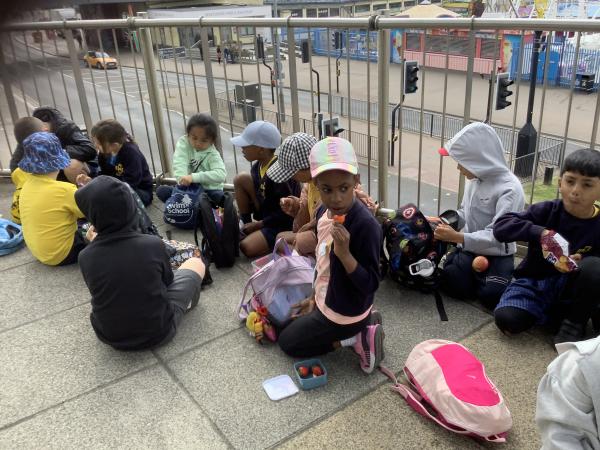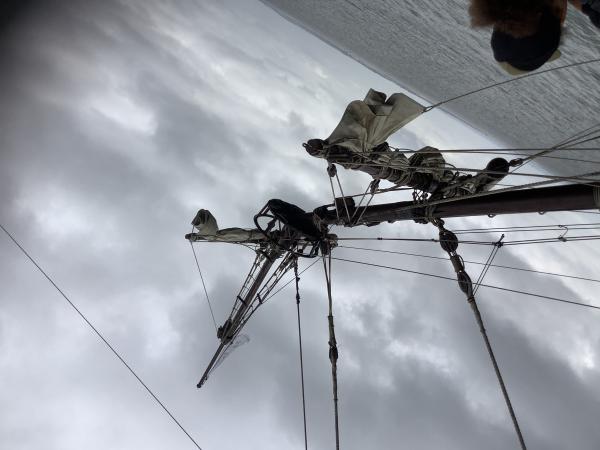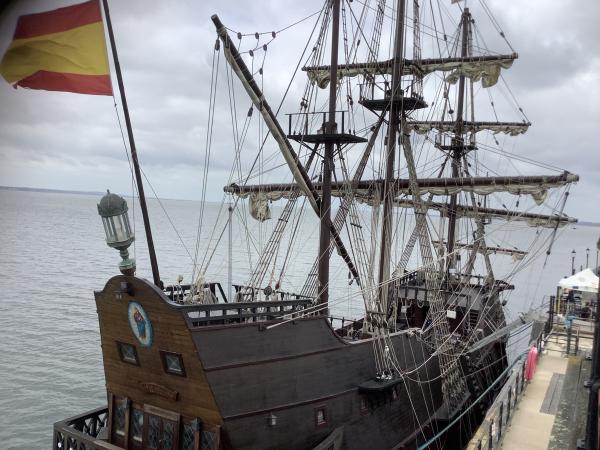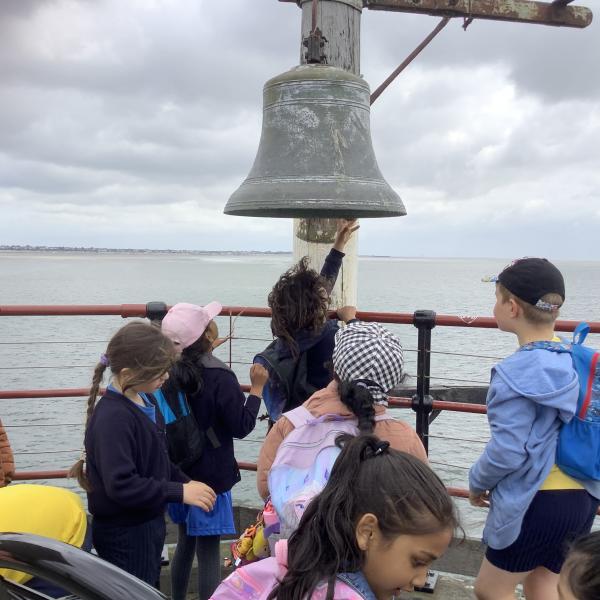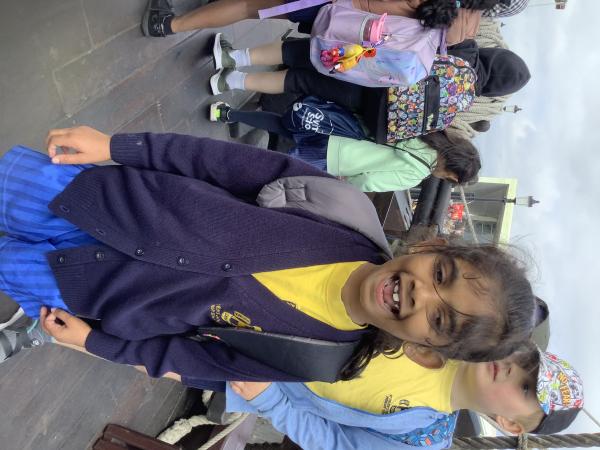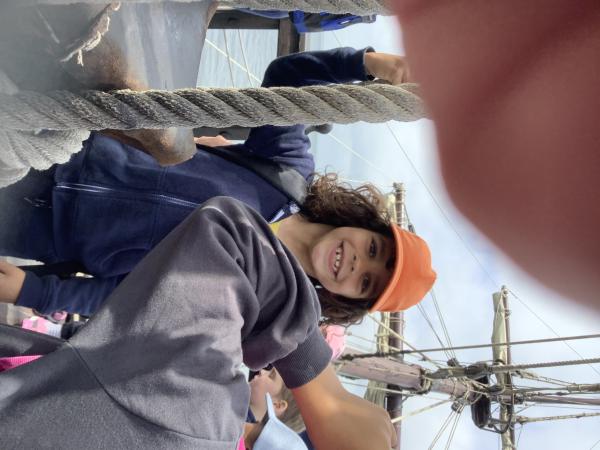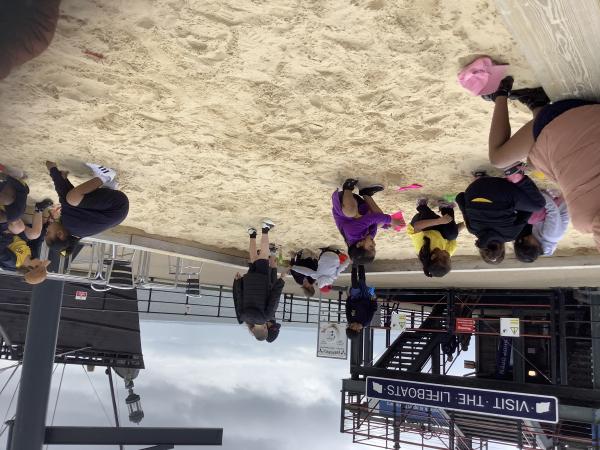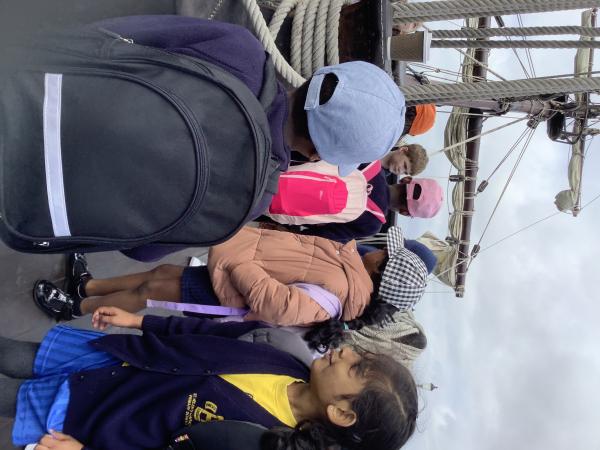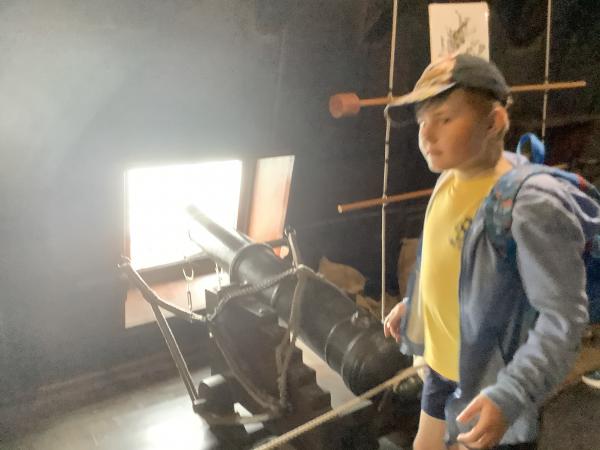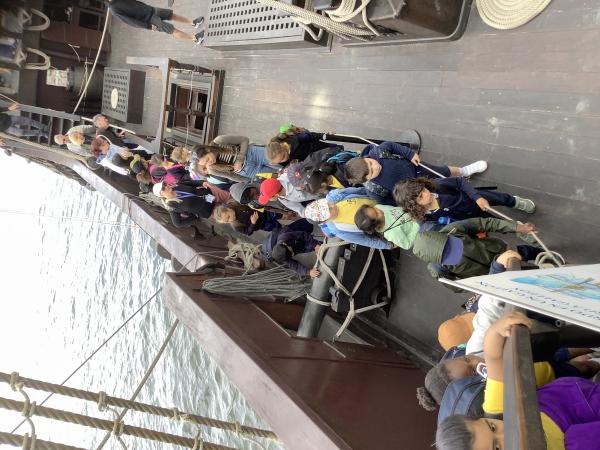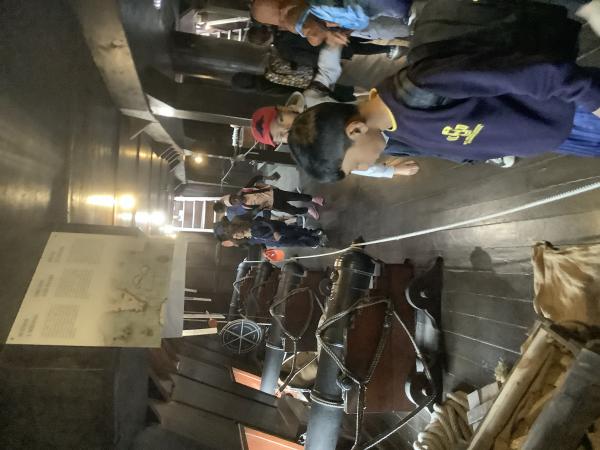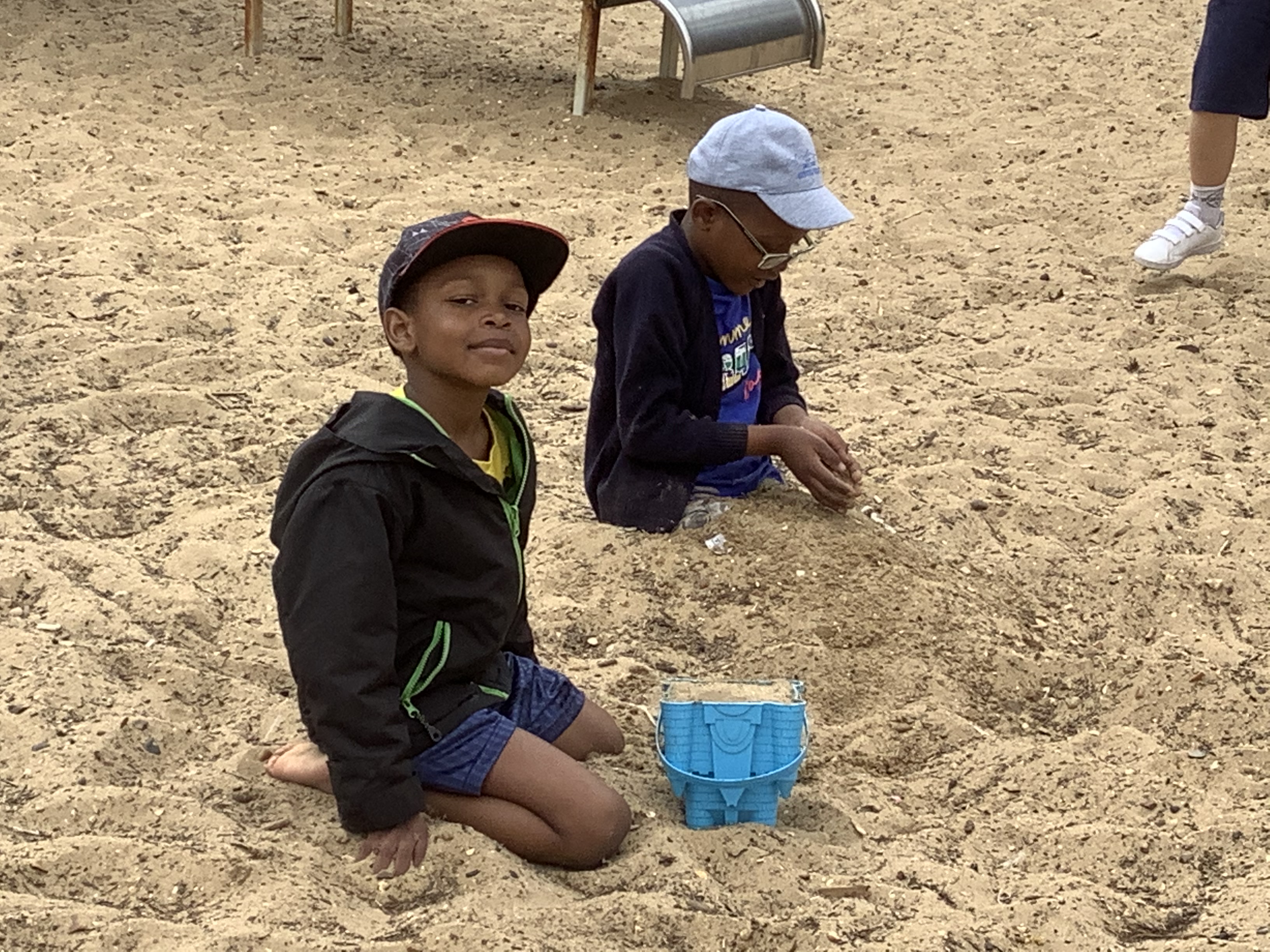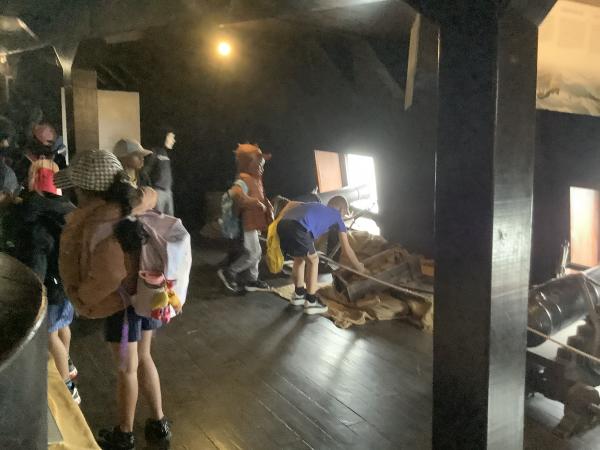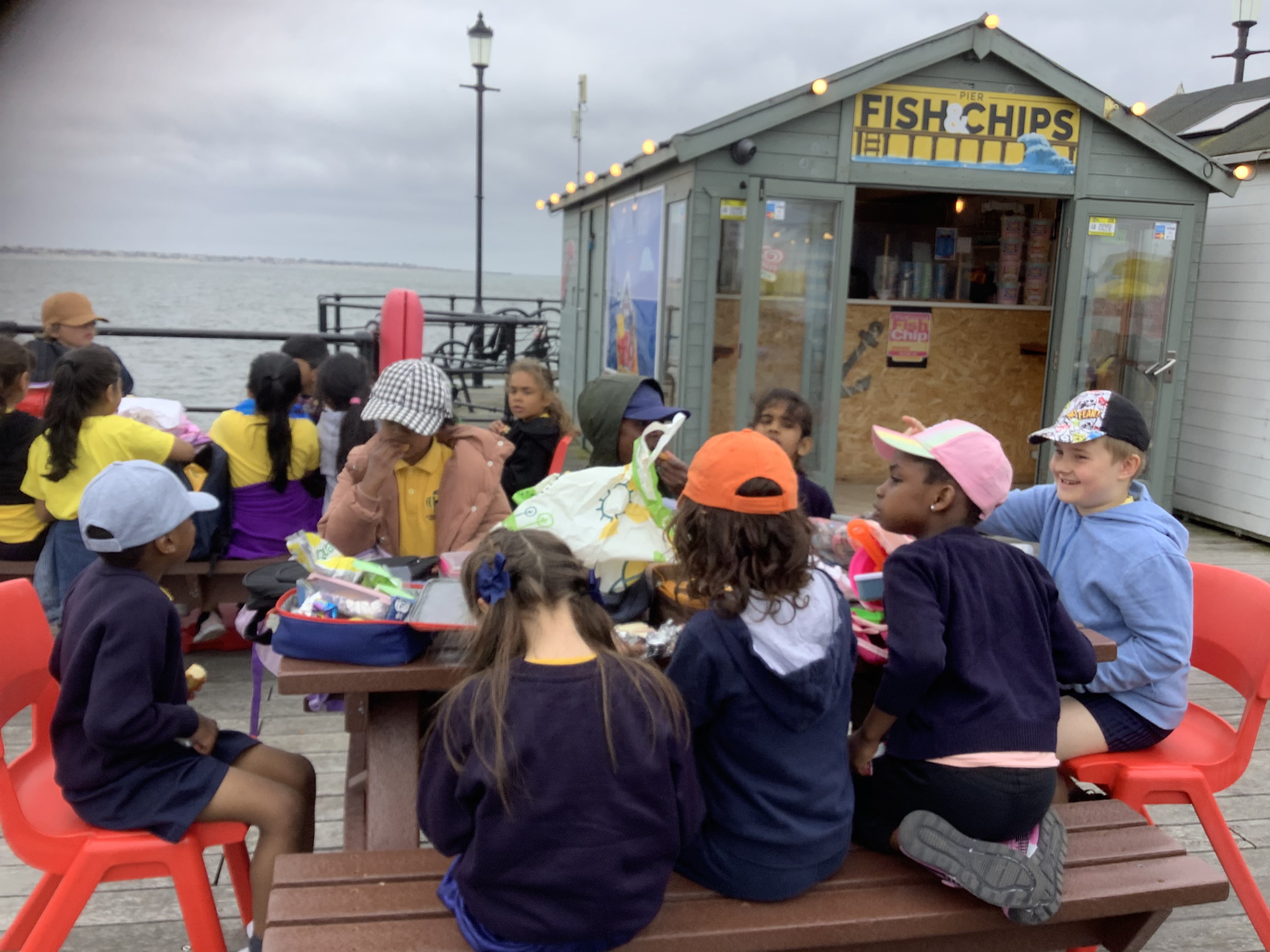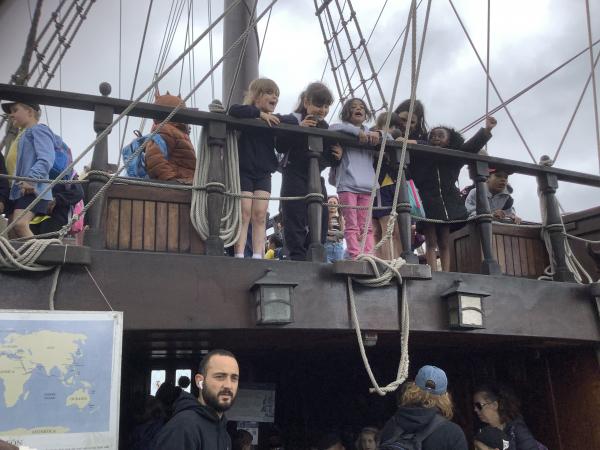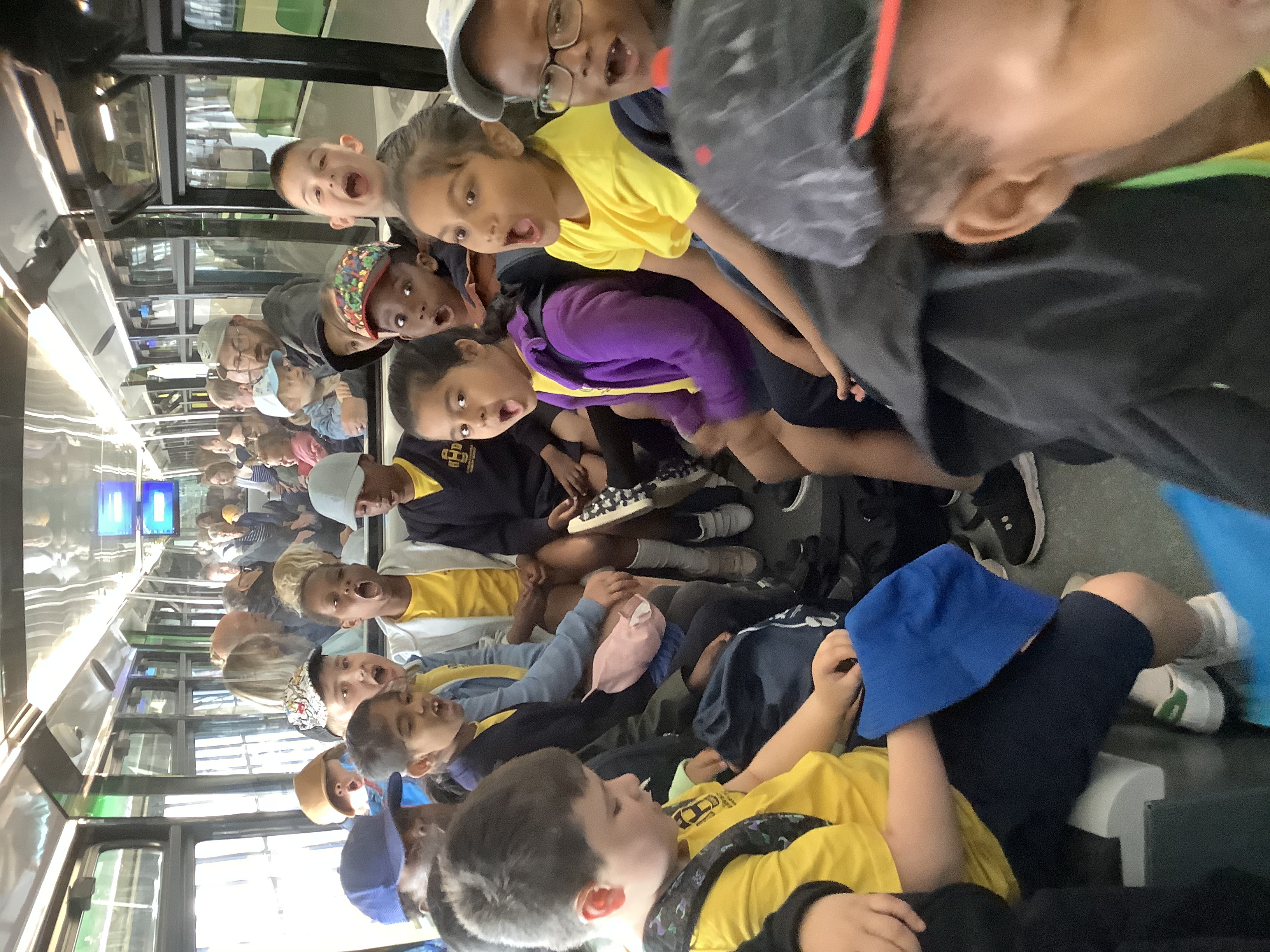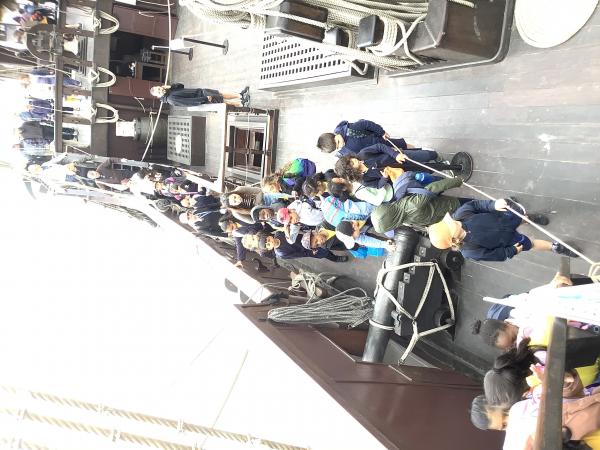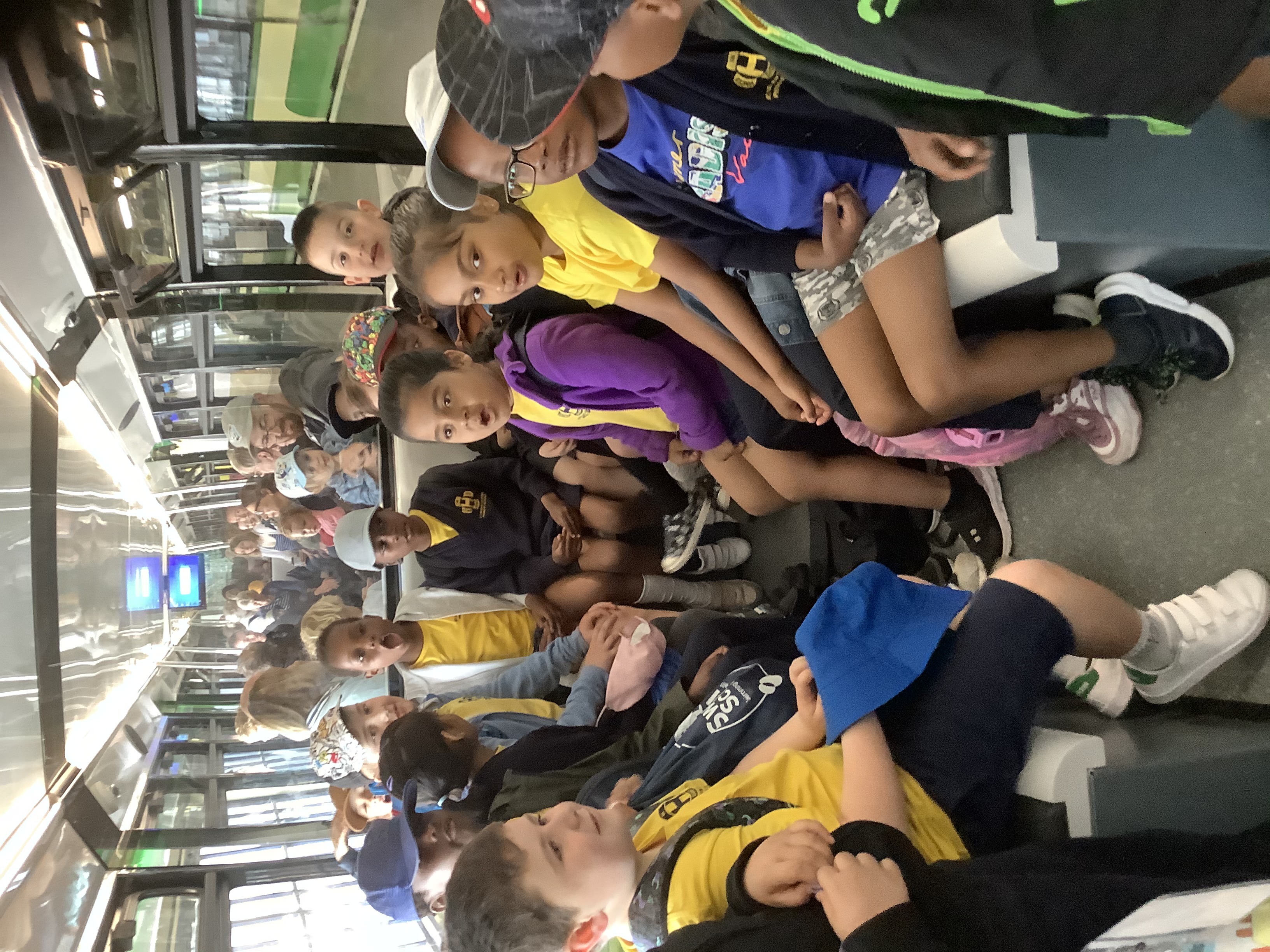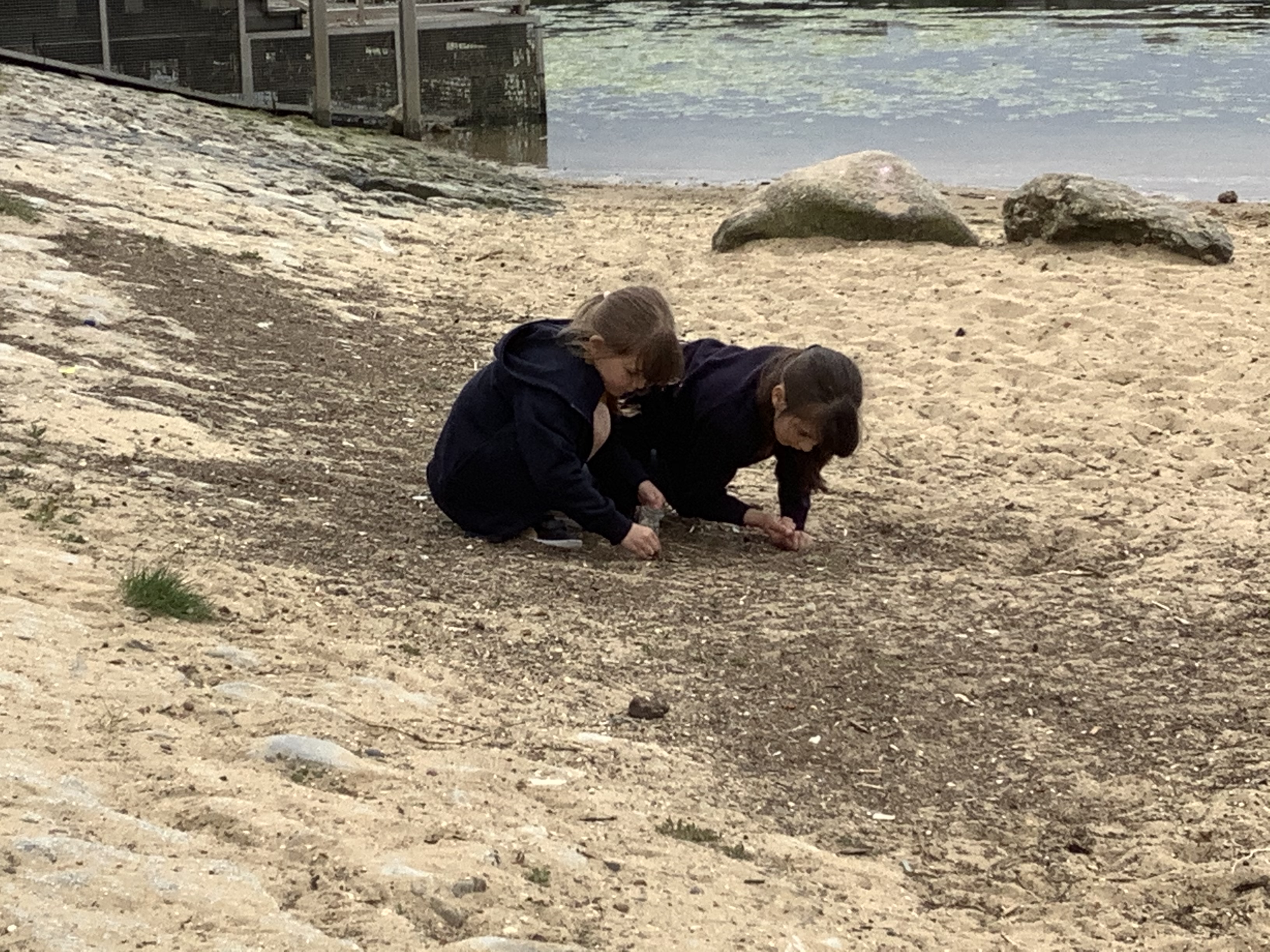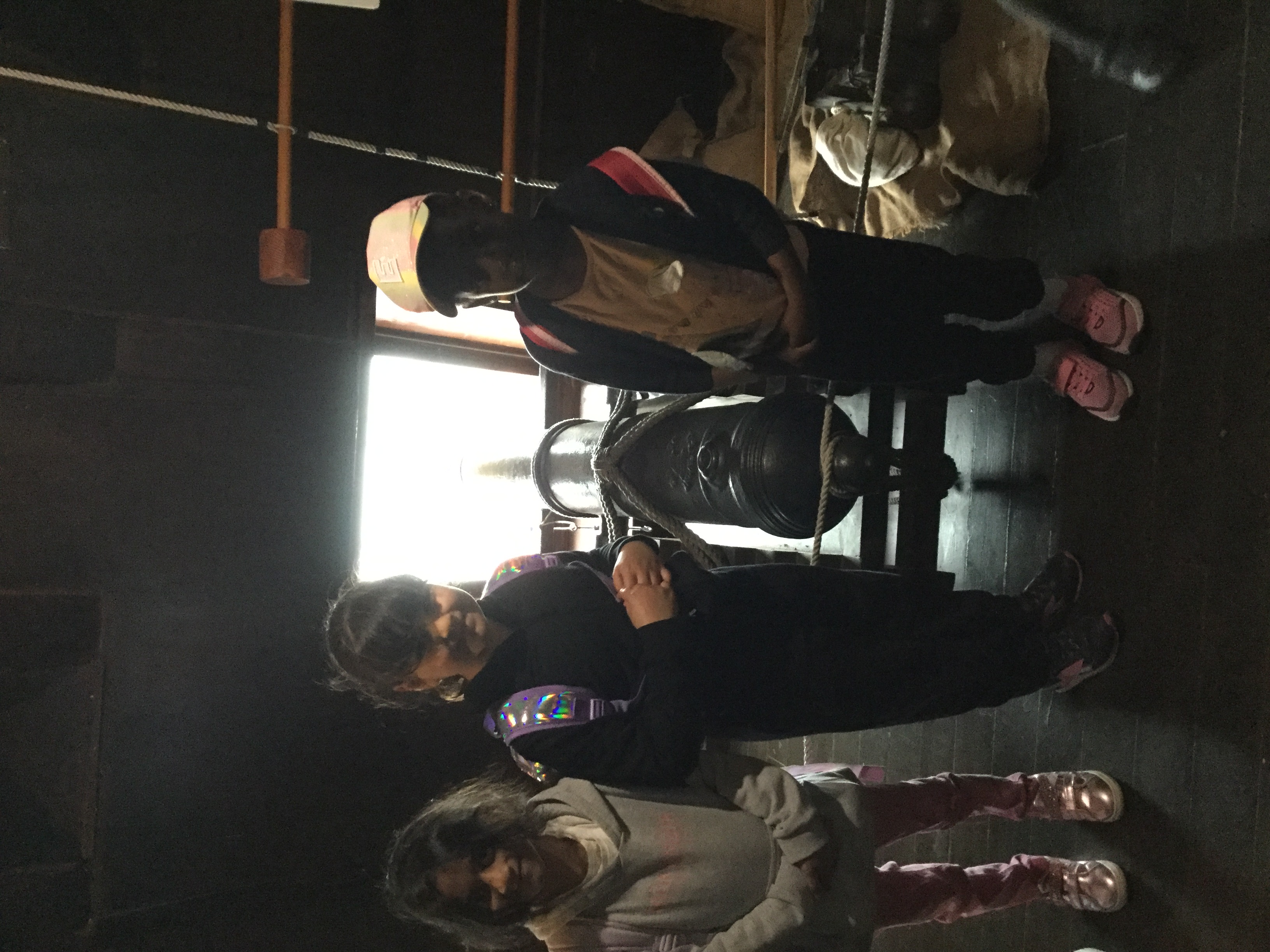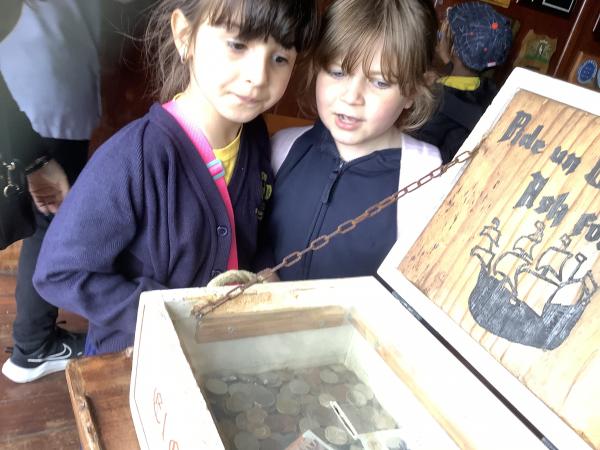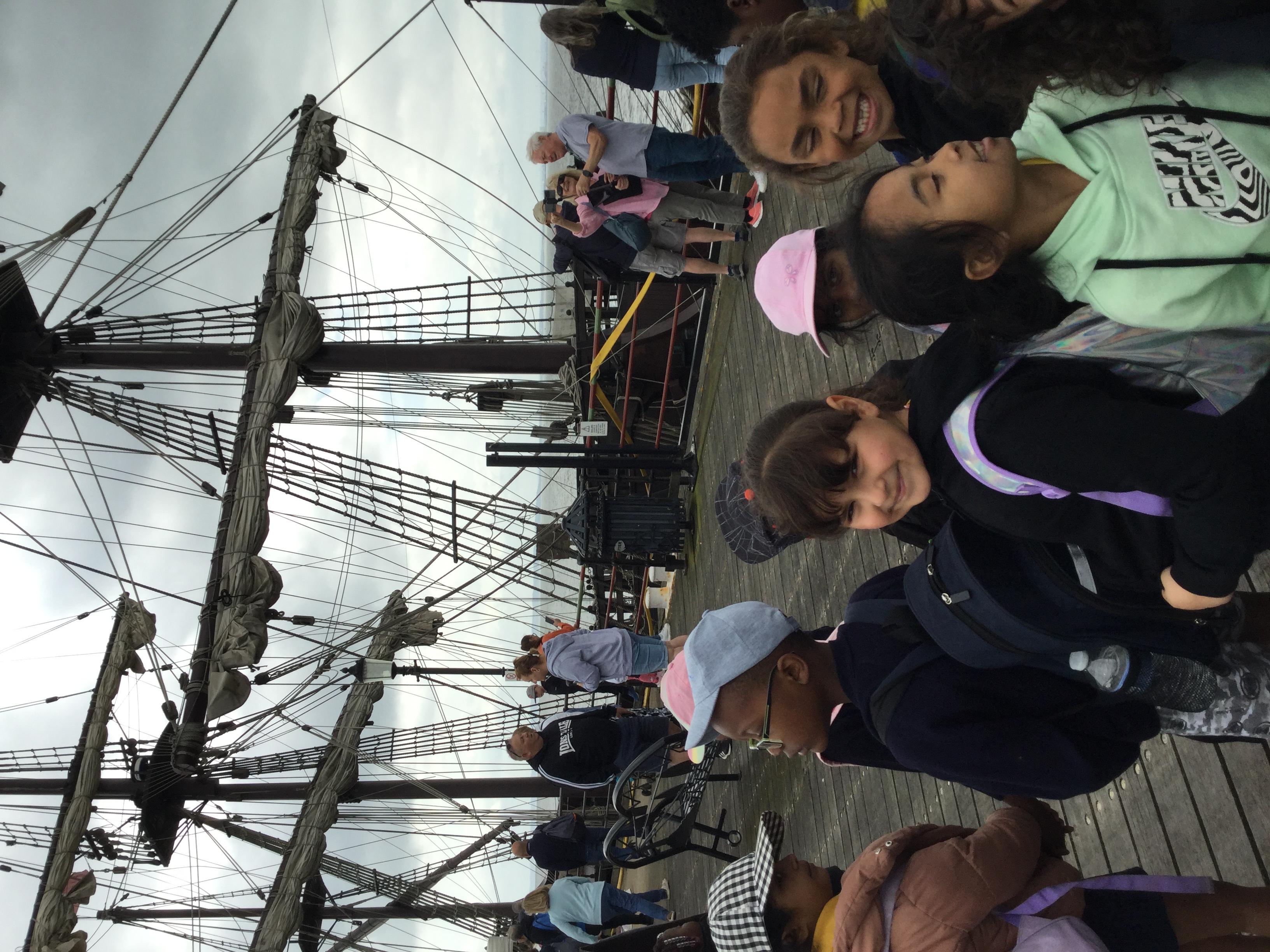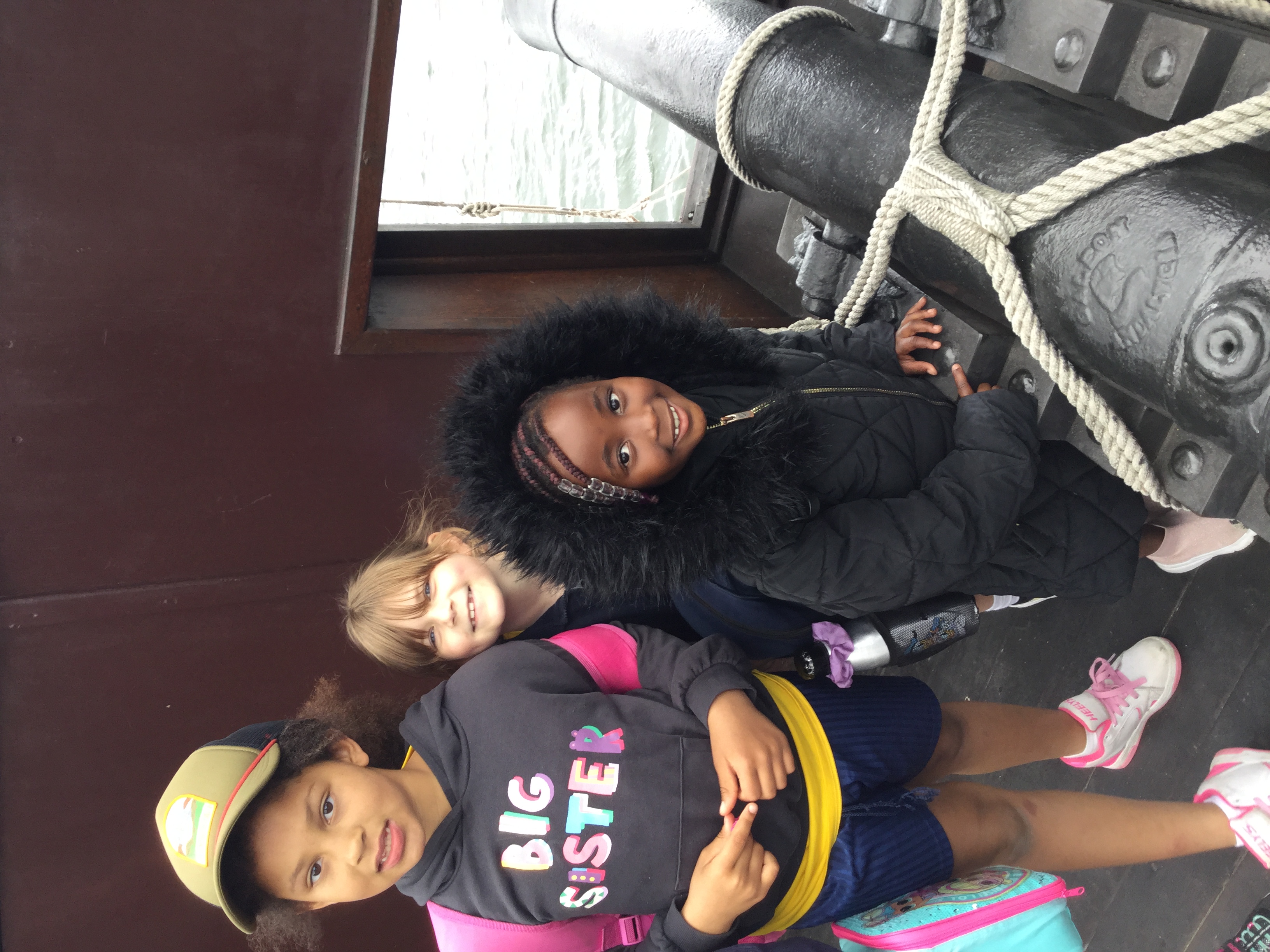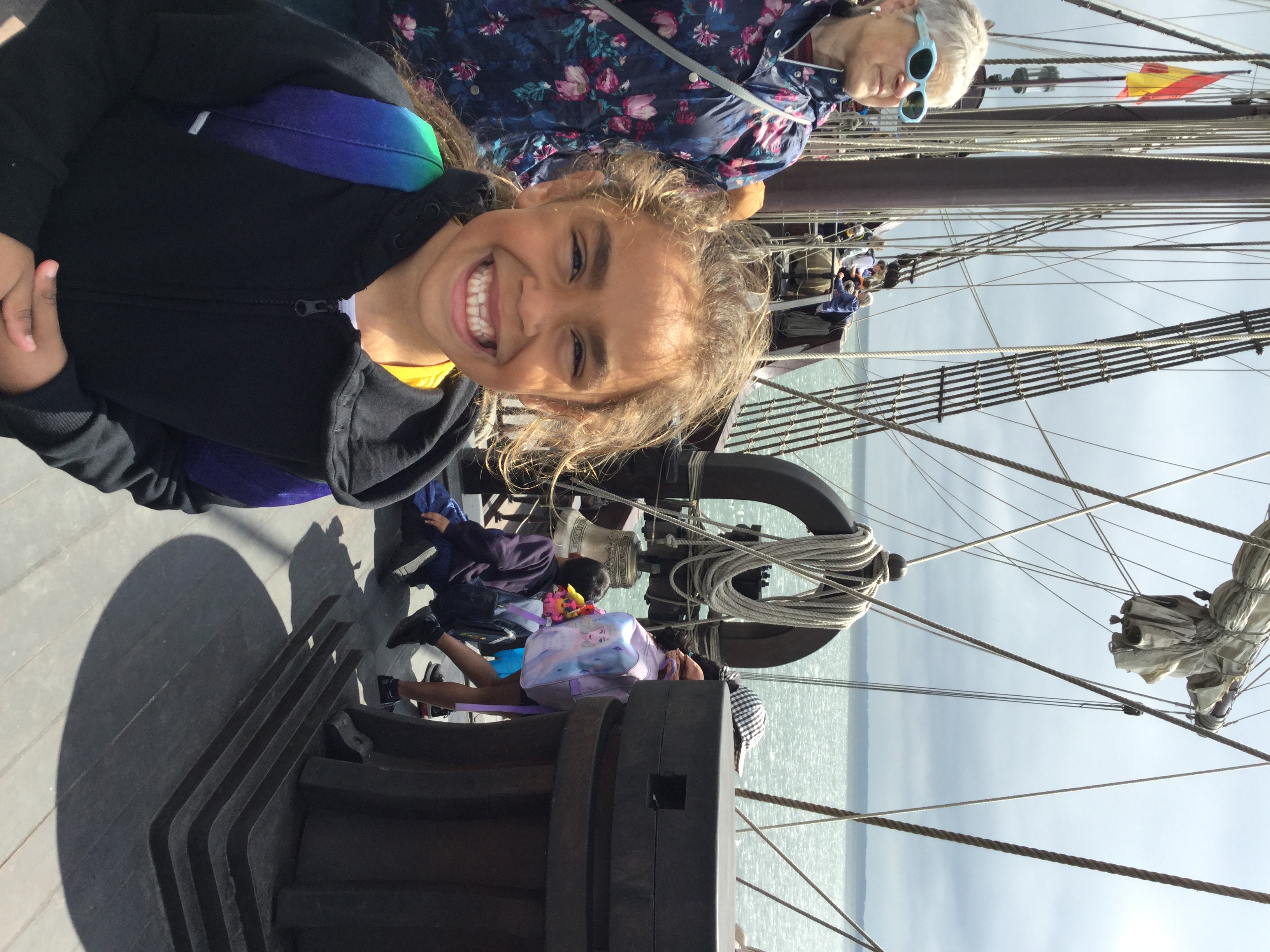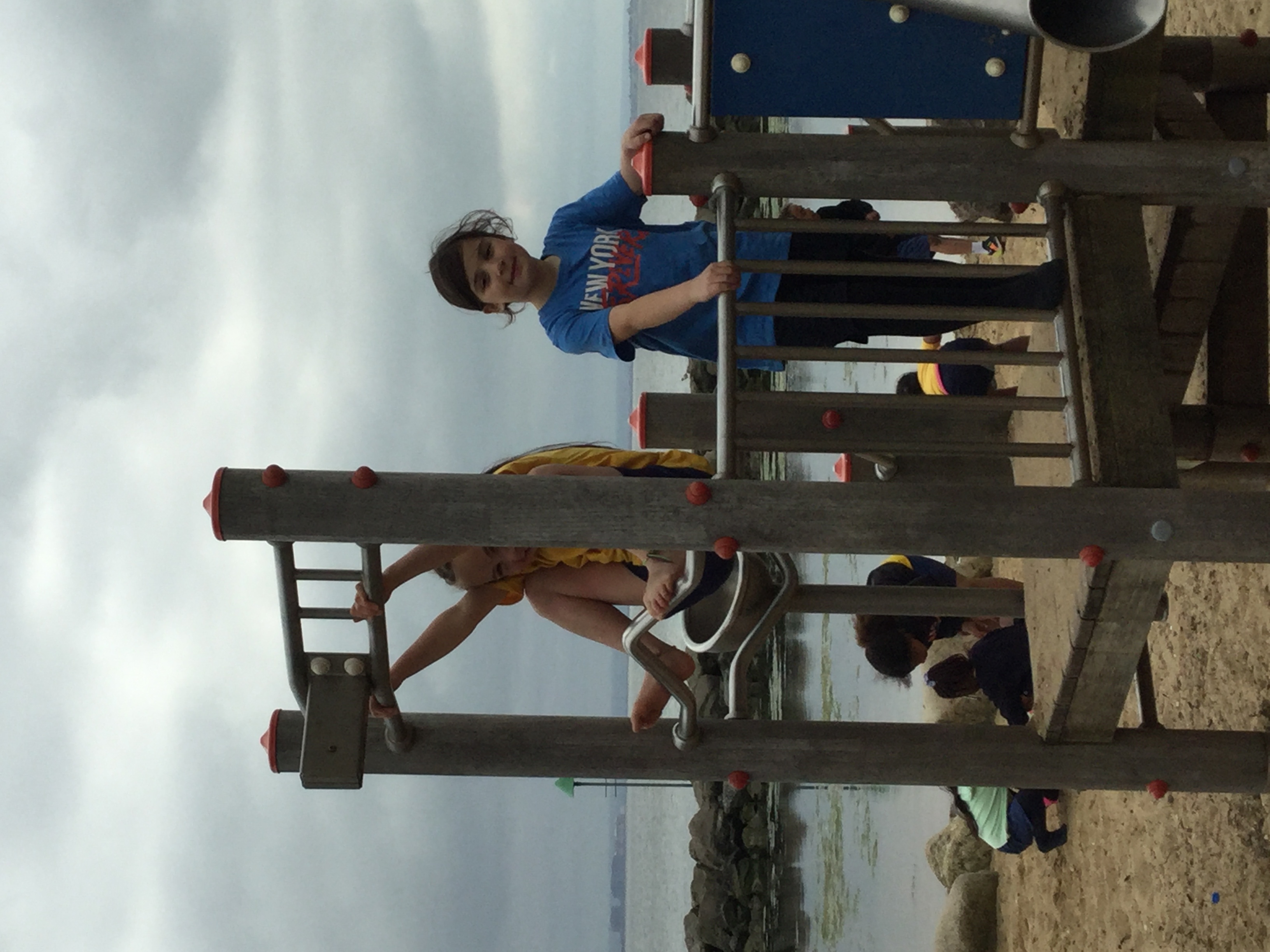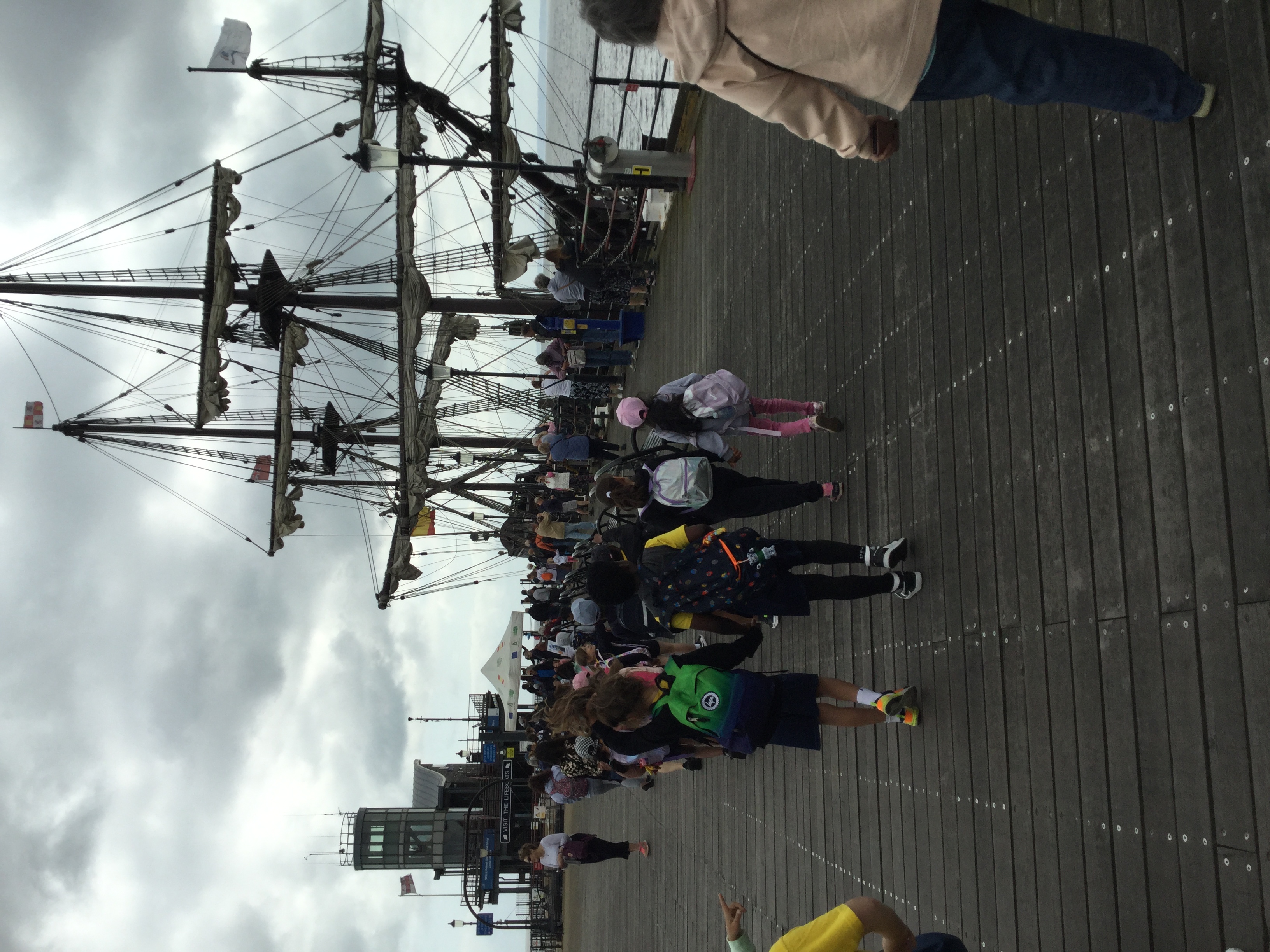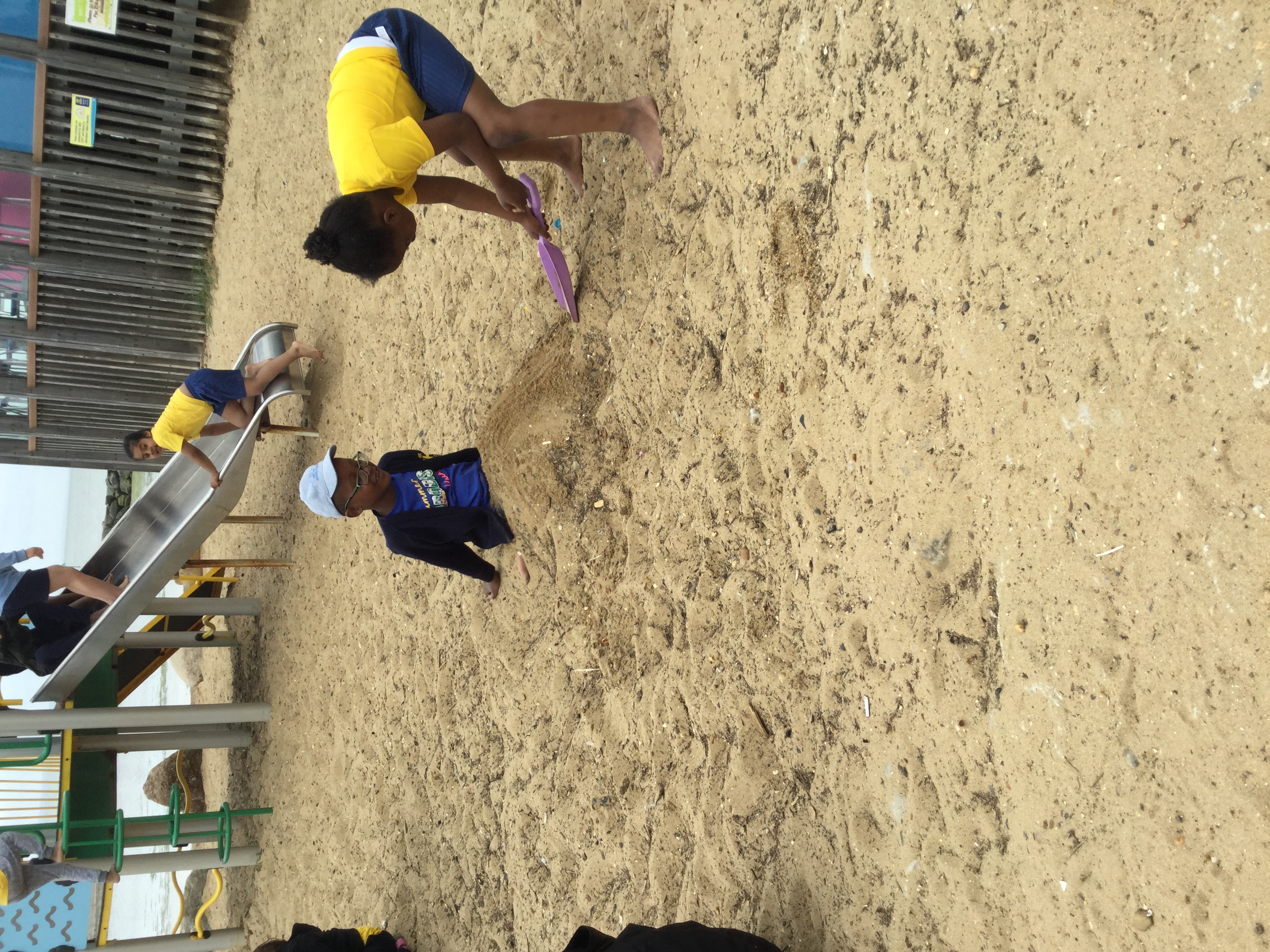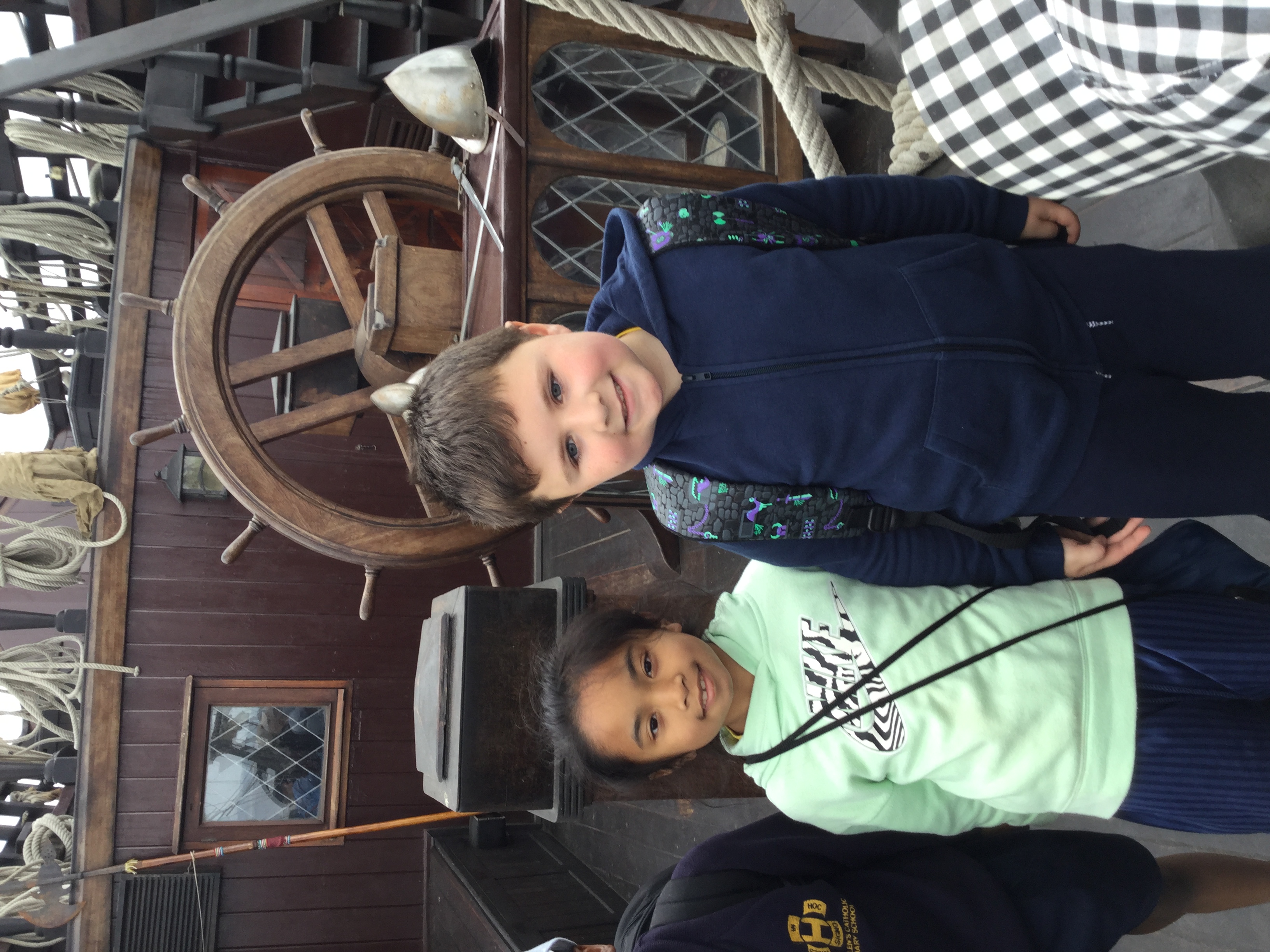 Figure Heads
Seahorse class thought about the different figure heads on the front of pirate ships. They designed their own using salt dough and painted their designs in class. They look amazing.. we had mermaids, eagles, turtles, and even a star to guide and protect our ships.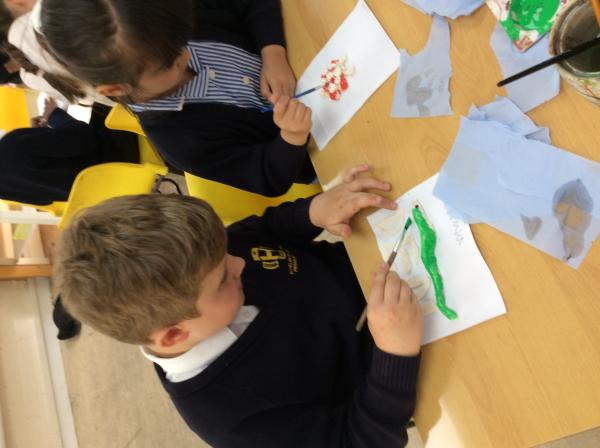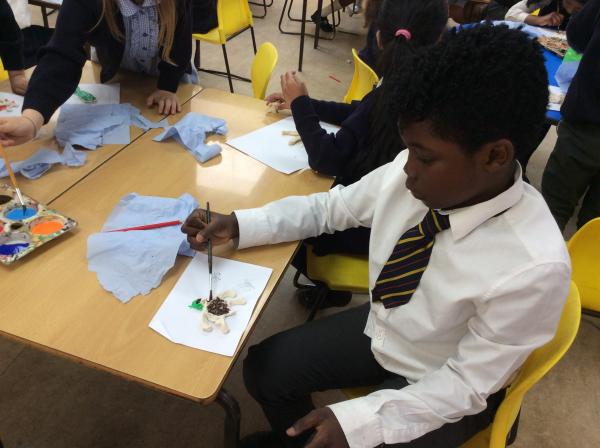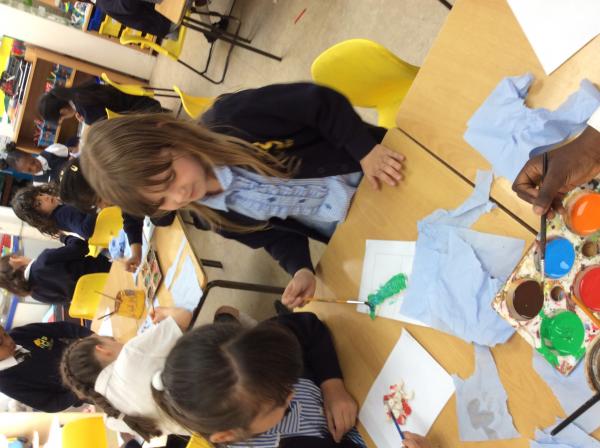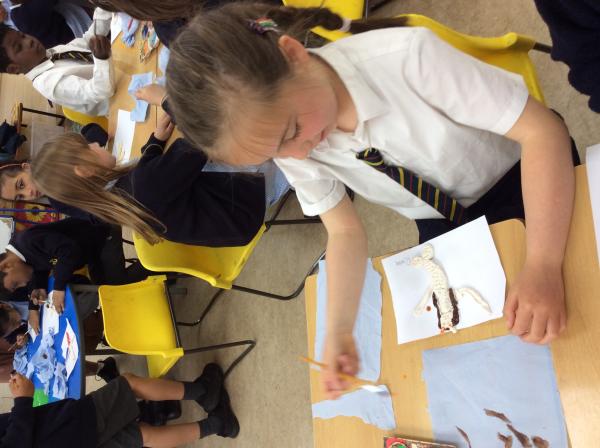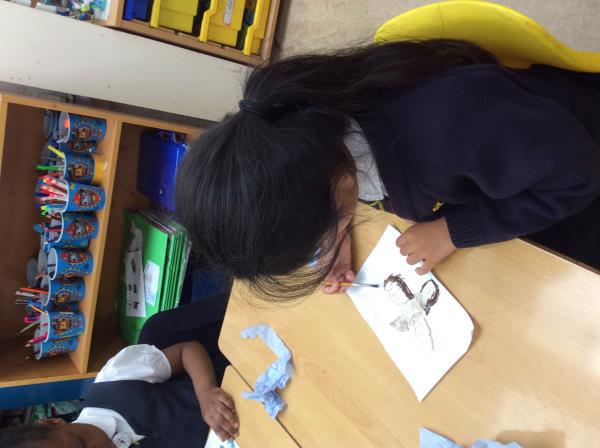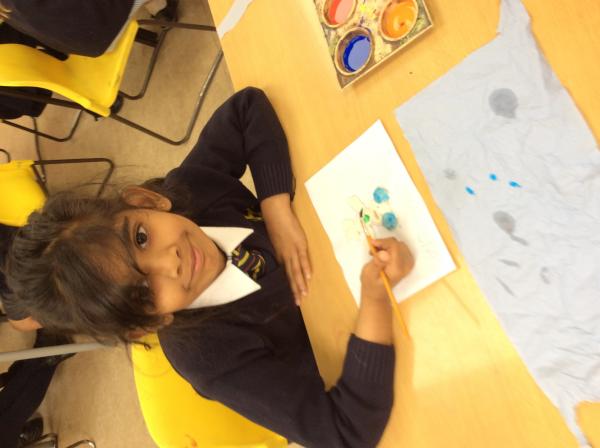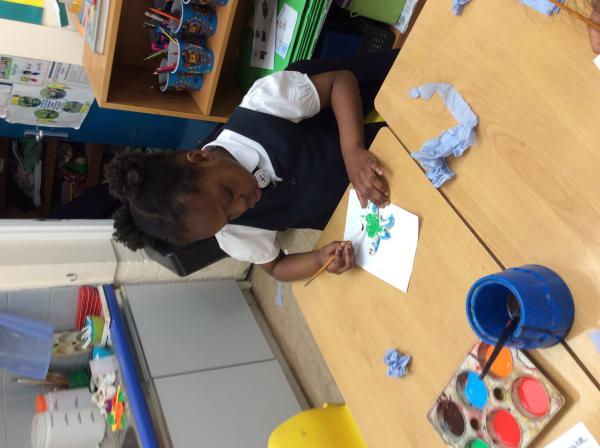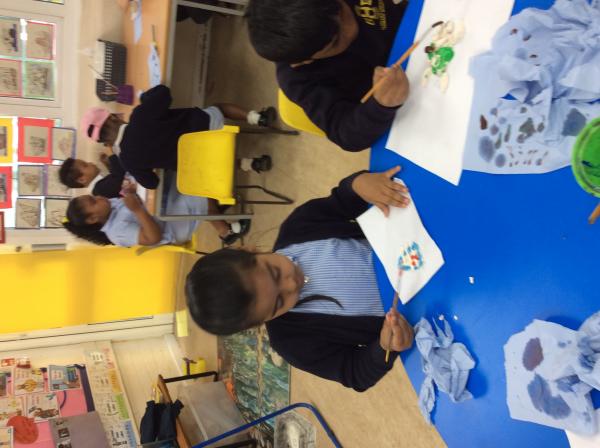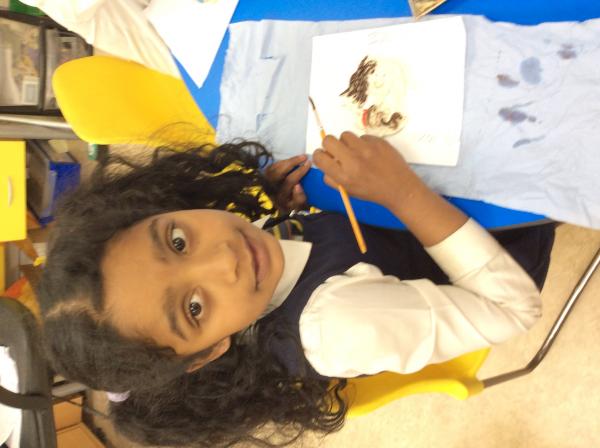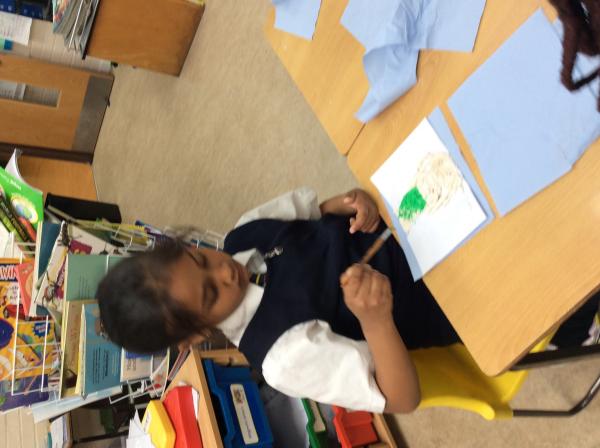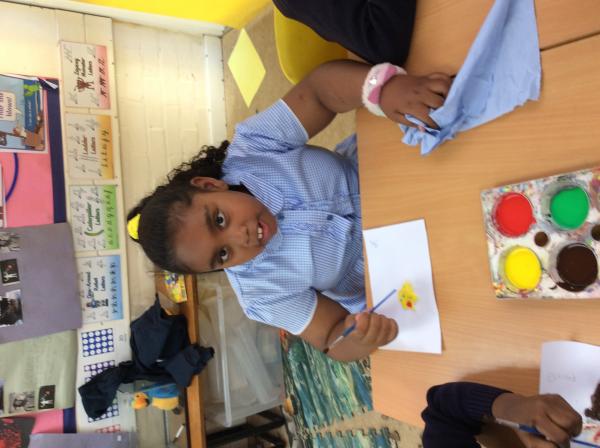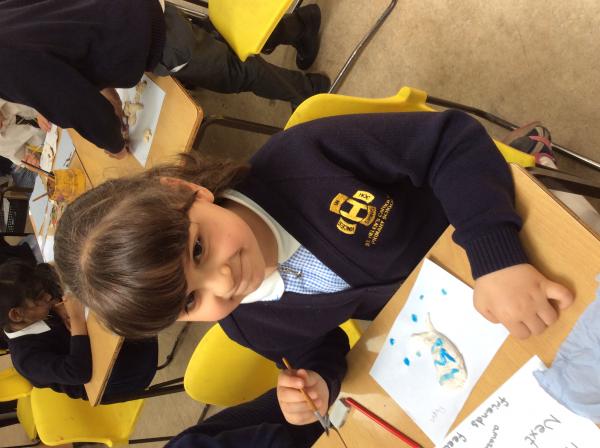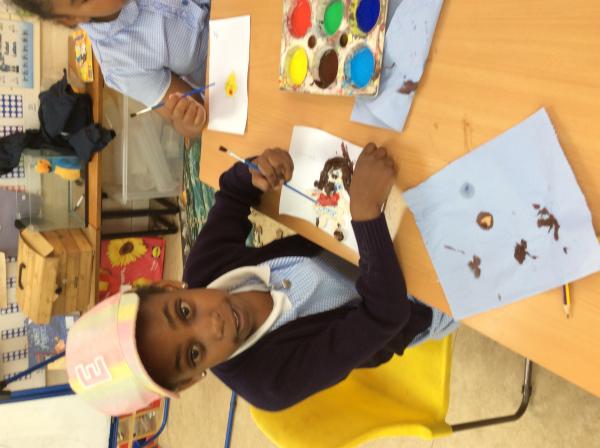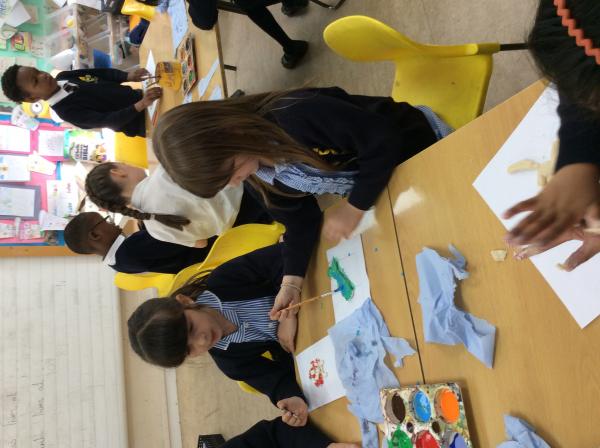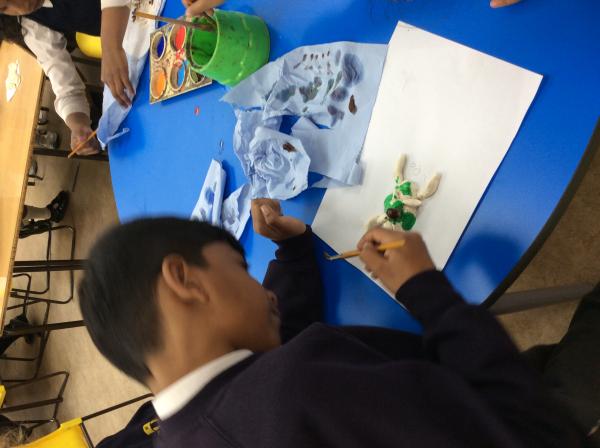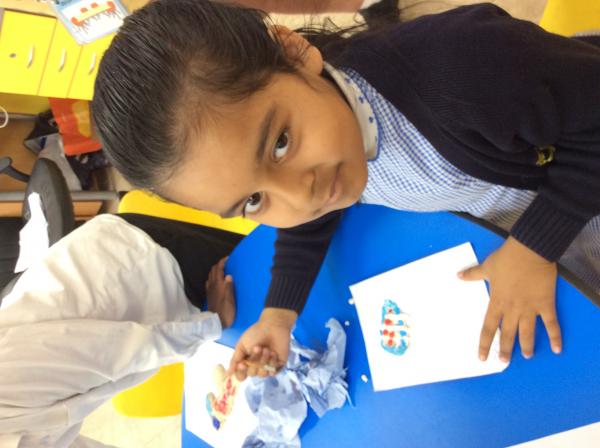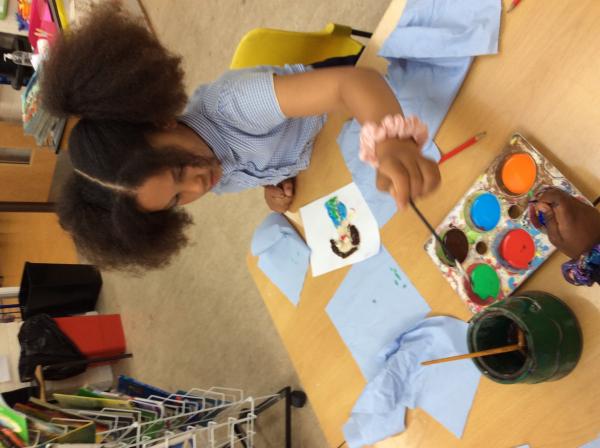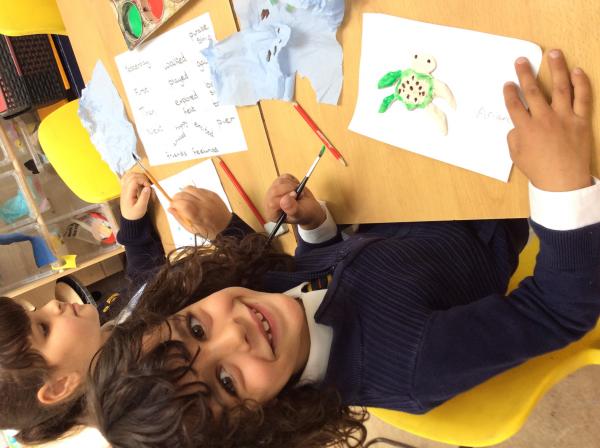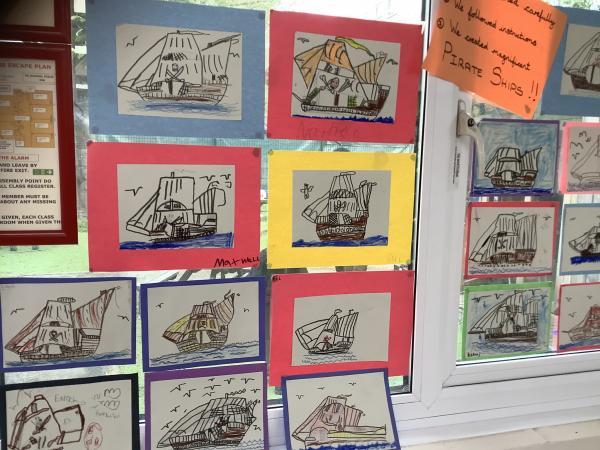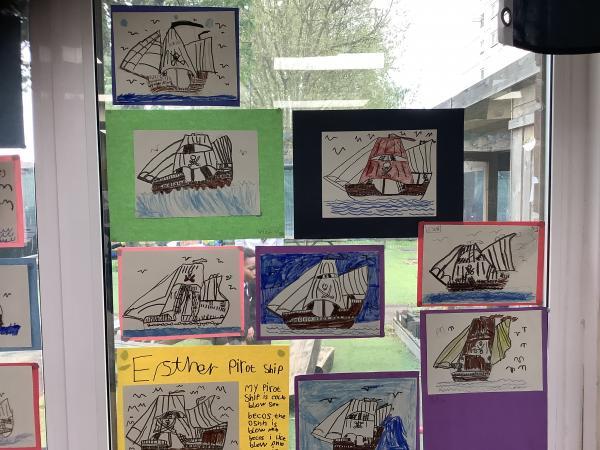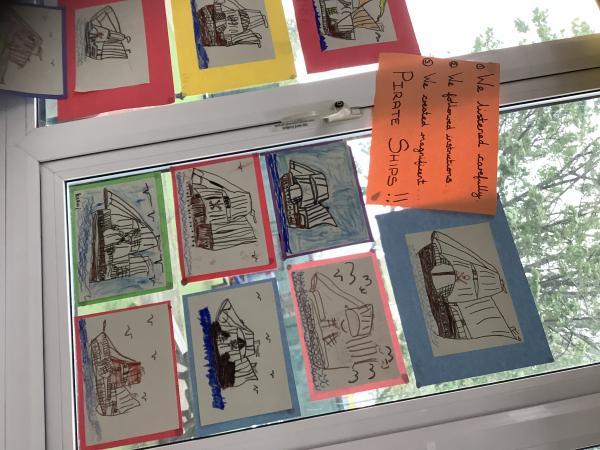 2 Seahorses Walking the Plank!
Captain of the Seahorses ship asked maths questions after which the children had to walk the plank.
Maths Clic knowledge entwined with our pirate topic made for a very exciting maths lesson. Our quartermaster who ensured the children walked the plank was in great form and showed terrific drama skills.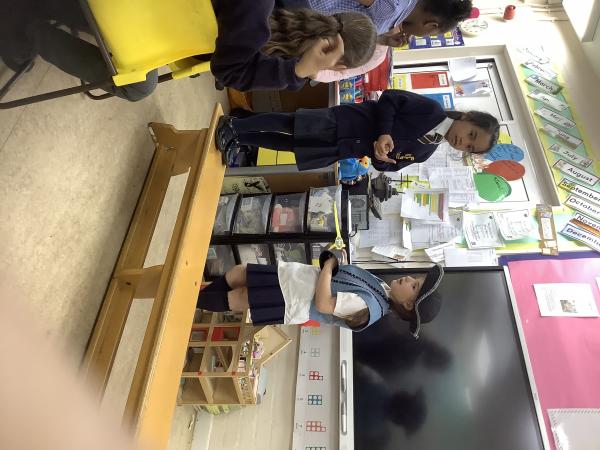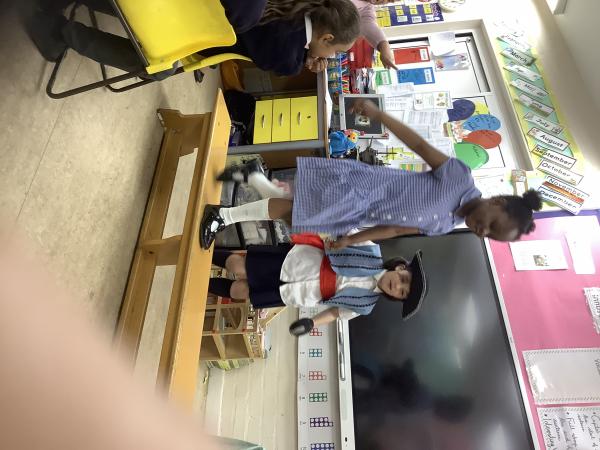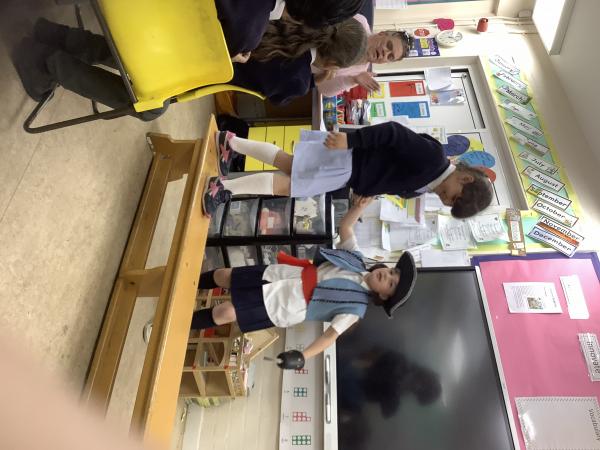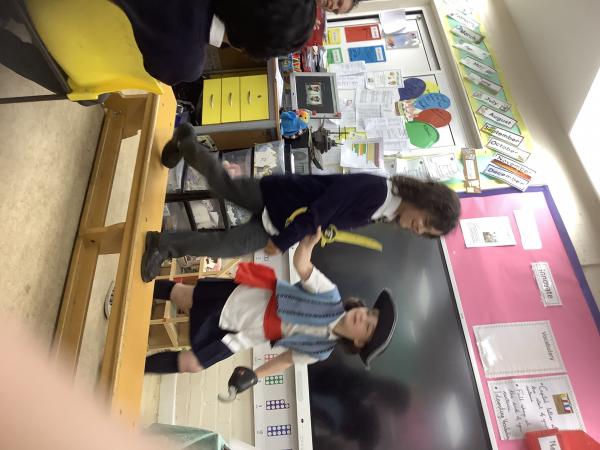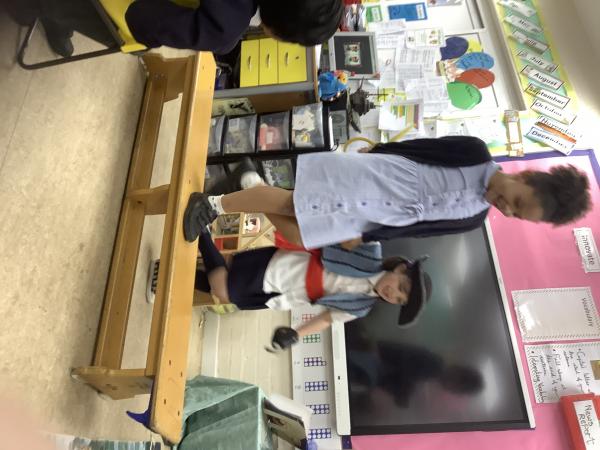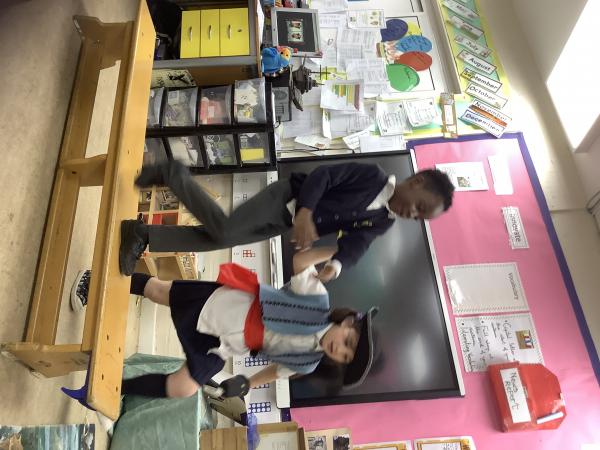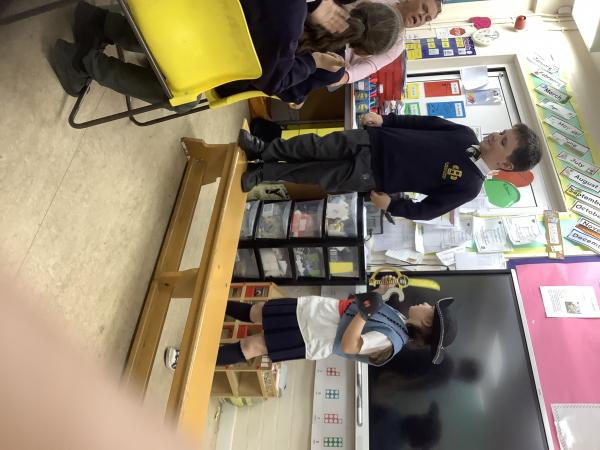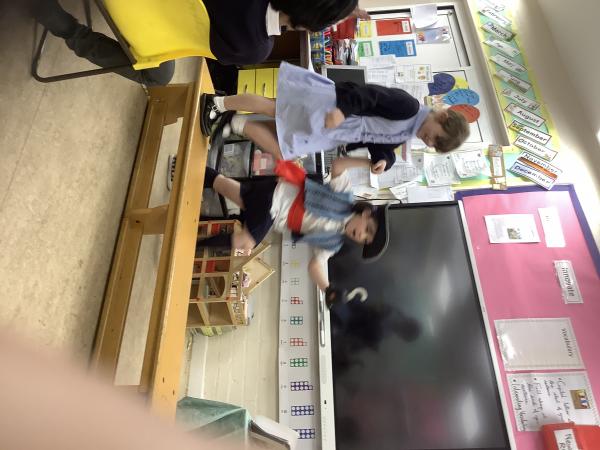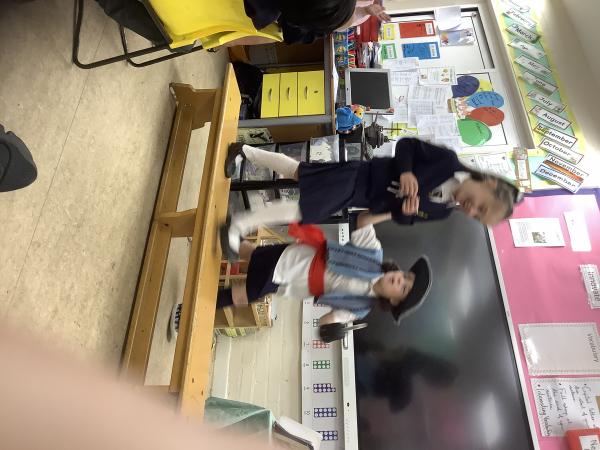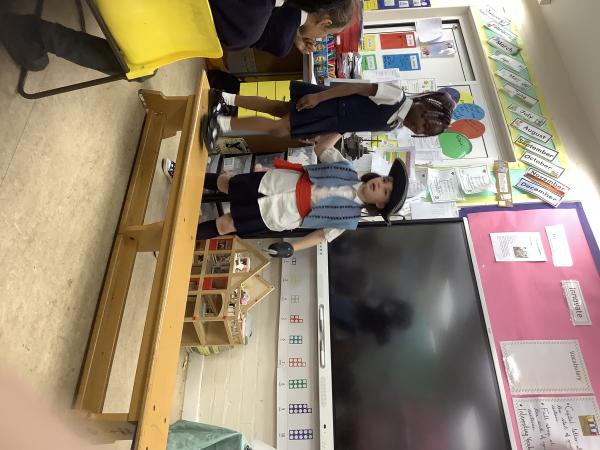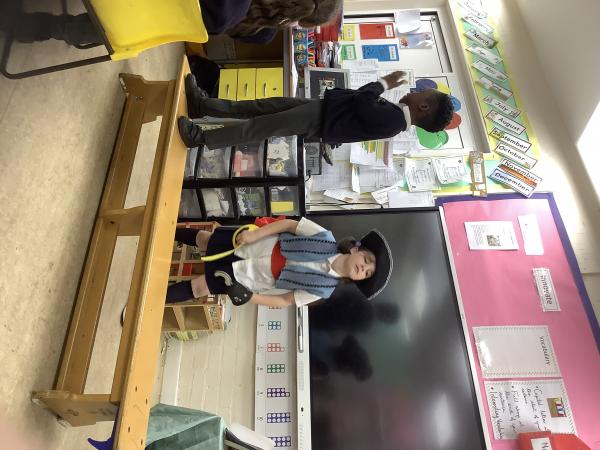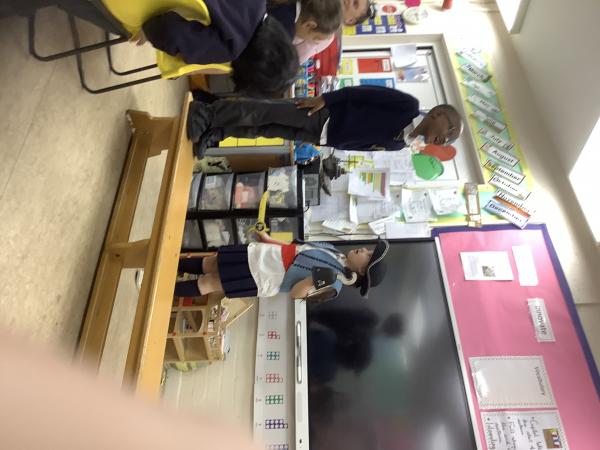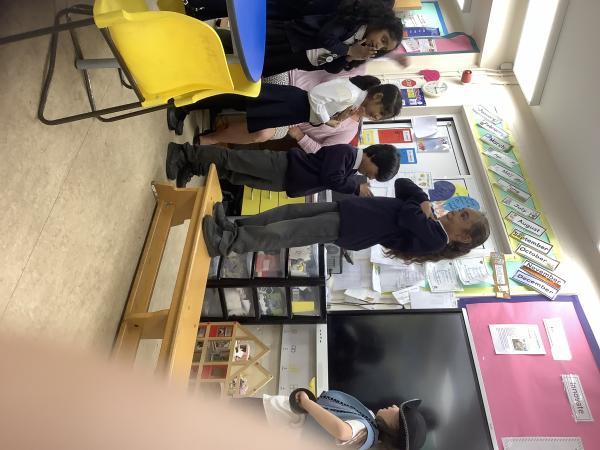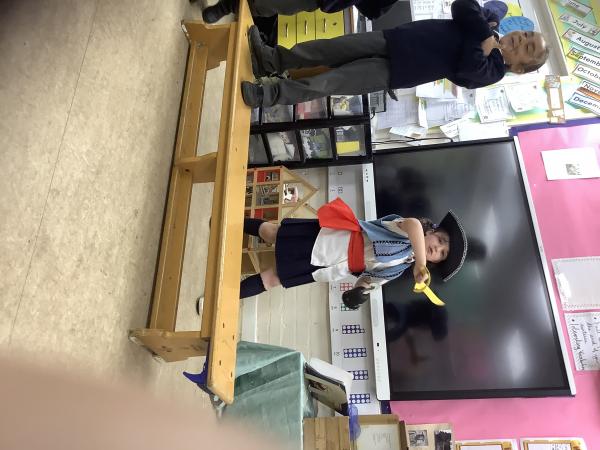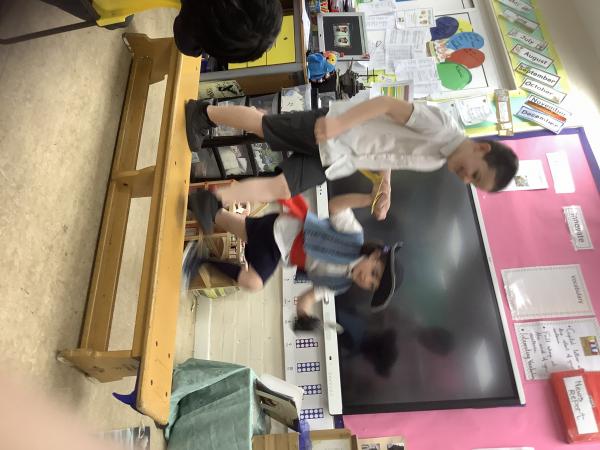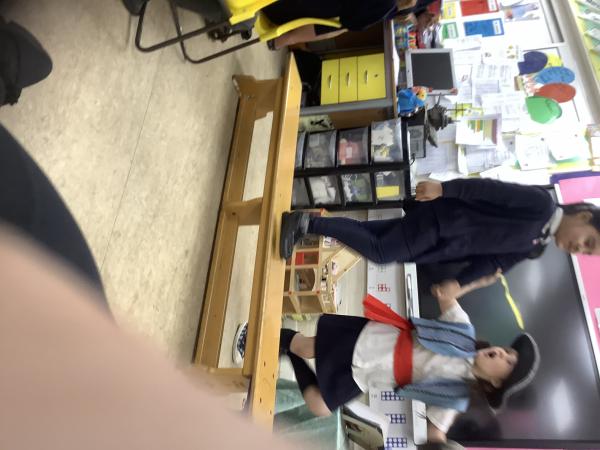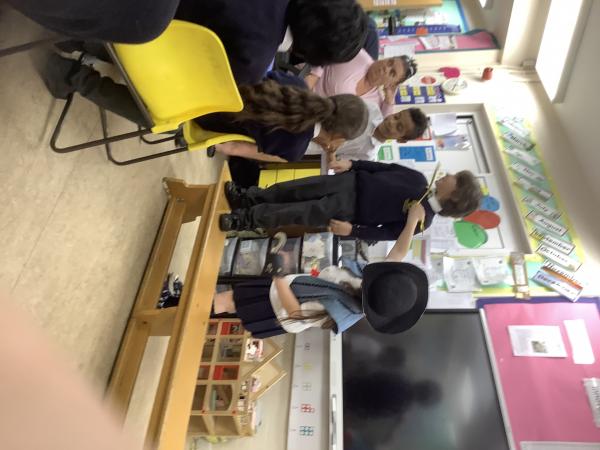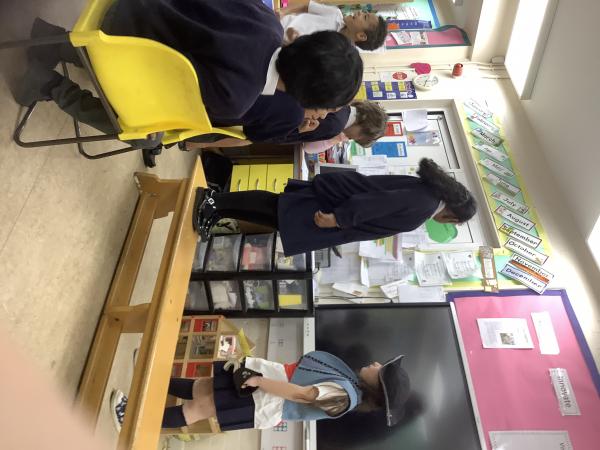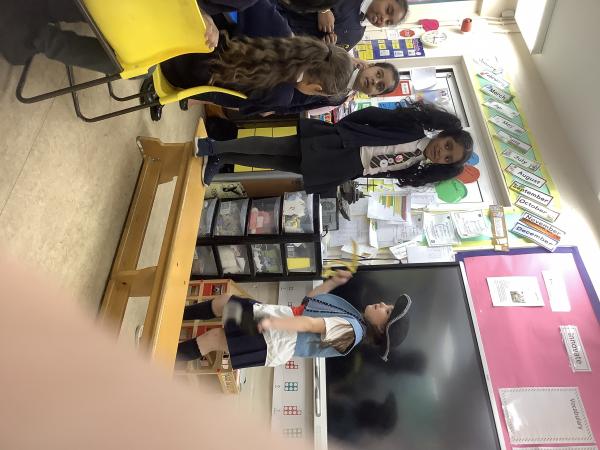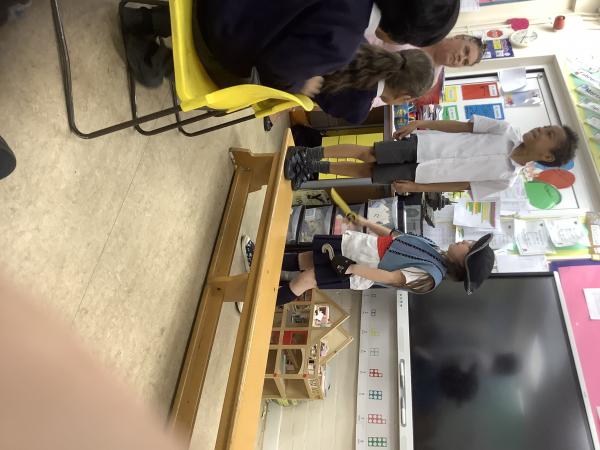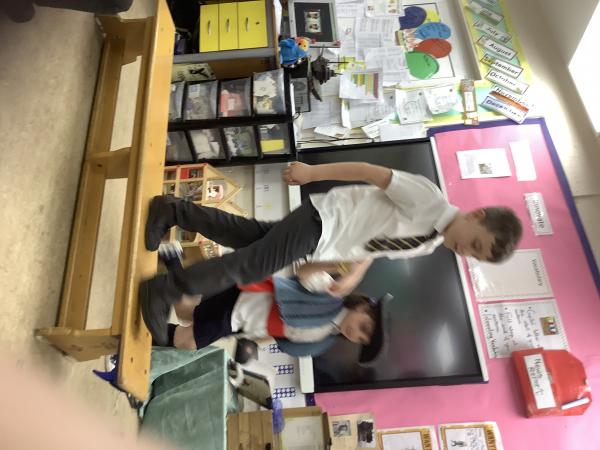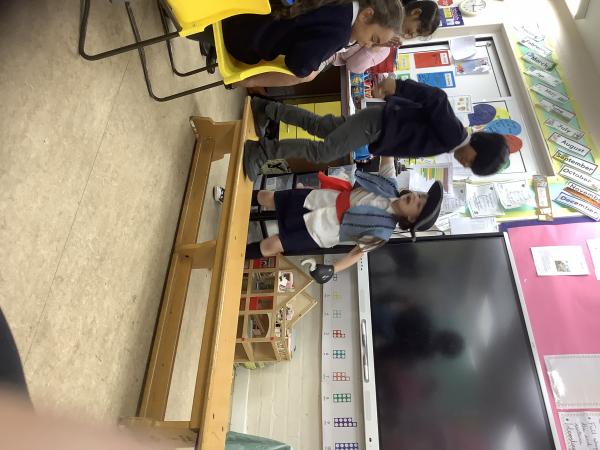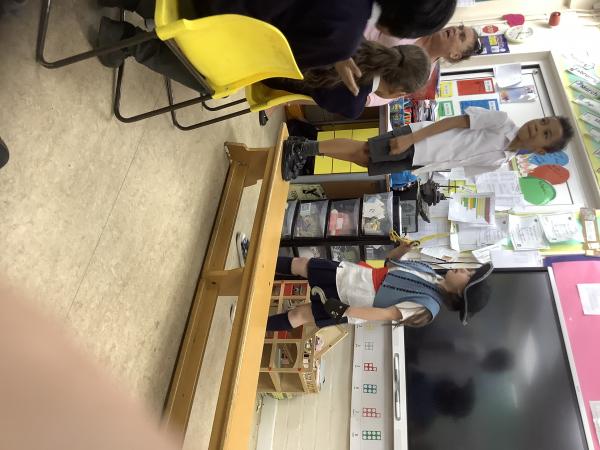 Investigating animal life
Seahorses had a busy morning in the nature area. They investigated animal life - hunting for bugs and insects. We played games involving predators and prey.
Later in the morning, Seahorses produced pirate maps hiding treasures around the nature area. They swapped their maps with other groups, leaving them to hunt for each other's treasure! Some more successfully than others. Well done Year 2.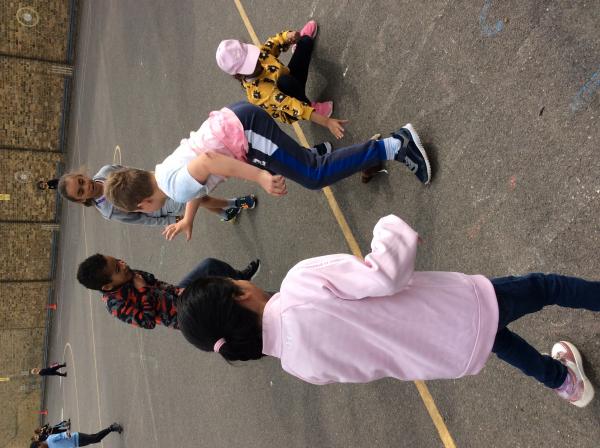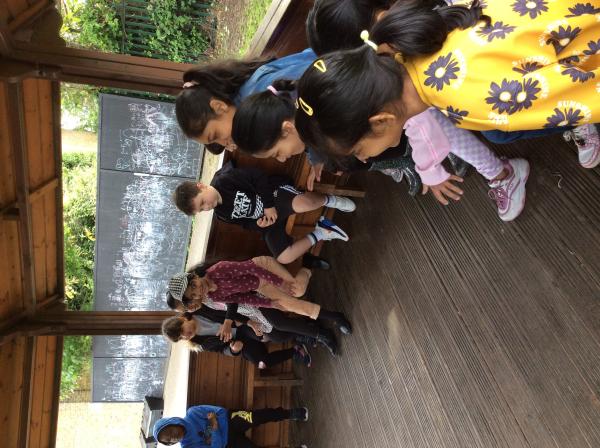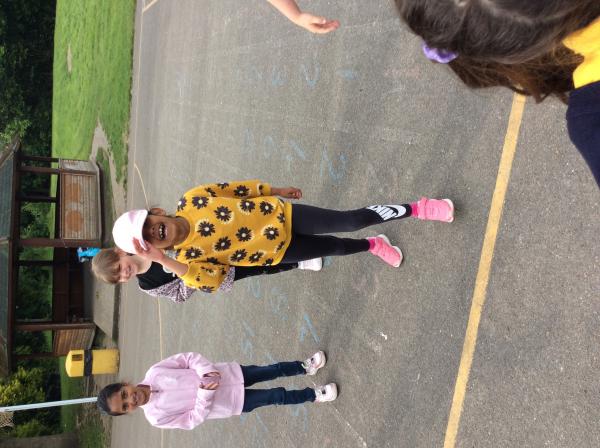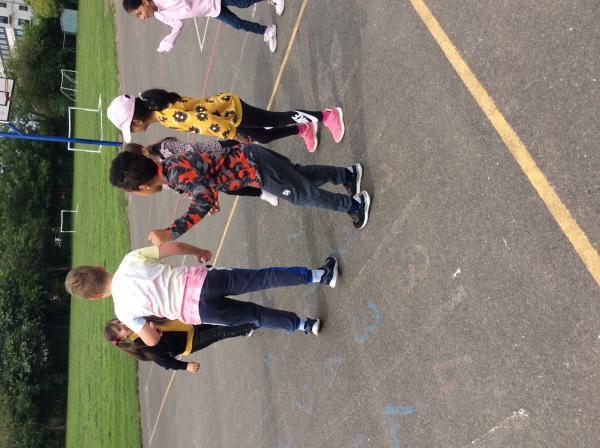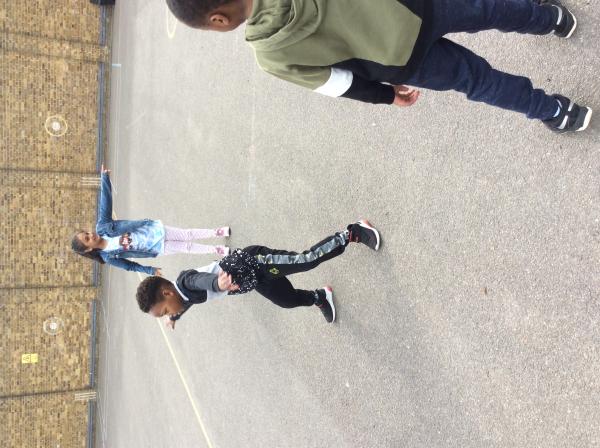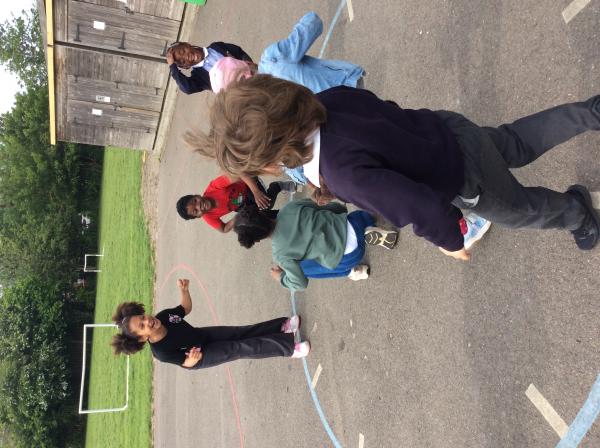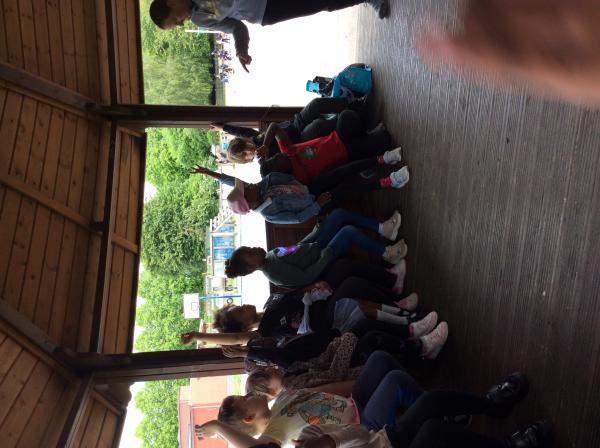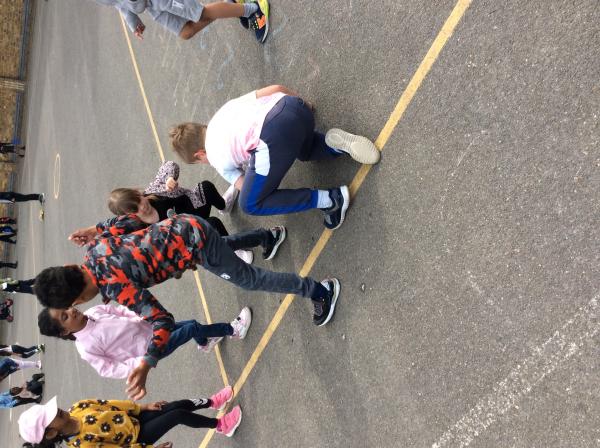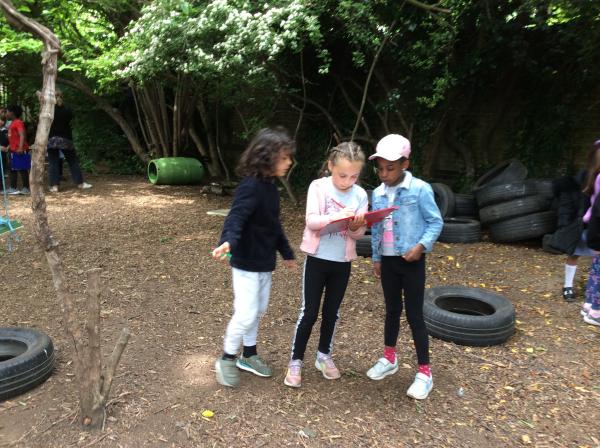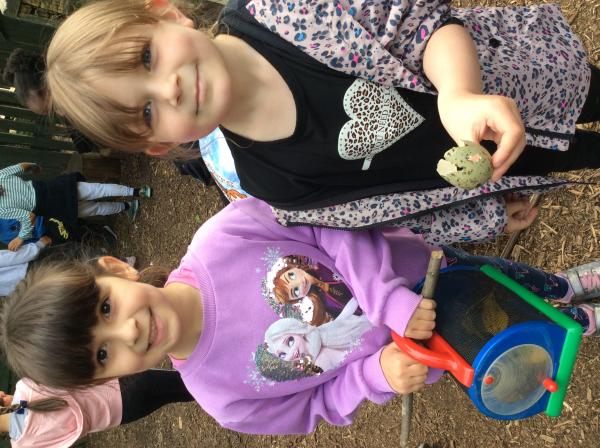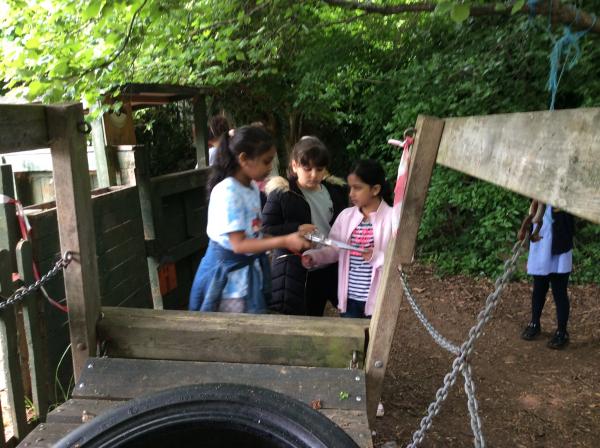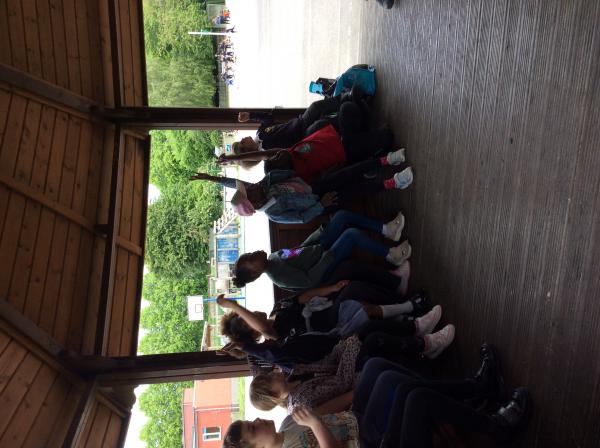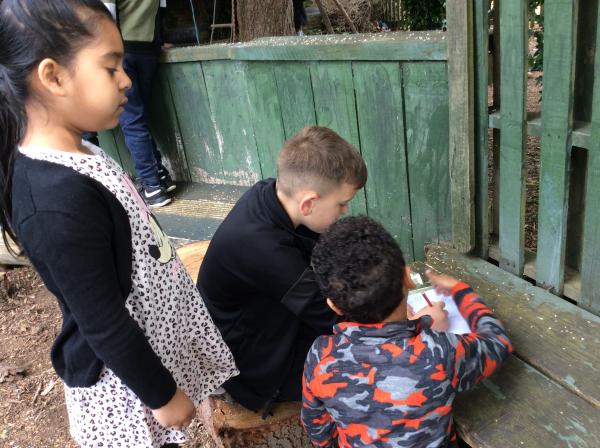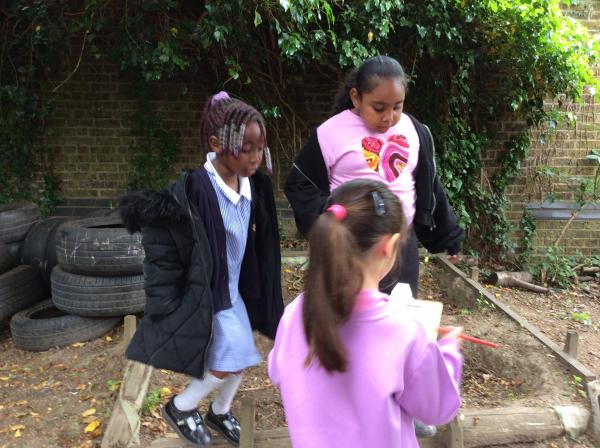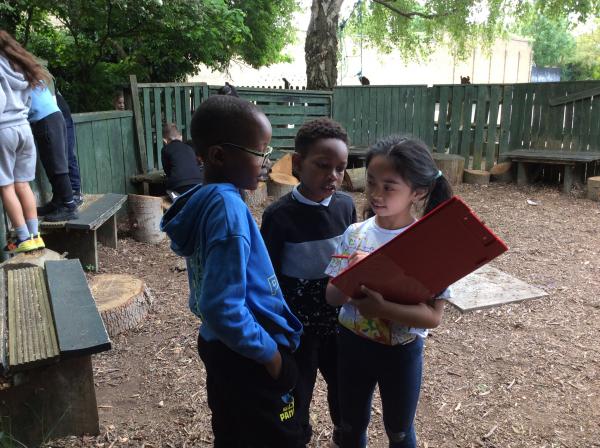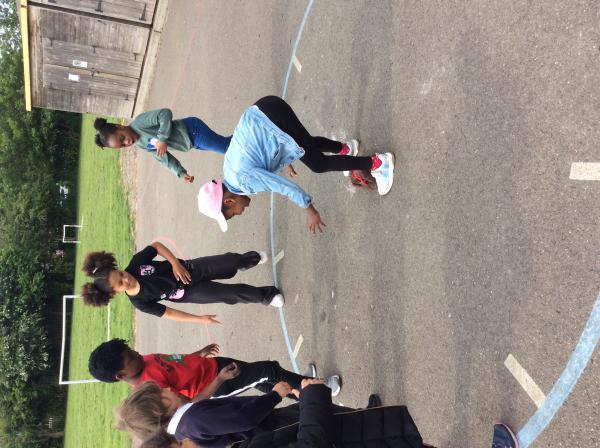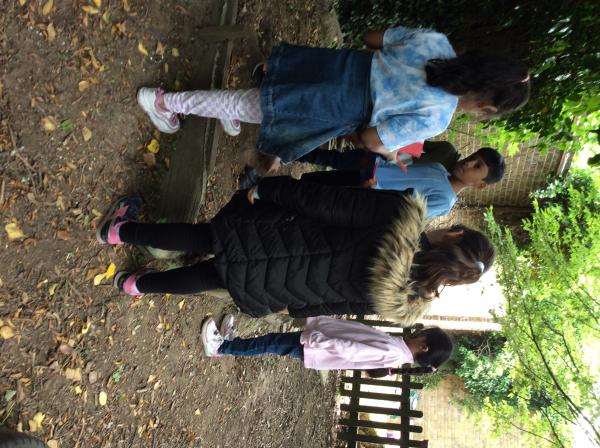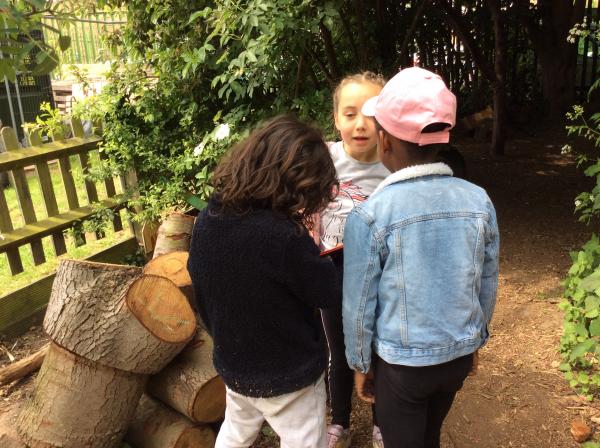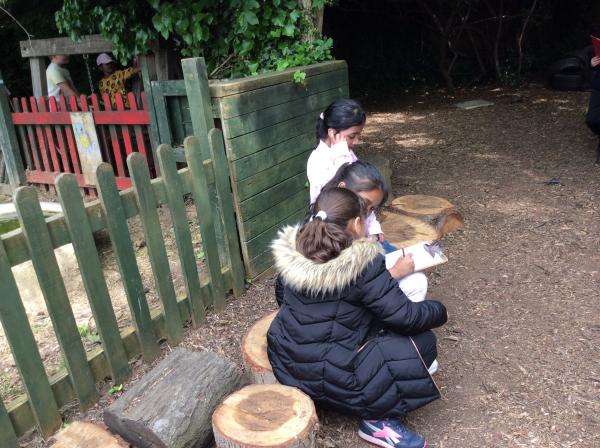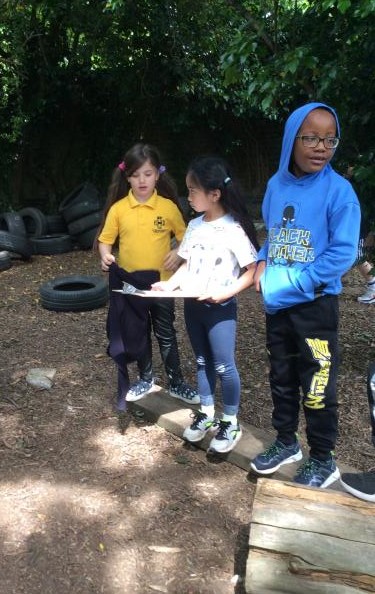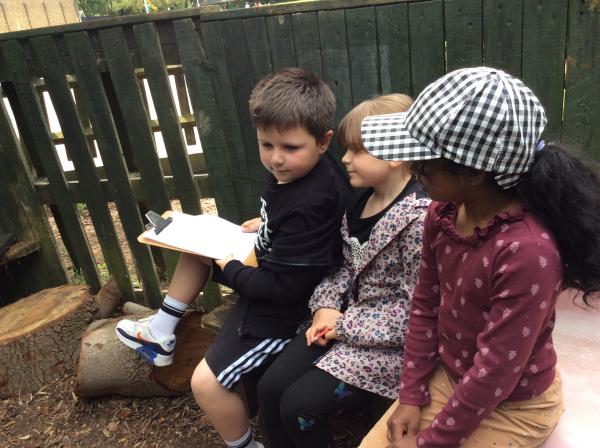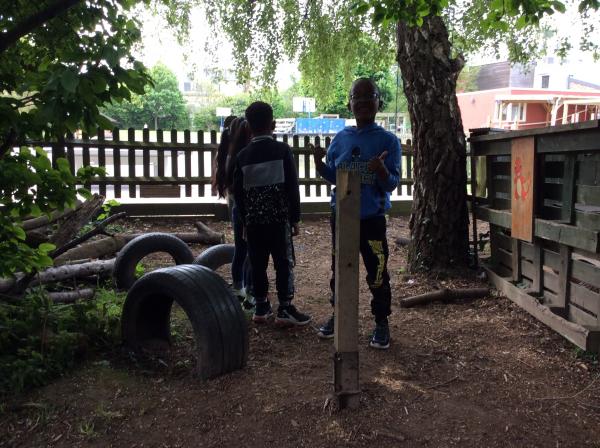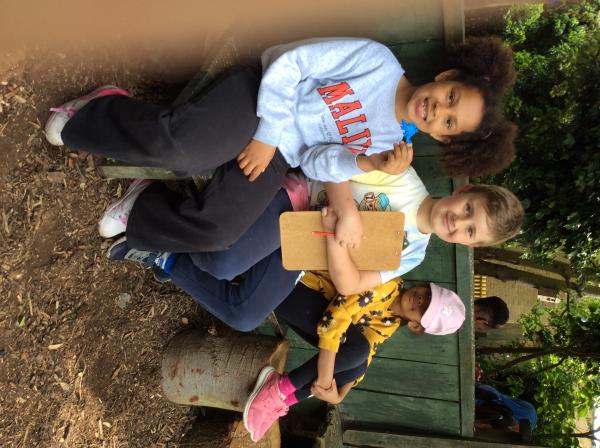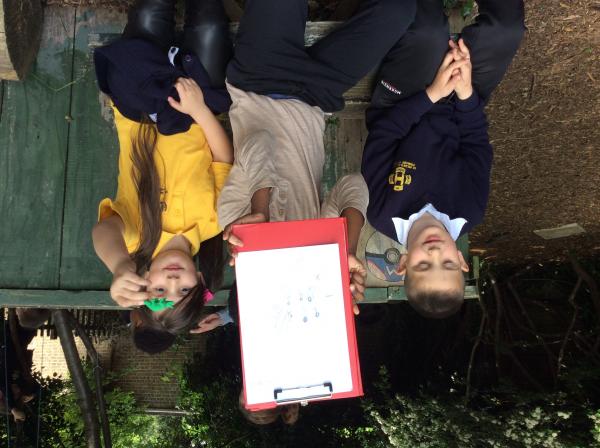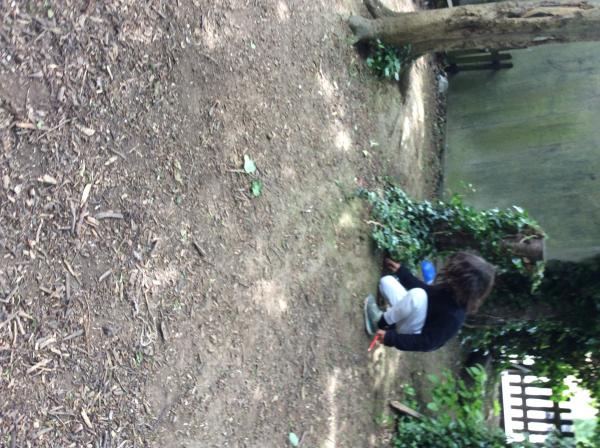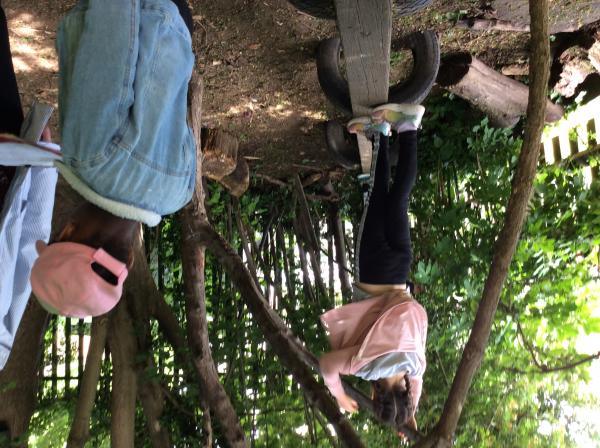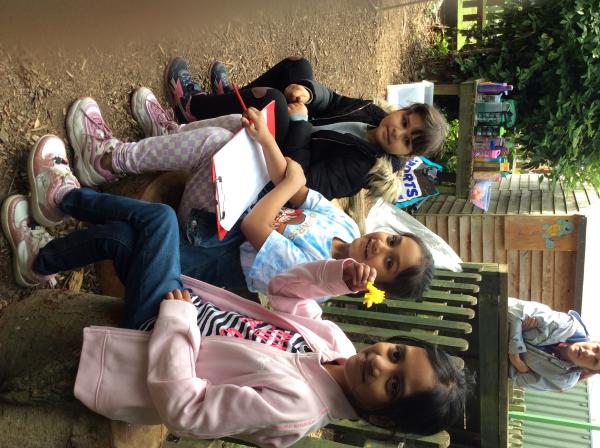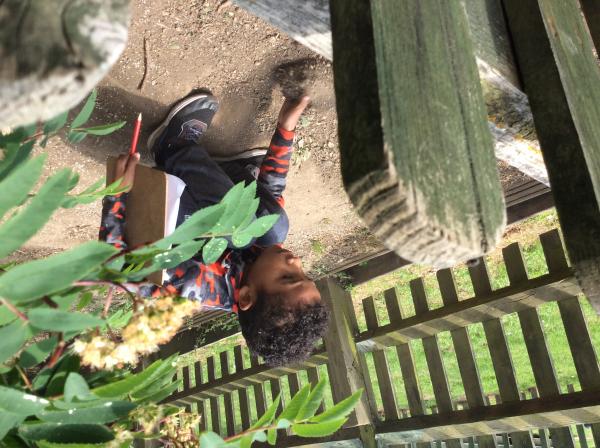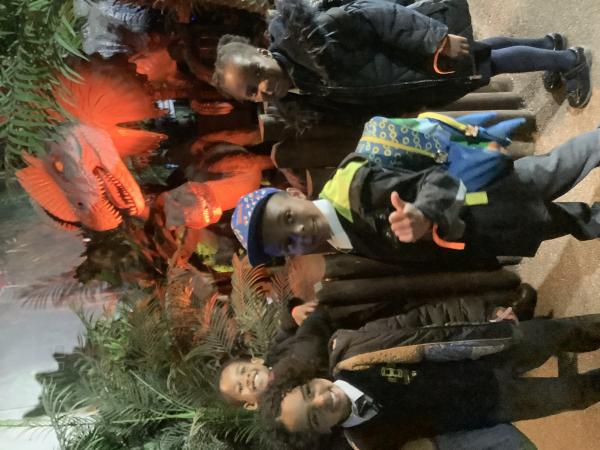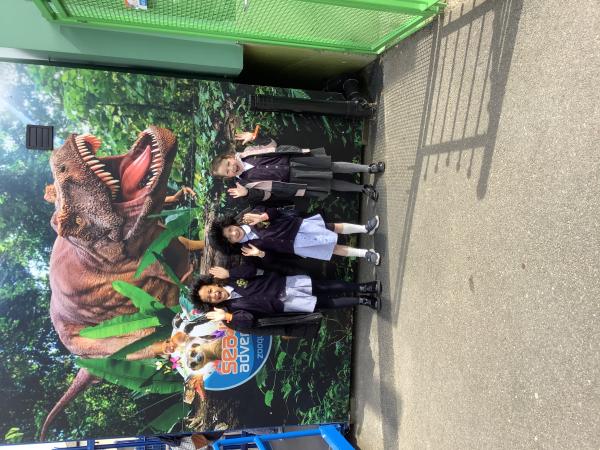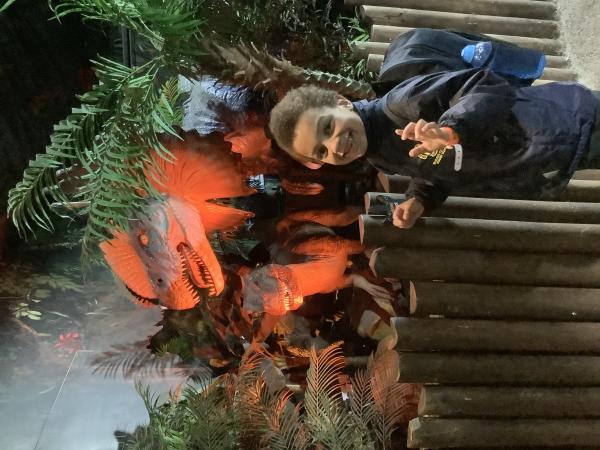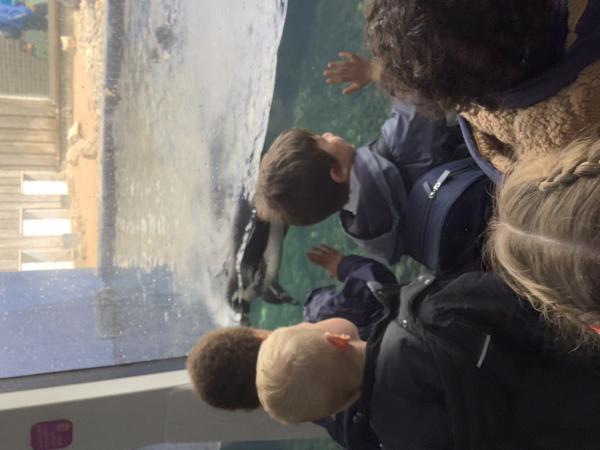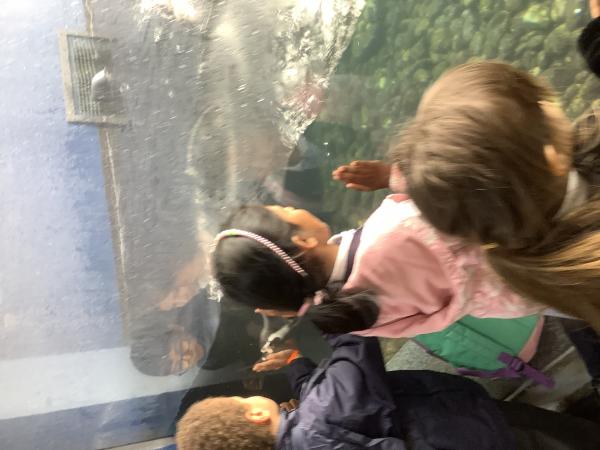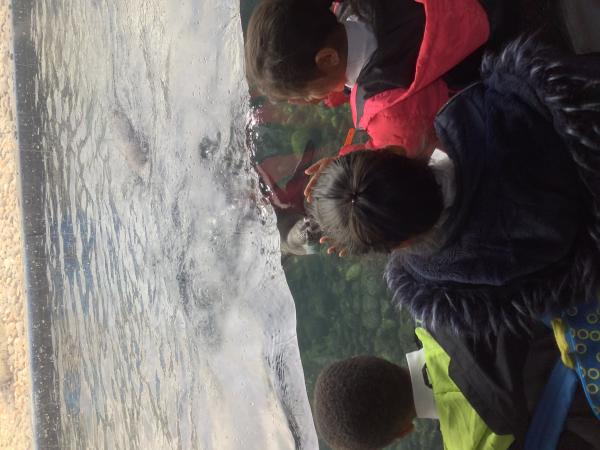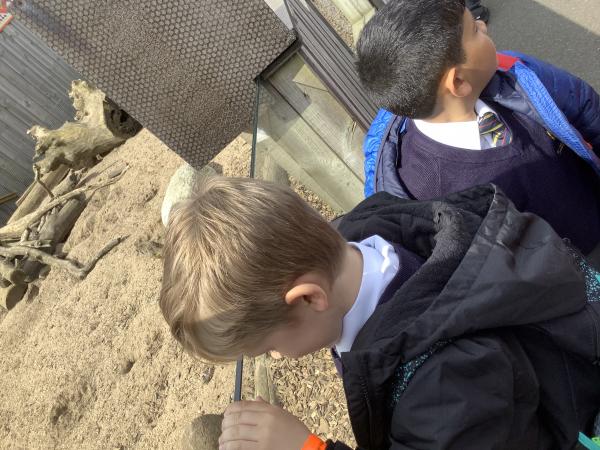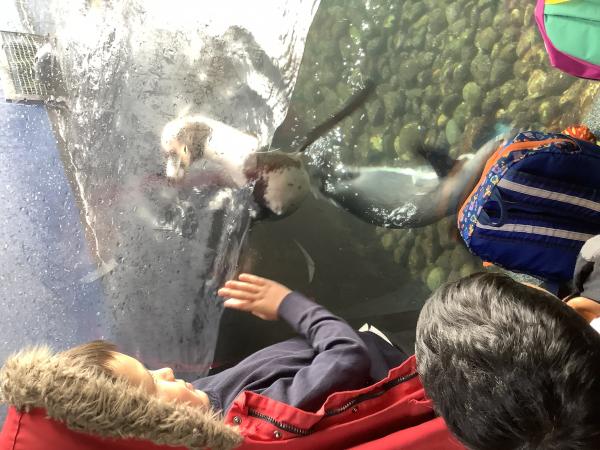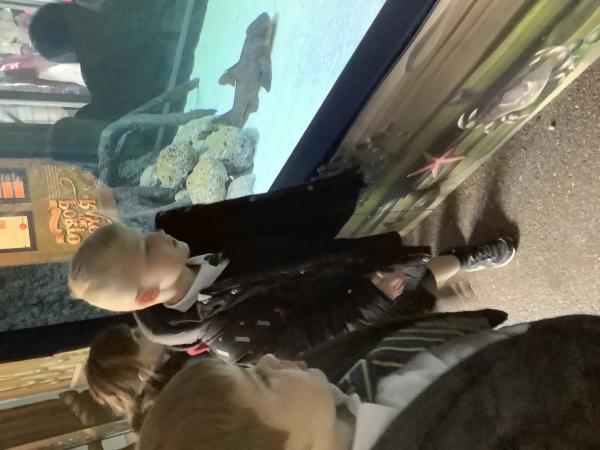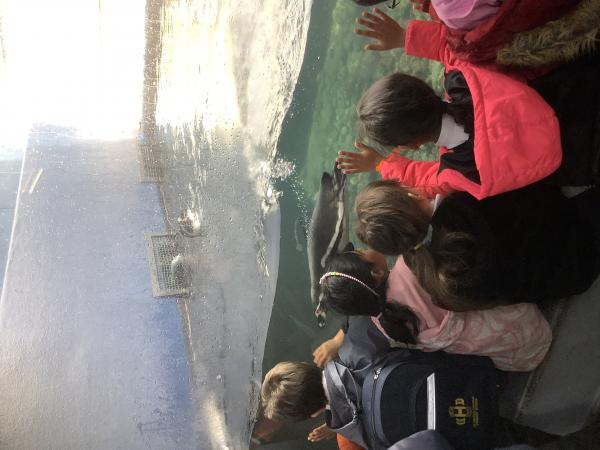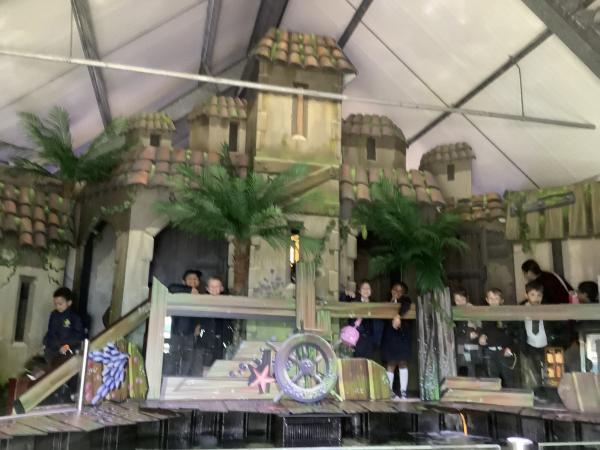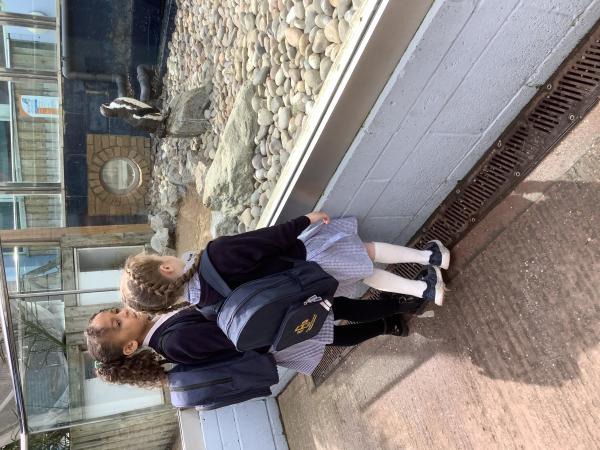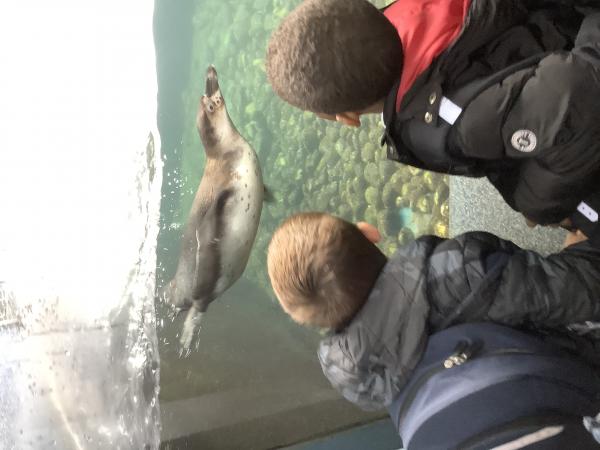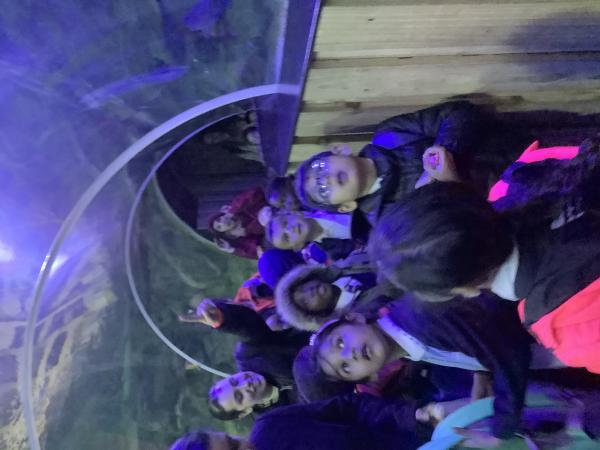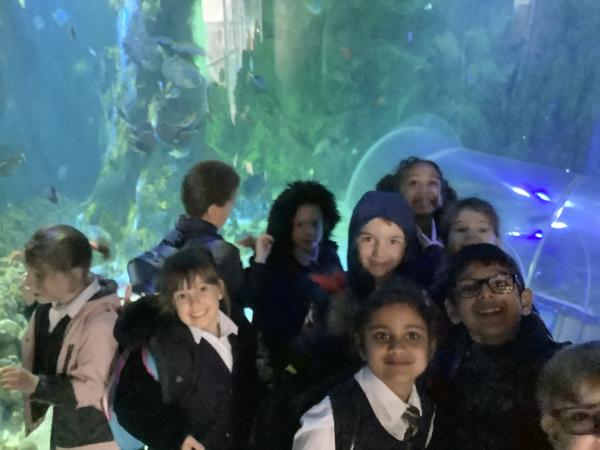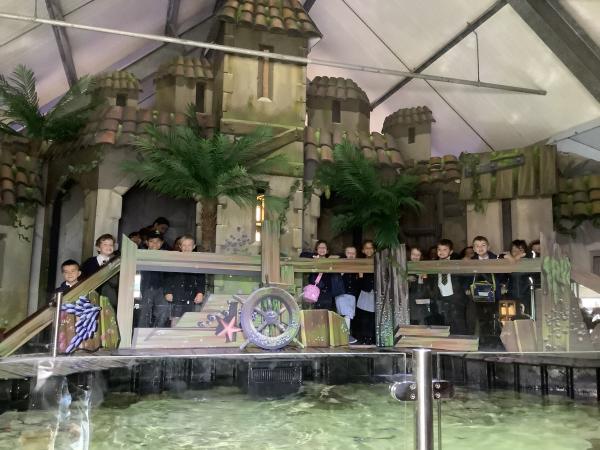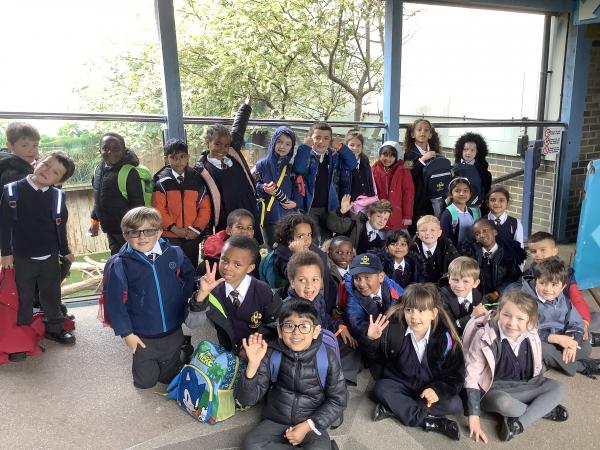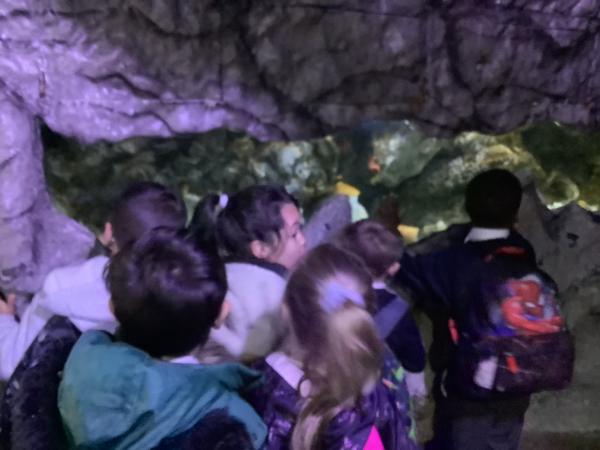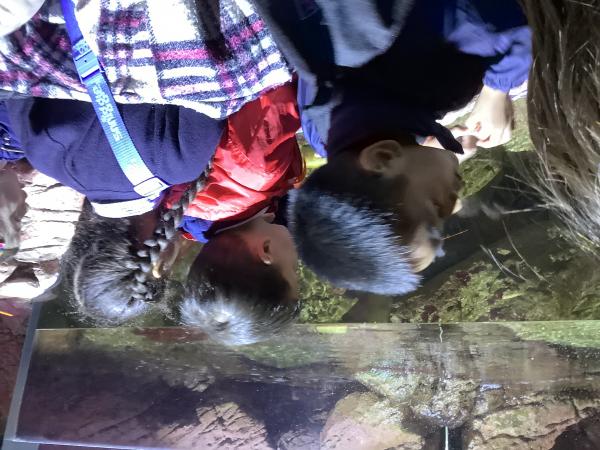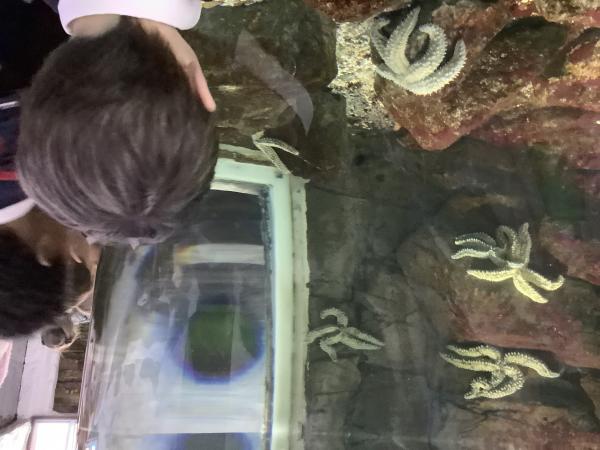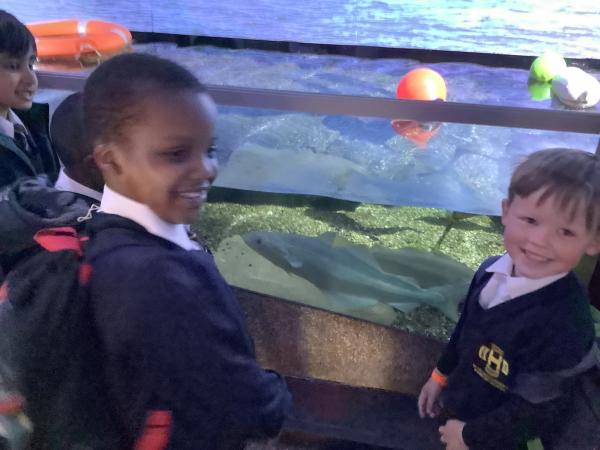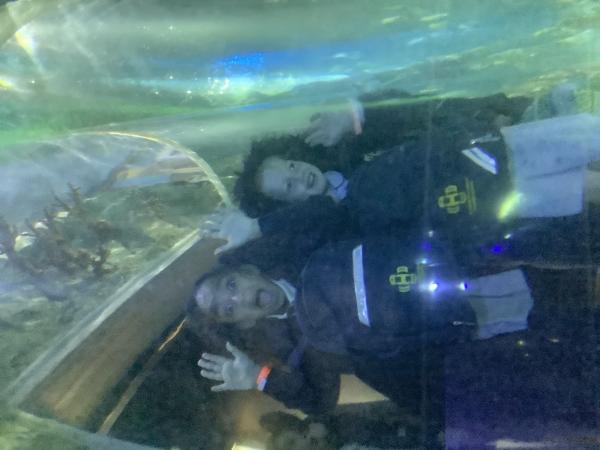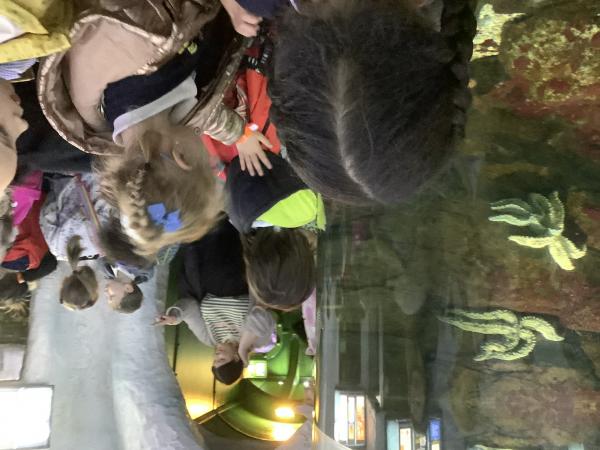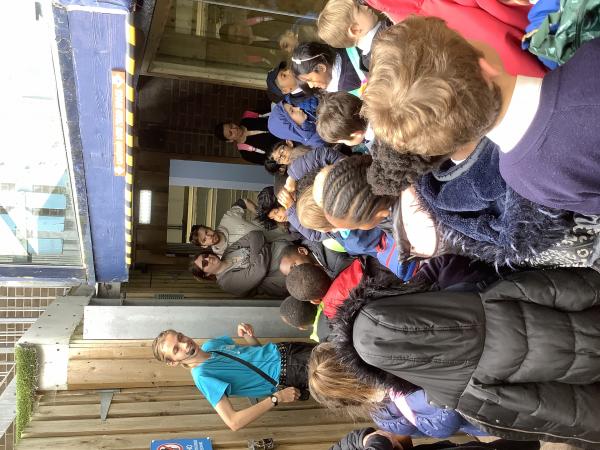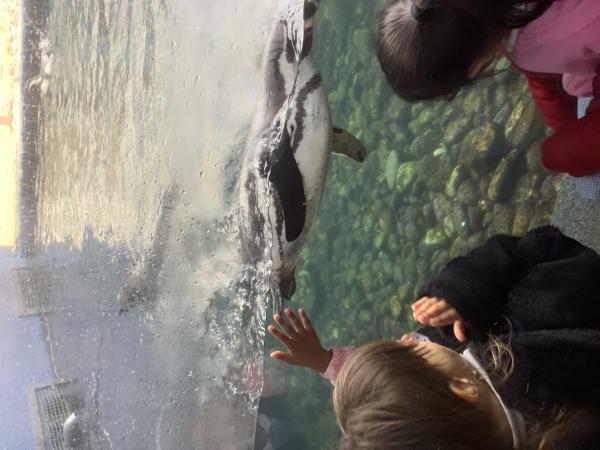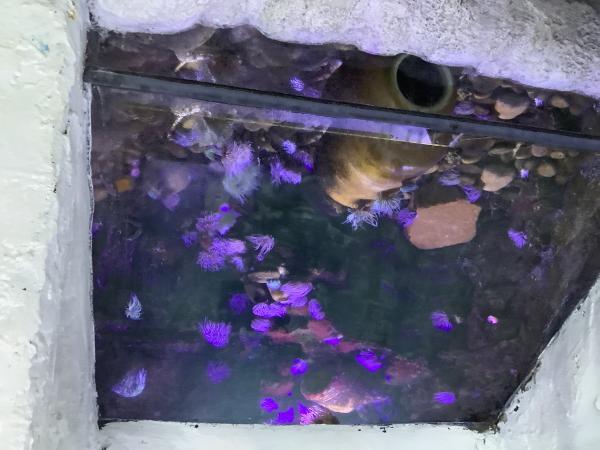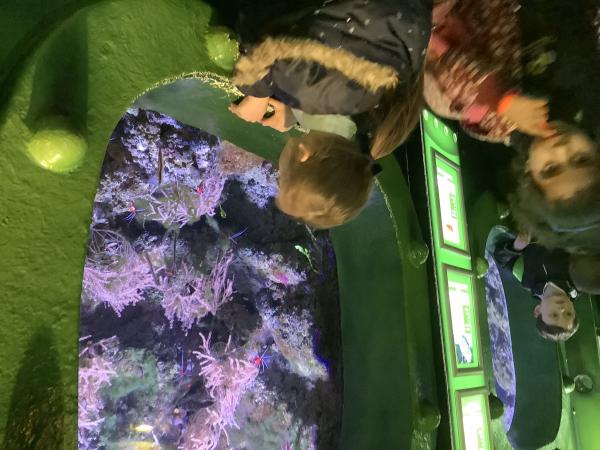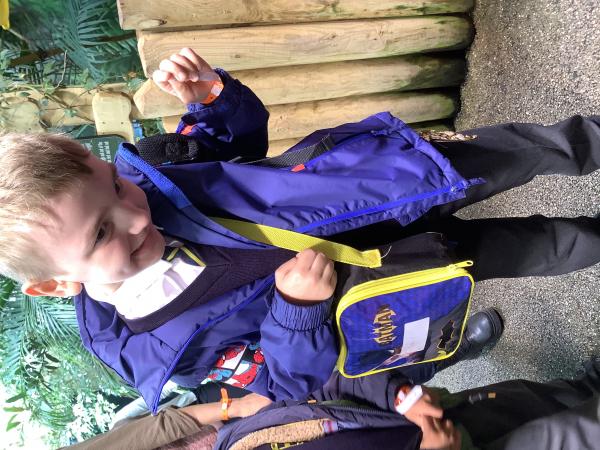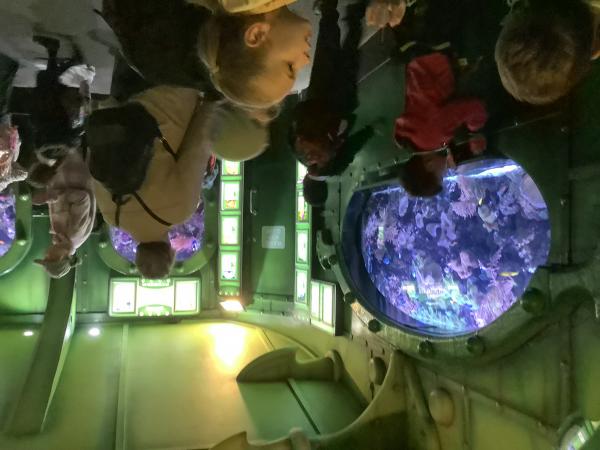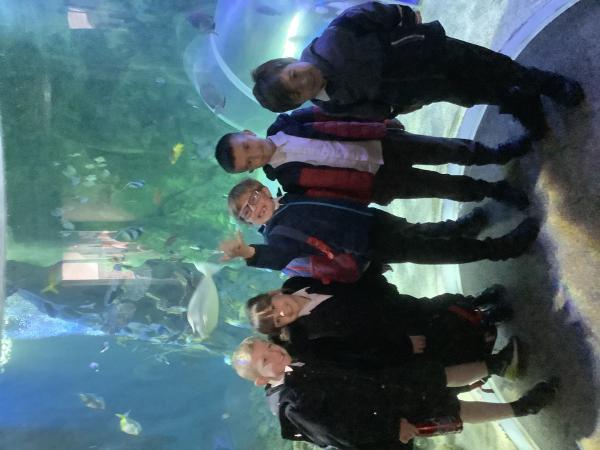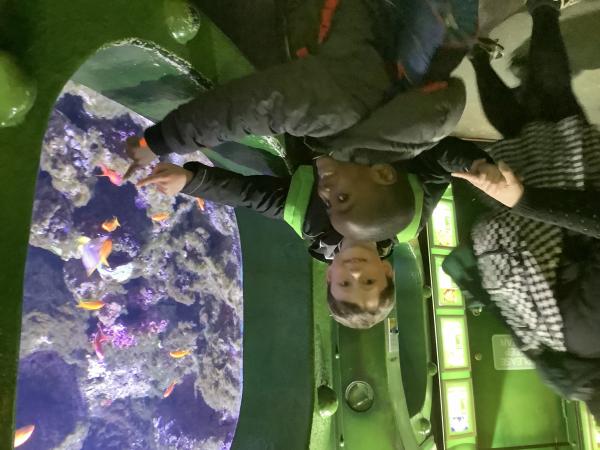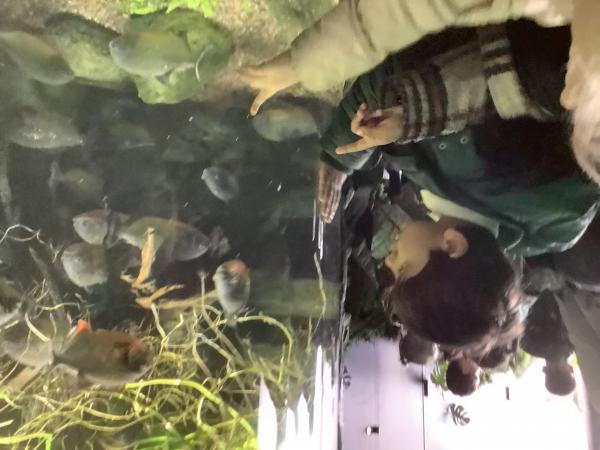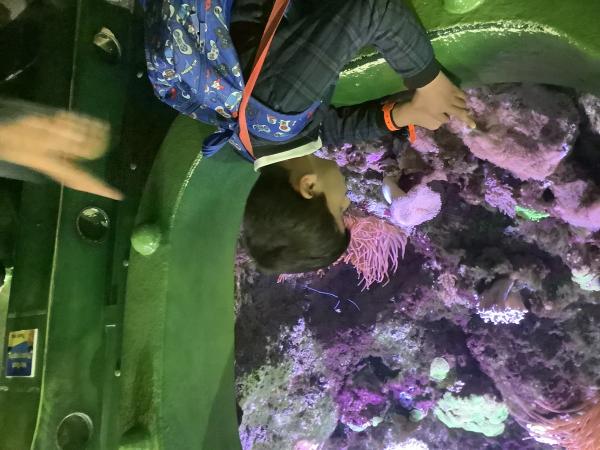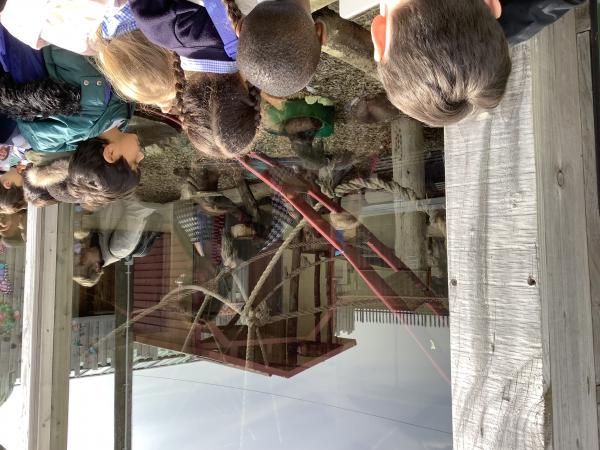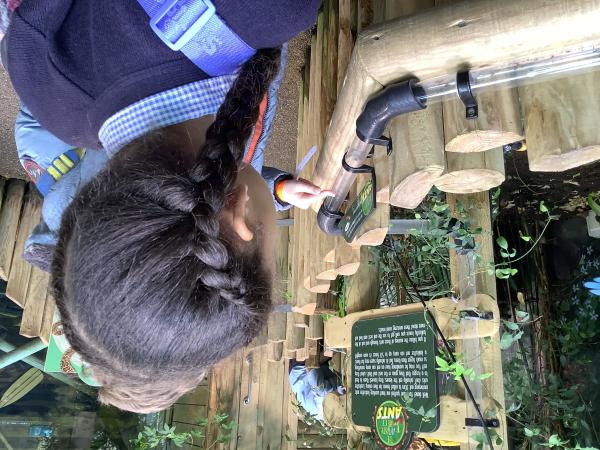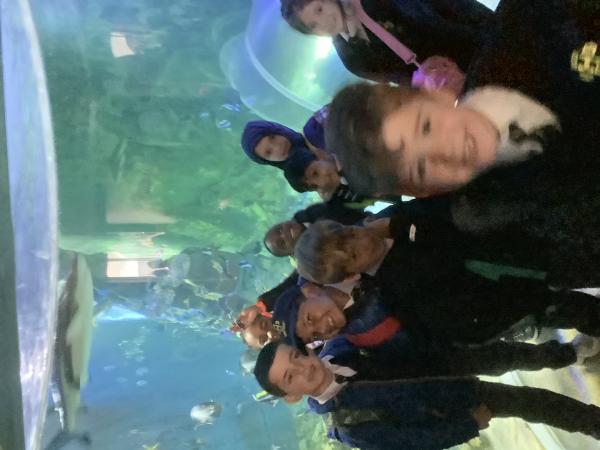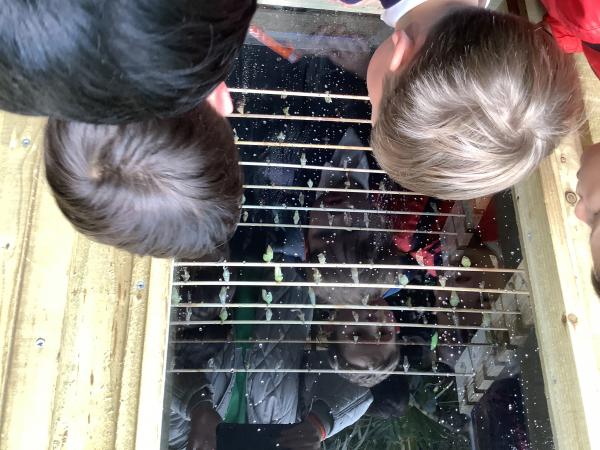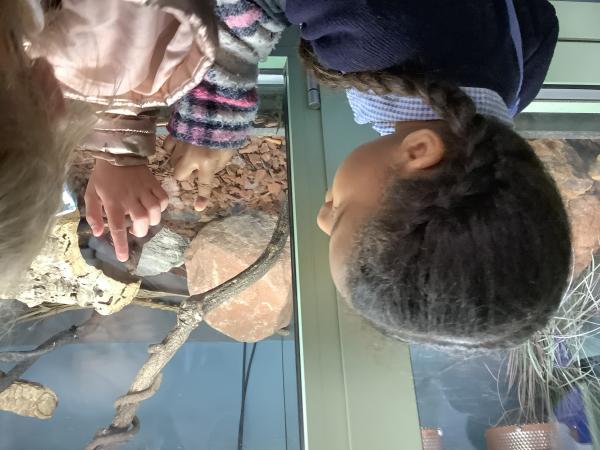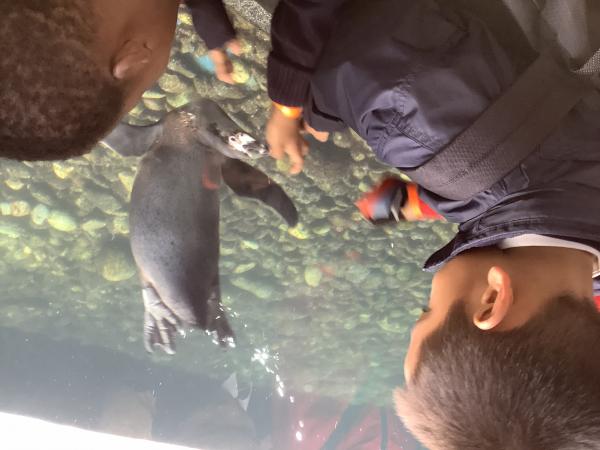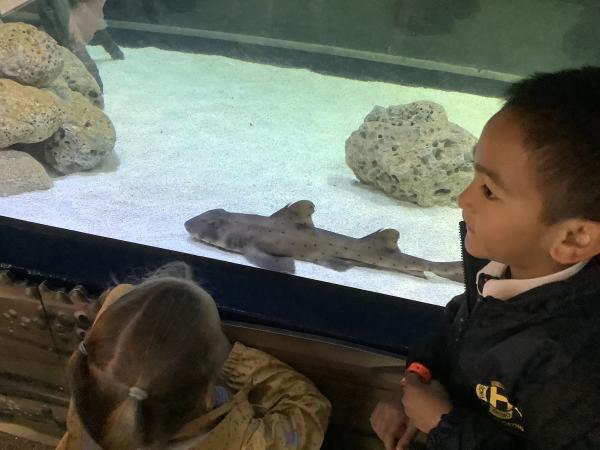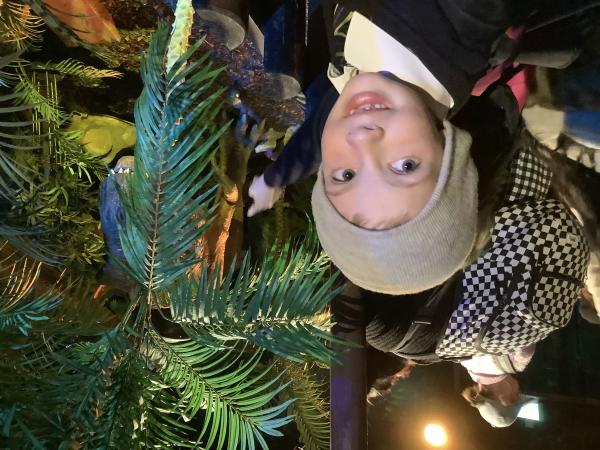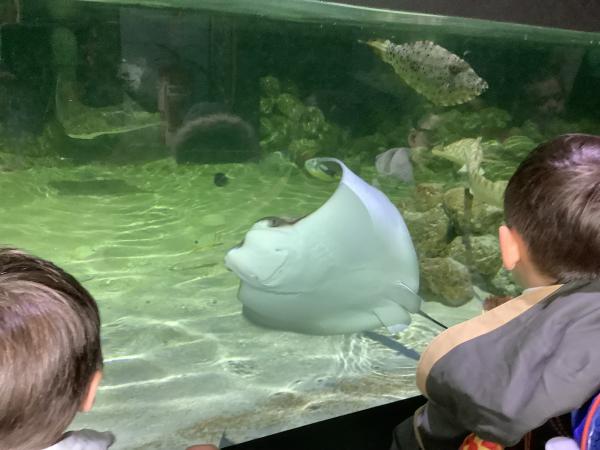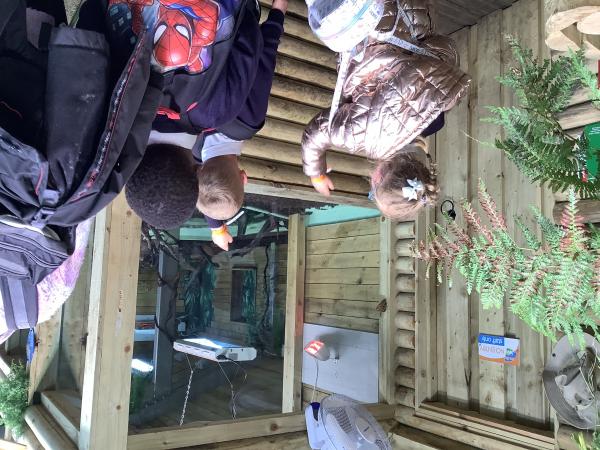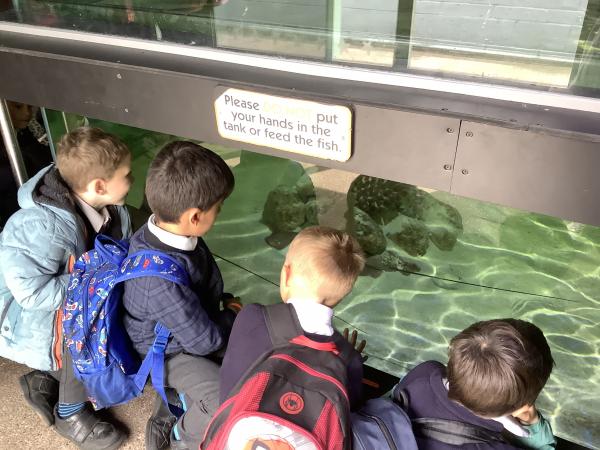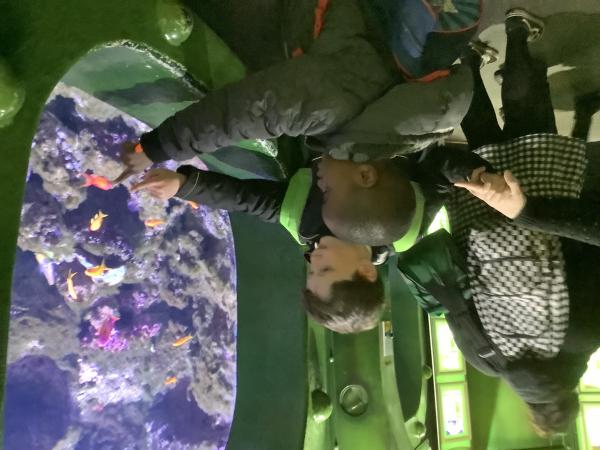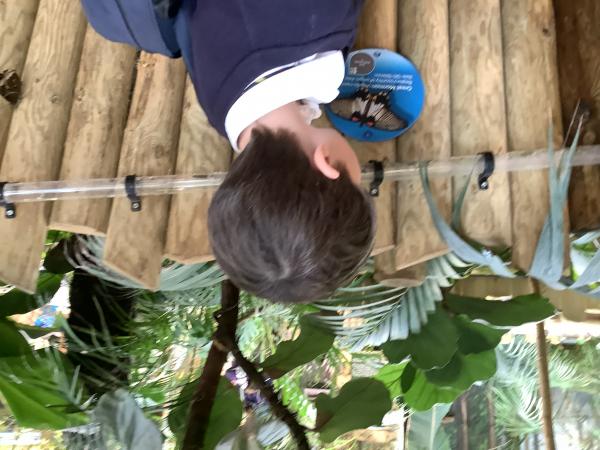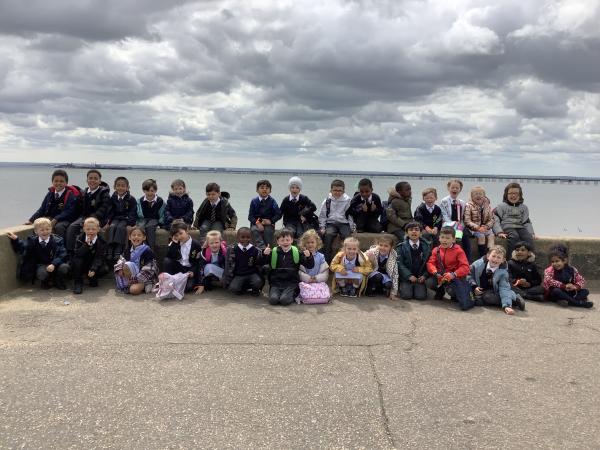 Maps and treasure
Oysters spent a busy afternoon in the nature area. After investigating the insect life, they moved onto drawing pirate maps. In groups, they hid some treasure, producing a pirate map. The map was given to another group and they had to decipher the map to find the treasure. The children found some of the maps very obscure! An activity that will be repeated to practise our map drawing skills.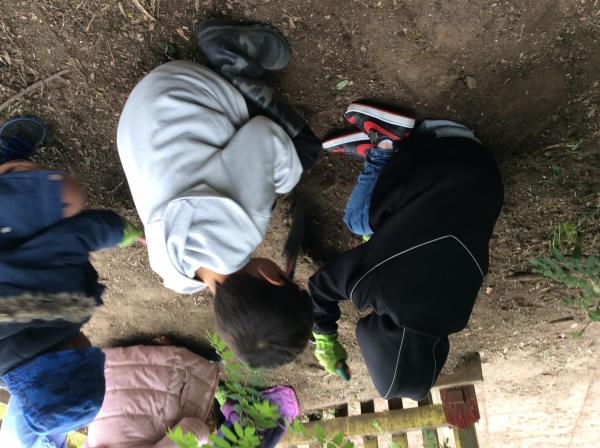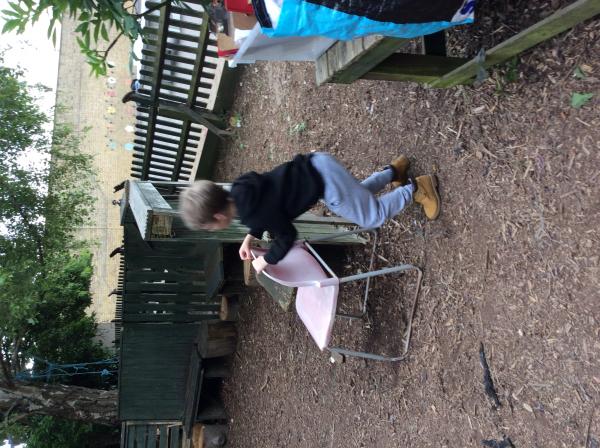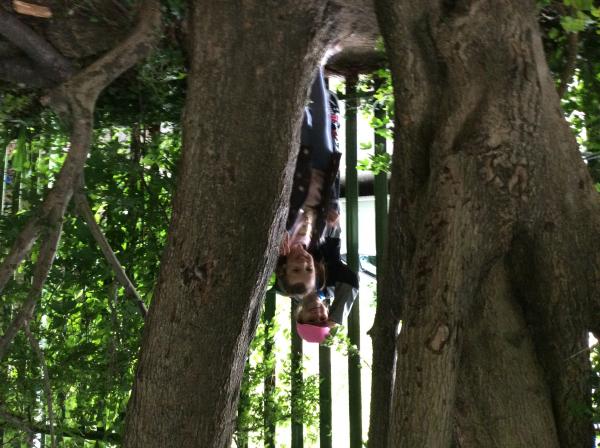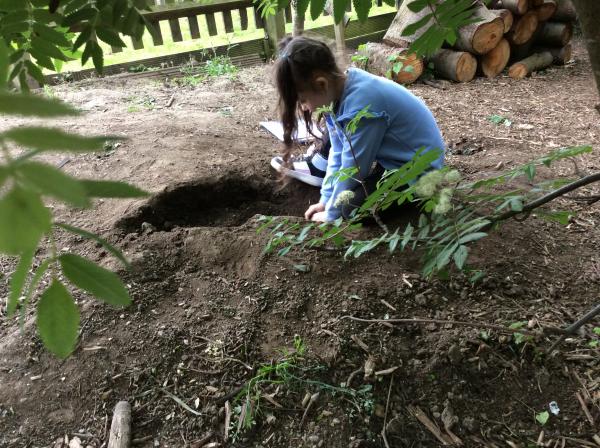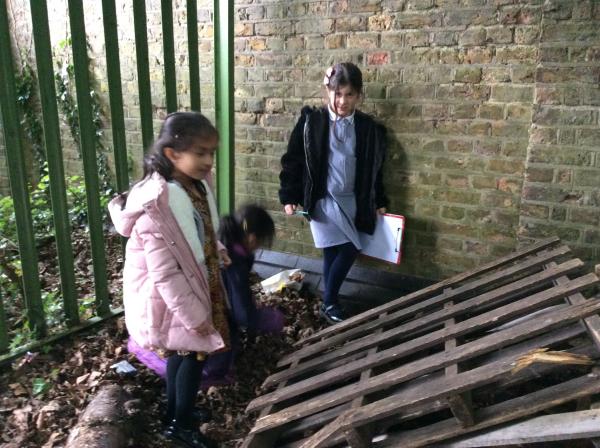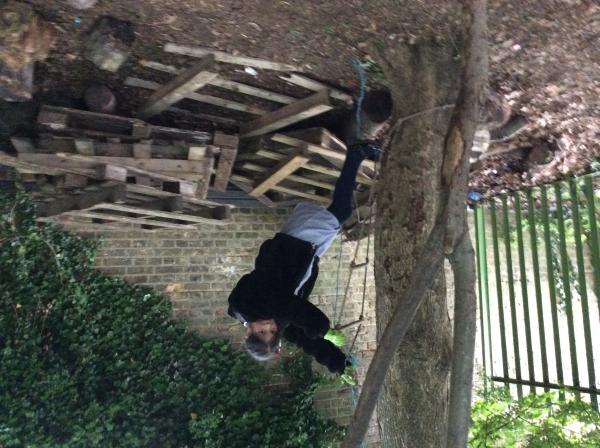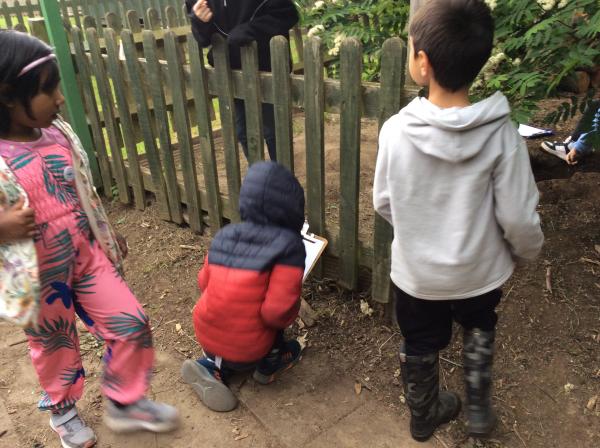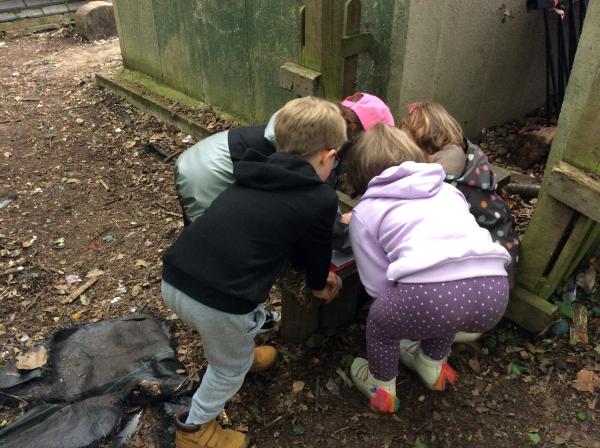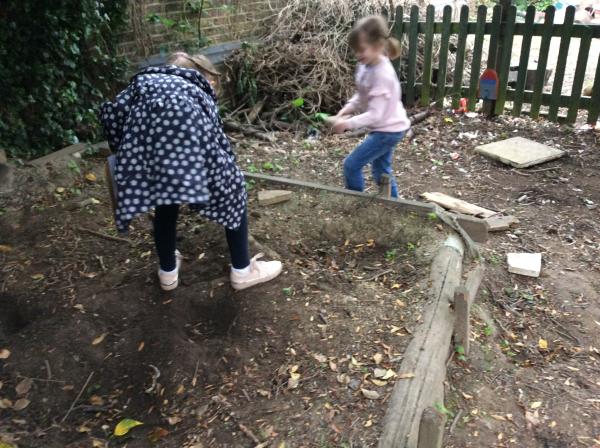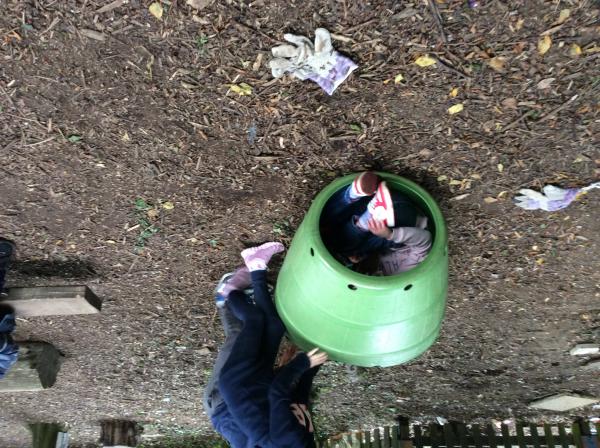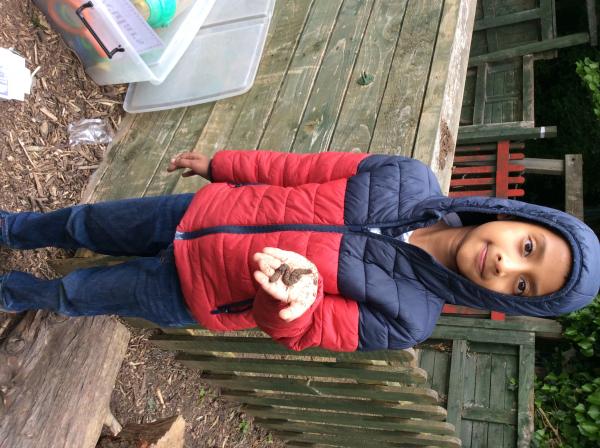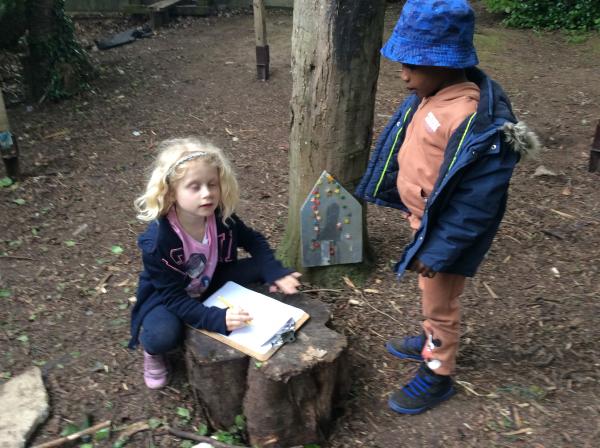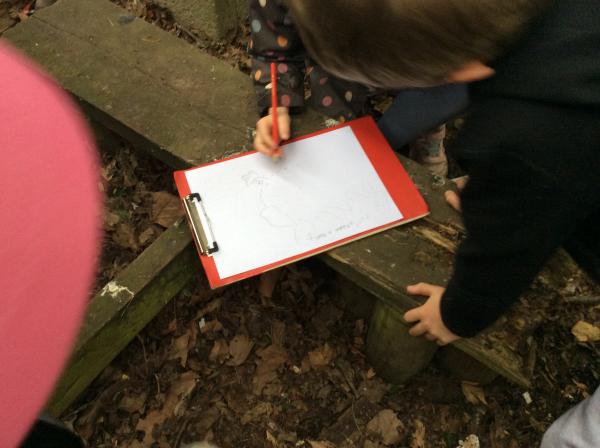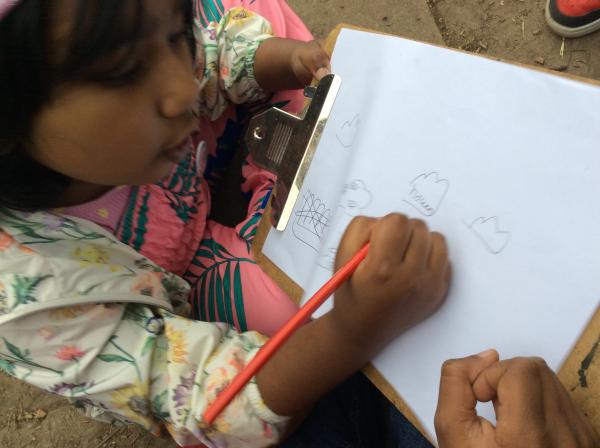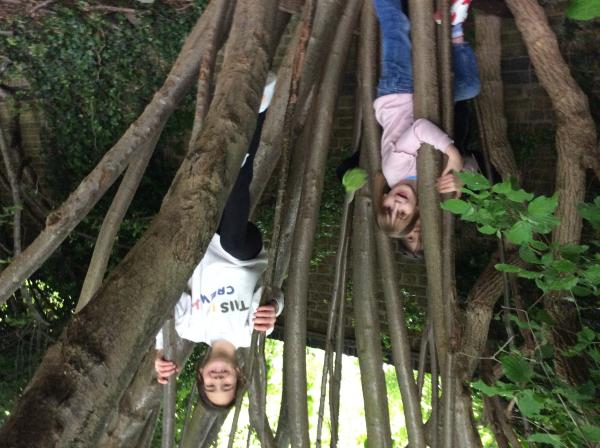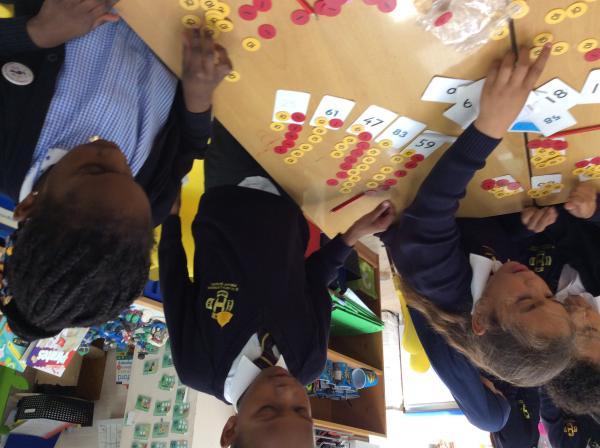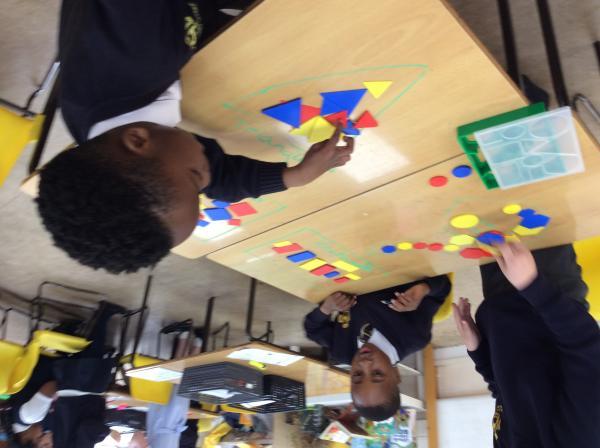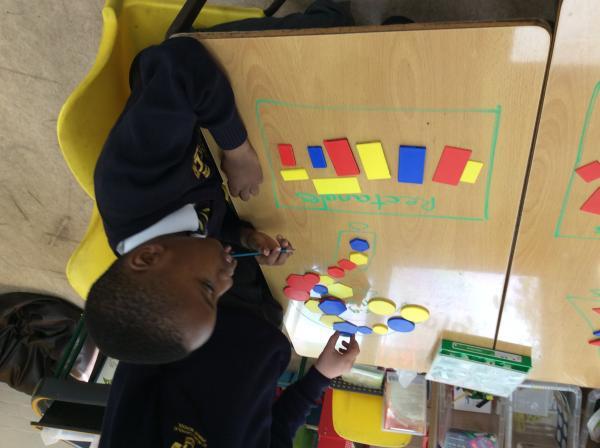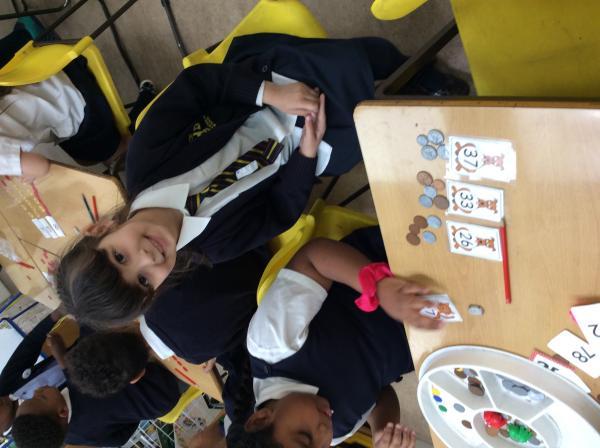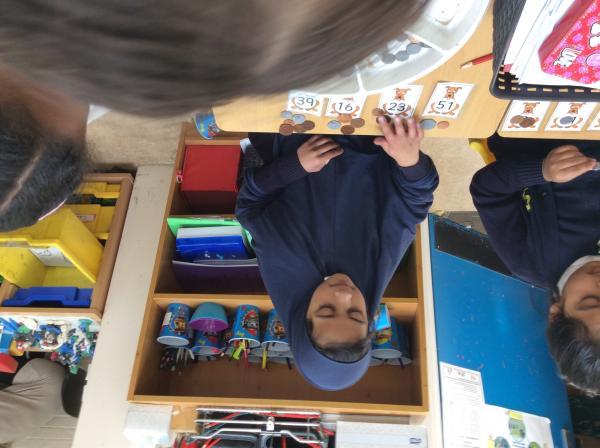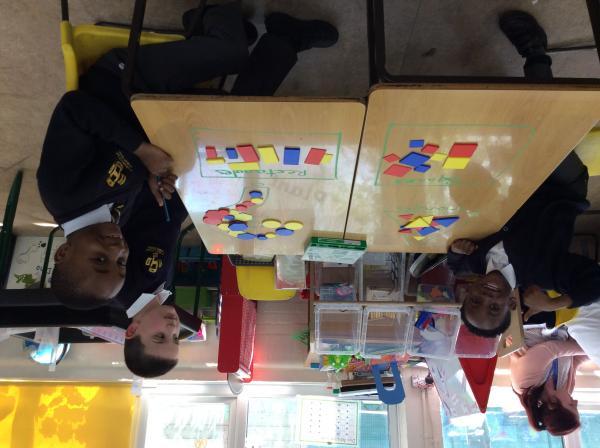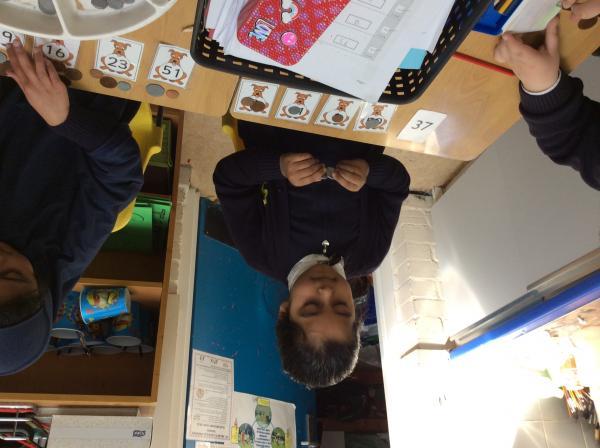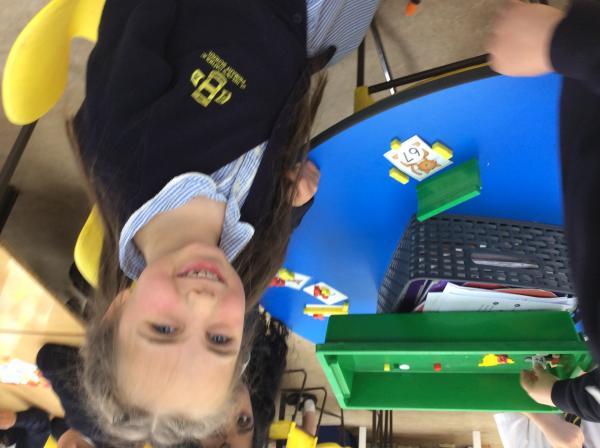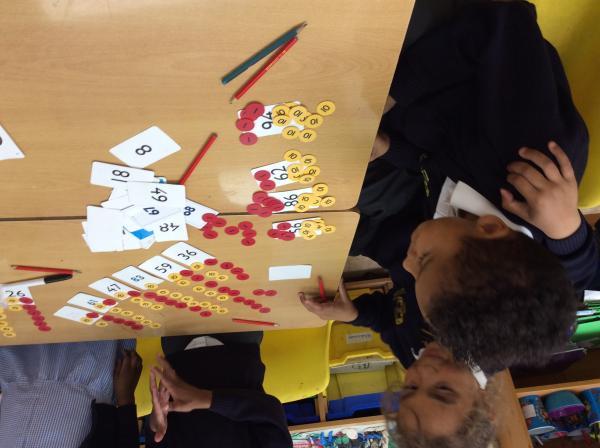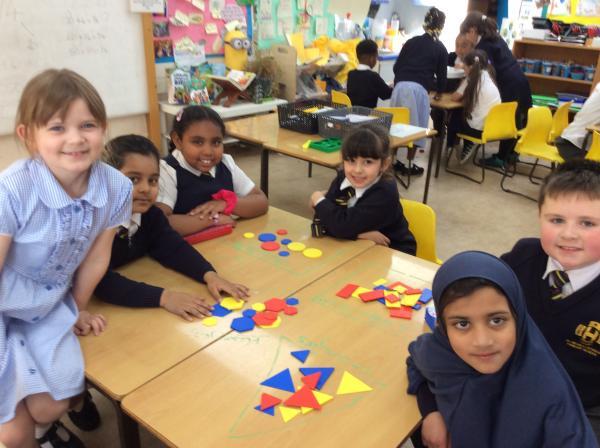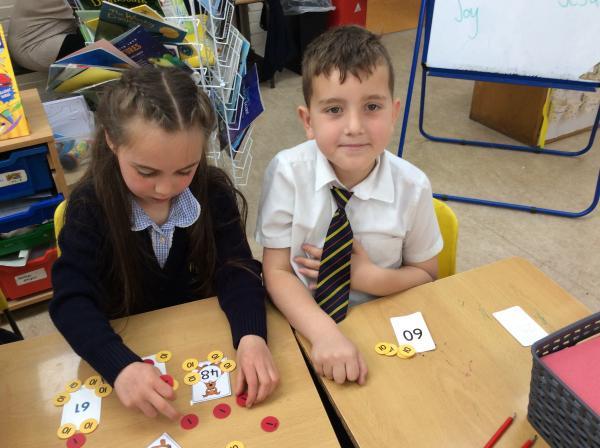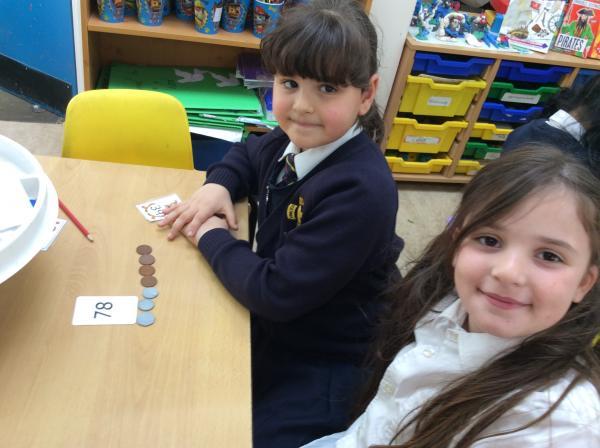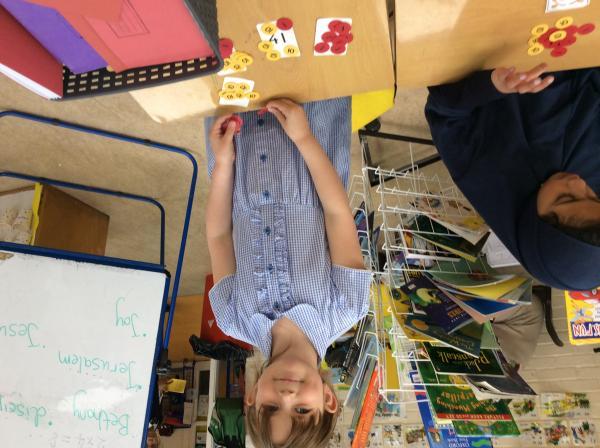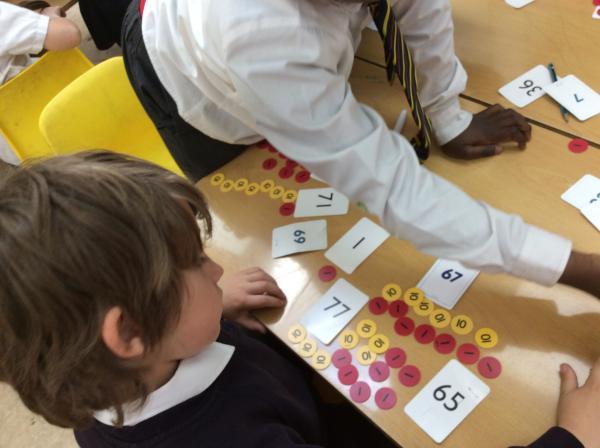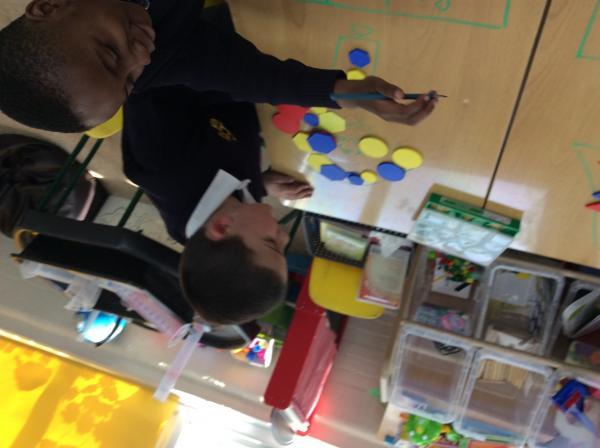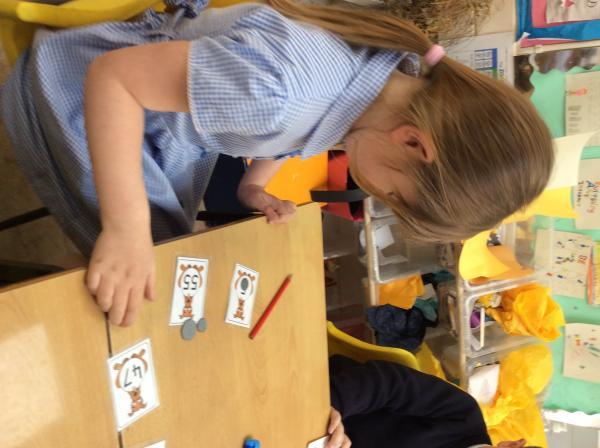 Learning in the sunshine
Here are photos of children in Oysters enjoying their outside learning area in a brief time of sunshine last week! Children were working together constructively, using imaginative play, predicting what might happen when creating a marble run and using maths resources outside. Oysters love their outside space!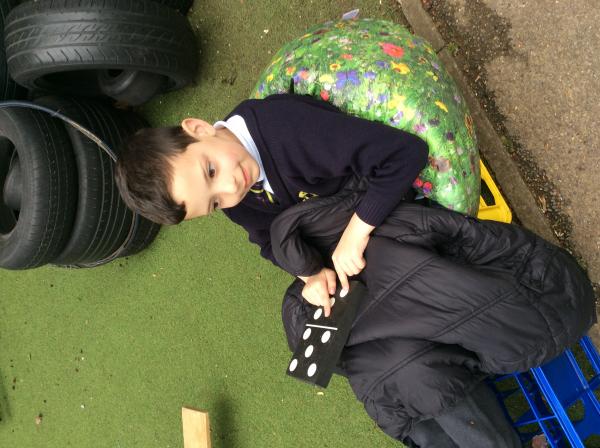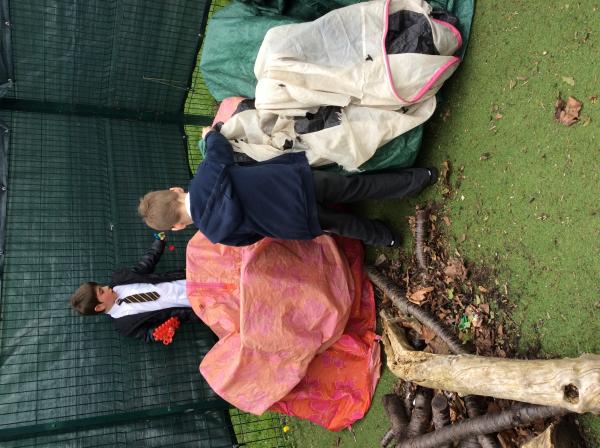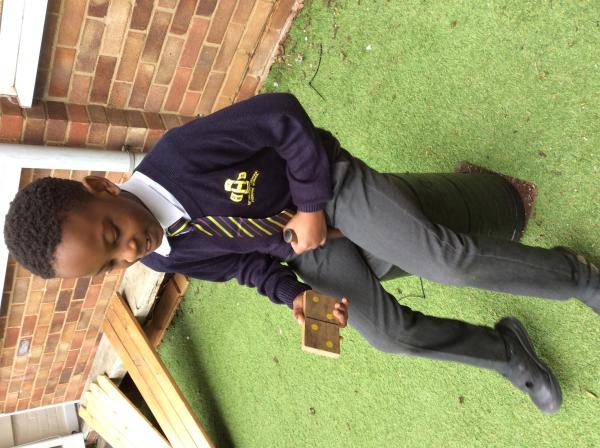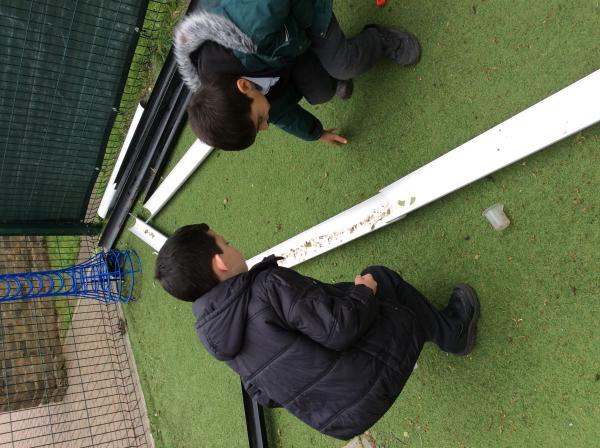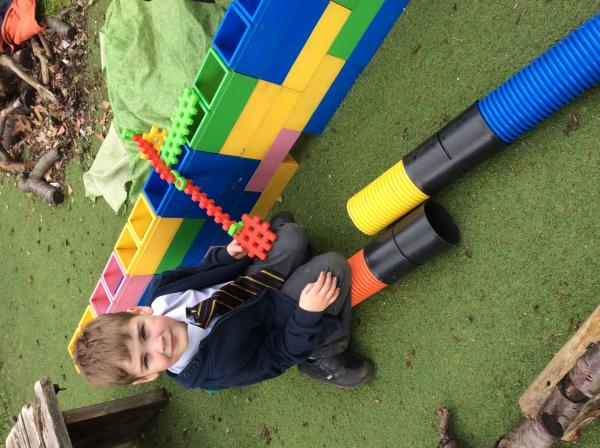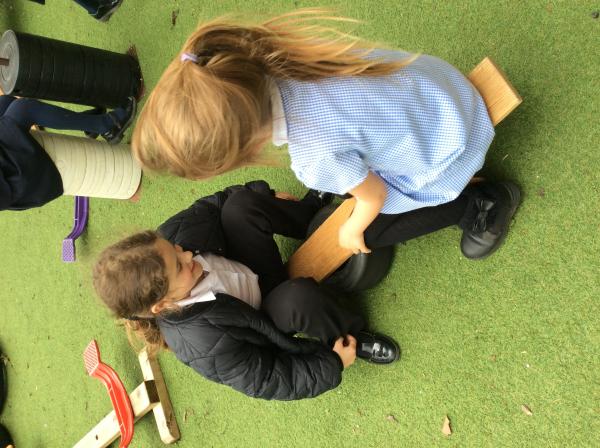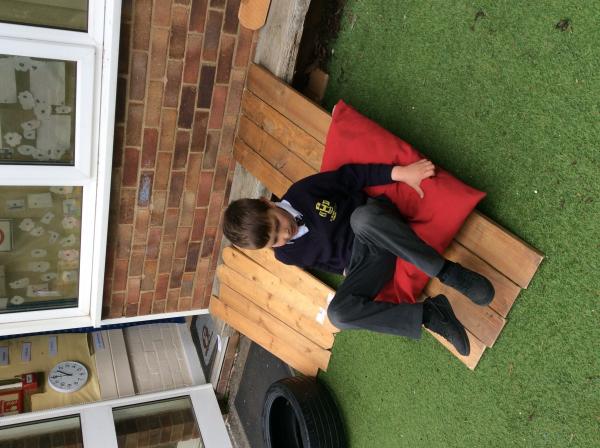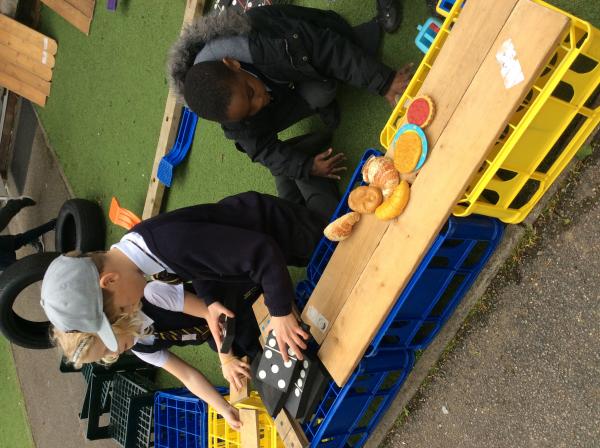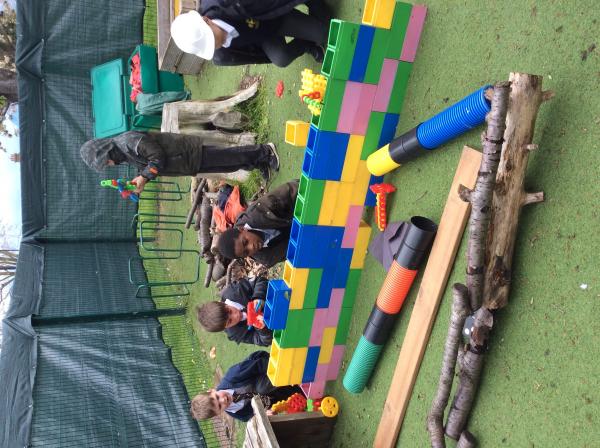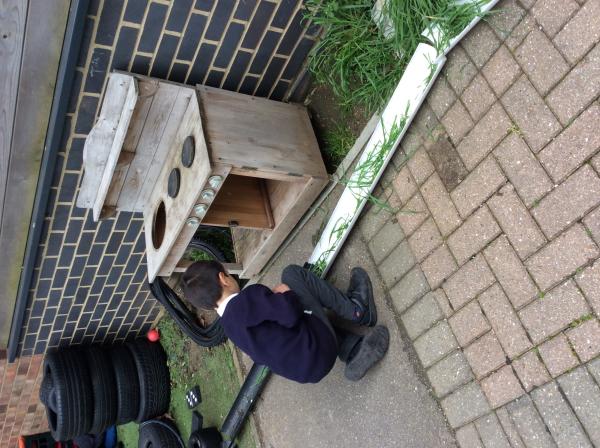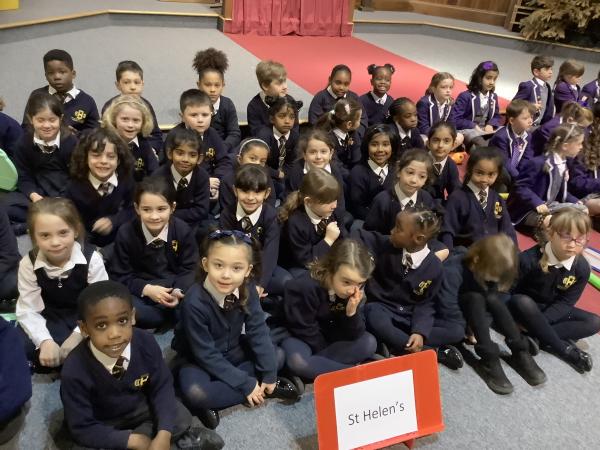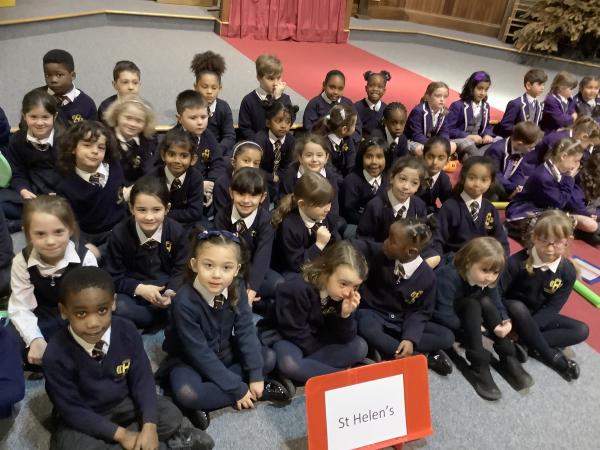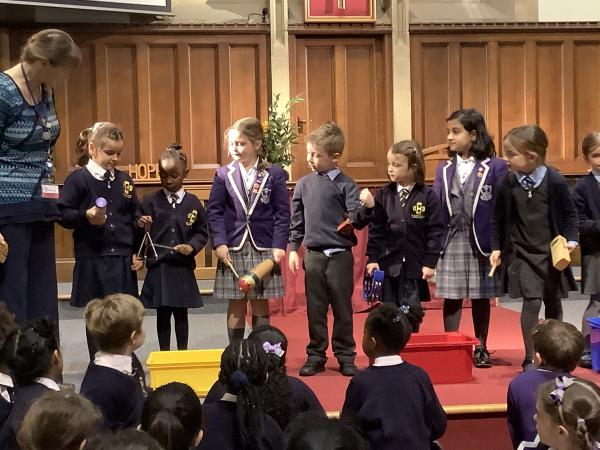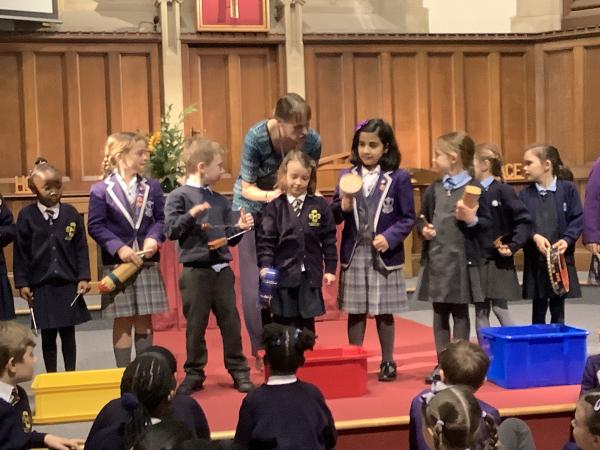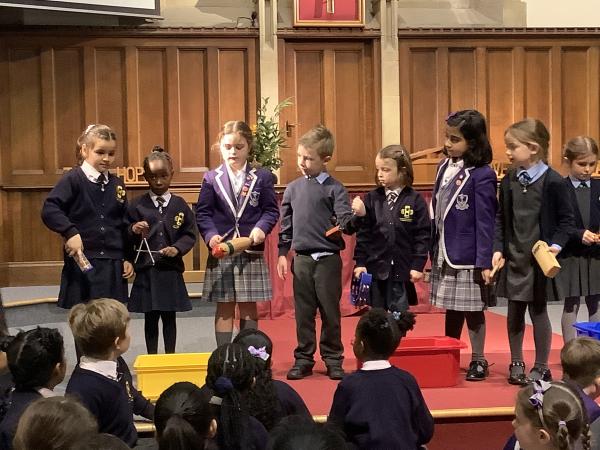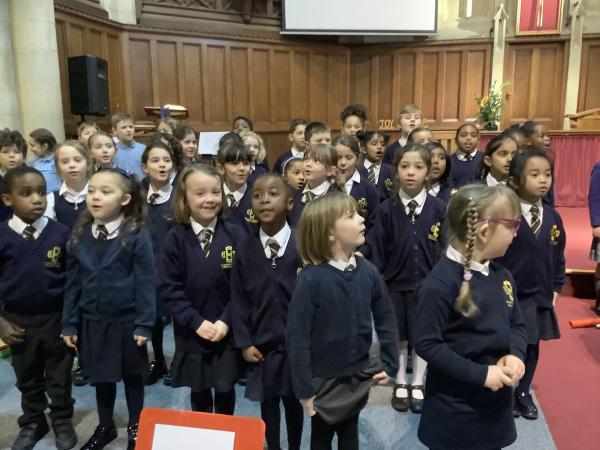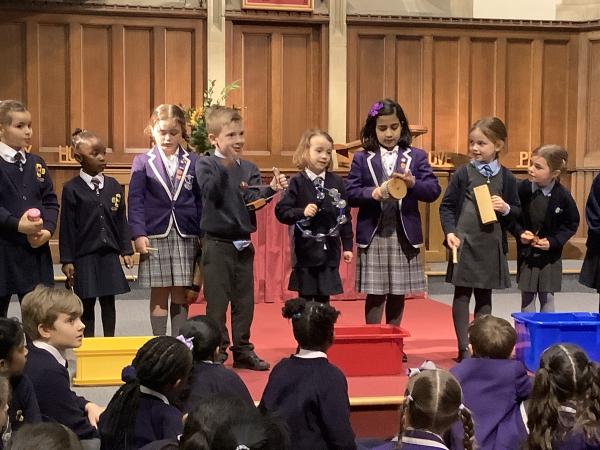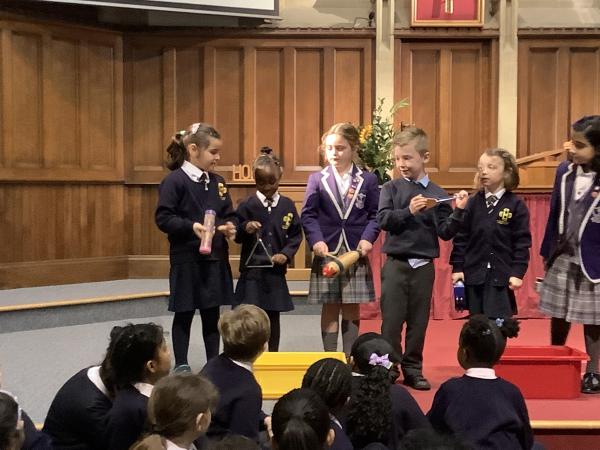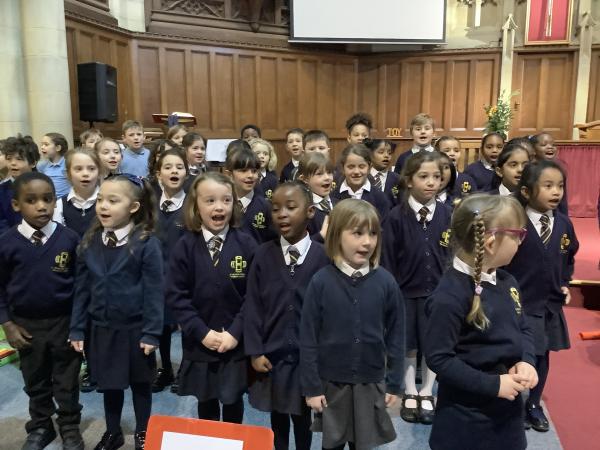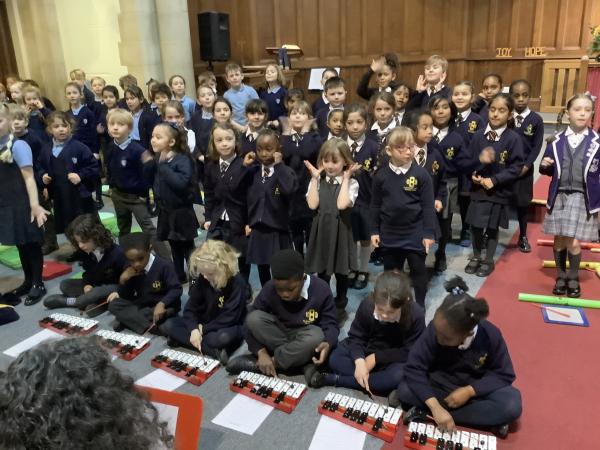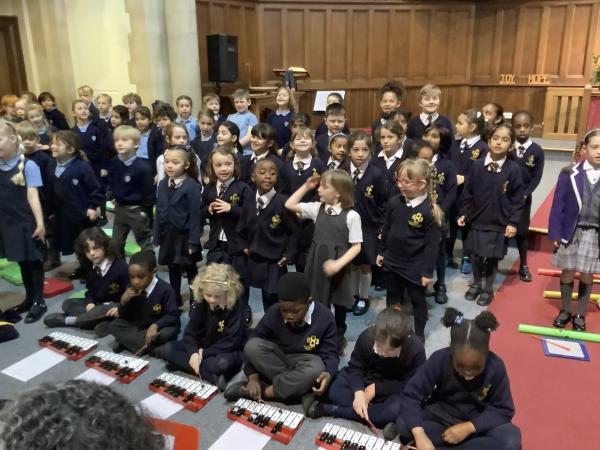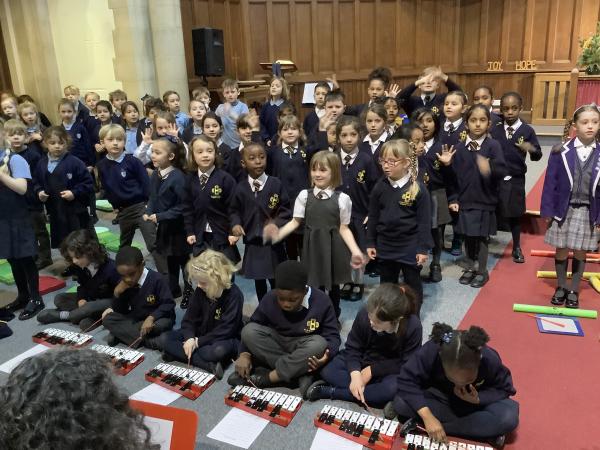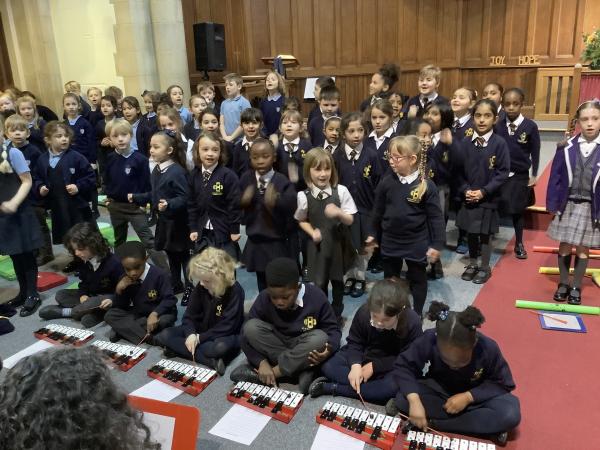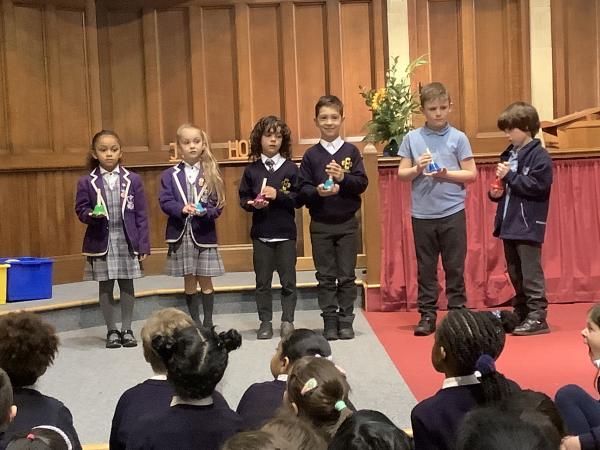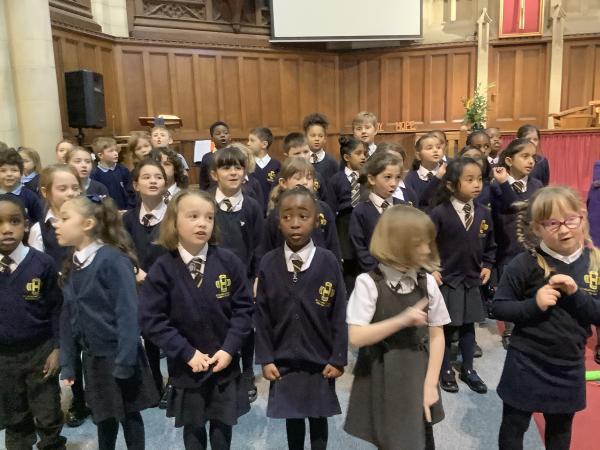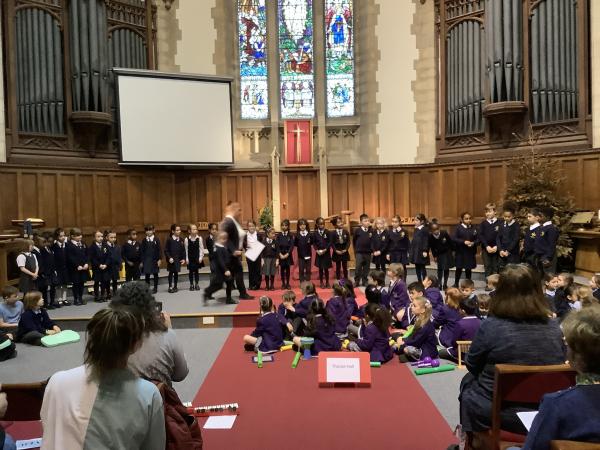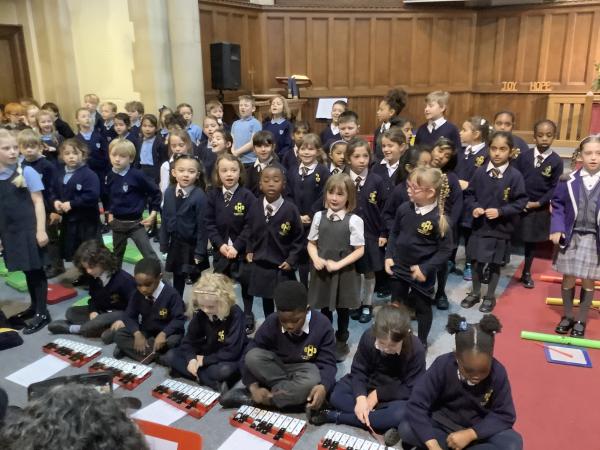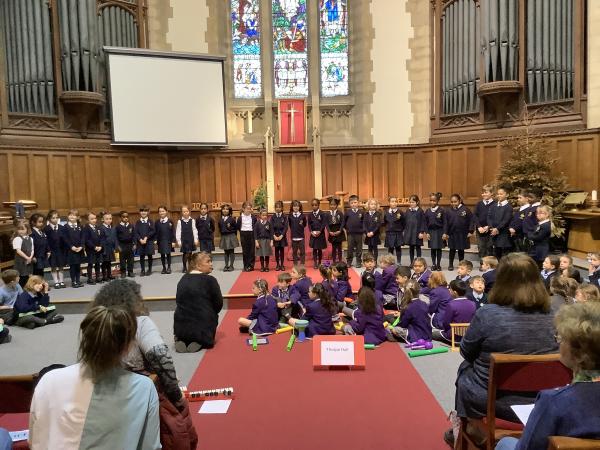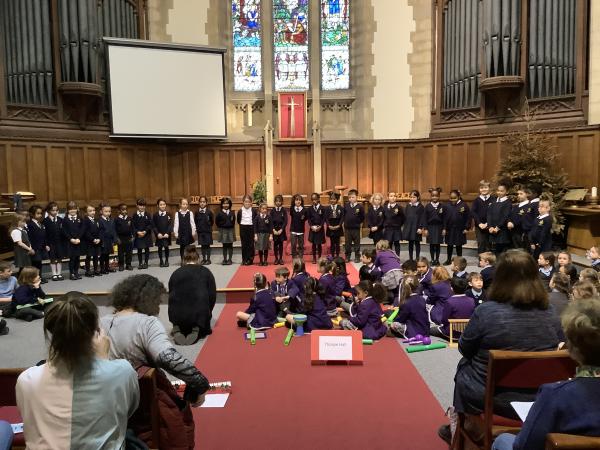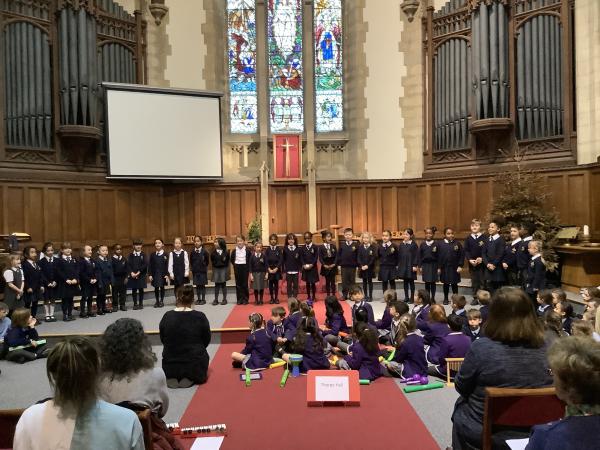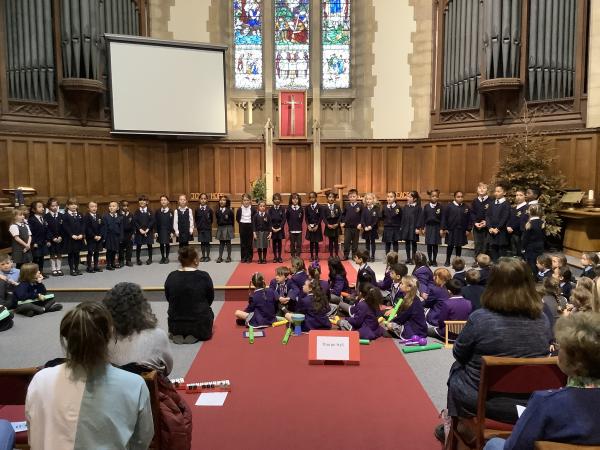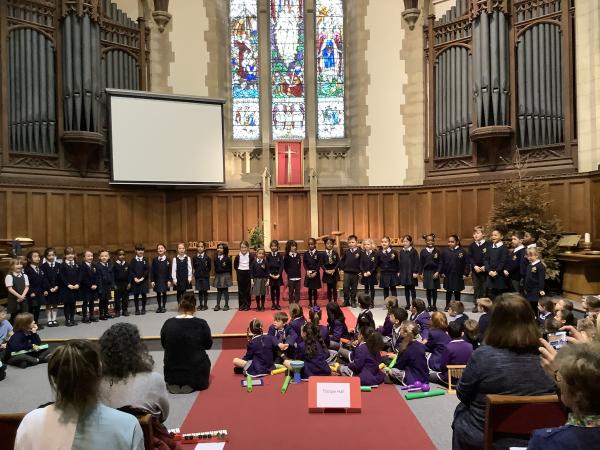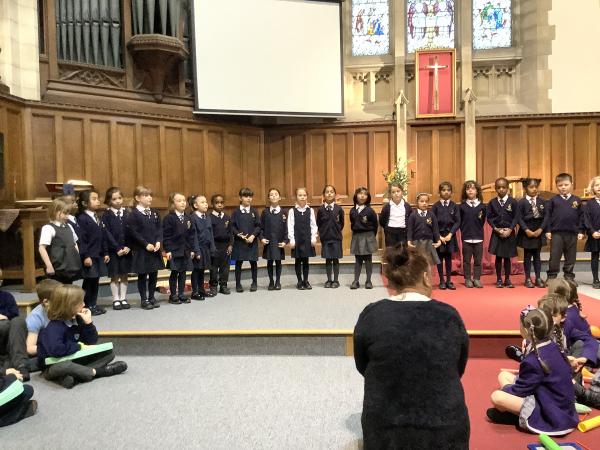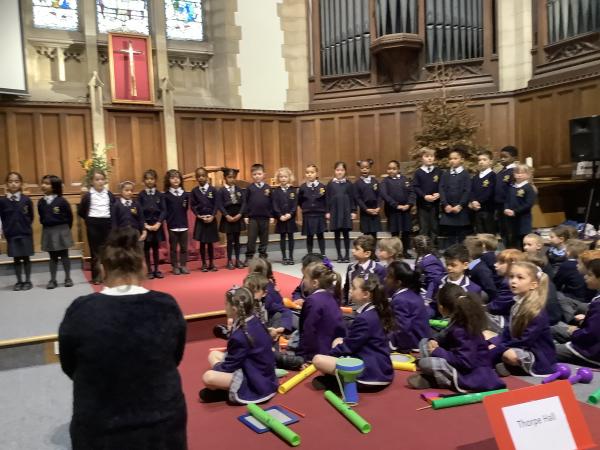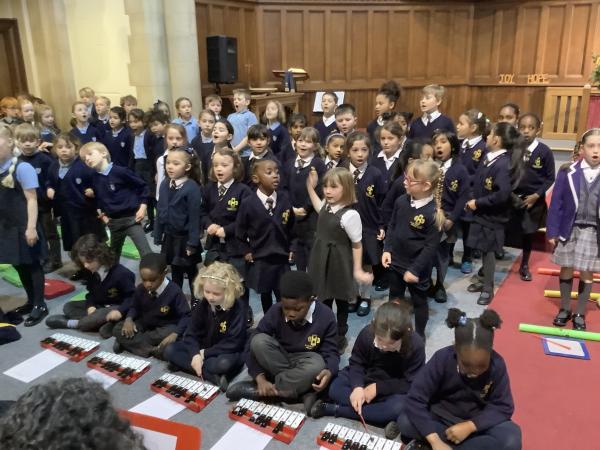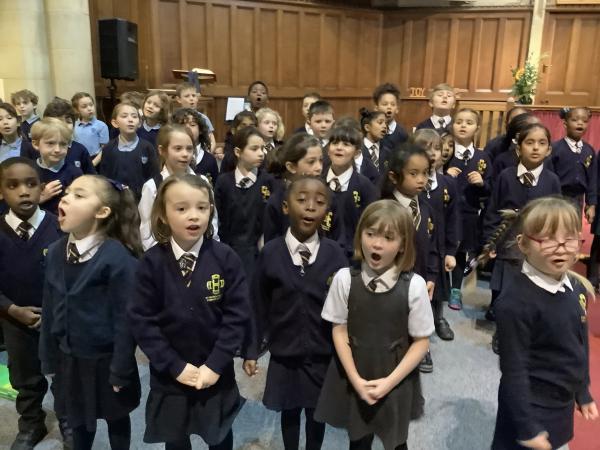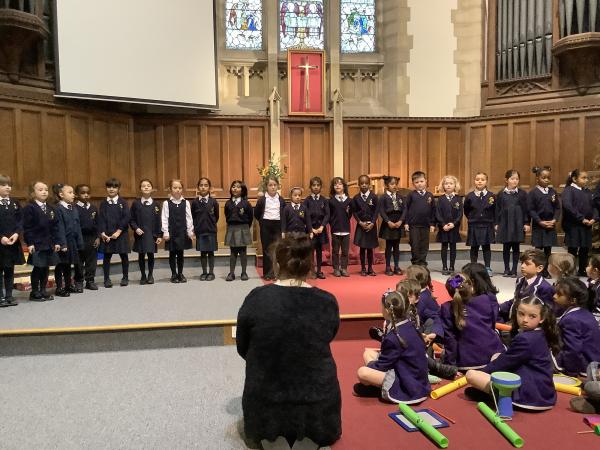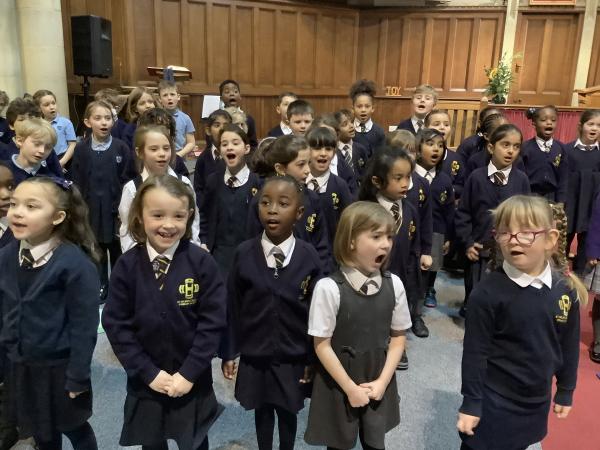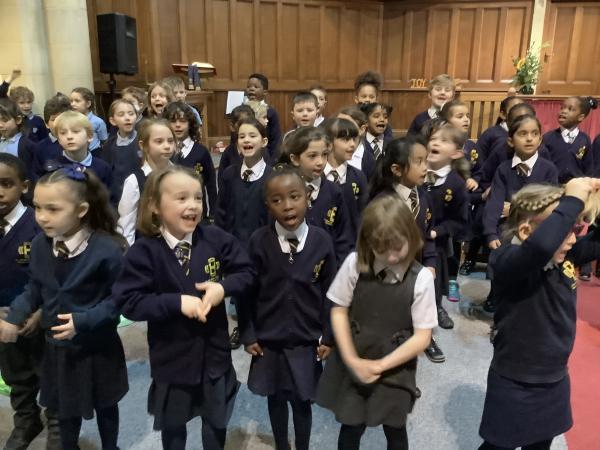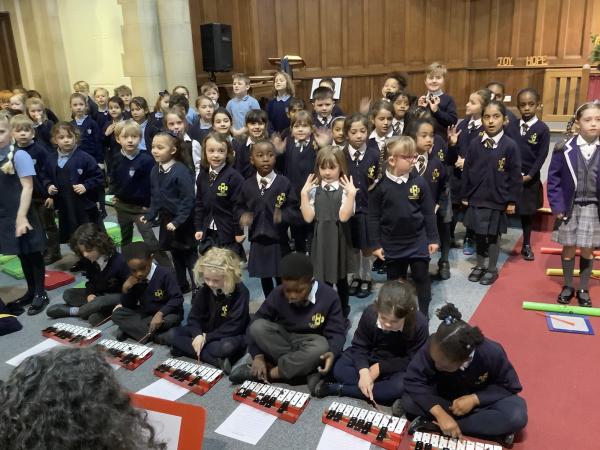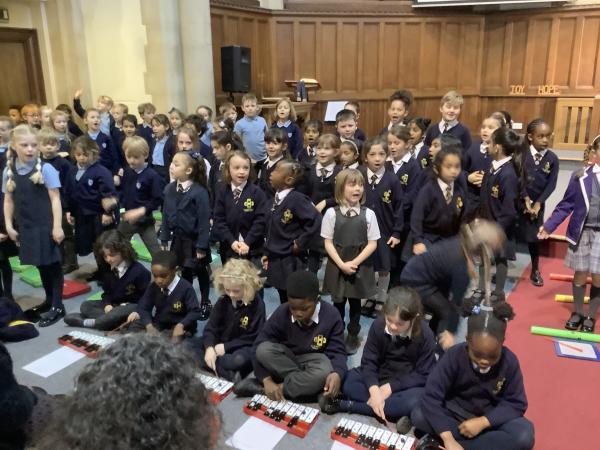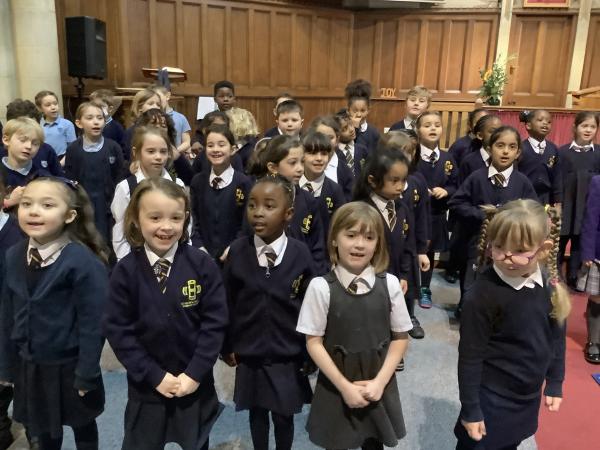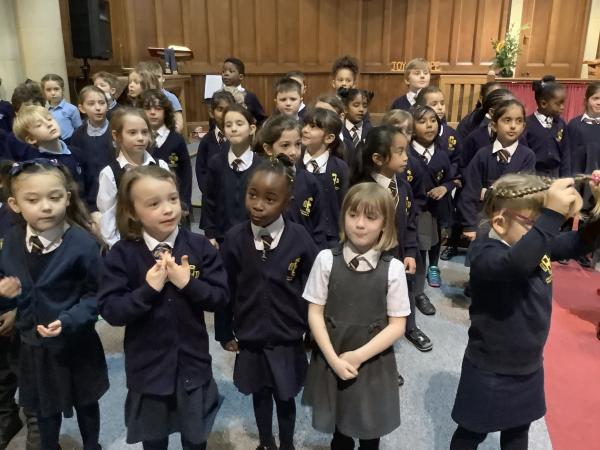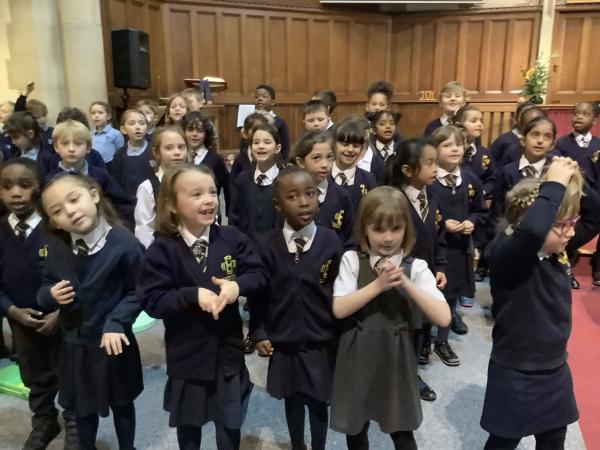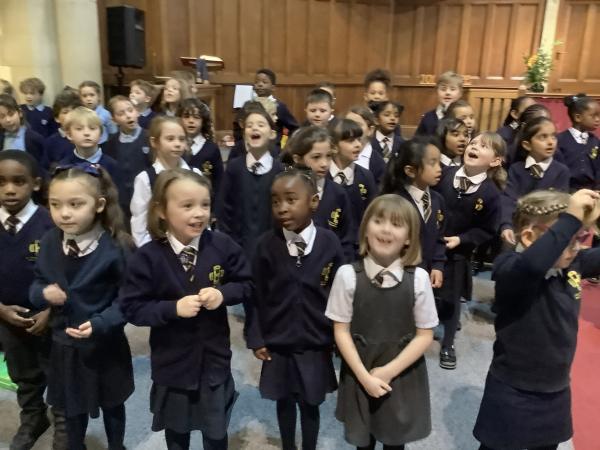 UNO
Seahorses class are enjoying playing UNO. Mrs Clarke taught the children the rules and they are all desperate to beat her!
If you have any unused Uno cards at home we will happily make sure they are looked after.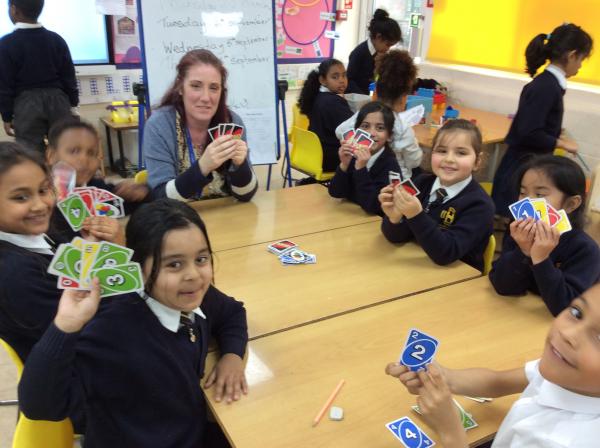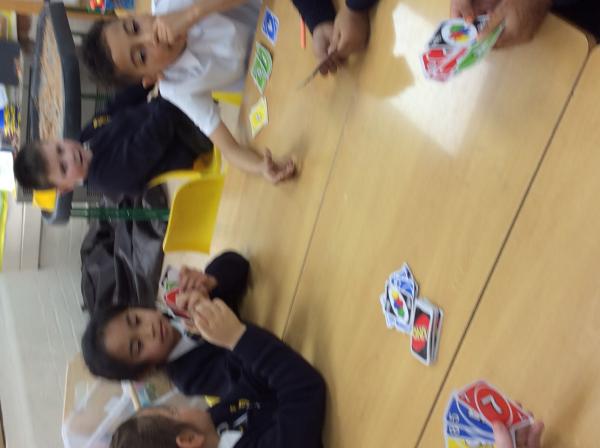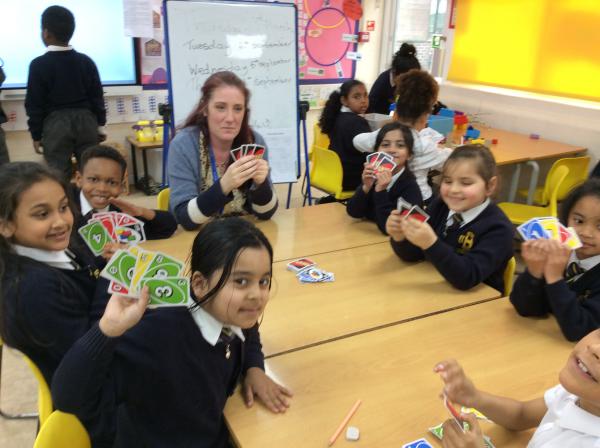 Identifying plants found in the area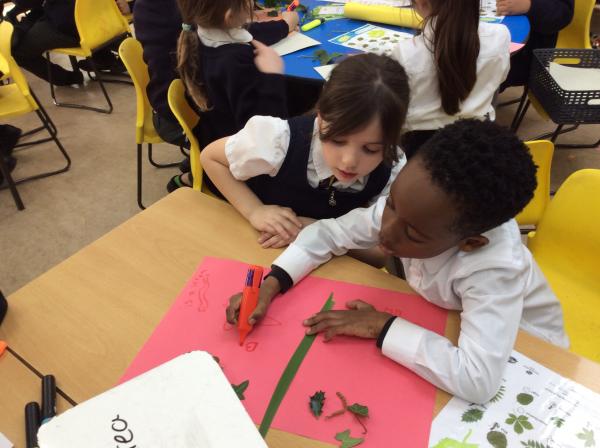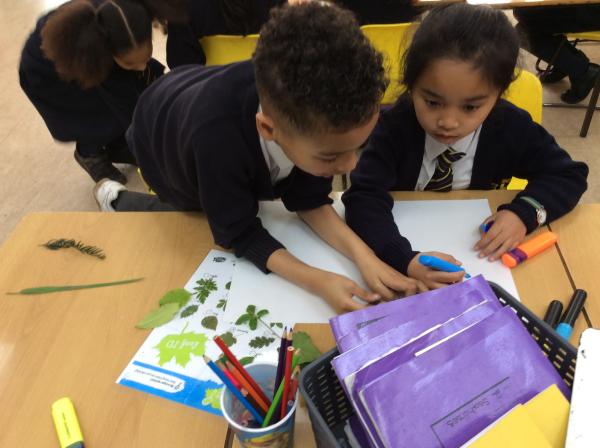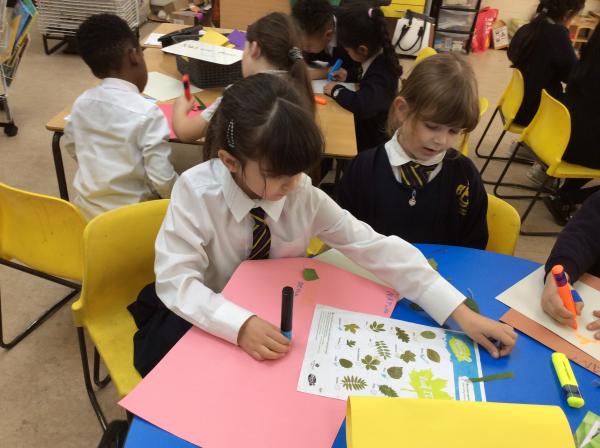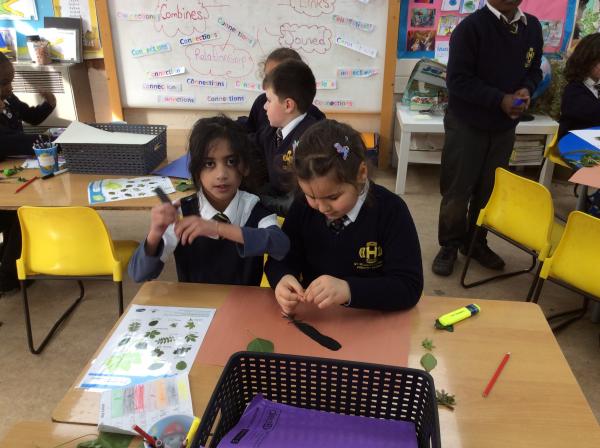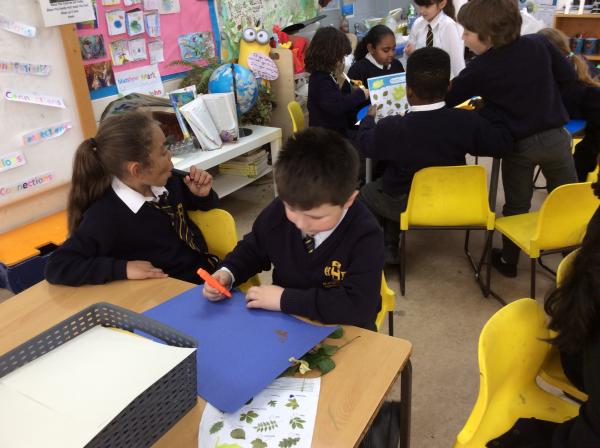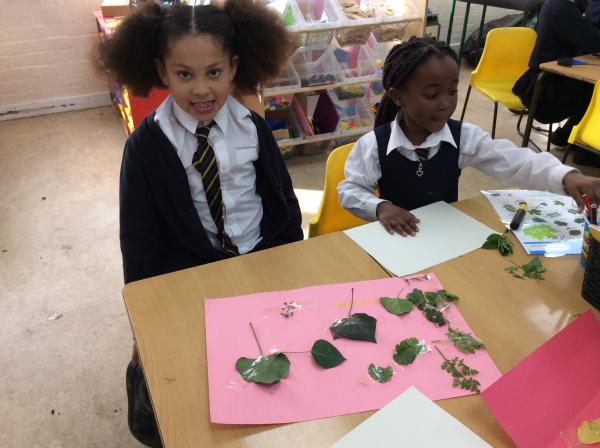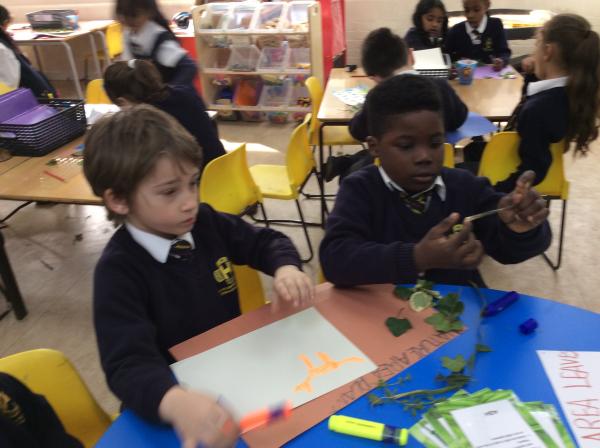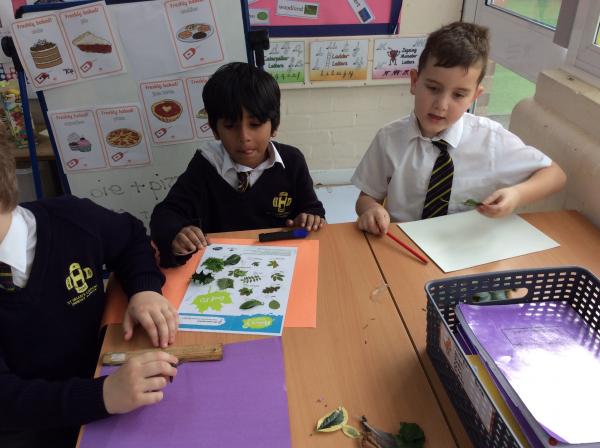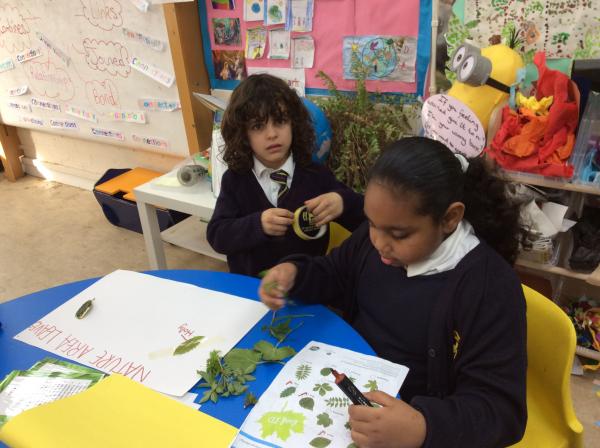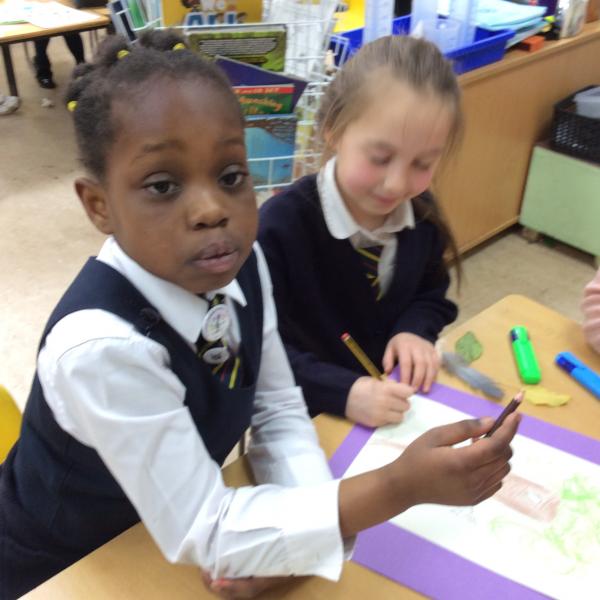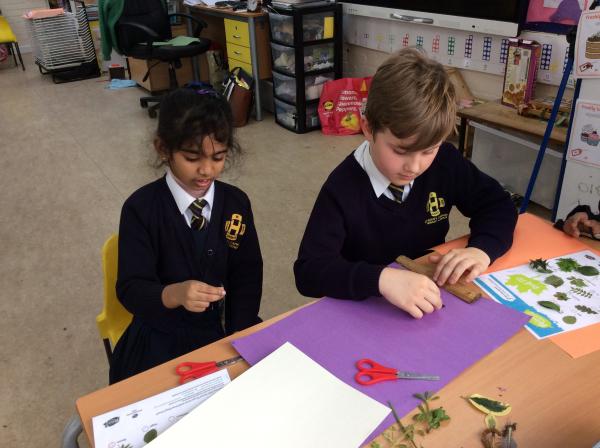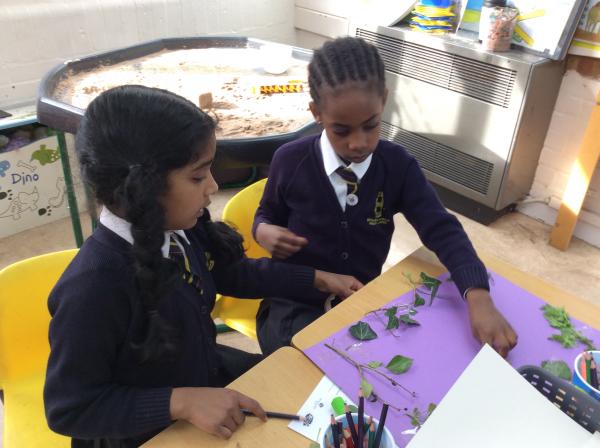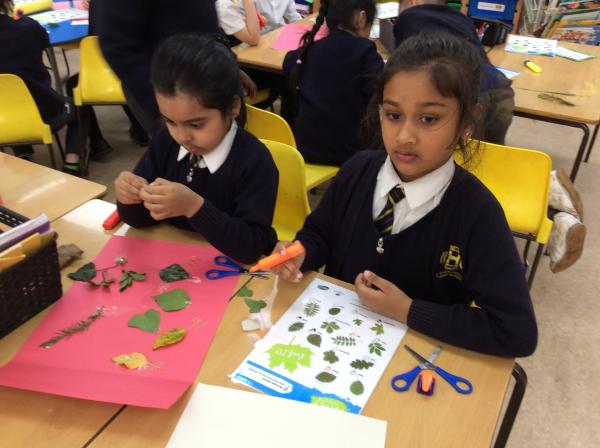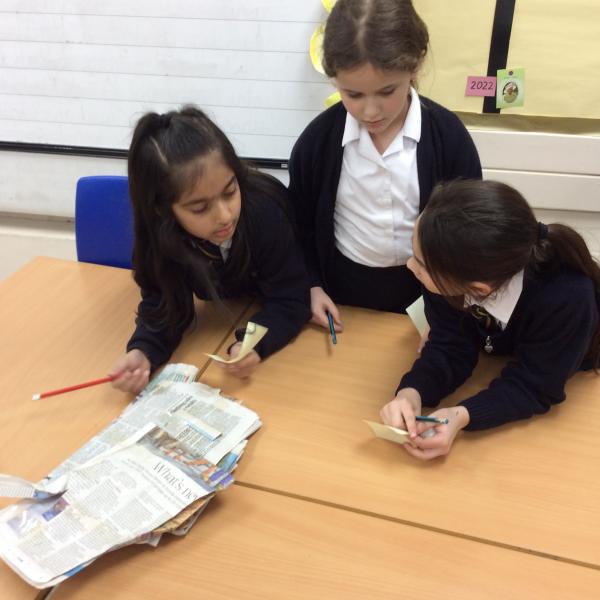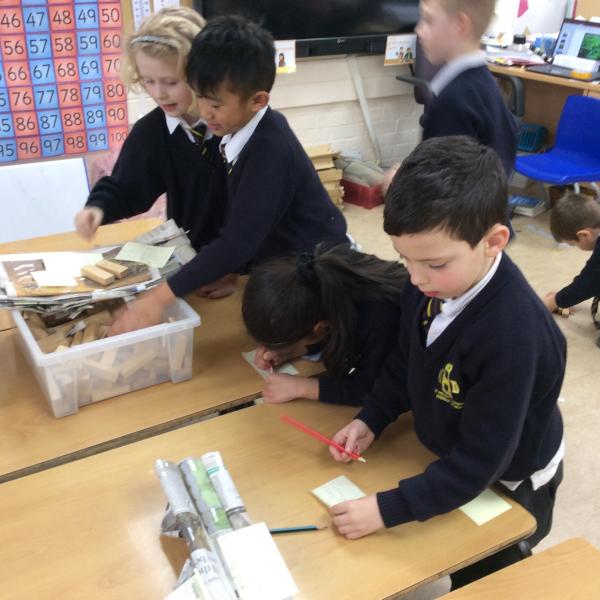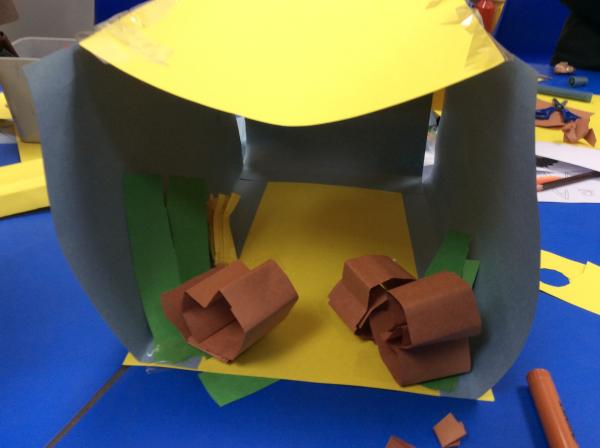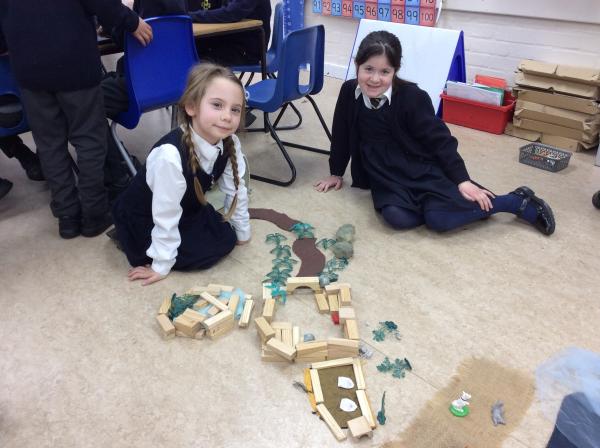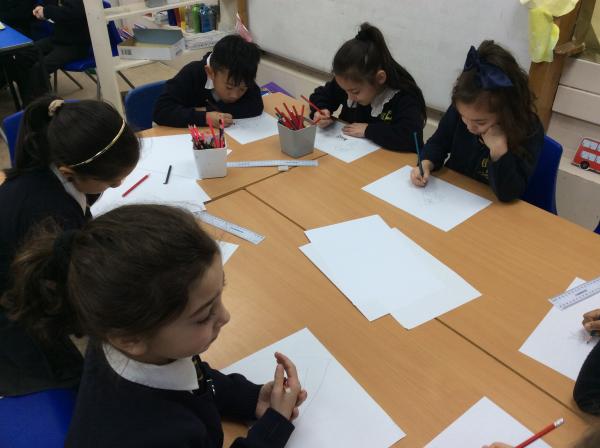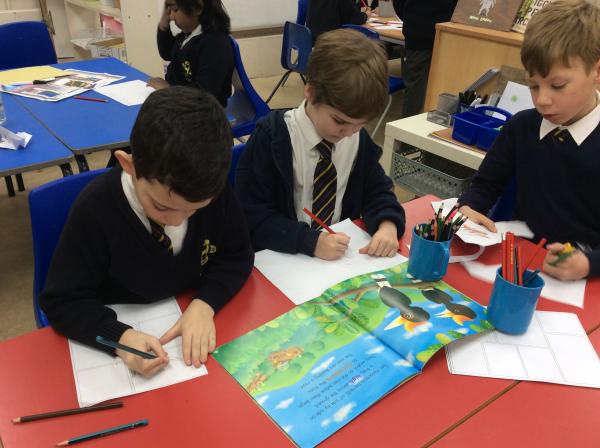 2 Seahorses demonstrating agility, balance and control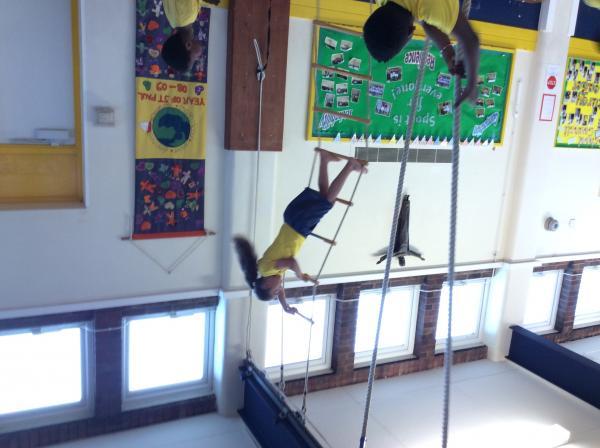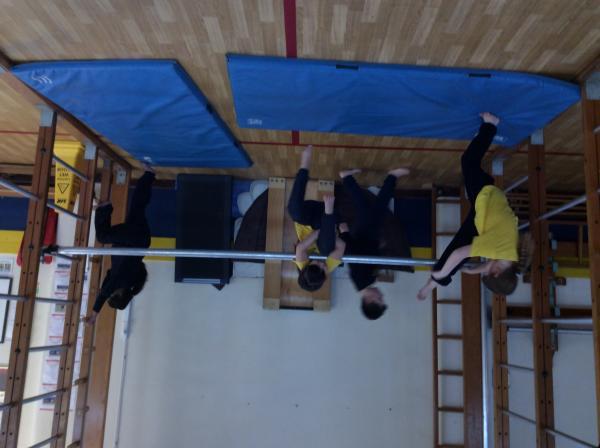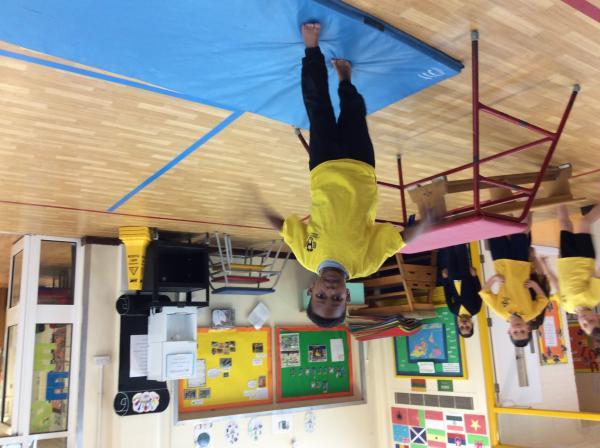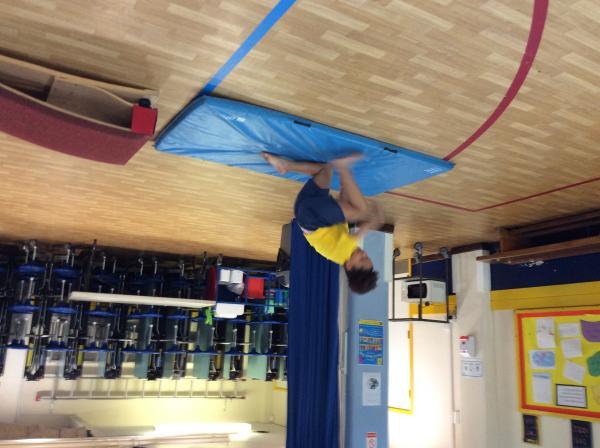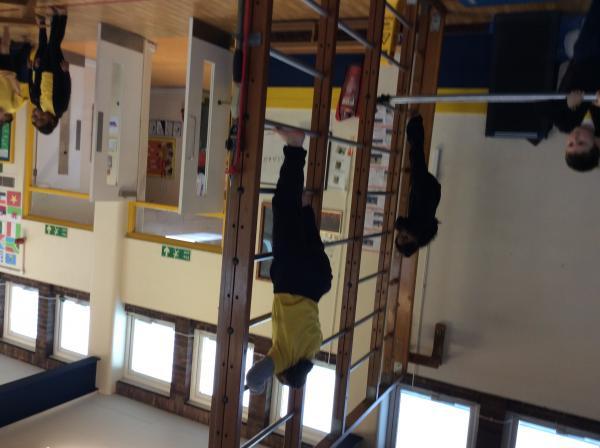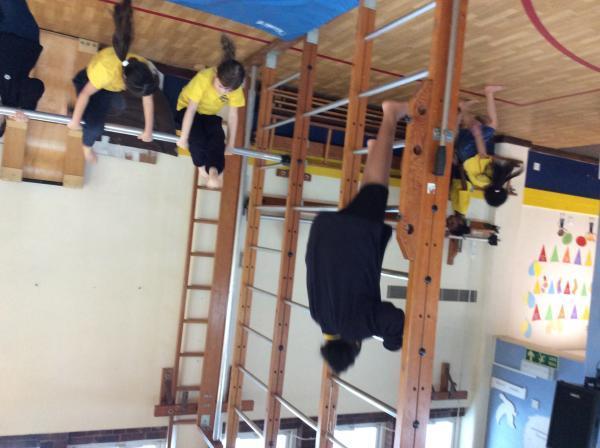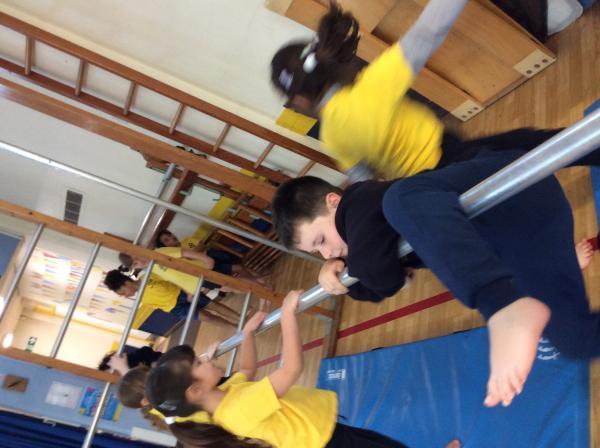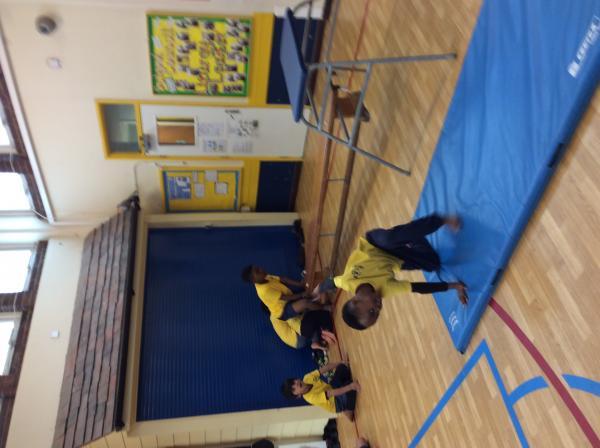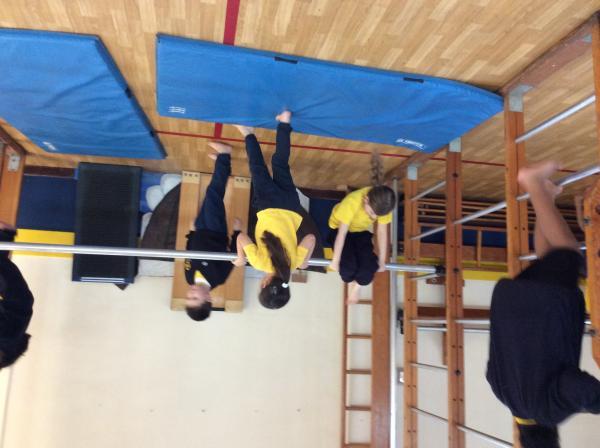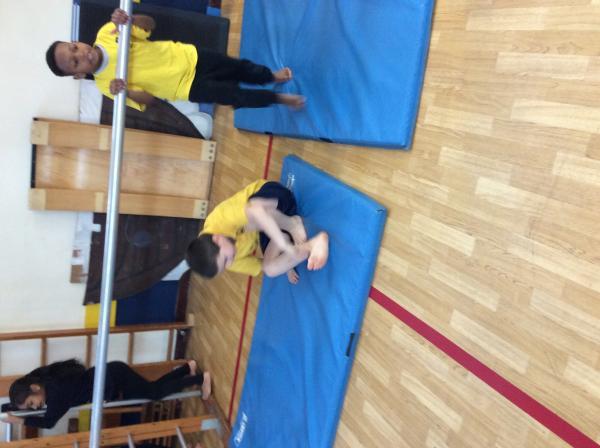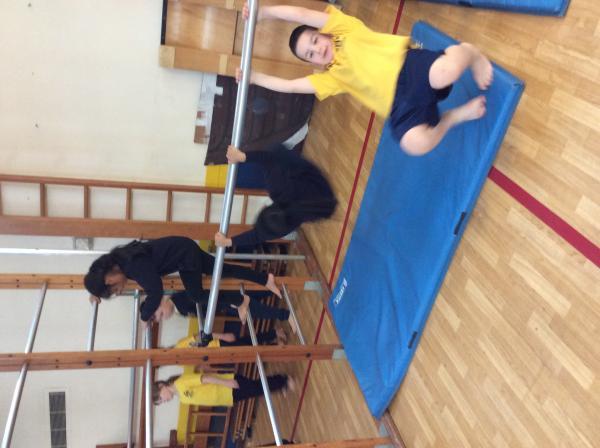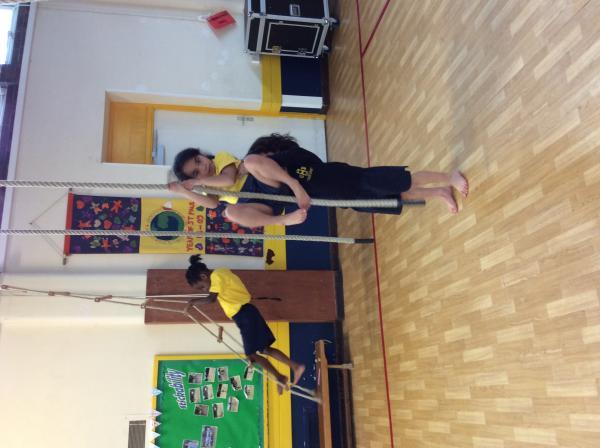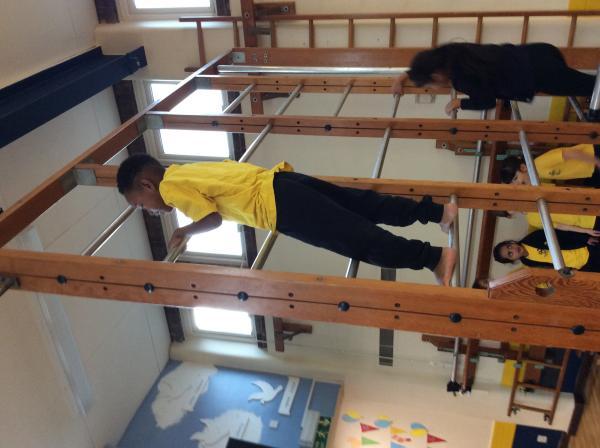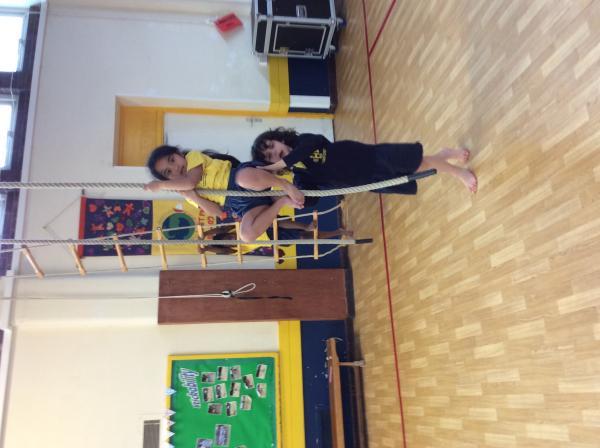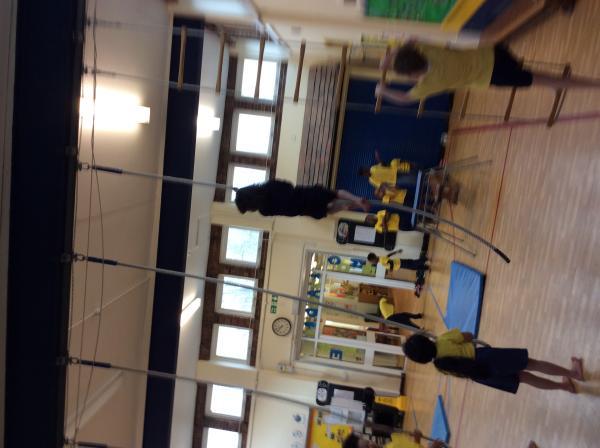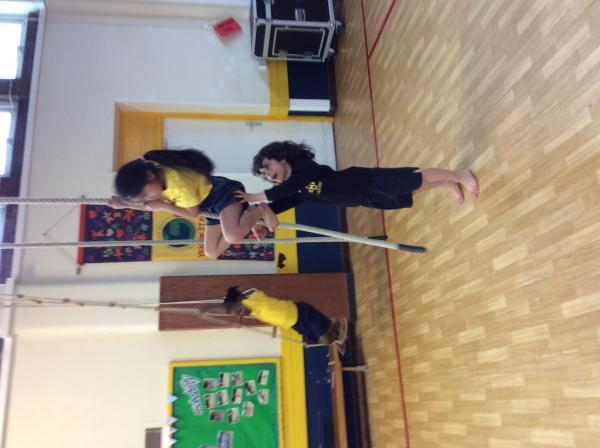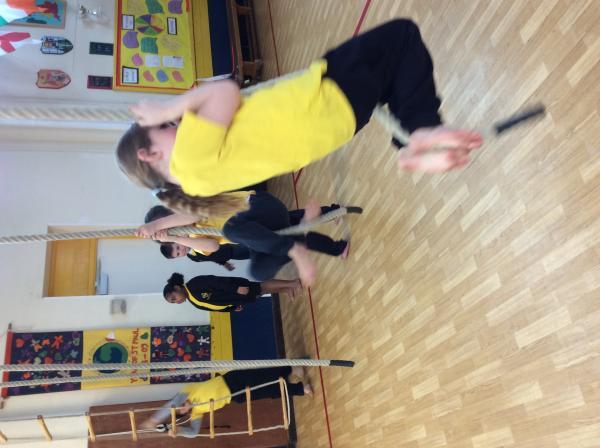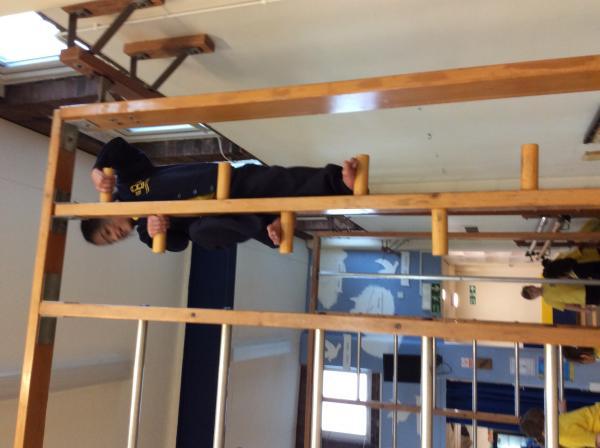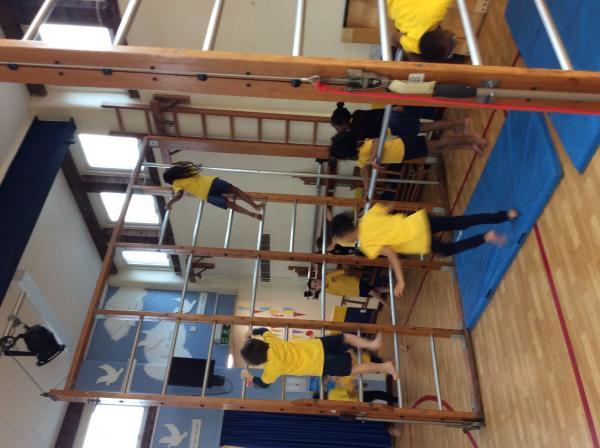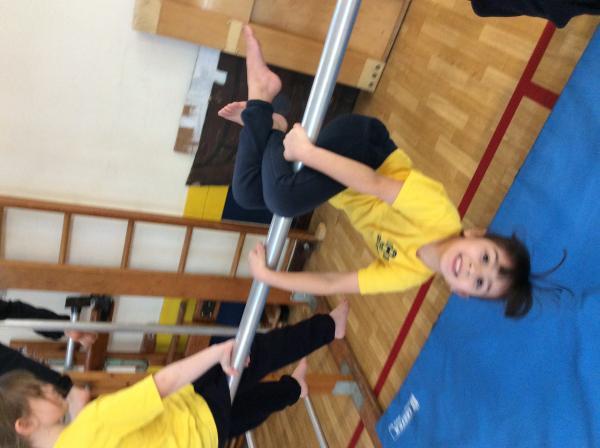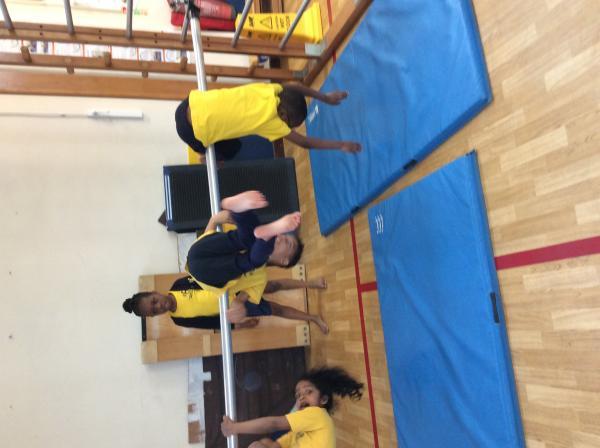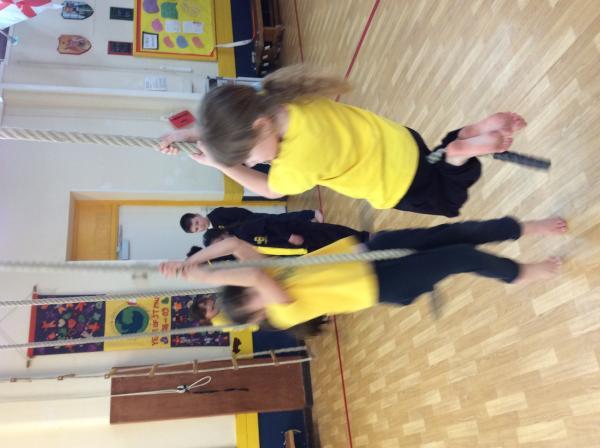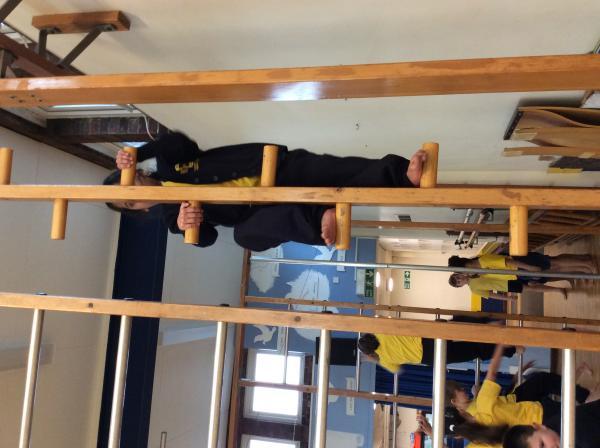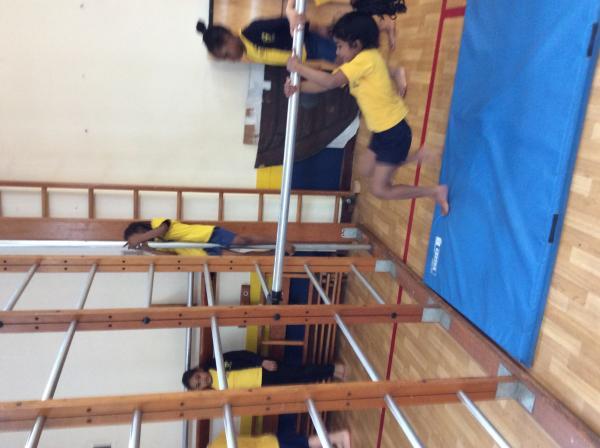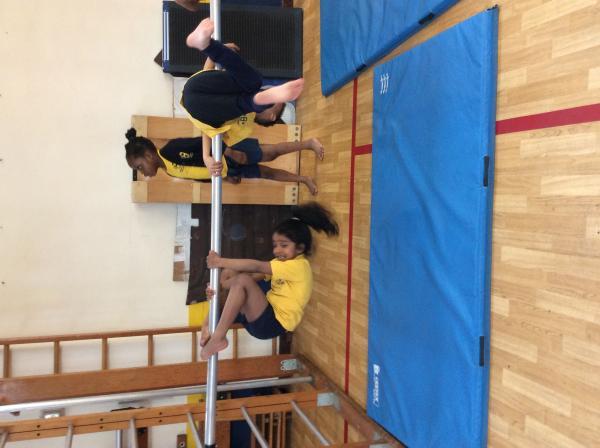 2 Oysters enjoying the Drama Workshop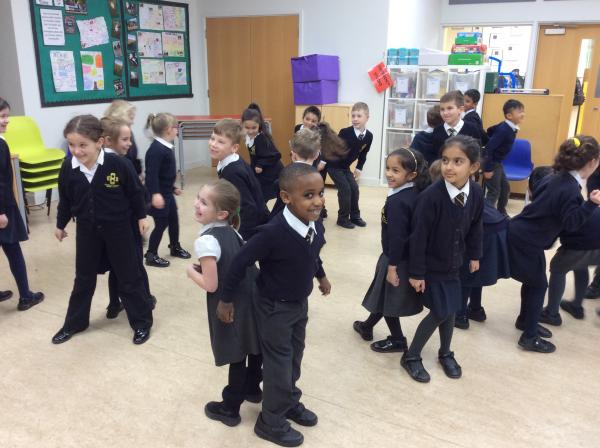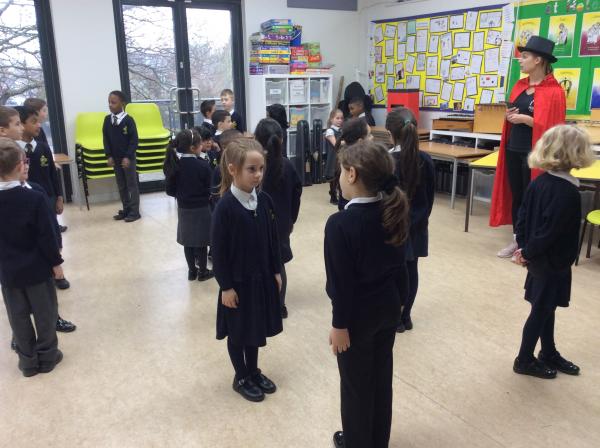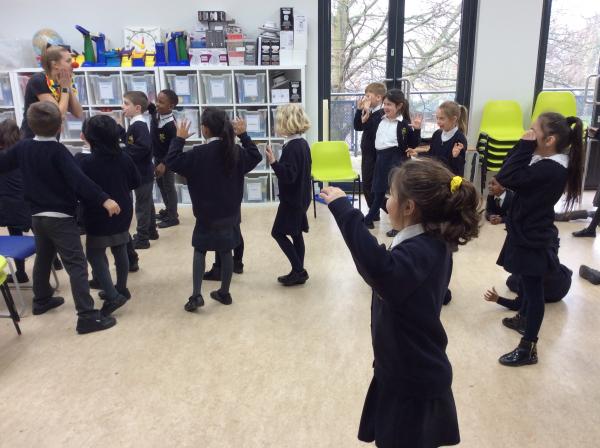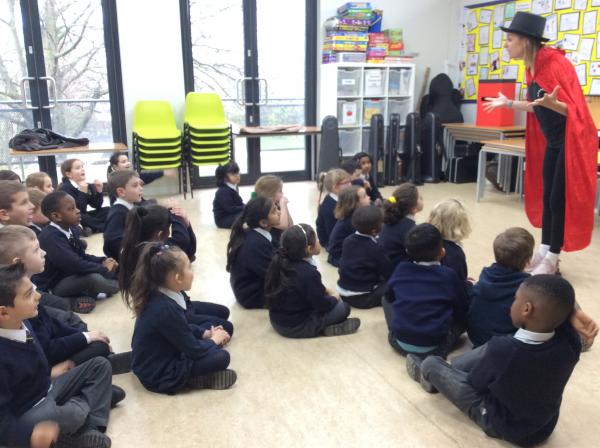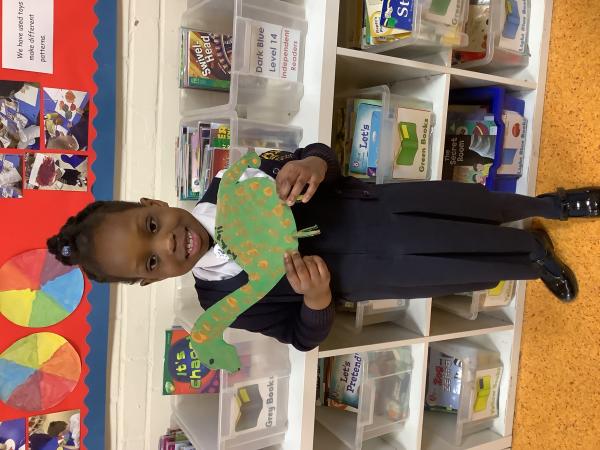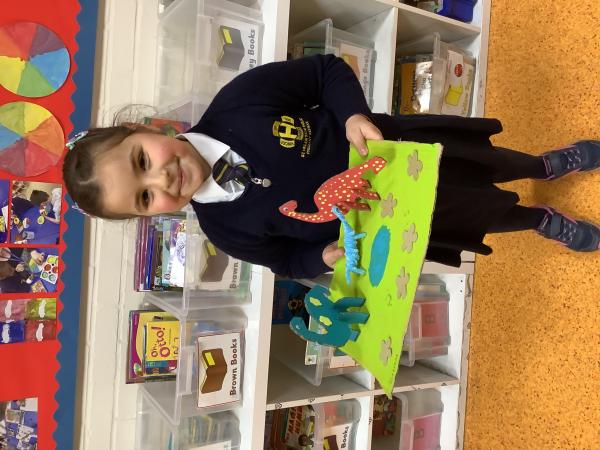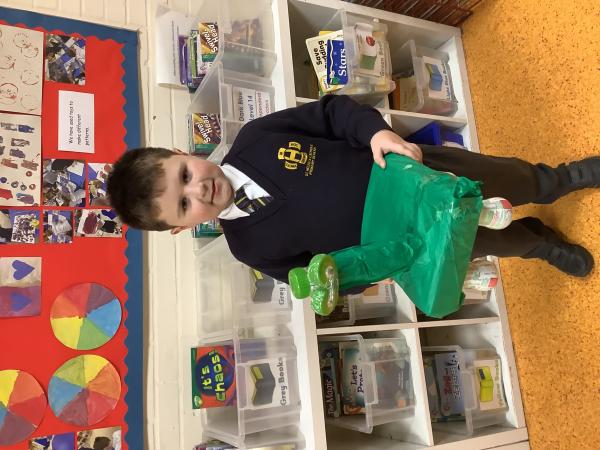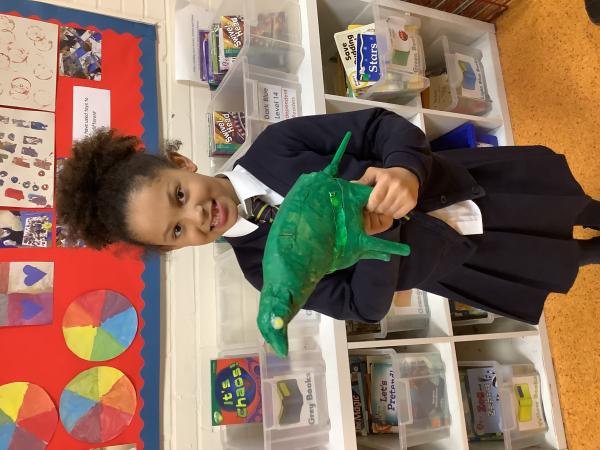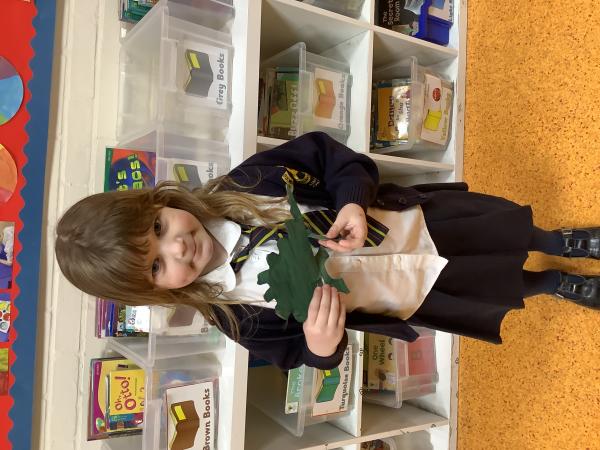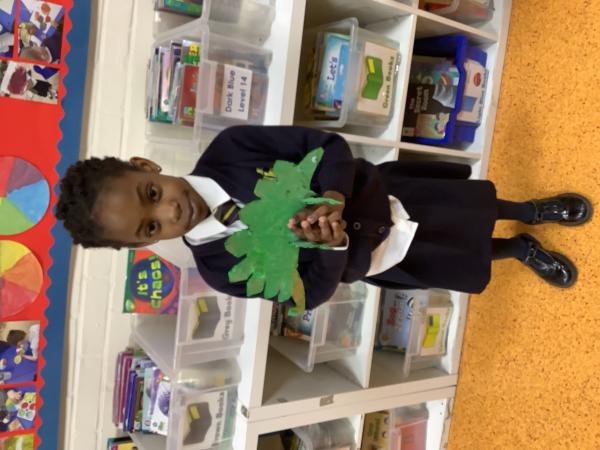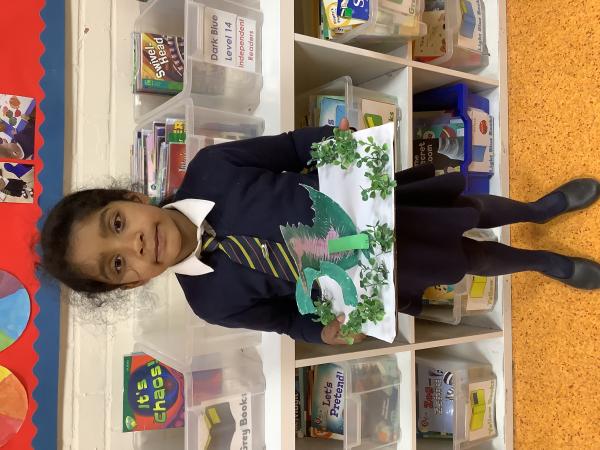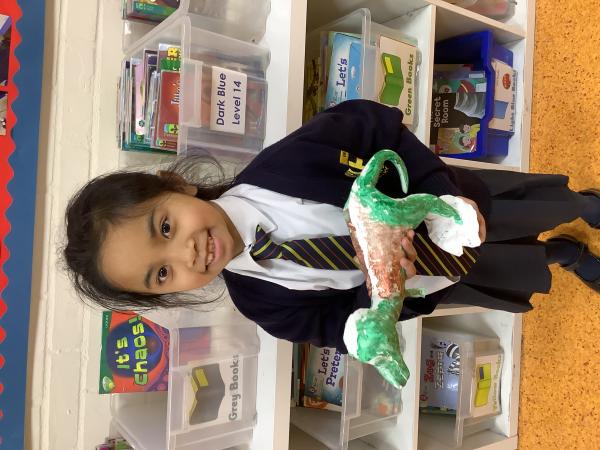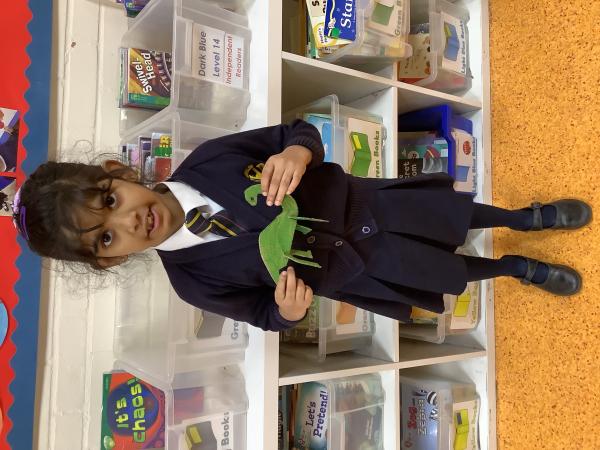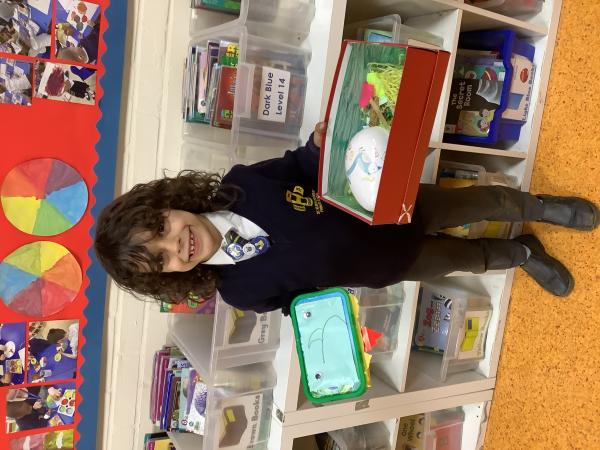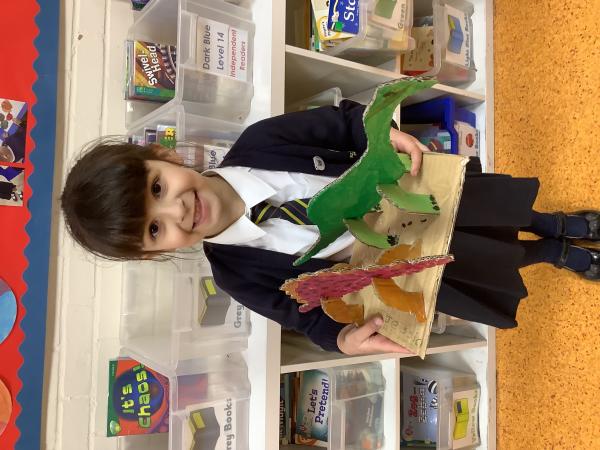 The Great Fire of London
The children in Year 2 had a fantastic morning exploring life in London in 1666. They learned that children did not go to school back then but instead went to work from a very young age. They then tried an assortment of jobs; leather working, weaving, candlestick holder making, apothecary, making spice bags, bread making and perfumer.
After this the children heard the story of how the Great Fire in 1666 started, about Thomas Farriner the baker and the bakery where the fire began. The children then learned why the fire spread so quickly and why it raged for four days.
The children had a wonderful learning experience, time travelling back to 1666 and the staff enjoyed themselves too!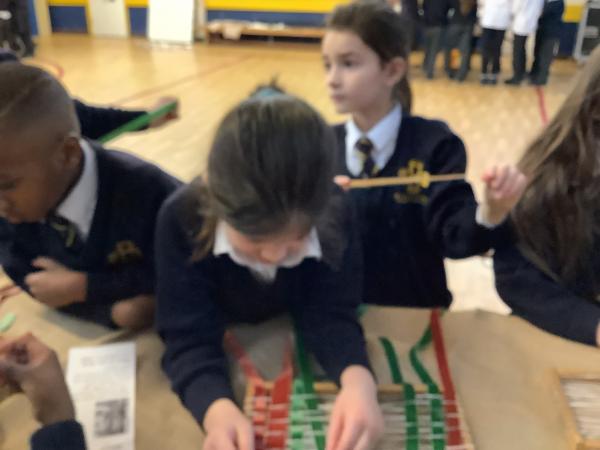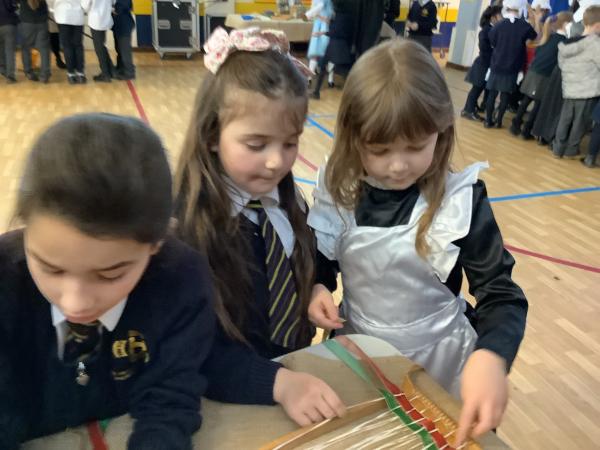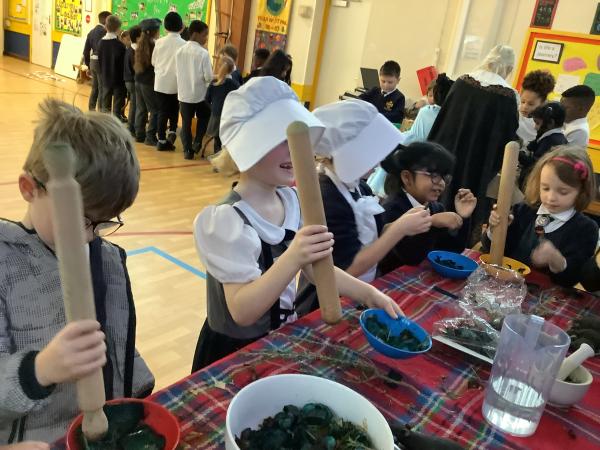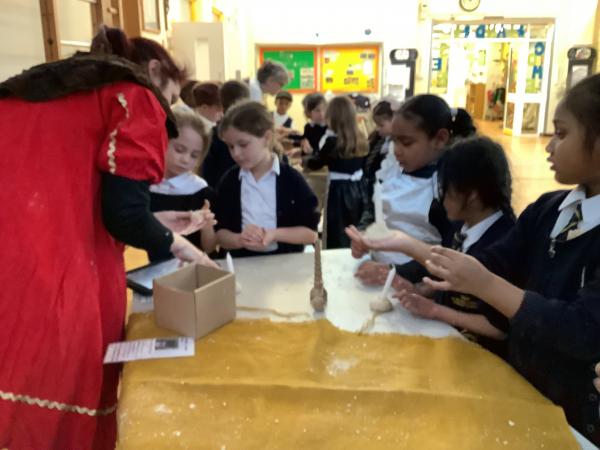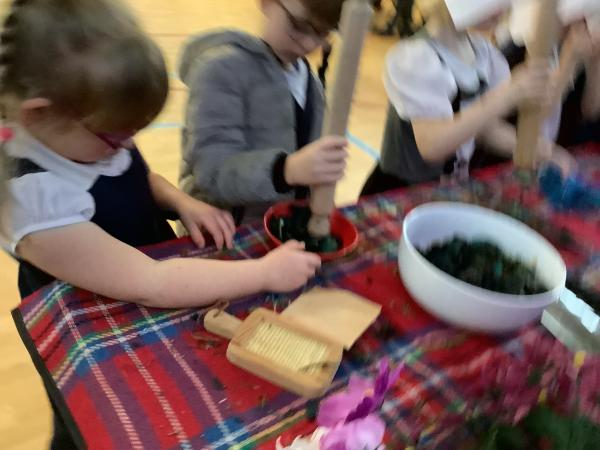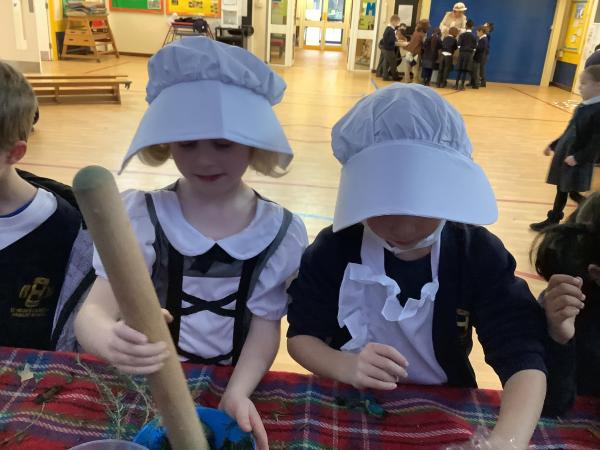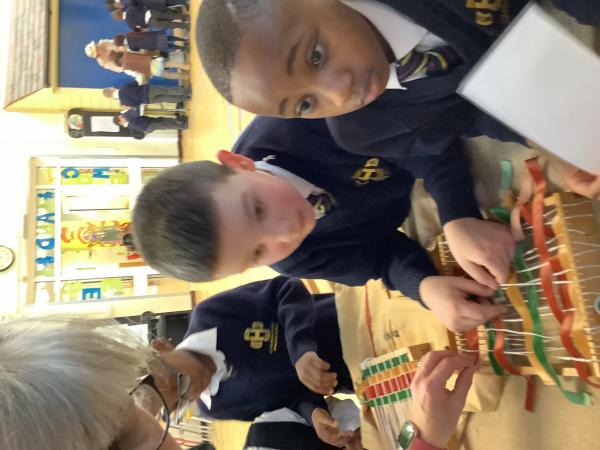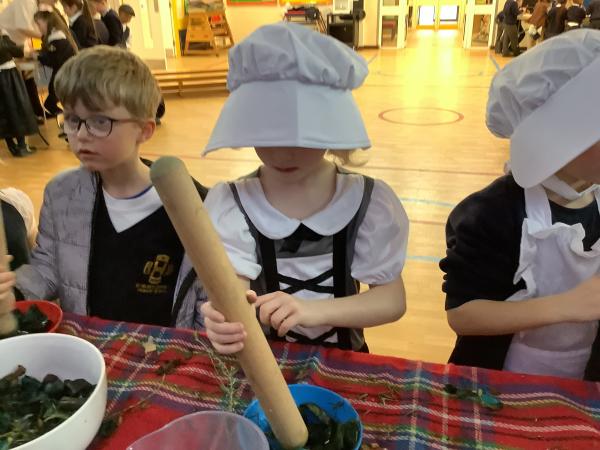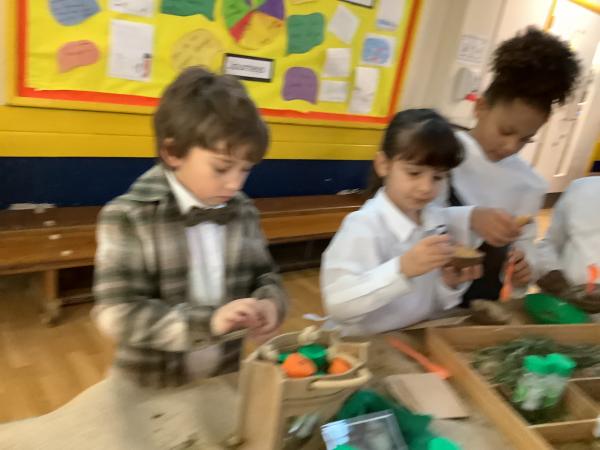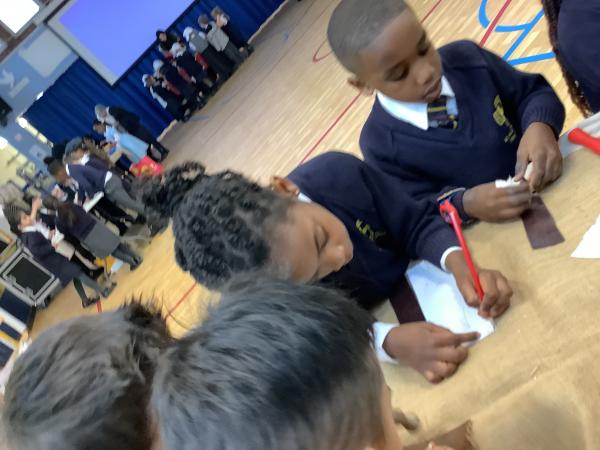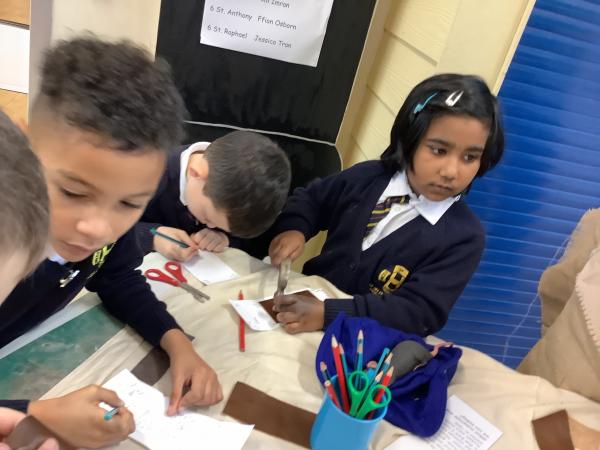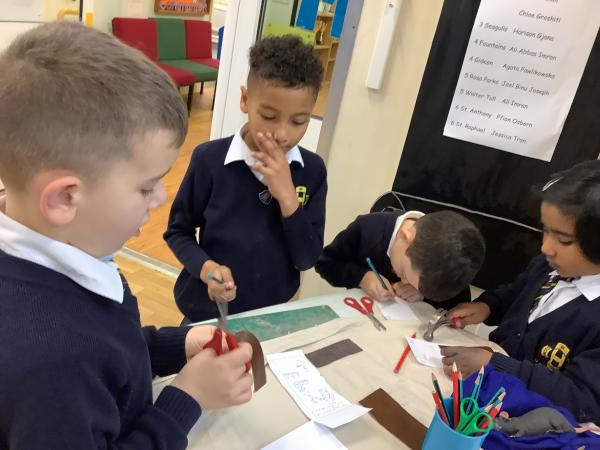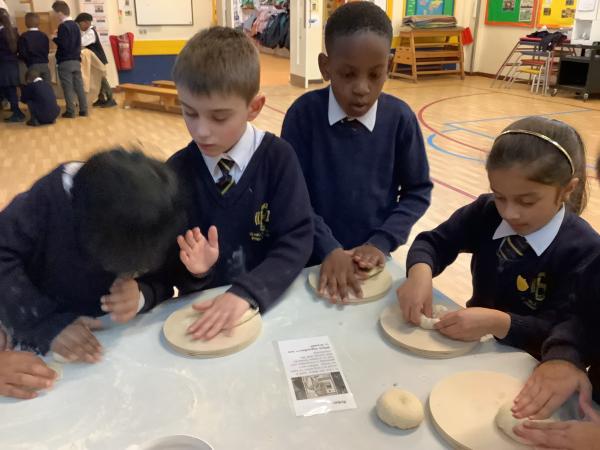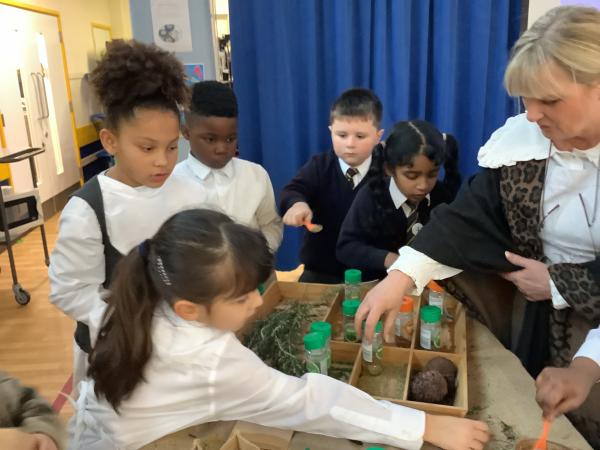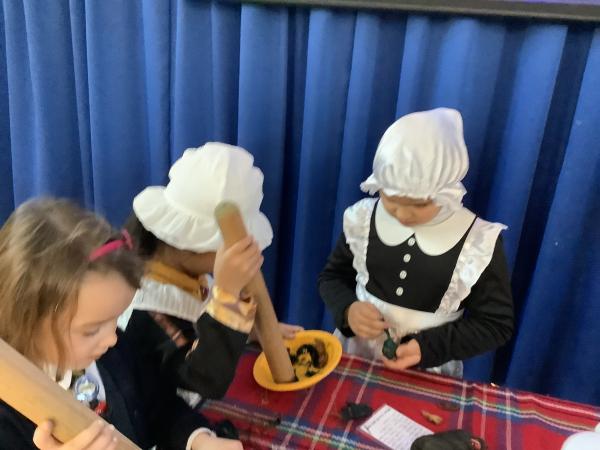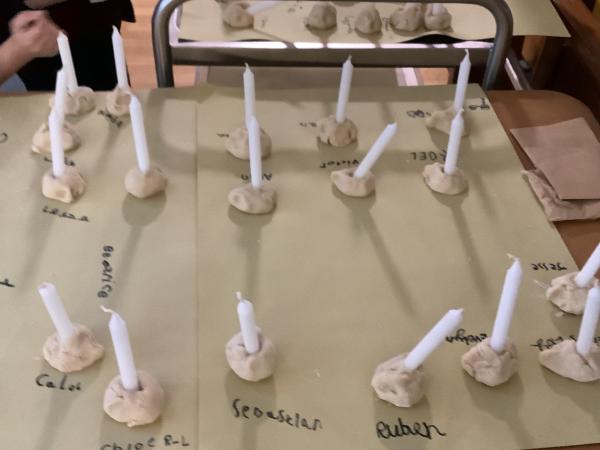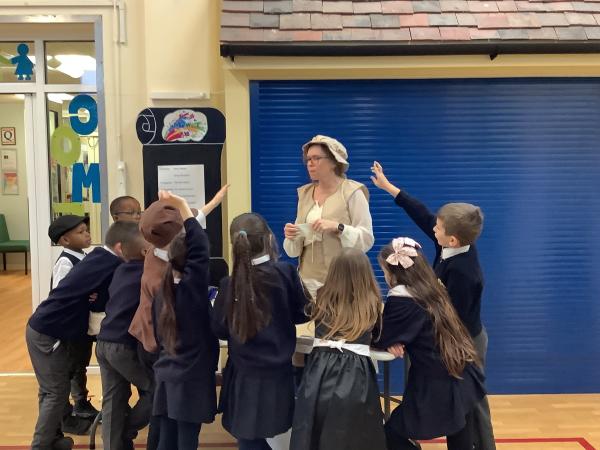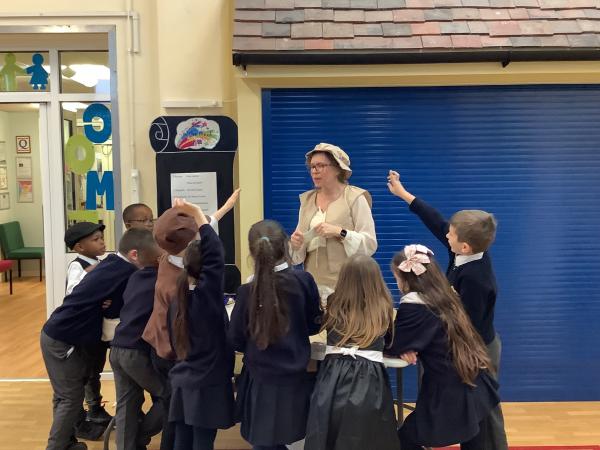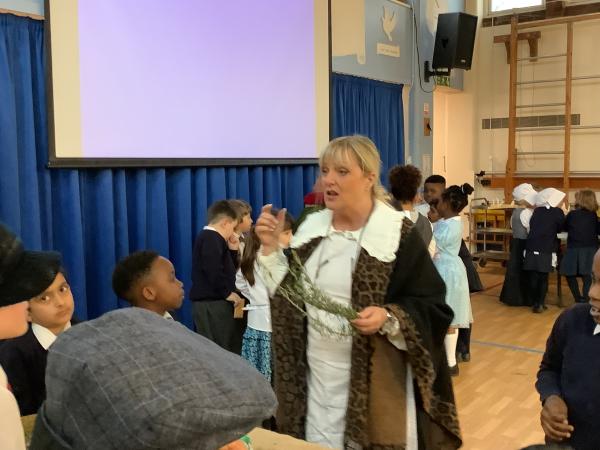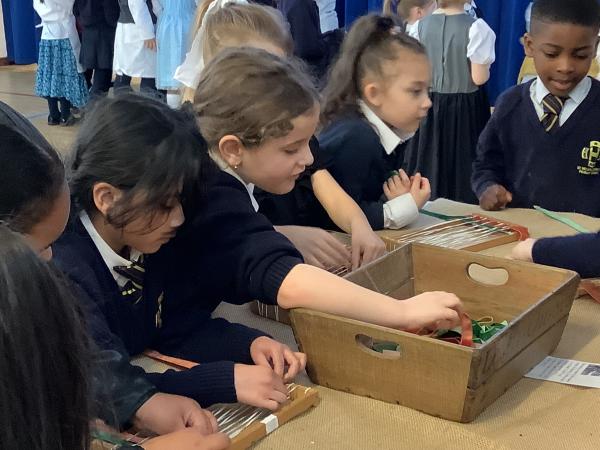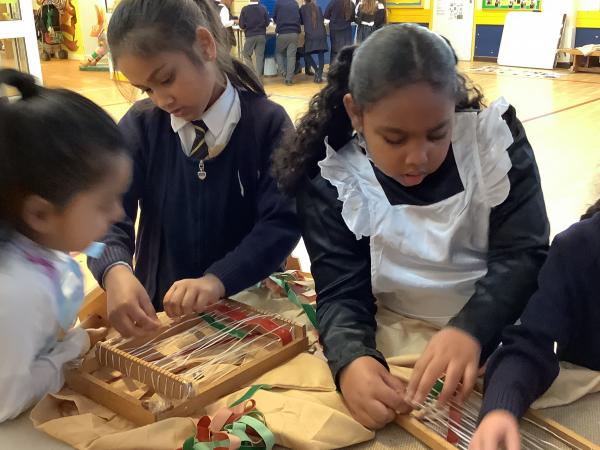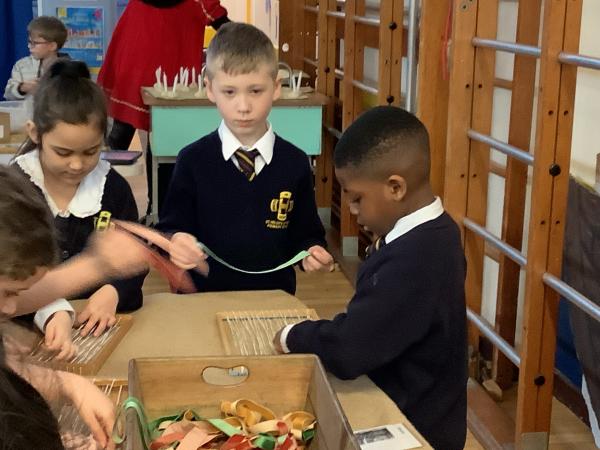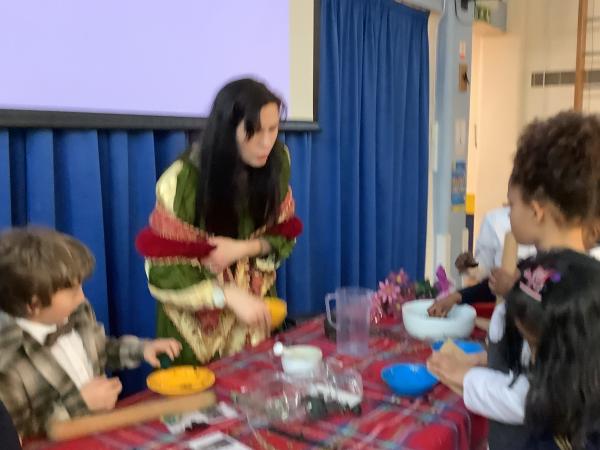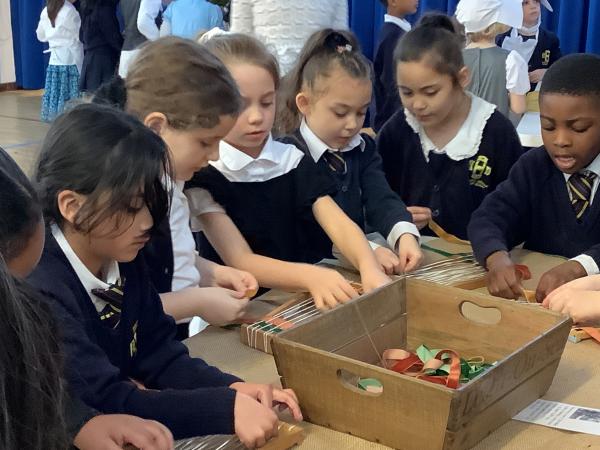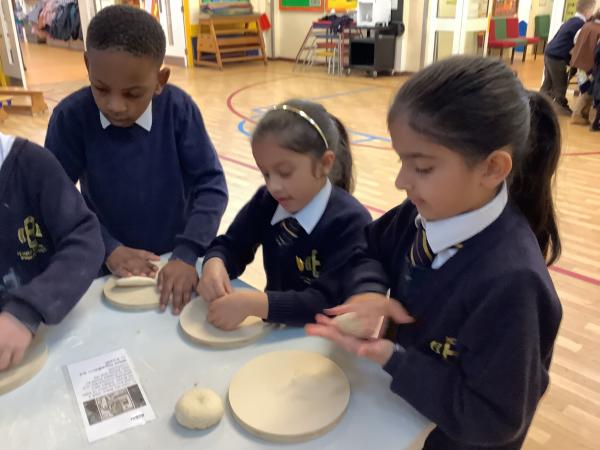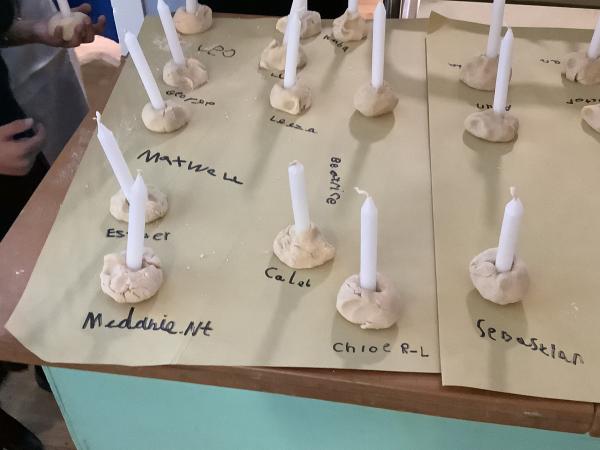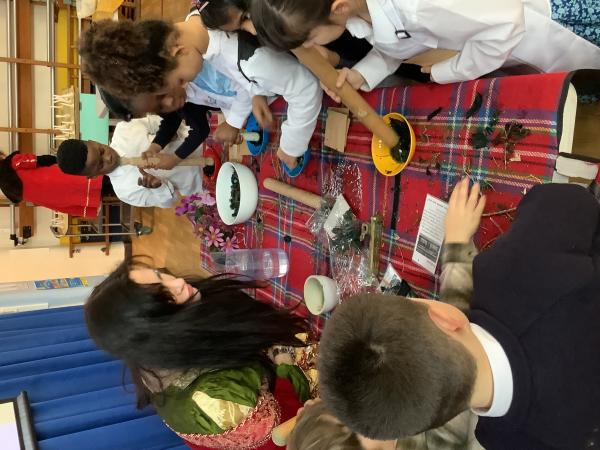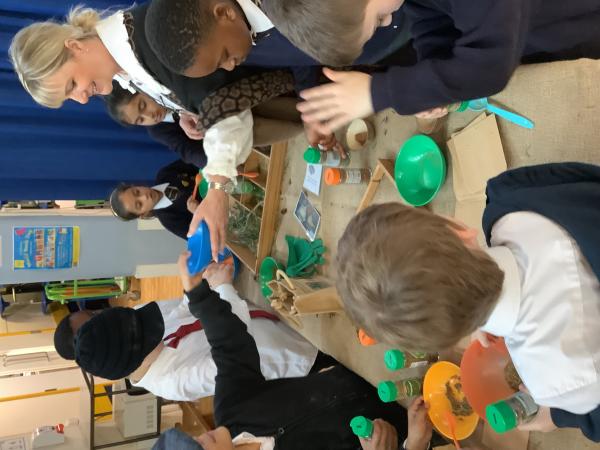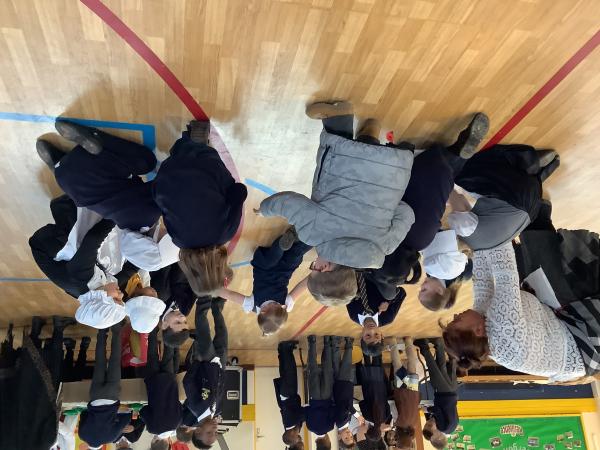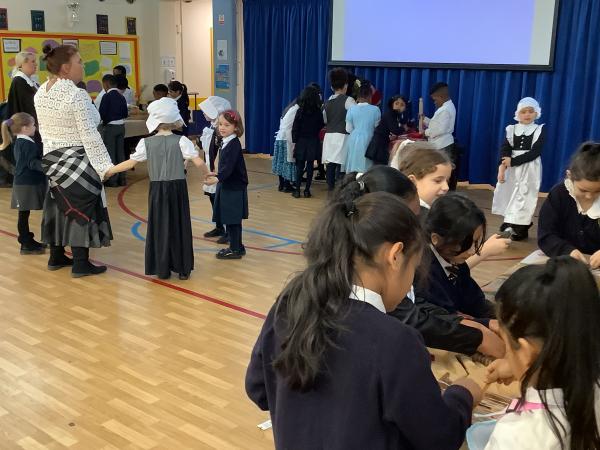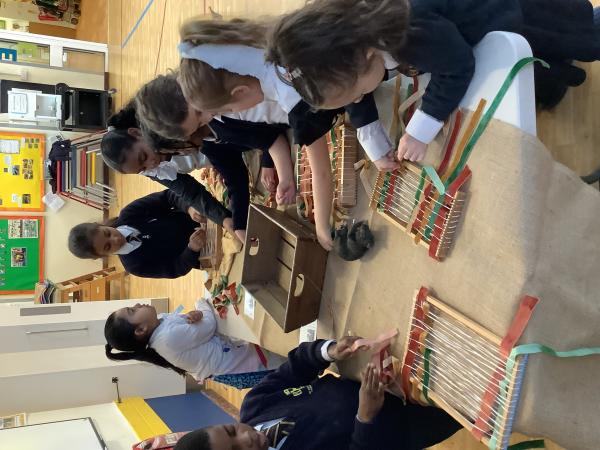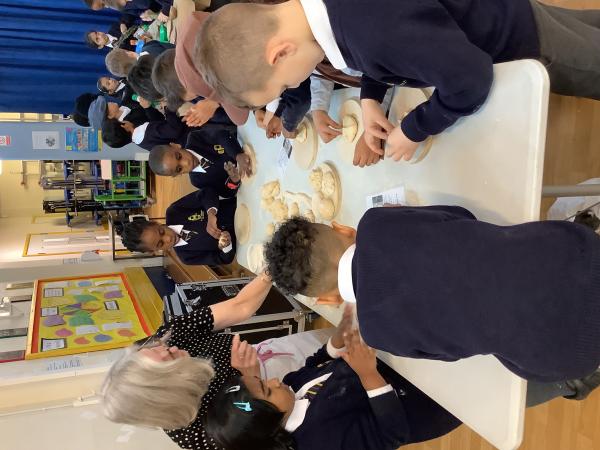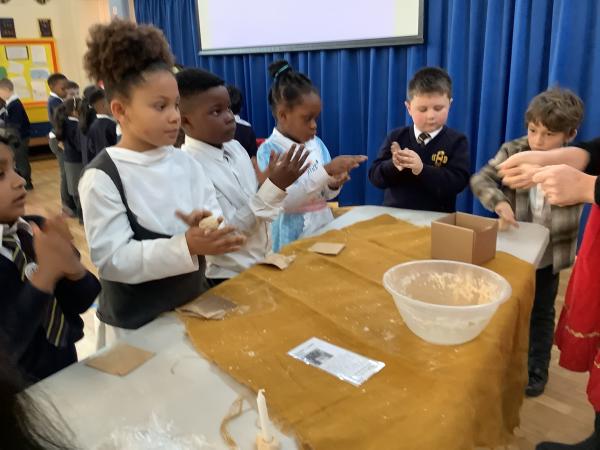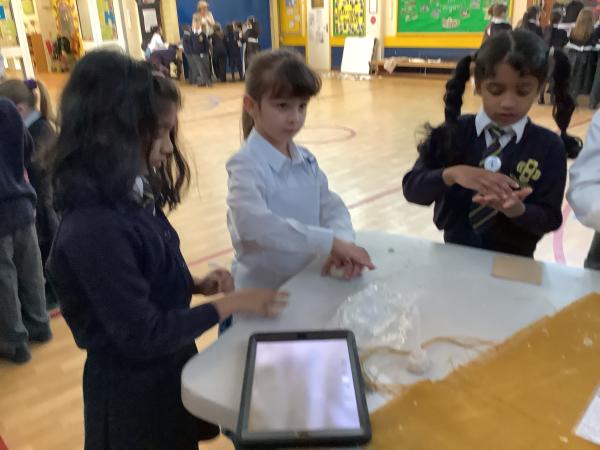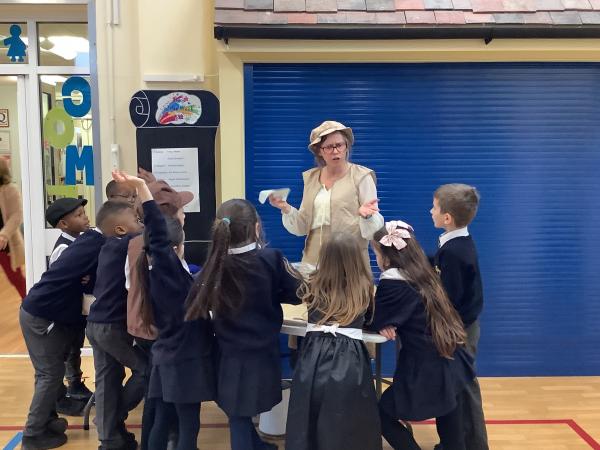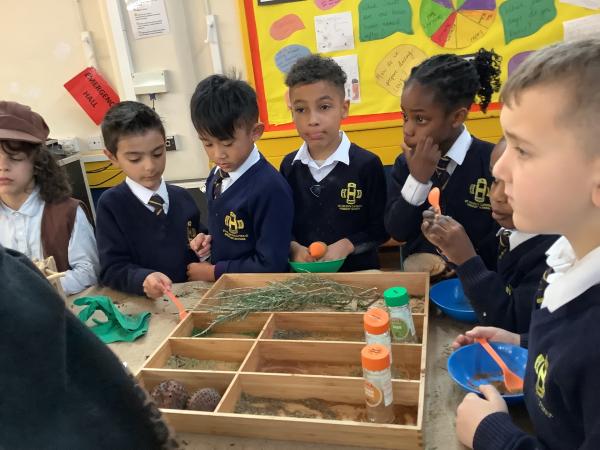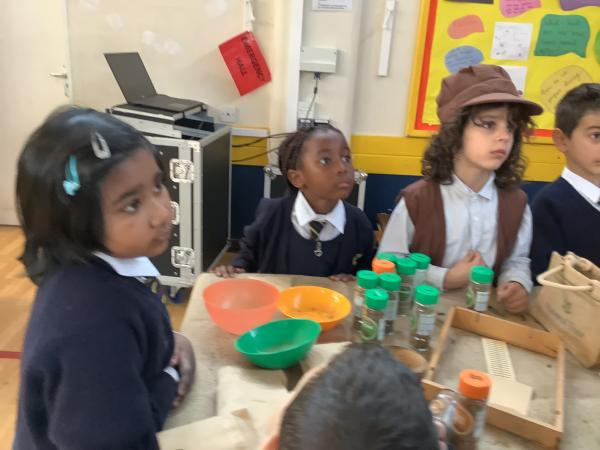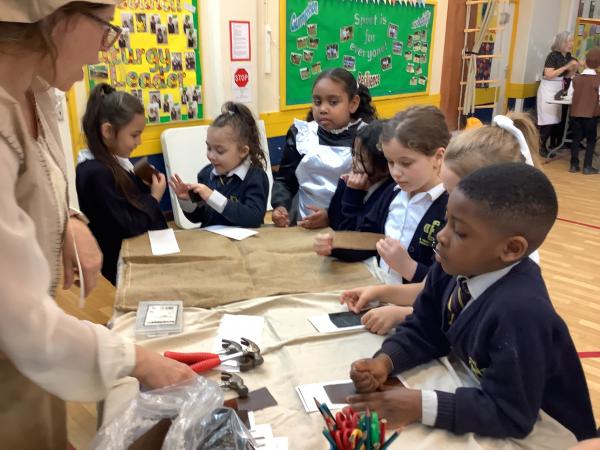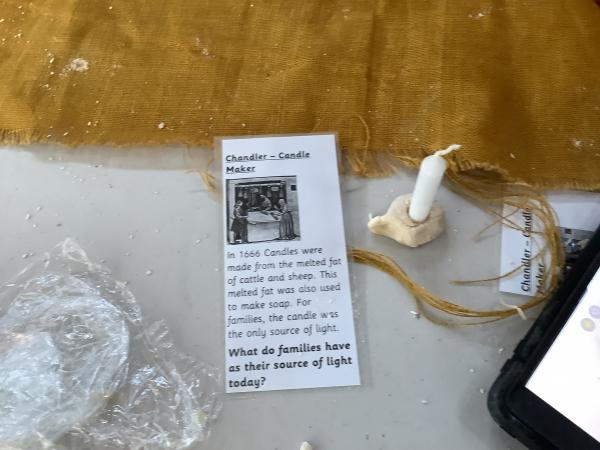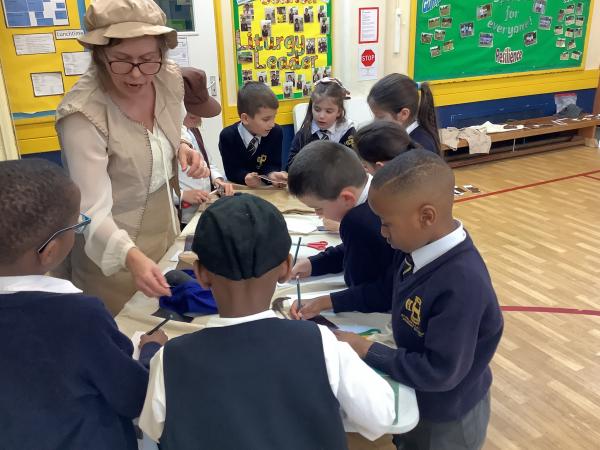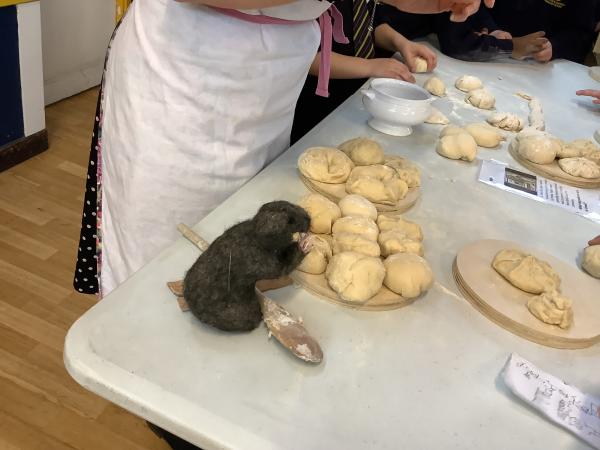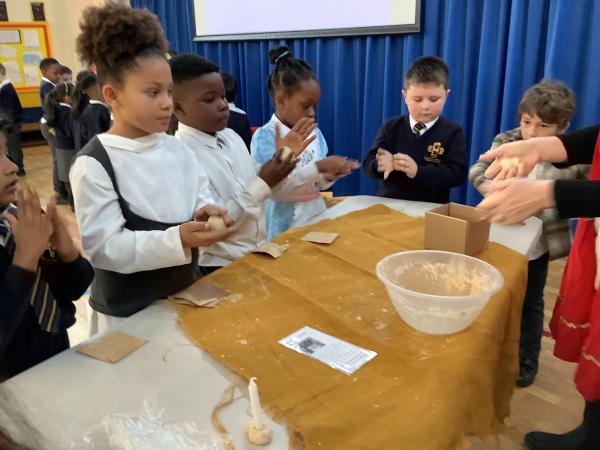 We enjoyed our Library visit
The children in Seahorses had a lovely visit to the Library. Not only did they find lots of lovely books to look at but……
They found out that it is free to join
That a Library card lets you borrow up to 14 books at a time
You can use any Library and there are six in the Southend area (Southchurch, Westcliff, Leigh on Sea, The Forum in Southend, Eastwood, Shoebury)
There are lots of activities and clubs to take part in at the Library too, for example a lego club, crochet club, mindfulness colouring in and so much more.
You can find out details on Southend Library'The Forum' social media pages or Mrs Conyard has a small amount of Library card application forms.
I am sure Miss Appleyard would love to hear that you all visited the Library at half term!!!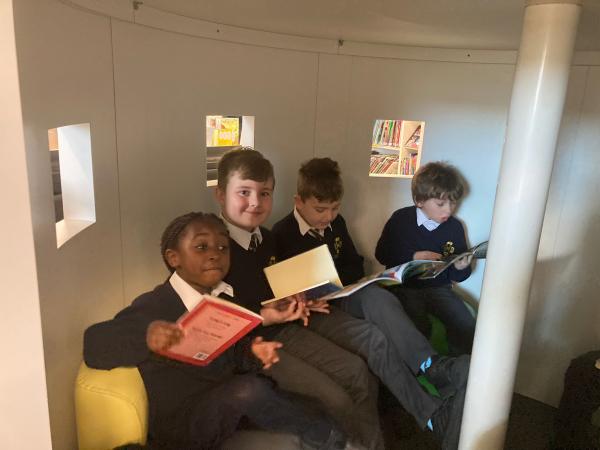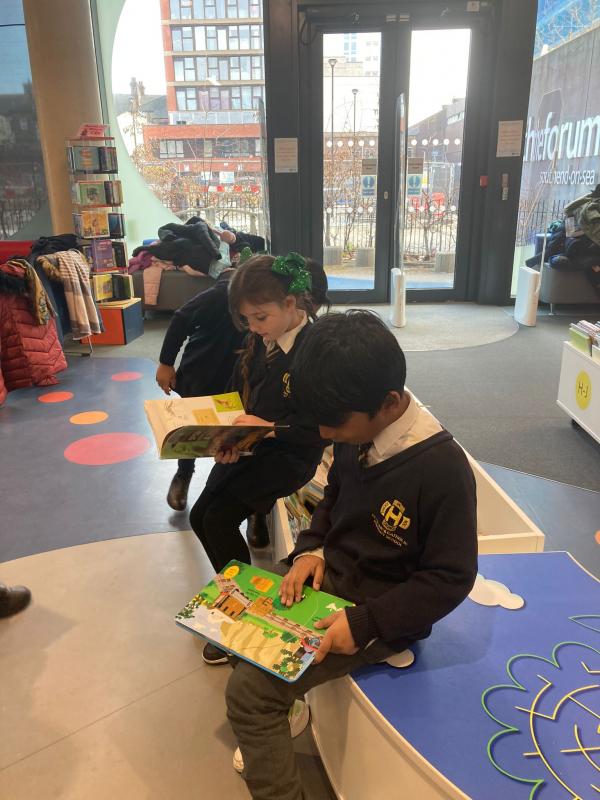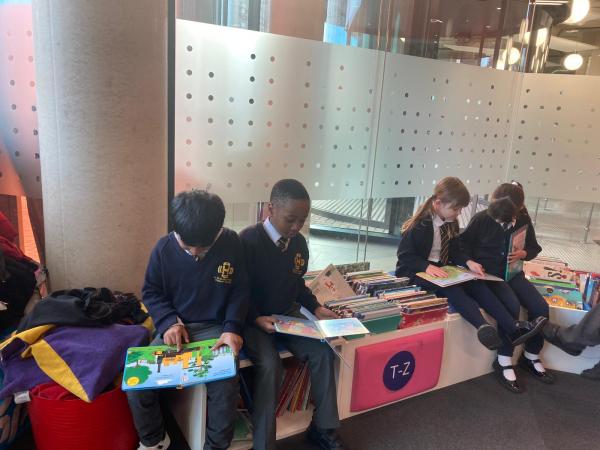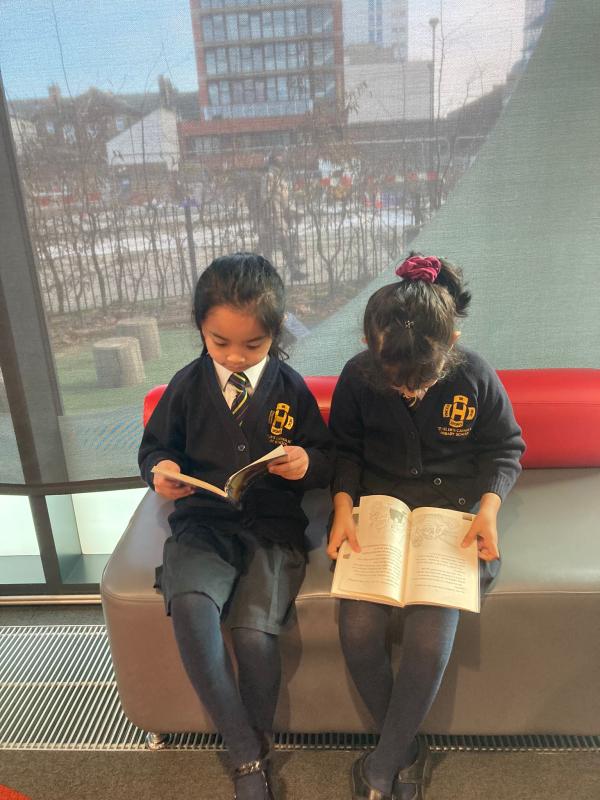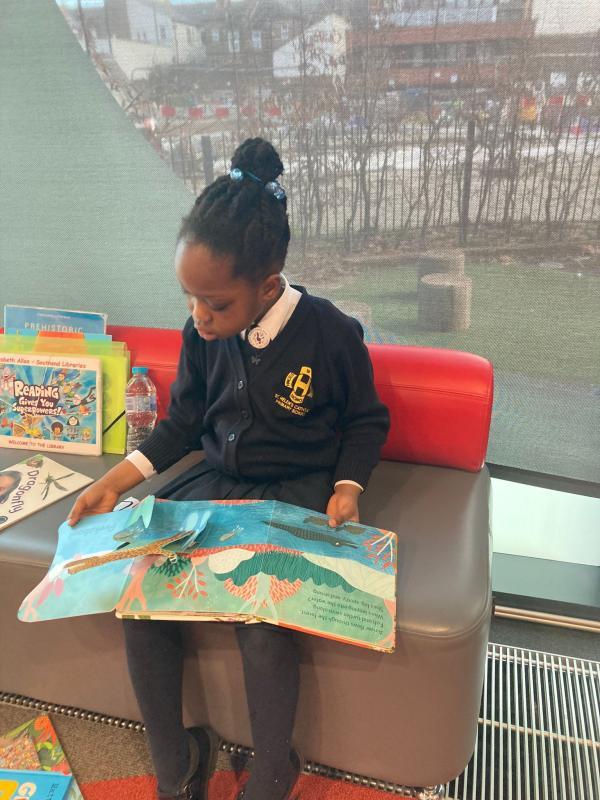 Collecting data on a tally chart and creating a block chart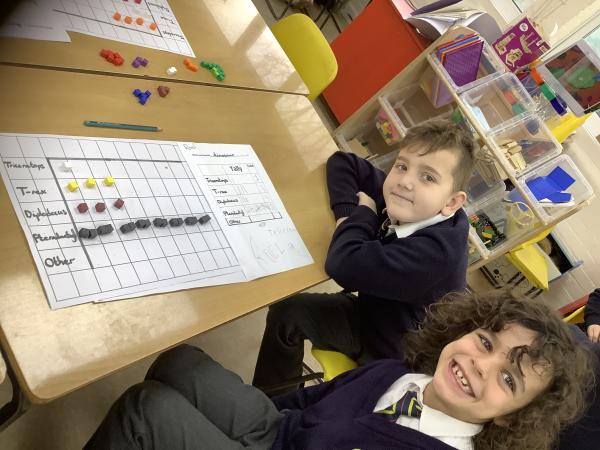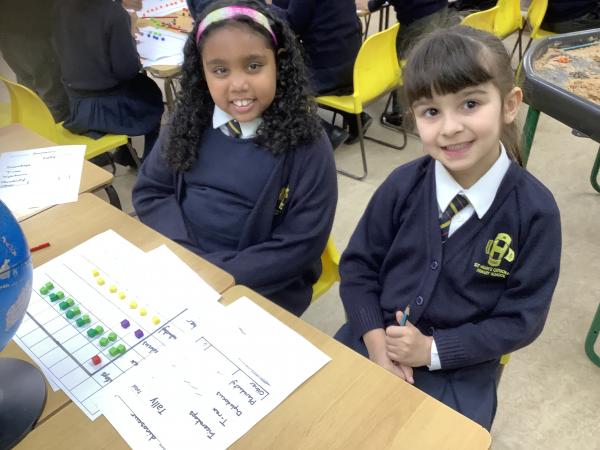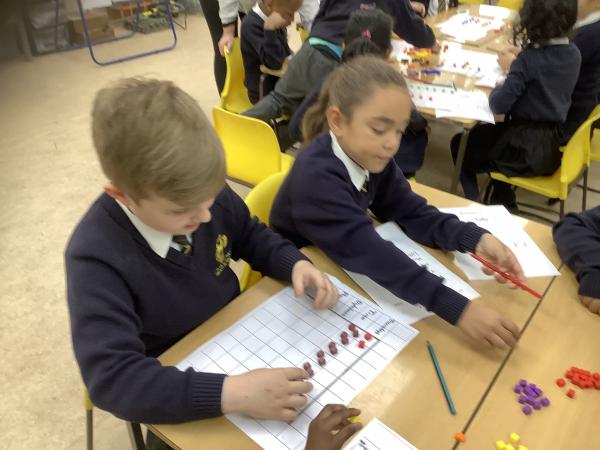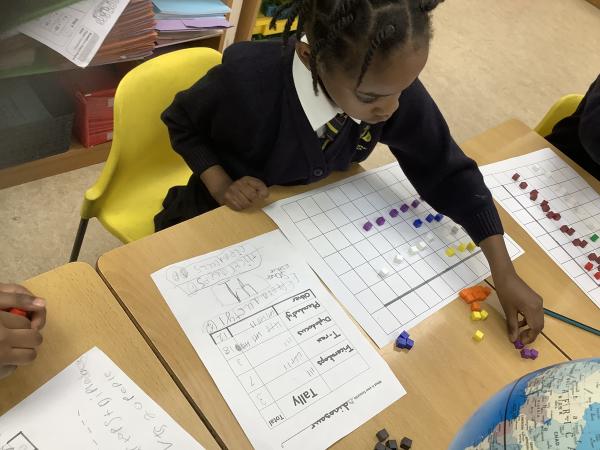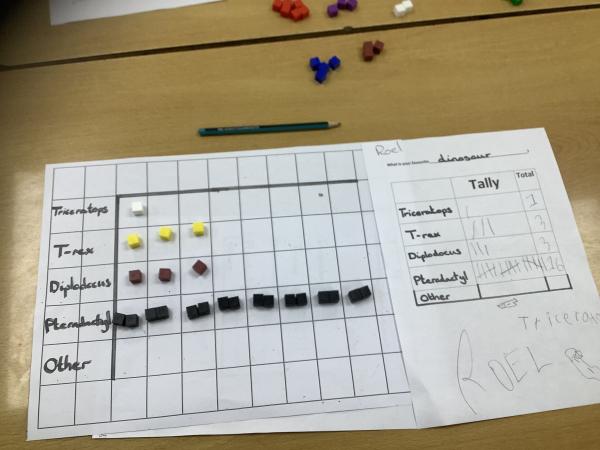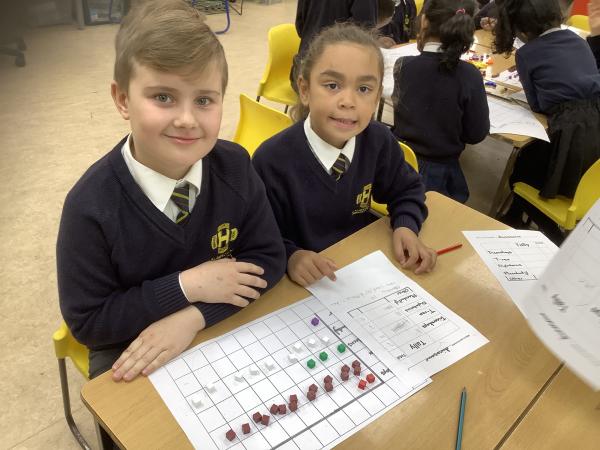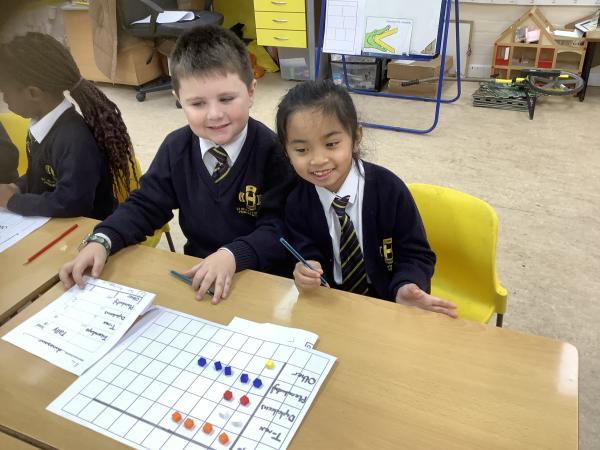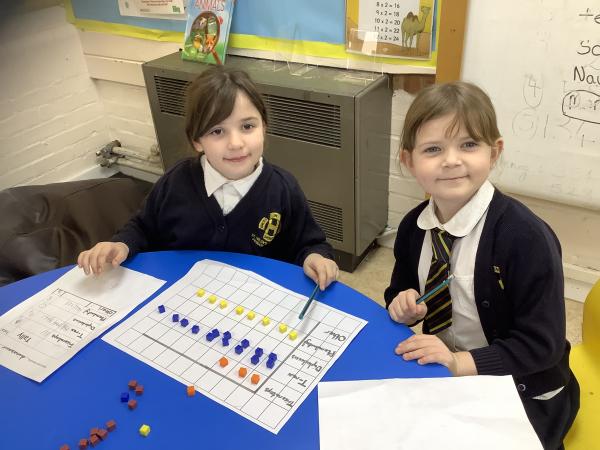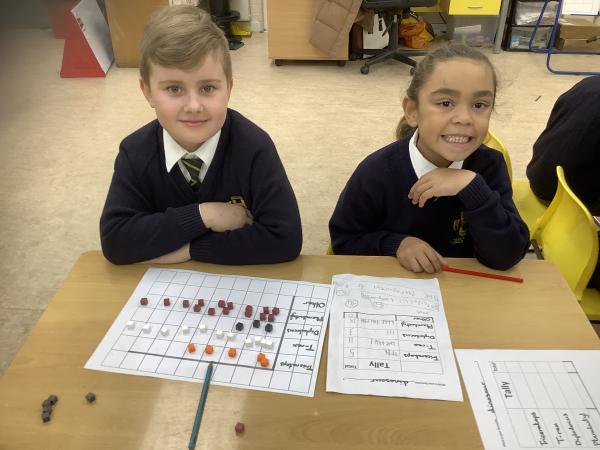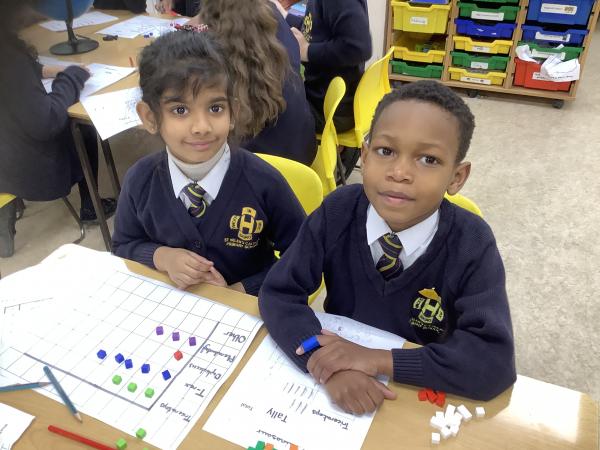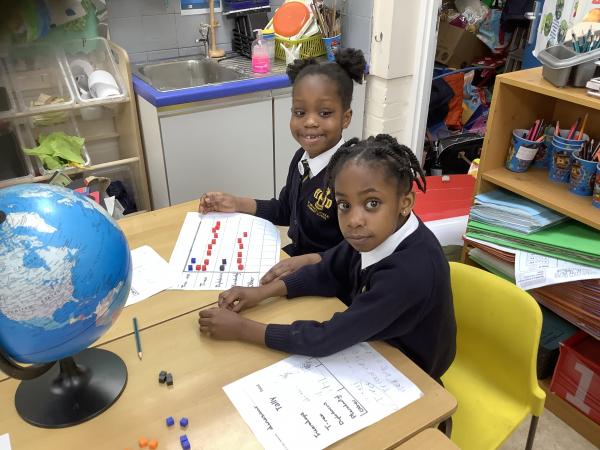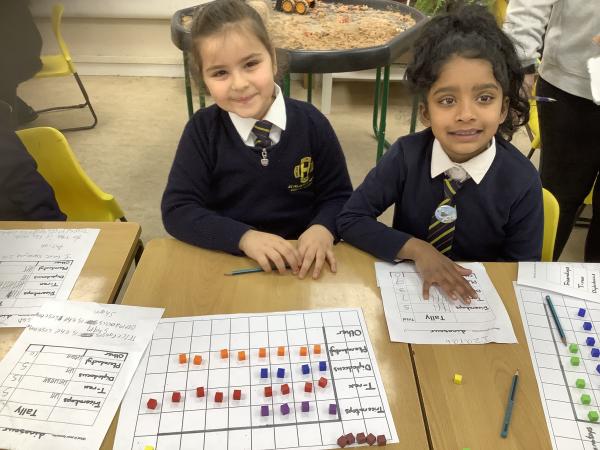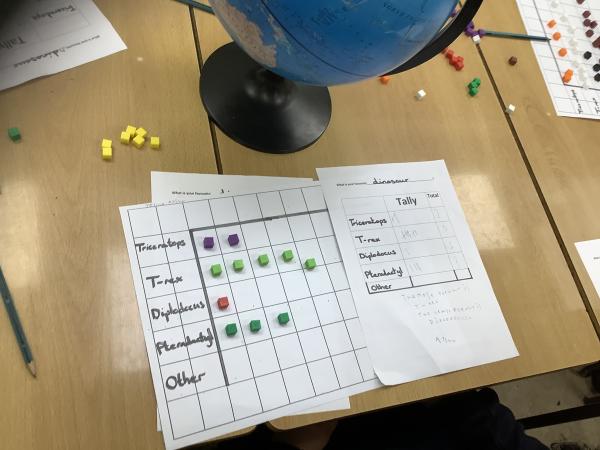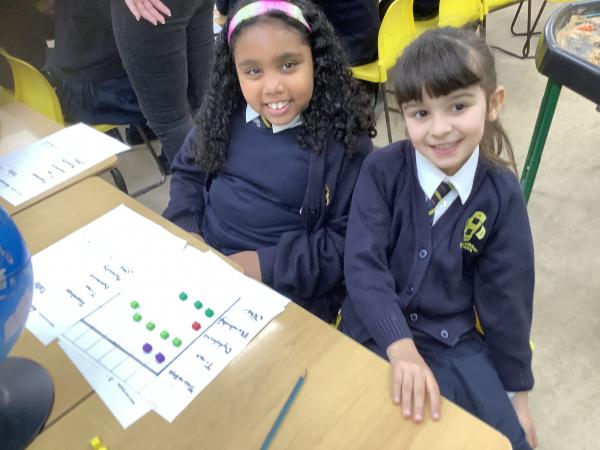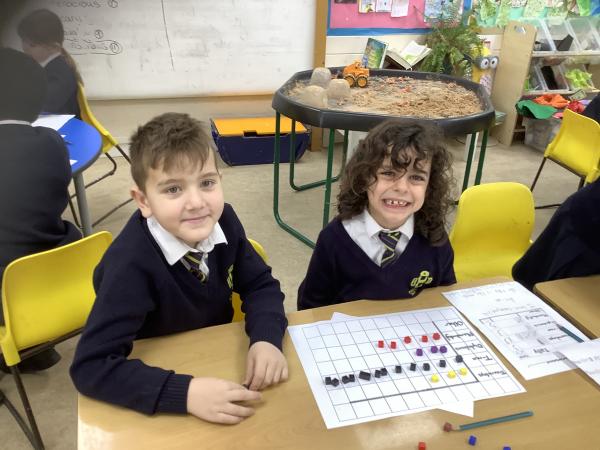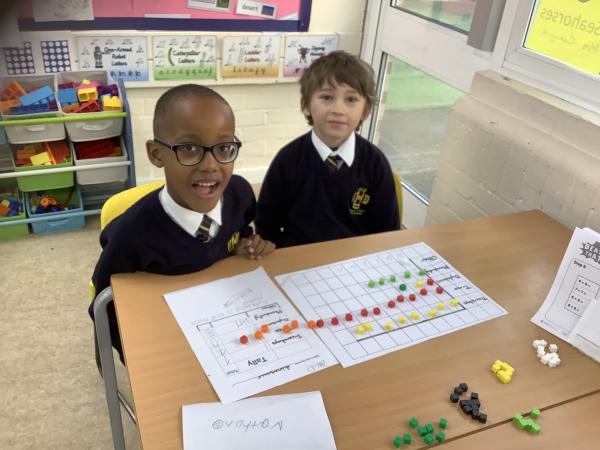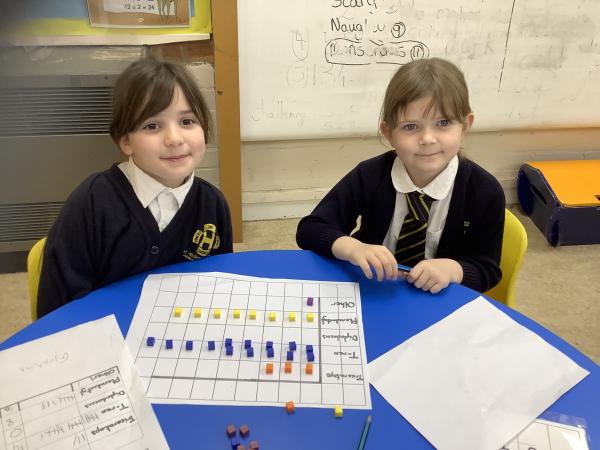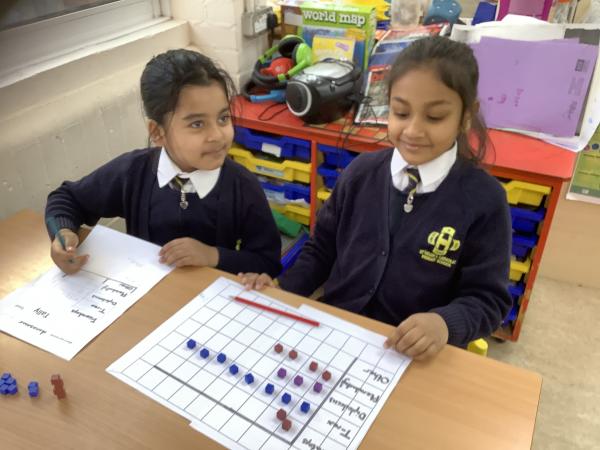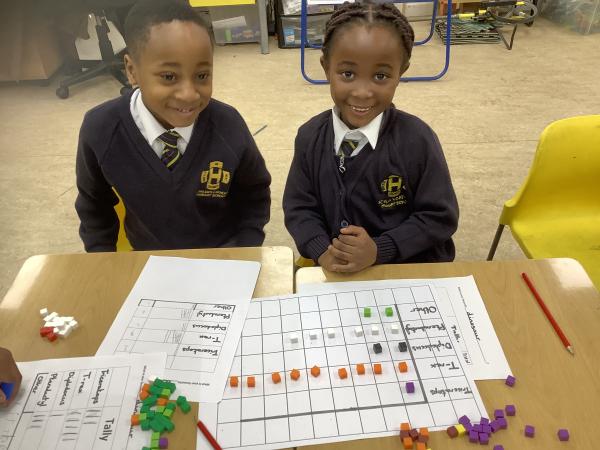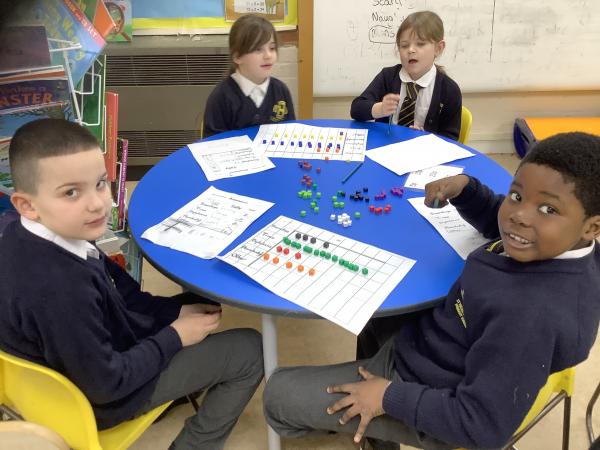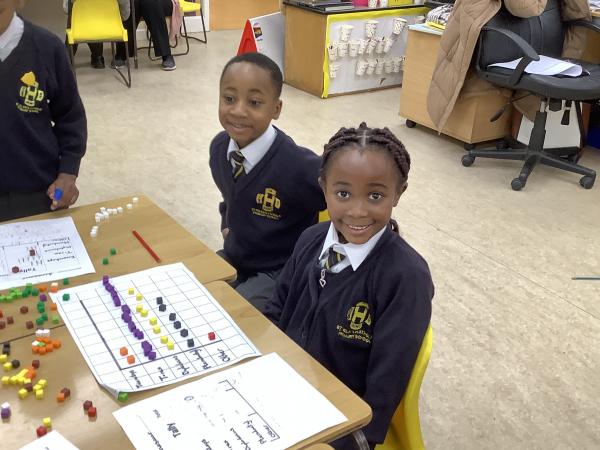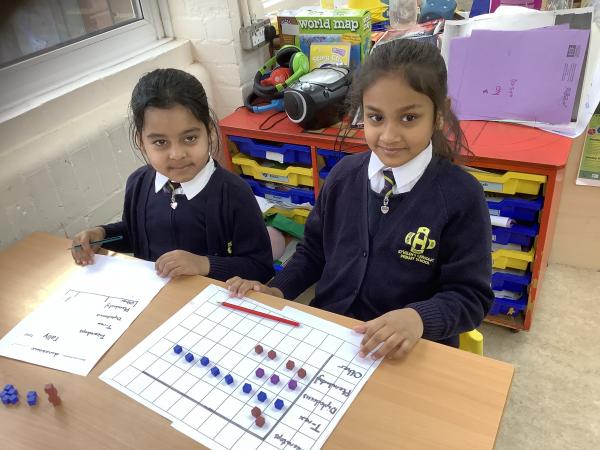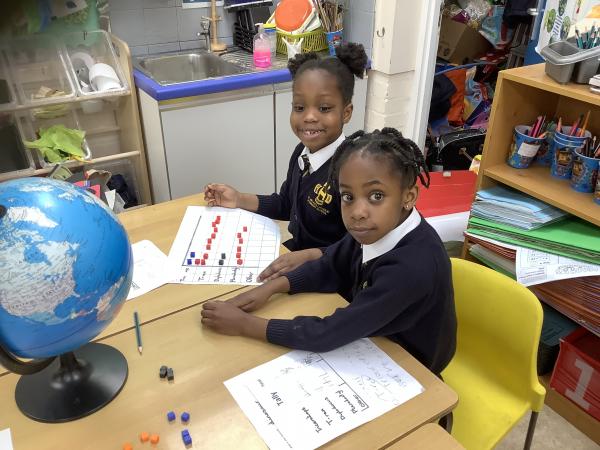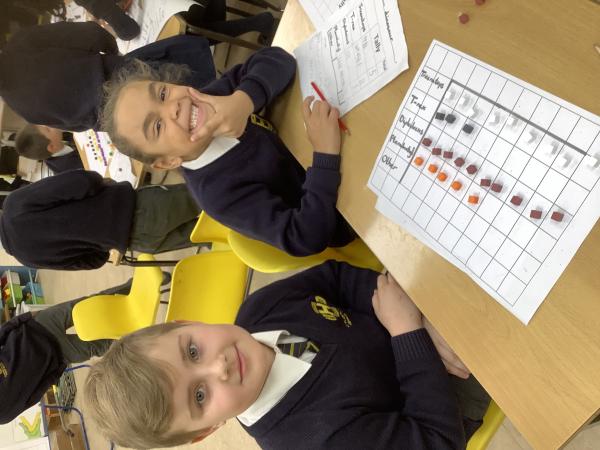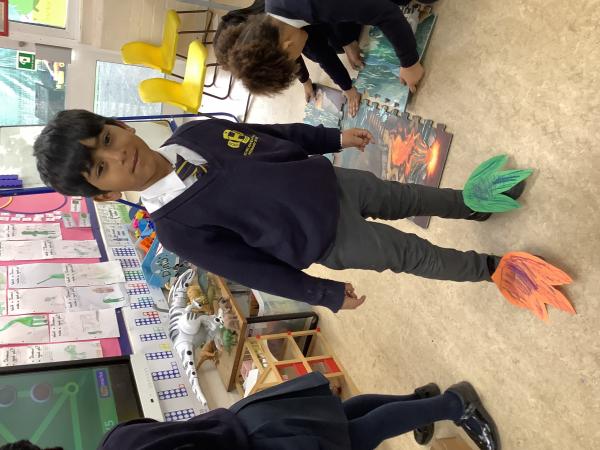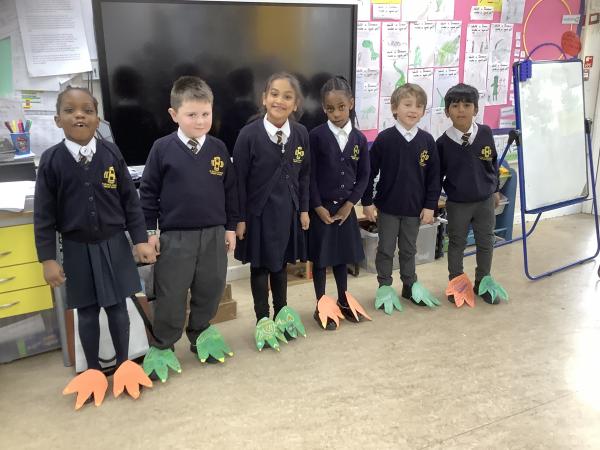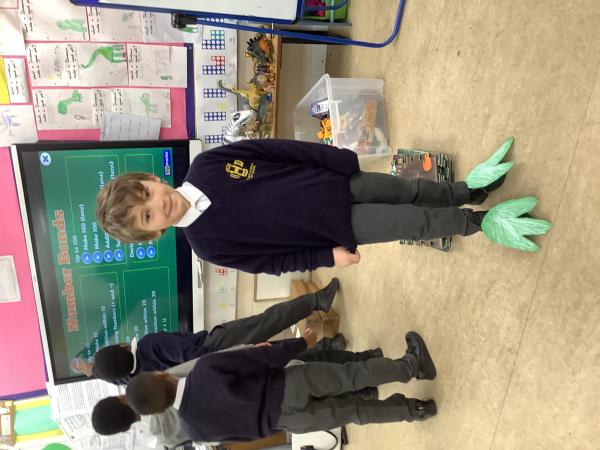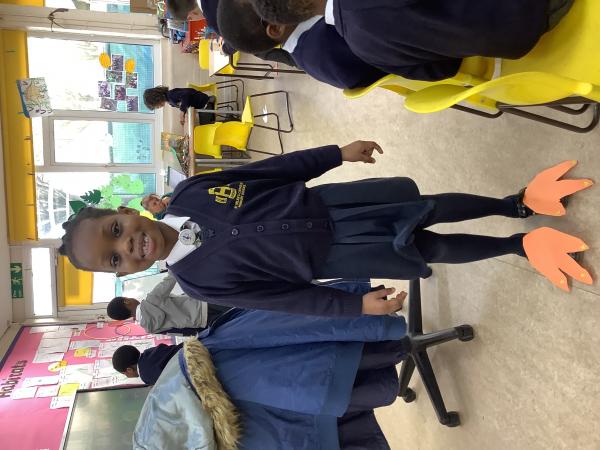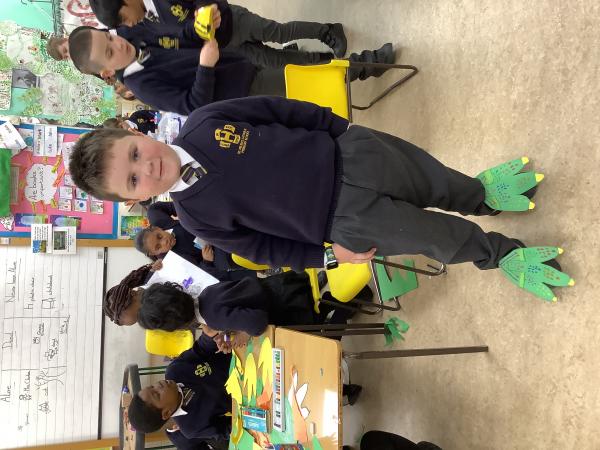 Nature Area
Both Year 2 classes had a busy time in the Nature Area. They learnt new scientific vocabulary - predator, prey, carnivore, herbivore and omnivore. By playing many games they saw these words in action. They also thought about the wildlife living in the nature area so we fed the birds using cheerio necklaces and fat balls.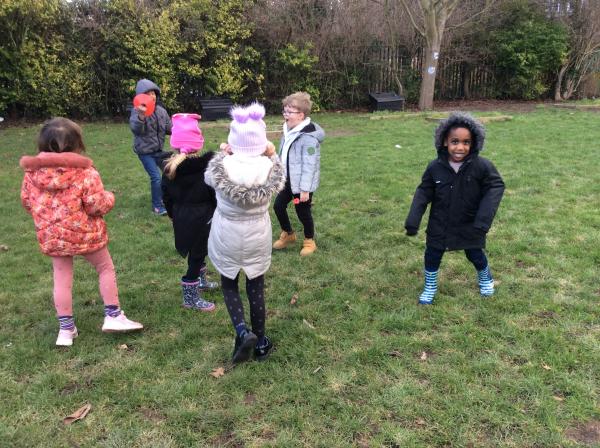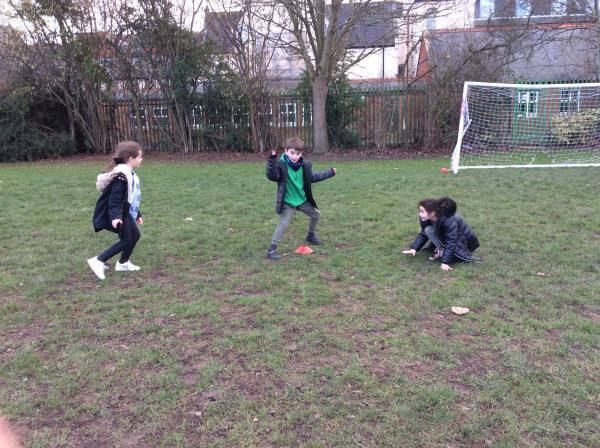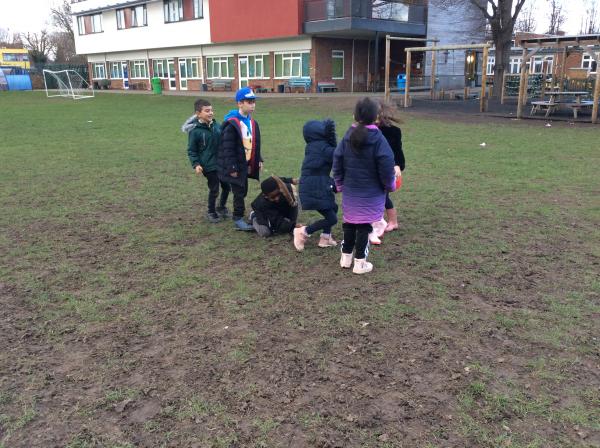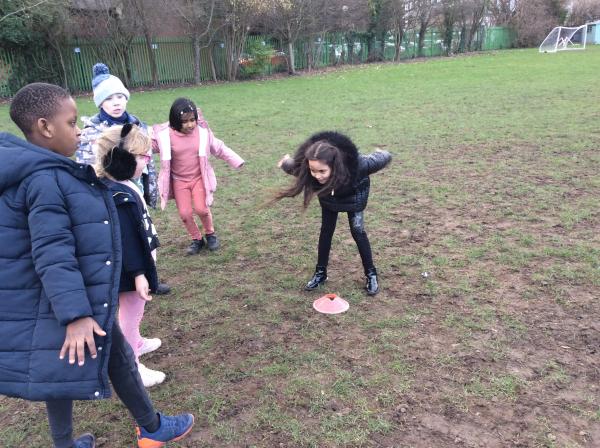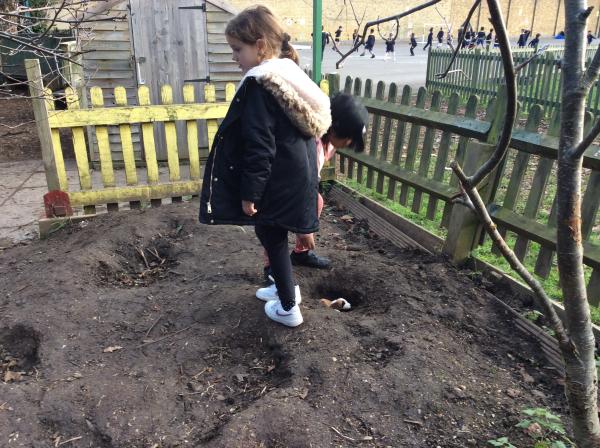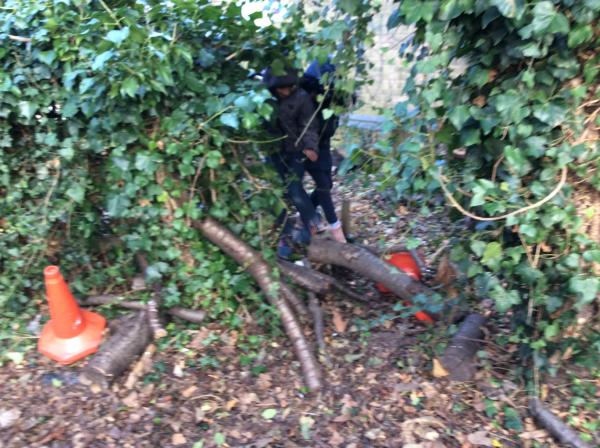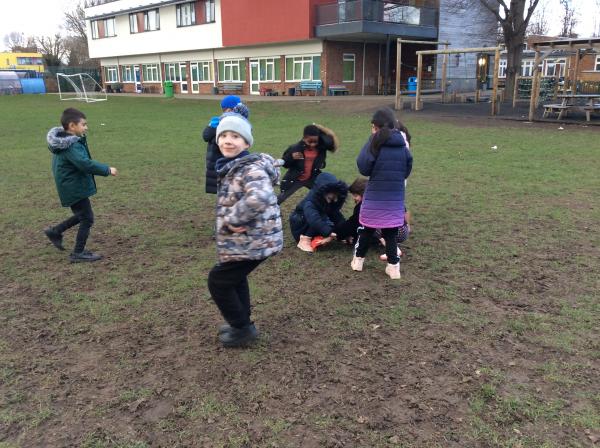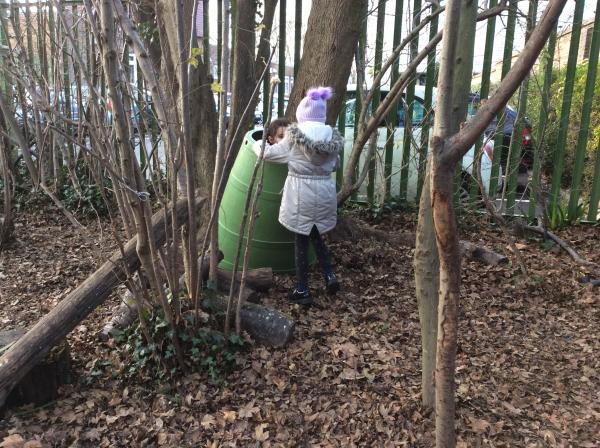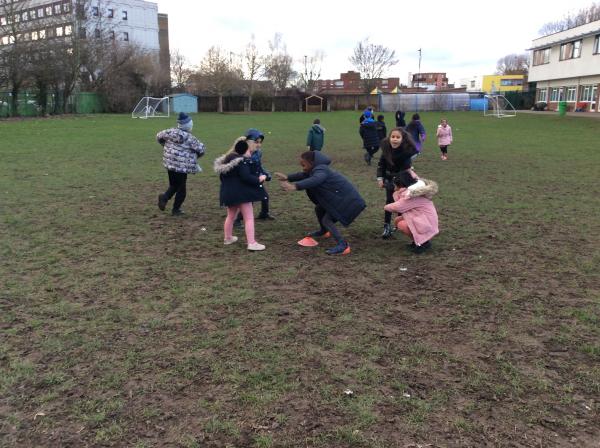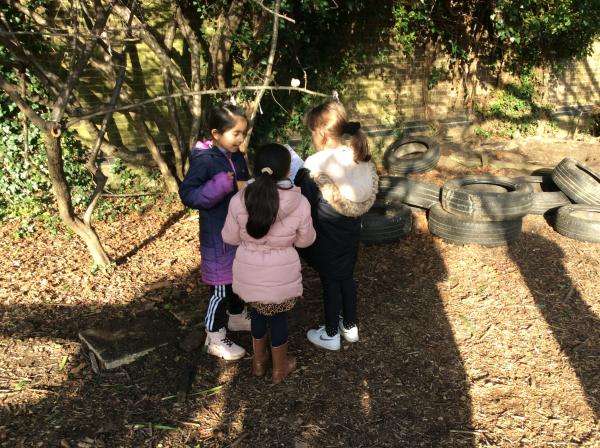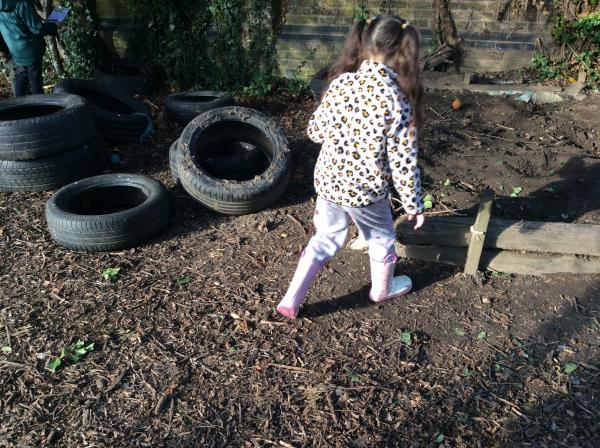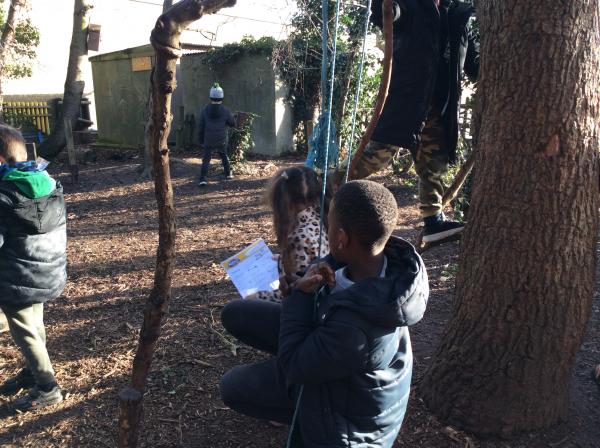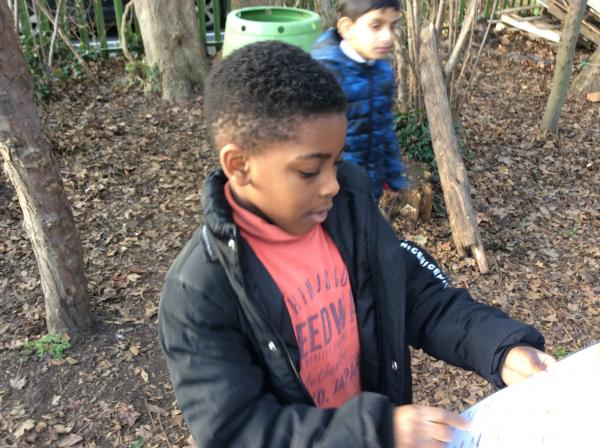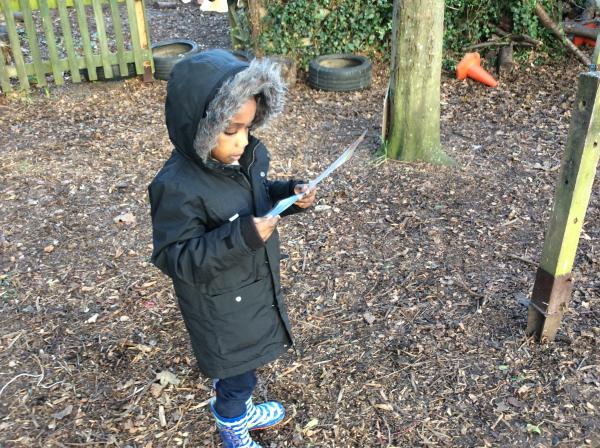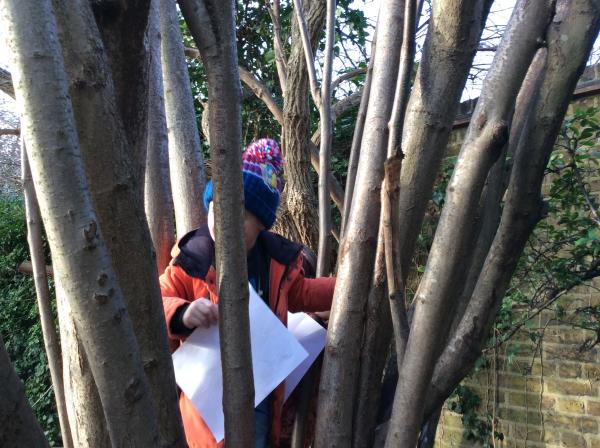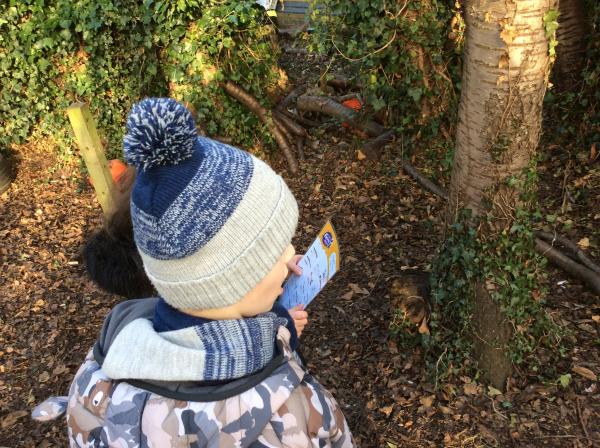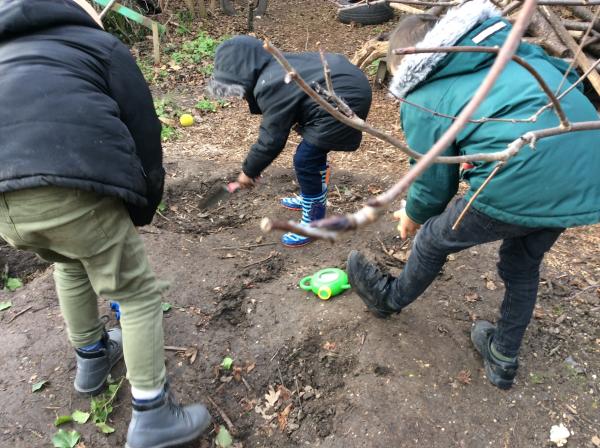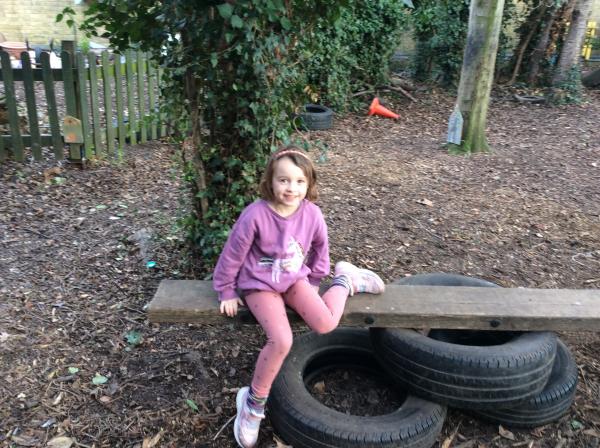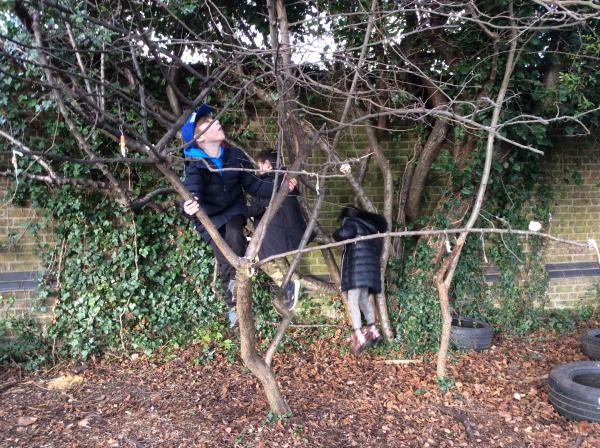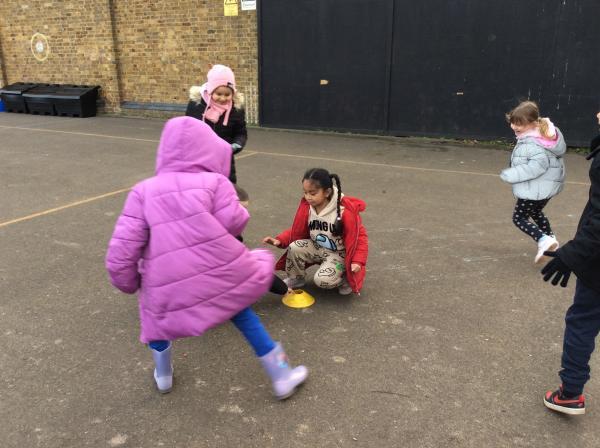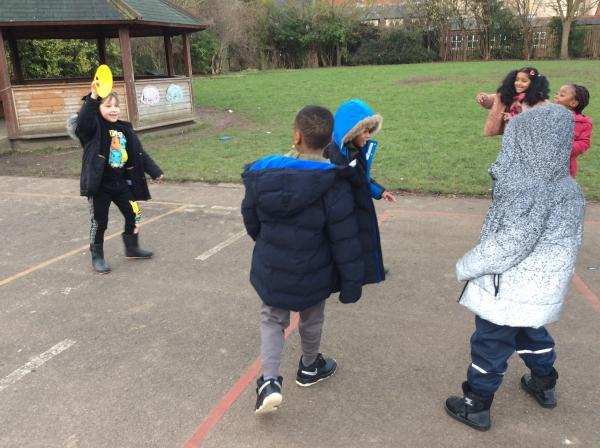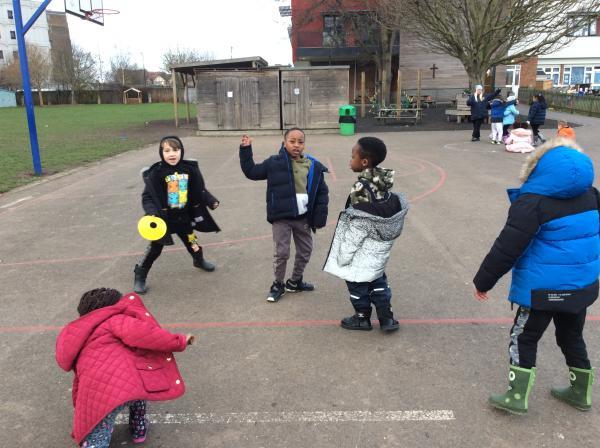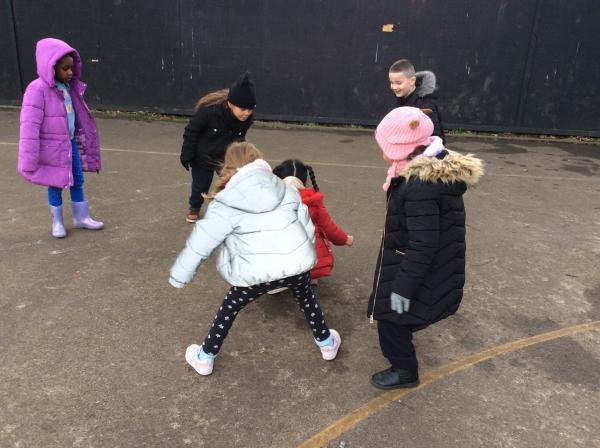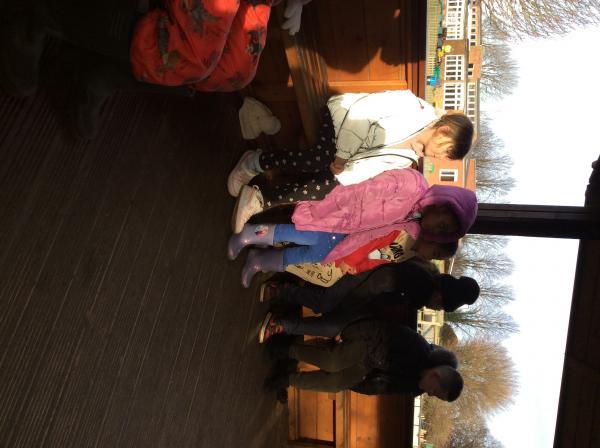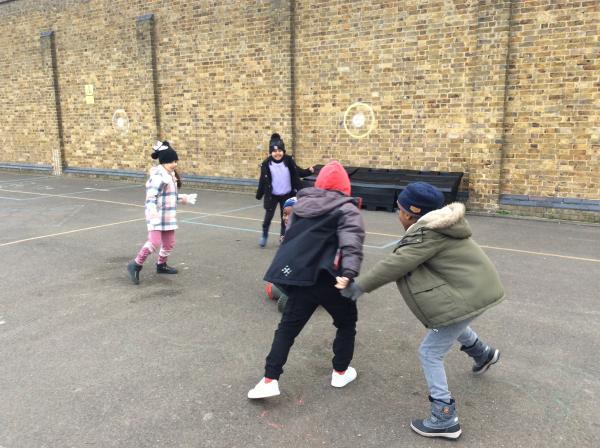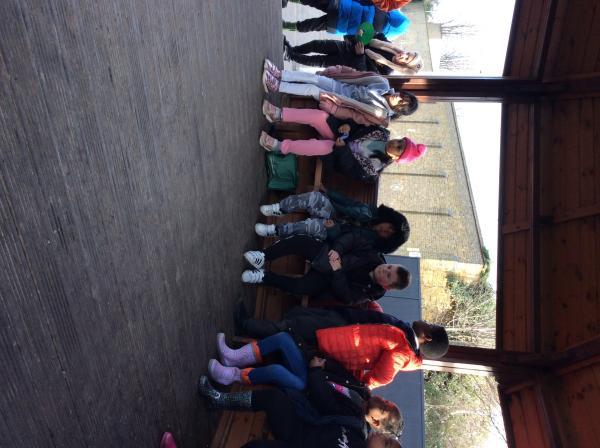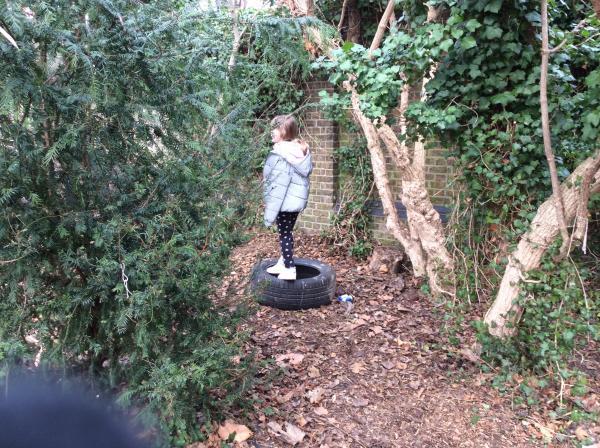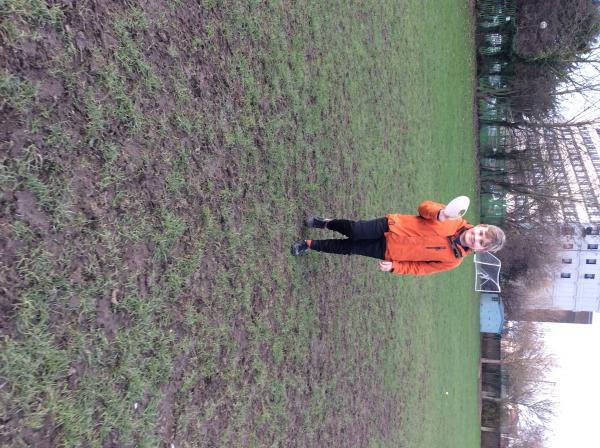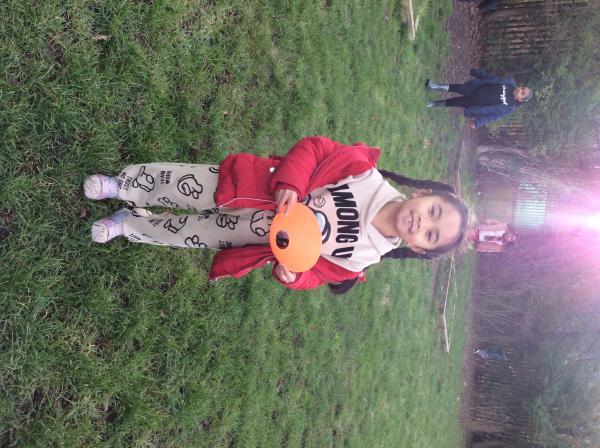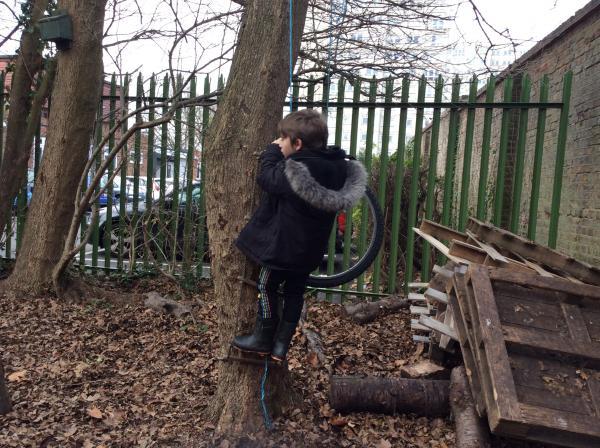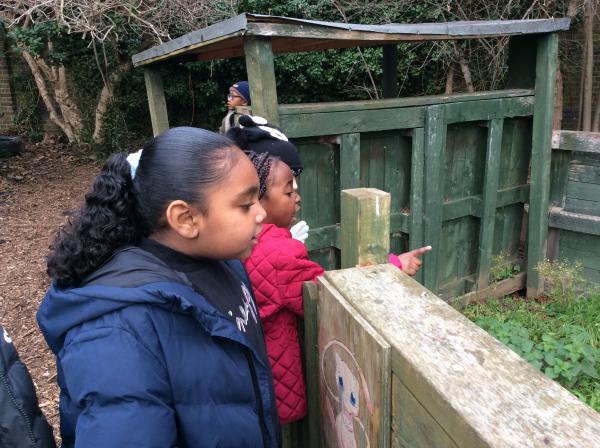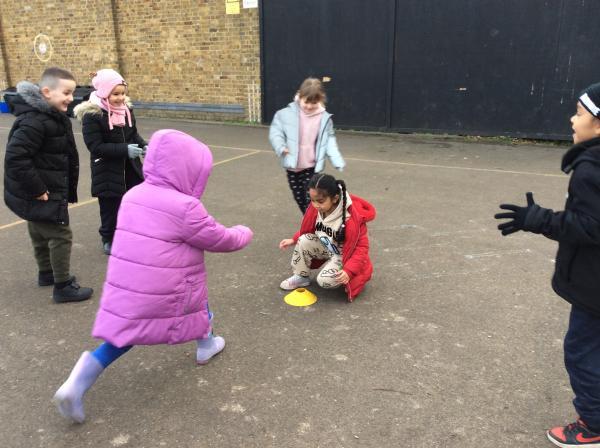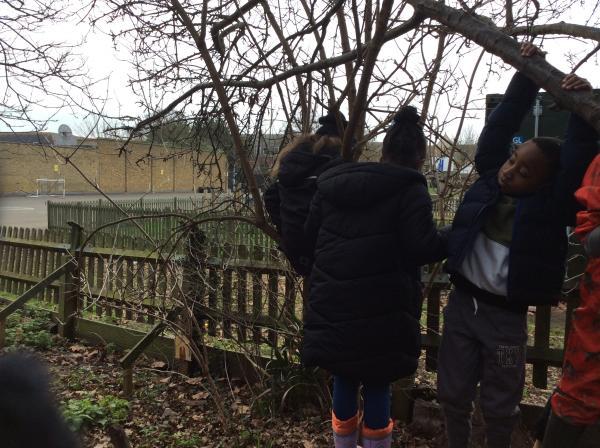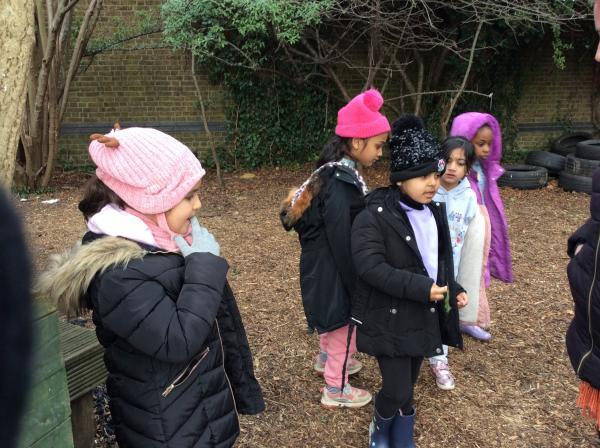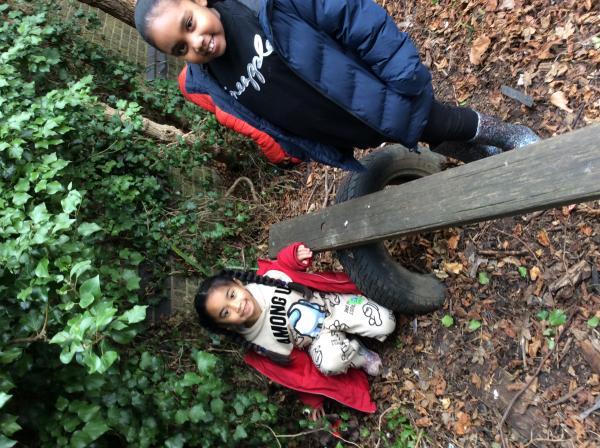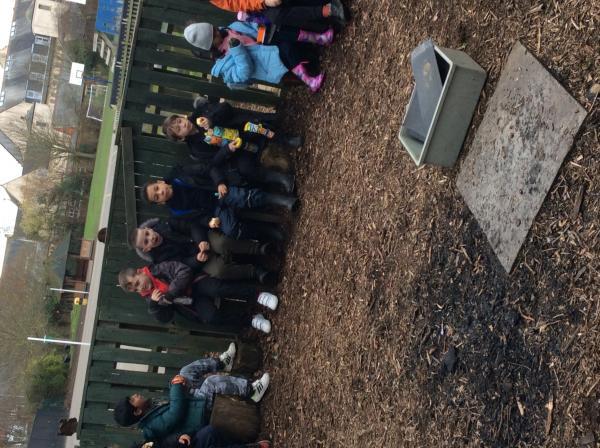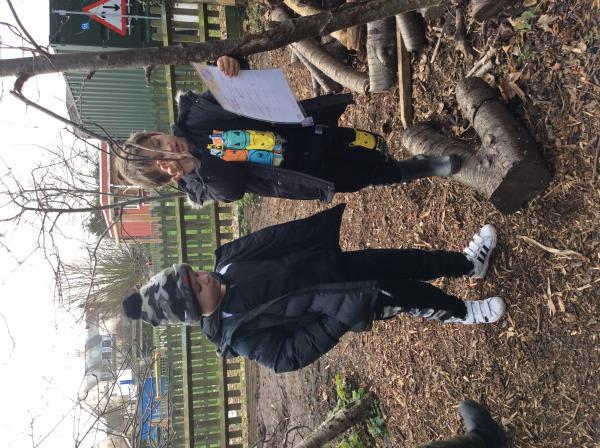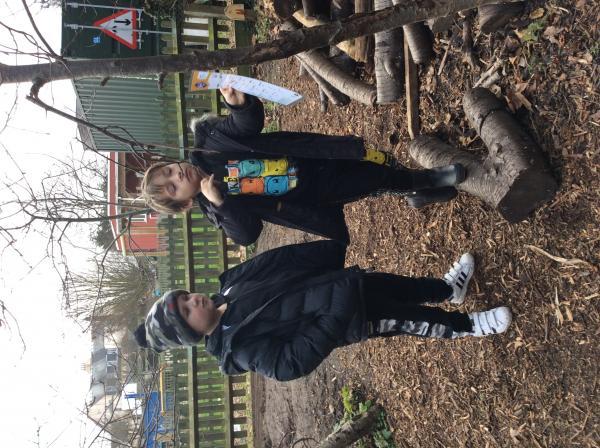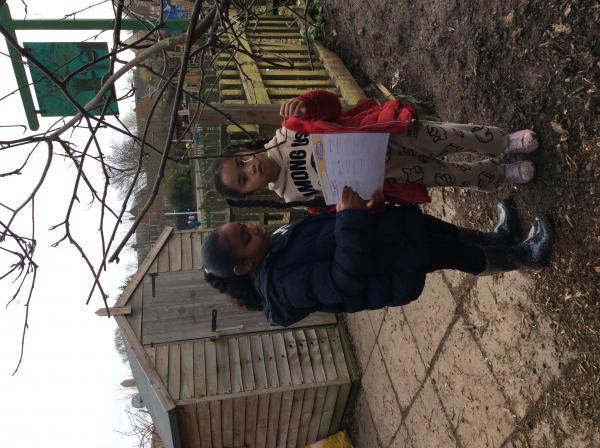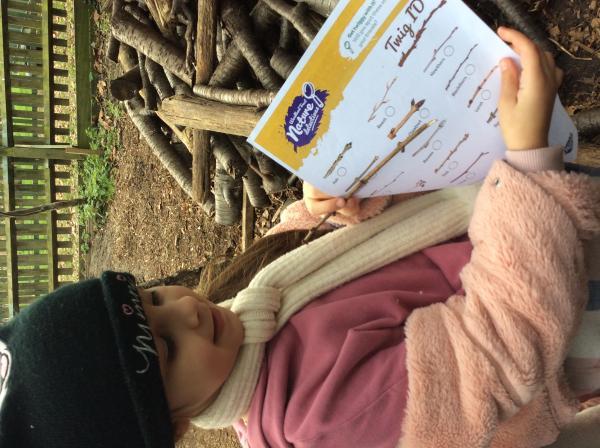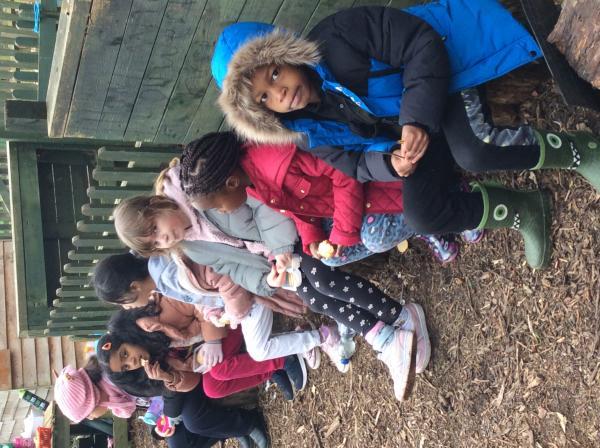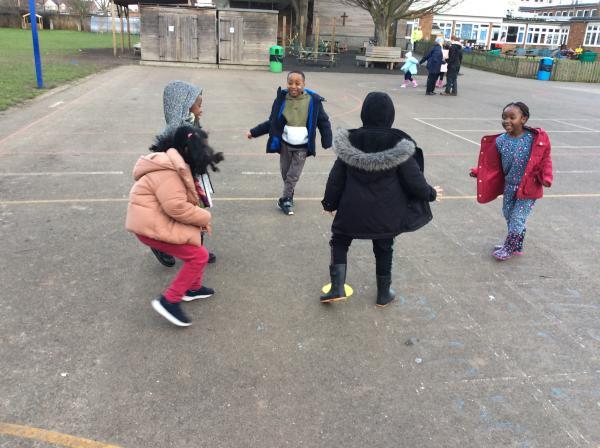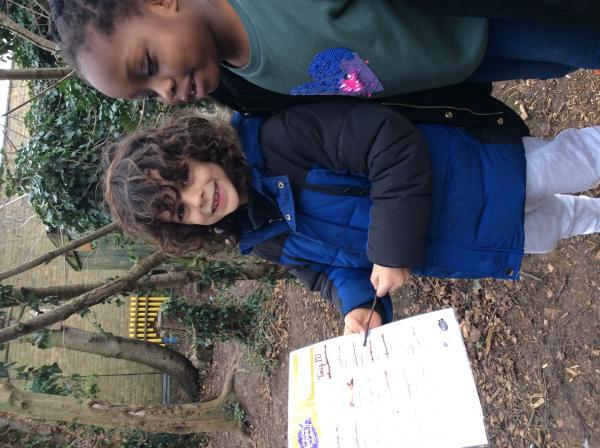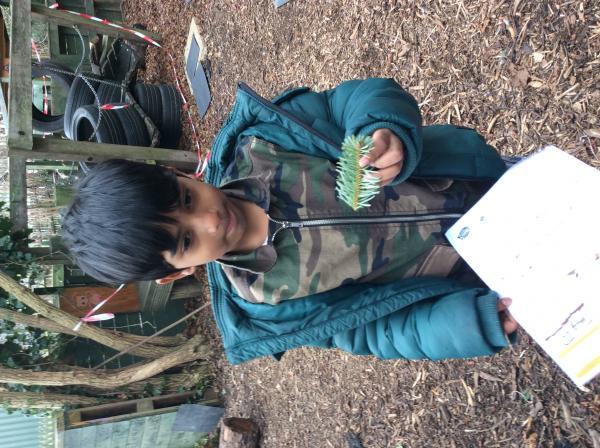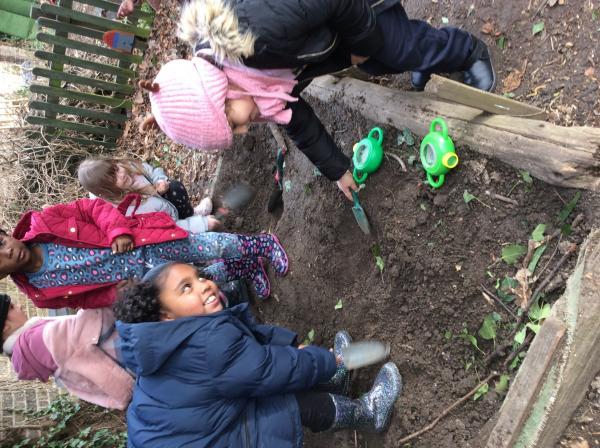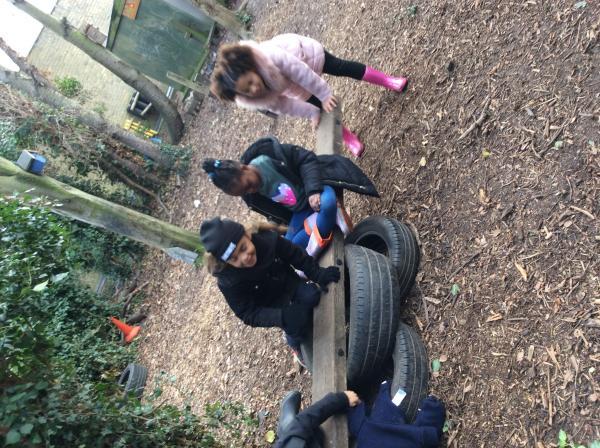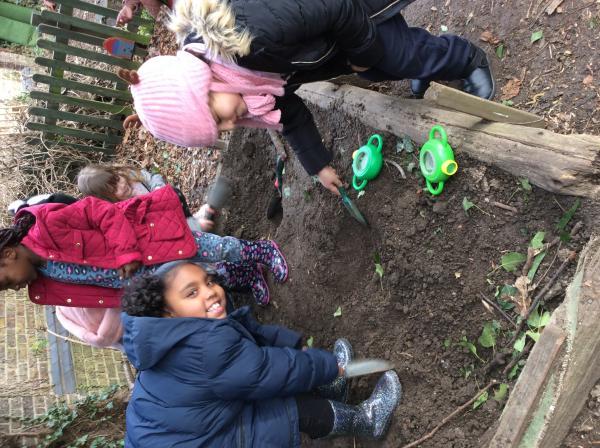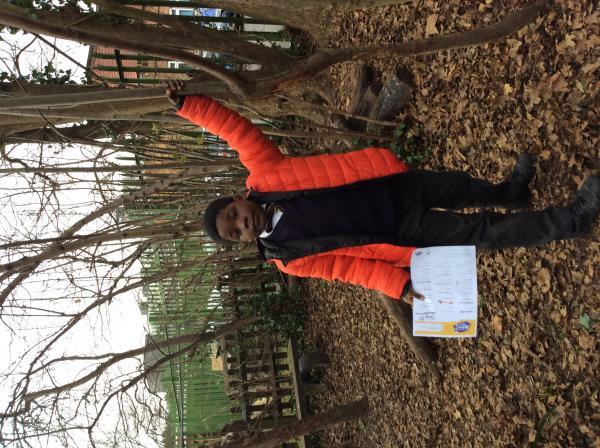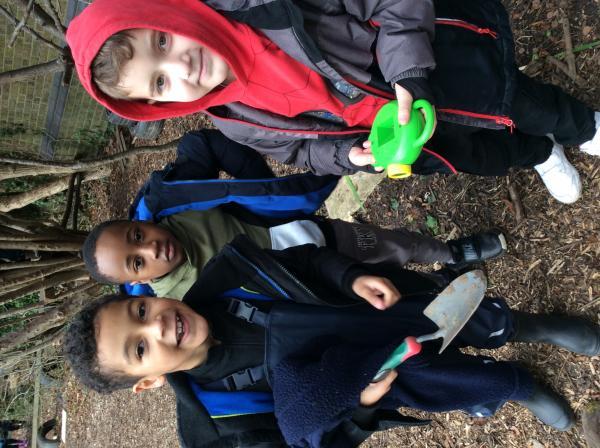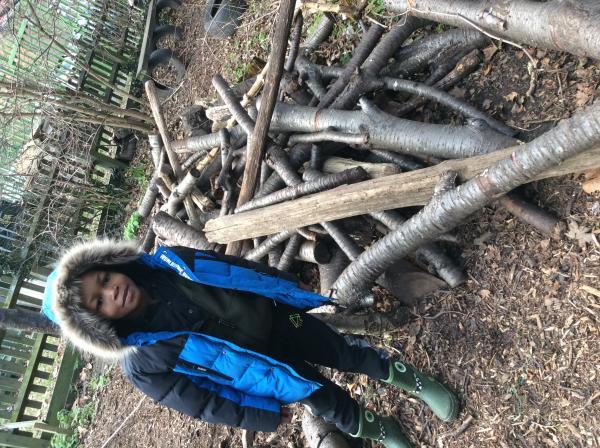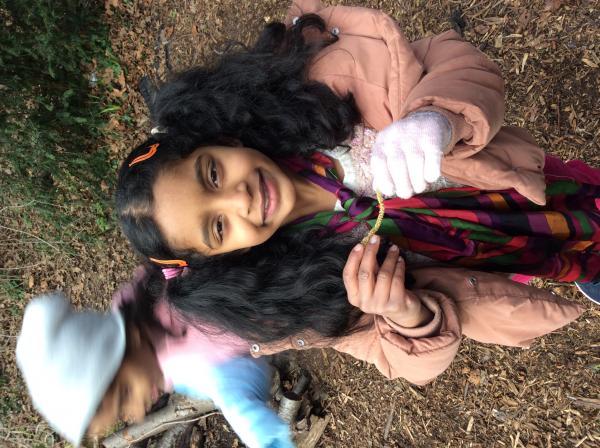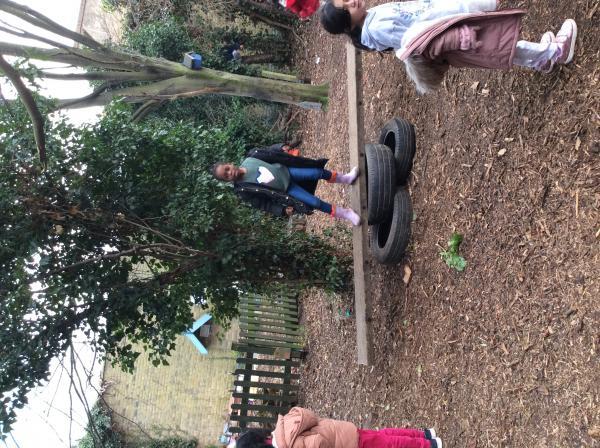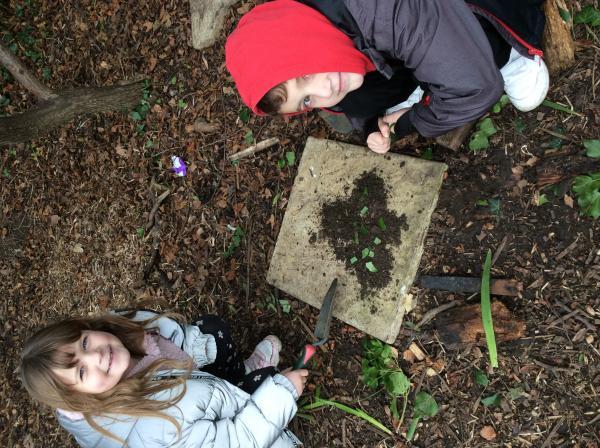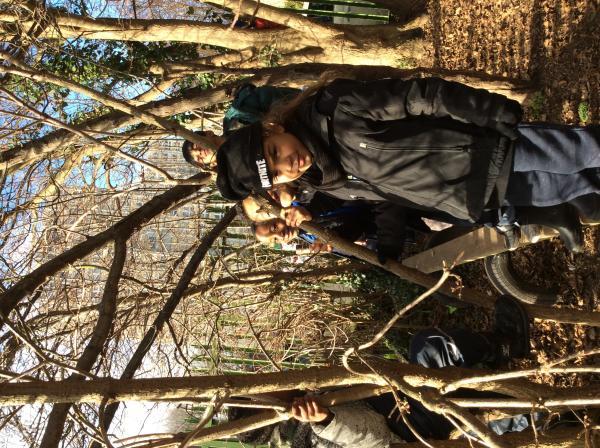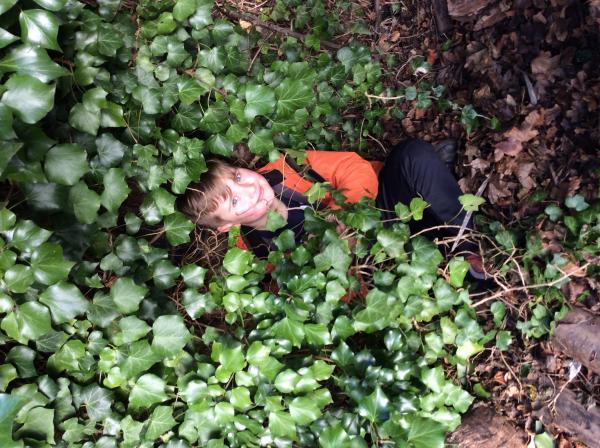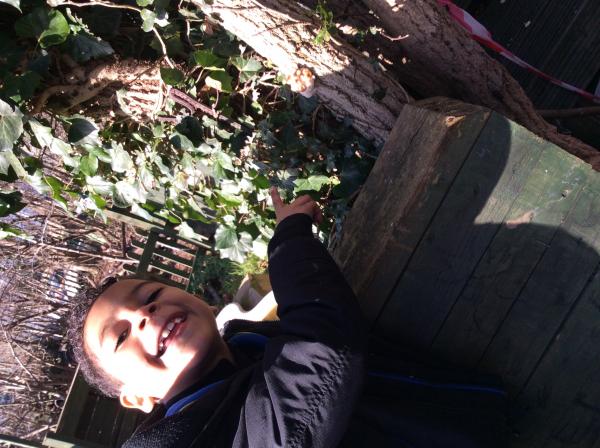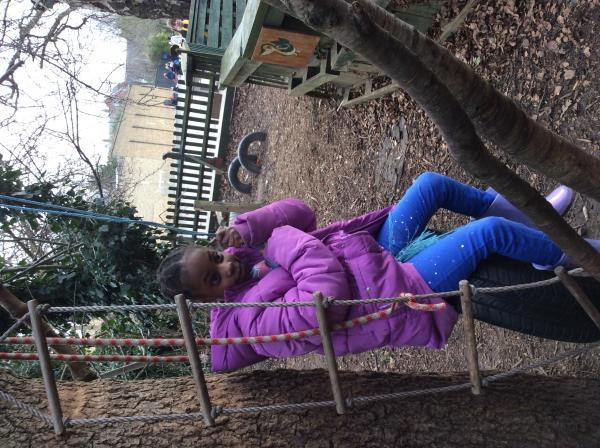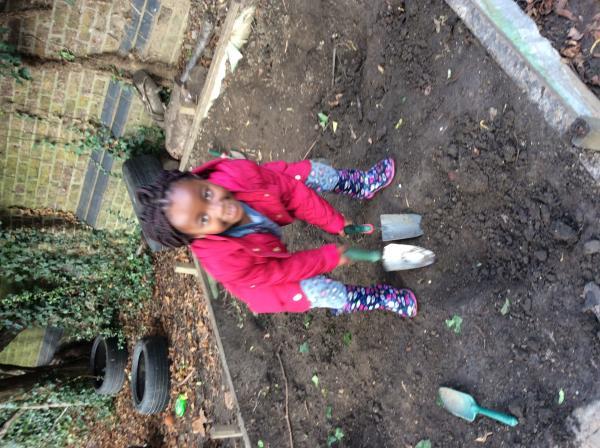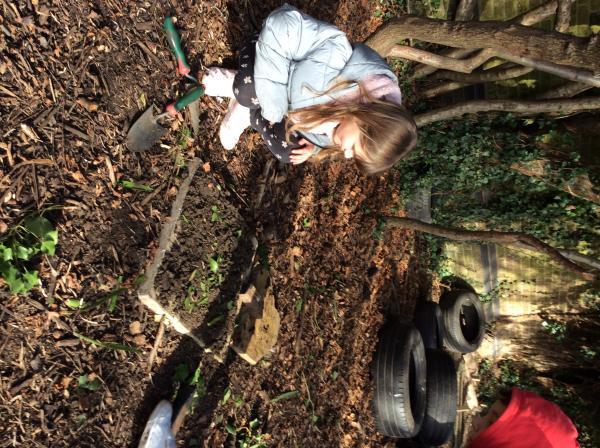 Dinosaur Nests
Oysters have been building nests for their dinosaurs, making sure that the dinosaurs are protected and warm.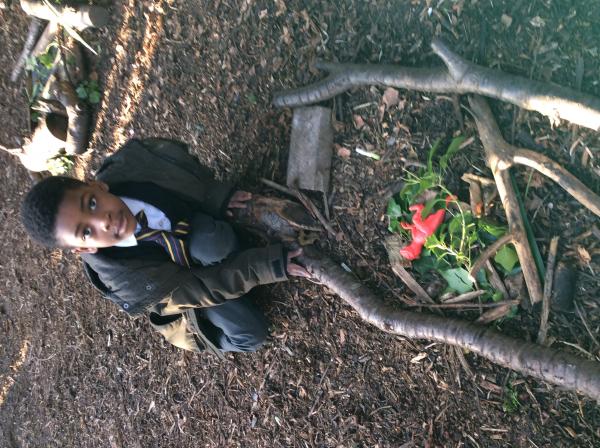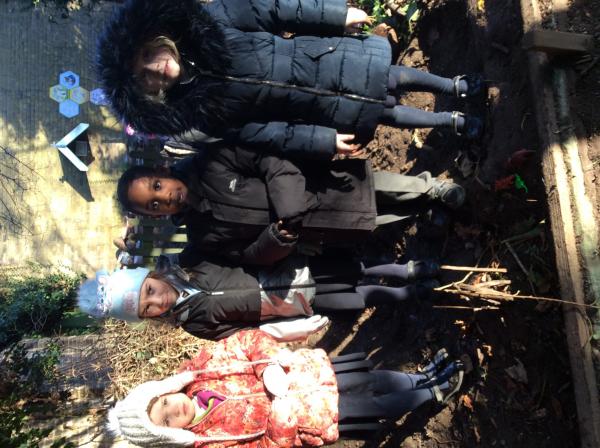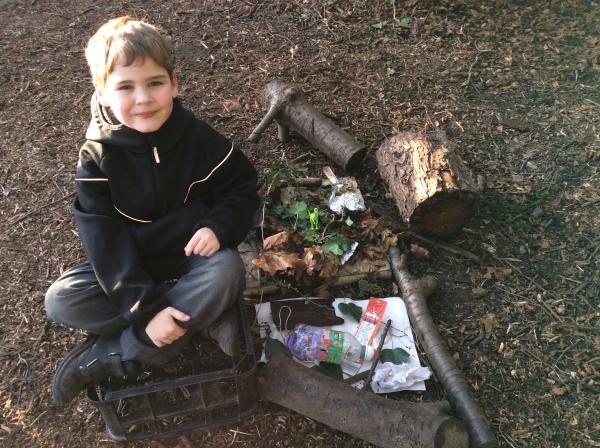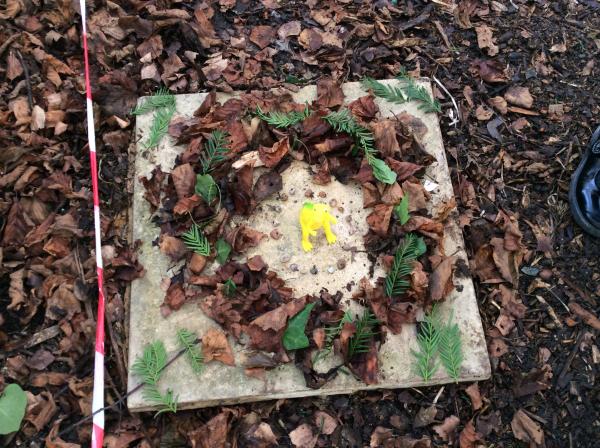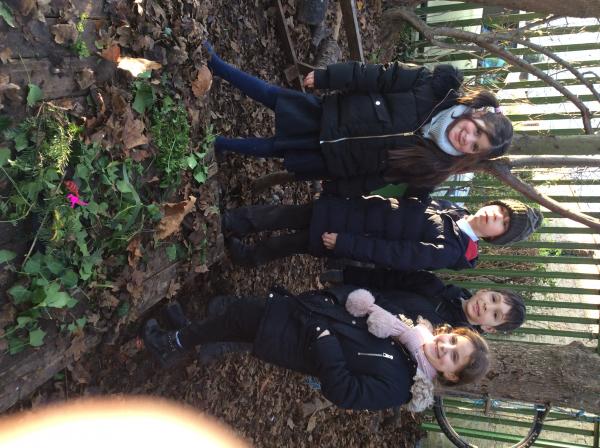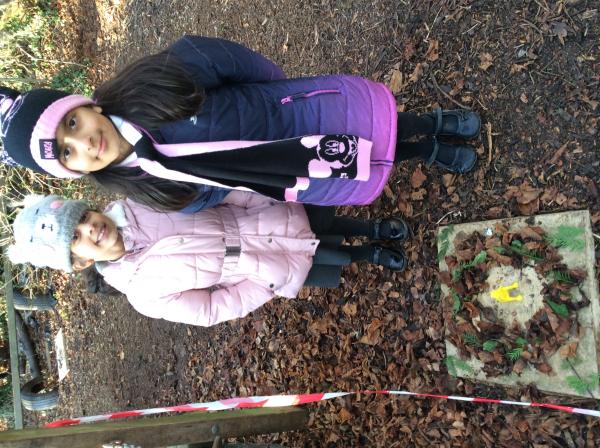 Dinosaur habitiats
Seahorses have been learning about dinosaurs and their habitats. They created a micro habitat for their dinosaur thinking about camouflage so the dinosaur could either hide from their predator or stalk their prey.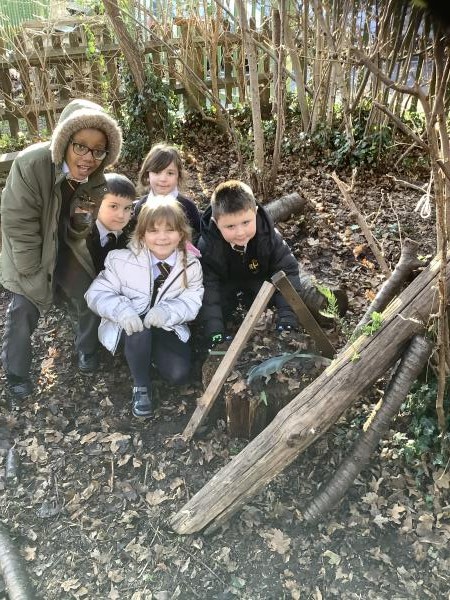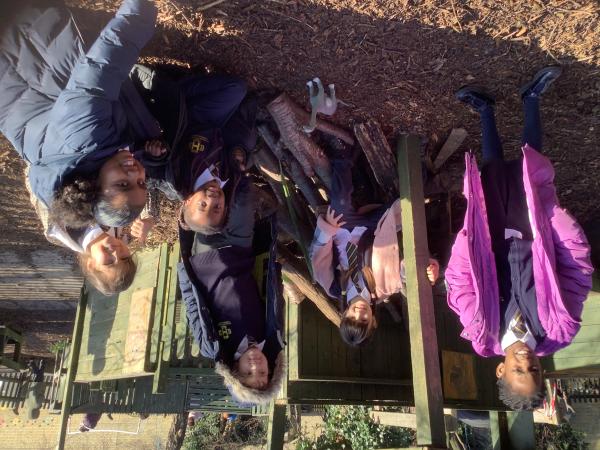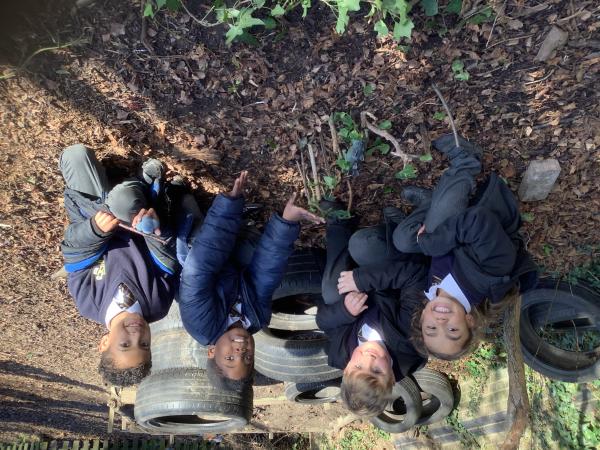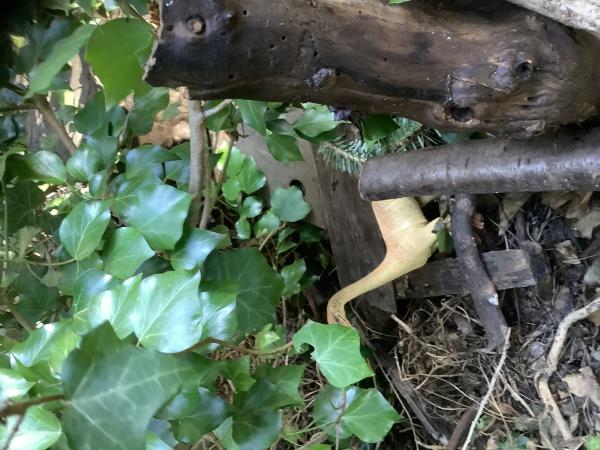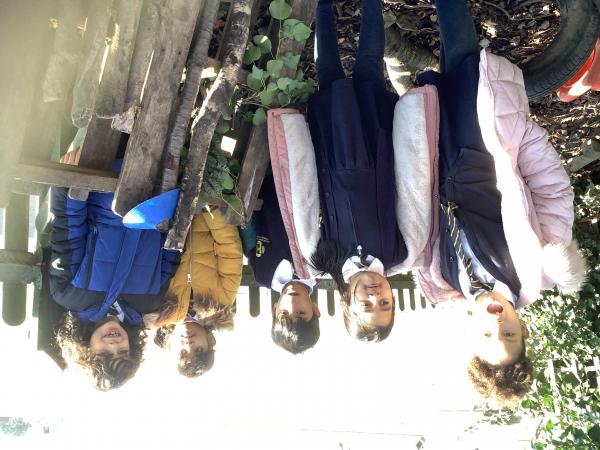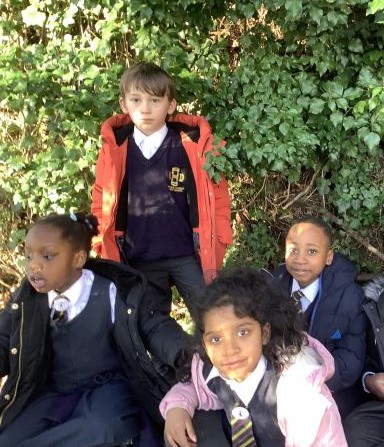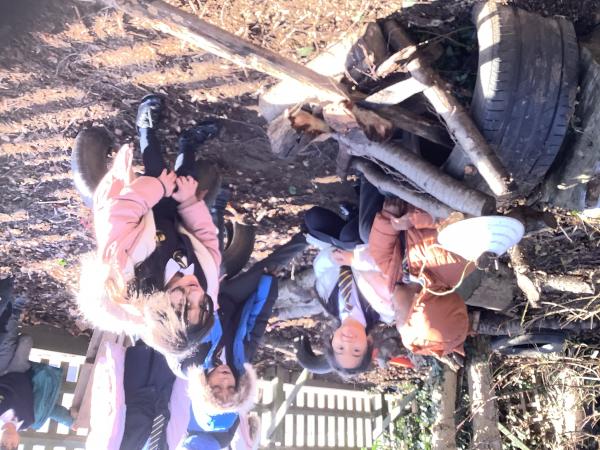 A winning flight!
Some children in Seahorses have chosen to make paper planes during provision. They have been challenged to fly their plane and measure the distance. The plane that flew the furthest this week flew an impressive 10 metres 55 cm!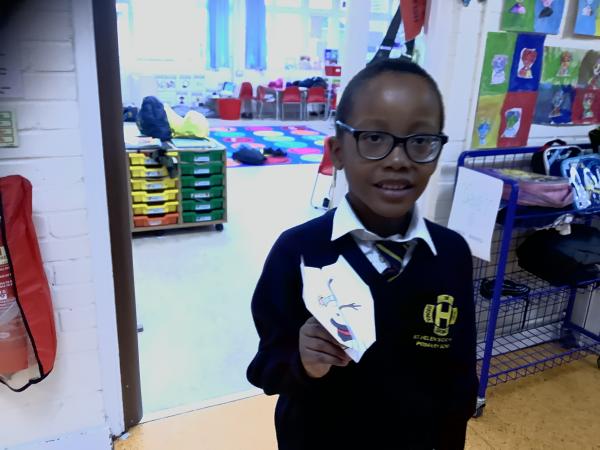 Gymnastic Dinosaurs!
Year 2 Oyster class performed gymnastics linked to their topic of Dinosaurs today. They were working individually and as a group to hold a balance in a dinosaur shape. Lots of creative ideas, along with balance and thoughtful presentation took place!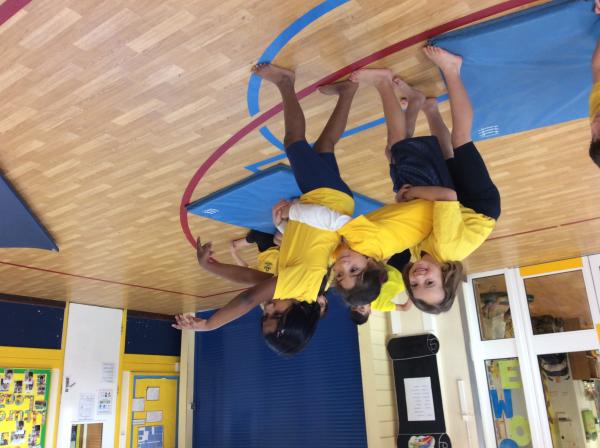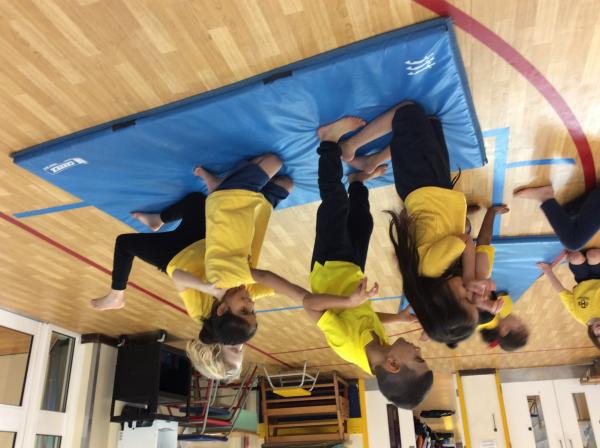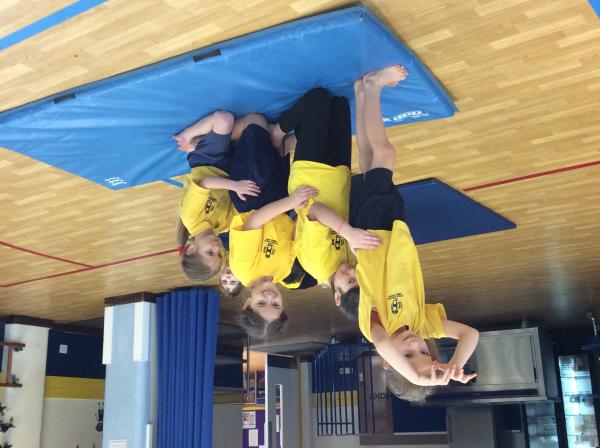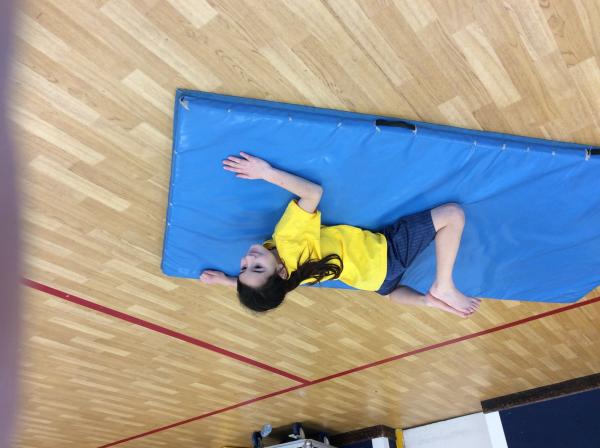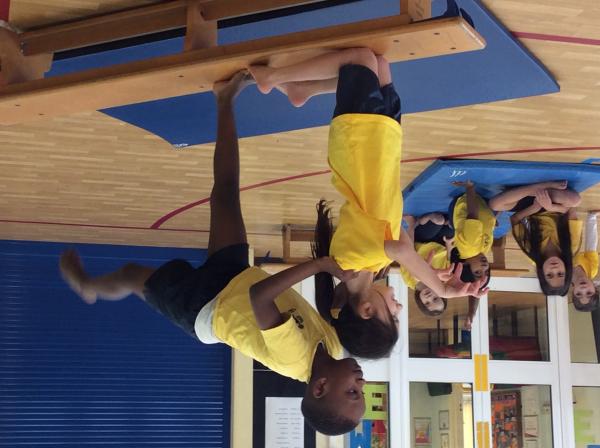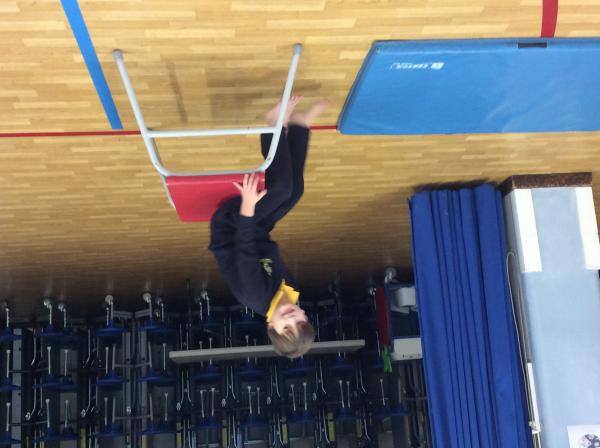 Sharing our fabulous homework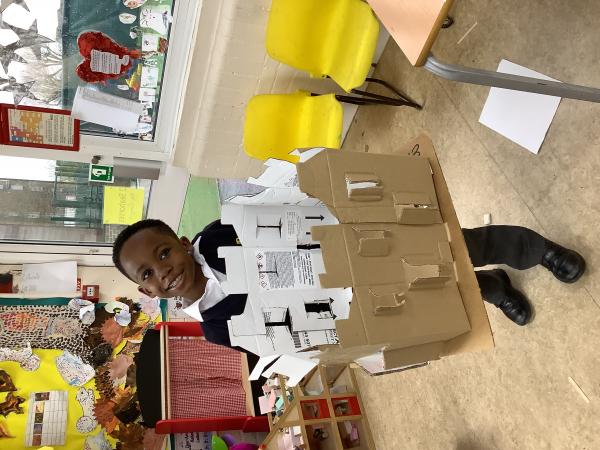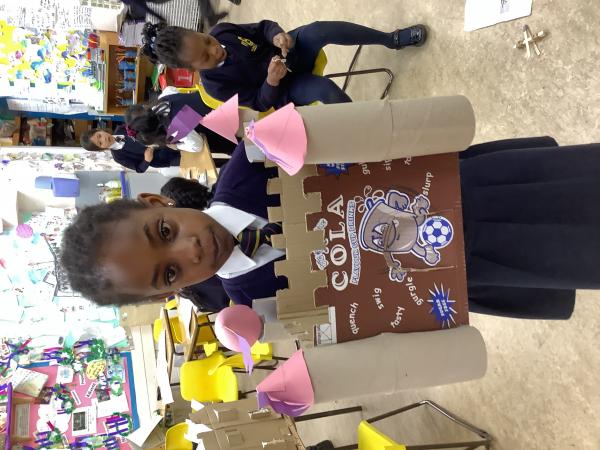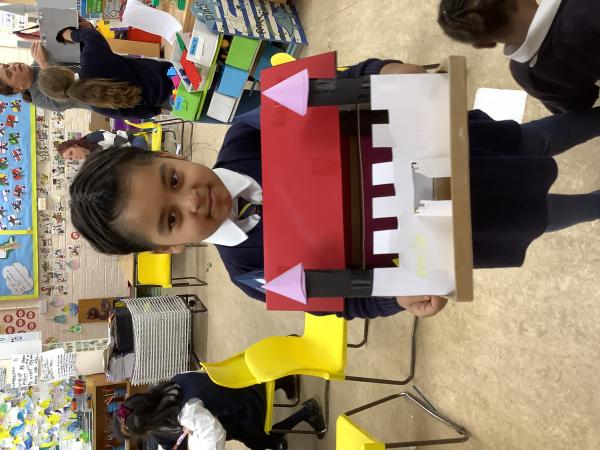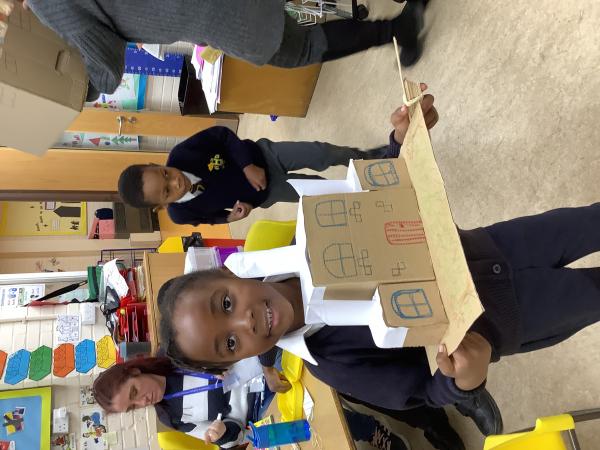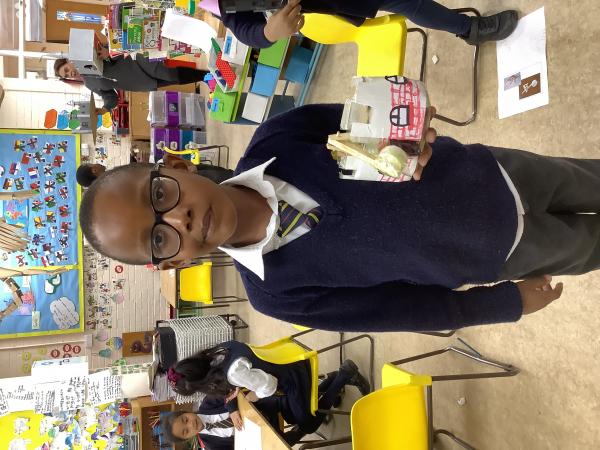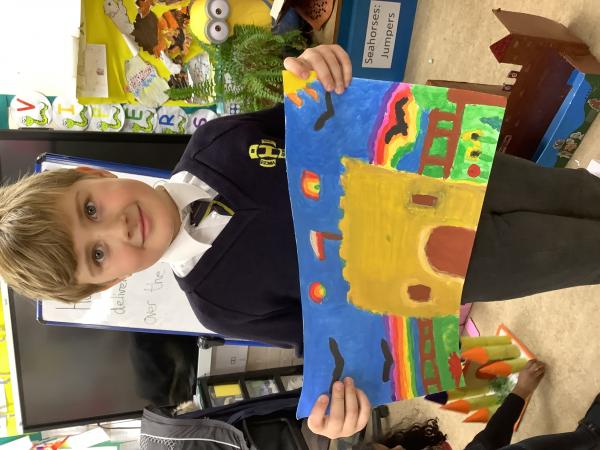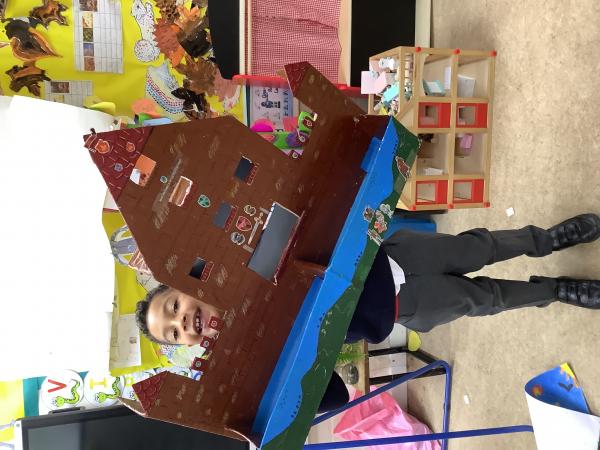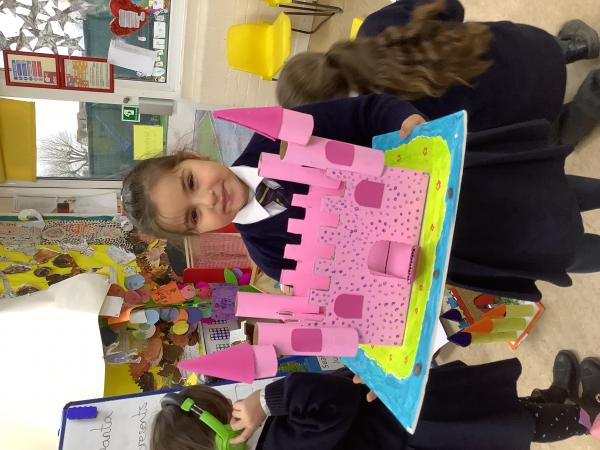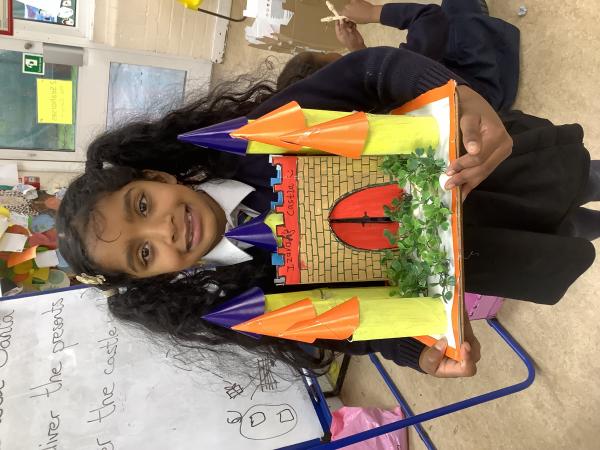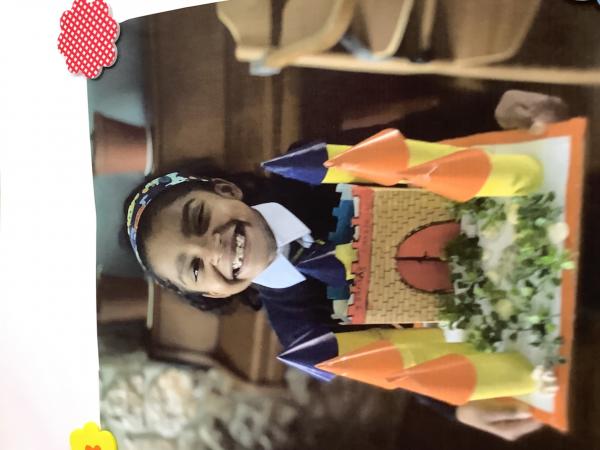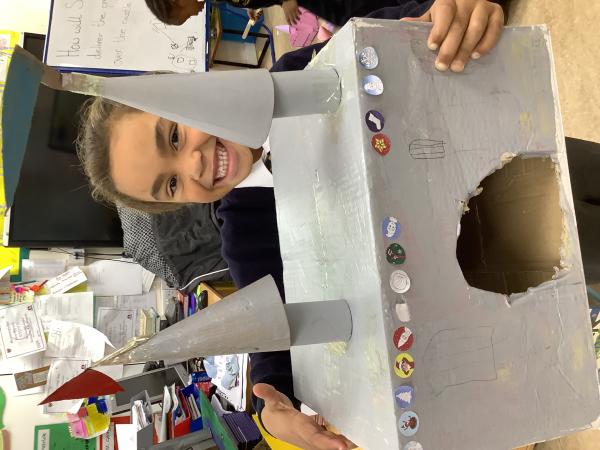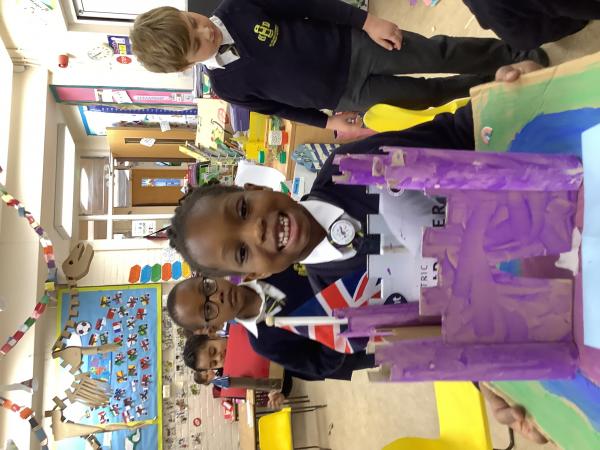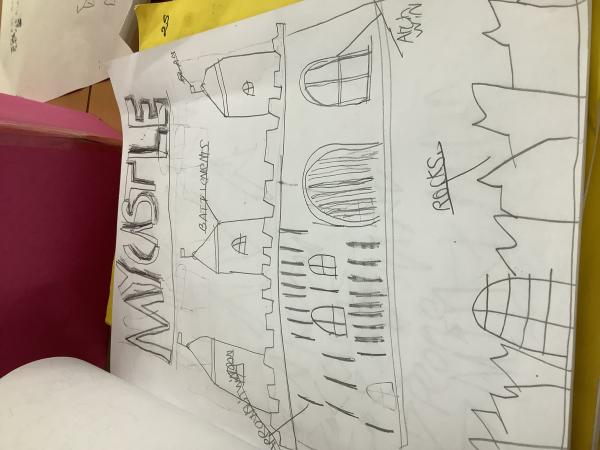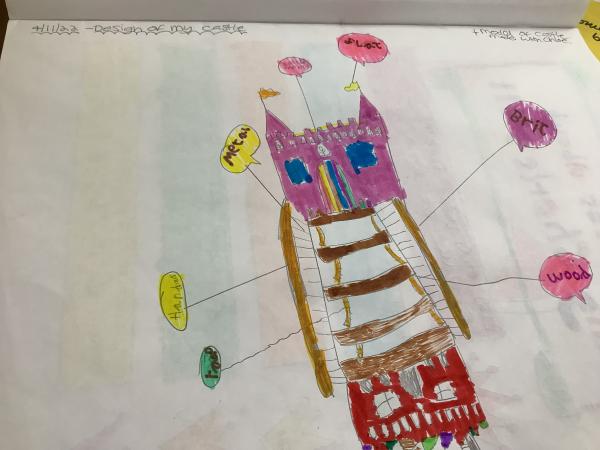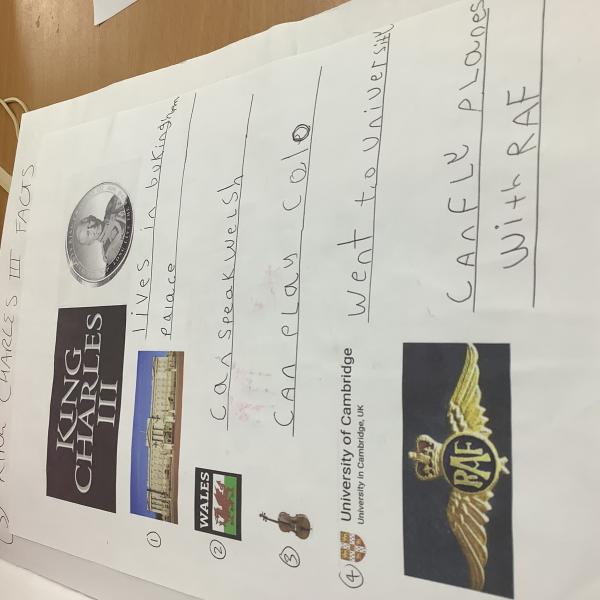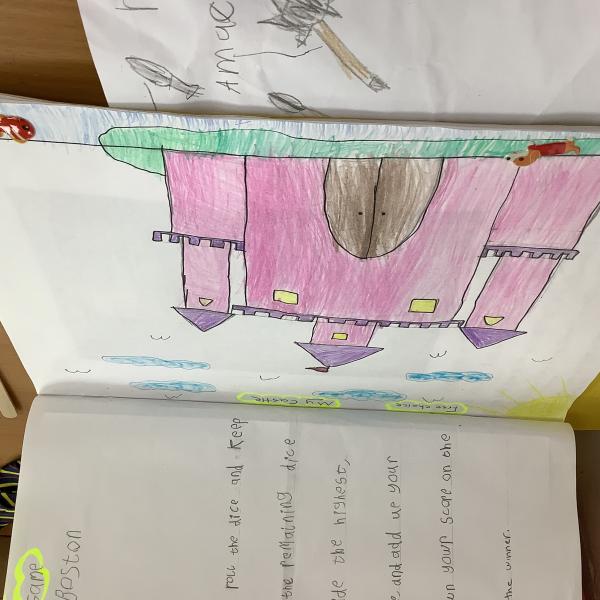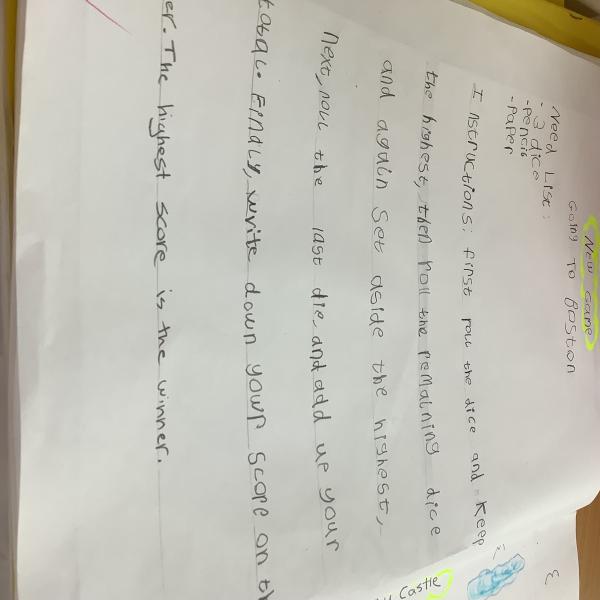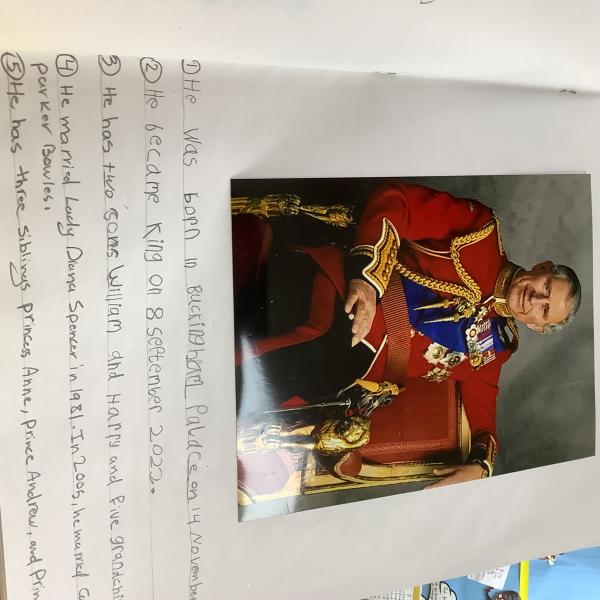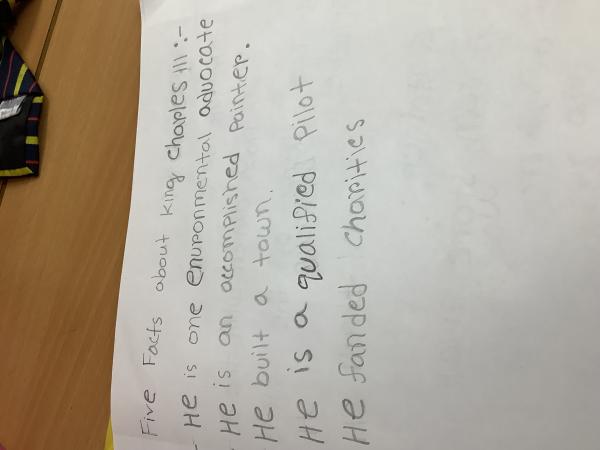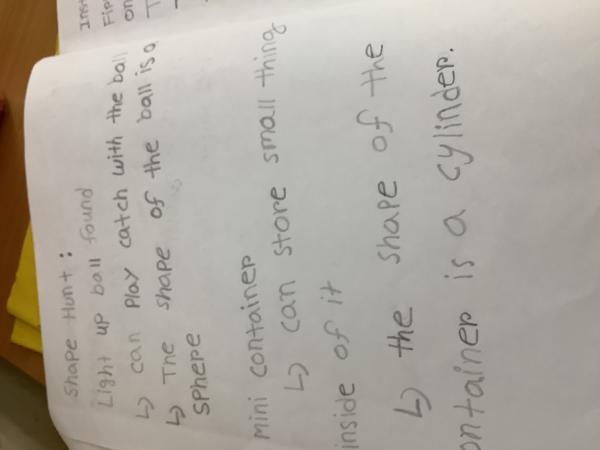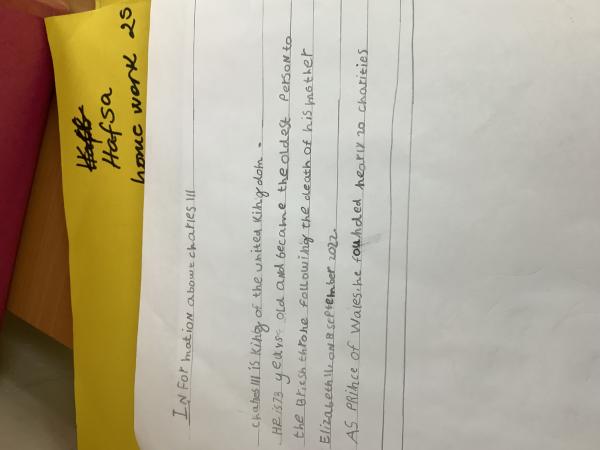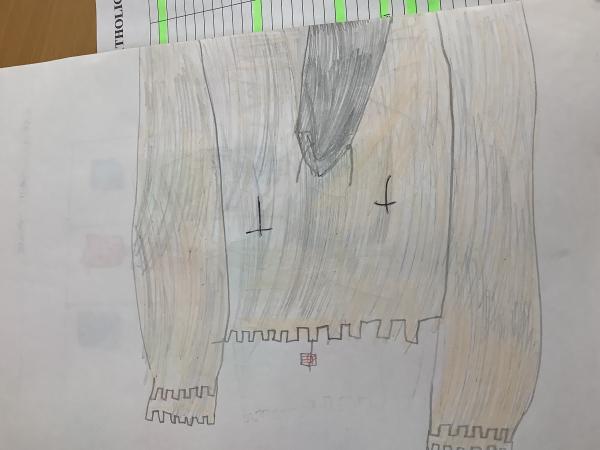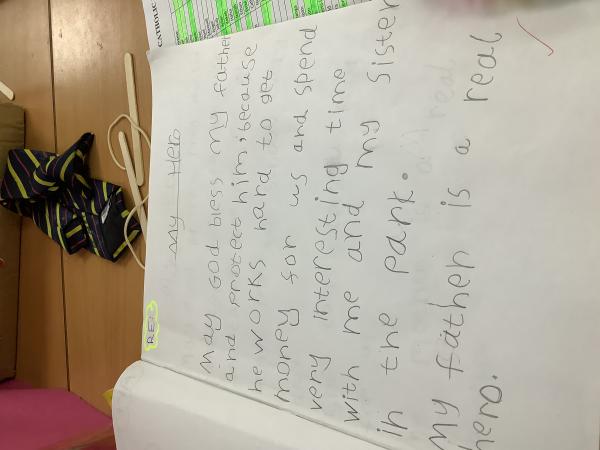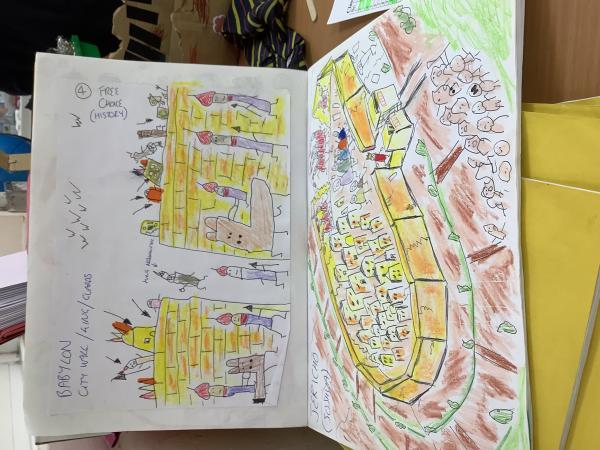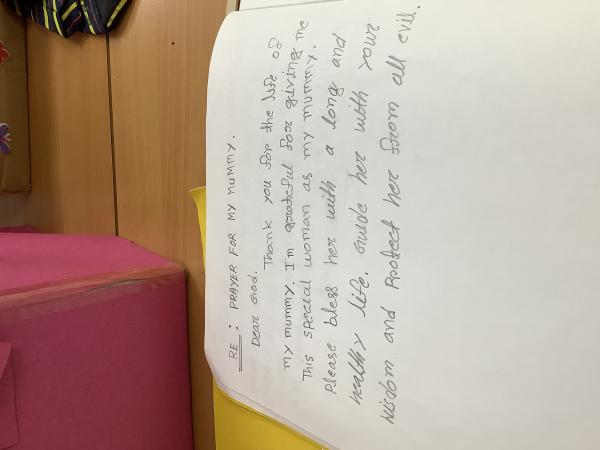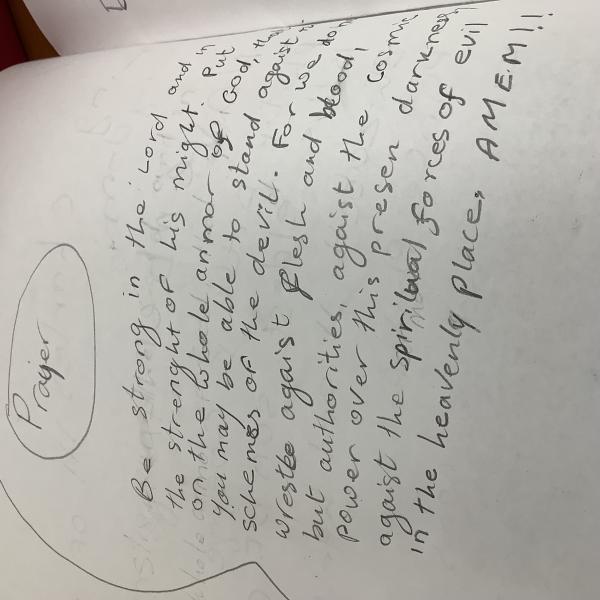 Man-made or natural
Year 2 had a fabulous morning in the nature area. They have been studying materials and today, we discussed differences between man-made and natural materials. The first activity was to describe materials whilst their partner was blindfolded. The blindfolded person had to guess what the material was. We introduced many new words to describe. Seahorses then tested the amount of water to sand to make the best sandcastle they could with interesting results.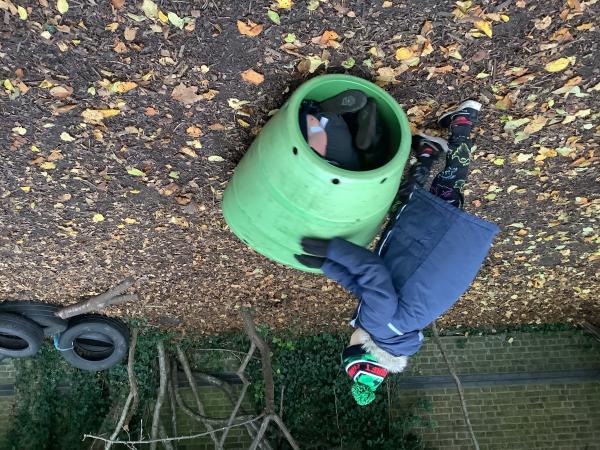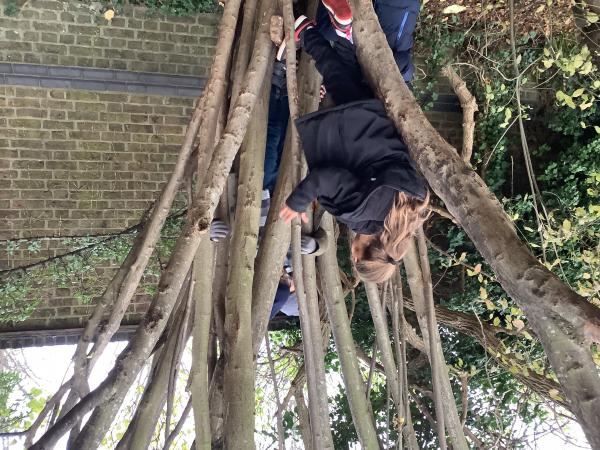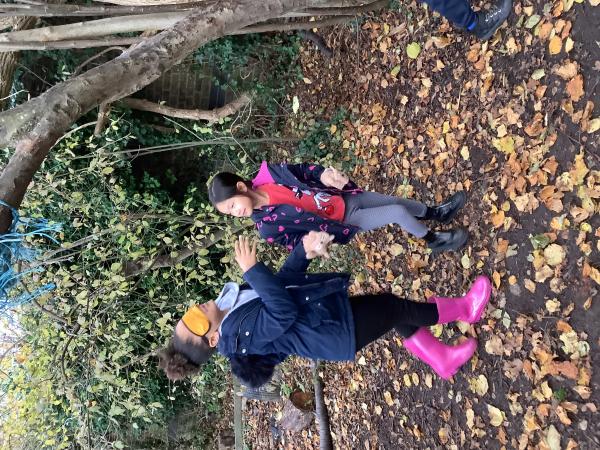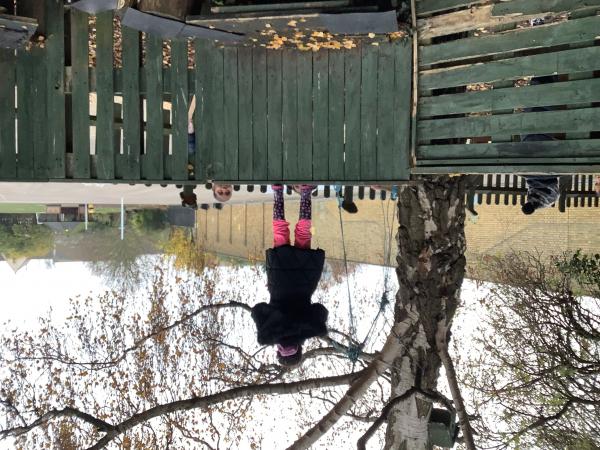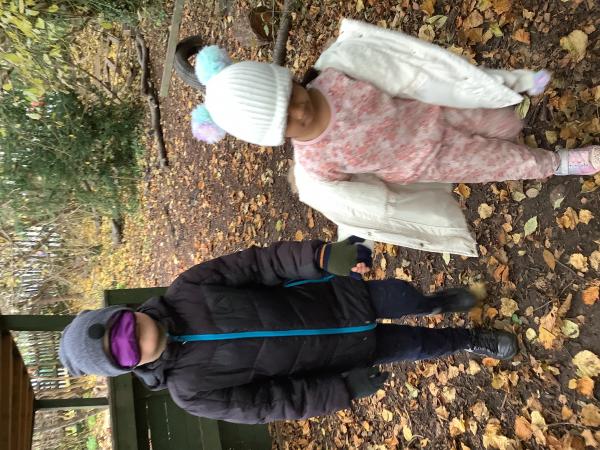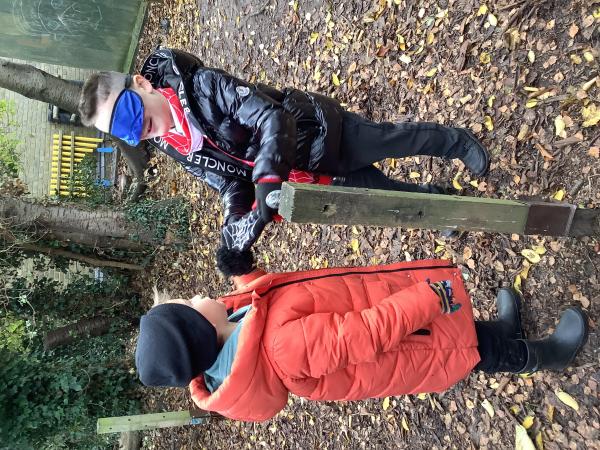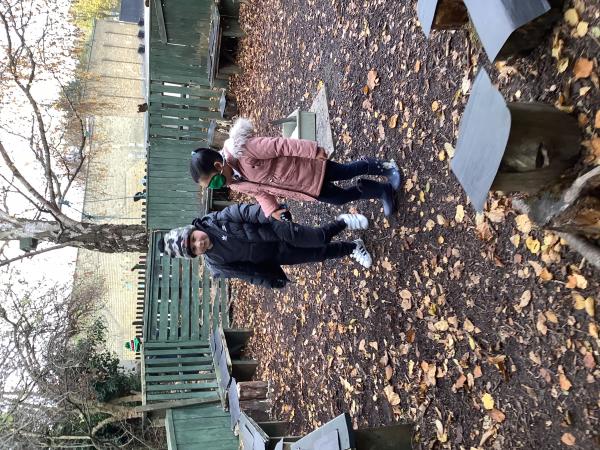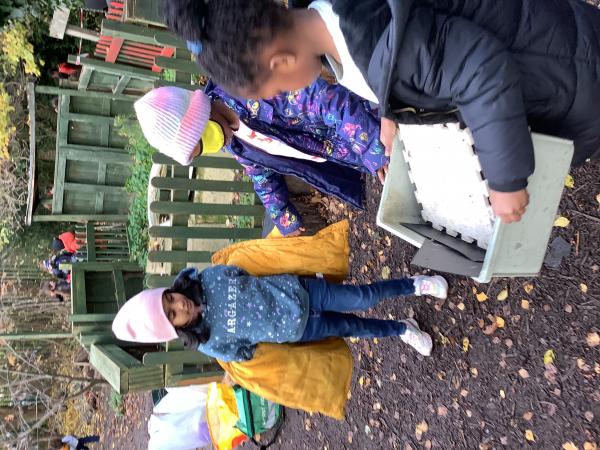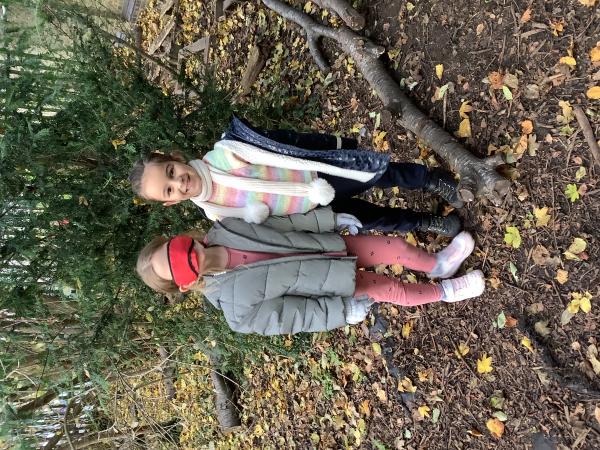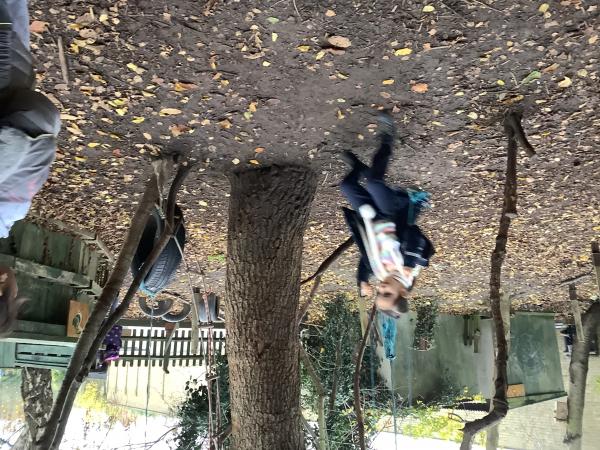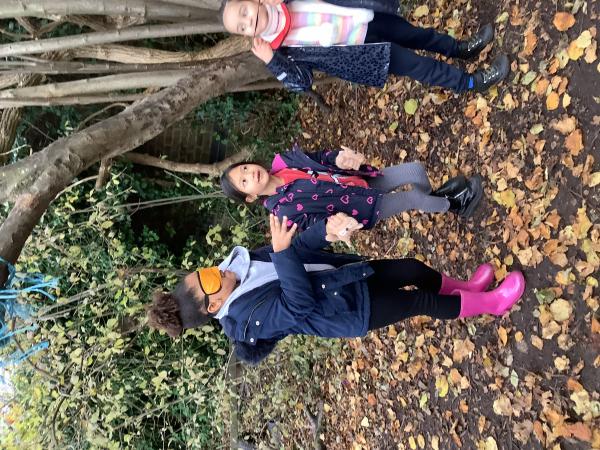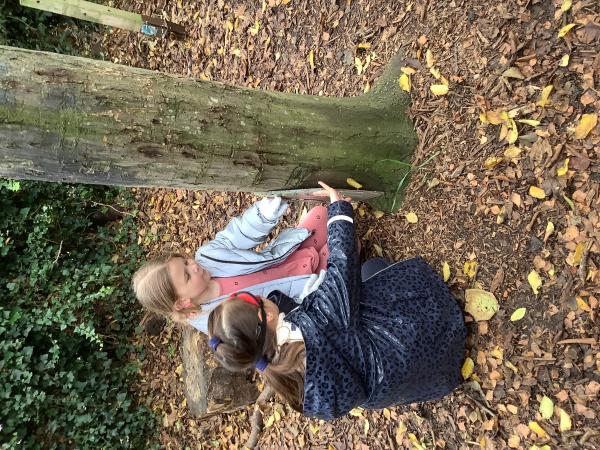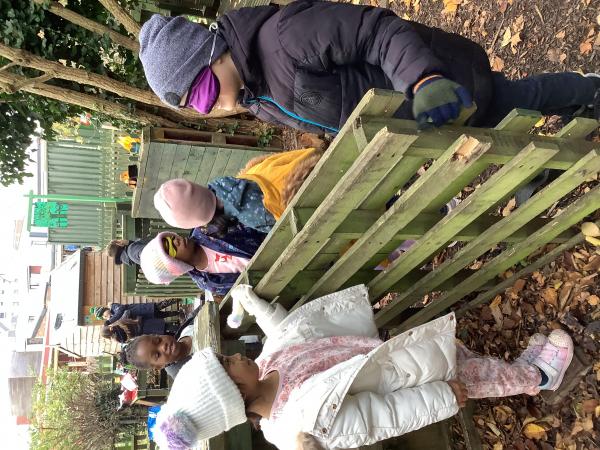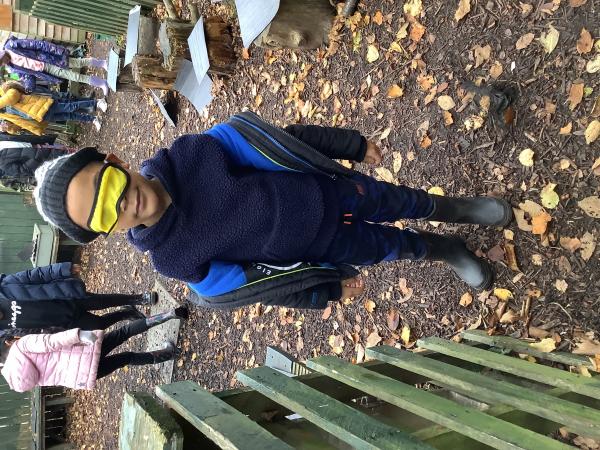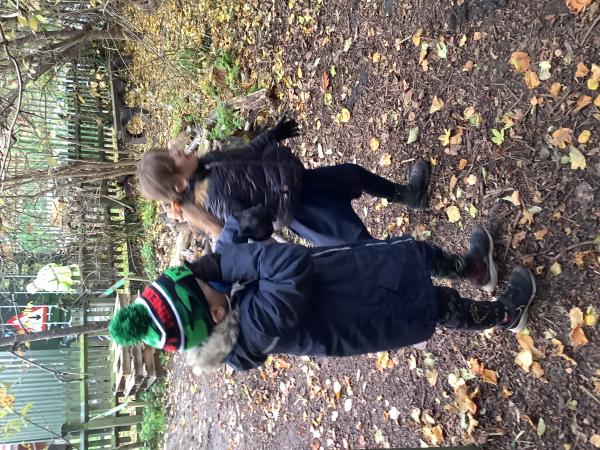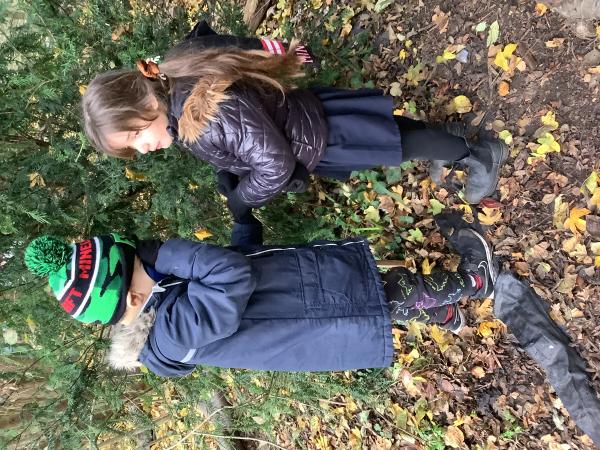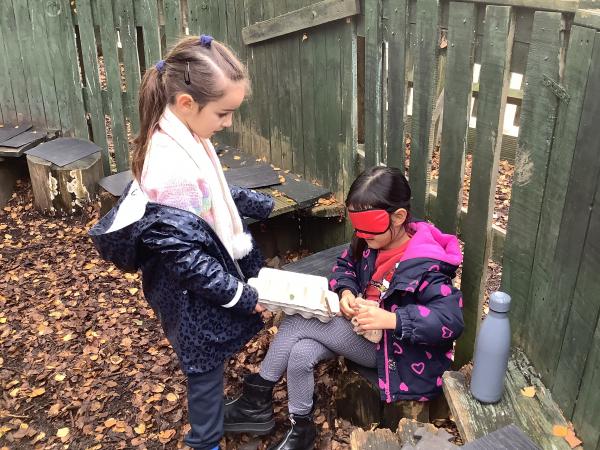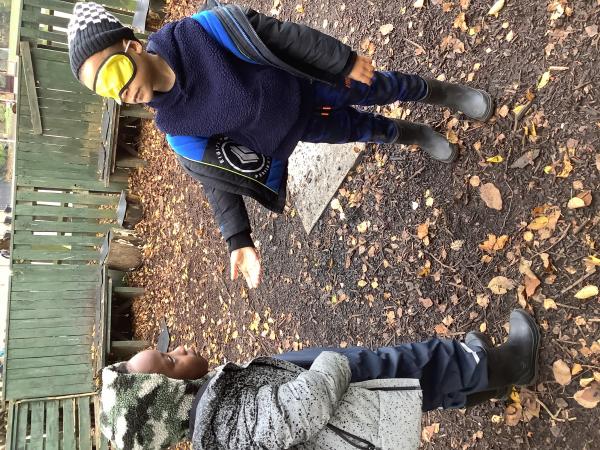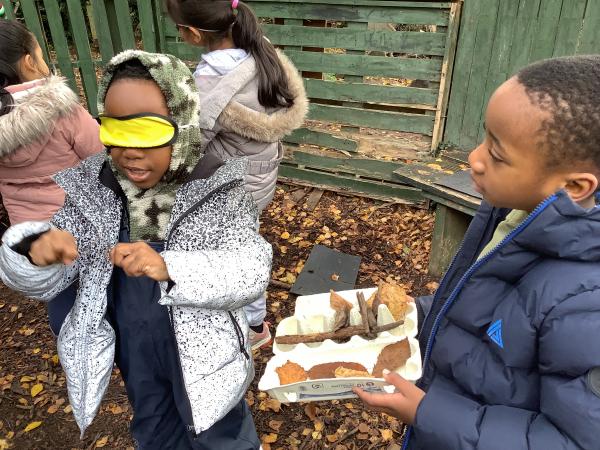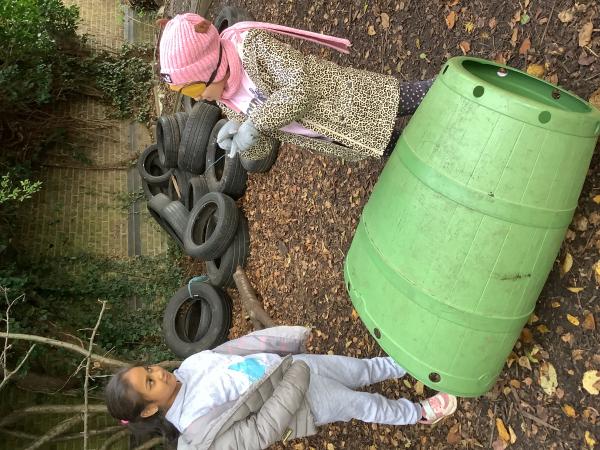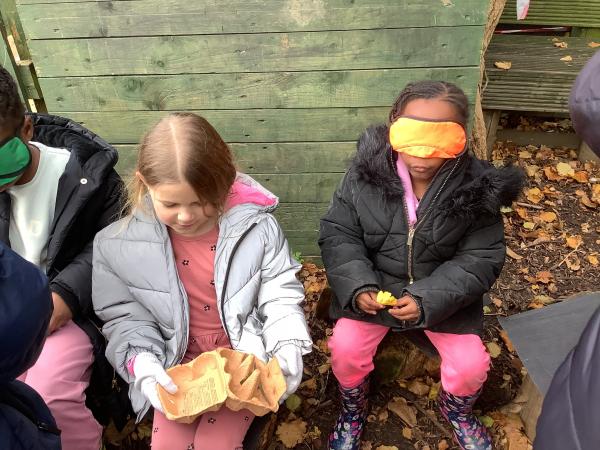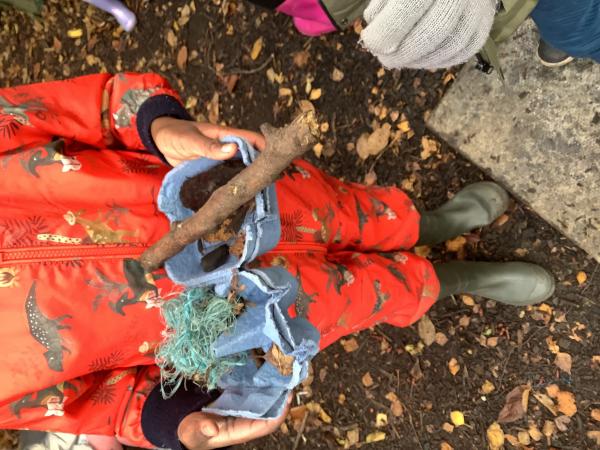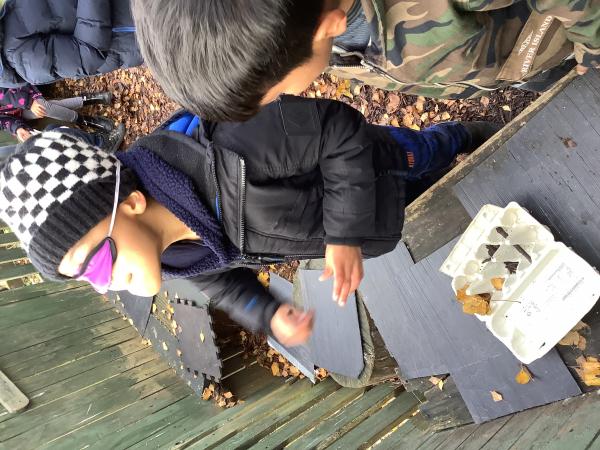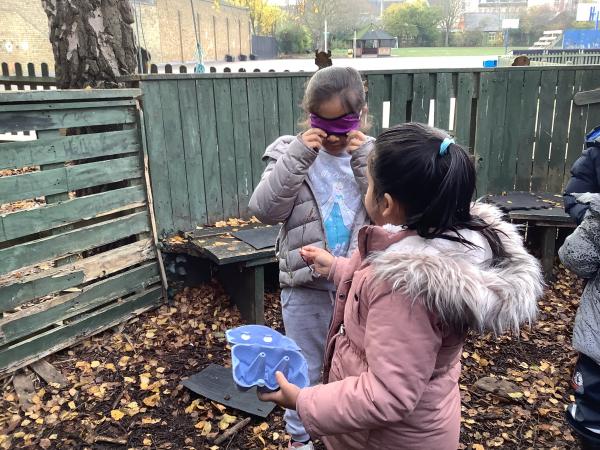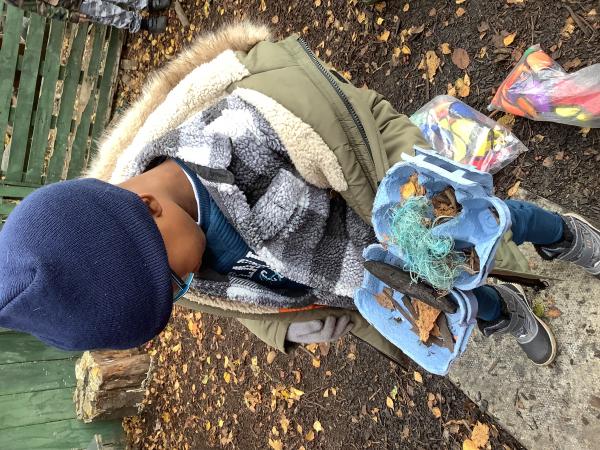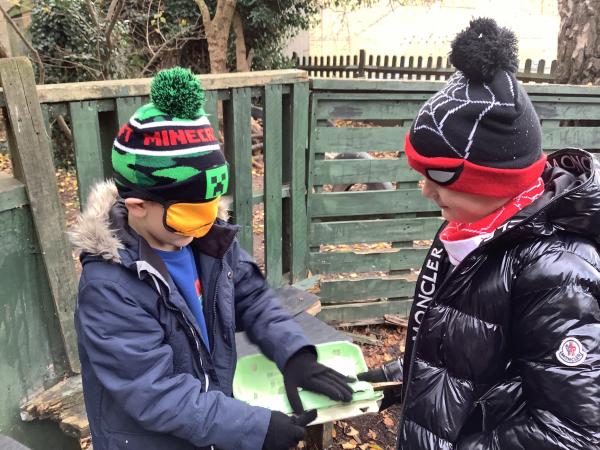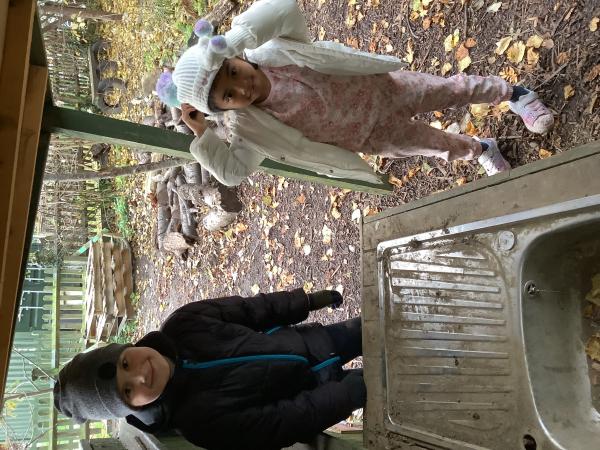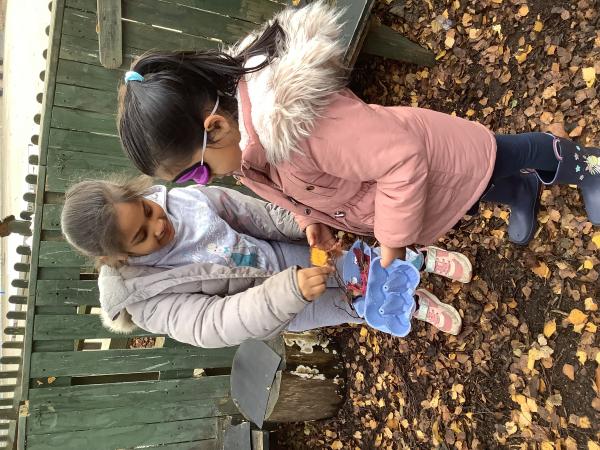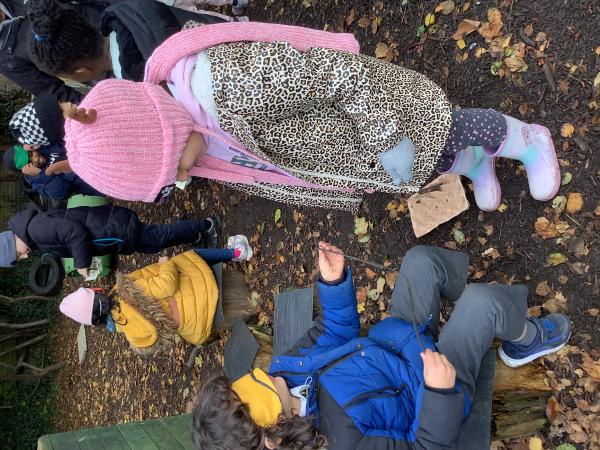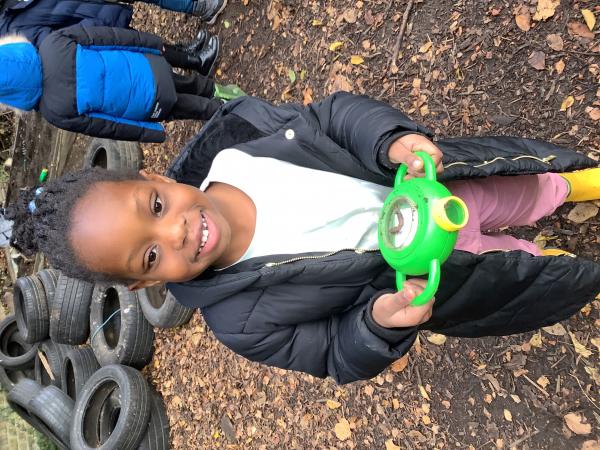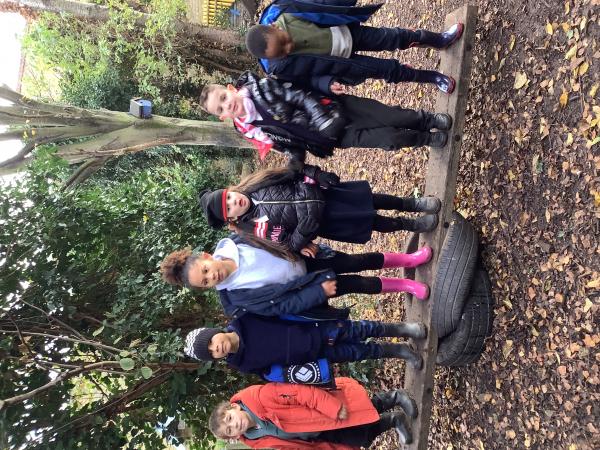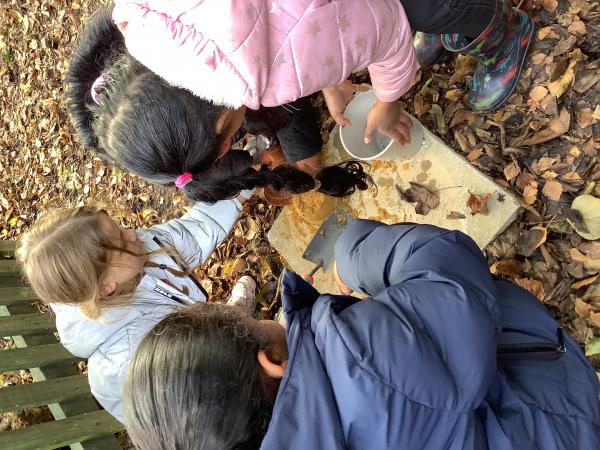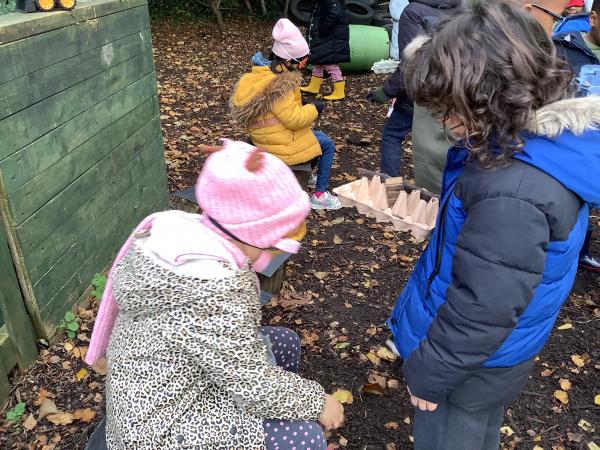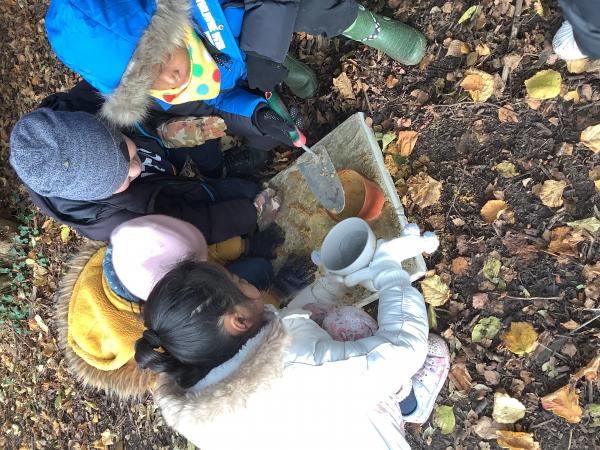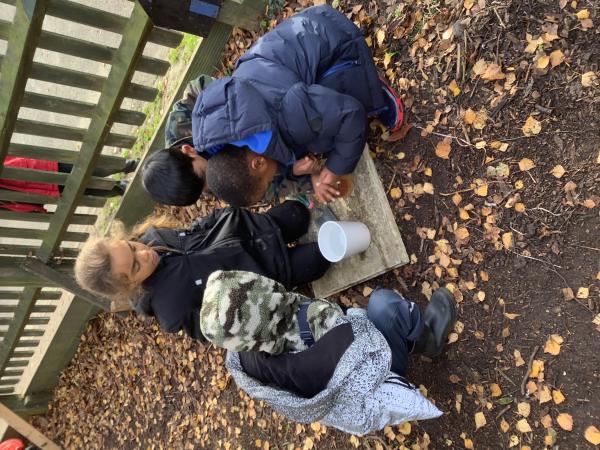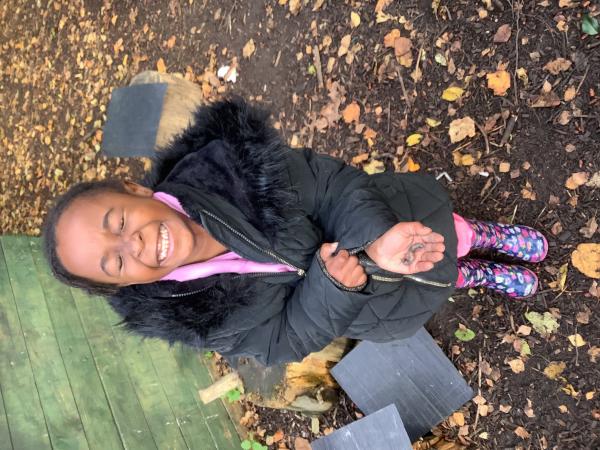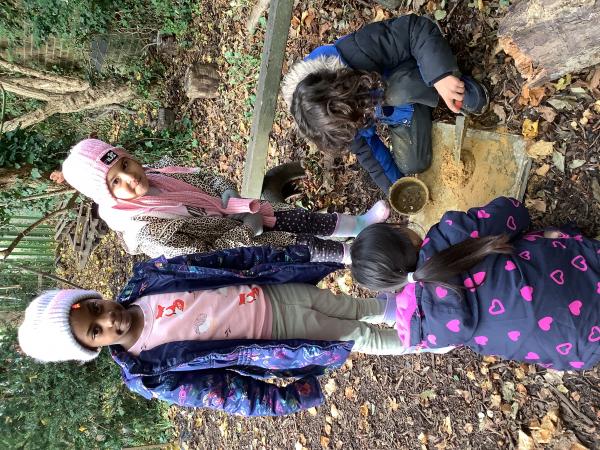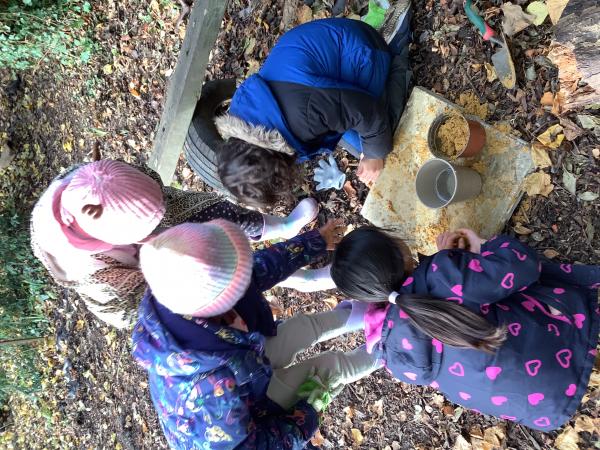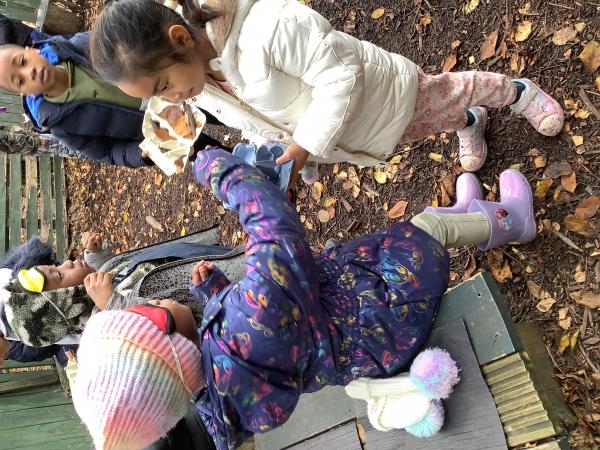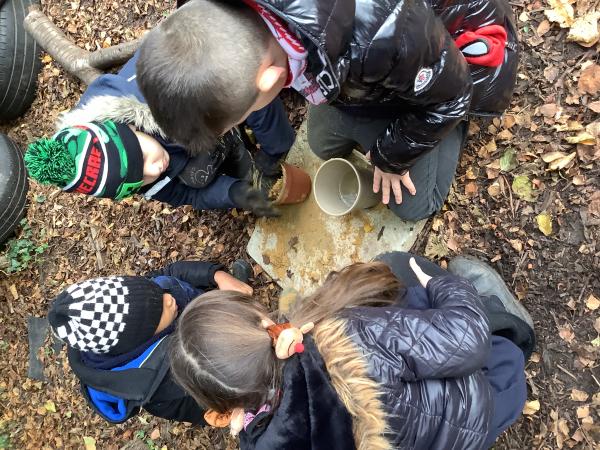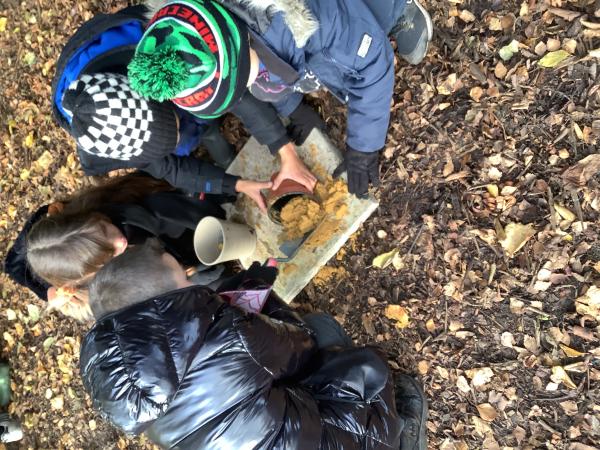 Paper Chains
The children in Seahorses are preparing for Christmas. They were making paper chains using strips of paper.
A group of children joined their paper chains together. We measured the length of their creation in the hall.Twelve children made the longest chain of 12m 30 cm. One child worked conscientiously on his own and created a chain 2m 40cm.
We then discussed which child had created more links in their chain.We worked out that 12 metres divided by 12 children meant that each child had created just over a metre, whereas one child had made a chain that was double that length.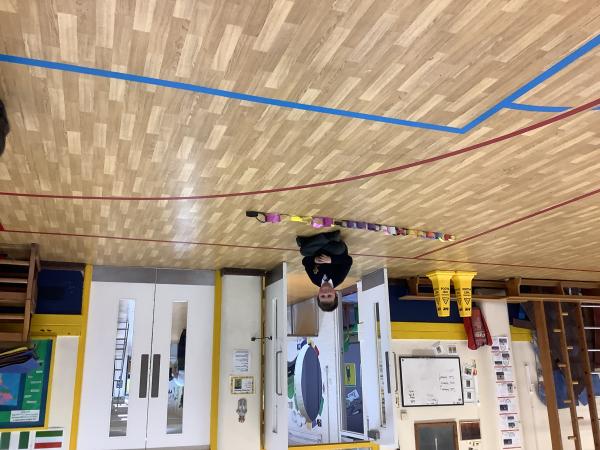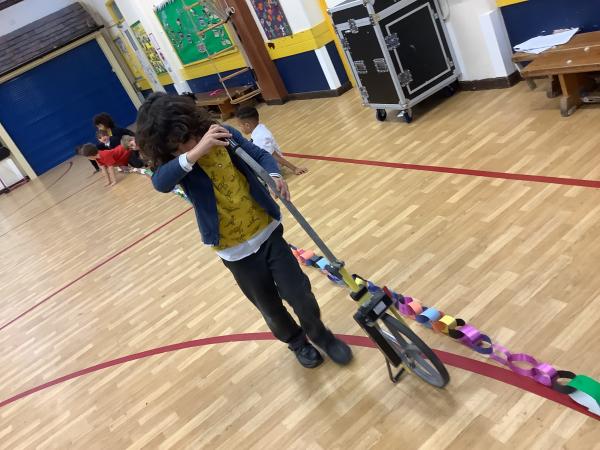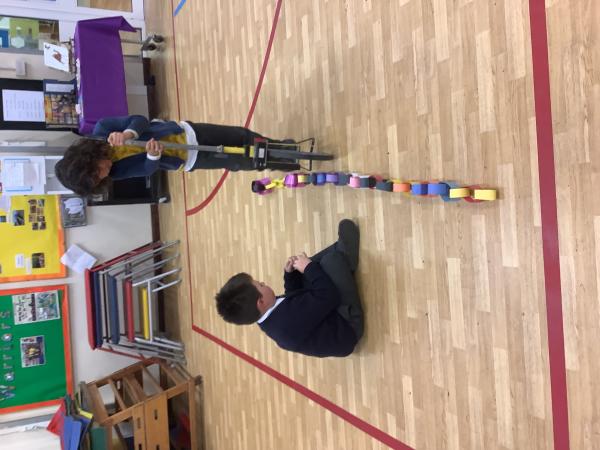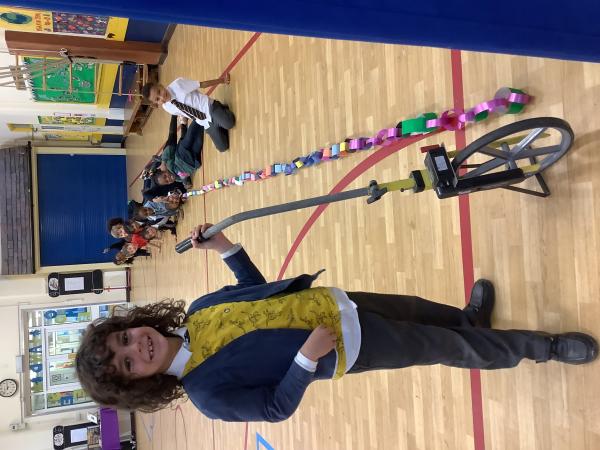 Spice Boxes
The children in Seahorses finished off their Judaism topic in Religious Education by learning about Shabbat - by making special spice boxes (this also linked to their maths learning about 3d shapes). They decorated a net of a cuboid with pictures of things they like to do with their families and some added family member names. The boxes were then constructed by the children so they can put special items in at home.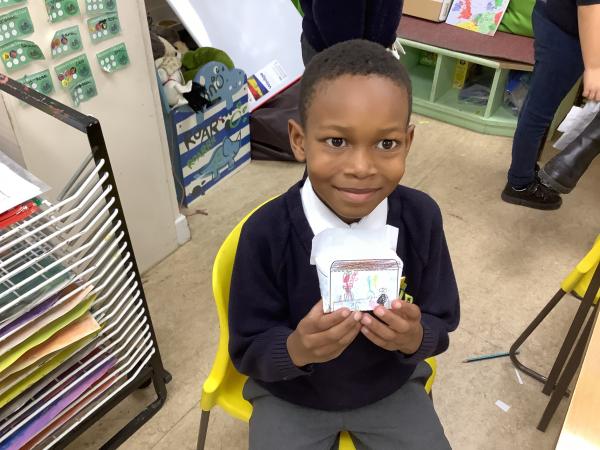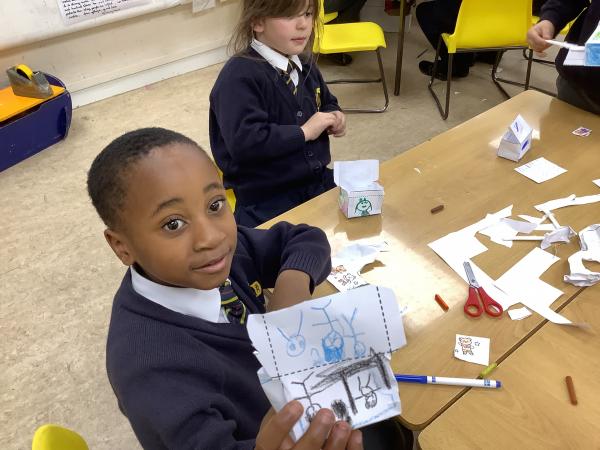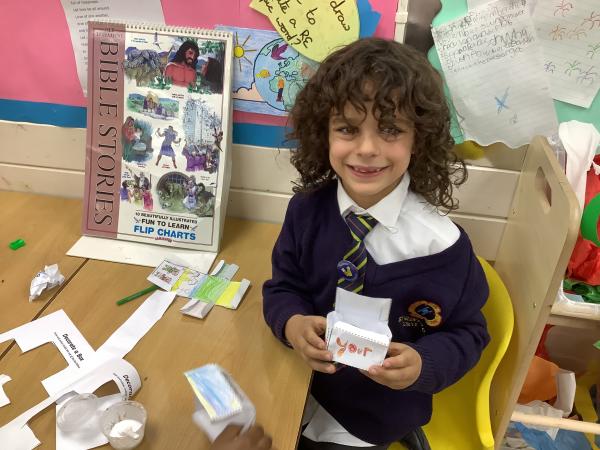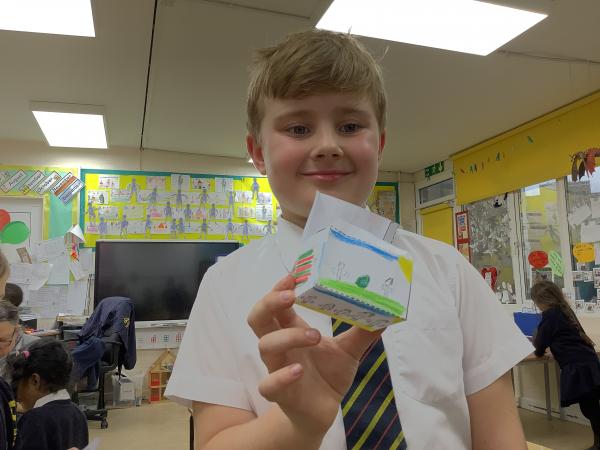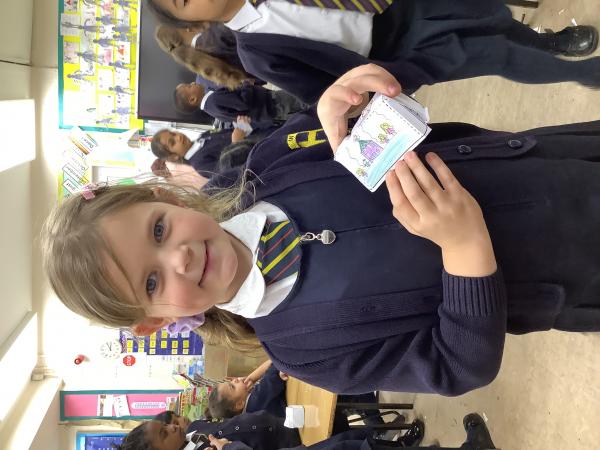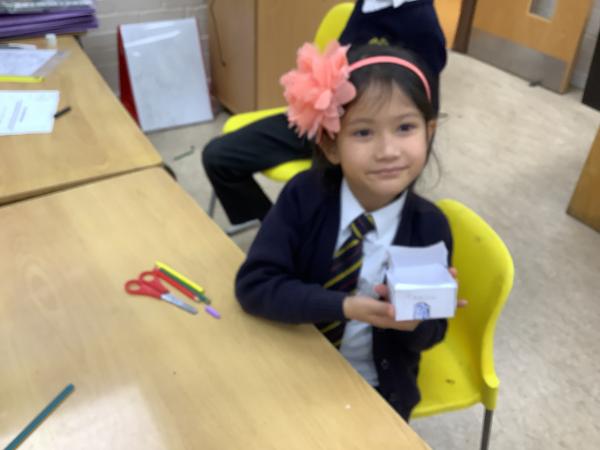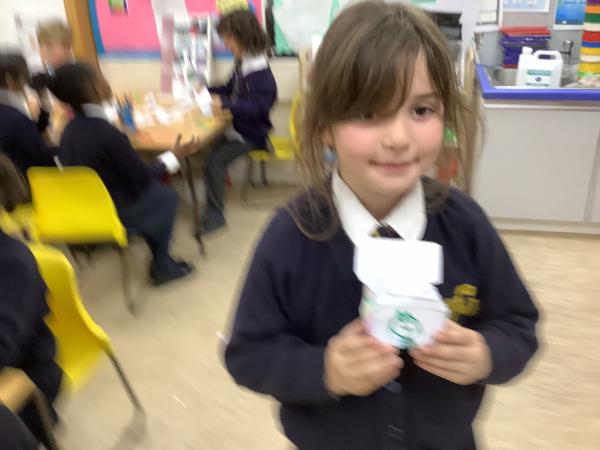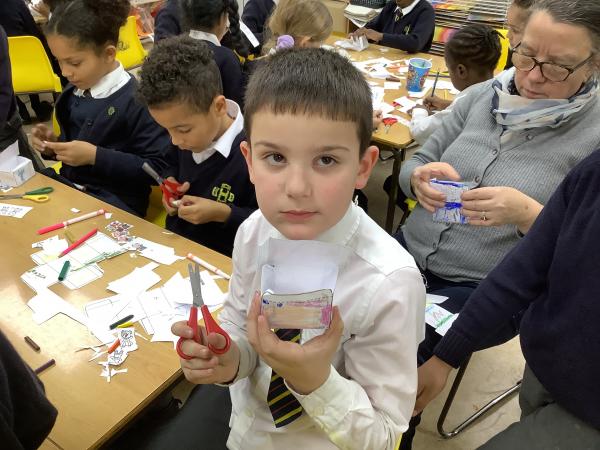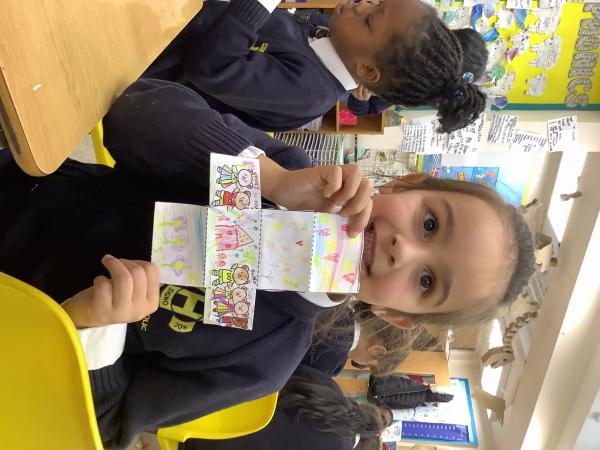 Getting ready for battle!
Year 2 Seahorses had a great learning experience in their outside area on Thursday. They made suits of armour, axes and shields. They built a huge castle and defended it from attackers. They used collaborative play to demonstrate their learning.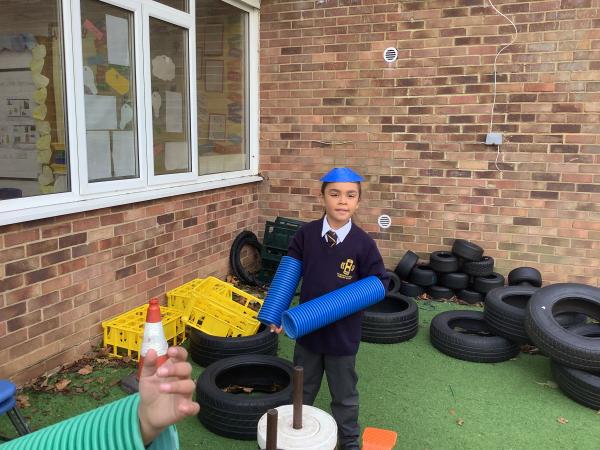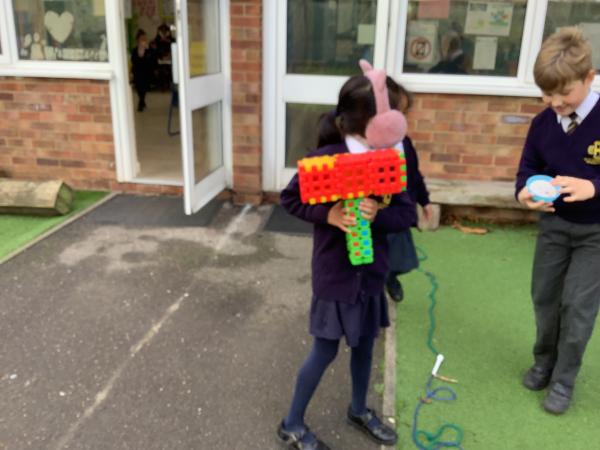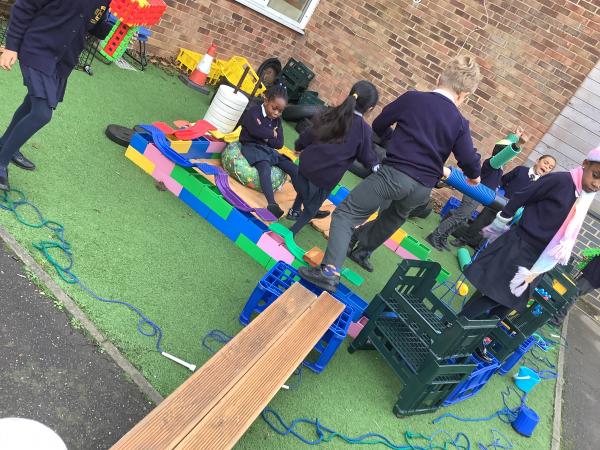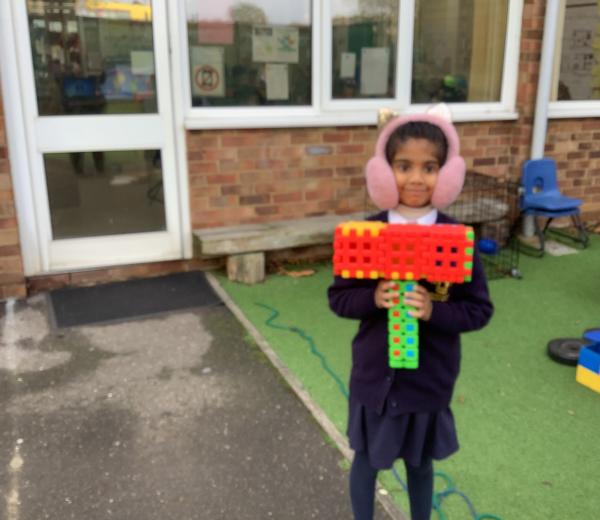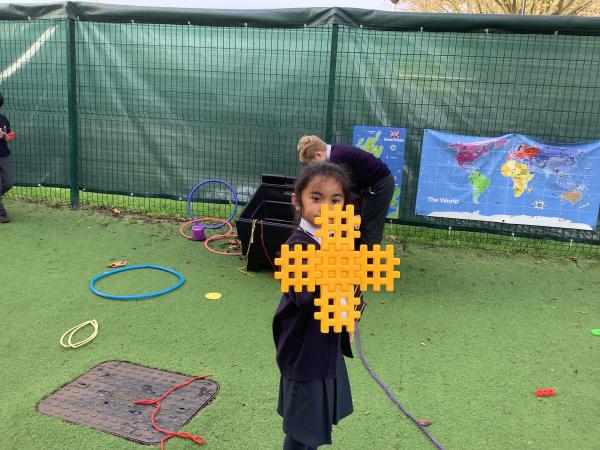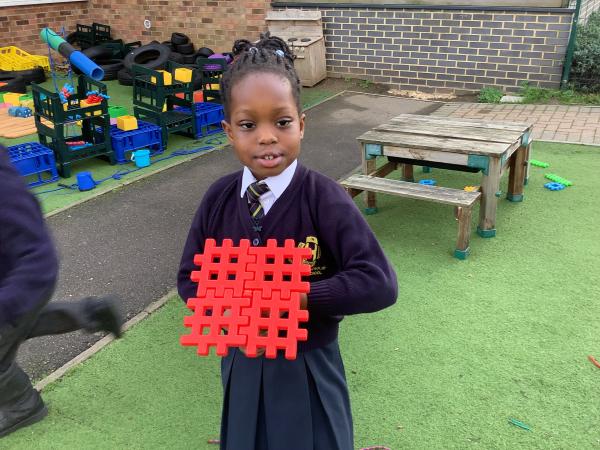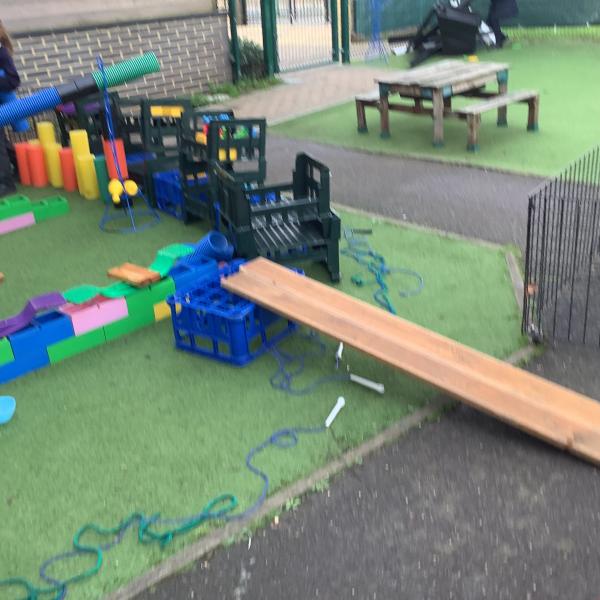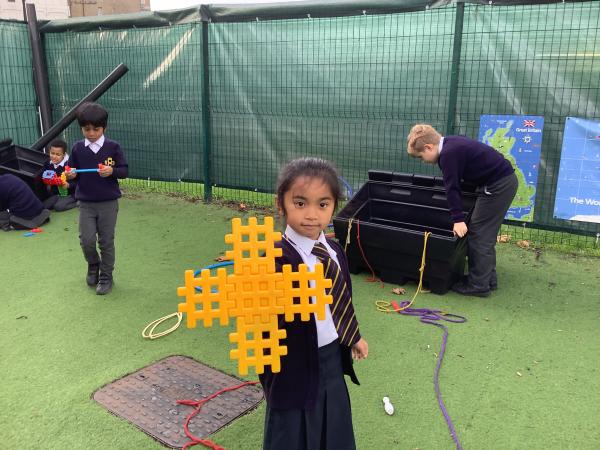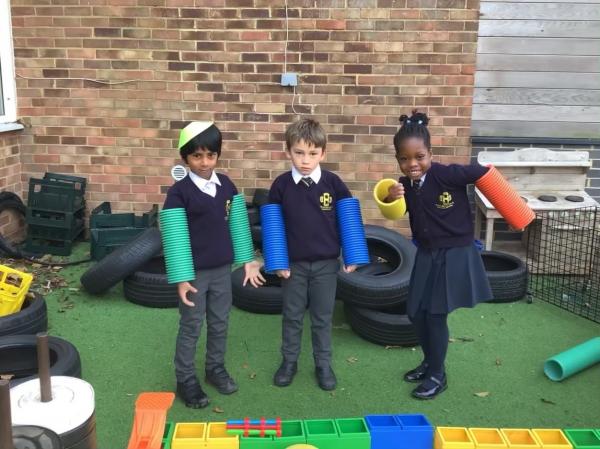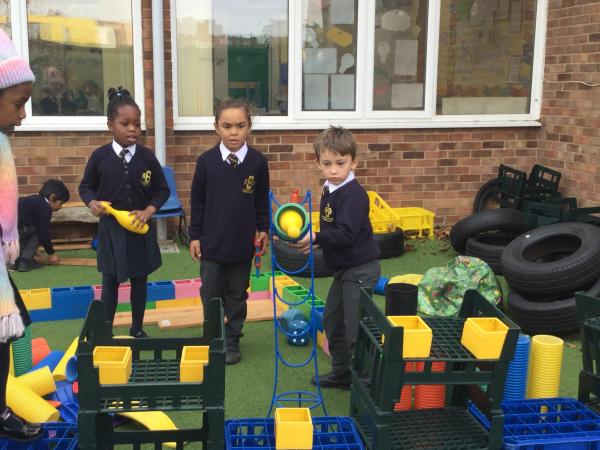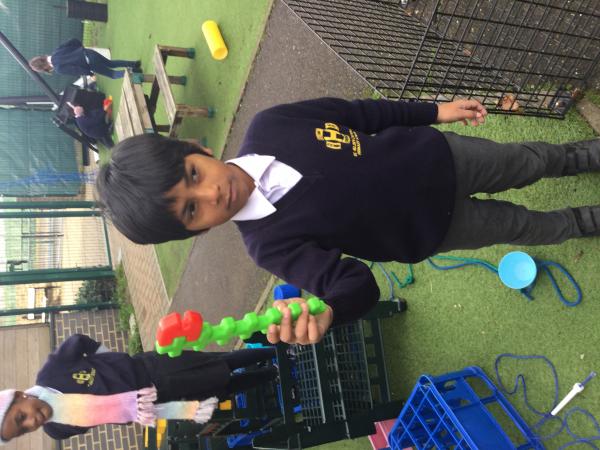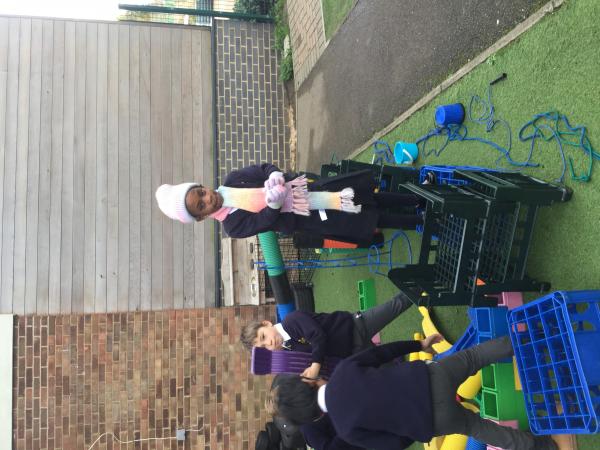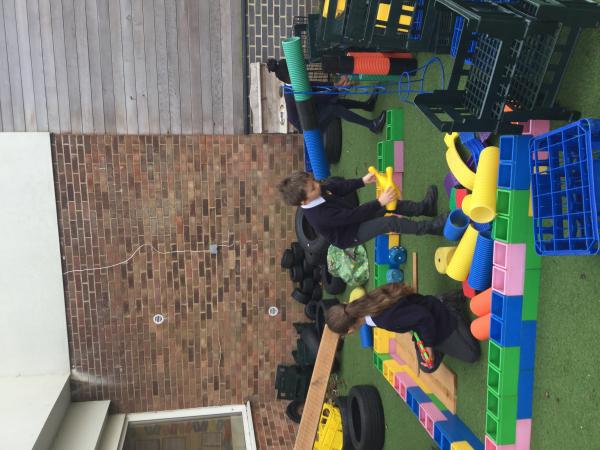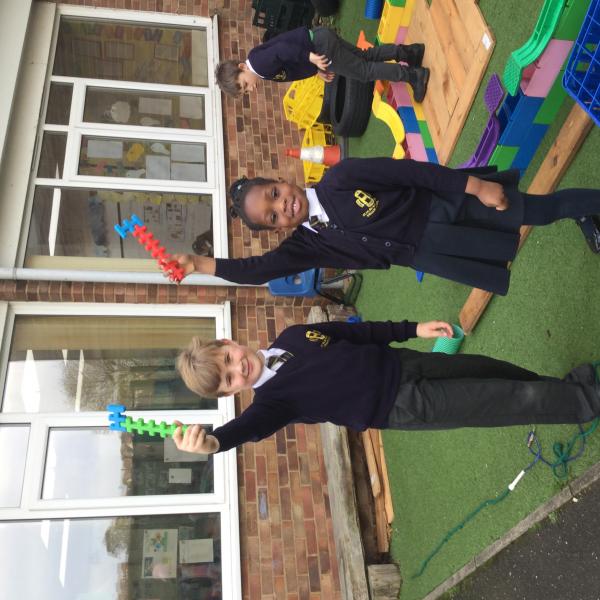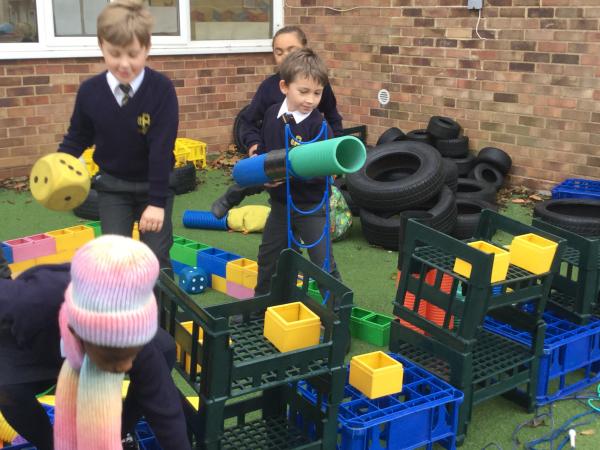 Making Challah Bread
The children in Year 2 have been learning about Shabbat as part of their Judaism Topic in Religious Education and made their own version of Challah bread. IT WAS DELICIOUS!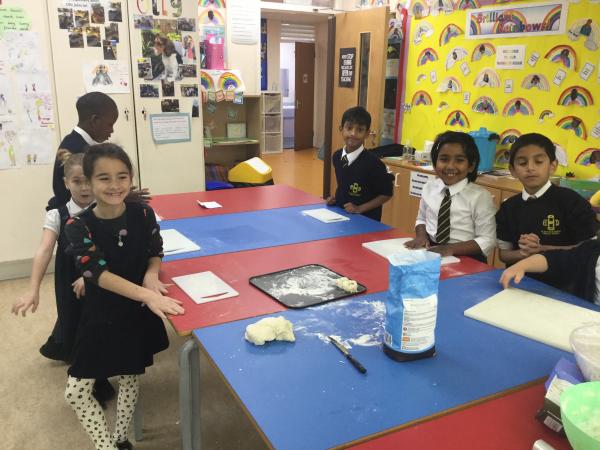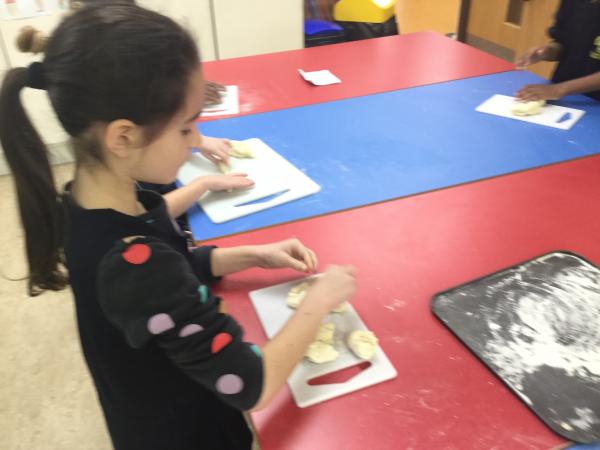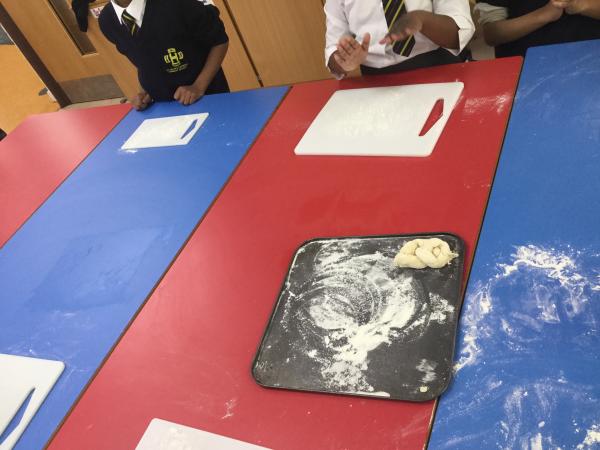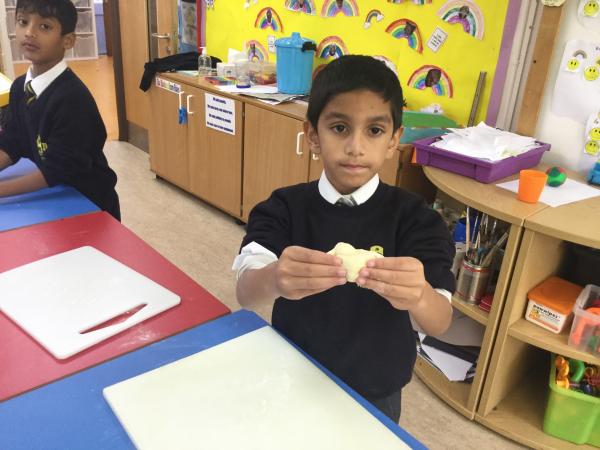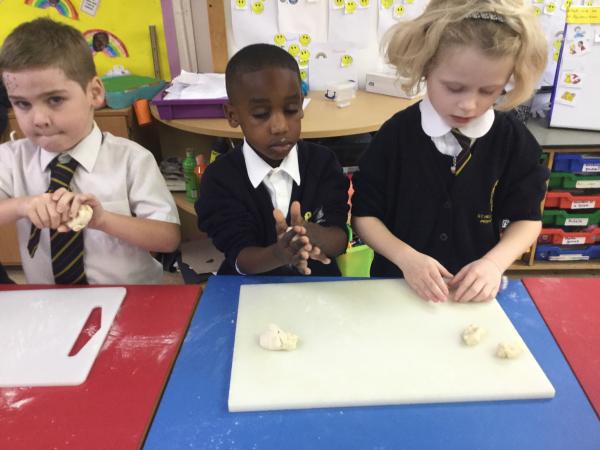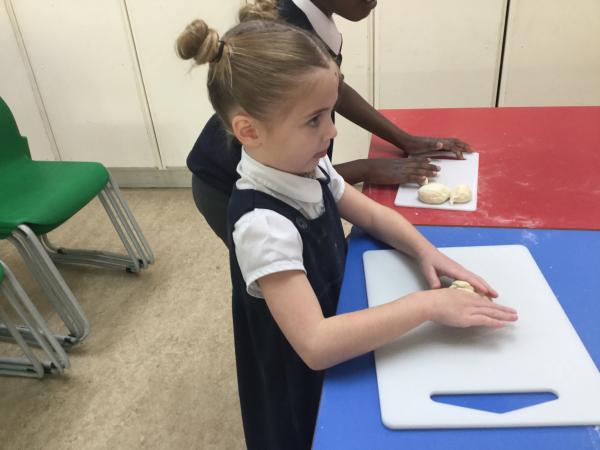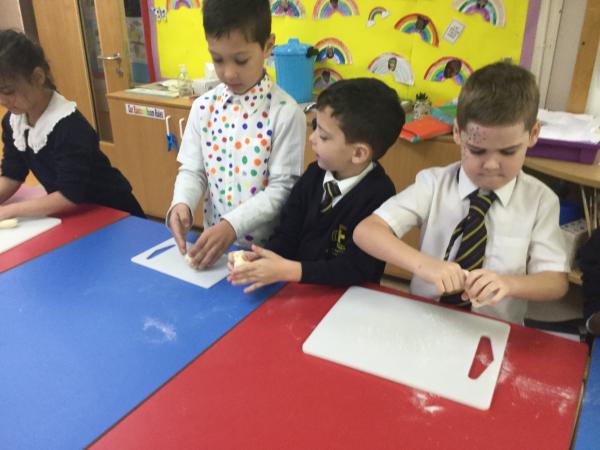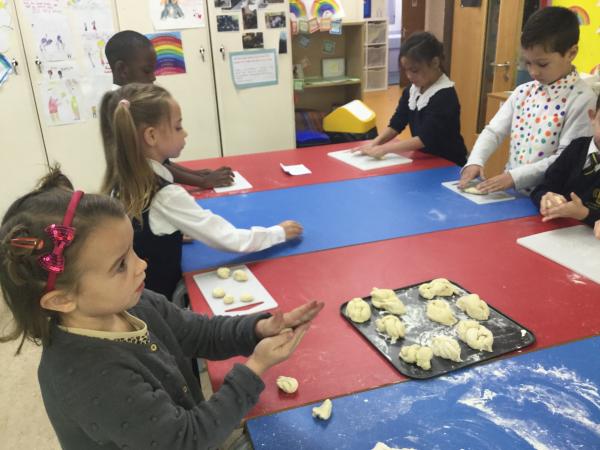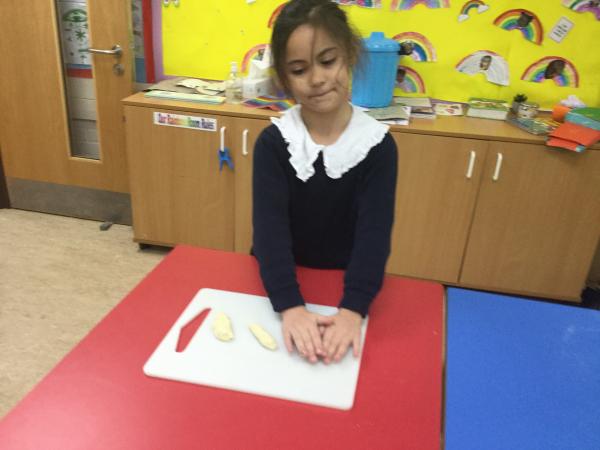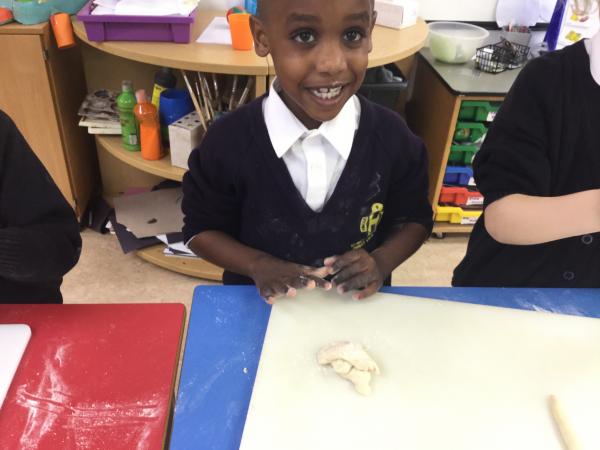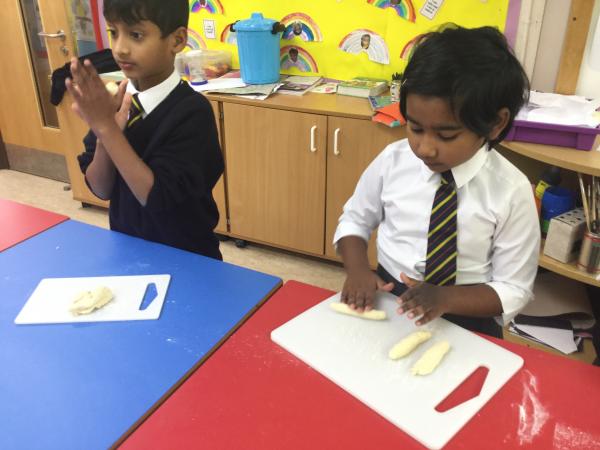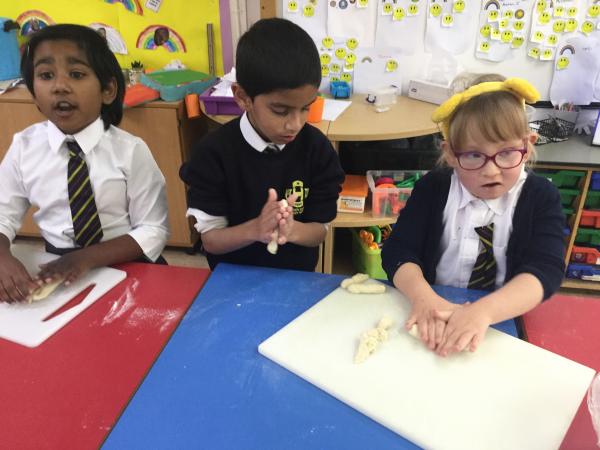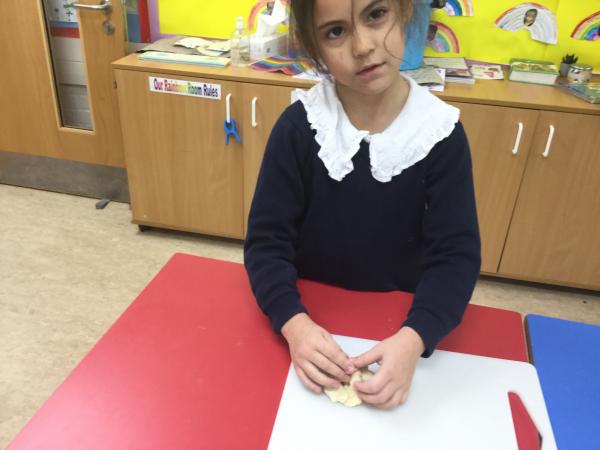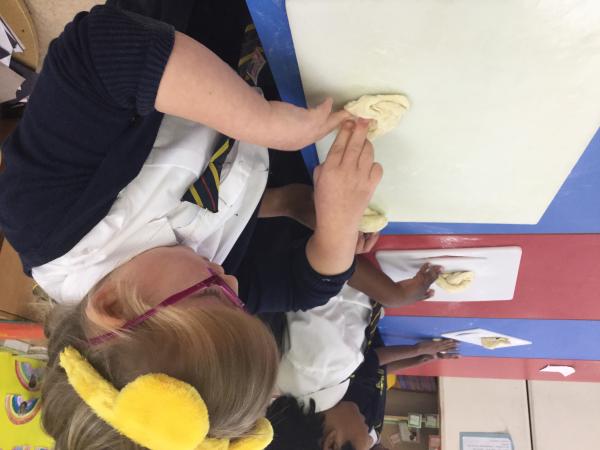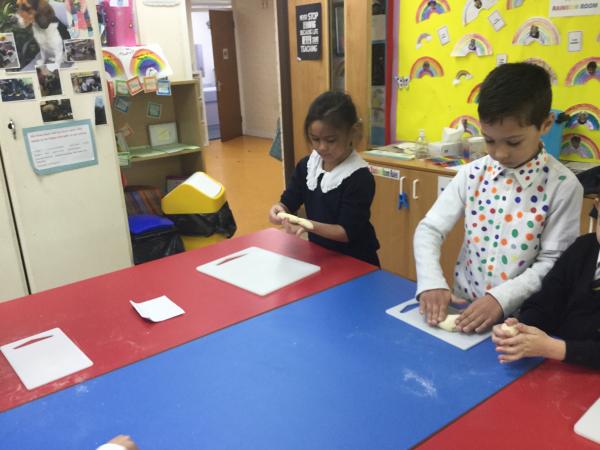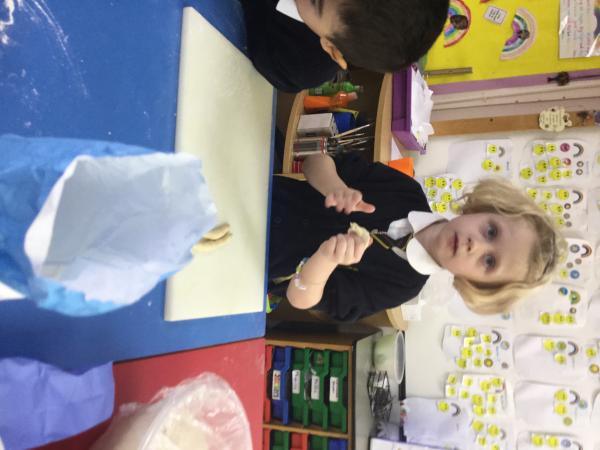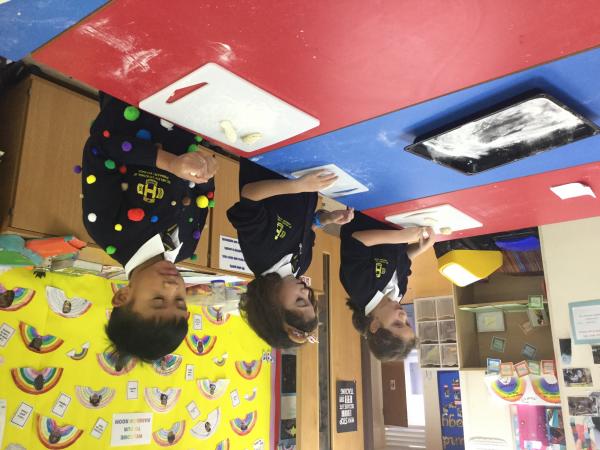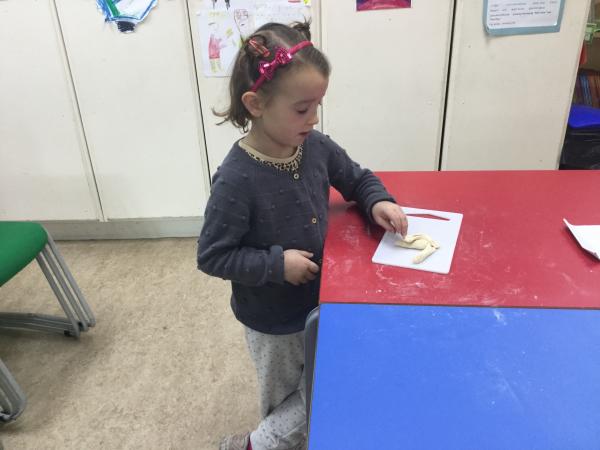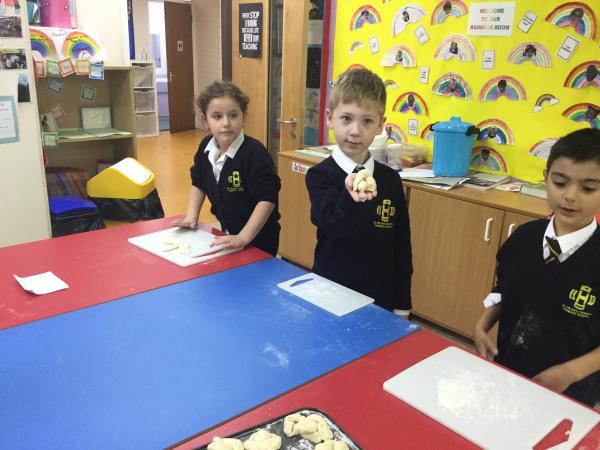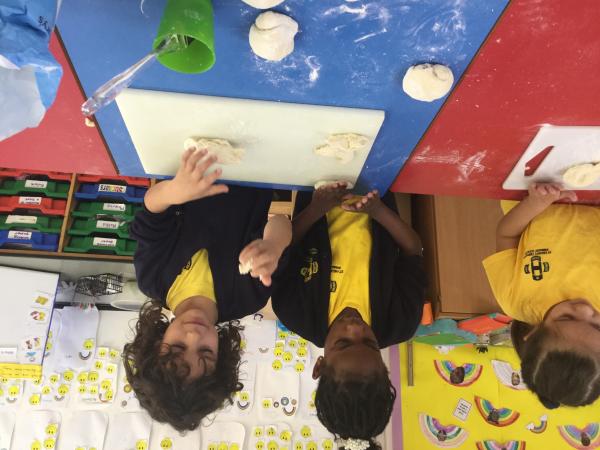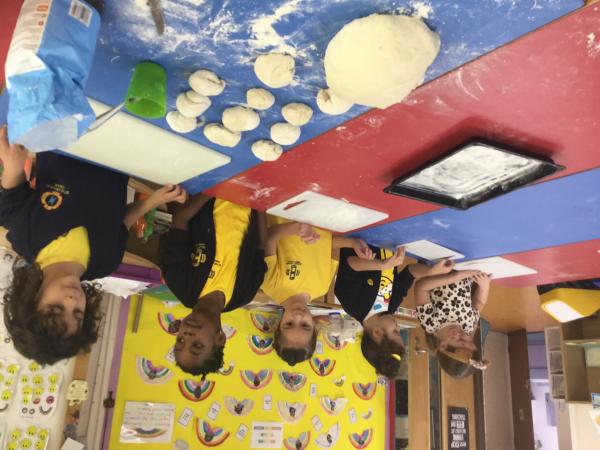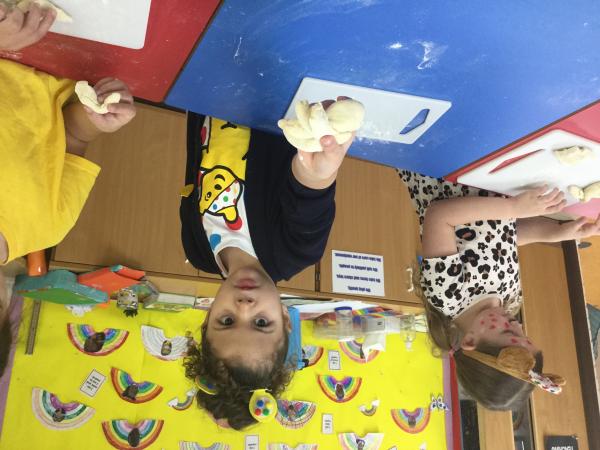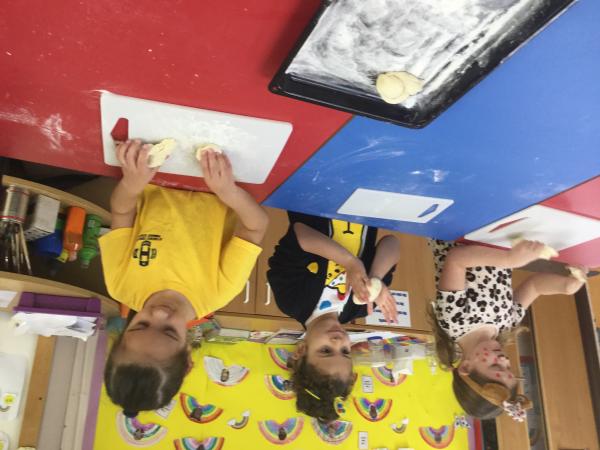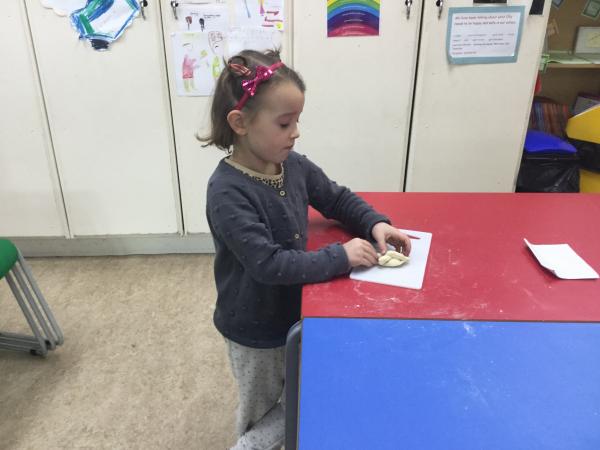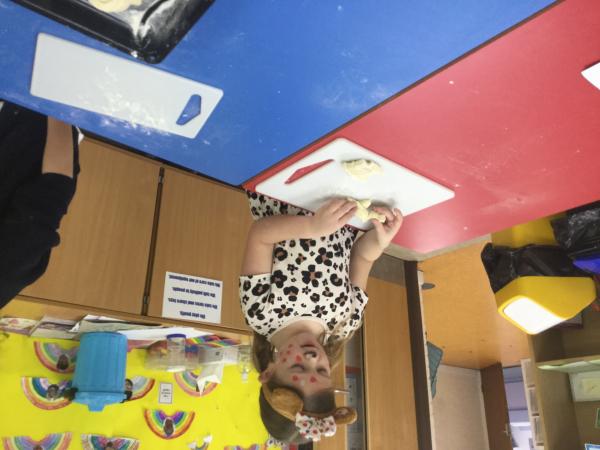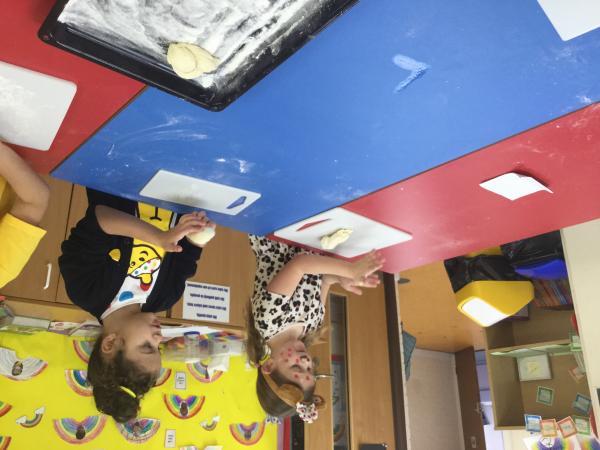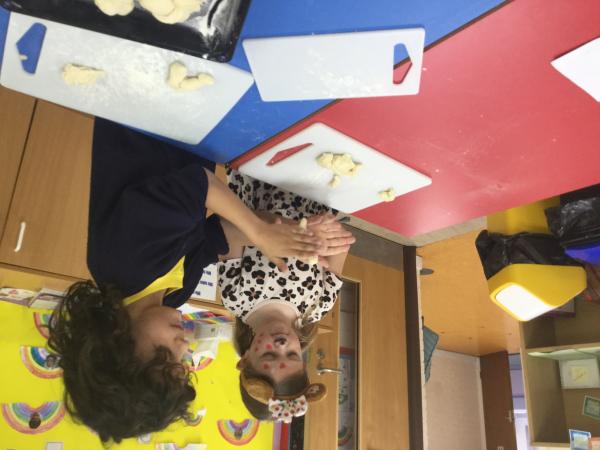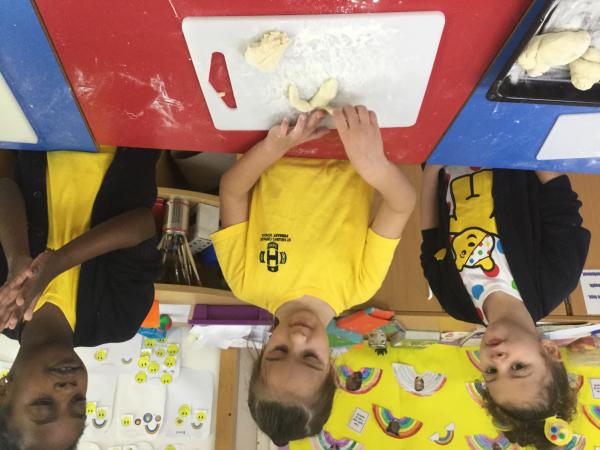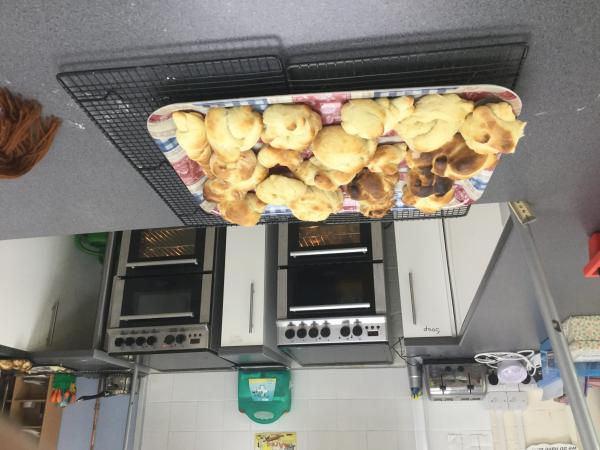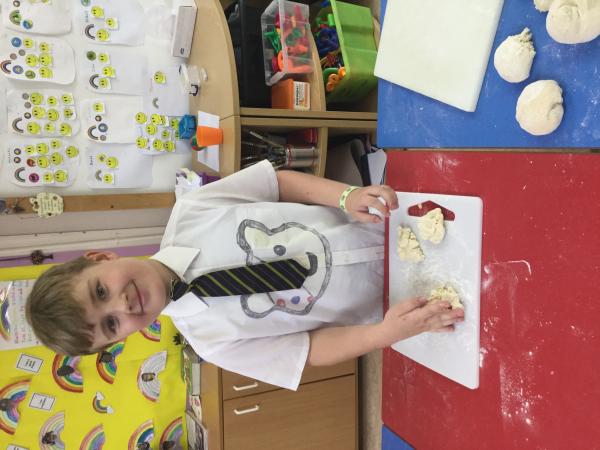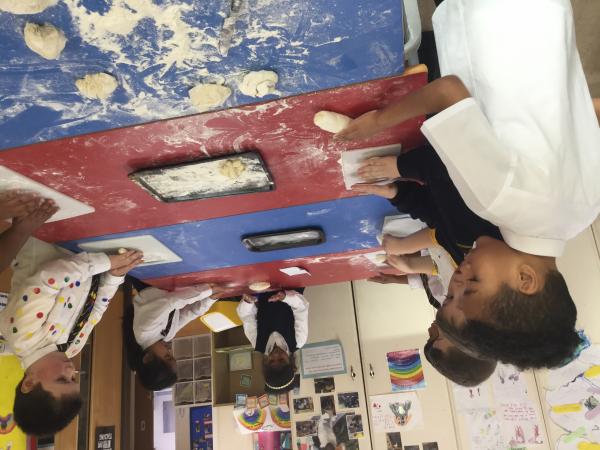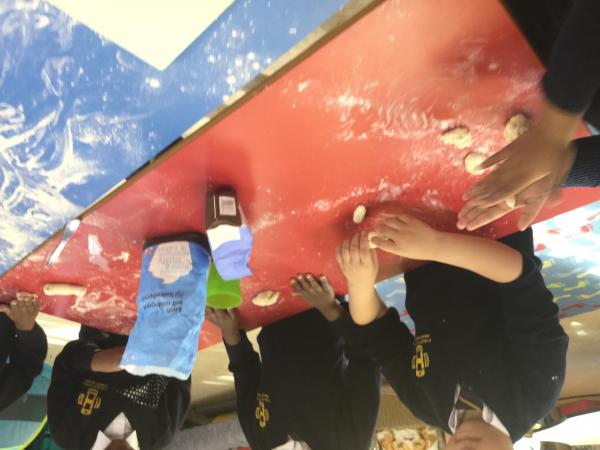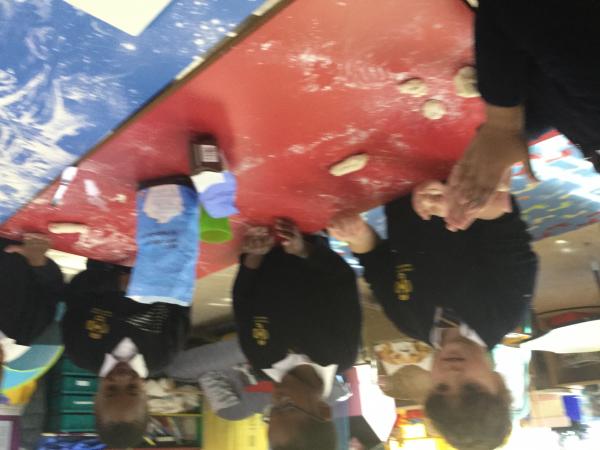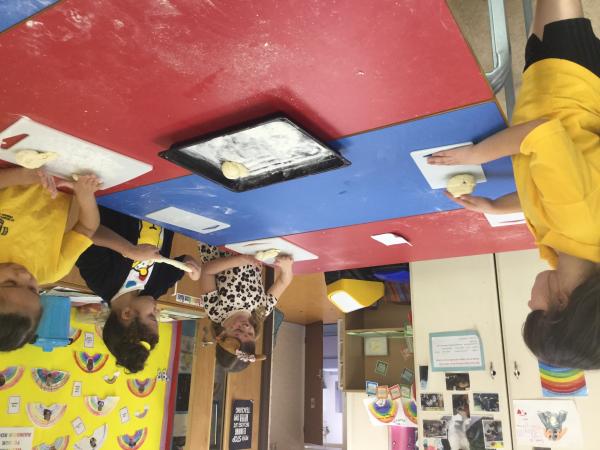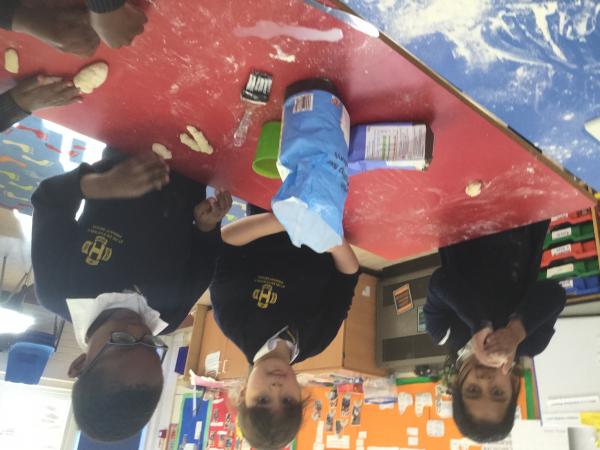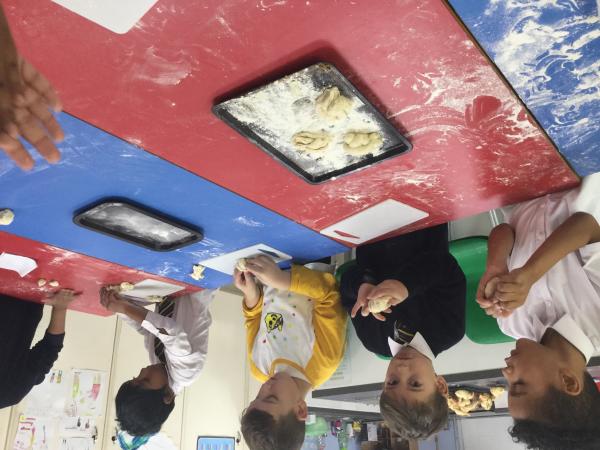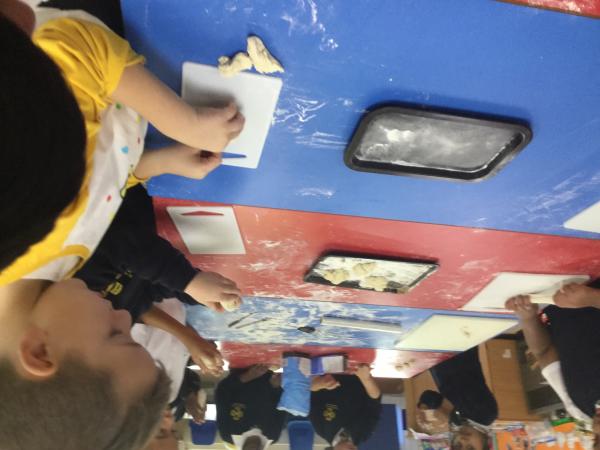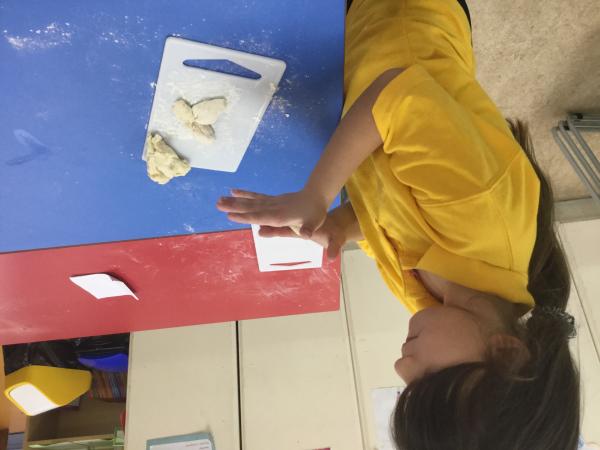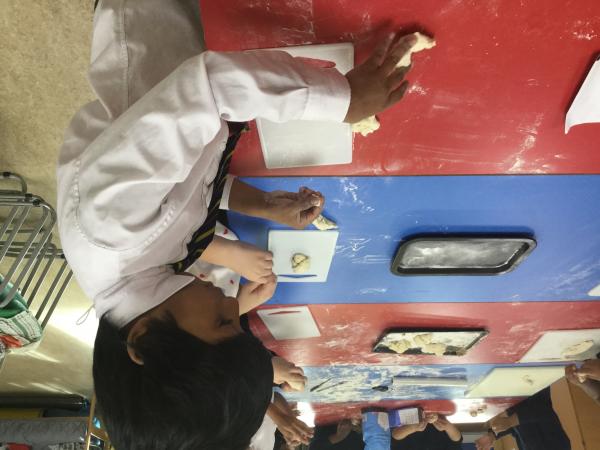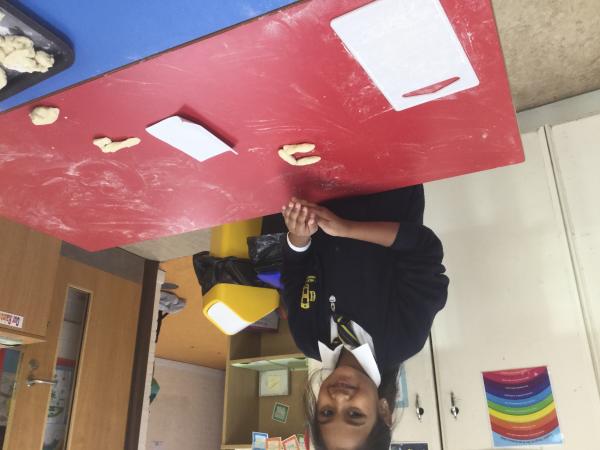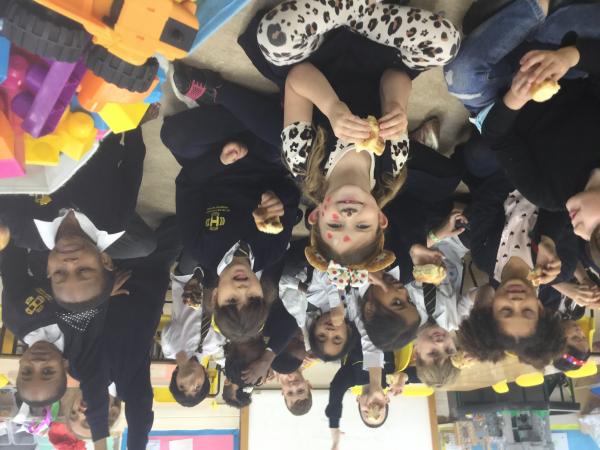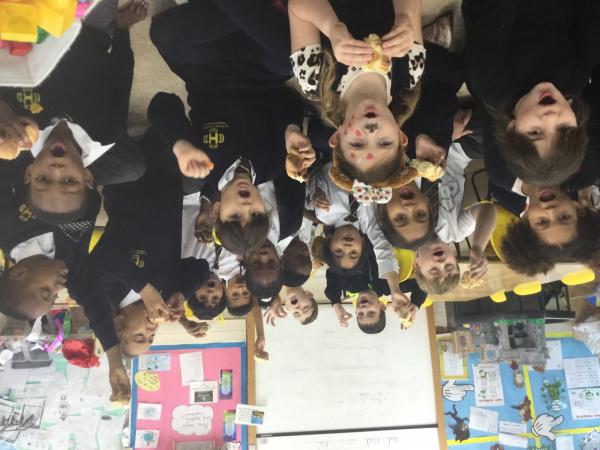 Seahorses communicating and collaborating, building and designing, teaching and learning alongside each other.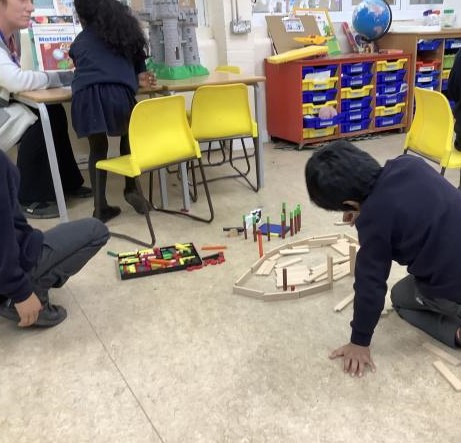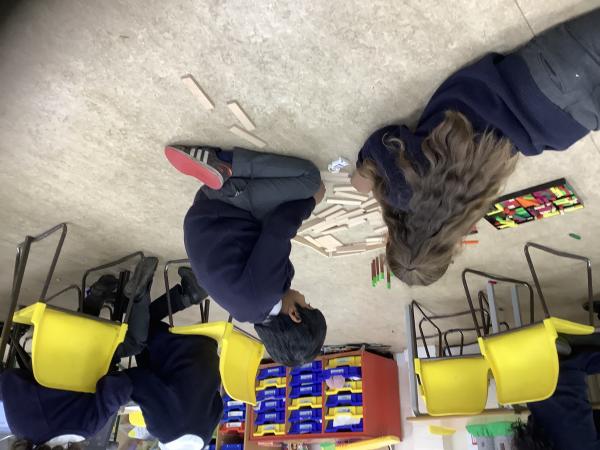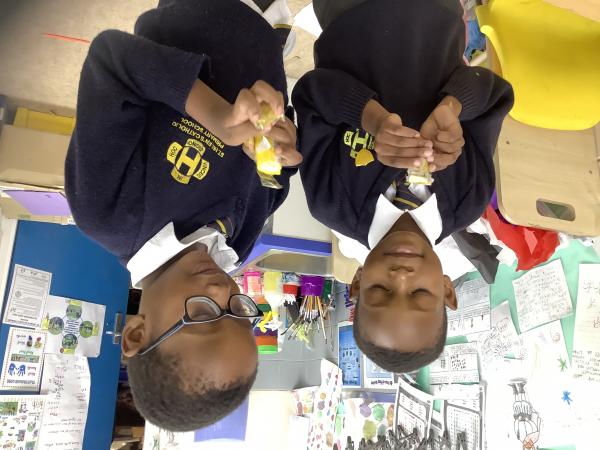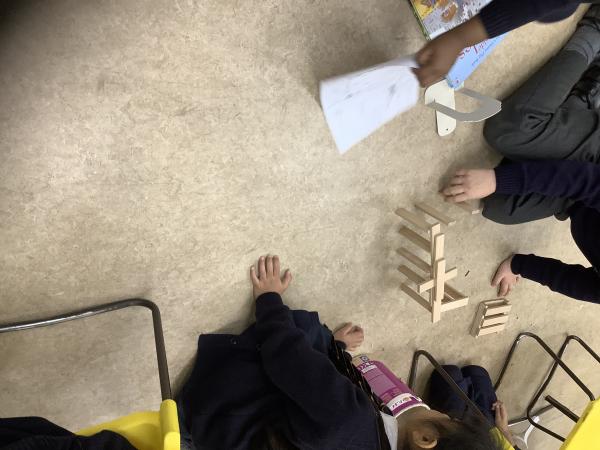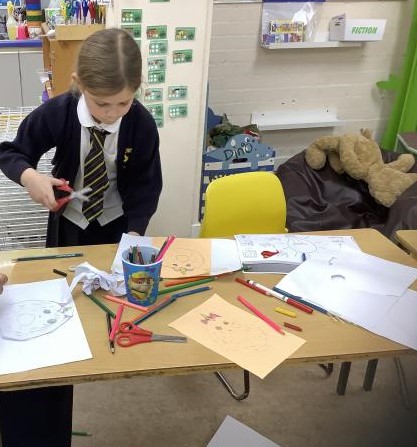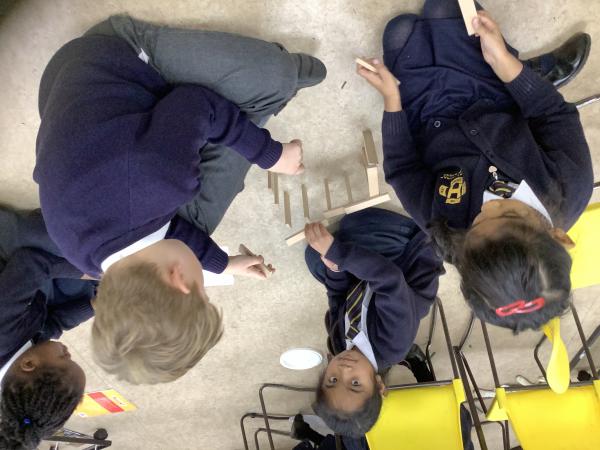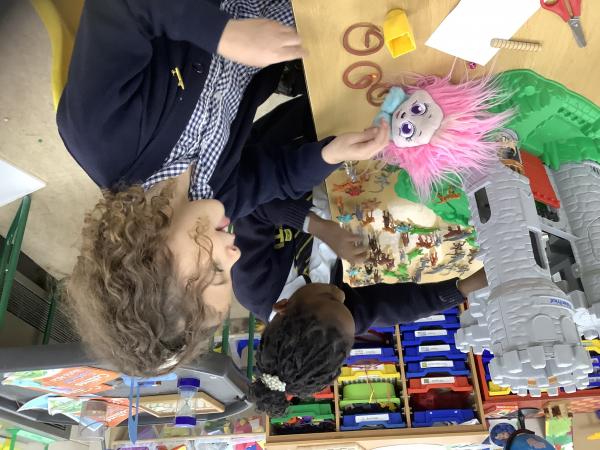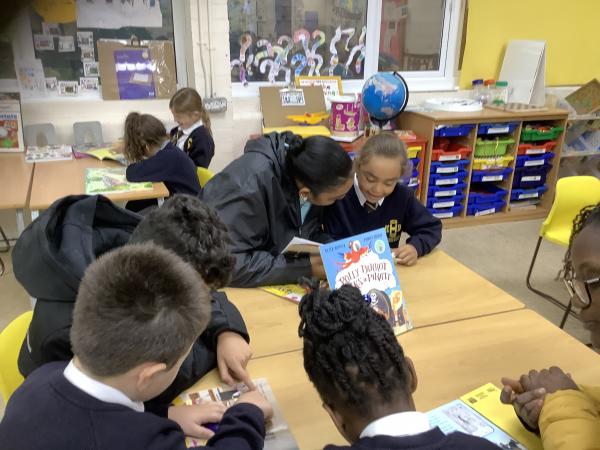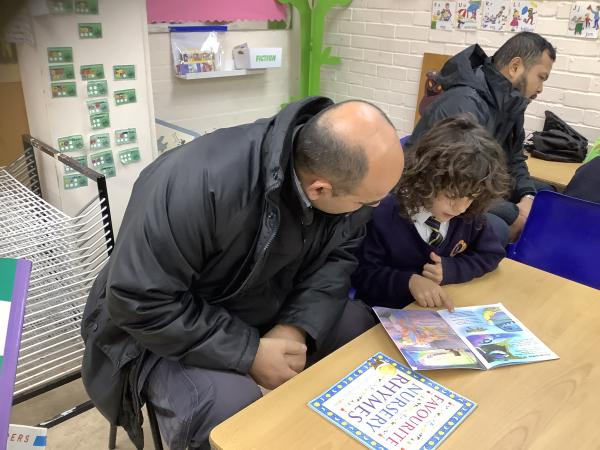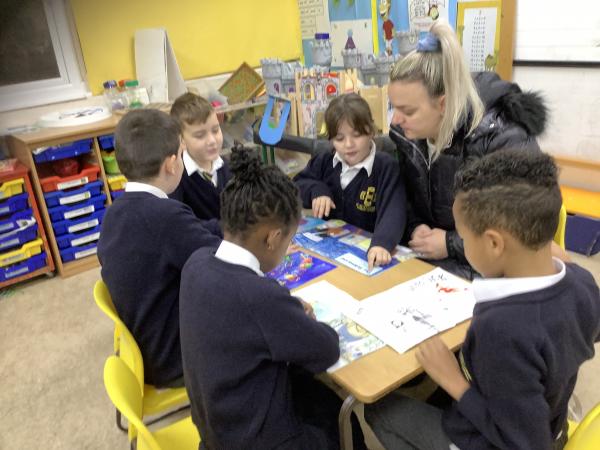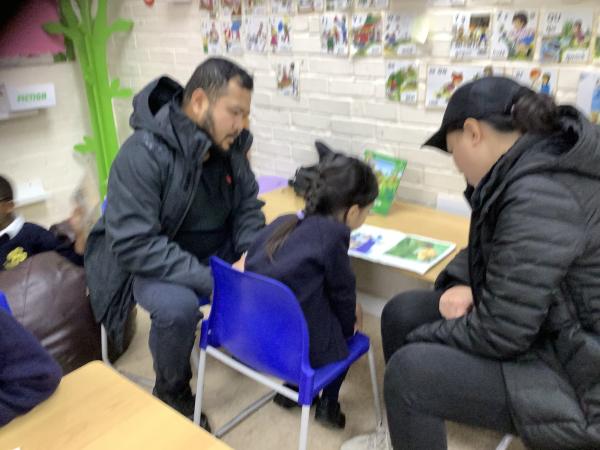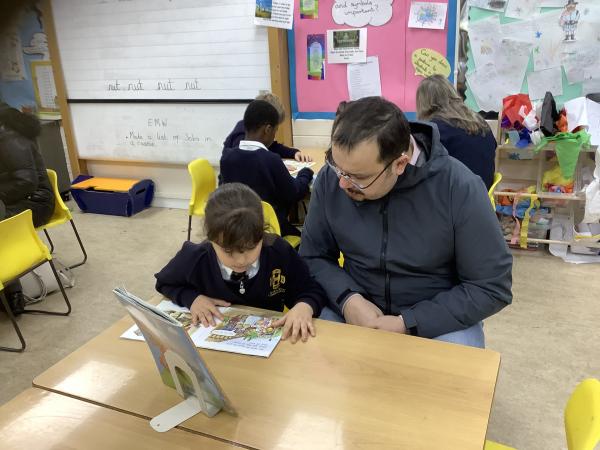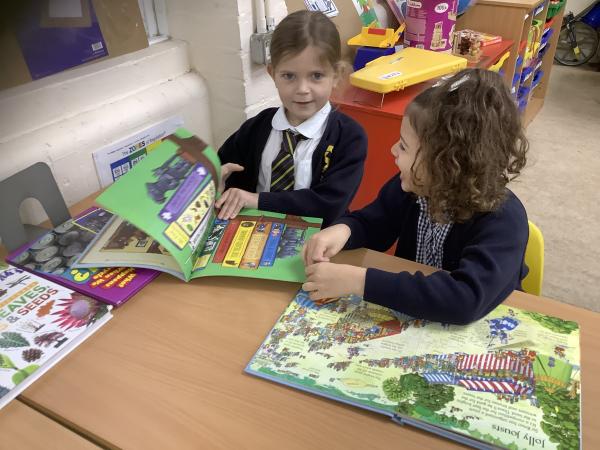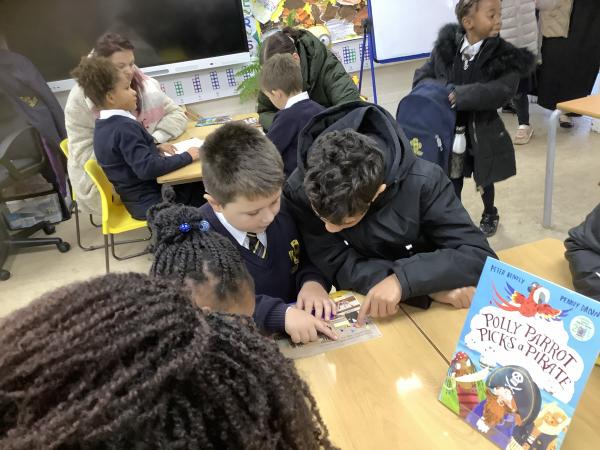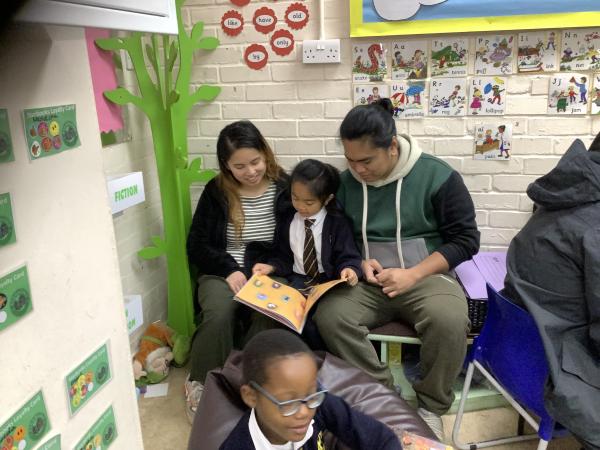 3D Shapes
Seahorses consolidated their 3d shape knowledge by going on a shape hunt outside in the playground. We found cylinders, cubes, cuboids, spheres and even a trianglular prism. Can you spot them in our pictures?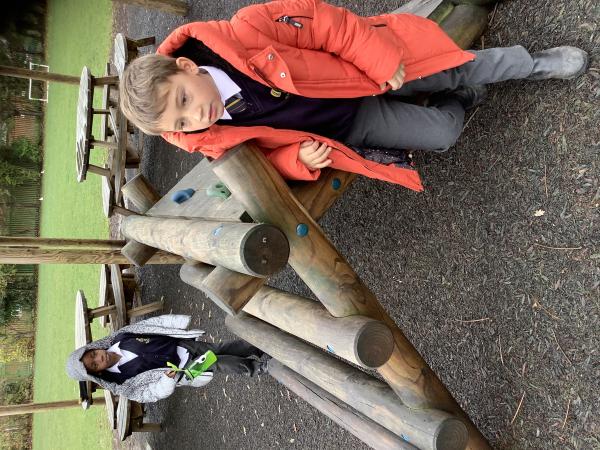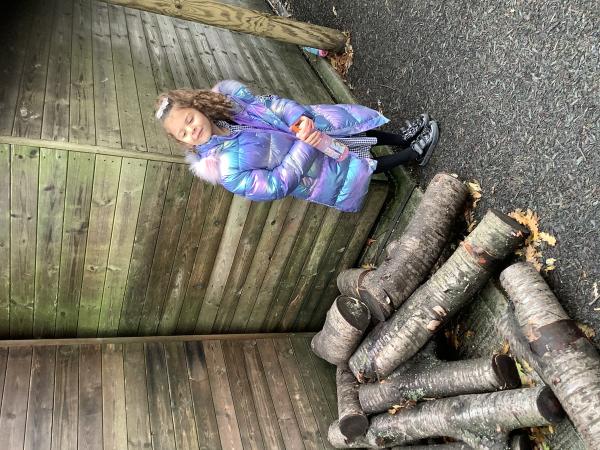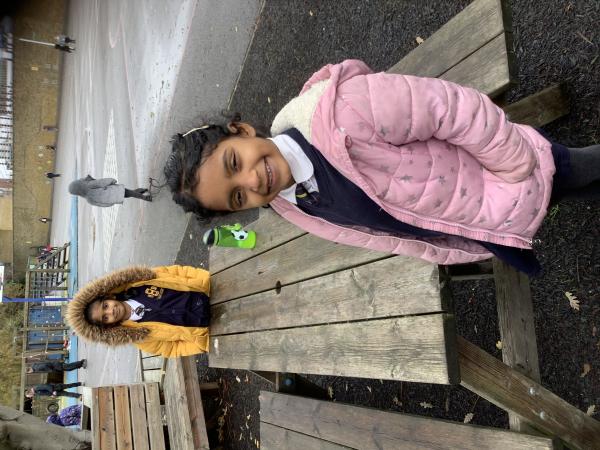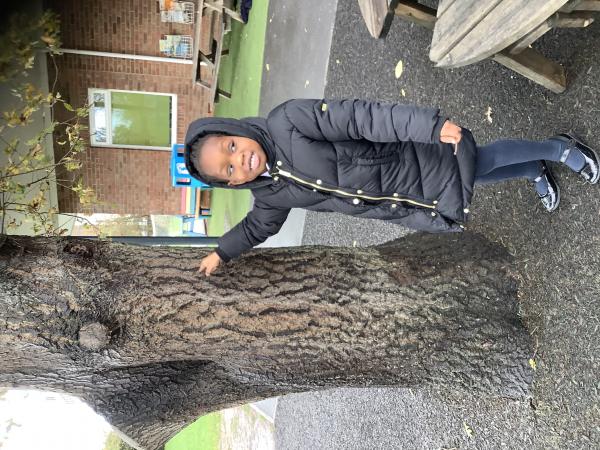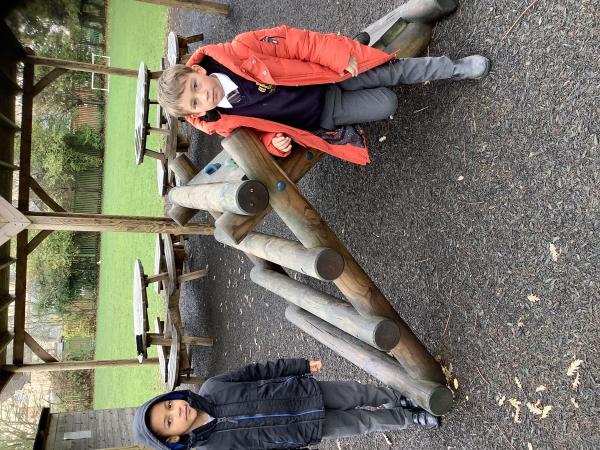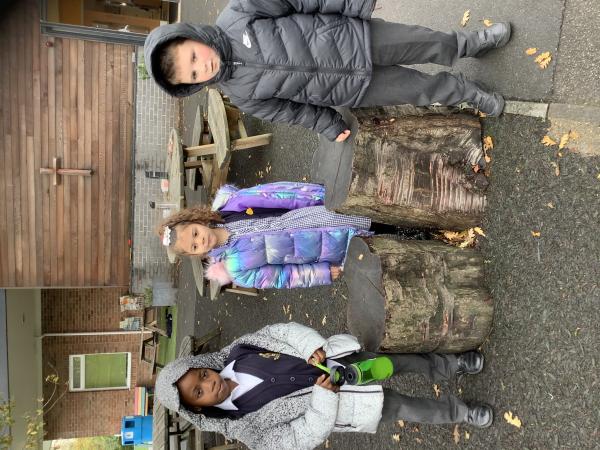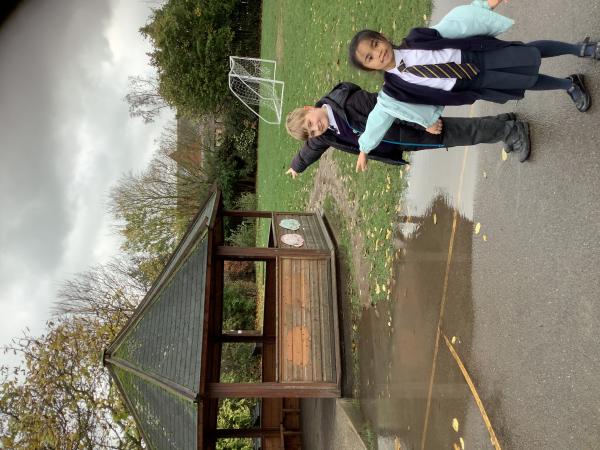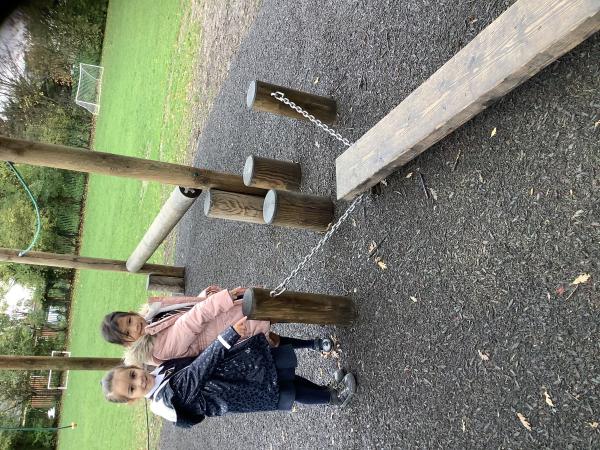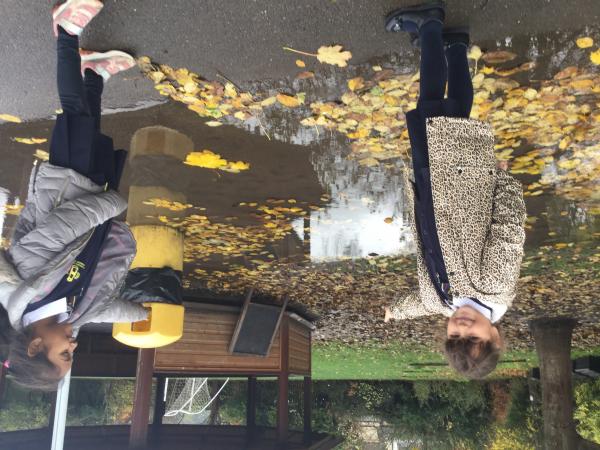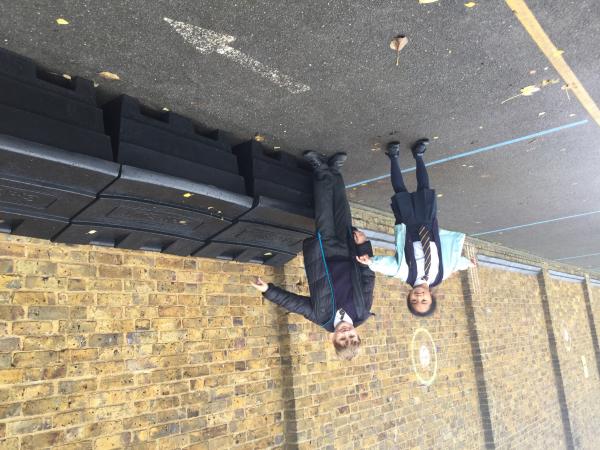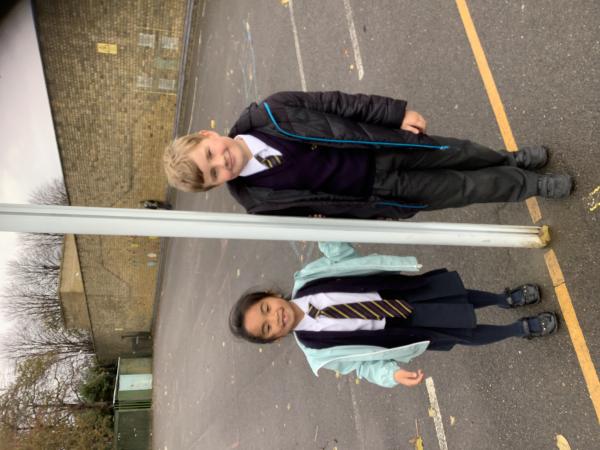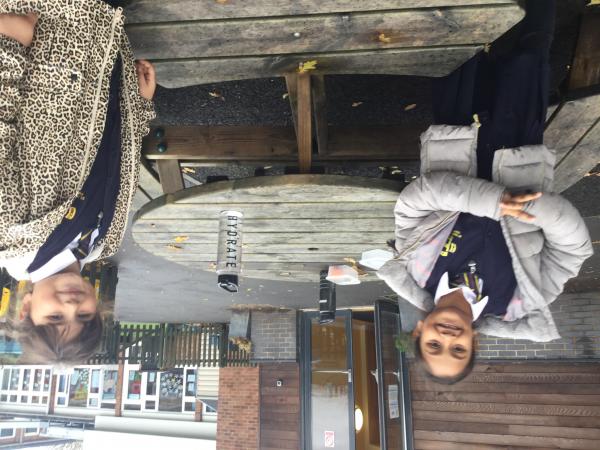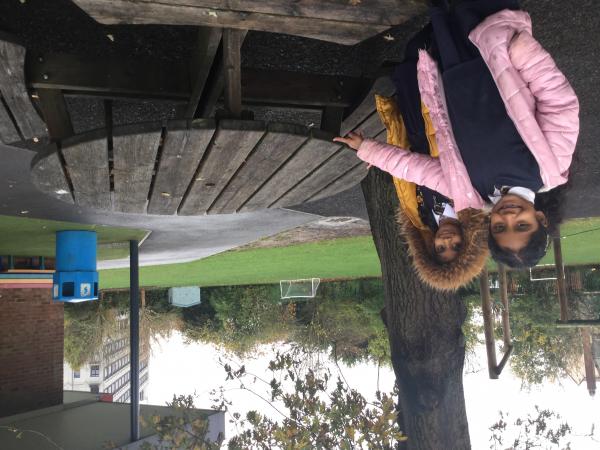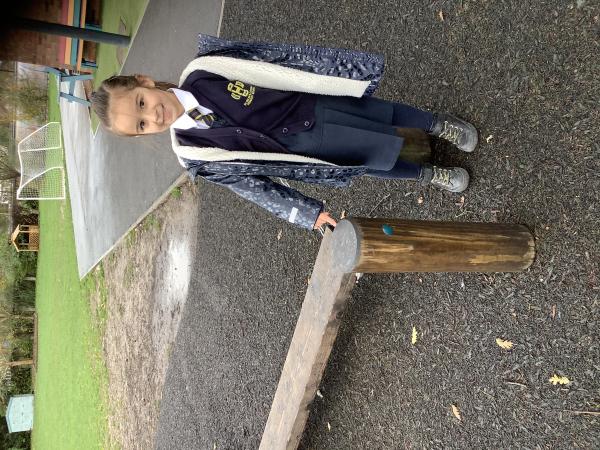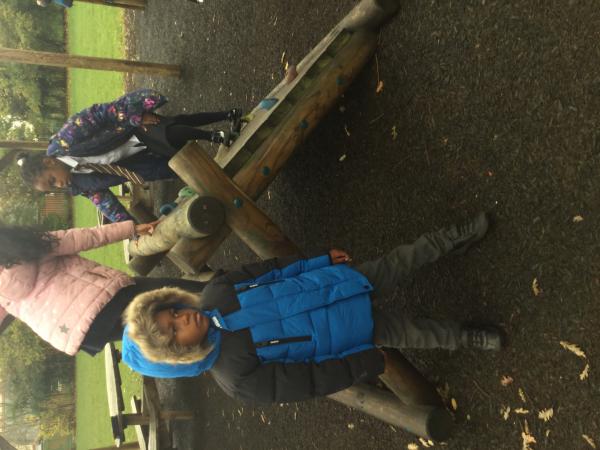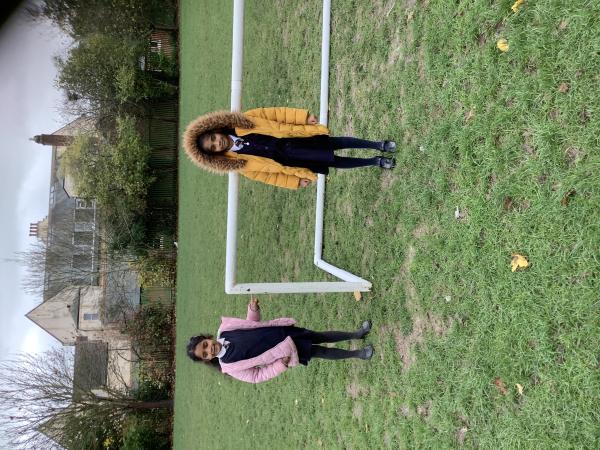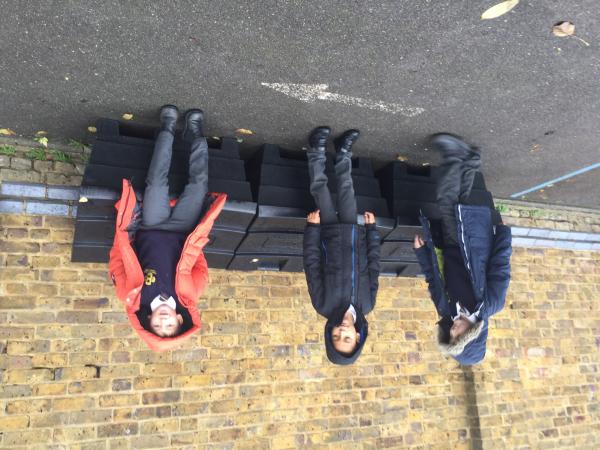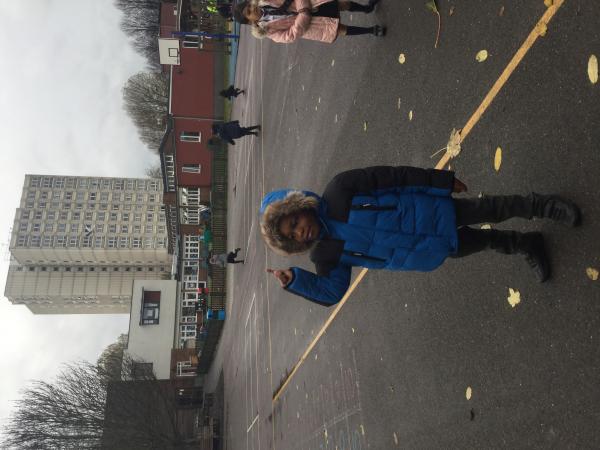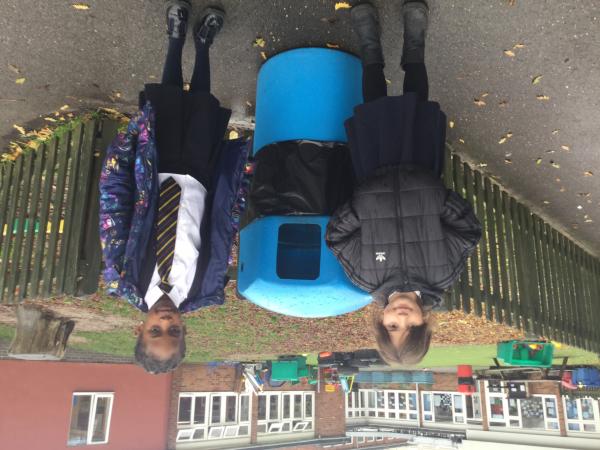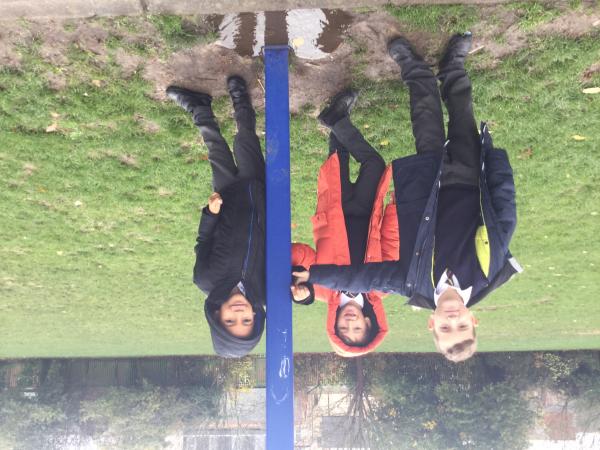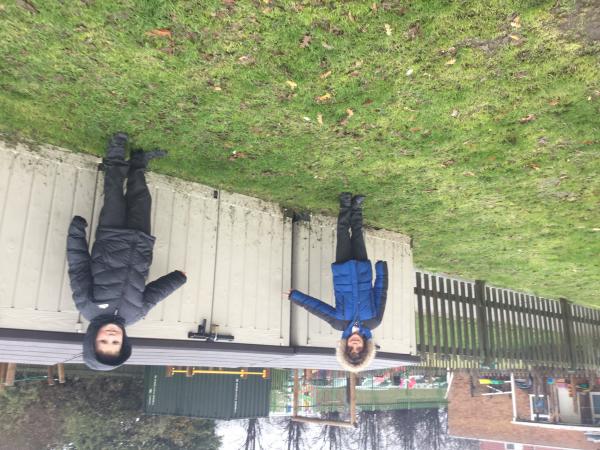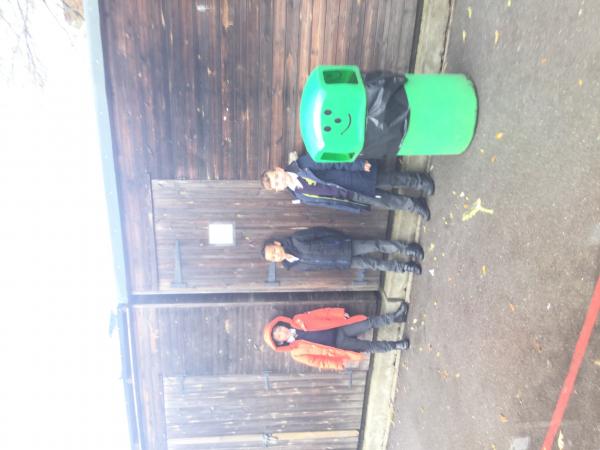 Investigating materials
Oysters had a busy morning in the nature area. As part of their Science topic regarding Materials, Oysters blindfolded each other and described and touched a variety of resources. They discussed and used a wide vocabulary for describing. Later in the morning, they moved to making the best mixture of sand and water to produce the 'best' sandcastle. Some groups overdid the water and ended up with a sloppy mess whilst others, needed to use more water! An informative discussion followed.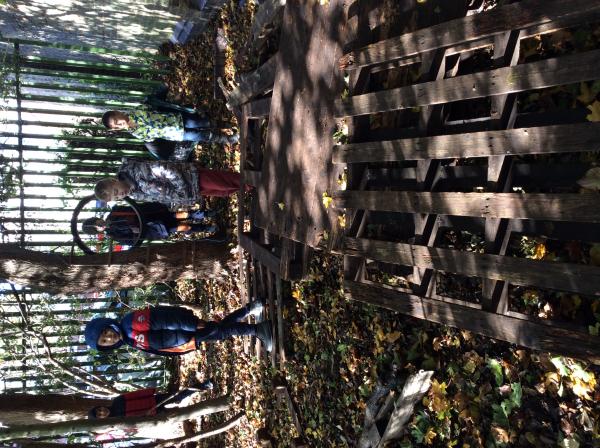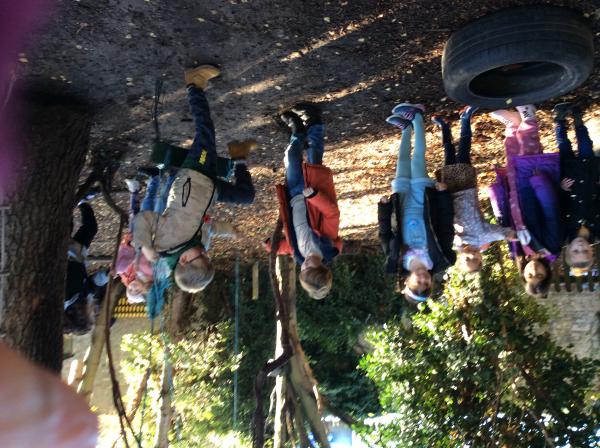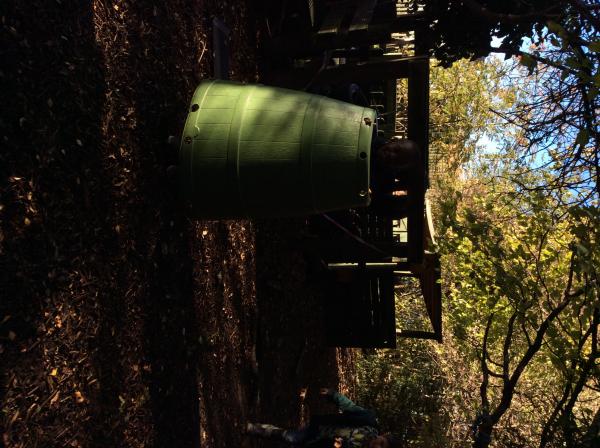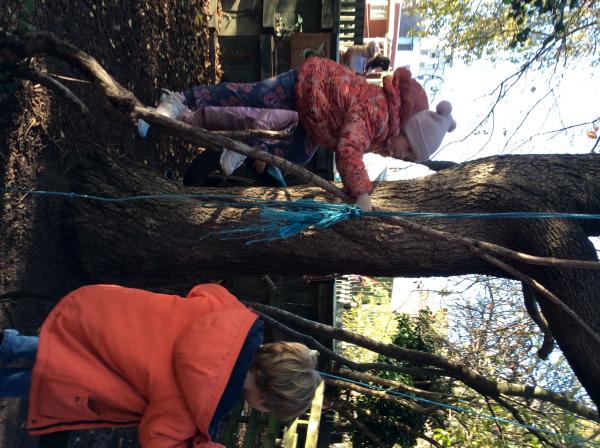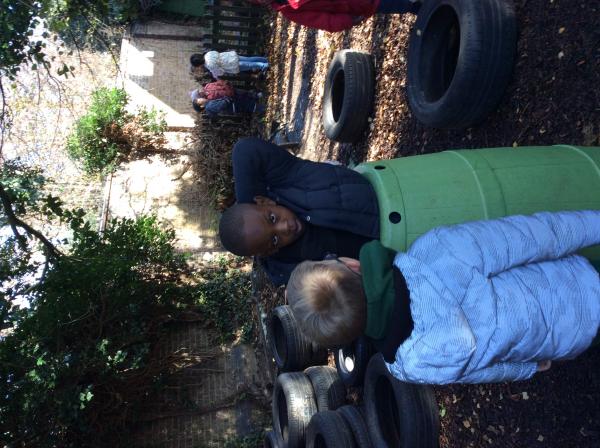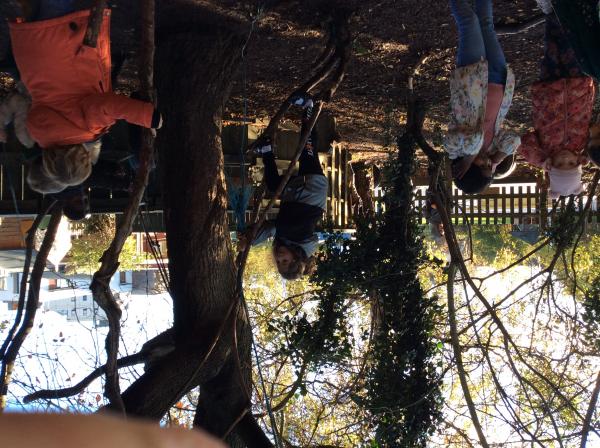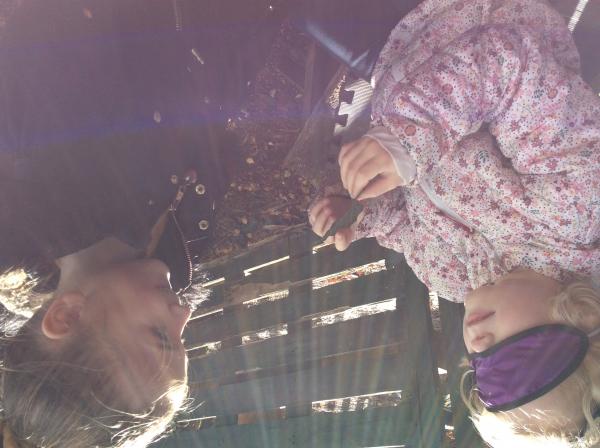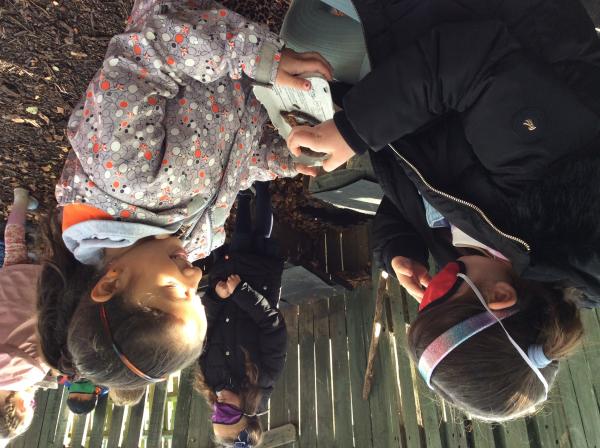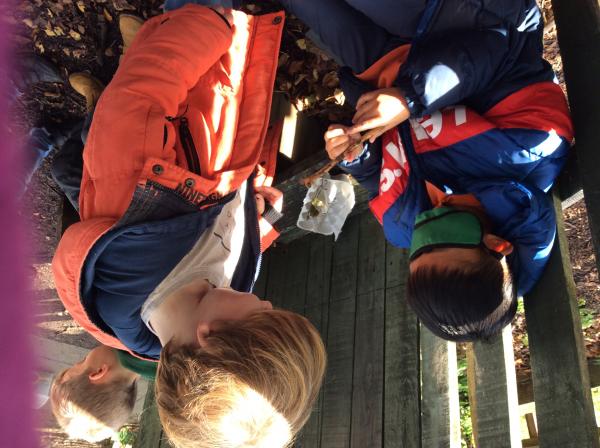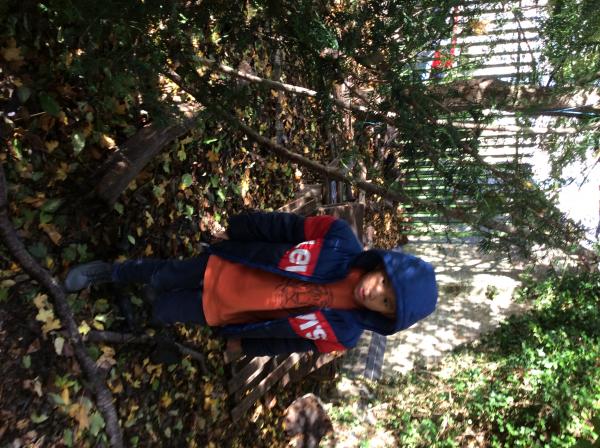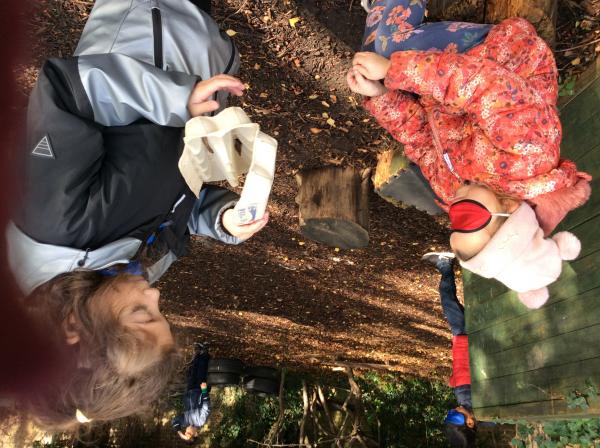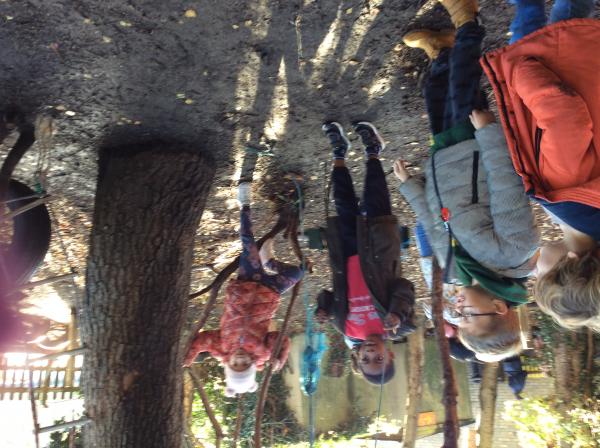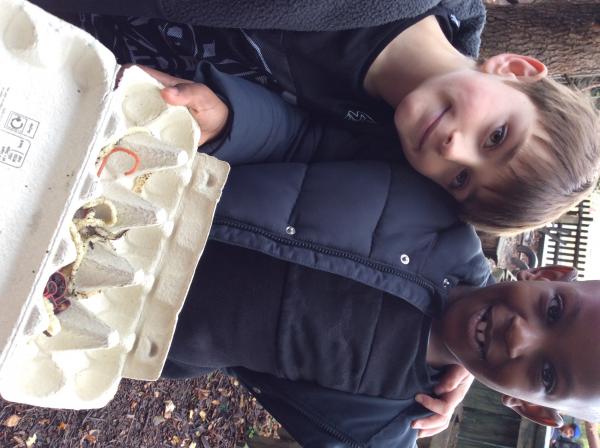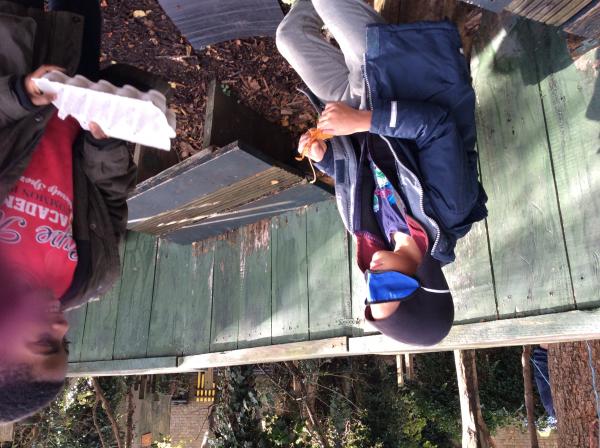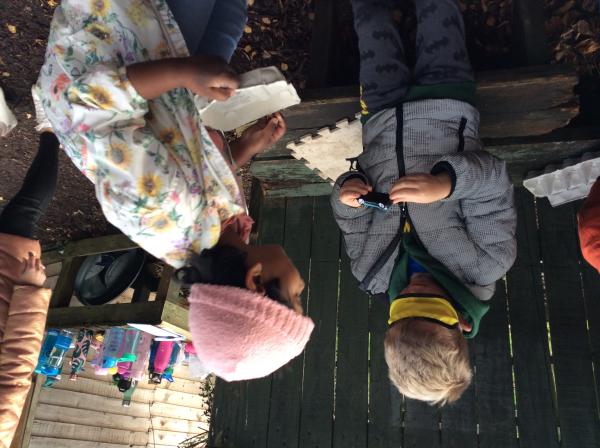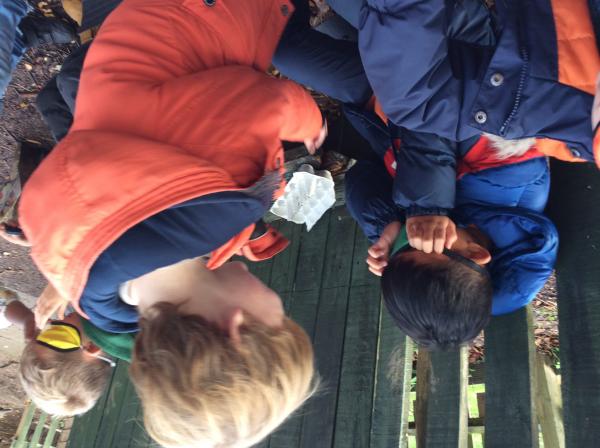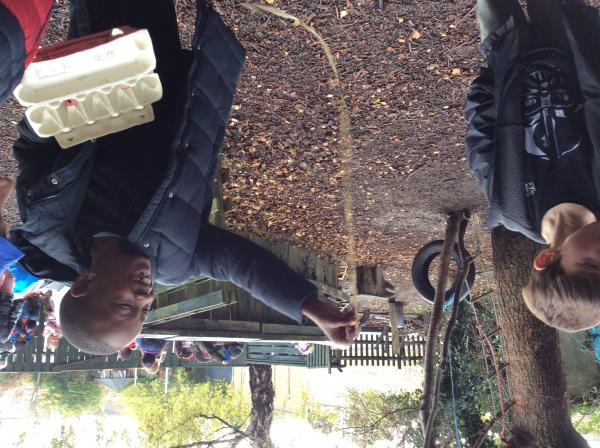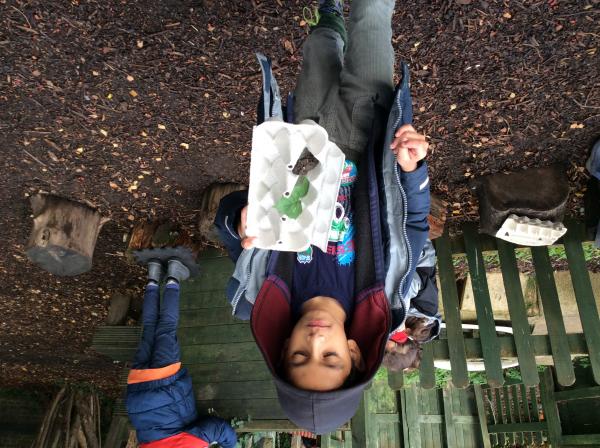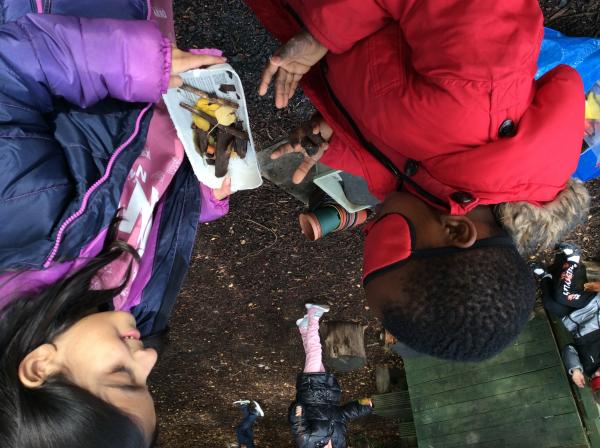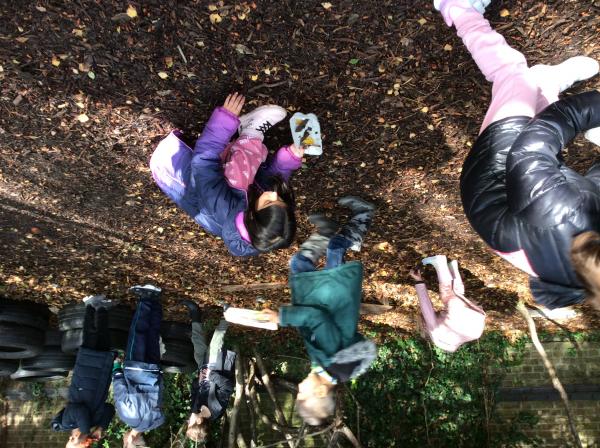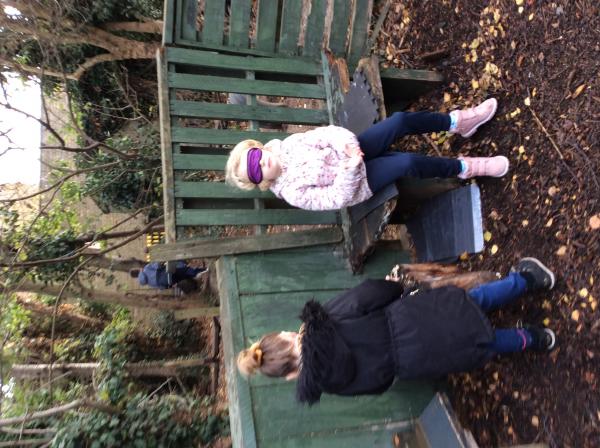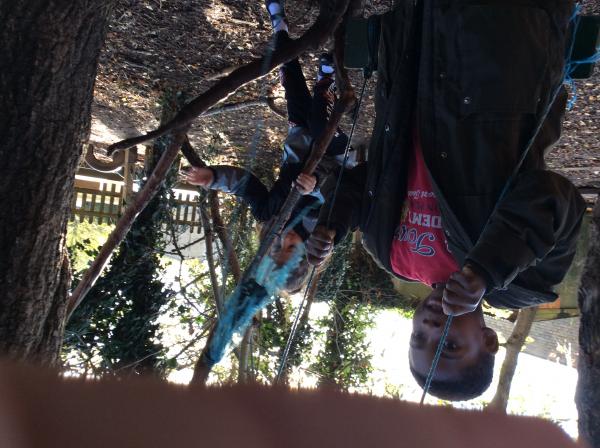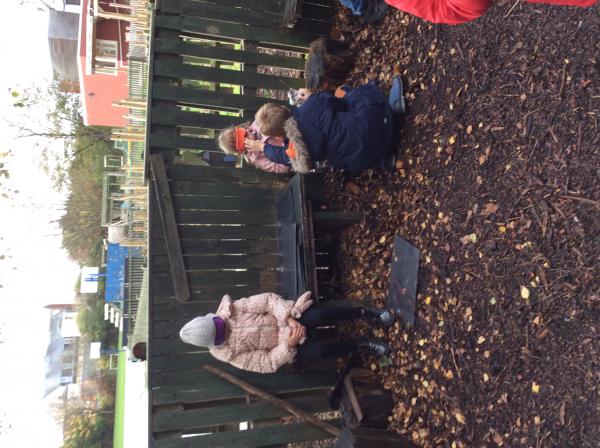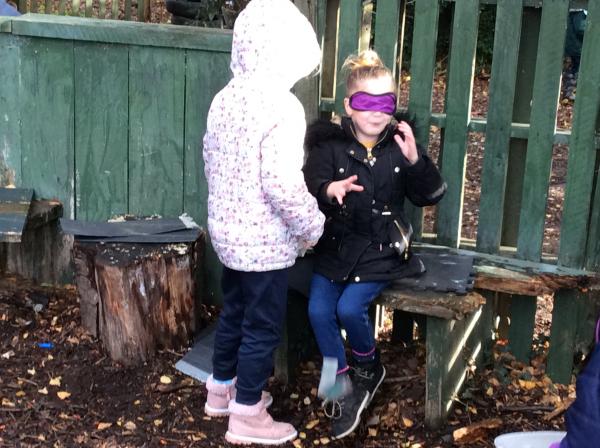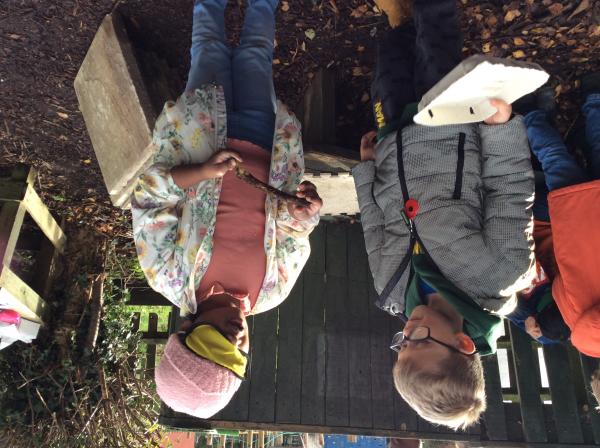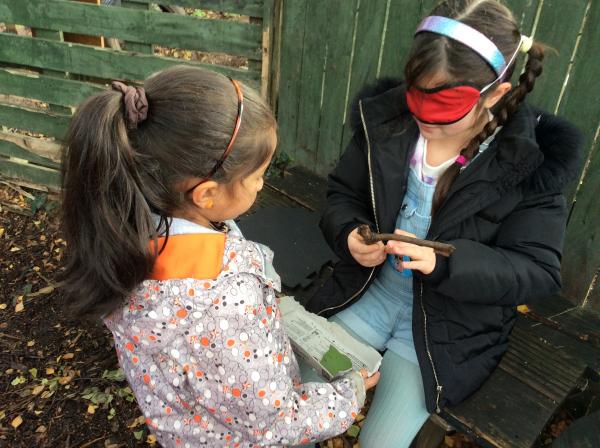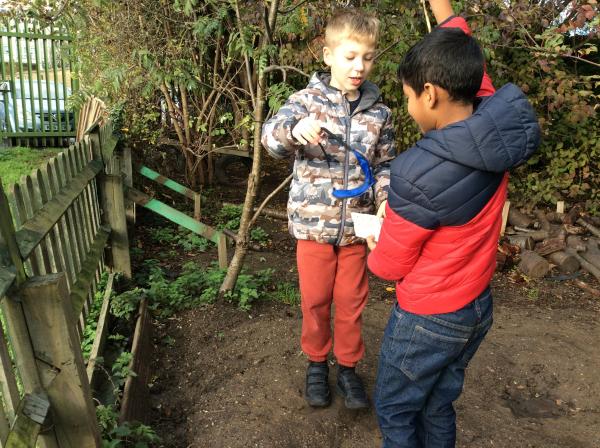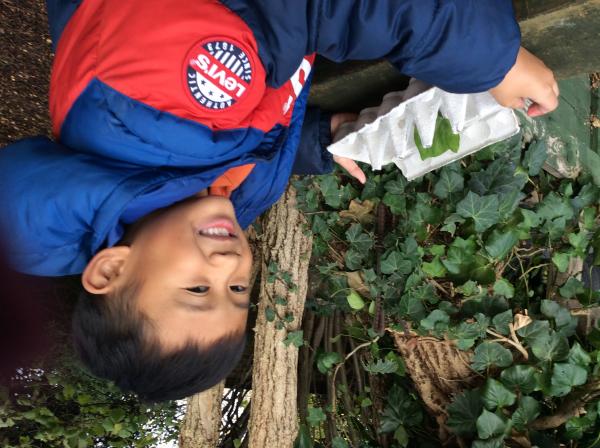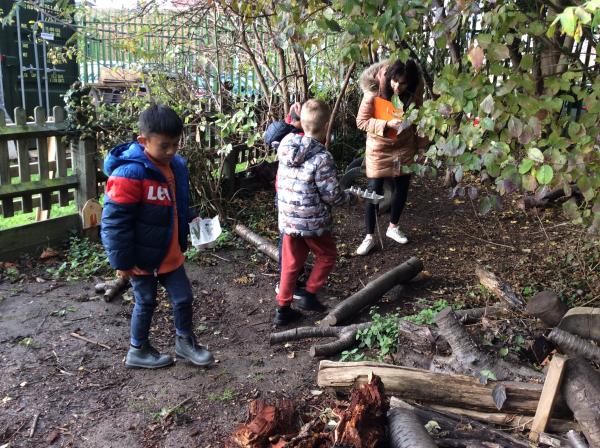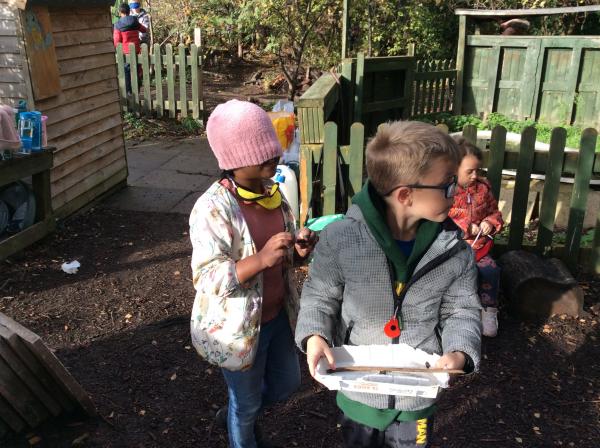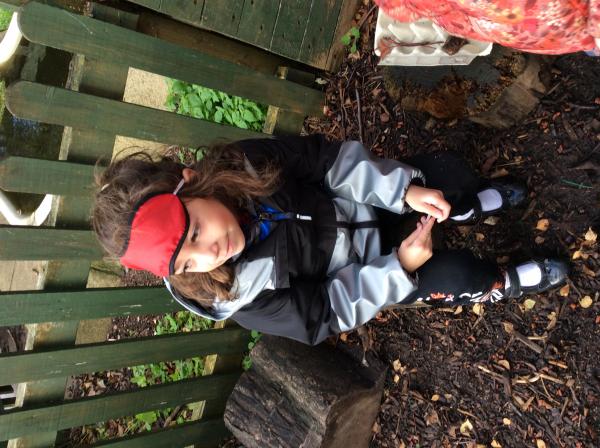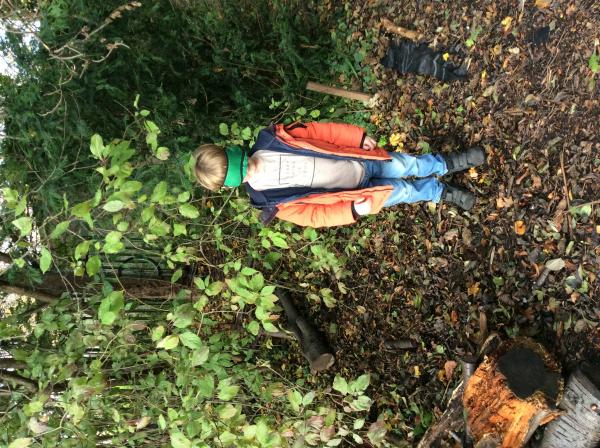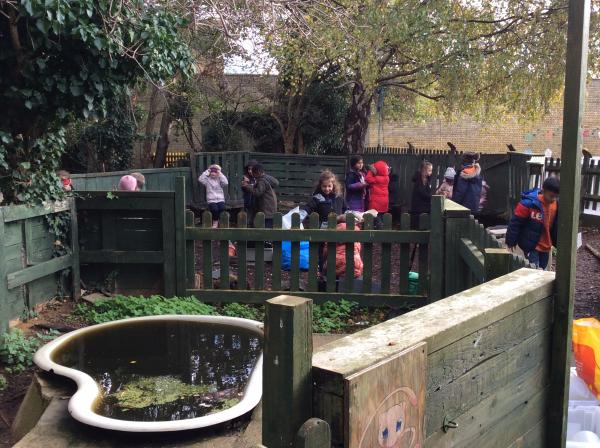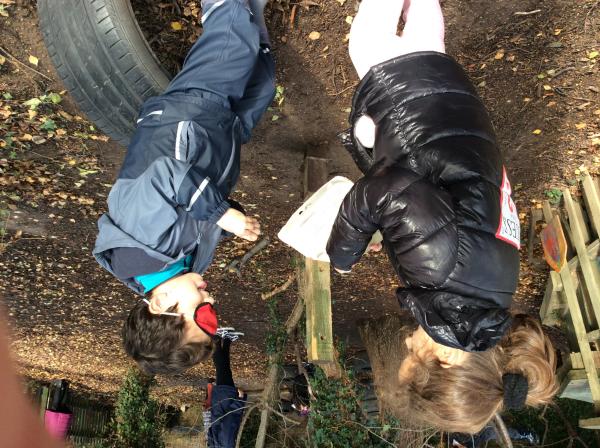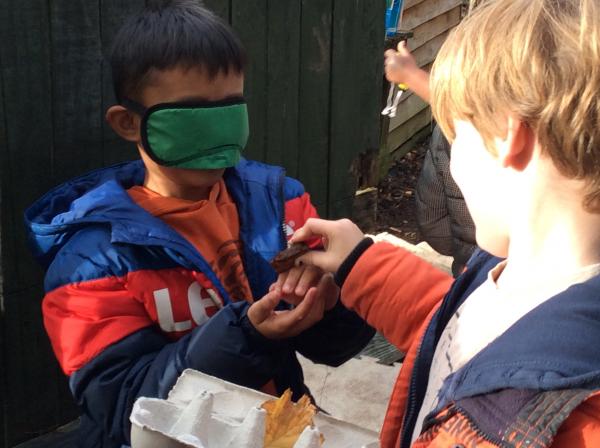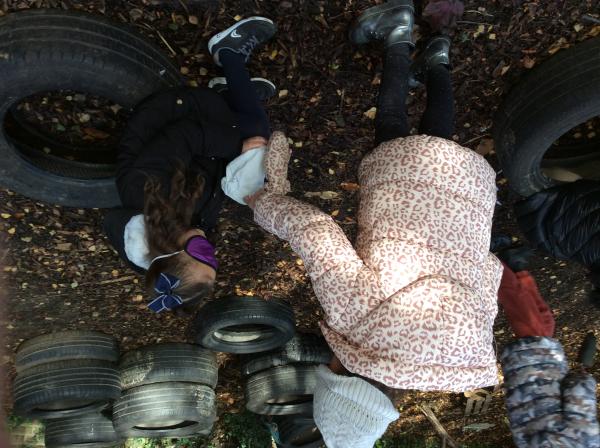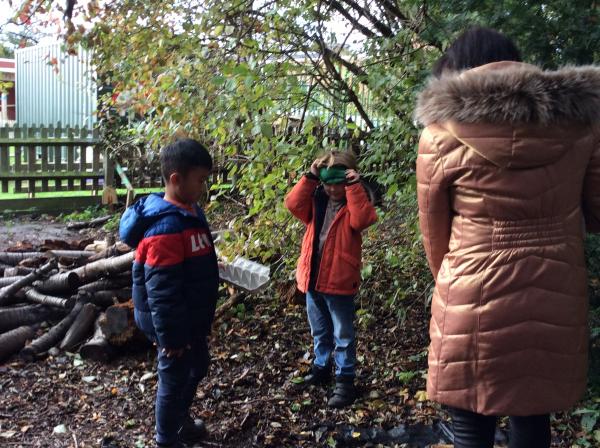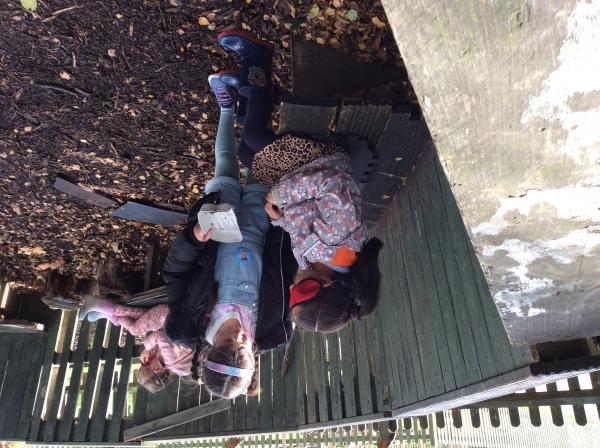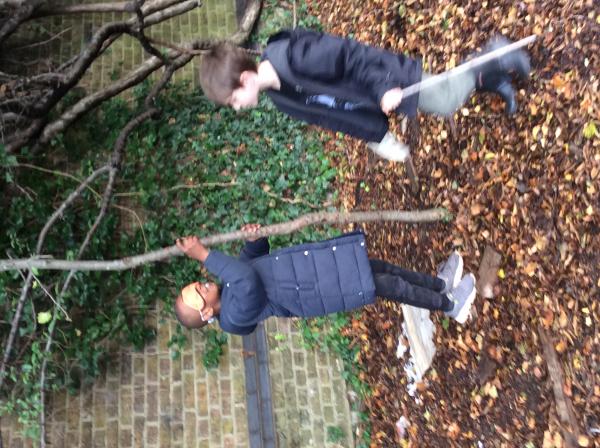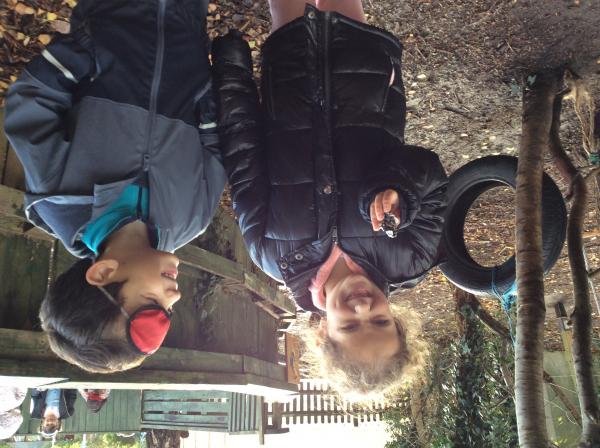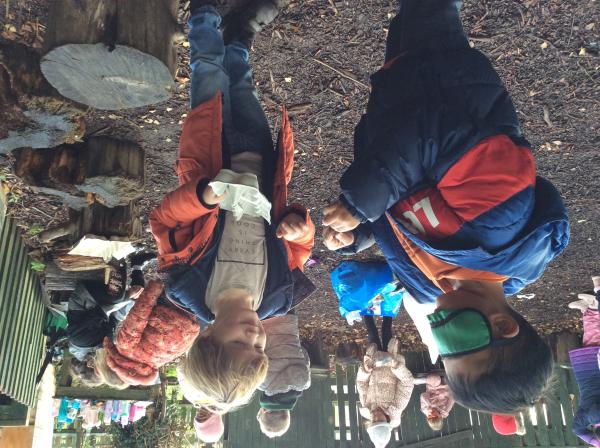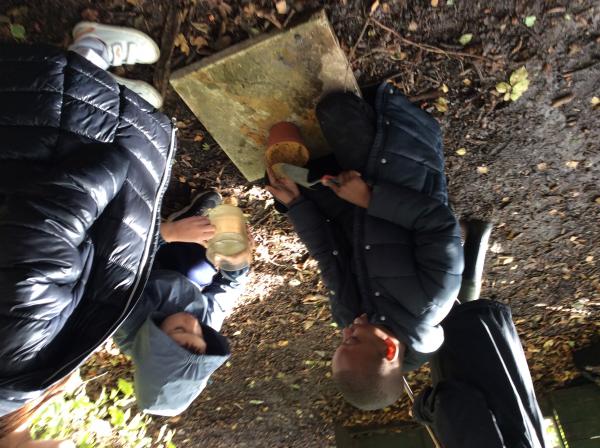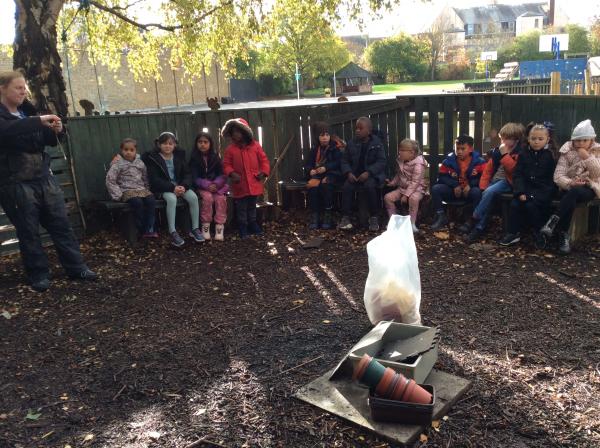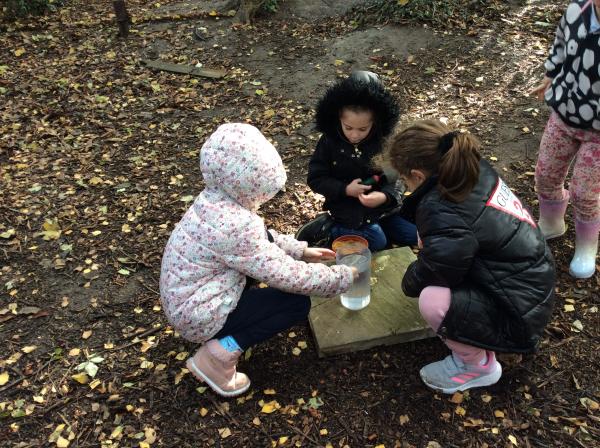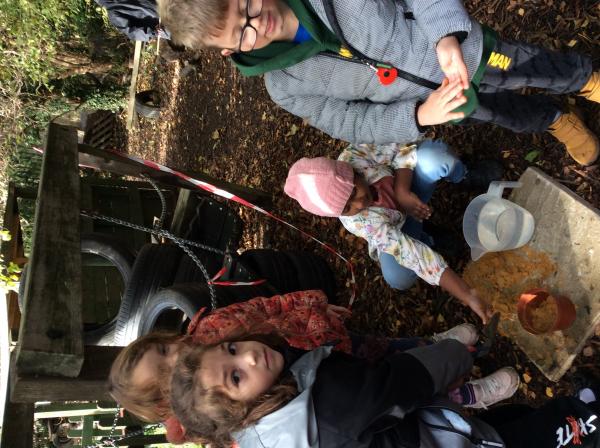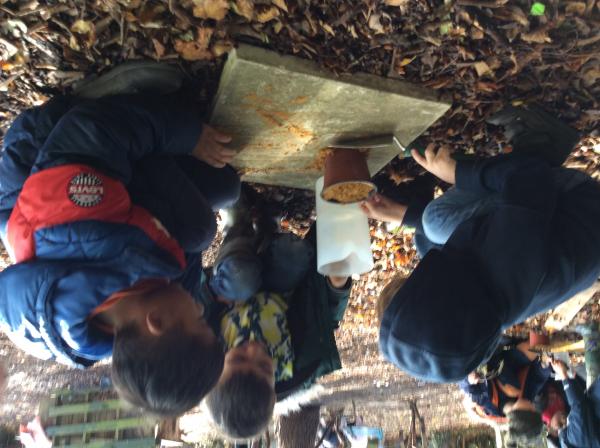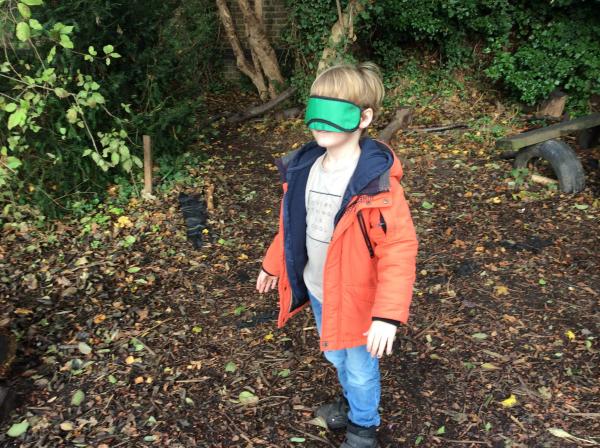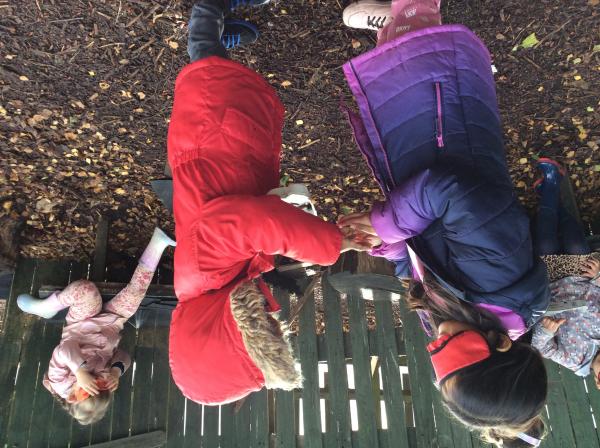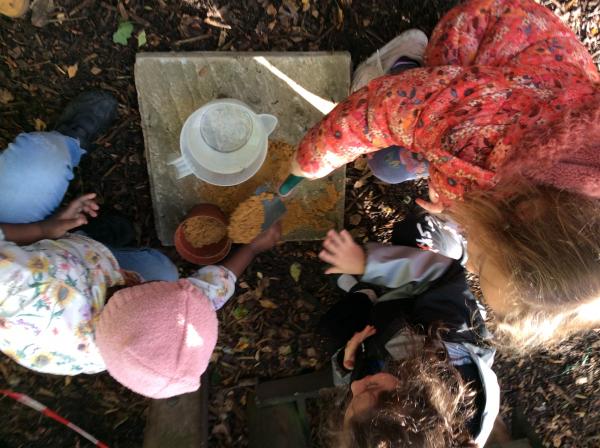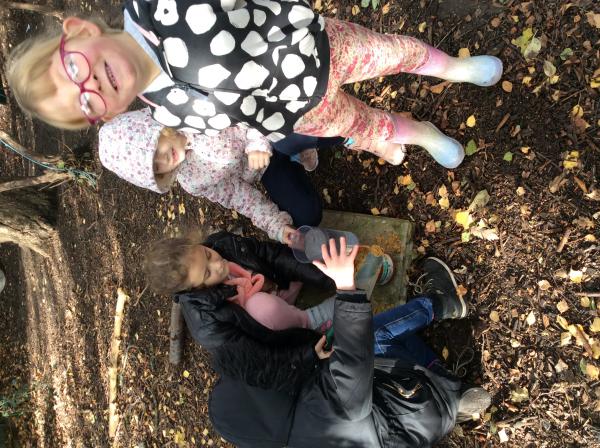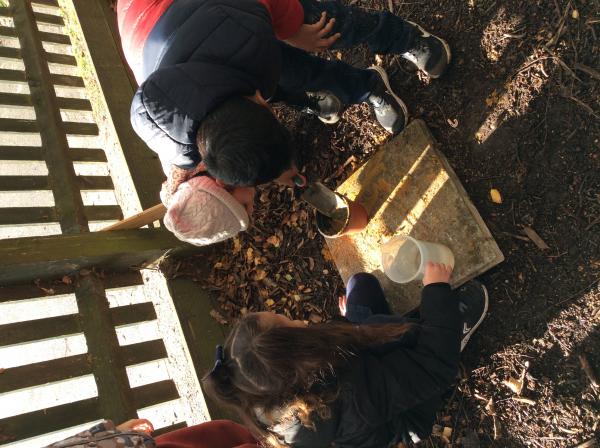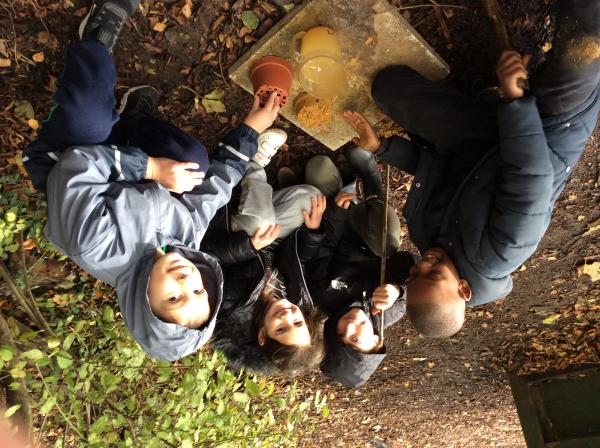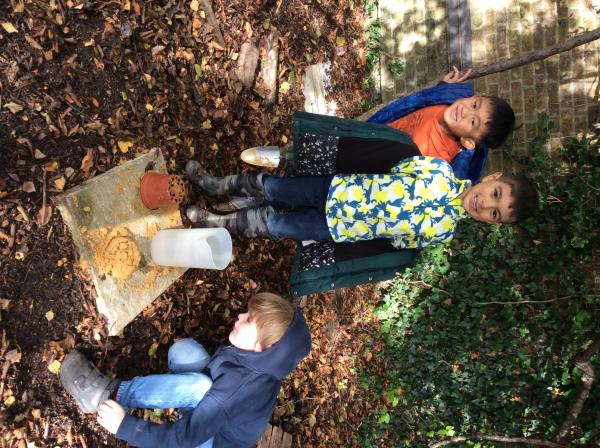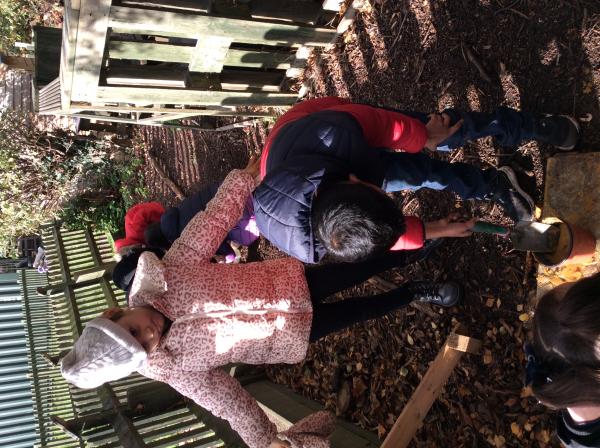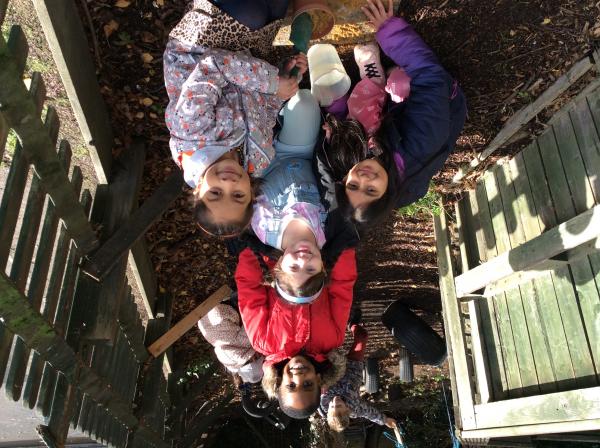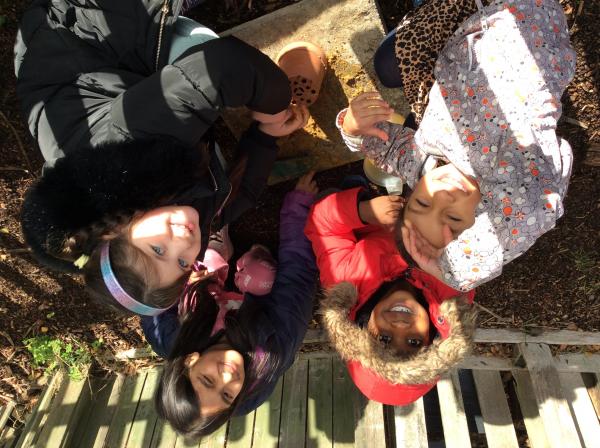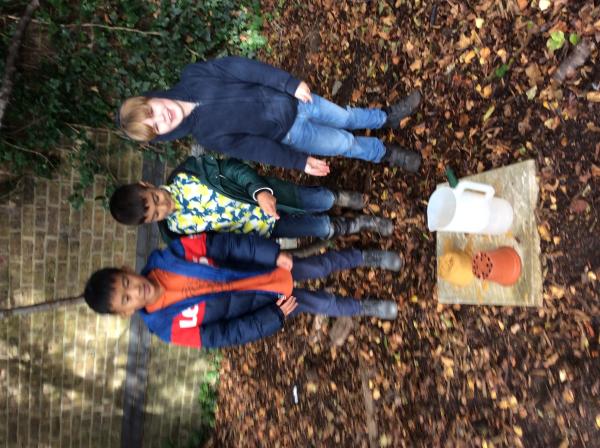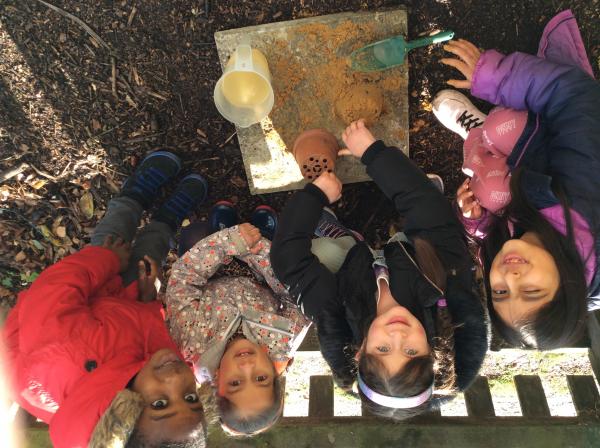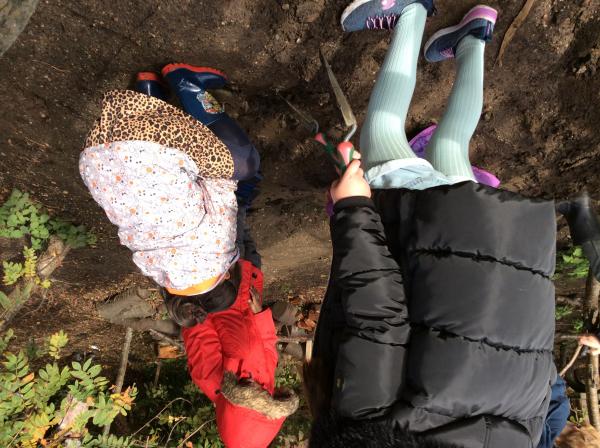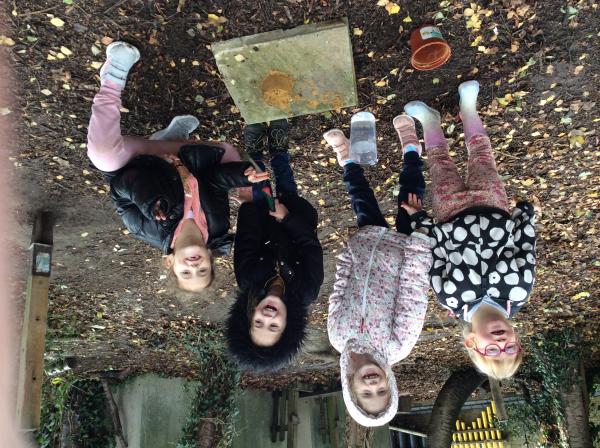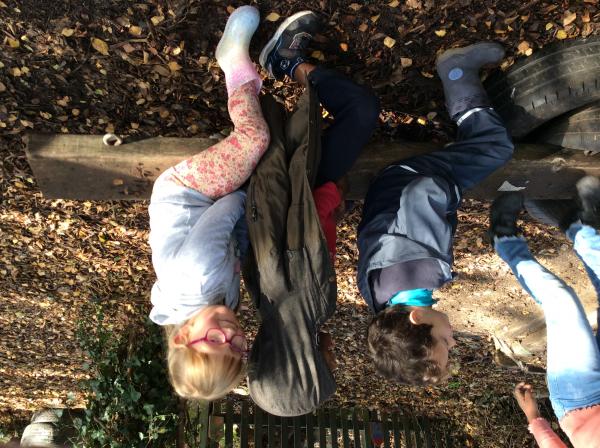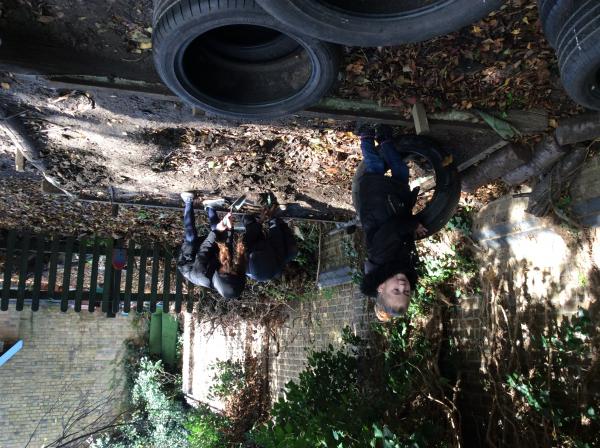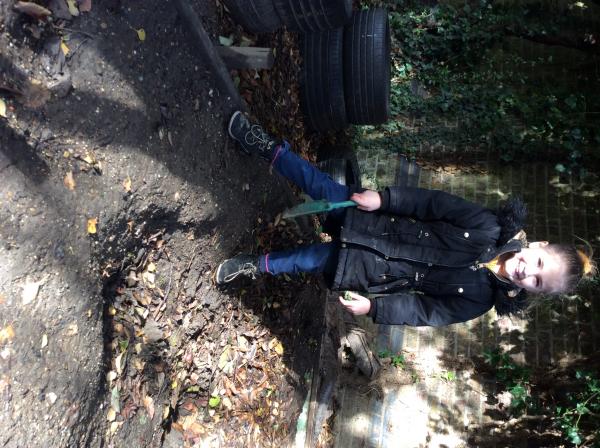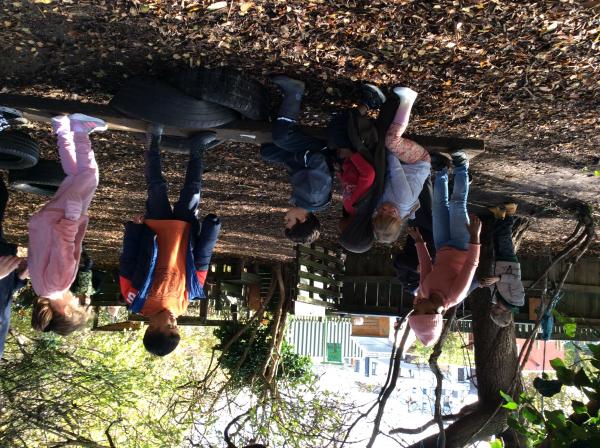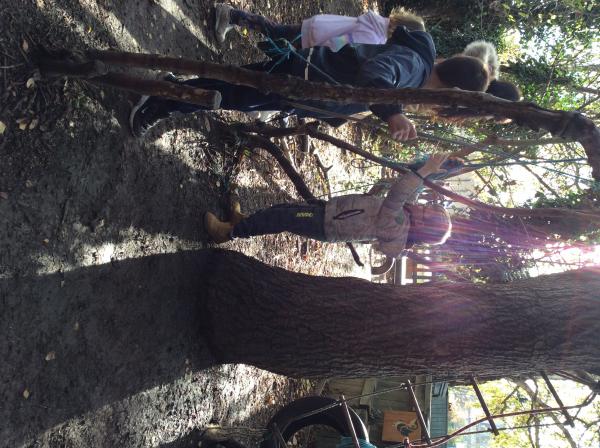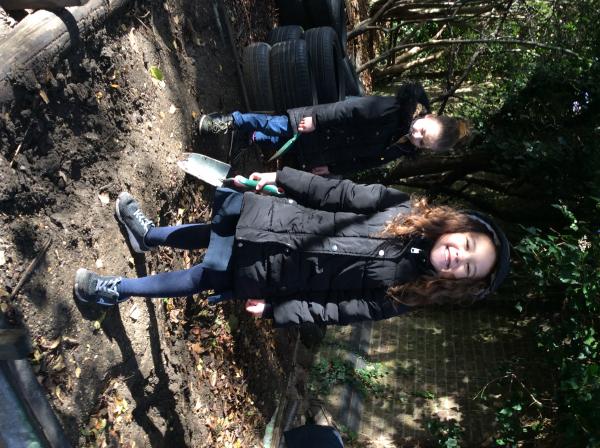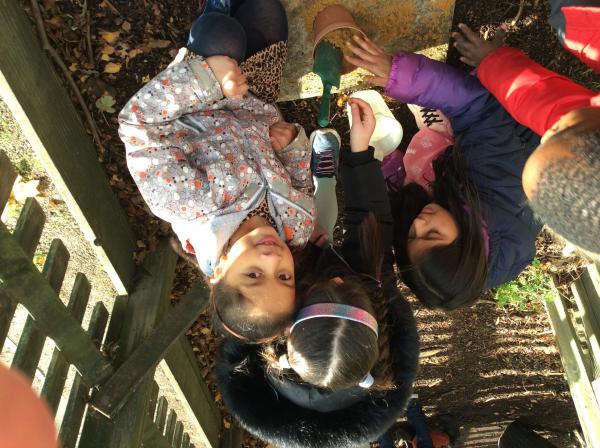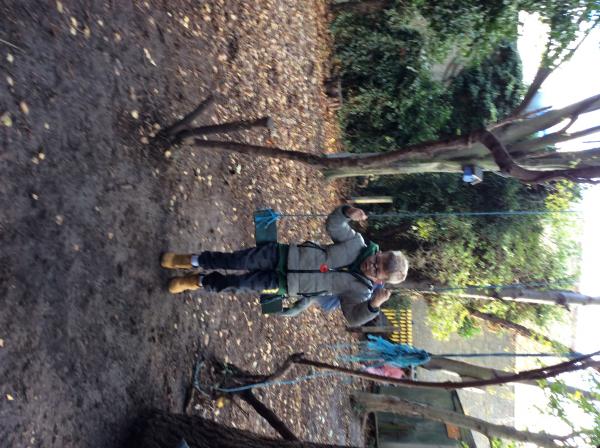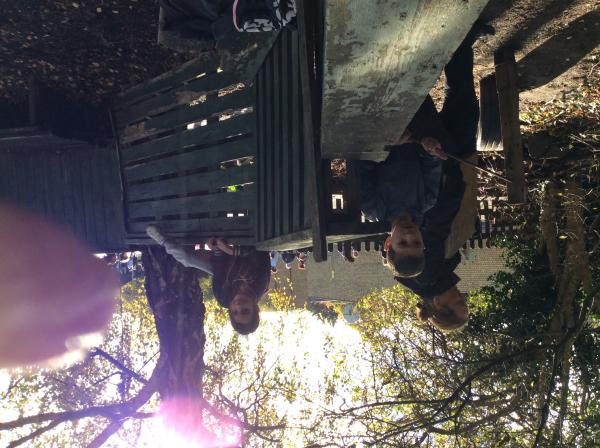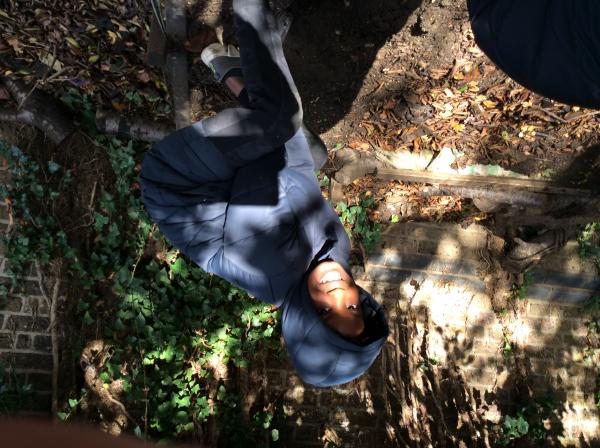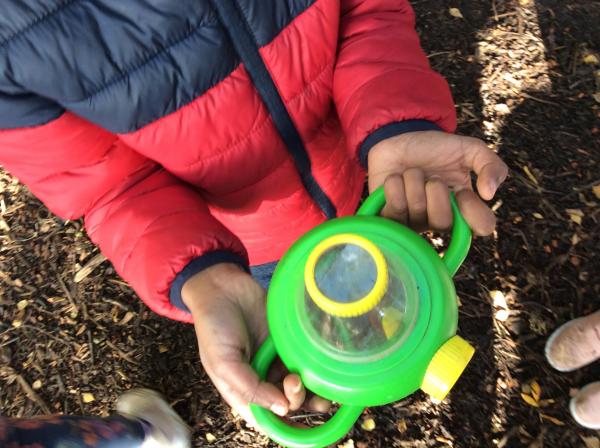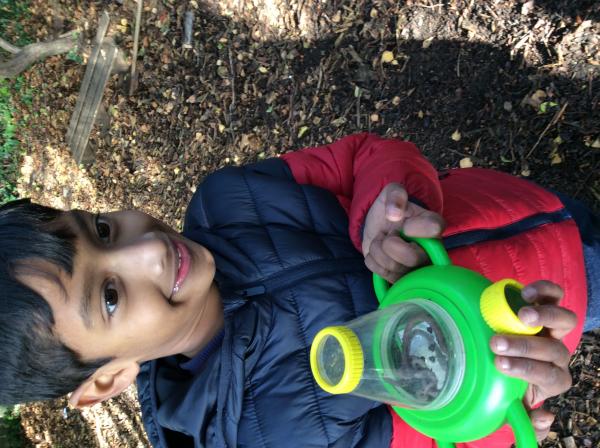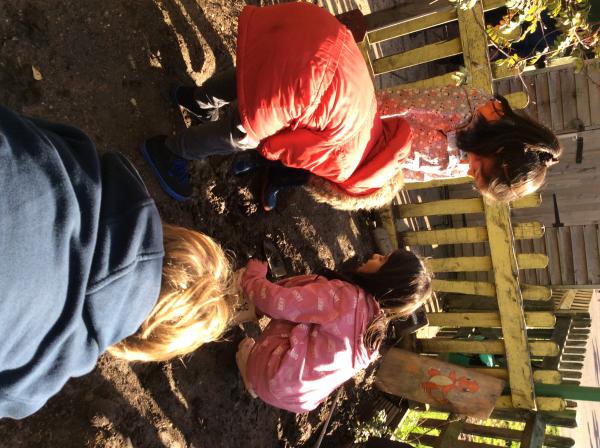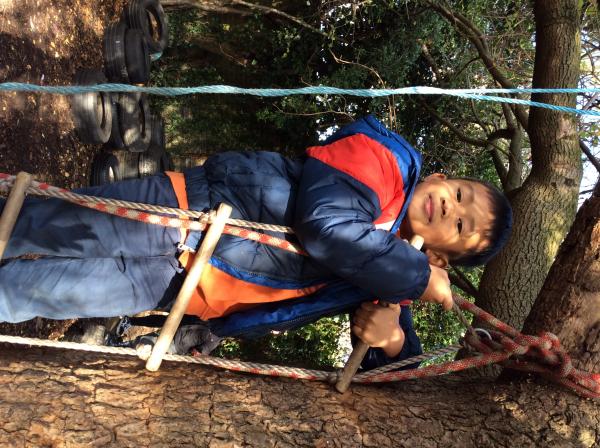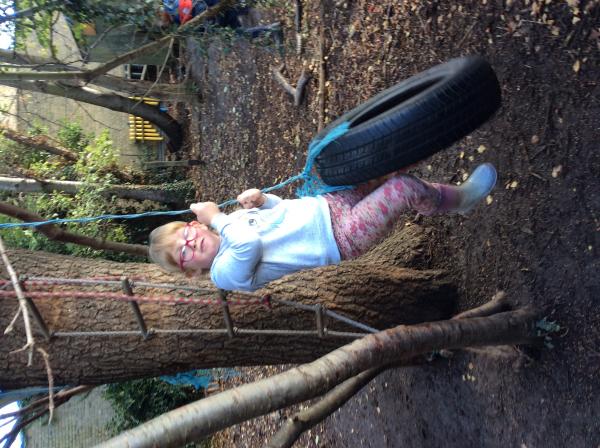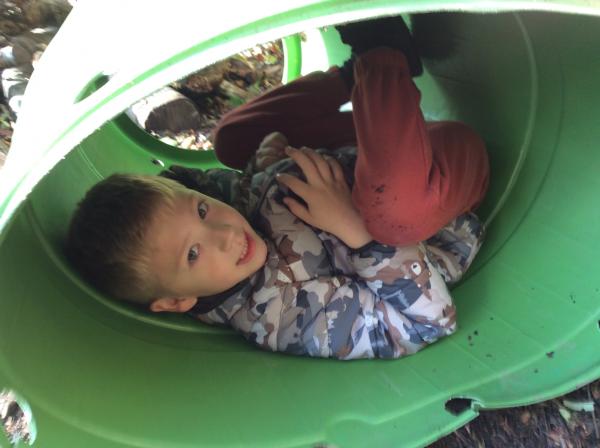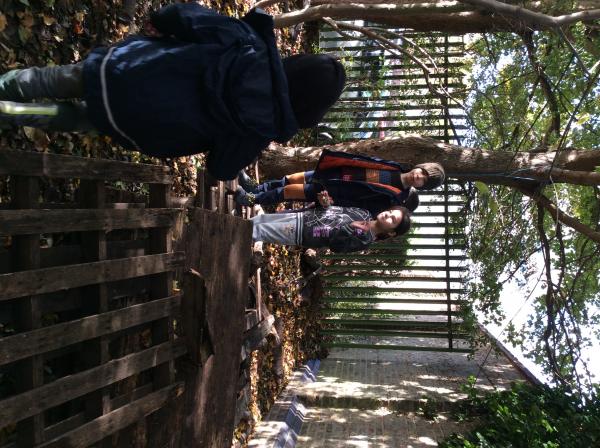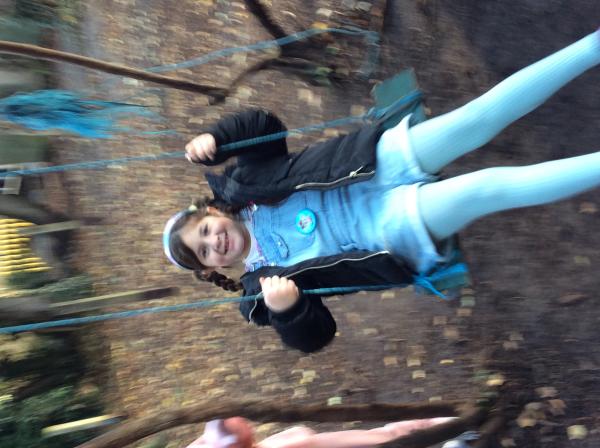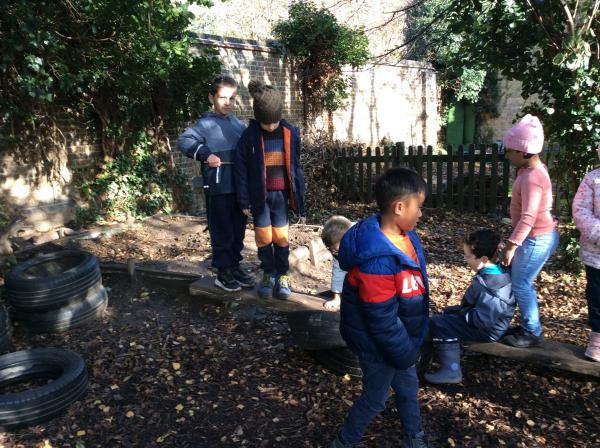 Remember, Remember the Fifth of November
Seahorses have been learning about Bonfire night and why we celebrate the fifth of November. They can recite the poem Remember Remember the Fifth of November and will give you lots of information about Guy Fawkes. Today outside they used chalk to create some firework drawings on the playground adding their onomatopoeia word learning too.
Whizz, crash, sparkle, boom, bang!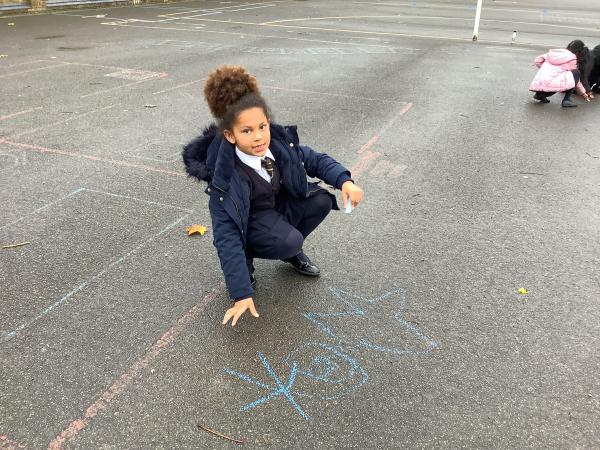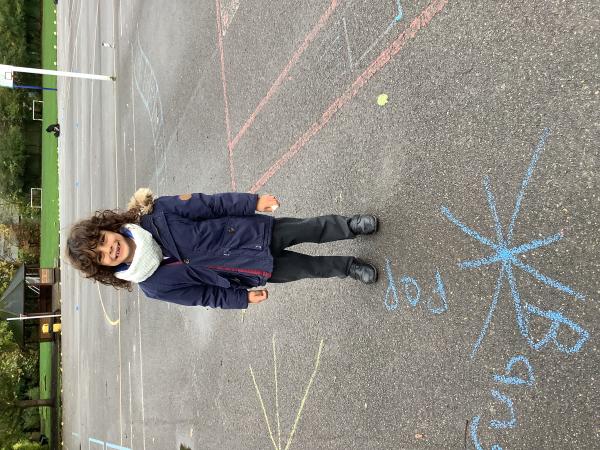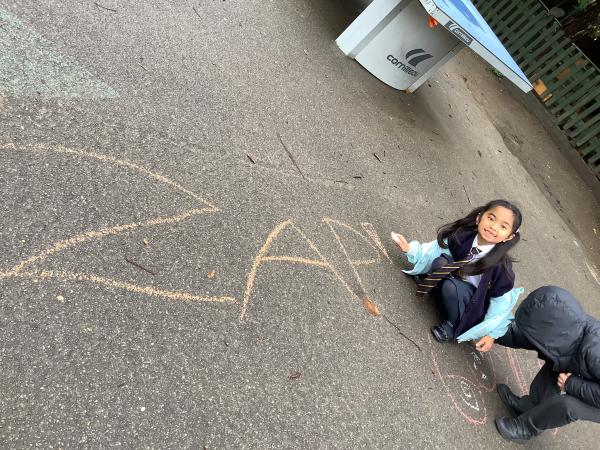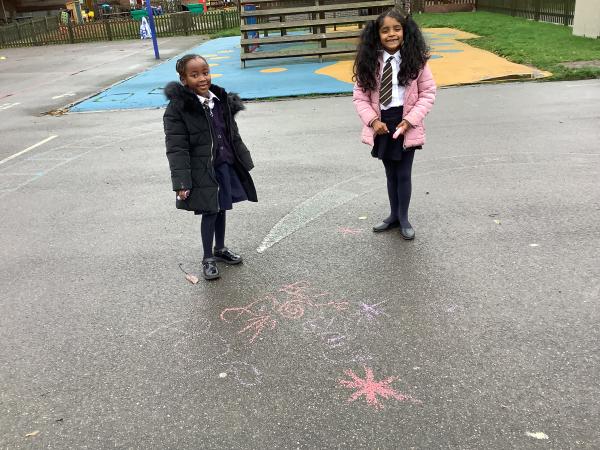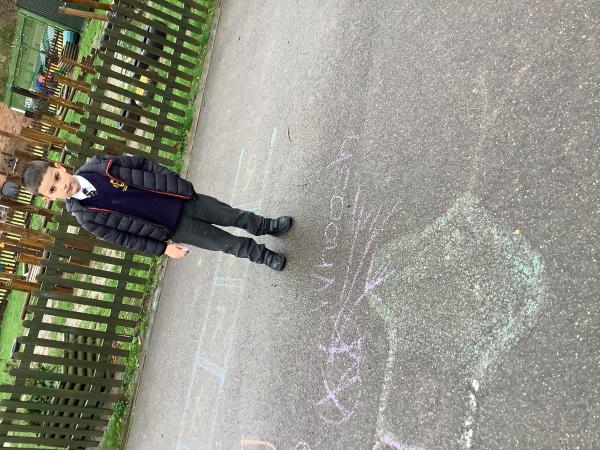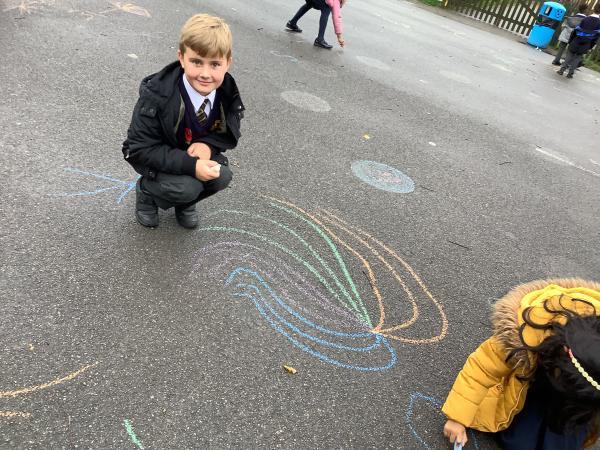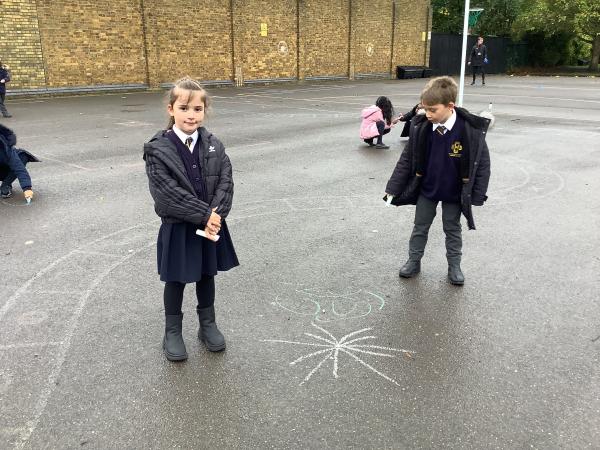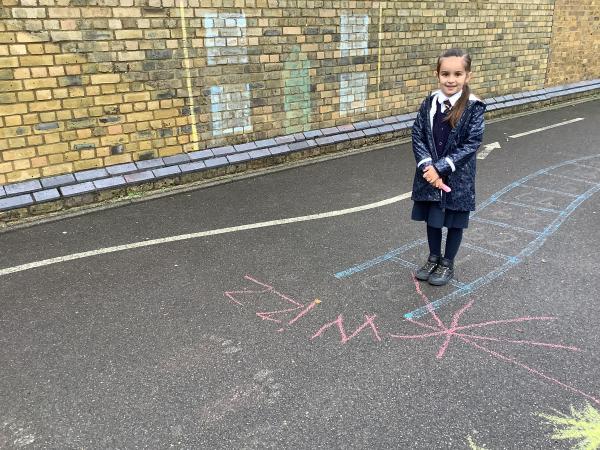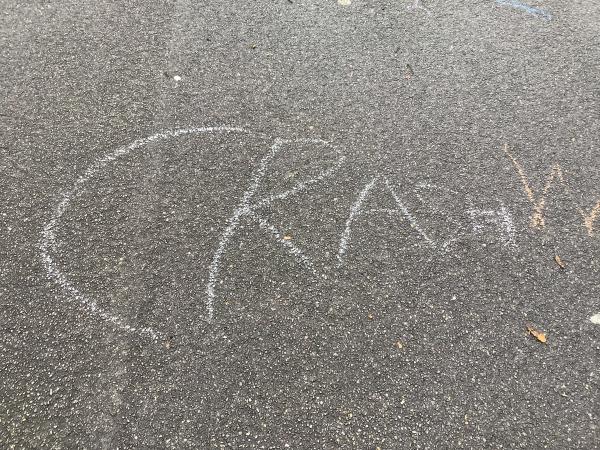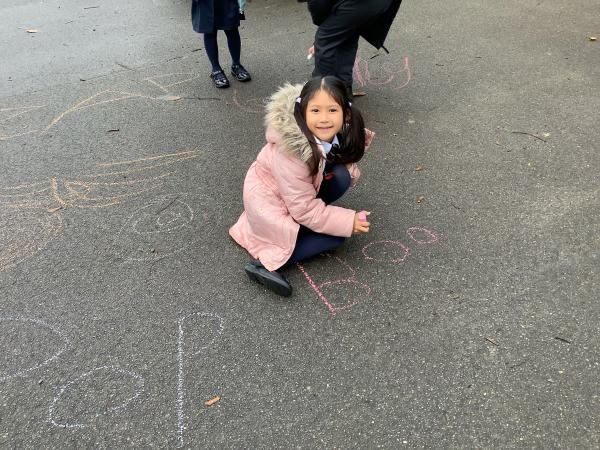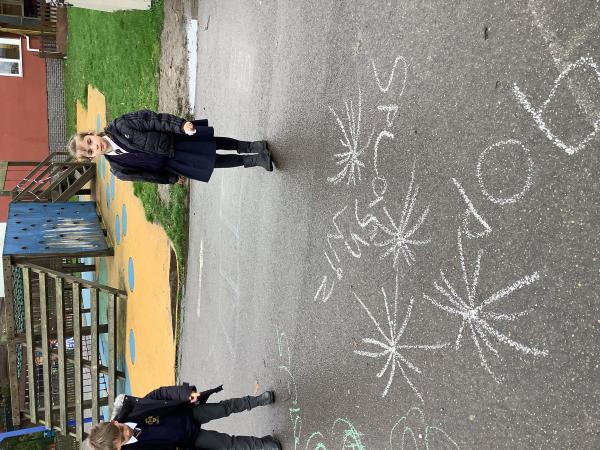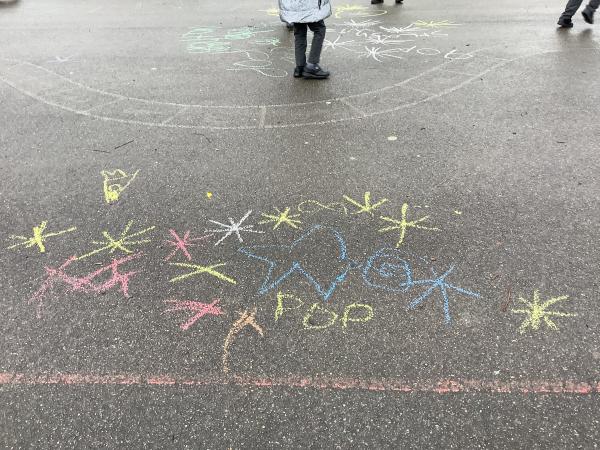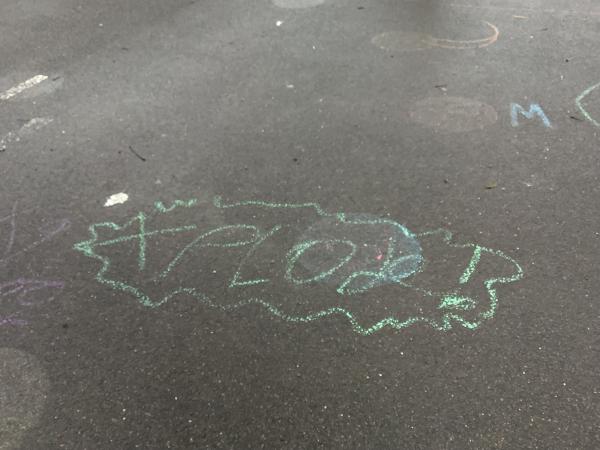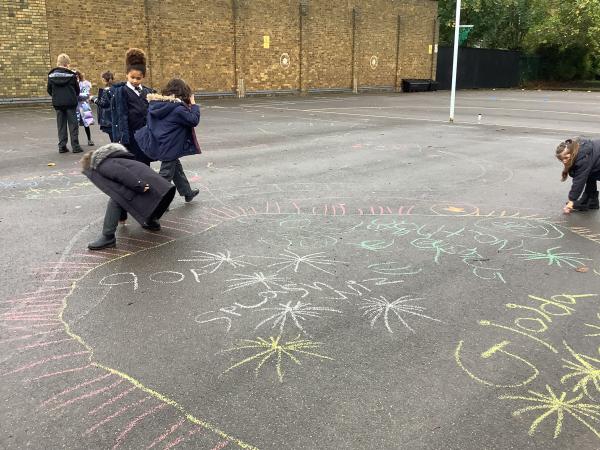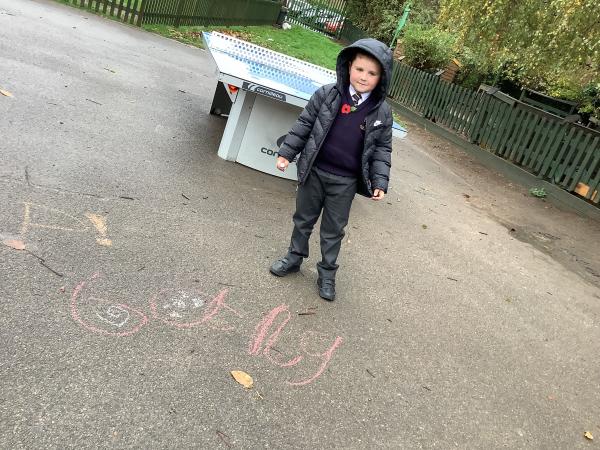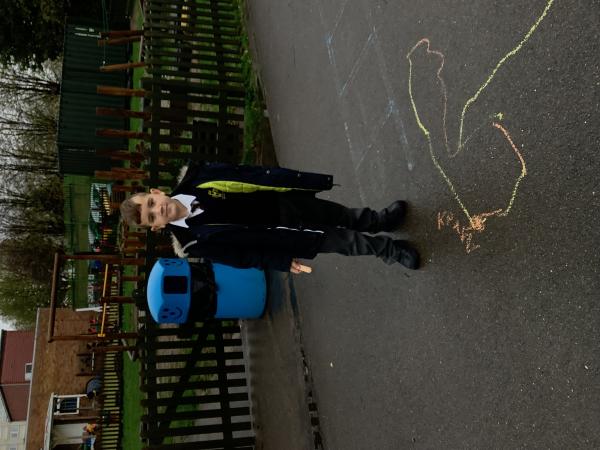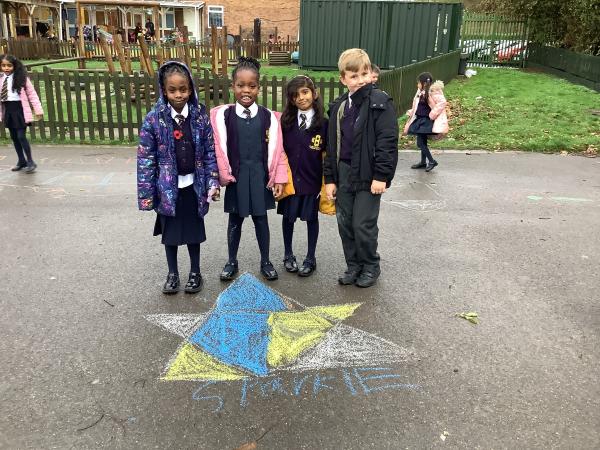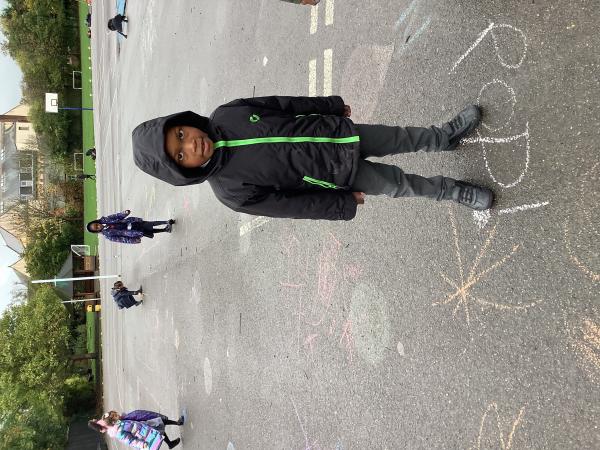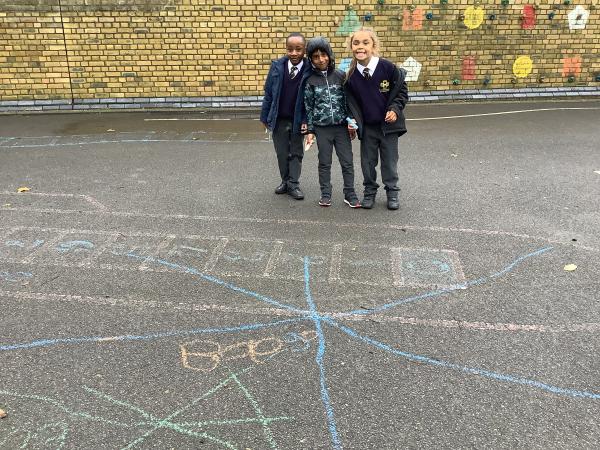 Seahorses playing The Colour Game collaboratively
Instructions written by 2 Seahorses
HOW TO PLAY THE COLOUR GAME
What you need
Skipping rope
Three friends
What to do
First, you need to friends to hold the skipping rope and discuss A colour together.
Next, your other friend has to jump over the skipping rope saying the colours.
Finally, when your friend that's guessing colours get your one that you discussed the person that was guessing swaps with A friend and it goes on and on.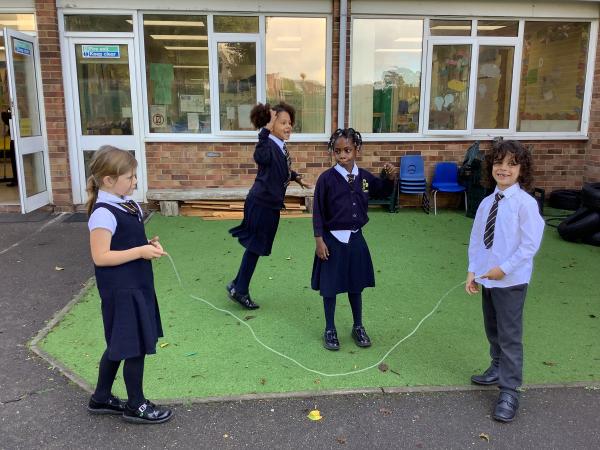 Building Shelters
Children in Seahorses applied their science learning about materials to build shelters for teddies or bugs in the nature area. The teddies were all kept warm, safe and protected from the elements. The bug hotels were luxurious and fun with feathers for benches to create safe landings if they fell!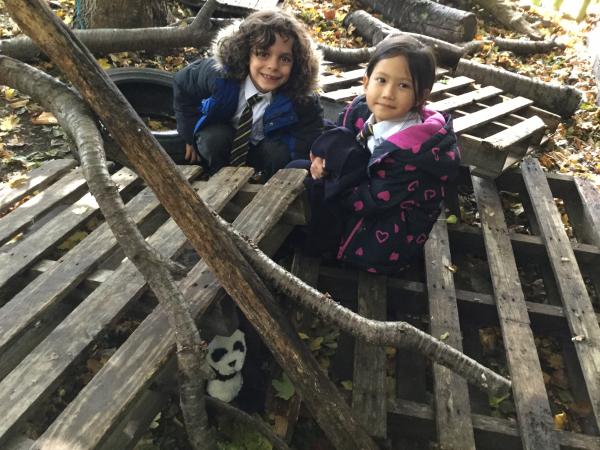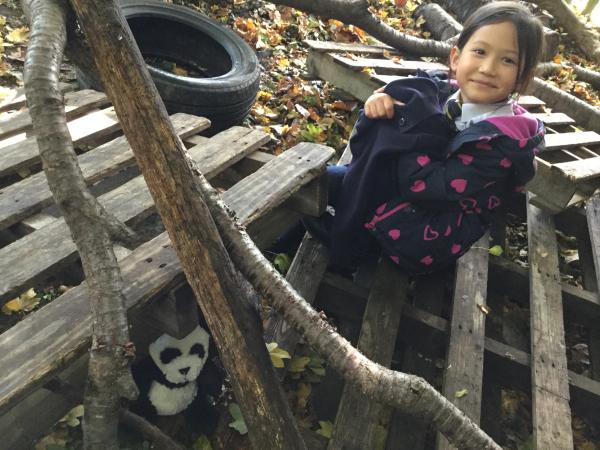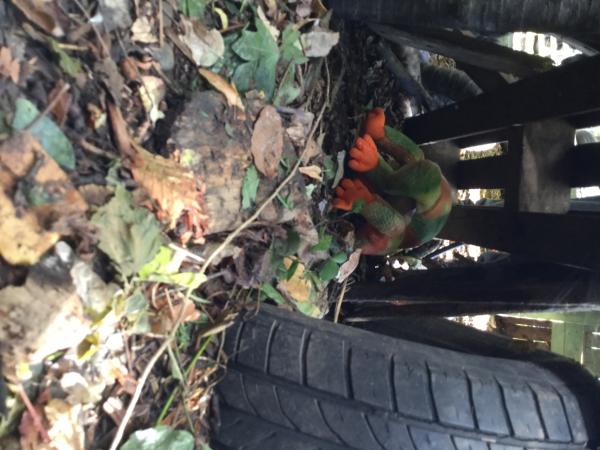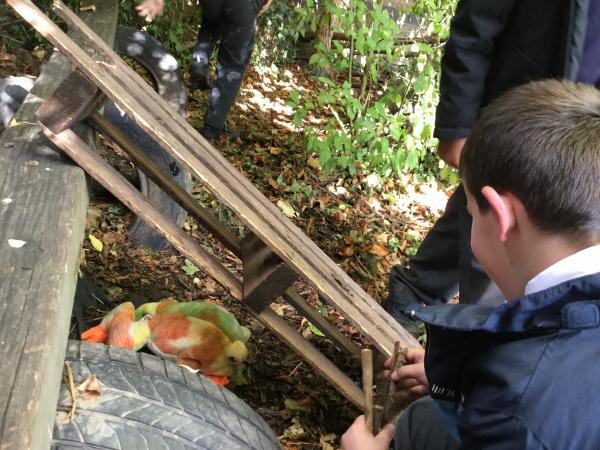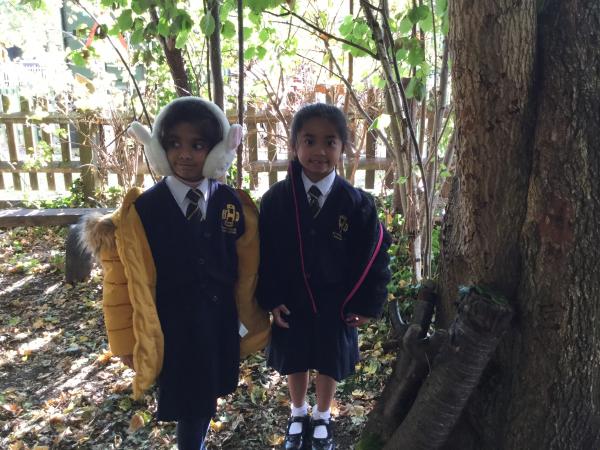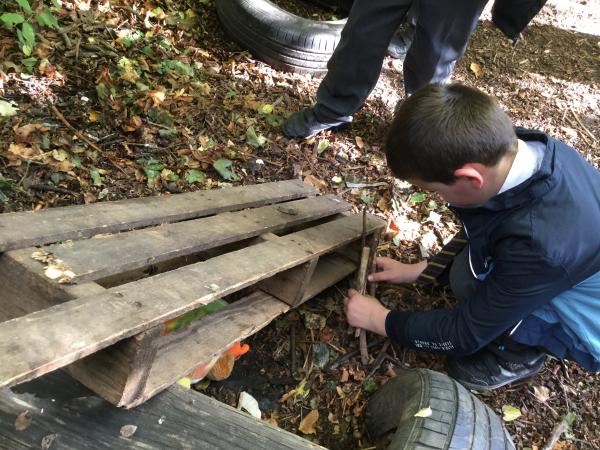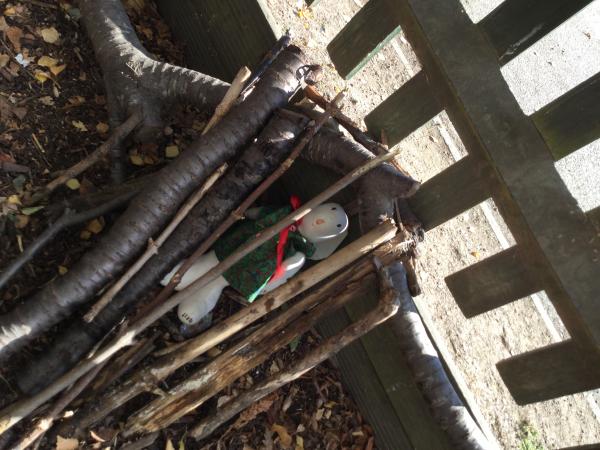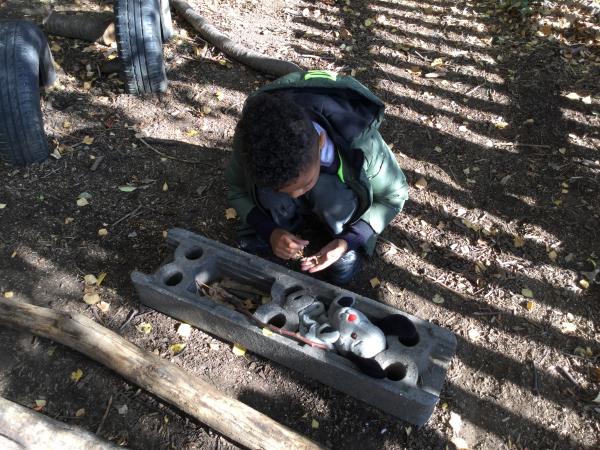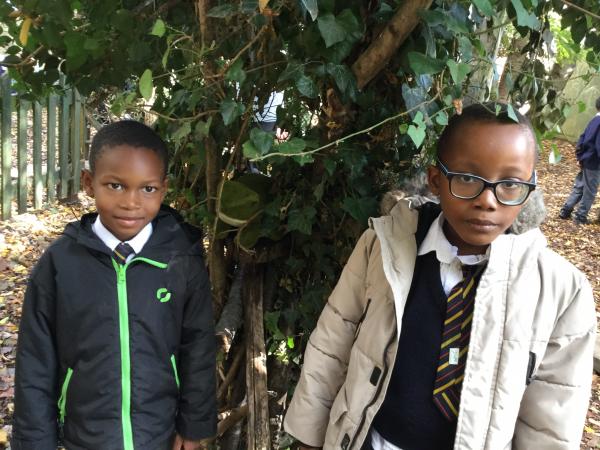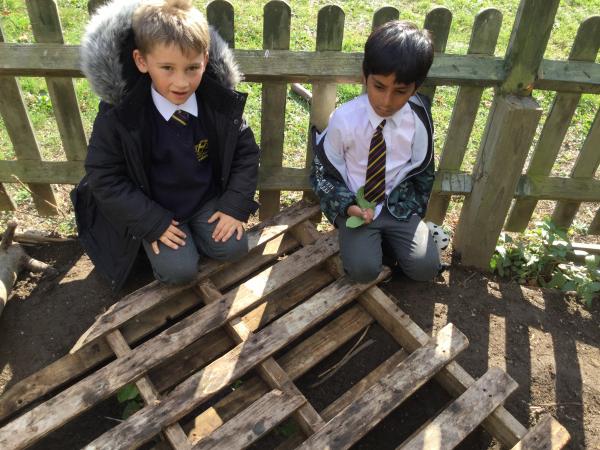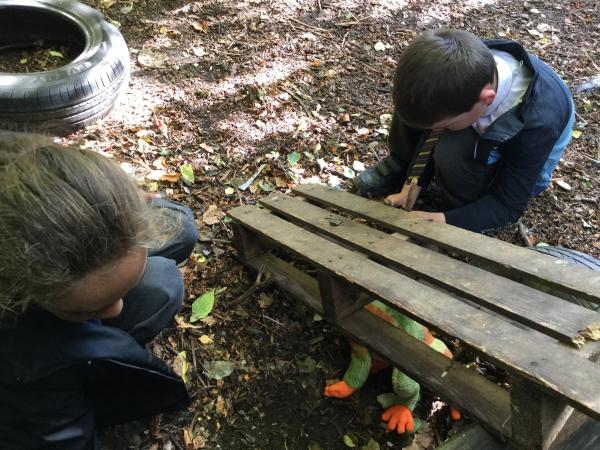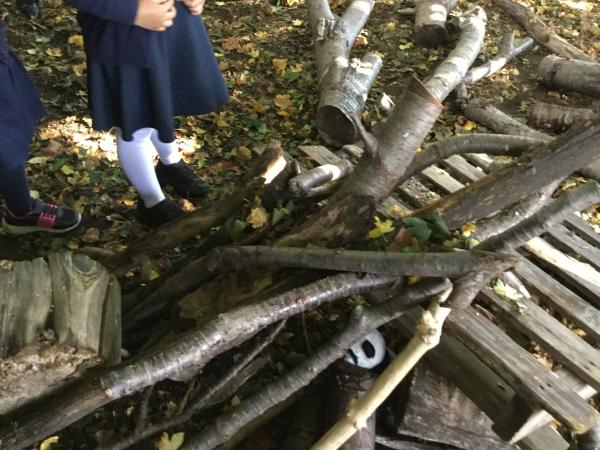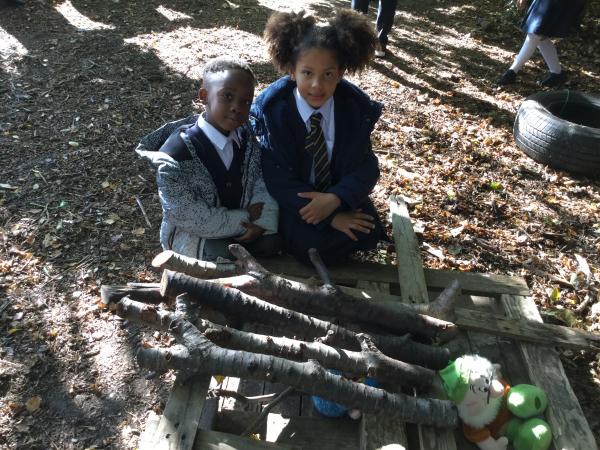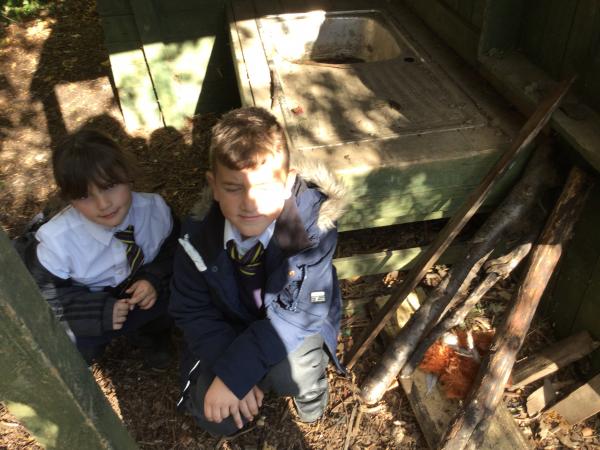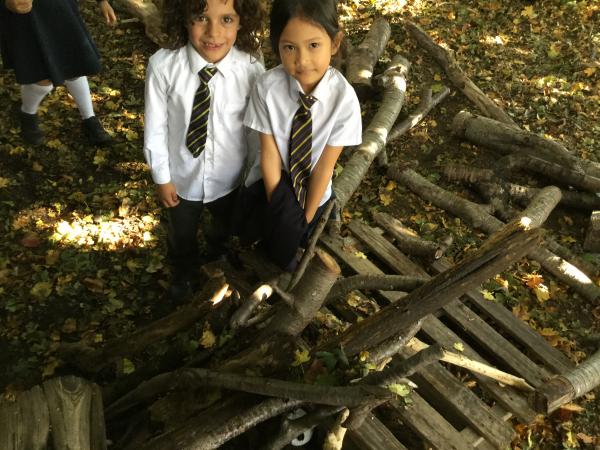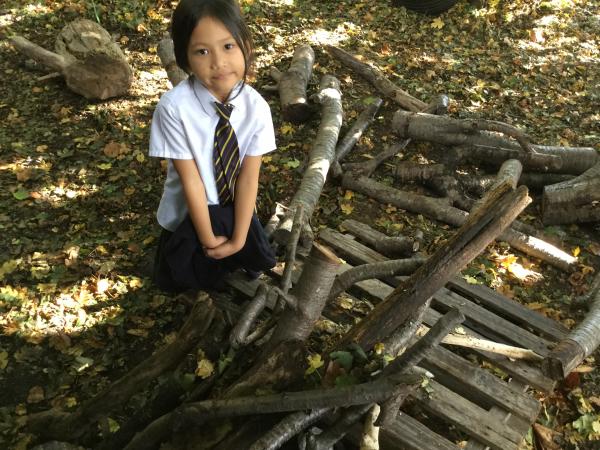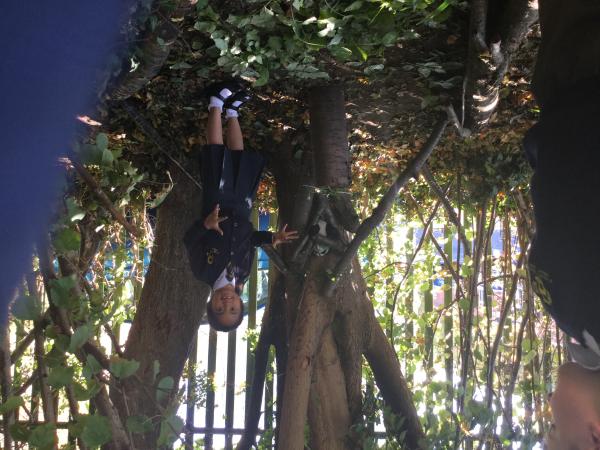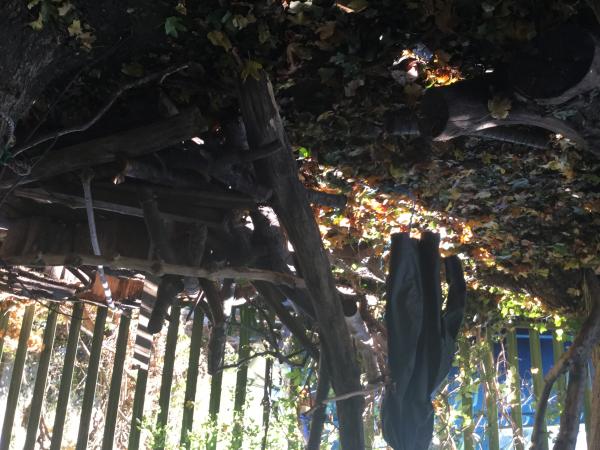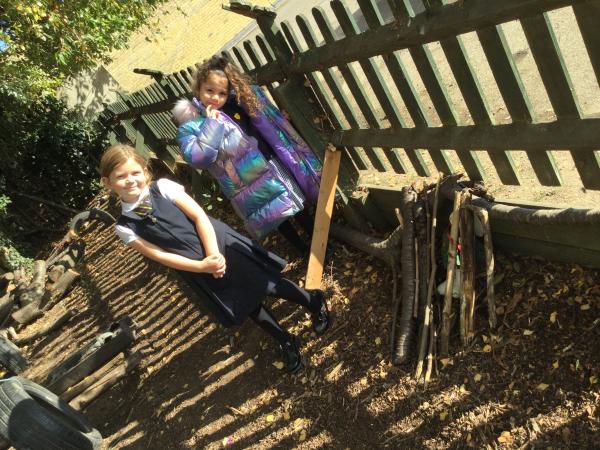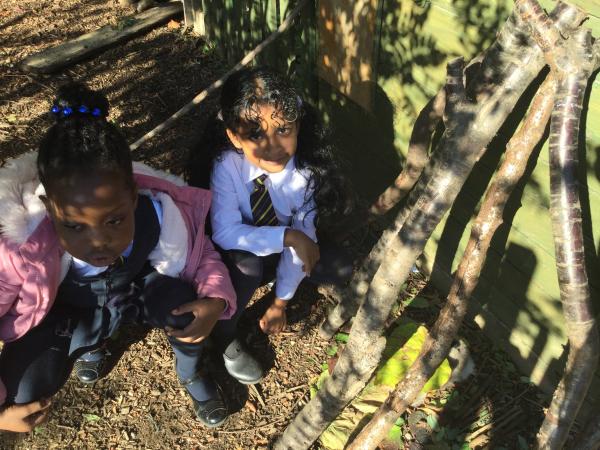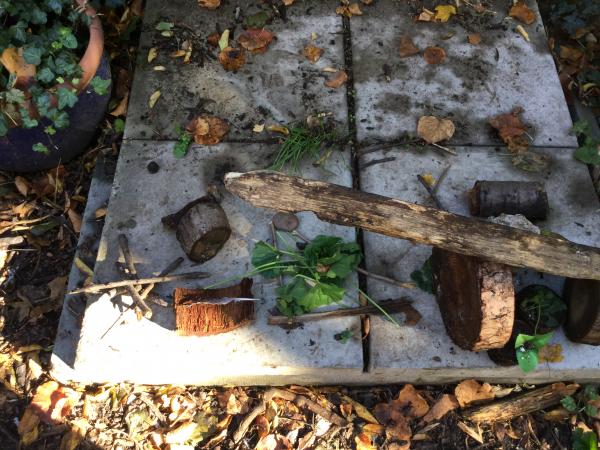 How to be Thor!
Members of Seahorses class sharing their instructions on how to be a superhero with their class mates. After learning a text 'How to be Spiderman!' with actions, the children in class innovated their story as a whole class producing 'How to be Thor!' before independently applying their new learning in their writing. They have all been superheroes this week!
.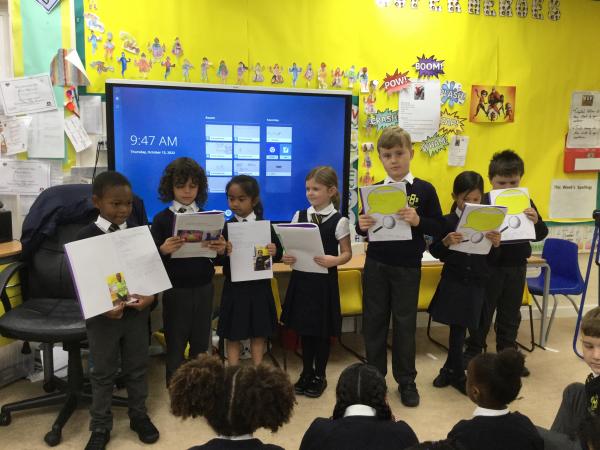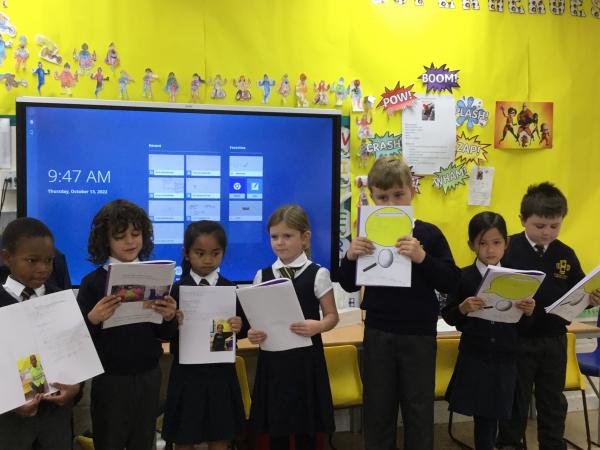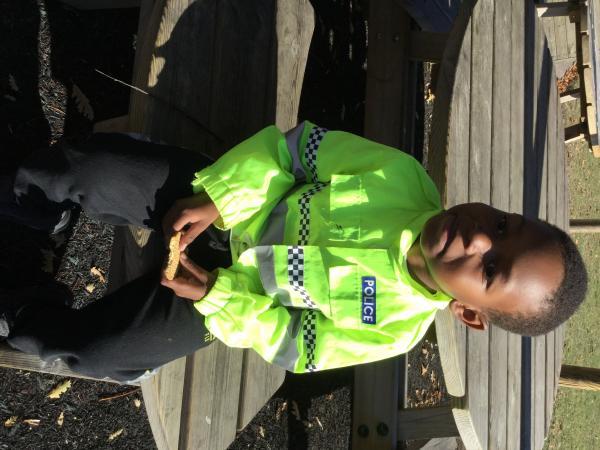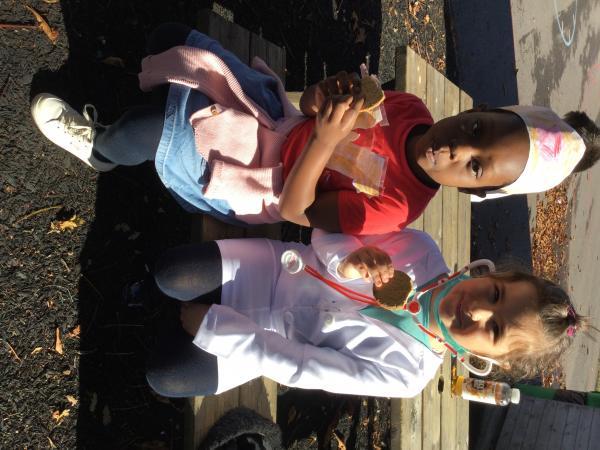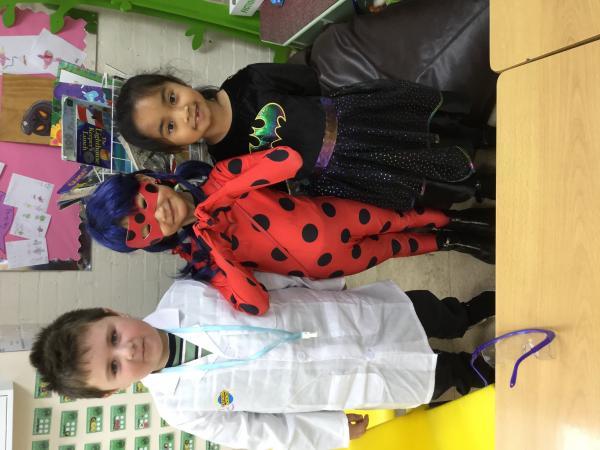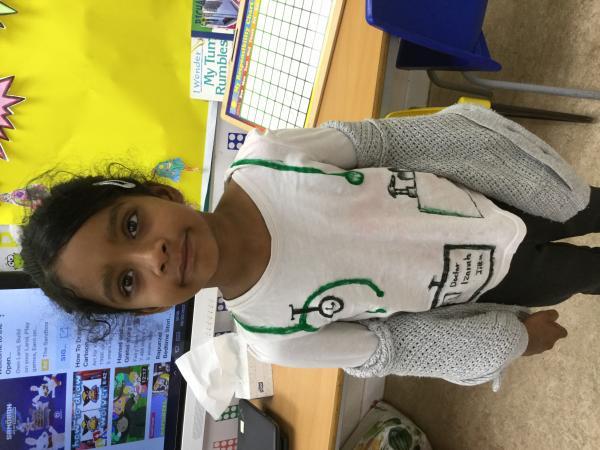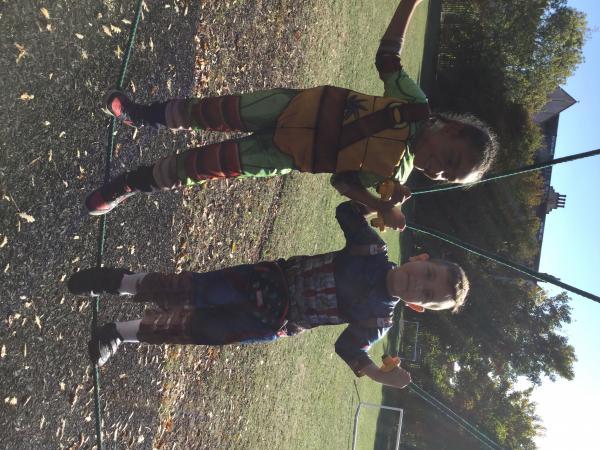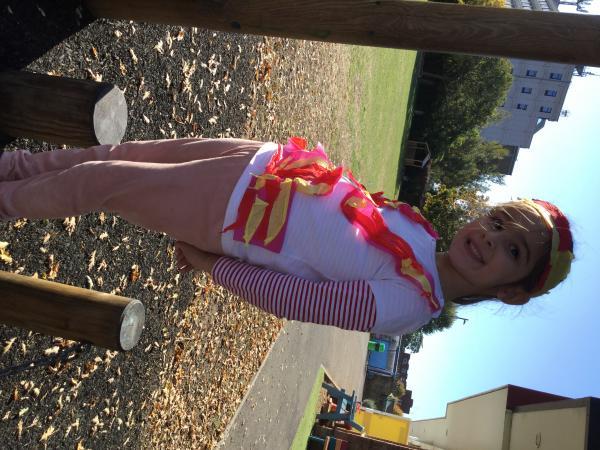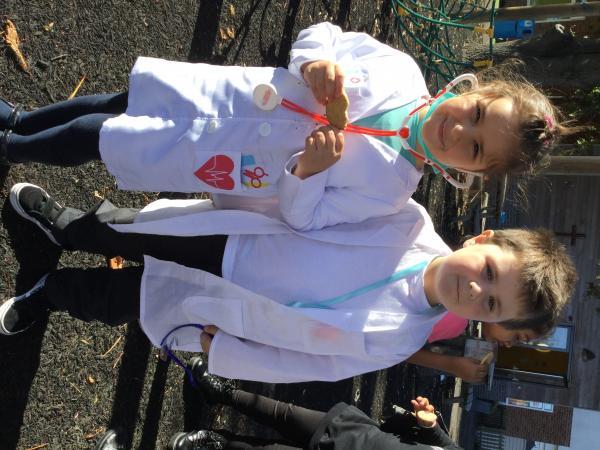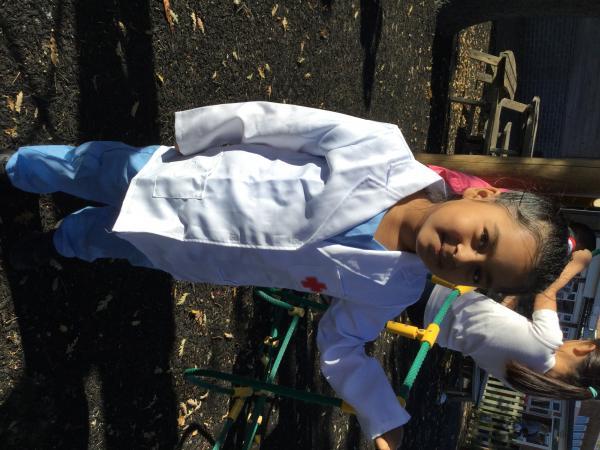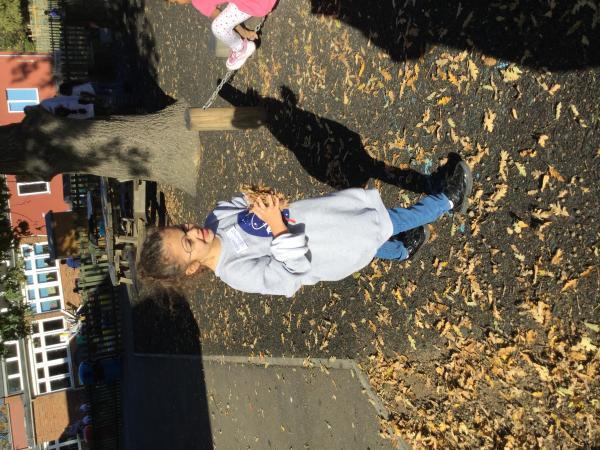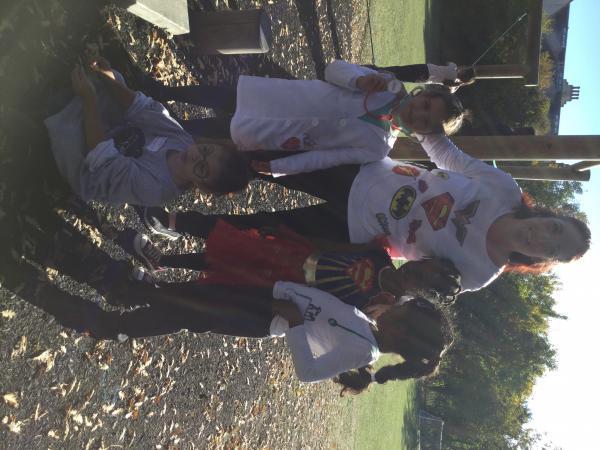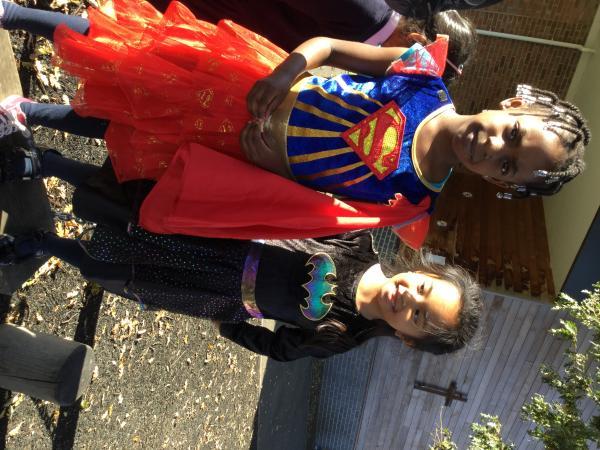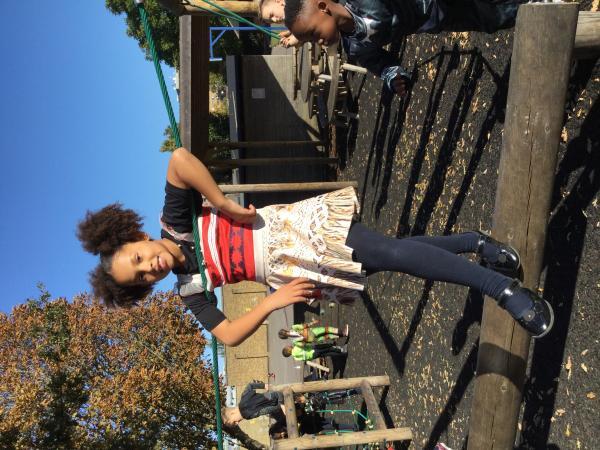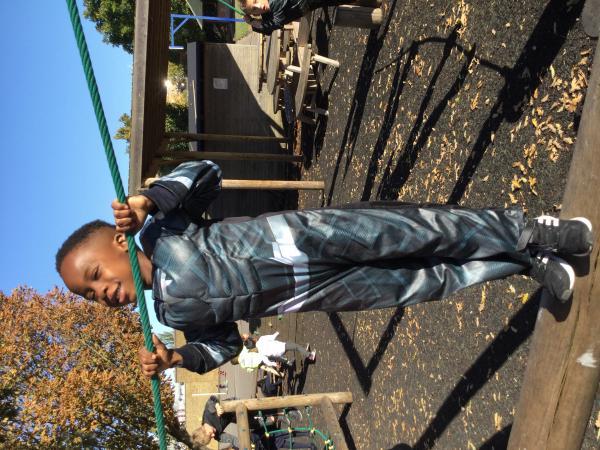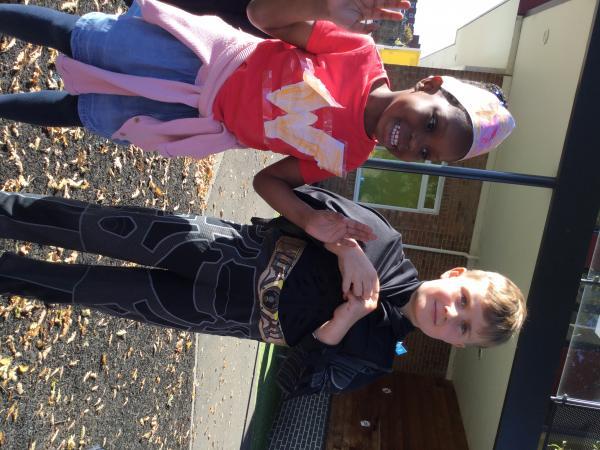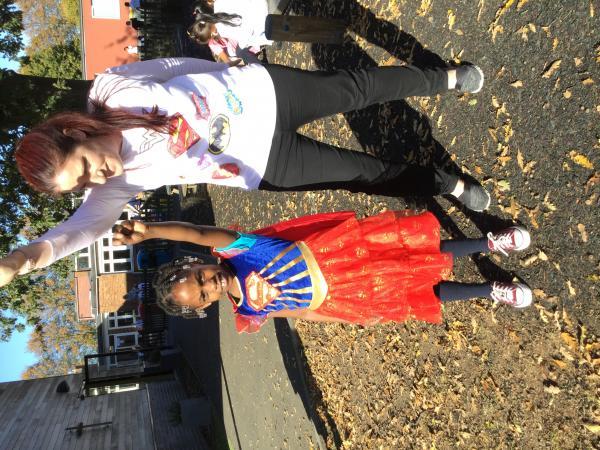 Oysters finding natural materials
Oysters were very busy in the Nature Area yesterday. As their Science topic is Materials, they used the blindfolds, finding a natural material, presenting it to a friend who in turn had to describe it and guess what it was. Some very descriptive vocabulary was used by all. Moving on, oysters worked in groups to design a natural shelter for a small teddy. Again discussion was key in making their shelter comfortable, protected from wind and rain and durable!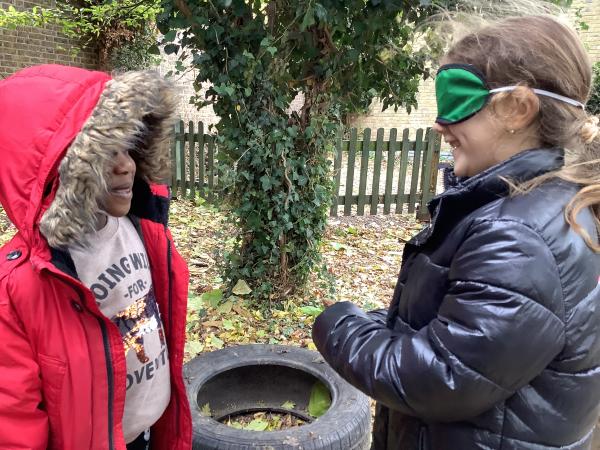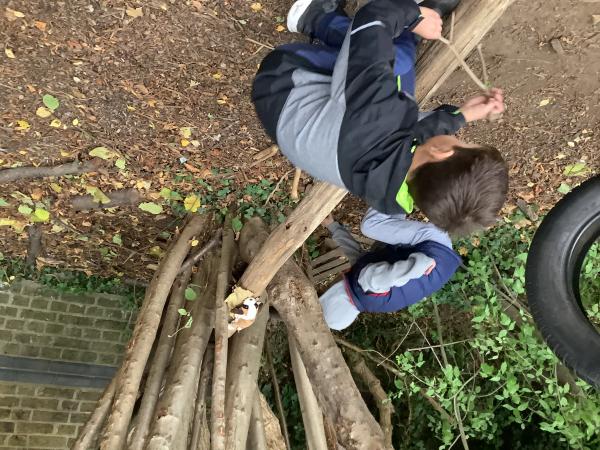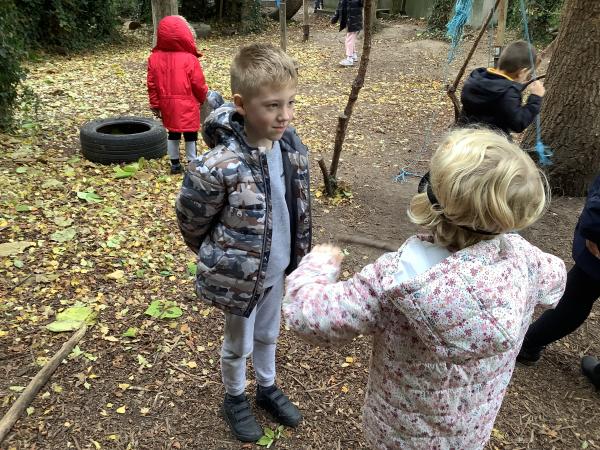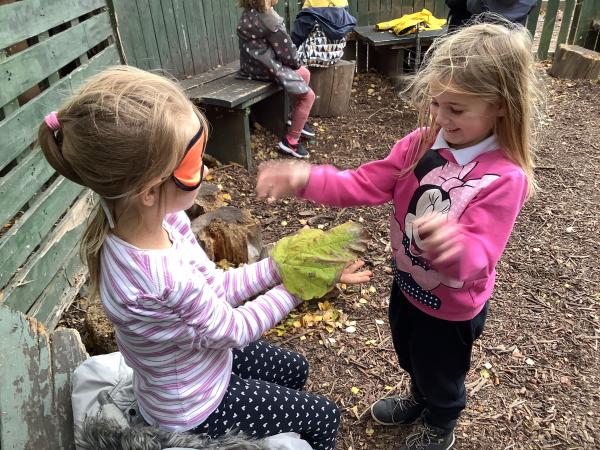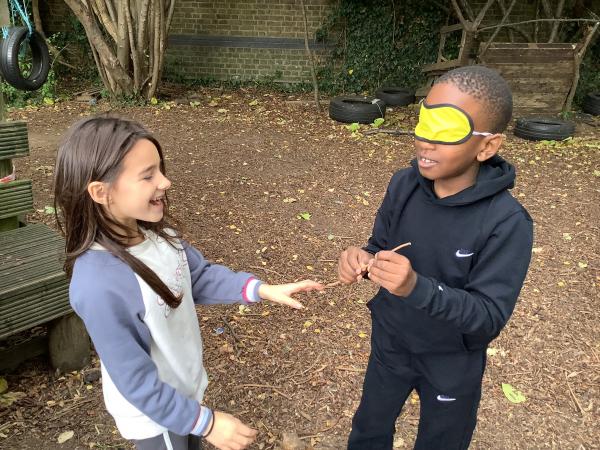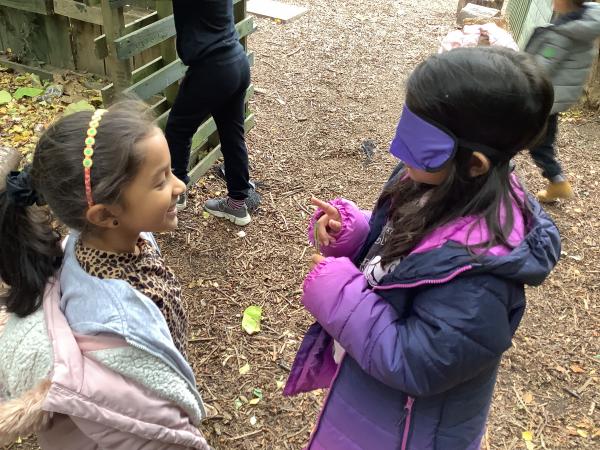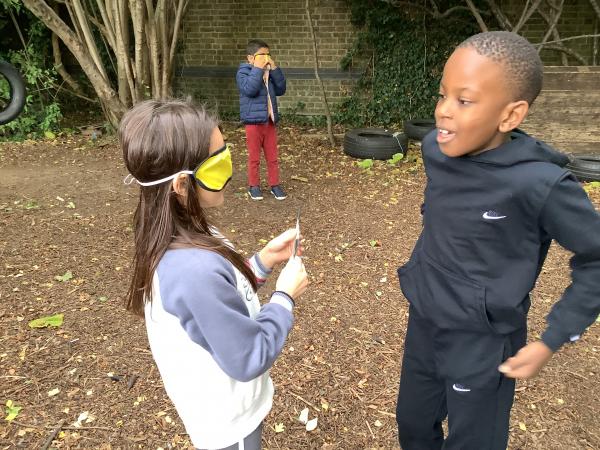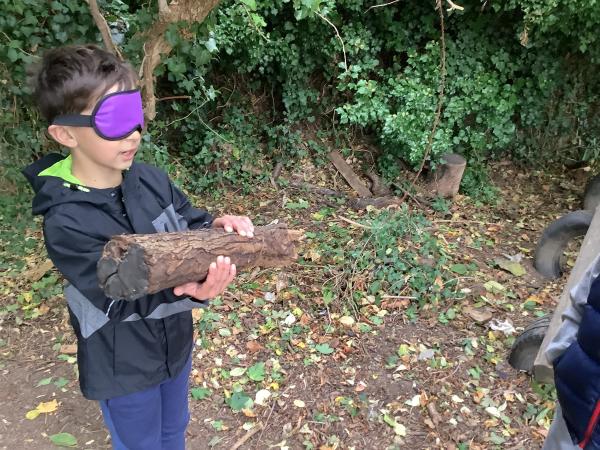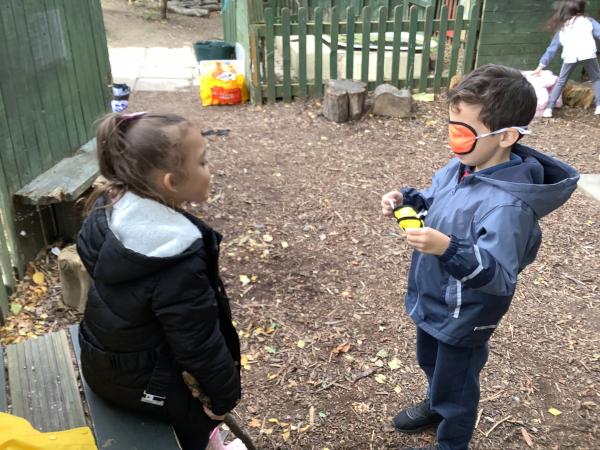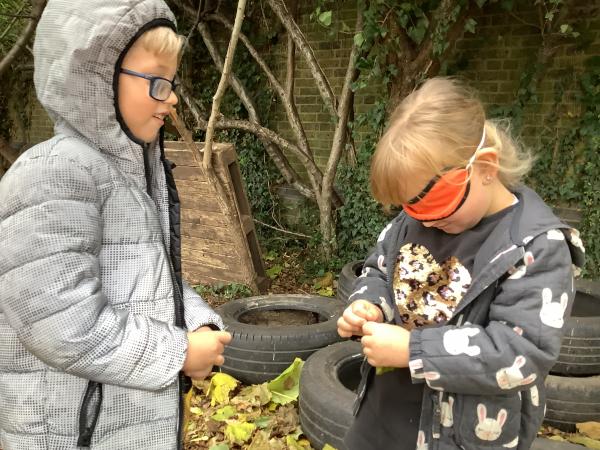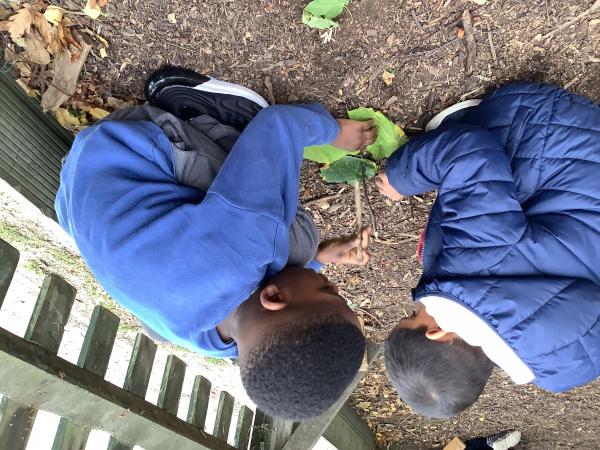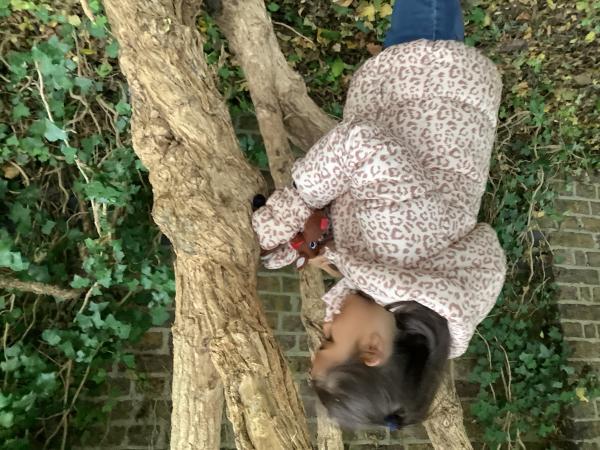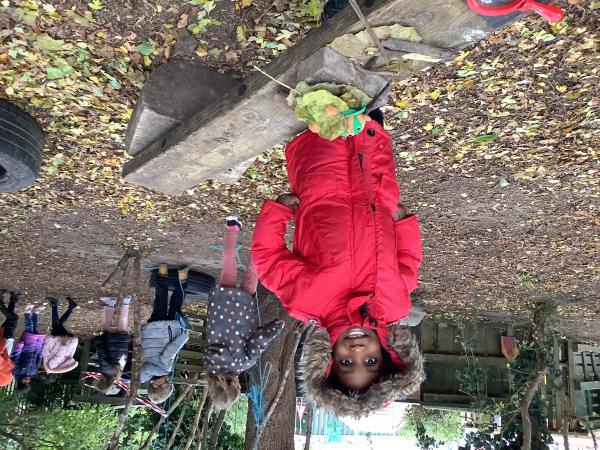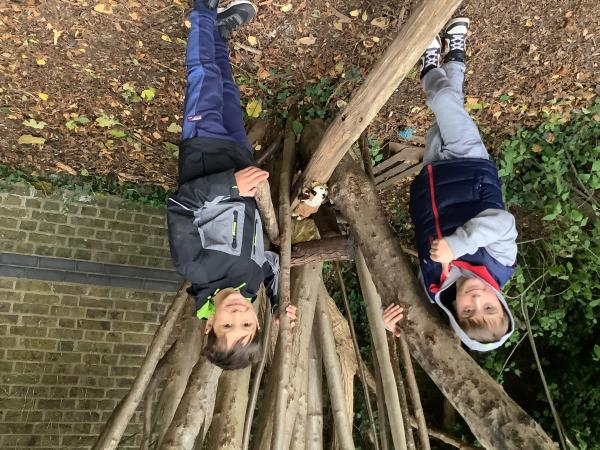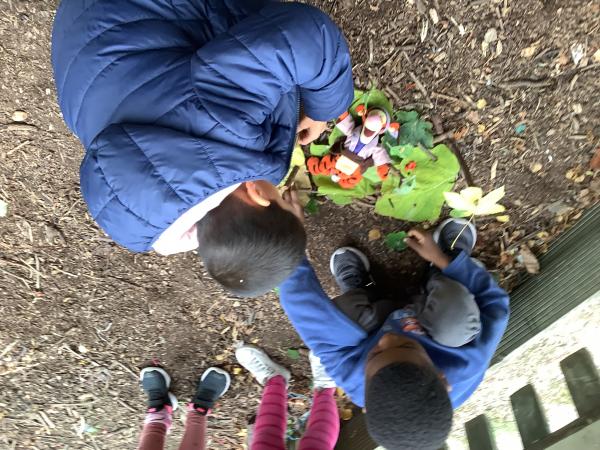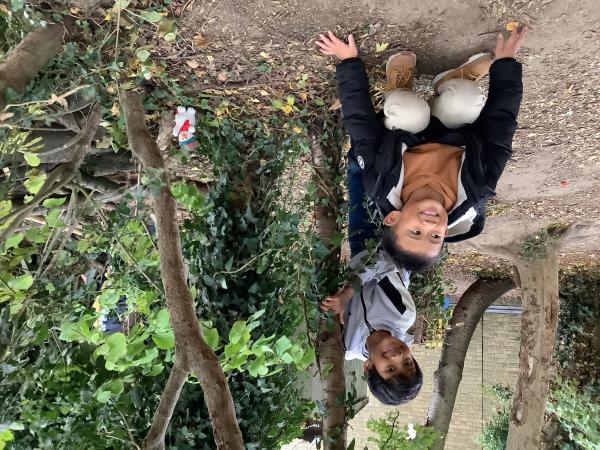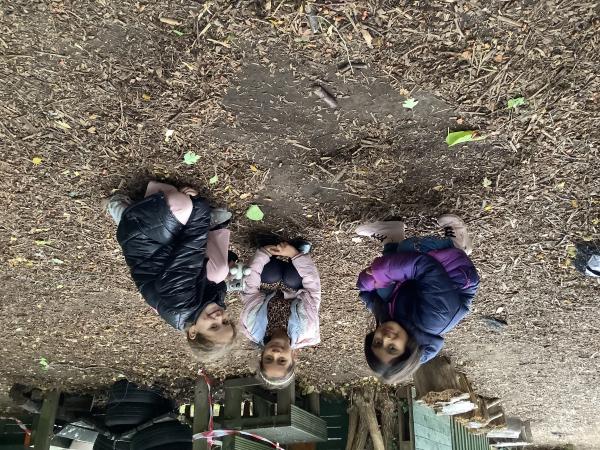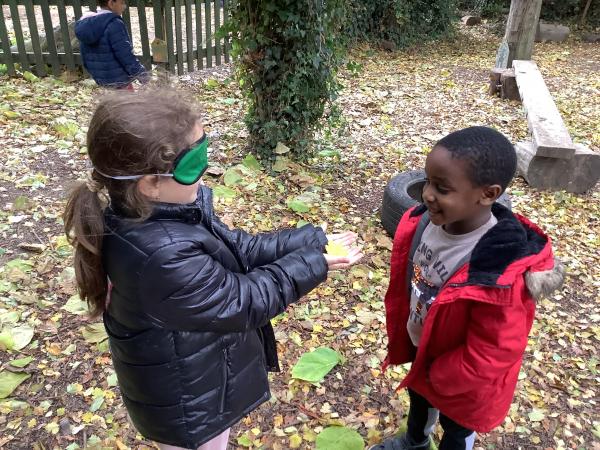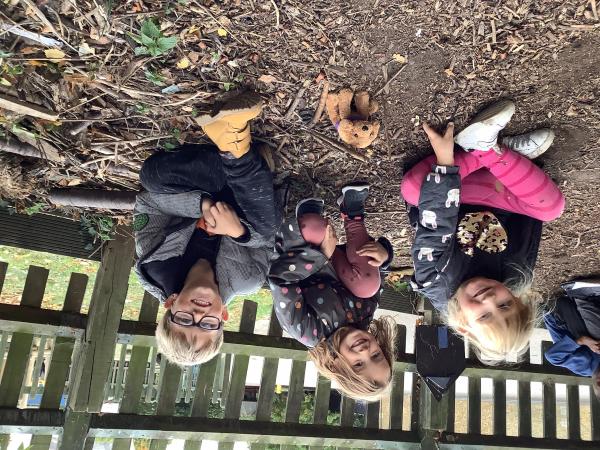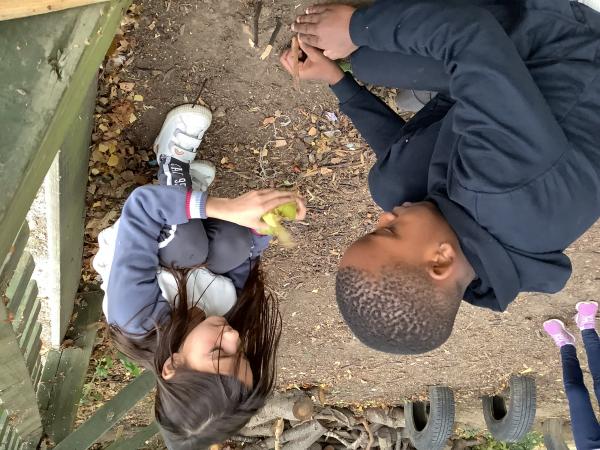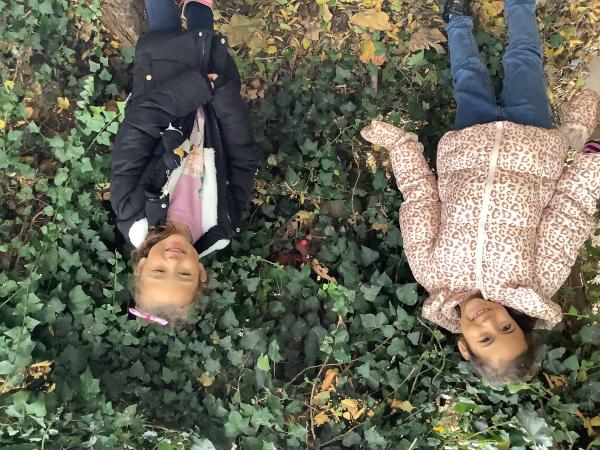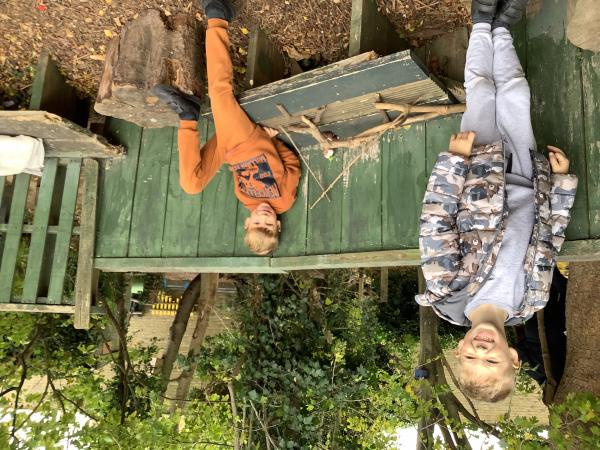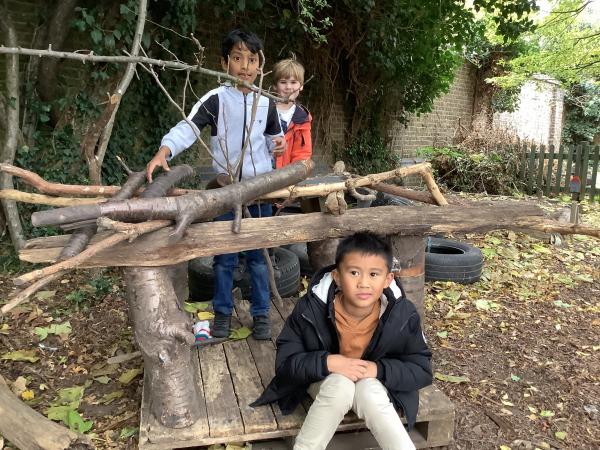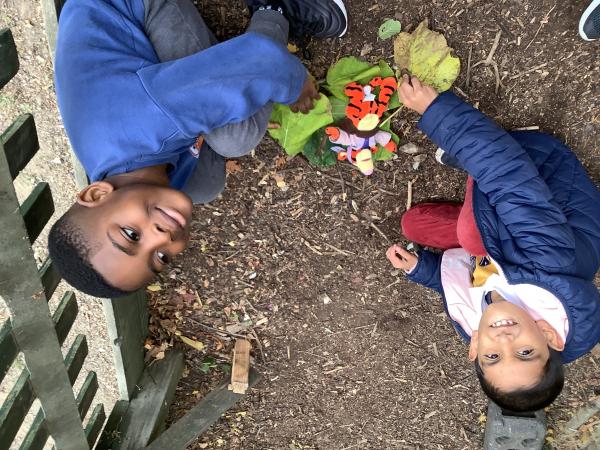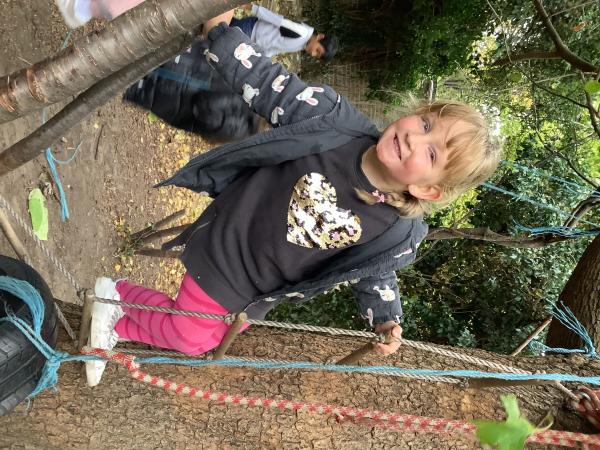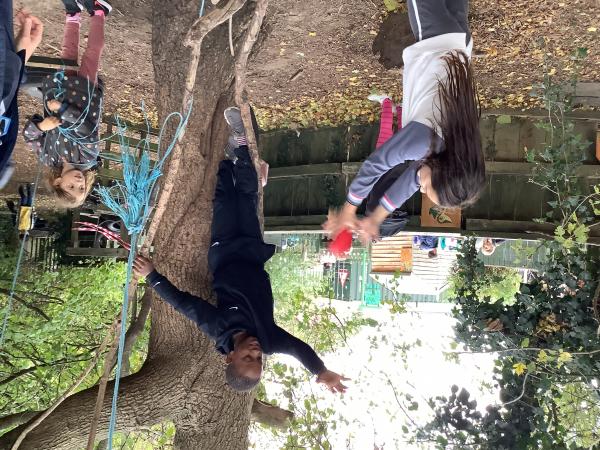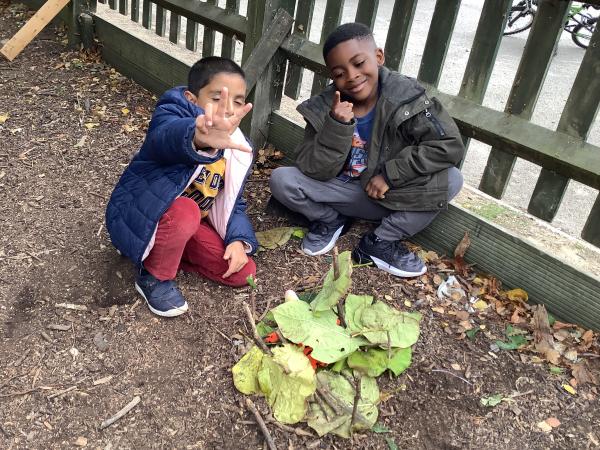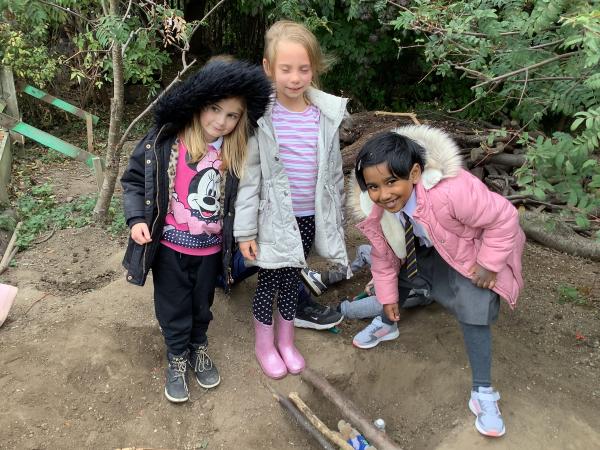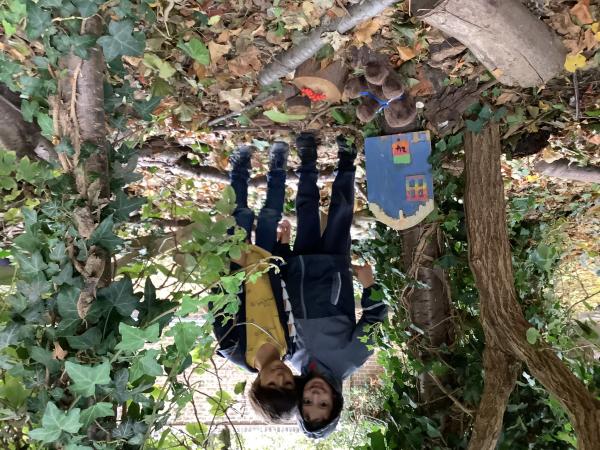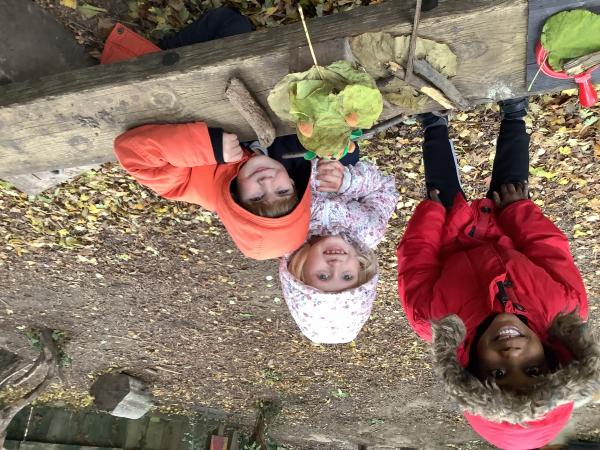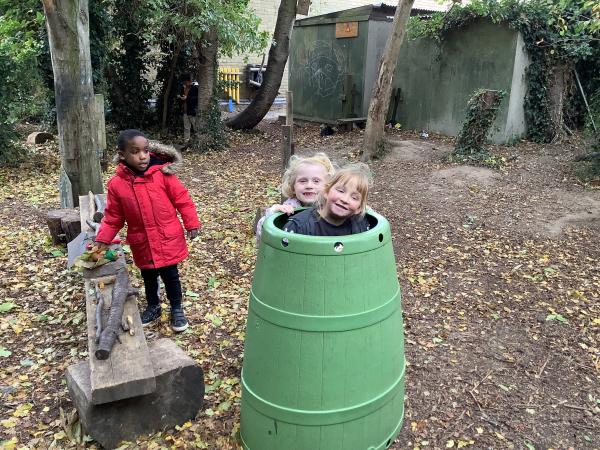 2 Oysters enjoying reading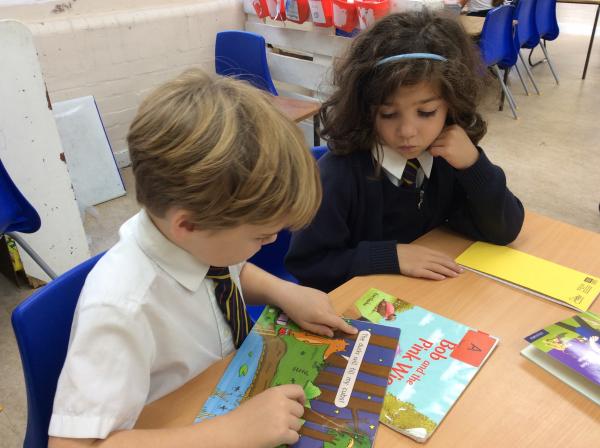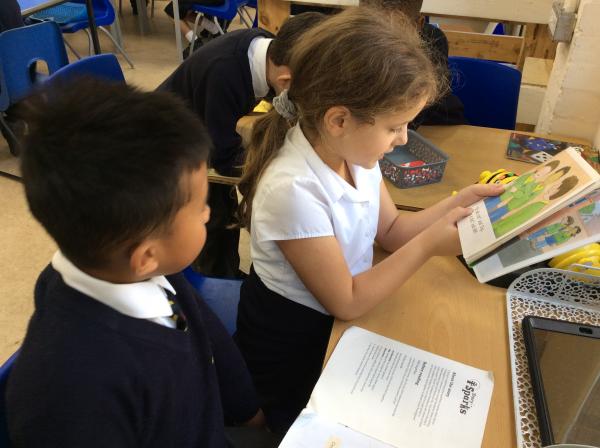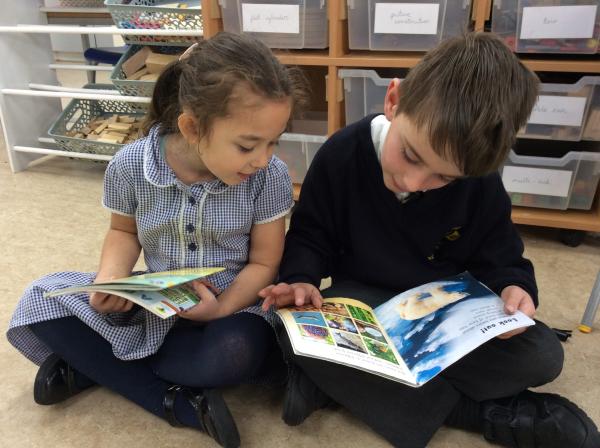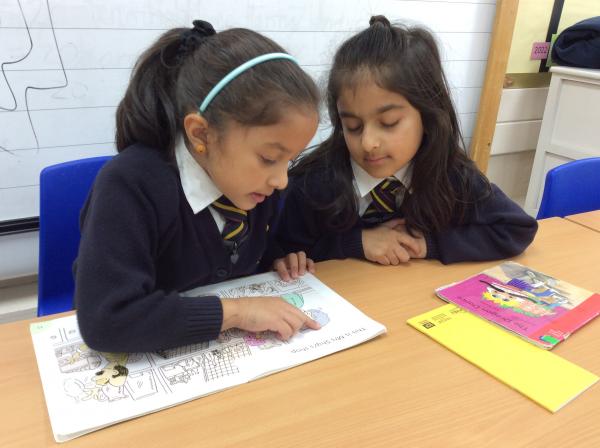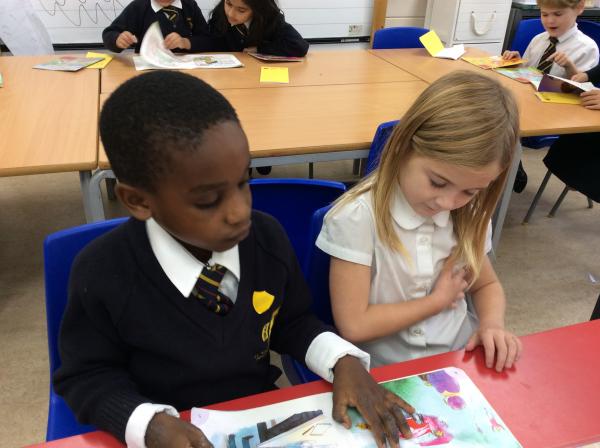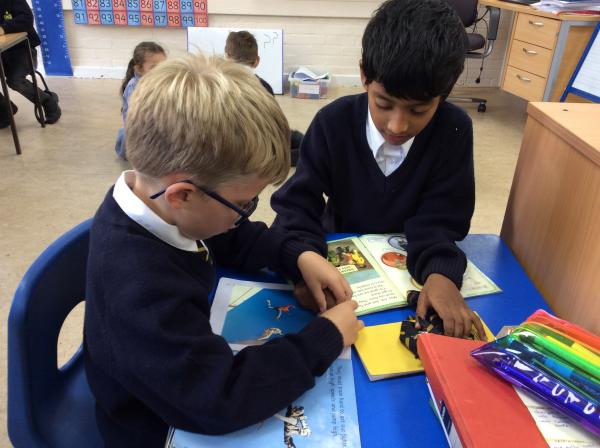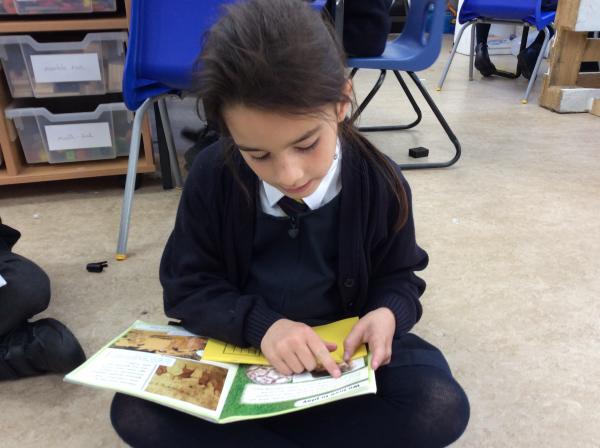 2 Seahorses working hard at their Maths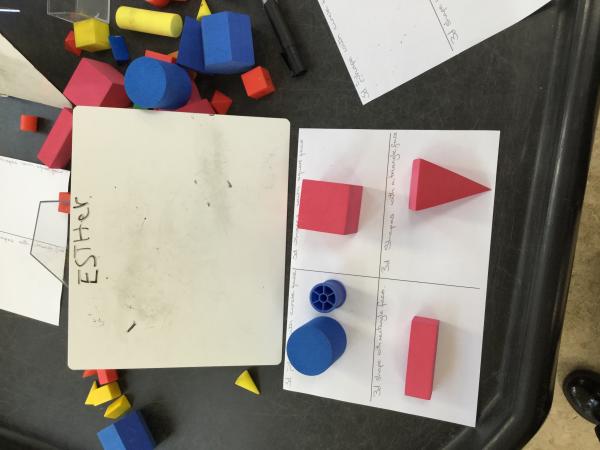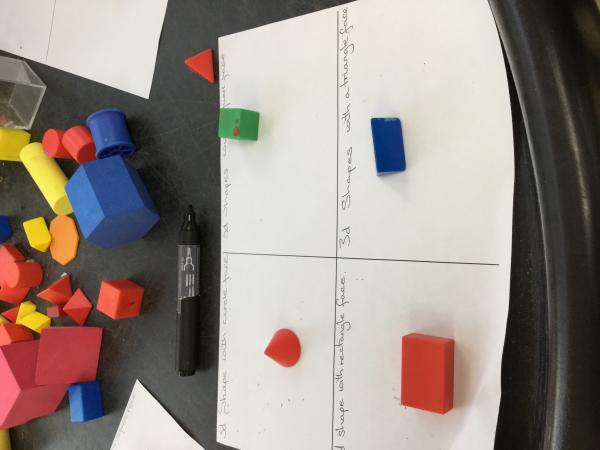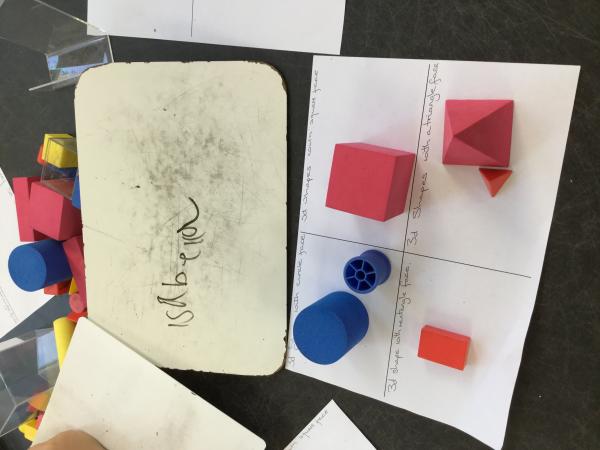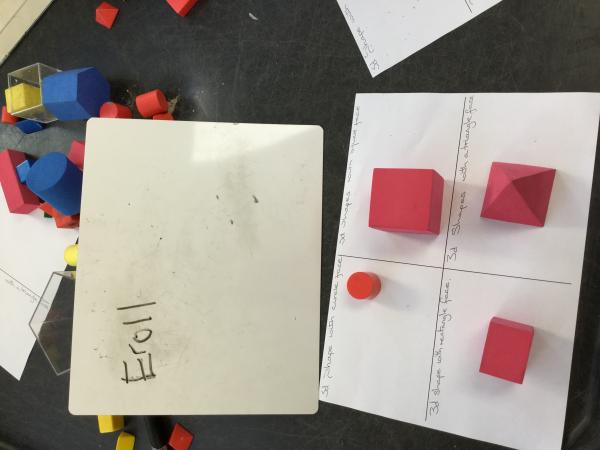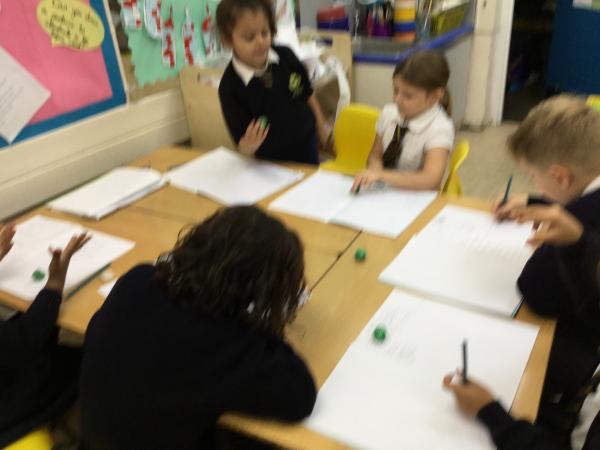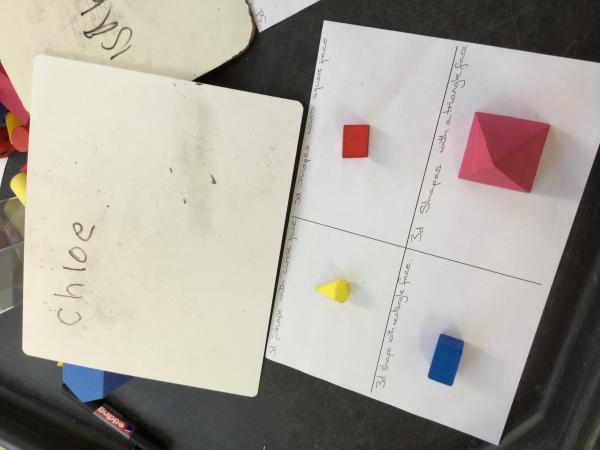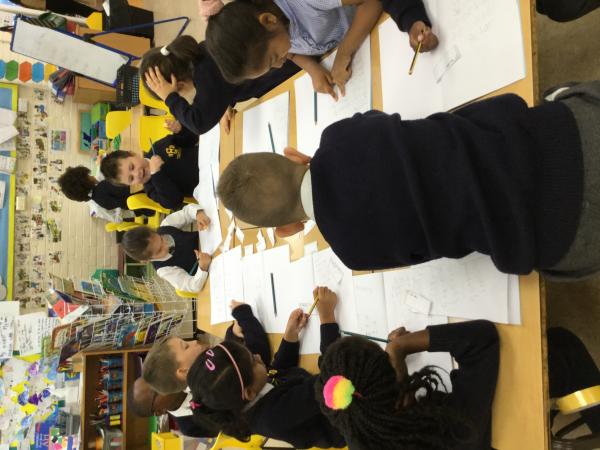 Seahorses enjoying the great outdoors
Year 2 had an amazing afternoon in the nature area. They were superstars at litter picking - collecting a whole bin sack! Thank you Seahorses. They also made potions and food which contained healthy items for our body. Many children had a go at climbing trees and building and designing an obstacle course and fitness trial for others to try.