Welcome to Class 3
Class Teachers: 2022 - 2023
Robins
Mrs Walsh
Mr Curtis
Learning Support Assistant
Mrs Monahan

Seagulls
Mrs Pease
Mrs Kearney
Learning Support Assistants
Mrs Cowell
Miss Purcell


---
---
The Latest News from Robins & Seagulls
Library Visits
On Monday, 3 Robins went to Southend Library (also known as the Forum) to learn about all the wonderful books full of fantastic stories for them all!
Can they tell you how many books are at Southend Library (over 700,000) or how many books they can take out a time? (14) Can they tell you how to help them find their favourite books and authors if the book isn't on the shelf? (Go to the Information Desk.)
The students were especially excited to find books in other languages like Portuguese and Polish.
We had a wonderful time. Each child should come home with a slip to fill out to get a library card.
Big thanks to our parent helper's: Elijah's mum, Nashe's mum, Aakifa's mum and Liliana's dad!
We couldn't have done it without you!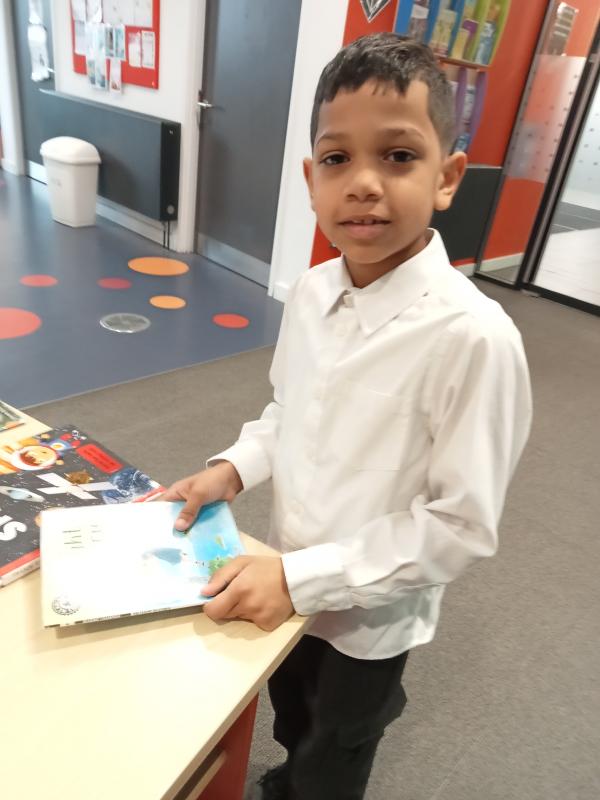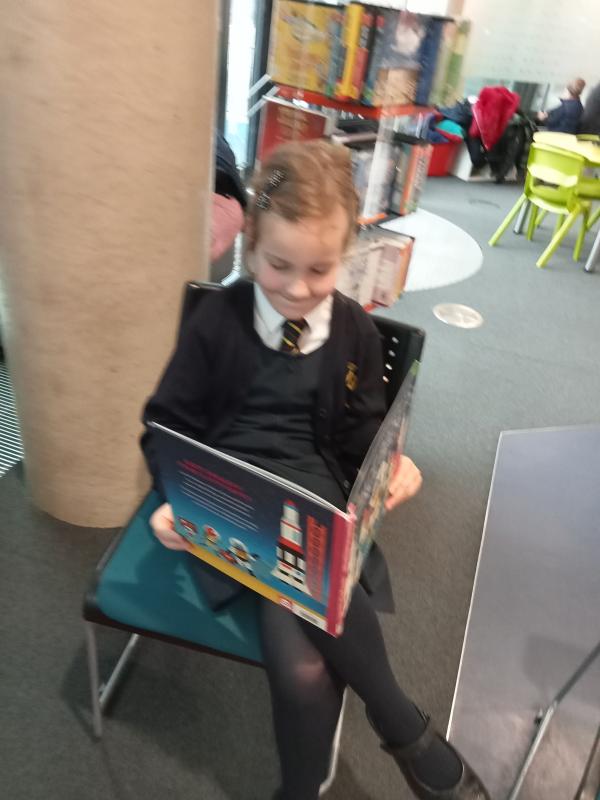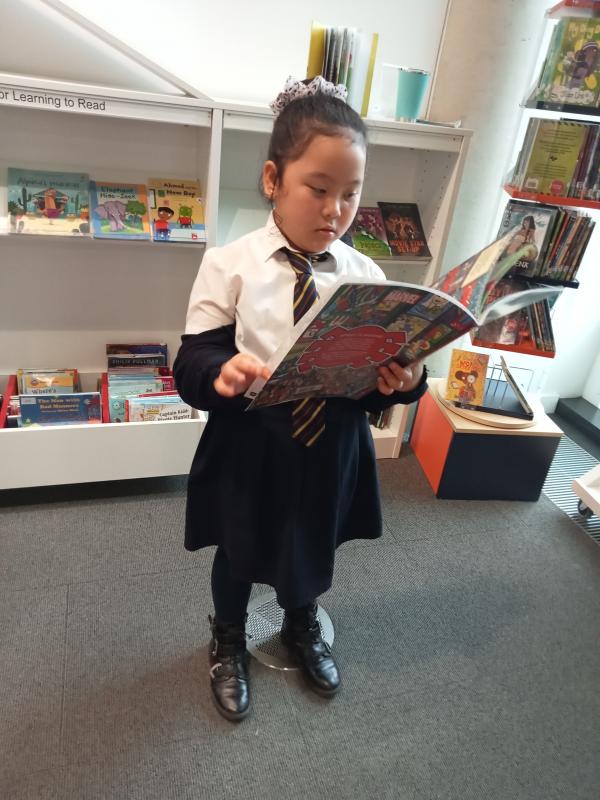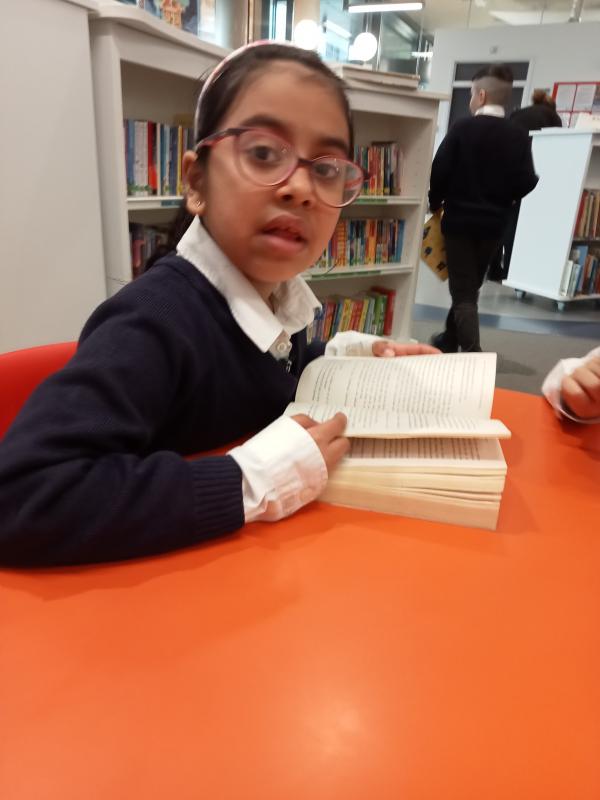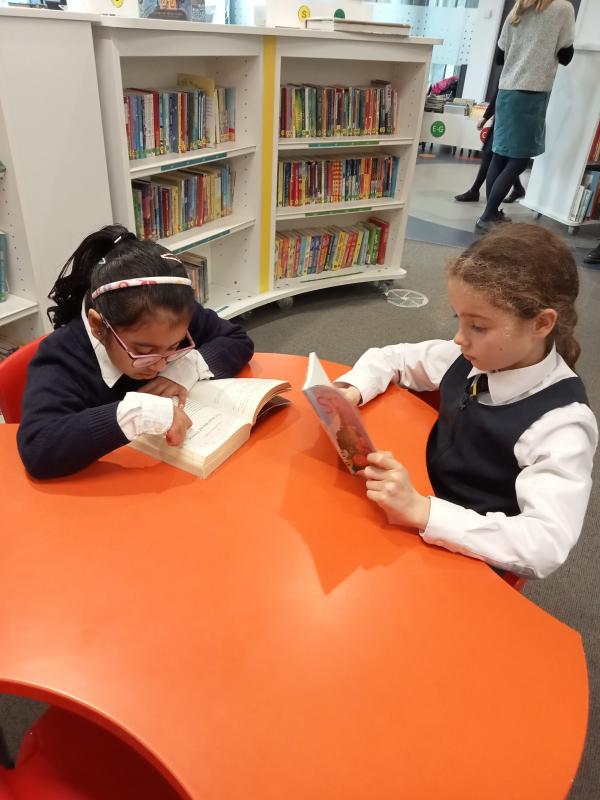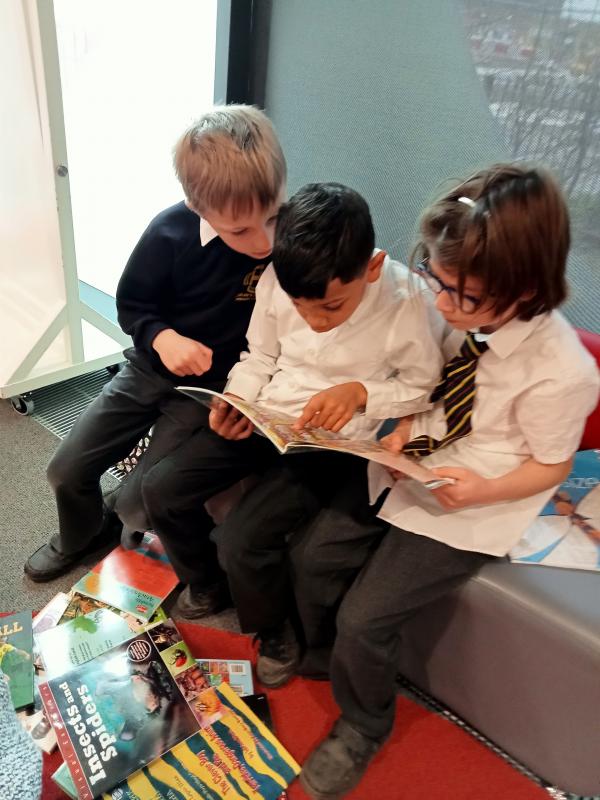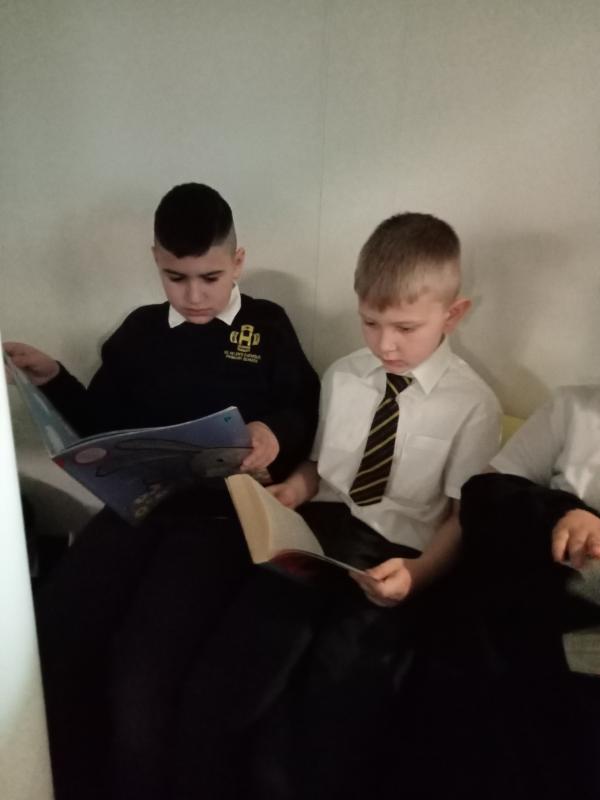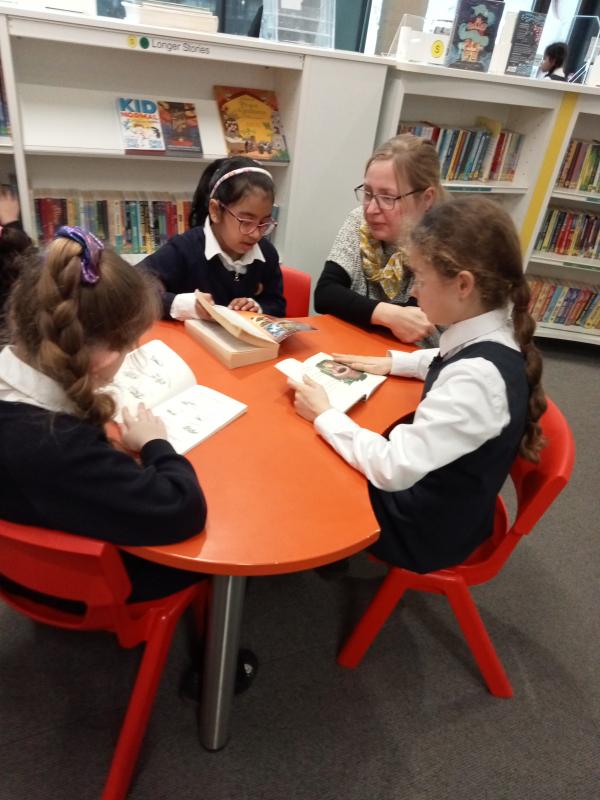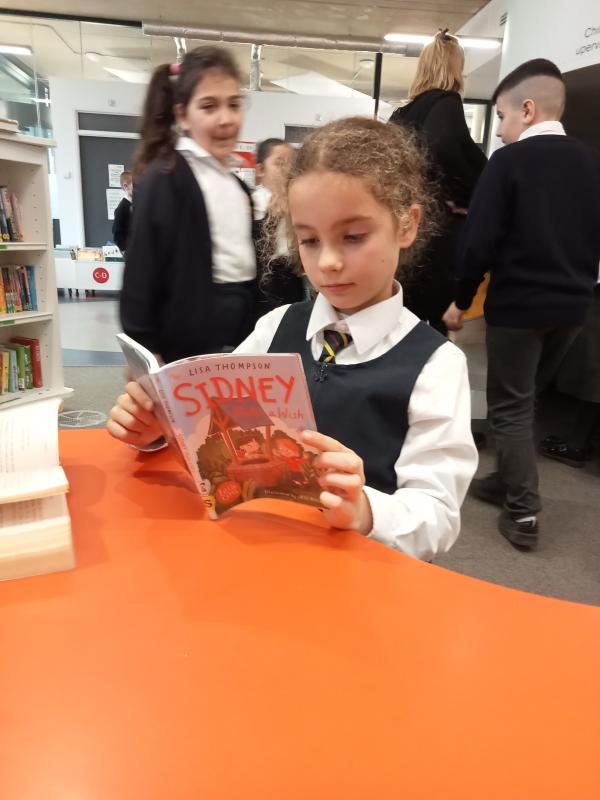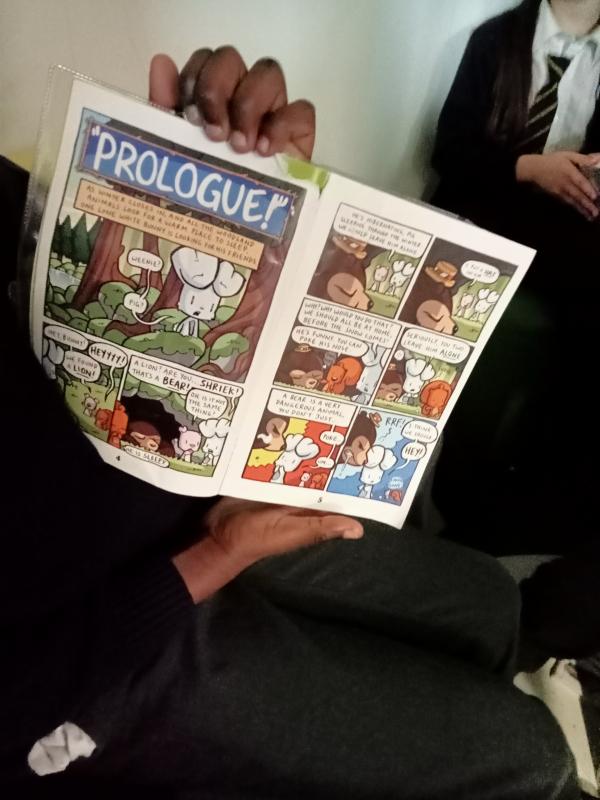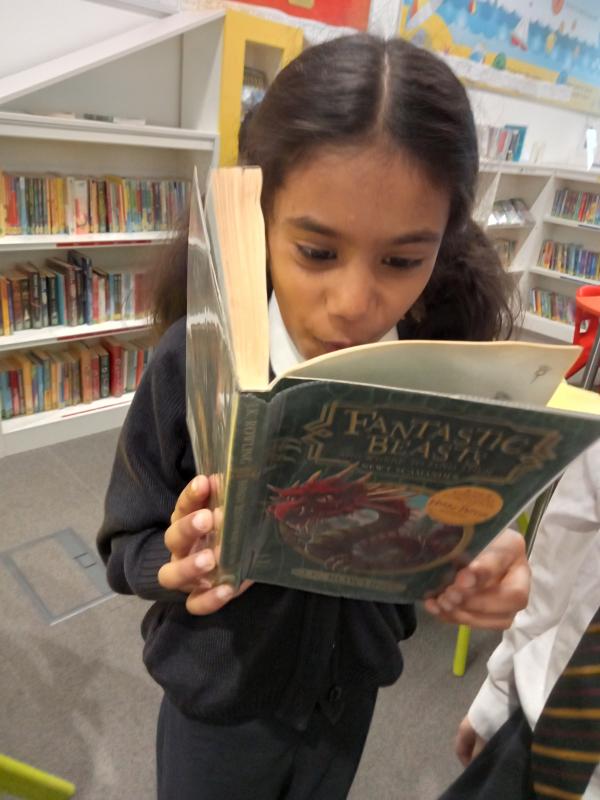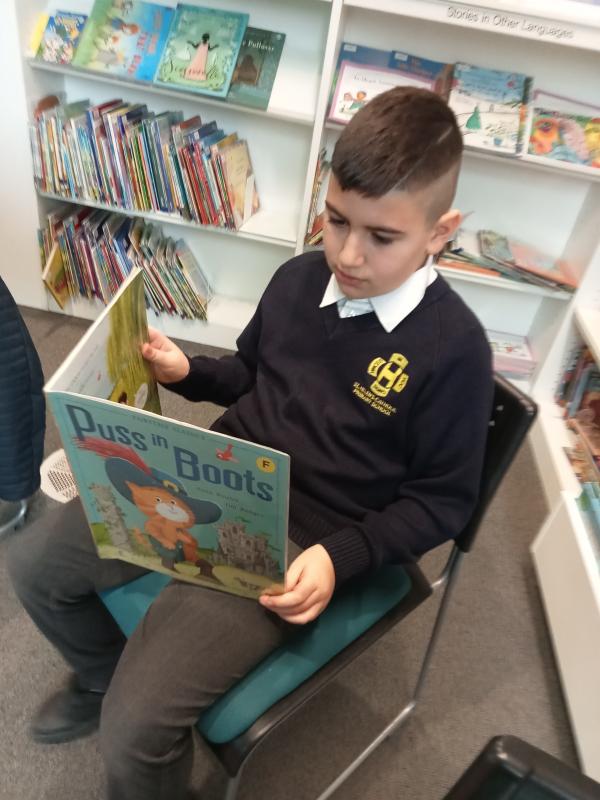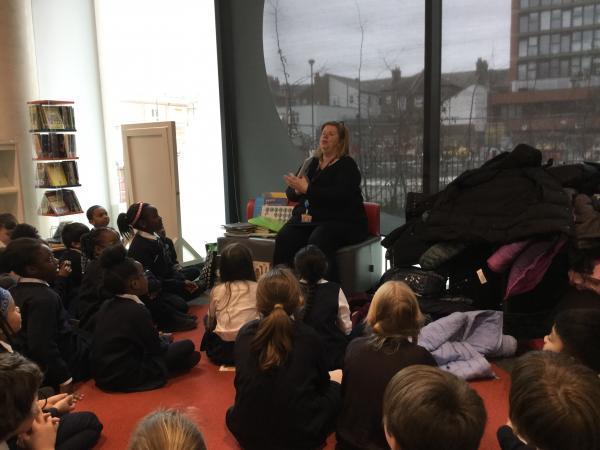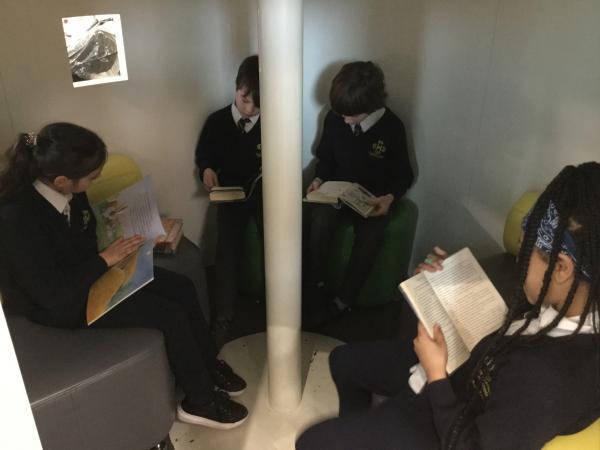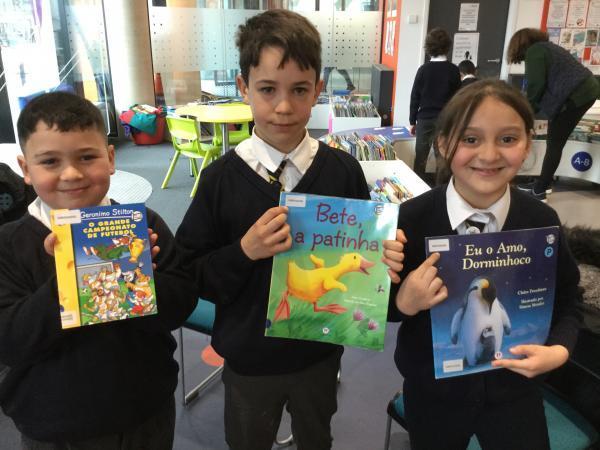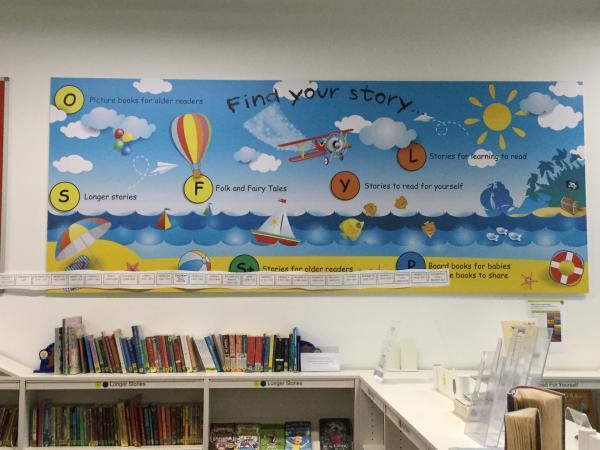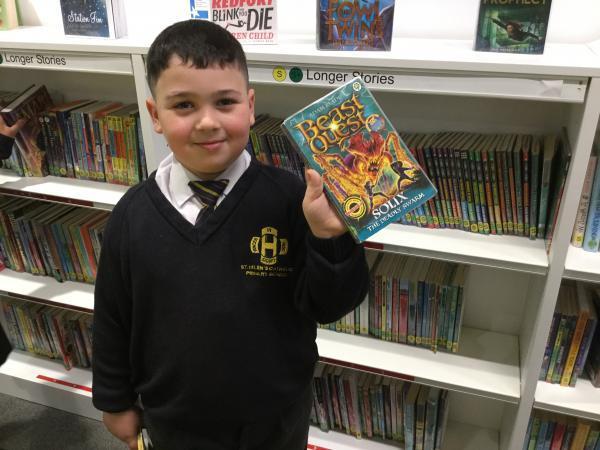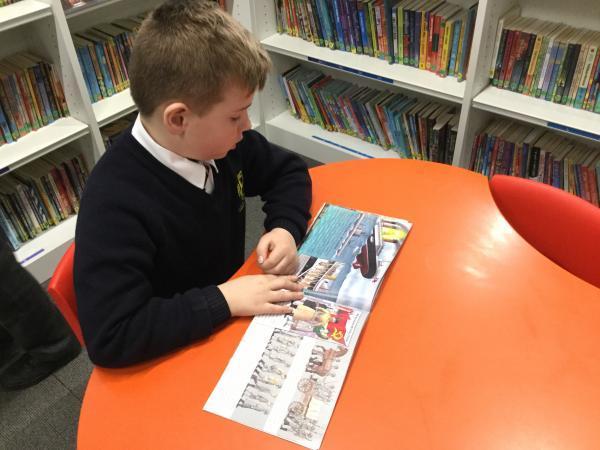 Forces
Year 3 had an enjoyable time in the Nature Area. They investigated their Science theme of forces noticing how pushes and pulls were used in the nature area. Climbing, using the swings, see-saws are all using pushes and pulls. They also investigated the effects of friction on cars - pushing them along different surfaces testing which was better.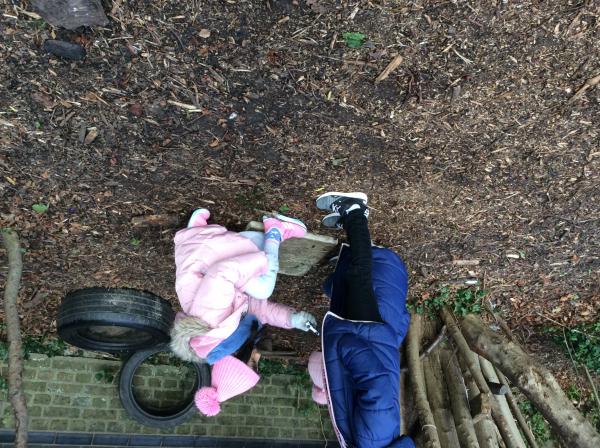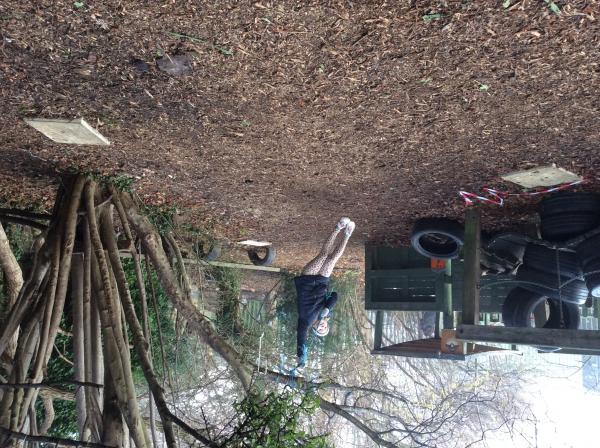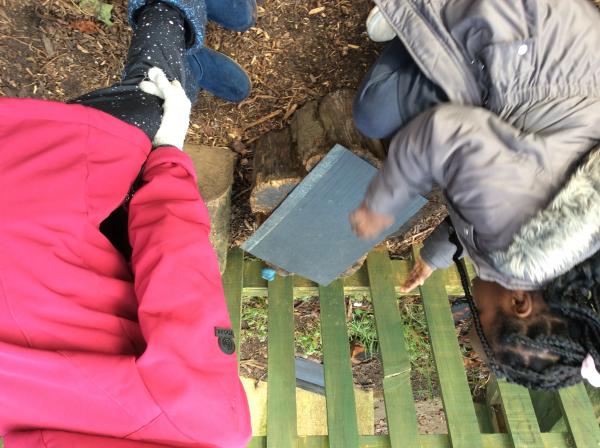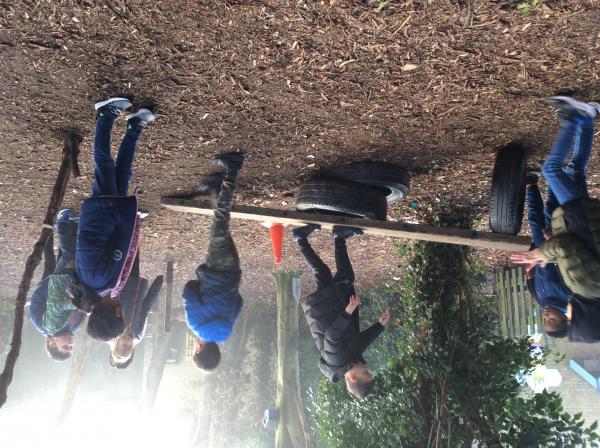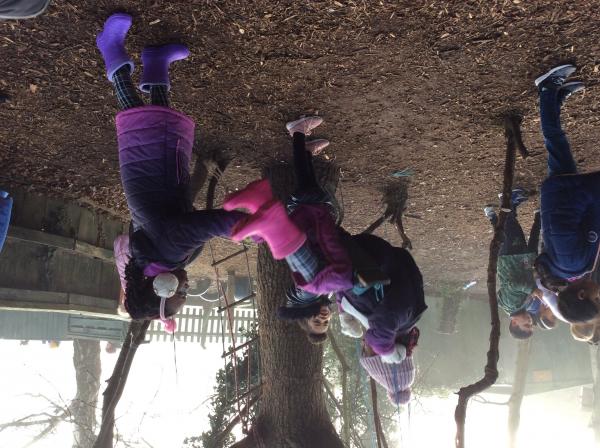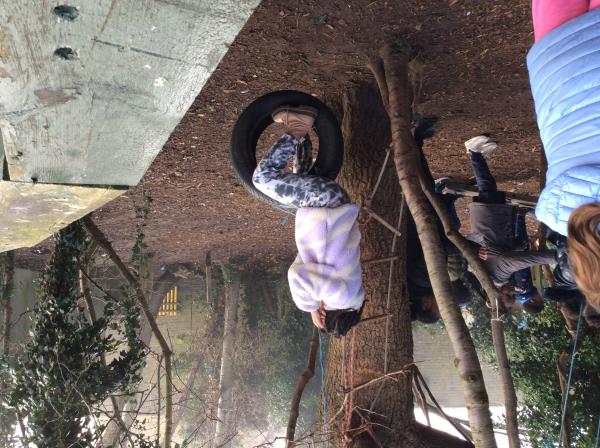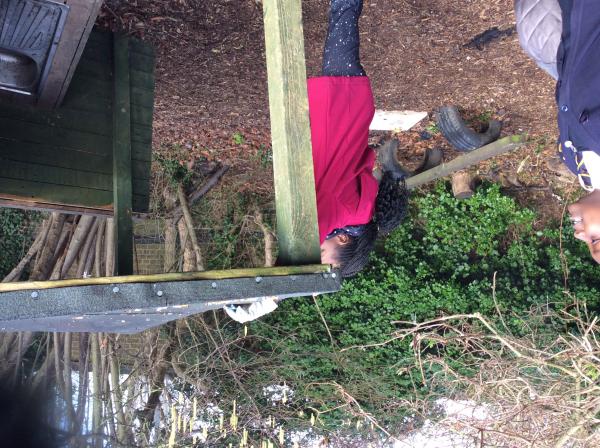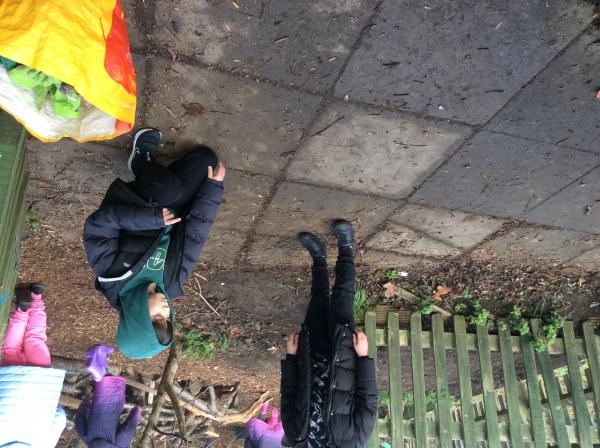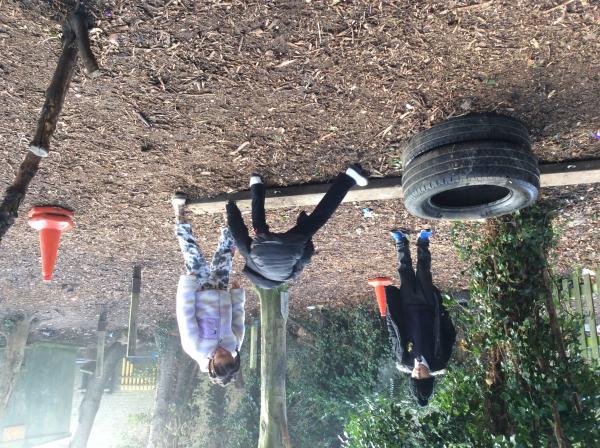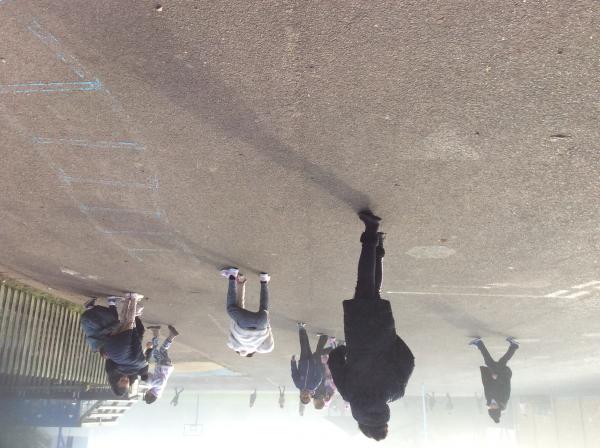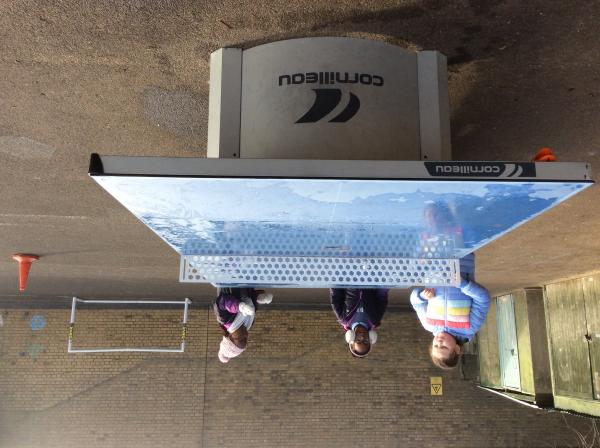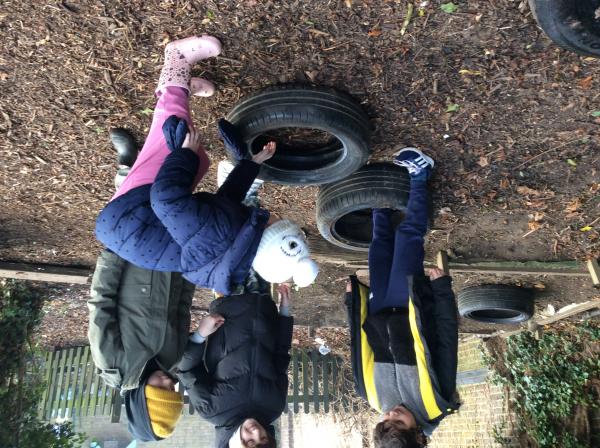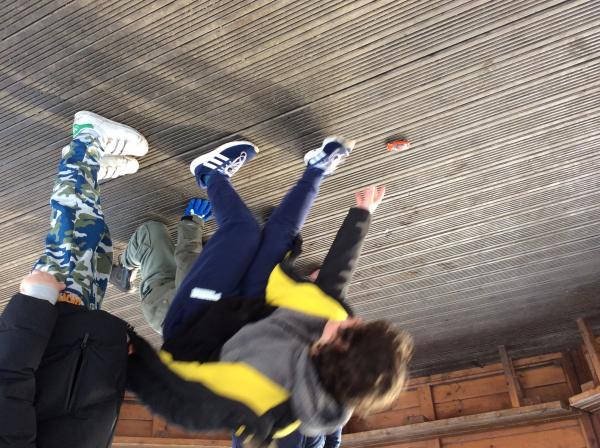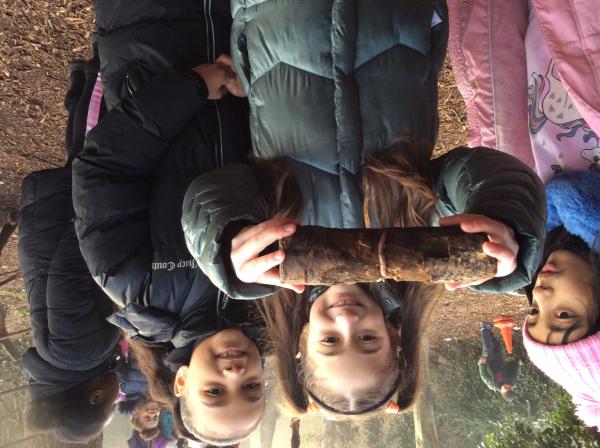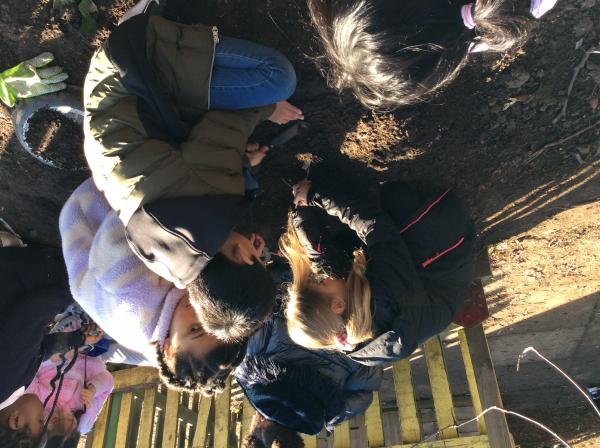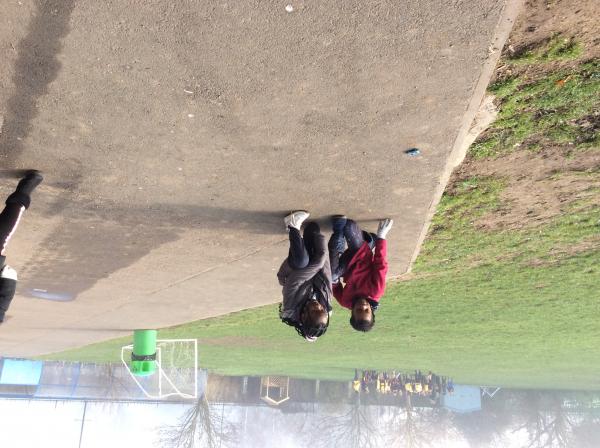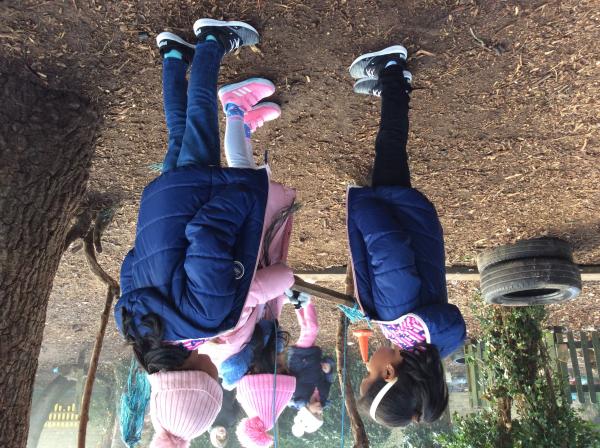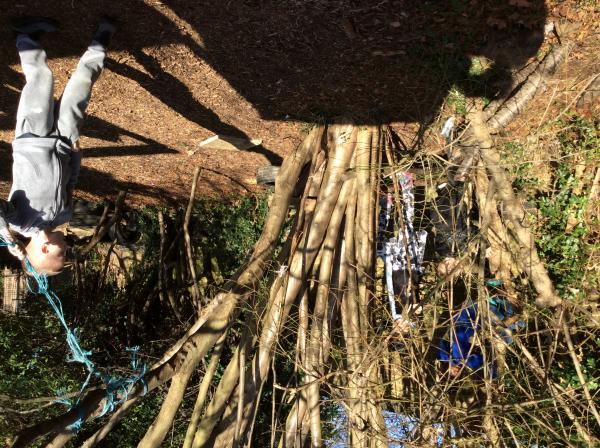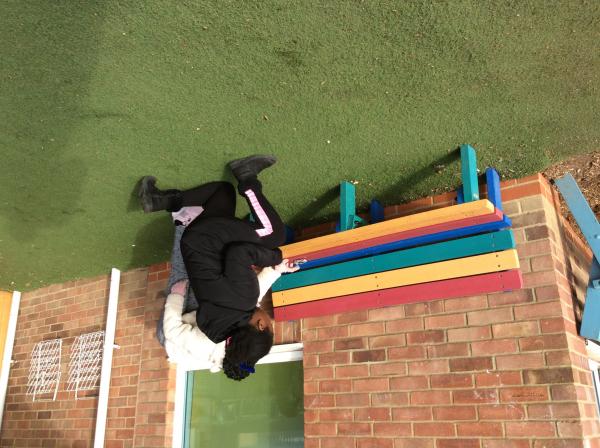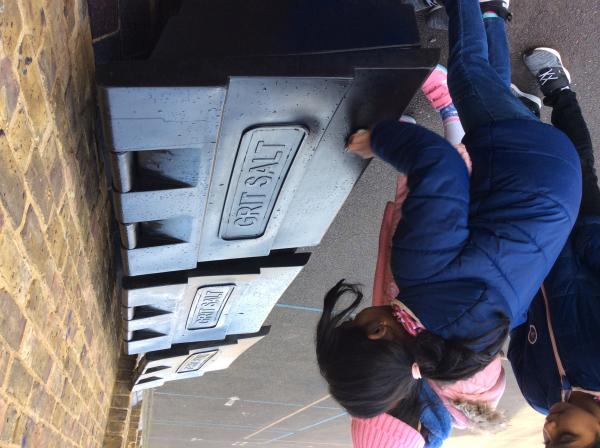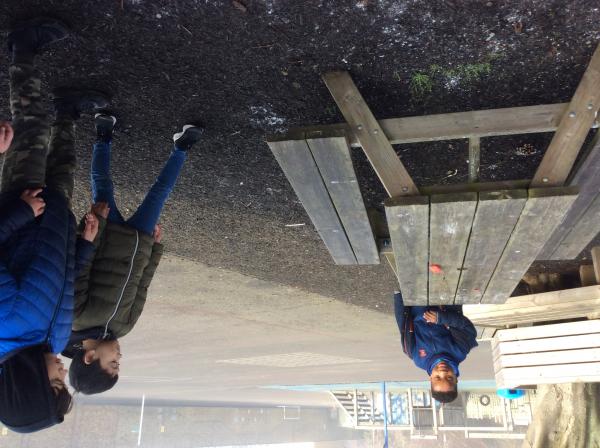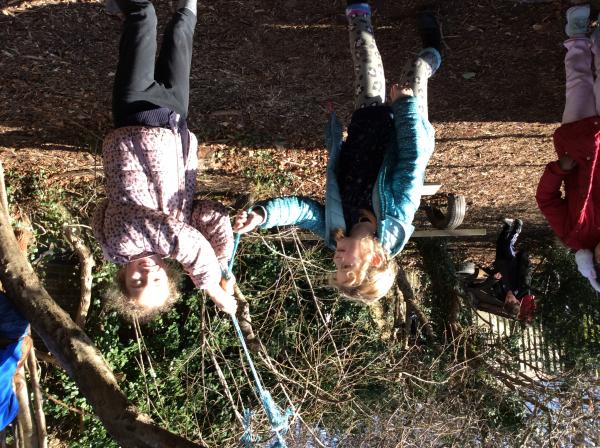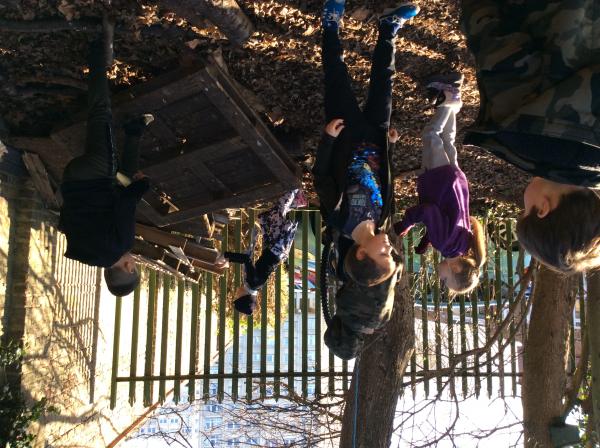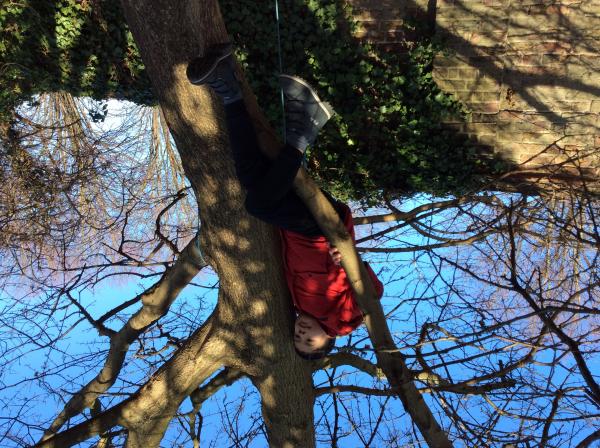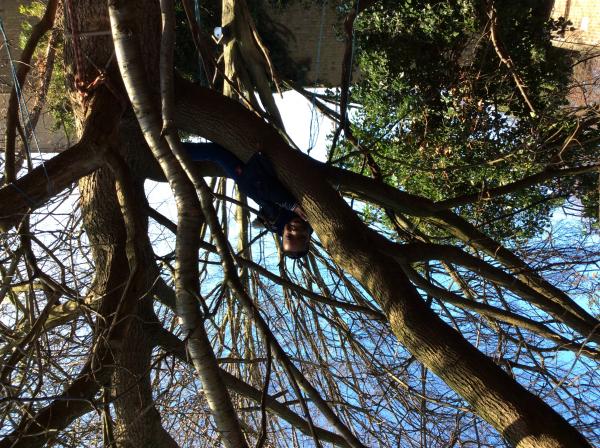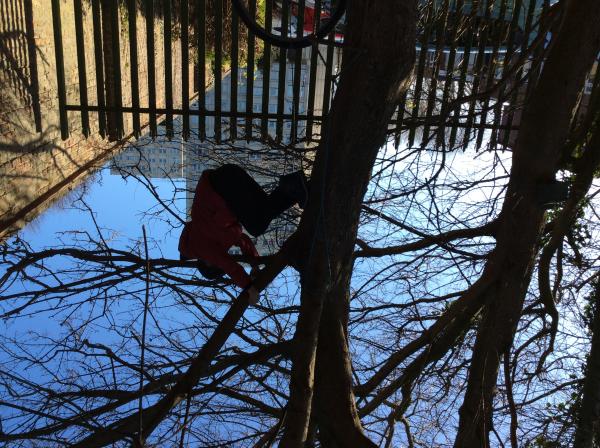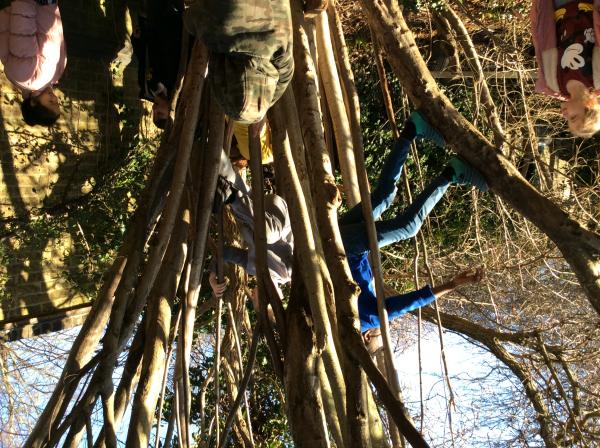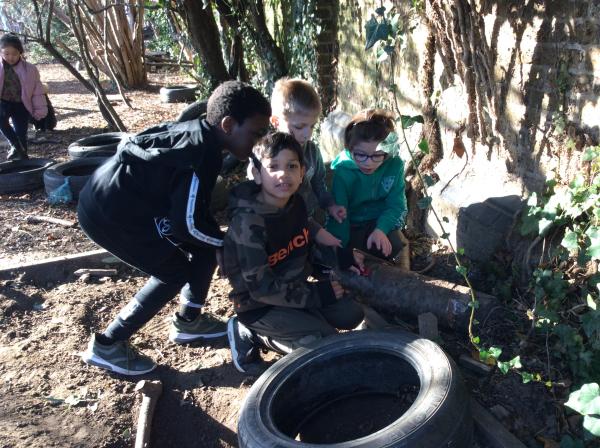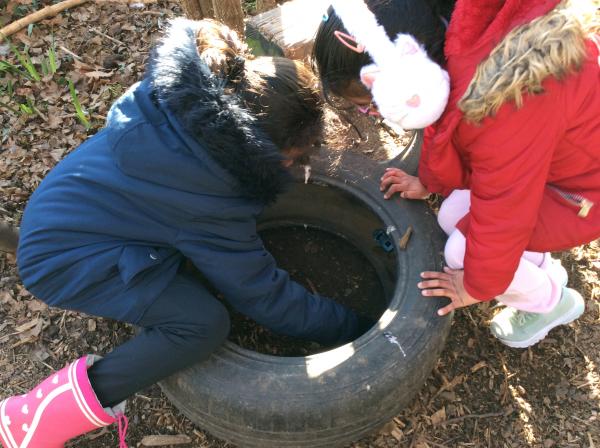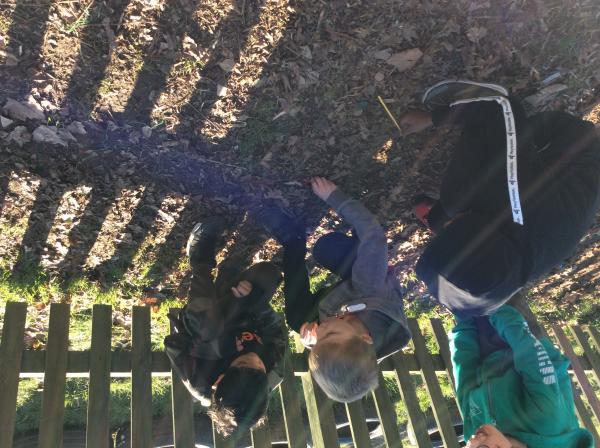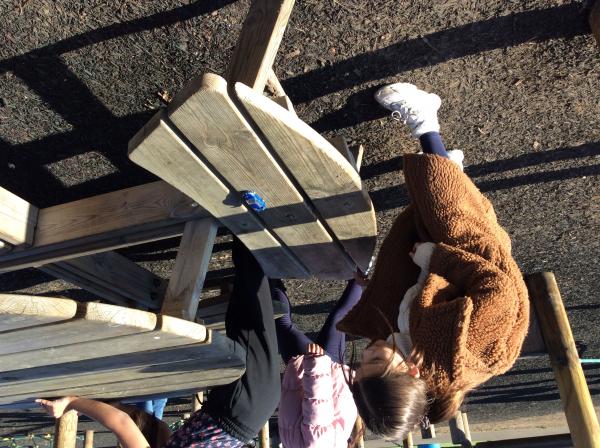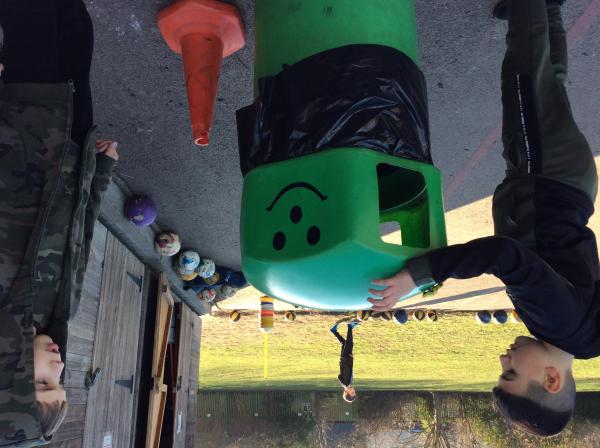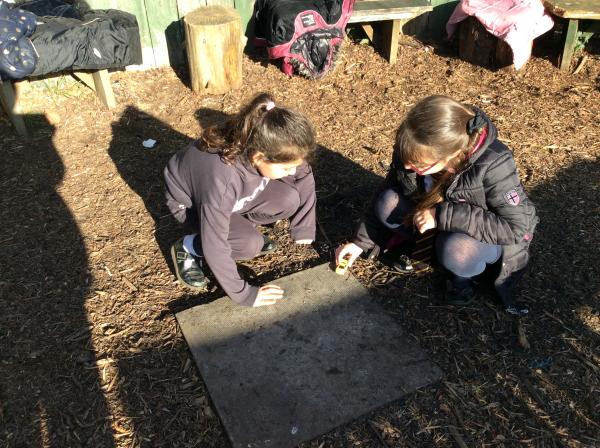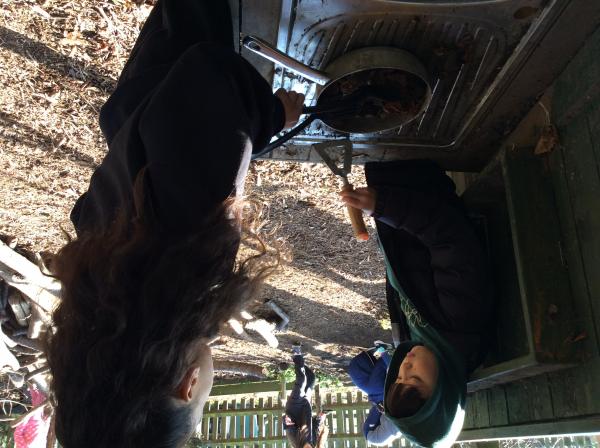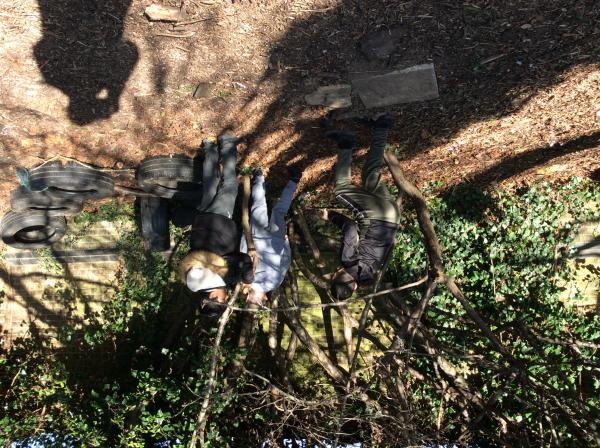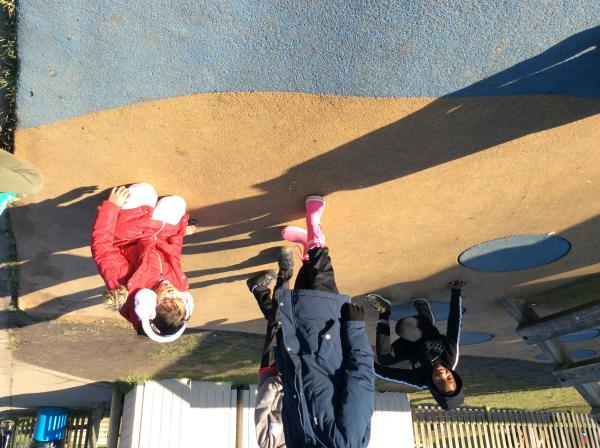 Year 3 enjoyed a great day finding out about the Stone Age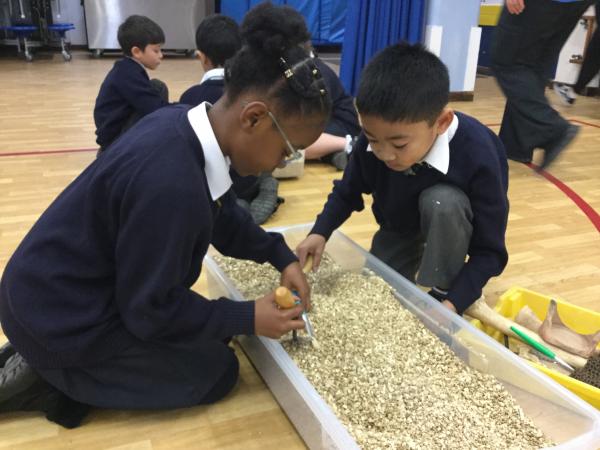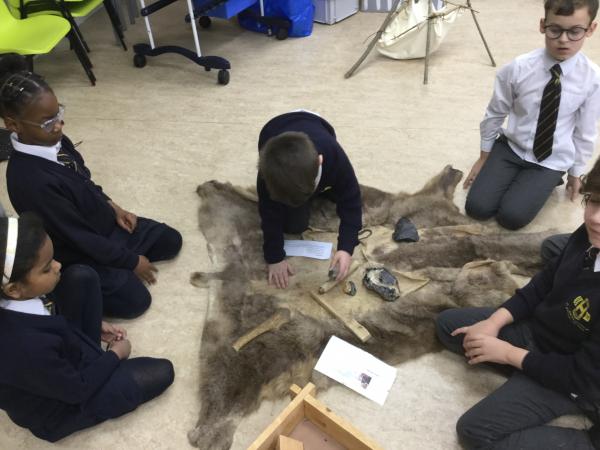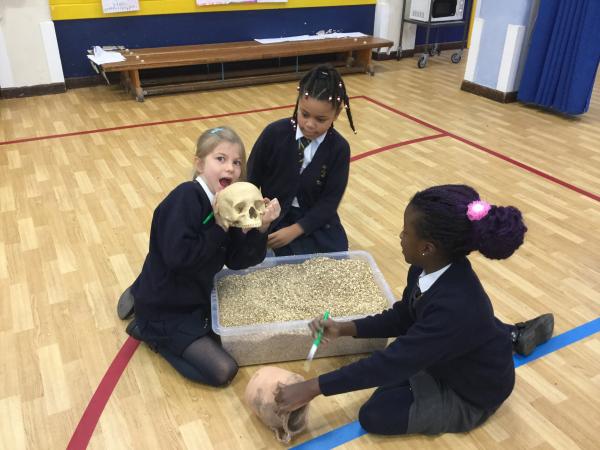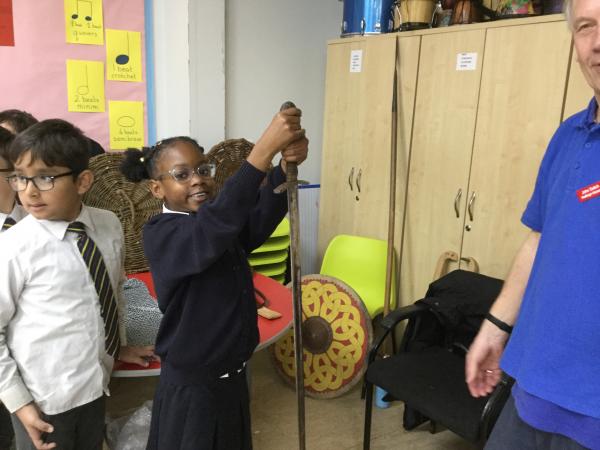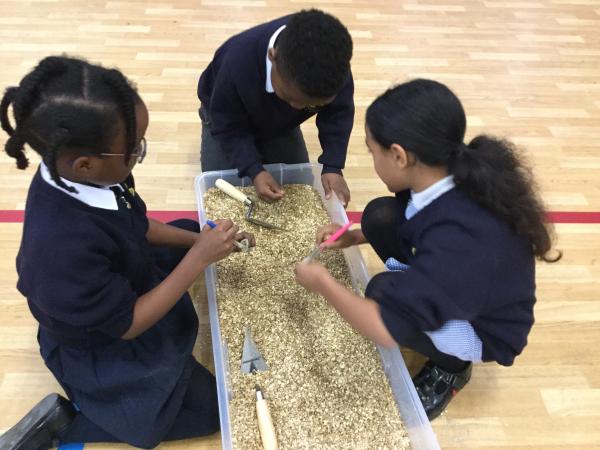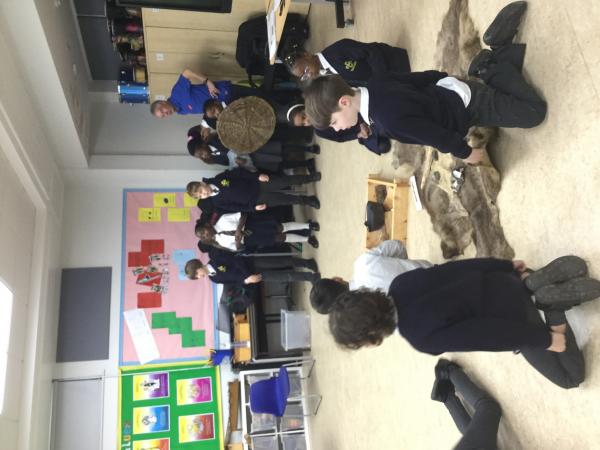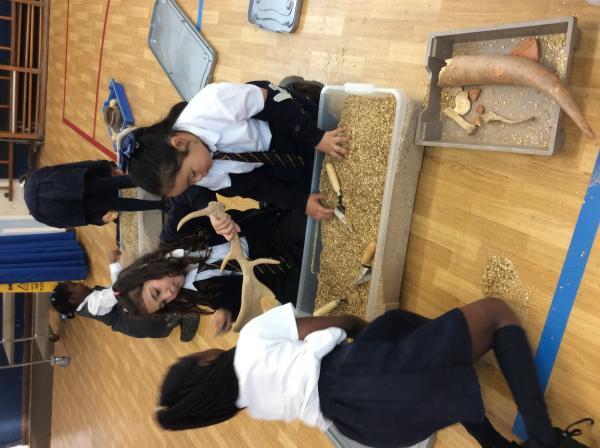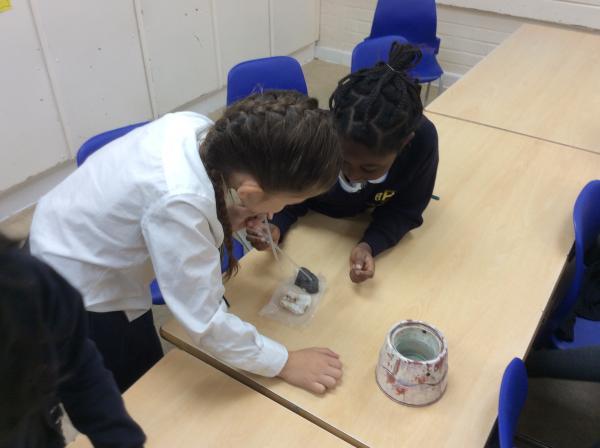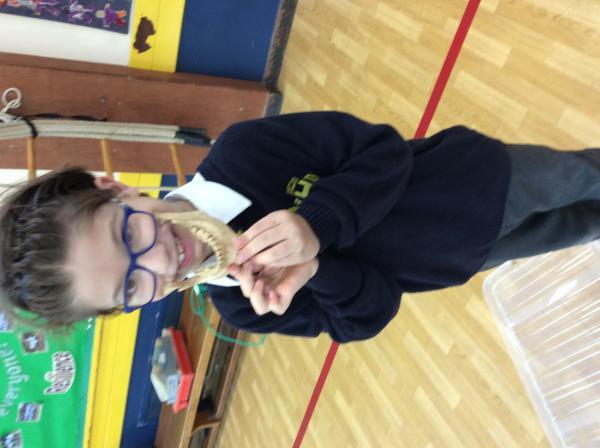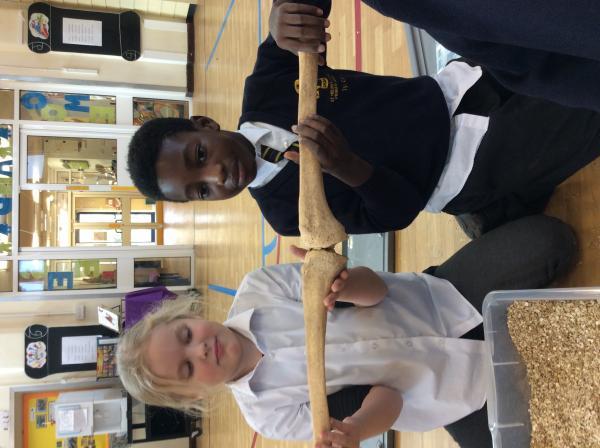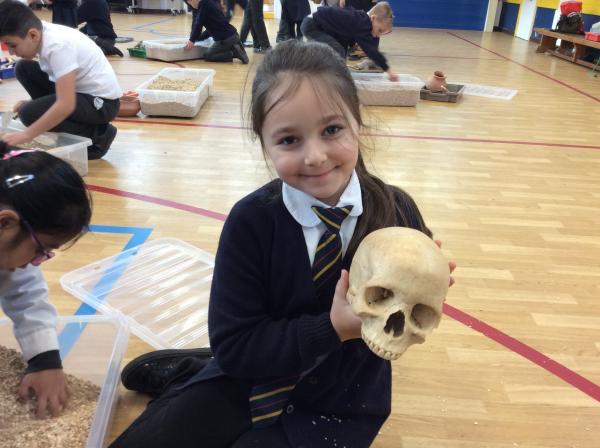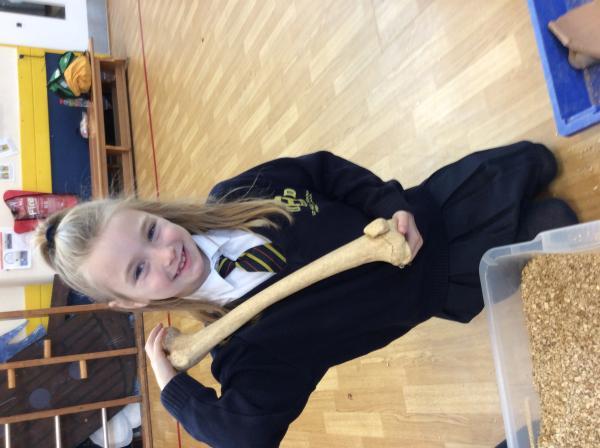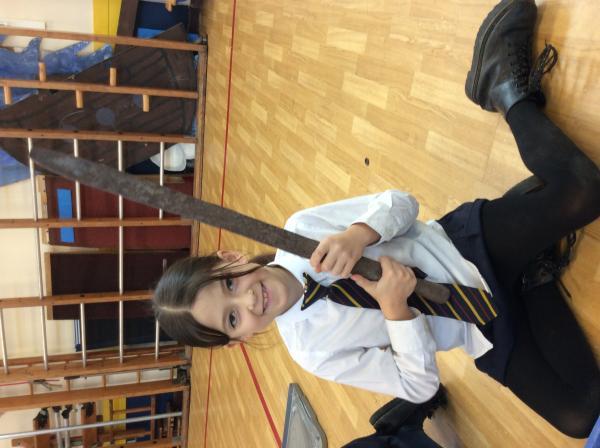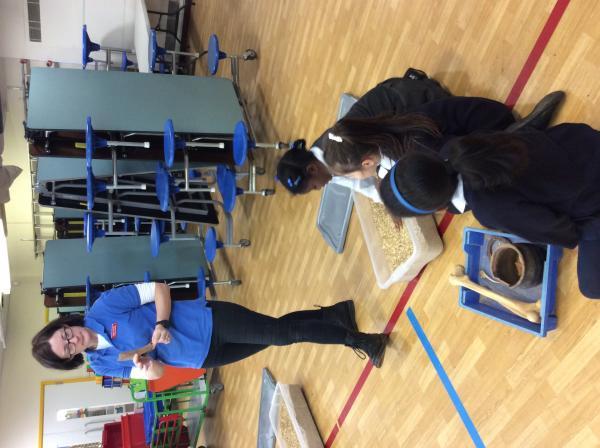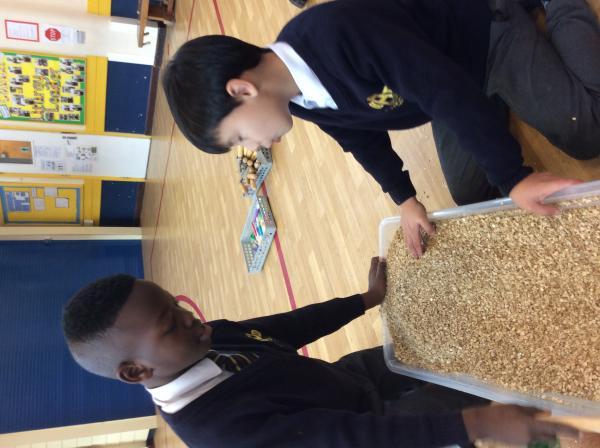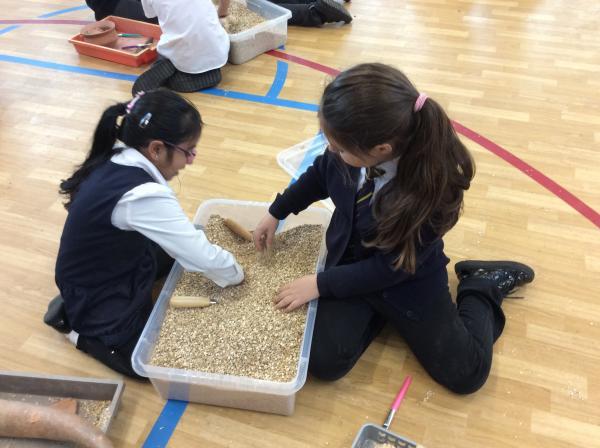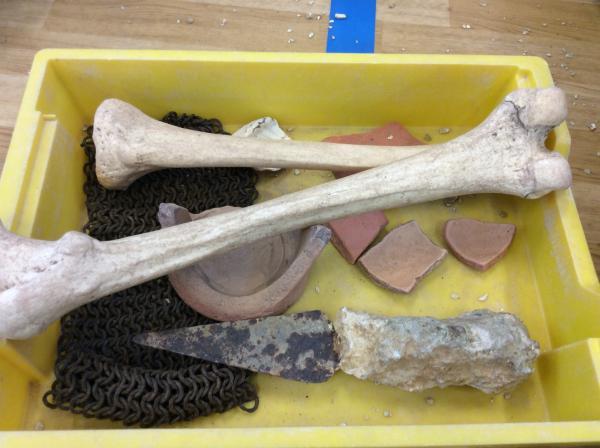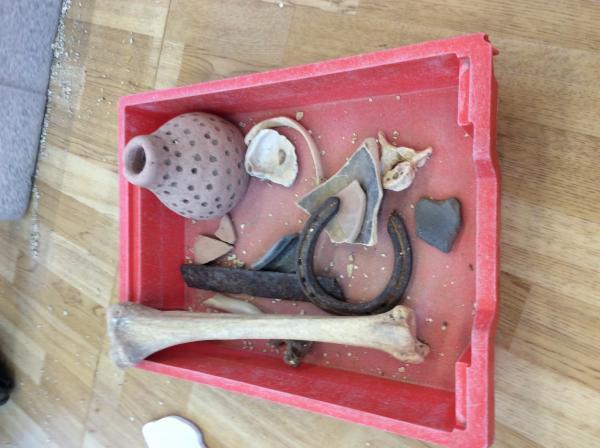 Testing our Muscles and Bones
Year 3 had a busy time in the Nature Area today. For Science, they are learning more about their bodies, specifically about muscles and bones. Today, they put those to the test; designing fitness challenges for a Jedi knight, a fitness trail for others to test and practising their powers of observation/hiding and finding. They should sleep well tonight!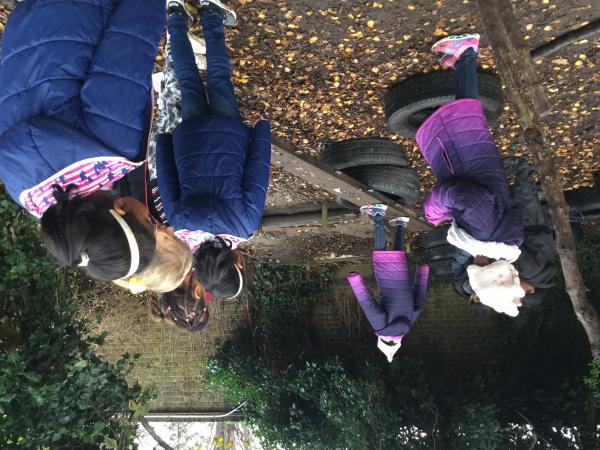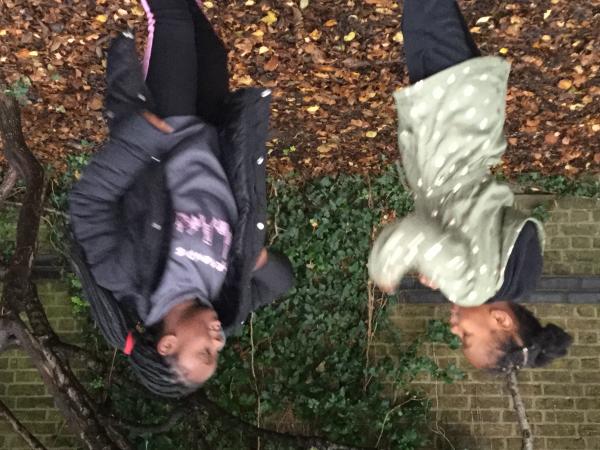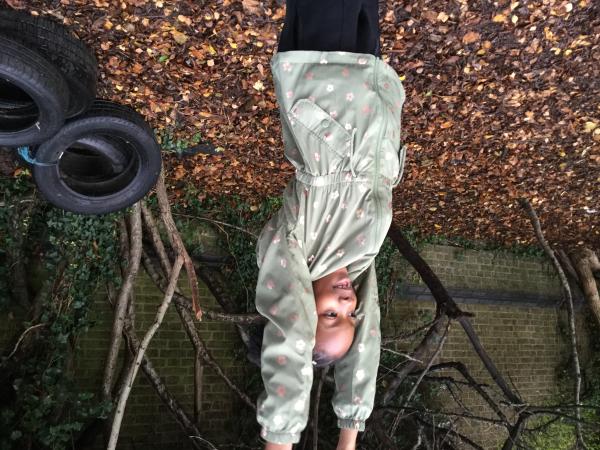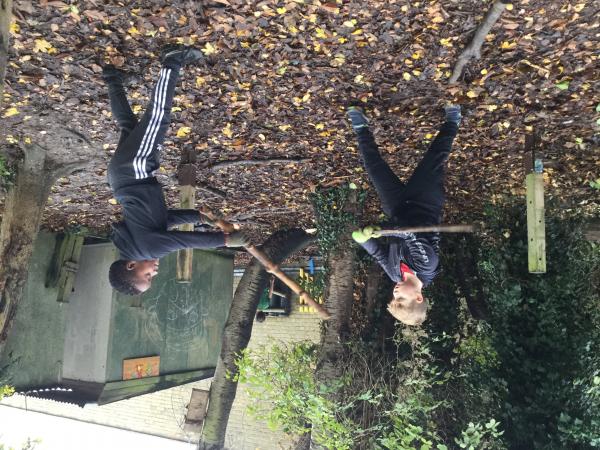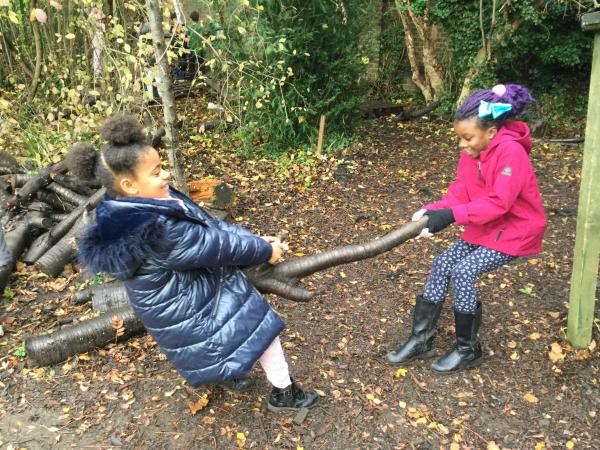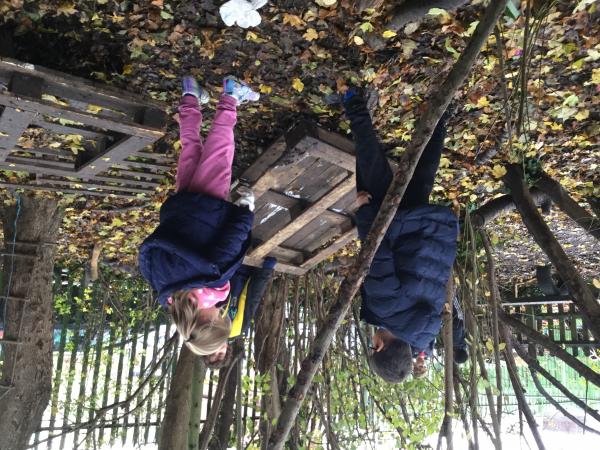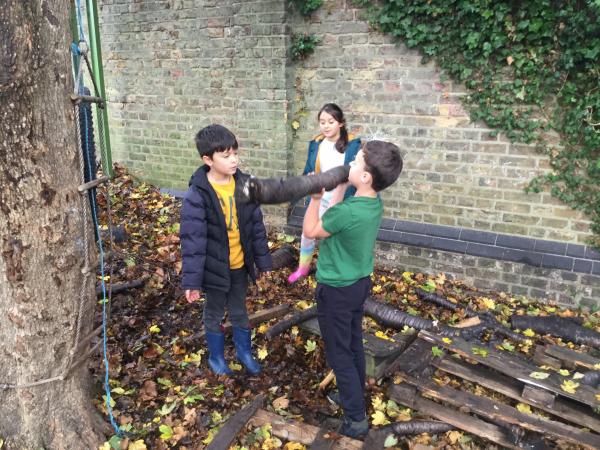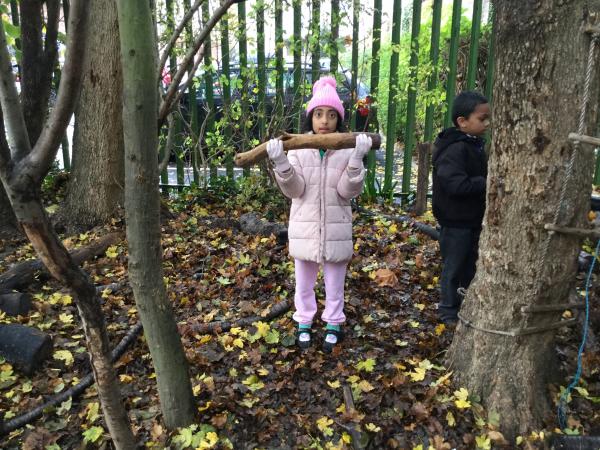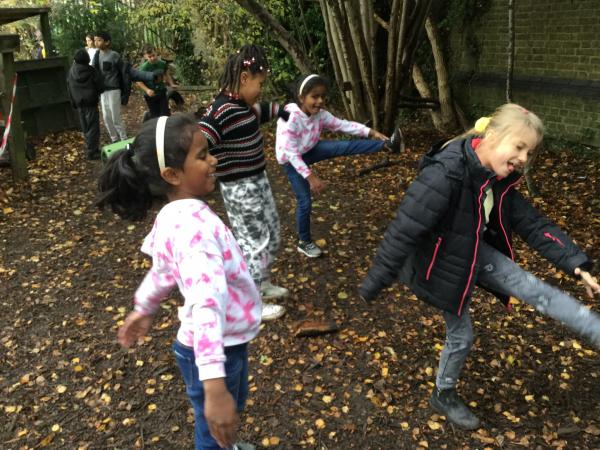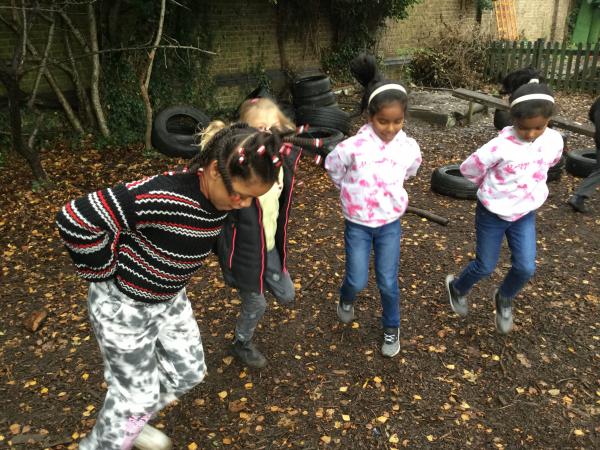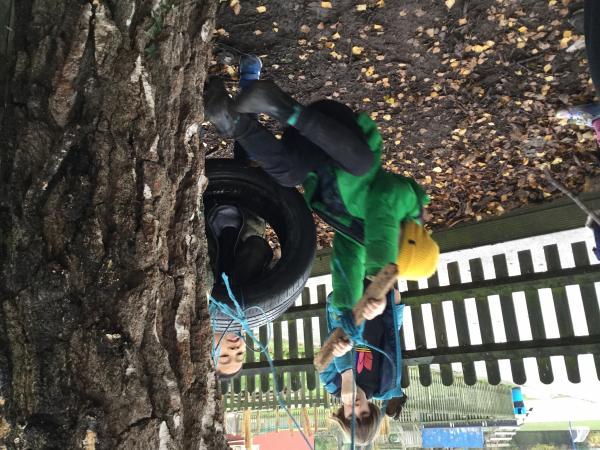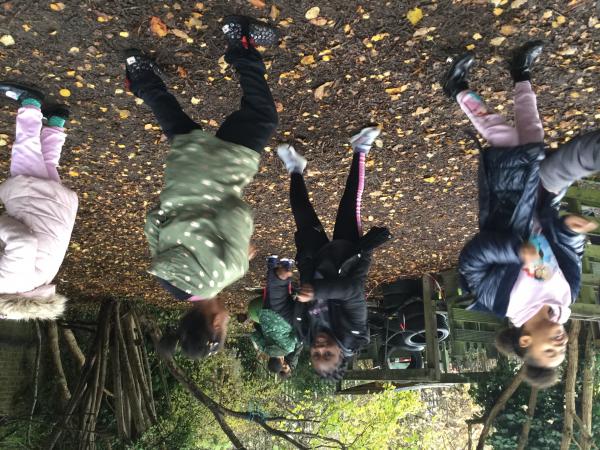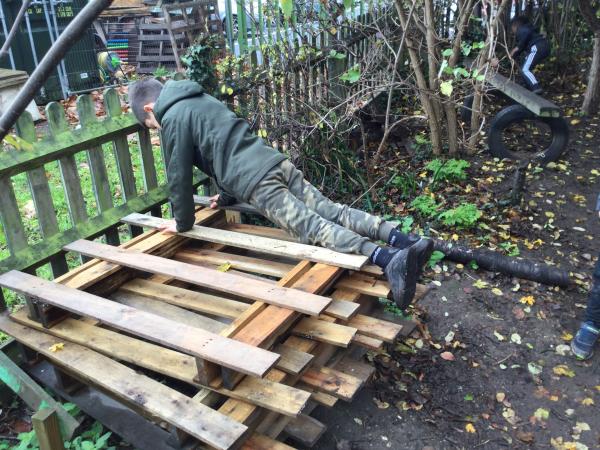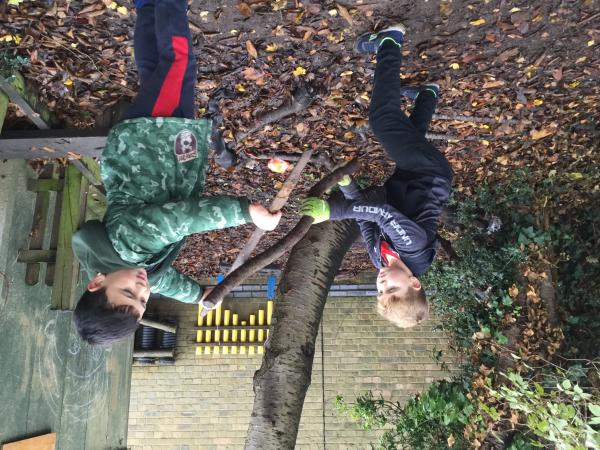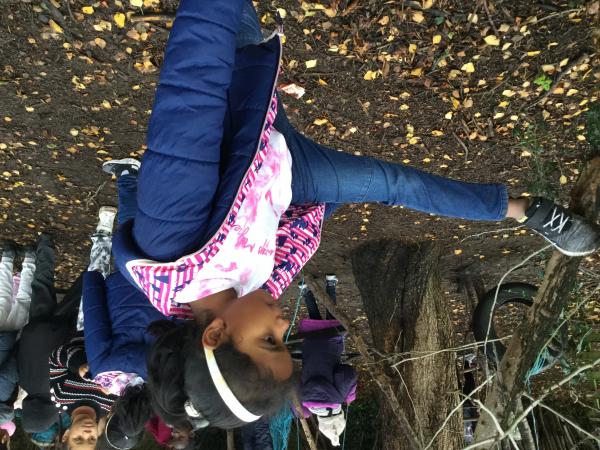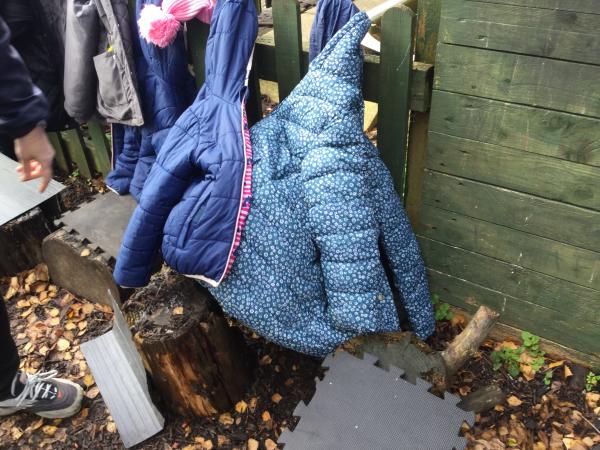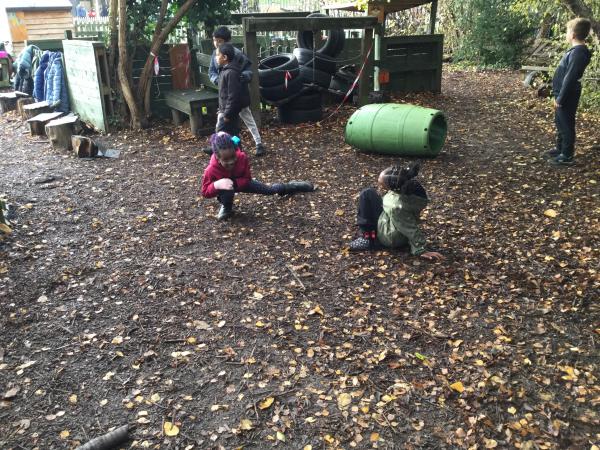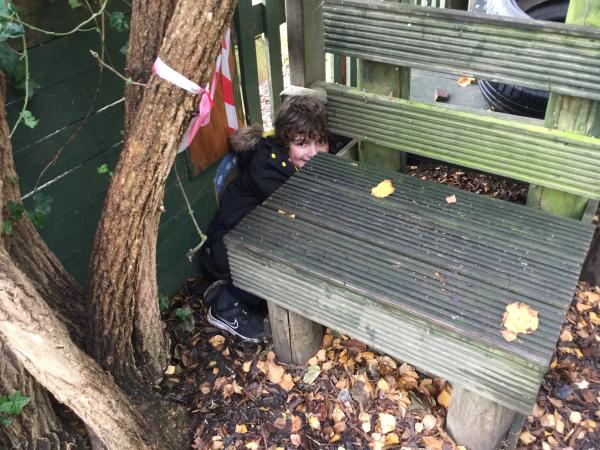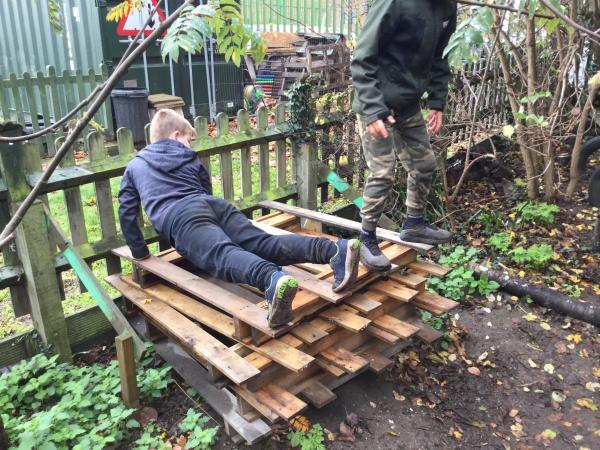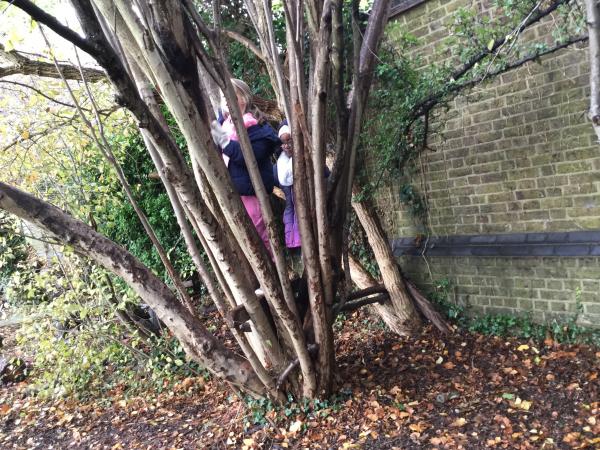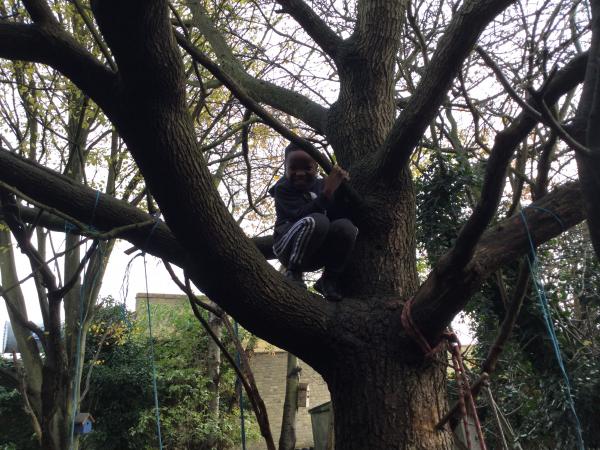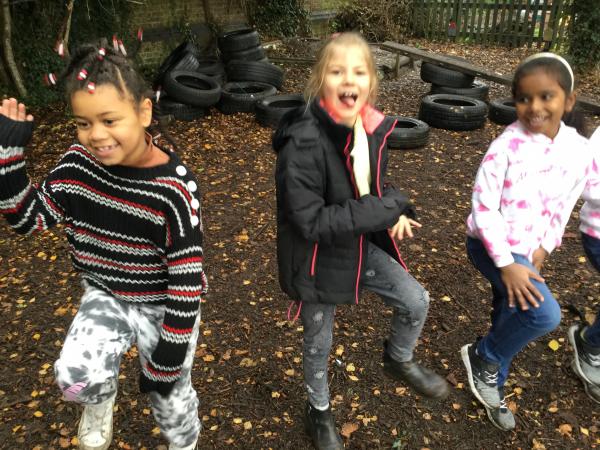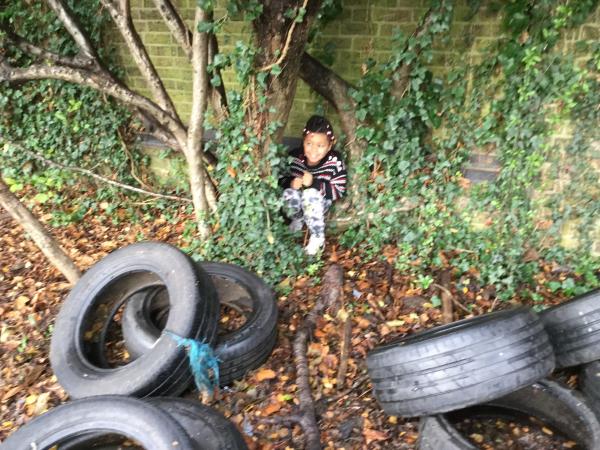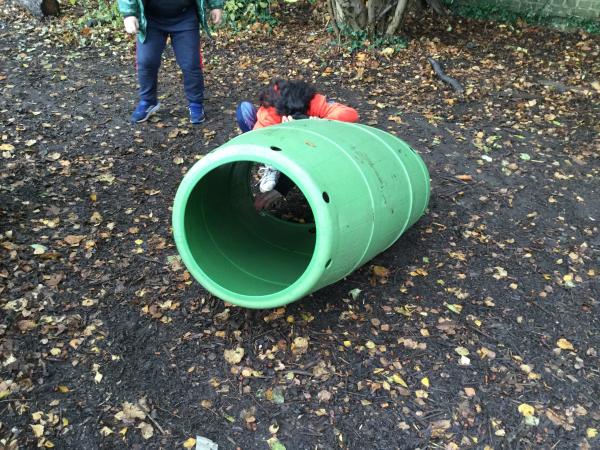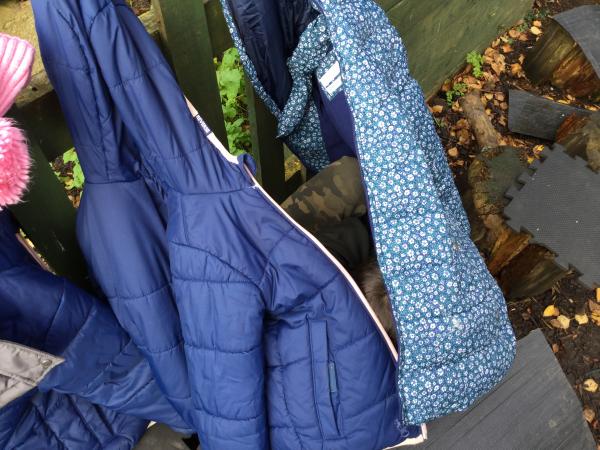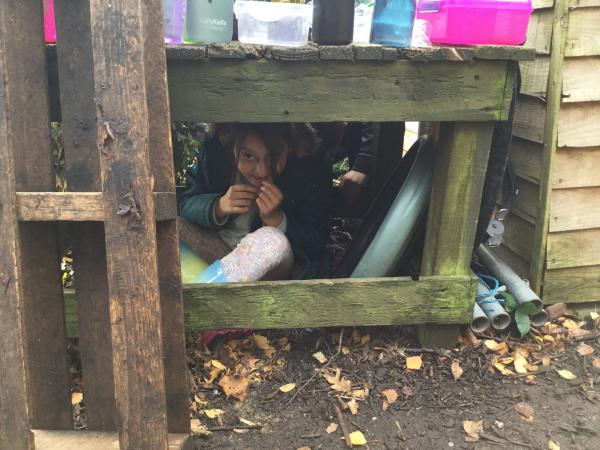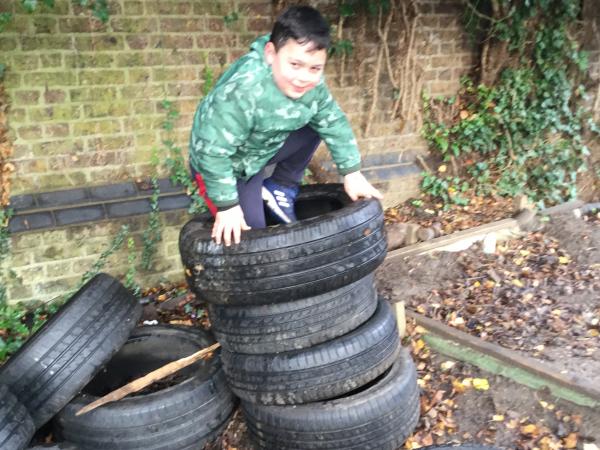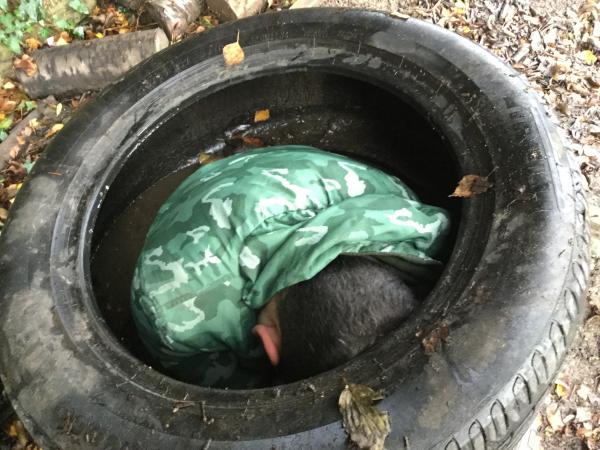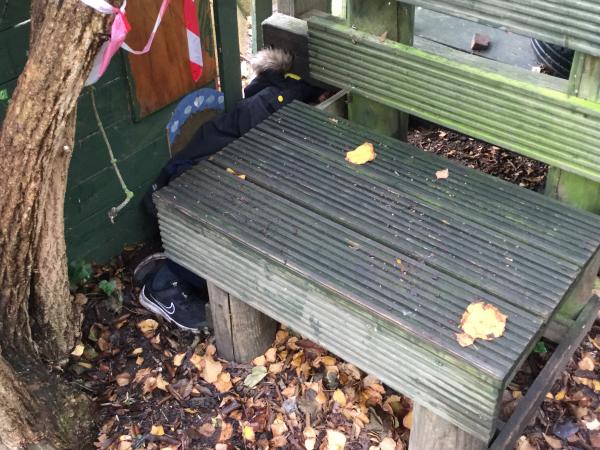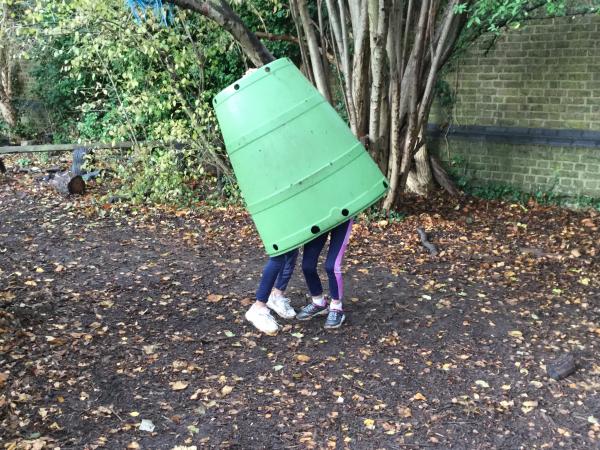 We are proud of our books
3 Seagulls have just started their brand new RE books. We started with displaying our mission statement. Mrs Pease was so impressed with our careful writing and accompanying pictures she wanted to share them with you. Here are some examples.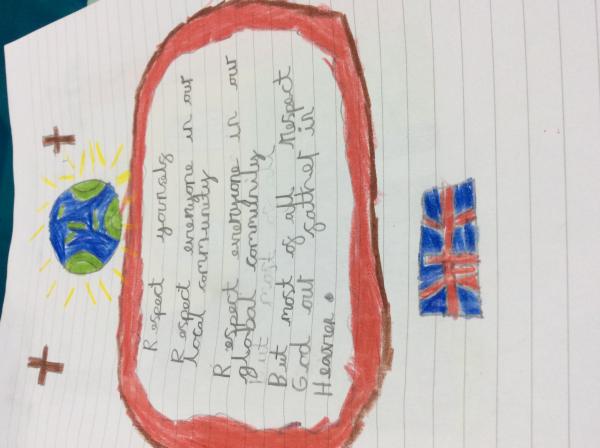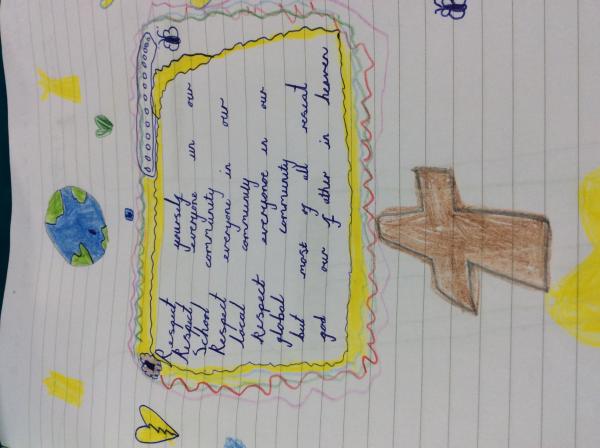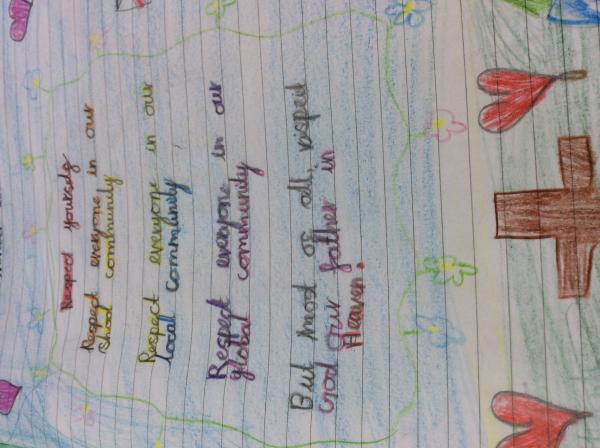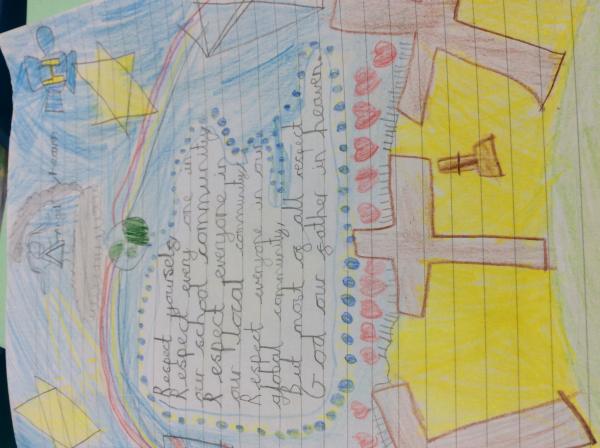 Rocks, fossils and rock cakes!
Today in Robins we enjoyed rock-cakes as part of our rocks & fossils topic. Some star bakers shared some yummy treats with us all. We then let extra energy off in the nature area!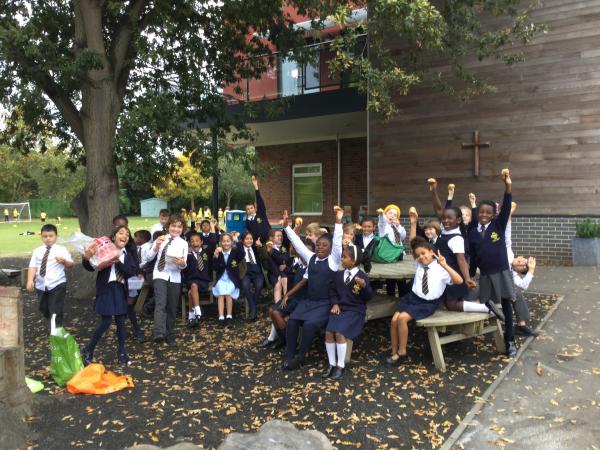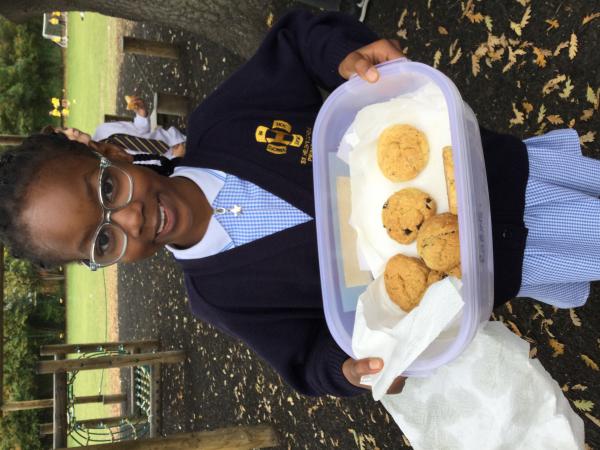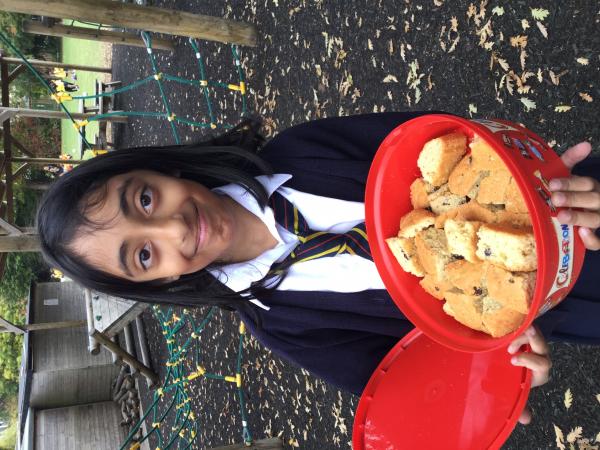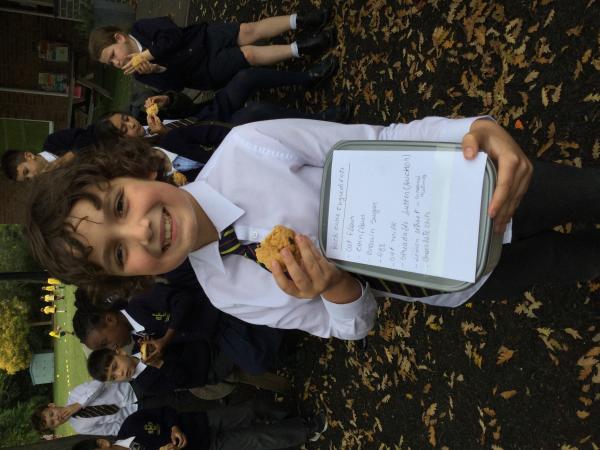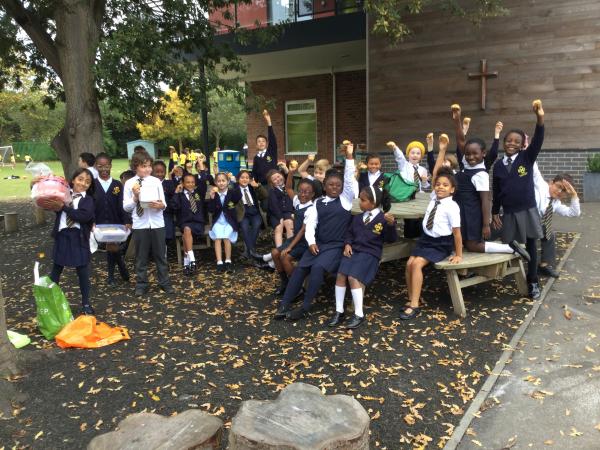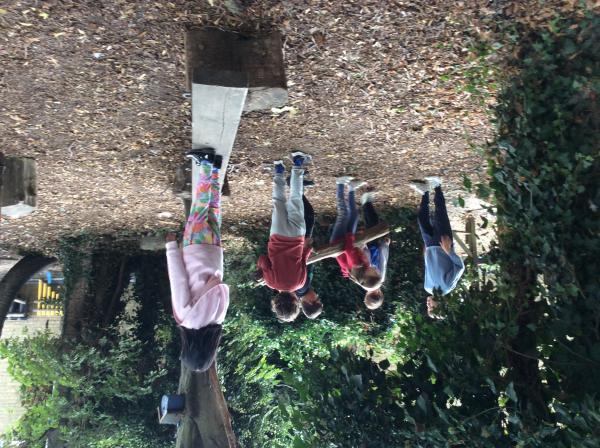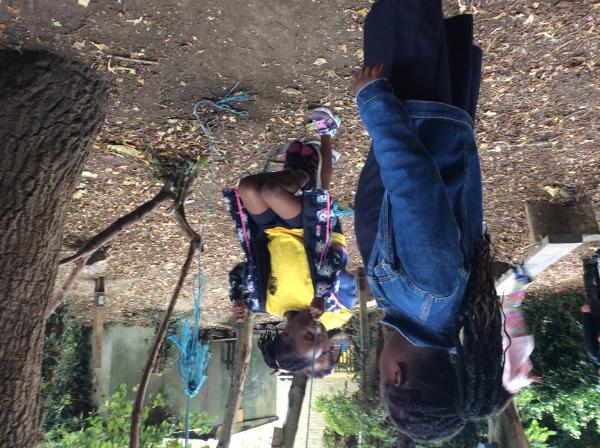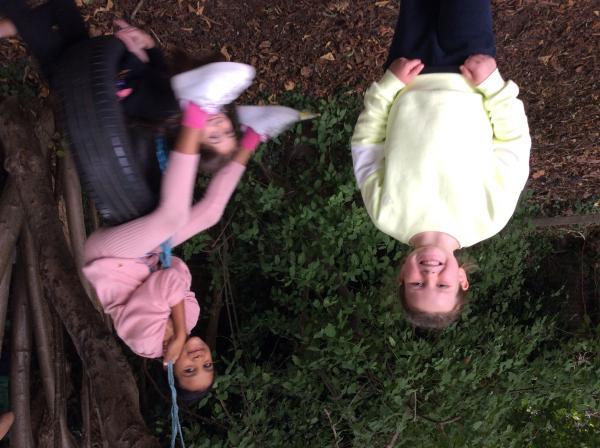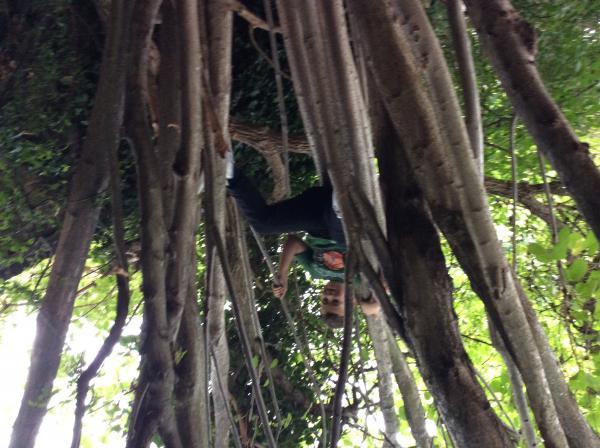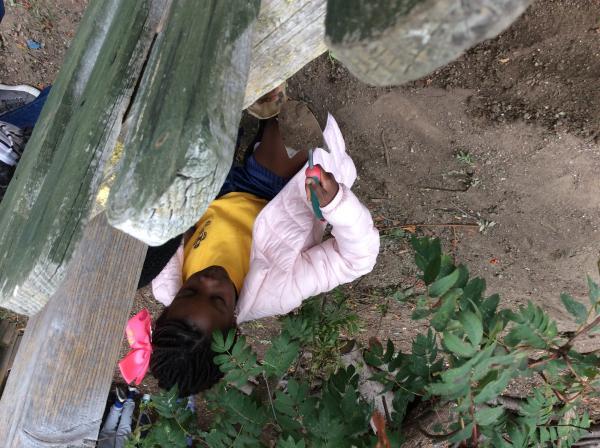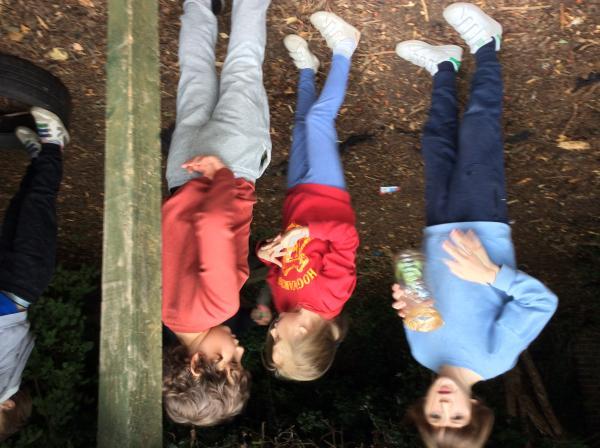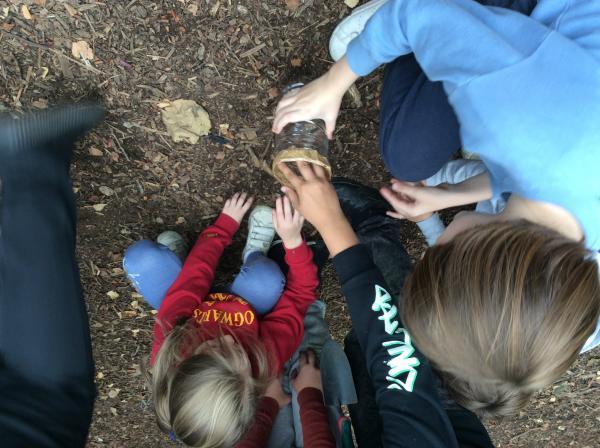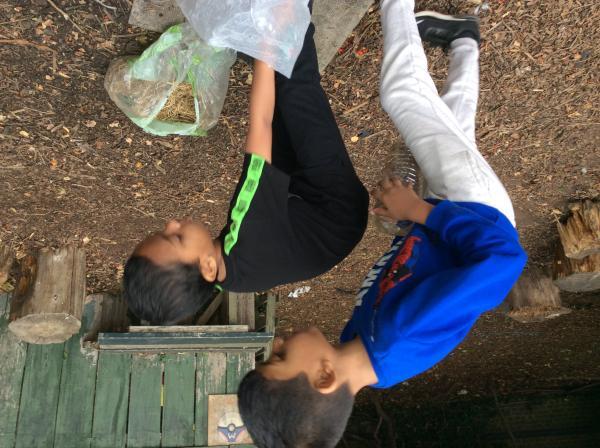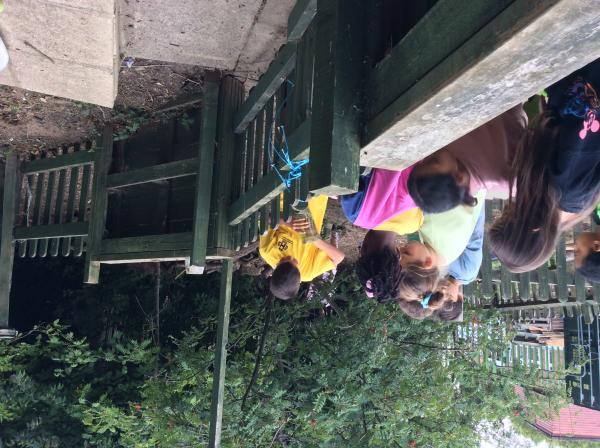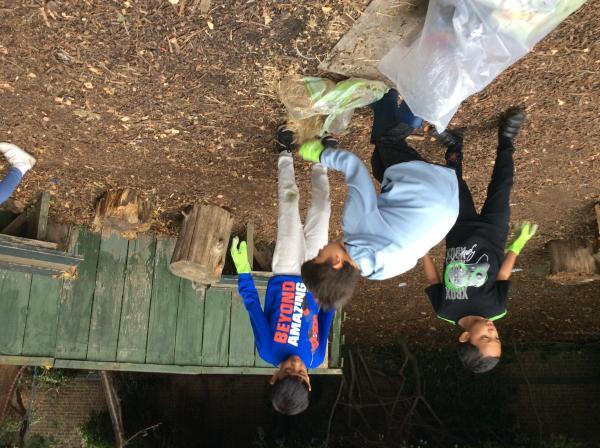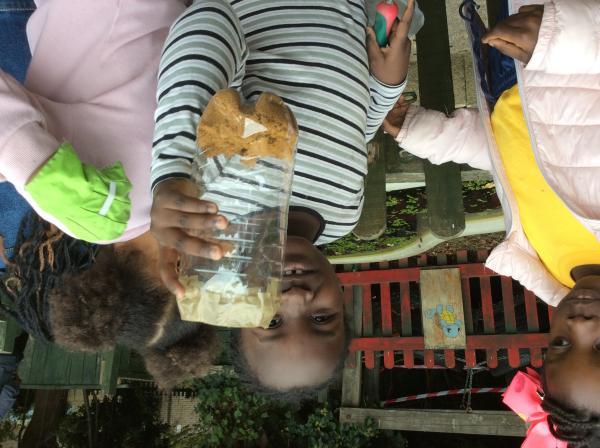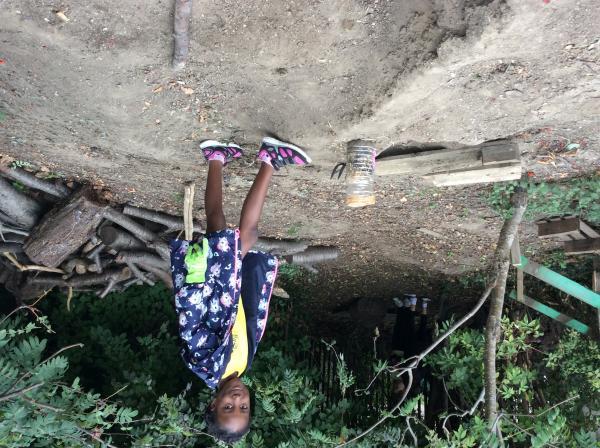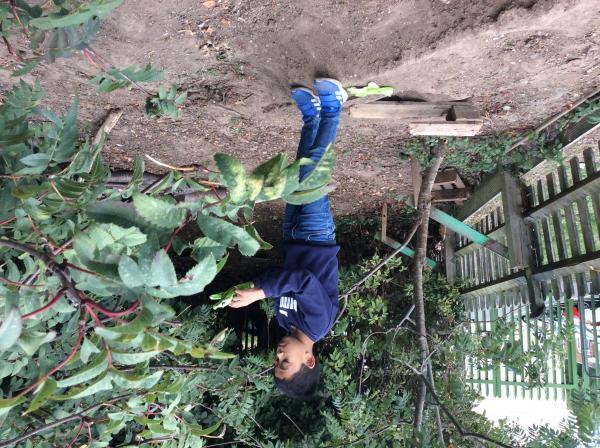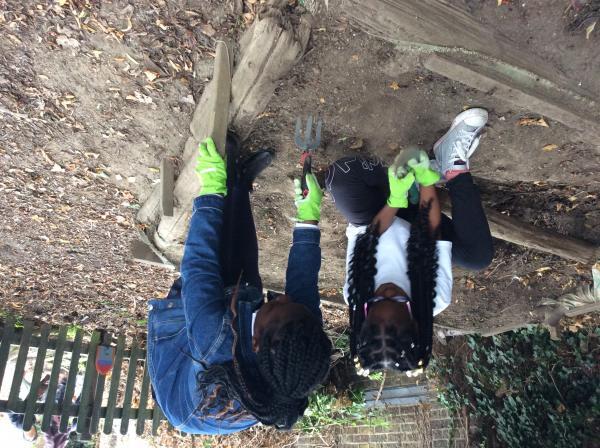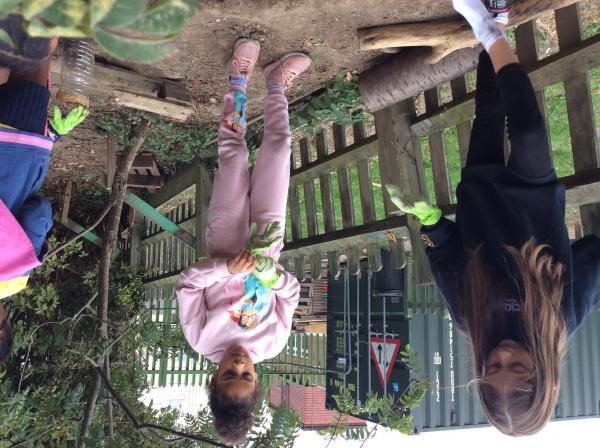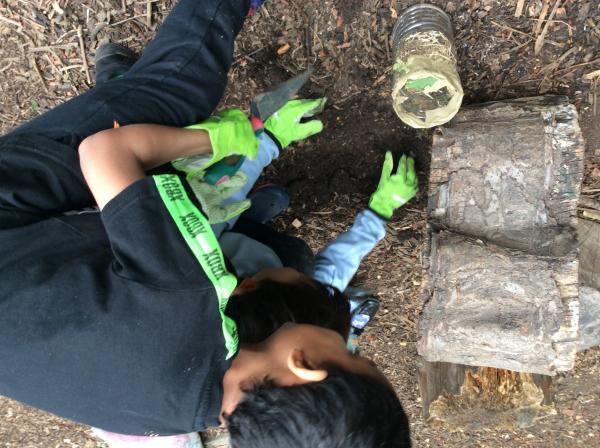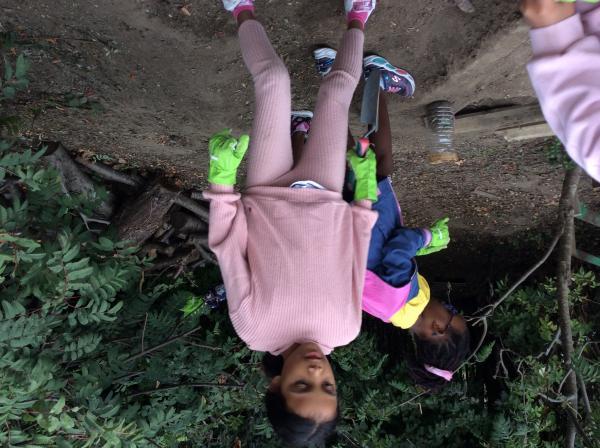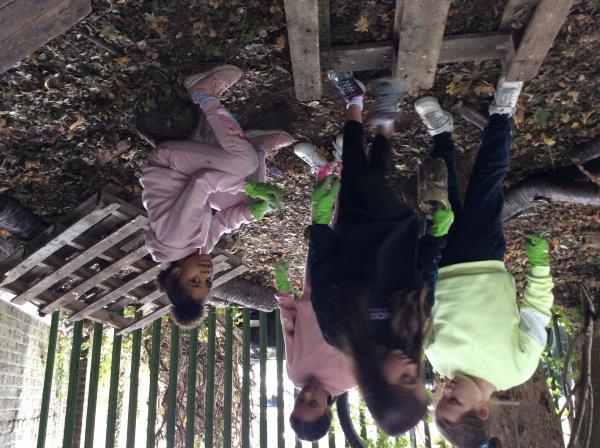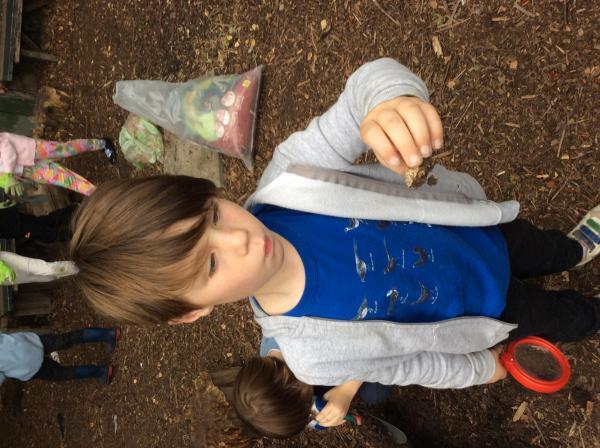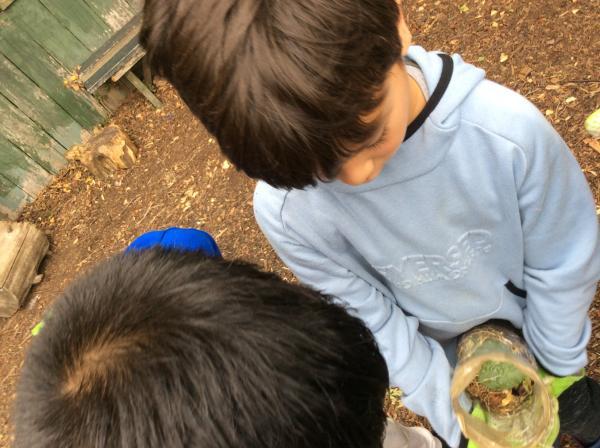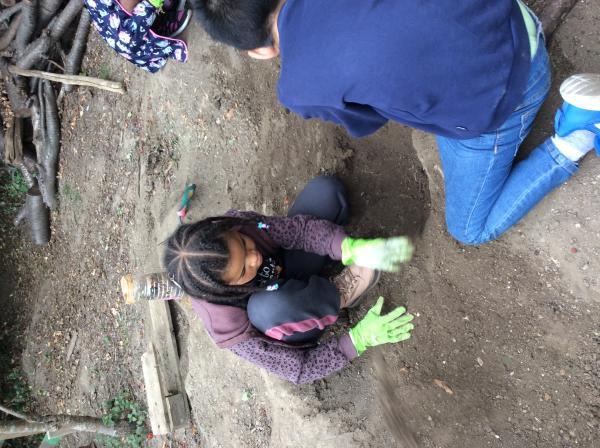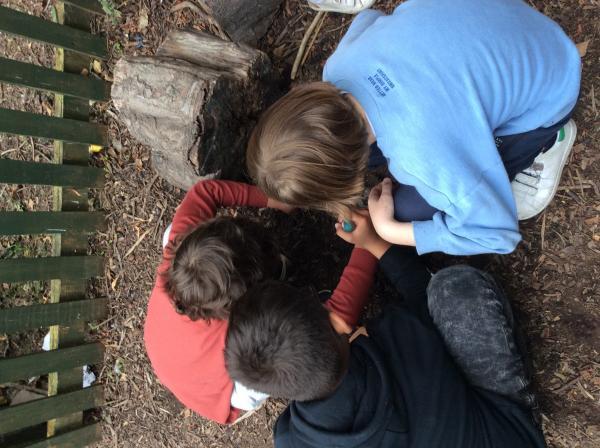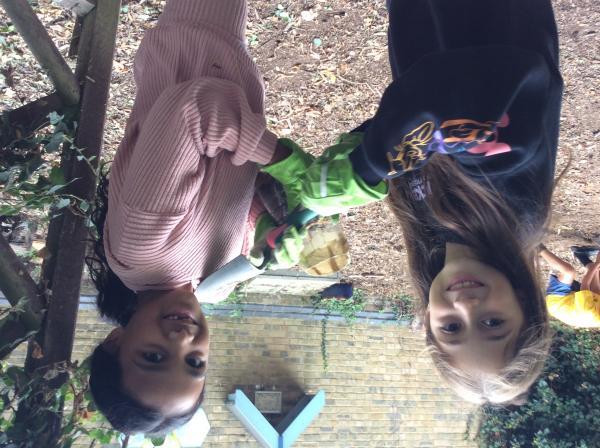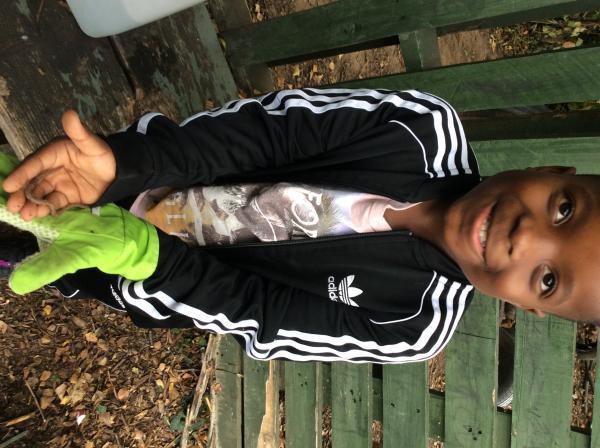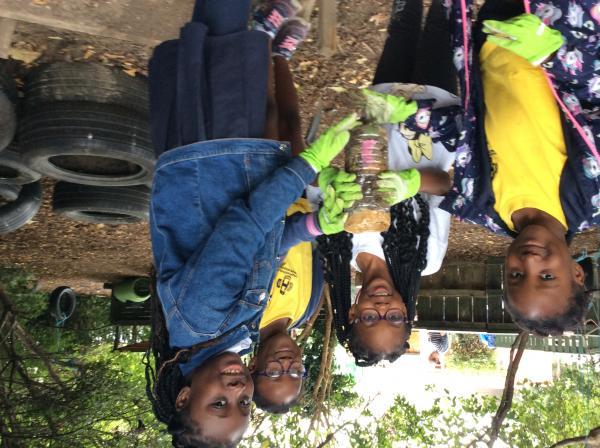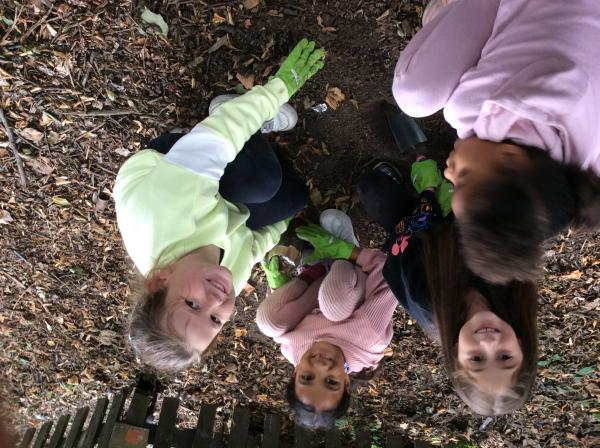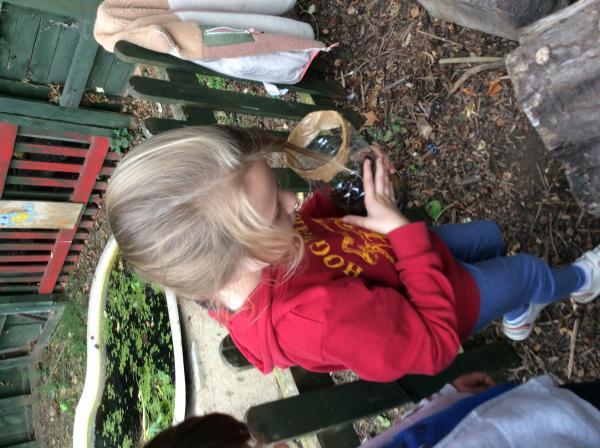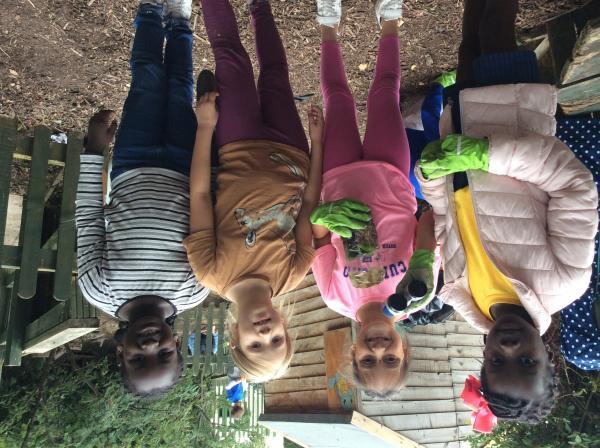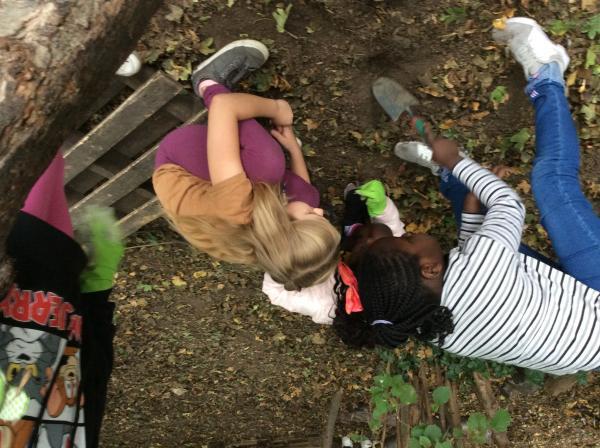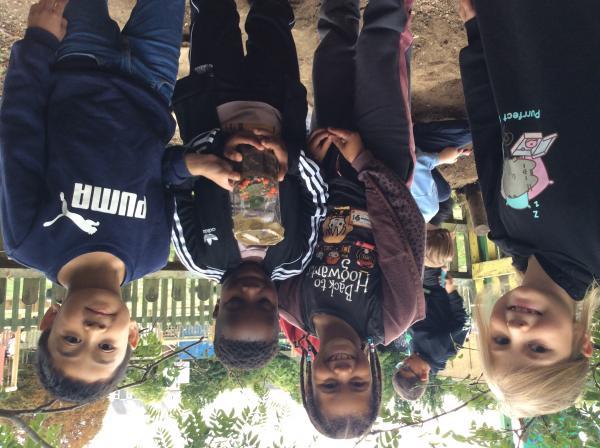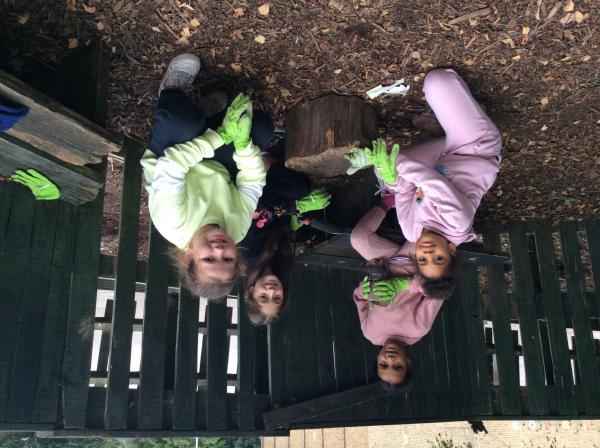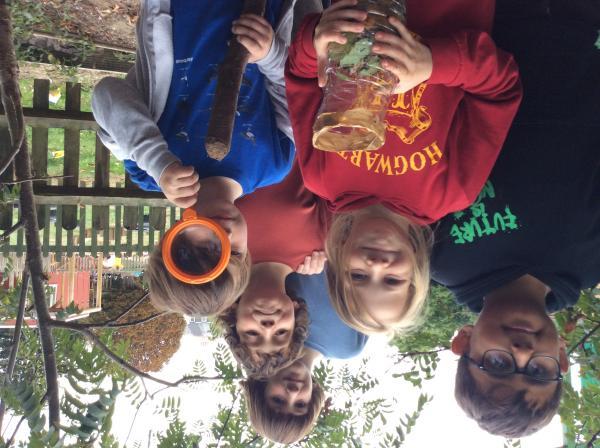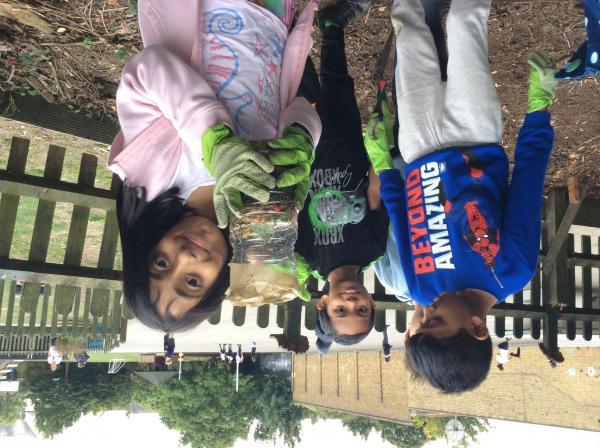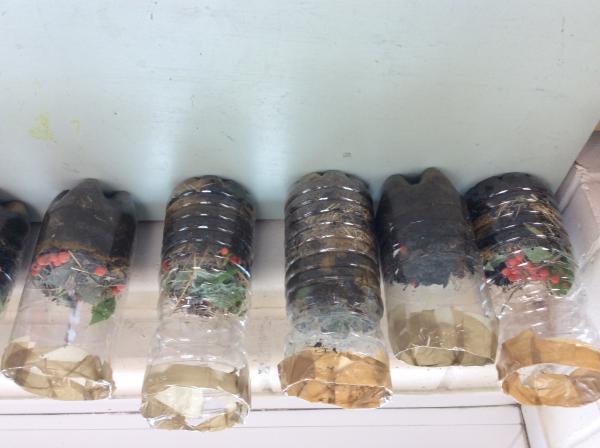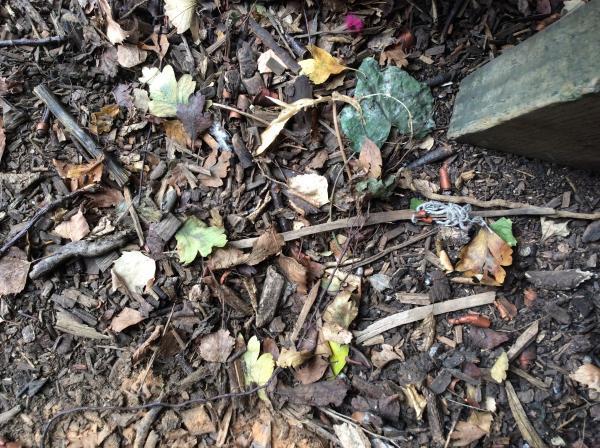 Seagulls Building Wormeries
Year 3 spent a busy afternoon in the nature area. They investigated the habitat and found various creatures hidden away. After talking about what we could find in the soil, Year 3 worked together to build wormeries. Unfortunately, they didn't have much success finding worms to add to their wormeries but hopefully, with some rain forecast, we may be able to add them later in the week.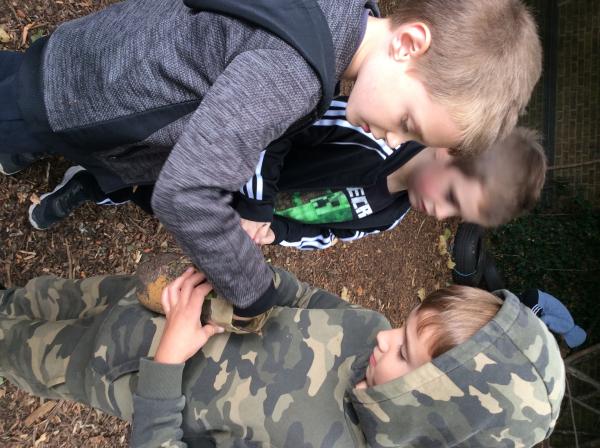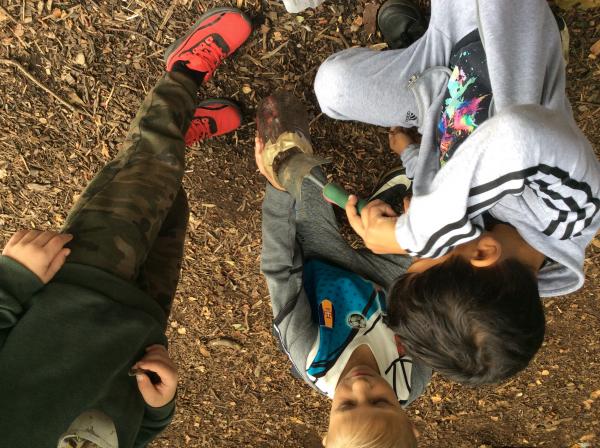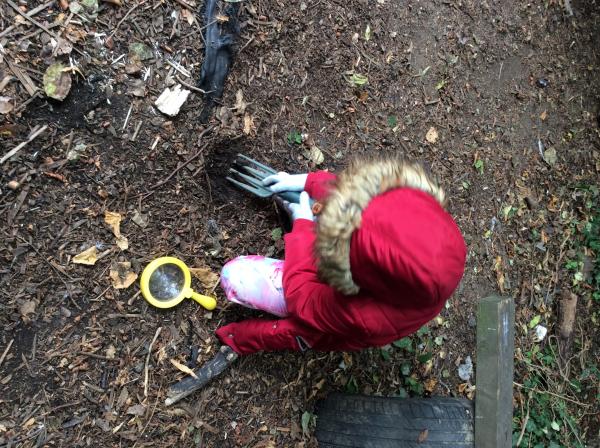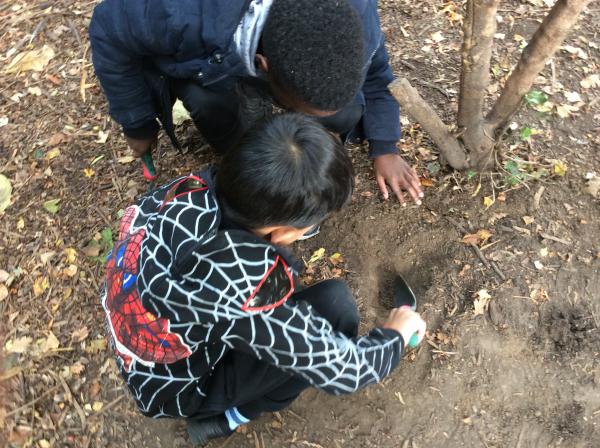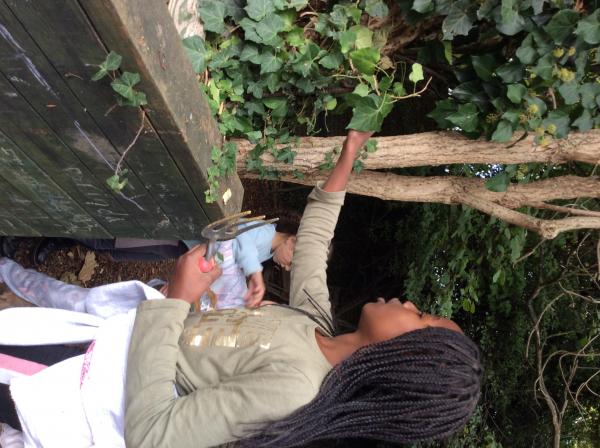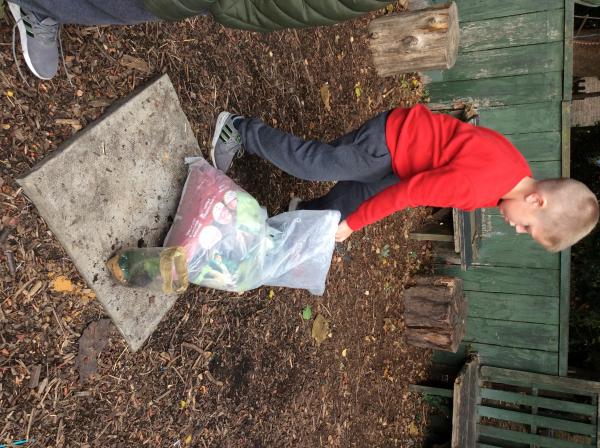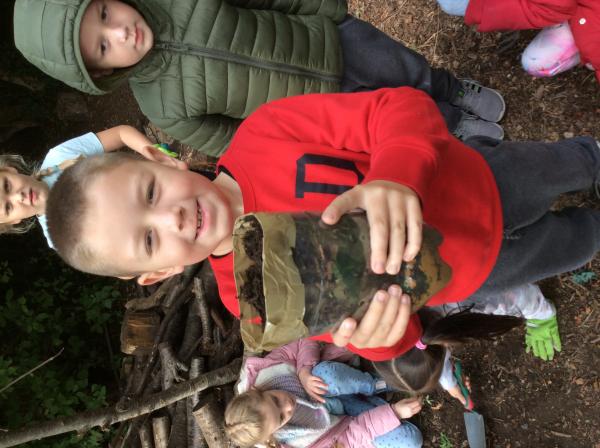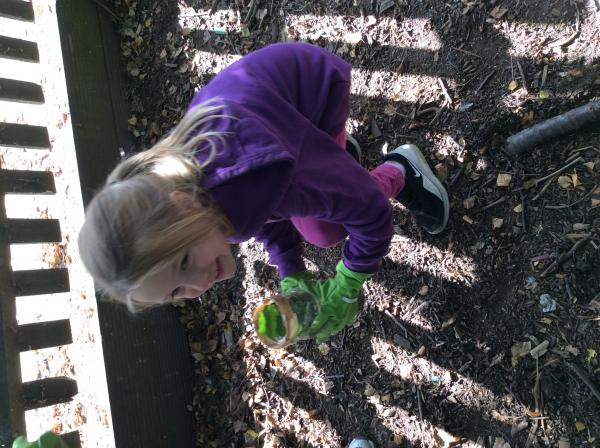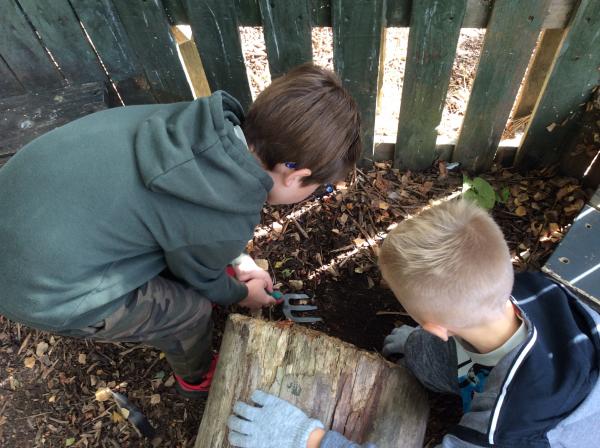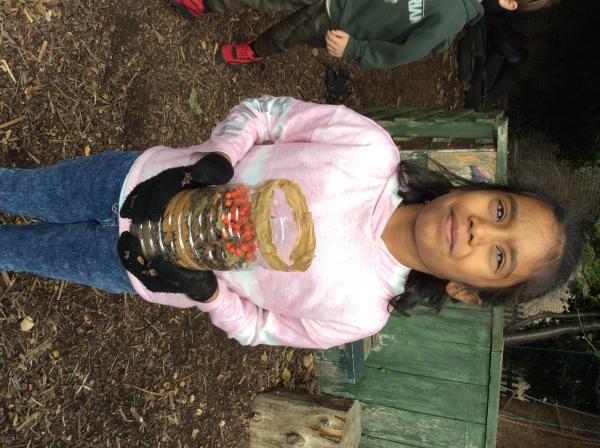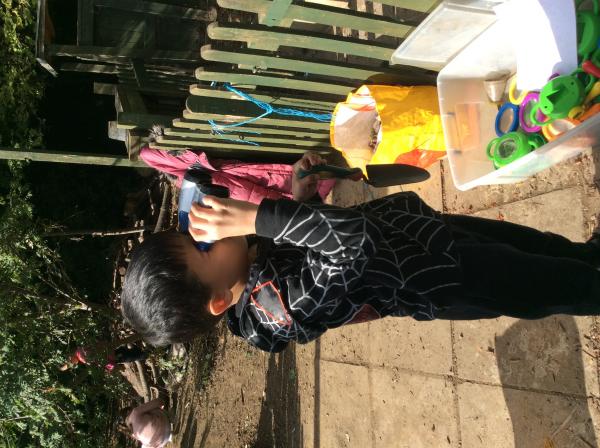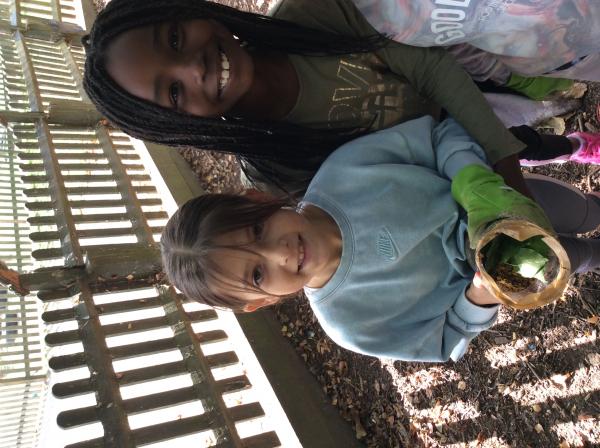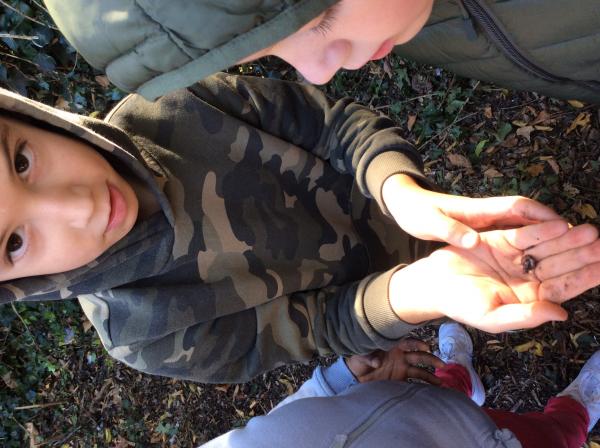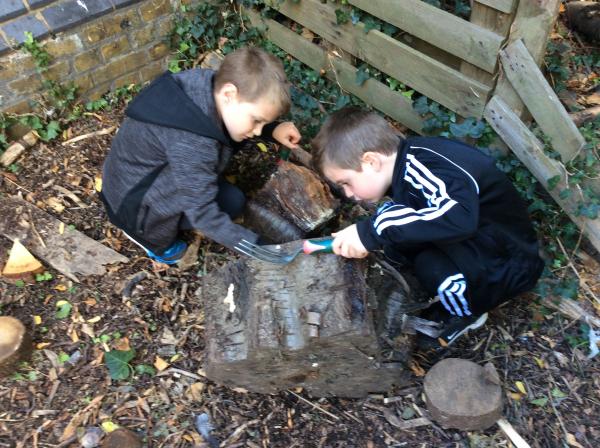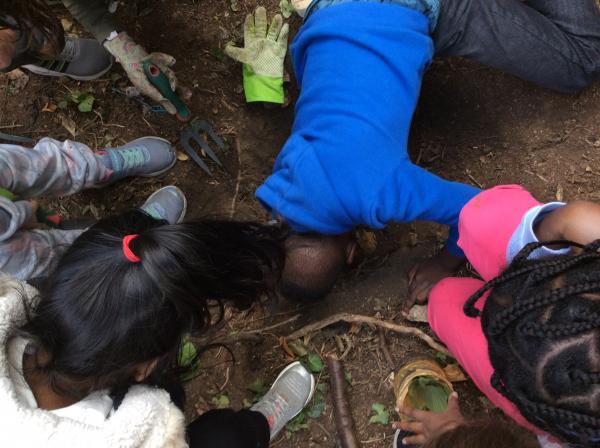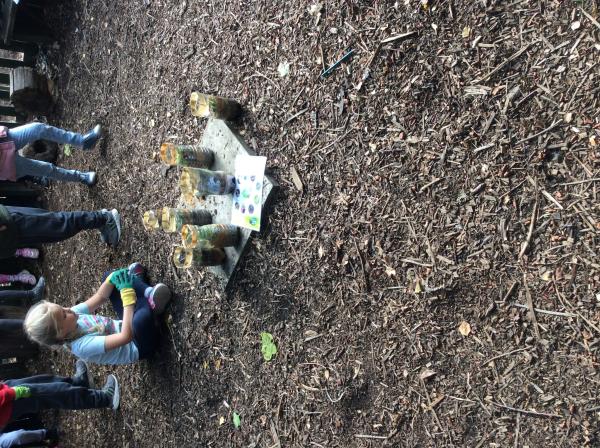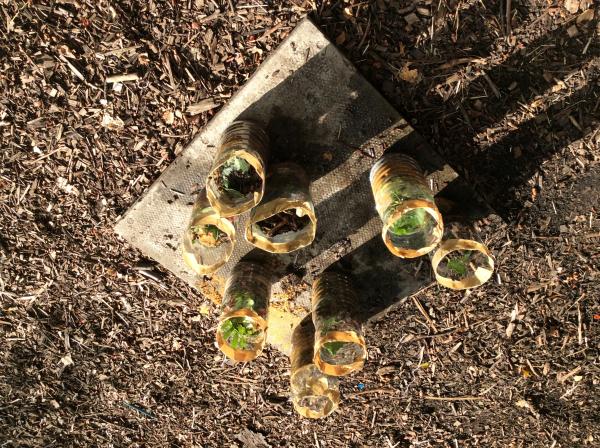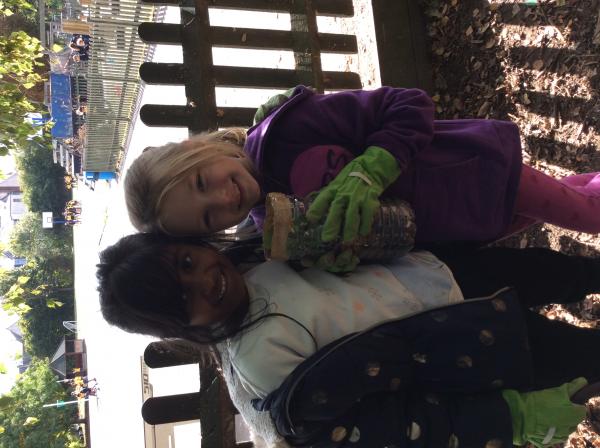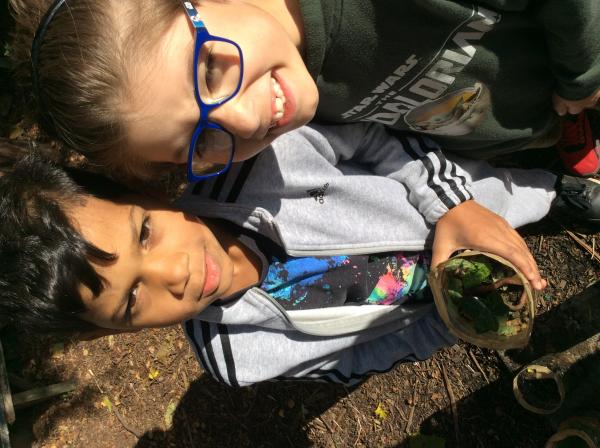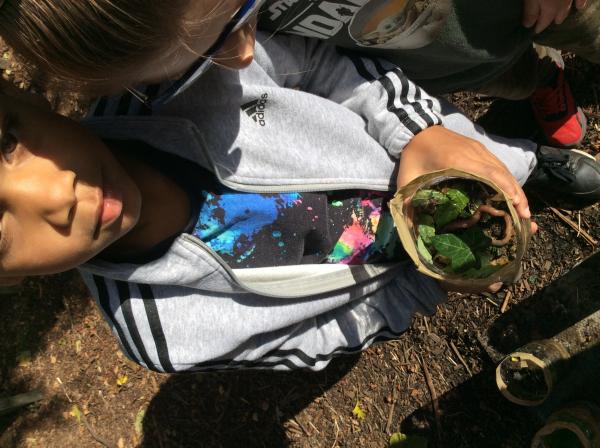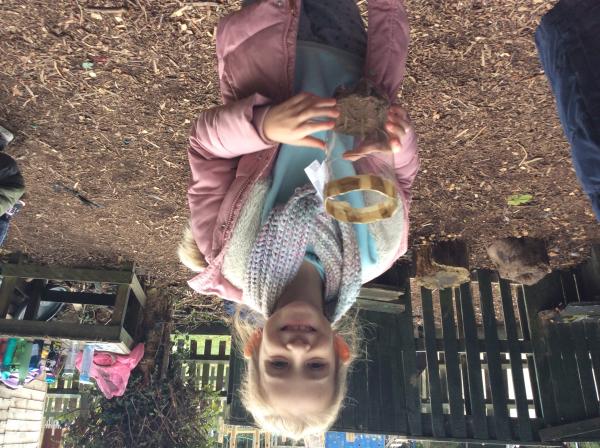 Building Wormeries
Year 3 enjoyed exploring the nature area today. In Science, they are studying Rocks, Soils and Fossils. Today, they designed and built their own wormeries. After digging deep, they found a few worms below the surface and created a wonderful habitat for them.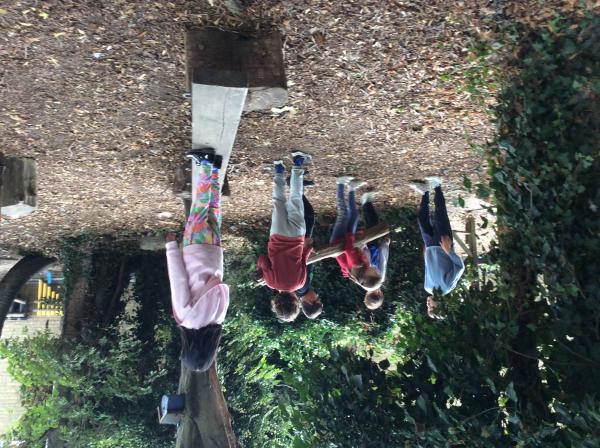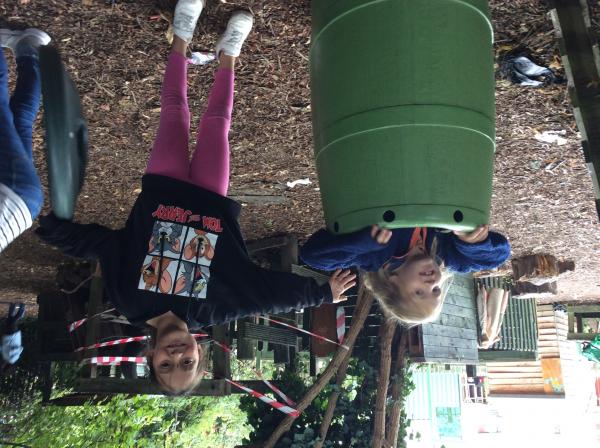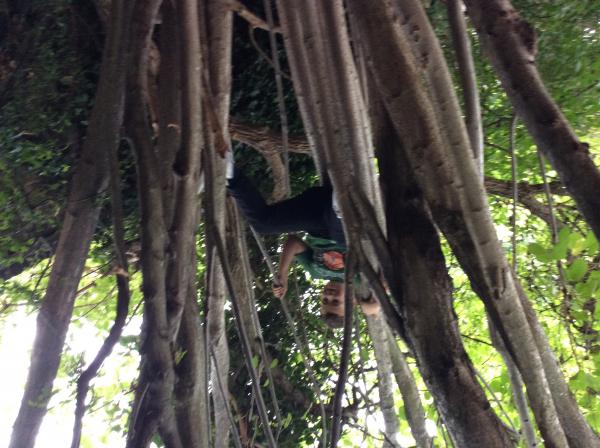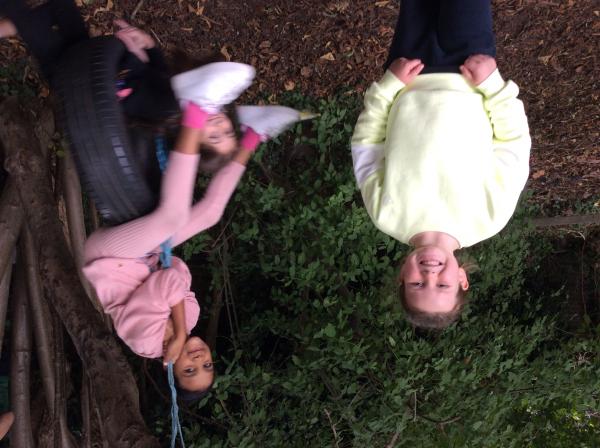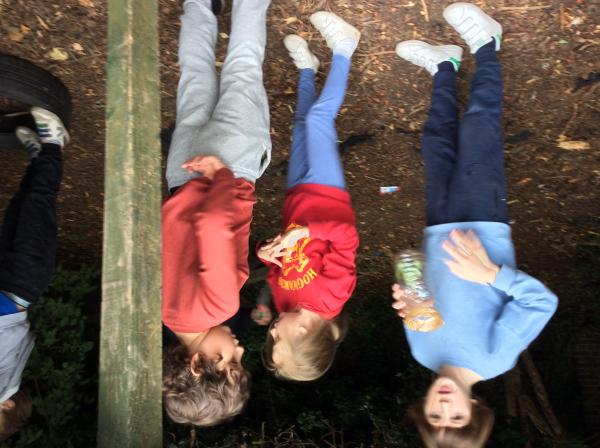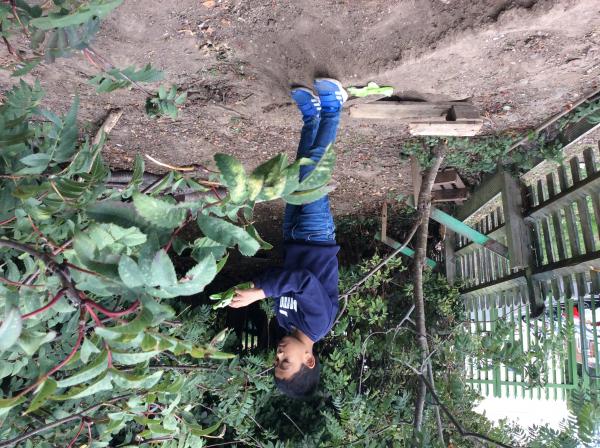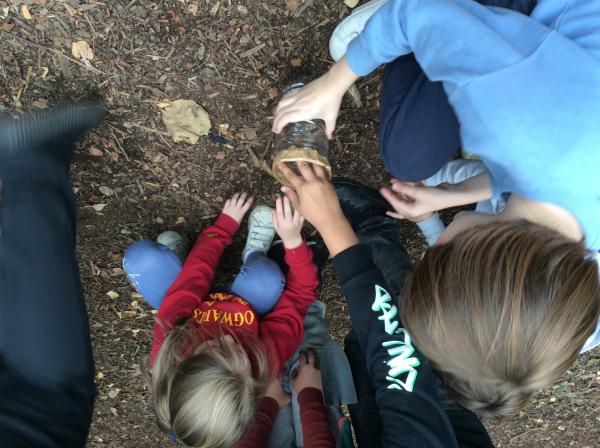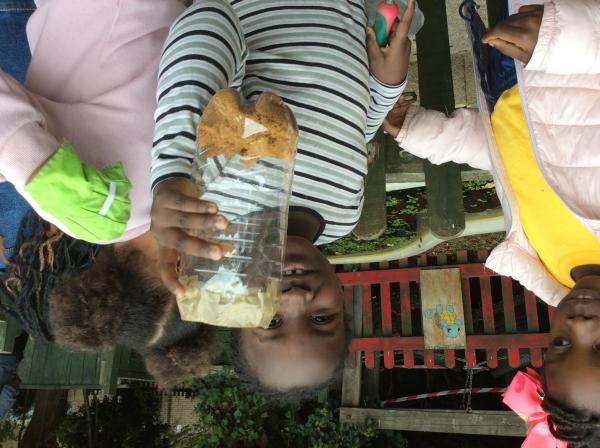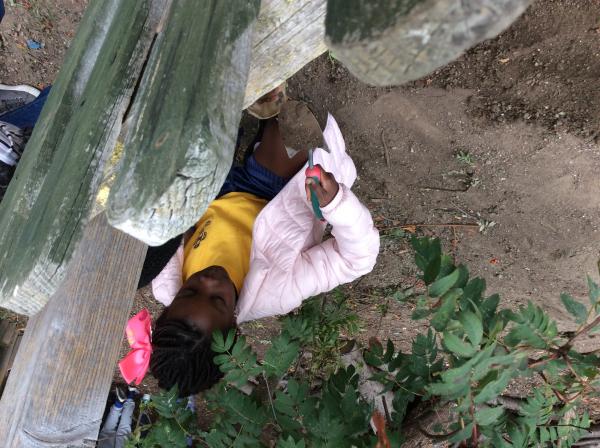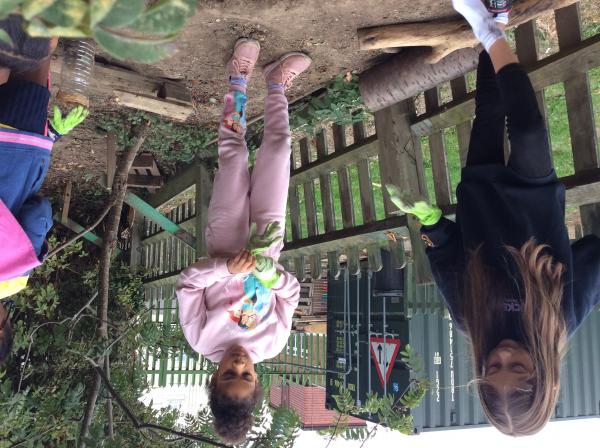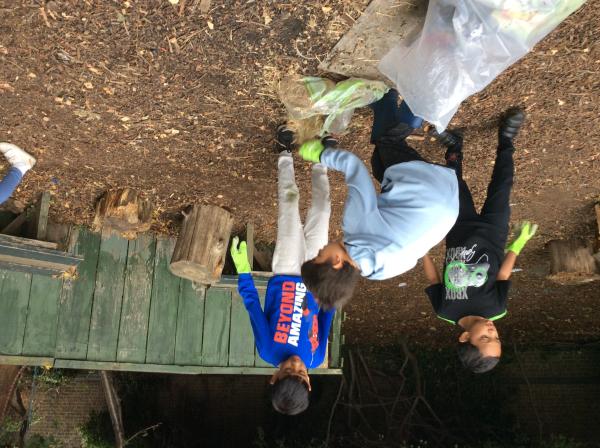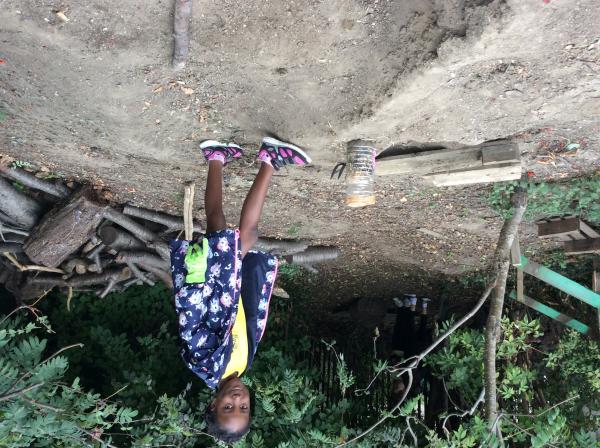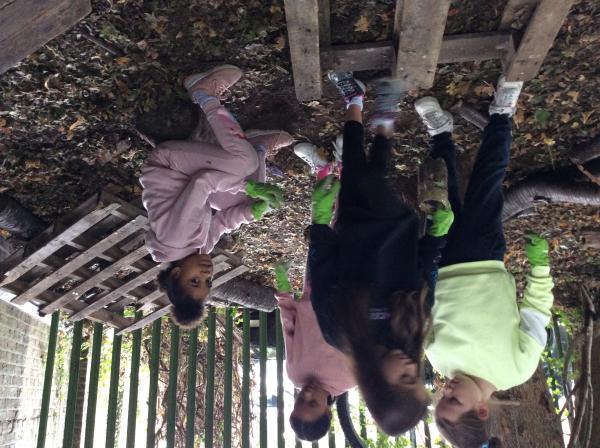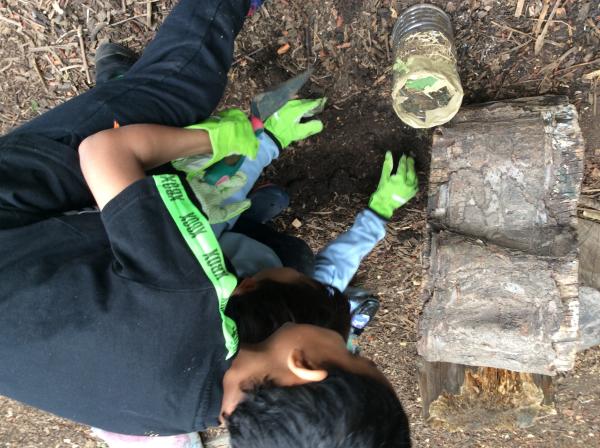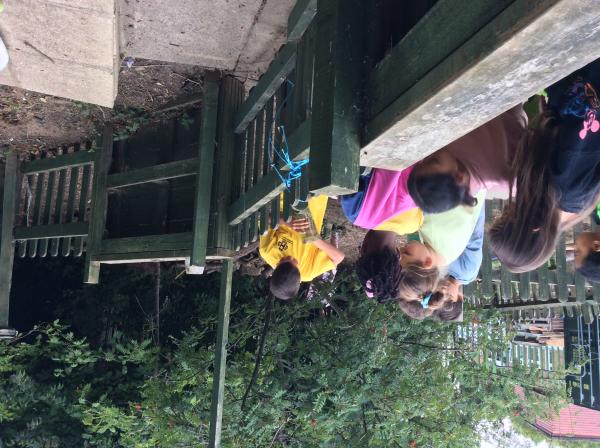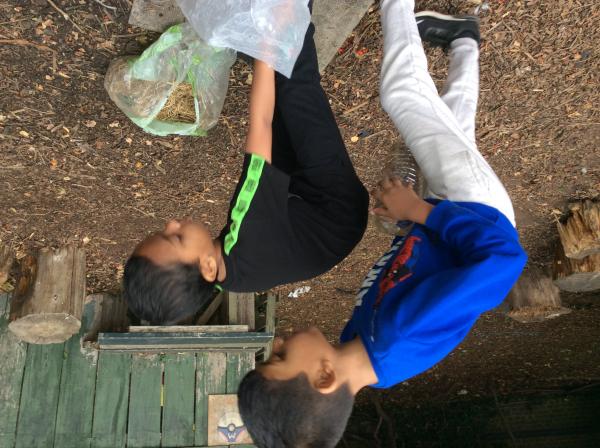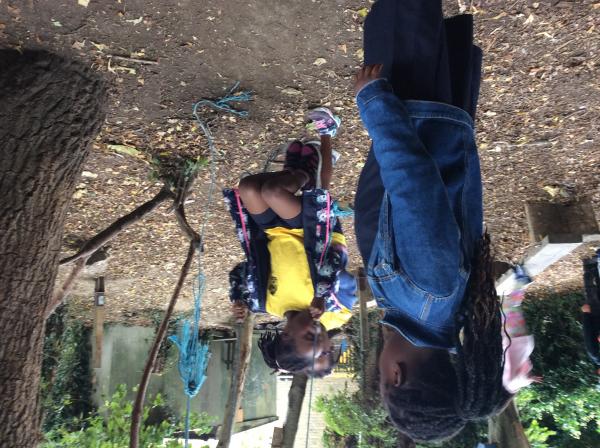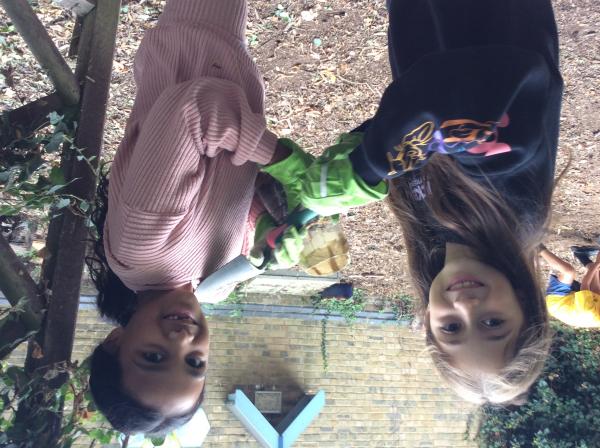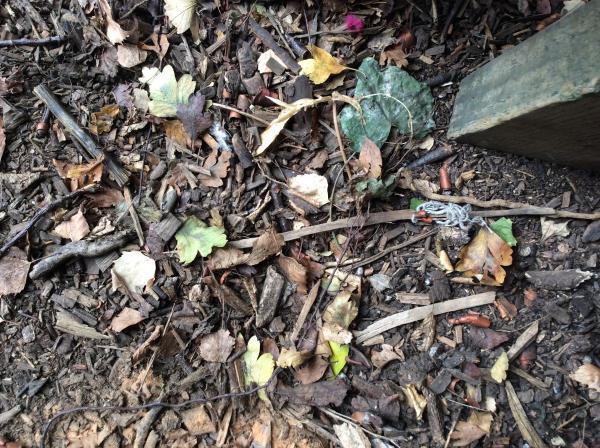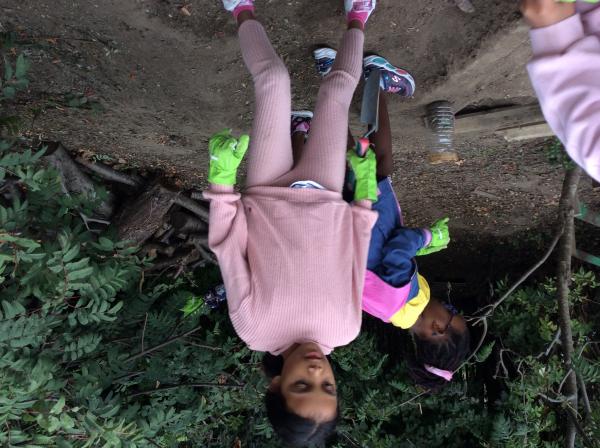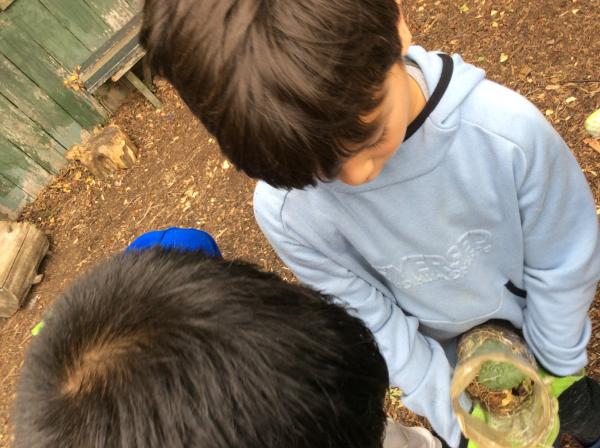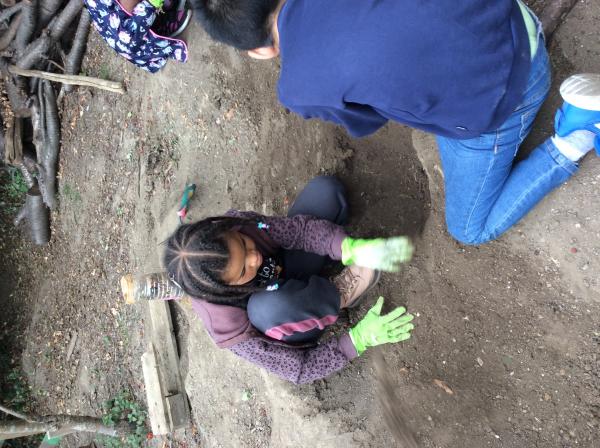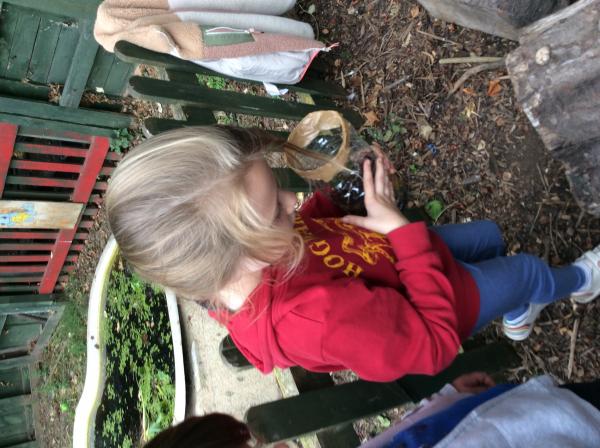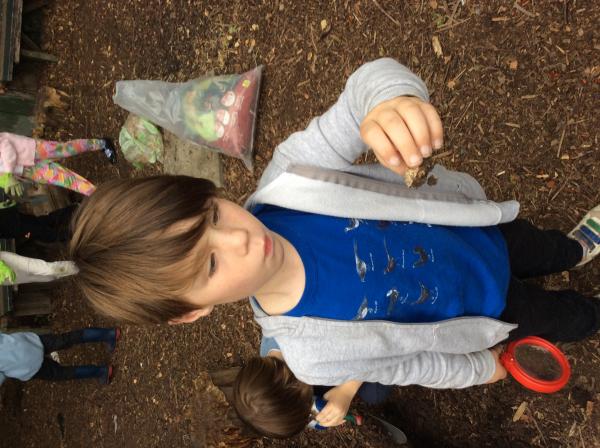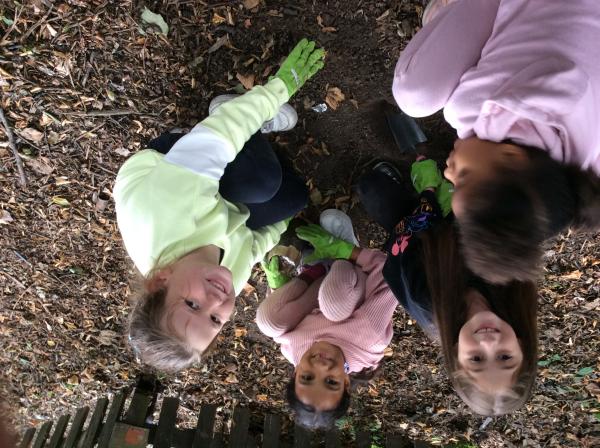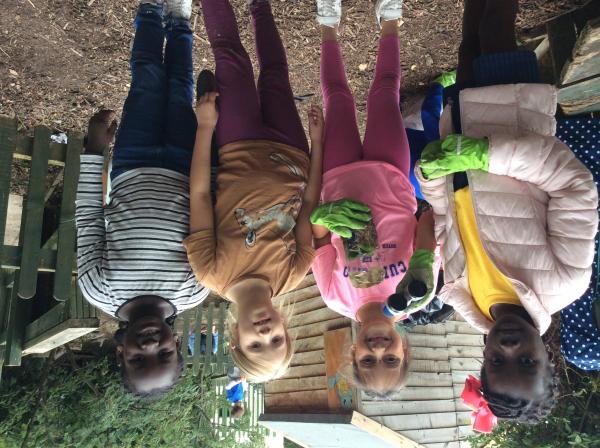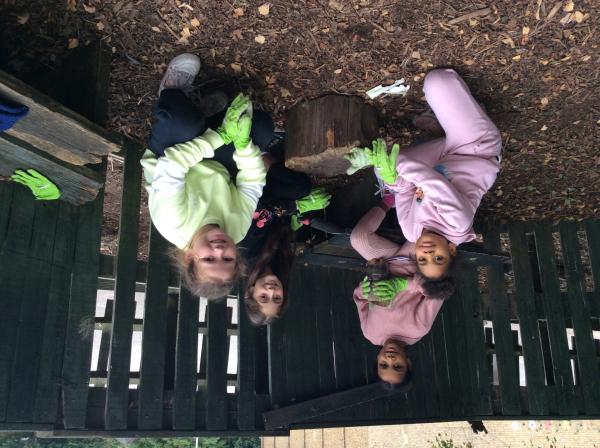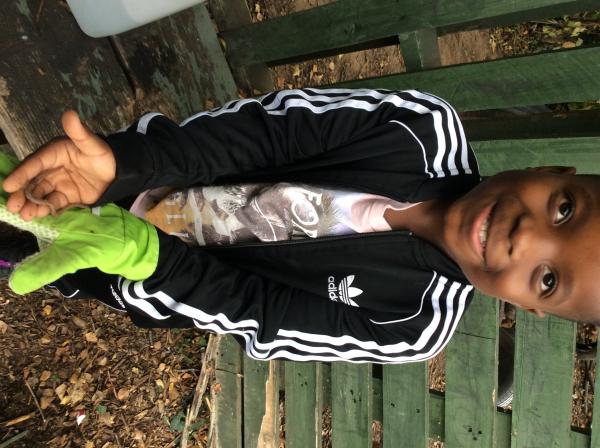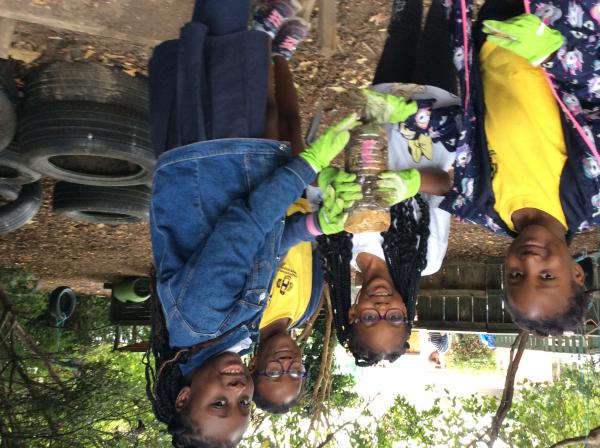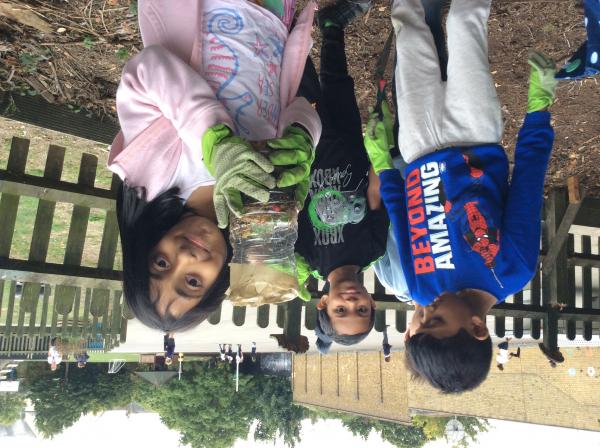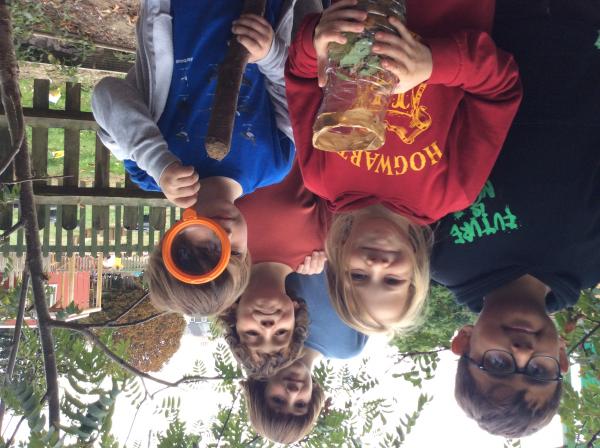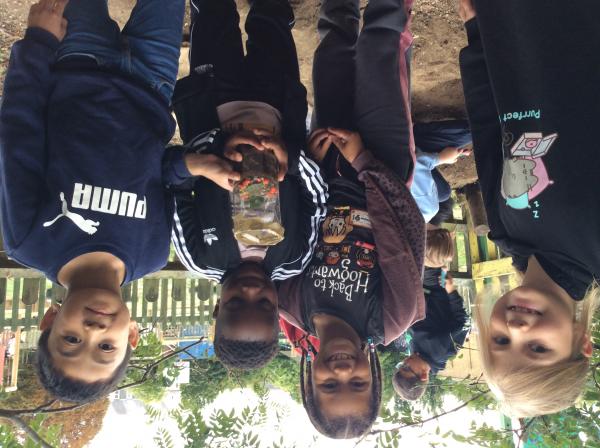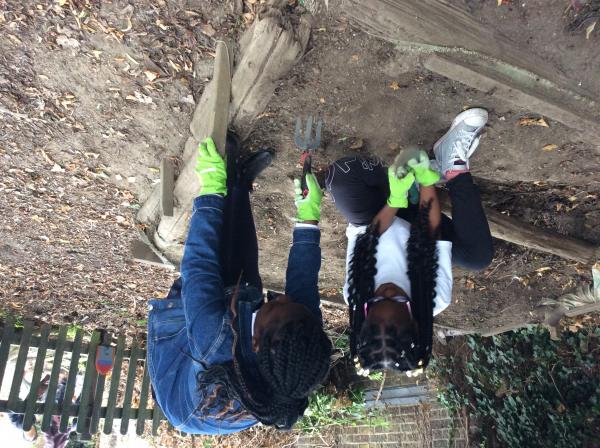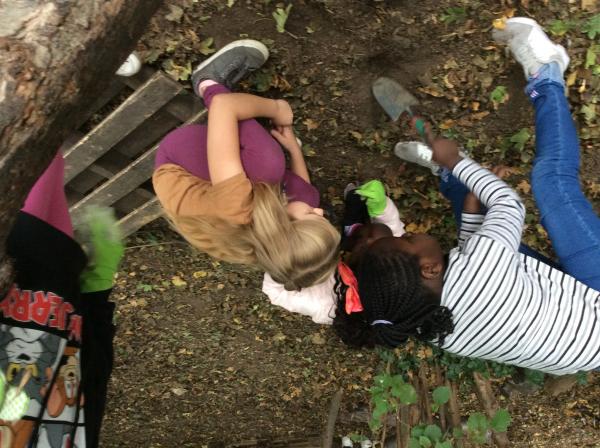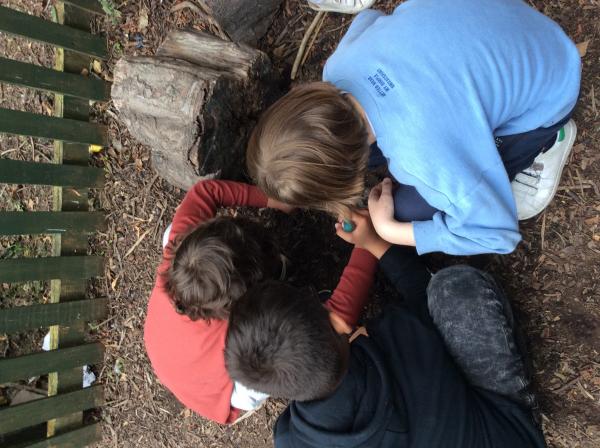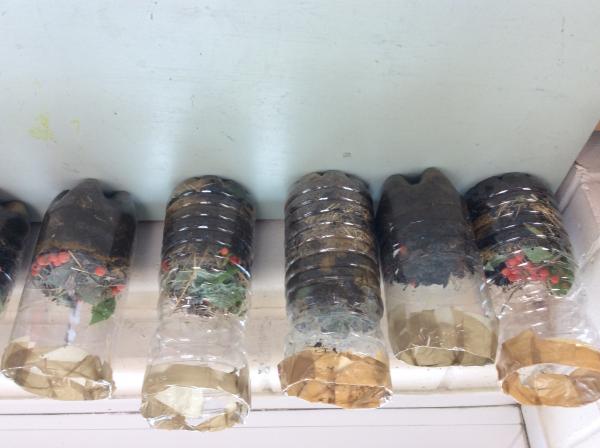 The children in Robin's class listened to famous theme tunes and said where they recognised them from: Jurassic Park, Harry Potter, Star Wars.
We then listened again and thought about what instruments we could hear.
We then learned about an orchestra and how different instruments create different layers of sounds to create marvelous pieces of work.
Later we watched clips from Fantasia and the story of Peter and the Wolf, identifying the instruments that created characters. We also talked about how music makes us feel.
WE THOROUGHLY ENJOYED OUR MORNING!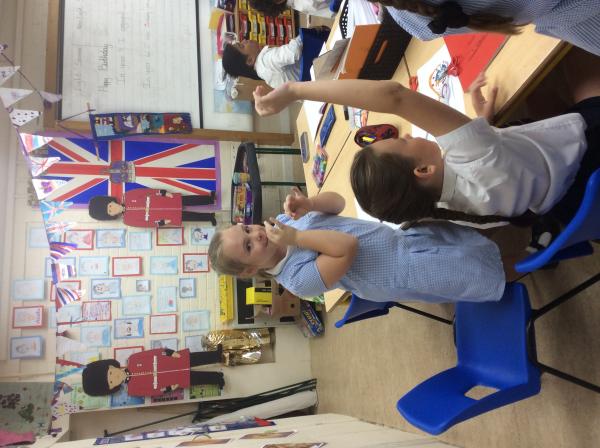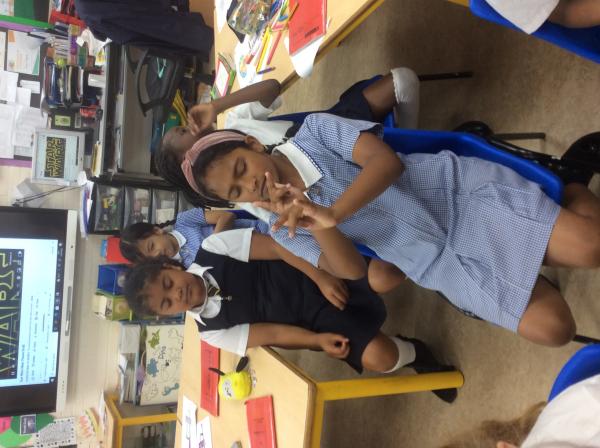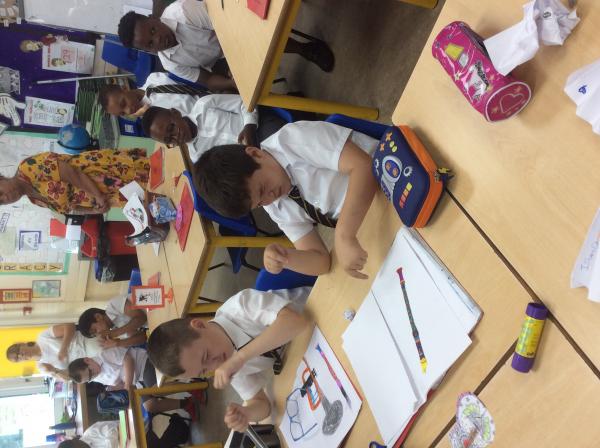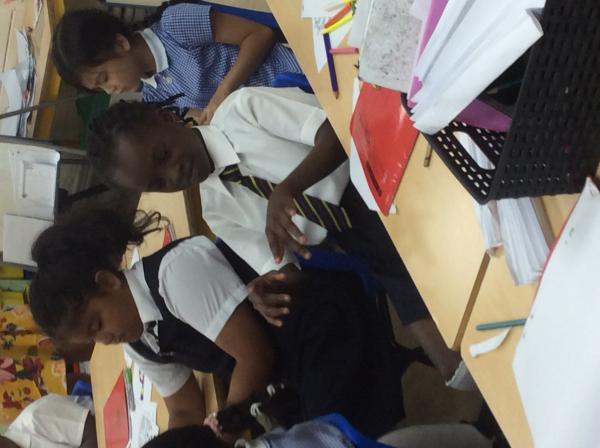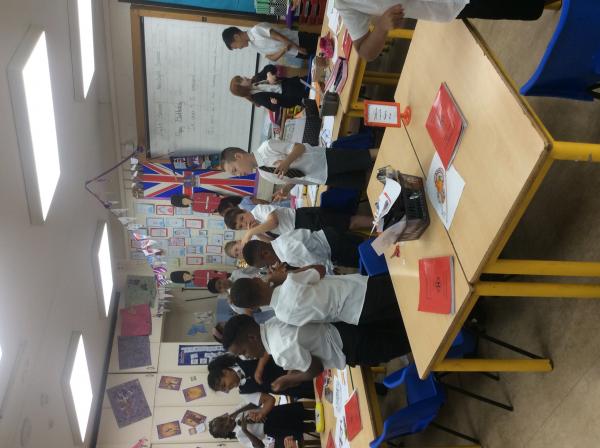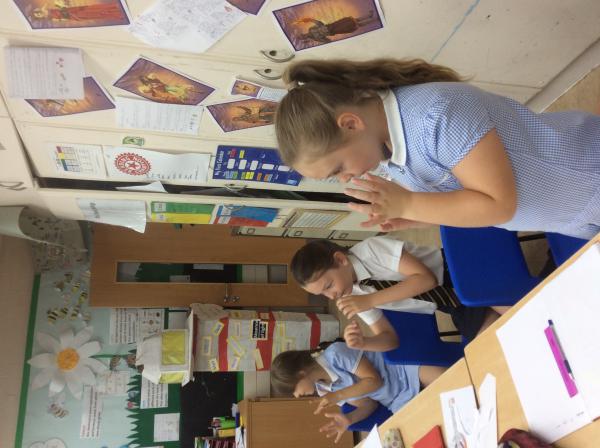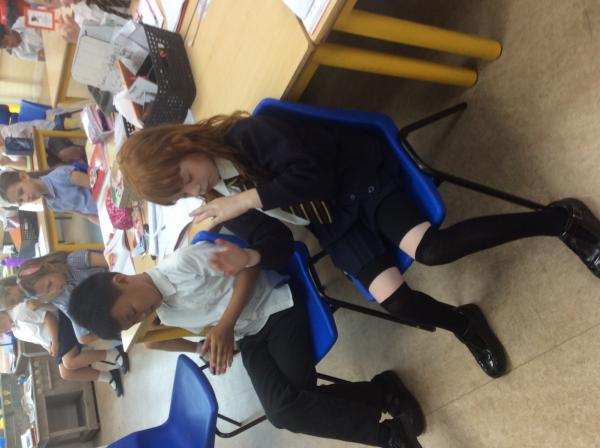 Robins Sun Safety Posters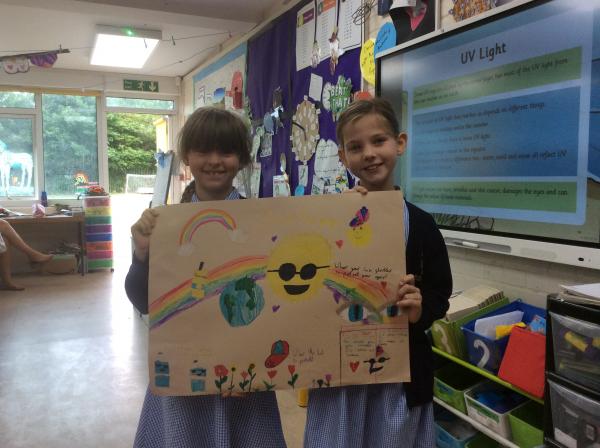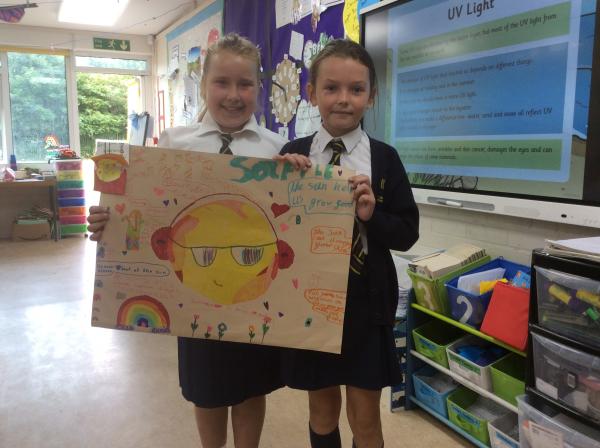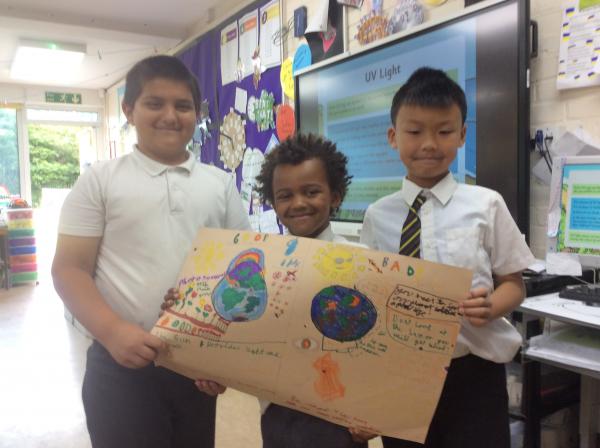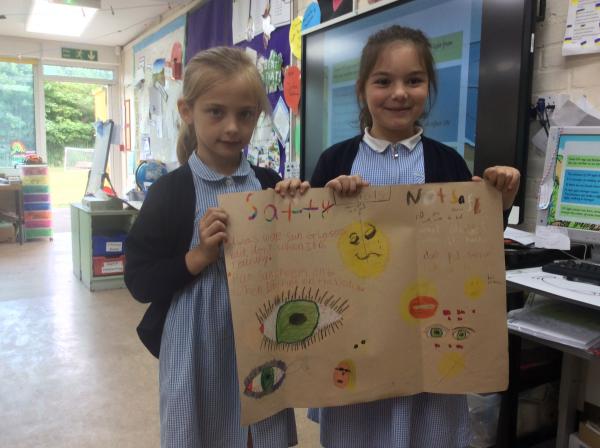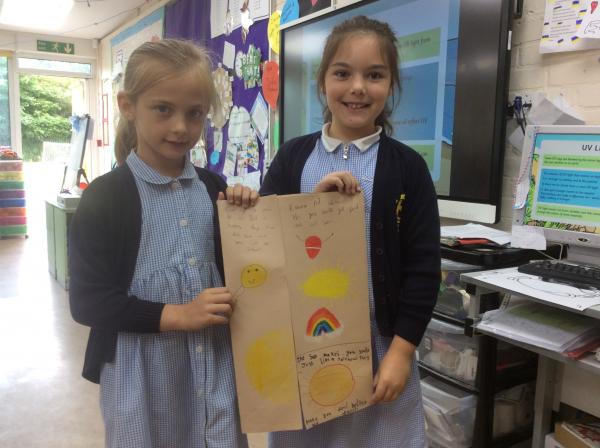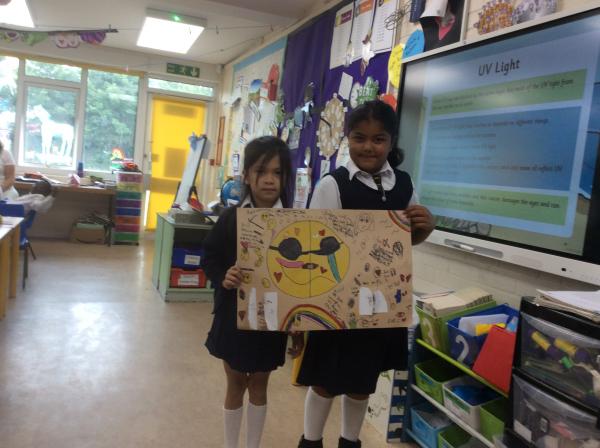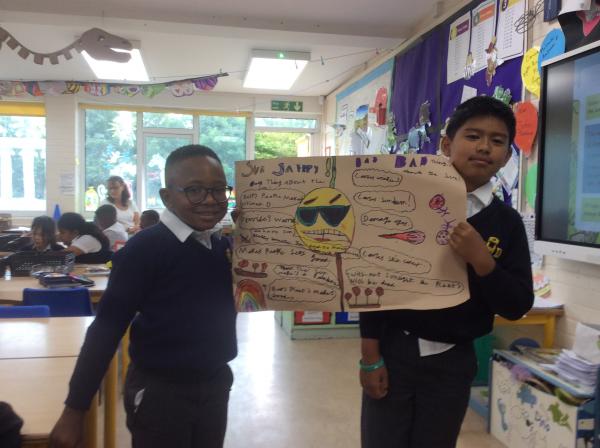 How tall is my shadow?
Robin's class were scientists this week investigating the question how tall is my shadow? They measured it at different times of the day and realised that their shadow shrunk in size. They then drew conclusions from their results.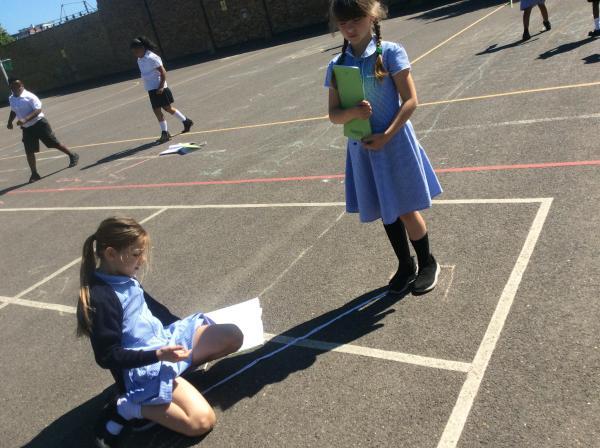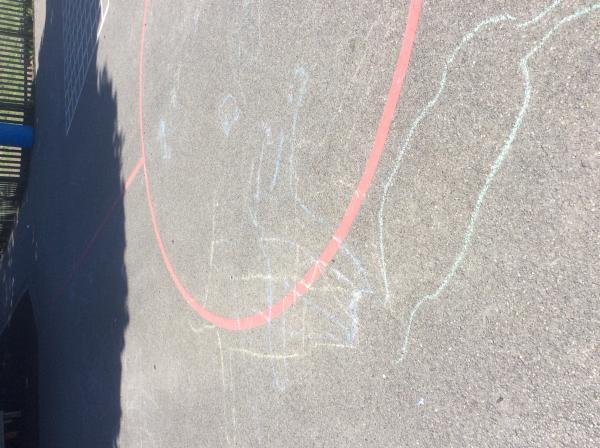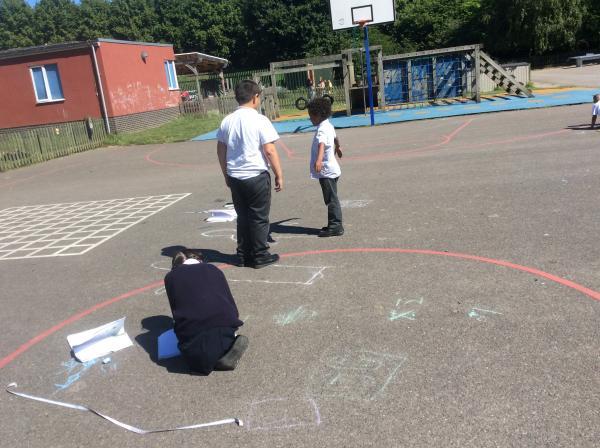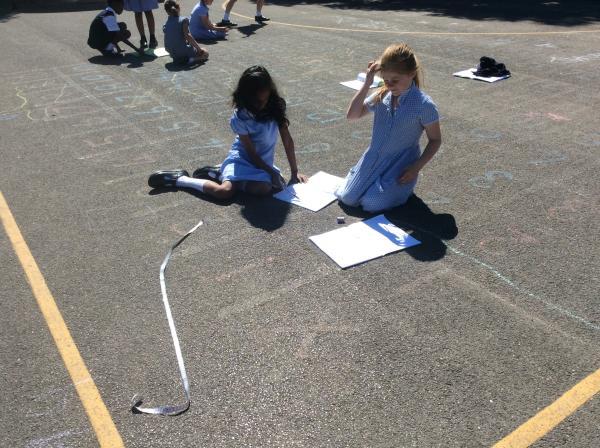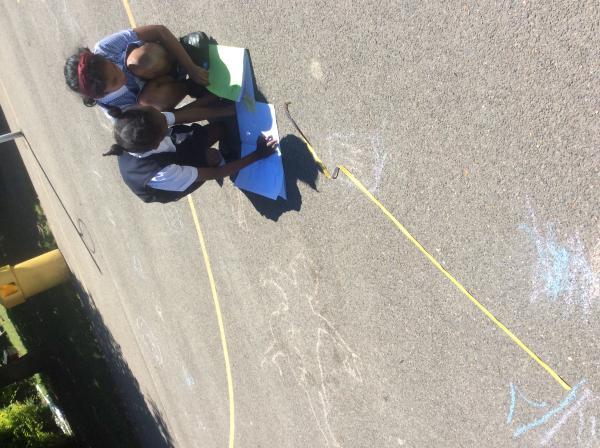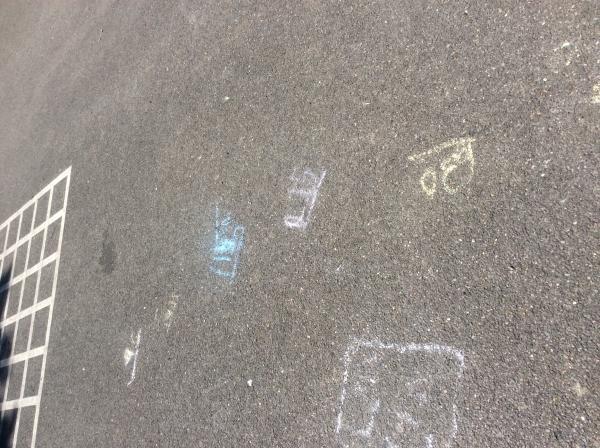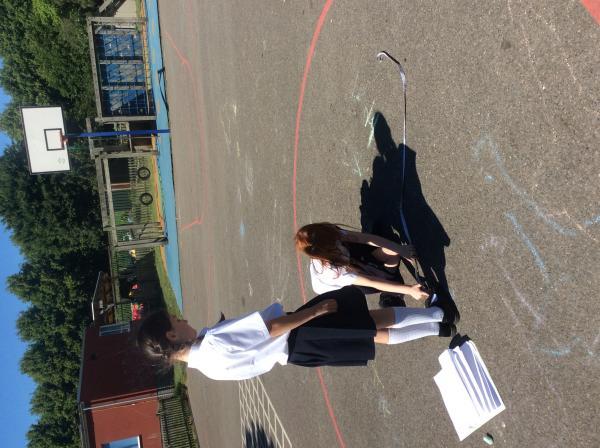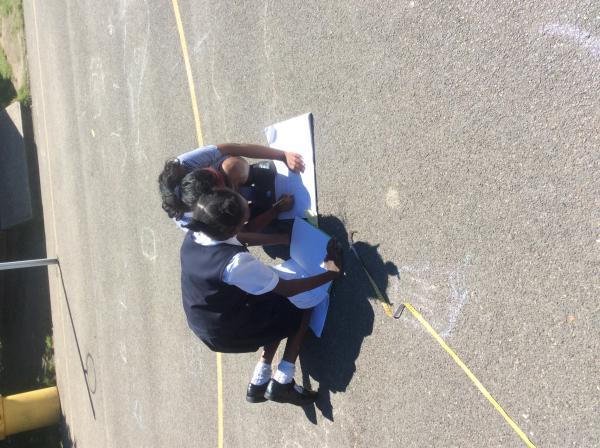 Investigating shadows and enjoying the nature area
Robins had a busy day. Firstly, they measured their shadows. This continued every hour throughout the day. Year 3 at first predicted, that the shadow would get bigger and move. They were surprised as by lunchtime their shadow had become smaller and had definitely moved around an imaginary clock!
Robins moved into the nature area, enjoying smores saying they tasted delicious. Some children went on a bug hunt whilst others made mud potions/cupcakes and dinner. Others made a mud football which after a little play disintegrated. In the afternoon, Robins had the choice of using the catapults, pond dipping or leaf rubbing. A busy day!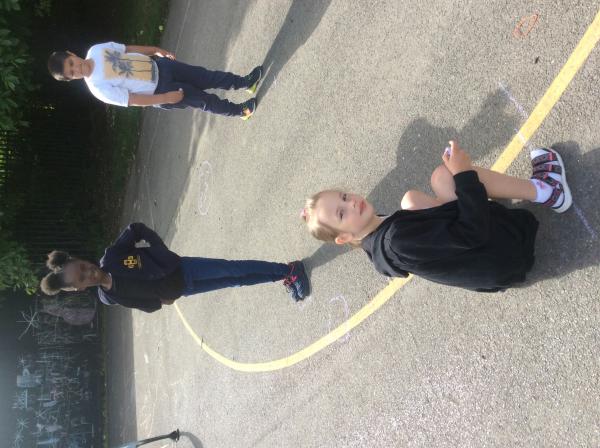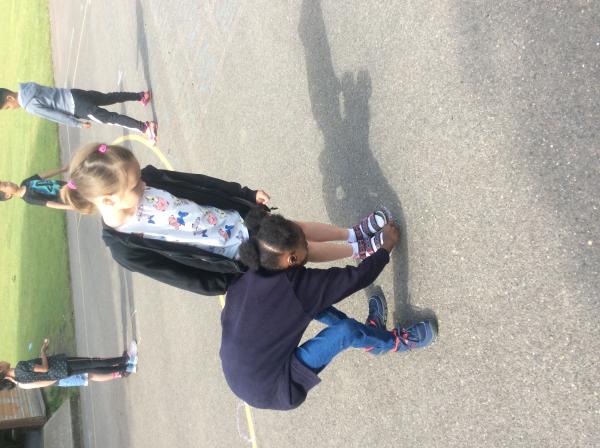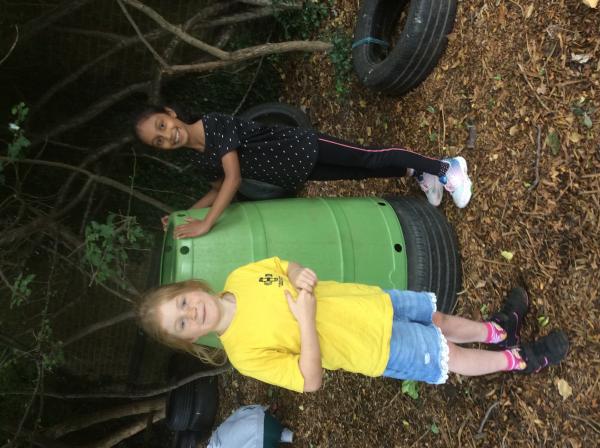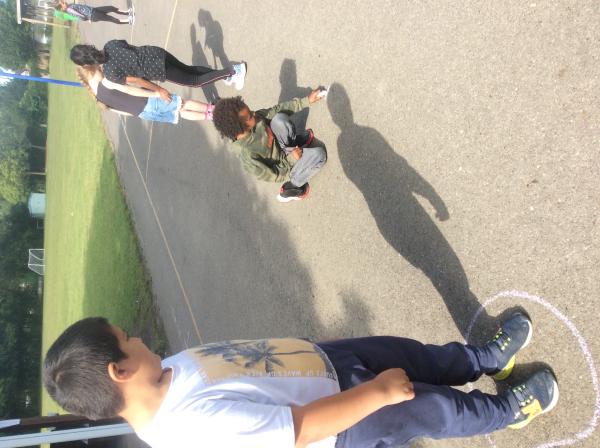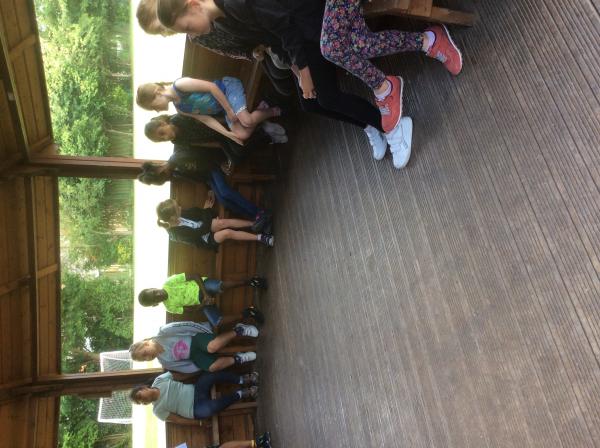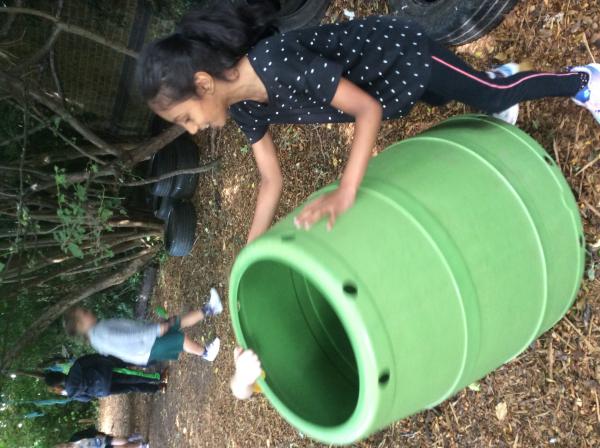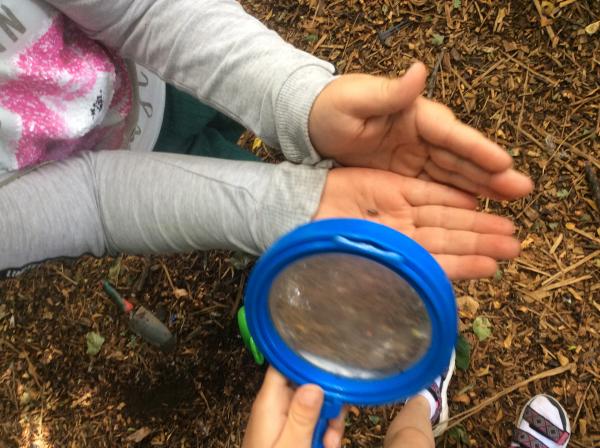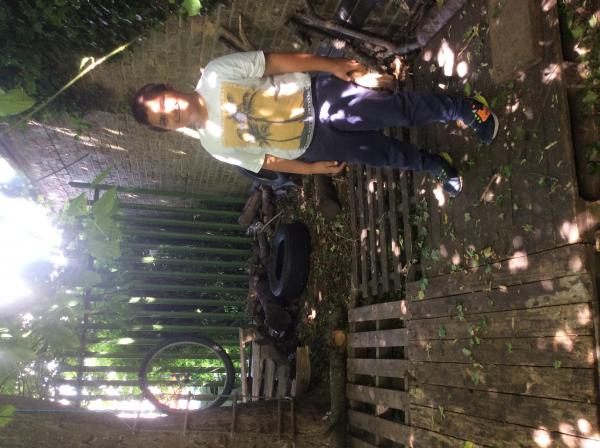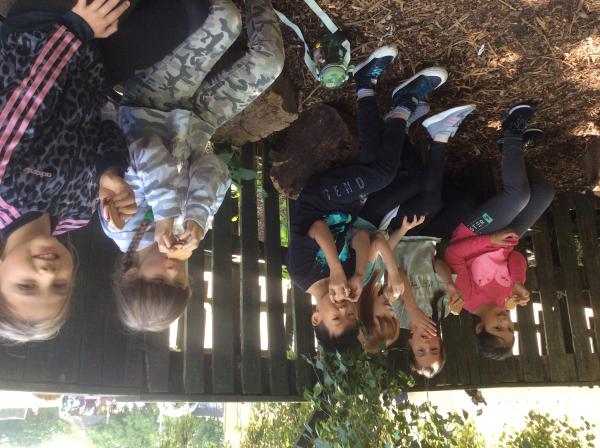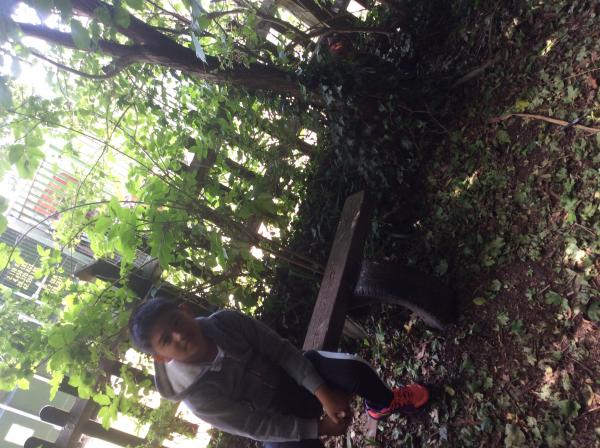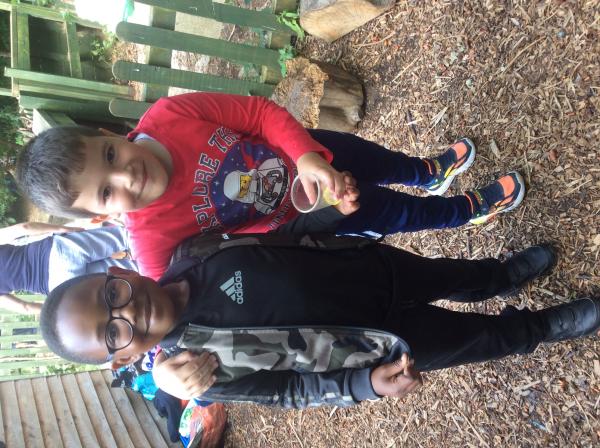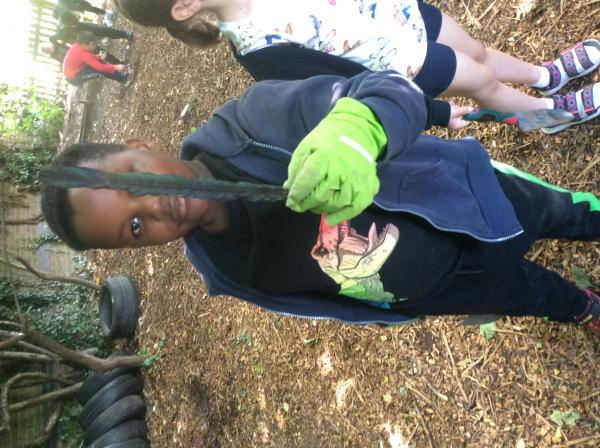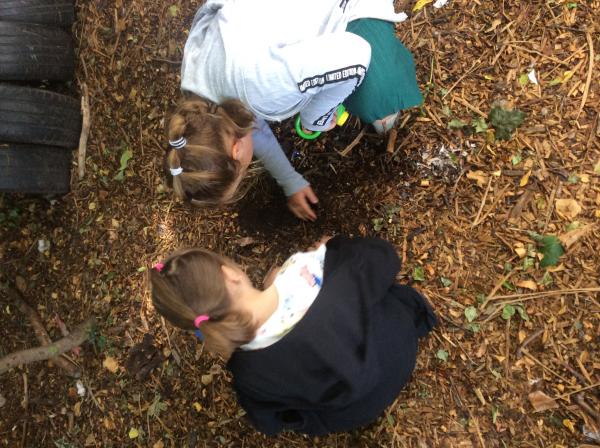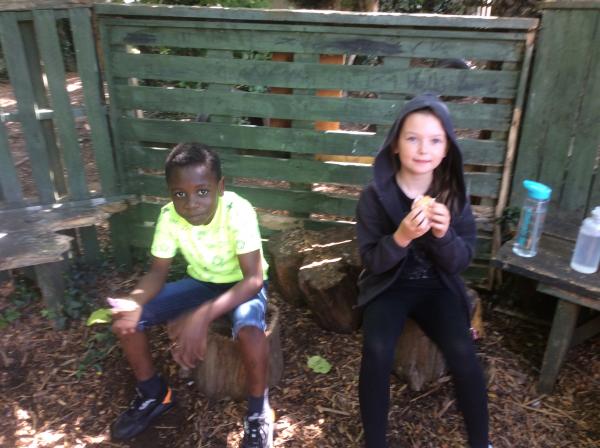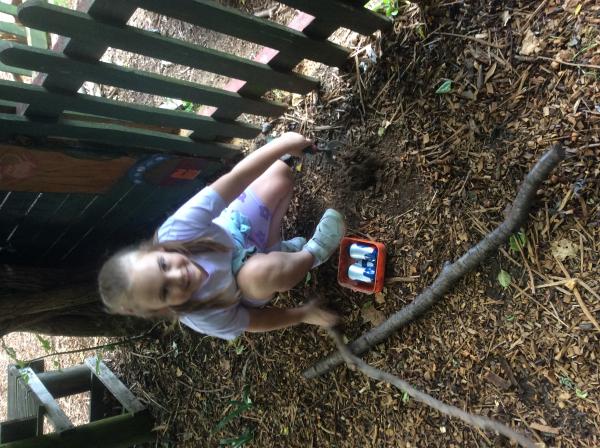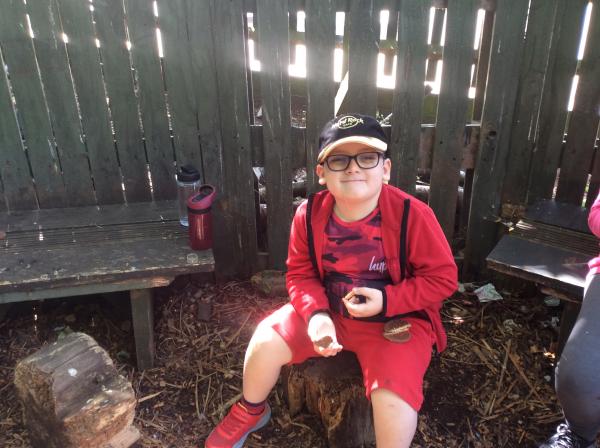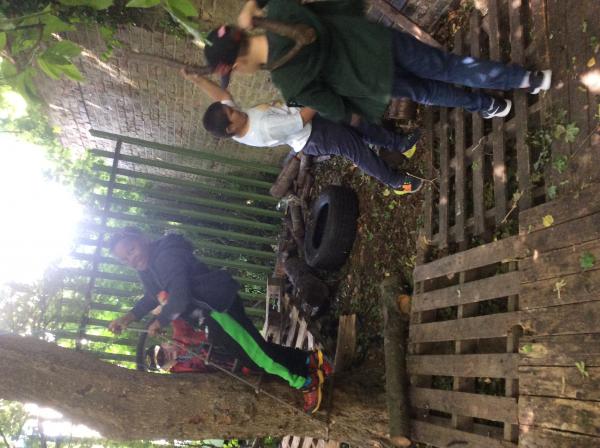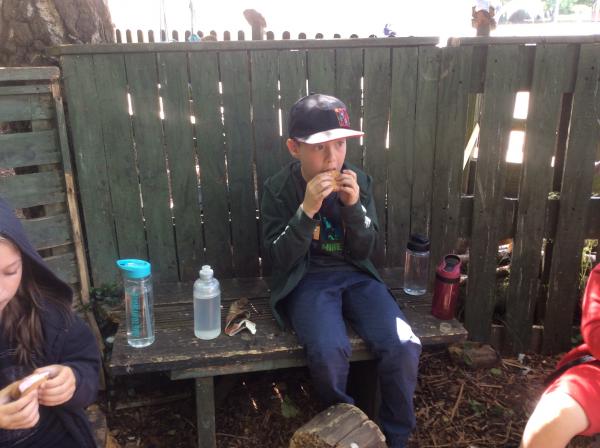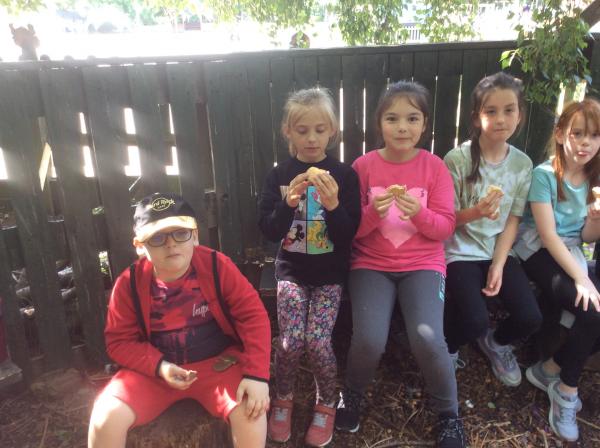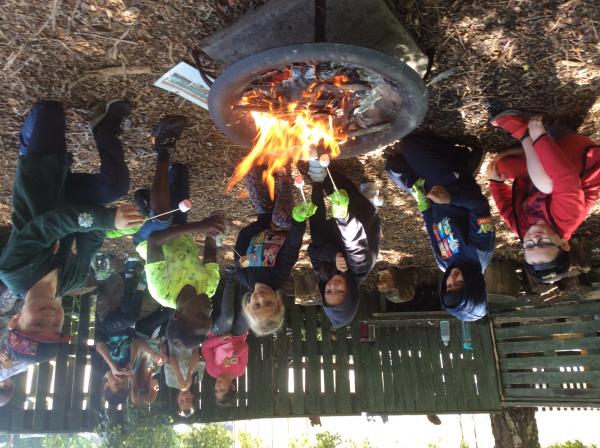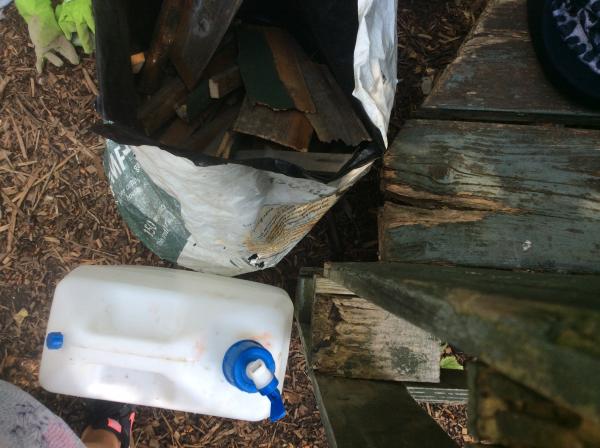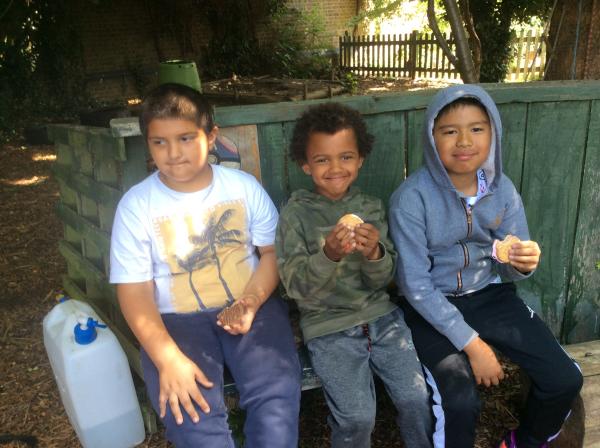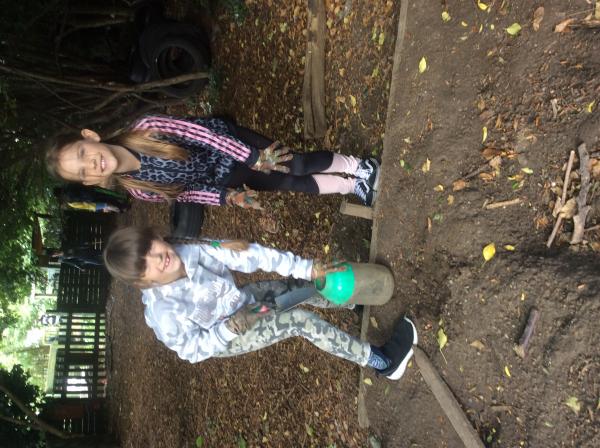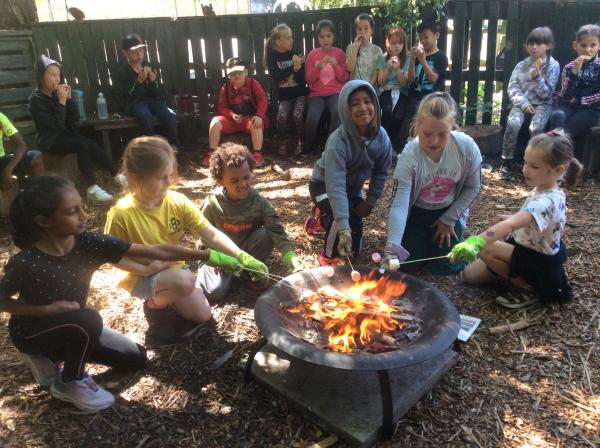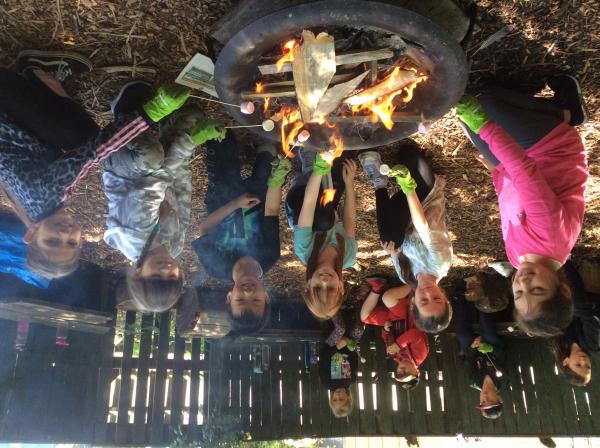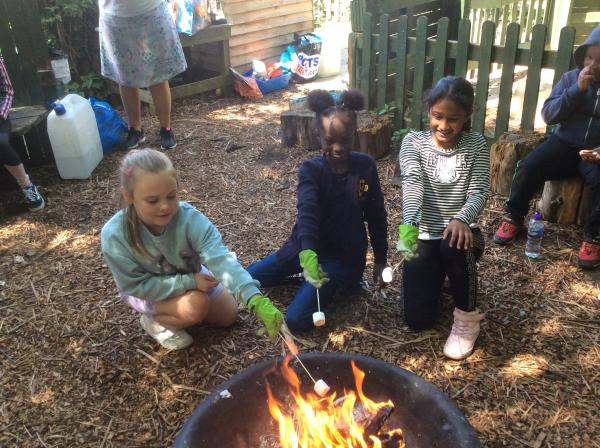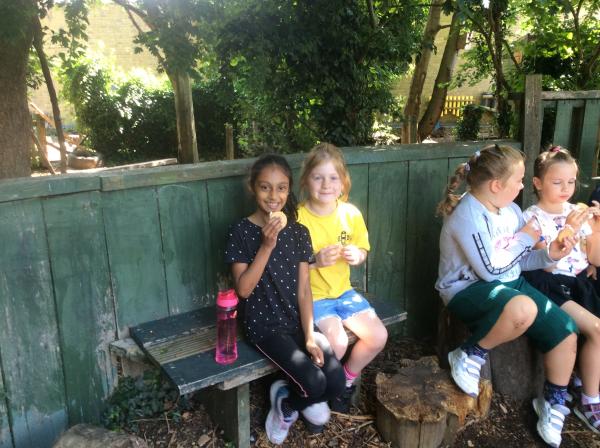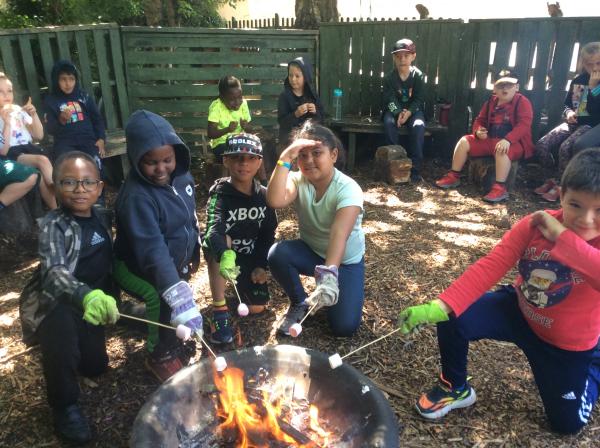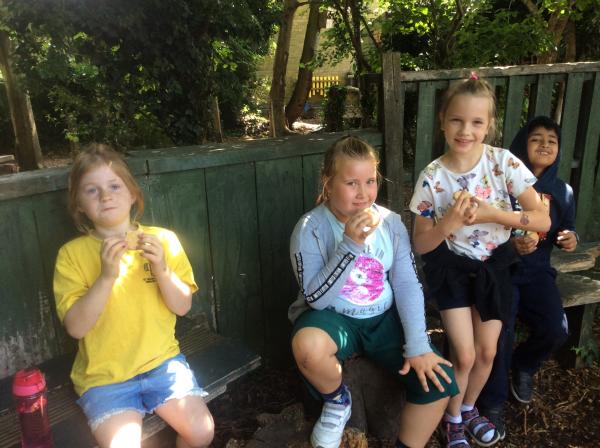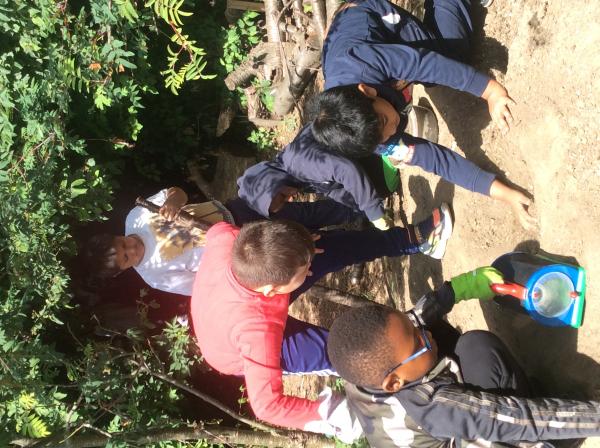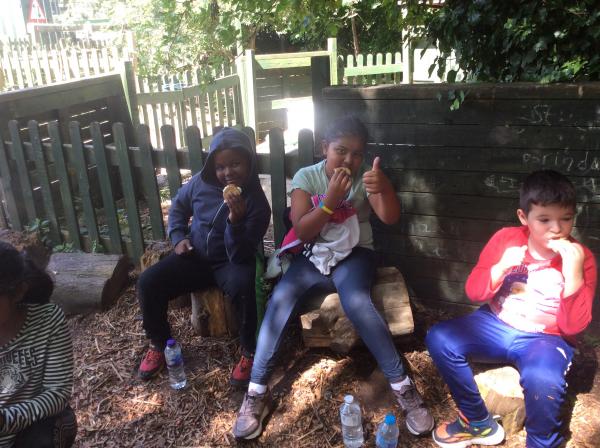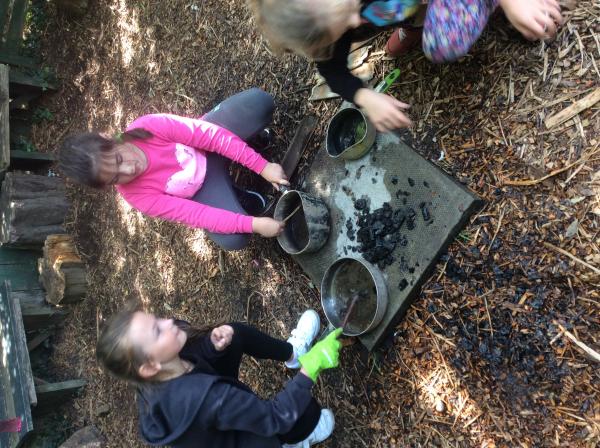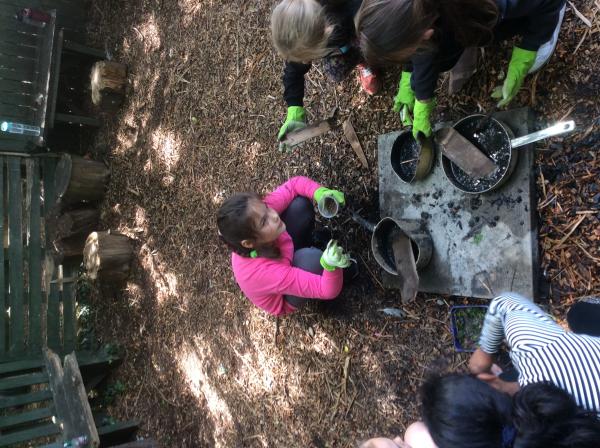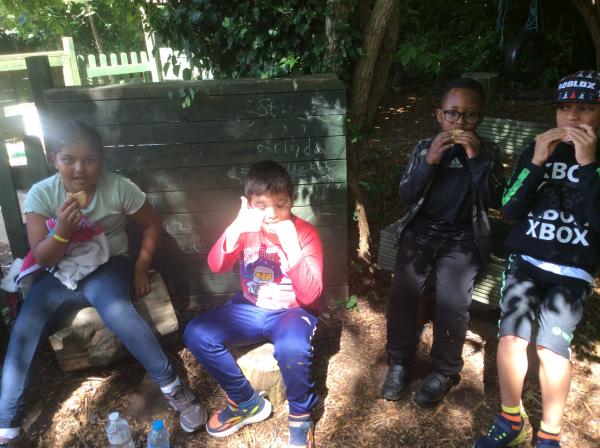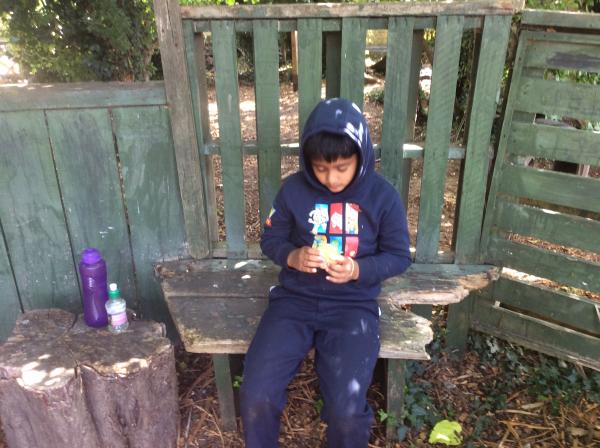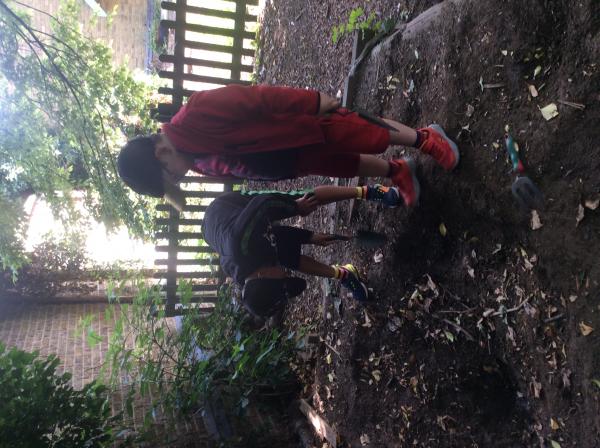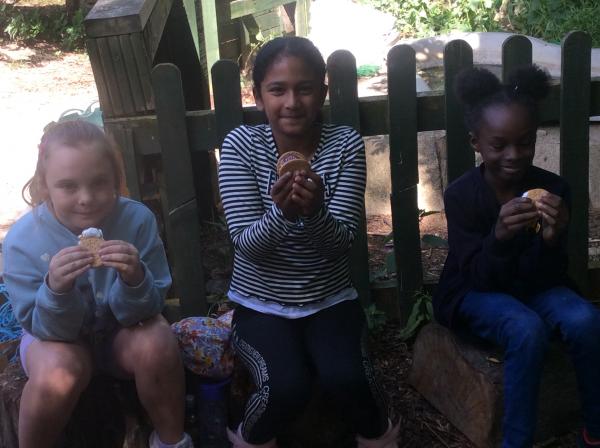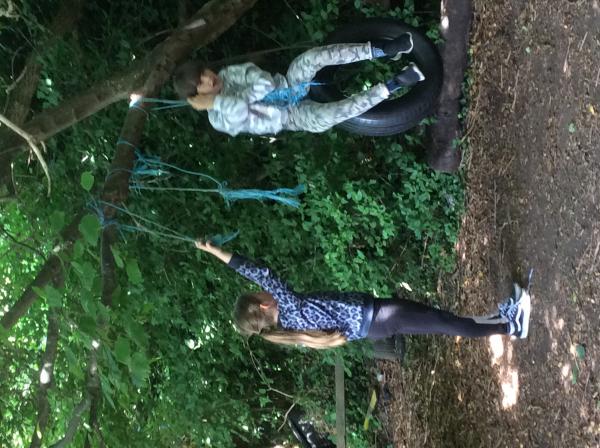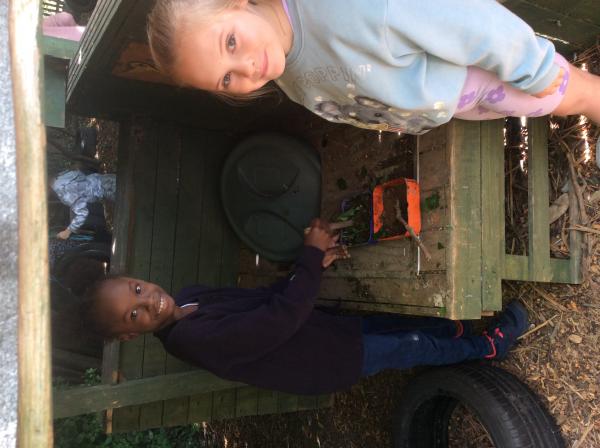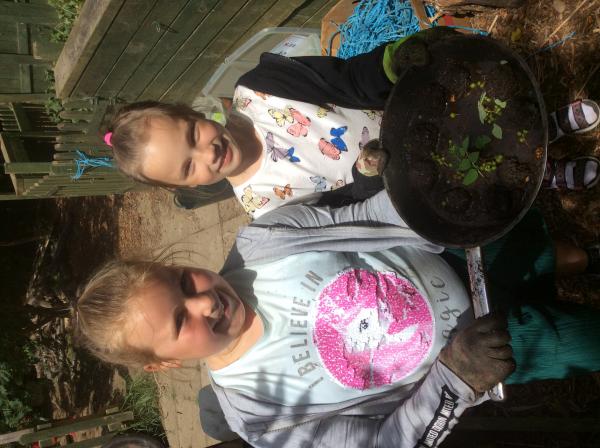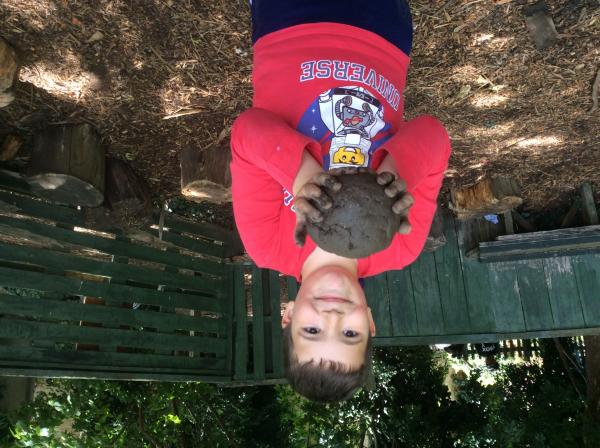 Robins Map Reading
Robin's class have been learning how to read grid references this week. We have used maps and atlases to find capital cities of European countries. We have played sink or swim (similar to battleships) against our classmates. We have created our own map of the school field and noted where different items are on our friends maps using four figure grid references. We have loved our map work this week!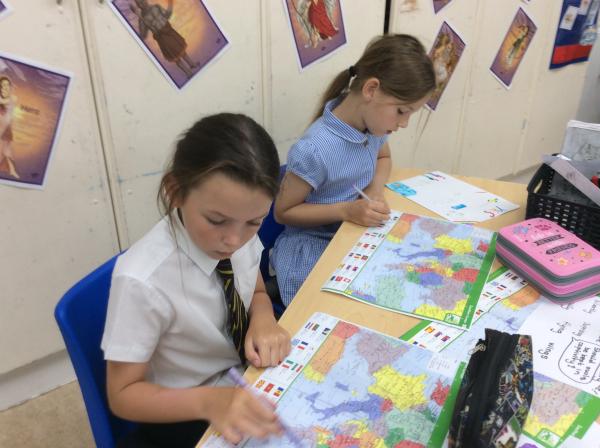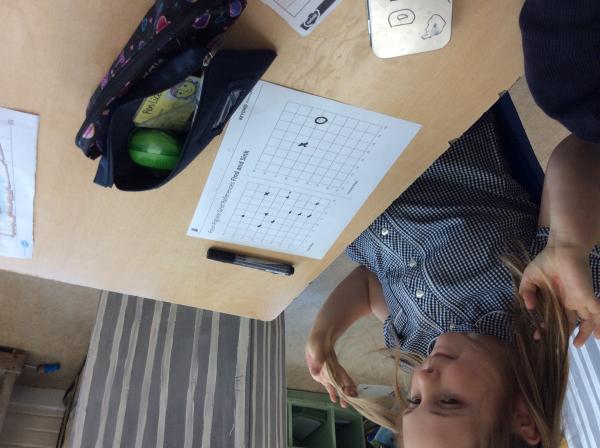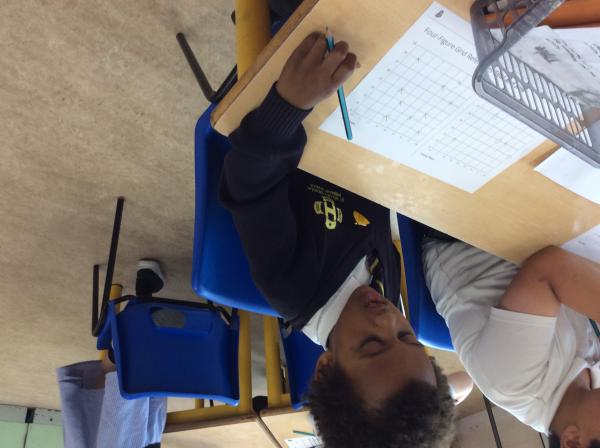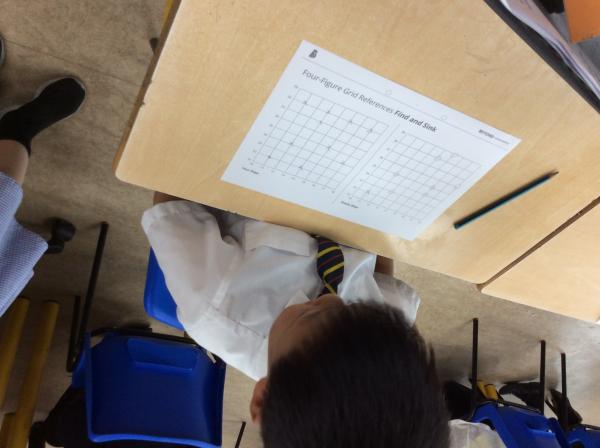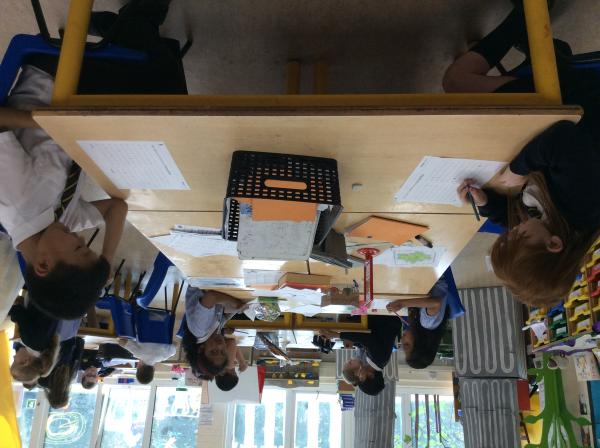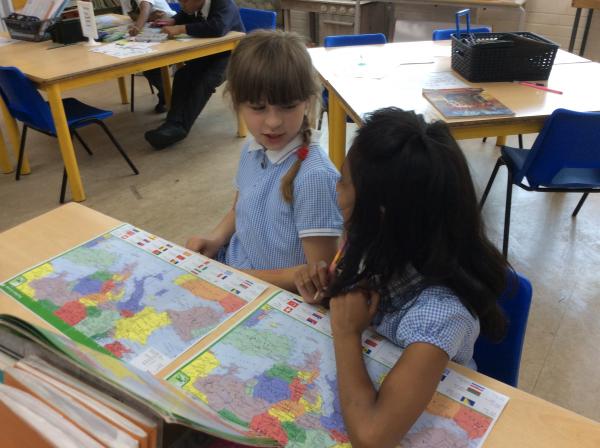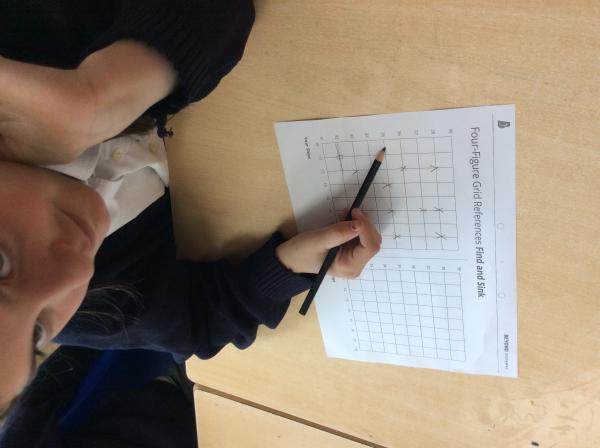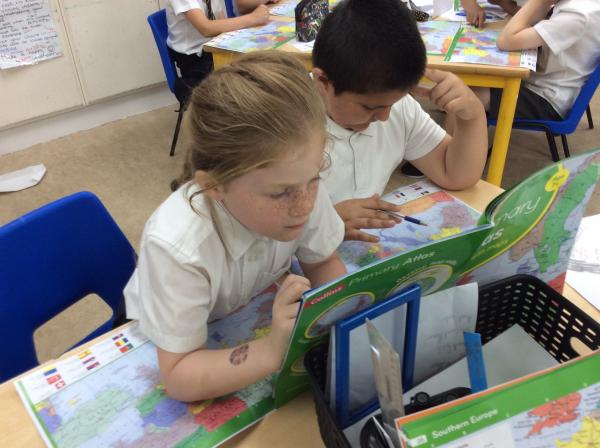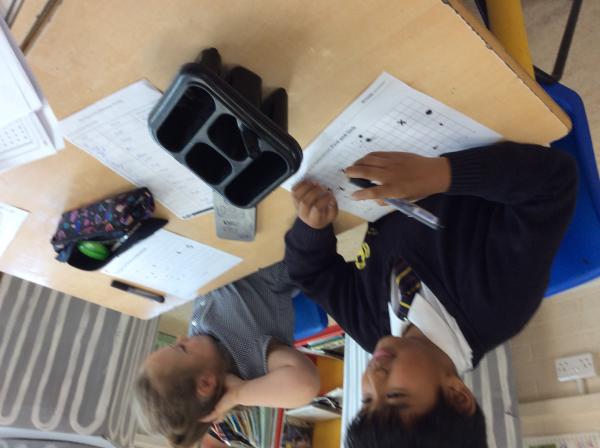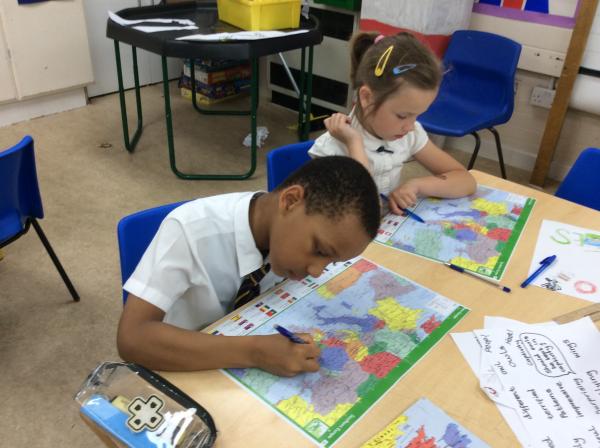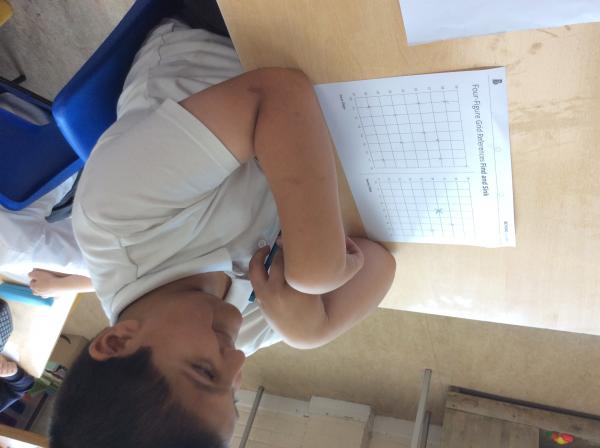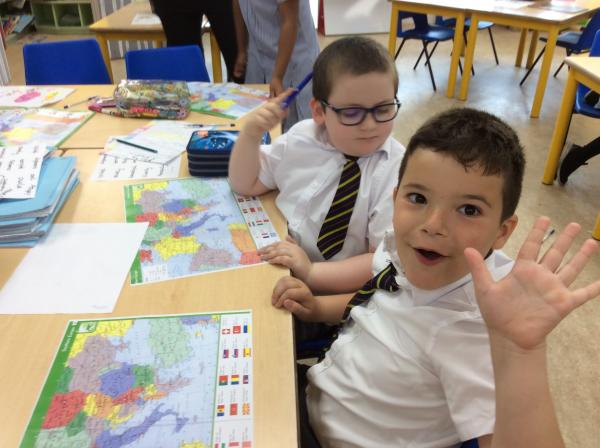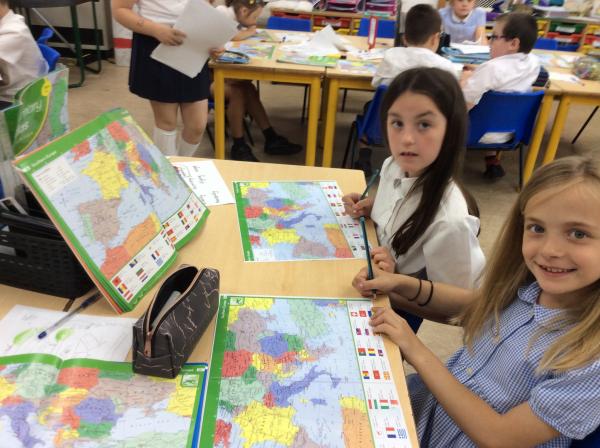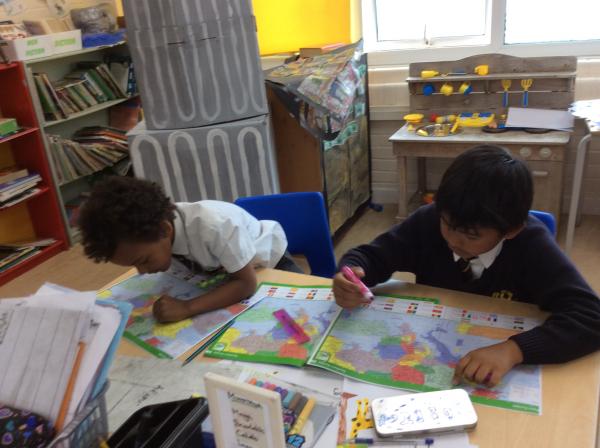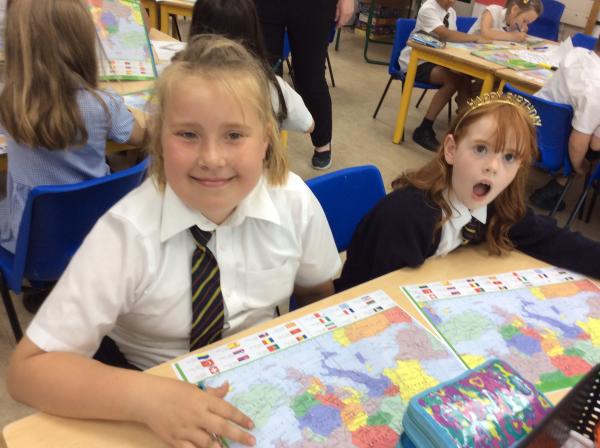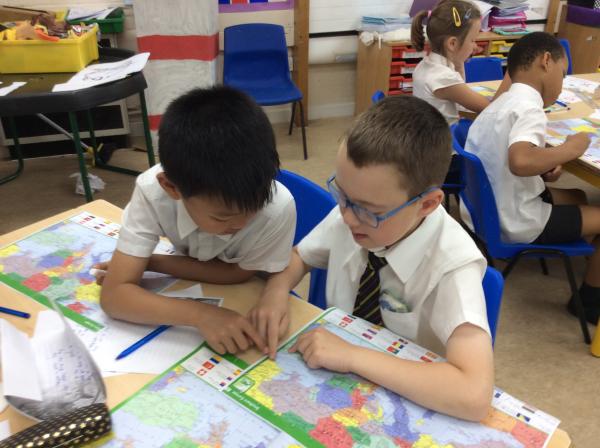 Stonehenge
The children in Robin's class have been learning about Stonehenge. They designed their own stone circle in groups and then built it. They very much enjoyed eating it after!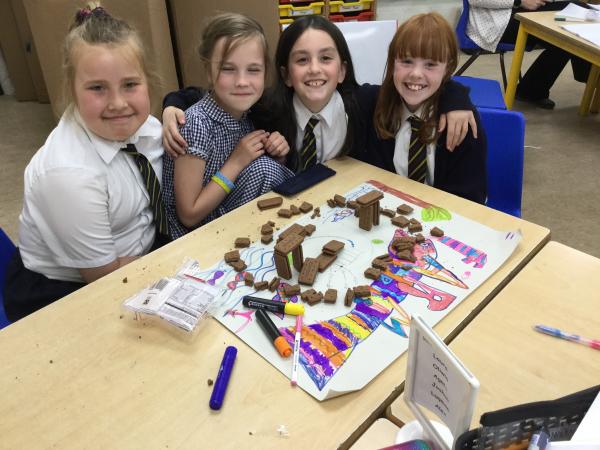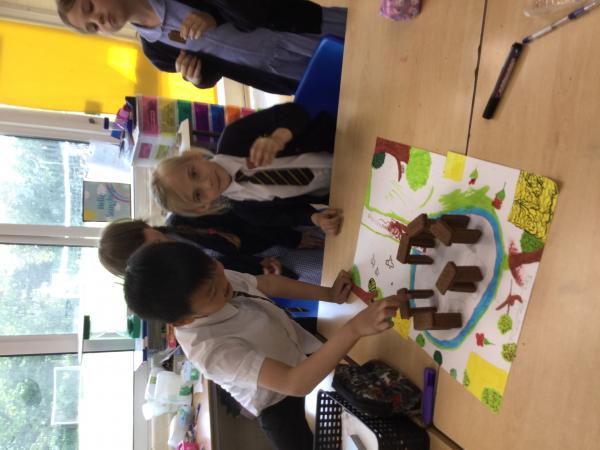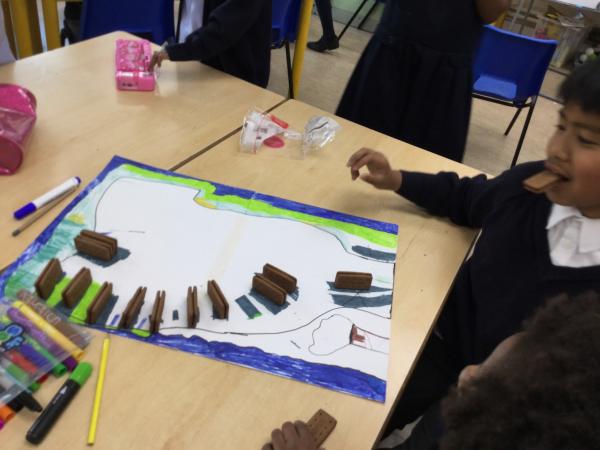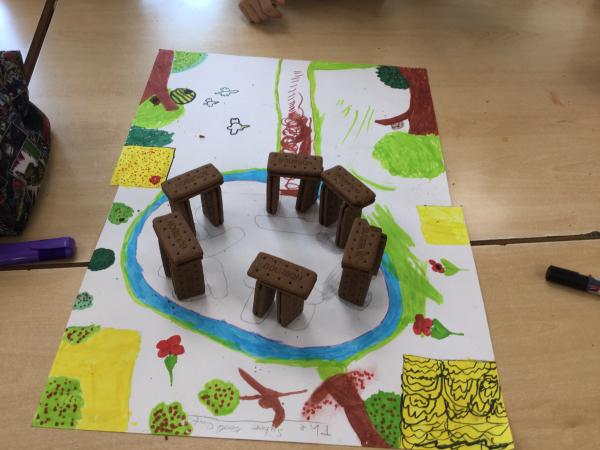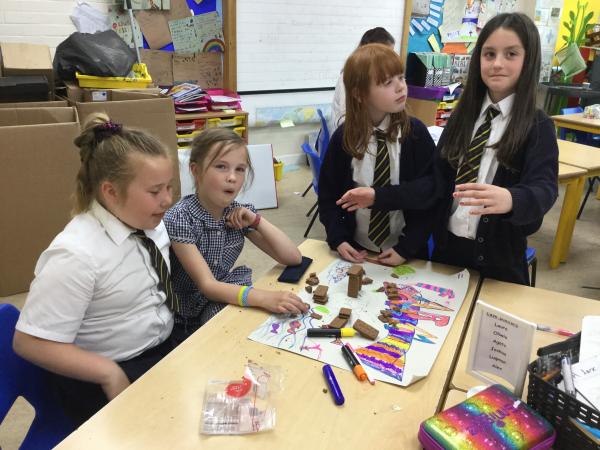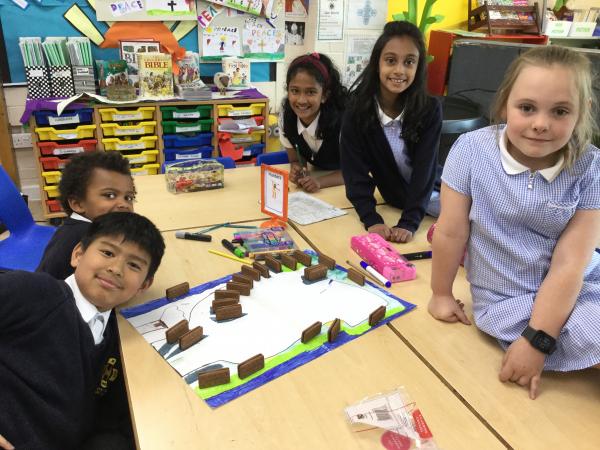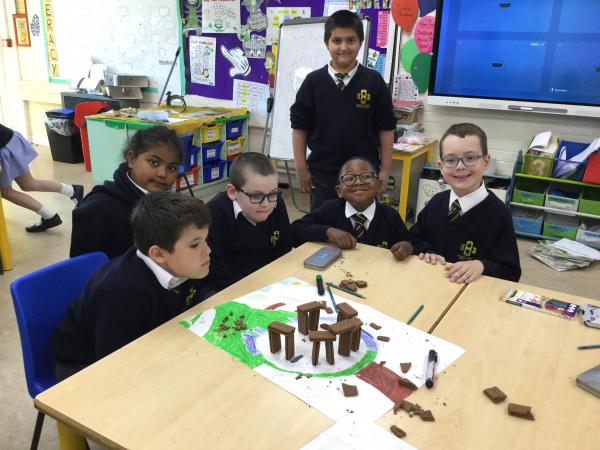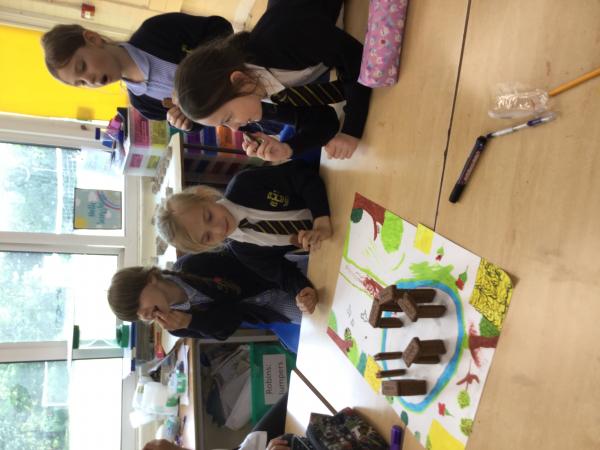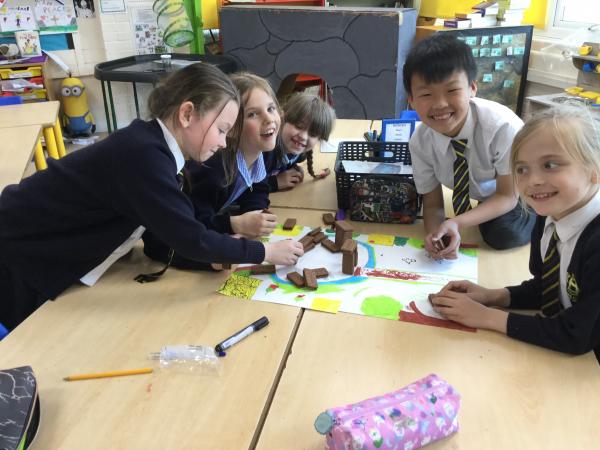 3 Seagulls enjoy a busy morning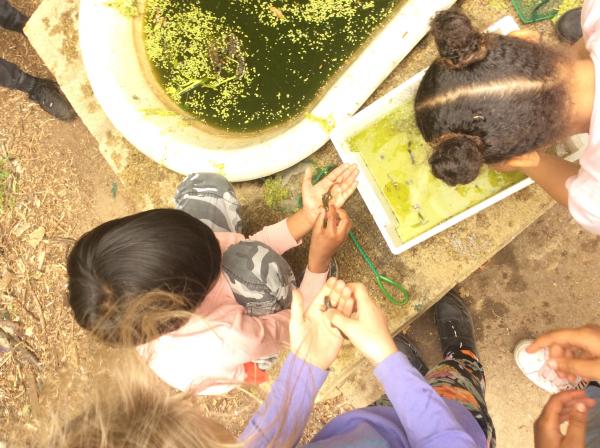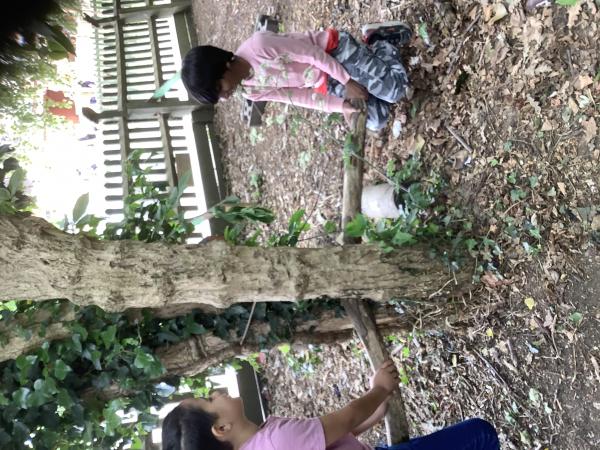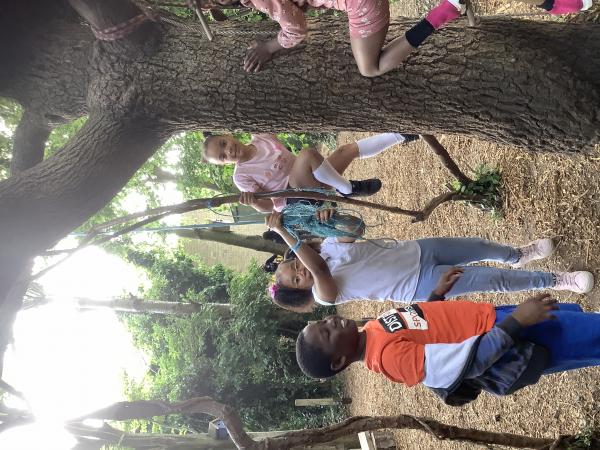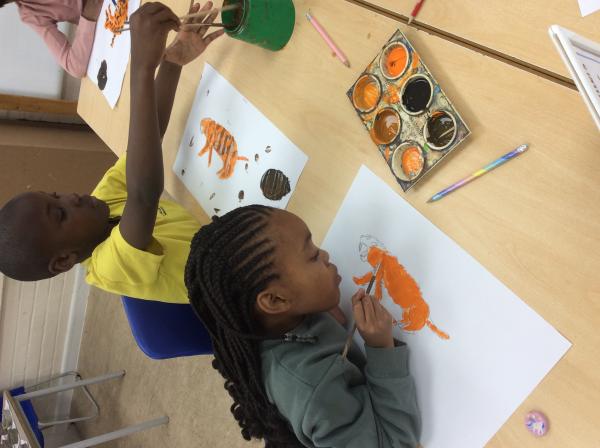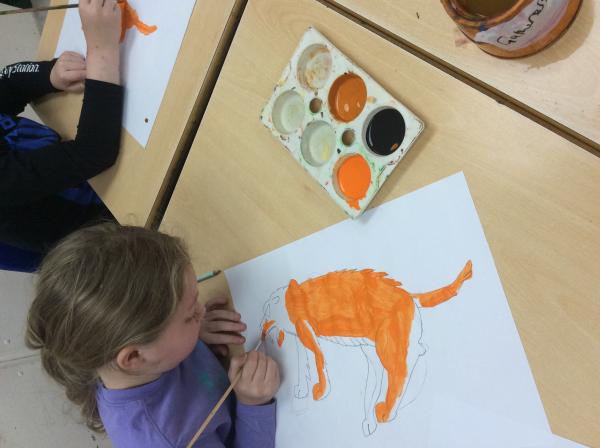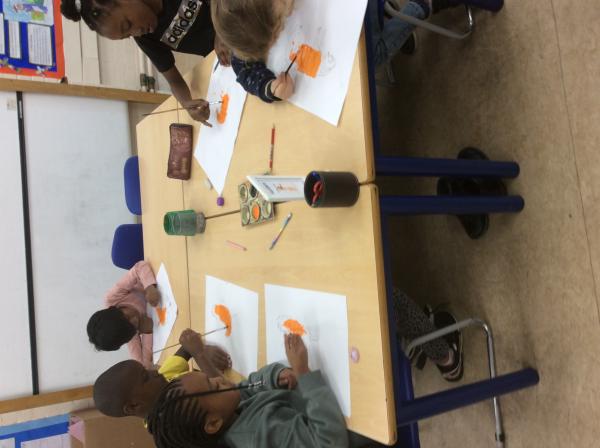 Hadleigh Histories presents a Stone Age Day
Year 3 had a fabulous day making clay pots and learning how to be an archaeologist. In the afternoon they enjoyed warrior school, where they learnt to fight and use catapults. Fabulous fun!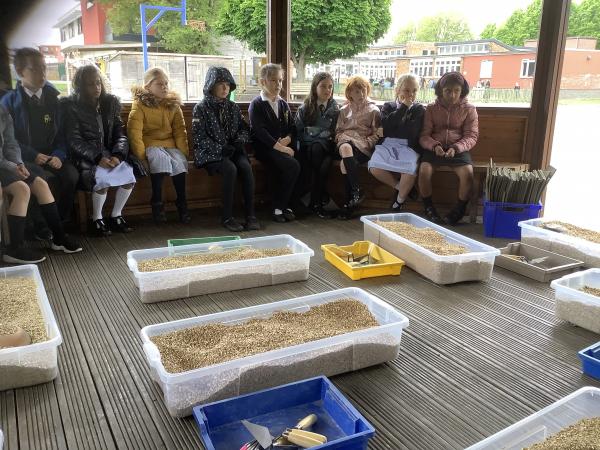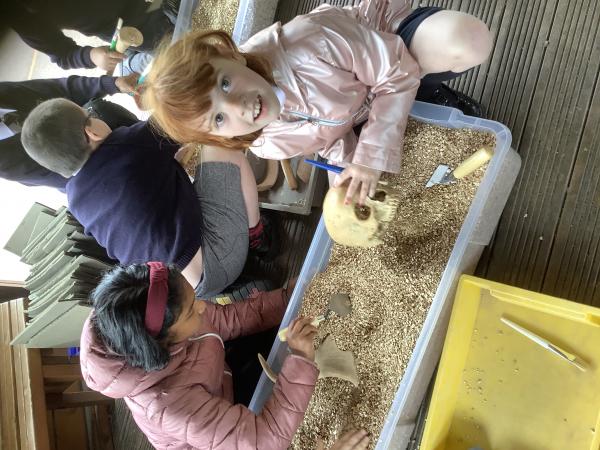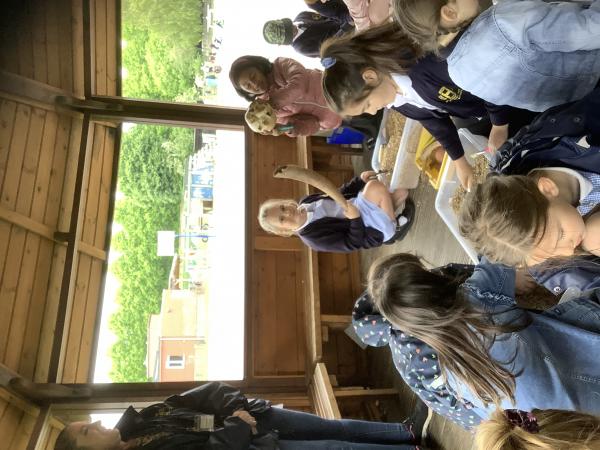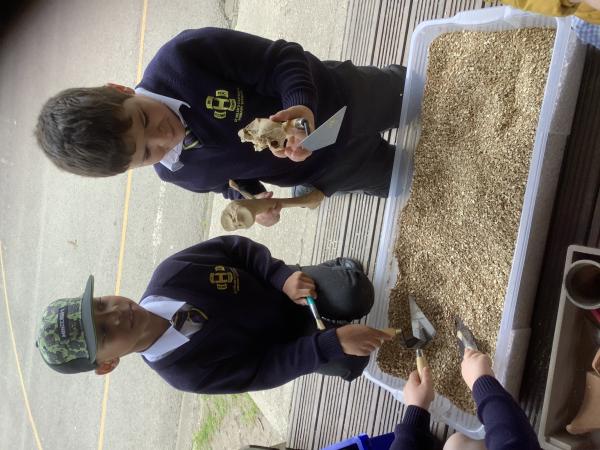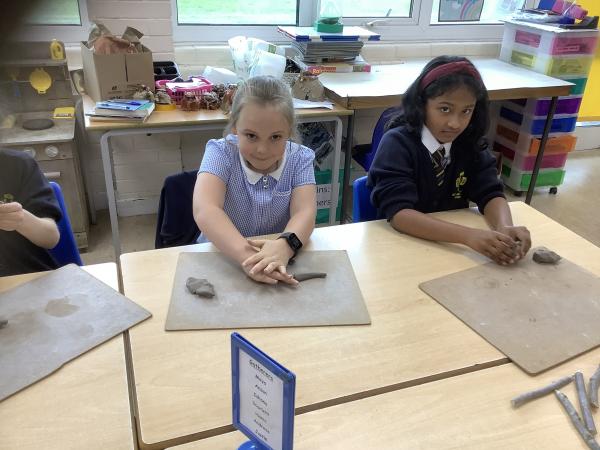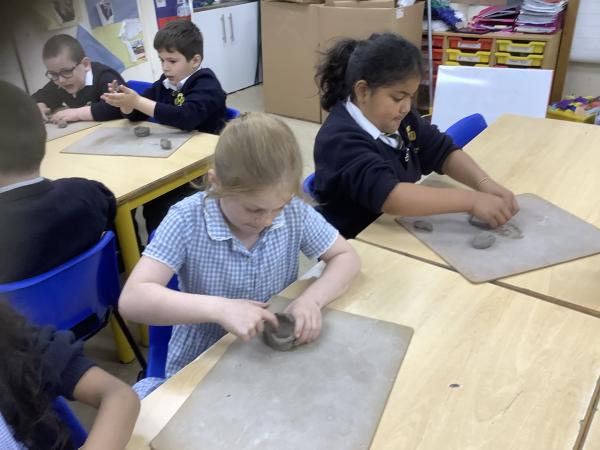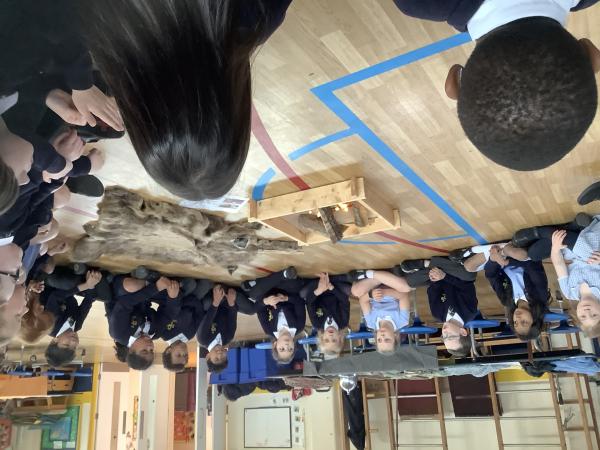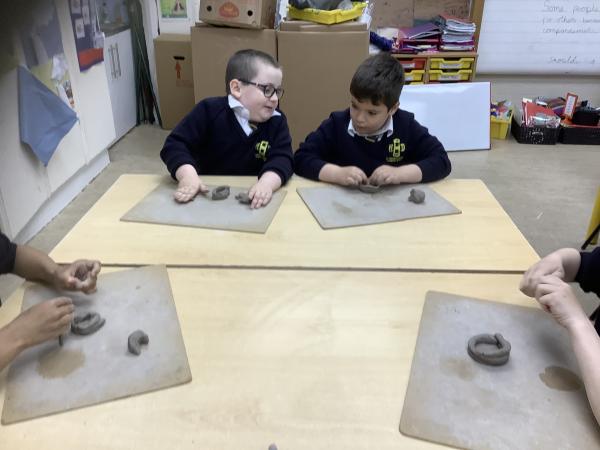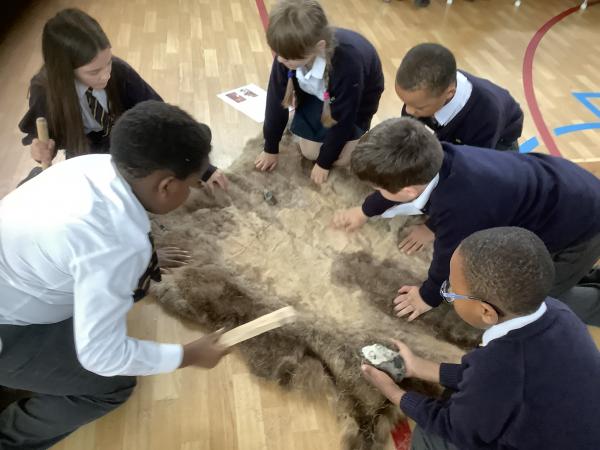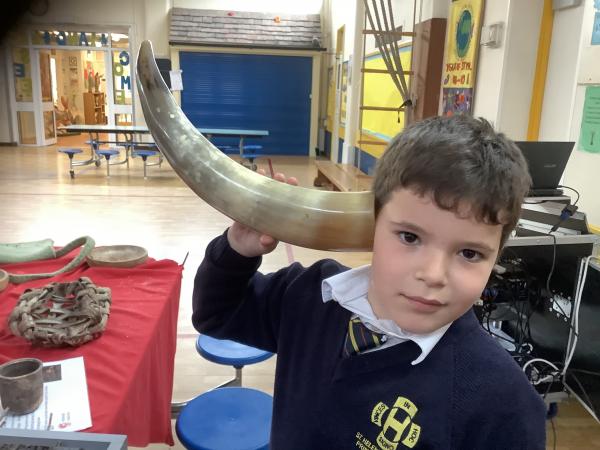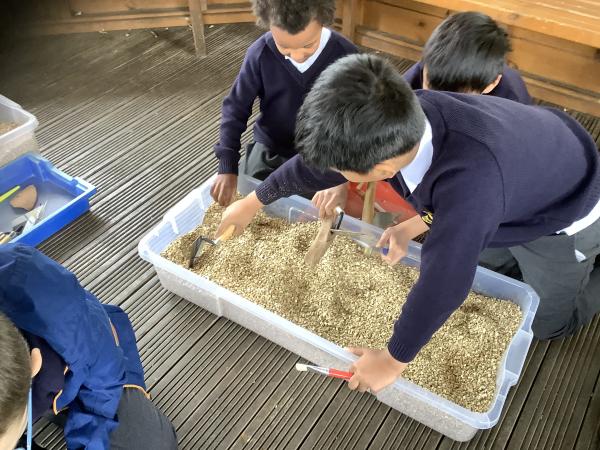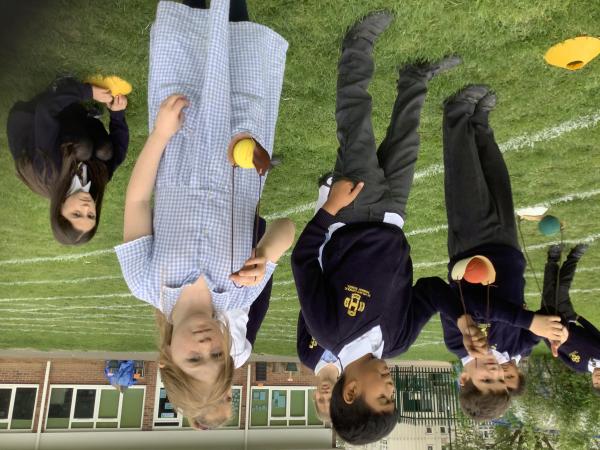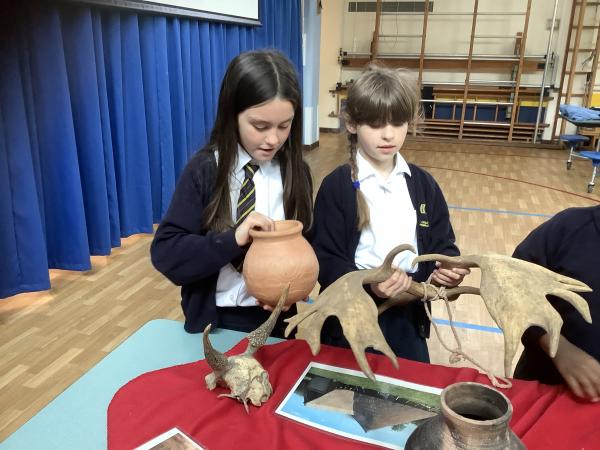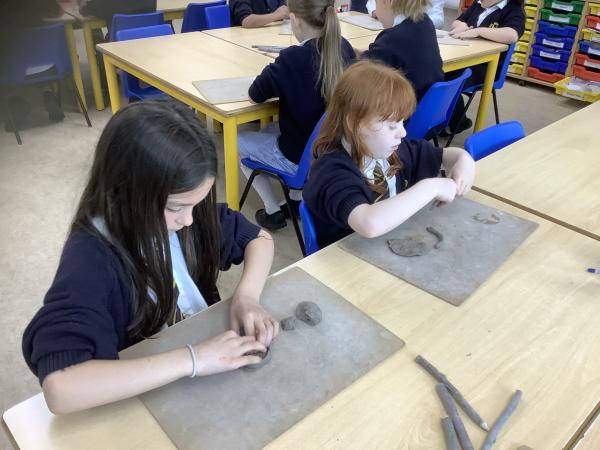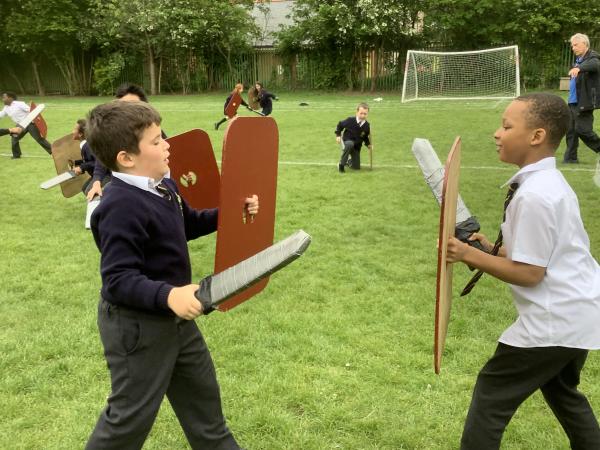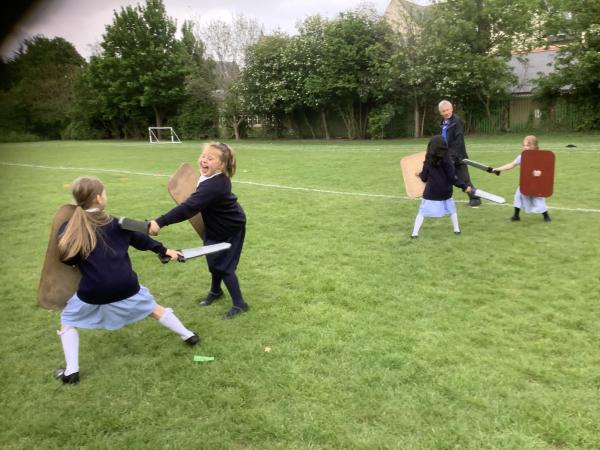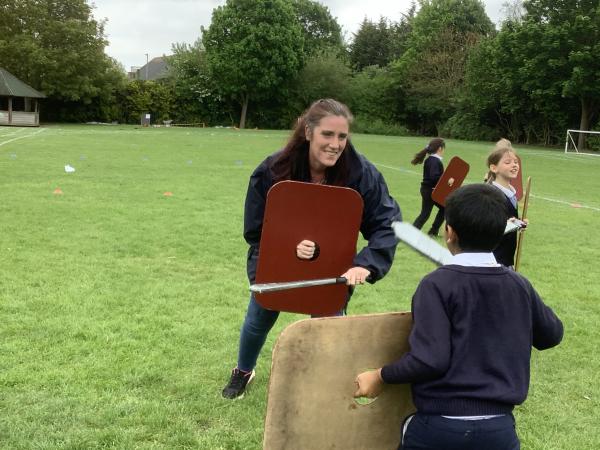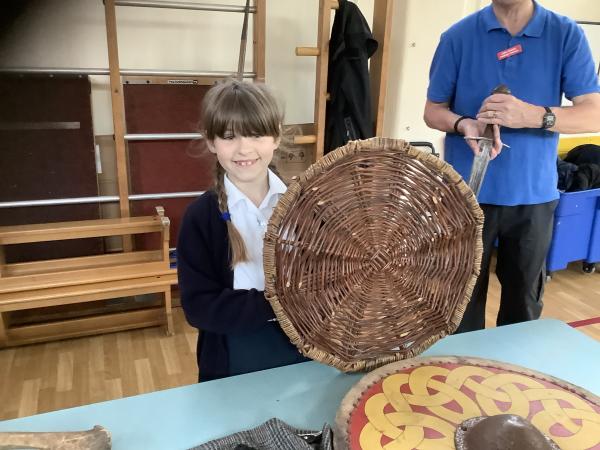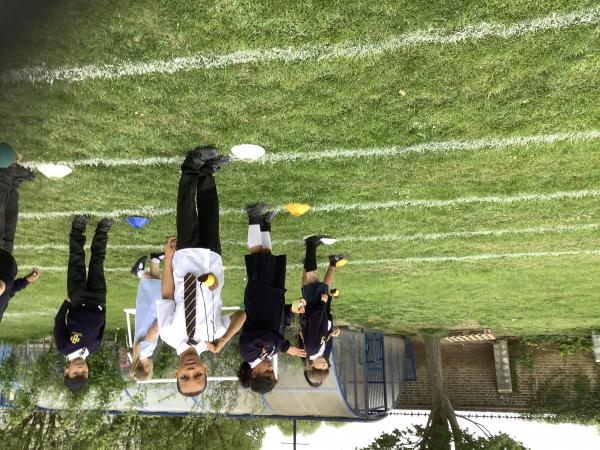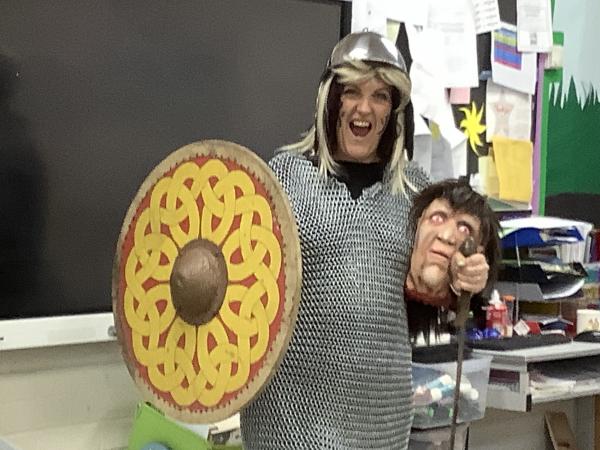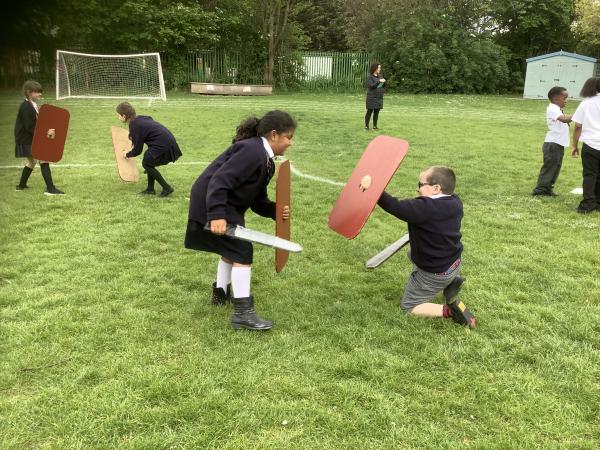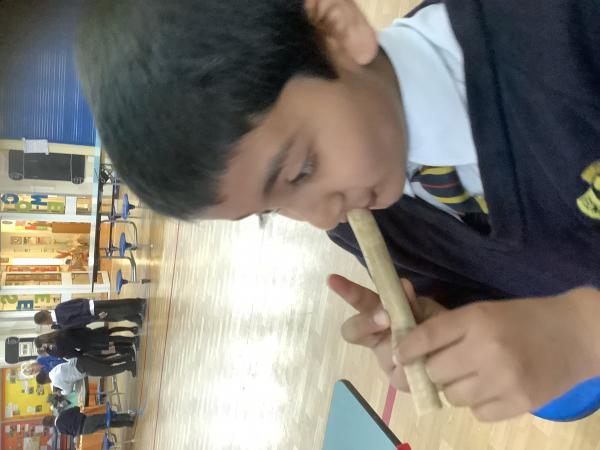 Robins - Building and Protecting Stone Age Homes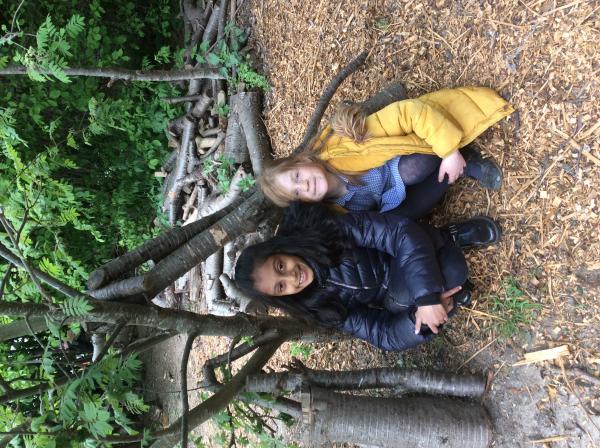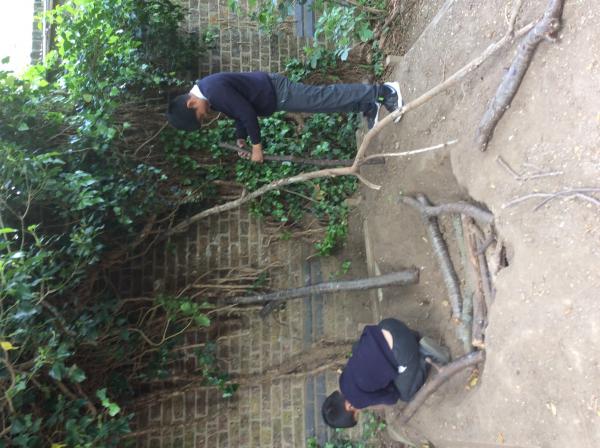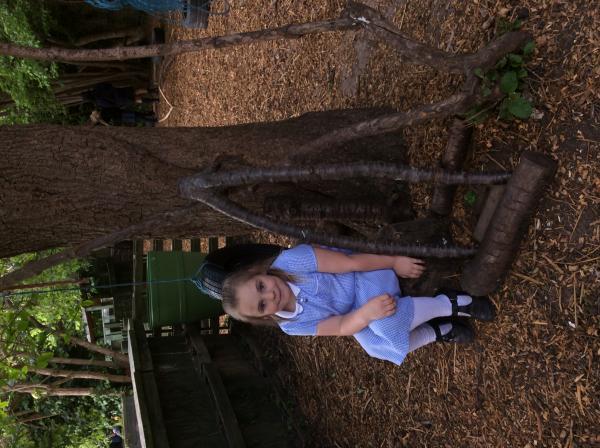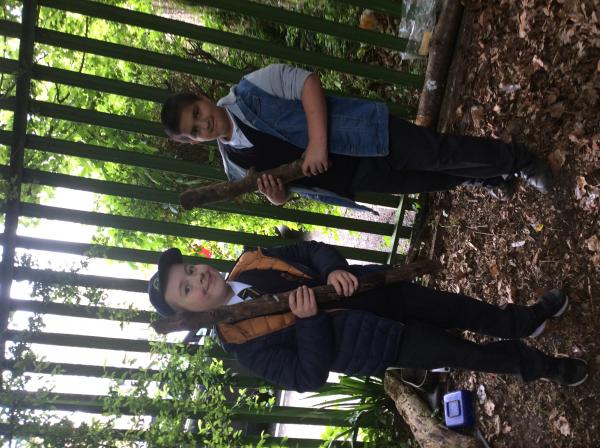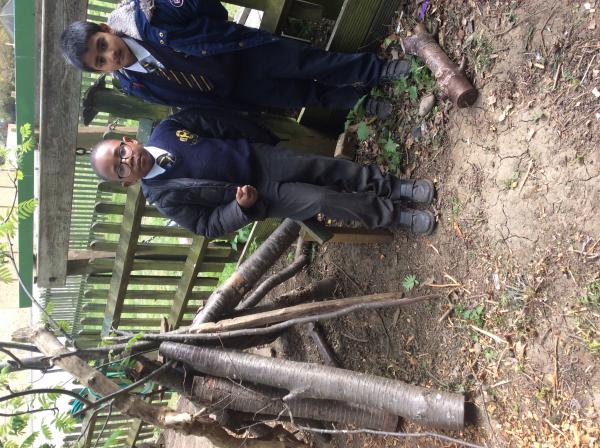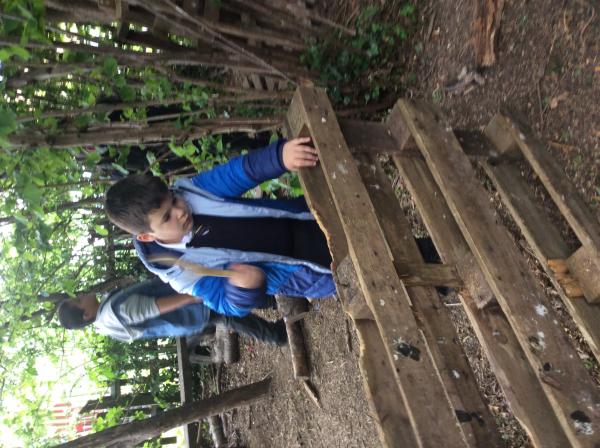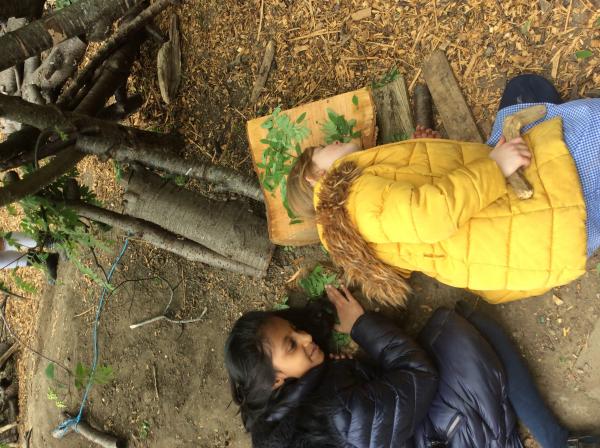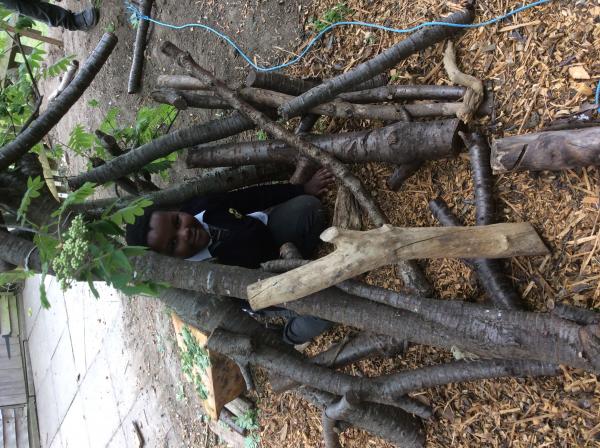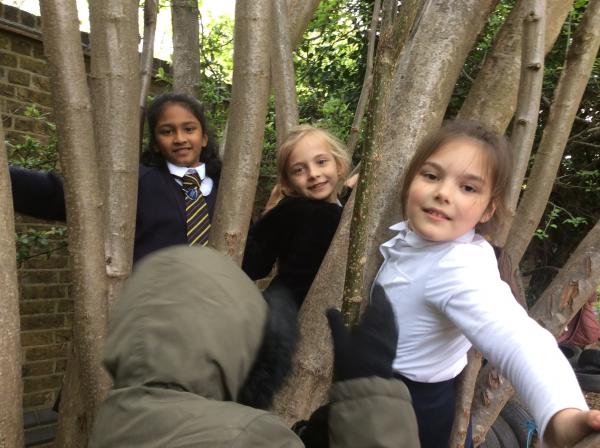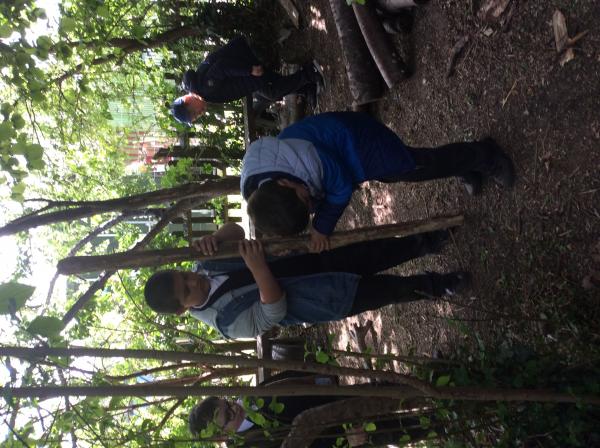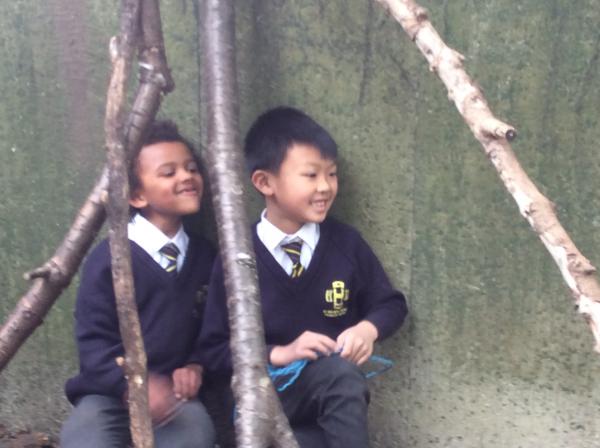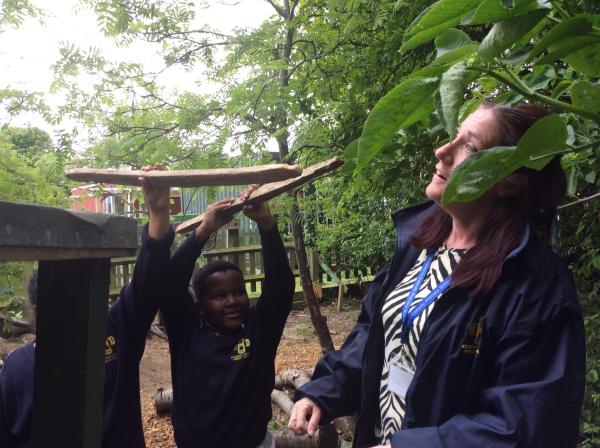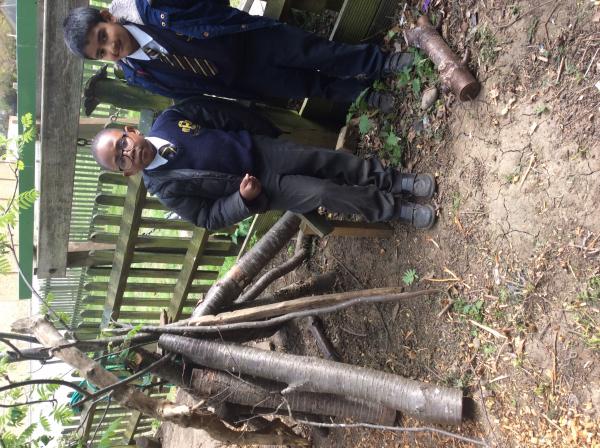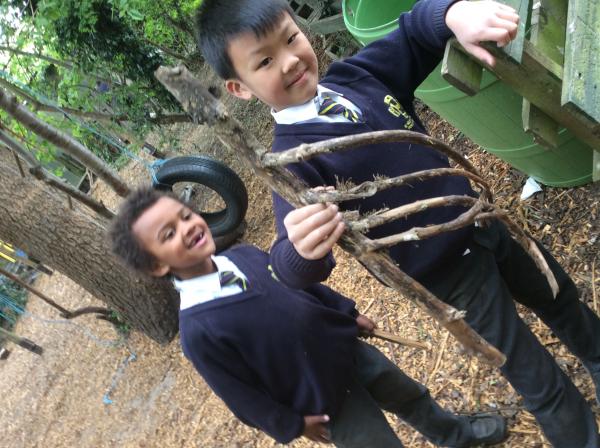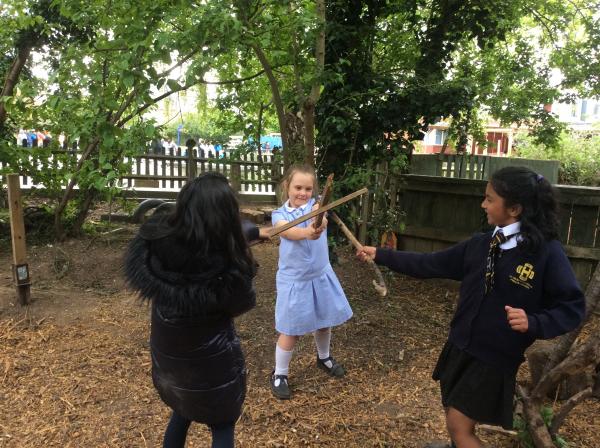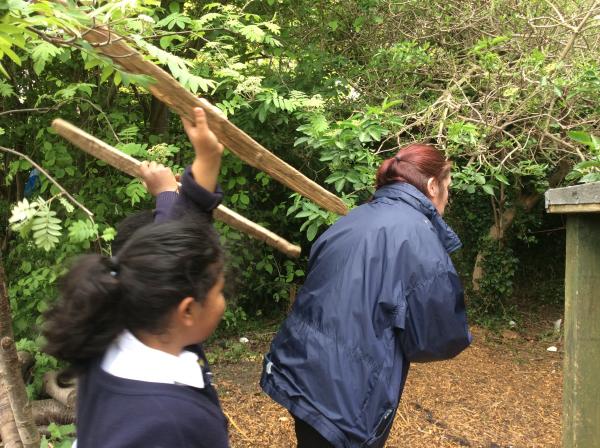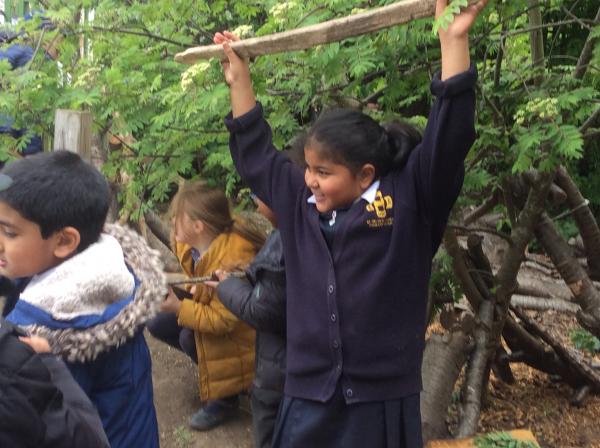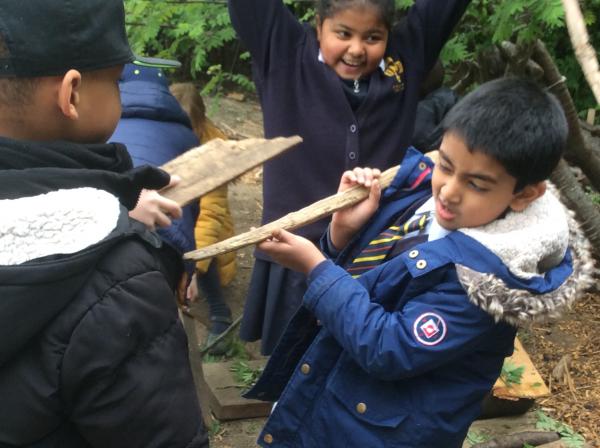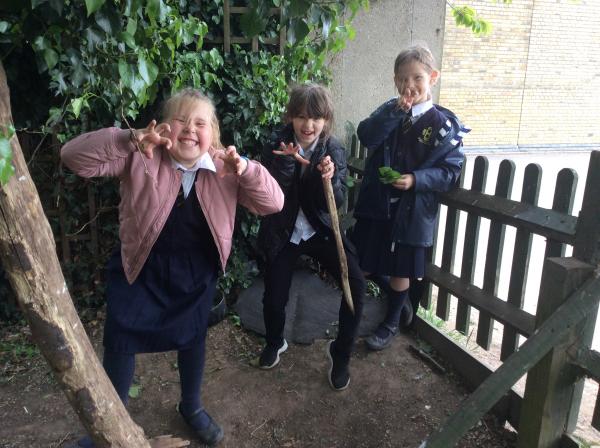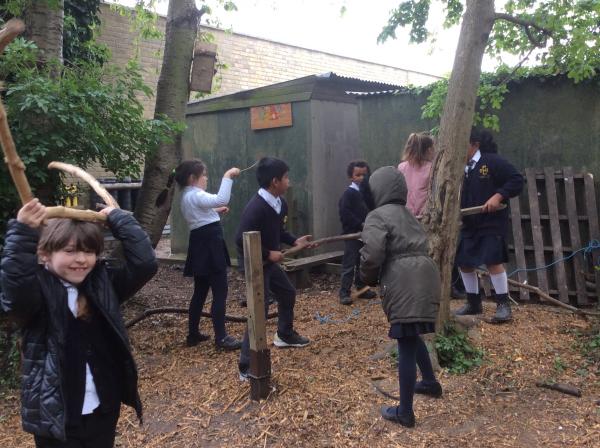 We have been learning how many days are in each month and how many months are in a year.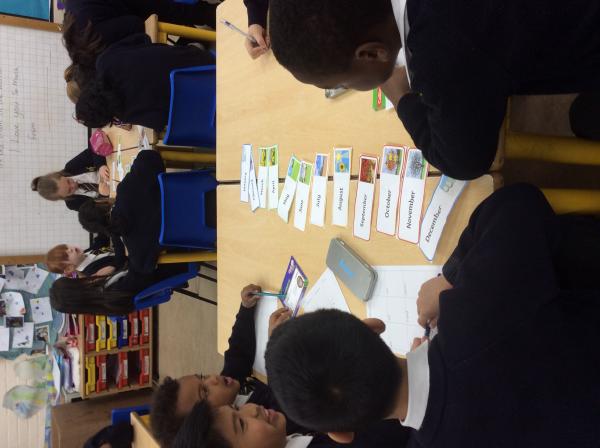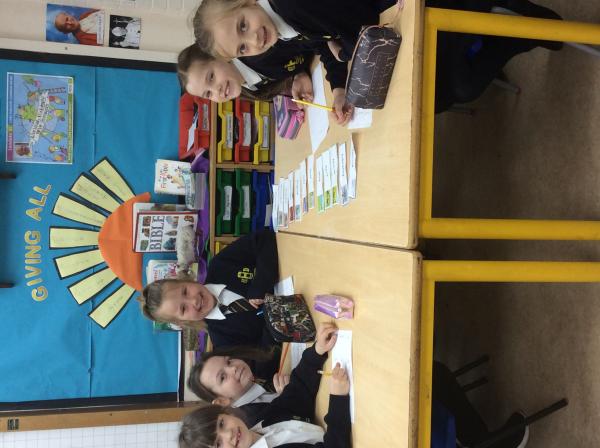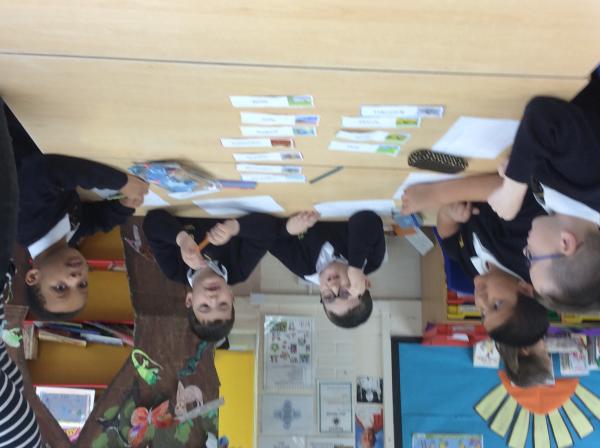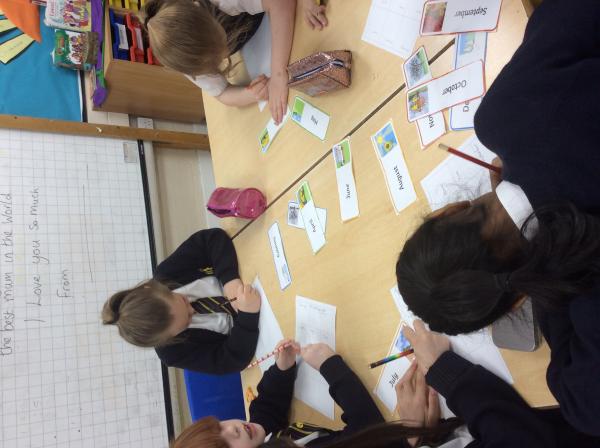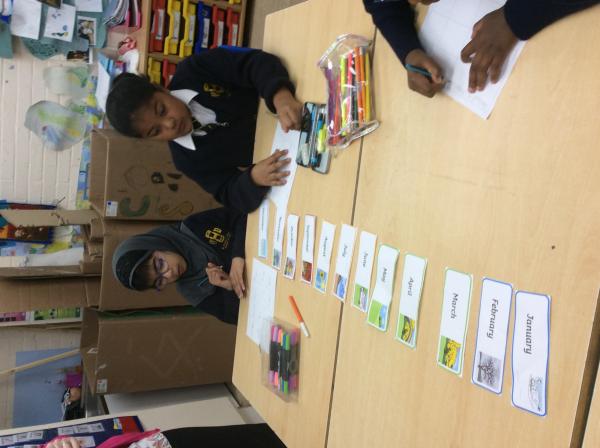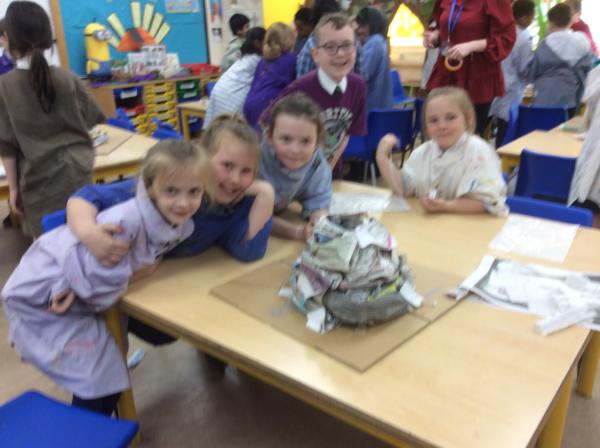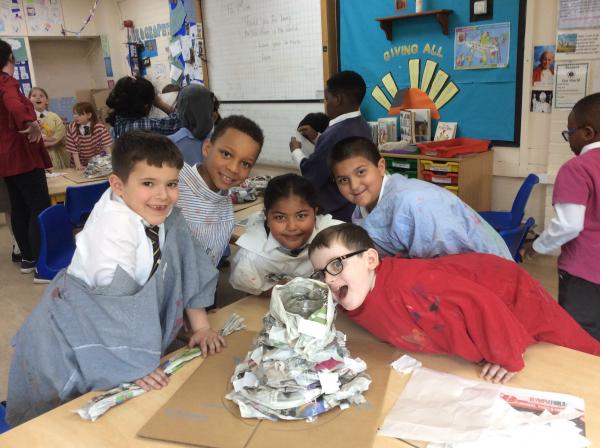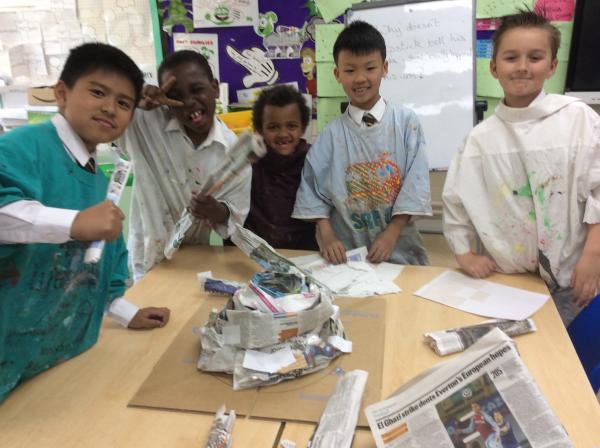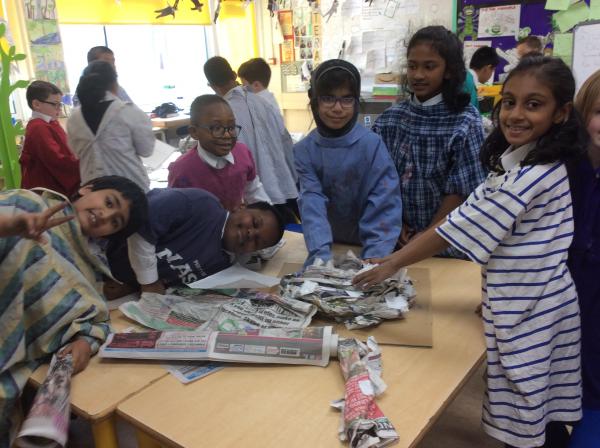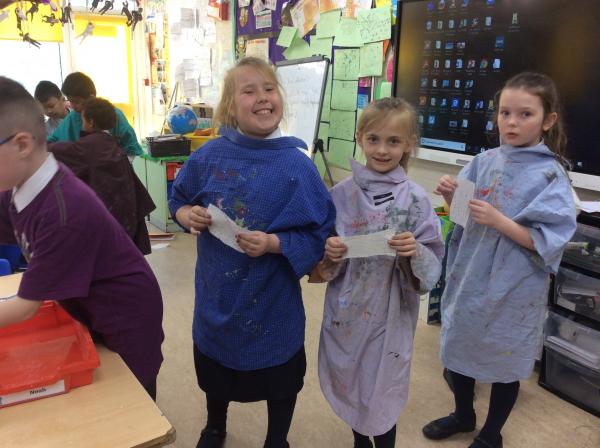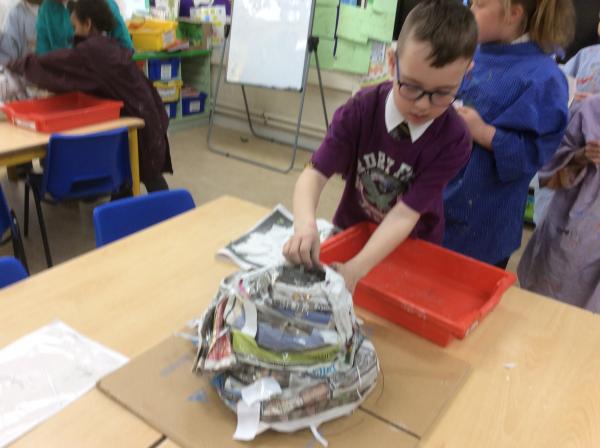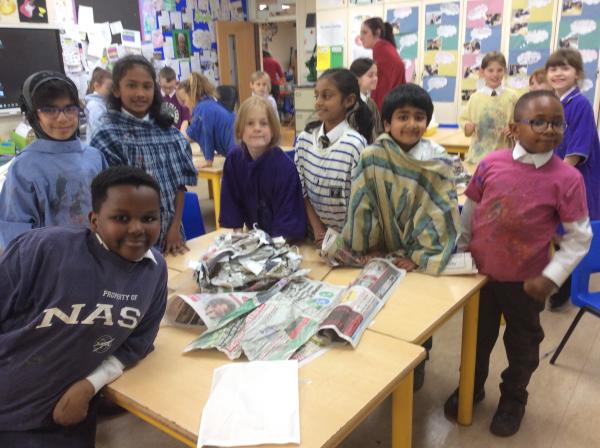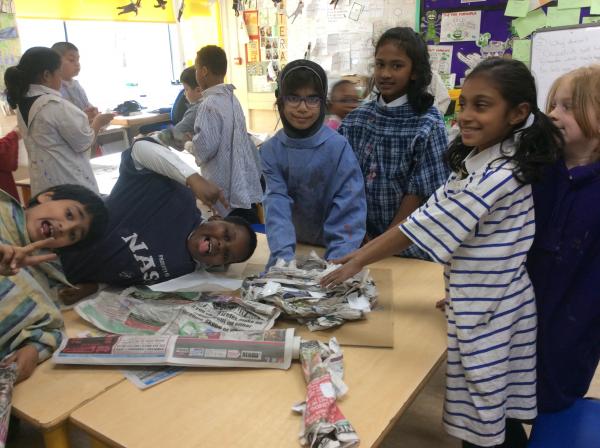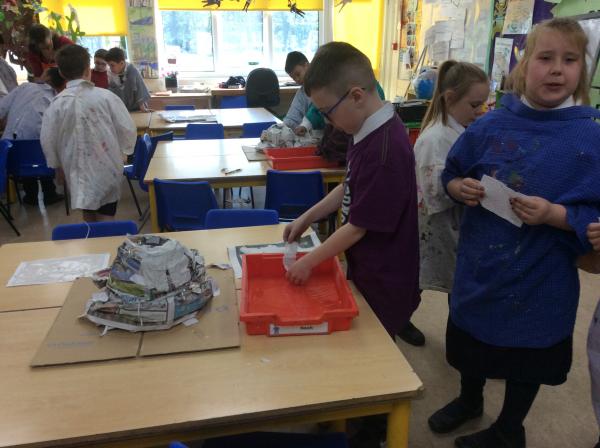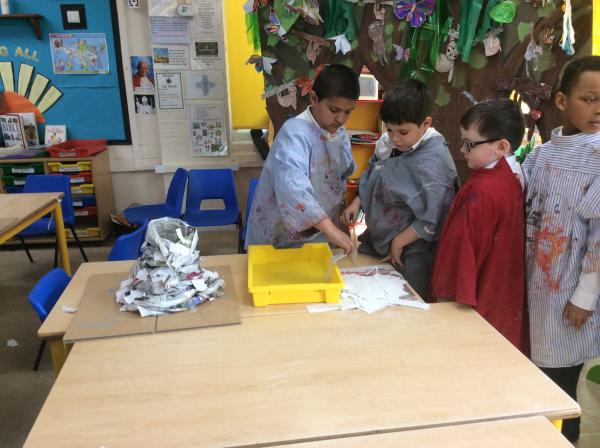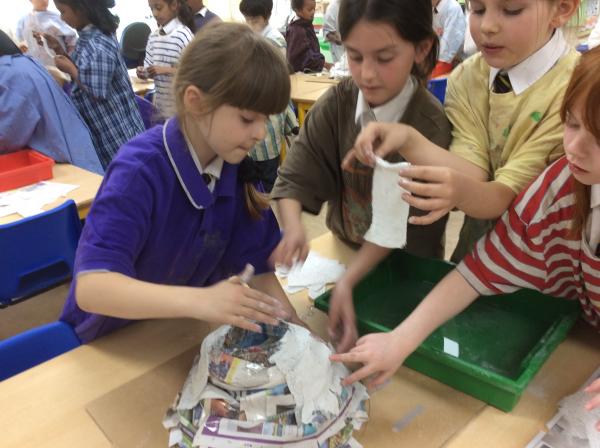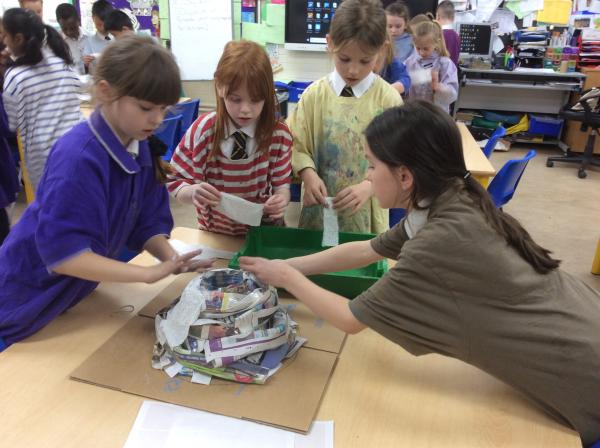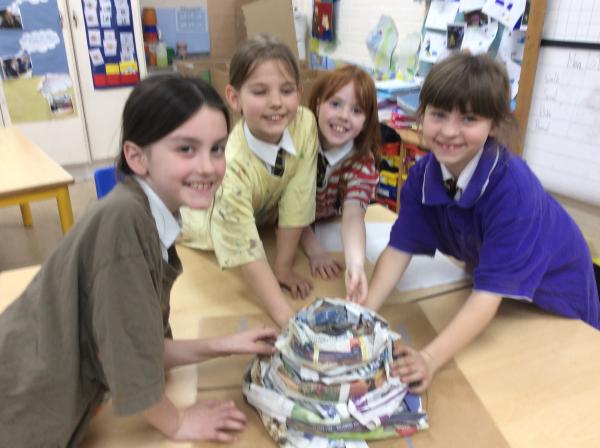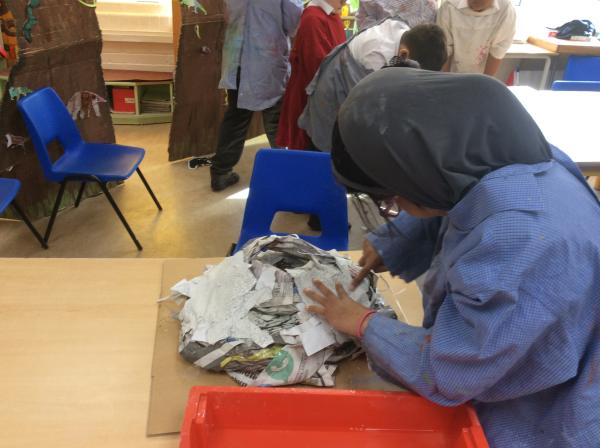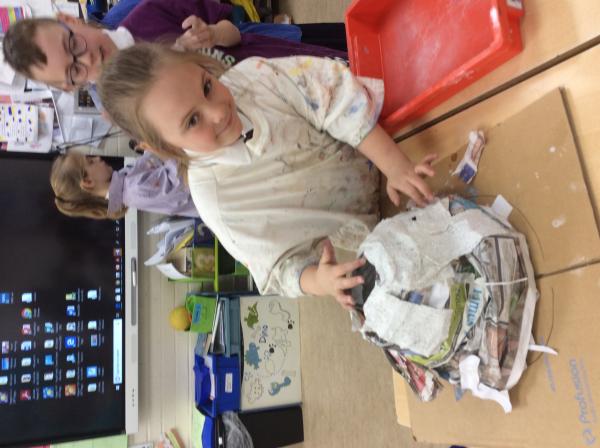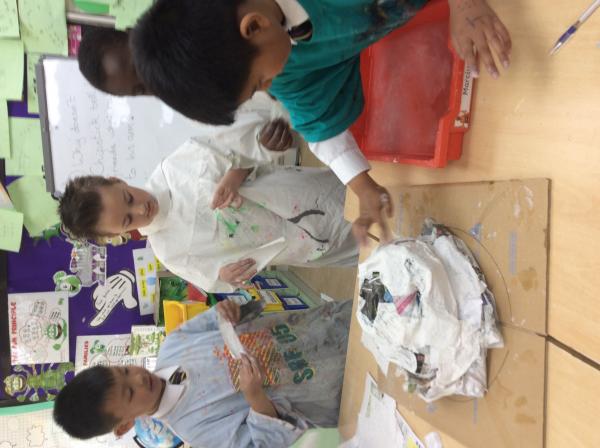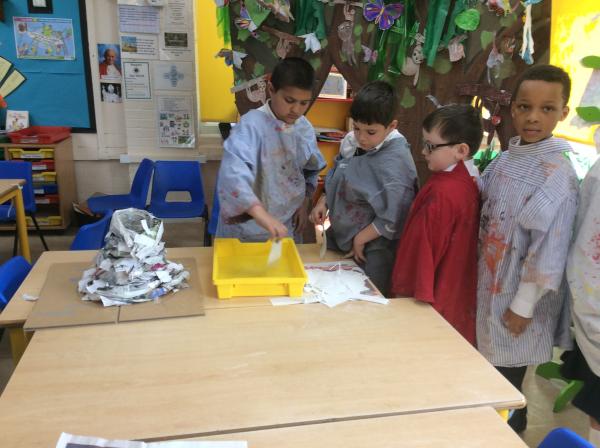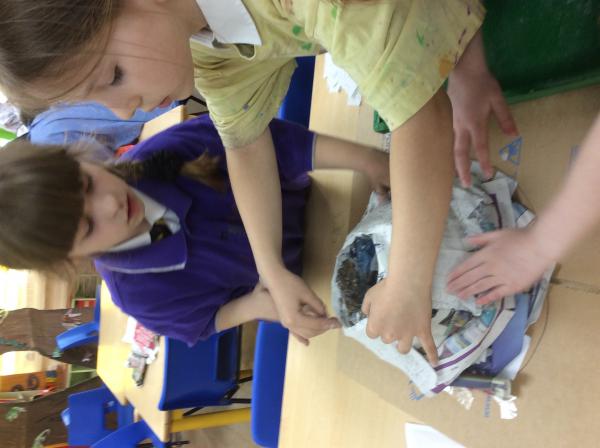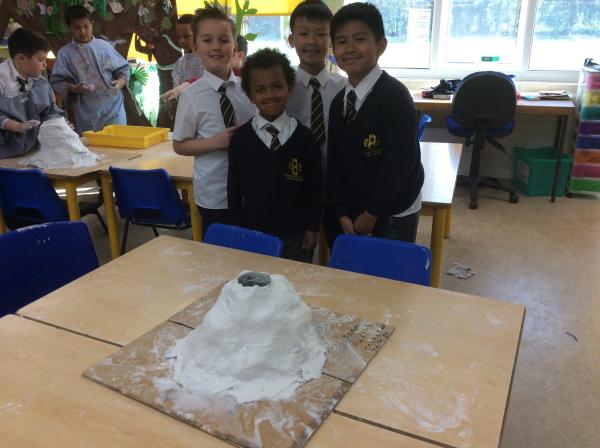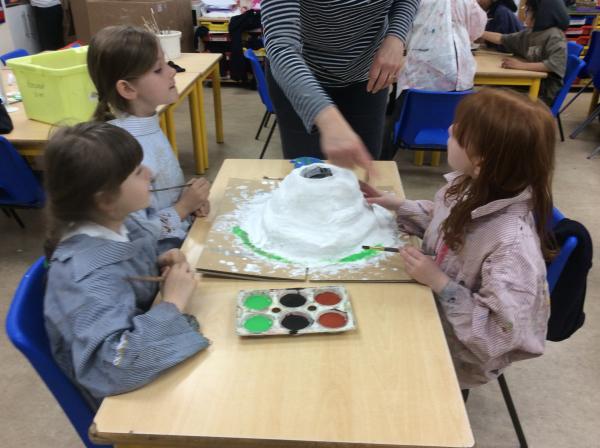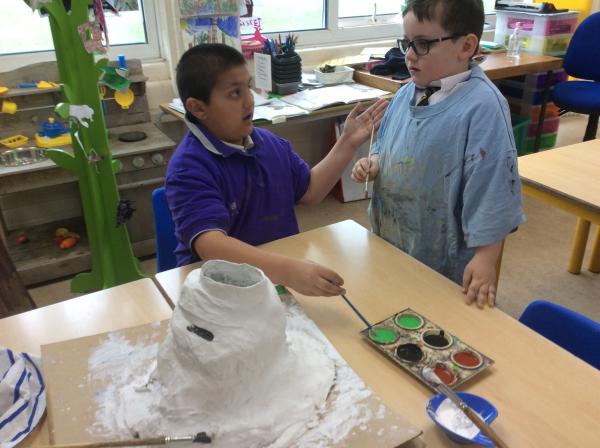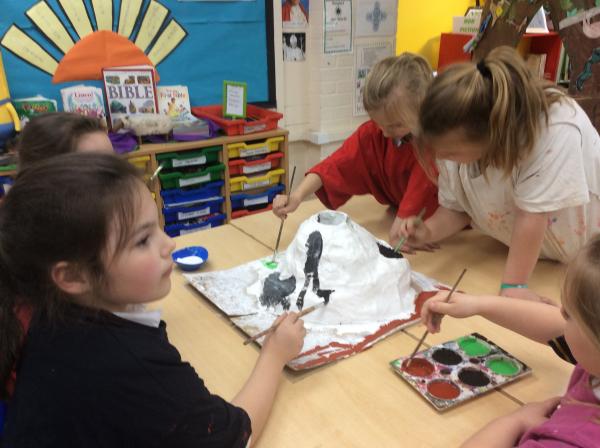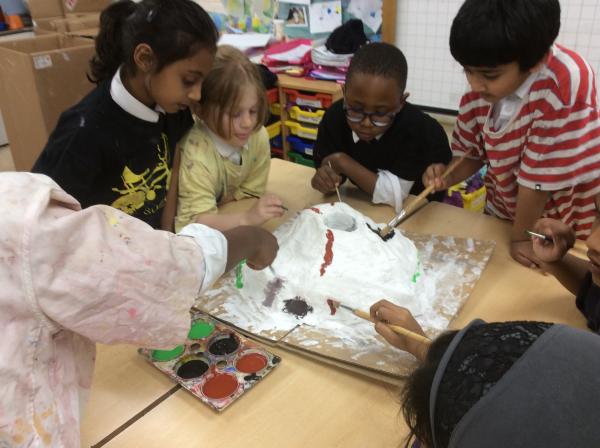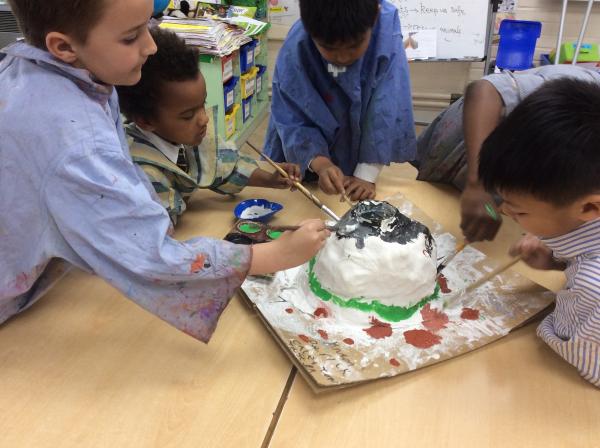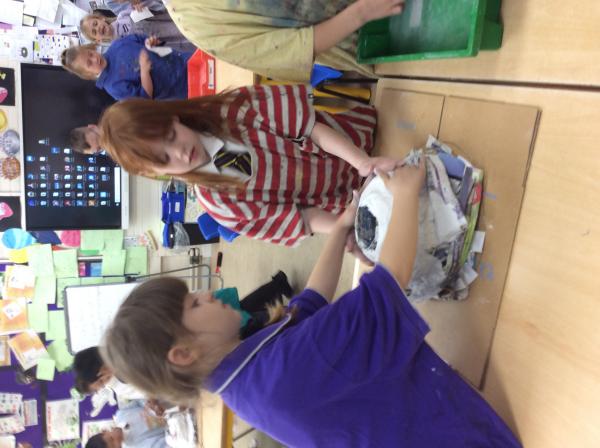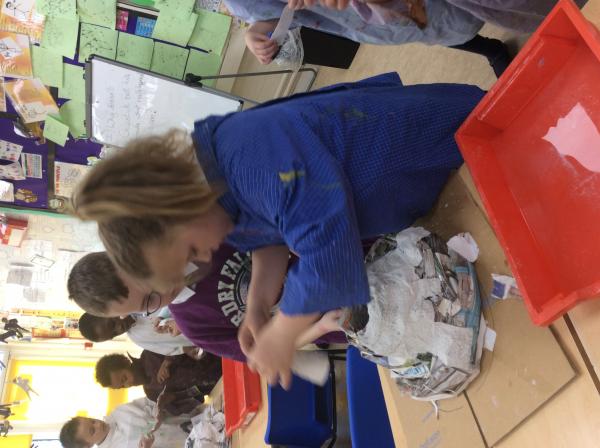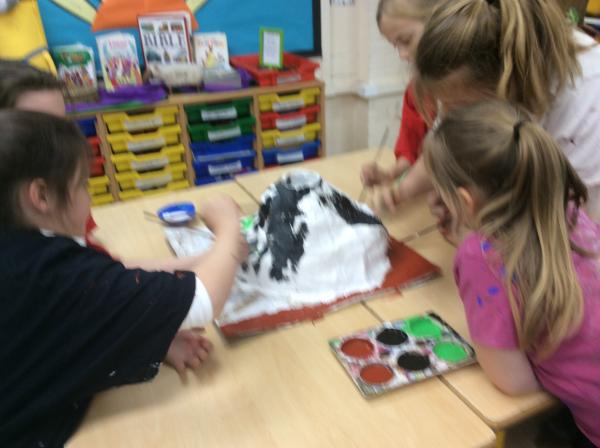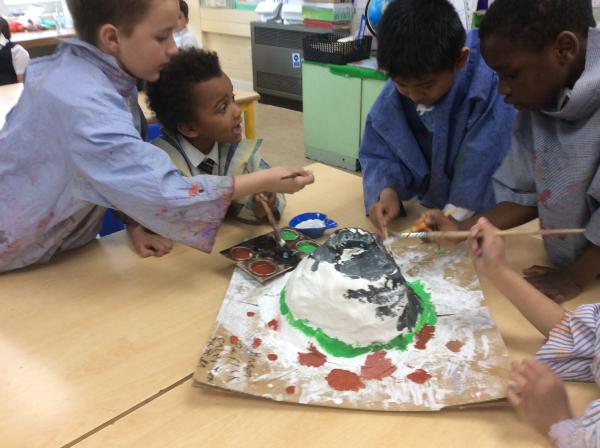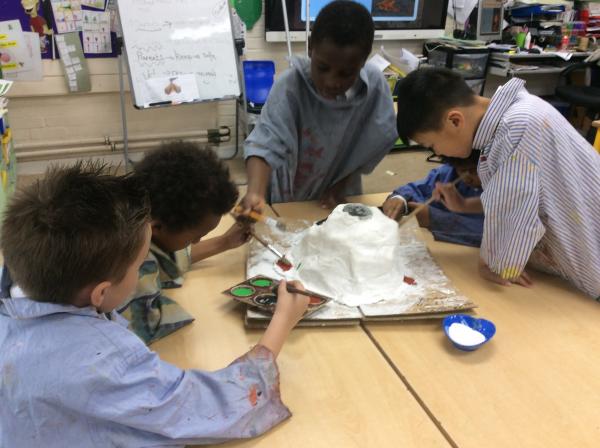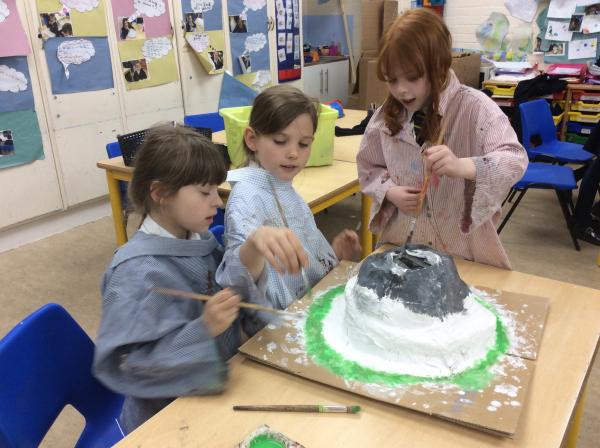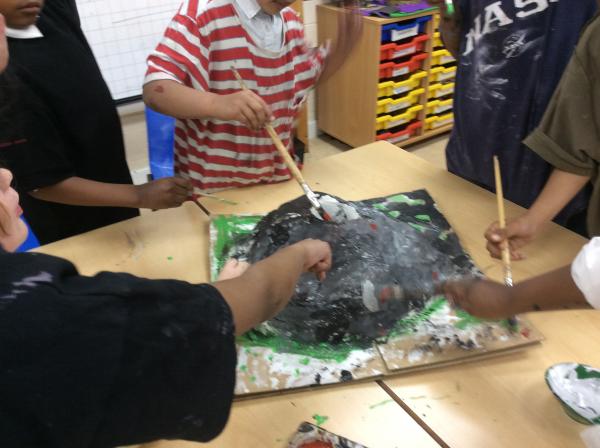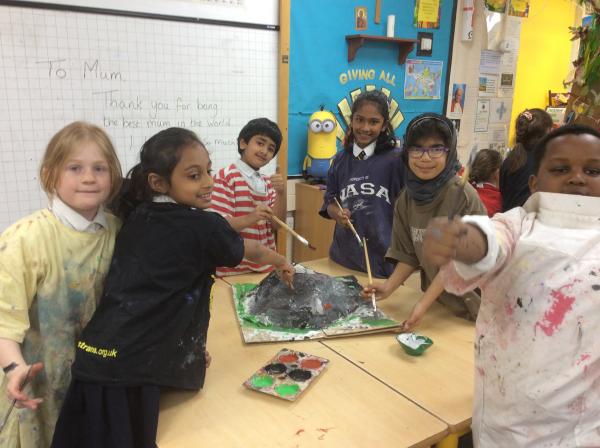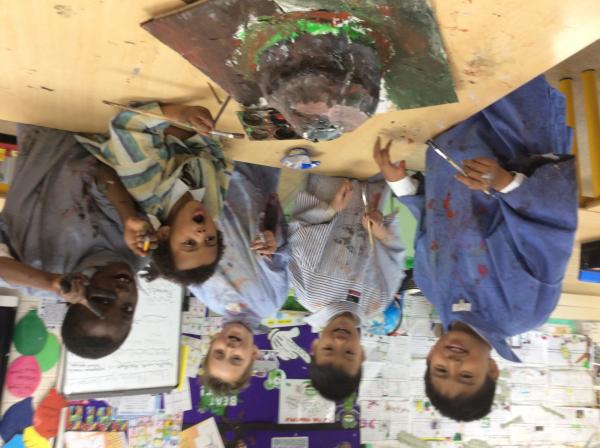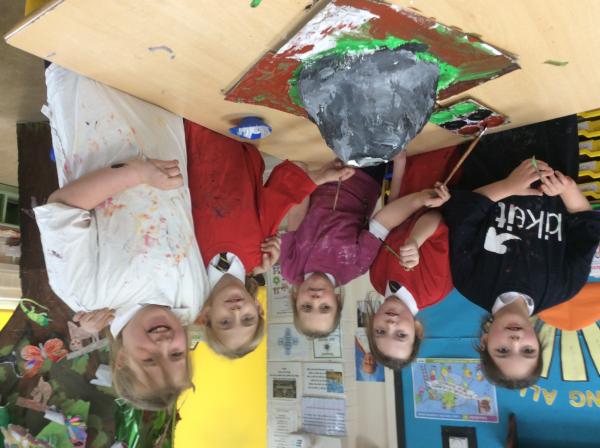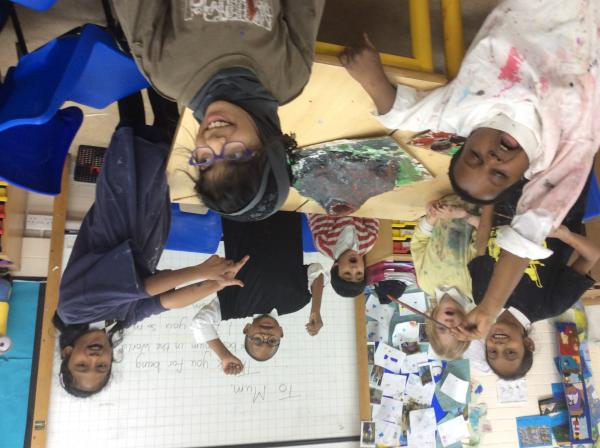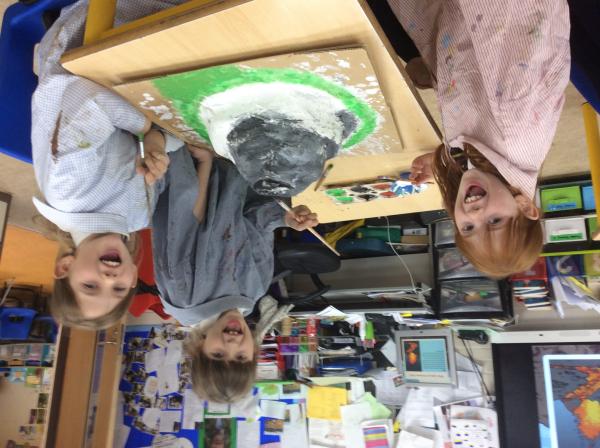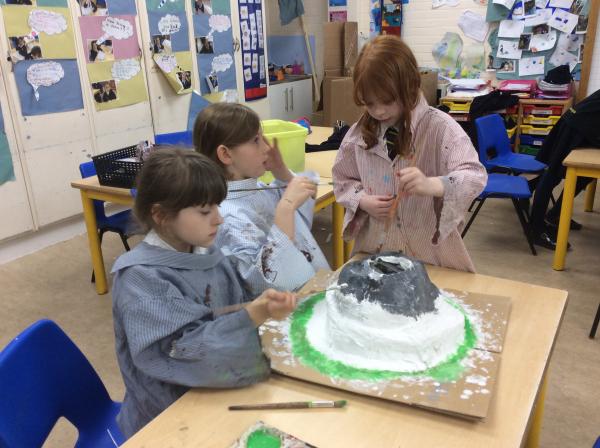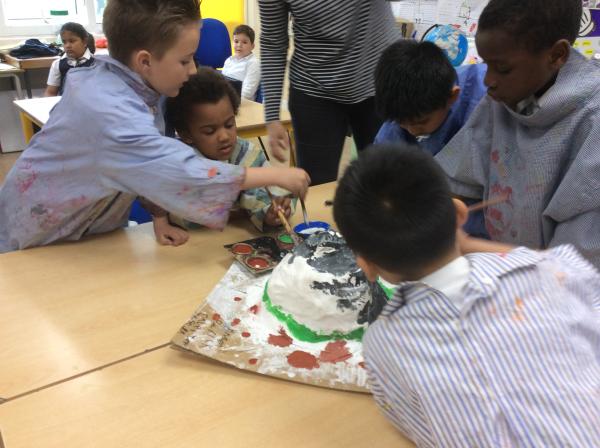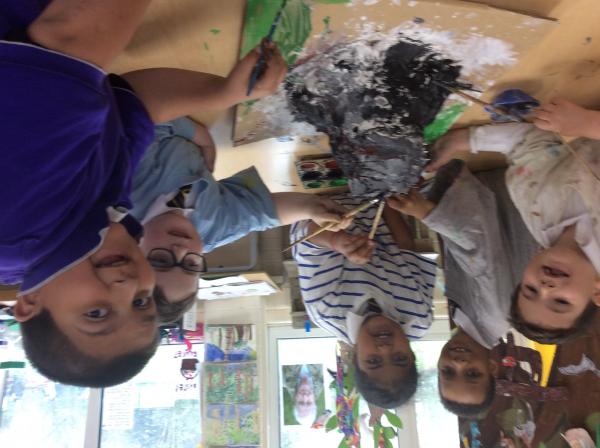 Year 3 playing the games they had designed and made themselves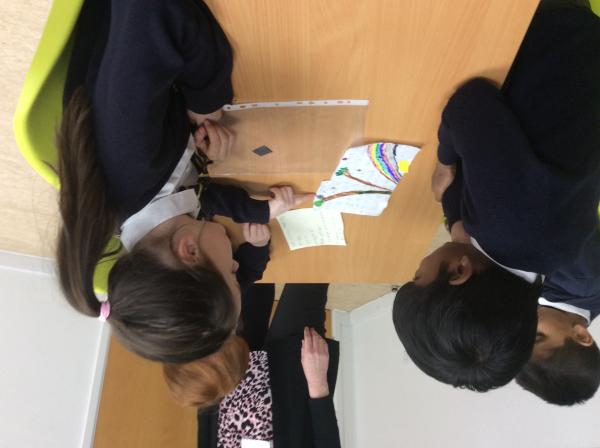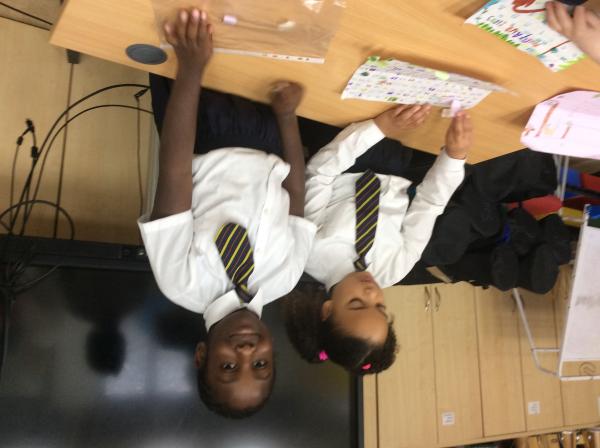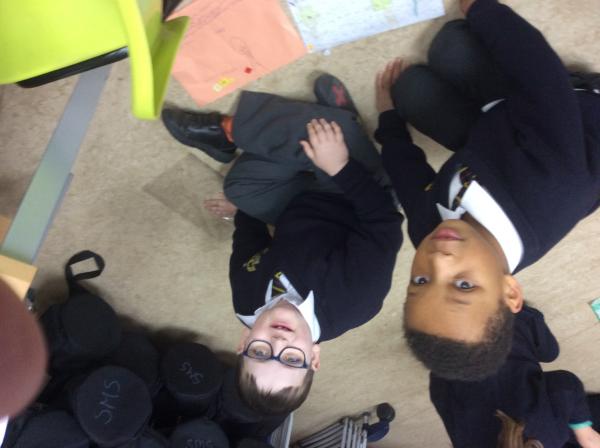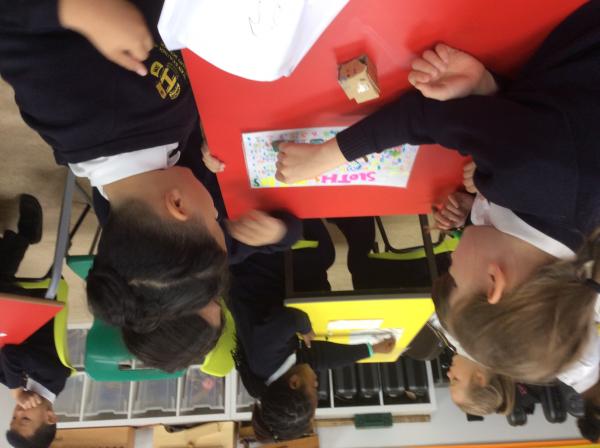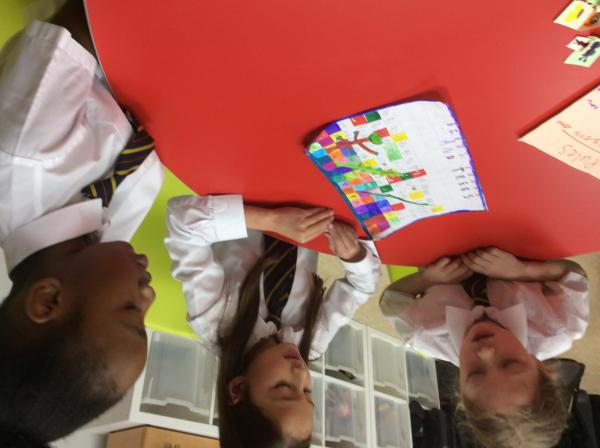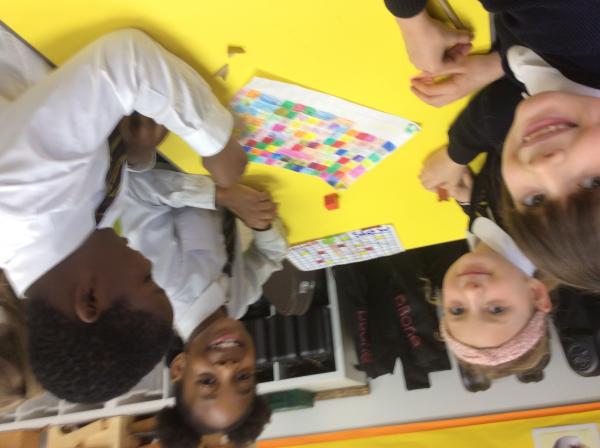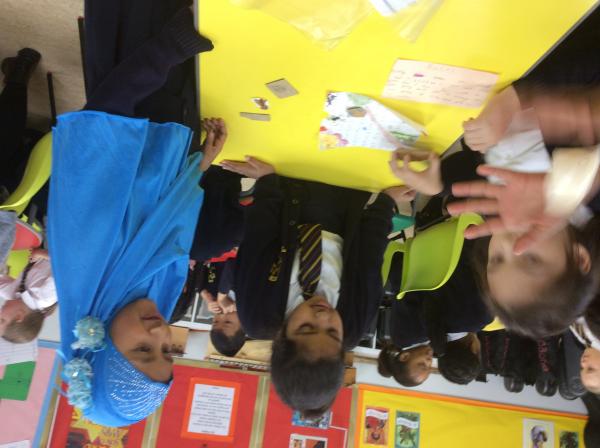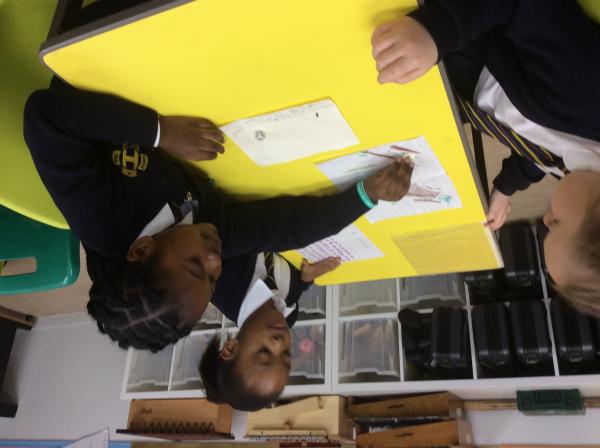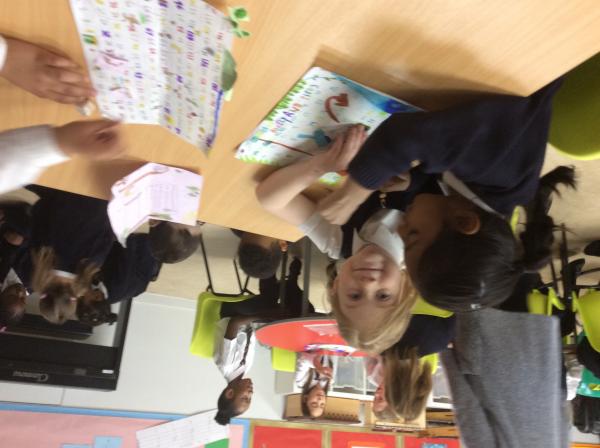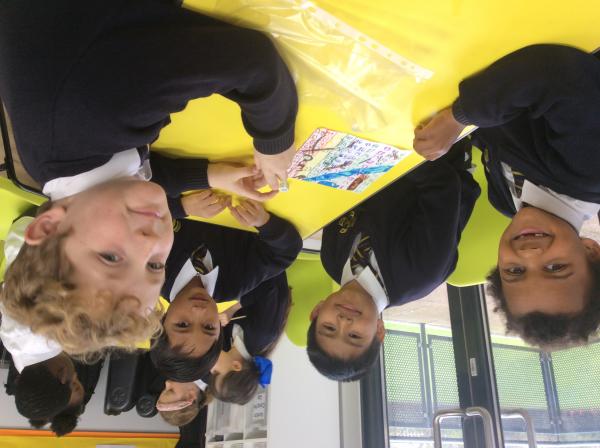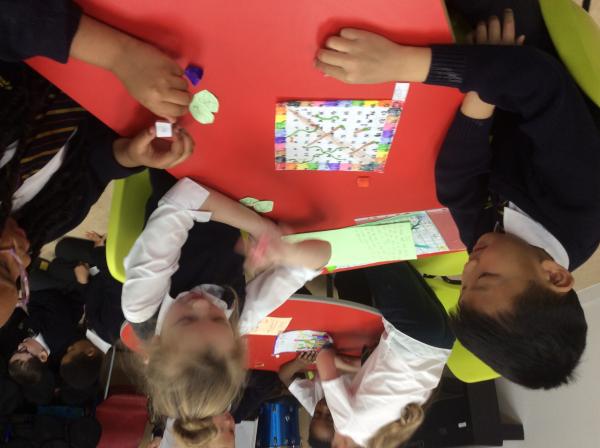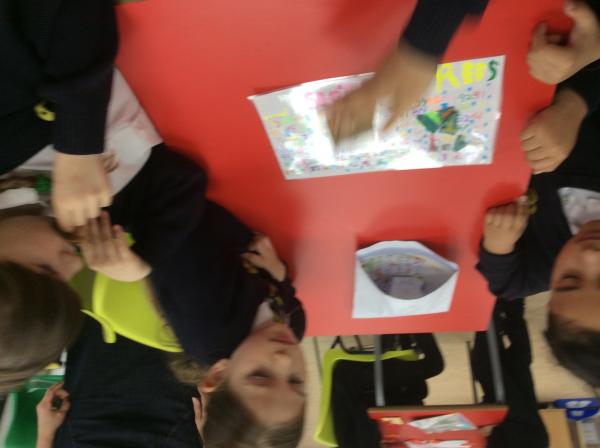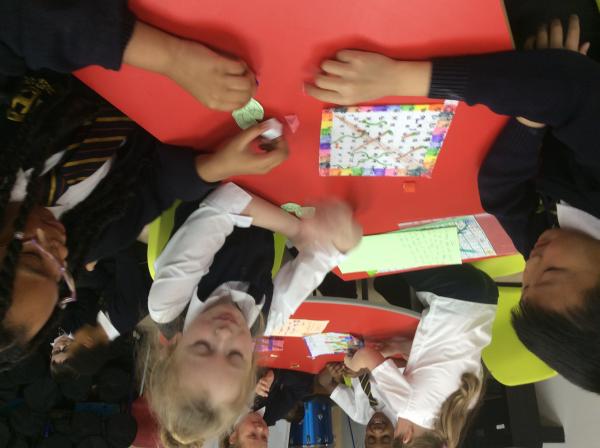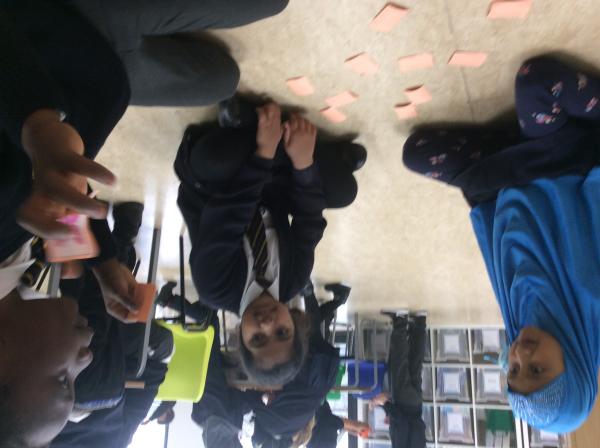 Robins Reuse and Reduce Waste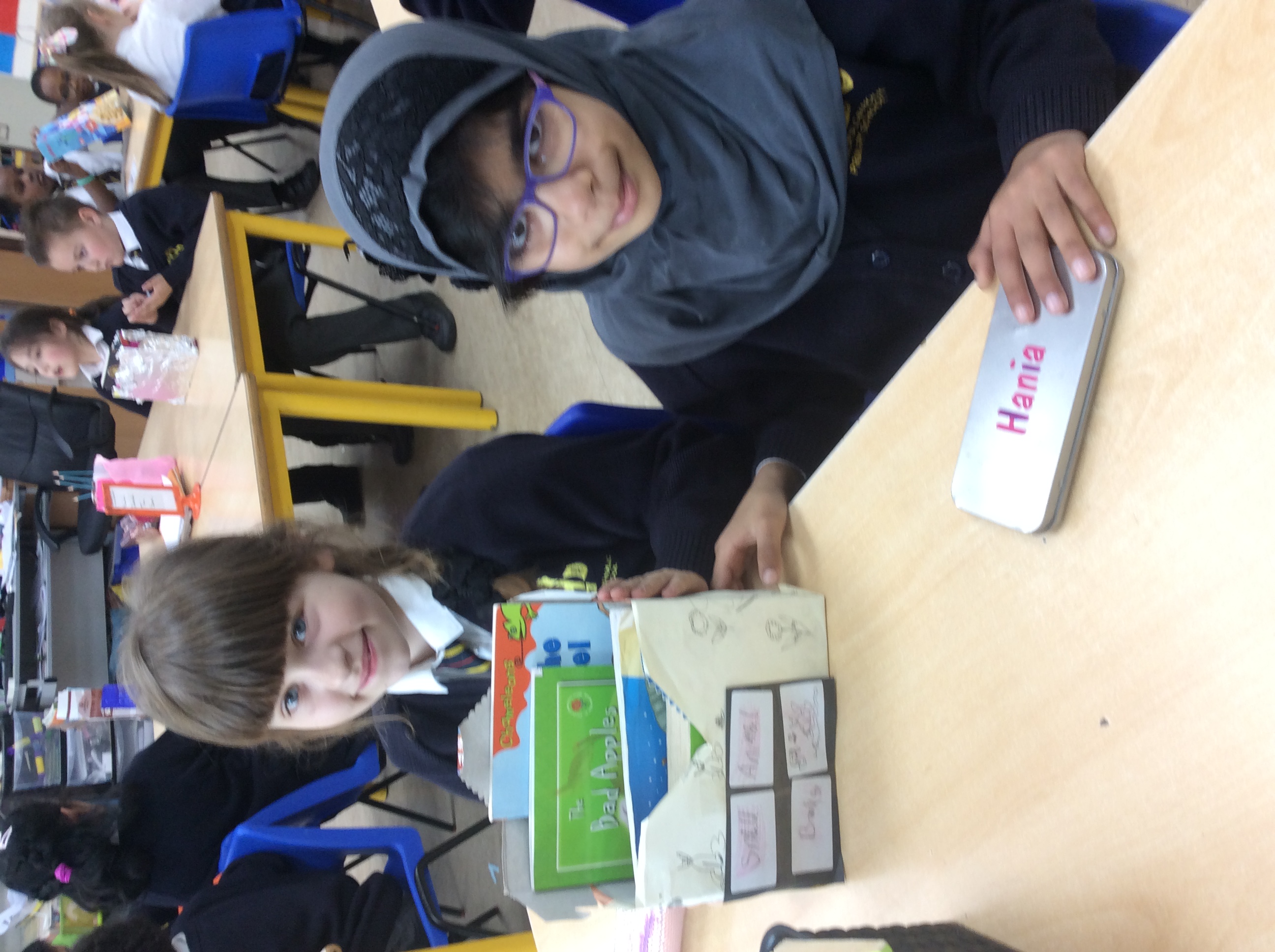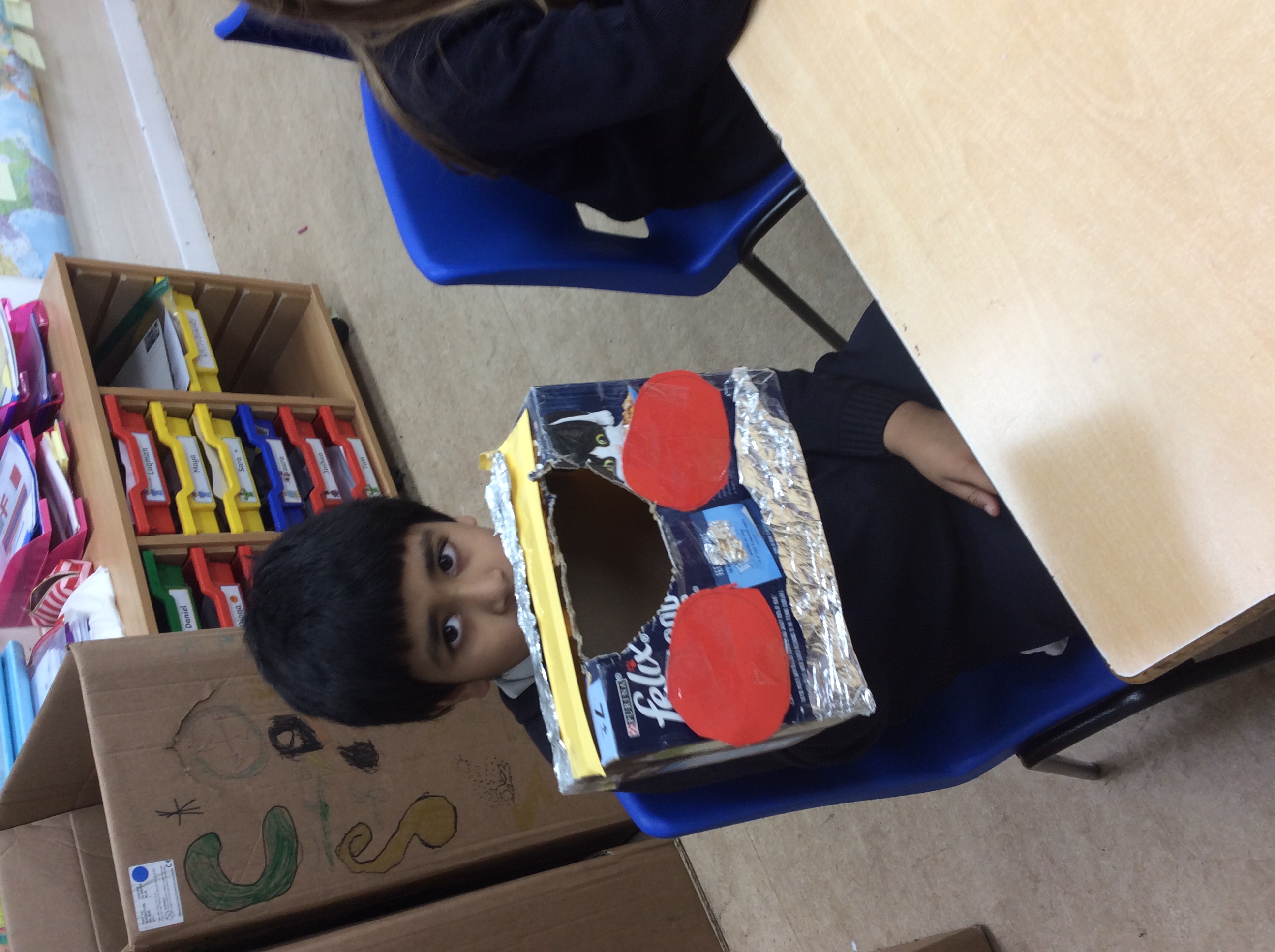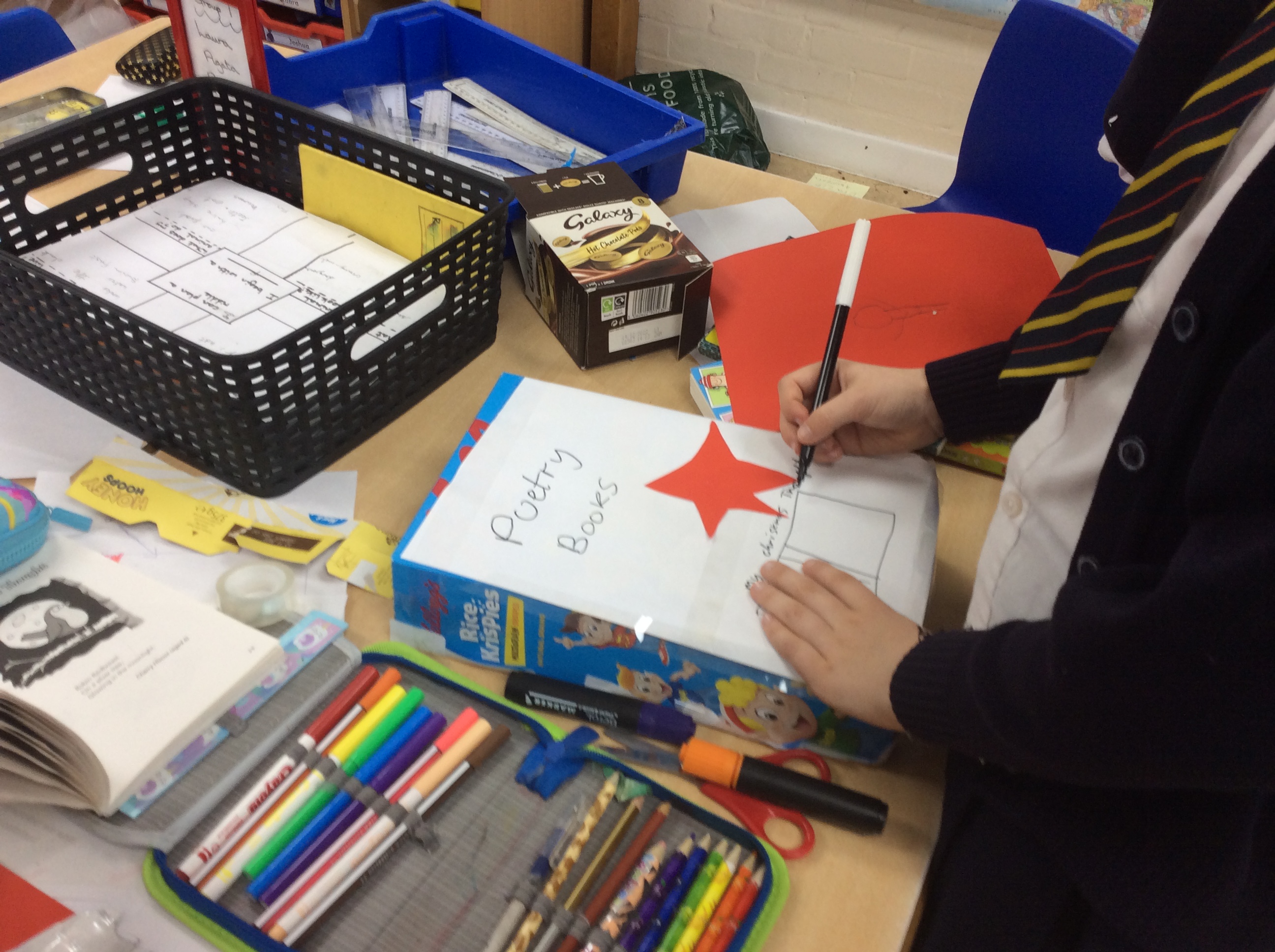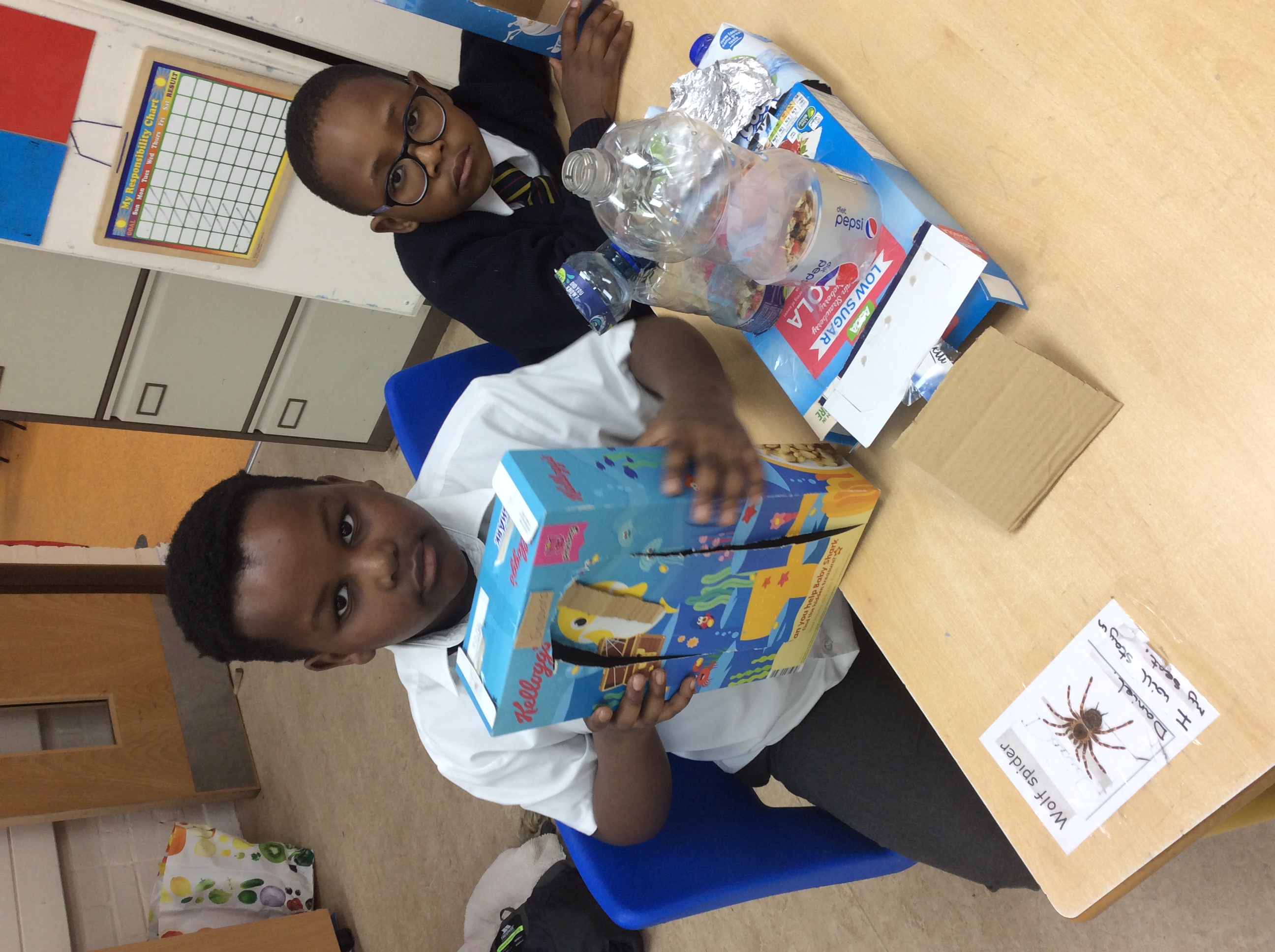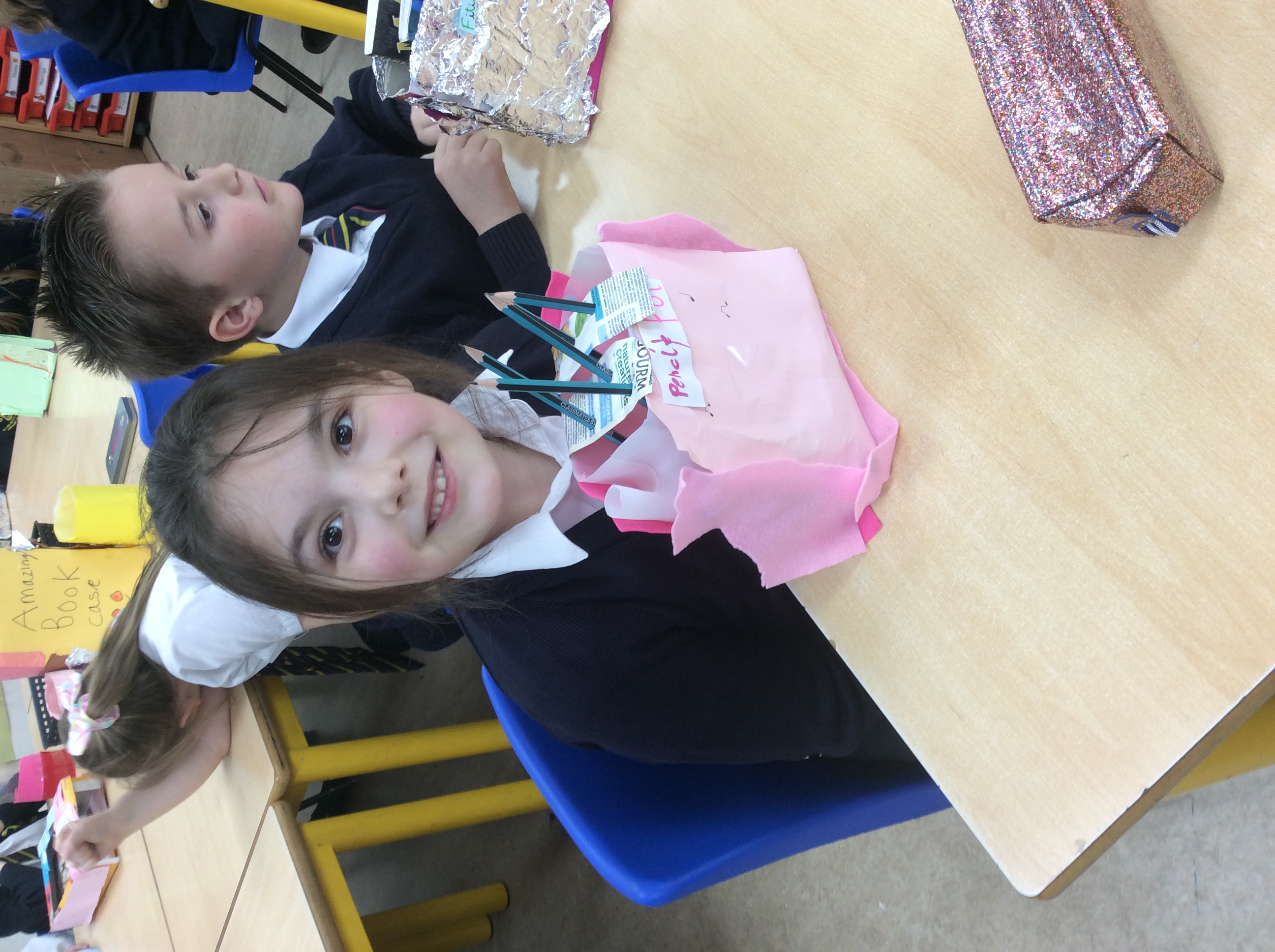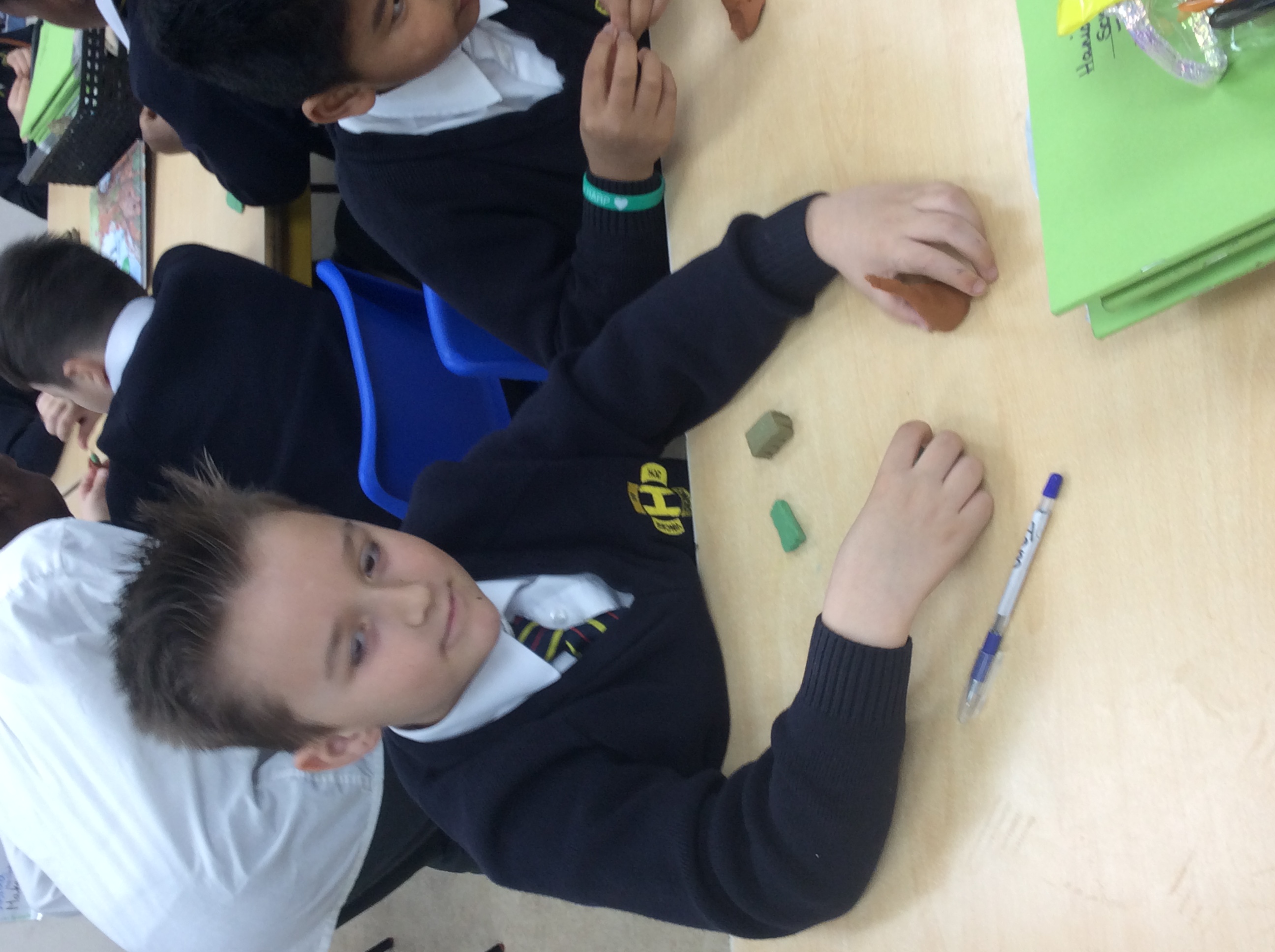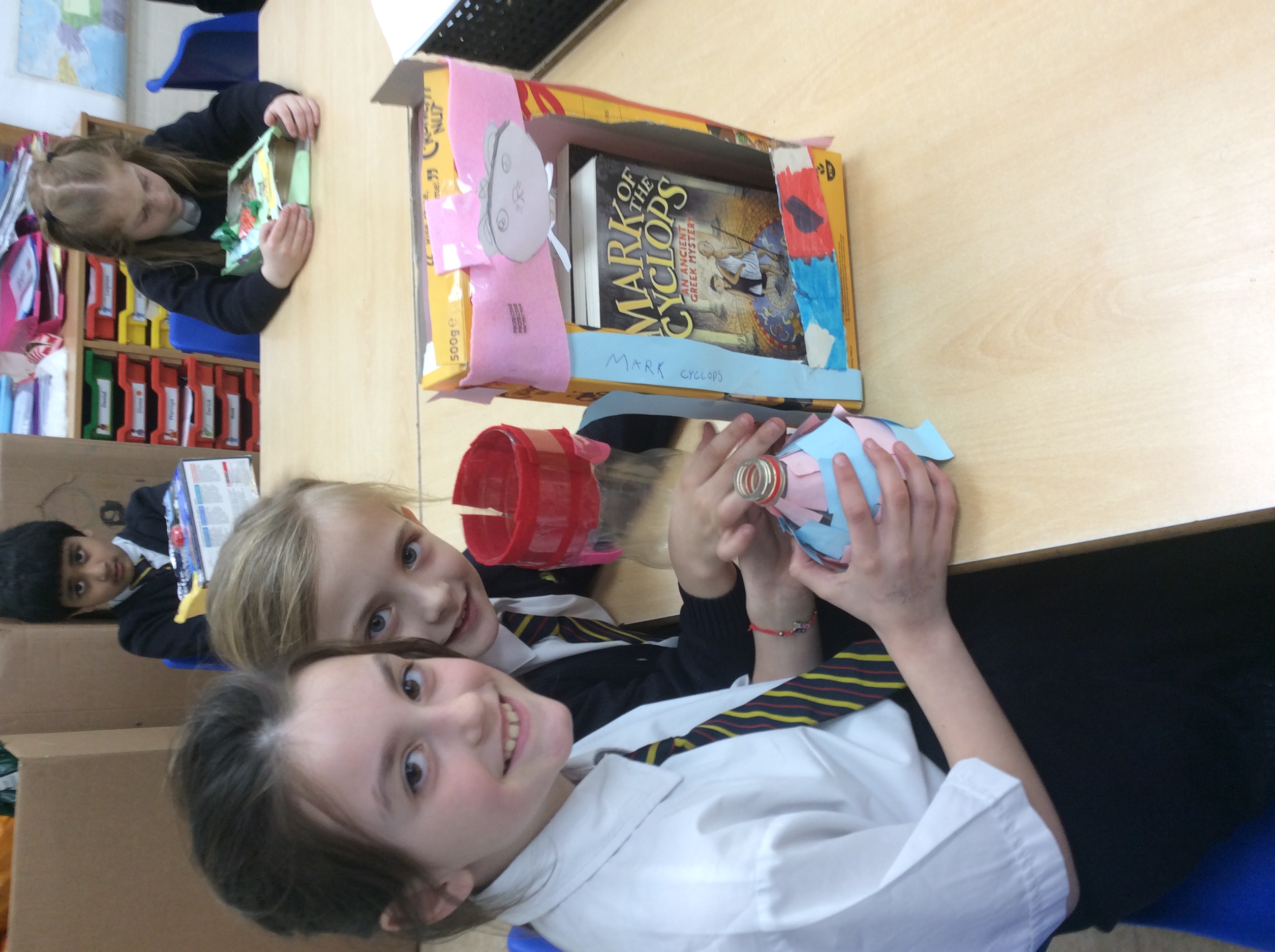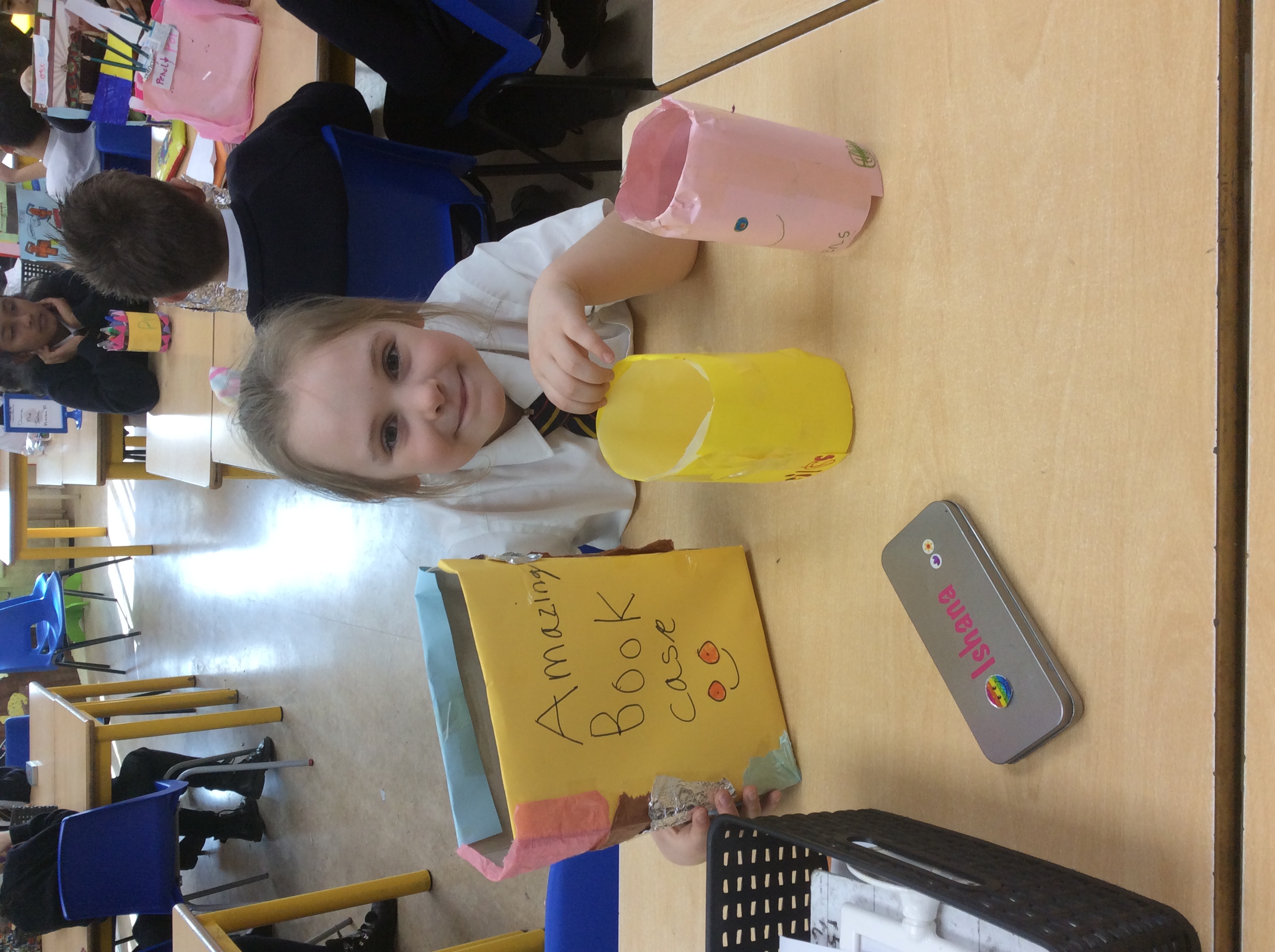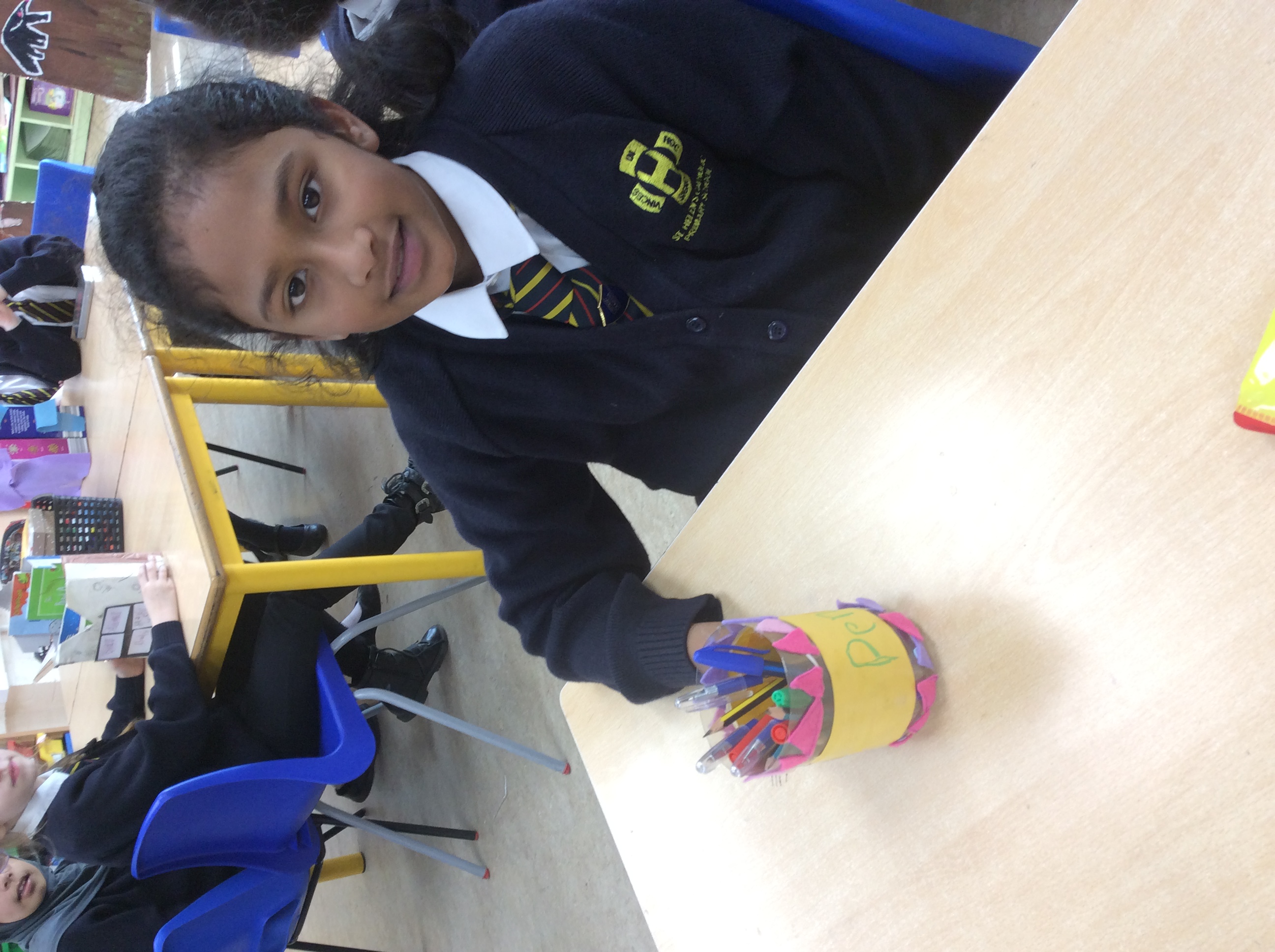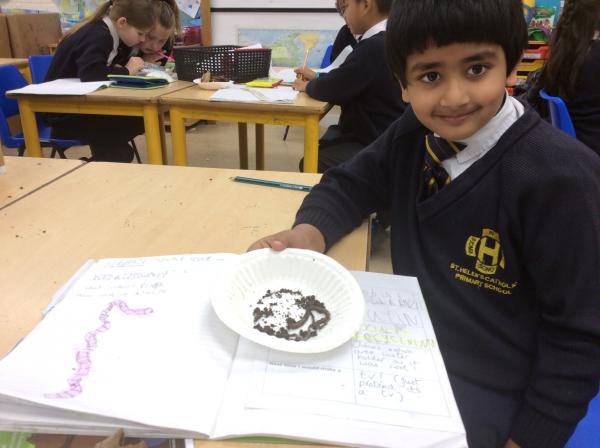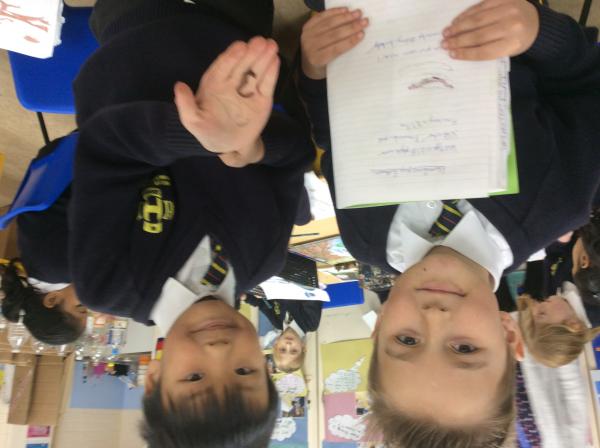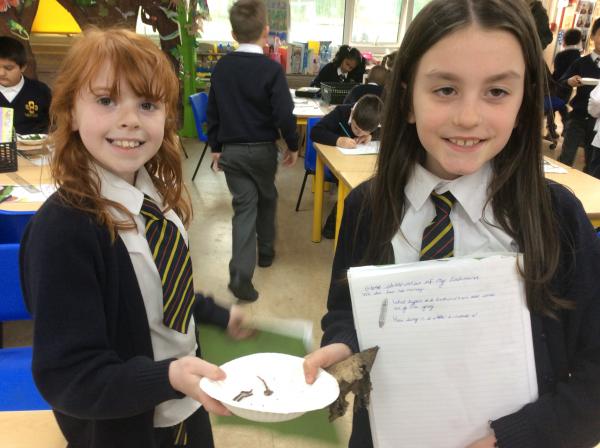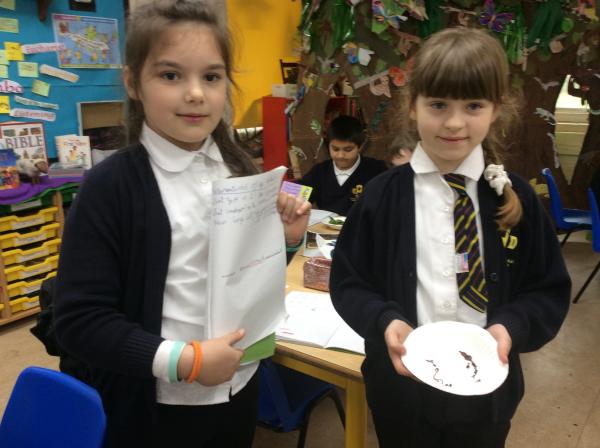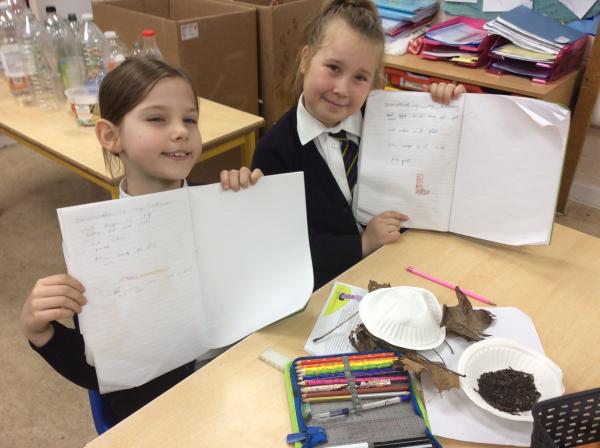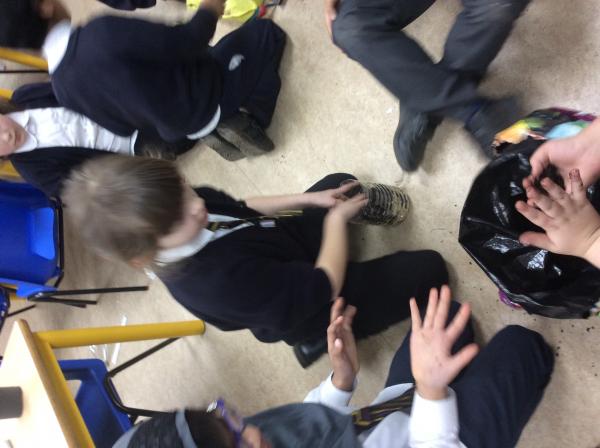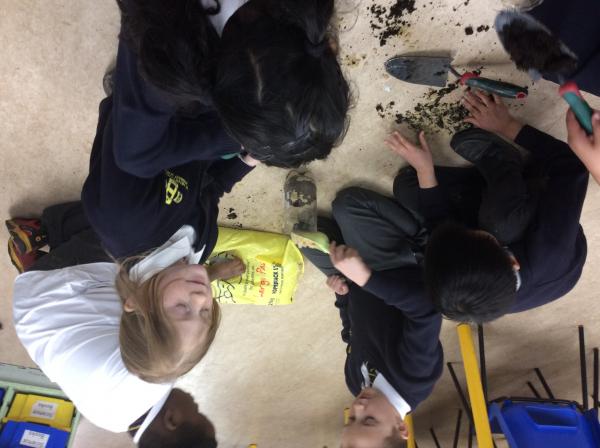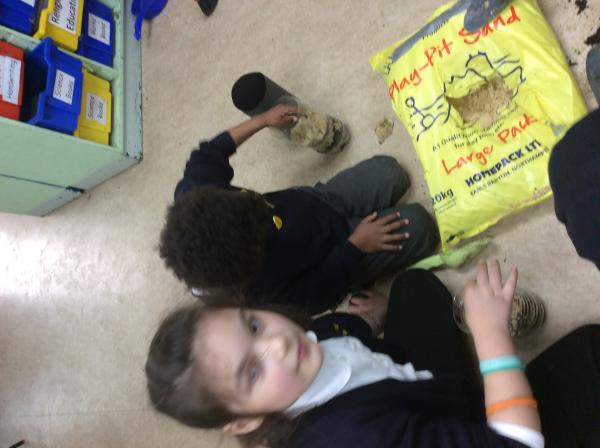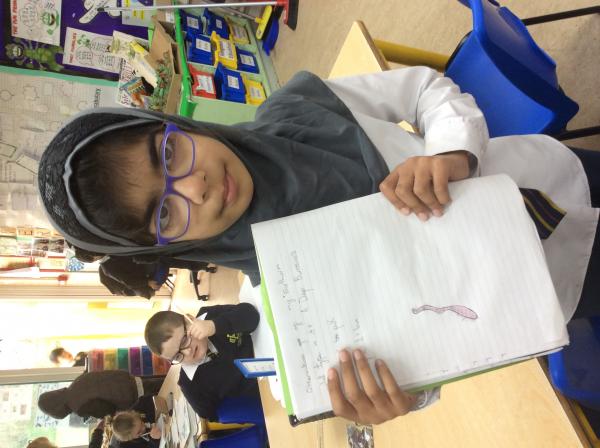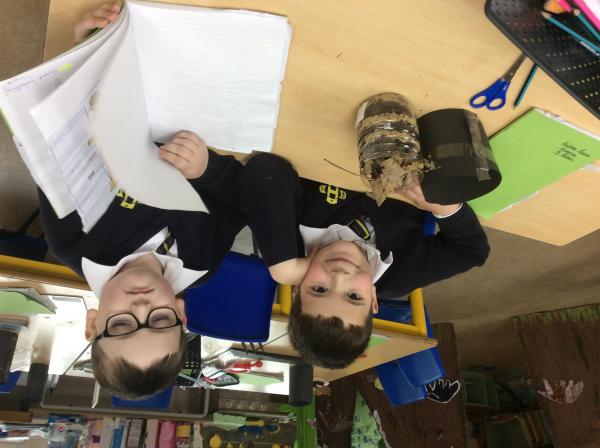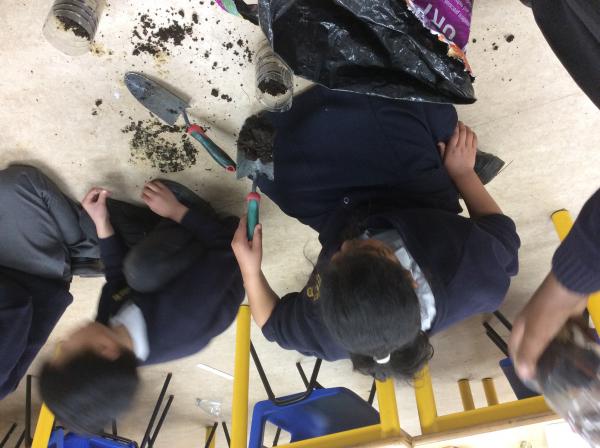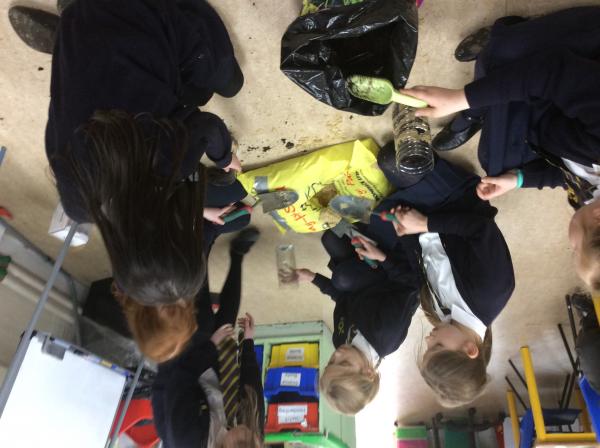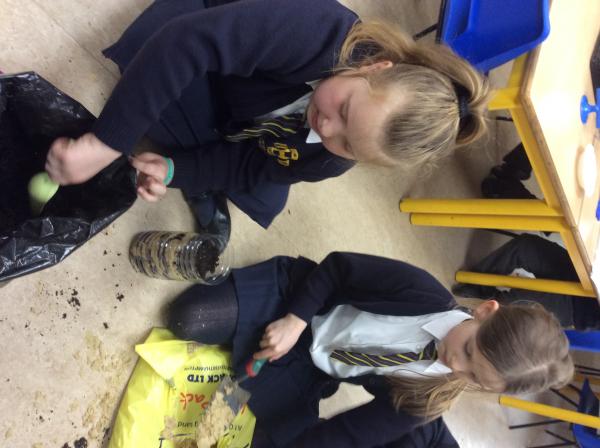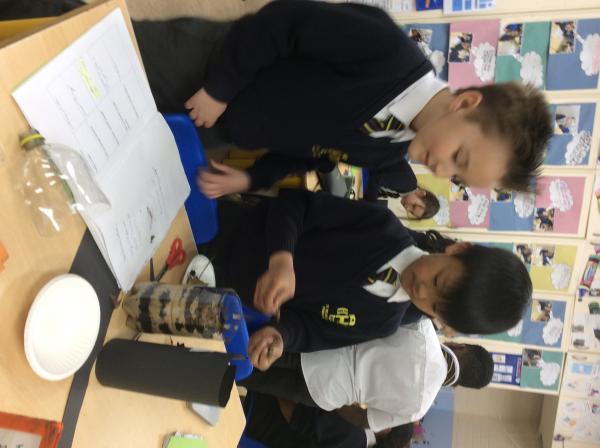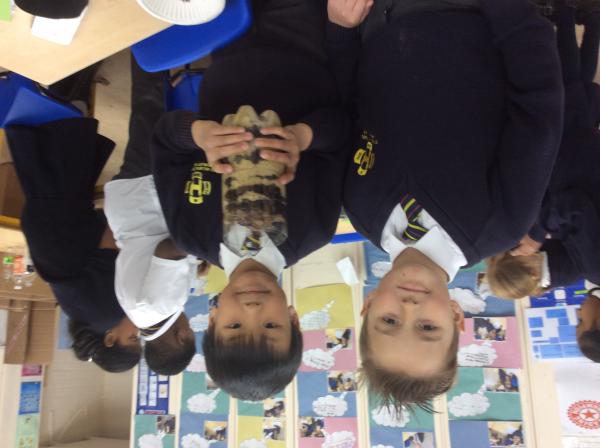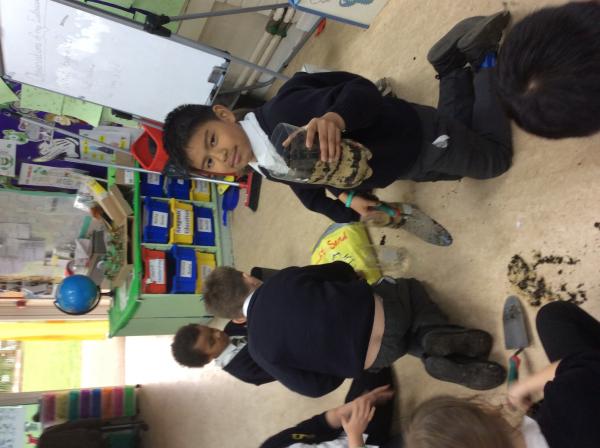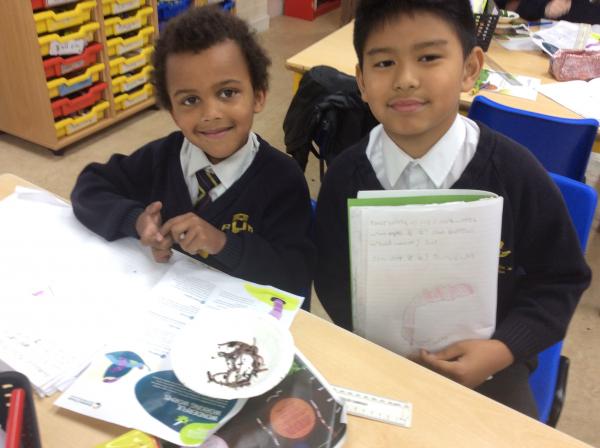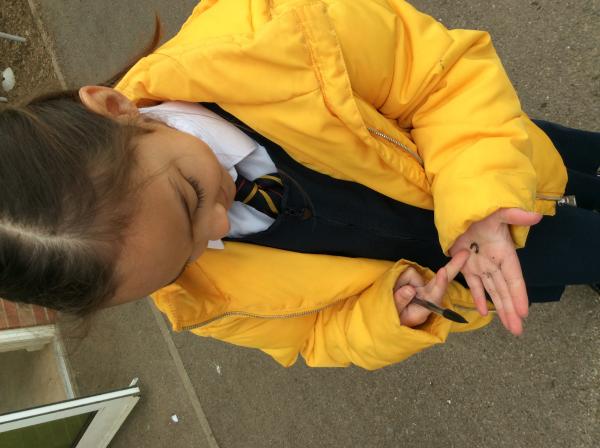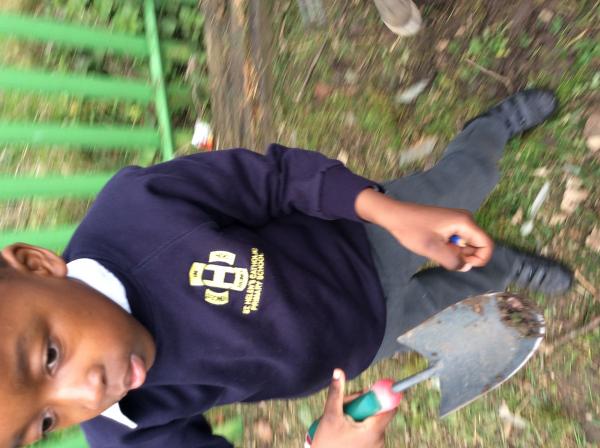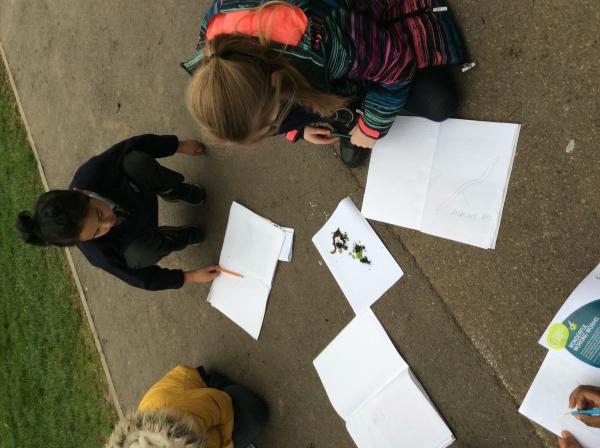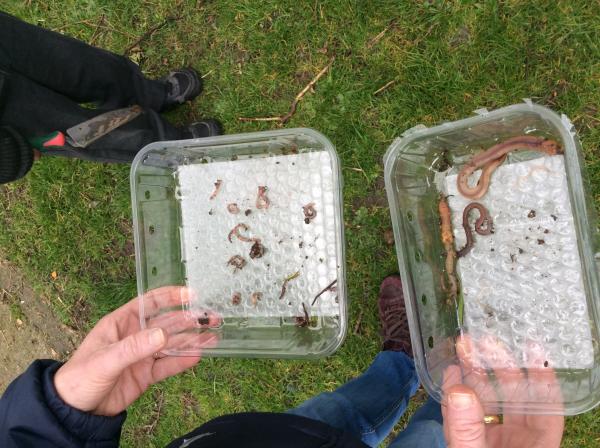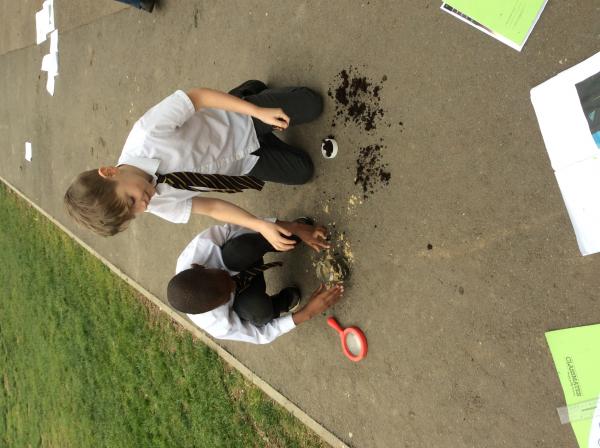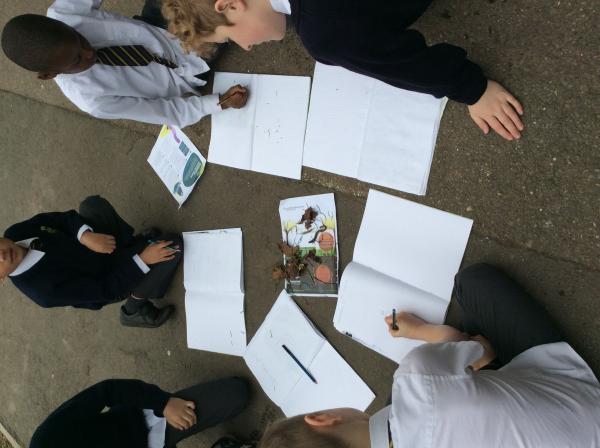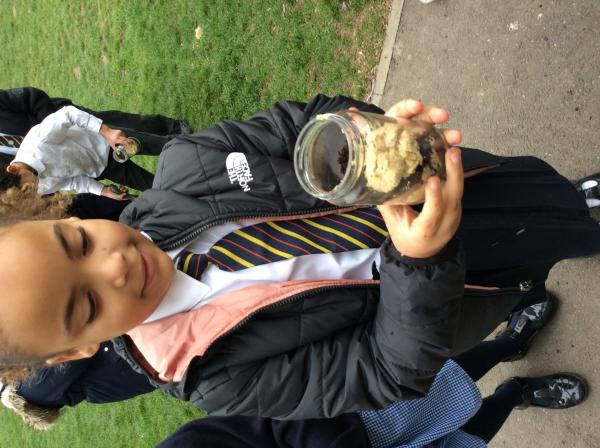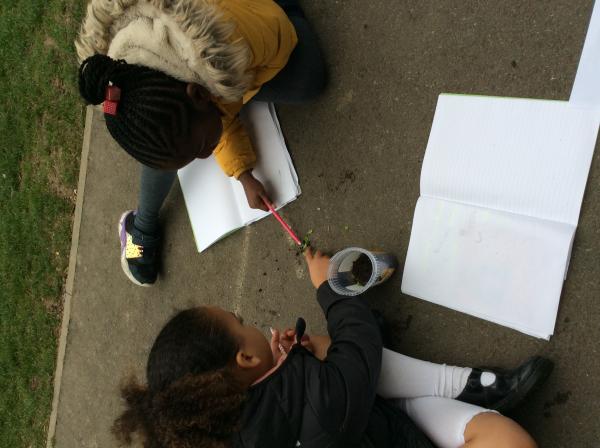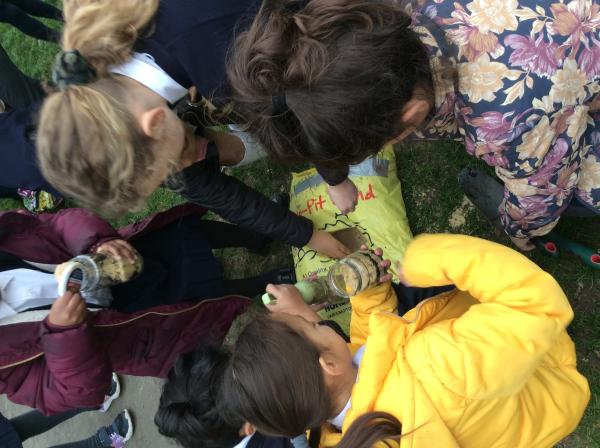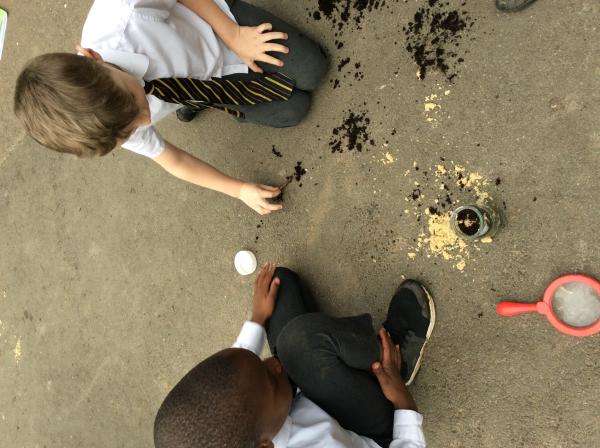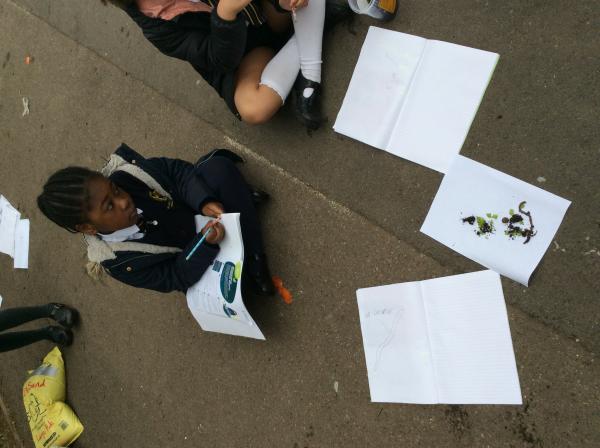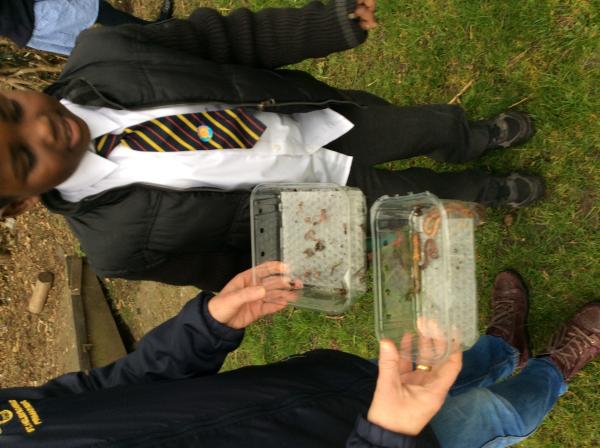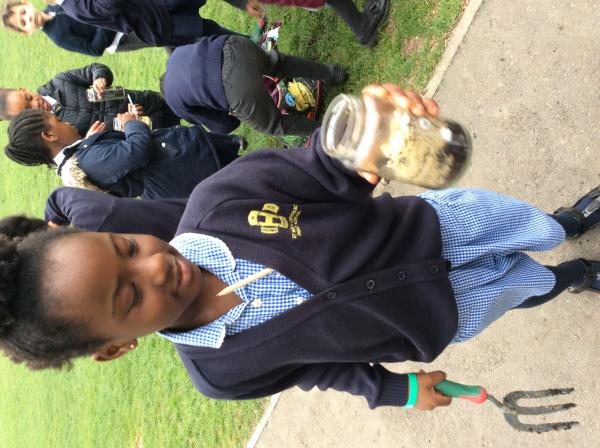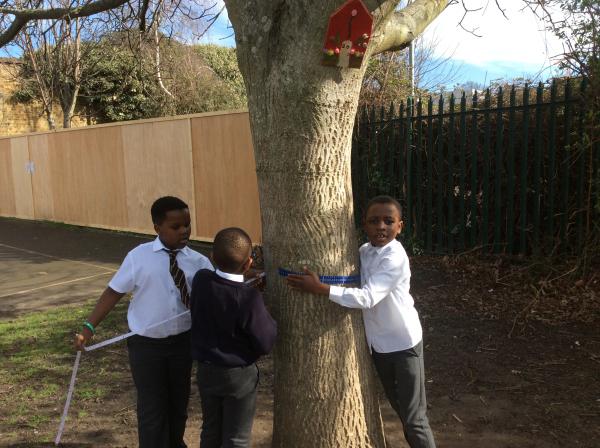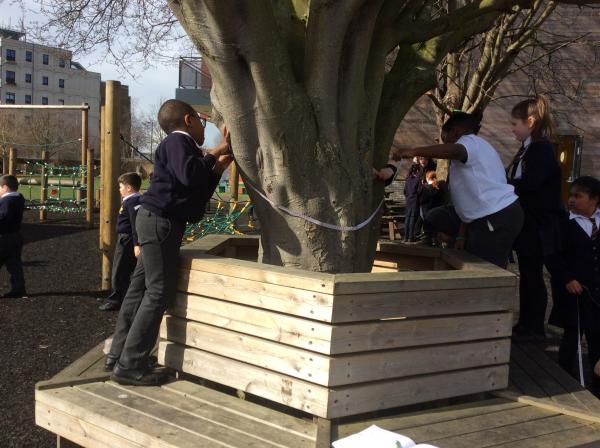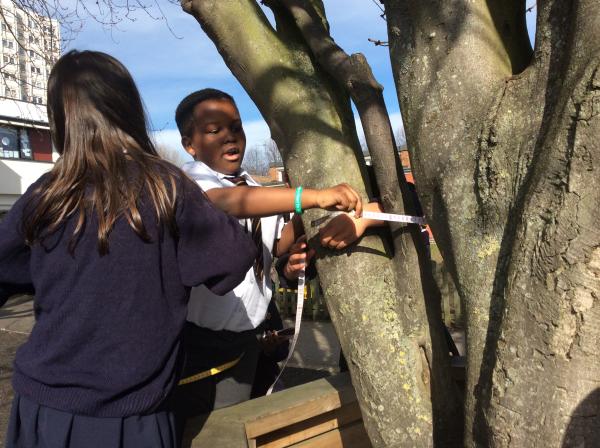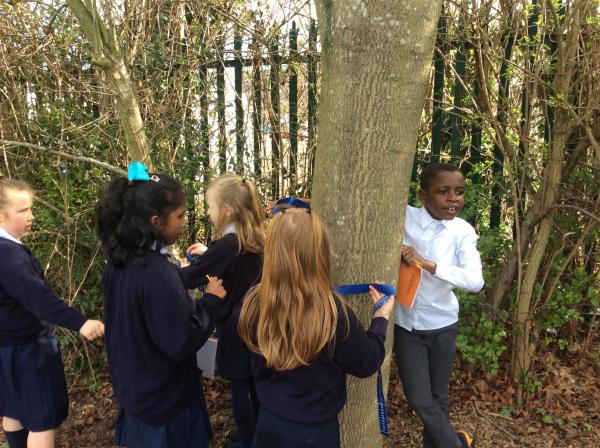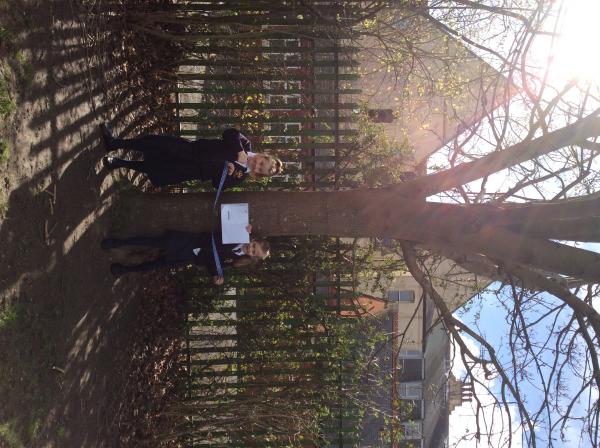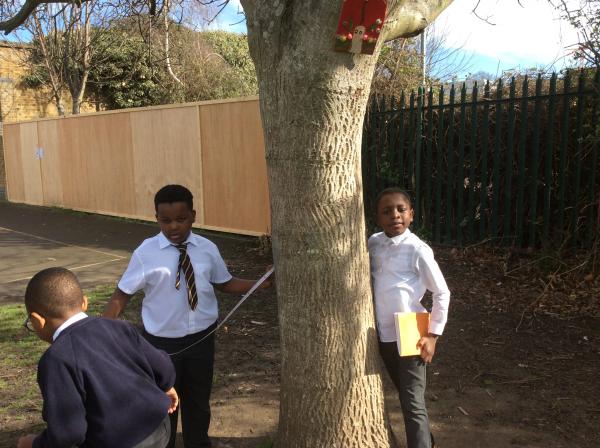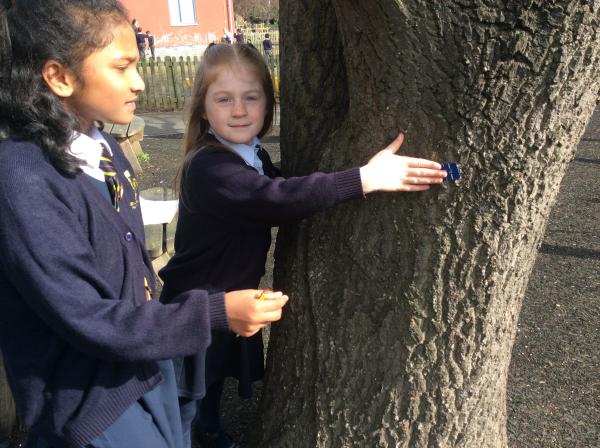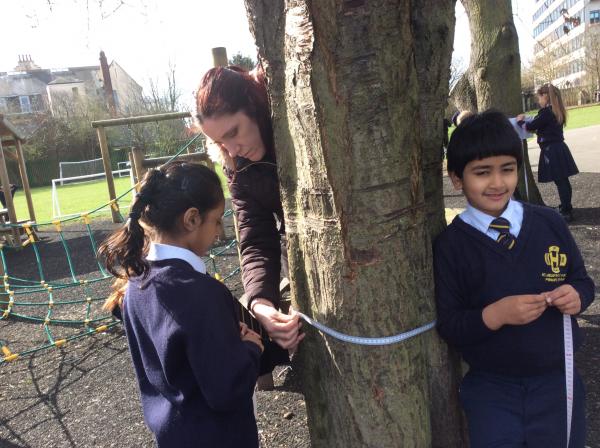 Deforestation
The children in Robins have learned about the importance of trees and how rainforests are essential to help with climate change as they store carbon and release oxygen. Mrs Conyard then taught the children about deforestation.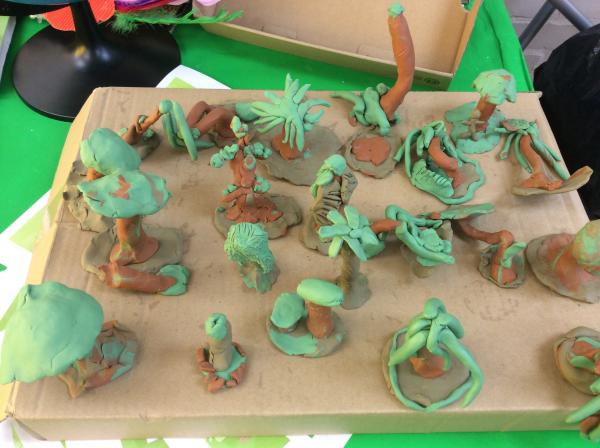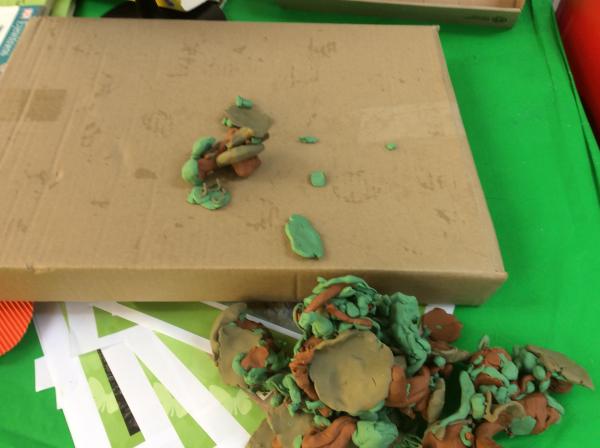 Chromatography Caterpillar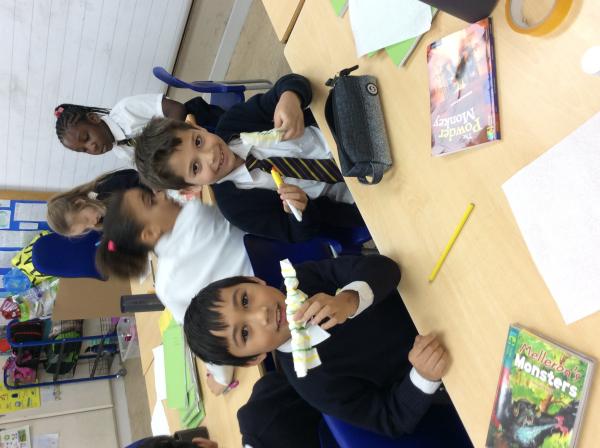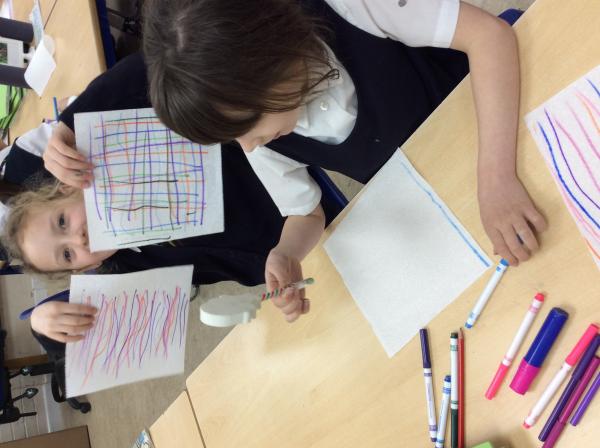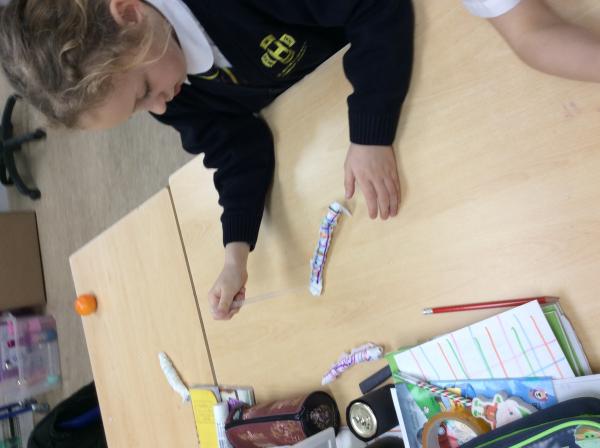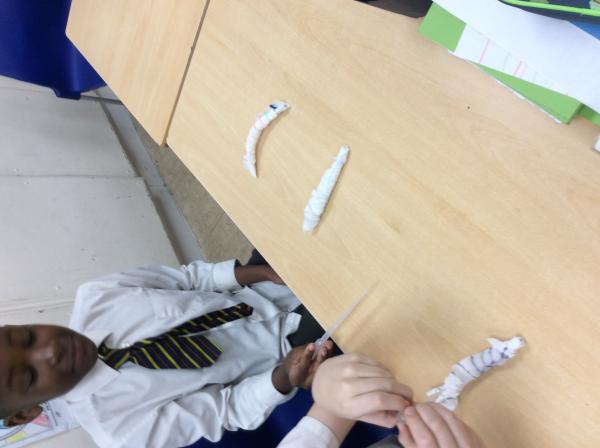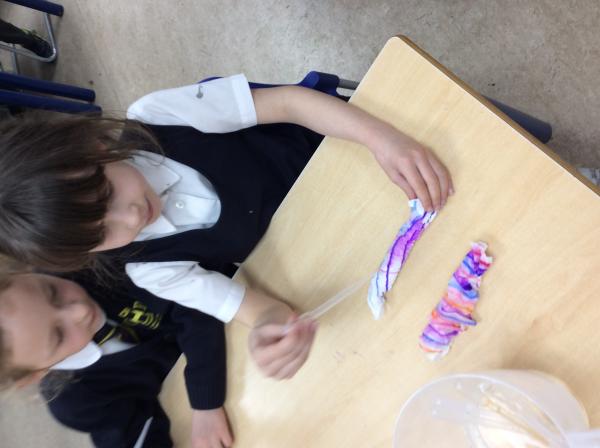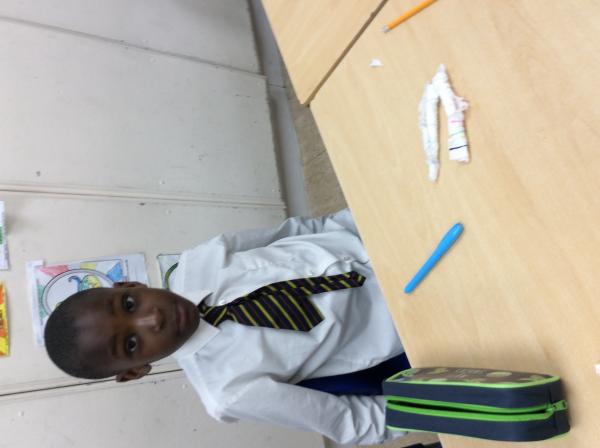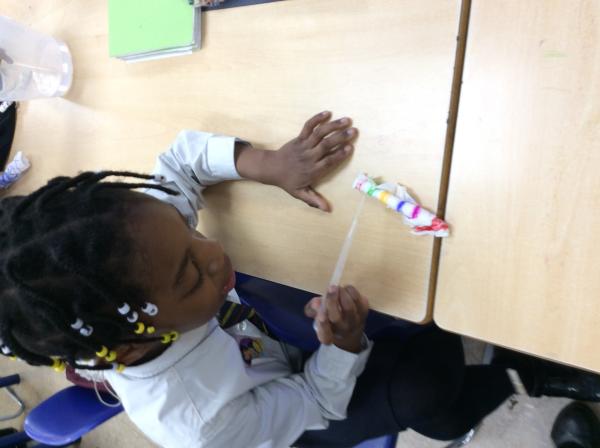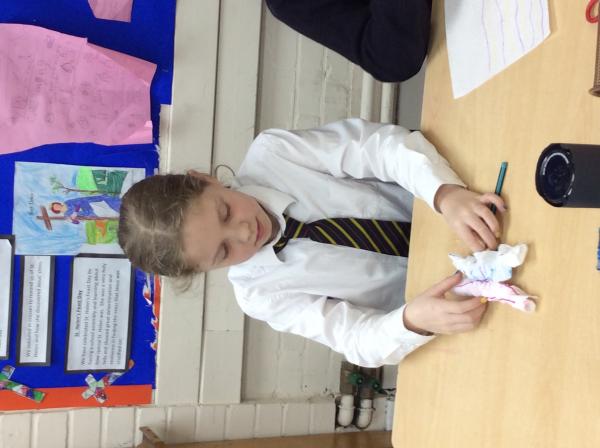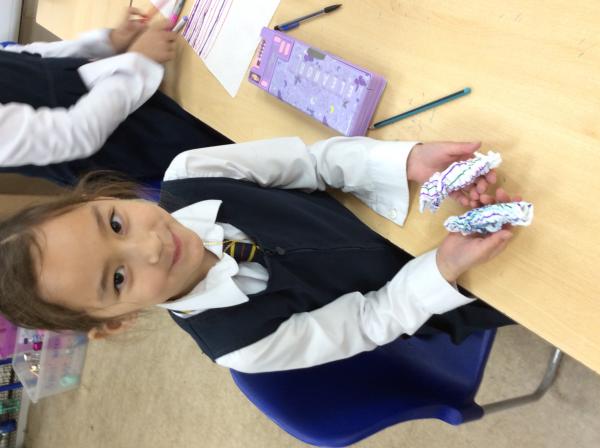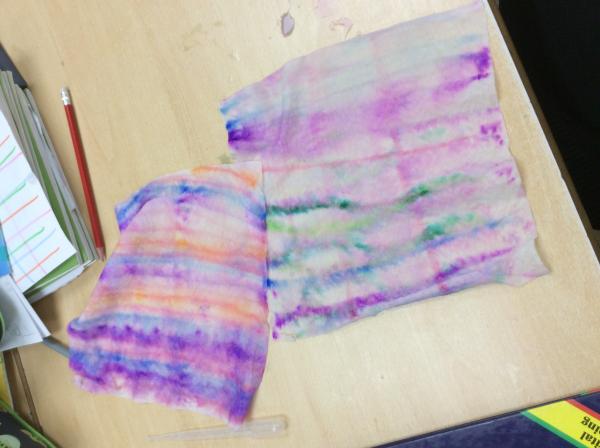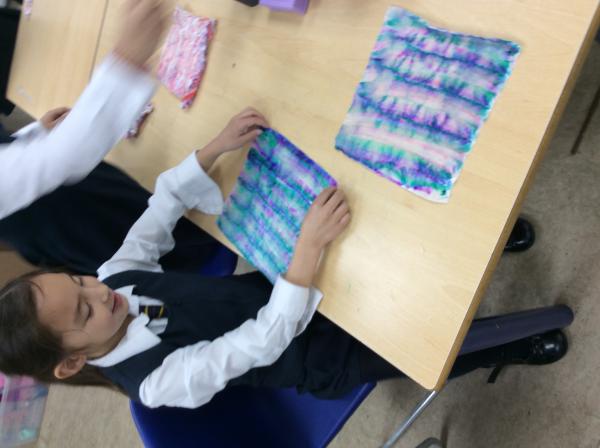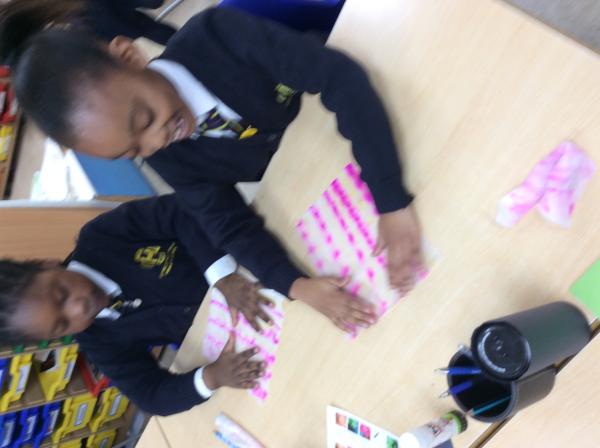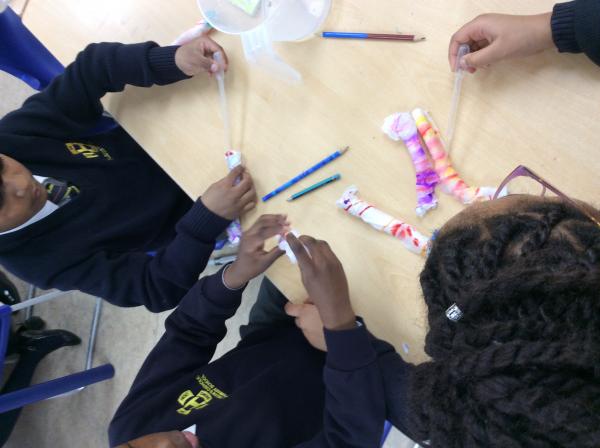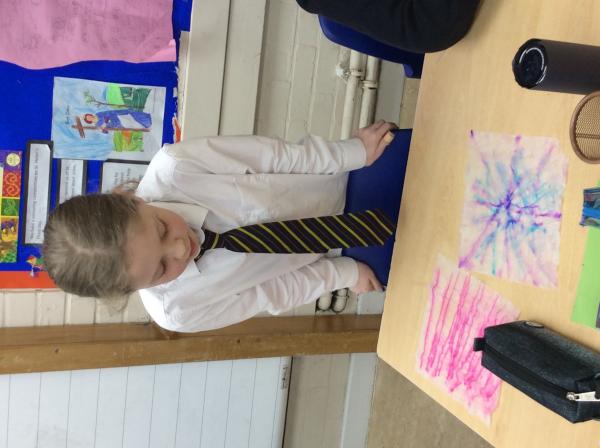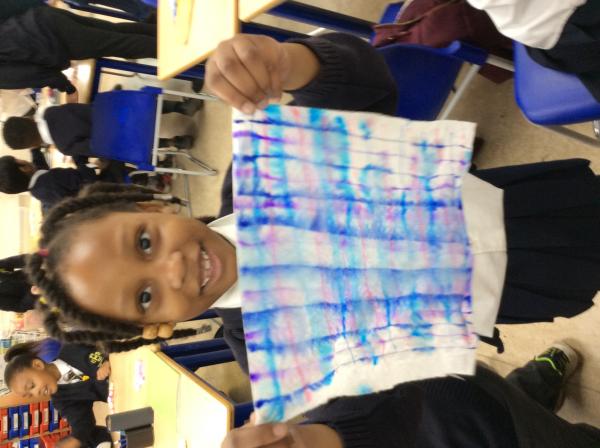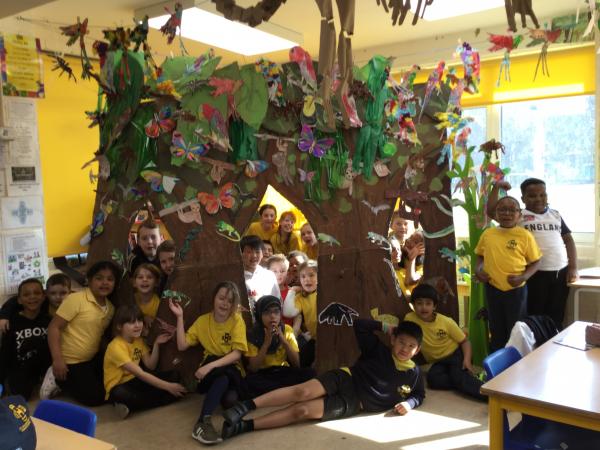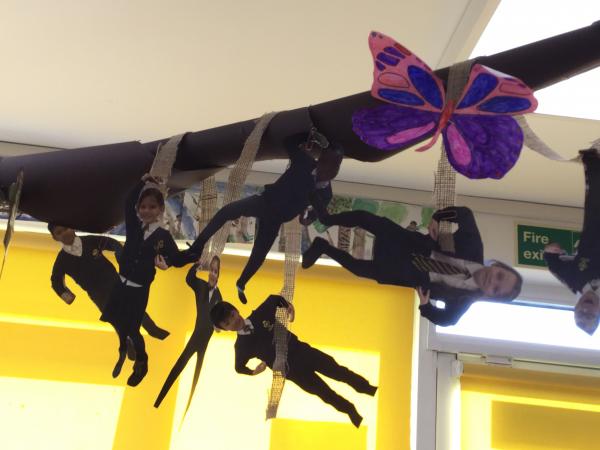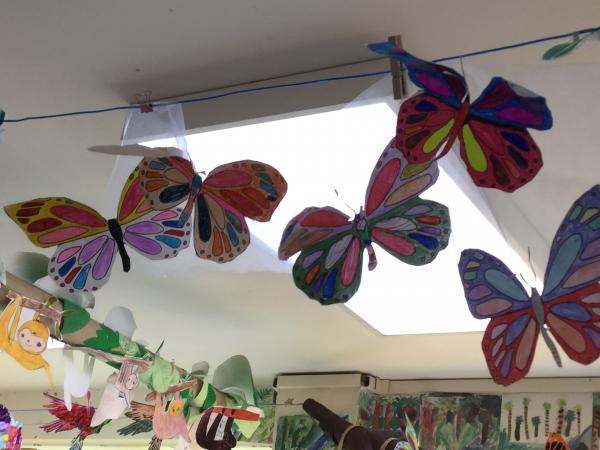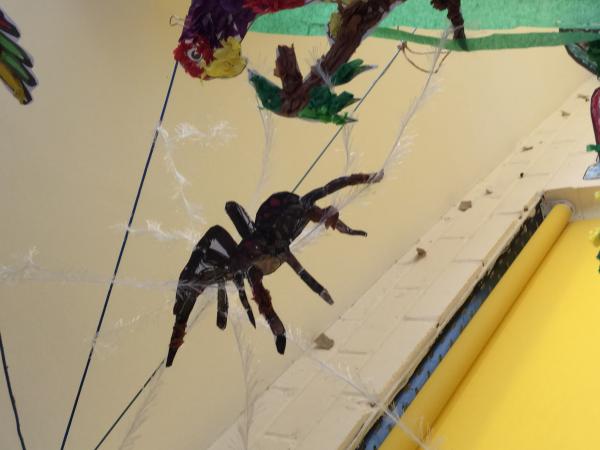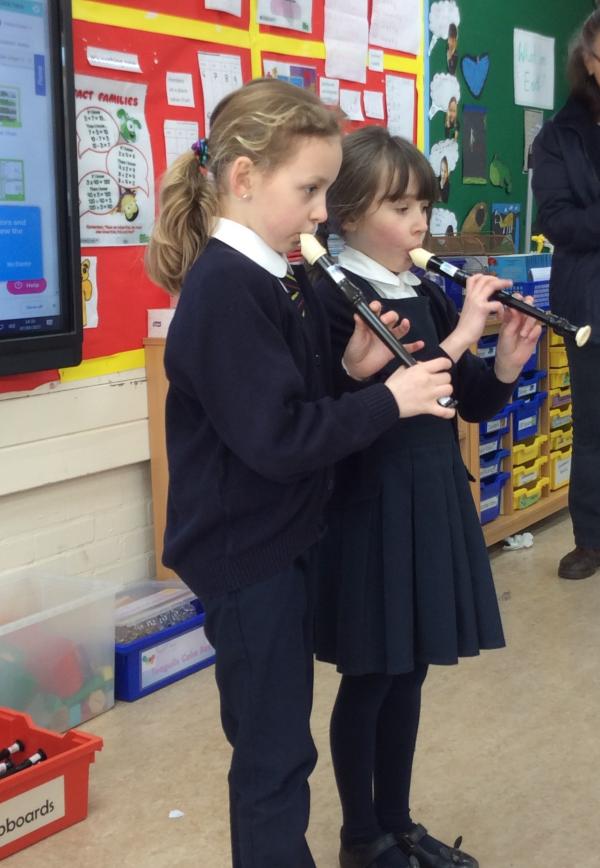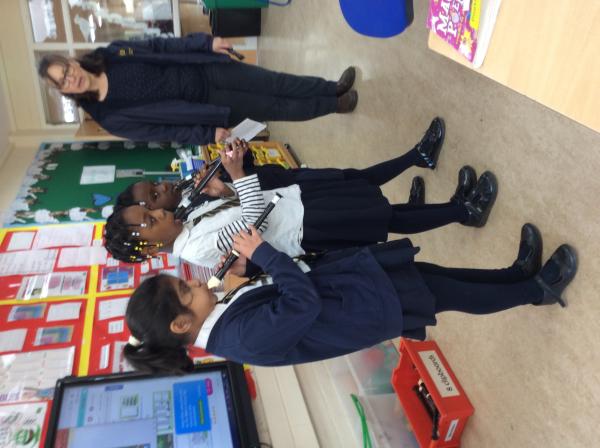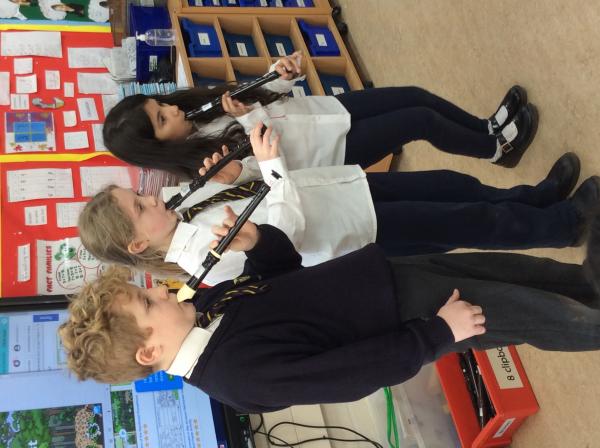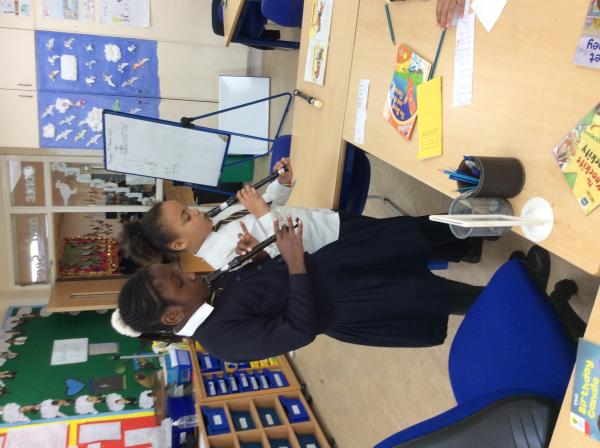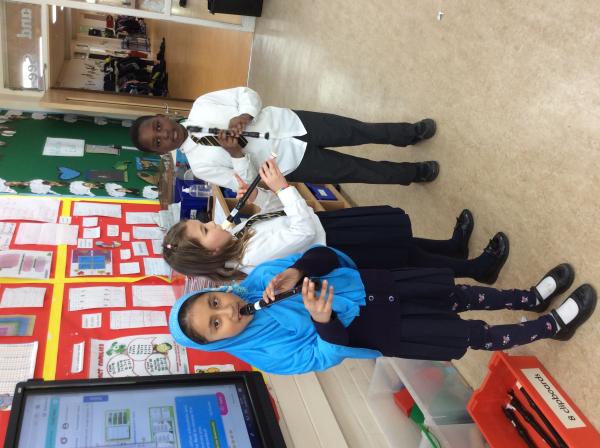 Magnets
Robin's class investigated the strength of a magnet. They tested different types of magnets to find which one was the strongest by using paper clips. They also investigated the benefits of the paper clips being linked together or unlinked.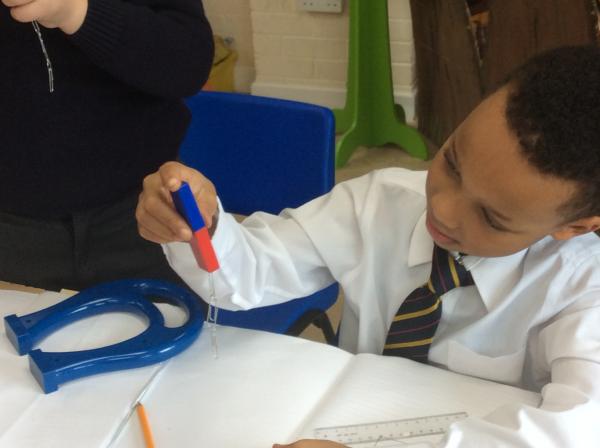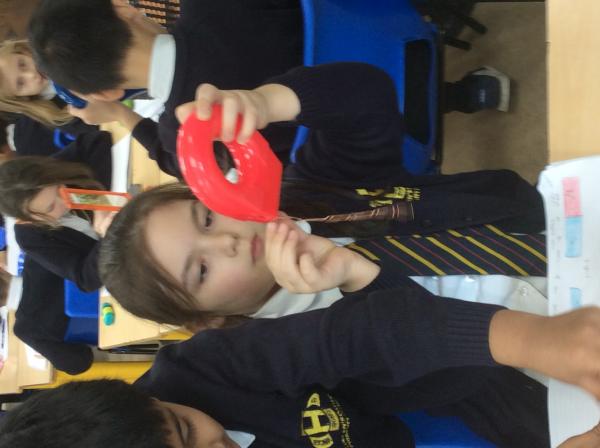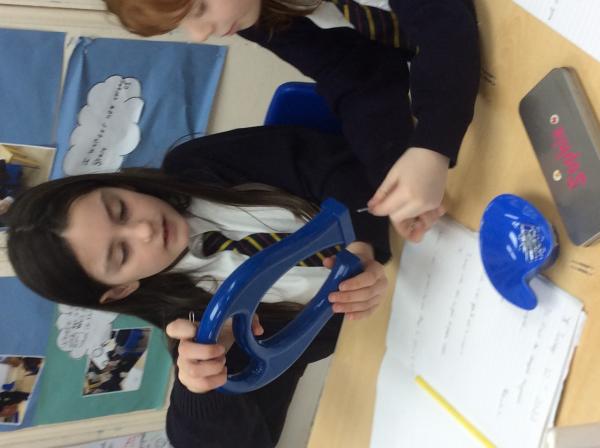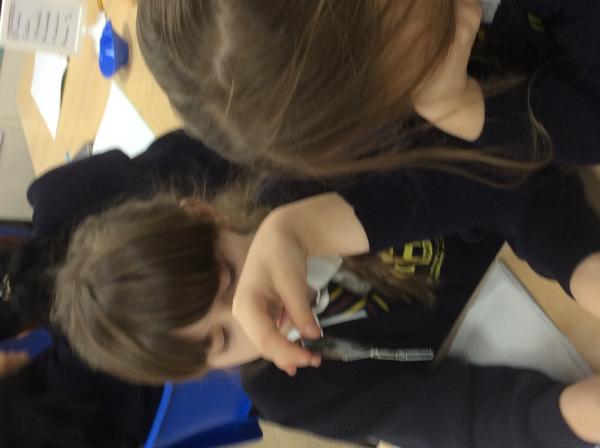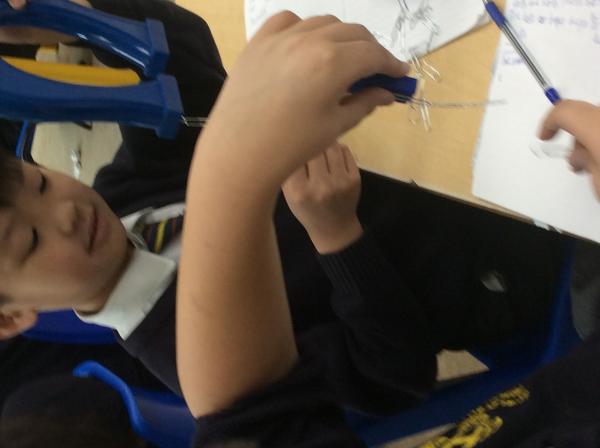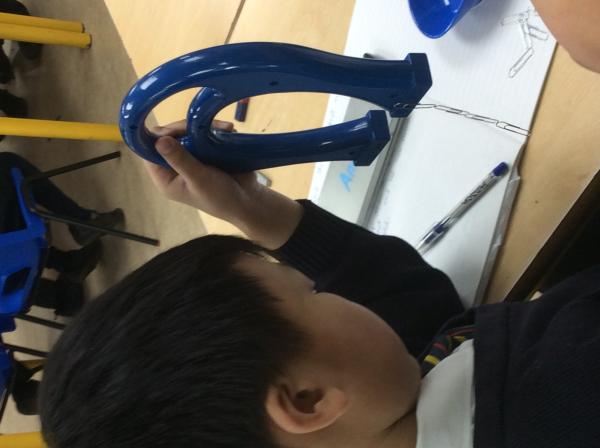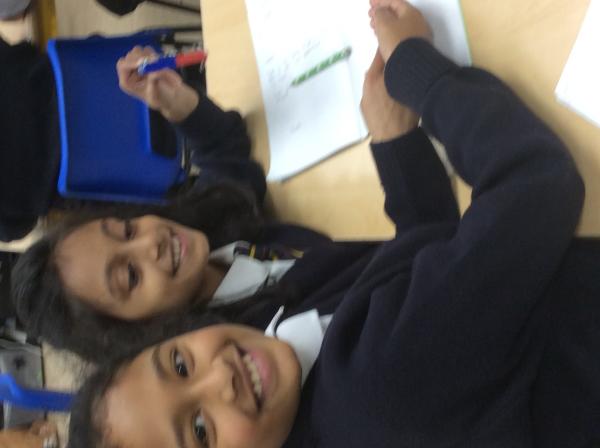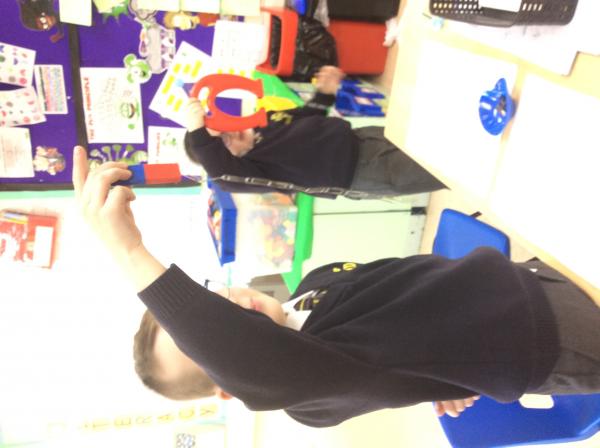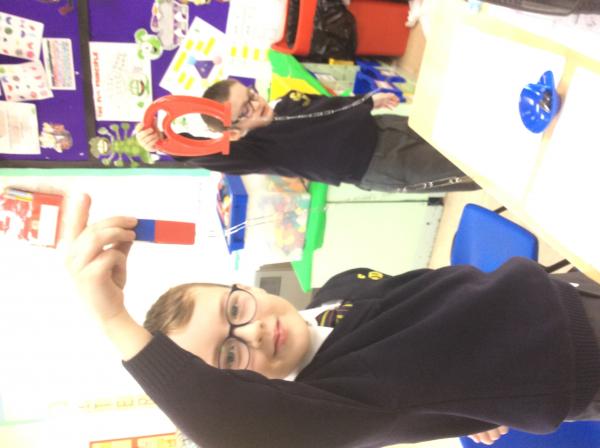 Shapes and Angles
Robins have been using shapes to identify acute, obtuse and right angles. We made dragons to use the shapes to identify the angles. We chose to make dragons as our new class reader is The Boy Who Grew Dragons.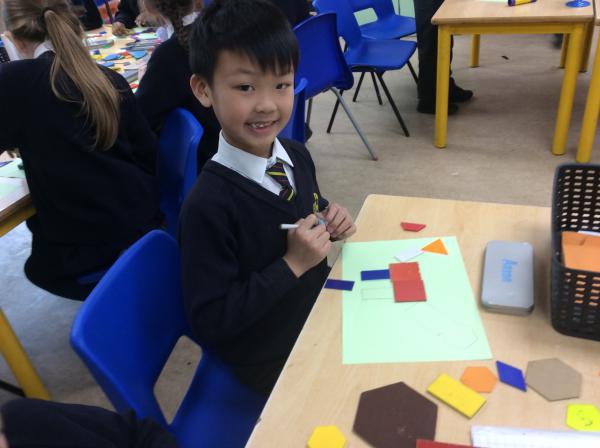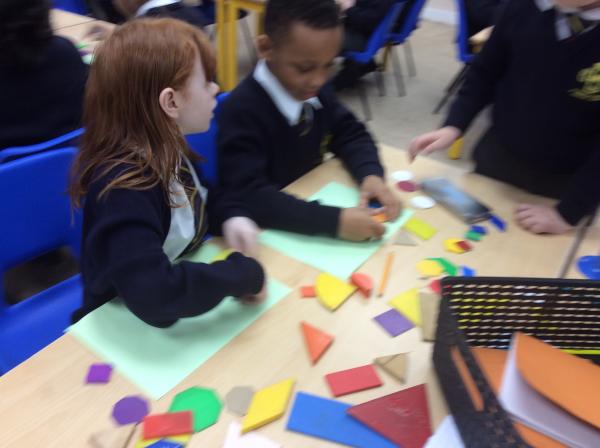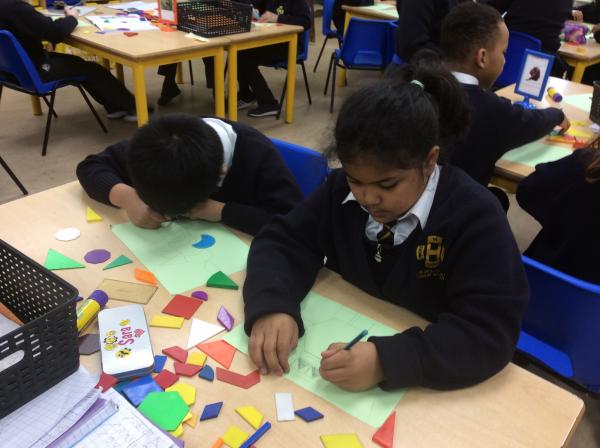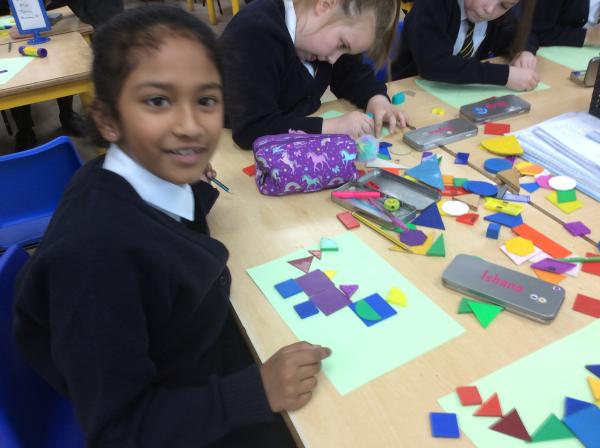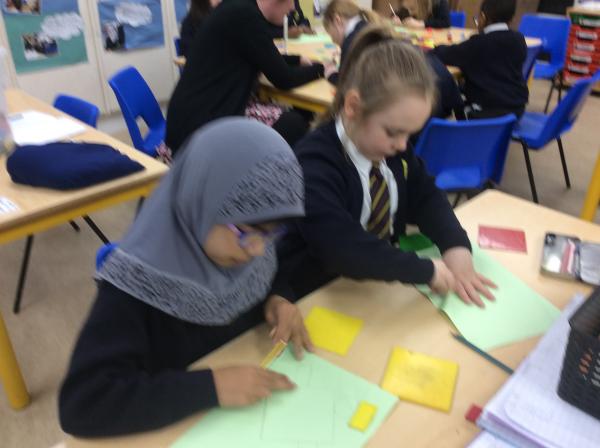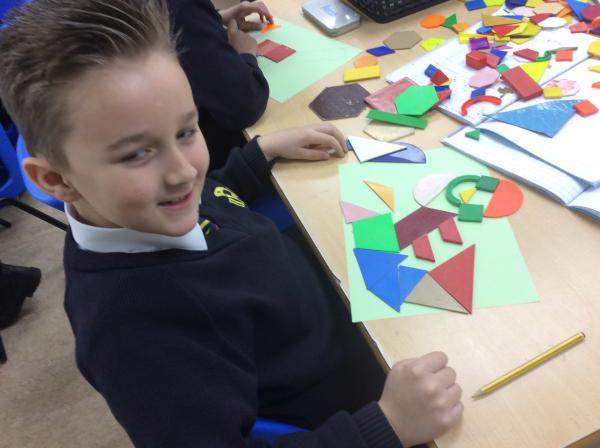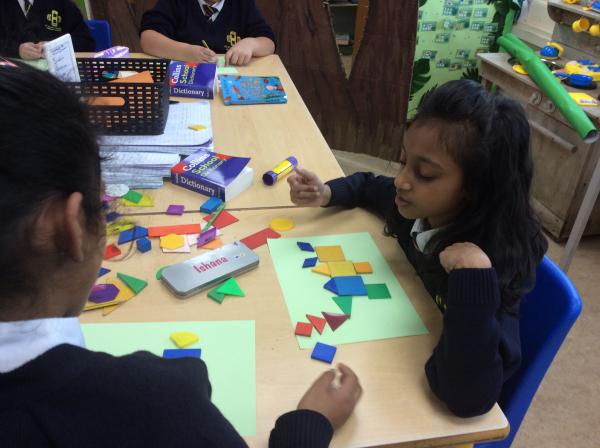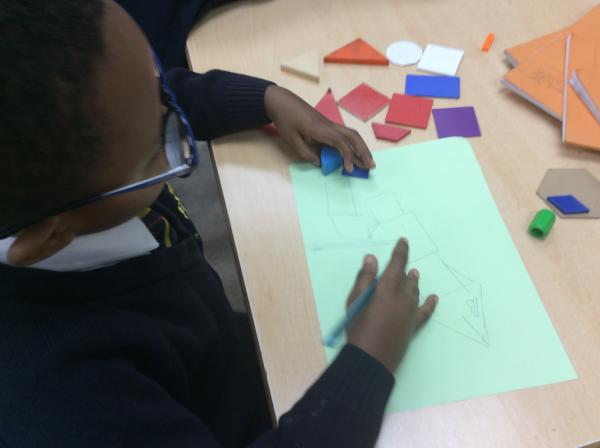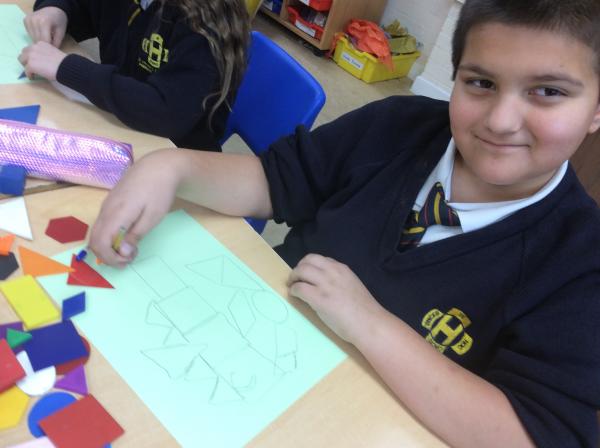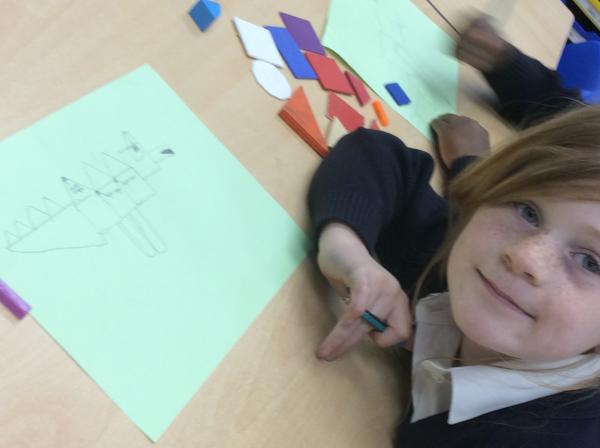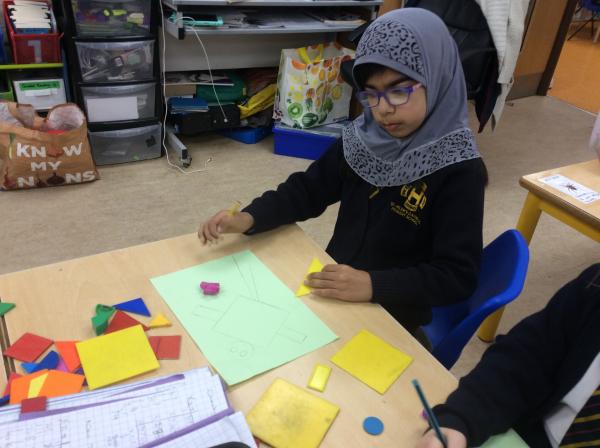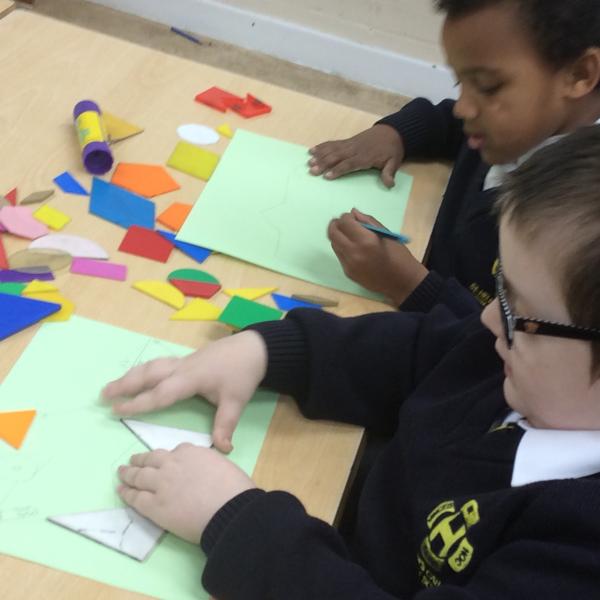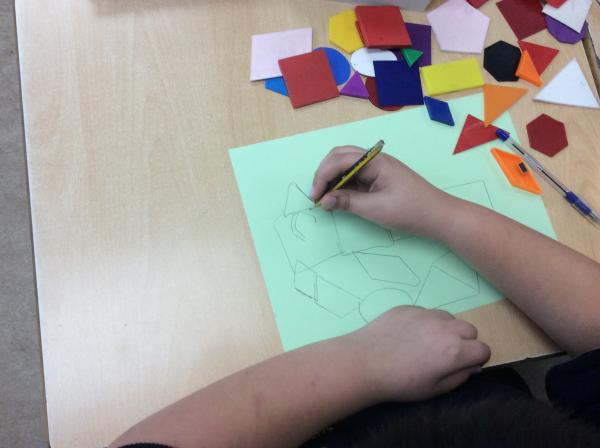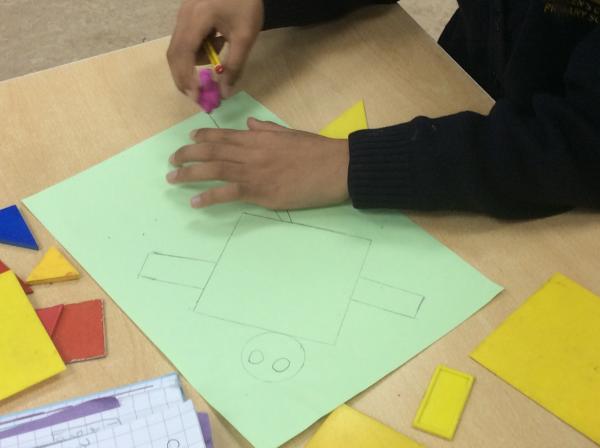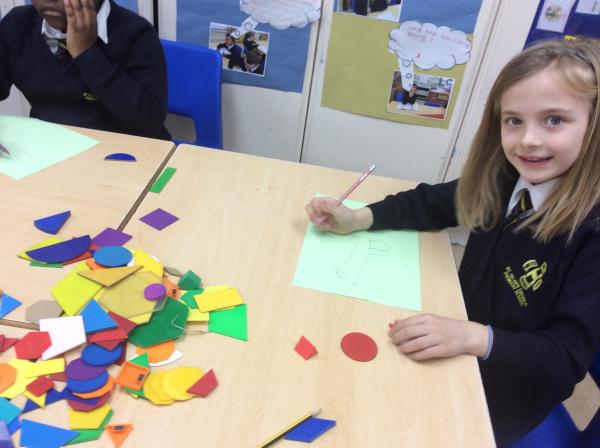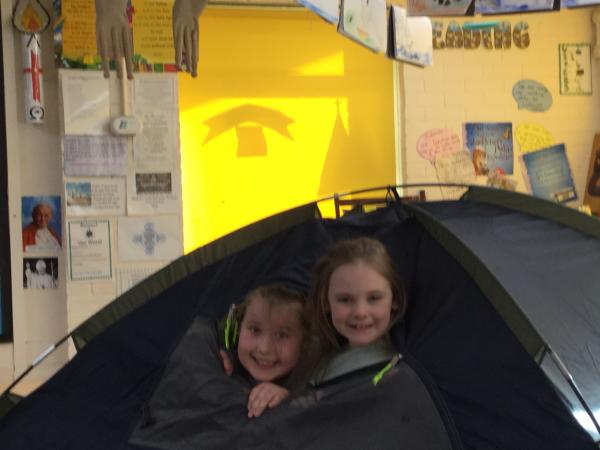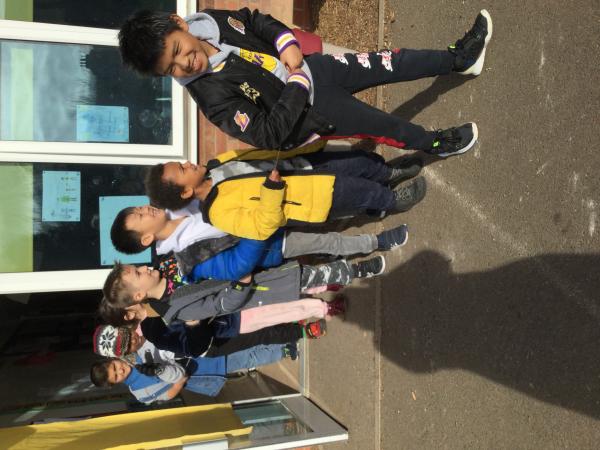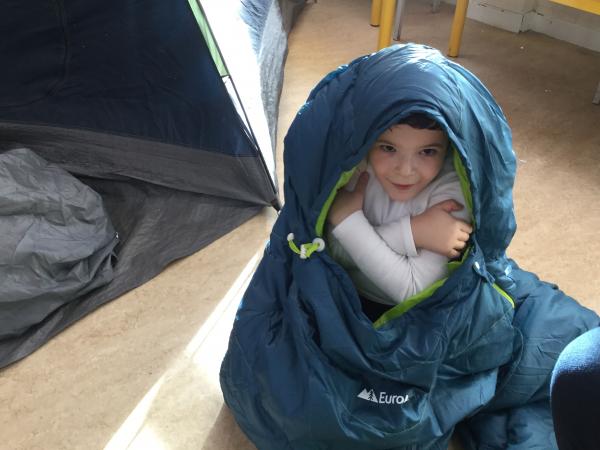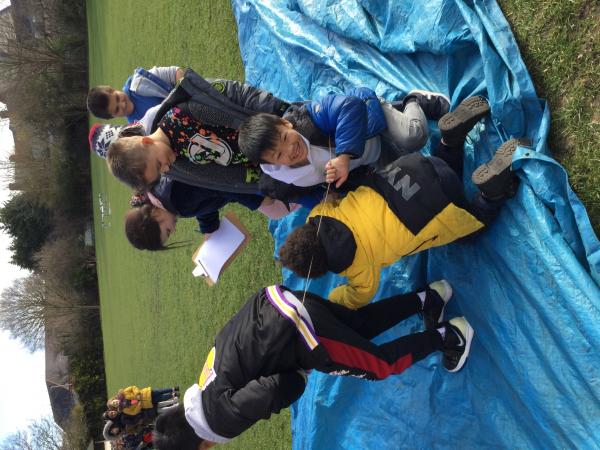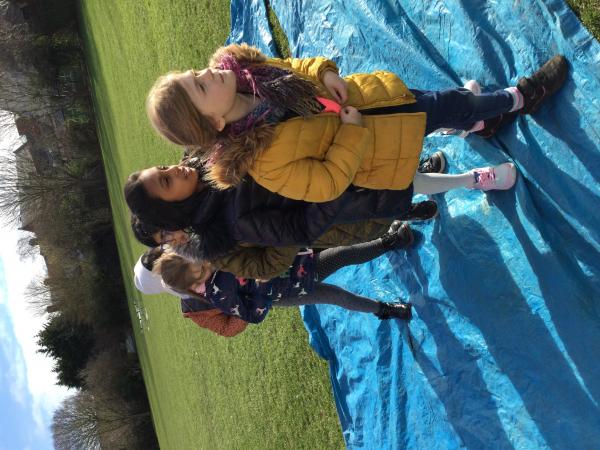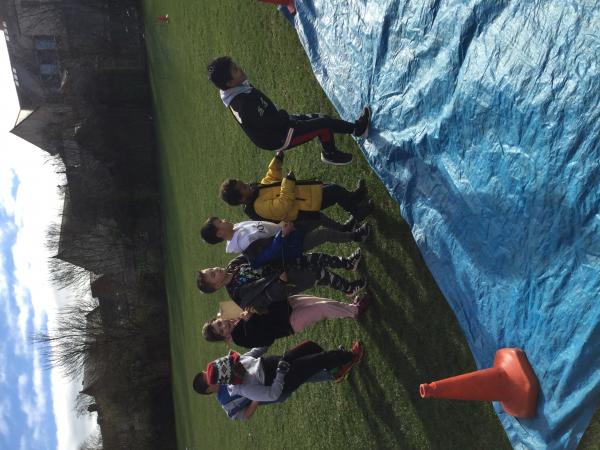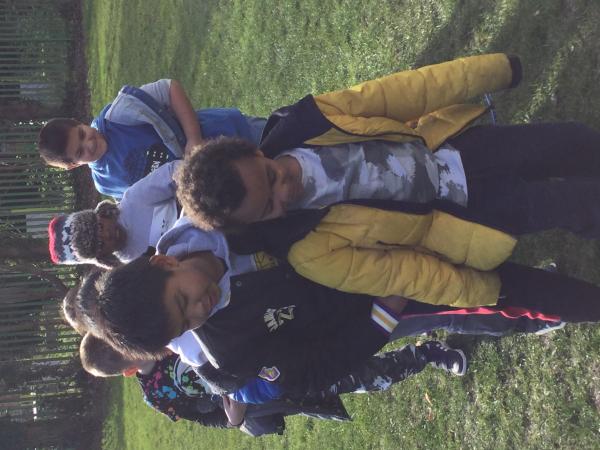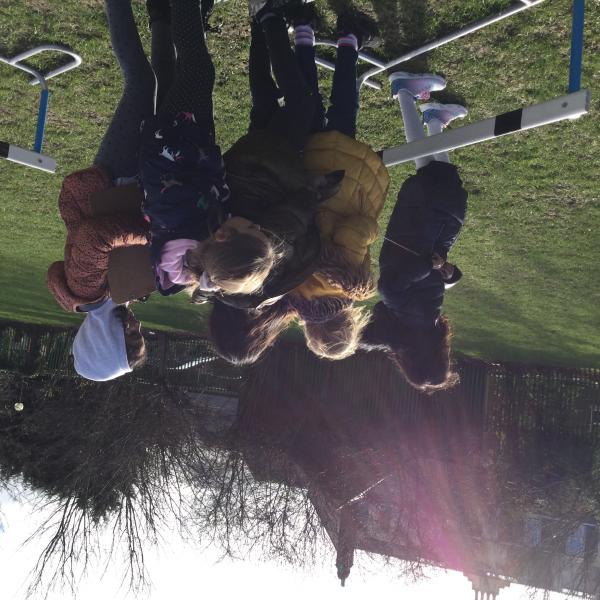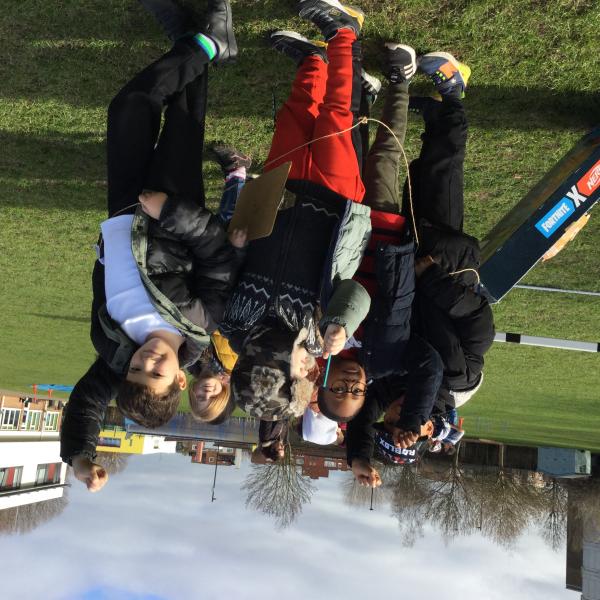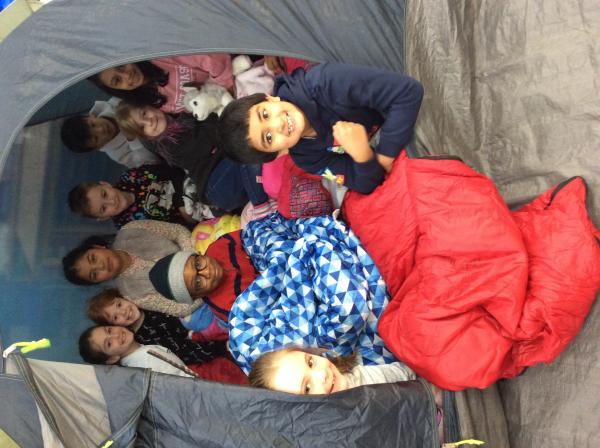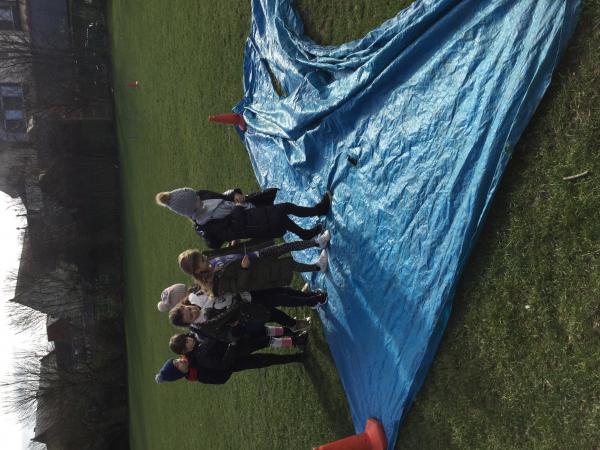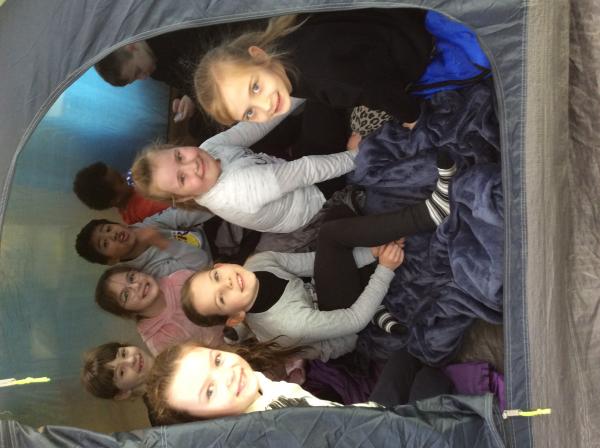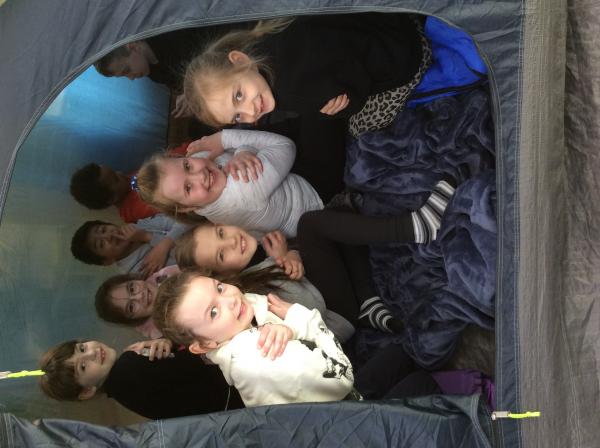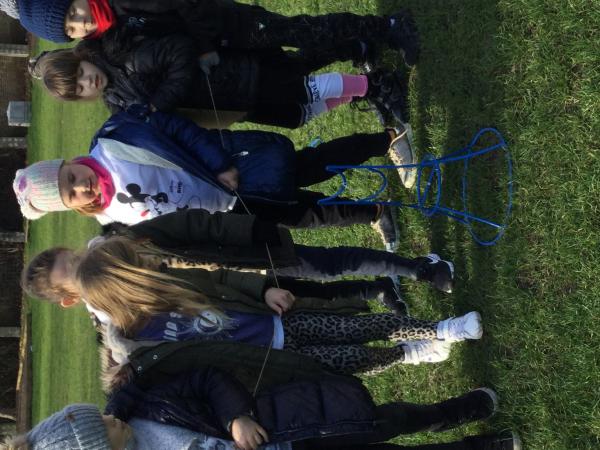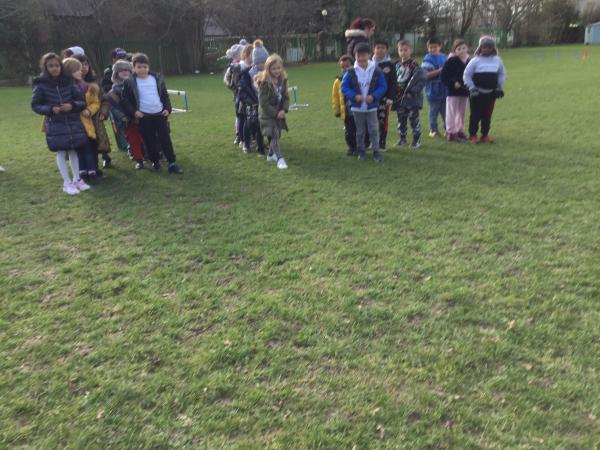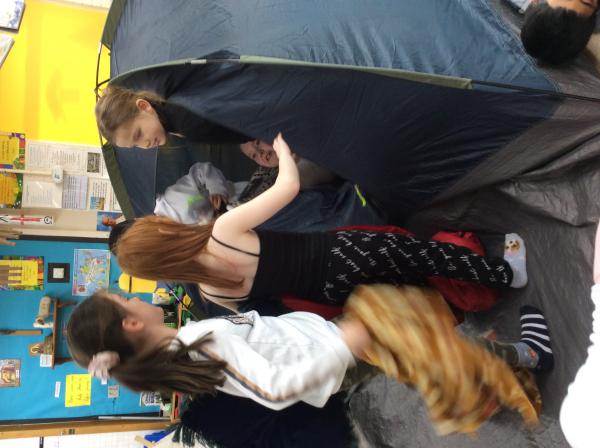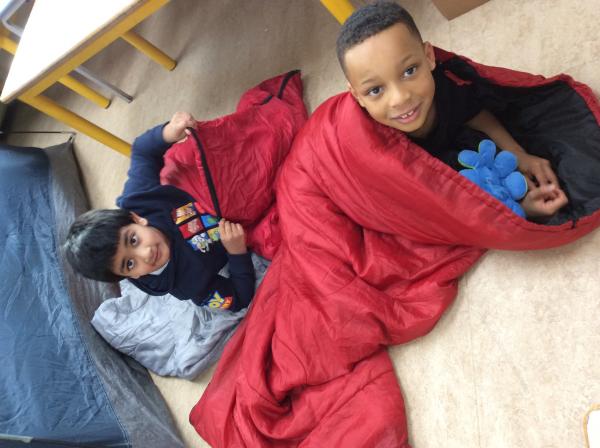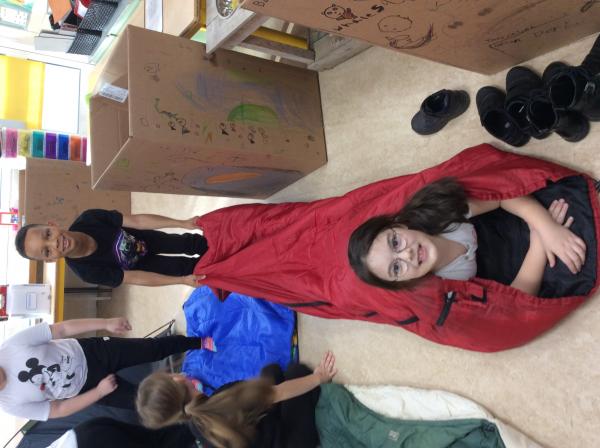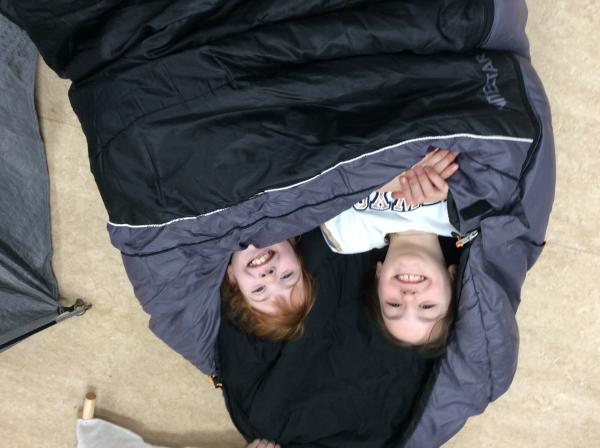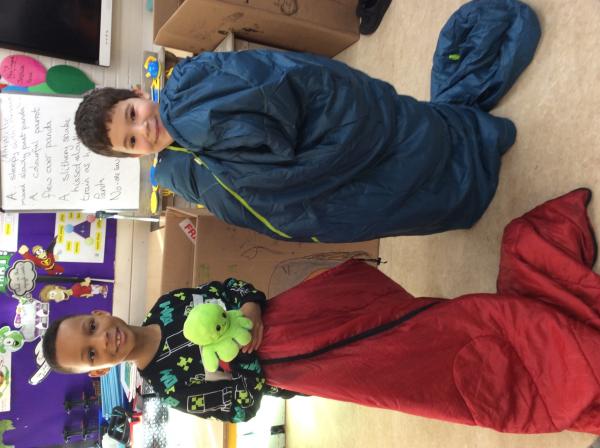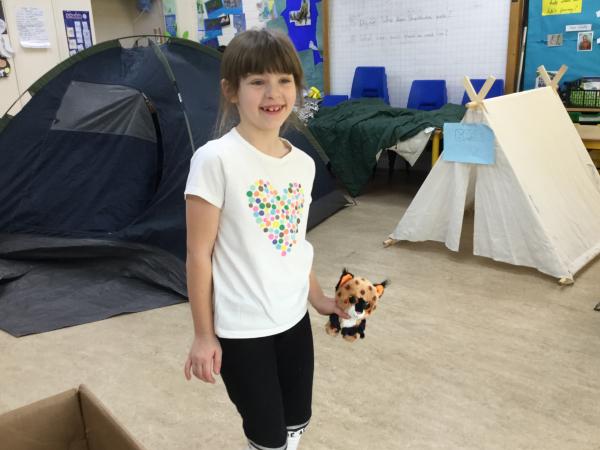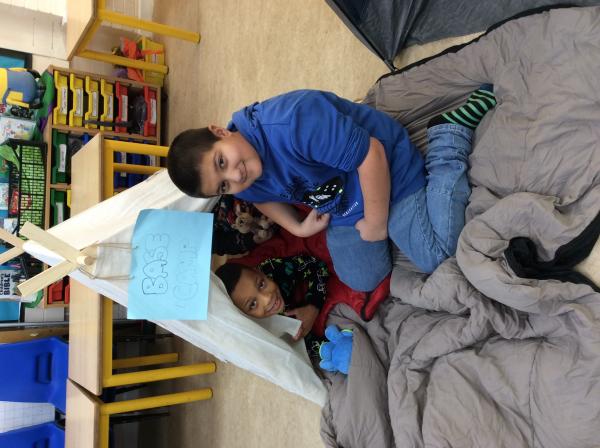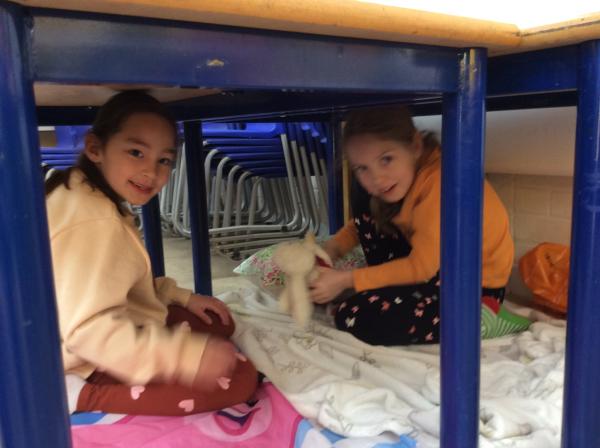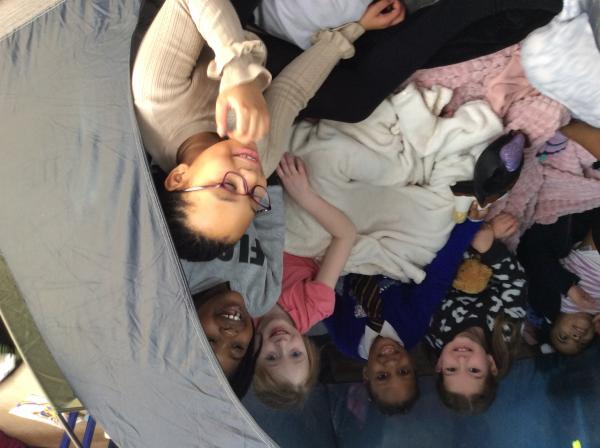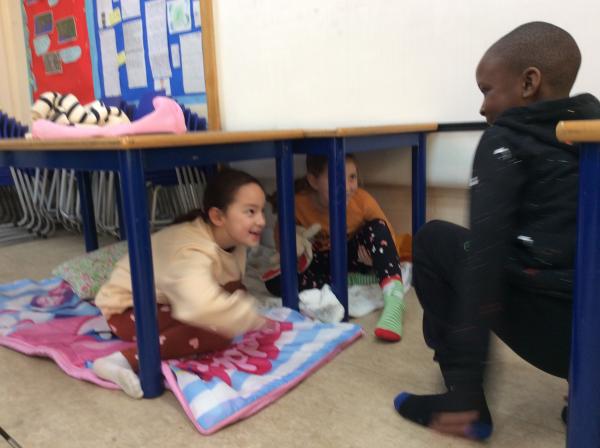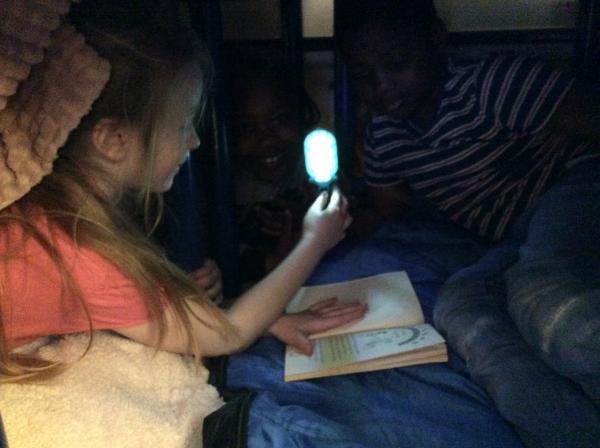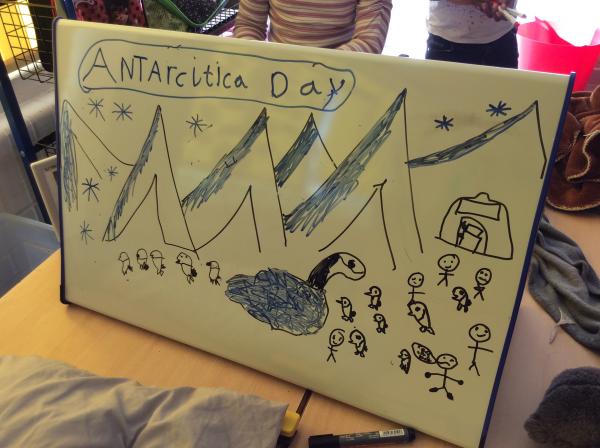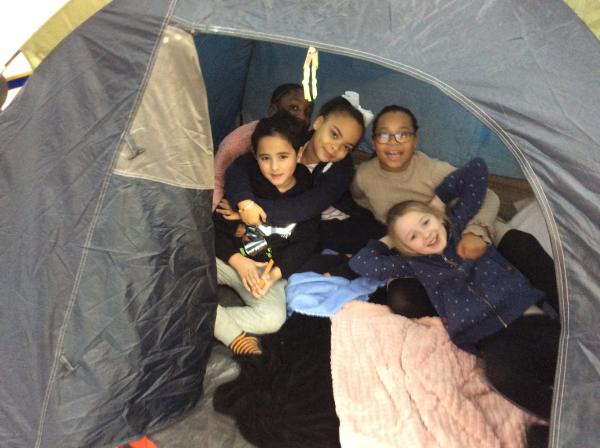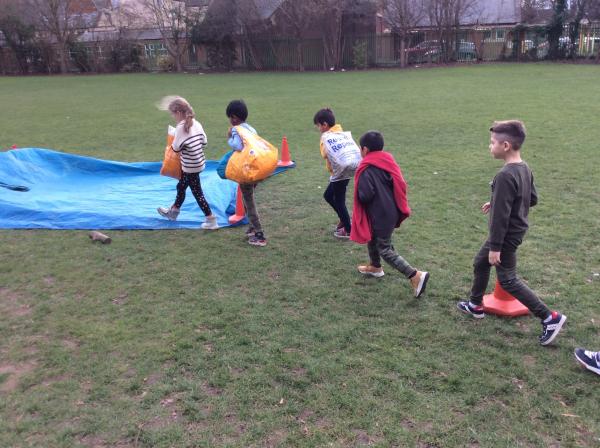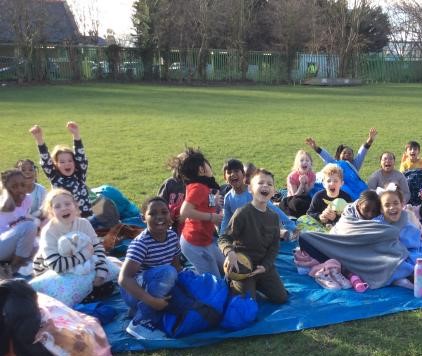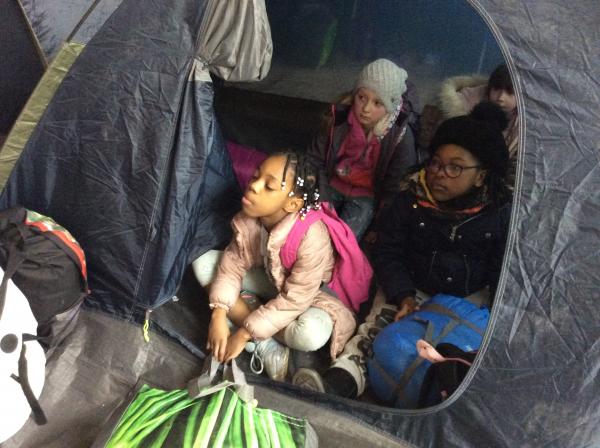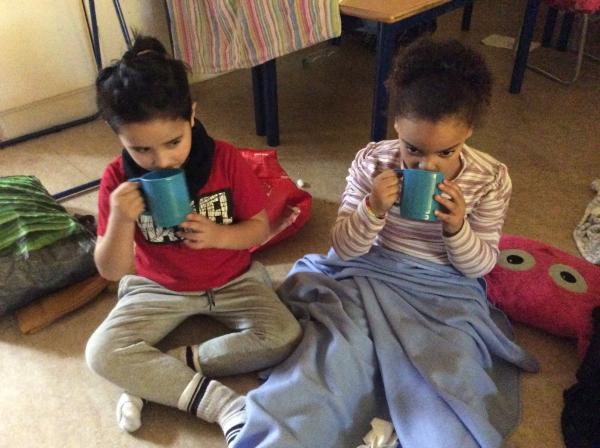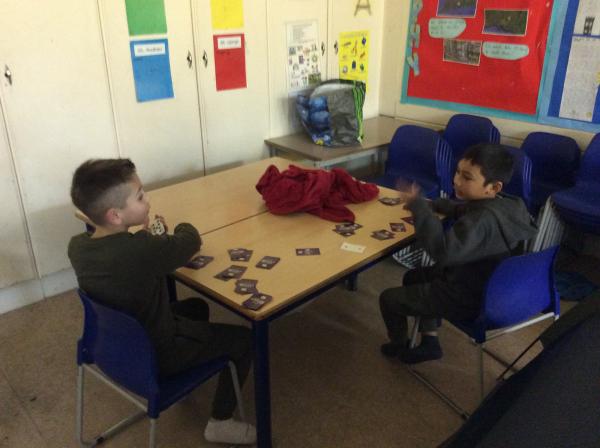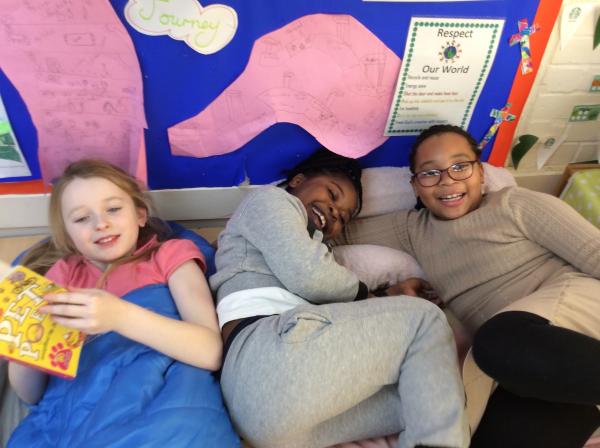 3 Seagulls were investigating the properties of shape and lines of symmetry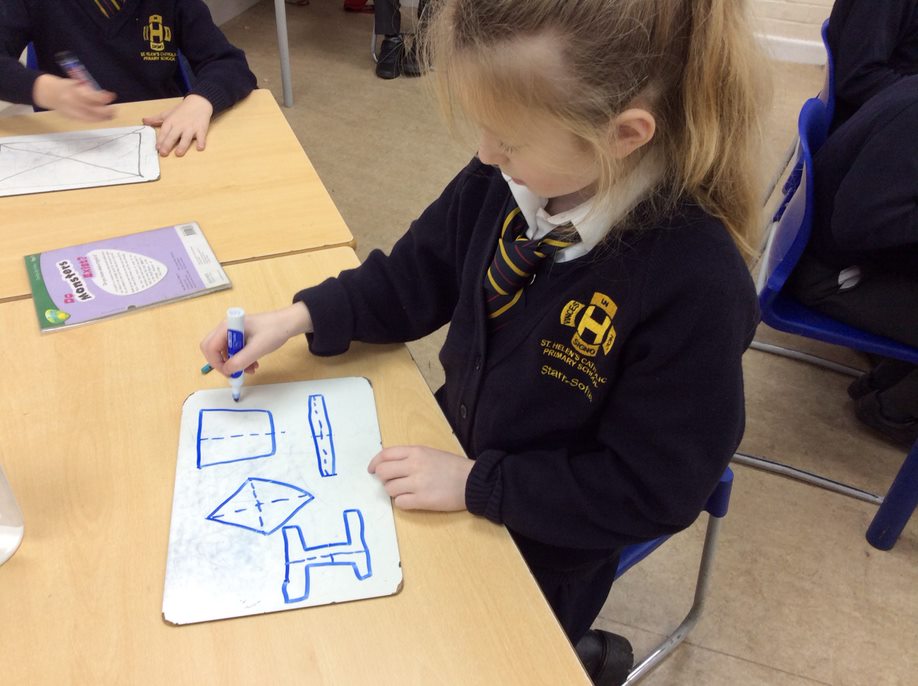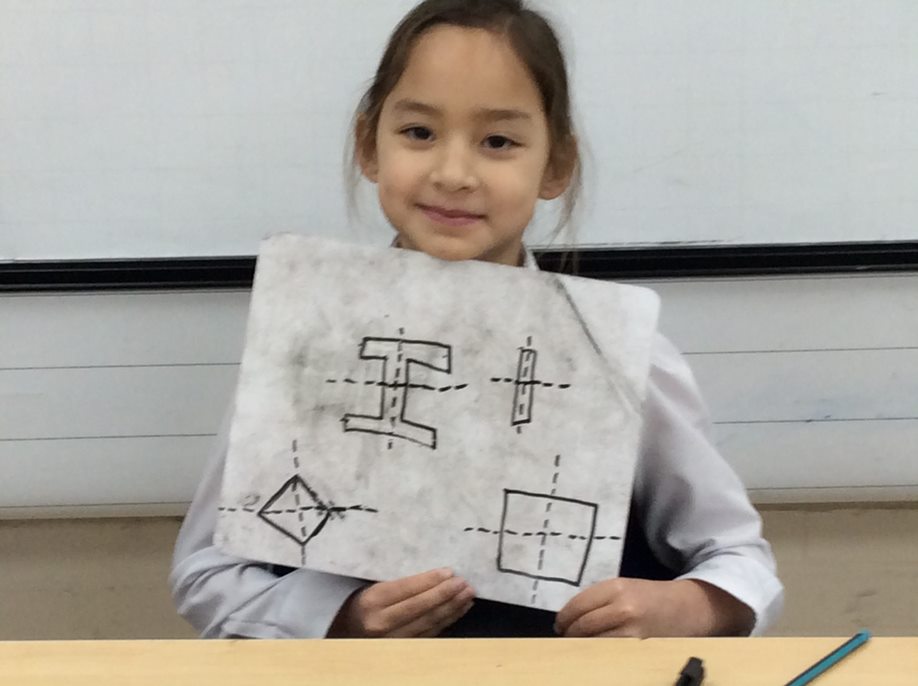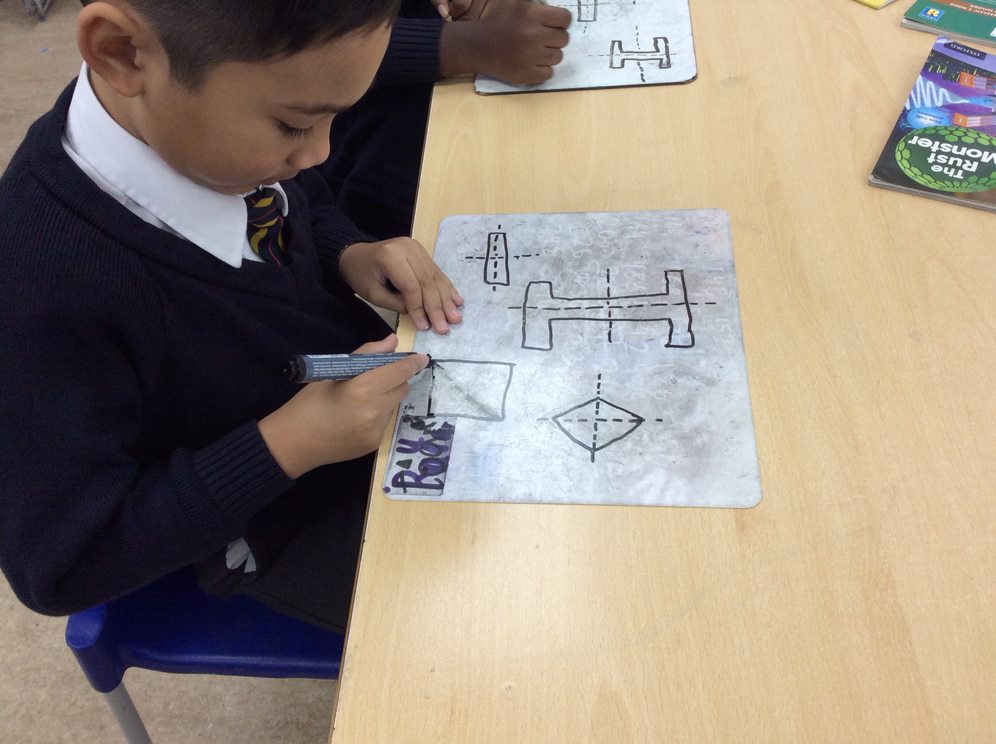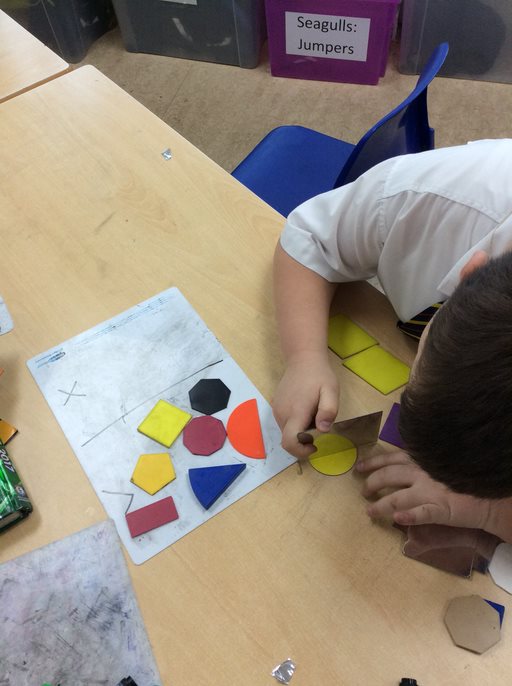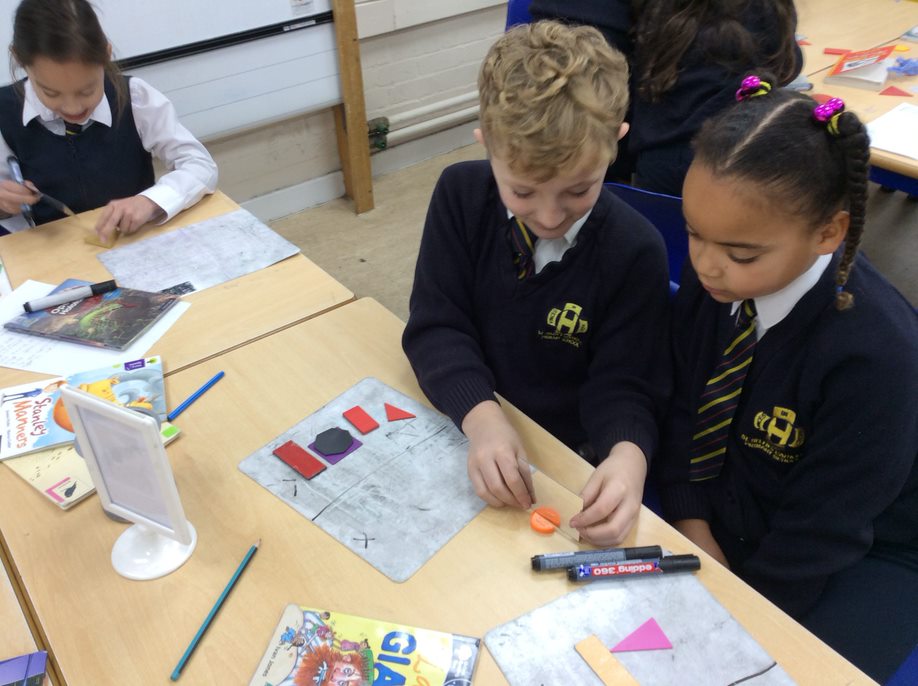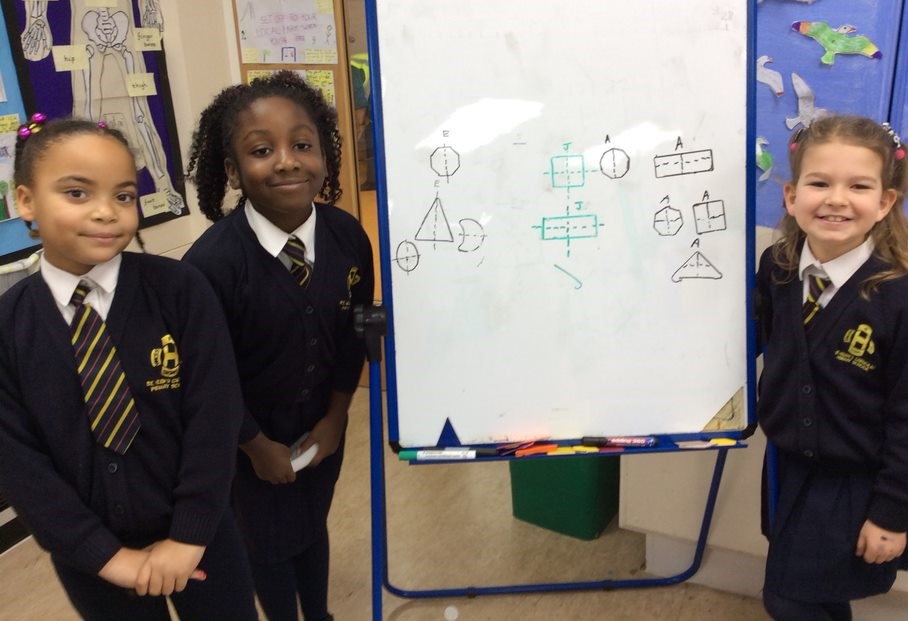 Robins in the Nature Area
3 Robins had an extremely busy day in the nature area. They started by searching out the fairy doors which year 6 had designed. After, they moved onto recognising birds that live locally and preparing some food for them. They played eagle eye, using all their hunting skills and relating it to bird life, to find each other.
As the morning drew to a close, year 3 investigated pulleys and catapults and the forces which act on these.
In the afternoon, Robins designed their own experiments to test toy cars on different surfaces. They produced results and made conclusions about which surface was best and why? An extremely busy day all round!!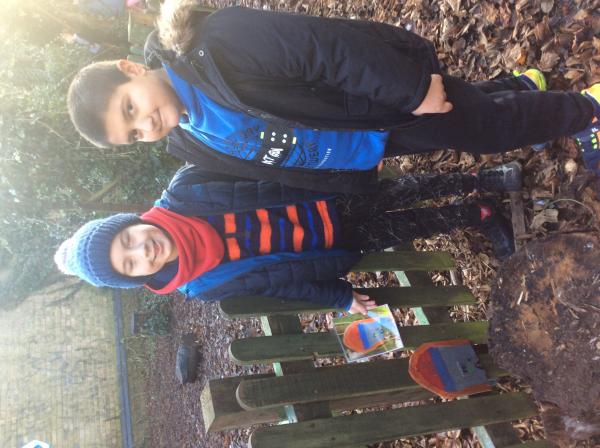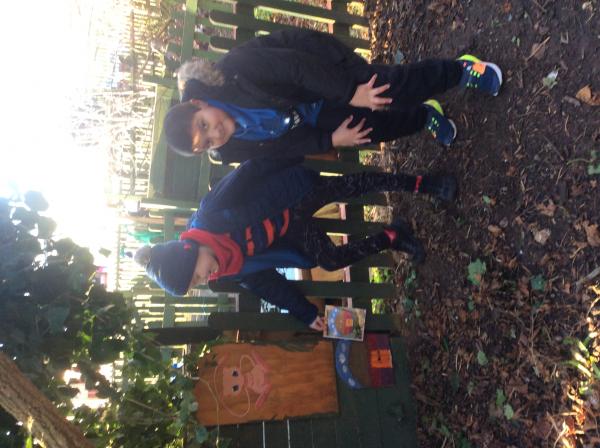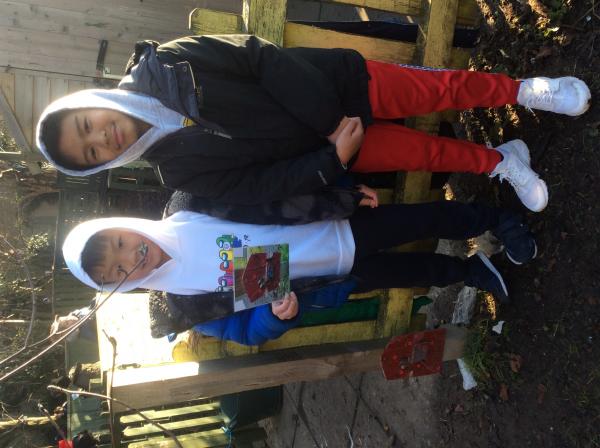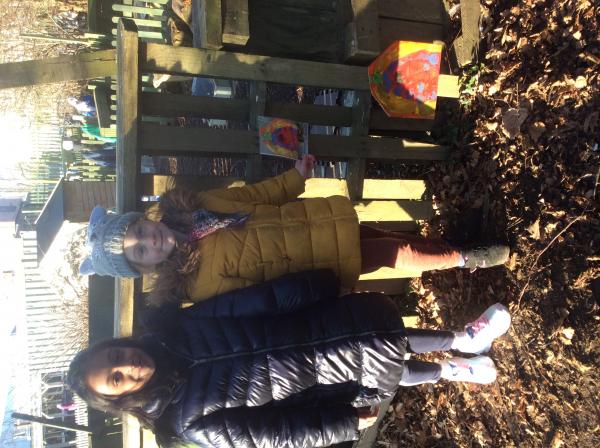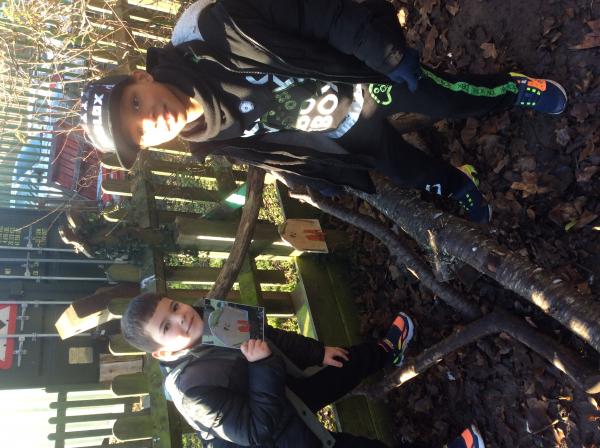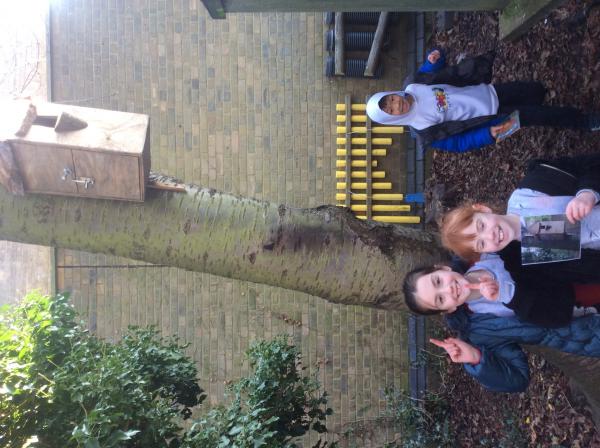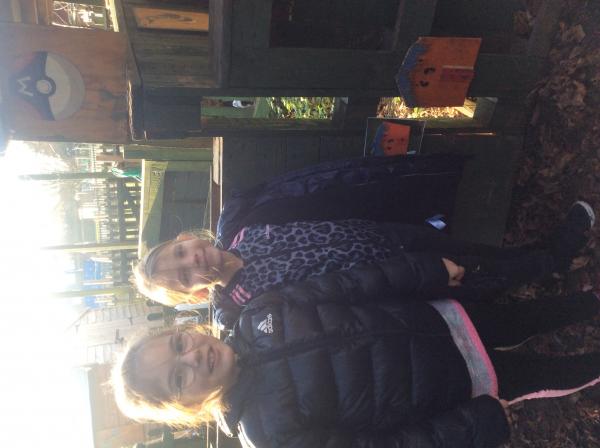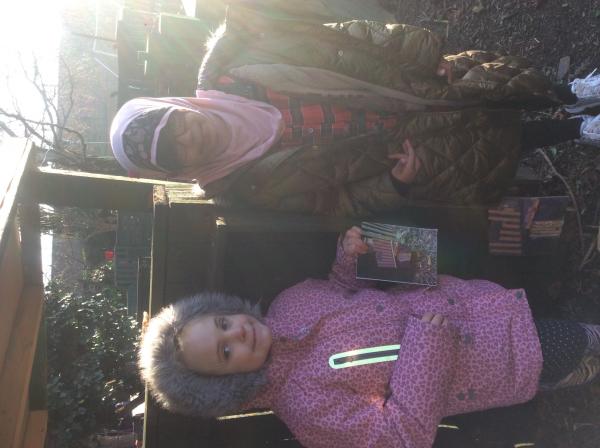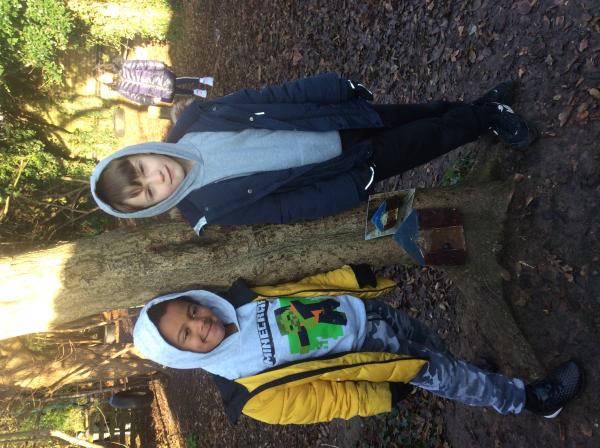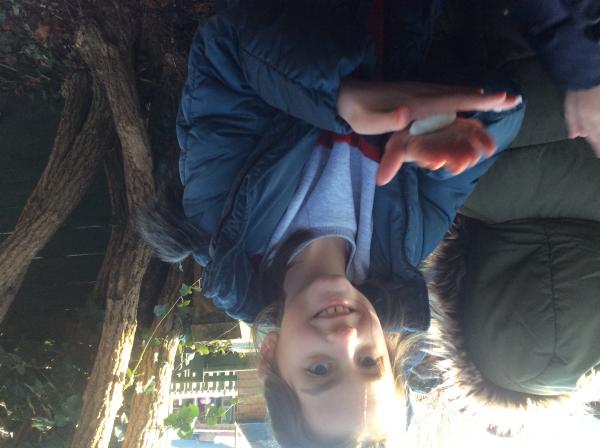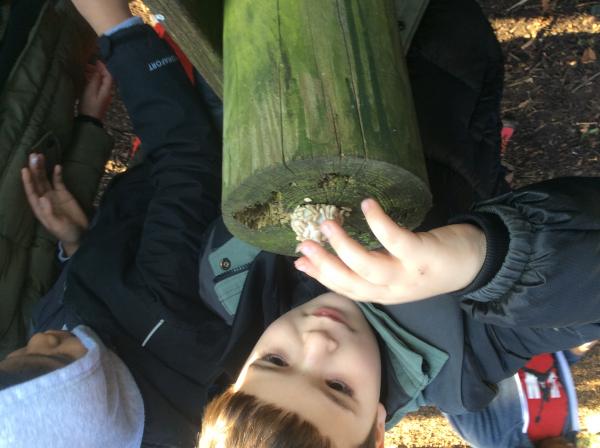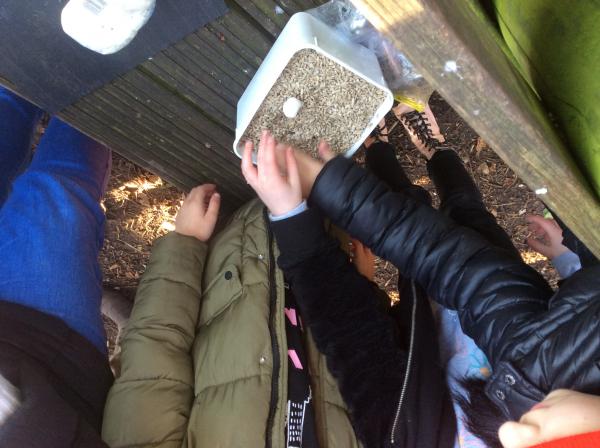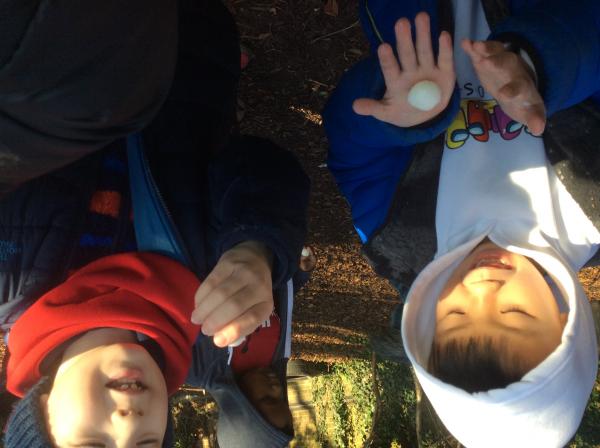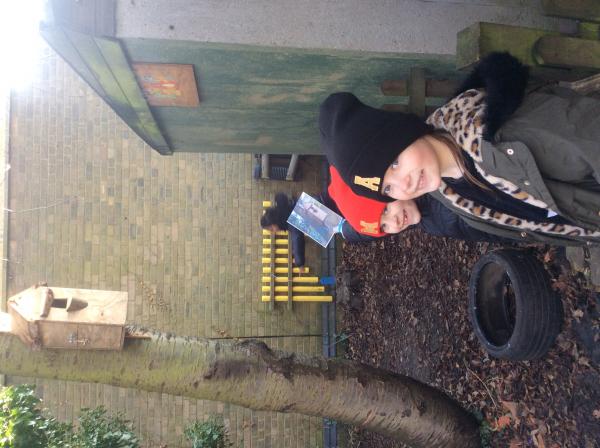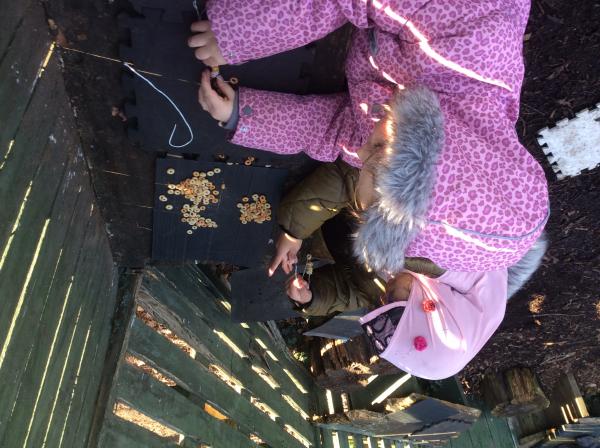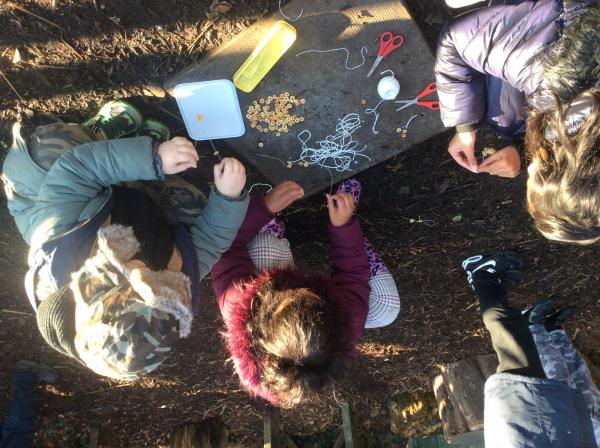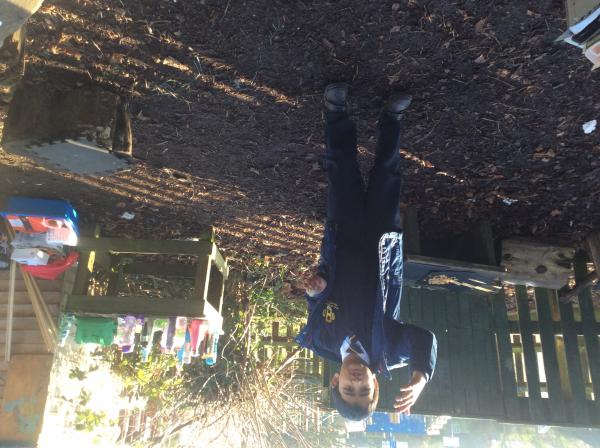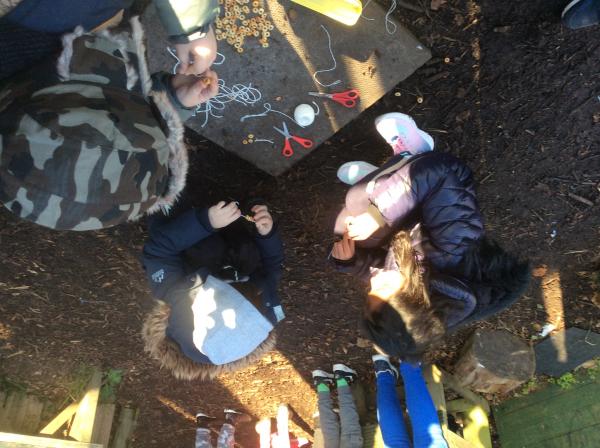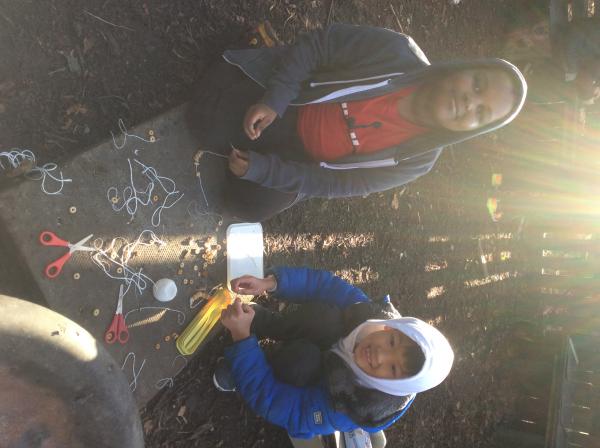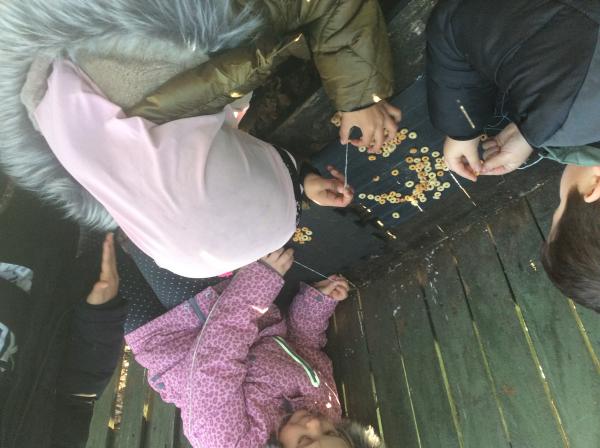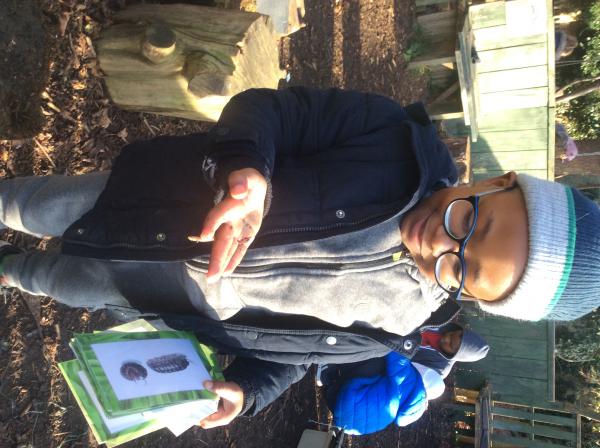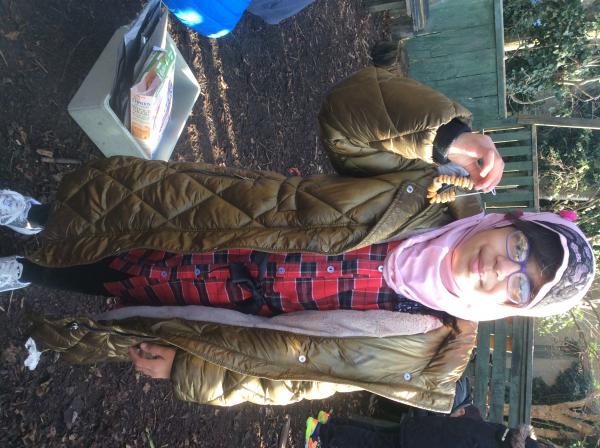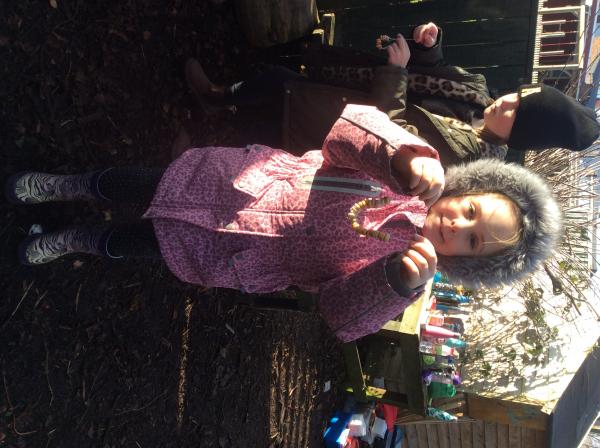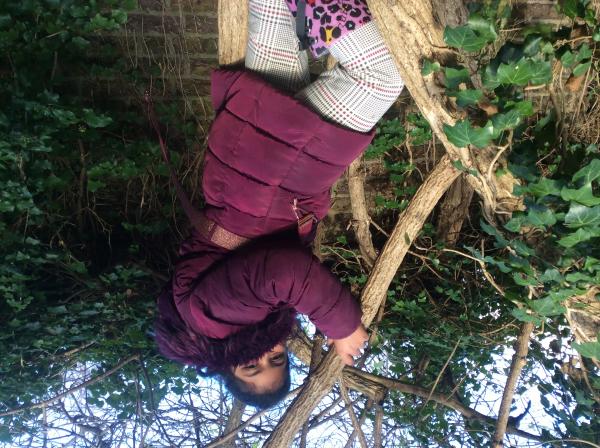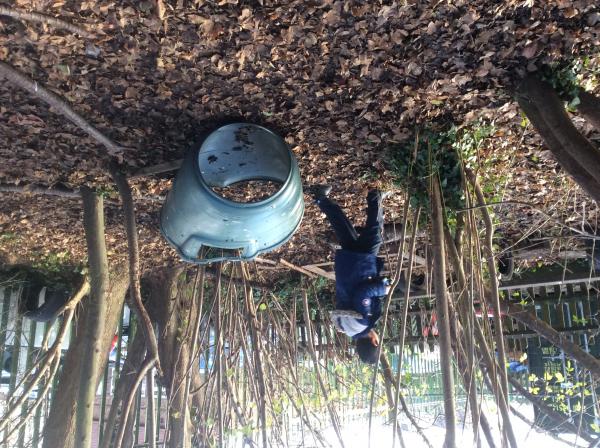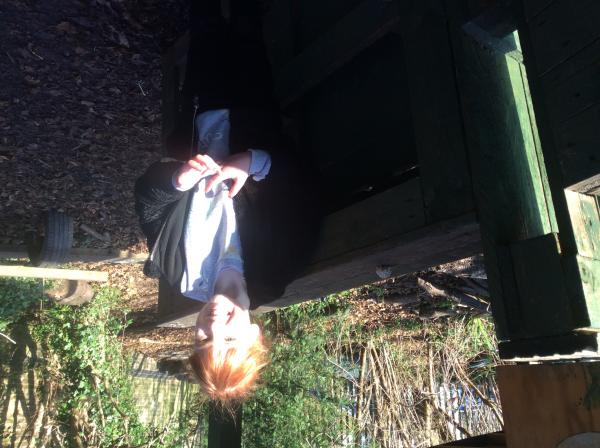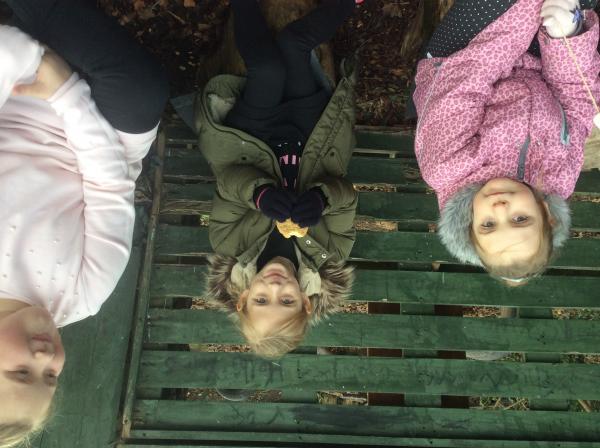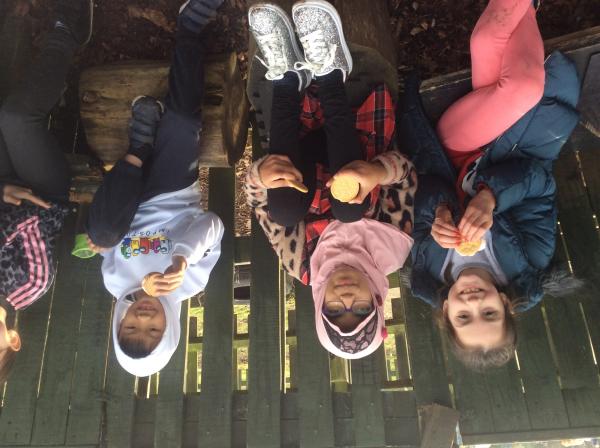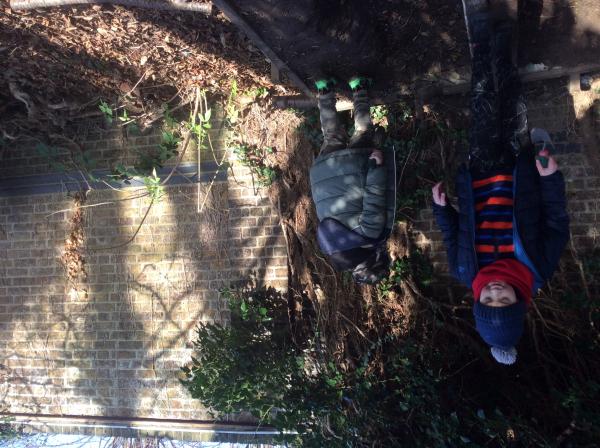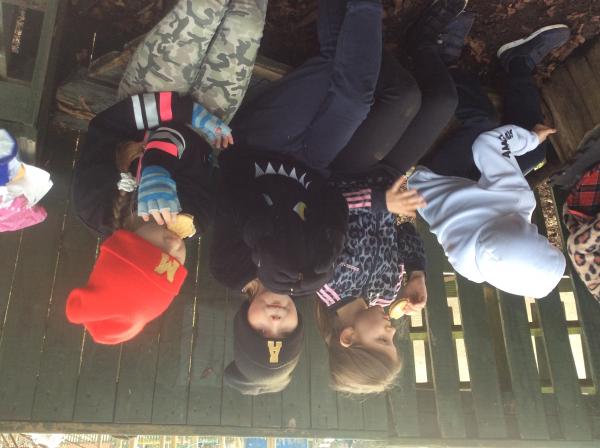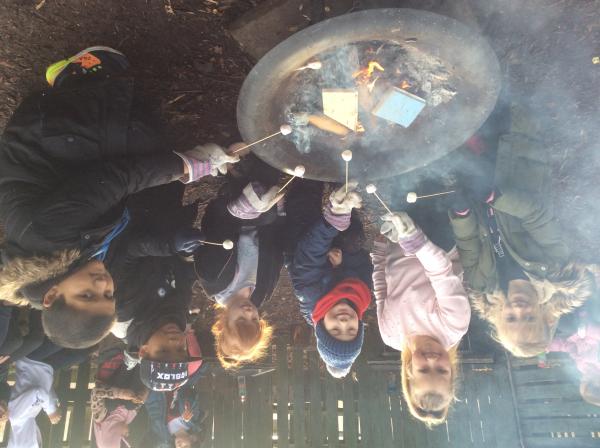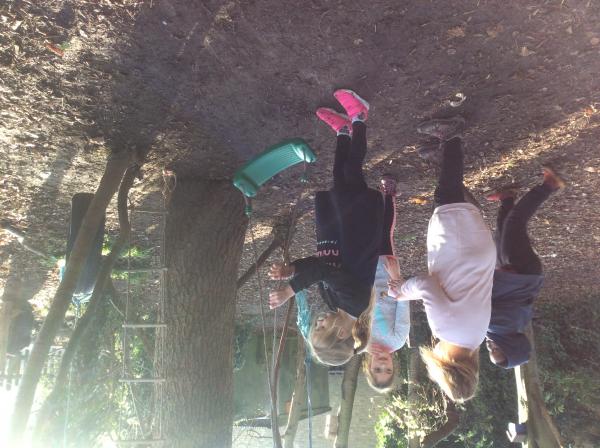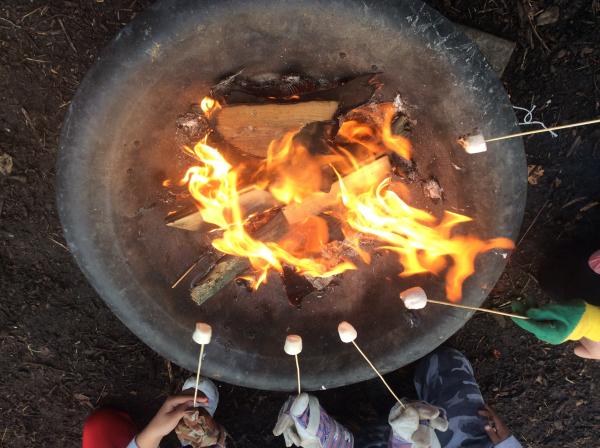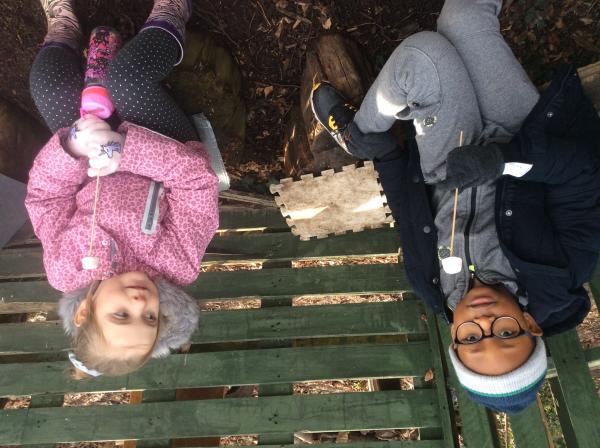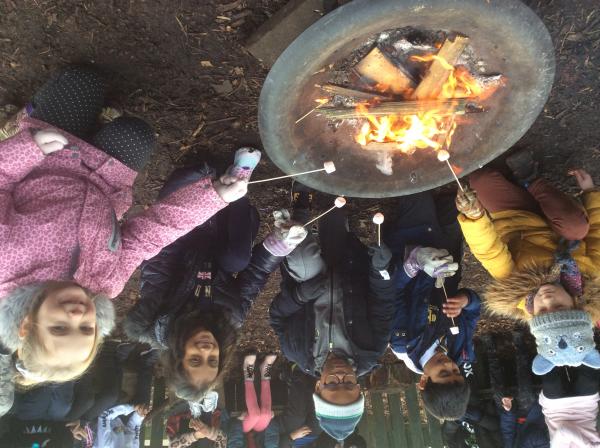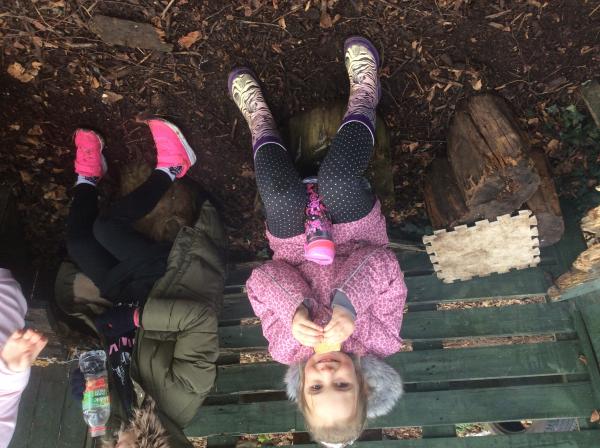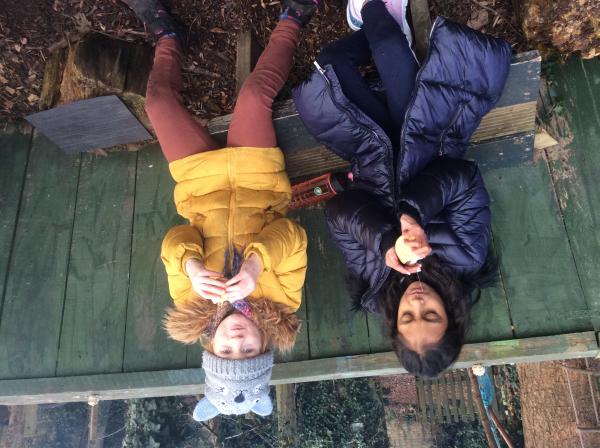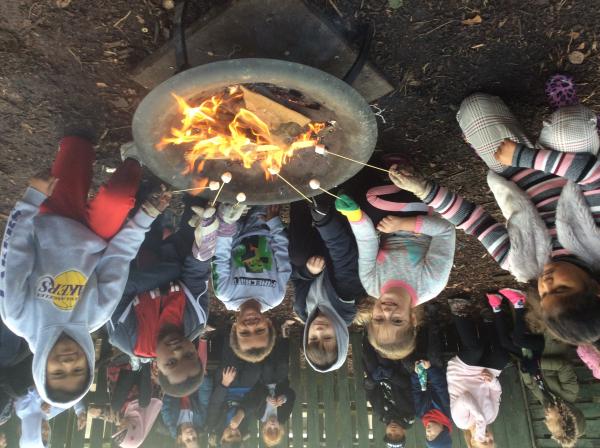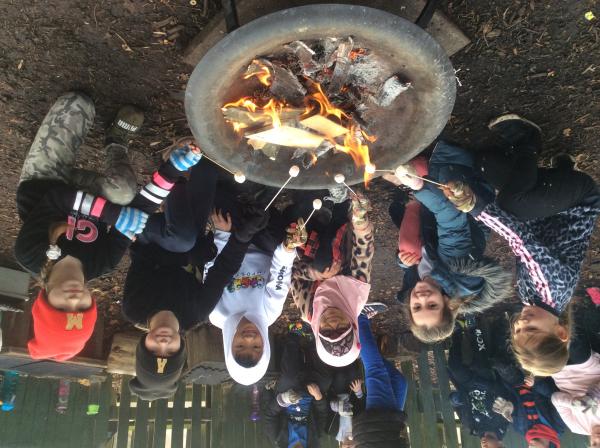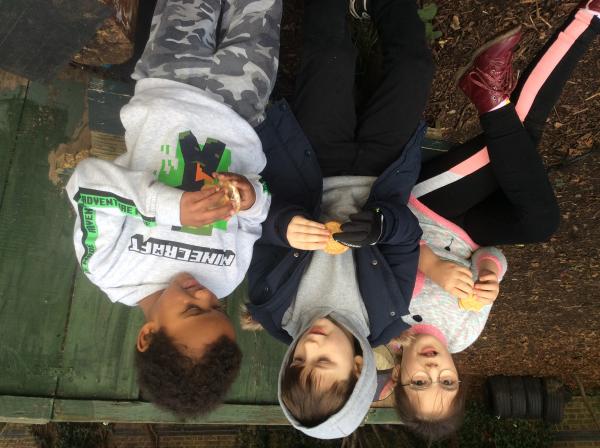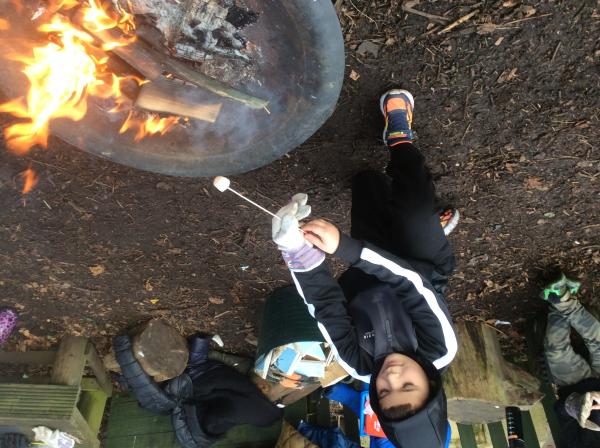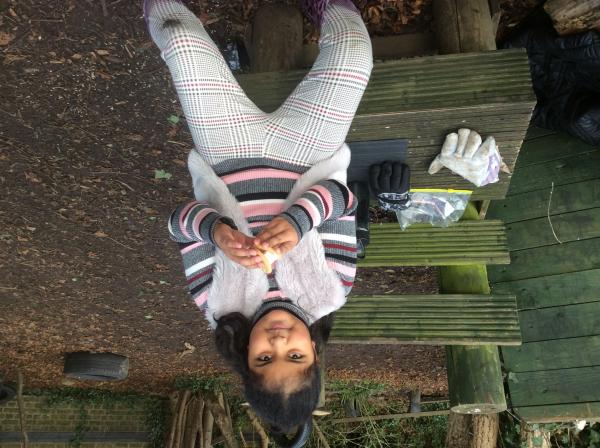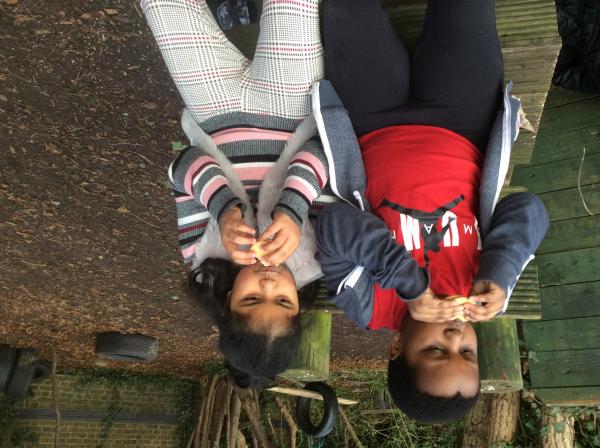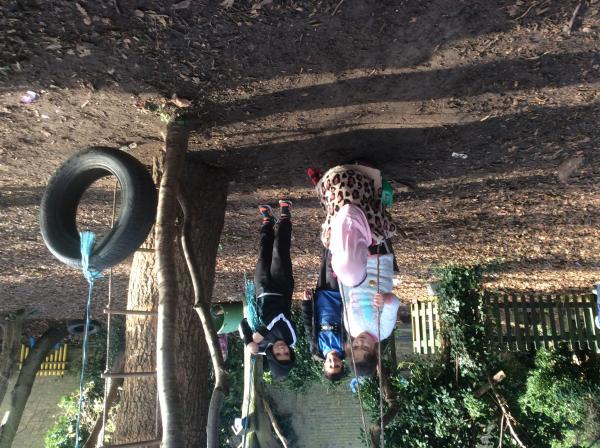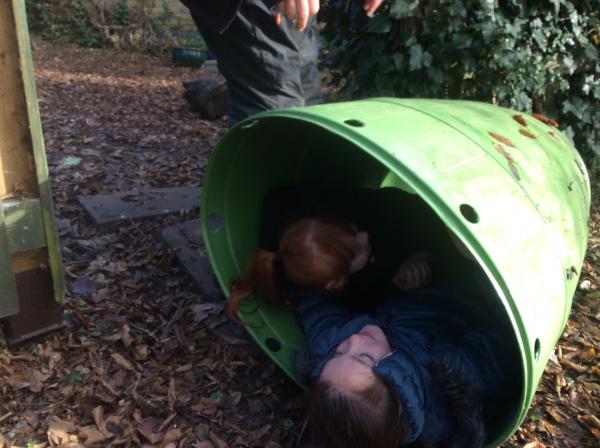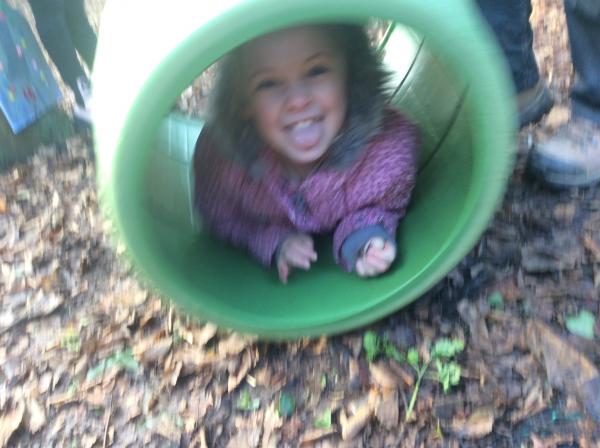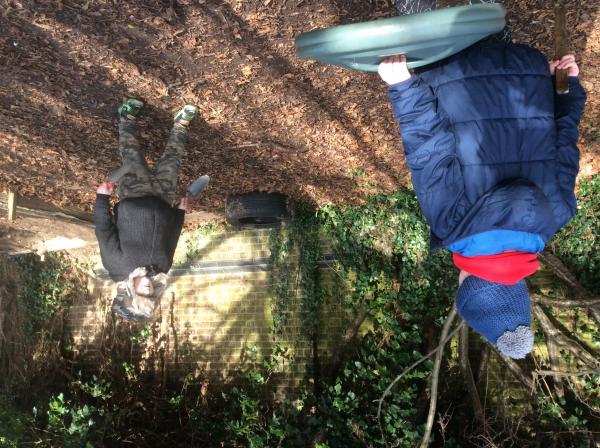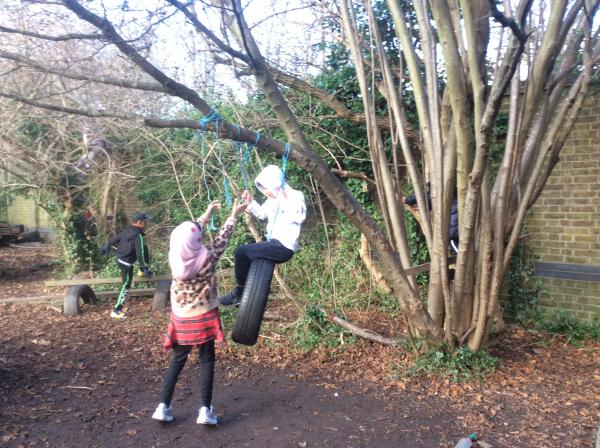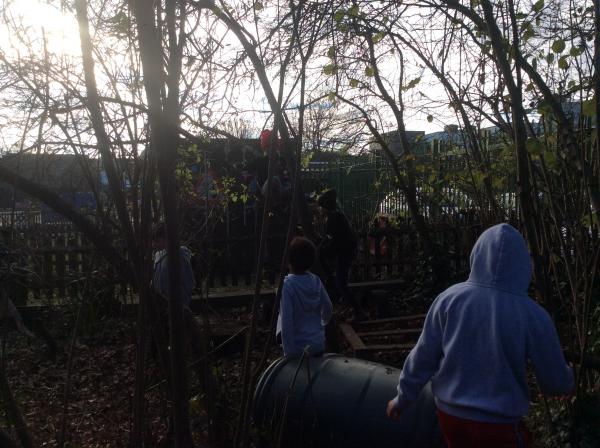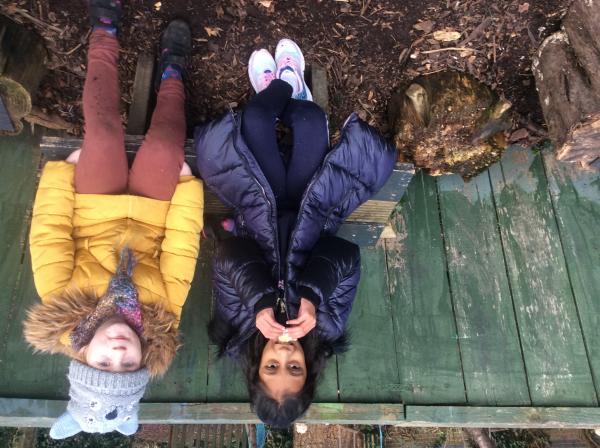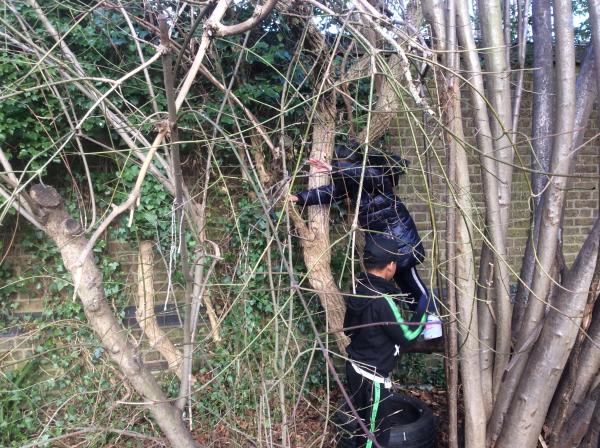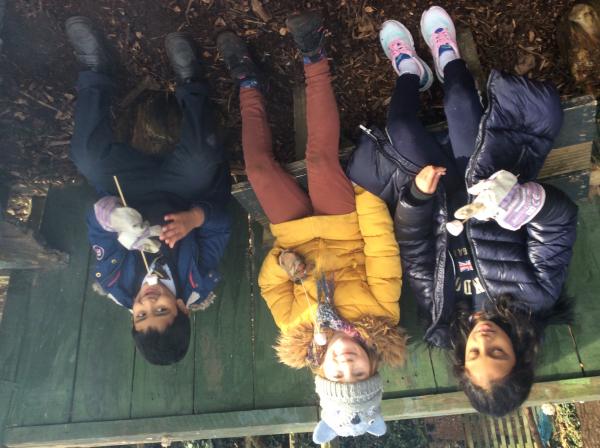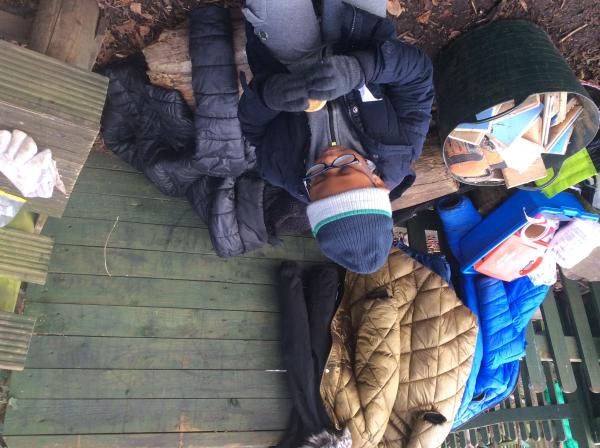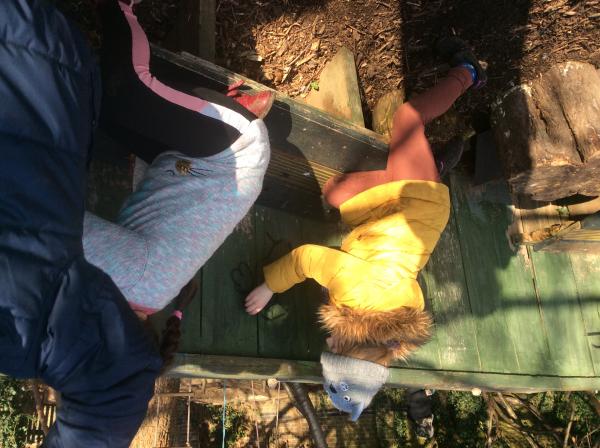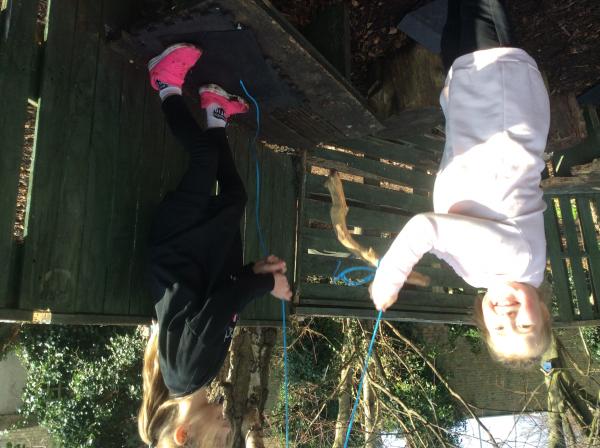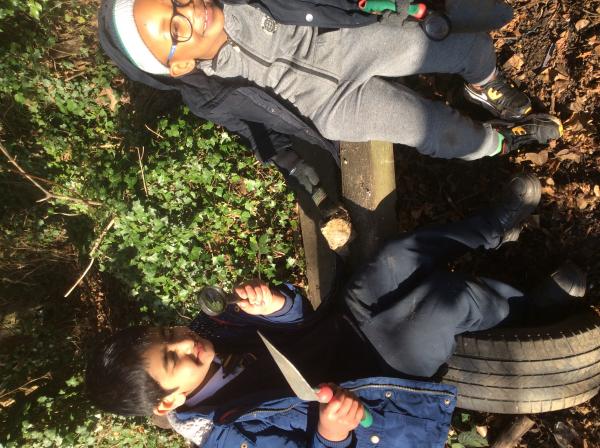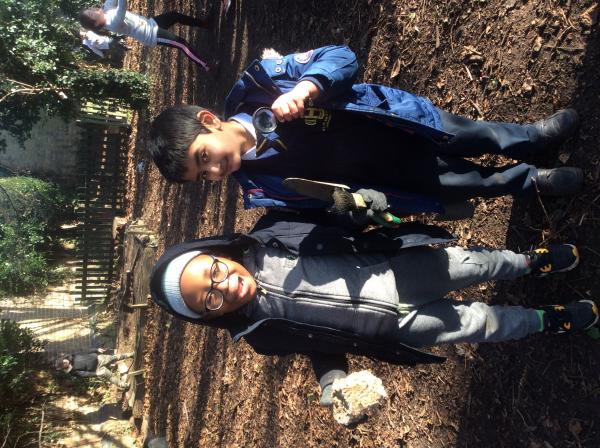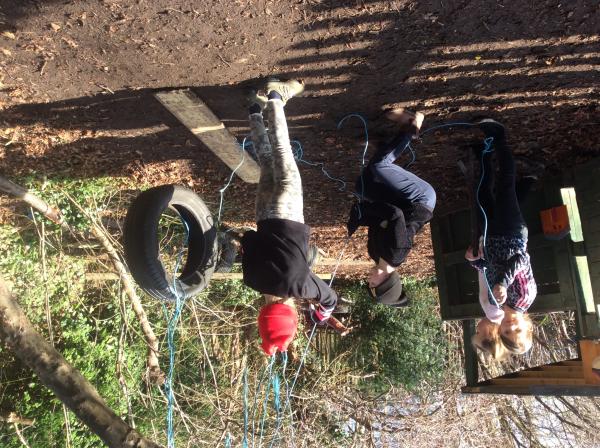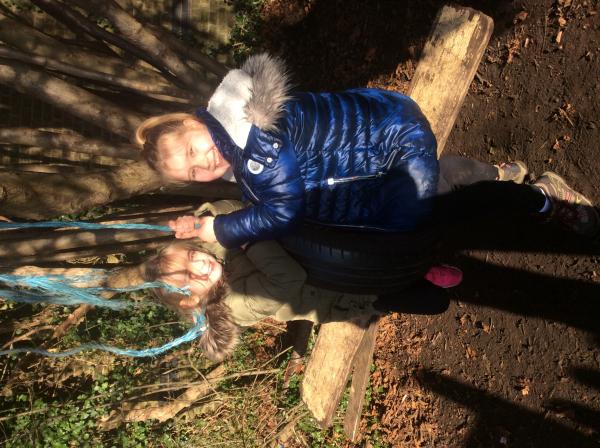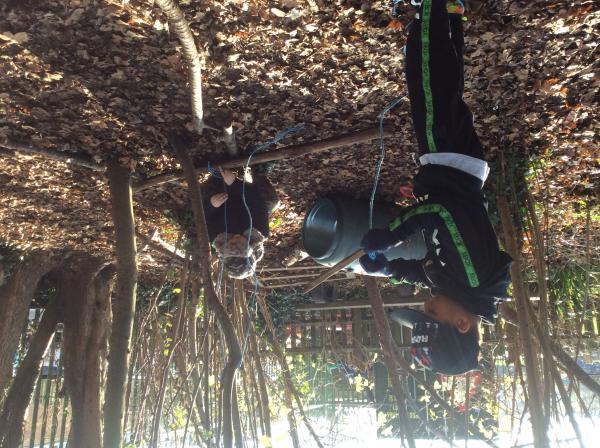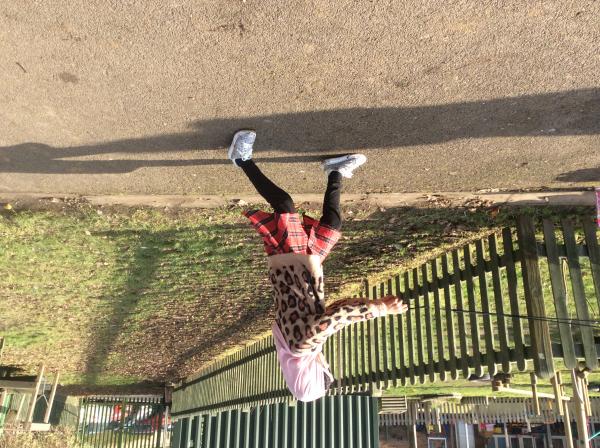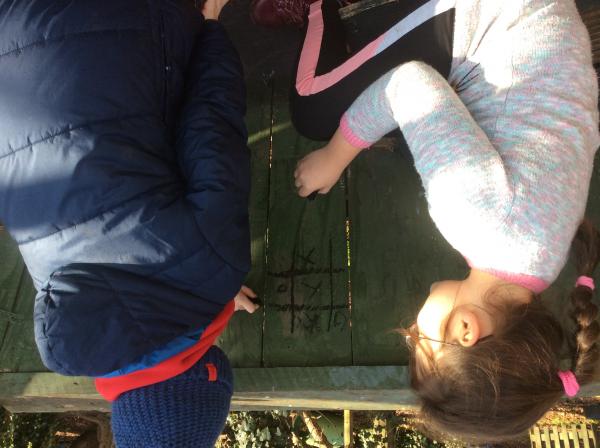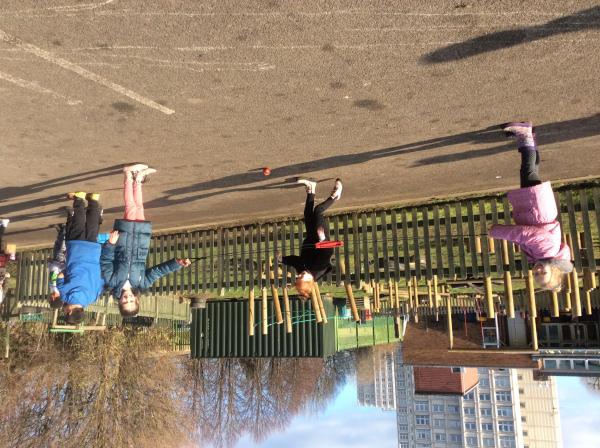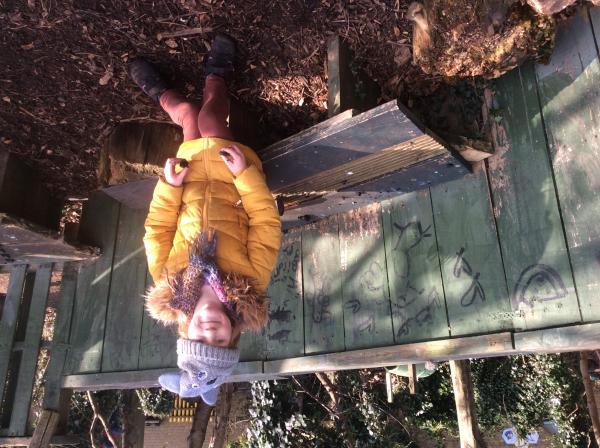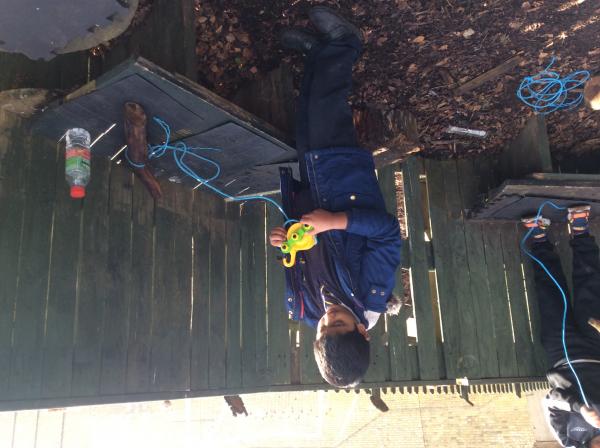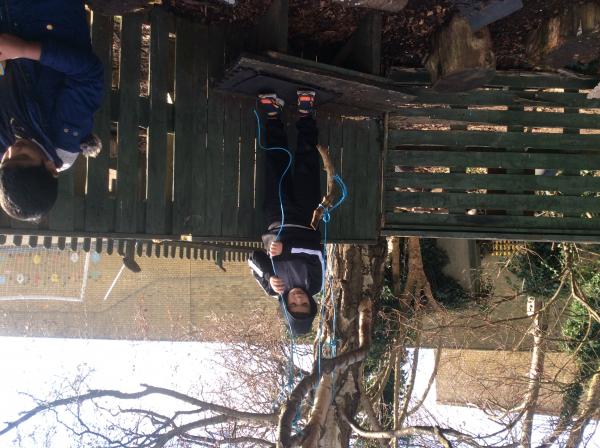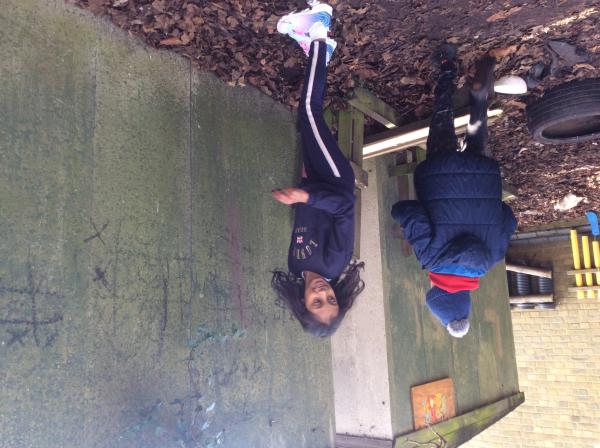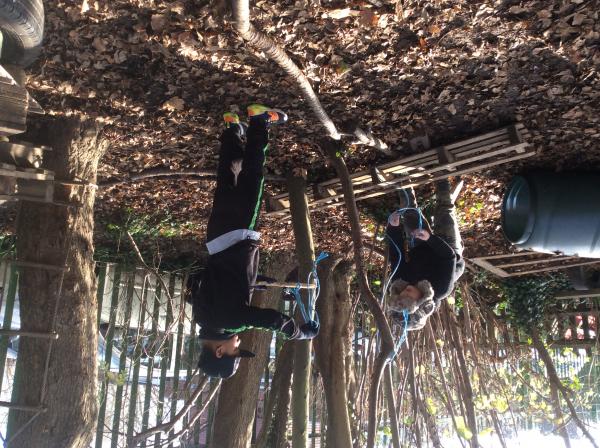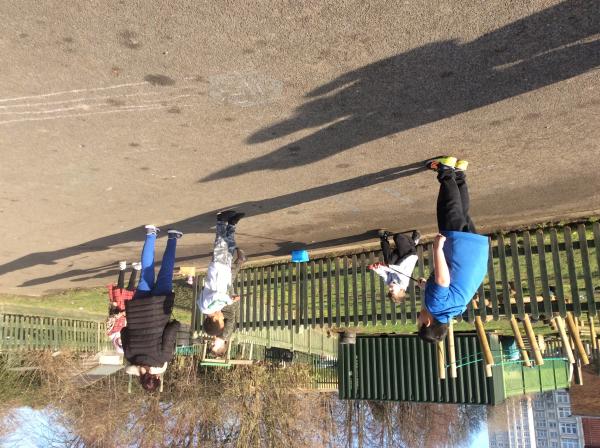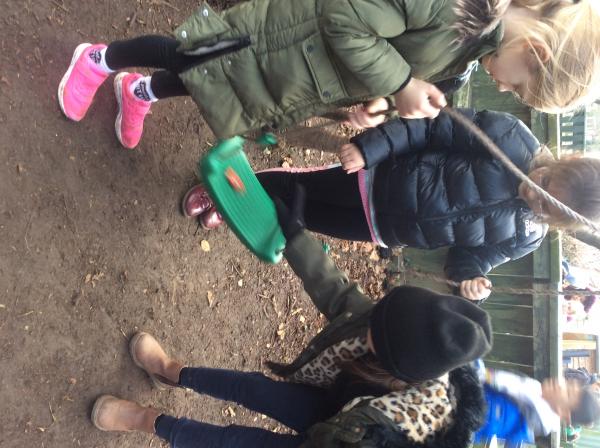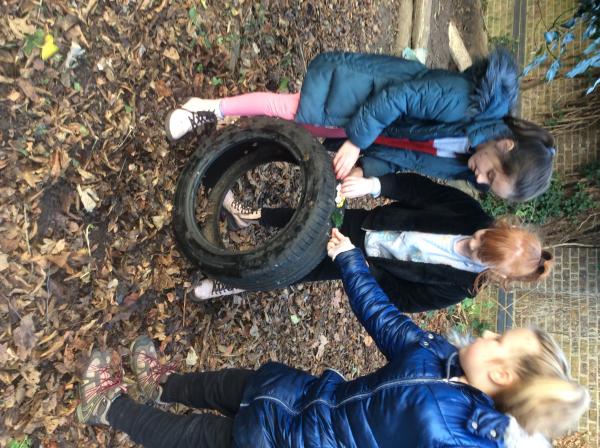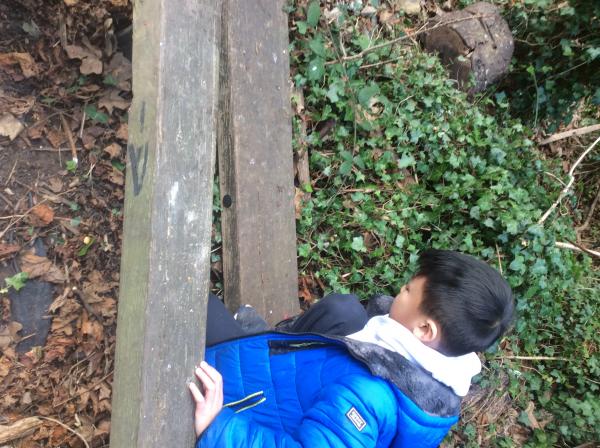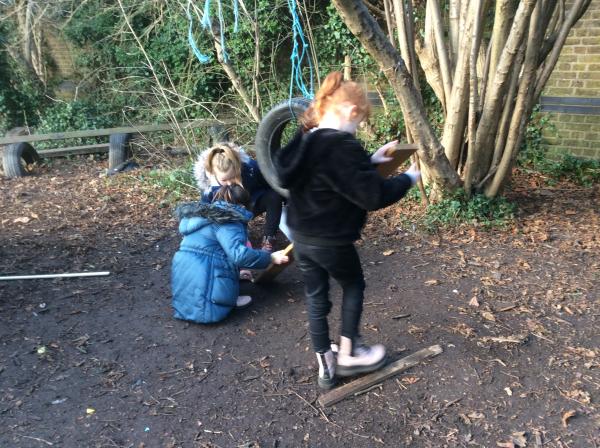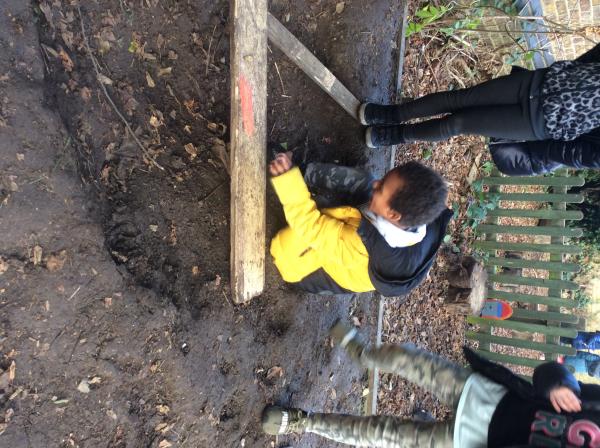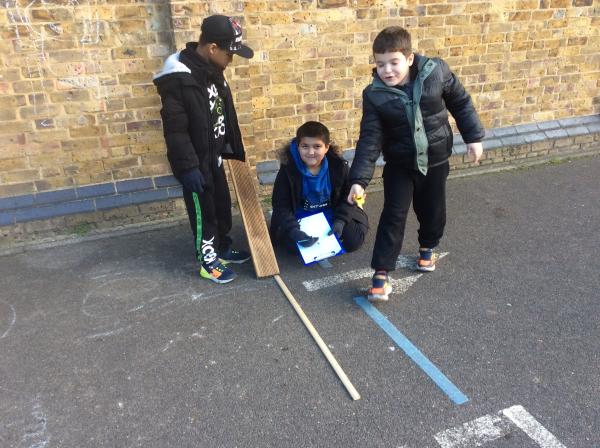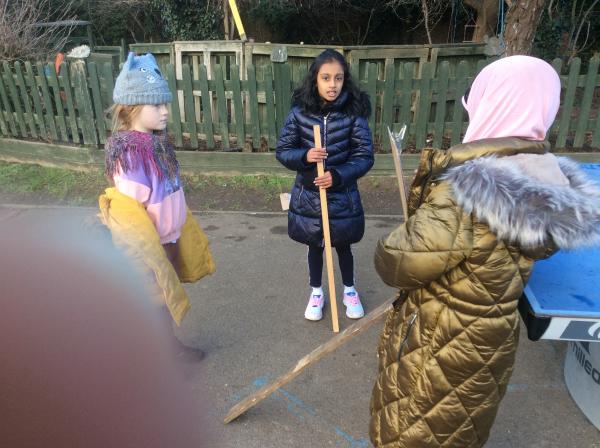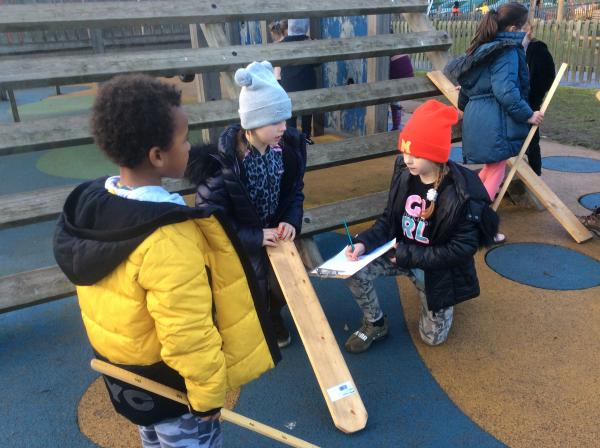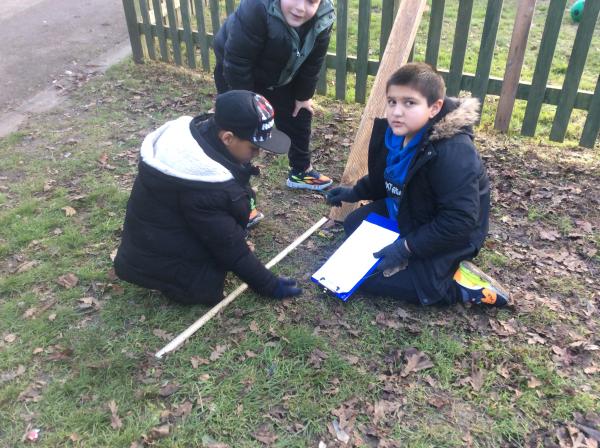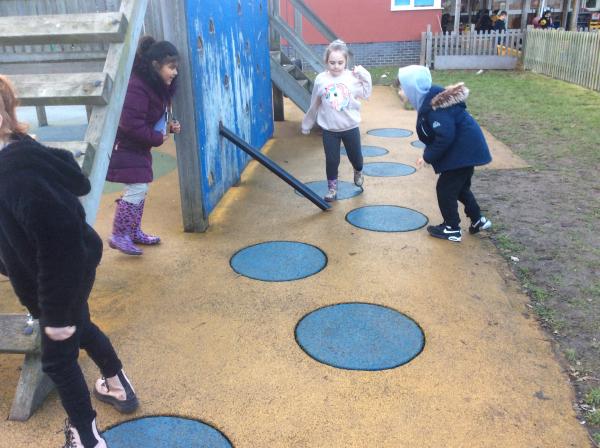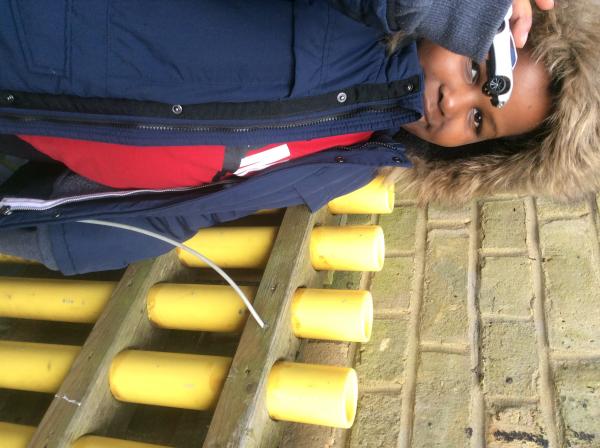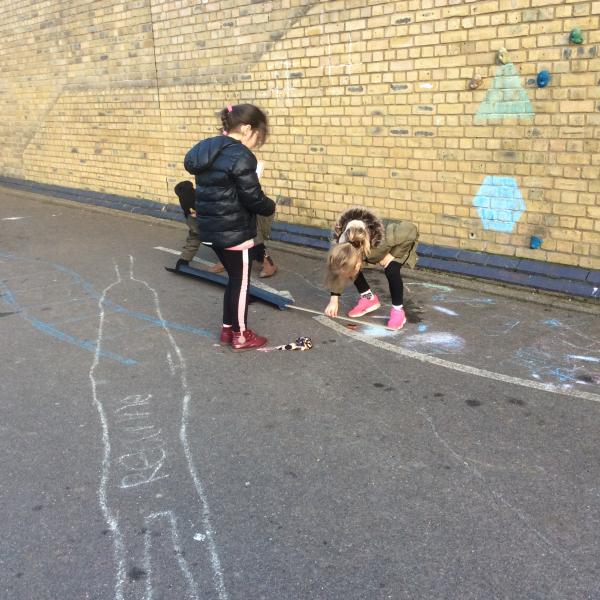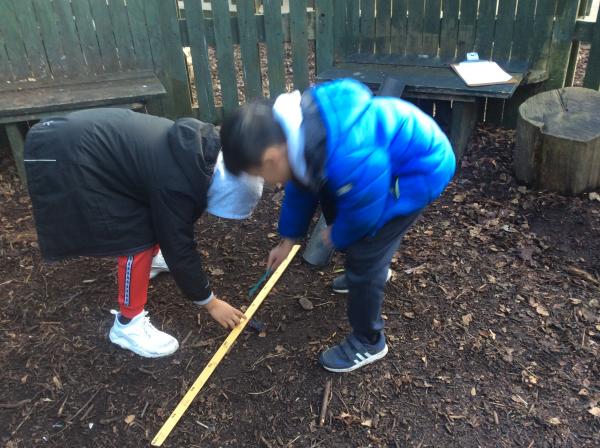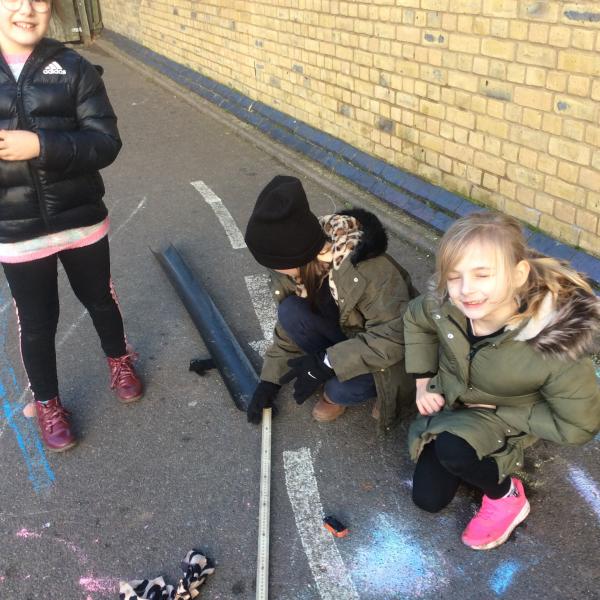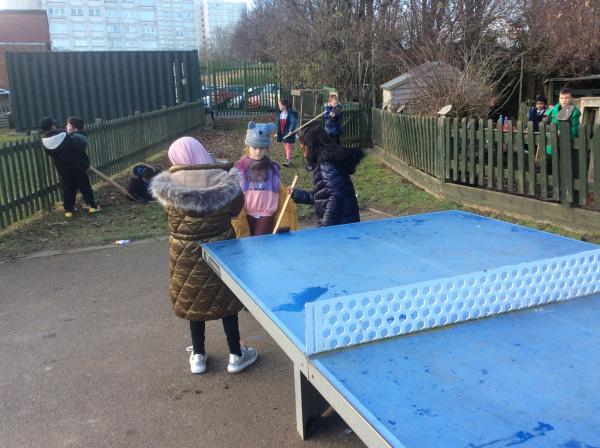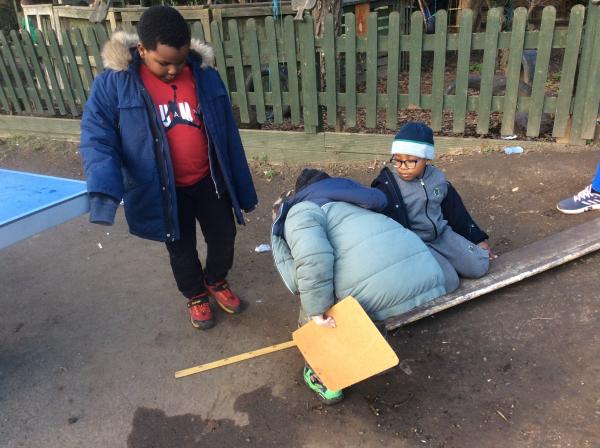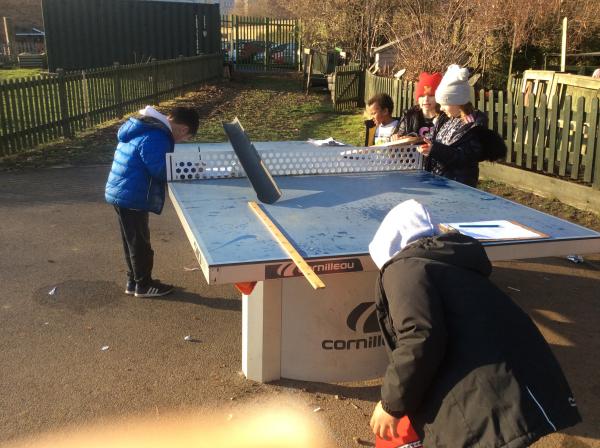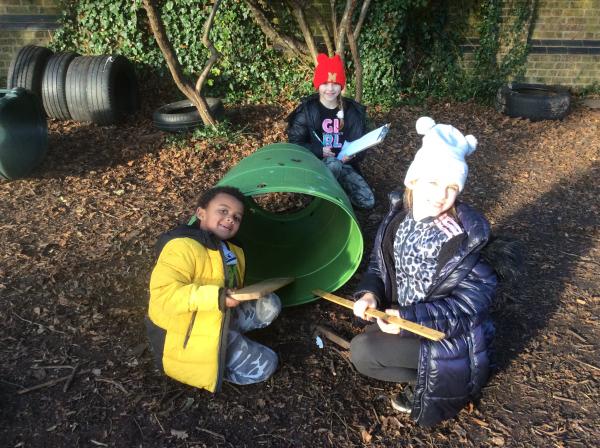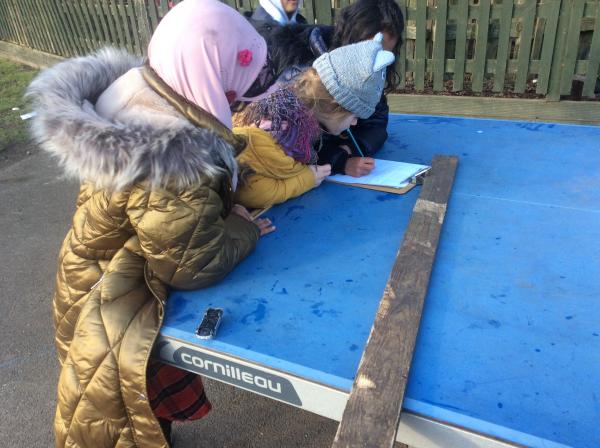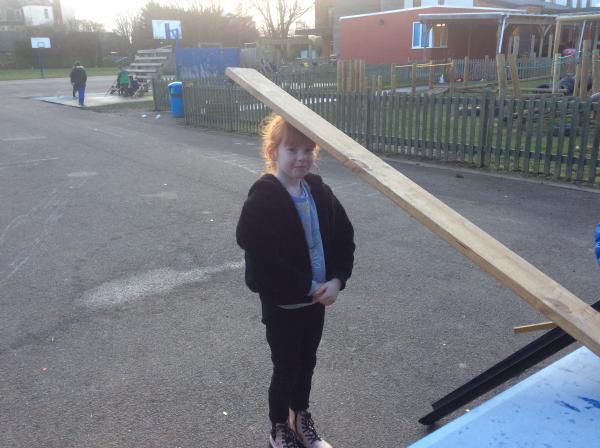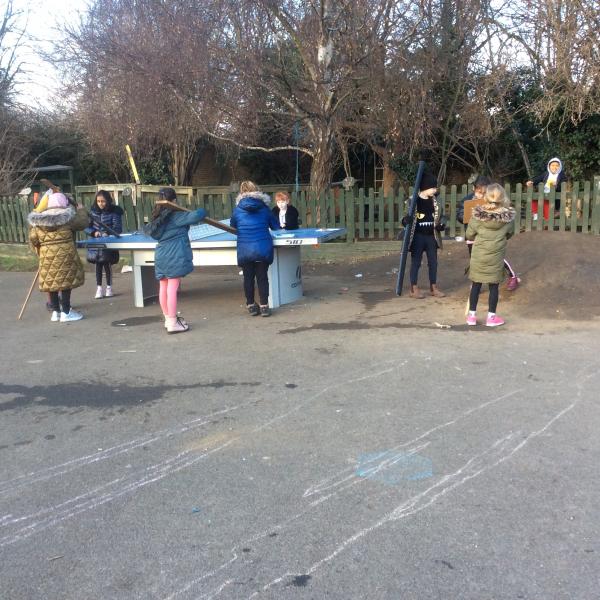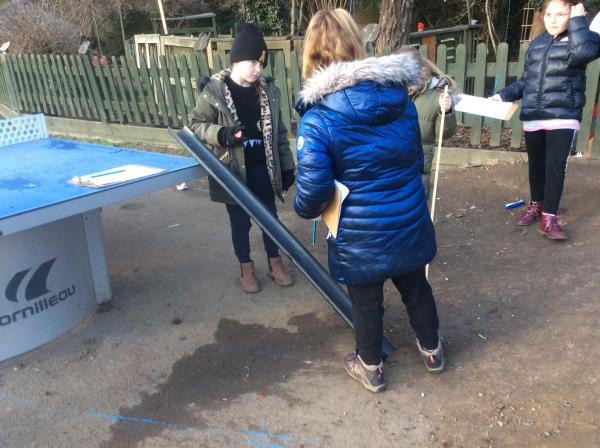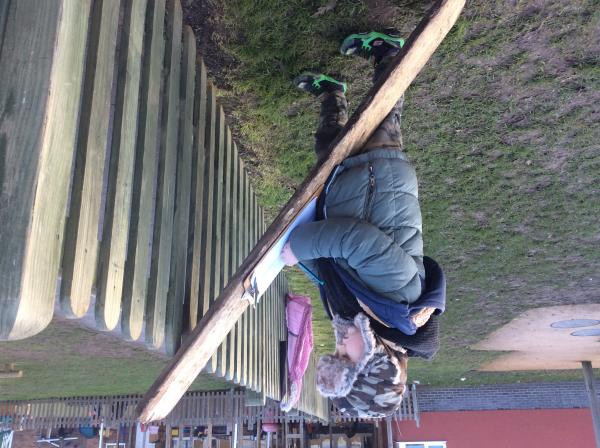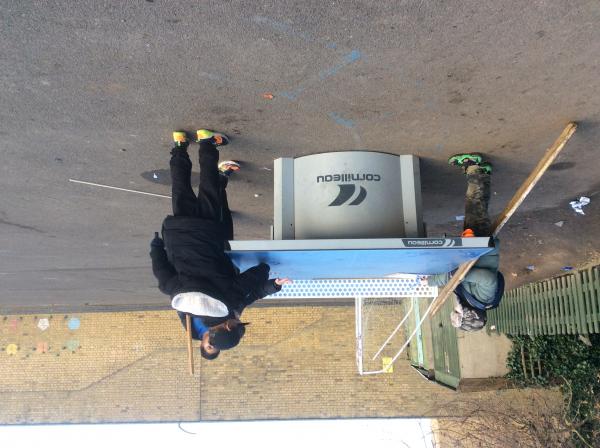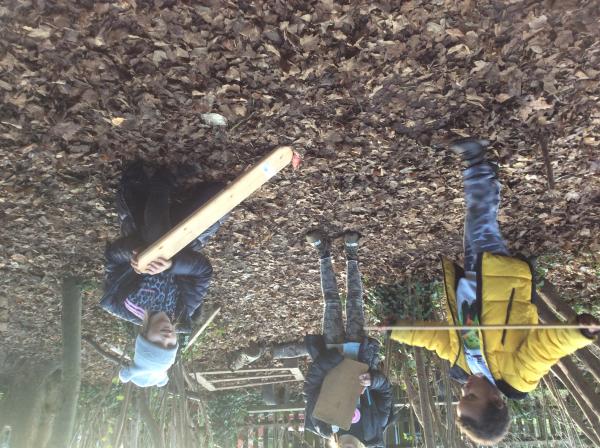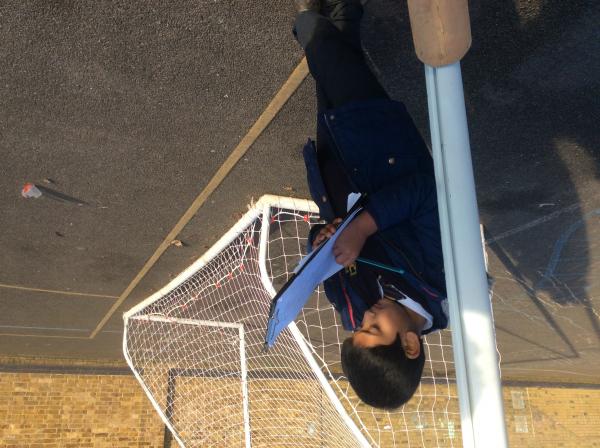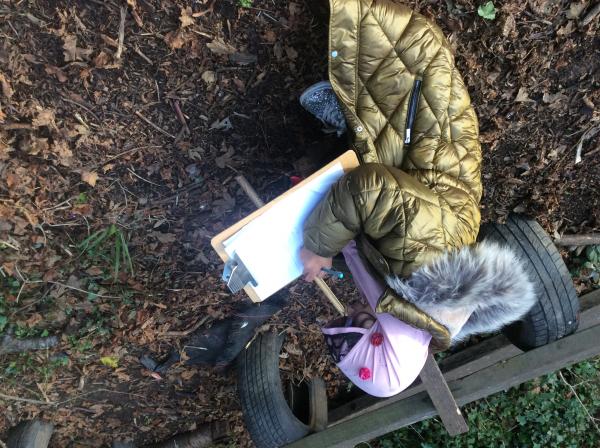 Robins turn into Penguins!
Robins became Emperor Penguins this week for their topic Antartica. They have learnt many facts and also how to huddle in a group to keep warm, waddle and toboggan like a penguin!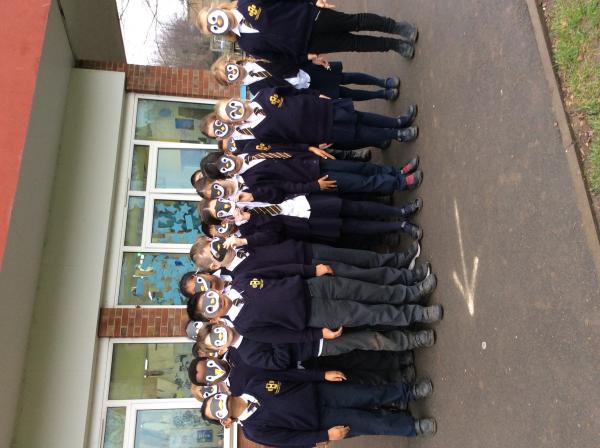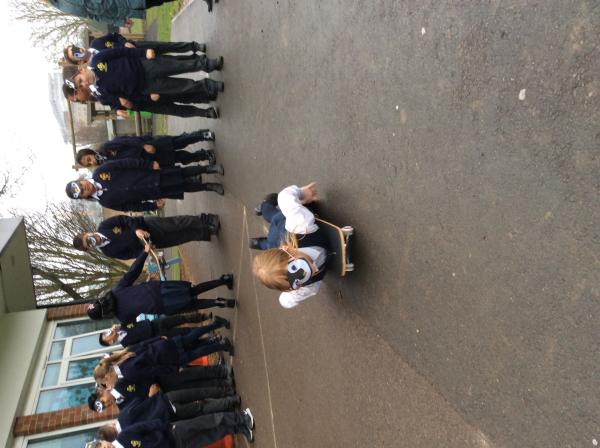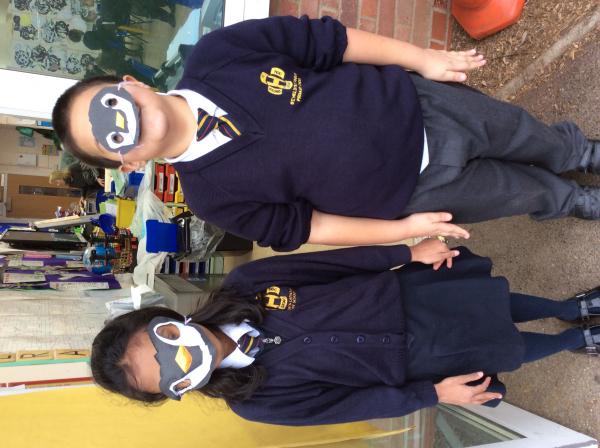 So sweet!
Robins Class made their own chocolate sweets using what they had researched to help them with their design. They made their own chocolate boxes and designed the outside with the name of their own designed chocolate. They chose whether to use white chocolate or milk chocolate and whether to make it fruity, crunchy or chewy.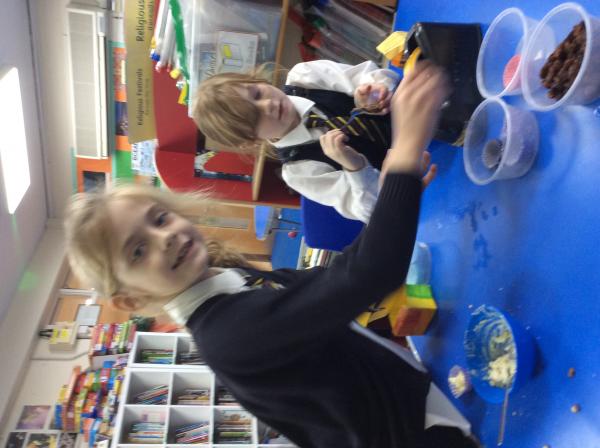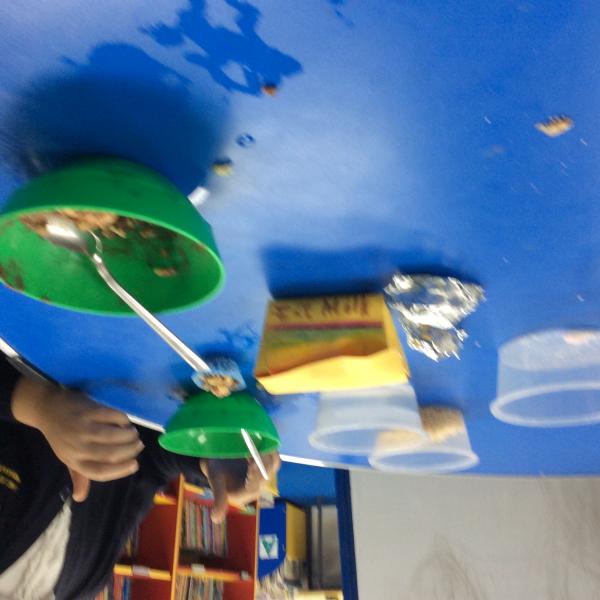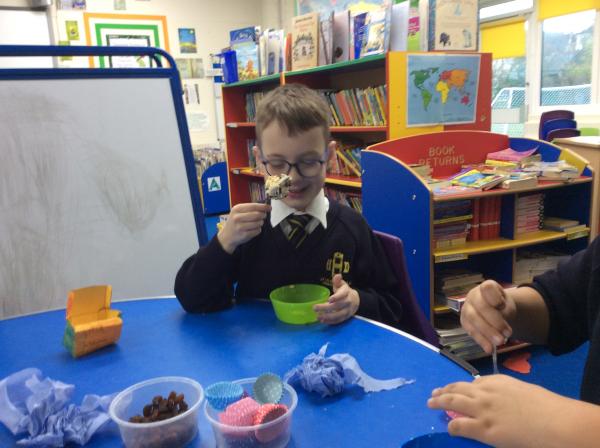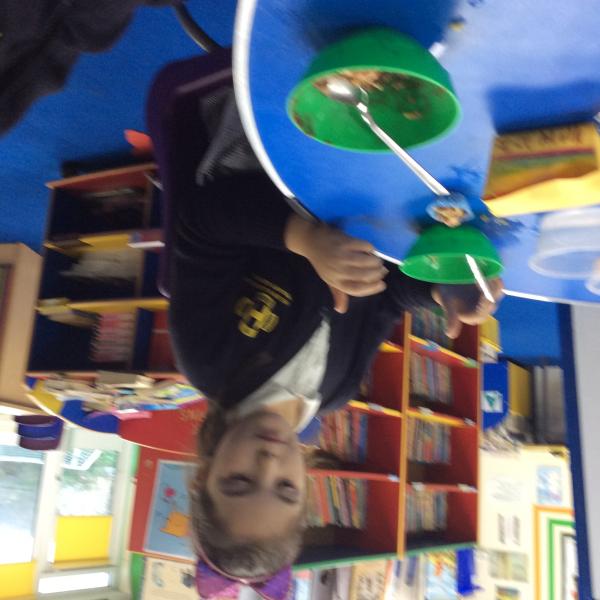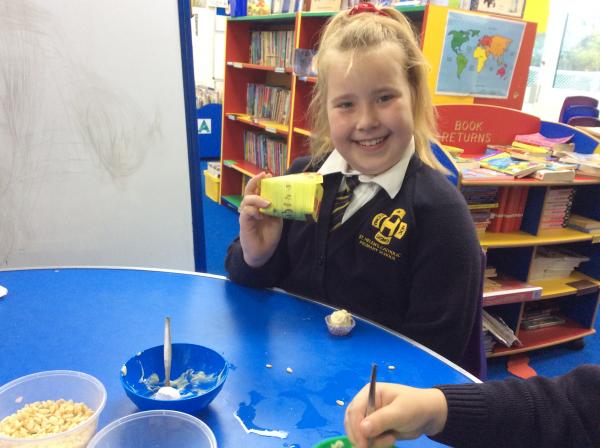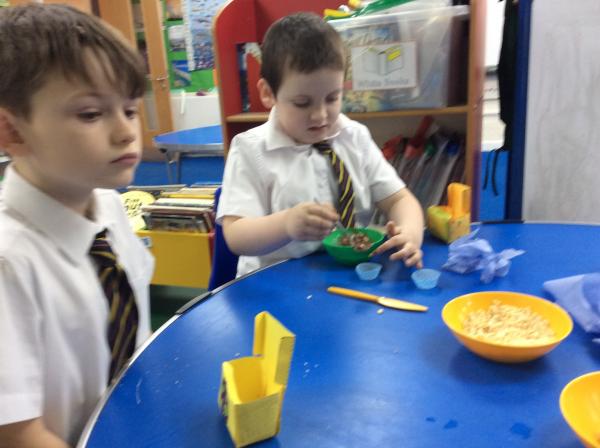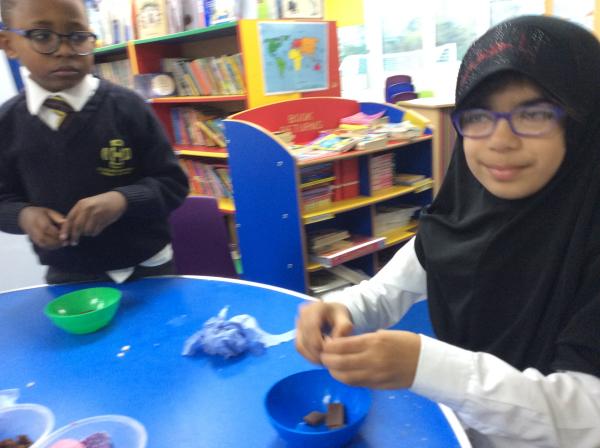 Robins scientifically tasting chocolate!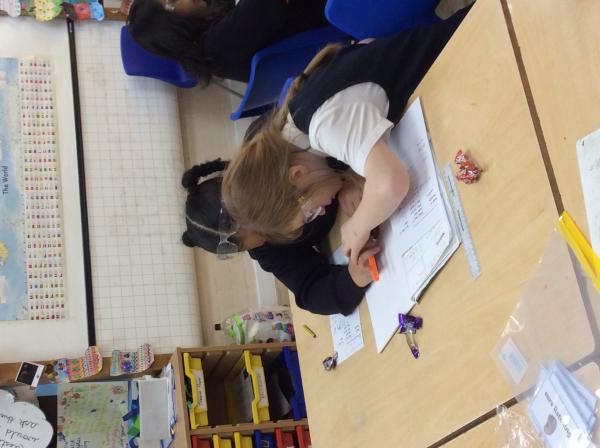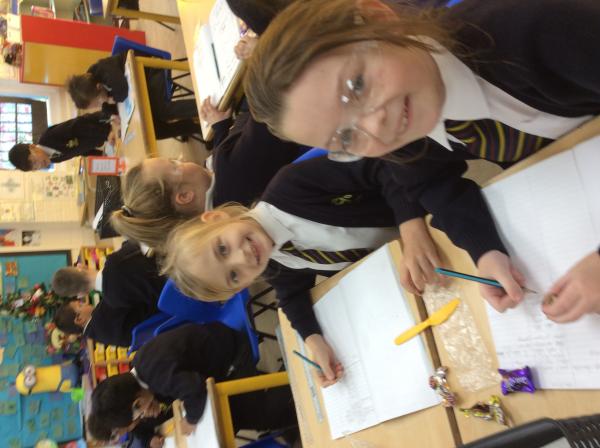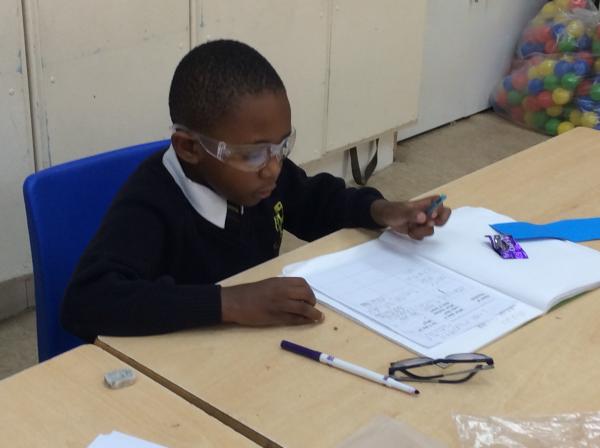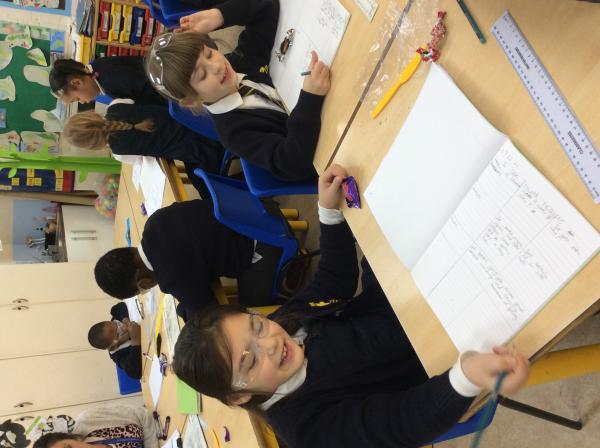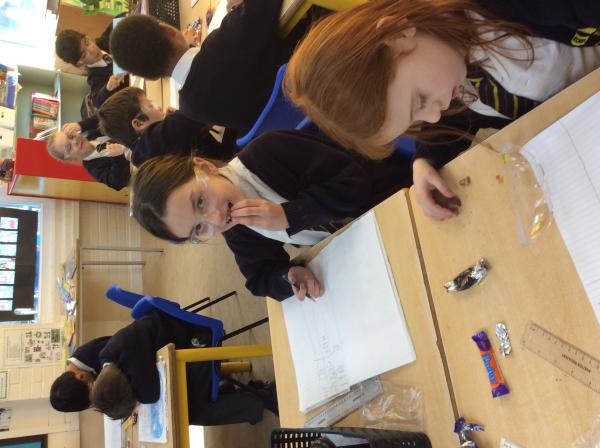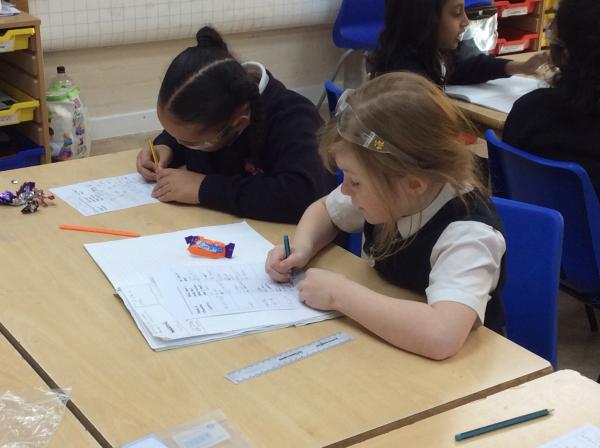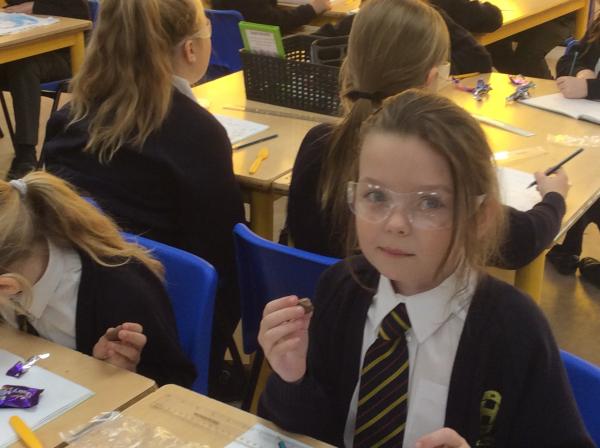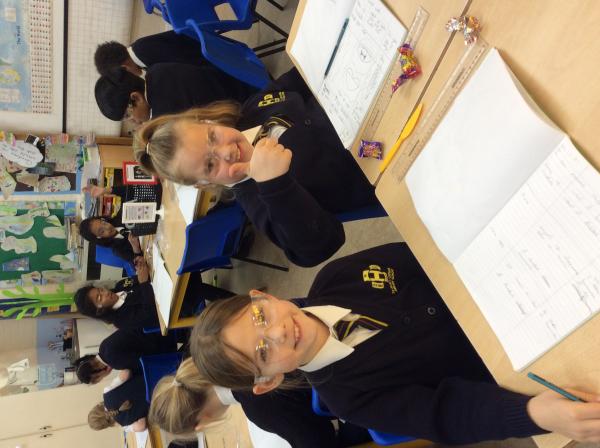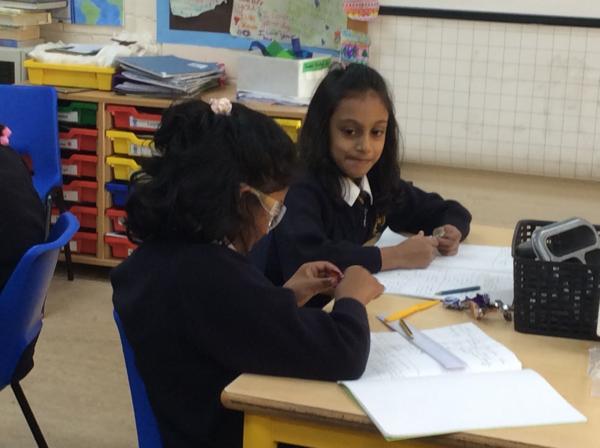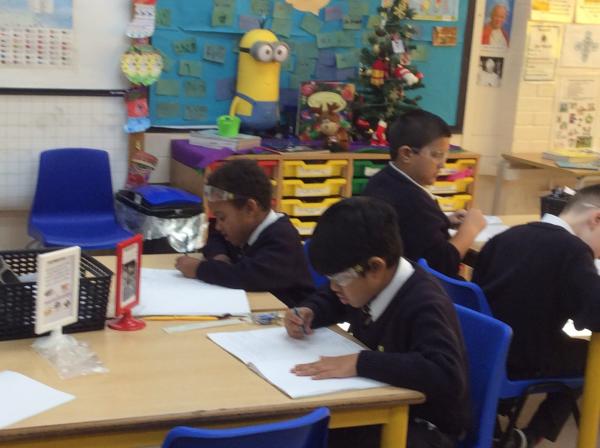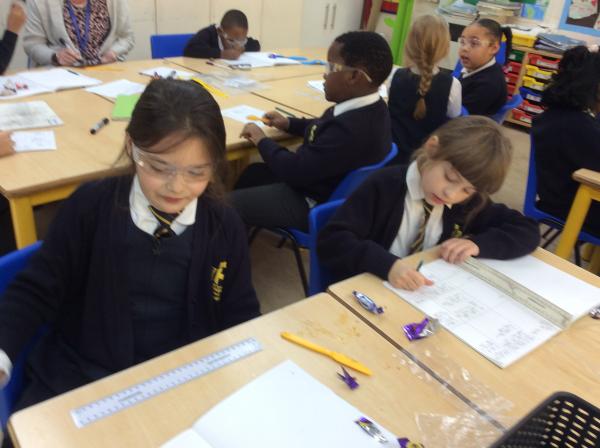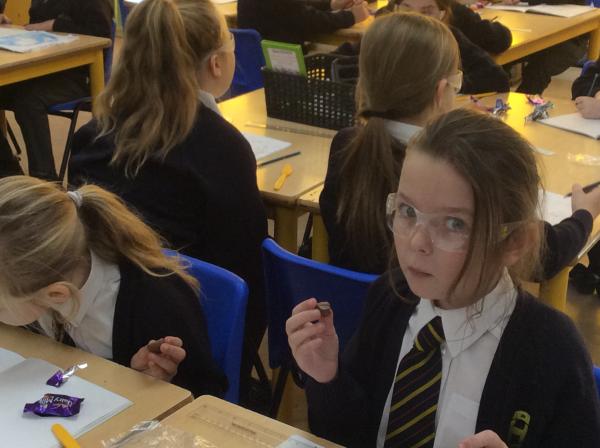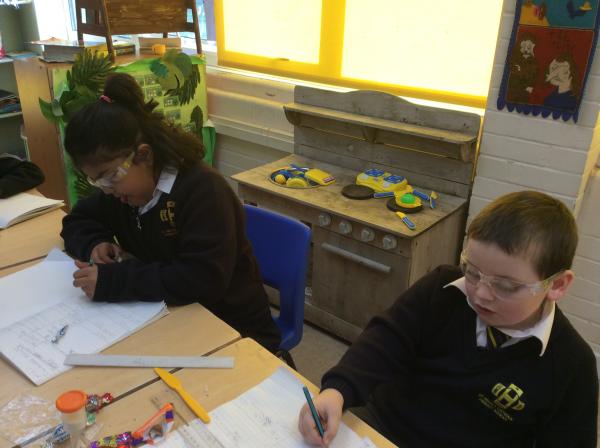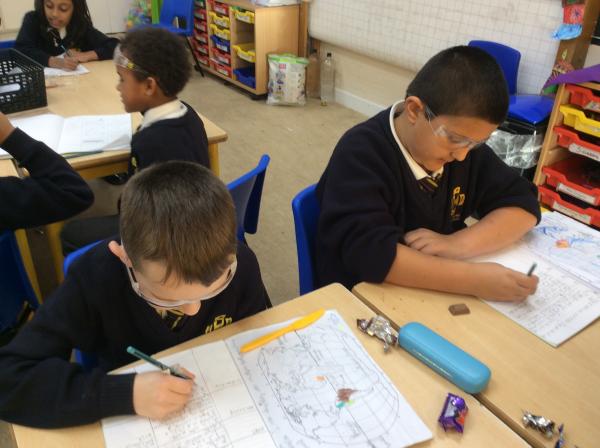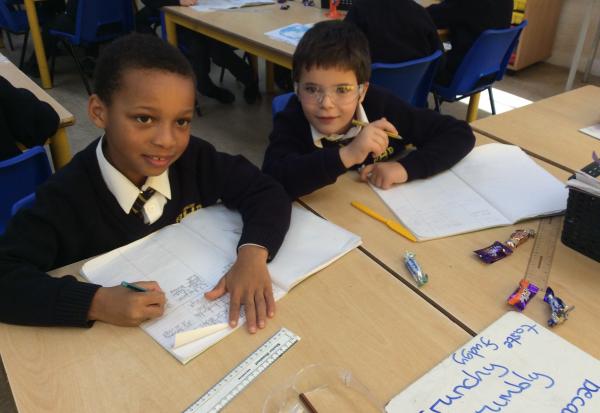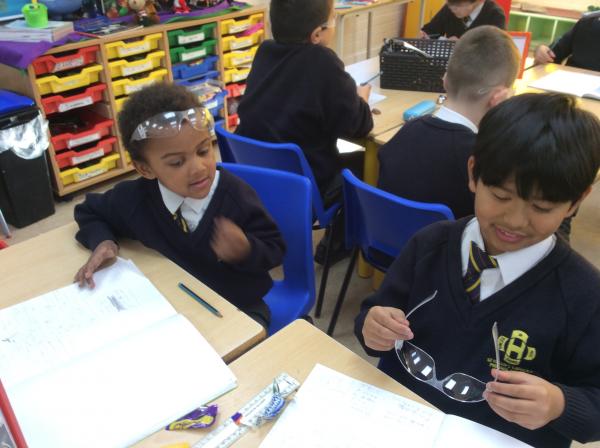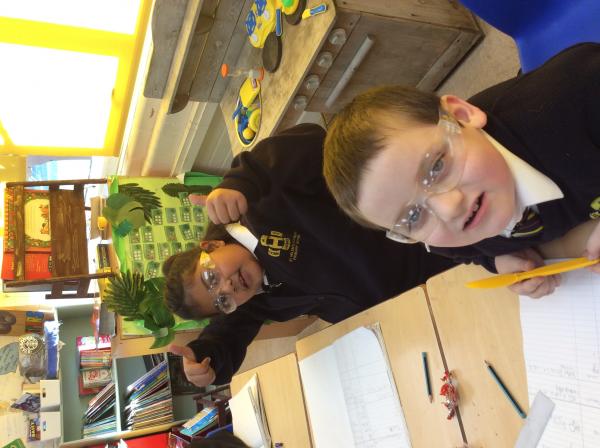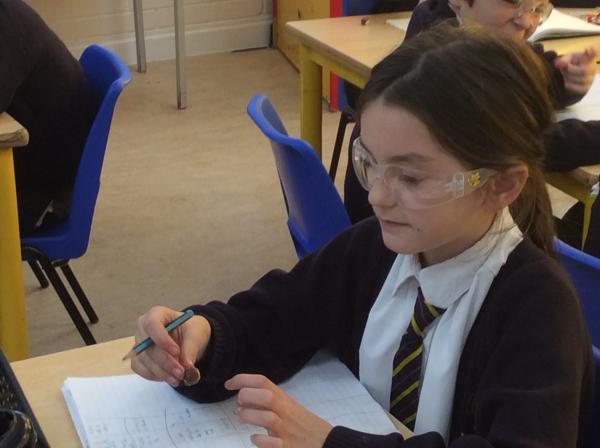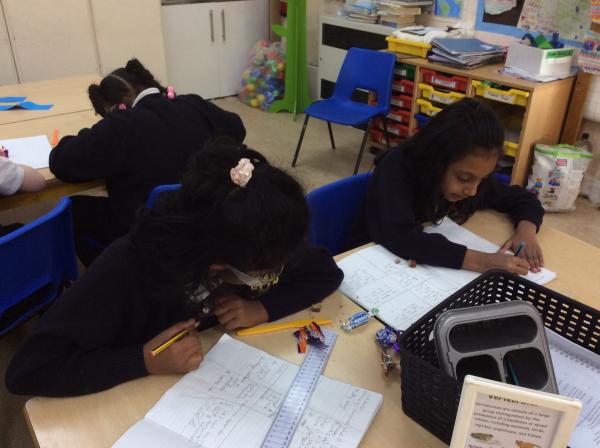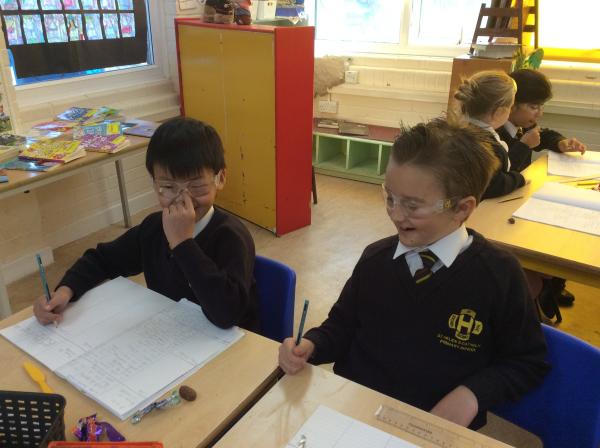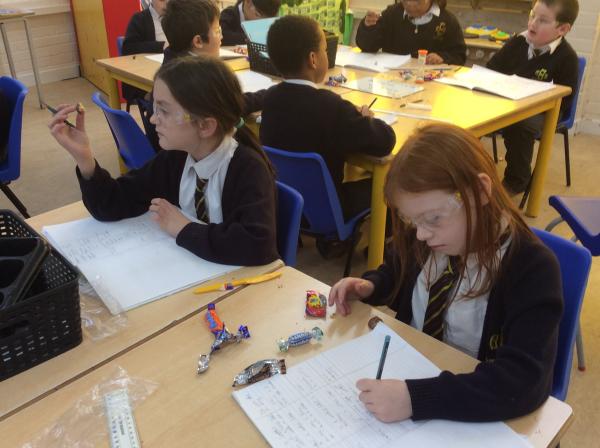 Robins have been using skittles to understand fractions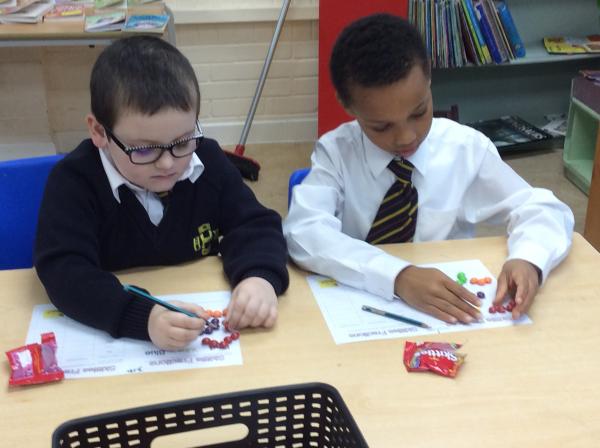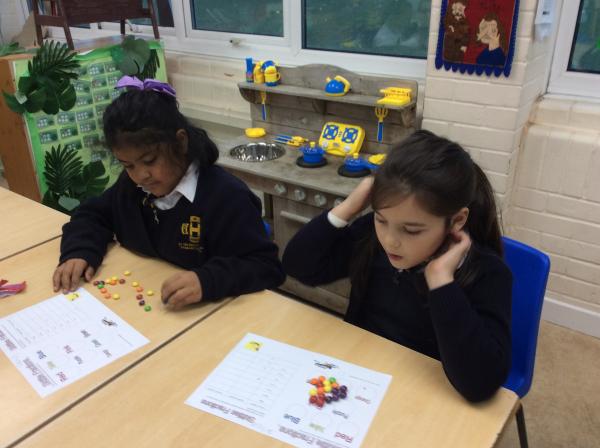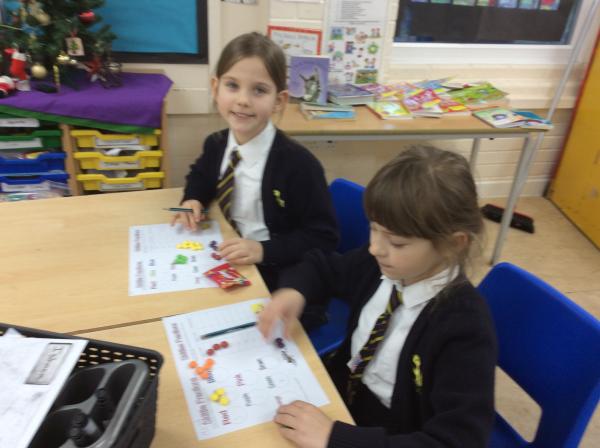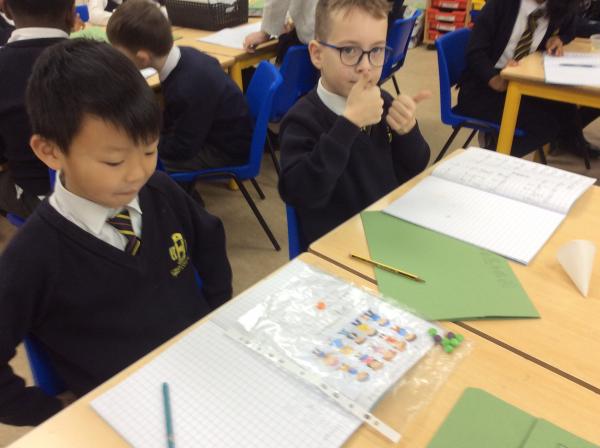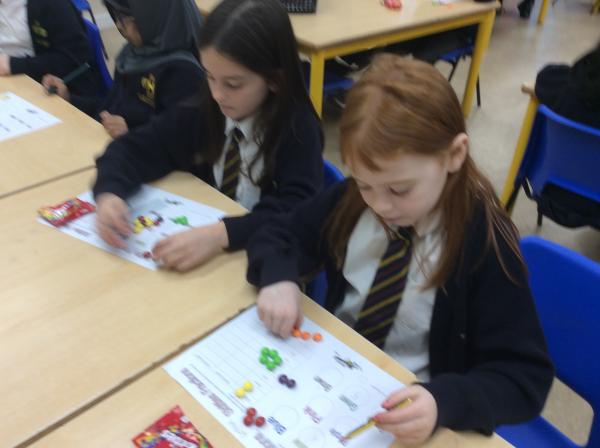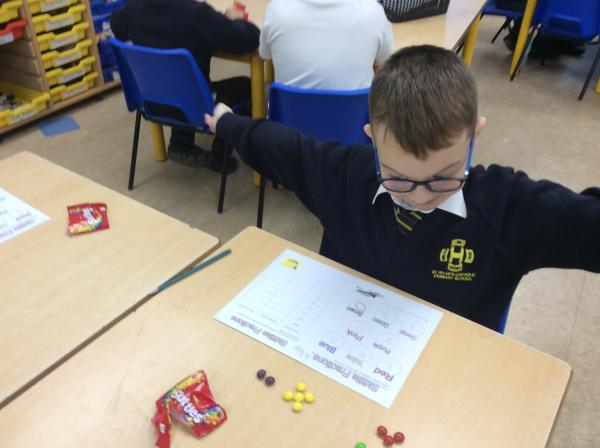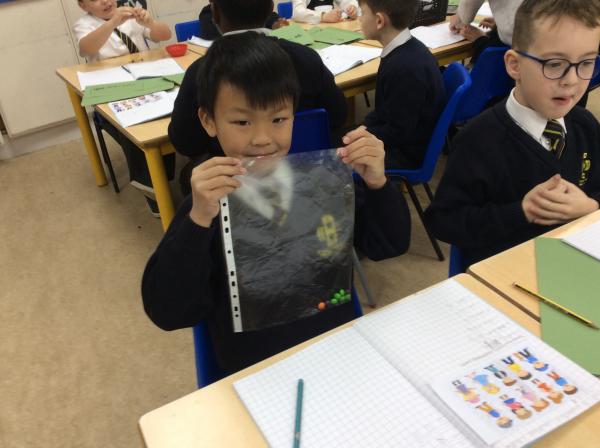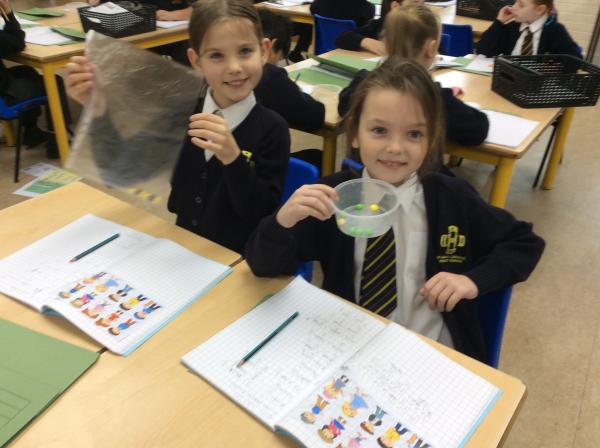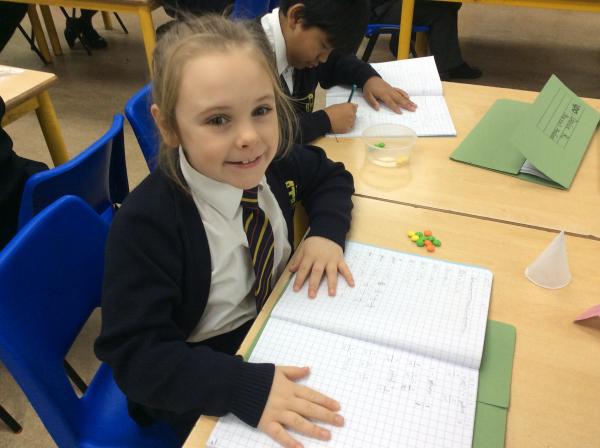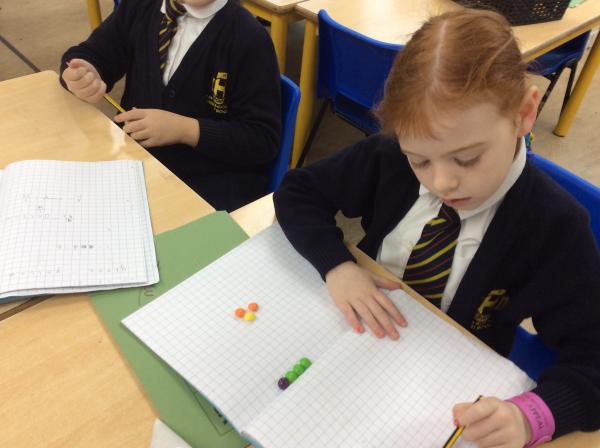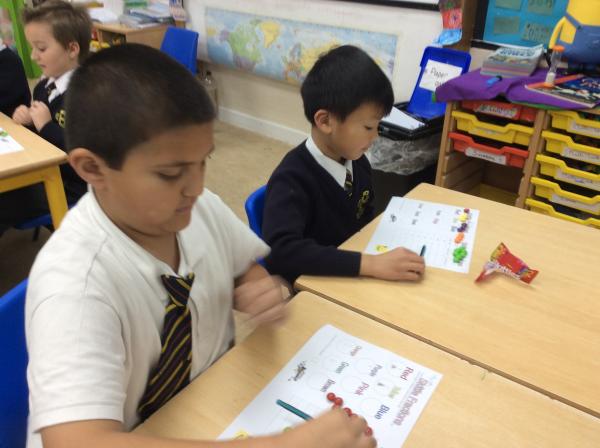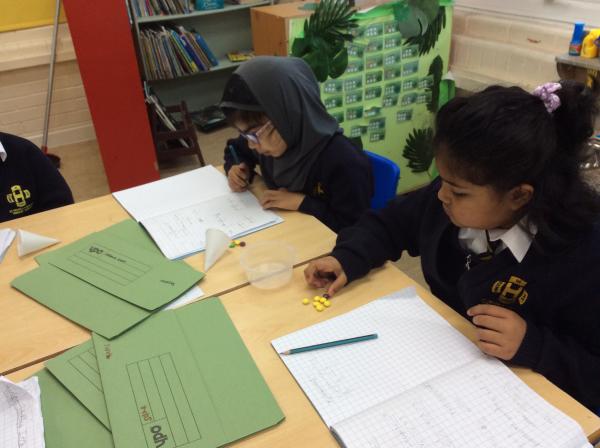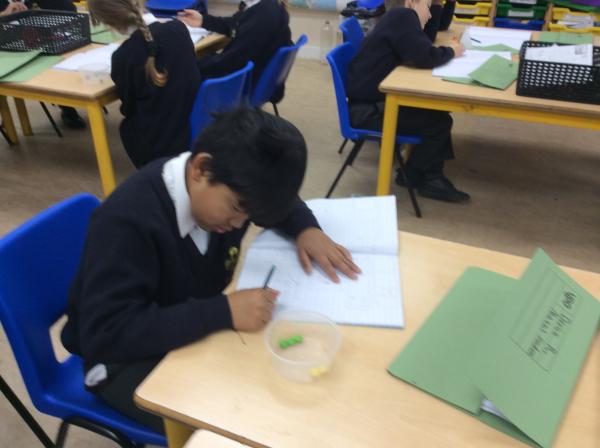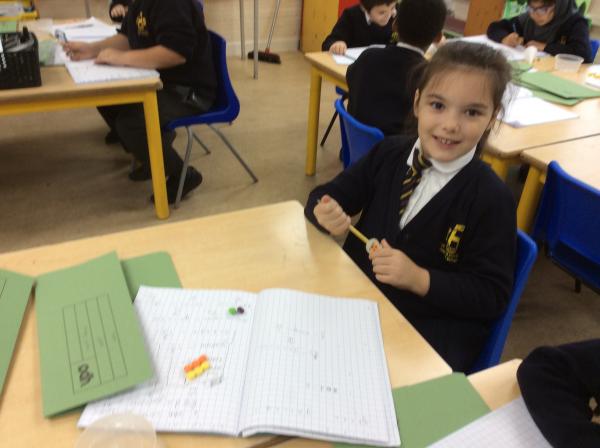 Sleeping Potion
Year 3 are up to no good! They have been writing instructions and making a sleeping potion.
First crush the digestives.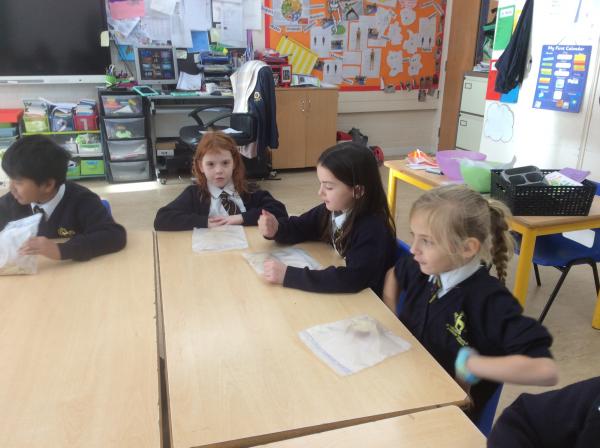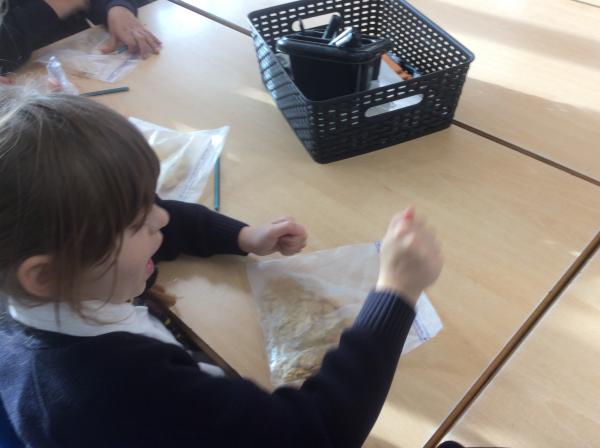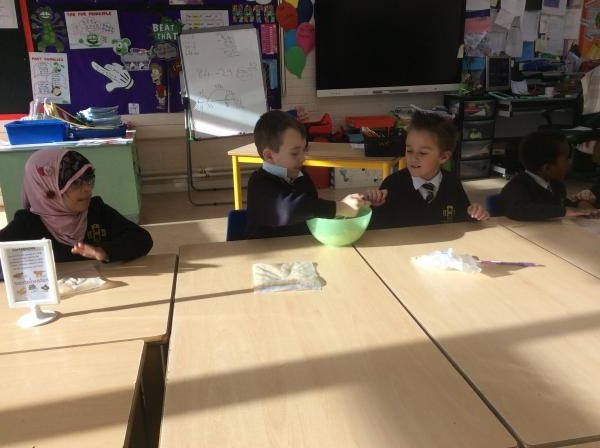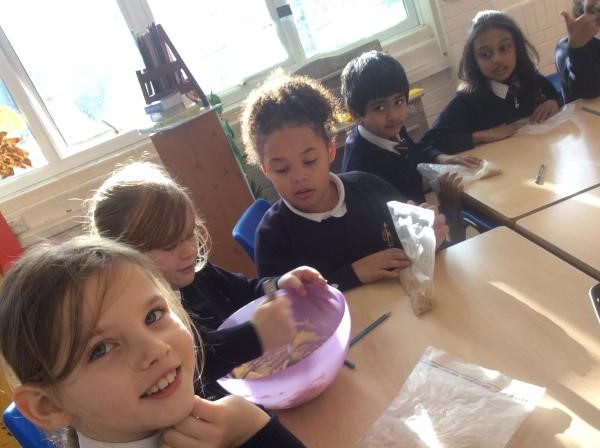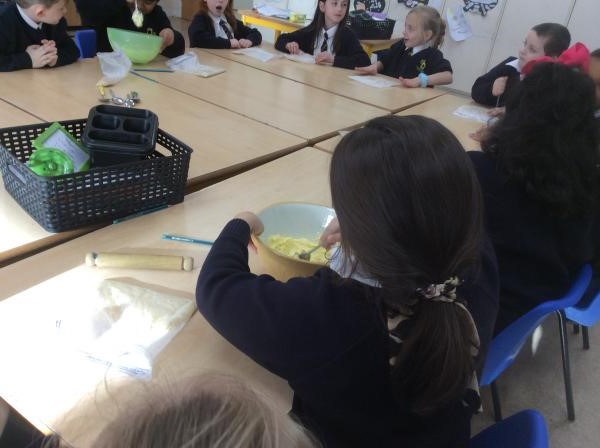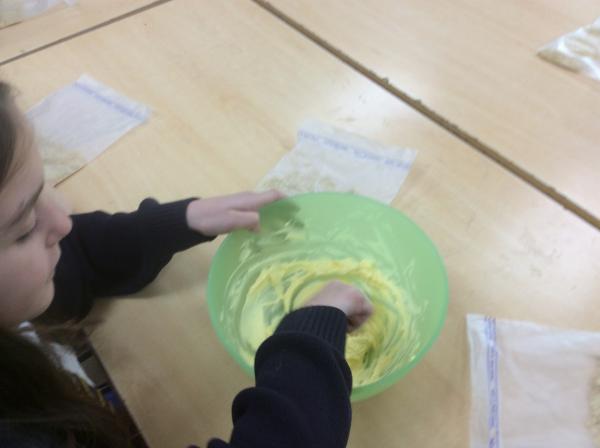 Then add the honey and stir well.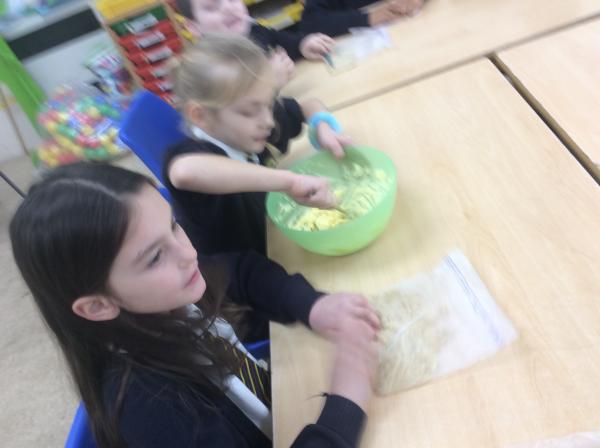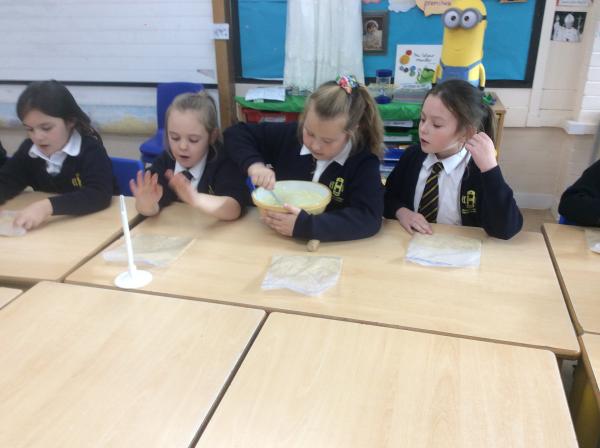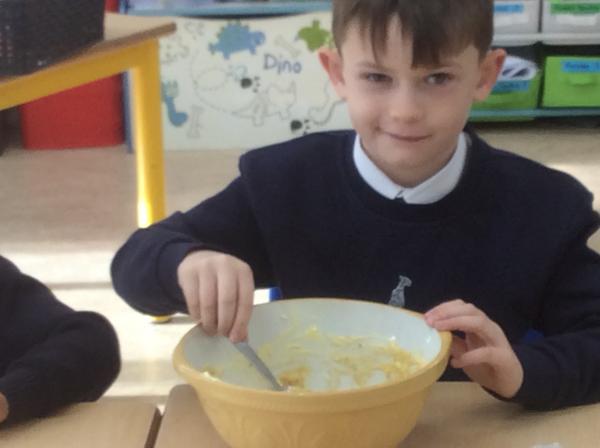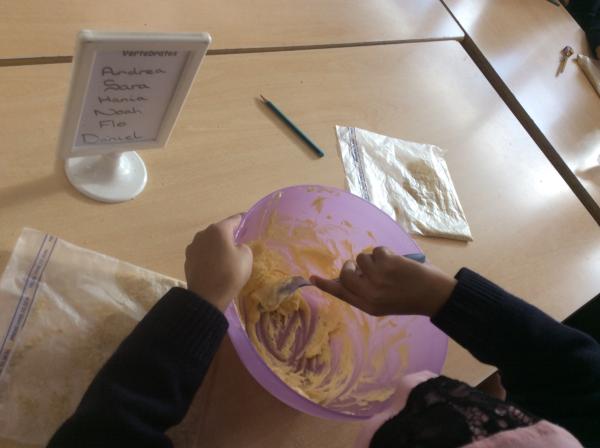 Whilst stirring add the crushed digestives.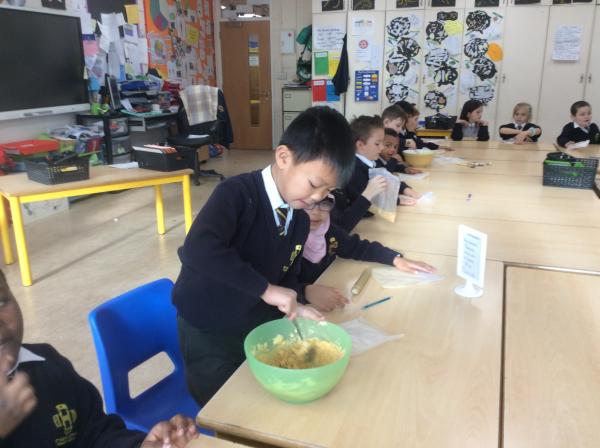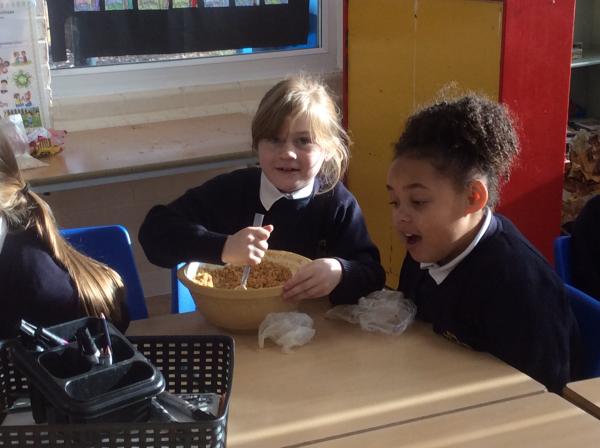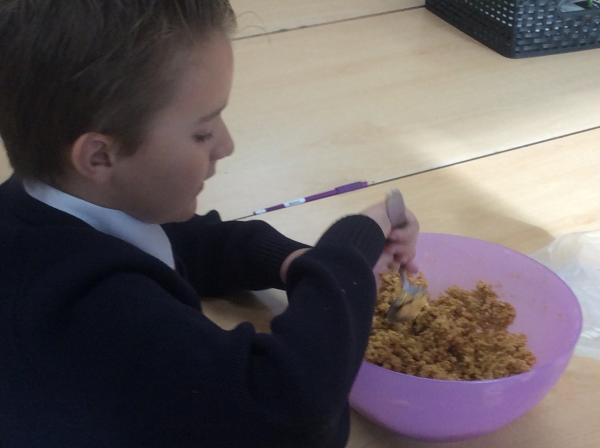 Now say some magic words.....................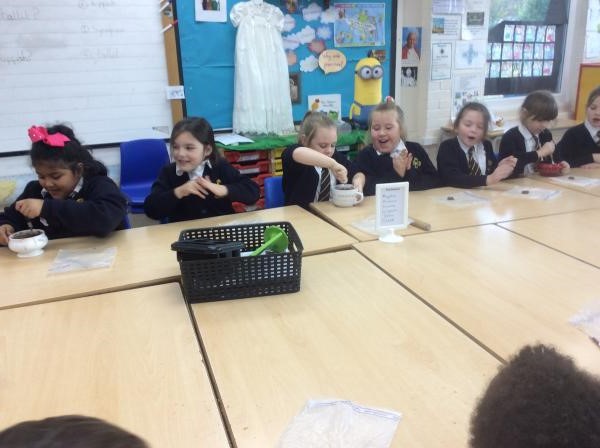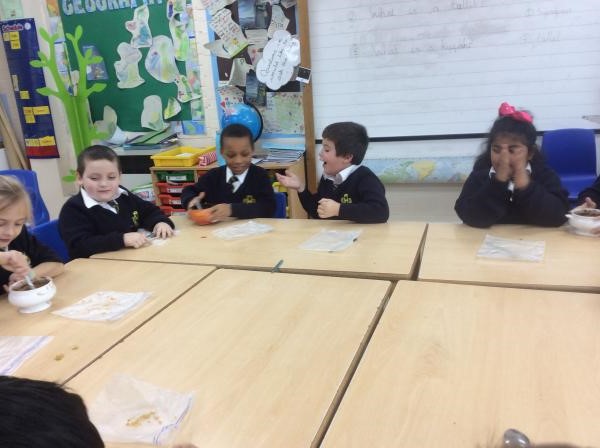 Once mixed pour into a tray and leave in the fridge to cool.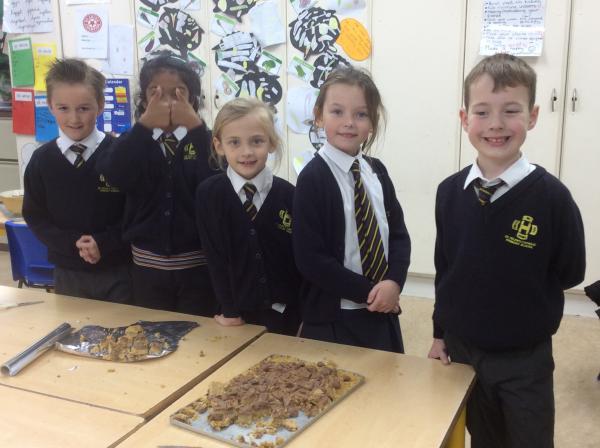 Finally feed to the teacher and enjoy watching the magic work.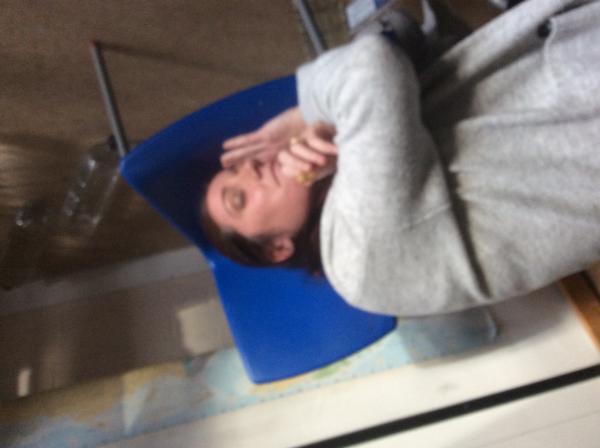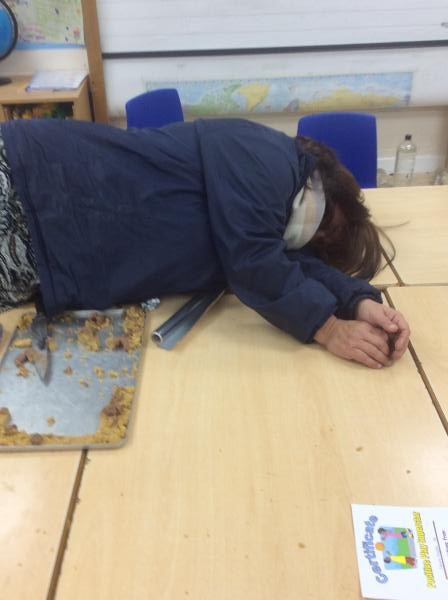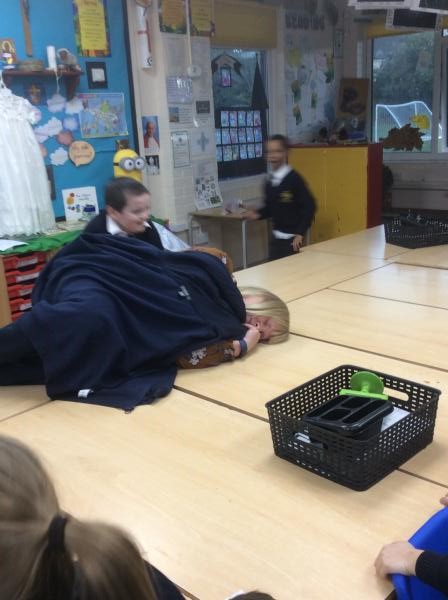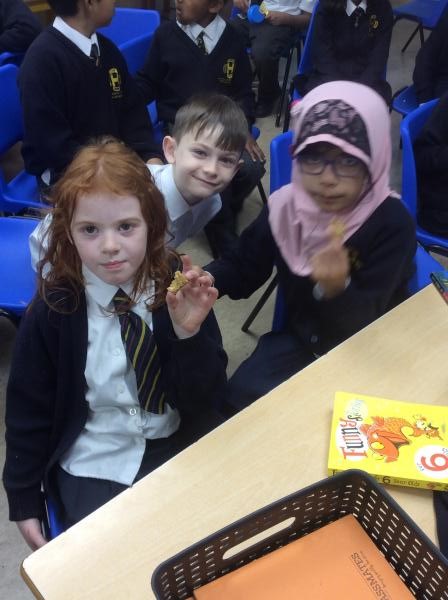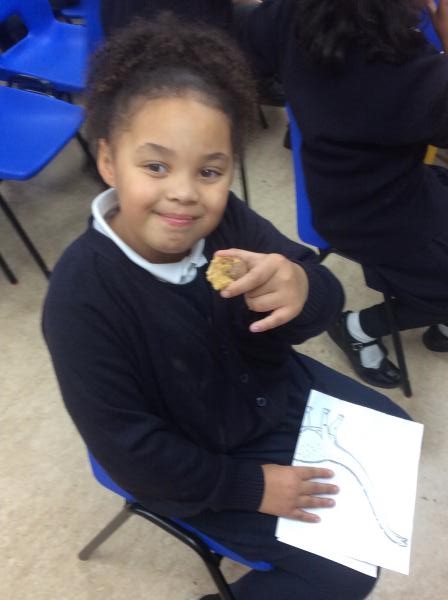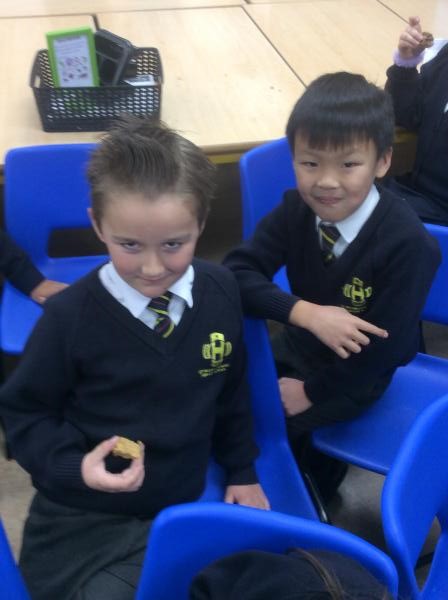 Year 3 had an amazing day at Priory Park investigating different ways of keeping healthy and fit.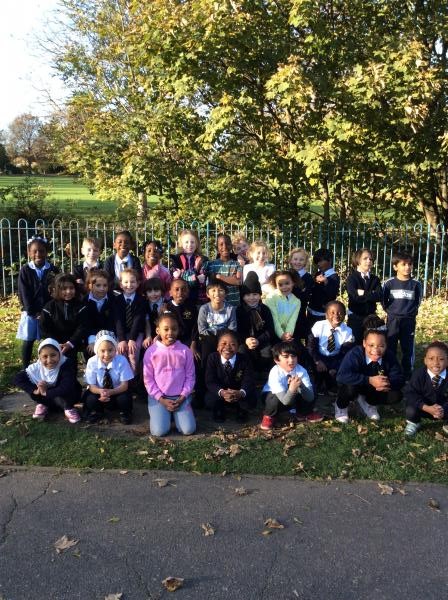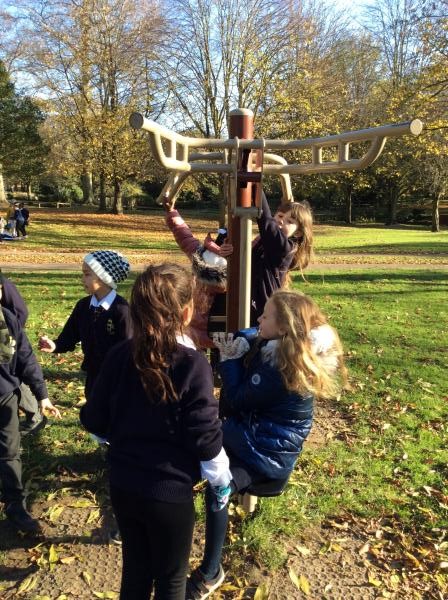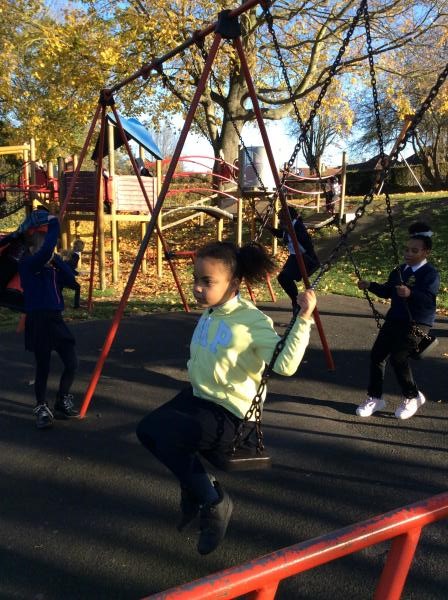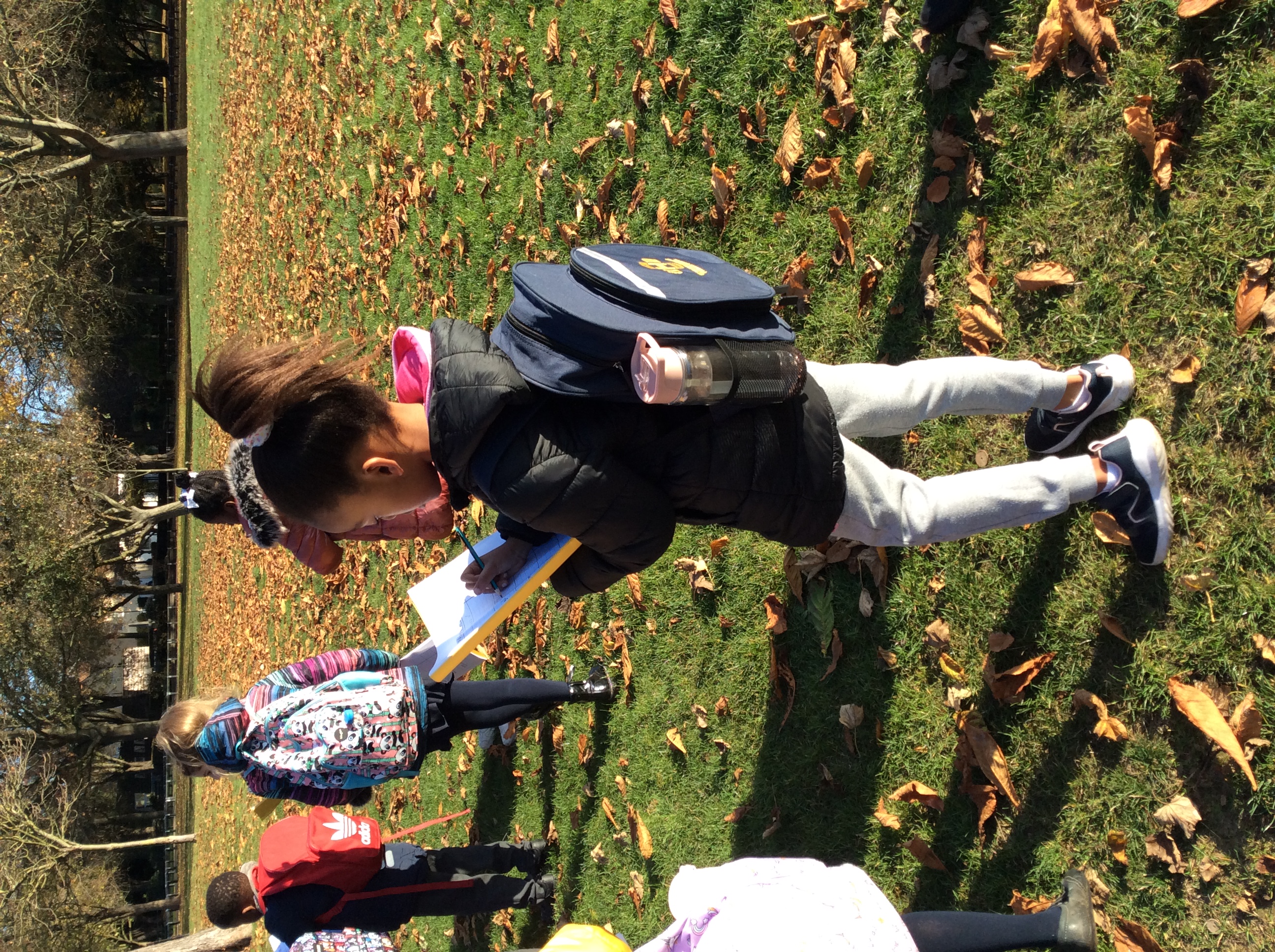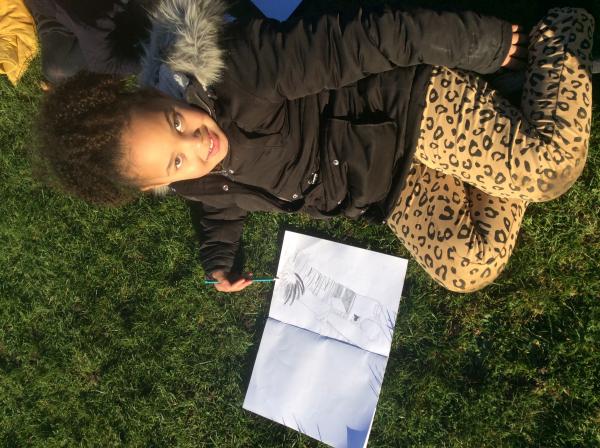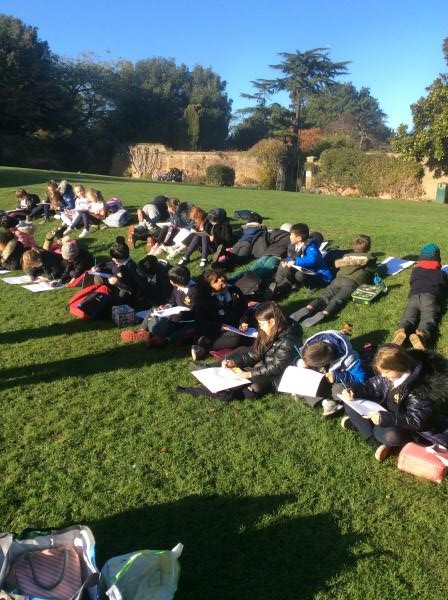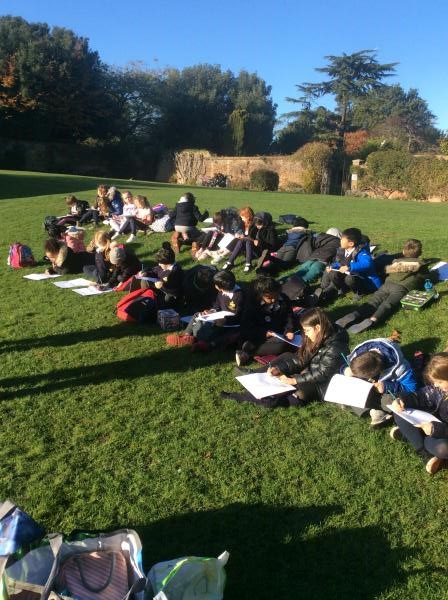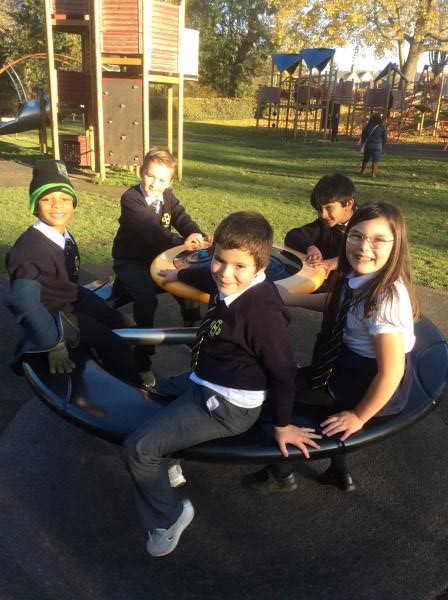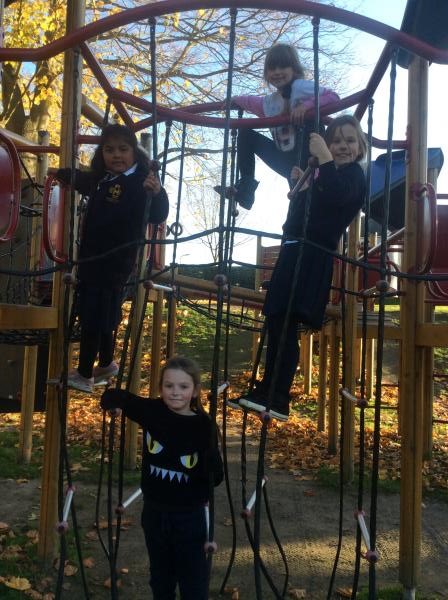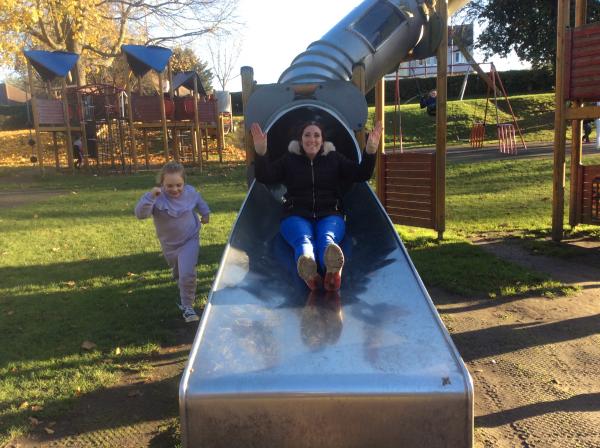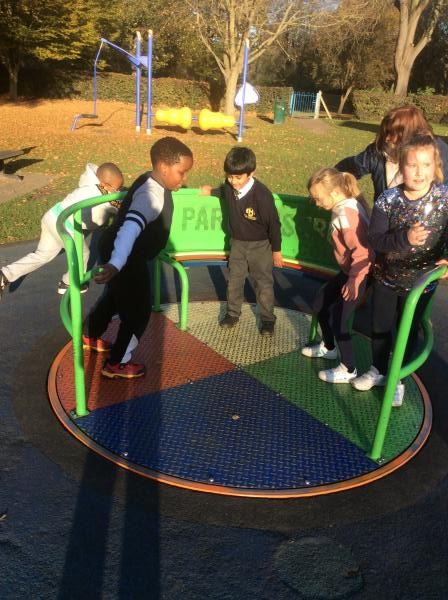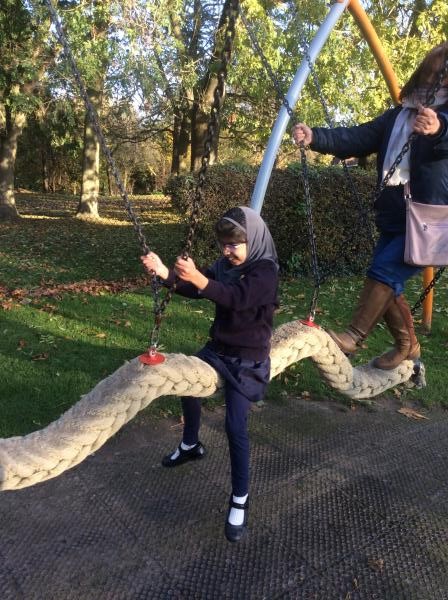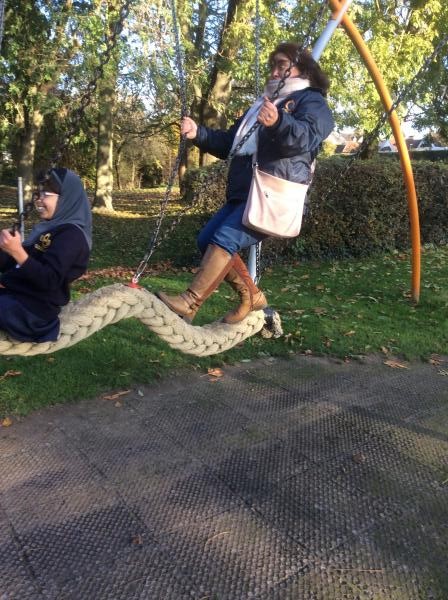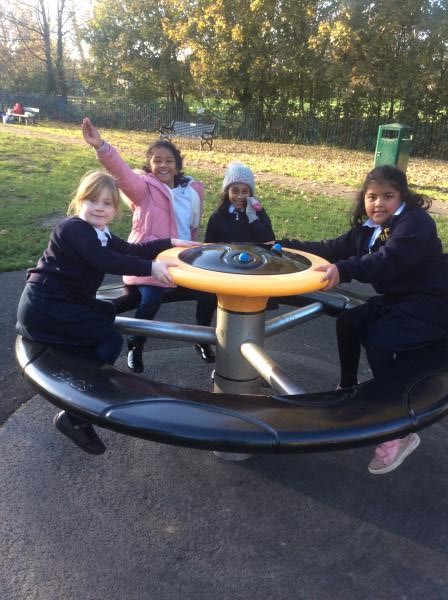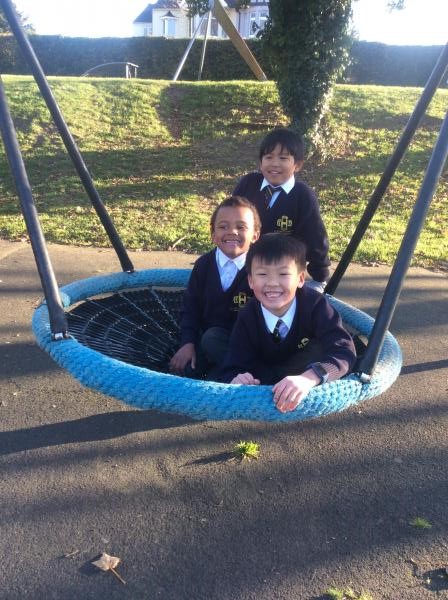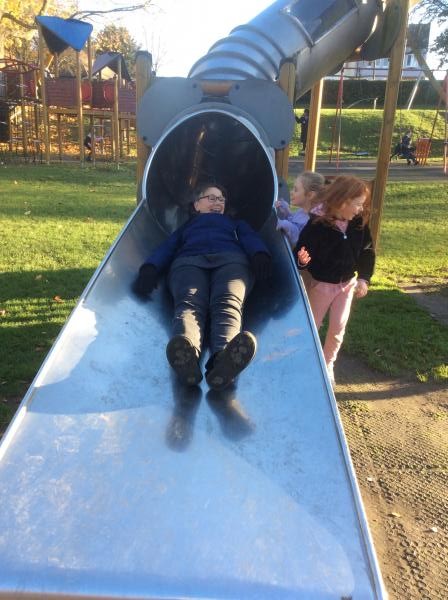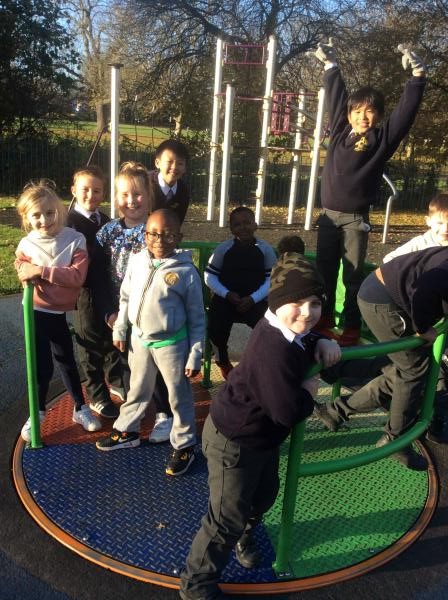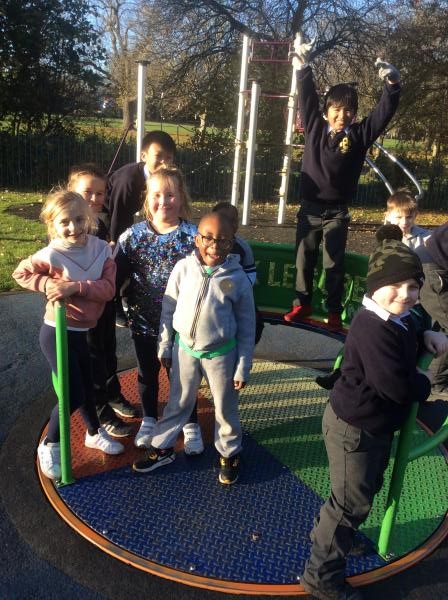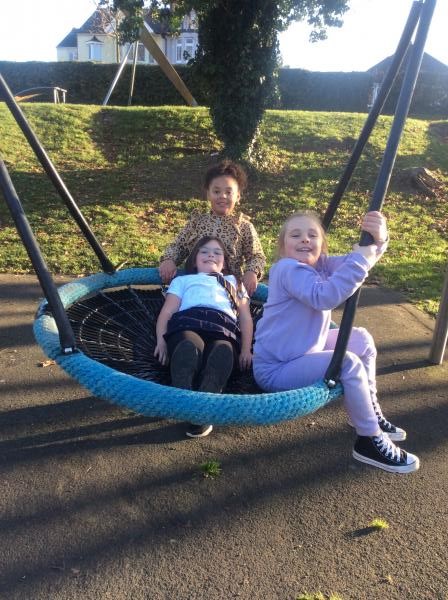 Year 3 Robins had a whole day linking their Science, DT, Art and Literacy this week
We have been looking at instructions and all the features needed for writing.
In science the children have been learning about the different food groups and how to stay healthy. In Dt they used a range of tools to prepare vegetables, scraper, peeler and knife under supervision.
In Art the children used their observational skills to look closely at the vegetables and sketched them in their sketch books.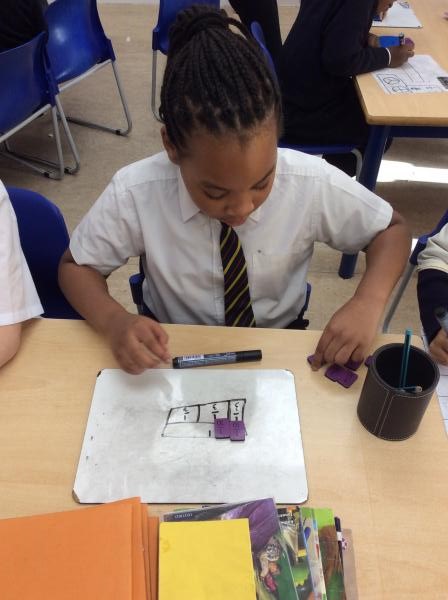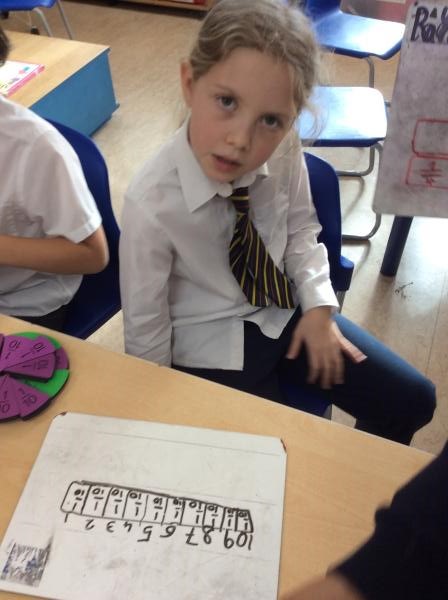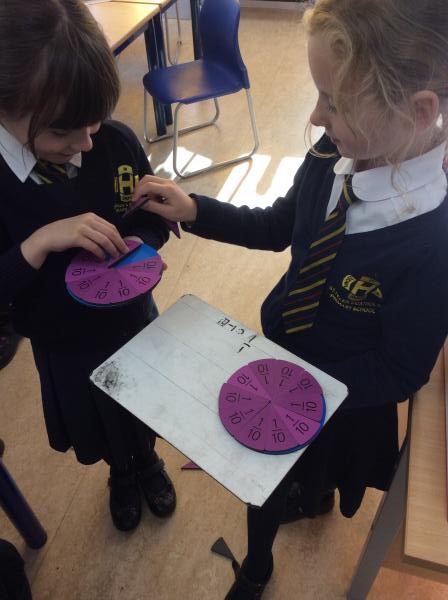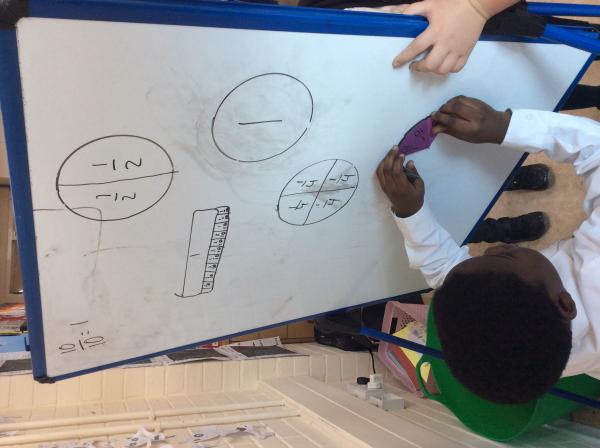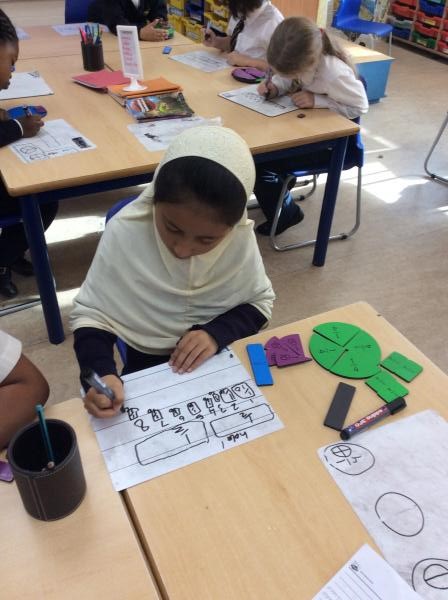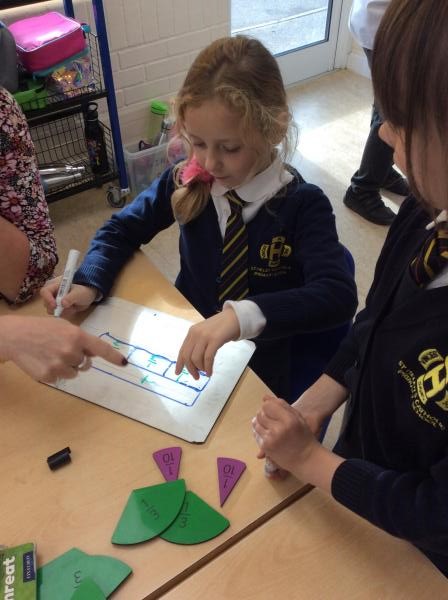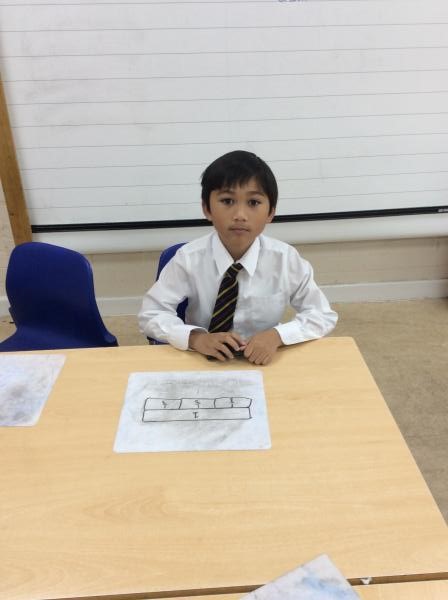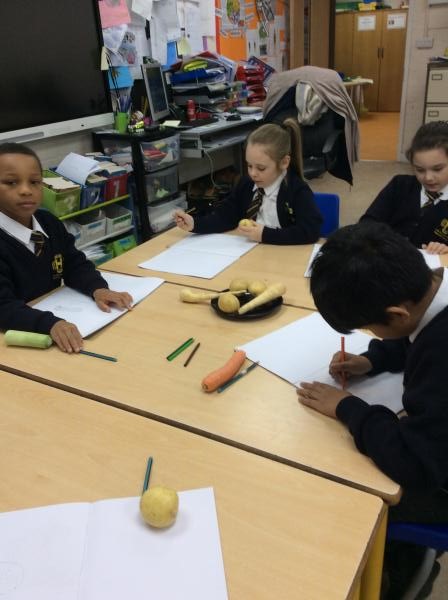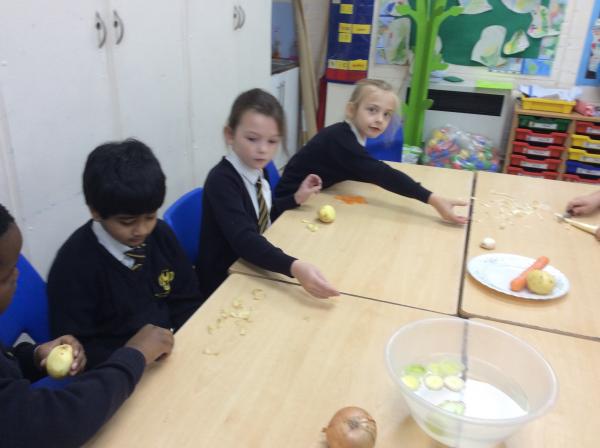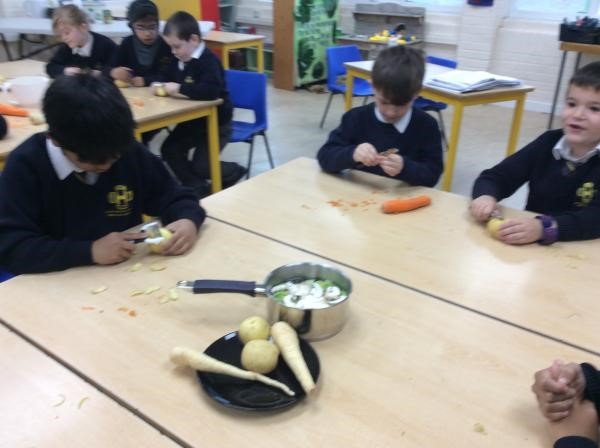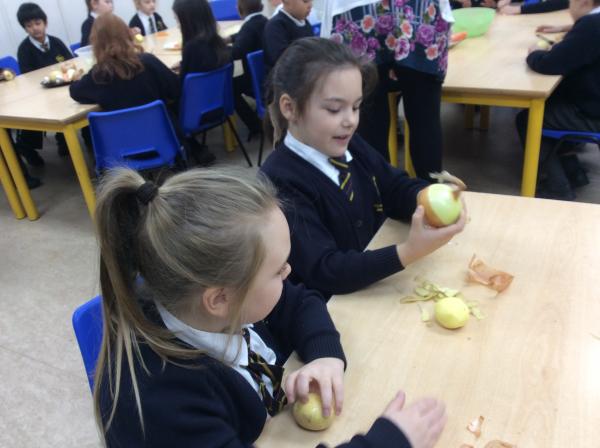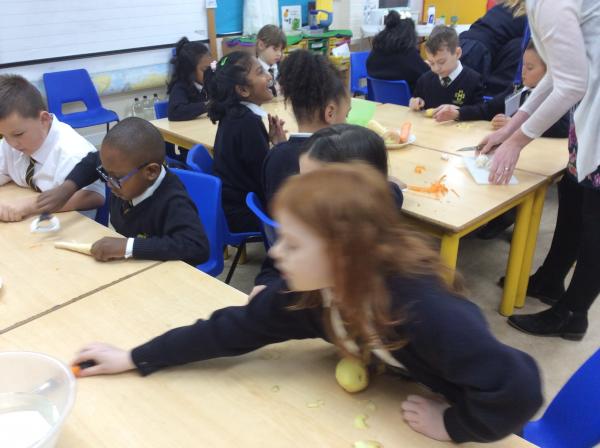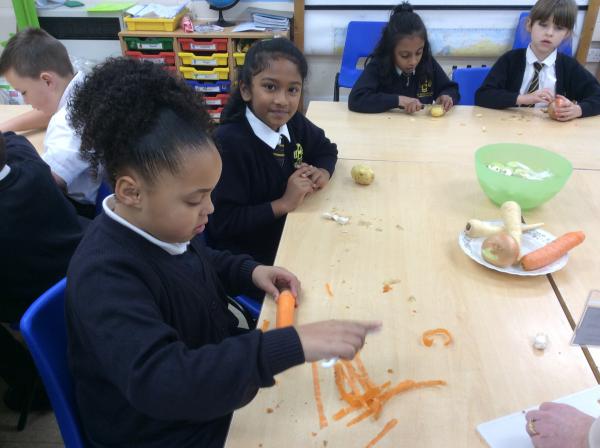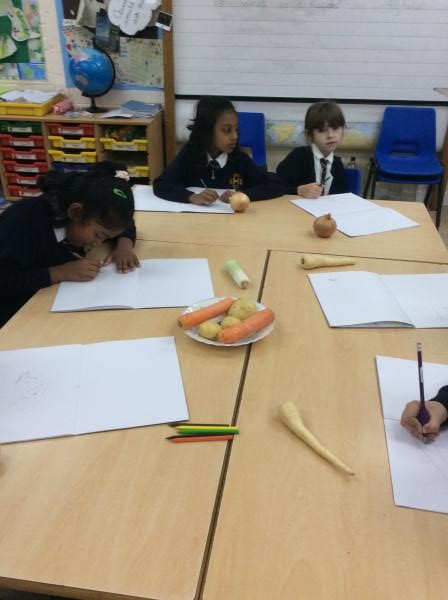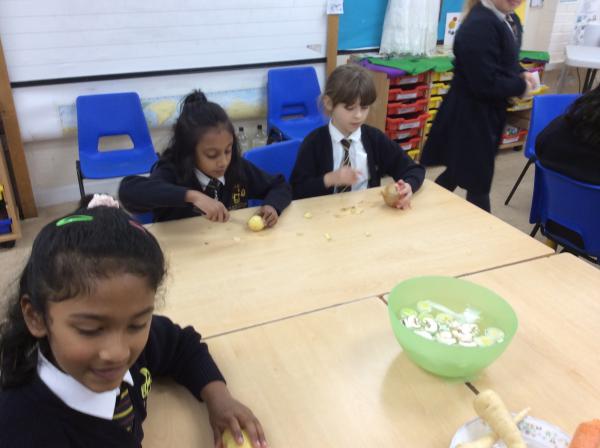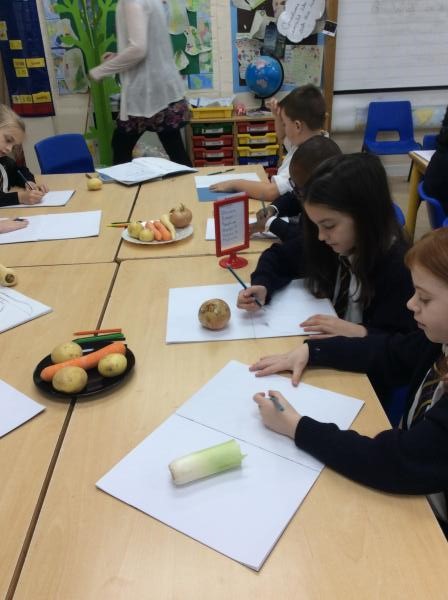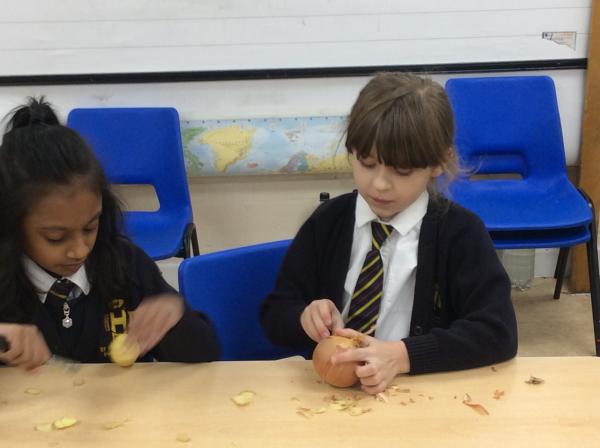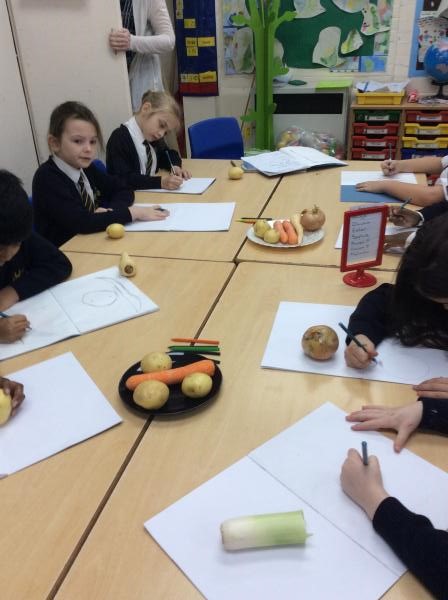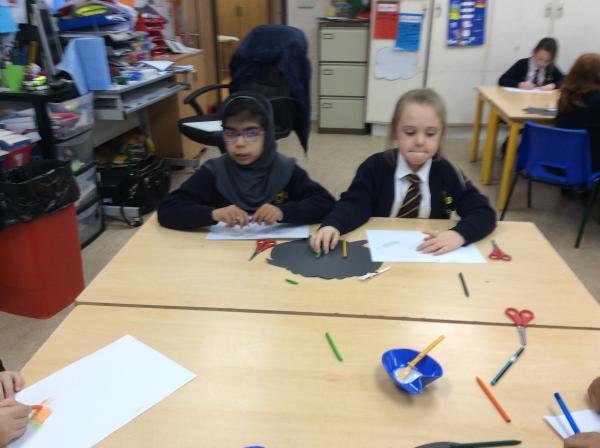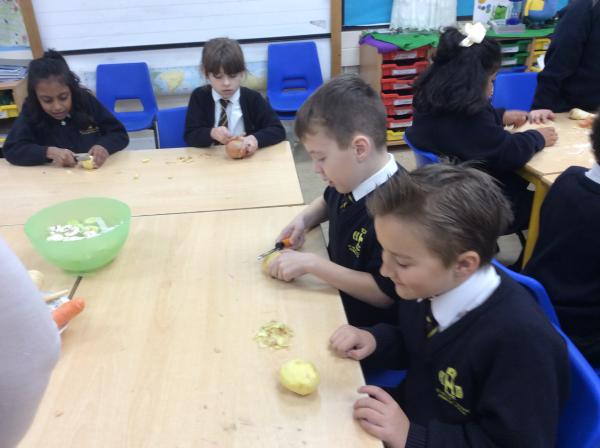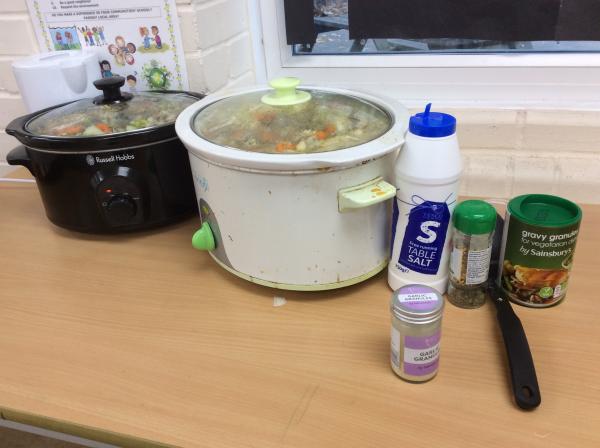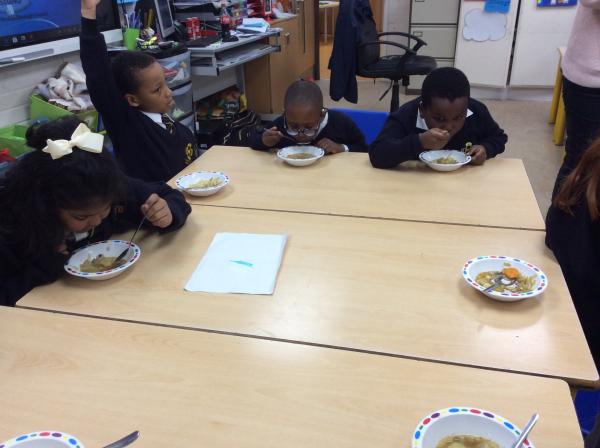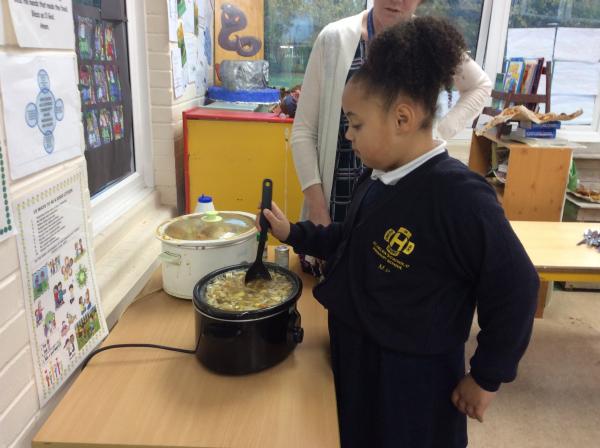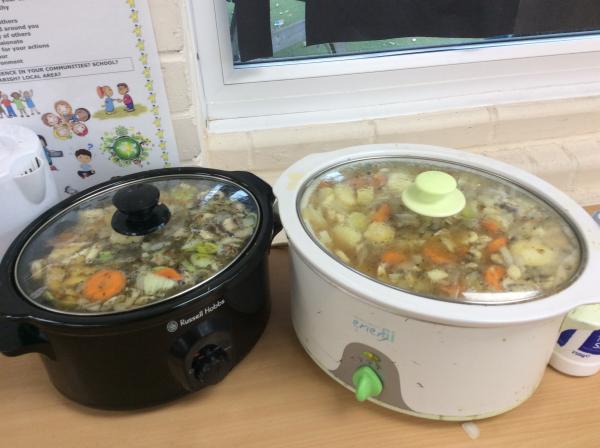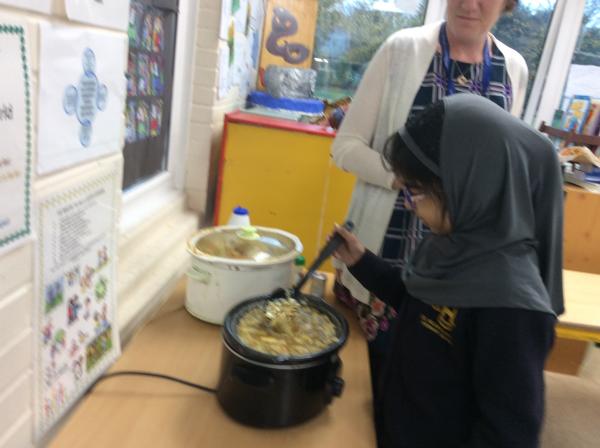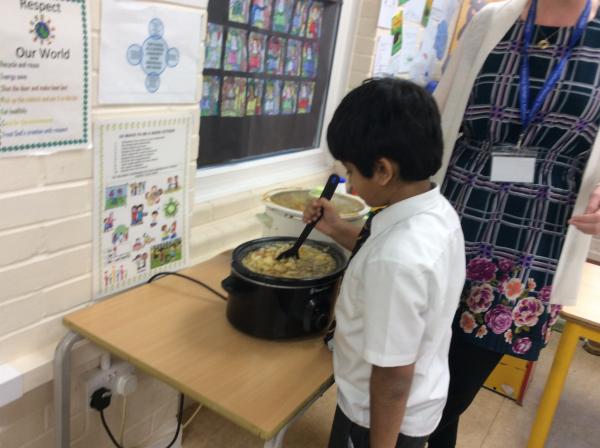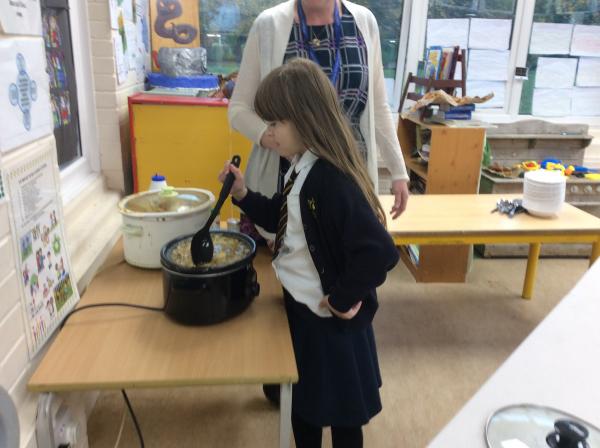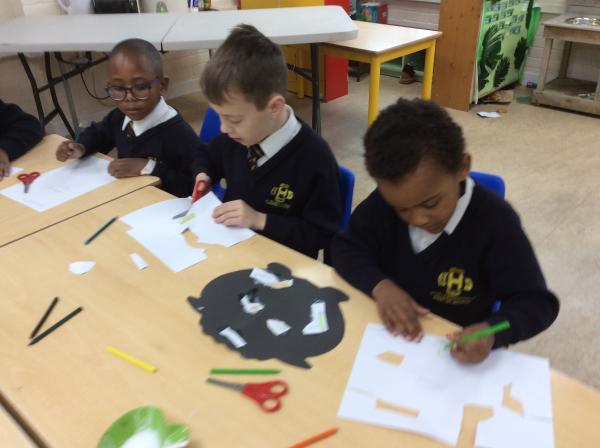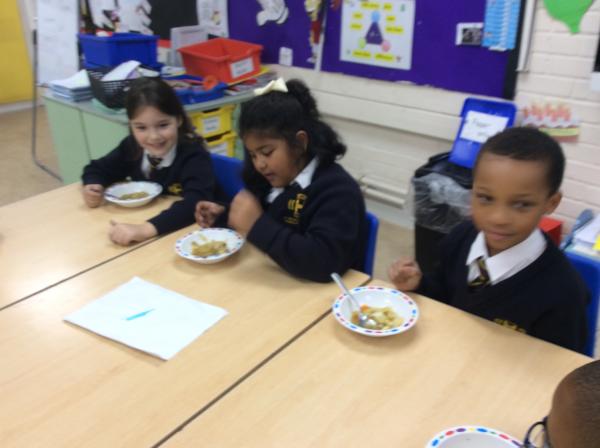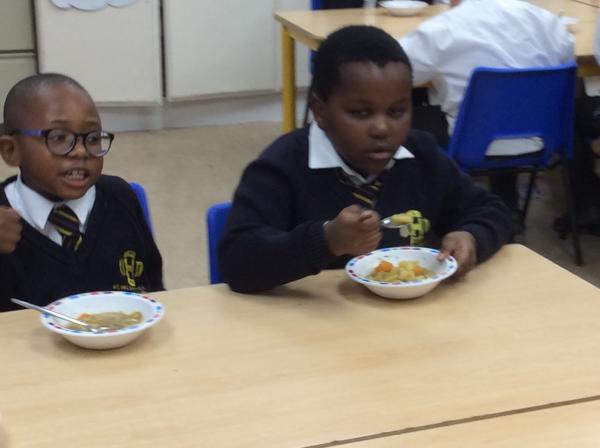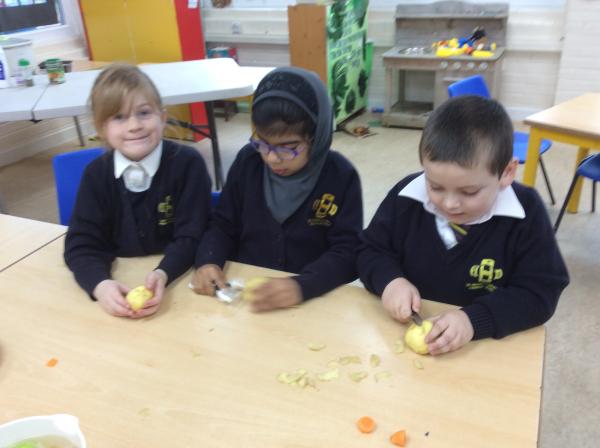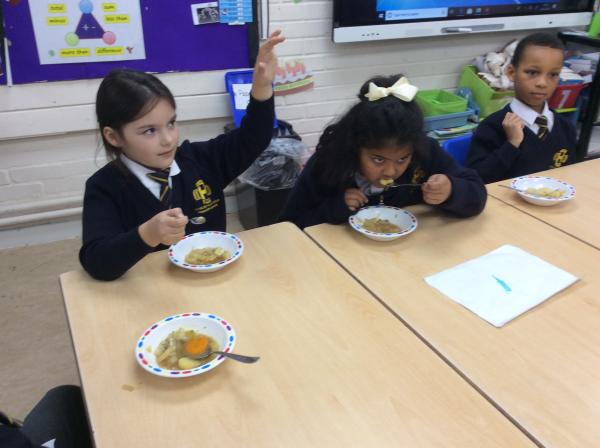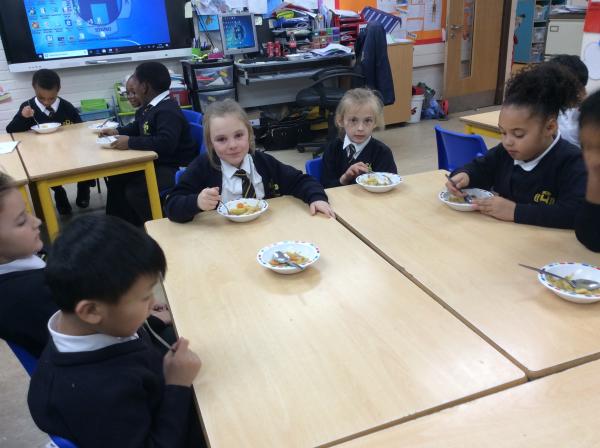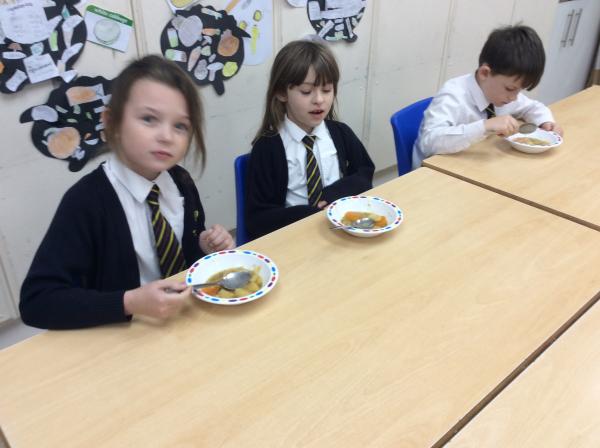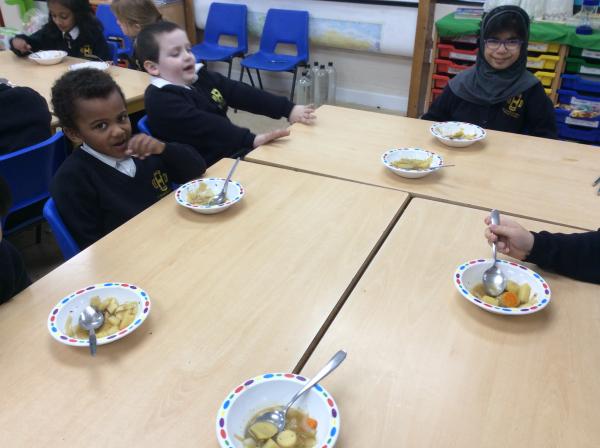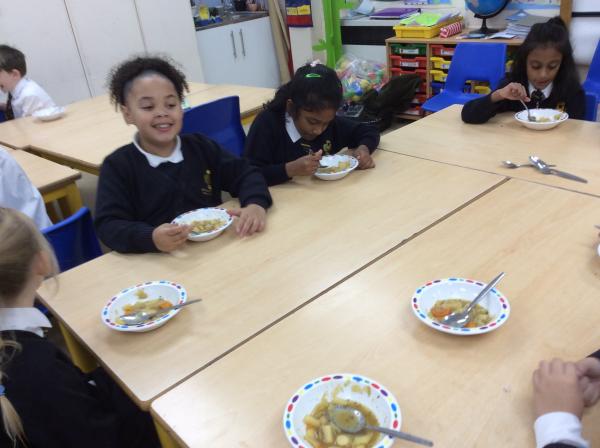 Year 3 Robins have been investigating Jewish artefacts and learning about the inside of a synagogue.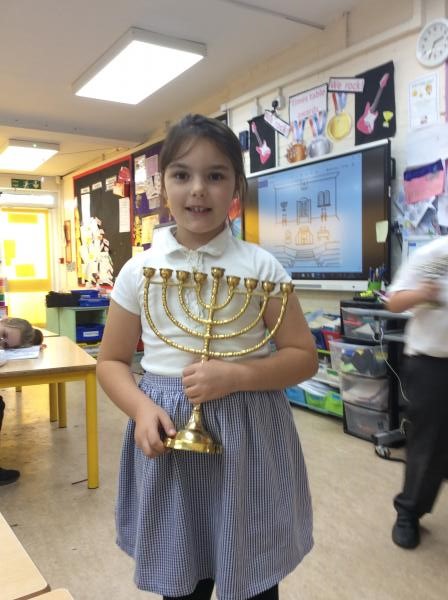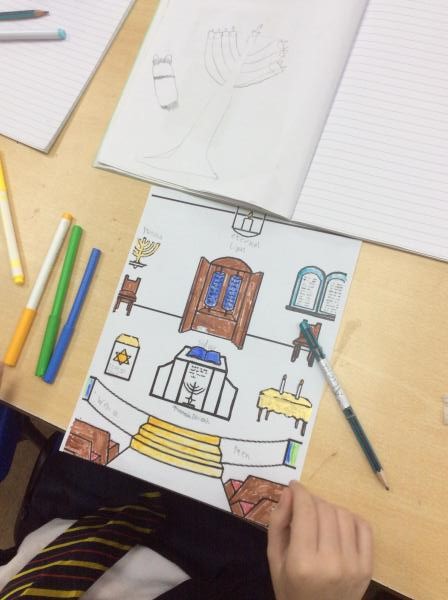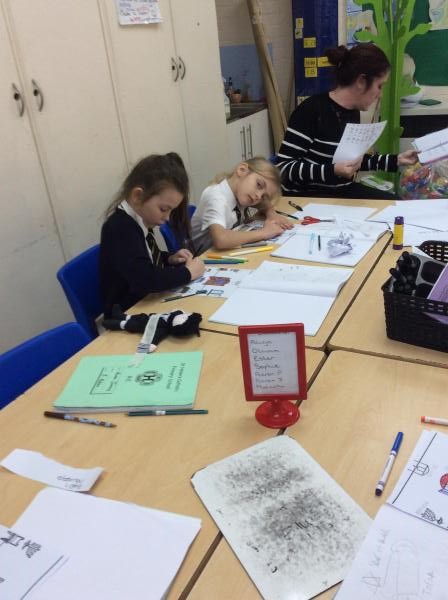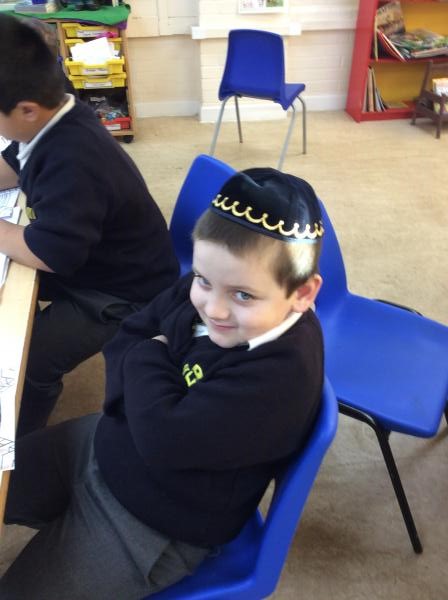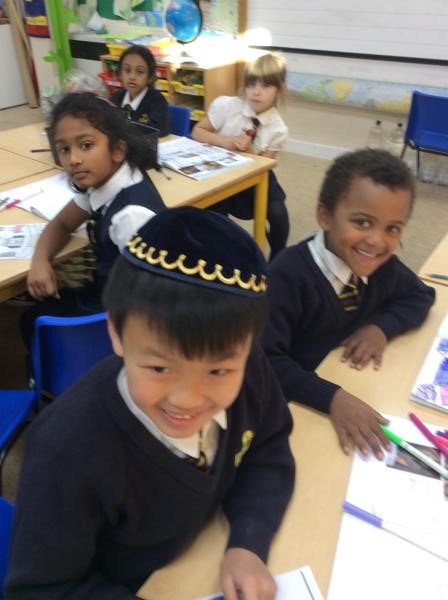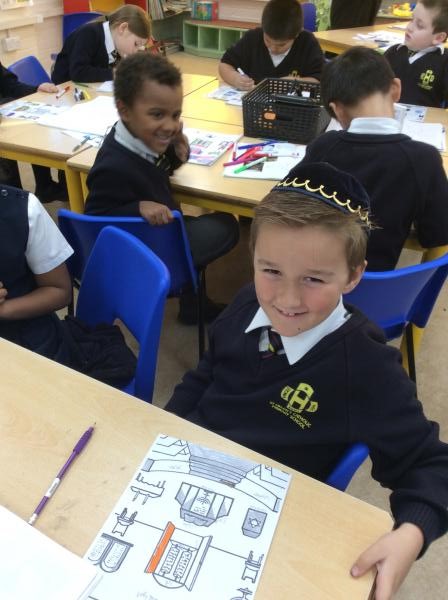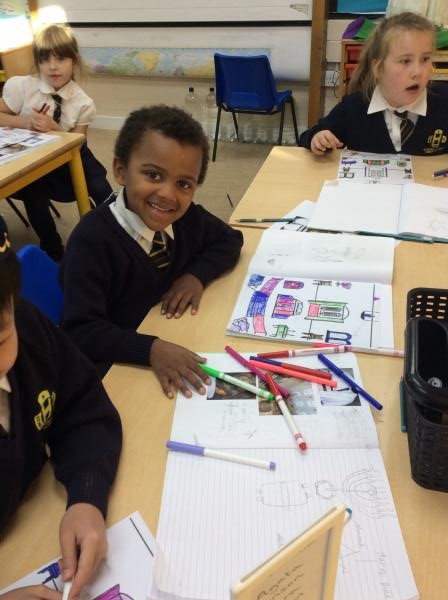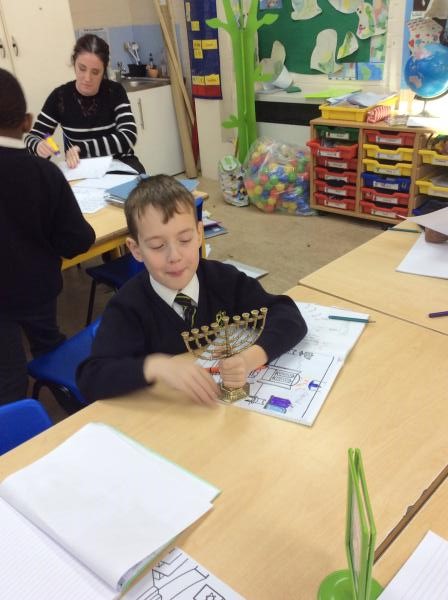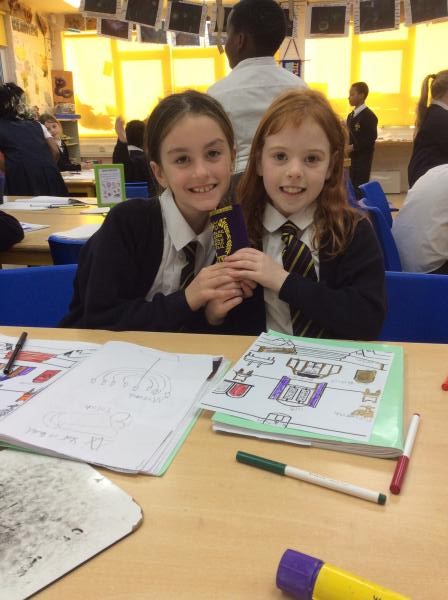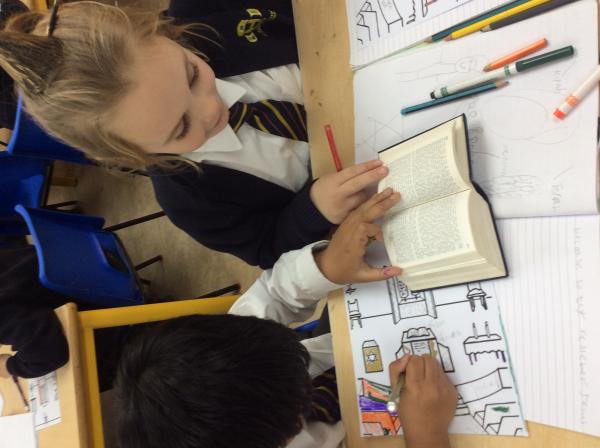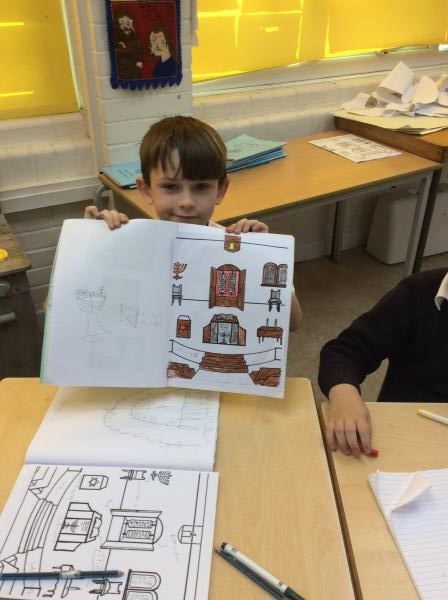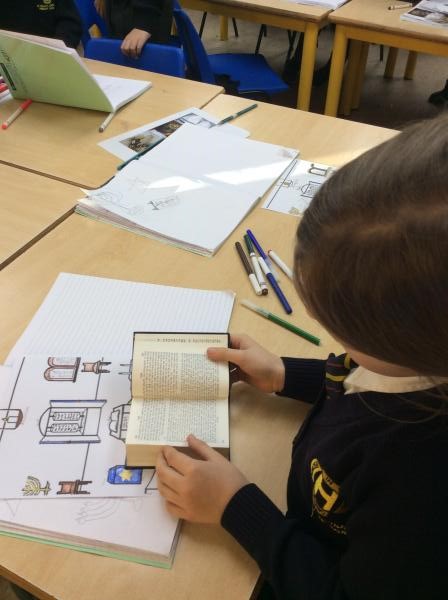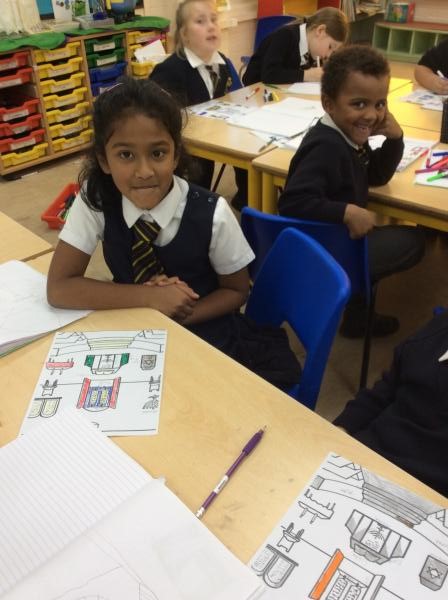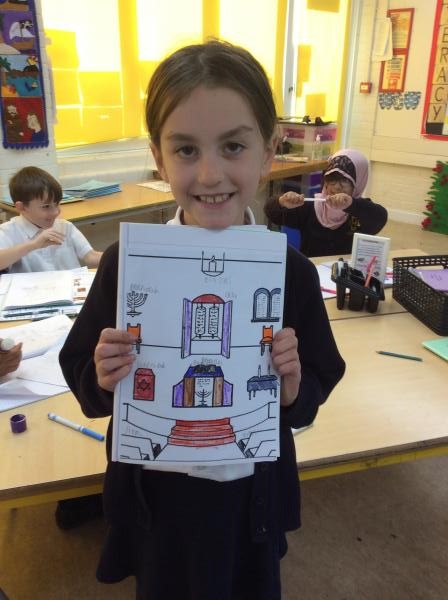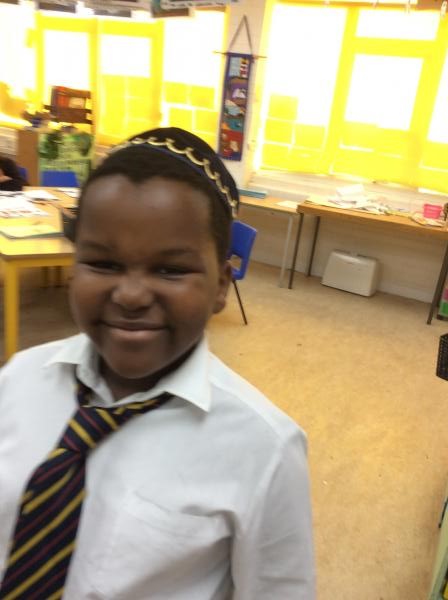 3 Robins Skeleton Quiz
3 Robins had fun creating skeletons using different shaped pasta. We used conchigle for our ball and socket joints macaroni for our rib cage and penne pasta for our leg and back bones. We had so much fun!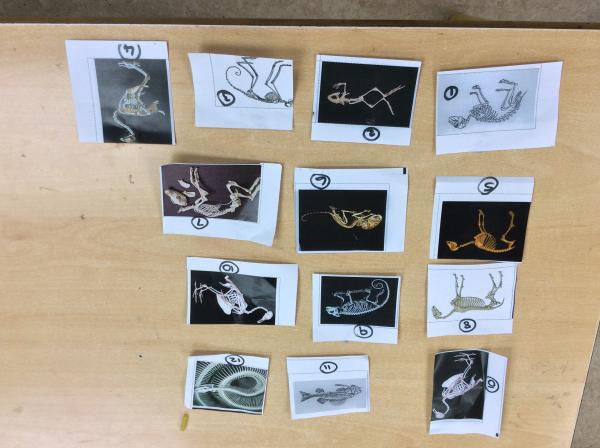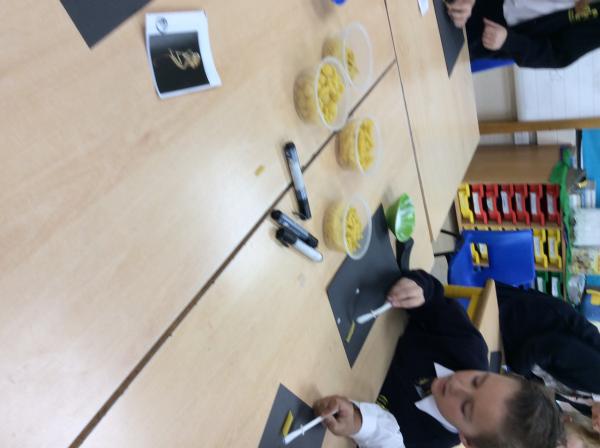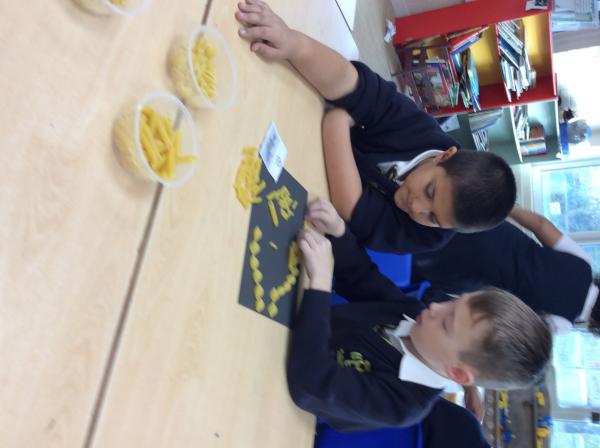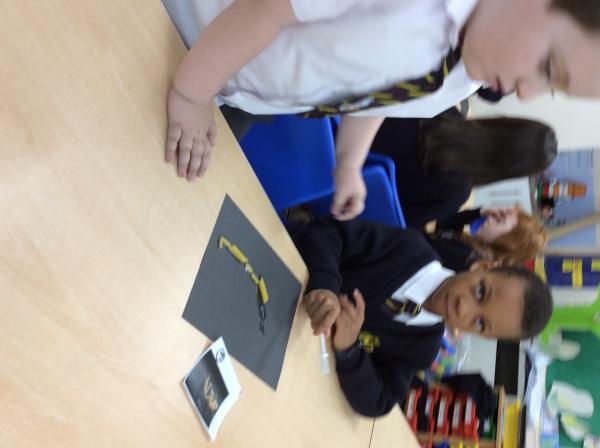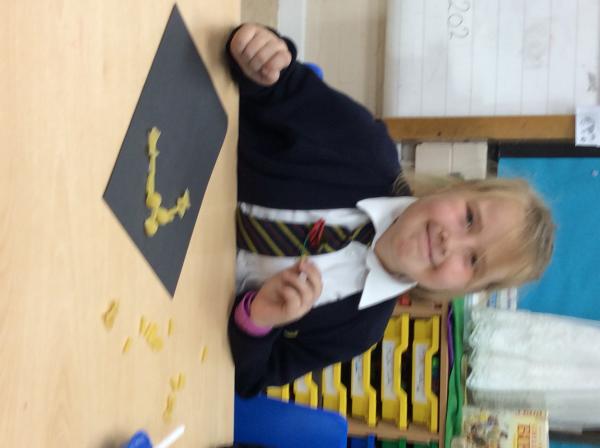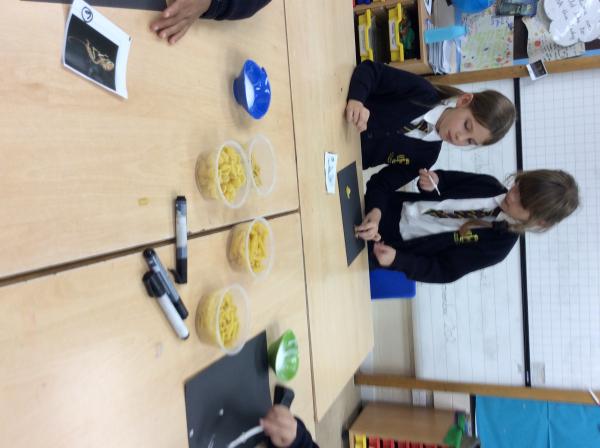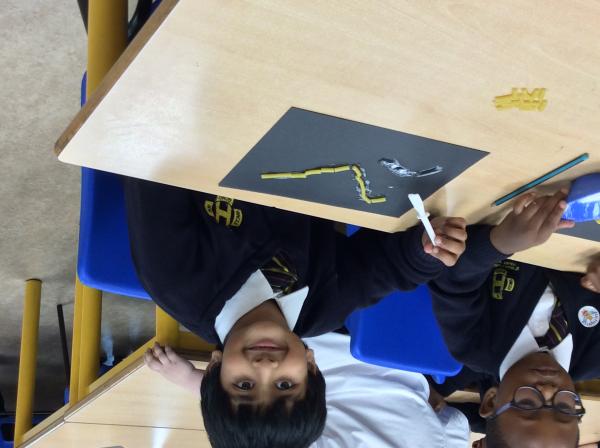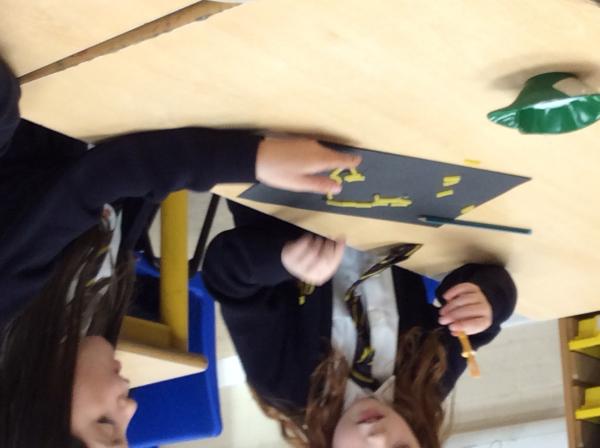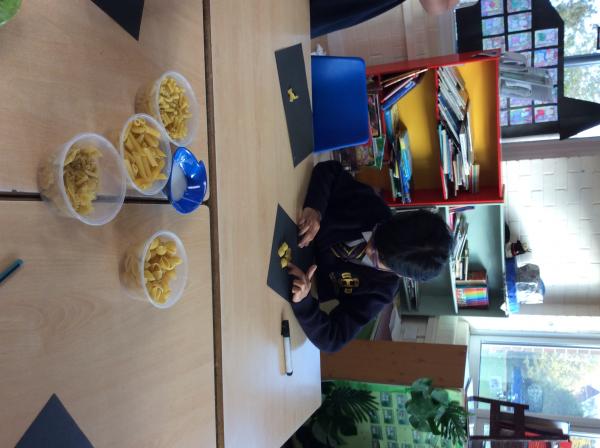 Diwali Workshops
Key stage 1 & Year 3 enjoyed the story of Rama and Sita and the festival of lights Diwali drama workshop delivered by Mrs Mason. It was a magnificent drama experience that all the children and their teachers thoroughly enjoyed.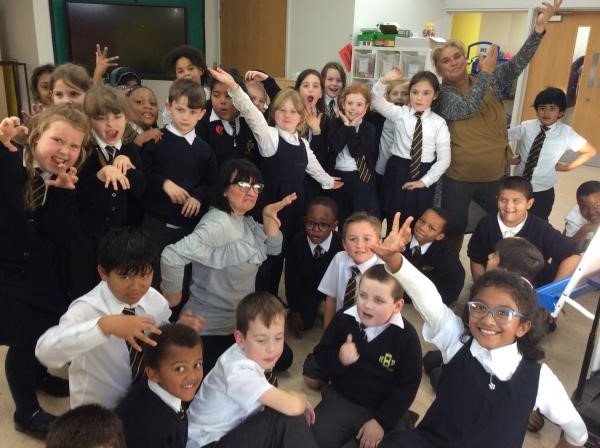 Year 3 Robins have been learning about skeletons and how they protect our organs, give us support and help us to move.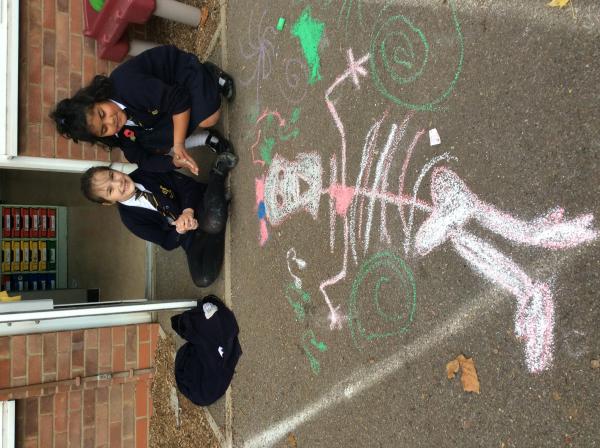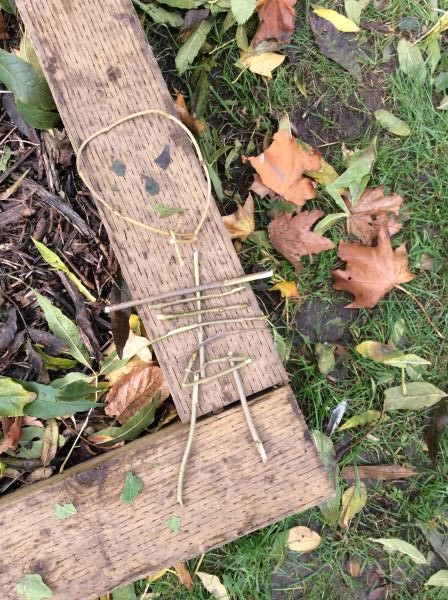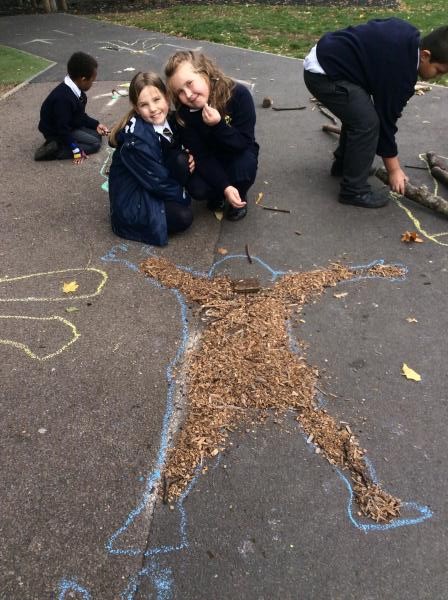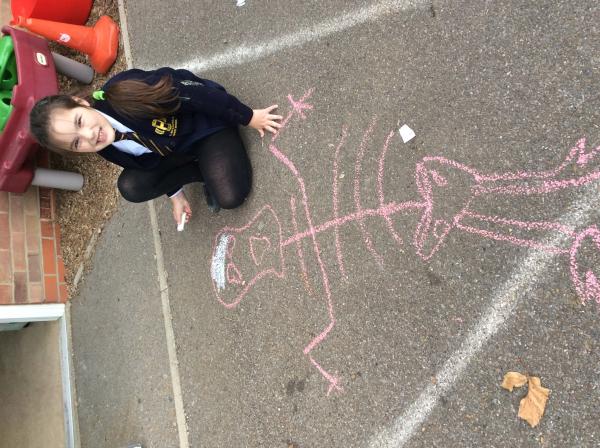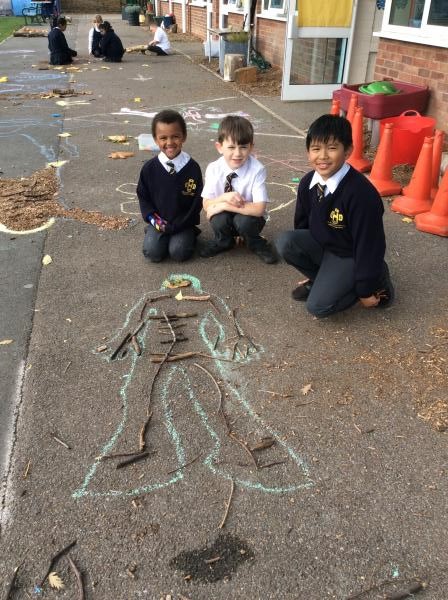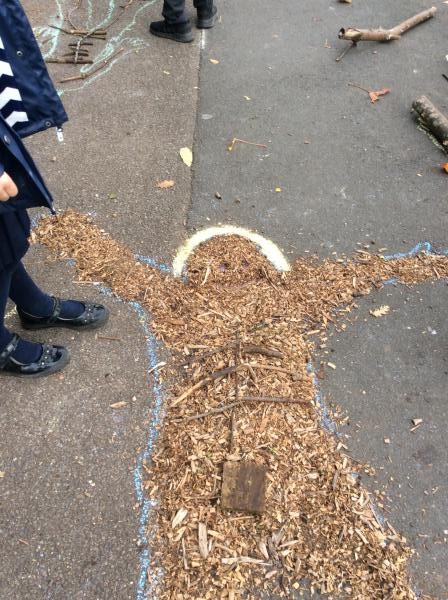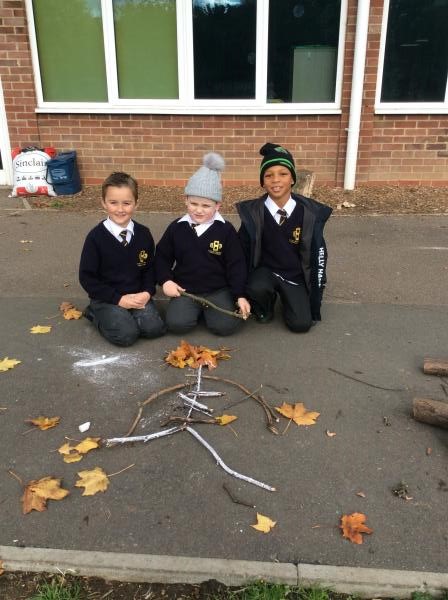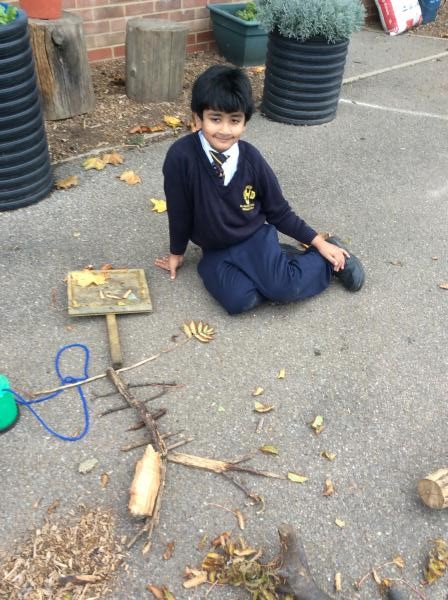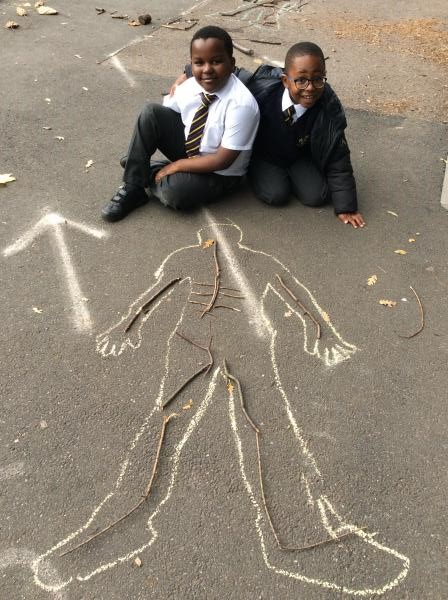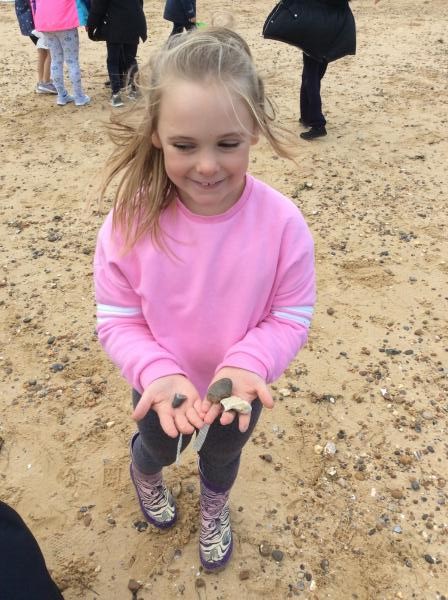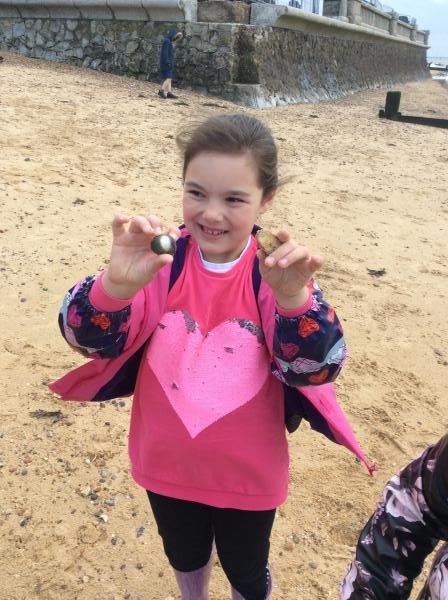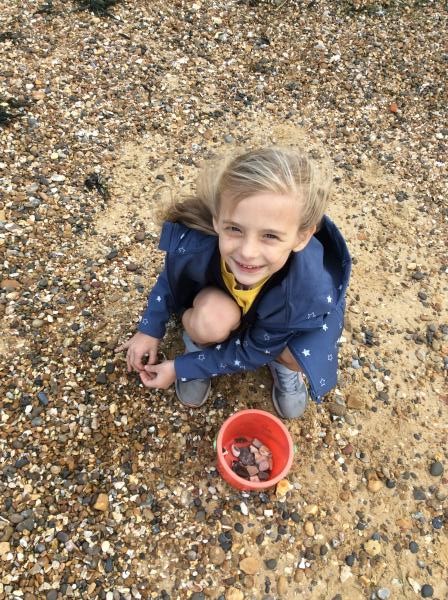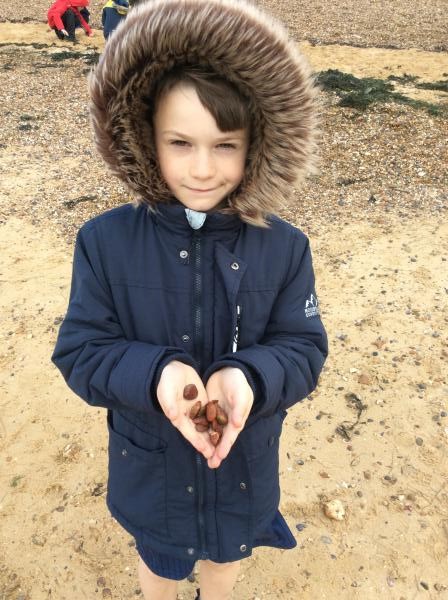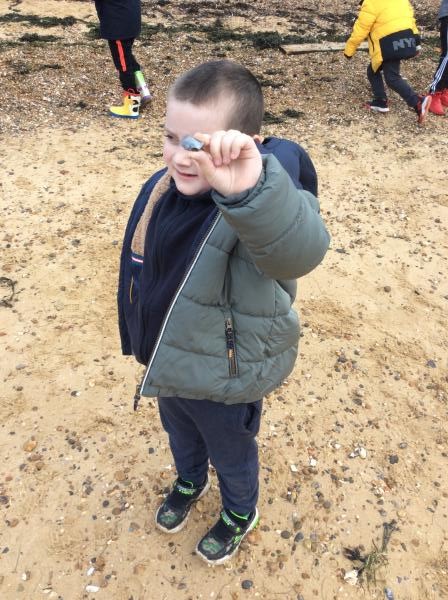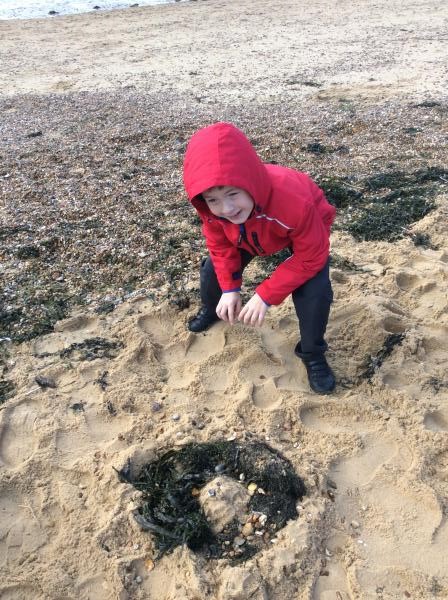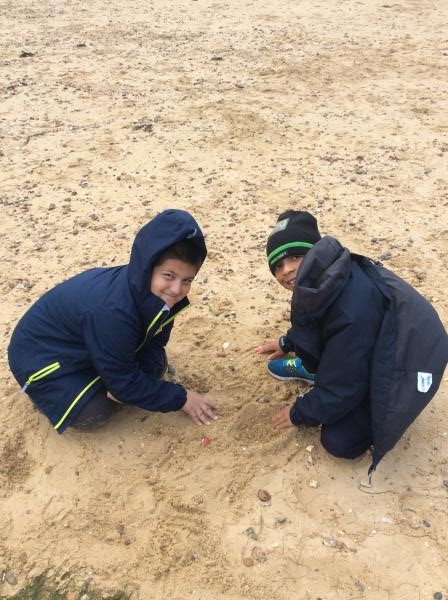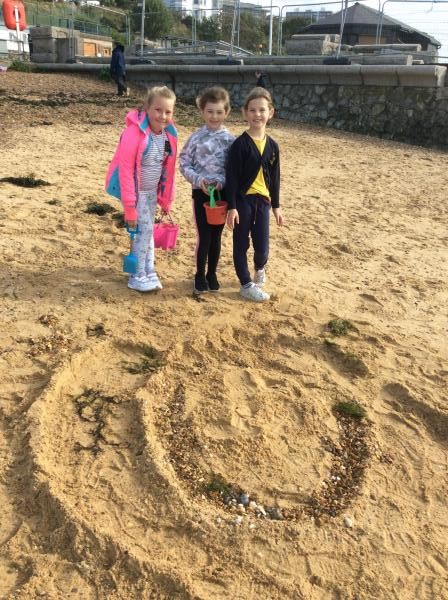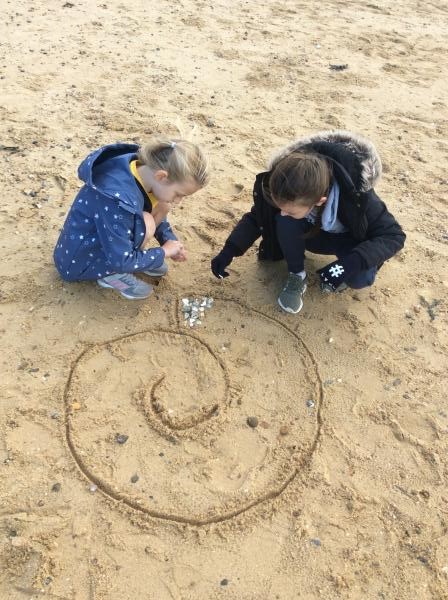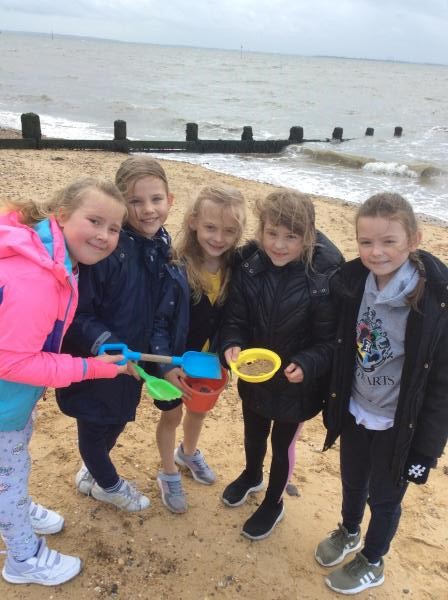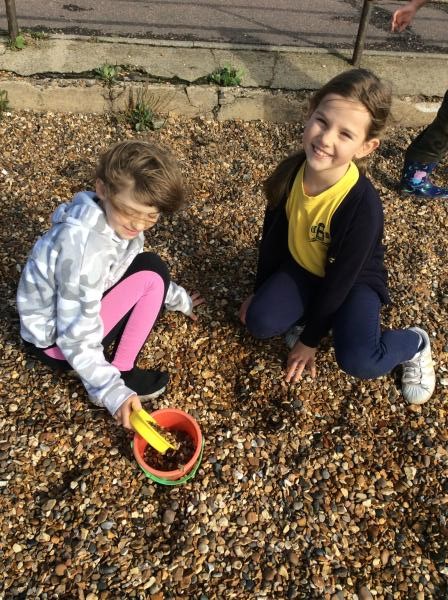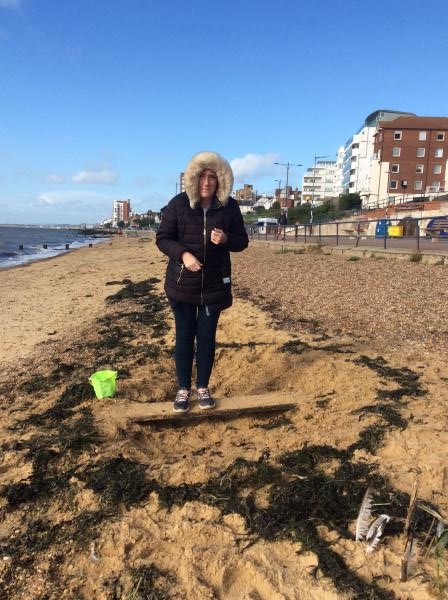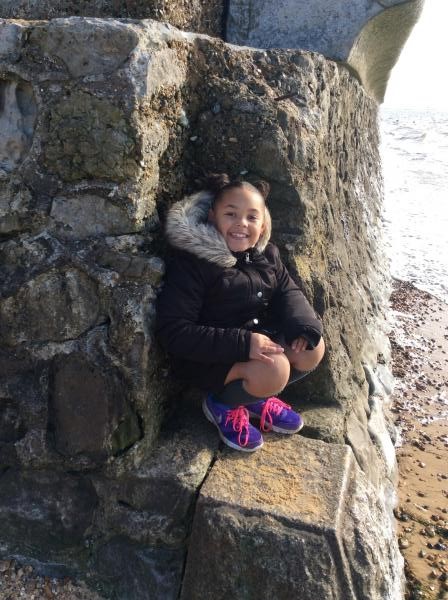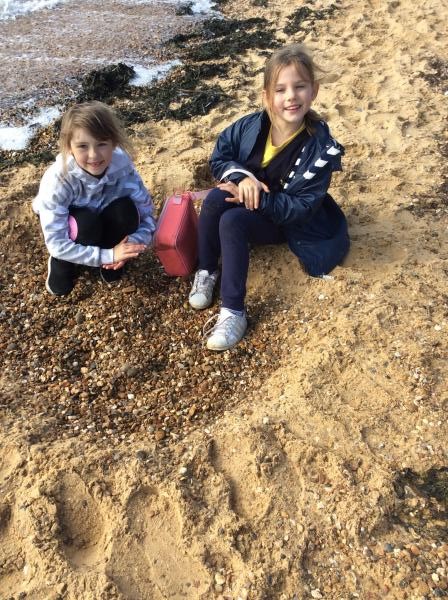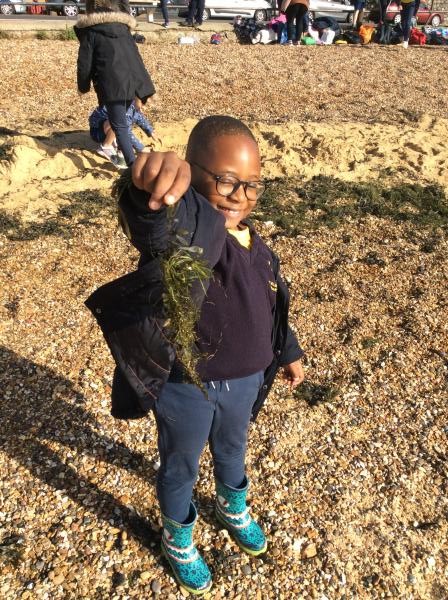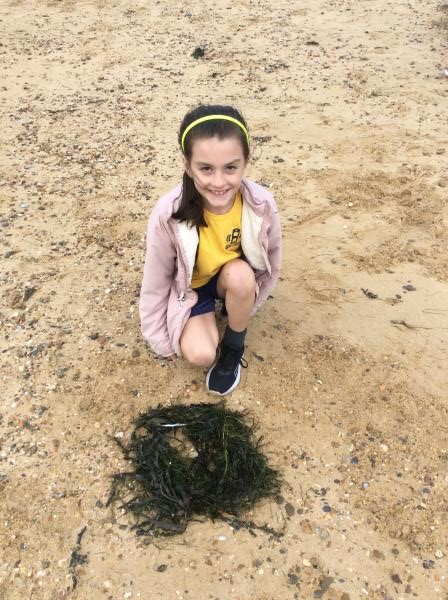 Robins making dinosaur food, soup and poo!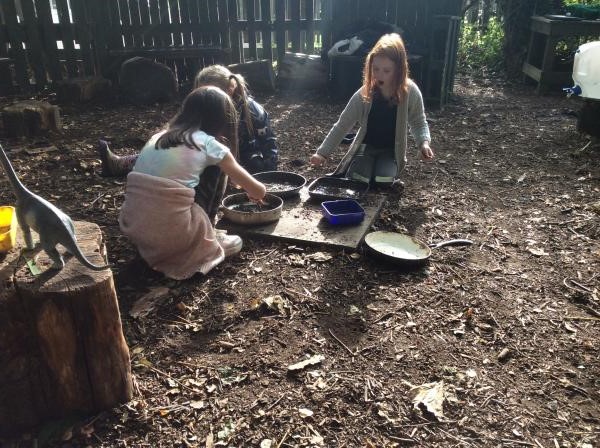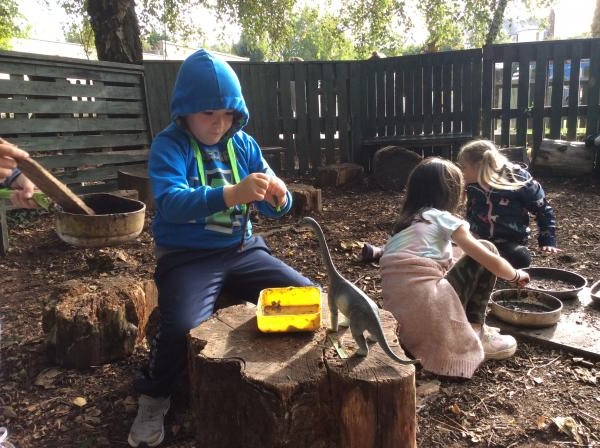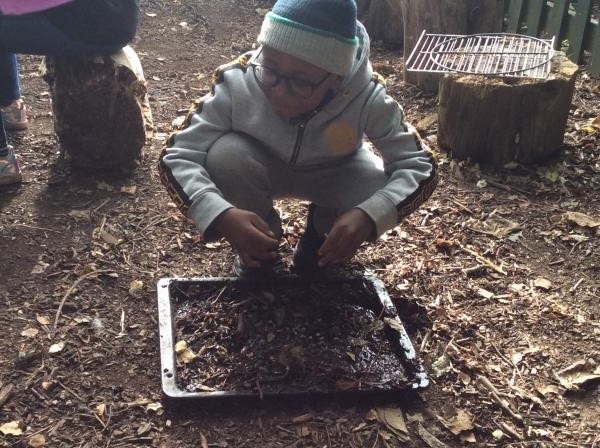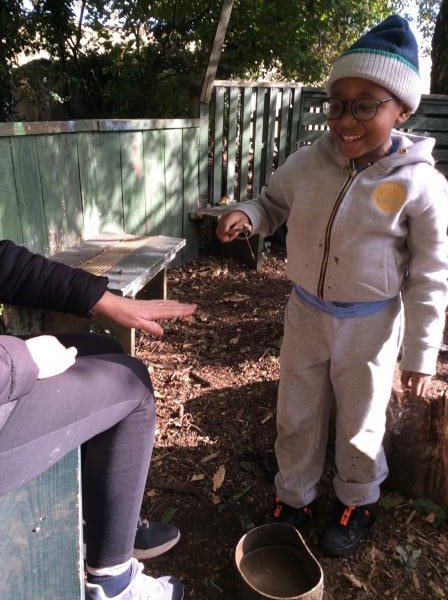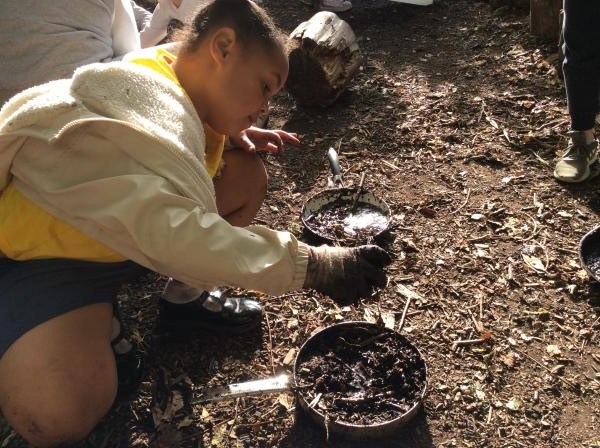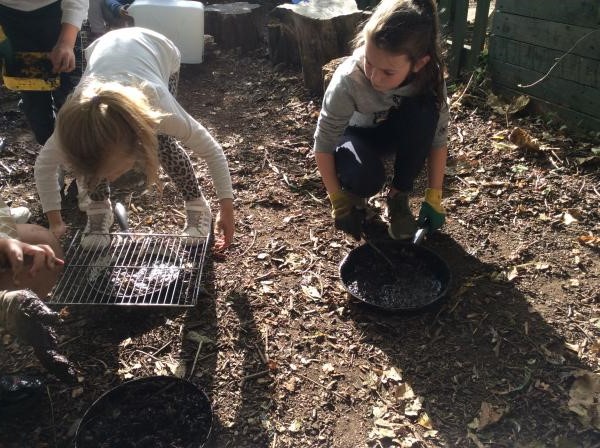 Robins Dinosaur Pictures using natural materials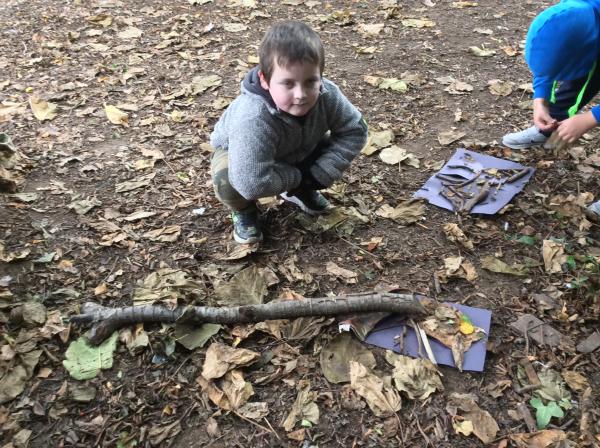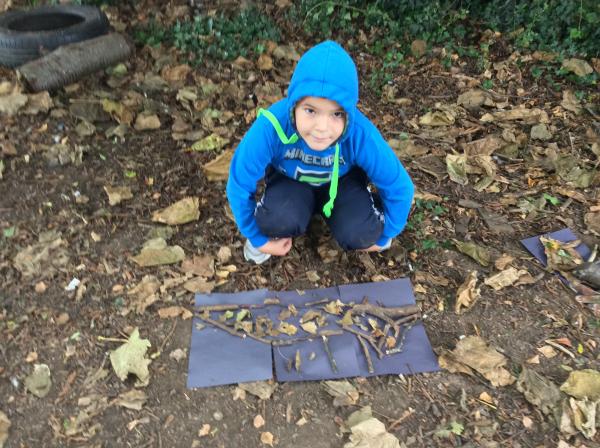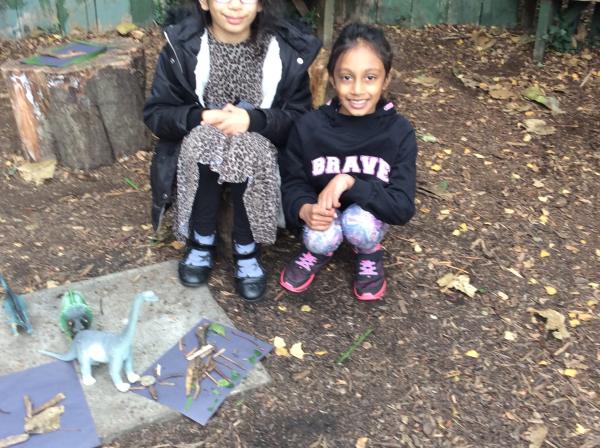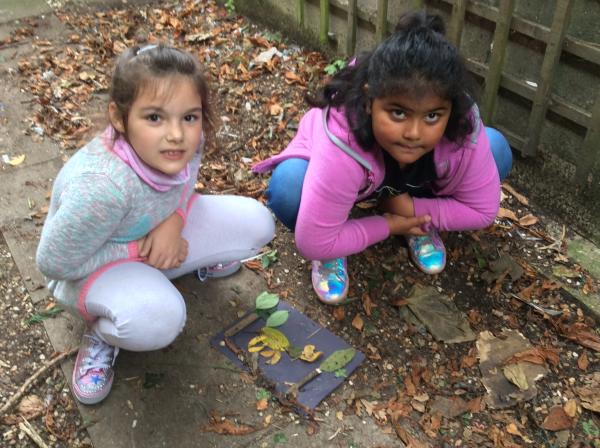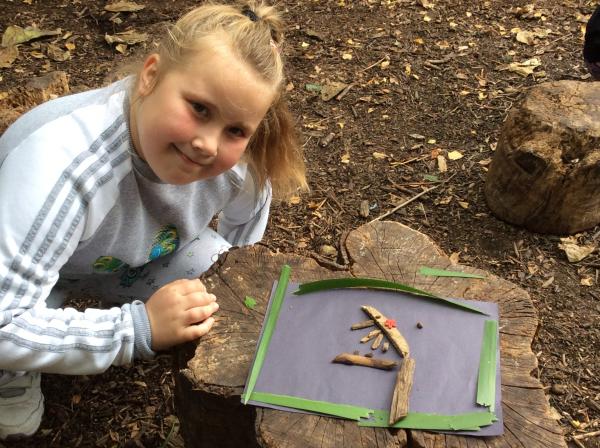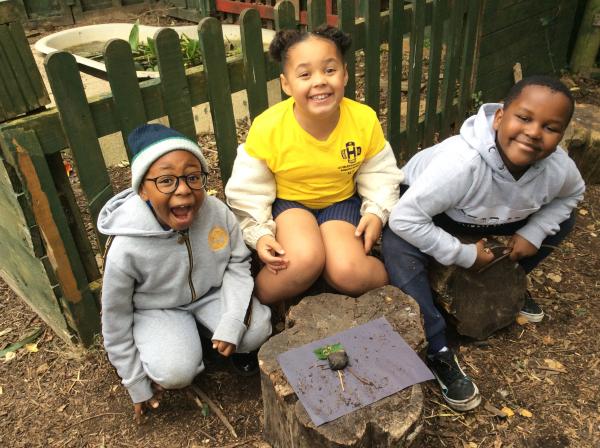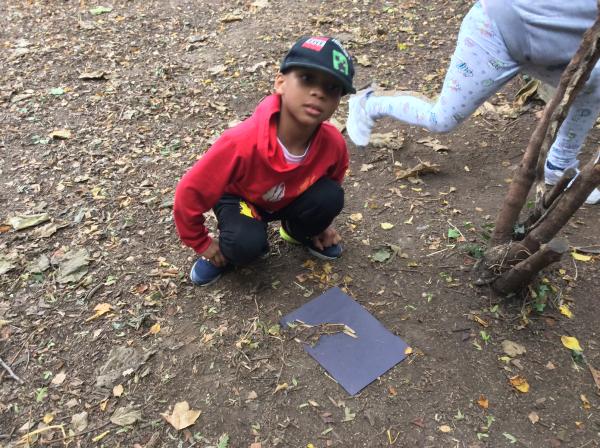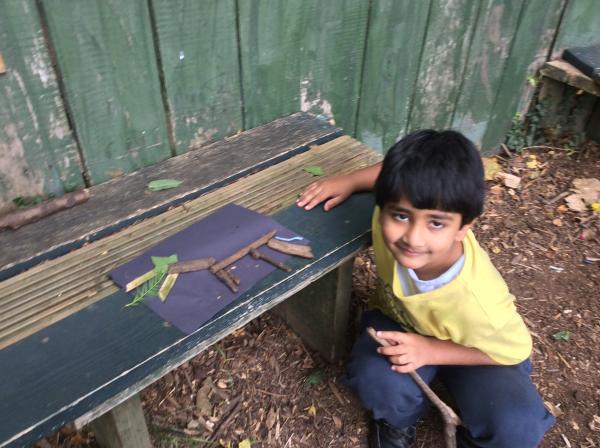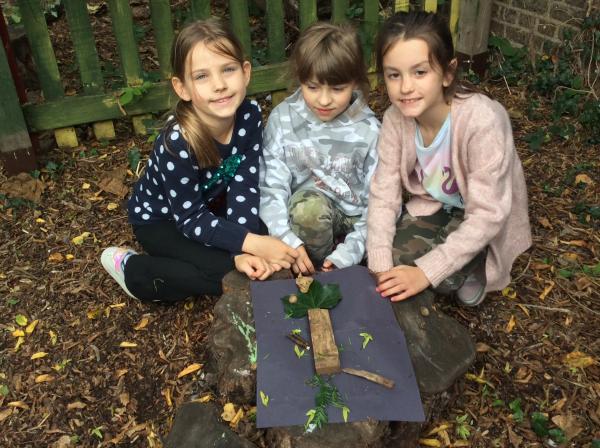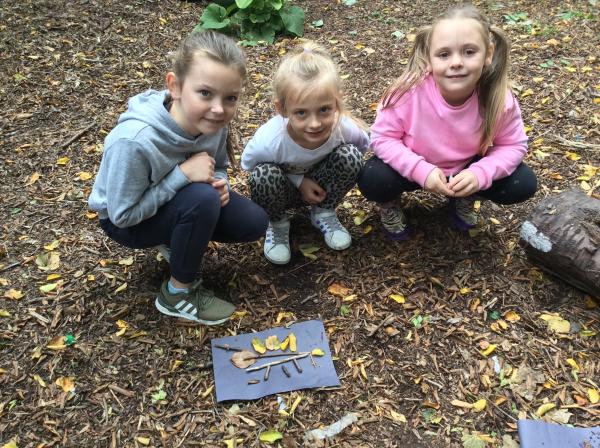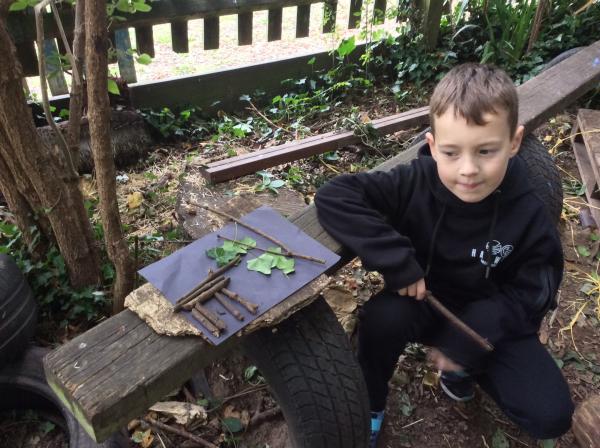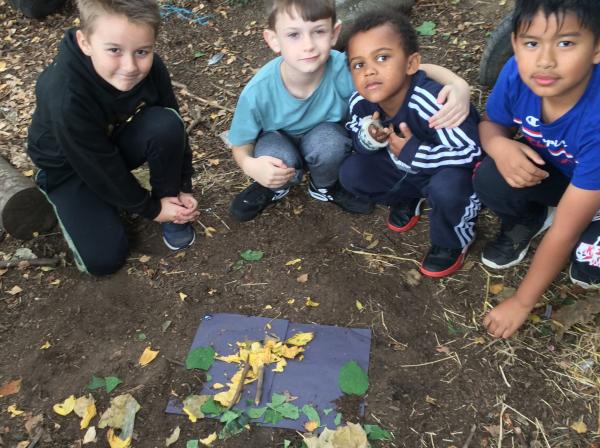 Robins Creating Dinosaur Habitats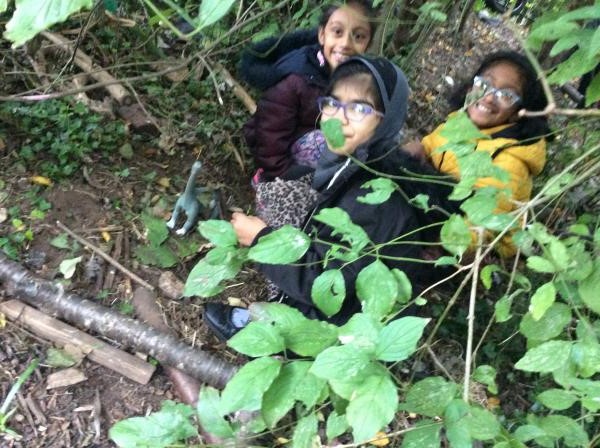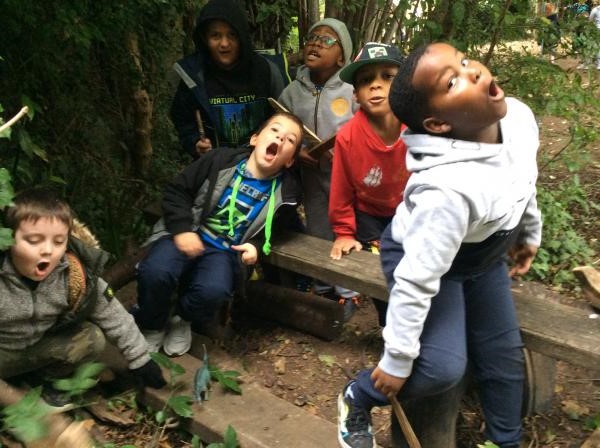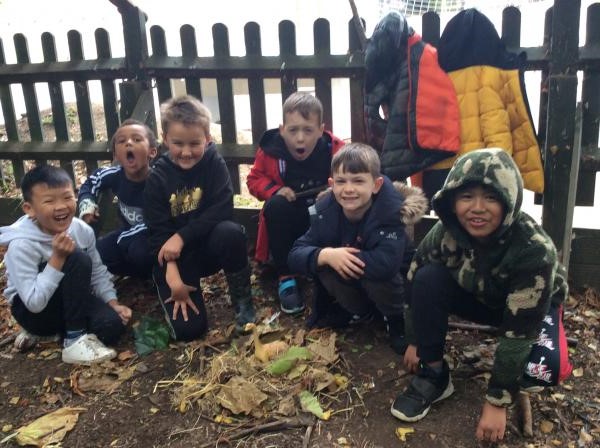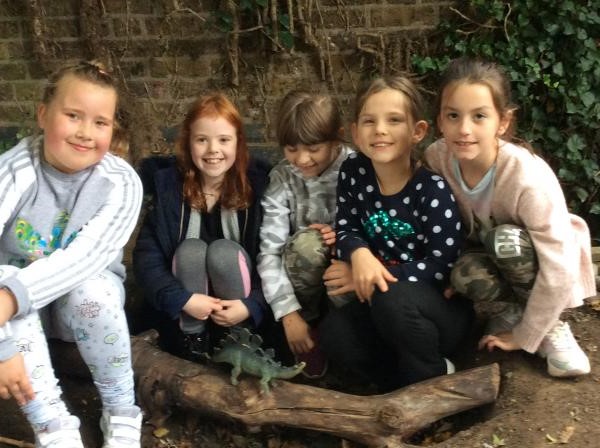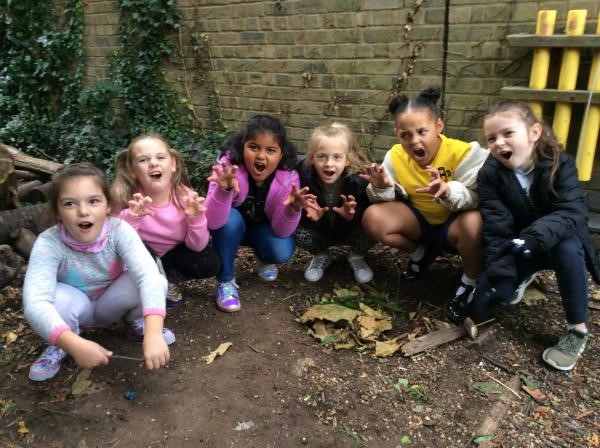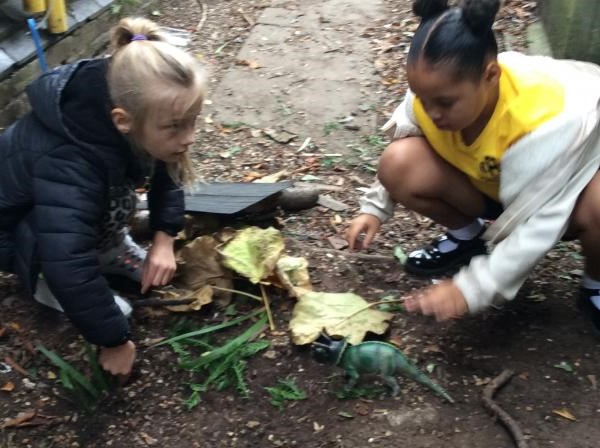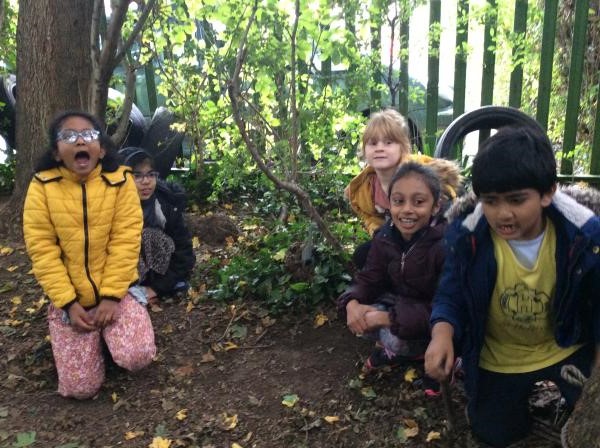 Robins Investigating Soil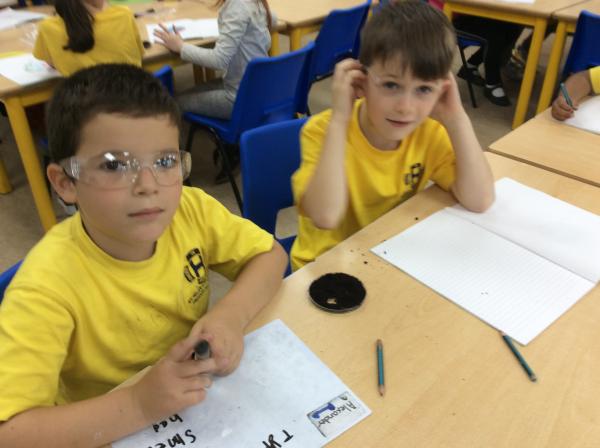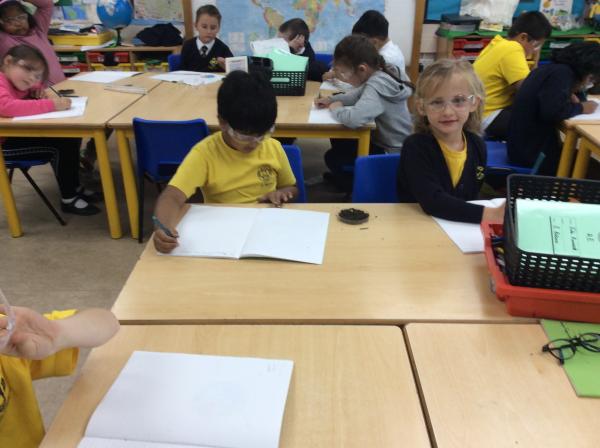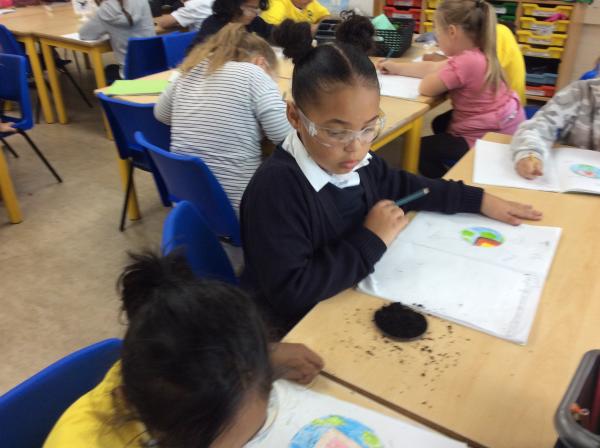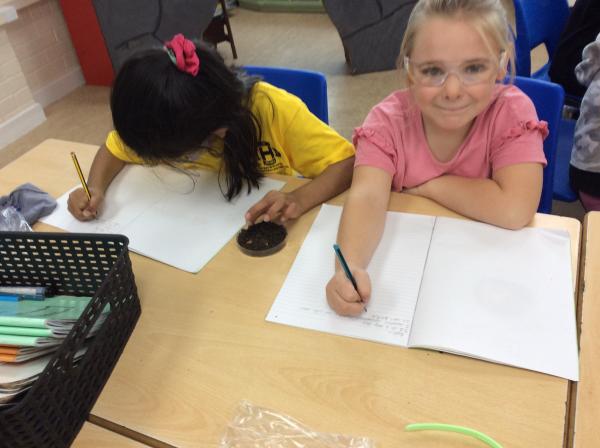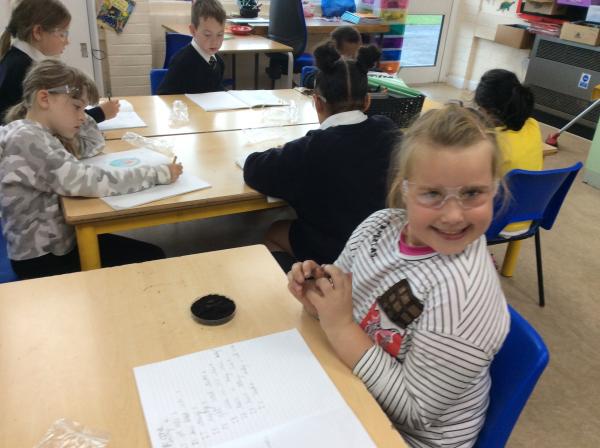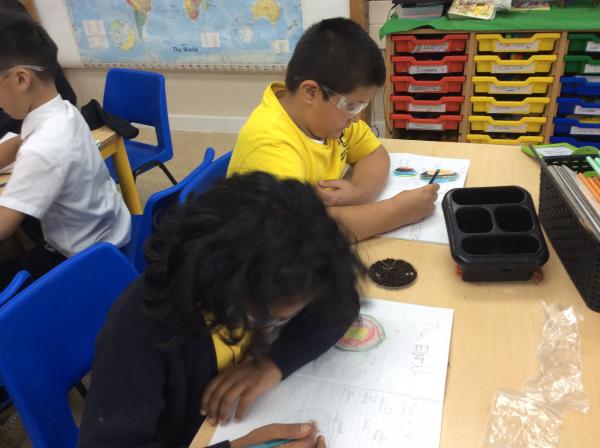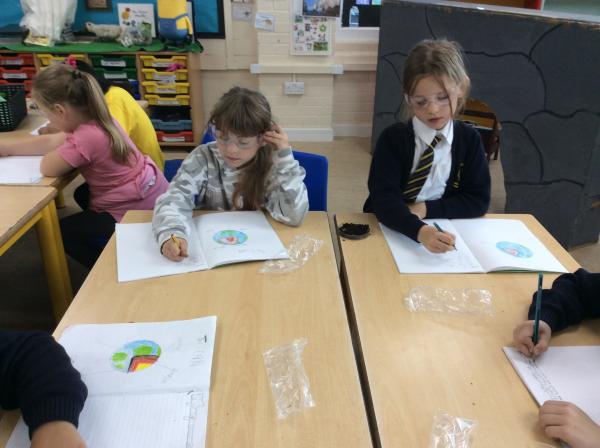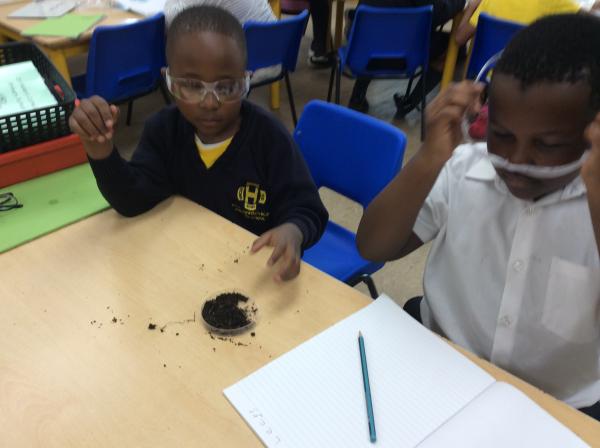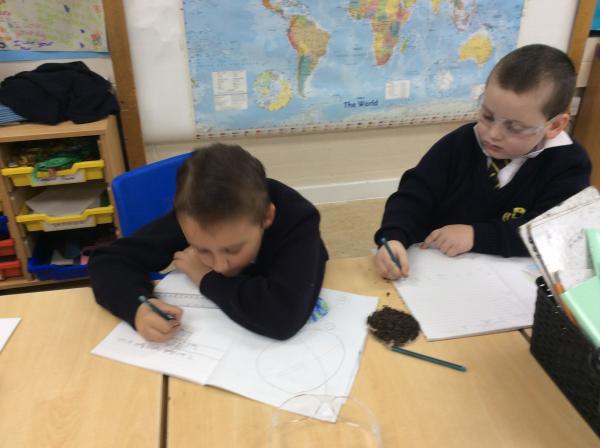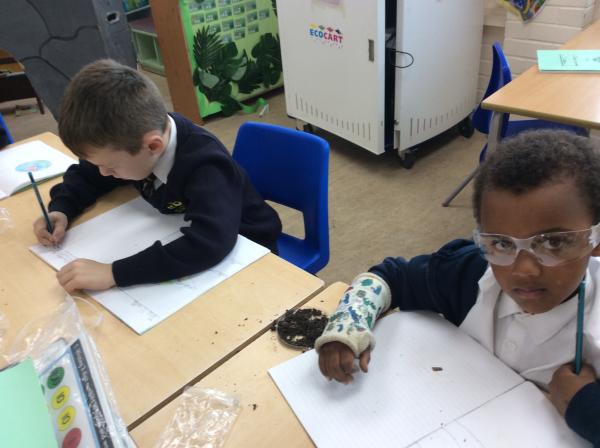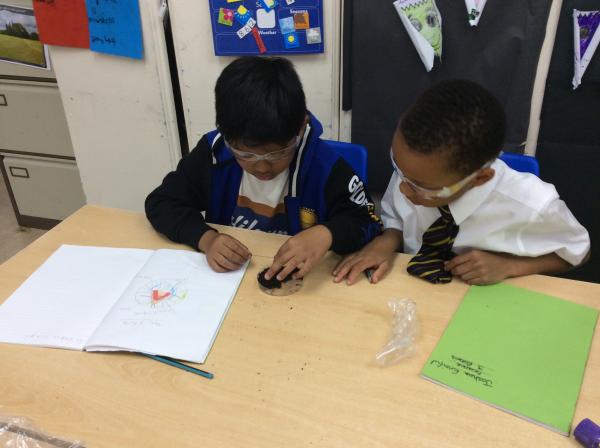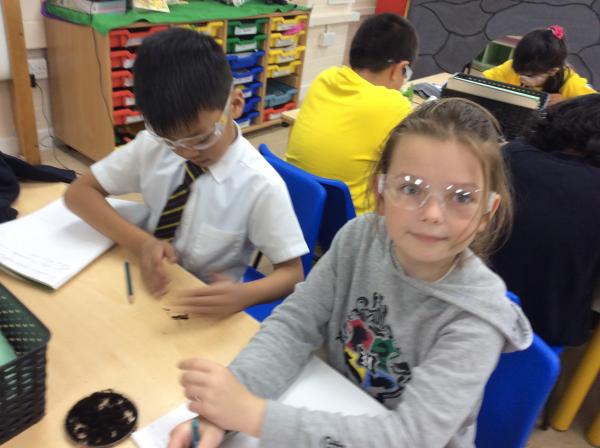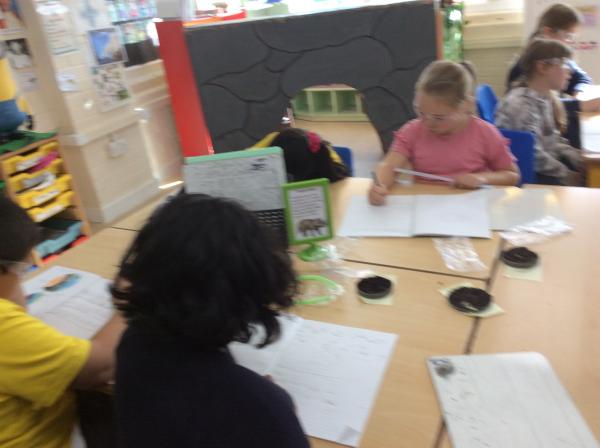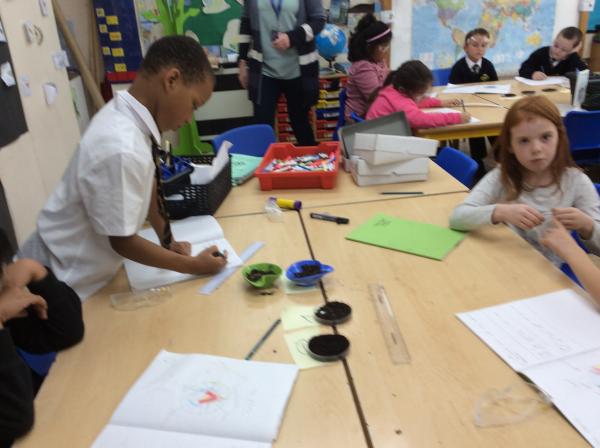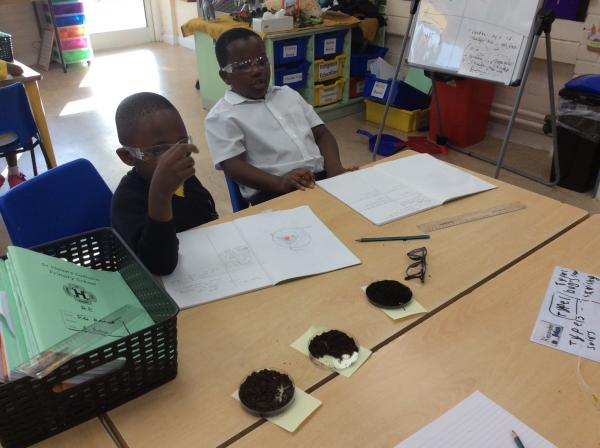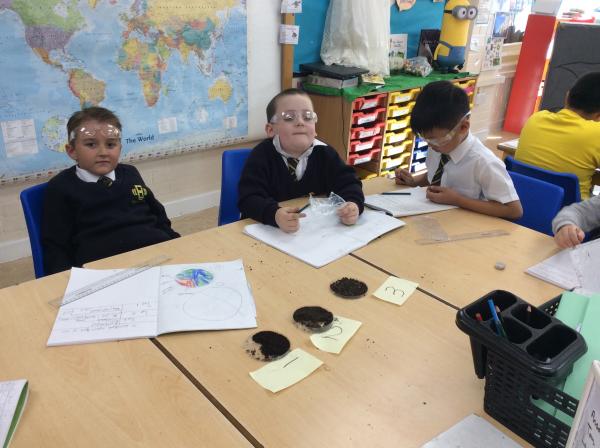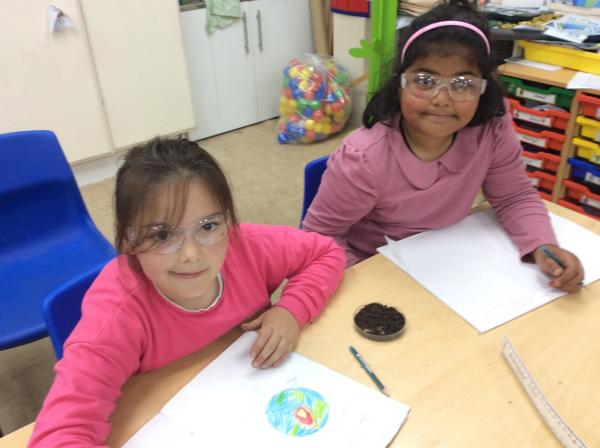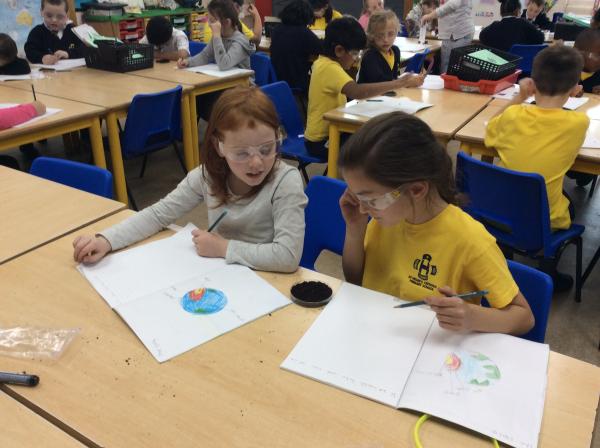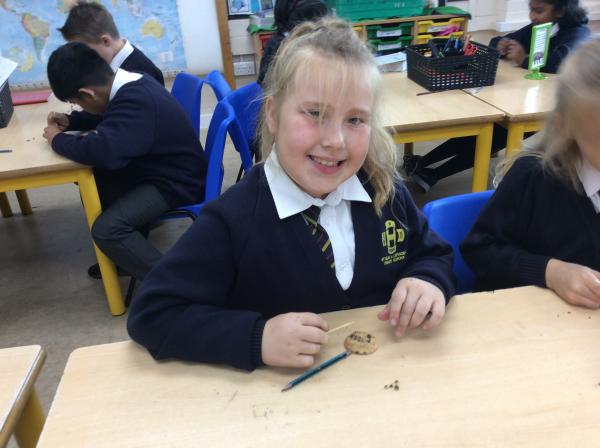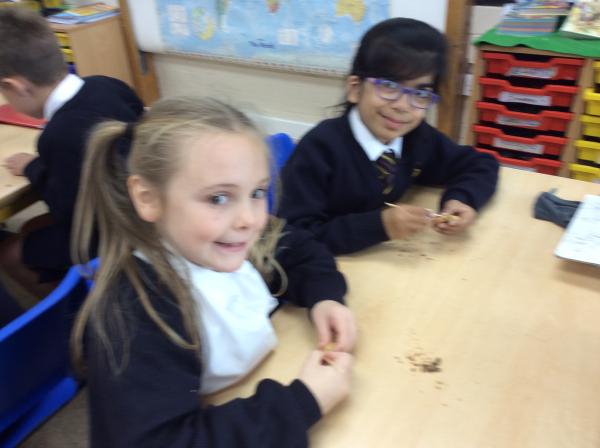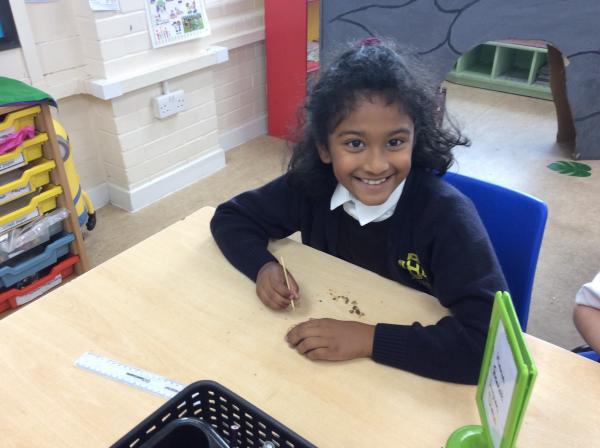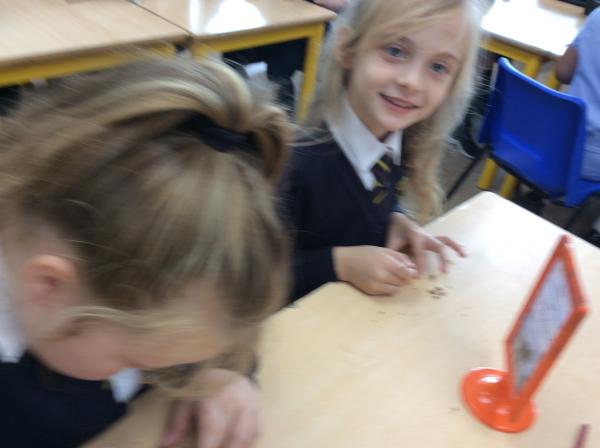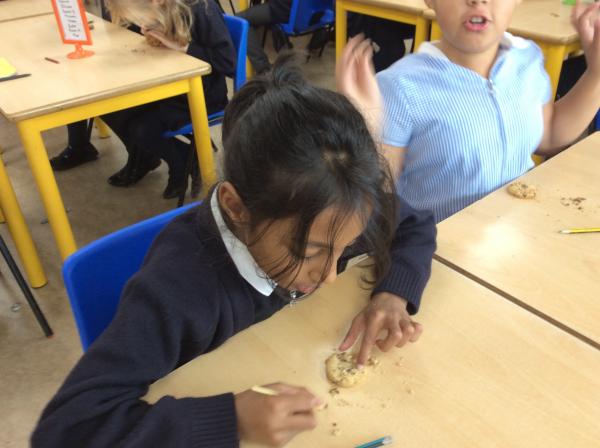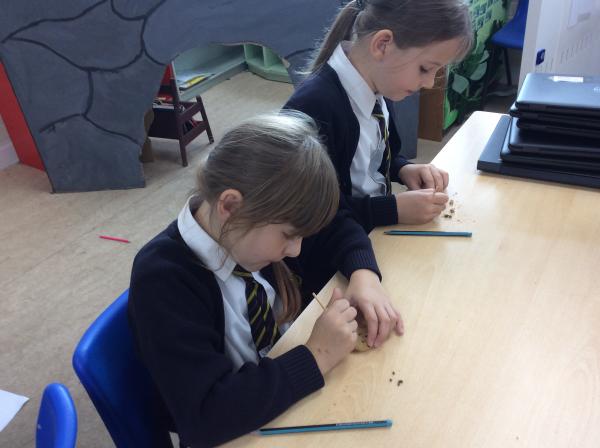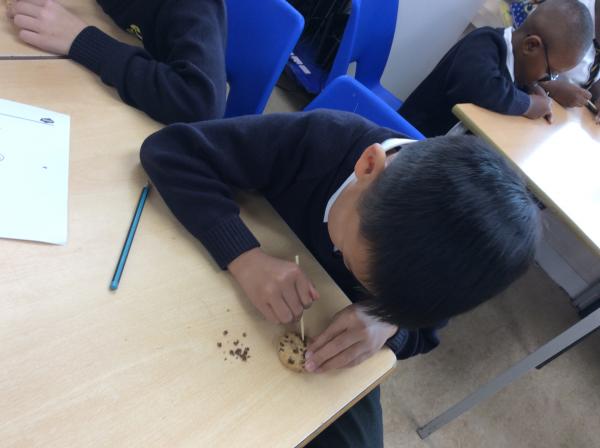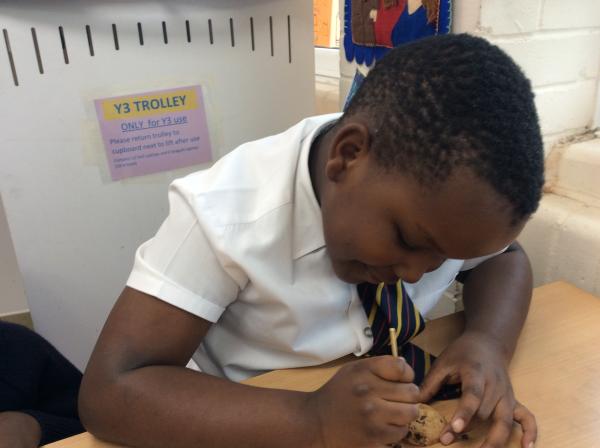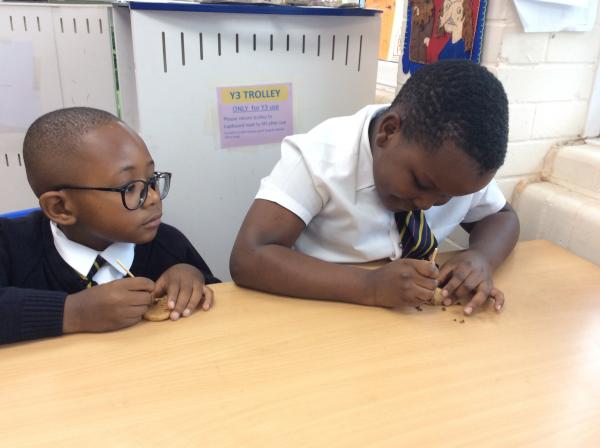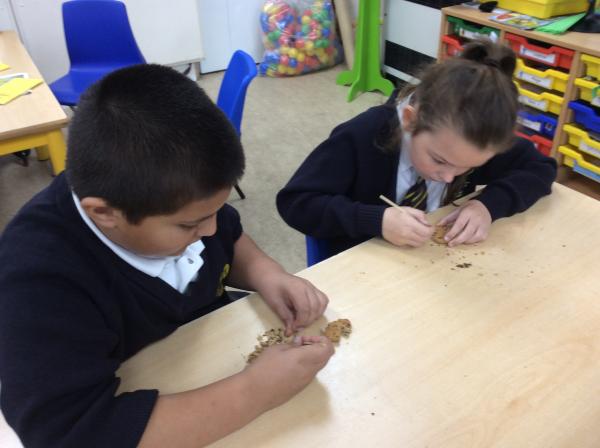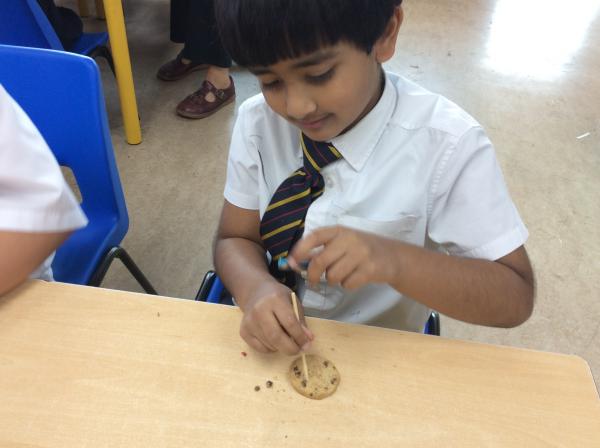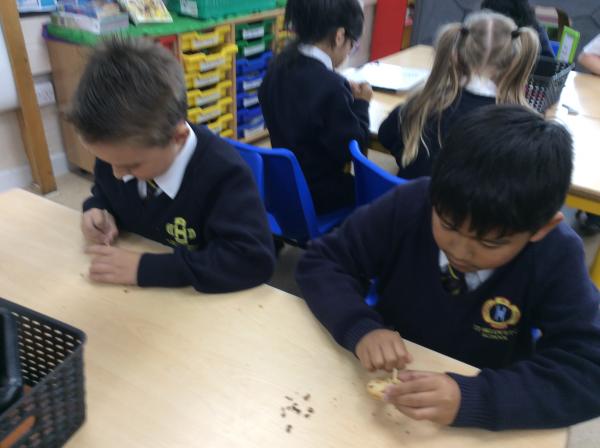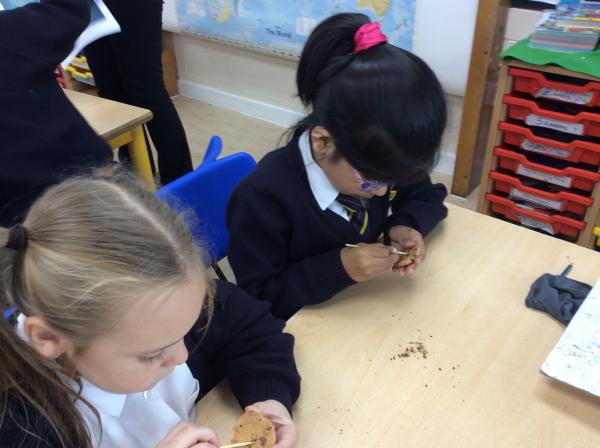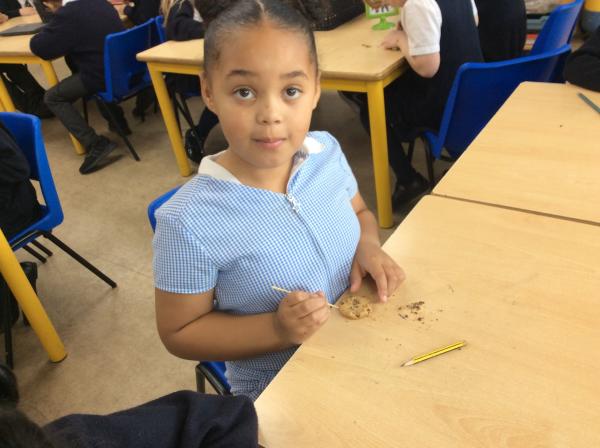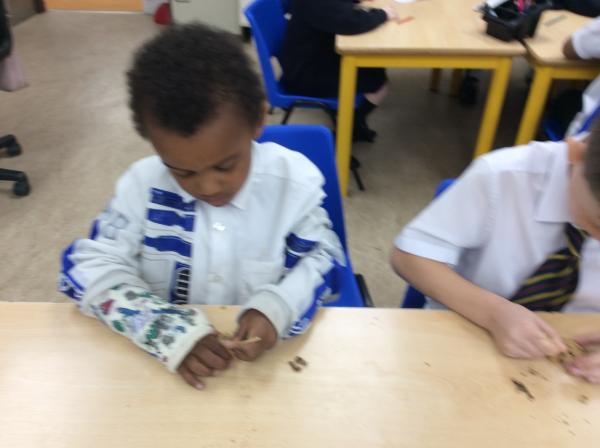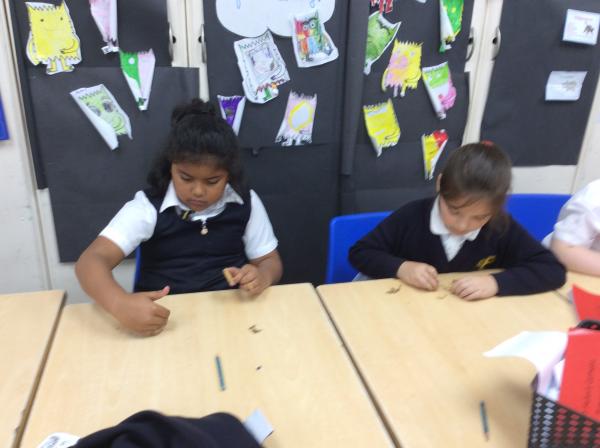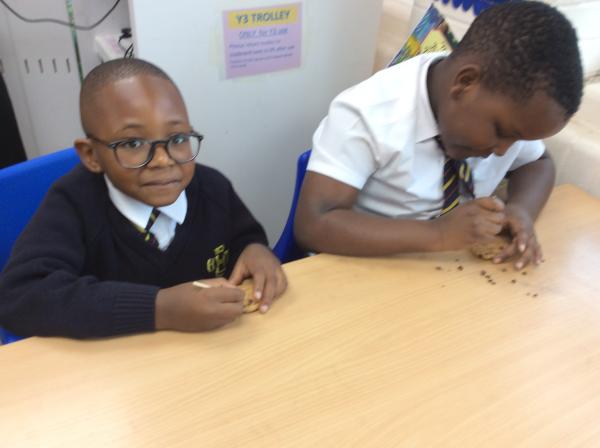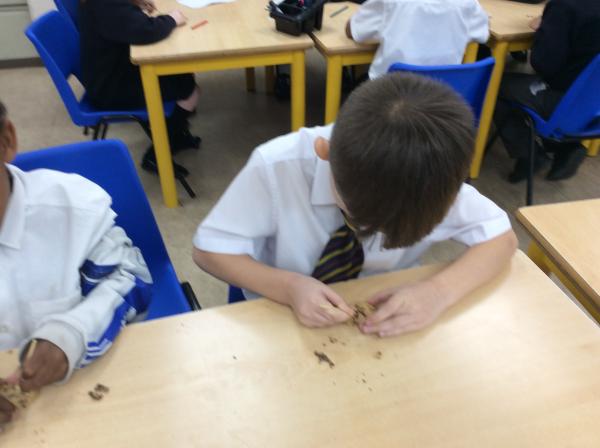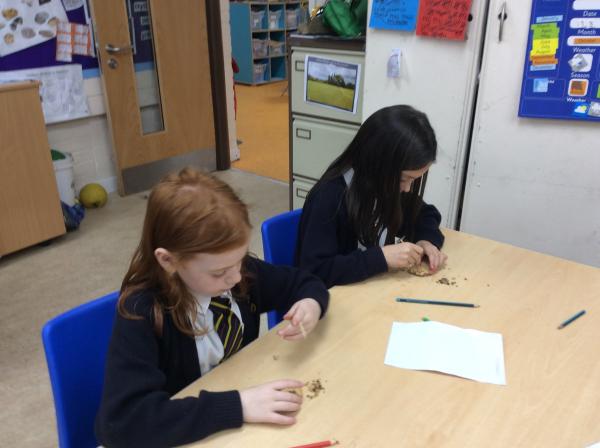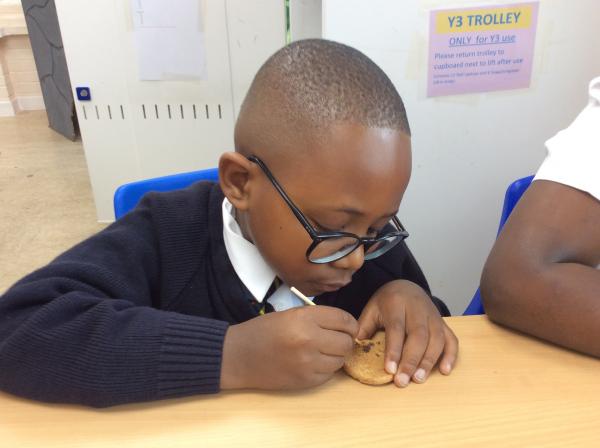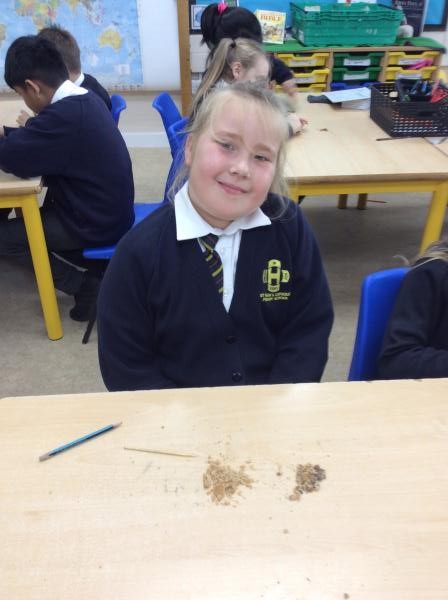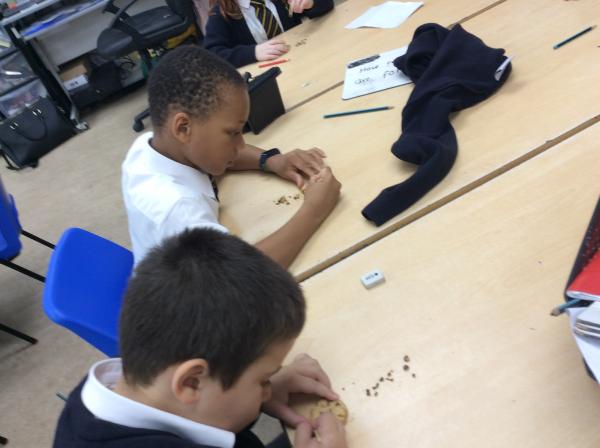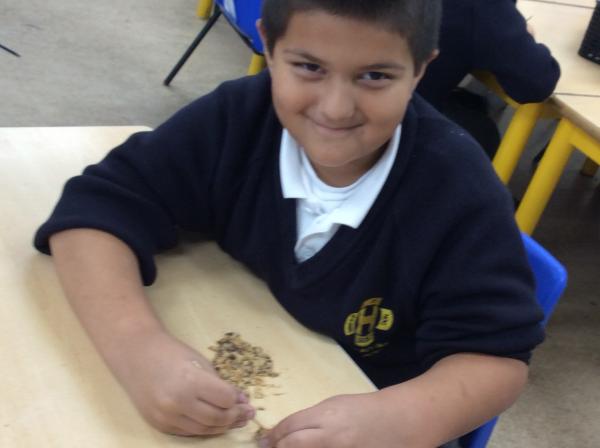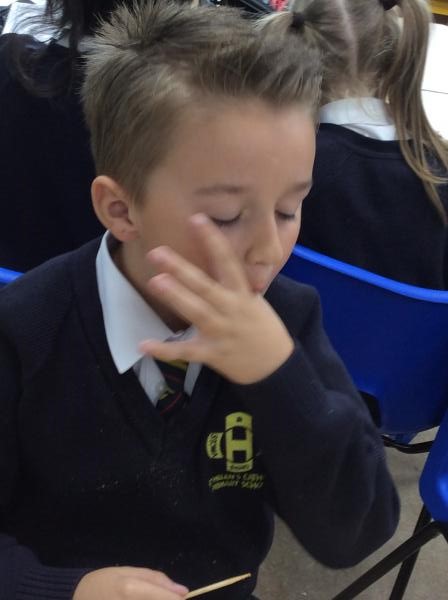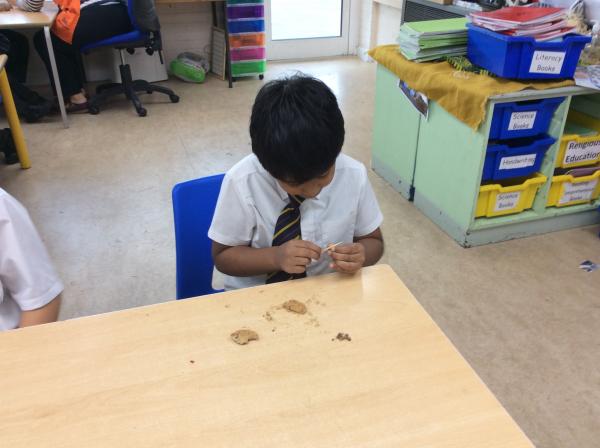 Seagulls in the Nature Area
Seagulls had an amazing time in the nature area today. They used all their dinosaur knowledge to make food for a herbivore. They moved onto making some excellent nests for their dinosaur eggs. Part of the day was spent playing dinosaur eye and dinosaur hunt, also colour matching materials to nature.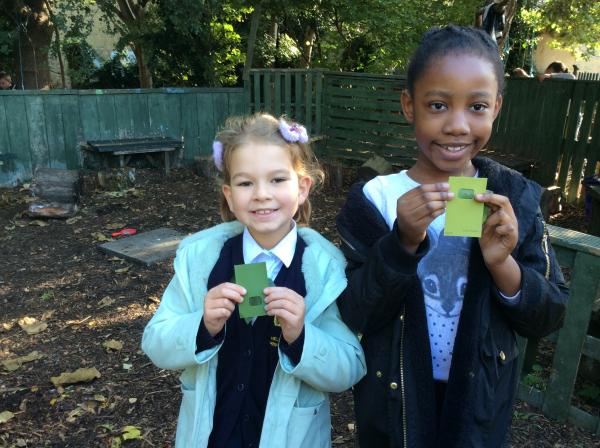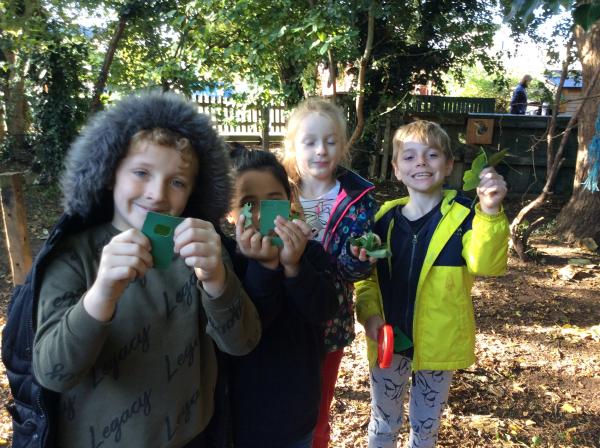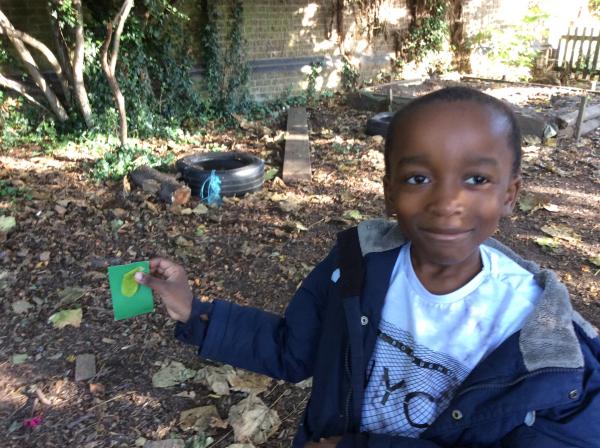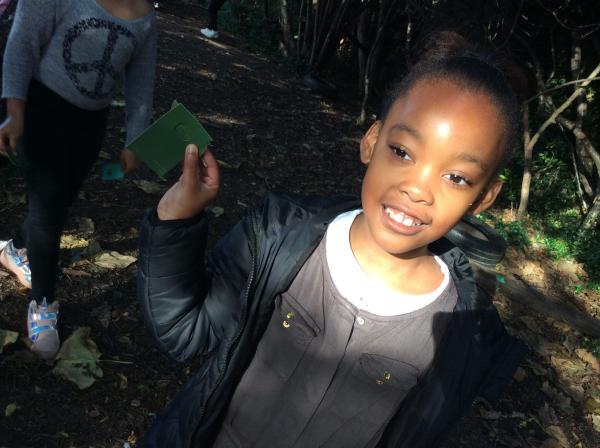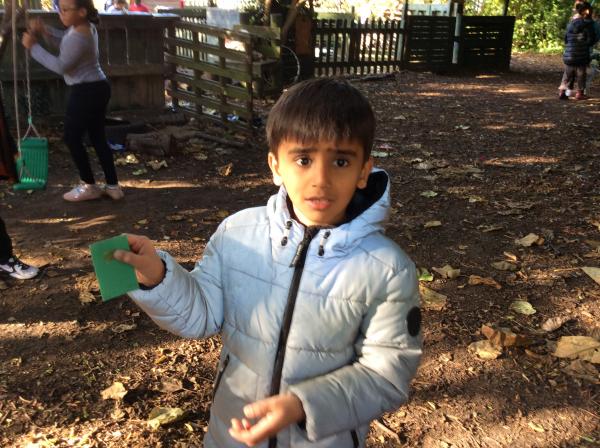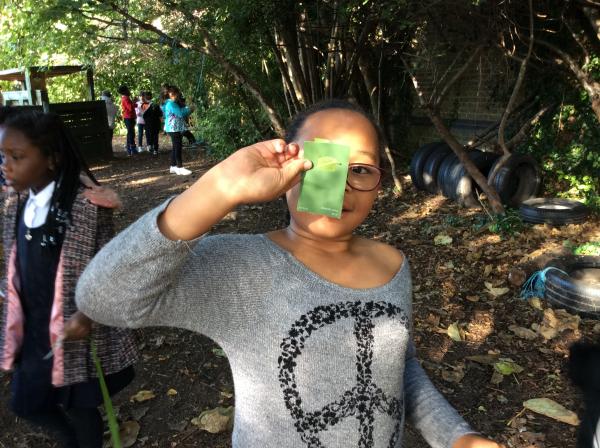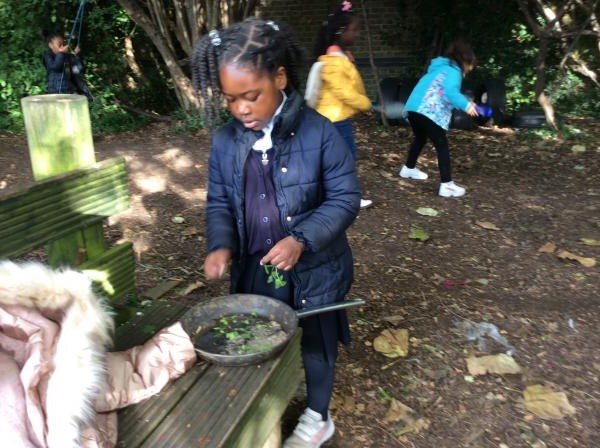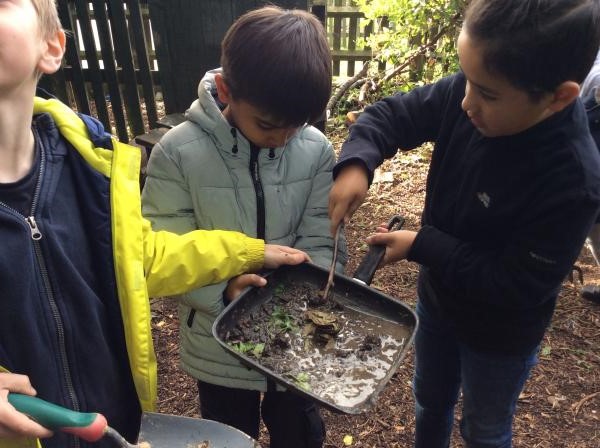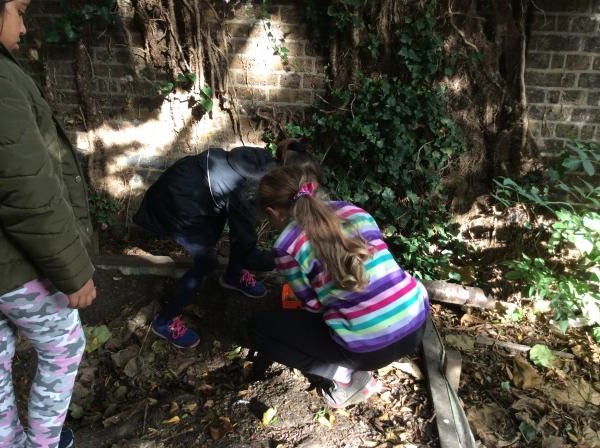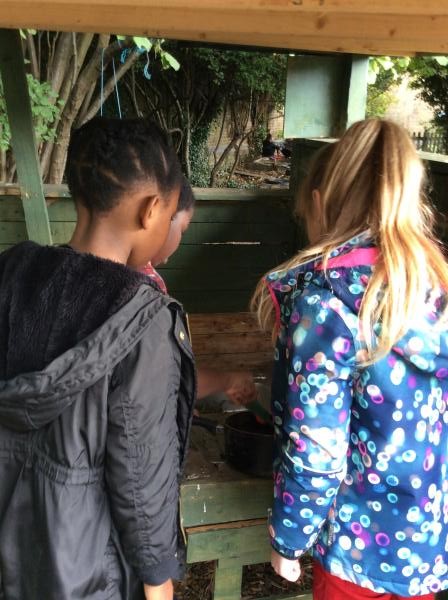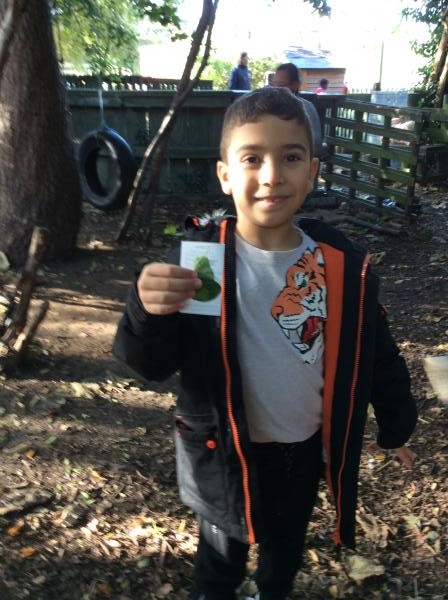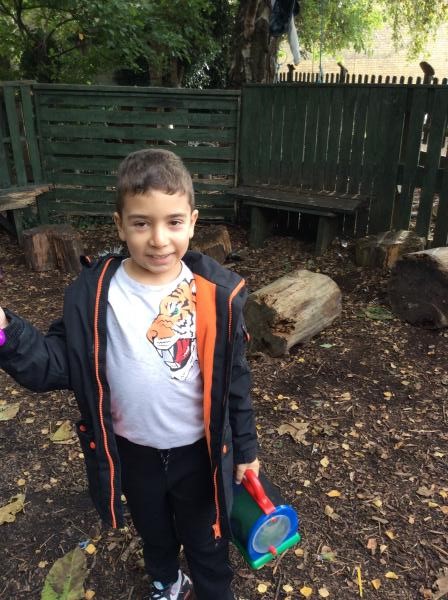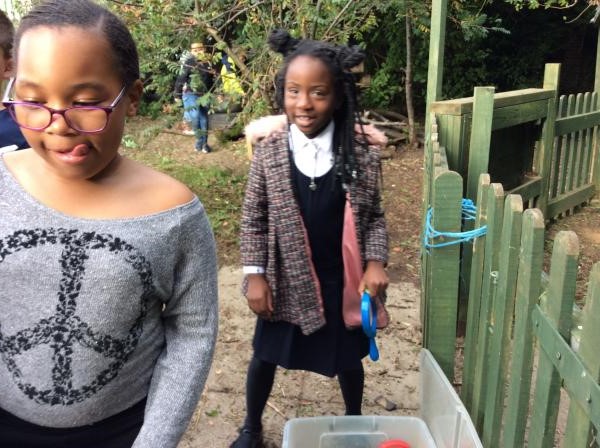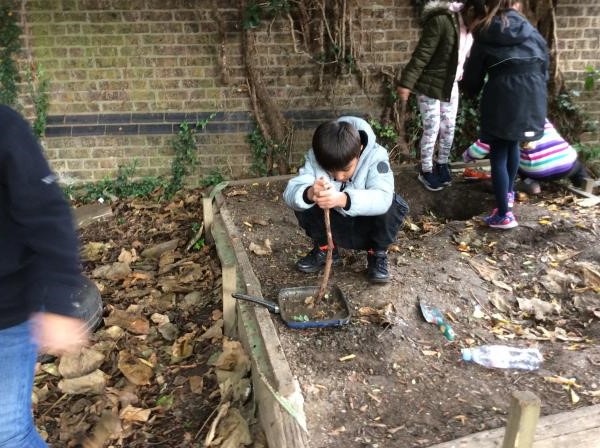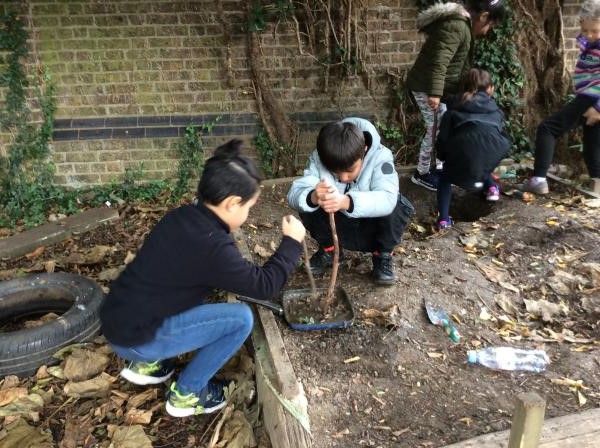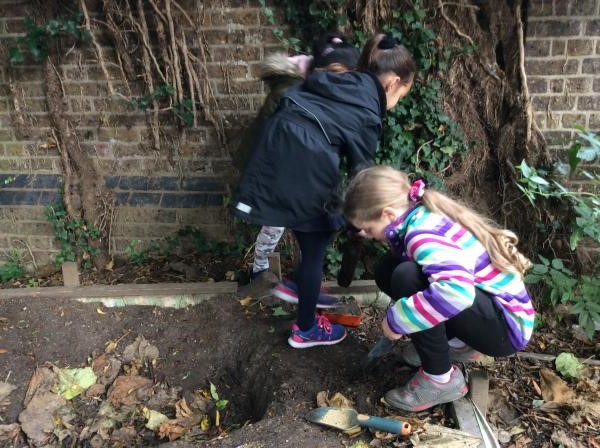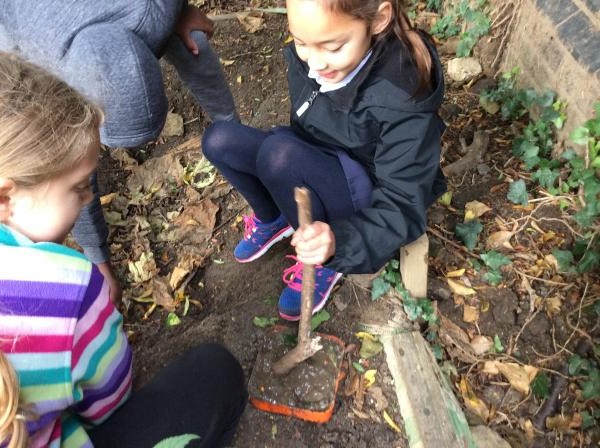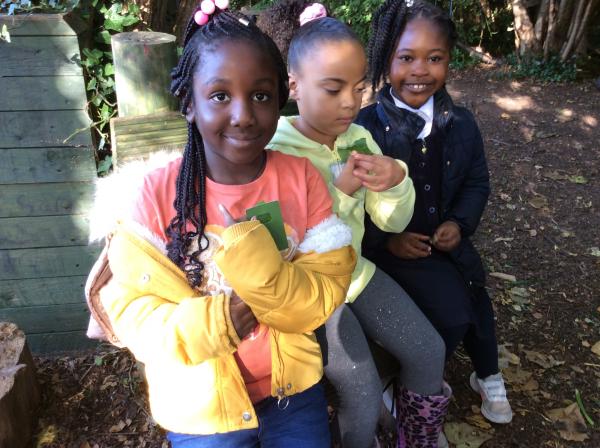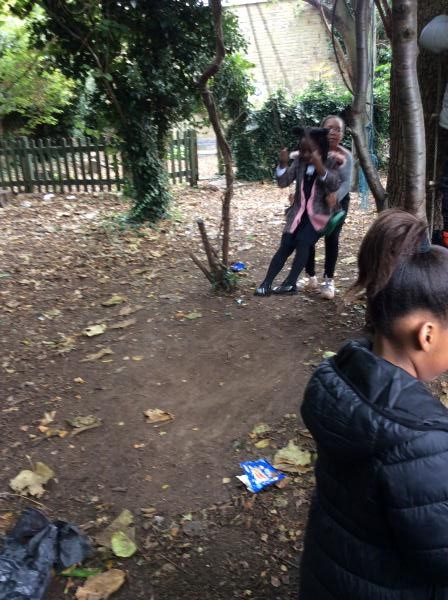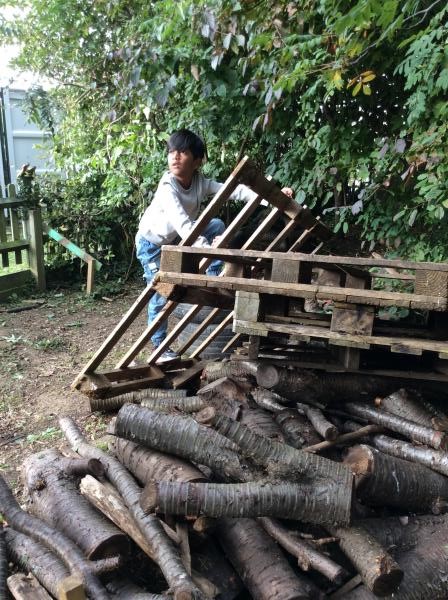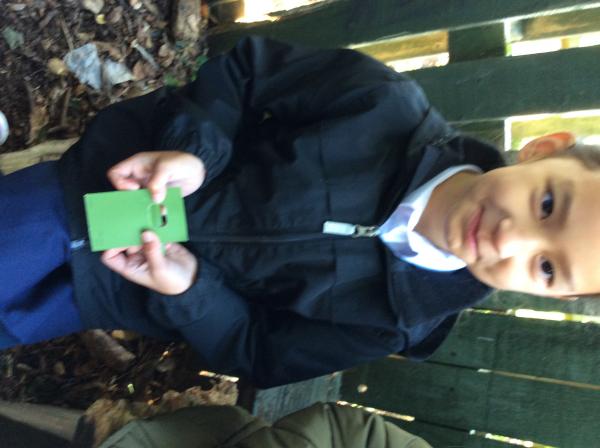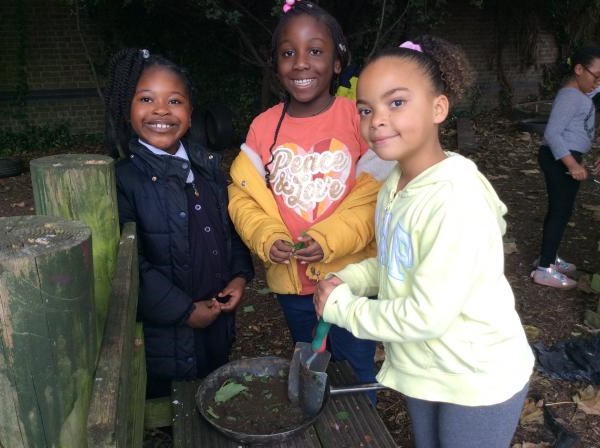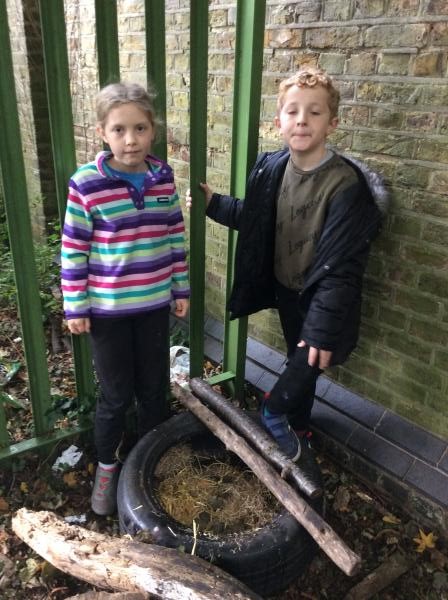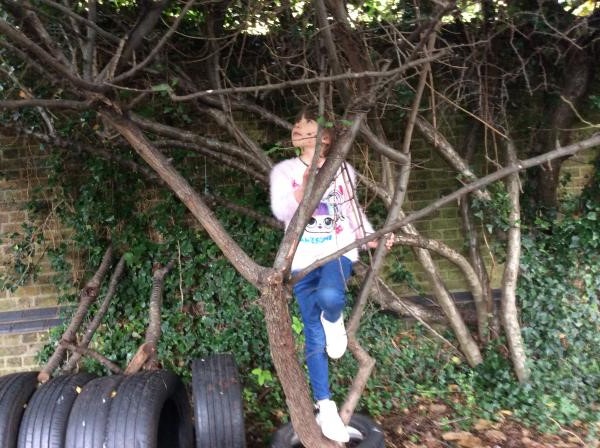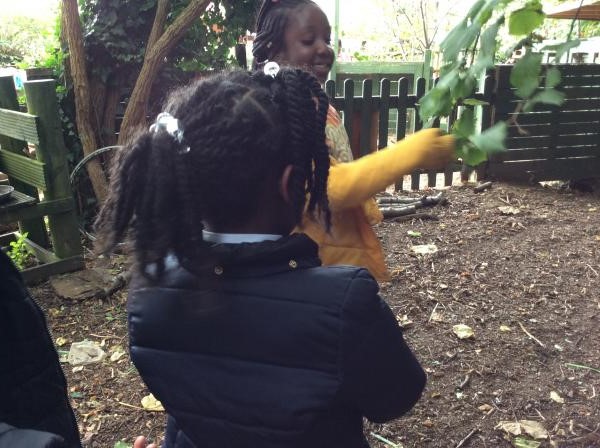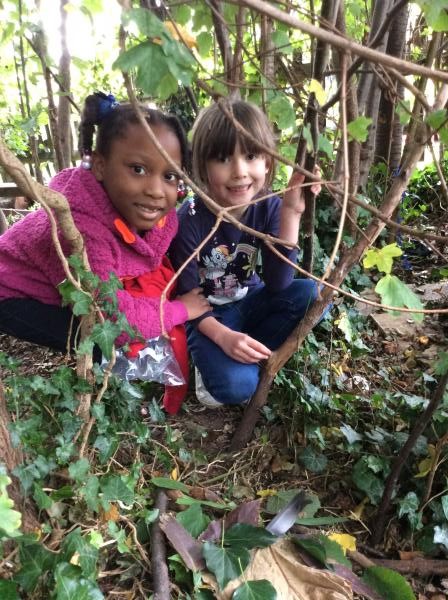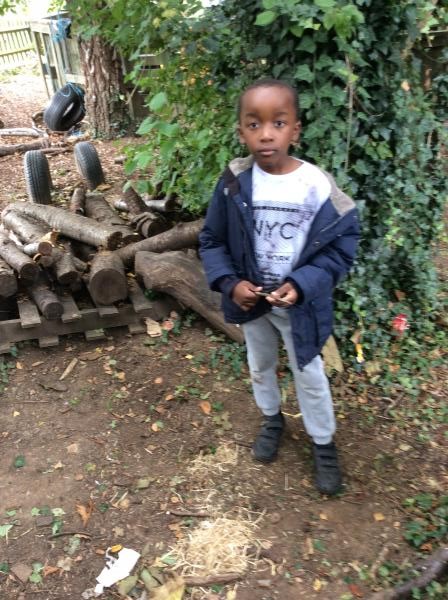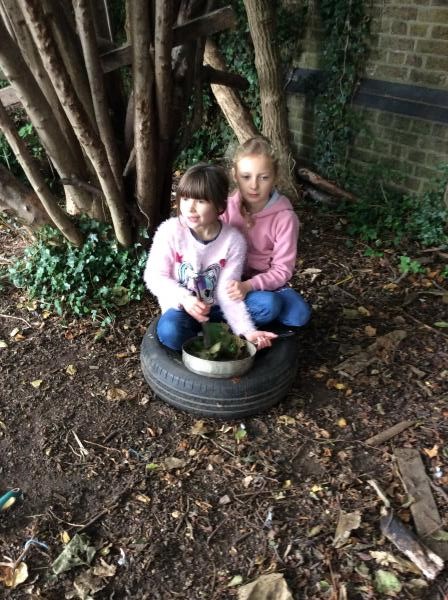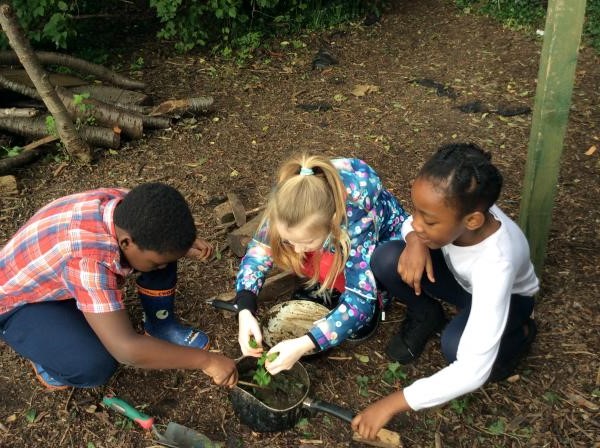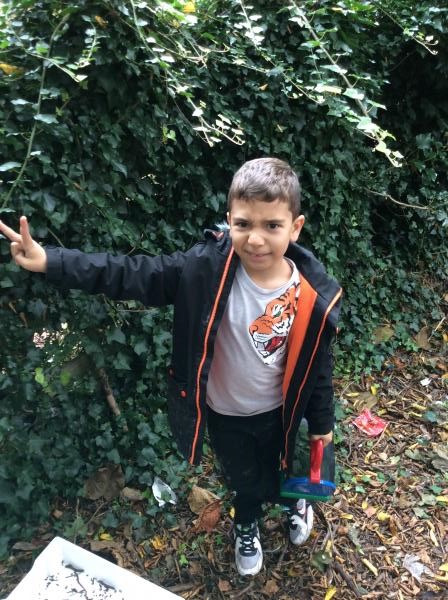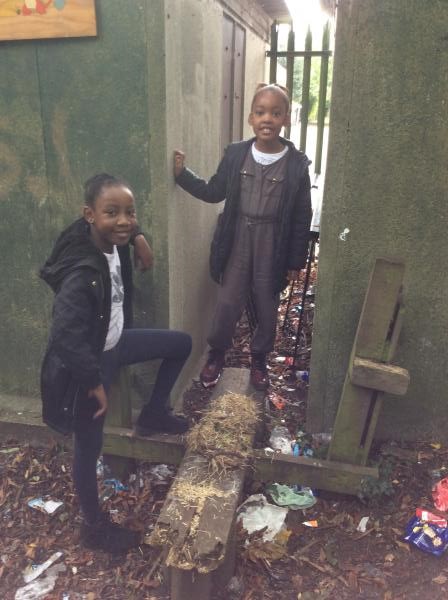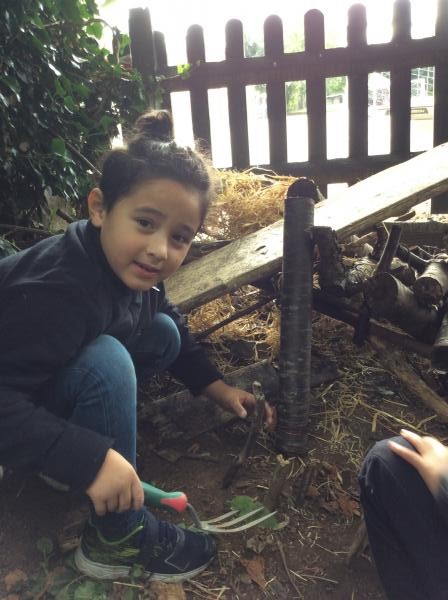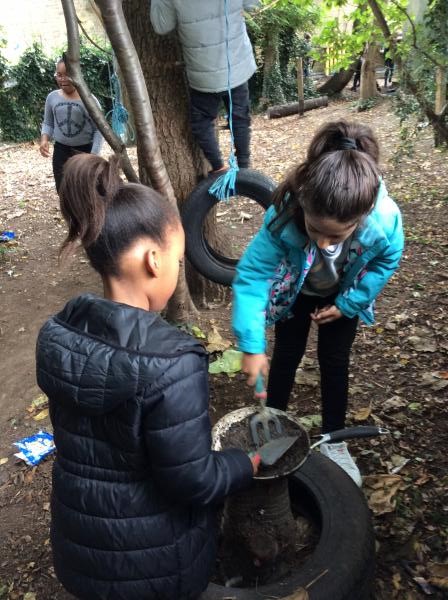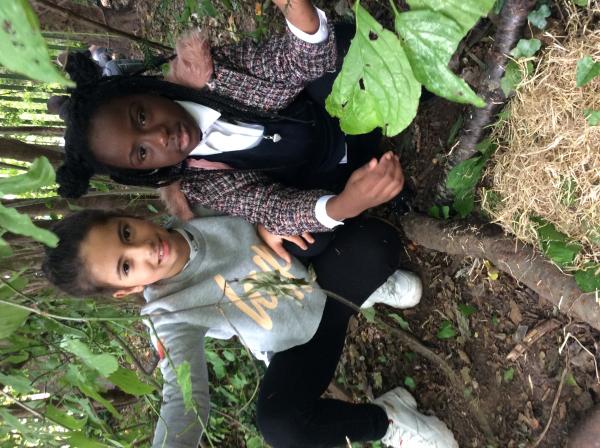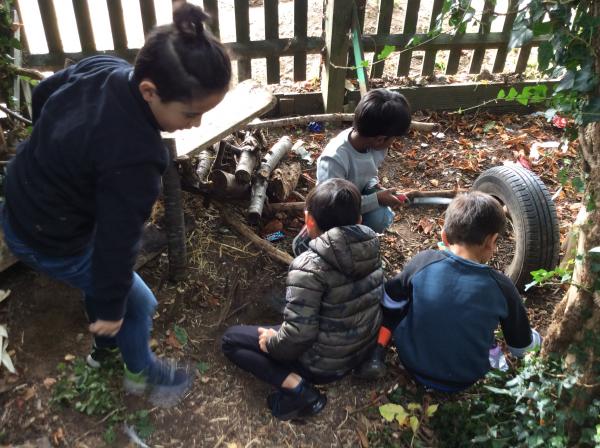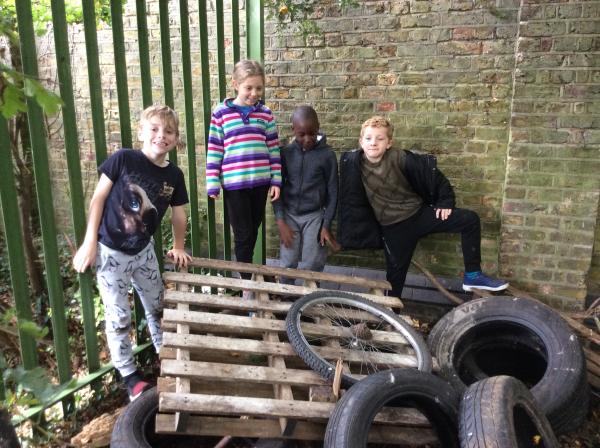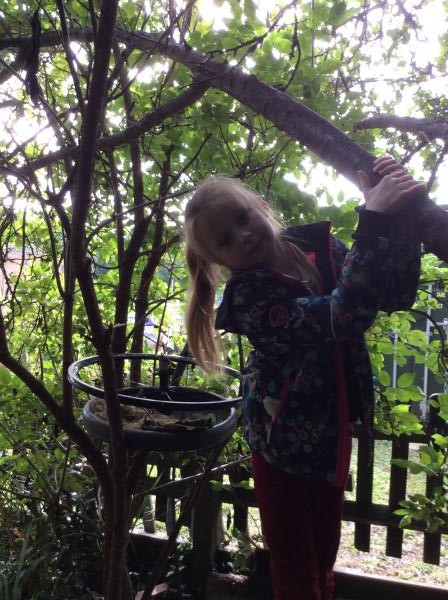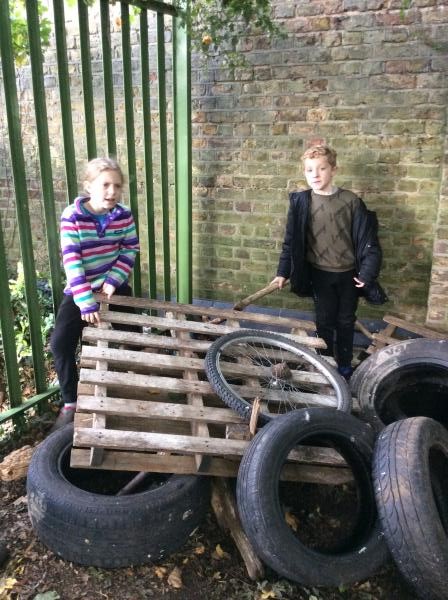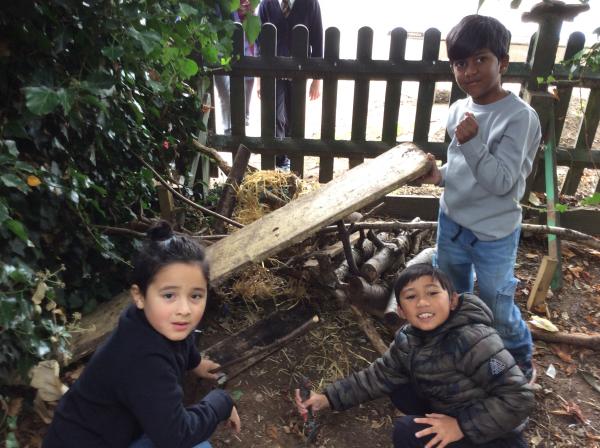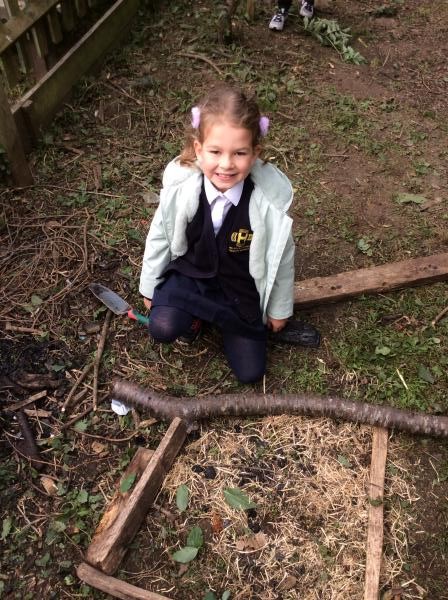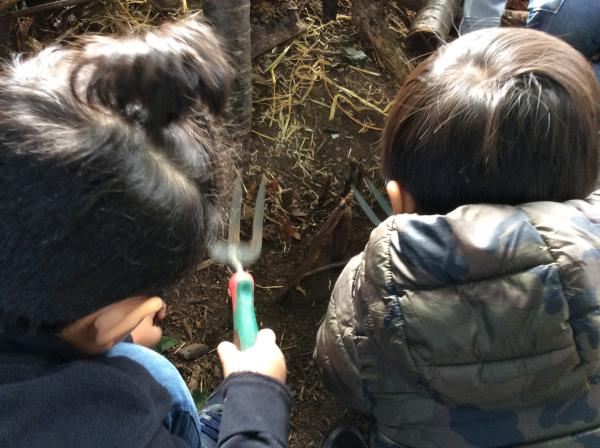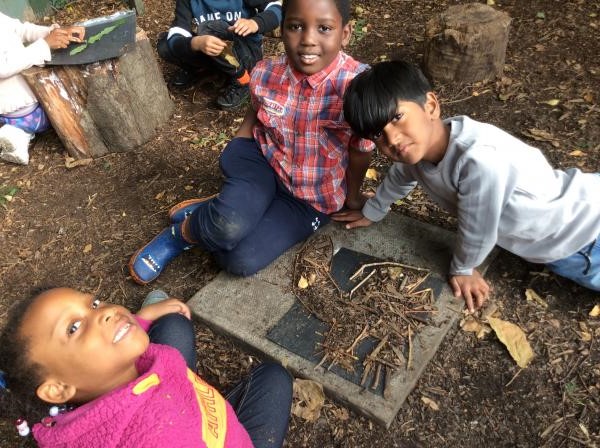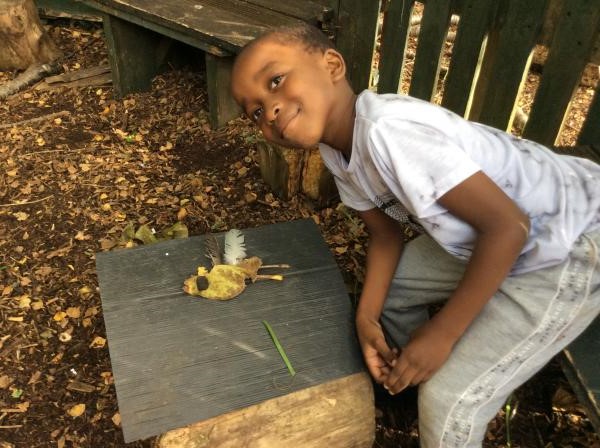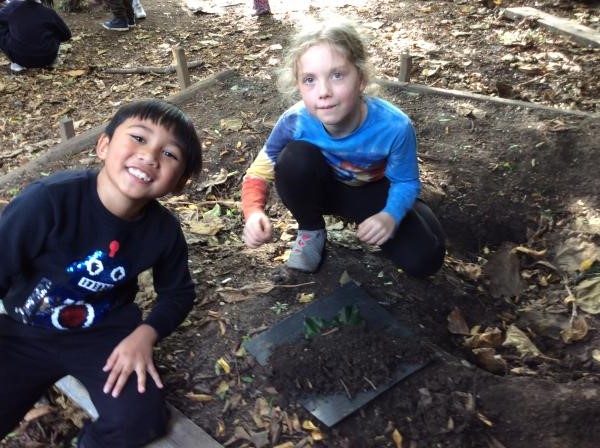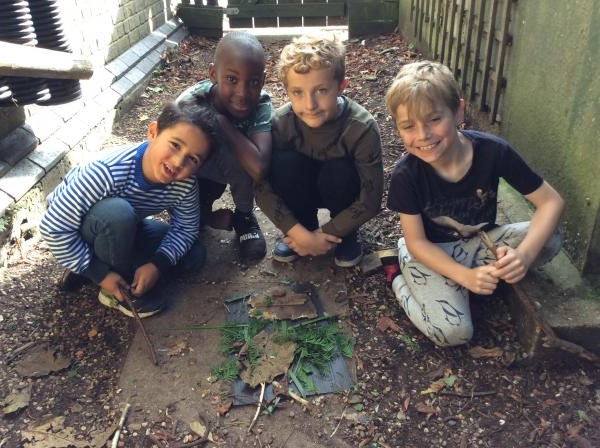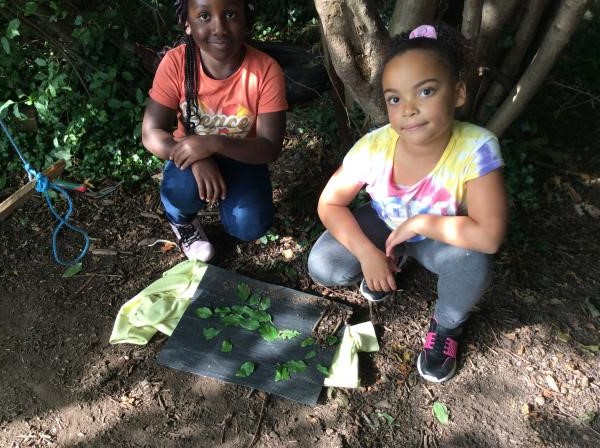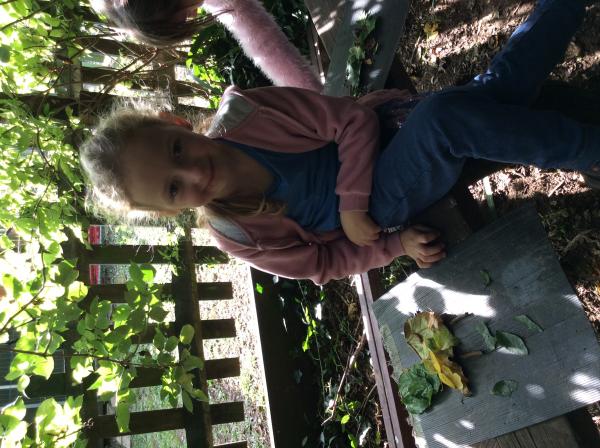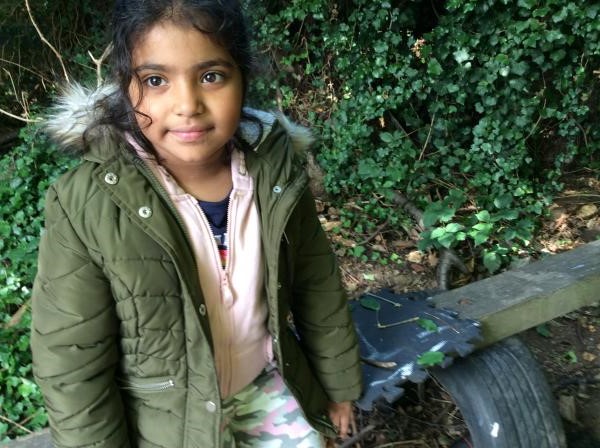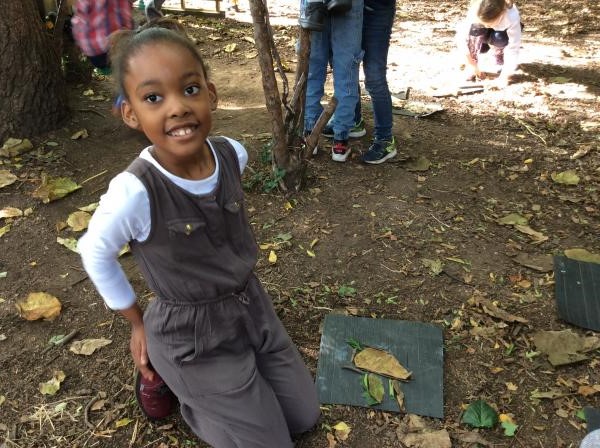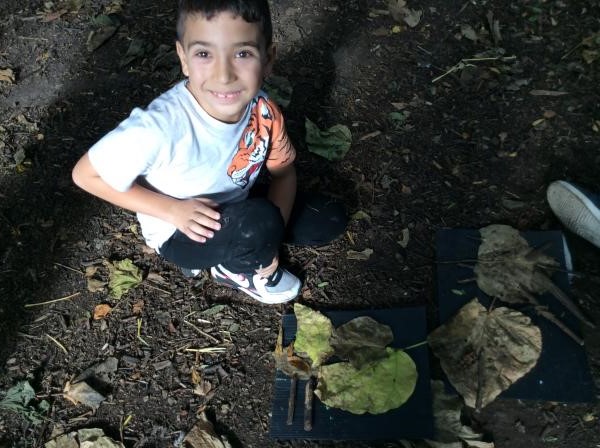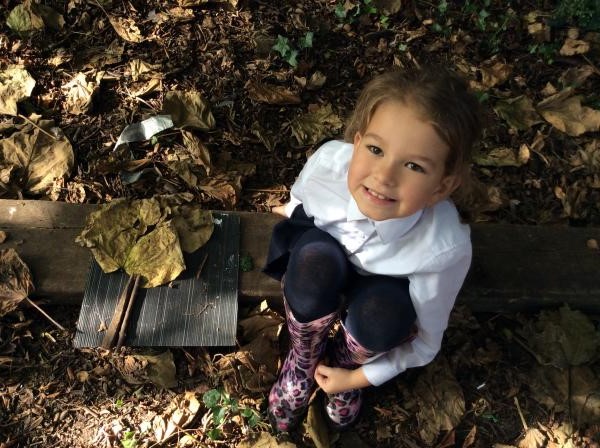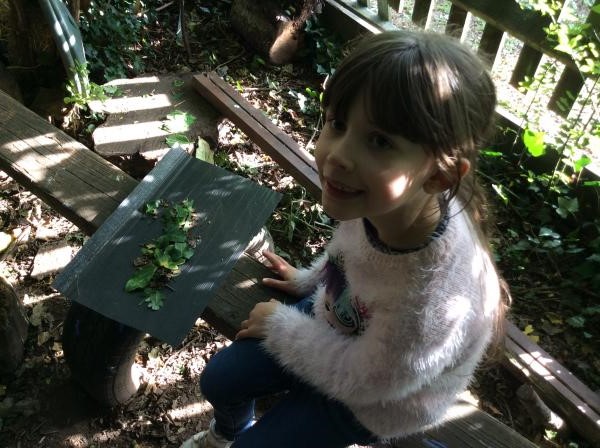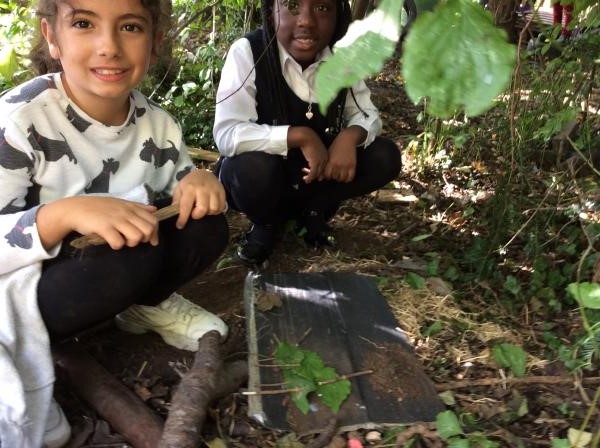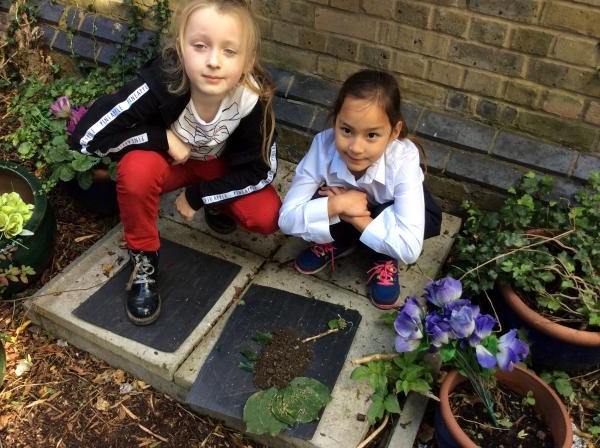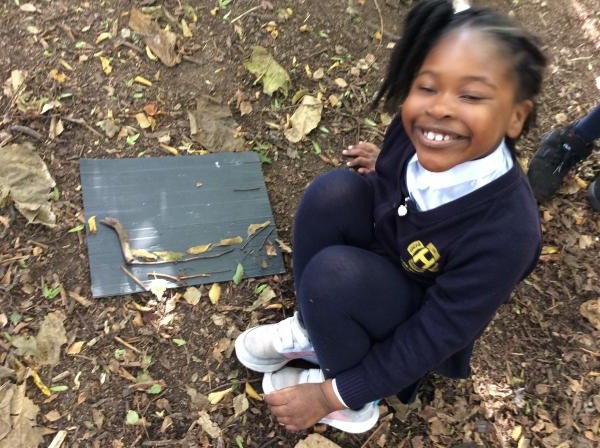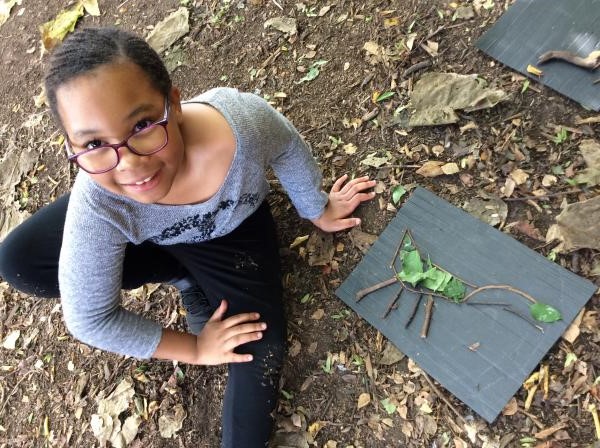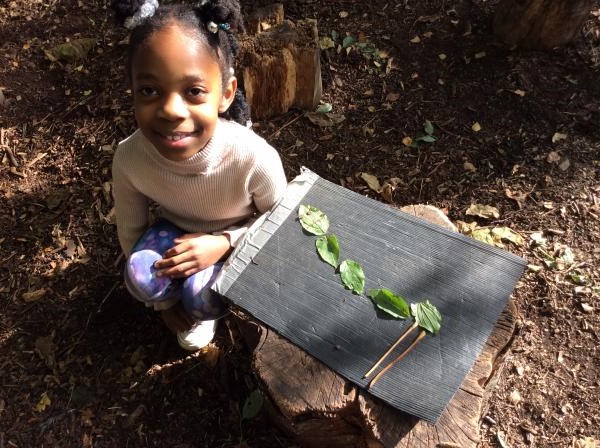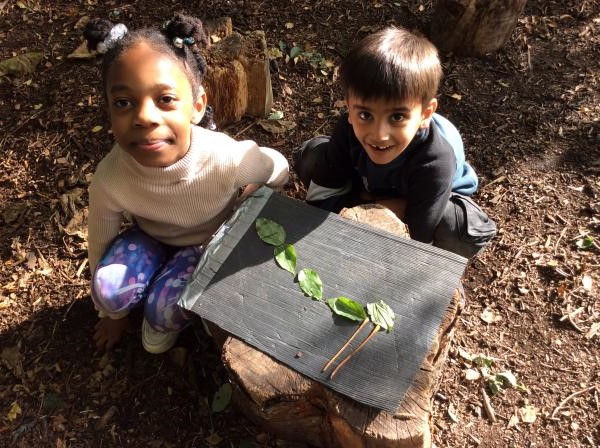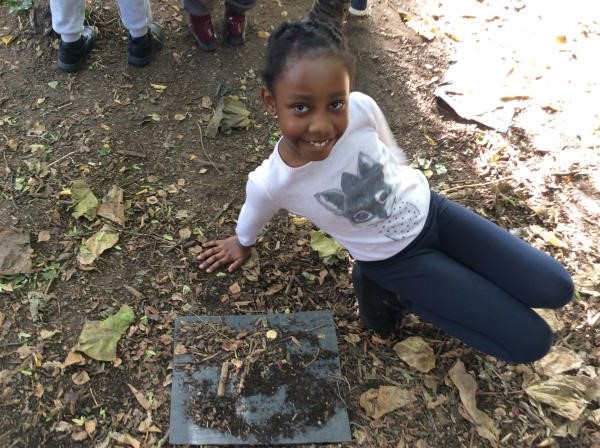 Snakestone fossils as found by Mary Anning 3 Robins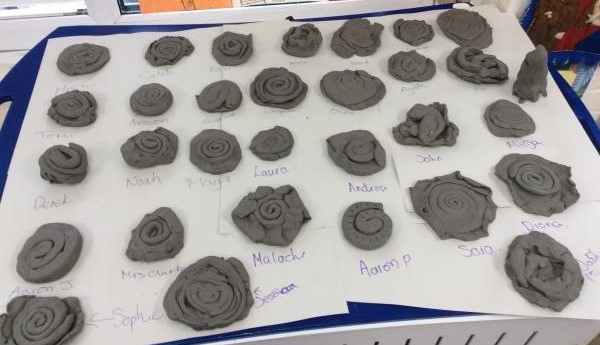 3 Robins making and eating herbivorous bread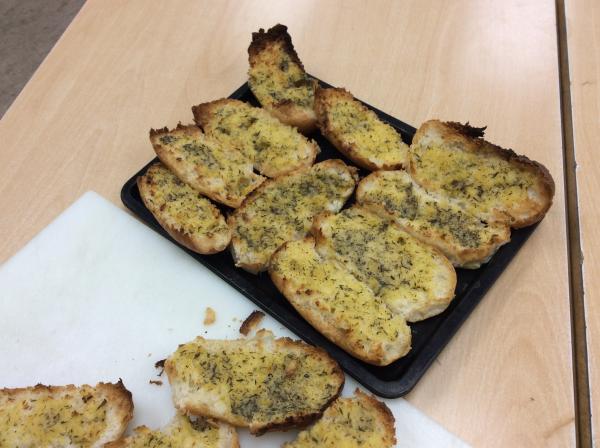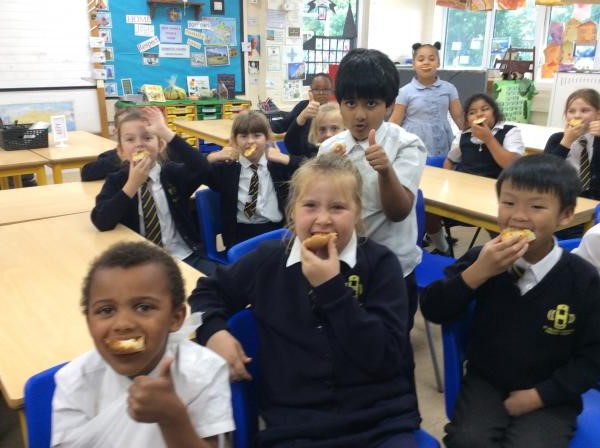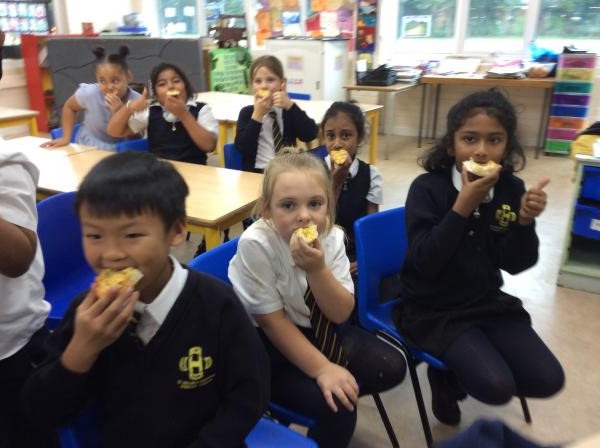 3 Robins Rocks Experiment
We learnt all about the three types of rocks sedimentary, metamorphic and igneous by conducting a starburst experiment. It was rock-tastic!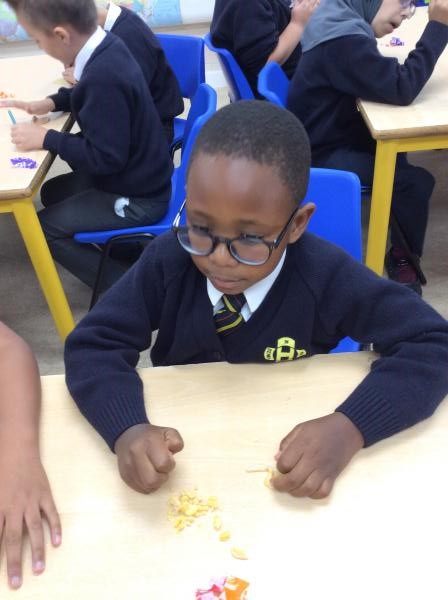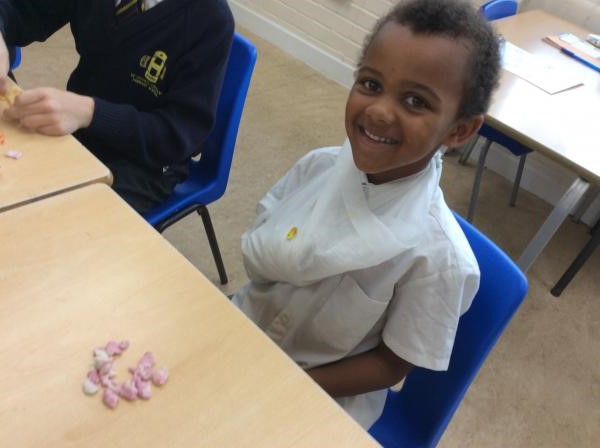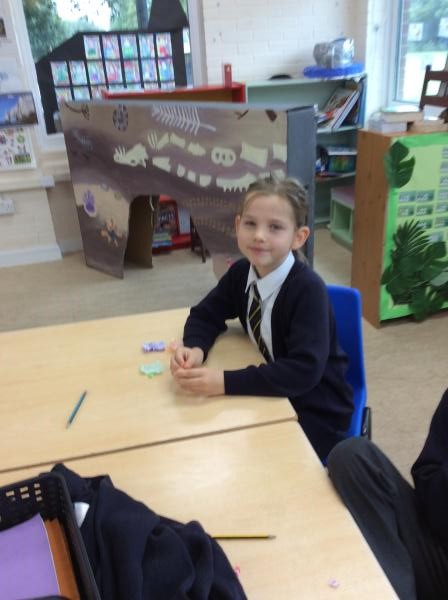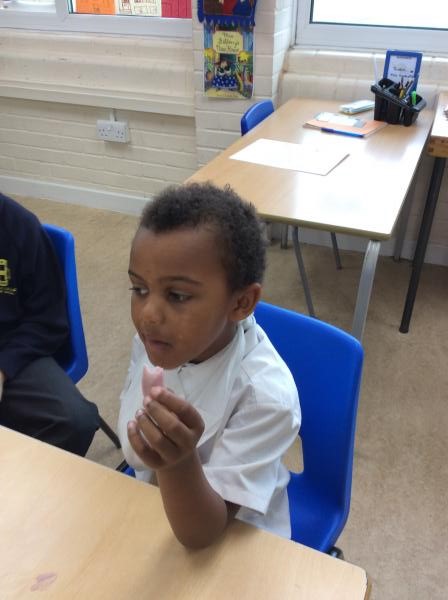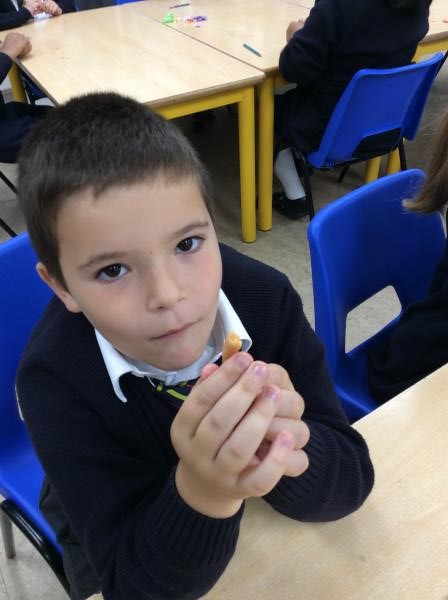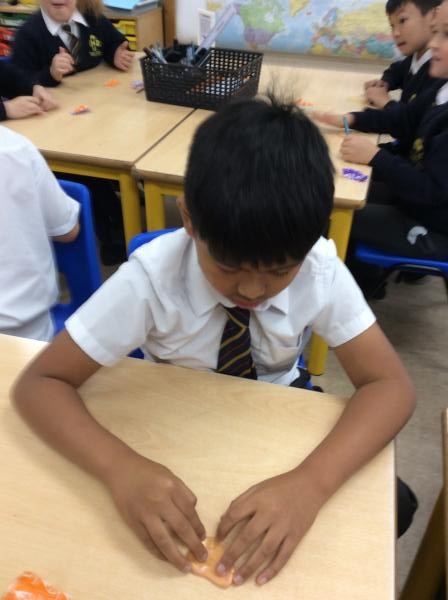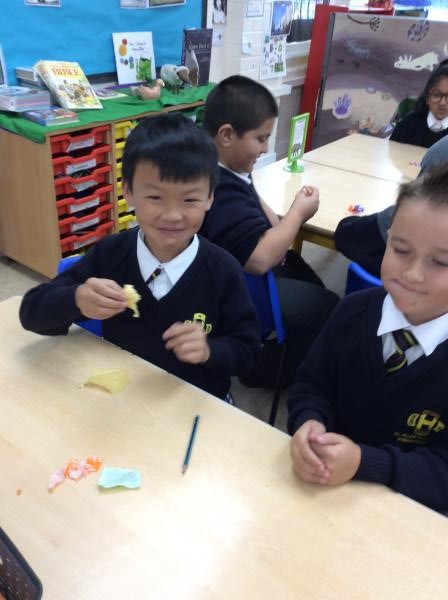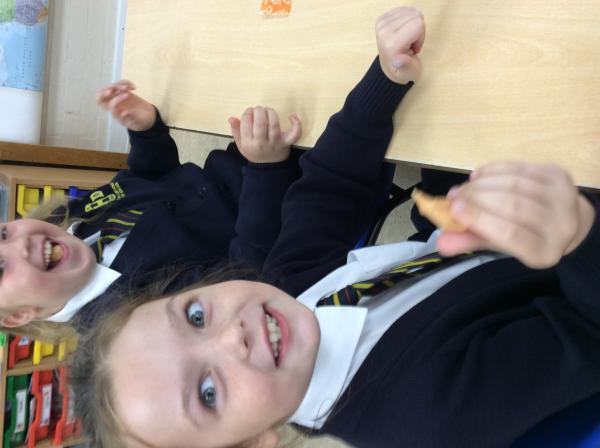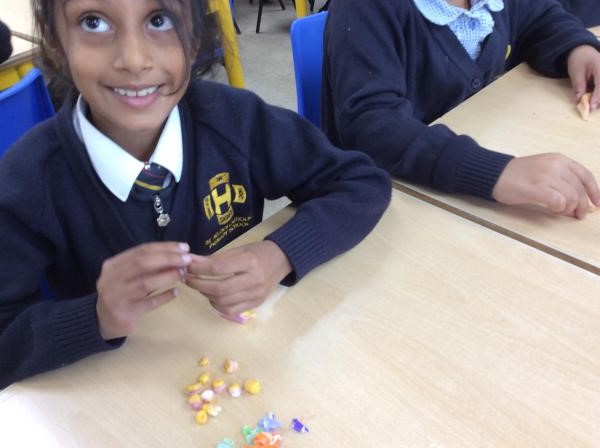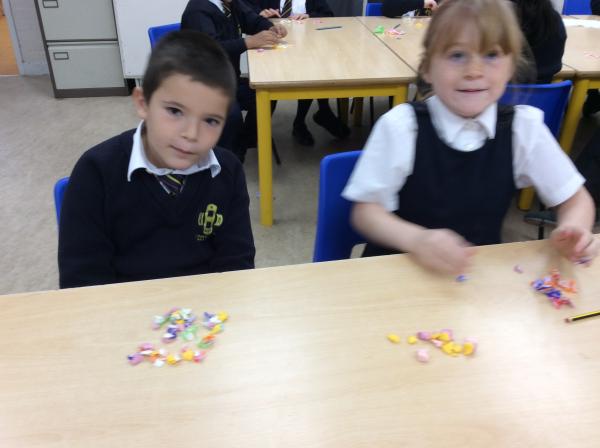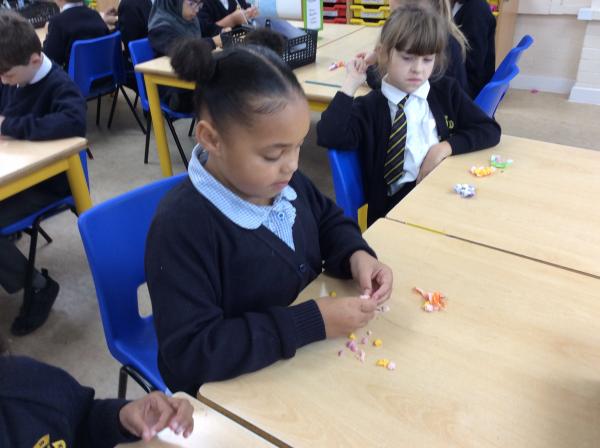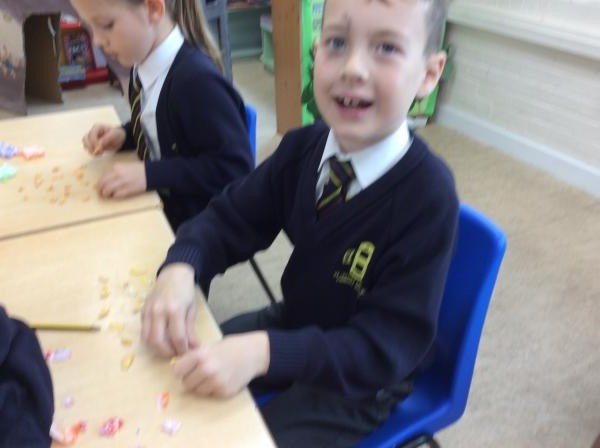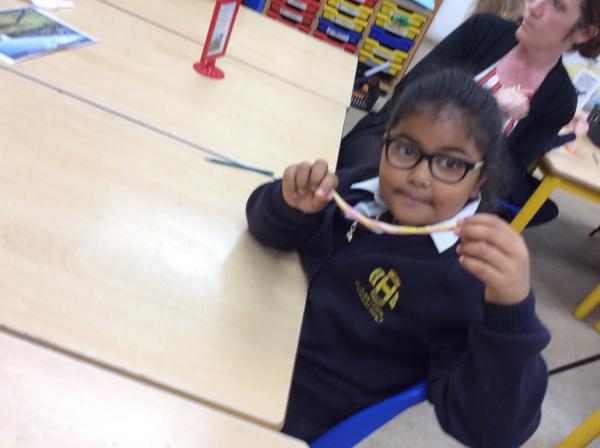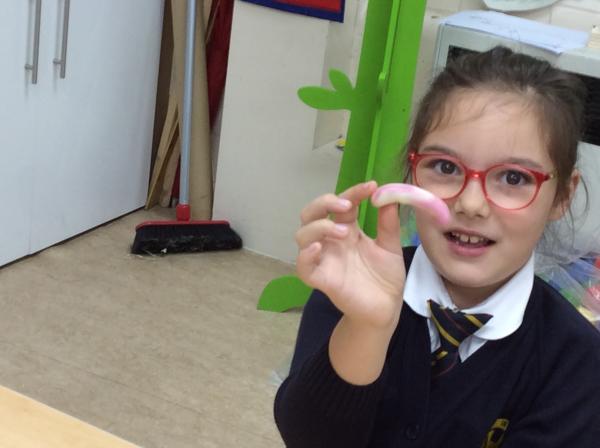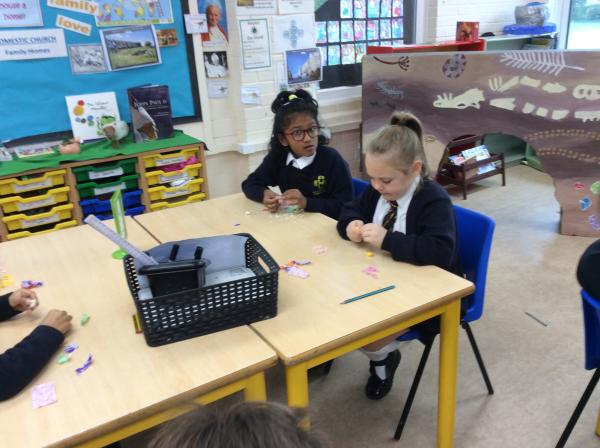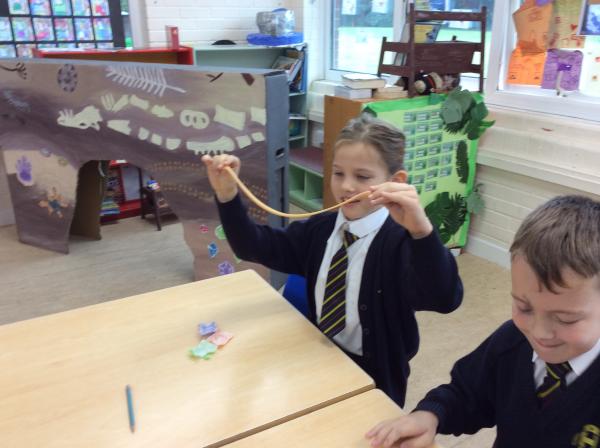 3 Robins Making Dinosaur Nests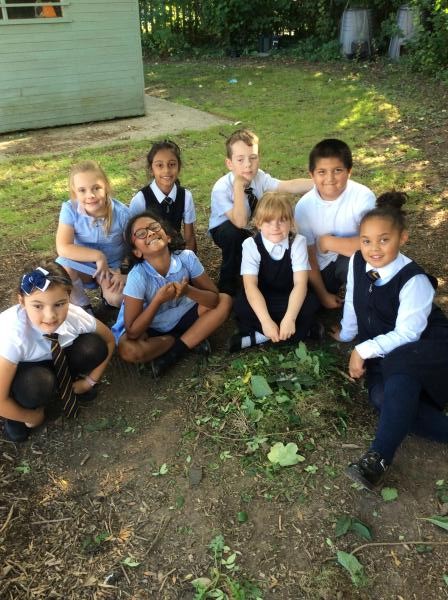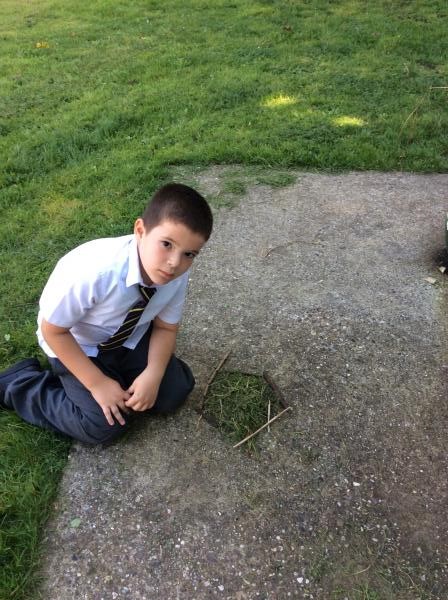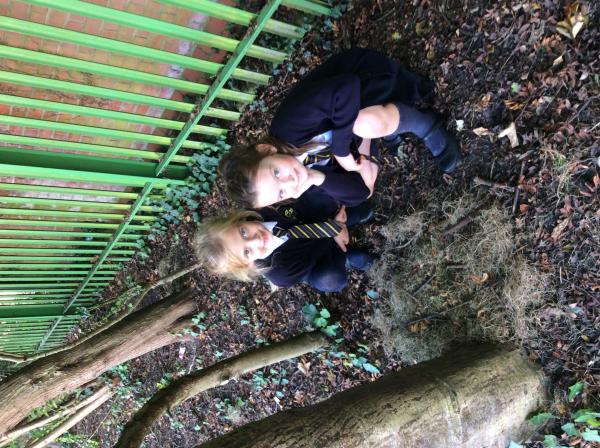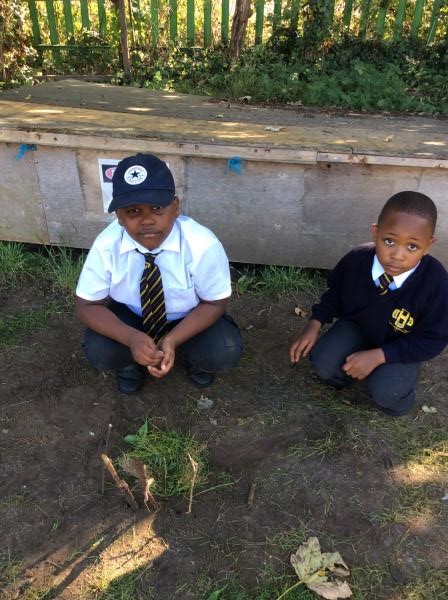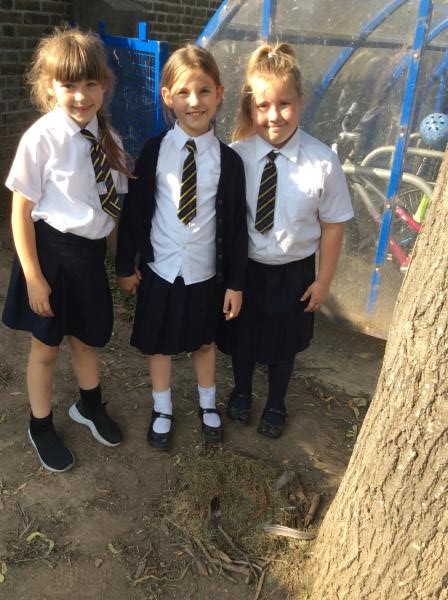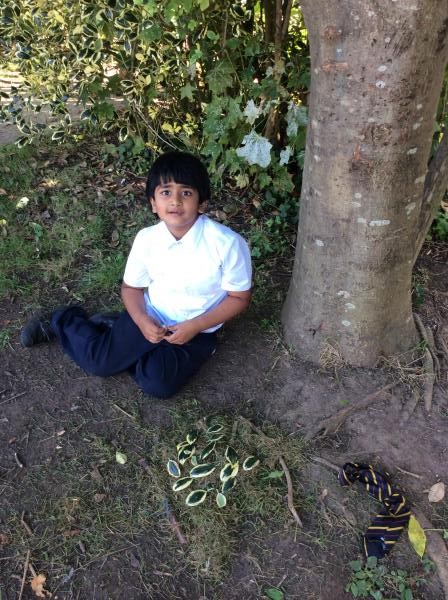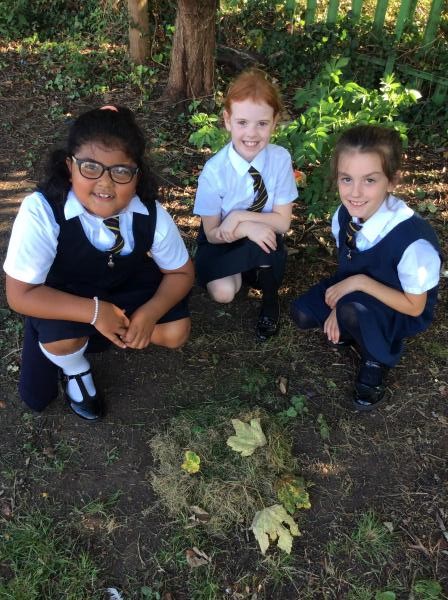 Robins revisiting 2d shape knowledge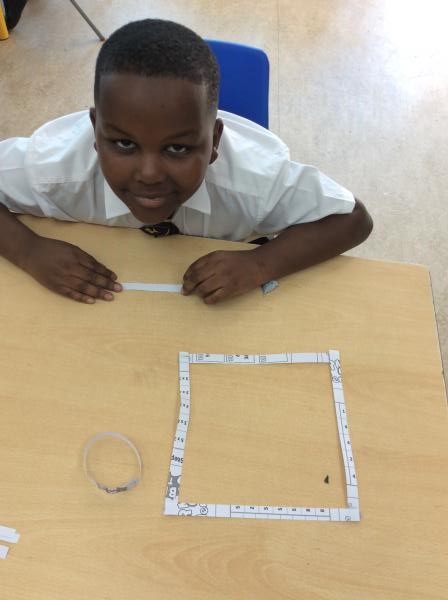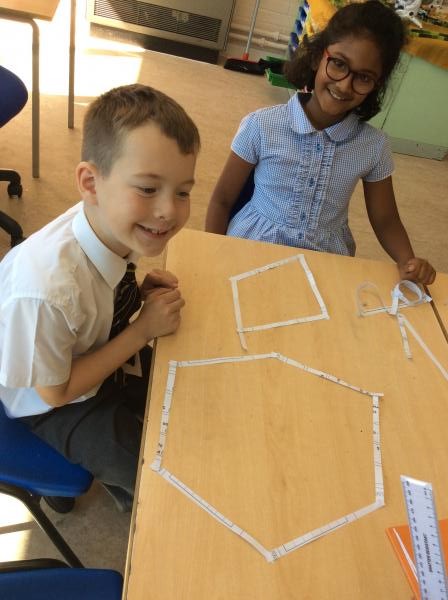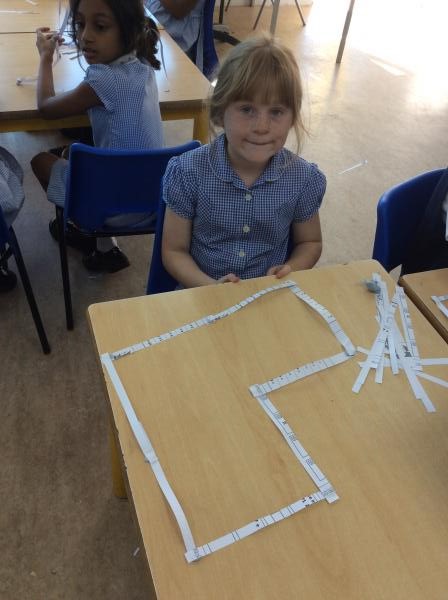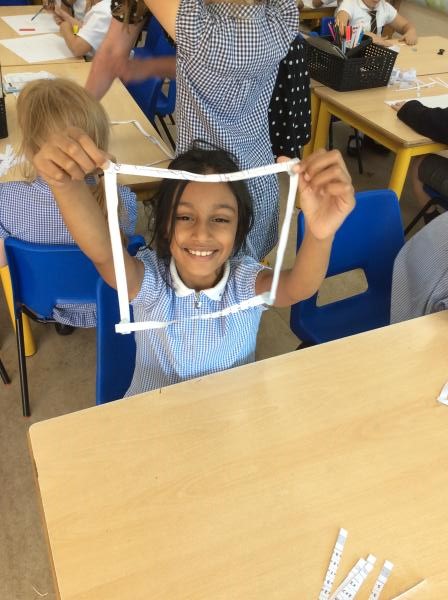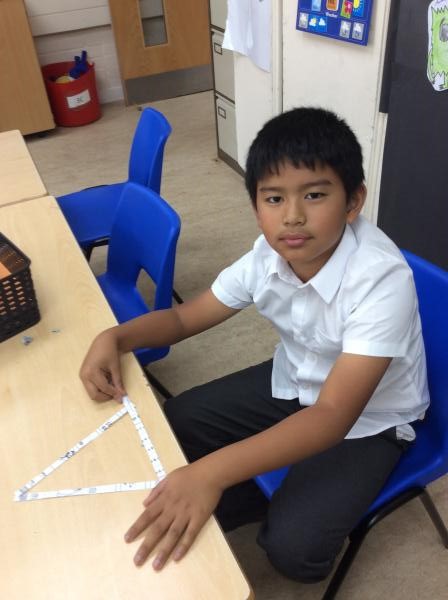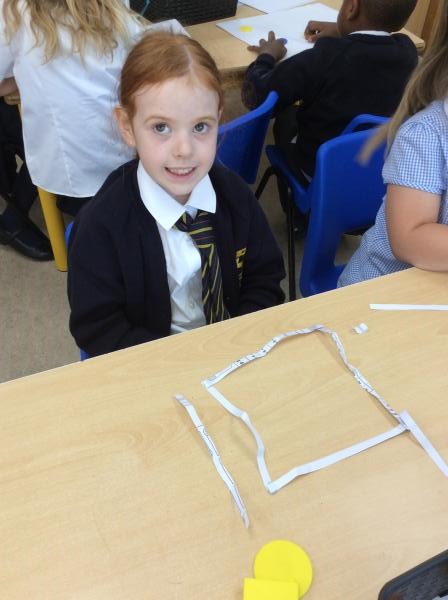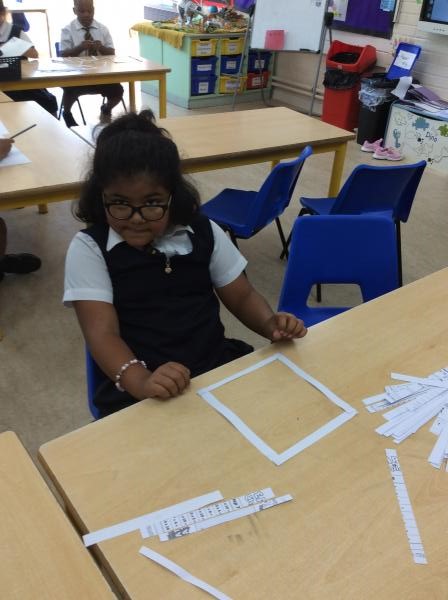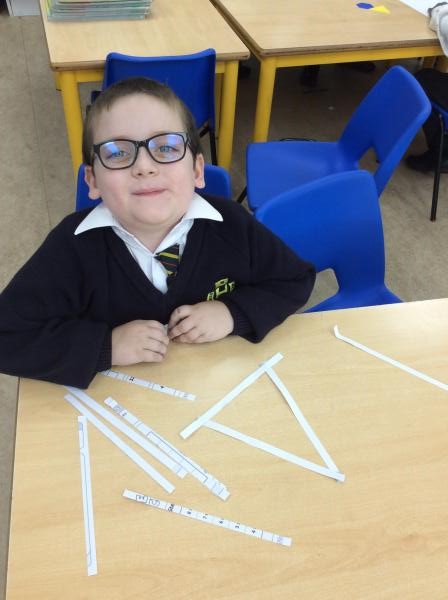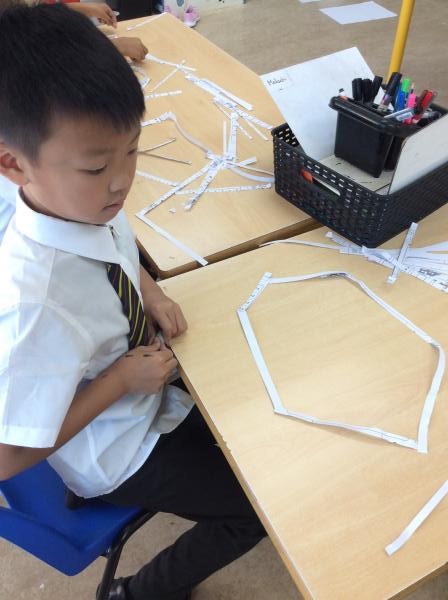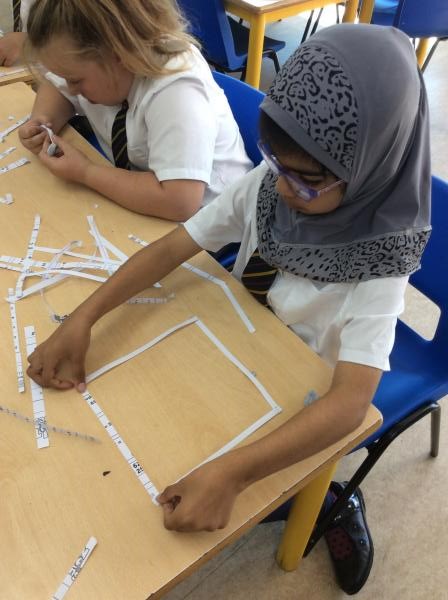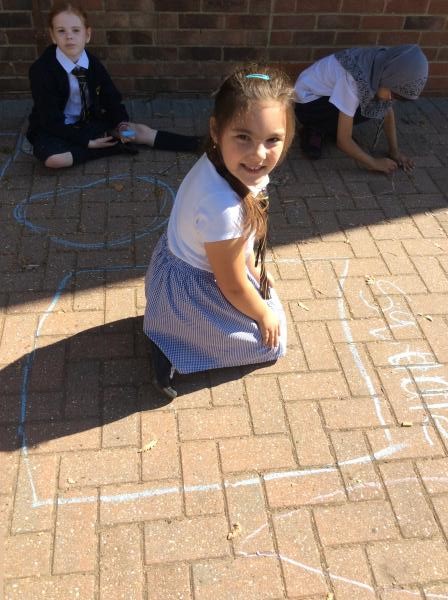 Seagulls in the Nature Area
Seagulls enjoyed their morning in the nature area. We tried colour matching with natural materials with much success. After this, we moved onto being archaeologists- discovering hidden dinosaurs in the nature area and also making dinosaur food with a variety of herbs and plants. Seagulls enjoyed playing games later in the morning.