Our Uniform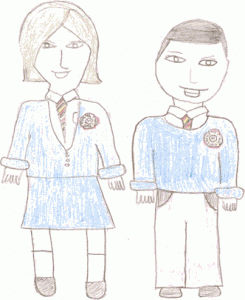 Our school uniform is worn by all our pupils and it is worn with pride.
Our uniform is available from:
Paul's Discount Clothing, Southchurch Rd, Southend
The Schoolwear Centre, Hamlet Court Rd, Westcliff
TO HELP US, PLEASE MAKE SURE THAT ALL YOUR CHILD'S UNIFORM IS NAMED.
PLEASE NOTE THAT THE UNIFORM FOR RECEPTION CLASS IS DIFFERENT TO THE REST OF THE CLASSES.
Long hair: (longer than shoulder length) needs to be tied back for health & safety reasons. All hair accessories should be black or navy blue only
WINTER UNIFORM
All children need a warm waterproof coat.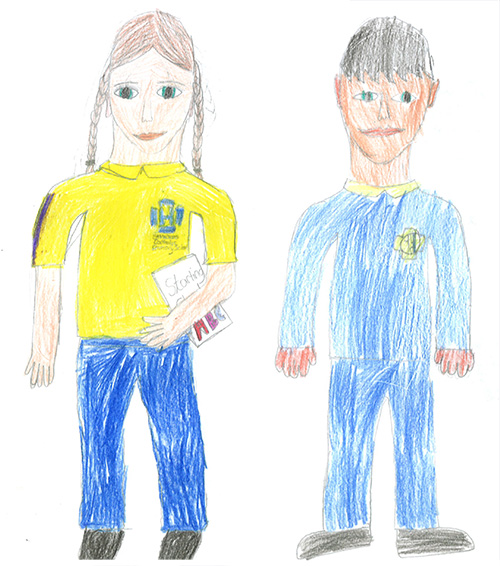 Reception Children
Jogging Suits: Navy Blue, embroidered with School Name
Polo Shirts: Gold, To wear under Sweatshirt
Shoes: Black with velcro fastenings, not laces and preferably not buckles, NO TRAINERS
Socks: White for girls, grey for boys
Wellington Boots: For outdoor learning
Year 1 upwards Girls
Pinafore Dress/ Skirt: Navy, knee length
Shirt: White (NOT POLO SHIRT)
Tie: School colours
Jumper: Navy V-neck with School badge or
Cardigan: Navy with School badge
Trousers: Navy, tailored, not stretch material.
Tights: Navy
Socks: White, knee length
Shoes: Black, sensible walking shoes, NO HIGH HEELS OR SLING BACK STYLES, NO TRAINERS
Year 1 upwards Boys
Trousers: Dark grey
Shirt: White (NOT POLO SHIRT)
Tie: School colours
Jumper: Navy V-neck with school badge
Socks: Grey
Shoes: Black, sensible, NO TRAINERS
For All
Shoes: Black
Sandals: Black, Navy or White. Enclosed heels. No sling backs/high heels
Sun Caps / Winter Hats: All pupils need a sun cap. Caps and hats with school logo can be purchased at the uniform shops.
Unisex P.E. Kit (Must be in school at all times)
Shorts: Navy
T-Shirt: Gold with St. Helen's logo
Trainers: For outdoor activities
Football boots: Optional
Bag: Gold, printed with school badge
Track Suit: A jogging suit/track suit maybe worn for games activities during cold weather – optional
SUMMER UNIFORM
Reception Children
Shorts: Navy
Polo Shirt: Gold School Polo Shirt
Dress: White/blue gingham – ONLY if the child can do up her buttons
Year 1 Upwards Girls
Summer Dress: White/blue gingham
Year 6 Girls: May continue to wear winter uniform in their final summer term
Year 1 Upwards Boys
Shirt: White short-sleeved (NOT POLO SHIRT)
Tie: School colours
Trousers: Short or long, dark grey
Socks: grey
Swimming
Girls
Costume: One-piece only
Boys
Trunks: Suitable type
Both
Towel: Suitable for swimming
Swim Cap: Compulsory
Waterproof bag: Clearly marked with child's name
Other Faiths
Hijab: Navy, Black or White