Welcome to Class 4
---
Class Teachers: 2022 - 2023
Fountains
Miss Wallen

Learning Support Assistants
Miss Hickey

Gideon
Mr Gibson
Learning Support Assistant
Mrs Mertens
Mrs Hardcastle
---
---
The latest news from Fountains & Gideon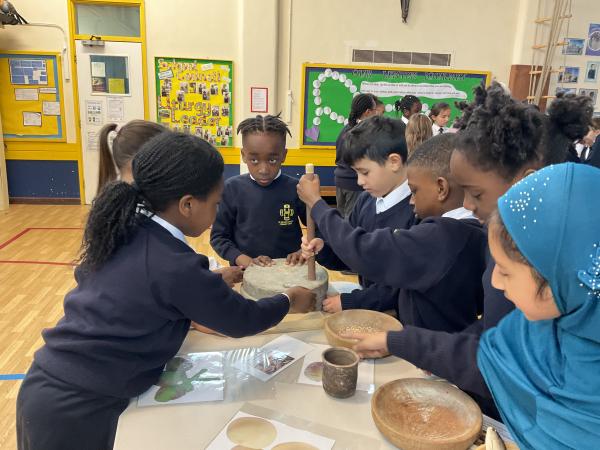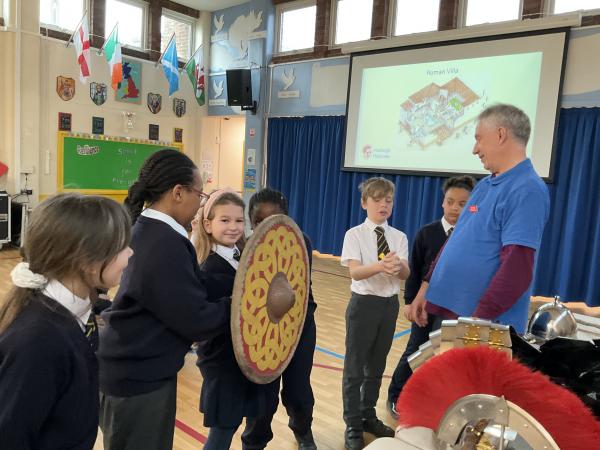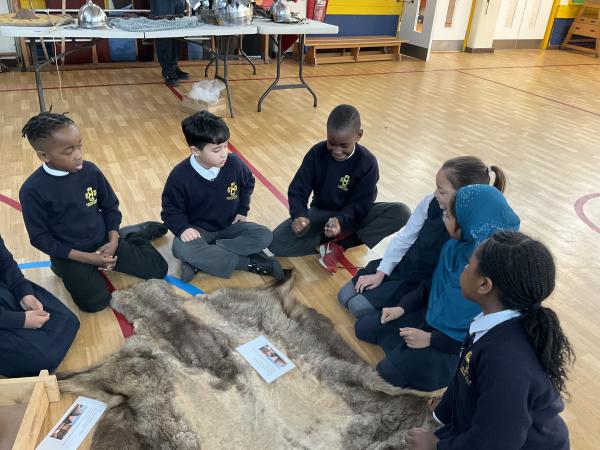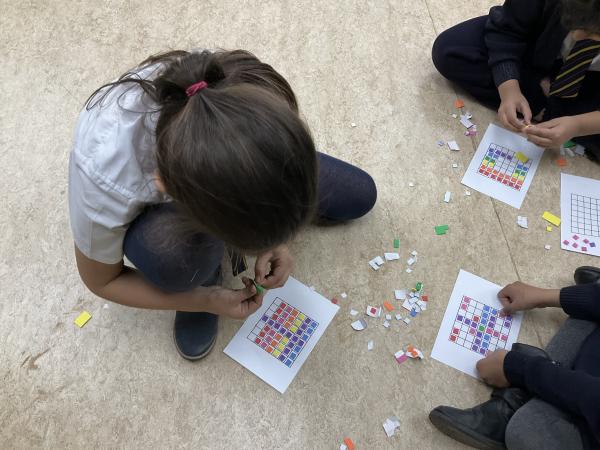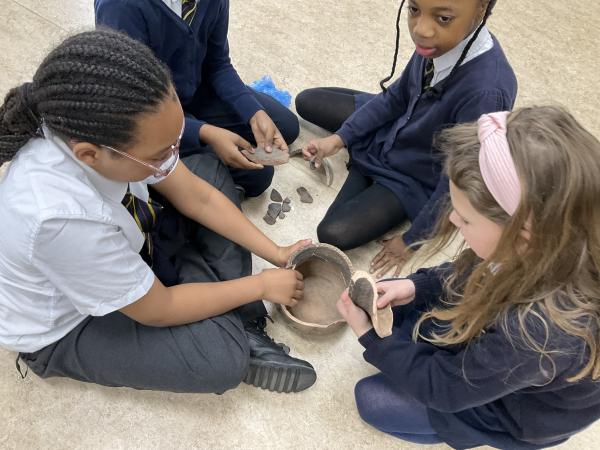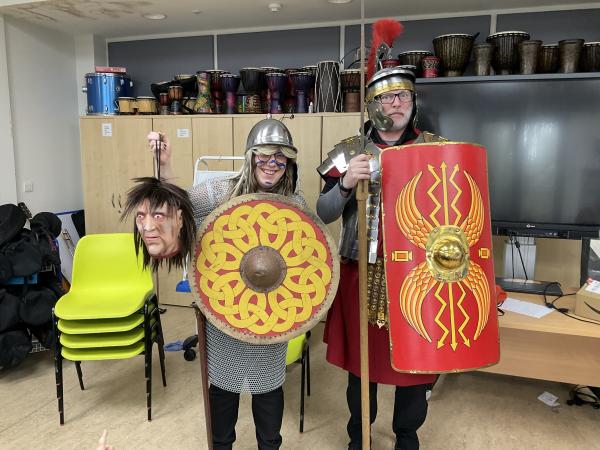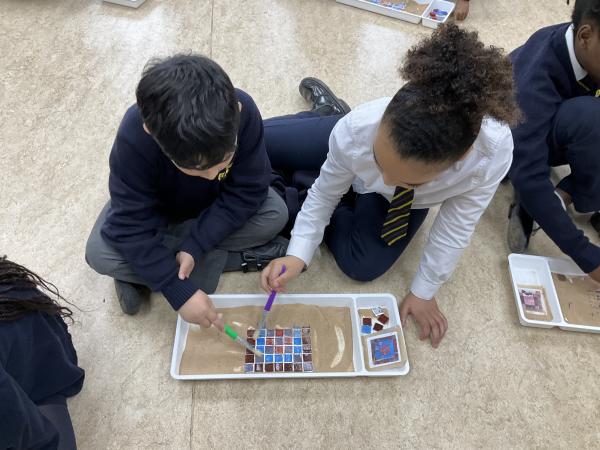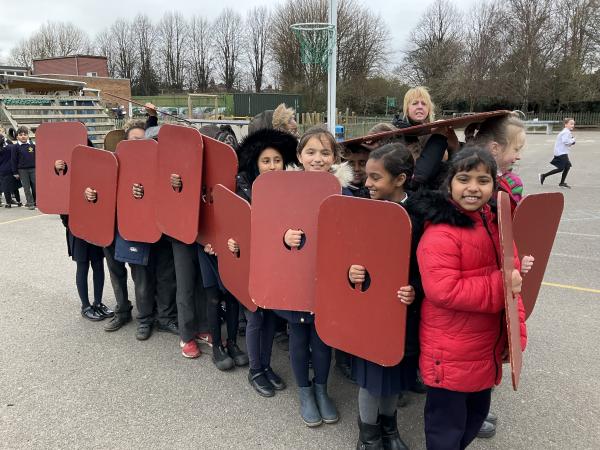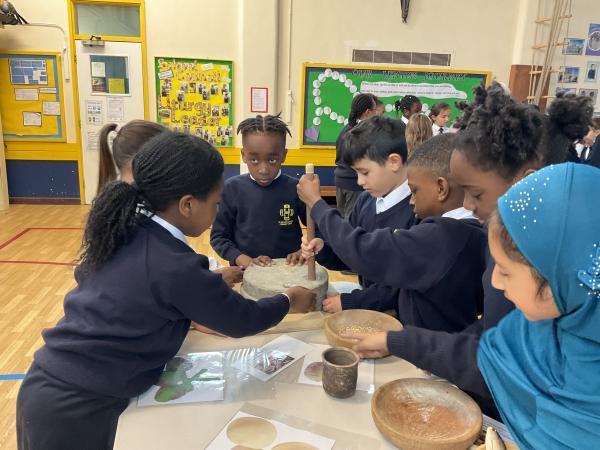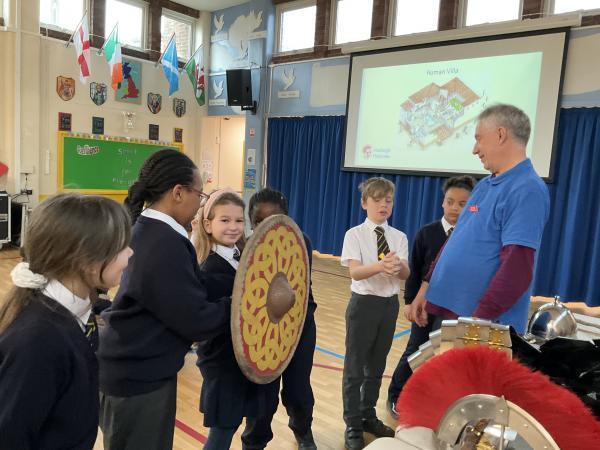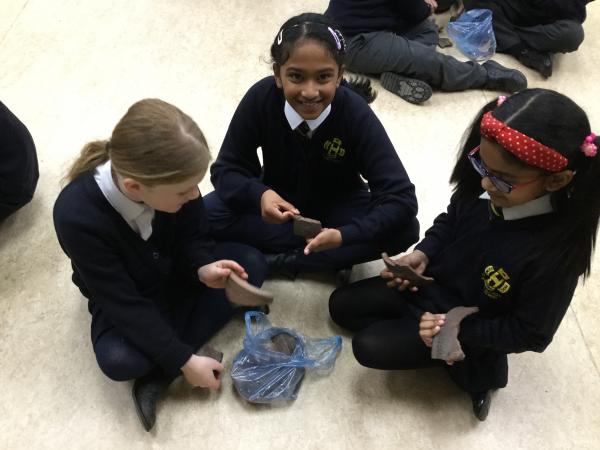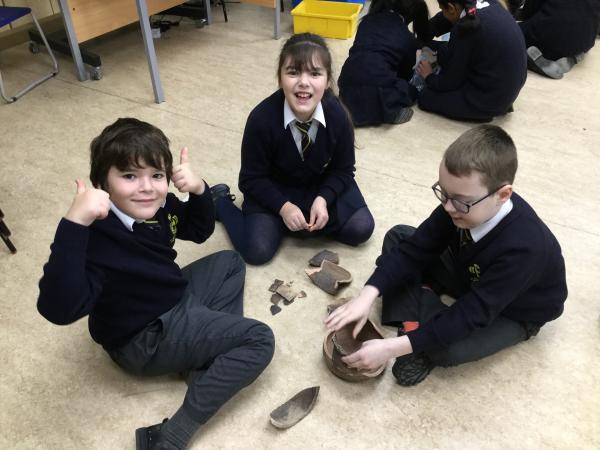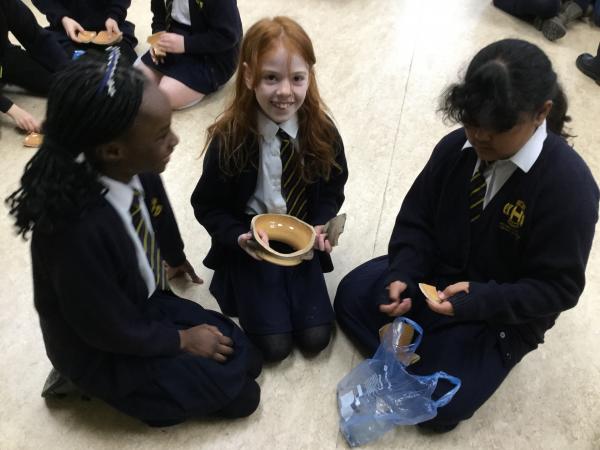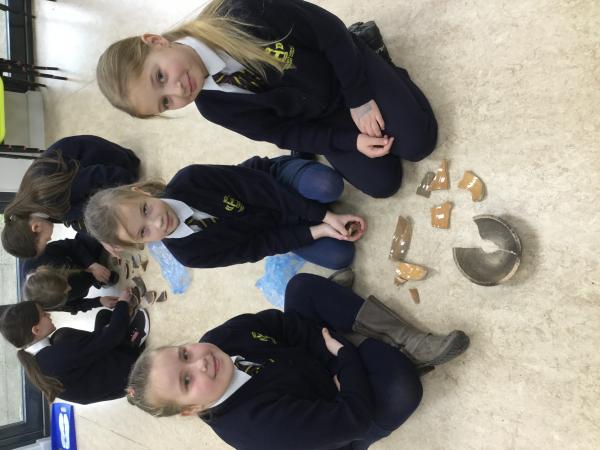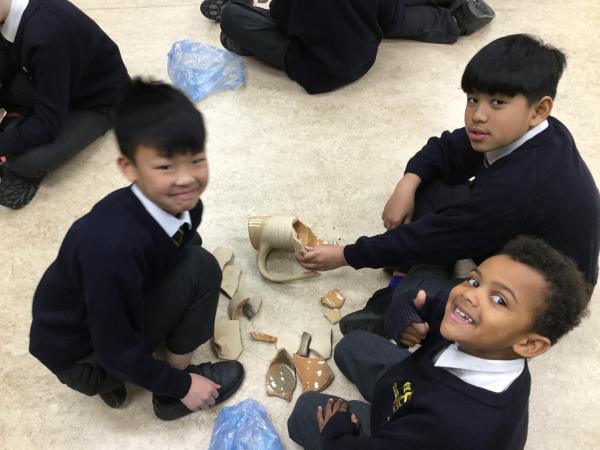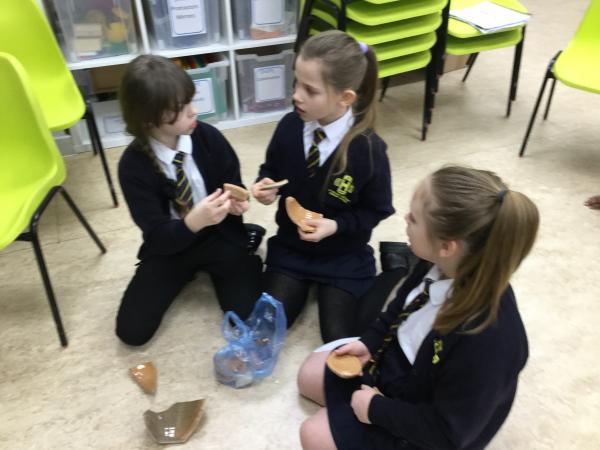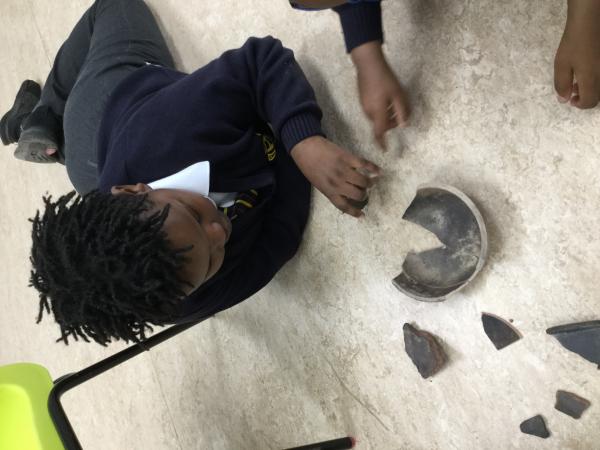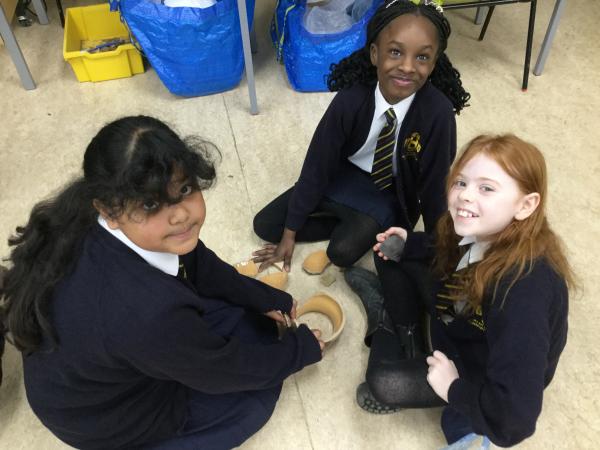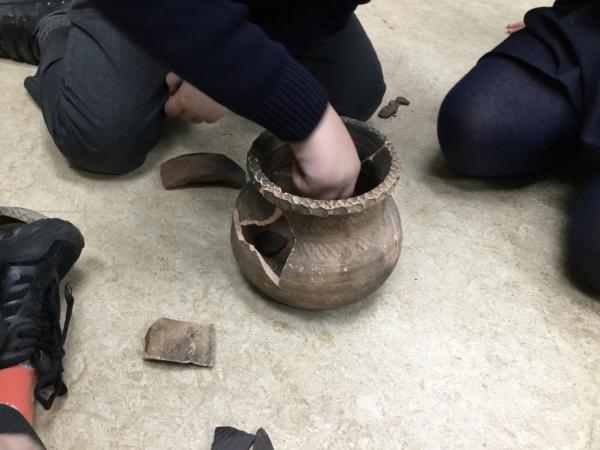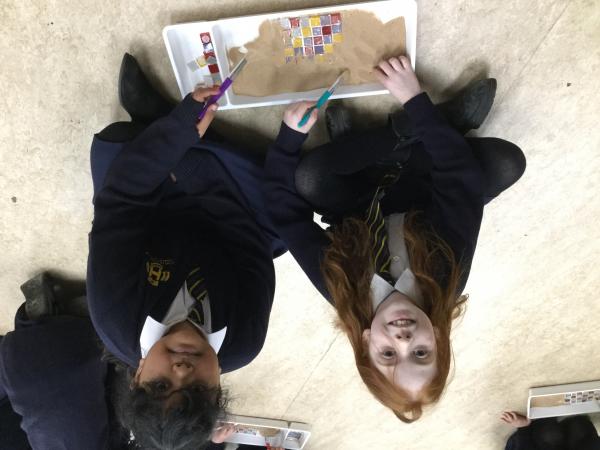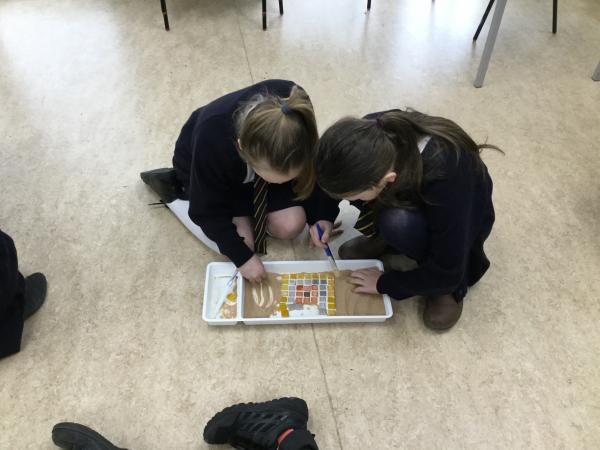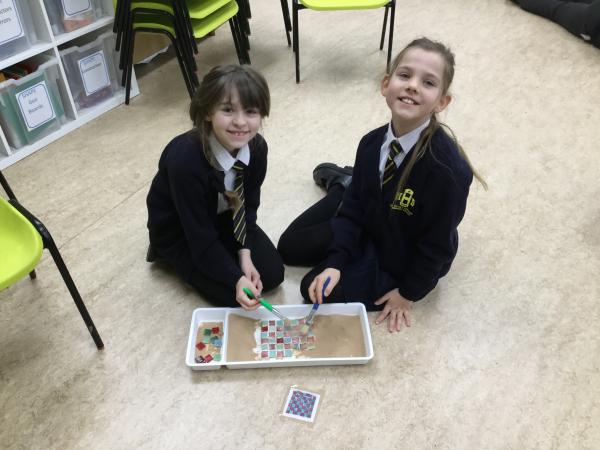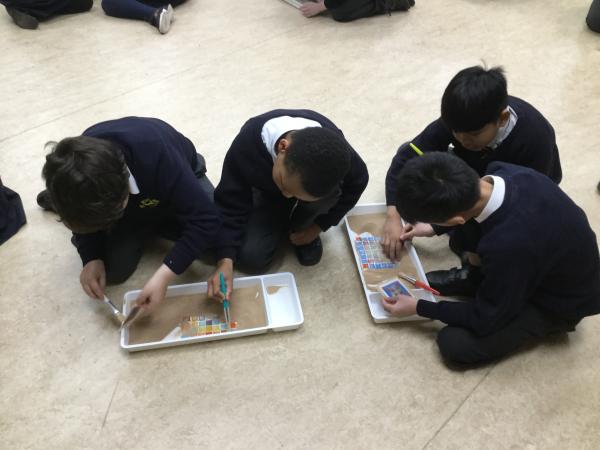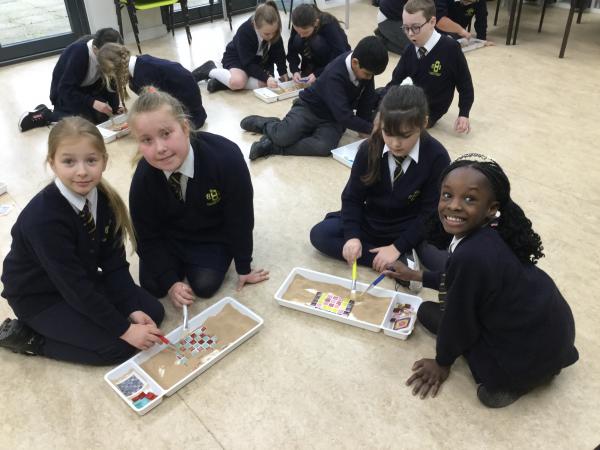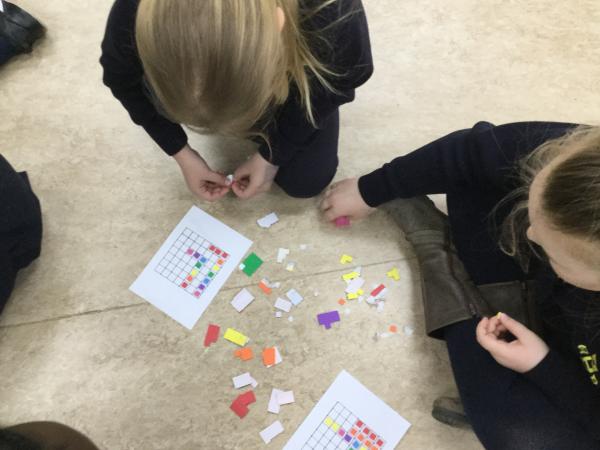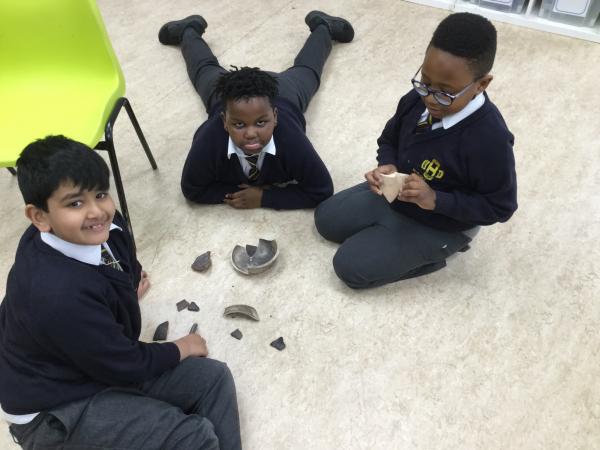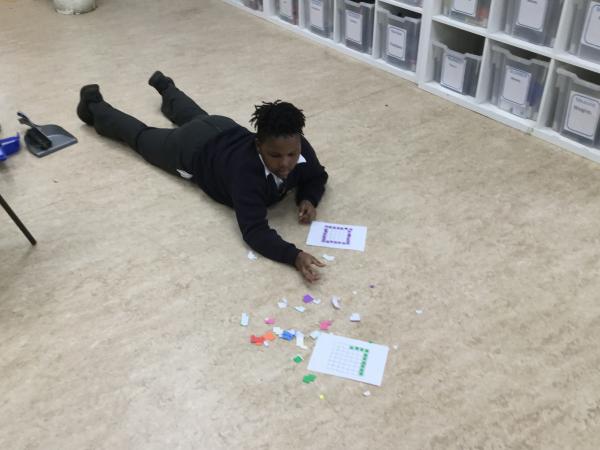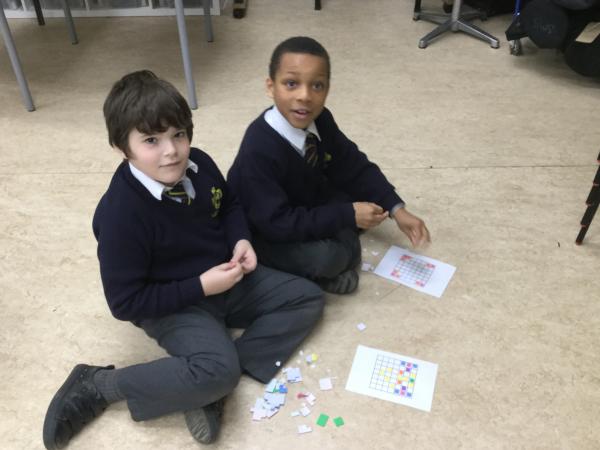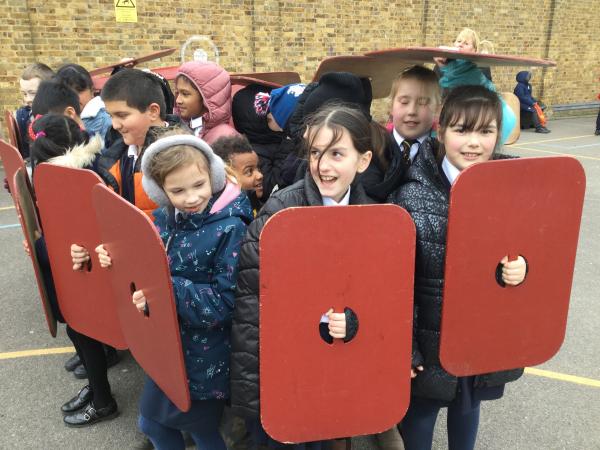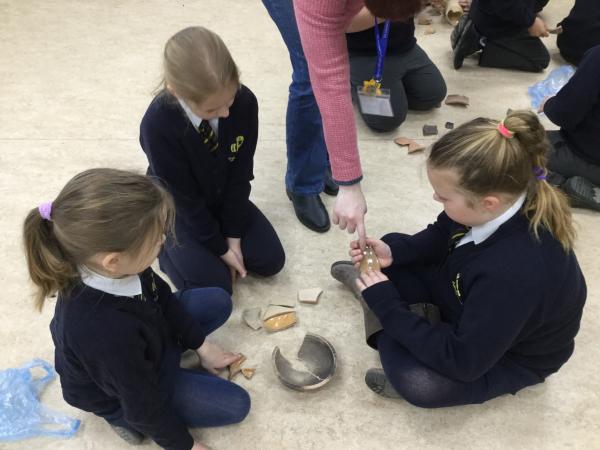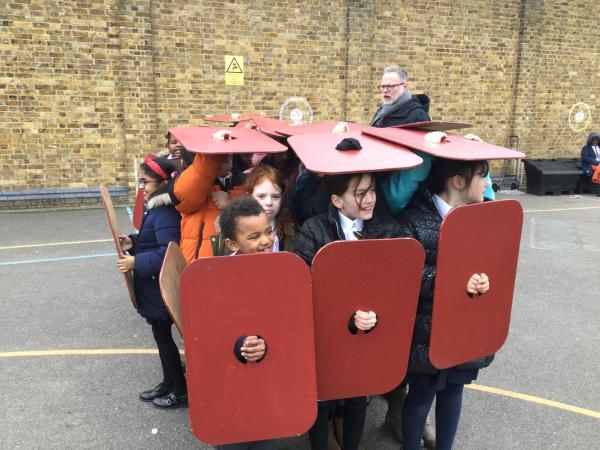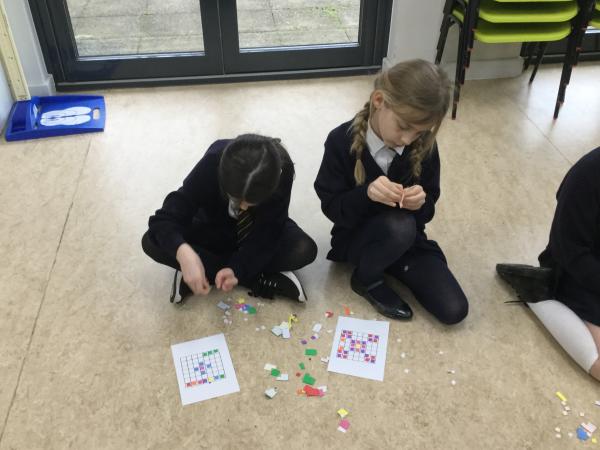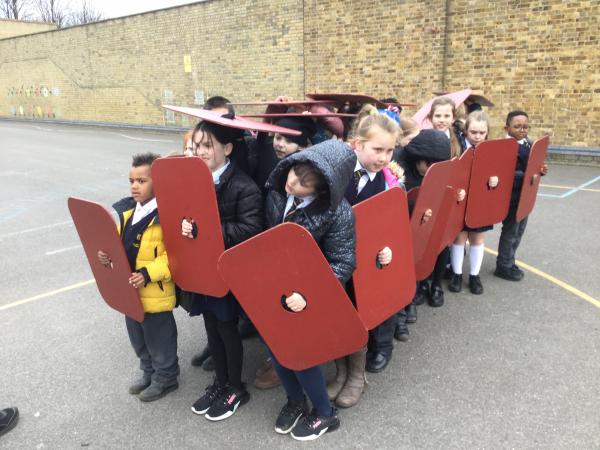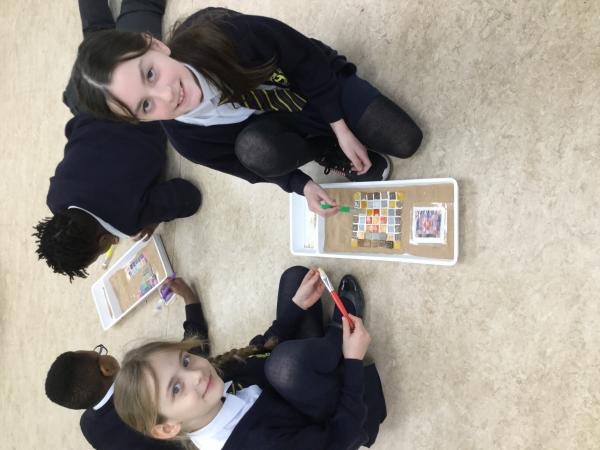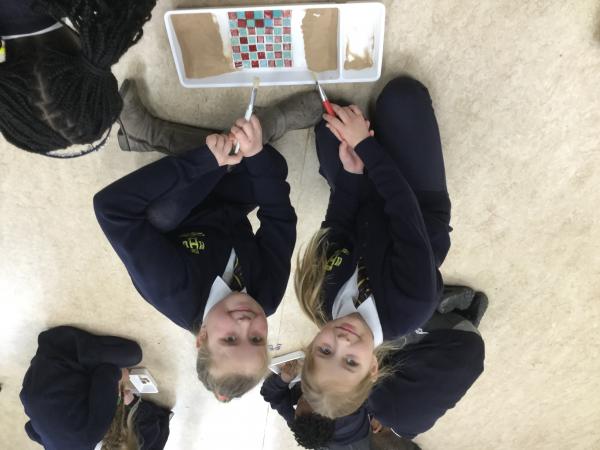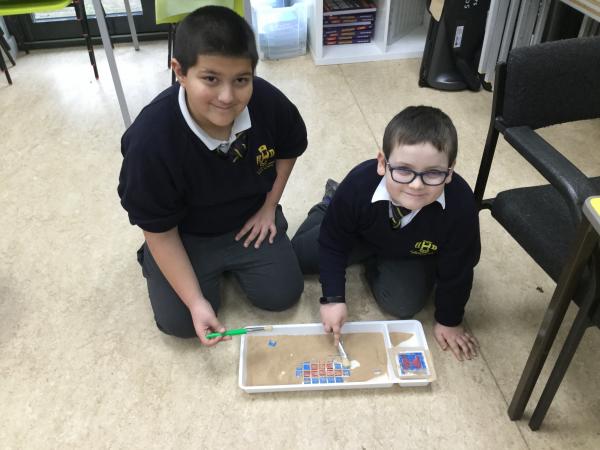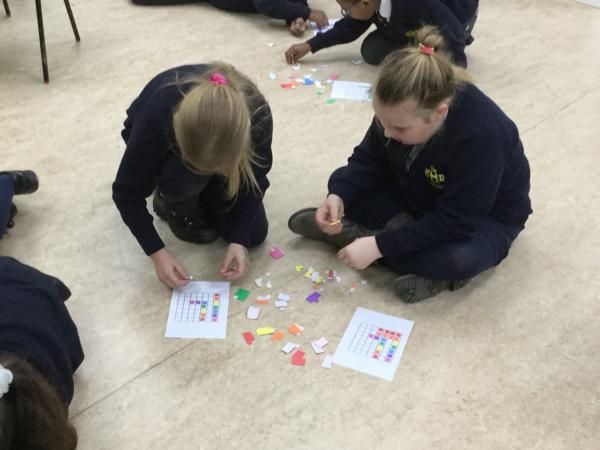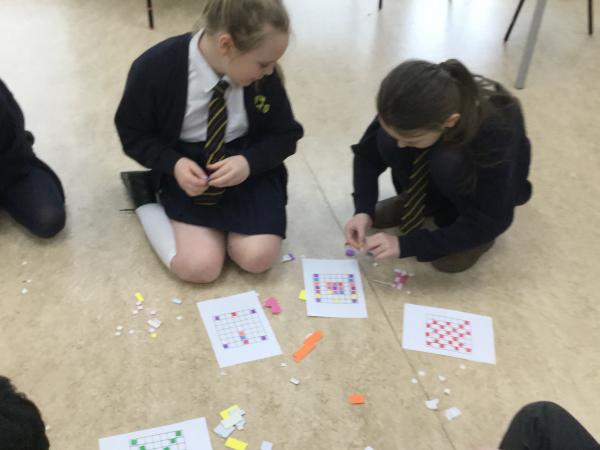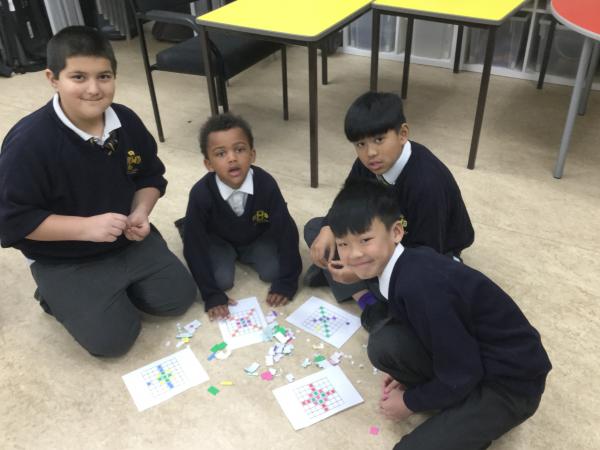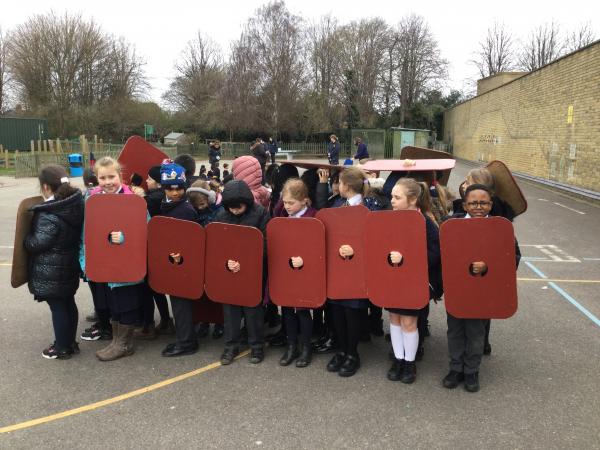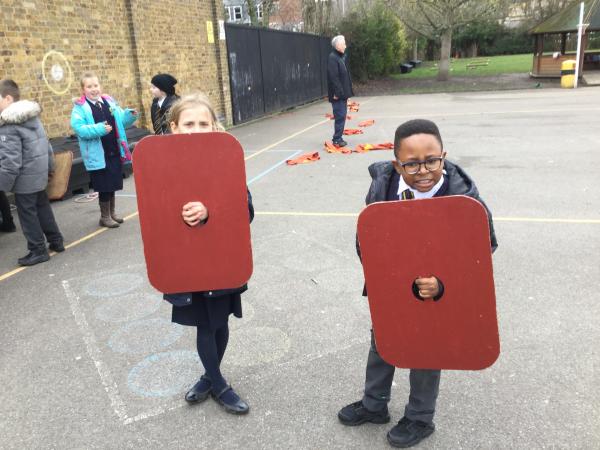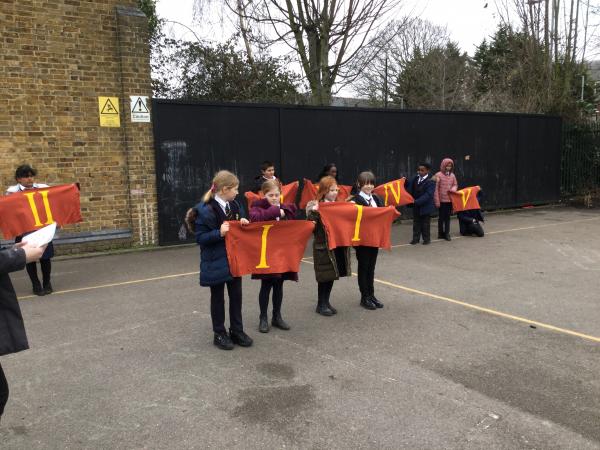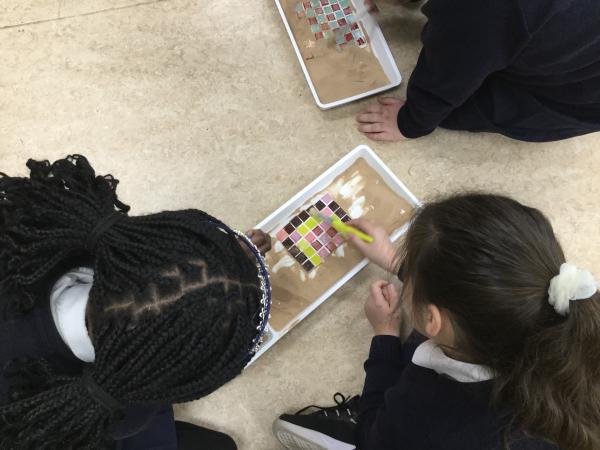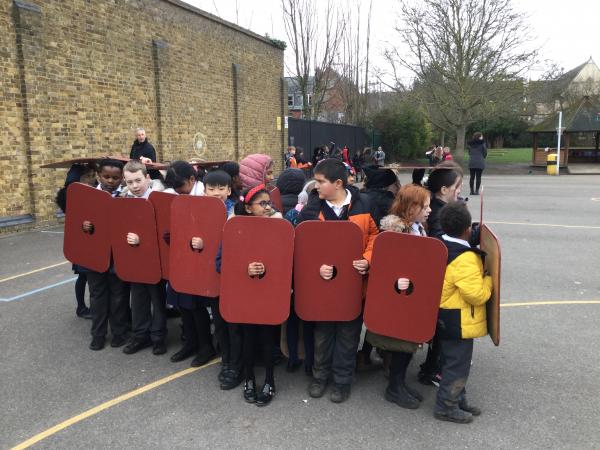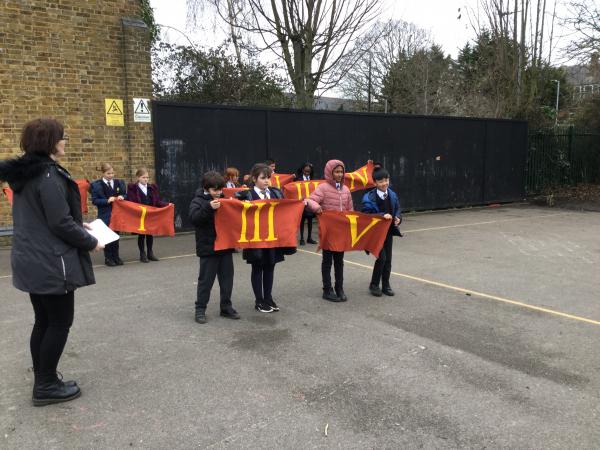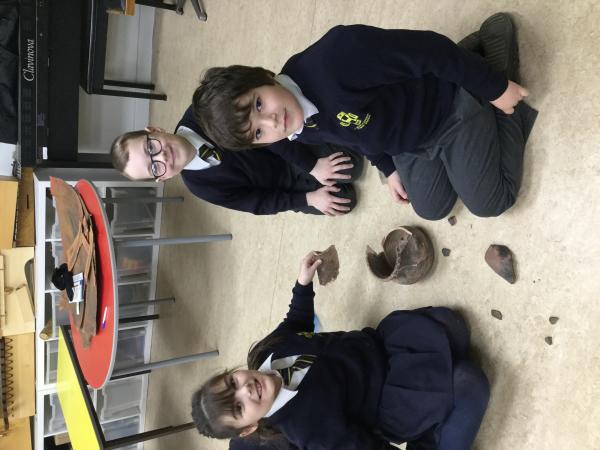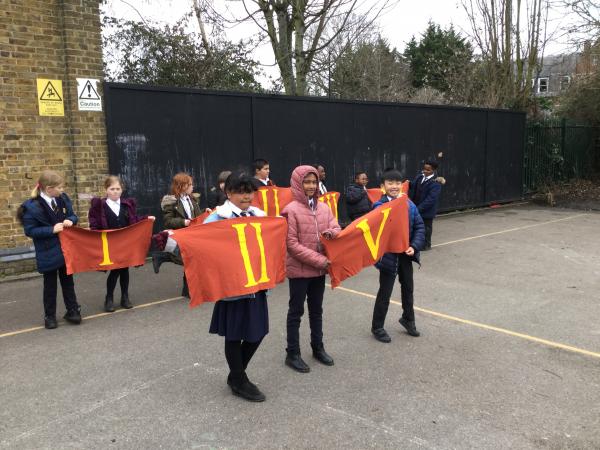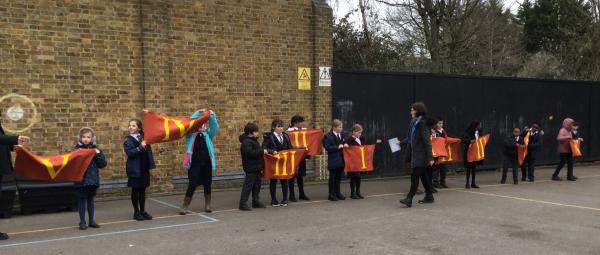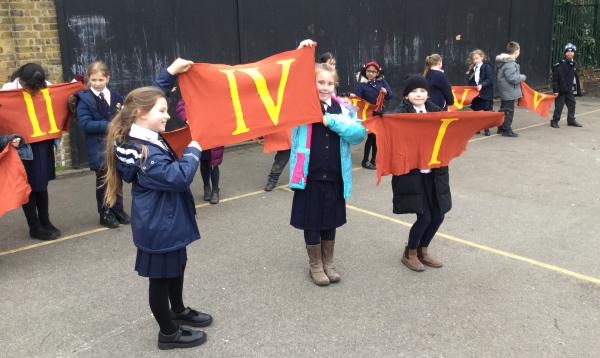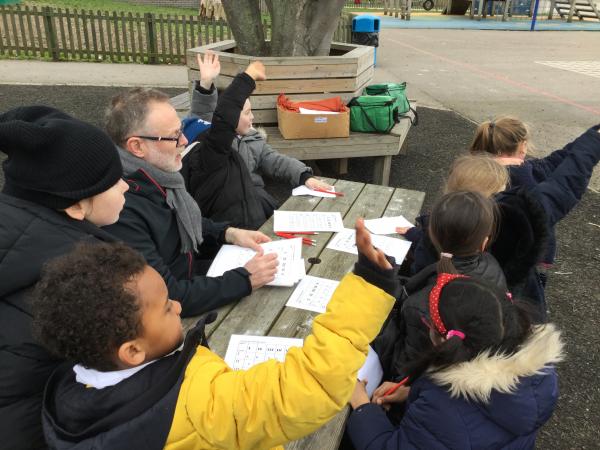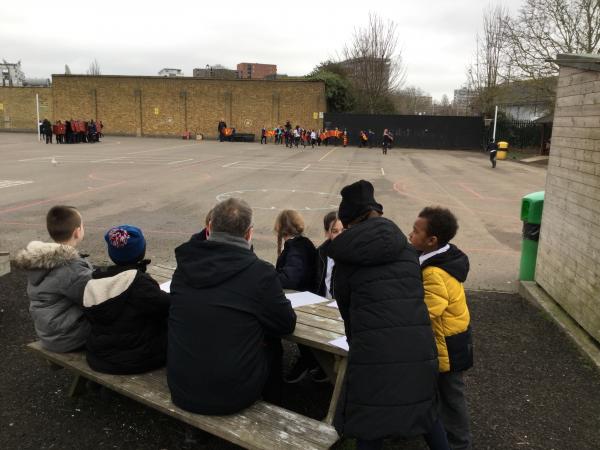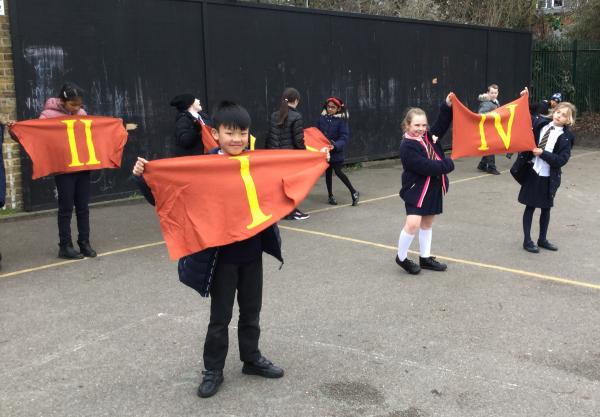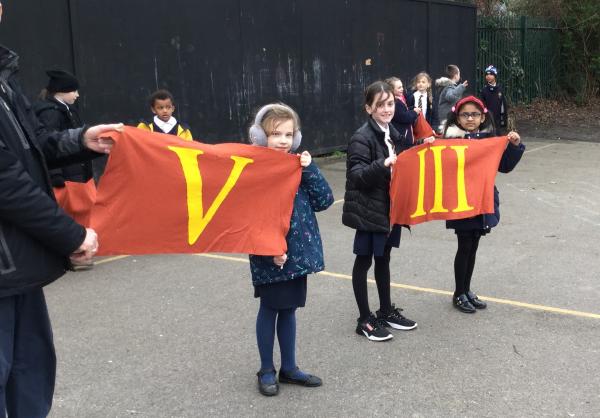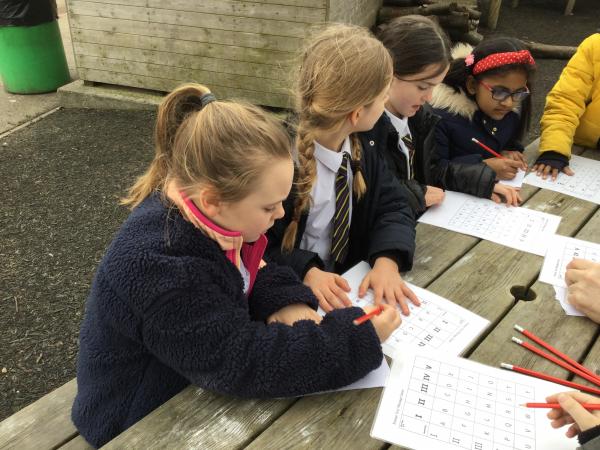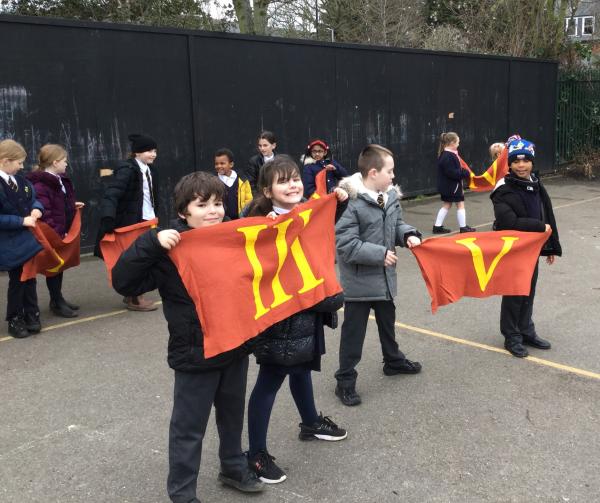 Food chains and webs
4 Gideon looked at the connections between the animals in the world around us by investigating food chains and webs of increasing complexity. We got in a bit of a tangle working out what happens when changes in our environment cause increases or decreases of certain predators or prey in the food web!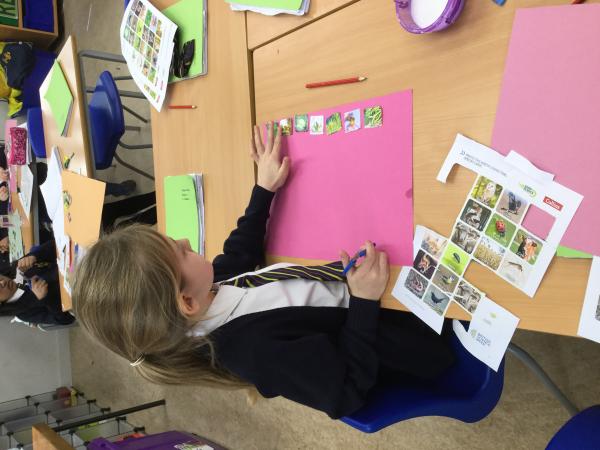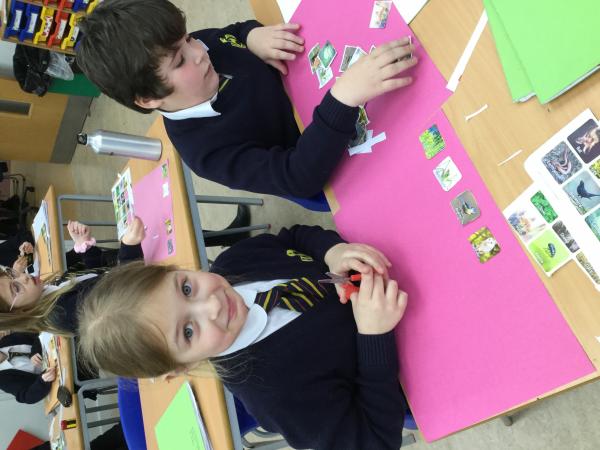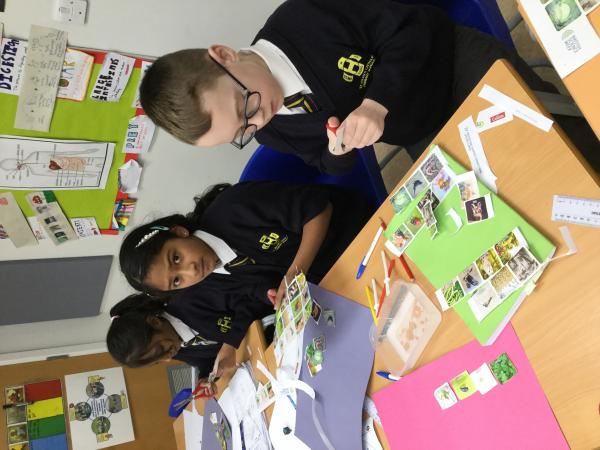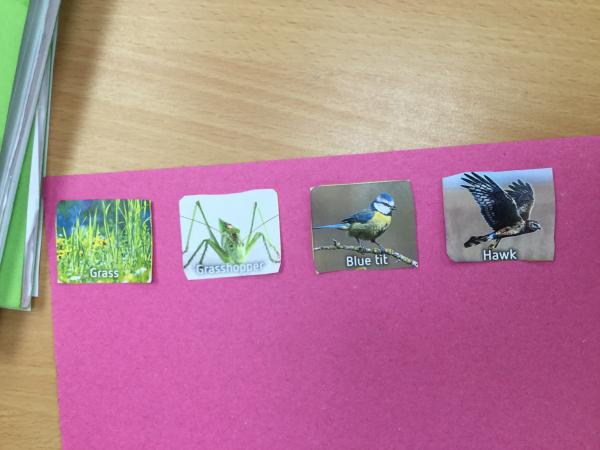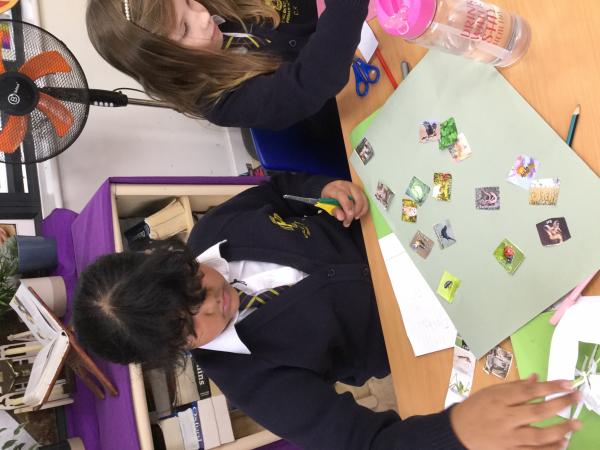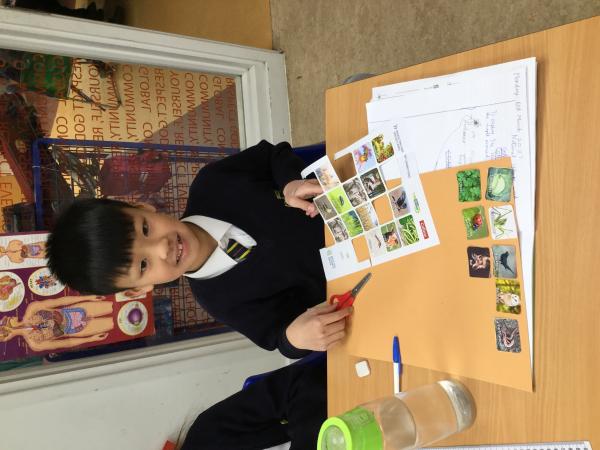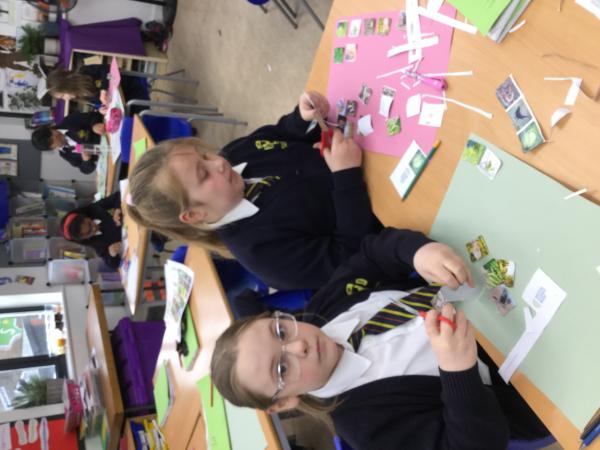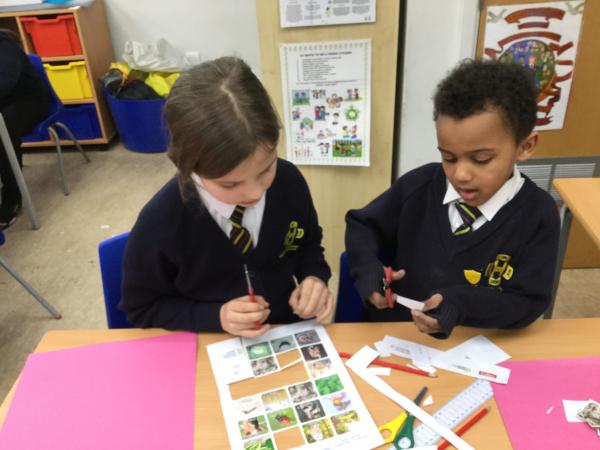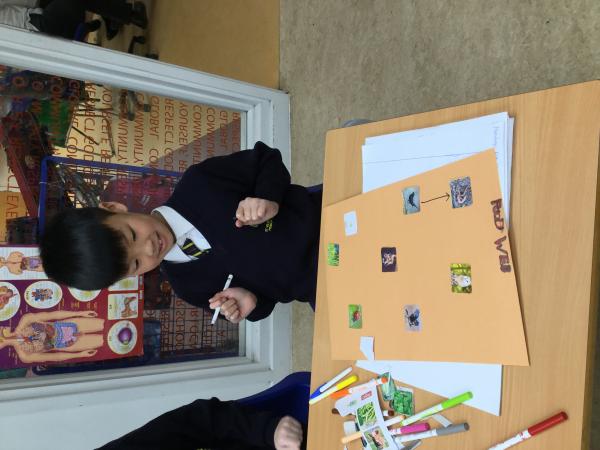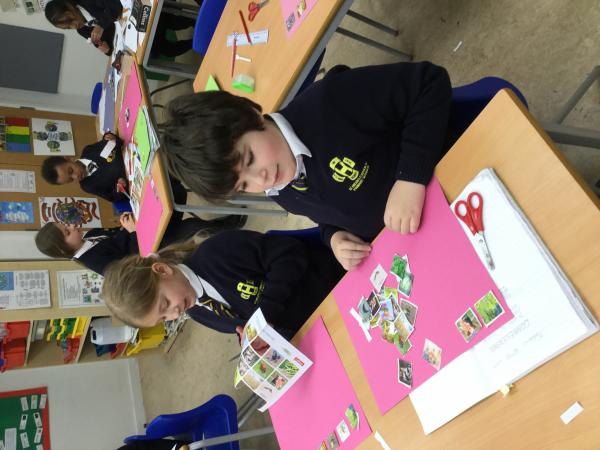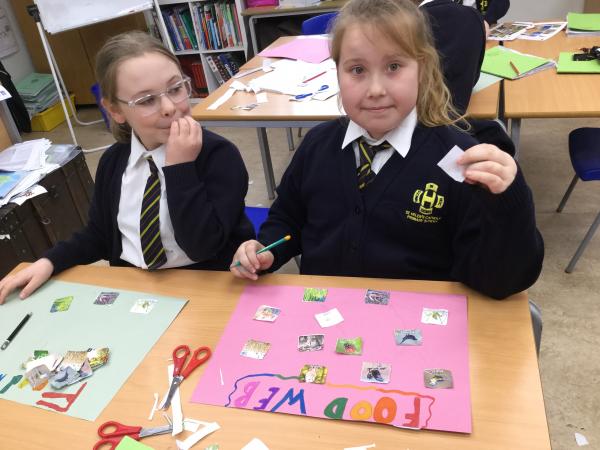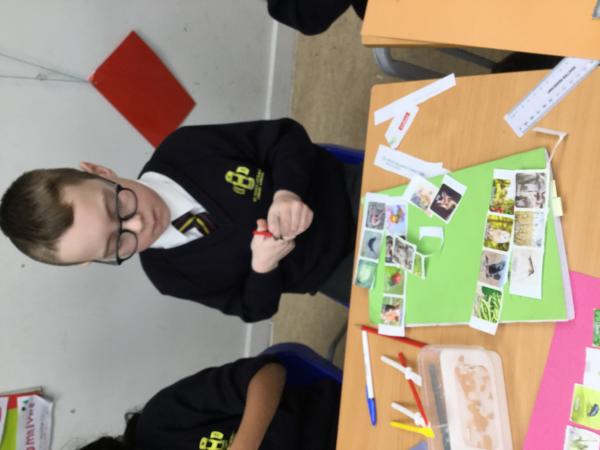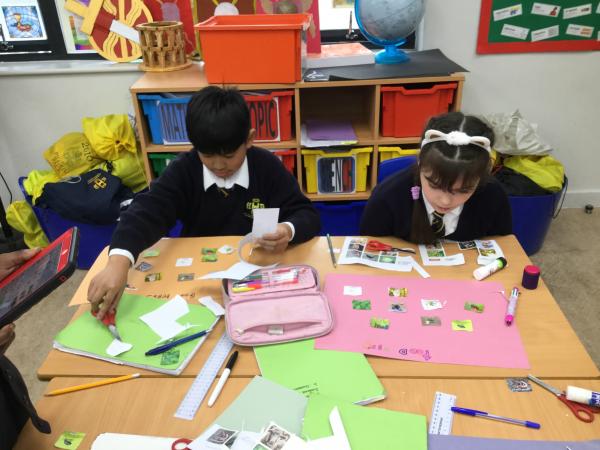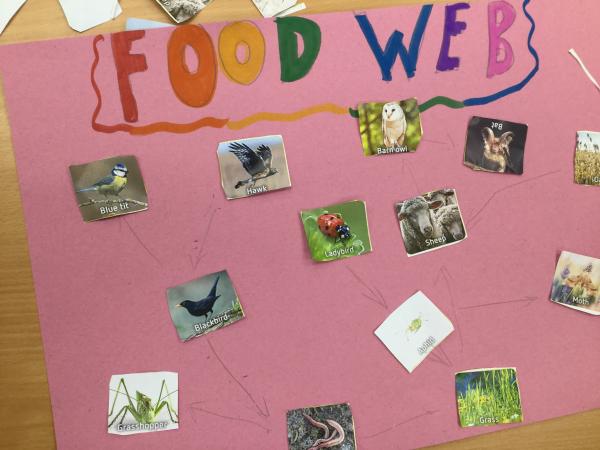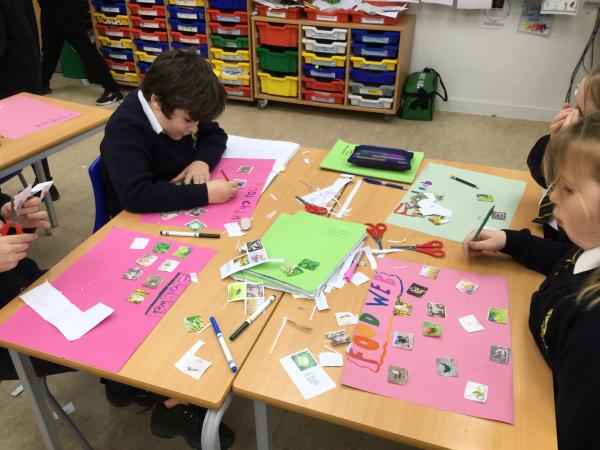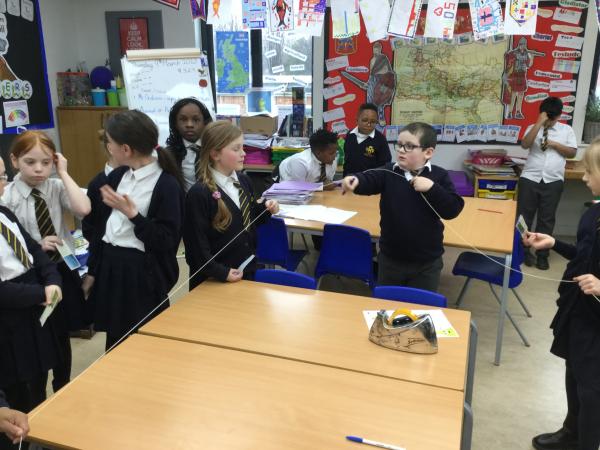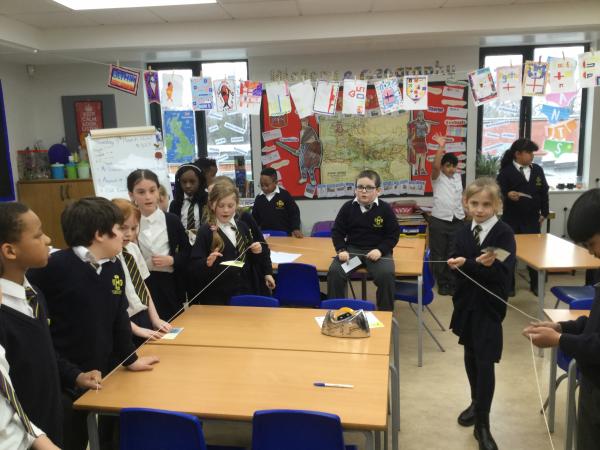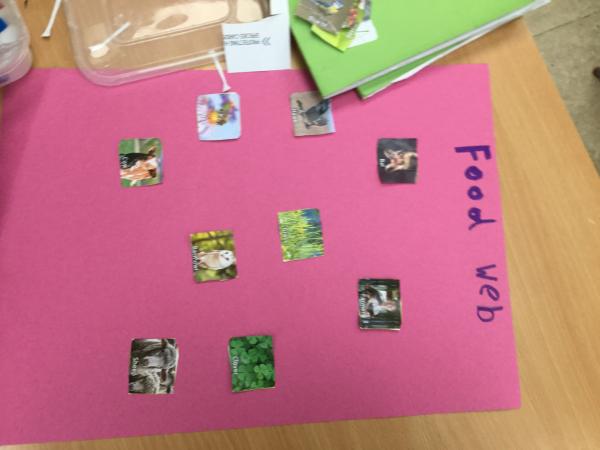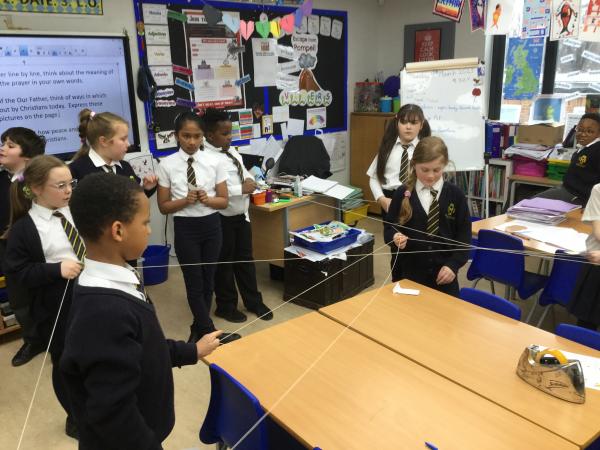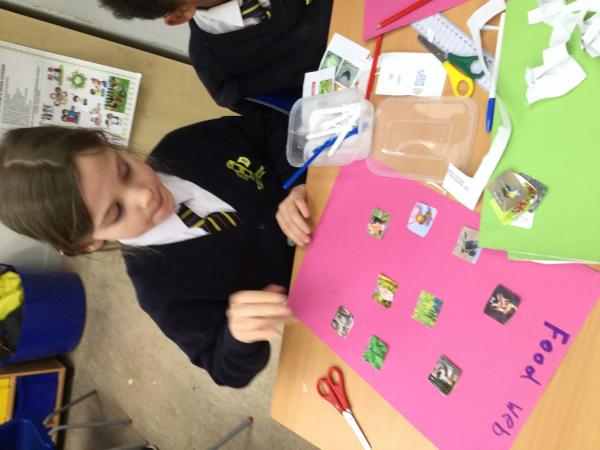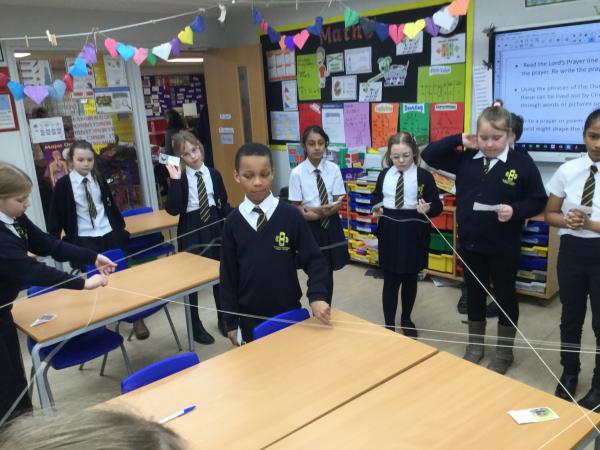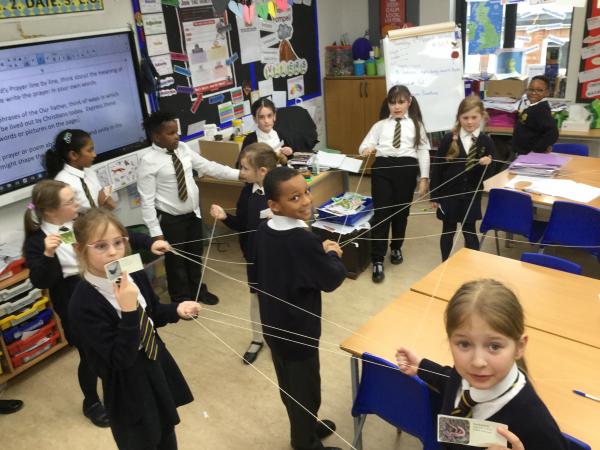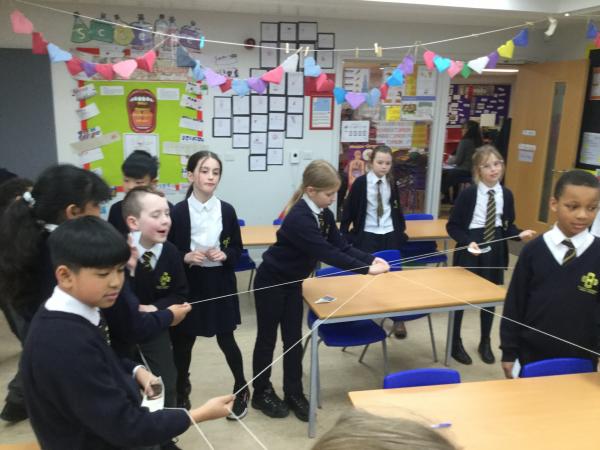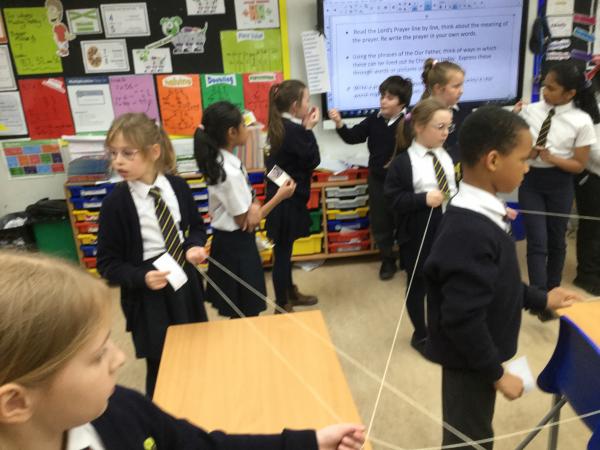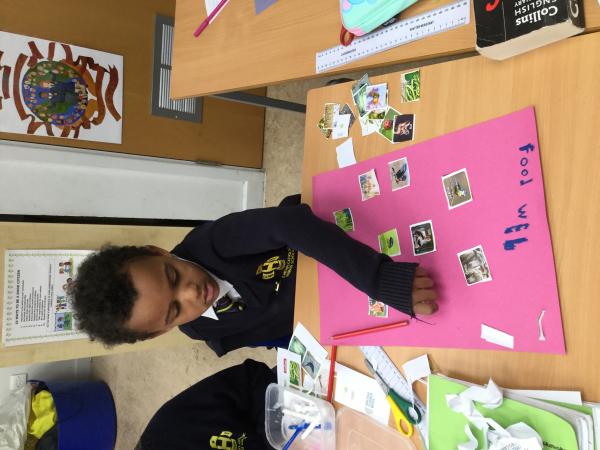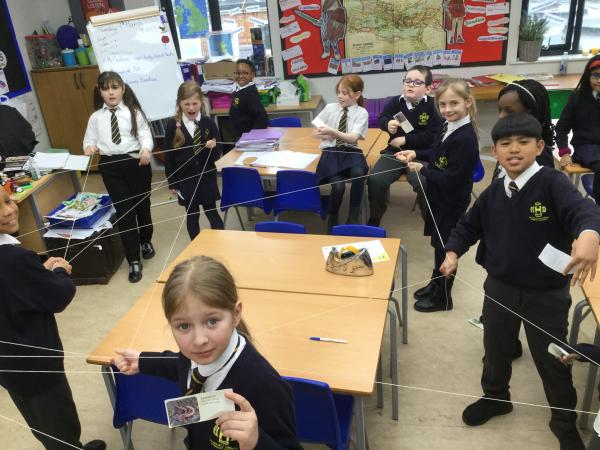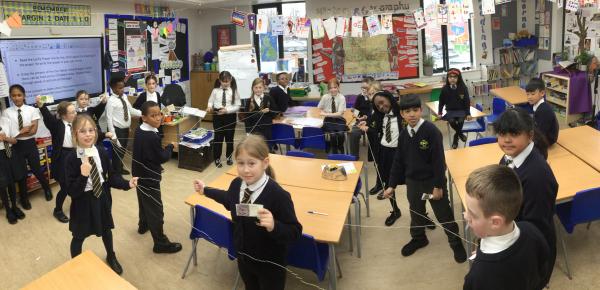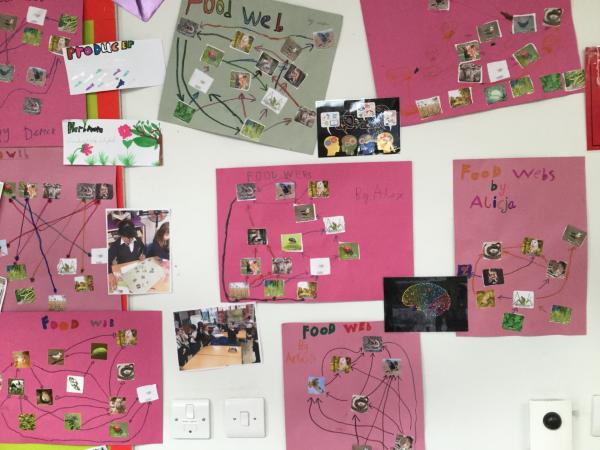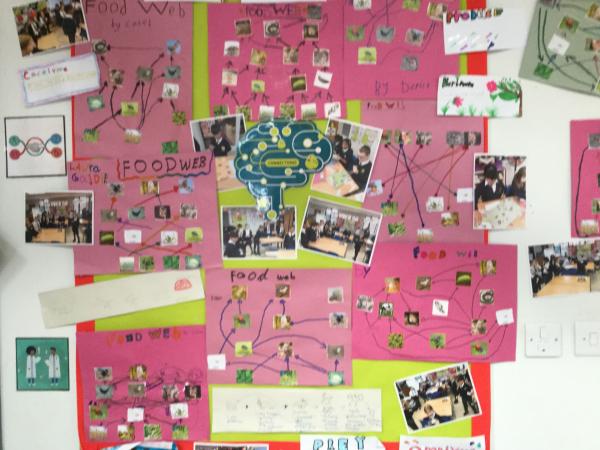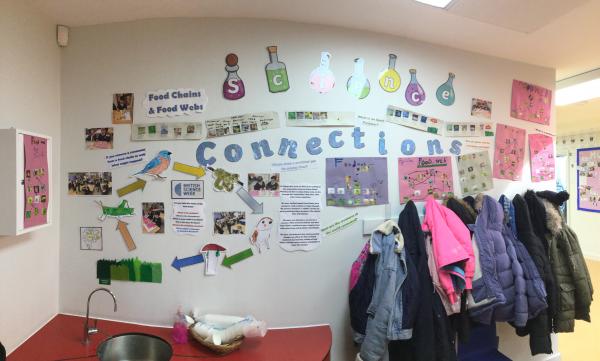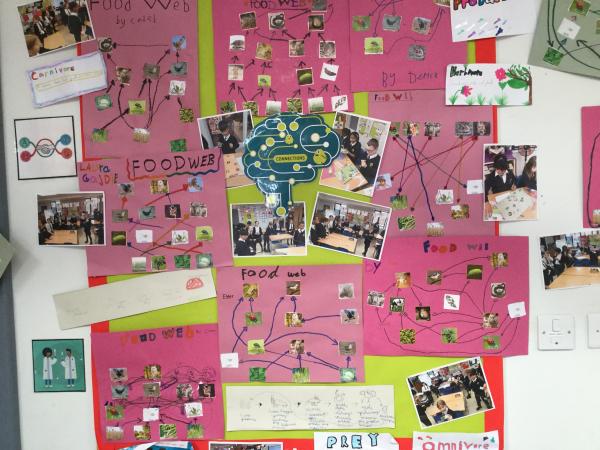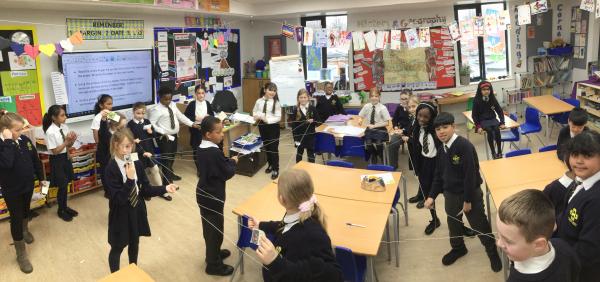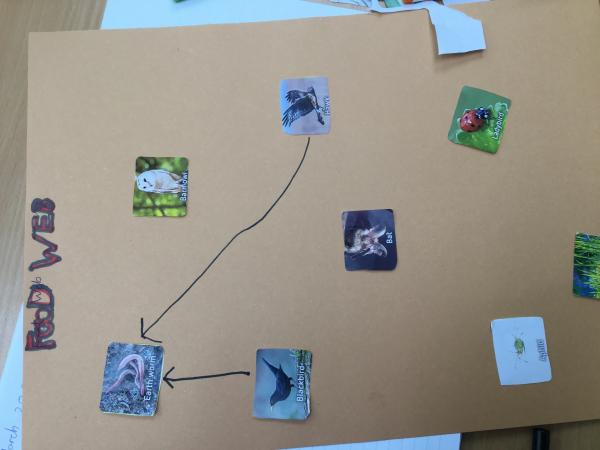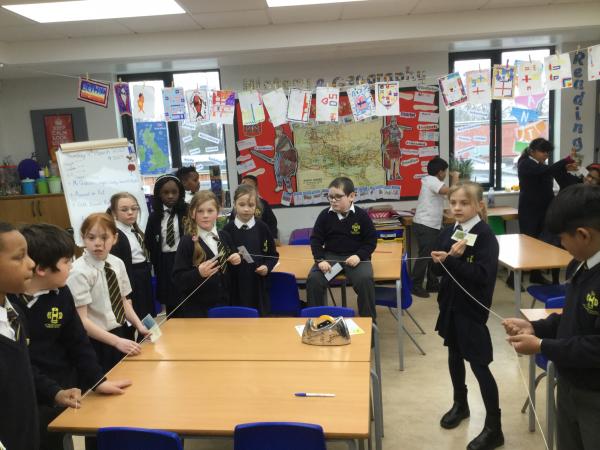 Team Work
4F had a busy morning in the nature area and using space on the field today. Their focus was working together as a team and listening to each other. They started by hiding teddies and giving each other clues to find them. Next, was the blindfold challenges, working together to trust and look after each other. Lastly, they moved to the nature area where they worked together to play games, build dens, make food and generally have fun. This morning, 4F demonstrated excellent teamwork to achieve common goals. Keep it up.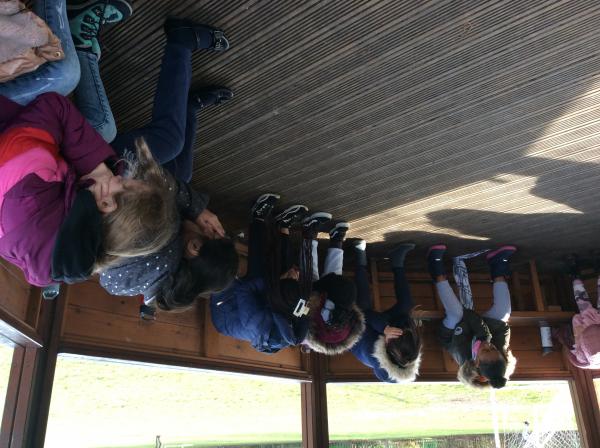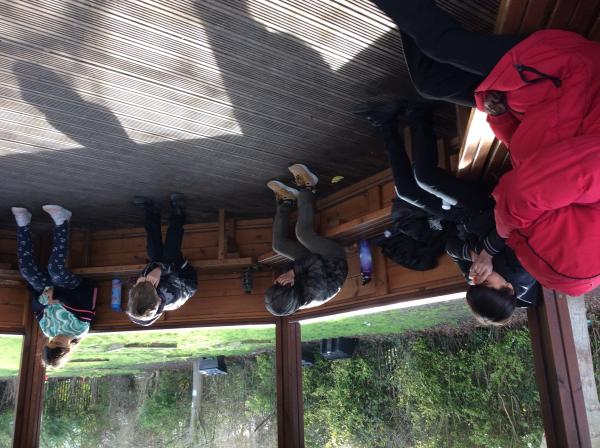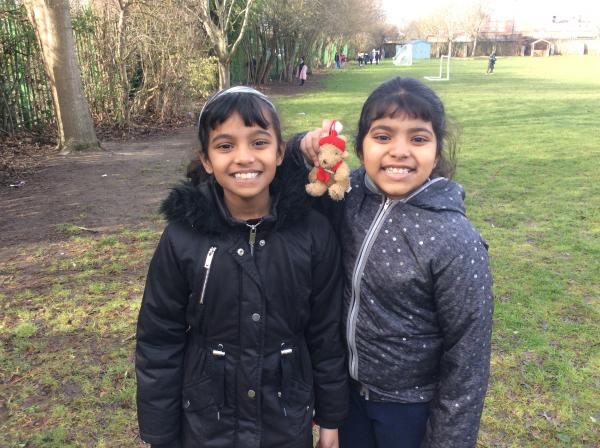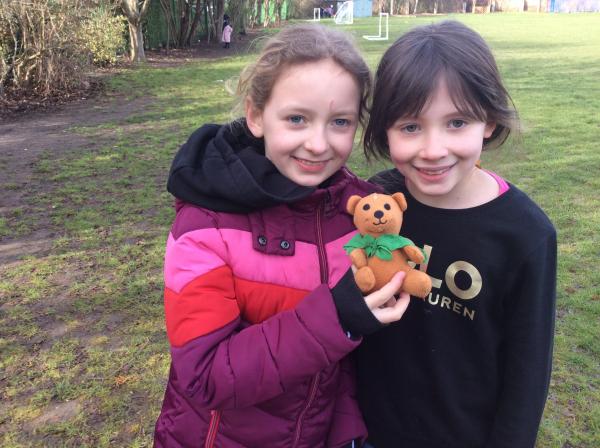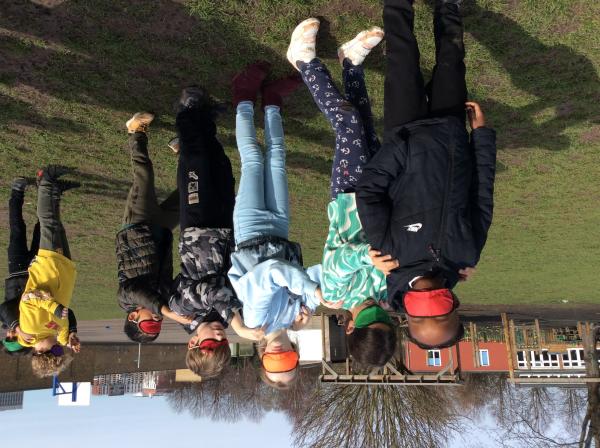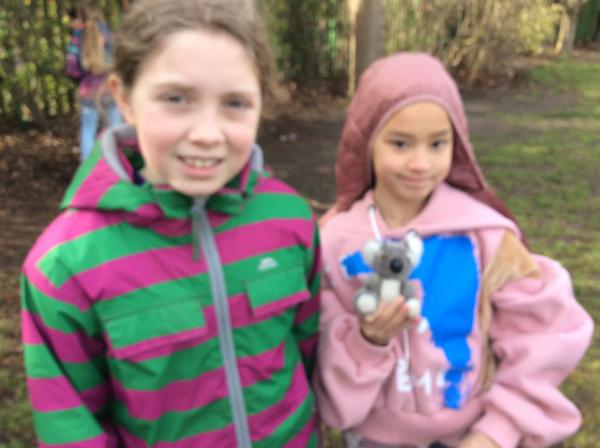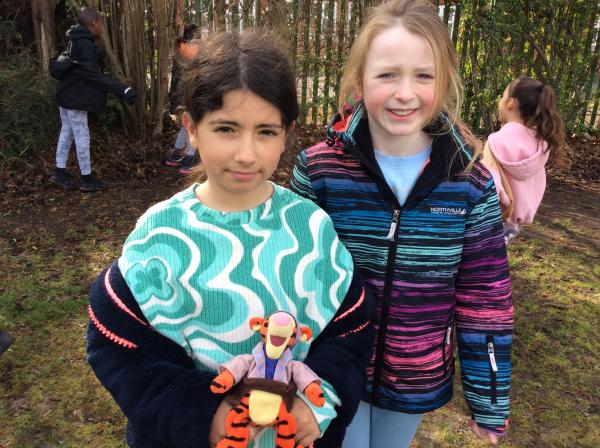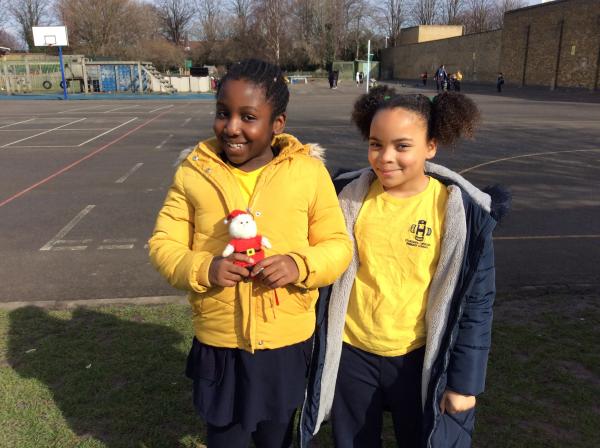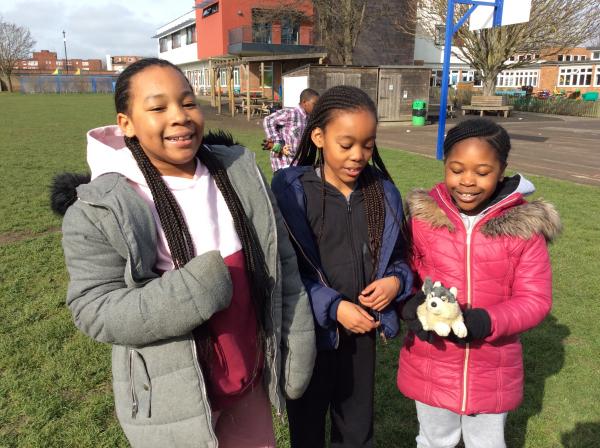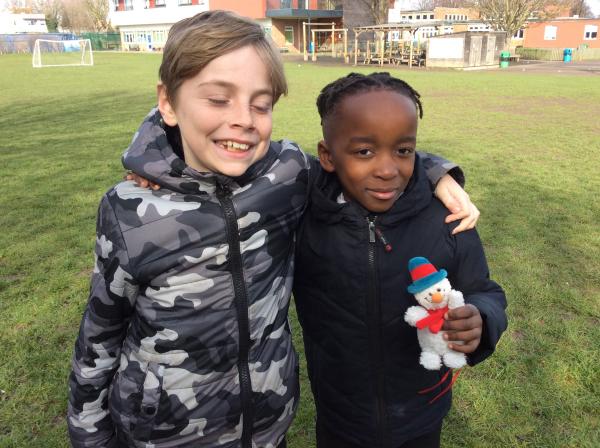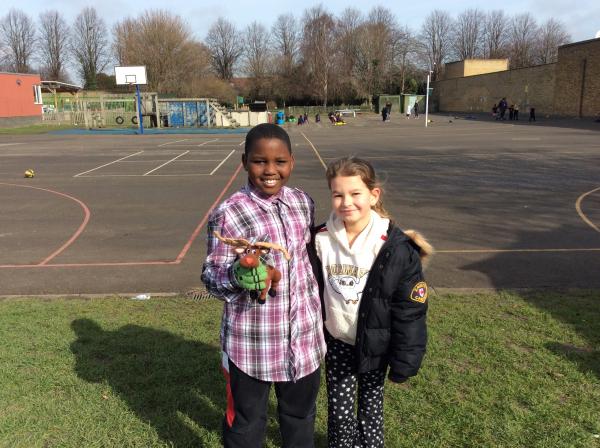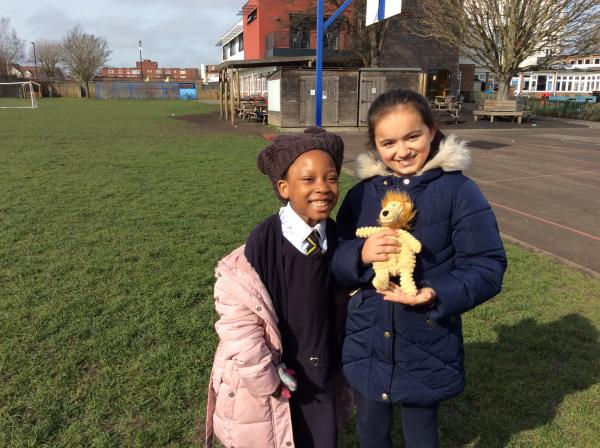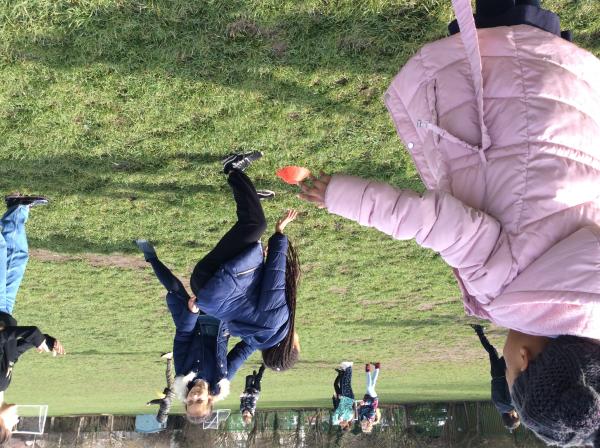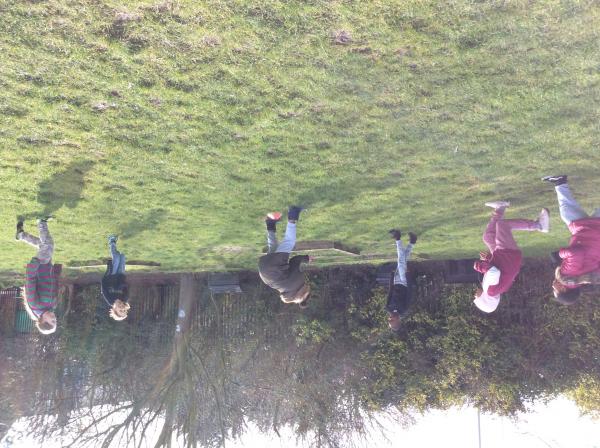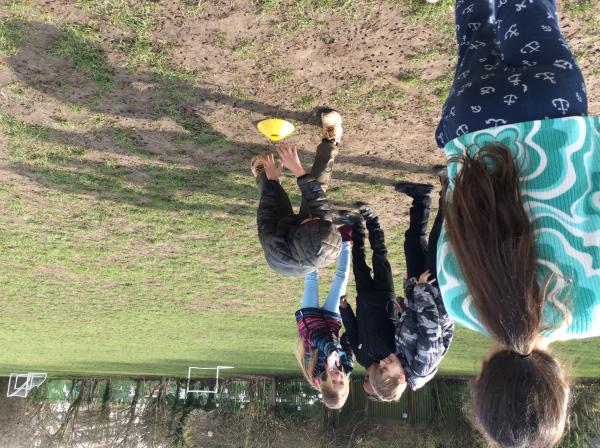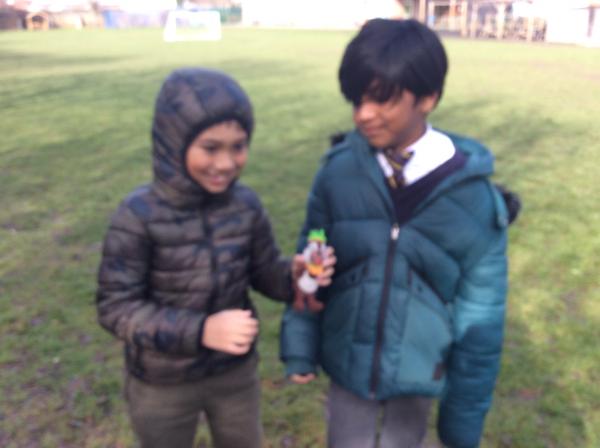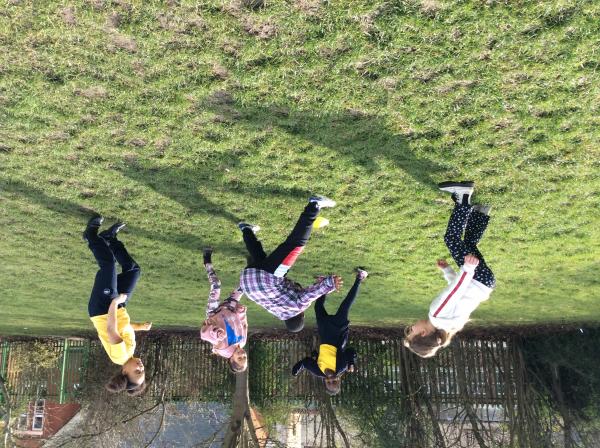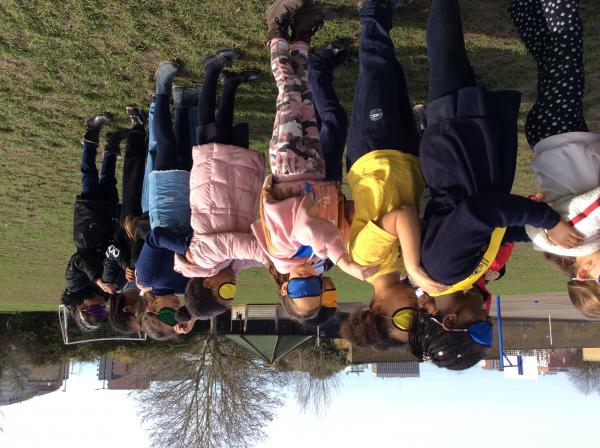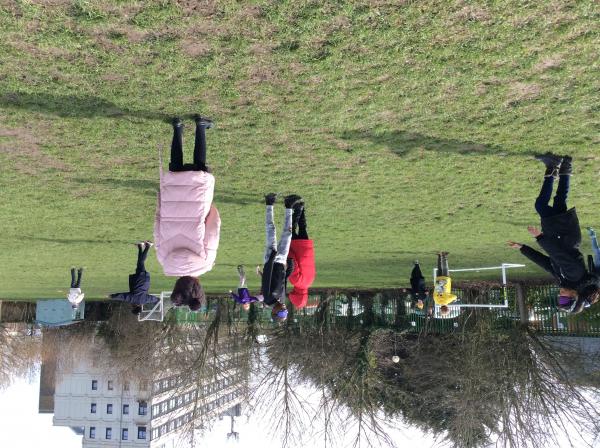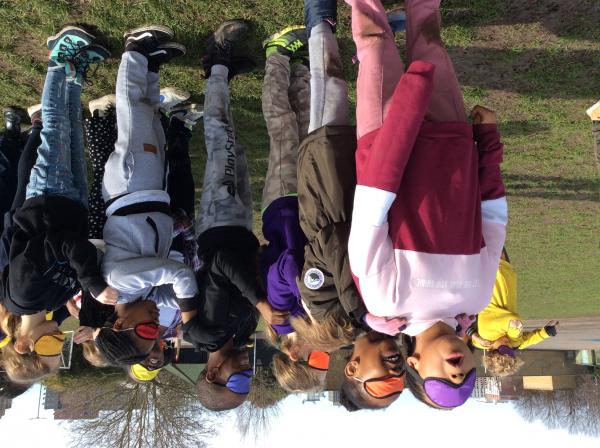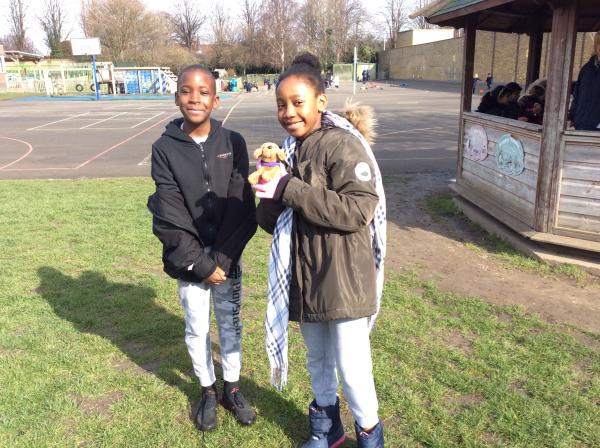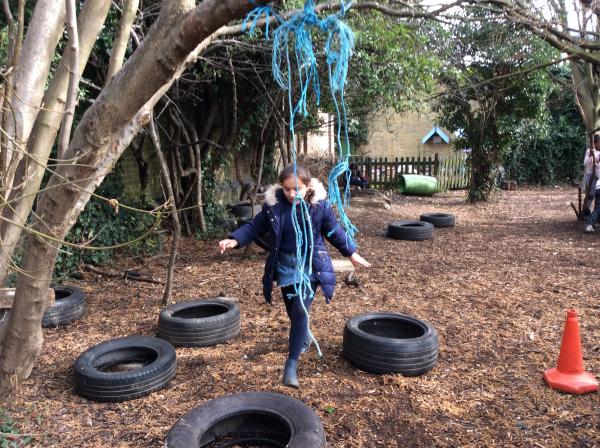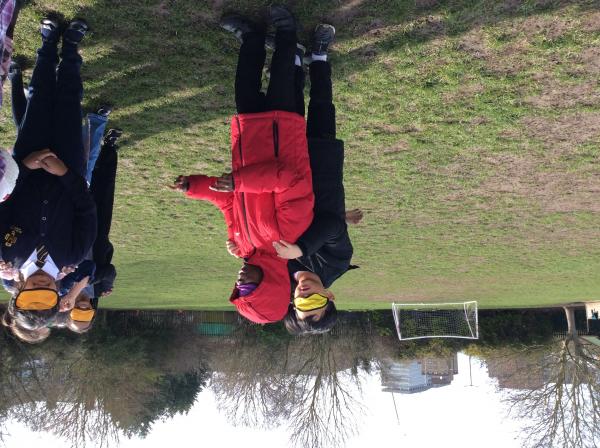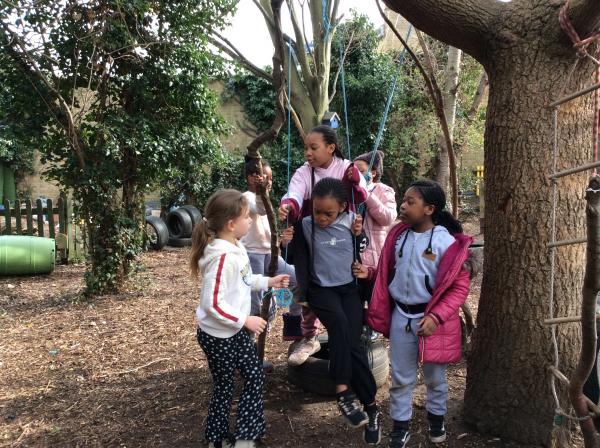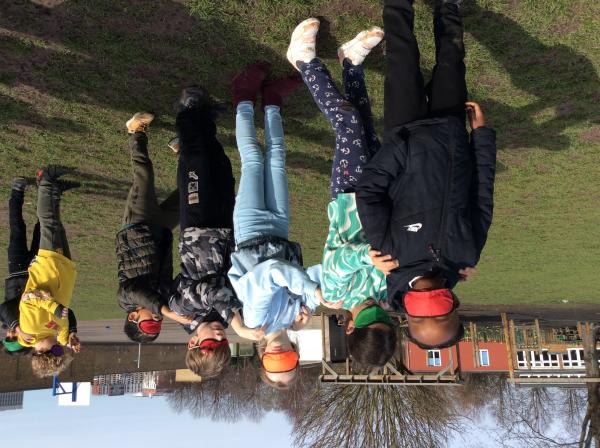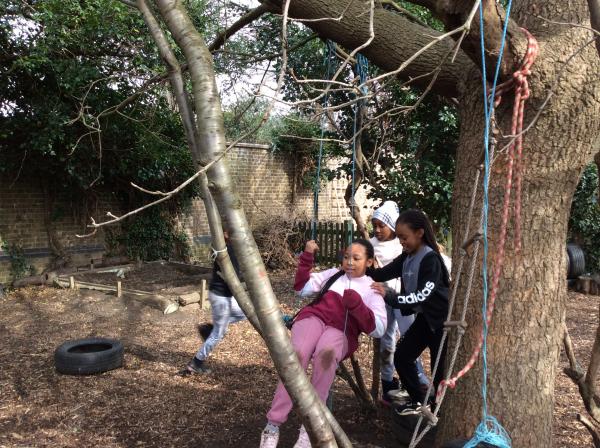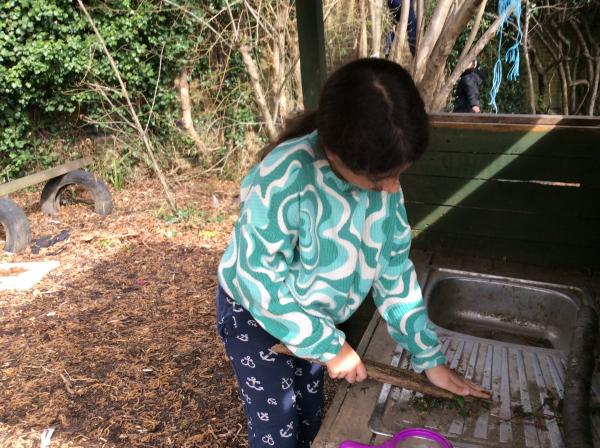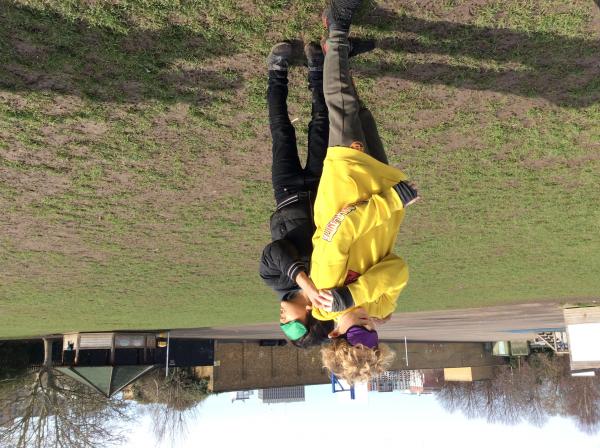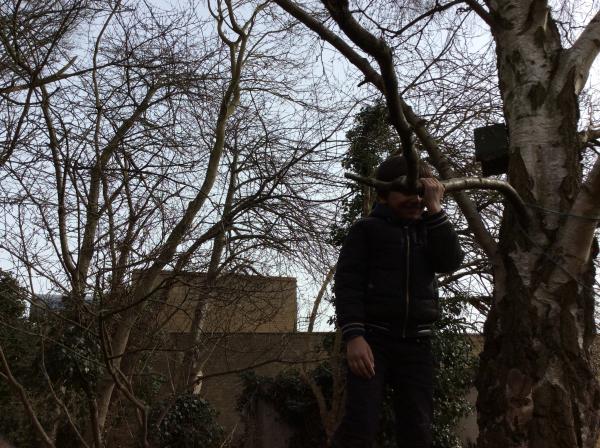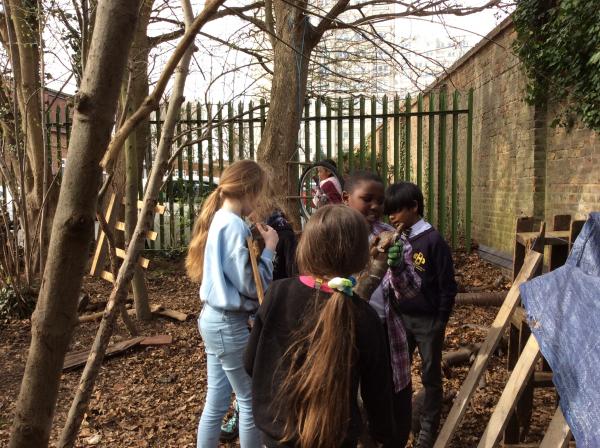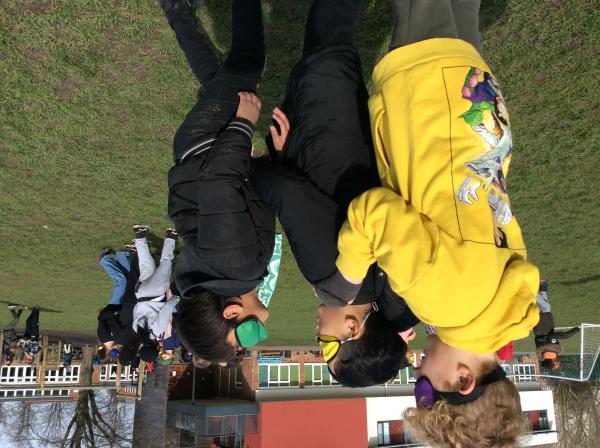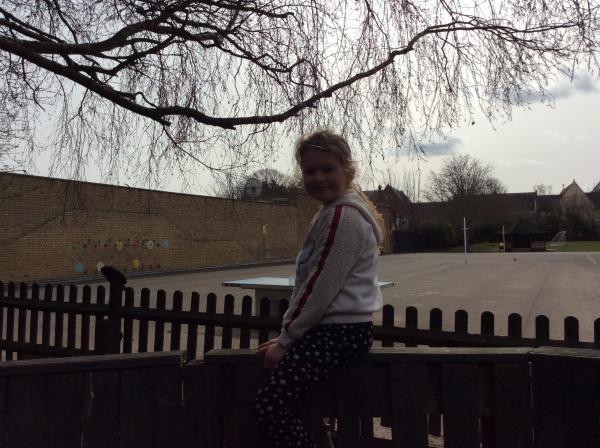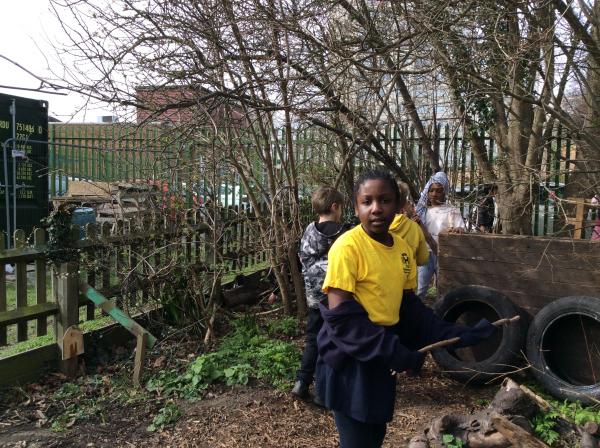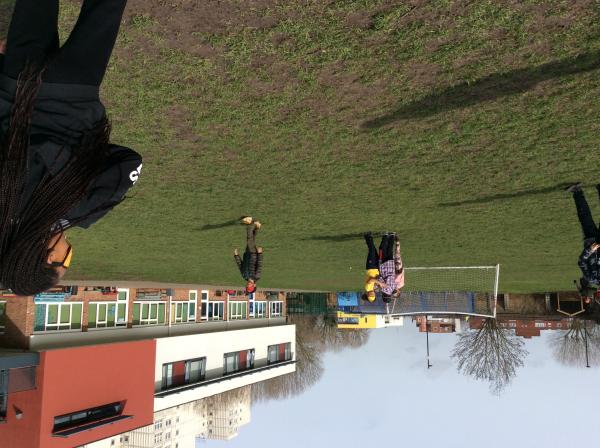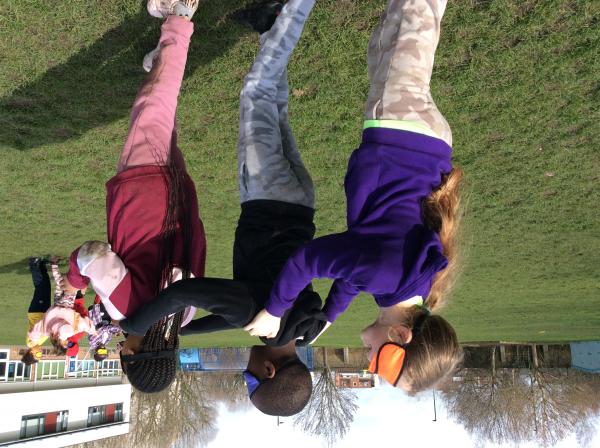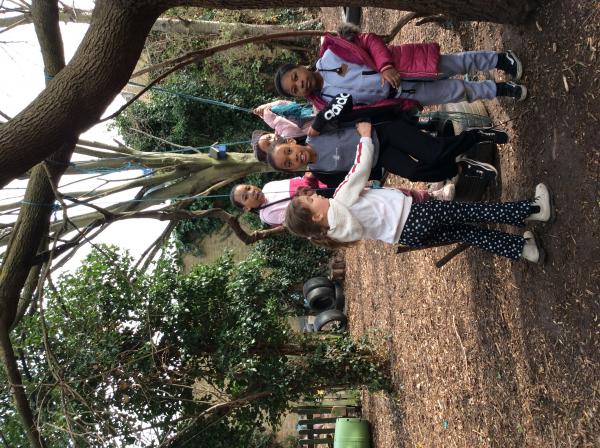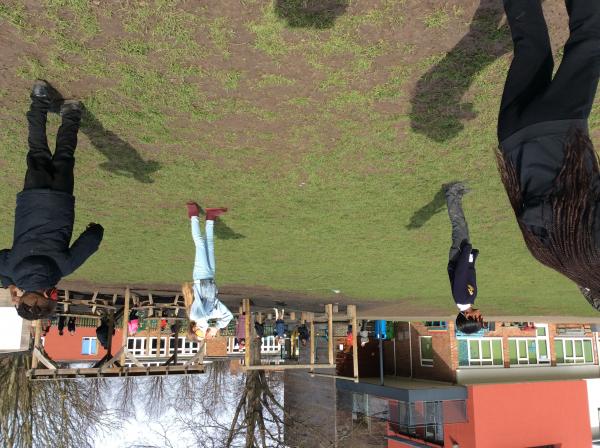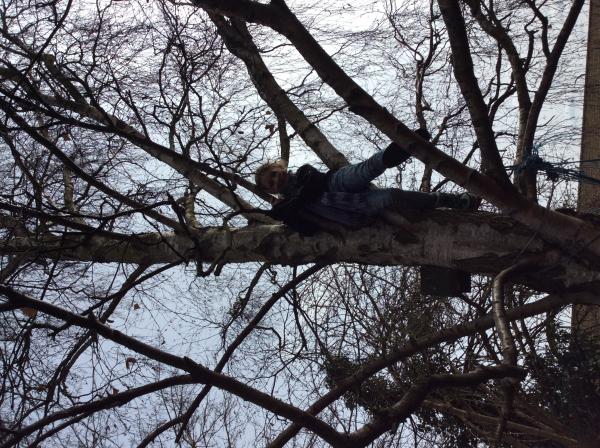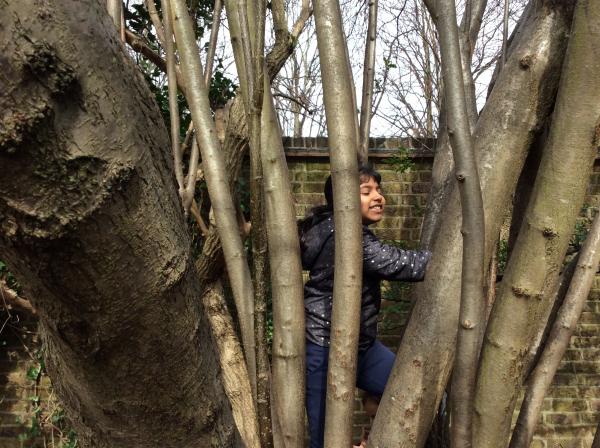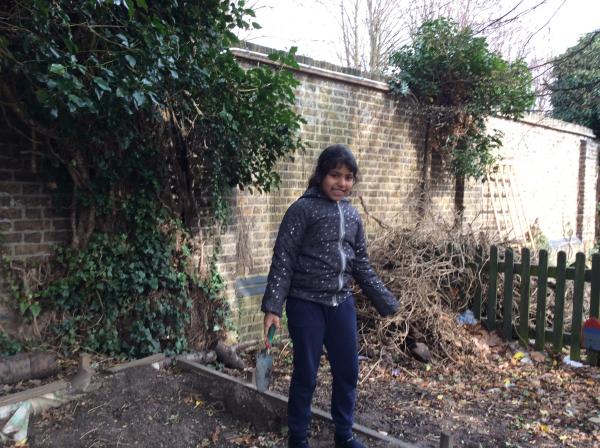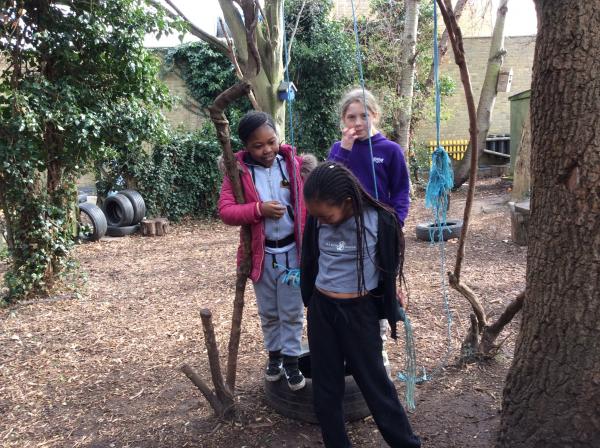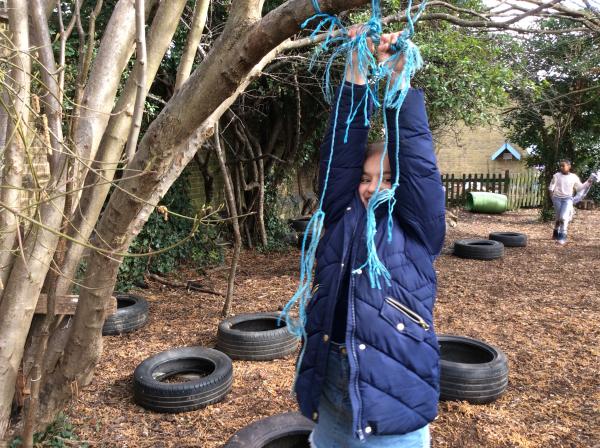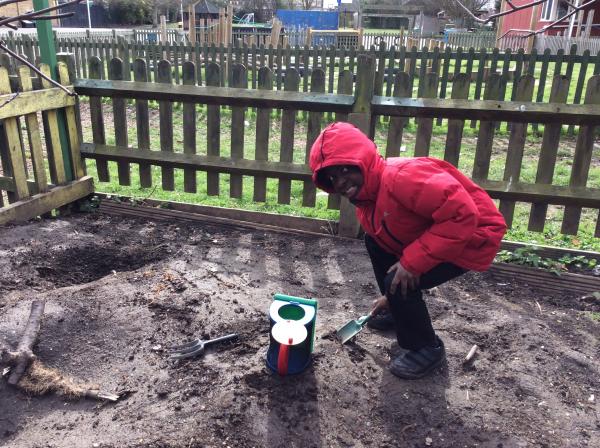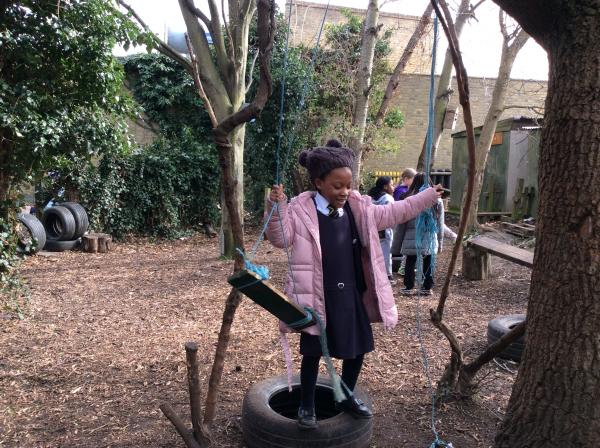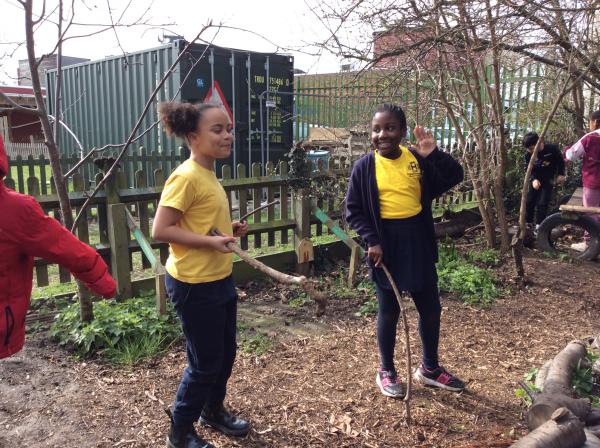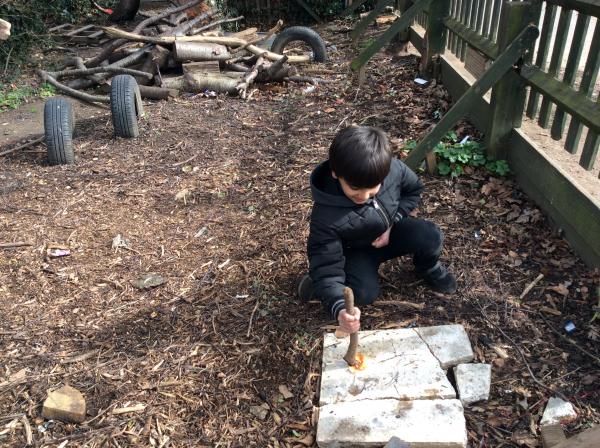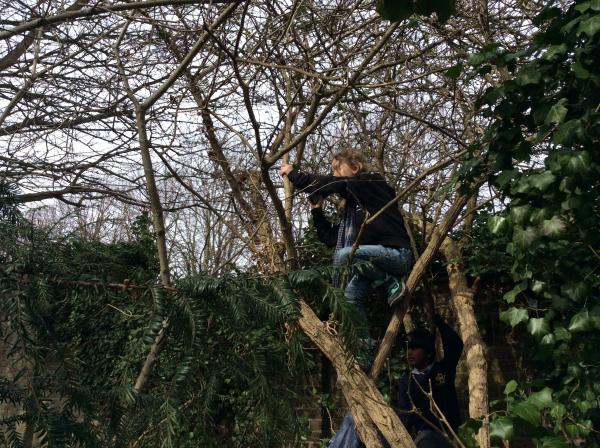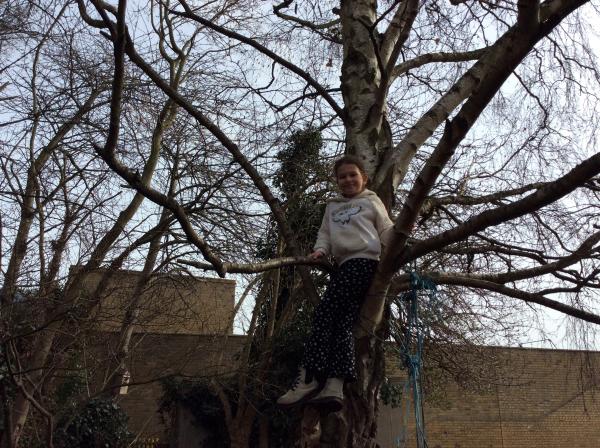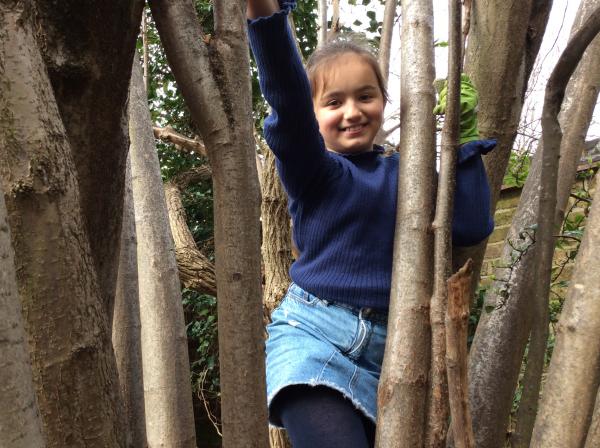 4 Fountains Science Week
Throughout Science week, we have been looking at connections. We have learnt about how different animals are connected in food webs and what would happen if we lost animals from these webs. We have connected to each other by making string telephones and learnt how the vibrations of the sound waves travel down the string so that we can hear them clearly. We also looked at the connections between different materials by using chemical reactions between vinegar and bicarbonate of soda to make fizzy colours.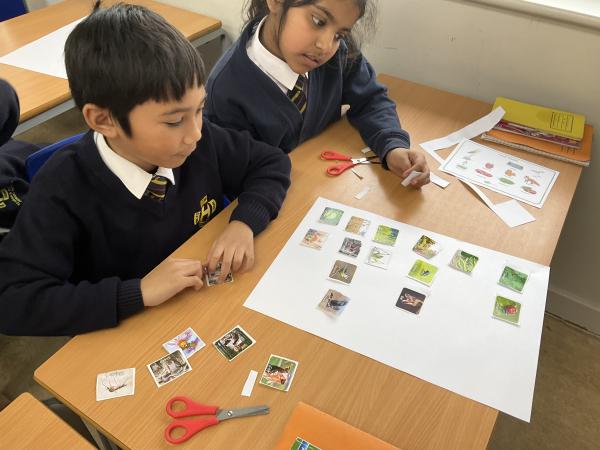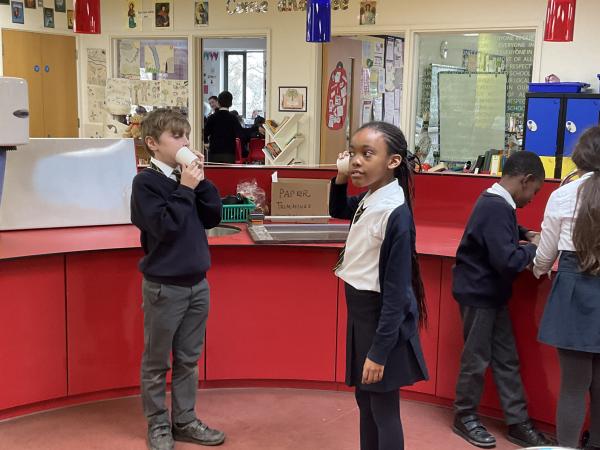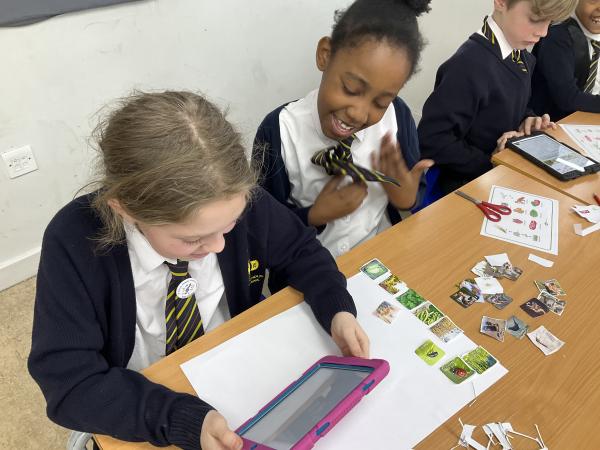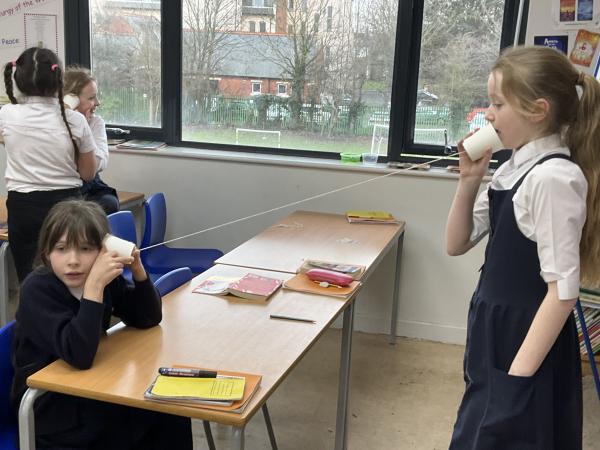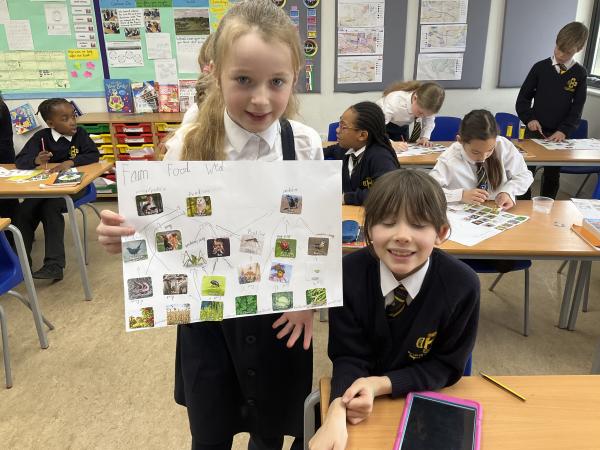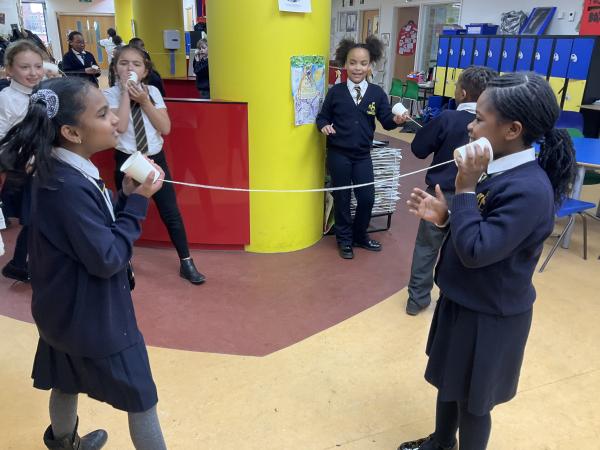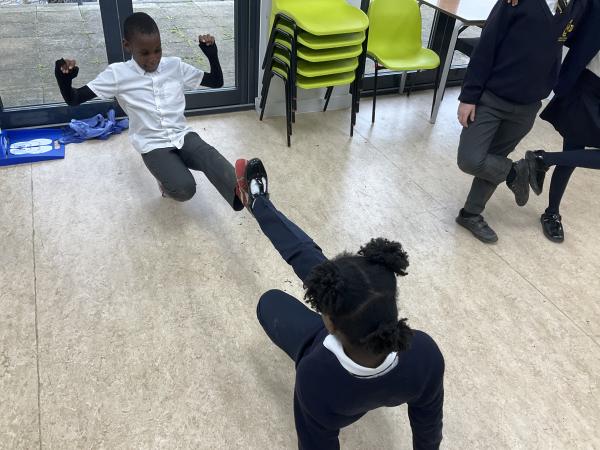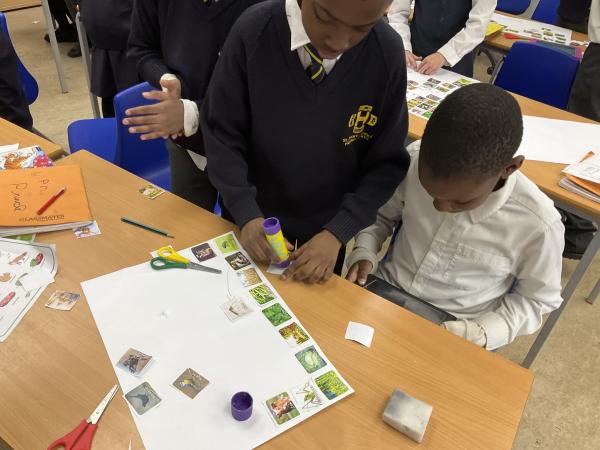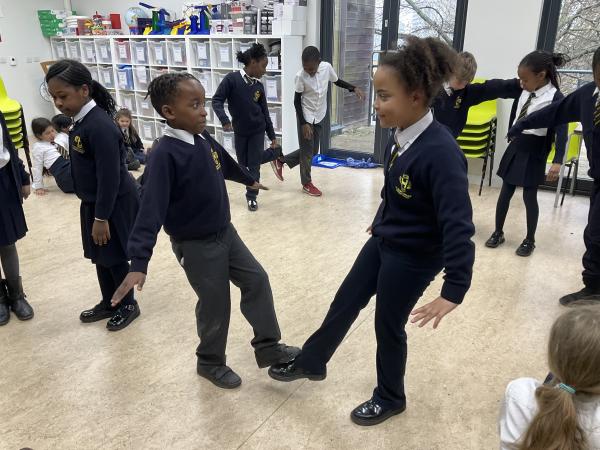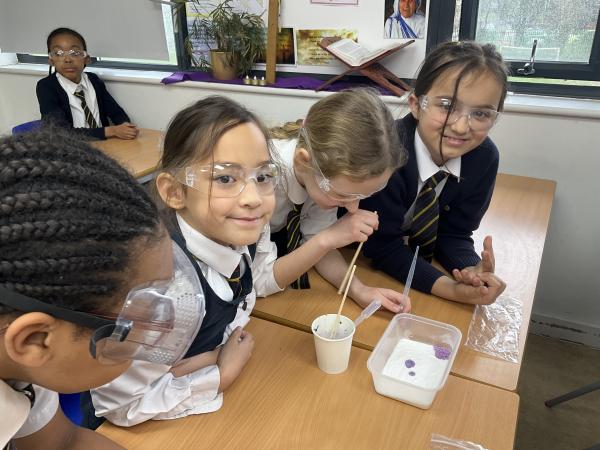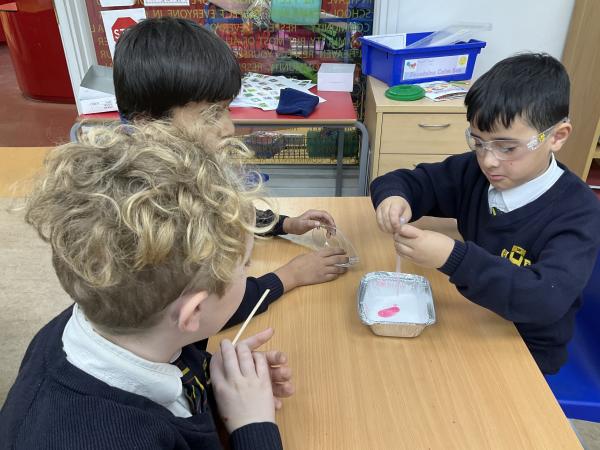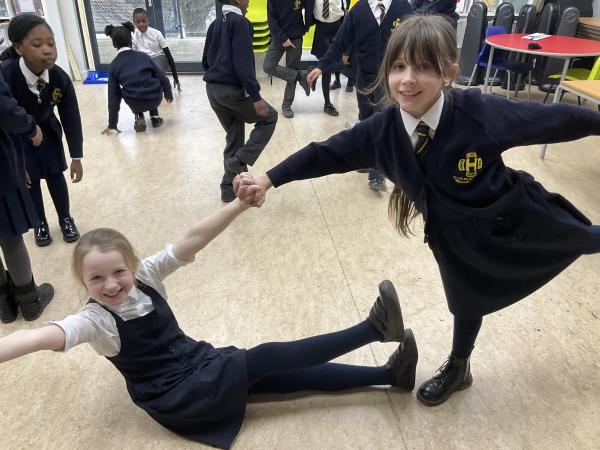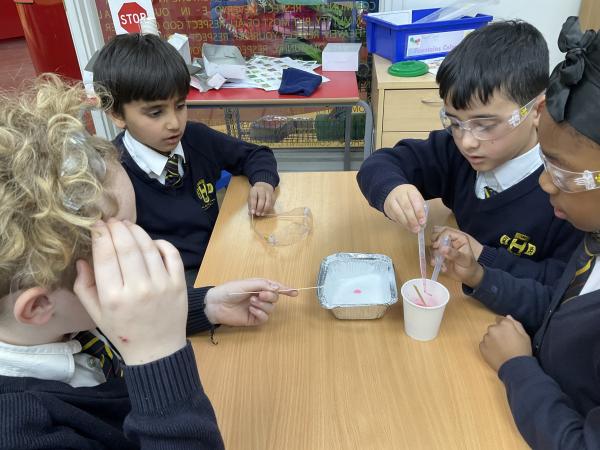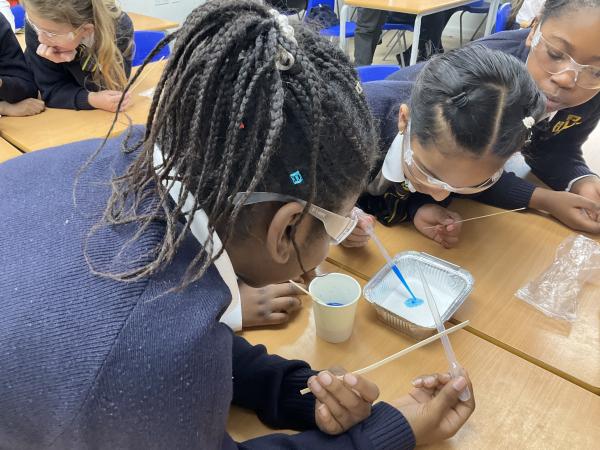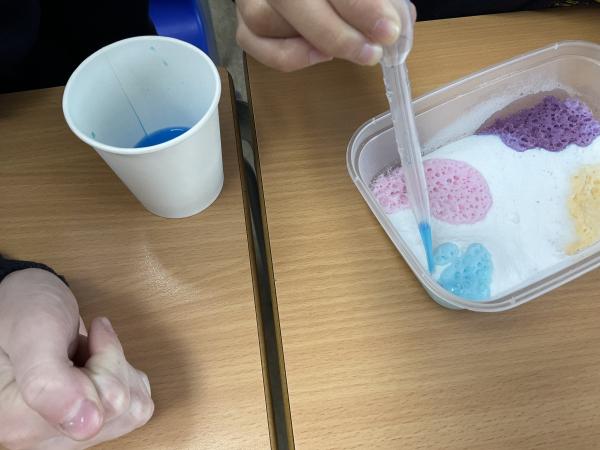 Nature Art
Year 4 had a busy day in the Nature area. They collected various natural materials and designed and made a picture using these. They used the art of Andy Goldsworthy as inspiration and produced some outstanding pictures. I was so impressed with their concentration levels, discussion and team work. Why not have a look at this video and try this at home with your own children.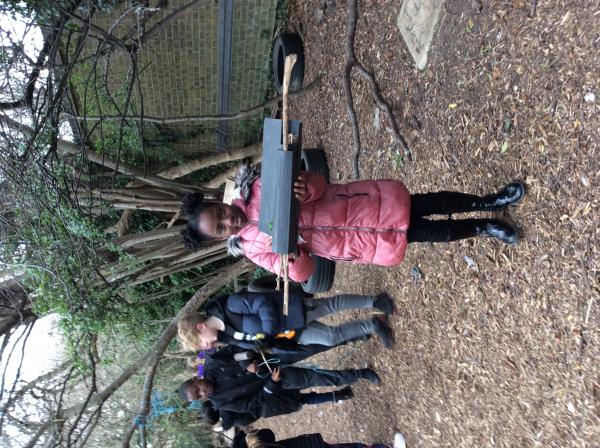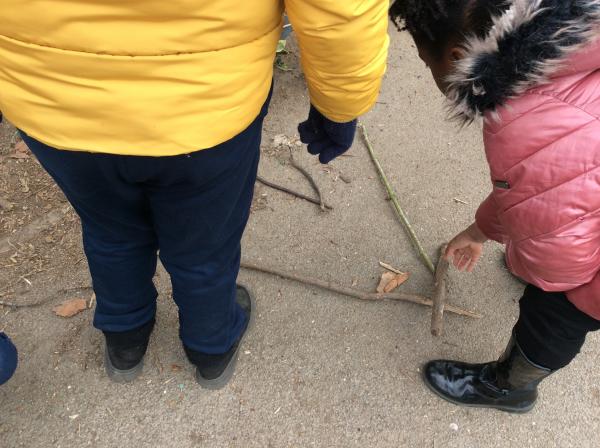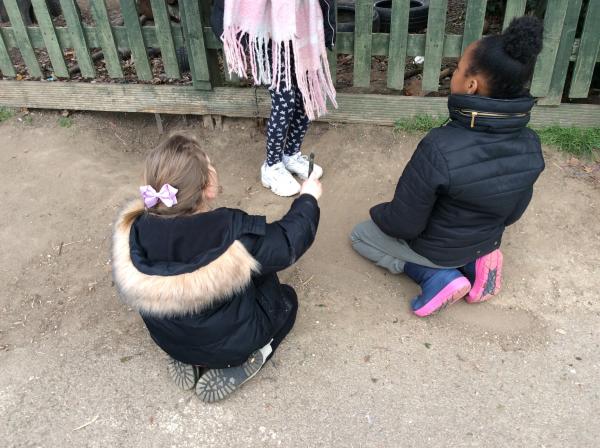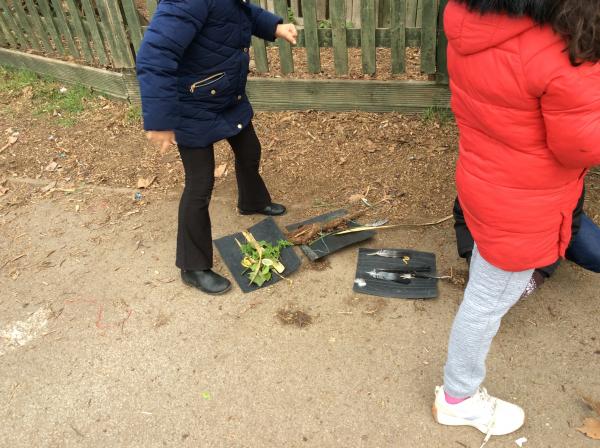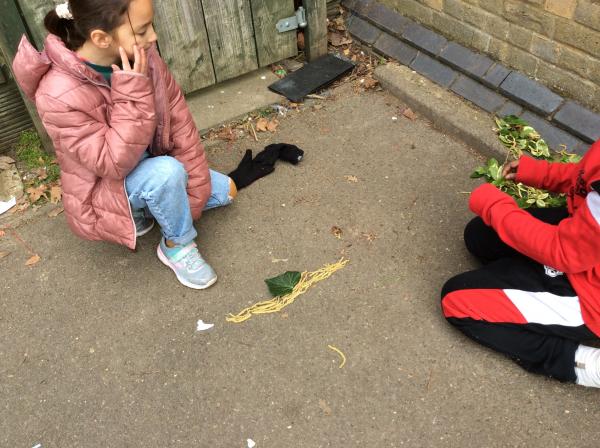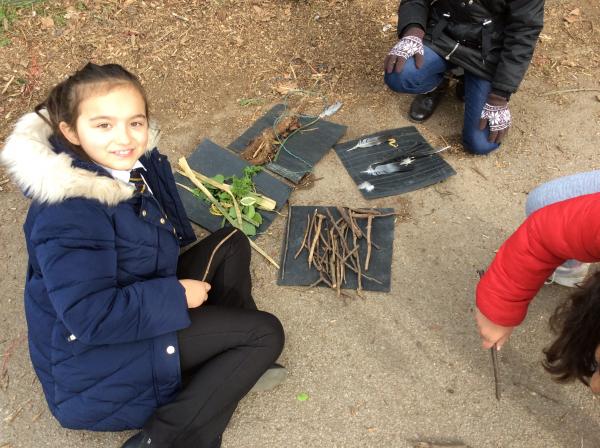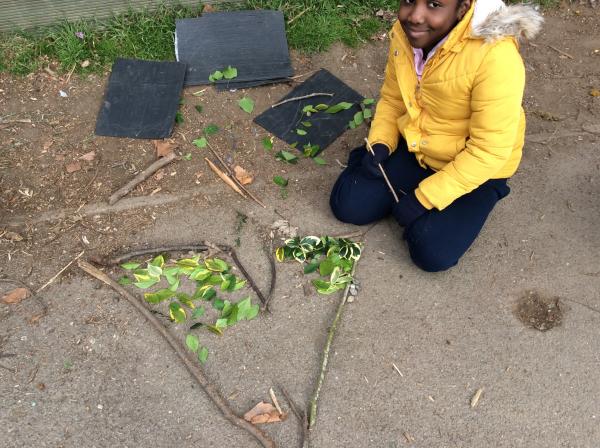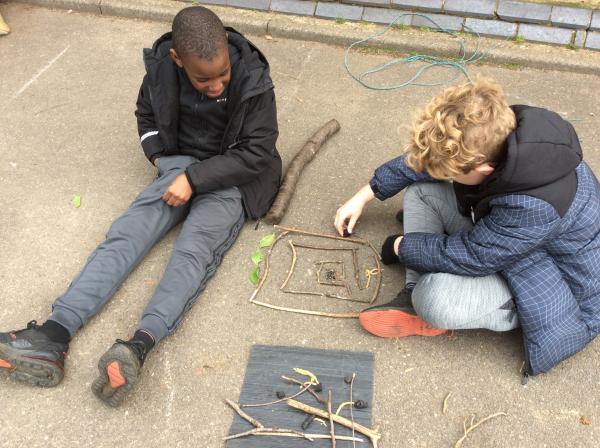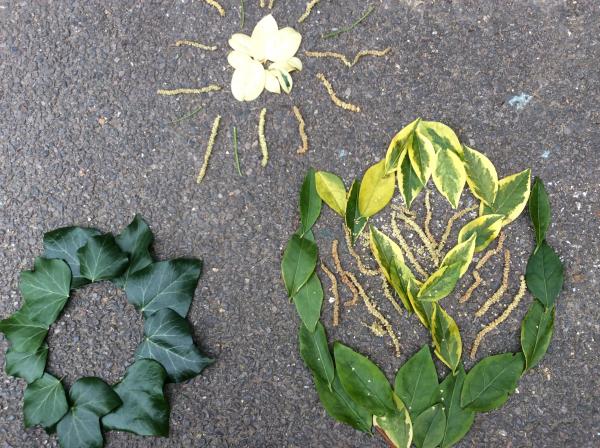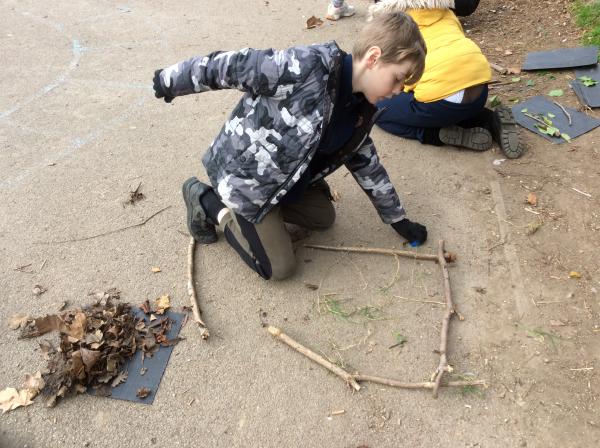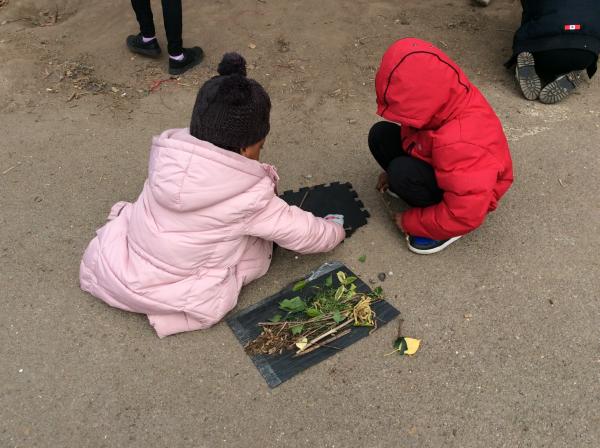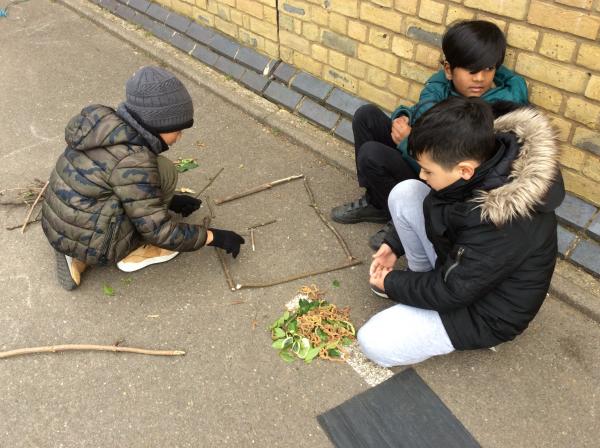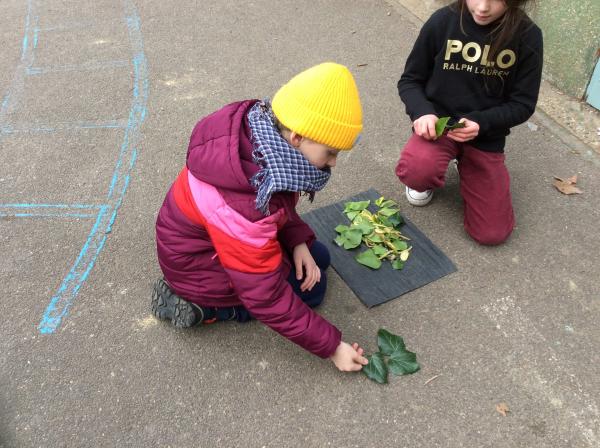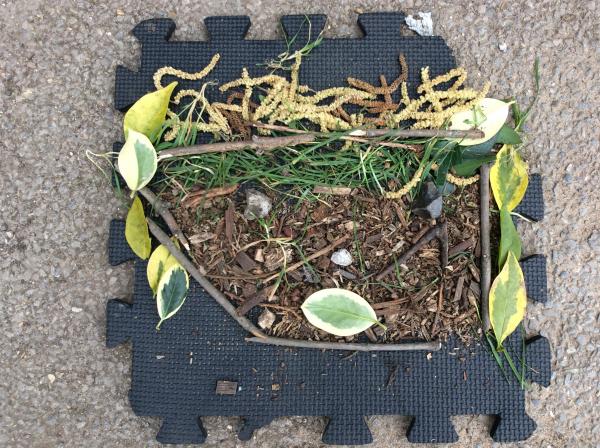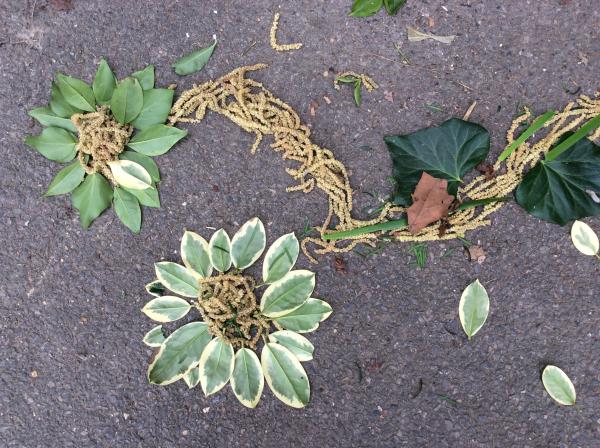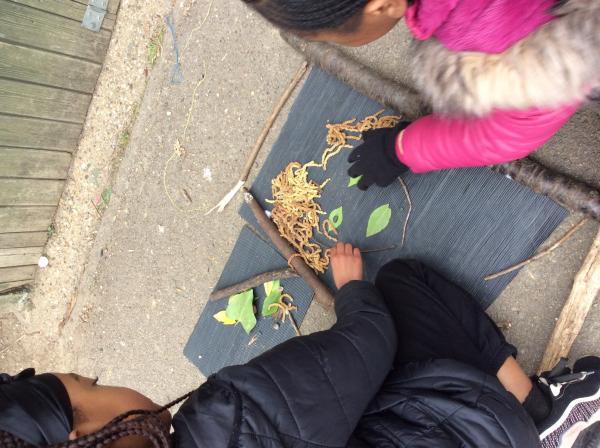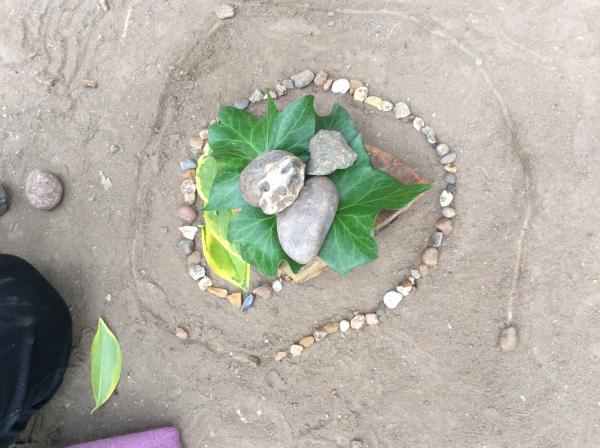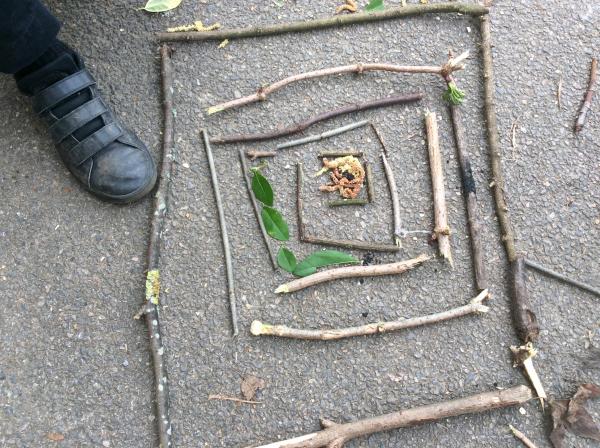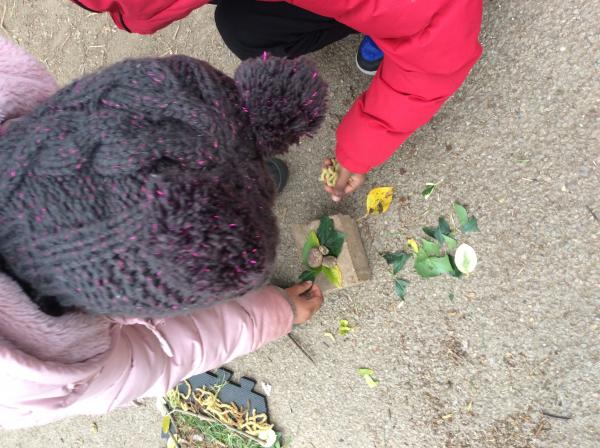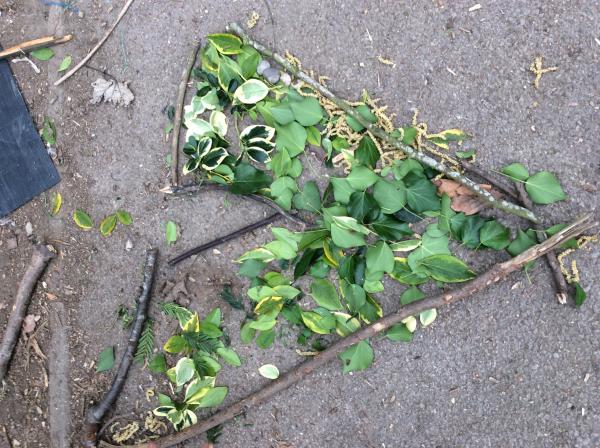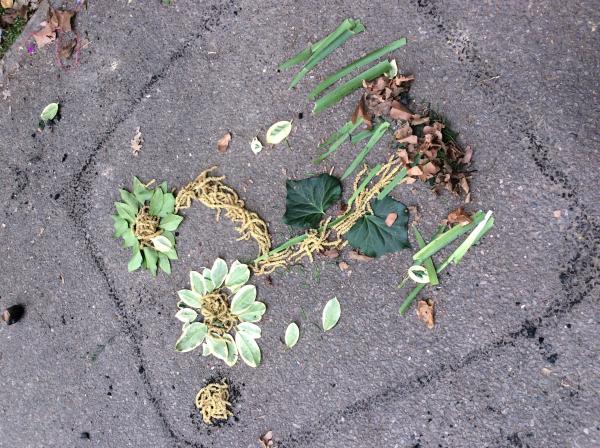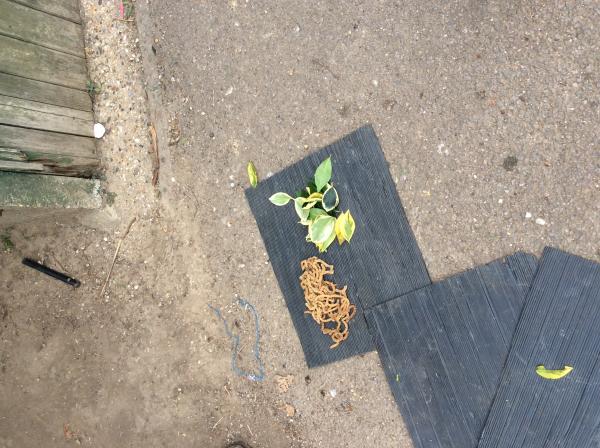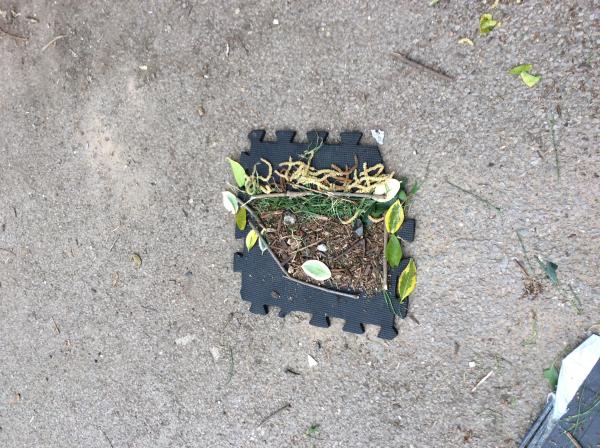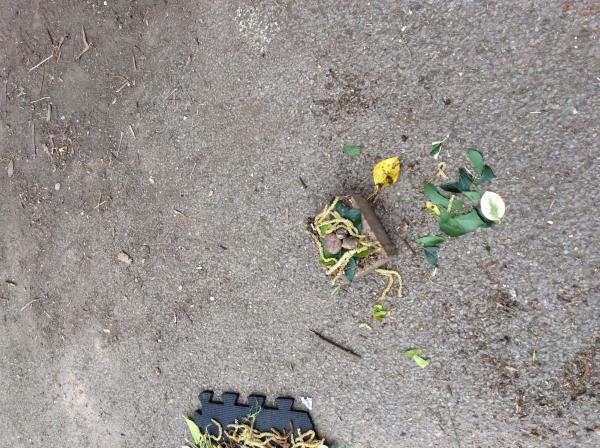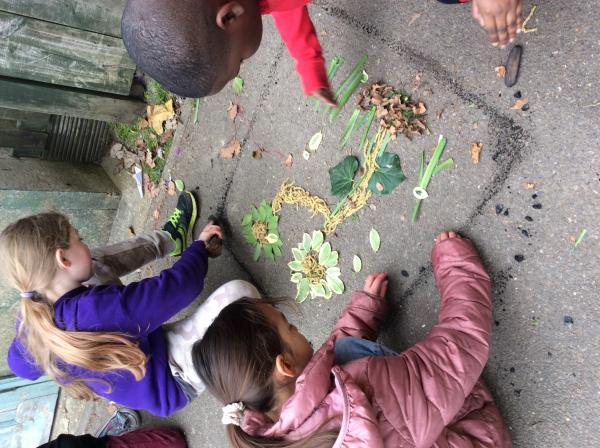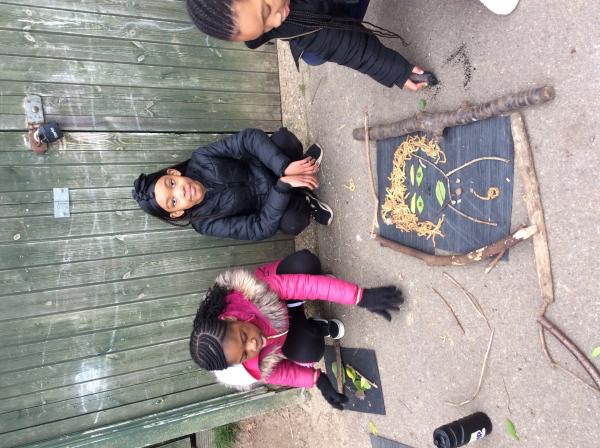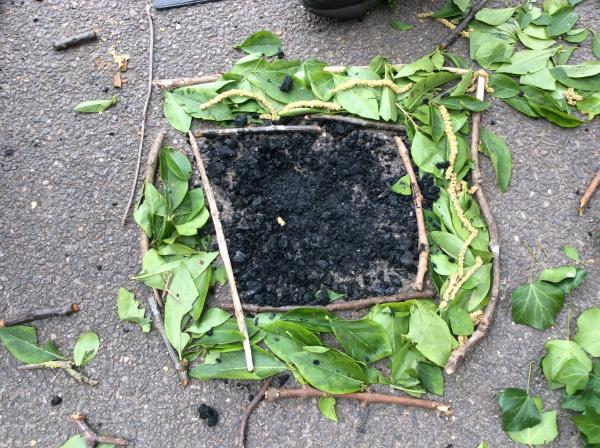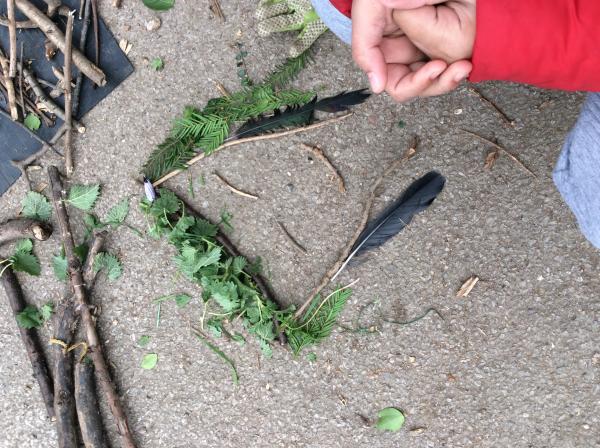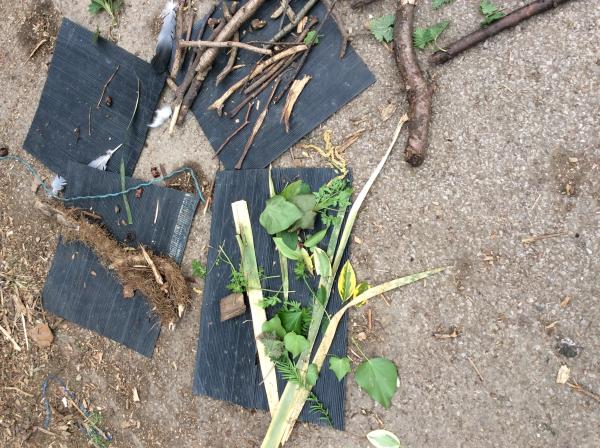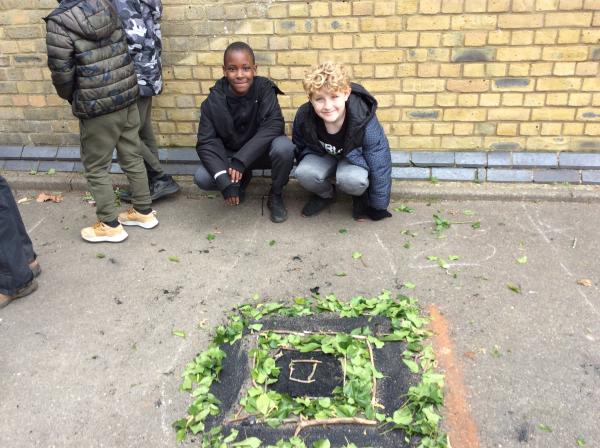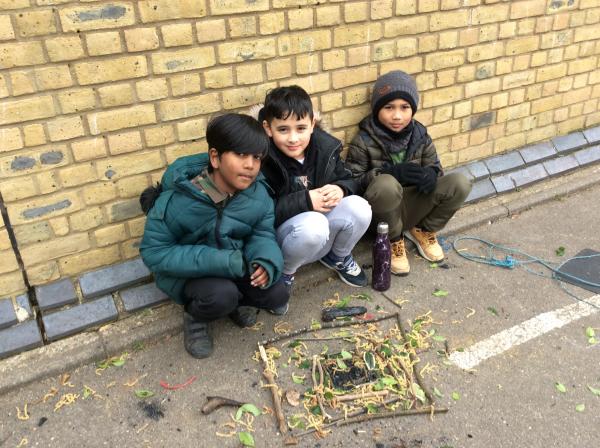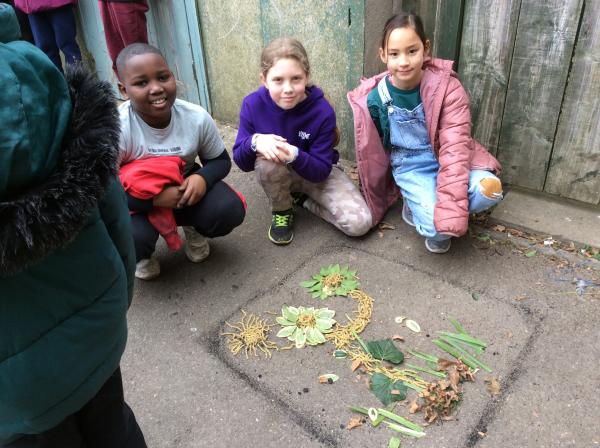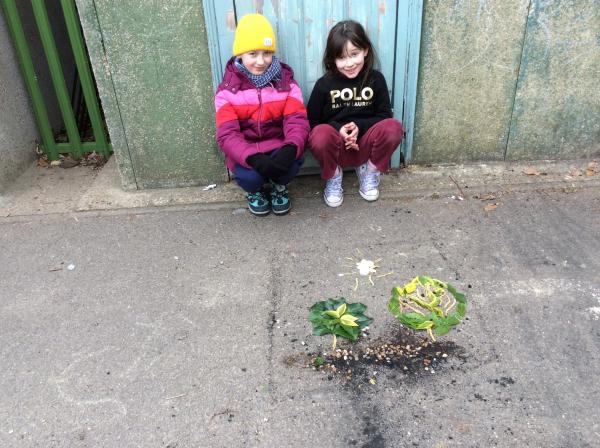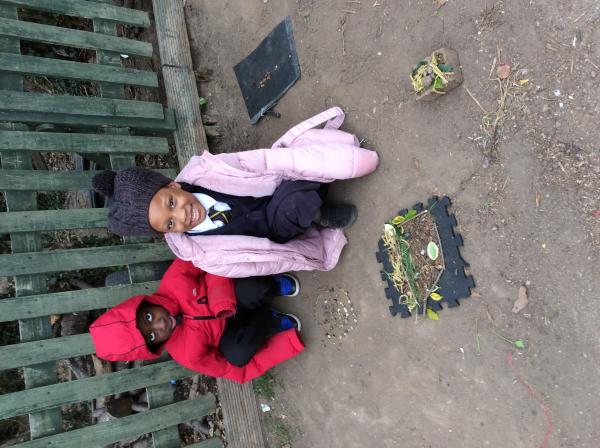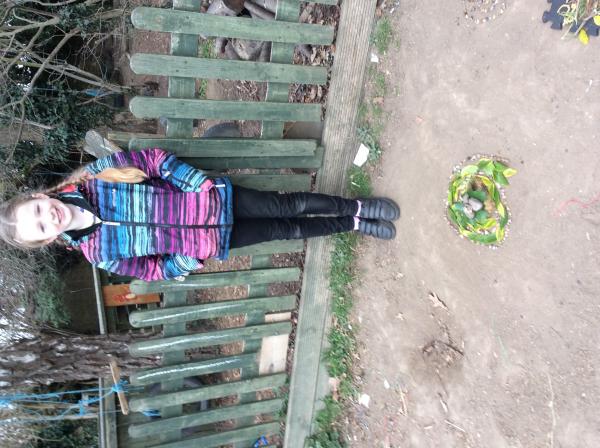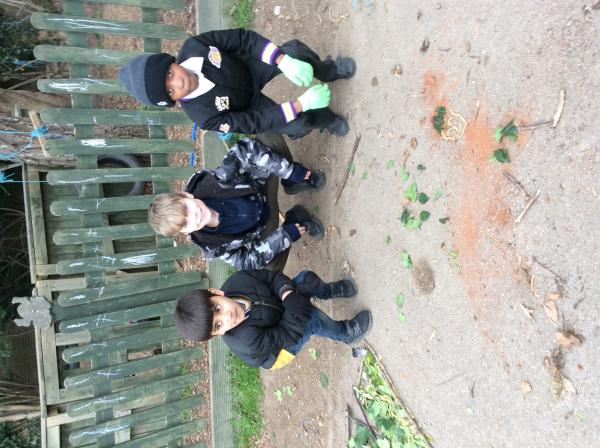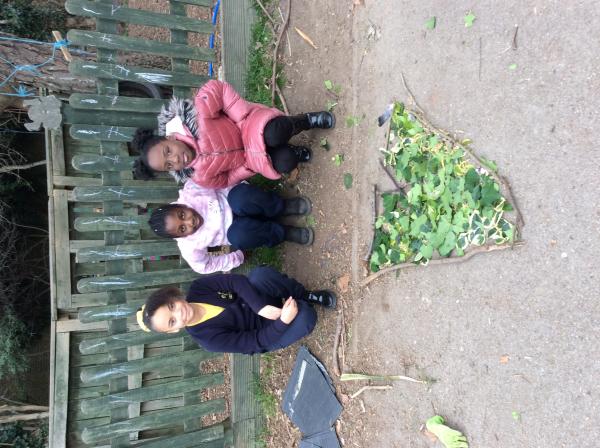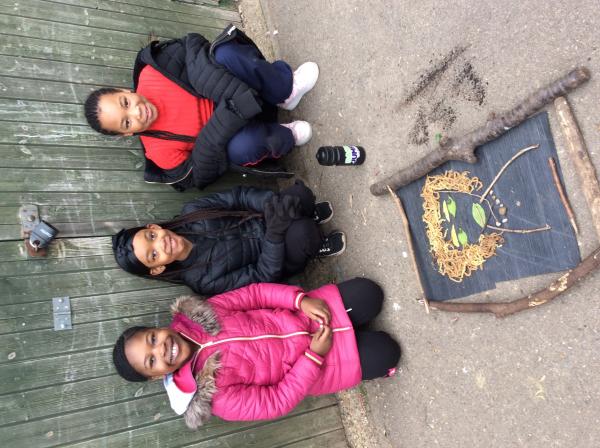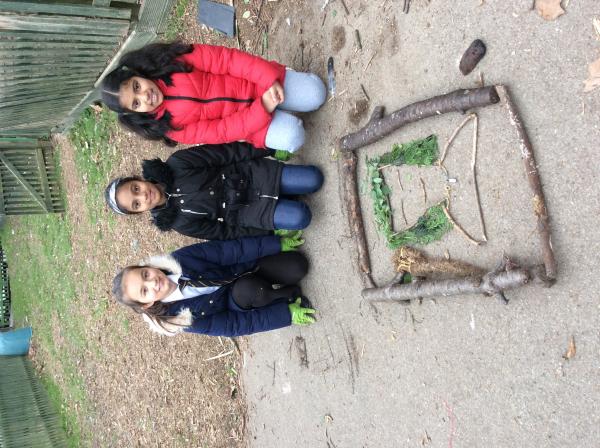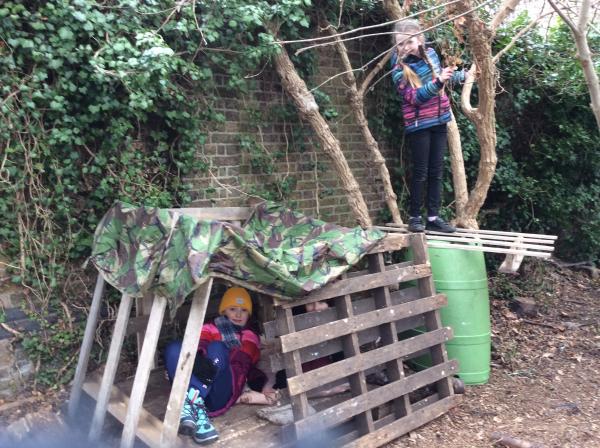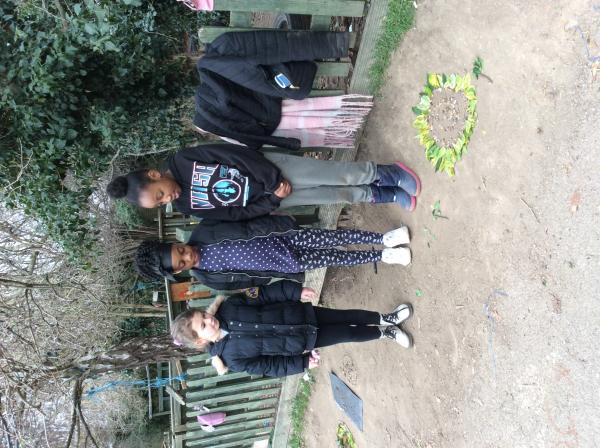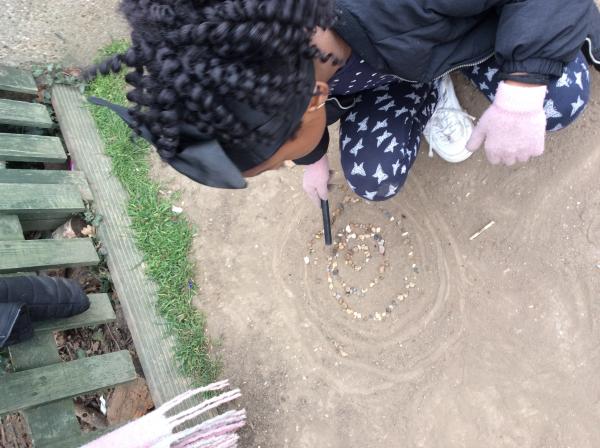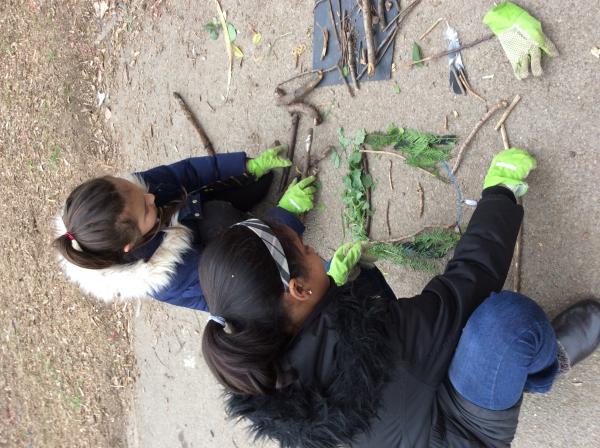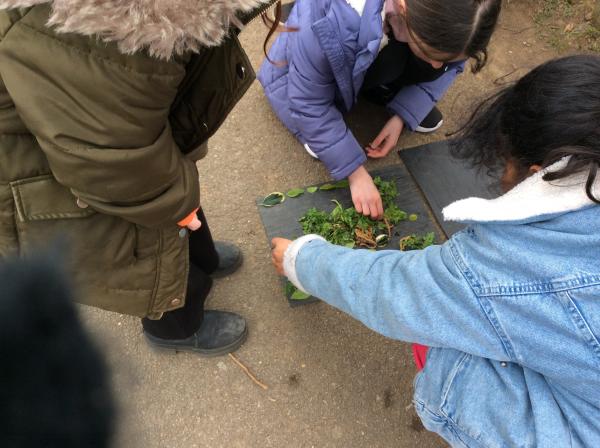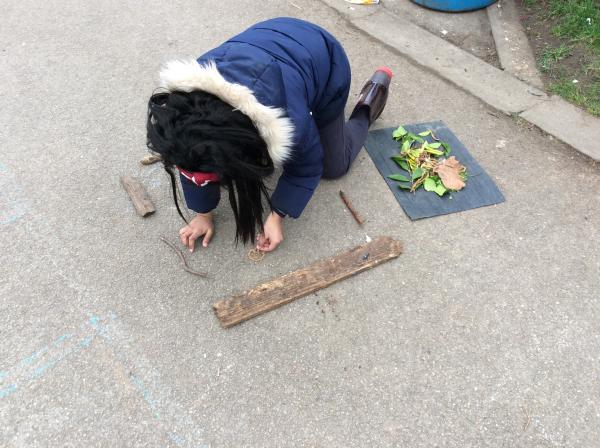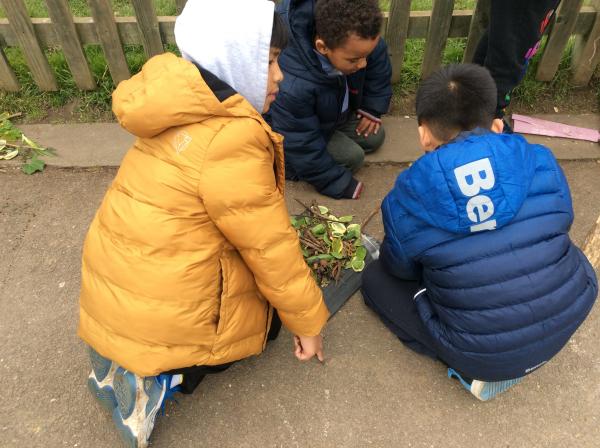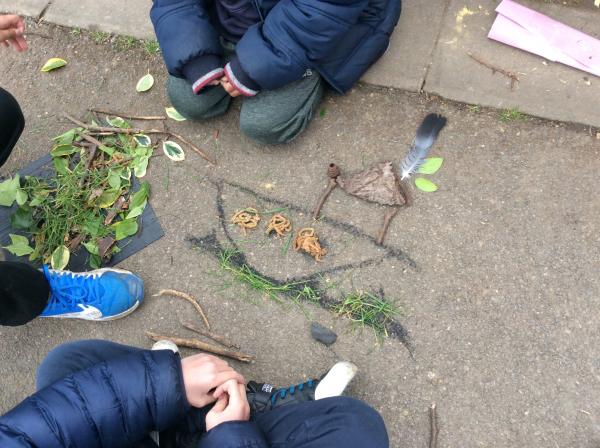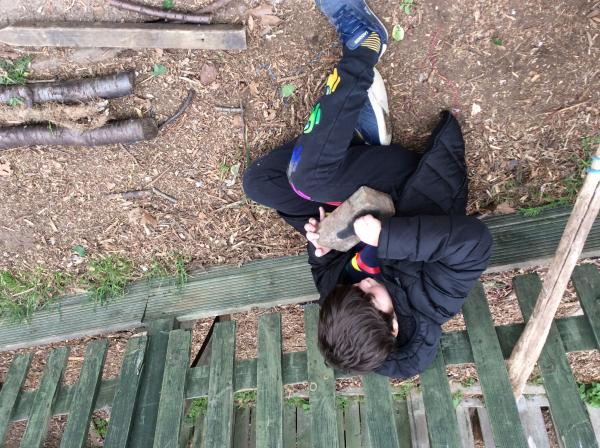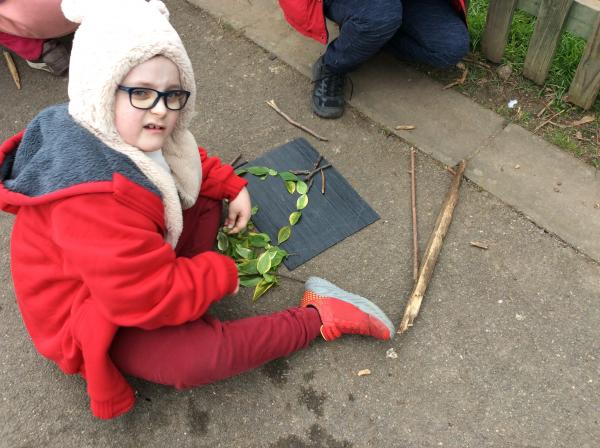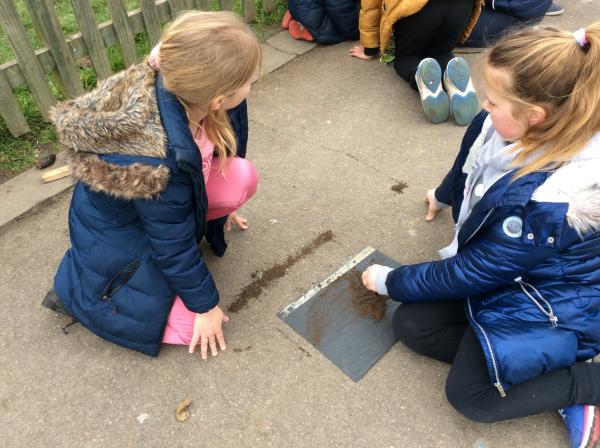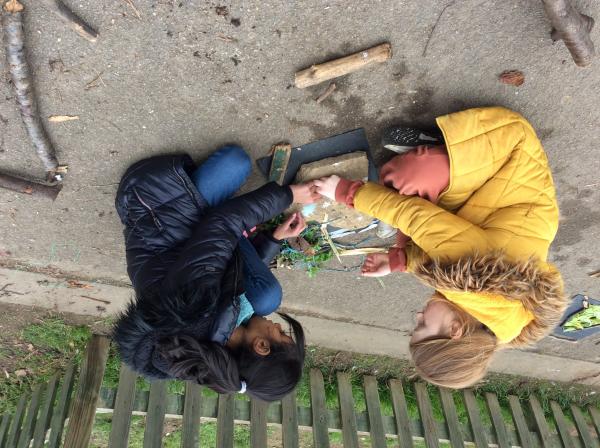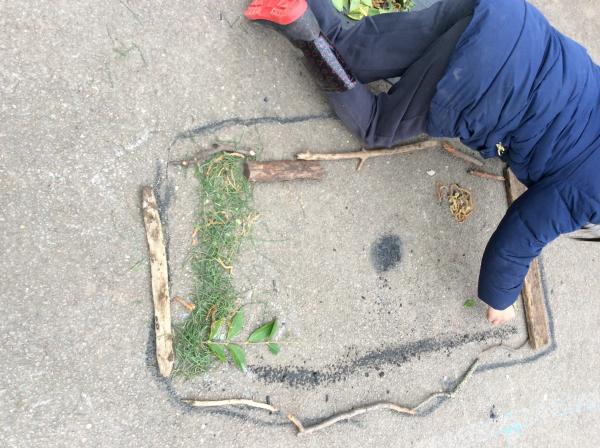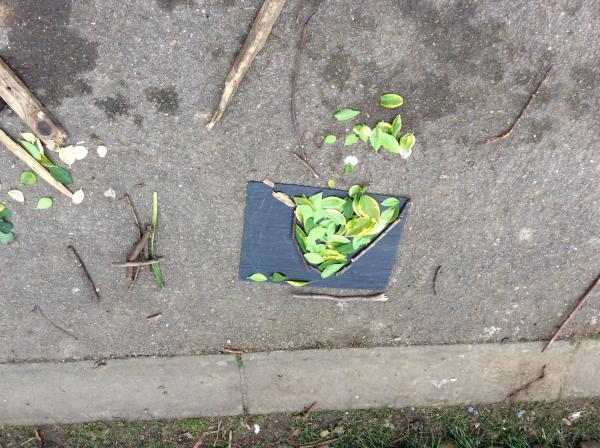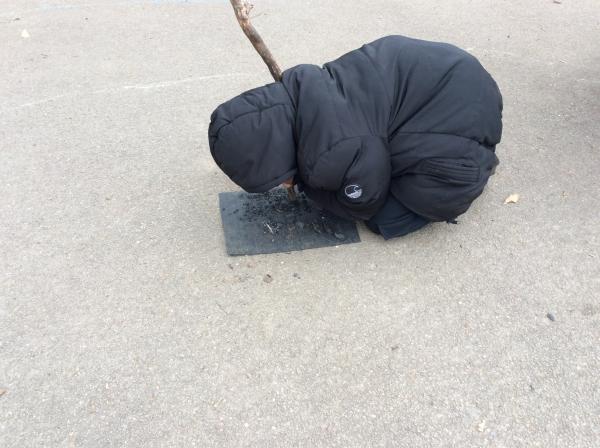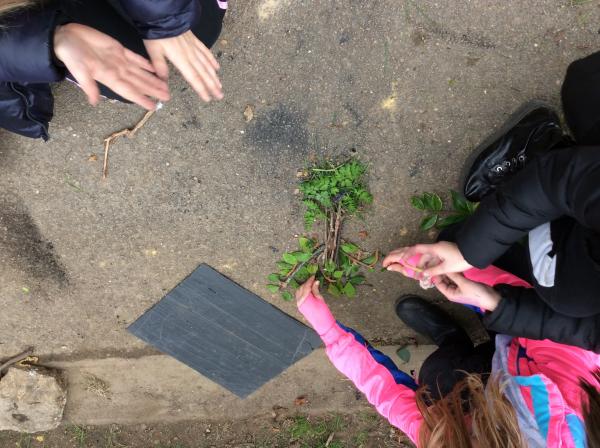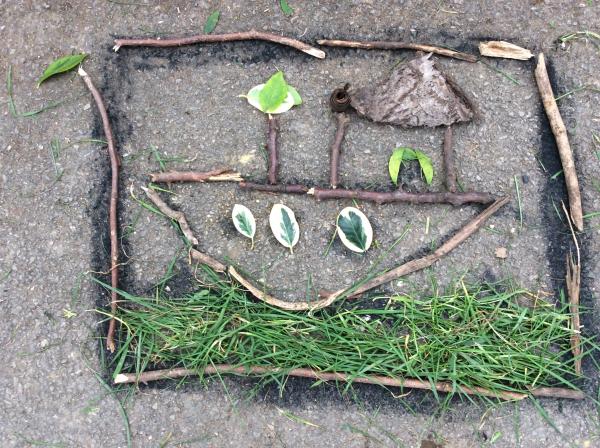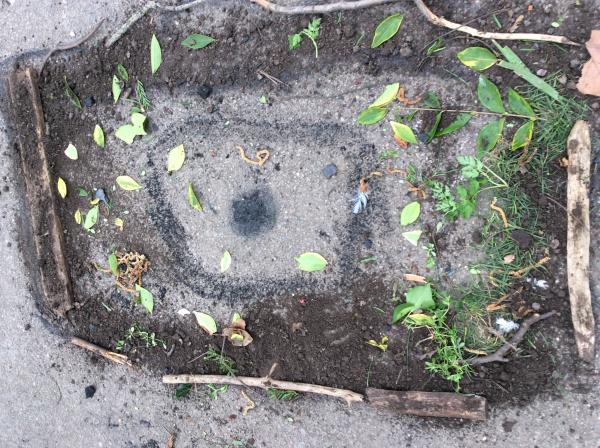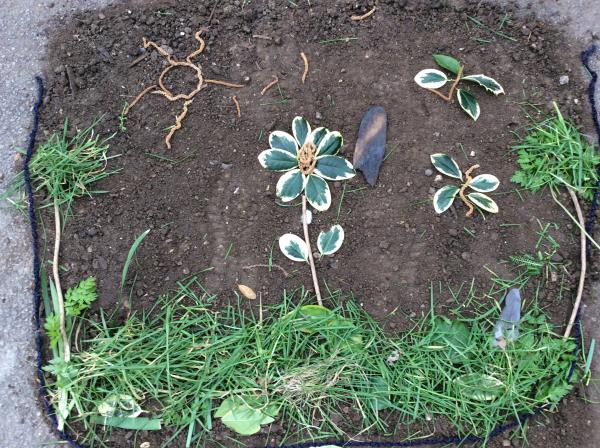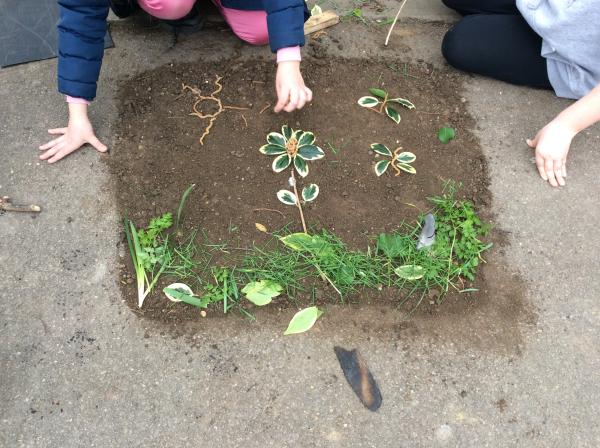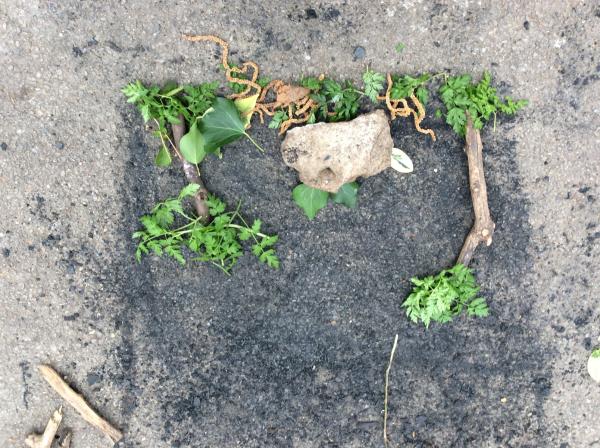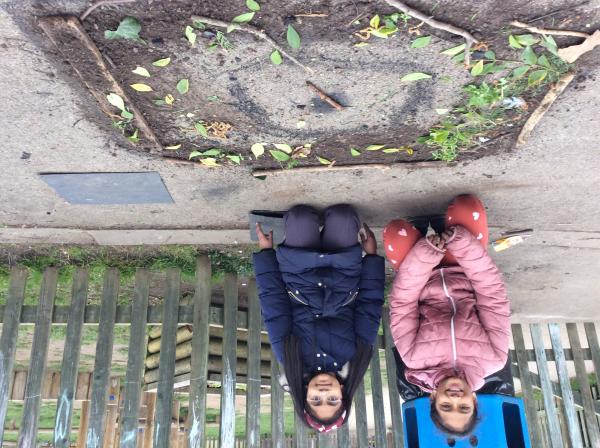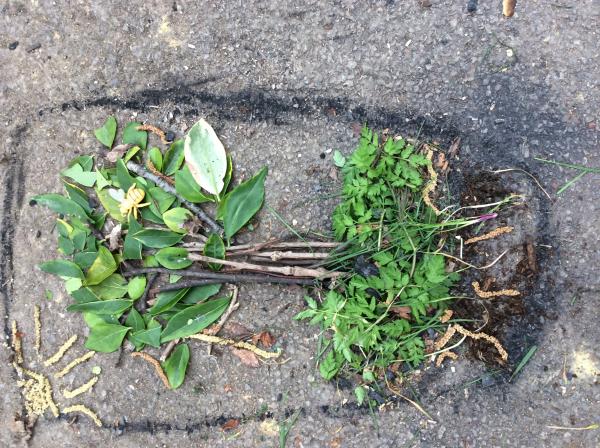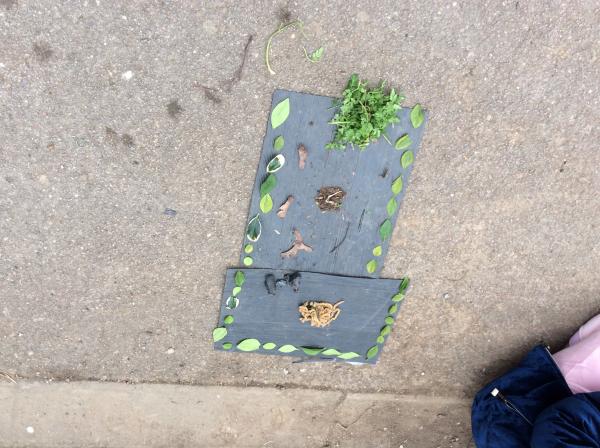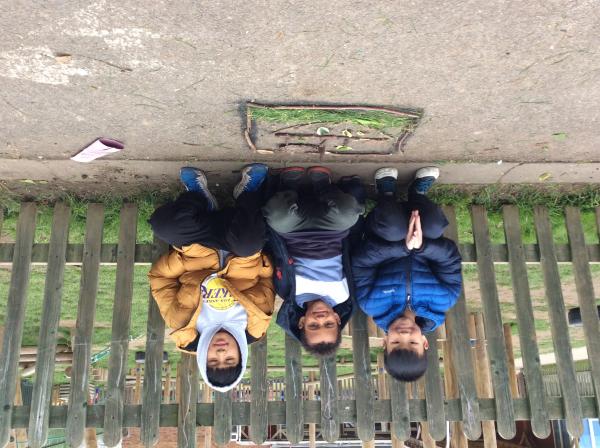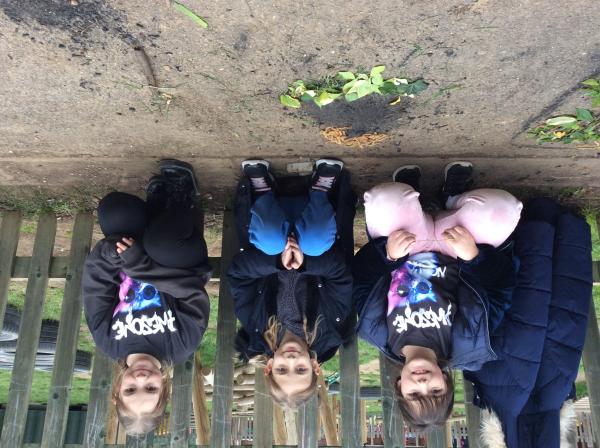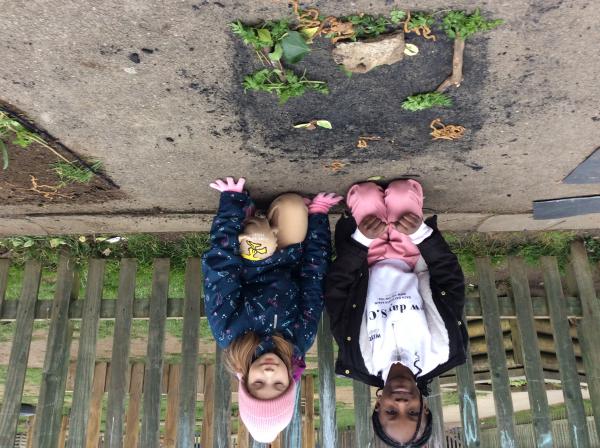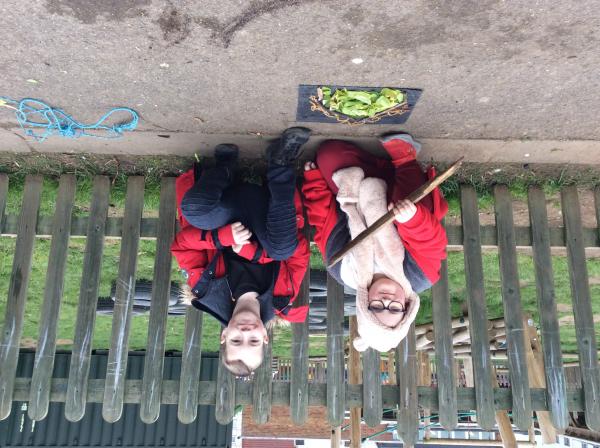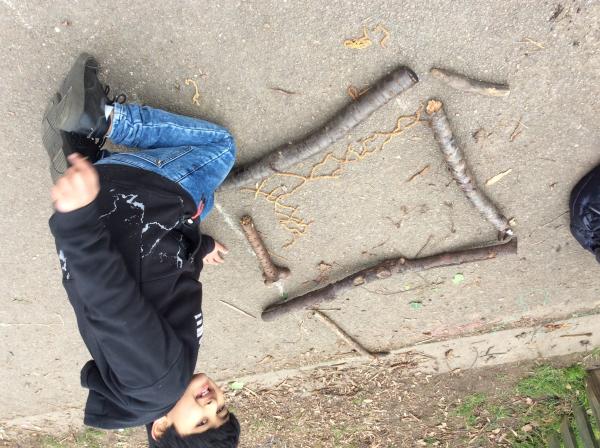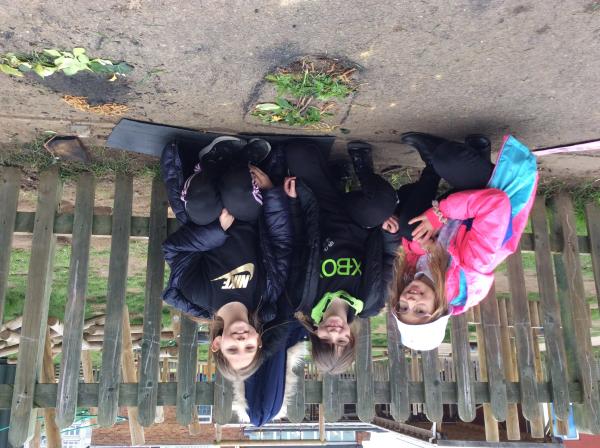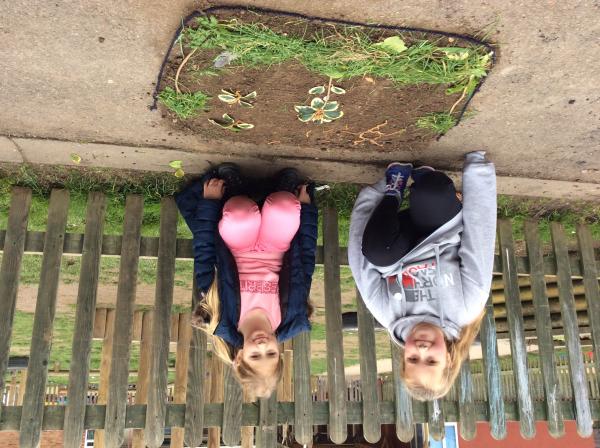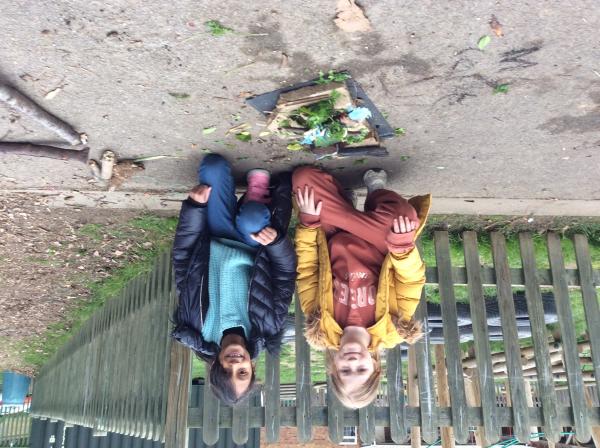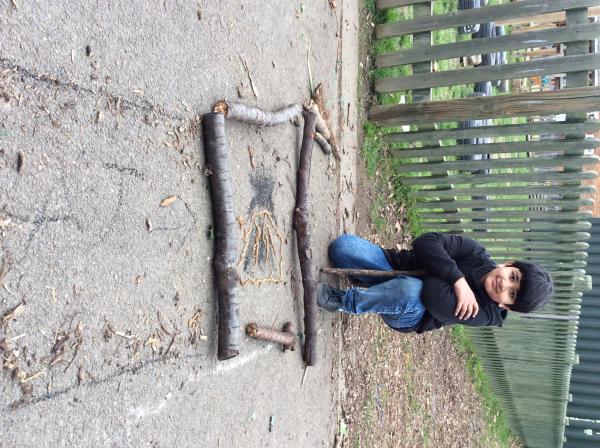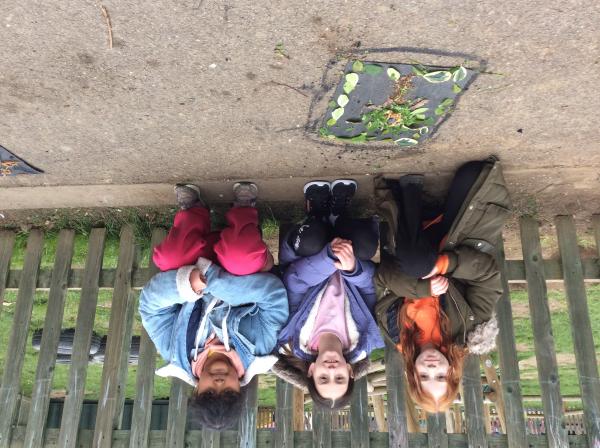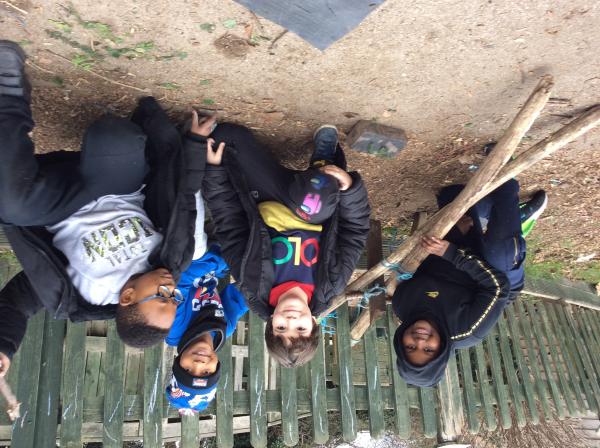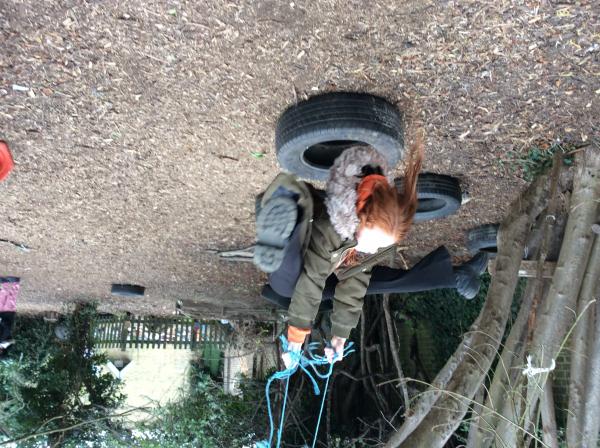 Cooking orange cakes in the nature area
4F experienced a busy and very cold morning in the Nature Area. They cooked orange cakes which were tasted and mostly enjoyed by all. Looking out for other users in the nature area, they litter-picked and tidied the whole area. Thank you 4F. Lastly, they made special fat balls to feed all the wildlife who use this area as well as us!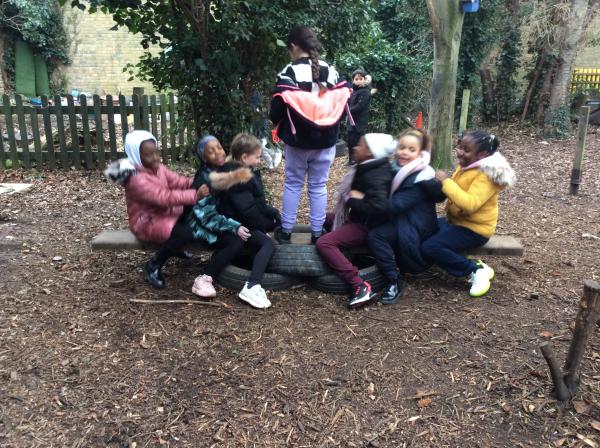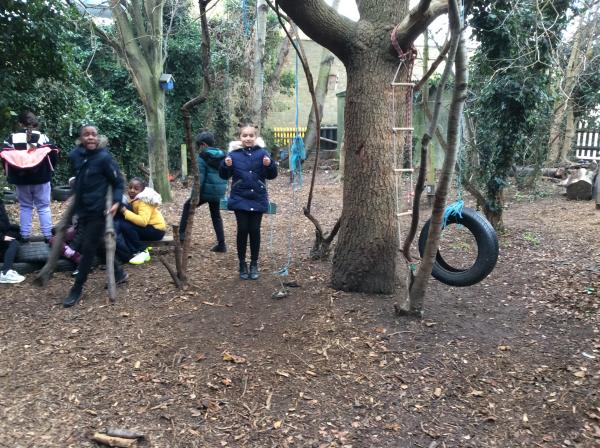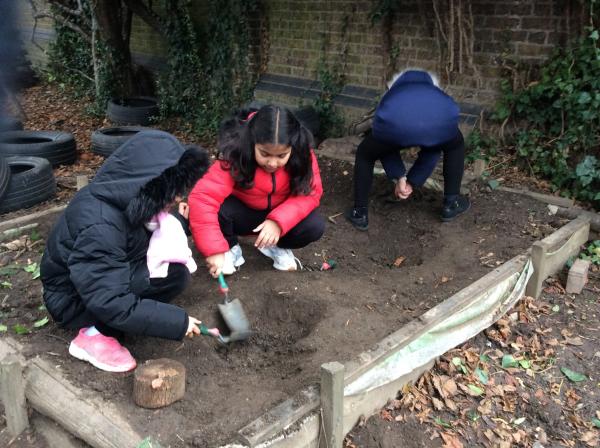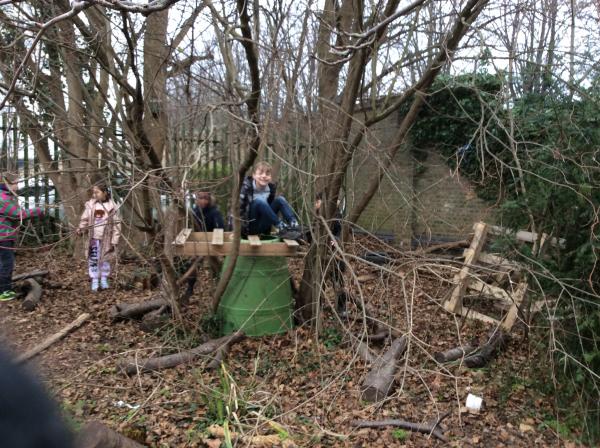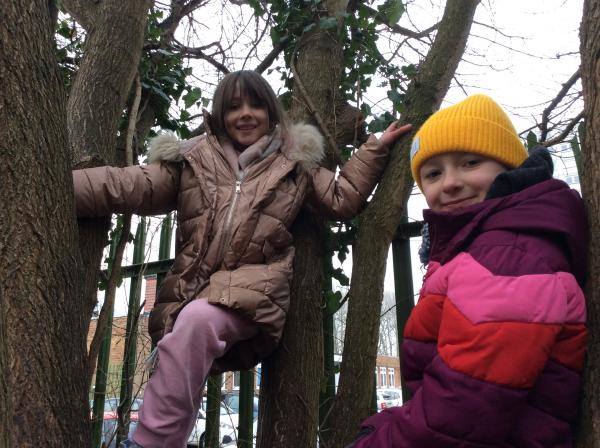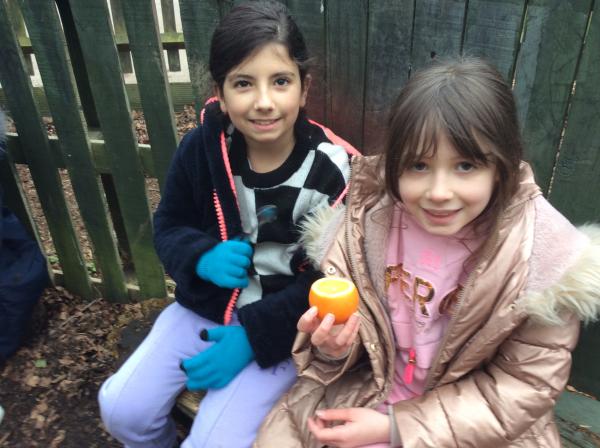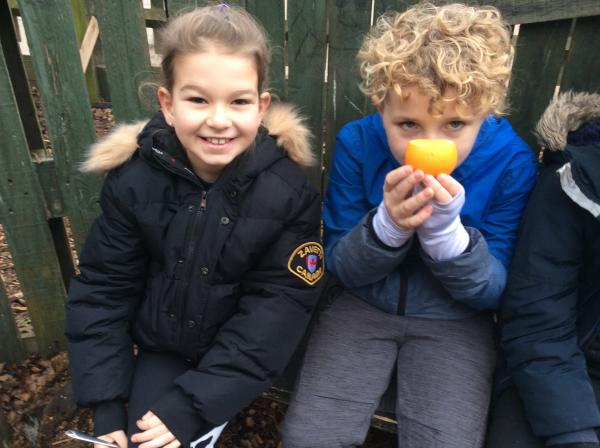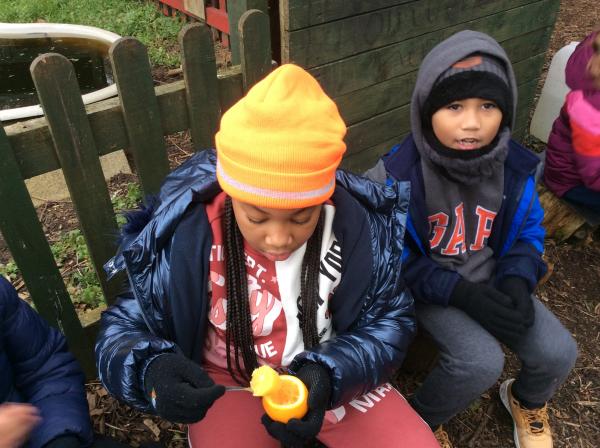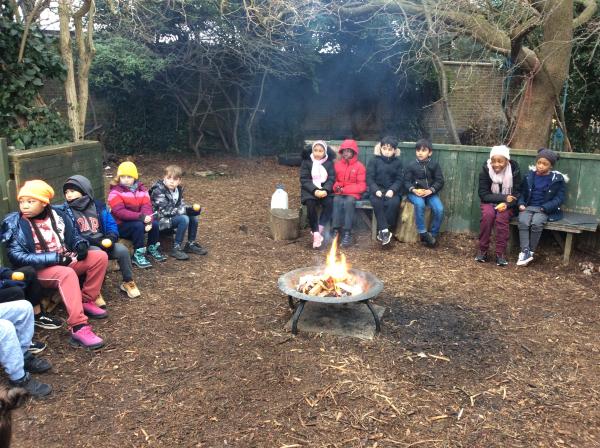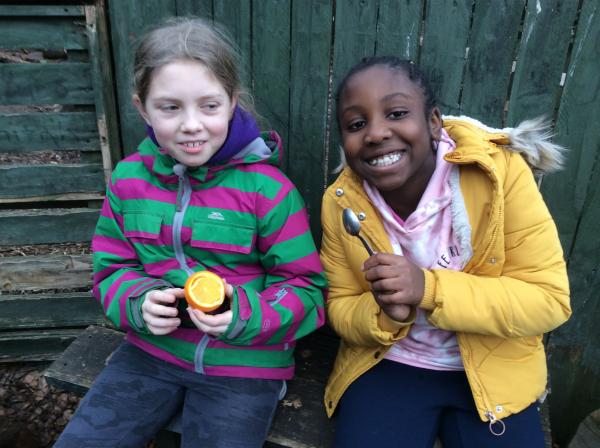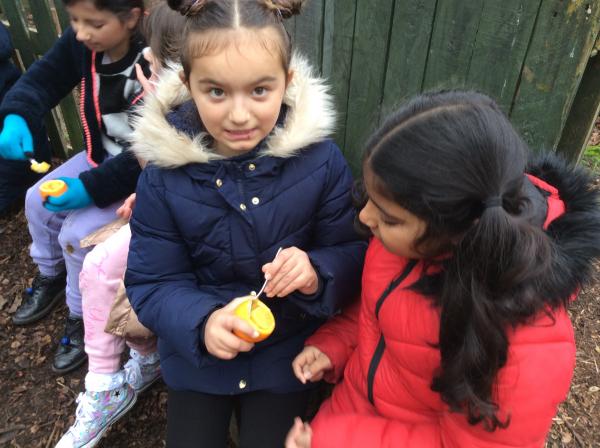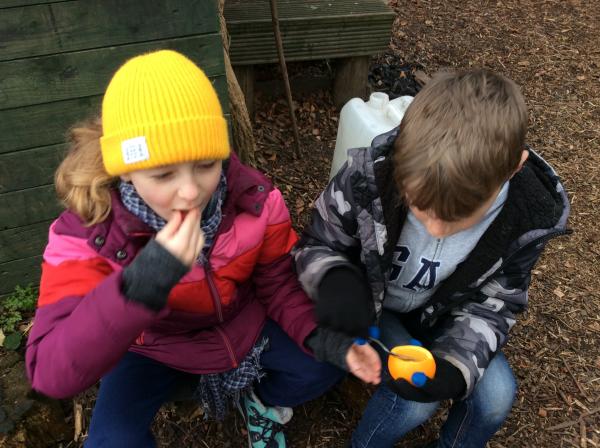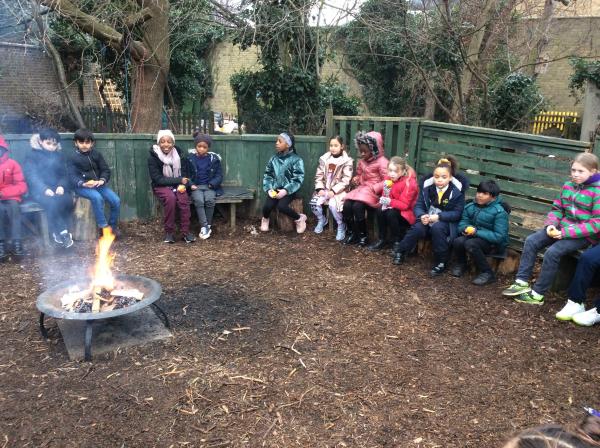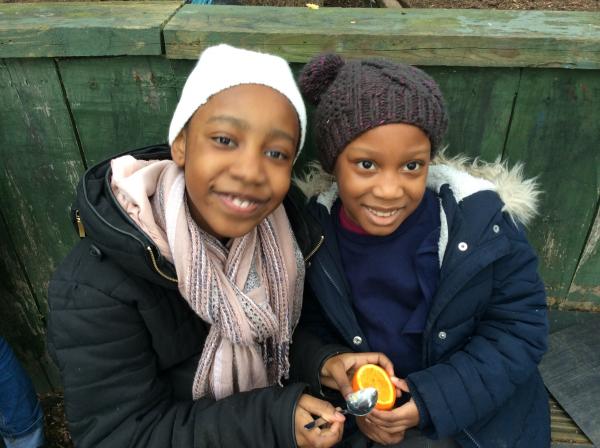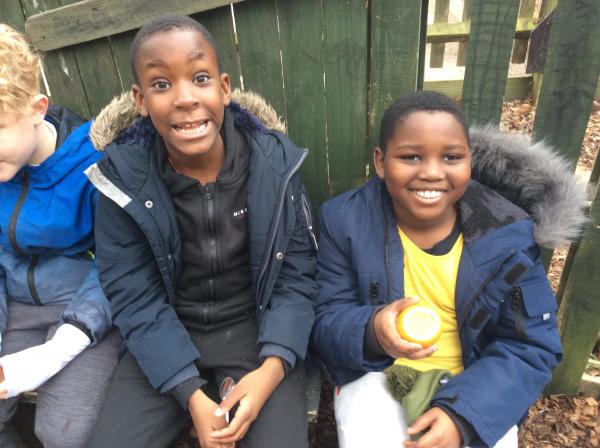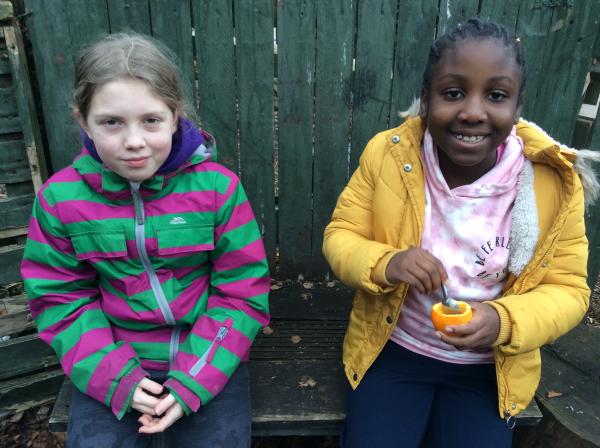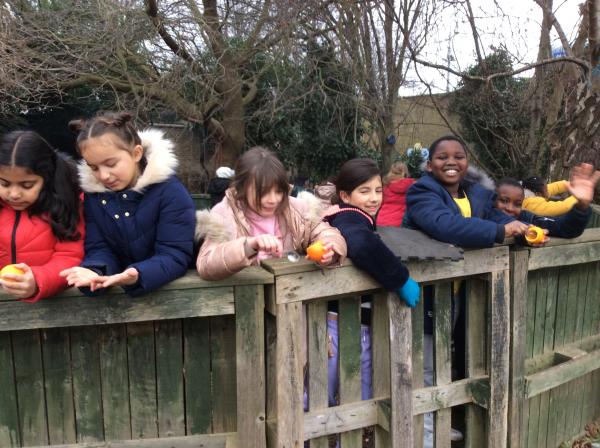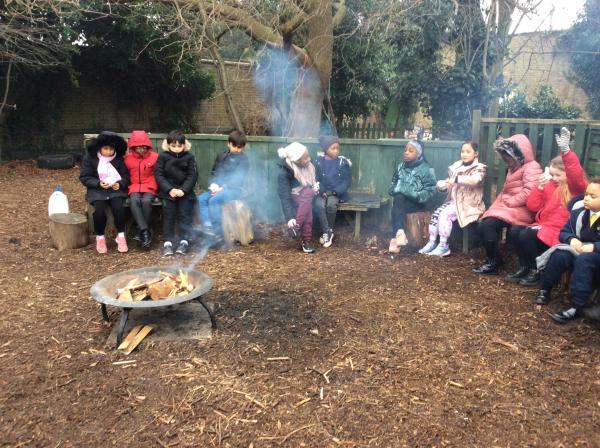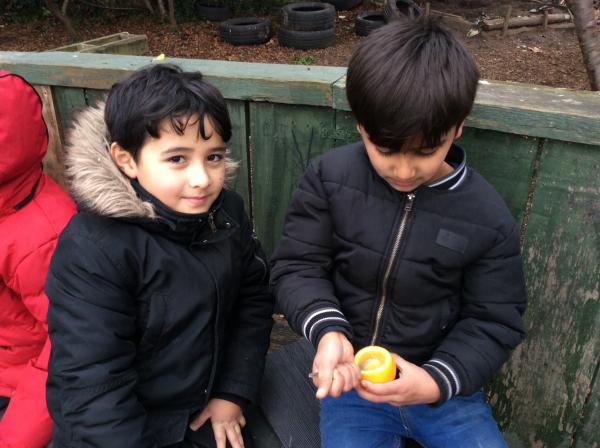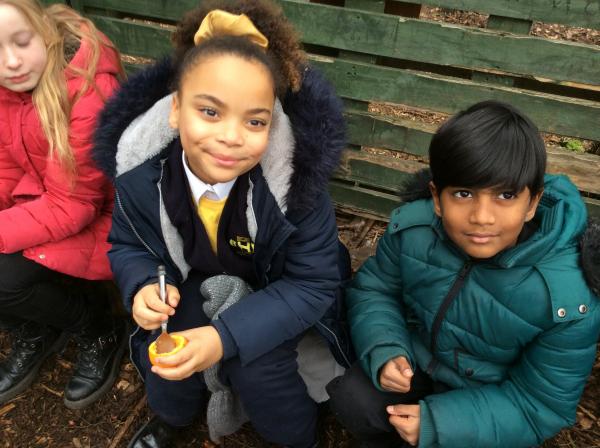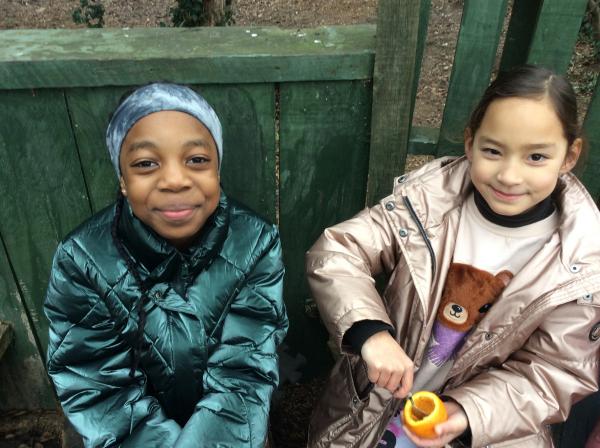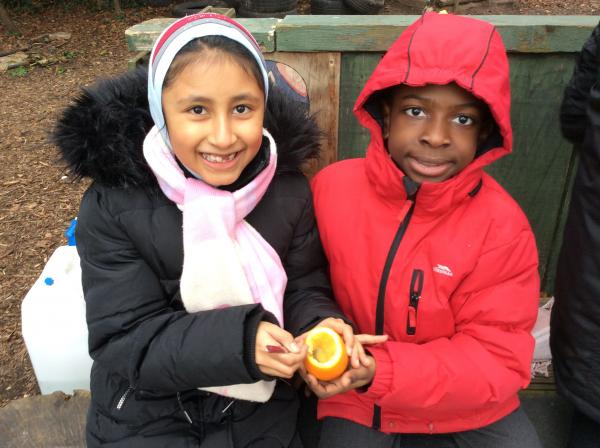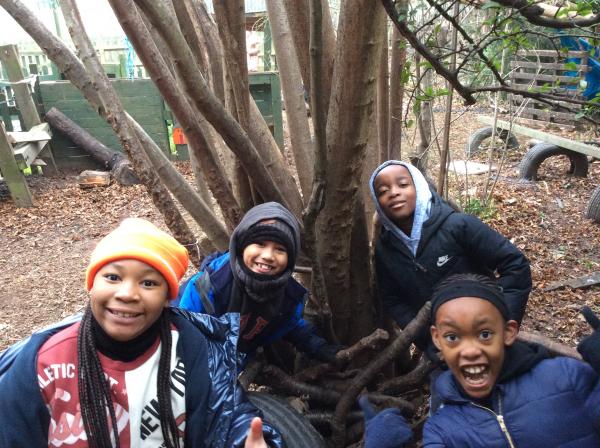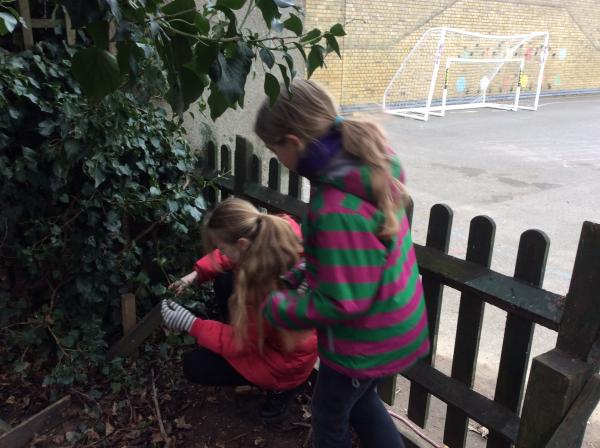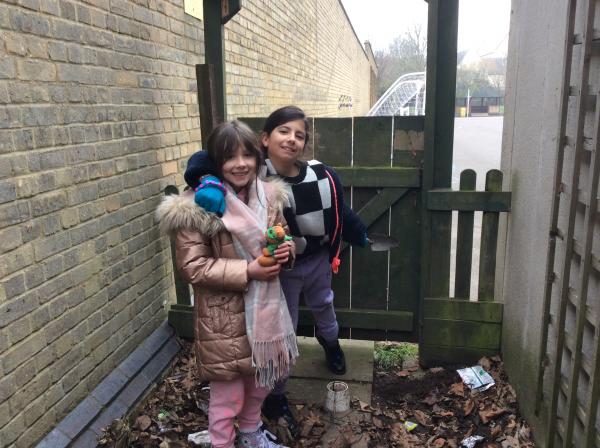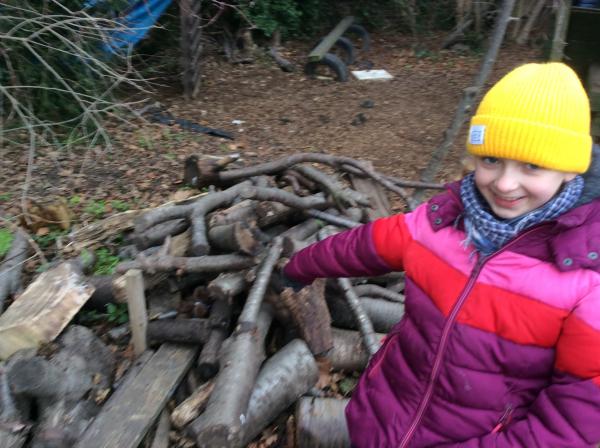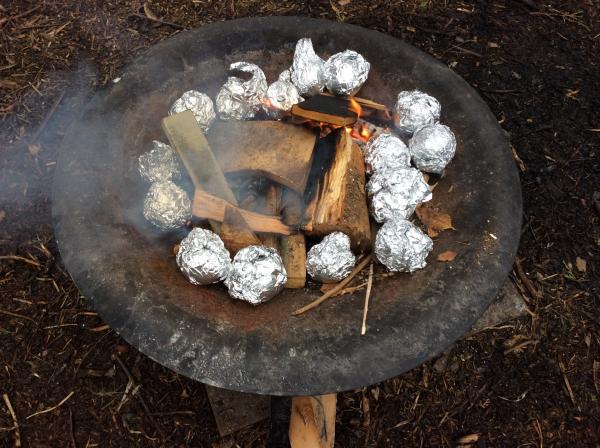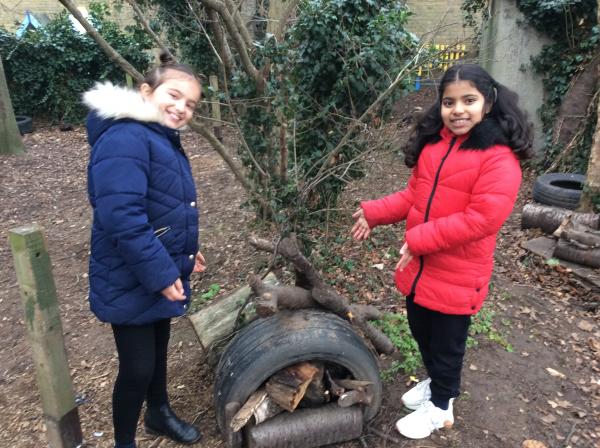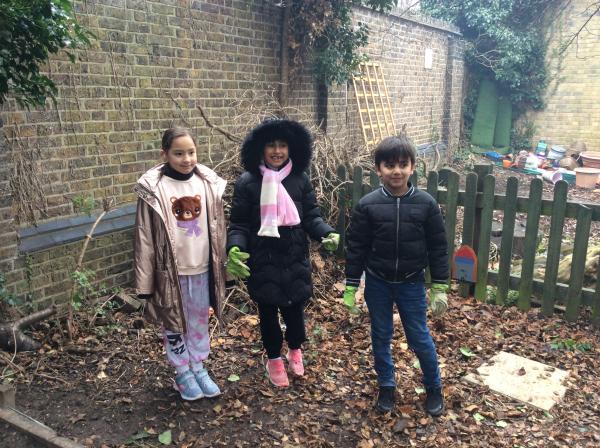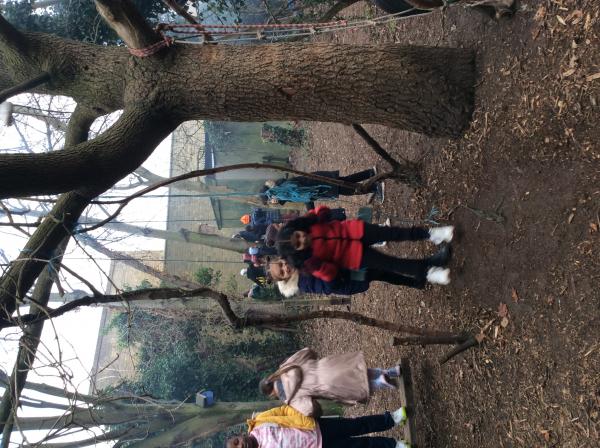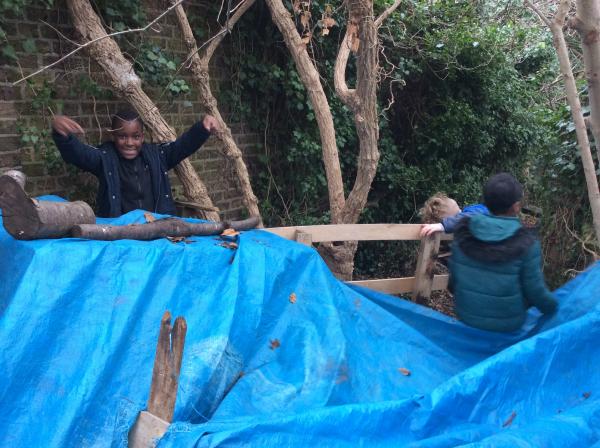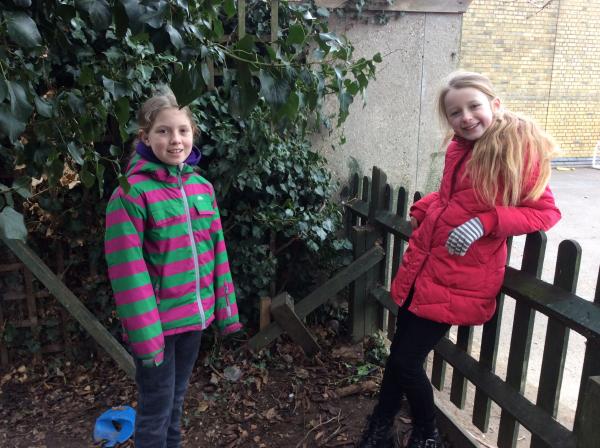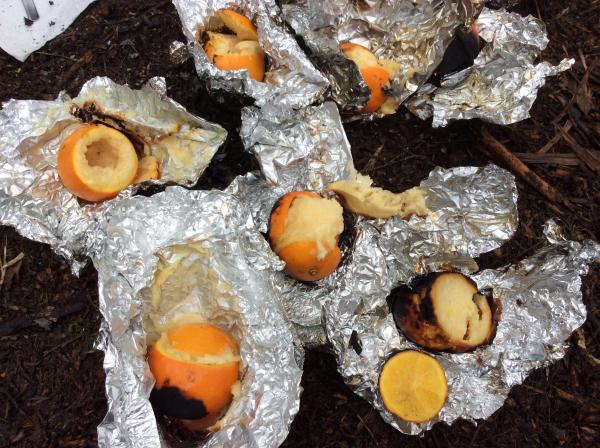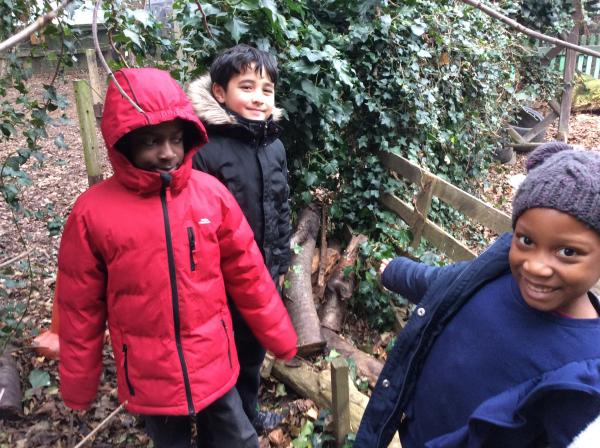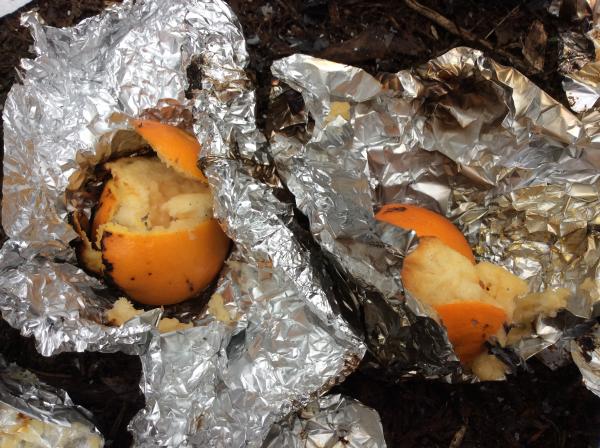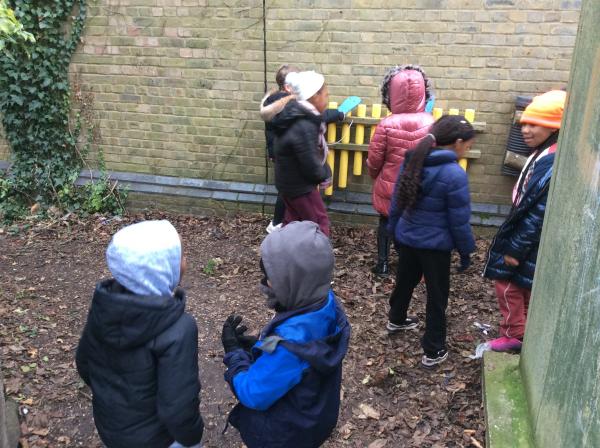 4 Gideon Dance Session
This half term we are learning Dance as part of our PE curriculum - The children are making amazing progress in working together to develop their routines to the Scissor Sisters song 'I don't feel like dancing'.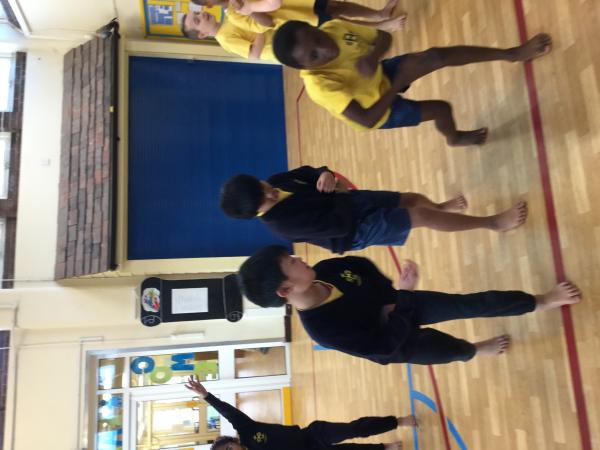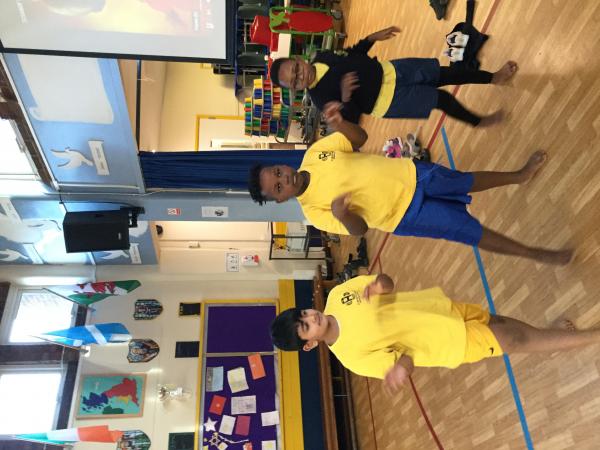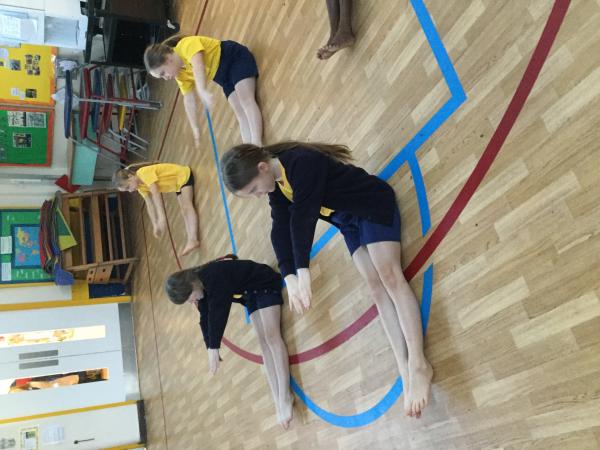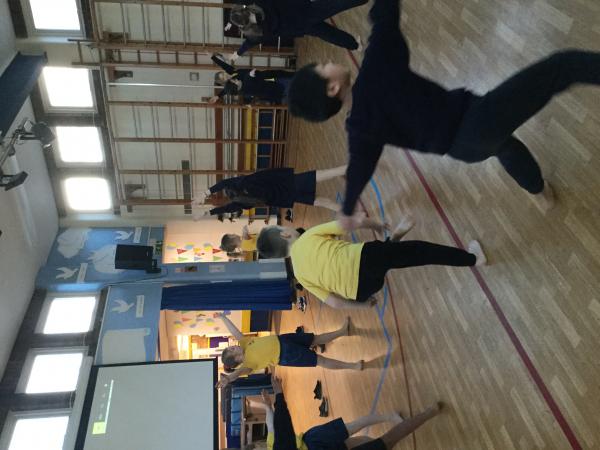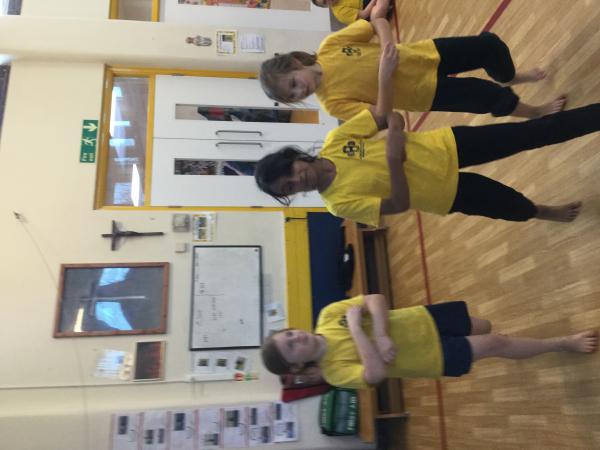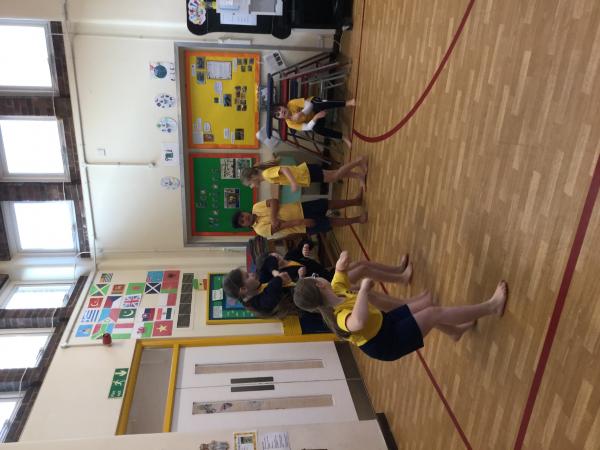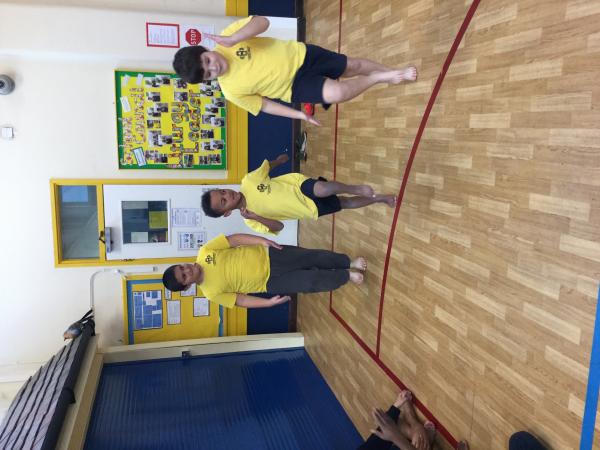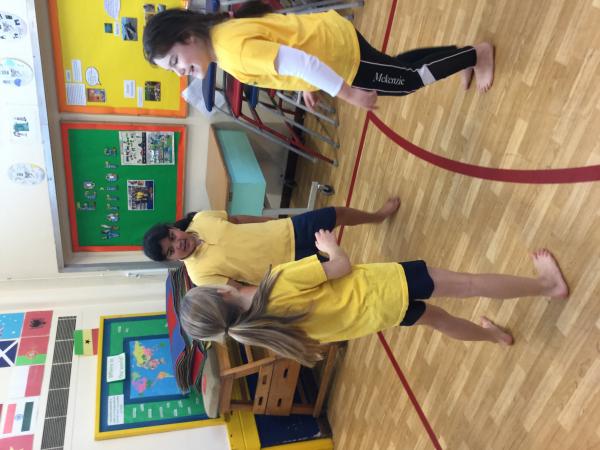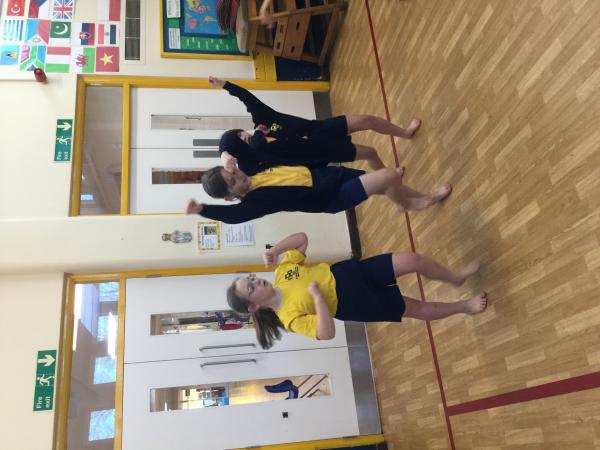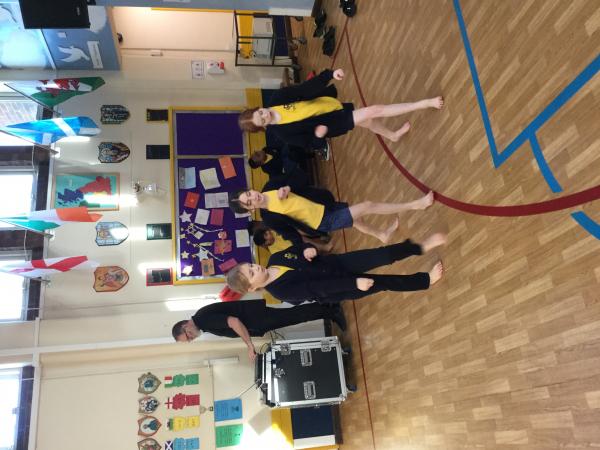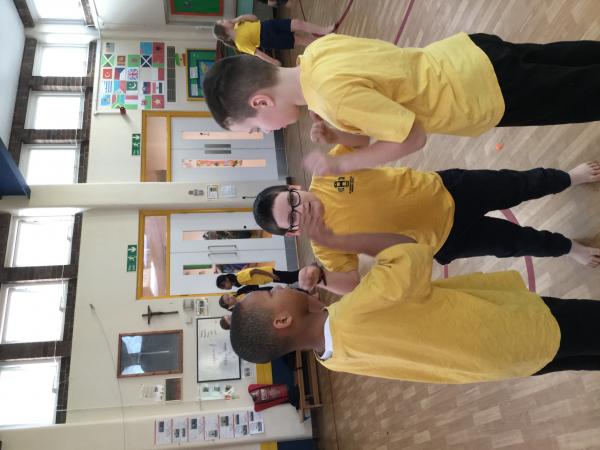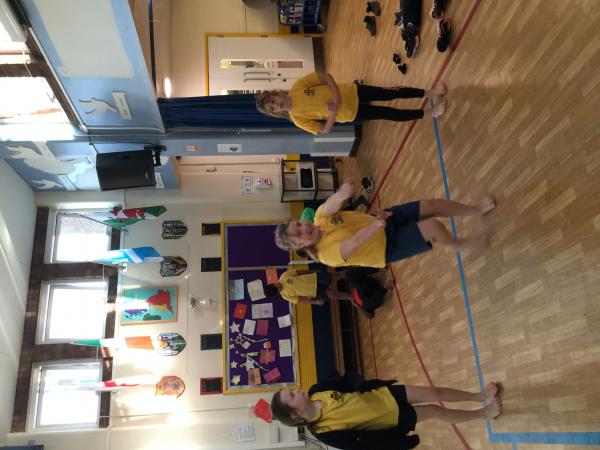 Orange Cakes
4G had an extremely busy morning in the nature area. Before embarking on the hard work of moving the chip bark and placing it around the nature area to stop it becoming too muddy, Year 4 enjoyed making orange cakes. They hulled out an orange either eating the insides or leaving it to the wildlife. Inside they put some cake mix, put the lid of the orange back on top and wrapped it in foil. They left these cakes approximately 15-20 minutes and then had a taste testing session! Most of Year 4 enjoyed making but didn't like the taste of the cake. Year 4 also fed the wildlife who visit the nature area and even had time to play Eagle Eye.
Mrs Miller wants to say a big thank you to the children in 4G who helped her shift chip bark. What a job you did today!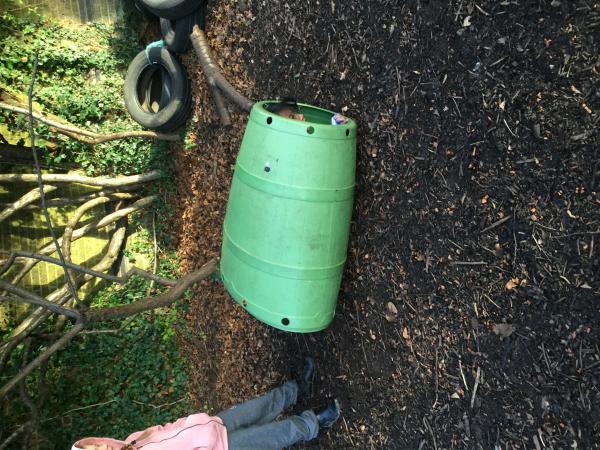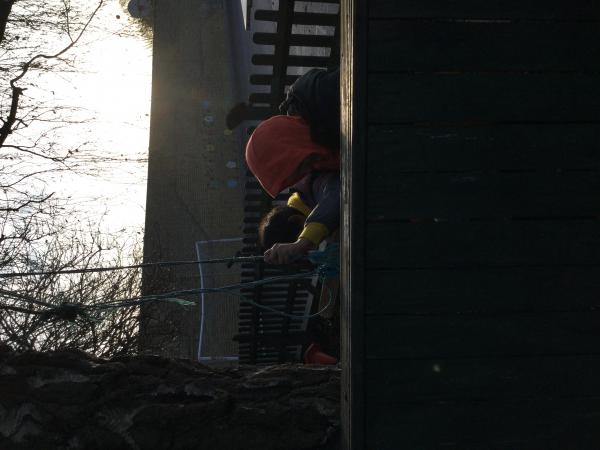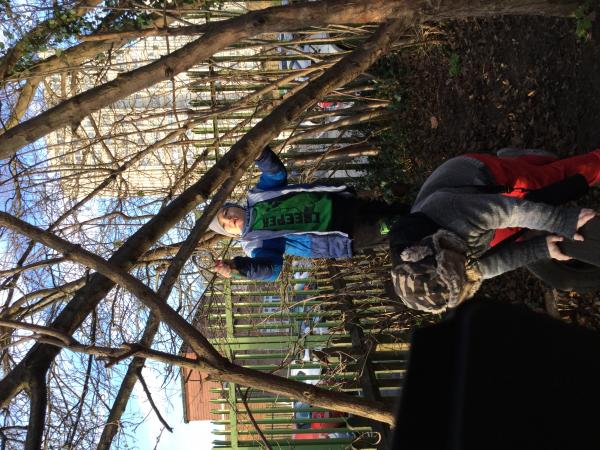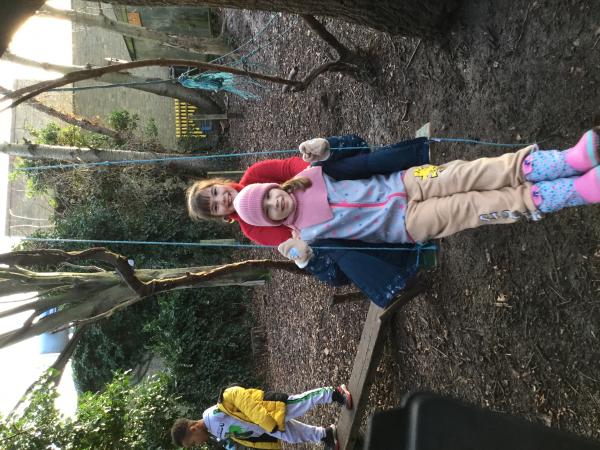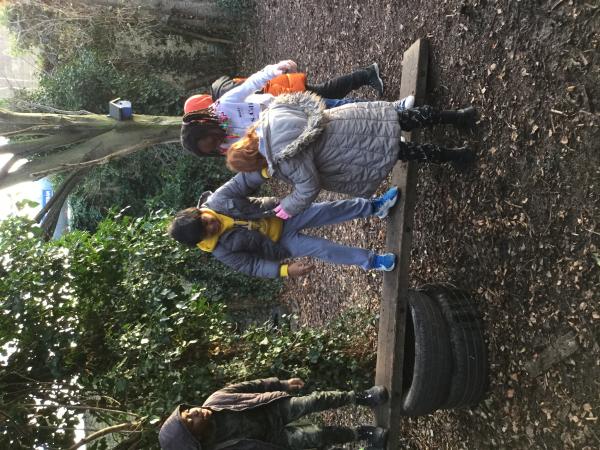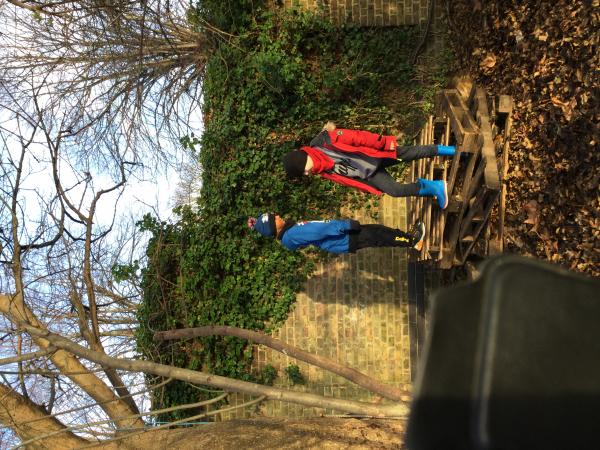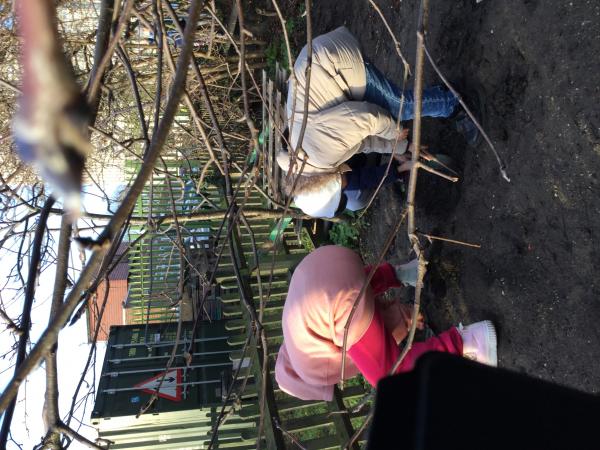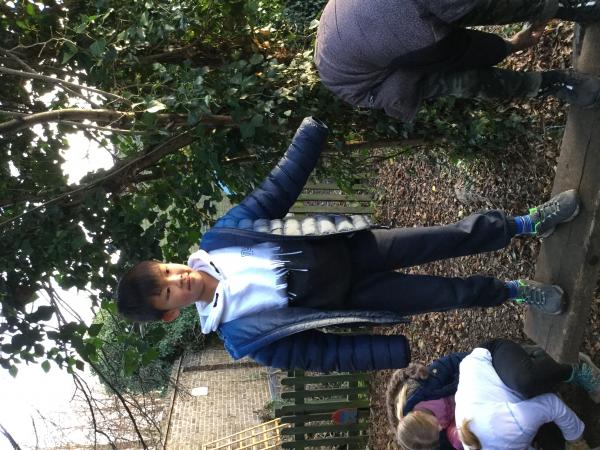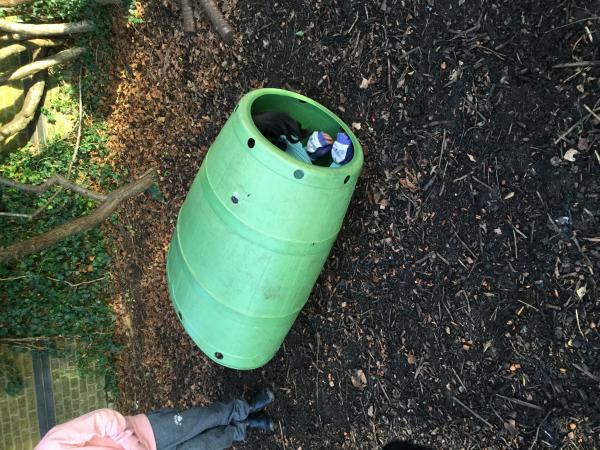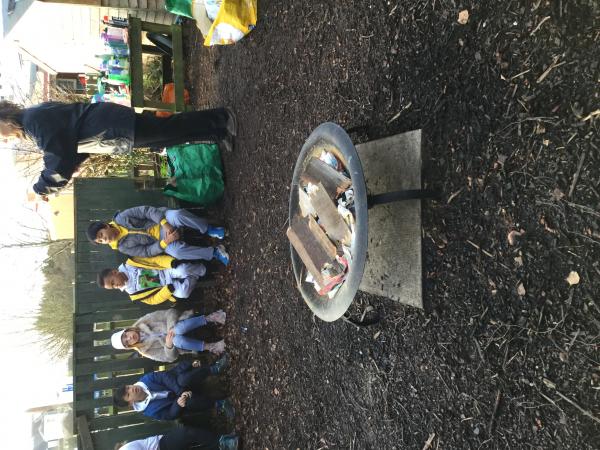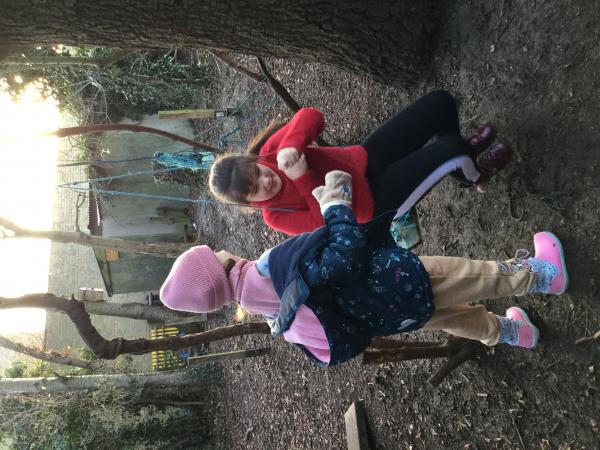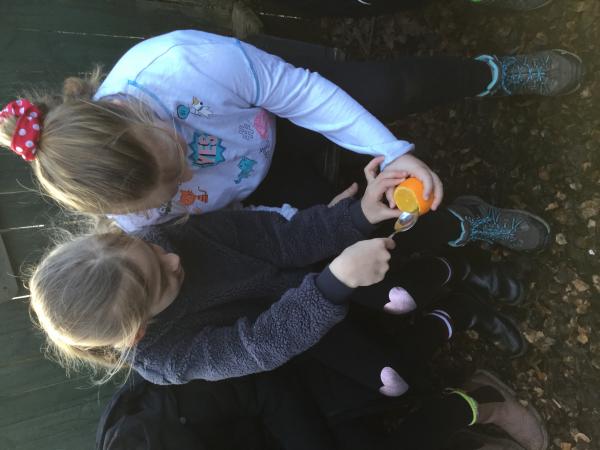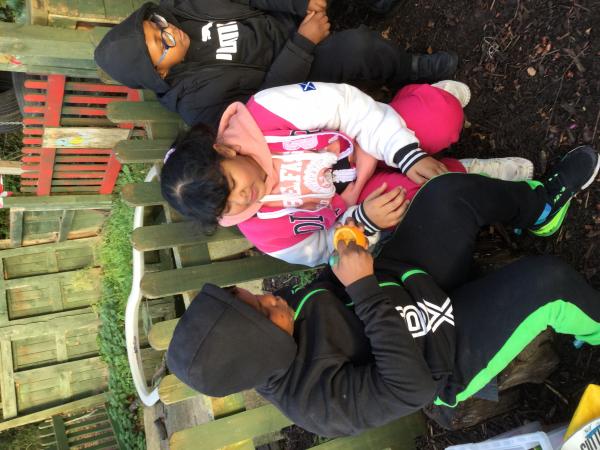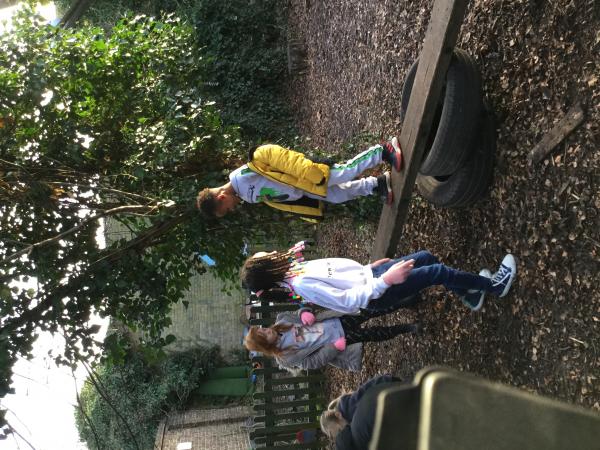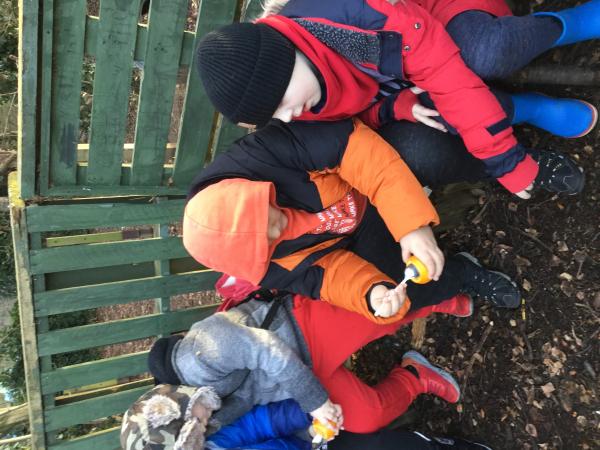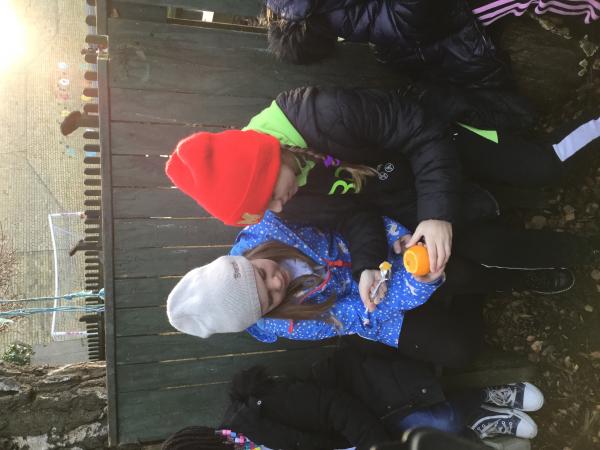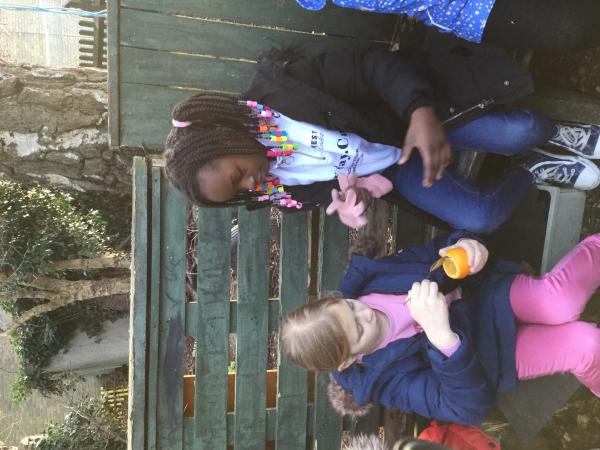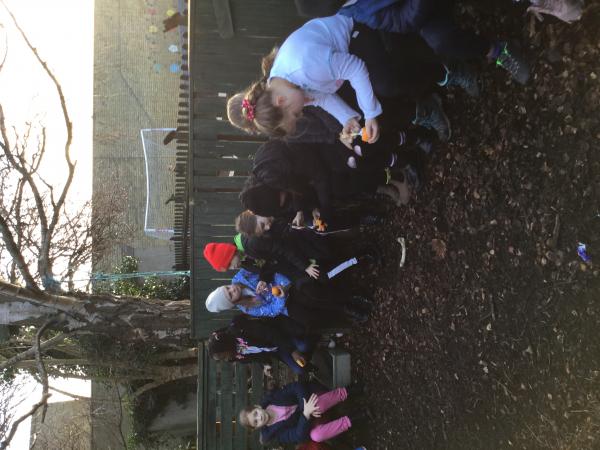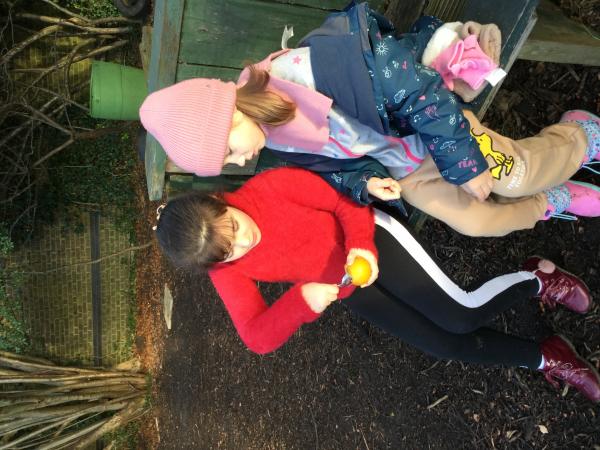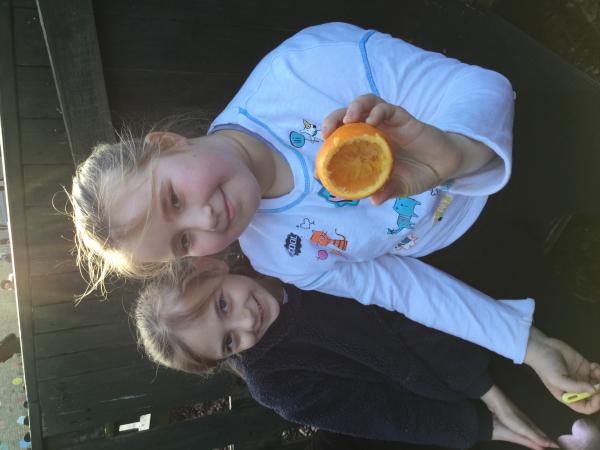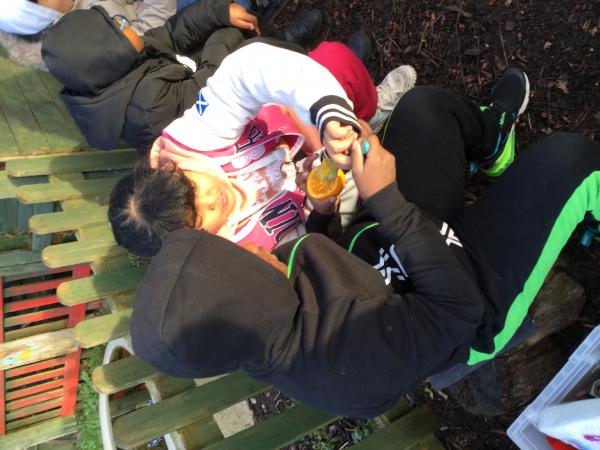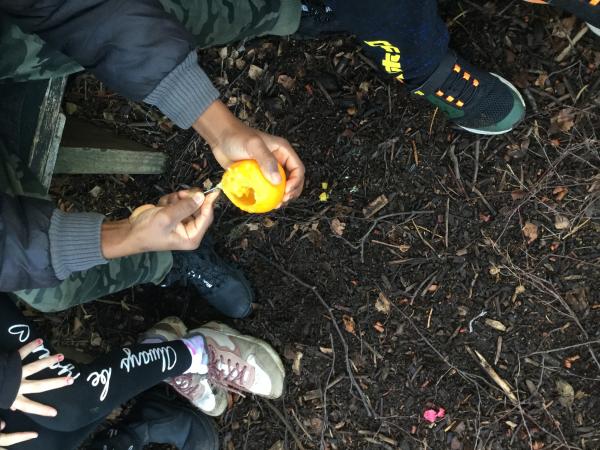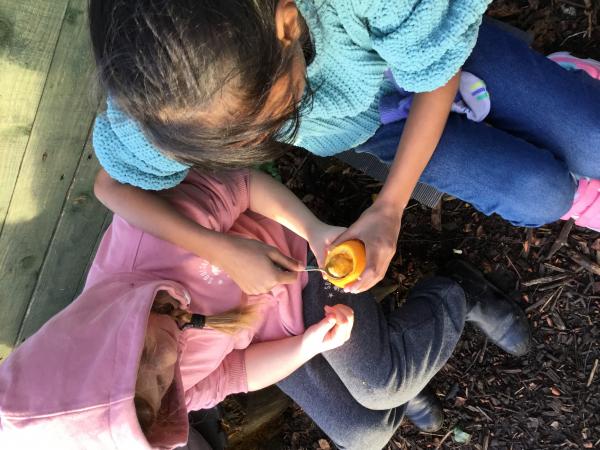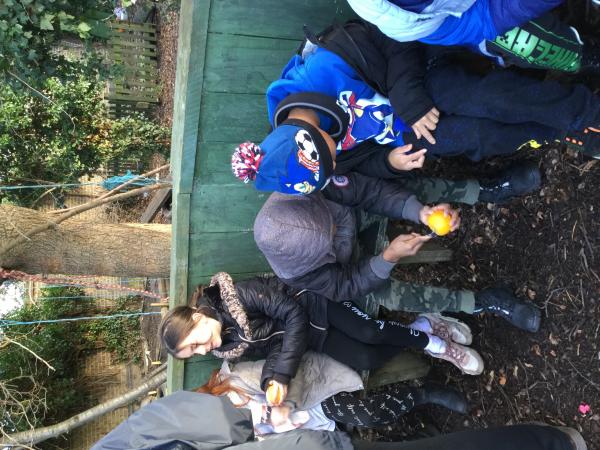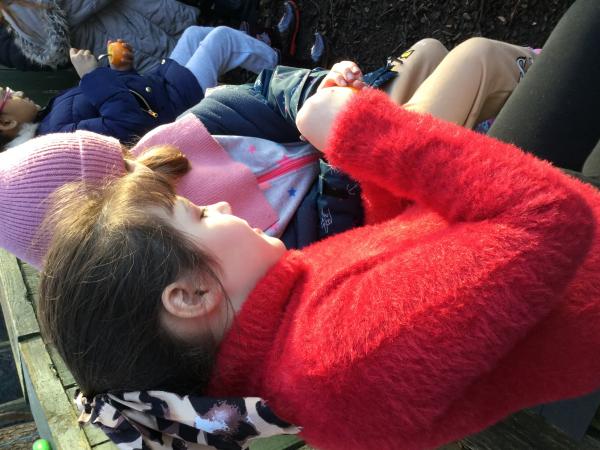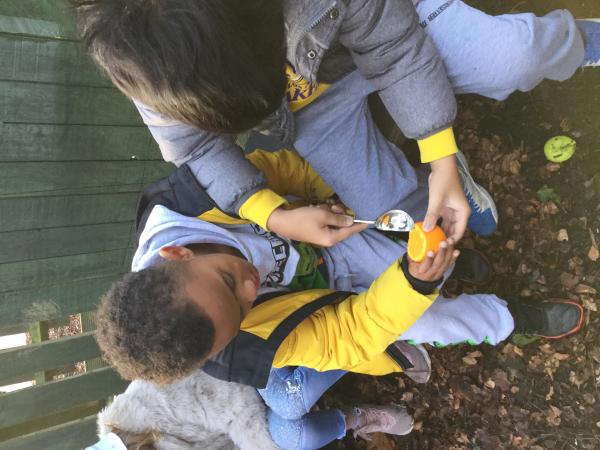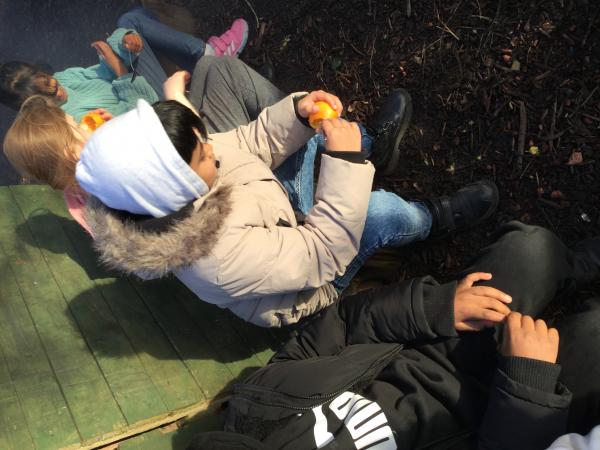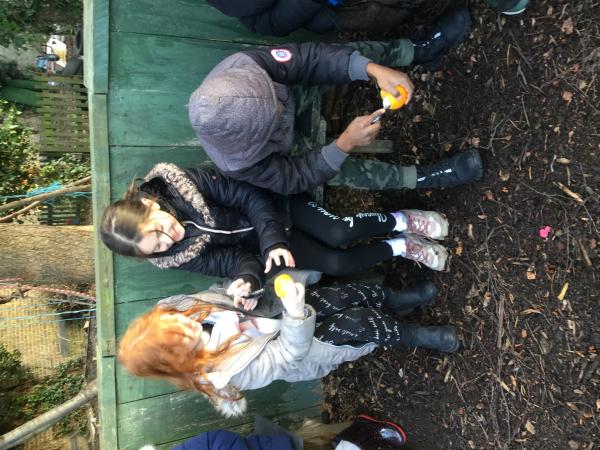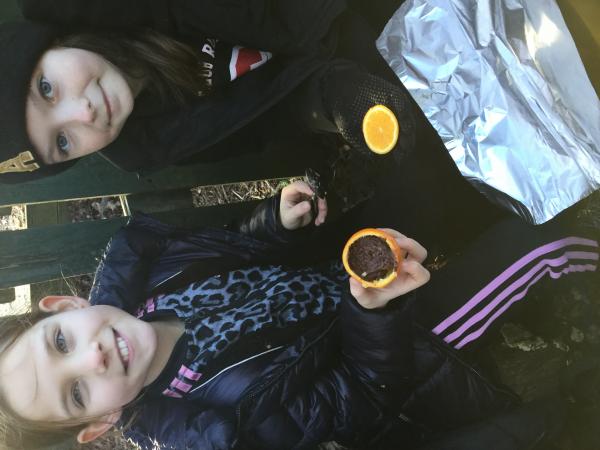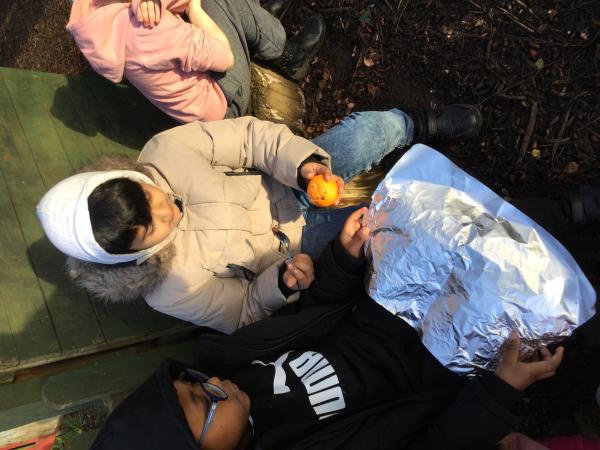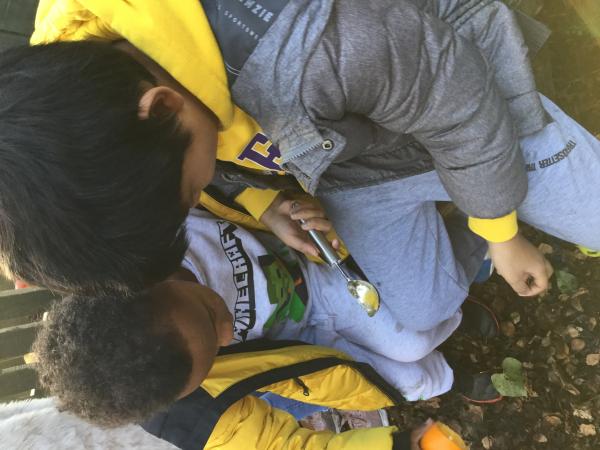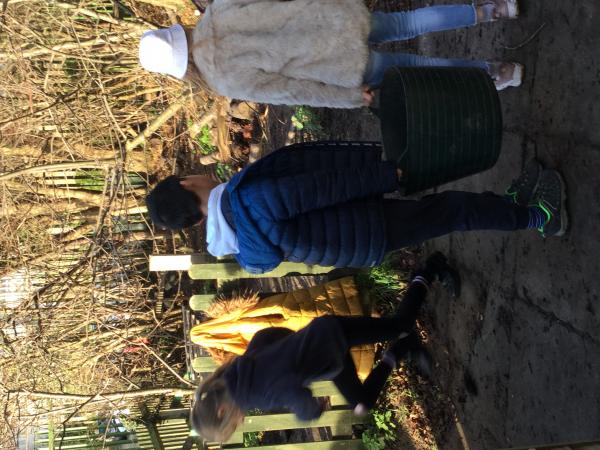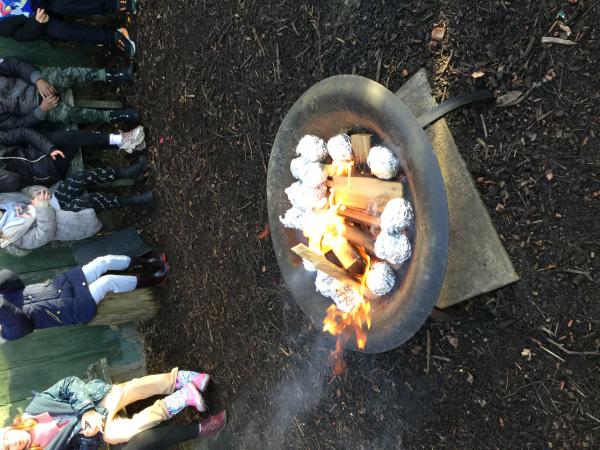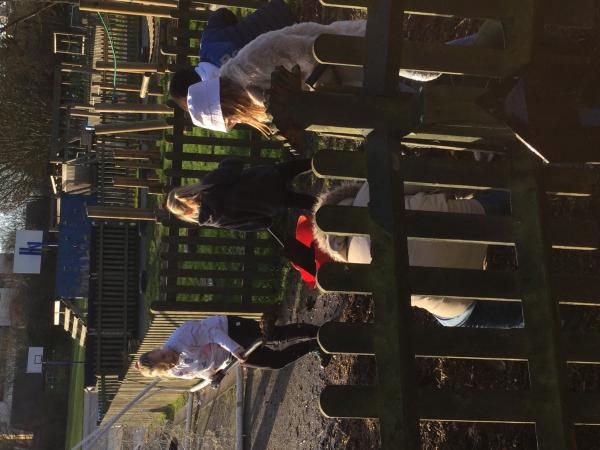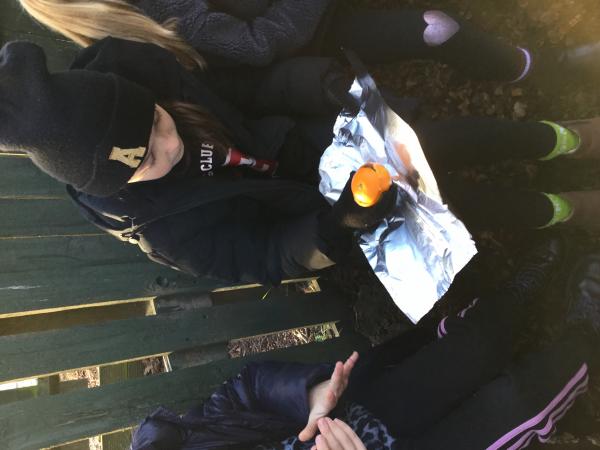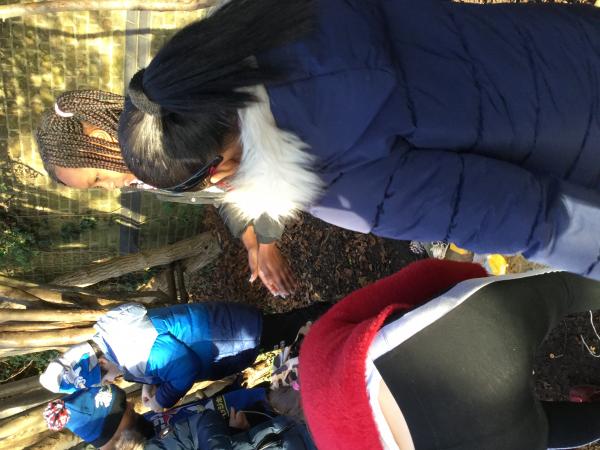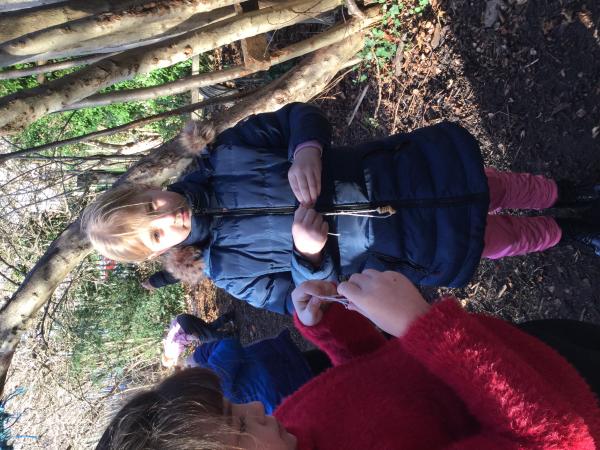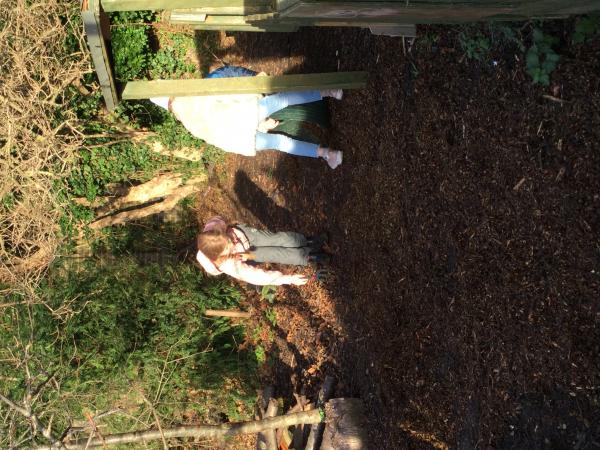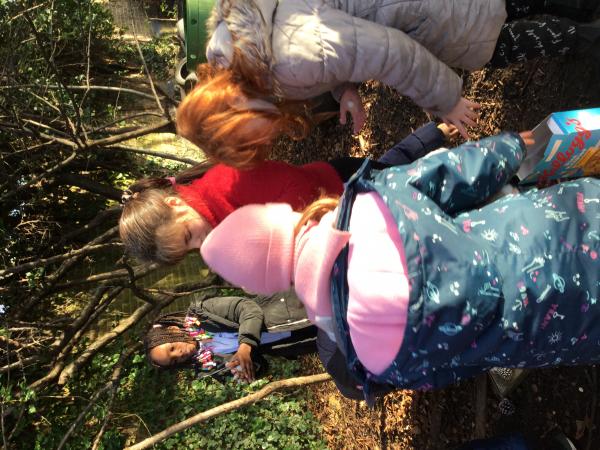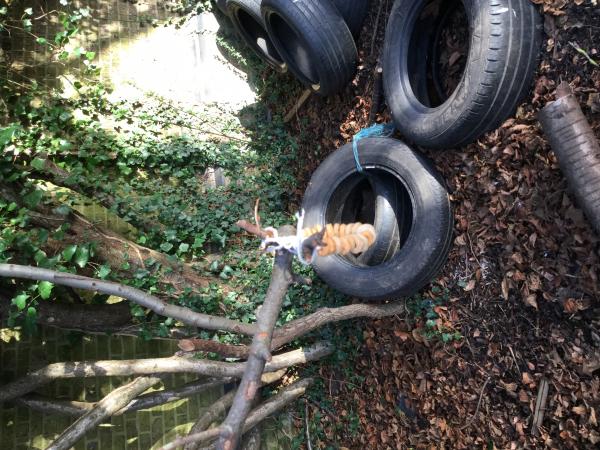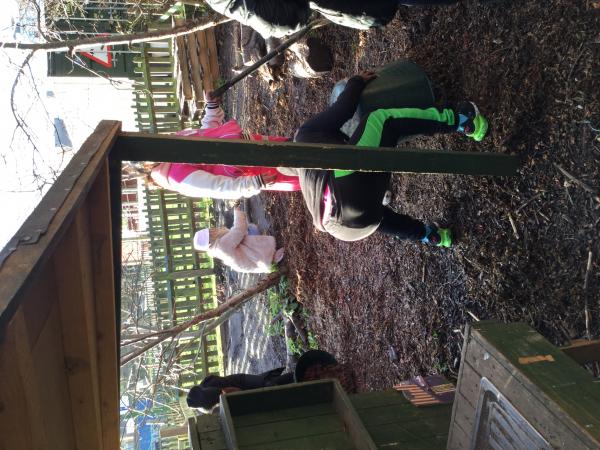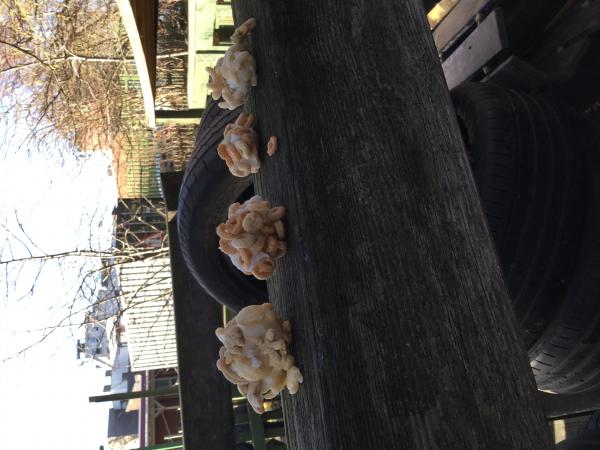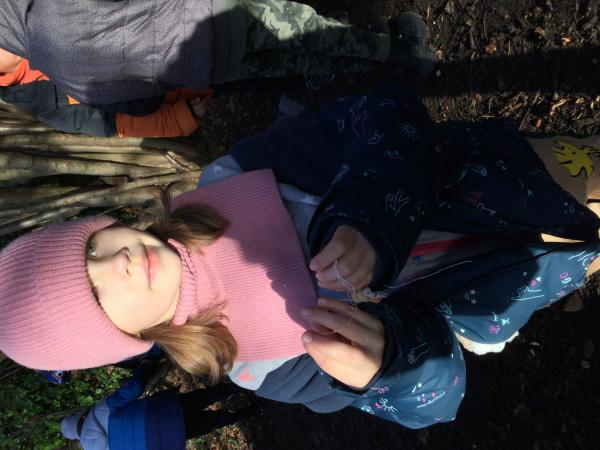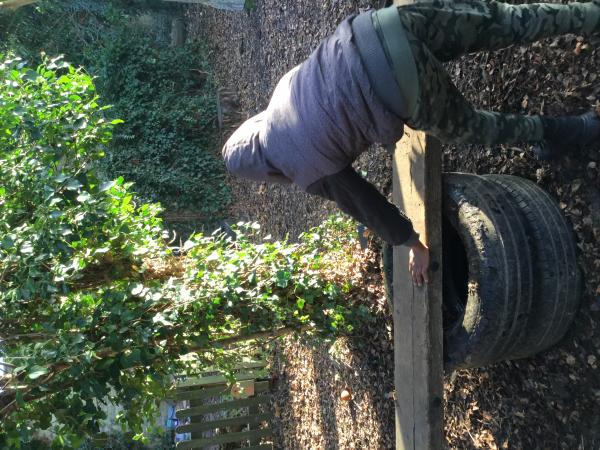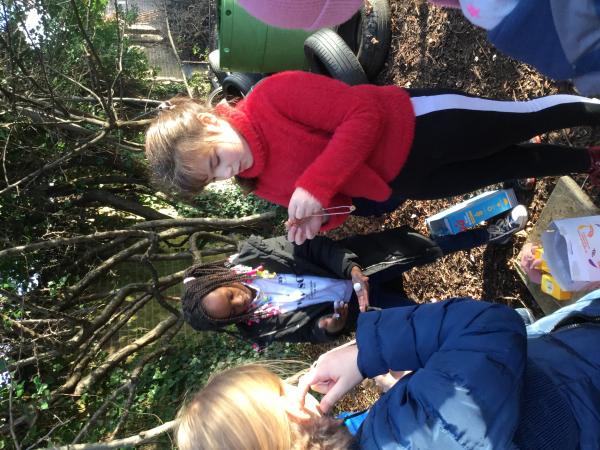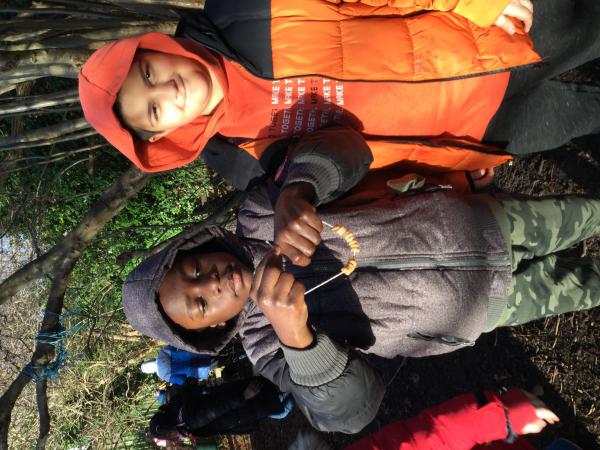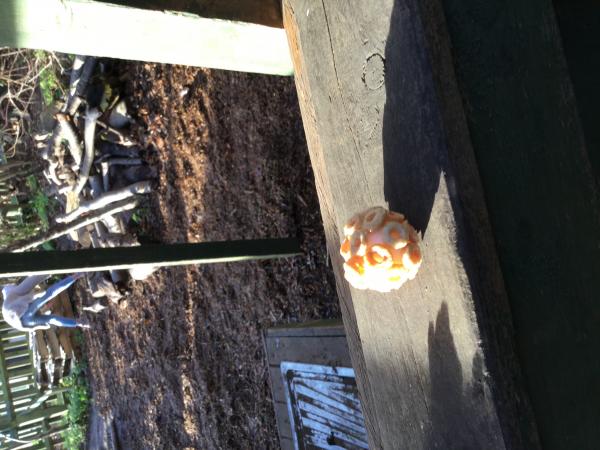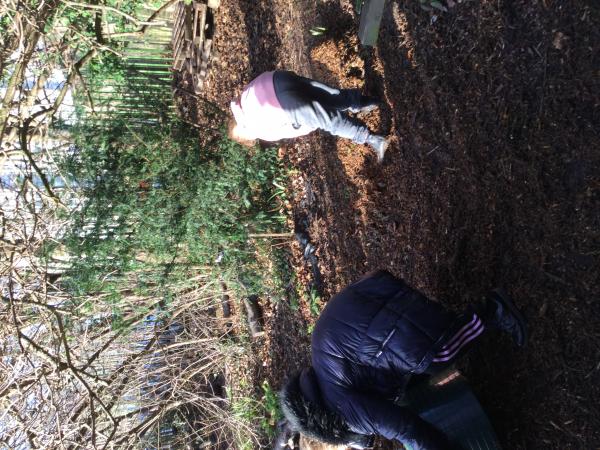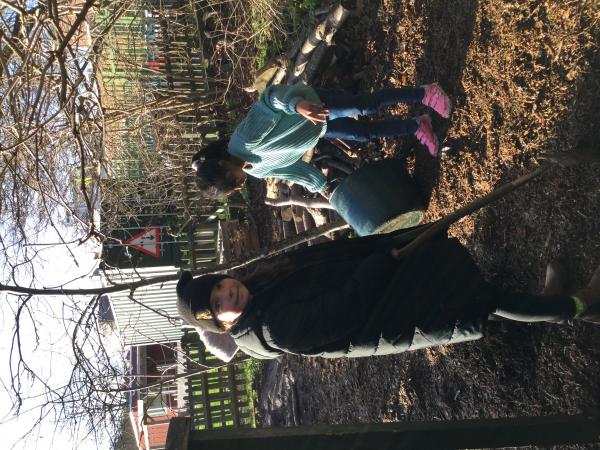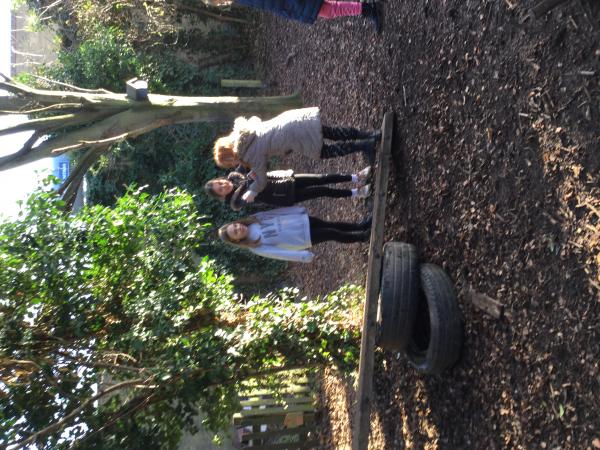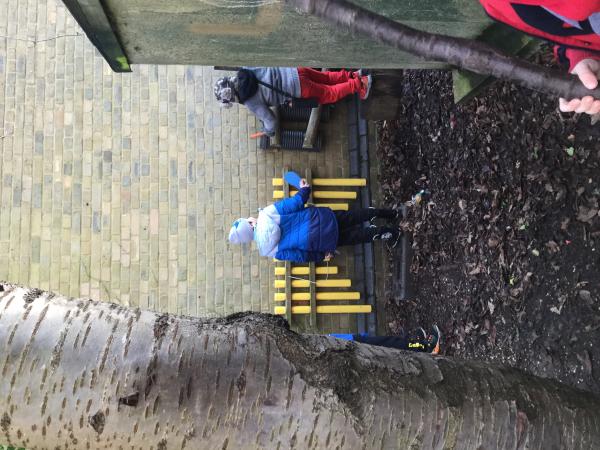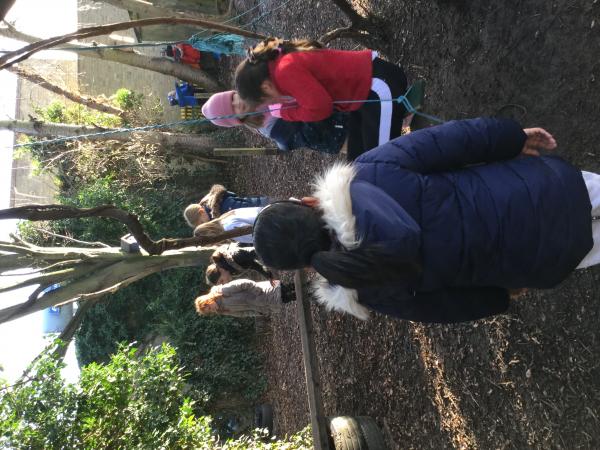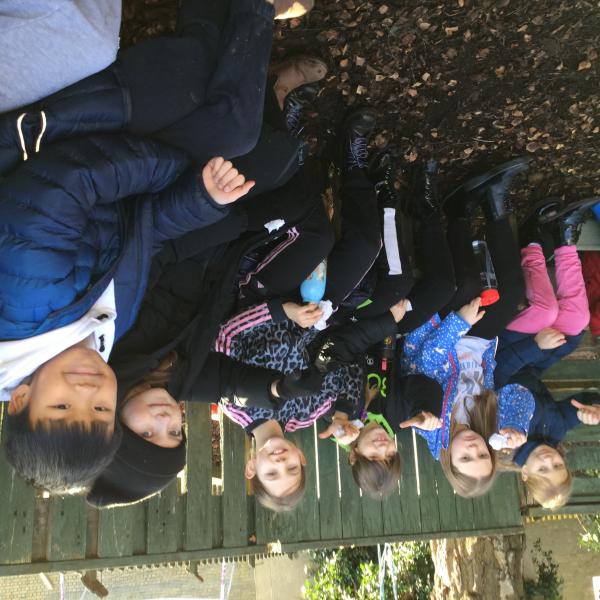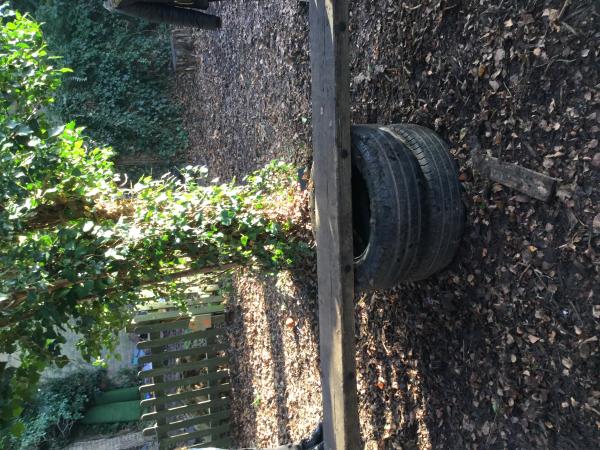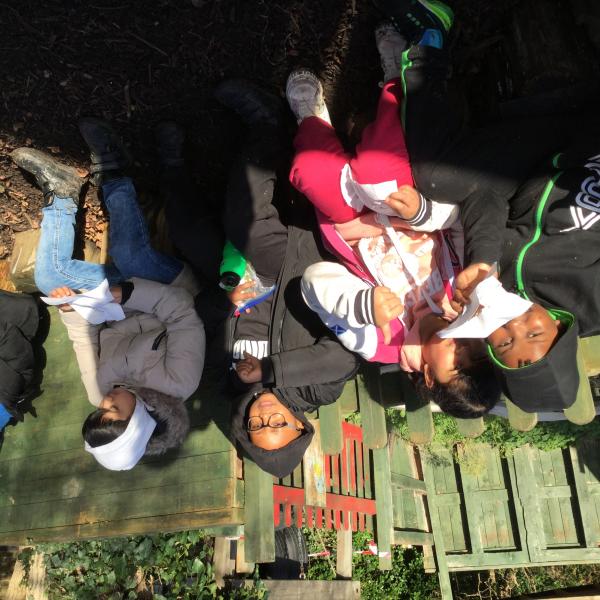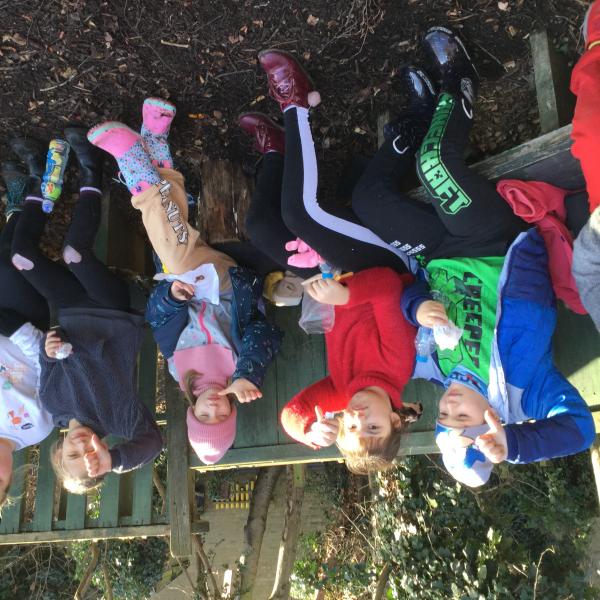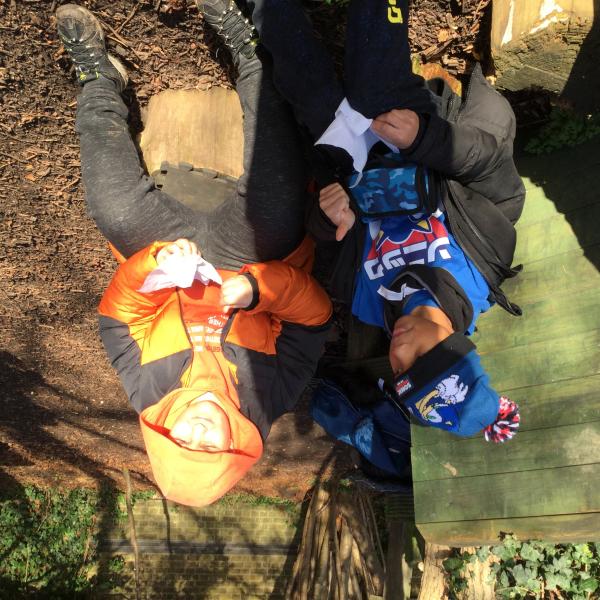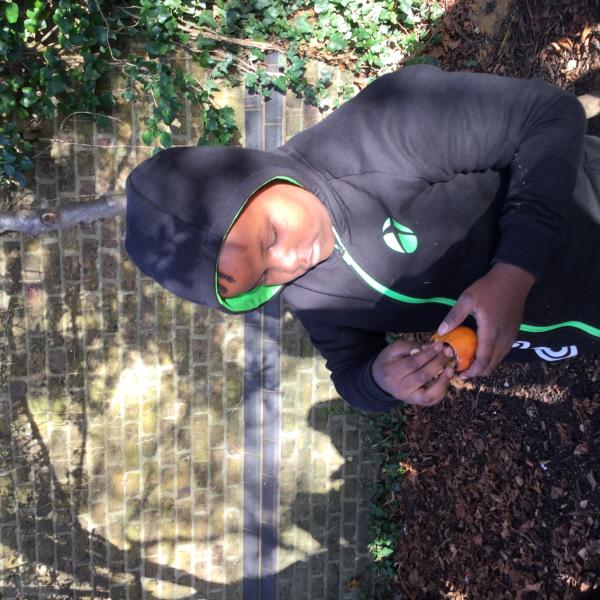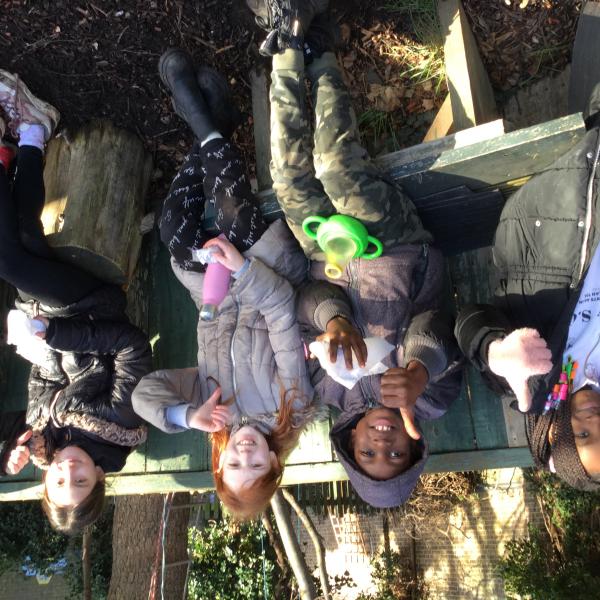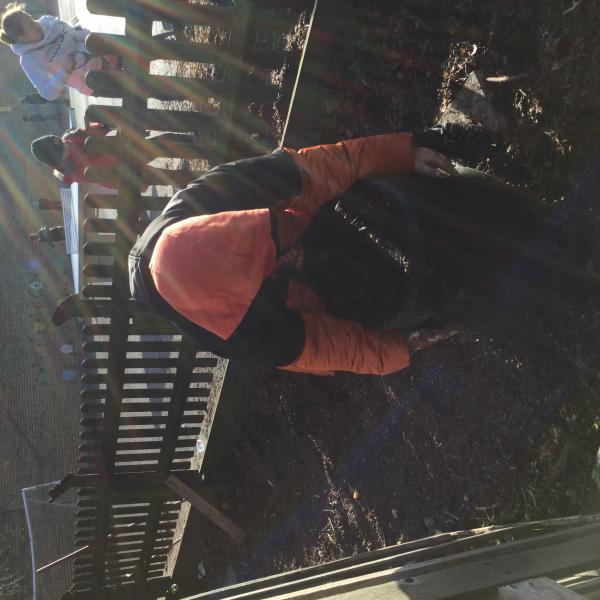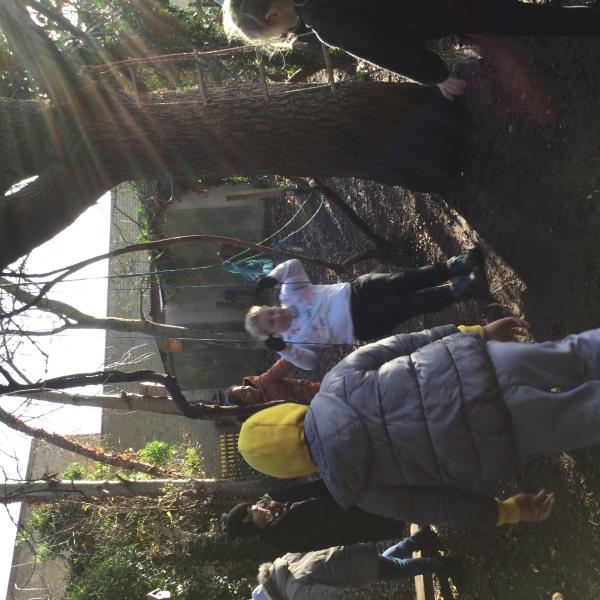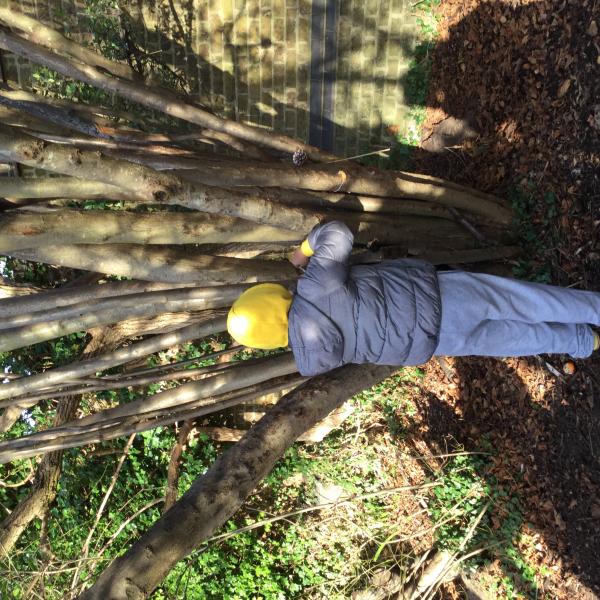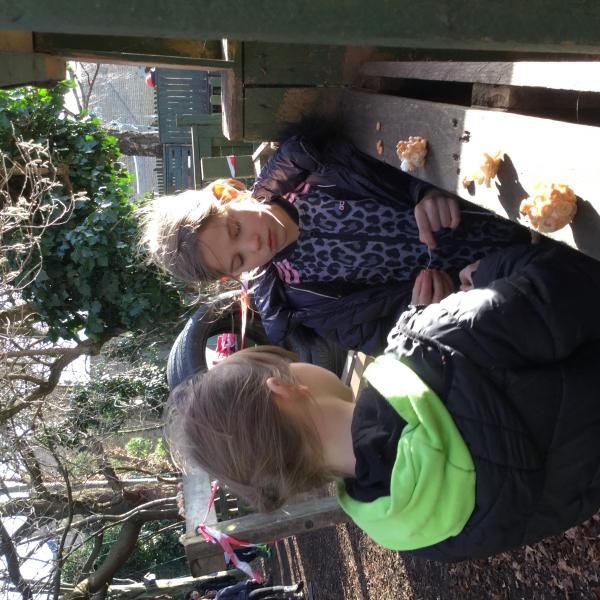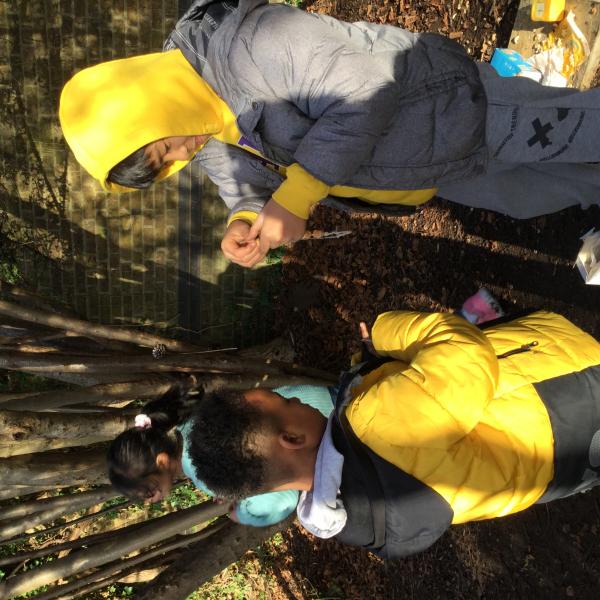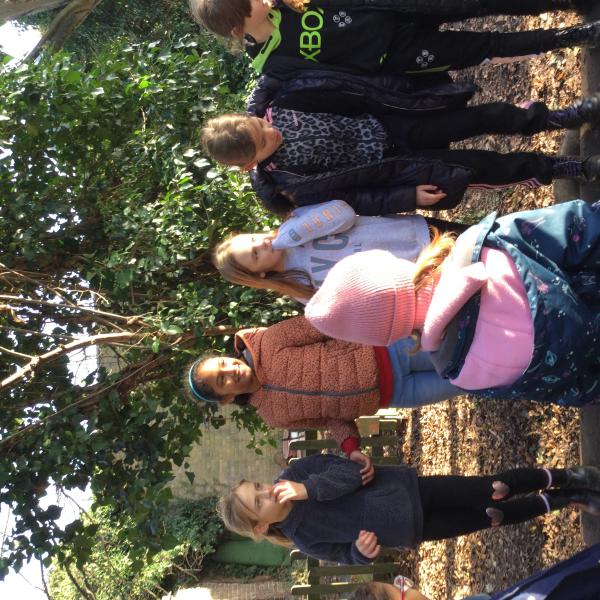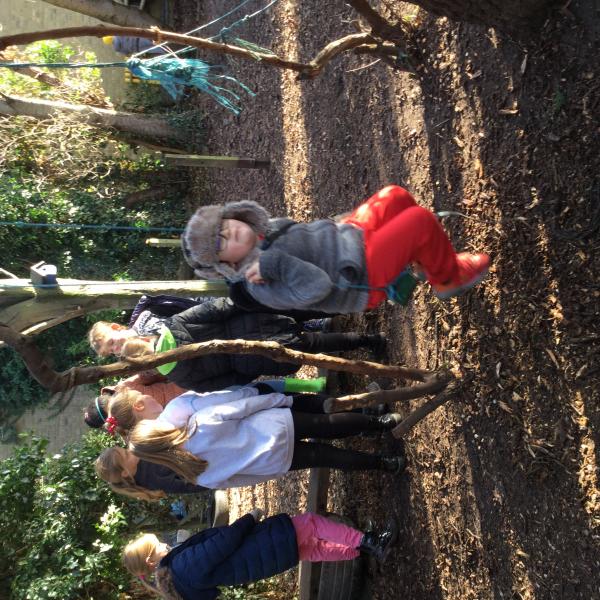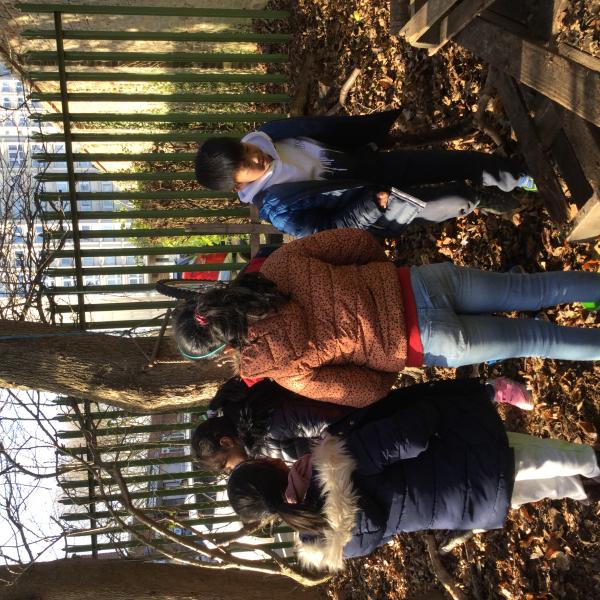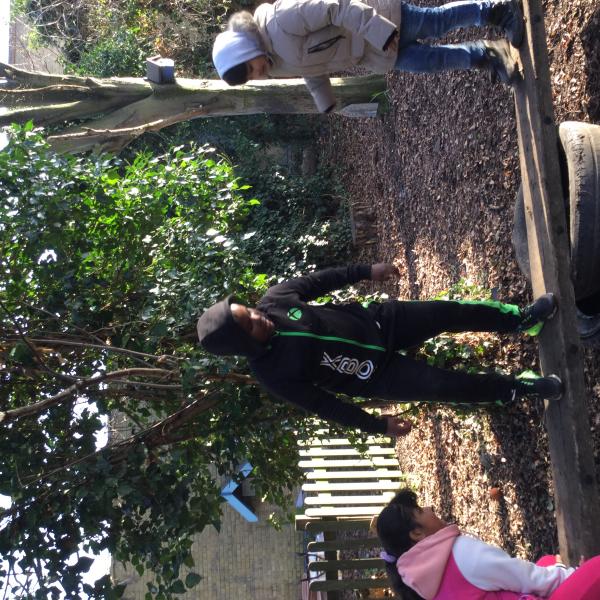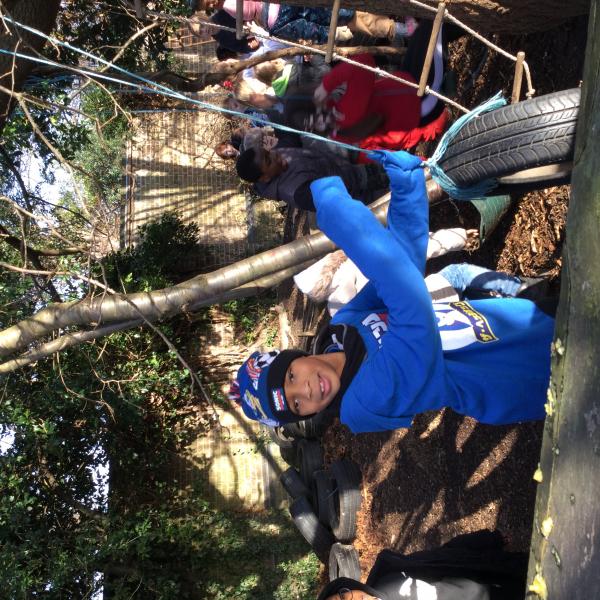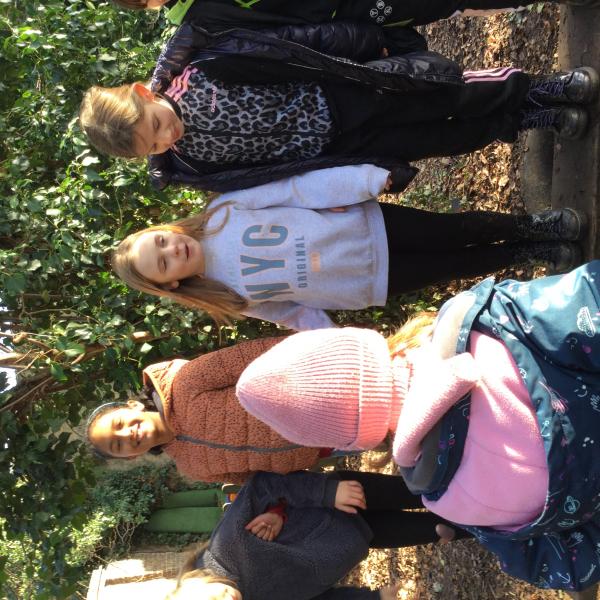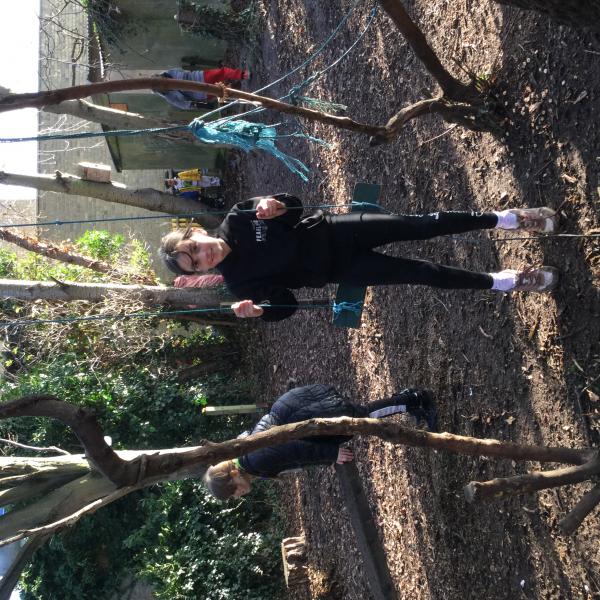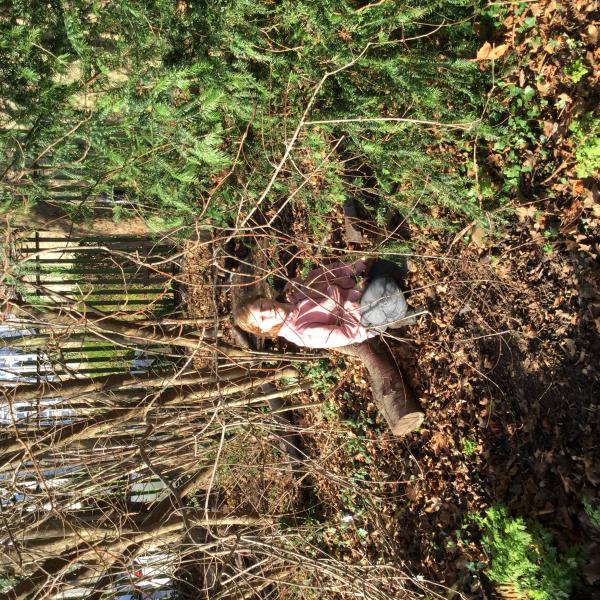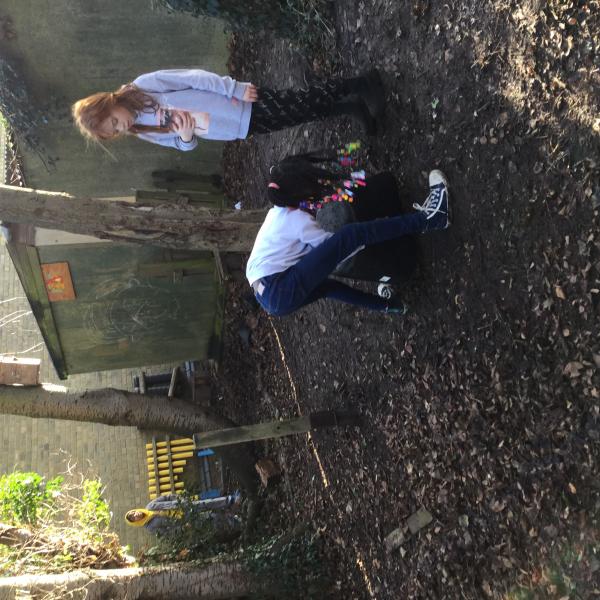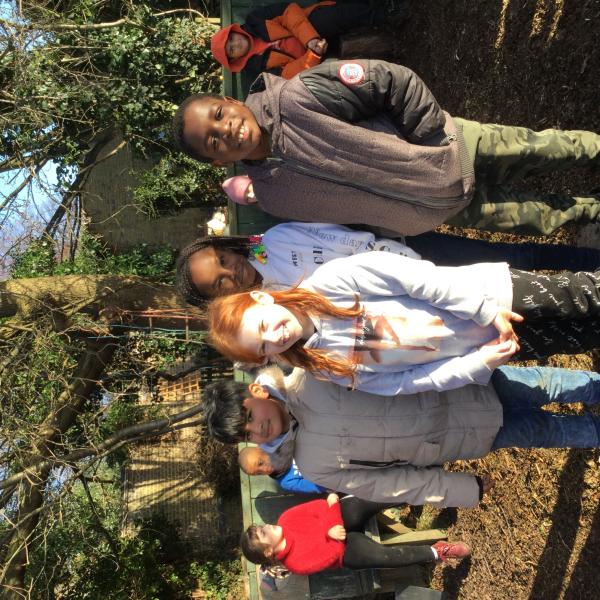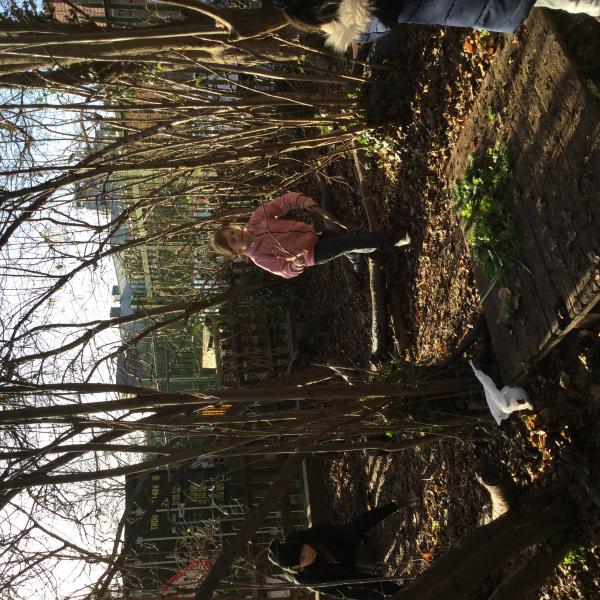 Our anti-bullying display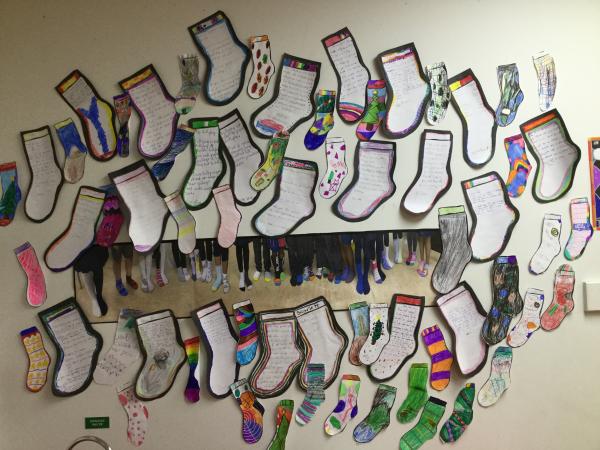 4 Gideons had a fun scientific afternoon building working electrical circuits and found the whole process rather 'illuminating'.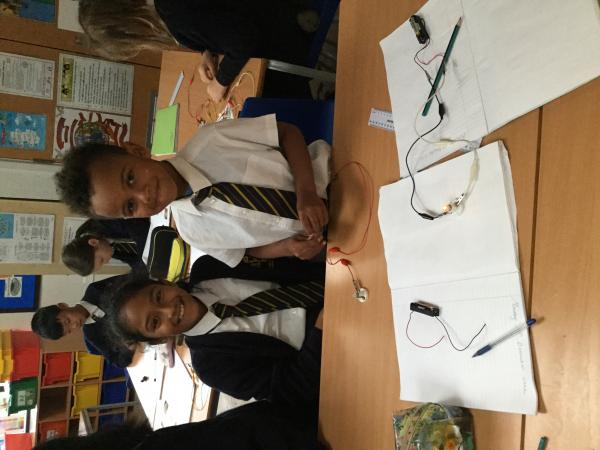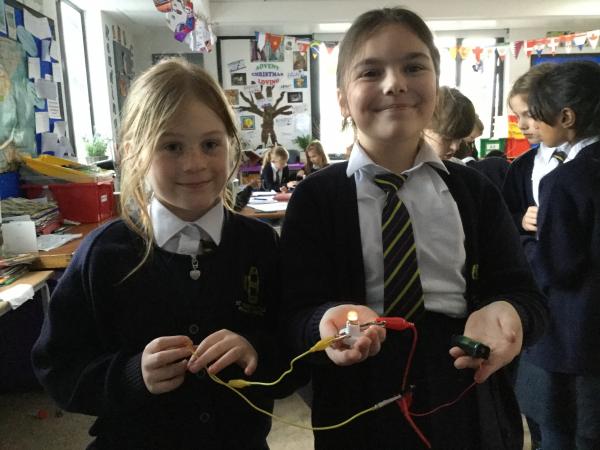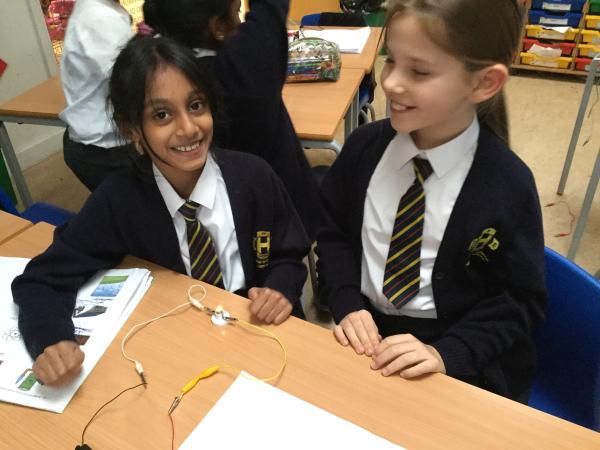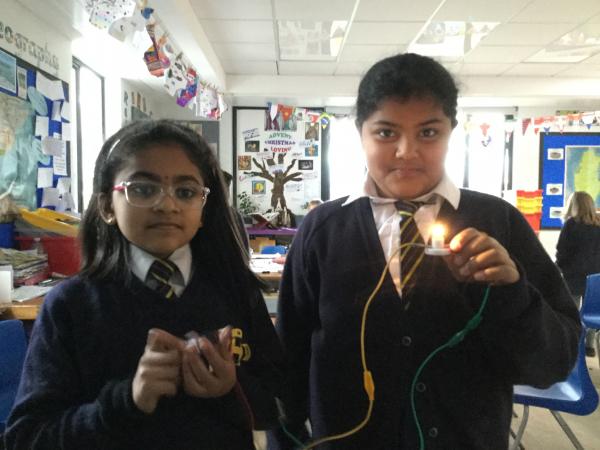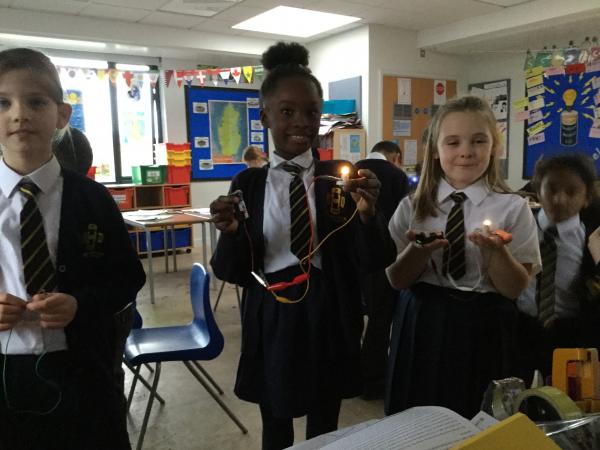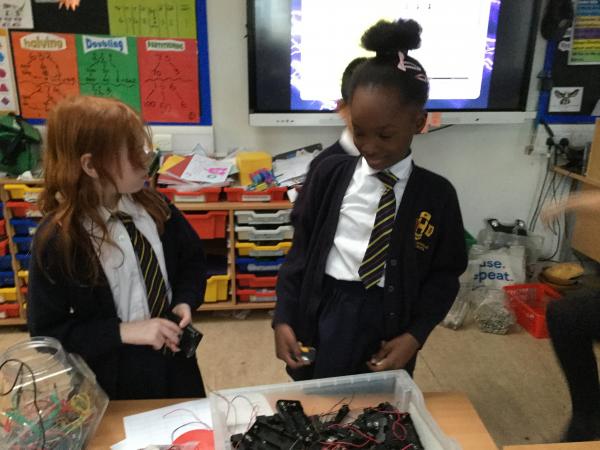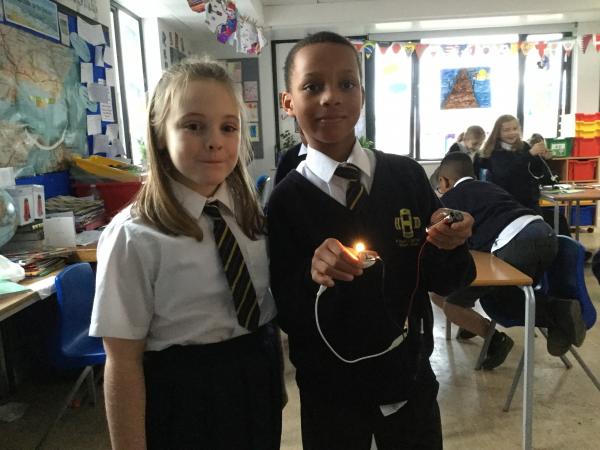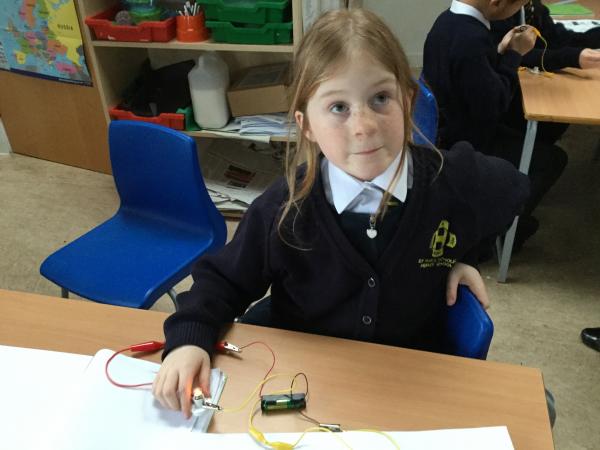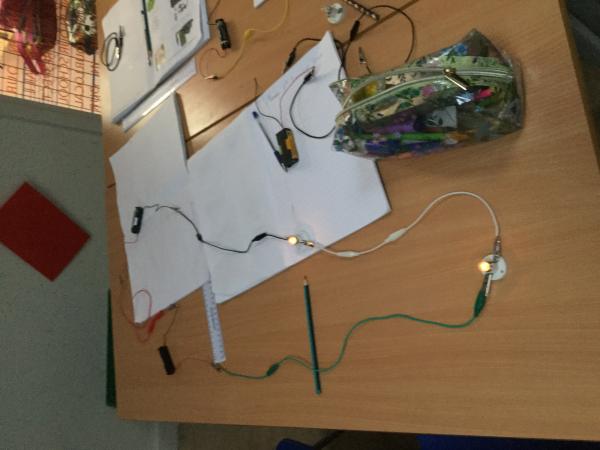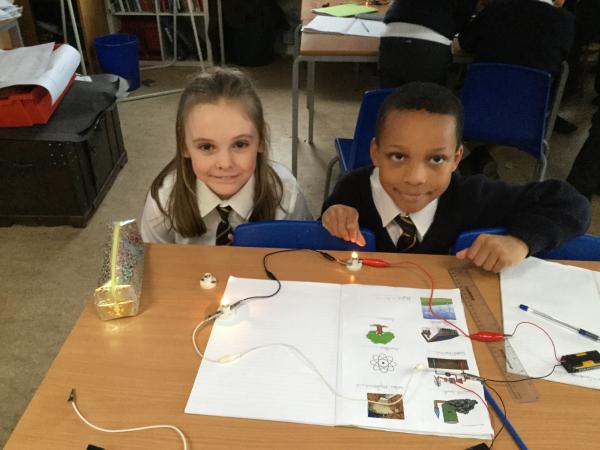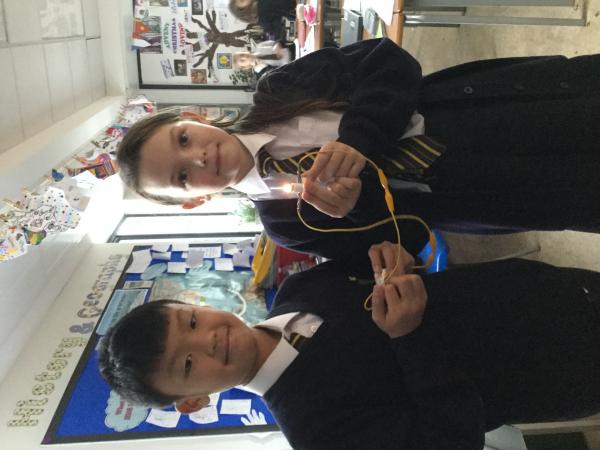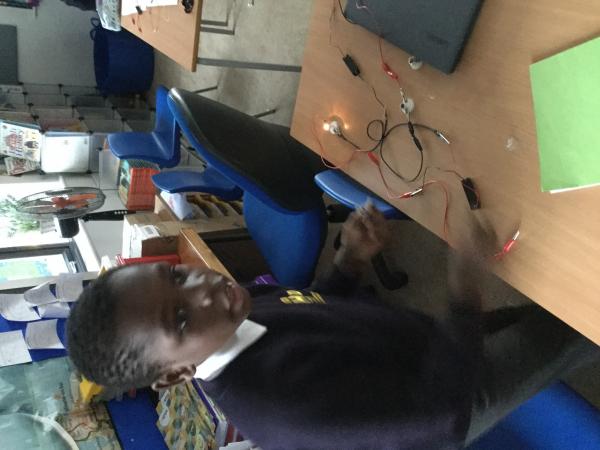 Performing Playscripts
This week, Year 4 have started their learning about playscripts in English. This has meant reading a script of Jack and the Beanstalk in groups, deciding on particular acting and vocal expressions and then performing them outside to a wonderful Year 1 audience!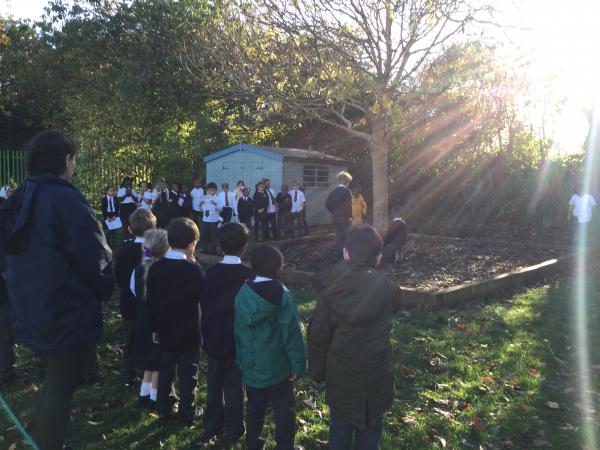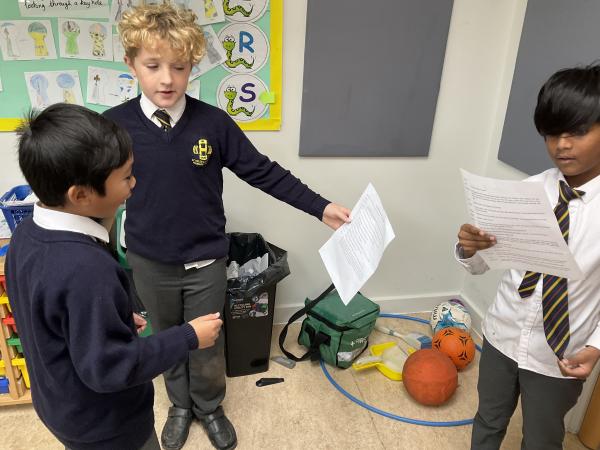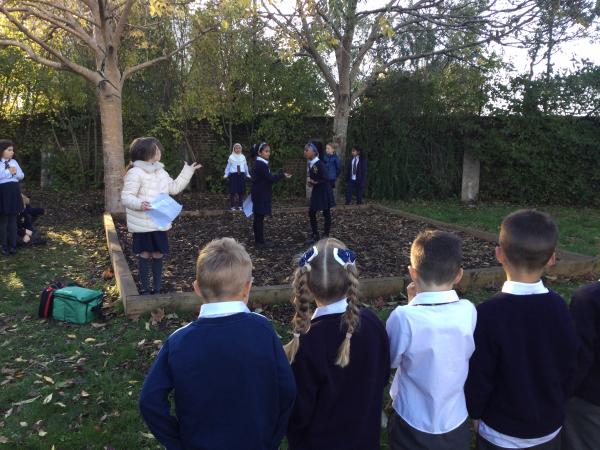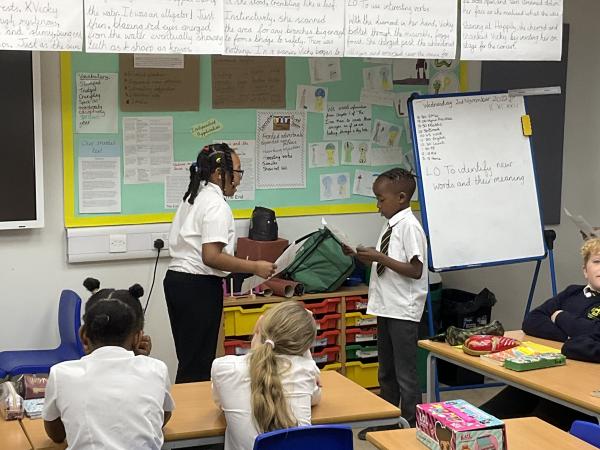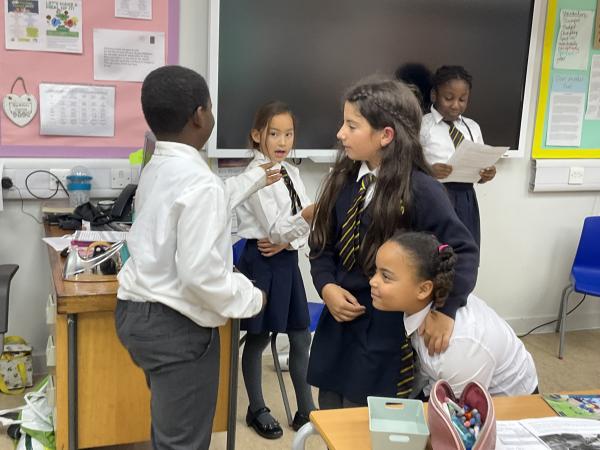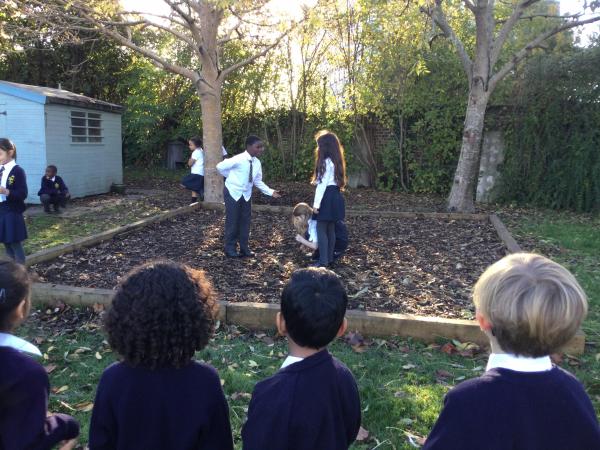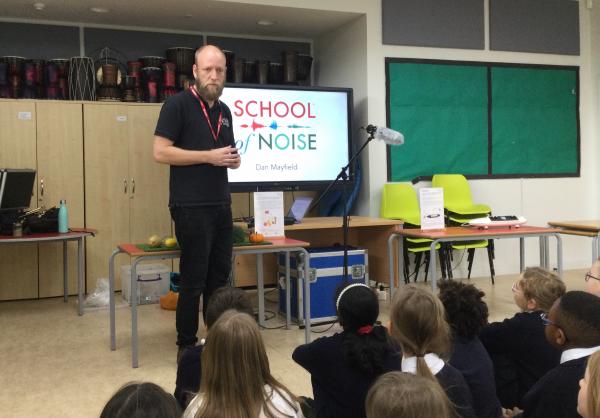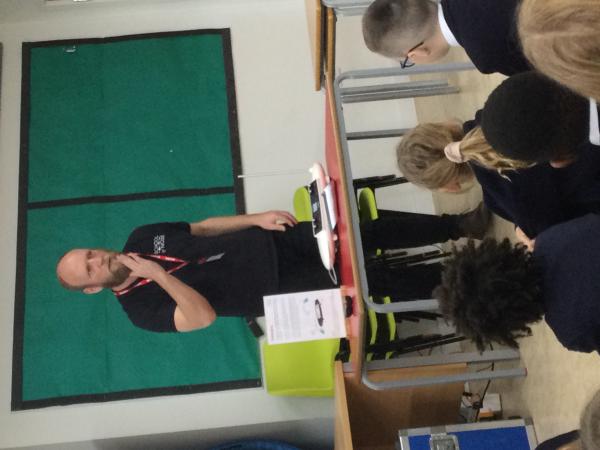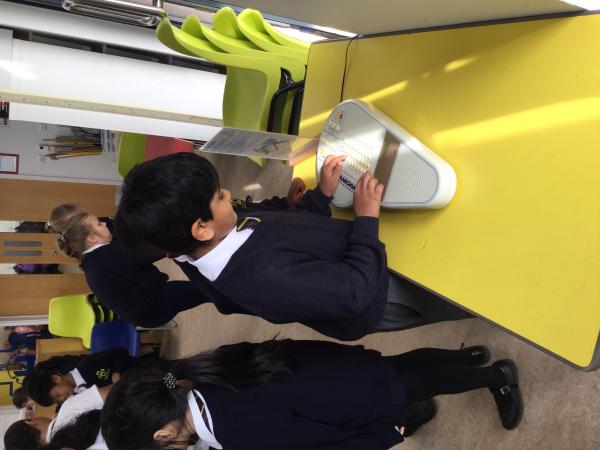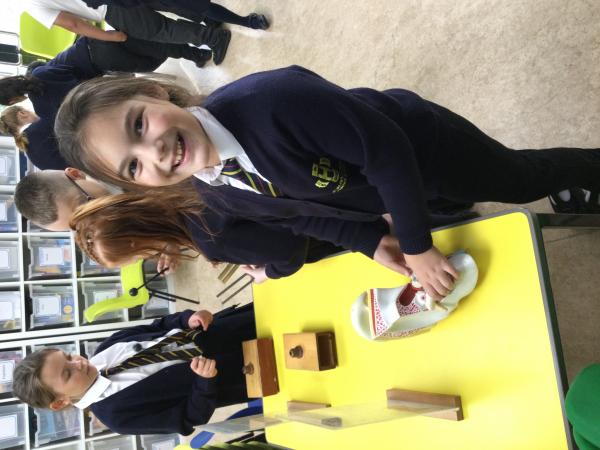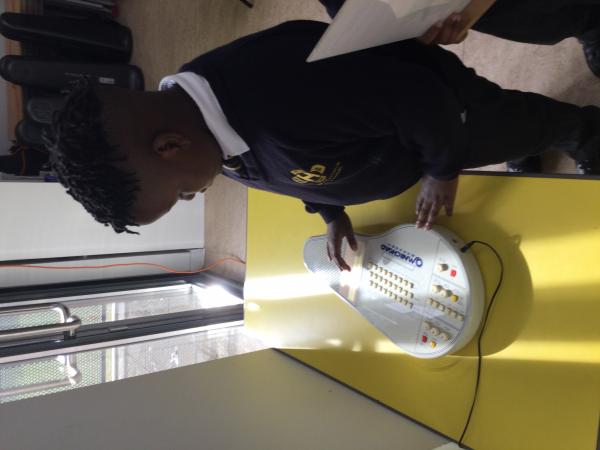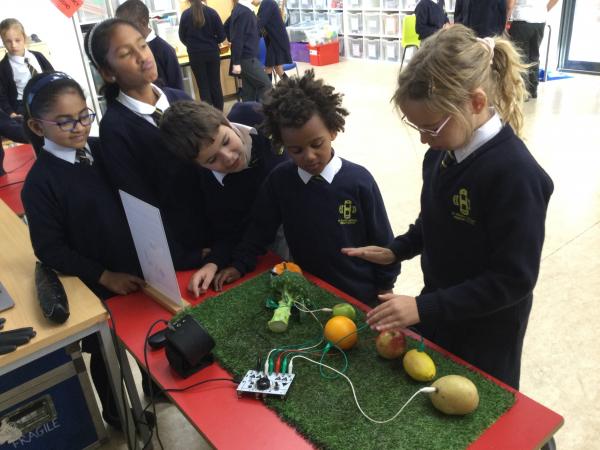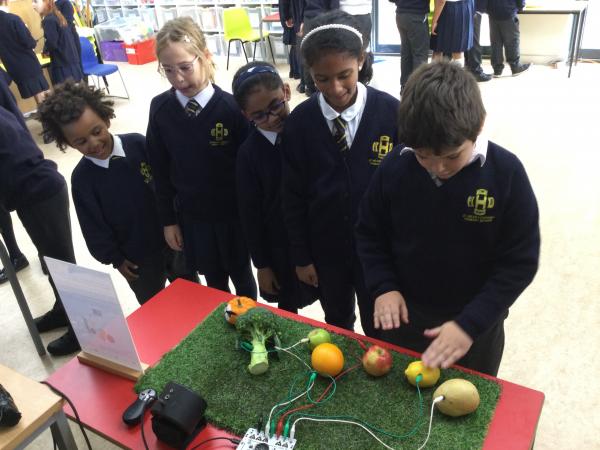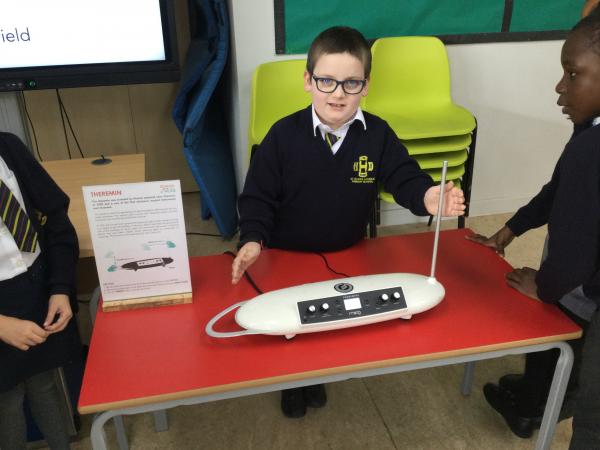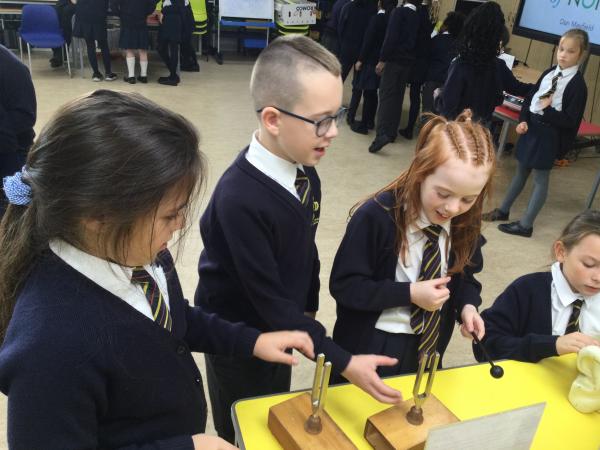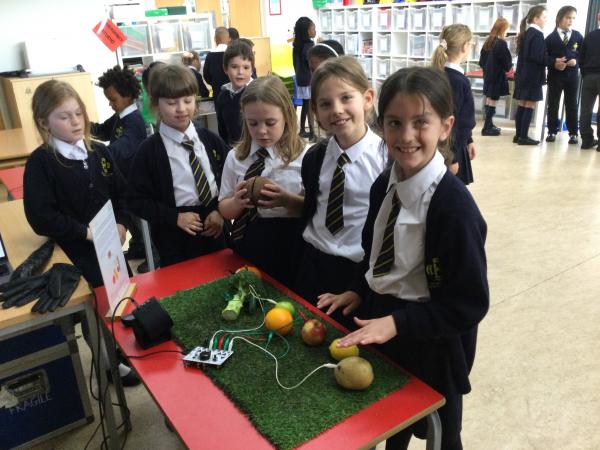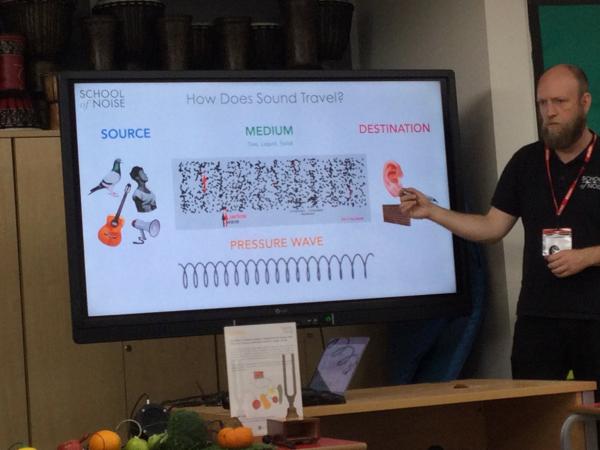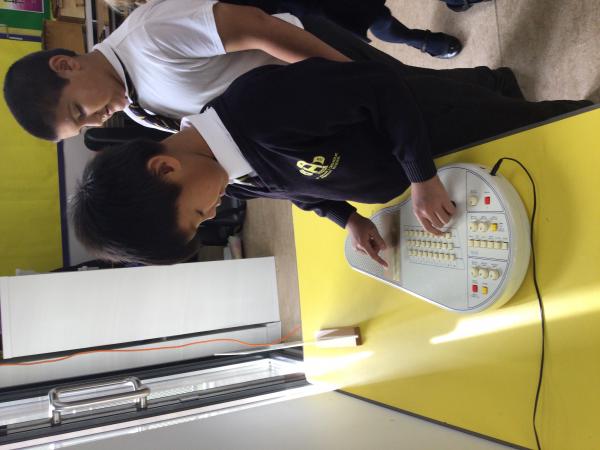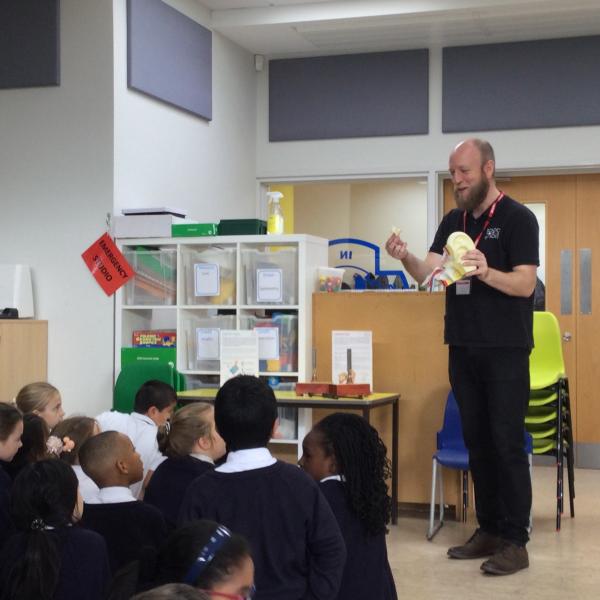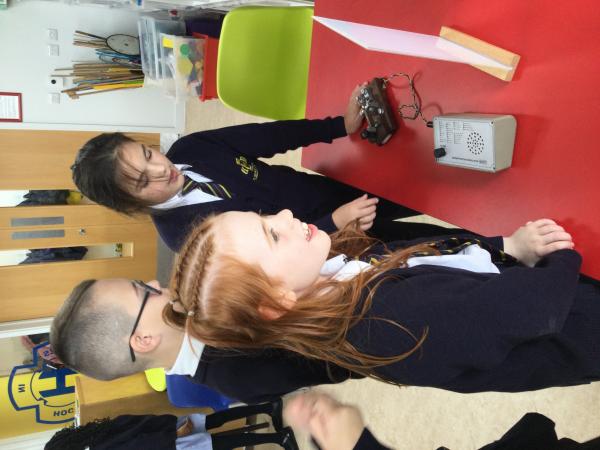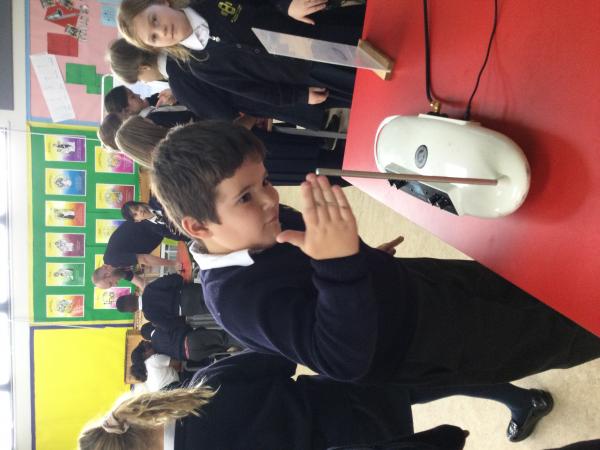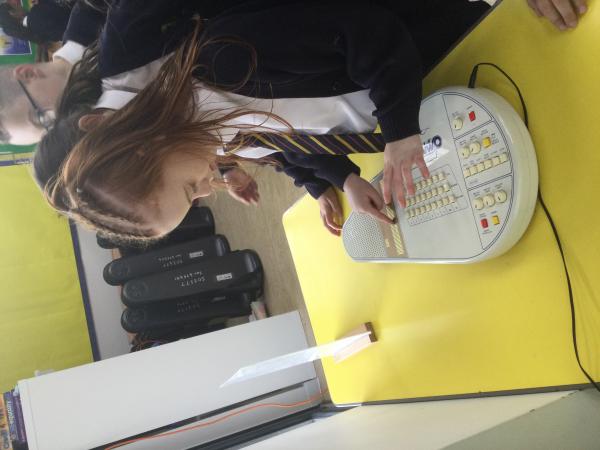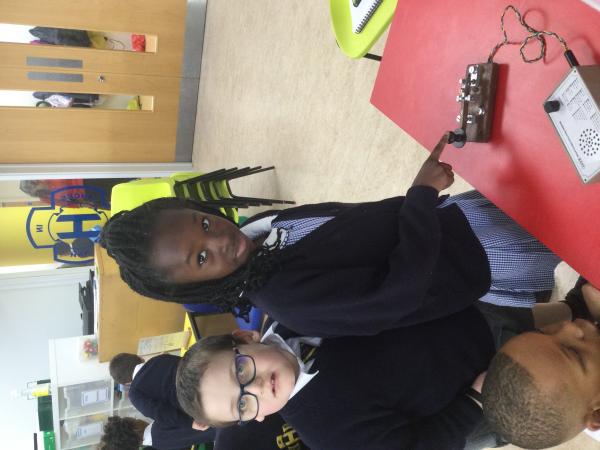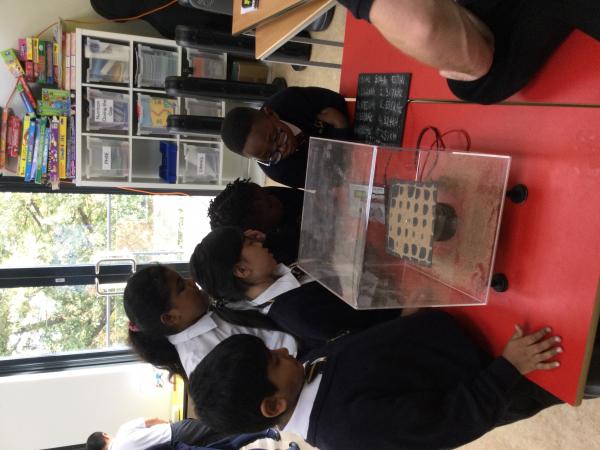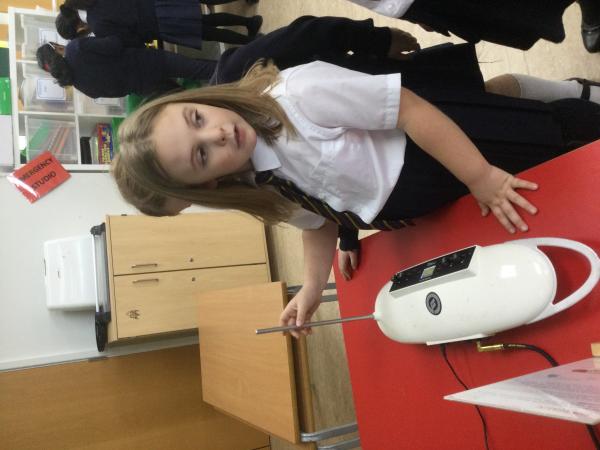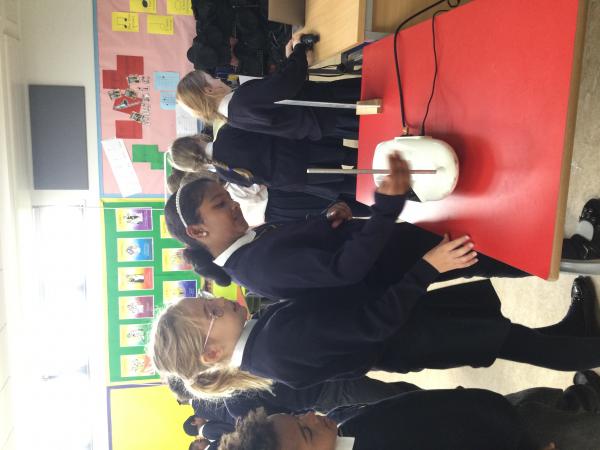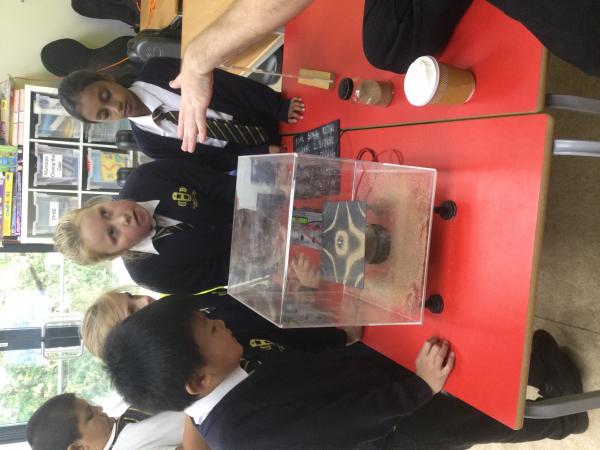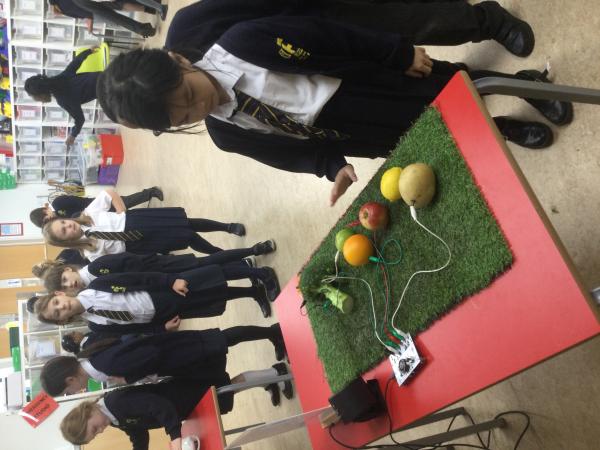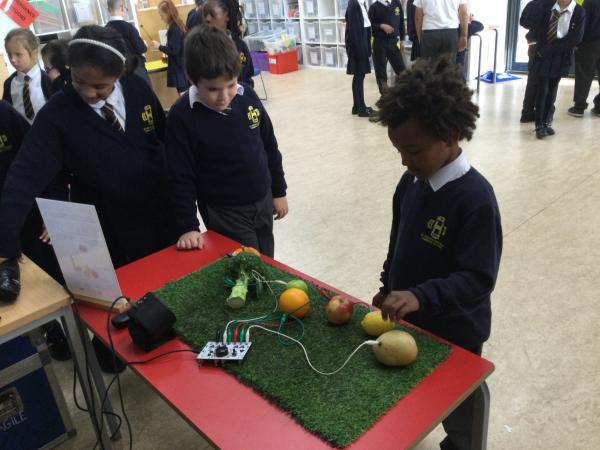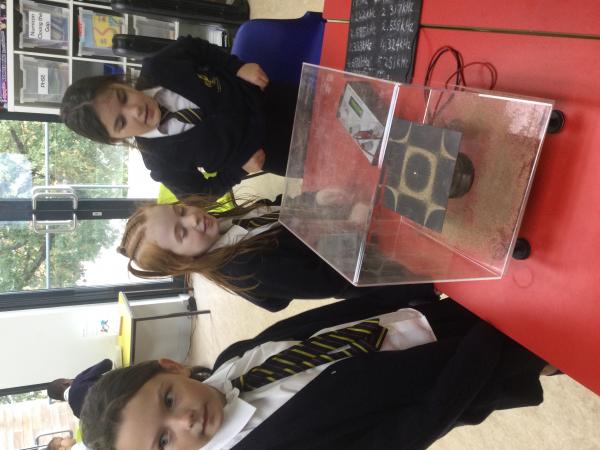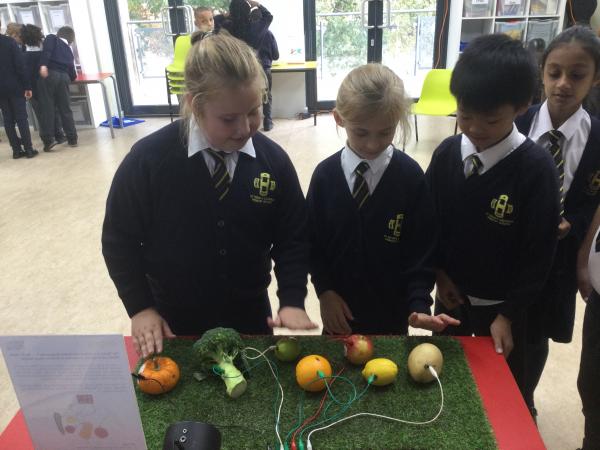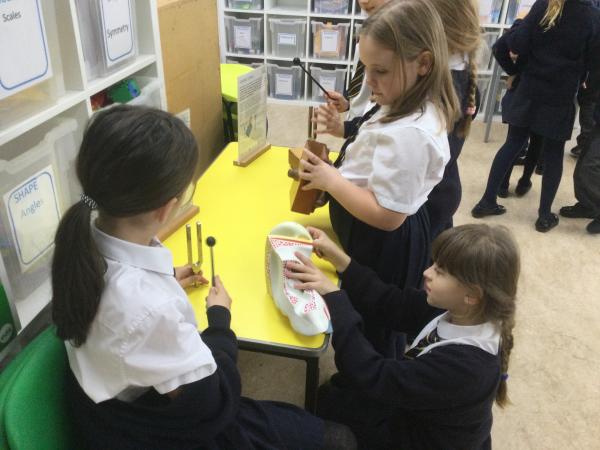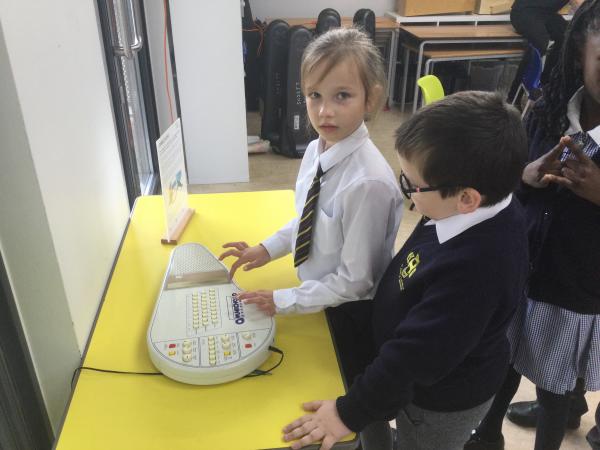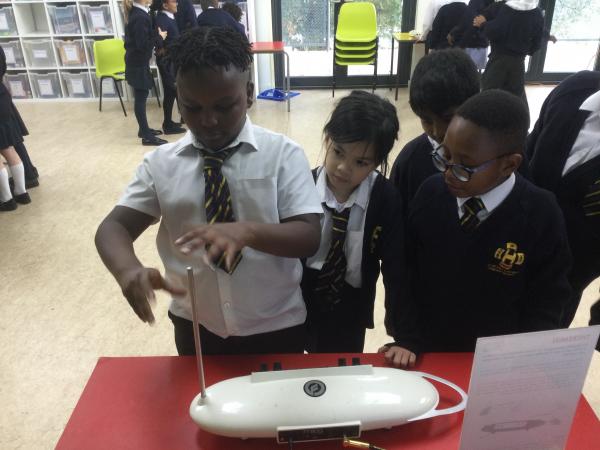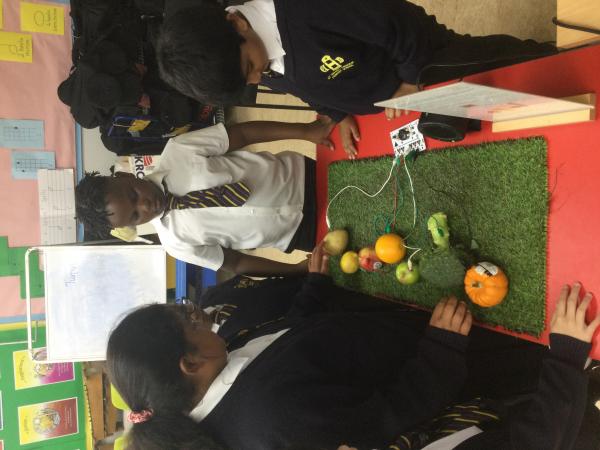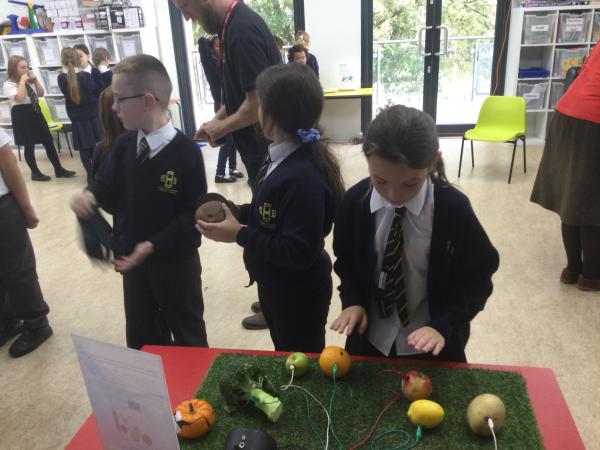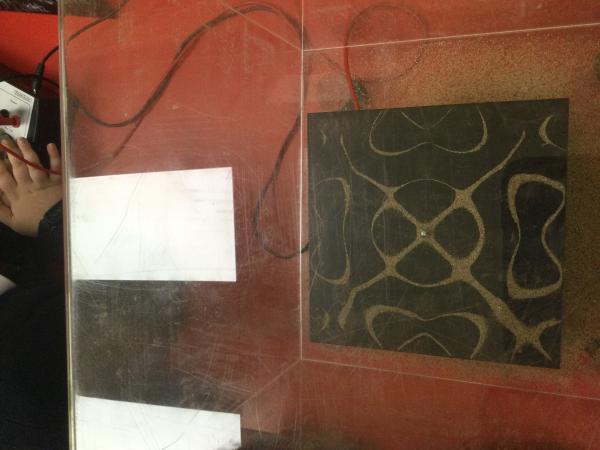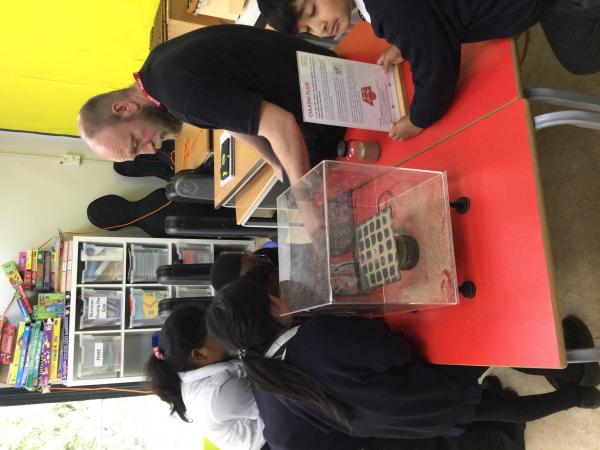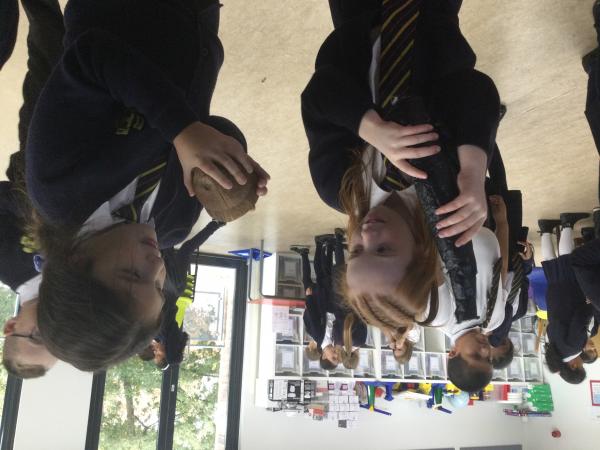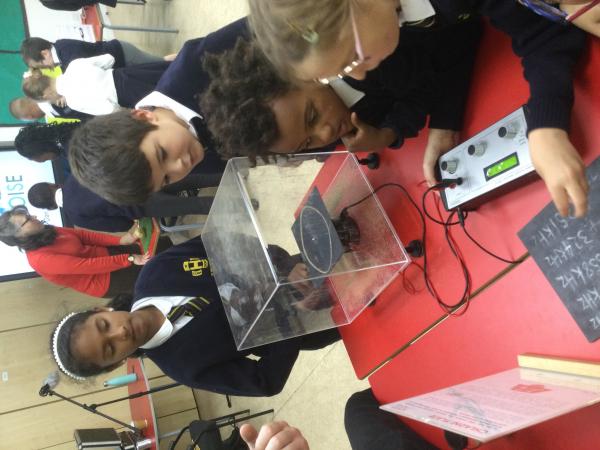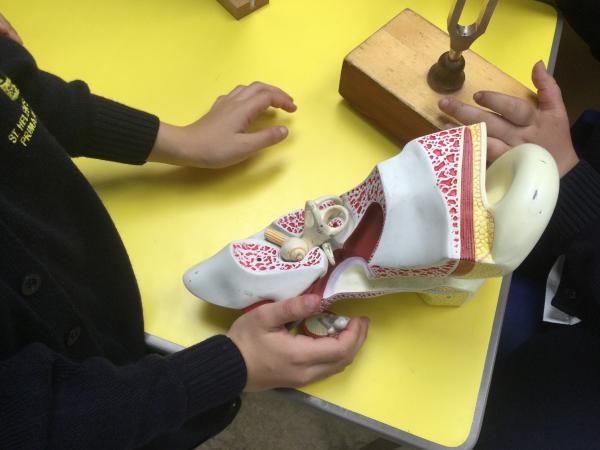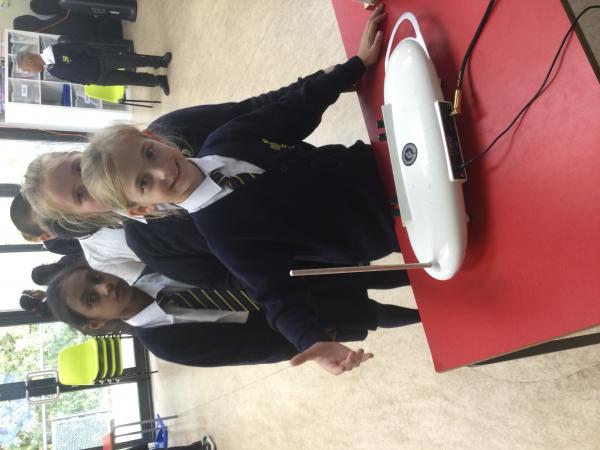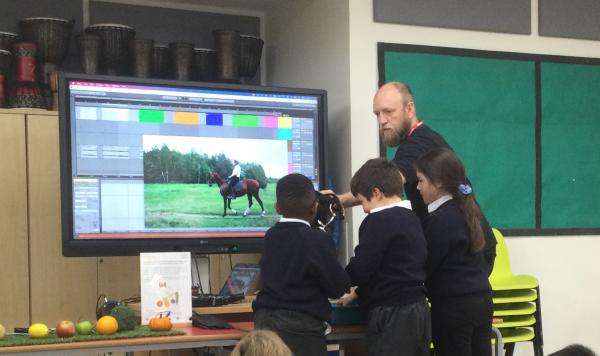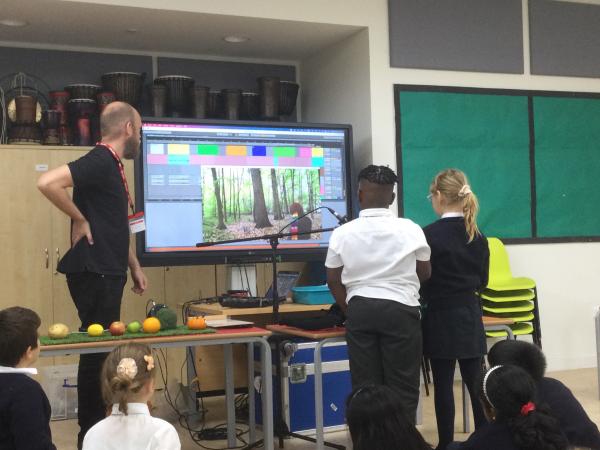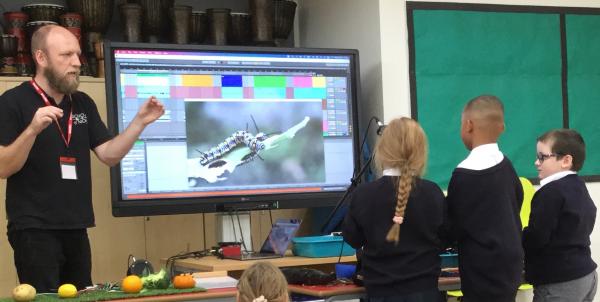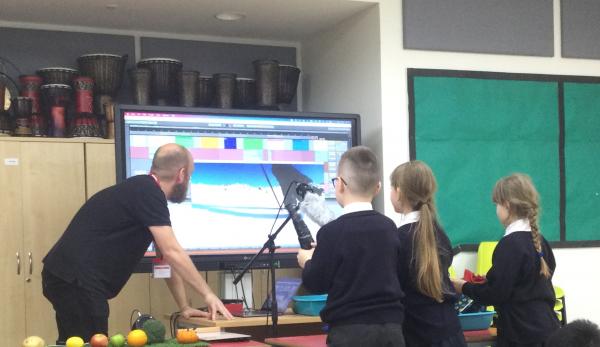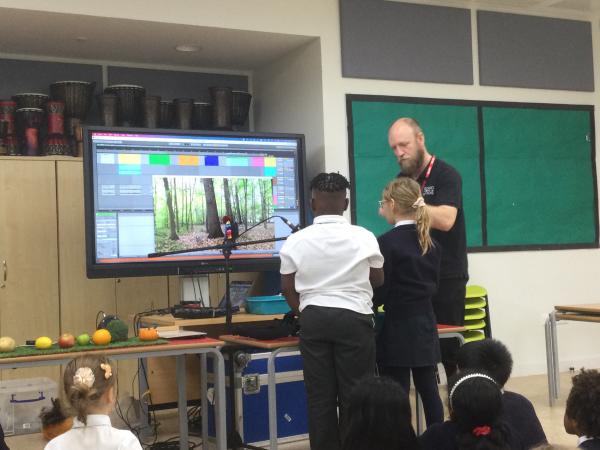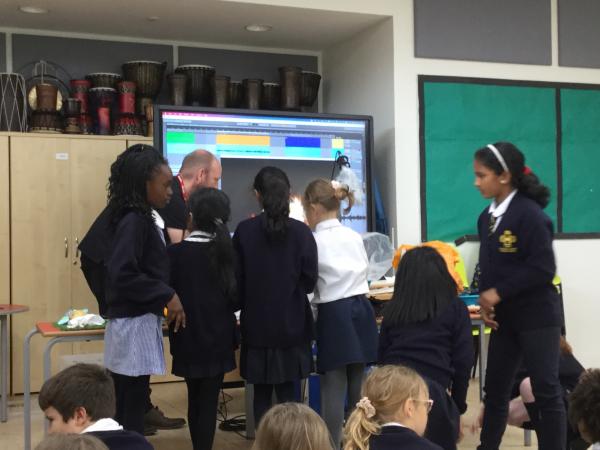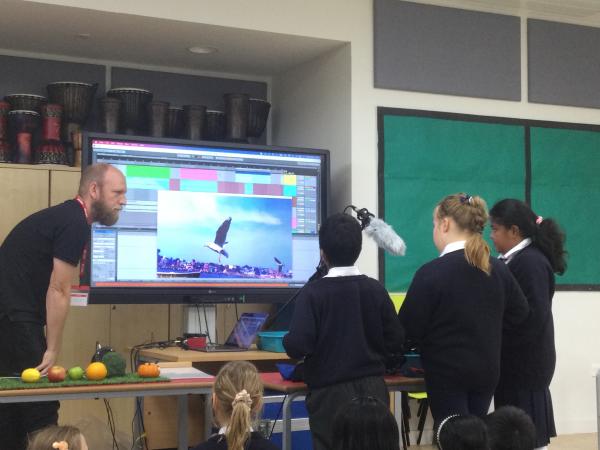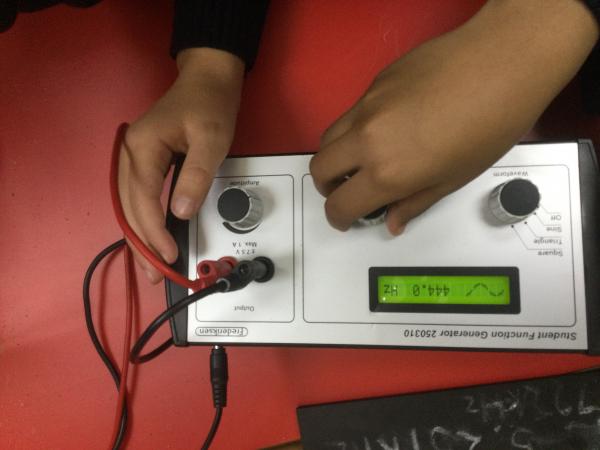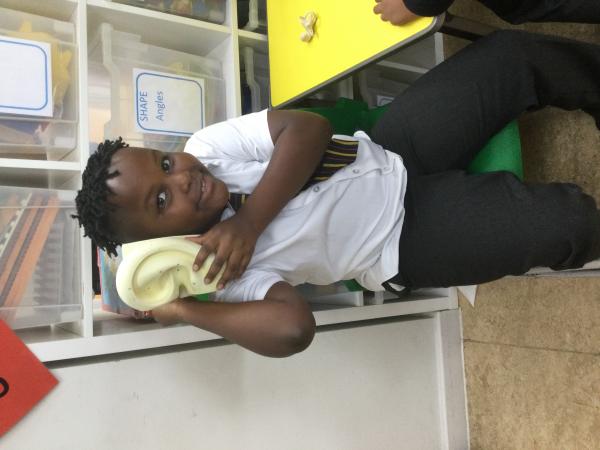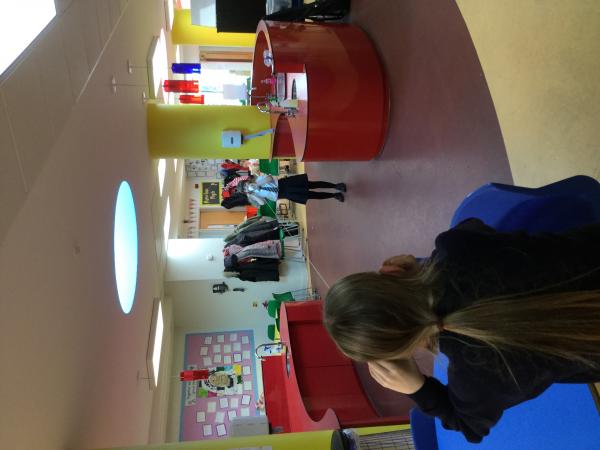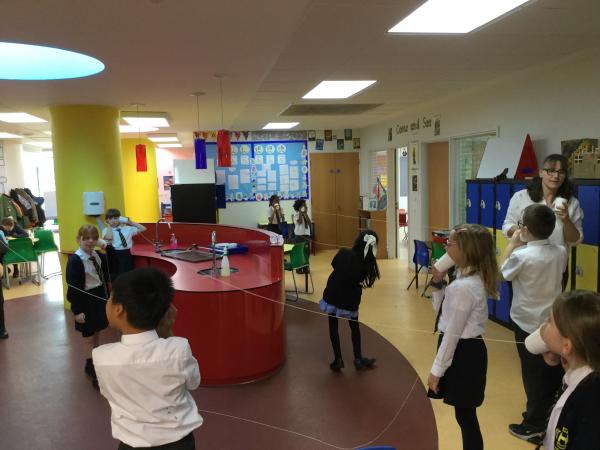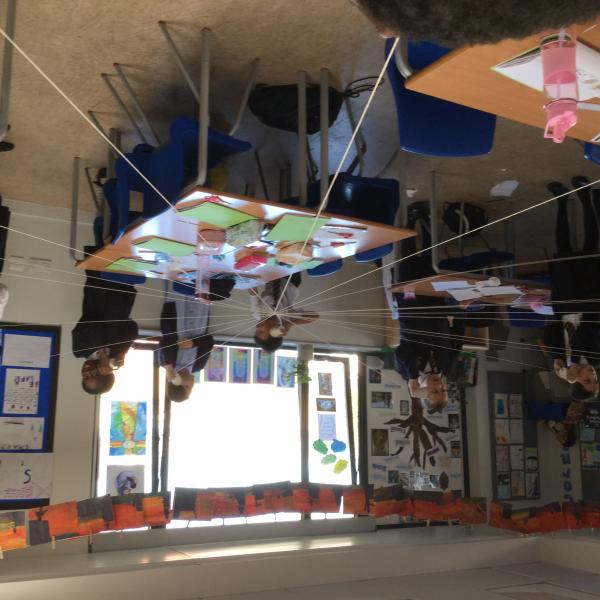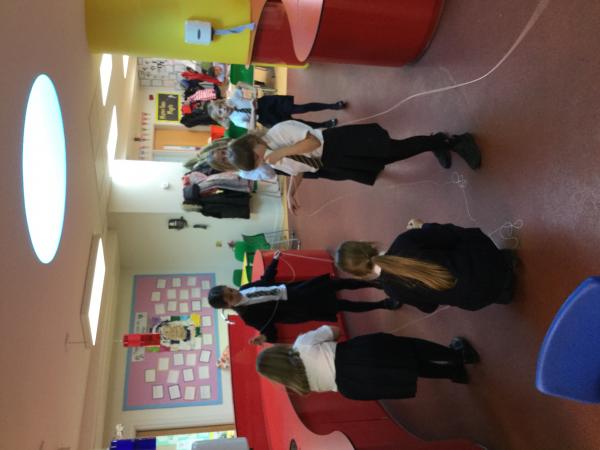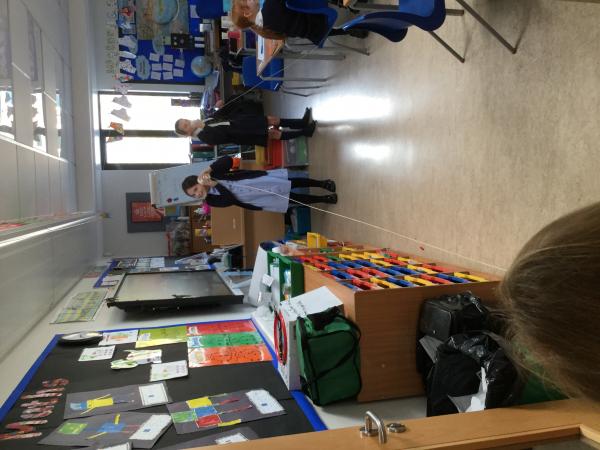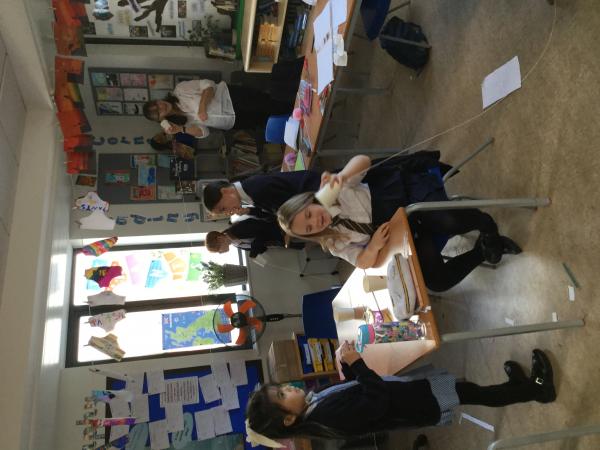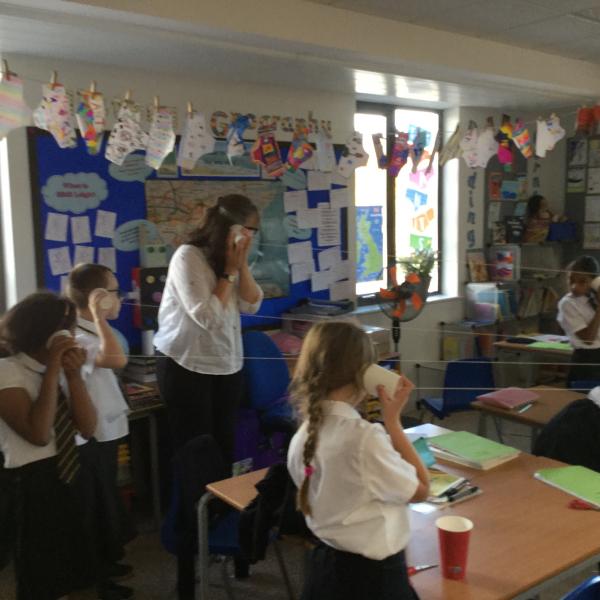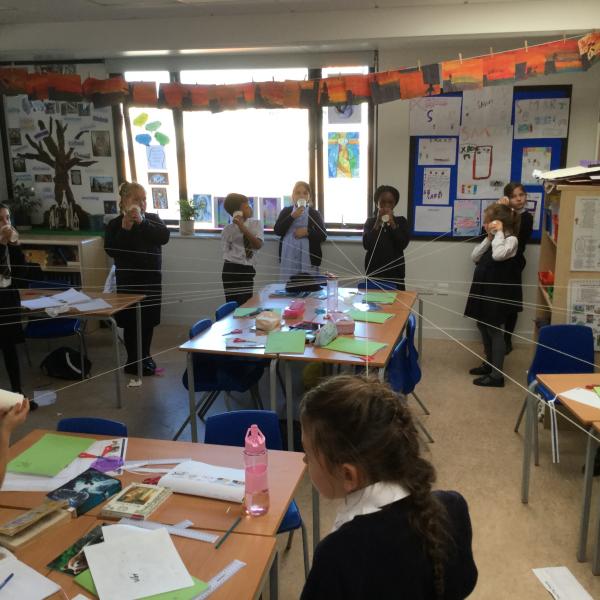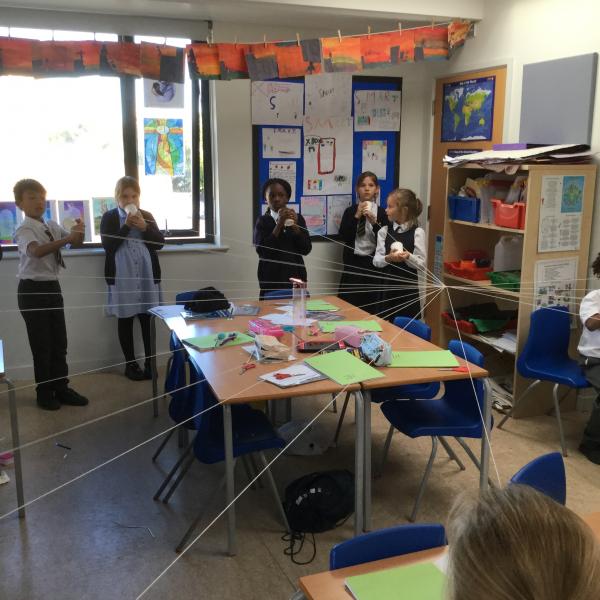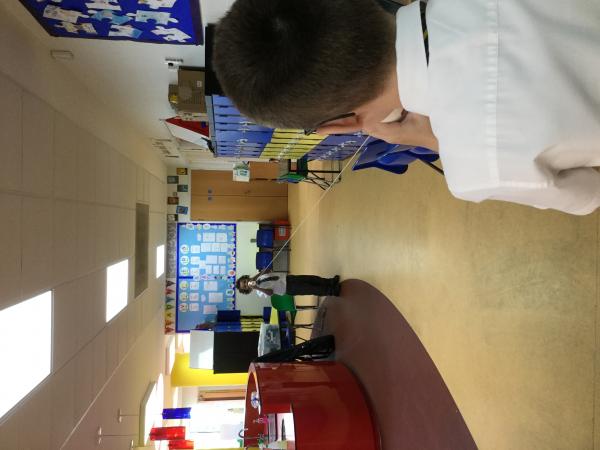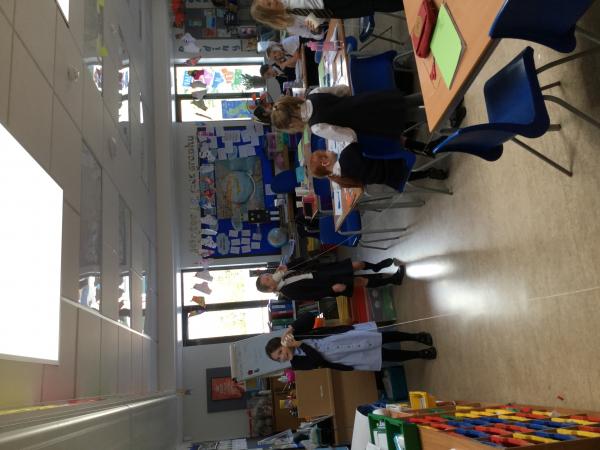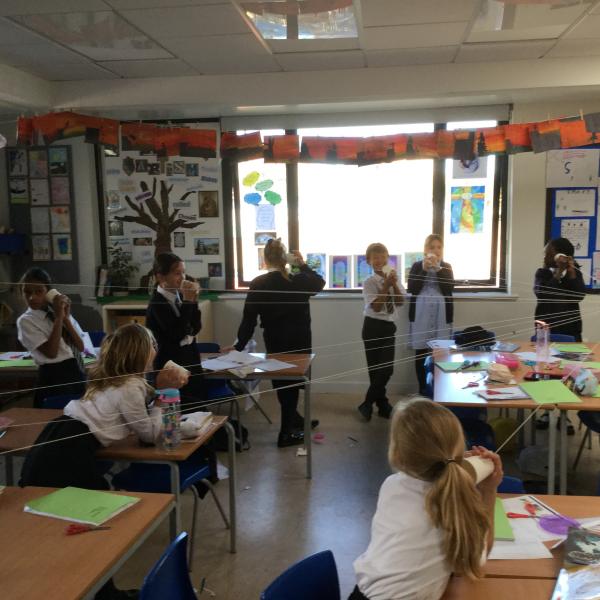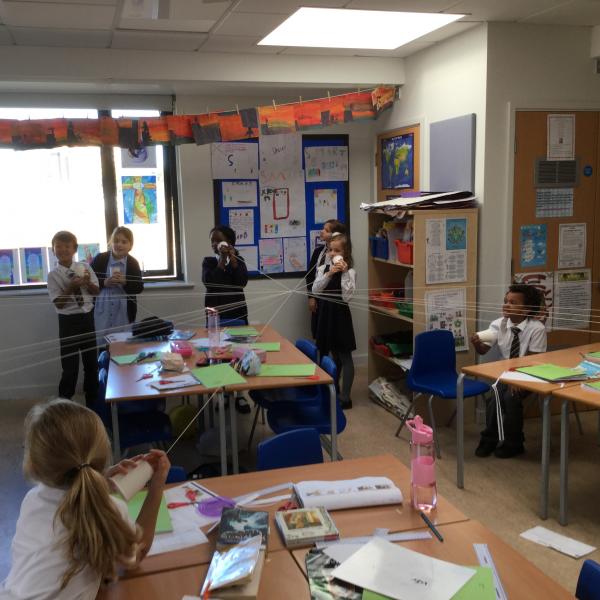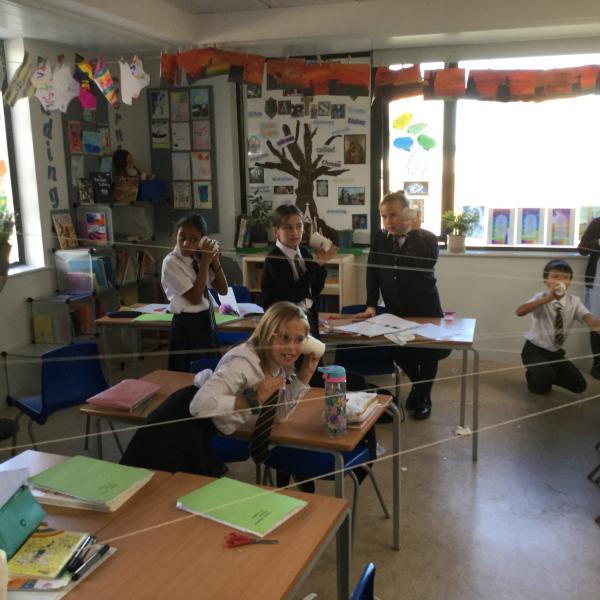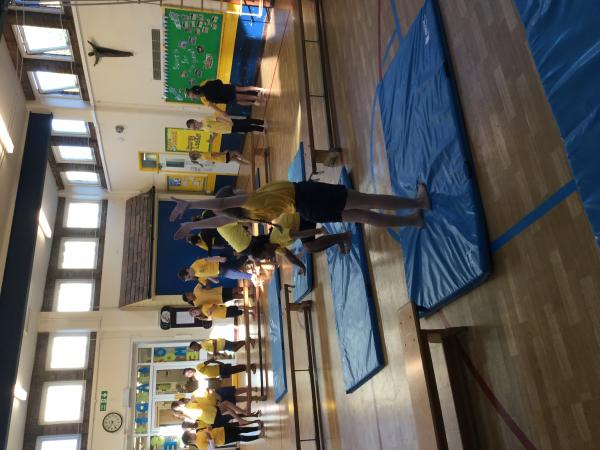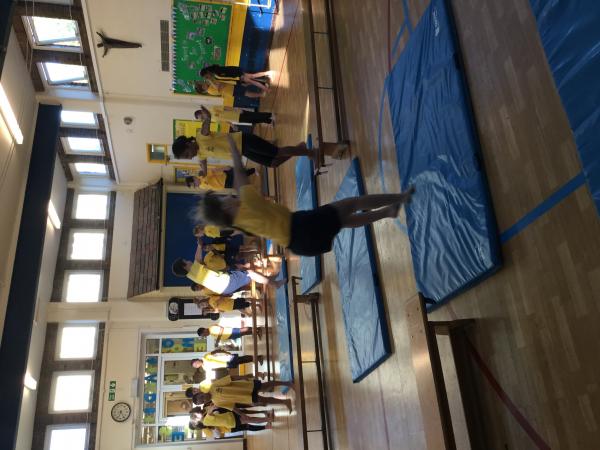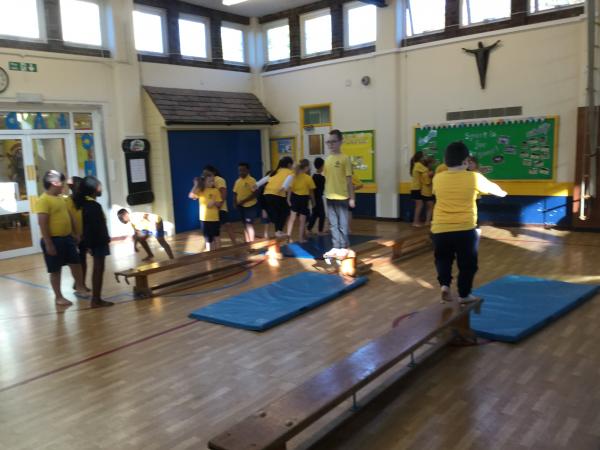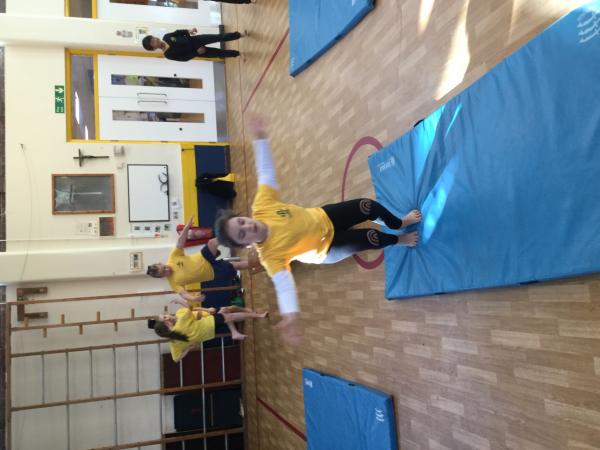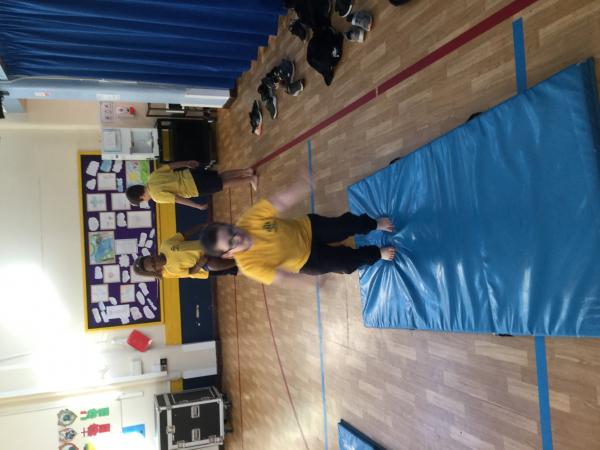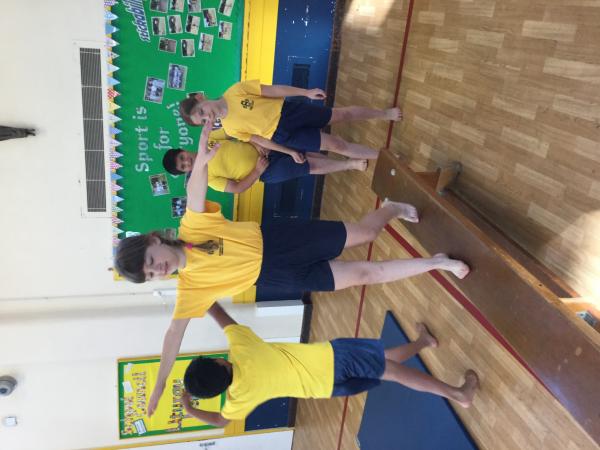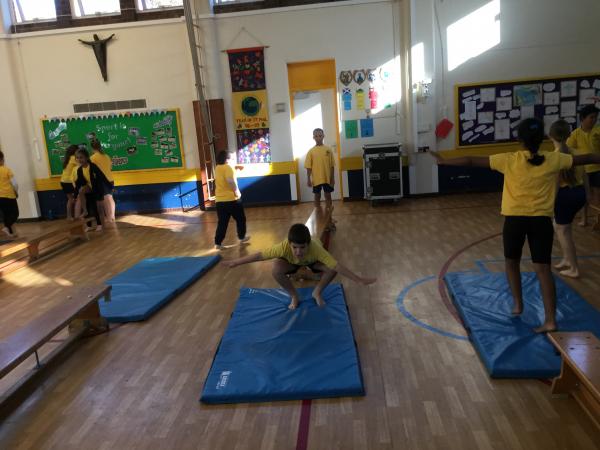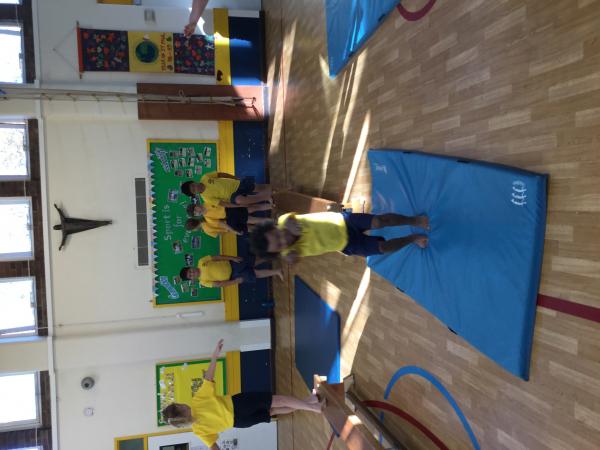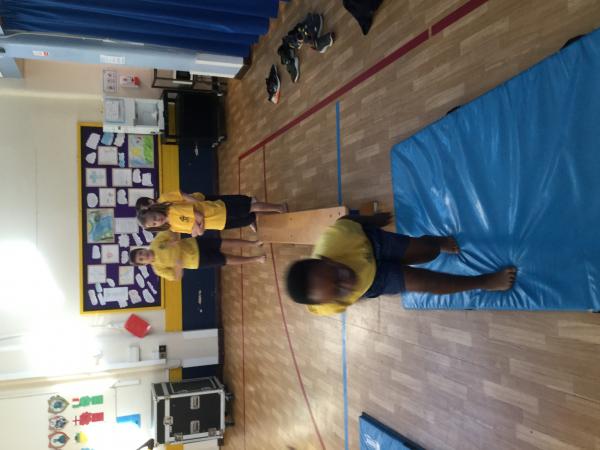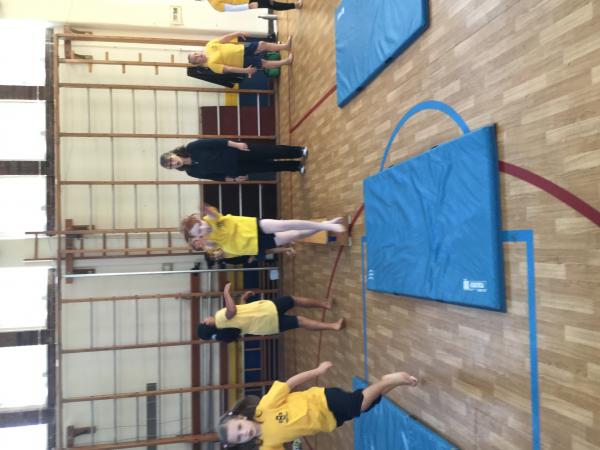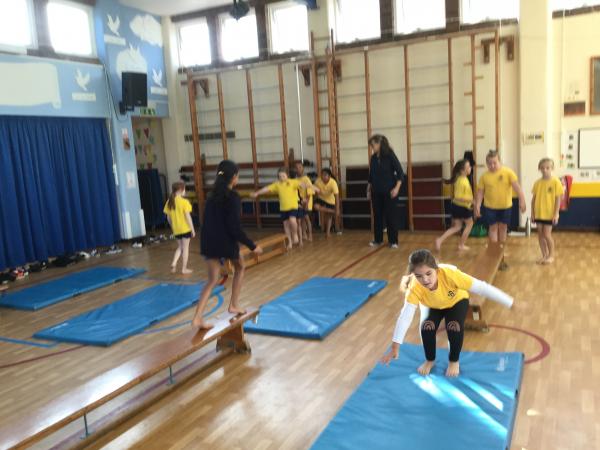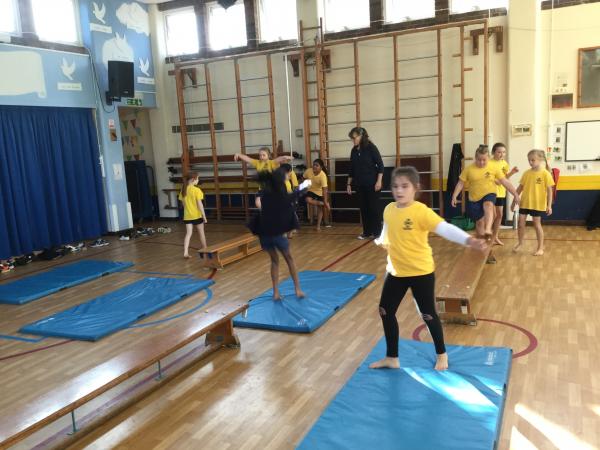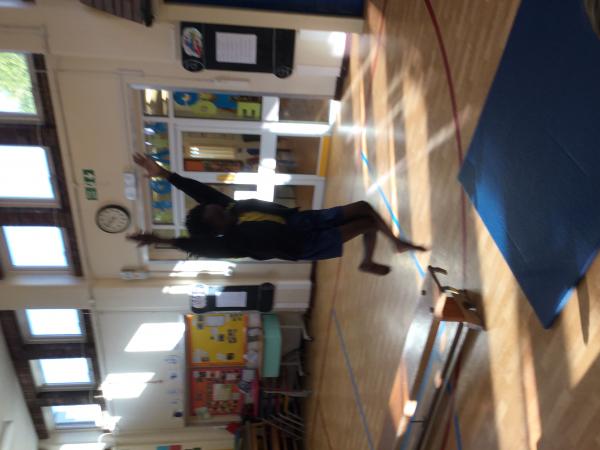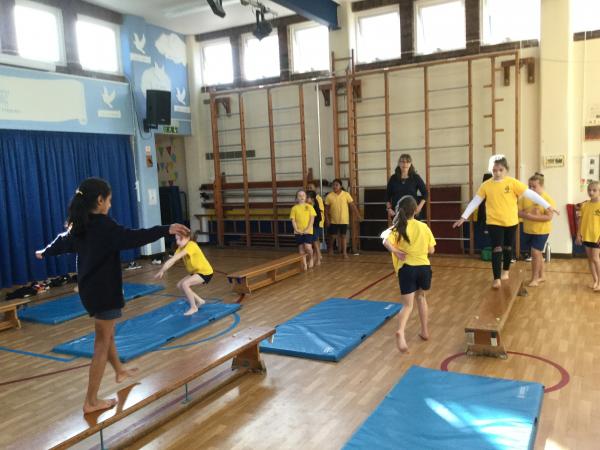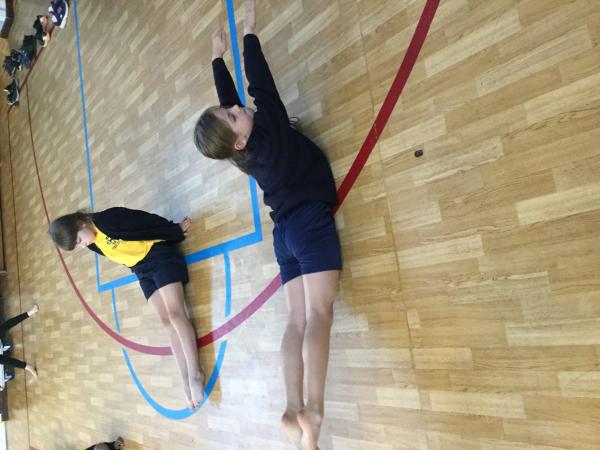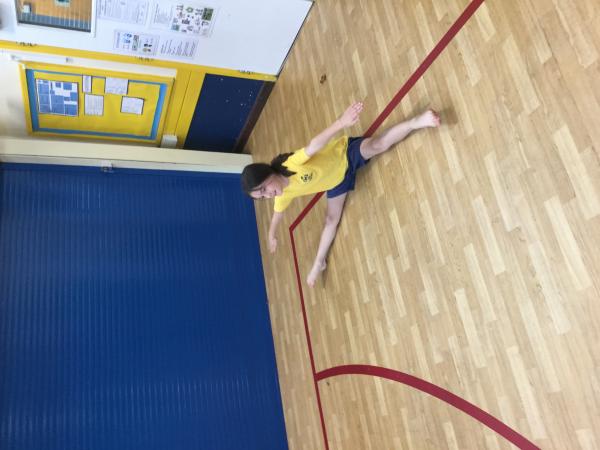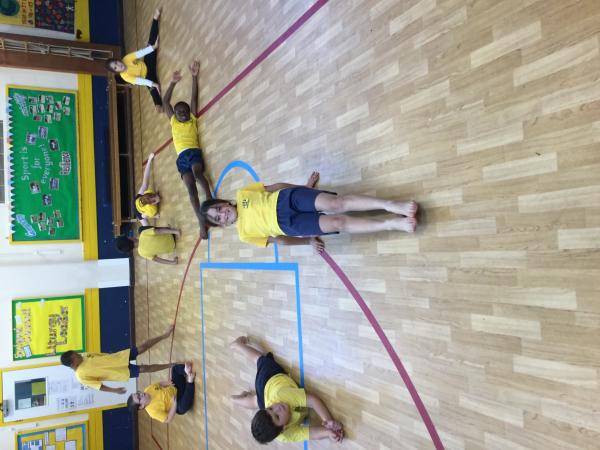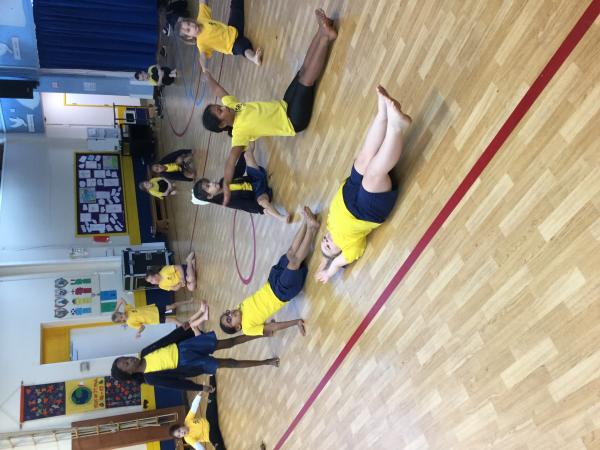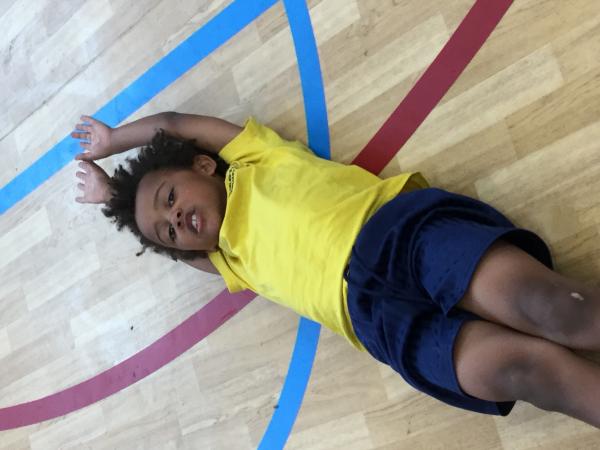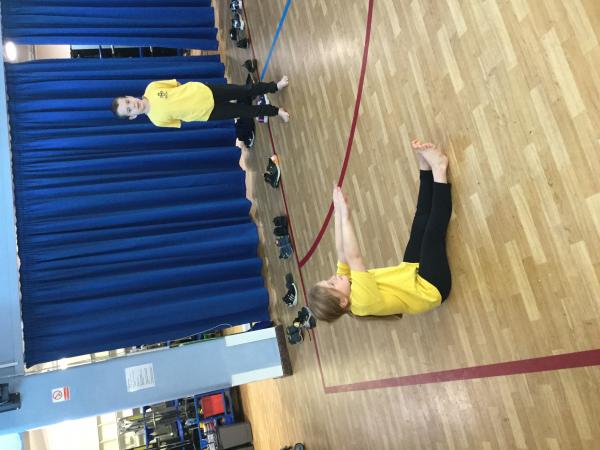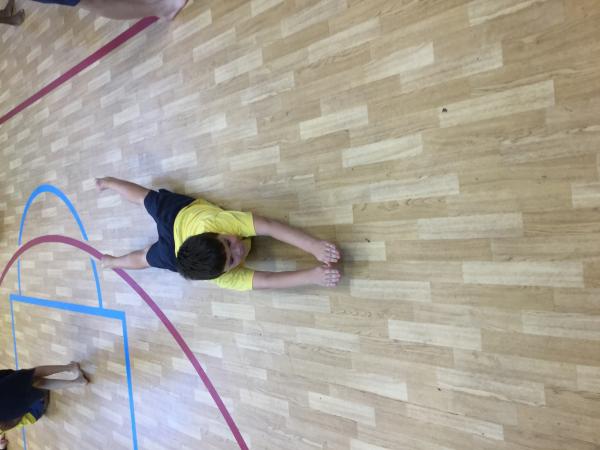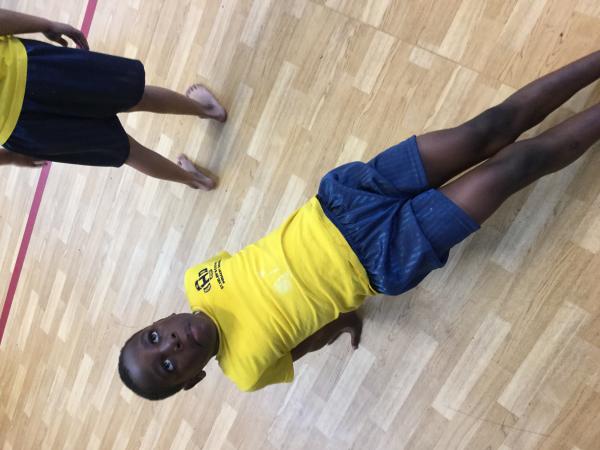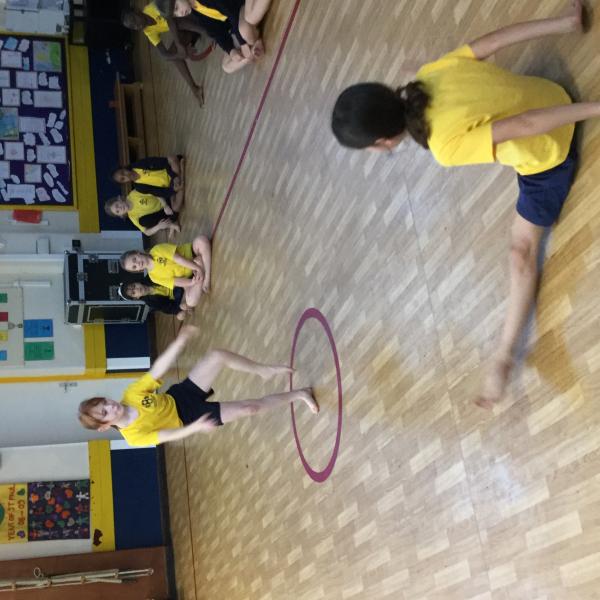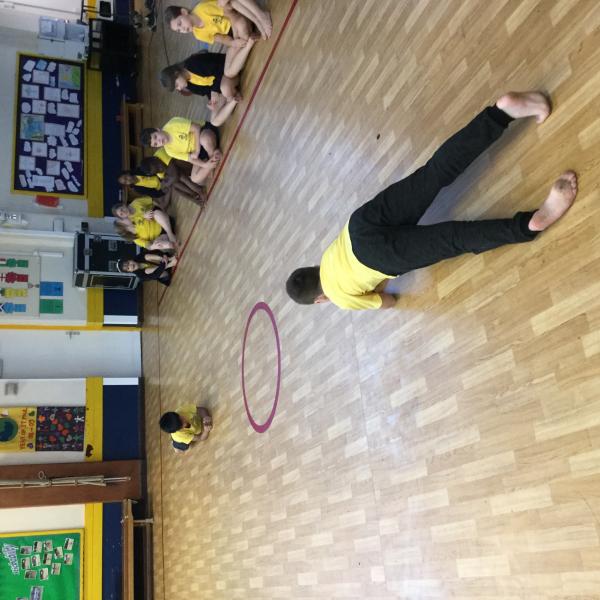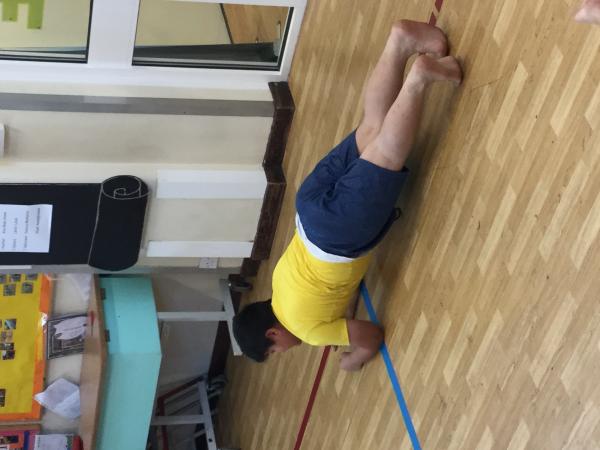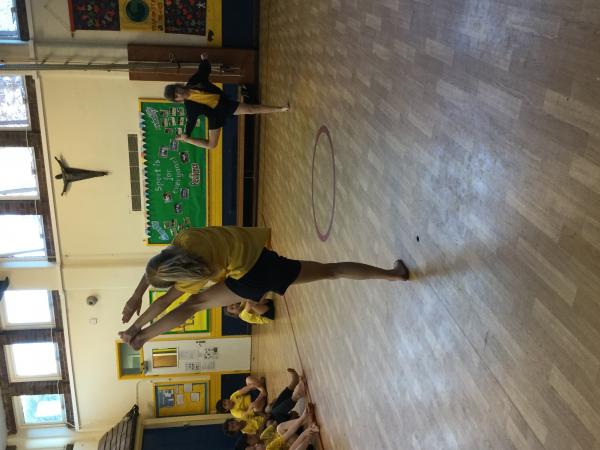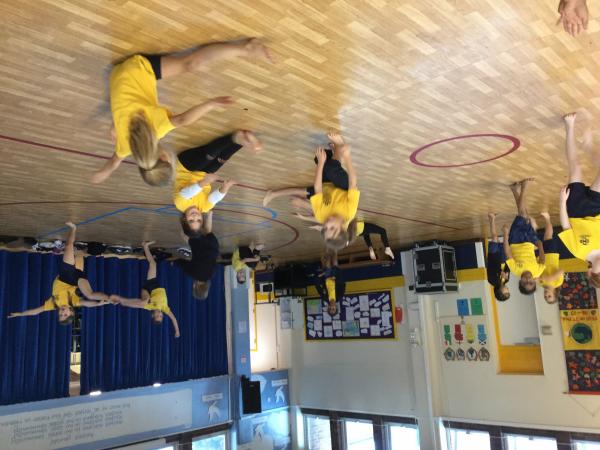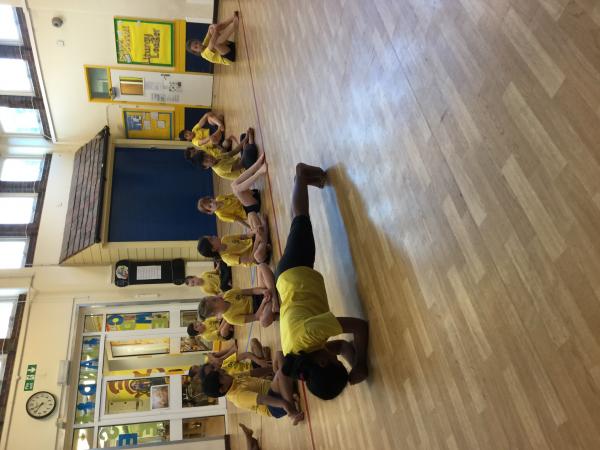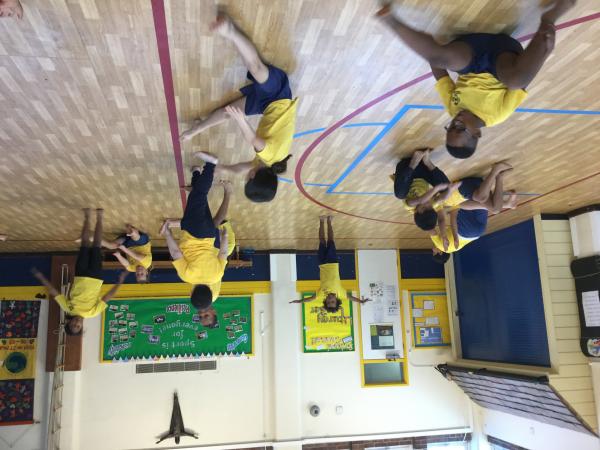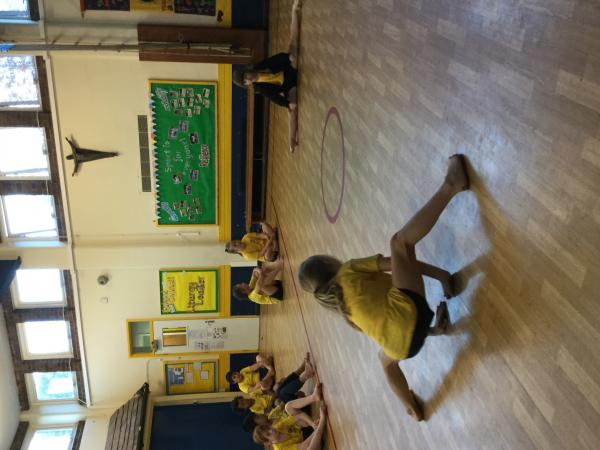 4 Gideon make some noise!
4Gideon worked hard today in our Science Sound topic learning the difference between pitch and amplification and working out how to change the pitch of different instruments - rather noisy but a lot of fun!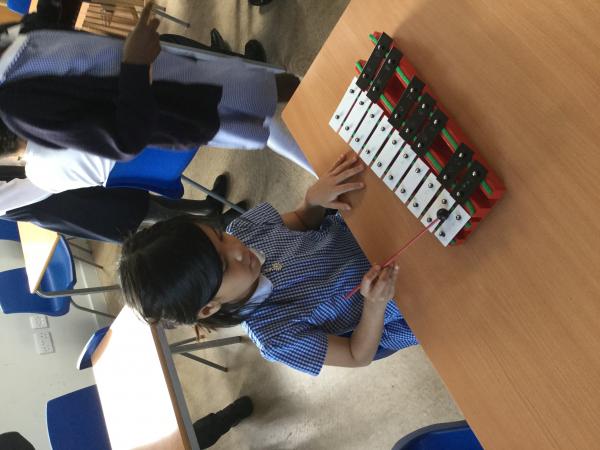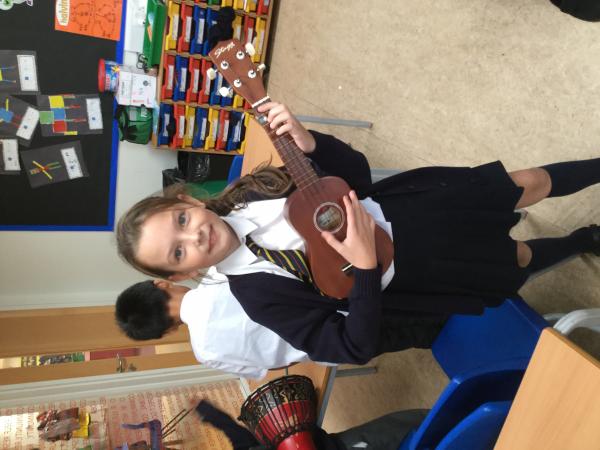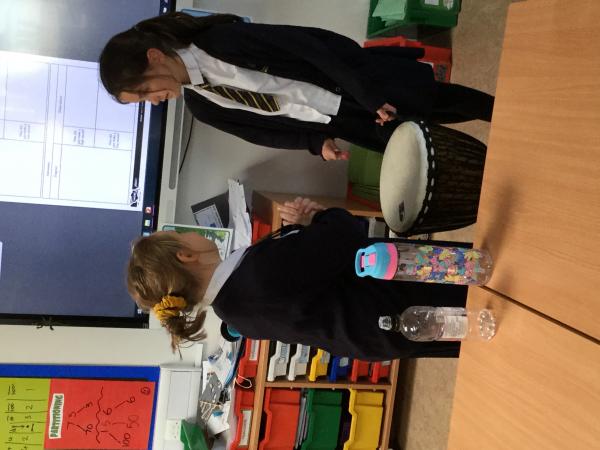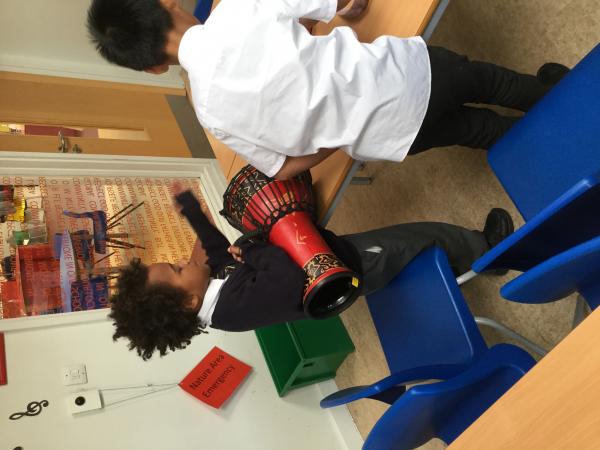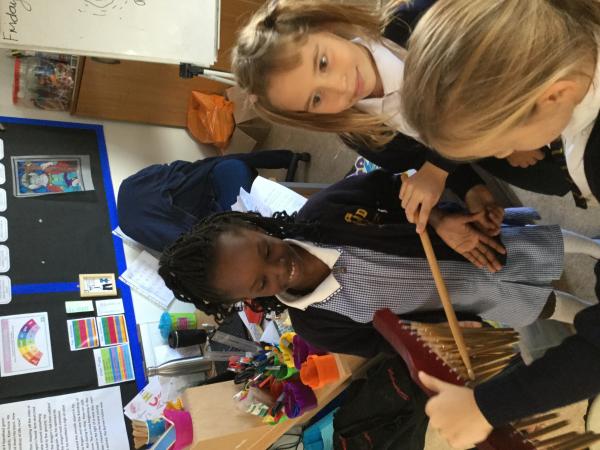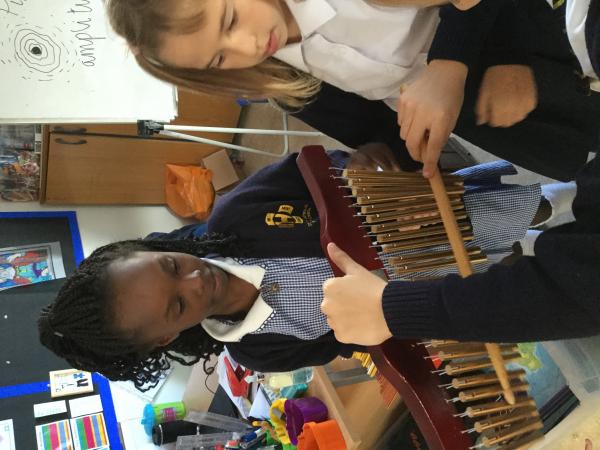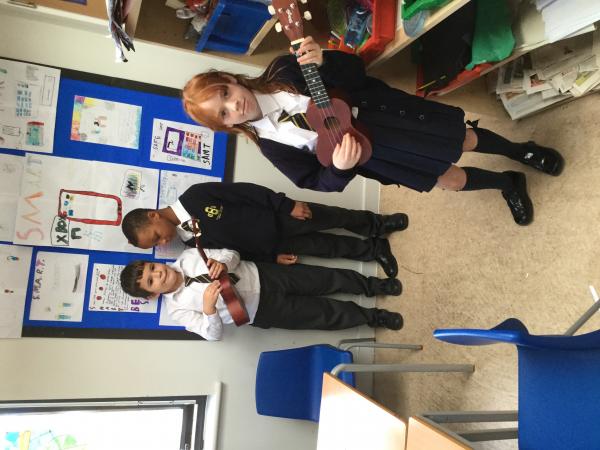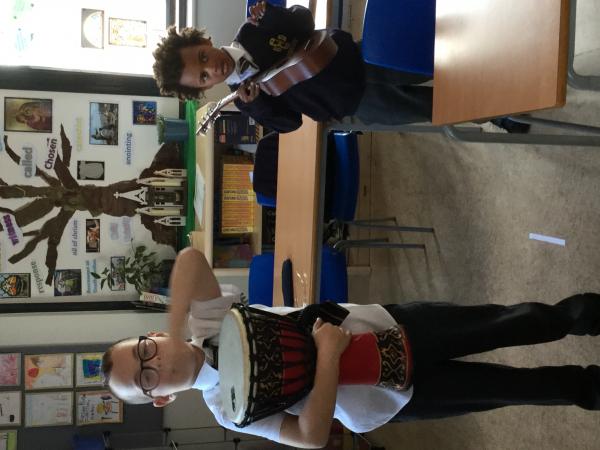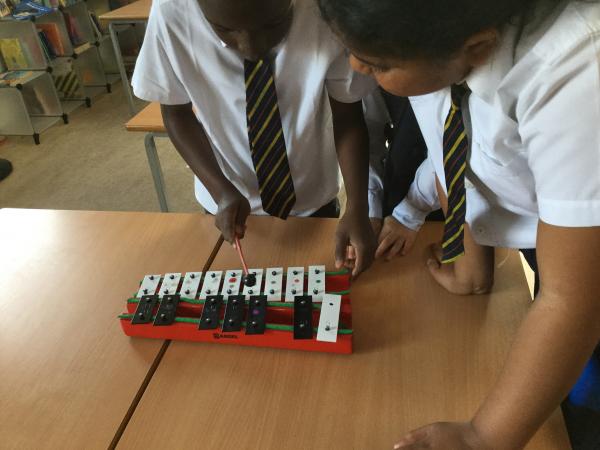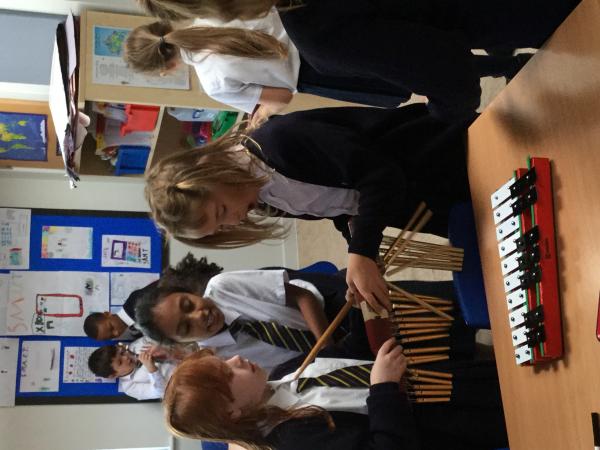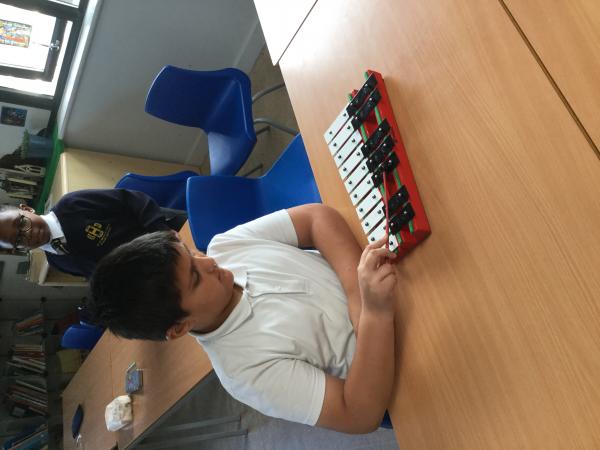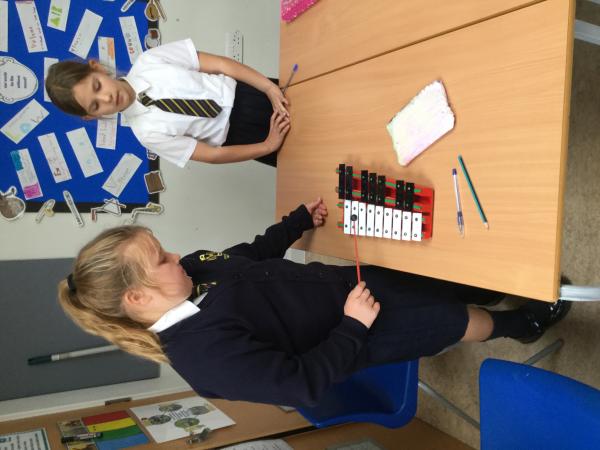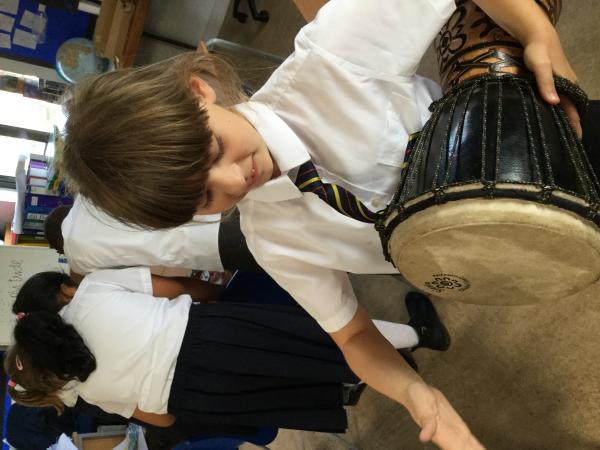 Coastal Erosion Prevention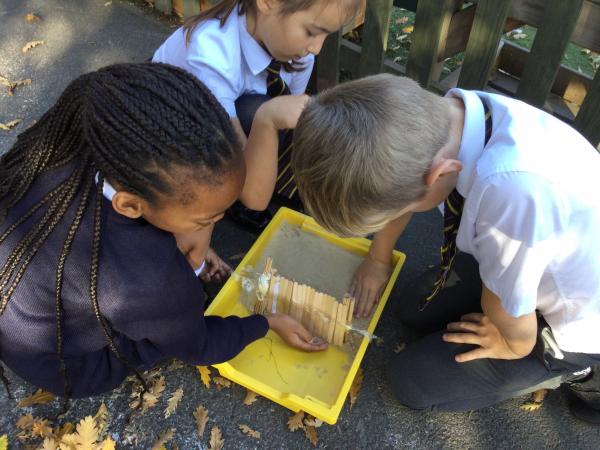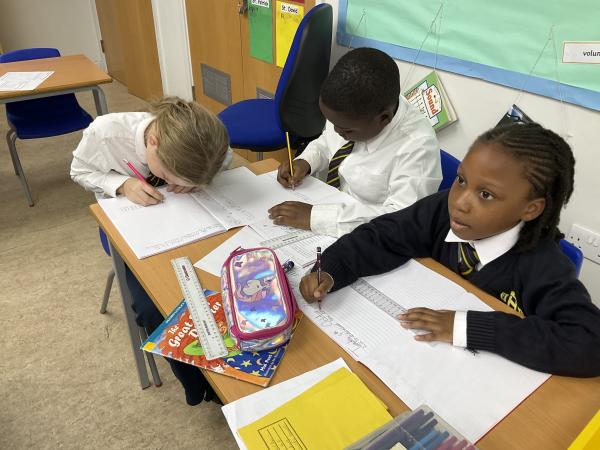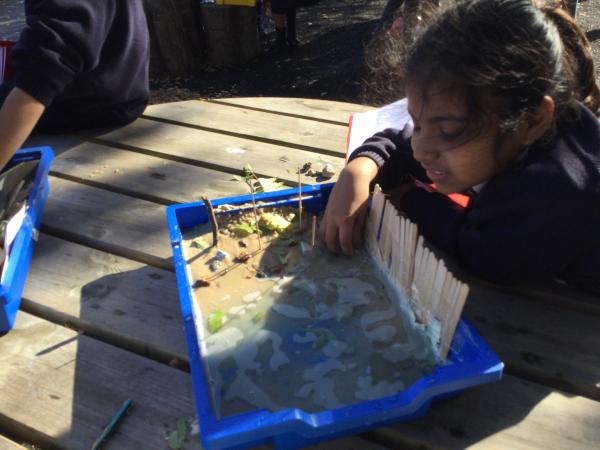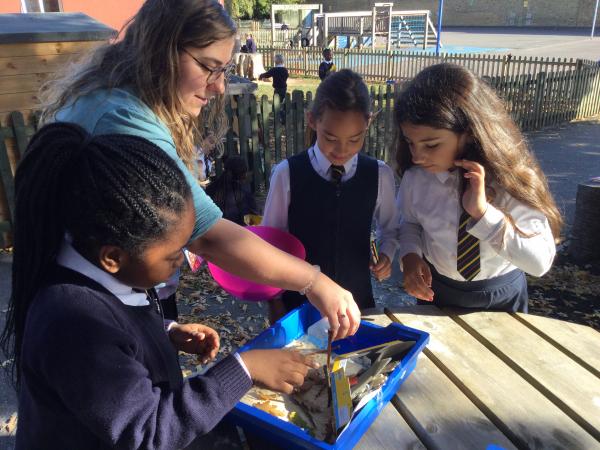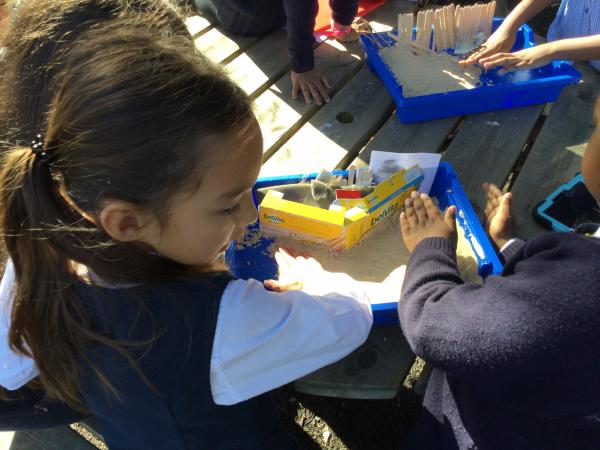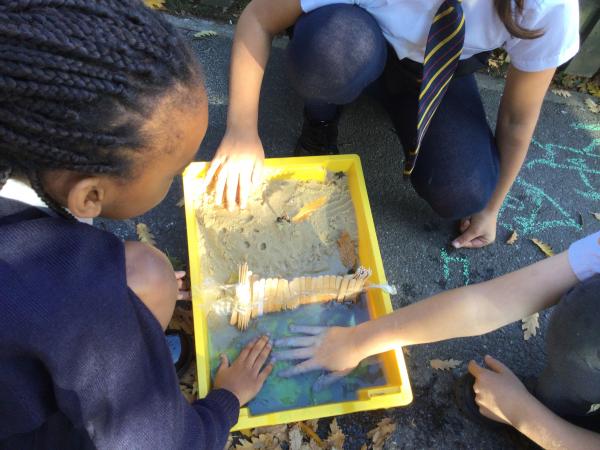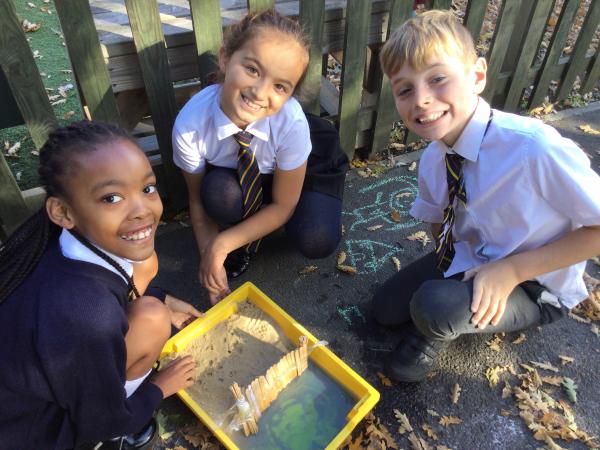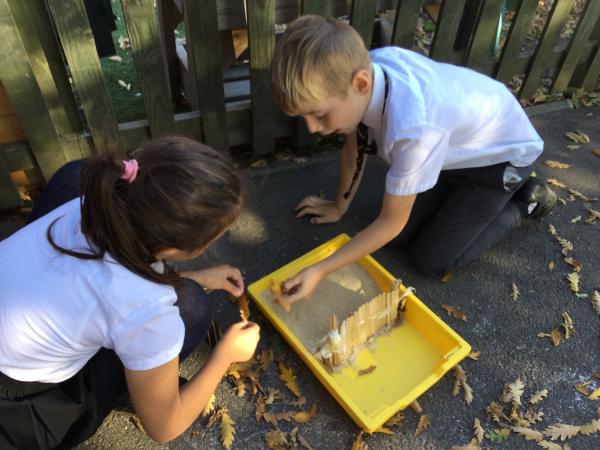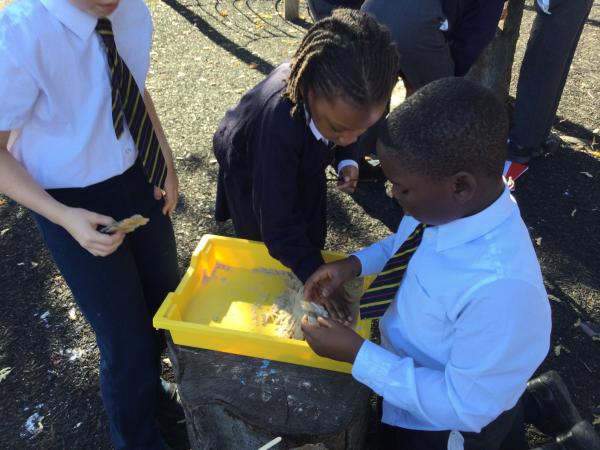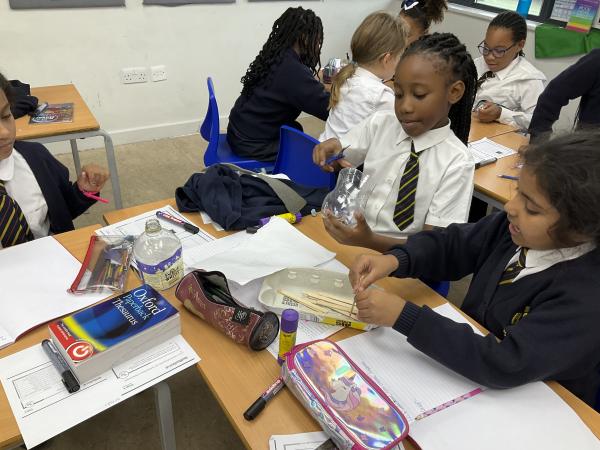 Tag Rugby
4 Gideon putting into practice all their learning to play a mini Tag Rugby Tournament against each other - some real talent emerging in the class!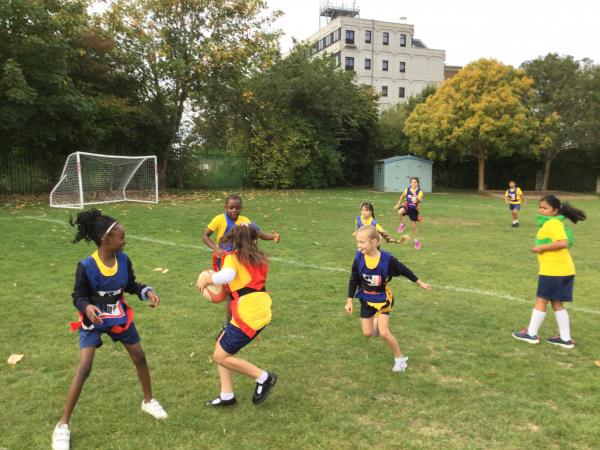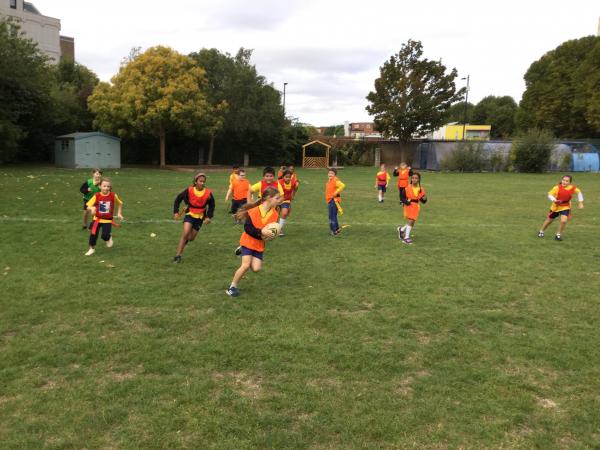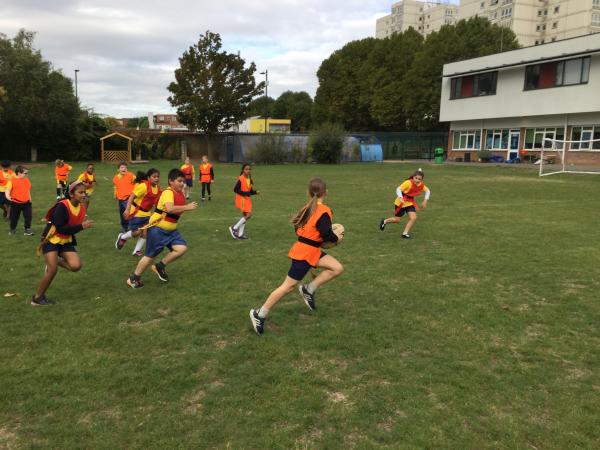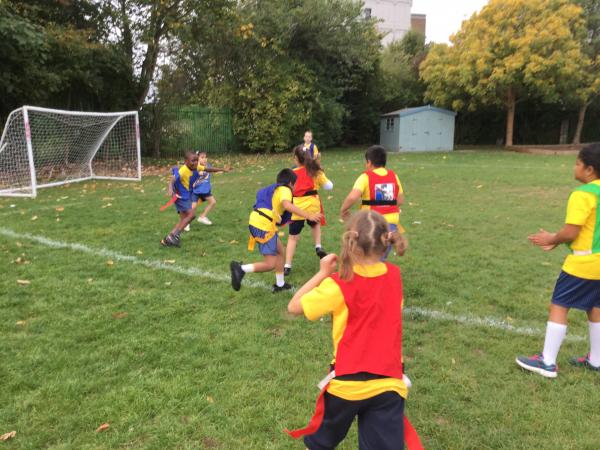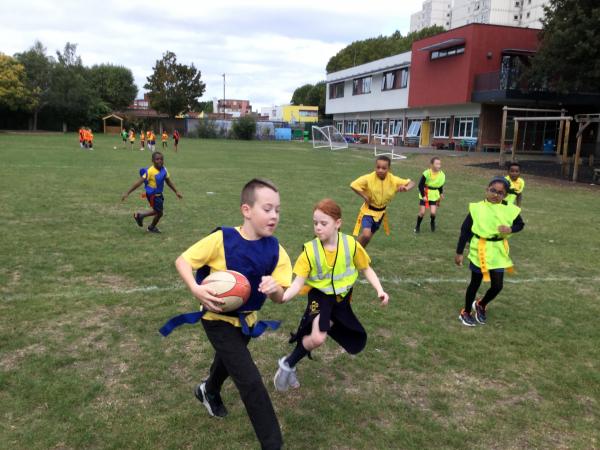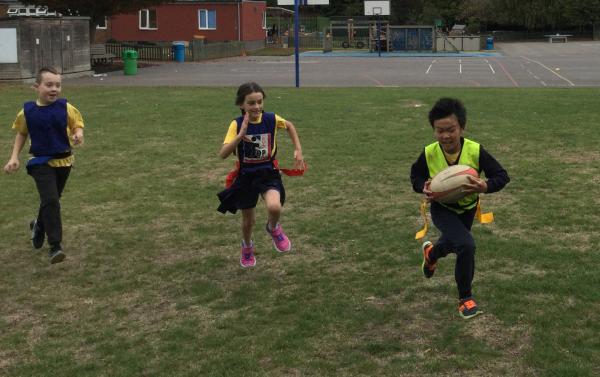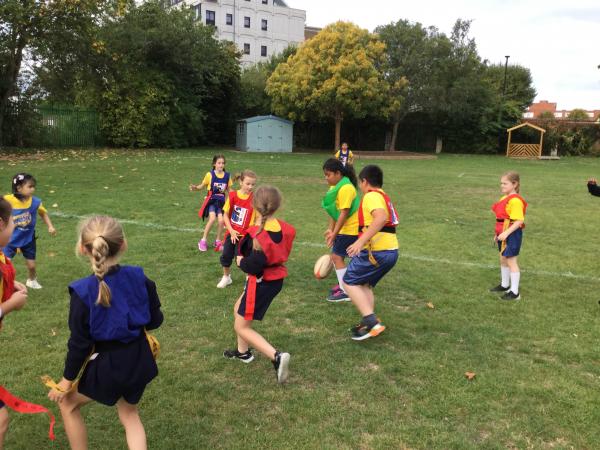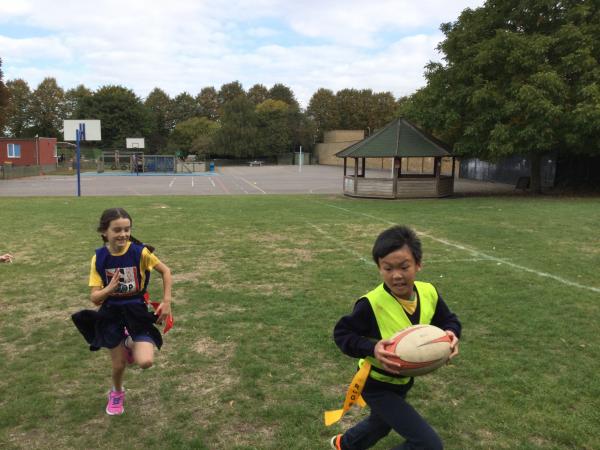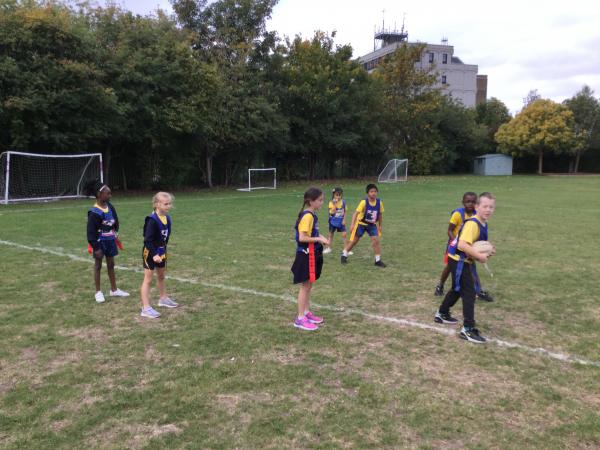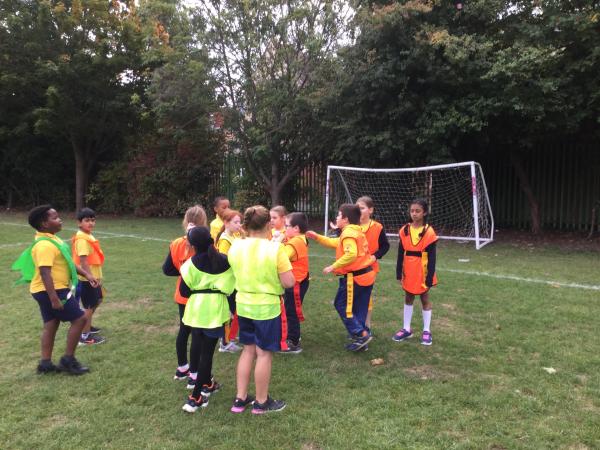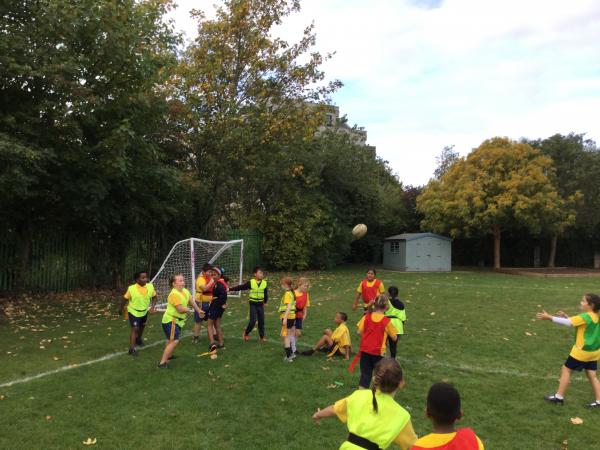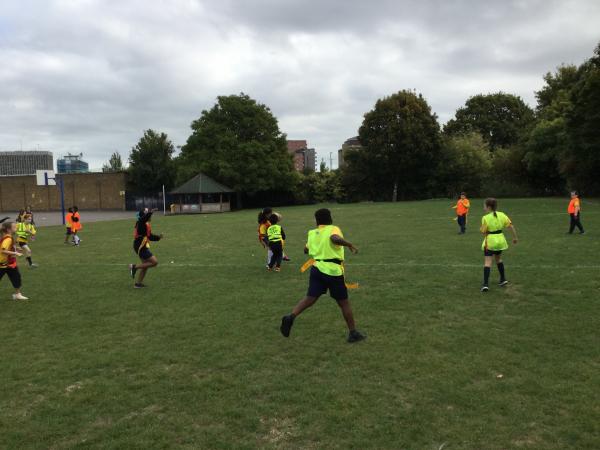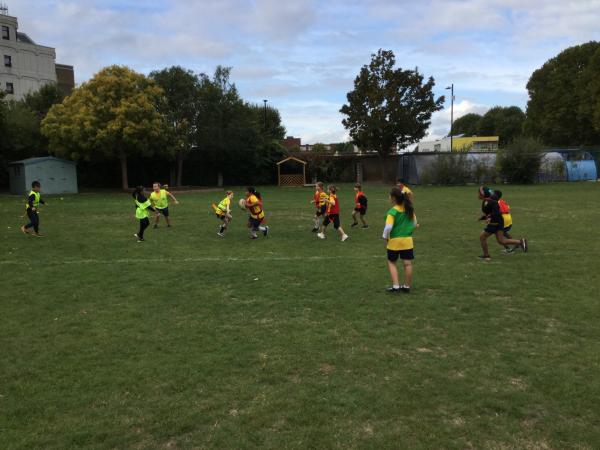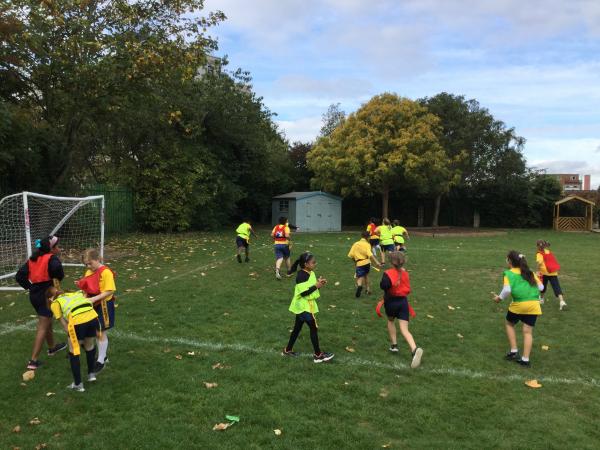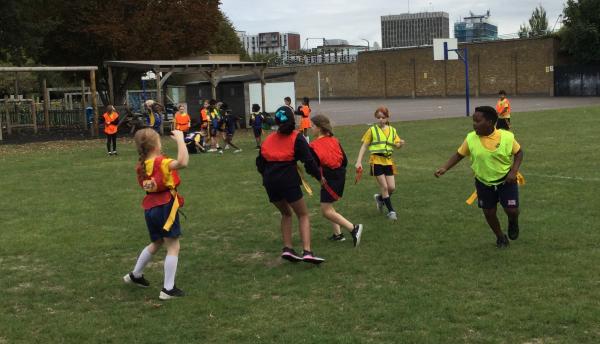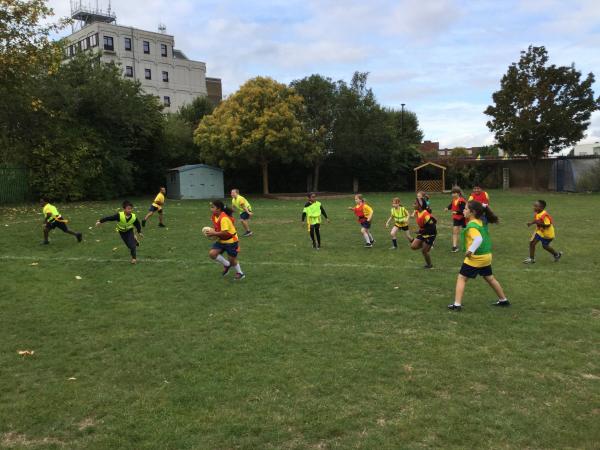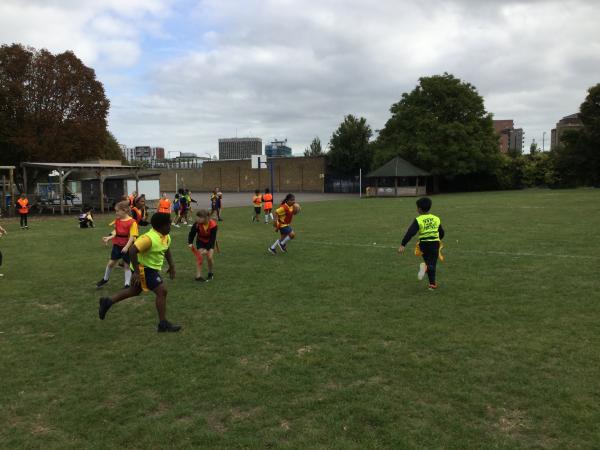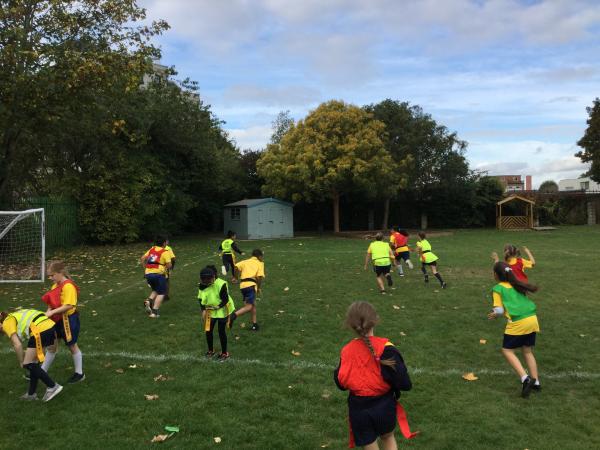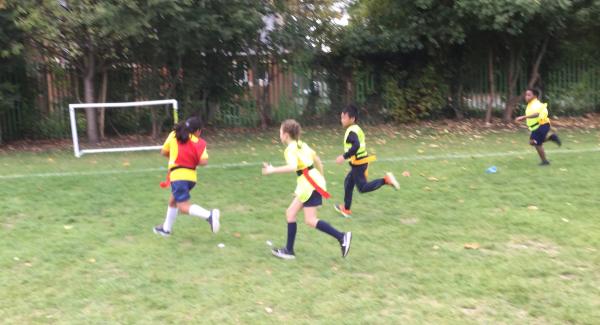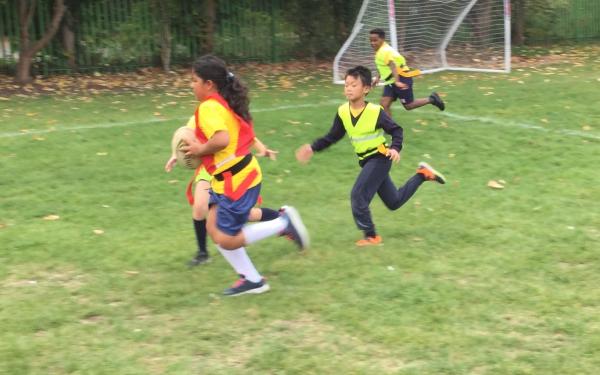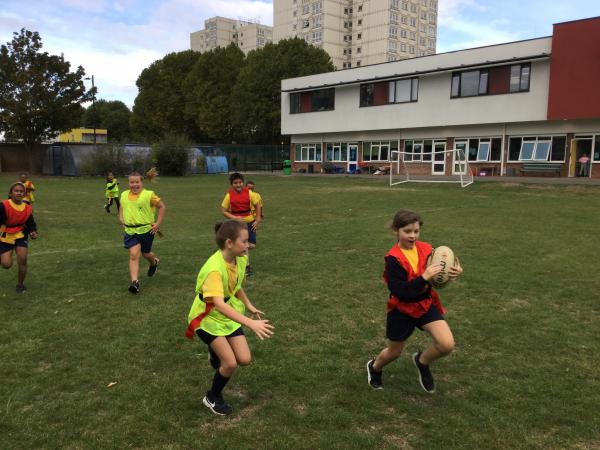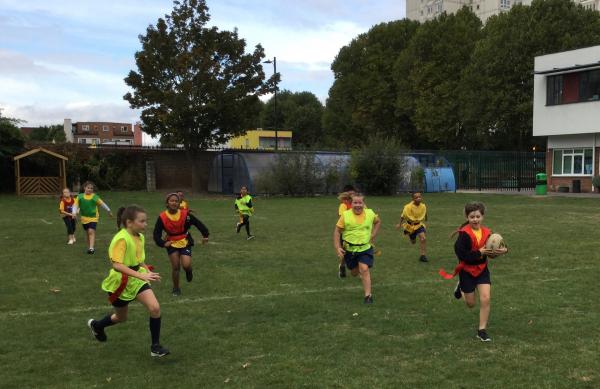 Investigating Sound Outside
4G had an enjoyable morning in the nature area and field, discussing their Science topic of Sound. Firstly, they were all blindfolded and worked together to follow a sound. After this, they were all given an animal sound. They made the noise and had to find the other members of their animal group using just sound as they were all blindfolded. Great fun was had by all!
"It was a tricky activity as you had to make the sound but listen at the same time. It took me a while to hear my sound above all the other noise."
Later in the morning, they moved into the nature area, making windchimes. These are now decorating their classroom.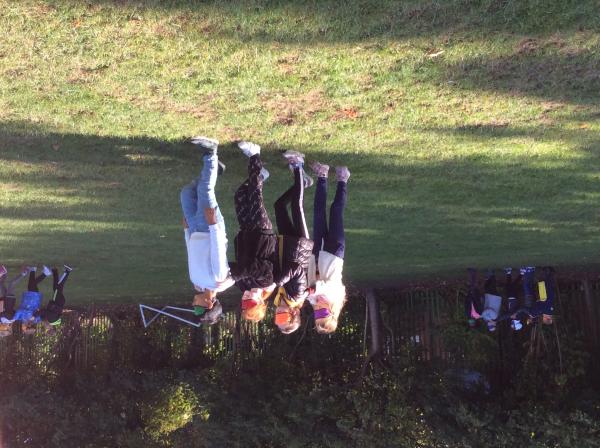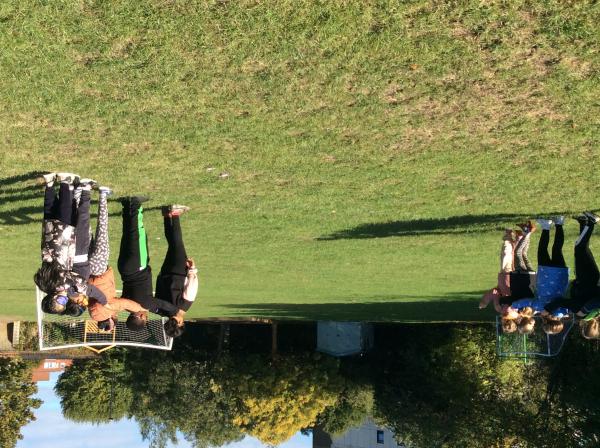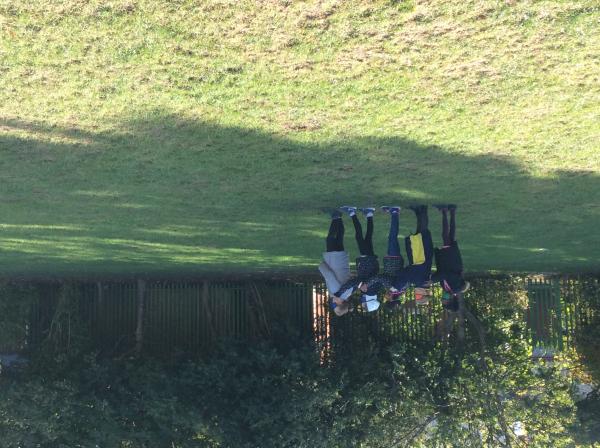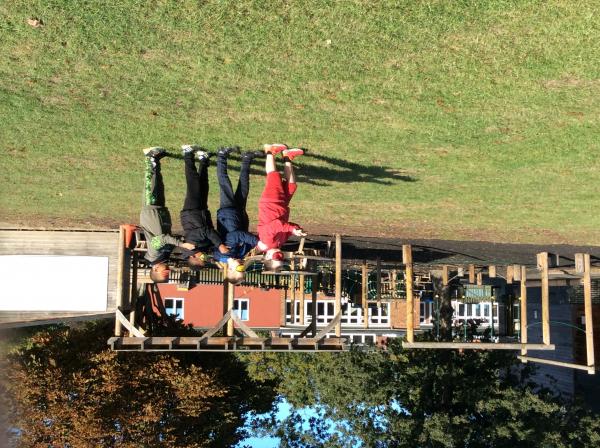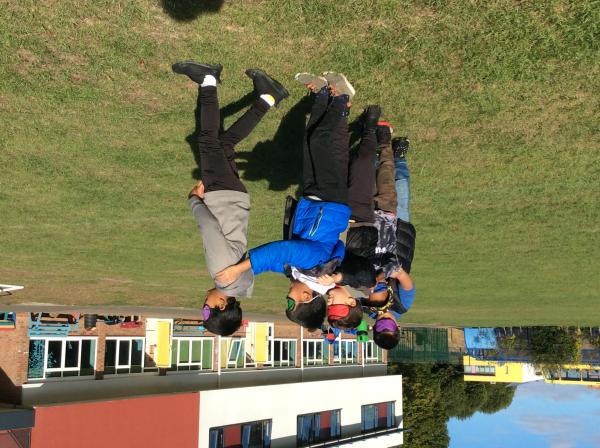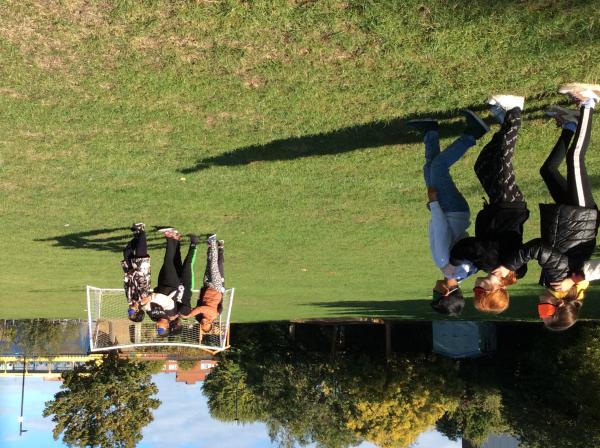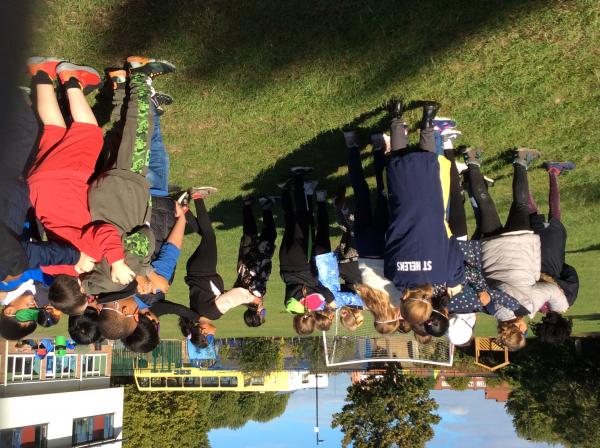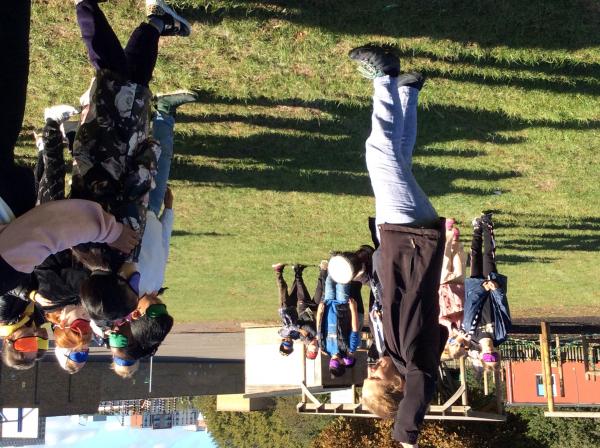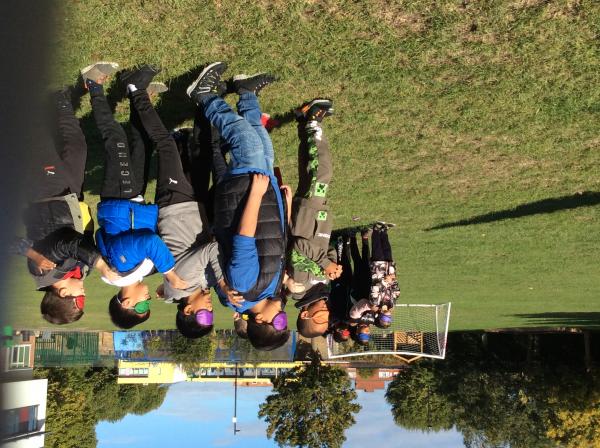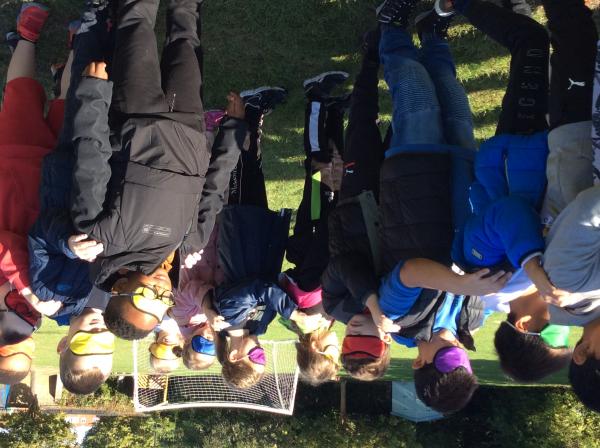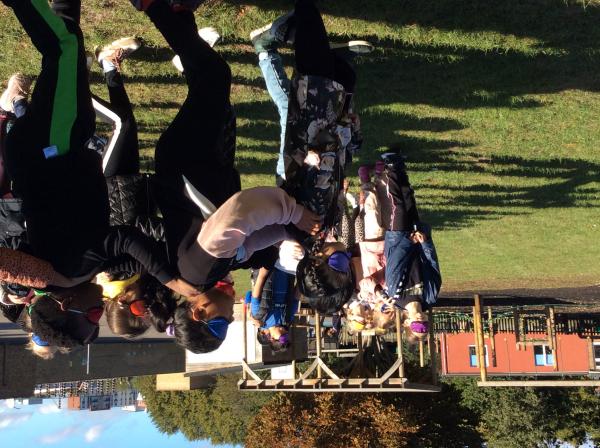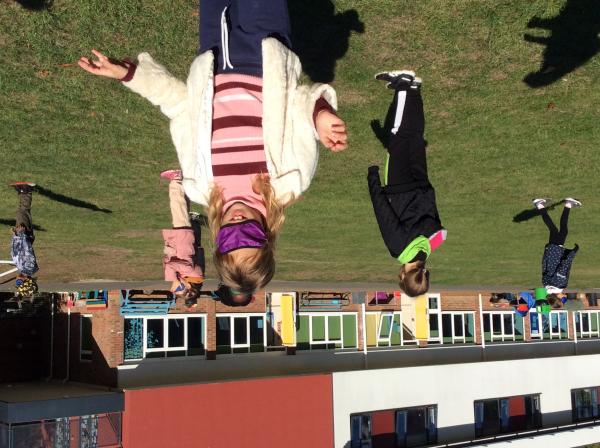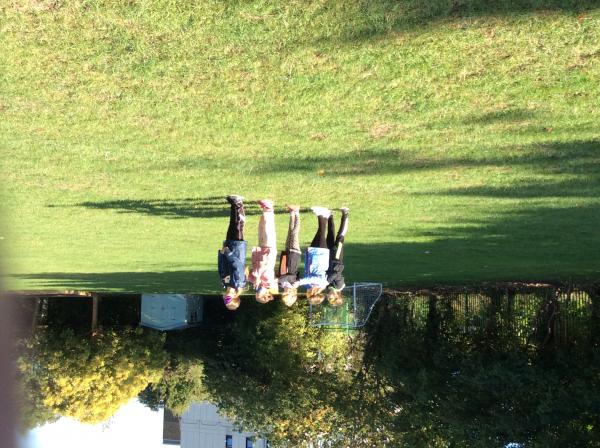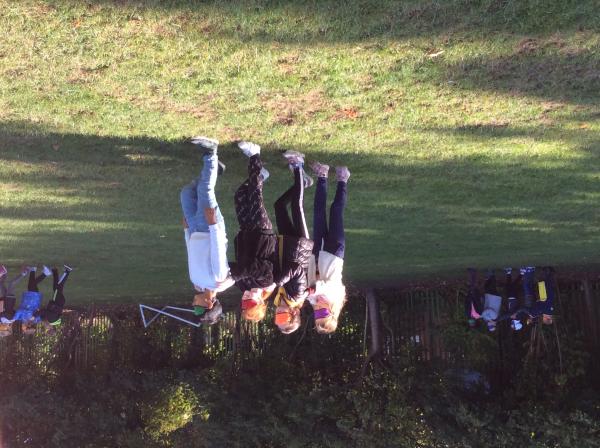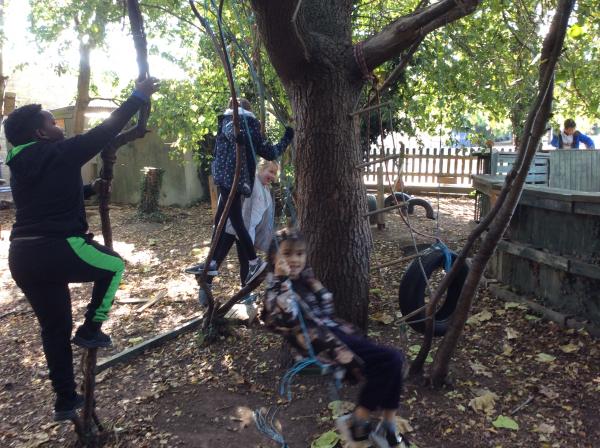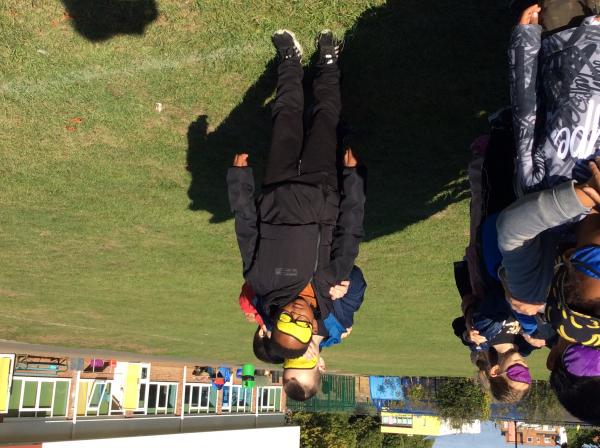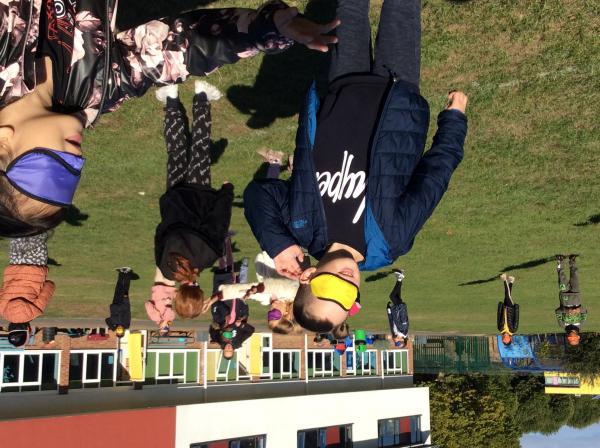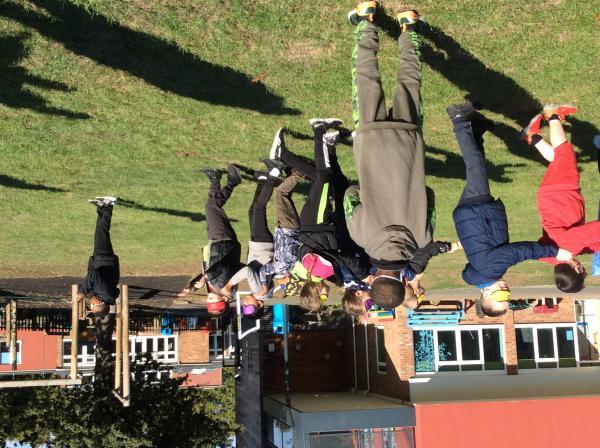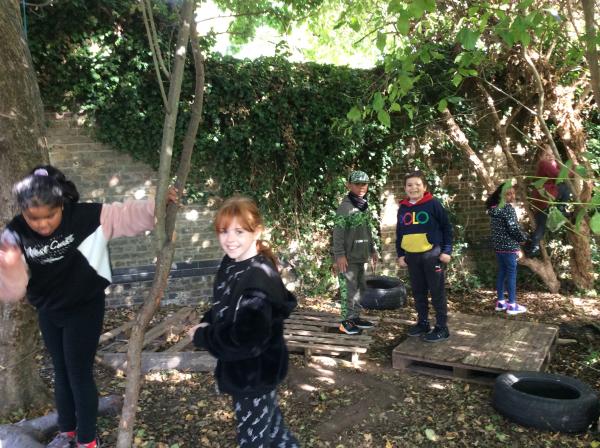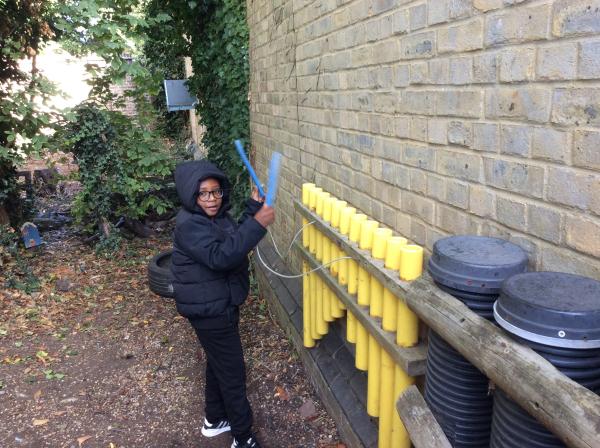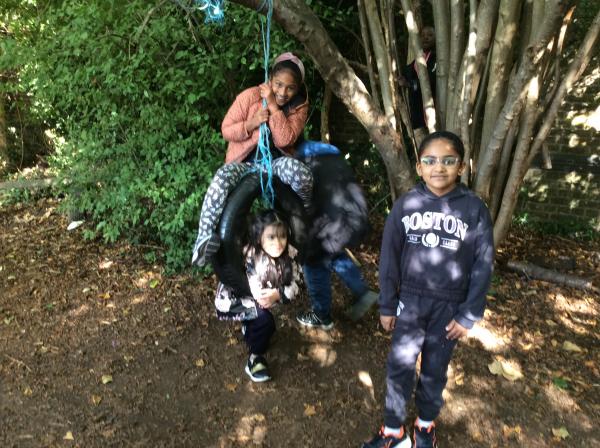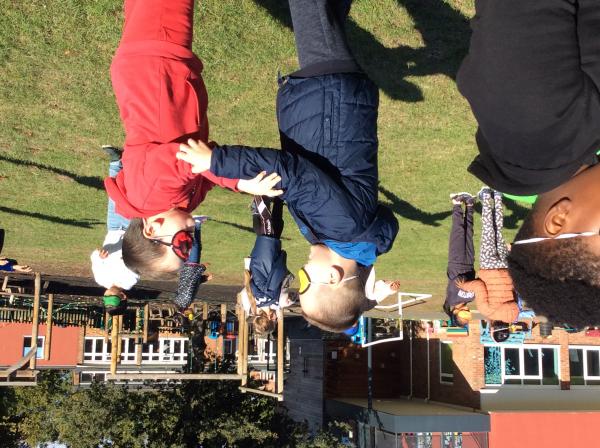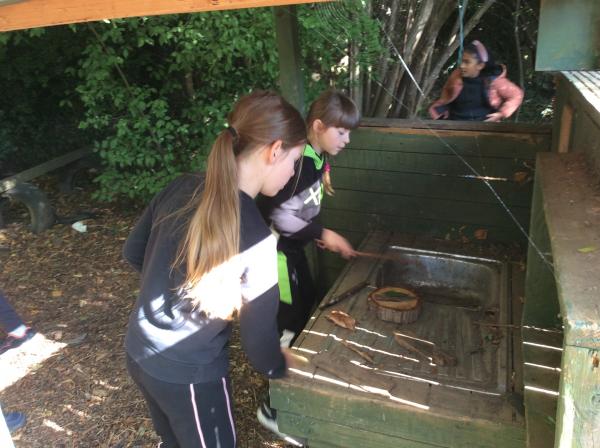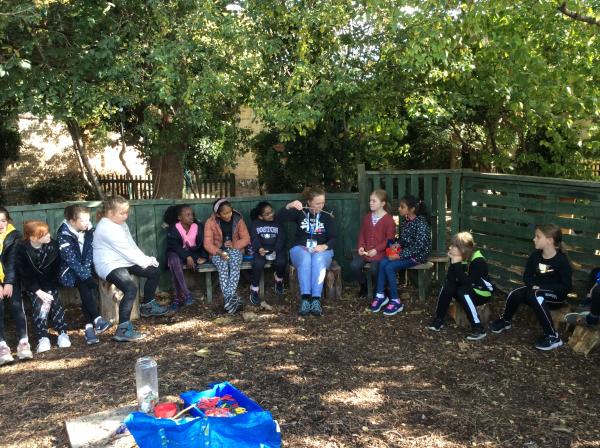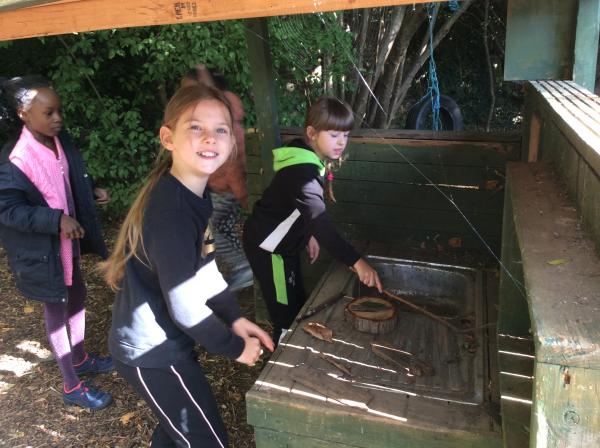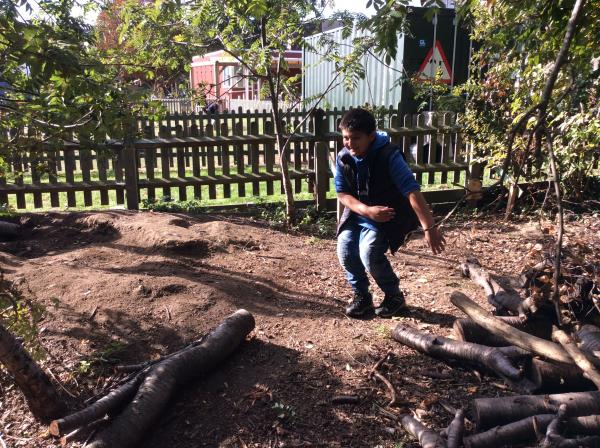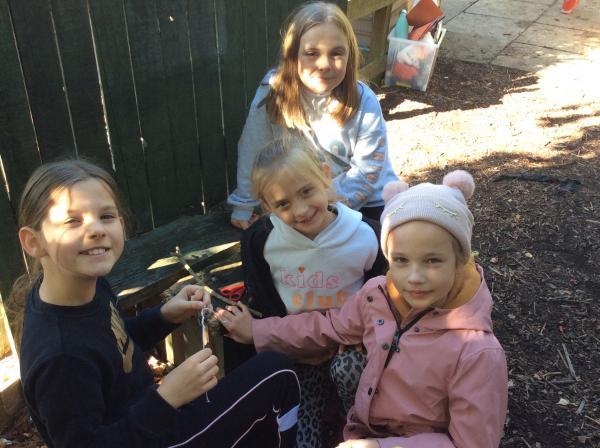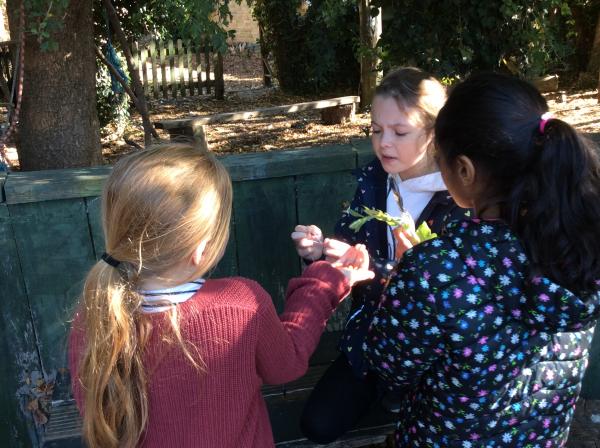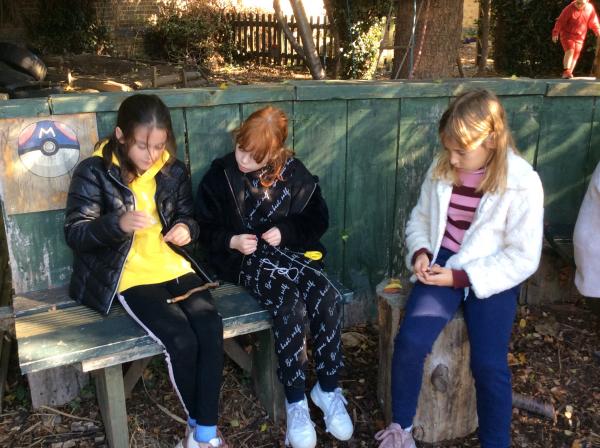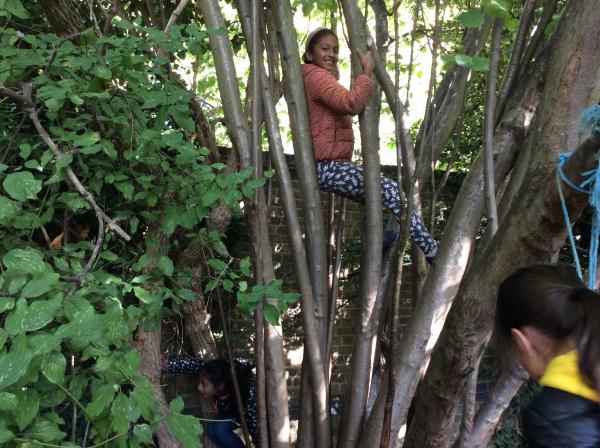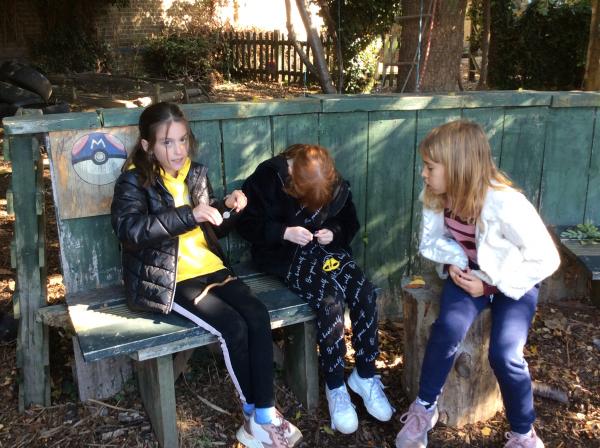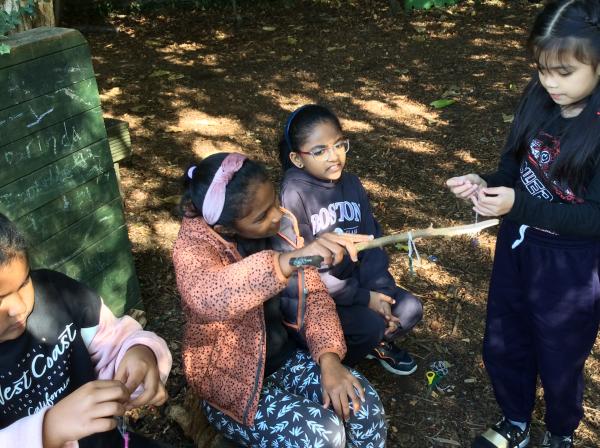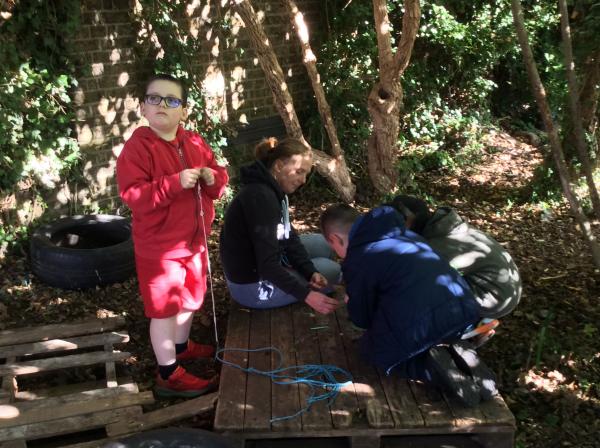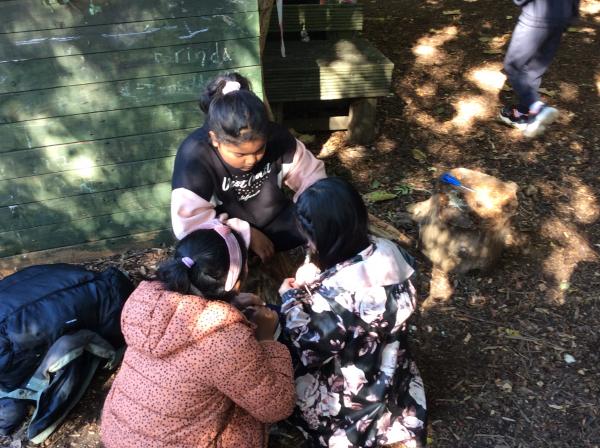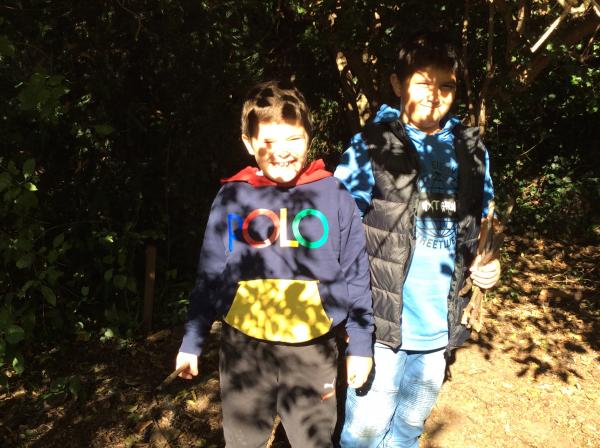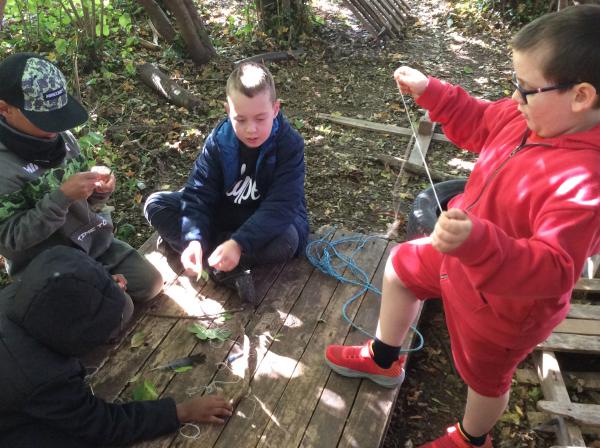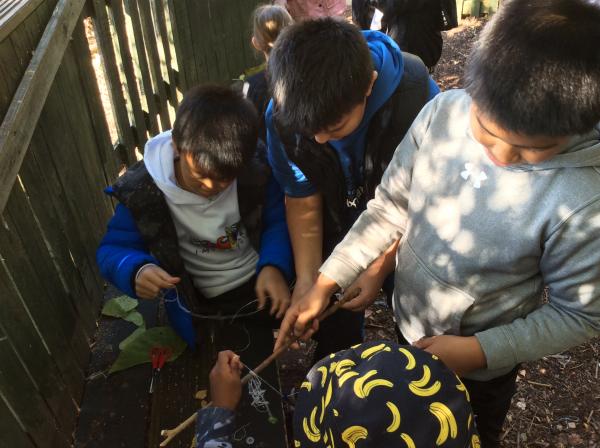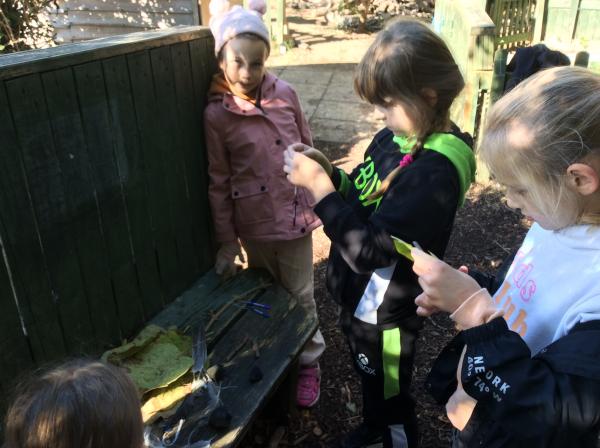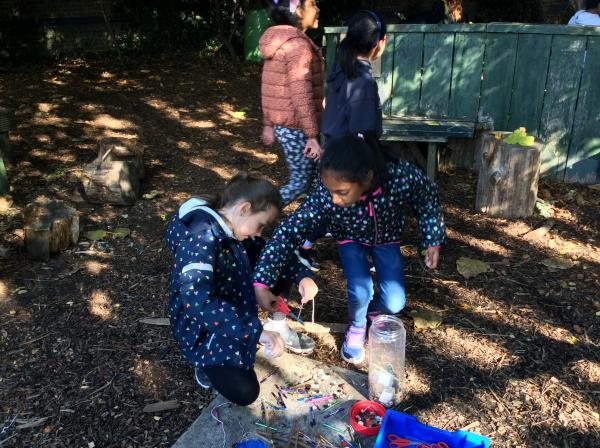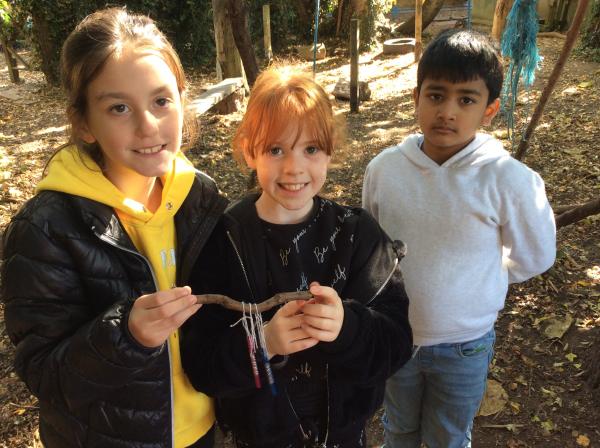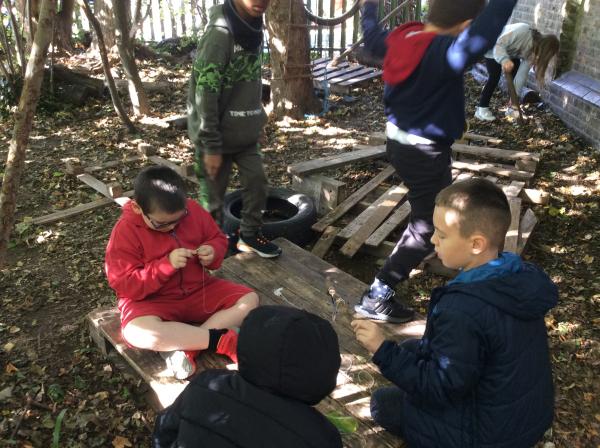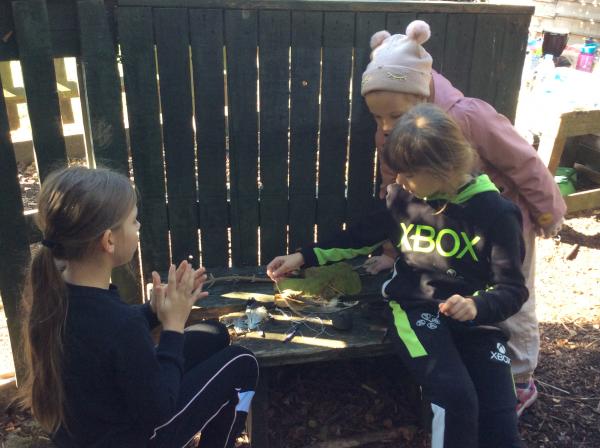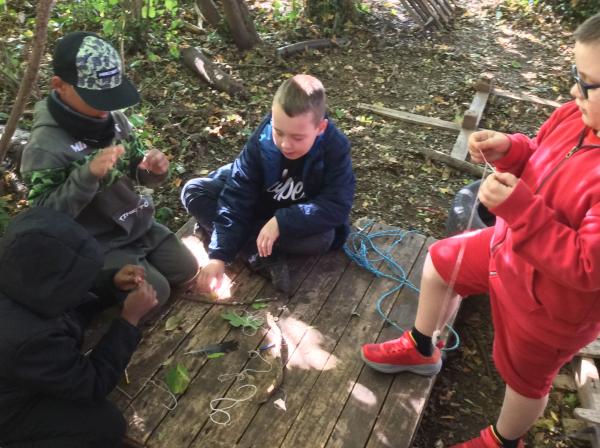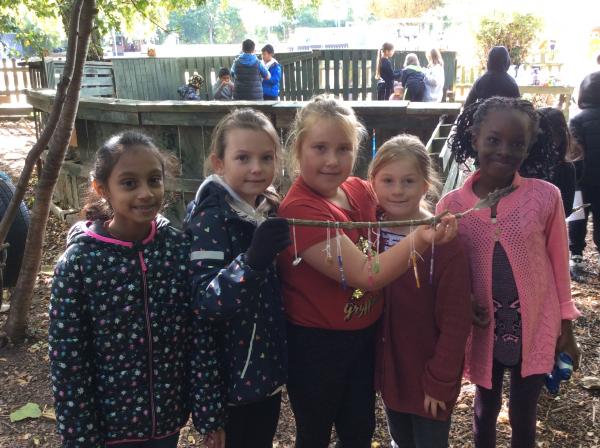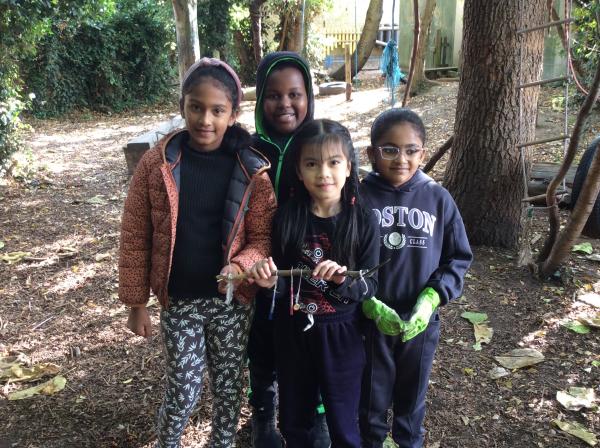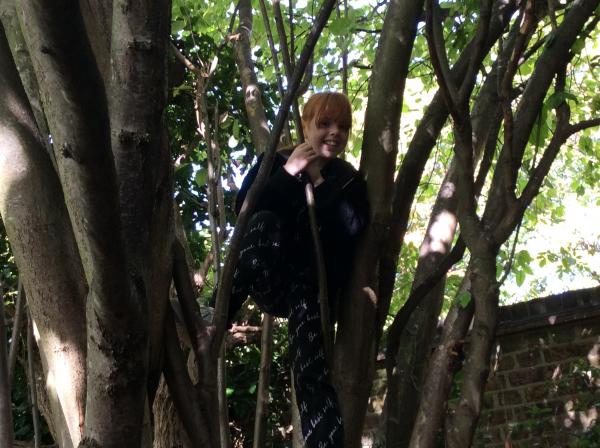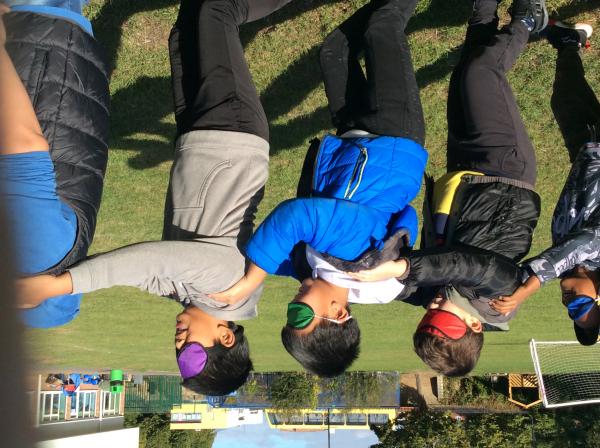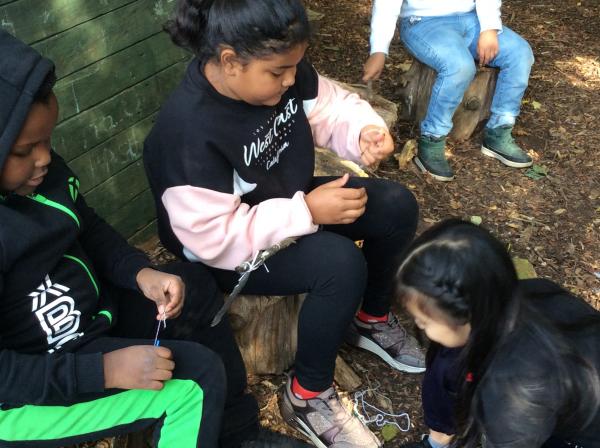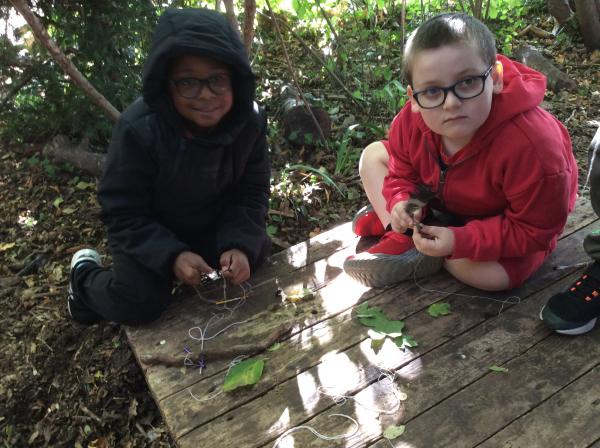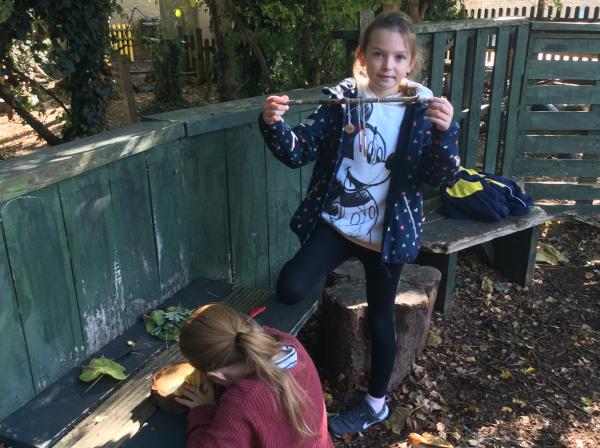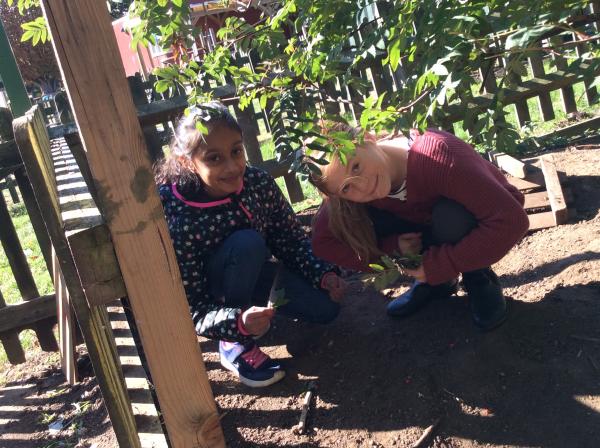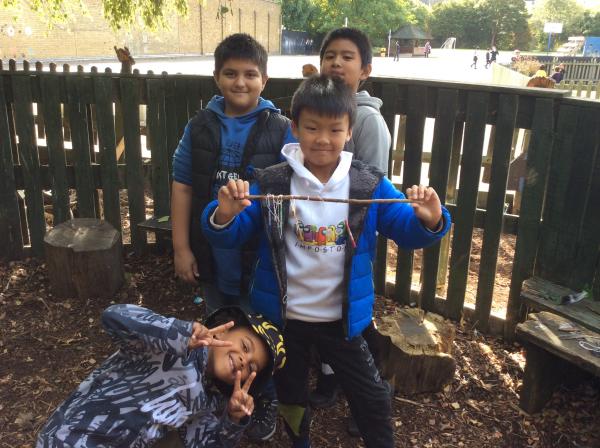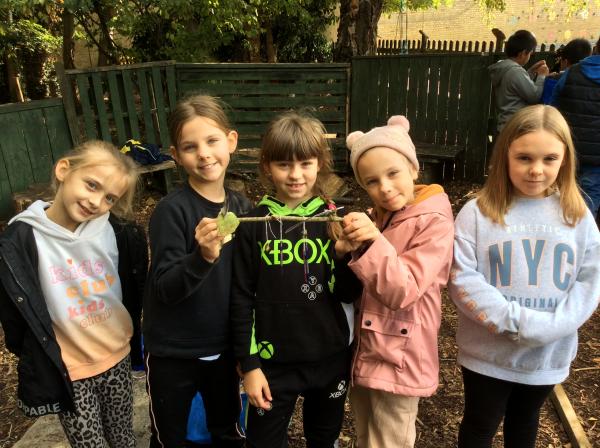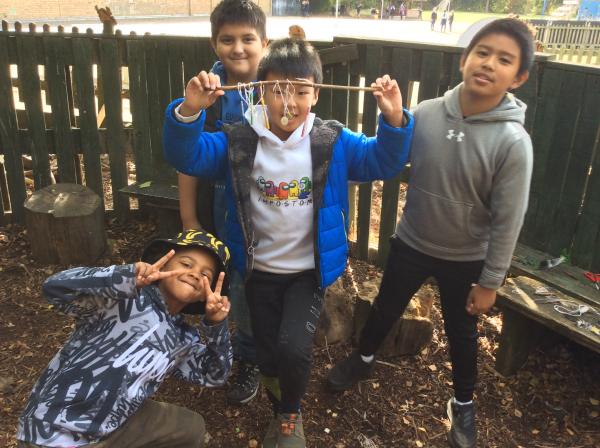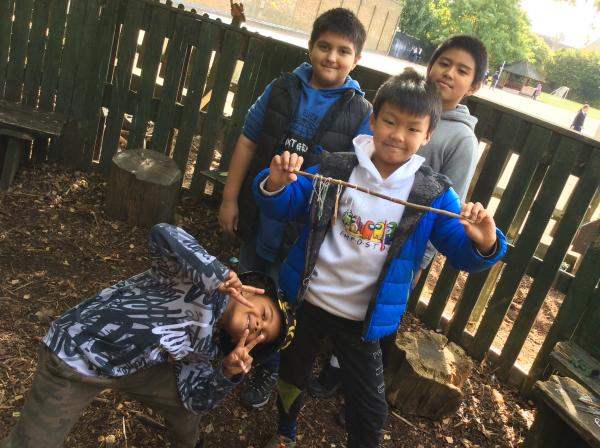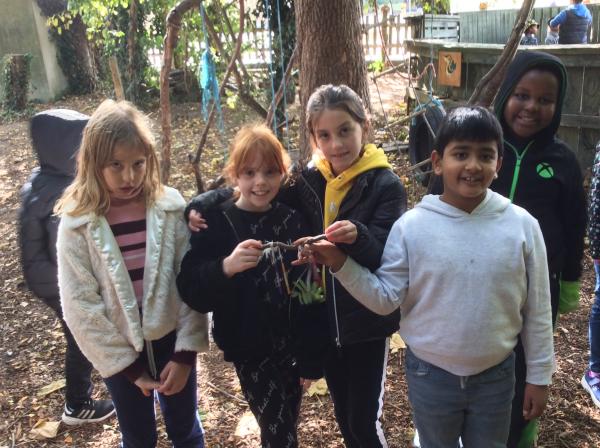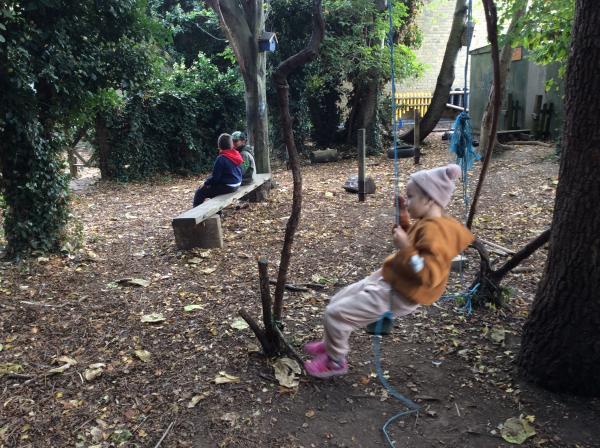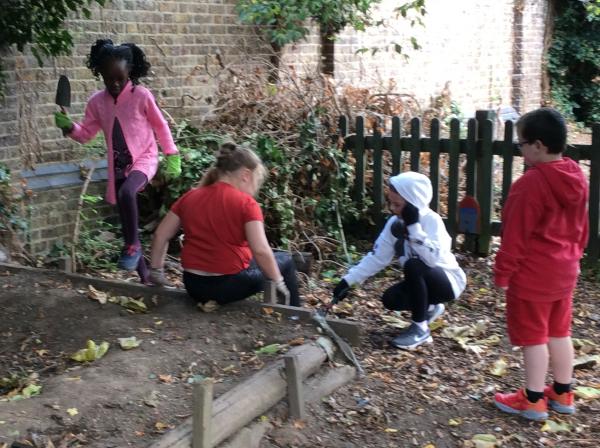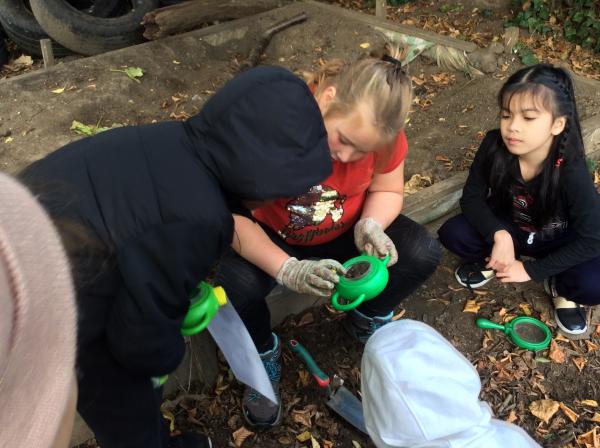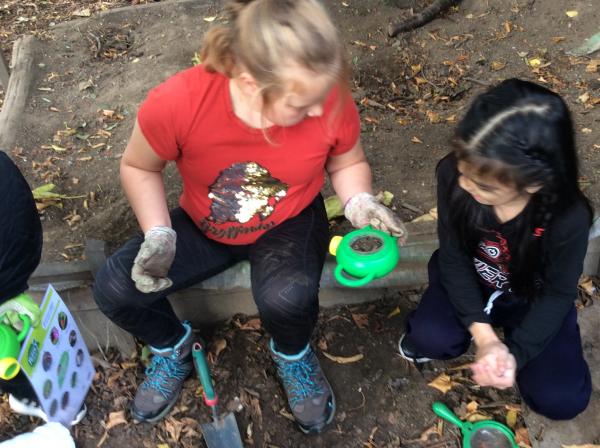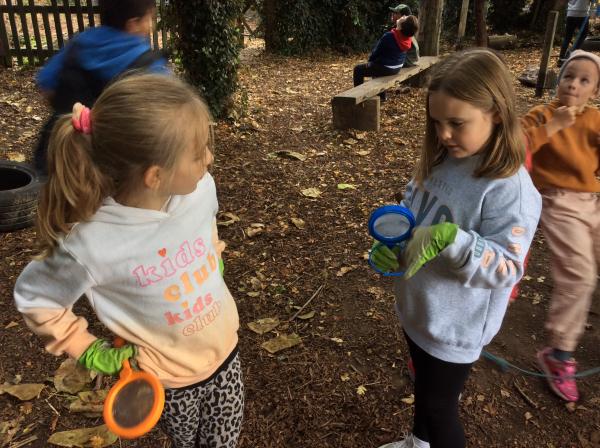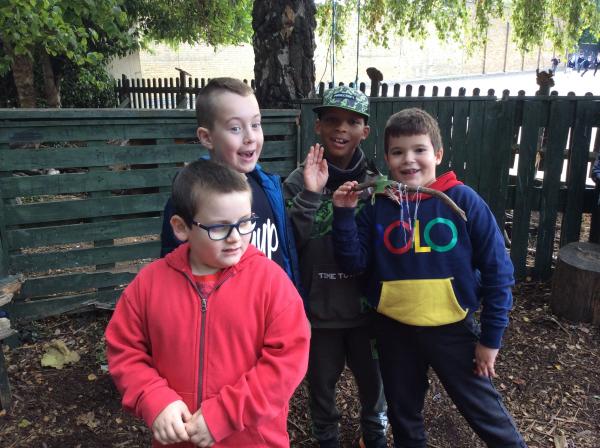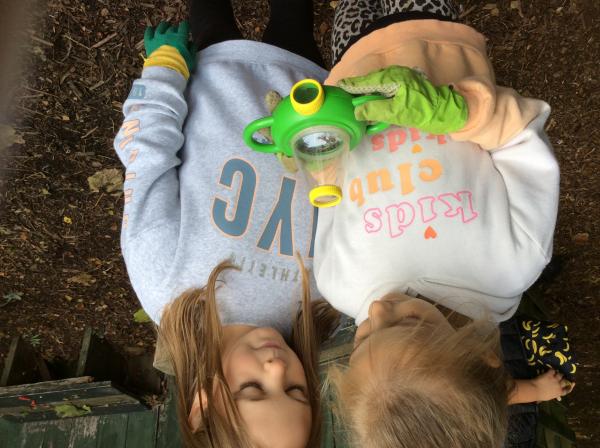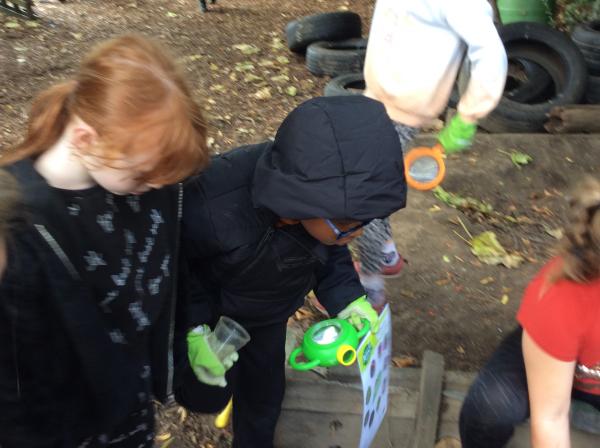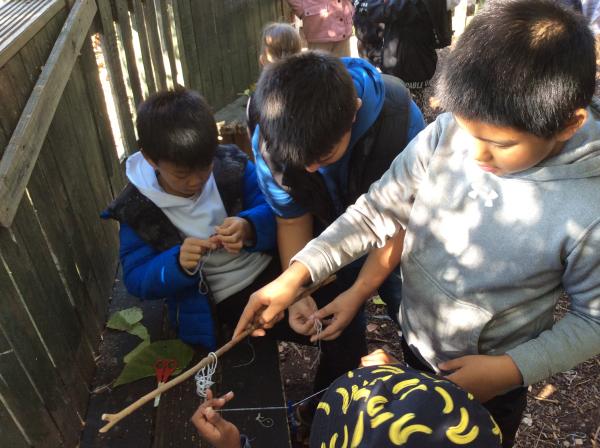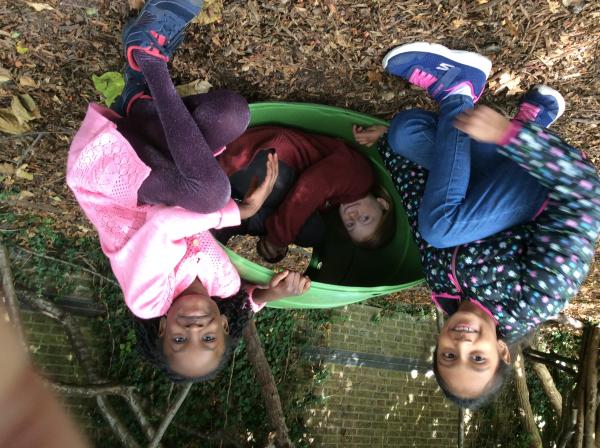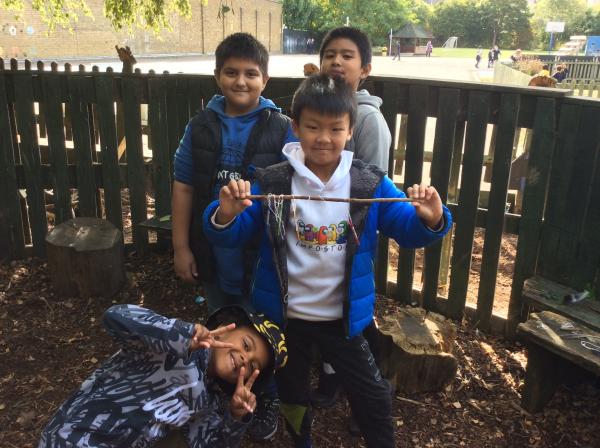 A beautiful bouquet for our beautiful Queen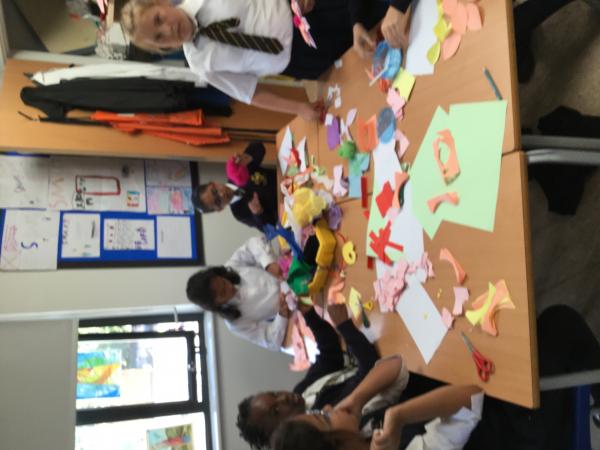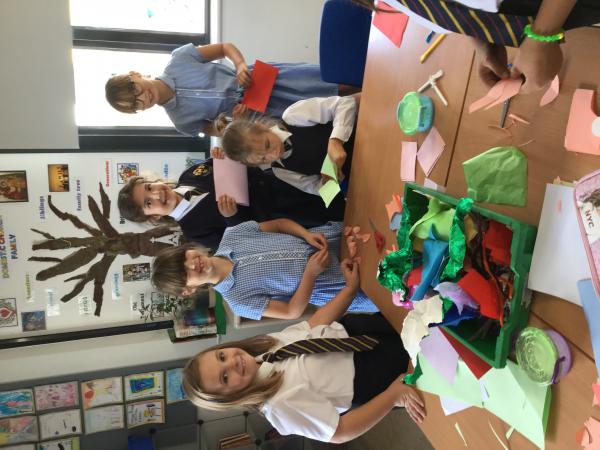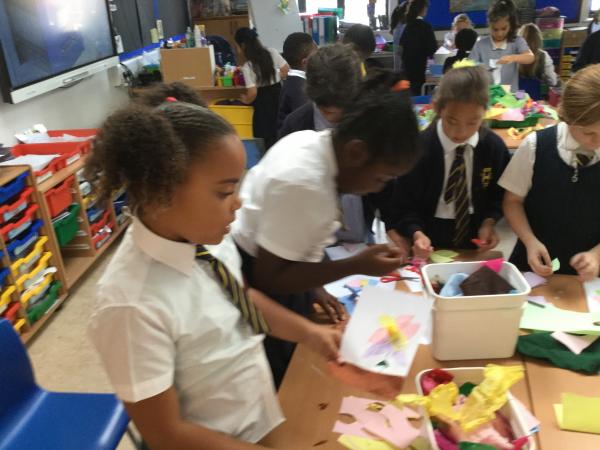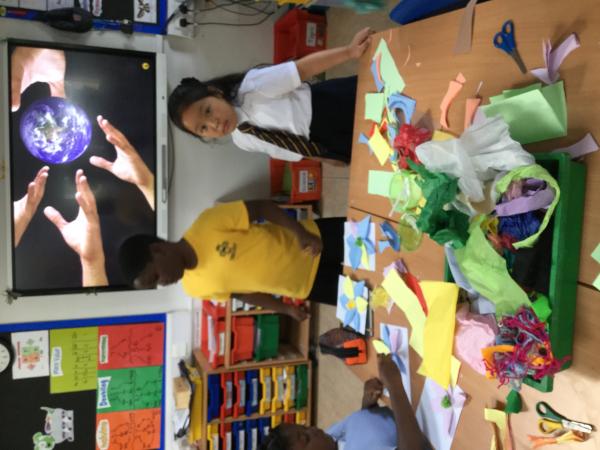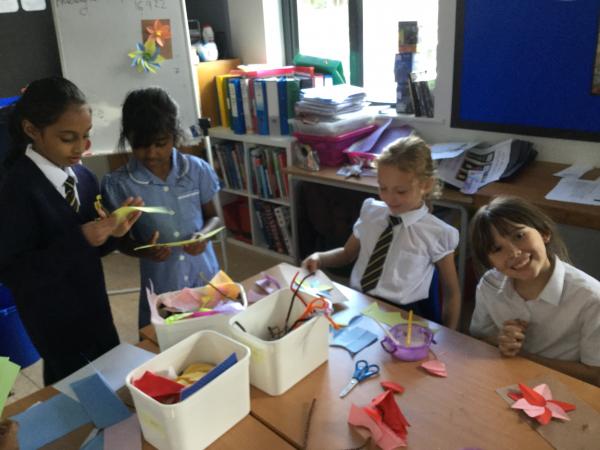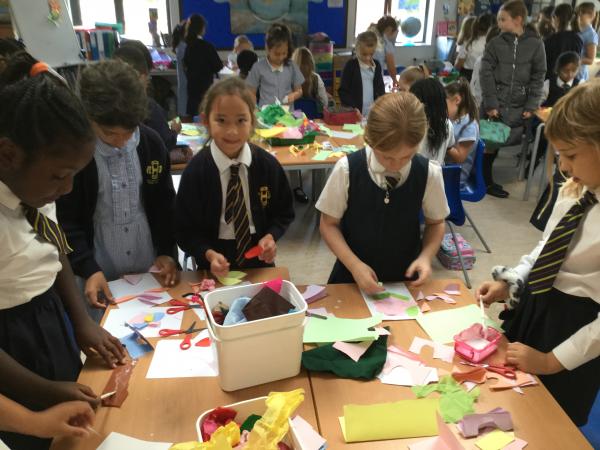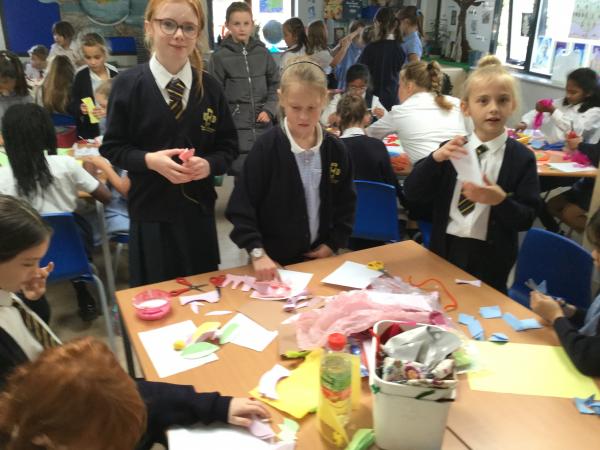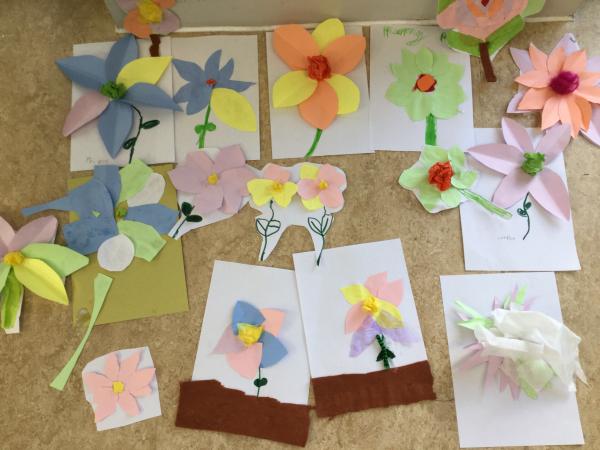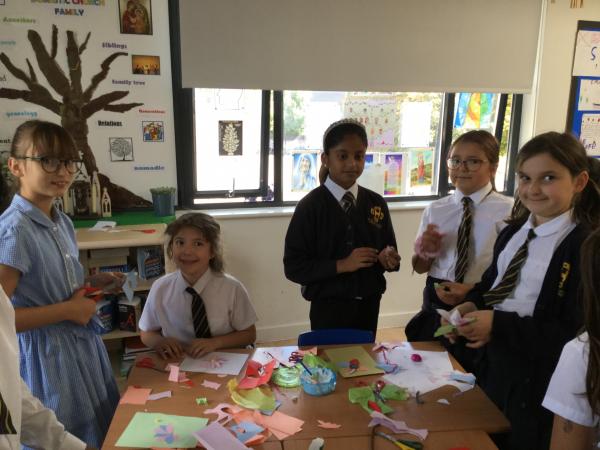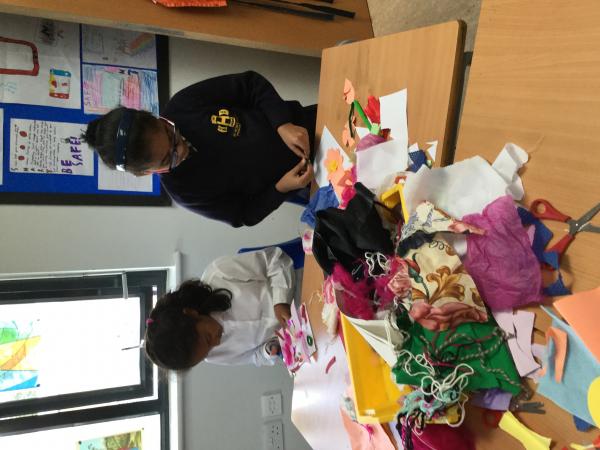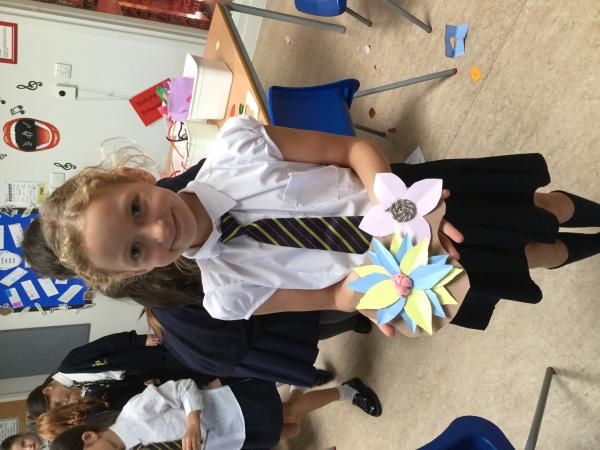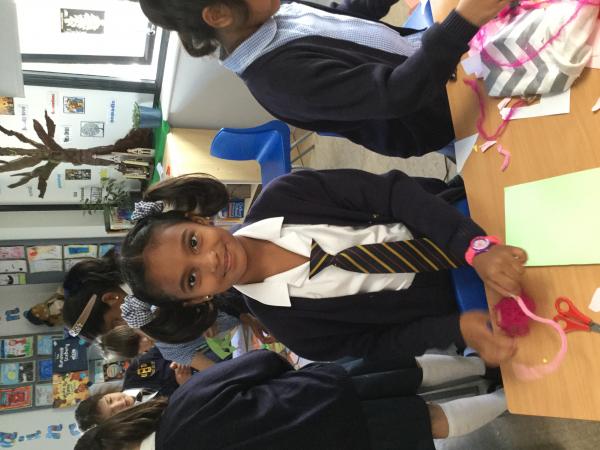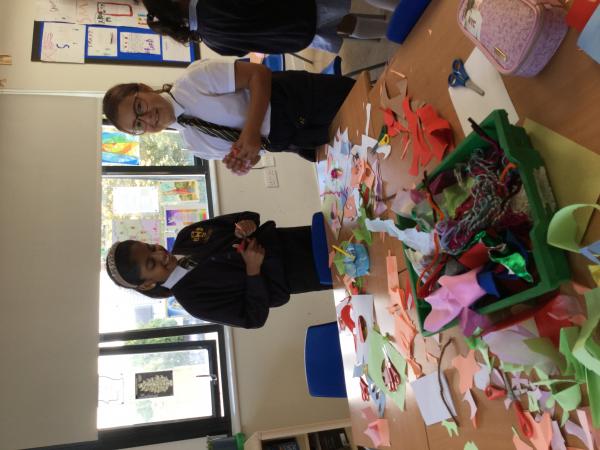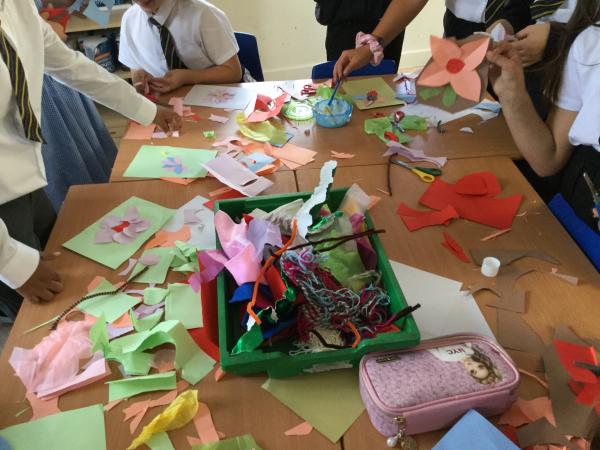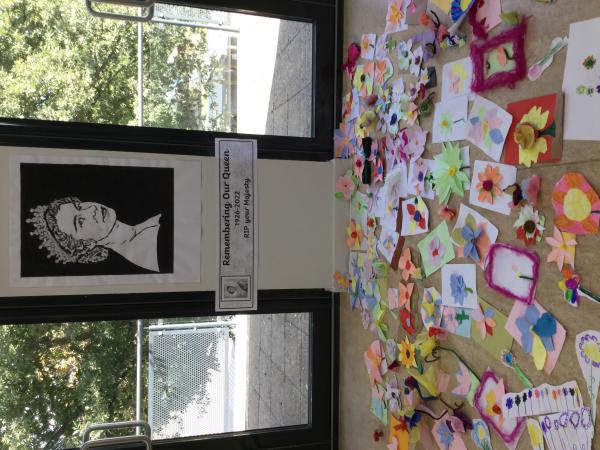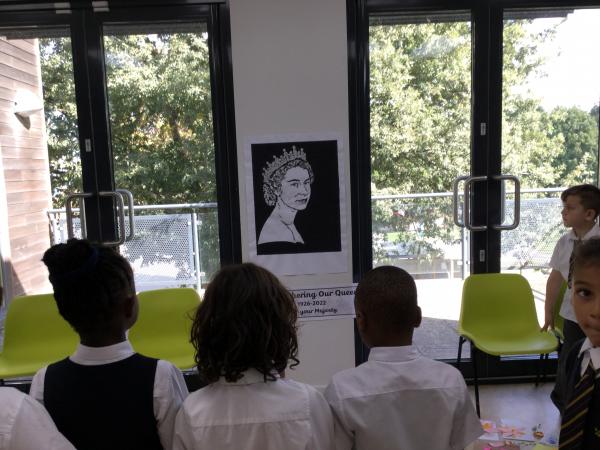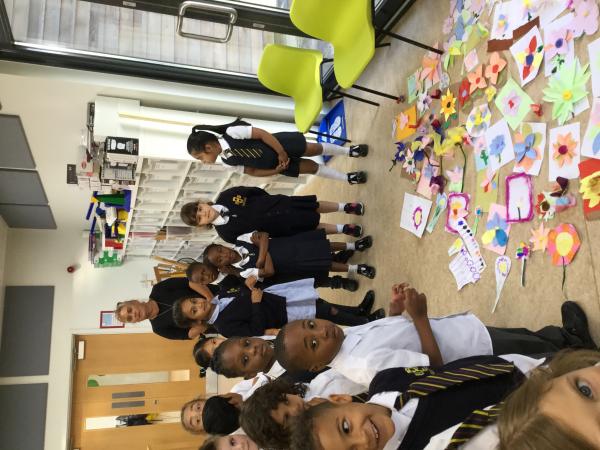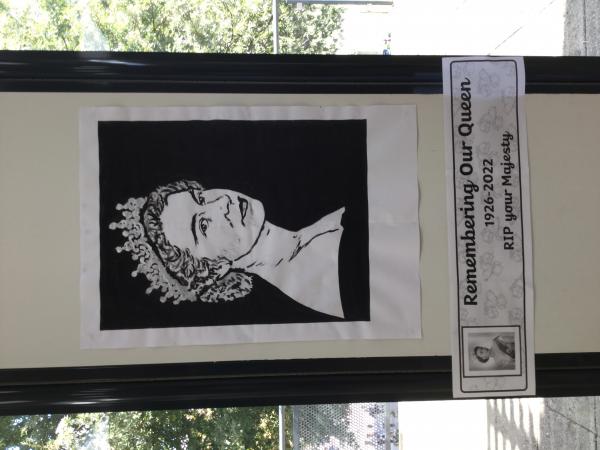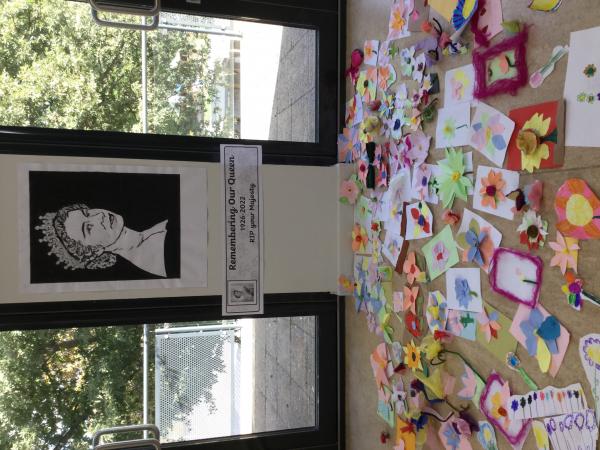 4G hard at work studying how vibrations carry sound as part of our Science topic.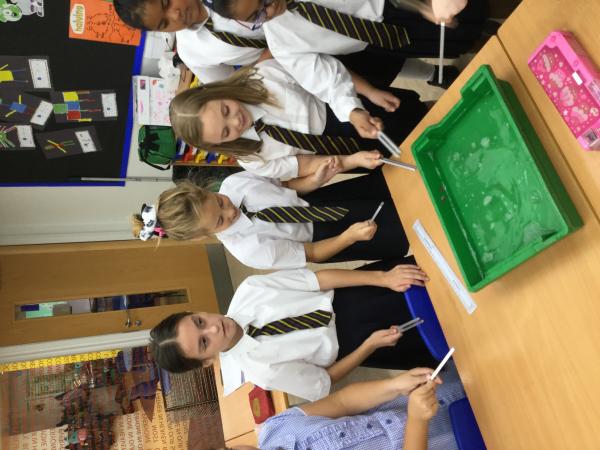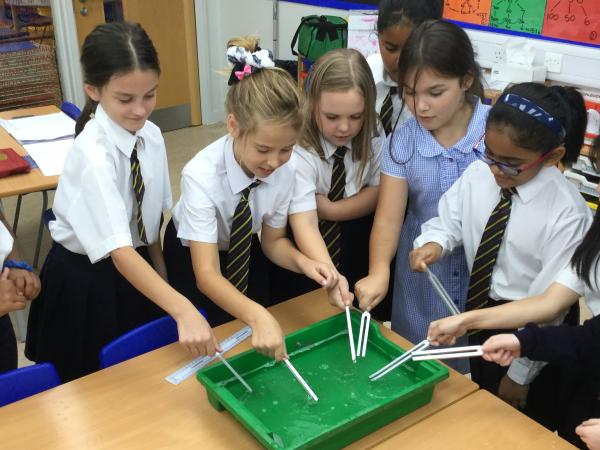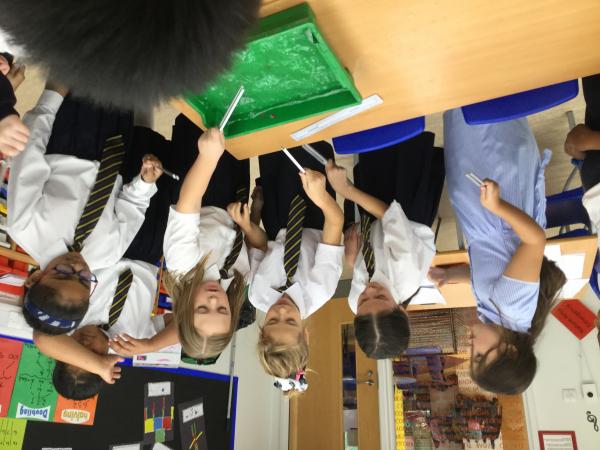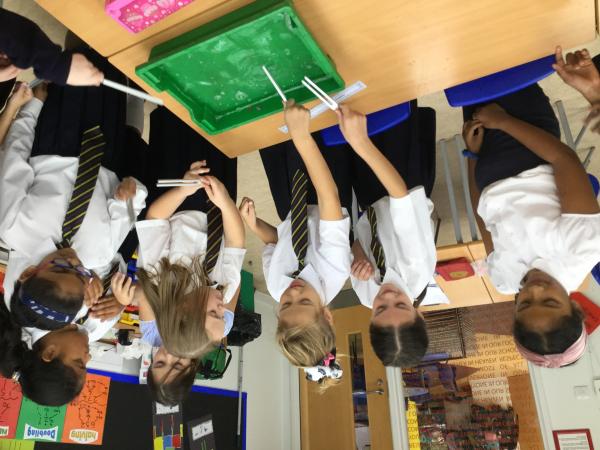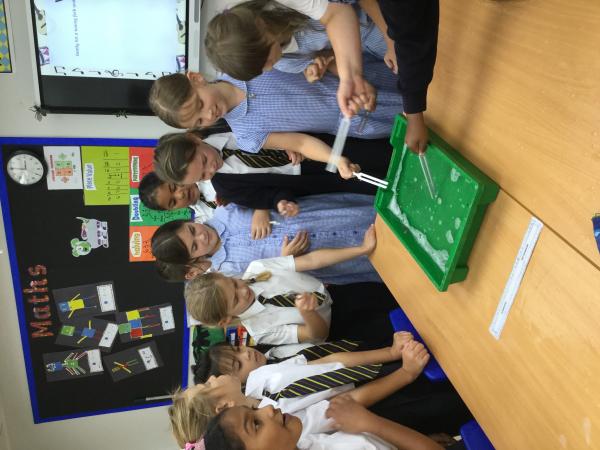 4G had great fun making Equadorian Worry Dolls as part of our return to school activities.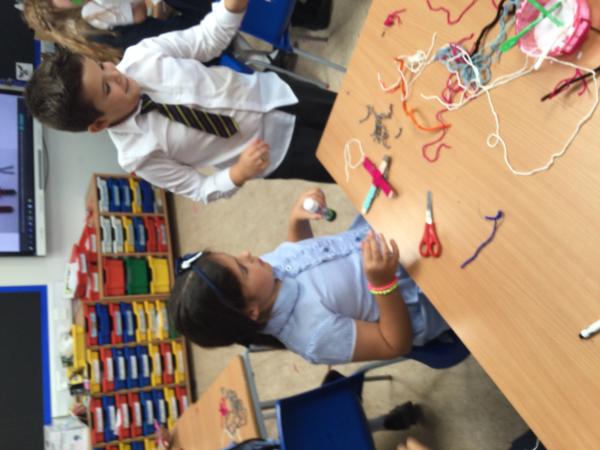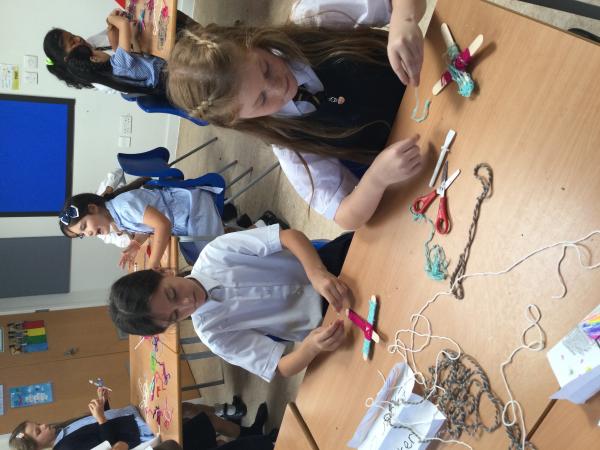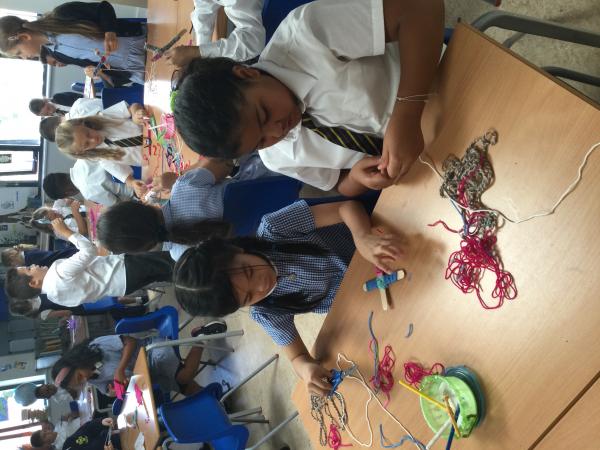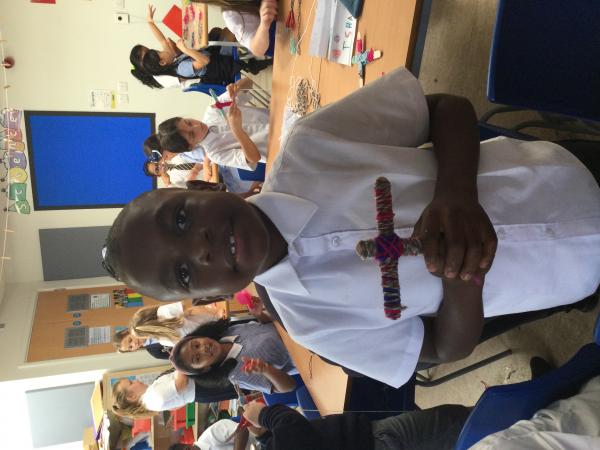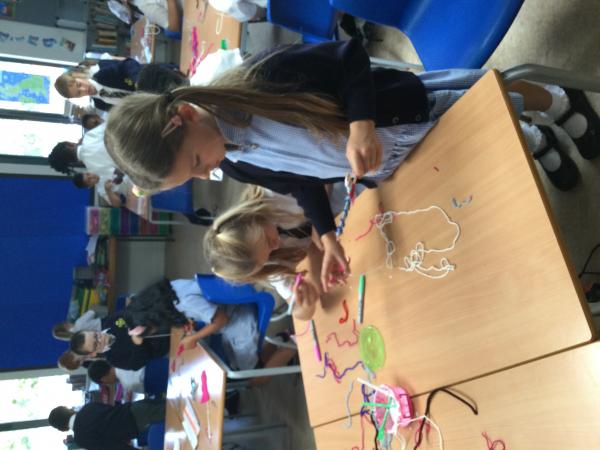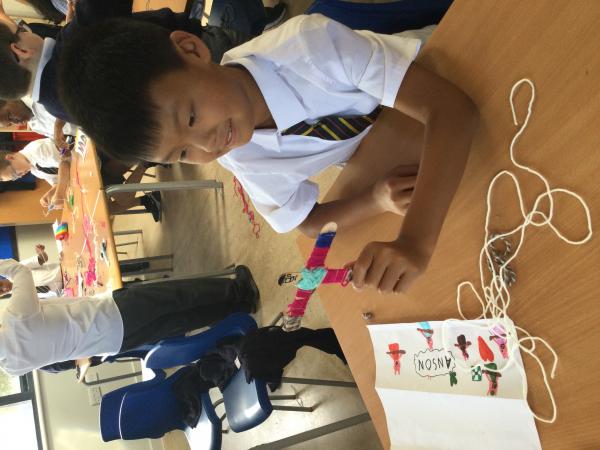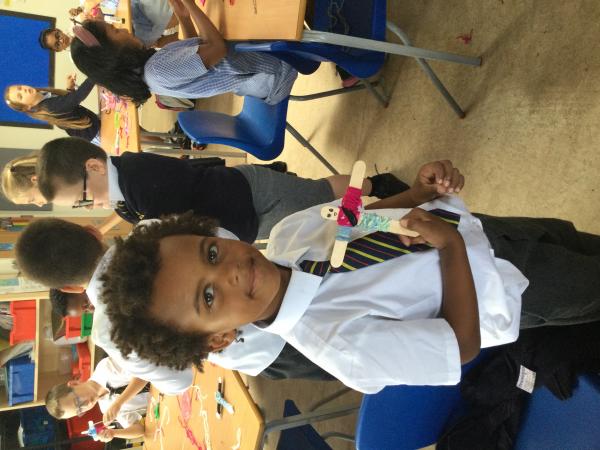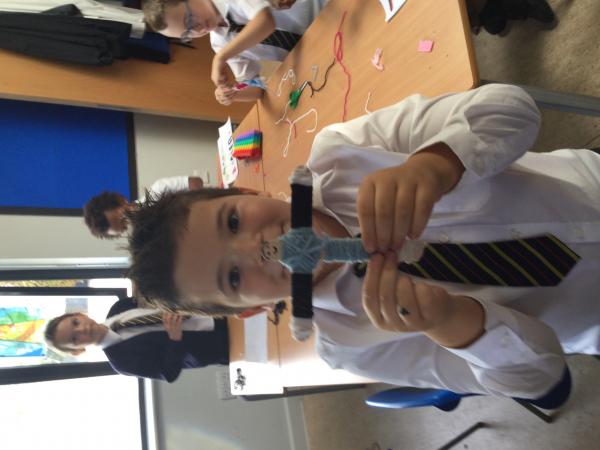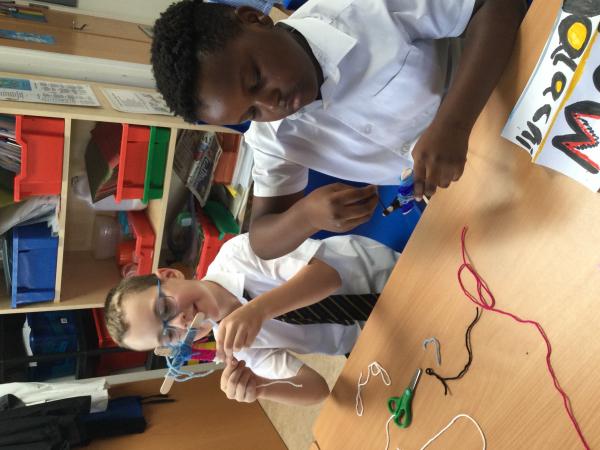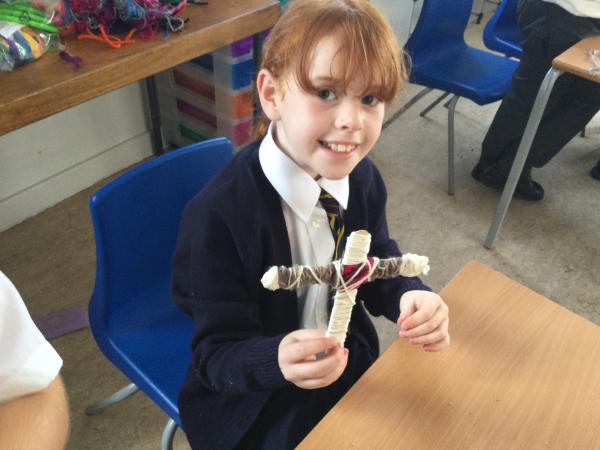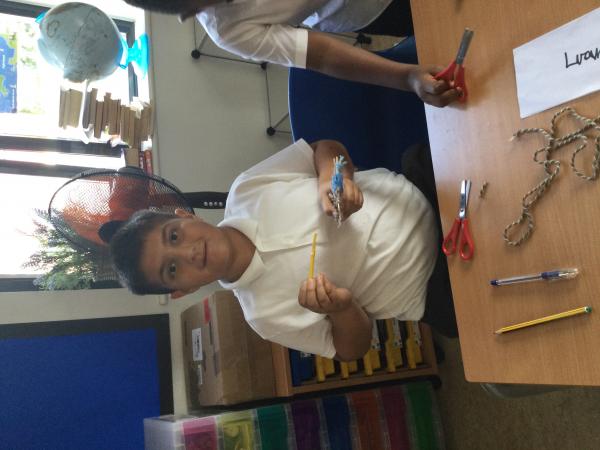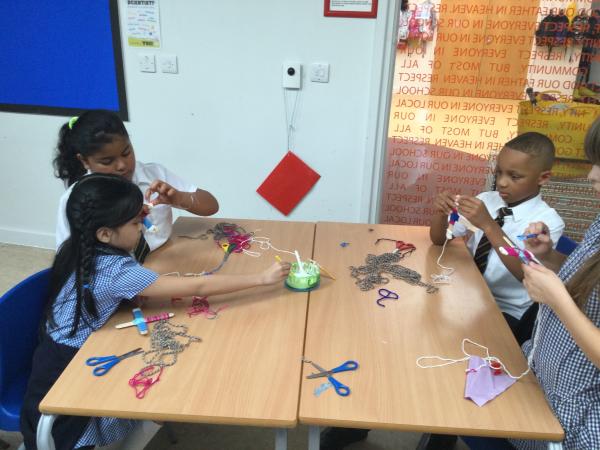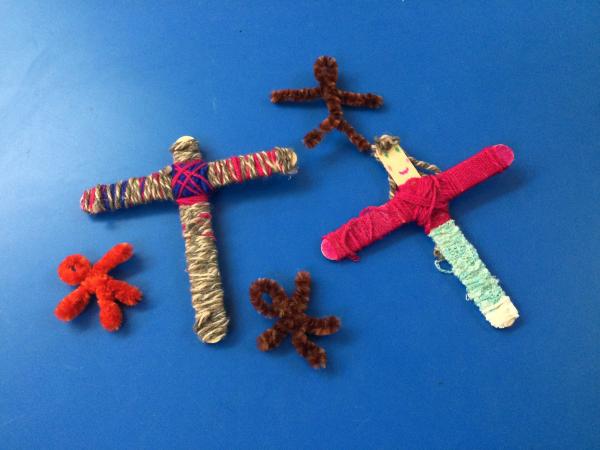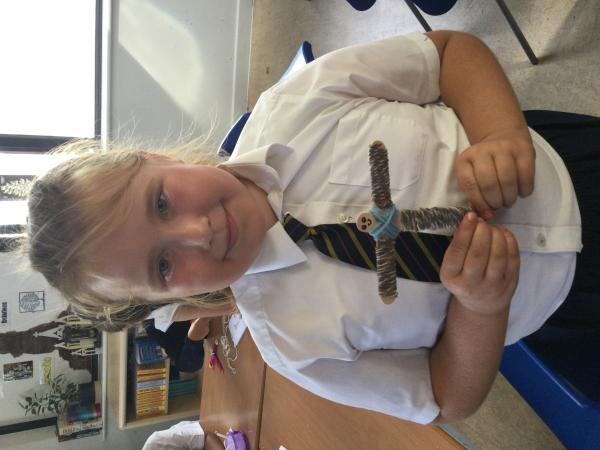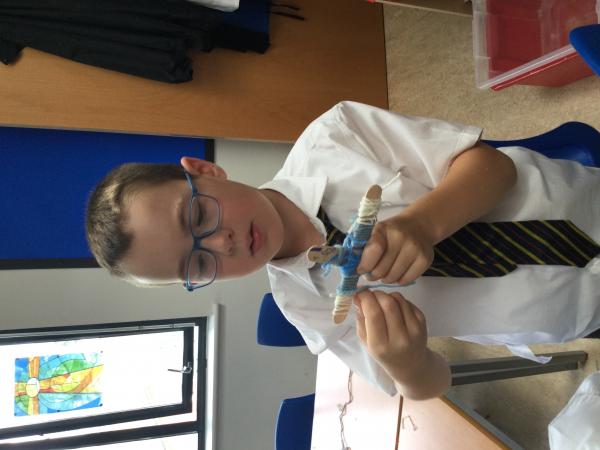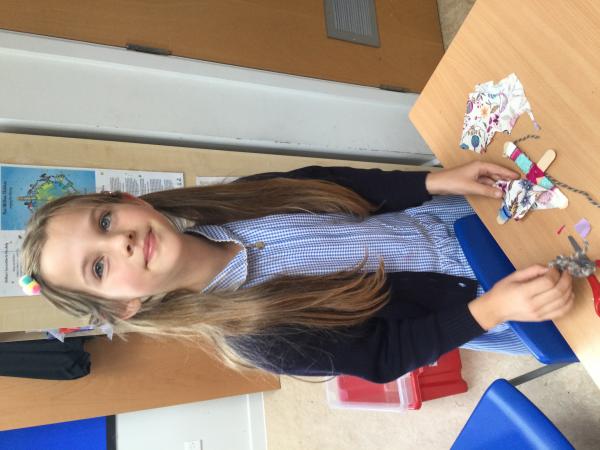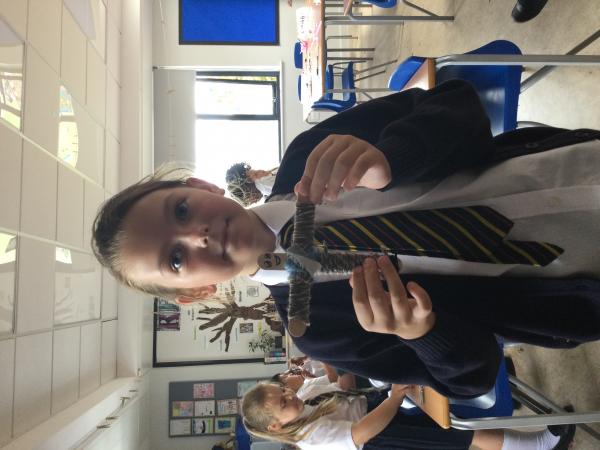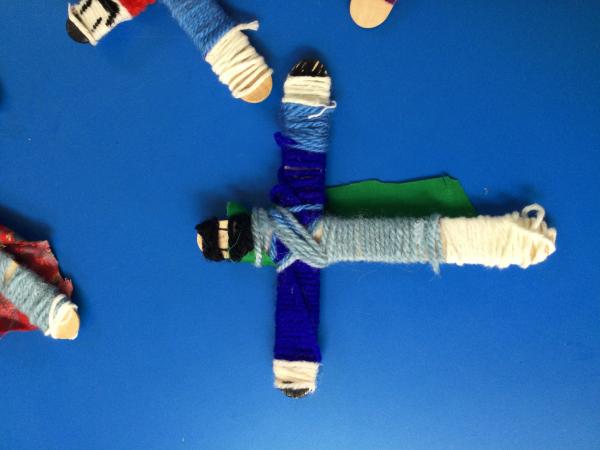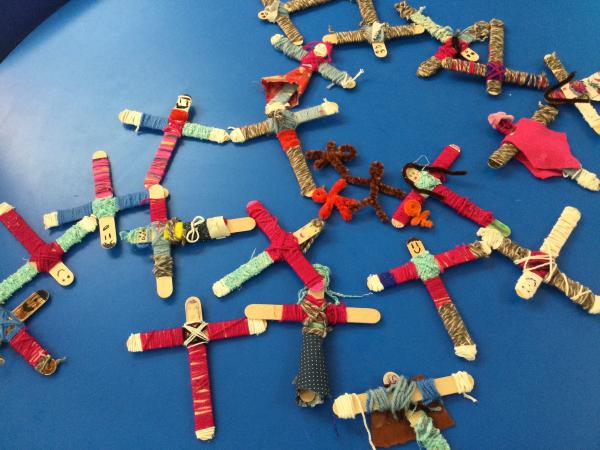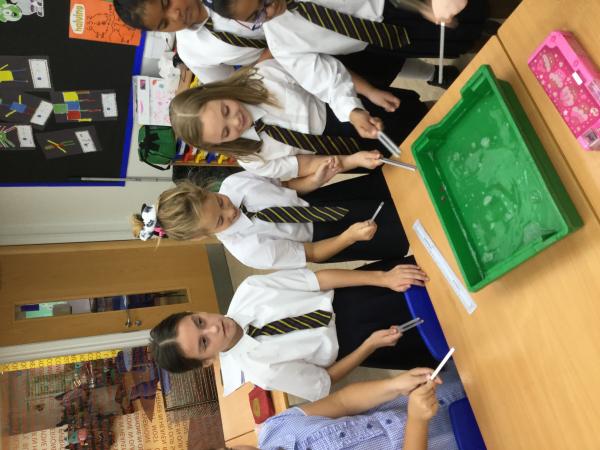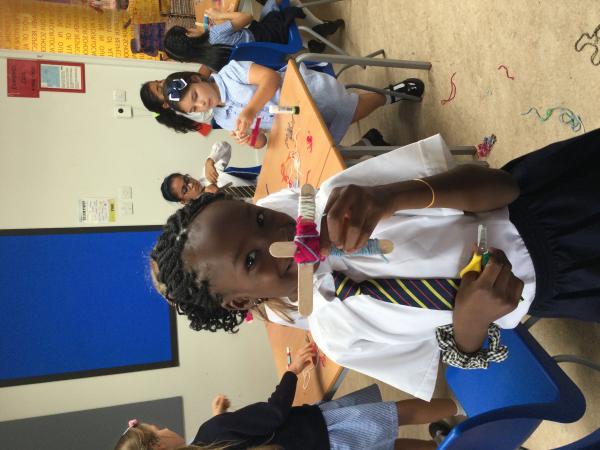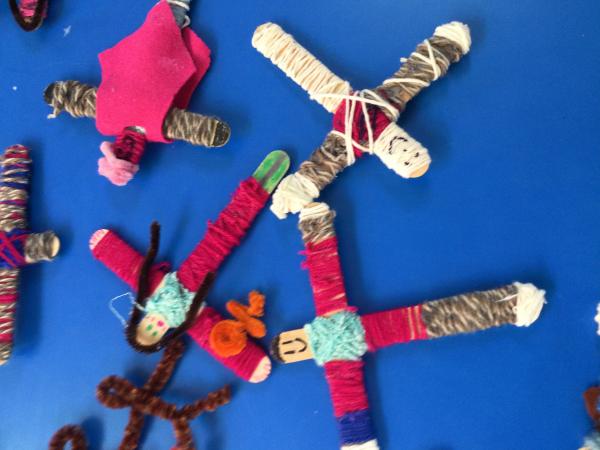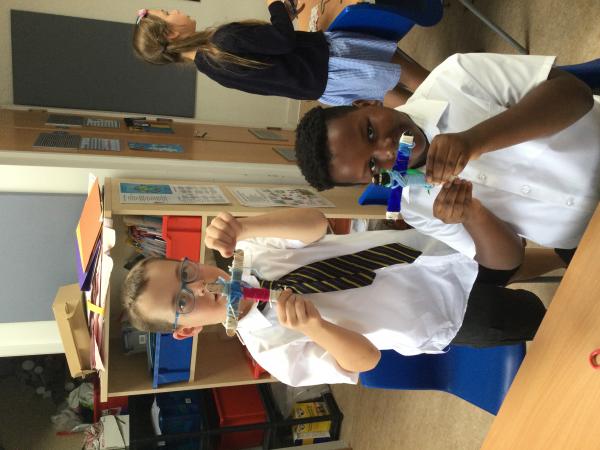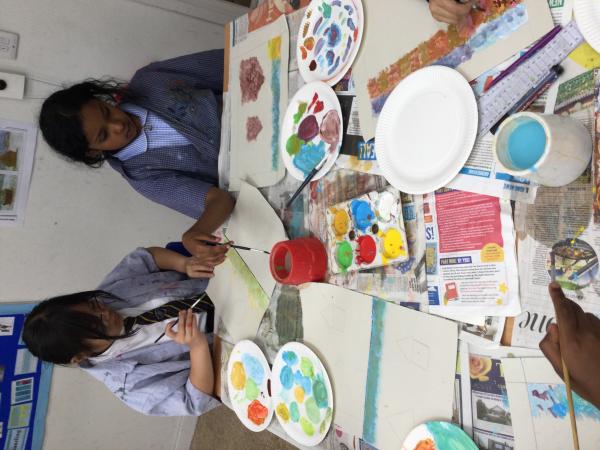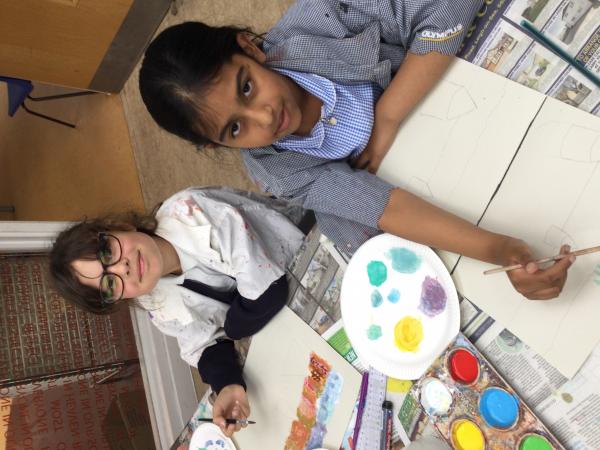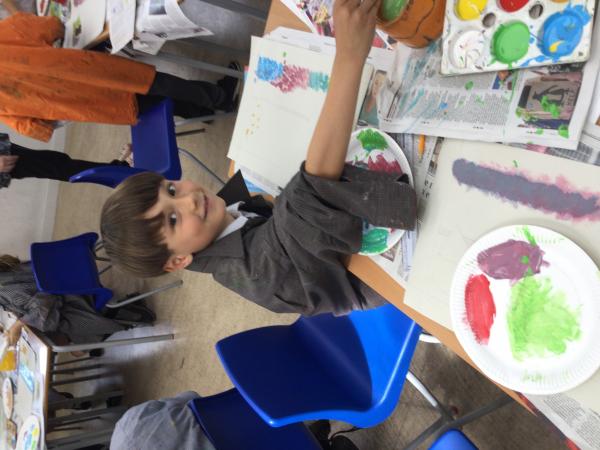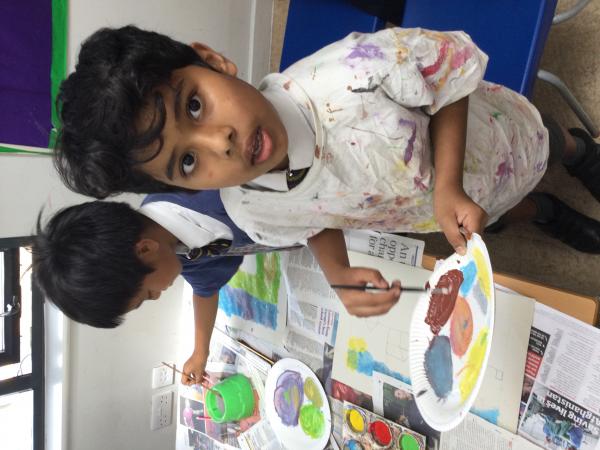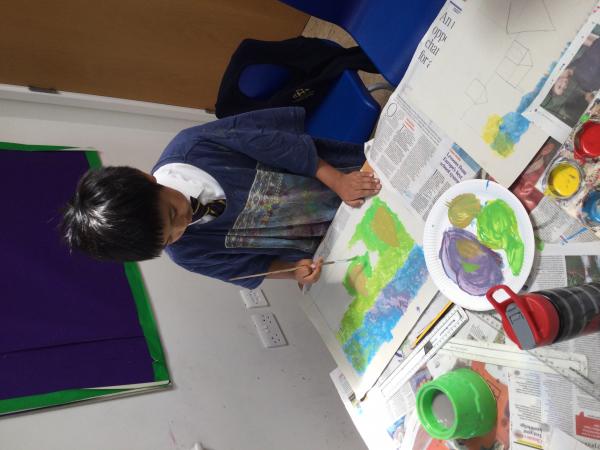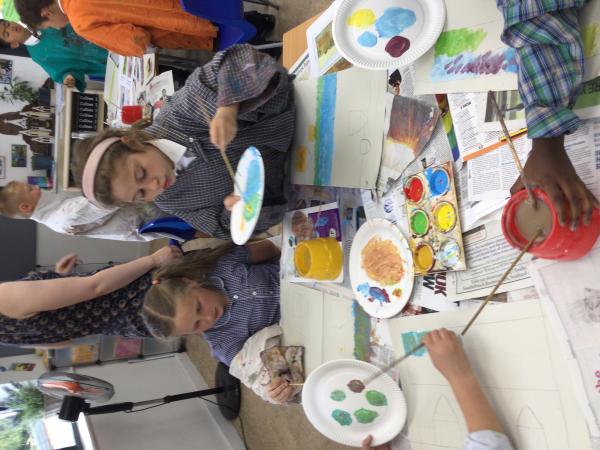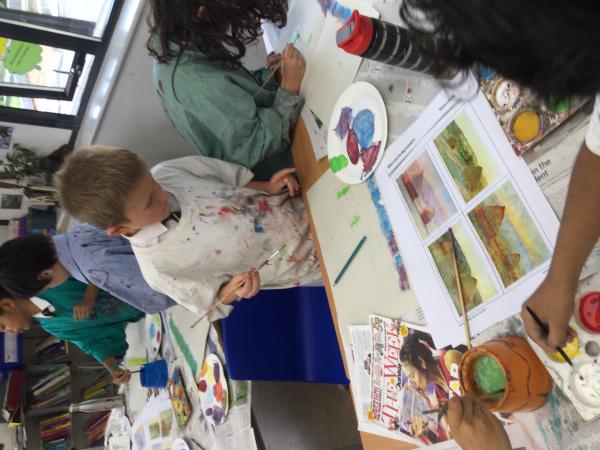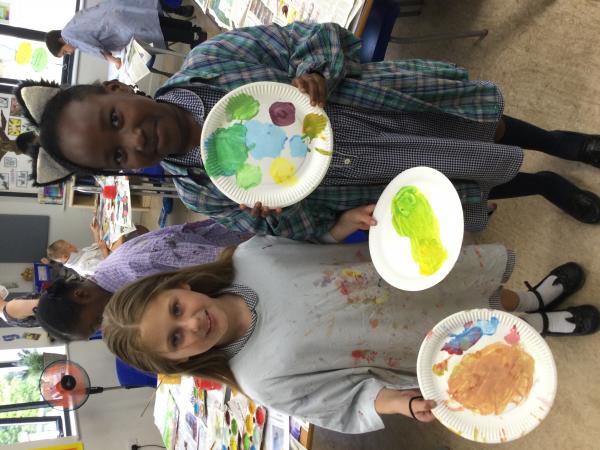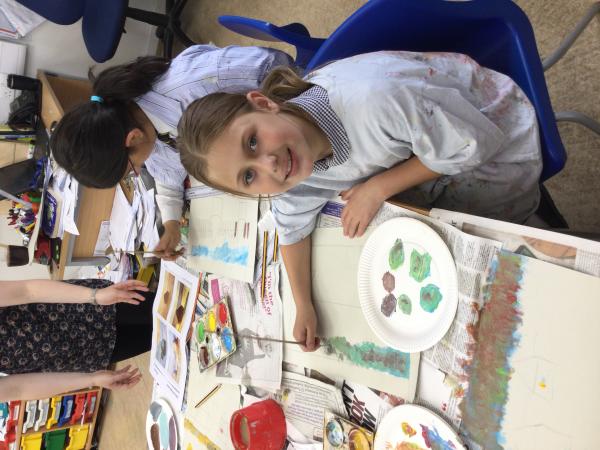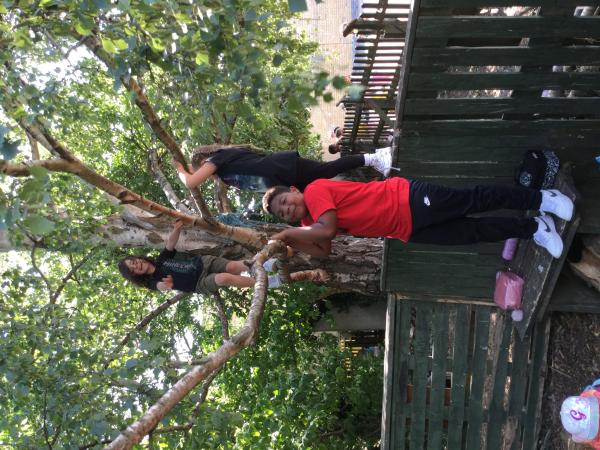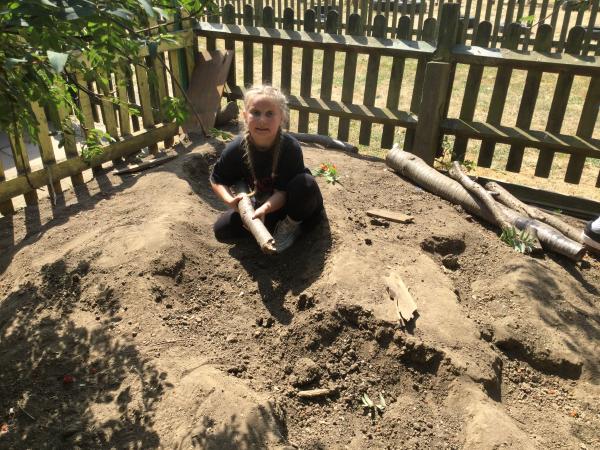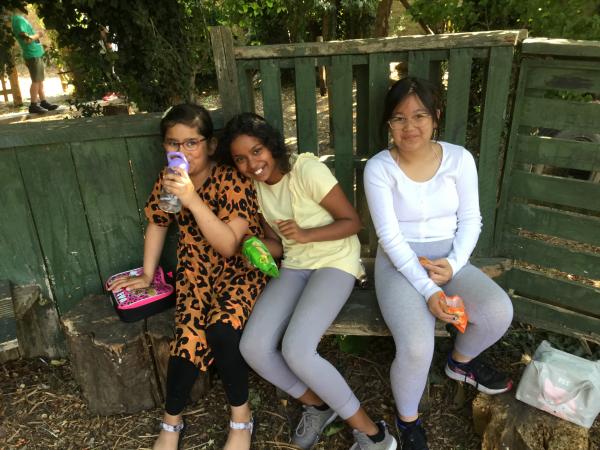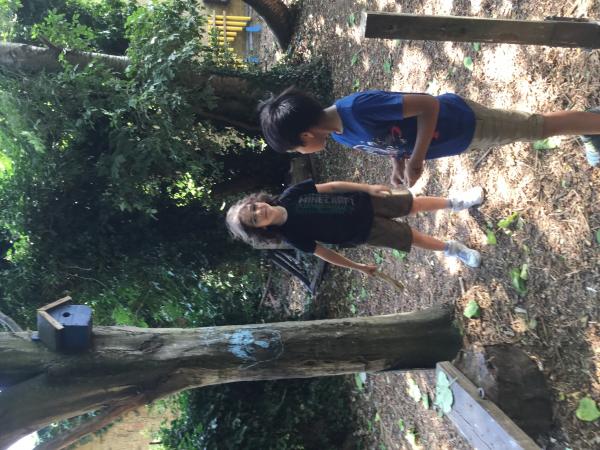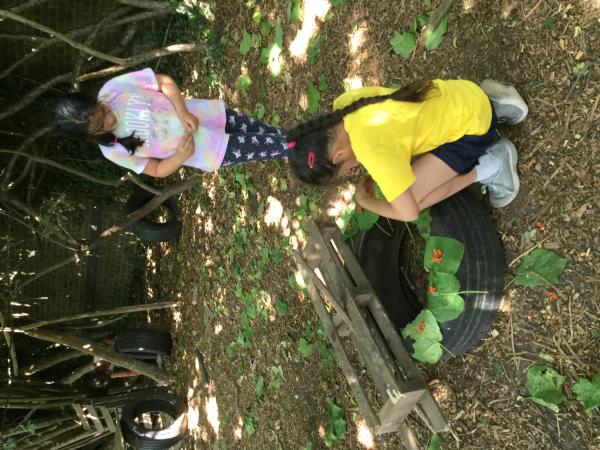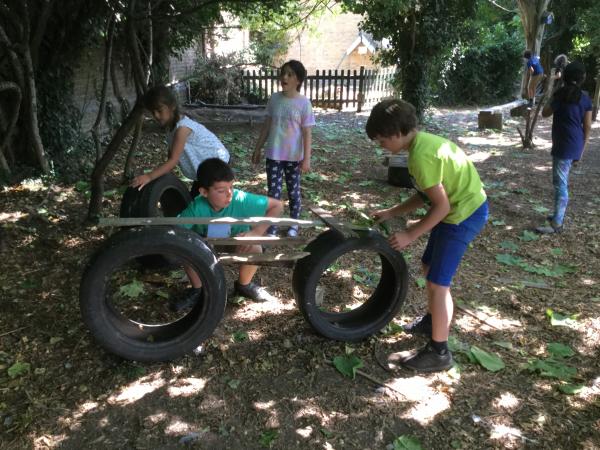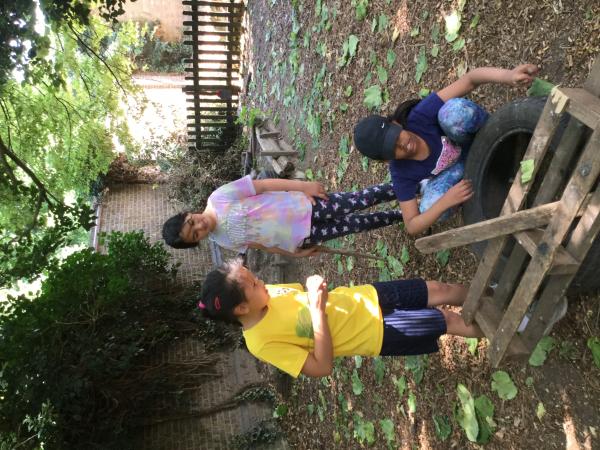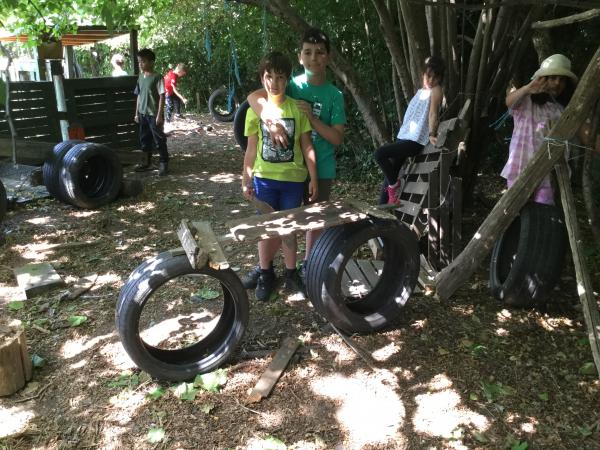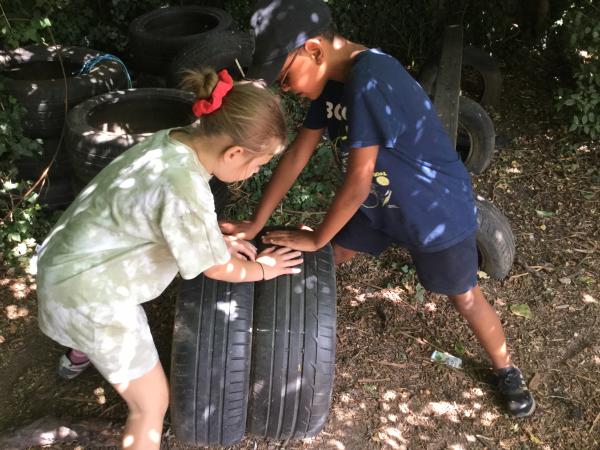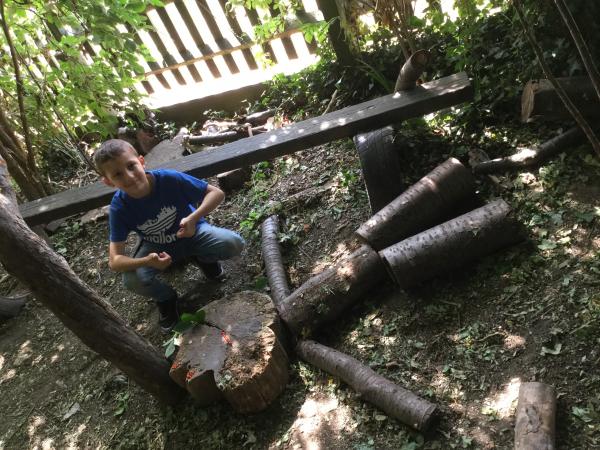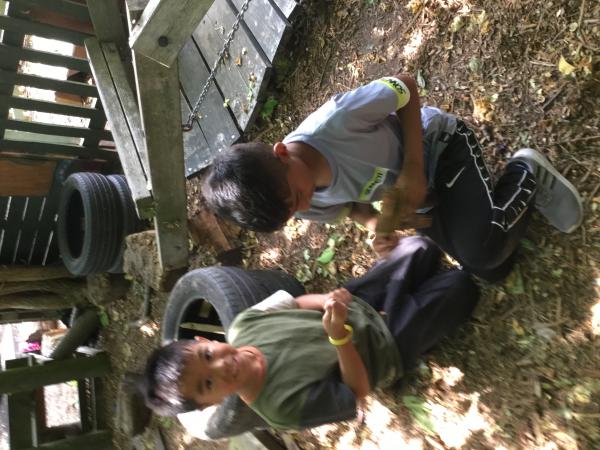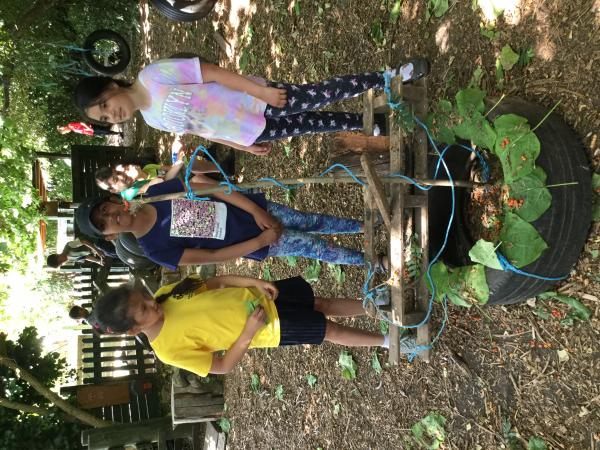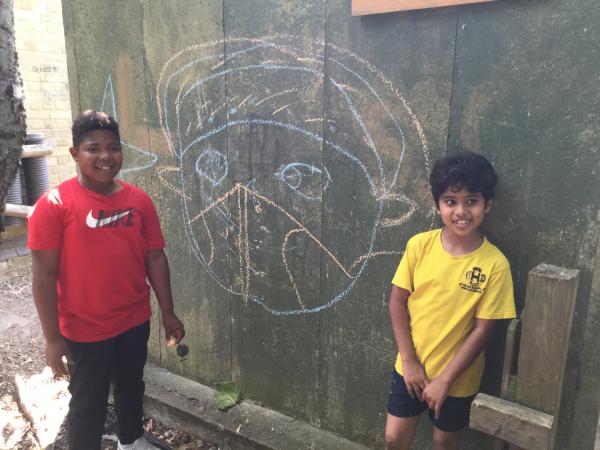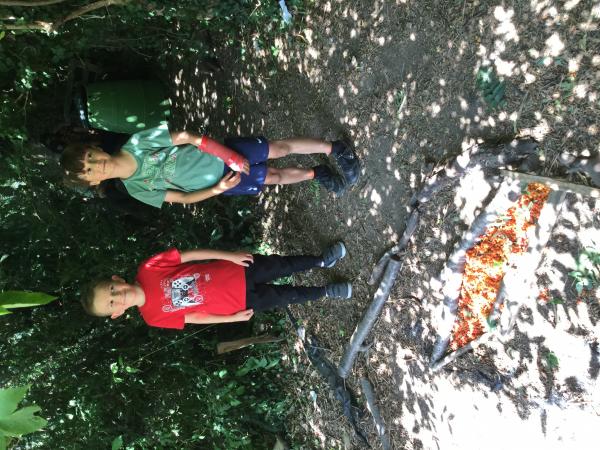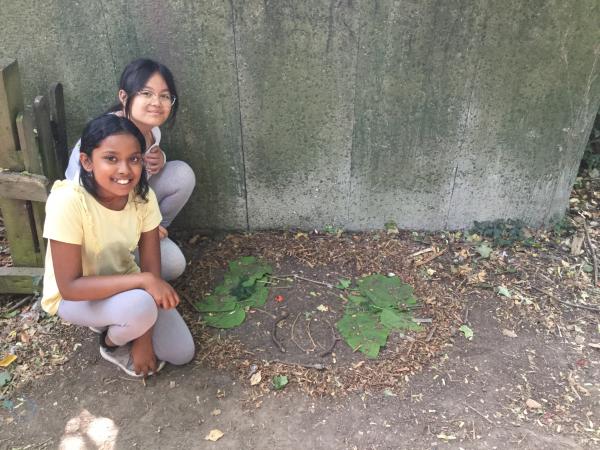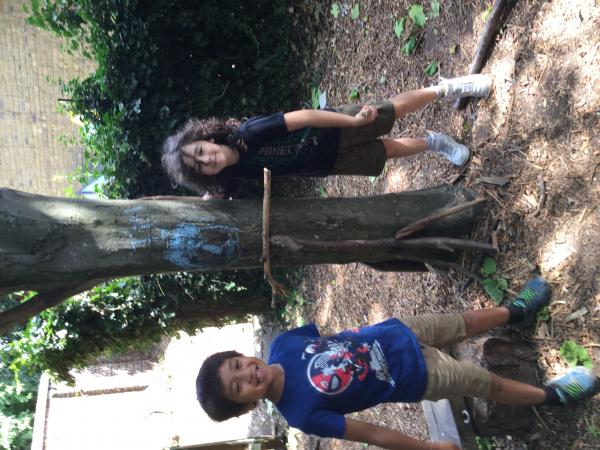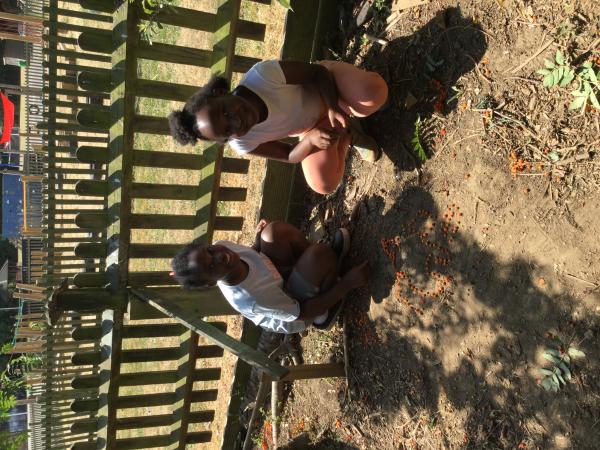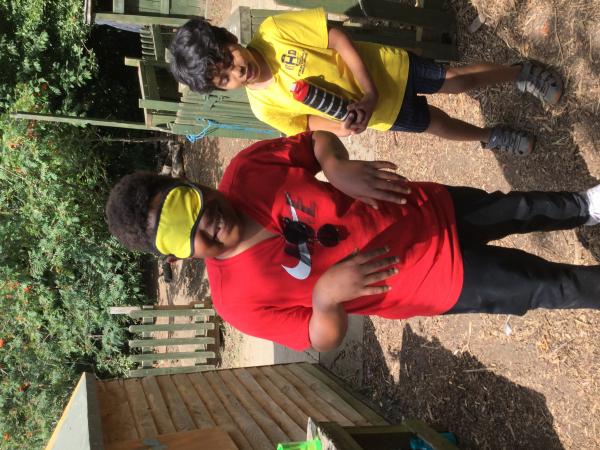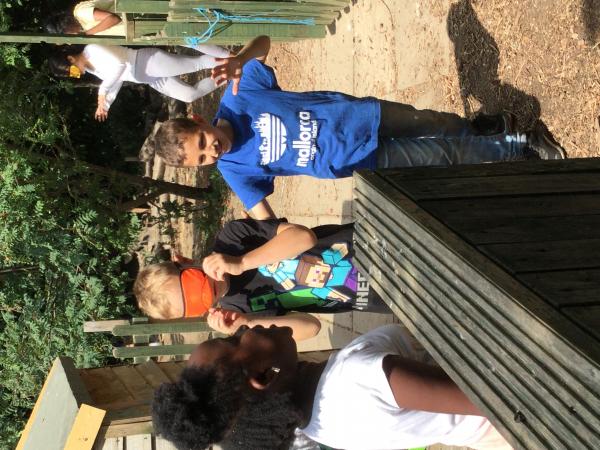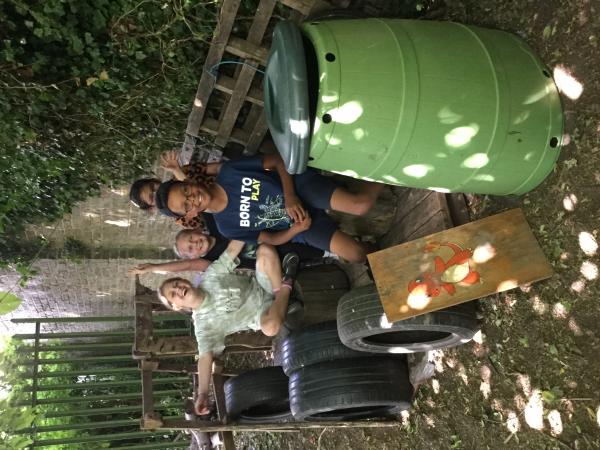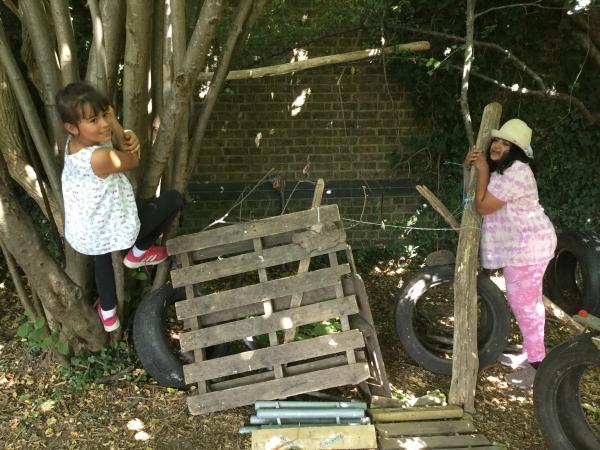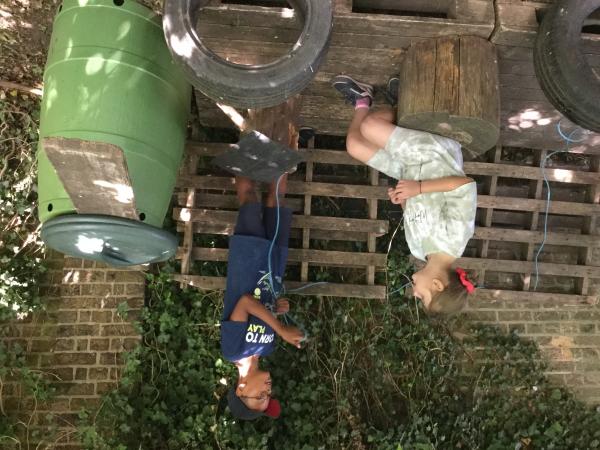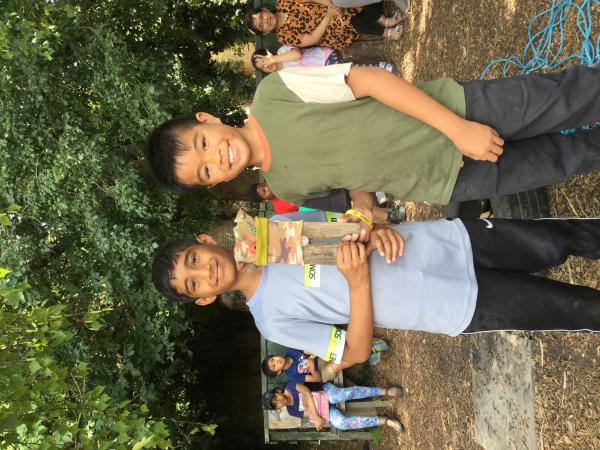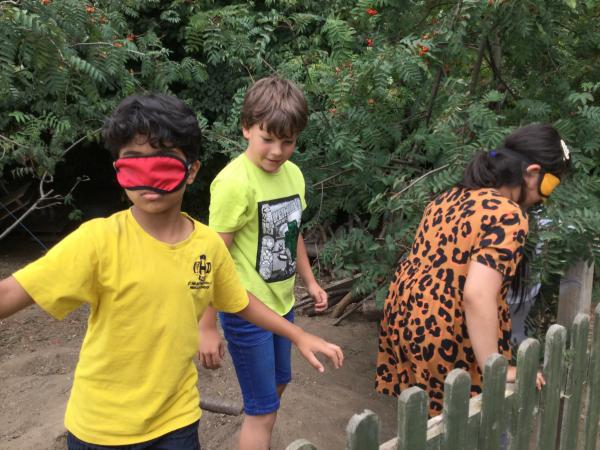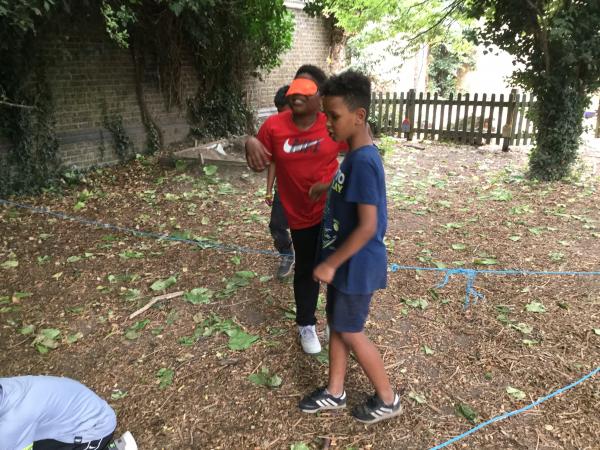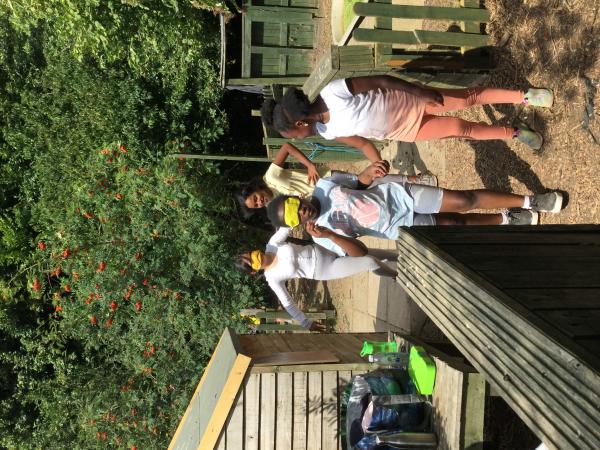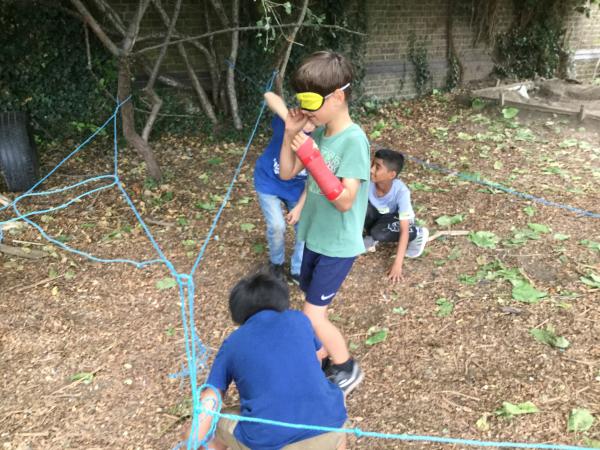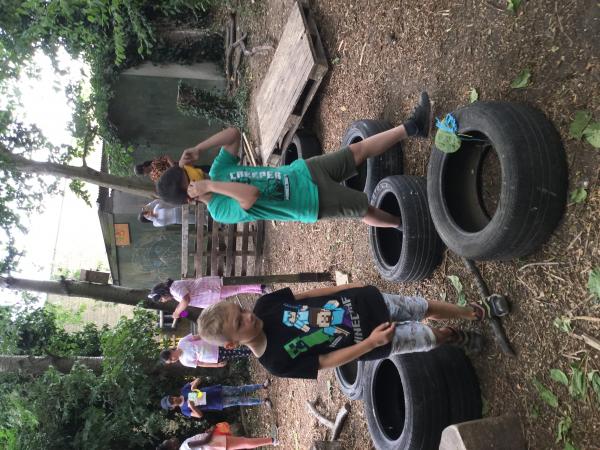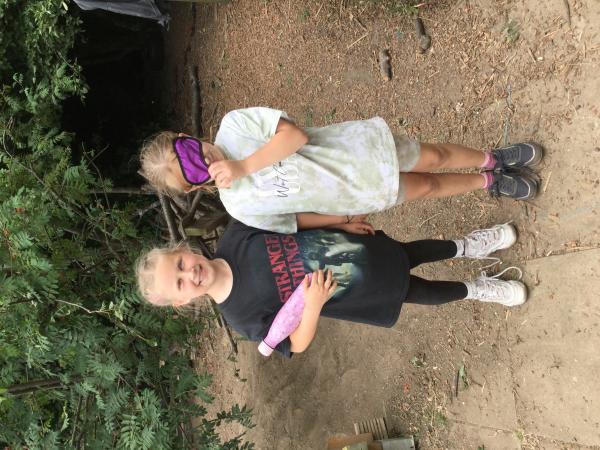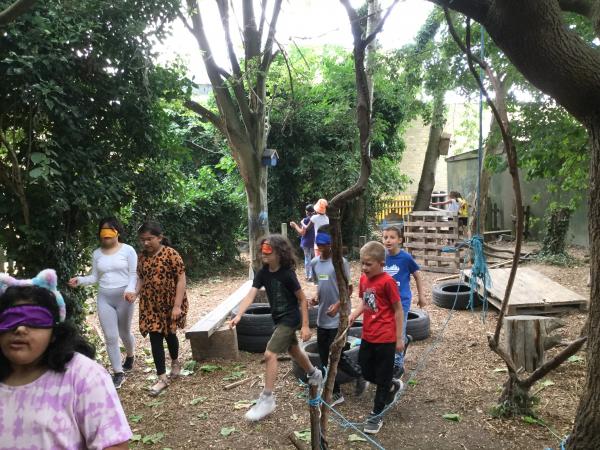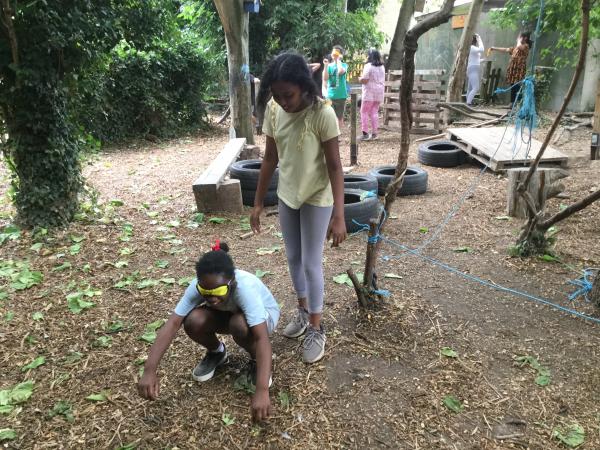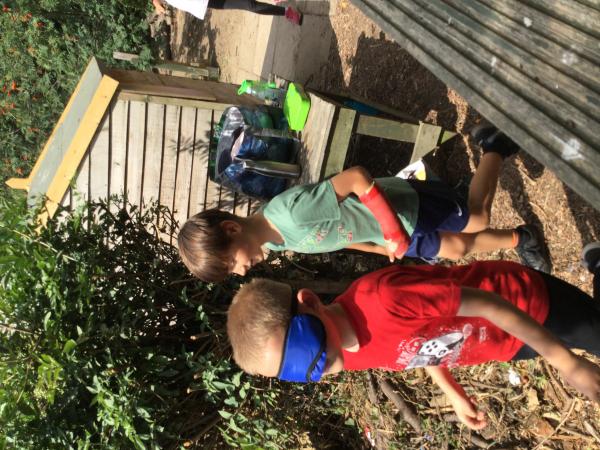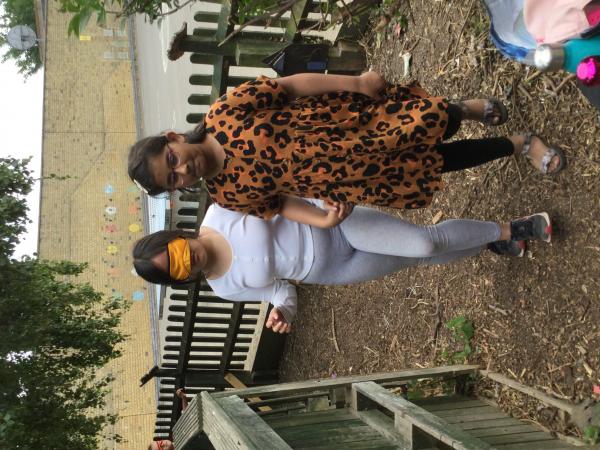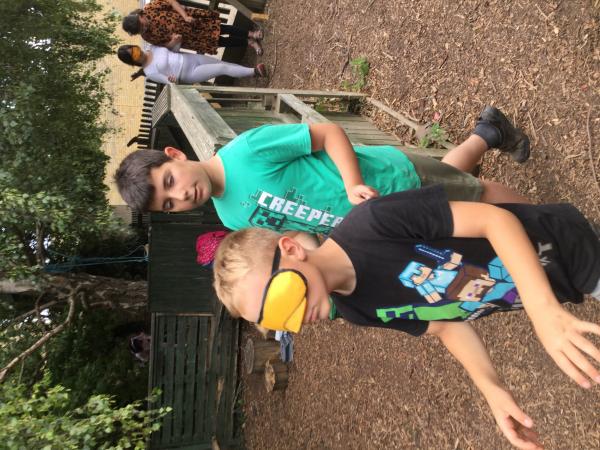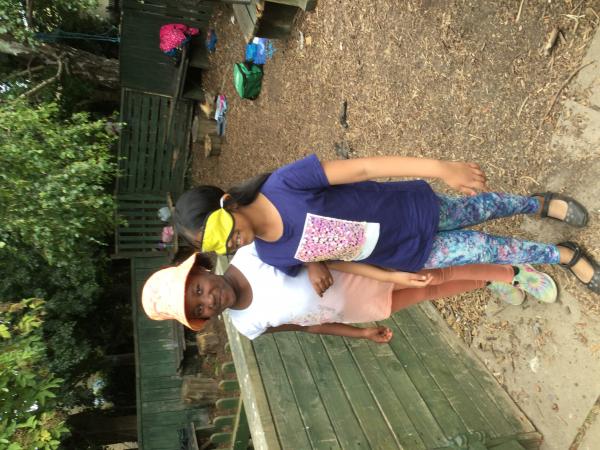 4 Gideon Visit to Priory Park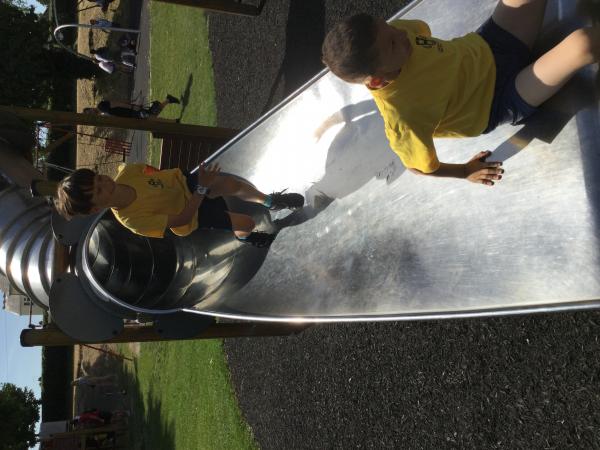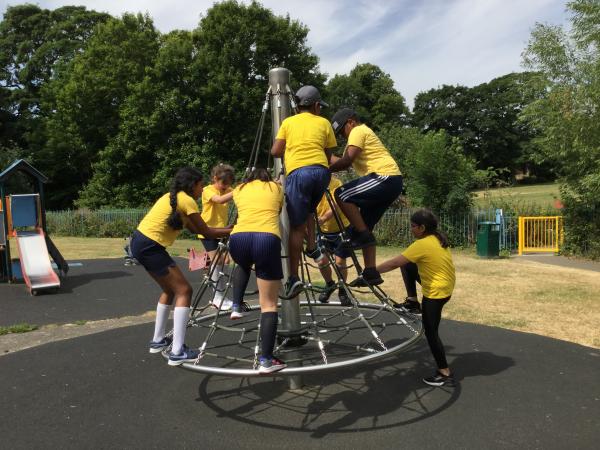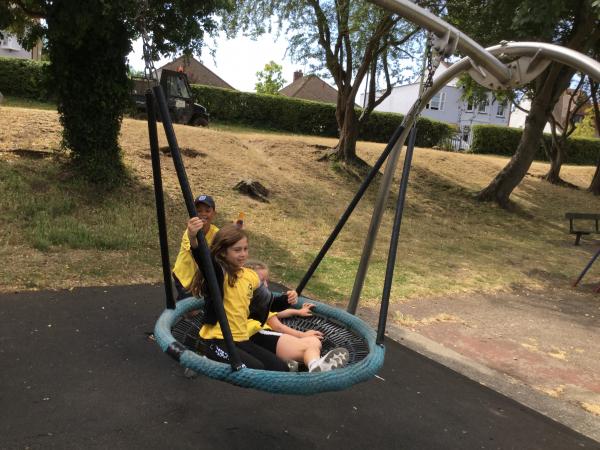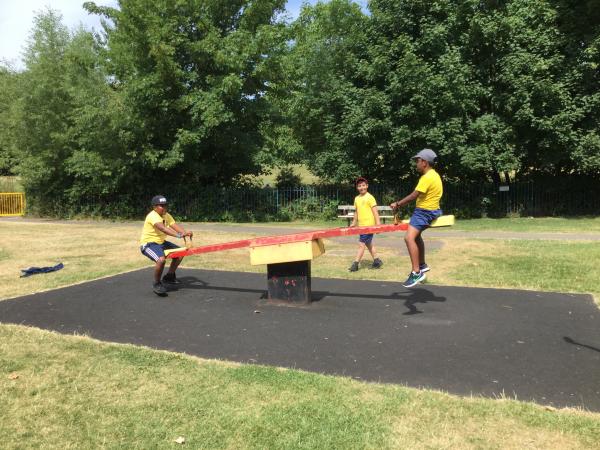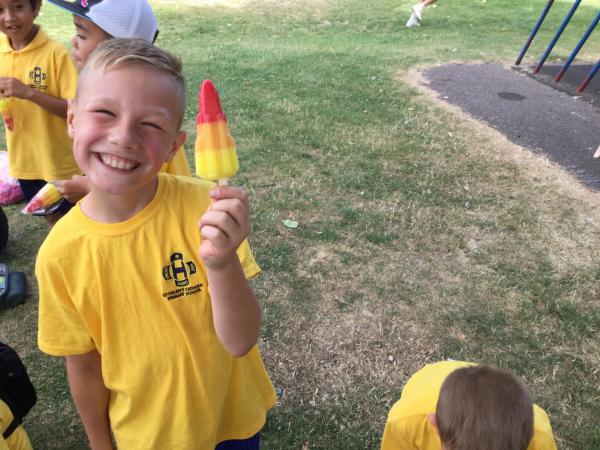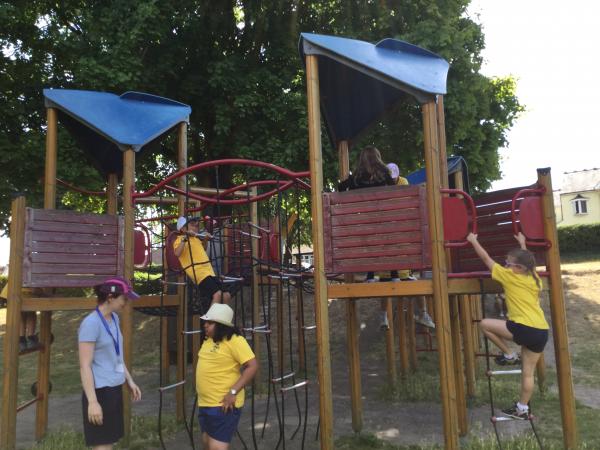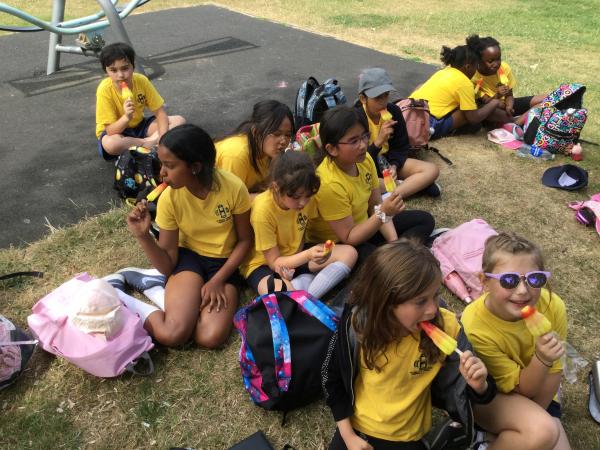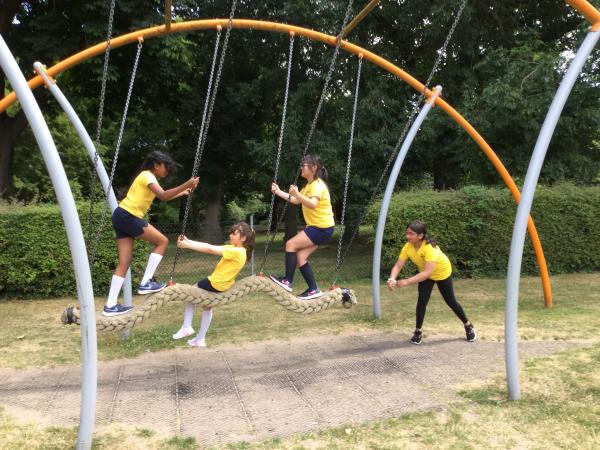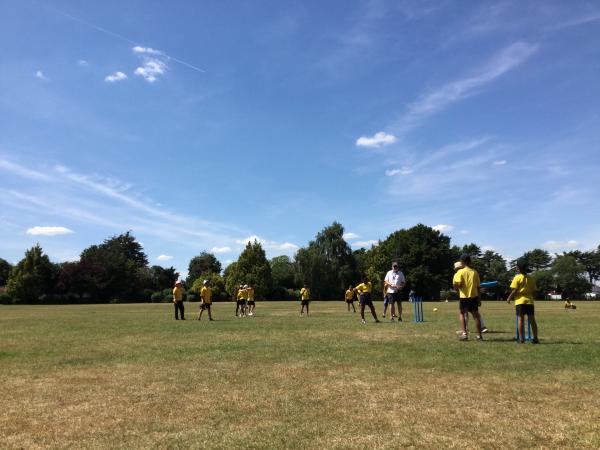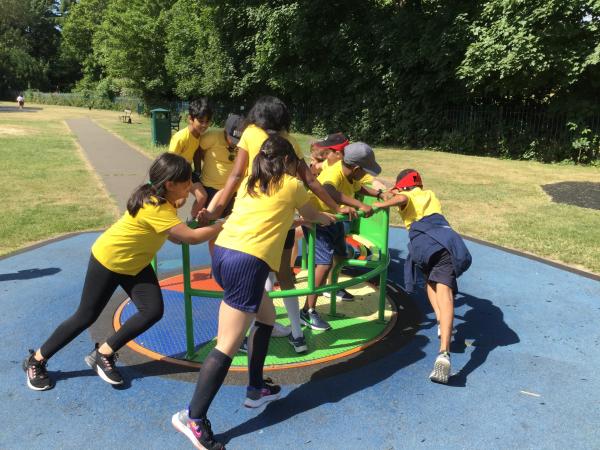 4 Gideon Water Filtration Experiment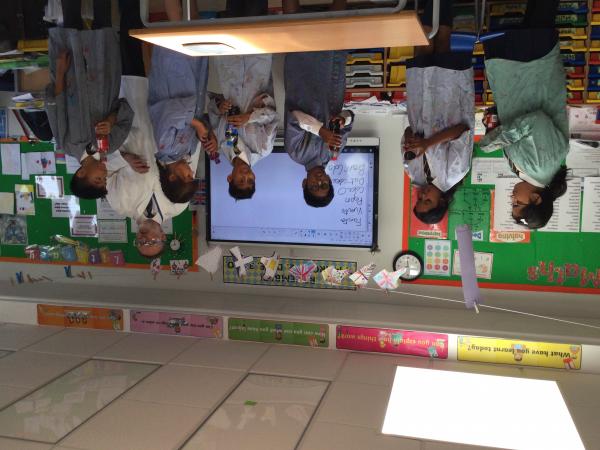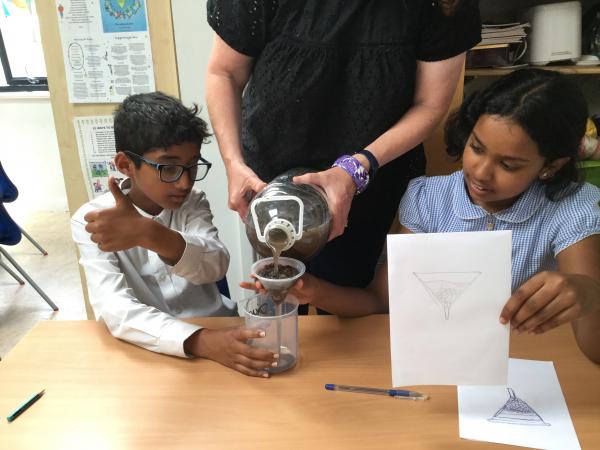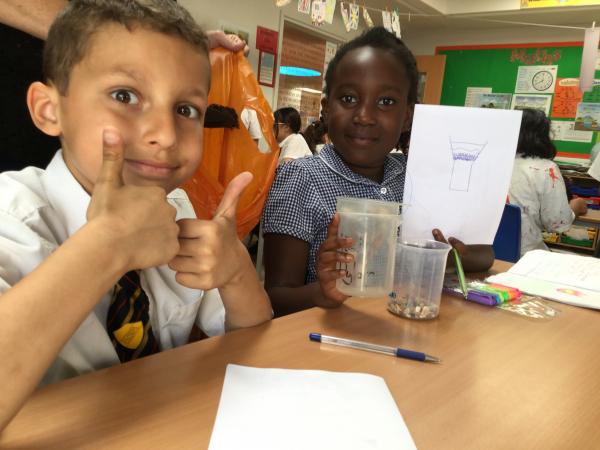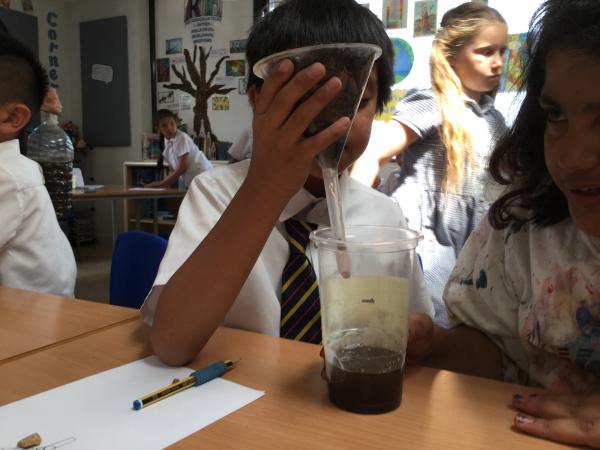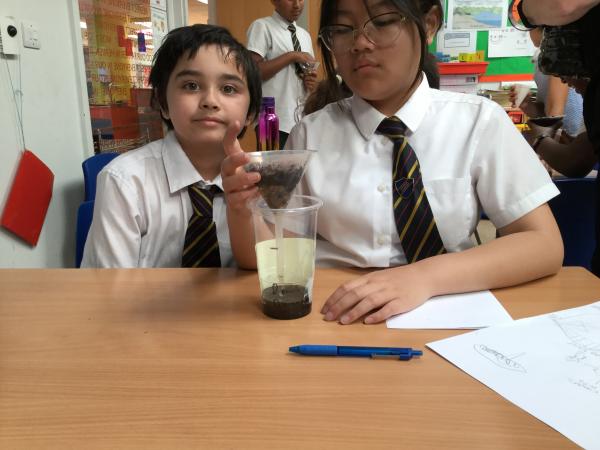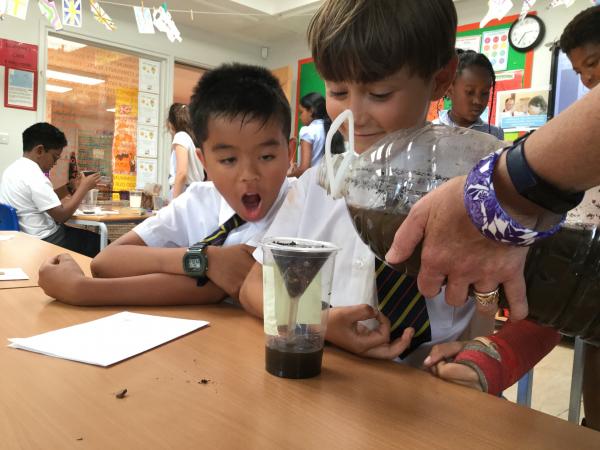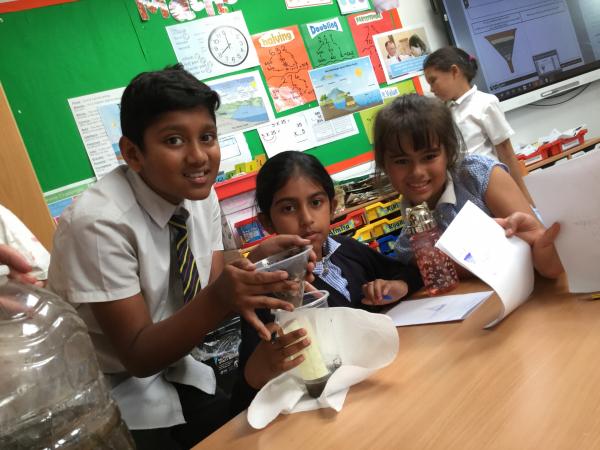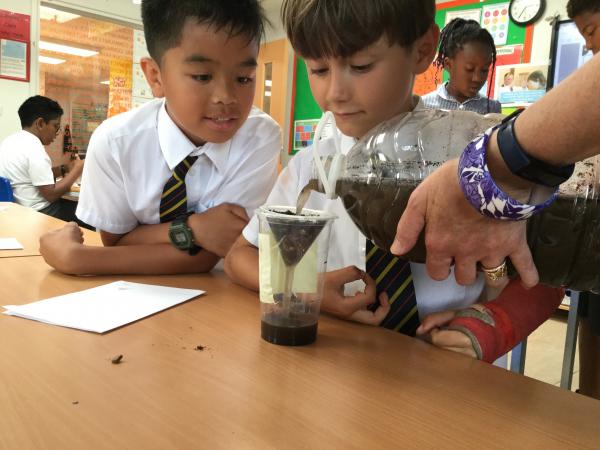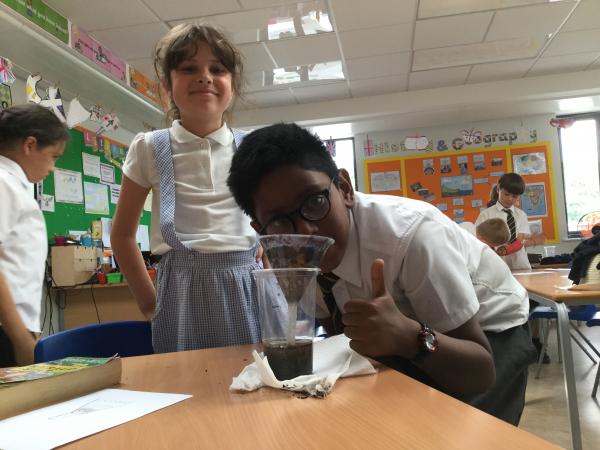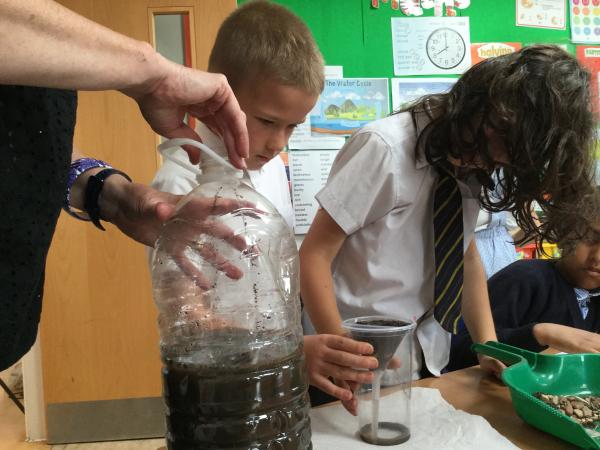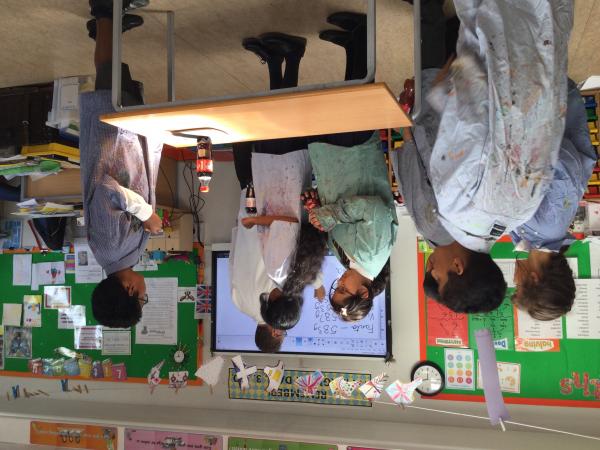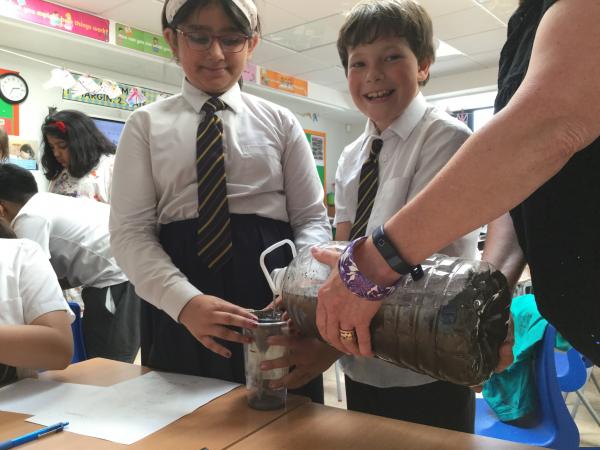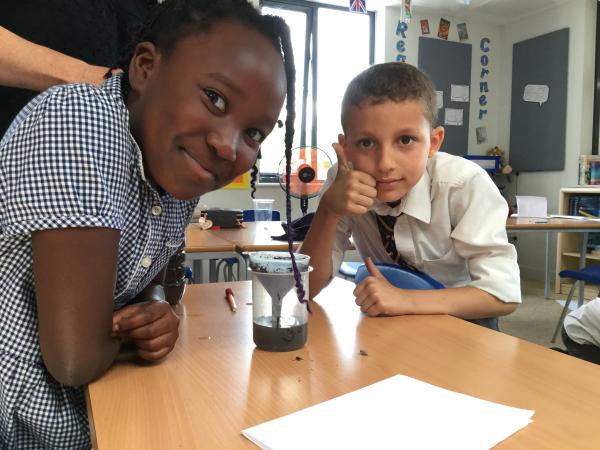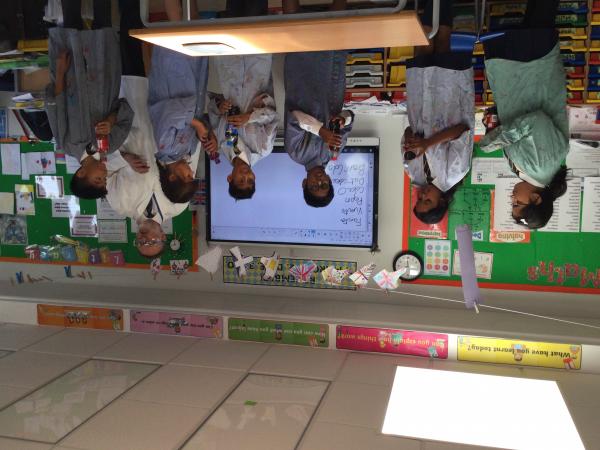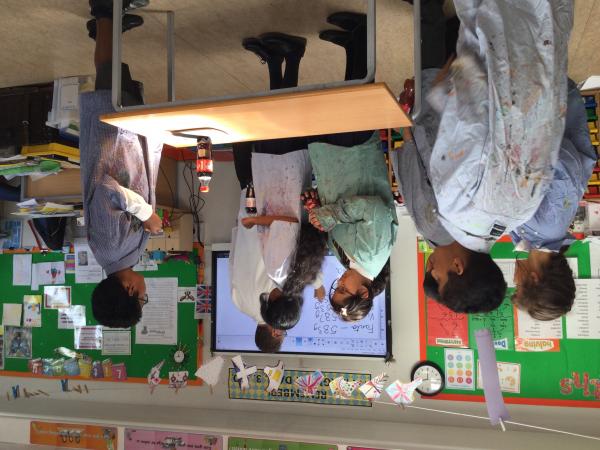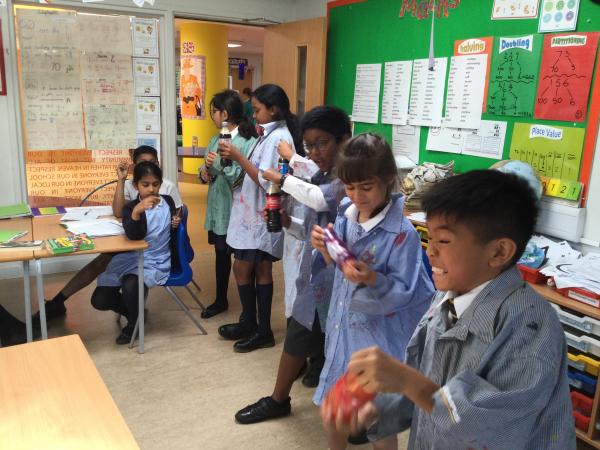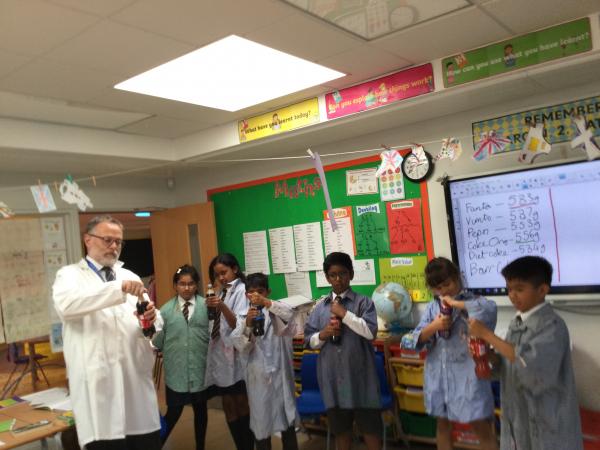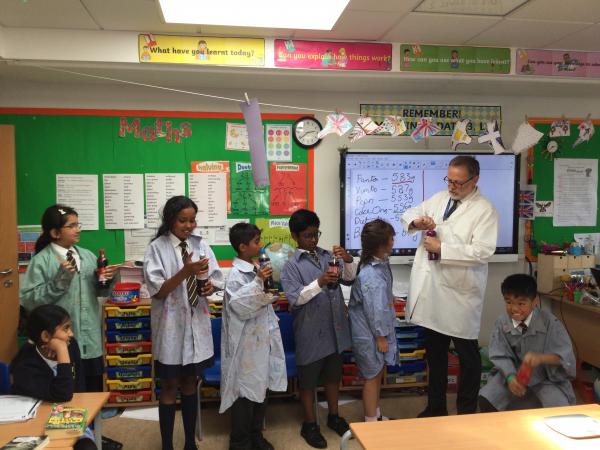 Year 4 enjoyed a drama workshop on how to save water from Essex and Suffolk Water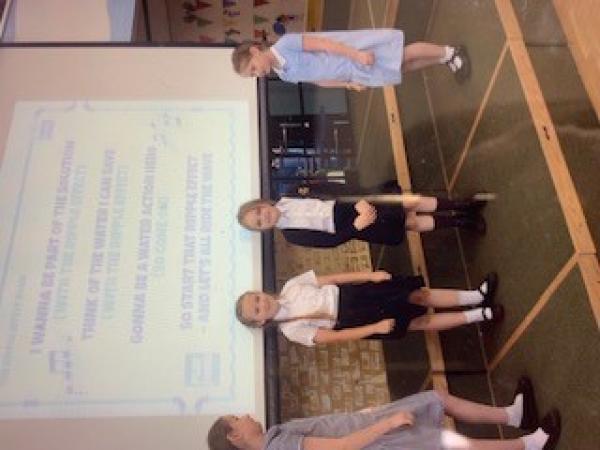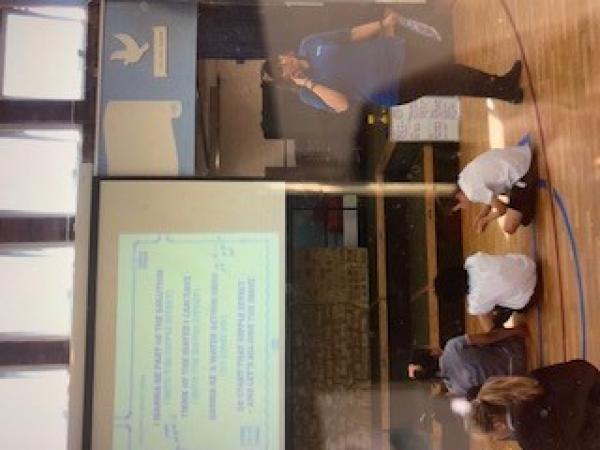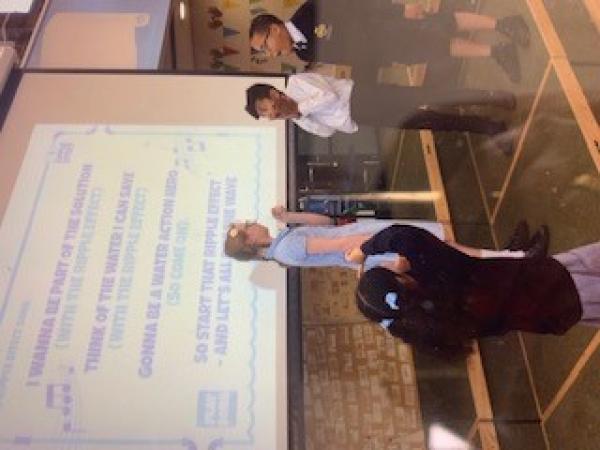 4 Gideon enjoying outdoor learning
Year 4 had a busy morning participating in outdoor learning. They mixed cornflour and water to make dragon's snot - officially a non-newtonian fluid. It acts like a solid when we roll it into a ball but then like a liquid when they left it alone. After this, they moved to the nature area - playing together and also making smores.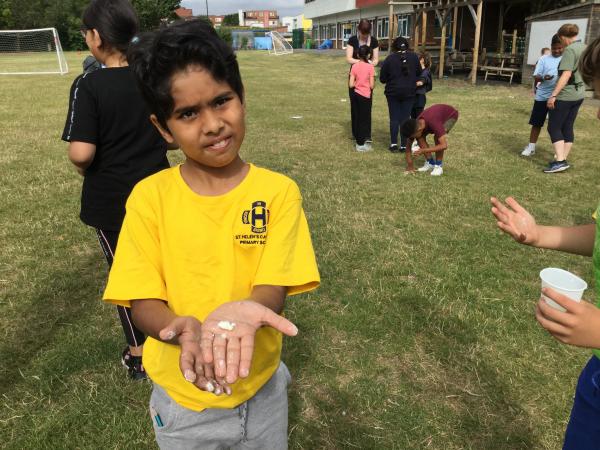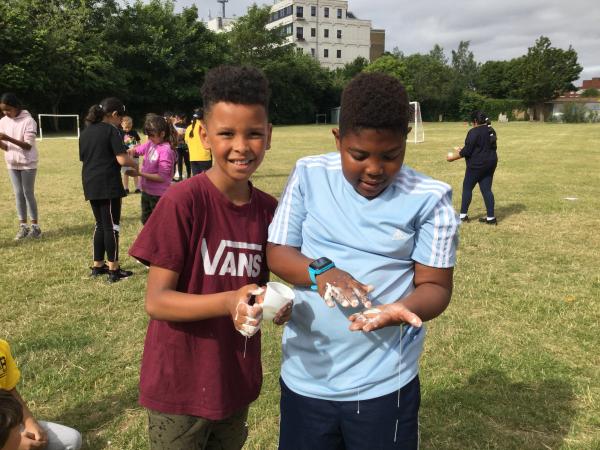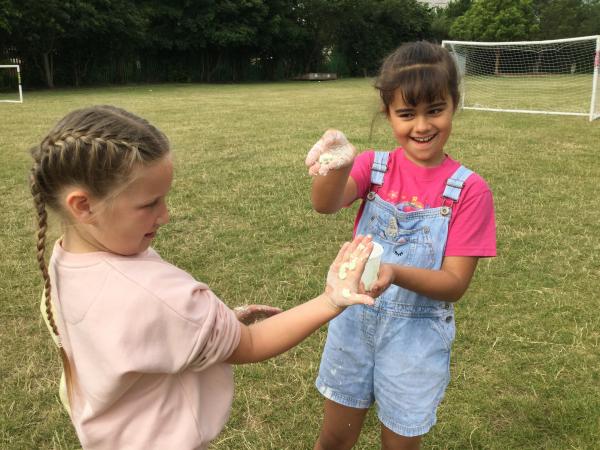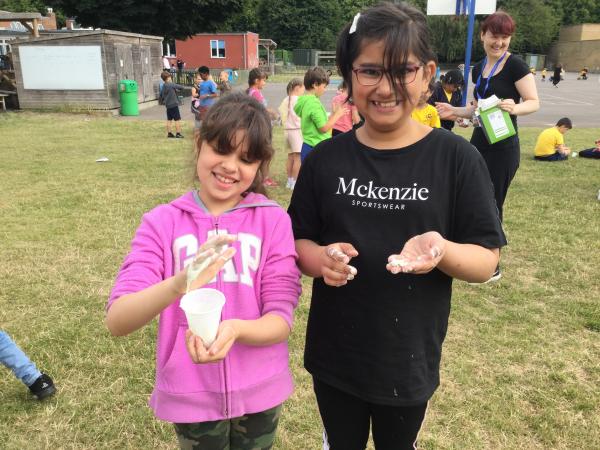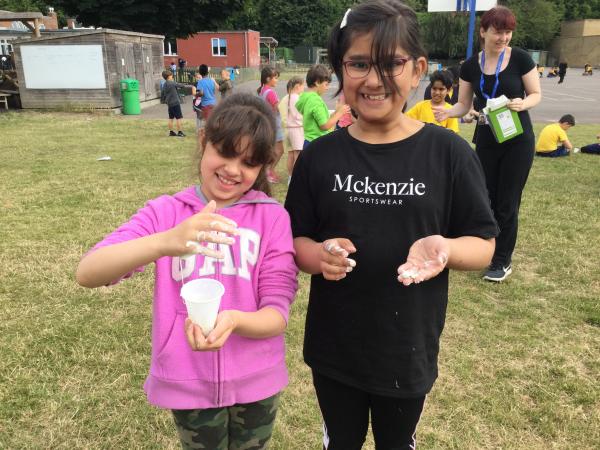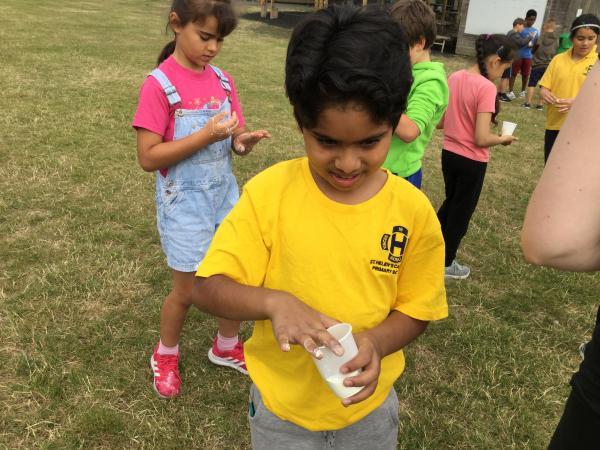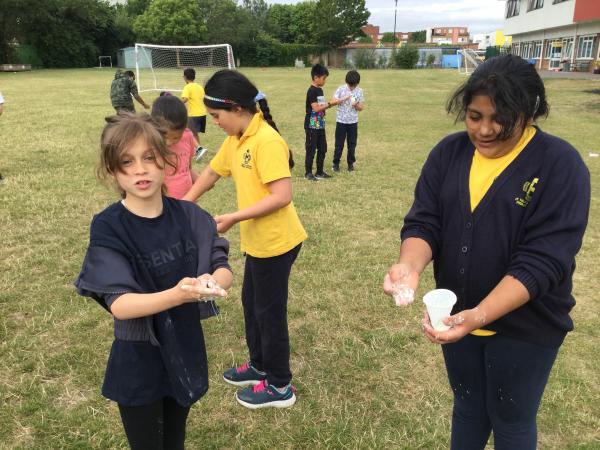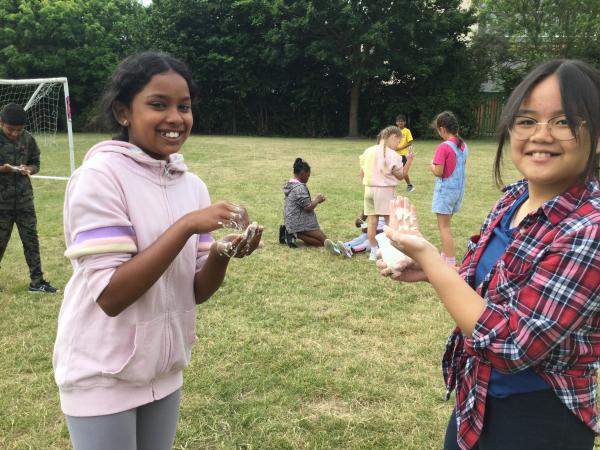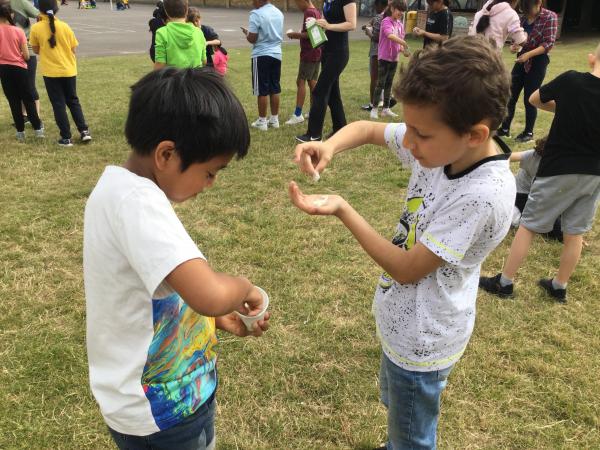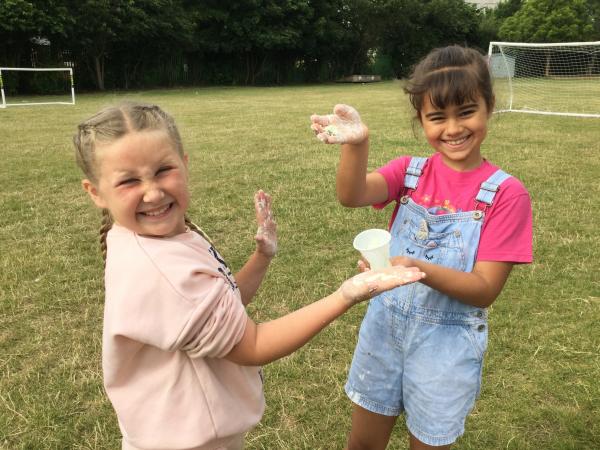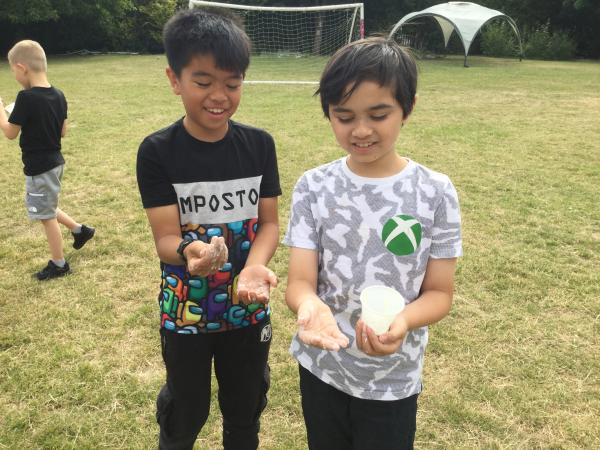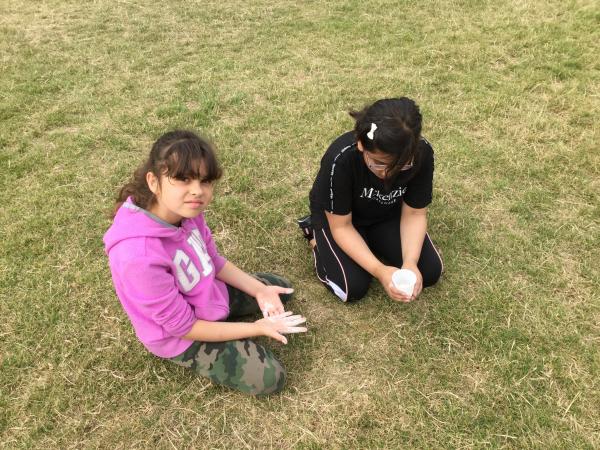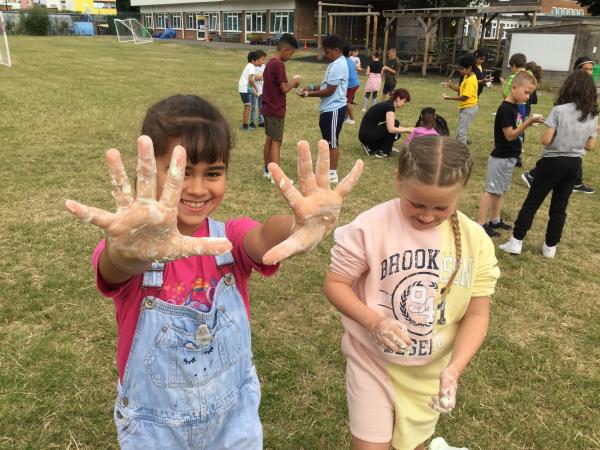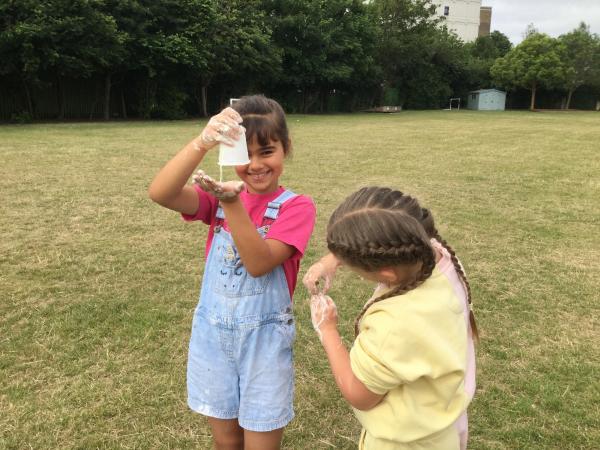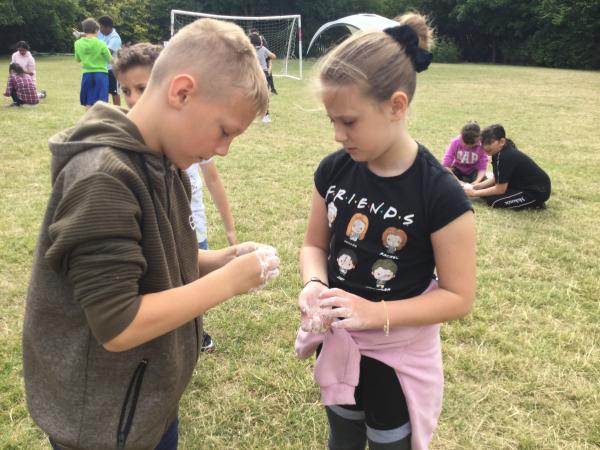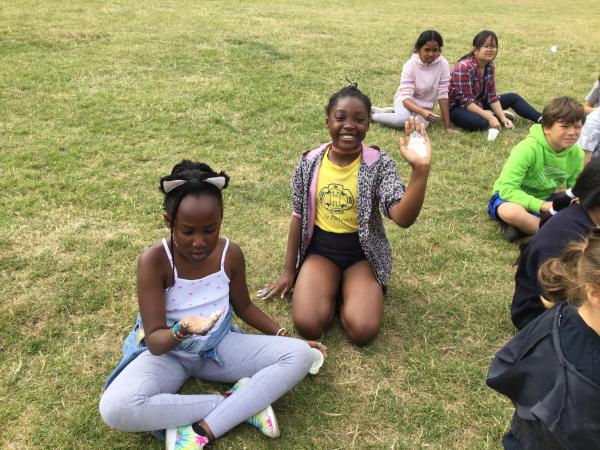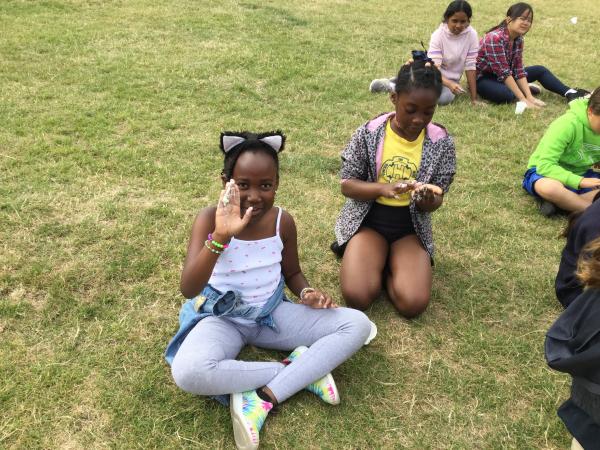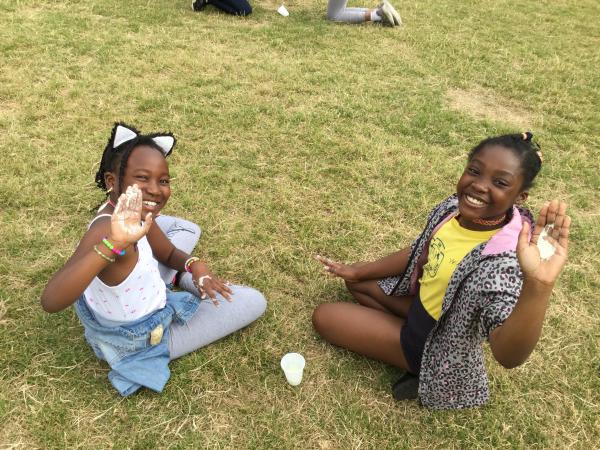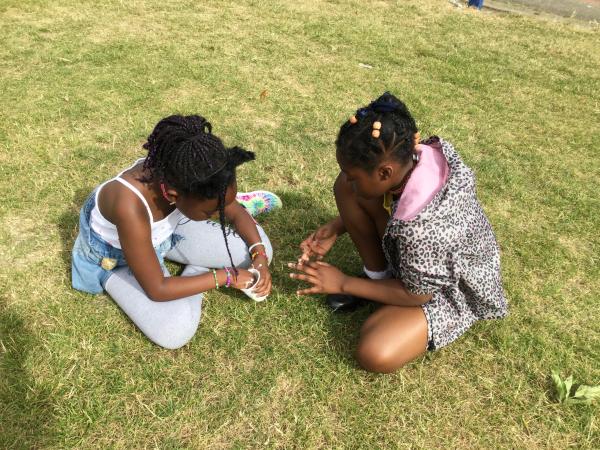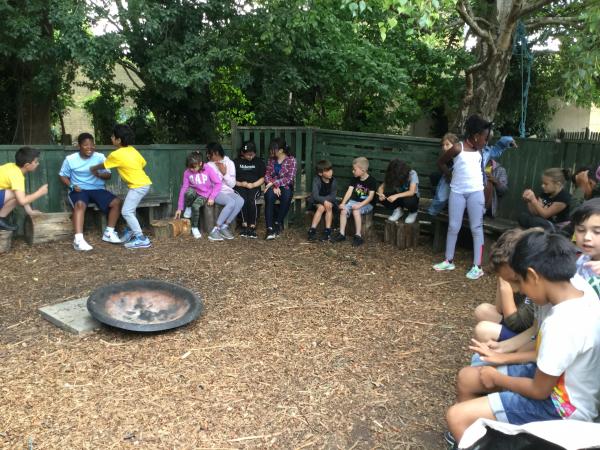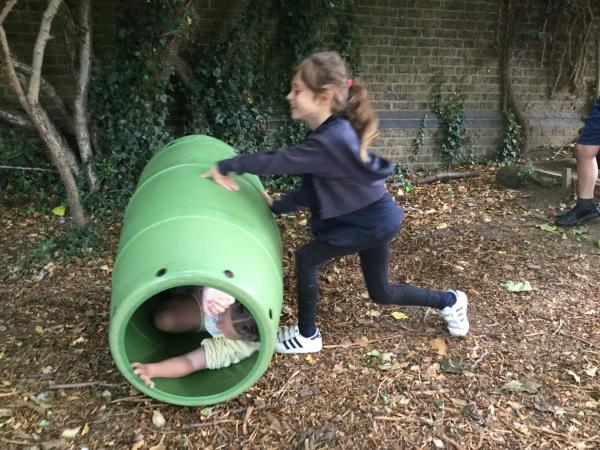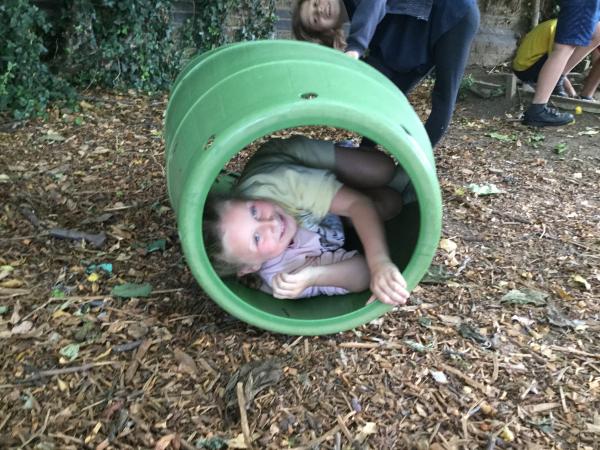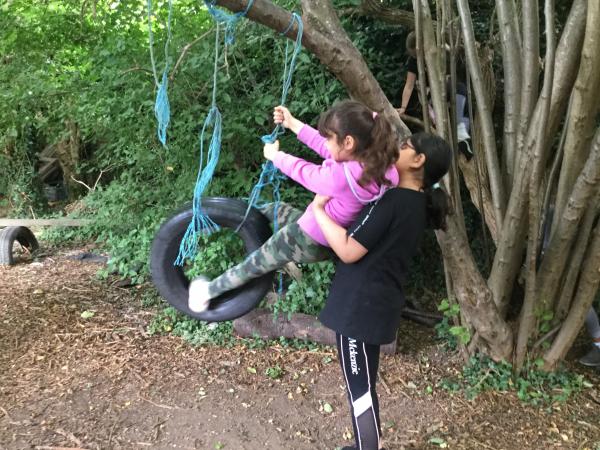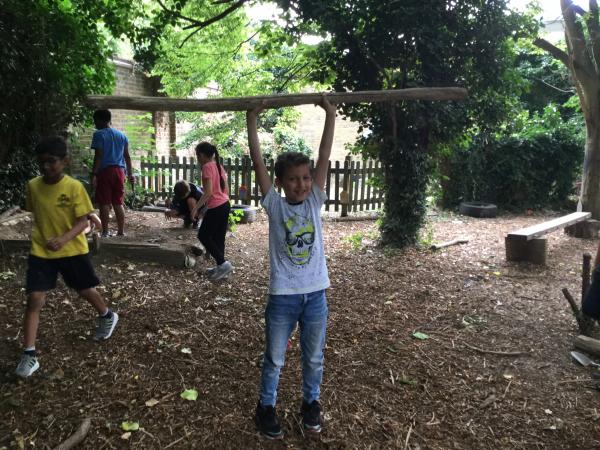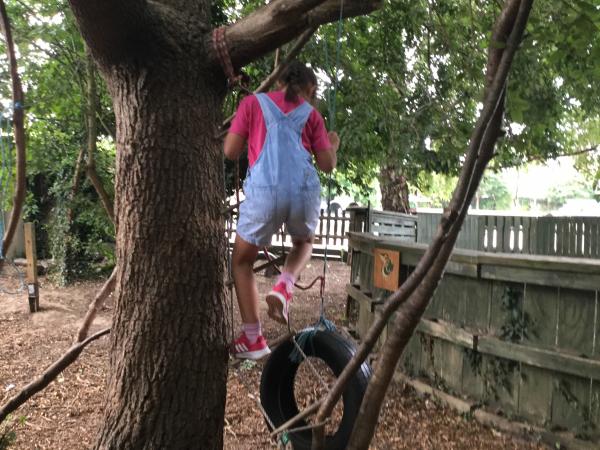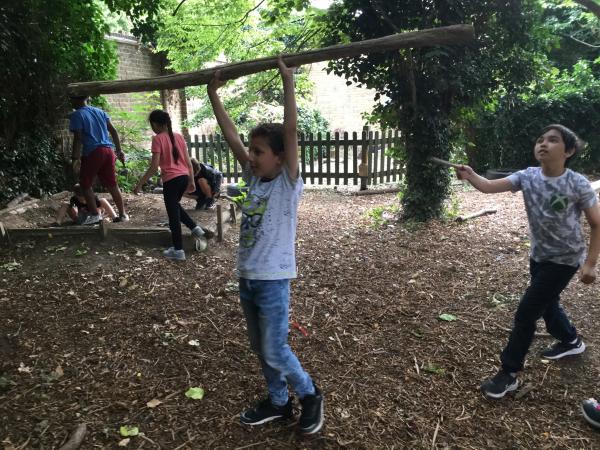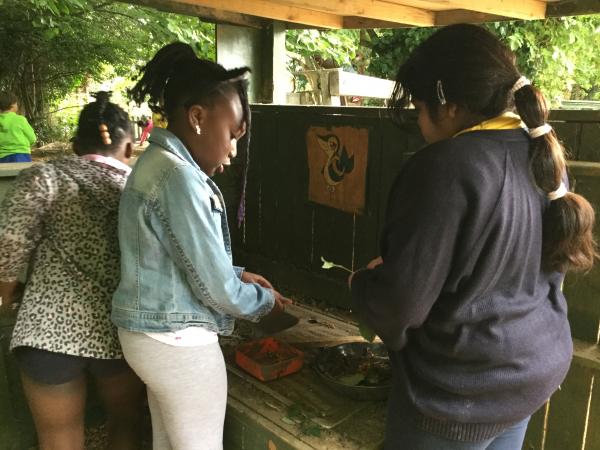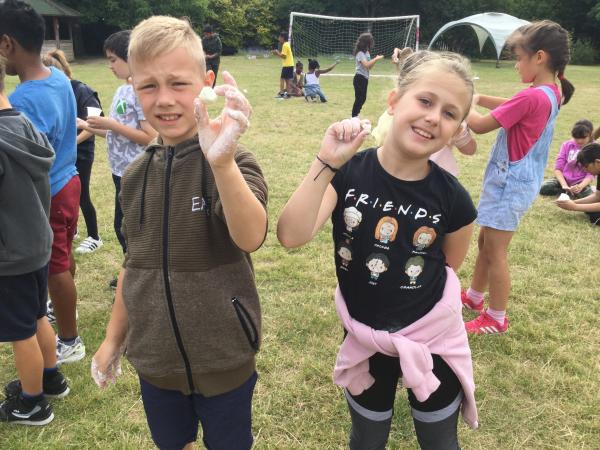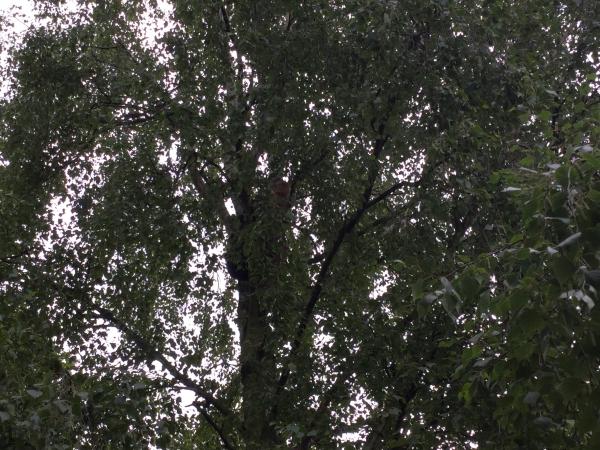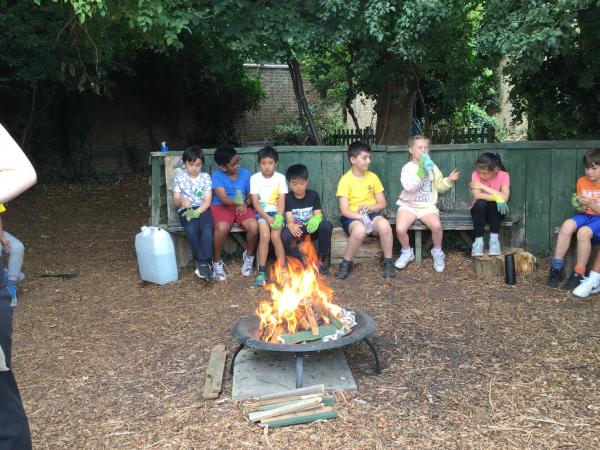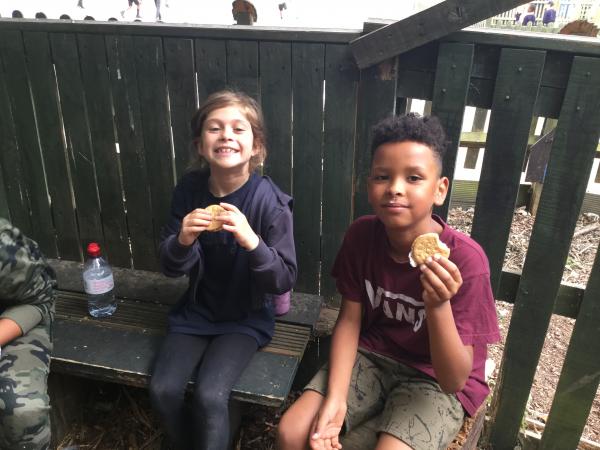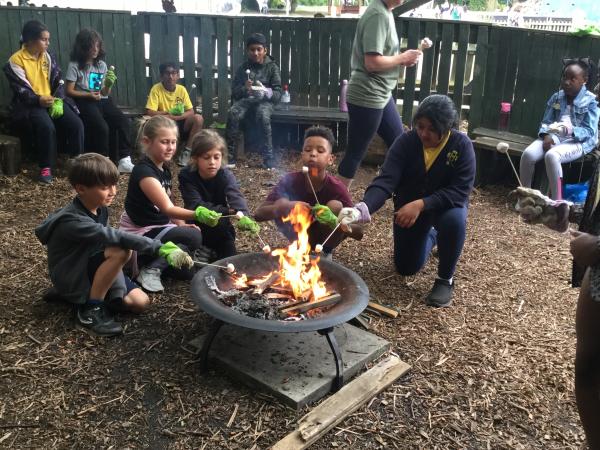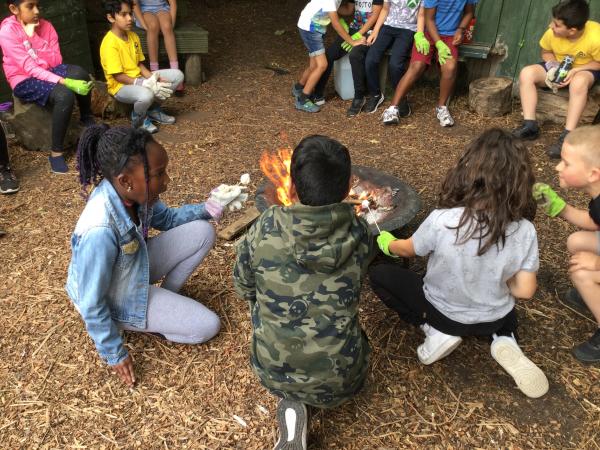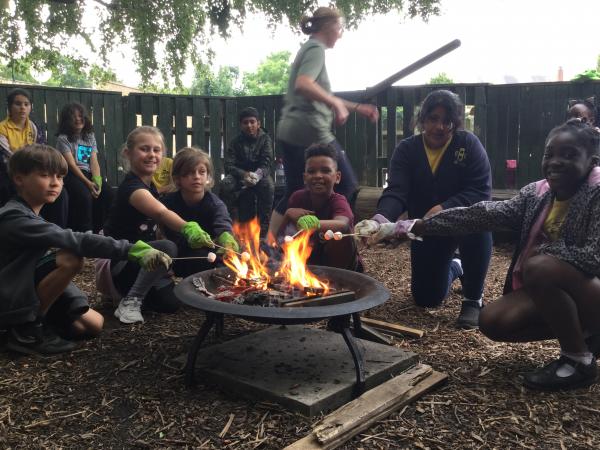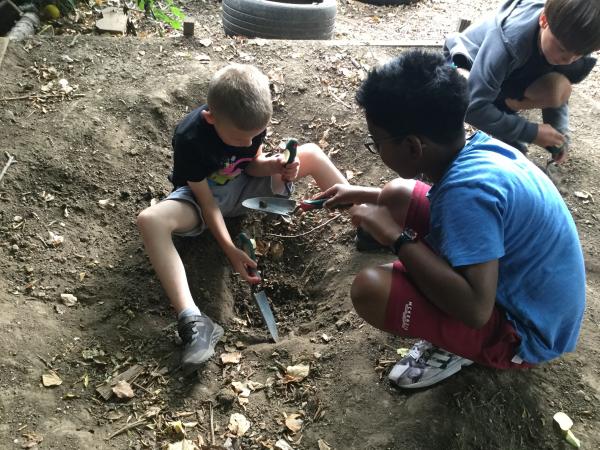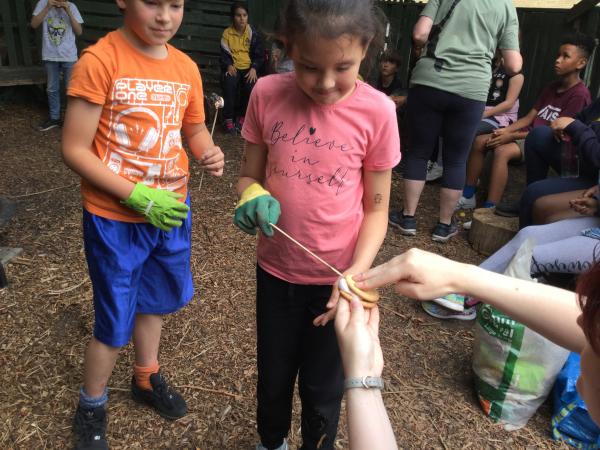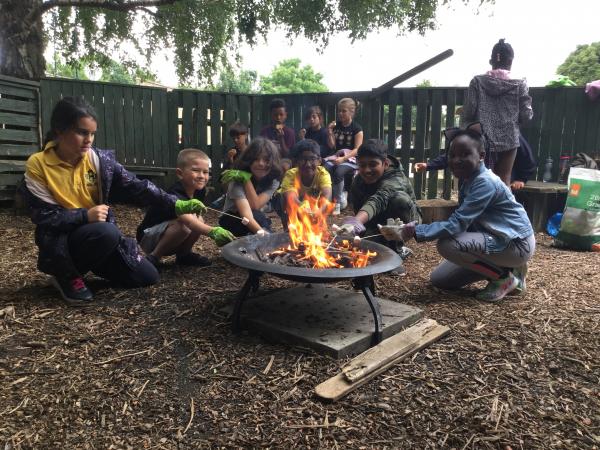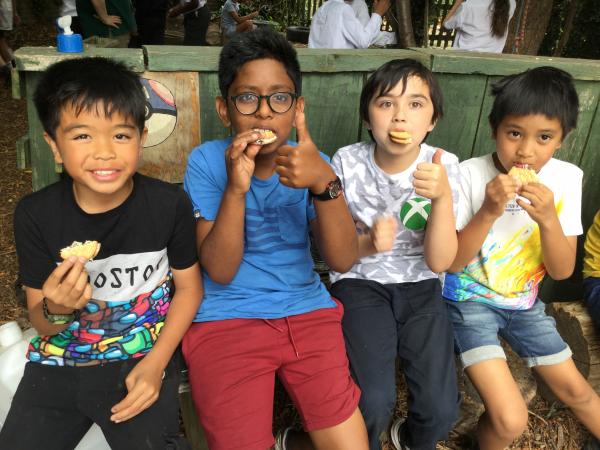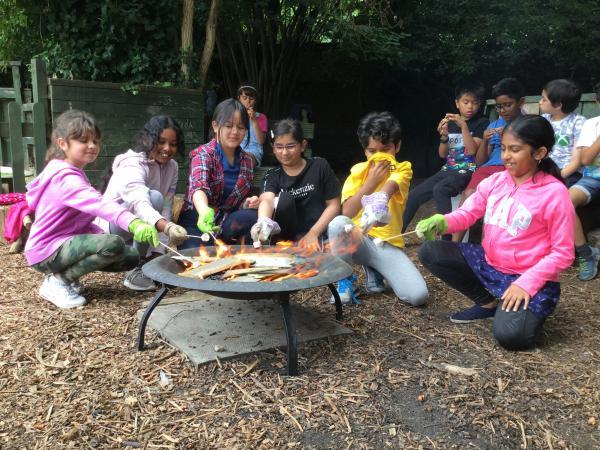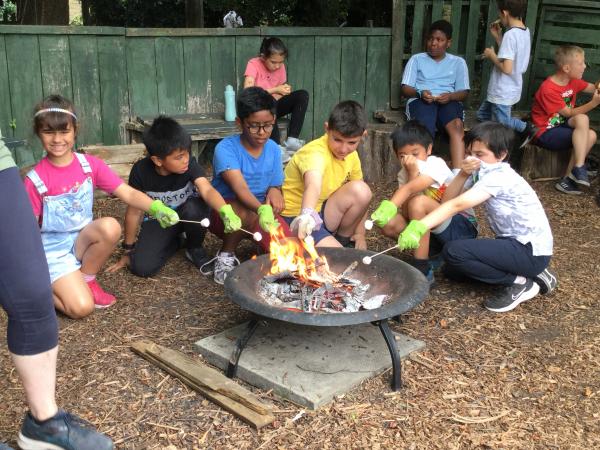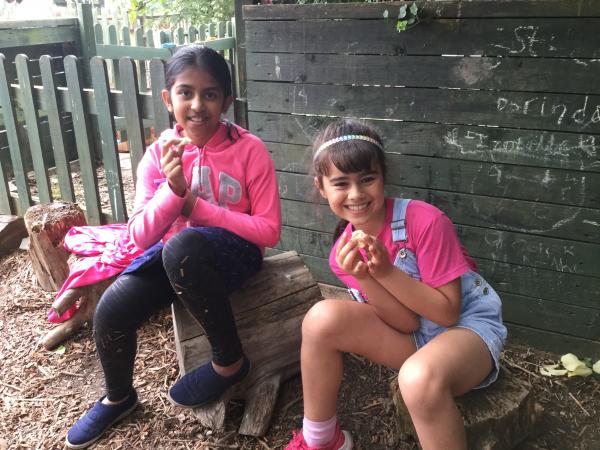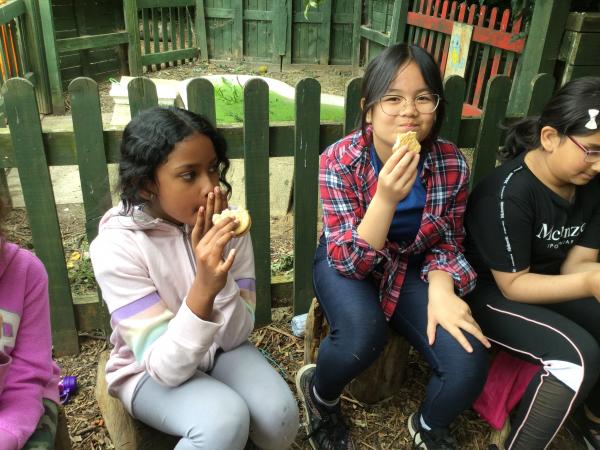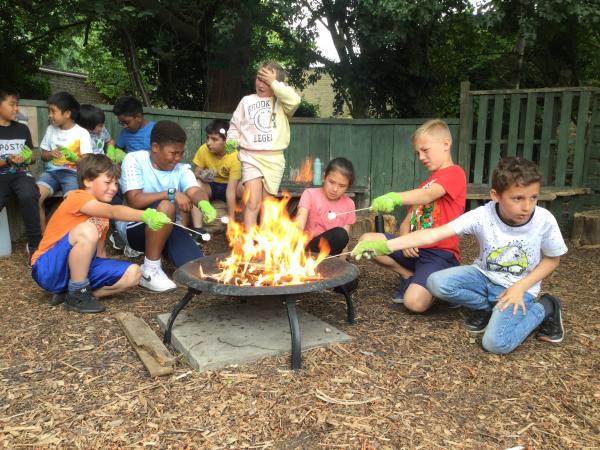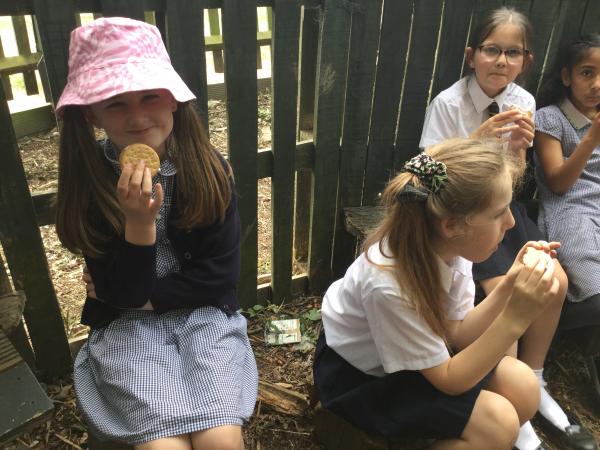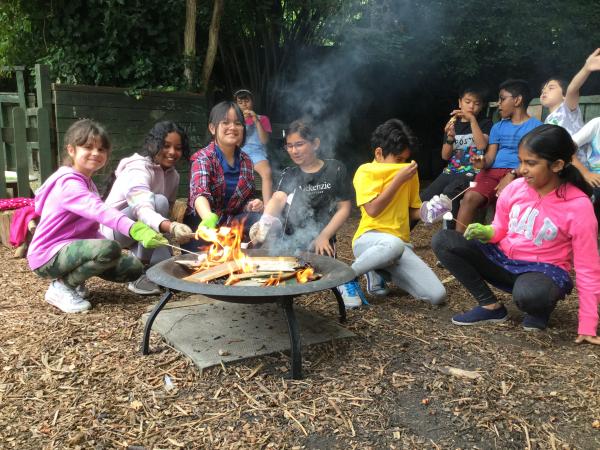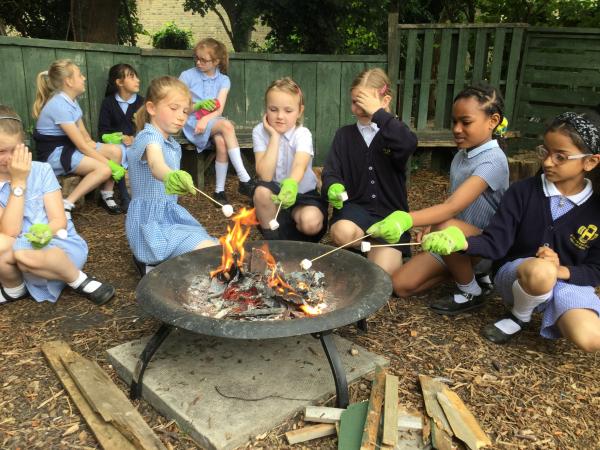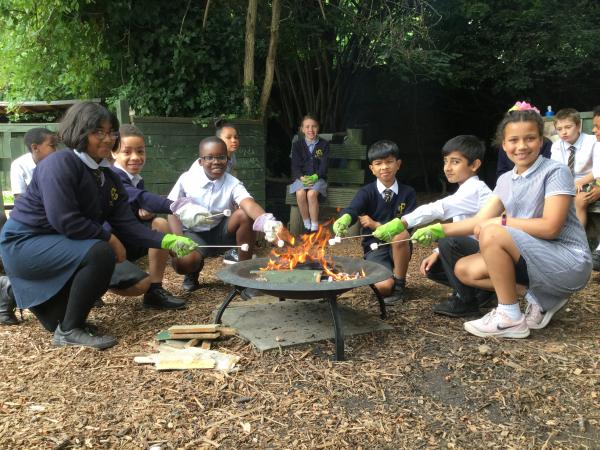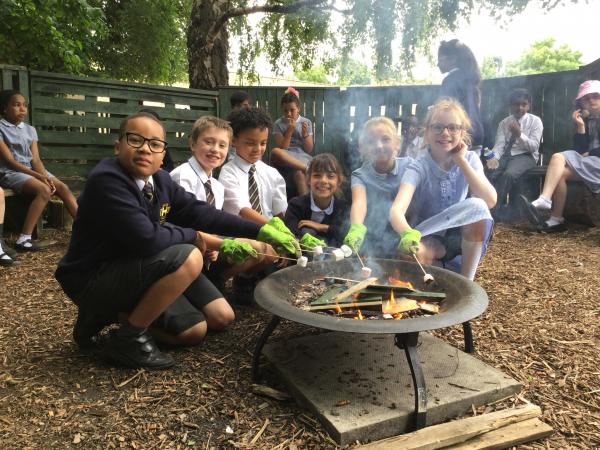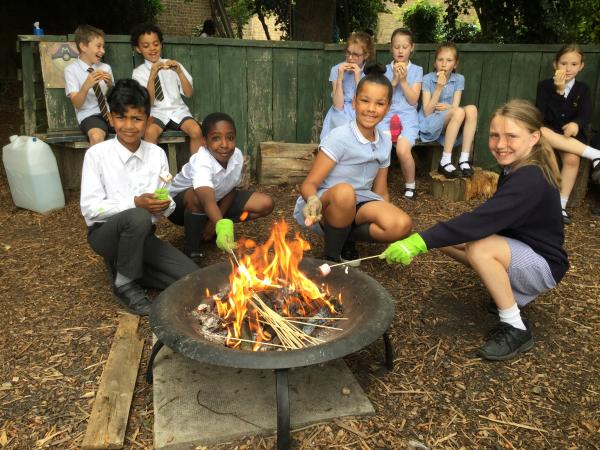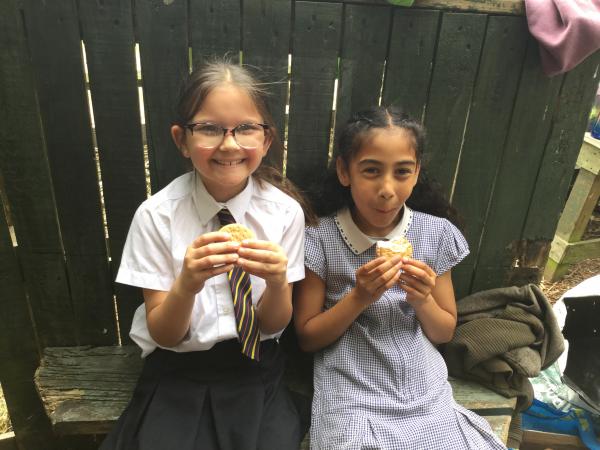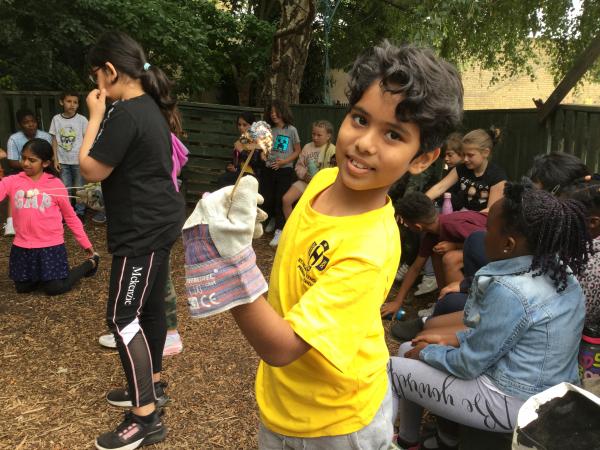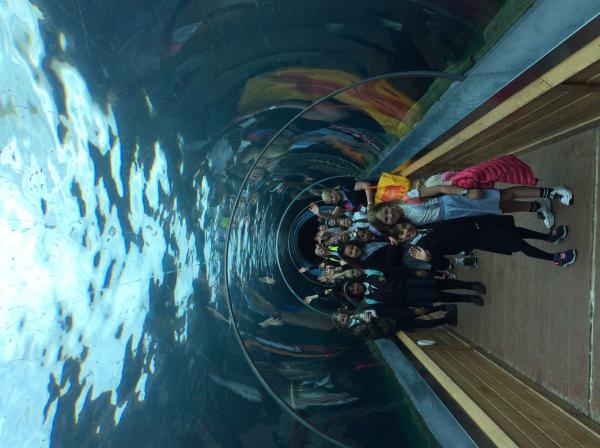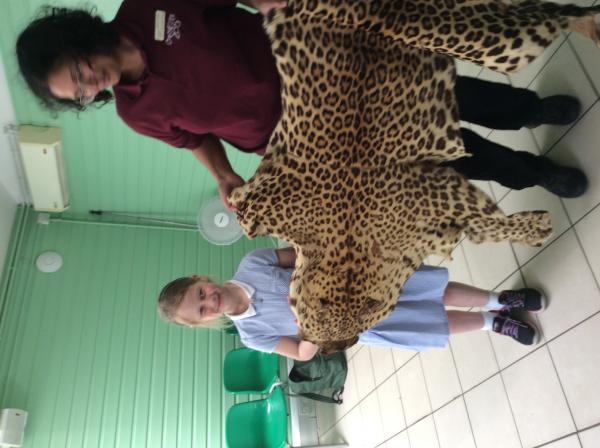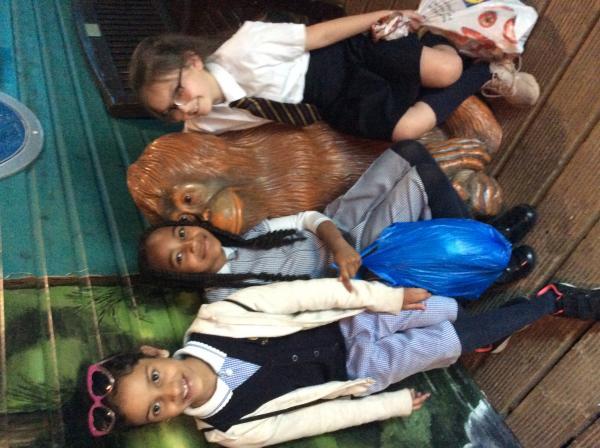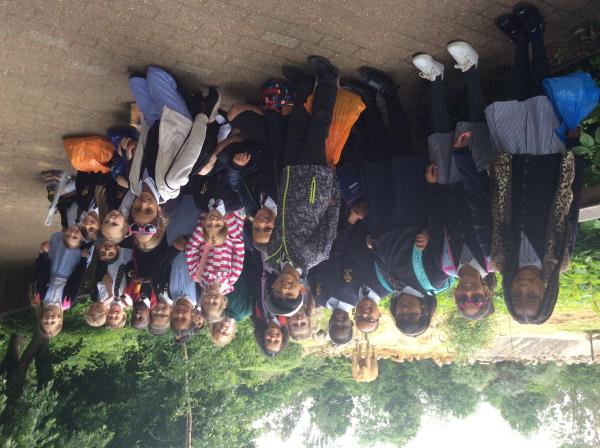 Cockleshell Clogs present Morris Dancing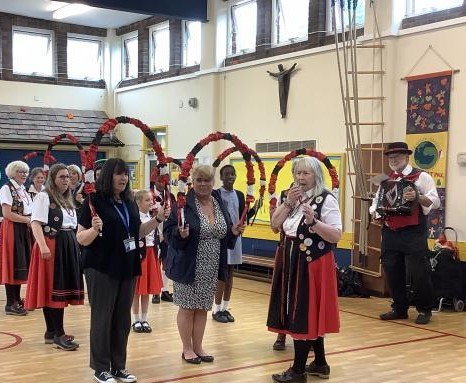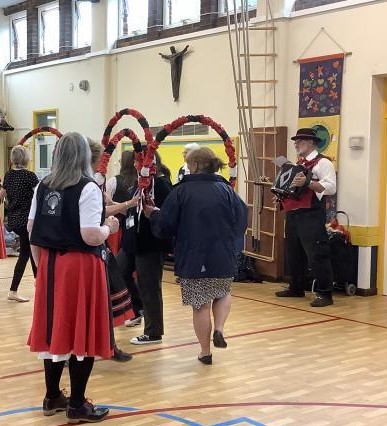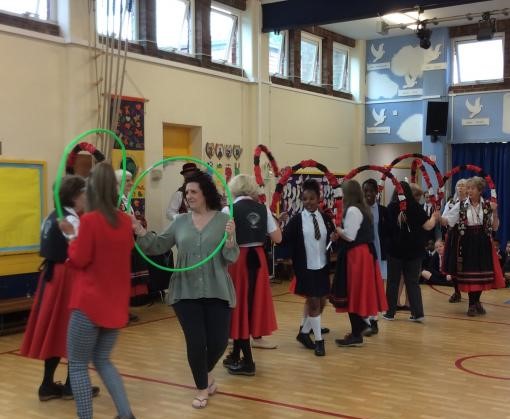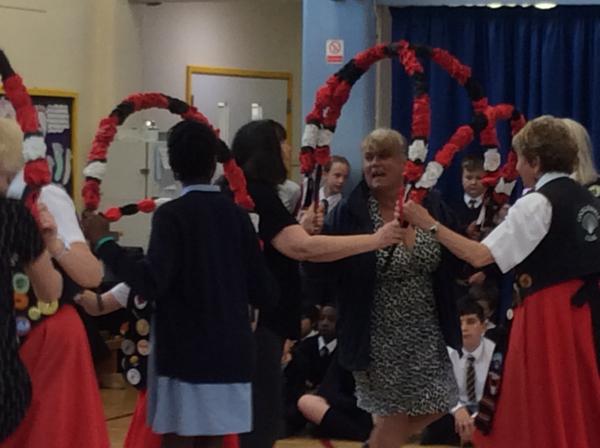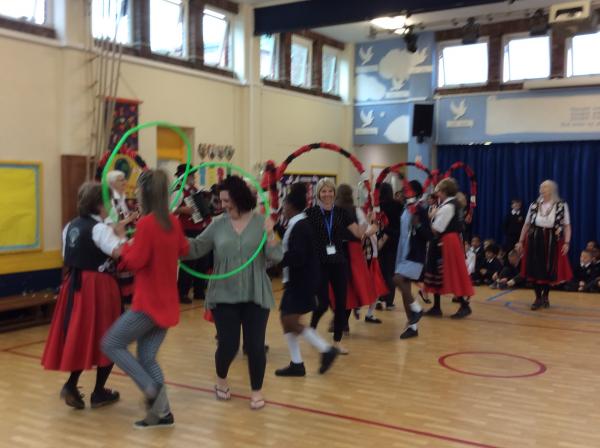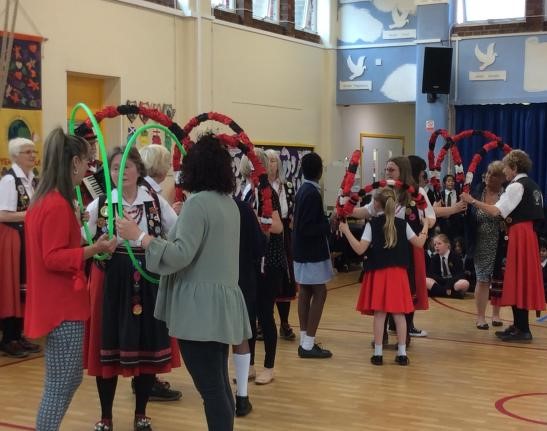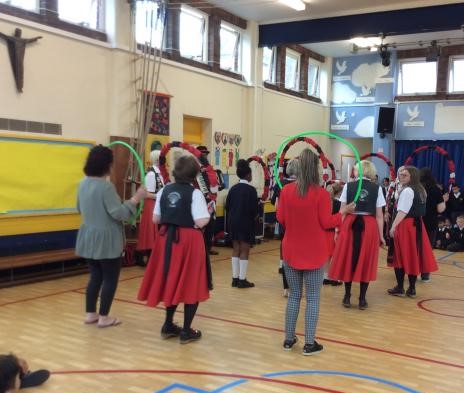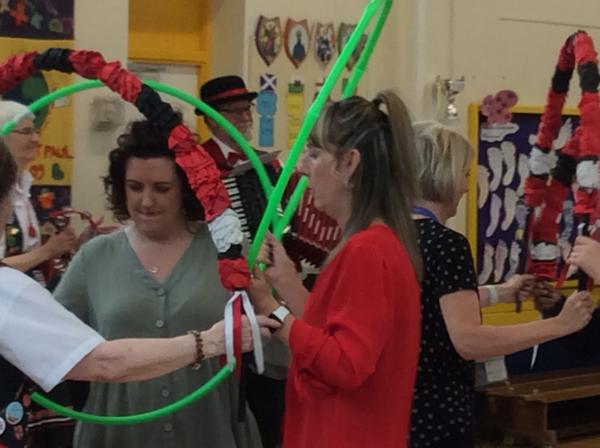 4 Gideon toasting bread
Year 4 had an enjoyable morning in the nature area. They enjoyed making and toasting bread. For the rest of the morning they played, built dens and enjoyed a game of eagle eye.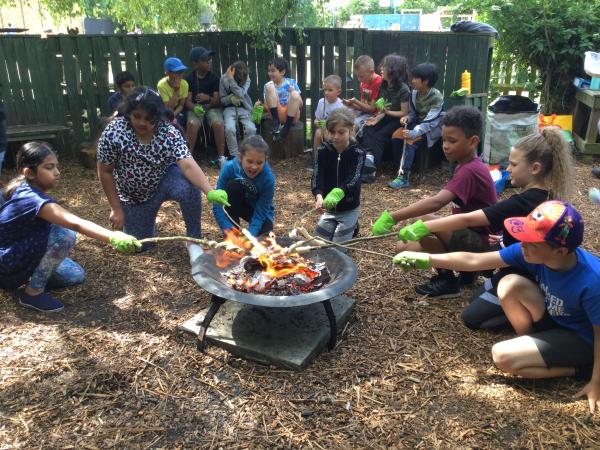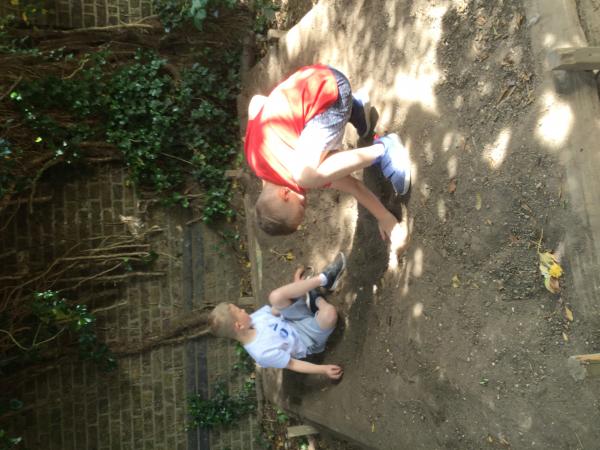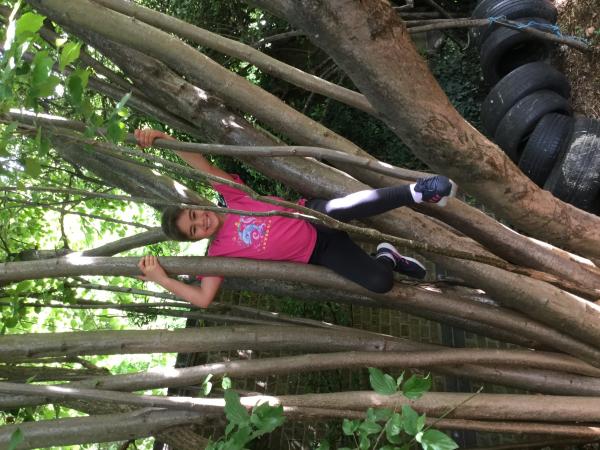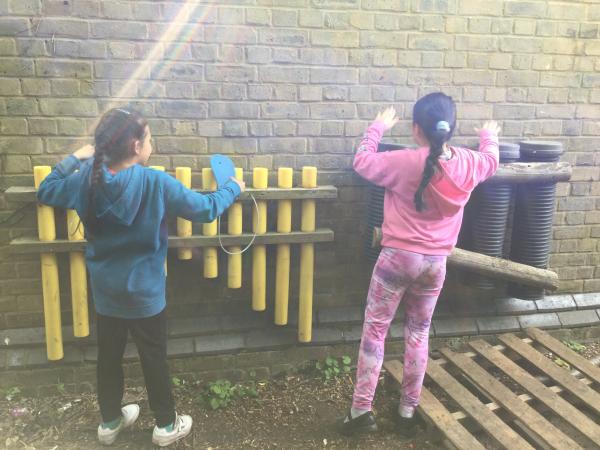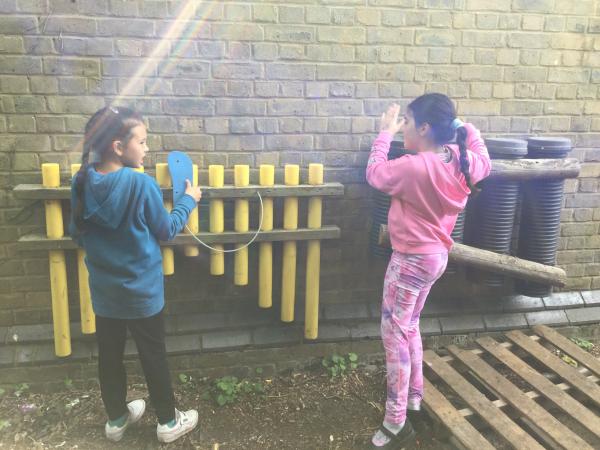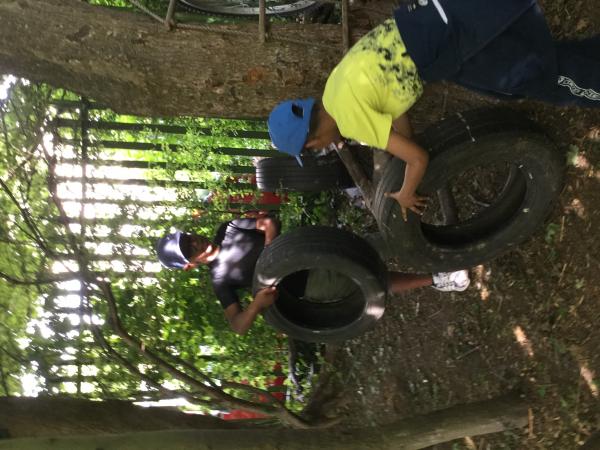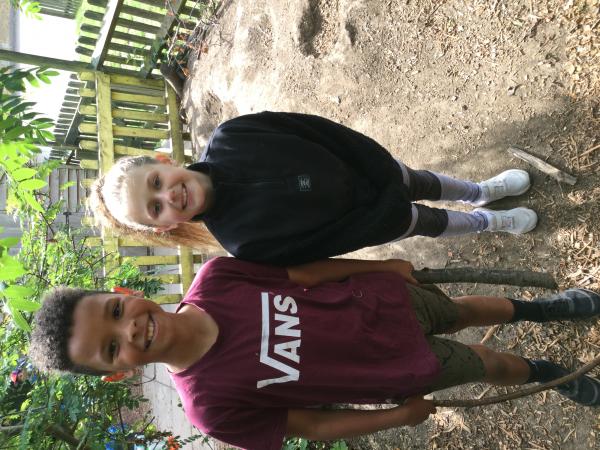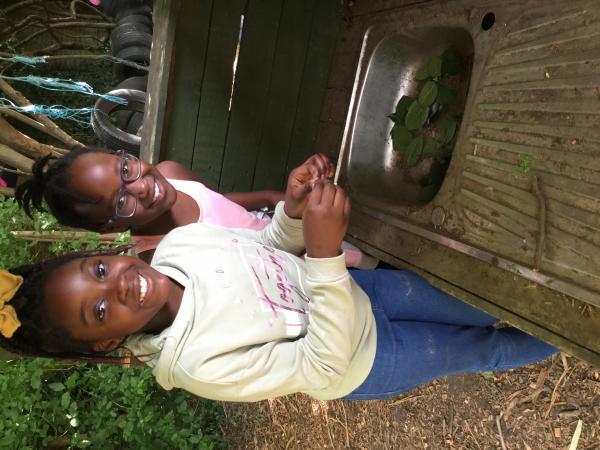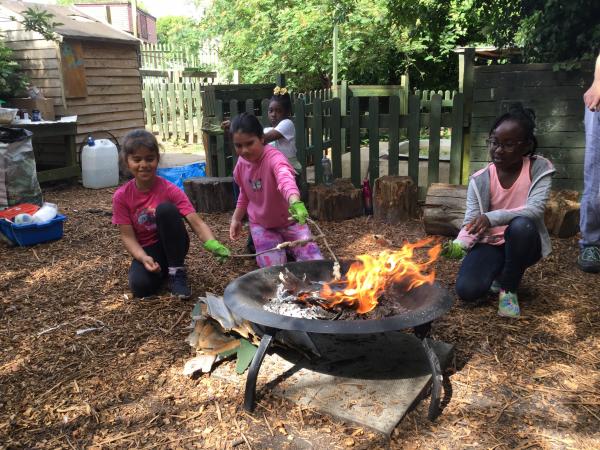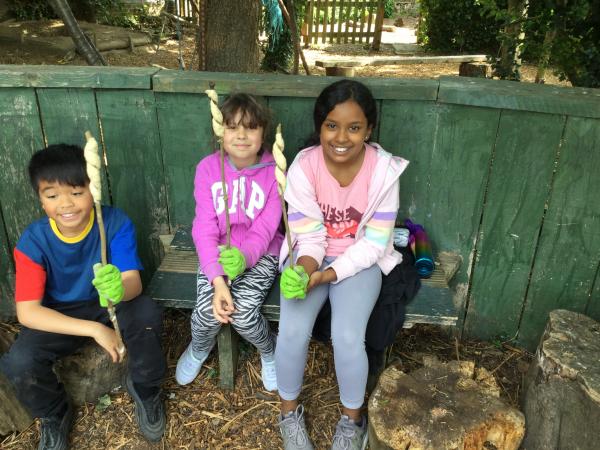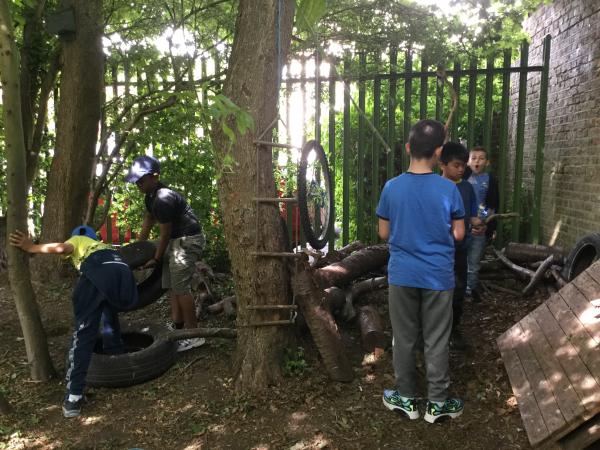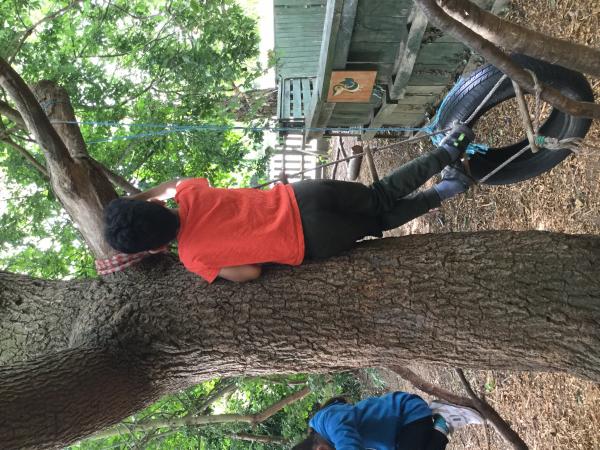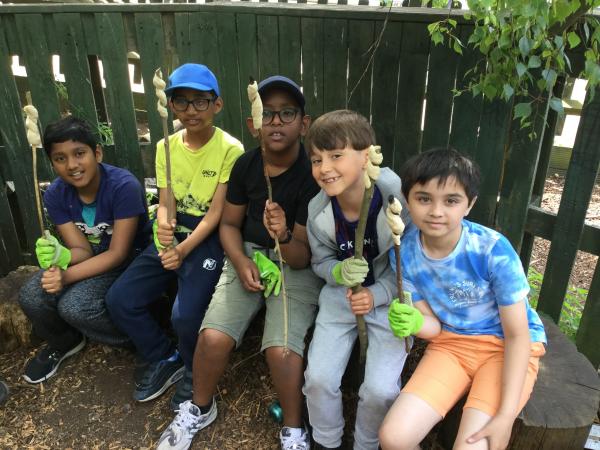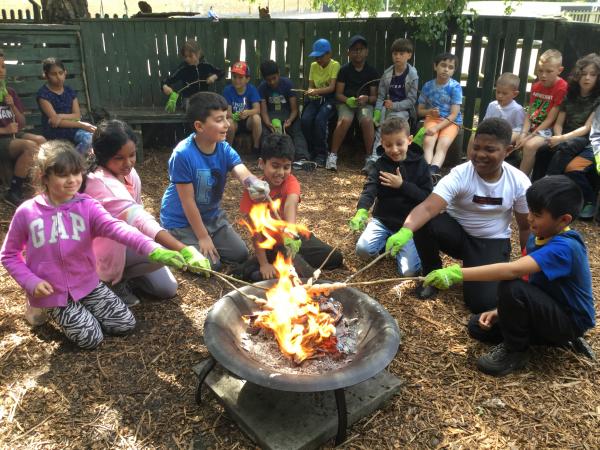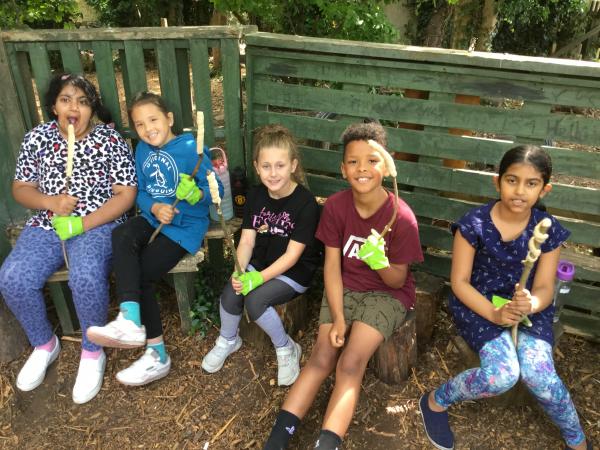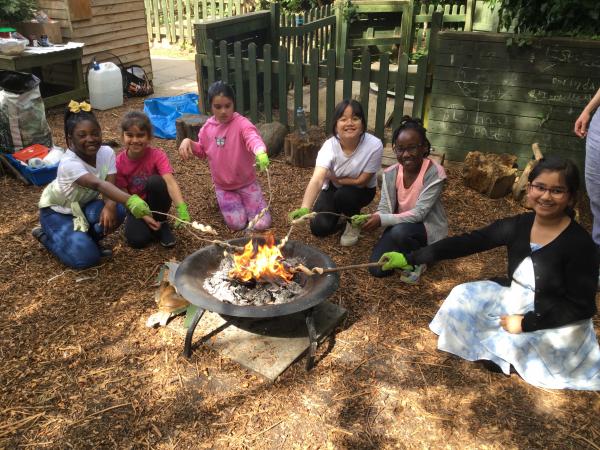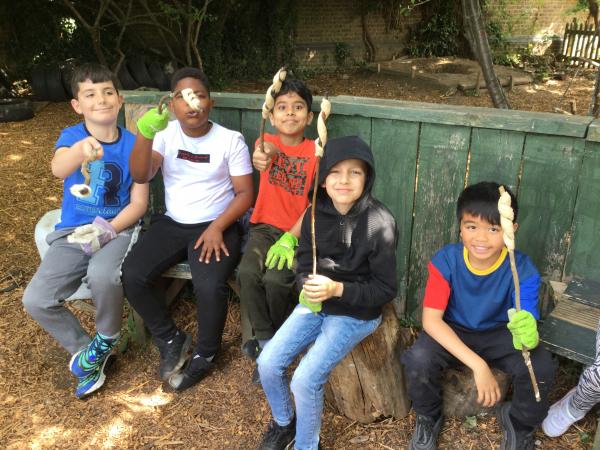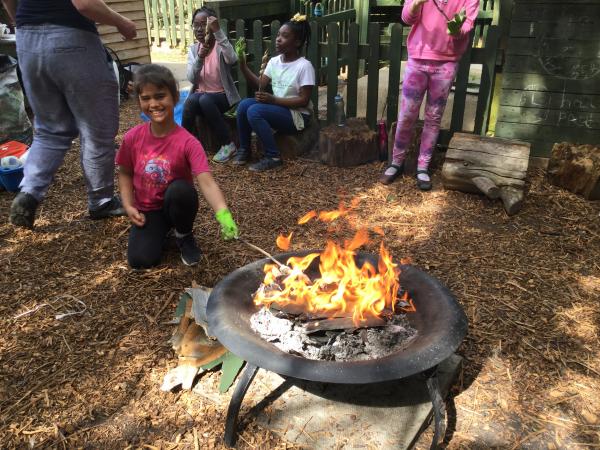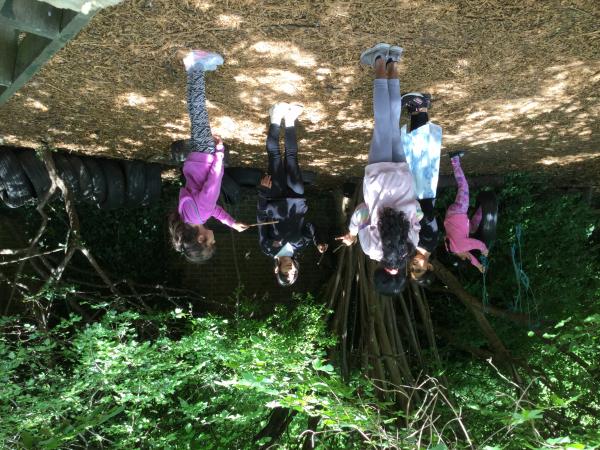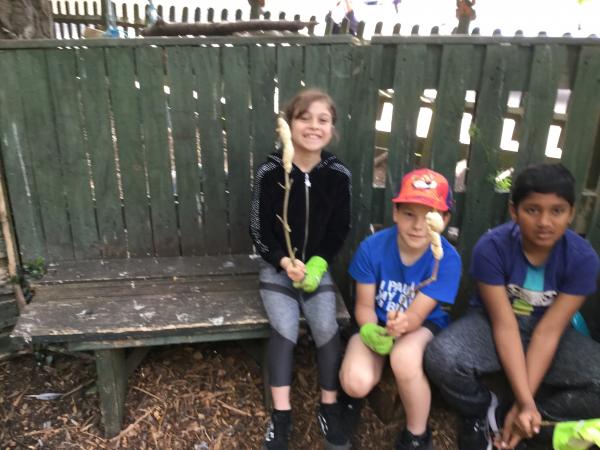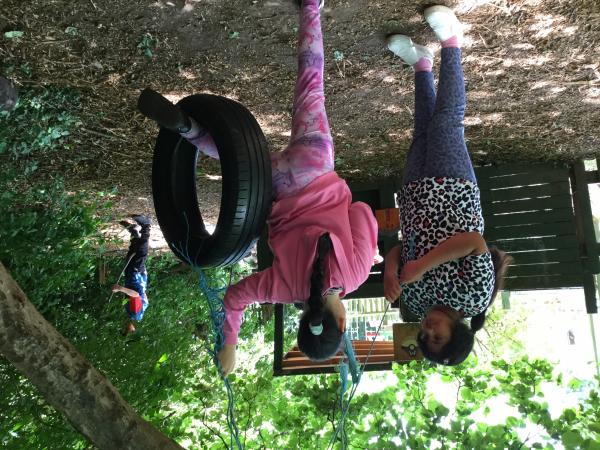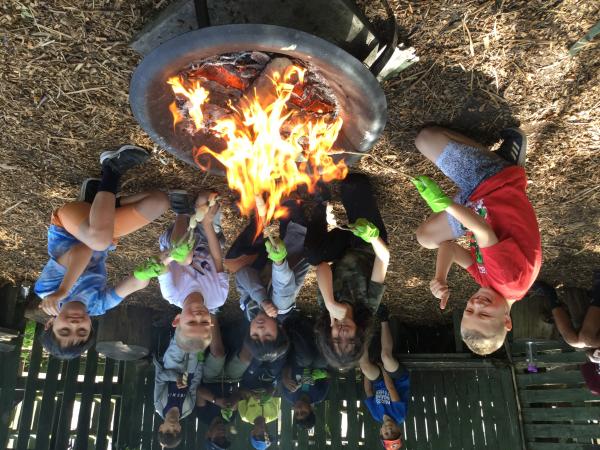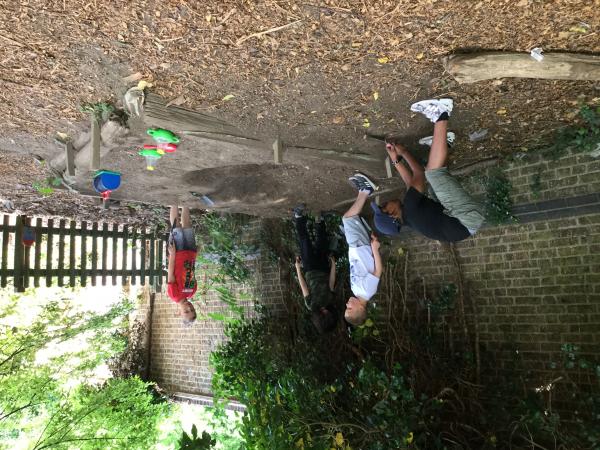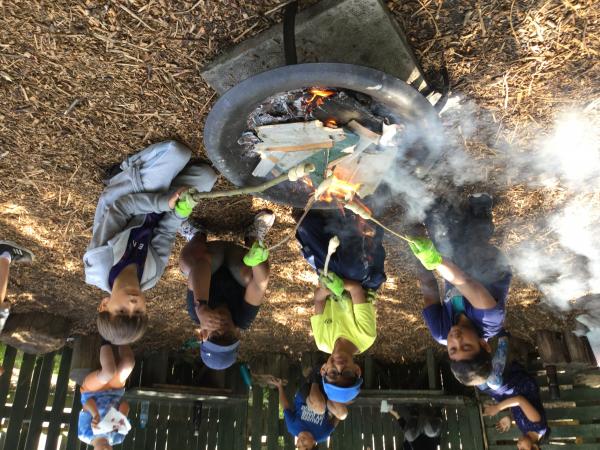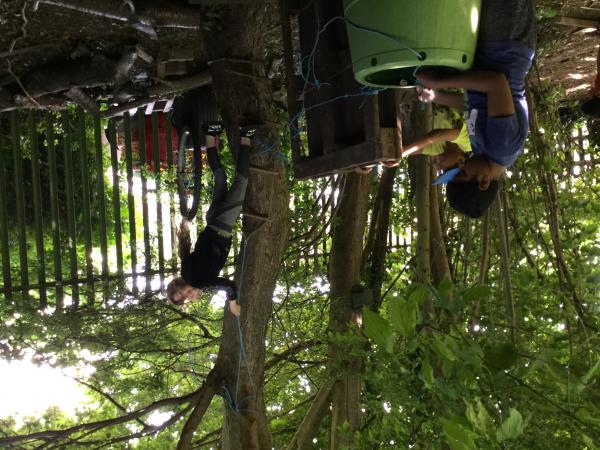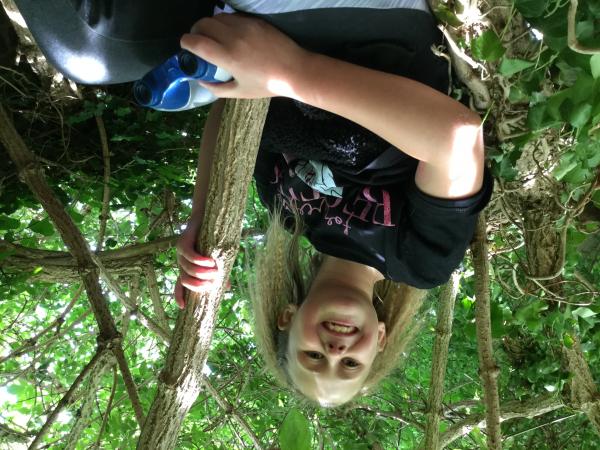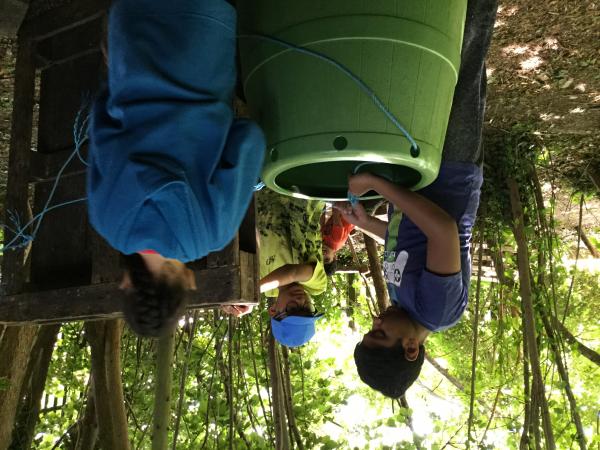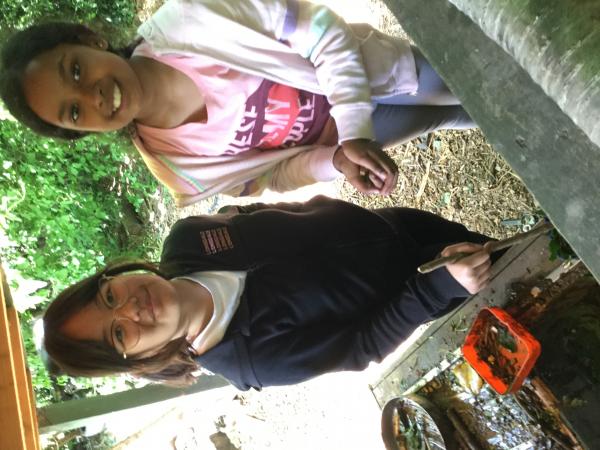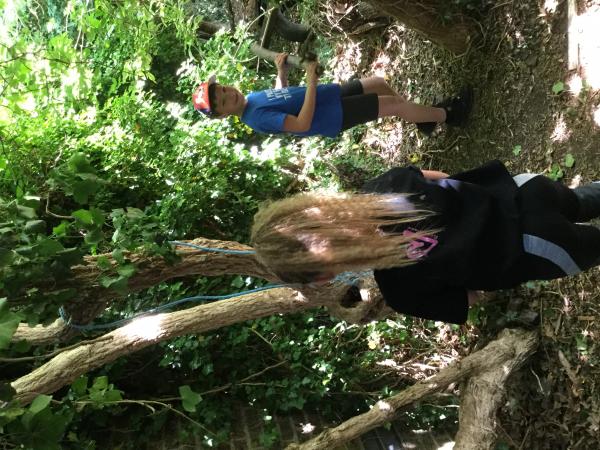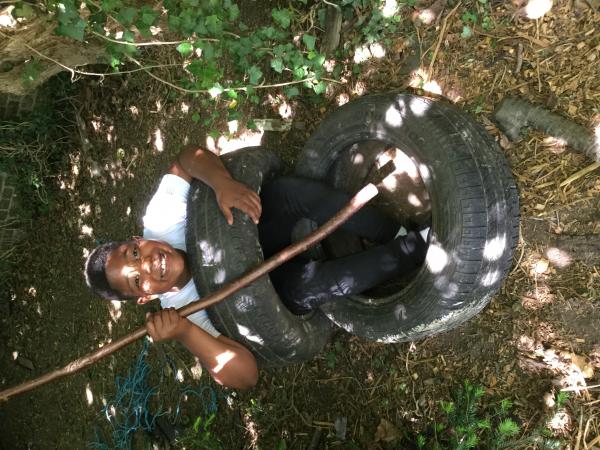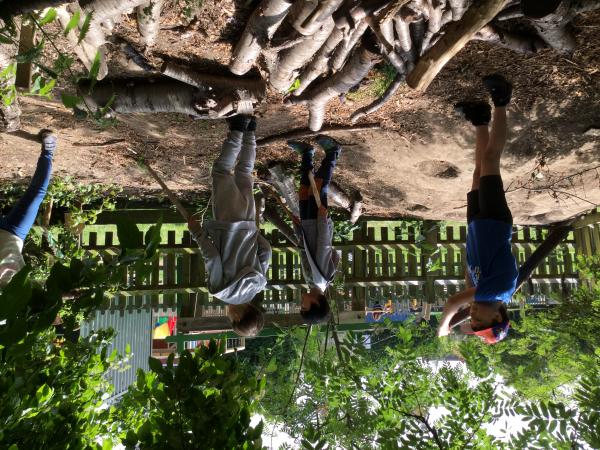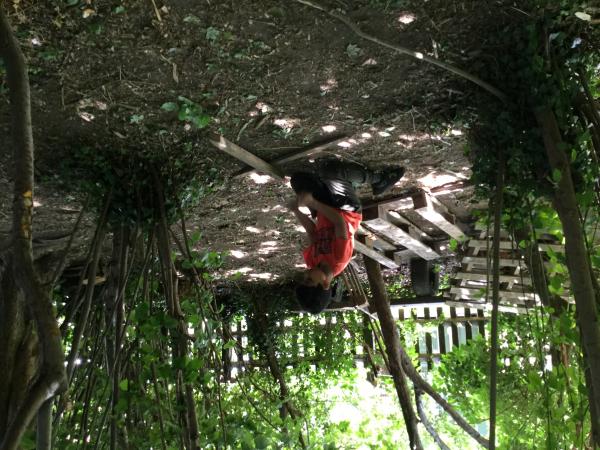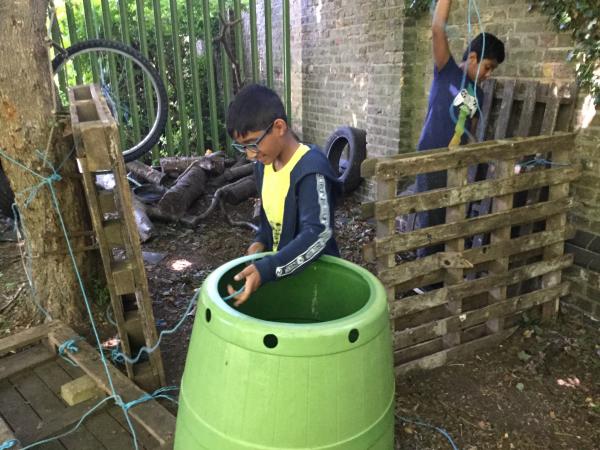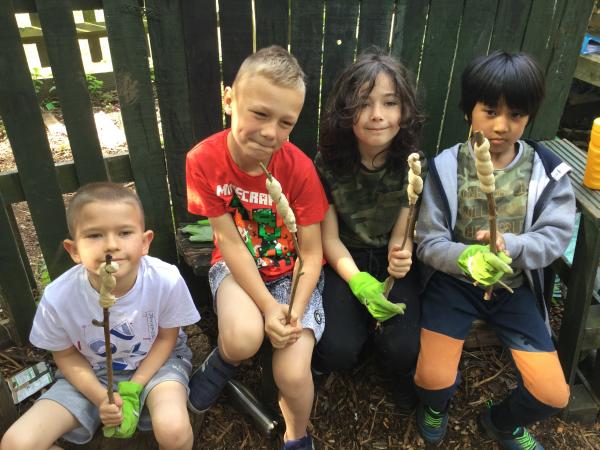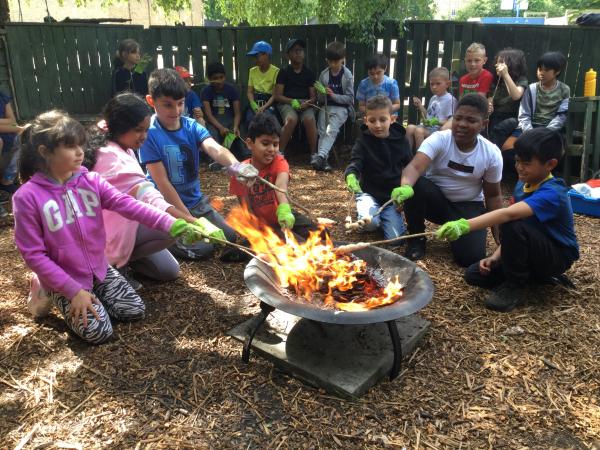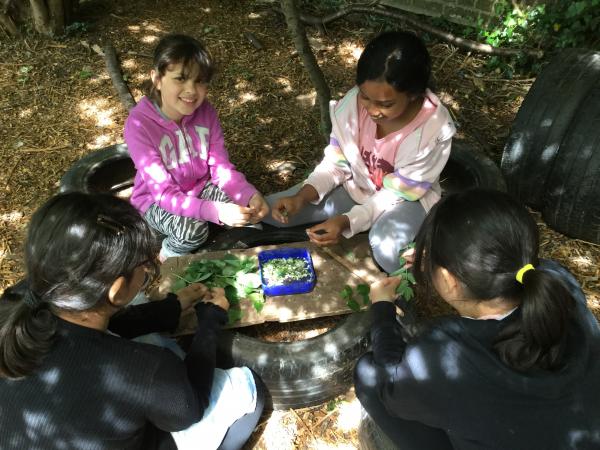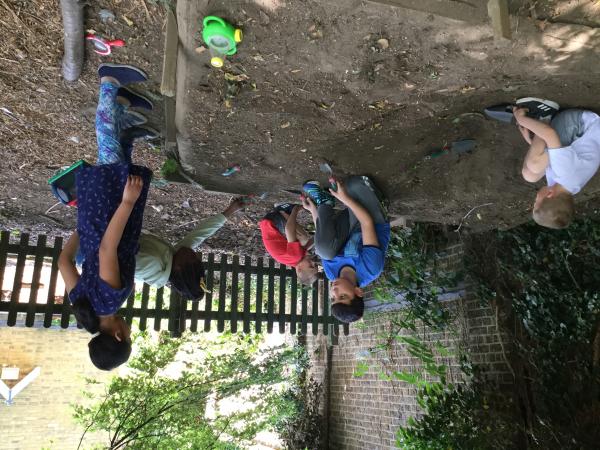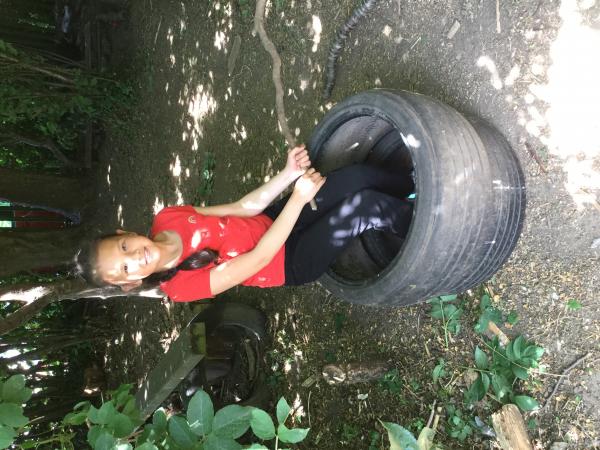 African Art Work
We made some Benin Plaques from clay which we coloured to look like bronze.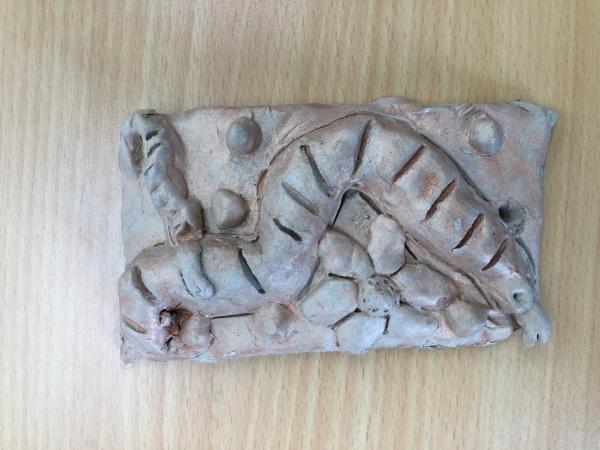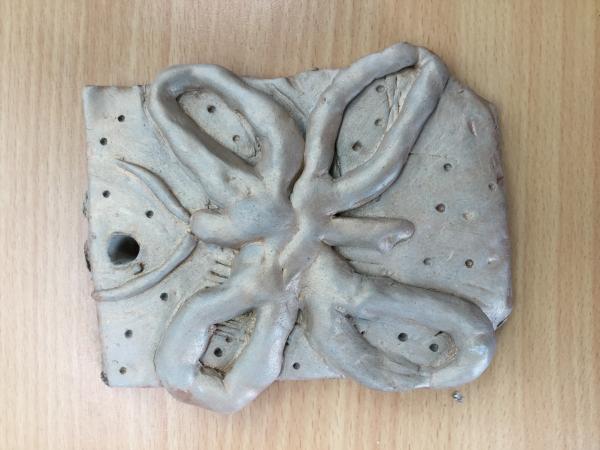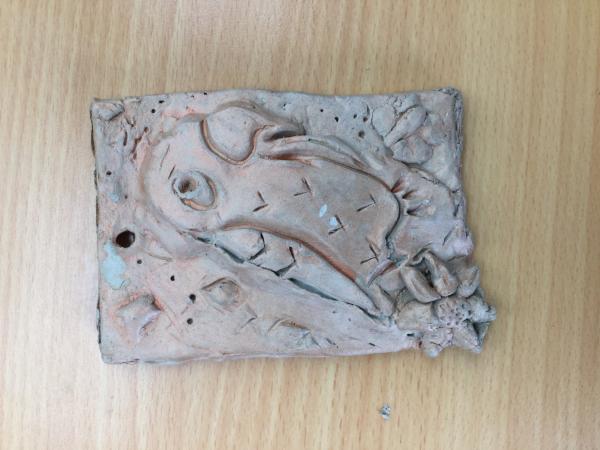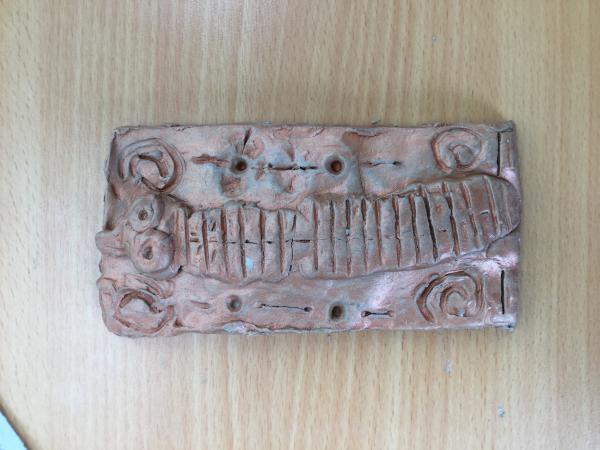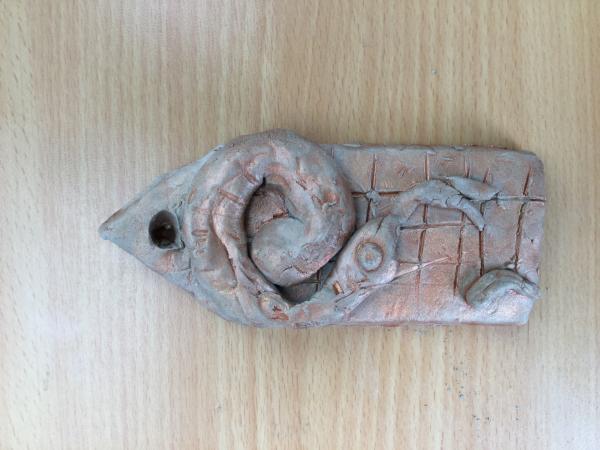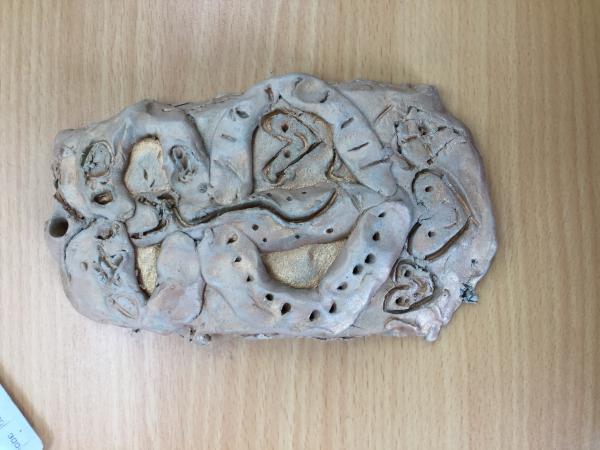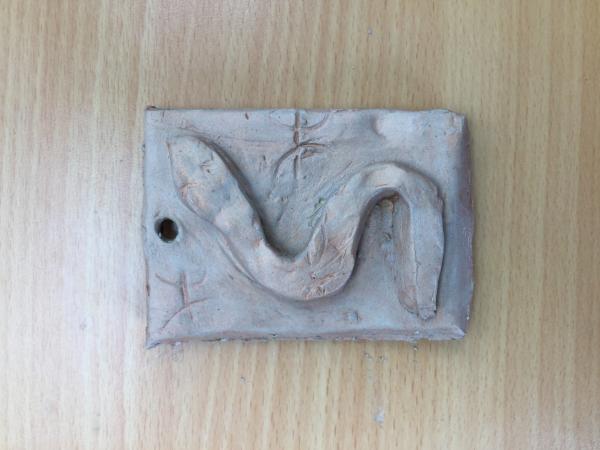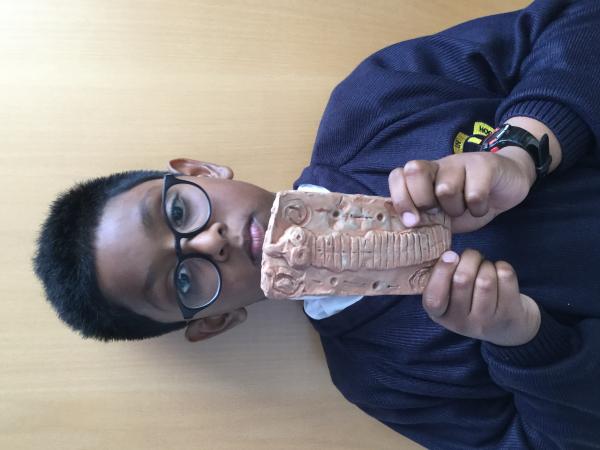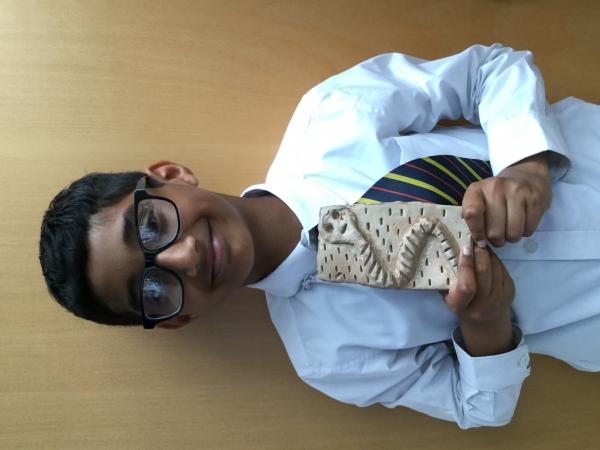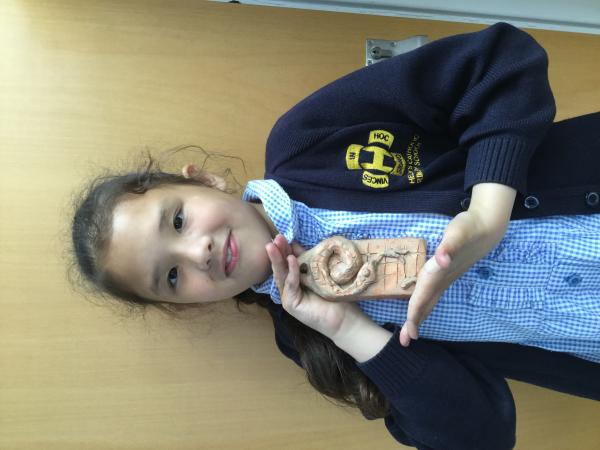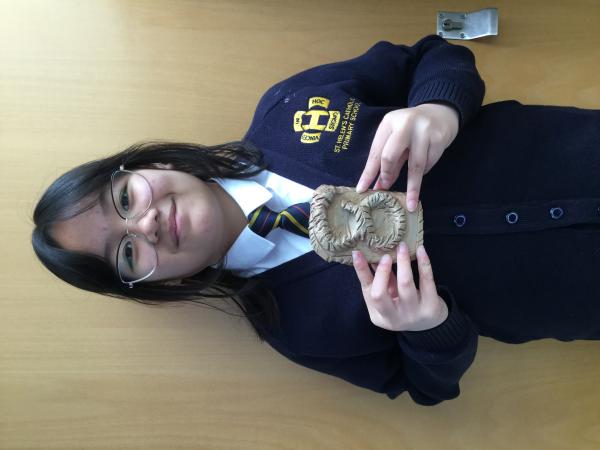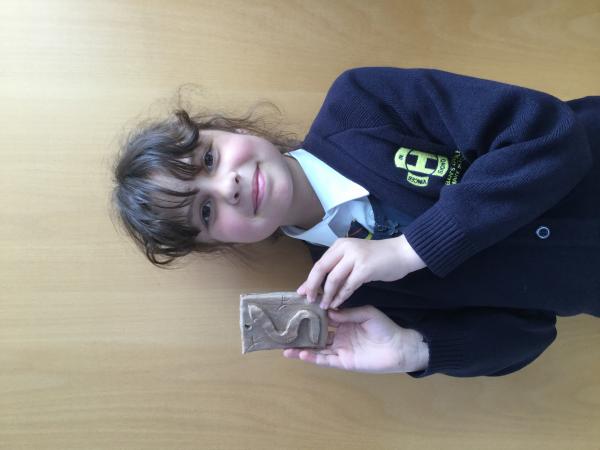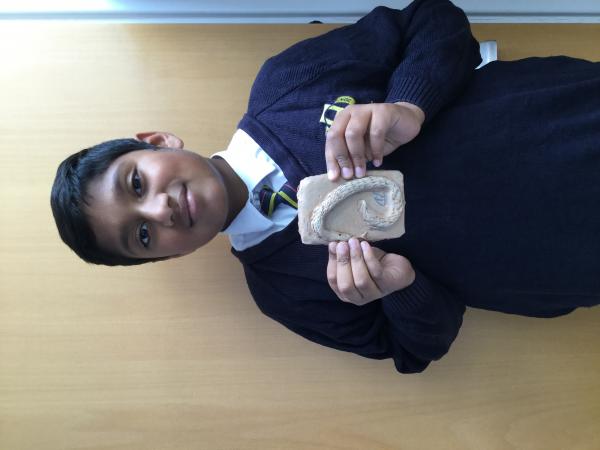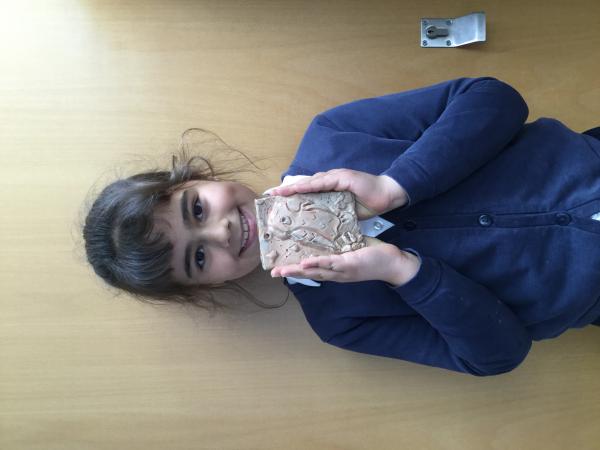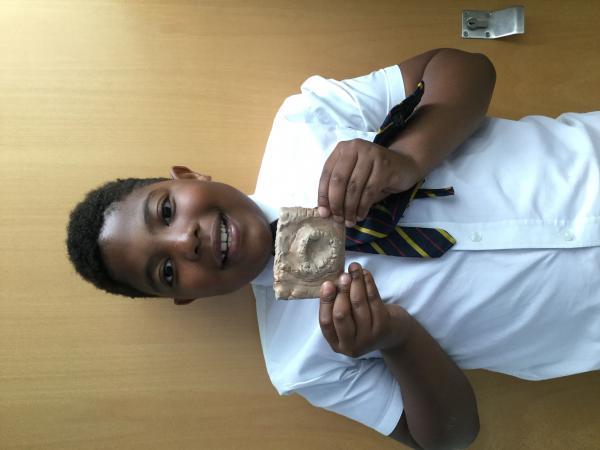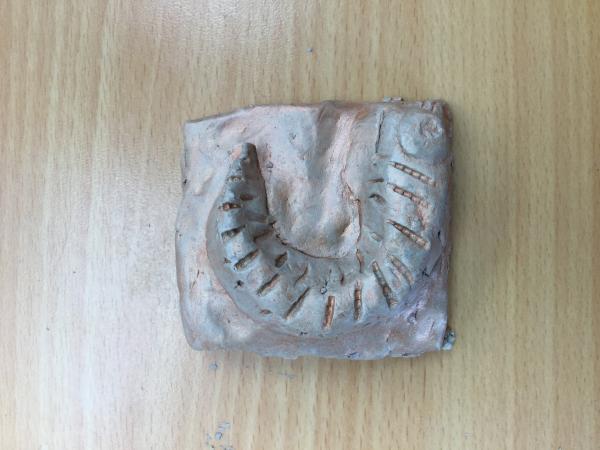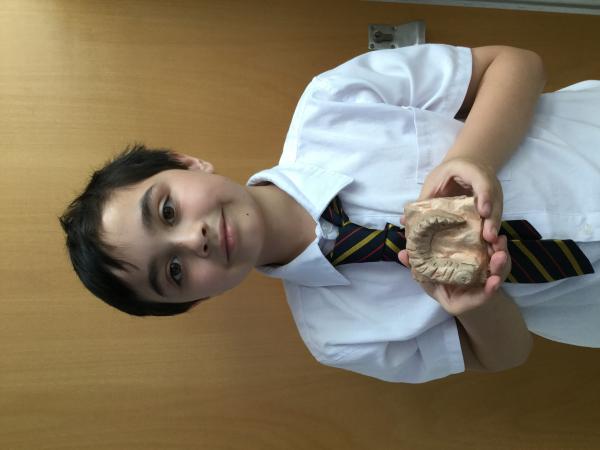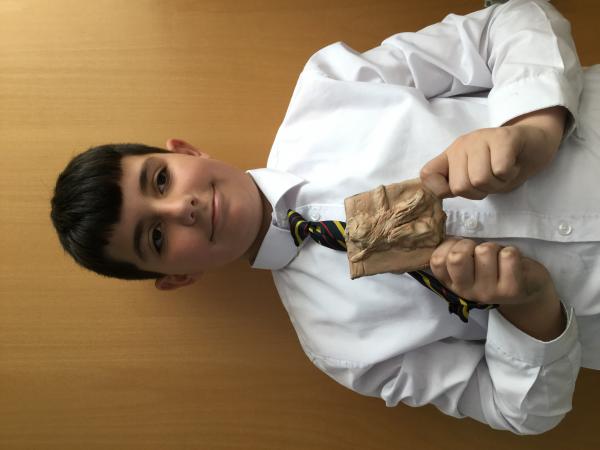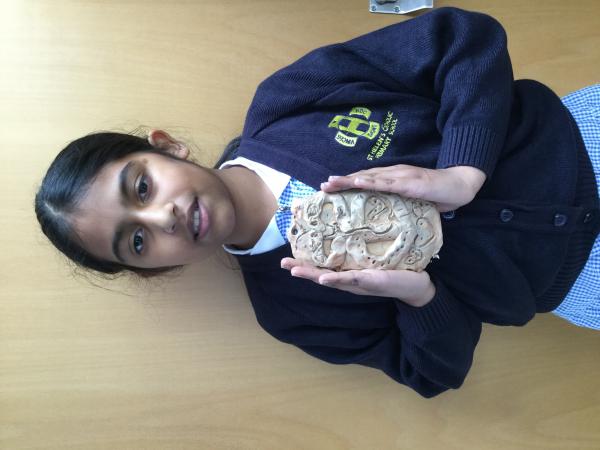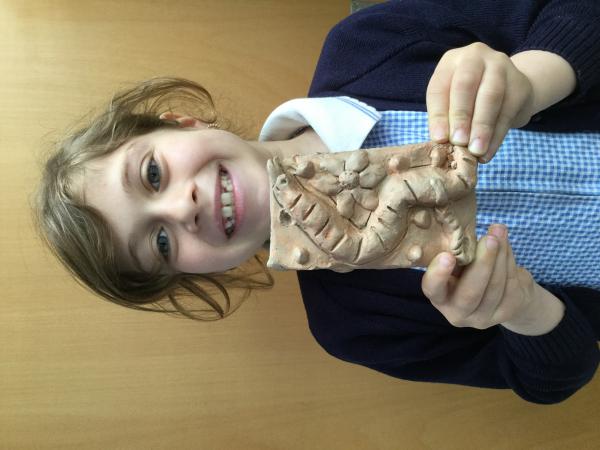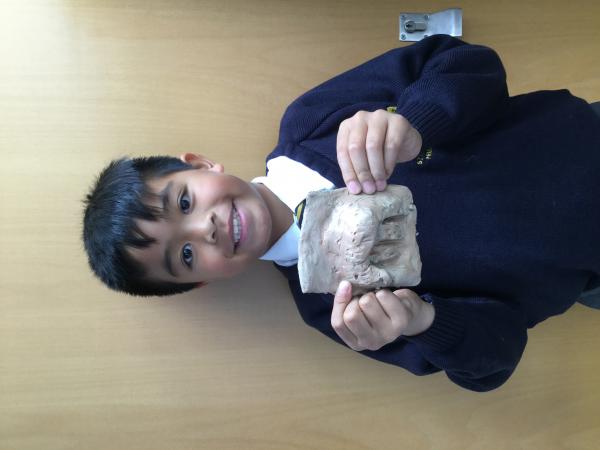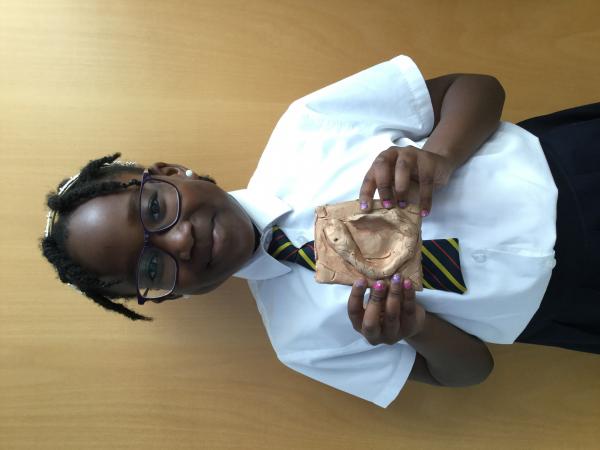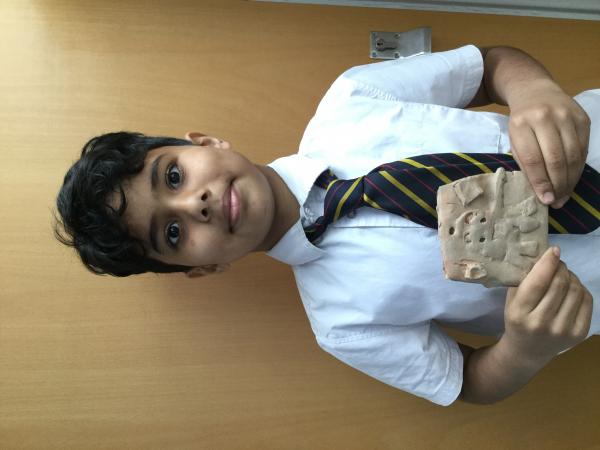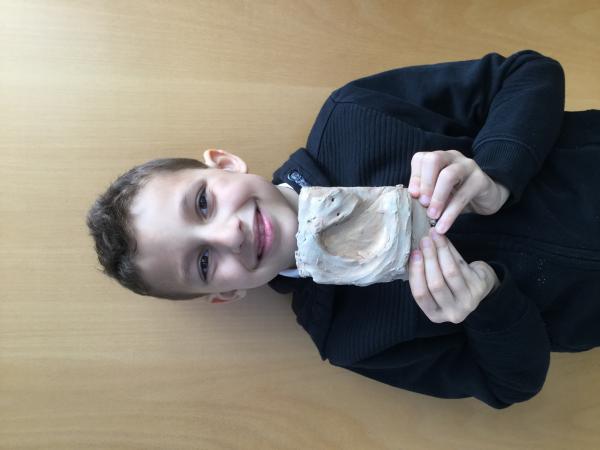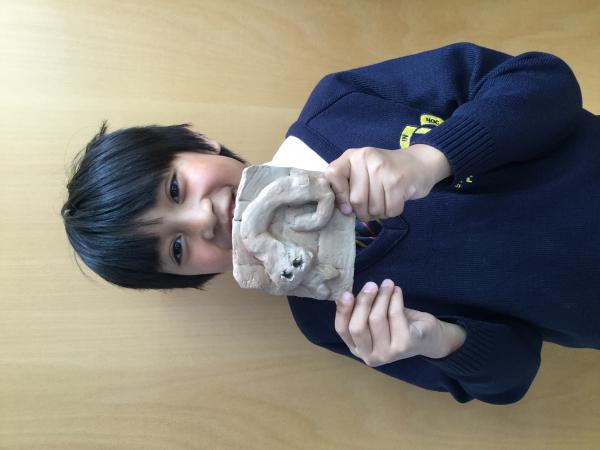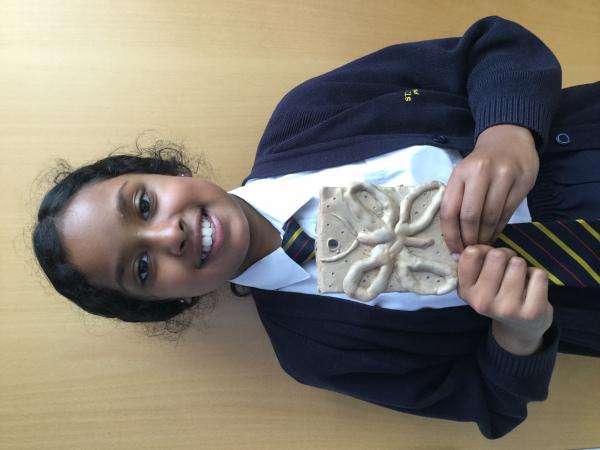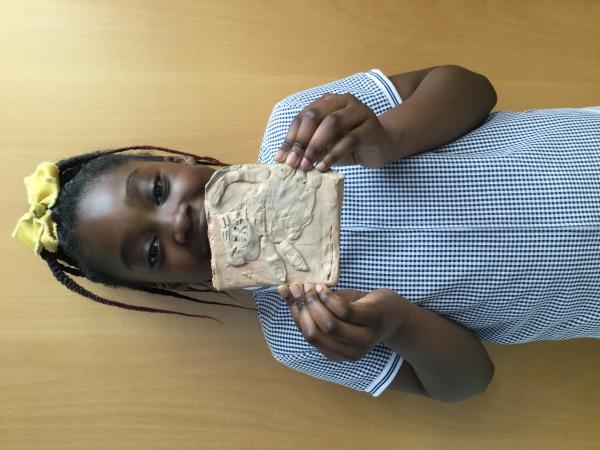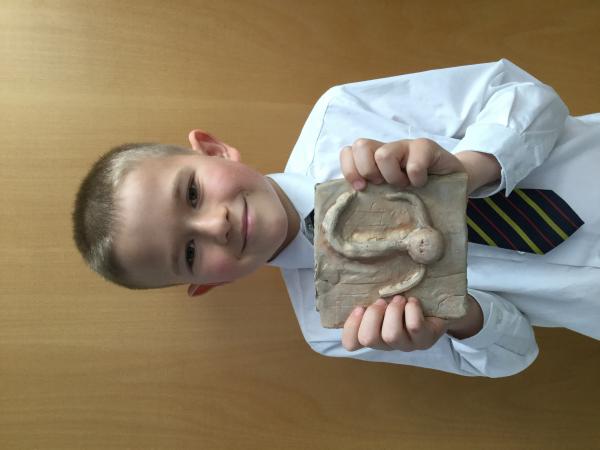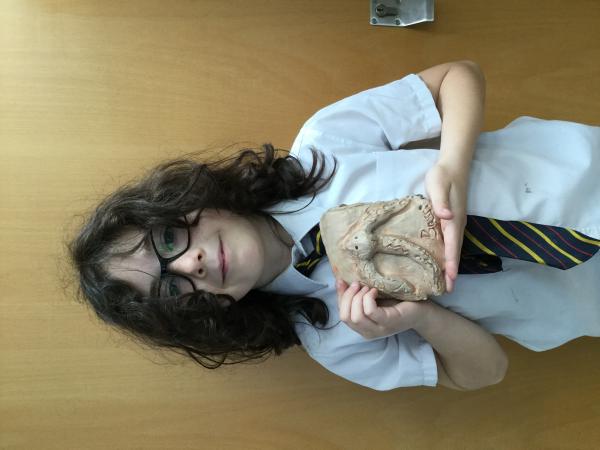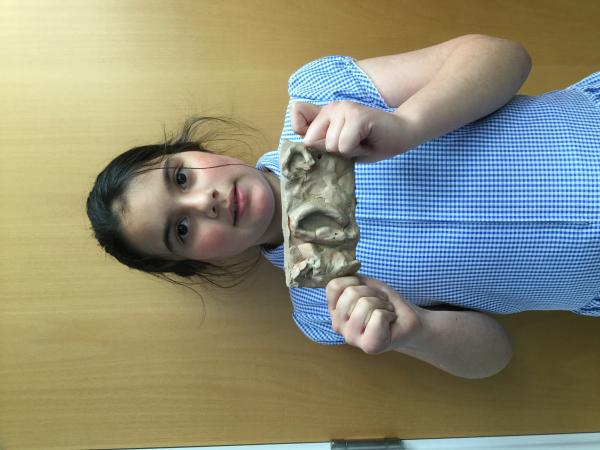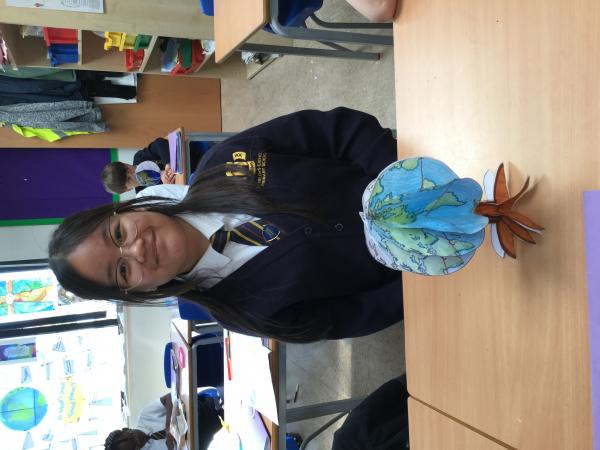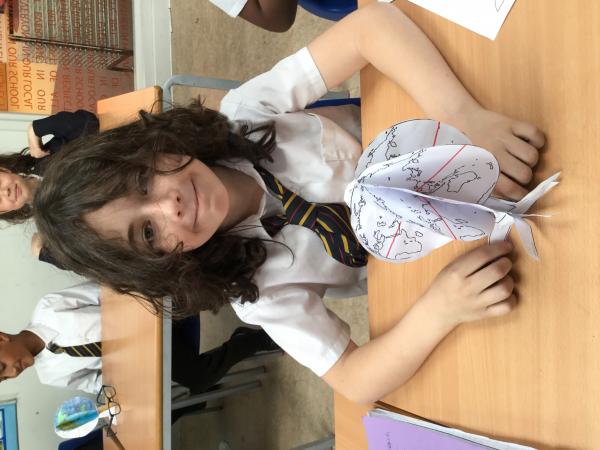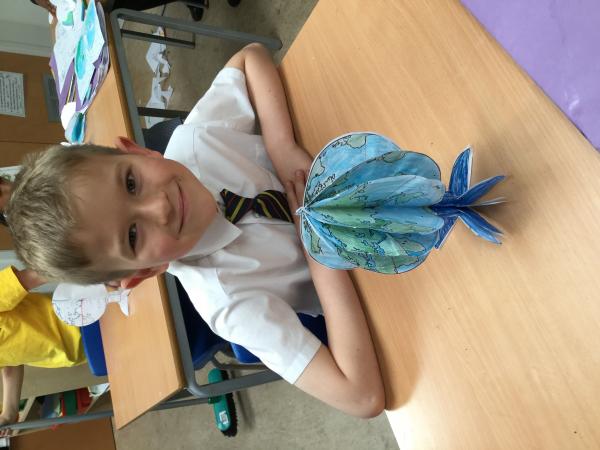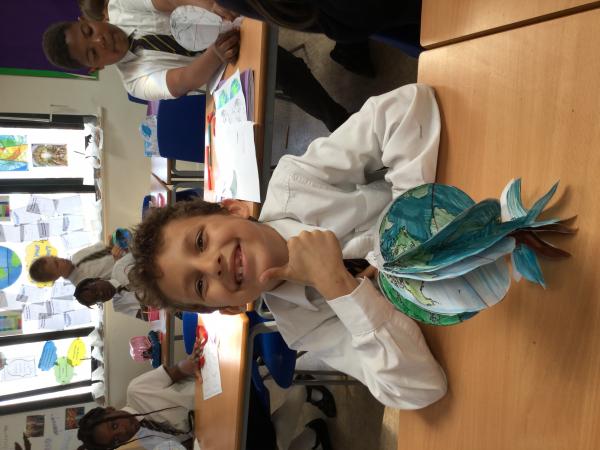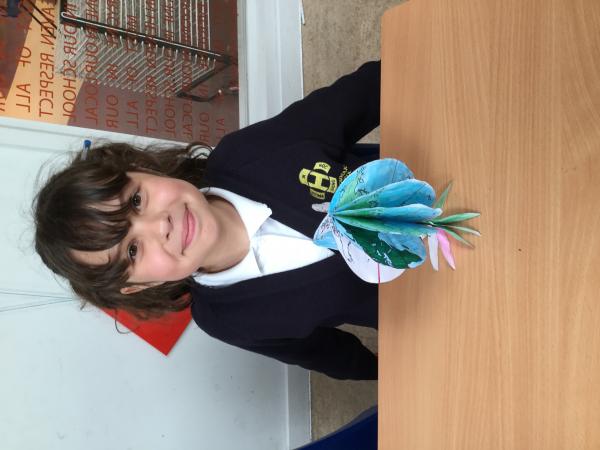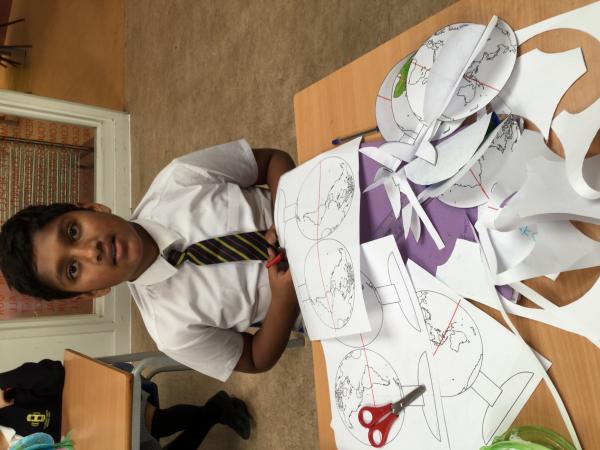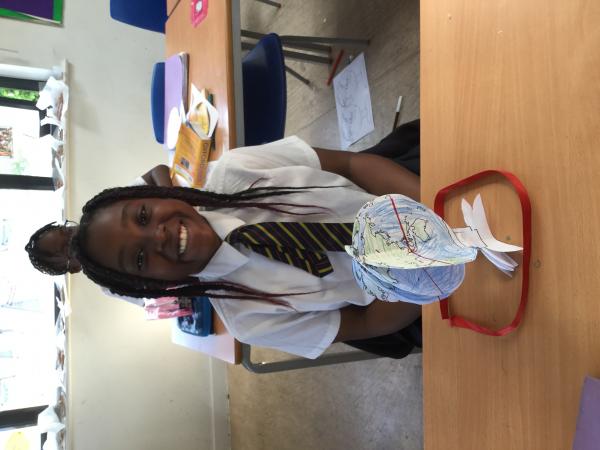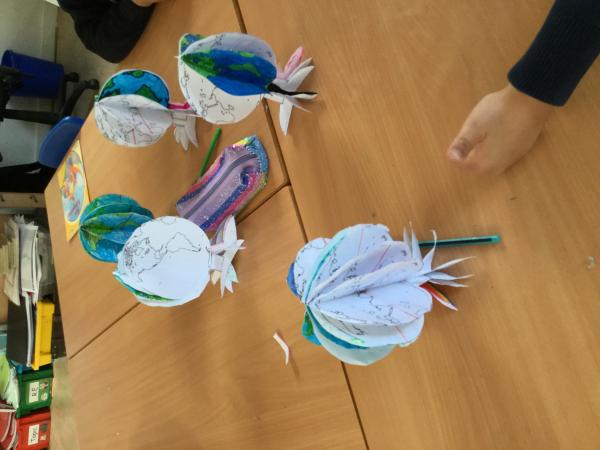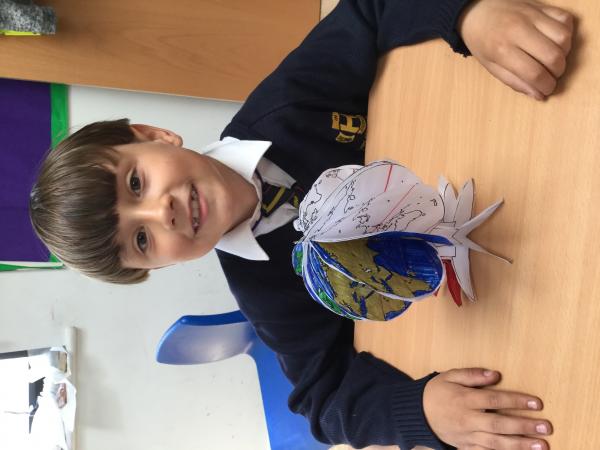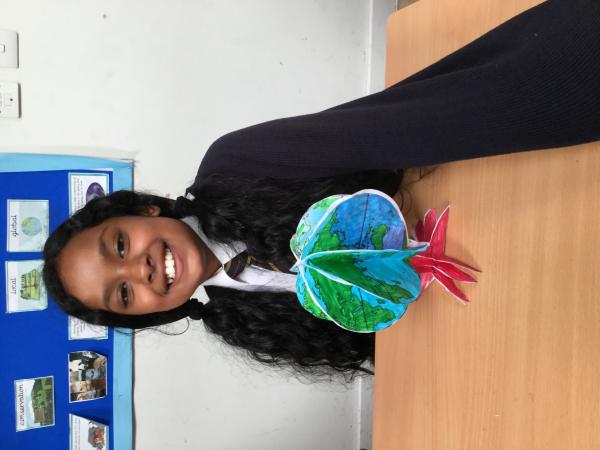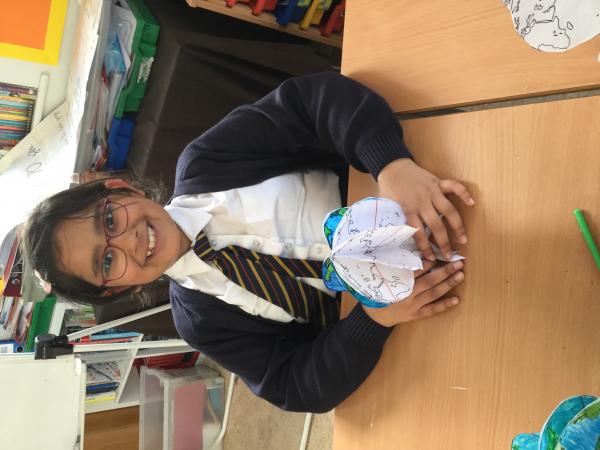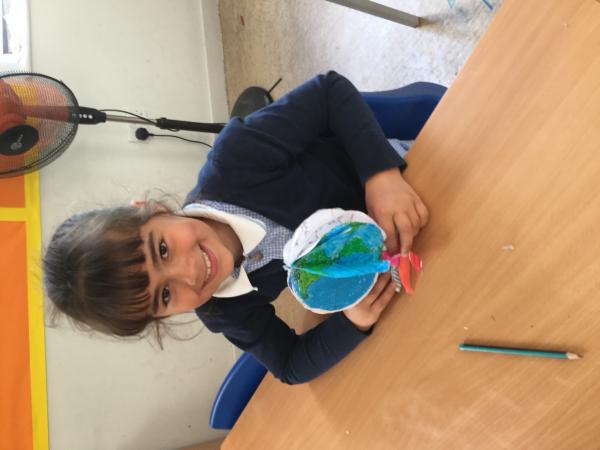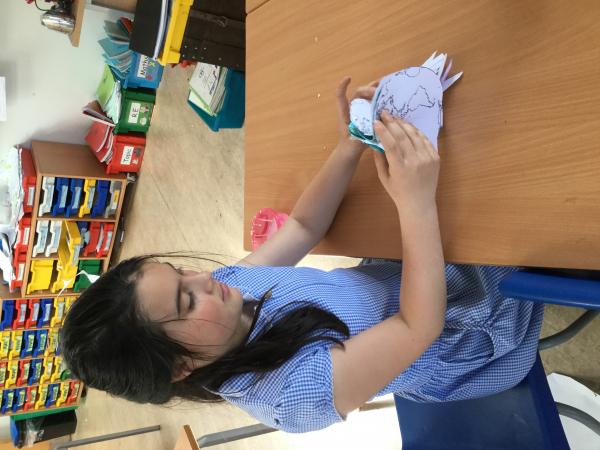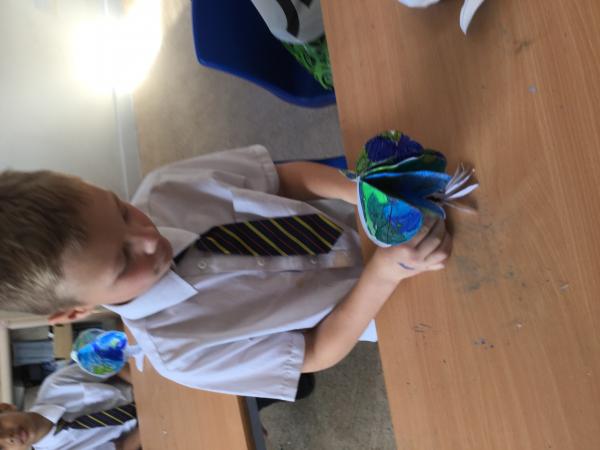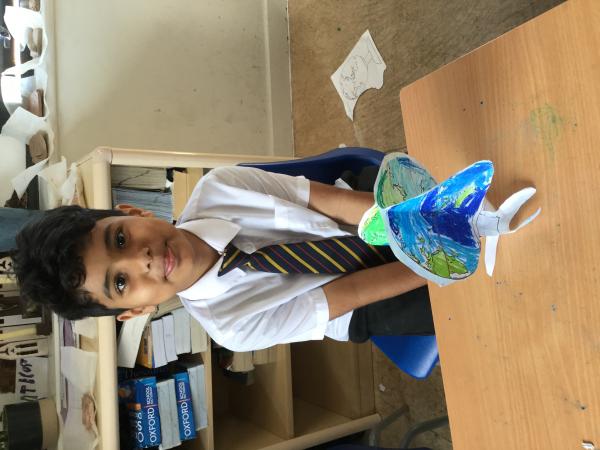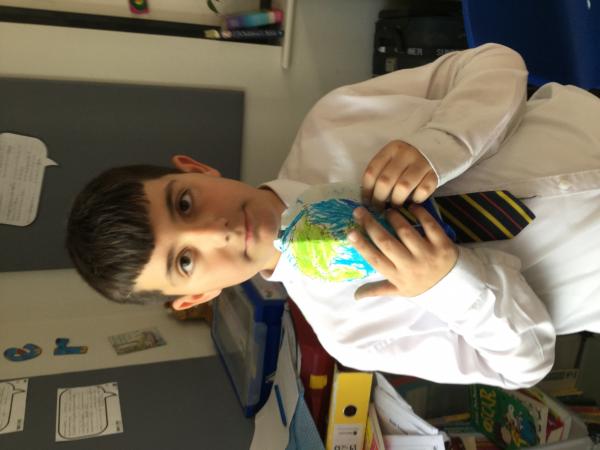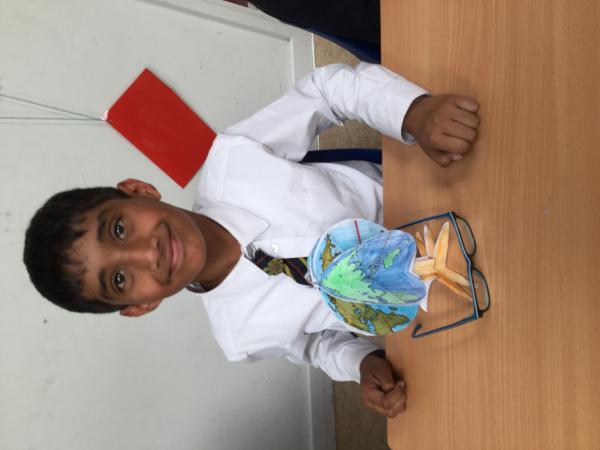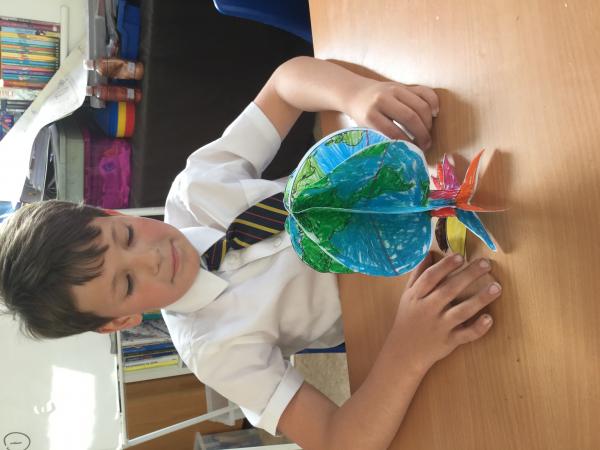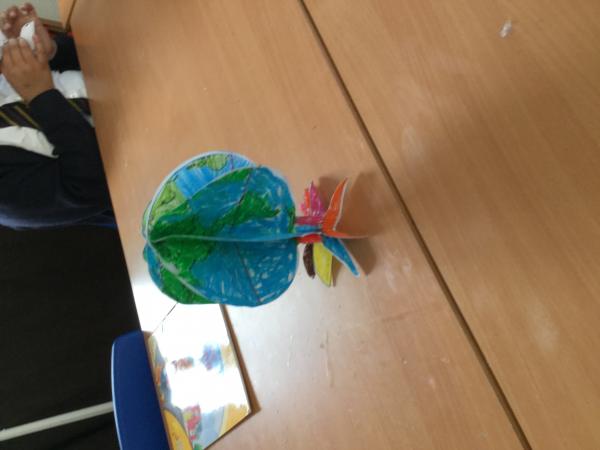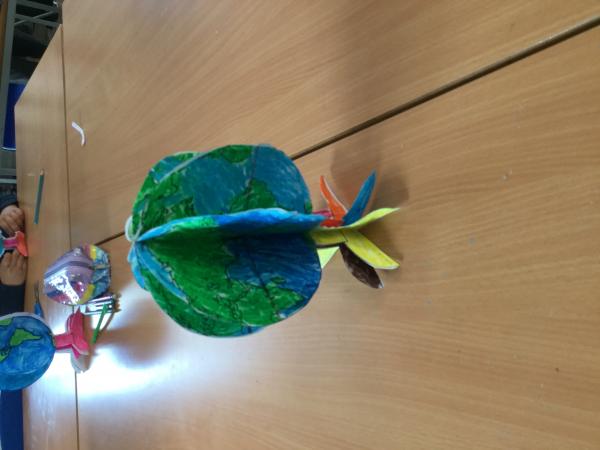 4 Fountains Measuring
4 Fountains were measuring in the classroom this week to extend their understanding of metres and centimetres. They had to estimate first, then measure accurately and finally convert the measurement from cm to metres using decimals. Some great use of maths vocabulary too!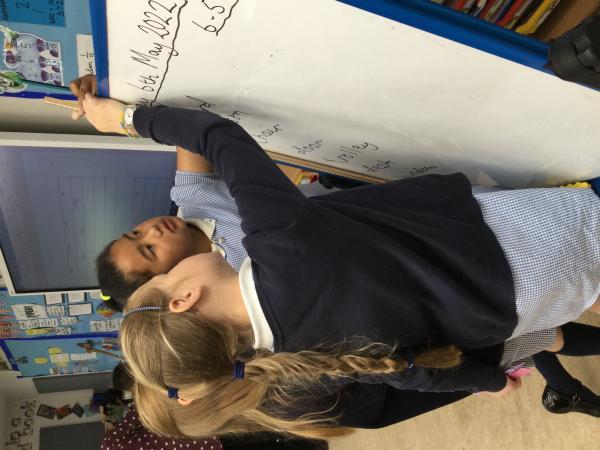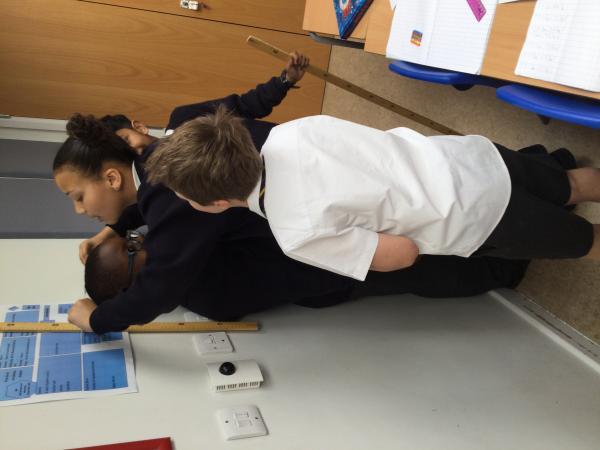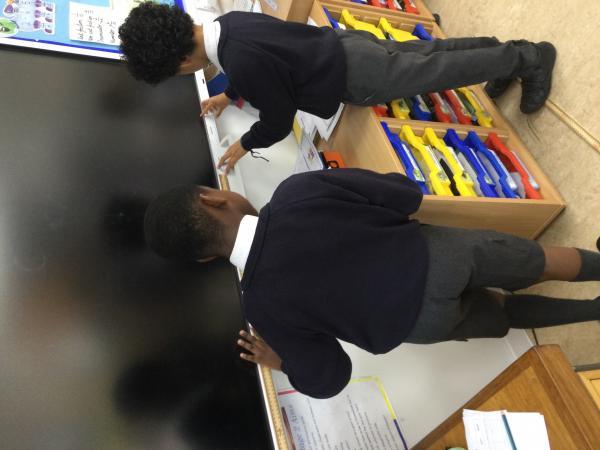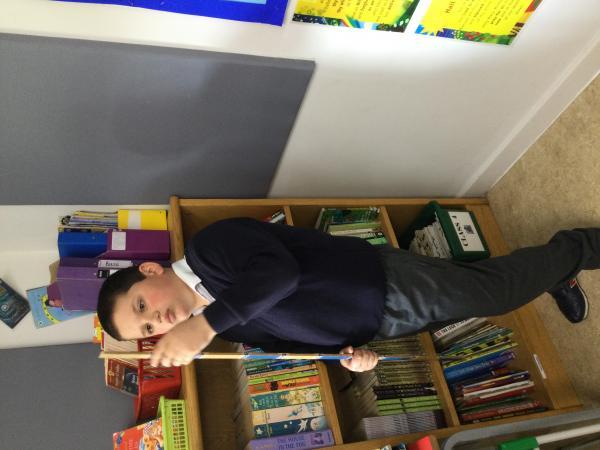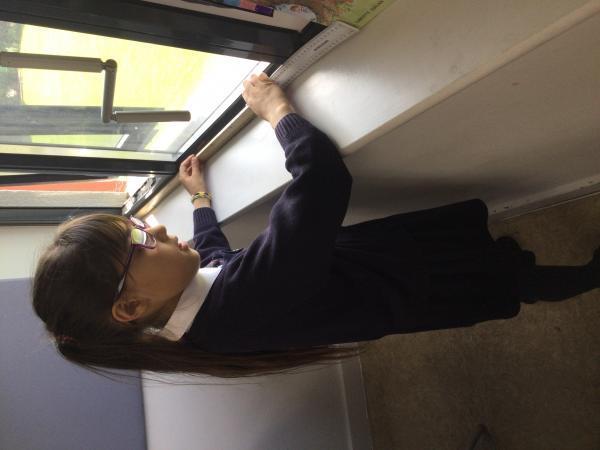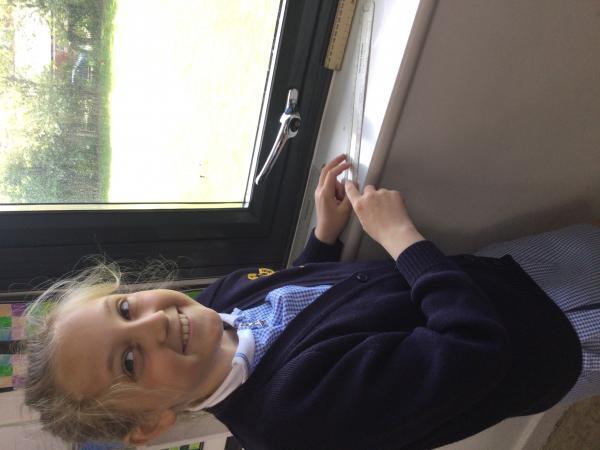 4 Fountains in the Nature Area
4F had a very busy morning in the nature area. They learnt many new games - cut the rope, bones, fingers and thumbs, slaps and otter, salmon, eagle. They all took part, co-operating well and having fun. We moved into the nature area where we completed a blindfold trail. Some of the children described their feelings of being fearful, worried and nervous when blindfolded. When they were leading, they felt responsible for the safety of others. We also completed the task of pond dipping with much excitement.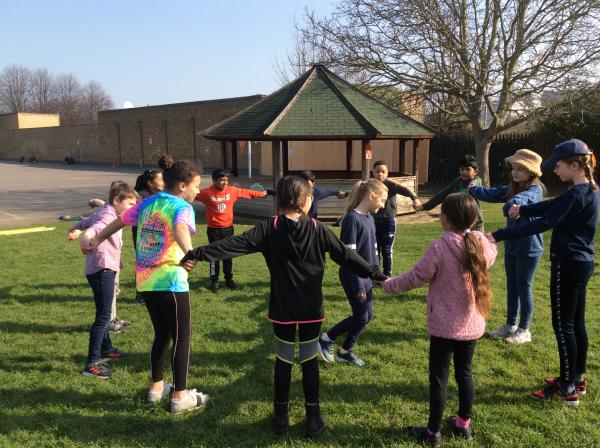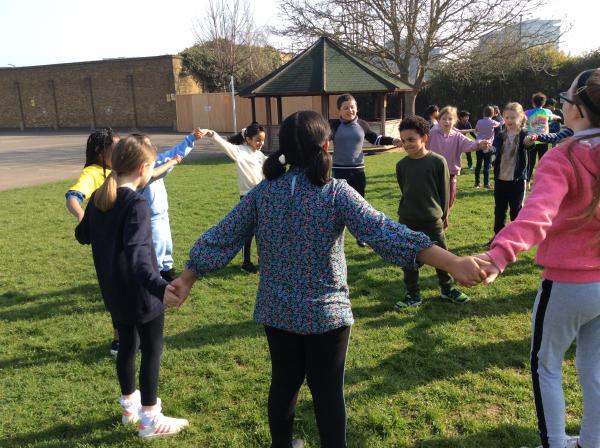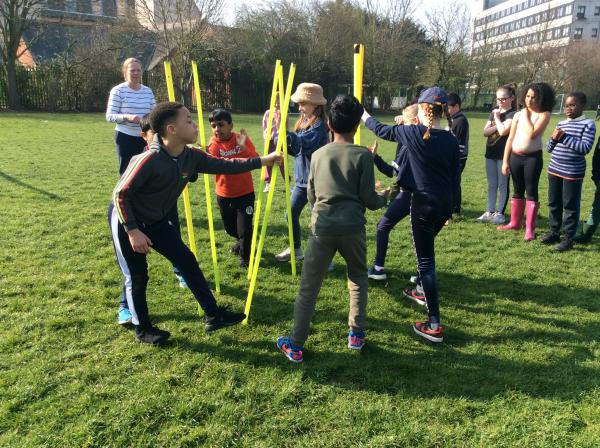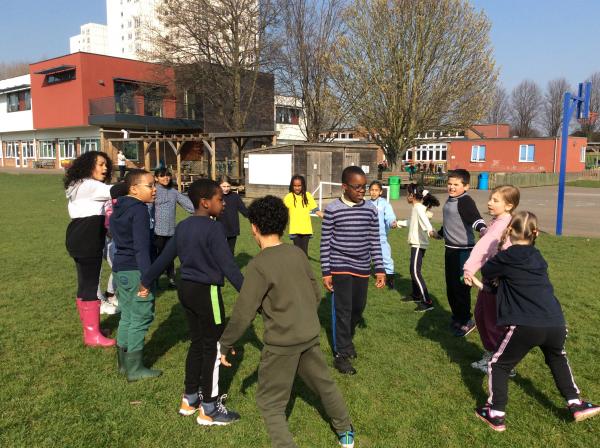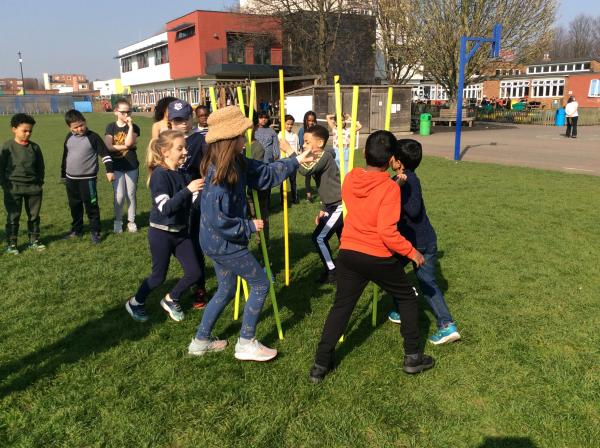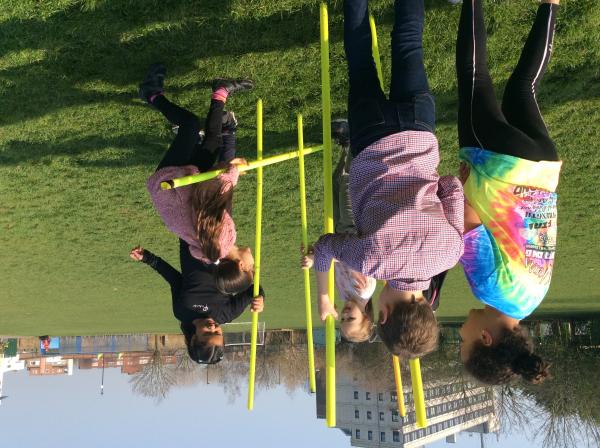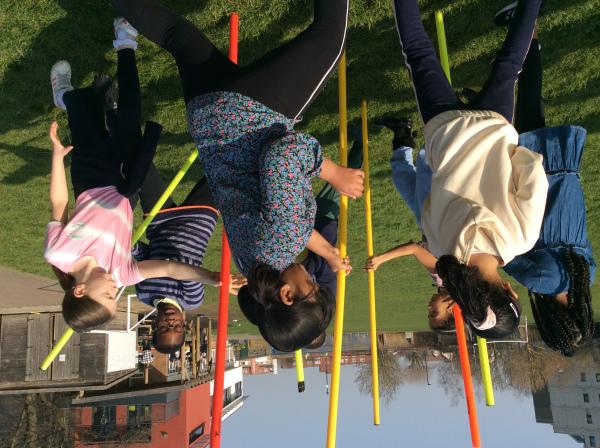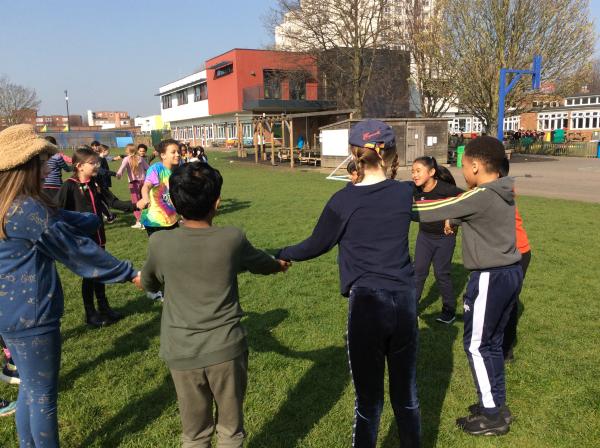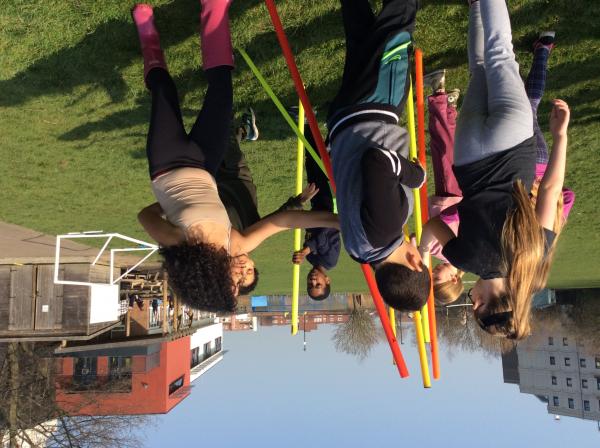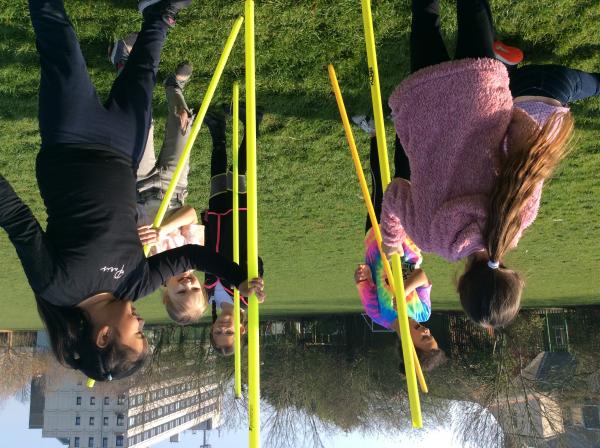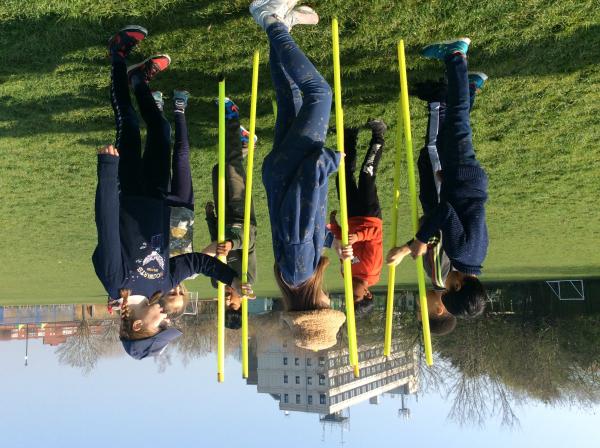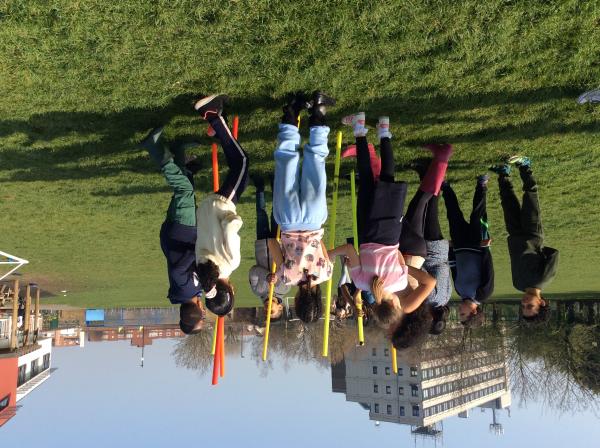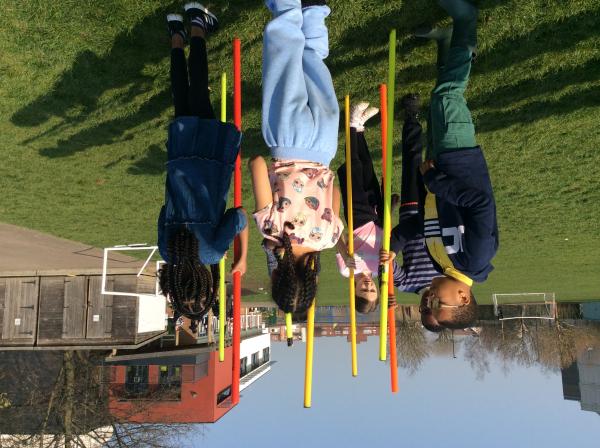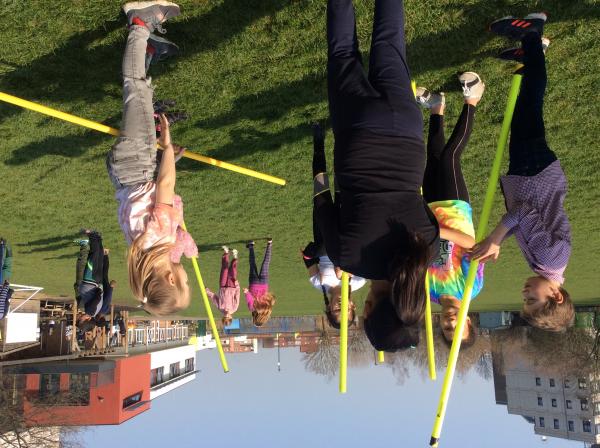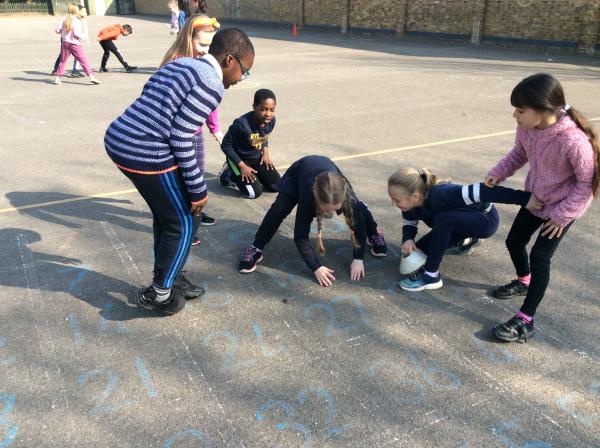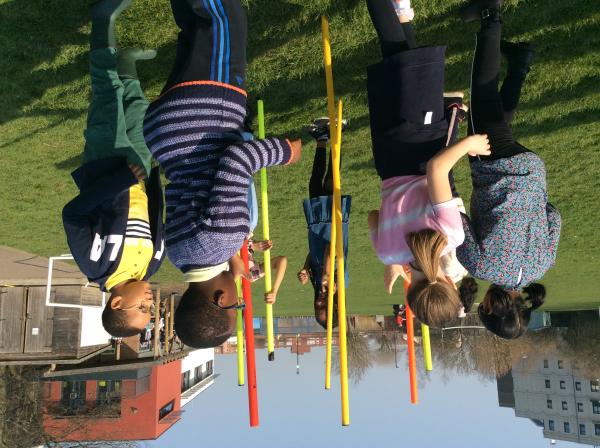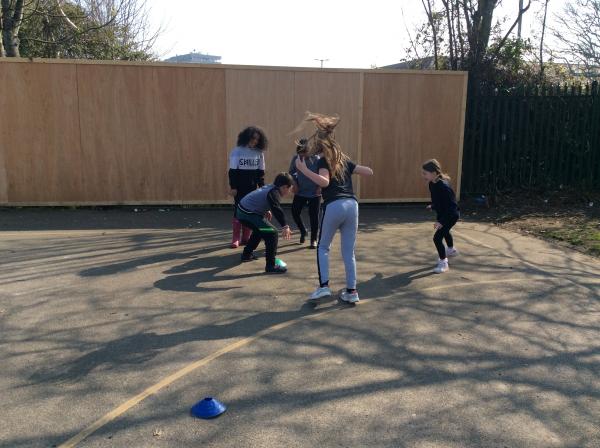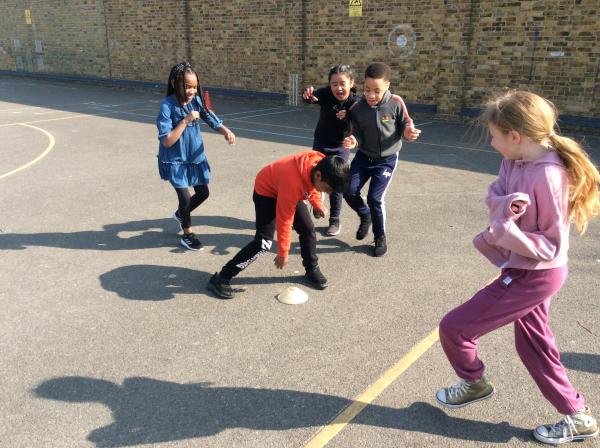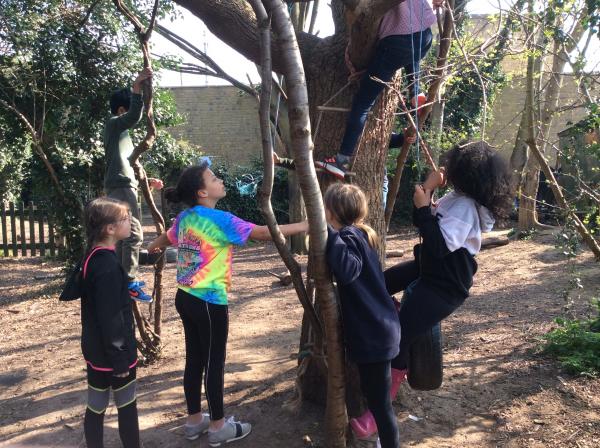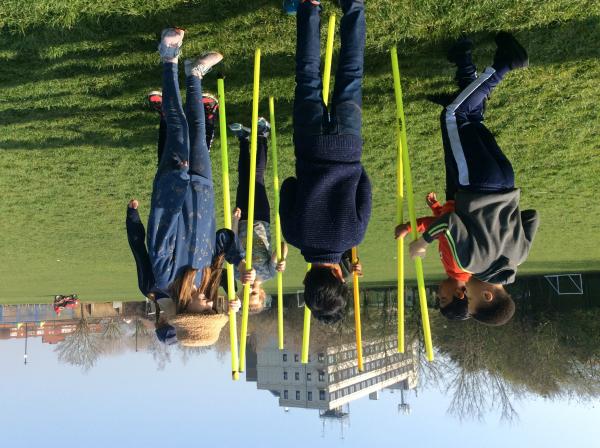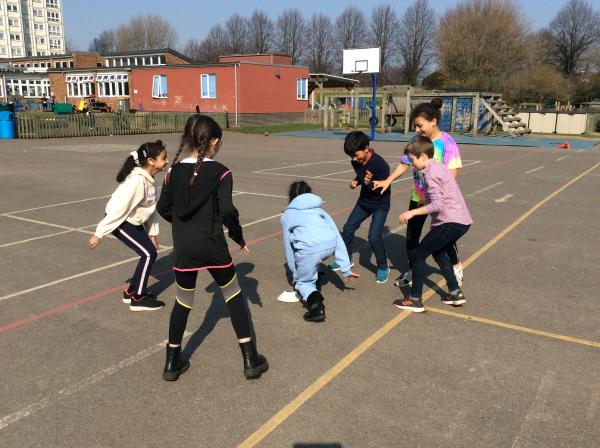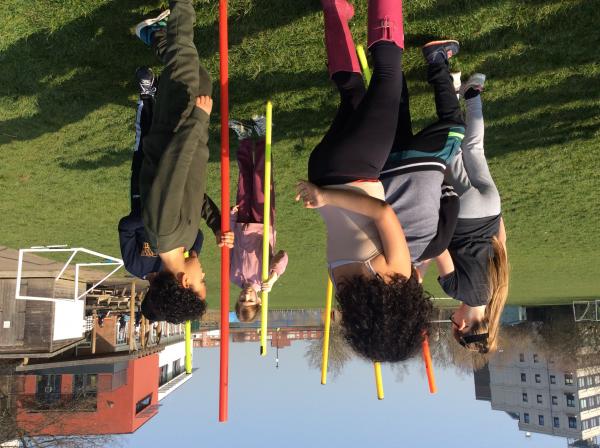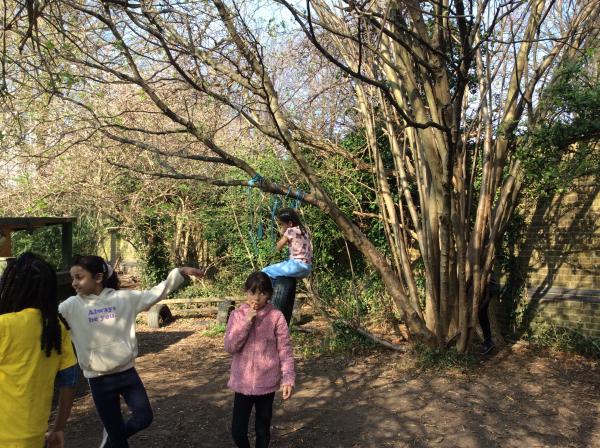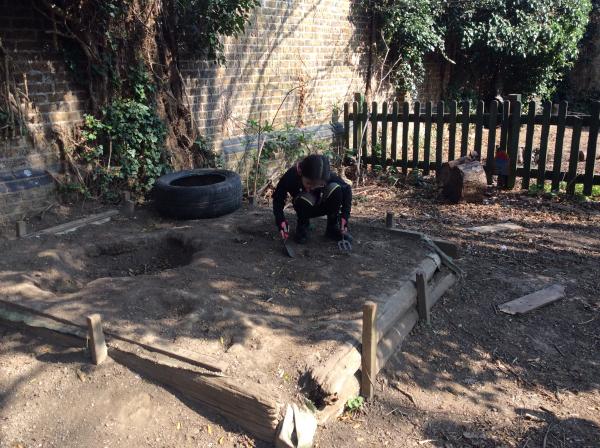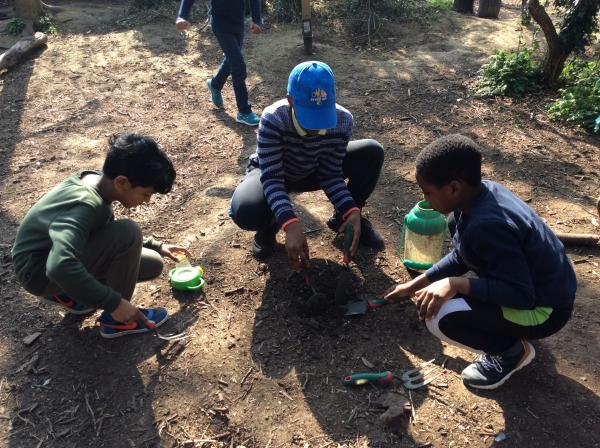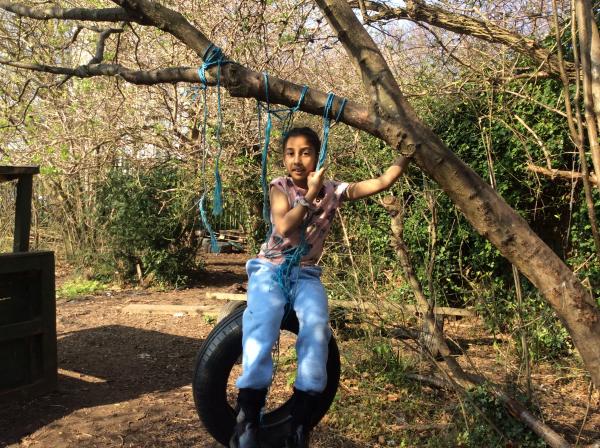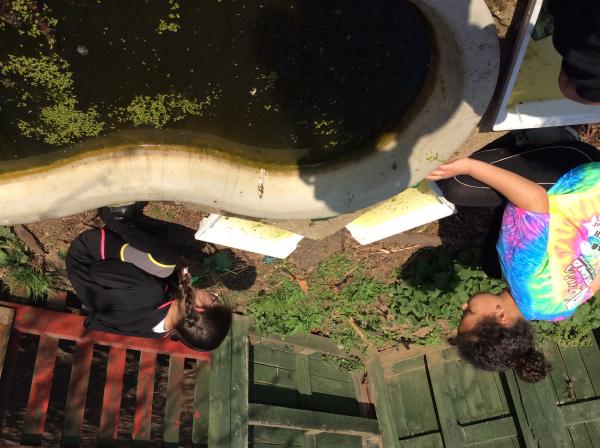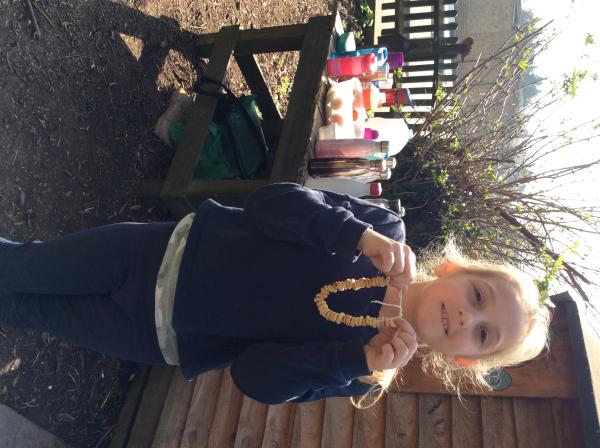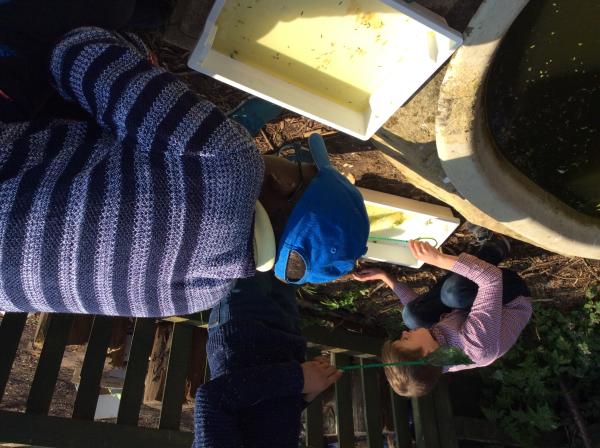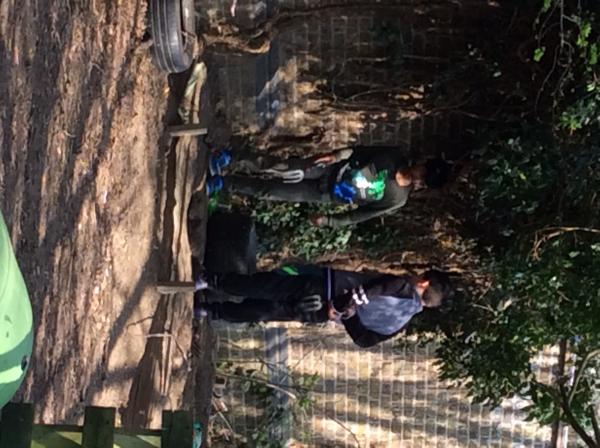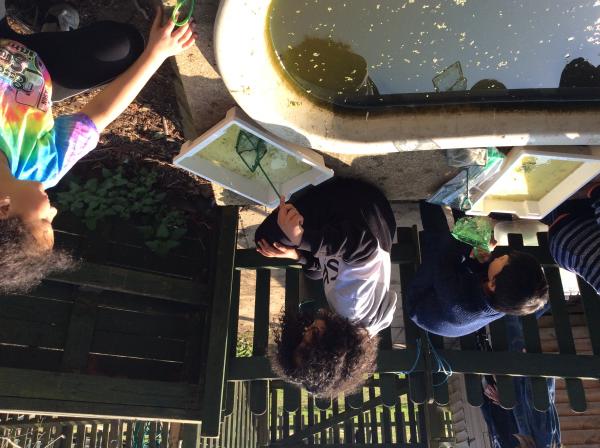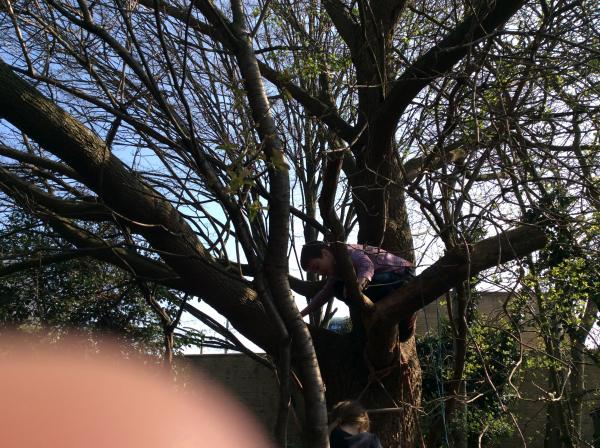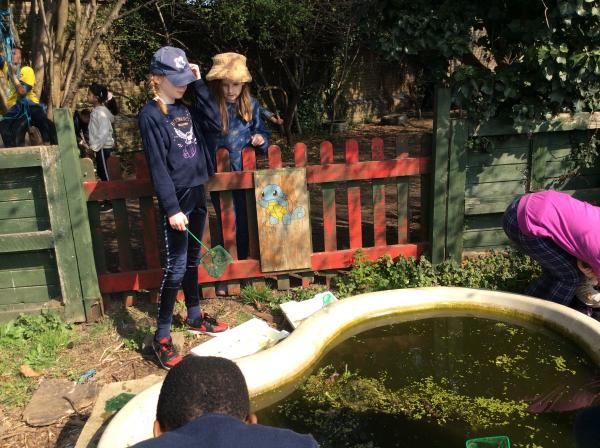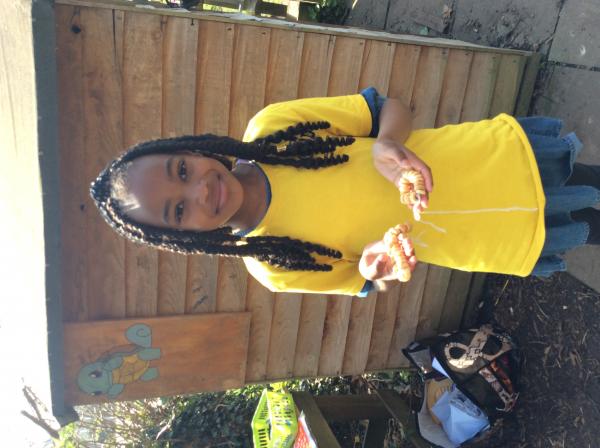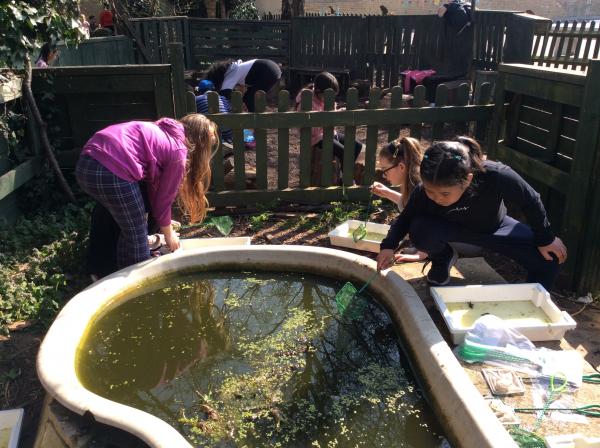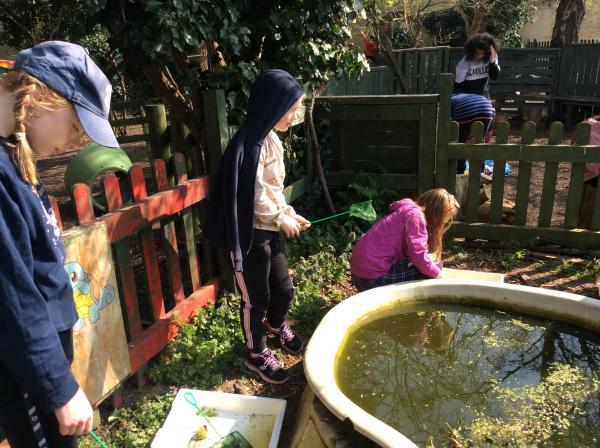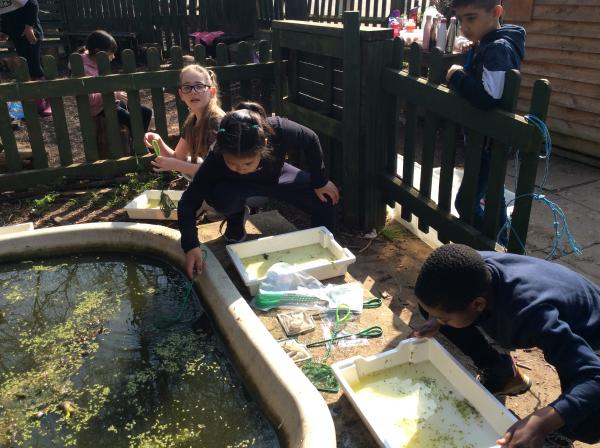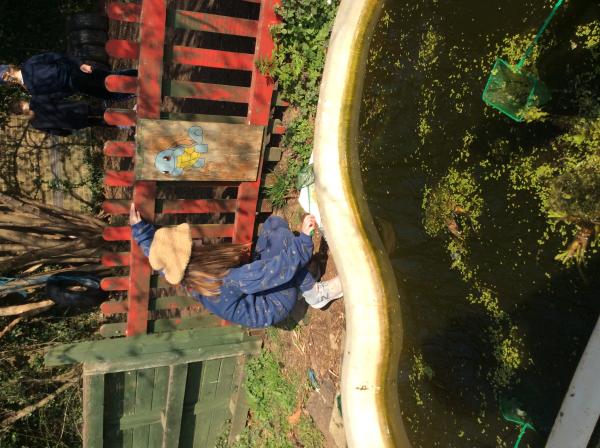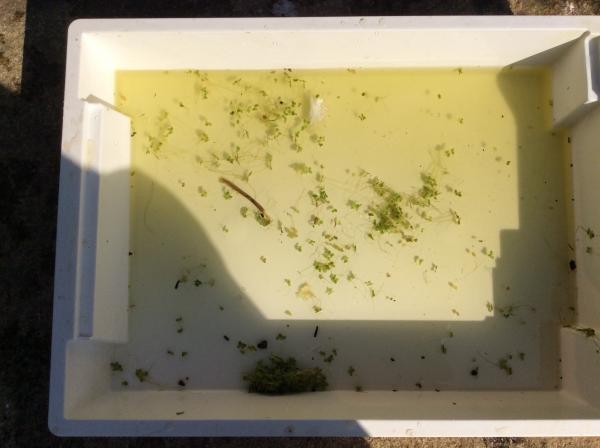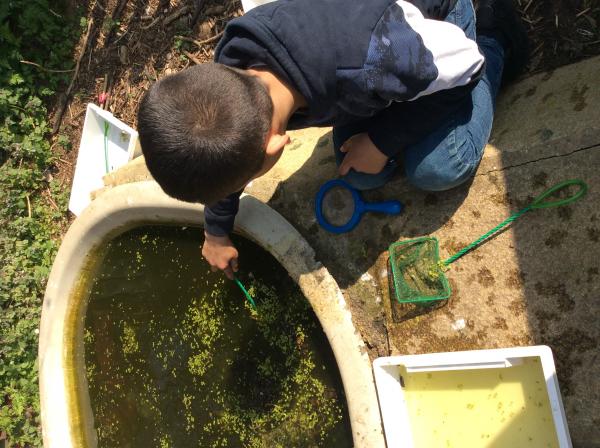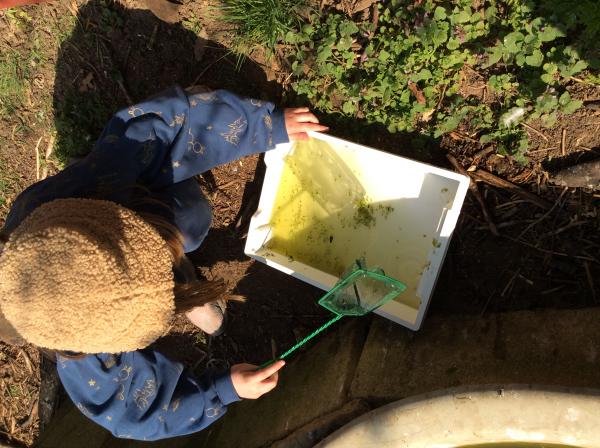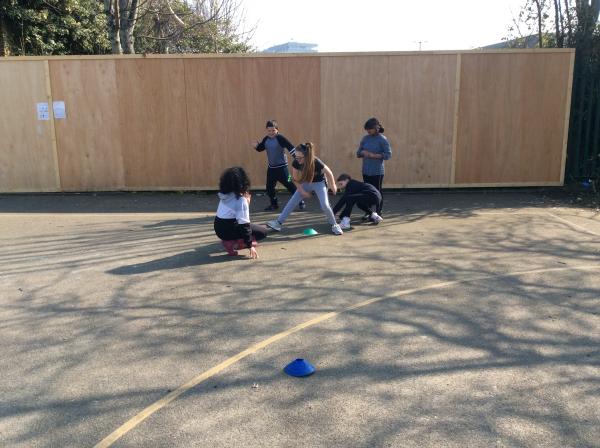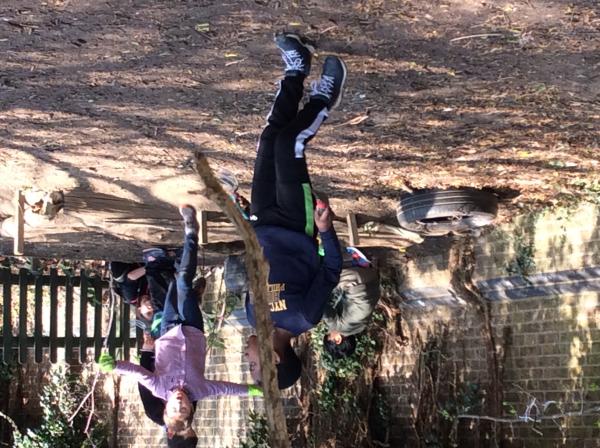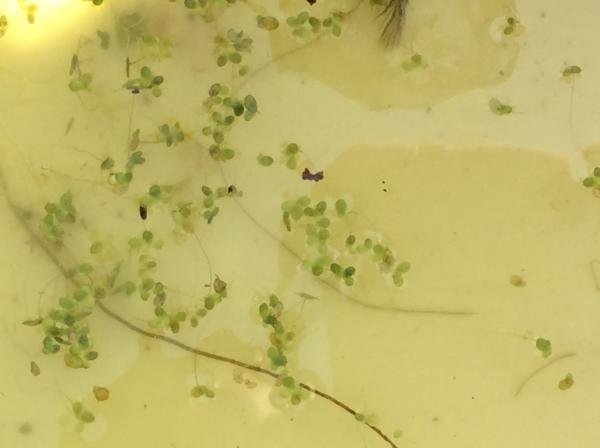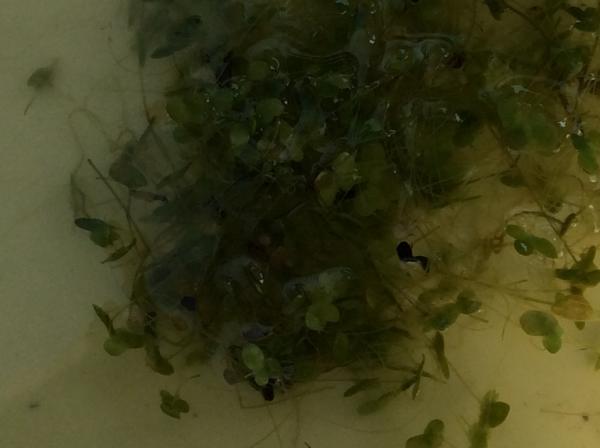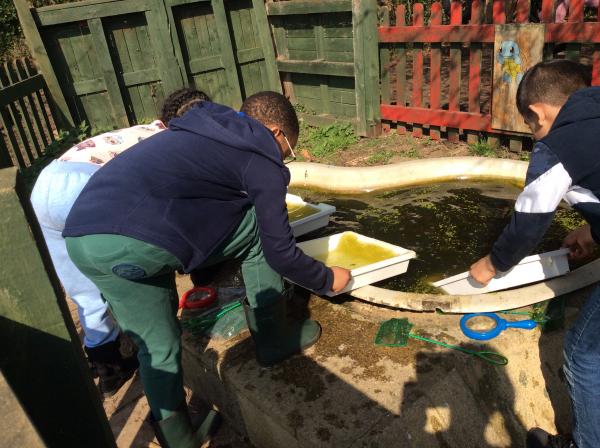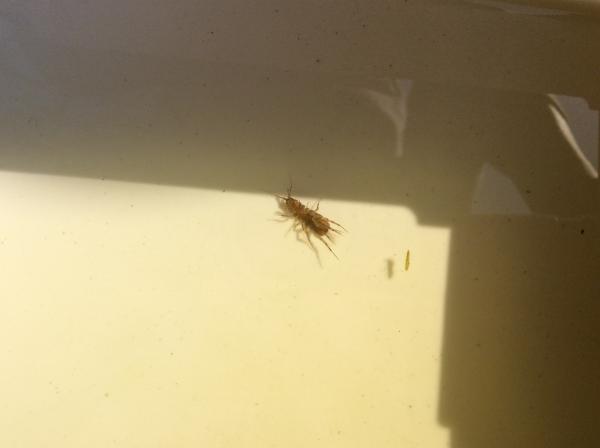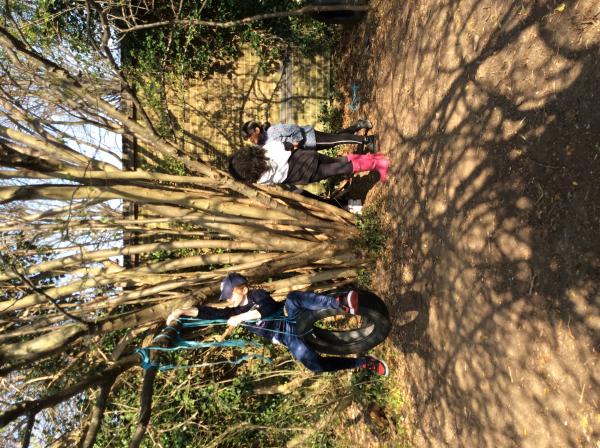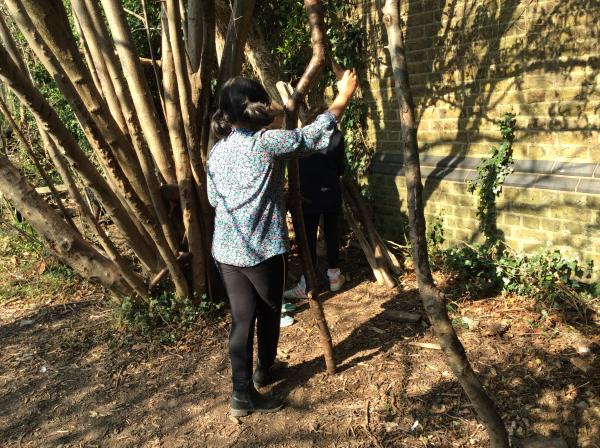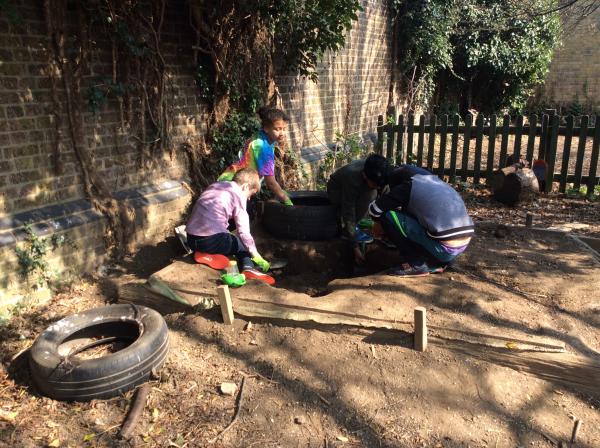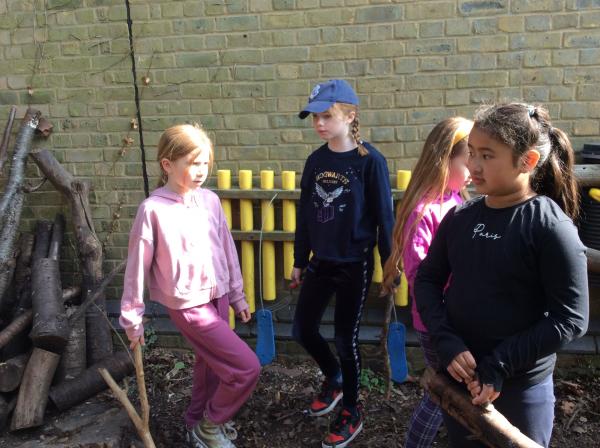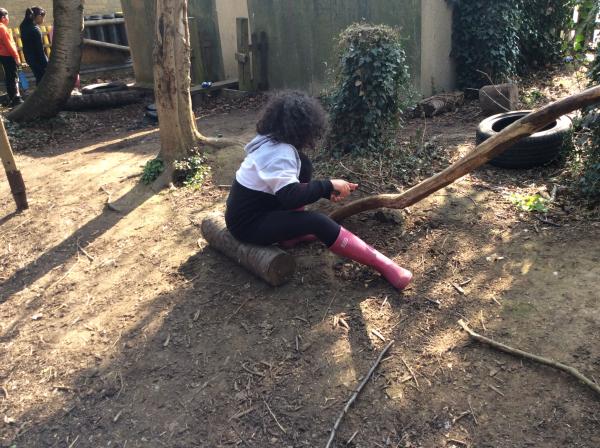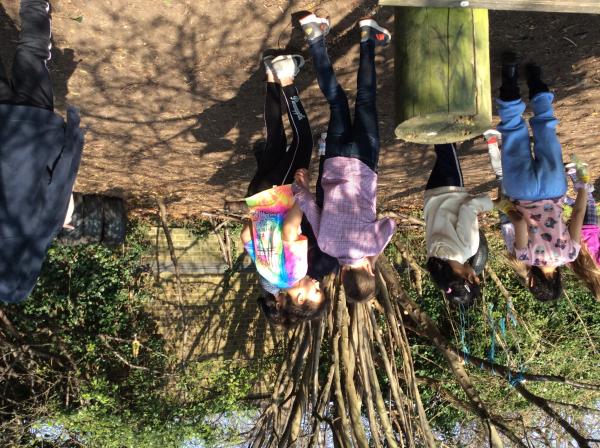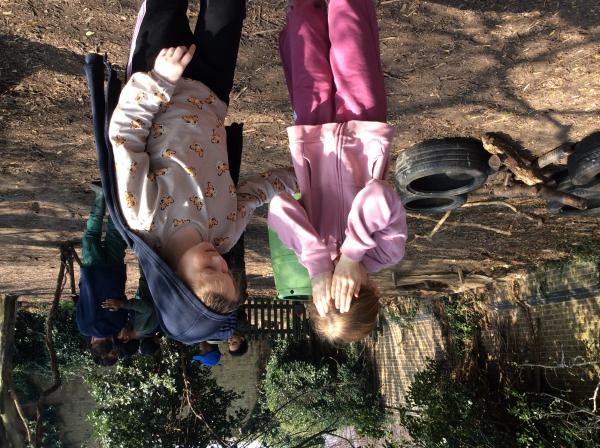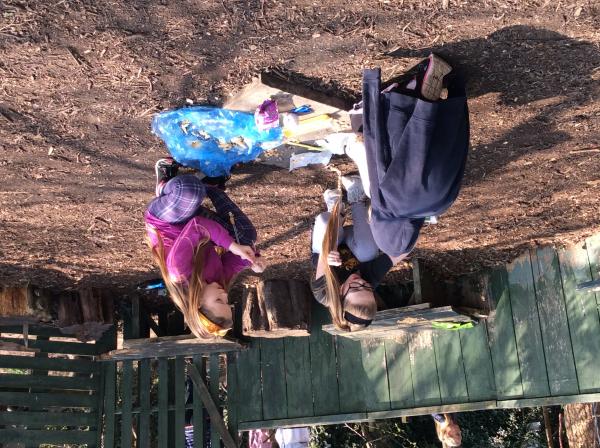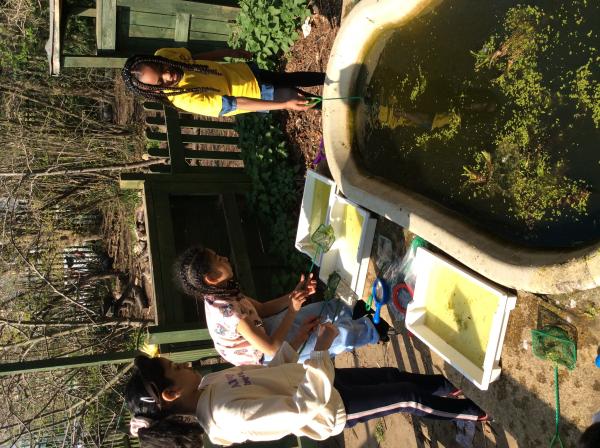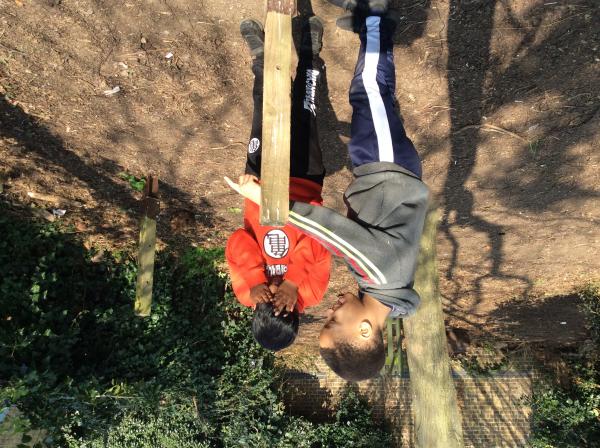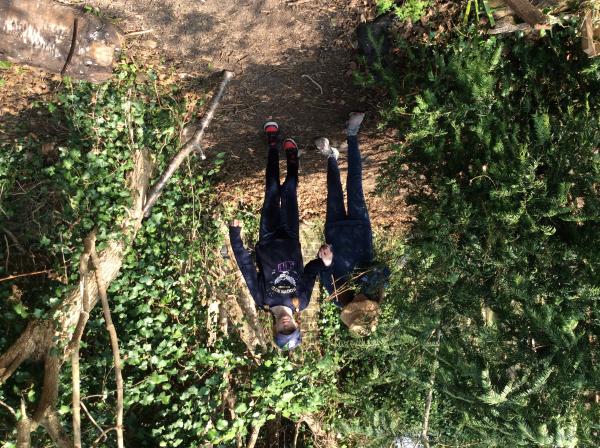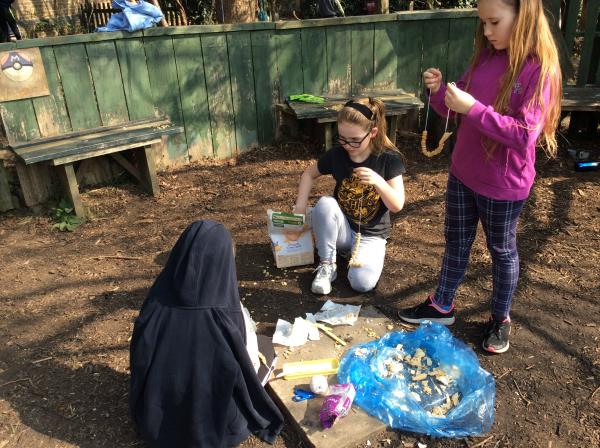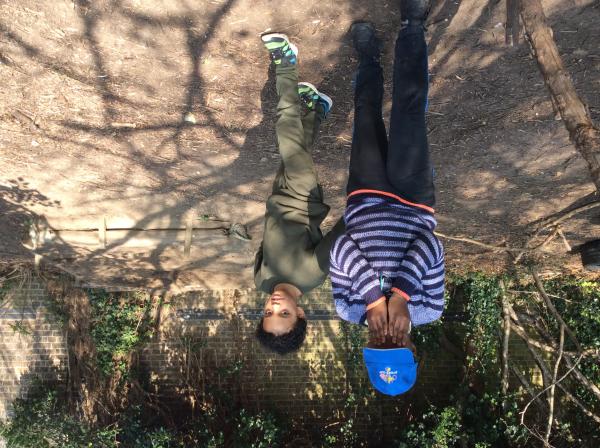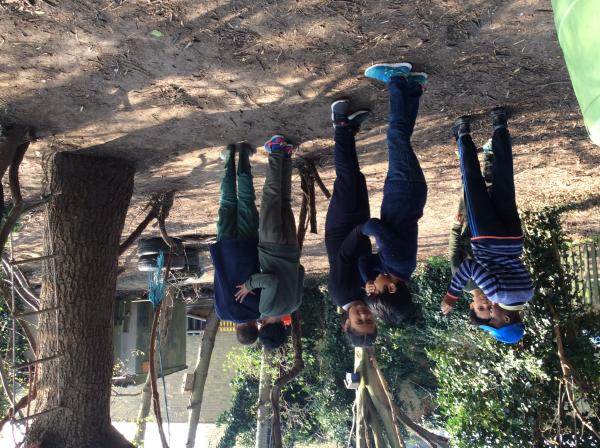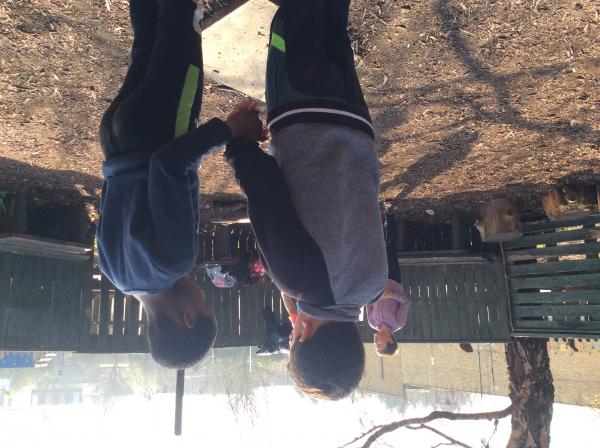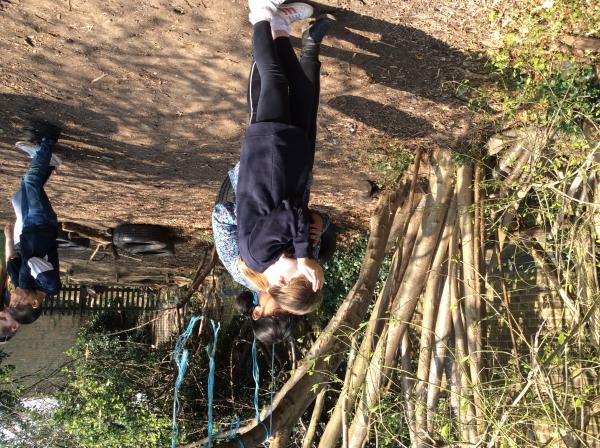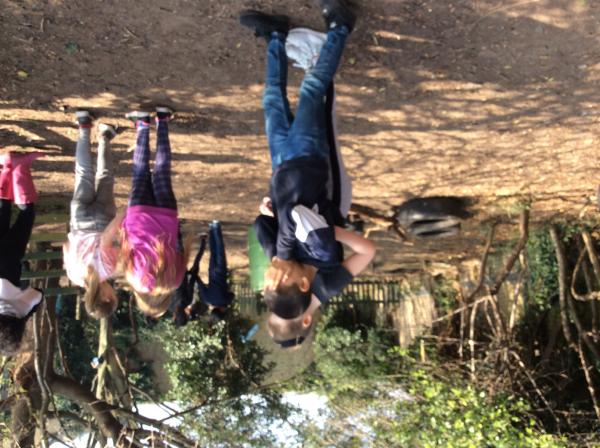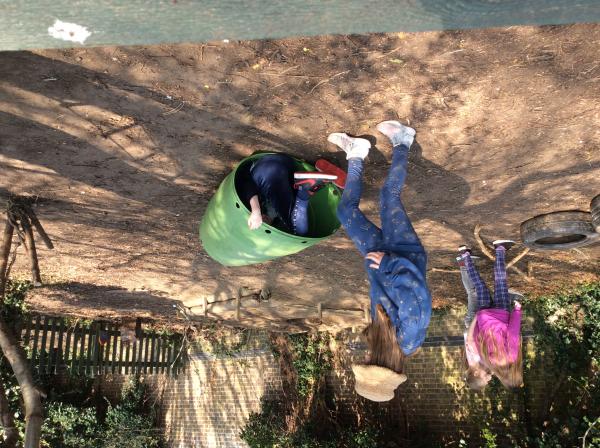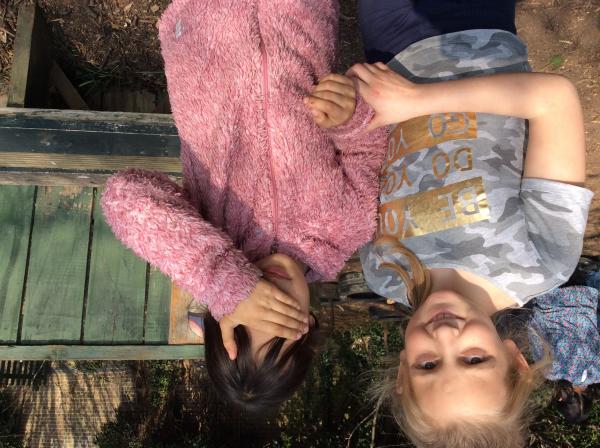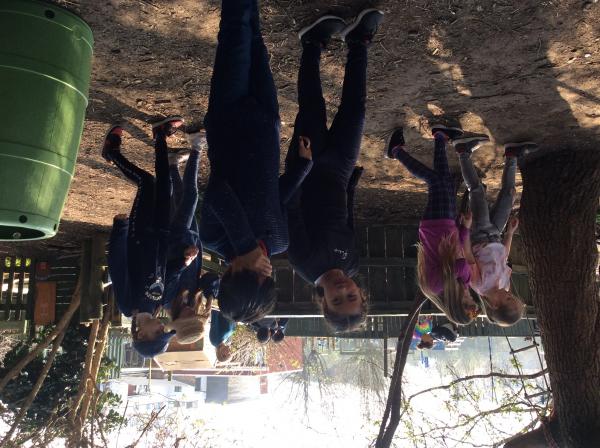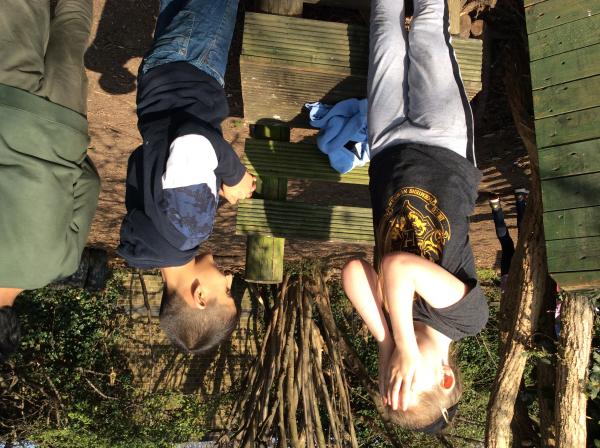 Hadleigh Histories presents The Romans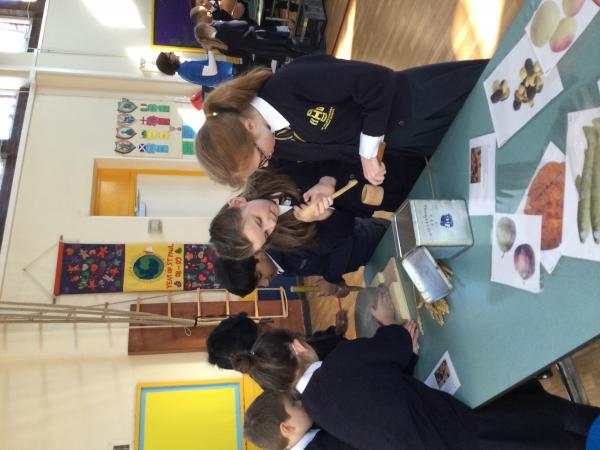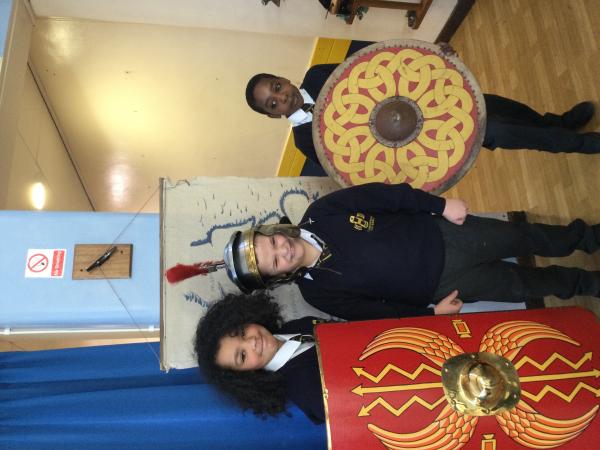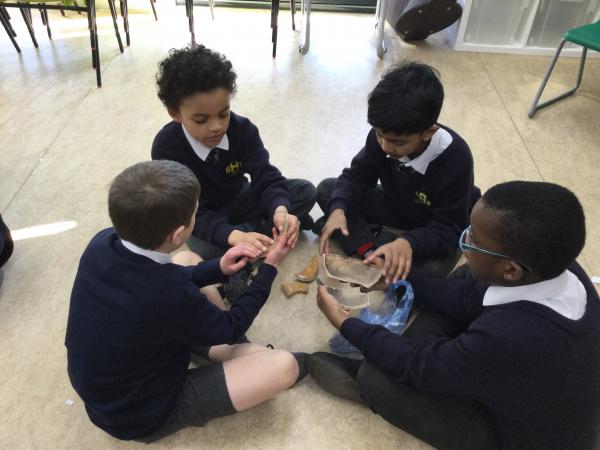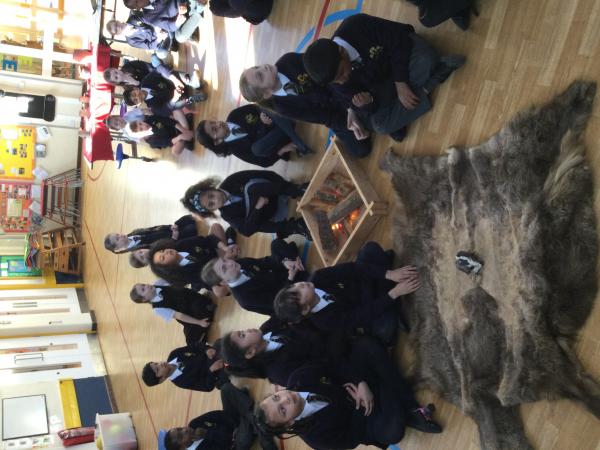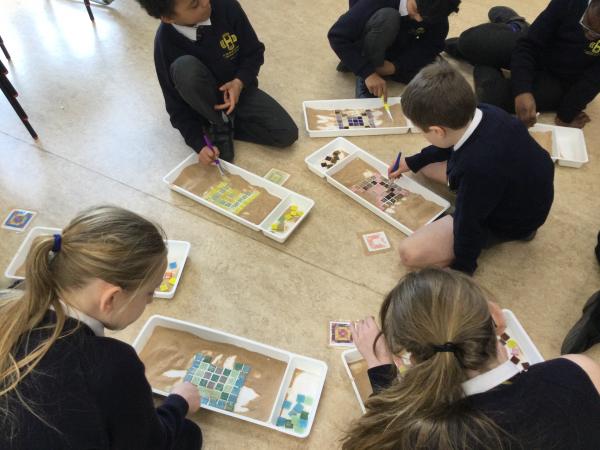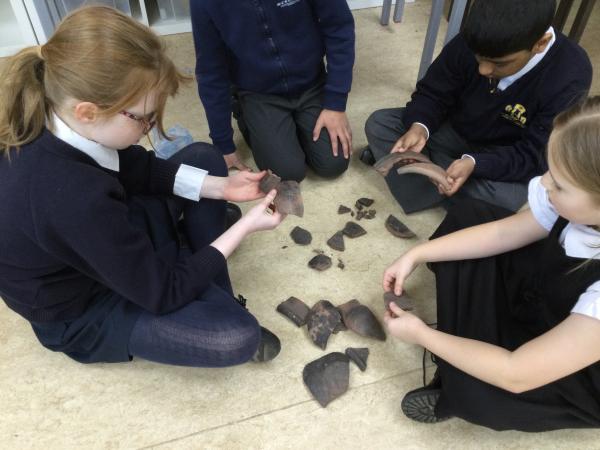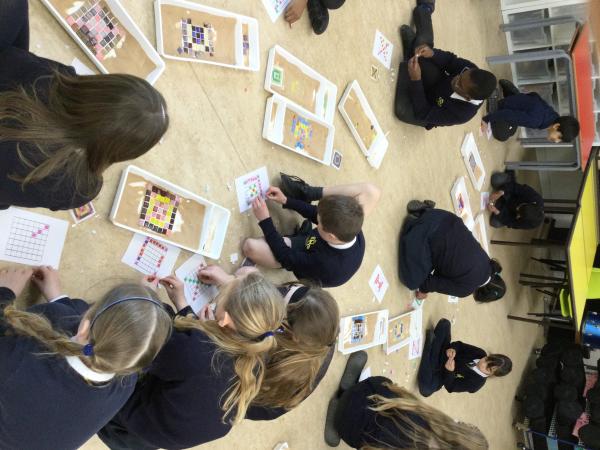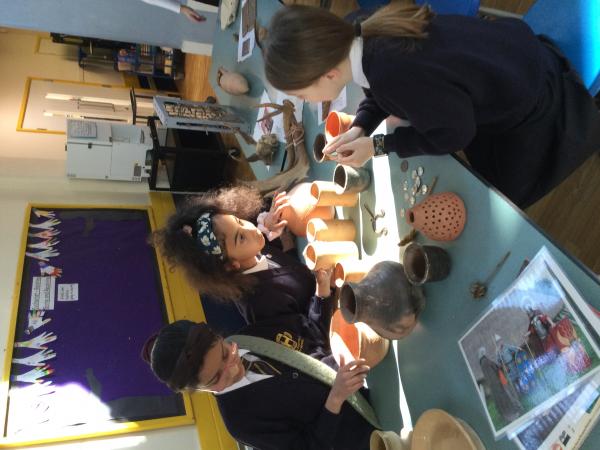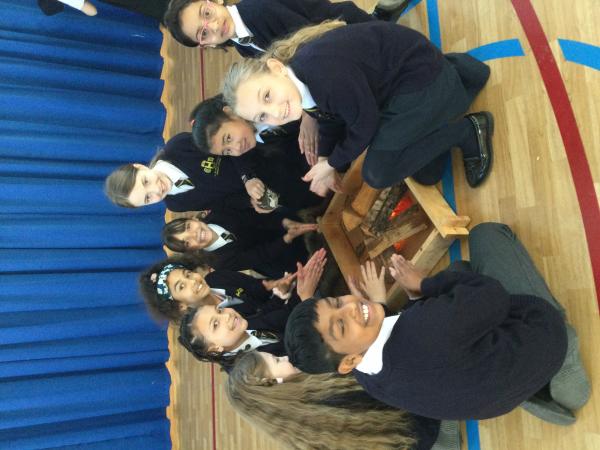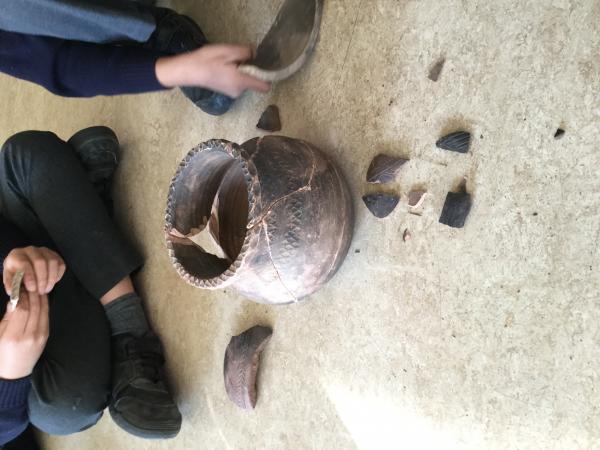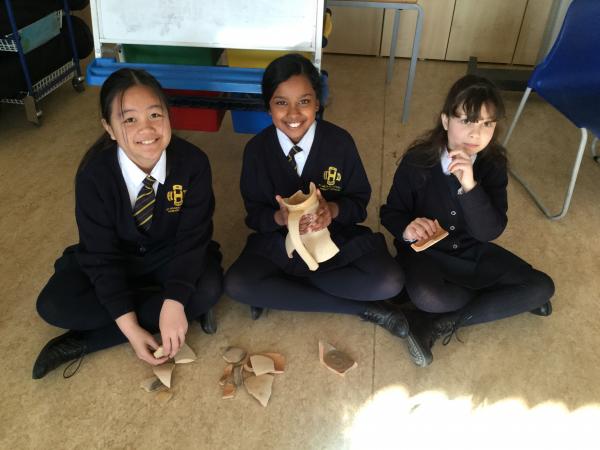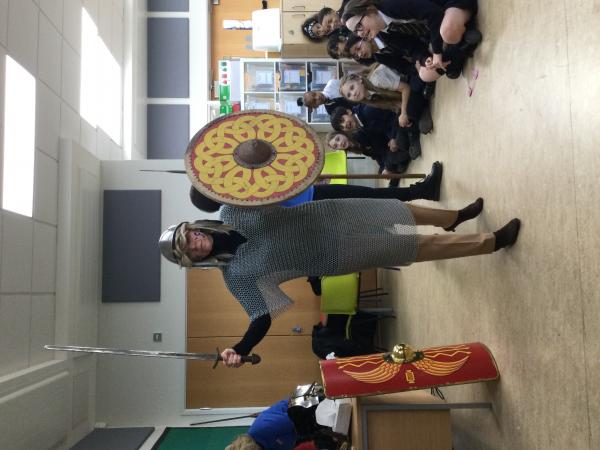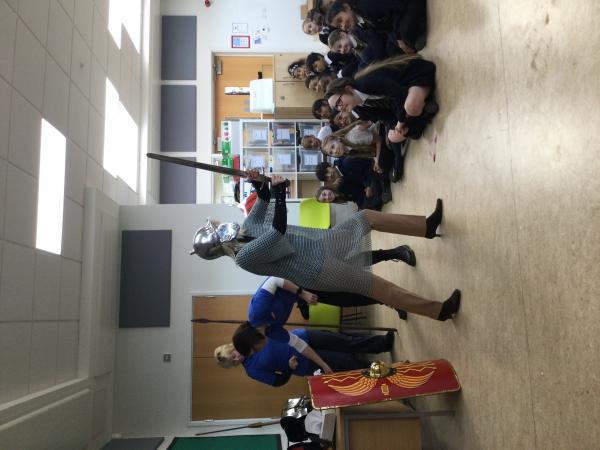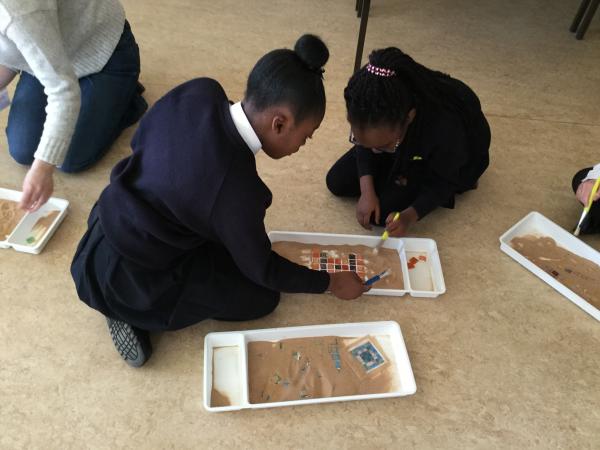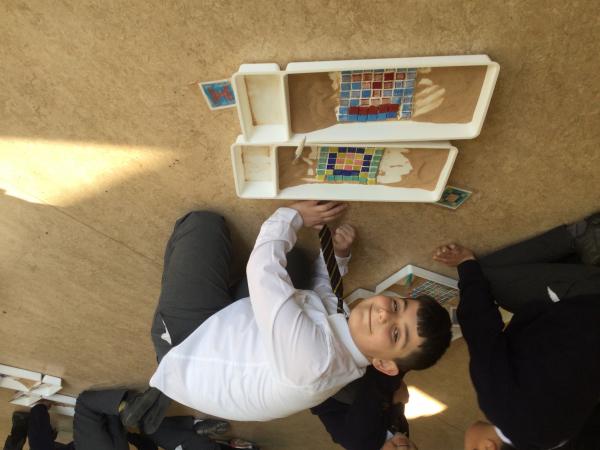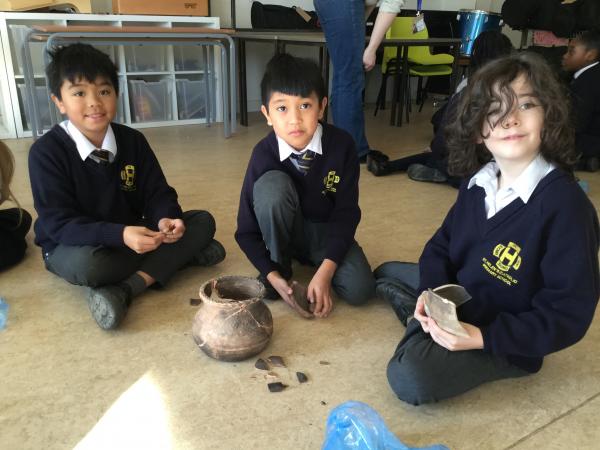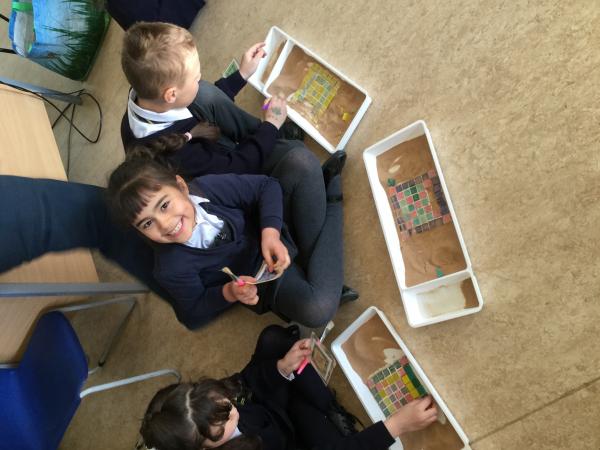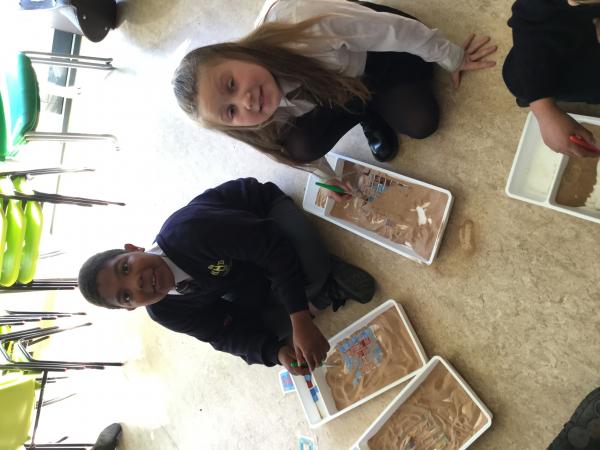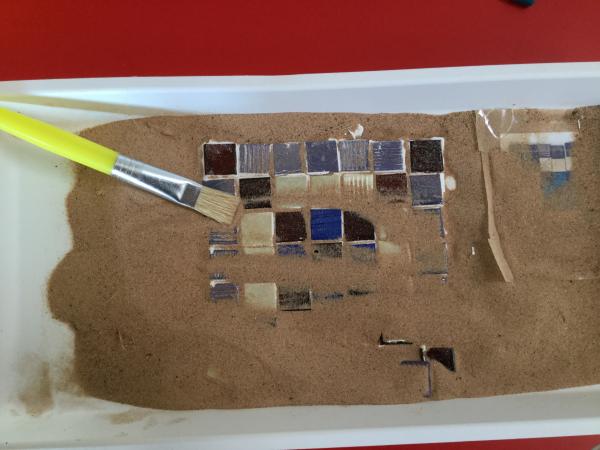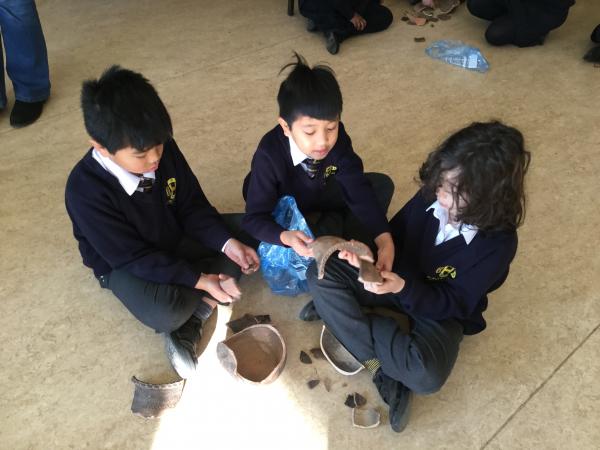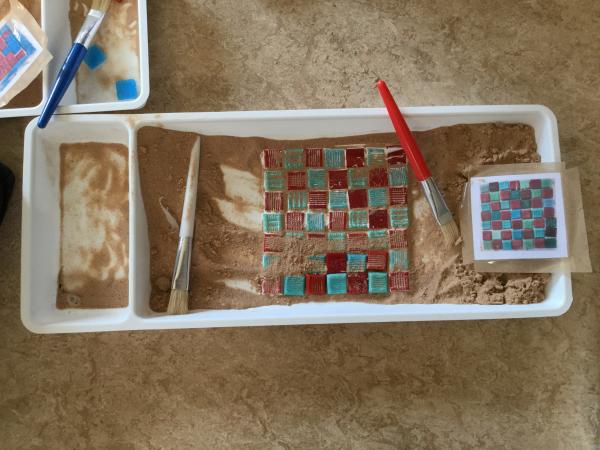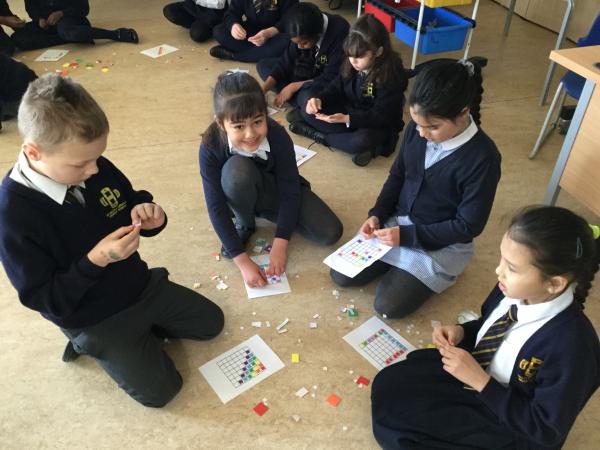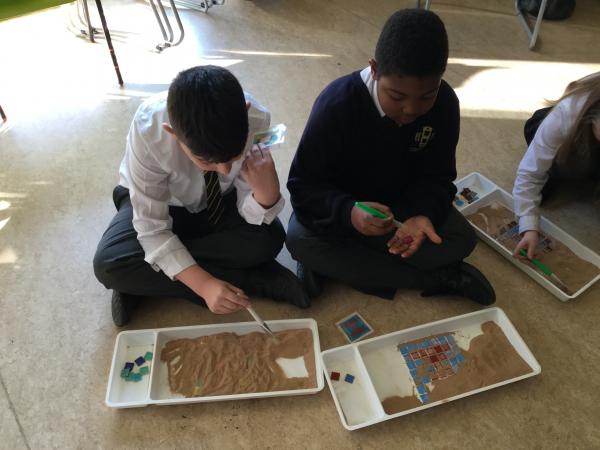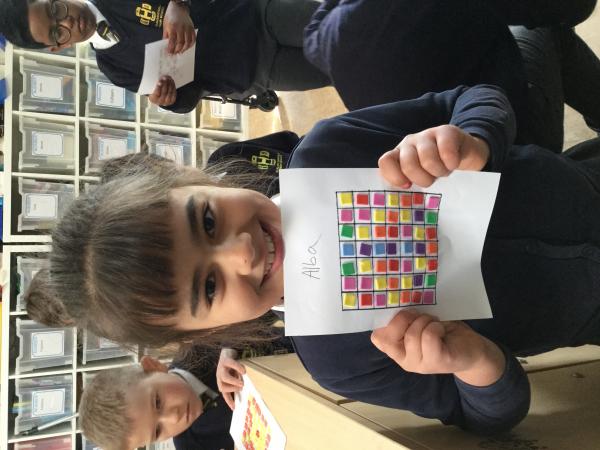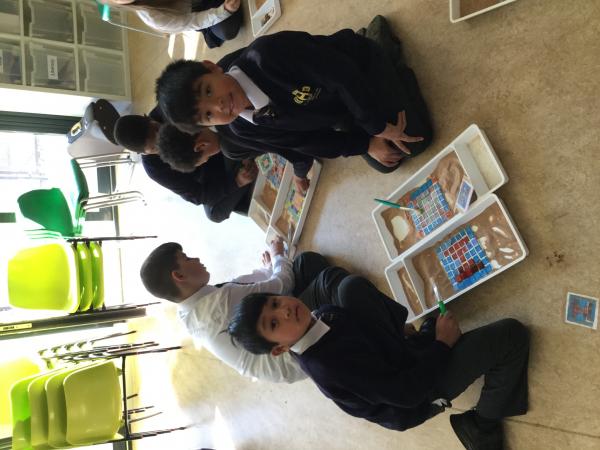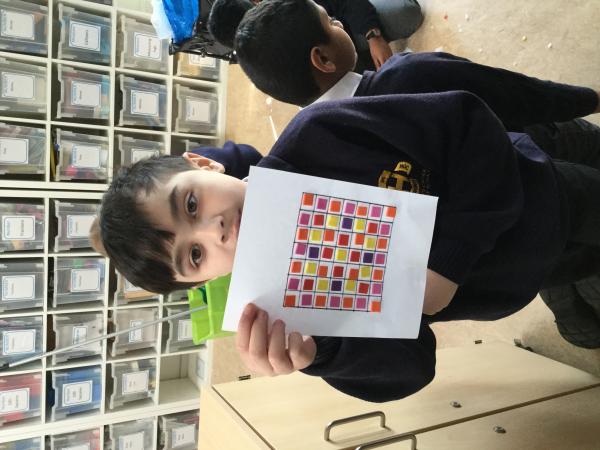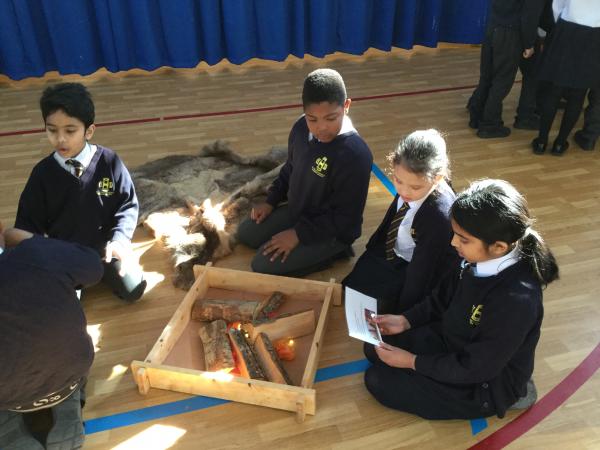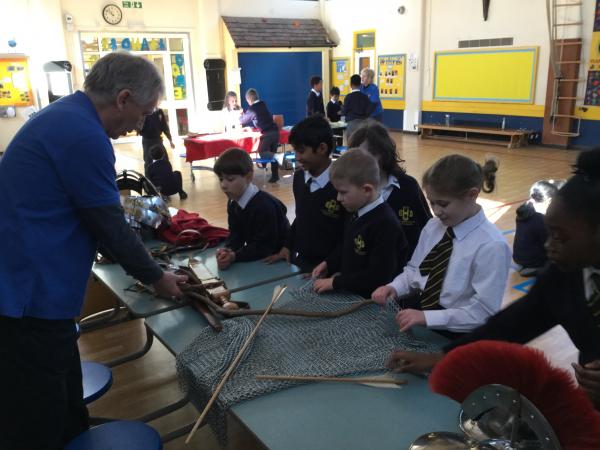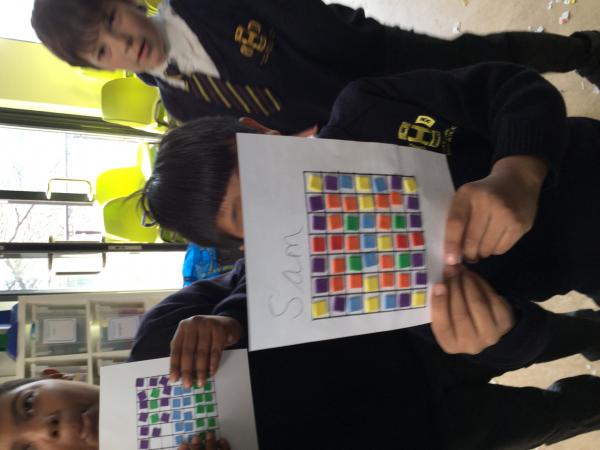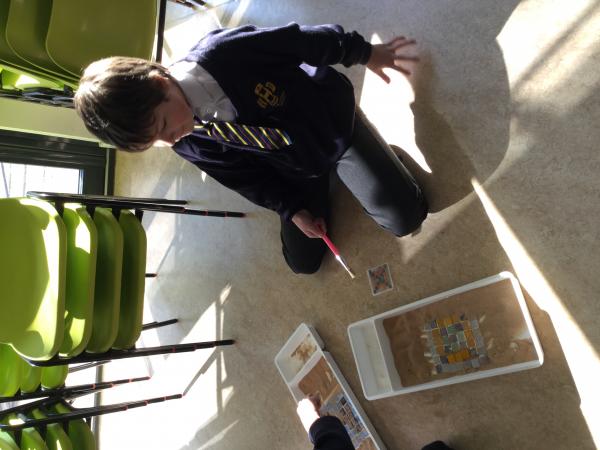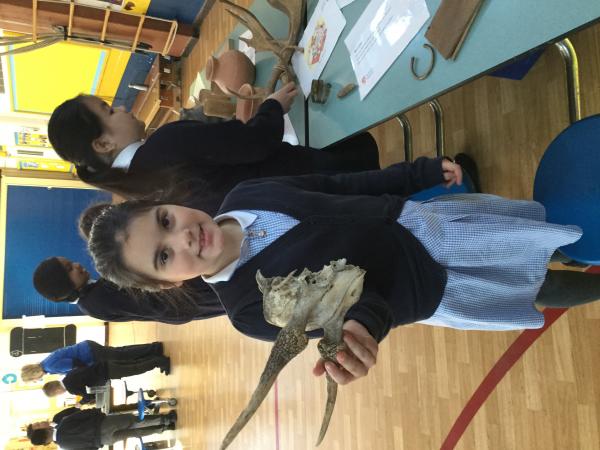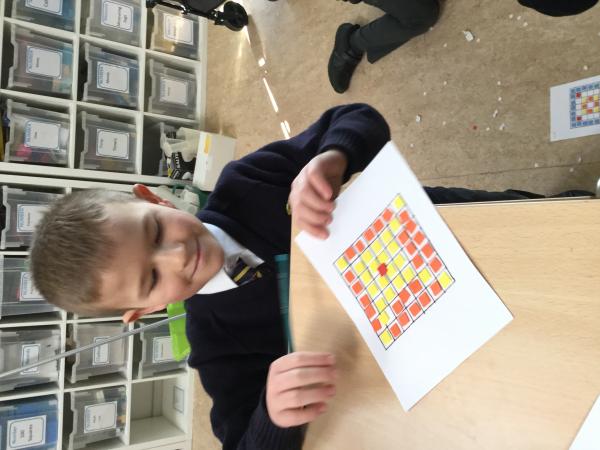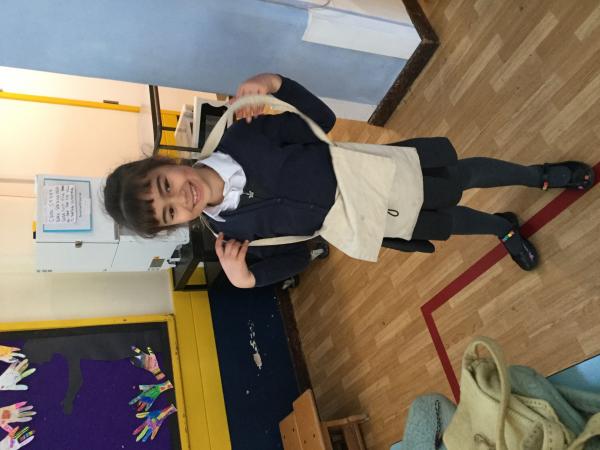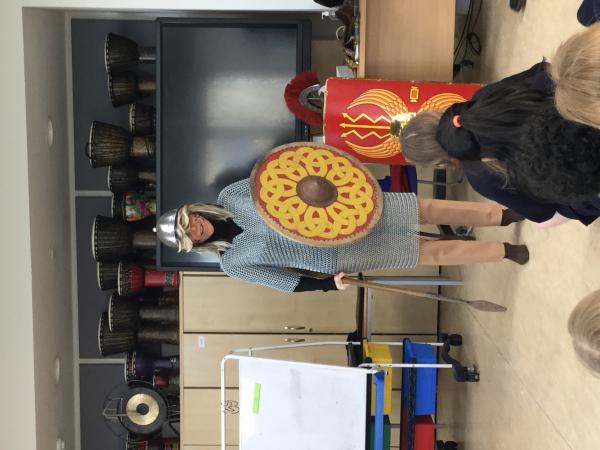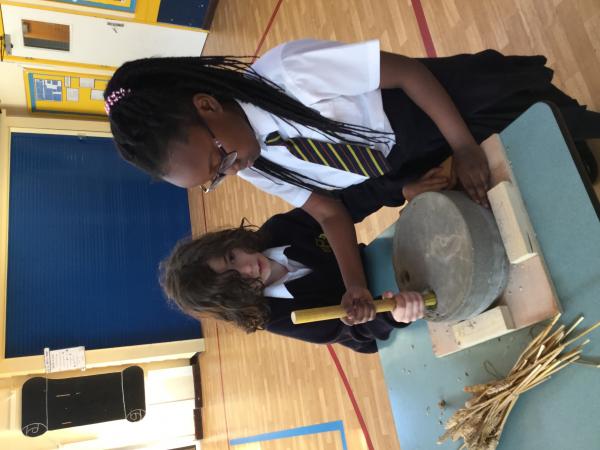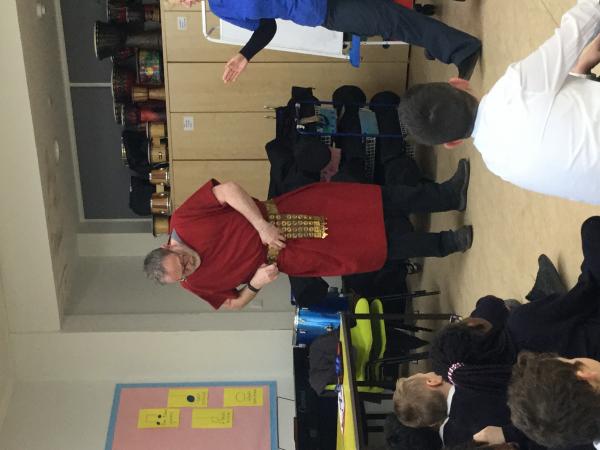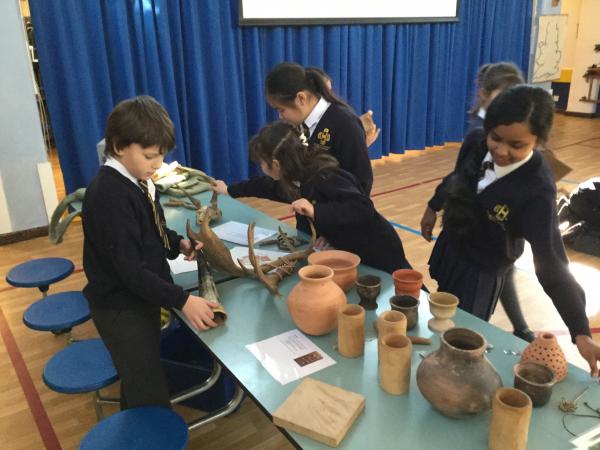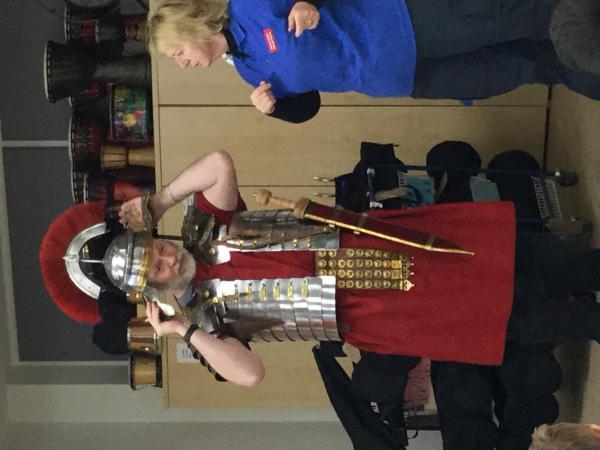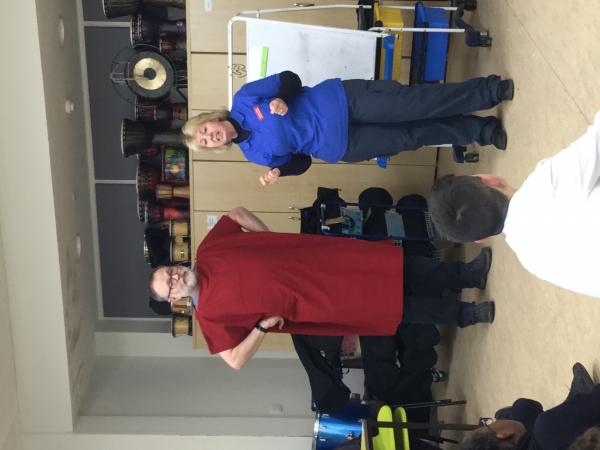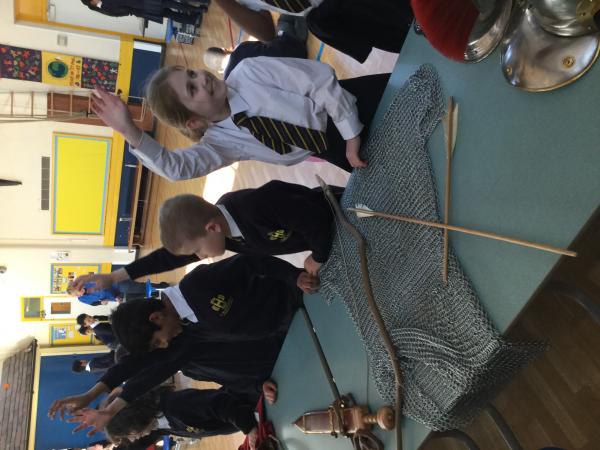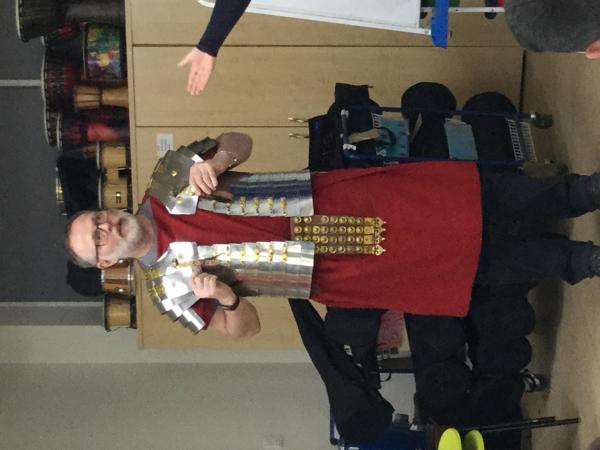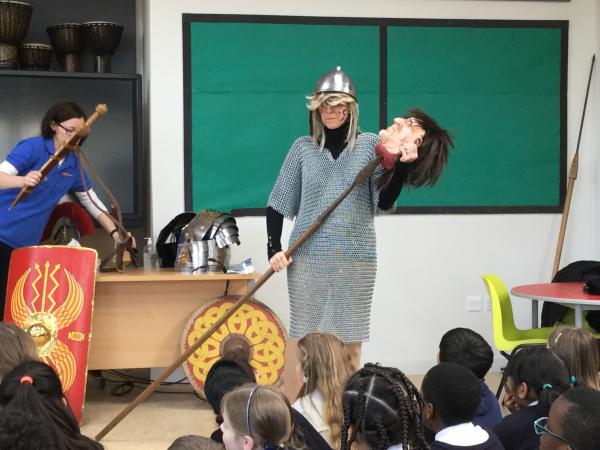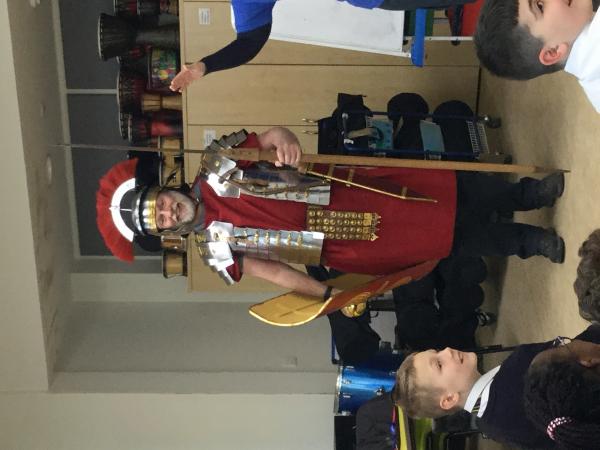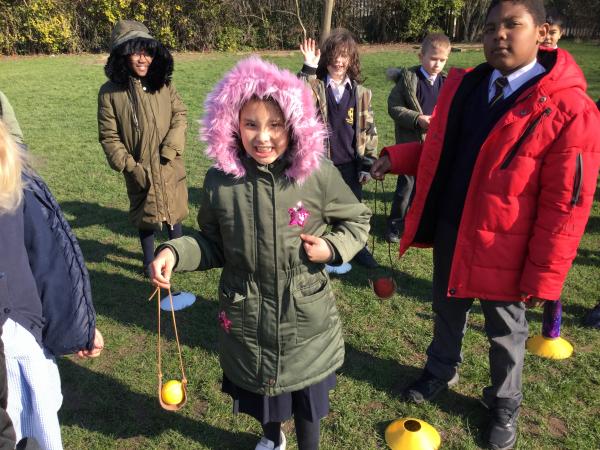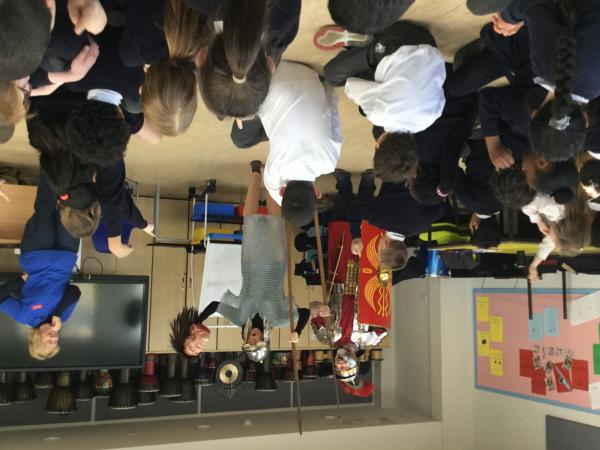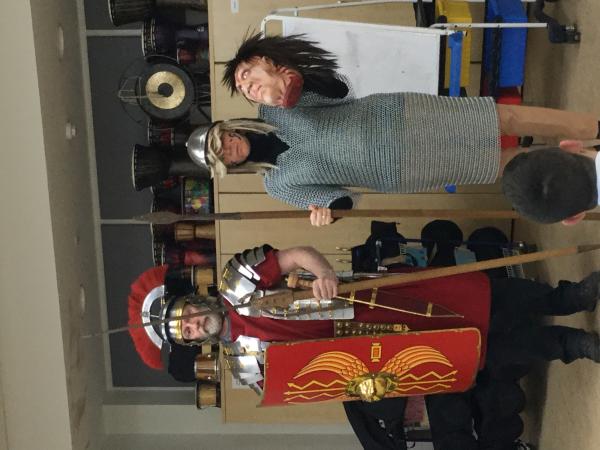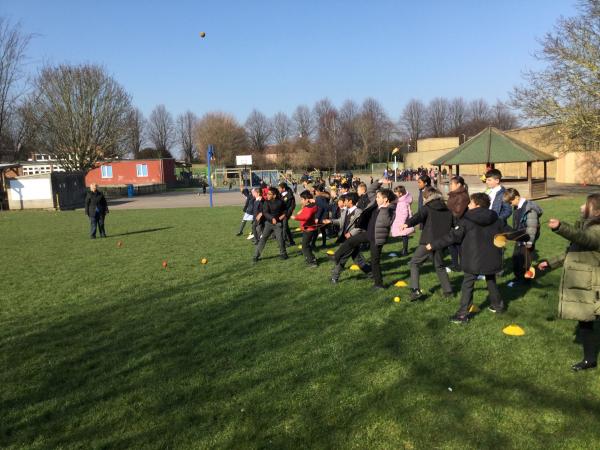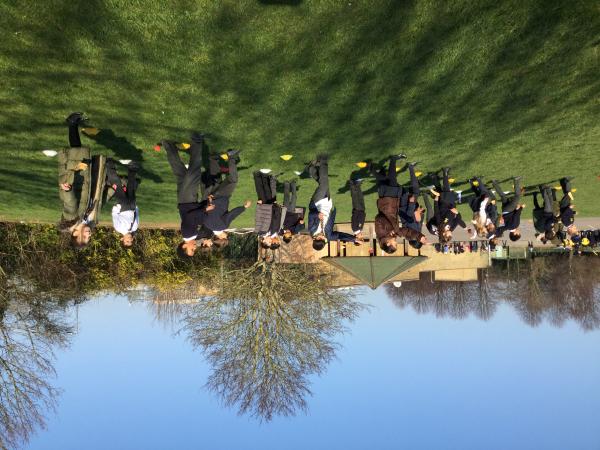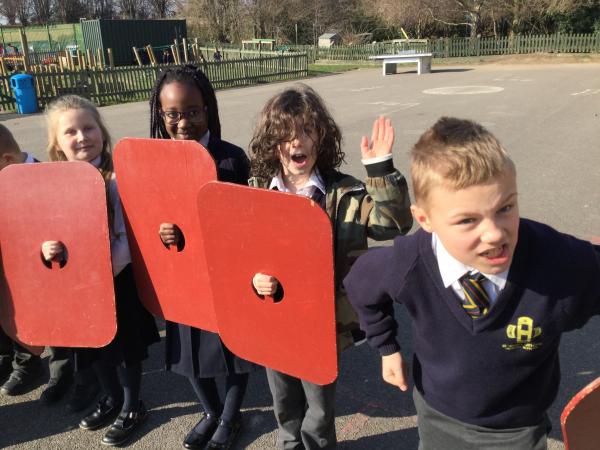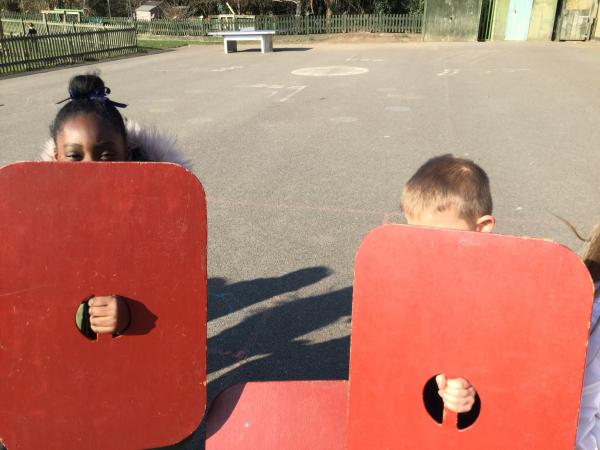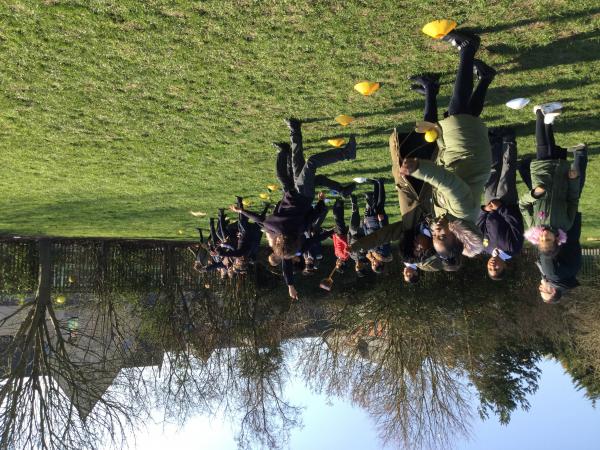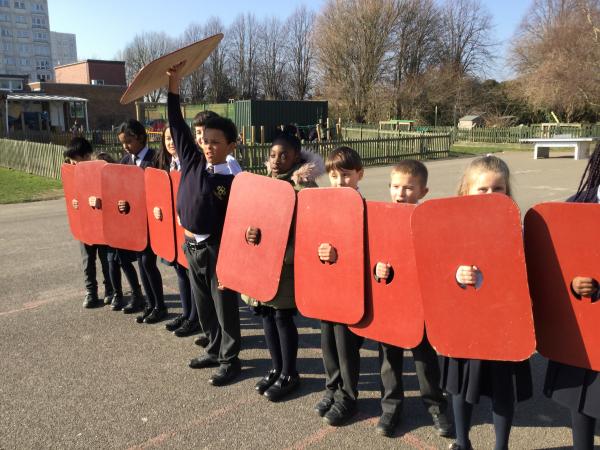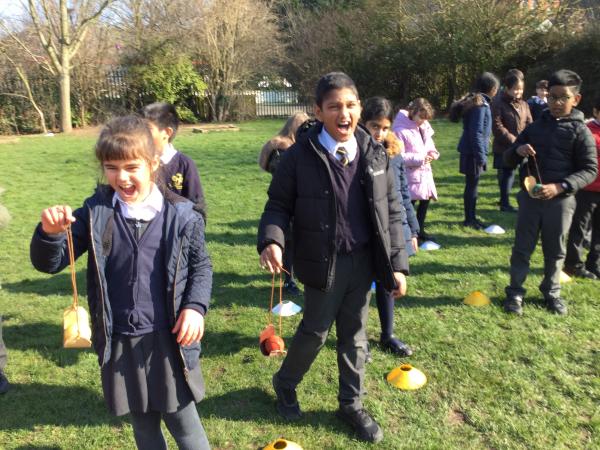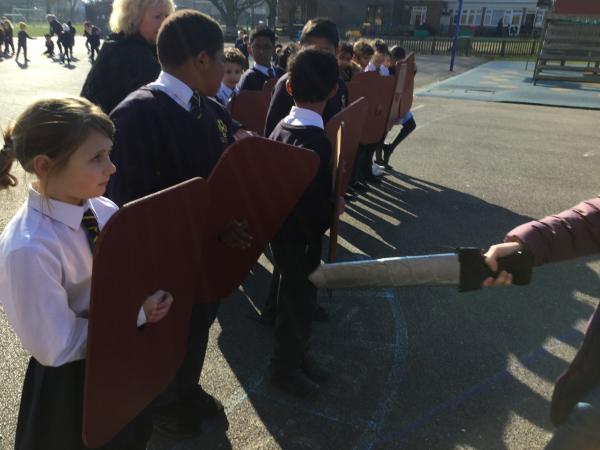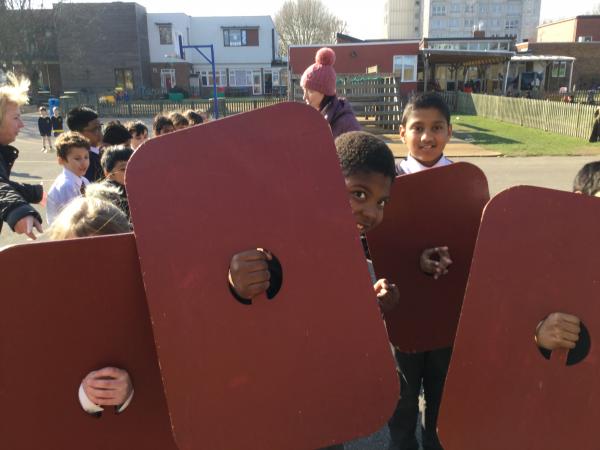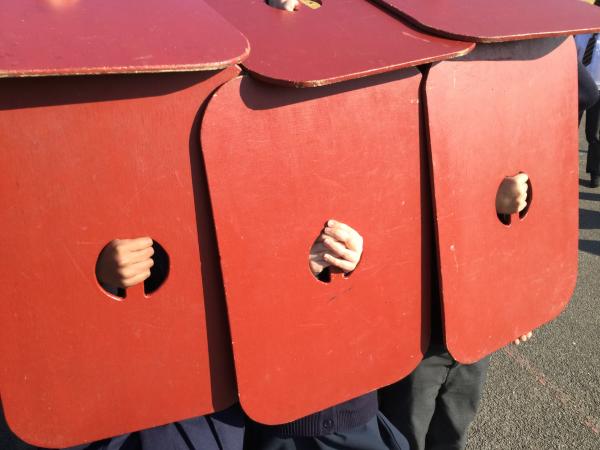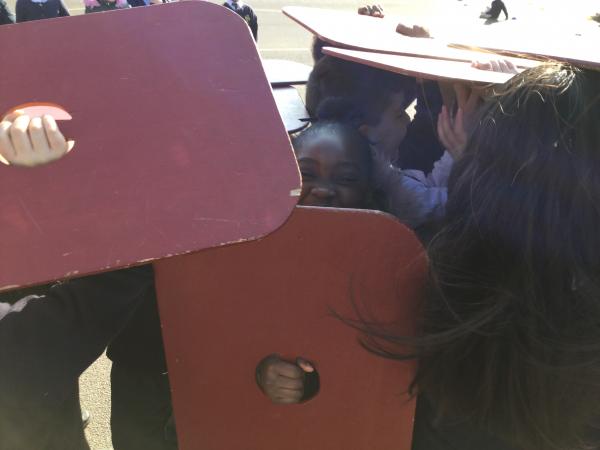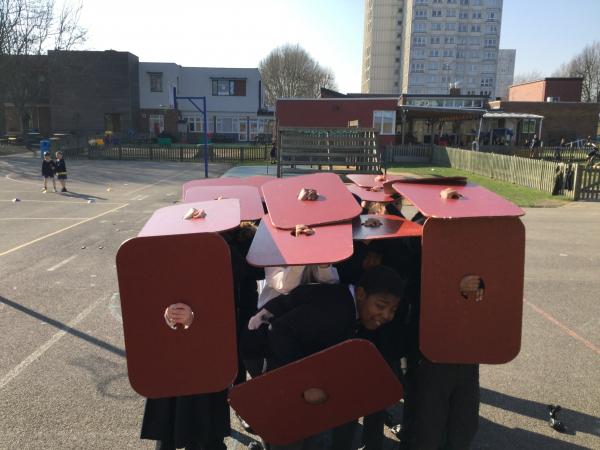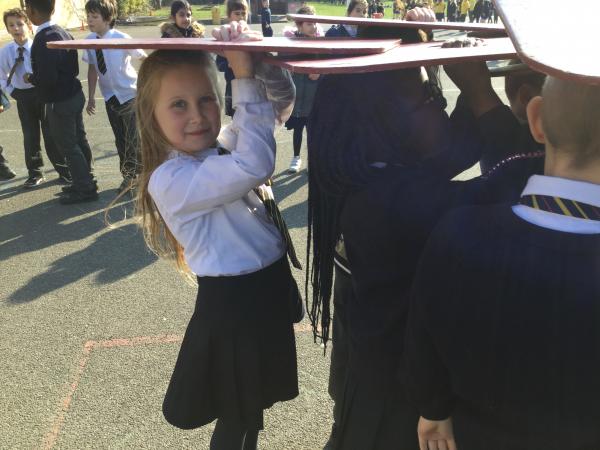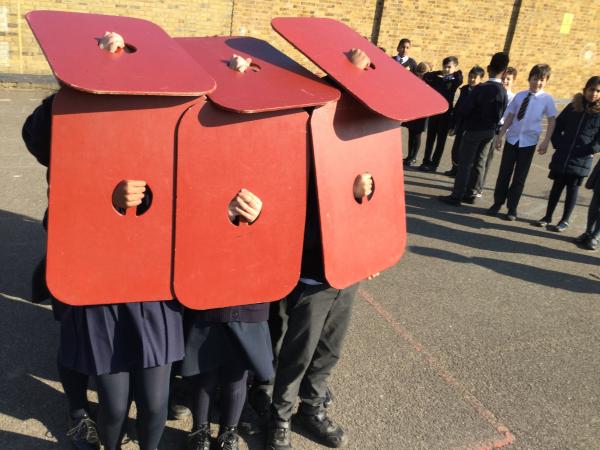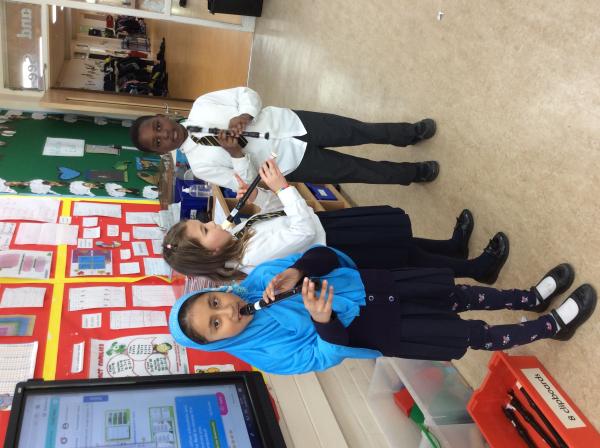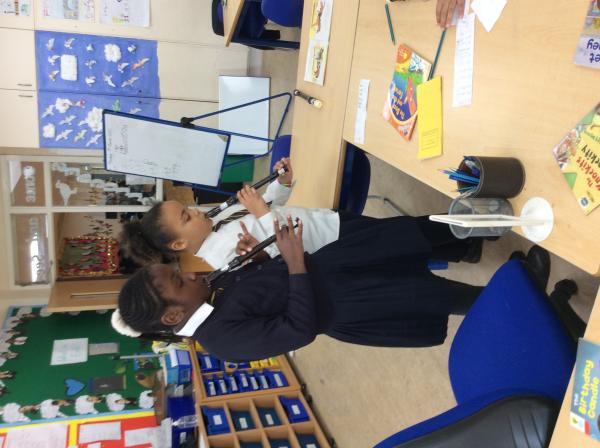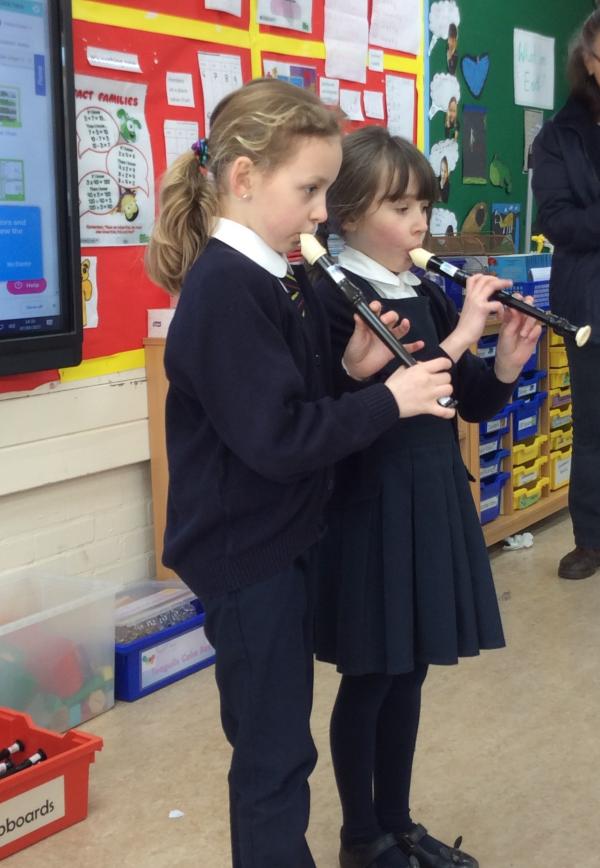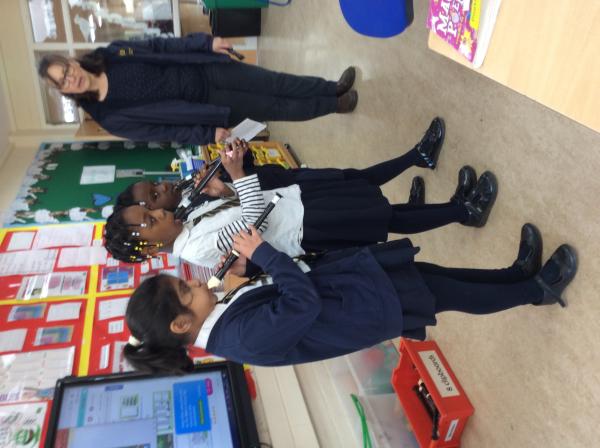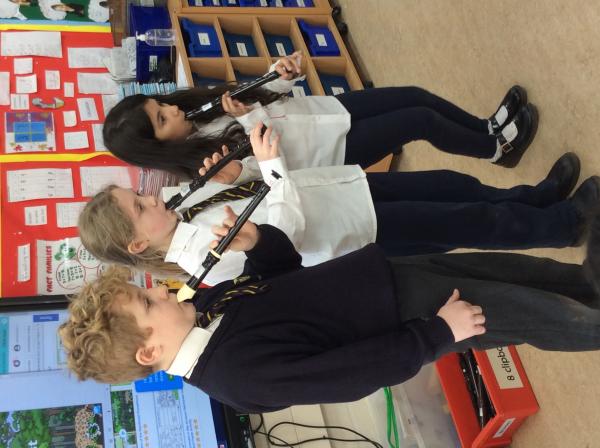 The day the crayons quit colouring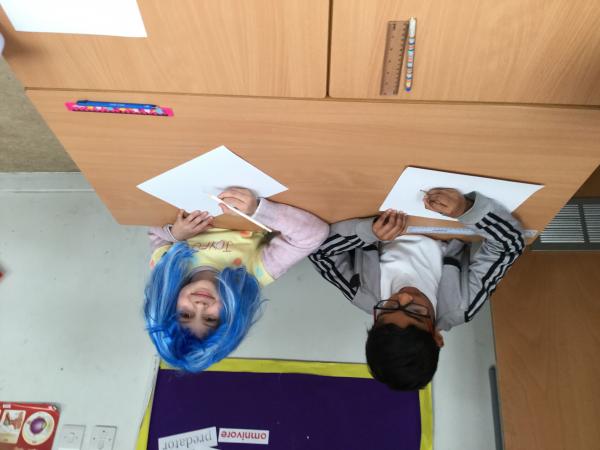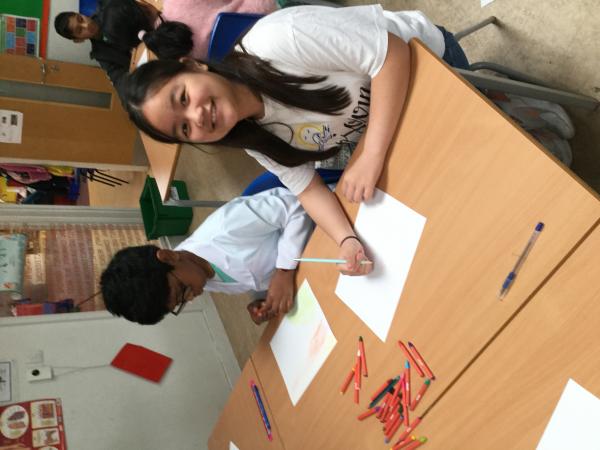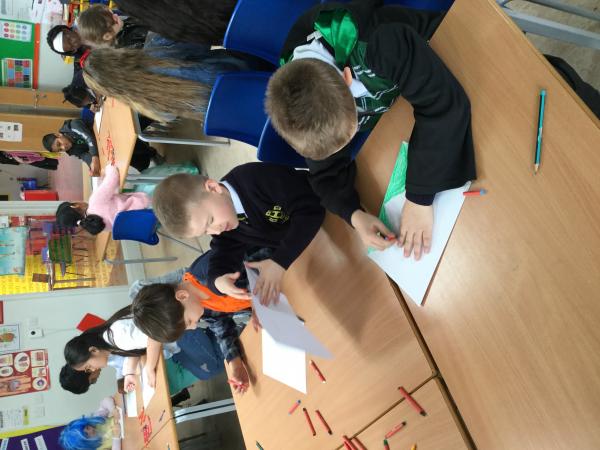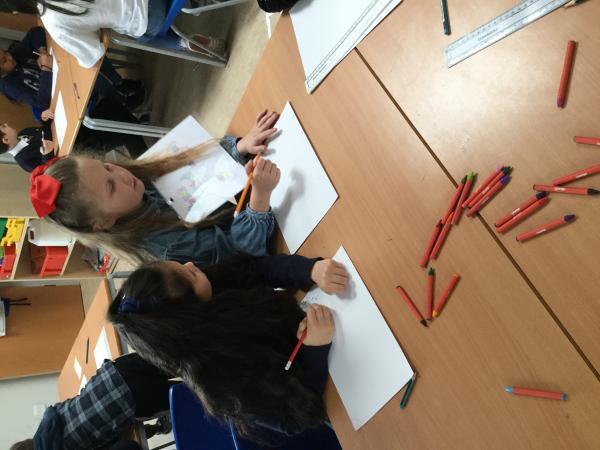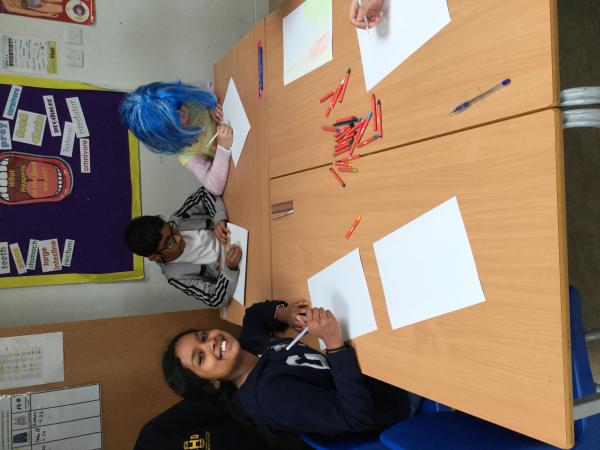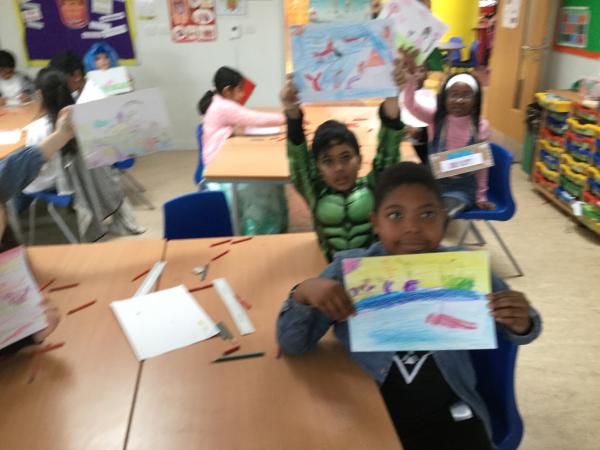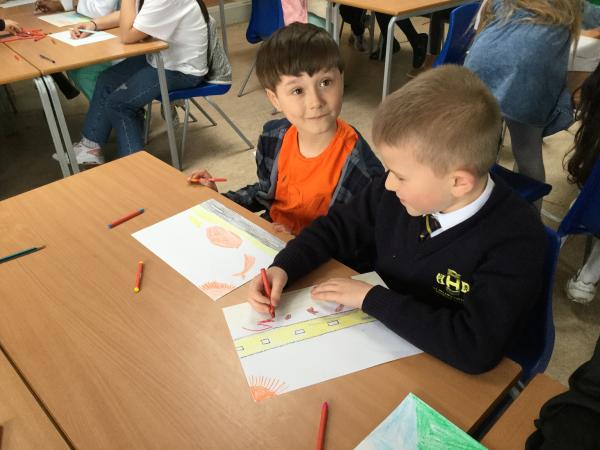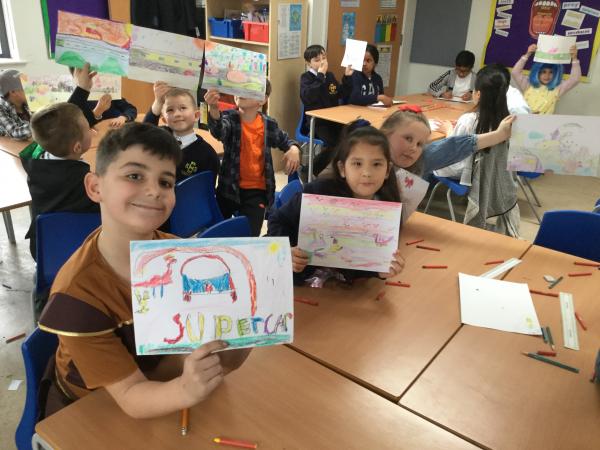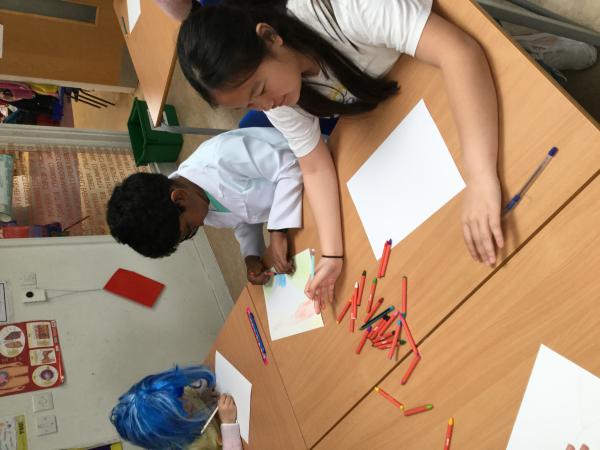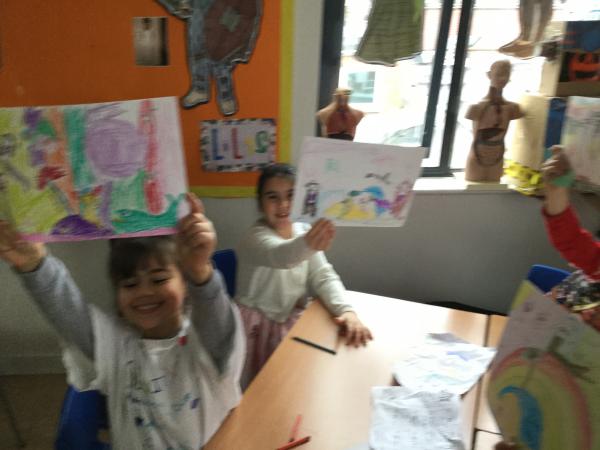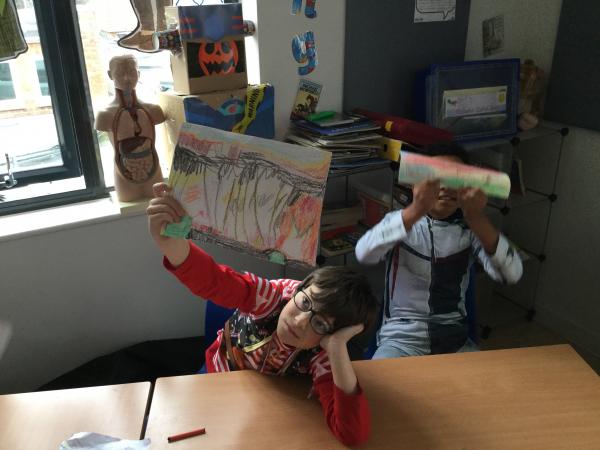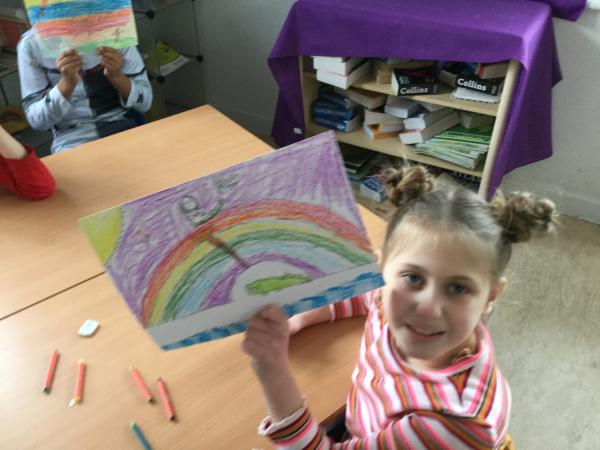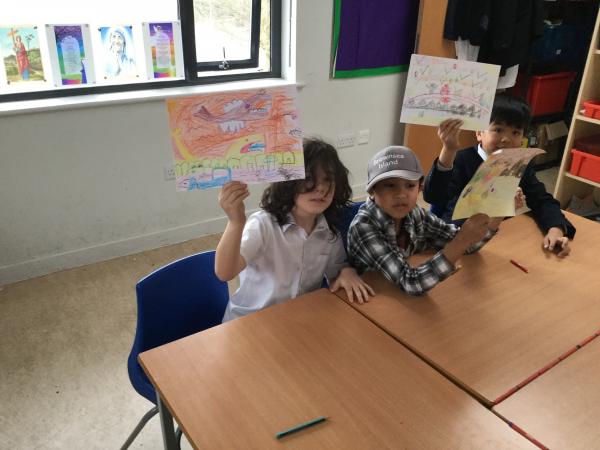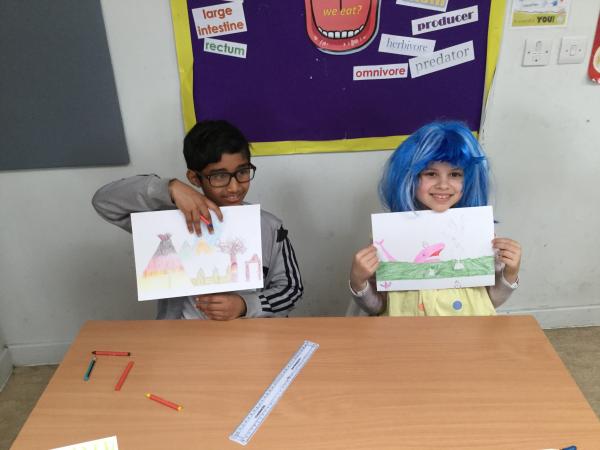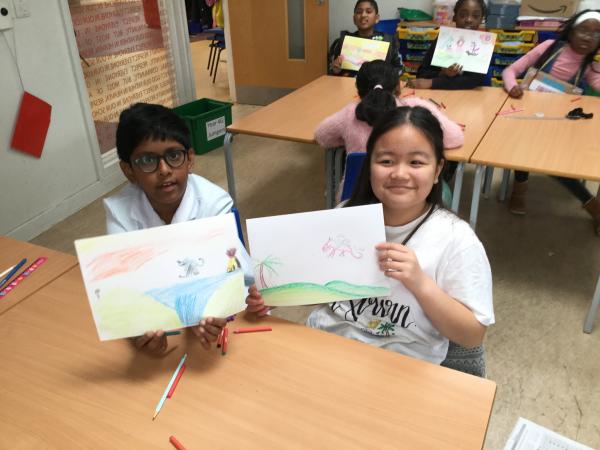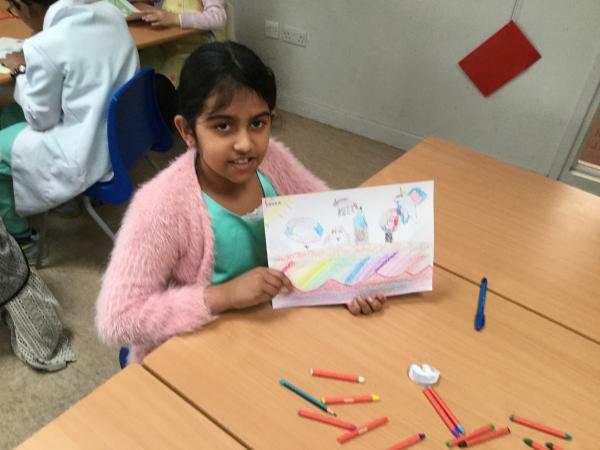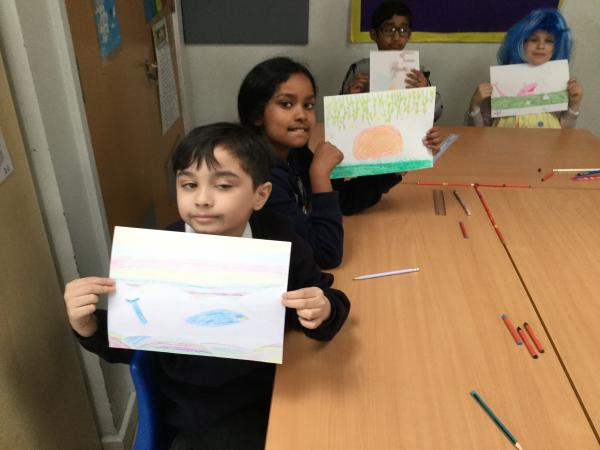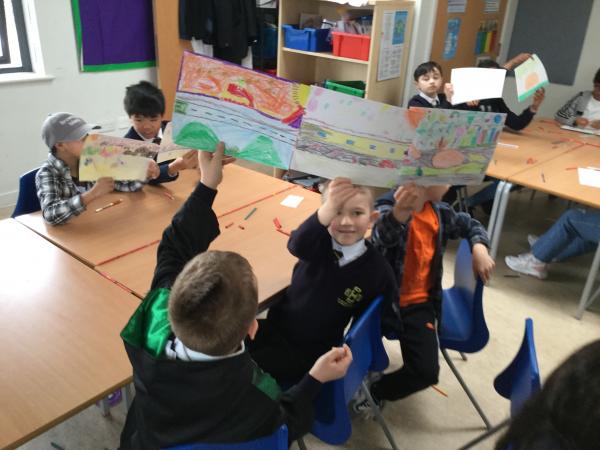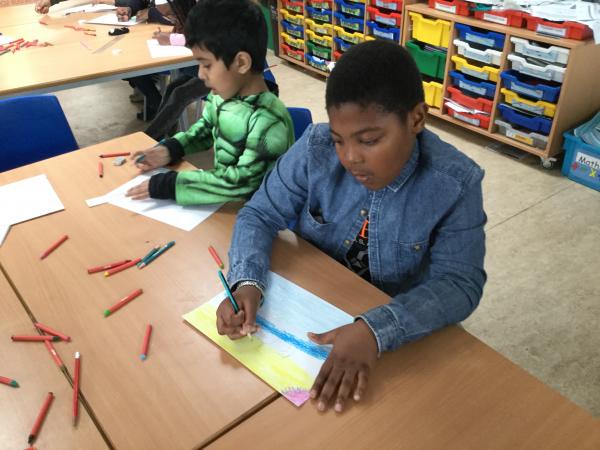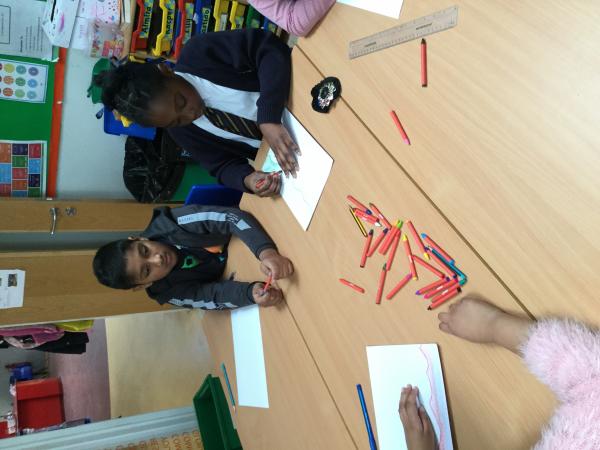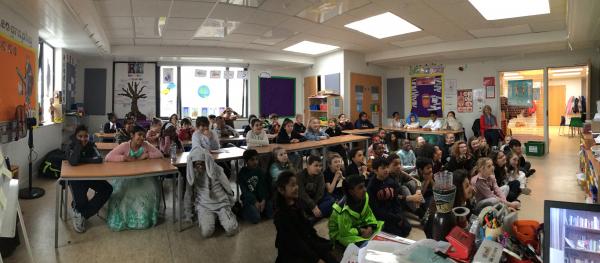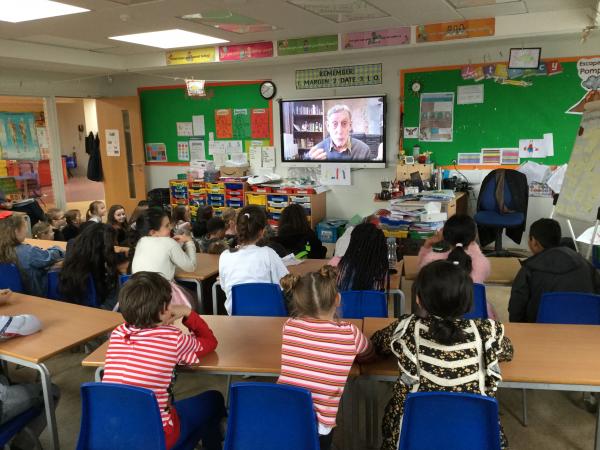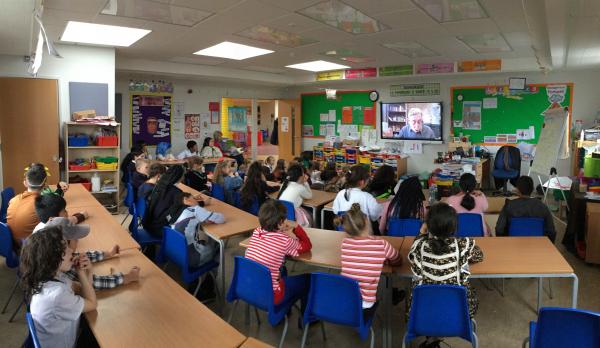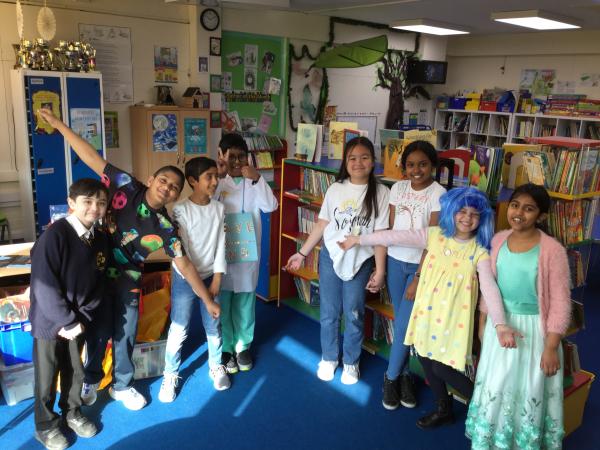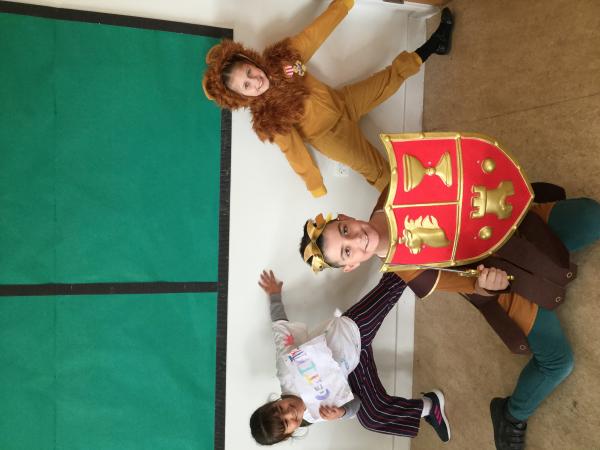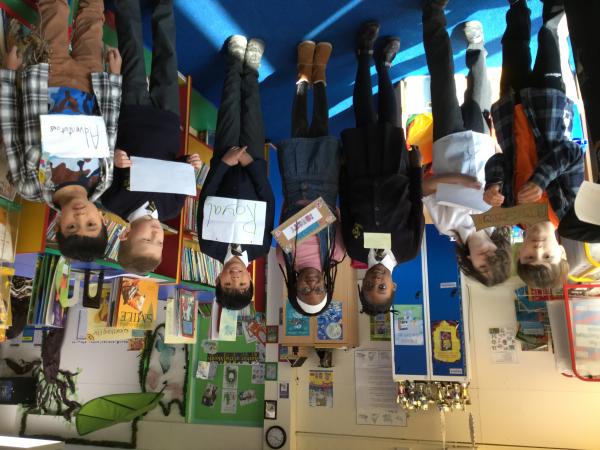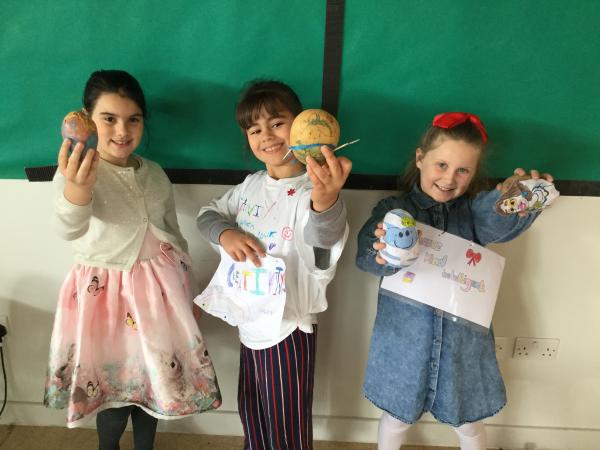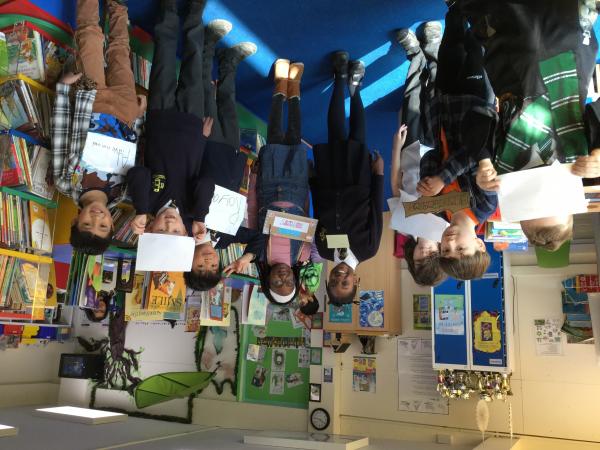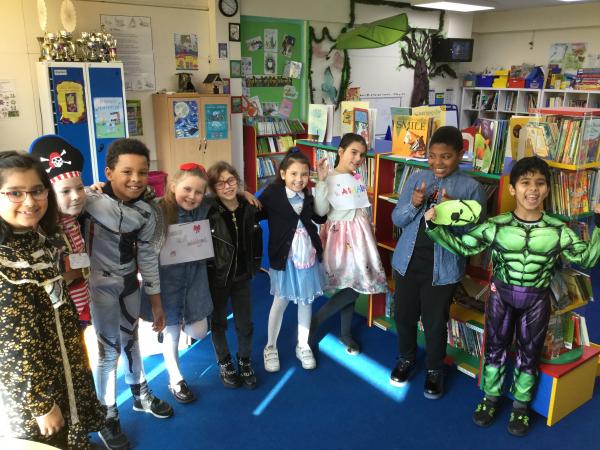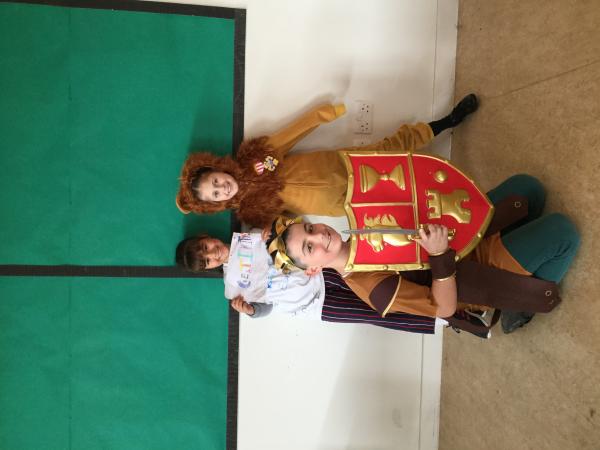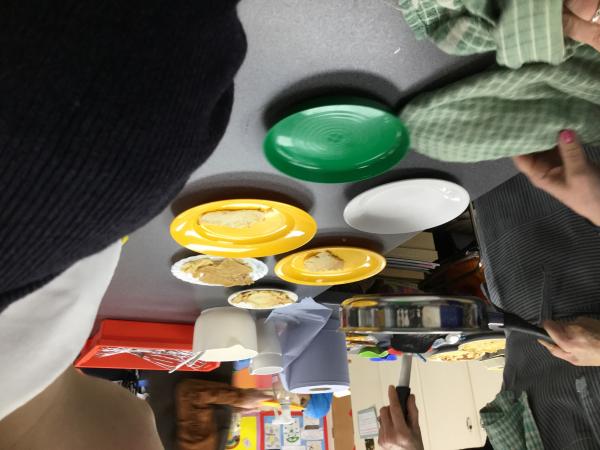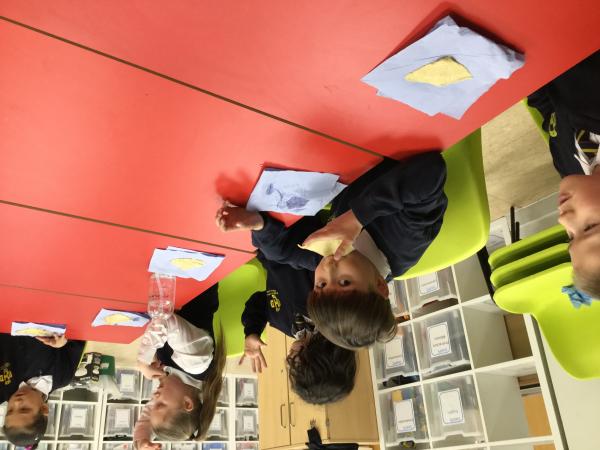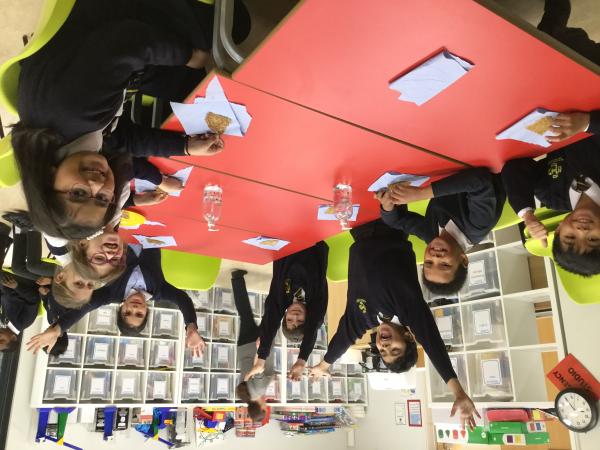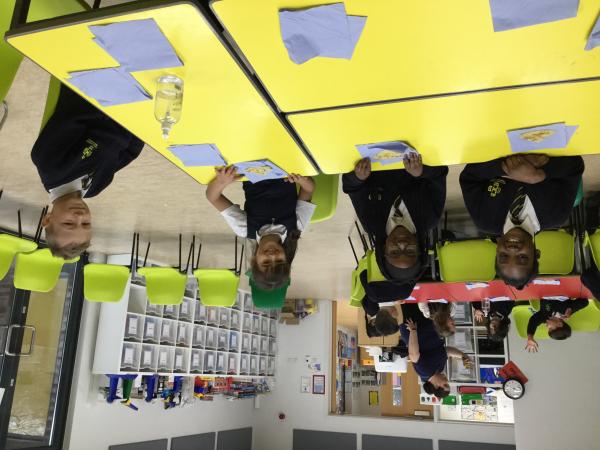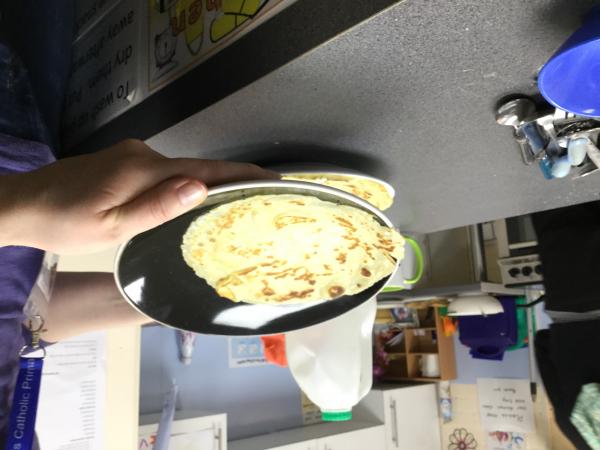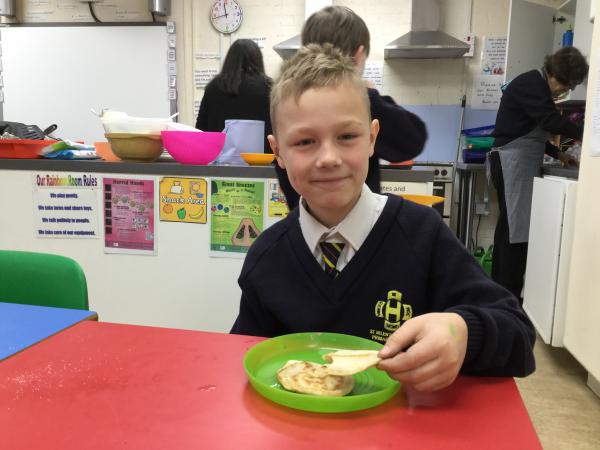 Conductive Music
4 Gideons and 4 Fountains had an amazing morning with a visit from 'Conductive Music' . We learnt about the technology of circuit boards, how to interface them with a computer using crocodile clips and used ourselves to complete circuits to enable us to play music. We also built our own musical keyboard using just pencils and paper!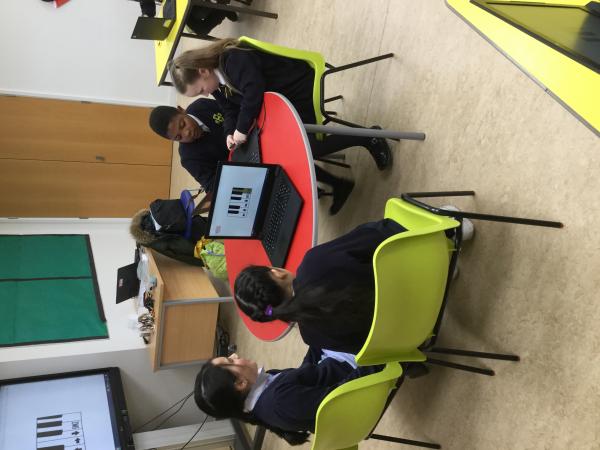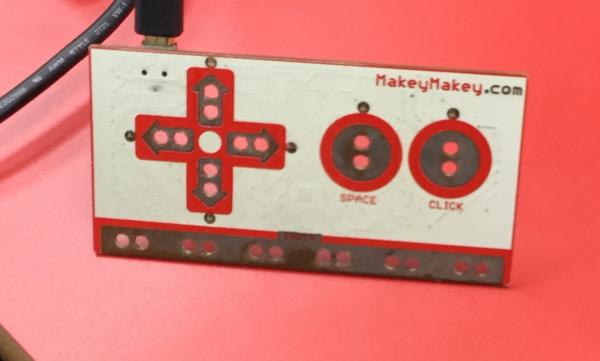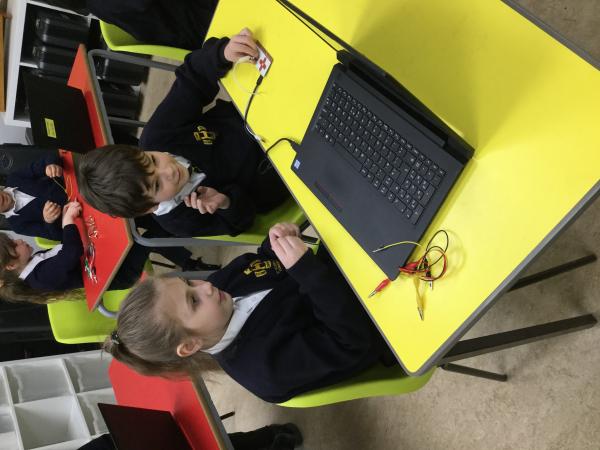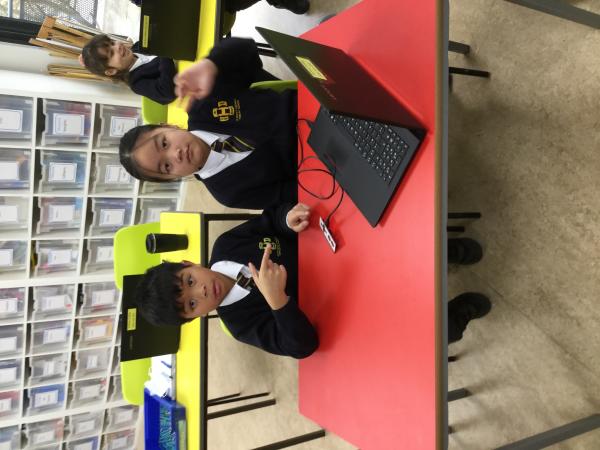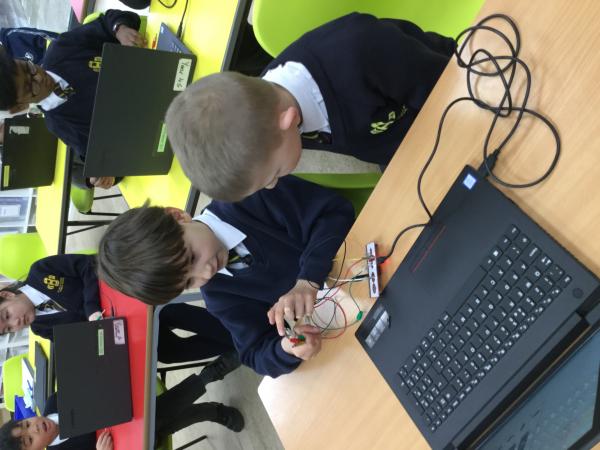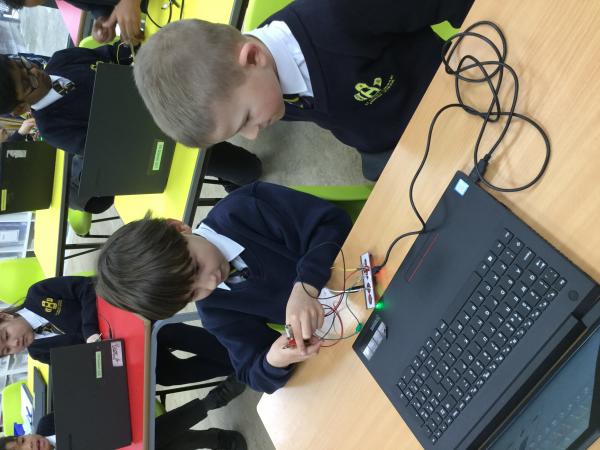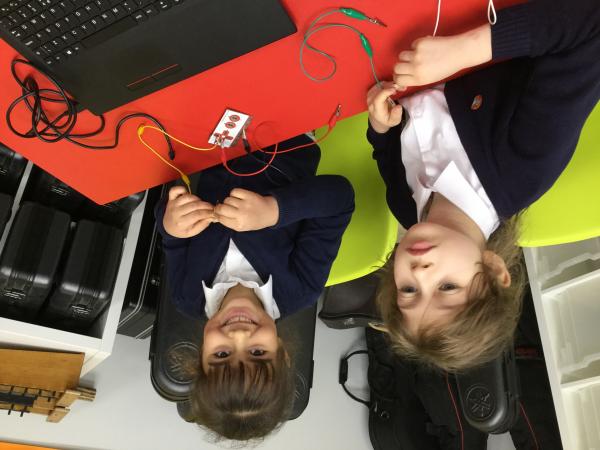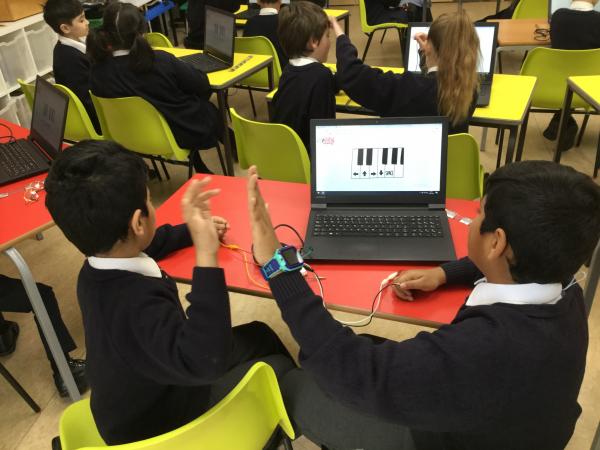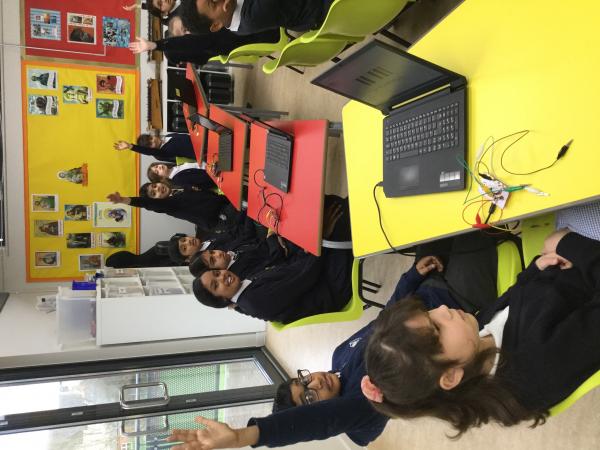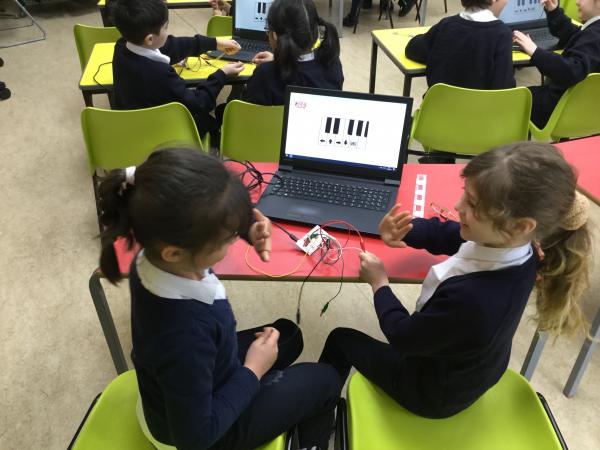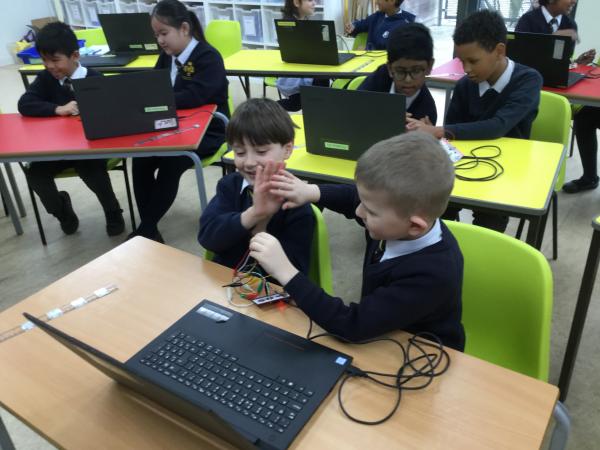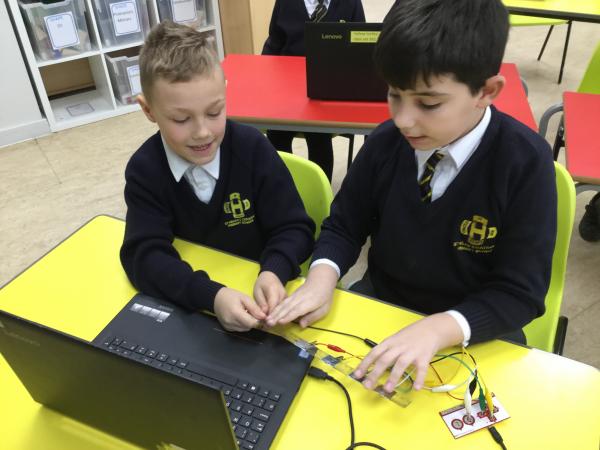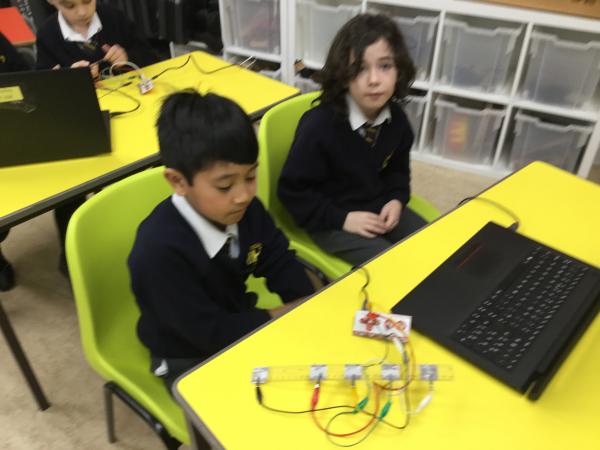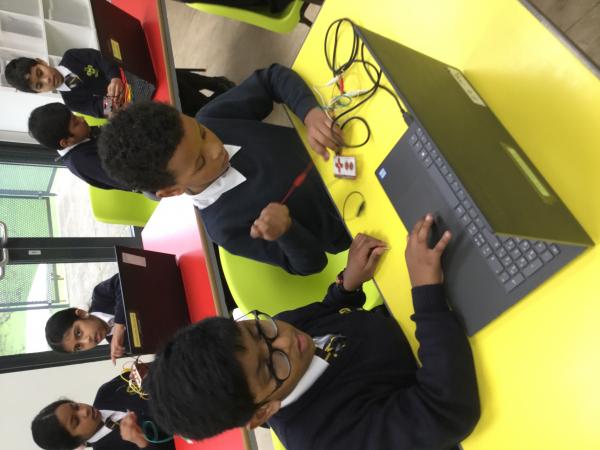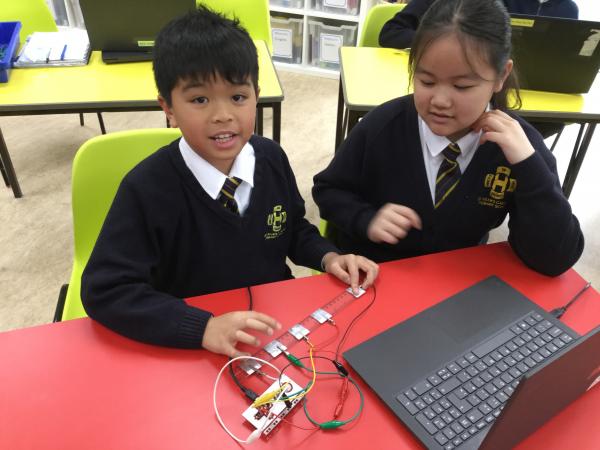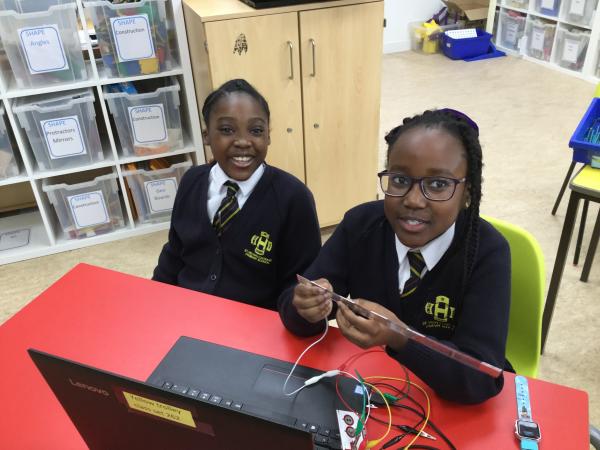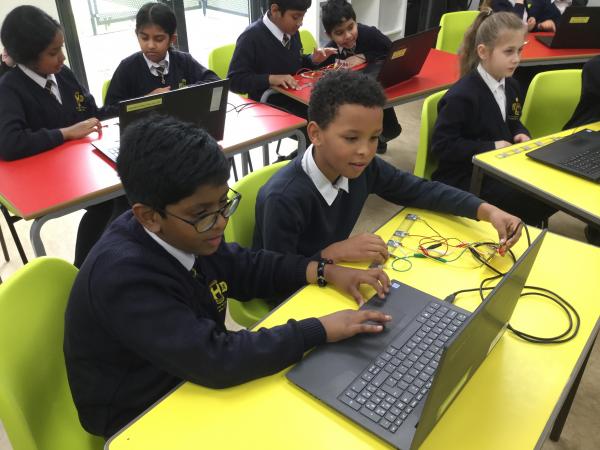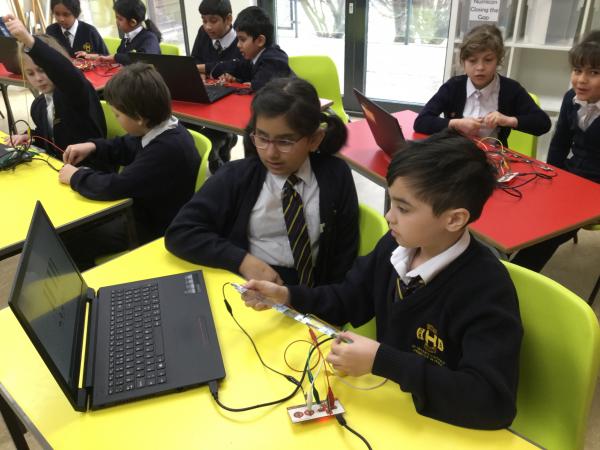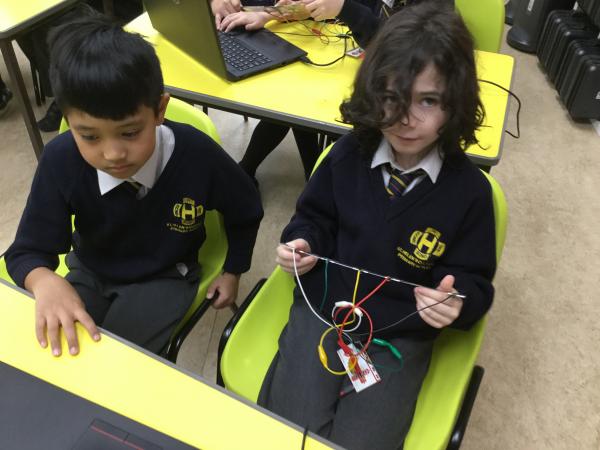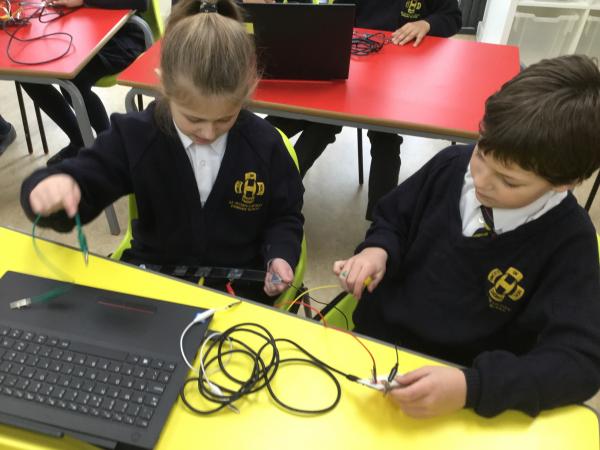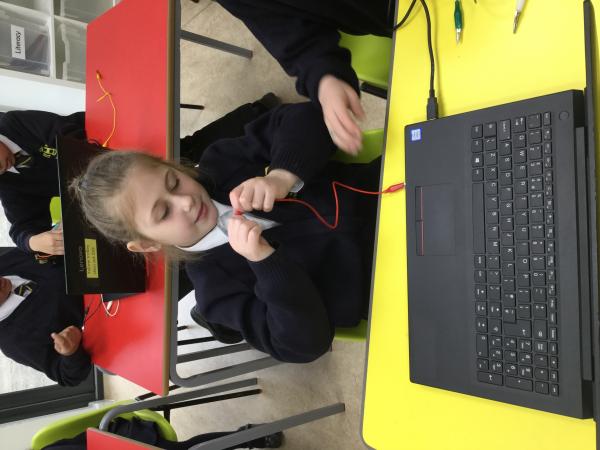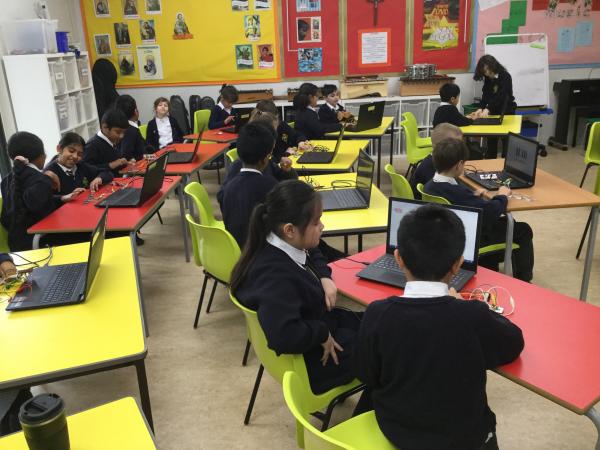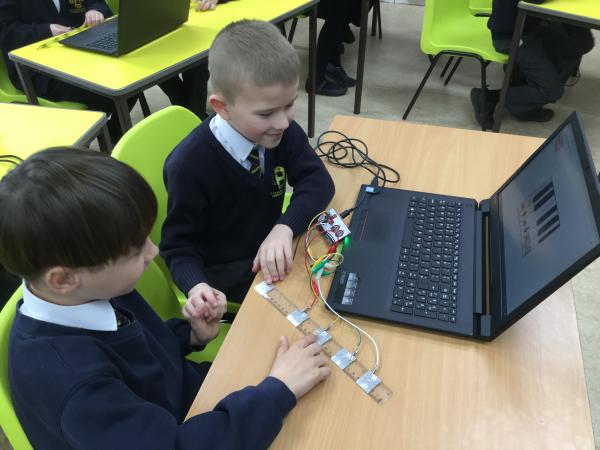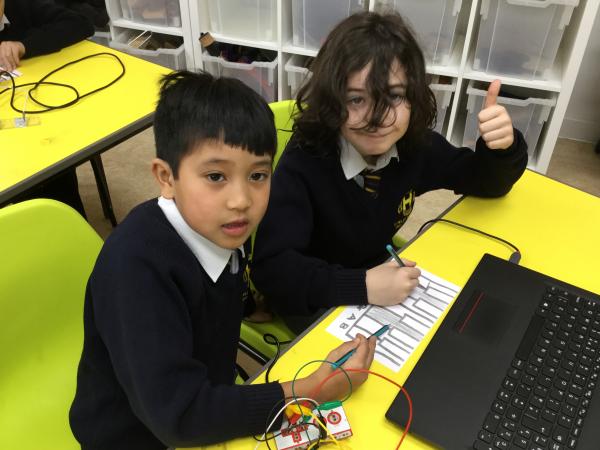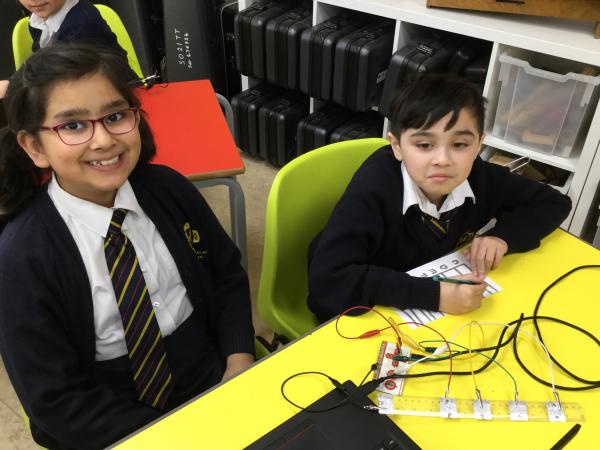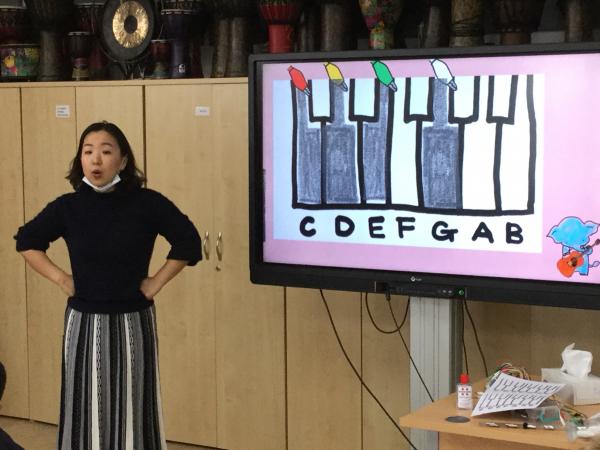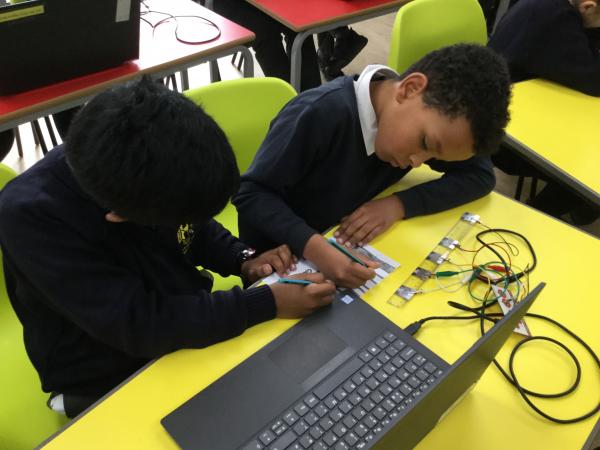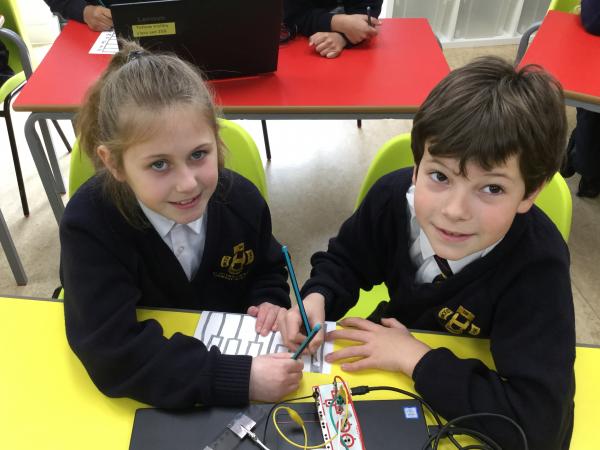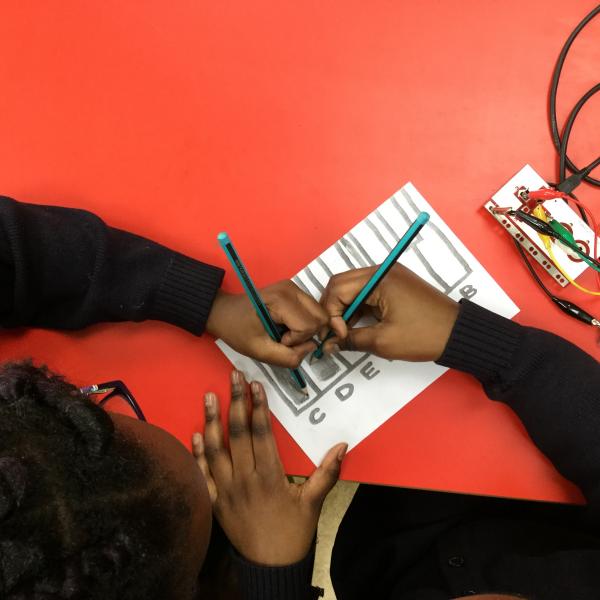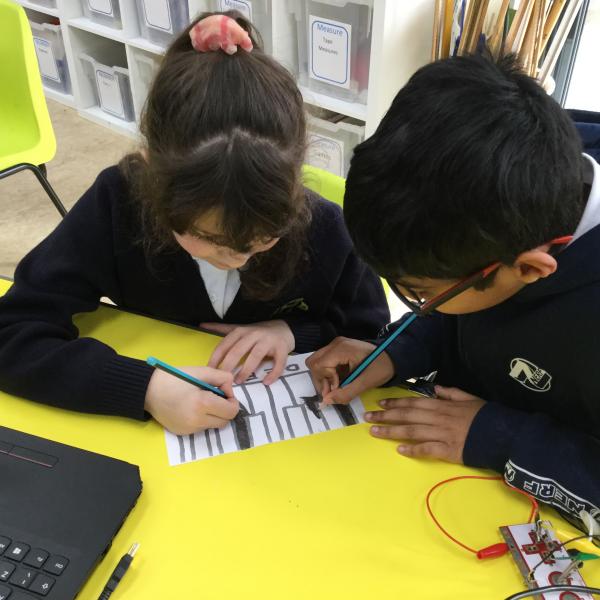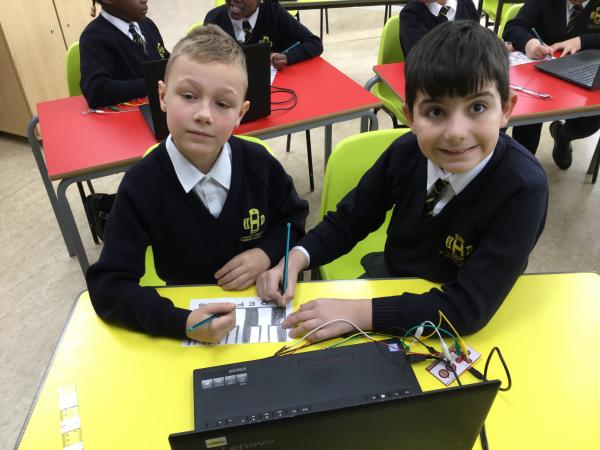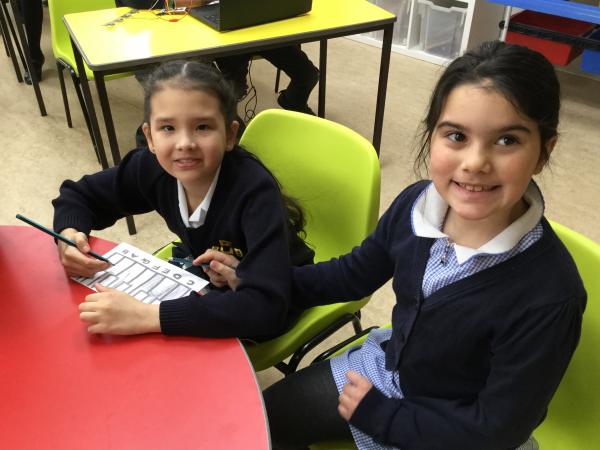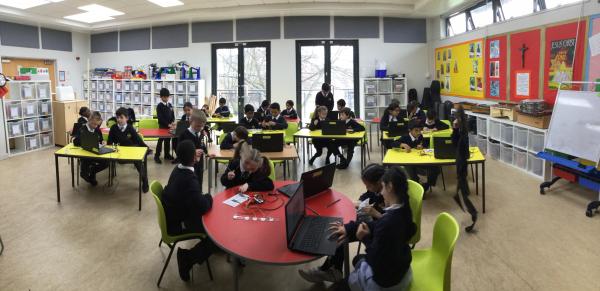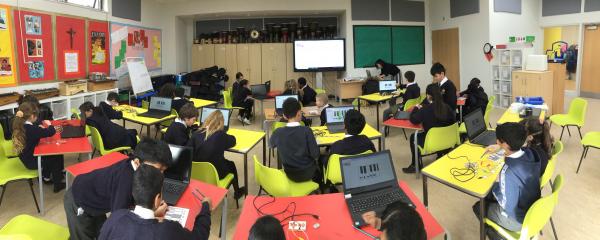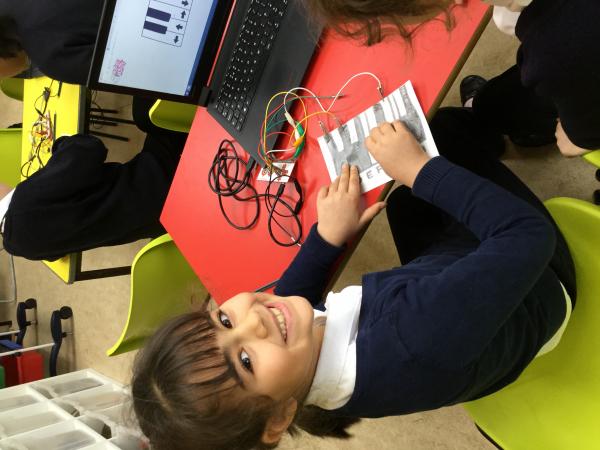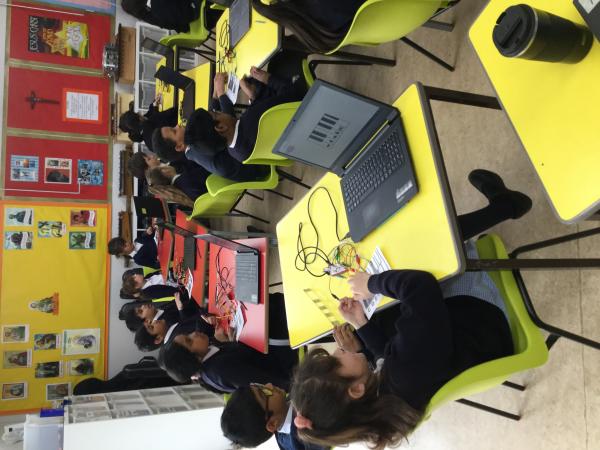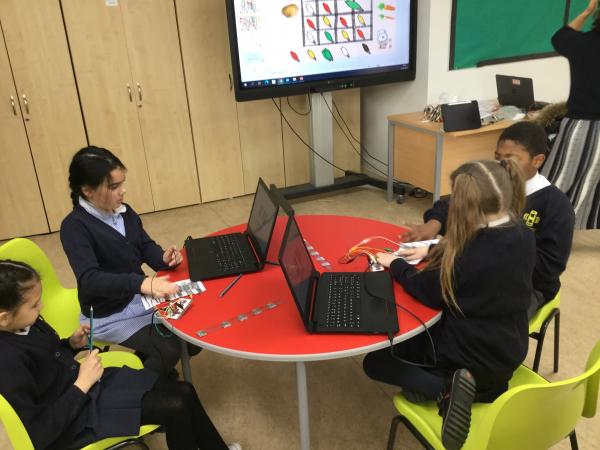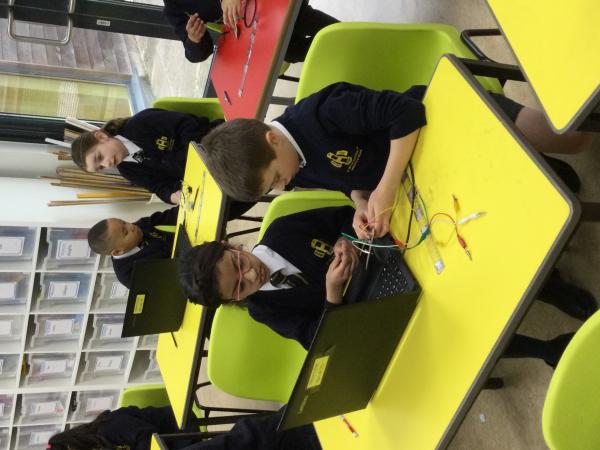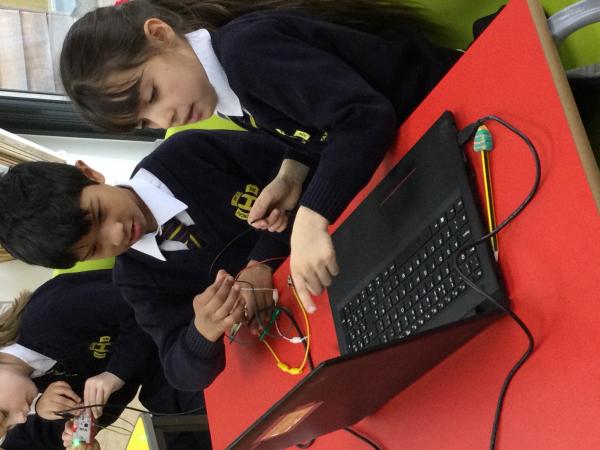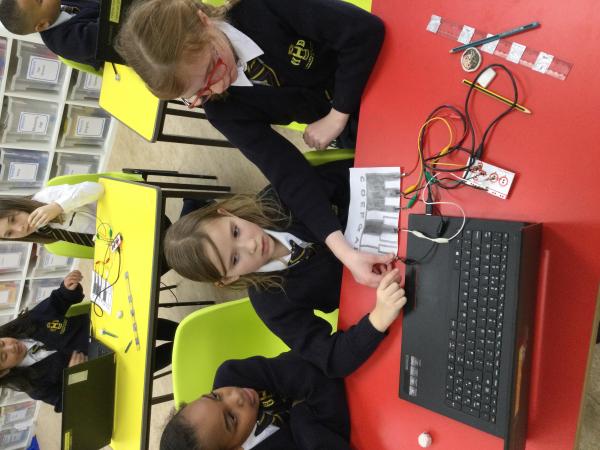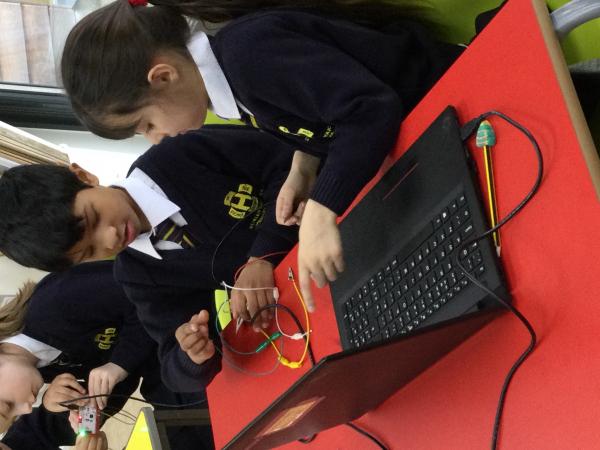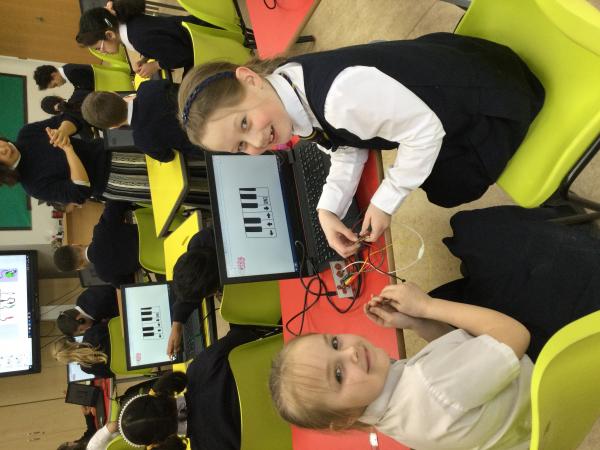 Settlements
Class 4F completed their Geography topic 'Settlements' today and had fun creating their own Settlement in a box. There was lots of creativity taking place, along with great design and construction skills.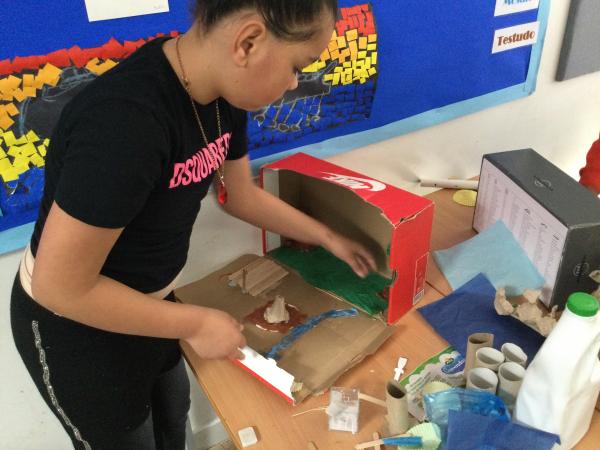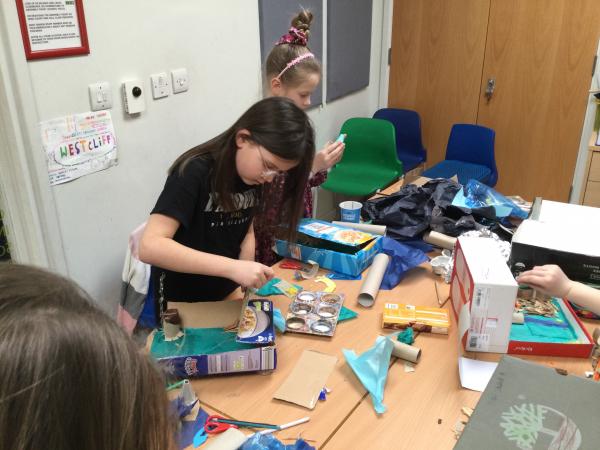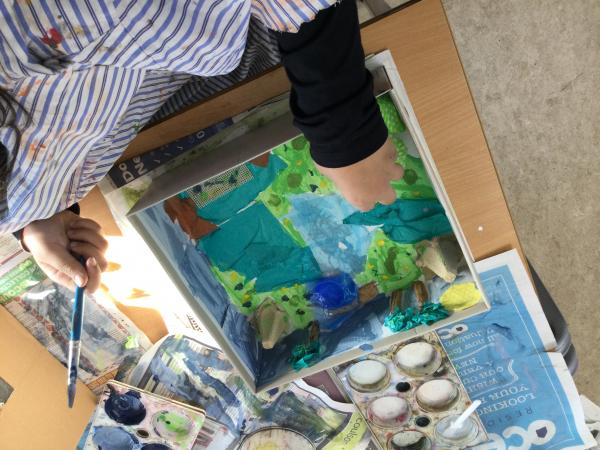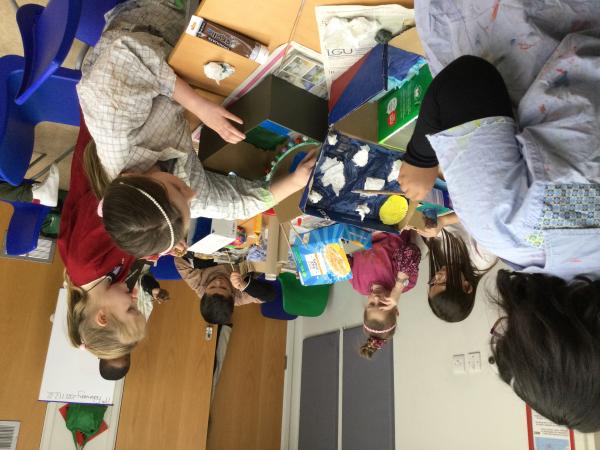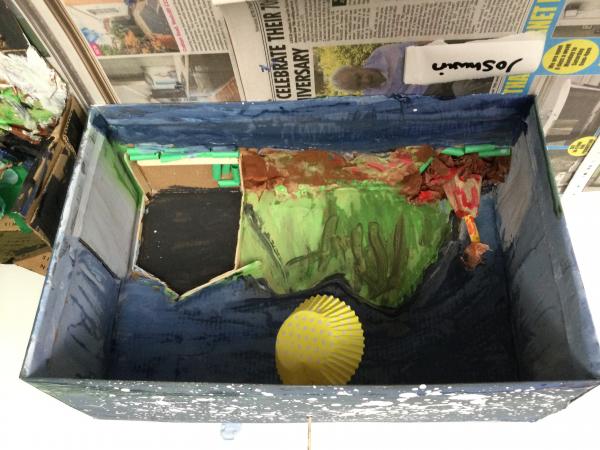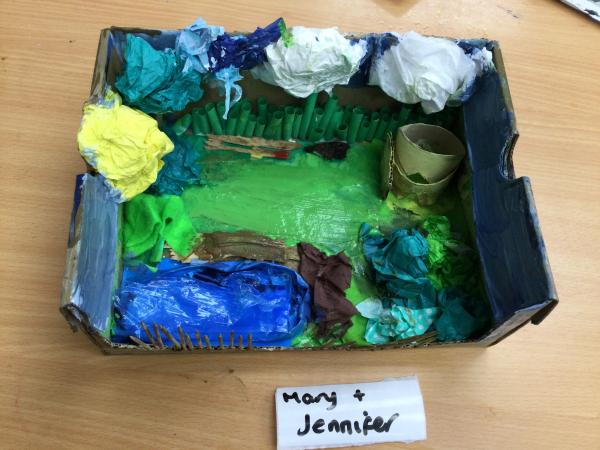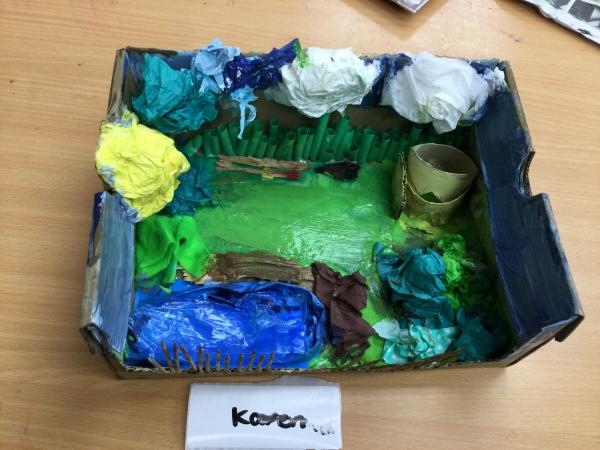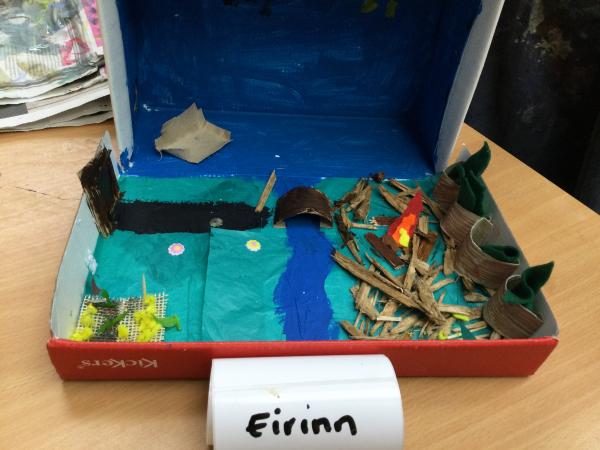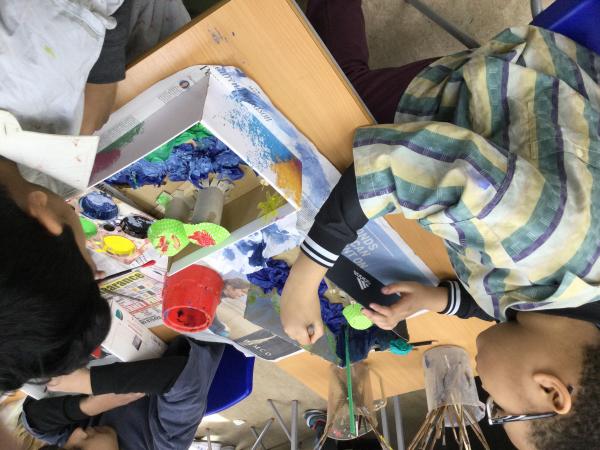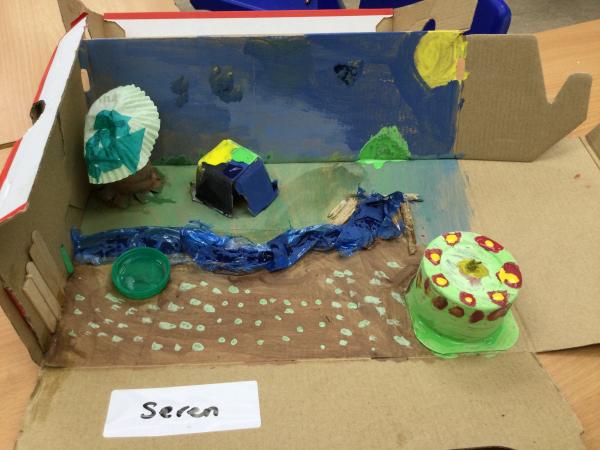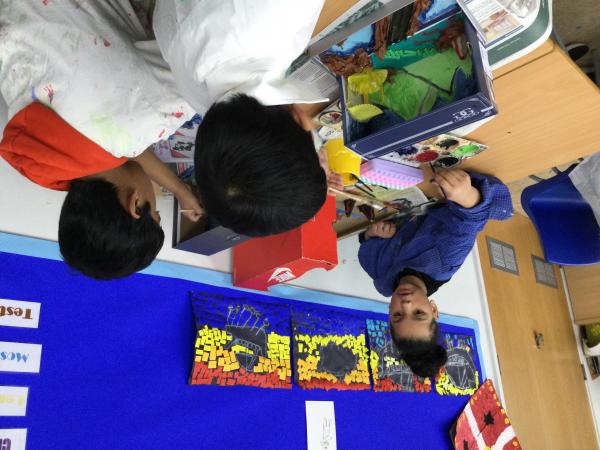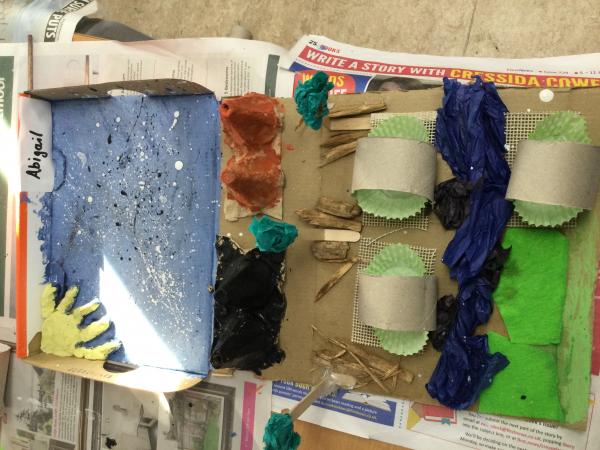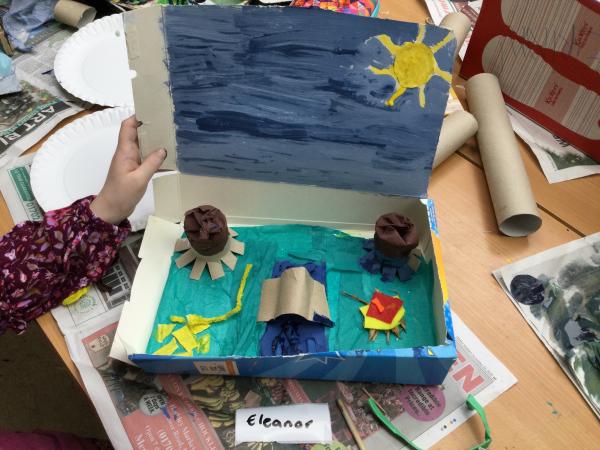 Chinese New Year Dragons
The class had great fun learning about the Chinese New Year and the different traditions around the New Year. We then made some dancing dragons!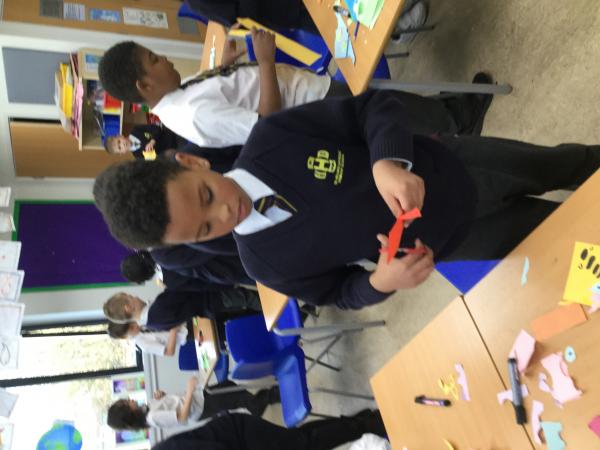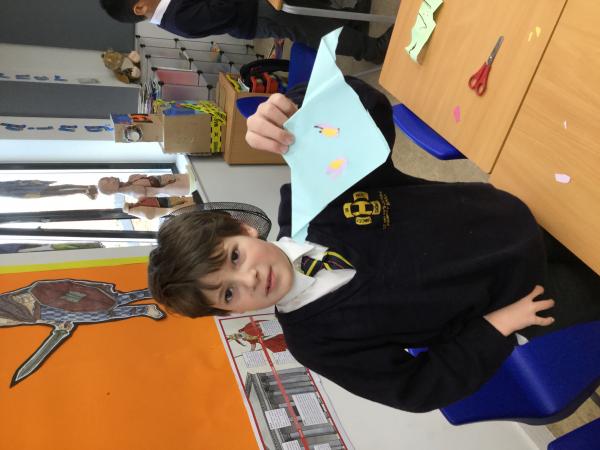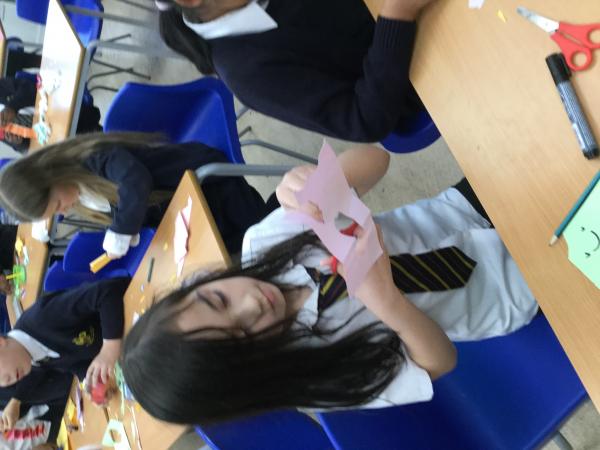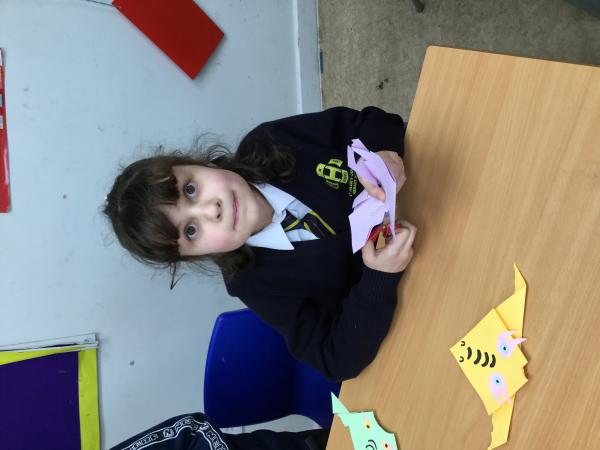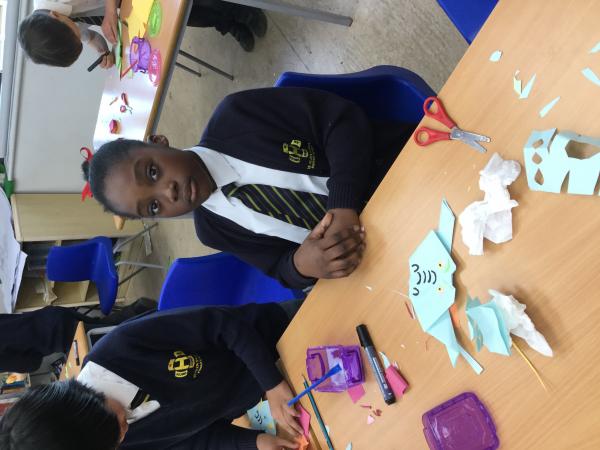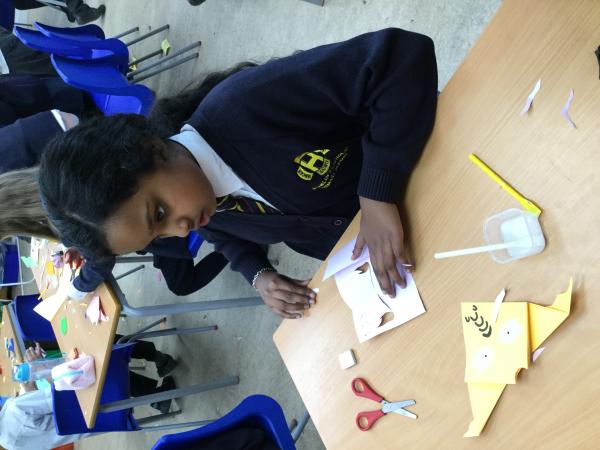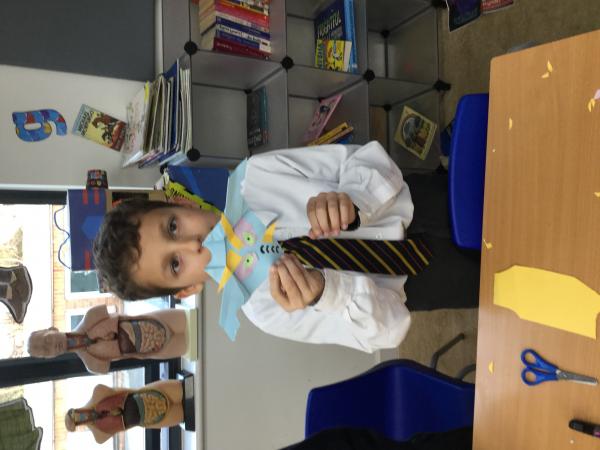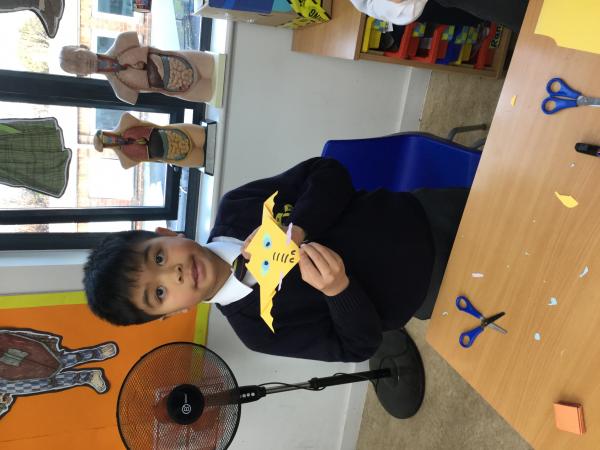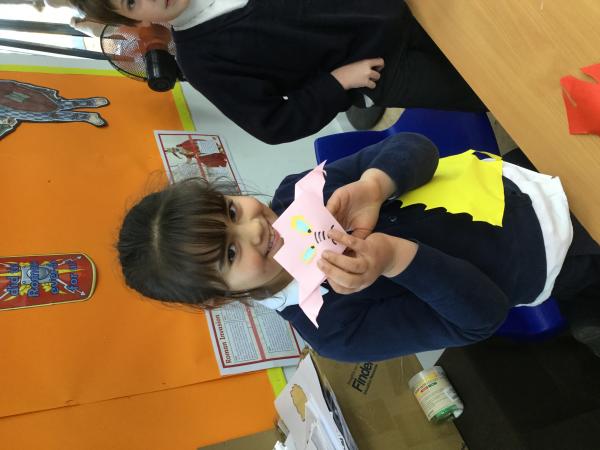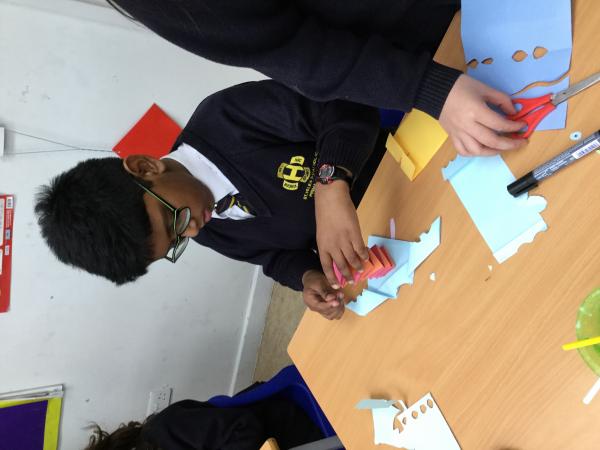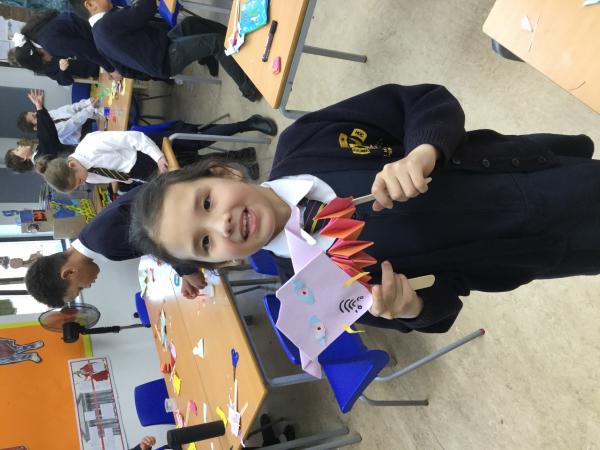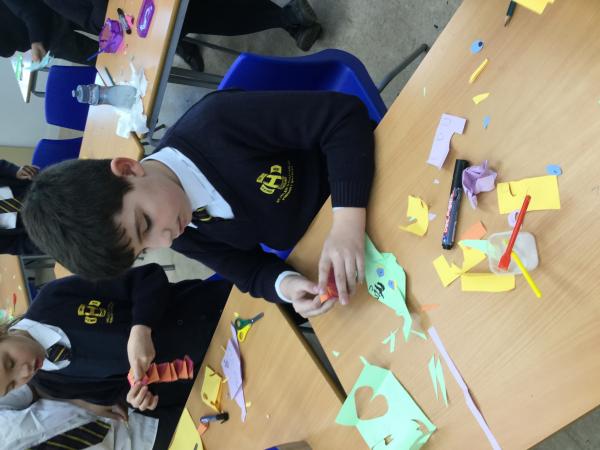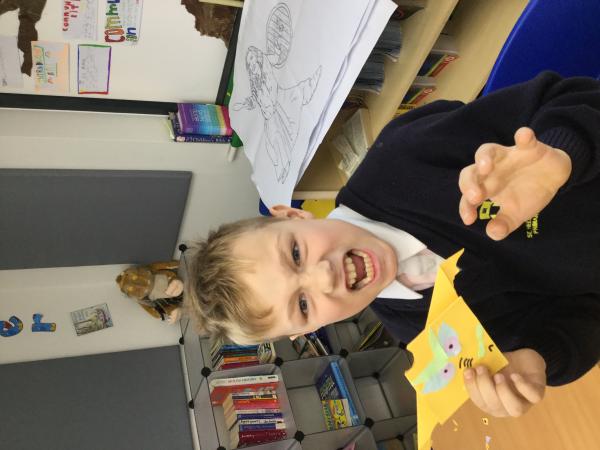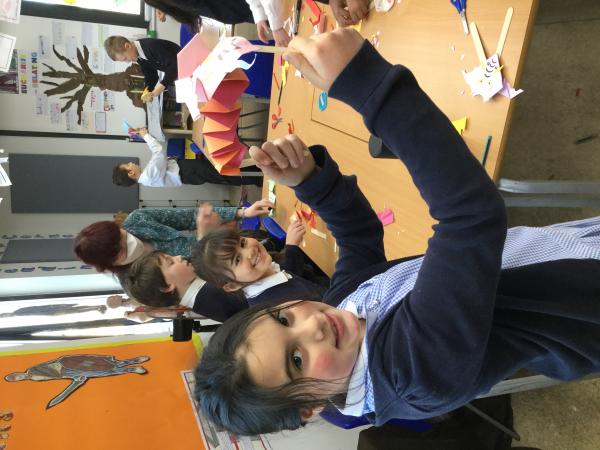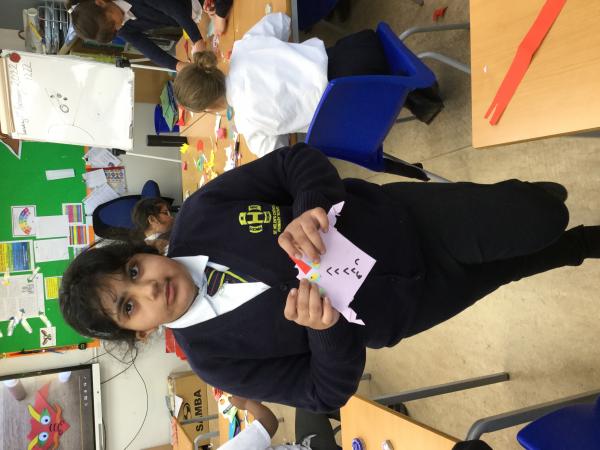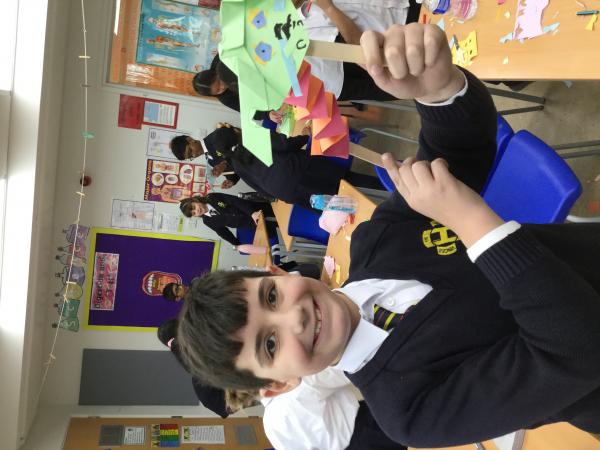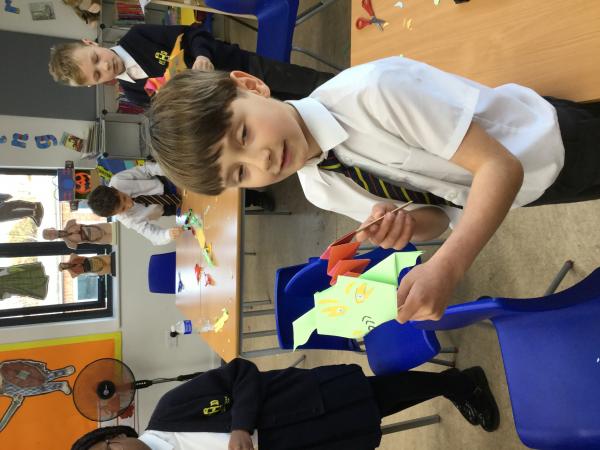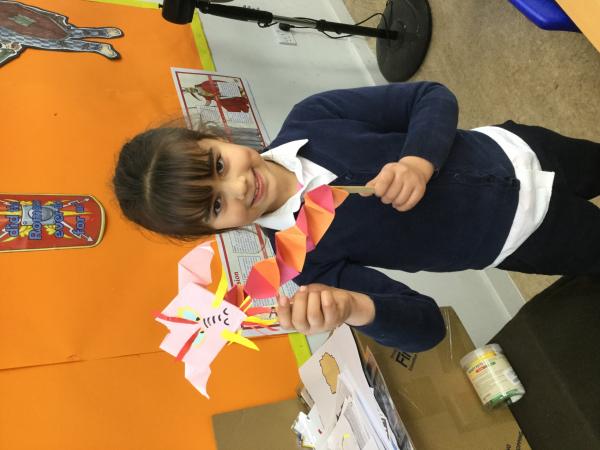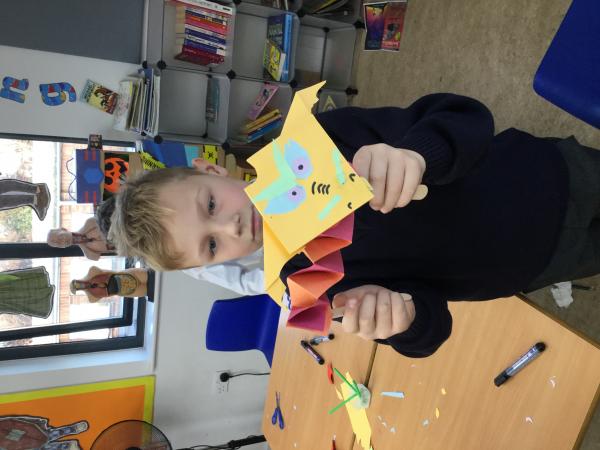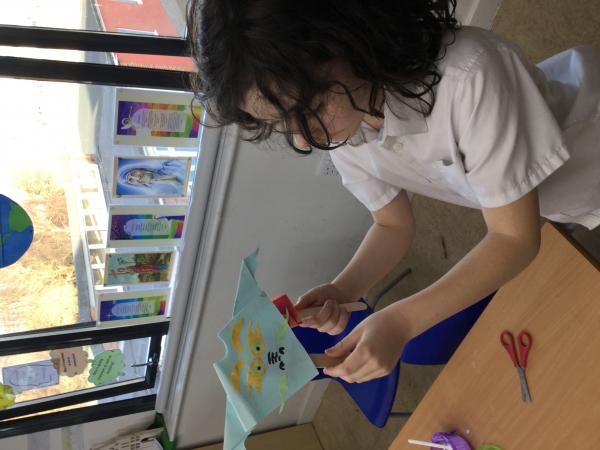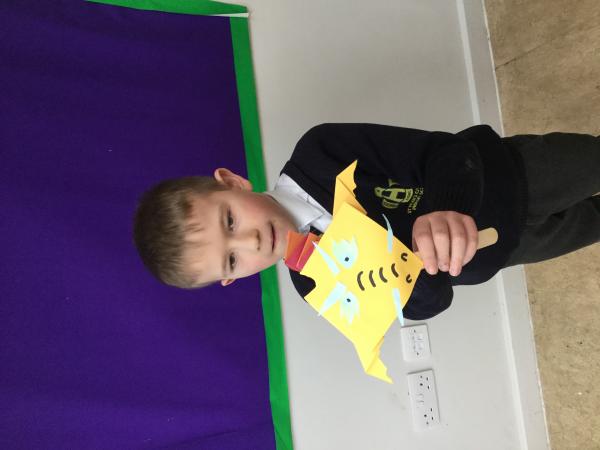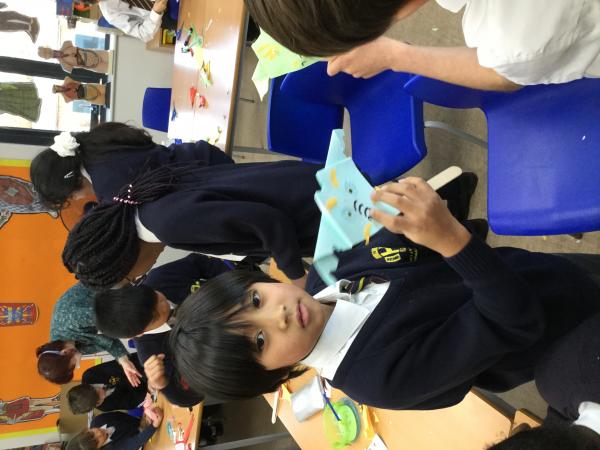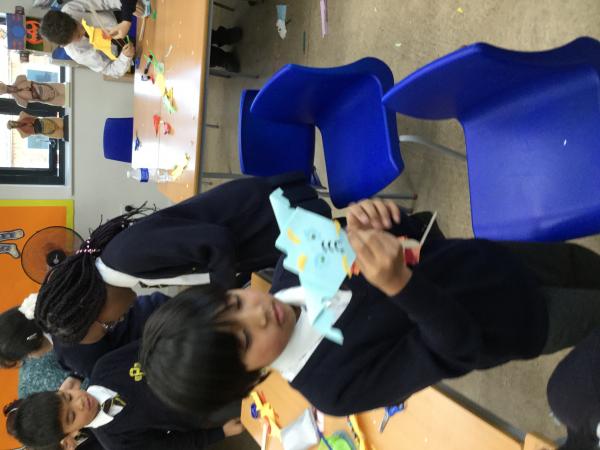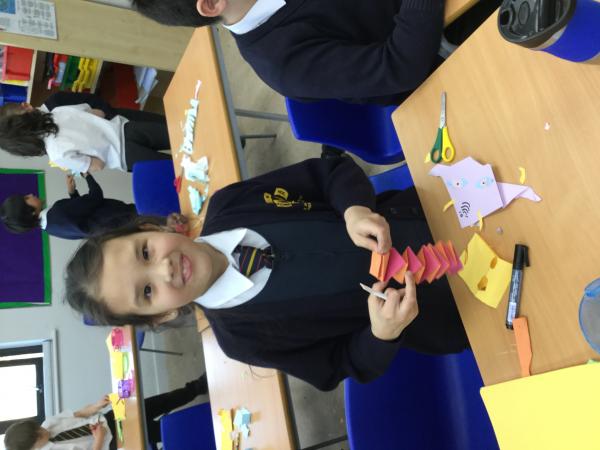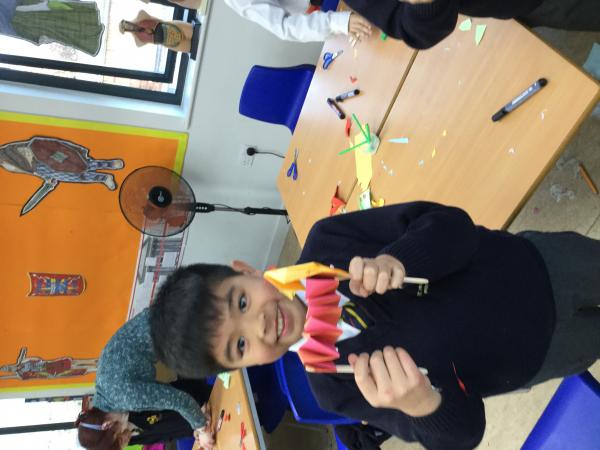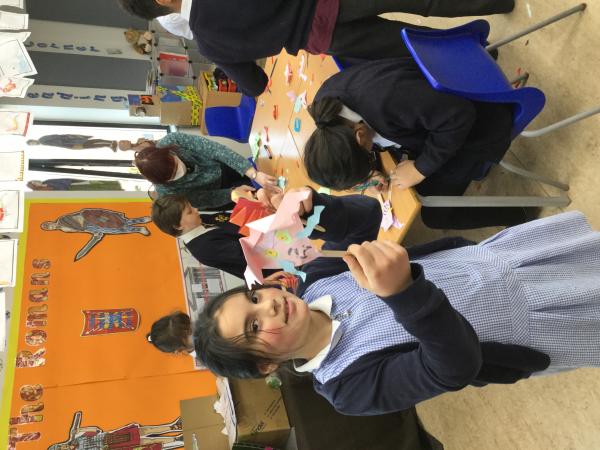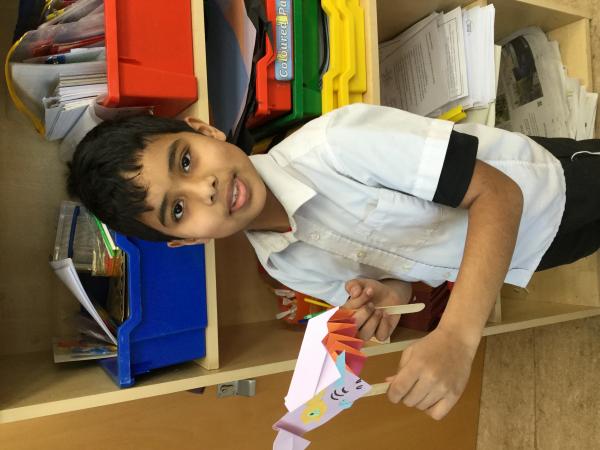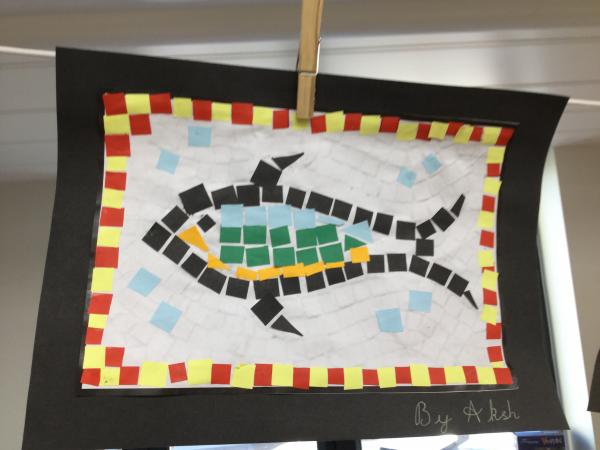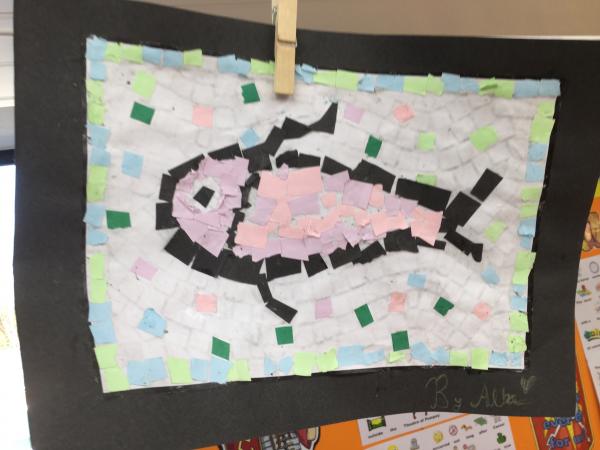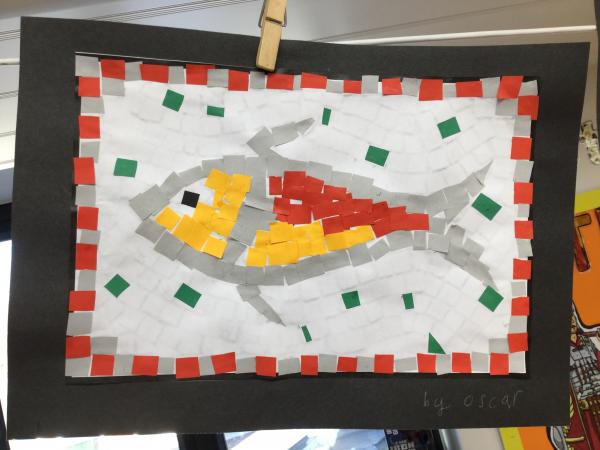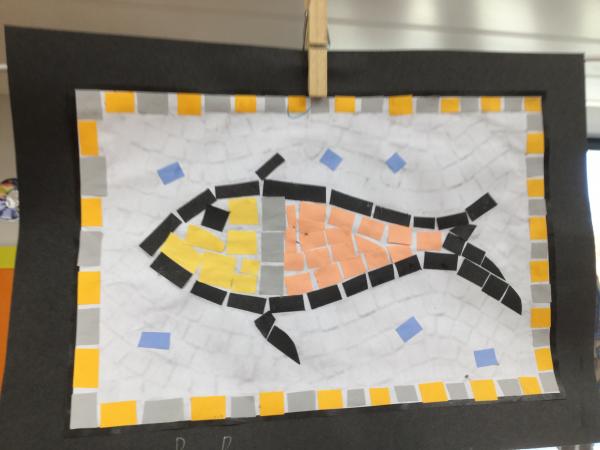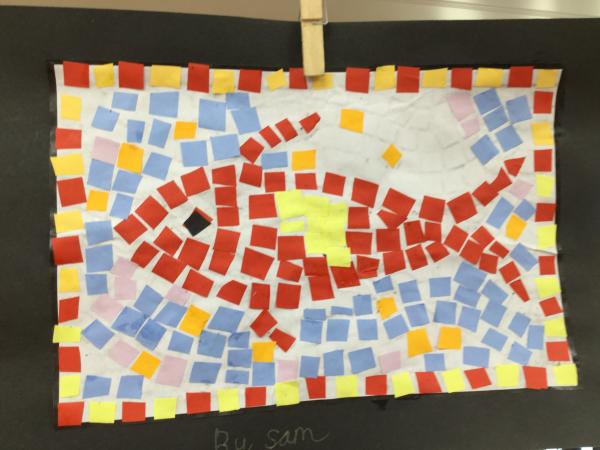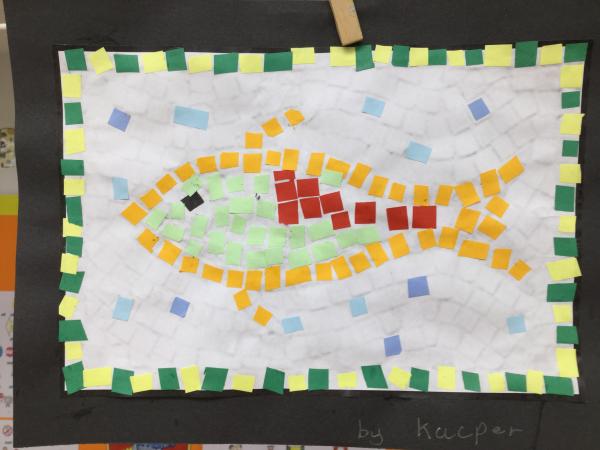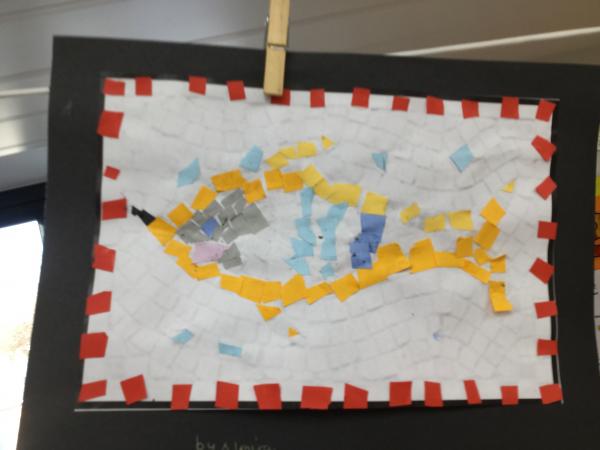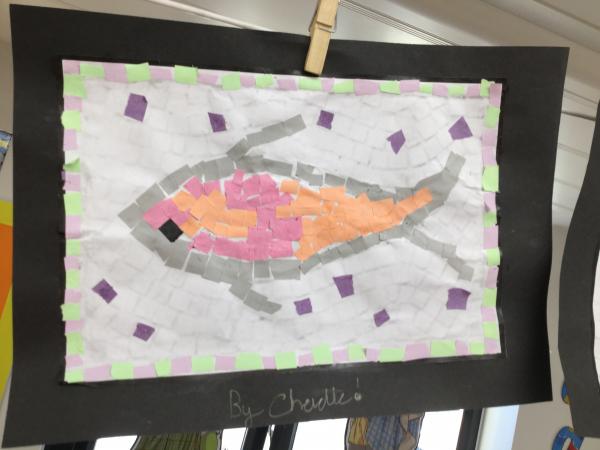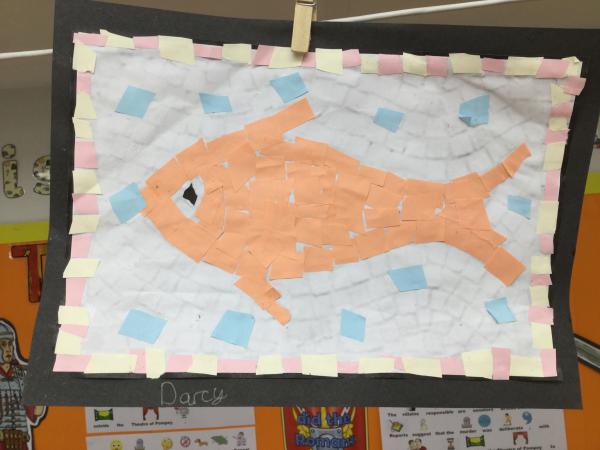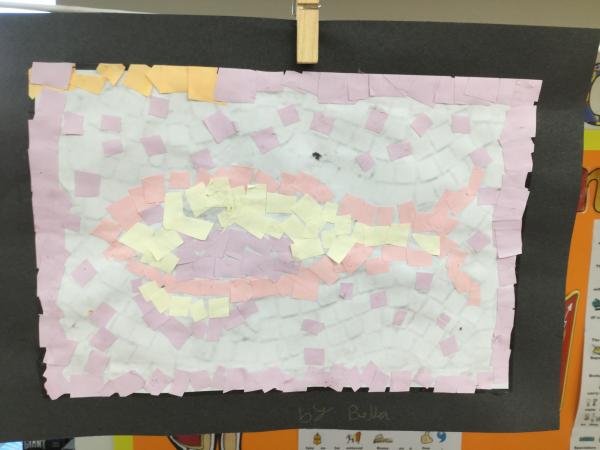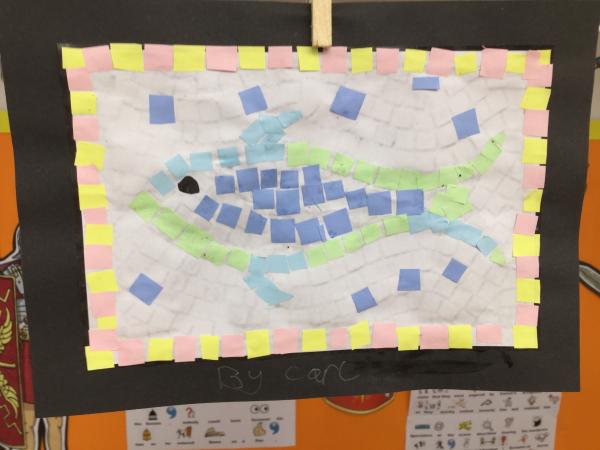 Roman Montage Work
Class Montage and Mosaic work - as part of our Romans Topic we have been reading a book about the eruption of Mount Vesuvius in AD79 - we made this montage of the event based on a picture from the book. We have also been making some Roman Mosaic designs of fish too. We think they're great!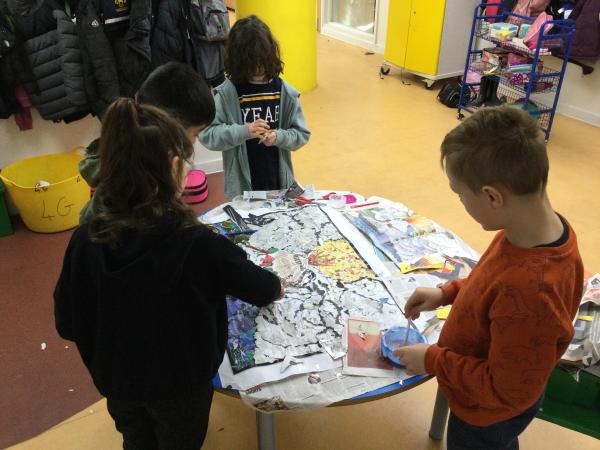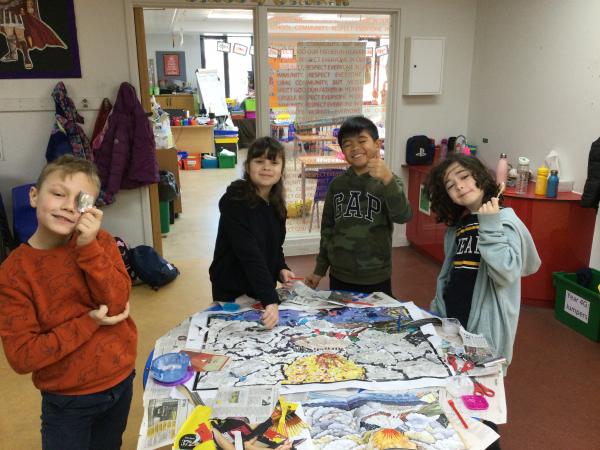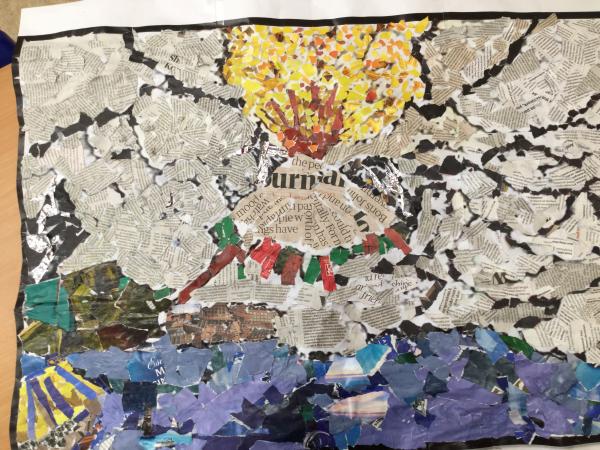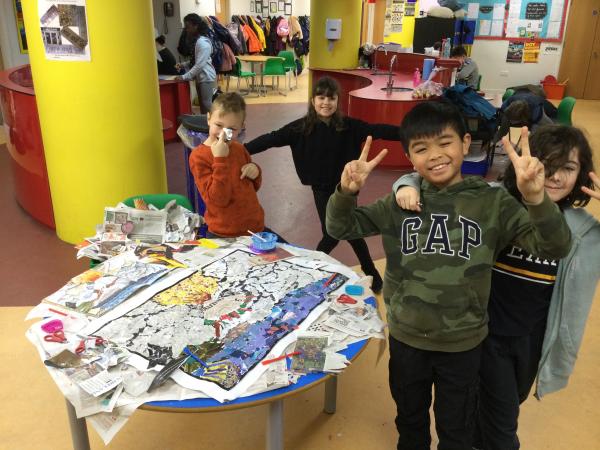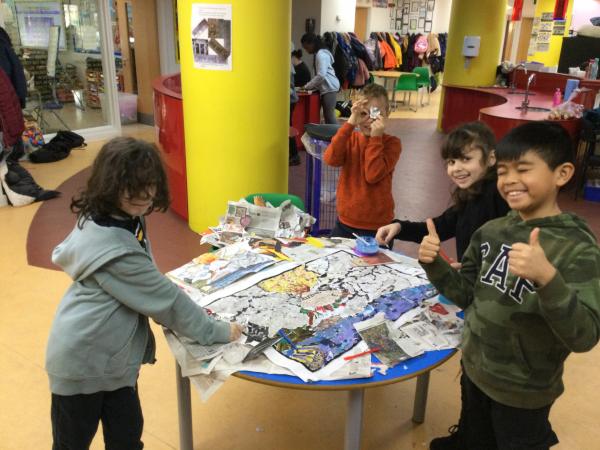 Learning the P-Bone
4G have continued their learning on the 'PBone' this half term and have begun to play using the 'slider ' too!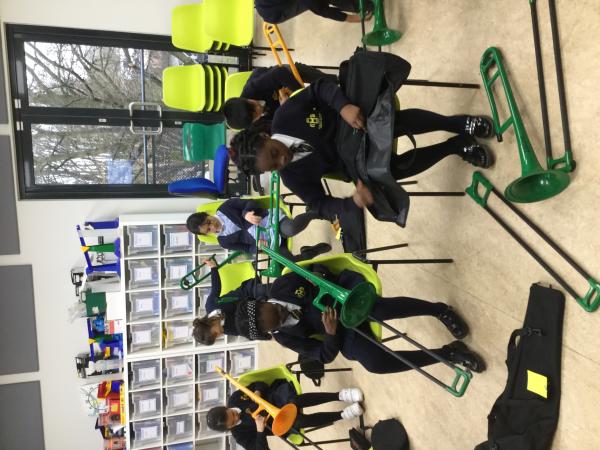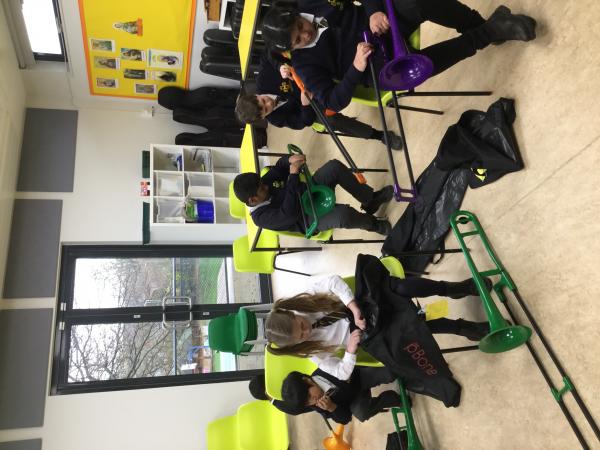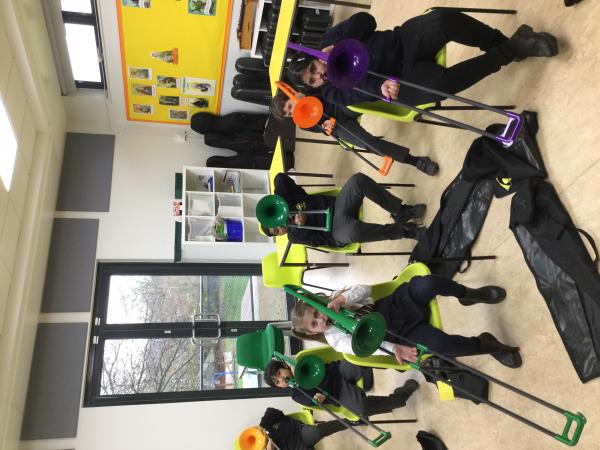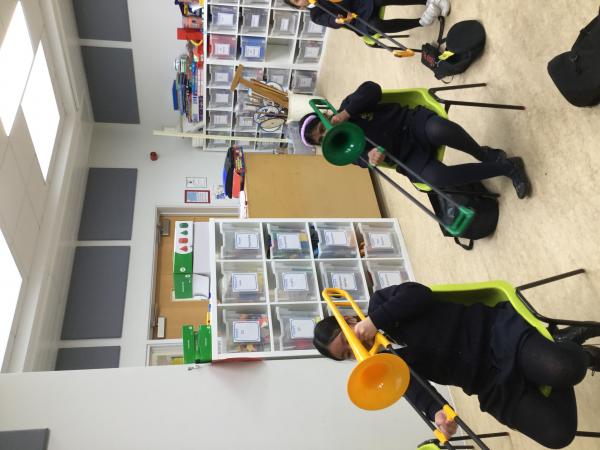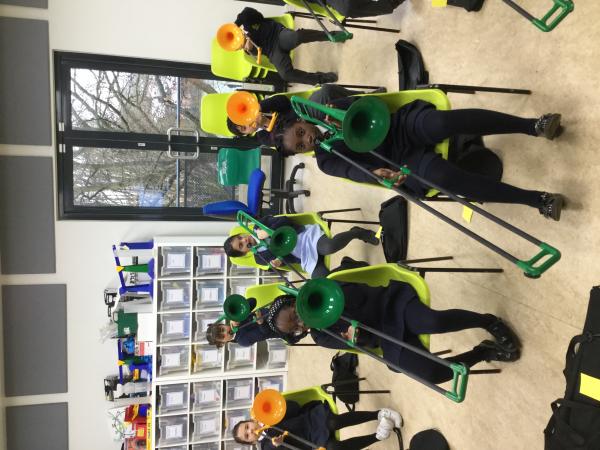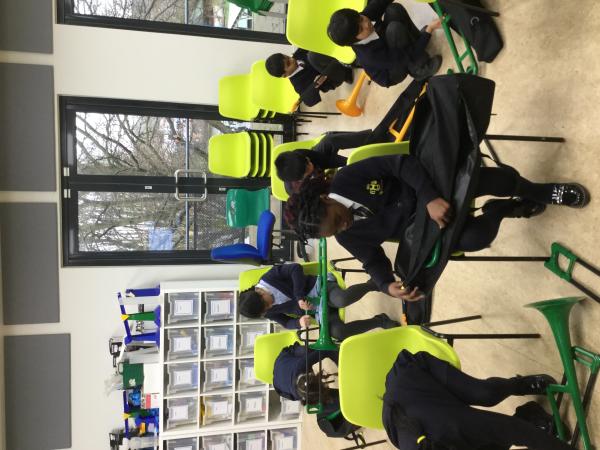 Fountains Nature Area Day
Fountains enjoyed a day in the Nature Area where they made cakes in Oranges.
Kassi Bance exclaimed " I loved making food for the birds and putting it in different places."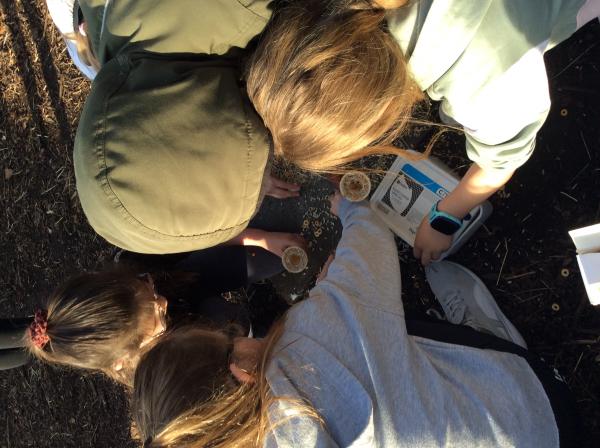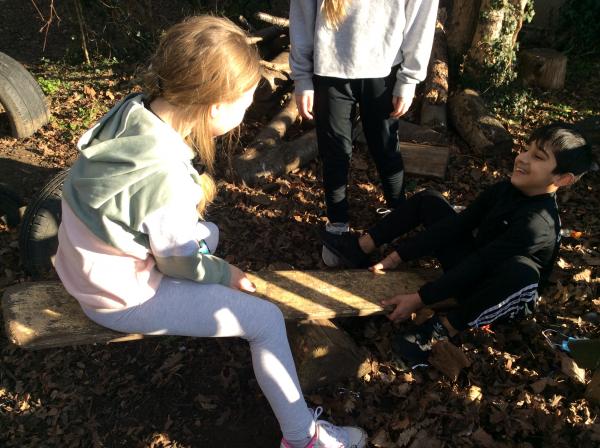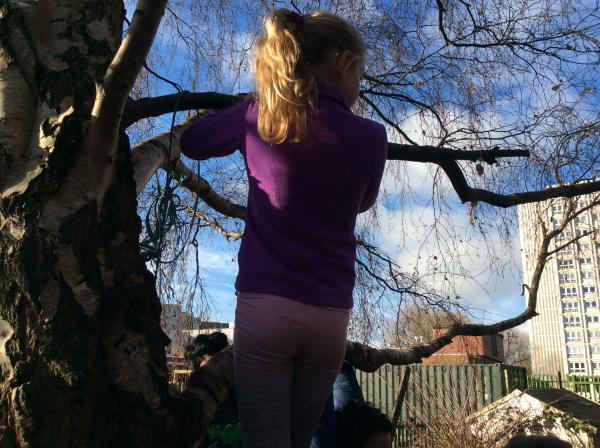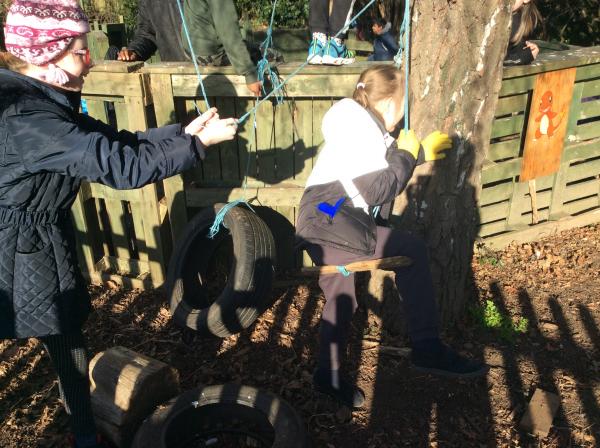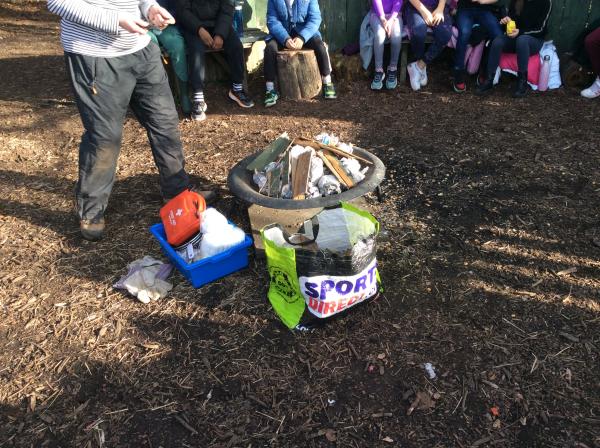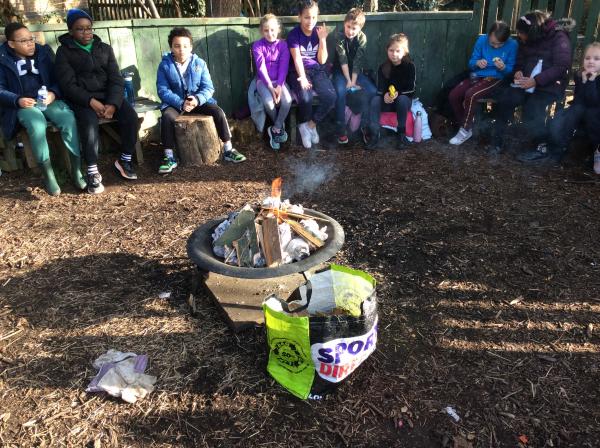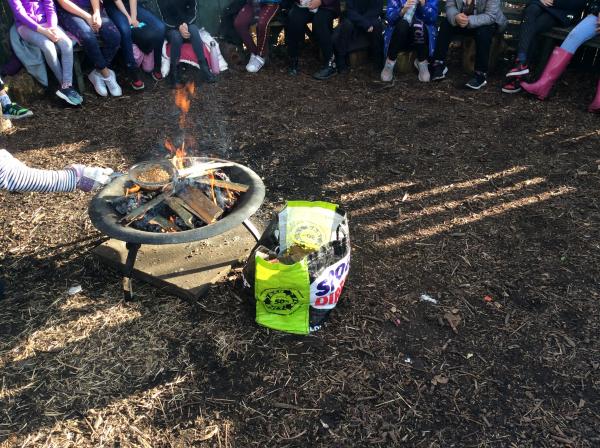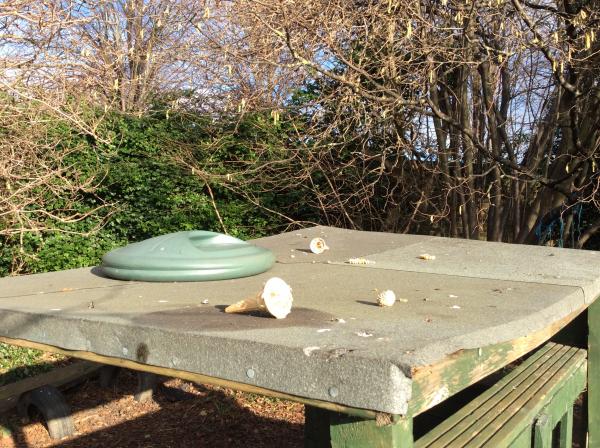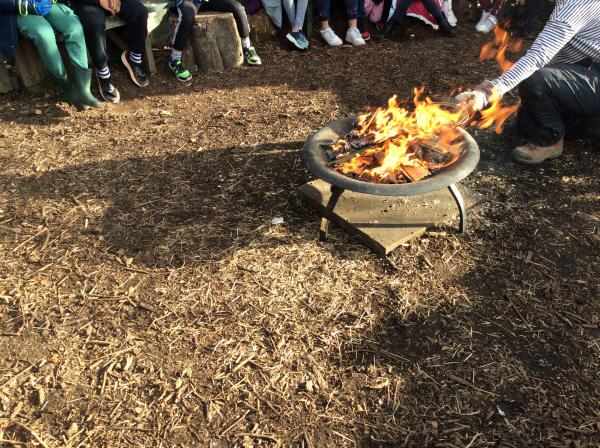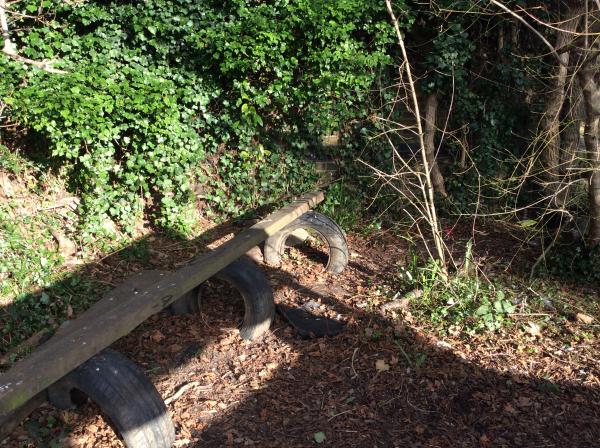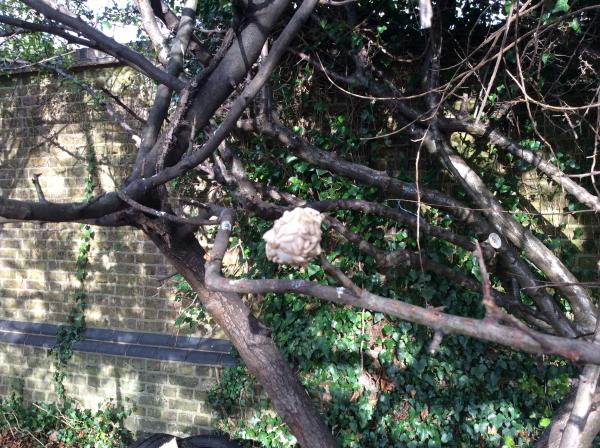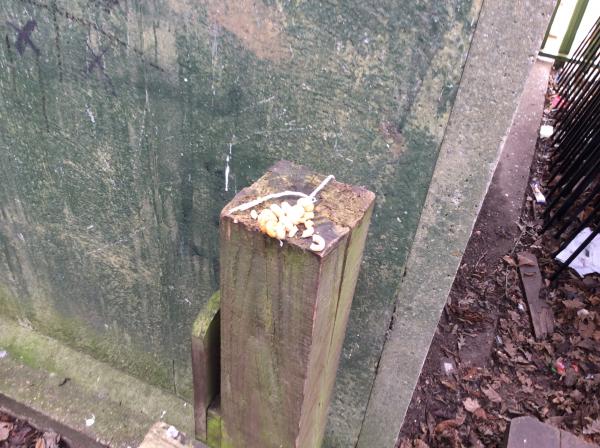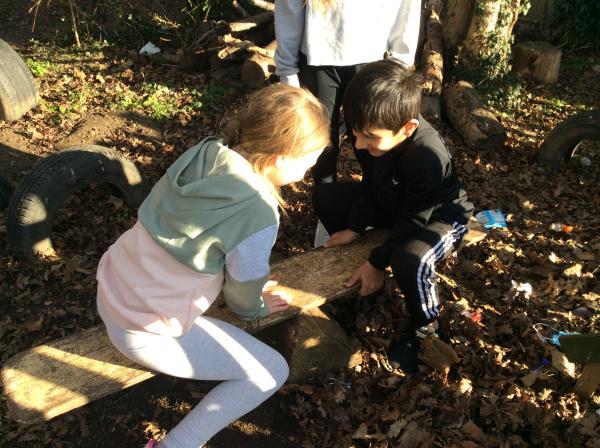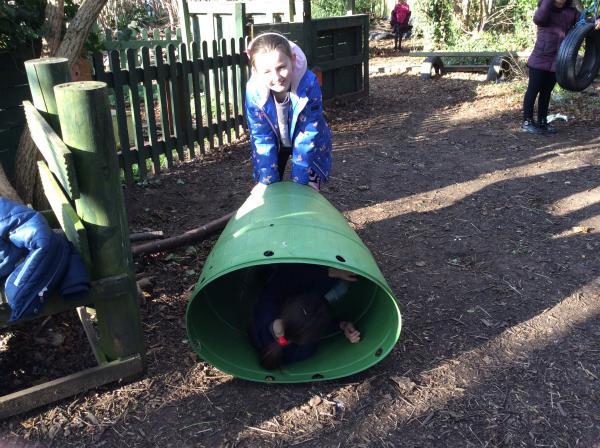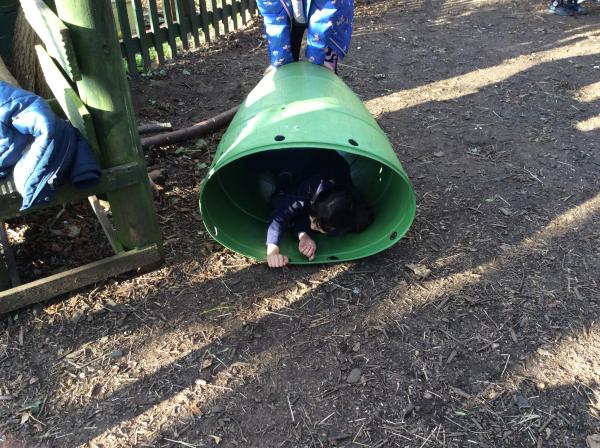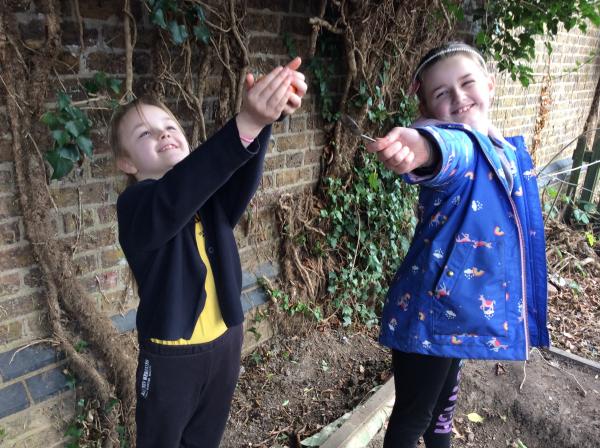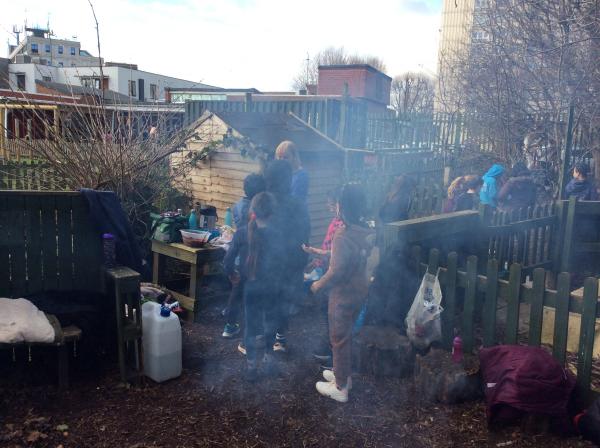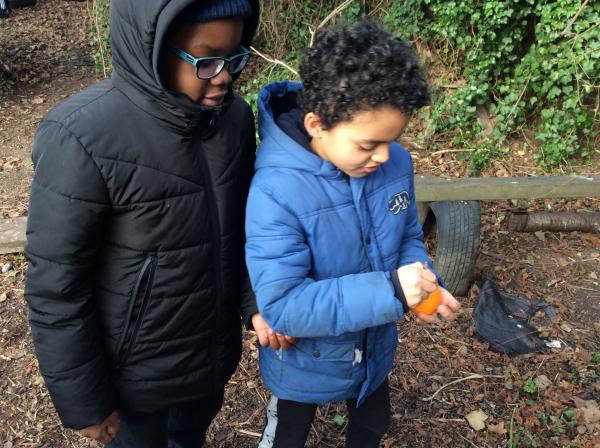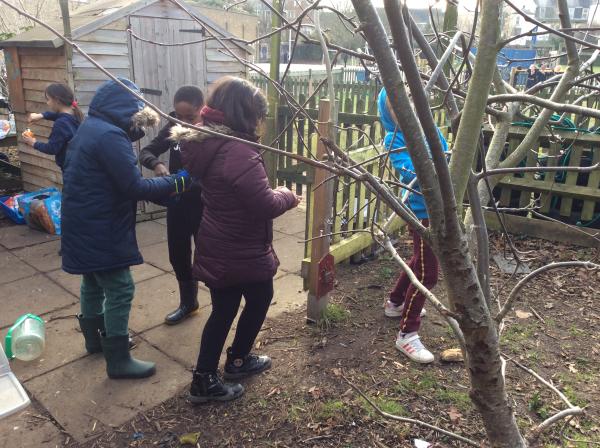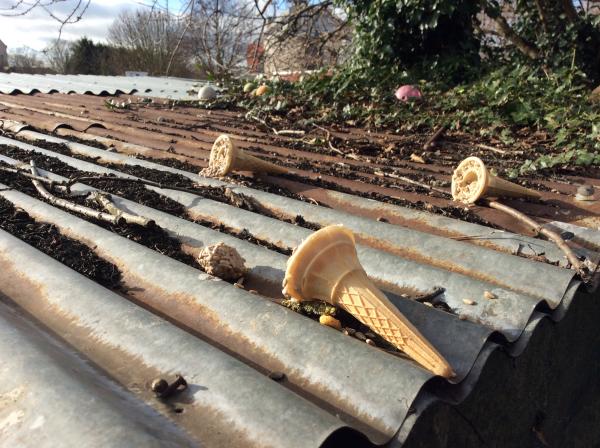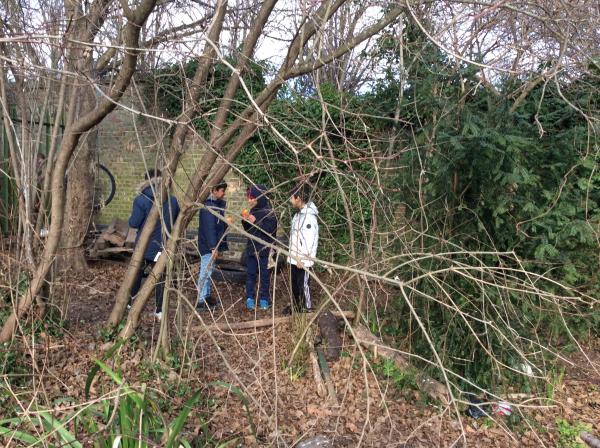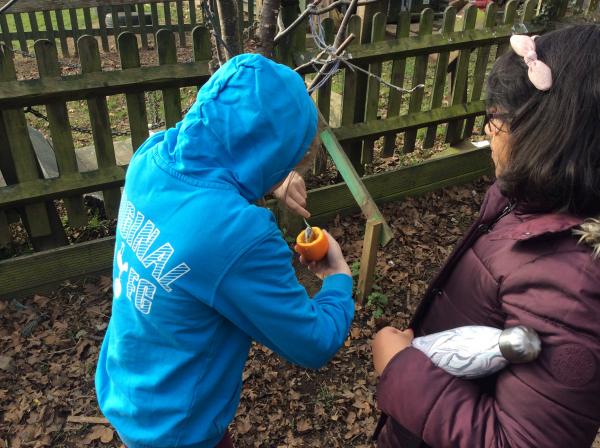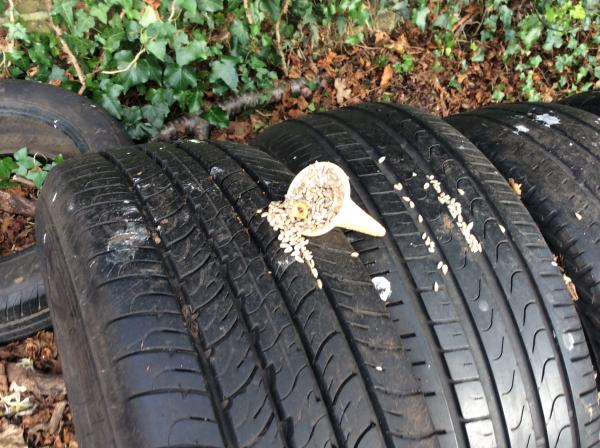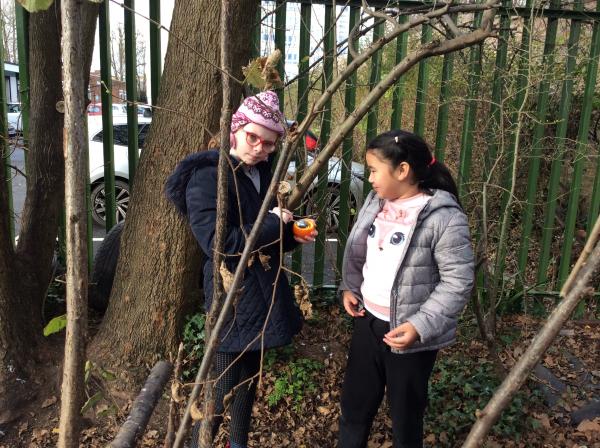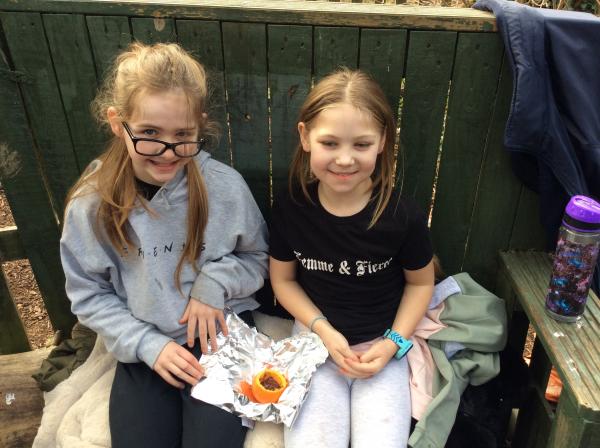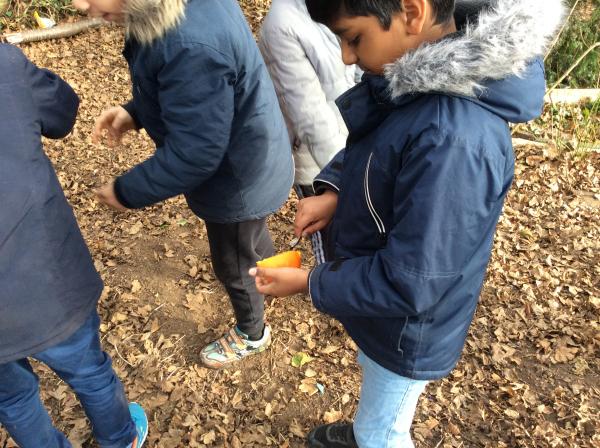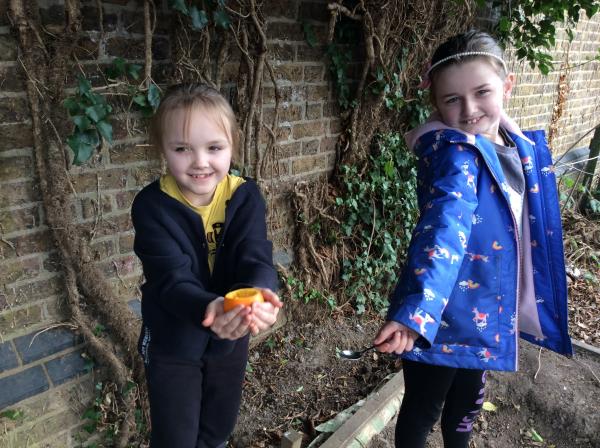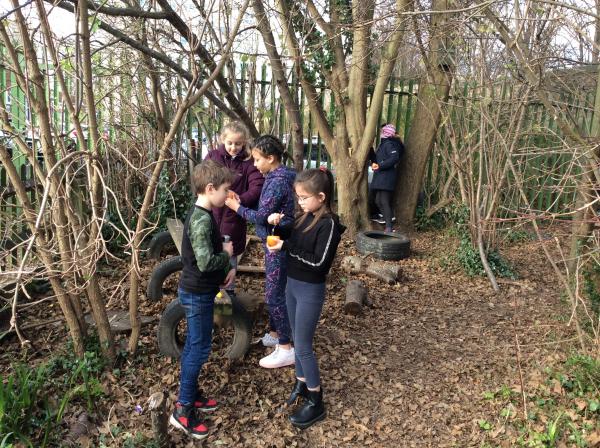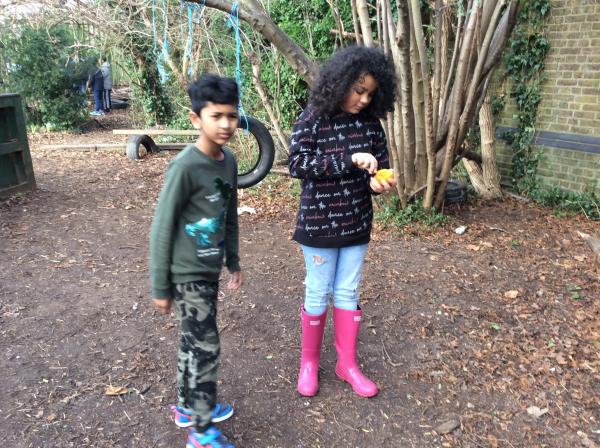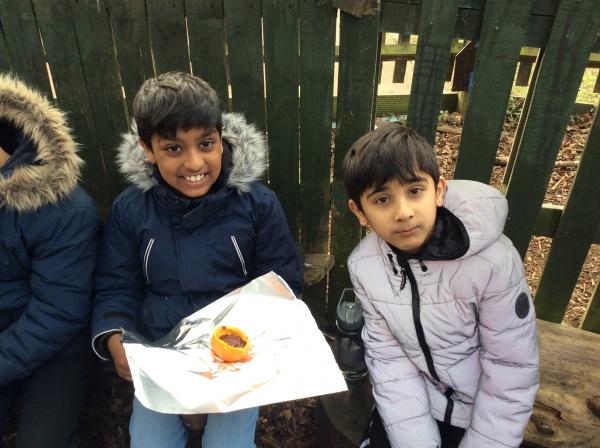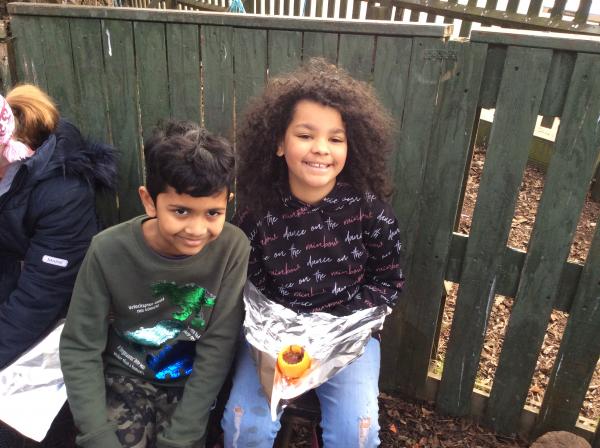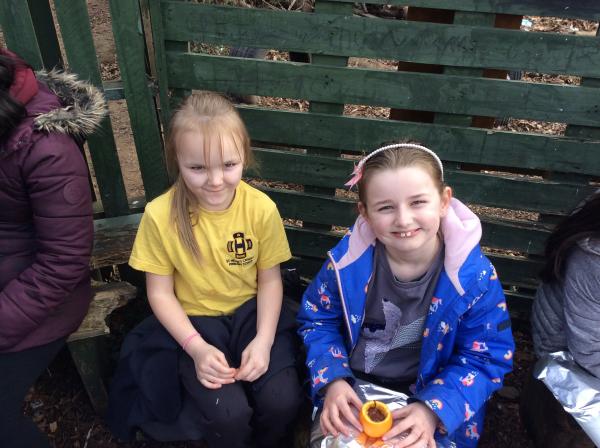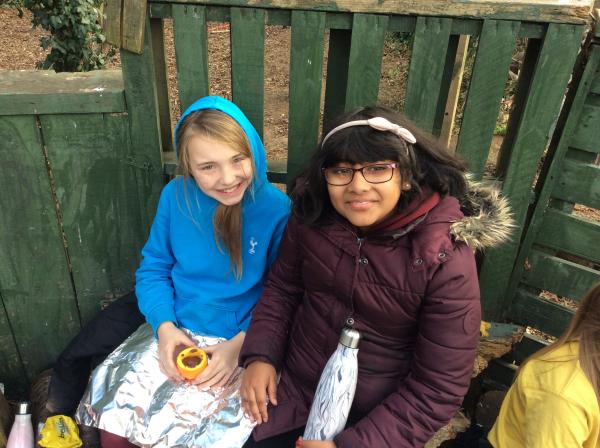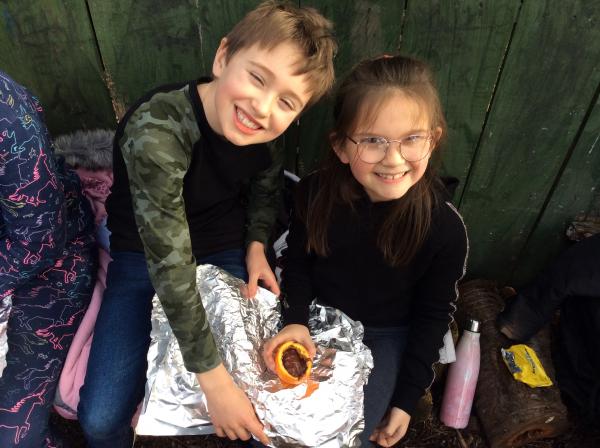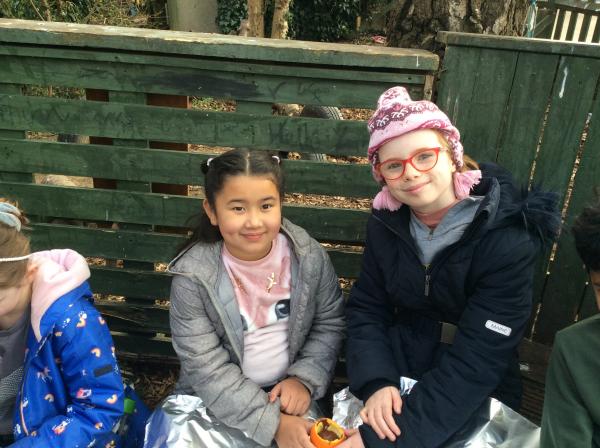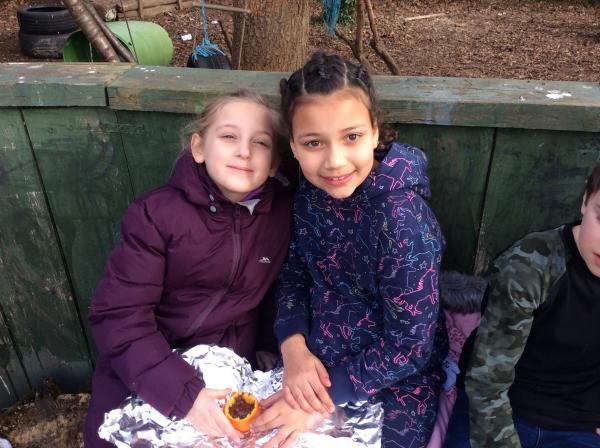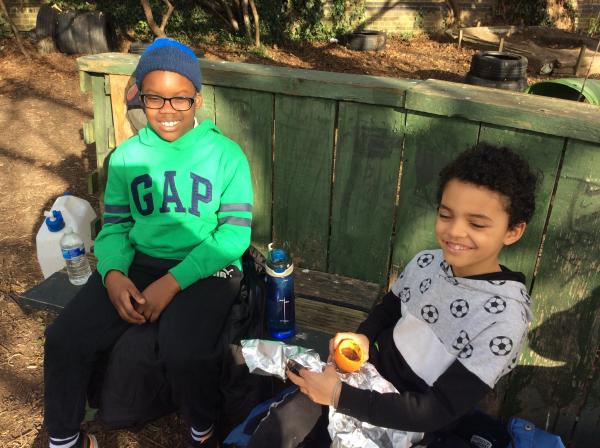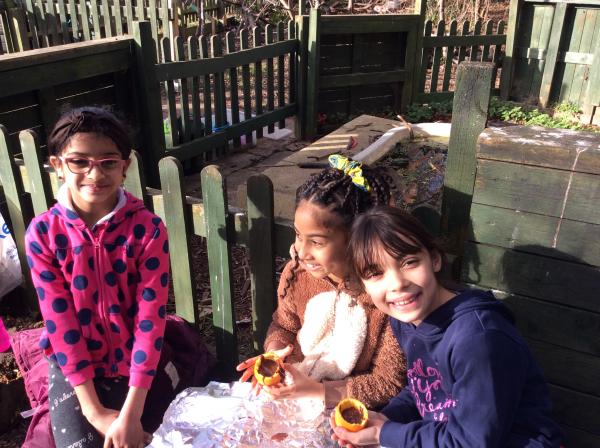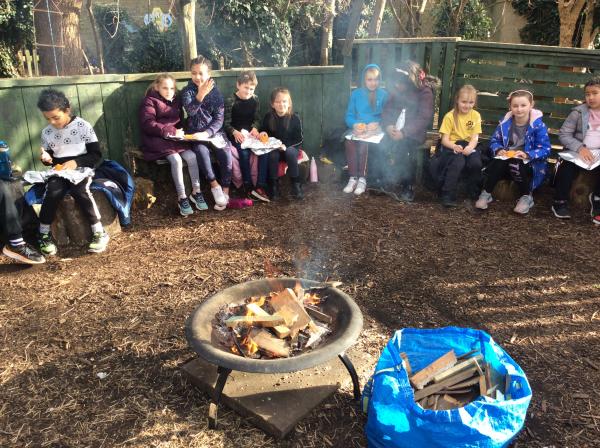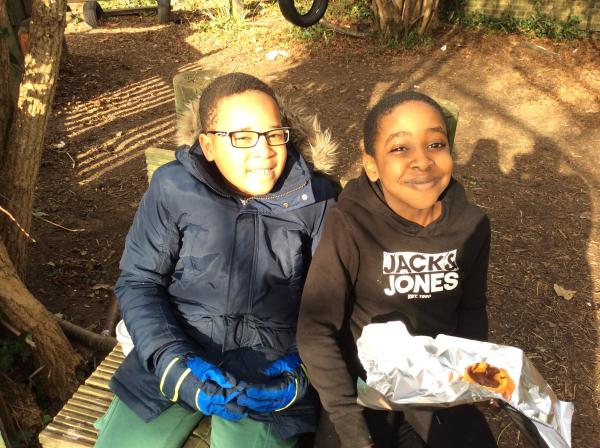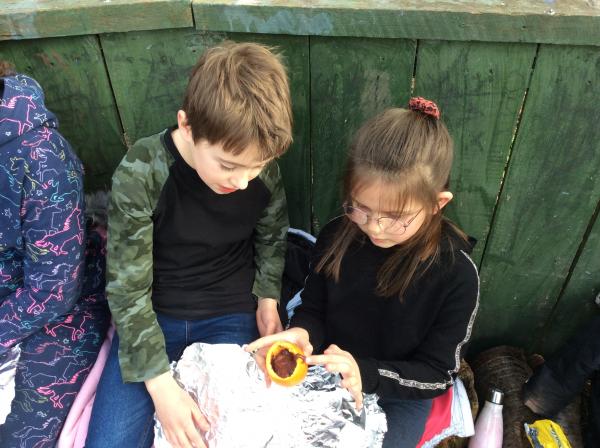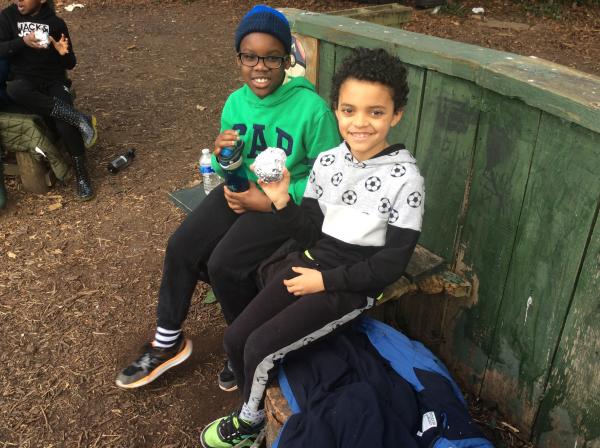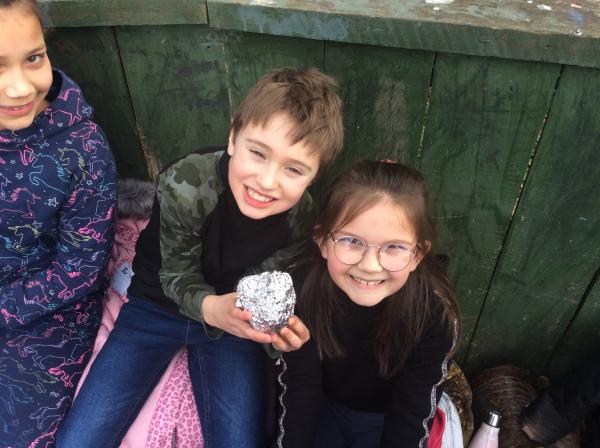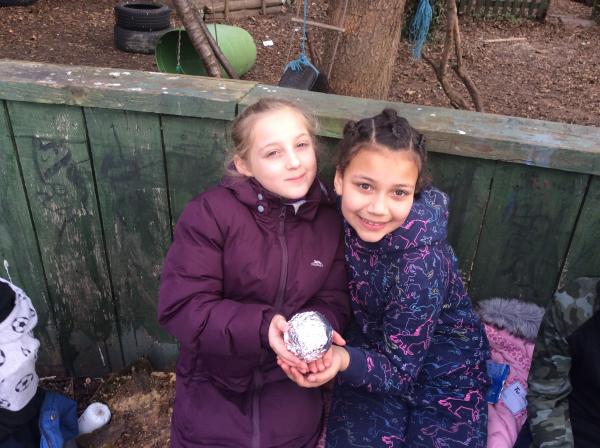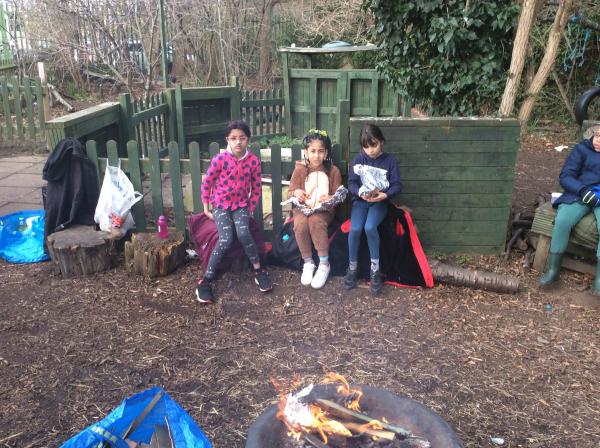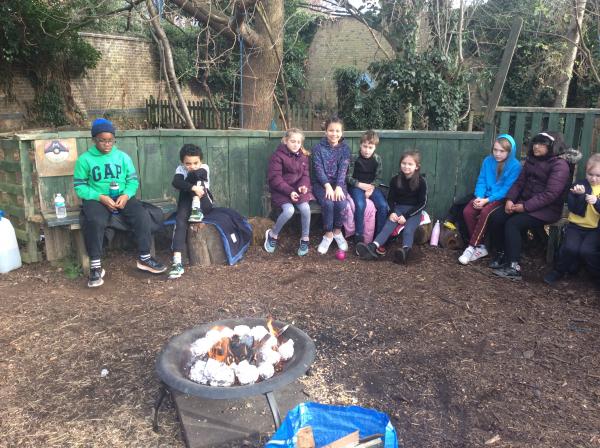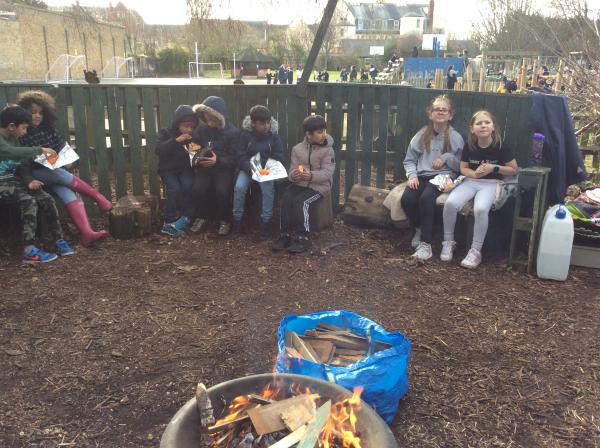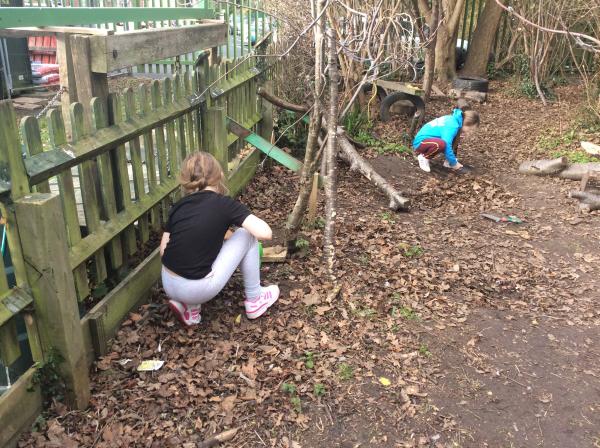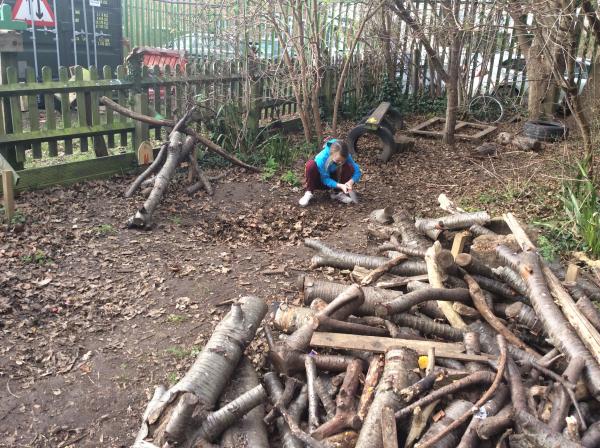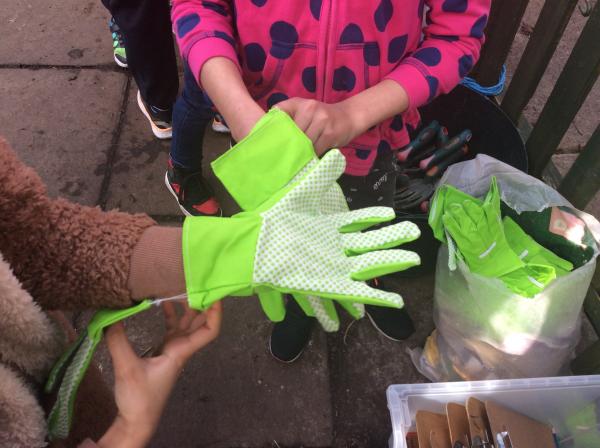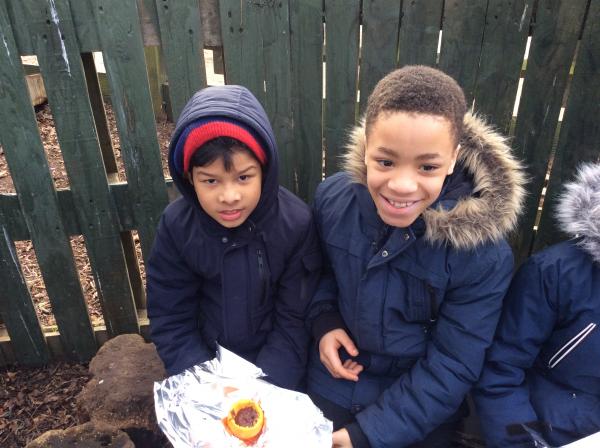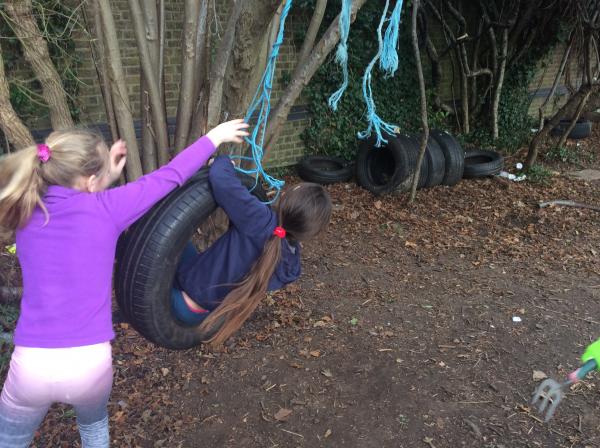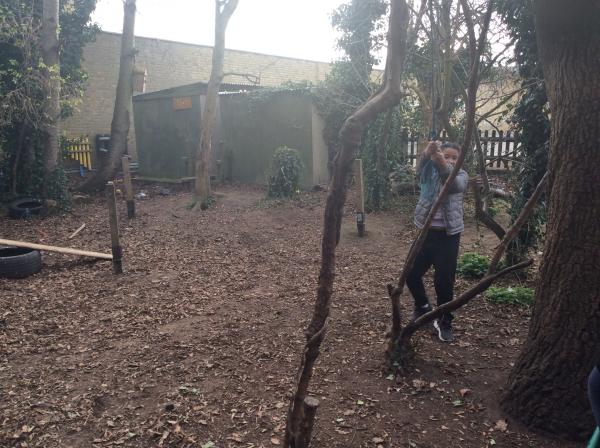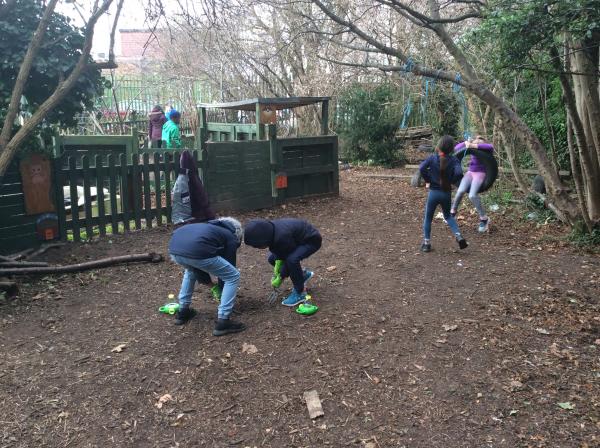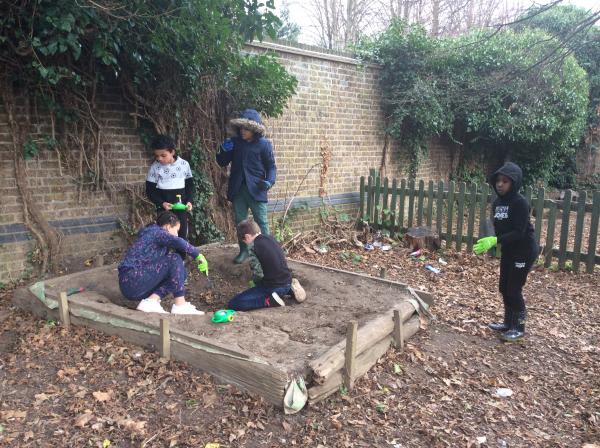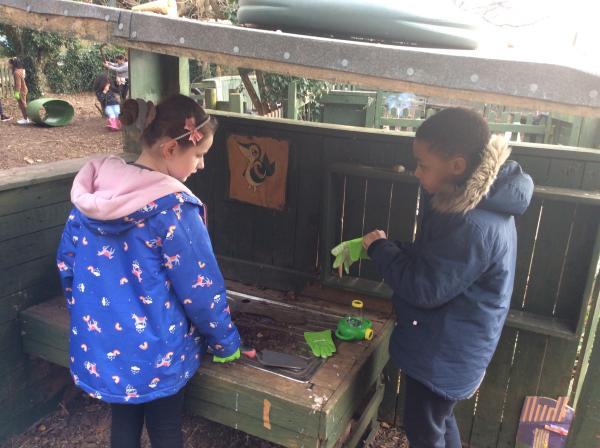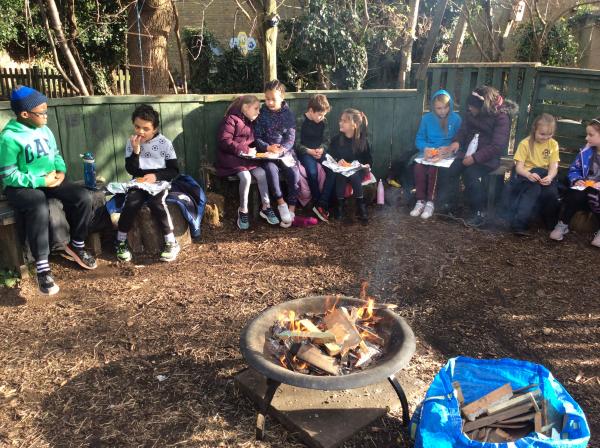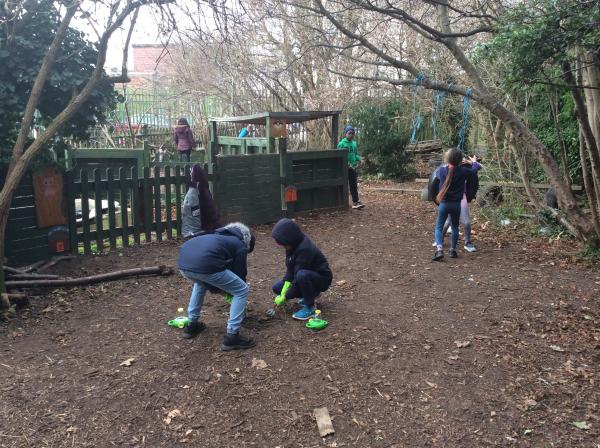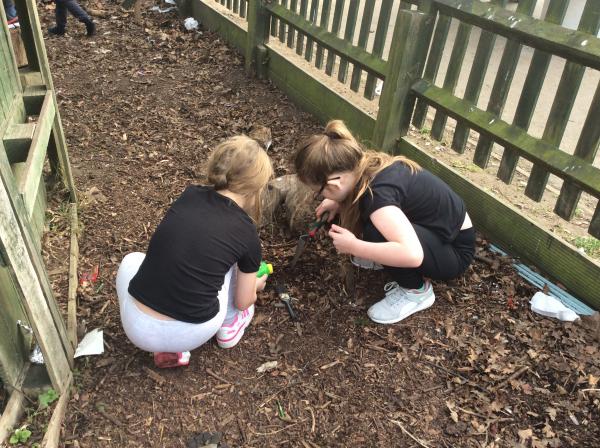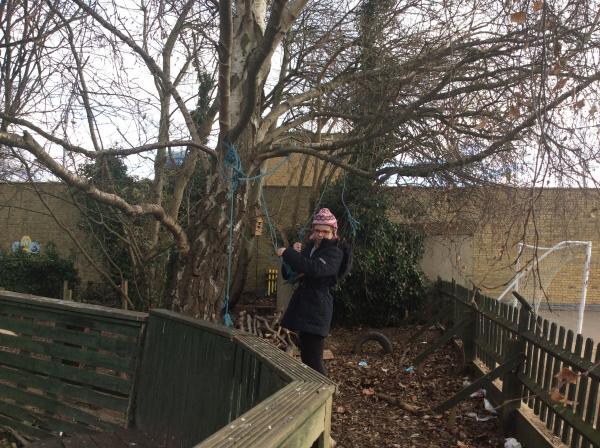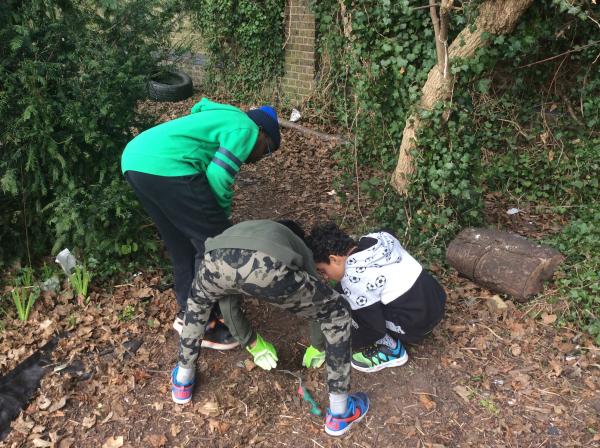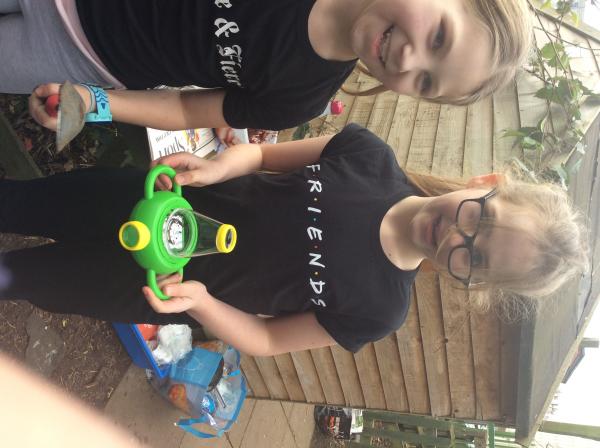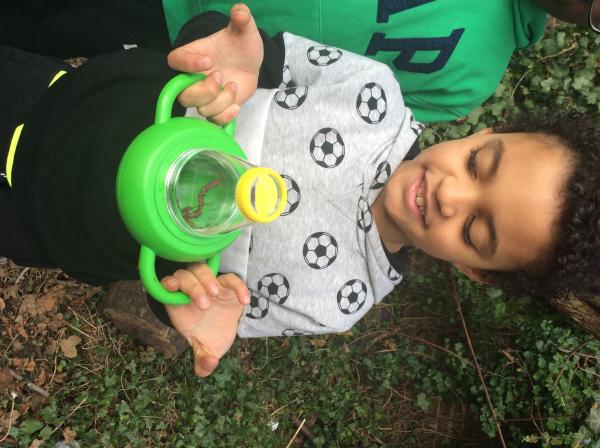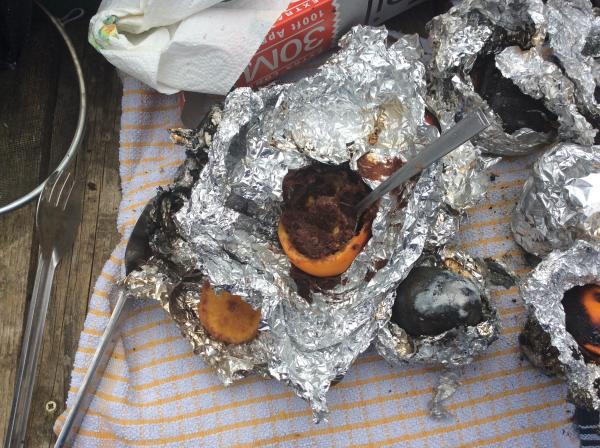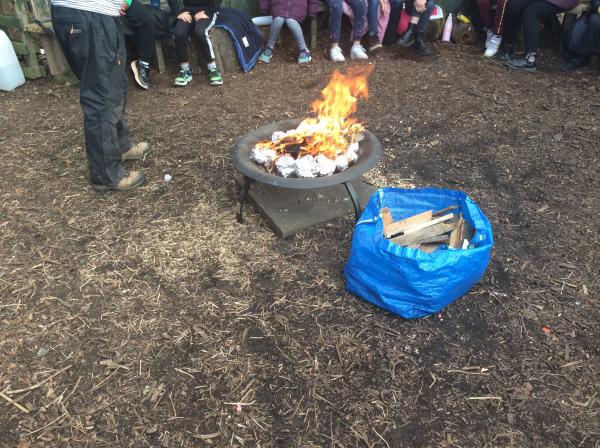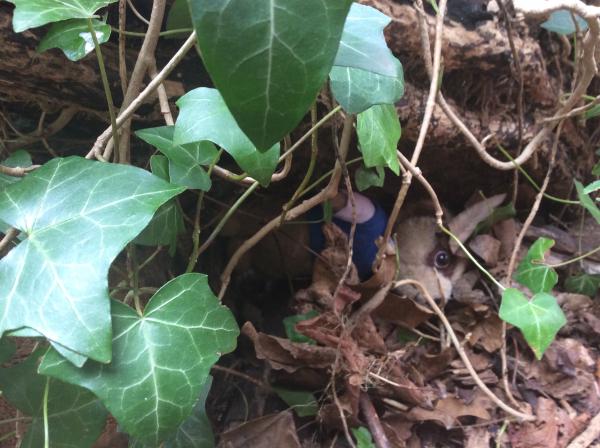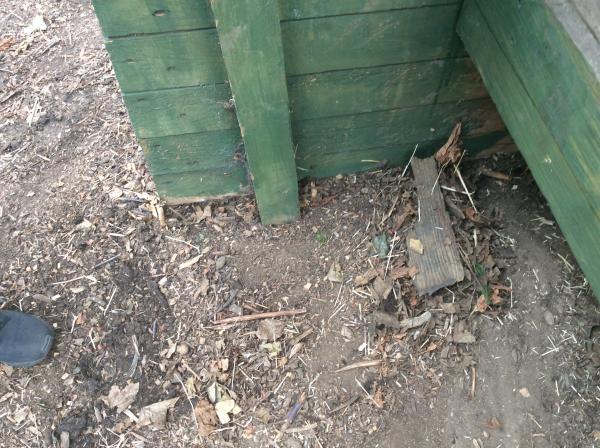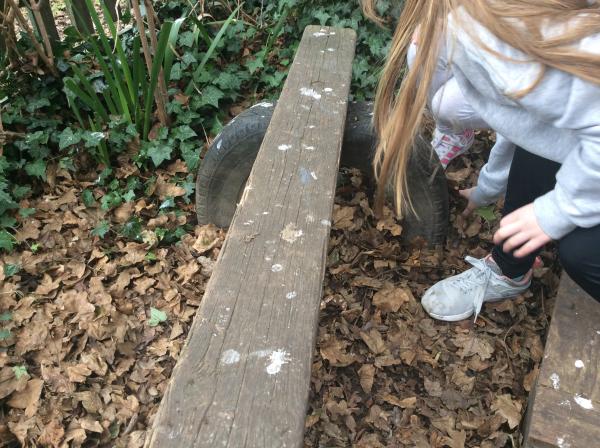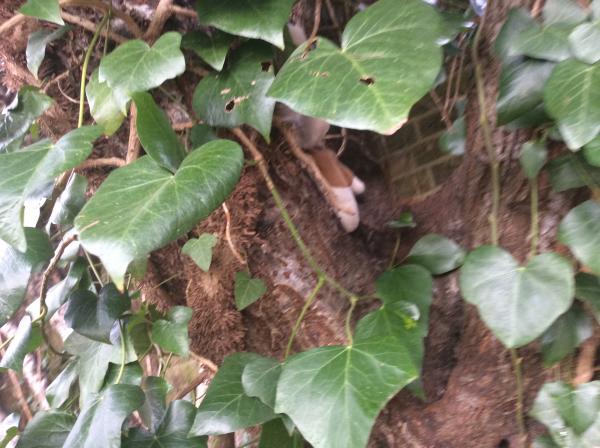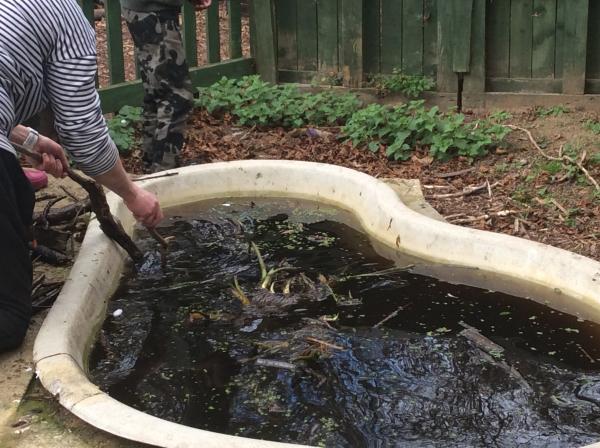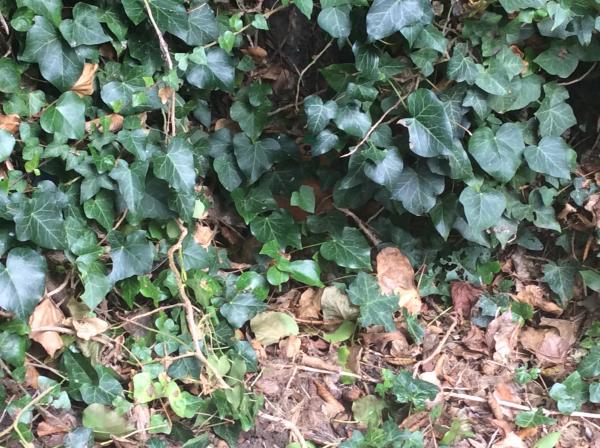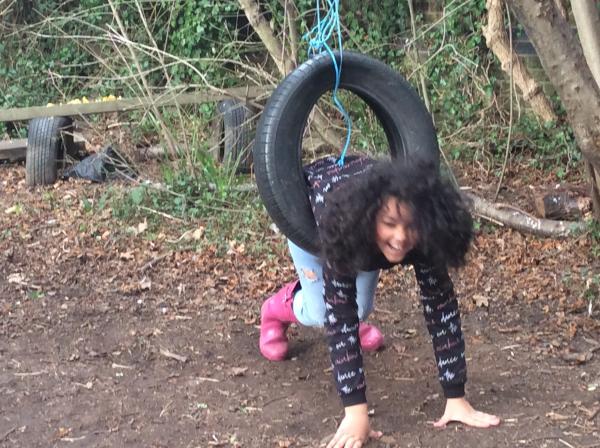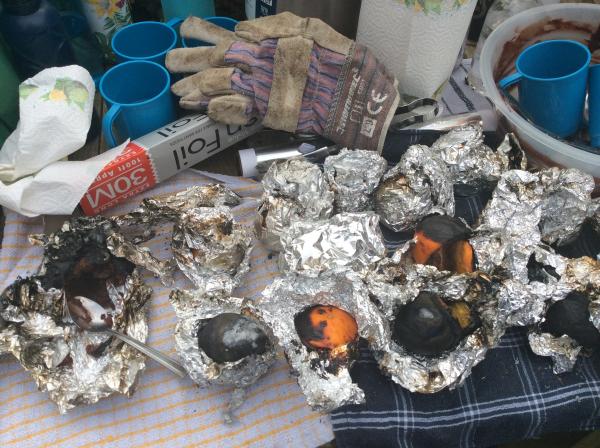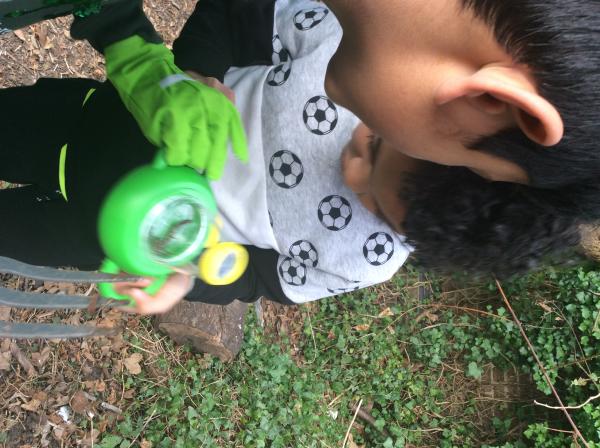 Breakfast in France
In French, Fountains have been learning how to ask and answer what they would like for breakfast. They enjoyed eating and drinking French cuisine after answering Mrs Fisher's question: Qu'est -ce que tu prends pour le petit dejuner?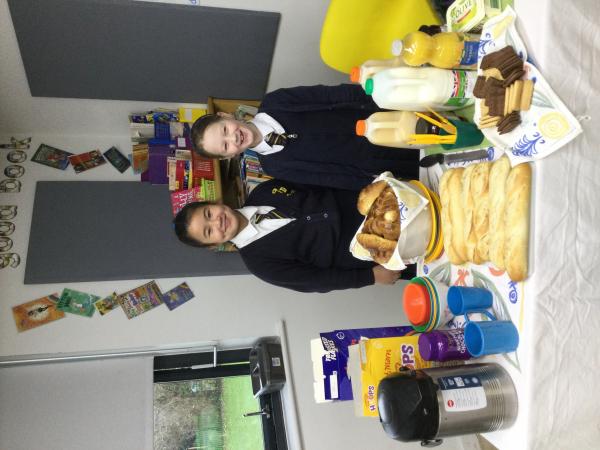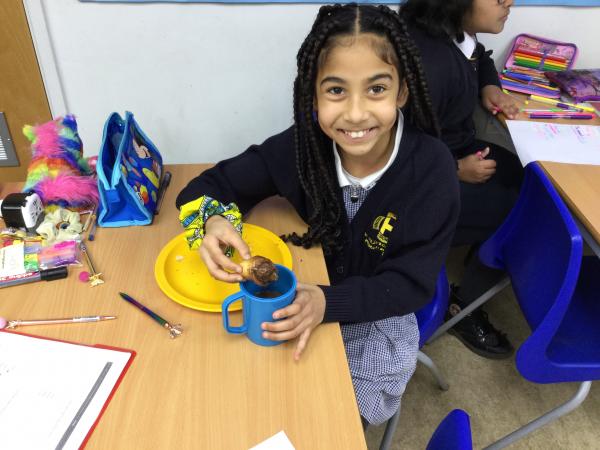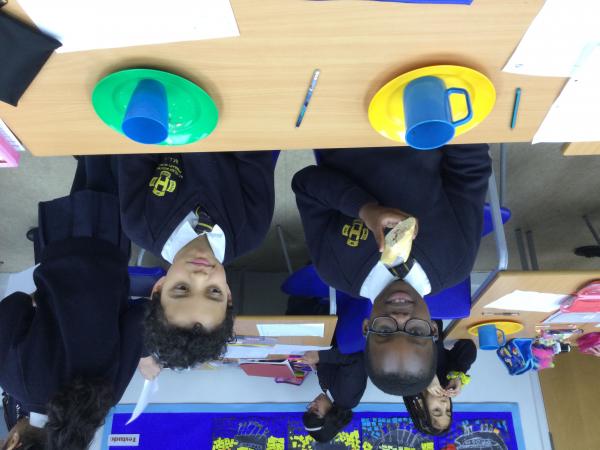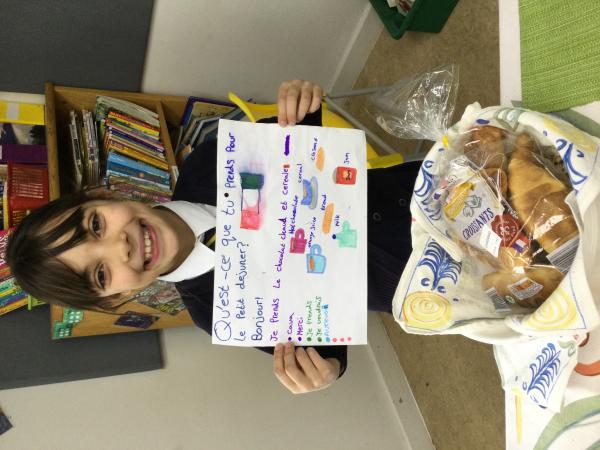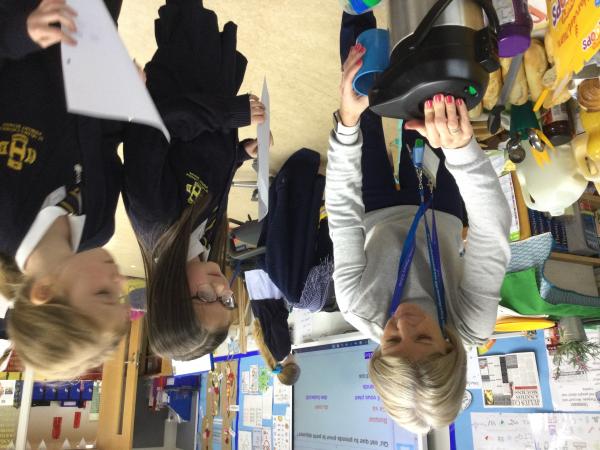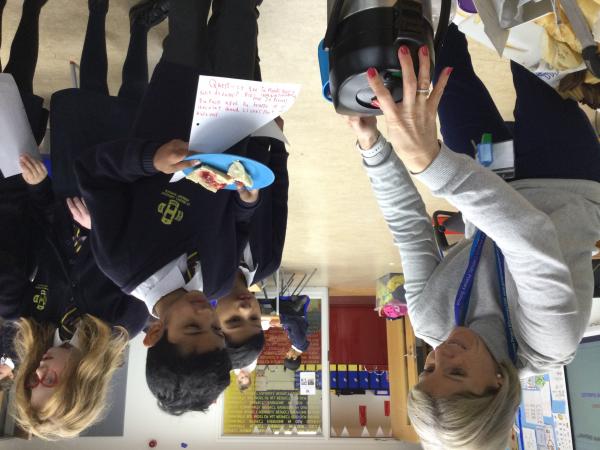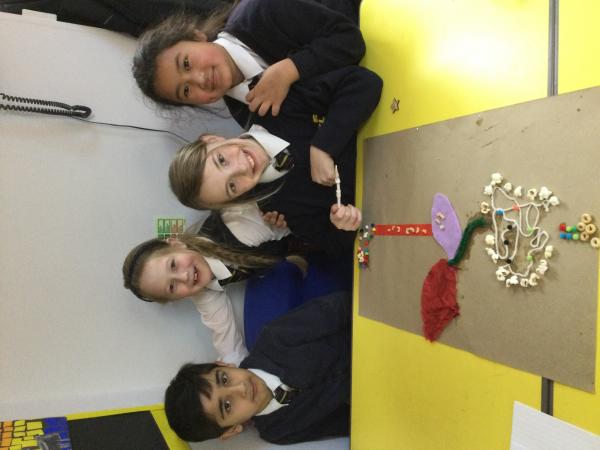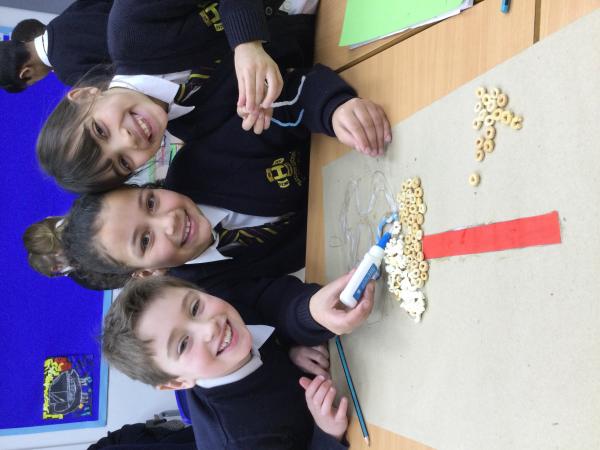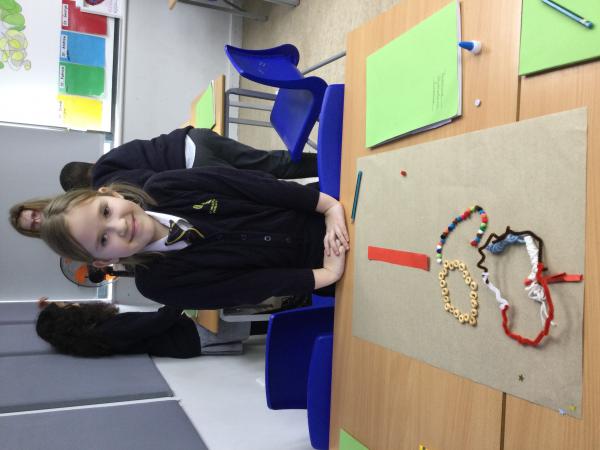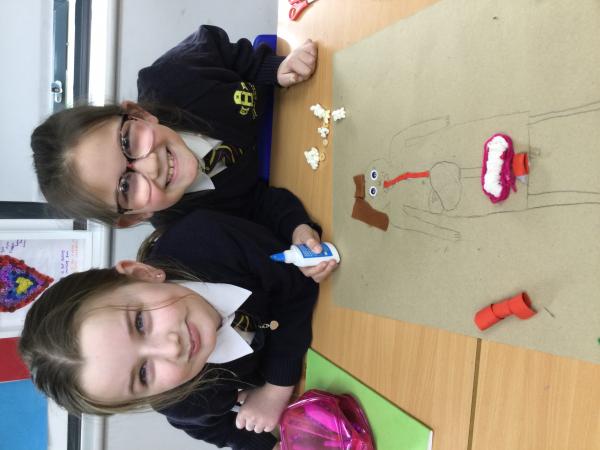 4 Gideon in the Nature Area
Year 4 Gideons had a wonderful day in the Nature Area despite the poor weather. Firstly, they explored and found the fairy doors designed and built by Year 6. Using their observational skills, they tried to colour match natural items found in the Nature area with colour mixing charts. After a quick snack, they set about building their own dens in groups with some interesting results.
In the afternoon, Year 4 enjoyed cooking cake on an open fire using an orange as their tin. They all enjoyed the texture of the cake, saying the orange flavour really came through.
Gideons worked hard today and hopefully all enjoyed their experience.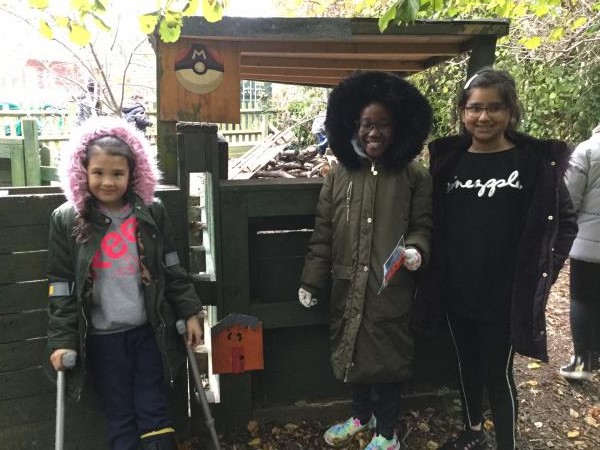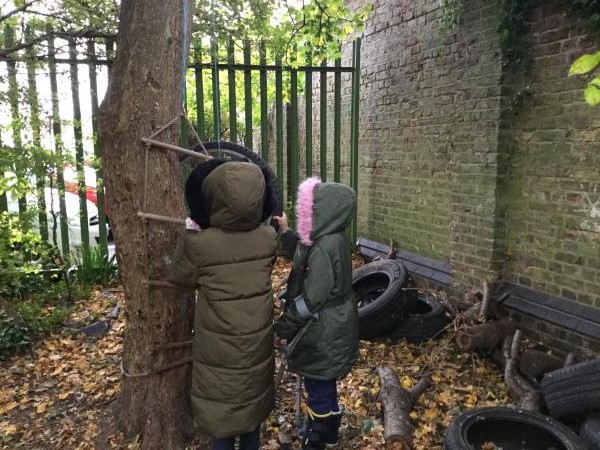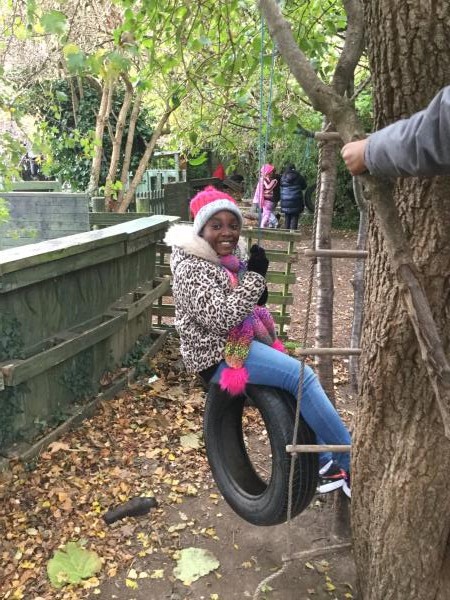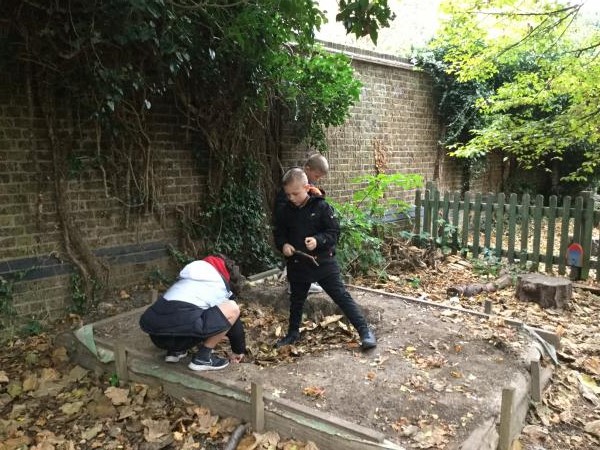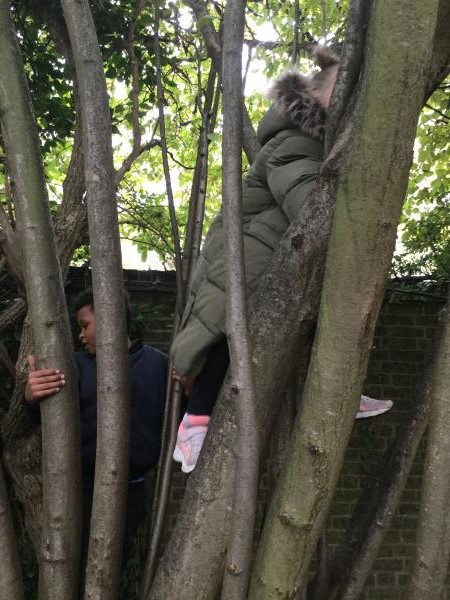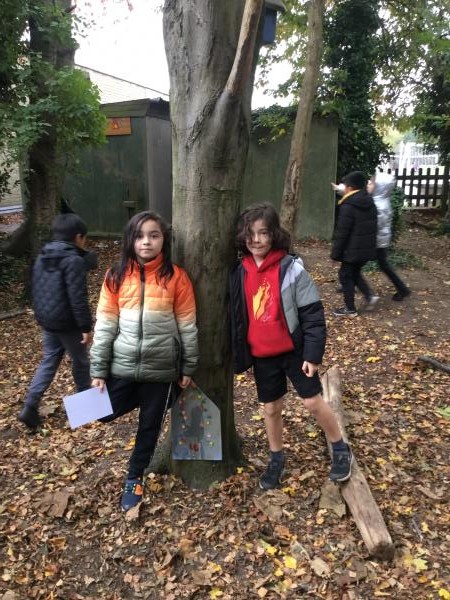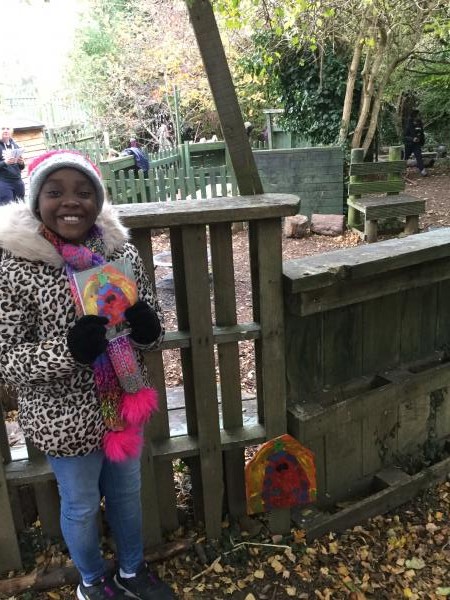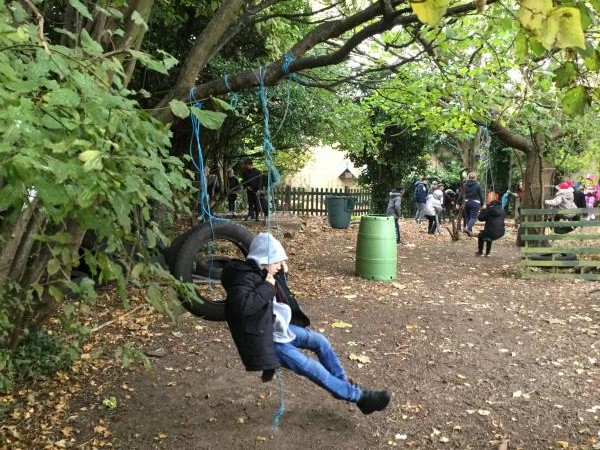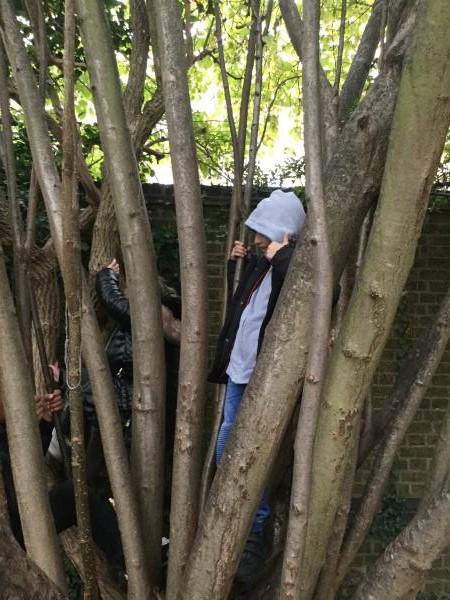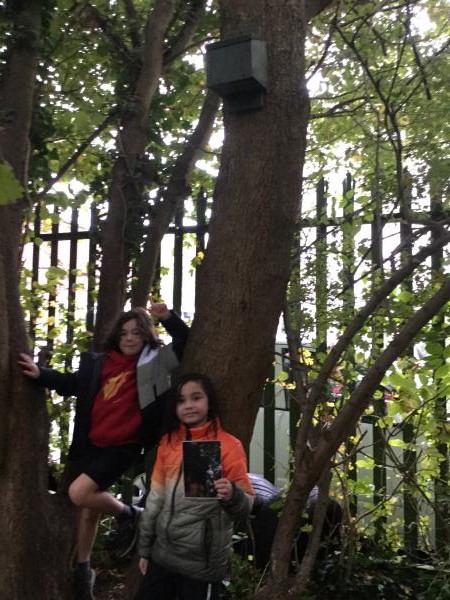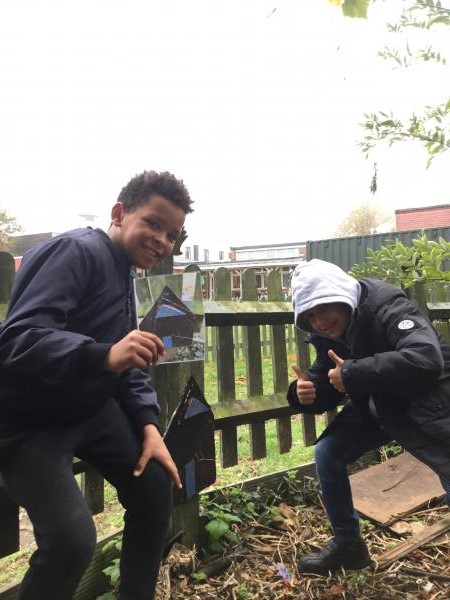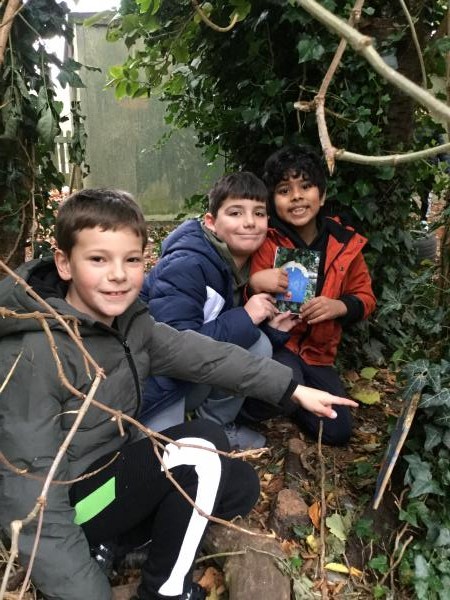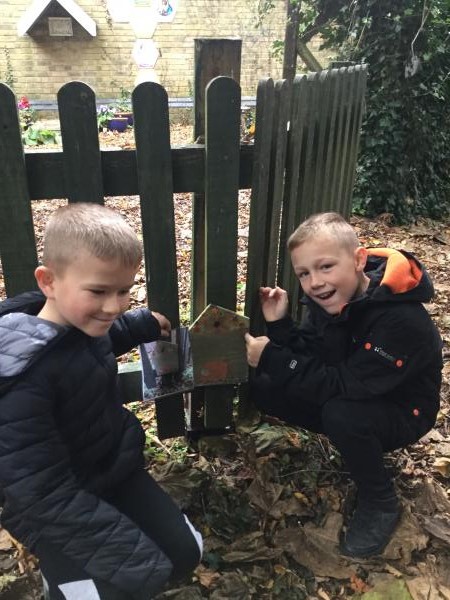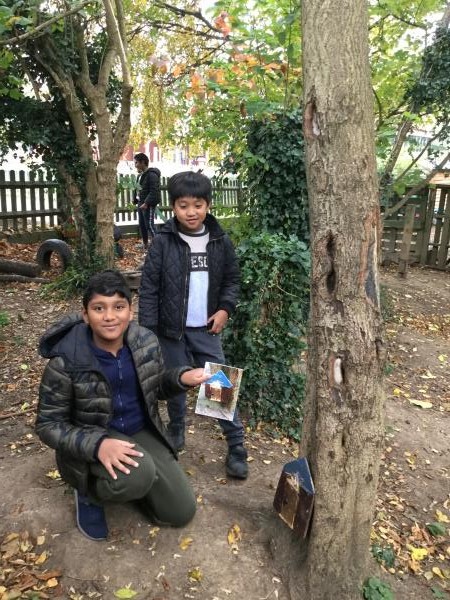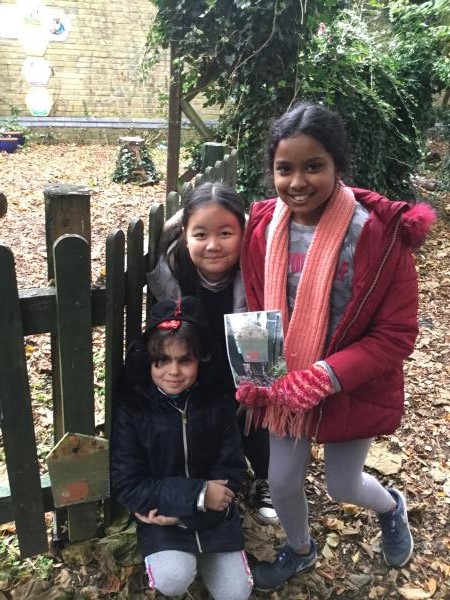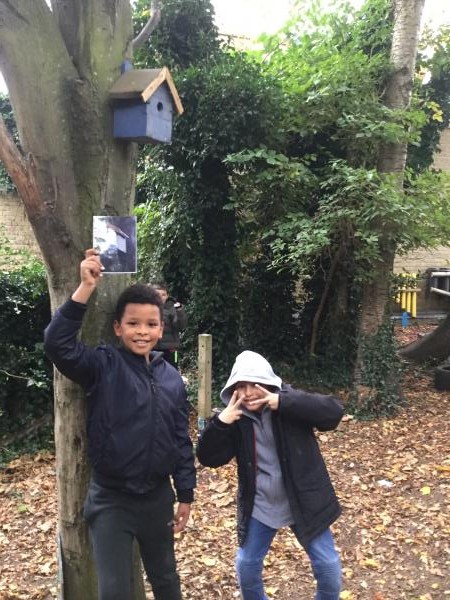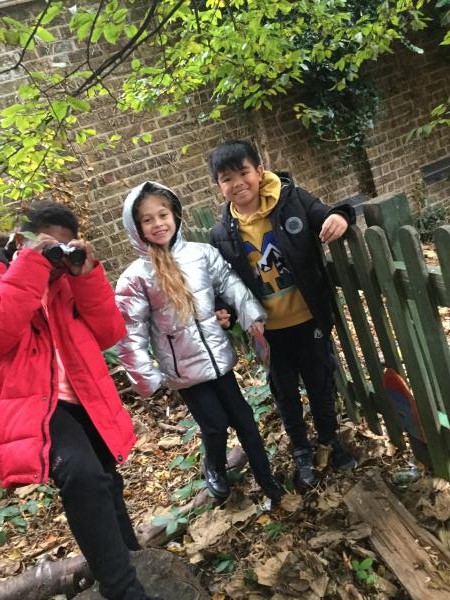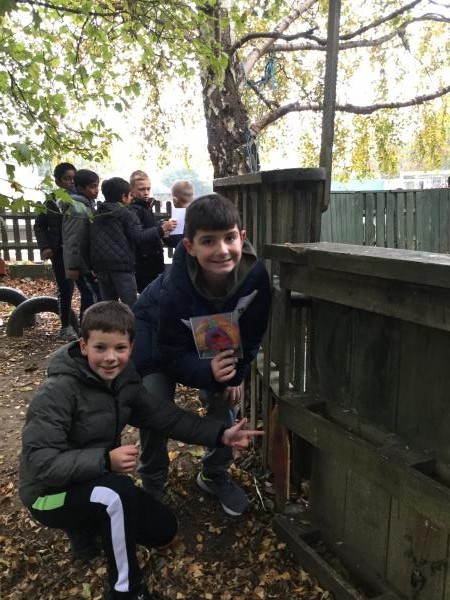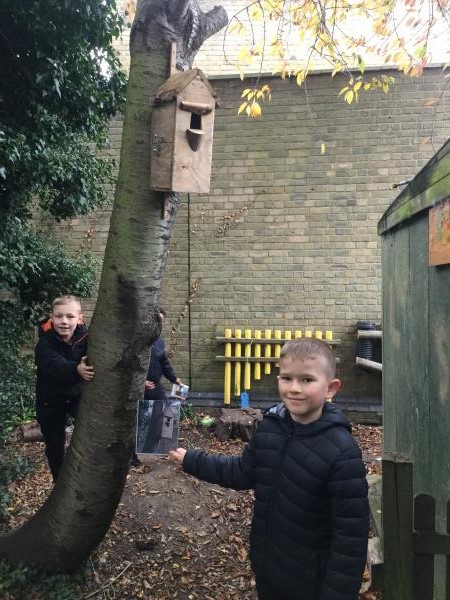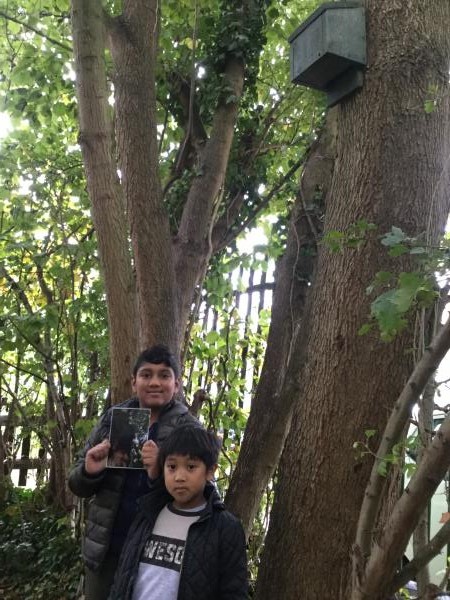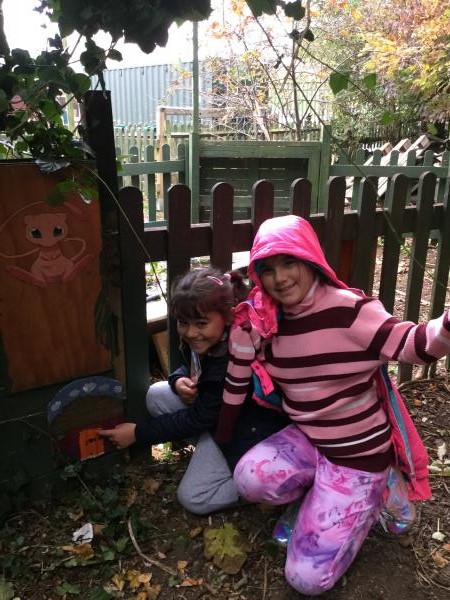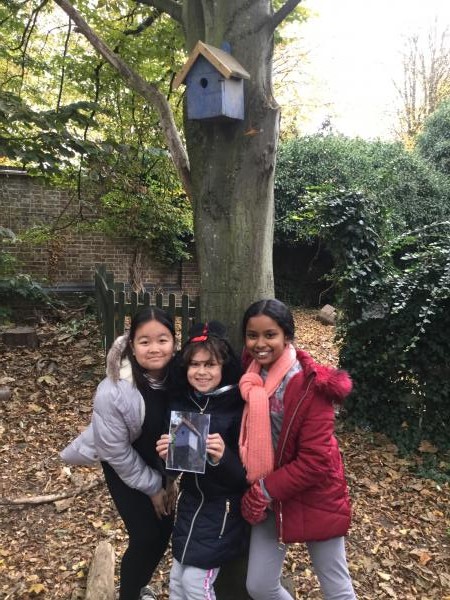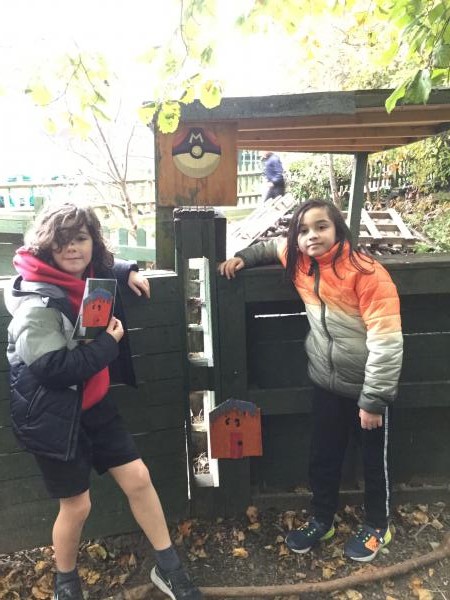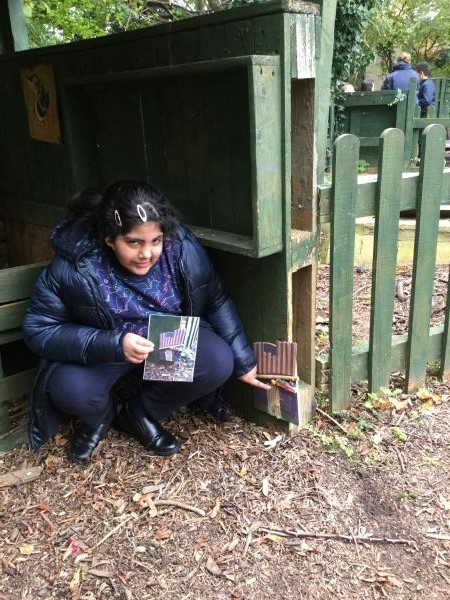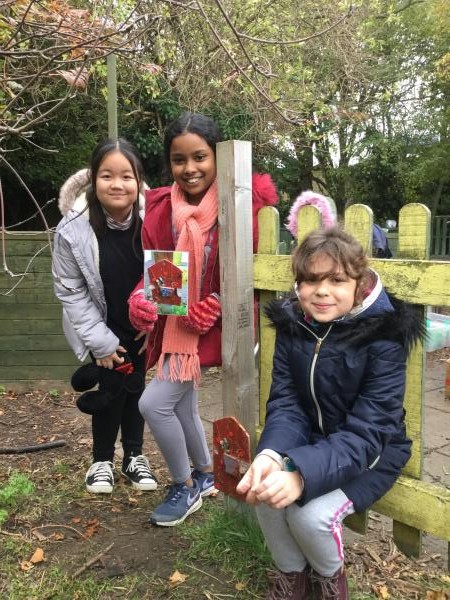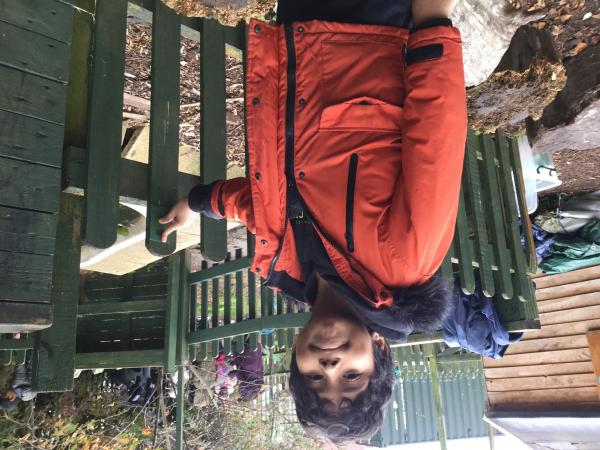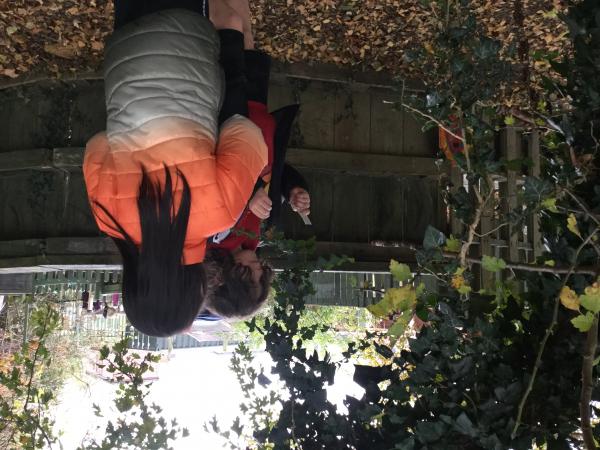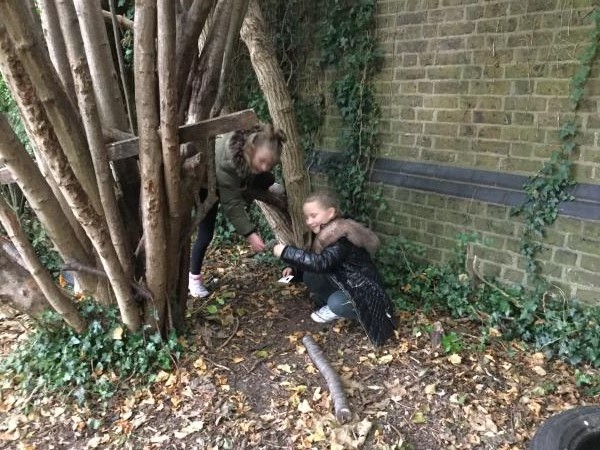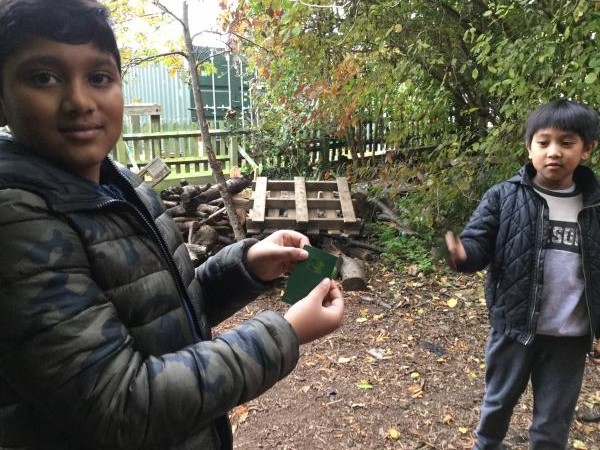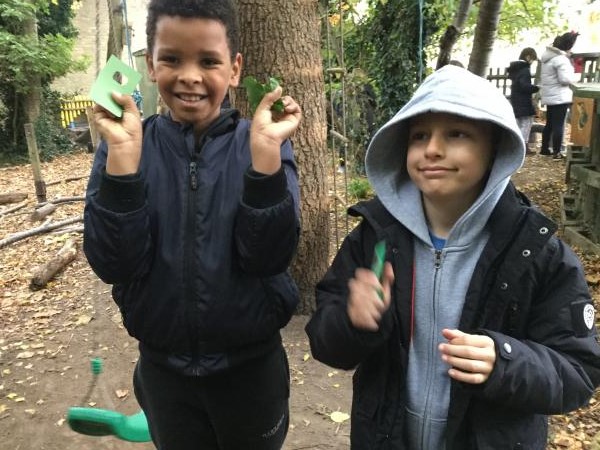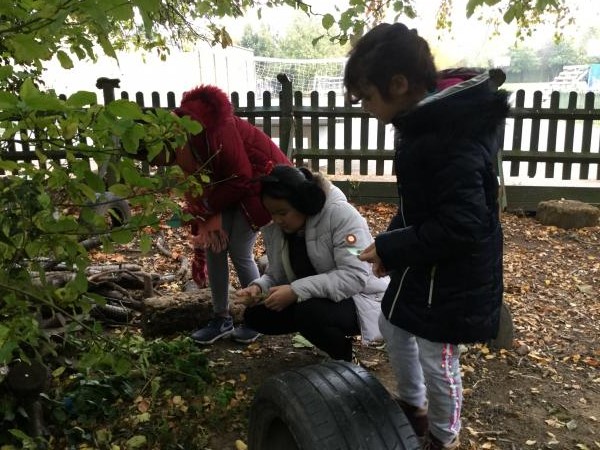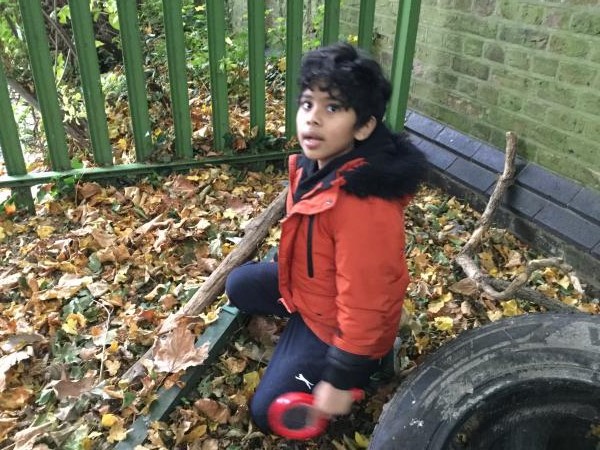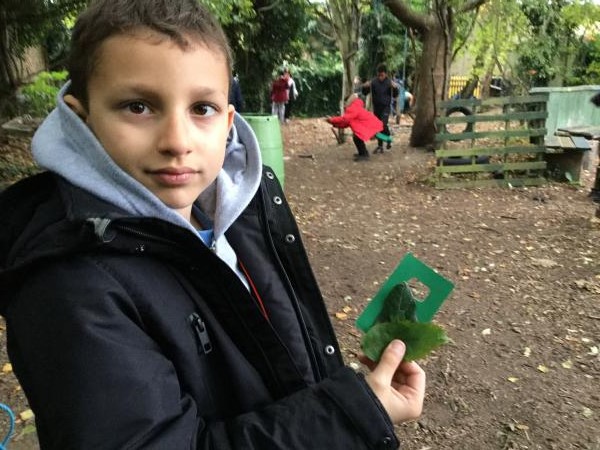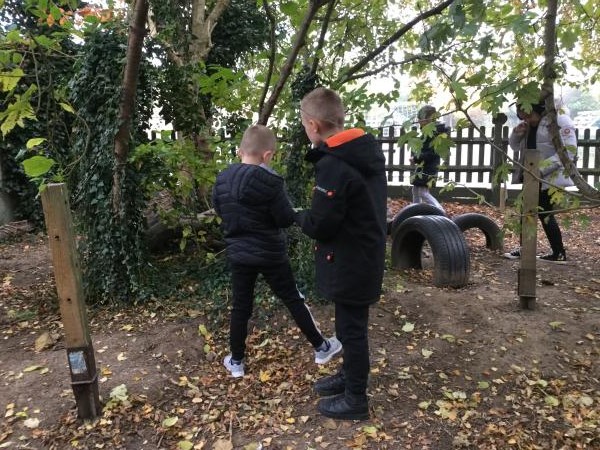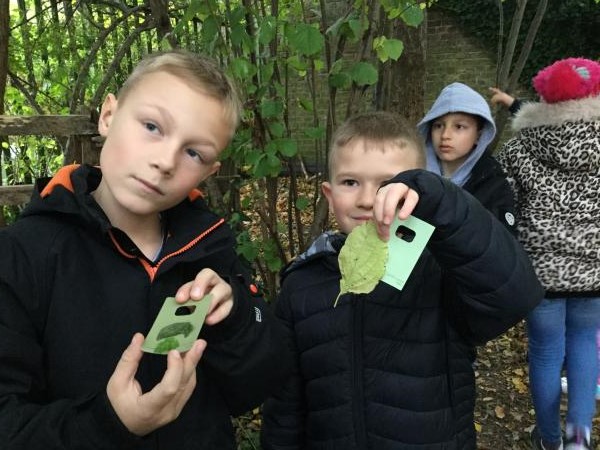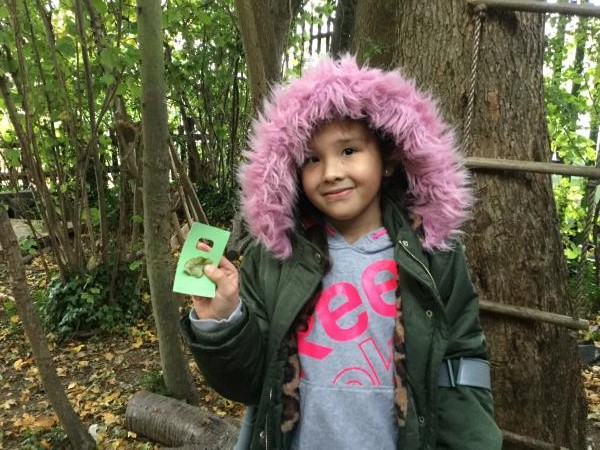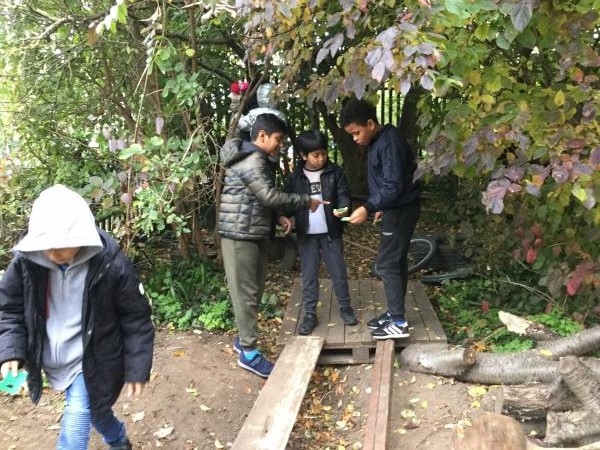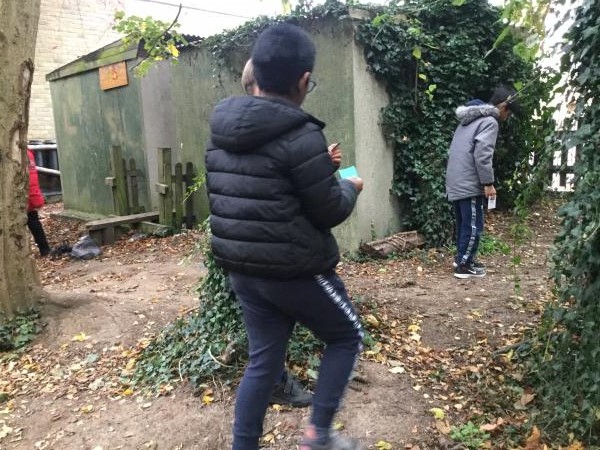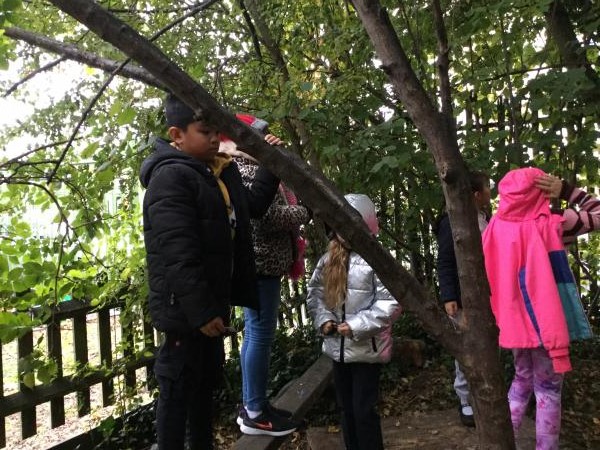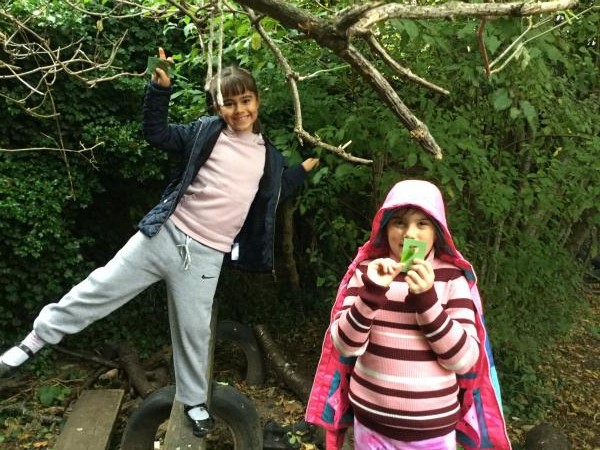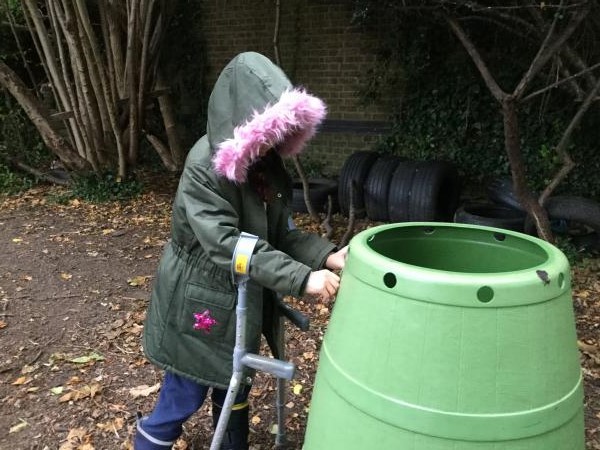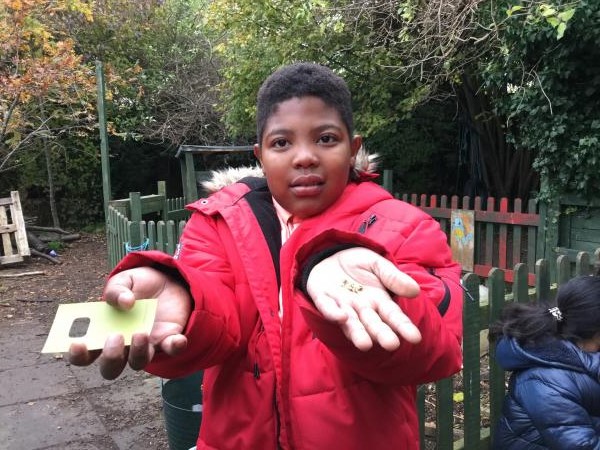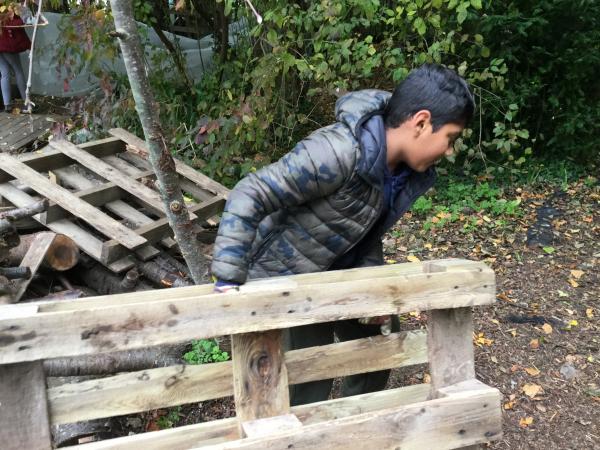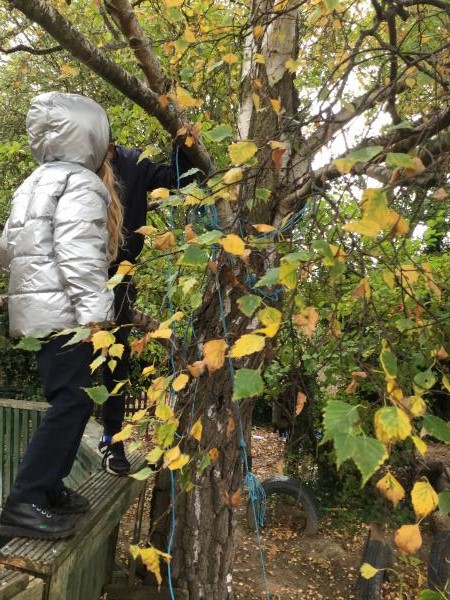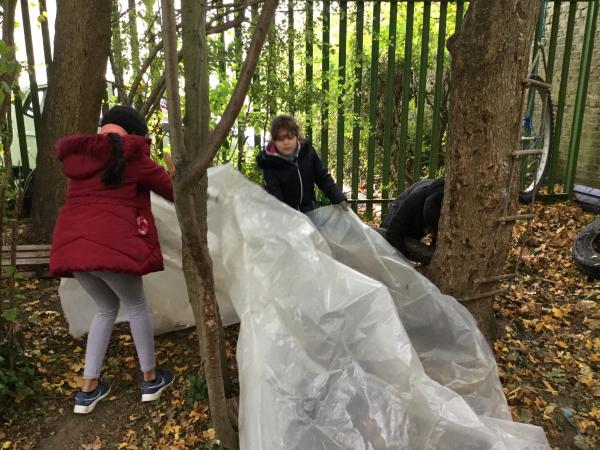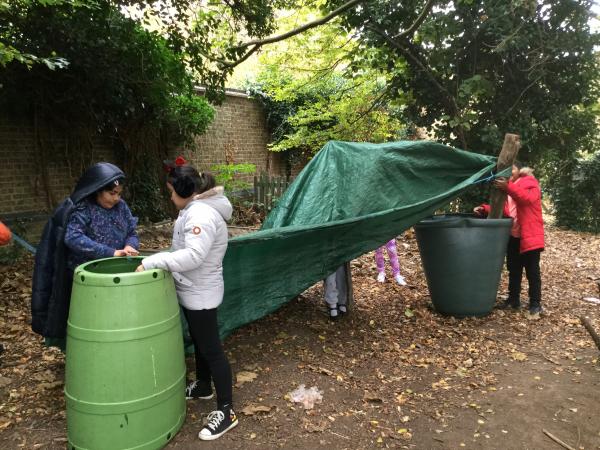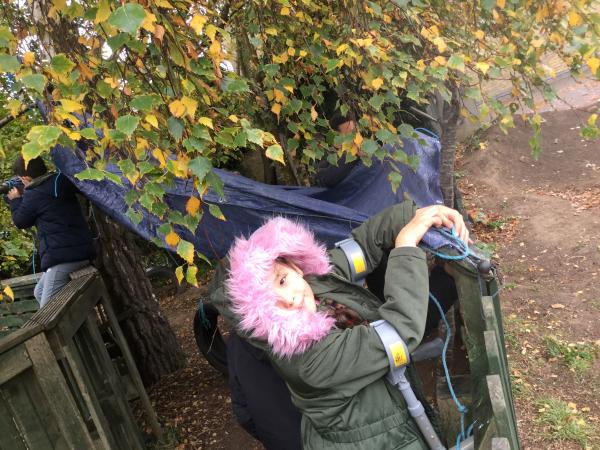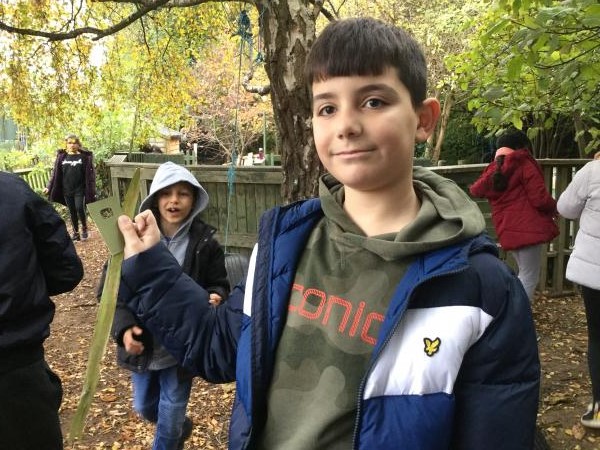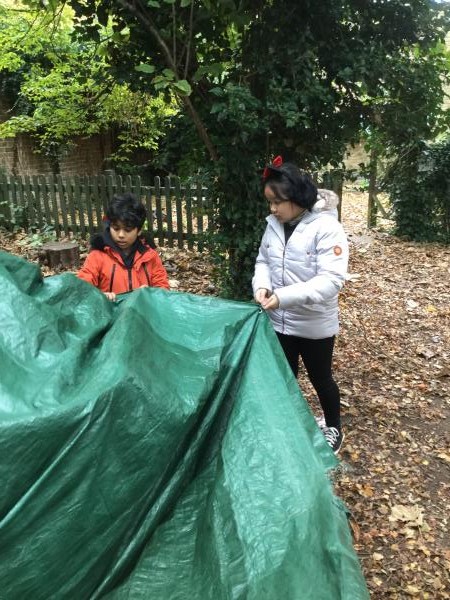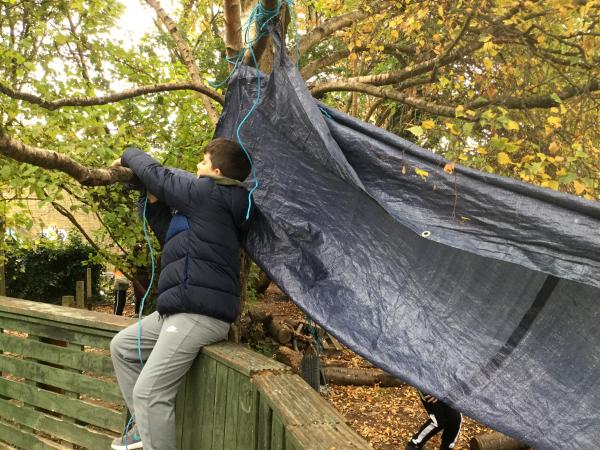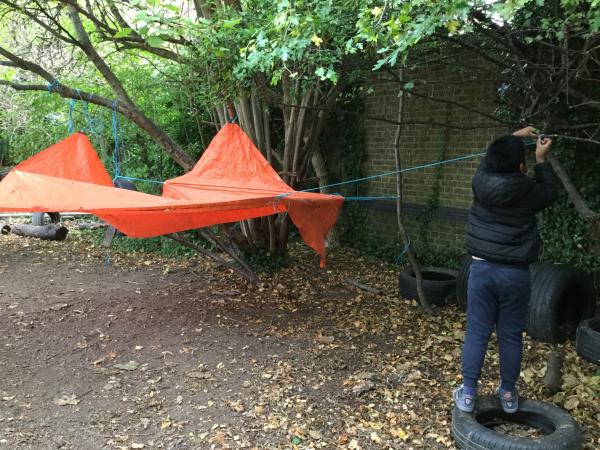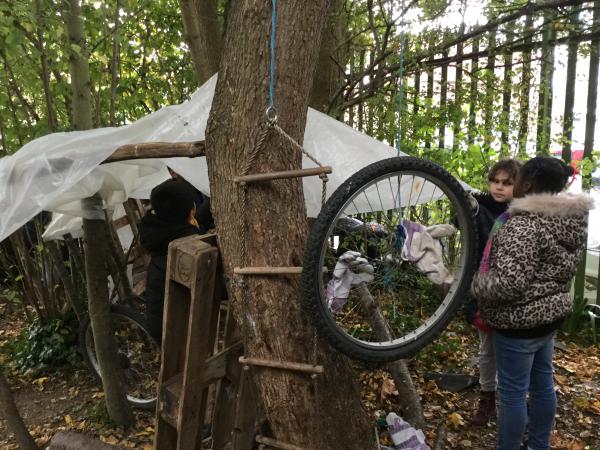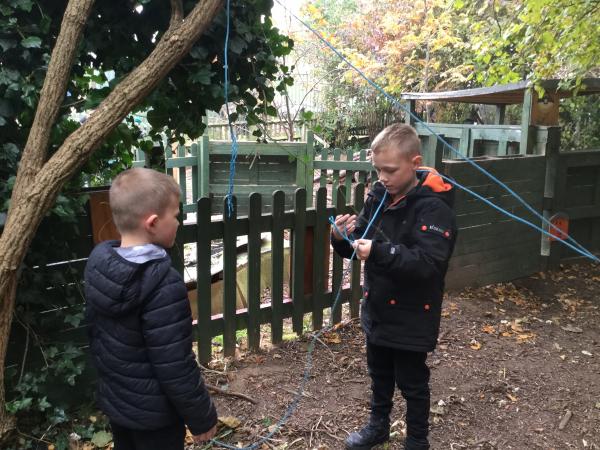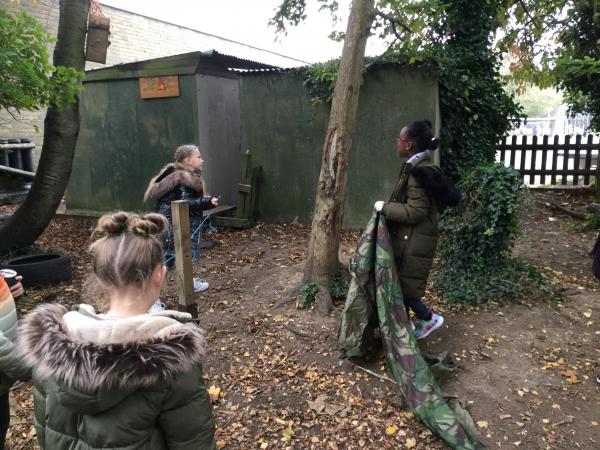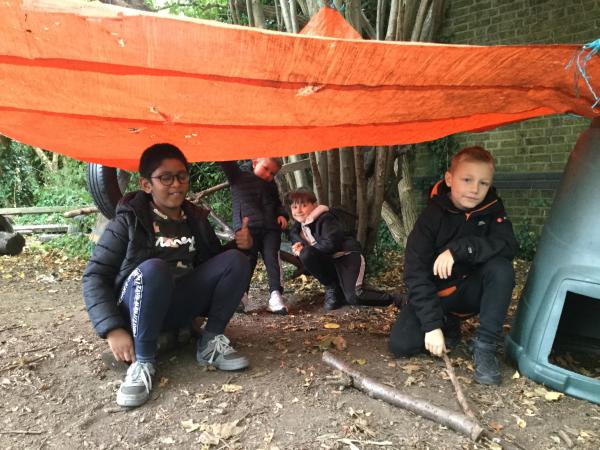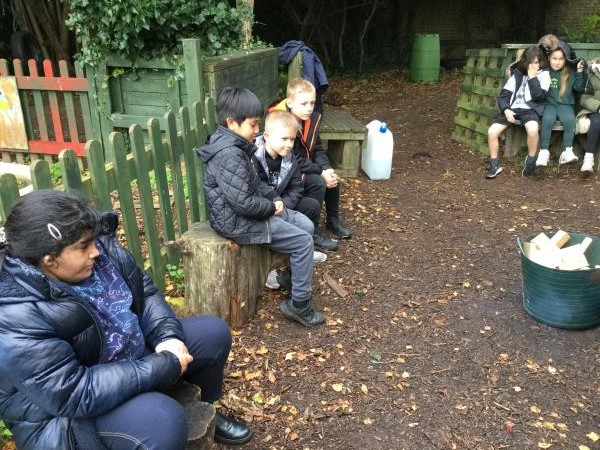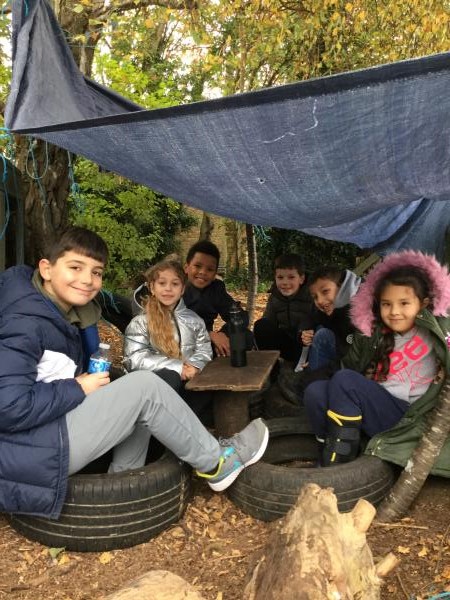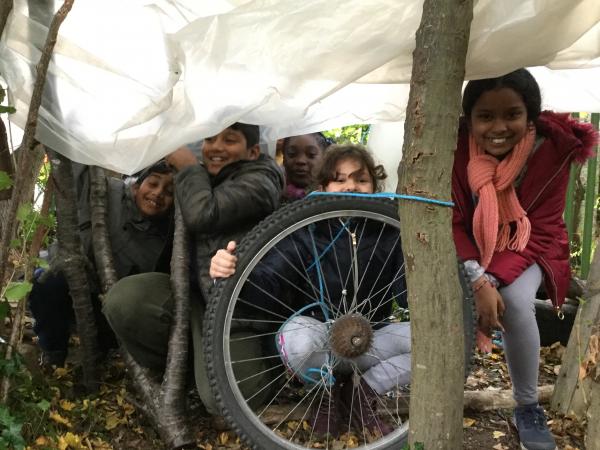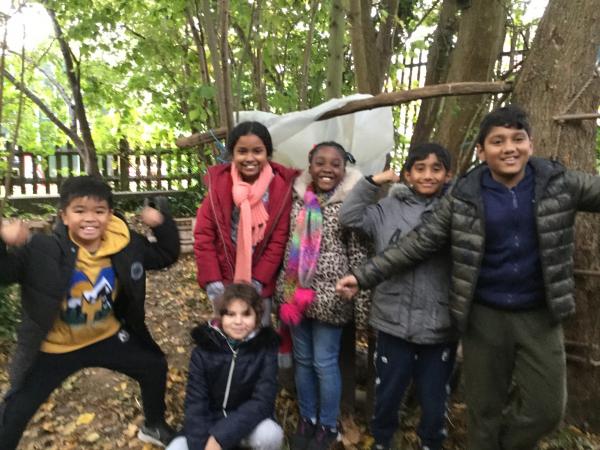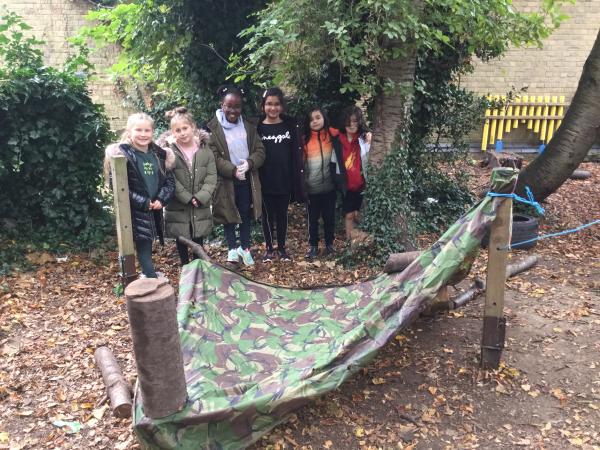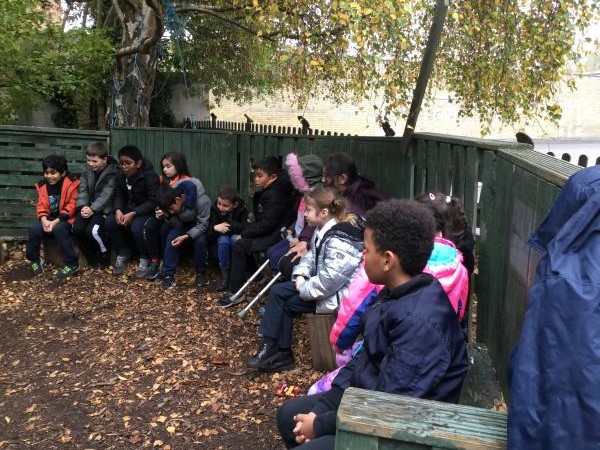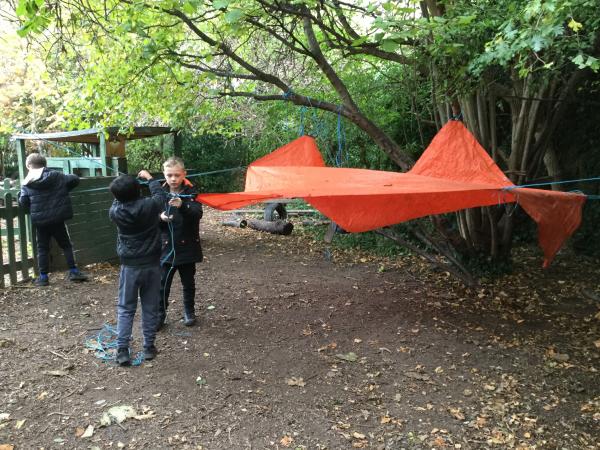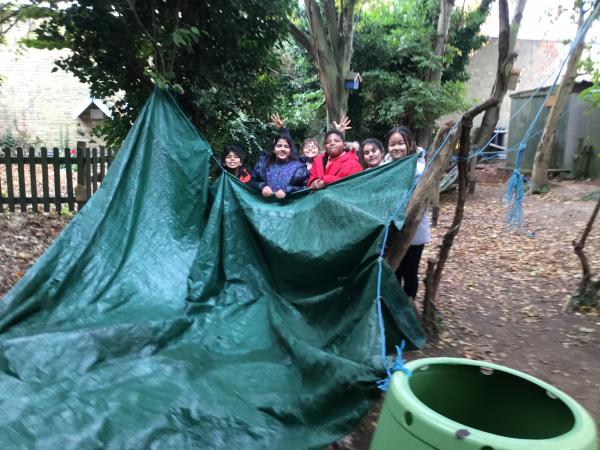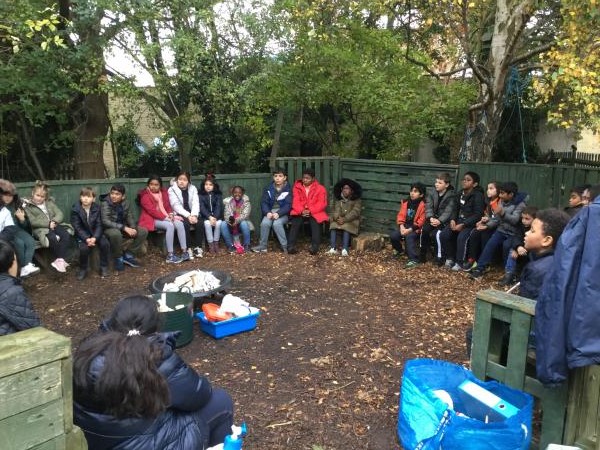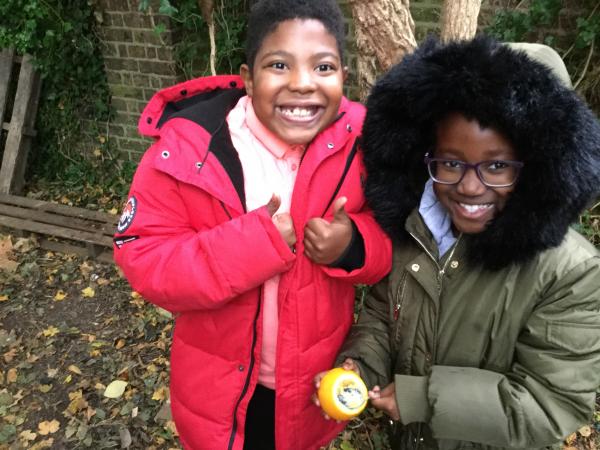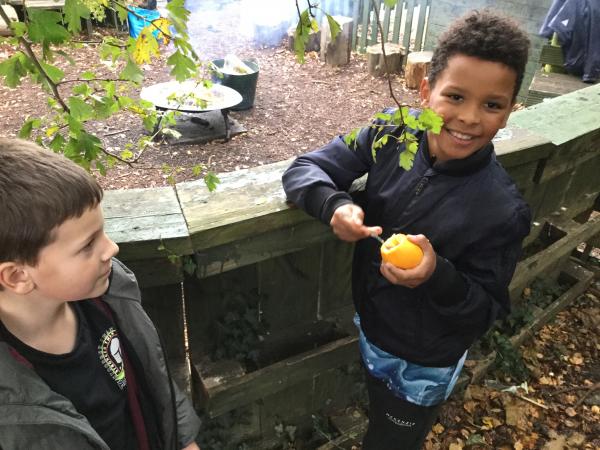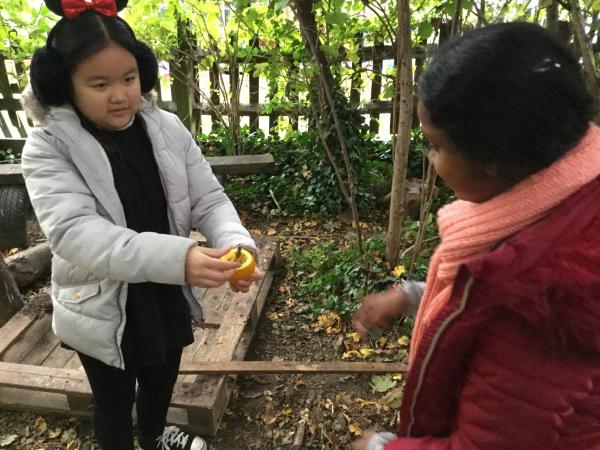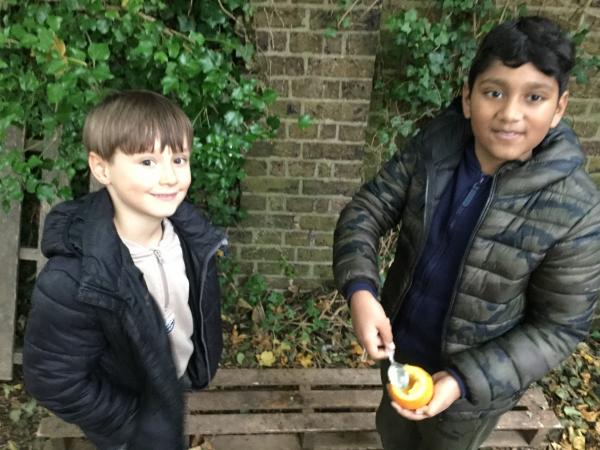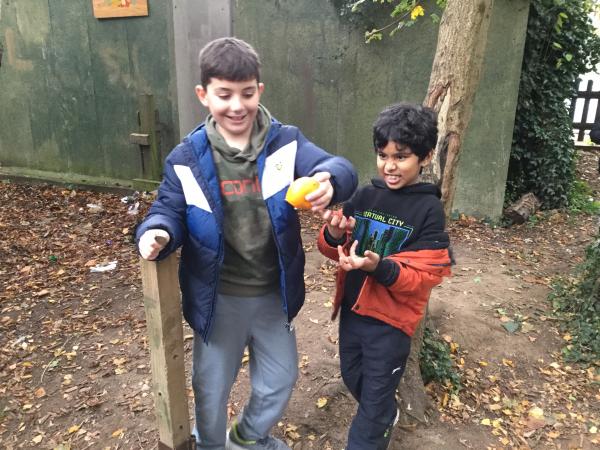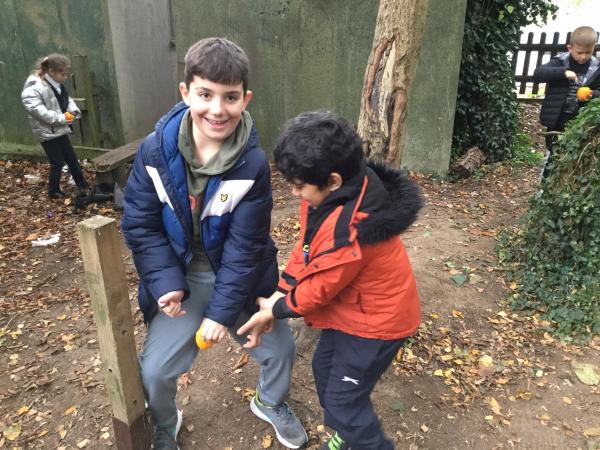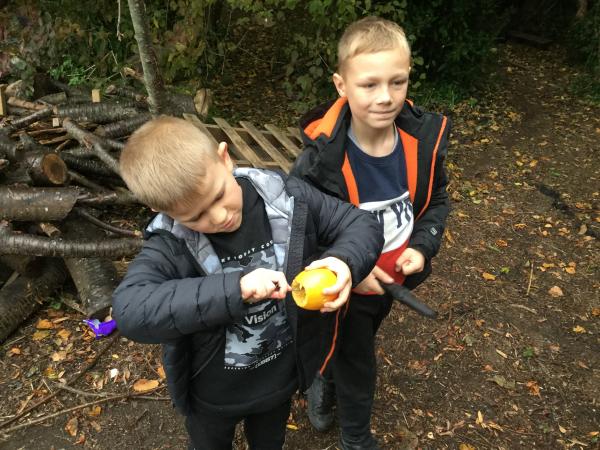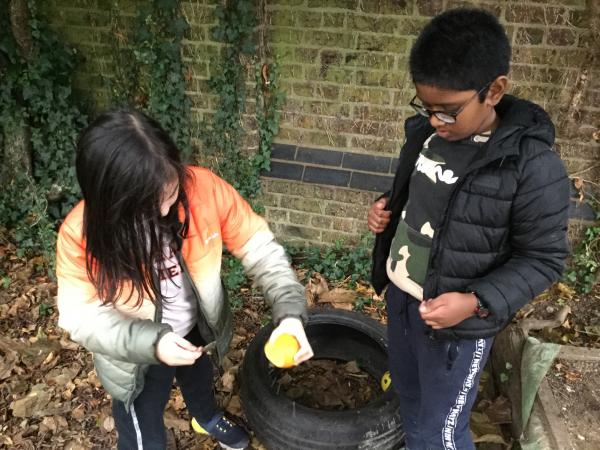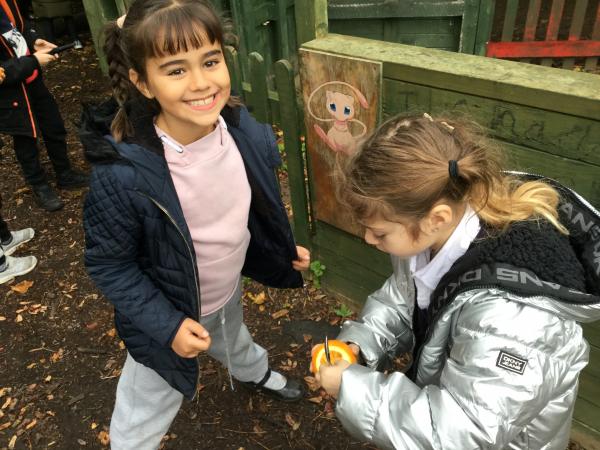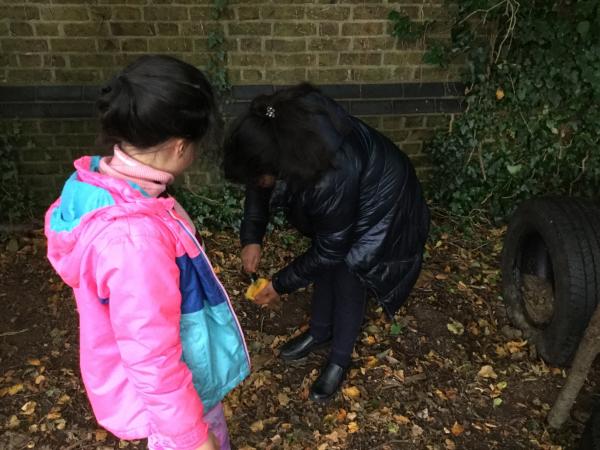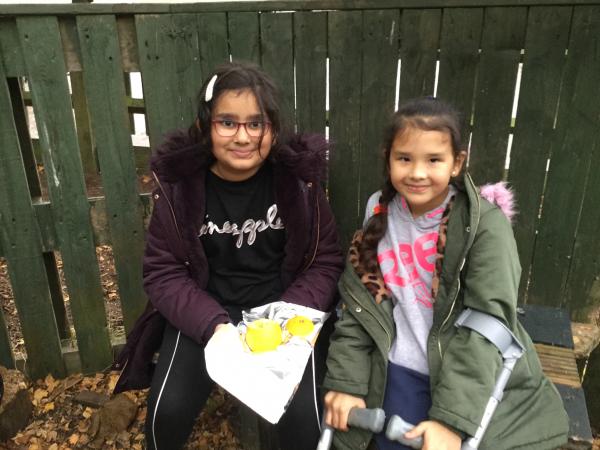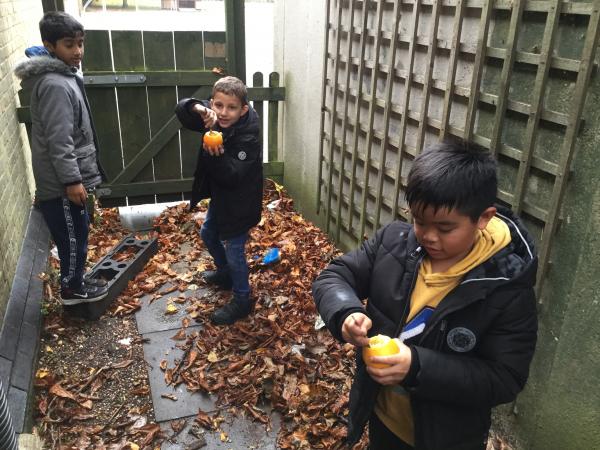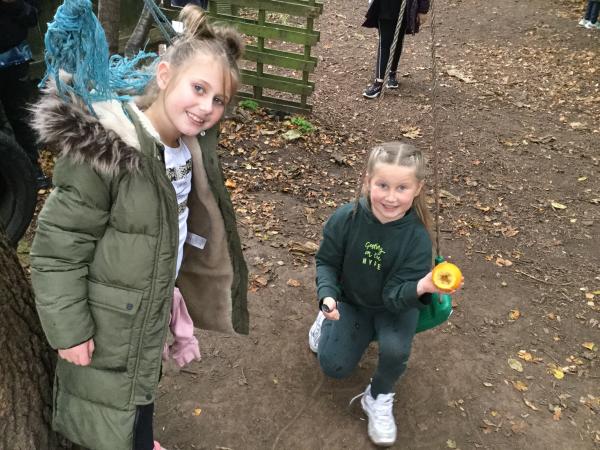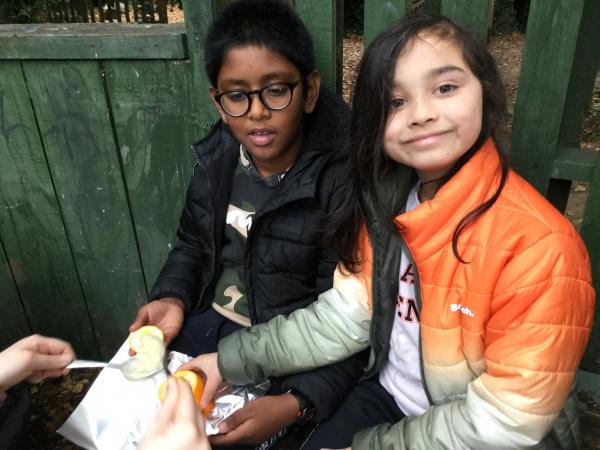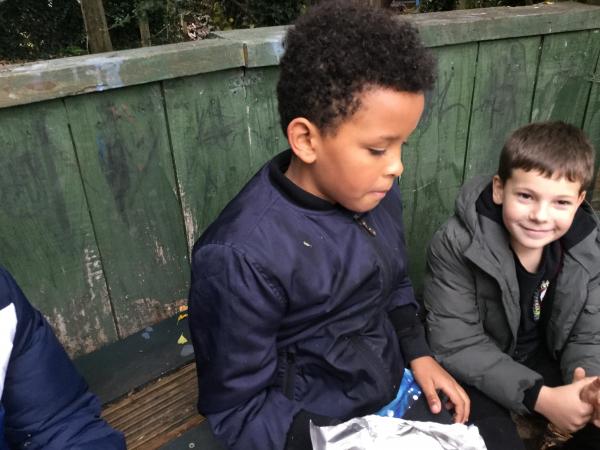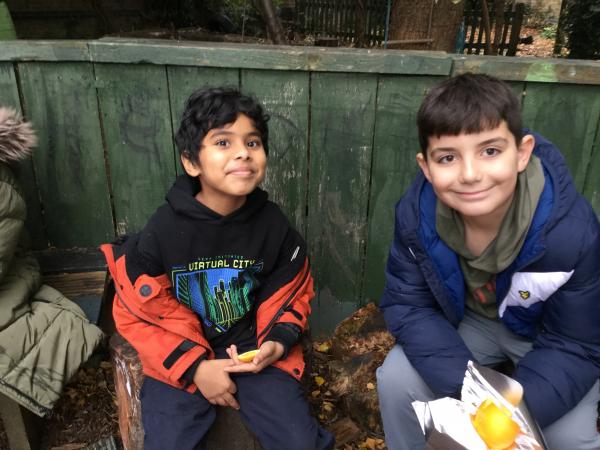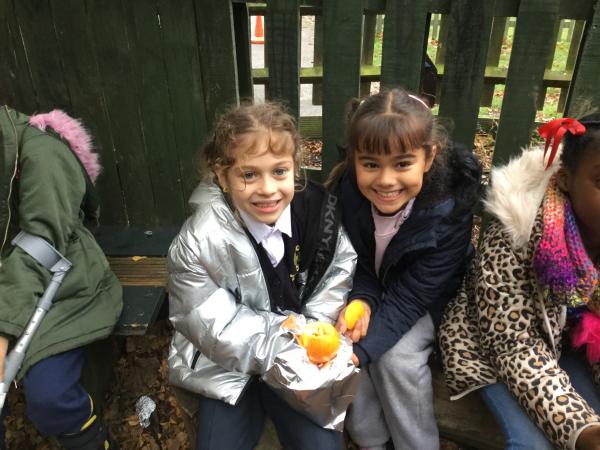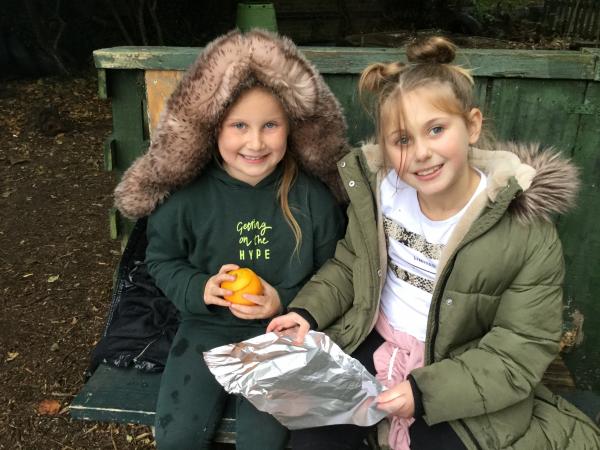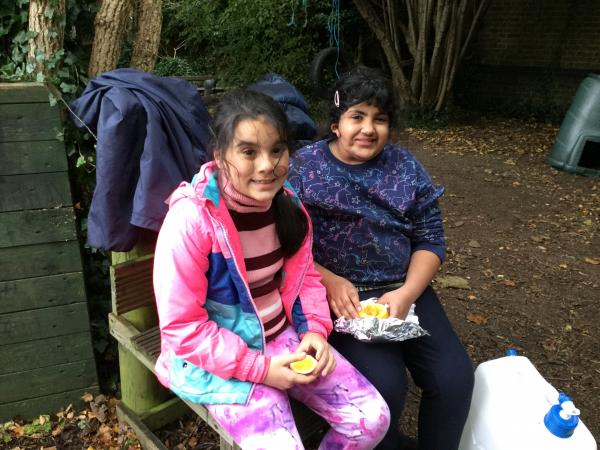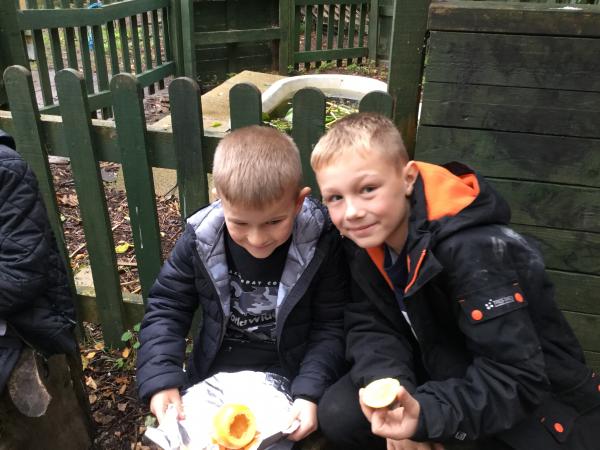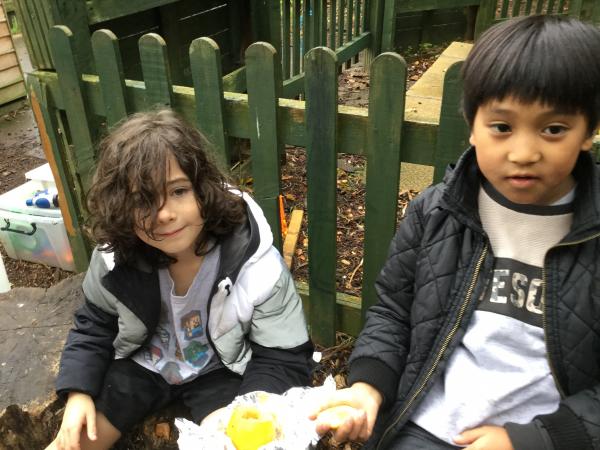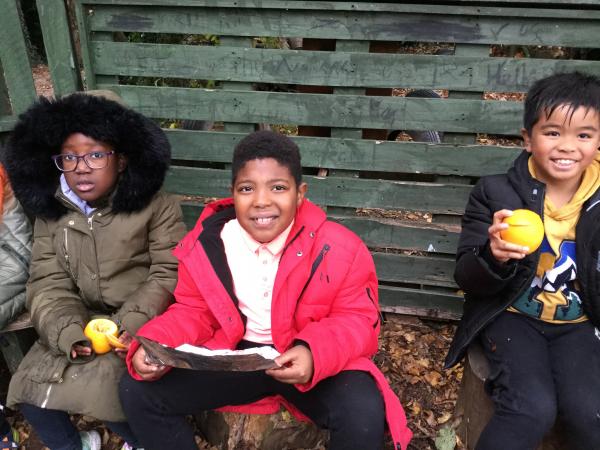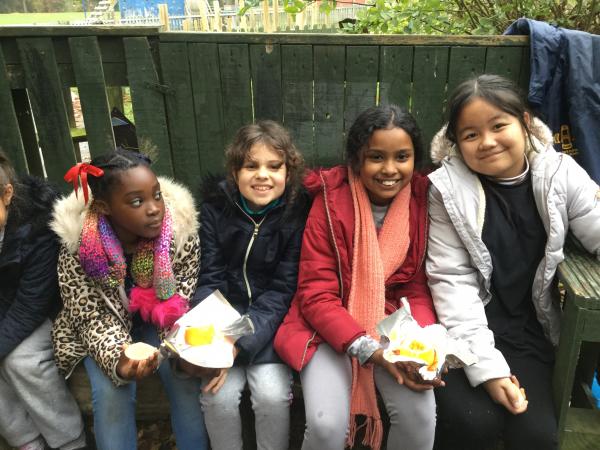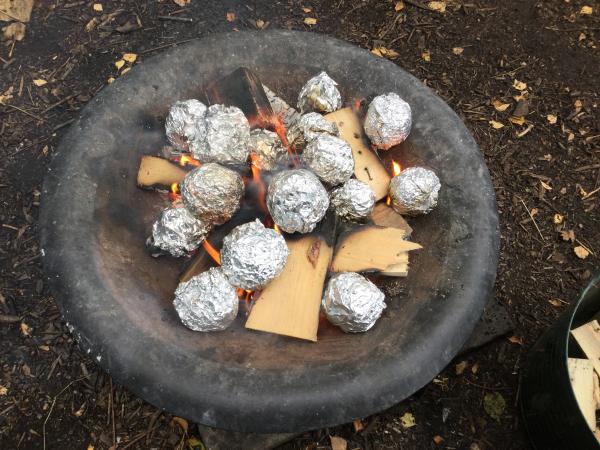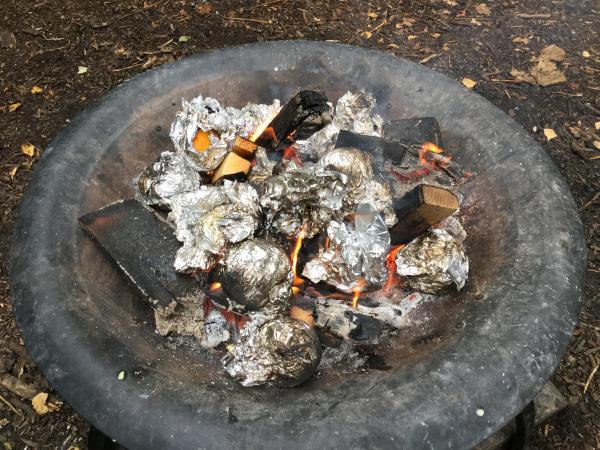 Both year 4 classes had a great time this week learning how to attack and defend positions during our tag rugby lessons.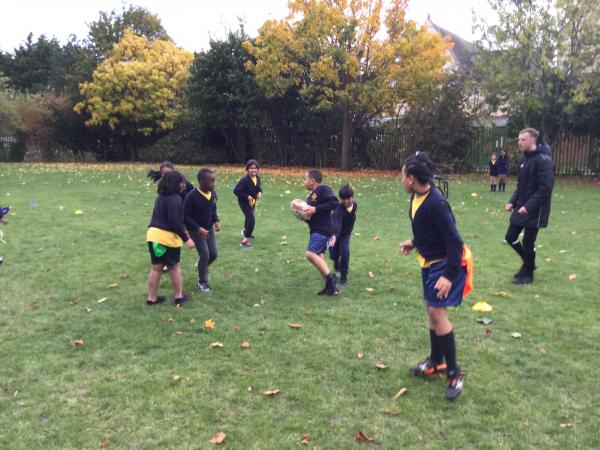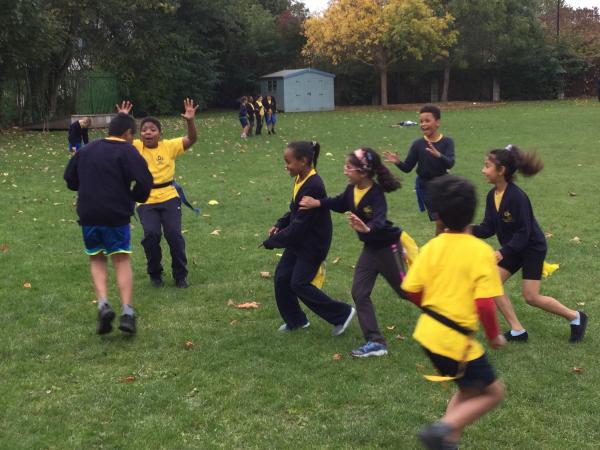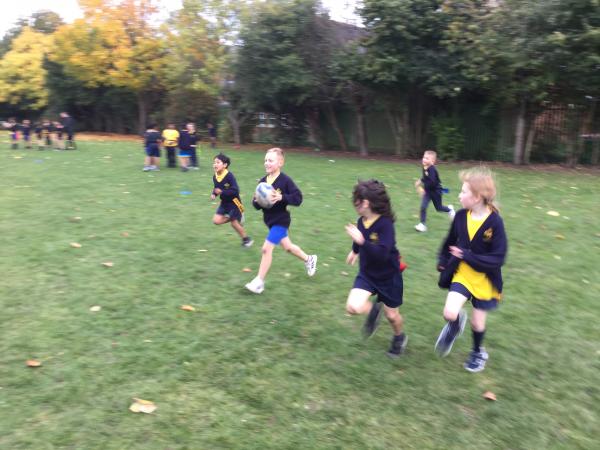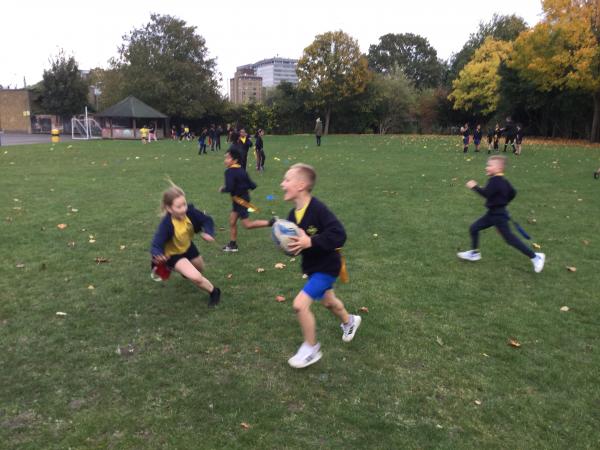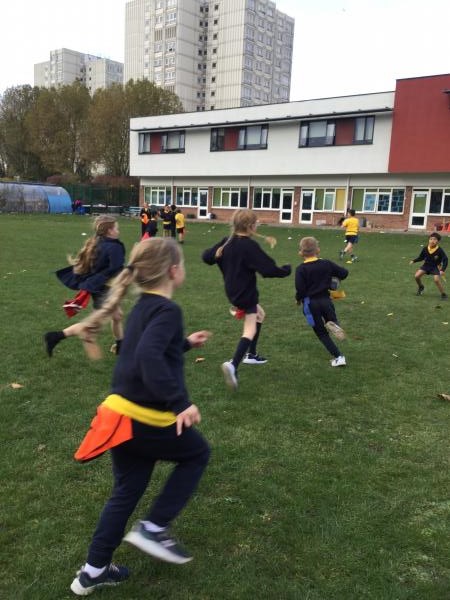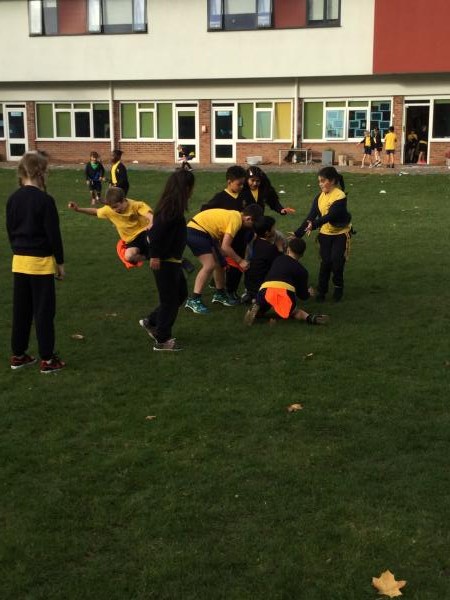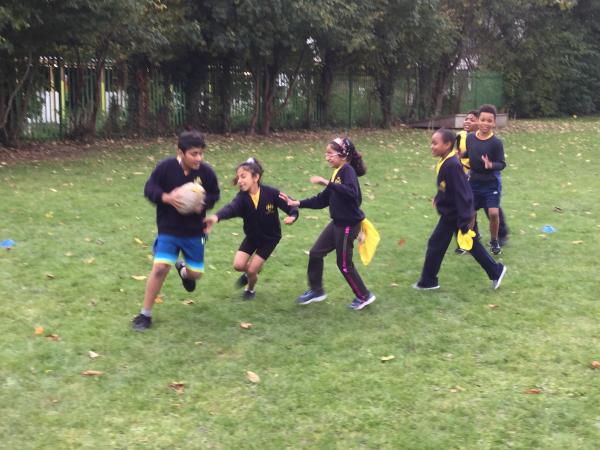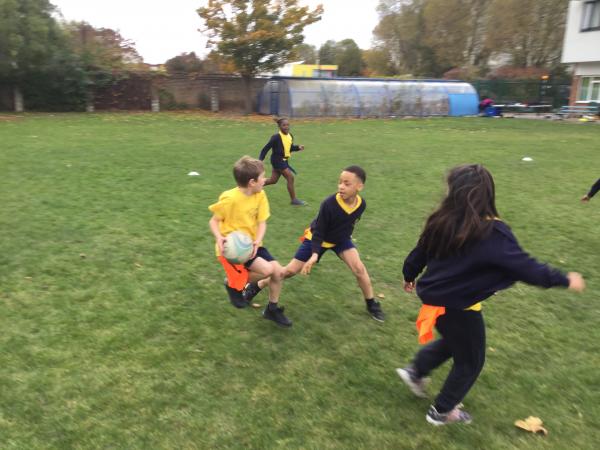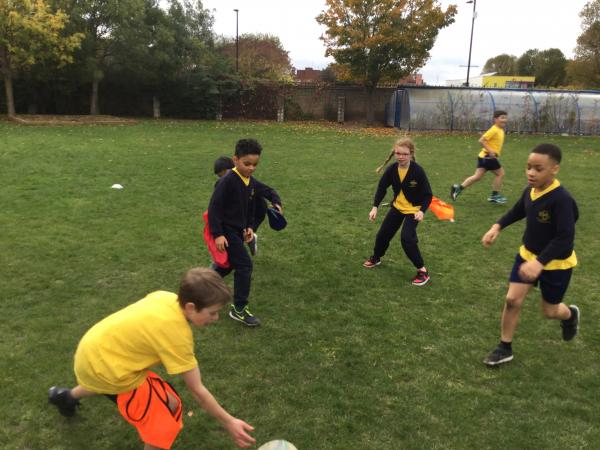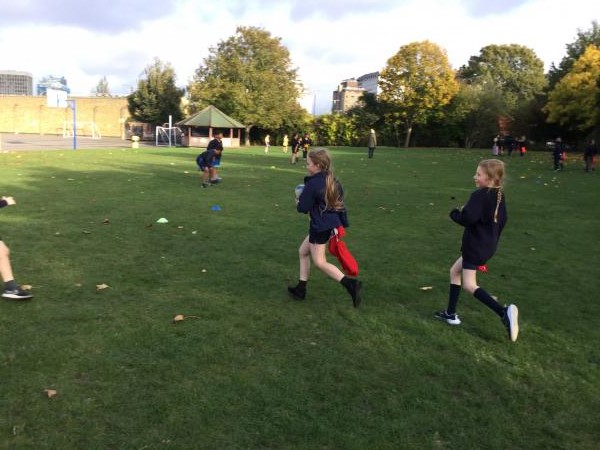 A quick peak at 4 Gideon's firework poems that are now on display in school - some lovely use of descriptive writing here!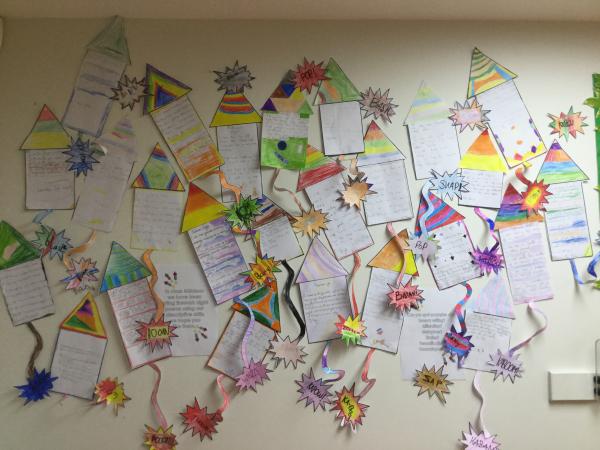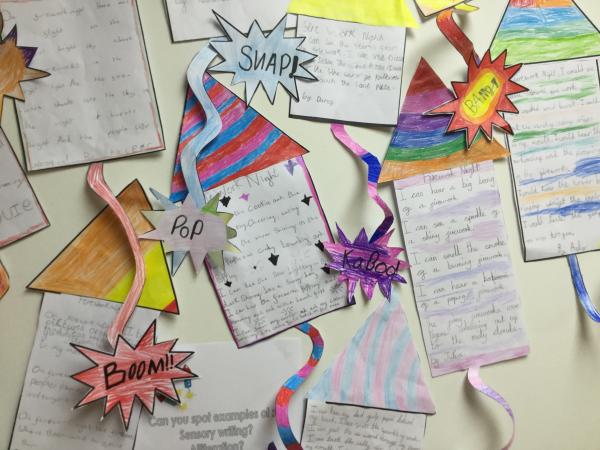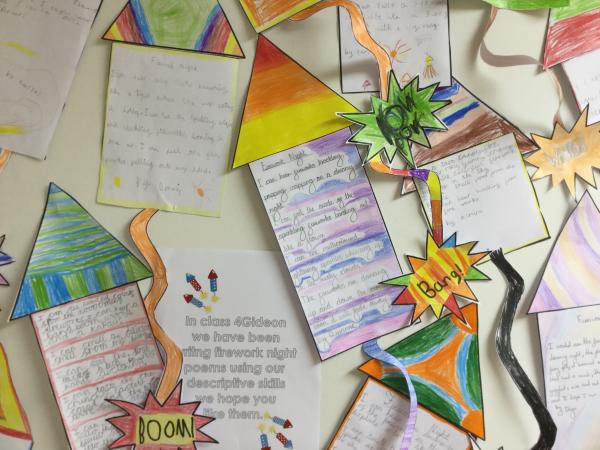 Outdoor abstract firework paintings
Class 4 Gideon had a fantastic time on Outdoor learning day coming up with some amazing abstract splatter painting for our mini art topic designing an amazing firework party night. When we moved indoors, we added some sparkle to our pictures and completed the project by adding some street and city scenes to great effect!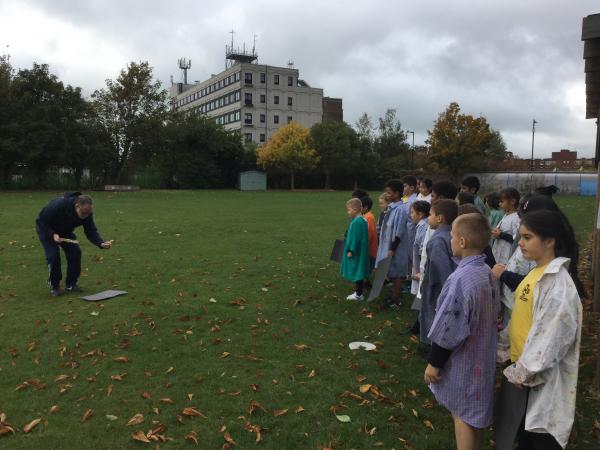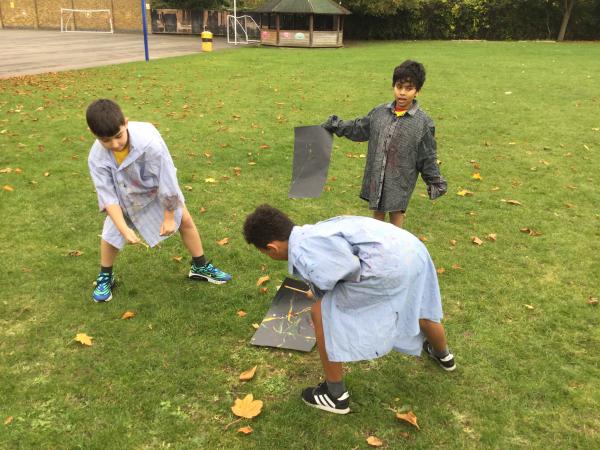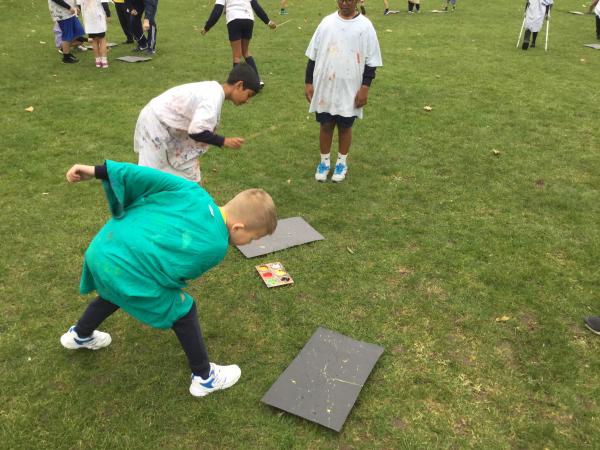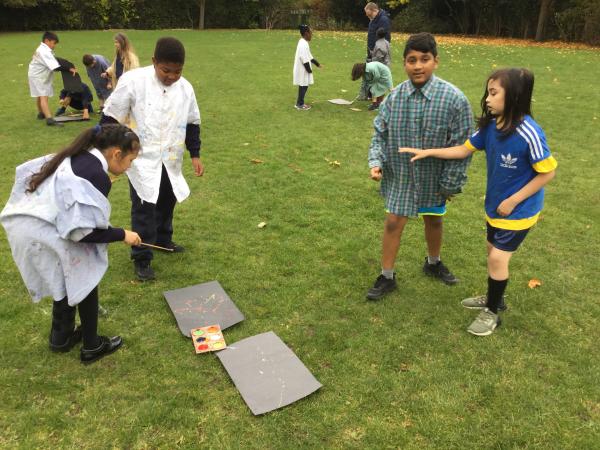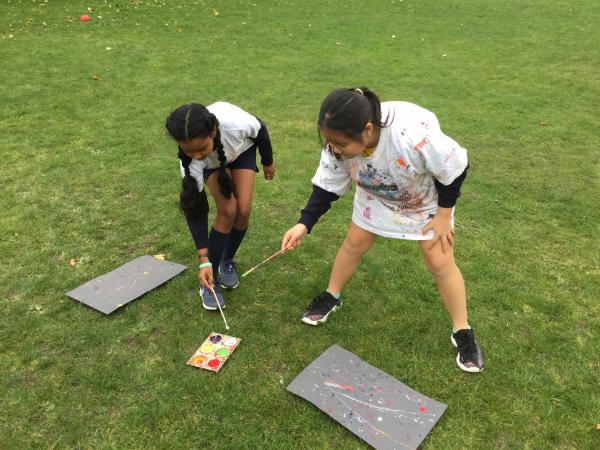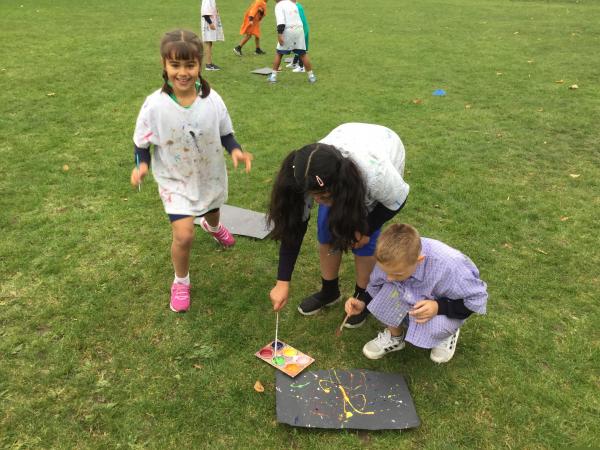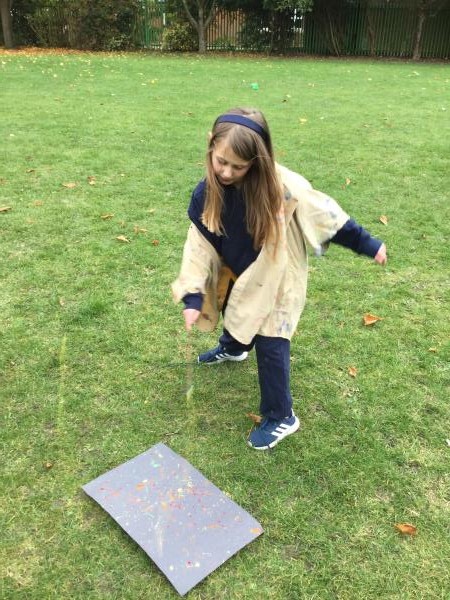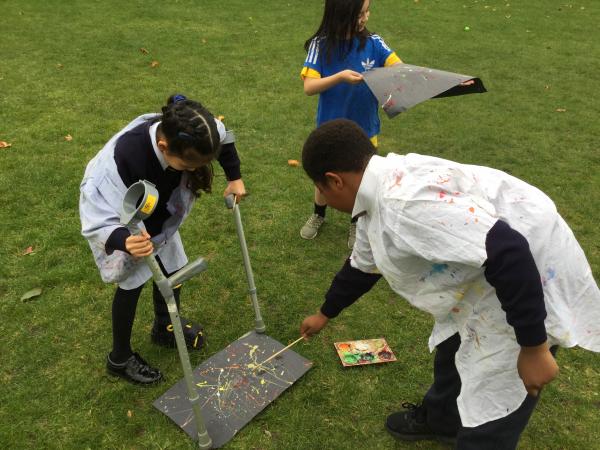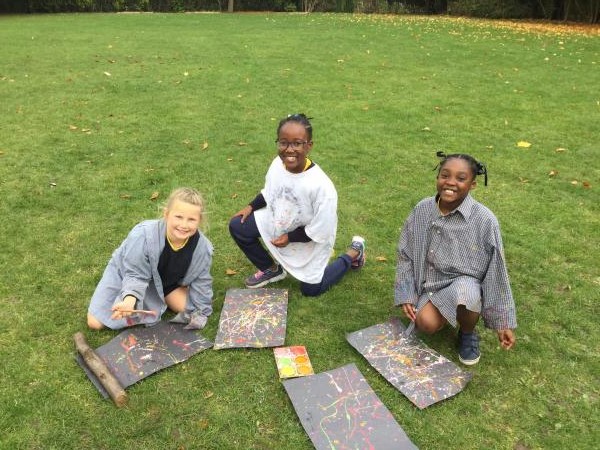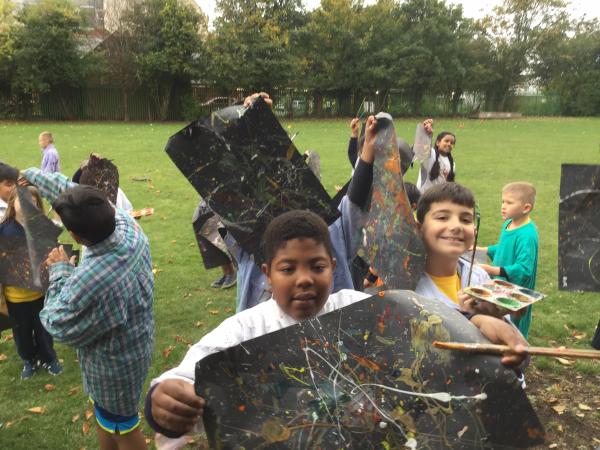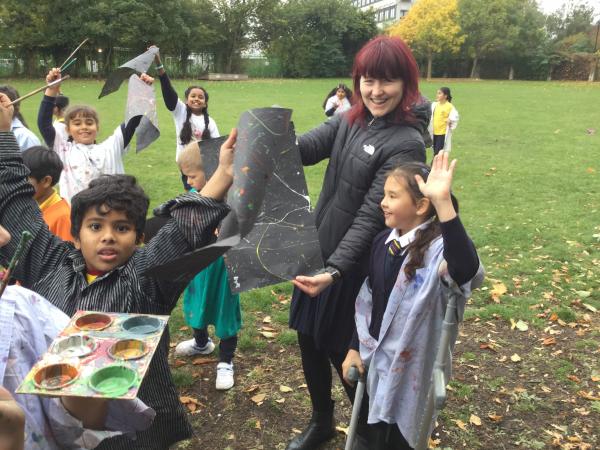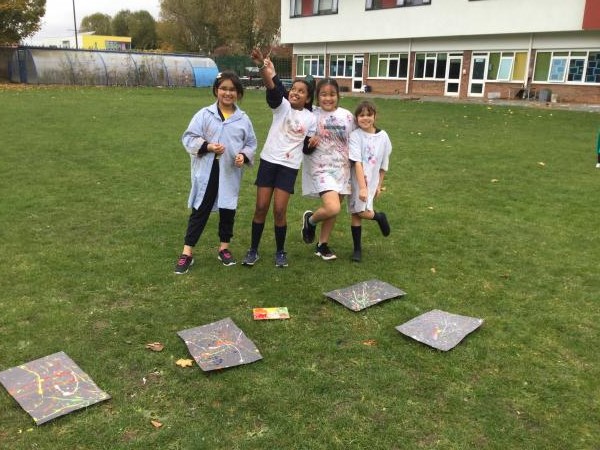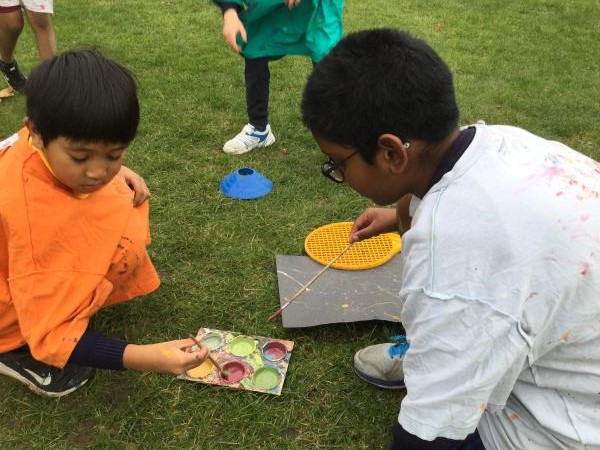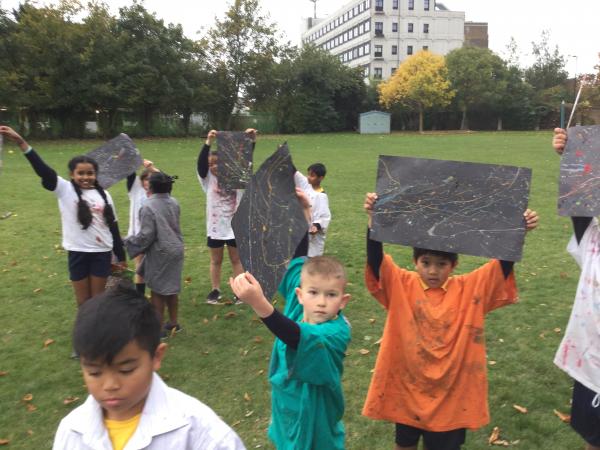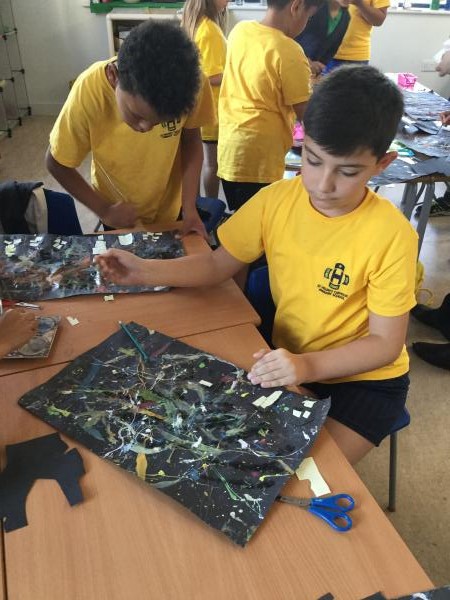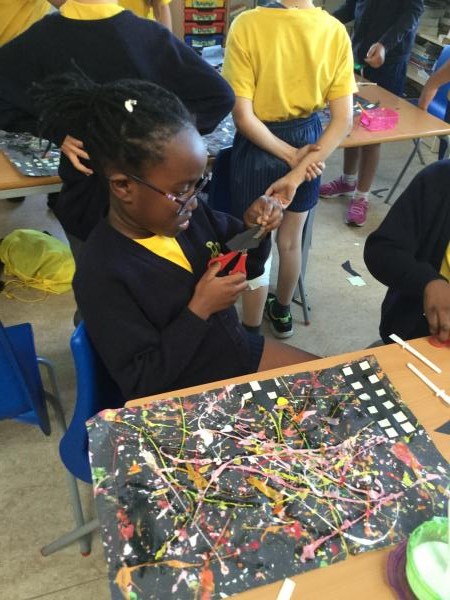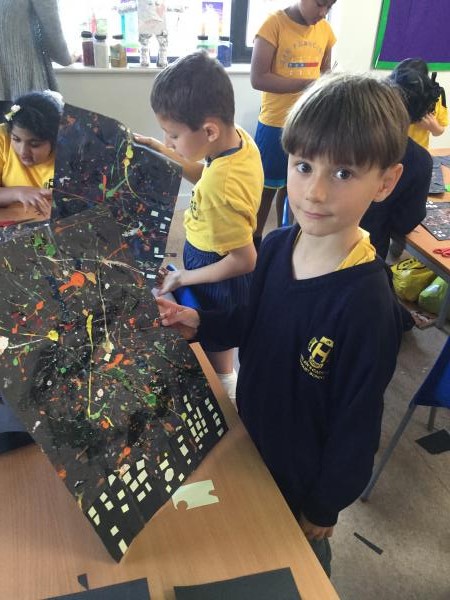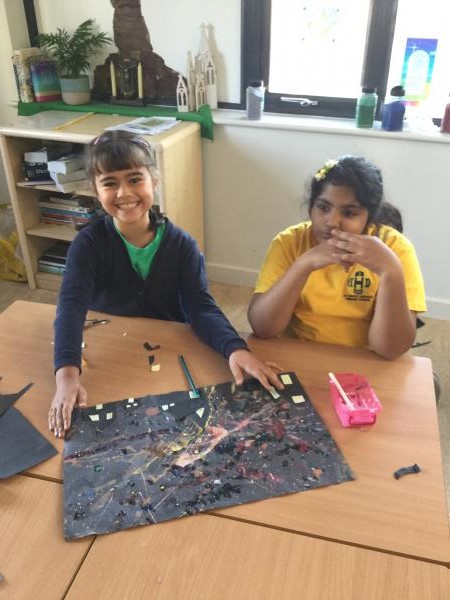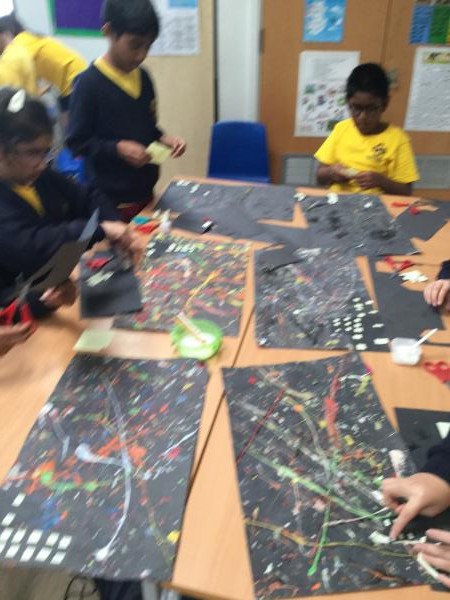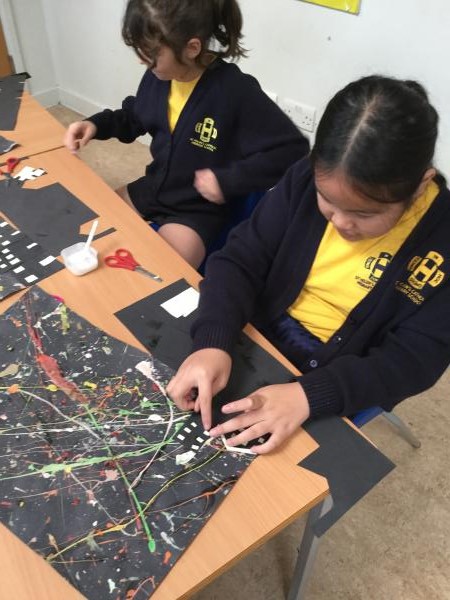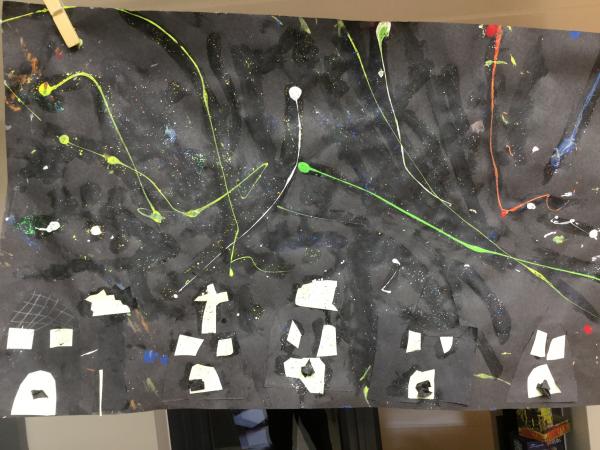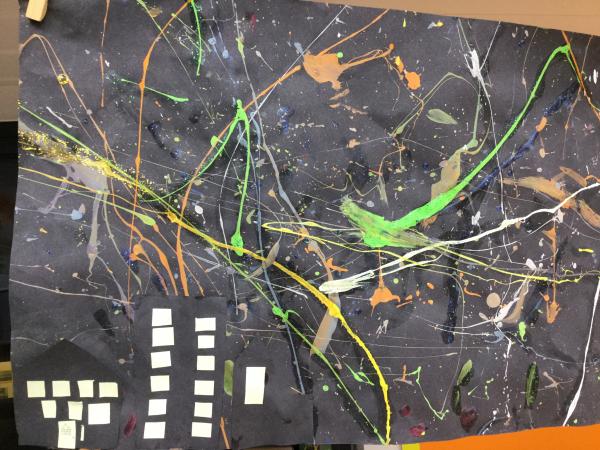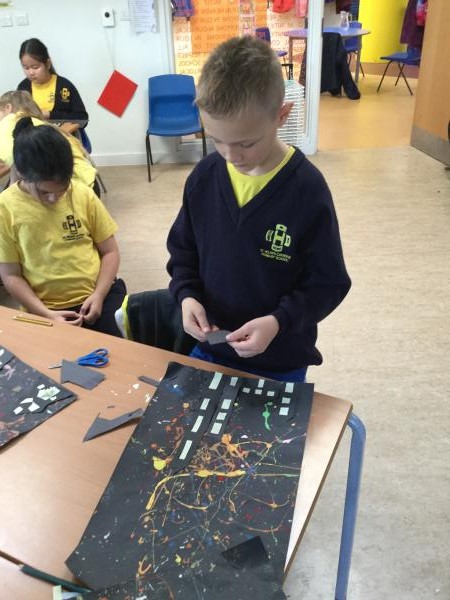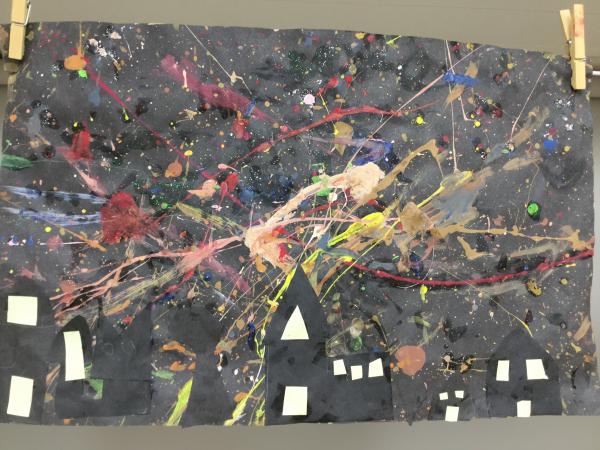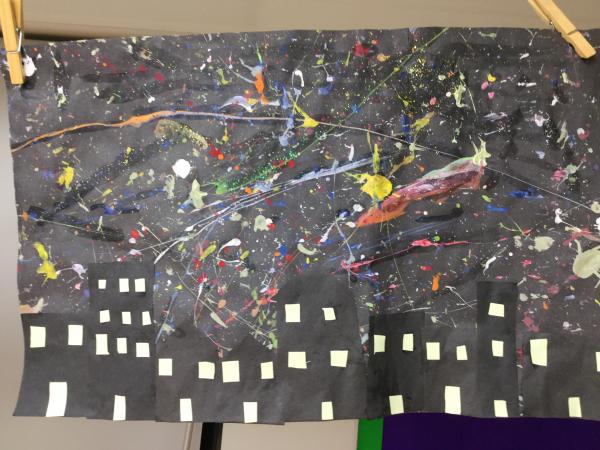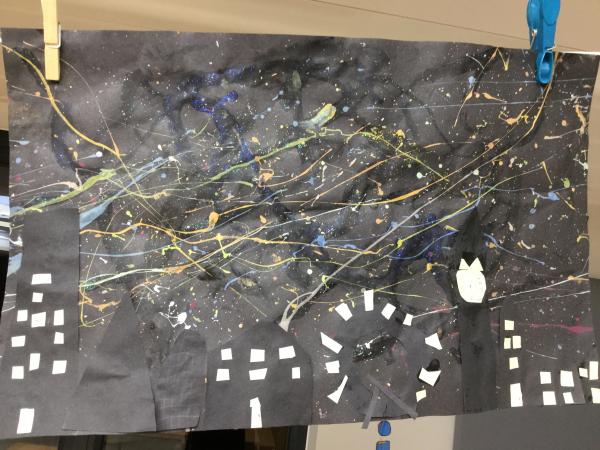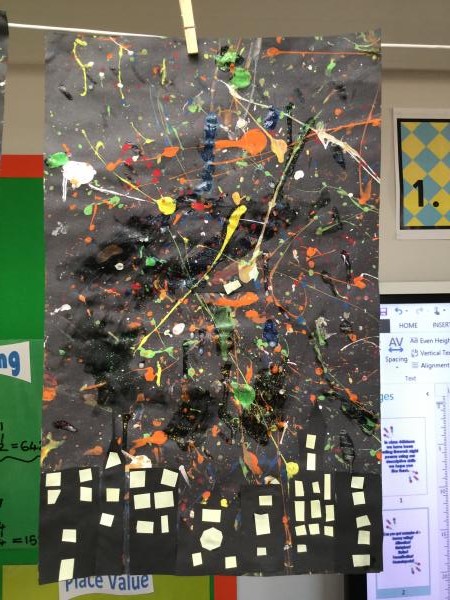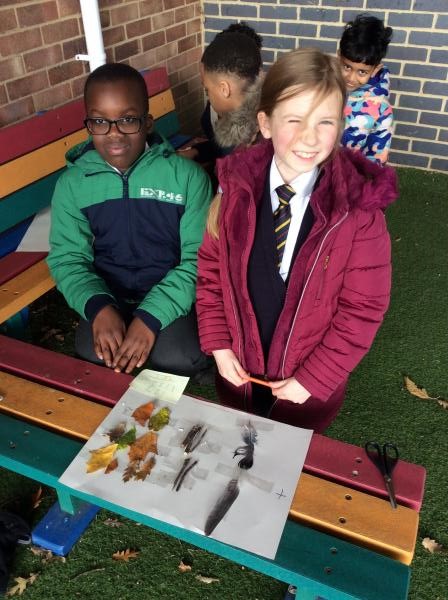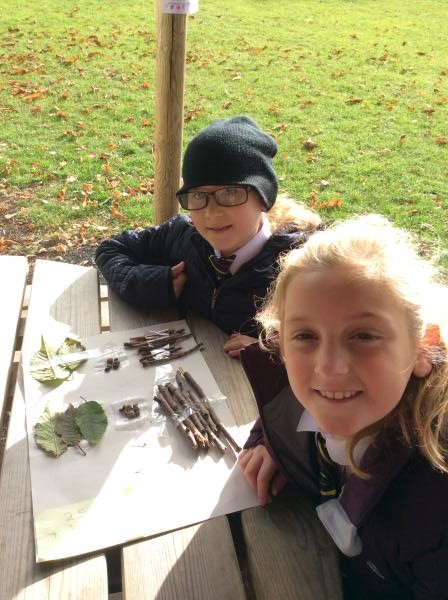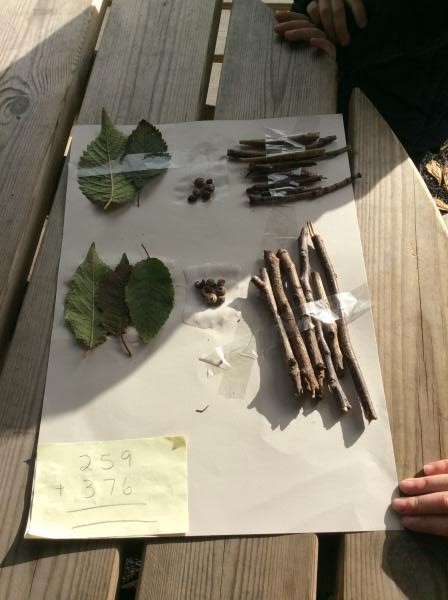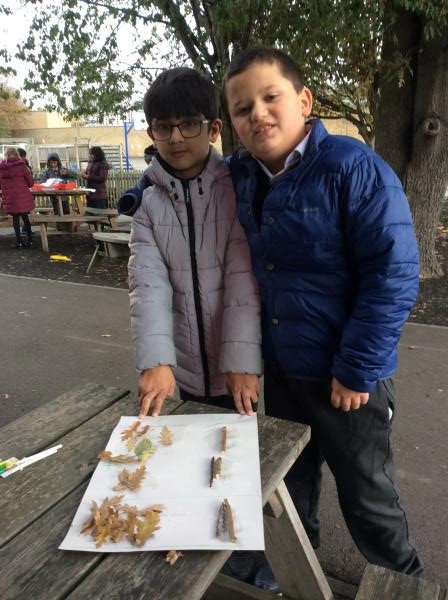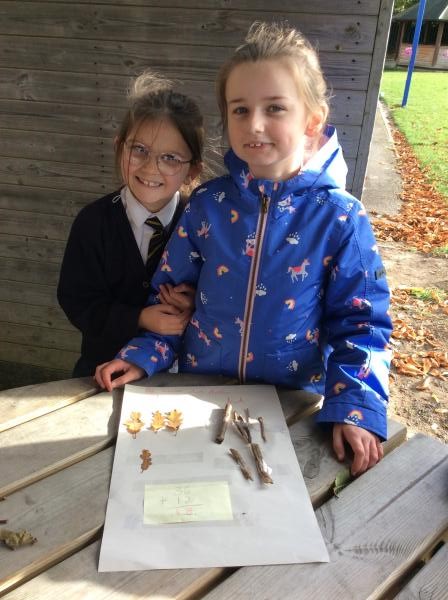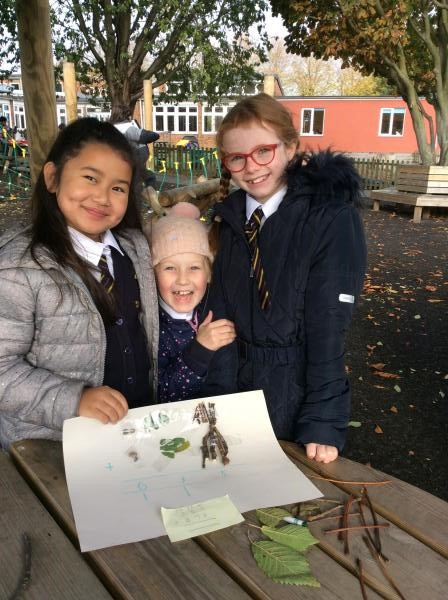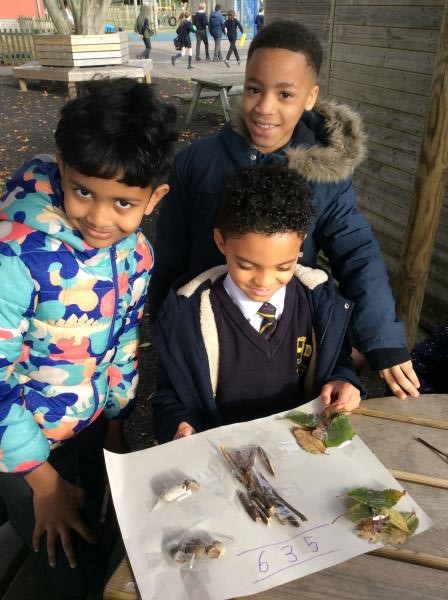 Sounds good
4 Gideon had a great time conducting experiments about vibration and sound using string, cups and paperclips to make homemade telephones. We even tried to create a huge network enabling us to talk to each other as a class - well done it was a success too!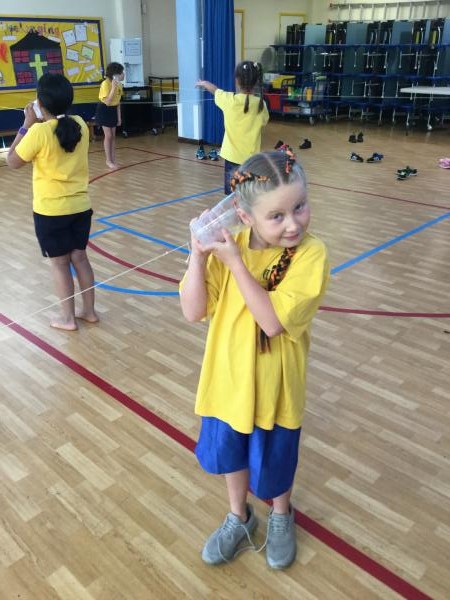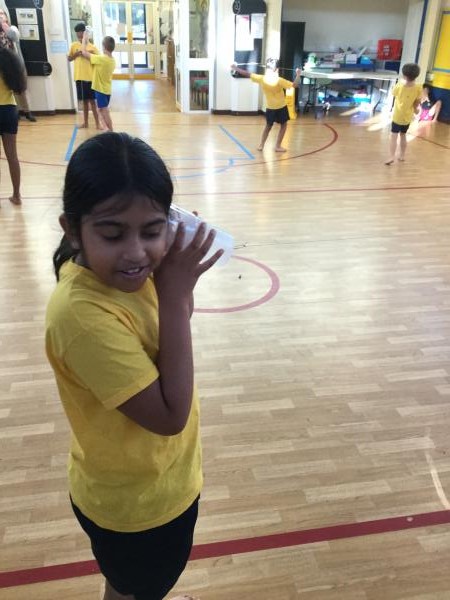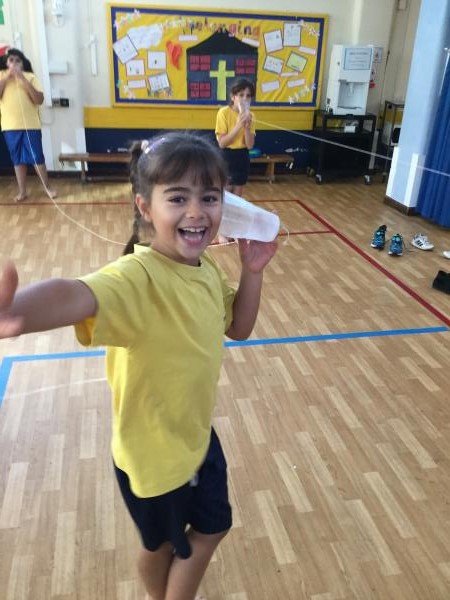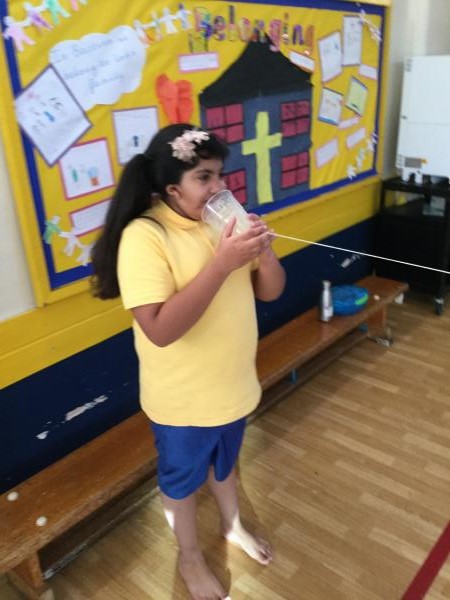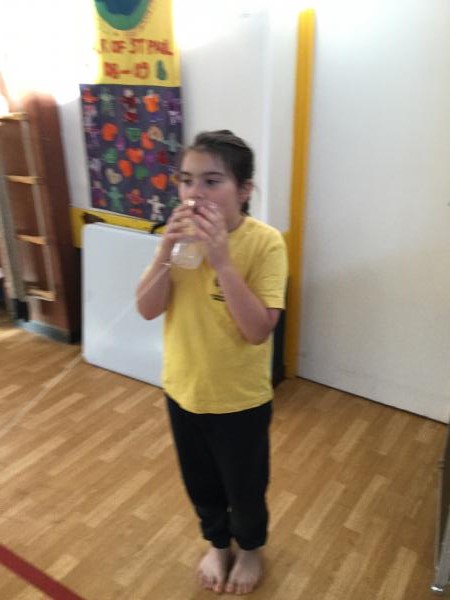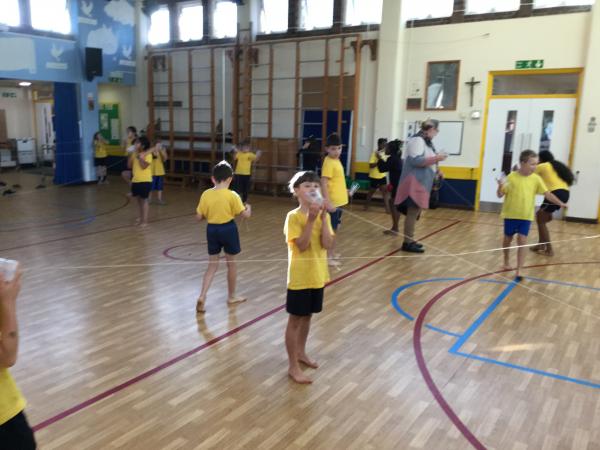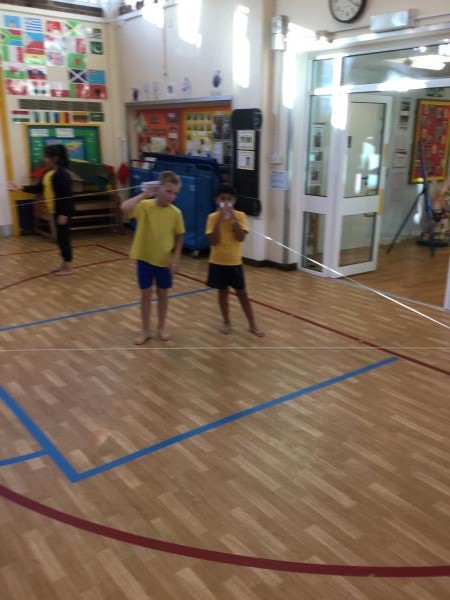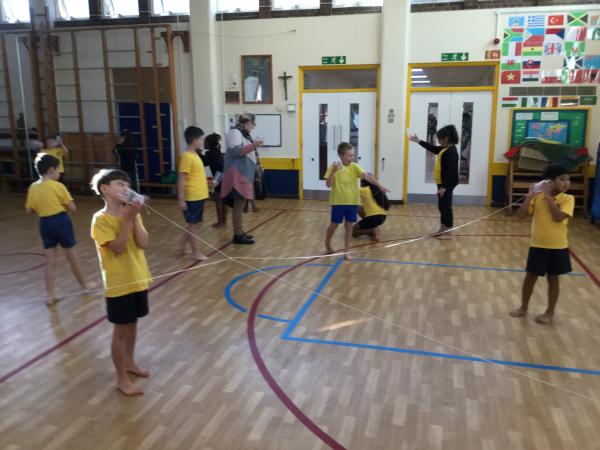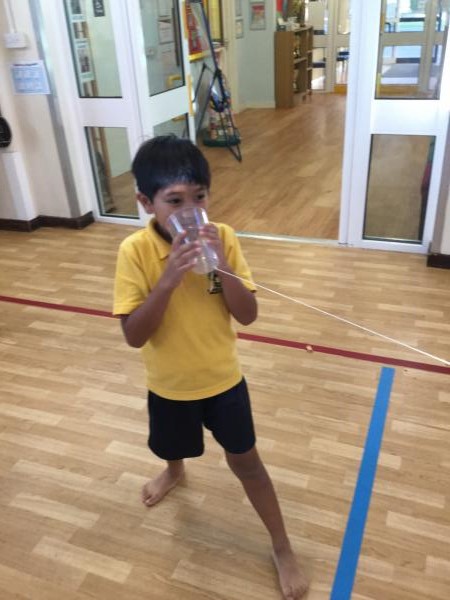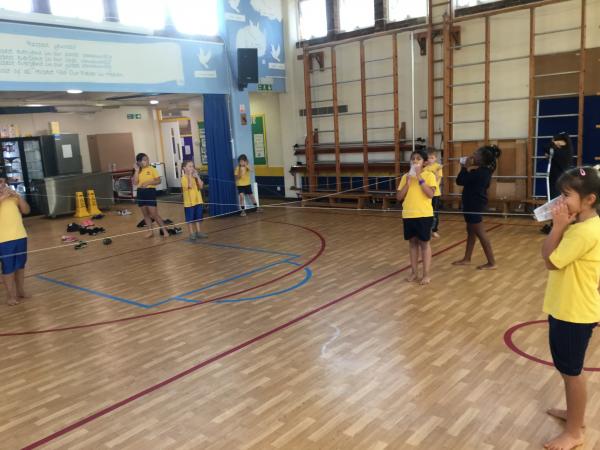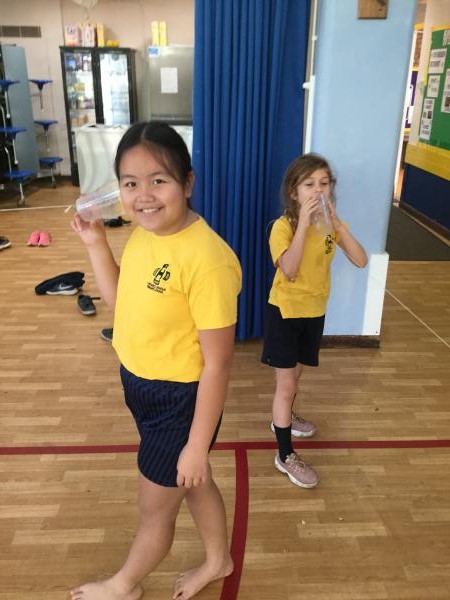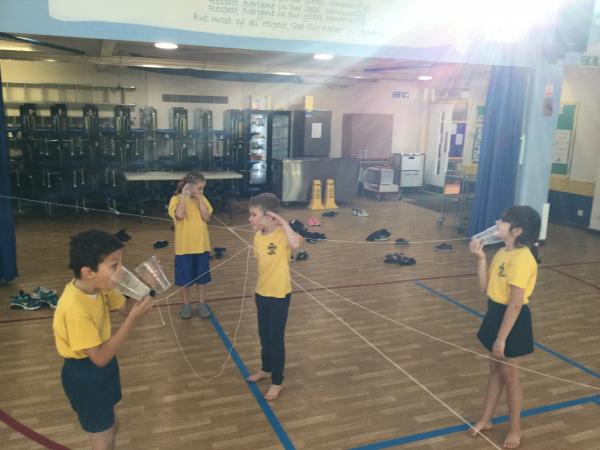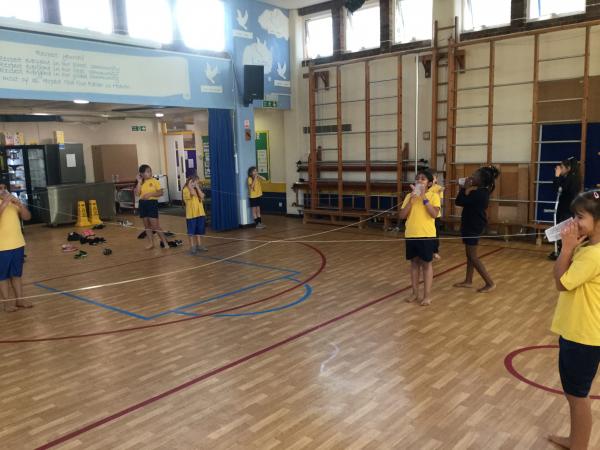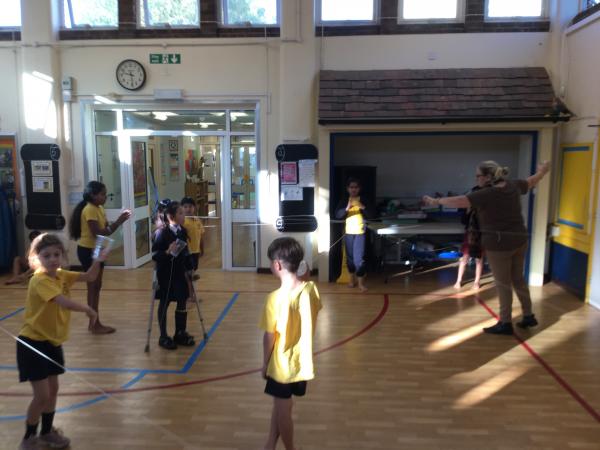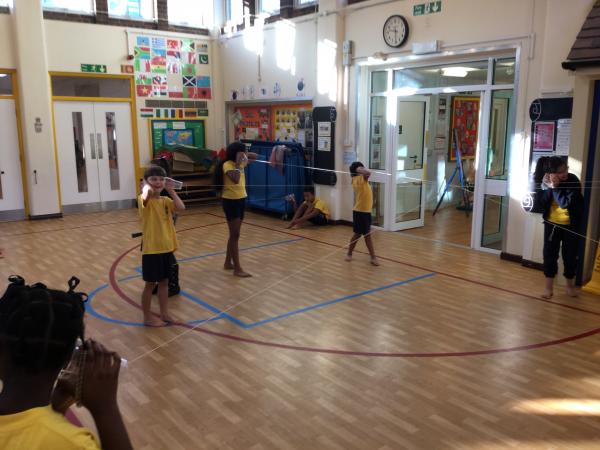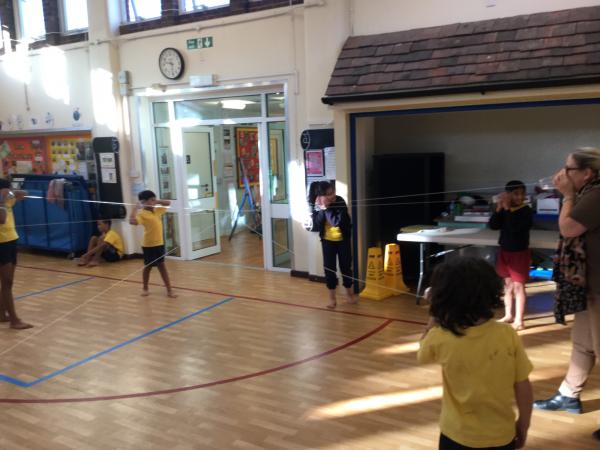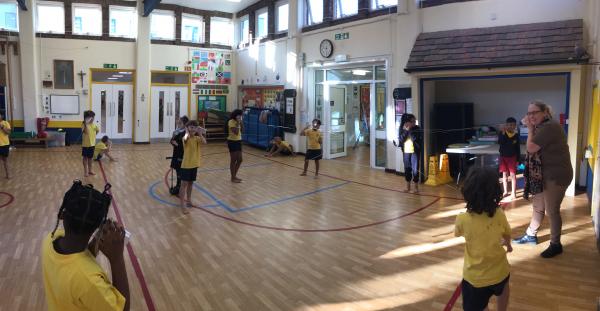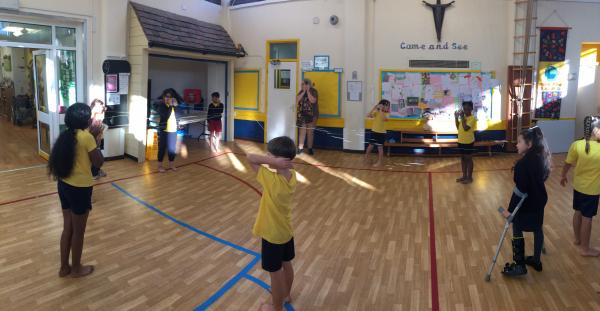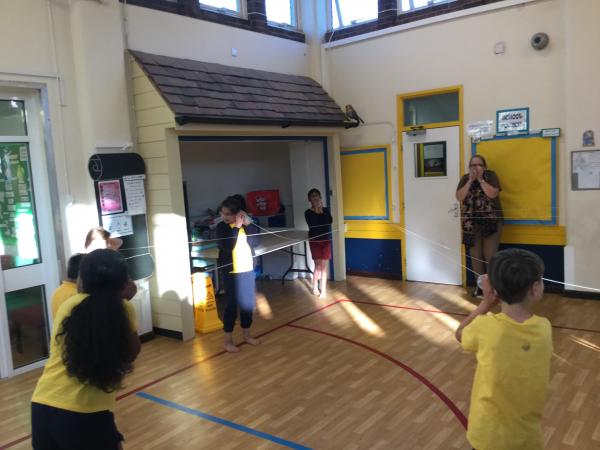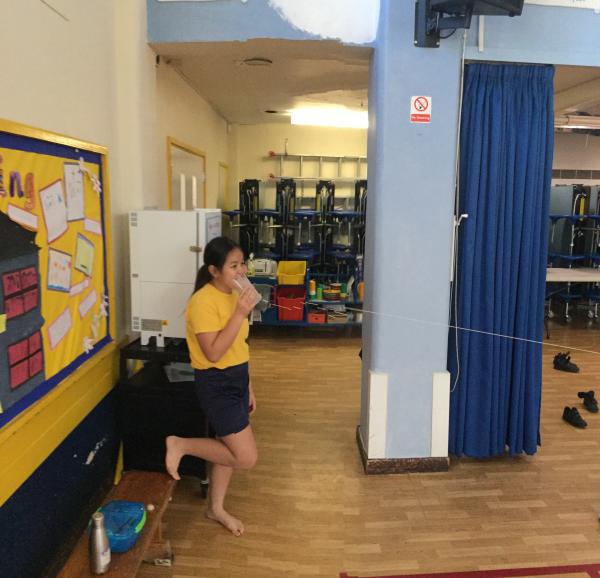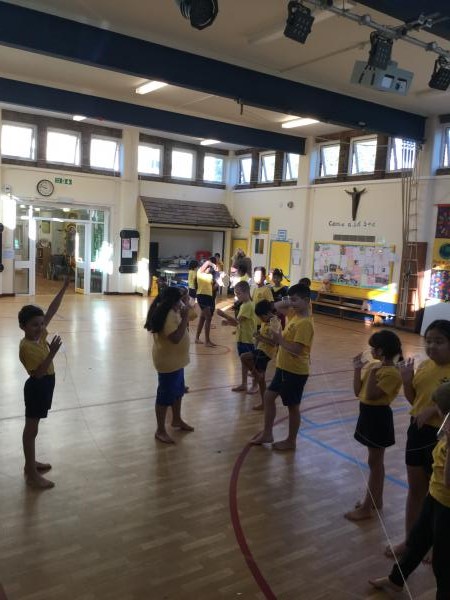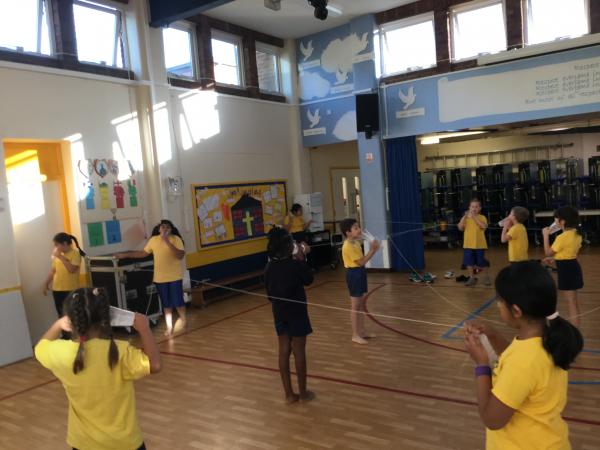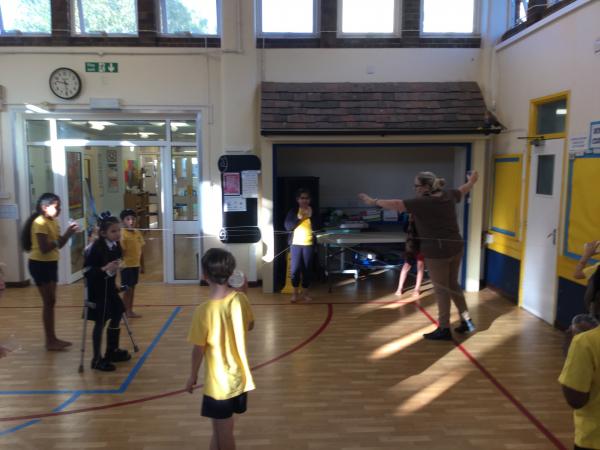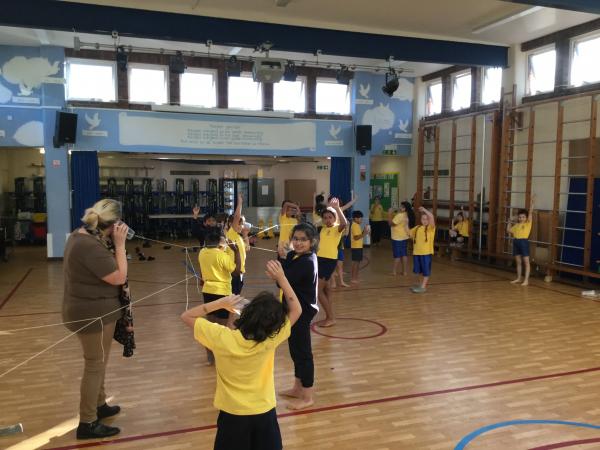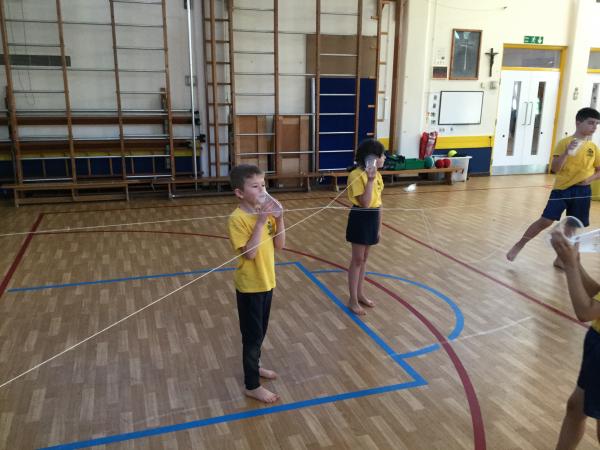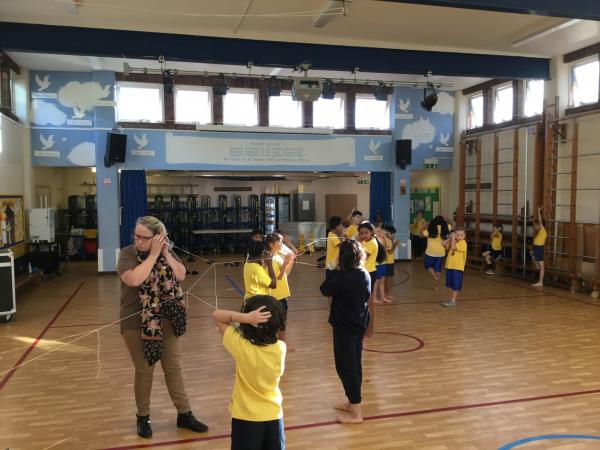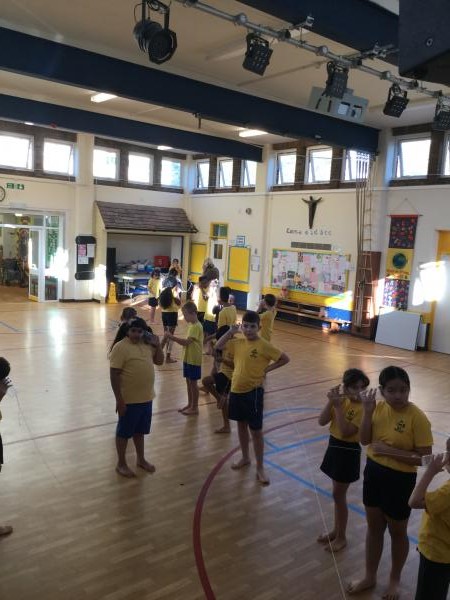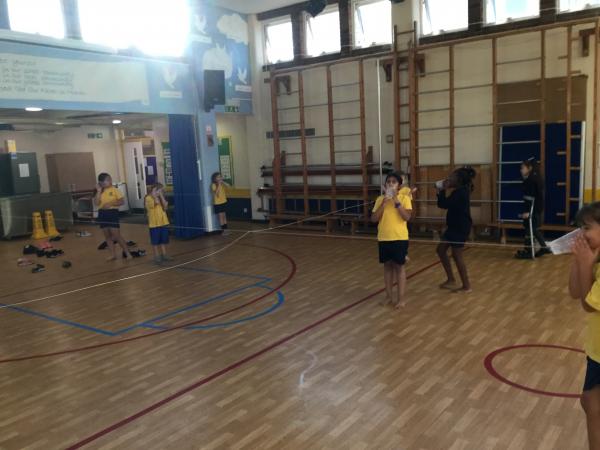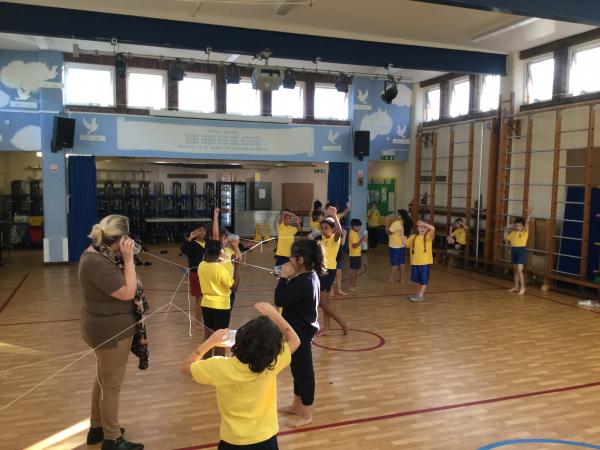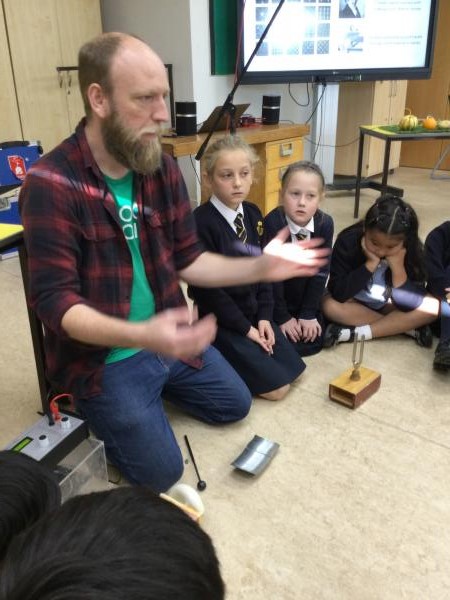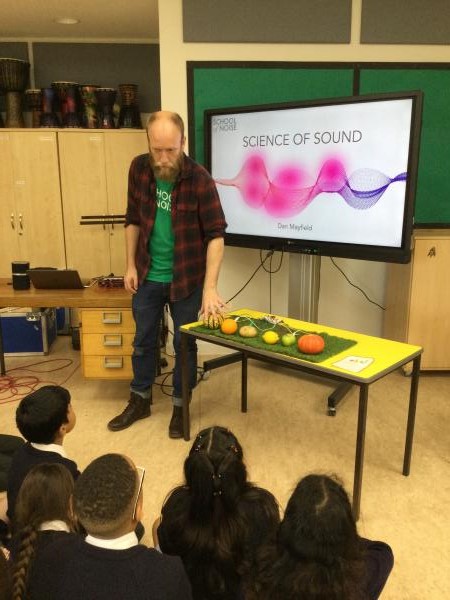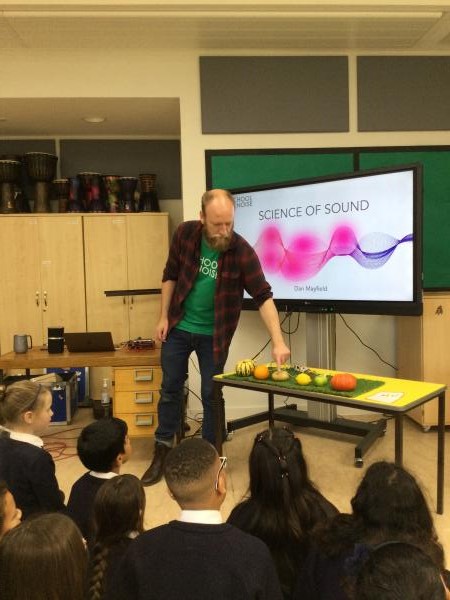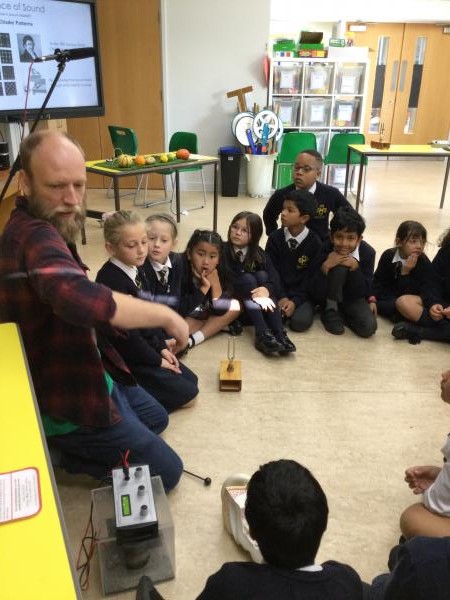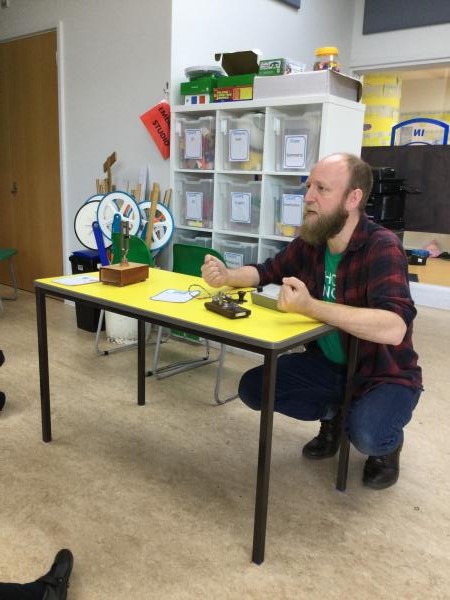 4G making and using some string telephones in our science lesson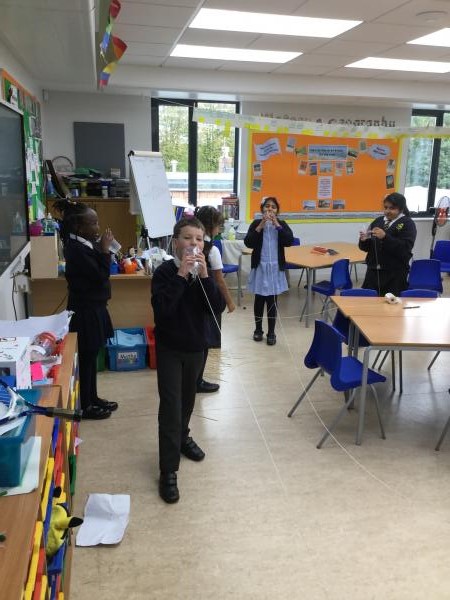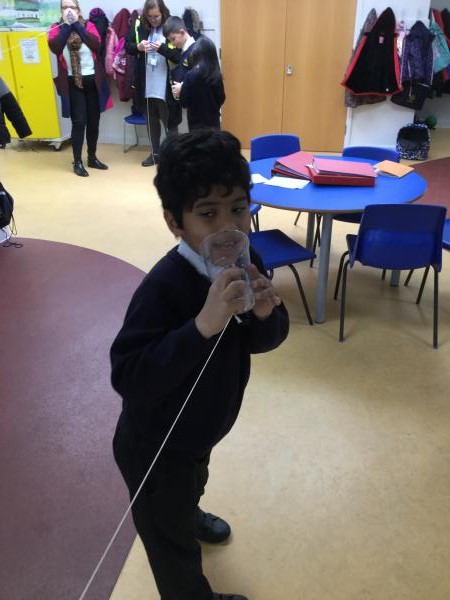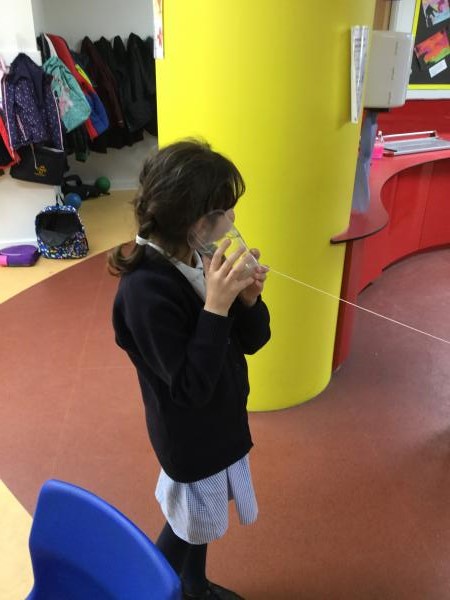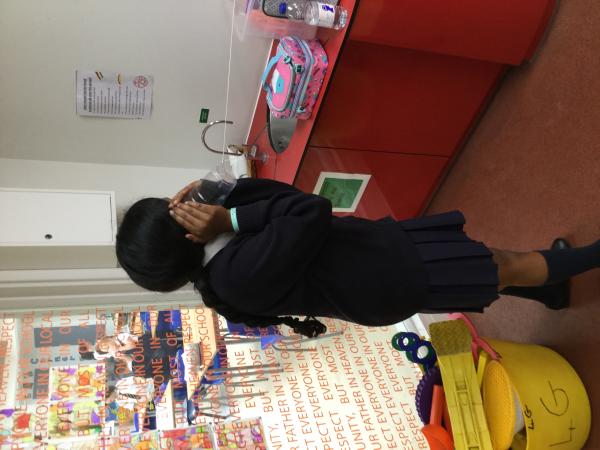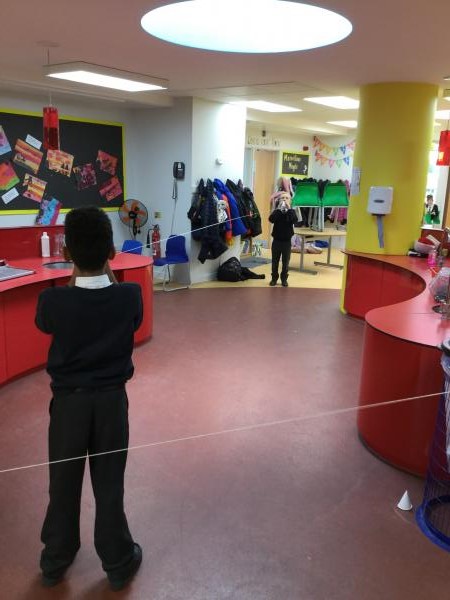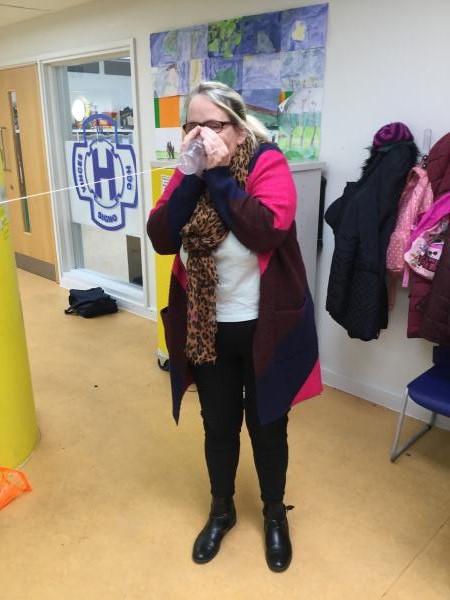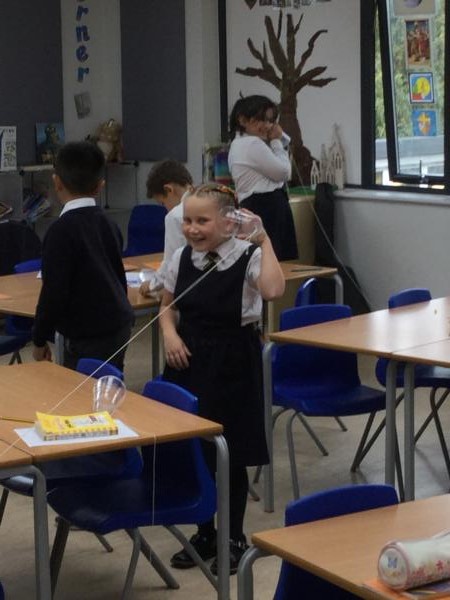 Good vibrations
We had a great time in our science lesson on sound studying vibration. We used straws to make flutes and then made beautiful music!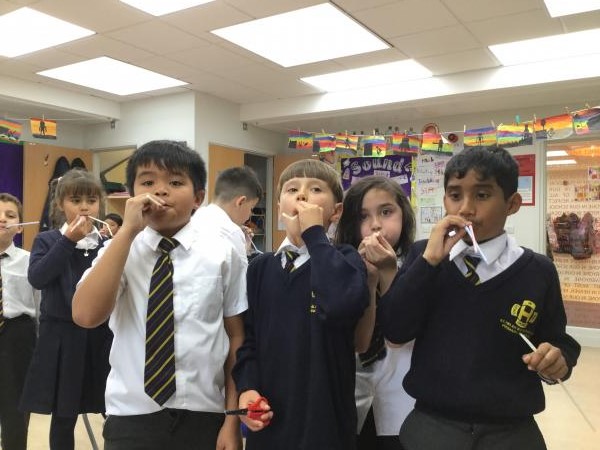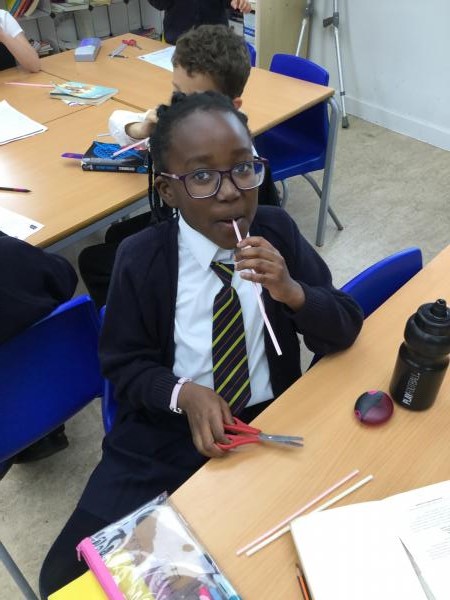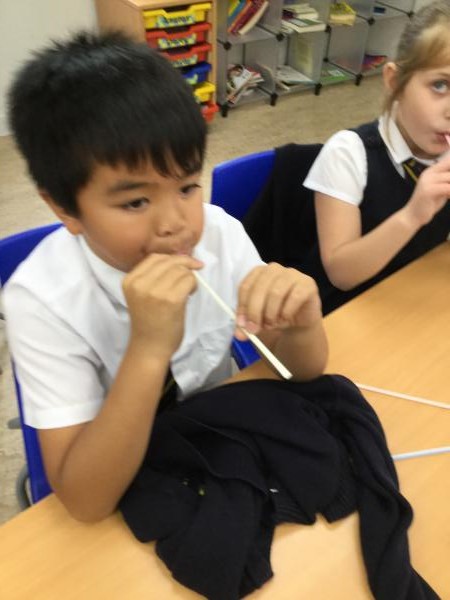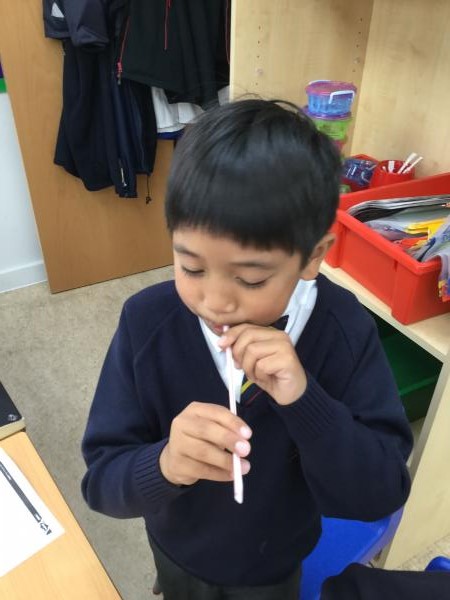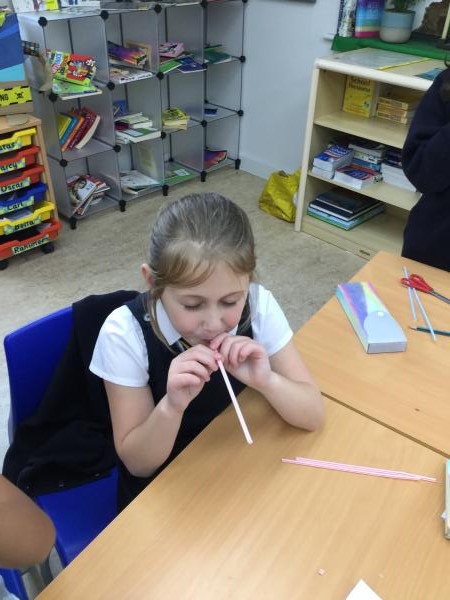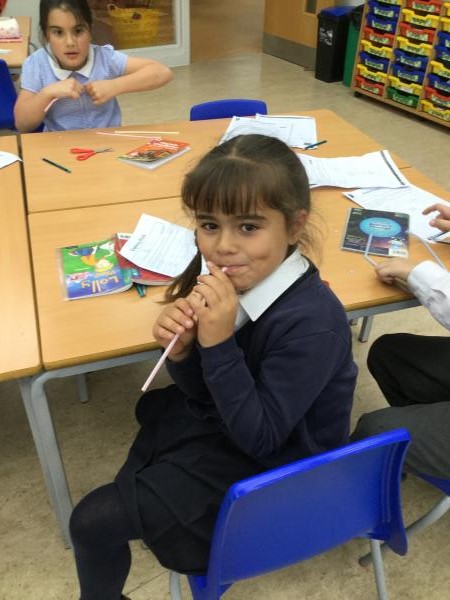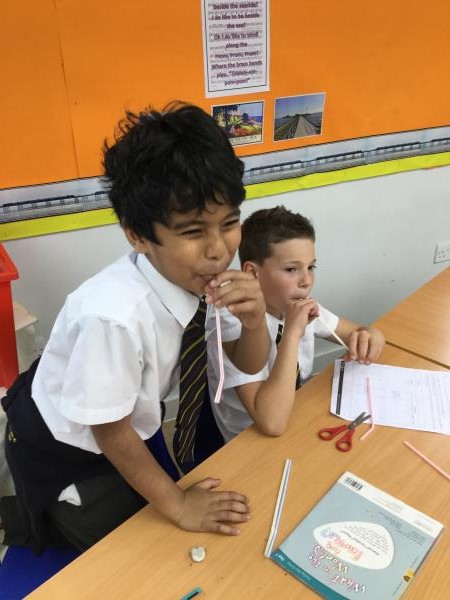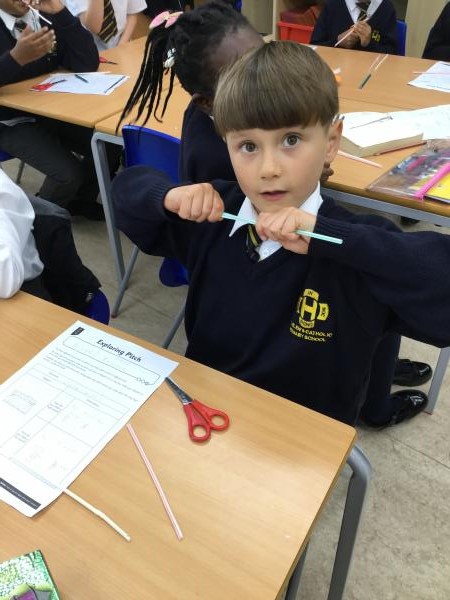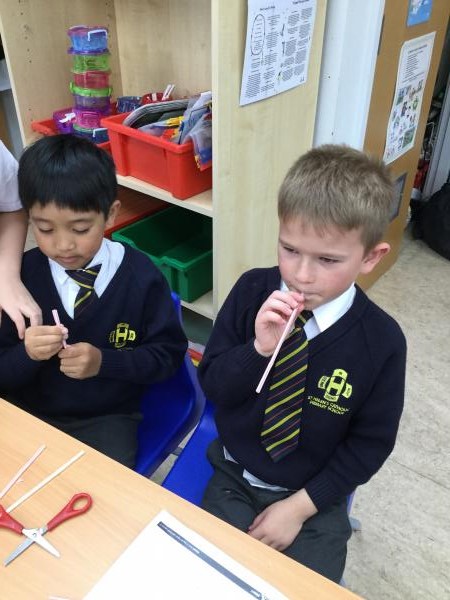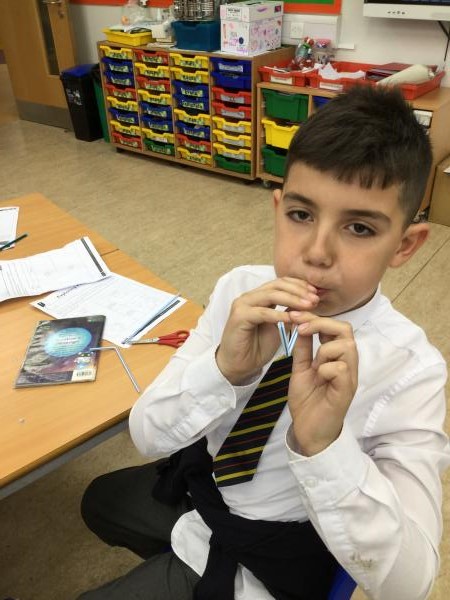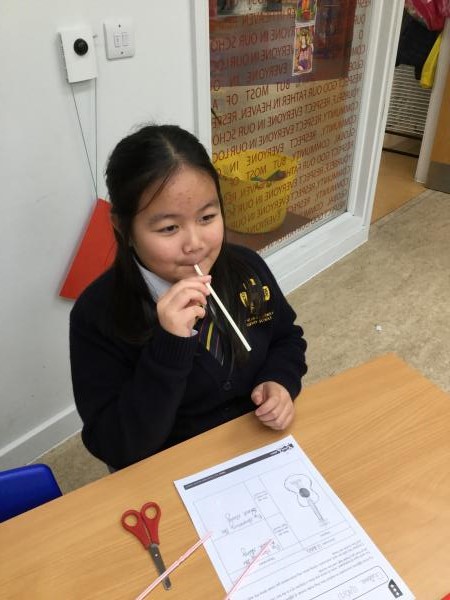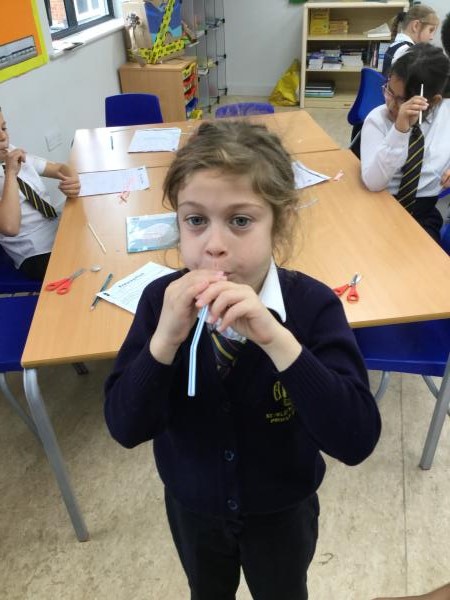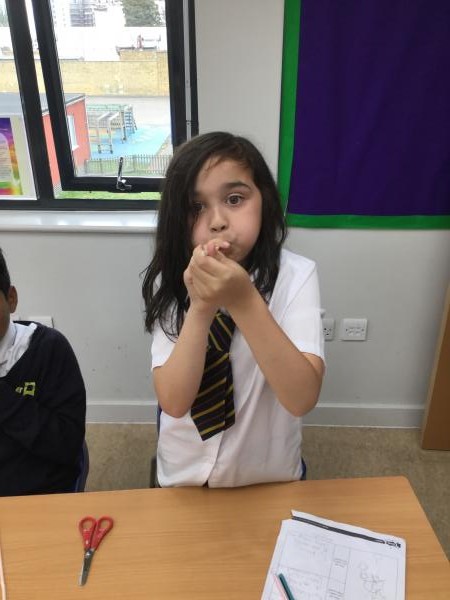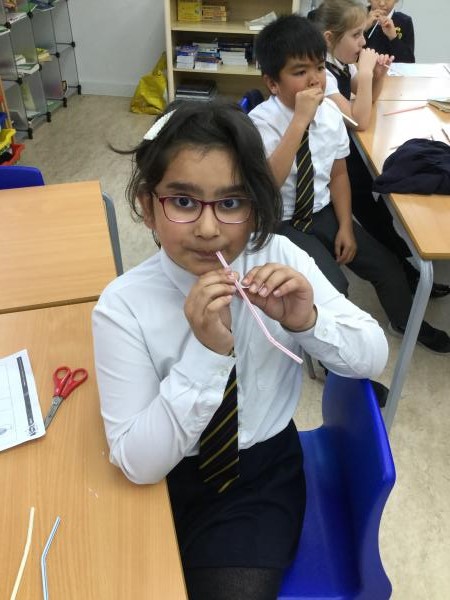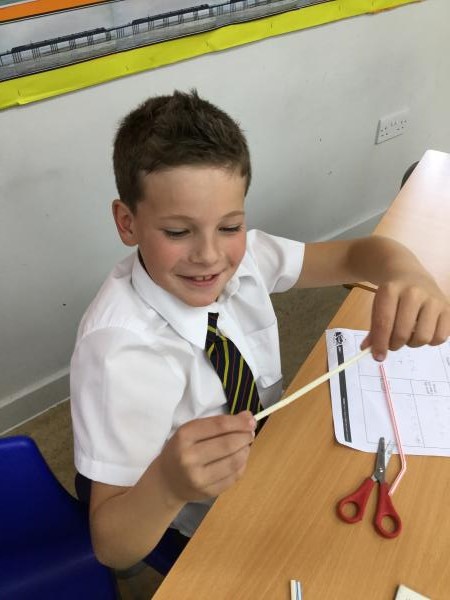 Gym session
Today we had lots of fun working in pairs to design and perform a gymnastic routine with set dances and transition work. Well done everyone - they were great!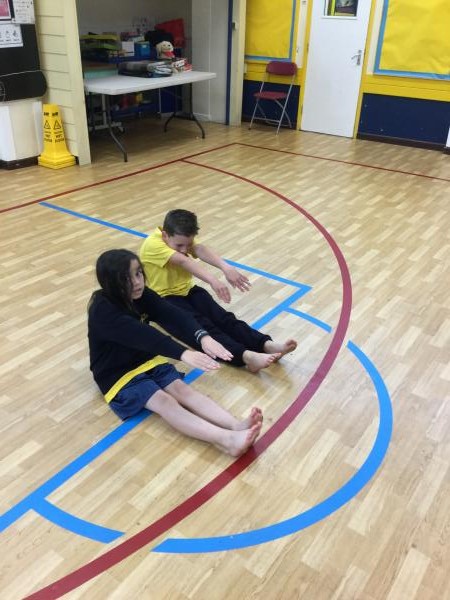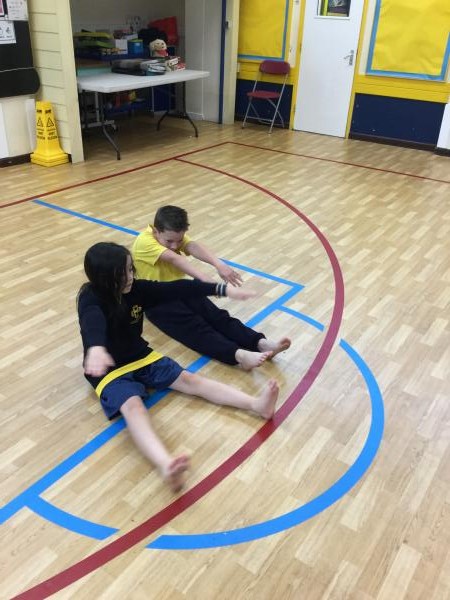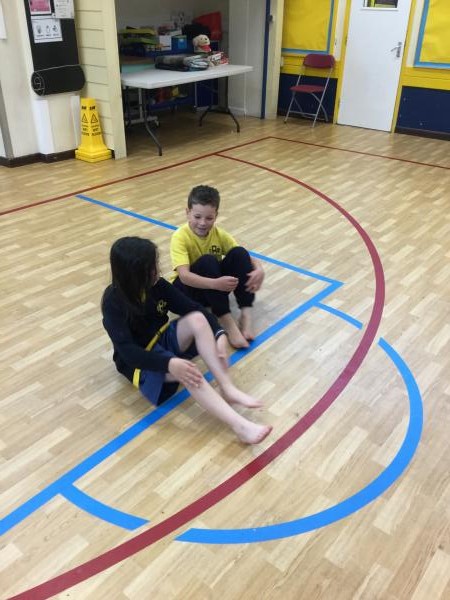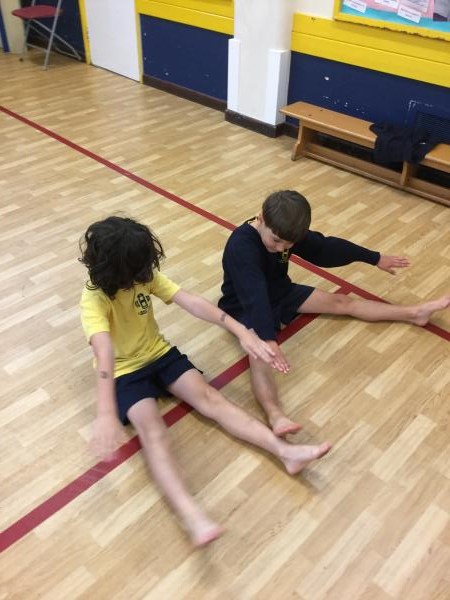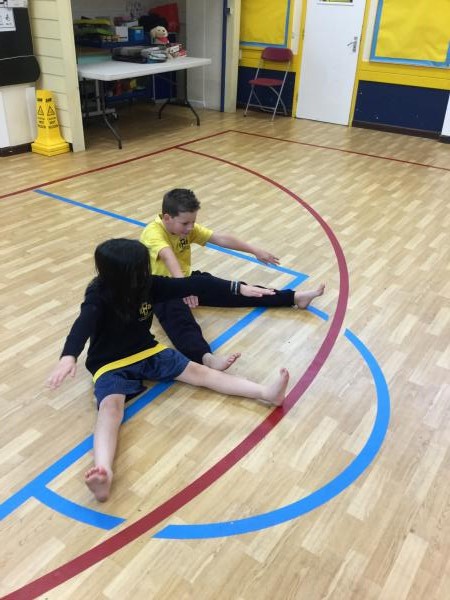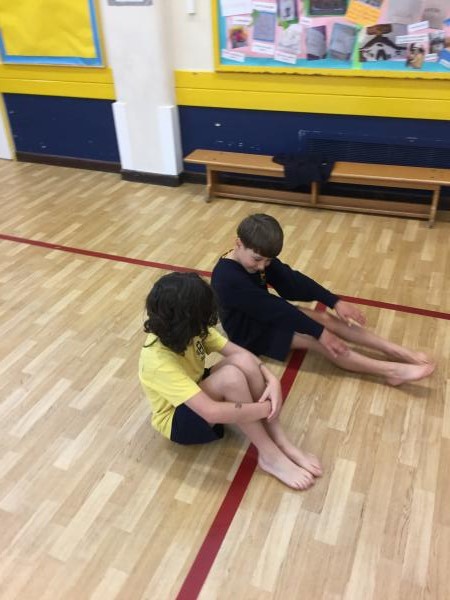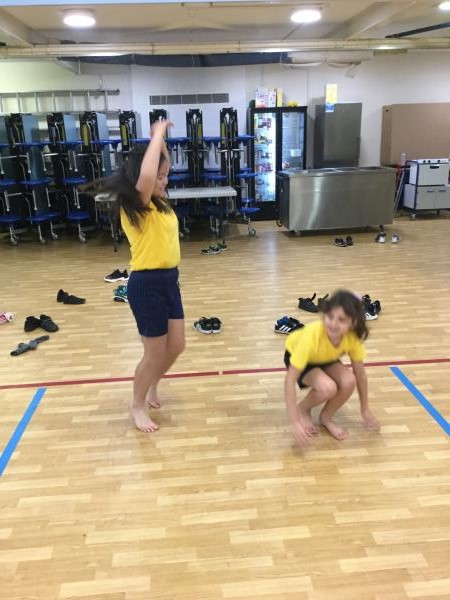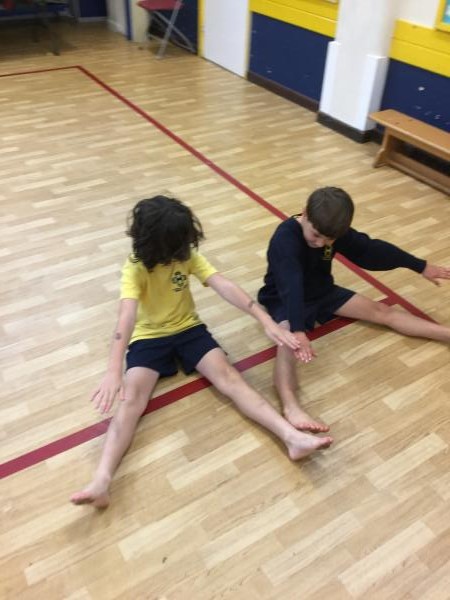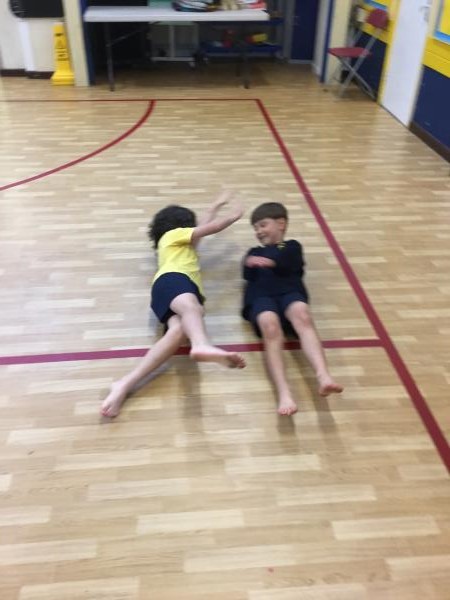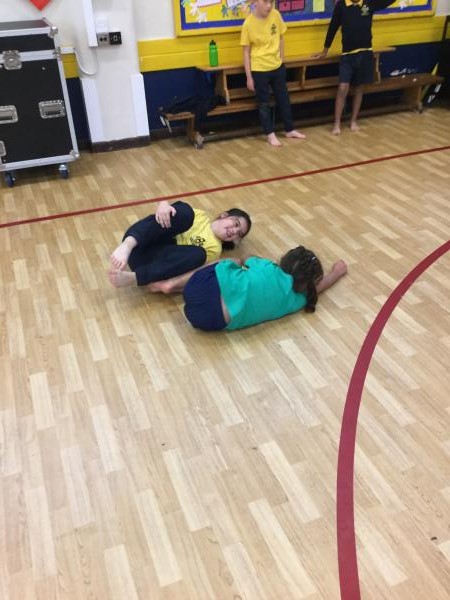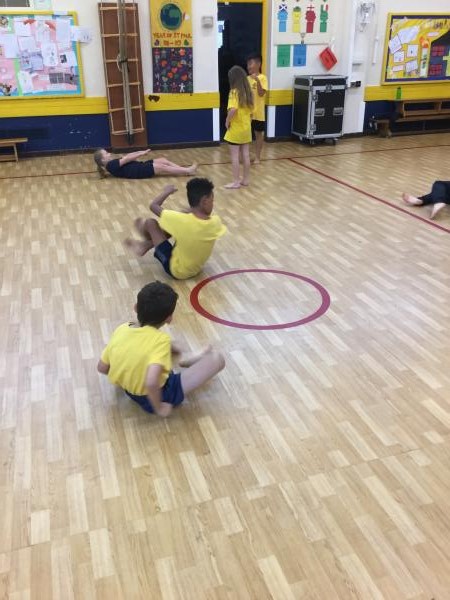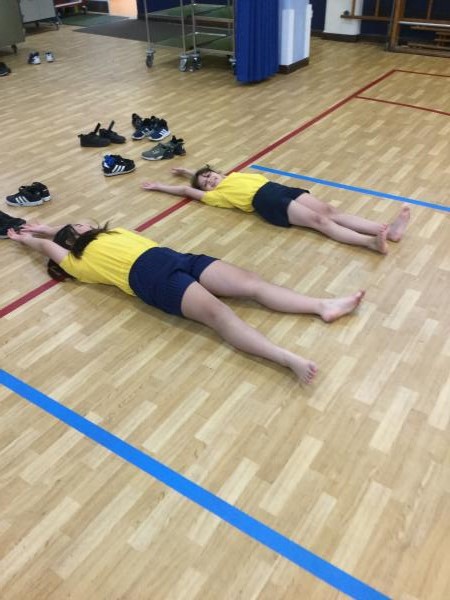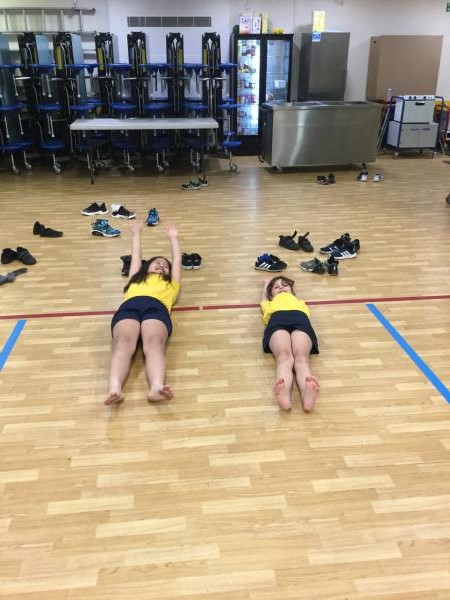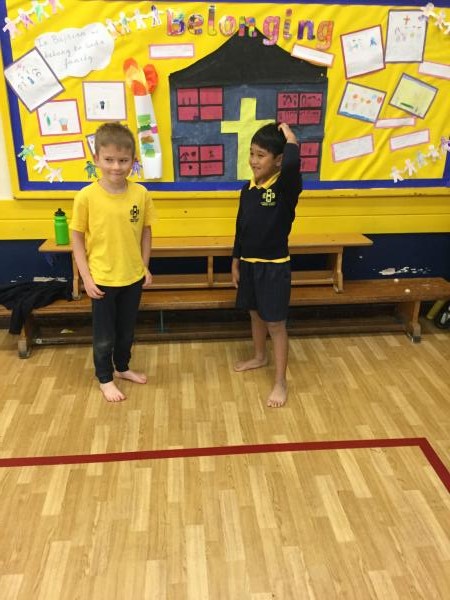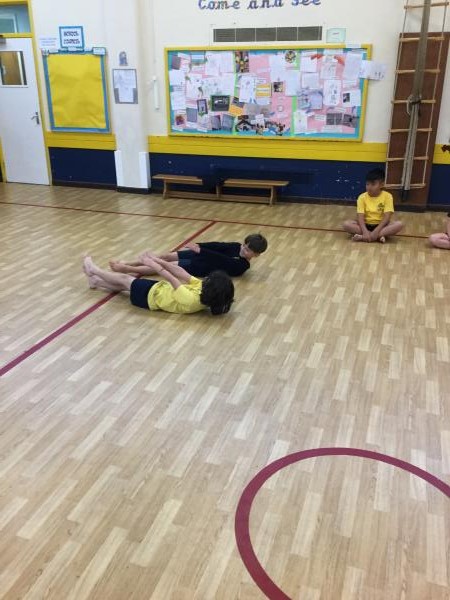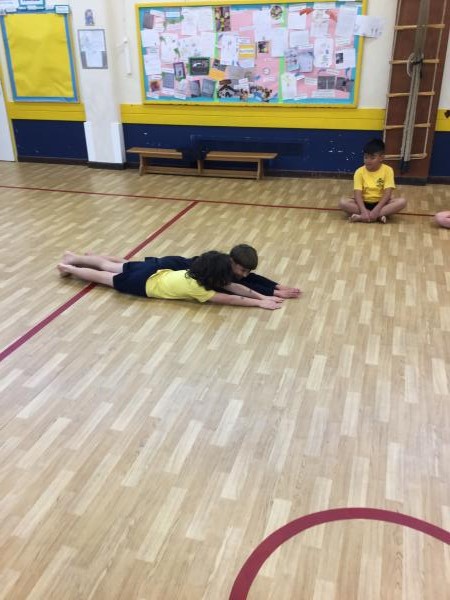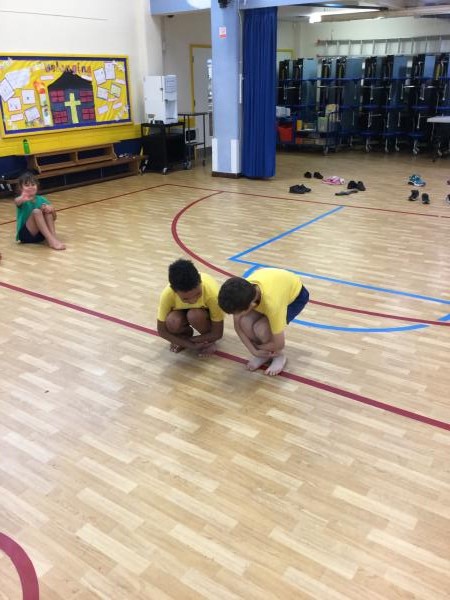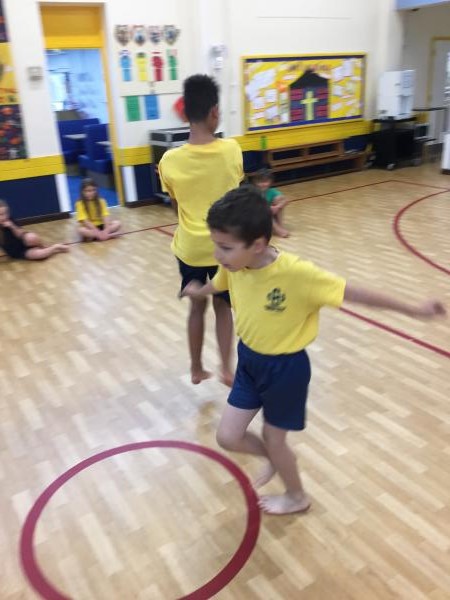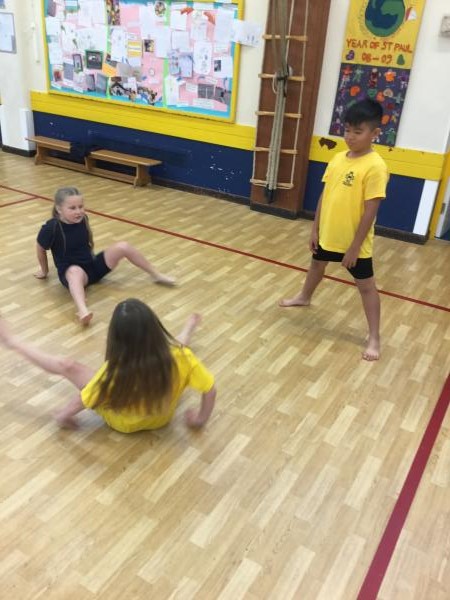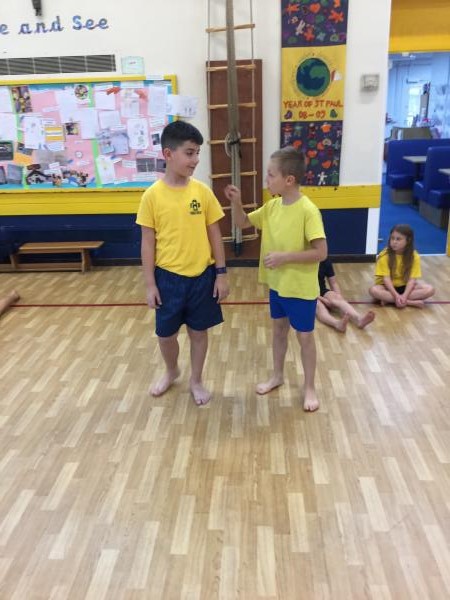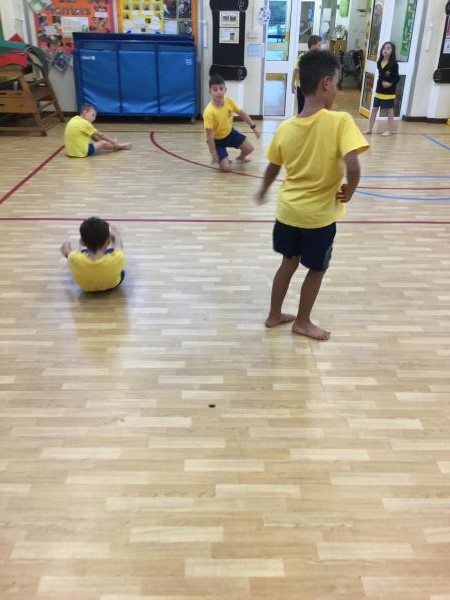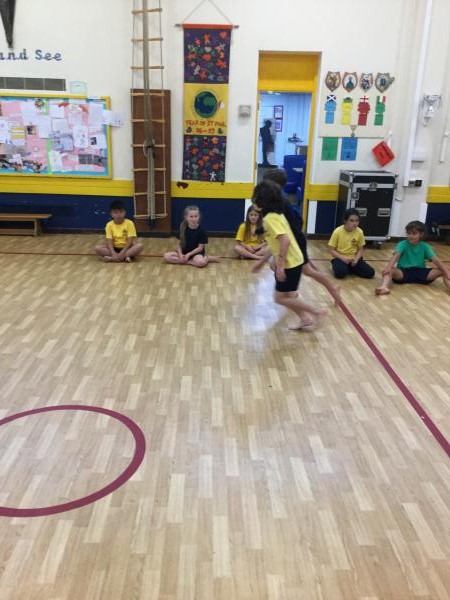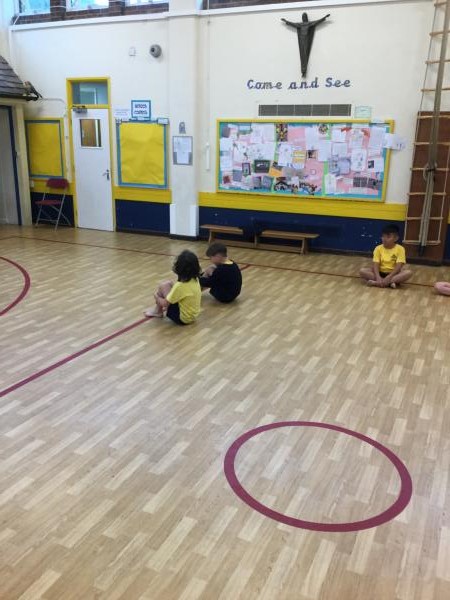 Music lesson for 4 Fountains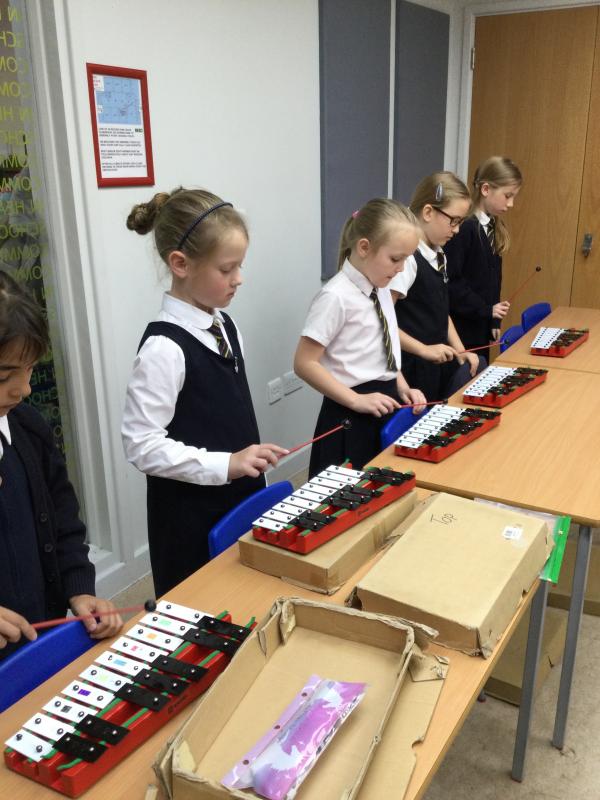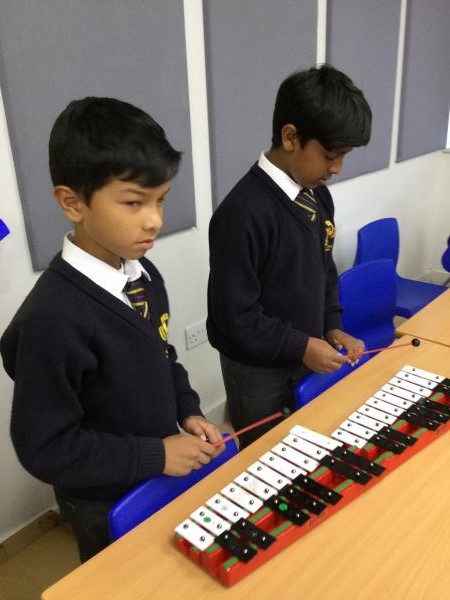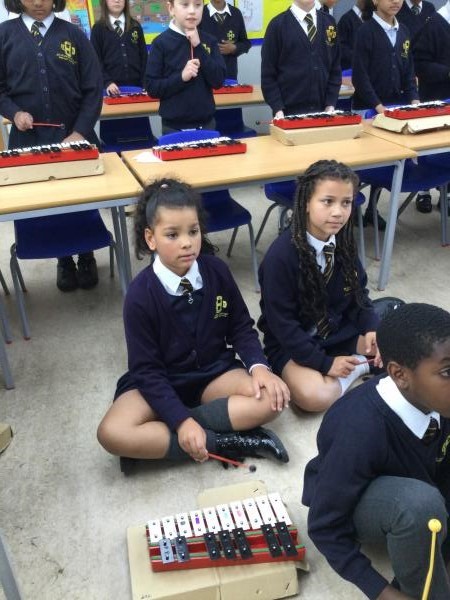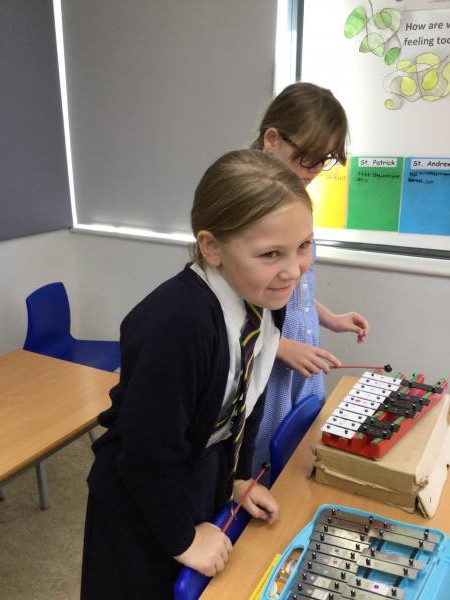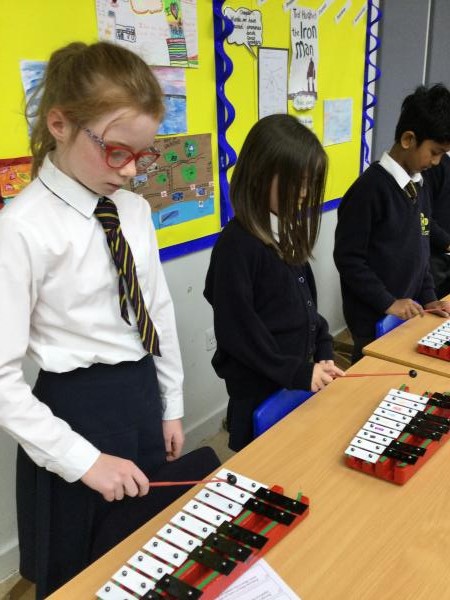 4 Fountains in the Nature Area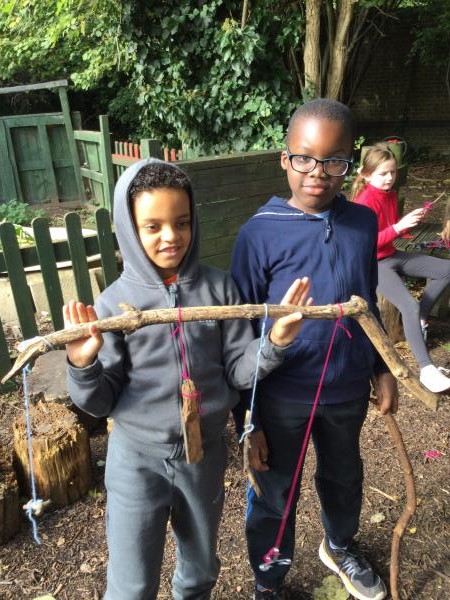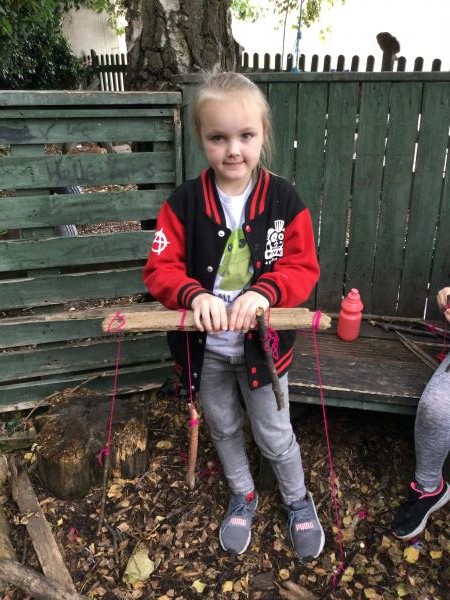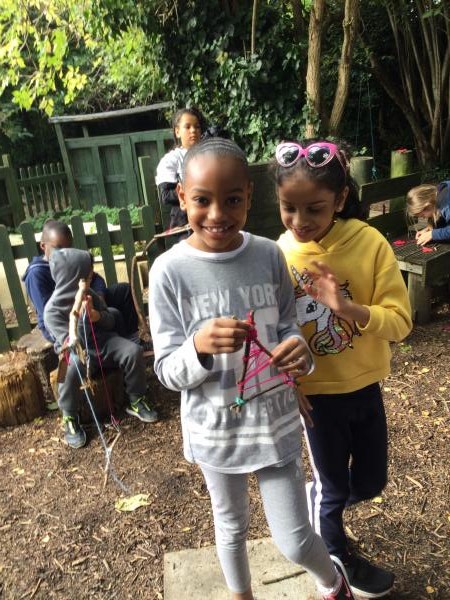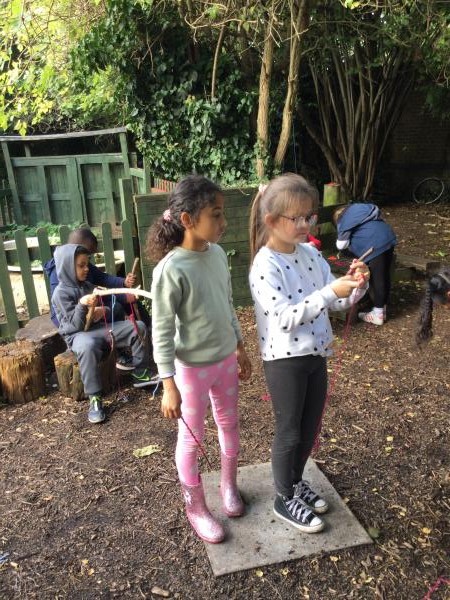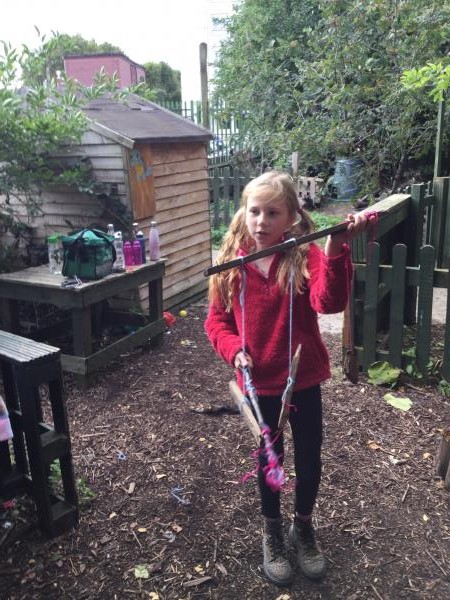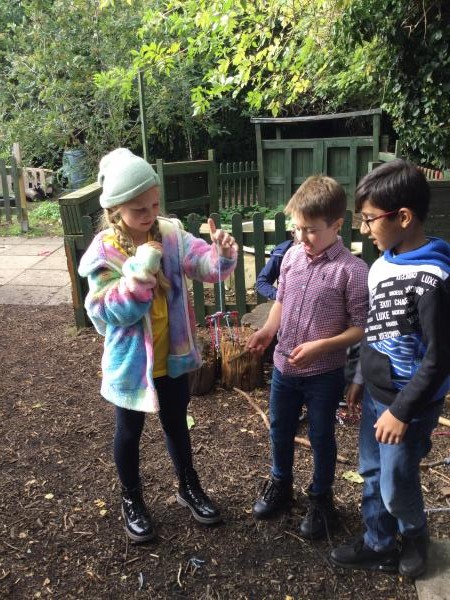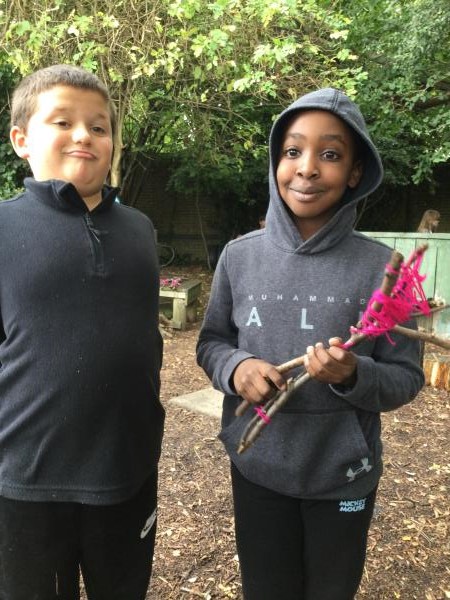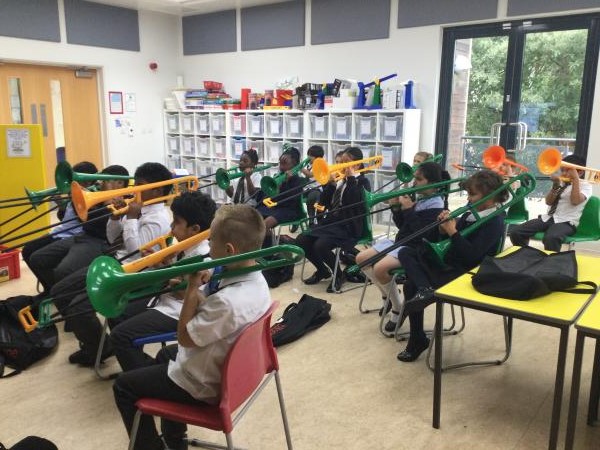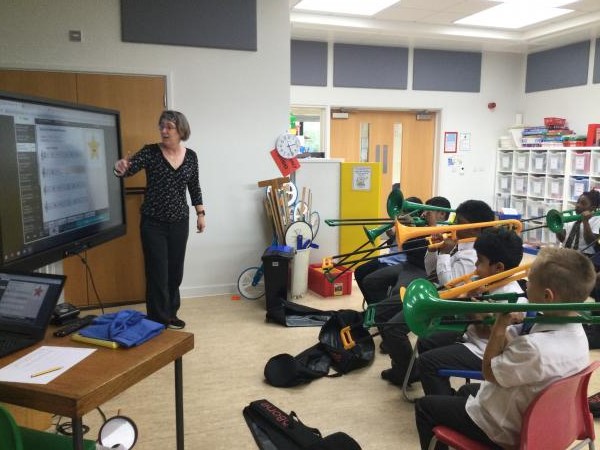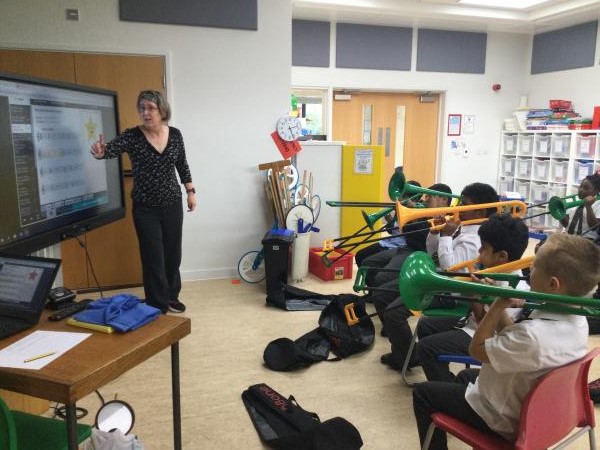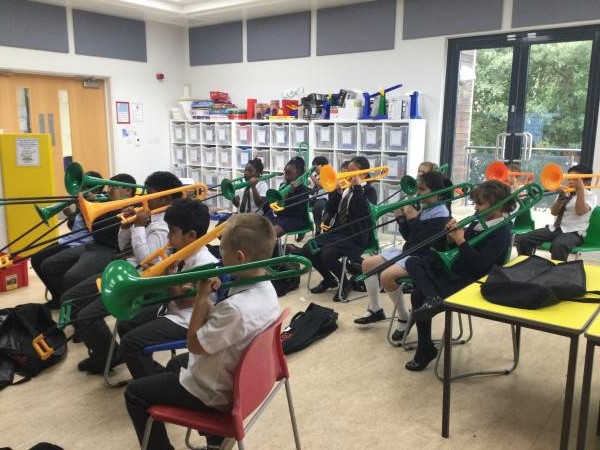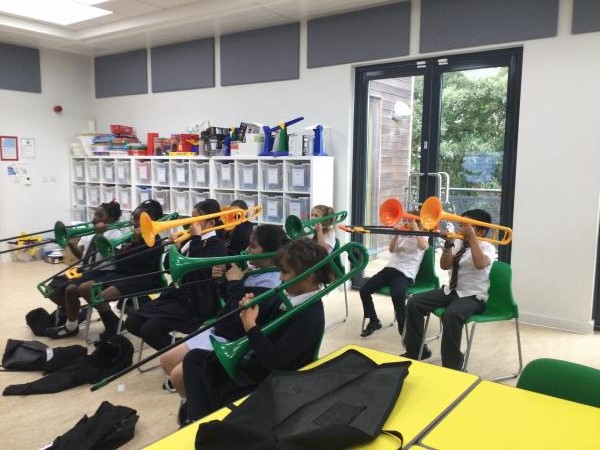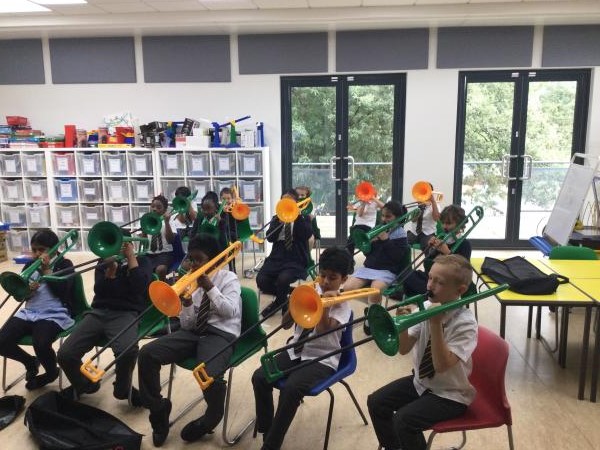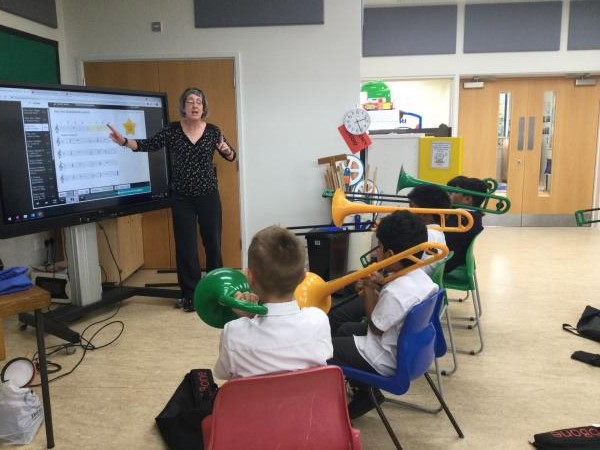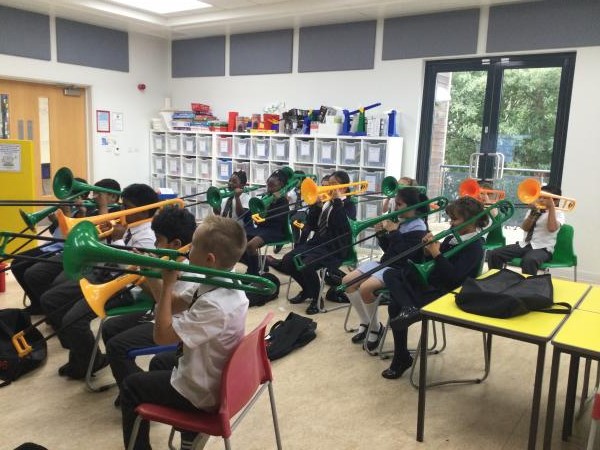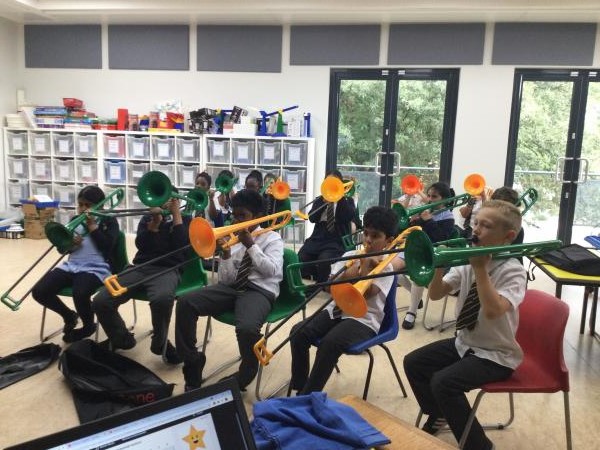 4 Gideon Science Experiment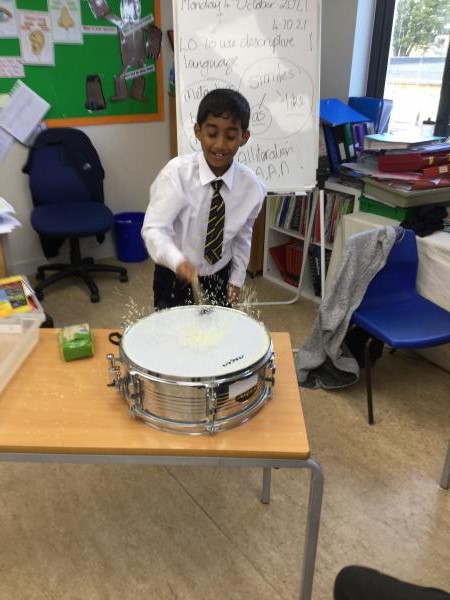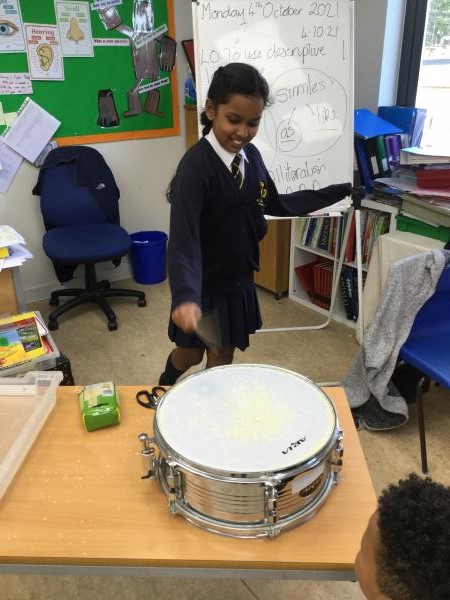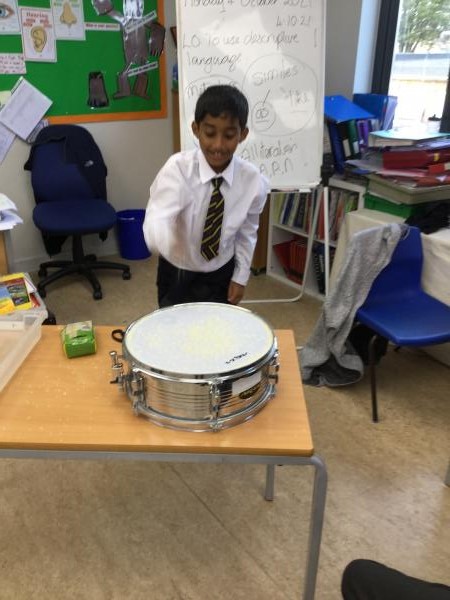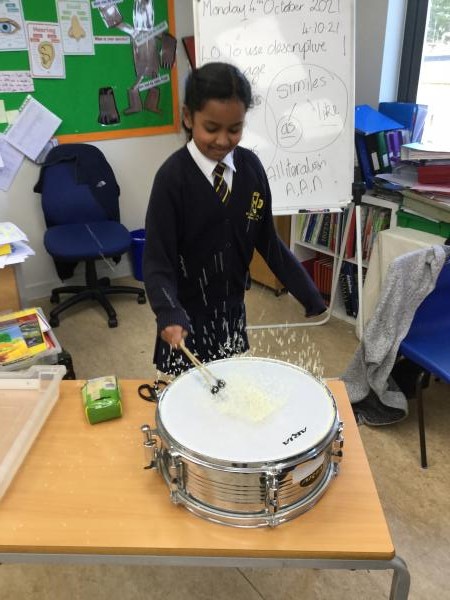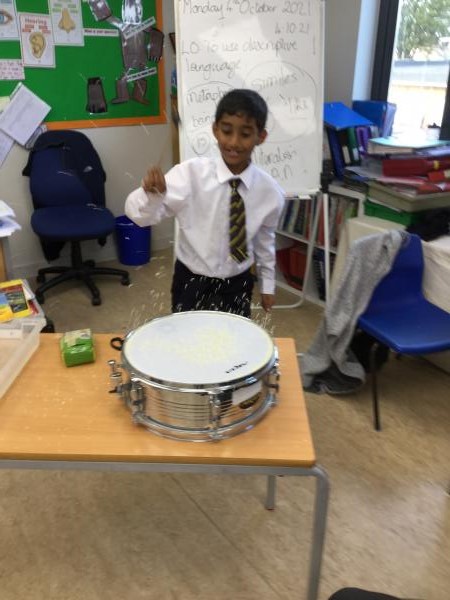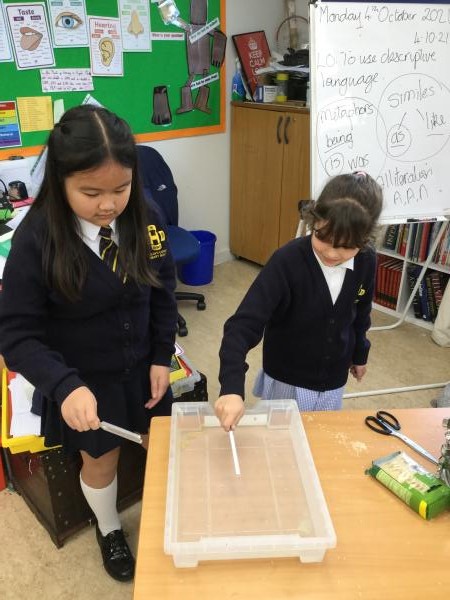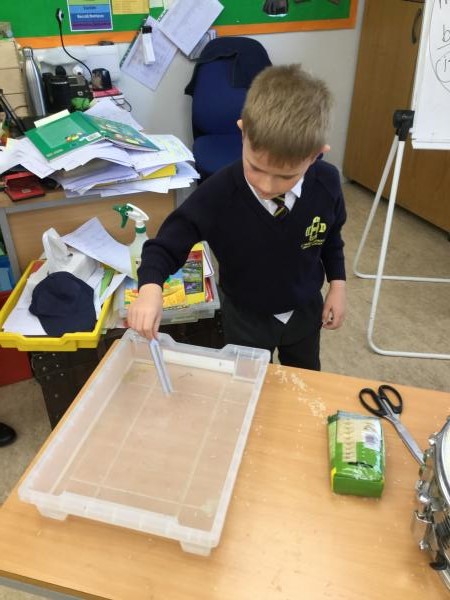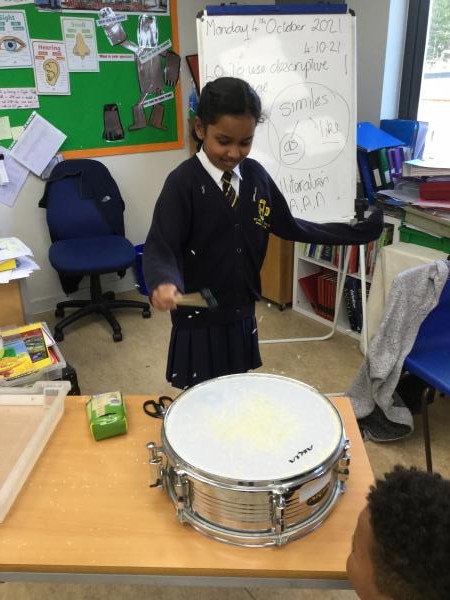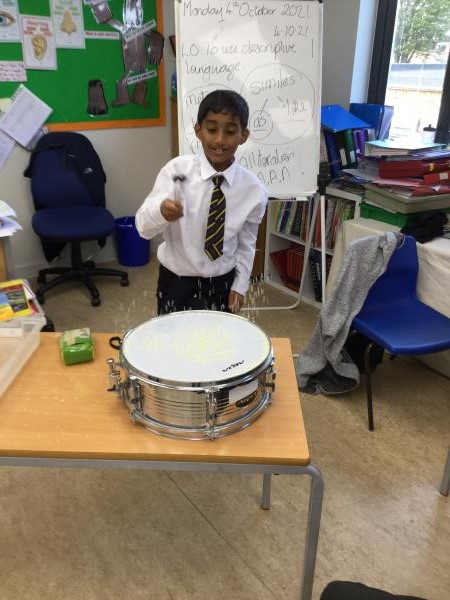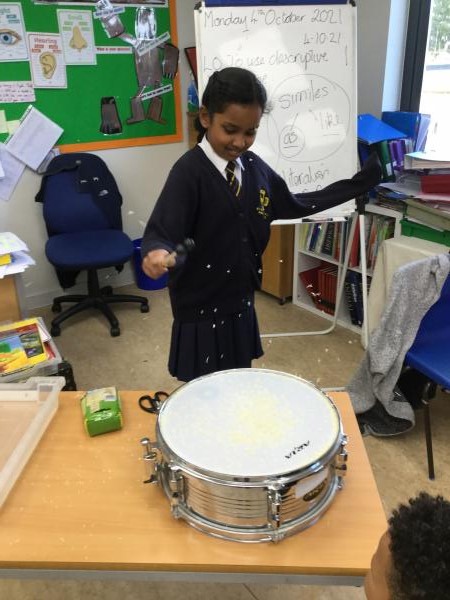 4 Gideon Southend Pier Timeline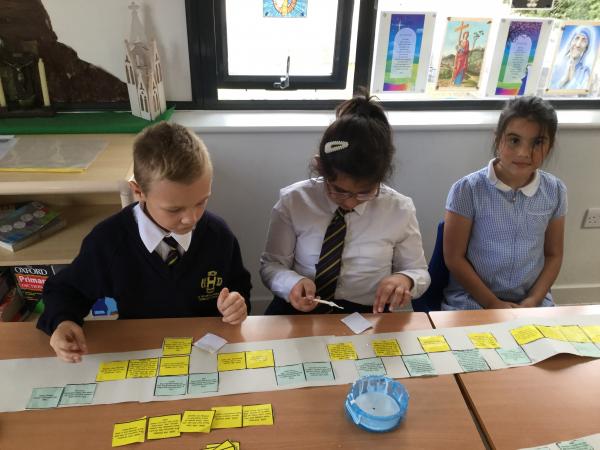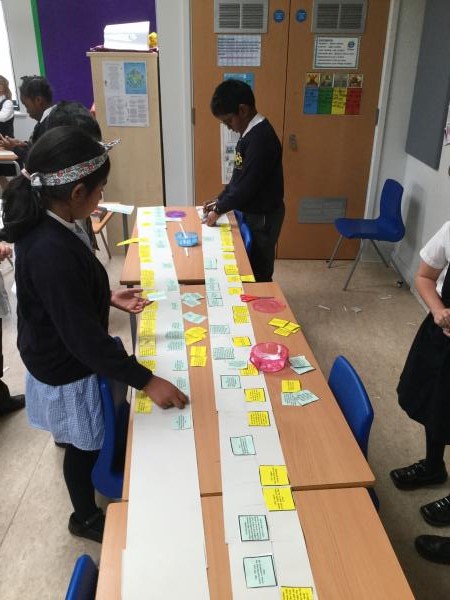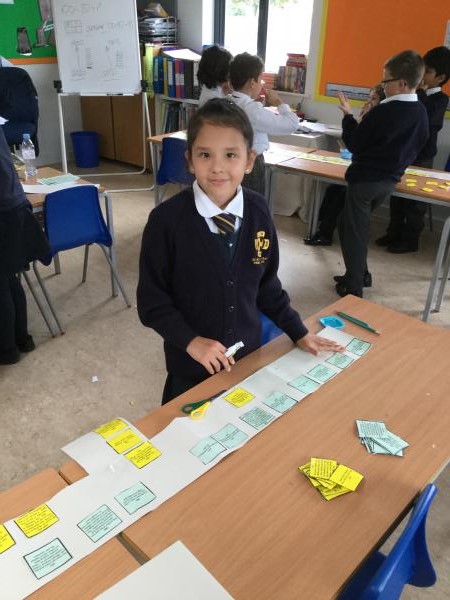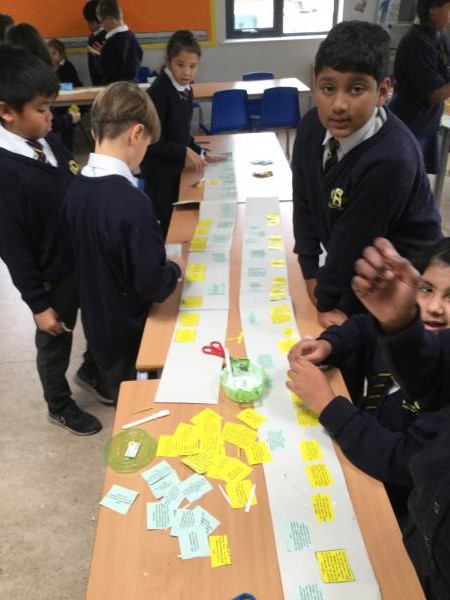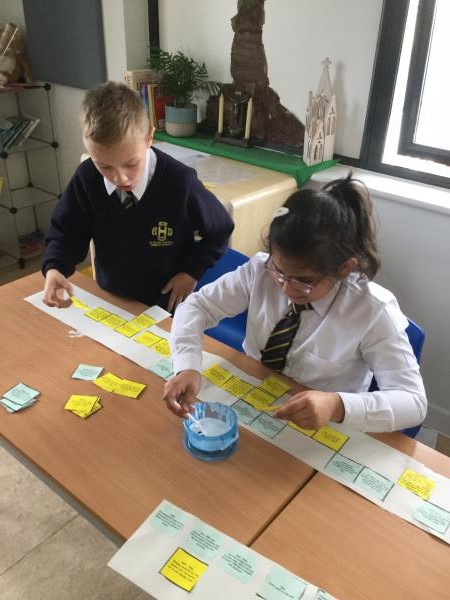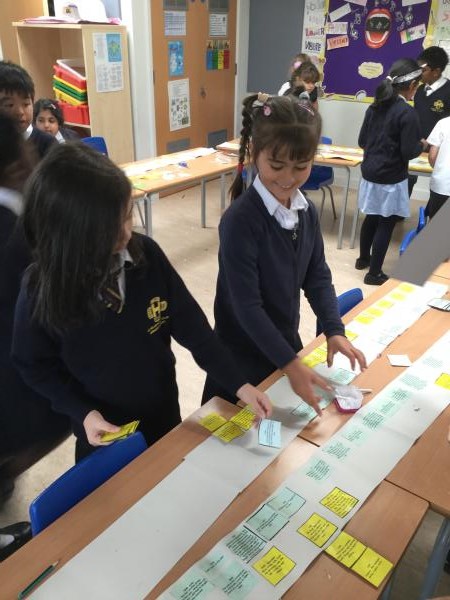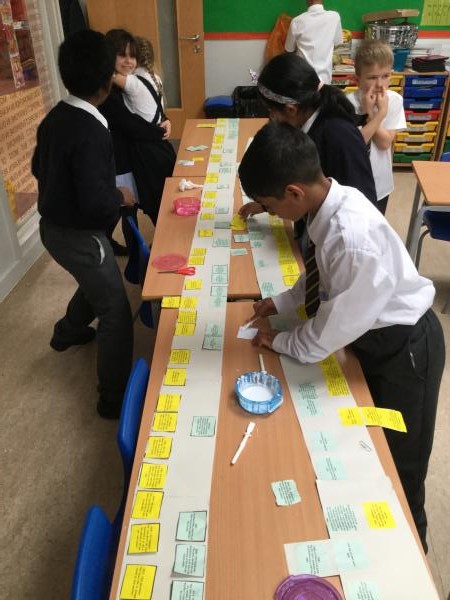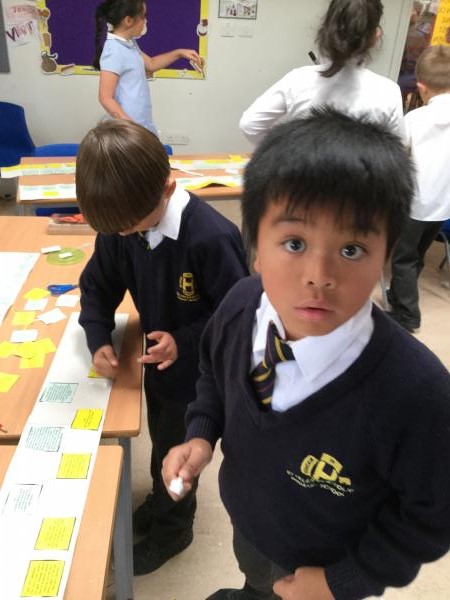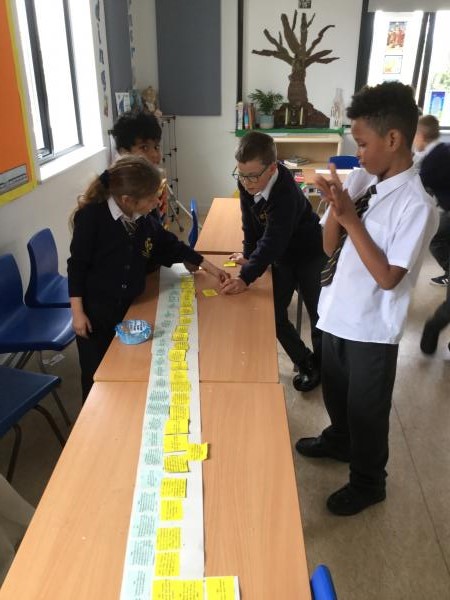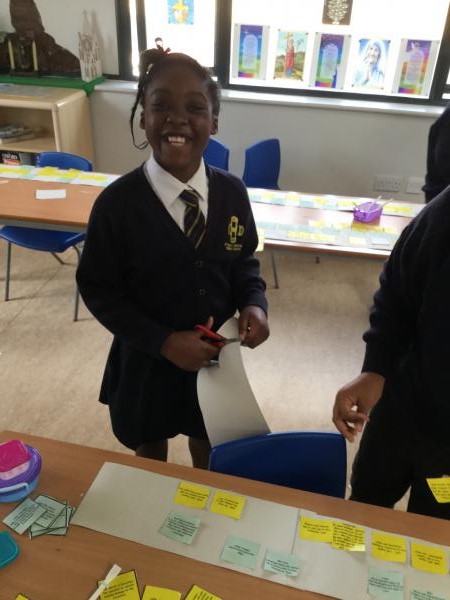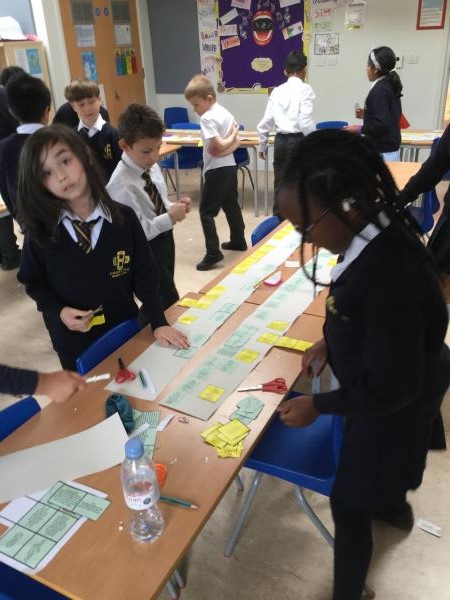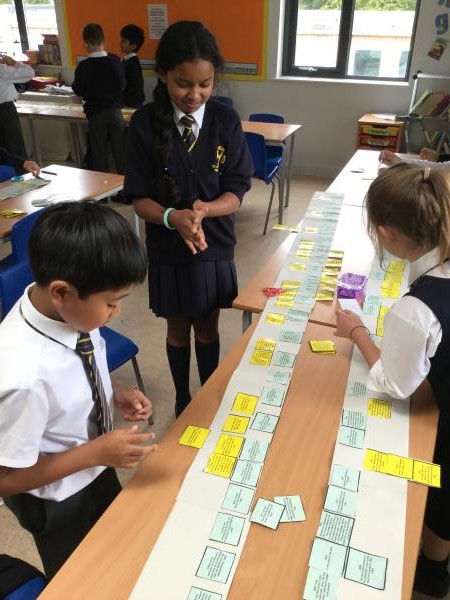 4 Gideon HMS Leigh Day Southend Pier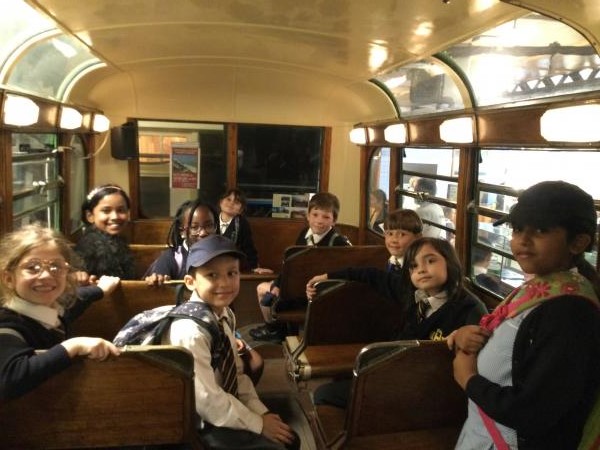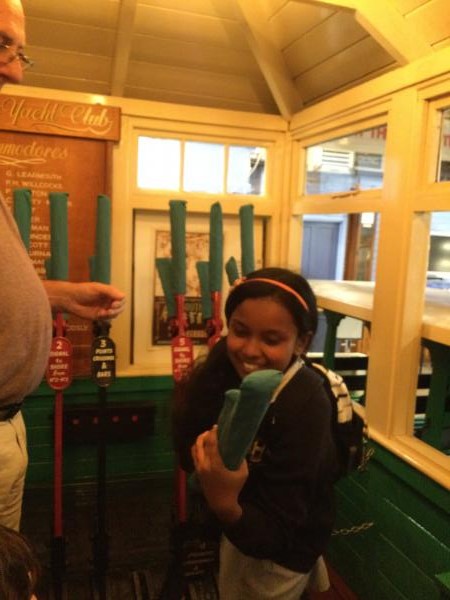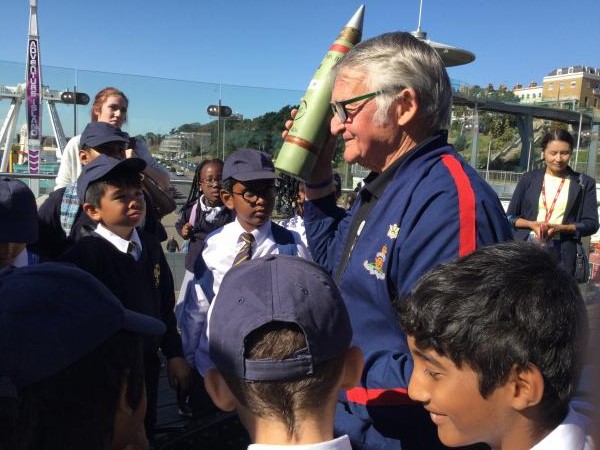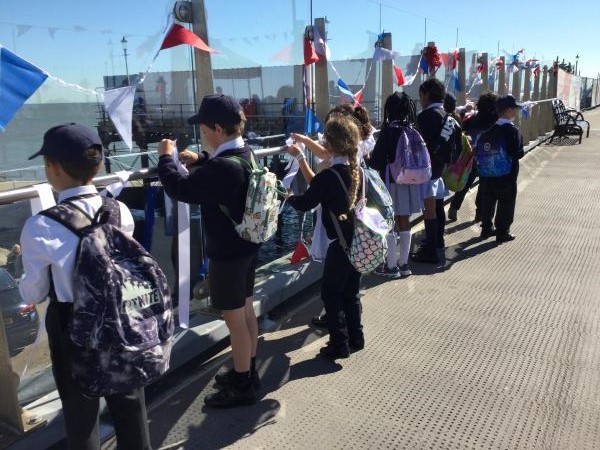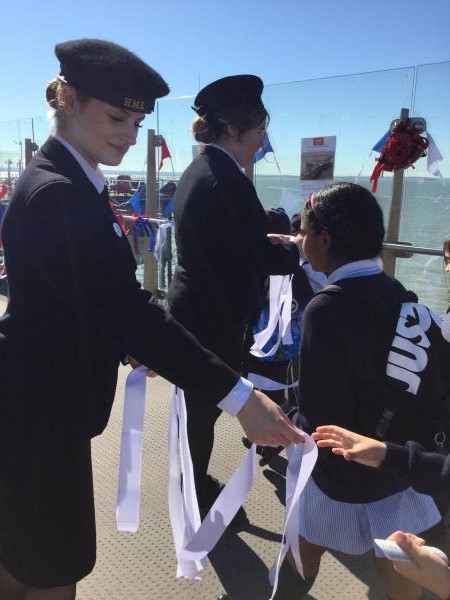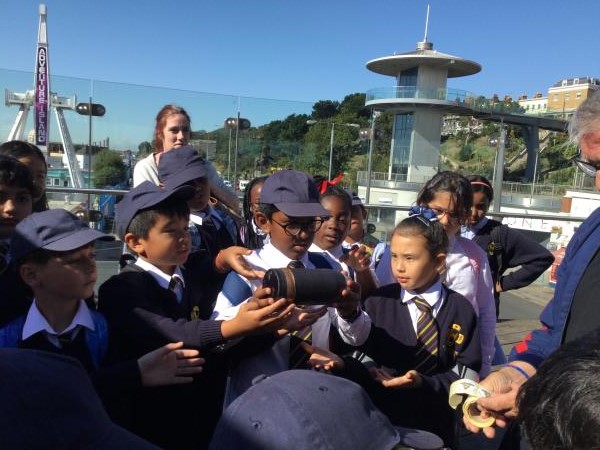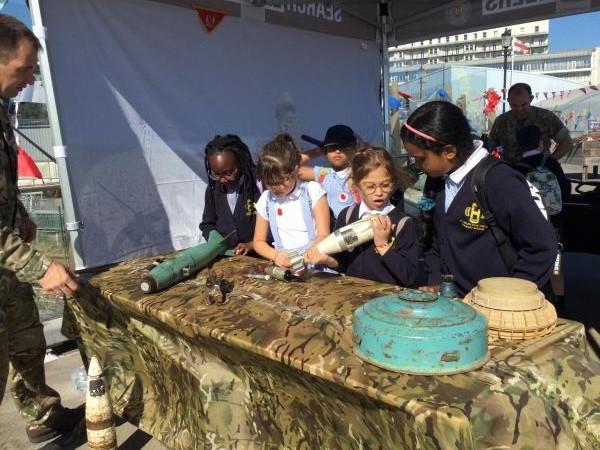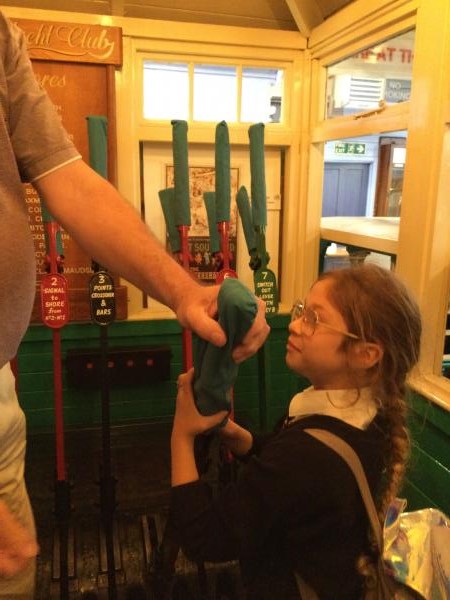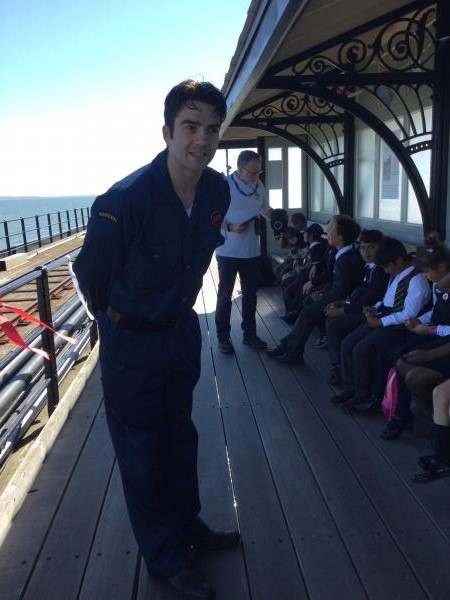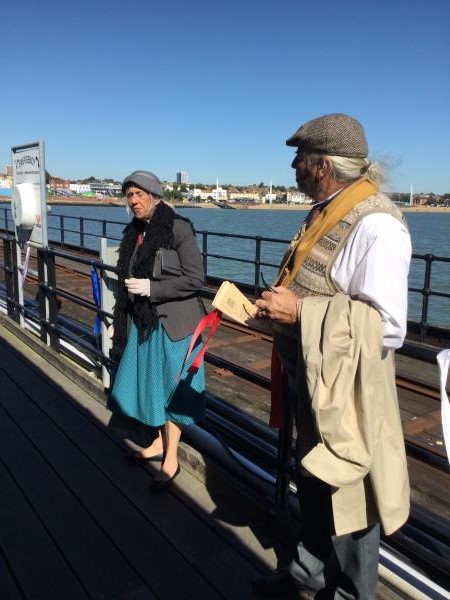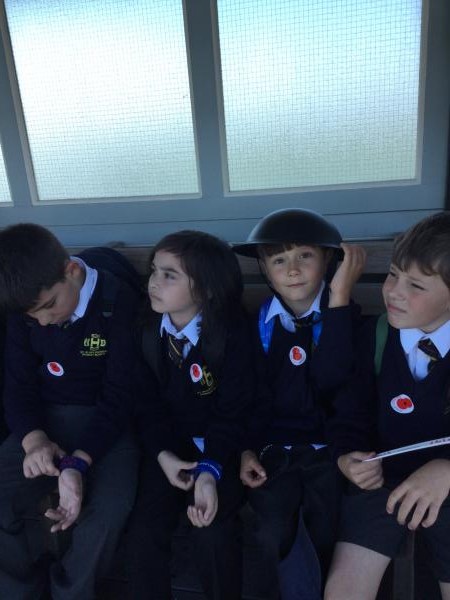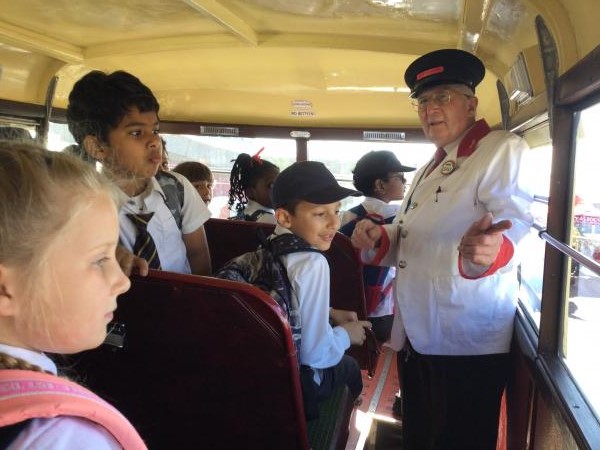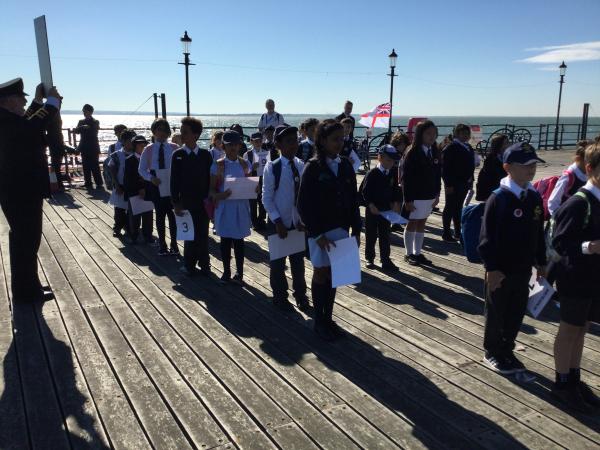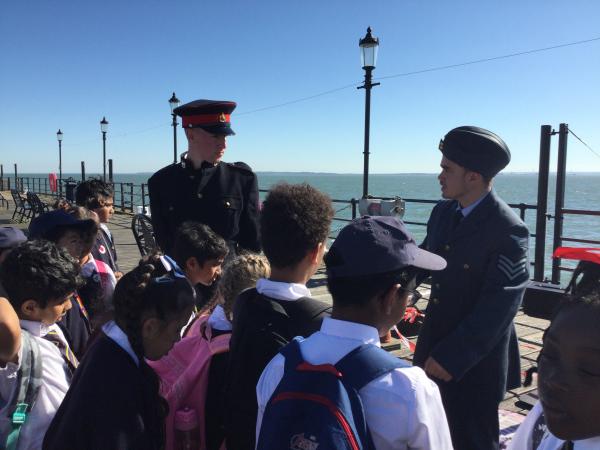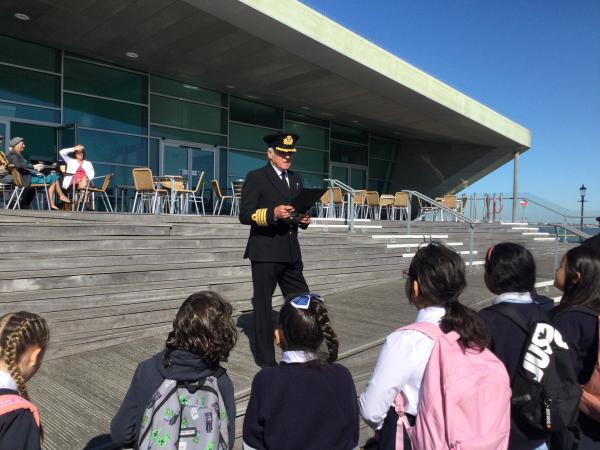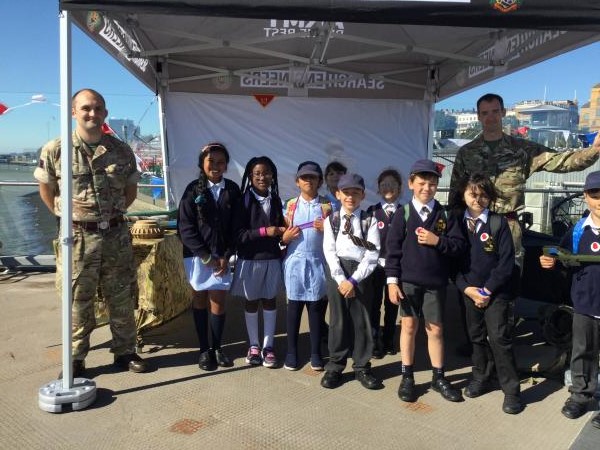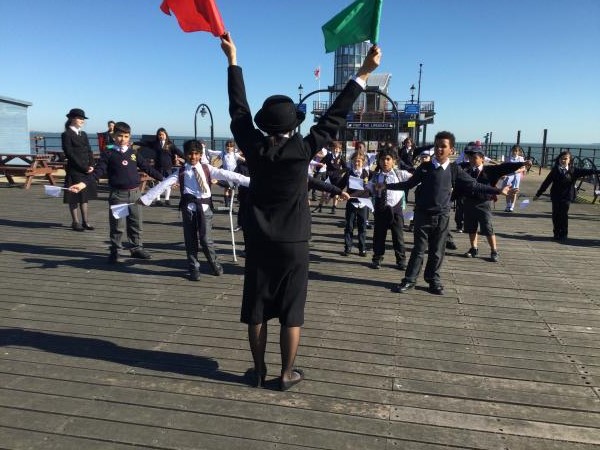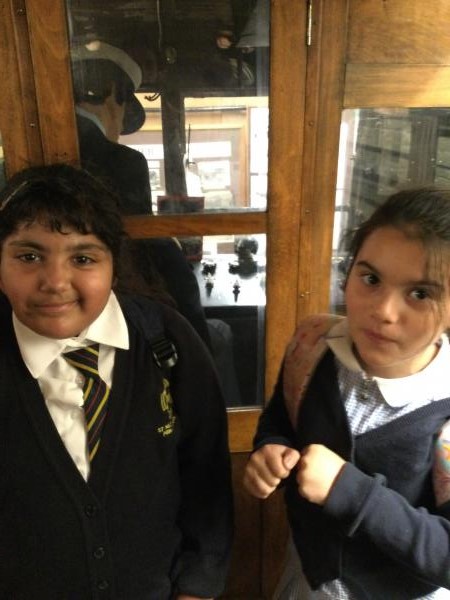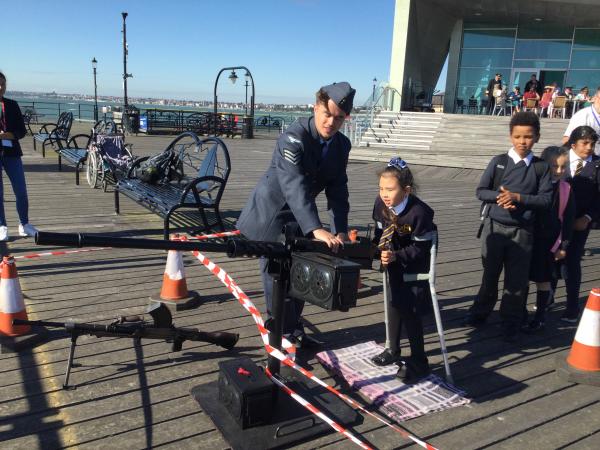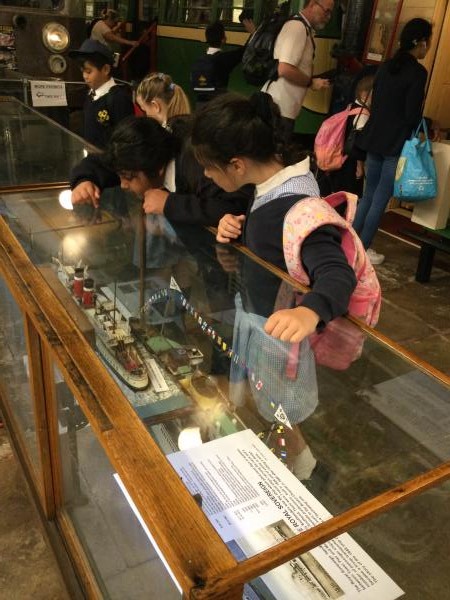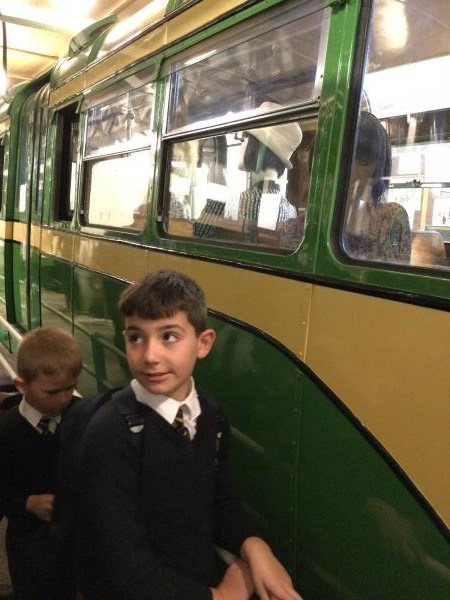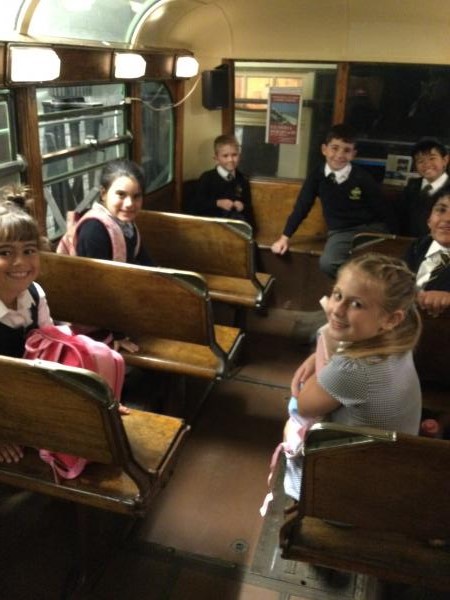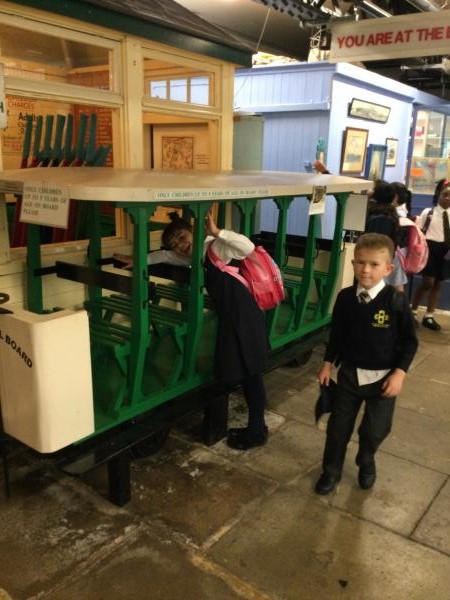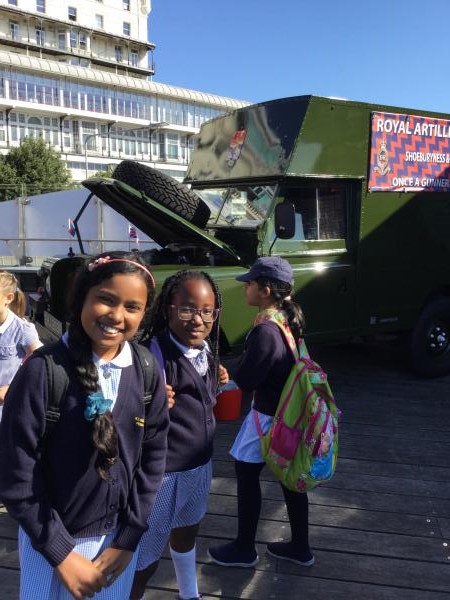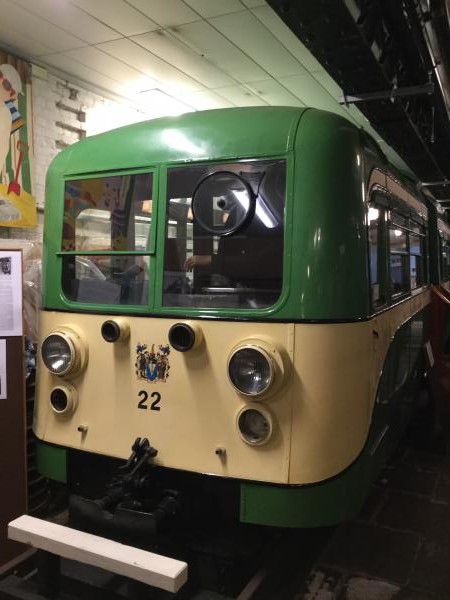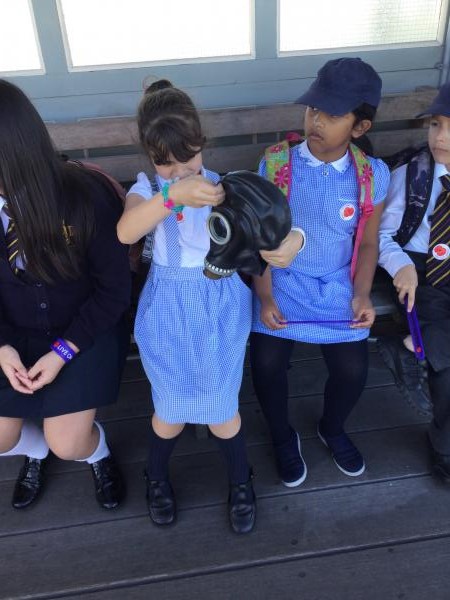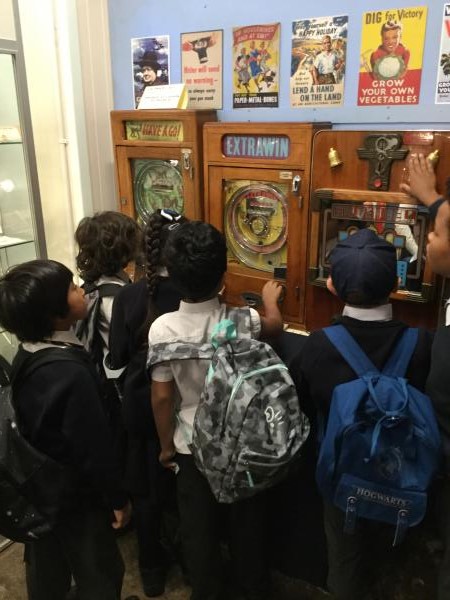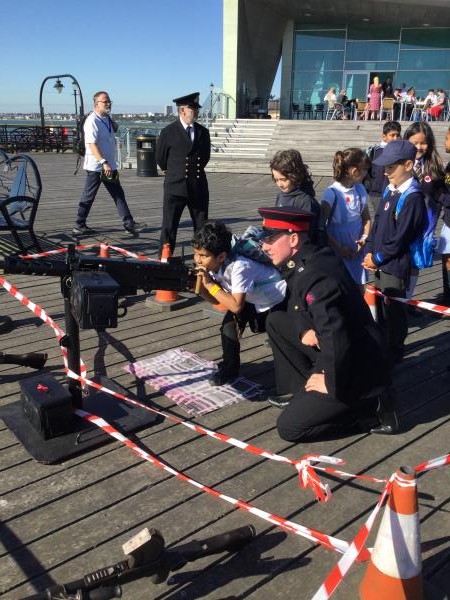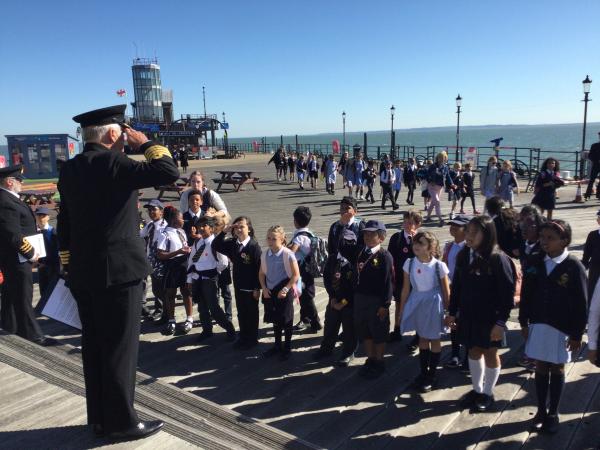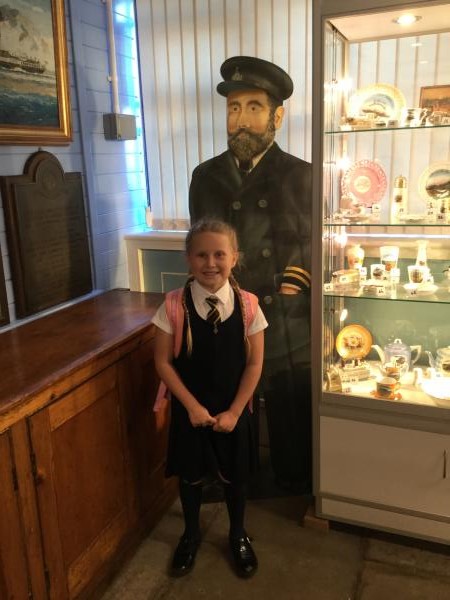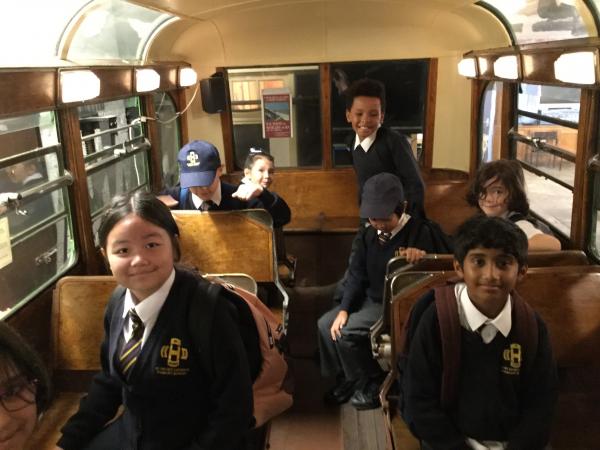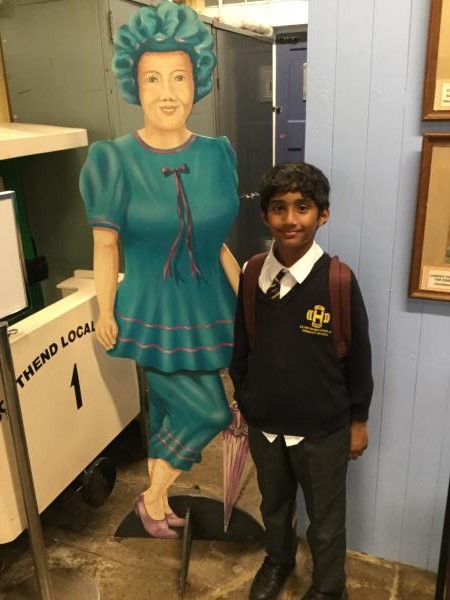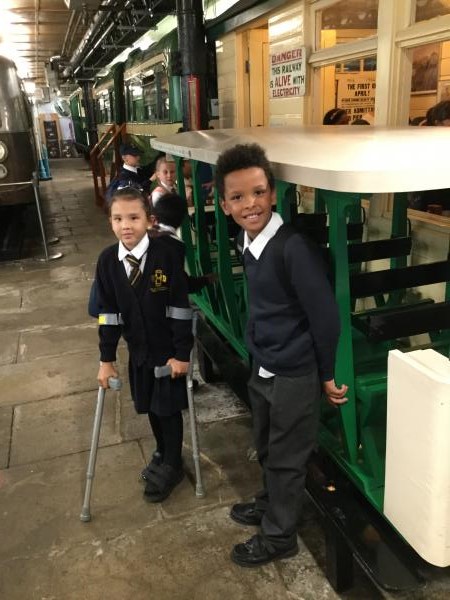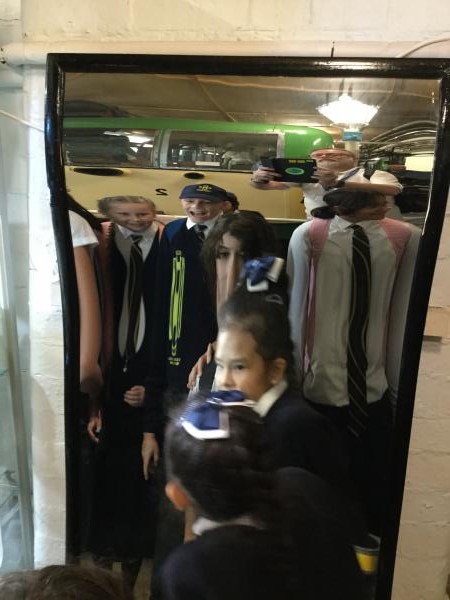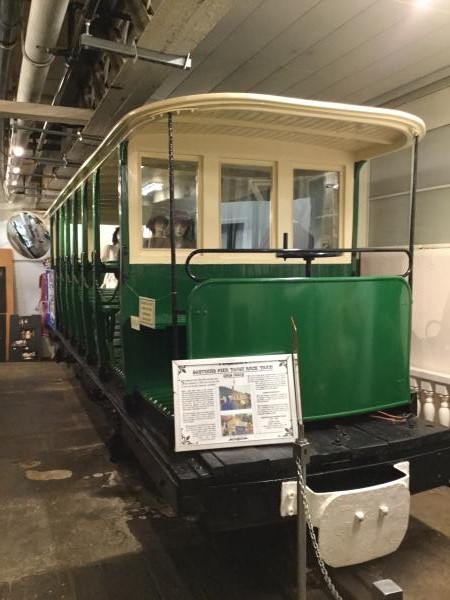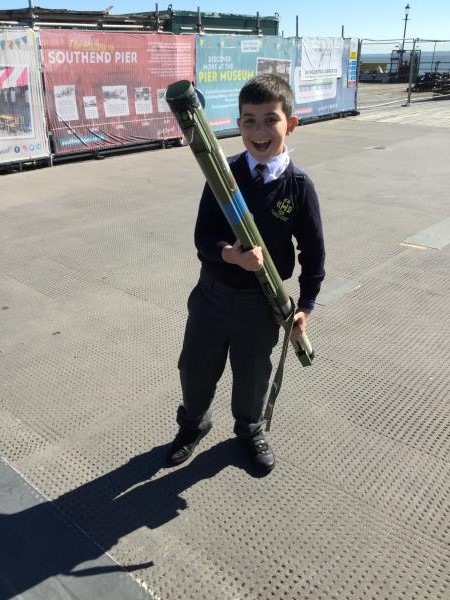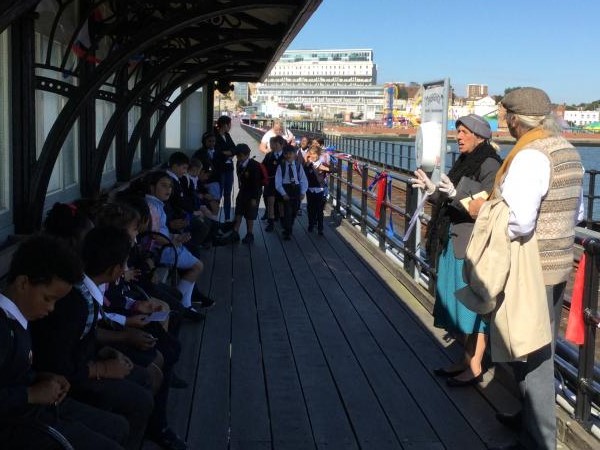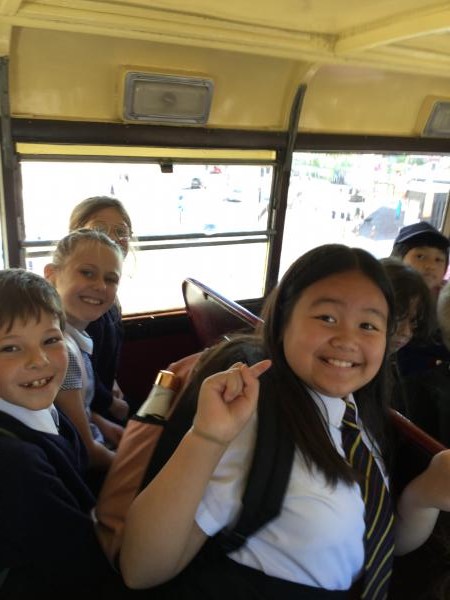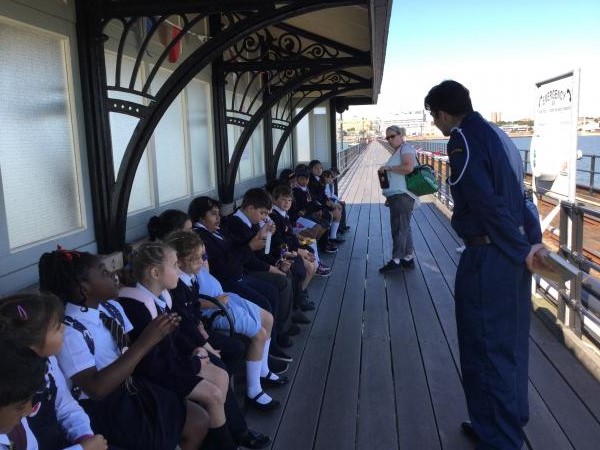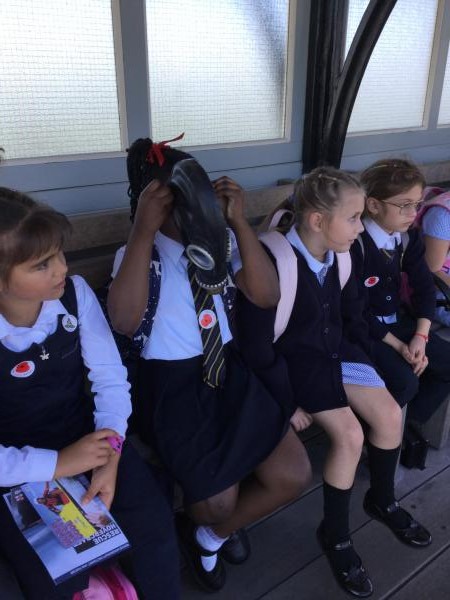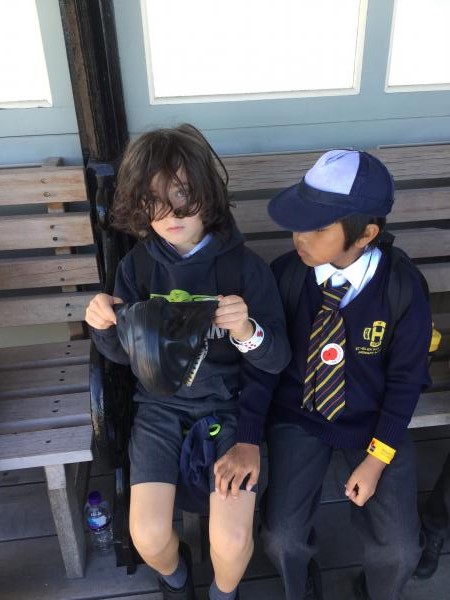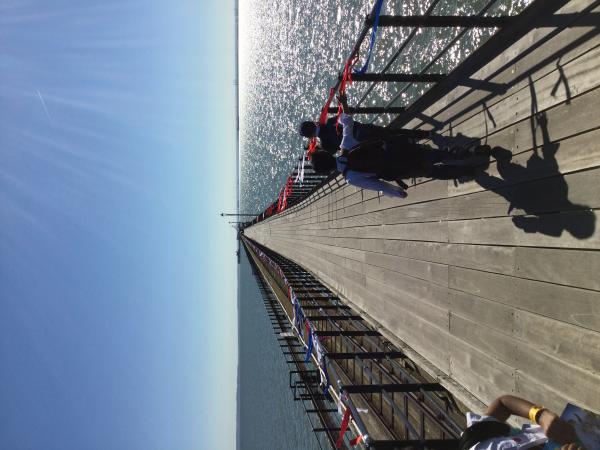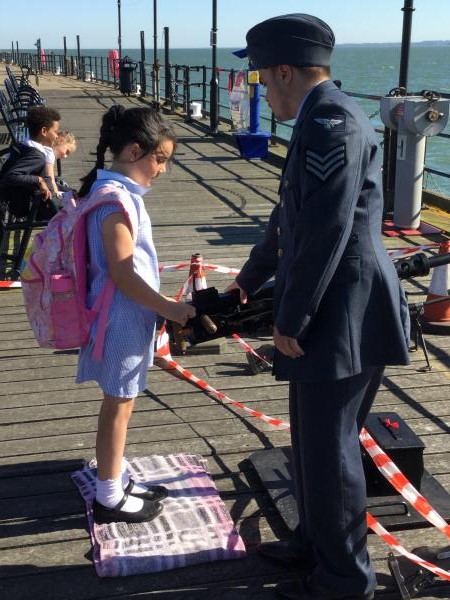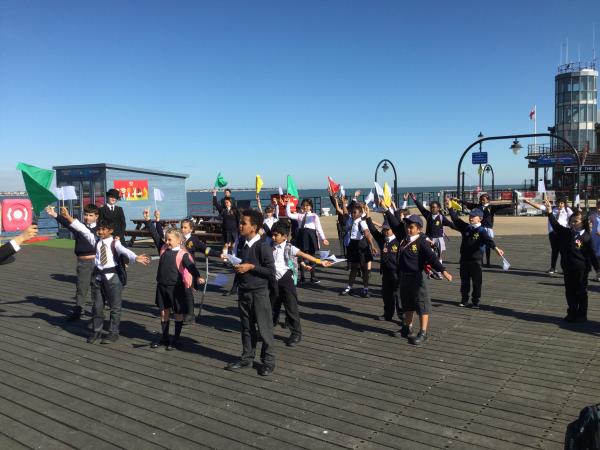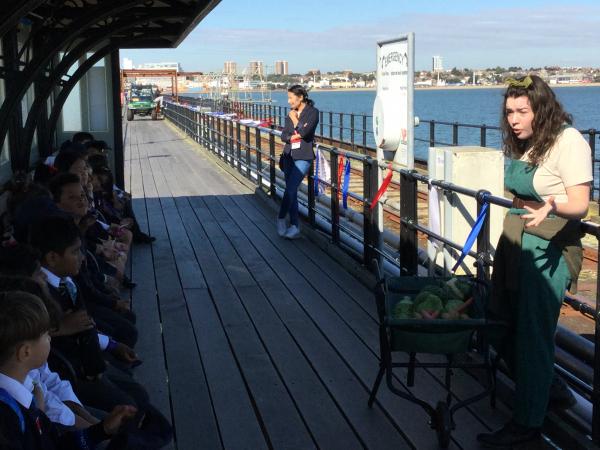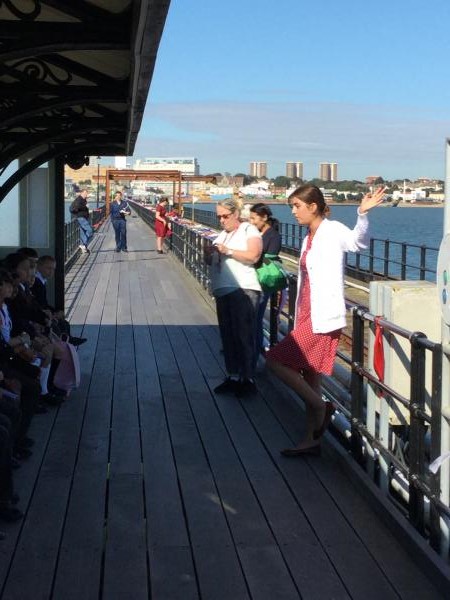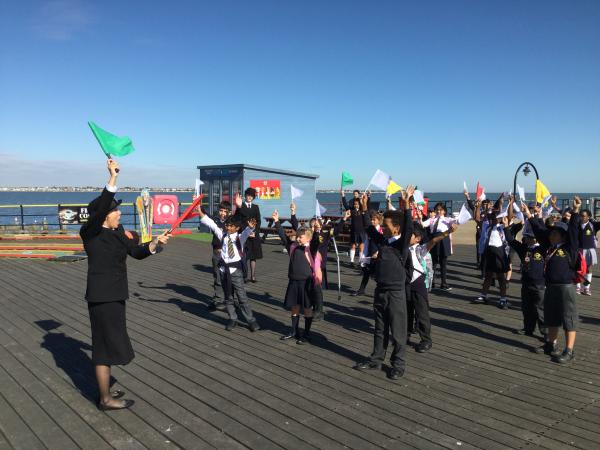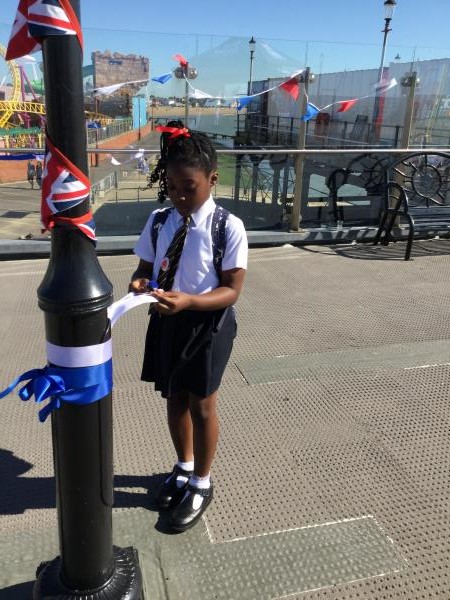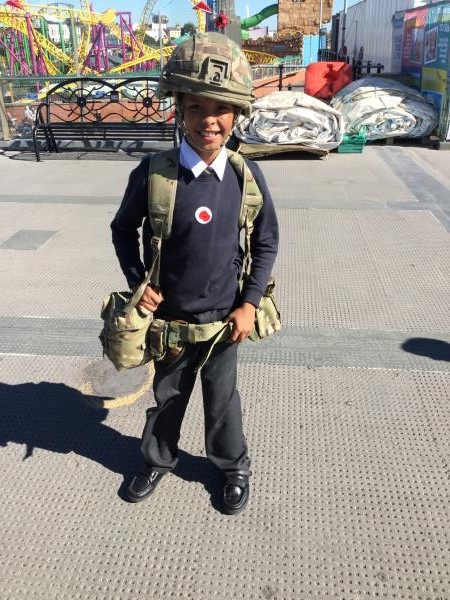 Iron Man Art Work
We are reading the Iron Man in class and decided to try out our art techniques to produce some amazing silhouette art work and some really original split pin Iron Man puppets!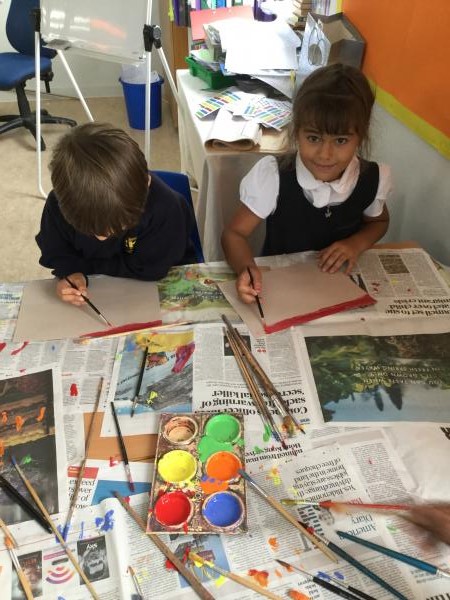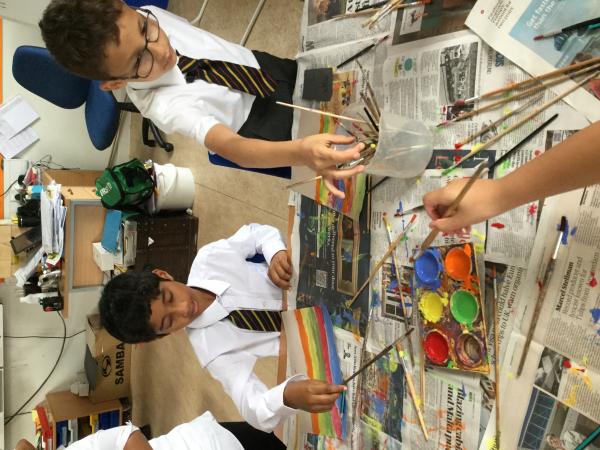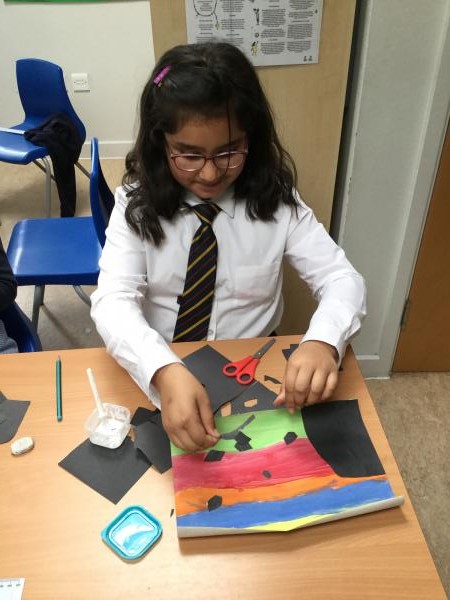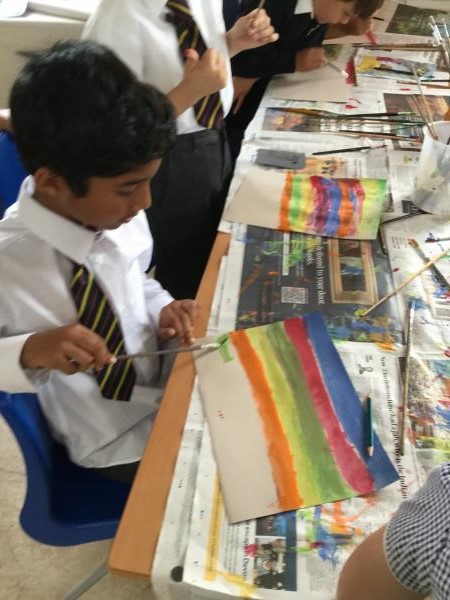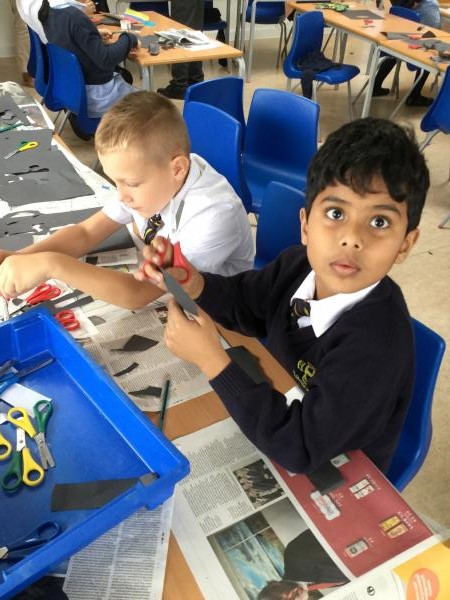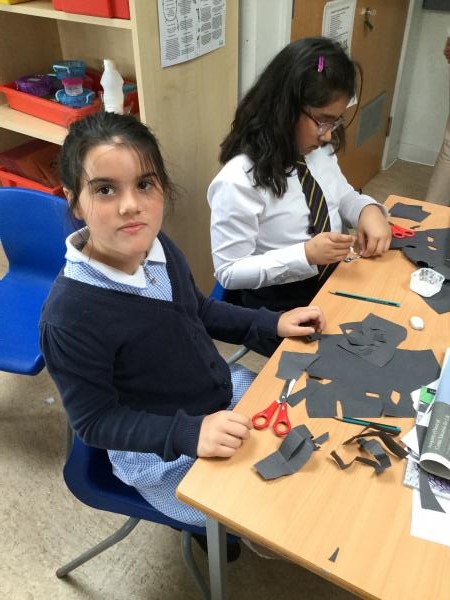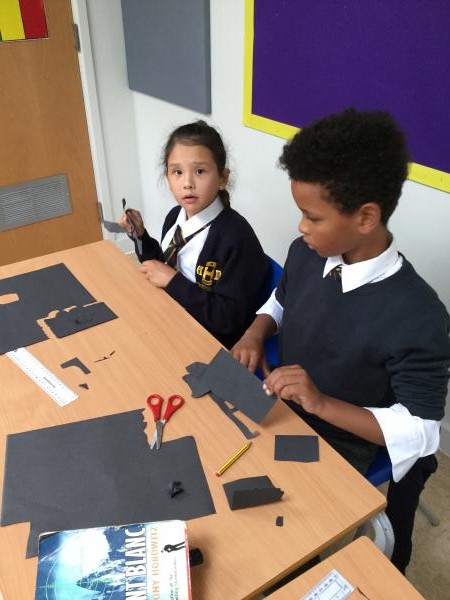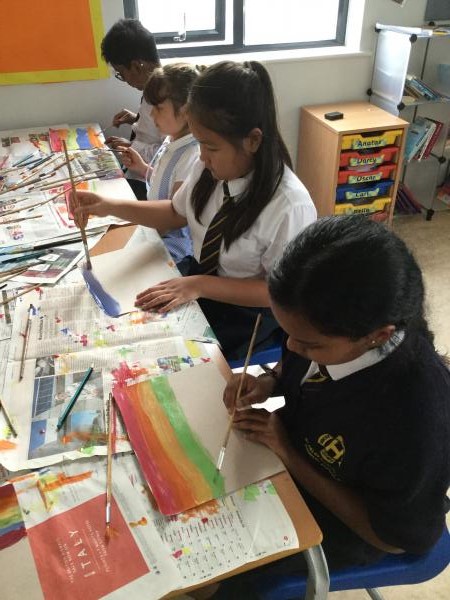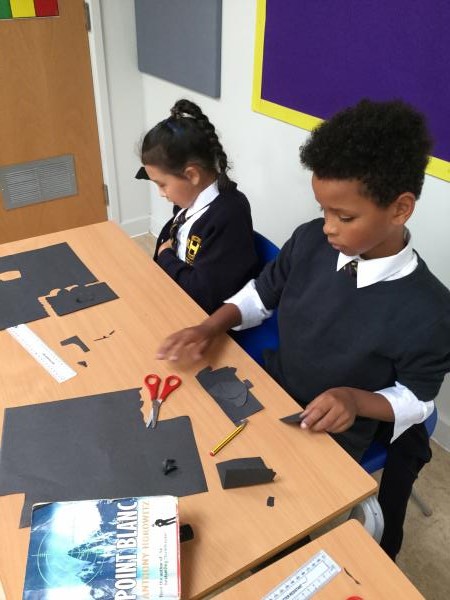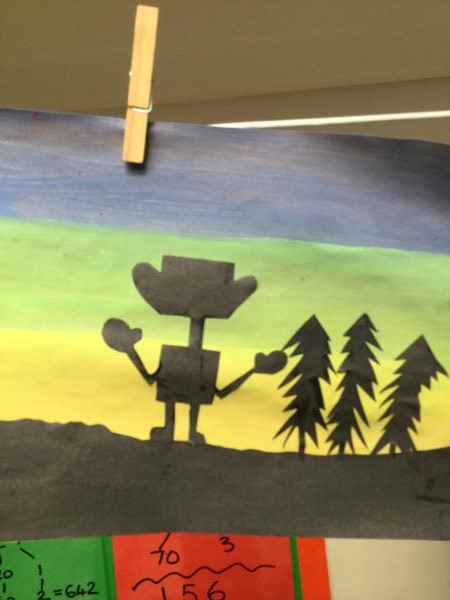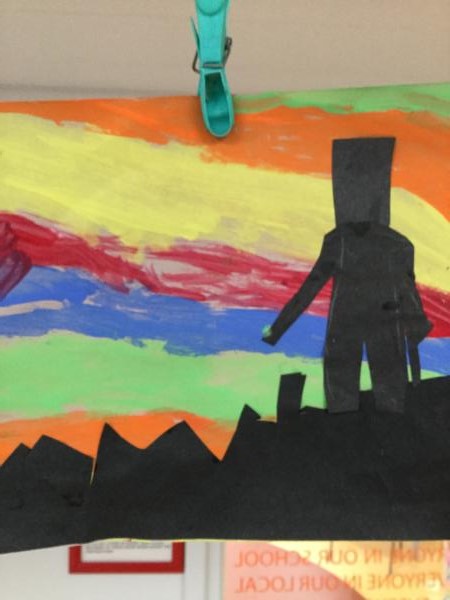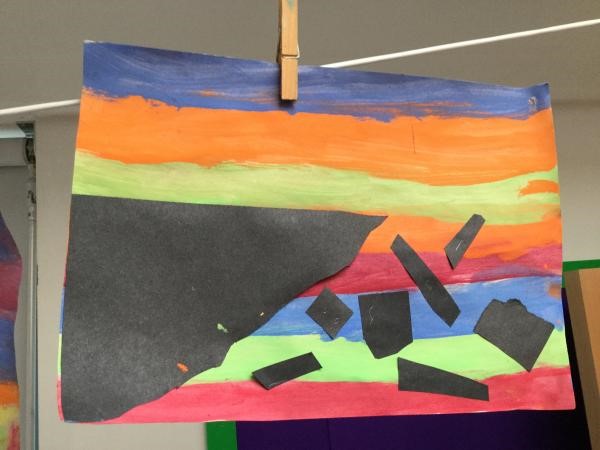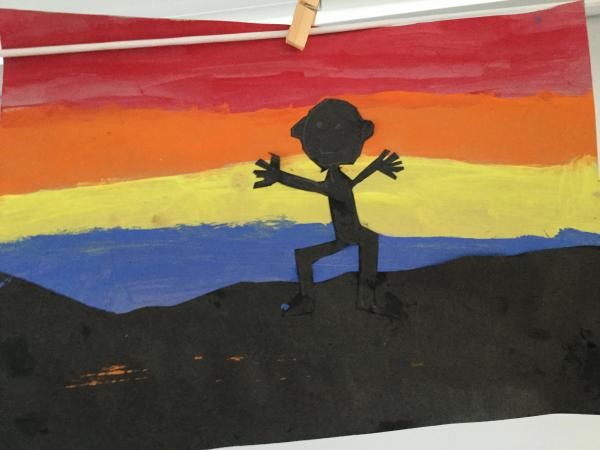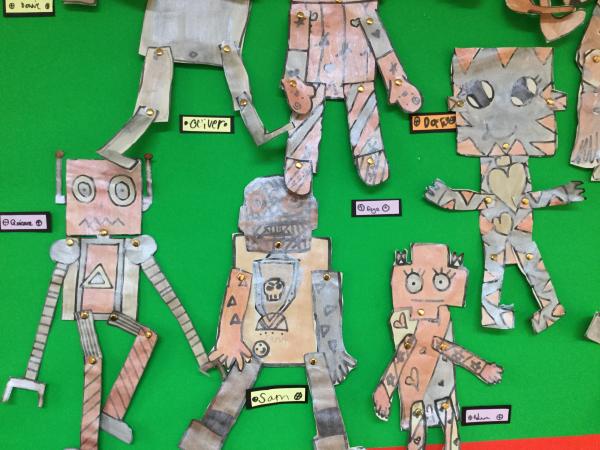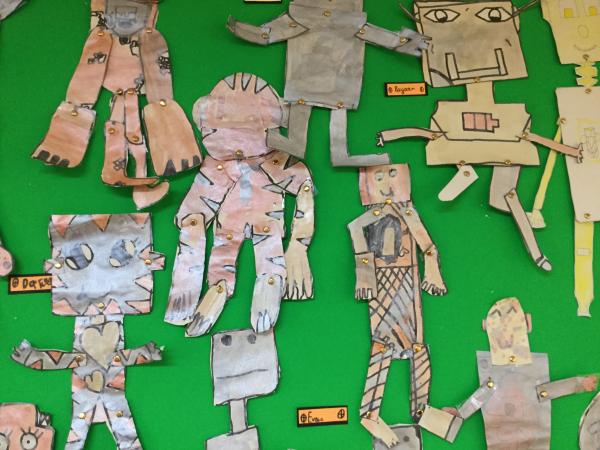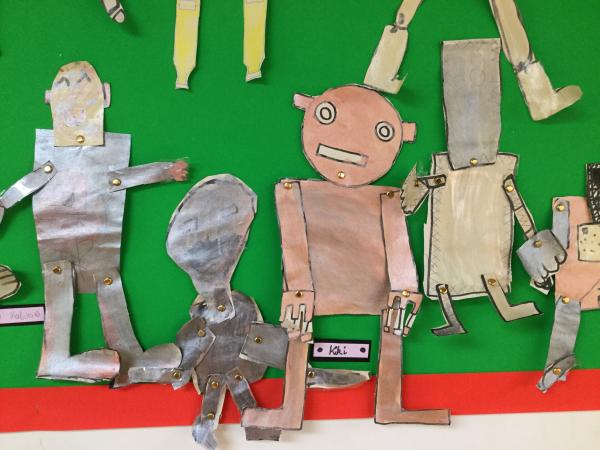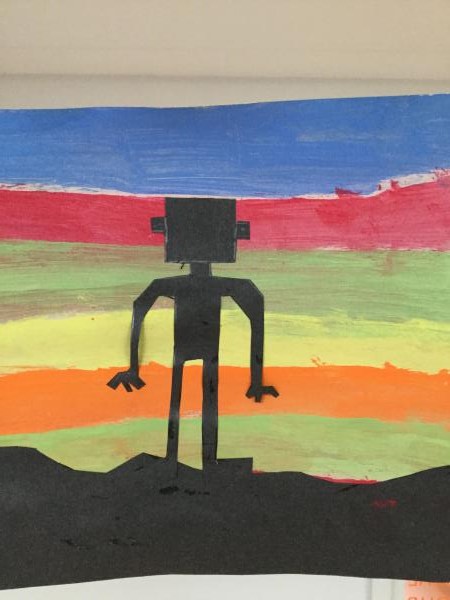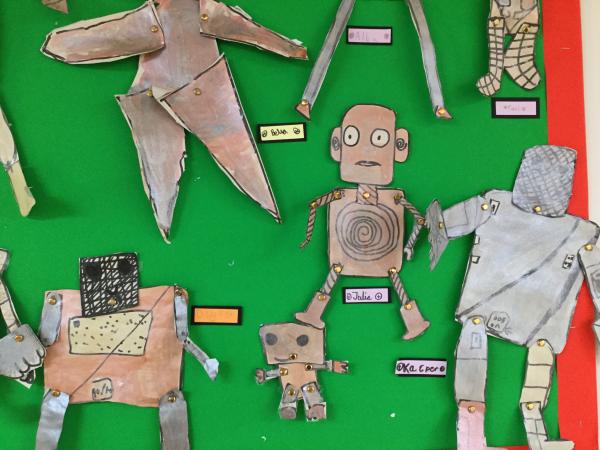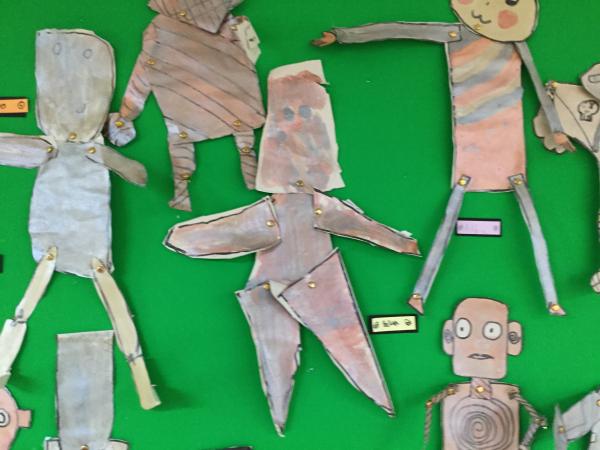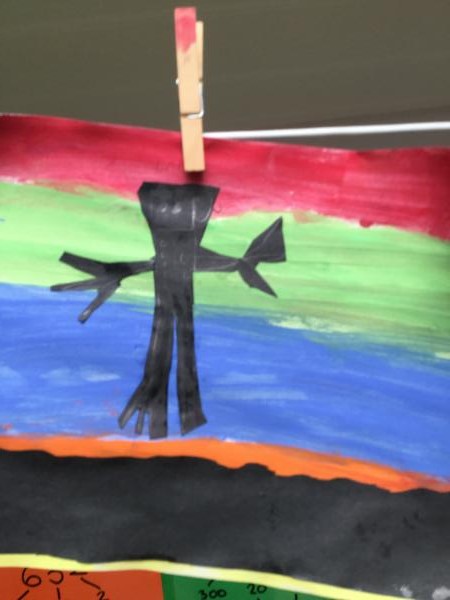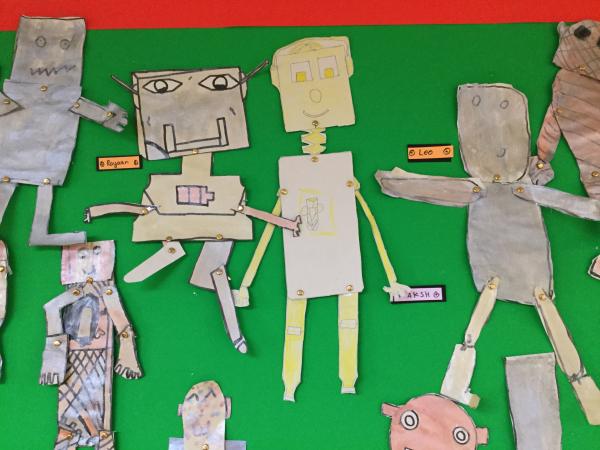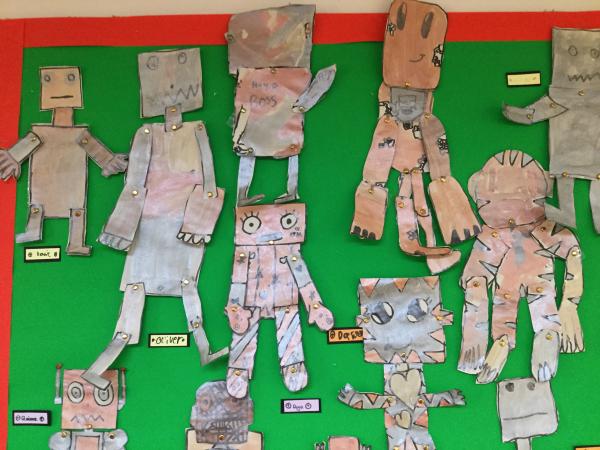 Making some flying 'O's
As part of our activities day on our first day back at school we tried to make some unconventional flying 'O's - they really worked too!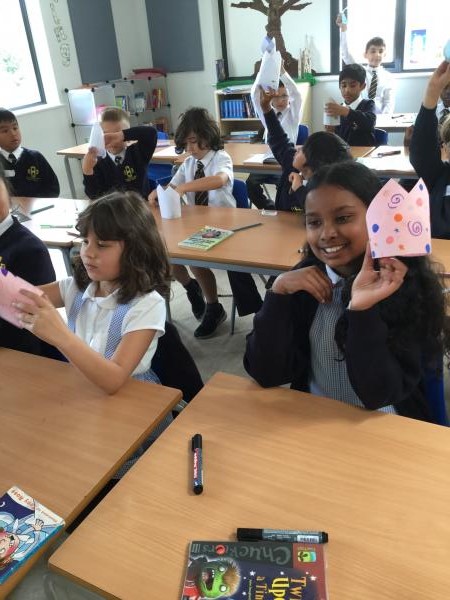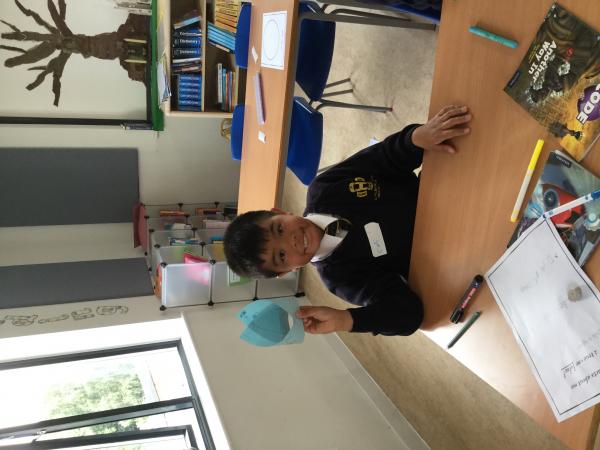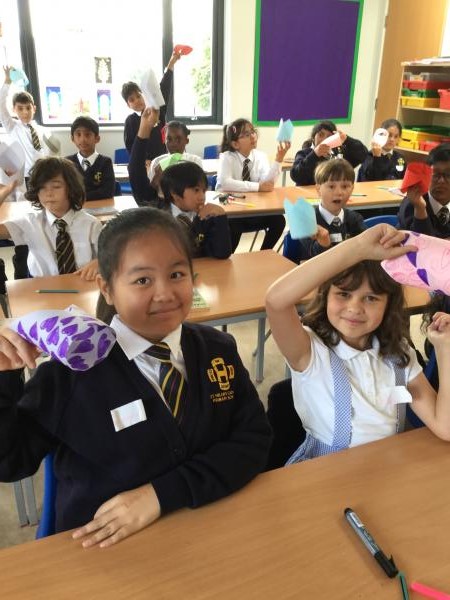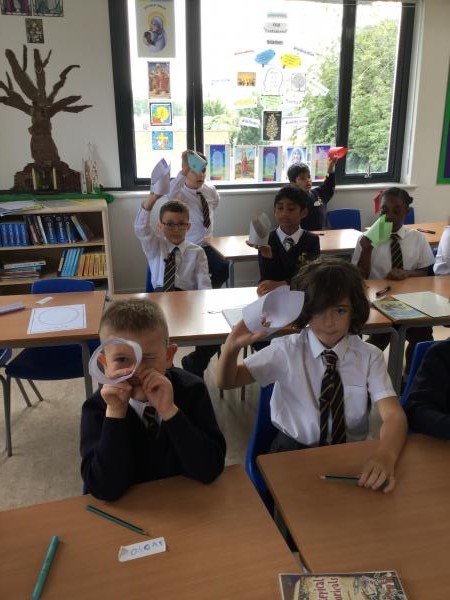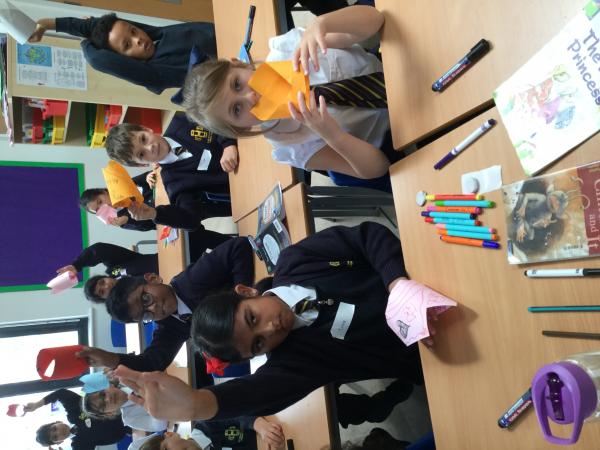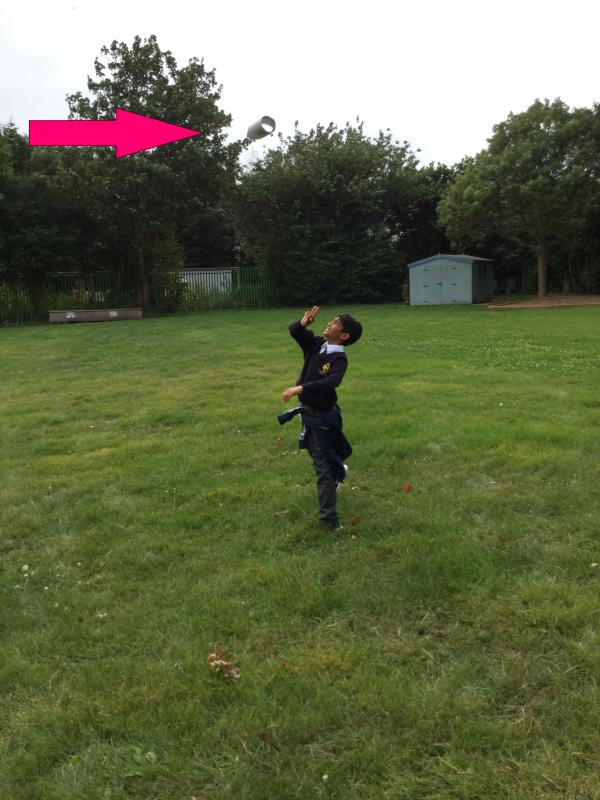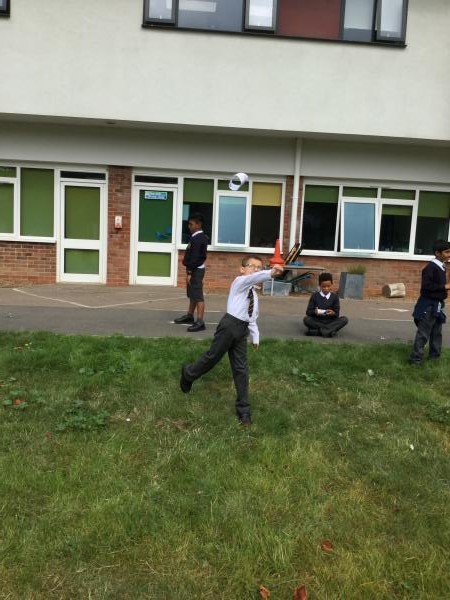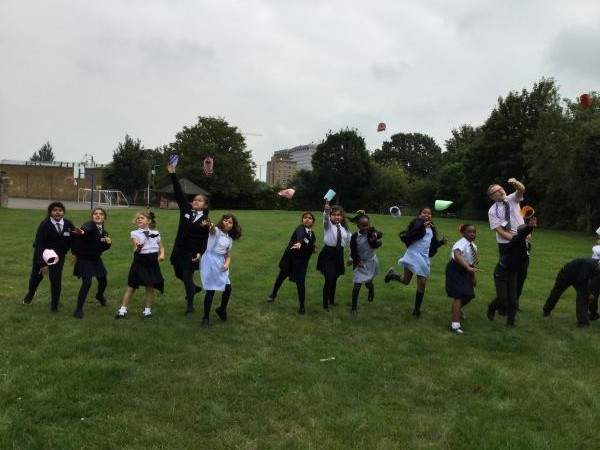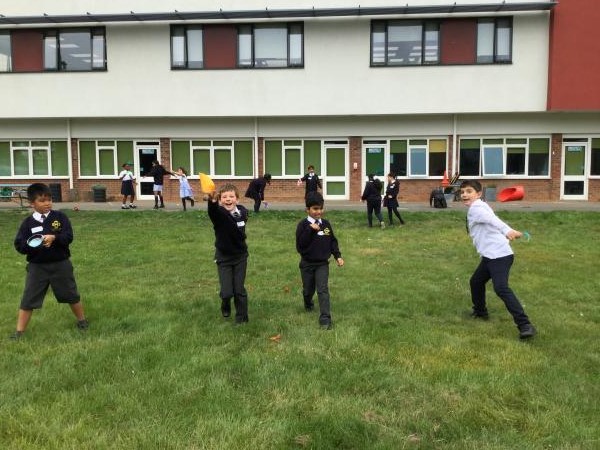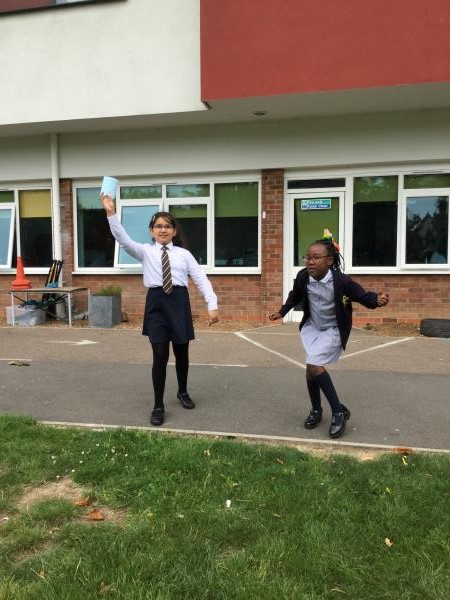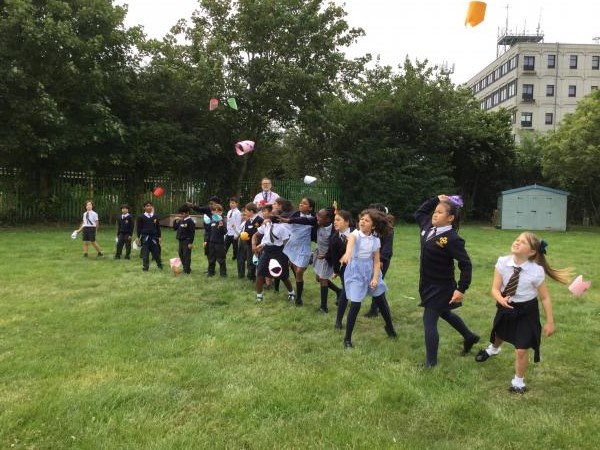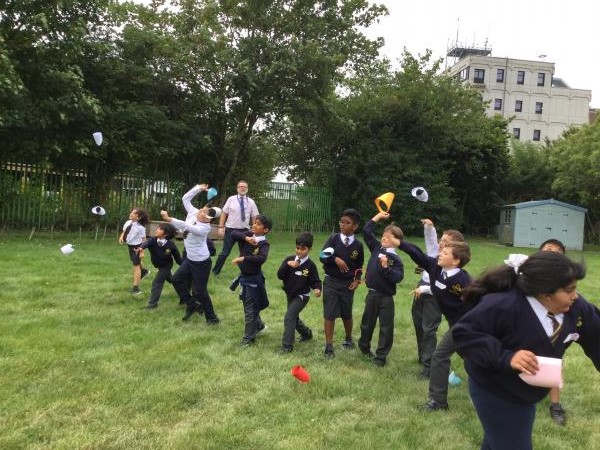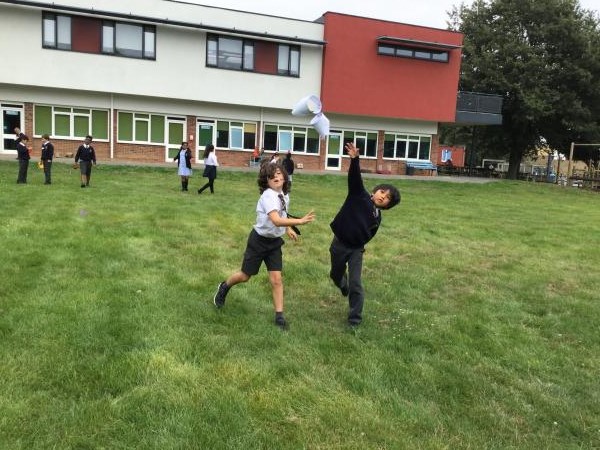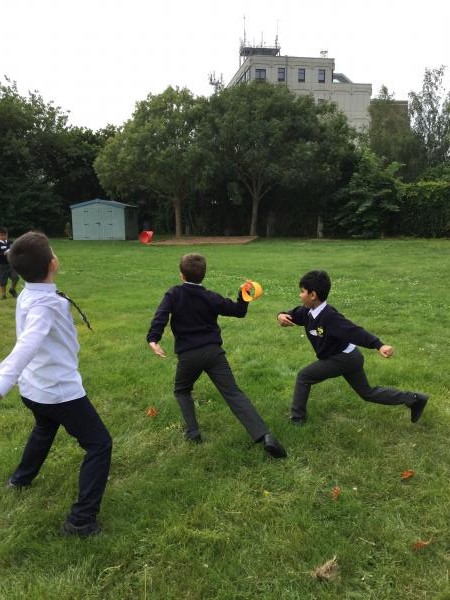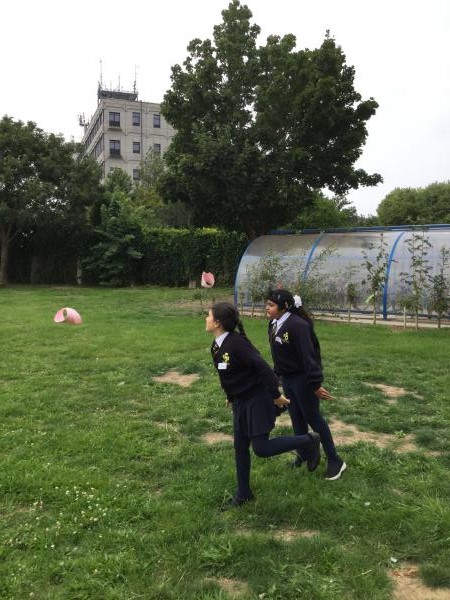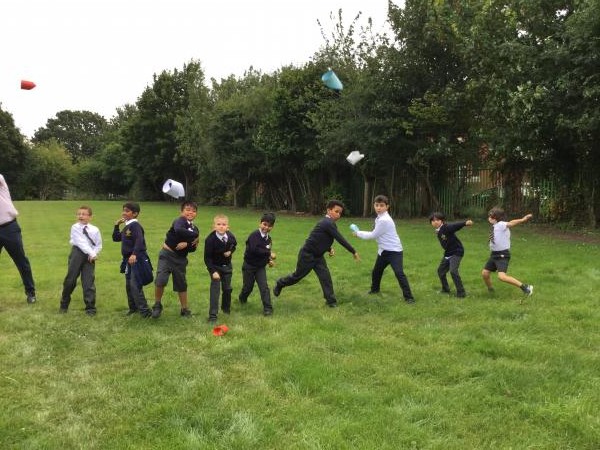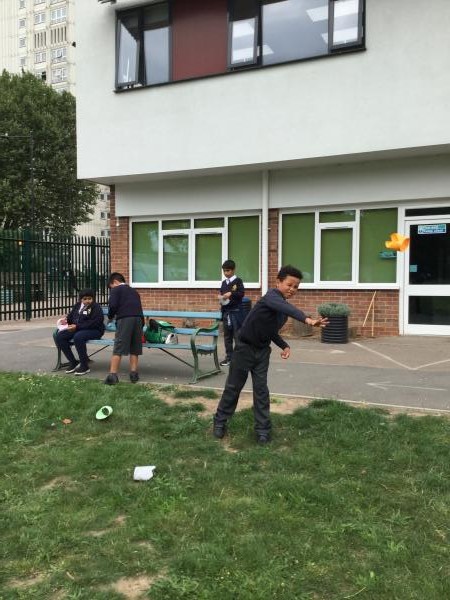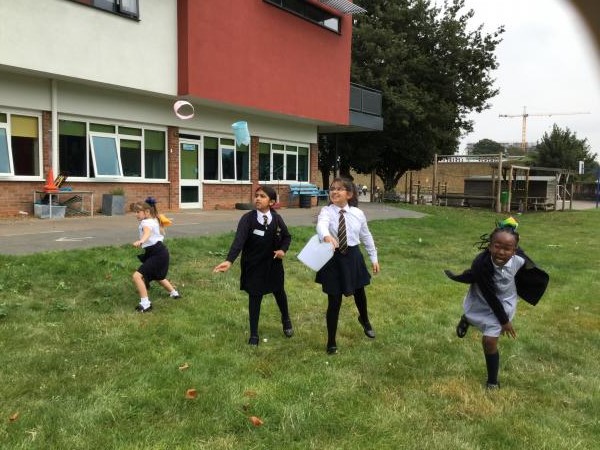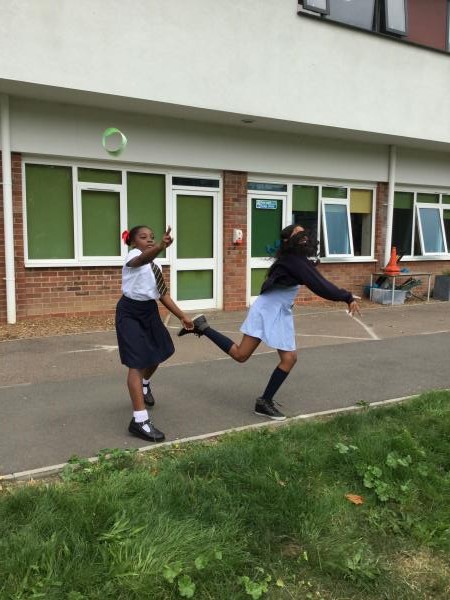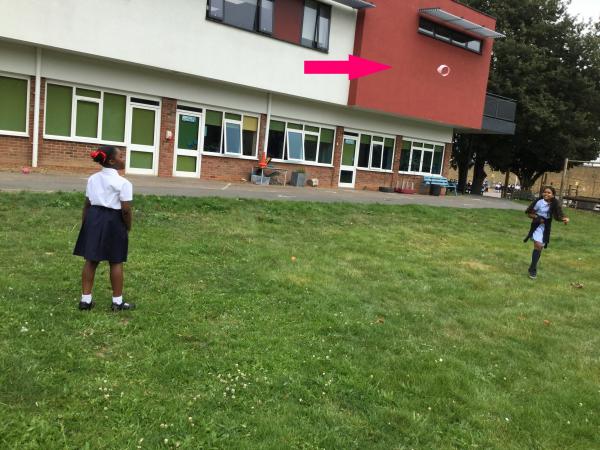 Finding the Iron Man
Class 4 Gideon had a fantastic time in the Nature Area trying to track down the parts of the broken Iron Man who had been seen in the area of the school and had apparently , blown up! We collected all the parts we could find and tried to rebuild him, just as he had done in the book, but alas we could not revive him. We had fun trying though.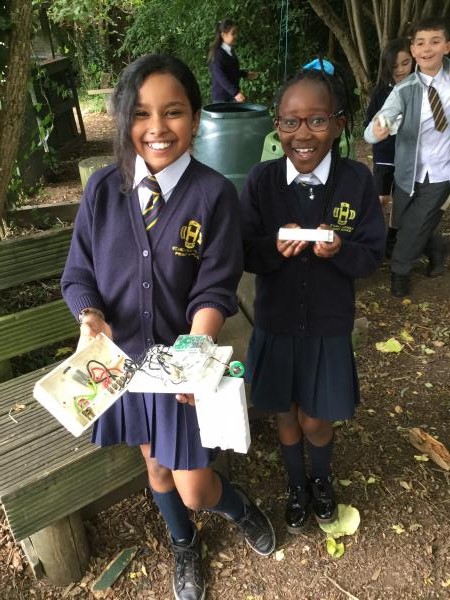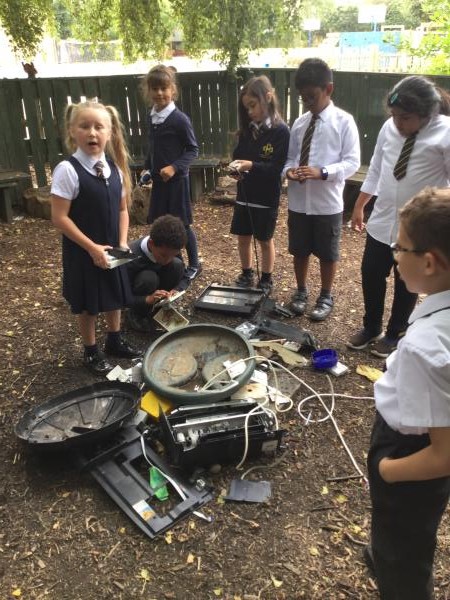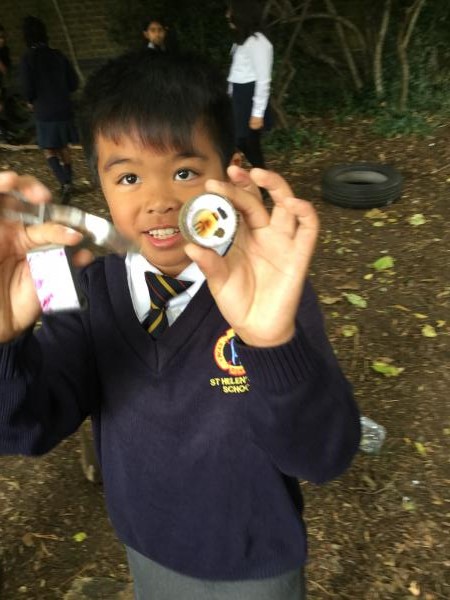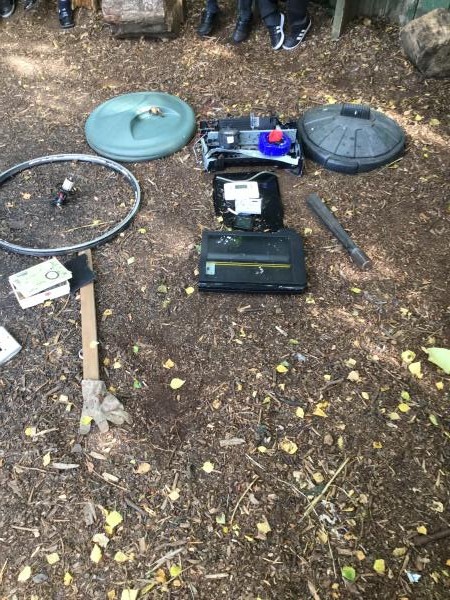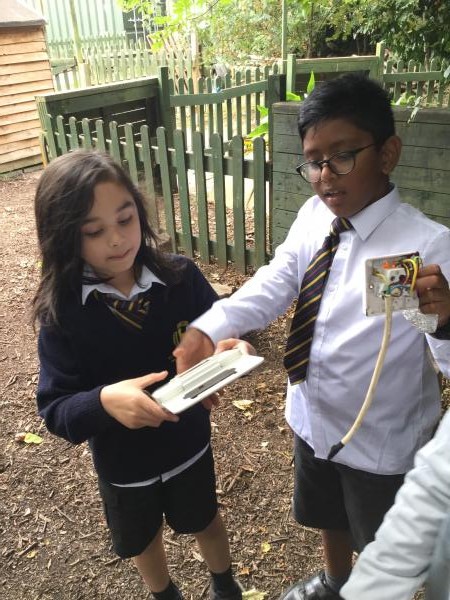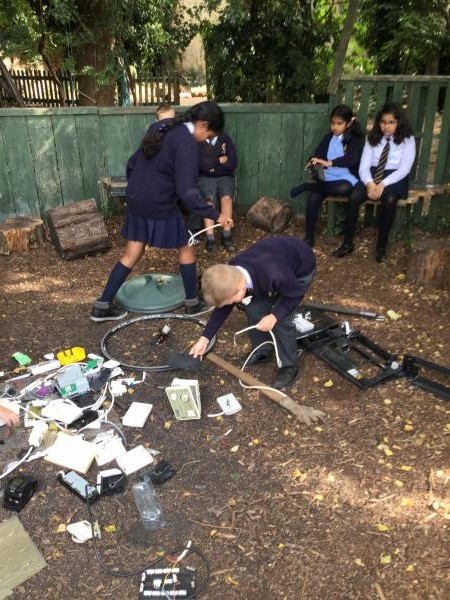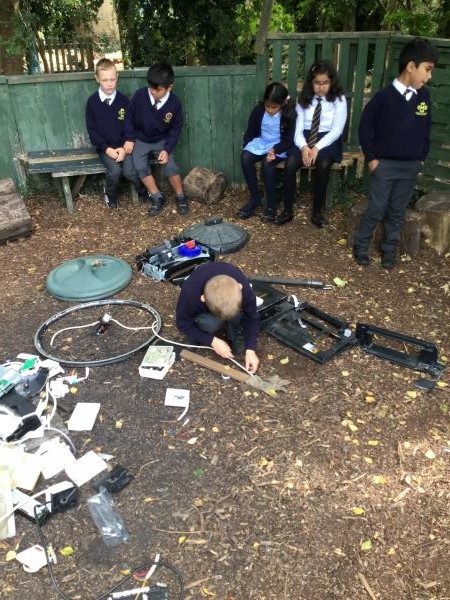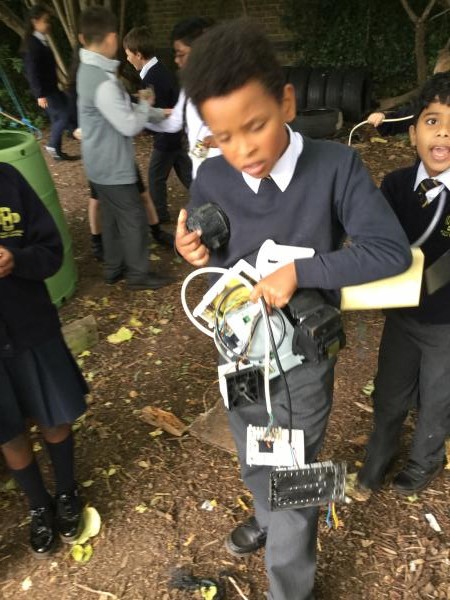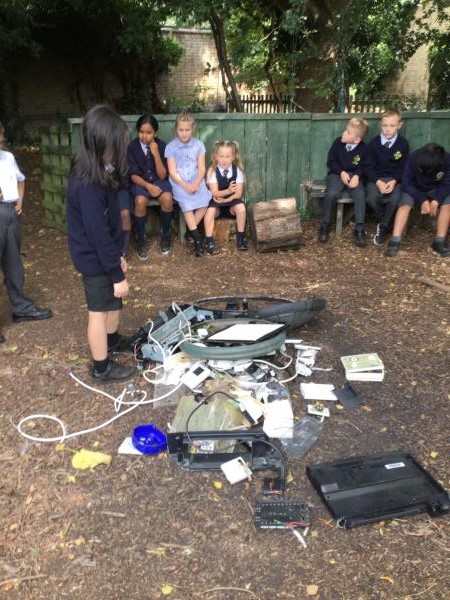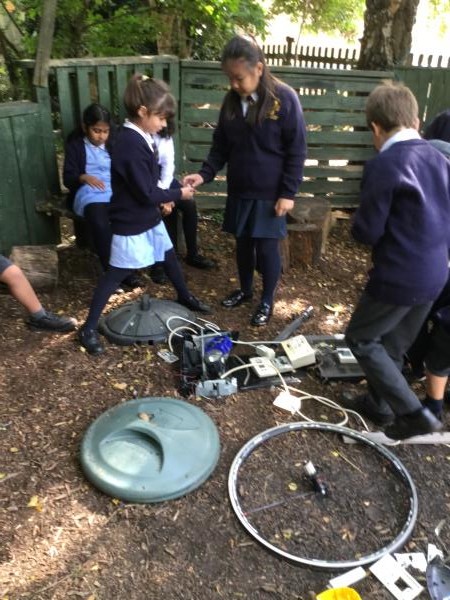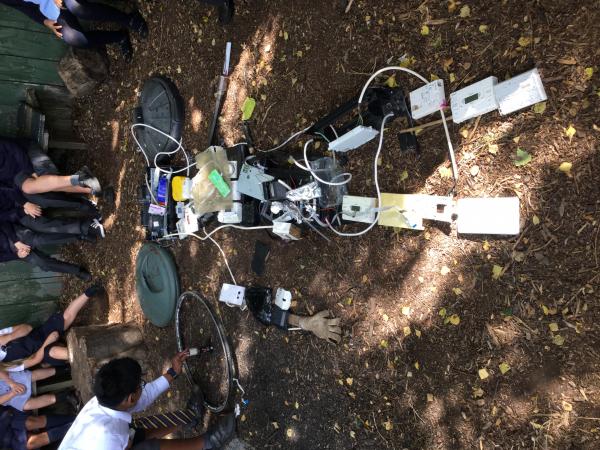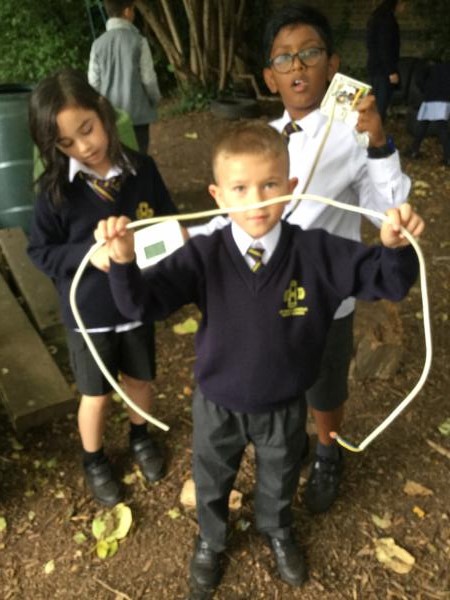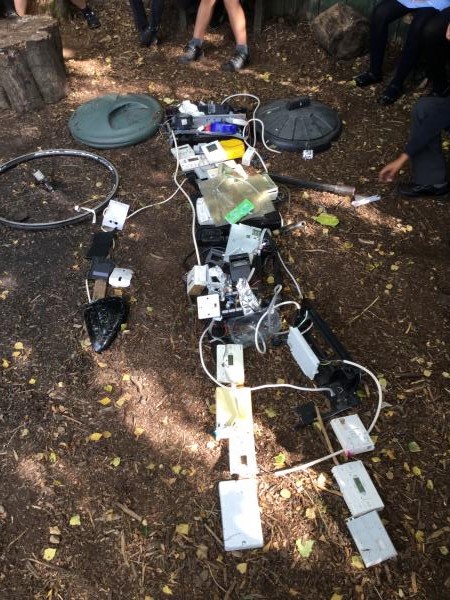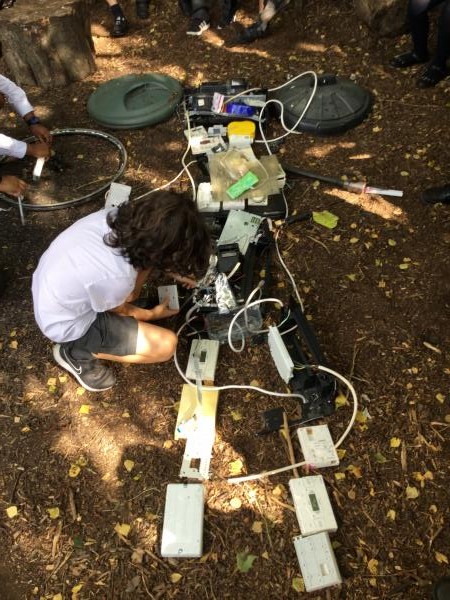 Snakes Alive Visit
What an amazing morning for 4G & 4F coming face to face with snakes, lizards Tarantula's and other reptilian creatures. Great to see the children enjoying themselves and finding out lots of new facts for our topic.