Please share our anti-bullying prayers and poems
Dec 1, 2022, 10:43 AM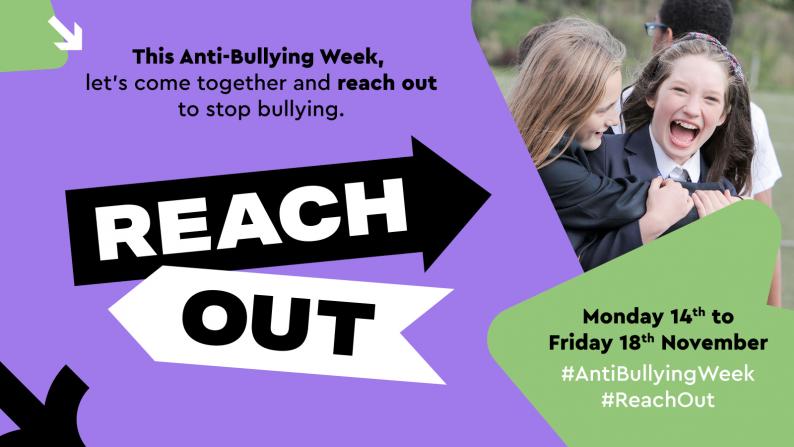 A SELECTION OF ANTI-BULLYING PRAYERS AND POEMS FROM OUR ANTI-BULLYING WEEK COMPETITION
THIS YEAR WE ARE REACHING OUT TO STOP BULLYING.
STOP
Stop bullying – it's unnecessary and mean.
To the bullies – your actions are mean and nasty for no reason – if you need help, tell someone.
Officially, you should be told off but if you tell a friend, they can help by giving you some advice.
PUT A STOP TO BULLYING!
By Aarian (6ST.R)
A PRAYER
Dear God,
Help us to stop bullying -
People doing mean and horrible things.
Help us to be a good friend to everyone.
Amen
By Tabby, Emma Matthew, Eliana and Annabelle (3S)
REACHOUT
Reach out to help someone who is getting bullied.
Even help other people – if you're not getting bullied.
Always be on the lookout for bullies.
Can you stop the bullying in your school?
Help the people that are getting bullied.
Other people might be sad if you bully them.
Unfriendly behaviour is inappropriate.
Tell an adult if someone is bullying you or someone else.
By Maya (4G)
A PRAYER
Dear Lord,
Please help us not to be bullies and help us to avoid our sins.
We will try not to hurt others, nor their feelings.
We also will be kind.
We will think about our actions….if it is kind or not.
If we have done something wrong,
we shall apologise to who we have hurt.
Amen.
By Anson (4G)
A POEM – REACH OUT
Respect people
Everyone should be treated with kindness
Always help out others
Care for people who are emotionally hurt
Help everyone.
Our school shouldn't have people who bully.
Unfriendly people should be helped
To not be a bully – don't be unkind.
By Anna (4G)
A POEM – STOP BULLYING
Stop bullying people
Because they're kind, they're lovely and smart.
But when you bully you make them cry.
So stop bullying because this is not kind –
Then all the world will be happy again.
By Marta (4G)
A POEM – STOP BULLYING
Stop bullying other people.
Talk about it if someone is being mean to you.
Other people might be feeling as sad as you are feeling.
Please be nice to others
Bullying is mean
Unite against bullying
Let other people help you
Let other people know that you are feeling sad
You should always be against bullying
I will never be a bully.
Never be a bully.
Get someone to help you if you are.
By Ishana 4G
My Prayer
Dear God,
Please help us to stop bullying.
It's wrong and it hurts people's feelings.
I know if someone is bullying the other person –
Something might be going on in their life.
But it is wrong to pick on someone else.
Thank you for everything you do.
Amen
By Evie (6St.R)
A POEM AND PRAYER THAT WERE SHARED IN ASSEMBLY
STOP
Stop,
Don't bully me,
It's not okay,
You're making me feel small,
I don't deserve this at all,
Please just stop.
Whispering in my head
O God,
Close my ears to the whispering and the
sniggering and the name-calling of those
who want to torment me.
I hear them in the playground, I hear
them in the corridor, I hear them on the
way home.
Worst of all, I hear them in my head when
I am alone in my room and when I am
awake in the night.
O God,
Close my ears to ignore them, and open my
mouth to tell on them, not because I am
mean, but because I am brave to stop their
nastiness spreading even further.
Amen