Welcome to Class 6
Class Teachers: Mrs Richards and Mrs Miller
Learning Support Assistant:
Mrs Green


---
---
The latest news from Class 6
Refraction
Year 6 found out about refraction - the bending of light. They investigated what happens when light passes through various liquids including water and oil.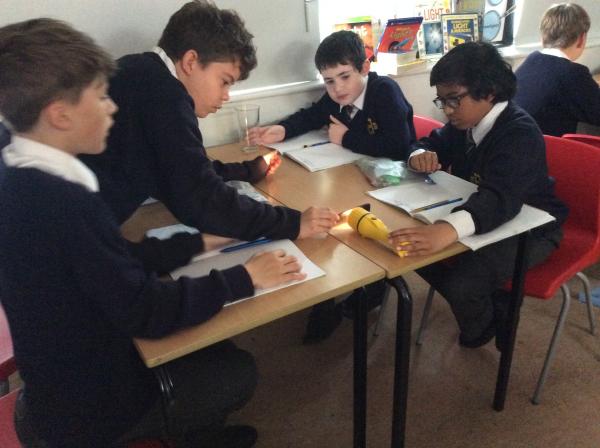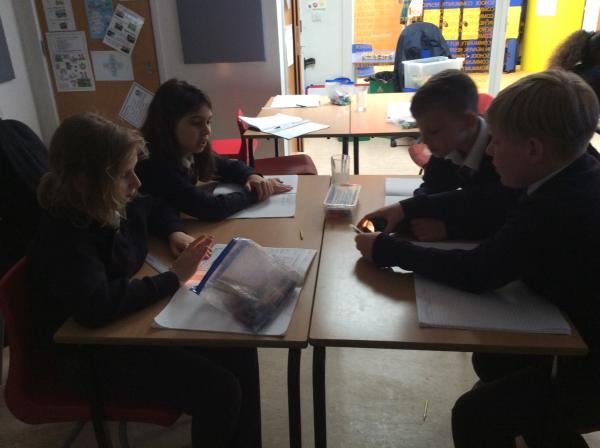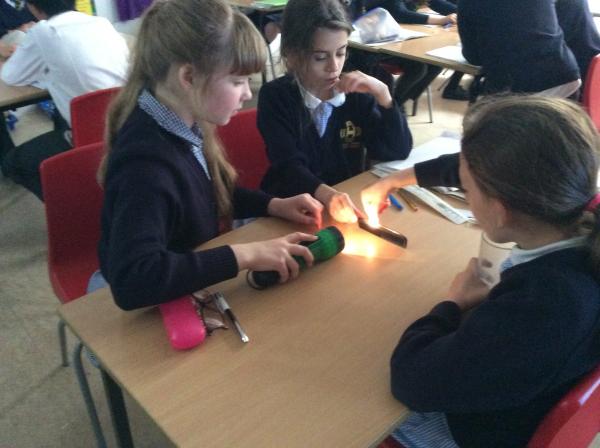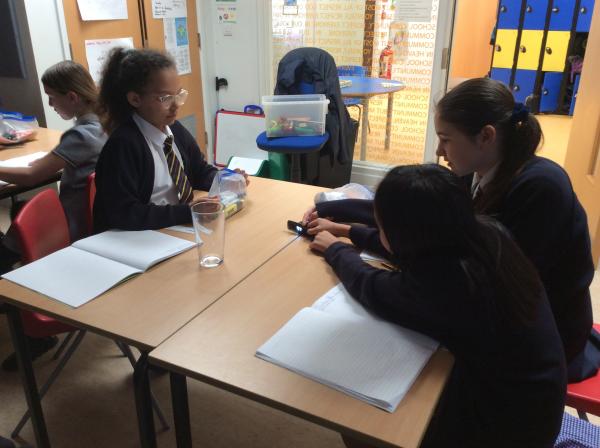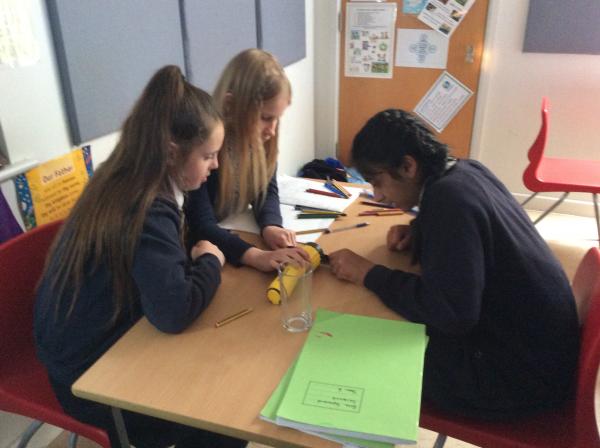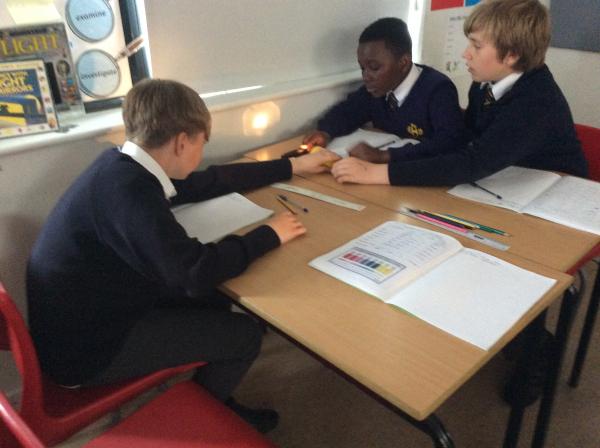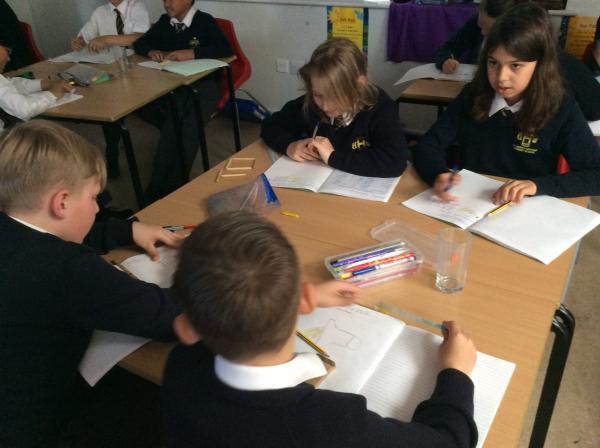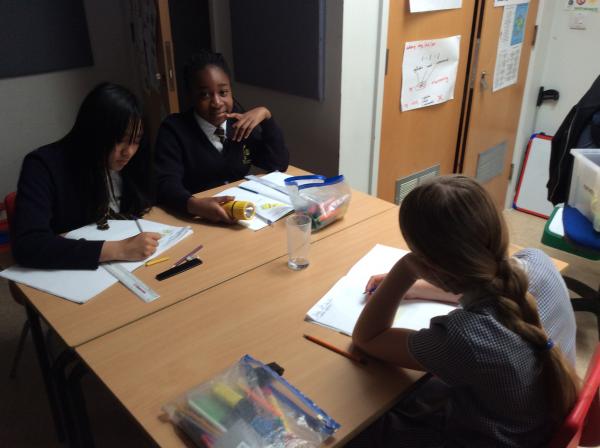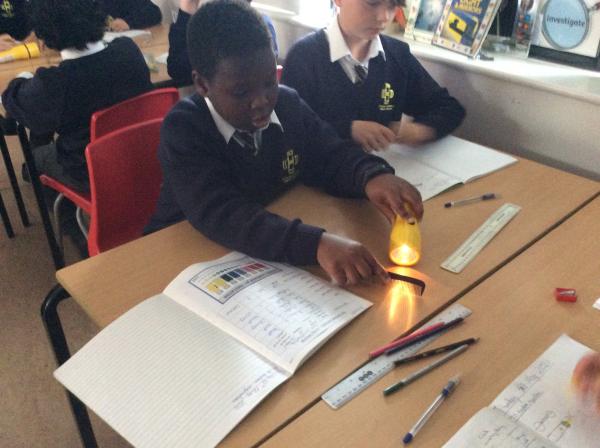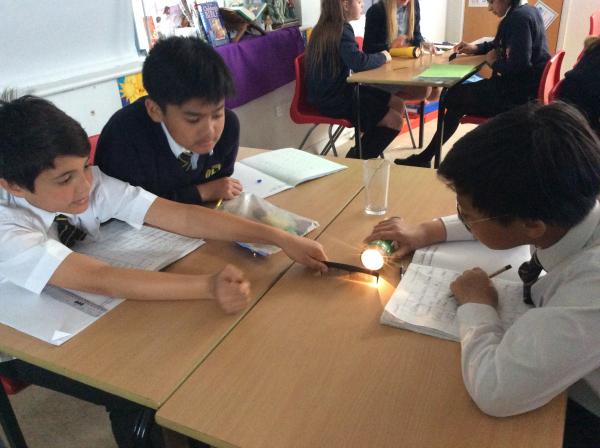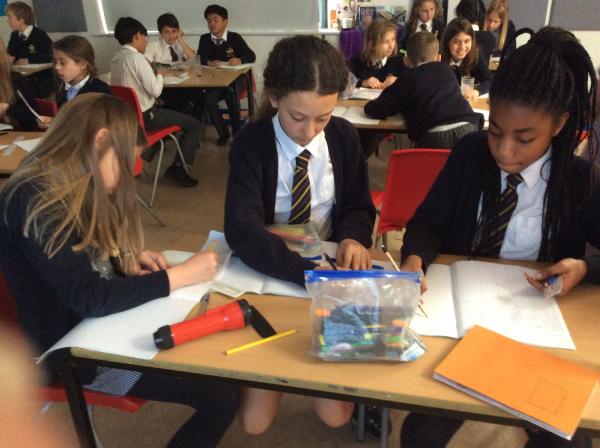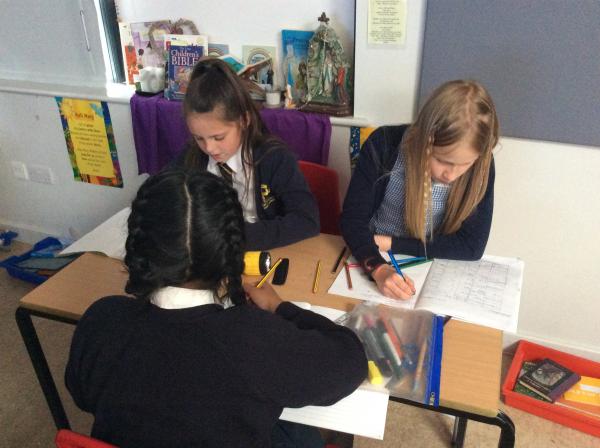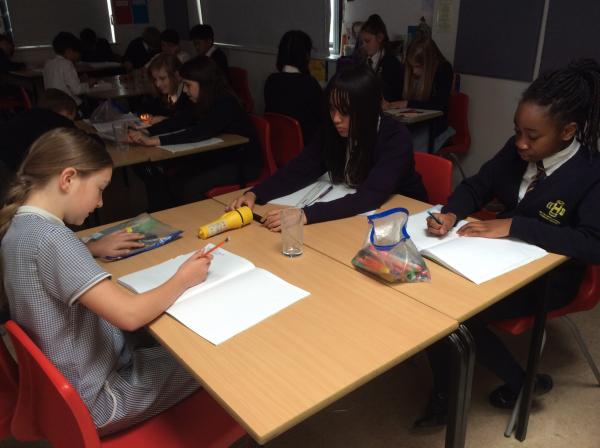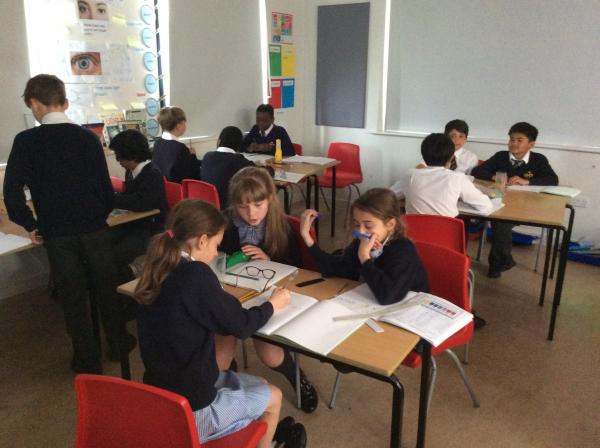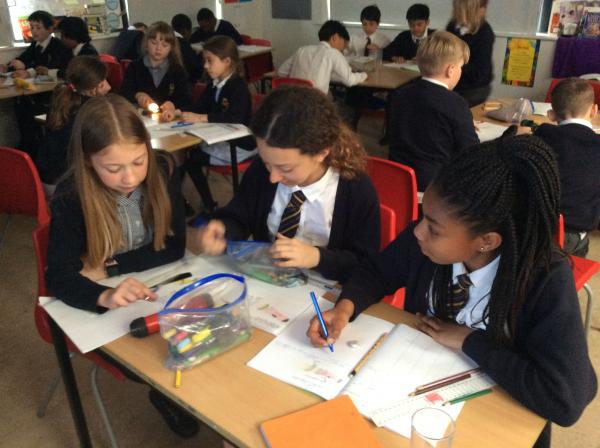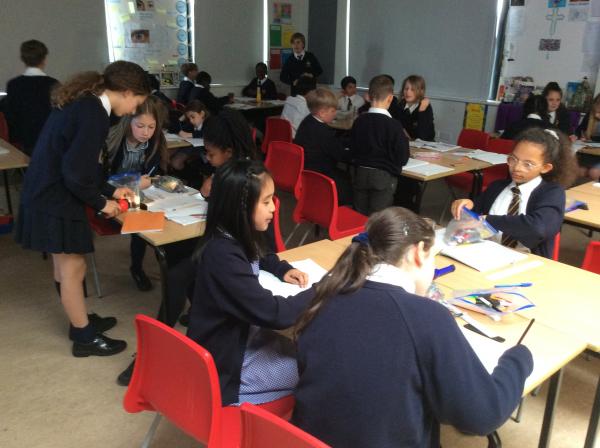 Chromatography
Year 6 took part in a Science morning provided by the Royal Society of Chemistry and FitzWimarc School. We performed a chromatography experiment and tested for acids and alkalines in a variety of liquids/solids using red cabbage as an indicator. Our results are shown but we all decided our morning was 10 out of 10.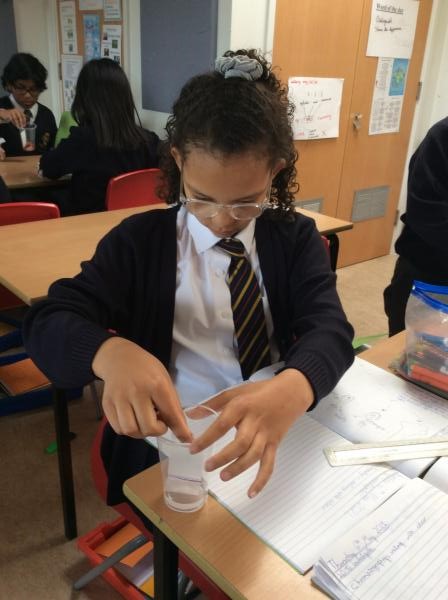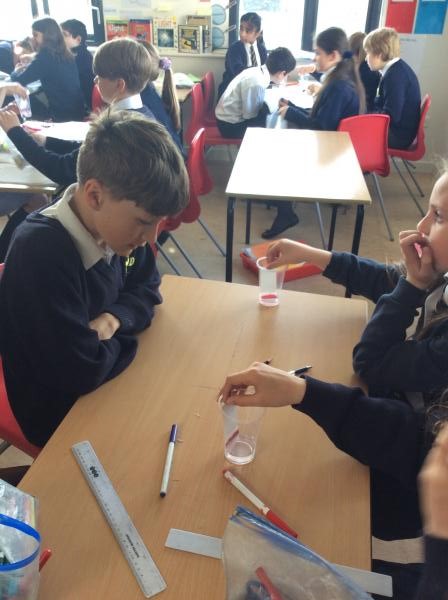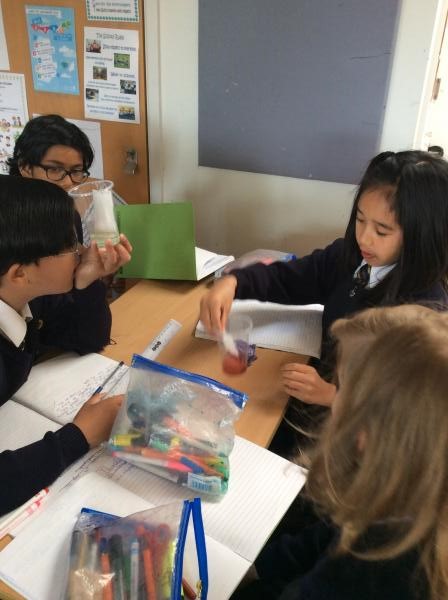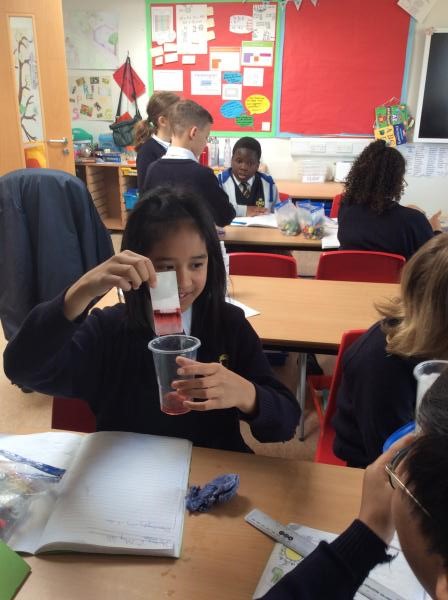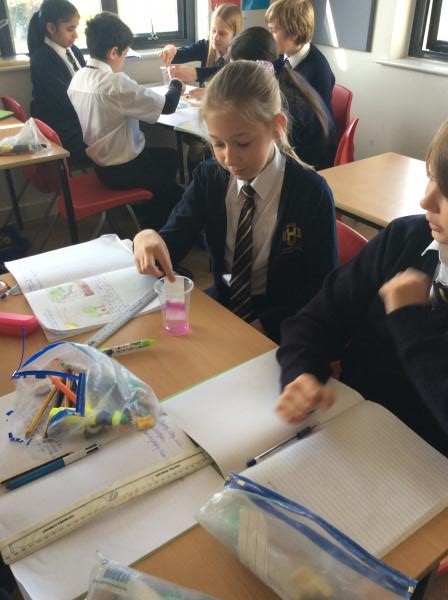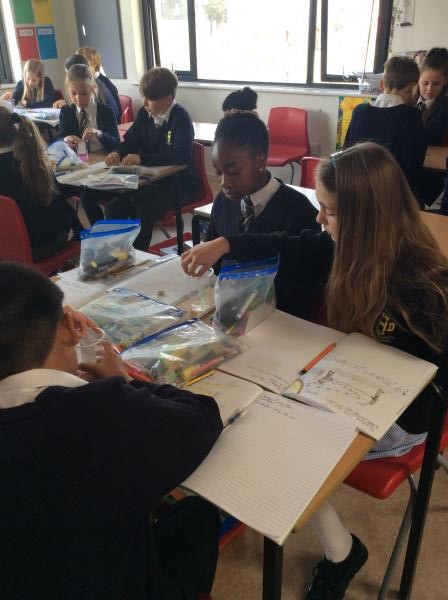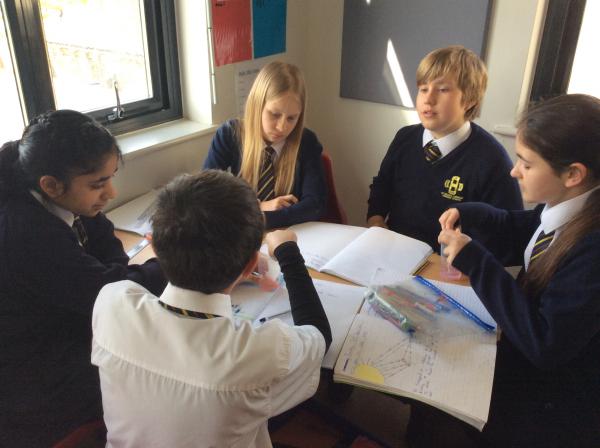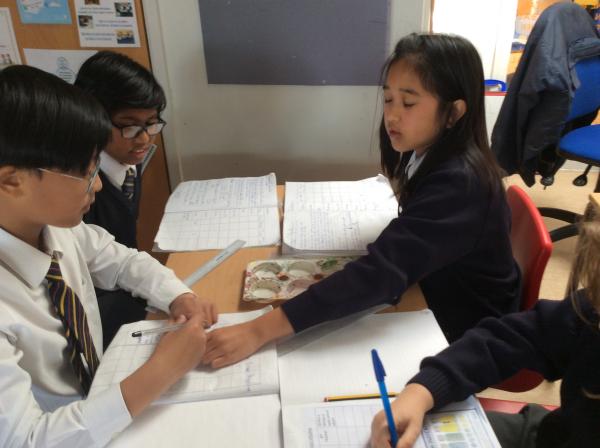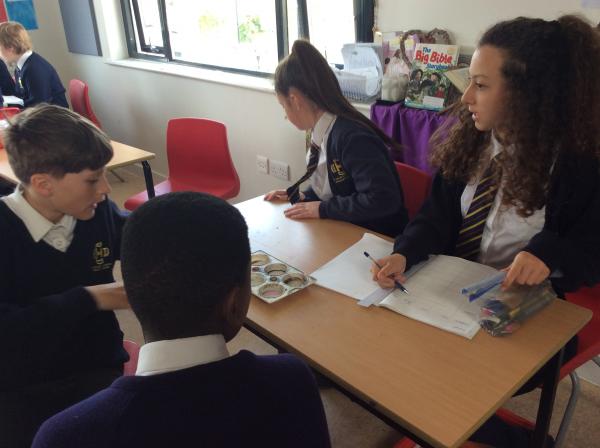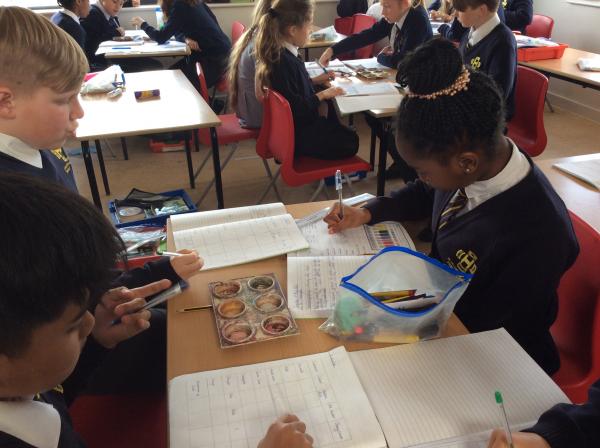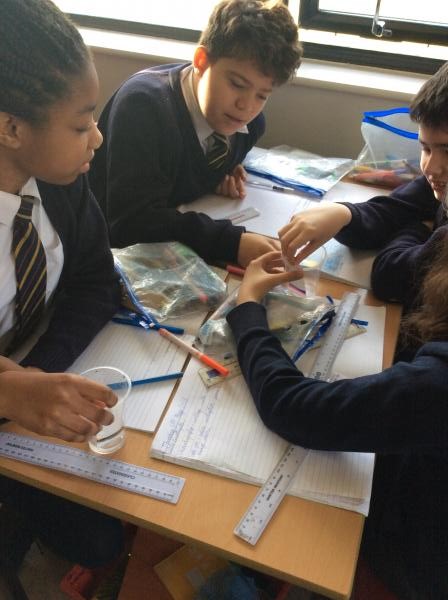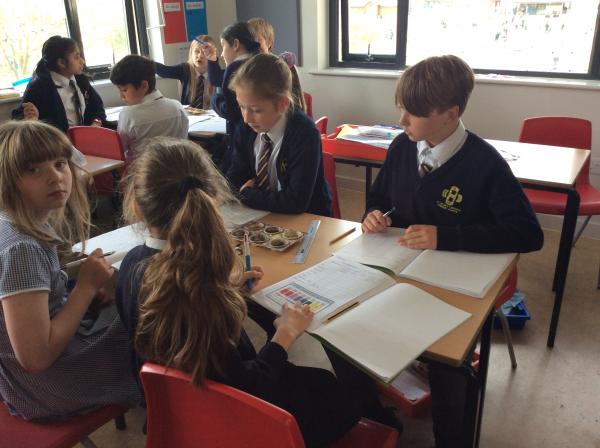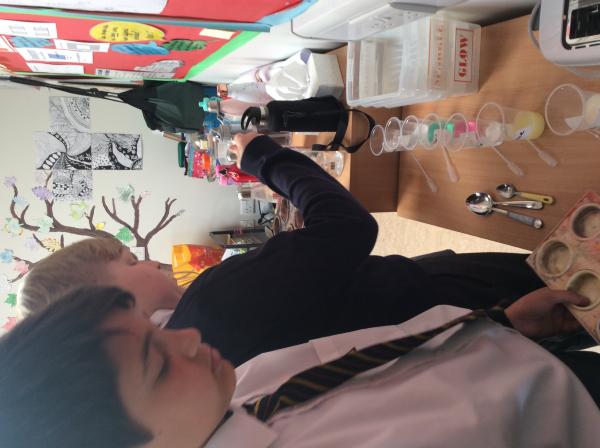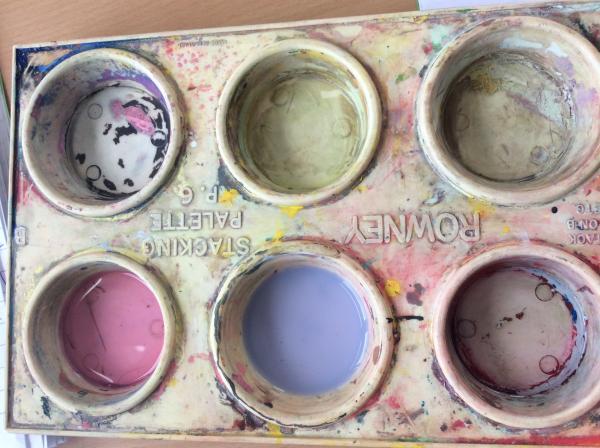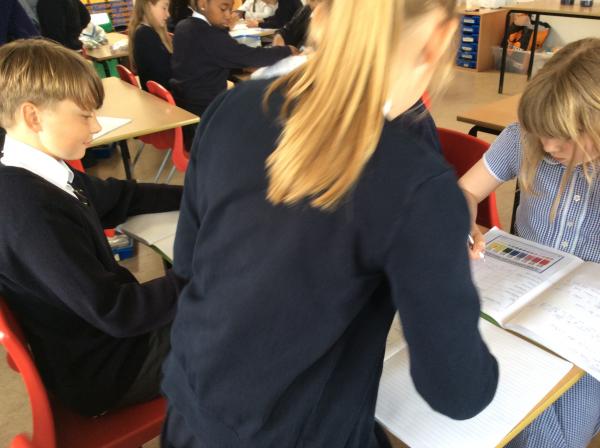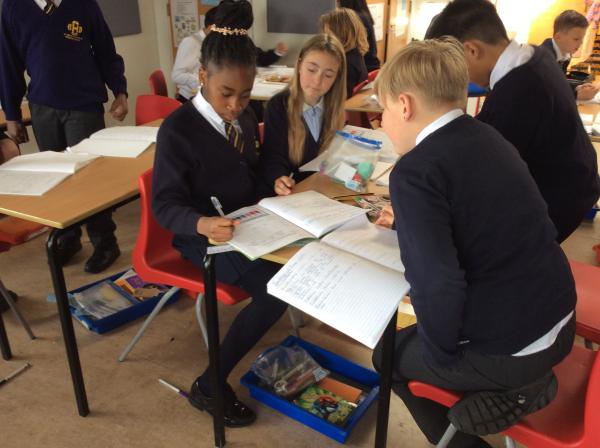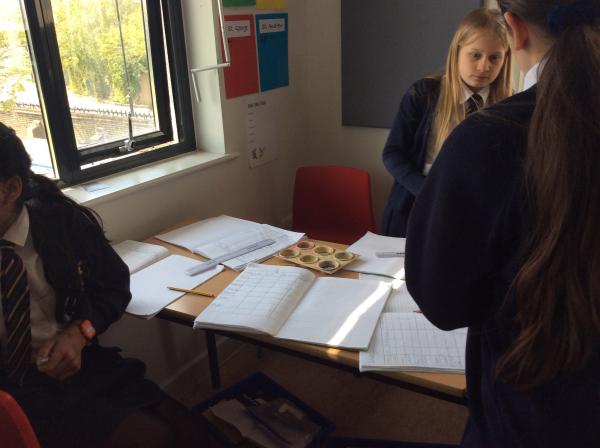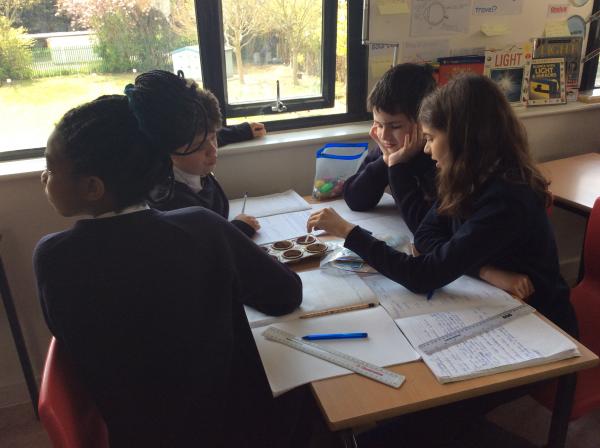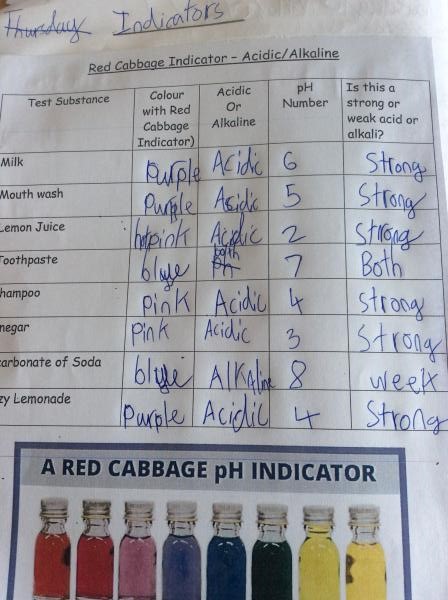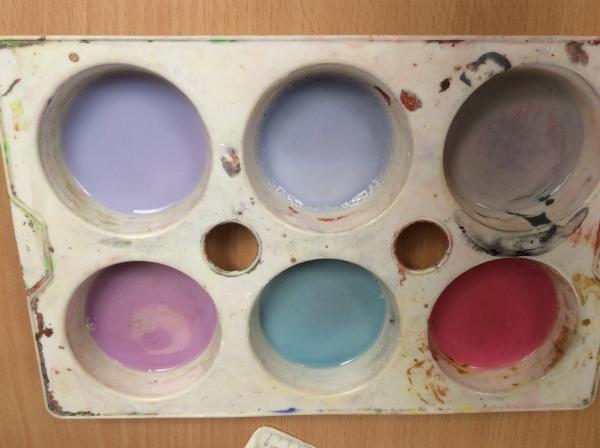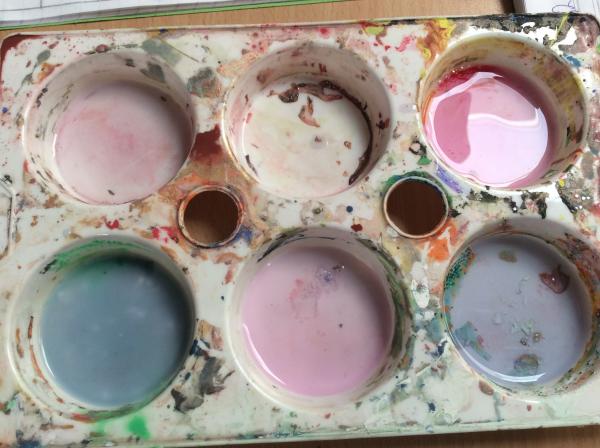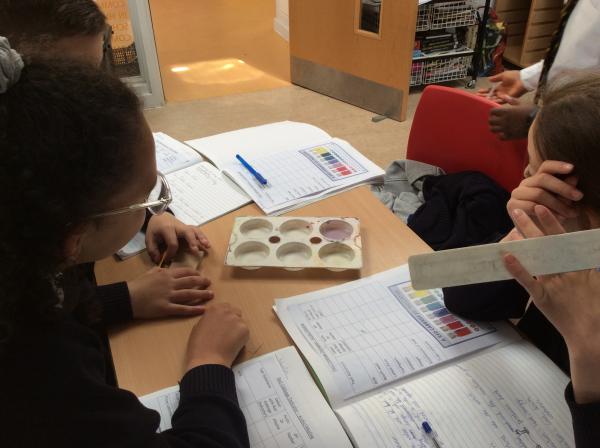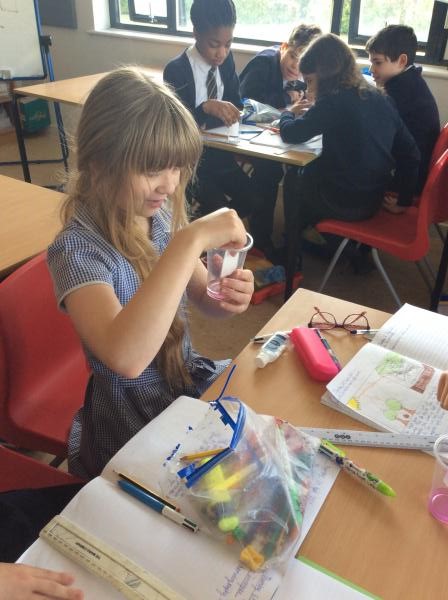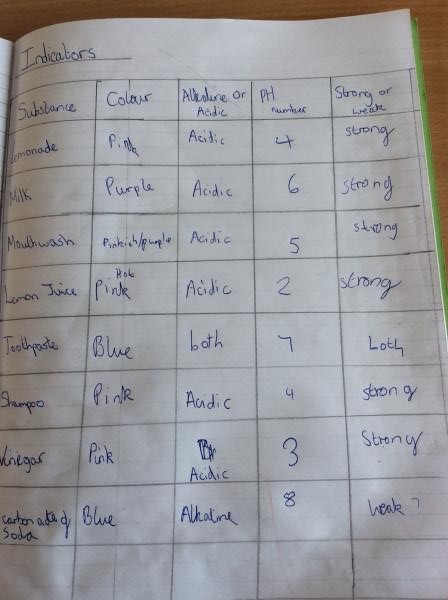 Measurement and Scale
Wednesday saw Year 6 visit the nature area. As always, they undertook some jobs and play! They also measured various areas within the nature area to use the information to make scale drawings back in class.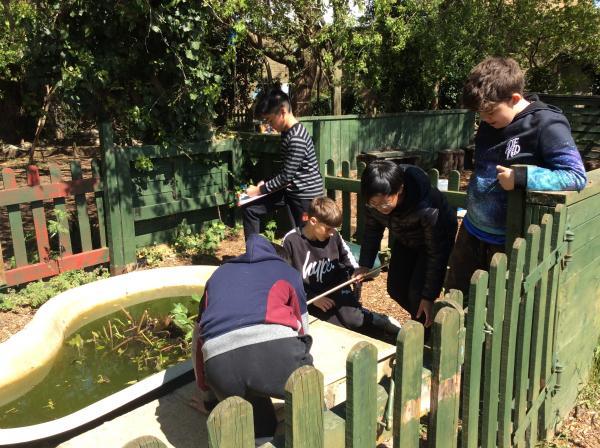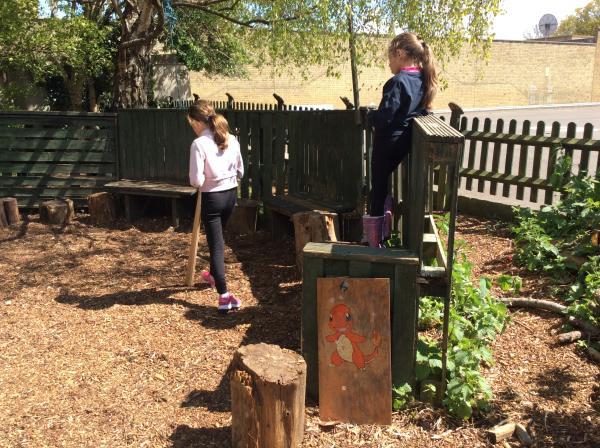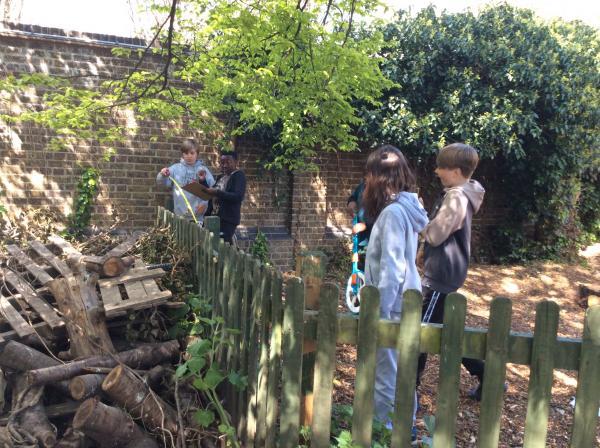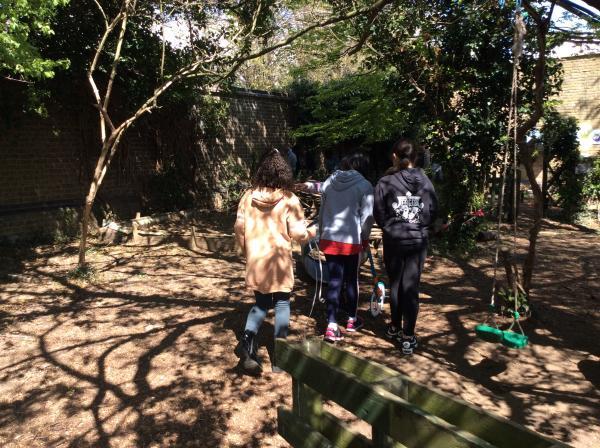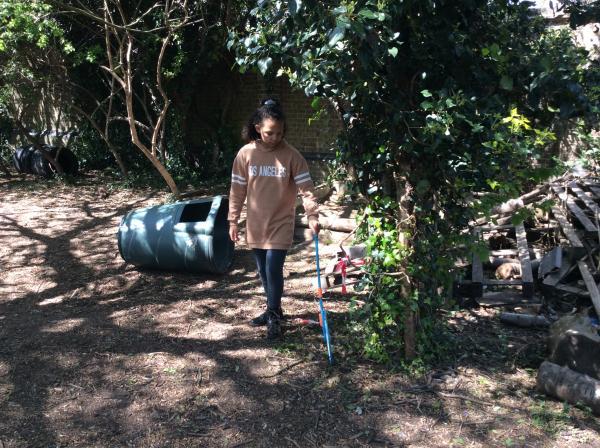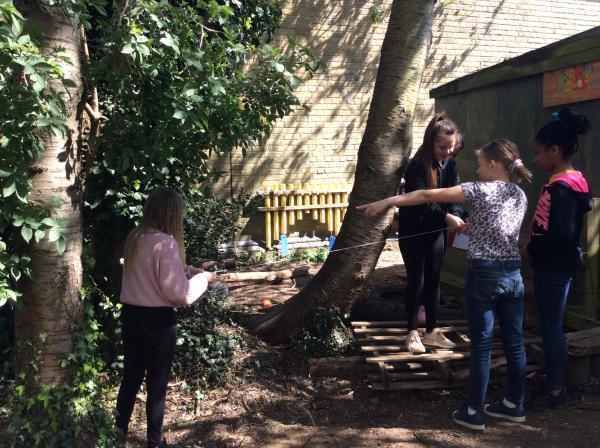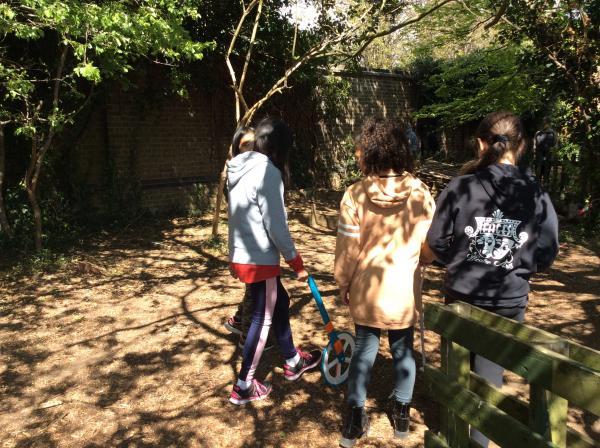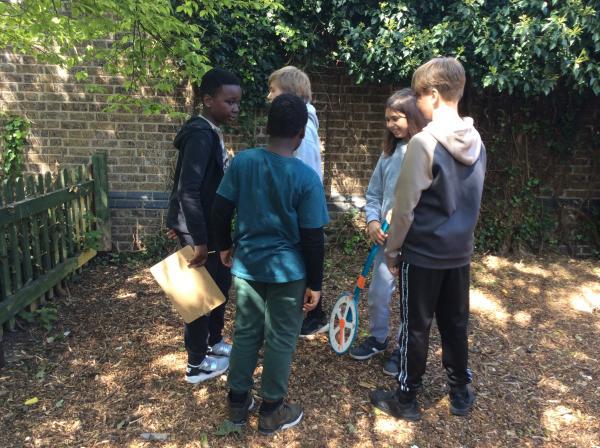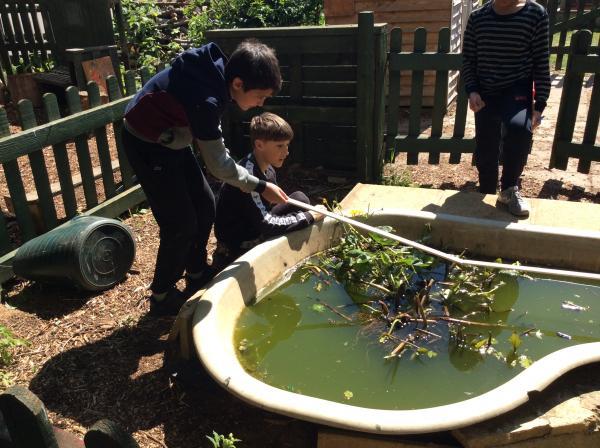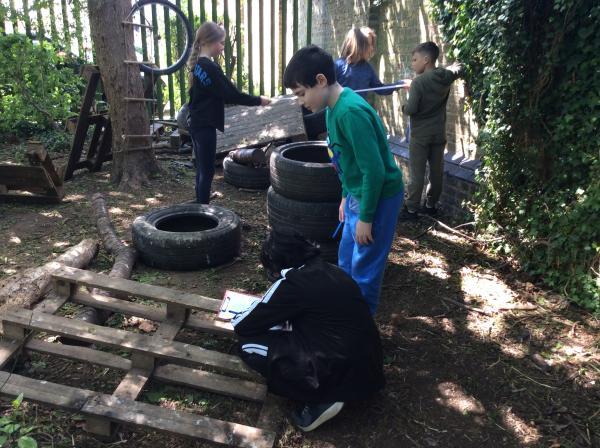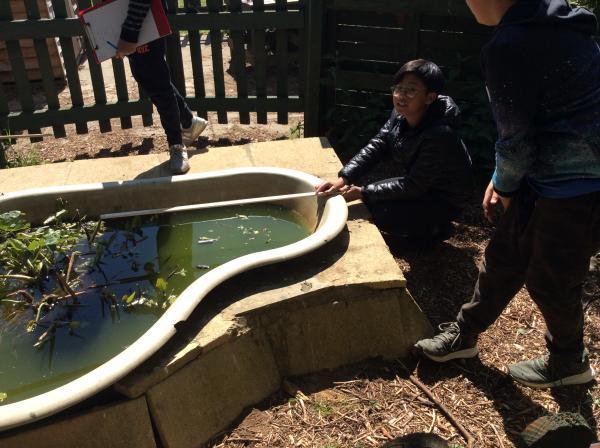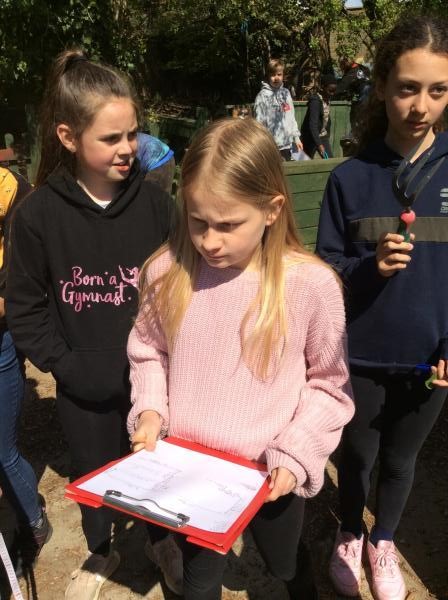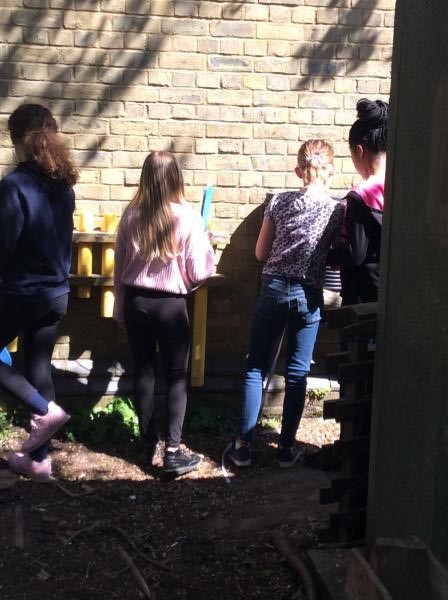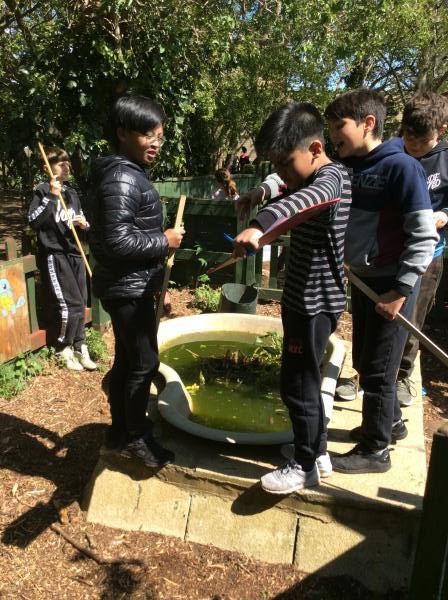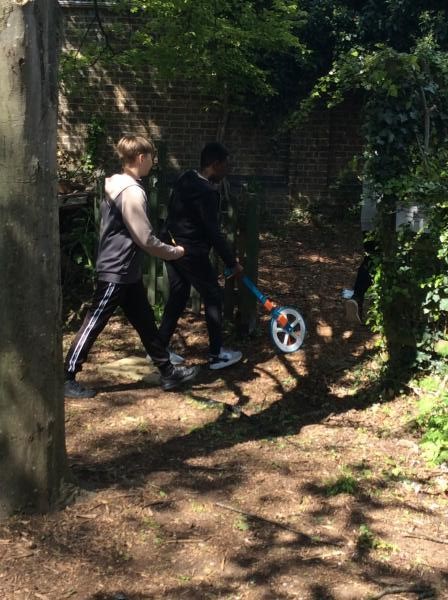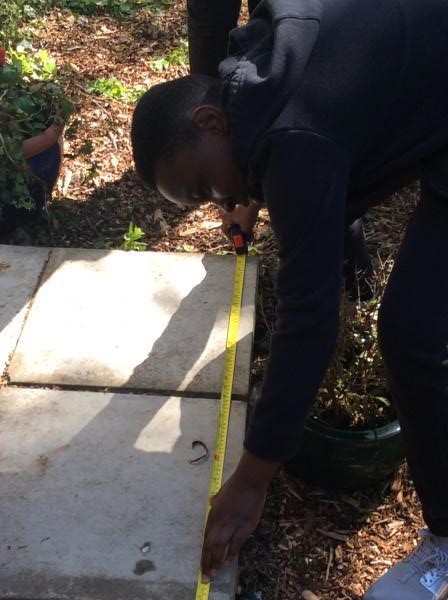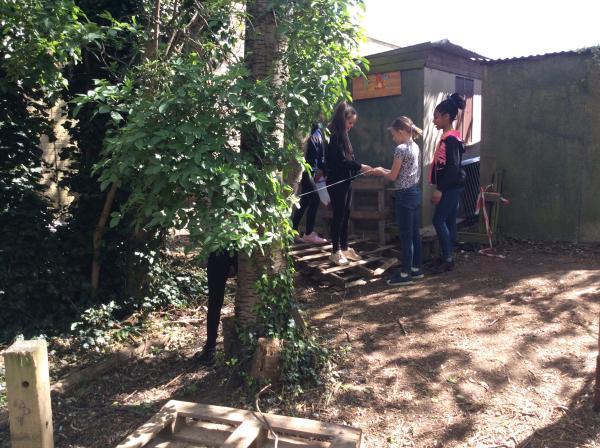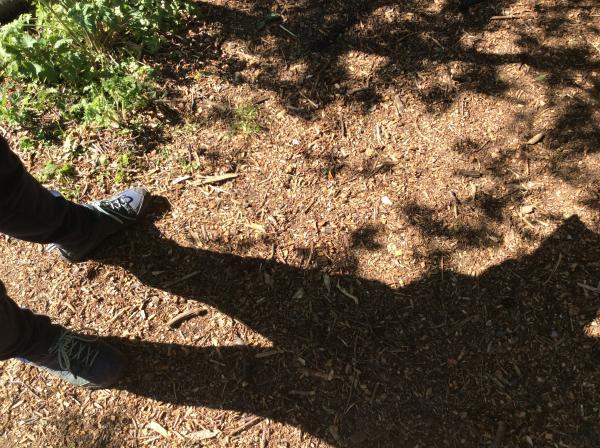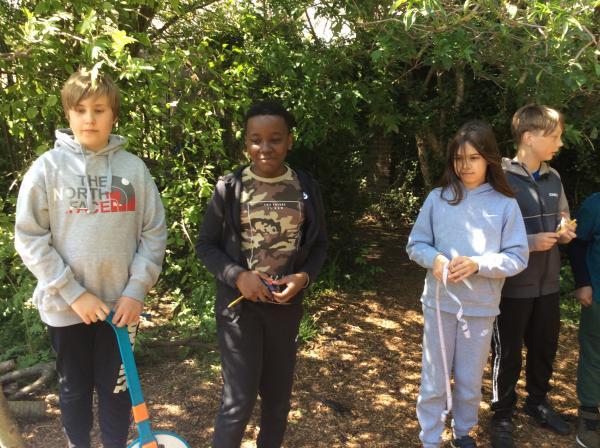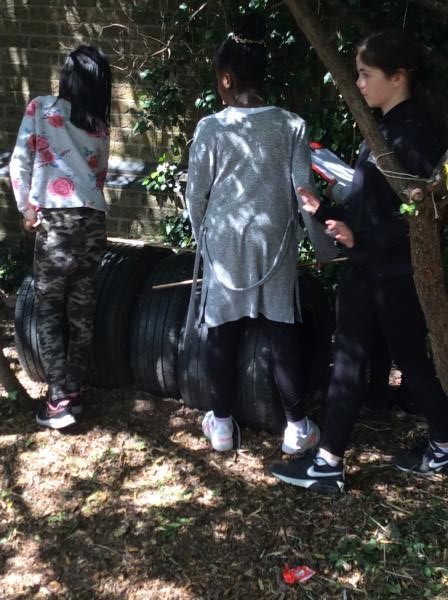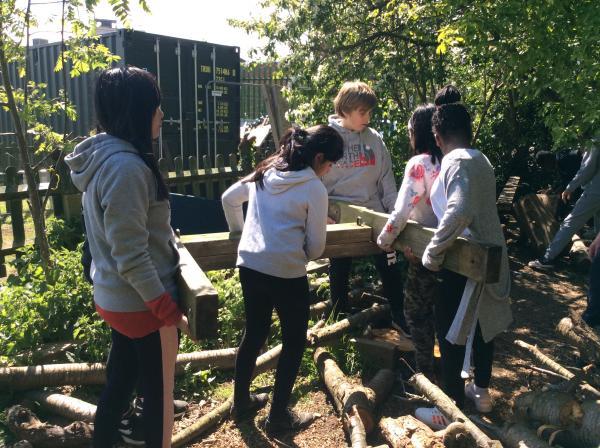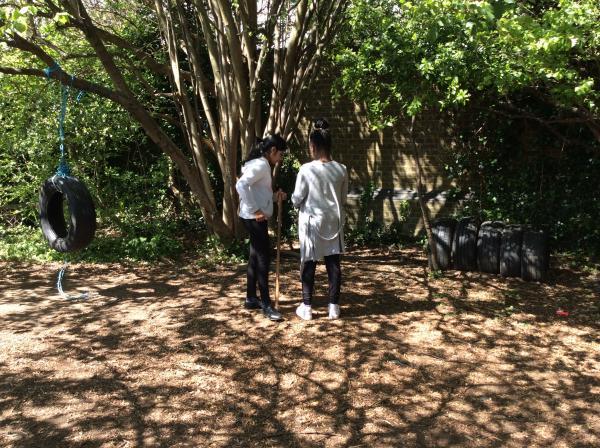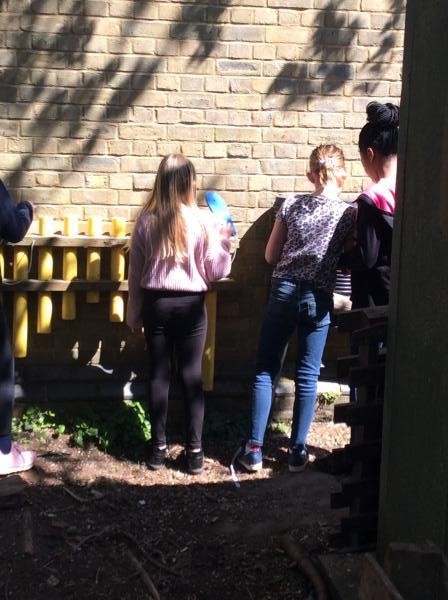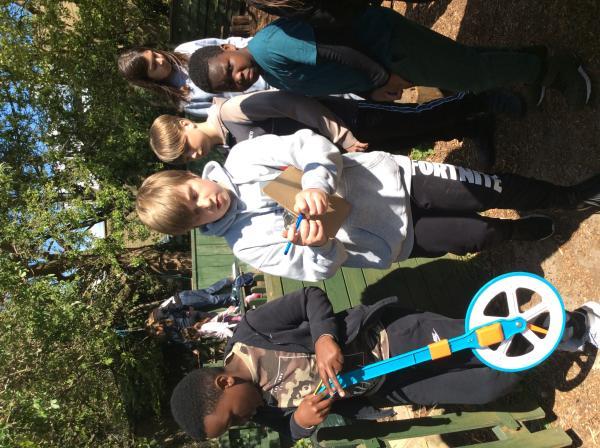 Year 6 Retreat Day
On Tuesday 4 May, Year 6 were visited by the Walsingham House team. The theme of the day was 'You are God's work of Art'. Year 6 completed a journal and shared memories of their time here at school. They discussed their differing personalities, hopes for the future and favourite interests. We discussed what makes us unique.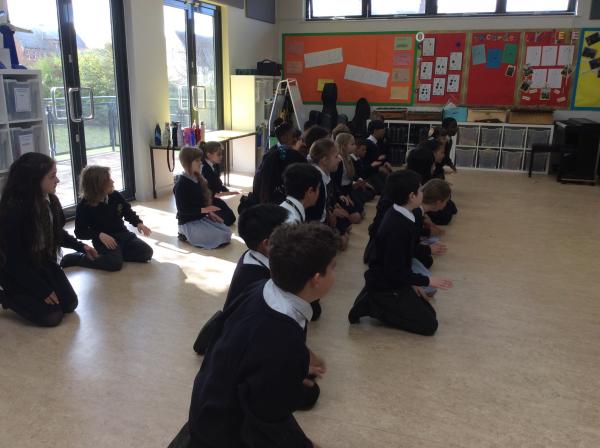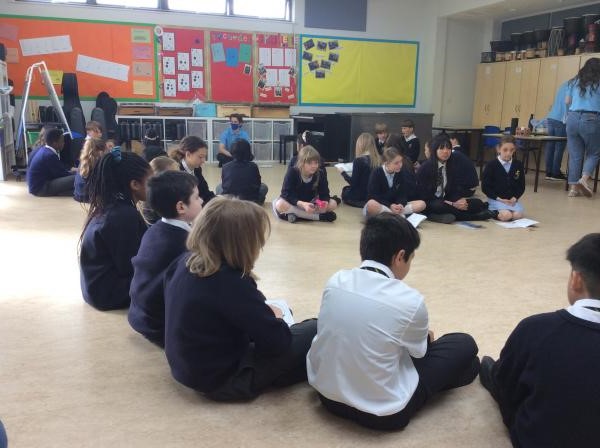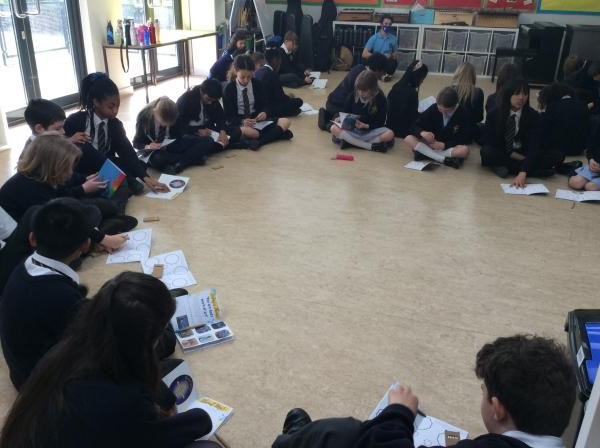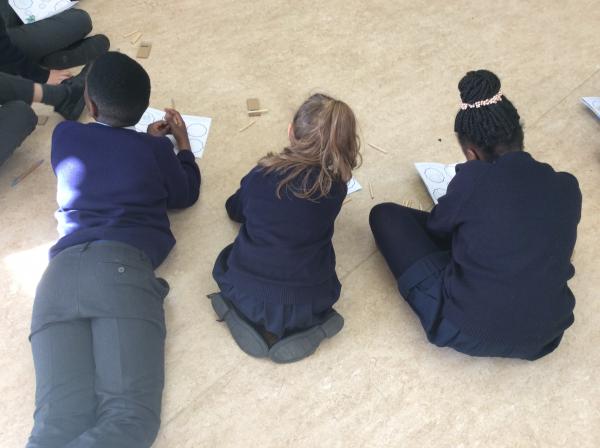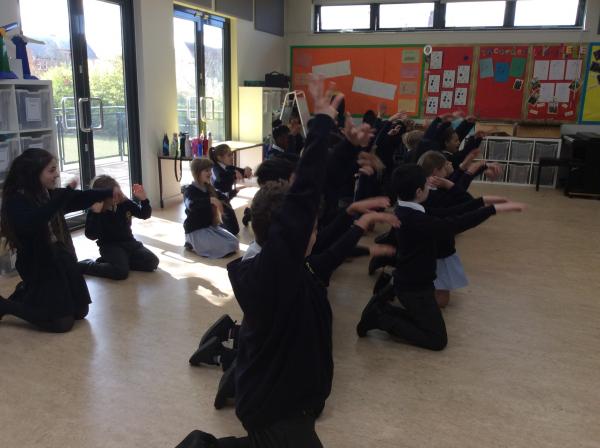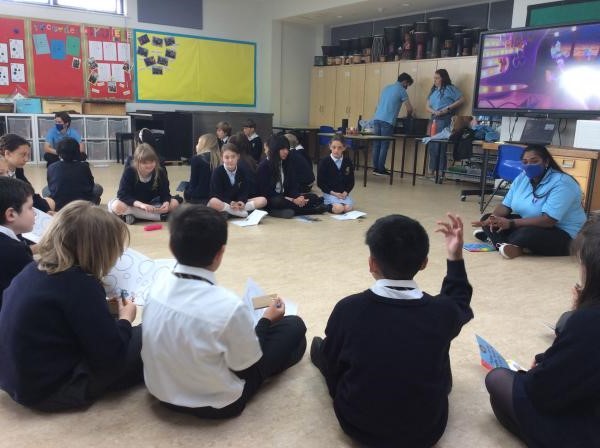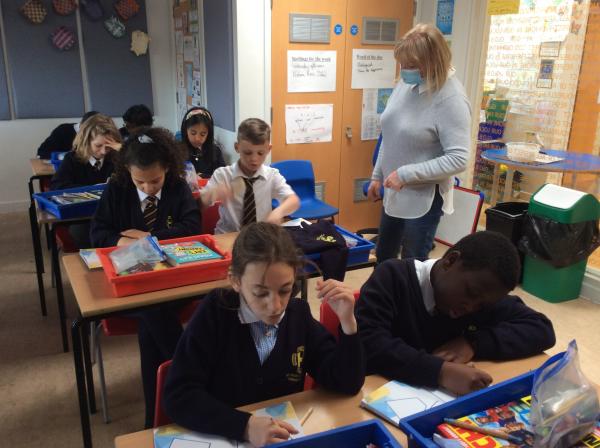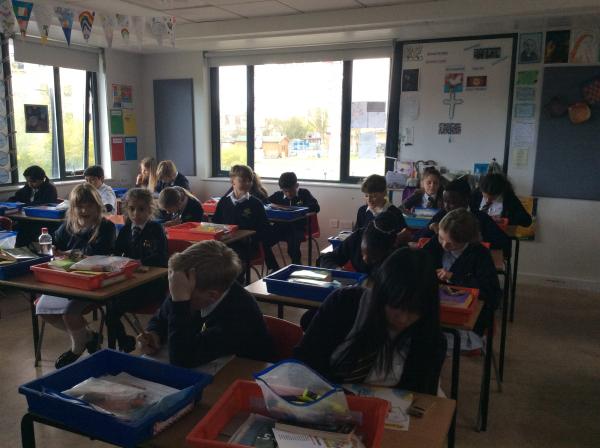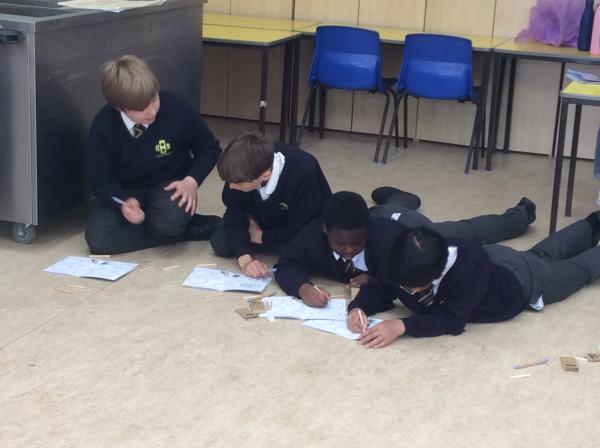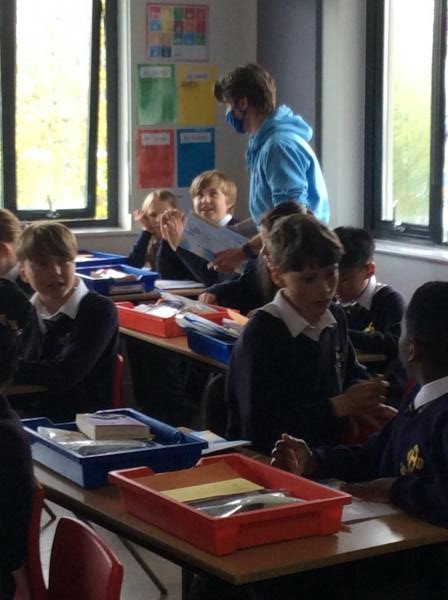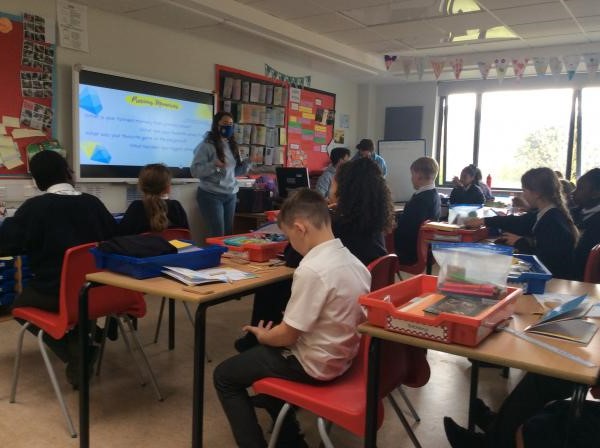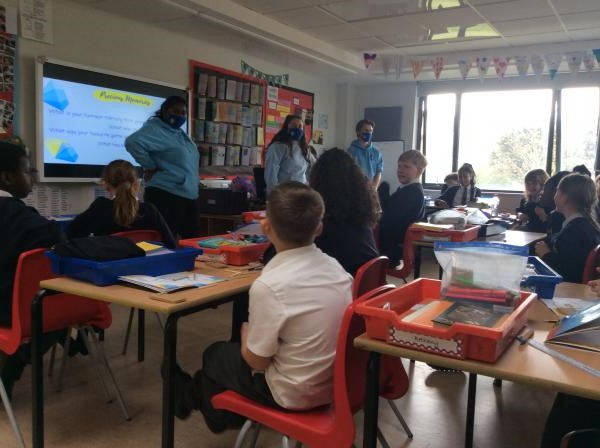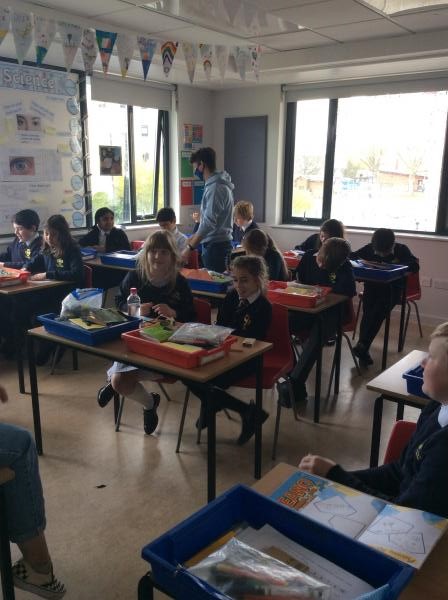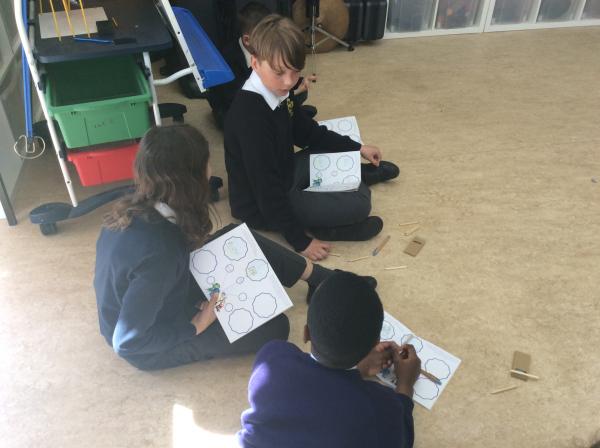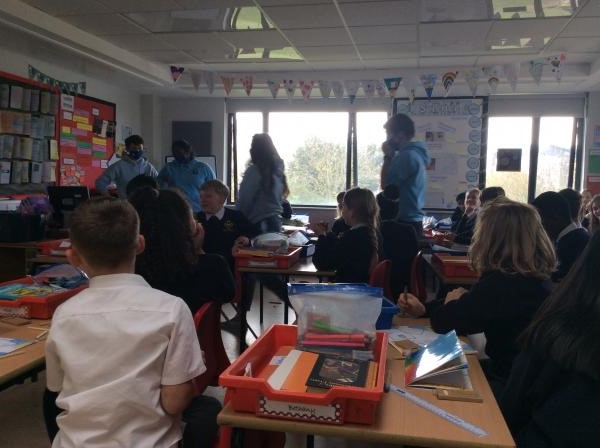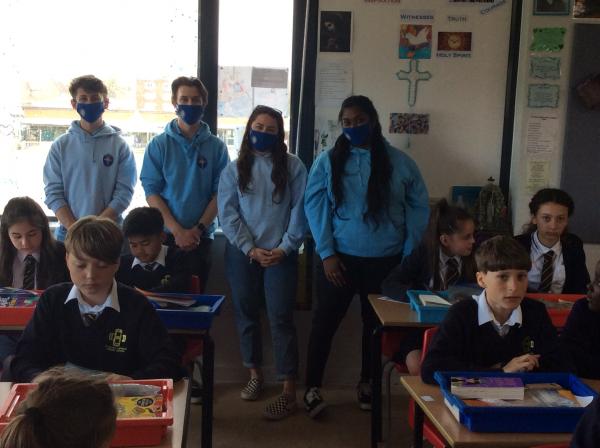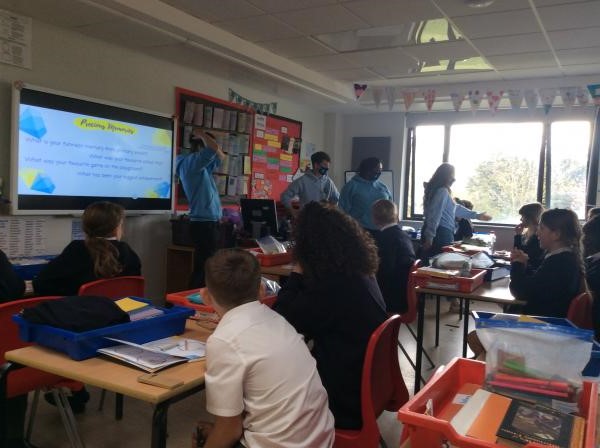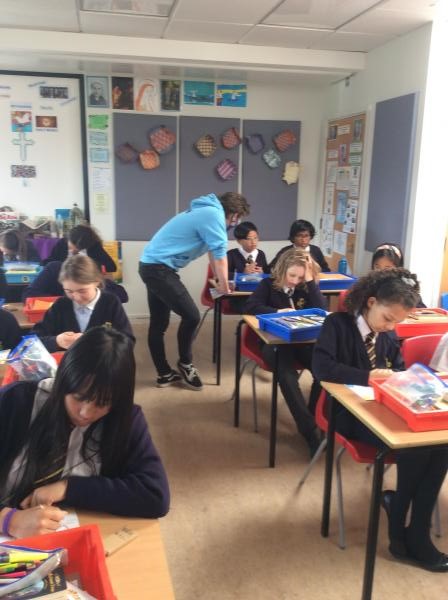 Light
This afternoon, Year 6 investigated how light travels. They found out it is very speedy and always travels in straight lines.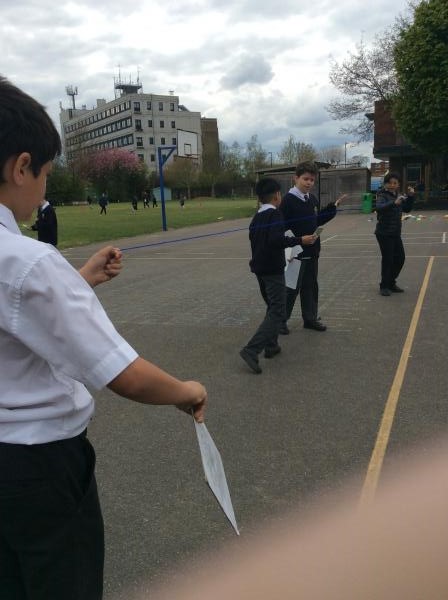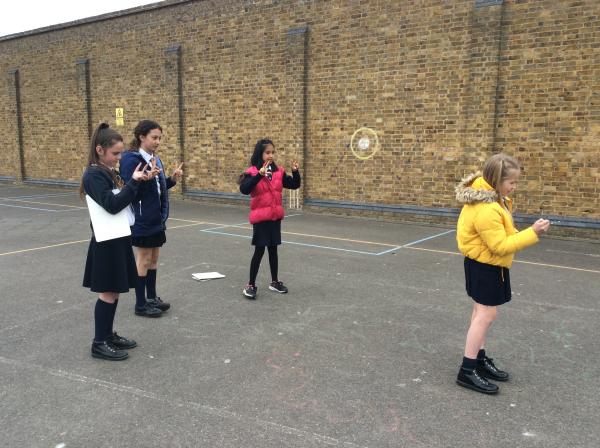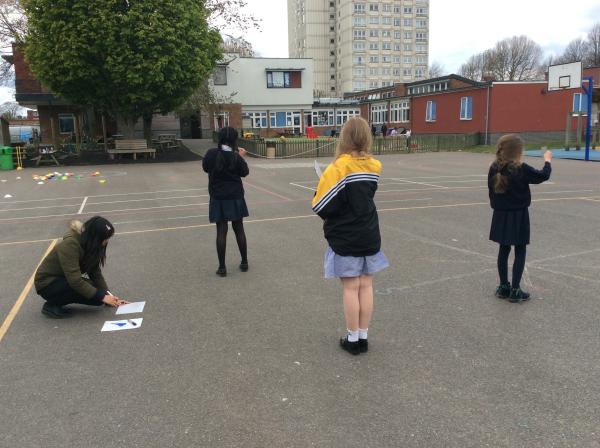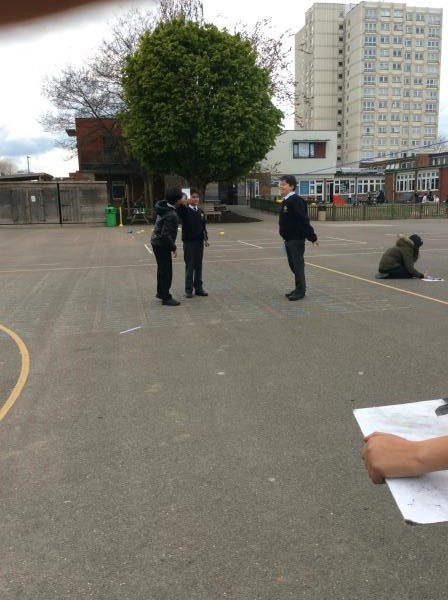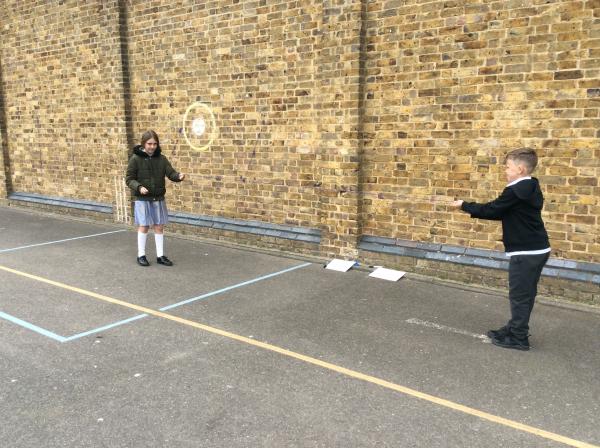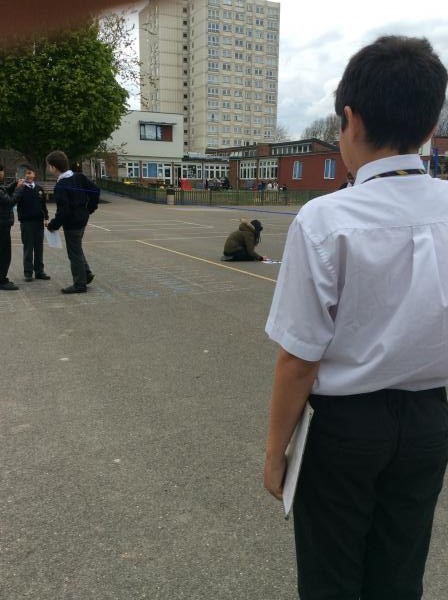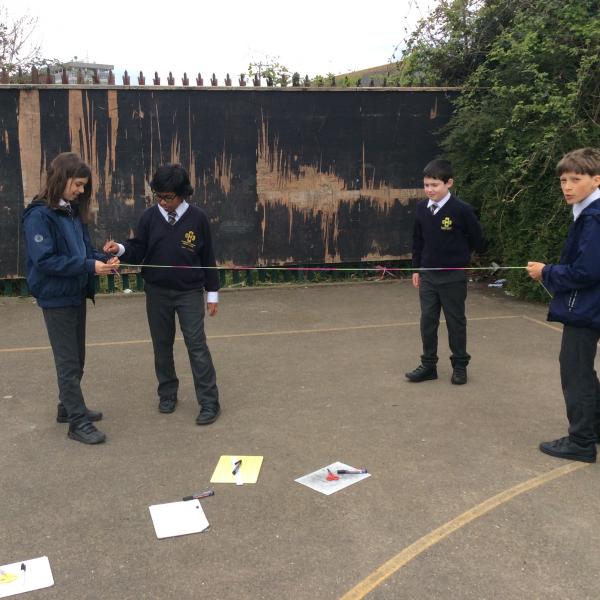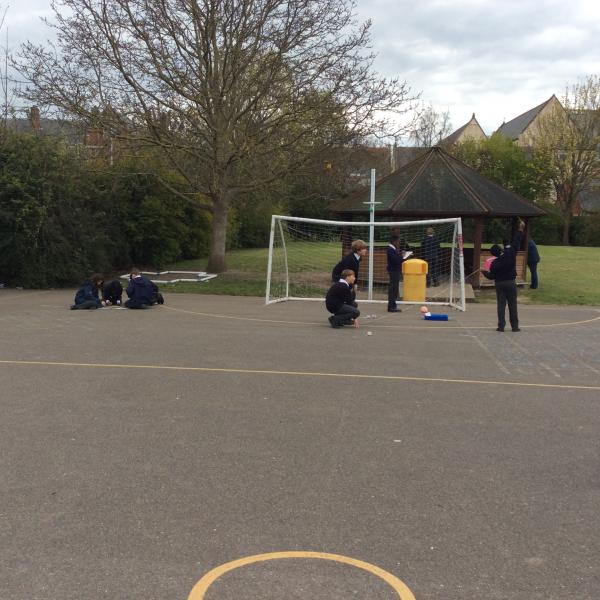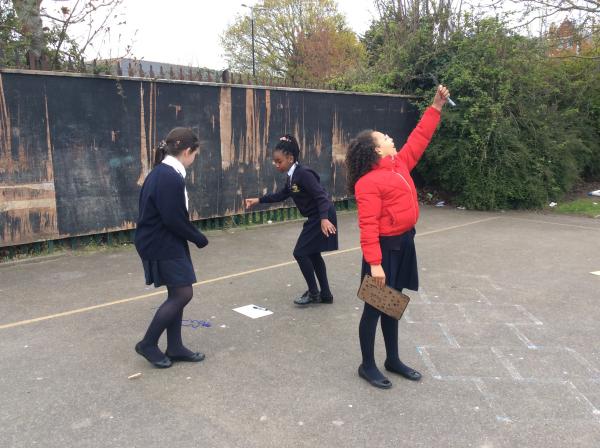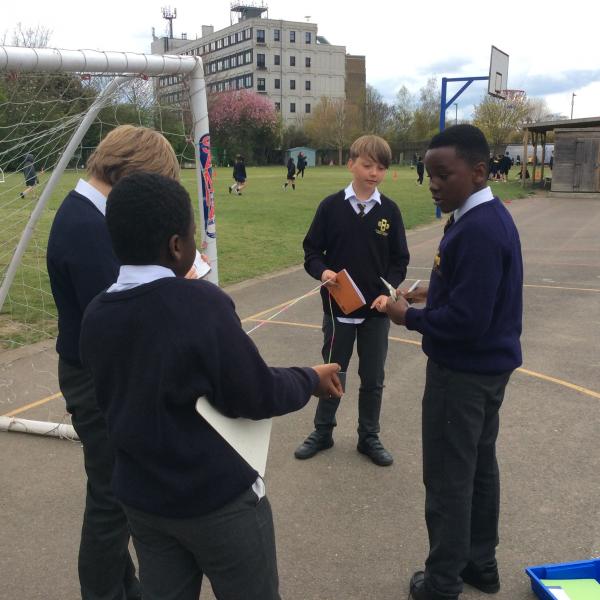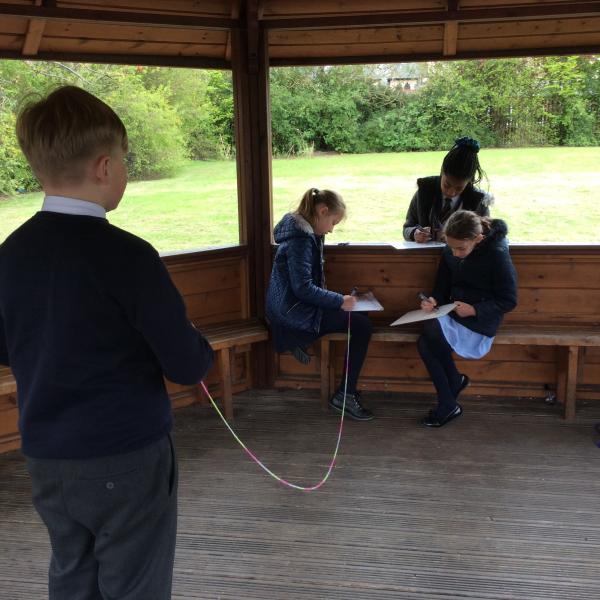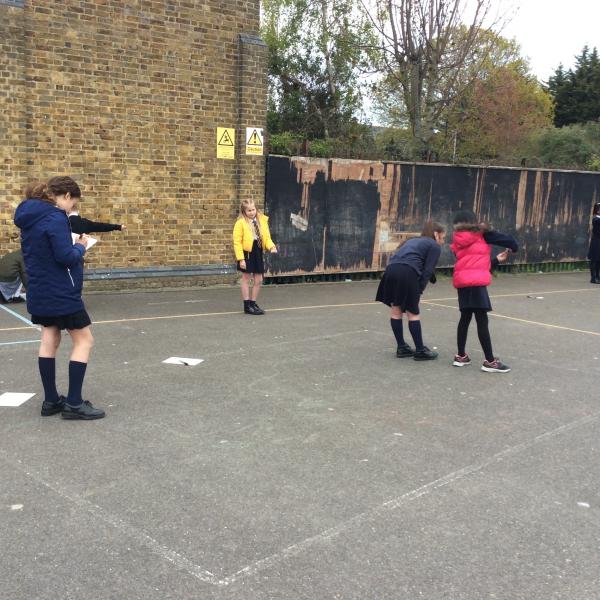 Smarties Experiment
Year 6 enjoyed their ratio experiments today with a packet of Smarties. We discussed the ratios of fat/protein/sugar in each pack, serving and 100g. Interesting results were found, which led to discussions regarding healthy eating! After we moved onto comparing colours and amounts of sweets in each packet with an understanding that every pack is different!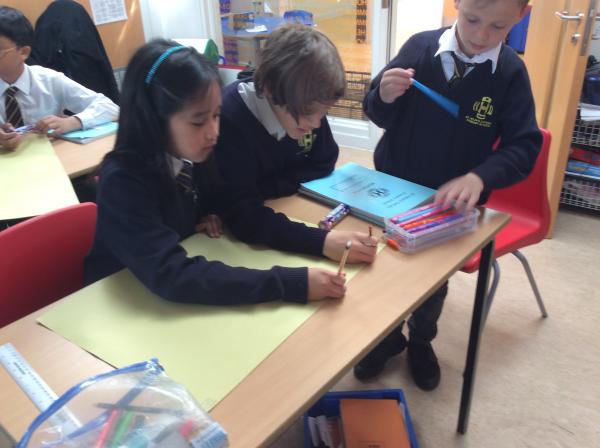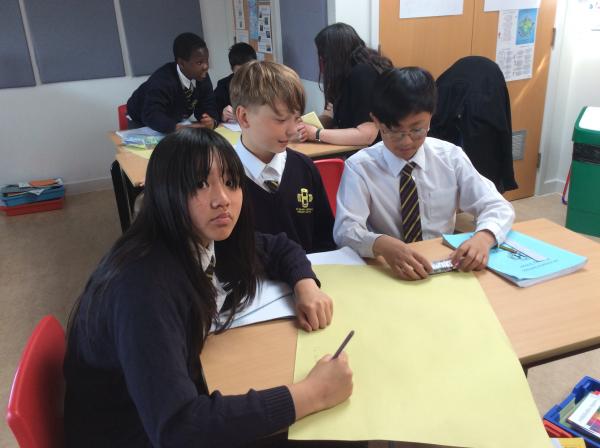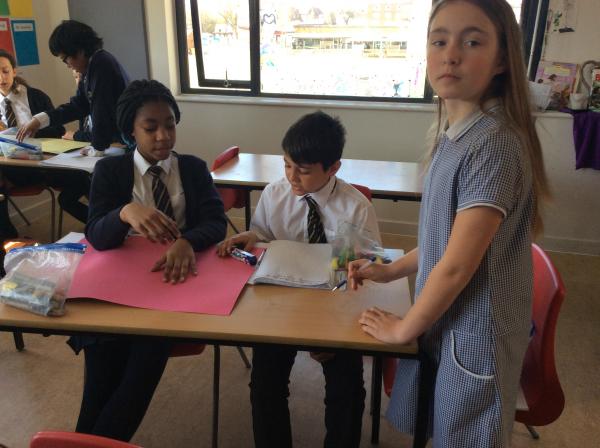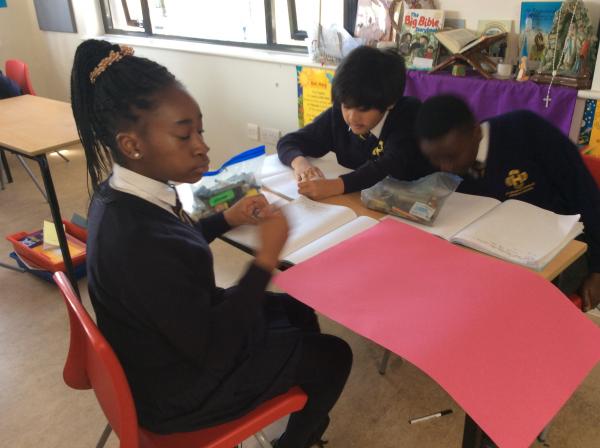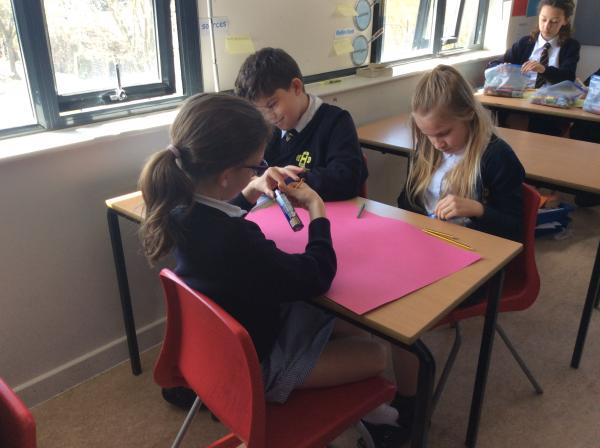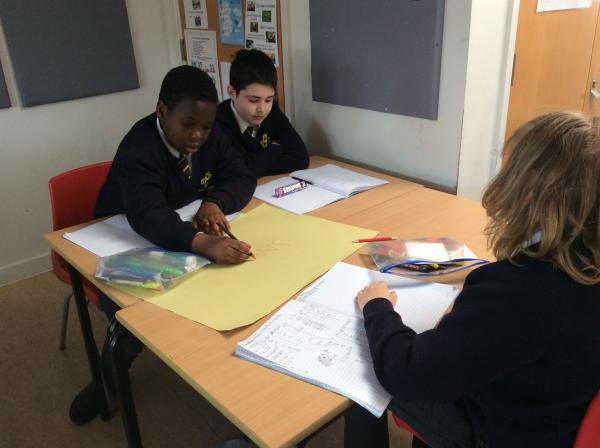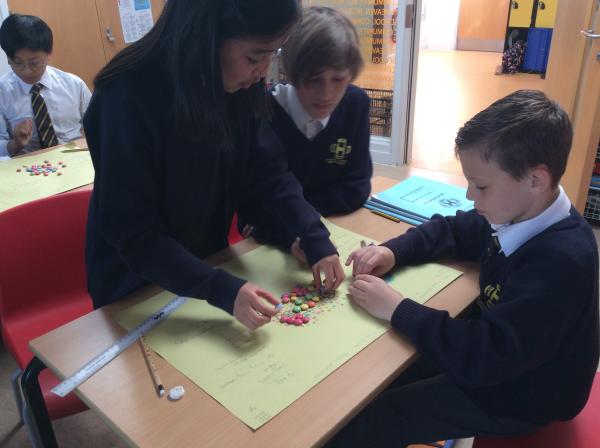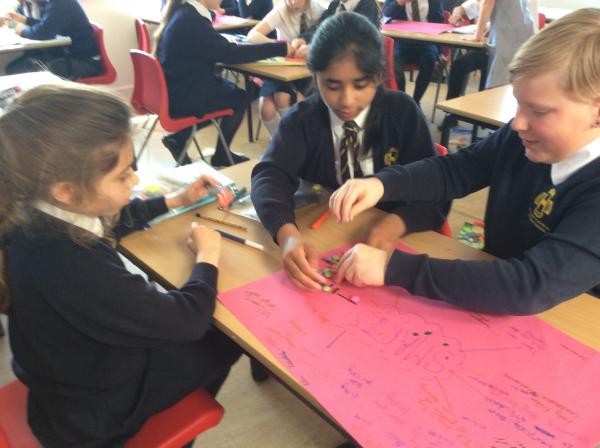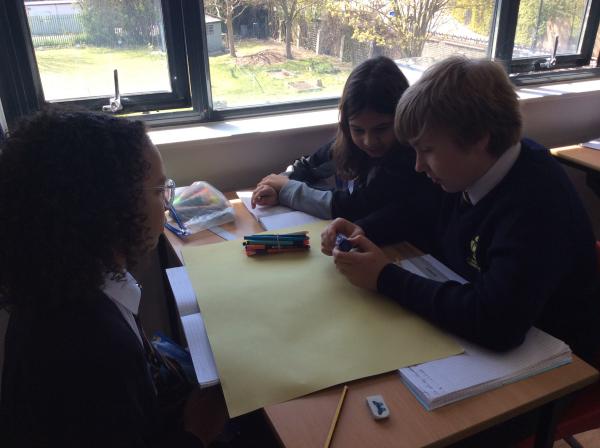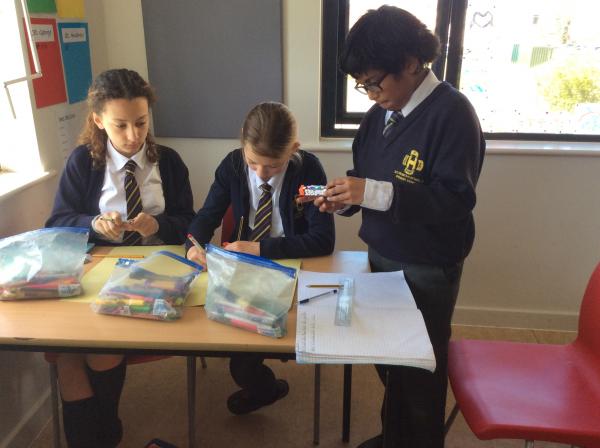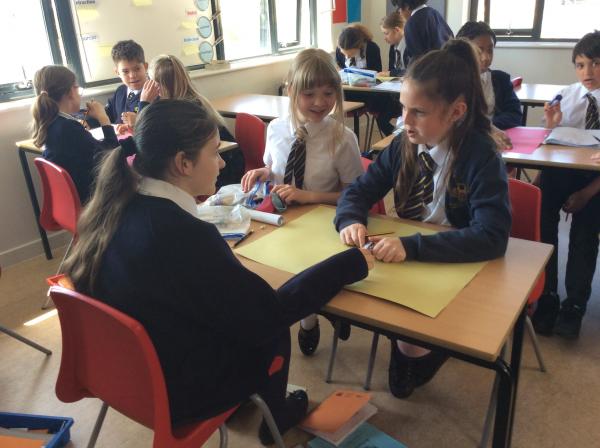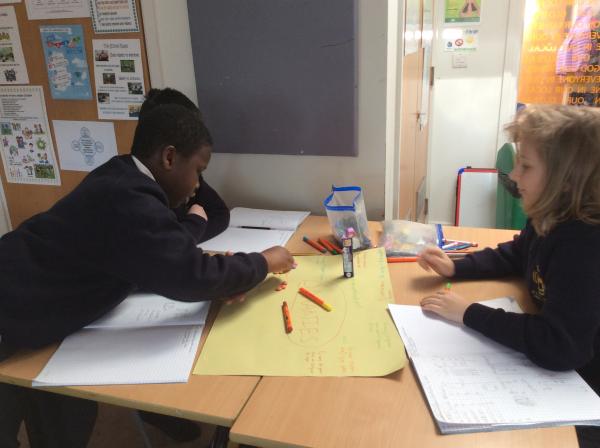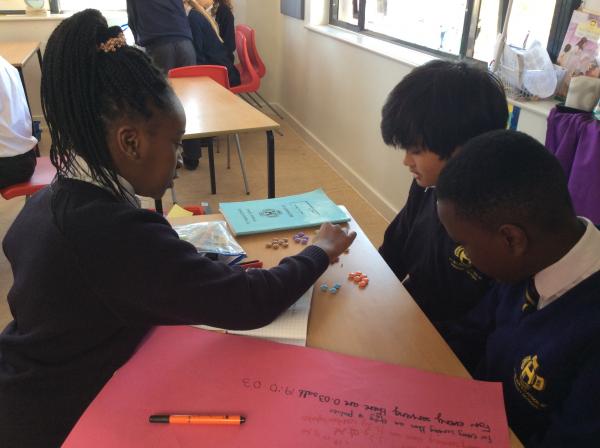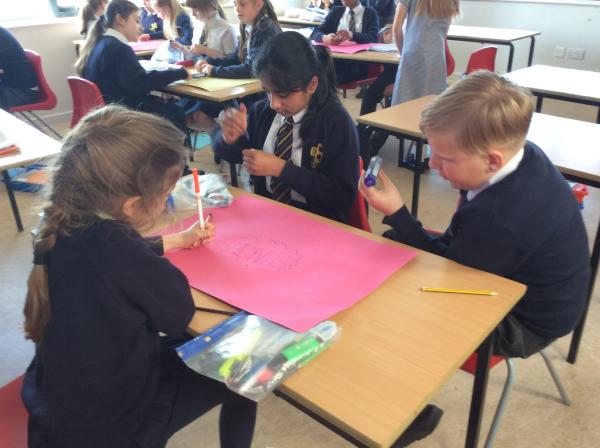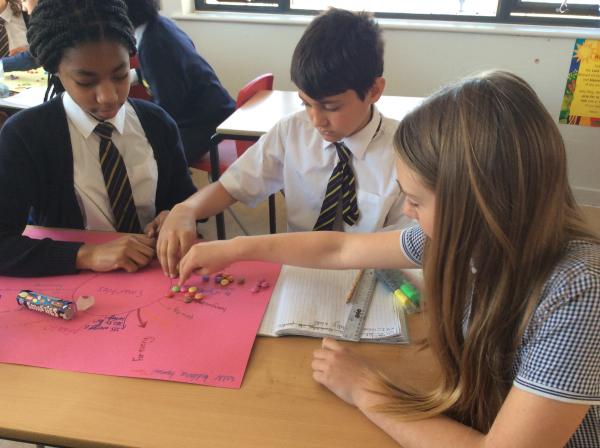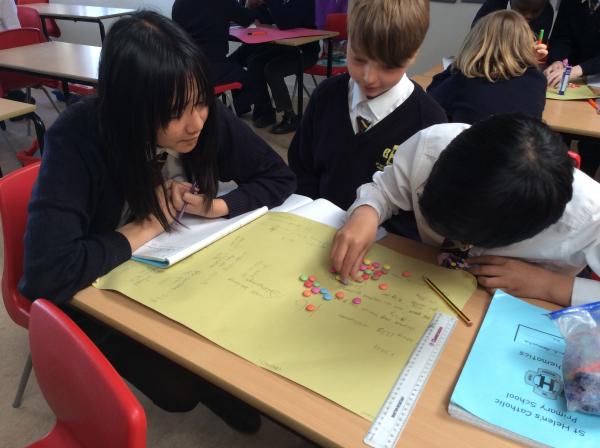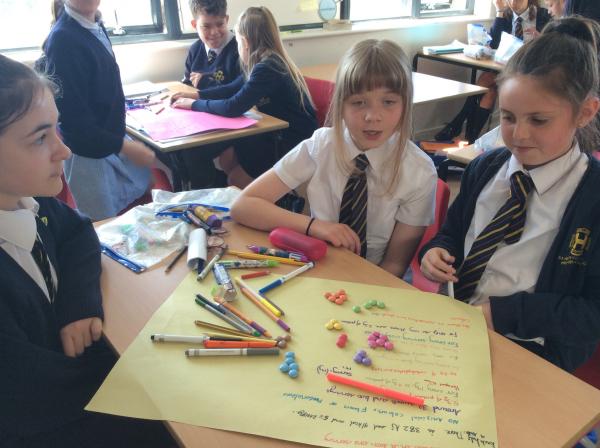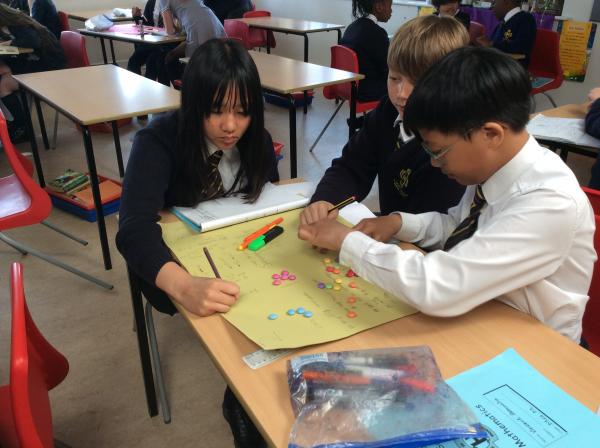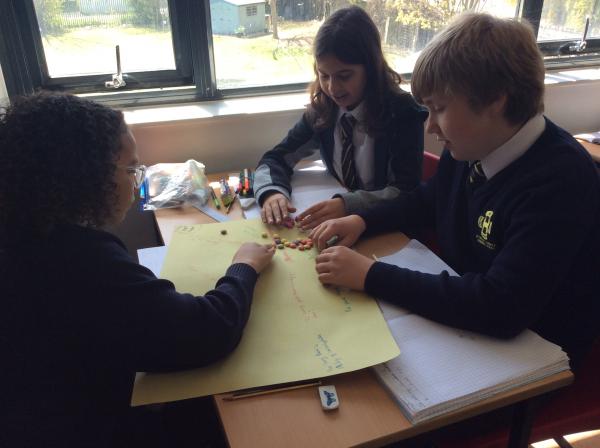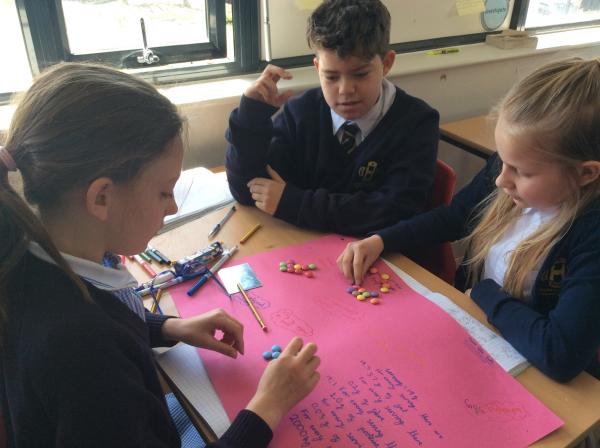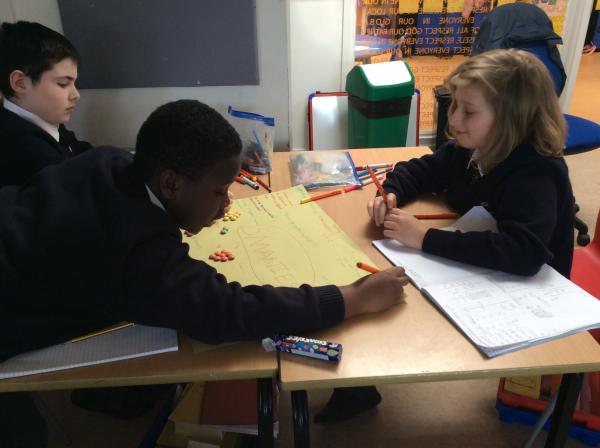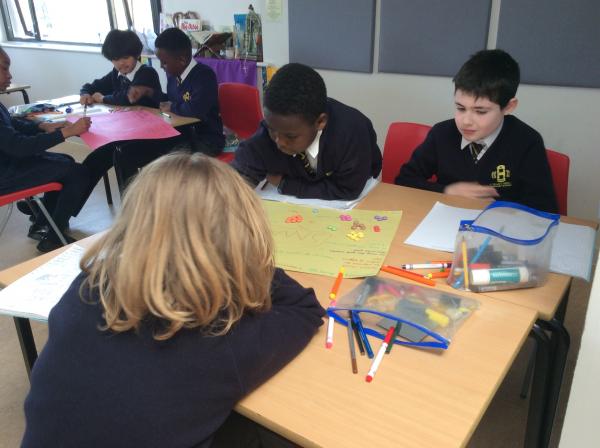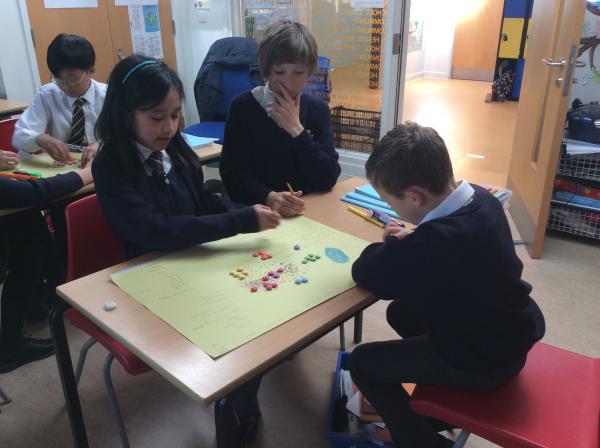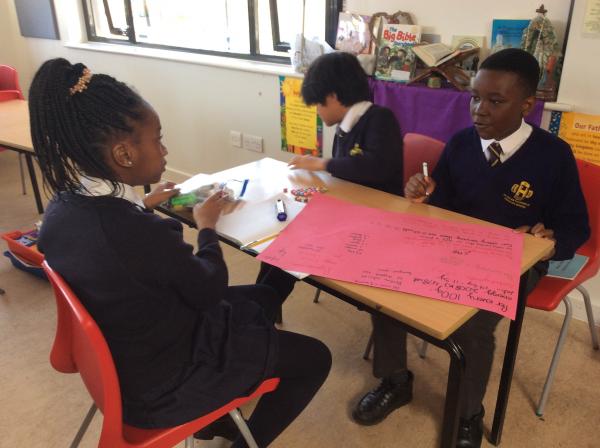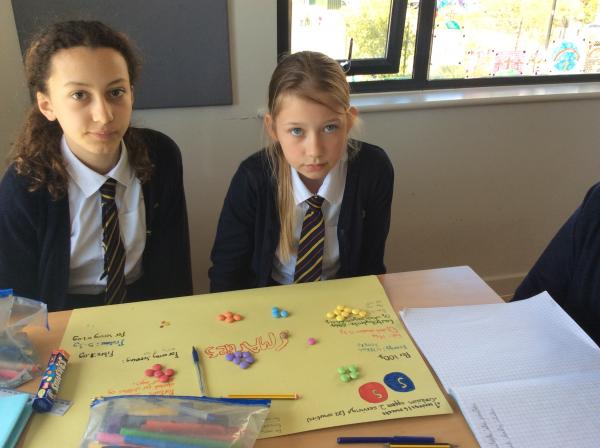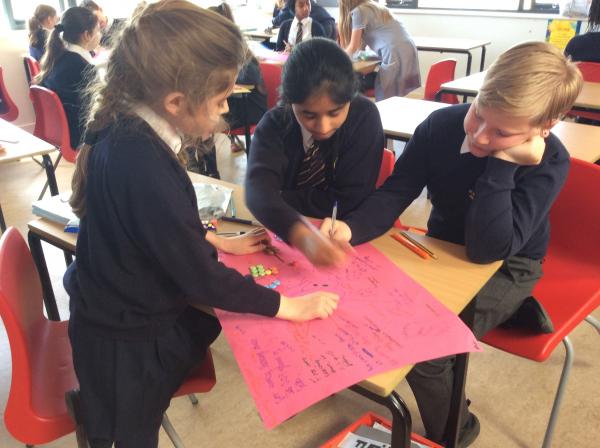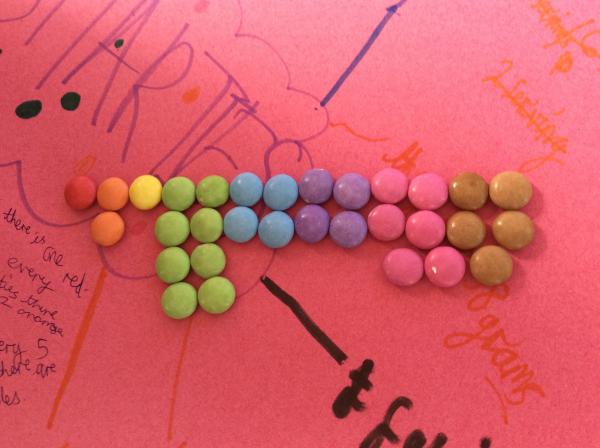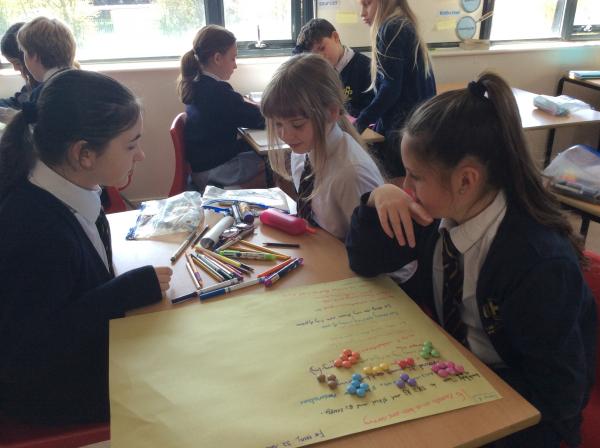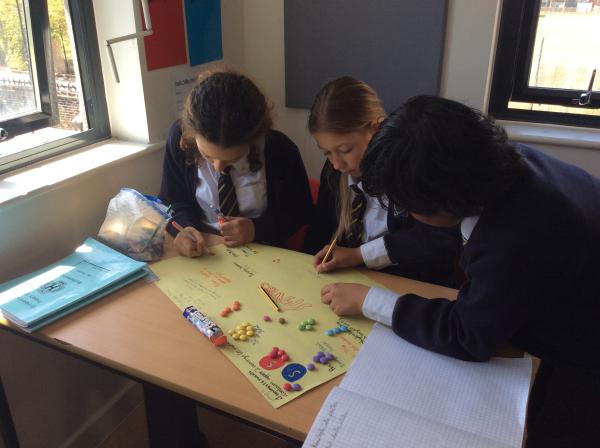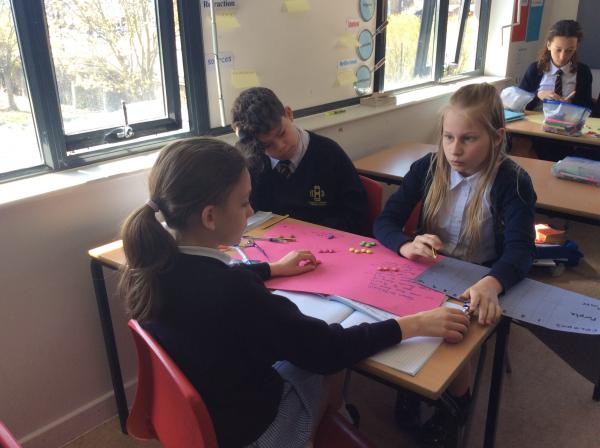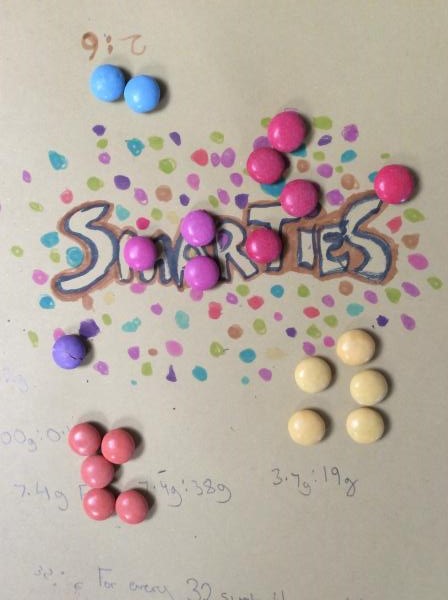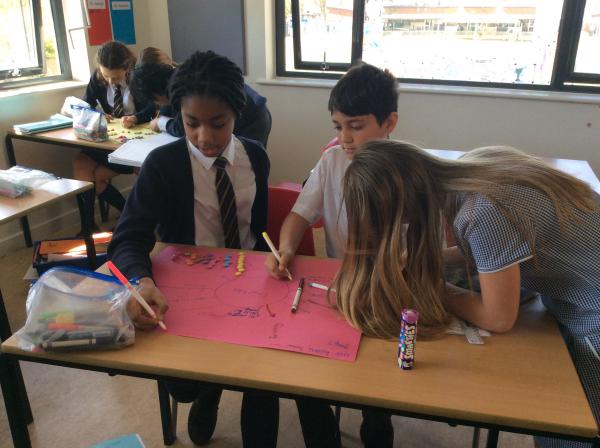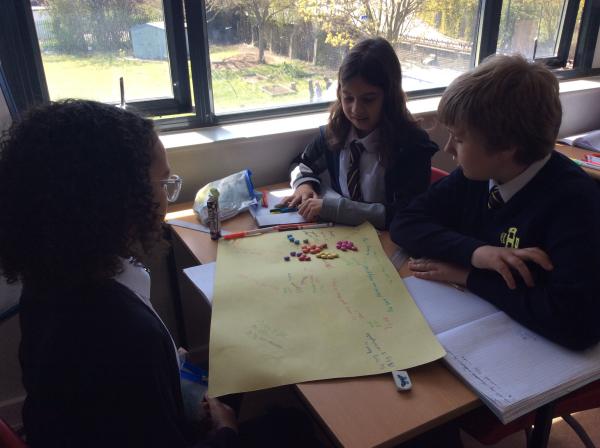 Class 6 using the nature area to explore their understanding of characterisation from their class reader.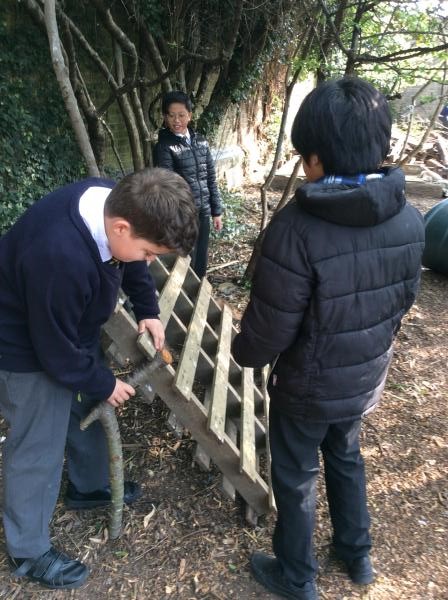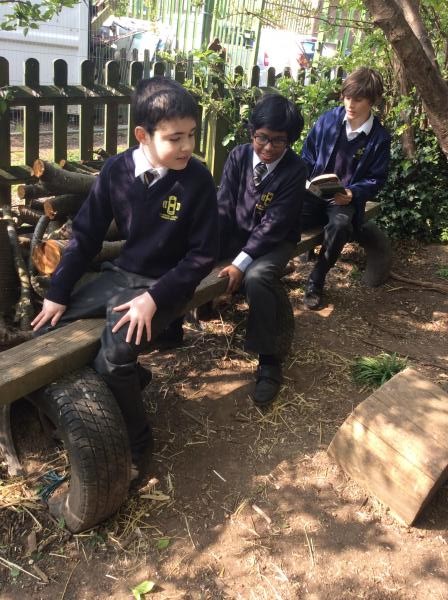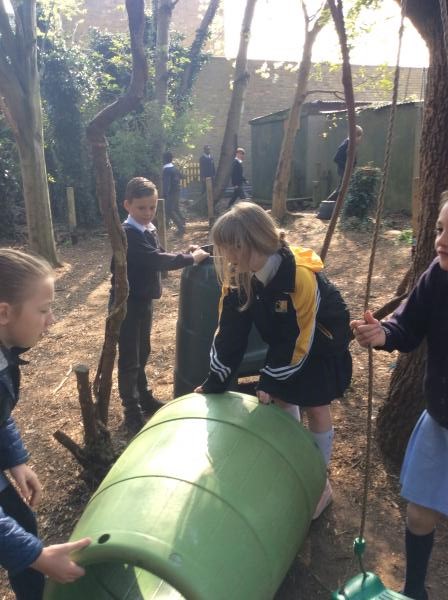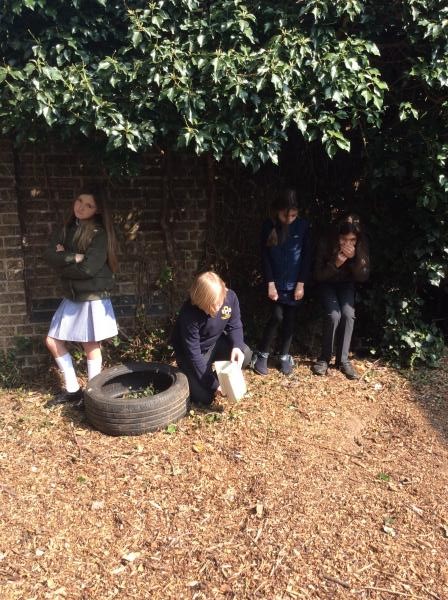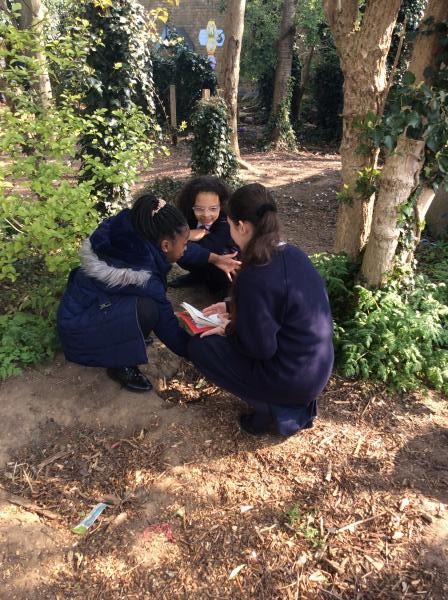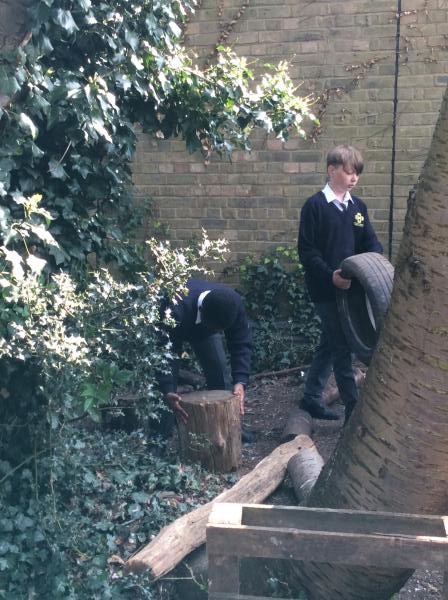 Problem Solving
This week, Year 6, took part in some difficult problem solving activities. Rearranging themselves on a bench without falling off, changing places in a hoop and moving the hoop round the circle.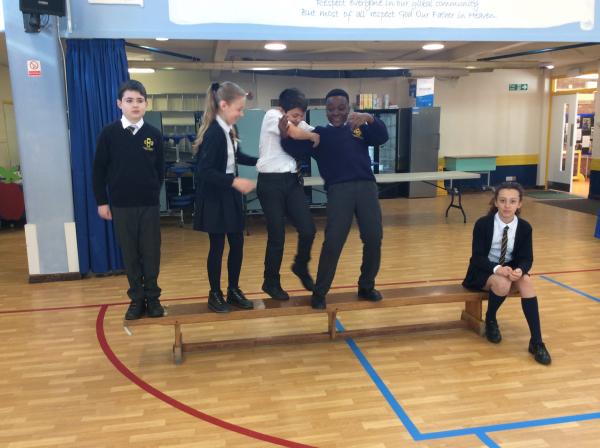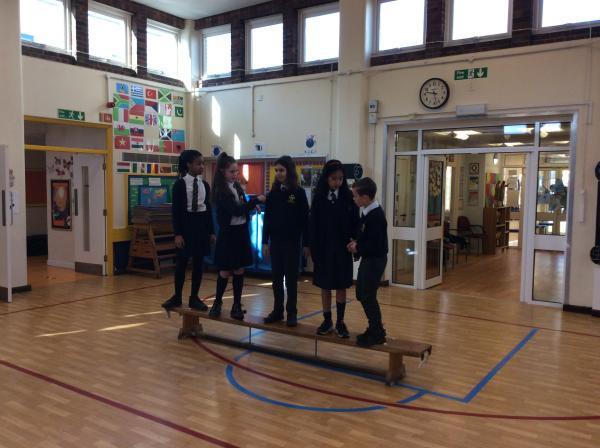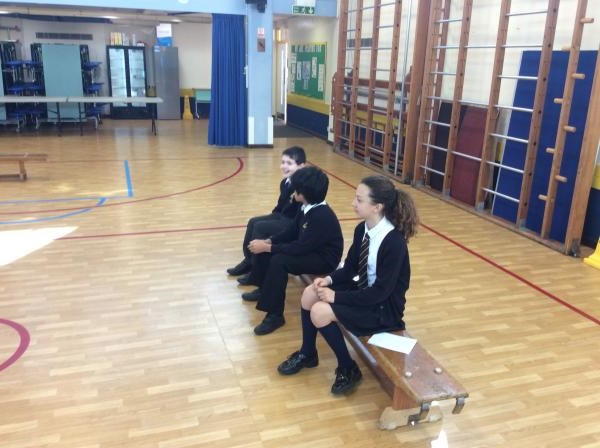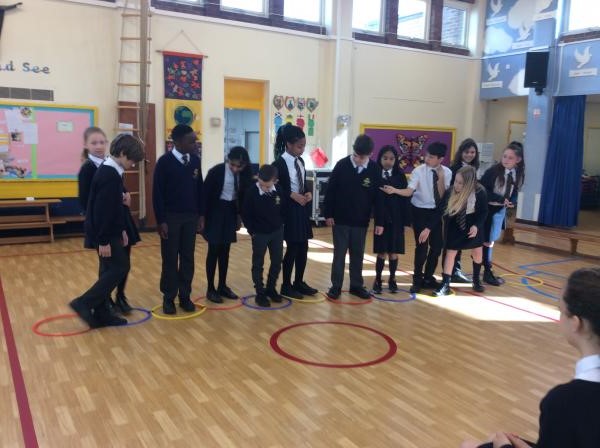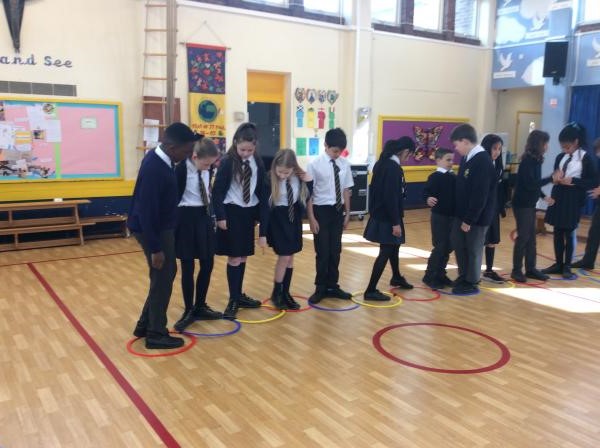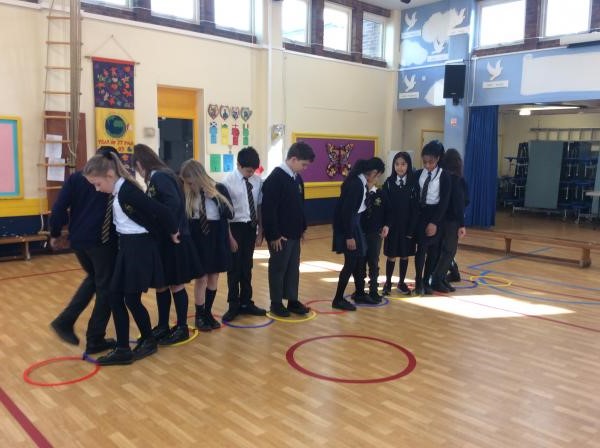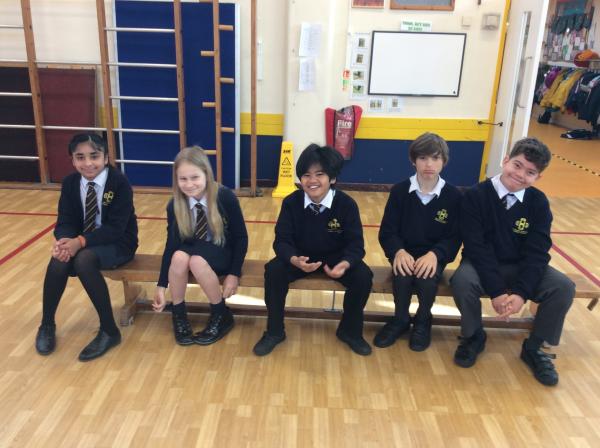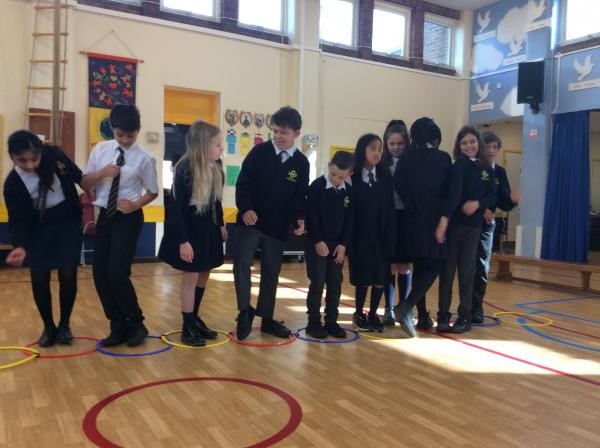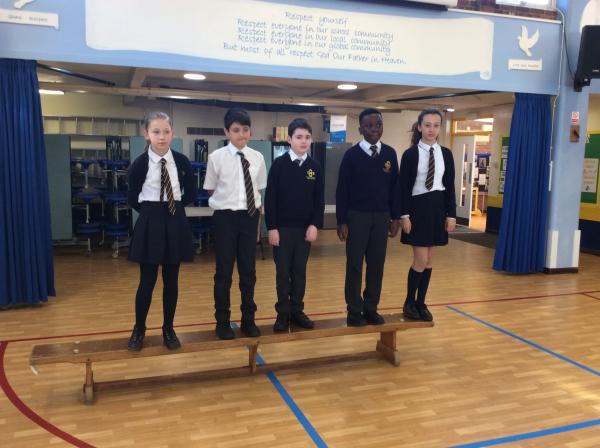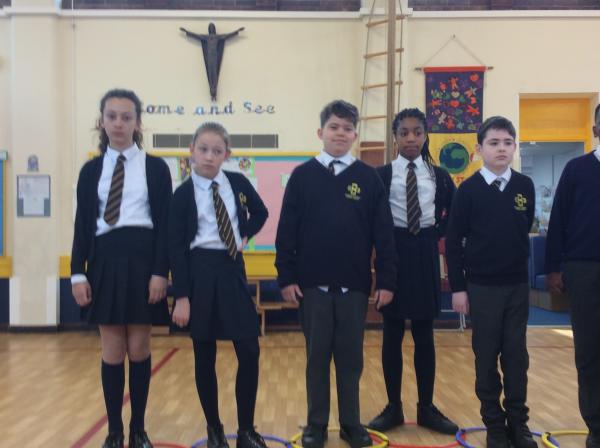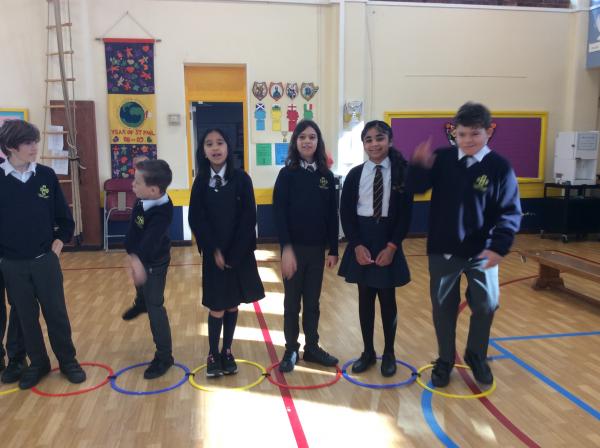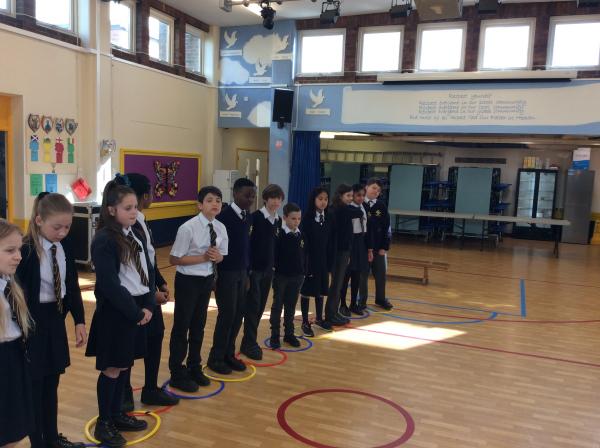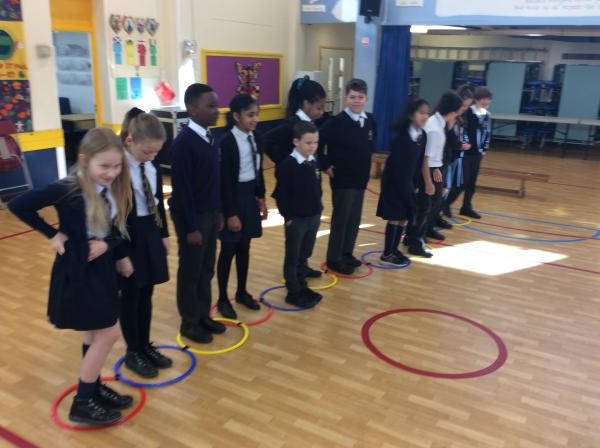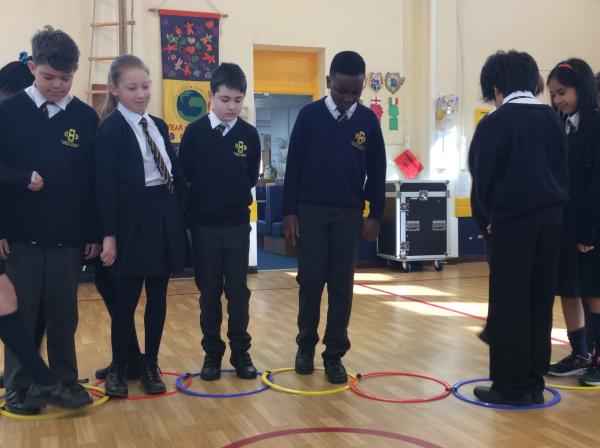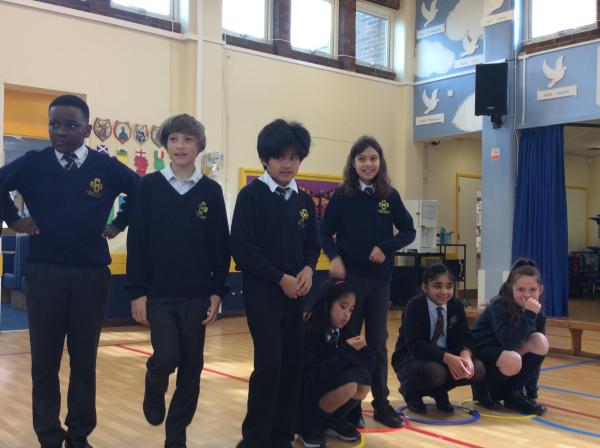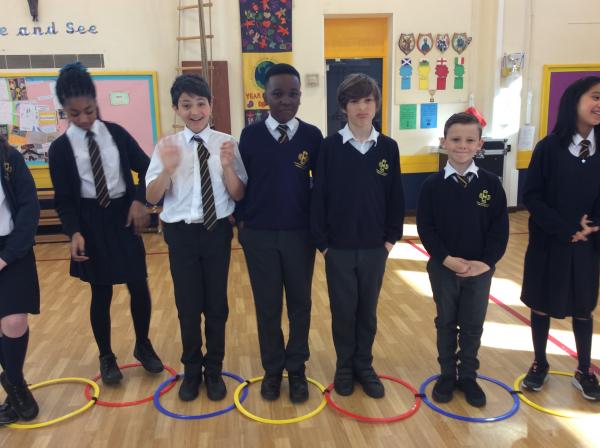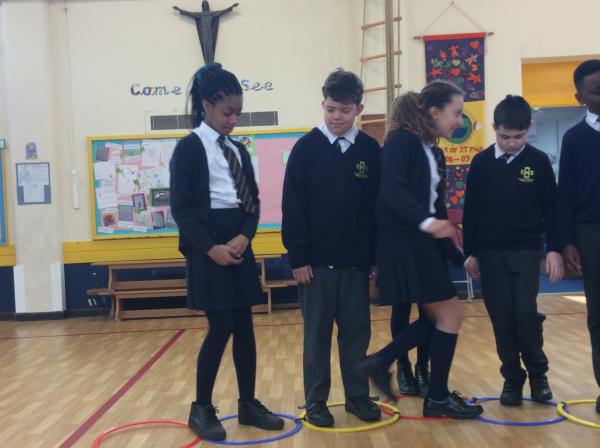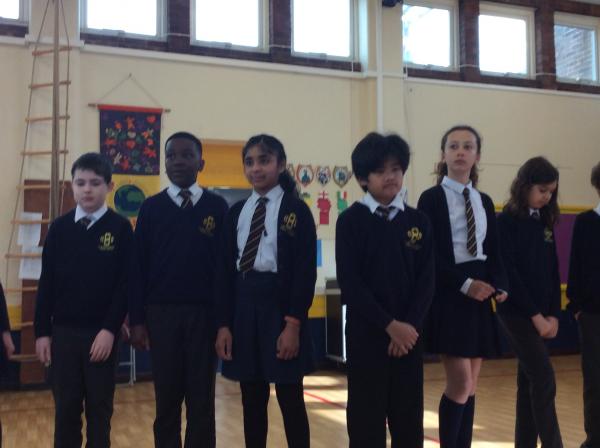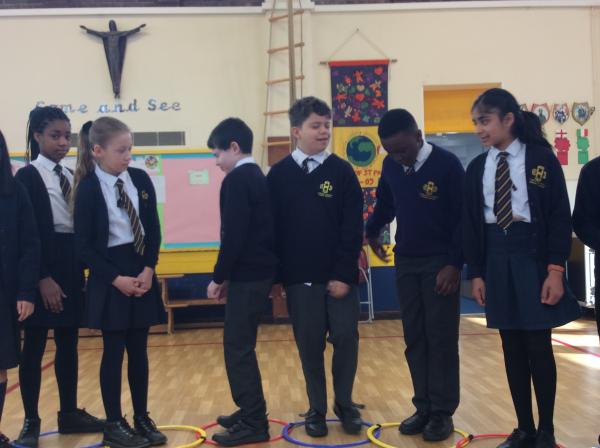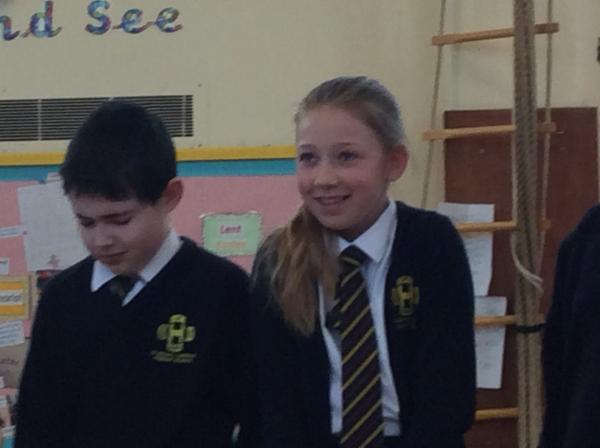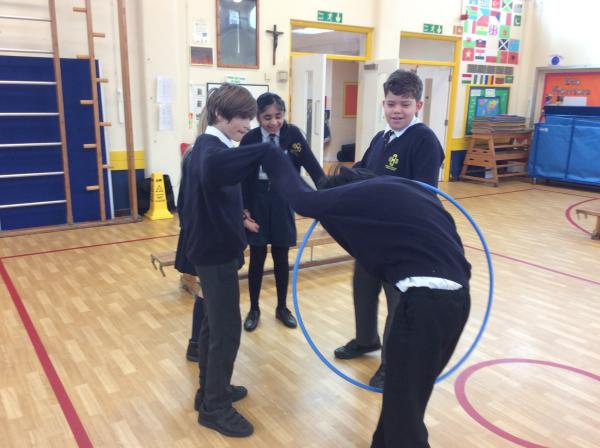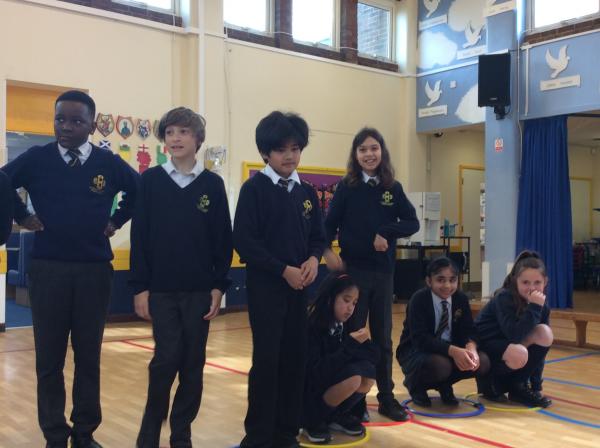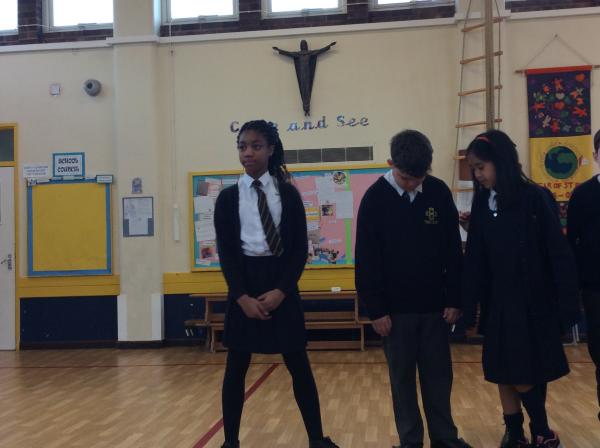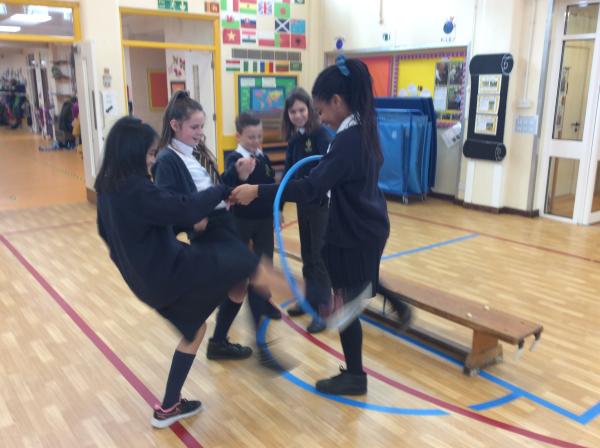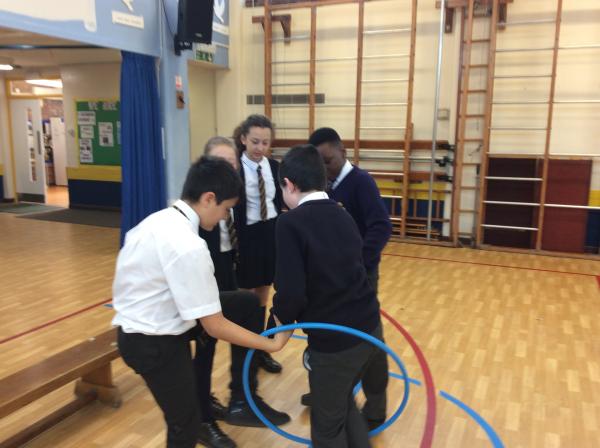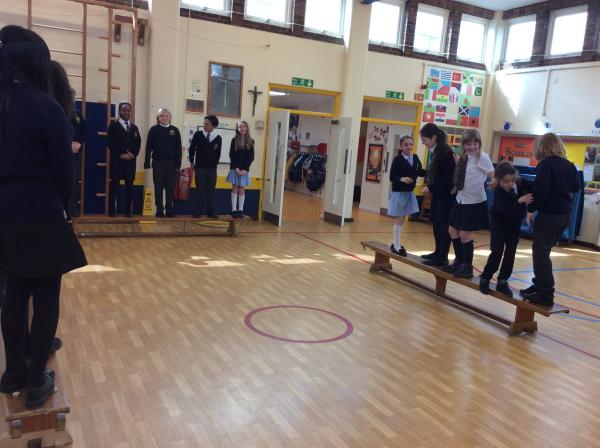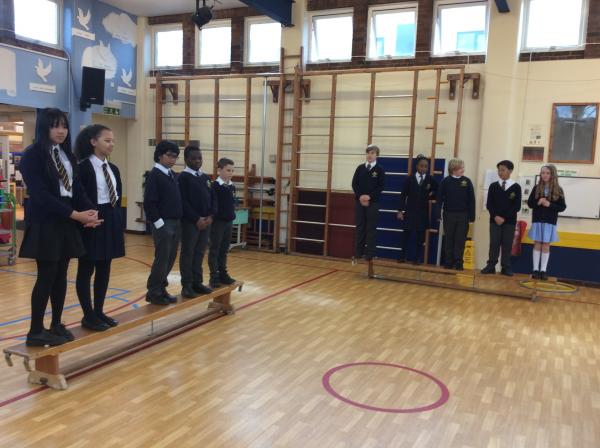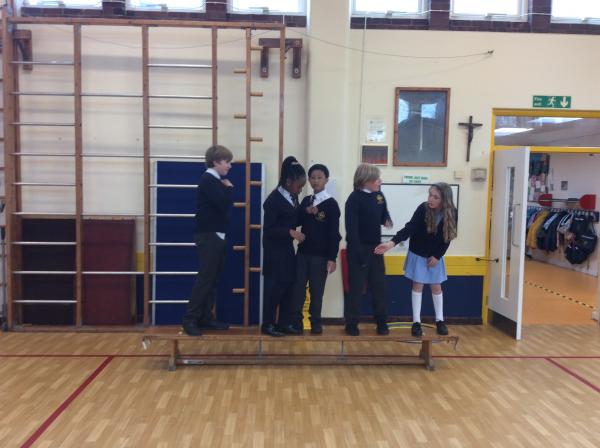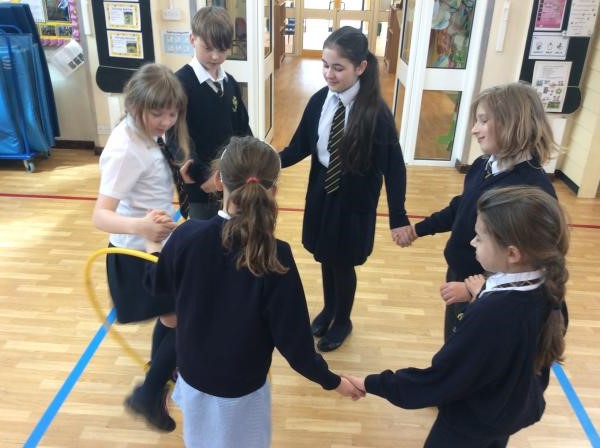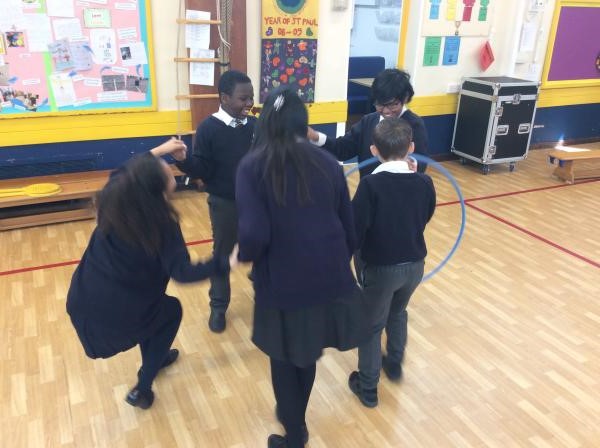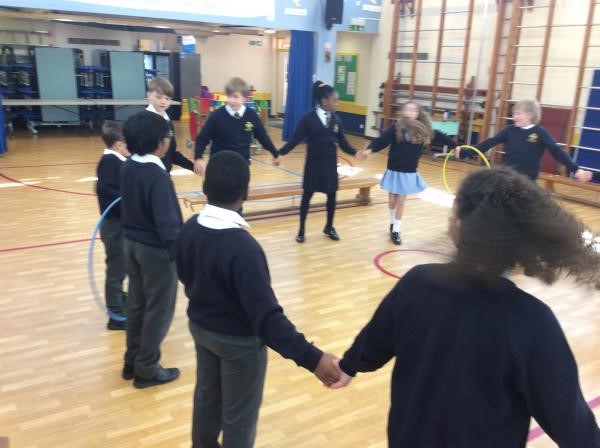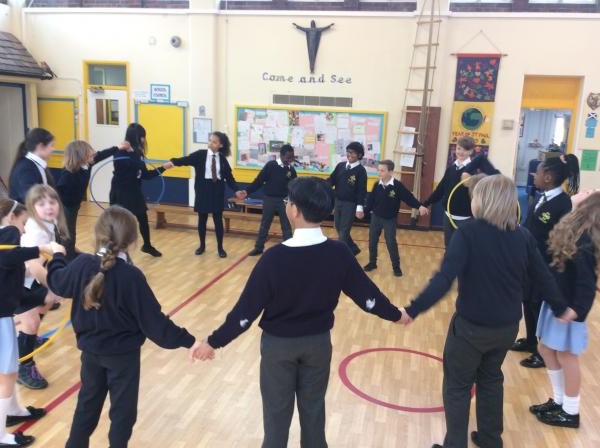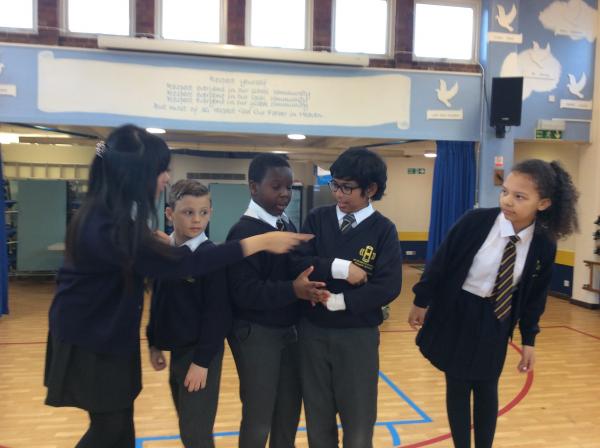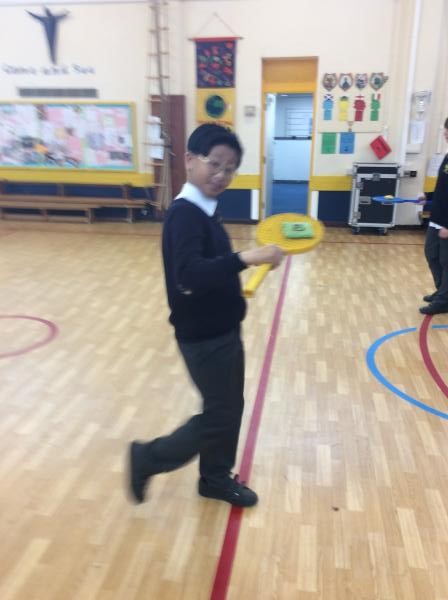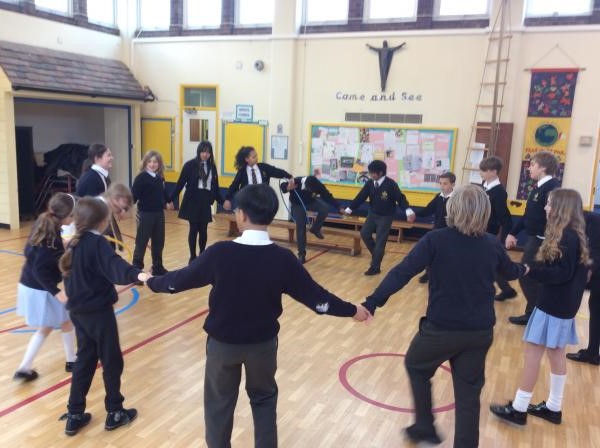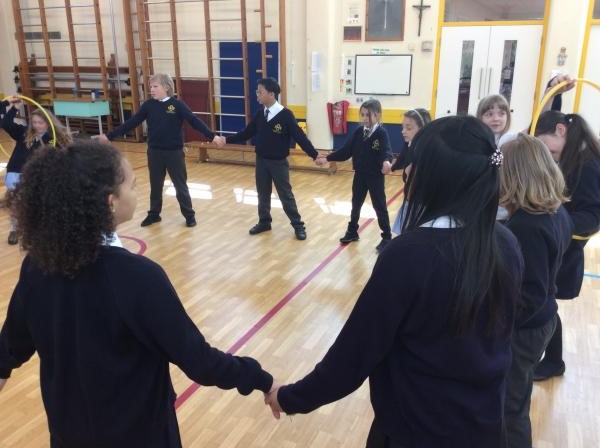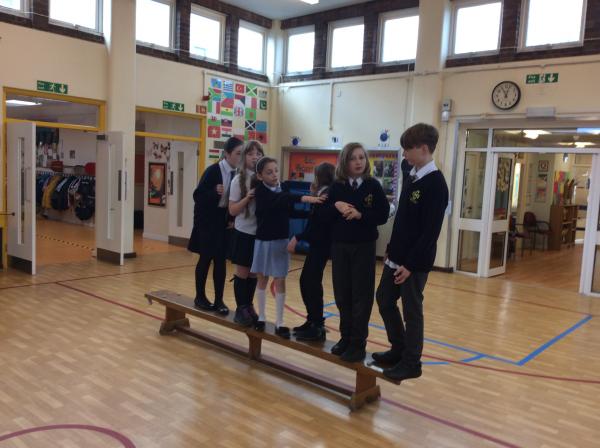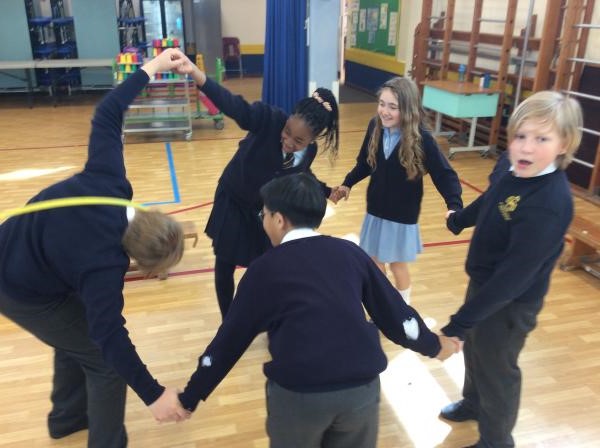 Light
For Science, our new topic is Light. We looked at different materials sorting them in as many different ways as possible.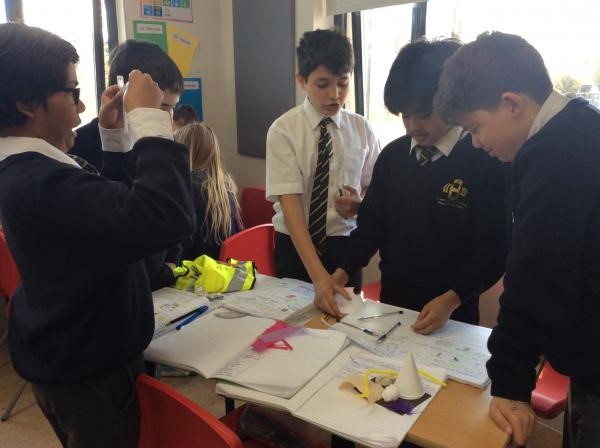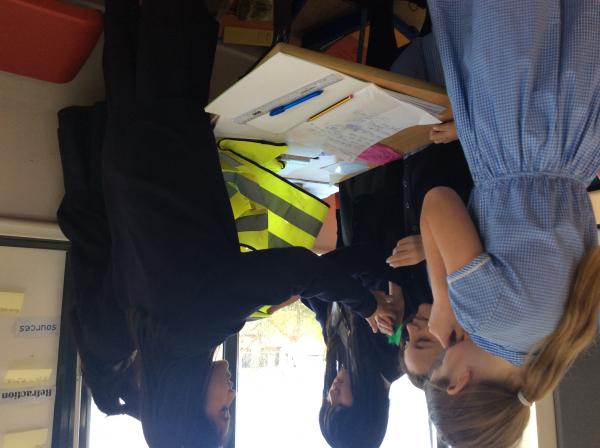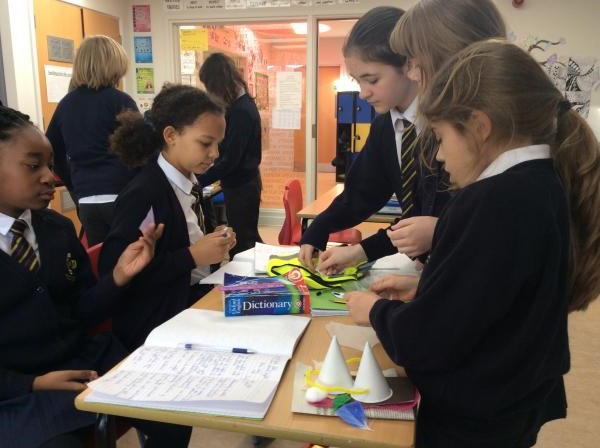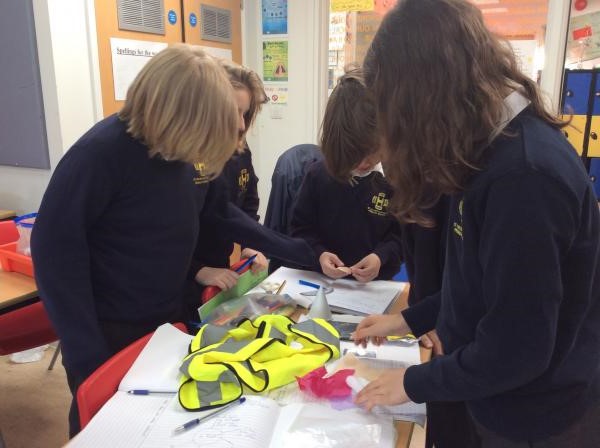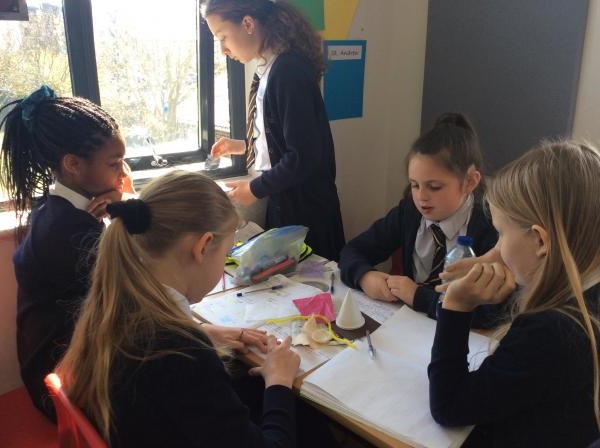 Cooking traditional cake from Vanuatu
Year 6 enjoyed today using their measuring and cooking skills to make a traditional banana and coconut cake from Vanuatu. Each cake turned out very differently but they all tasted just as good! Most children loved trying the new recipe and all enjoyed cooking! We were even able to have a discussion on irreversible and reversible changes, using natural resources and following traditions passed down from generation to generation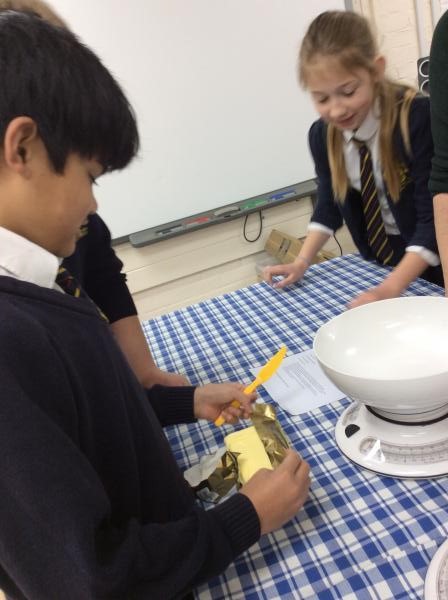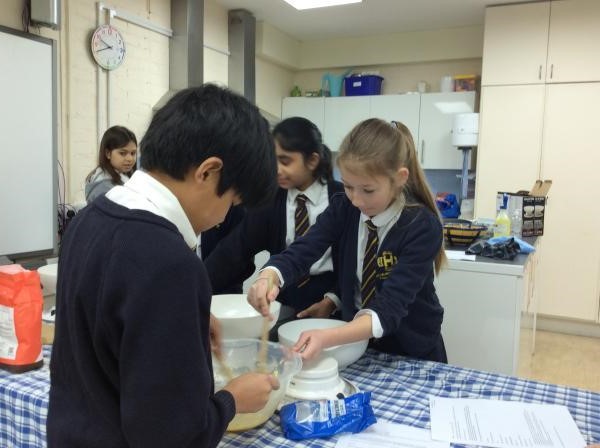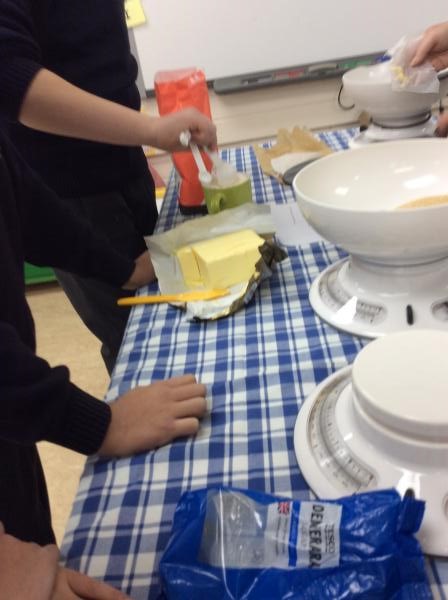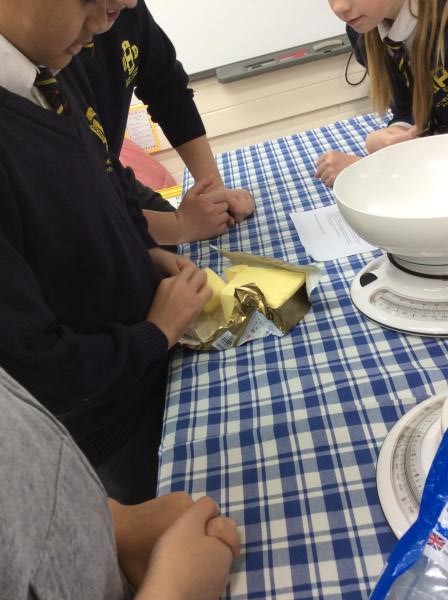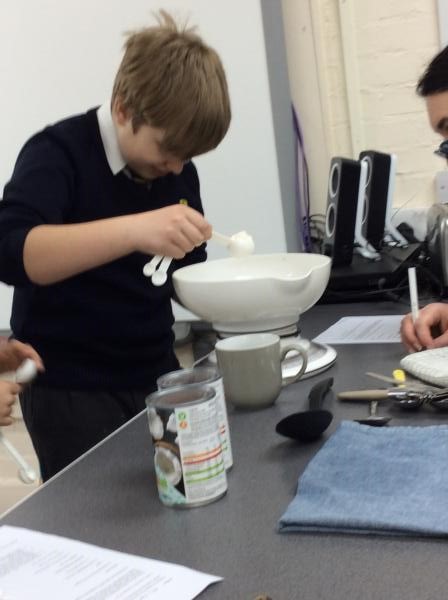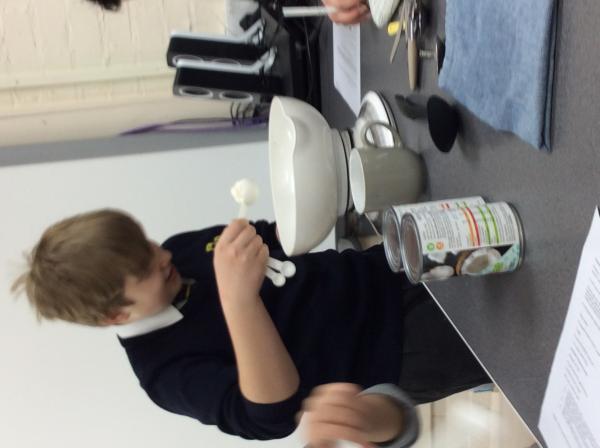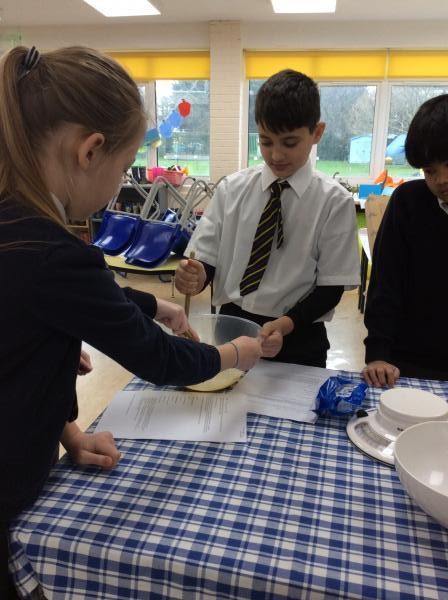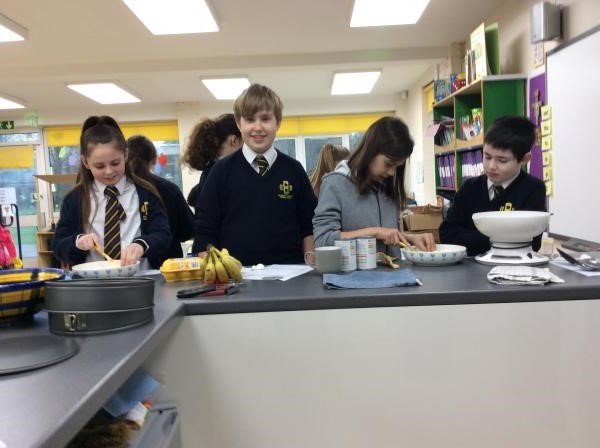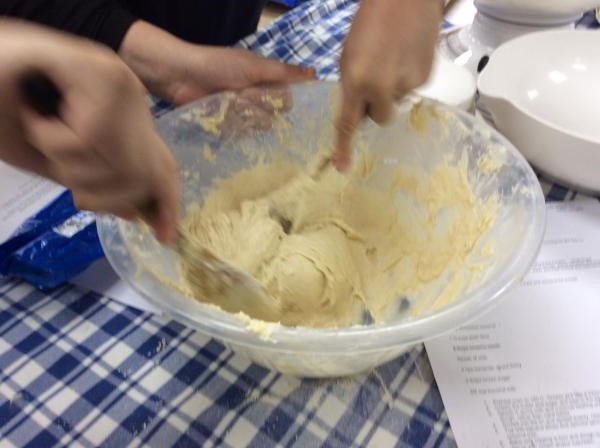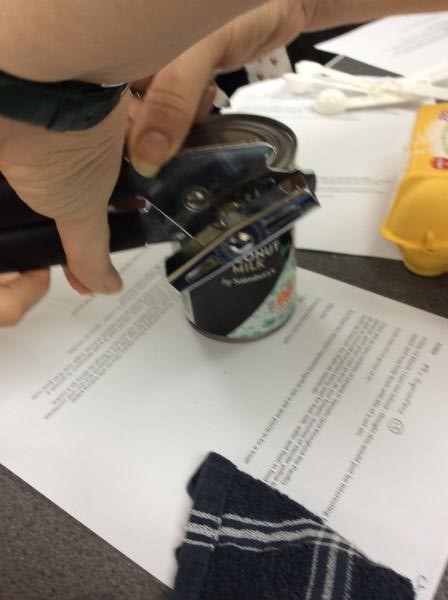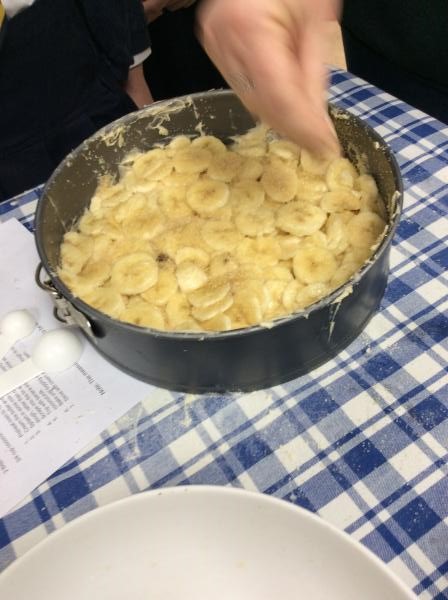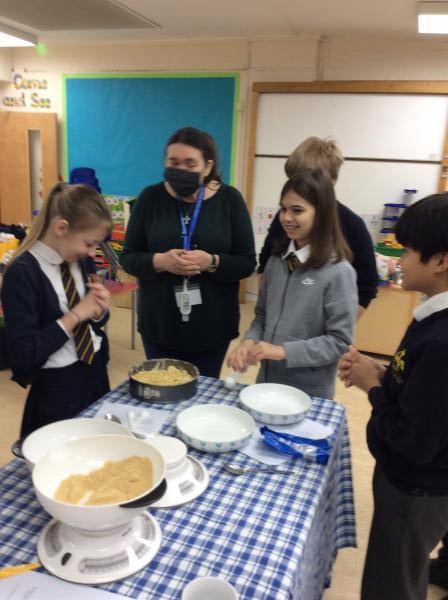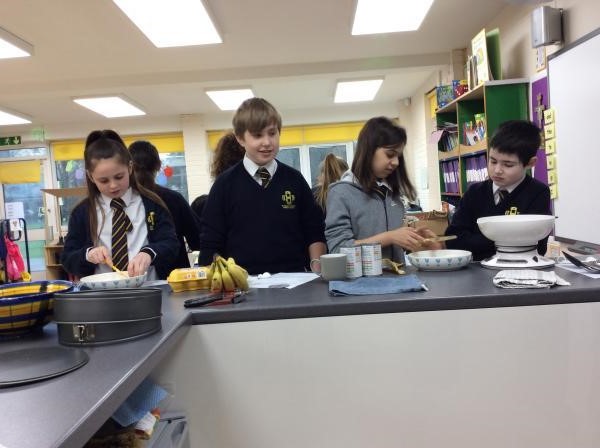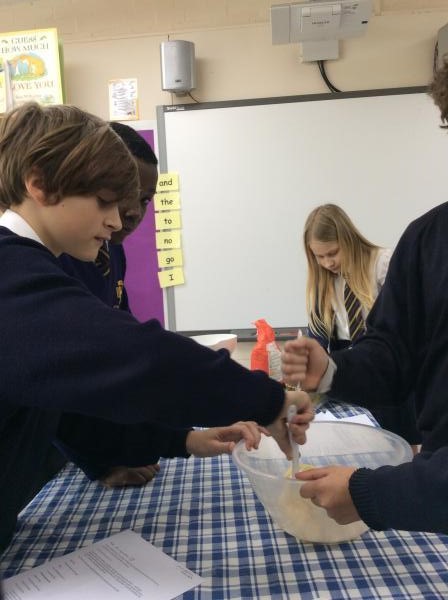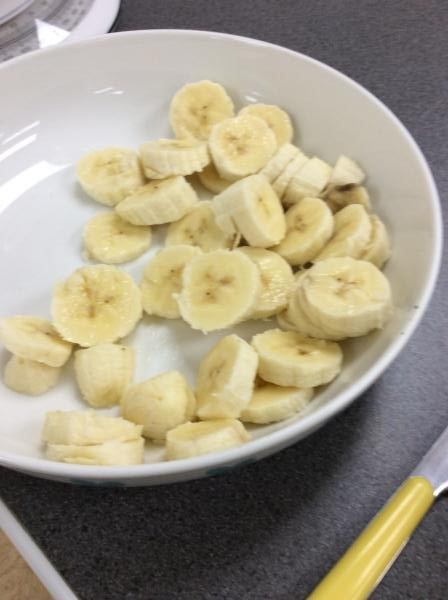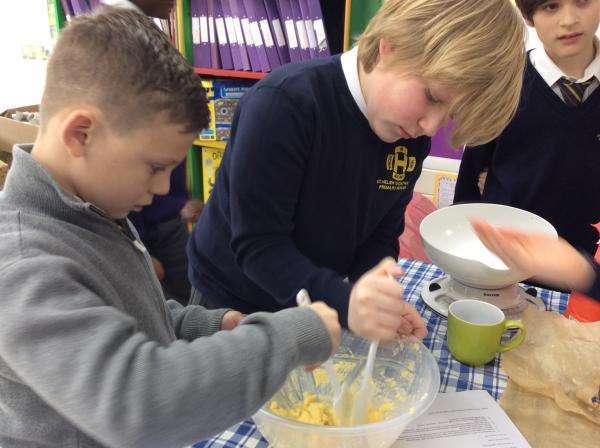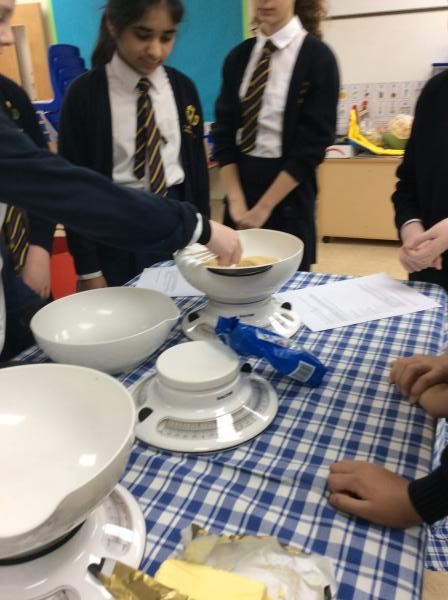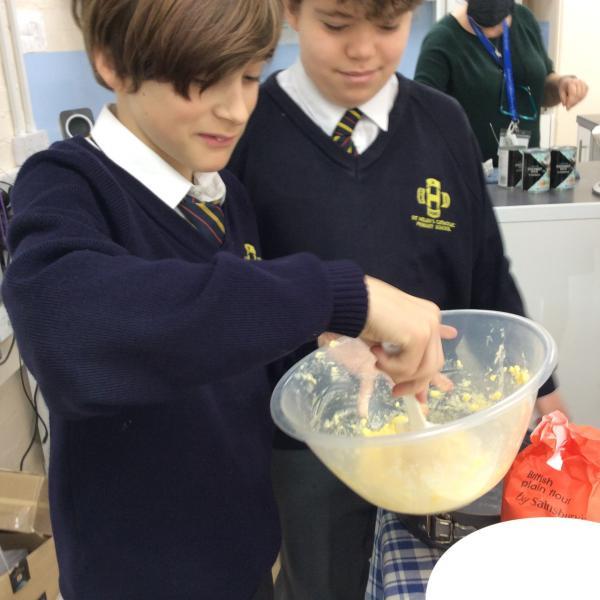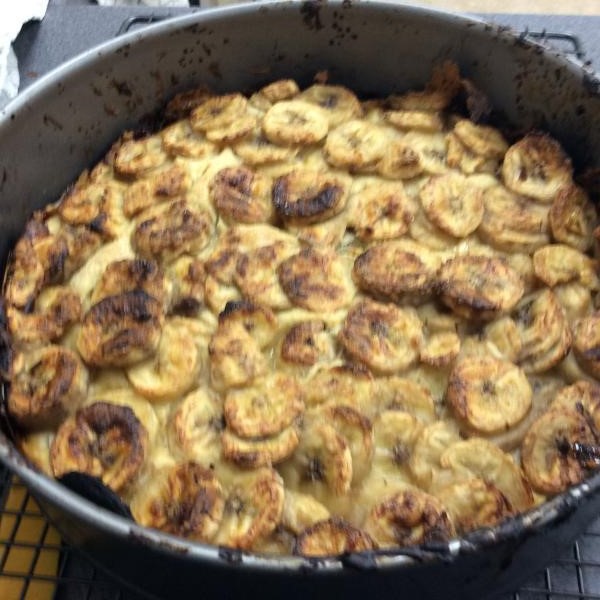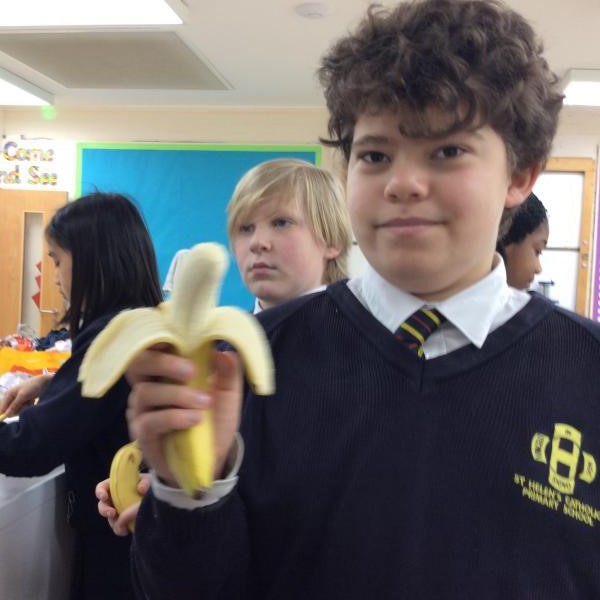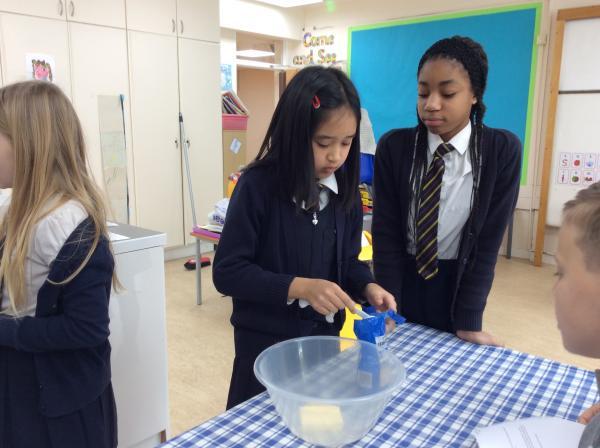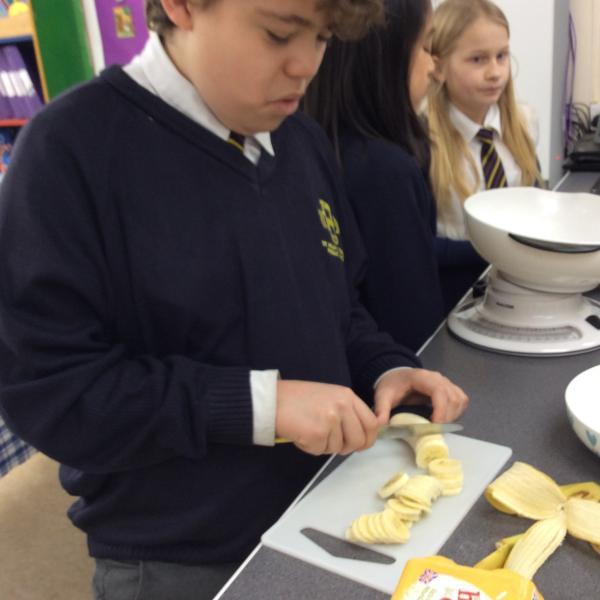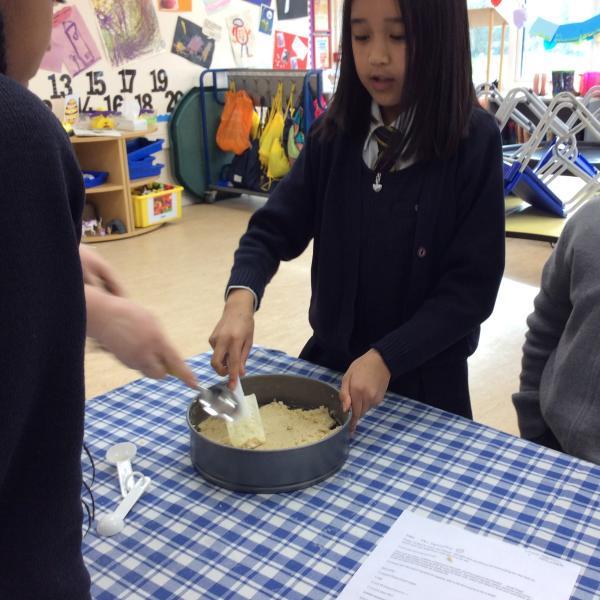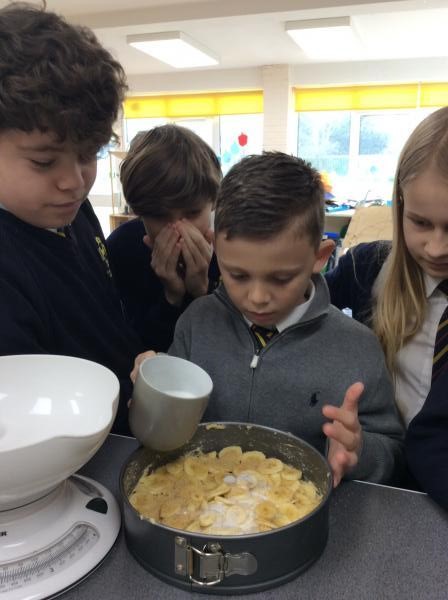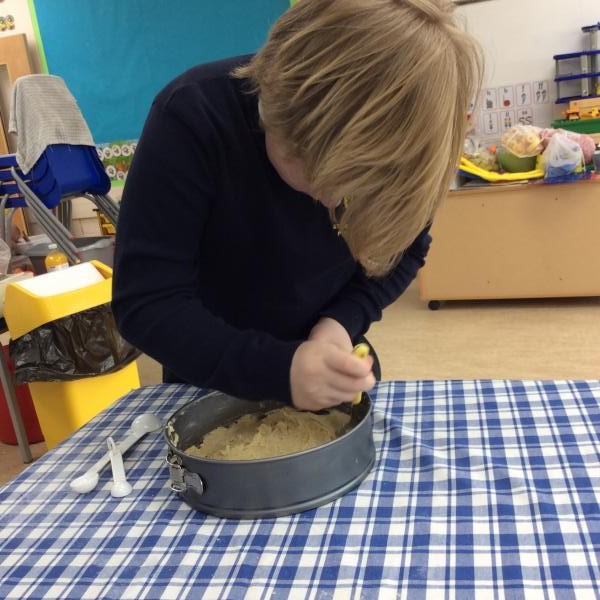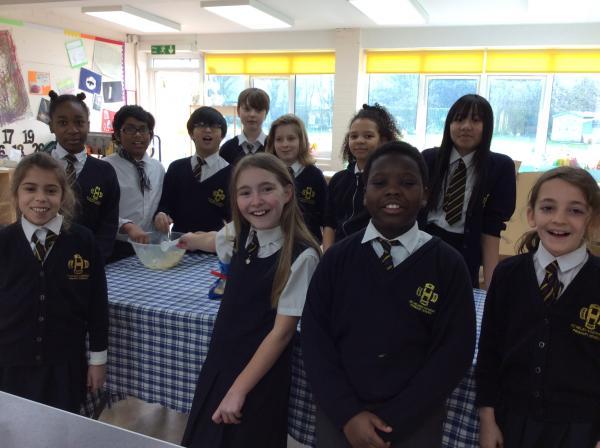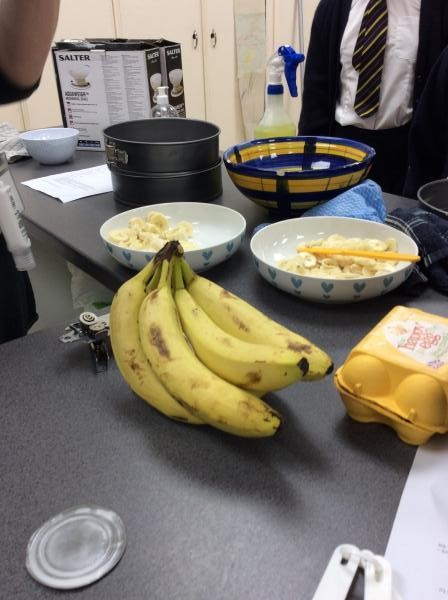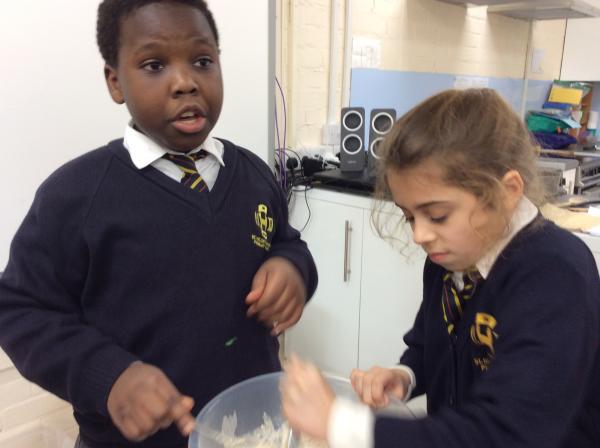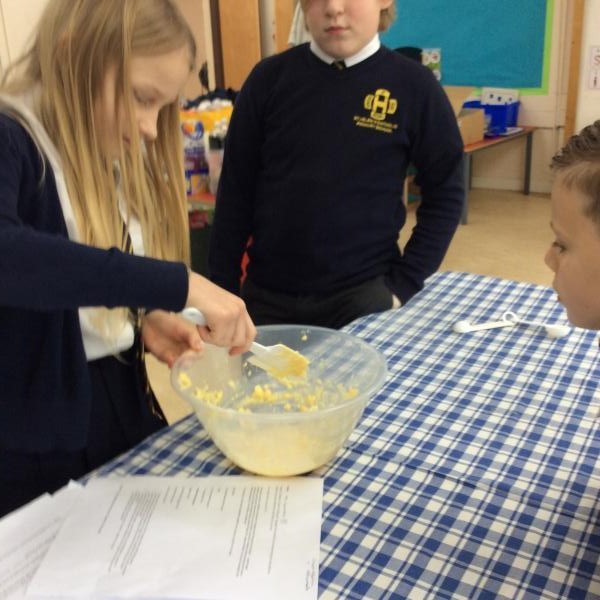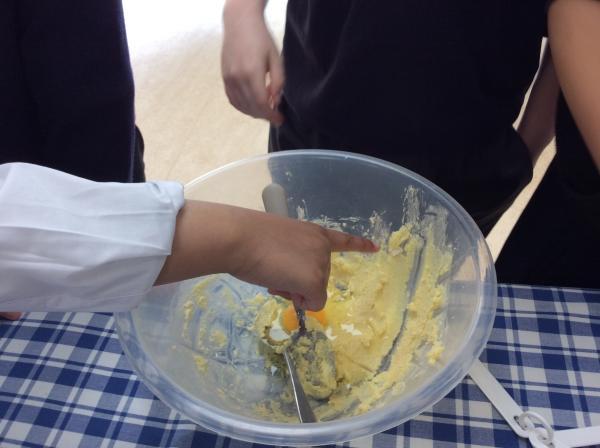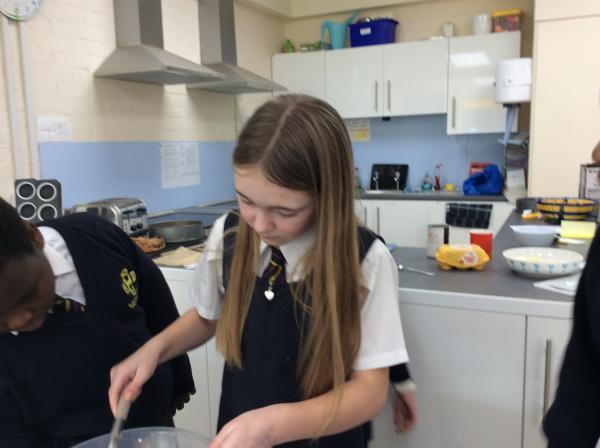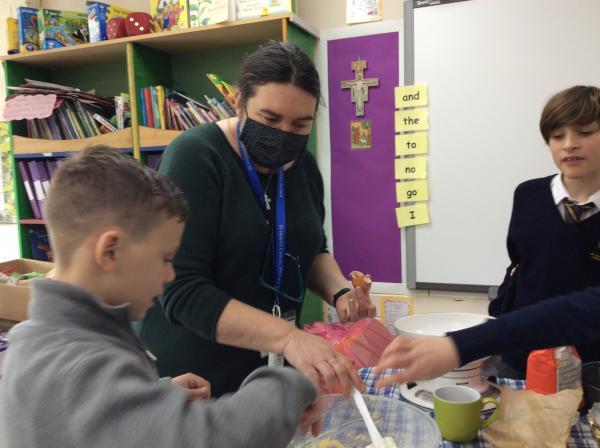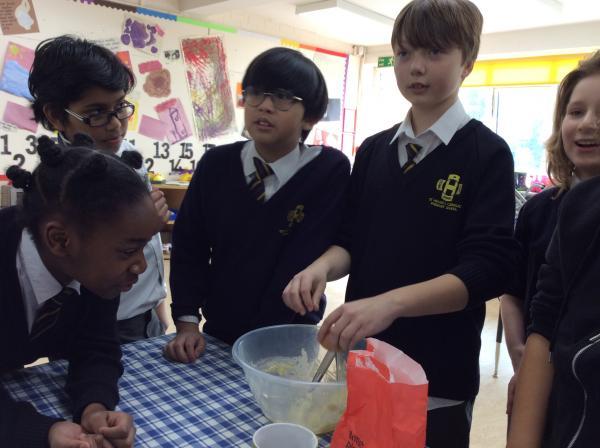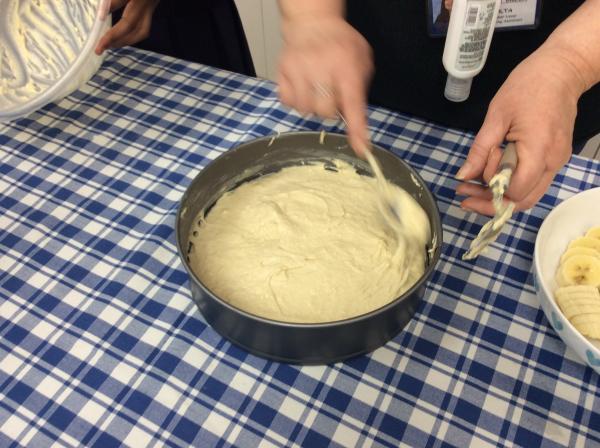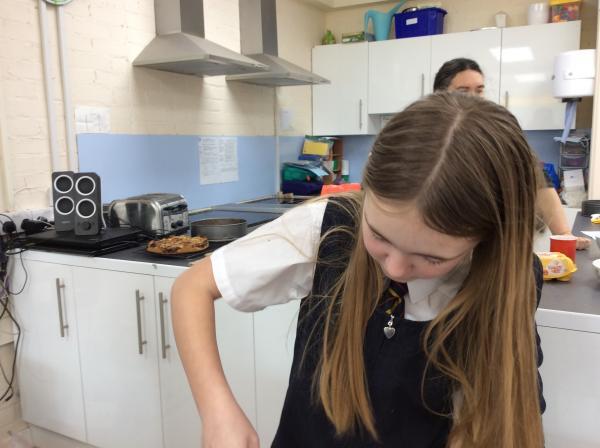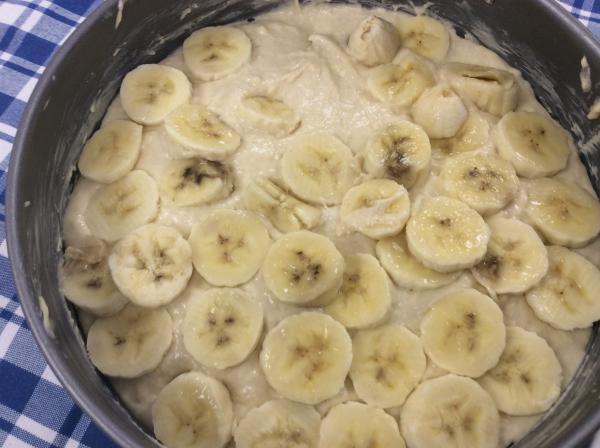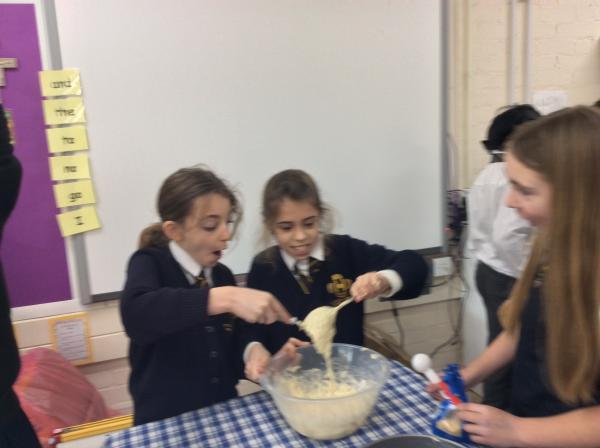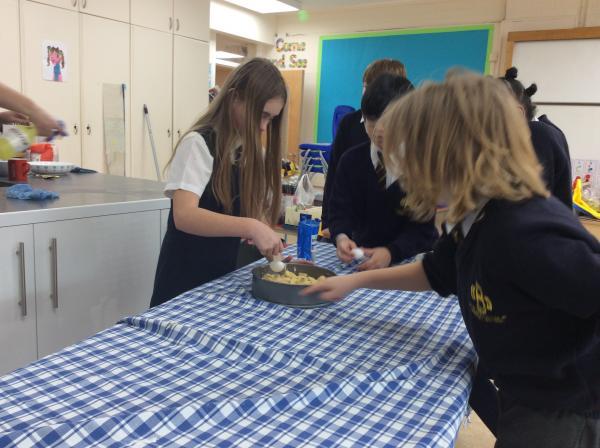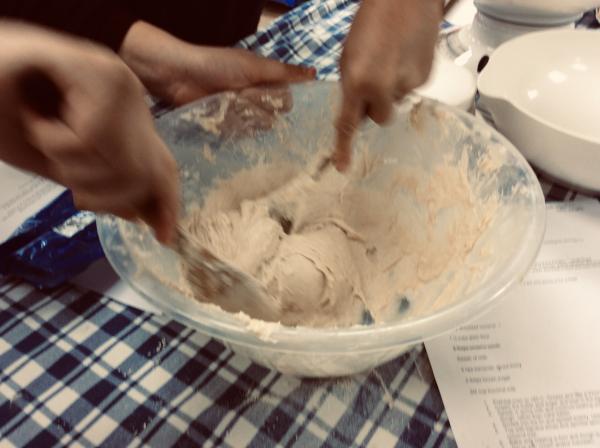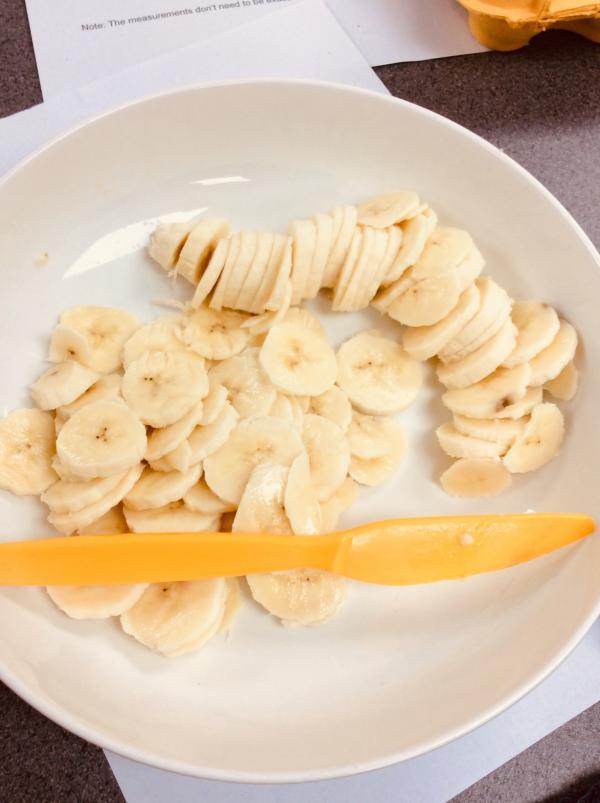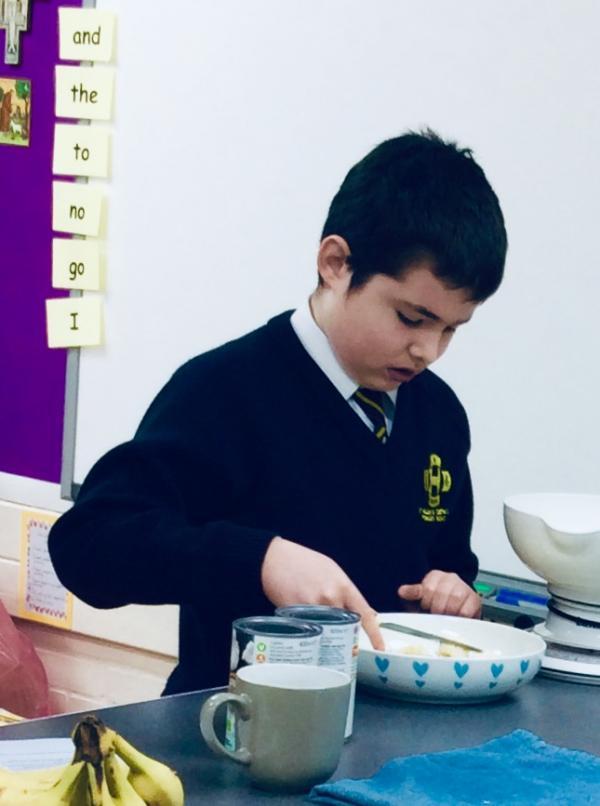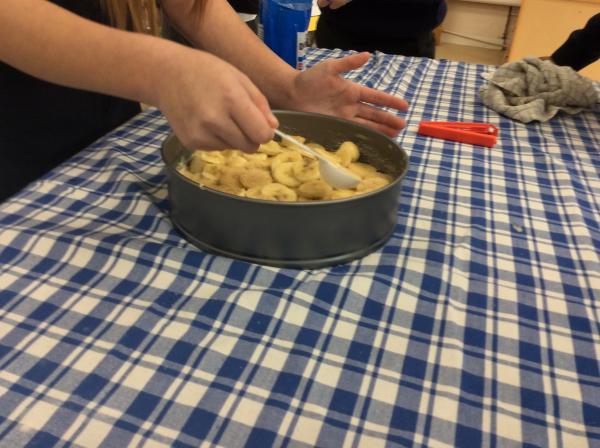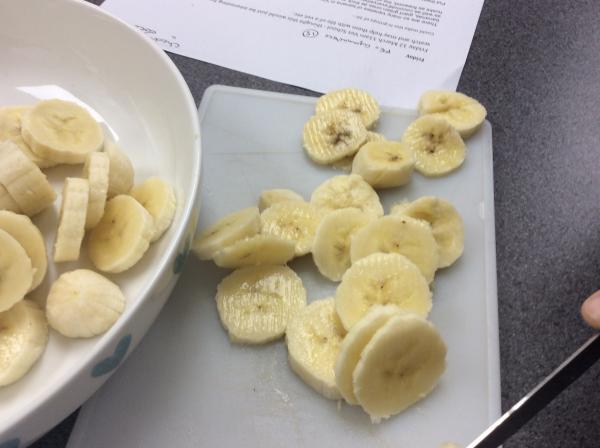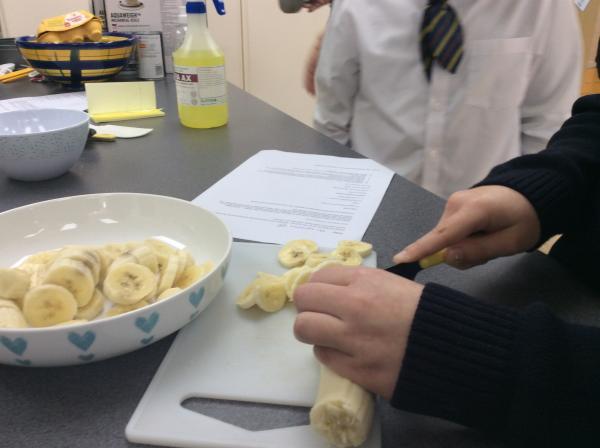 Making Useful Models
Year 6 enjoyed designing and making their models to help the people of Vanuatu. They ranged from wind turbines to teaching robots.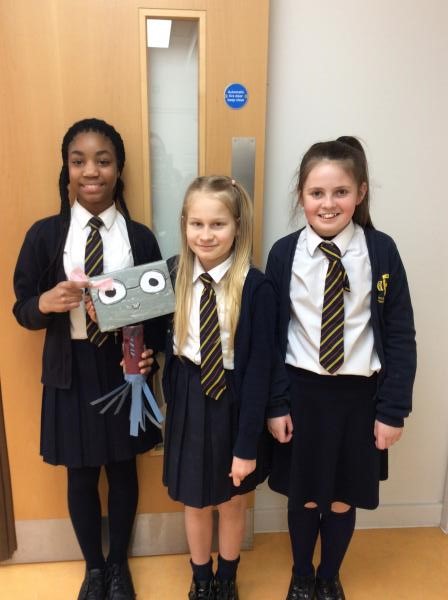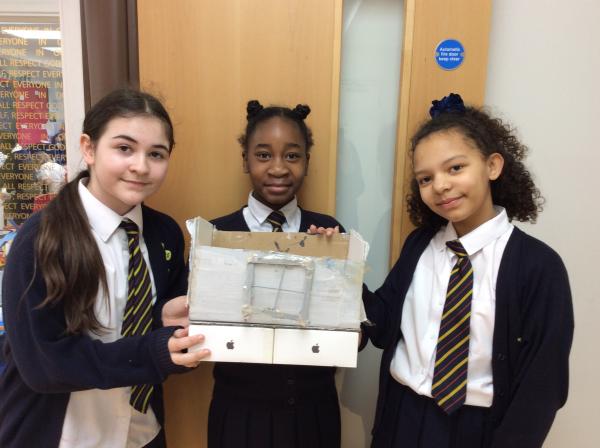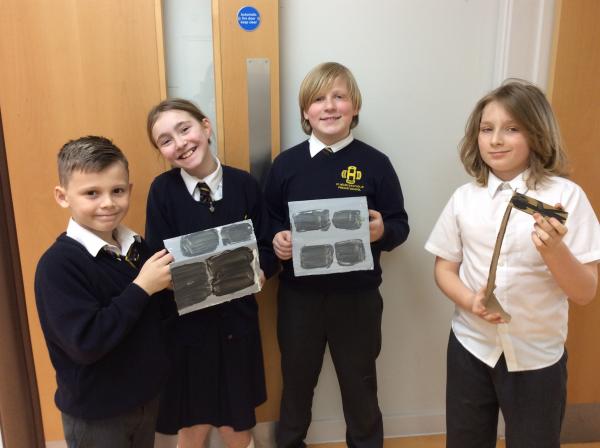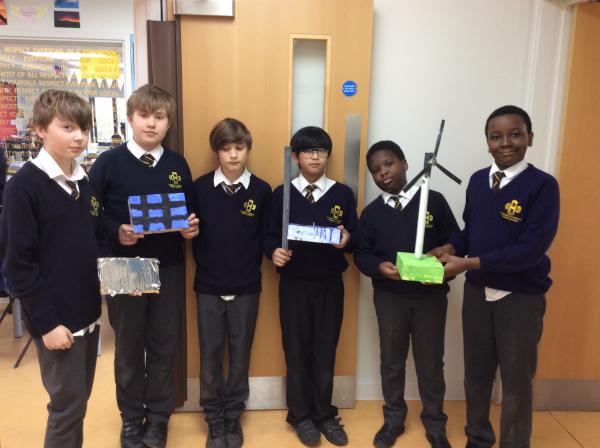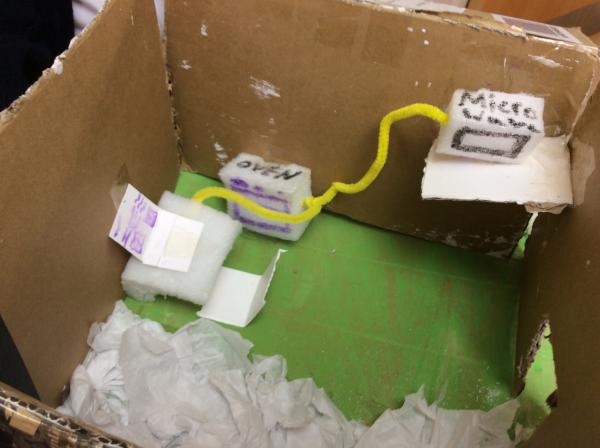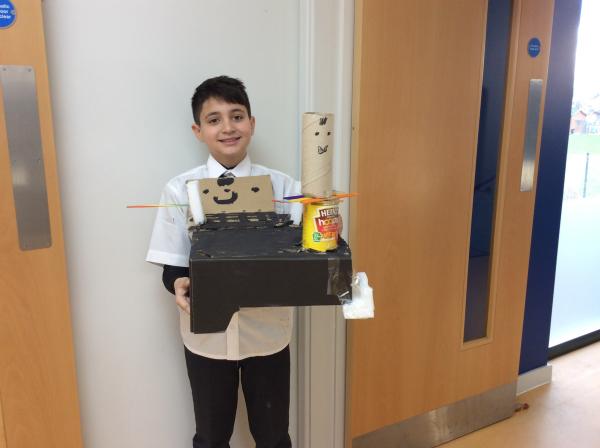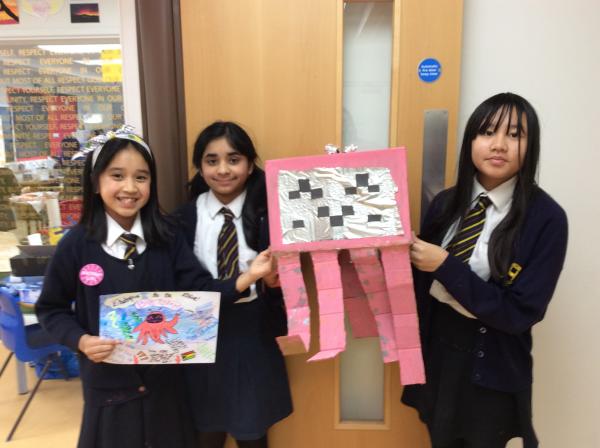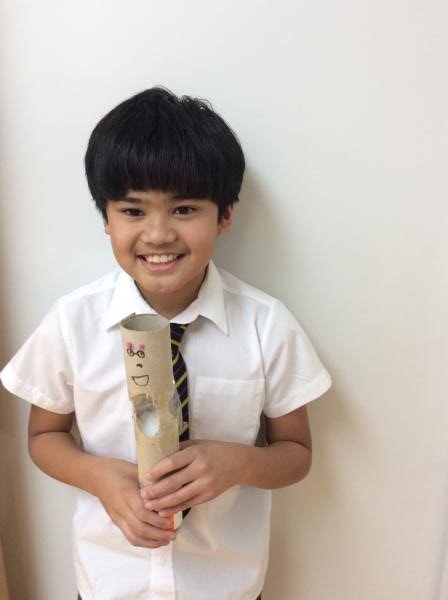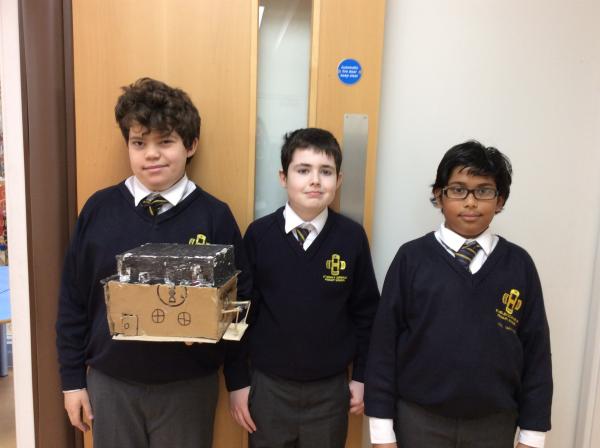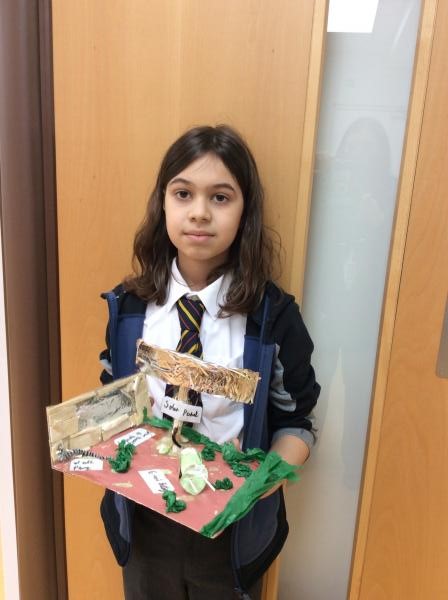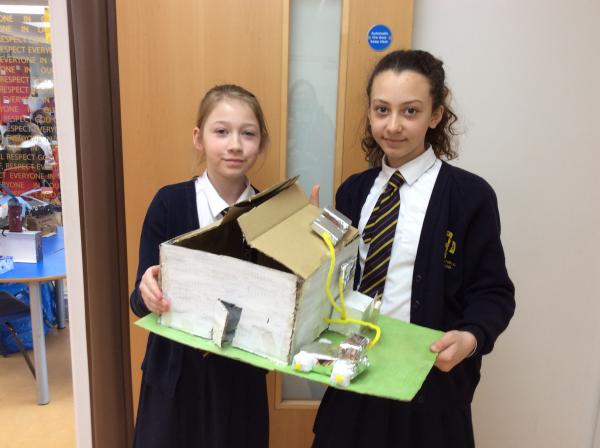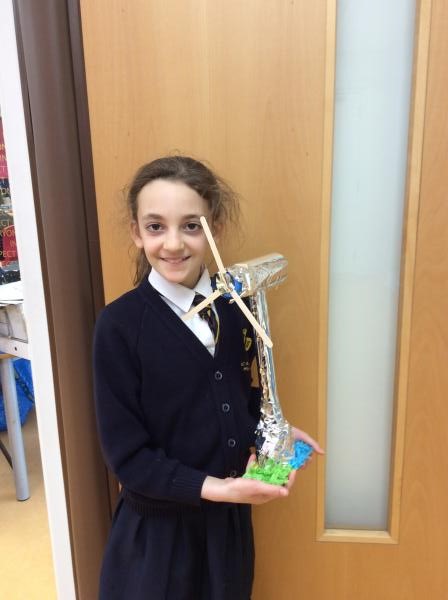 Year 6 enjoying the Gymnastic apparatus, they devised some very detailed sequences.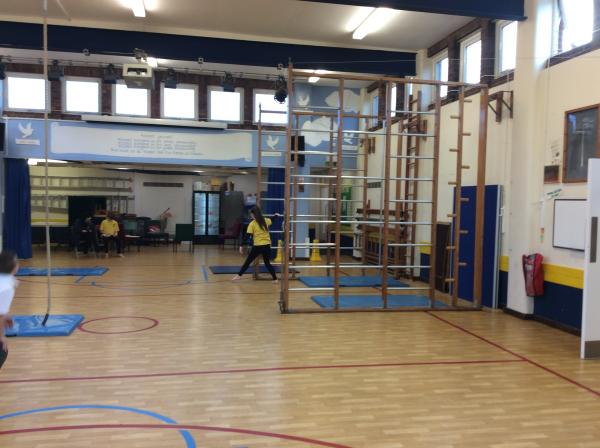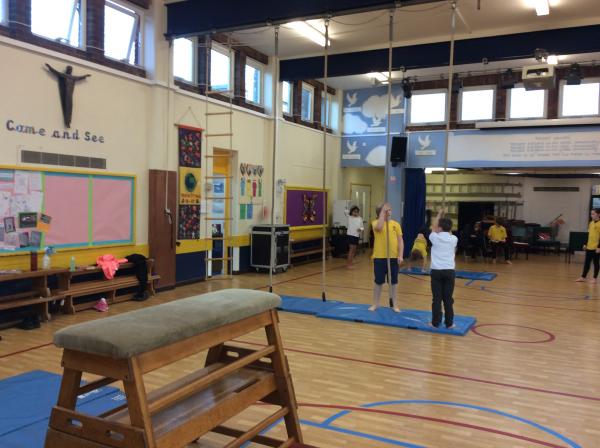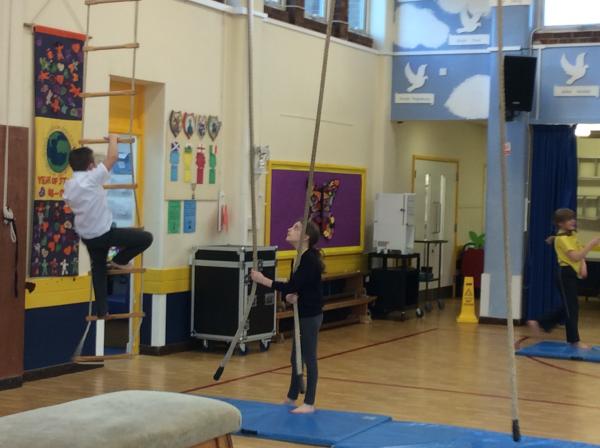 Fossil Hunters
Today, Year 6 have been fossil hunters, extracting the chocolate chips from the cookie with different degrees of success! I think they have all decided on new jobs now!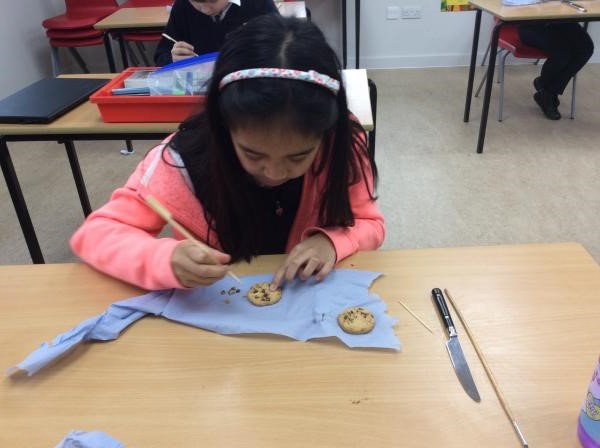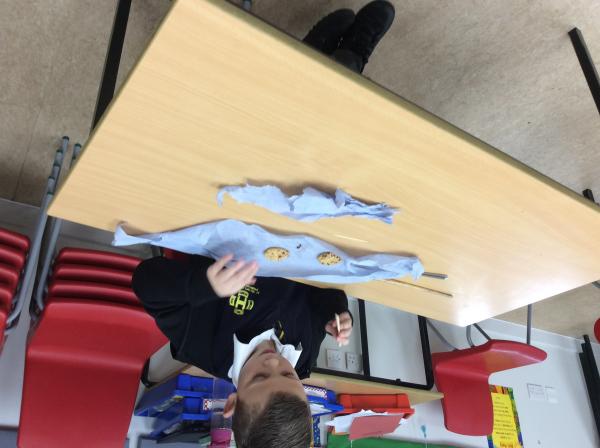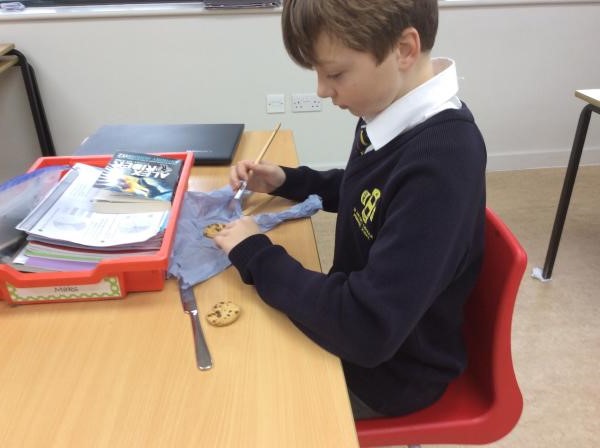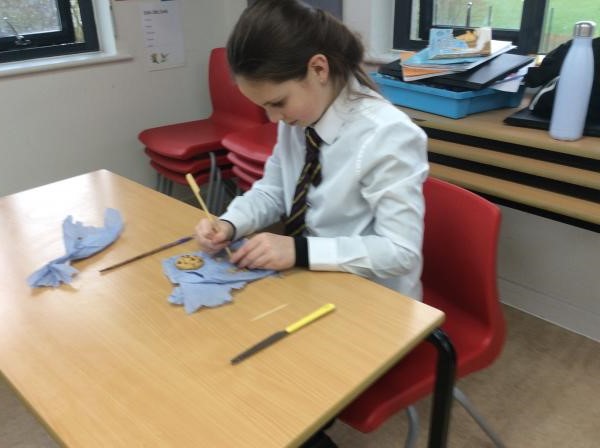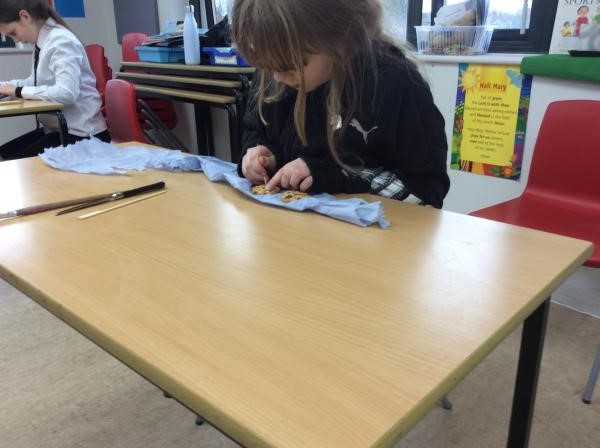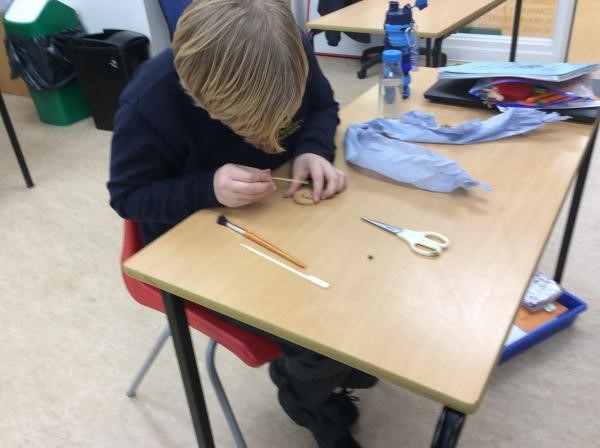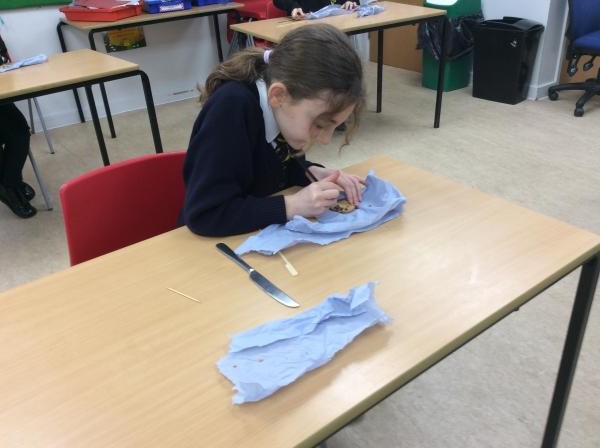 Investigating bird beaks
This afternoon, Year 6 experimented with different utensils imitating birds beaks to collect their food. The results were surprising. Year 6 found the spoon was the most versatile, picking up each kind of food quickly. We compared this to the beak of a pelican.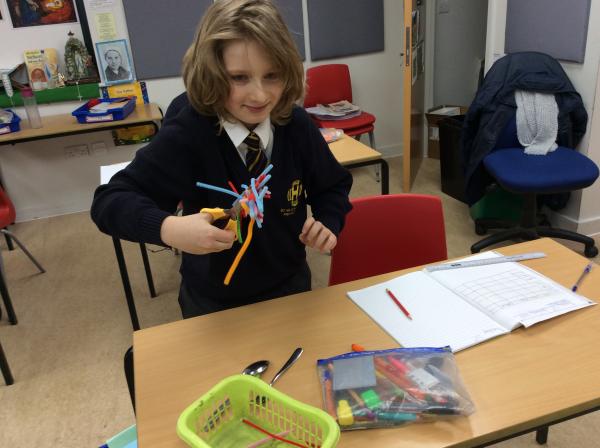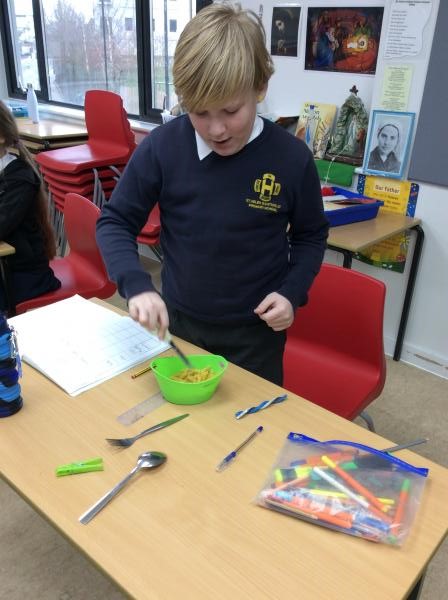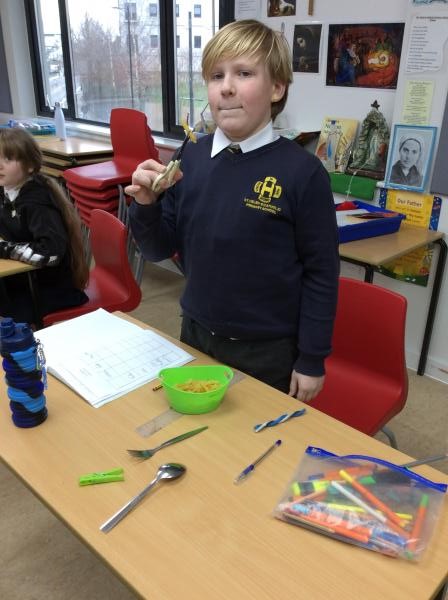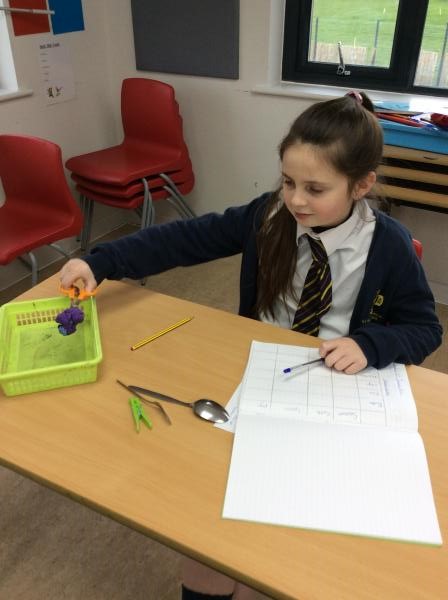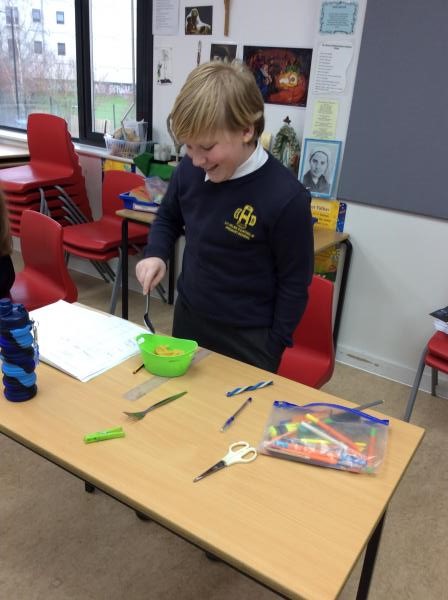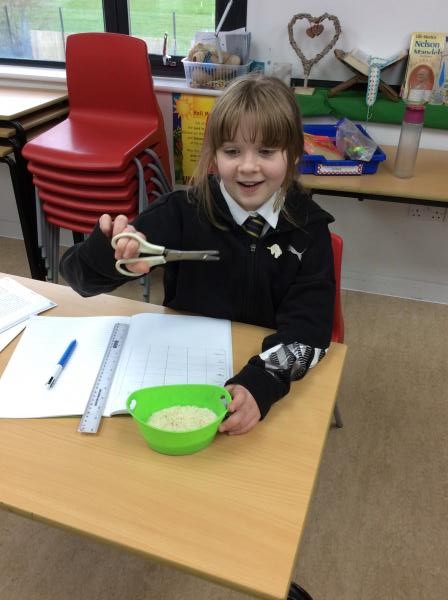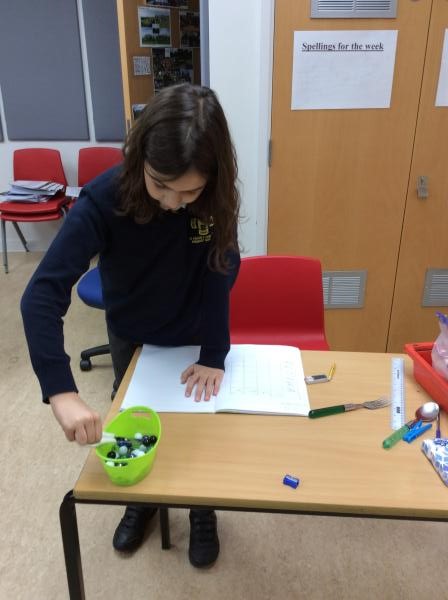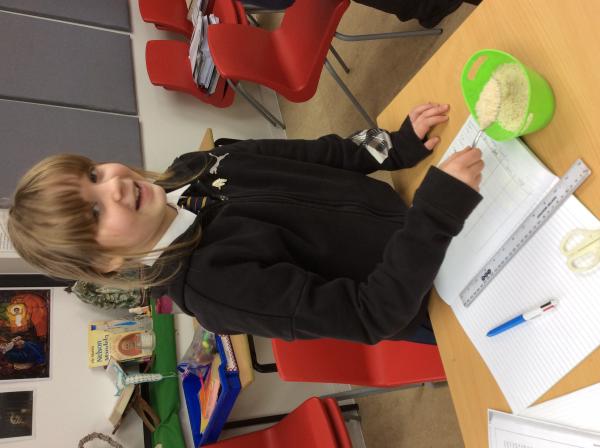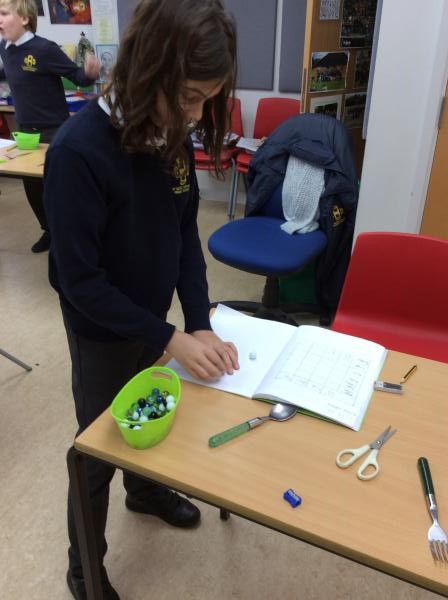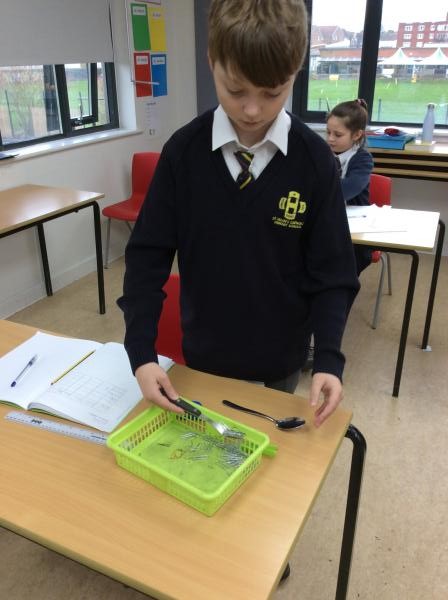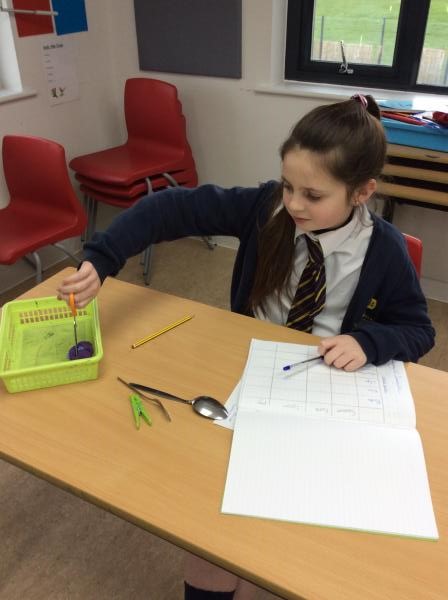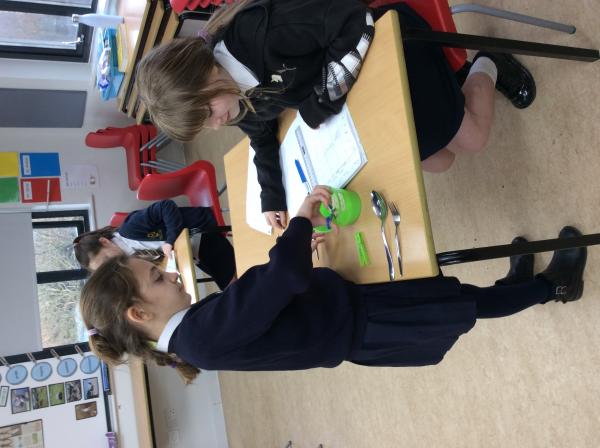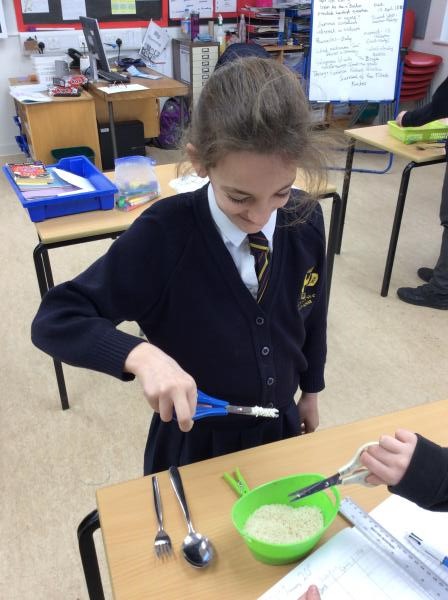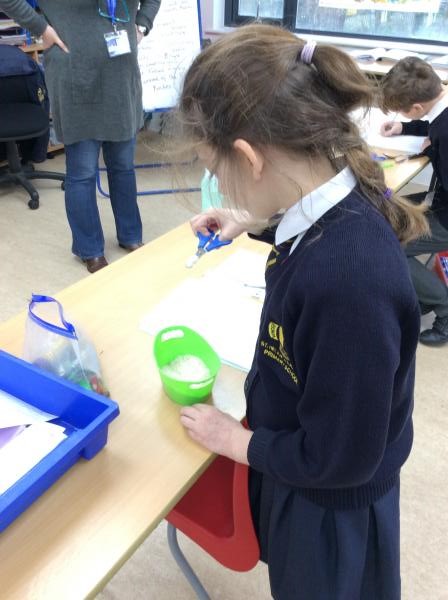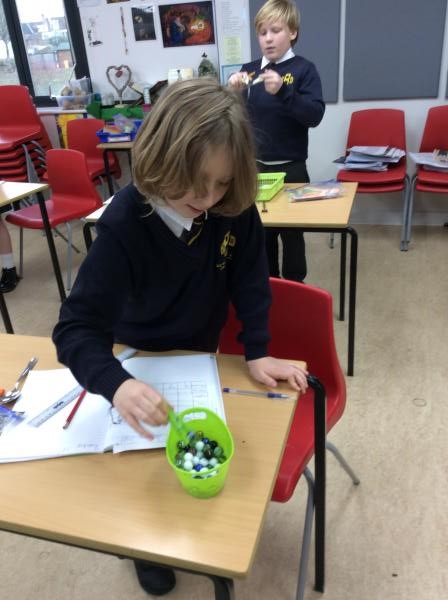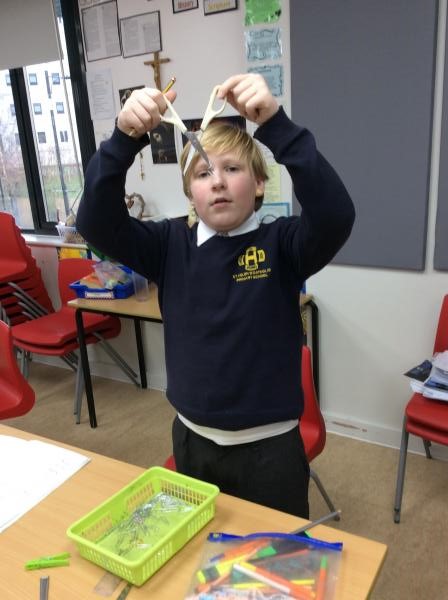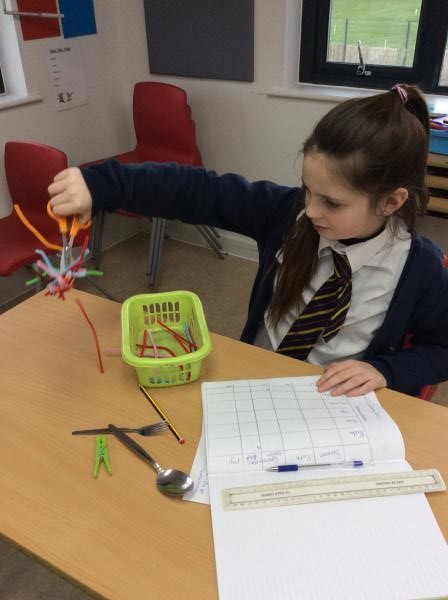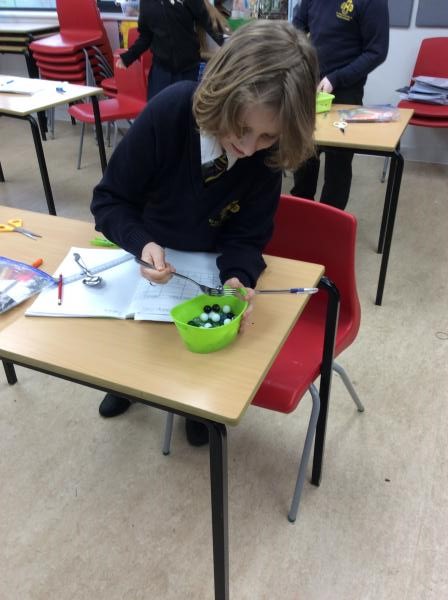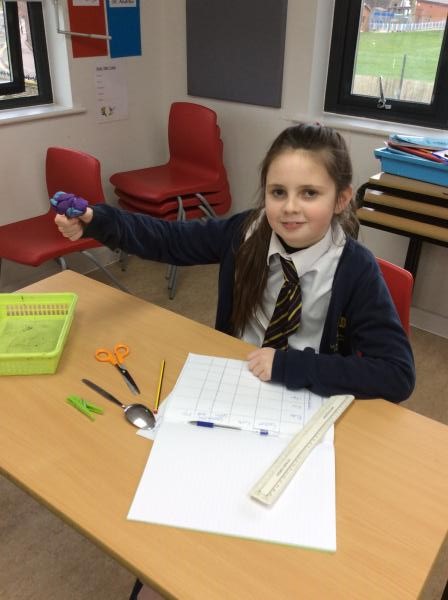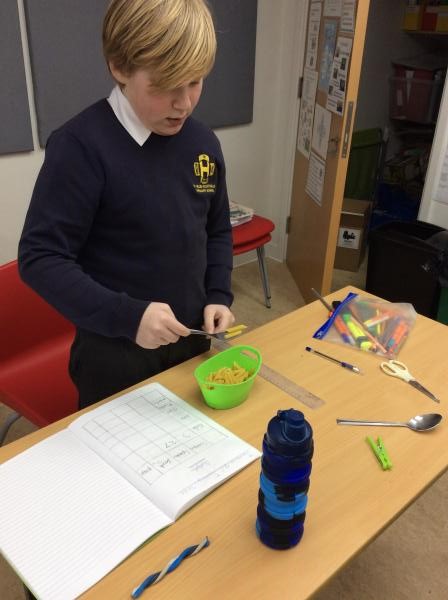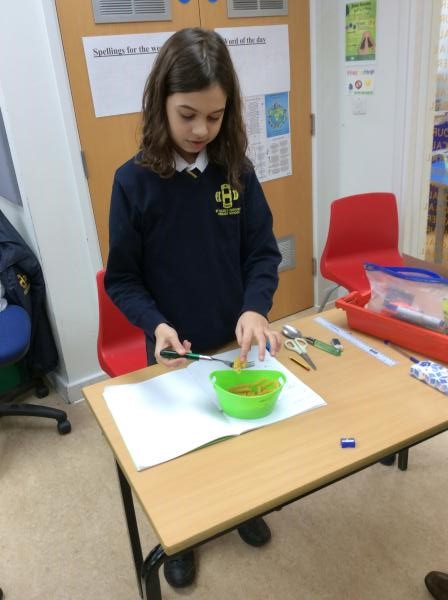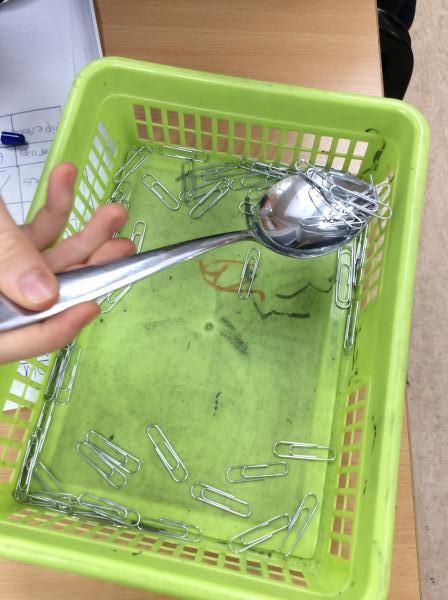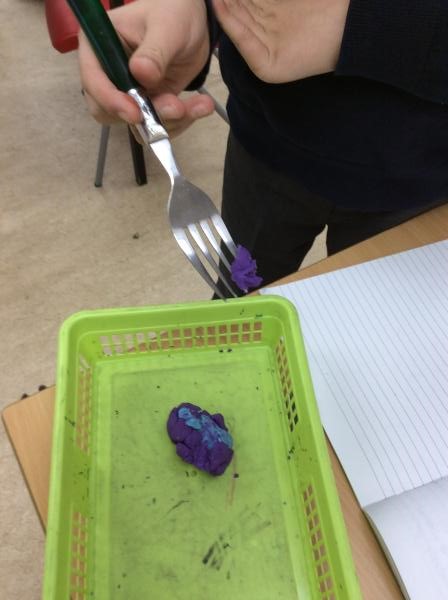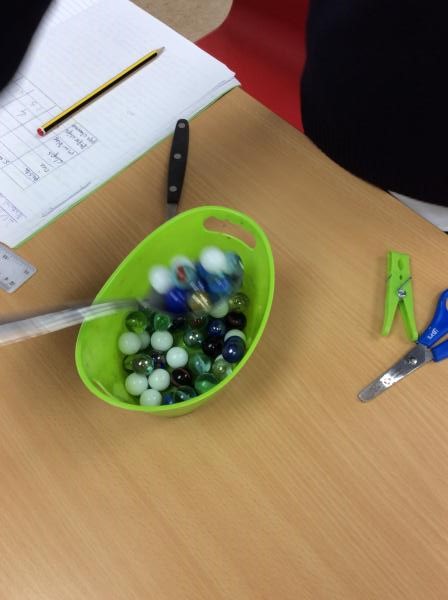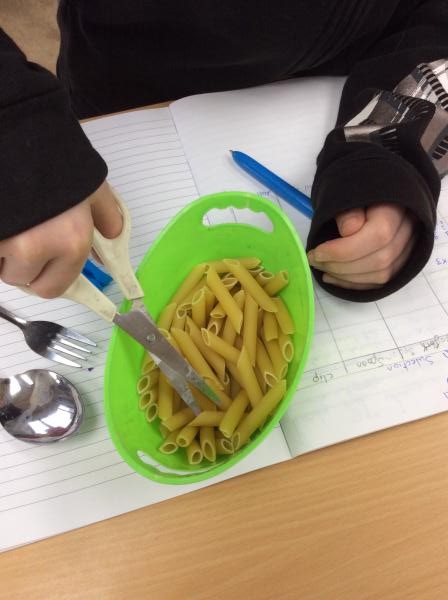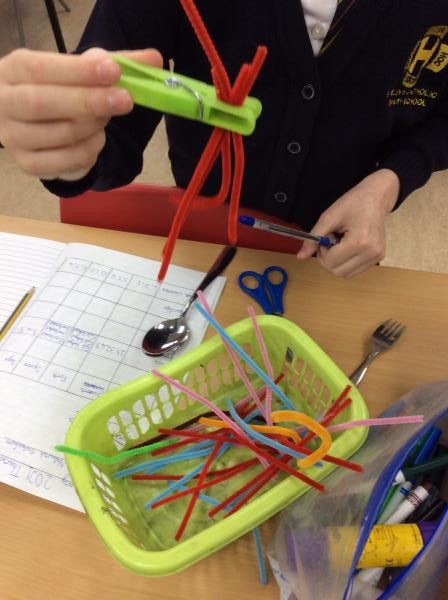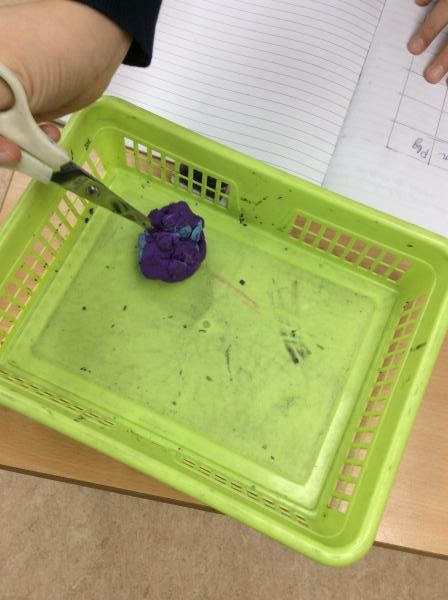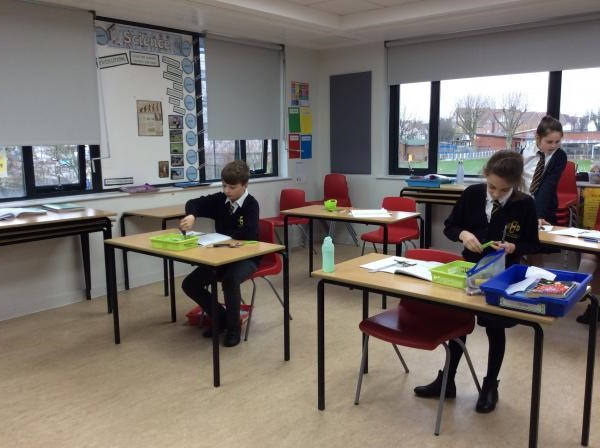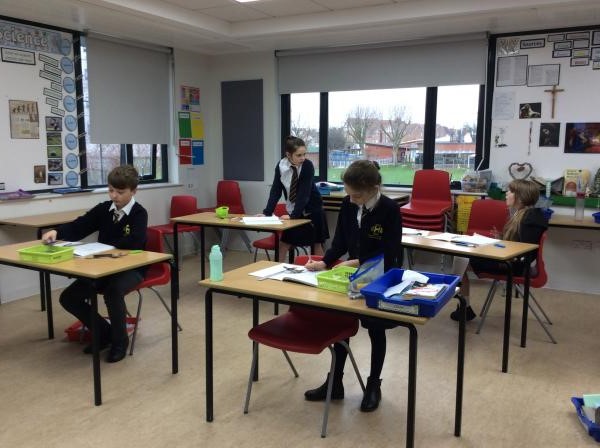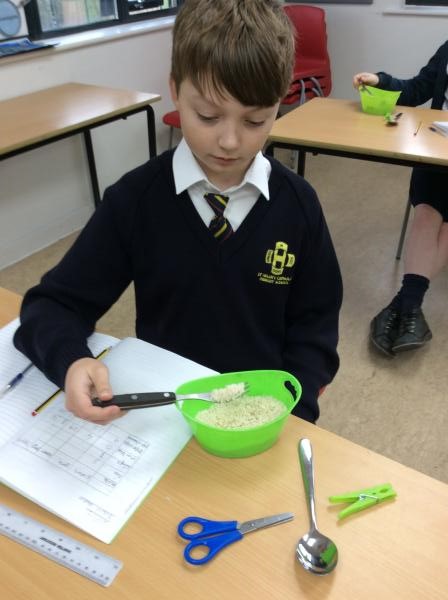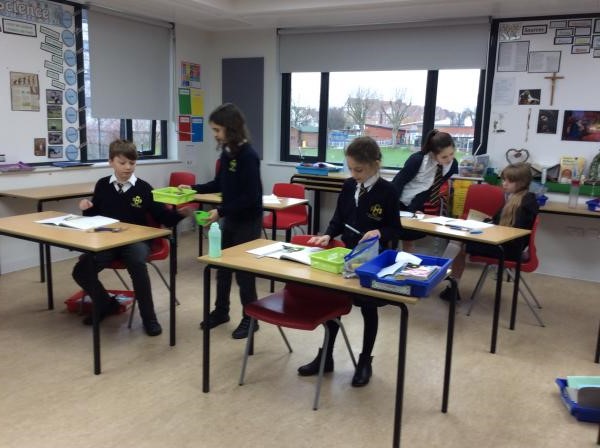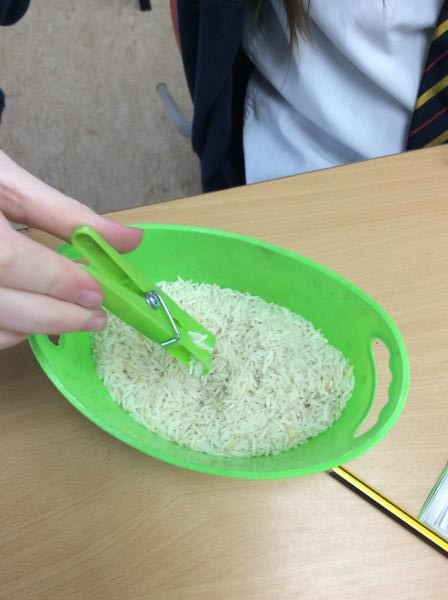 Area and perimeter
Yr6 have been investigating the relationship between the area and perimeter of rectangles.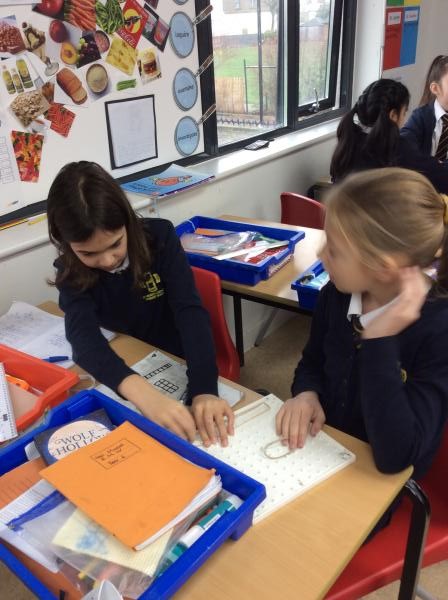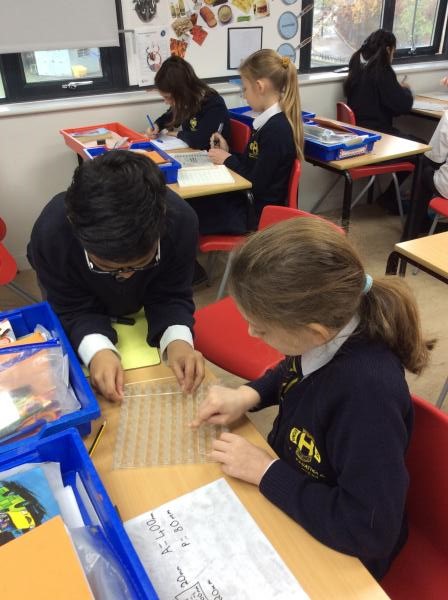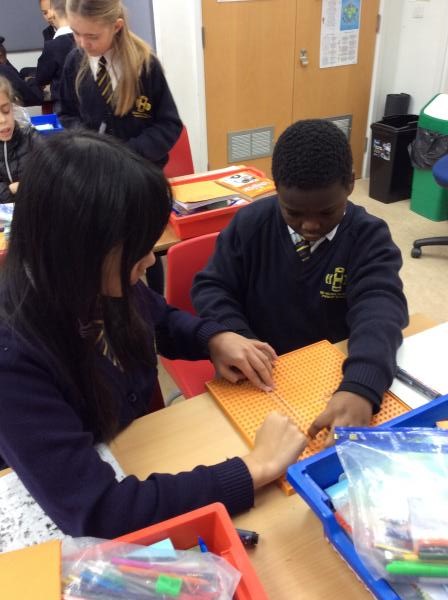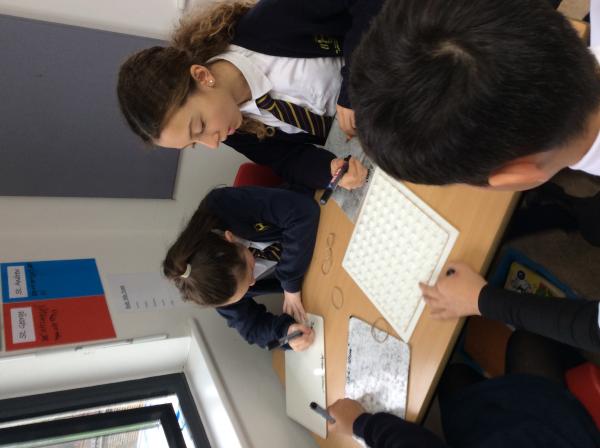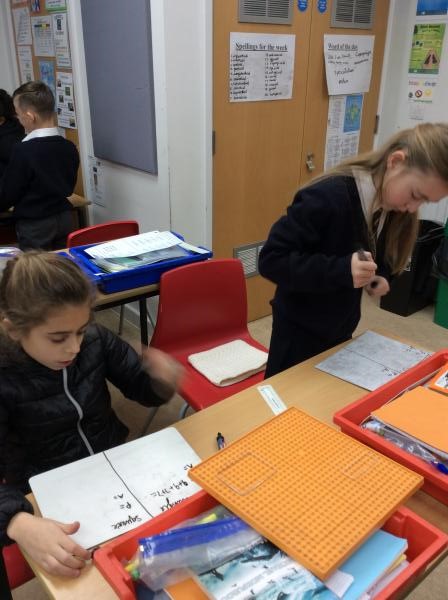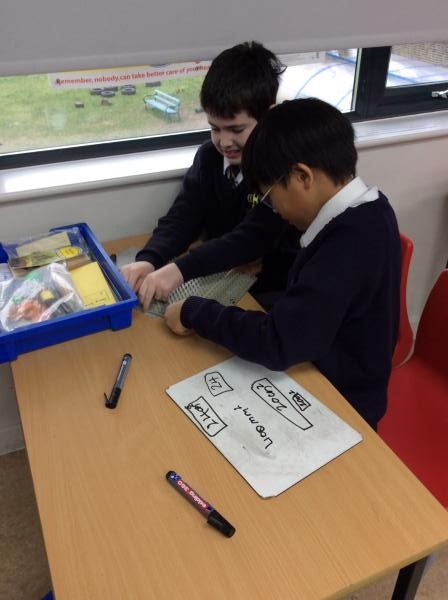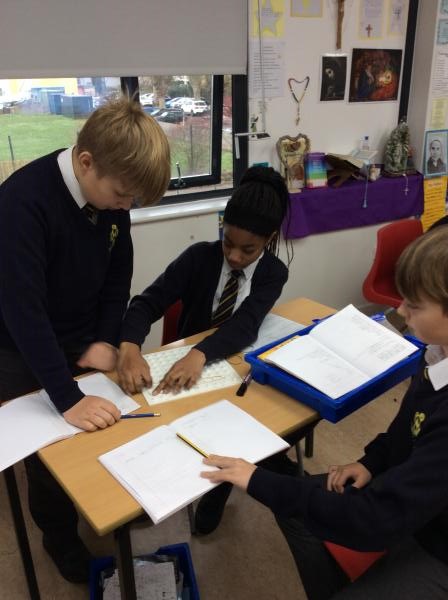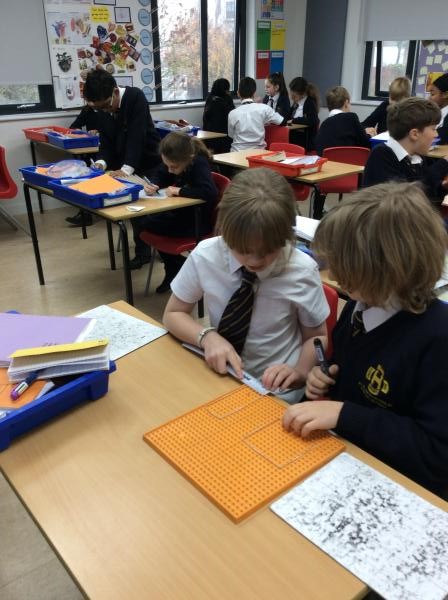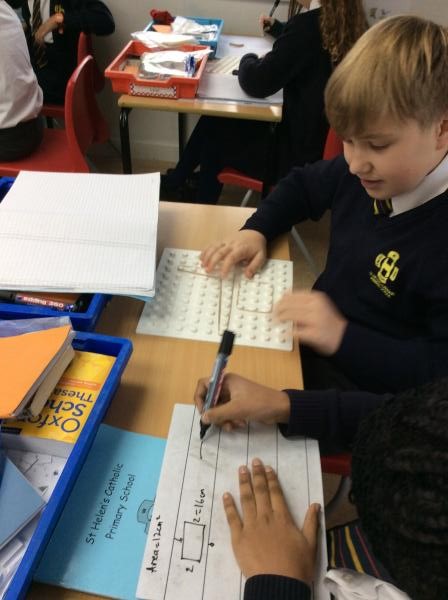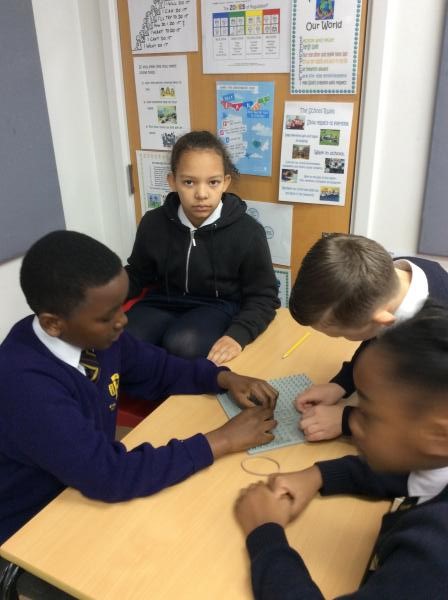 Getting stuck in!
Year 6 were once again very busy in the nature area today. Using sand donated by Wickes and the tyres, they built stepping stones and two tyre tunnels. The tyre tunnels were not dry enough for us to try out just yet! But I can envisage a few Year 6s wanting to crawl through!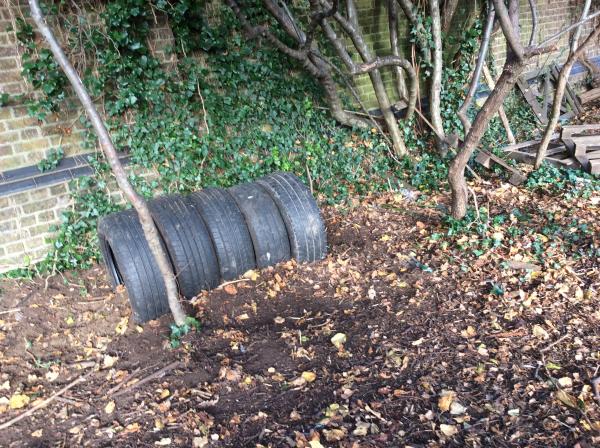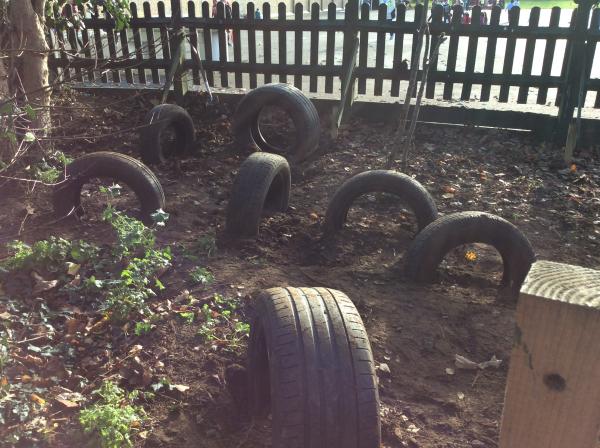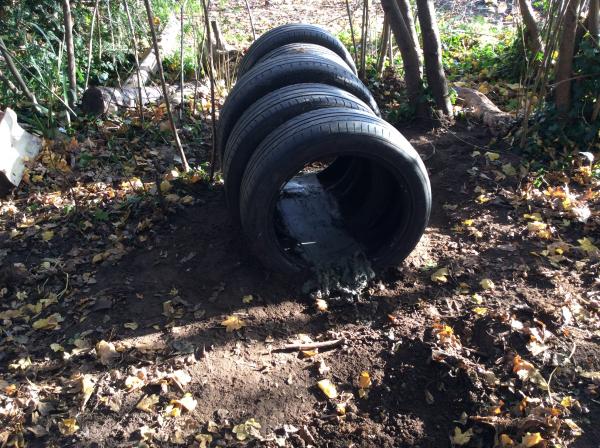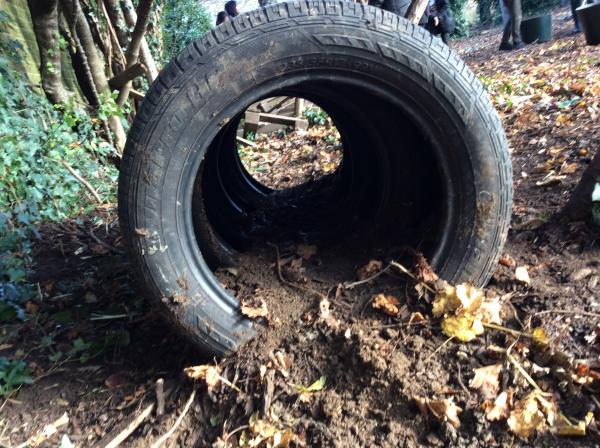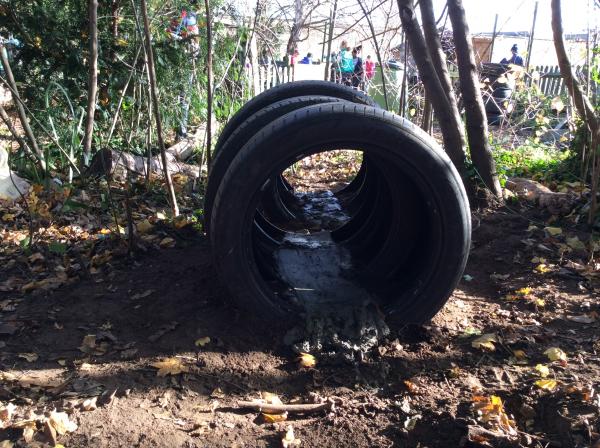 Mastering Measurement
Year 6 enjoyed practical measuring today. They used a variety of equipment to measure accurately, having to read and analyse scales carefully. The use of trundle wheels caused the greatest excitement!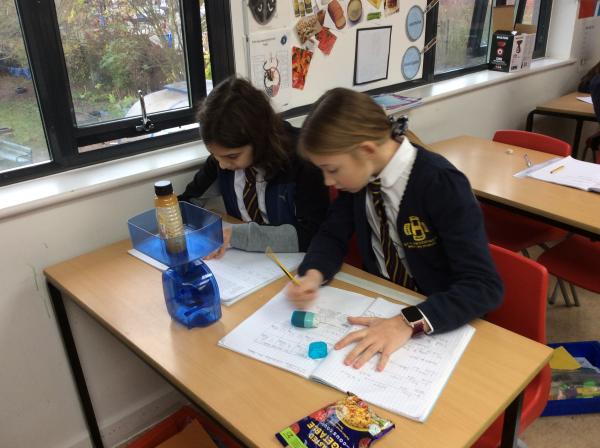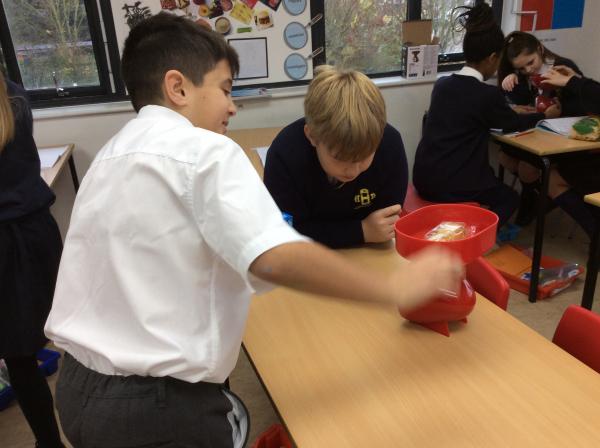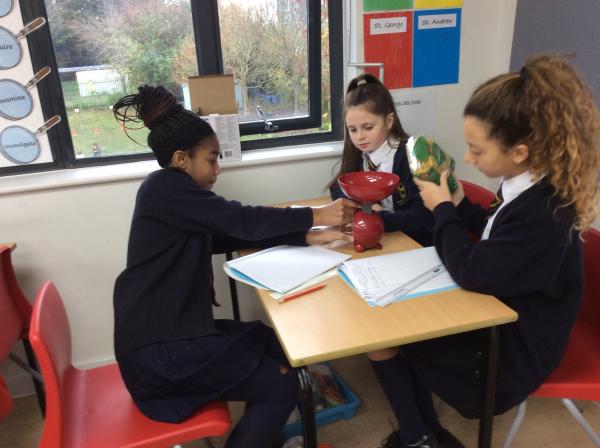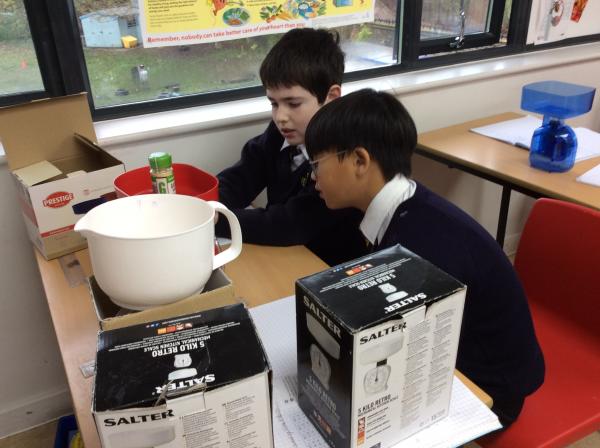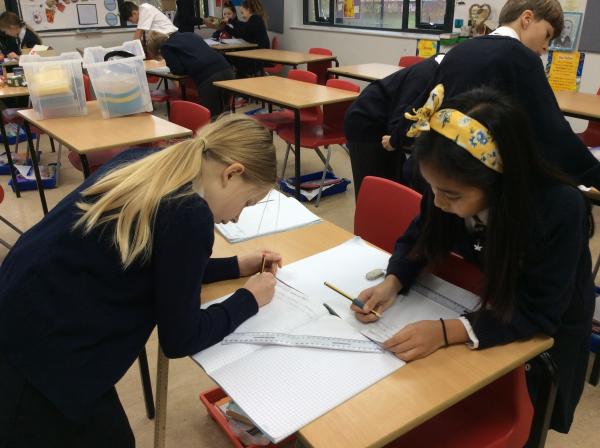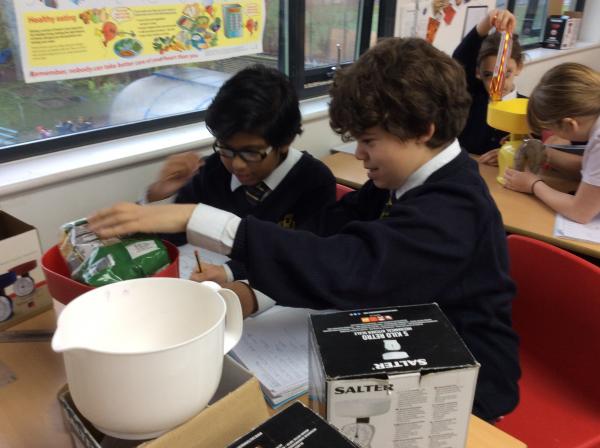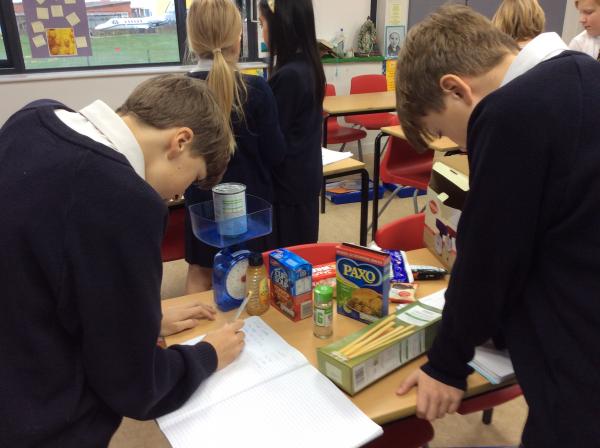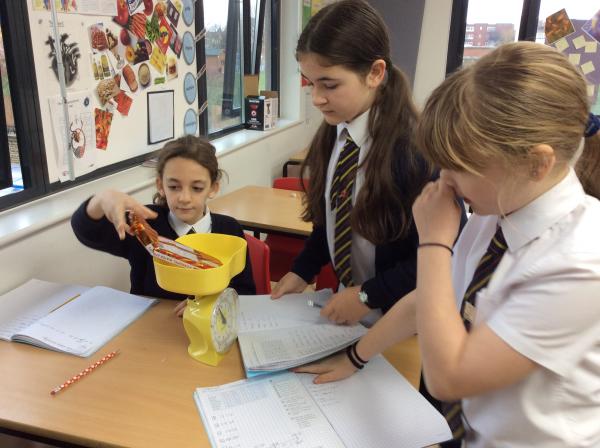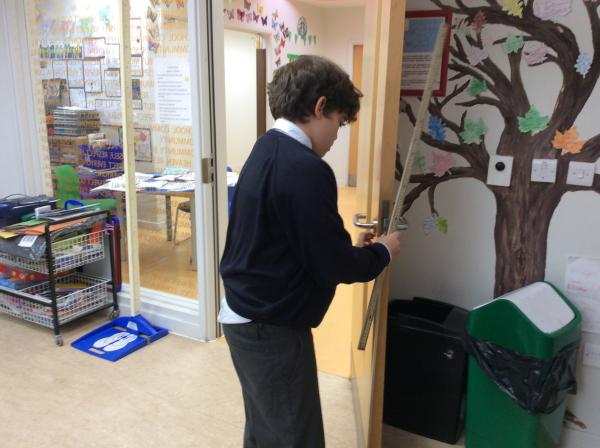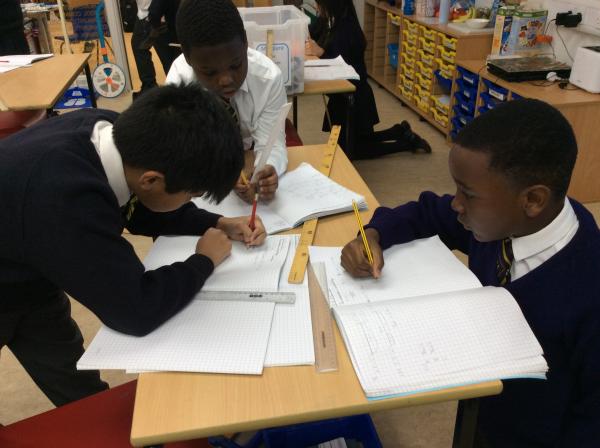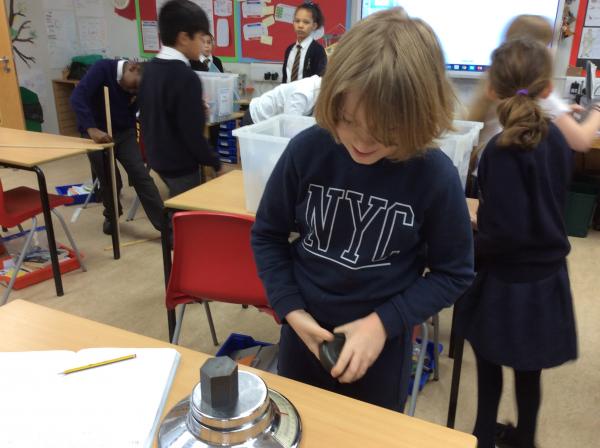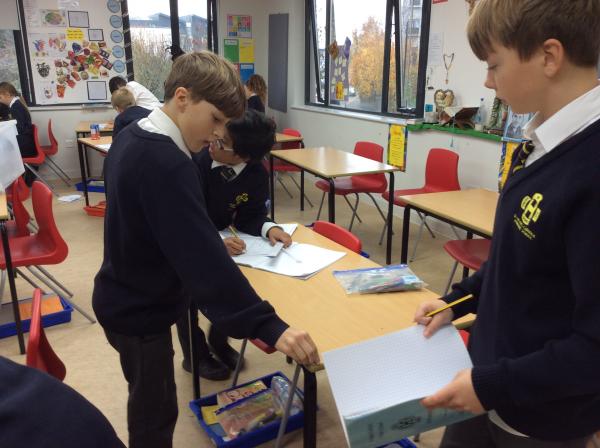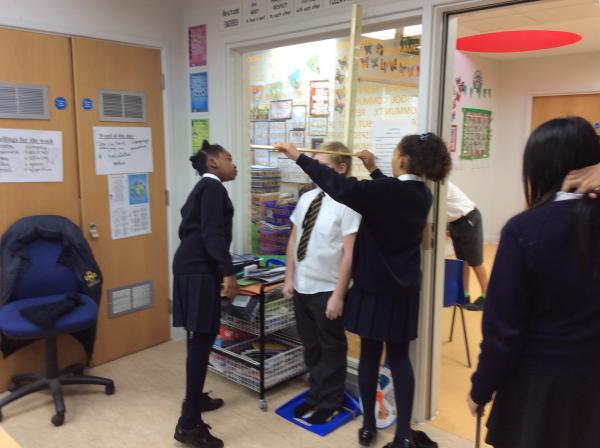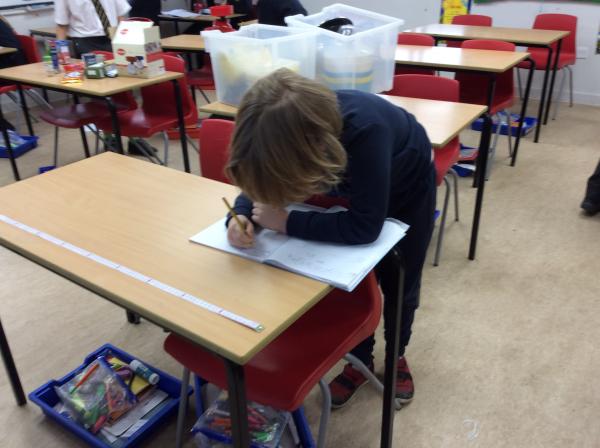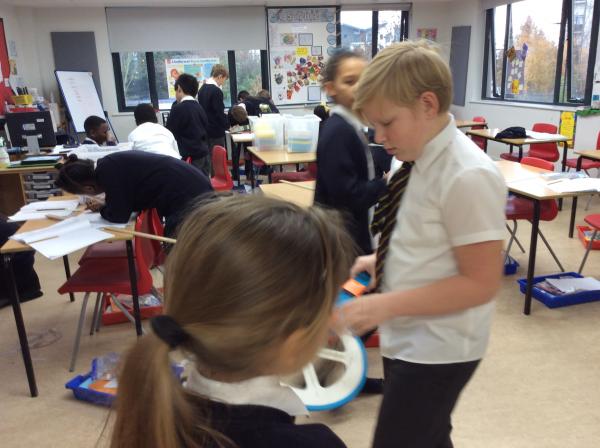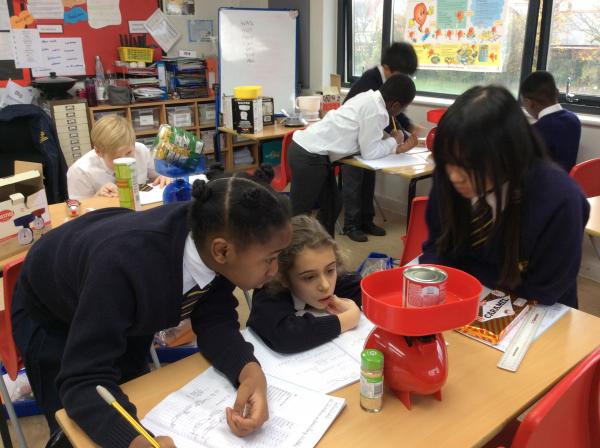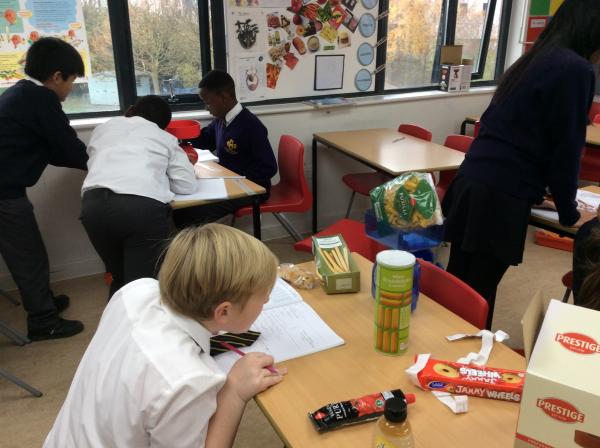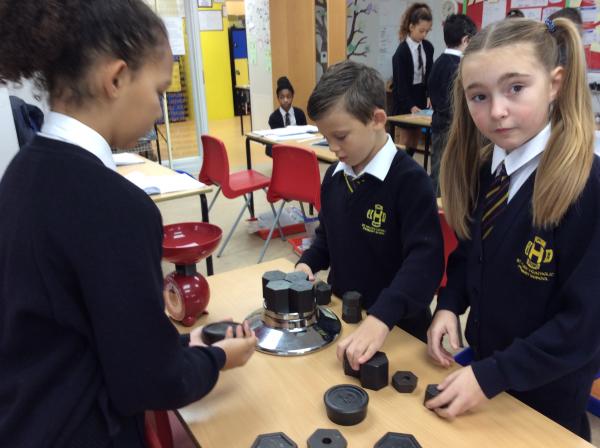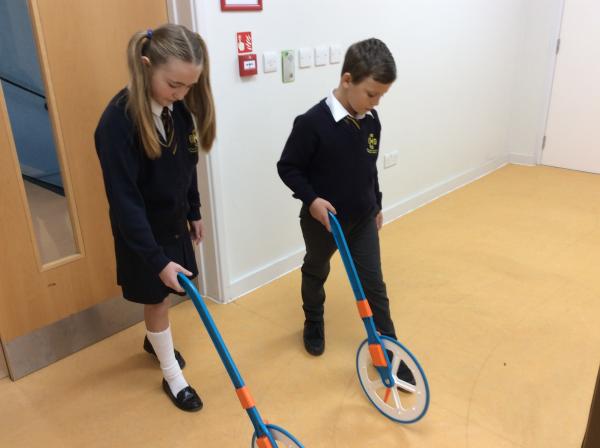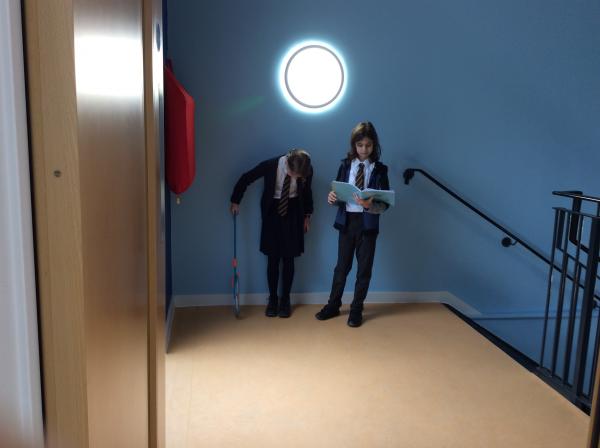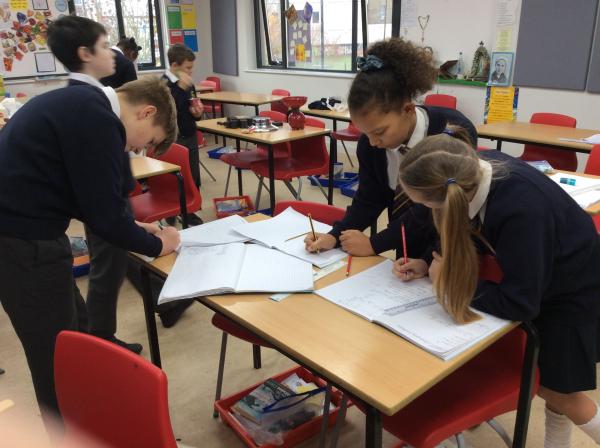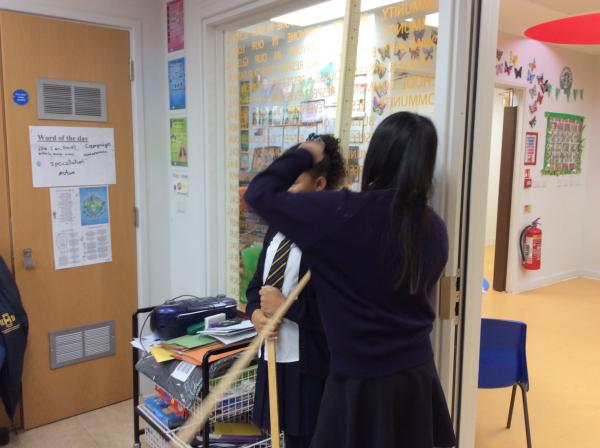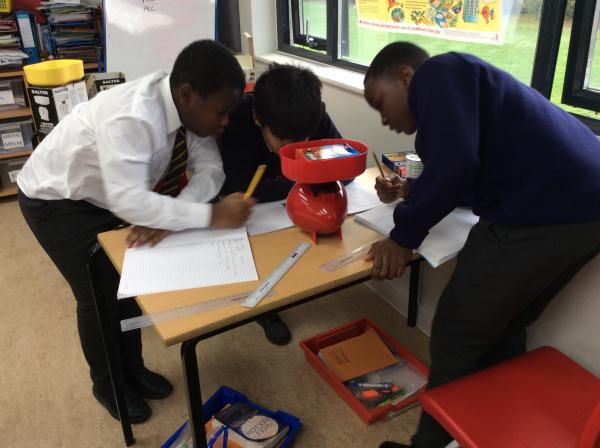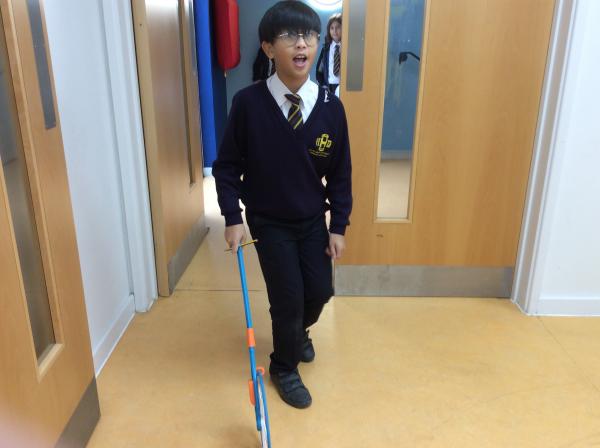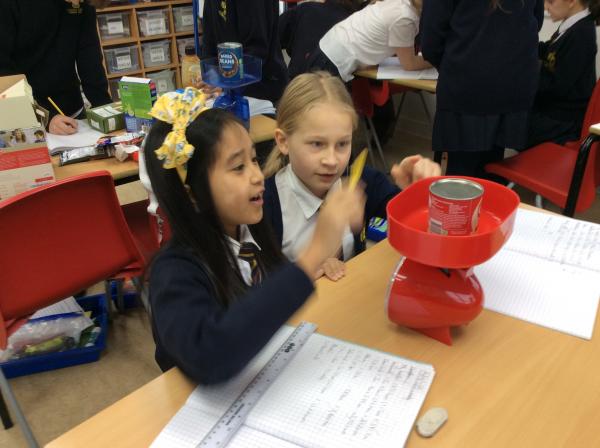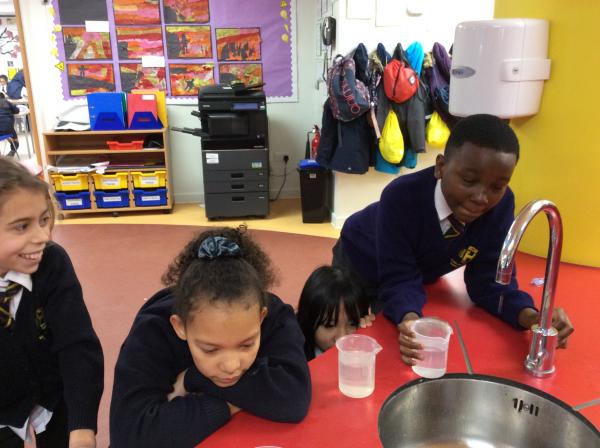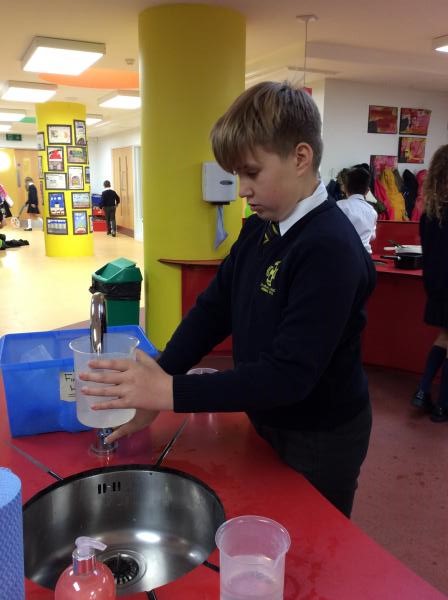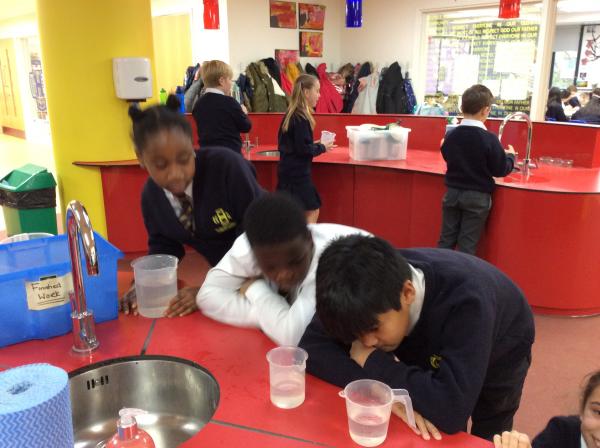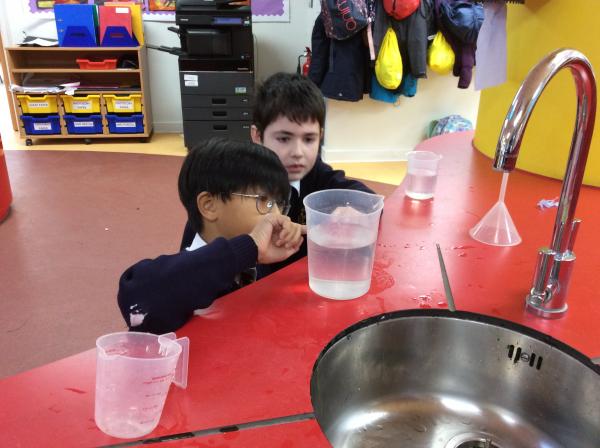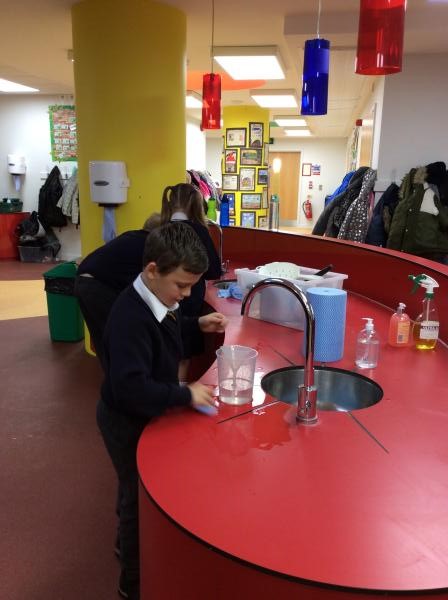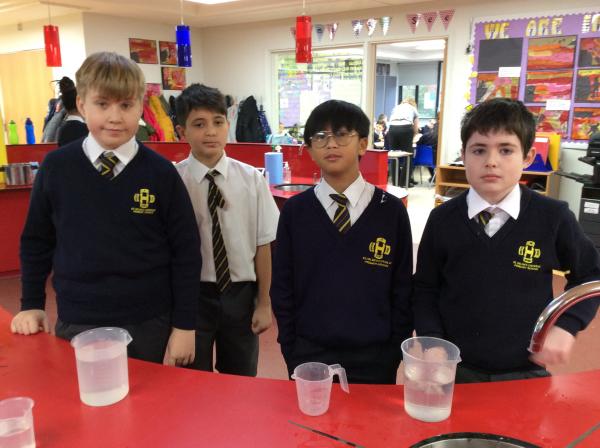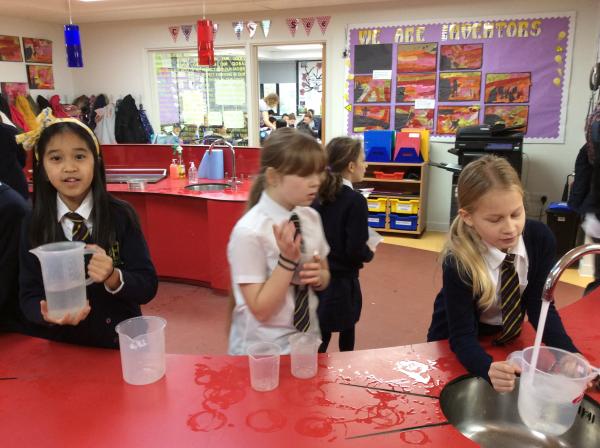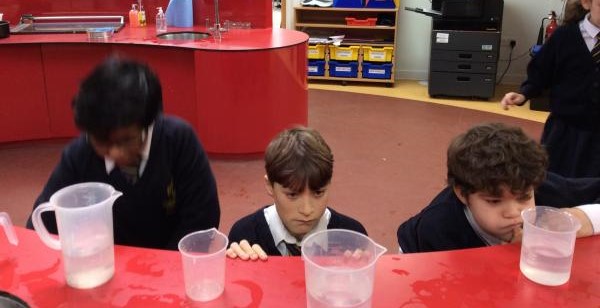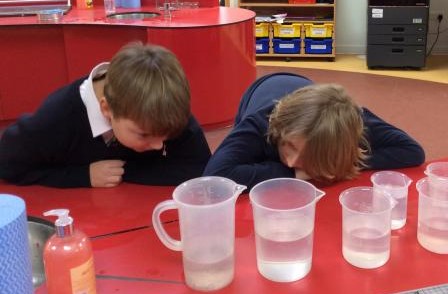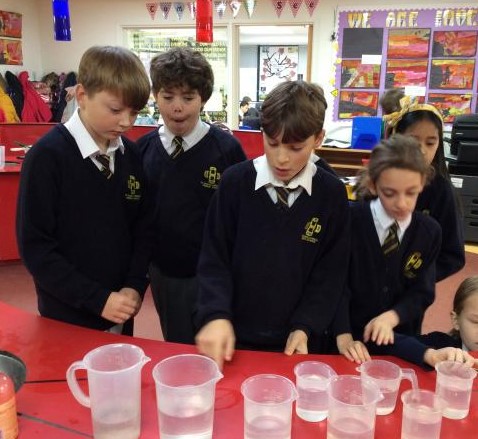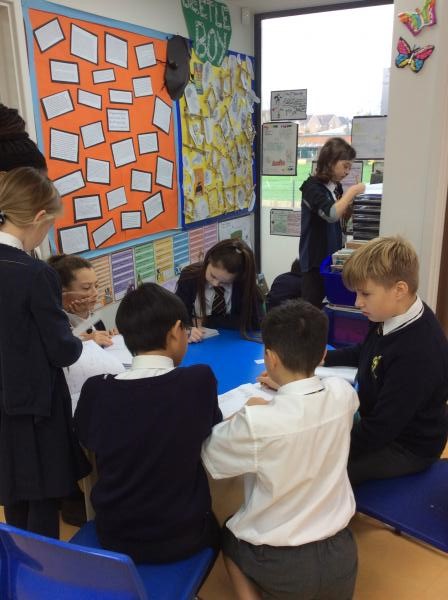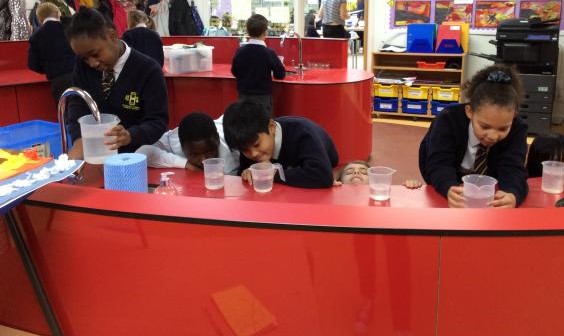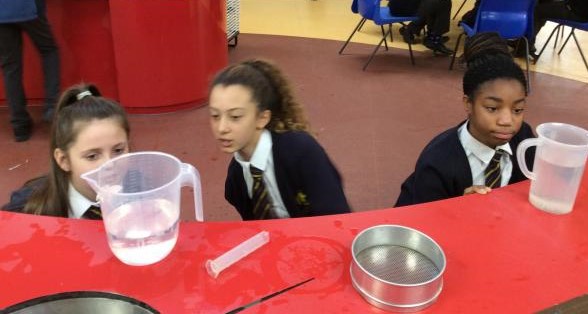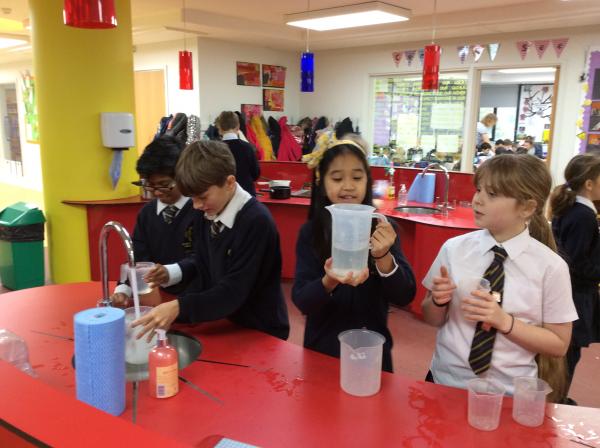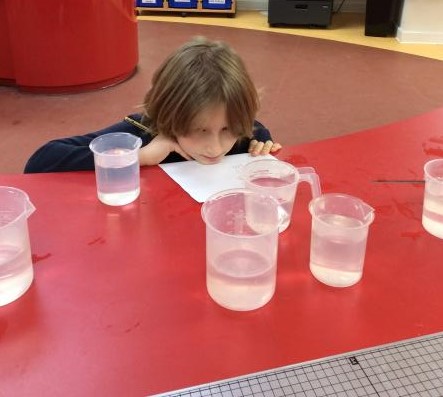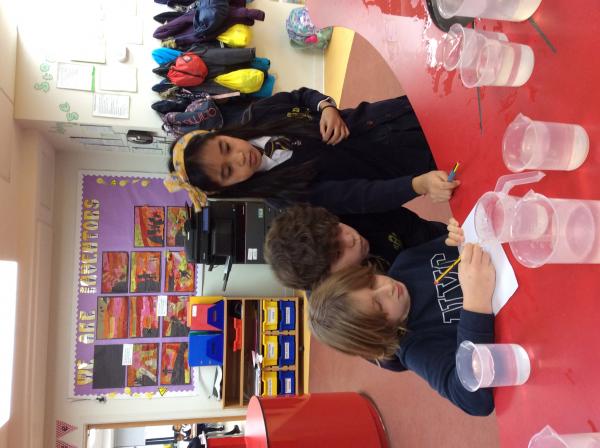 Take a look around our Museums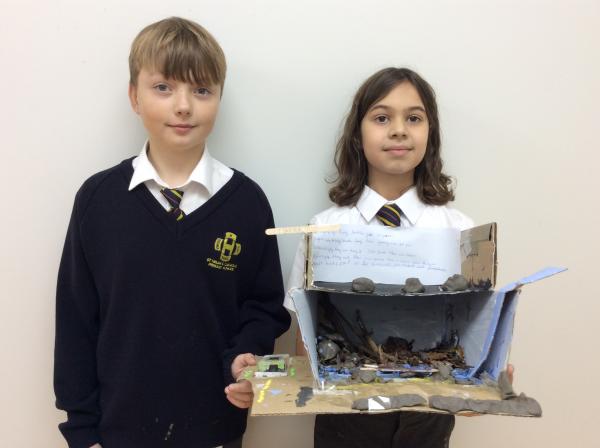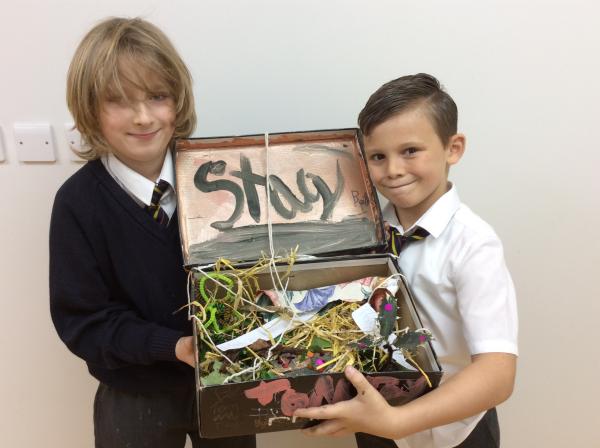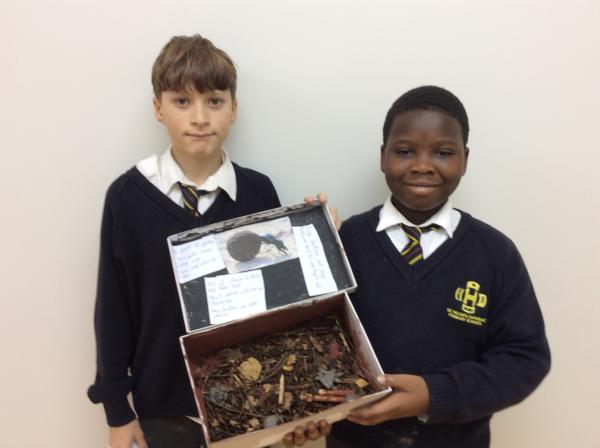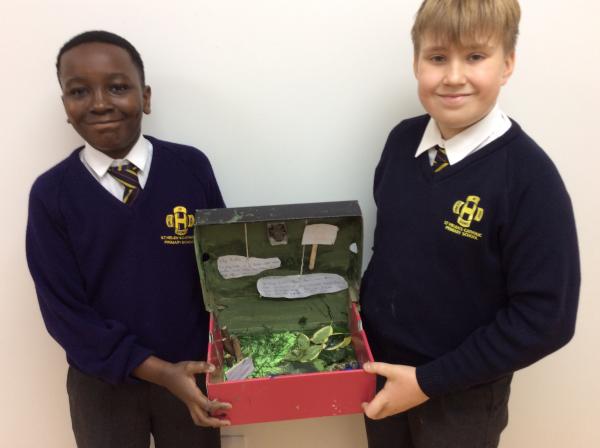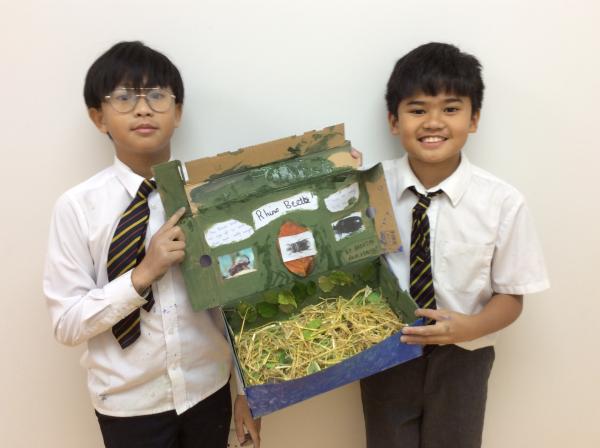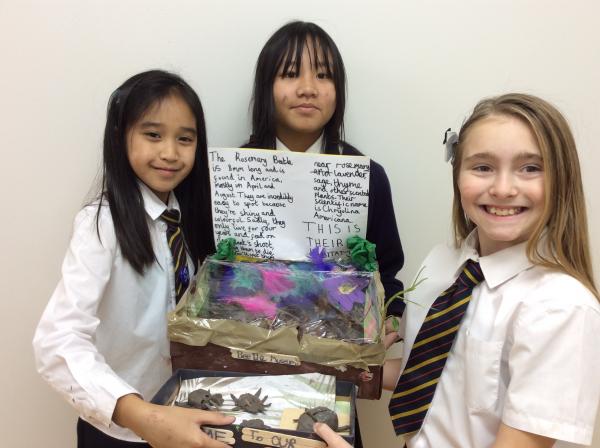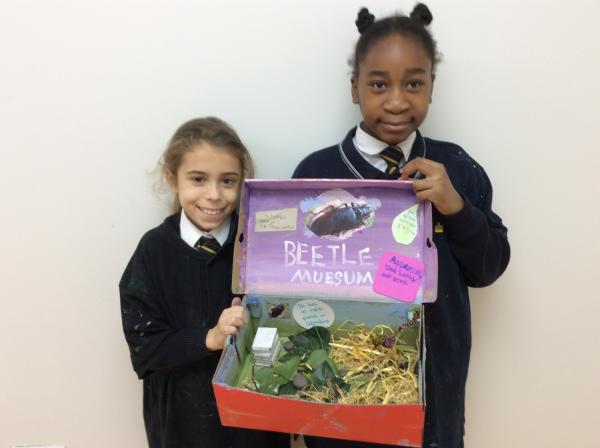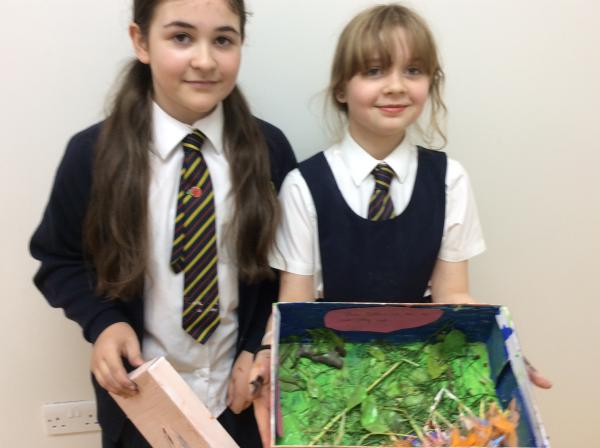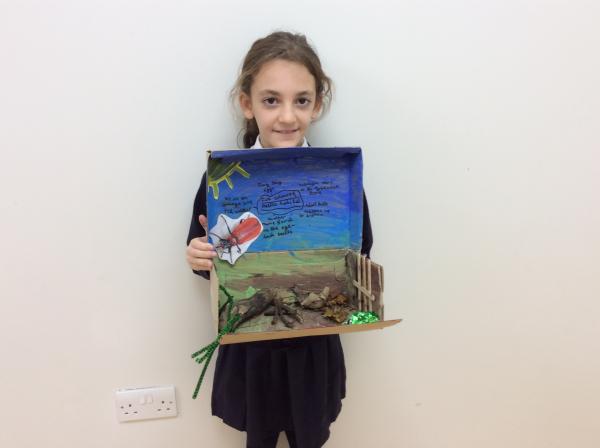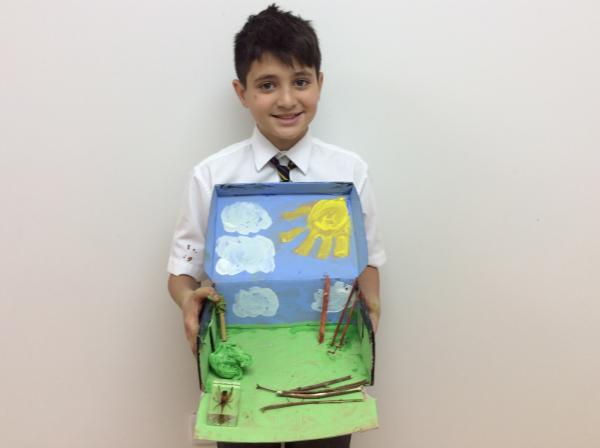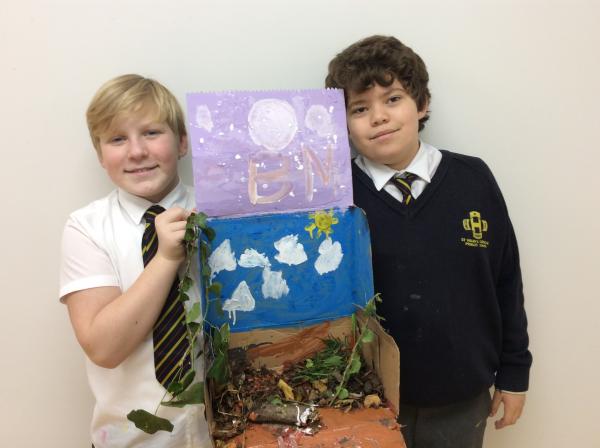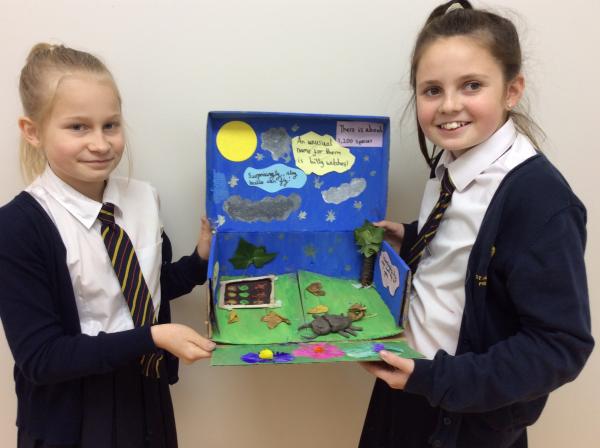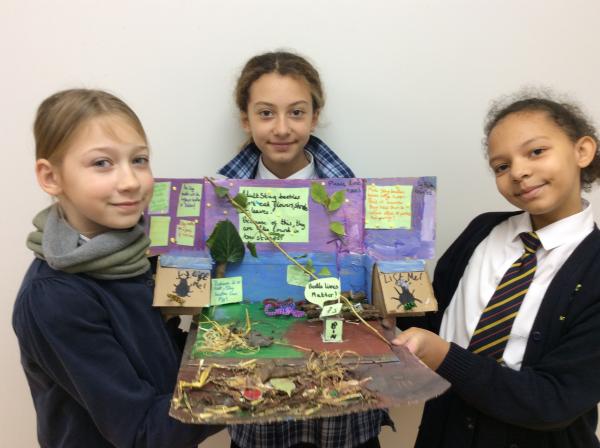 Beetle Museums
Today was the day that Year 6 had been waiting for - the day of making their Beetle Museum in a shoebox! They used many resources and creativity was at the forefront. There were some very interesting designs.
The tidying up at the end of the day was an experience!
Look out for the finished versions later.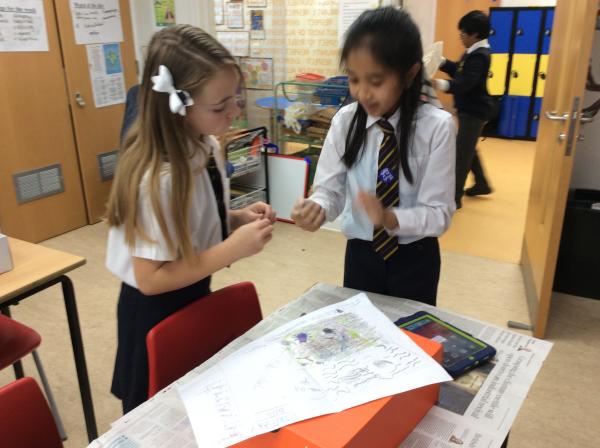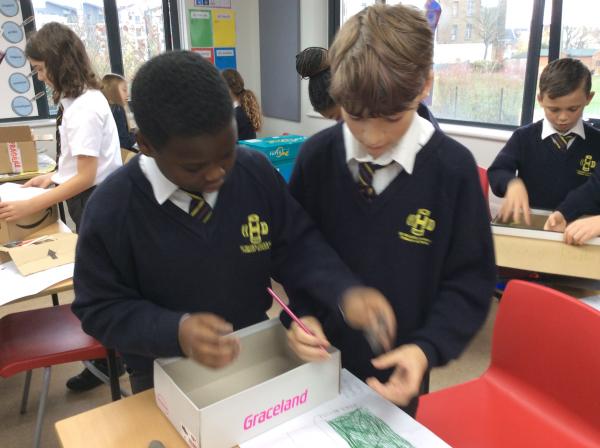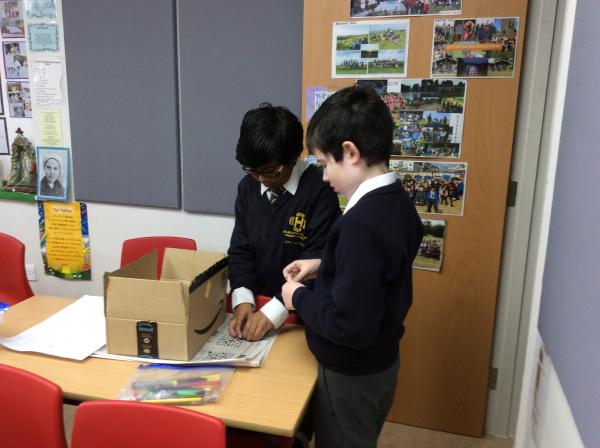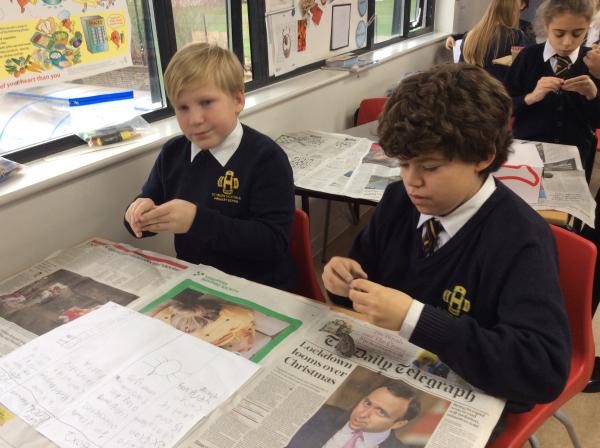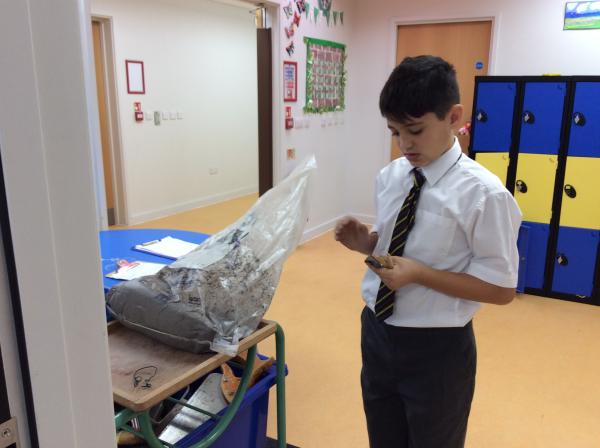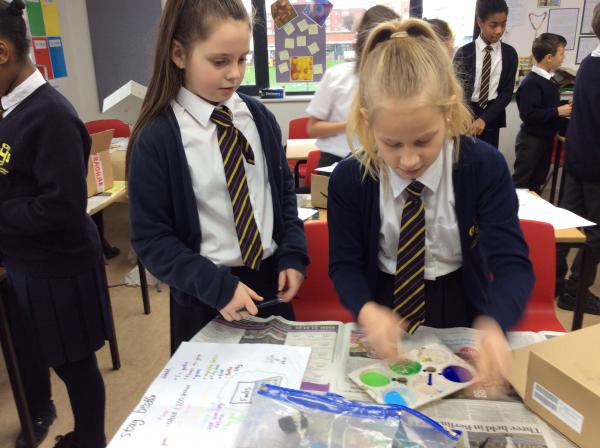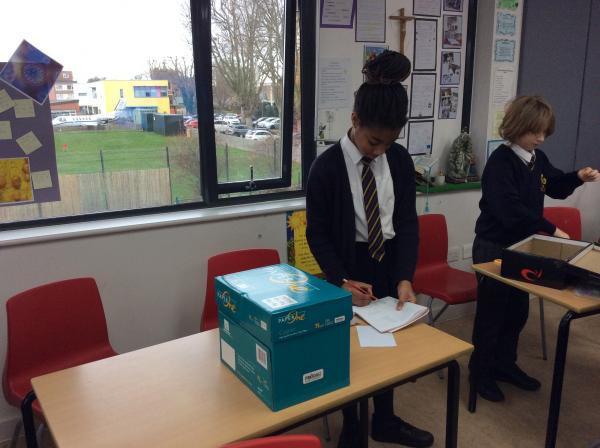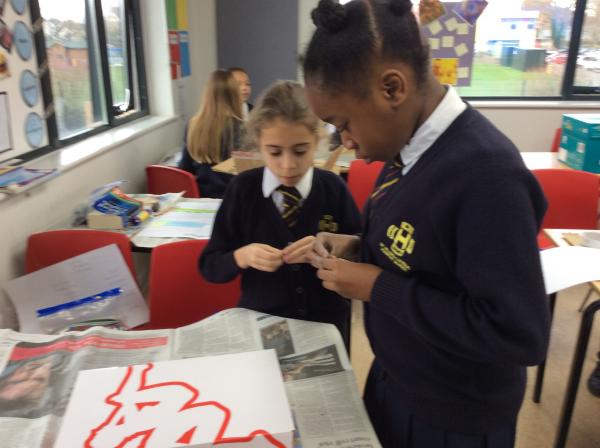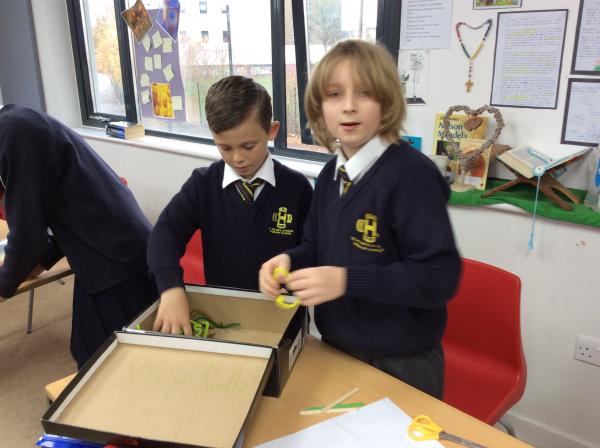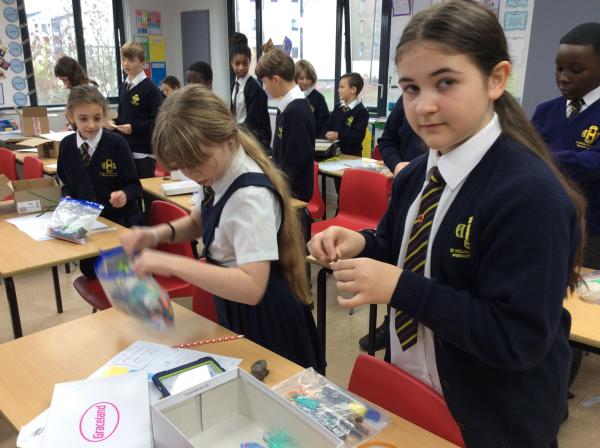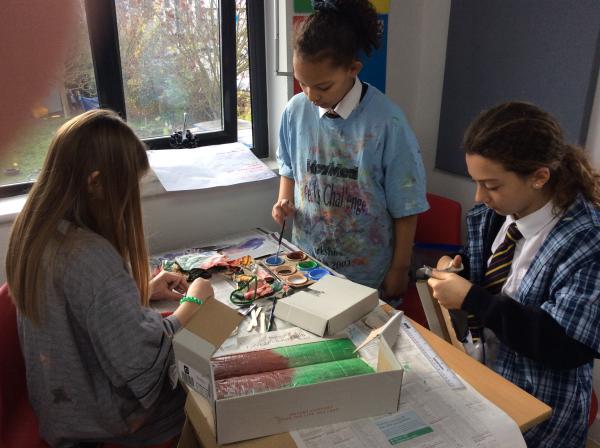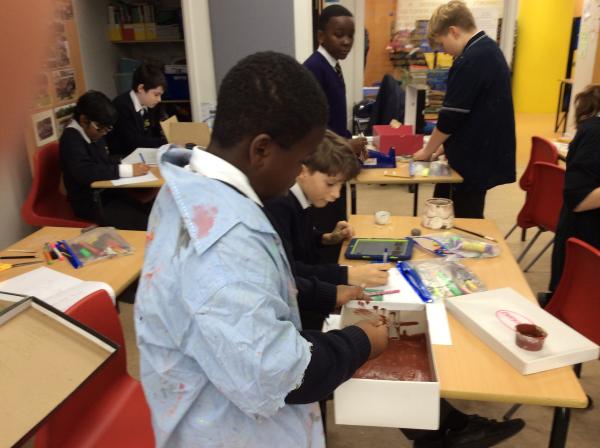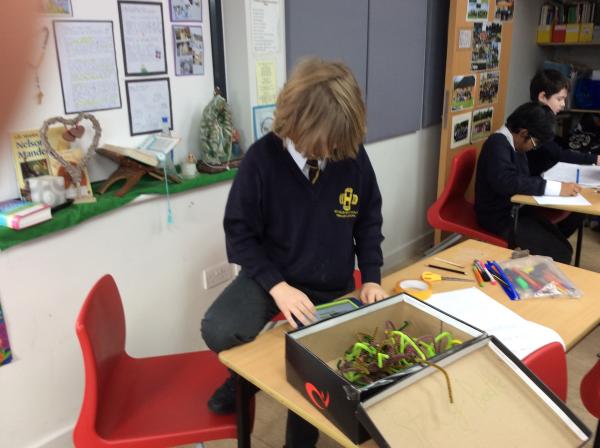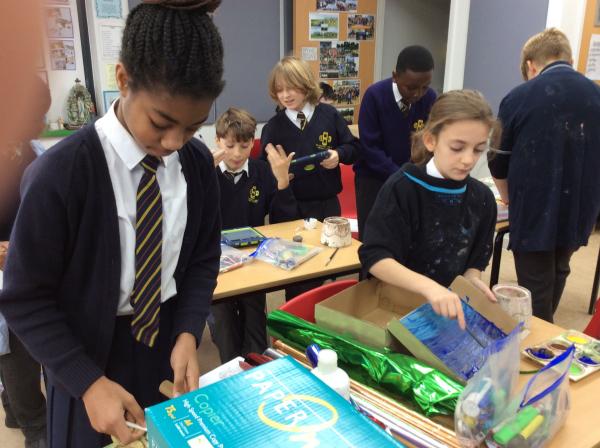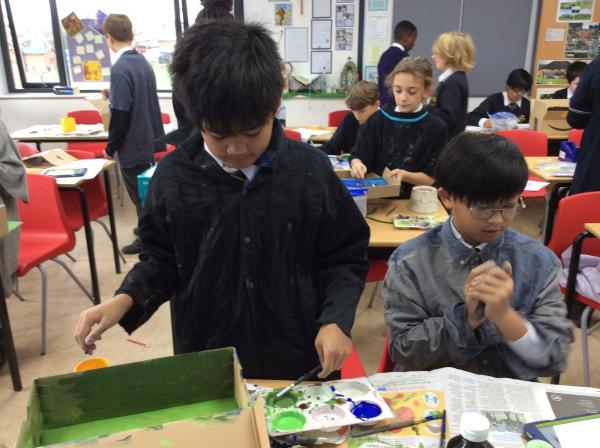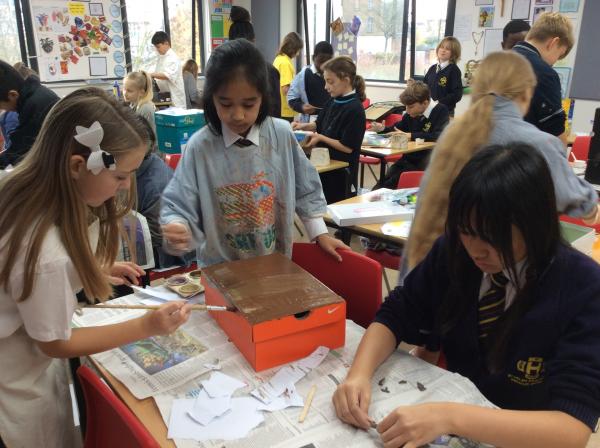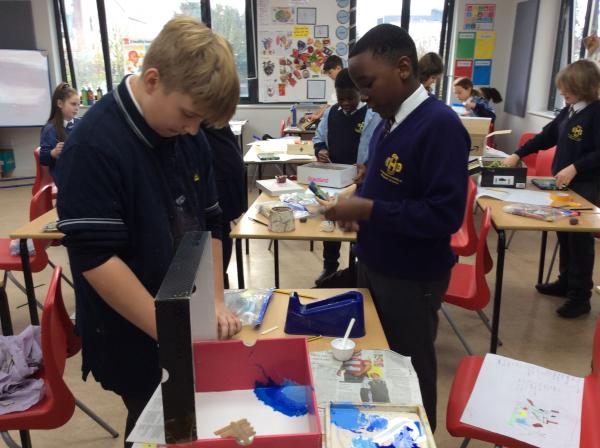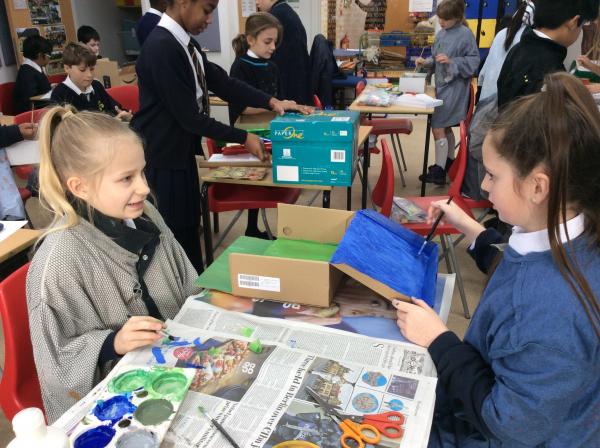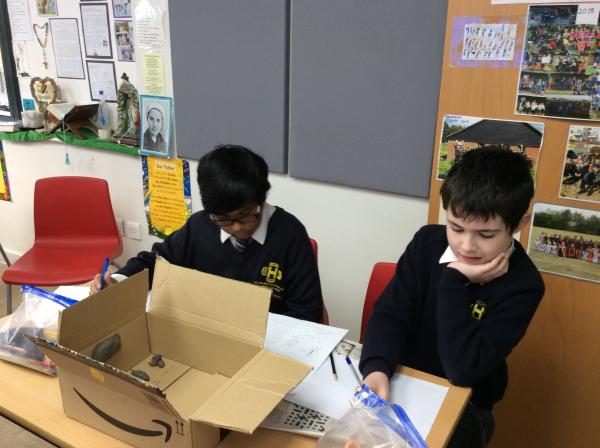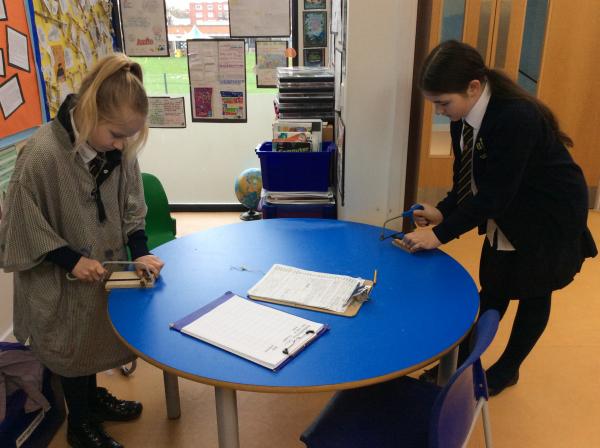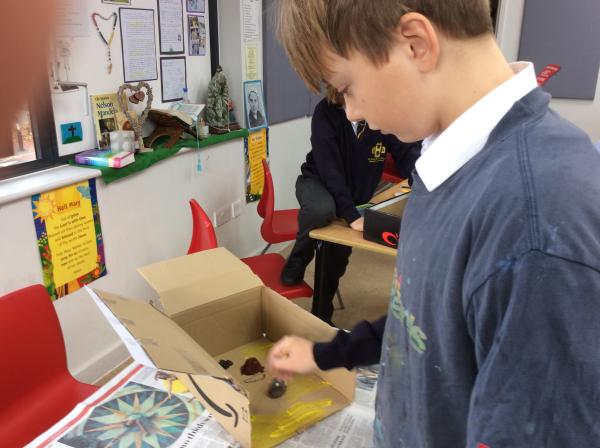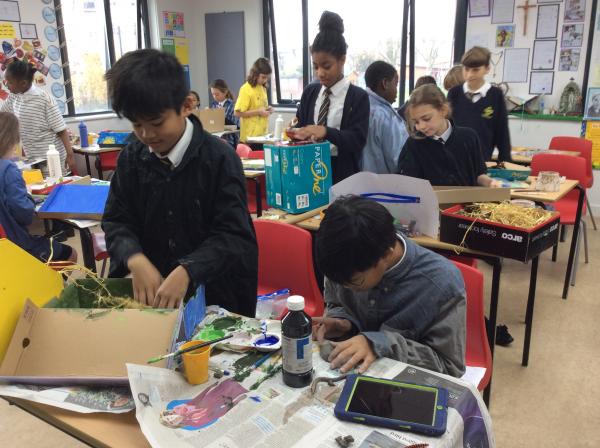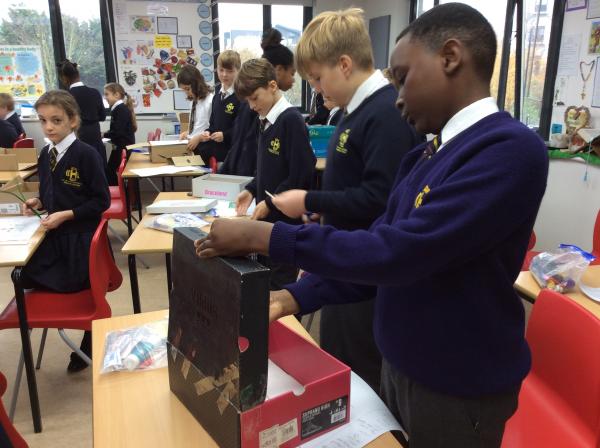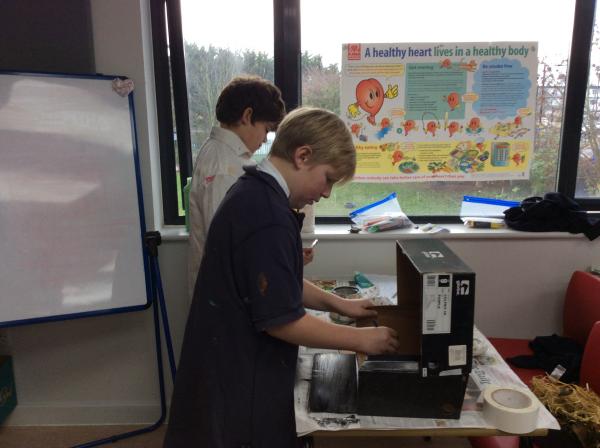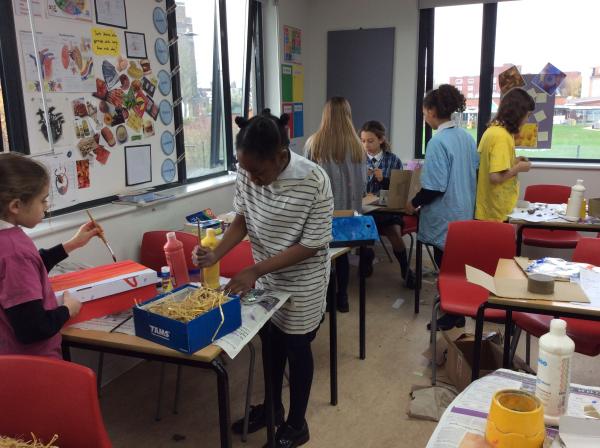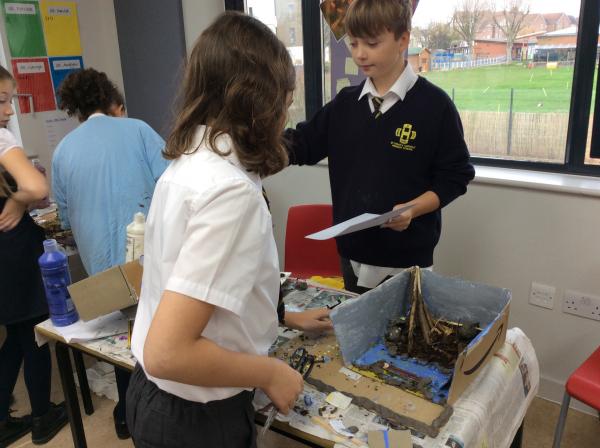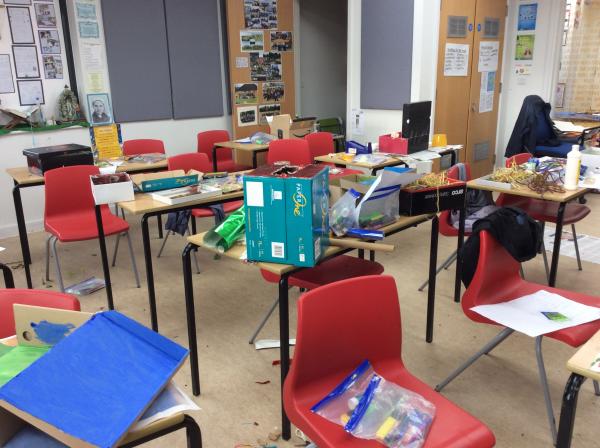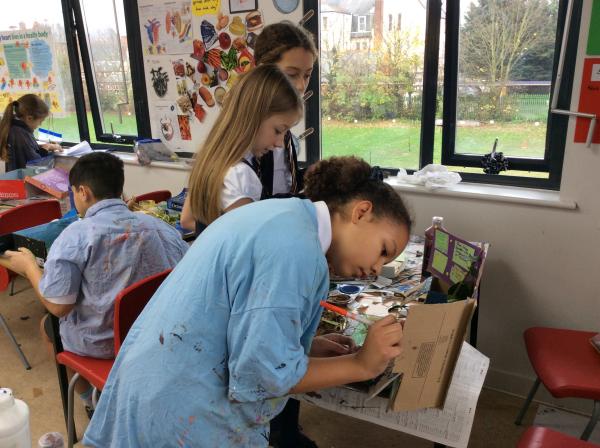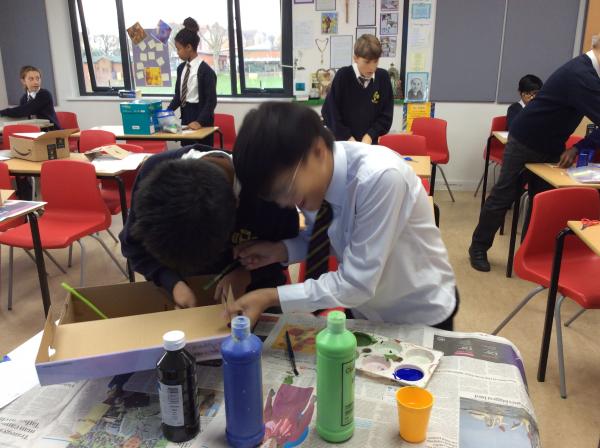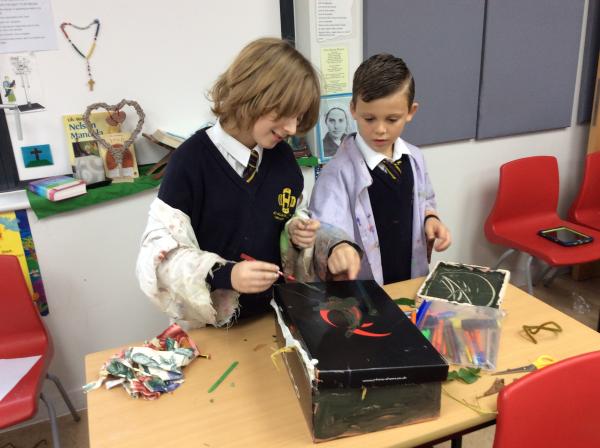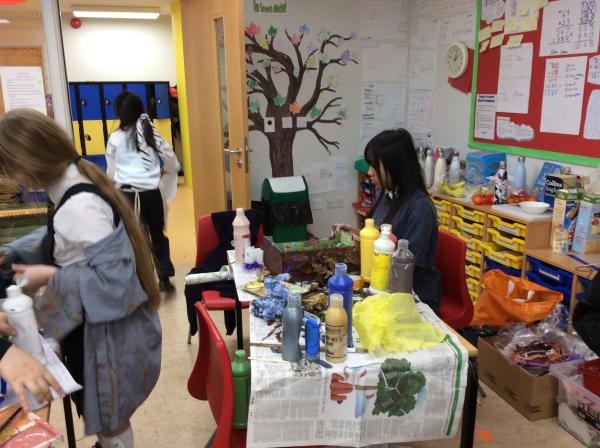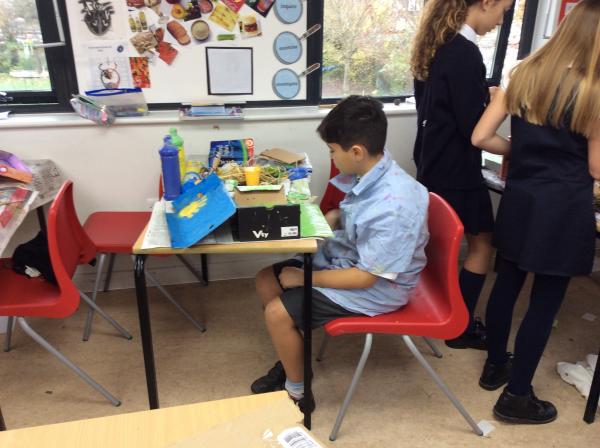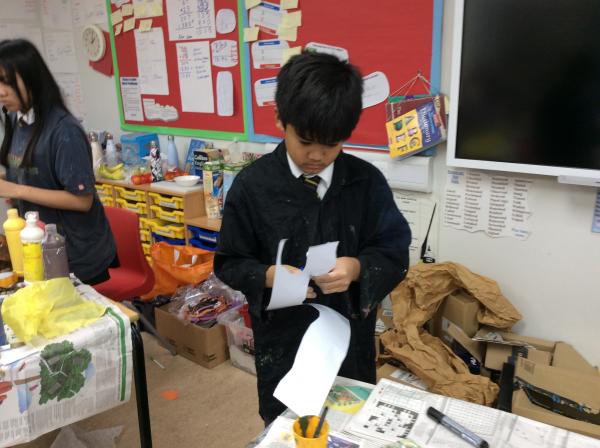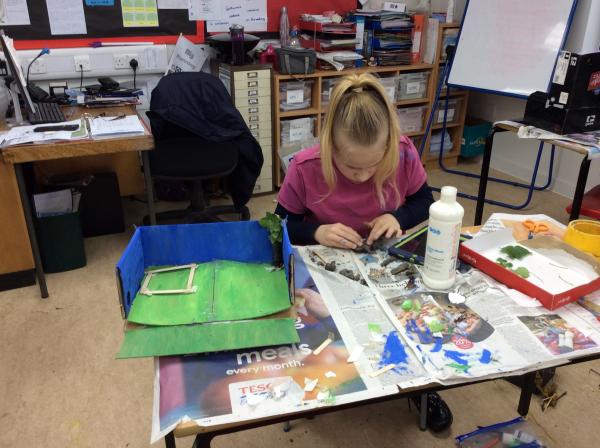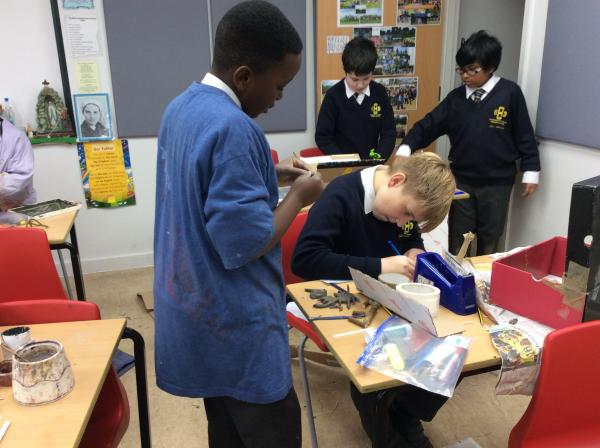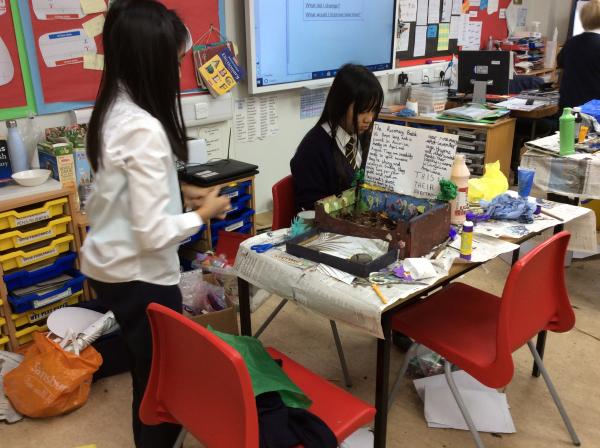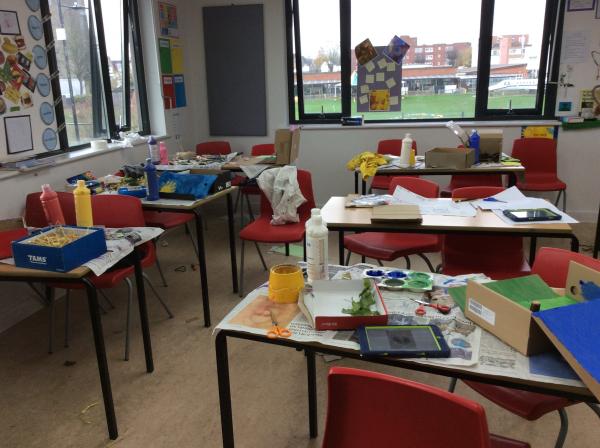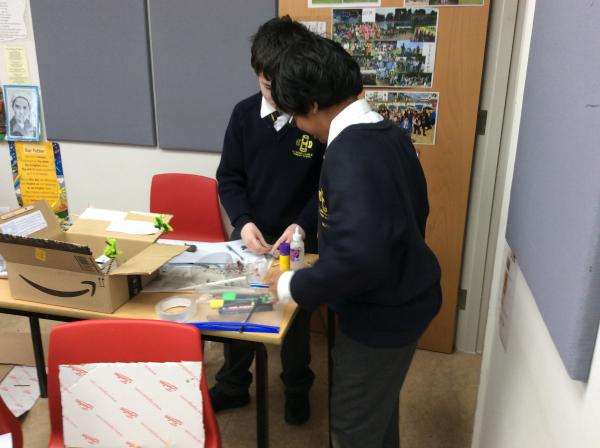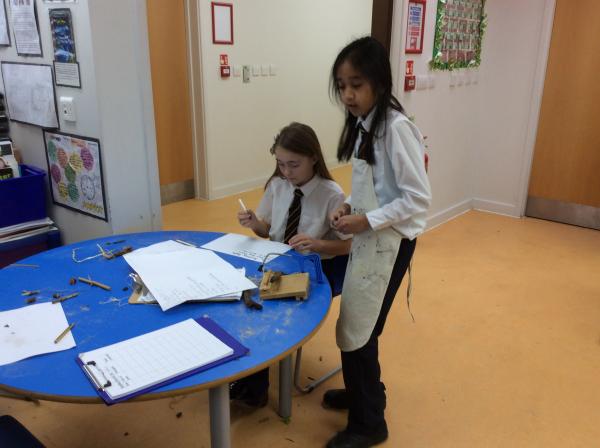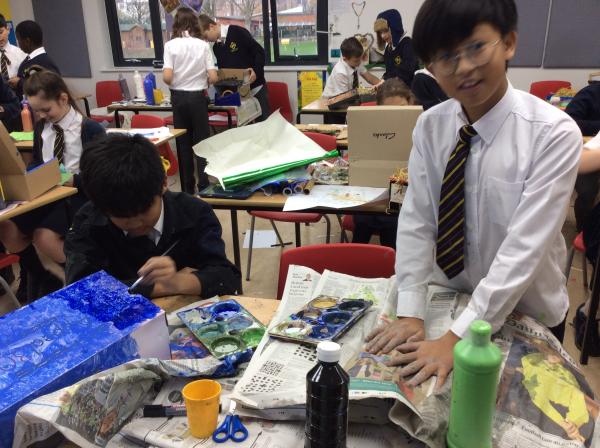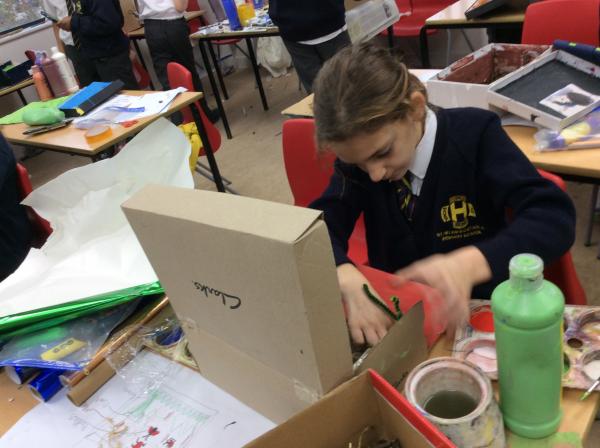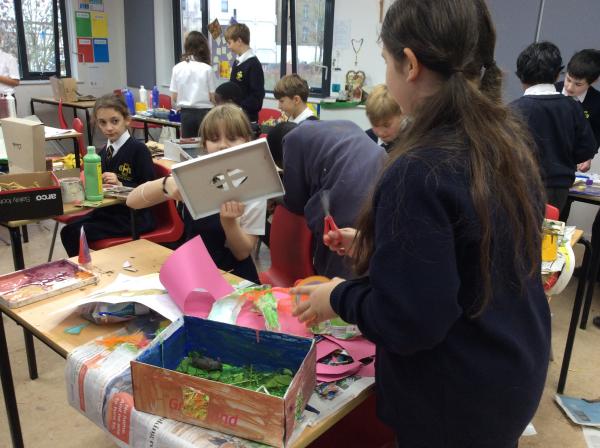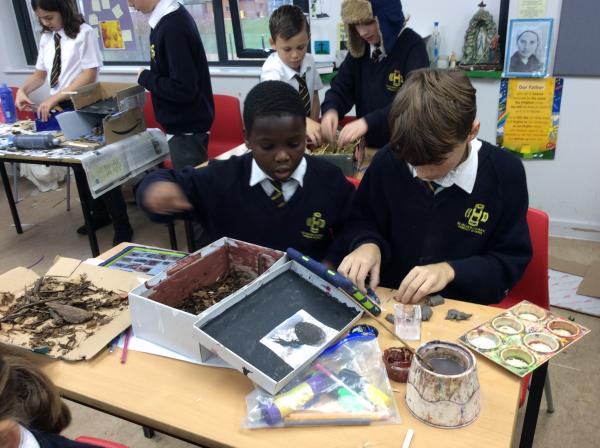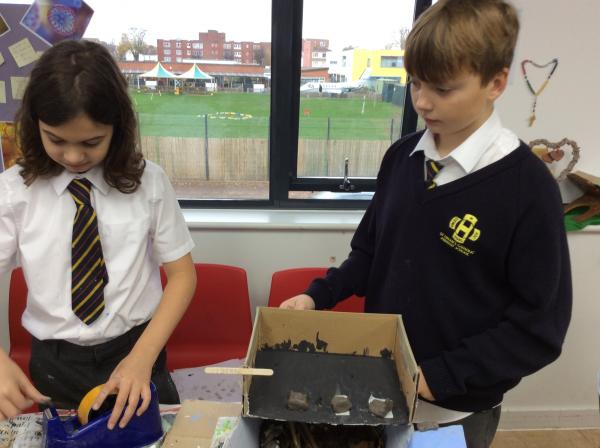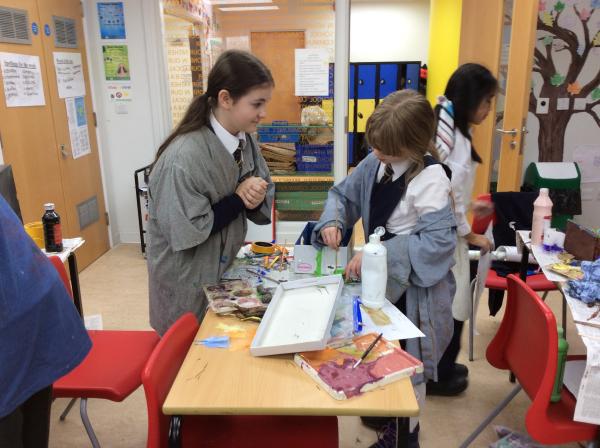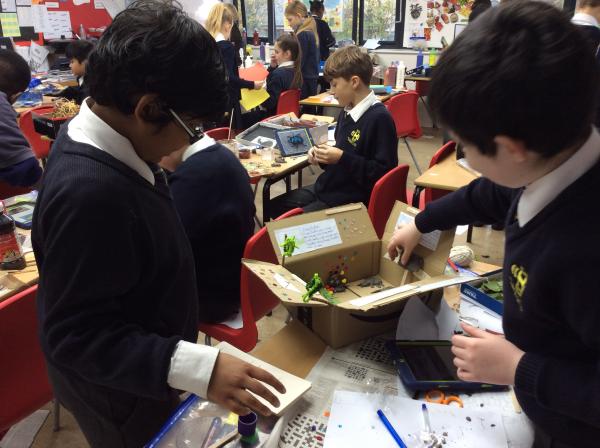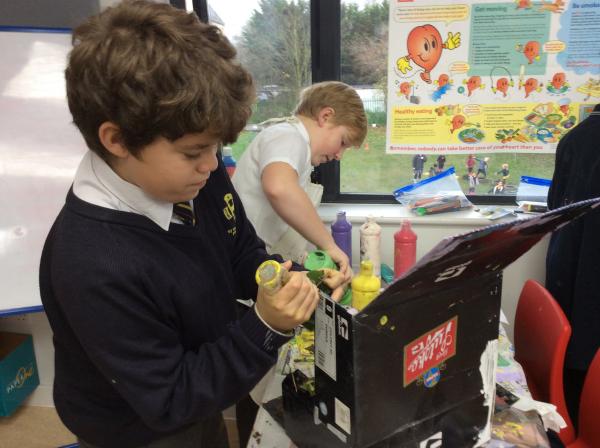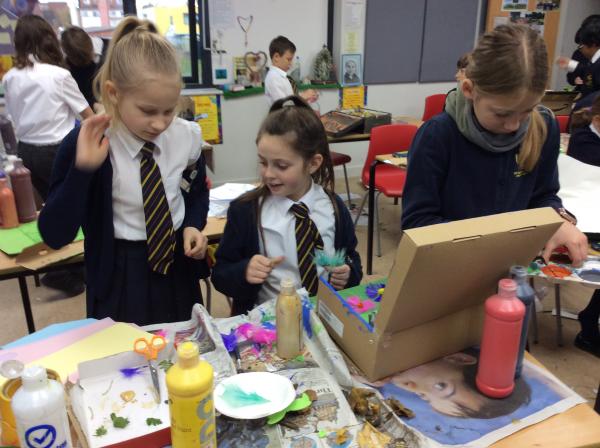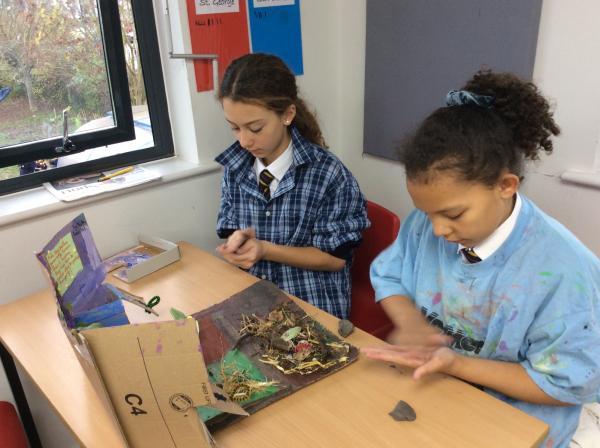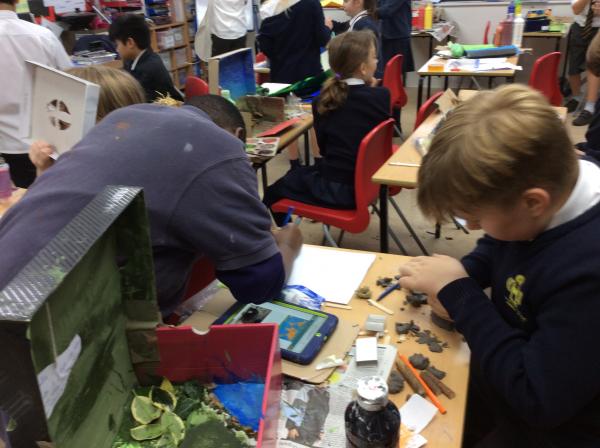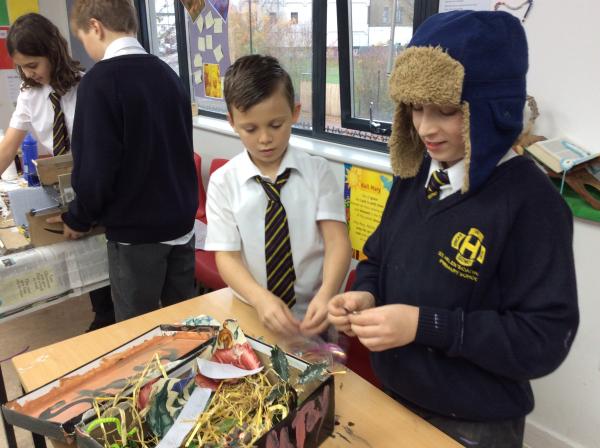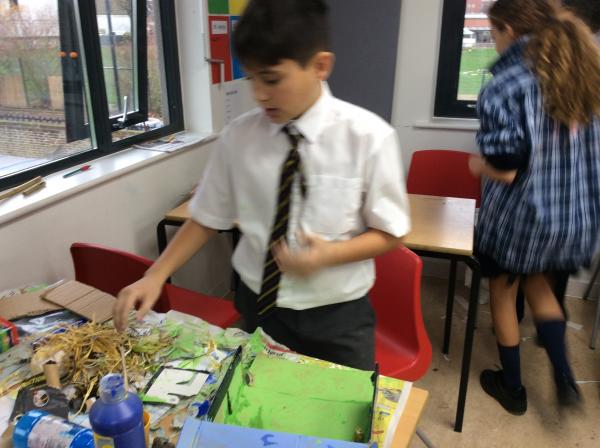 Beautiful Butterflies
As part of our recovery curriculum, the whole school have been making butterflies to display around the corridors and rooms. Year 6 enjoyed making theirs today and their artistic flair flourished.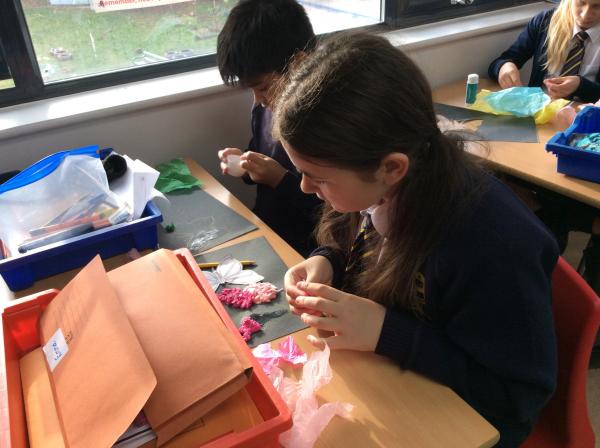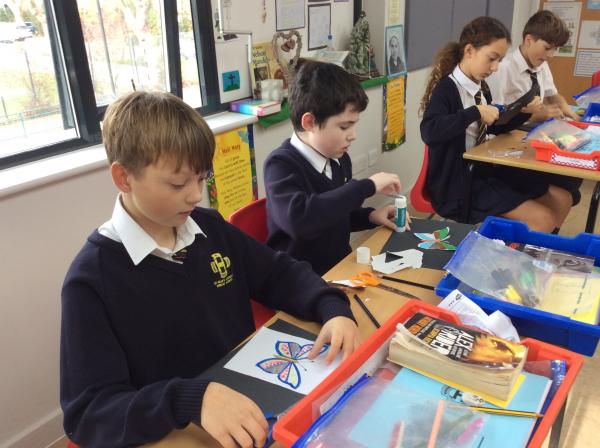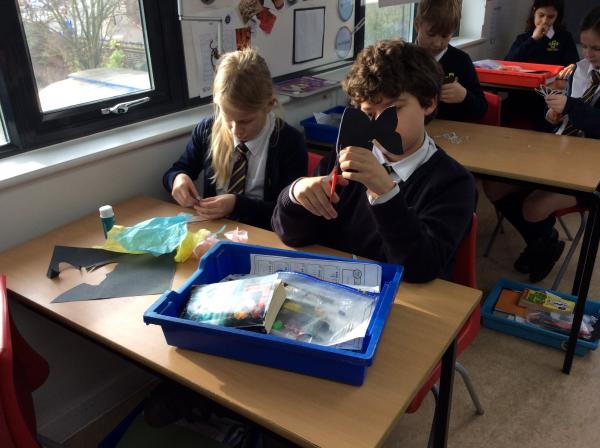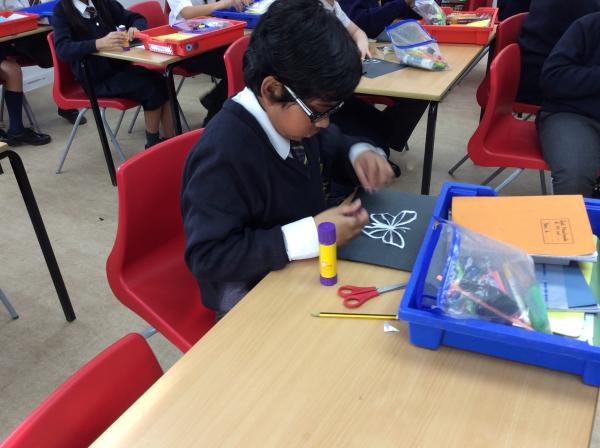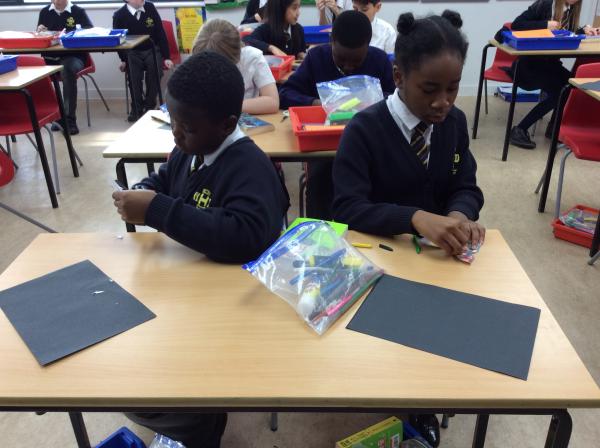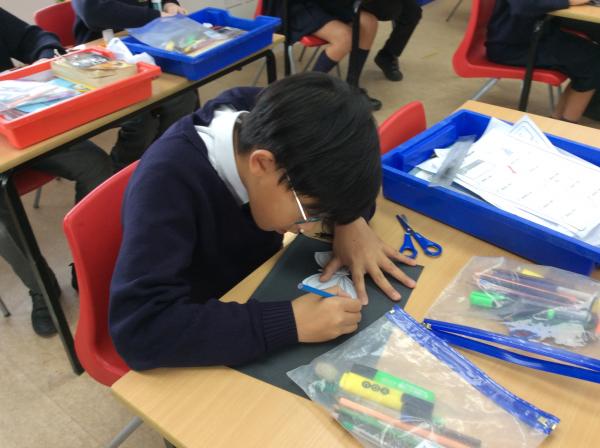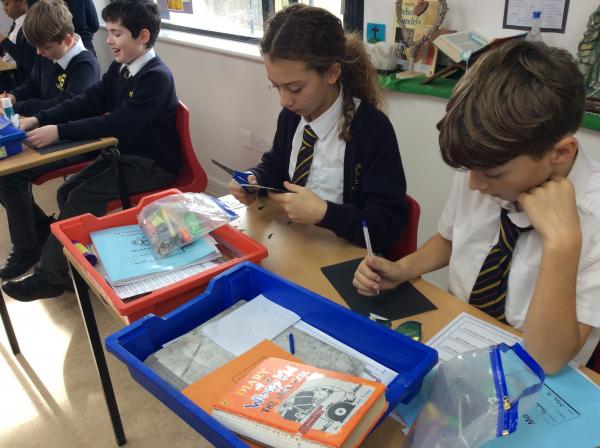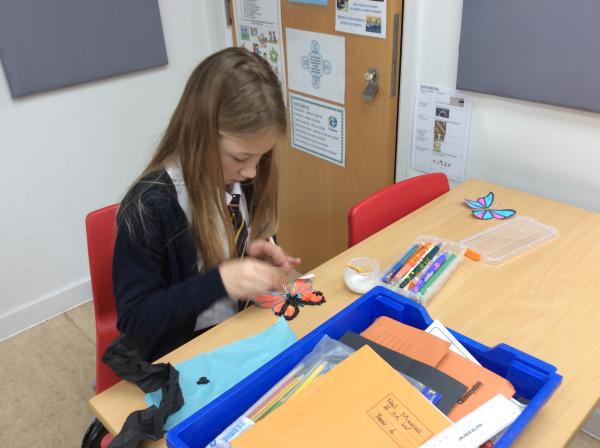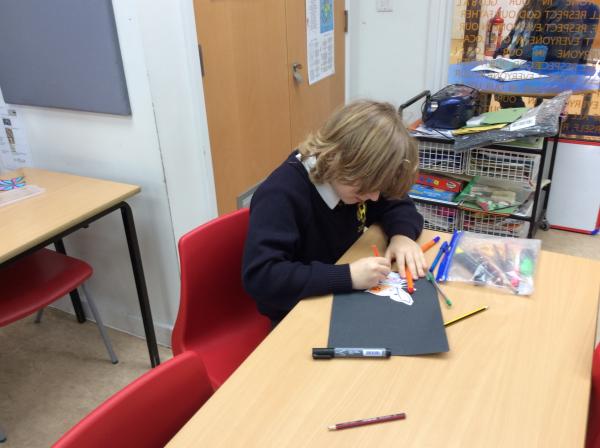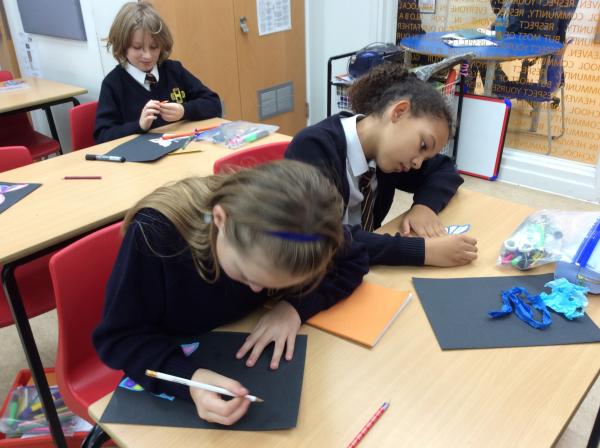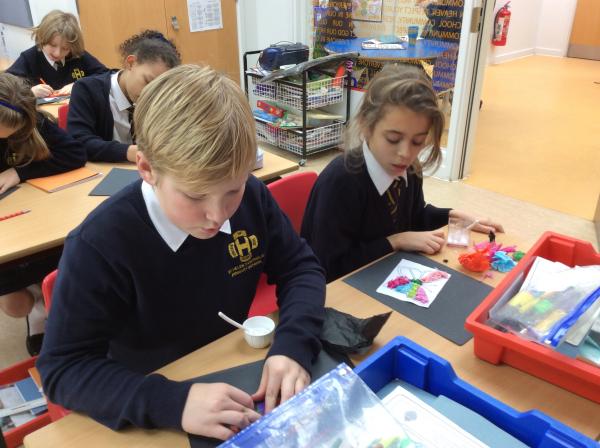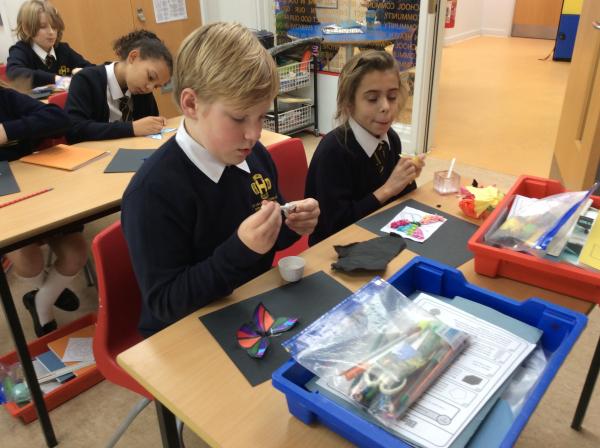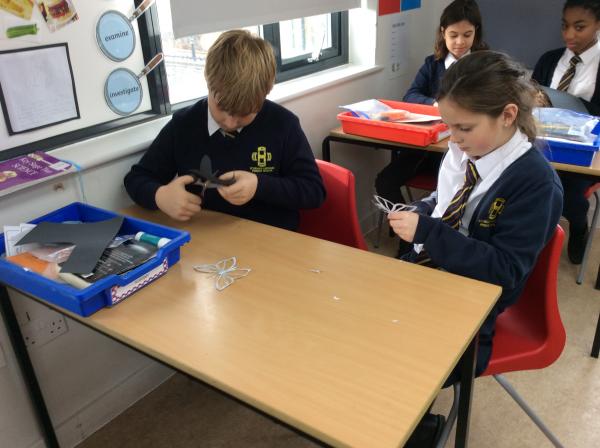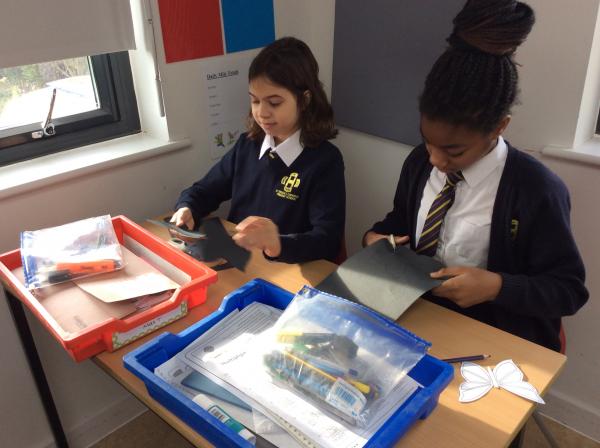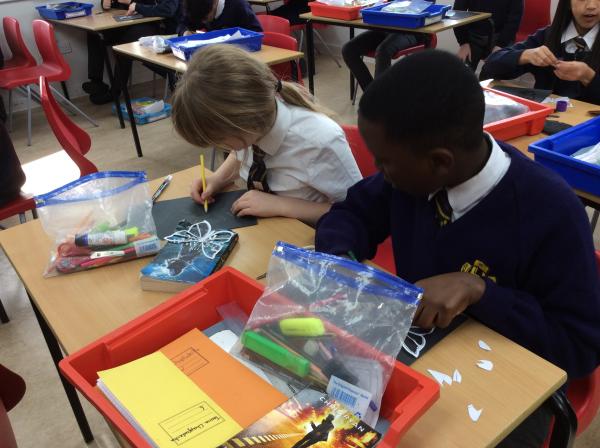 Exercise Experiment 20.11.20
Today, Year 6 designed their own experiments to test whether exercise affects their pulse rate. Their conclusions were a resounding yes. The heart pumps more oxygen around the body through the arteries as your muscles need oxygen to work harder.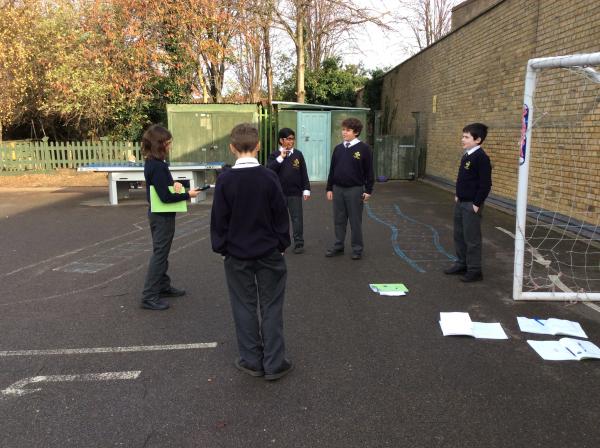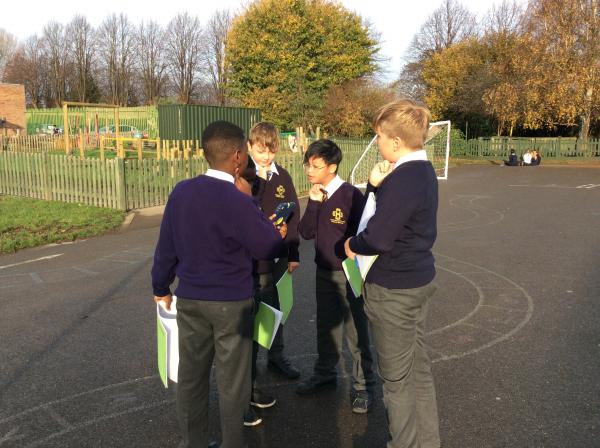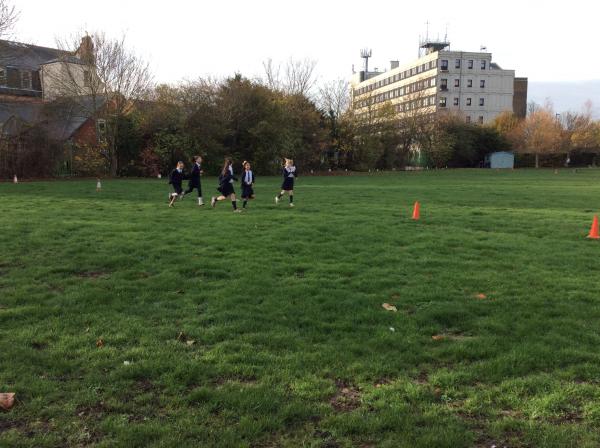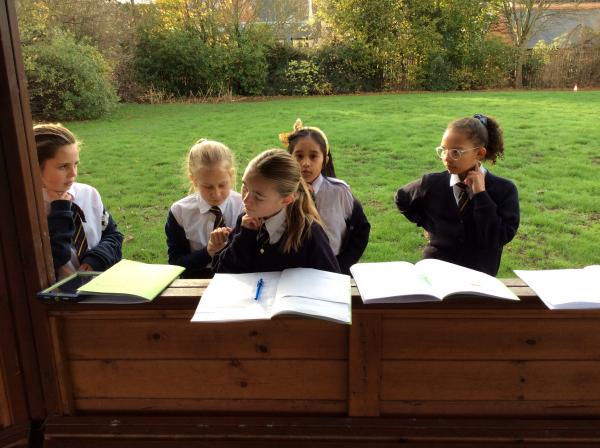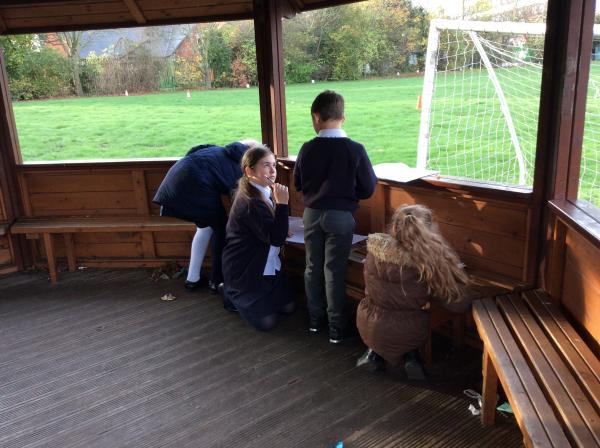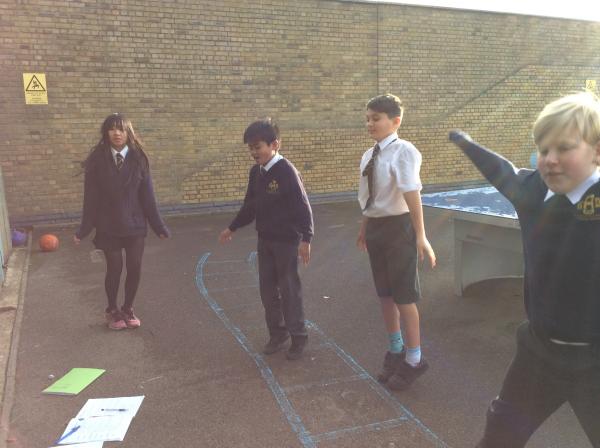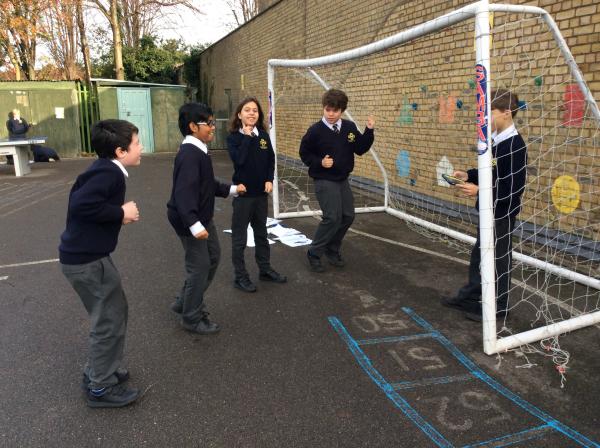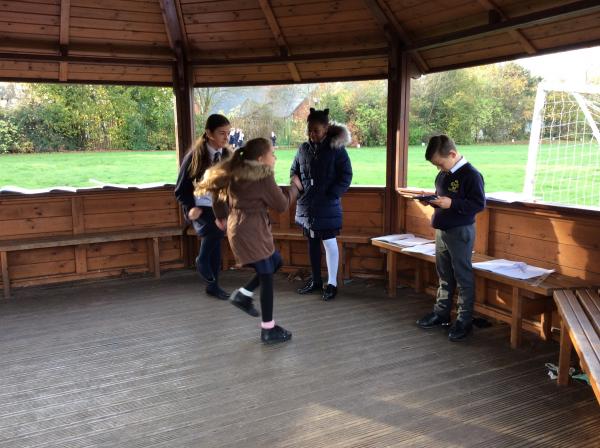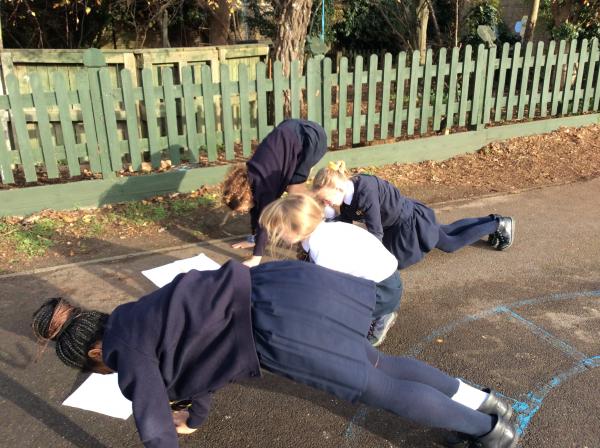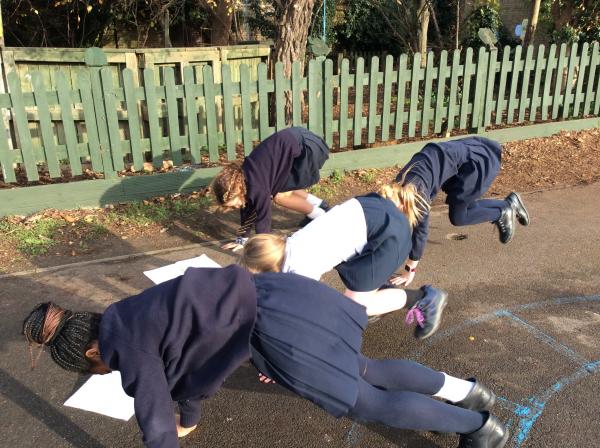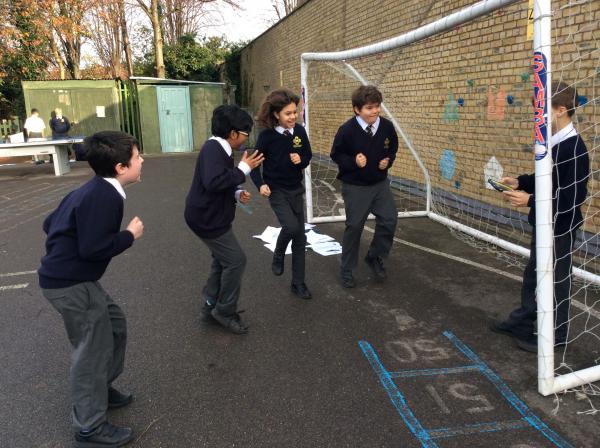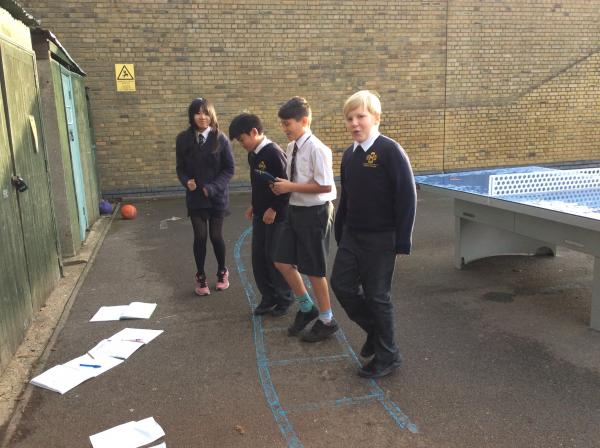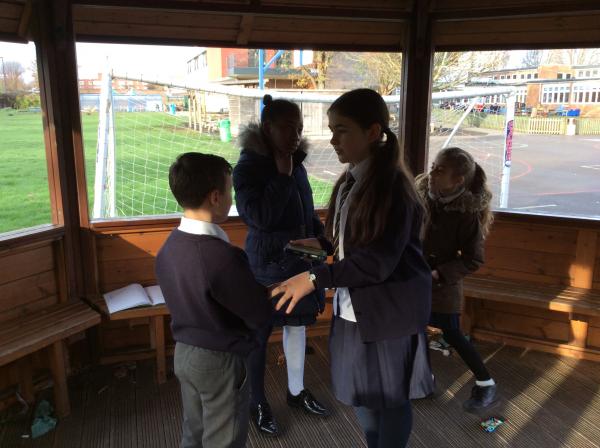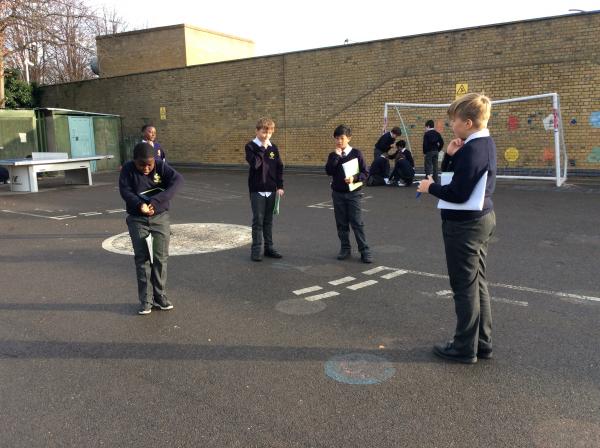 Smores and Tyres!
After all their hard work this morning, Year 6 definitely had earnt their smores this afternoon. We were enjoying playing in the nature area when a delivery of tyres for us to use and play with arrived. Forming a chain, the tyres didn't take too long to unload! Thank you to Uncle Tom's, Purdeys Way for their generous donation of tyres for us to use.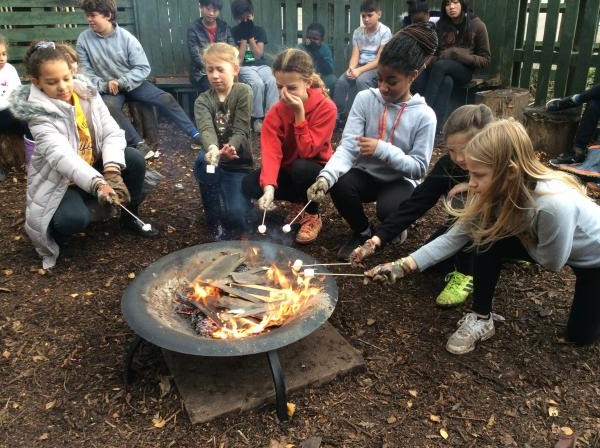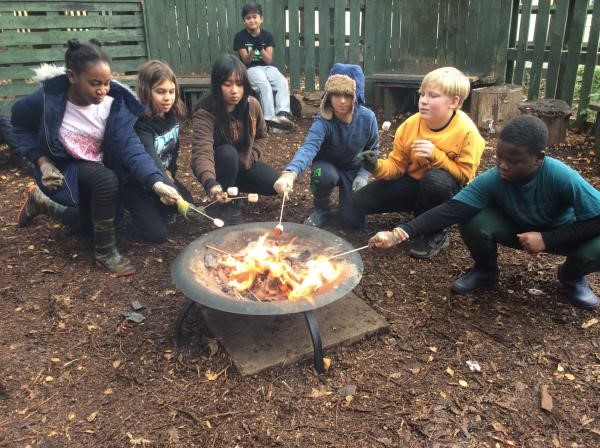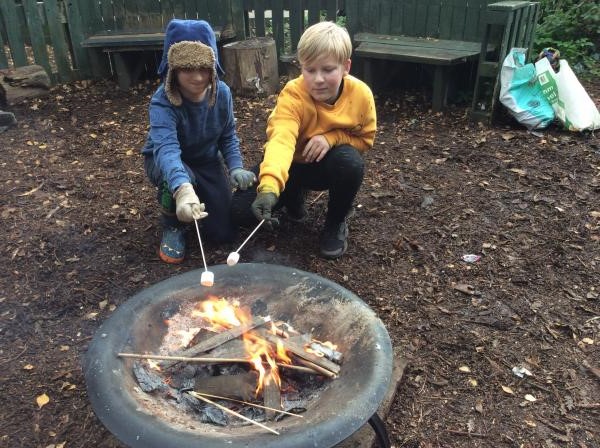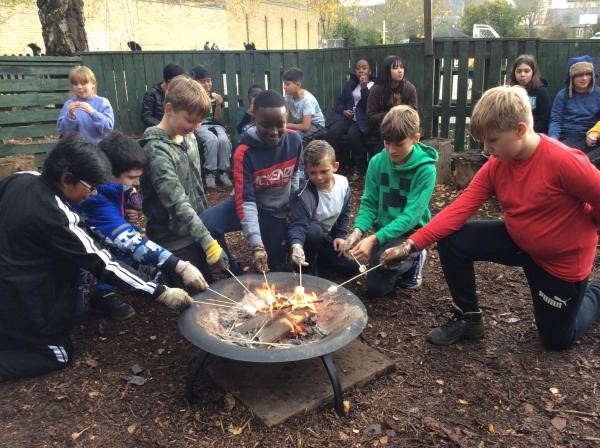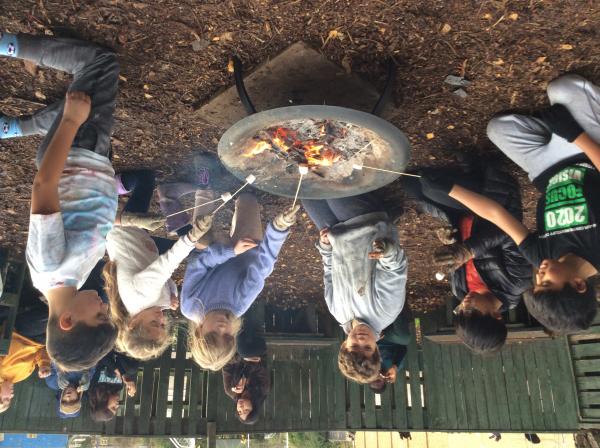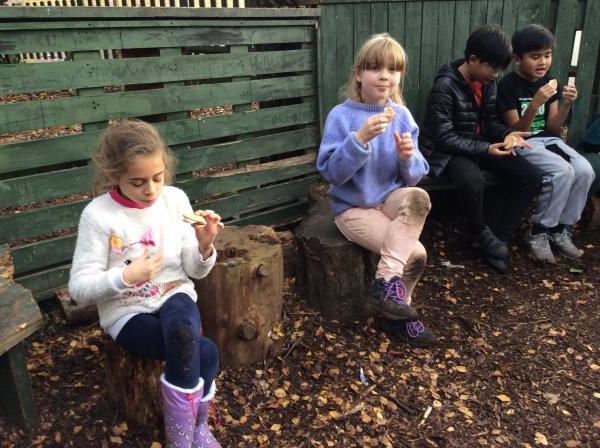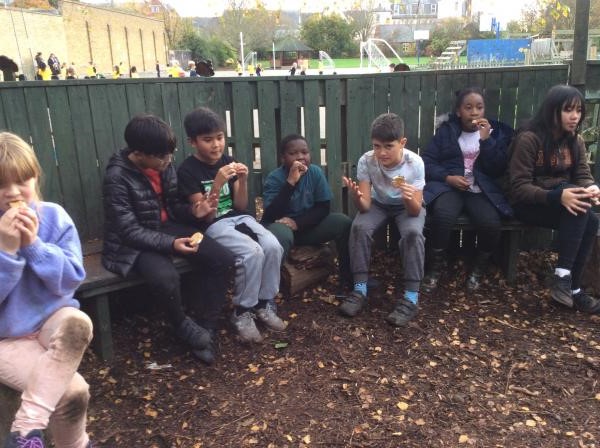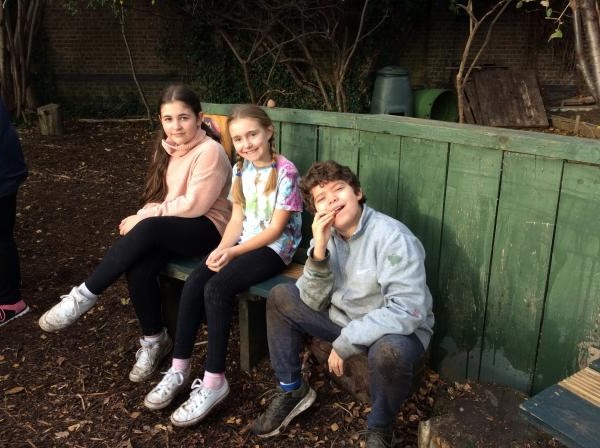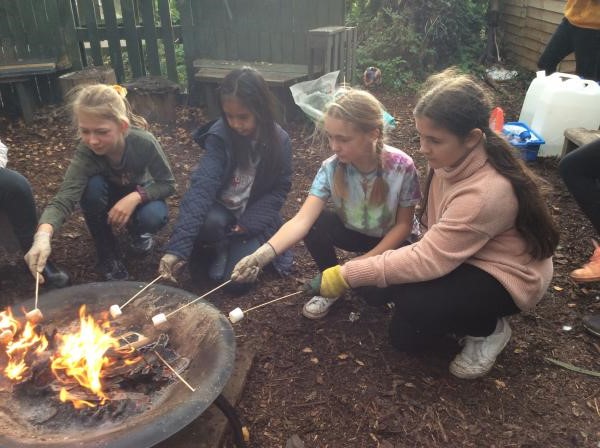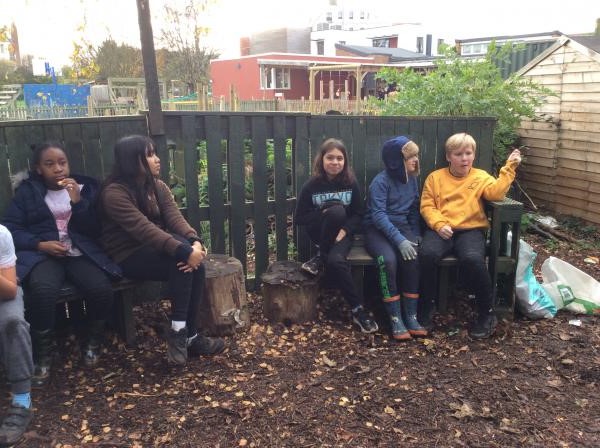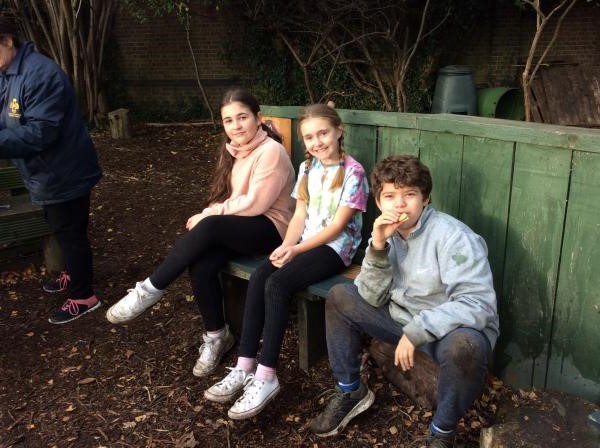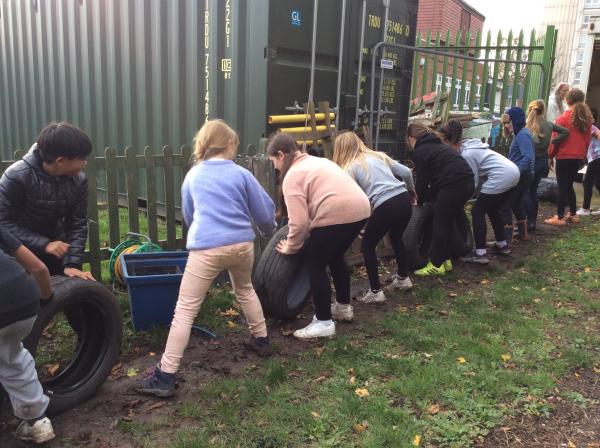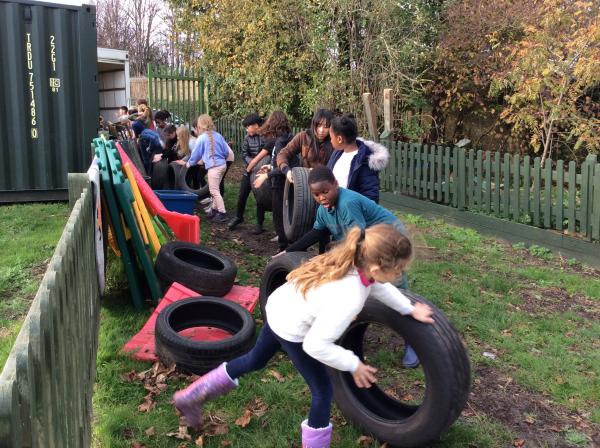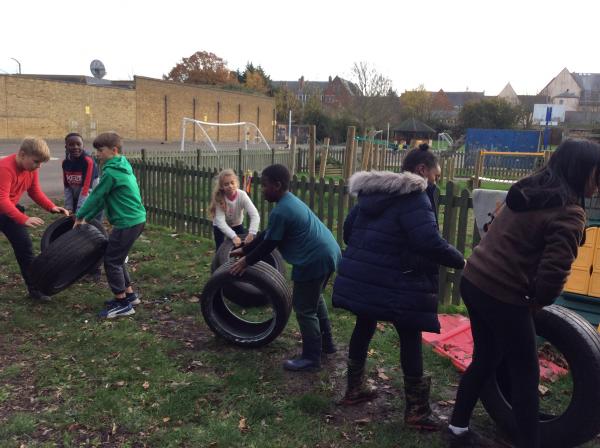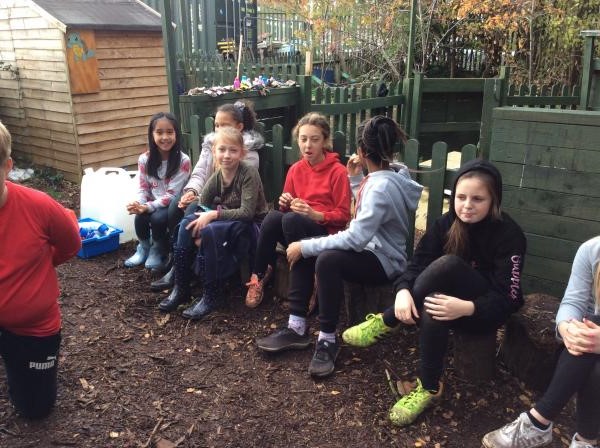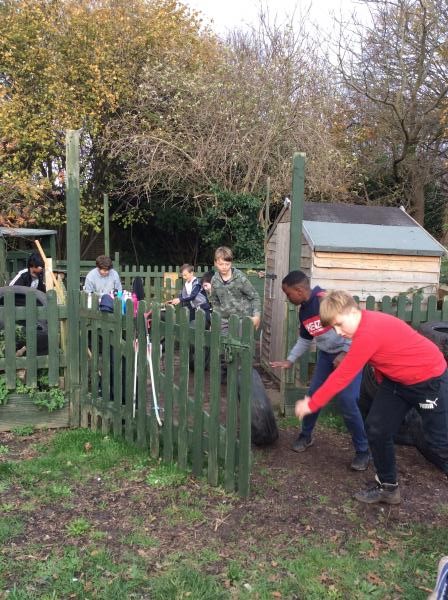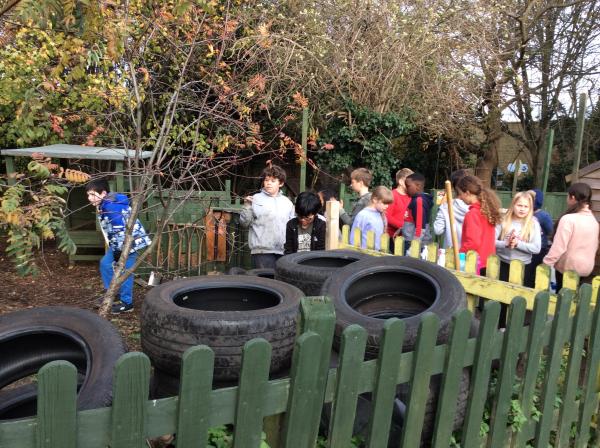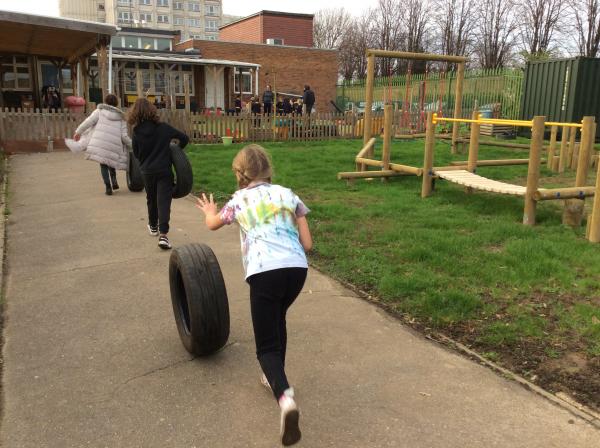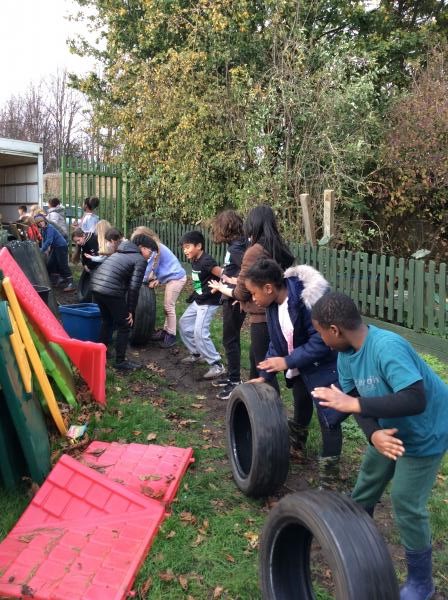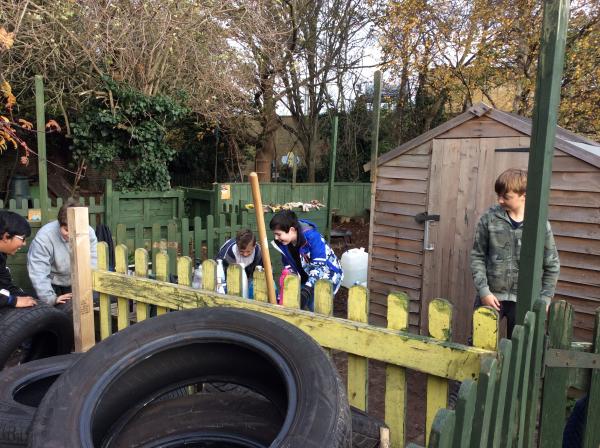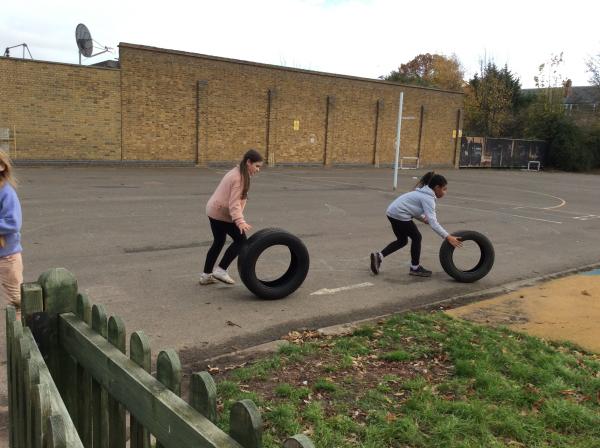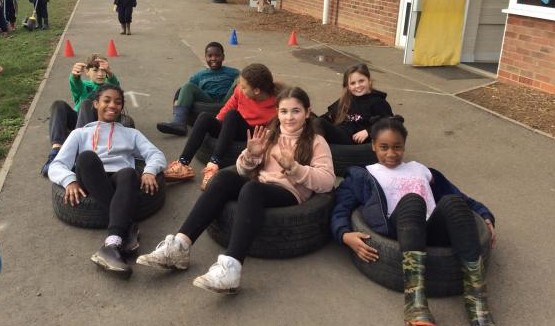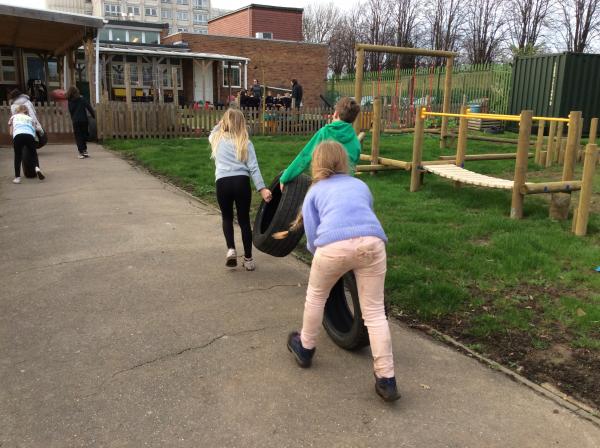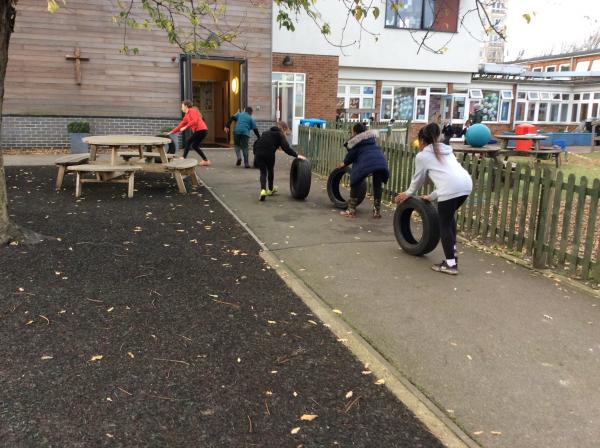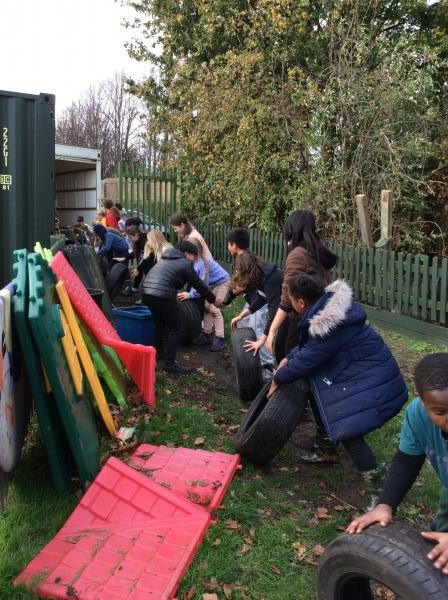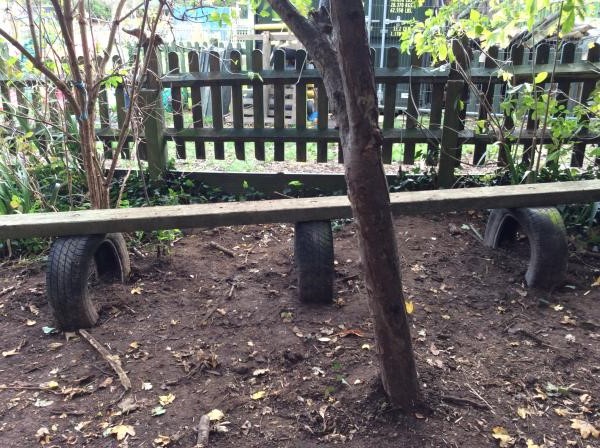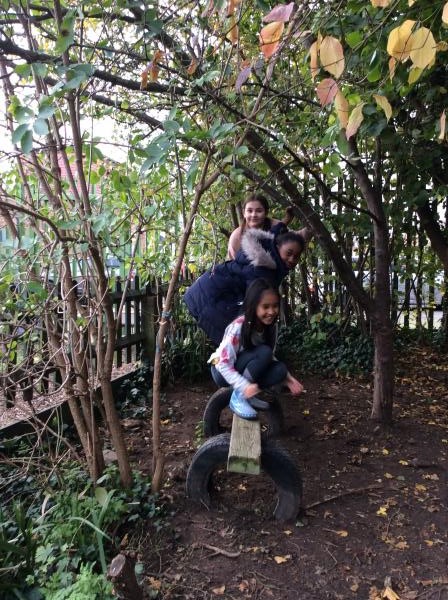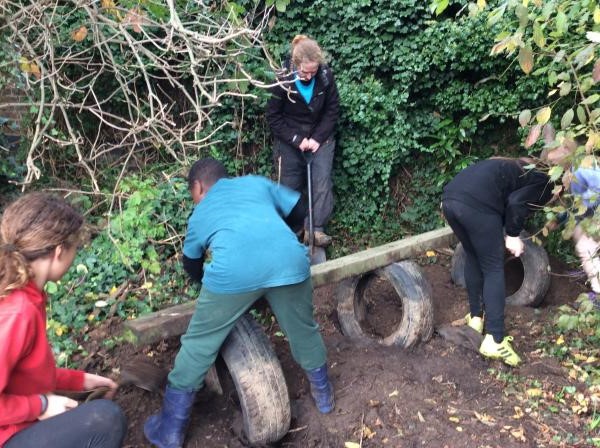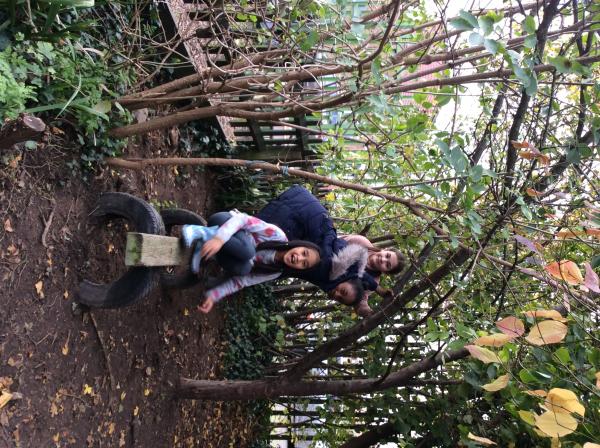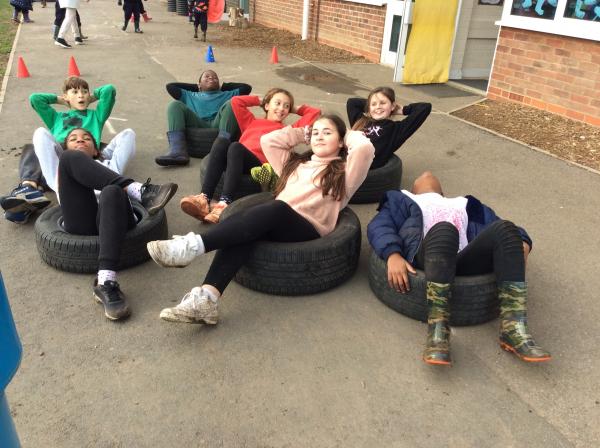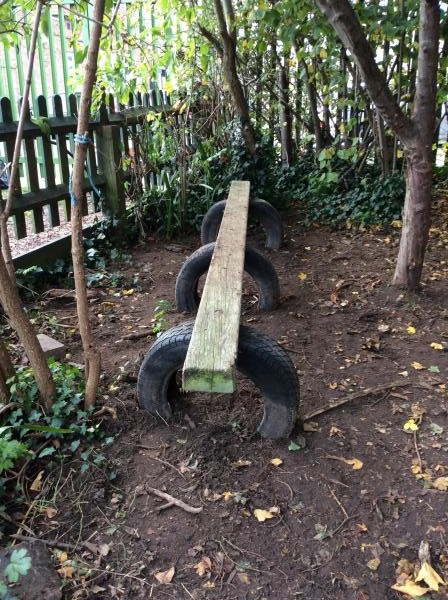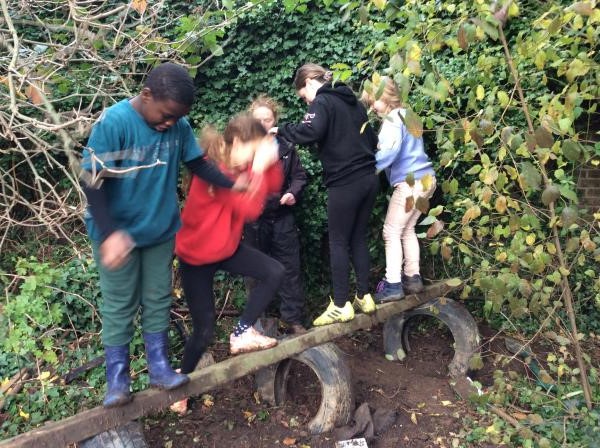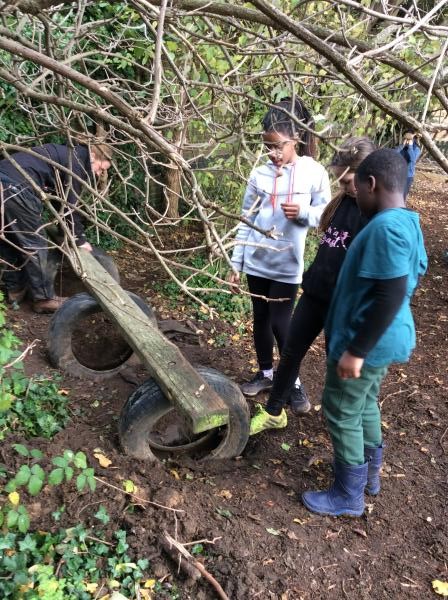 Dexterous Digging
Year 6 had a very busy day in the nature area. They dug and dug and dug! The dinner ladies found them very quiet at lunchtime as they all recovered!
Well done Year 6 and thank you for making the nature area tidy and so much fun for others to play in!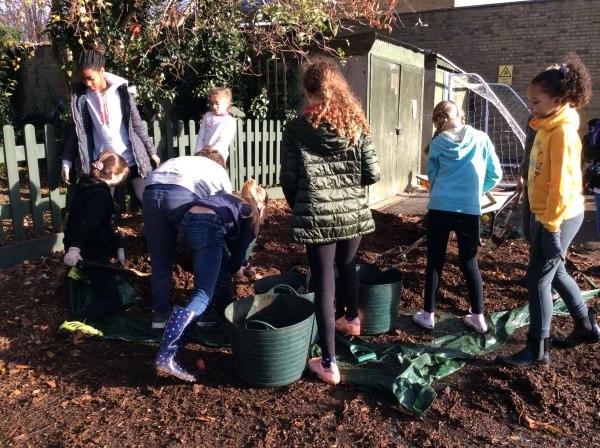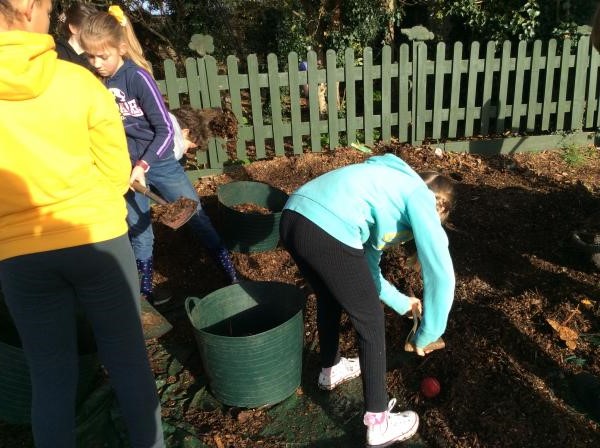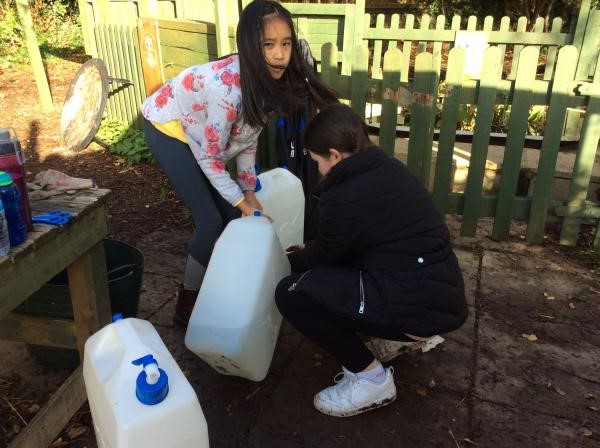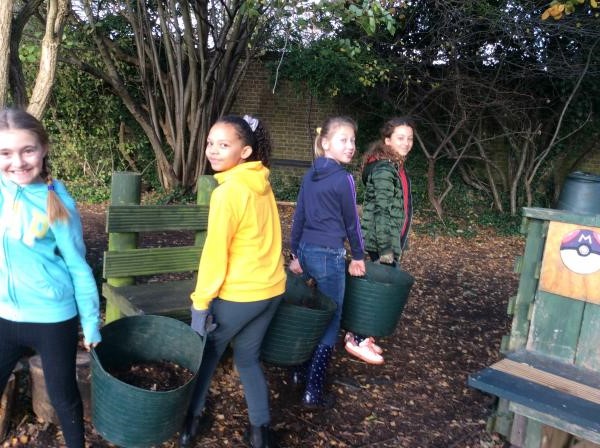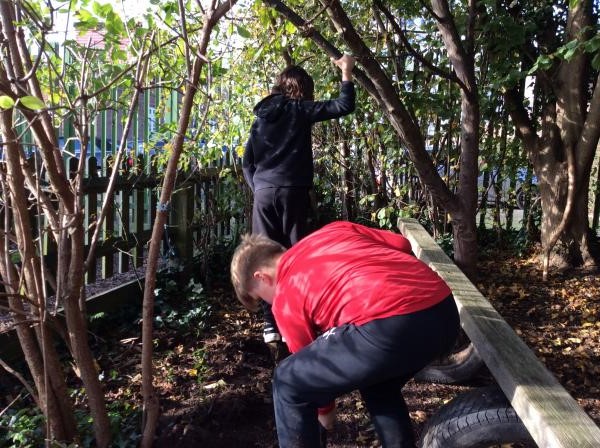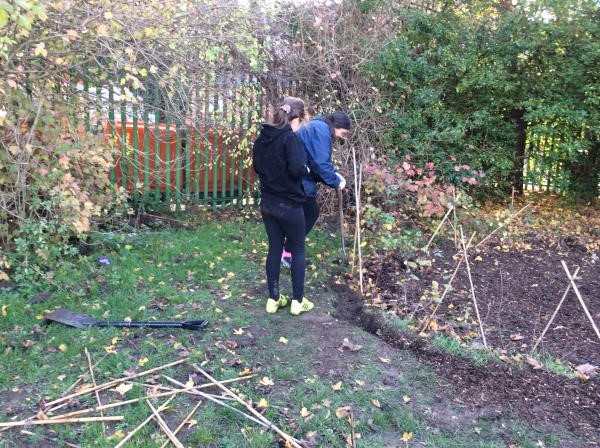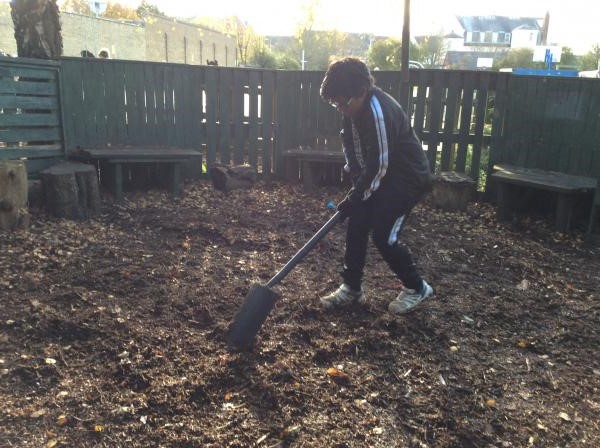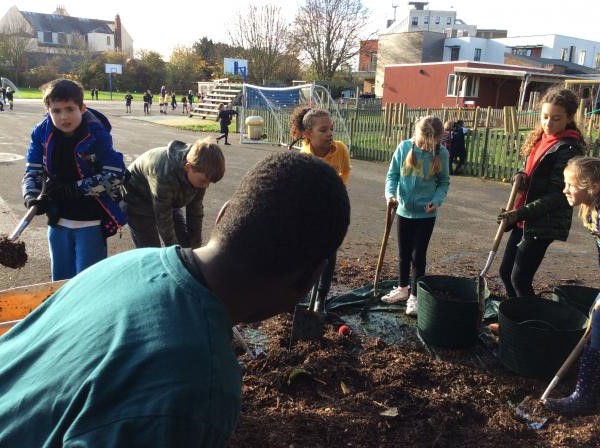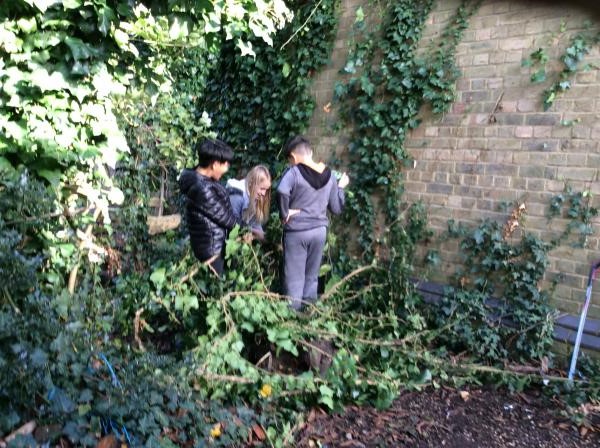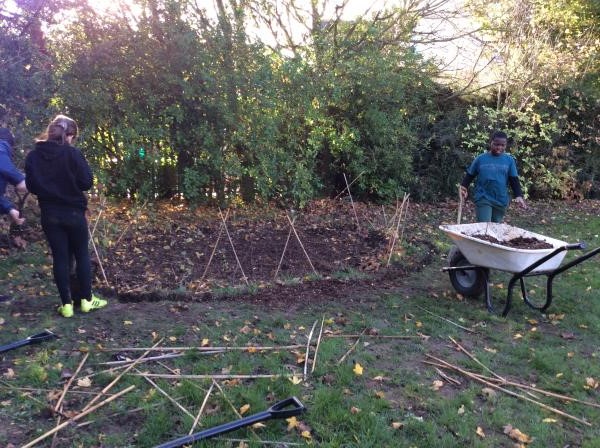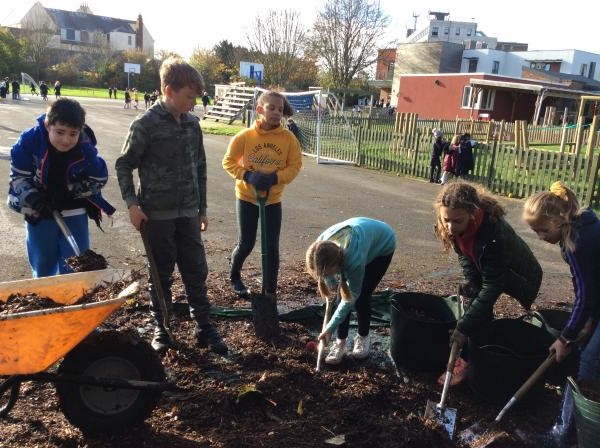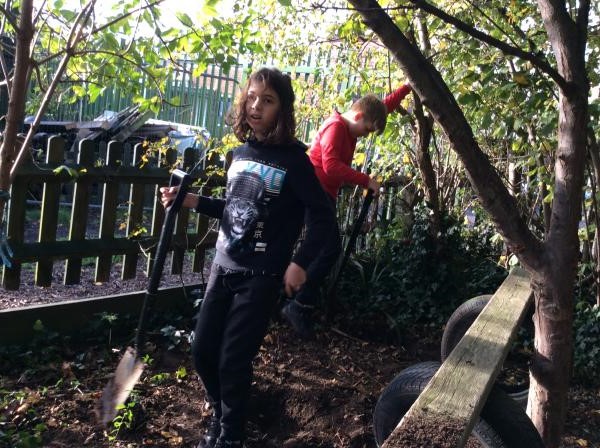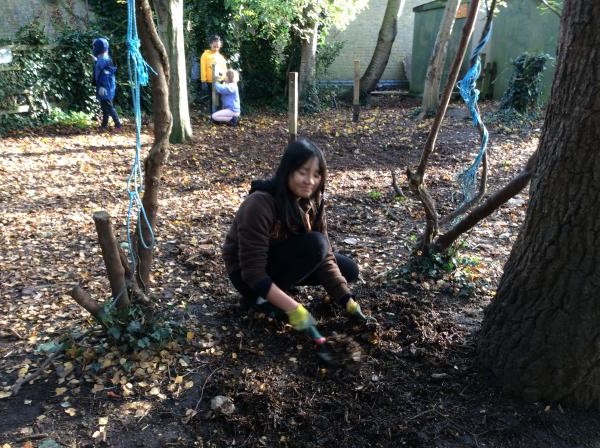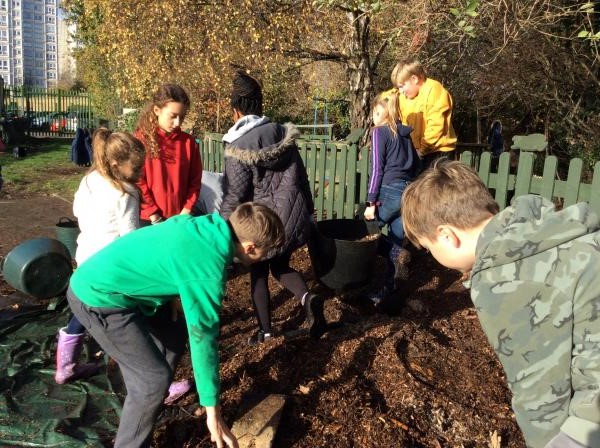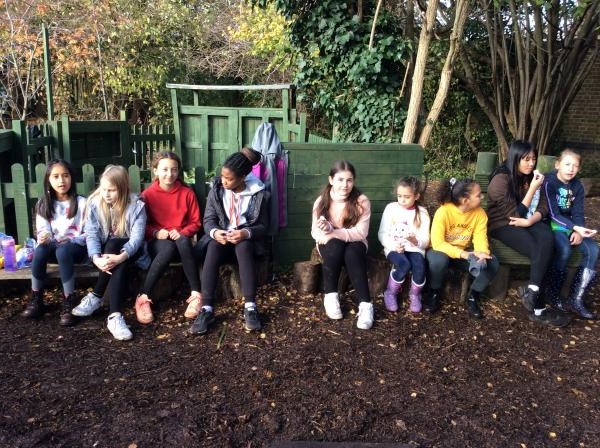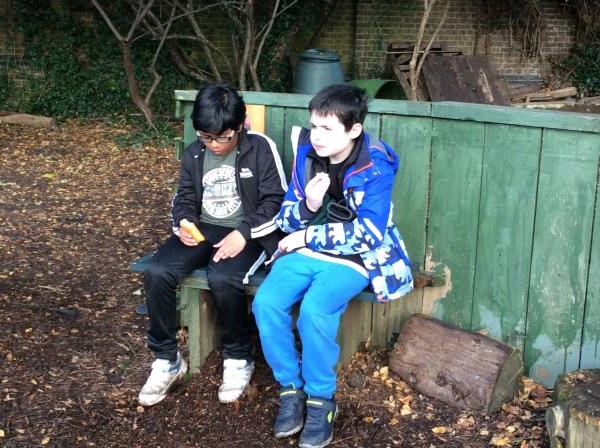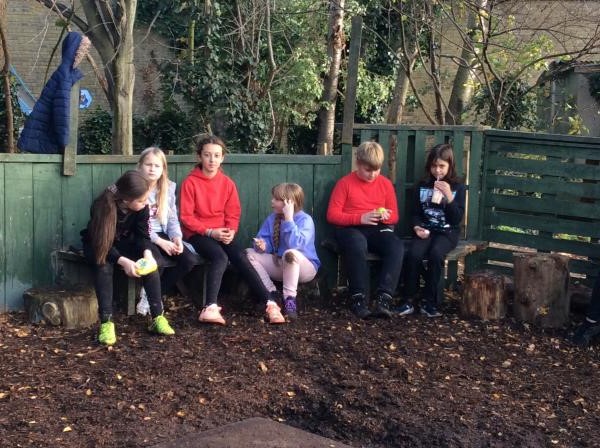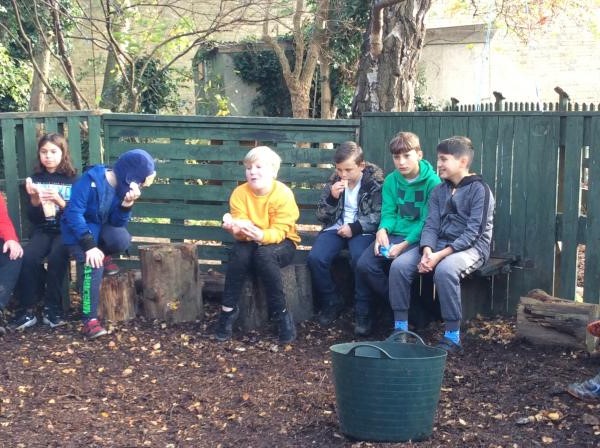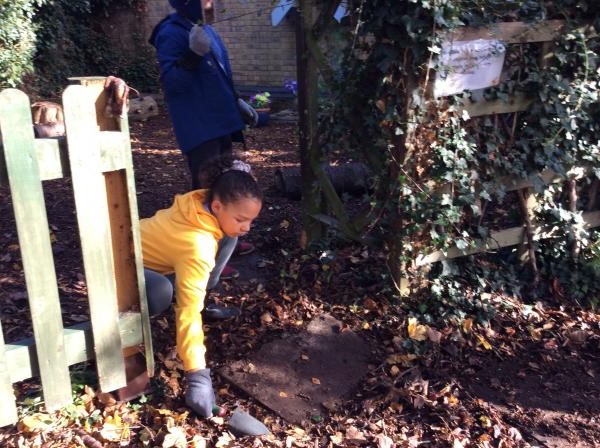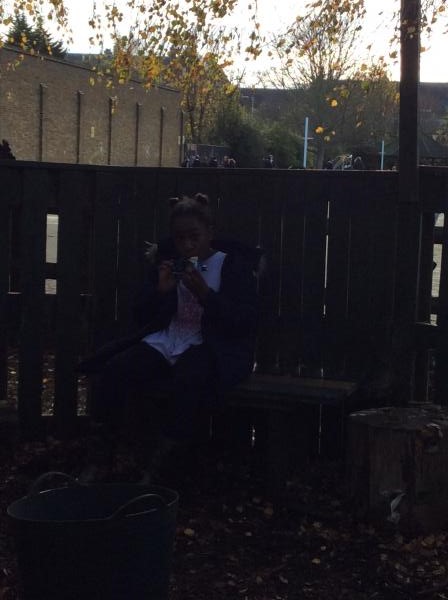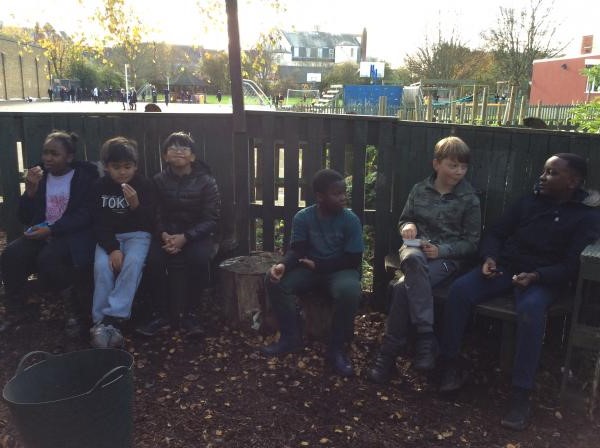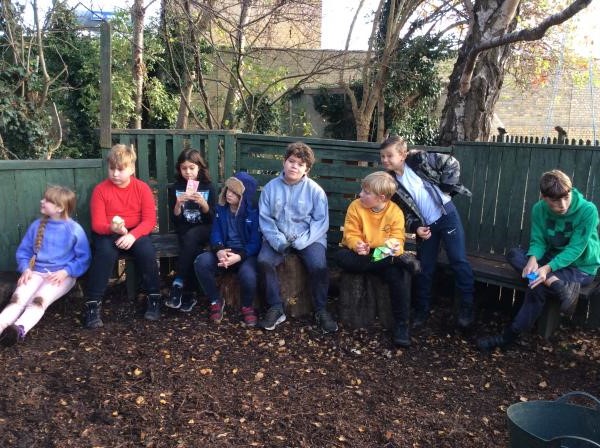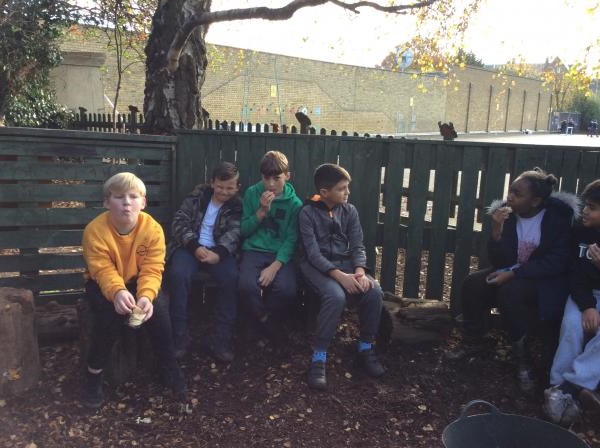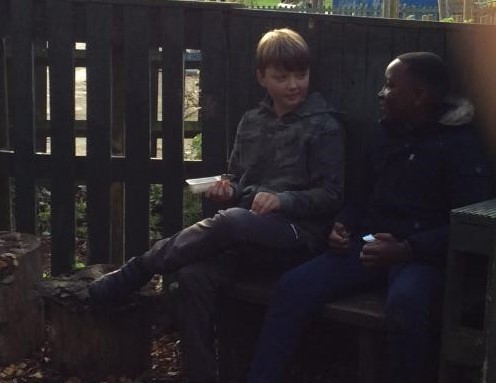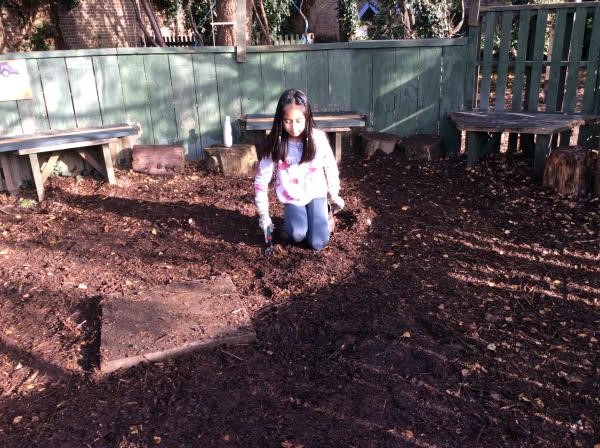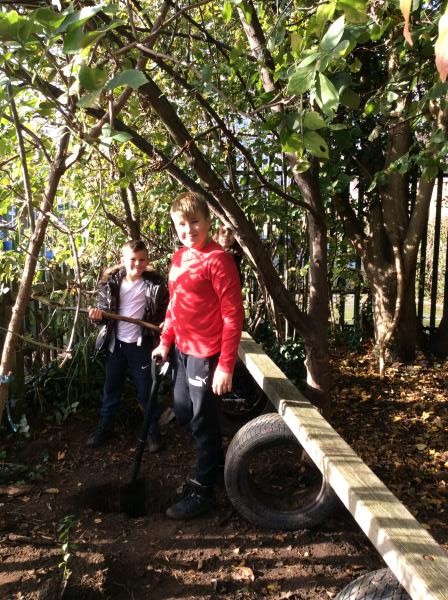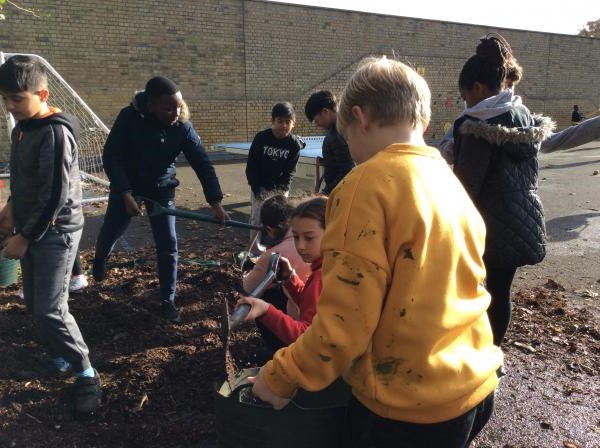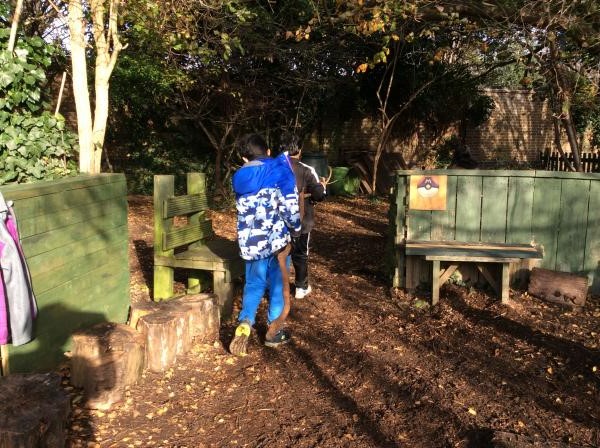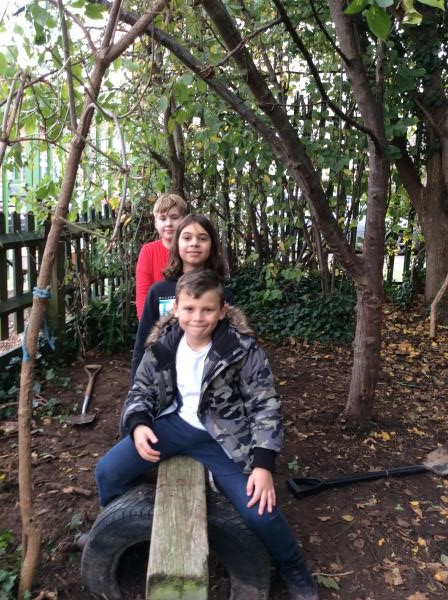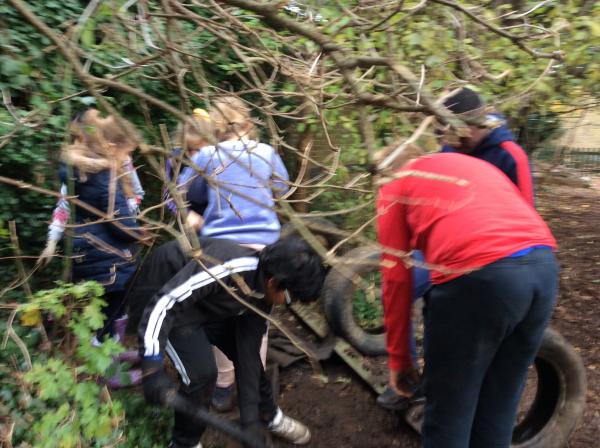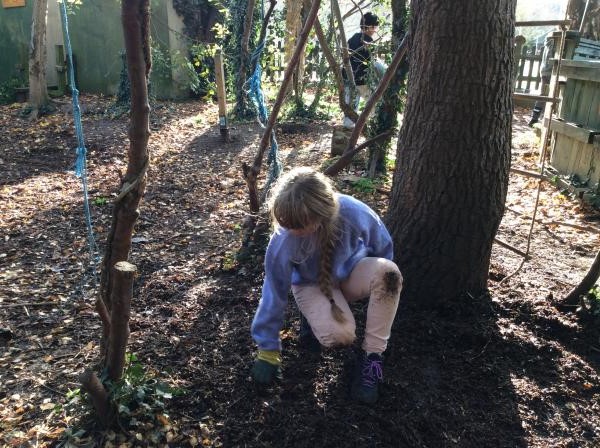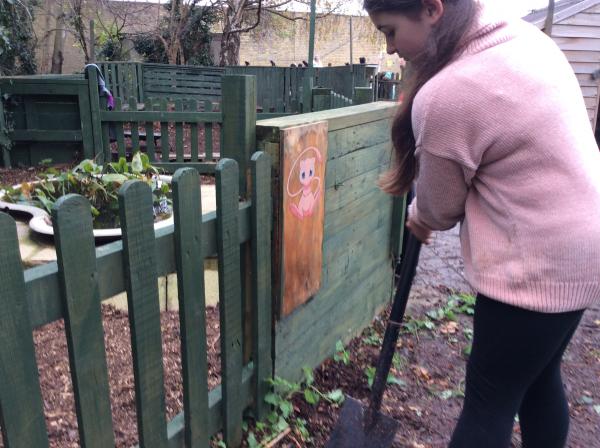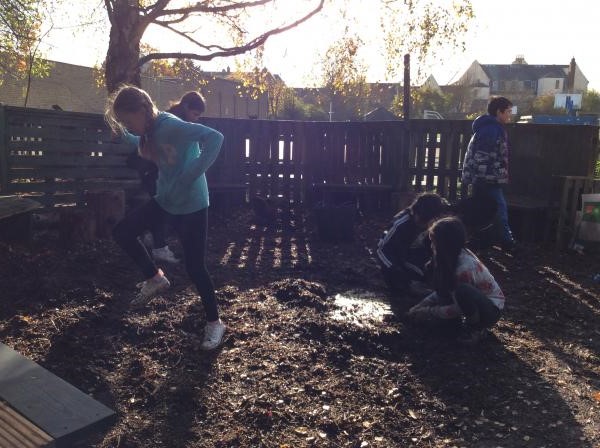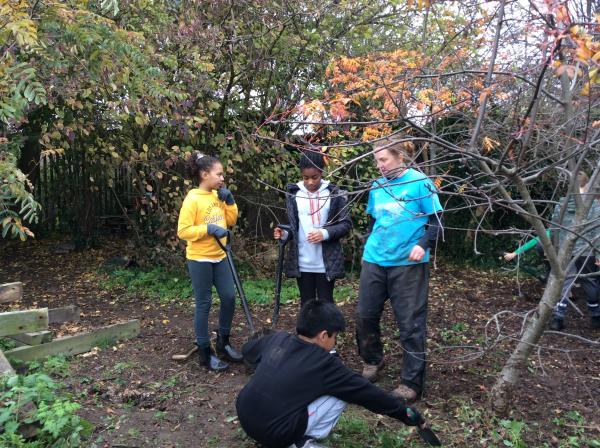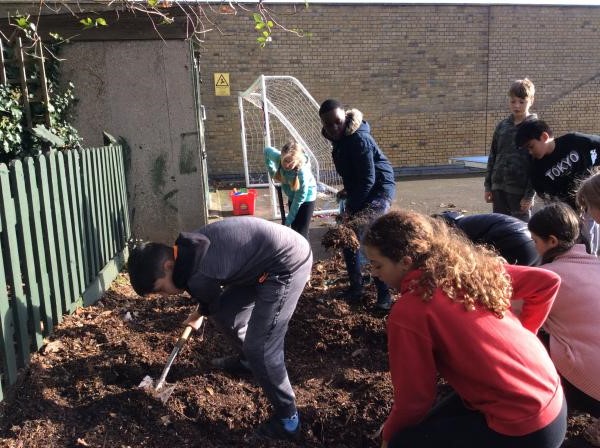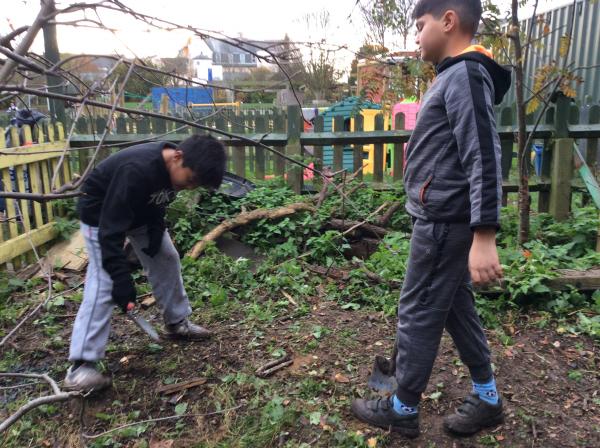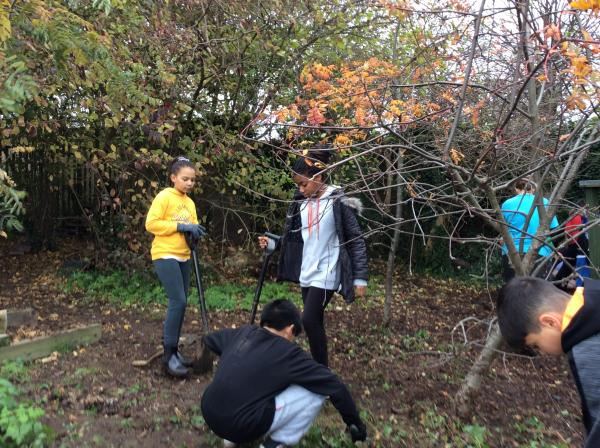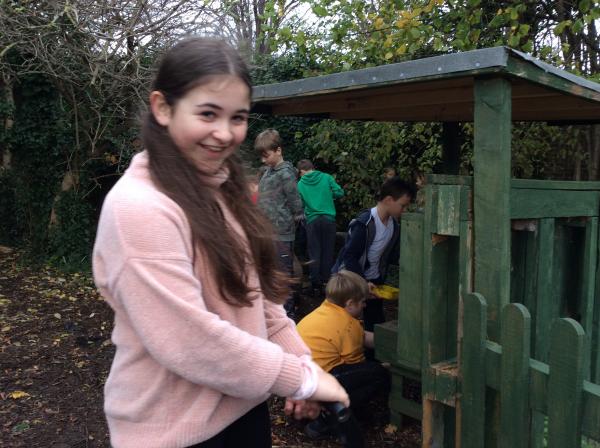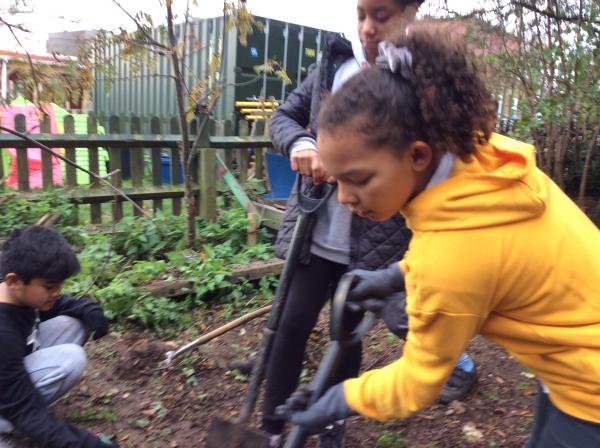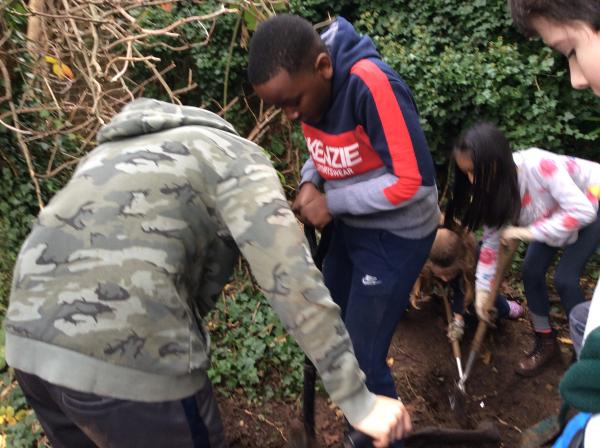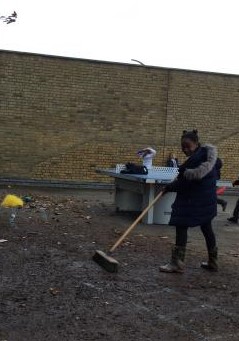 PE Challenge
As part of Children in Need, Year 6 took part in the Joe Wick's PE challenge. Schools across the country joined him for the last 20 minutes of his 24 hour challenge!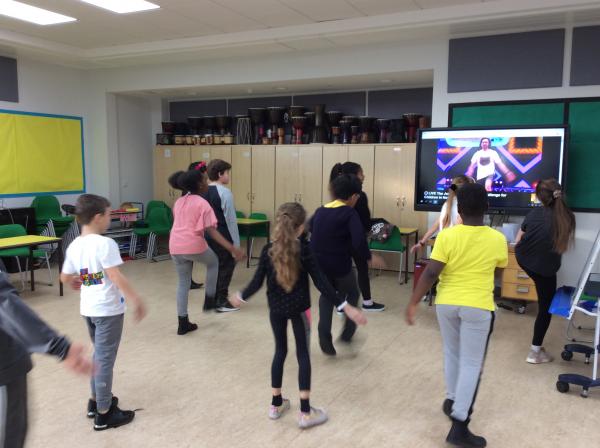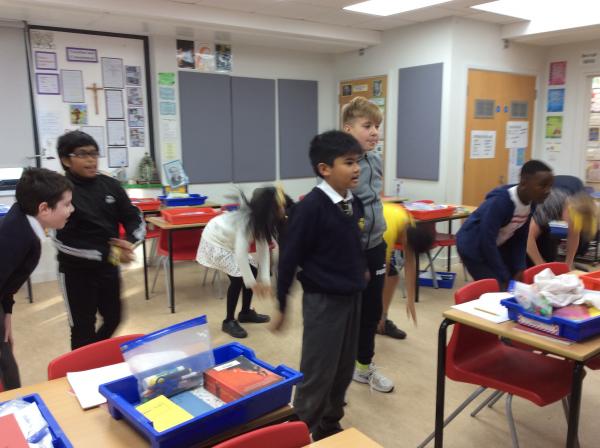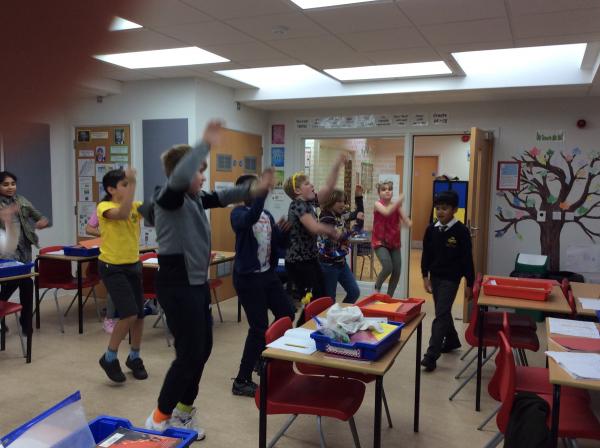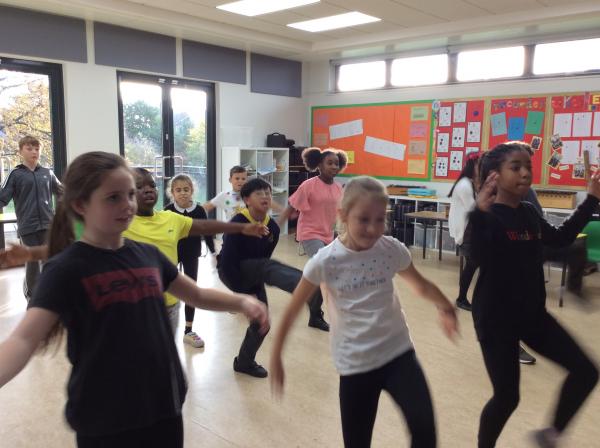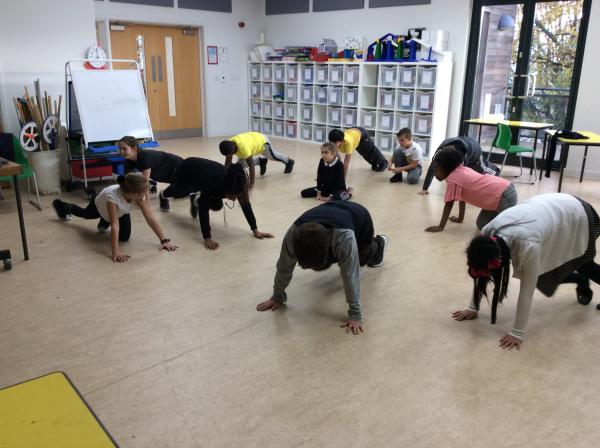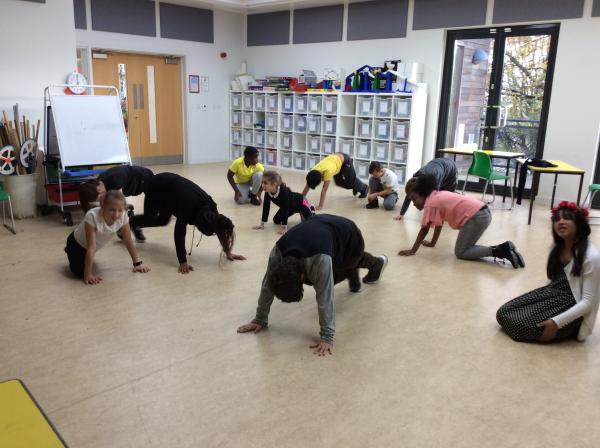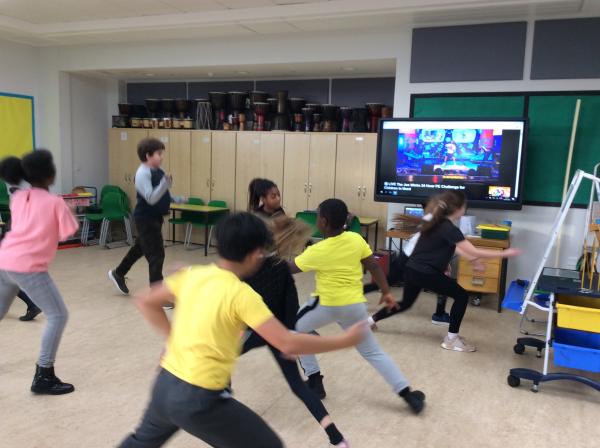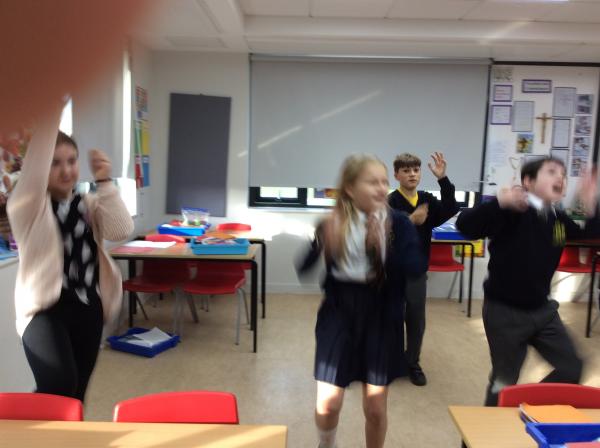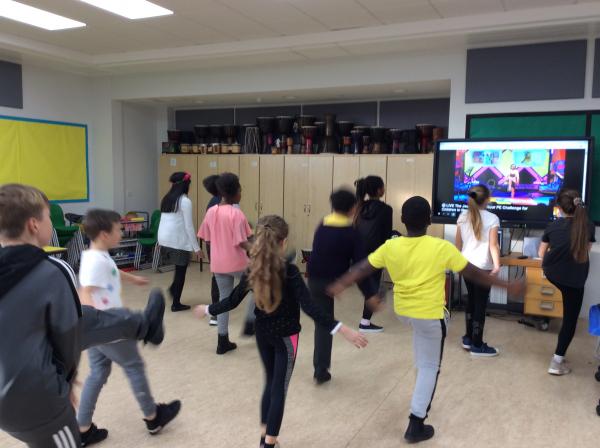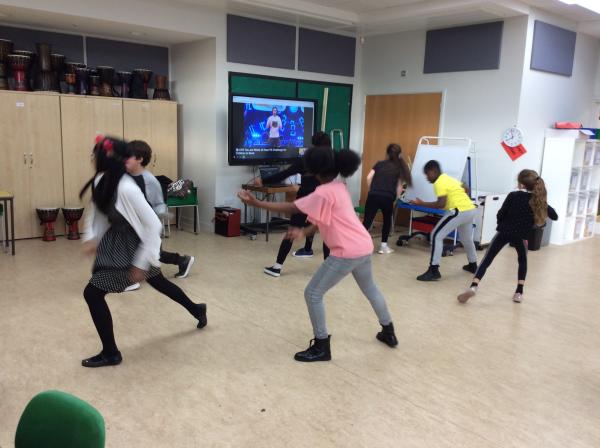 Beetle Boy
Year 6 have enjoyed writing stories based around our book, Beetle Boy. They have typed out their favourite parts of their story. We all hope you enjoy reading them!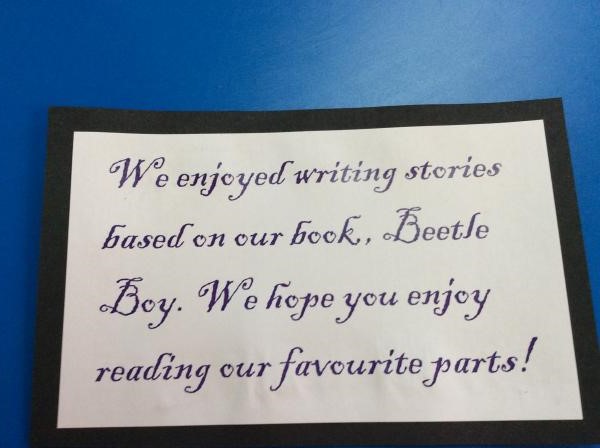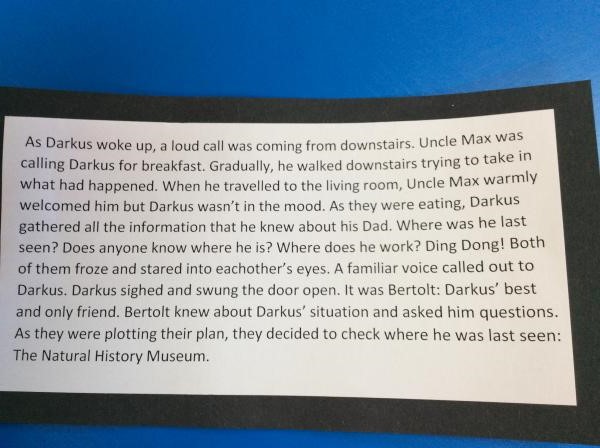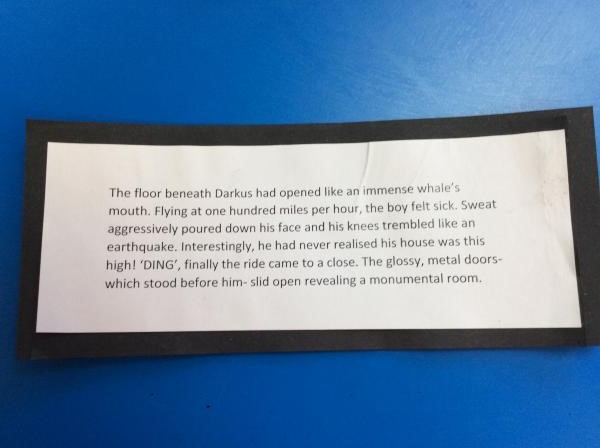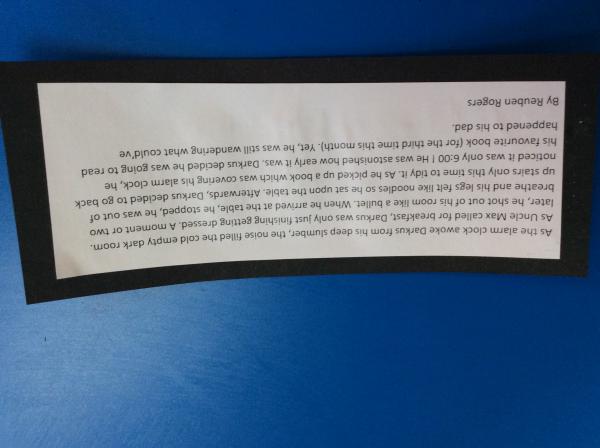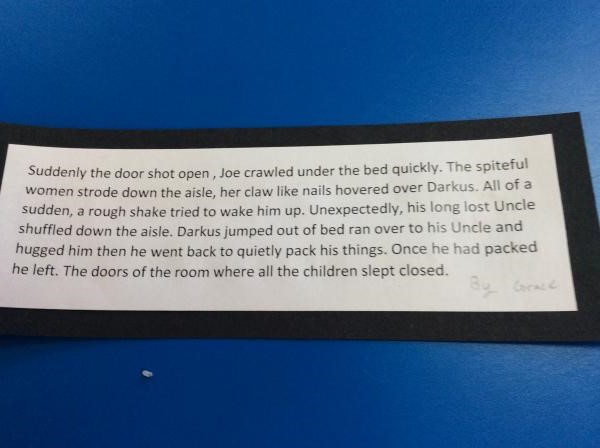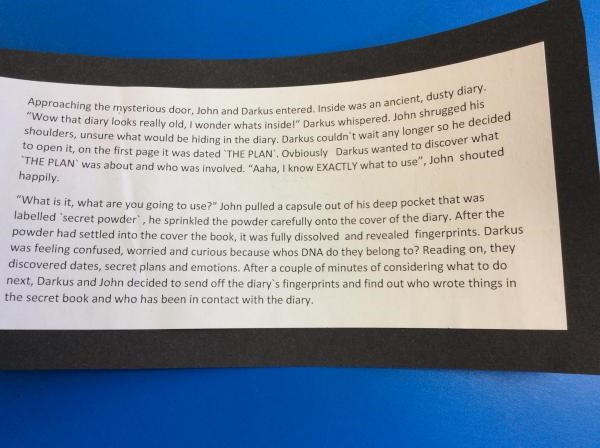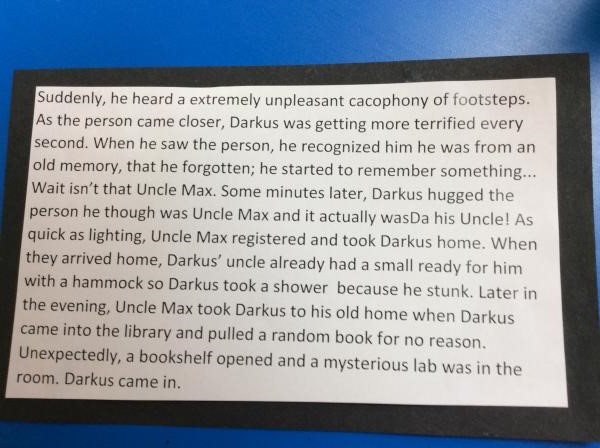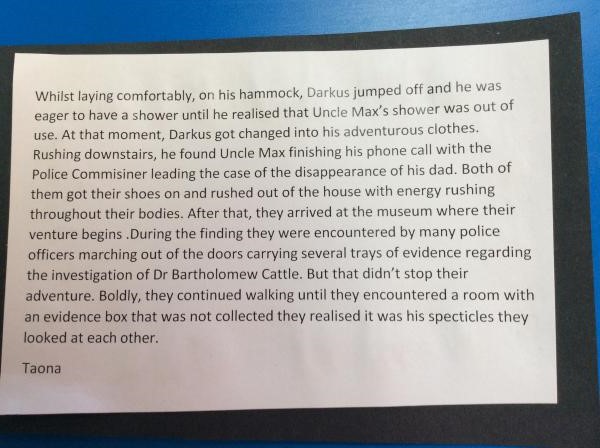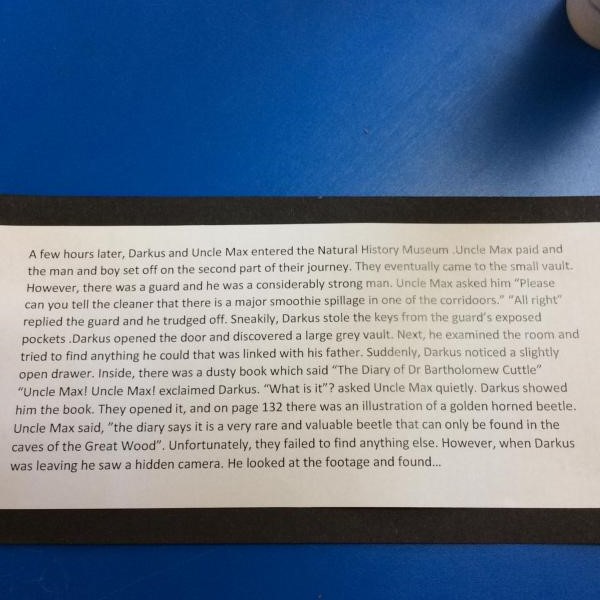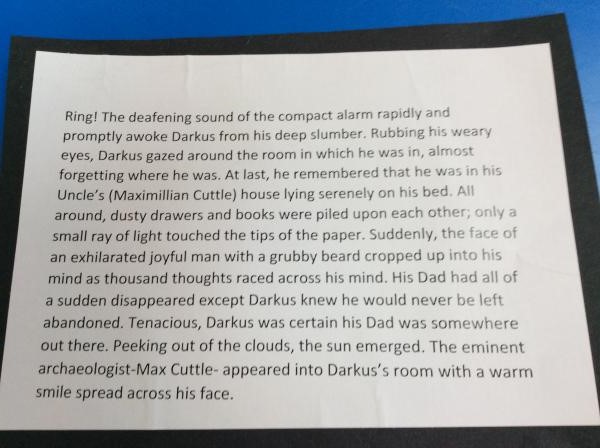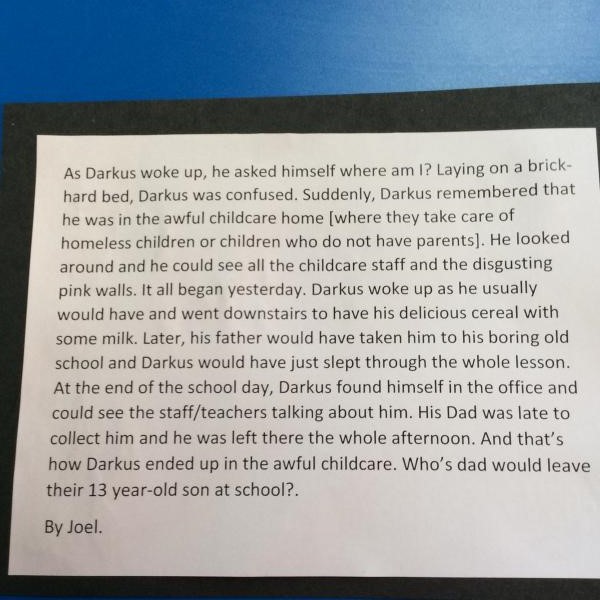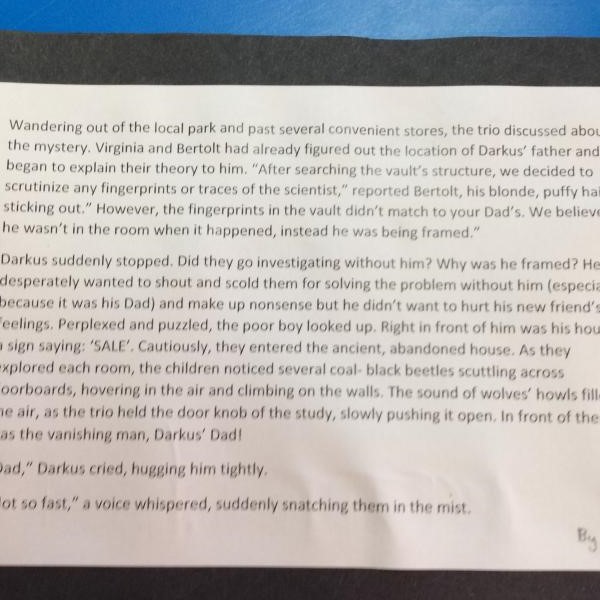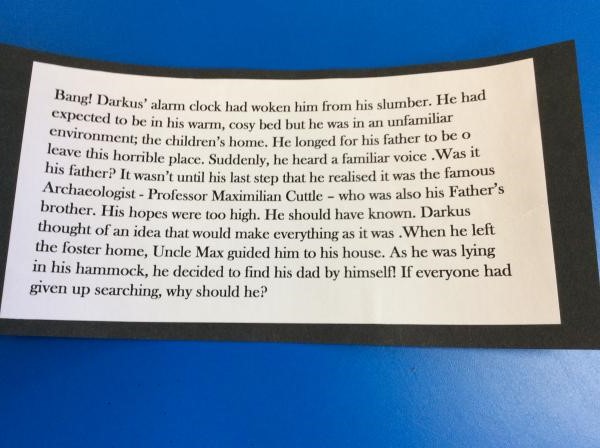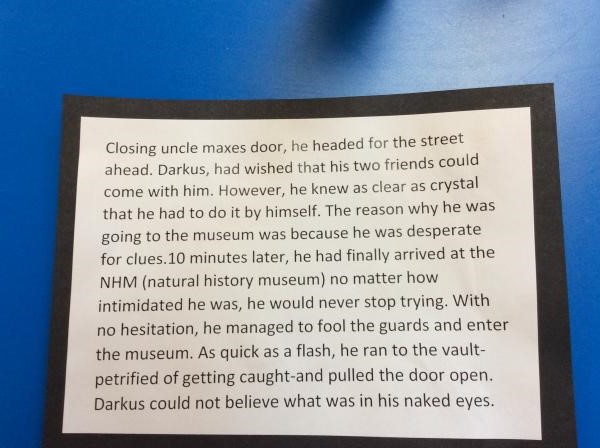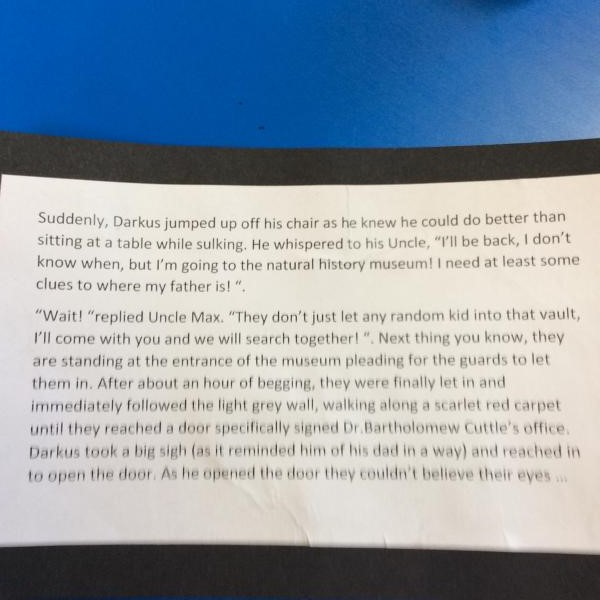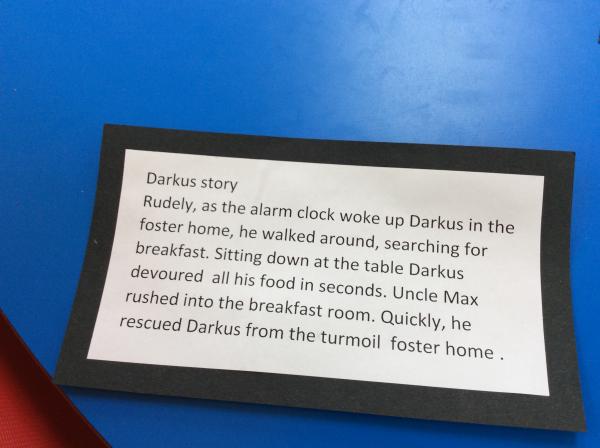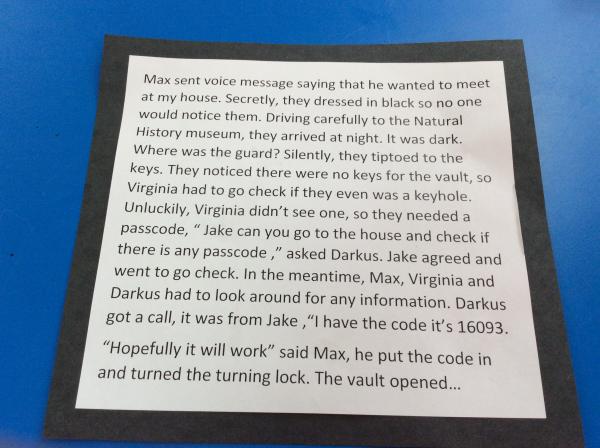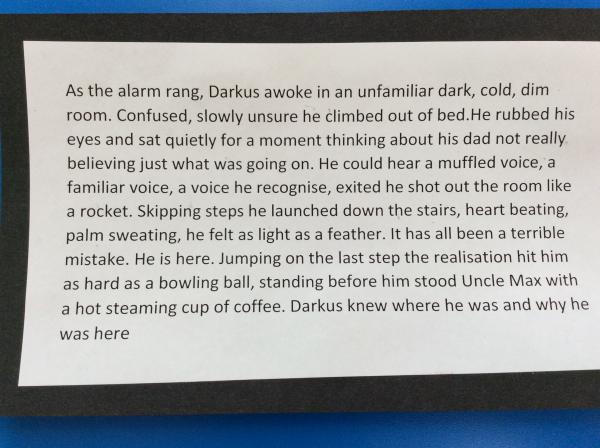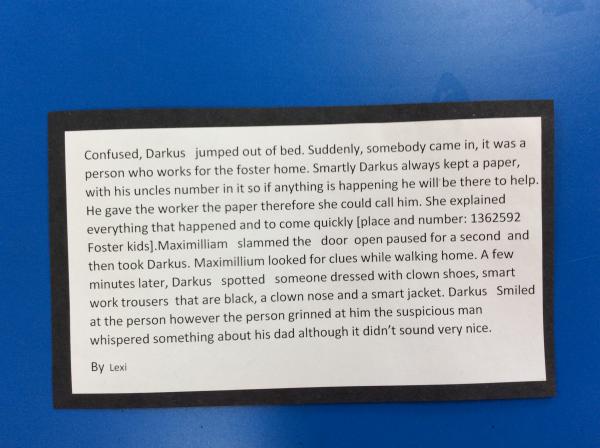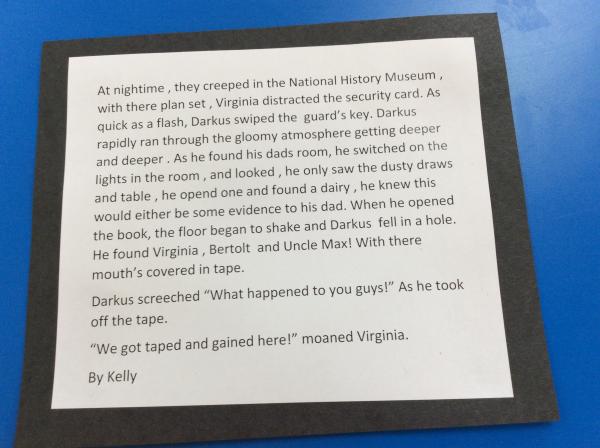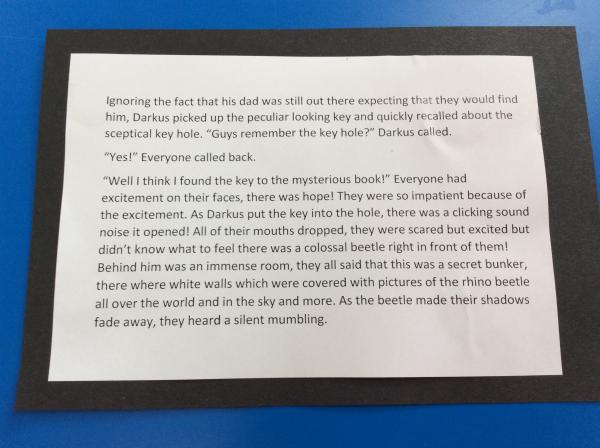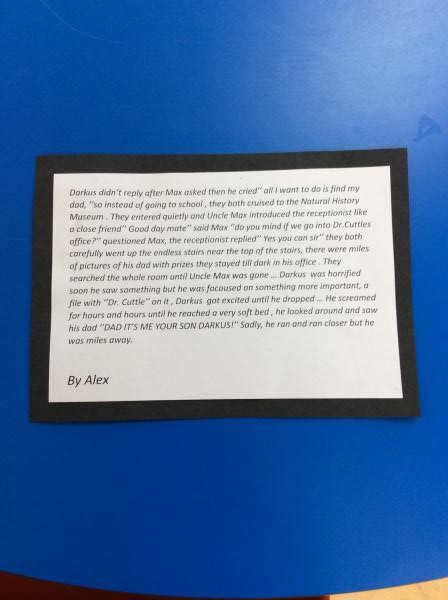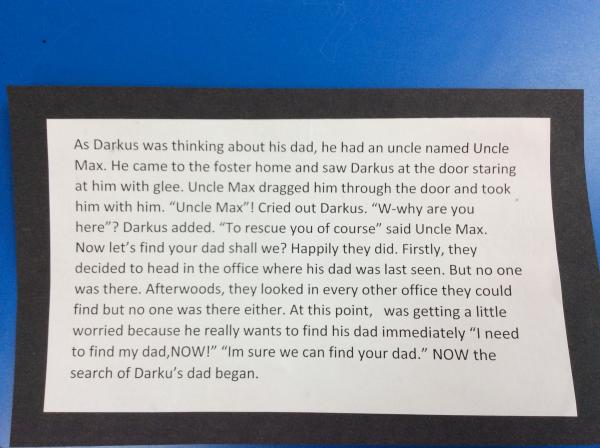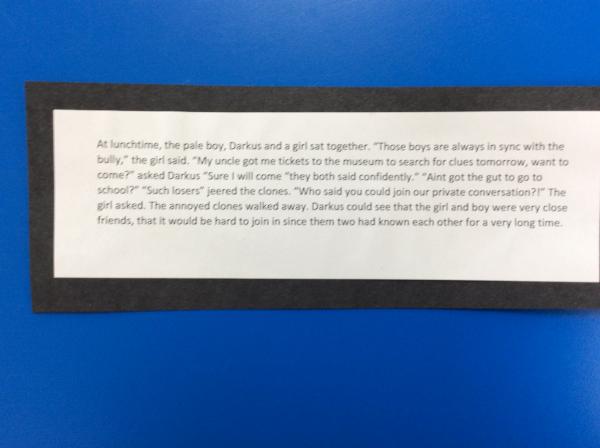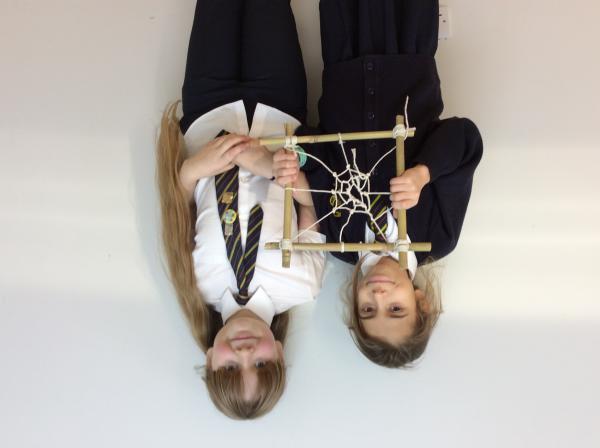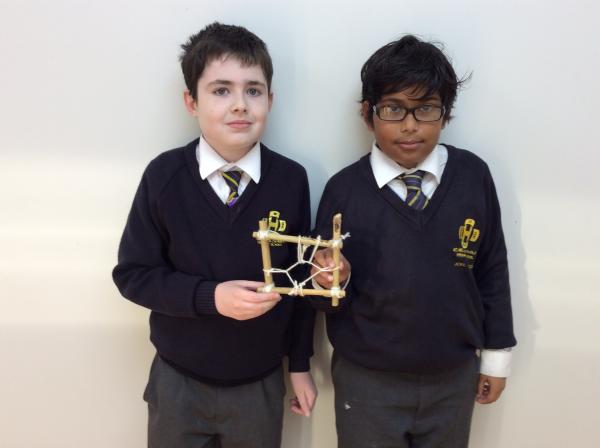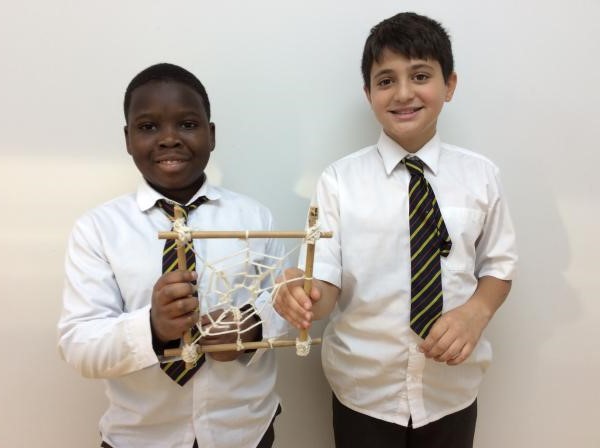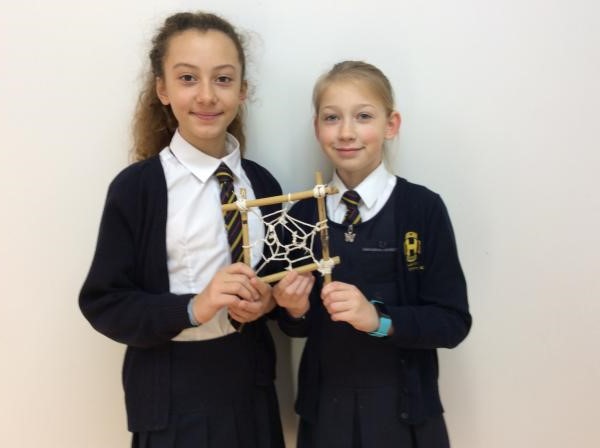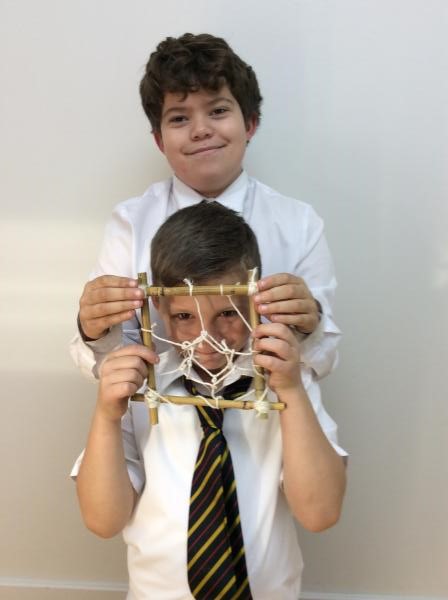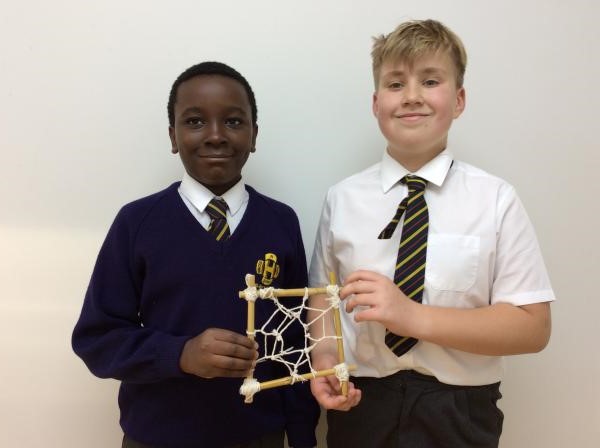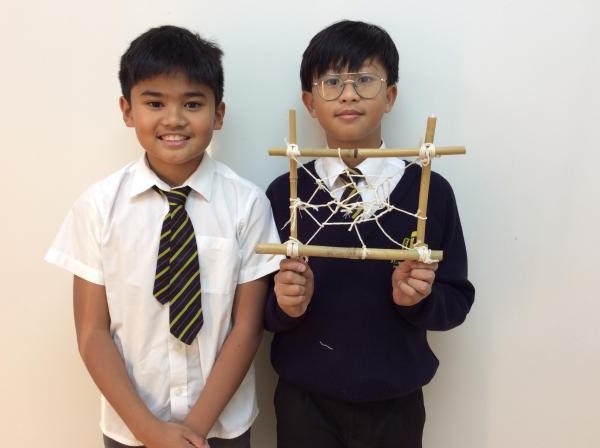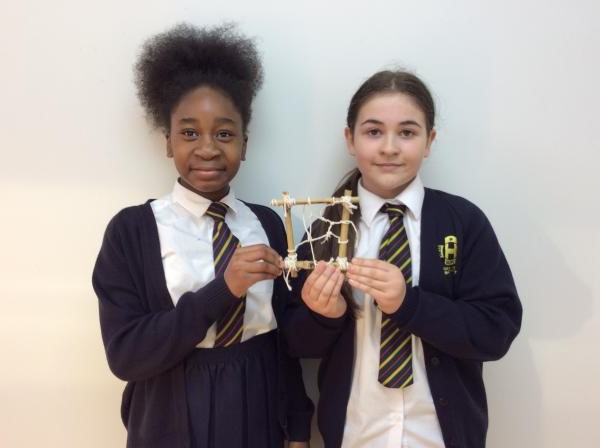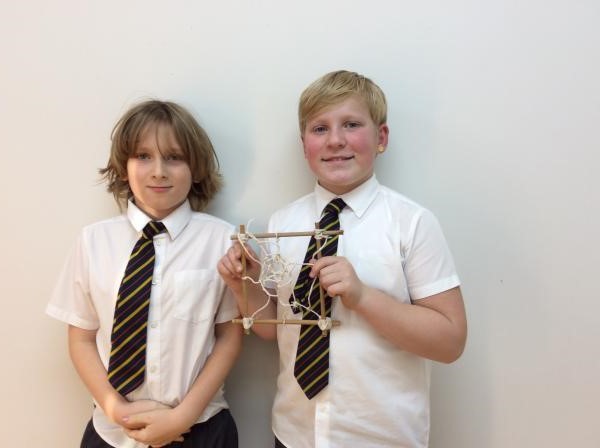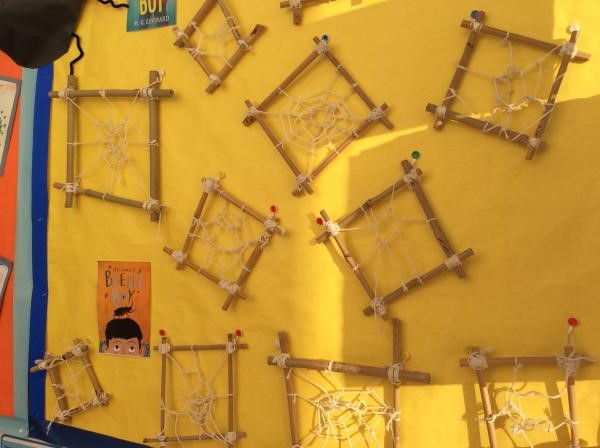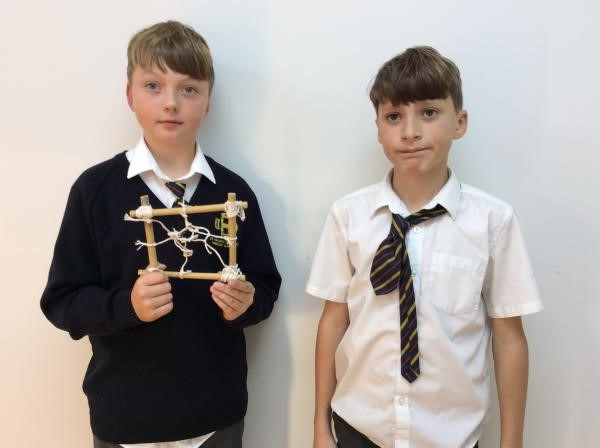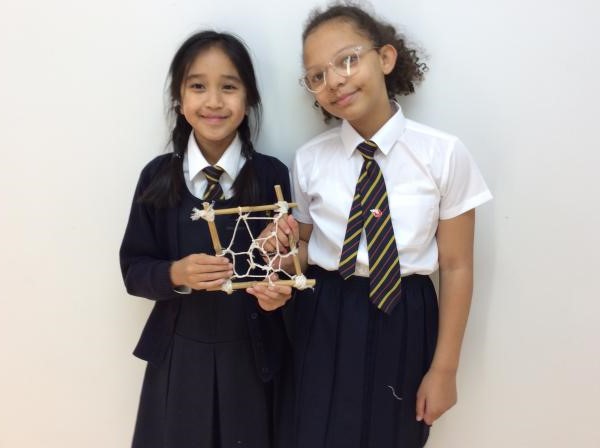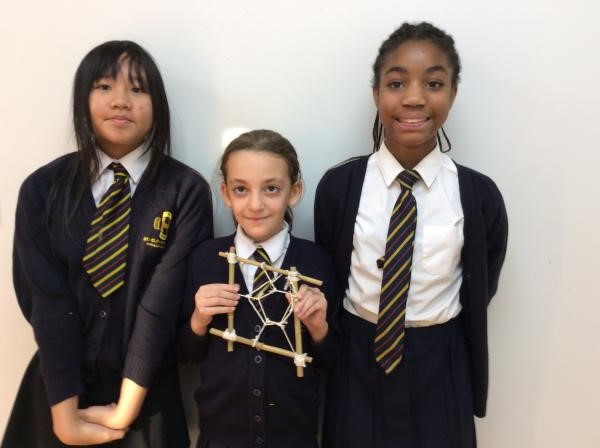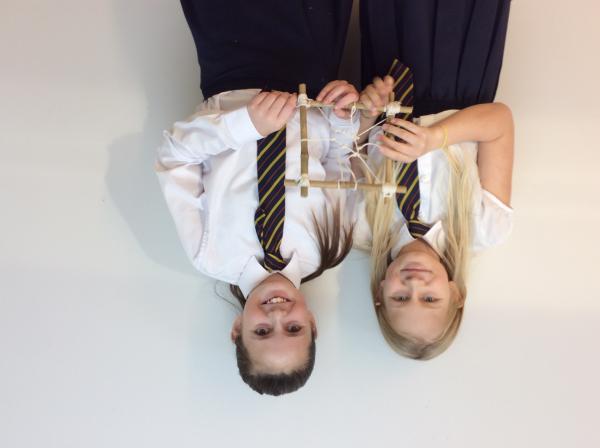 Spiders Webs
As part of Outdoor learning day, Year 6 started to make Spiders webs. They learnt how to frap and wrap a picture frame and tied knots in different designs to make their spider's web. We will show you our finished versions when ready but in the meantime enjoy these making photos.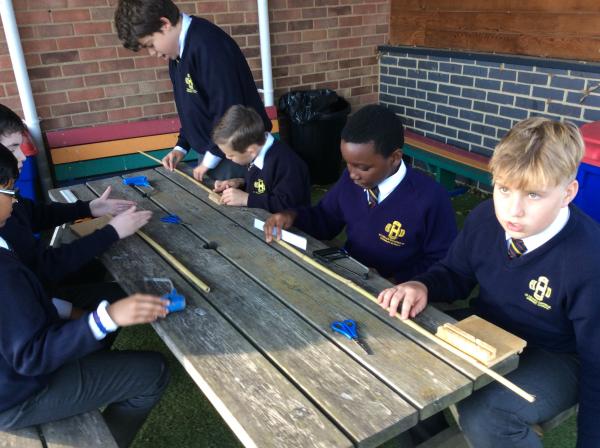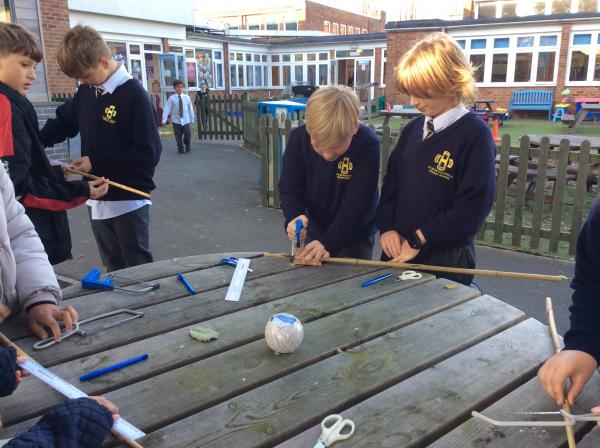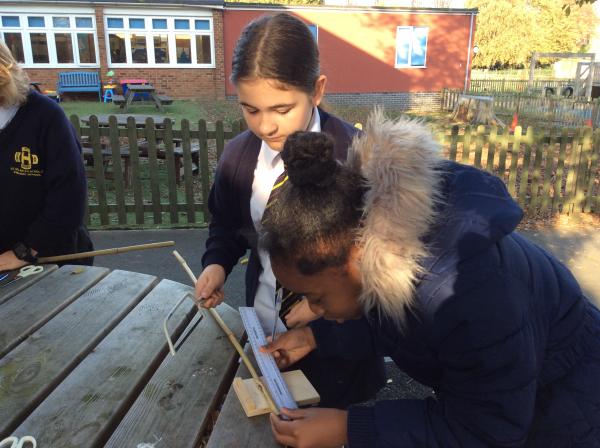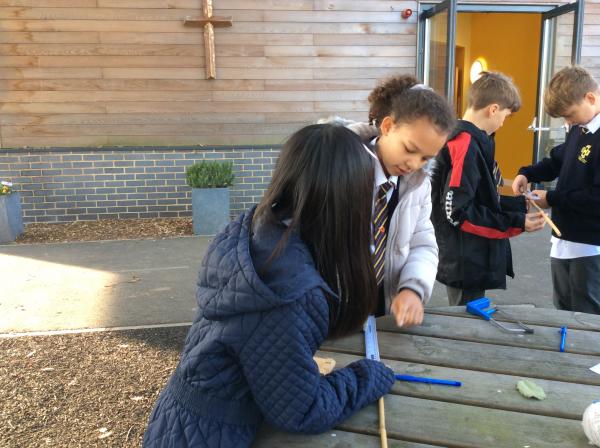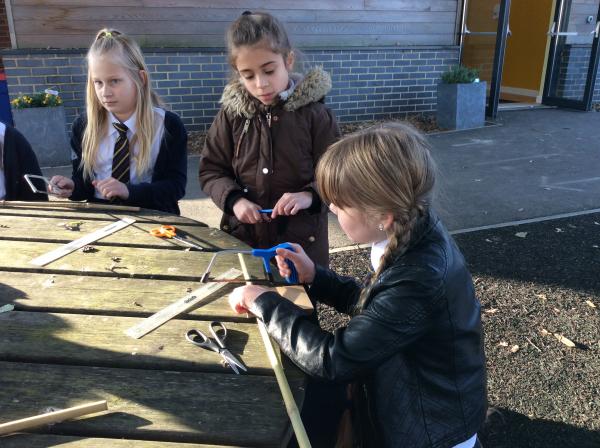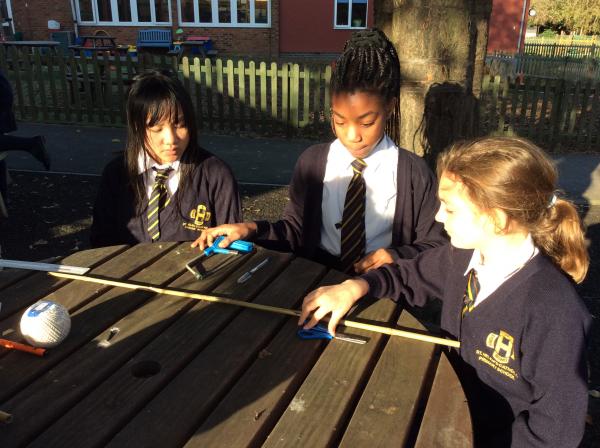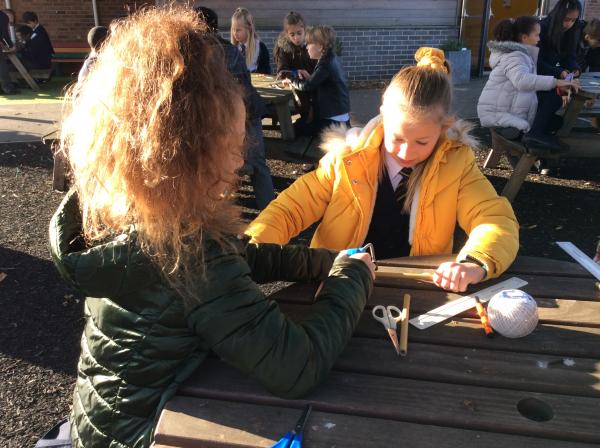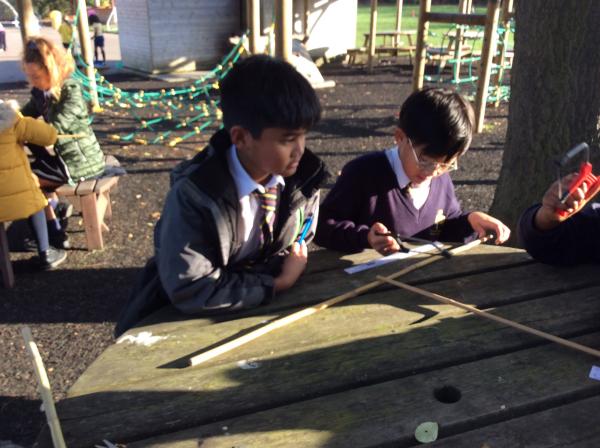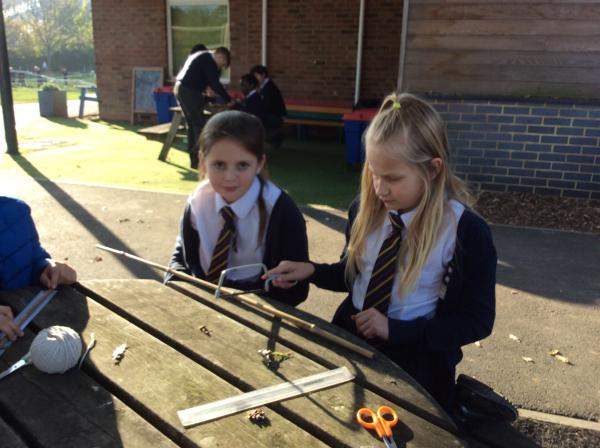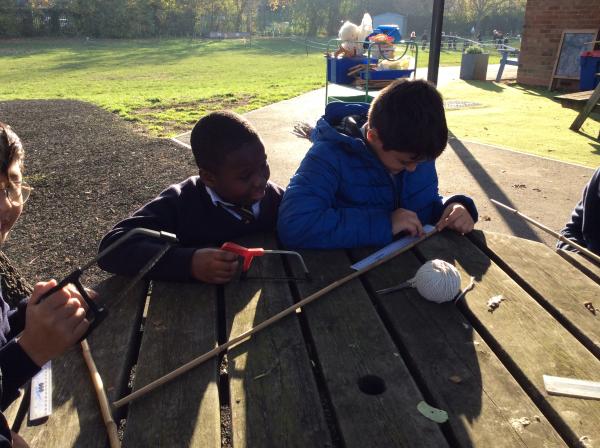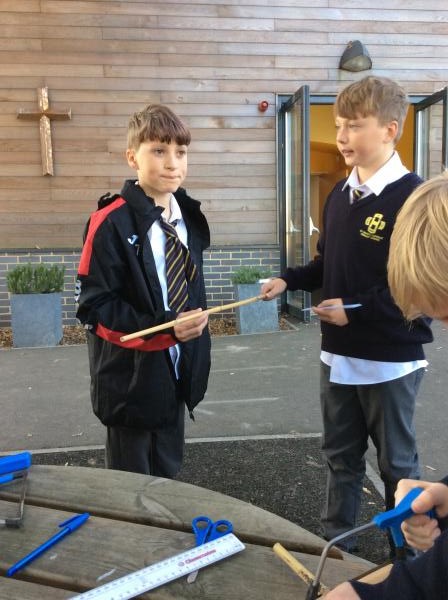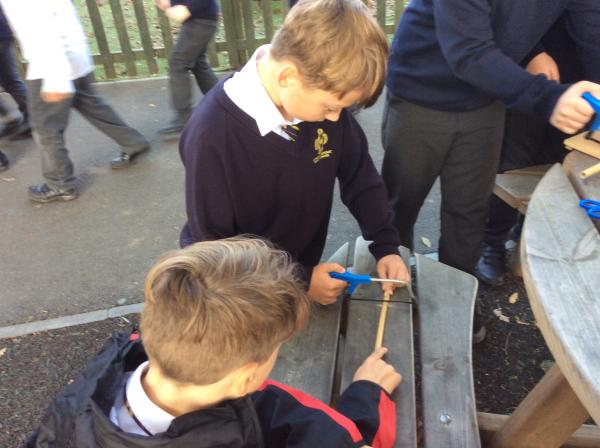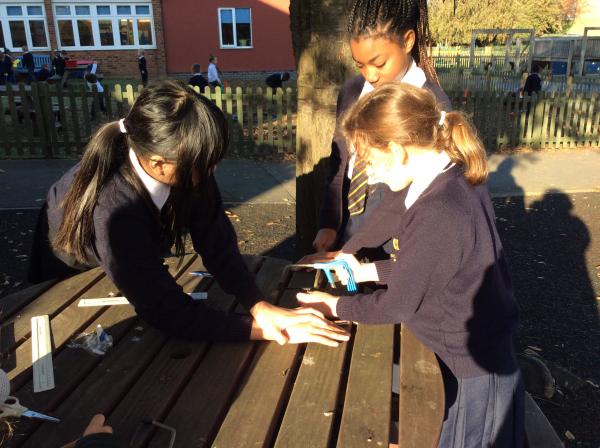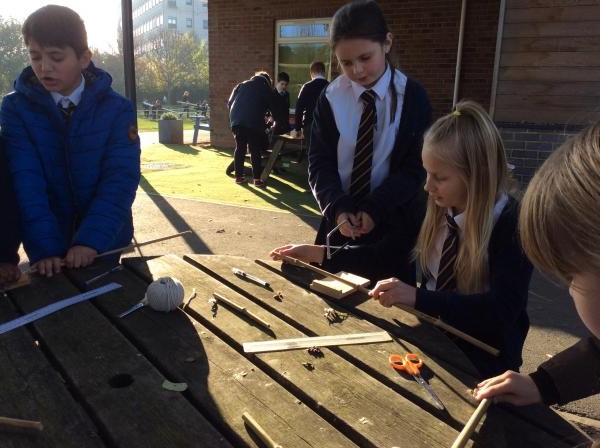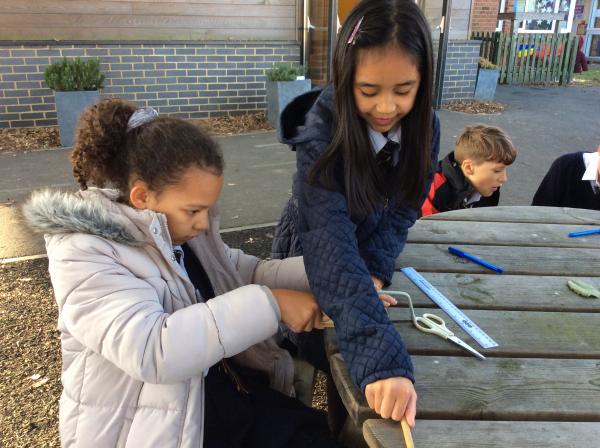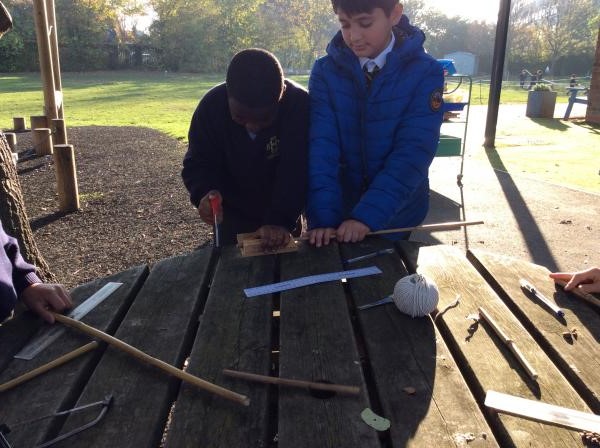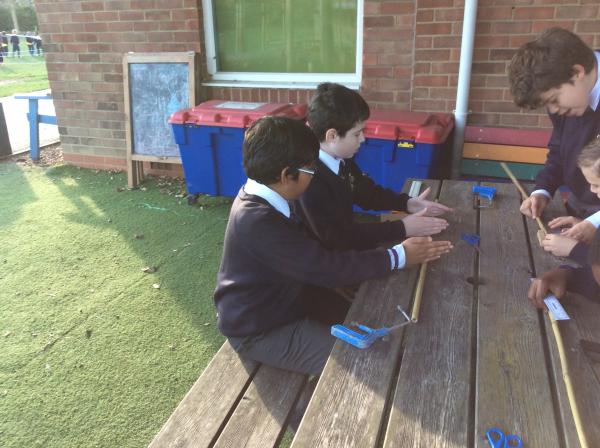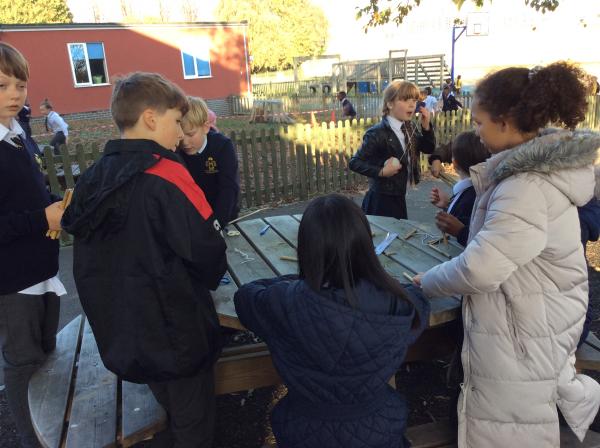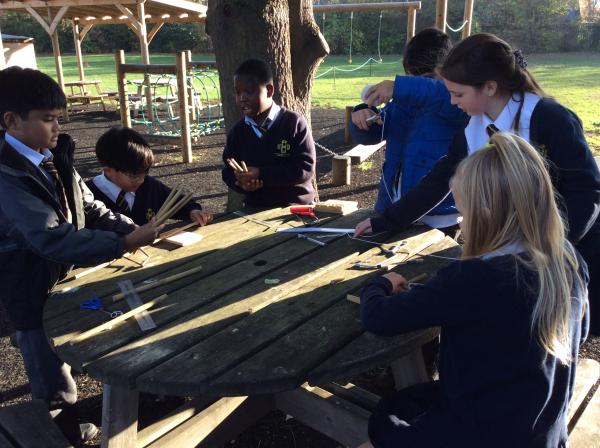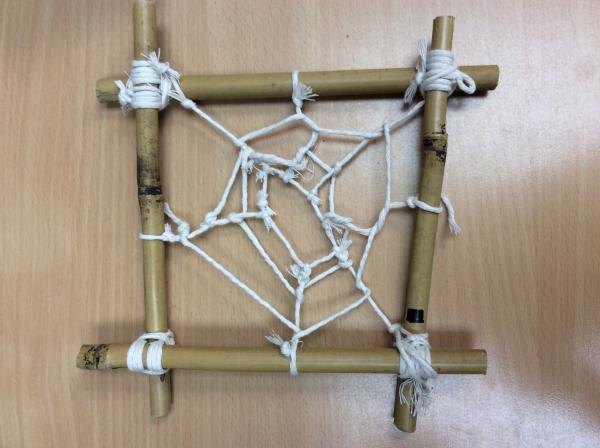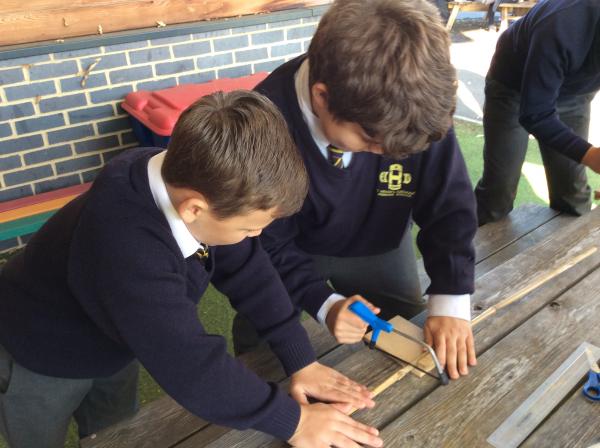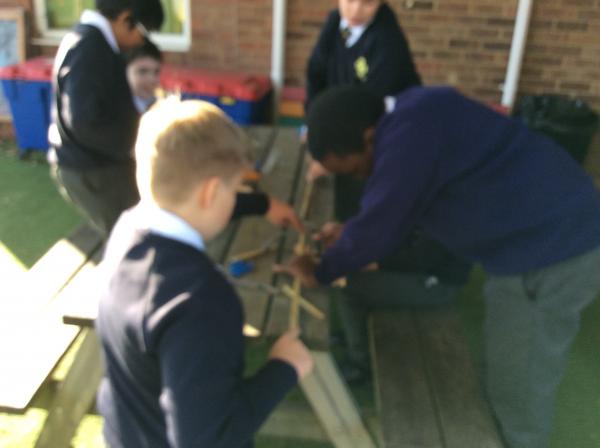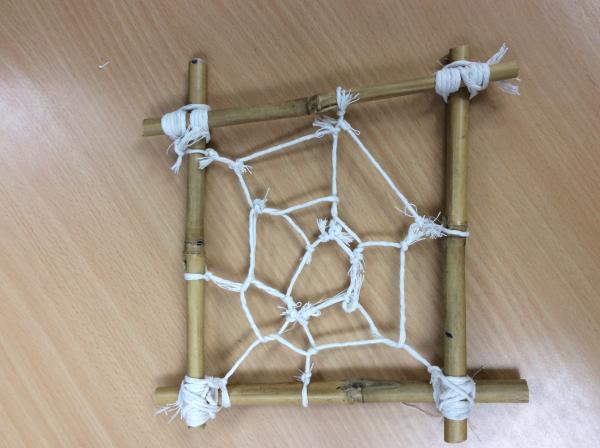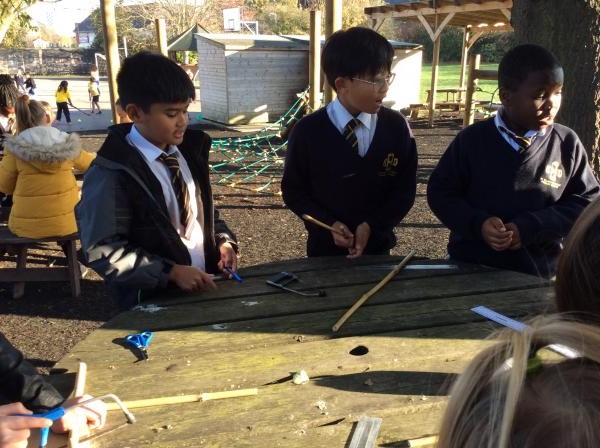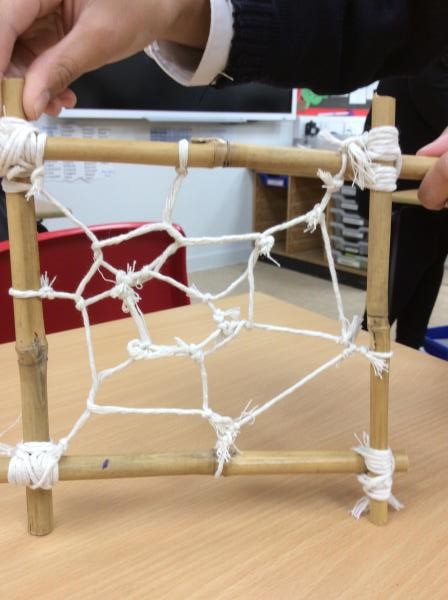 Makings nets of shapes
Year 6 enjoyed investigating and making nets of shapes today.
One challenge was to find as many nets of a cube as possible.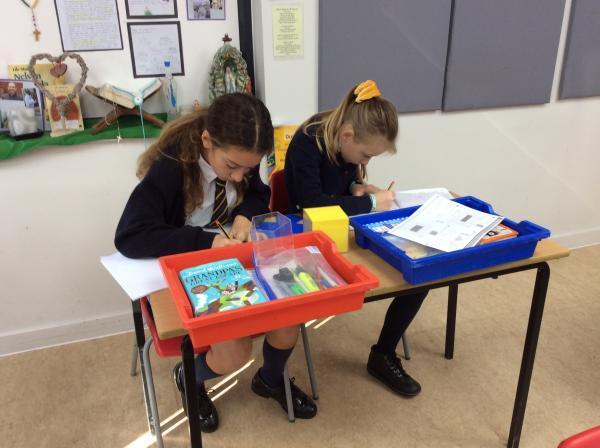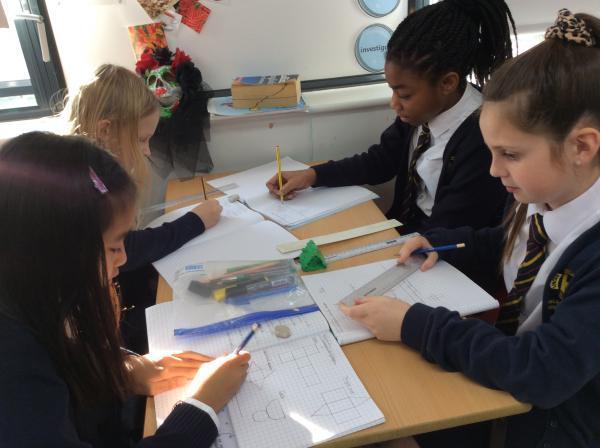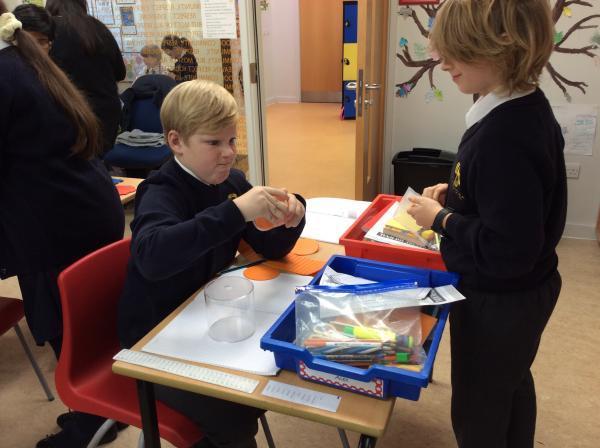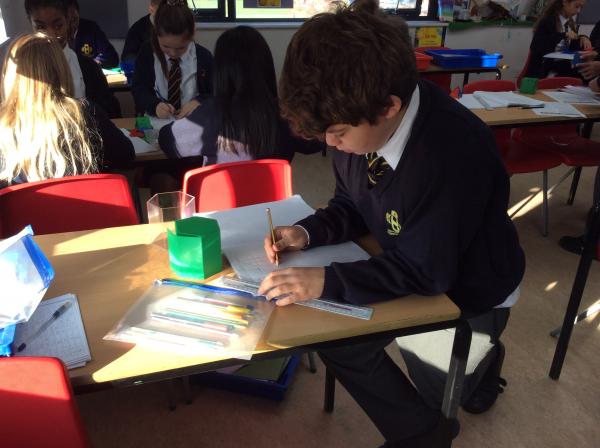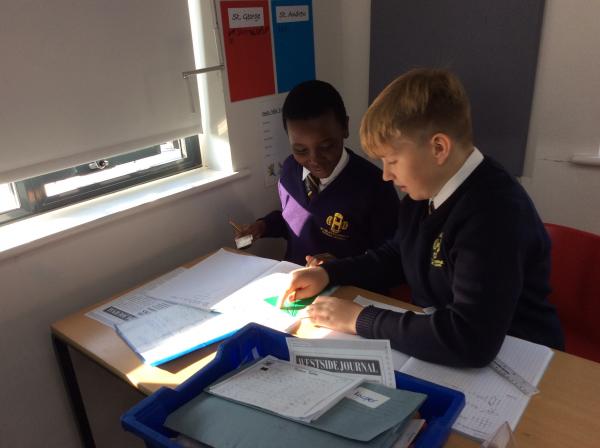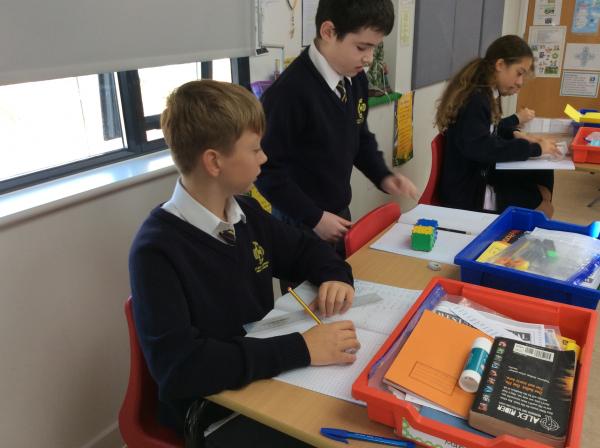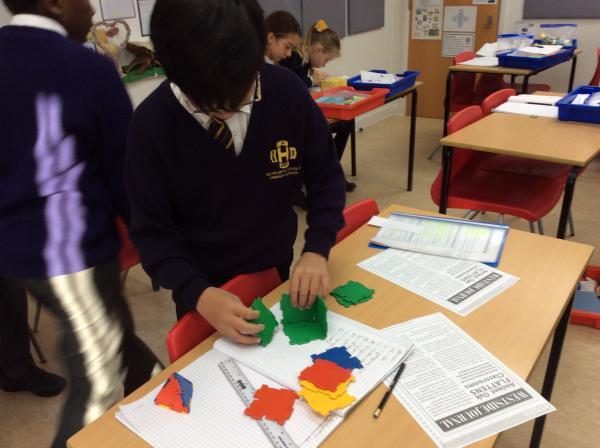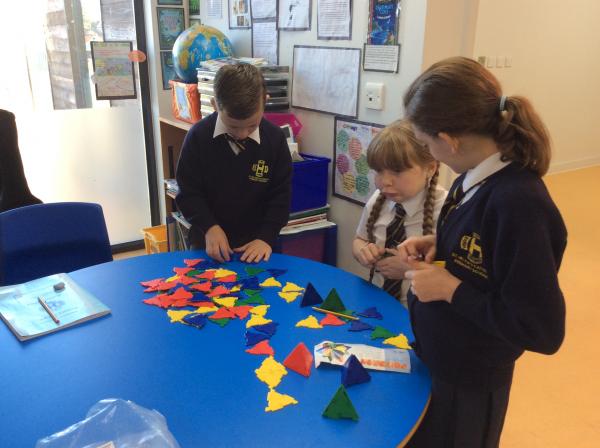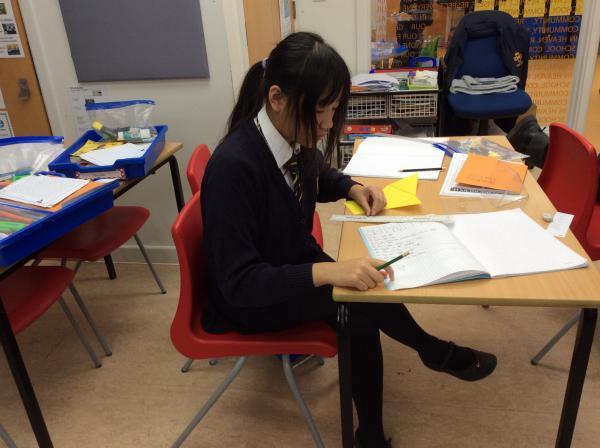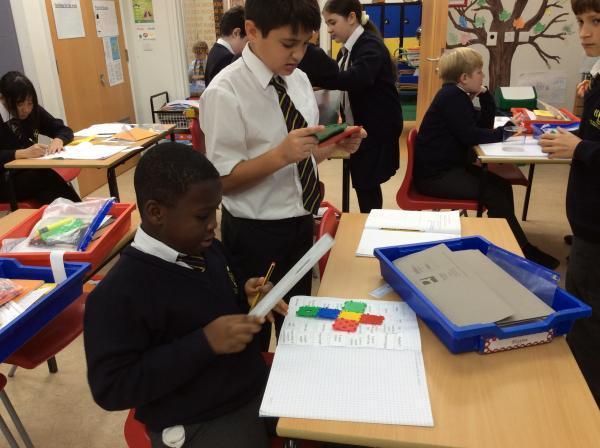 Mexican treats shared by Year 6!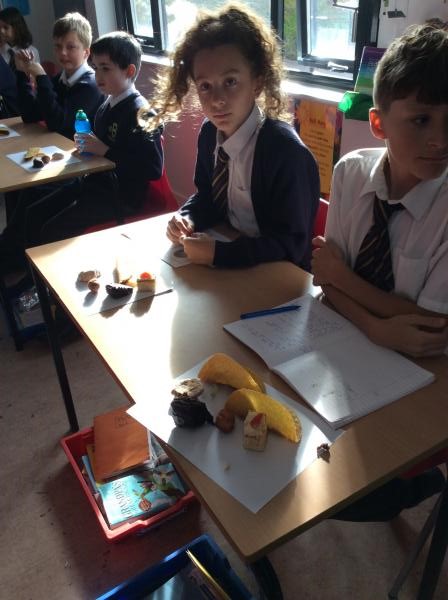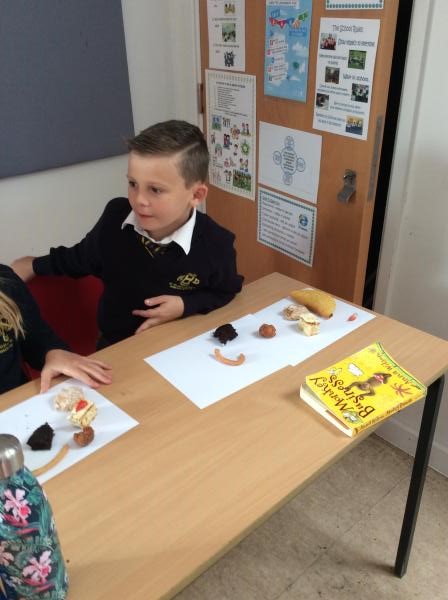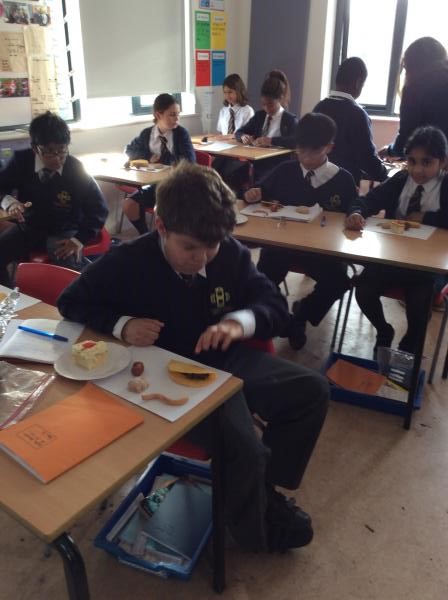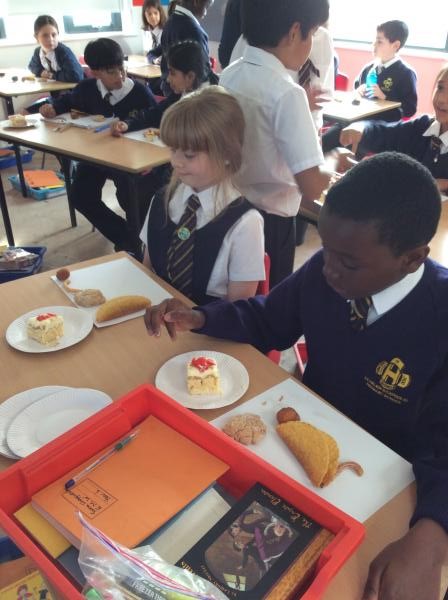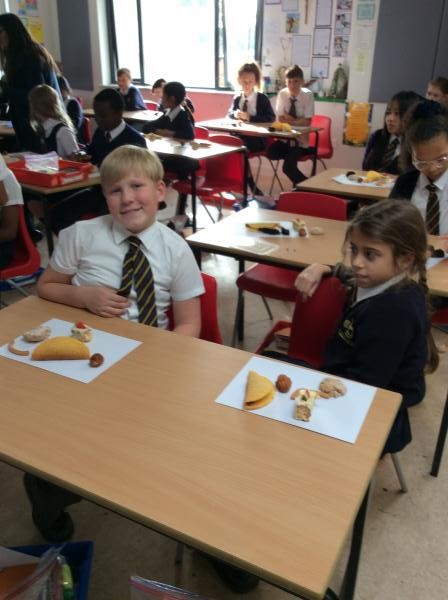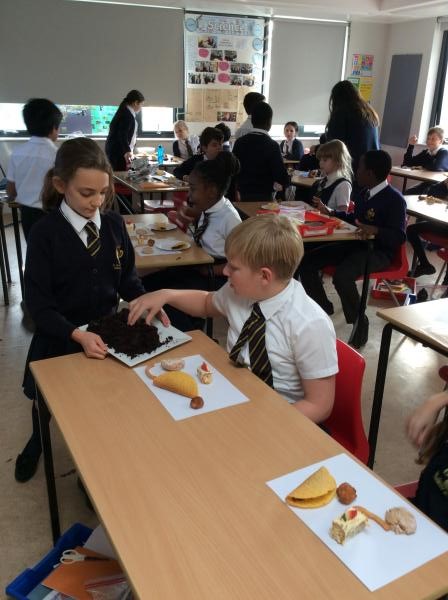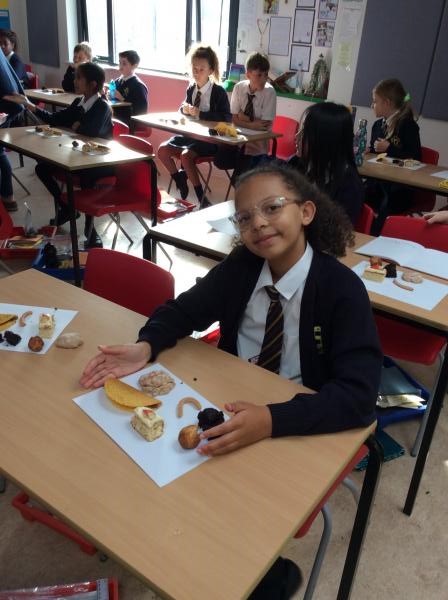 Shape Quizzes
Year 6 solved shape quizzes today and then designed their own. They tried to make them as tricky as possible for their peers!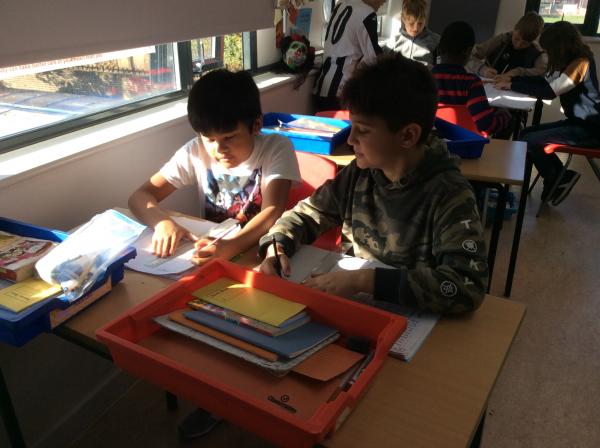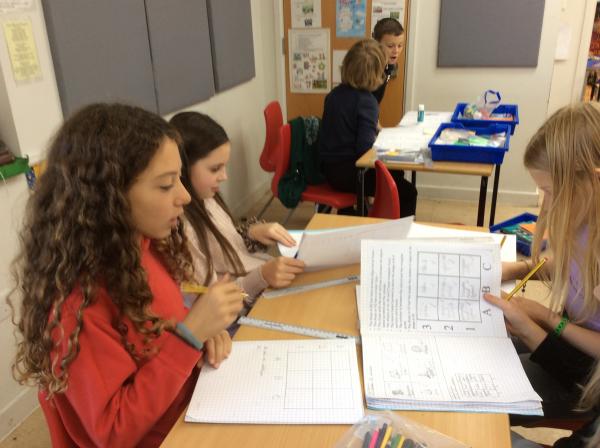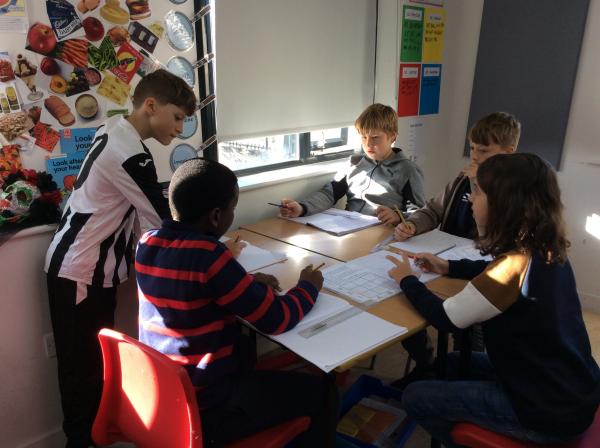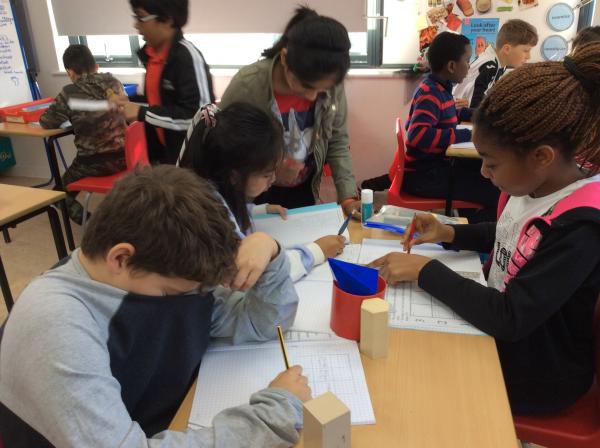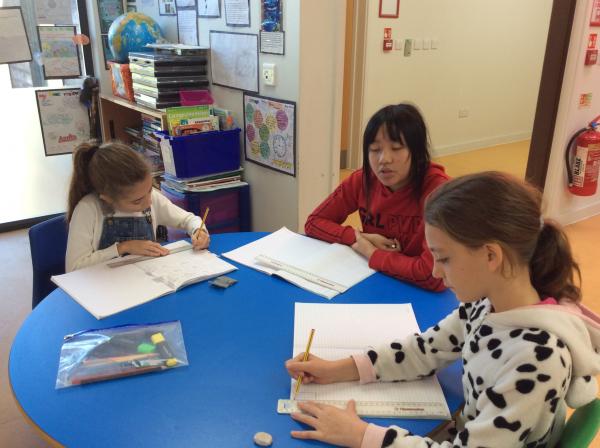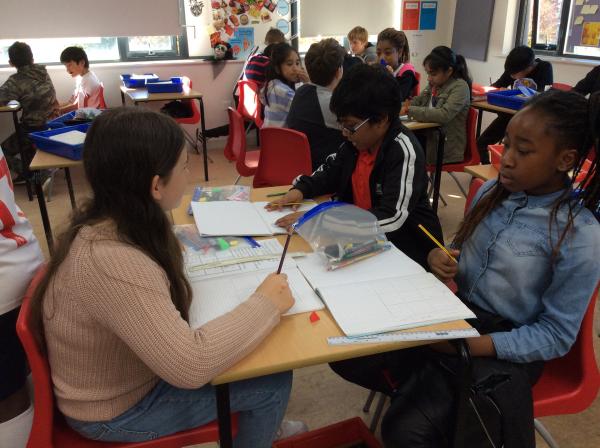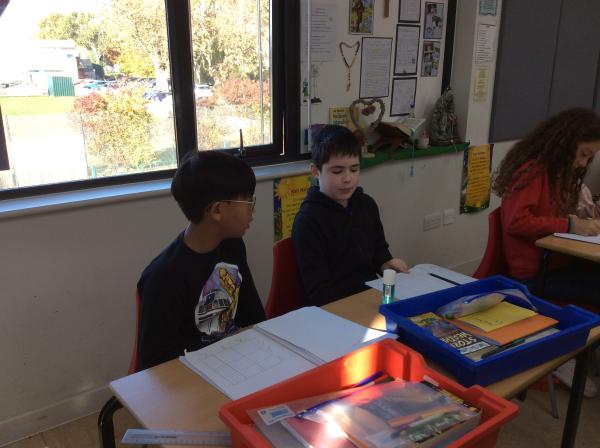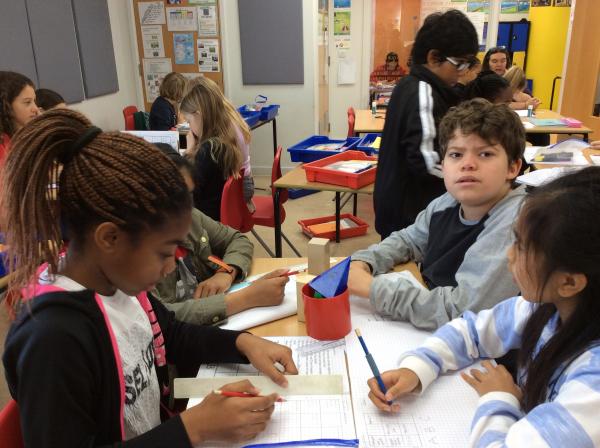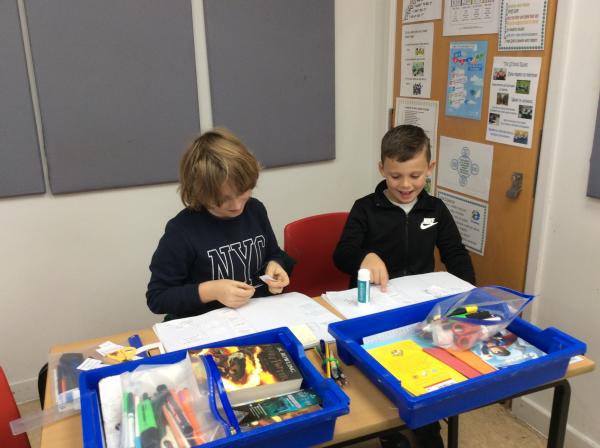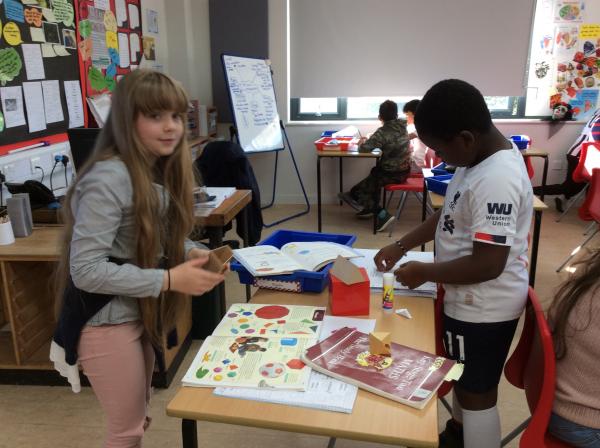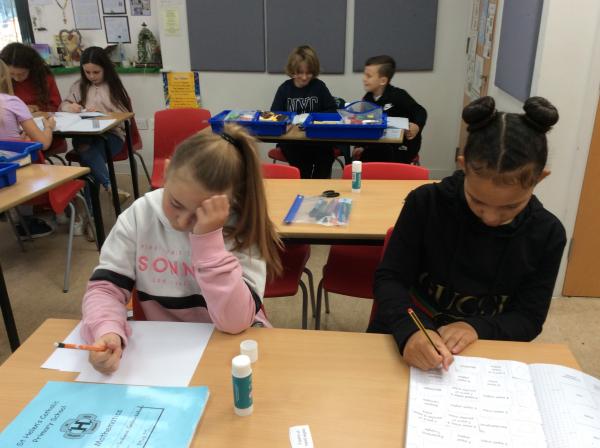 Here are some of our shape quizzes - why not try them out. On some pages, we have been lovely and given you the answers!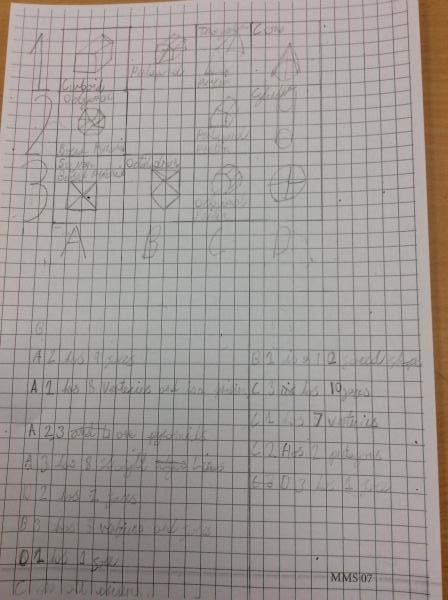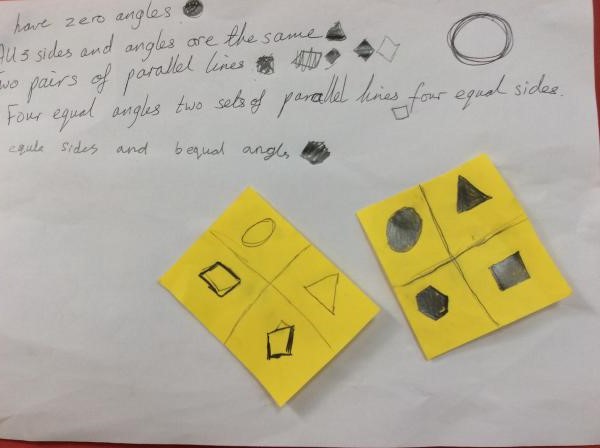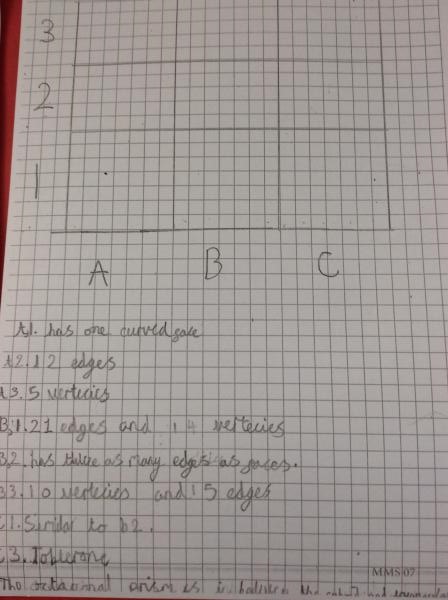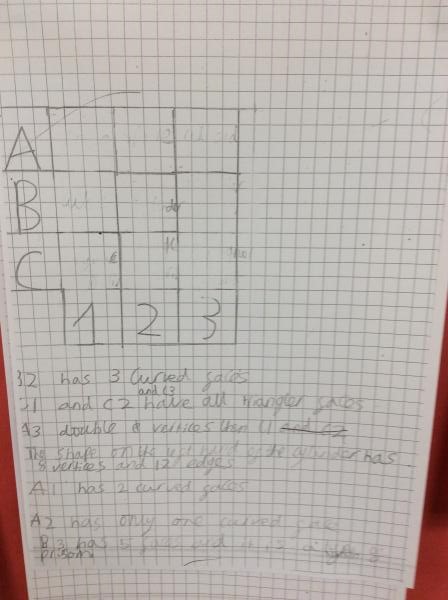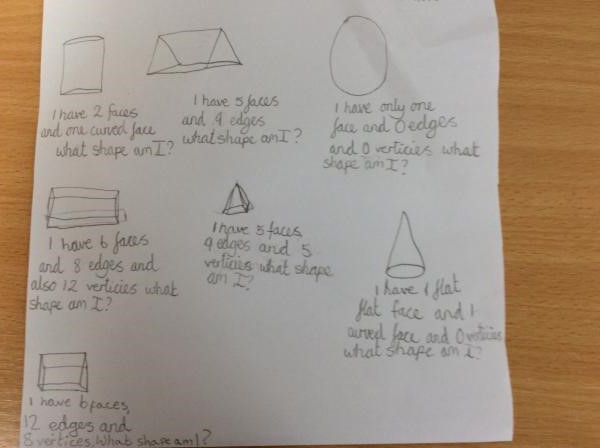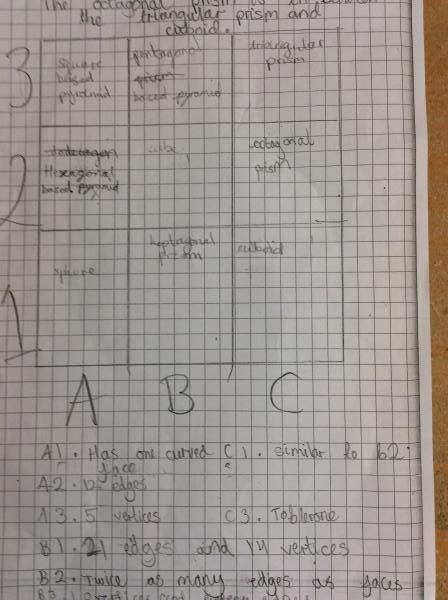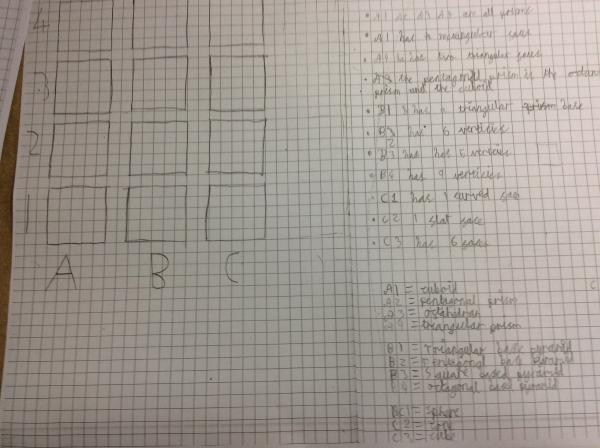 Classifying Animals
Today, Year 6 classified a variety of animals into different groups. They studied the work of Carl Linnaeus to help them. Even though Carl's work was from 1760, it is still used today.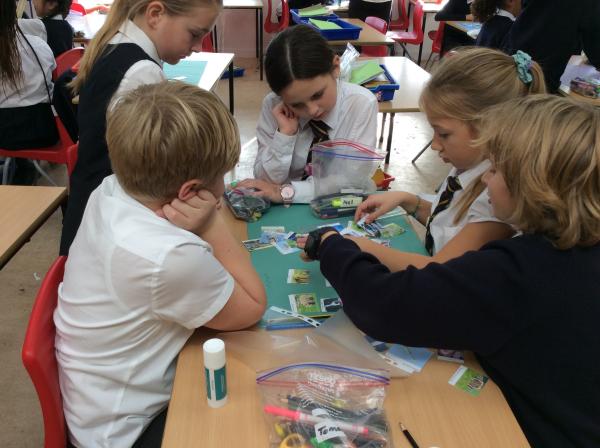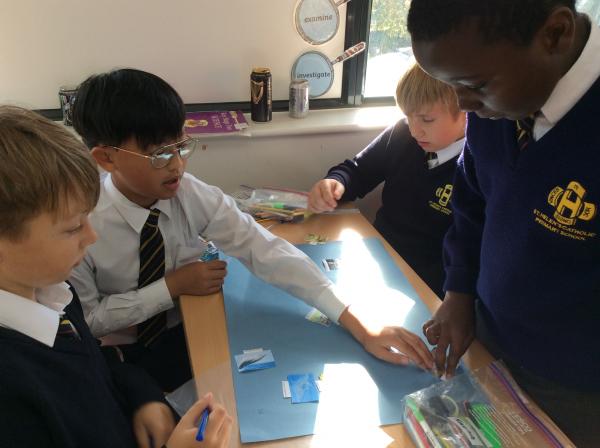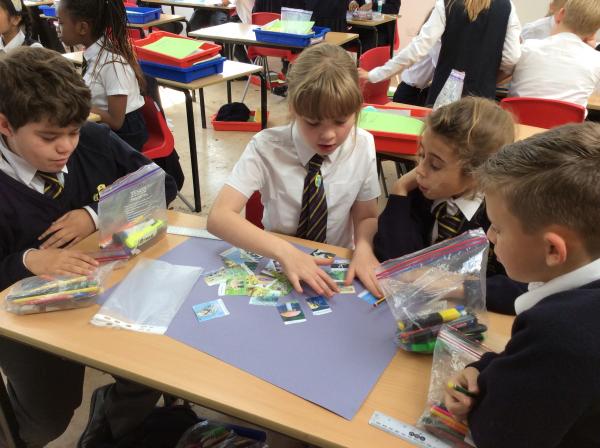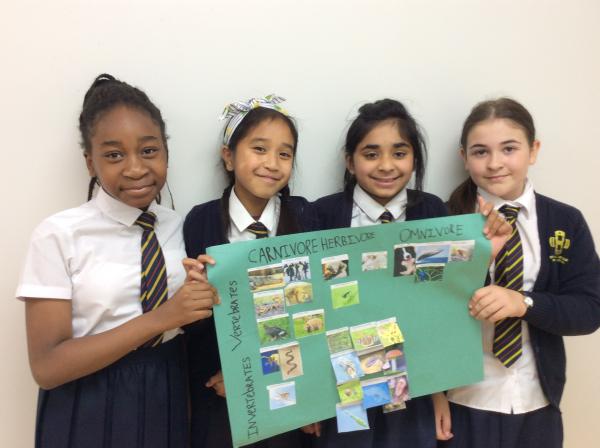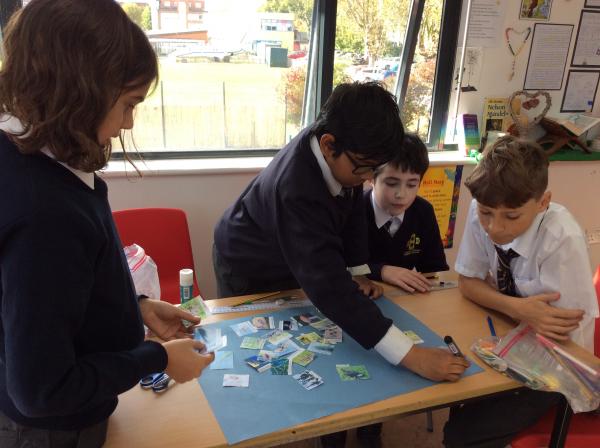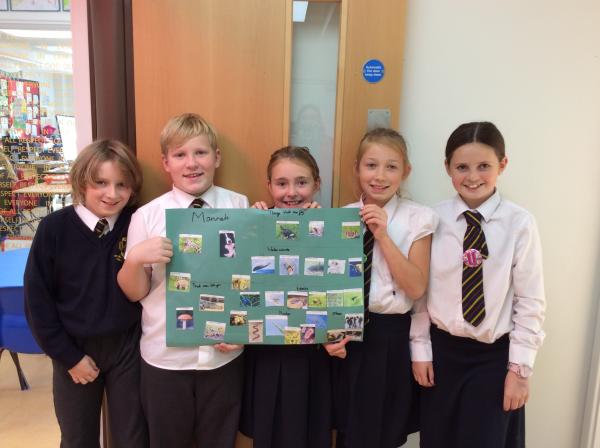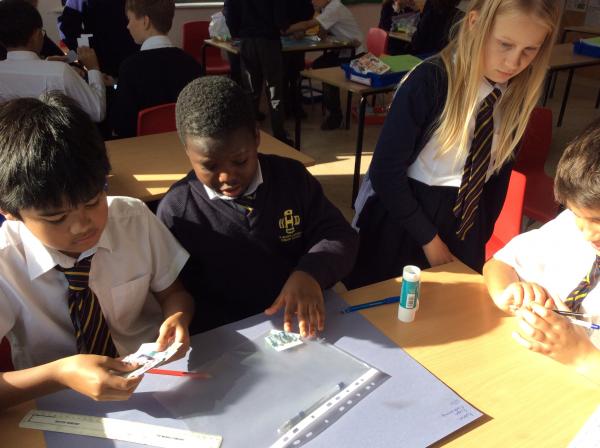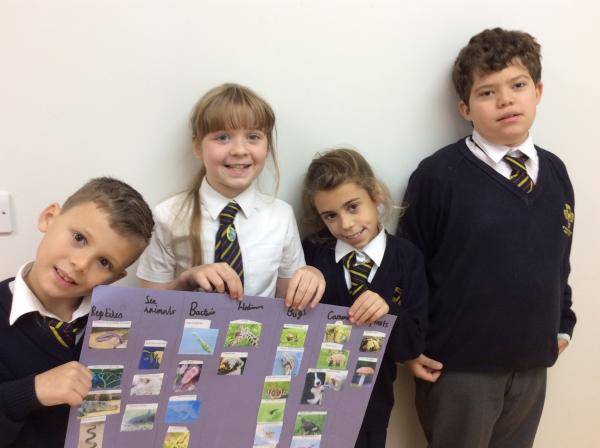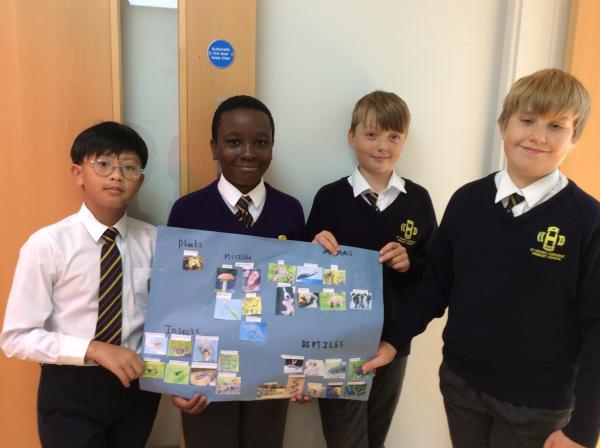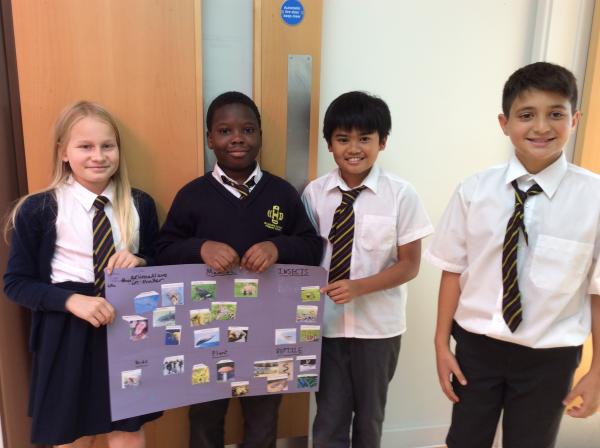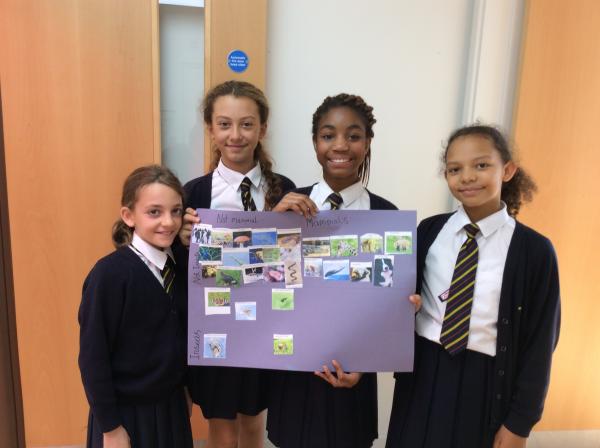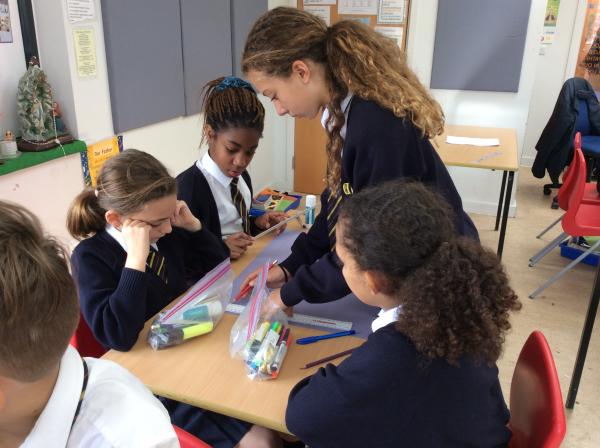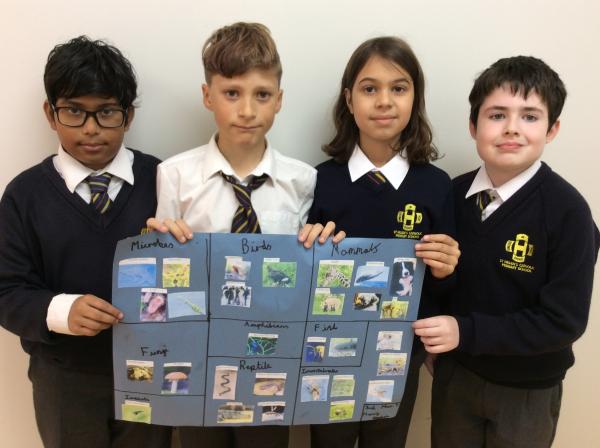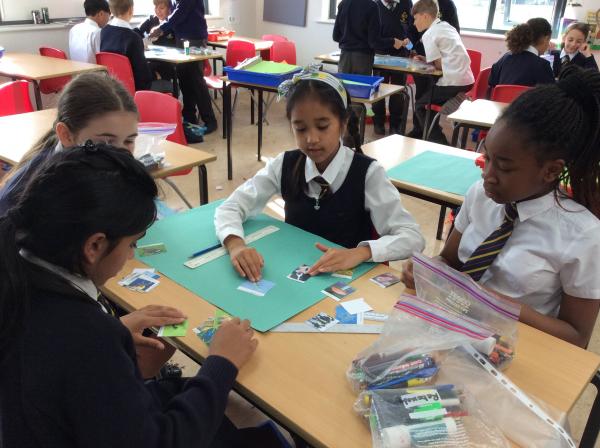 Year 6 enjoyed translating shapes today.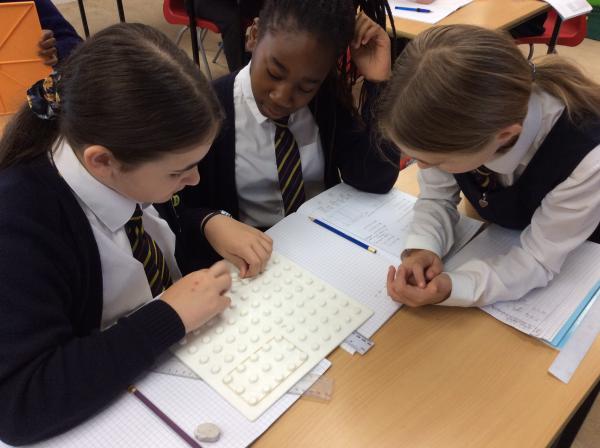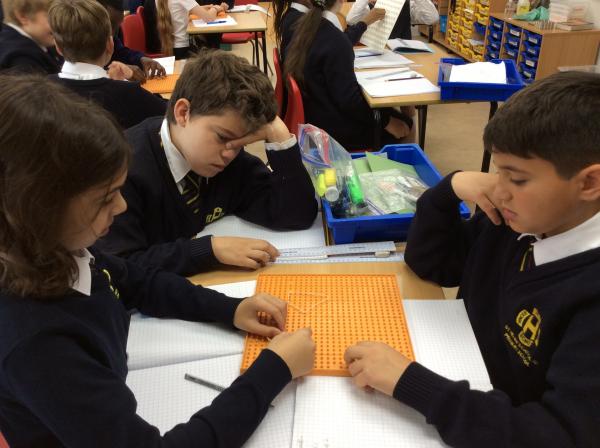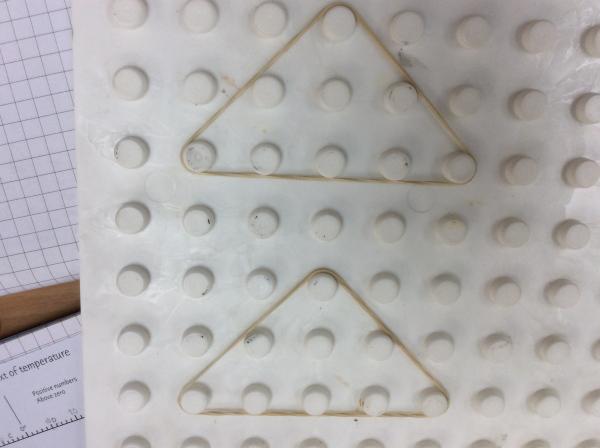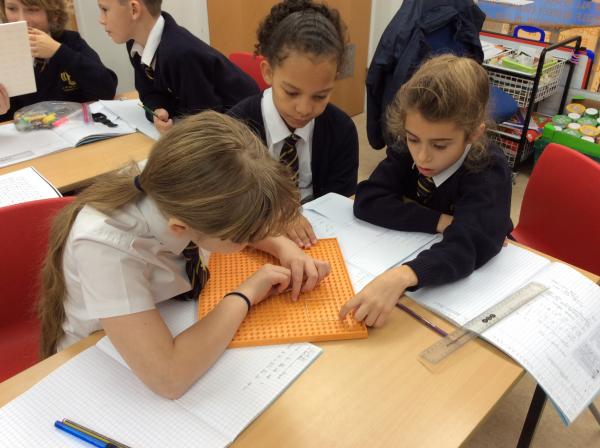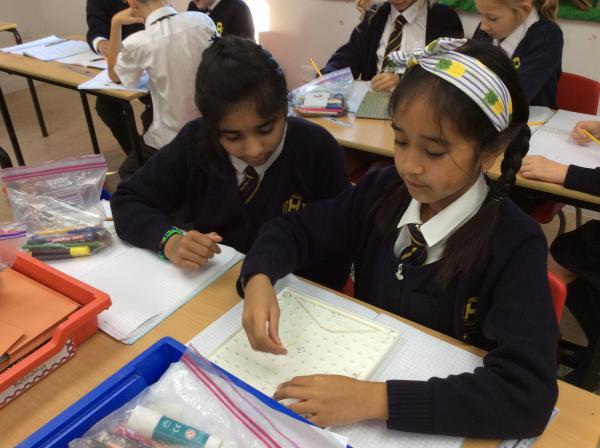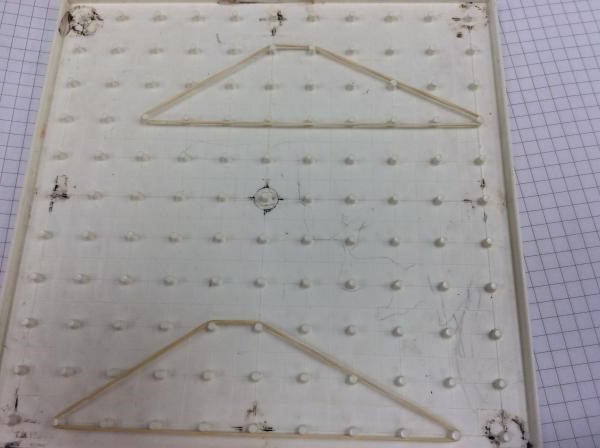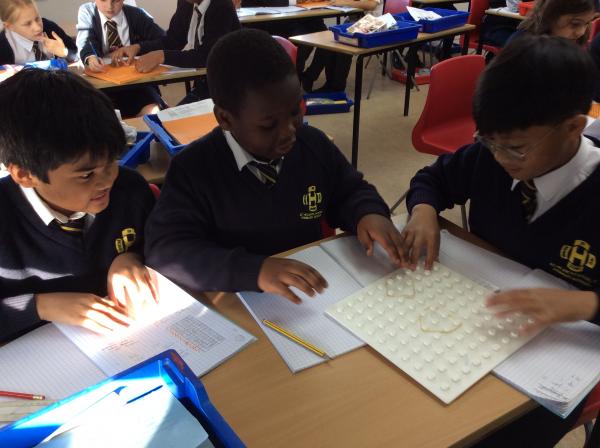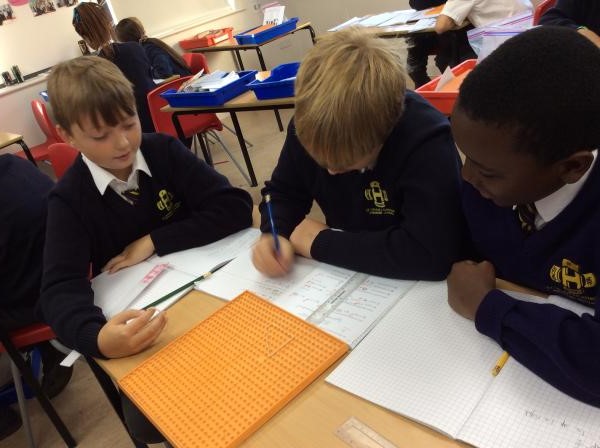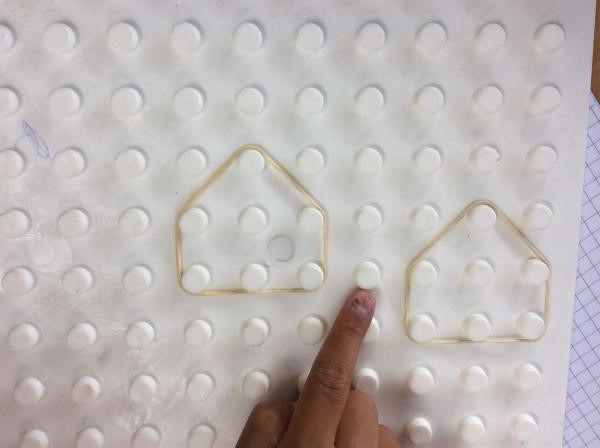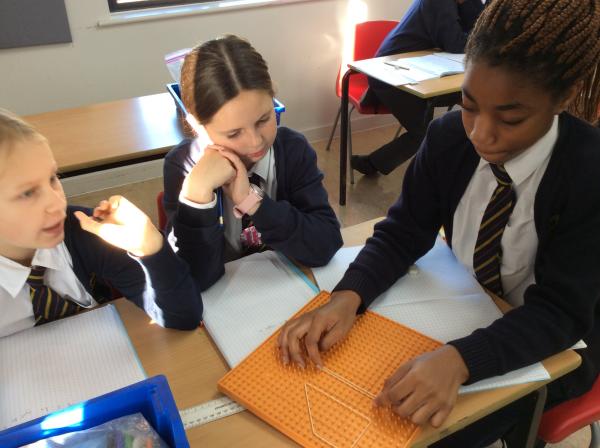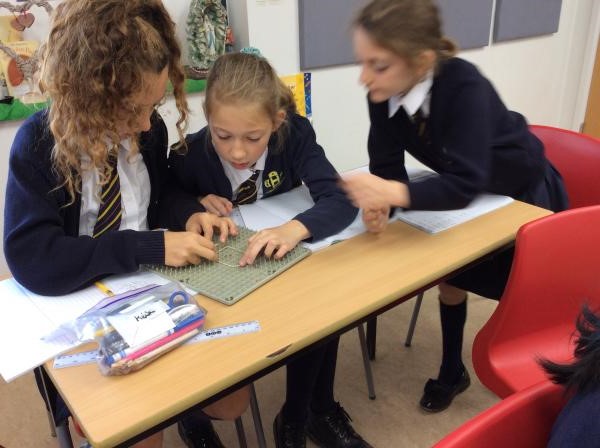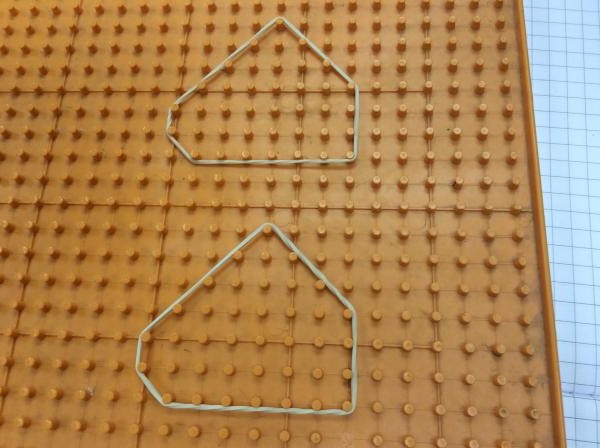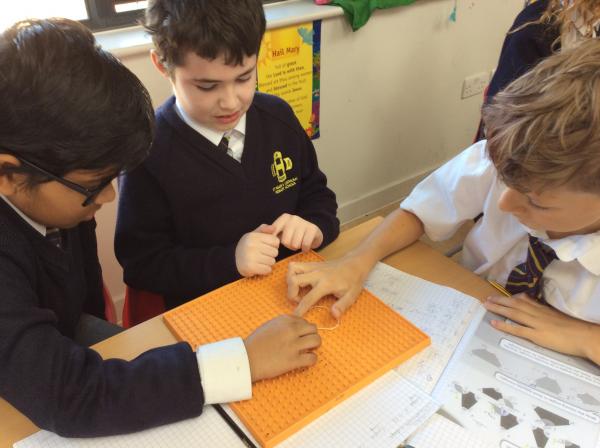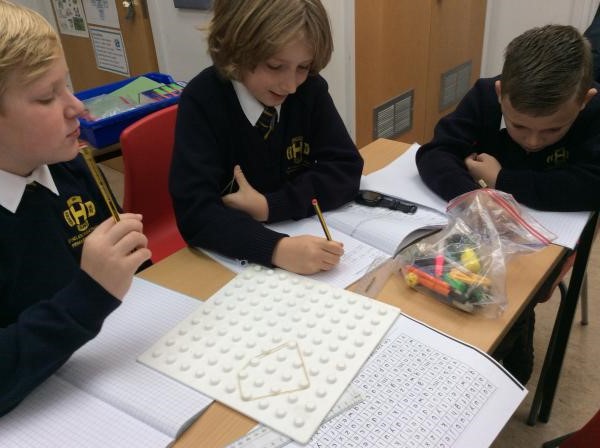 What a wonderful view!
After yesterday's visit to the beach, Year 6 created their own landscape pictures.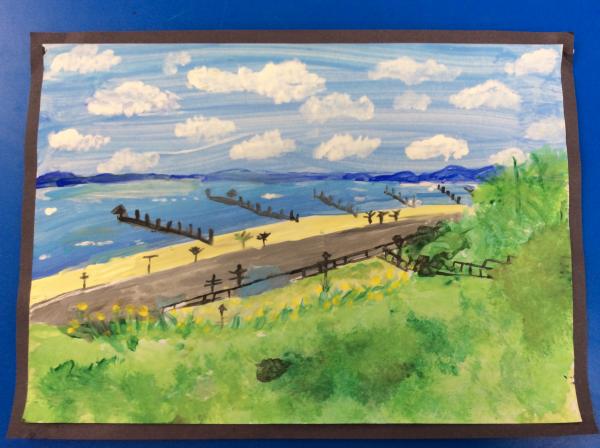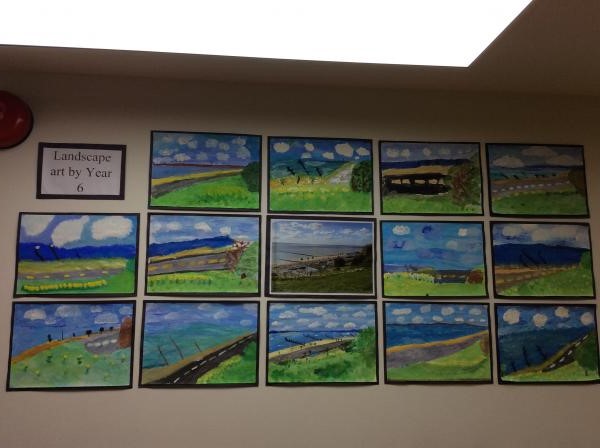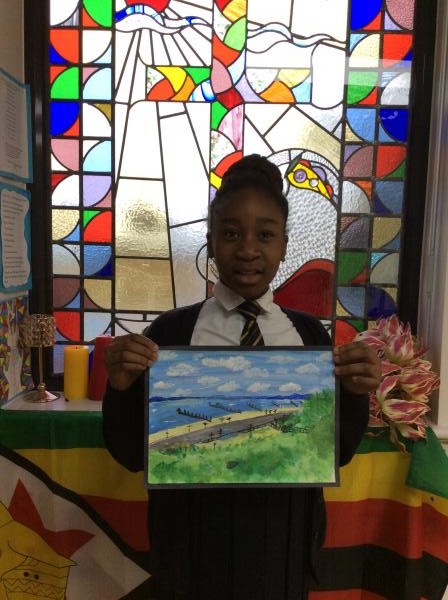 Clever at Co-ordinates
Today, in Maths Year 6 learnt about co-ordinates. They played battleships and enjoyed this lesson. We moved our learning outside to finding objects hidden around the school grounds using co-ordinates. Success and fun was had by all!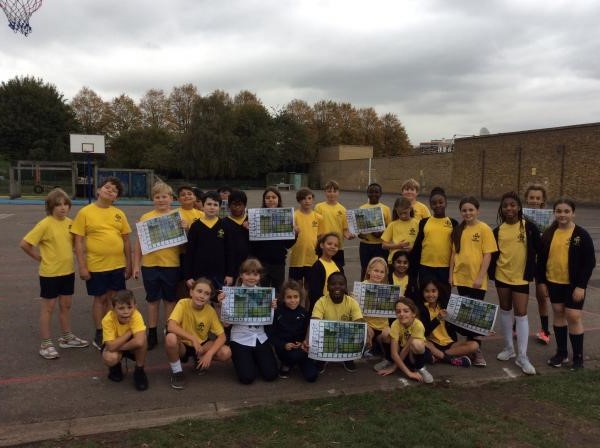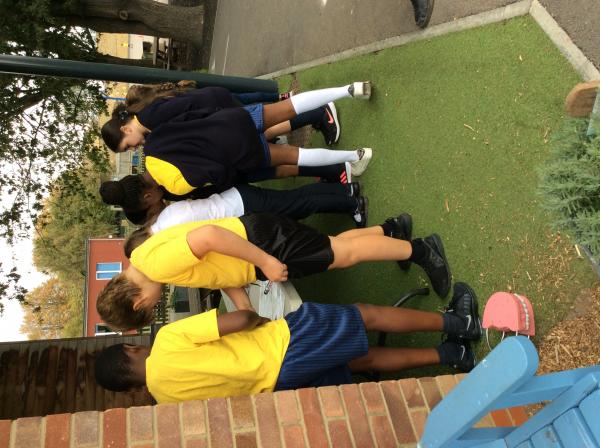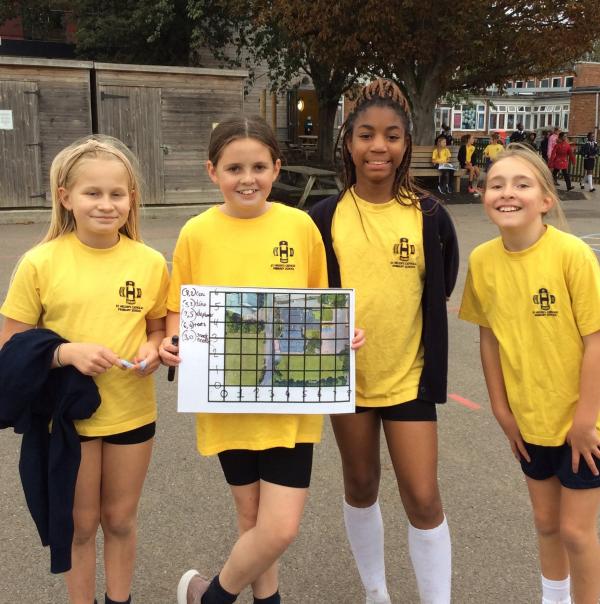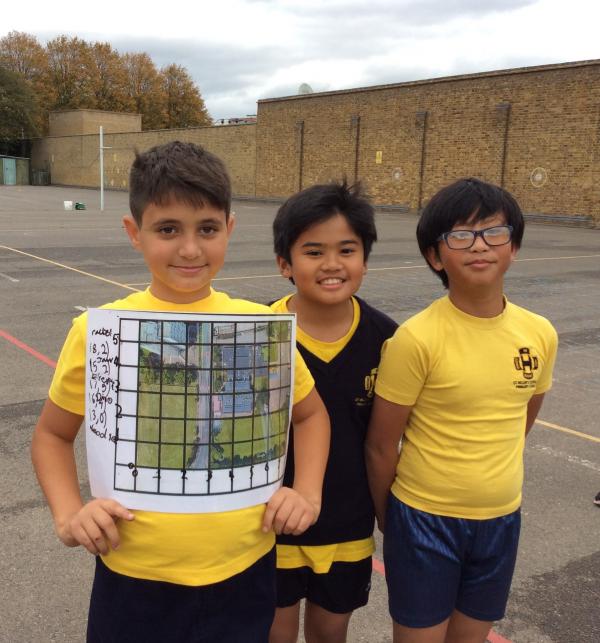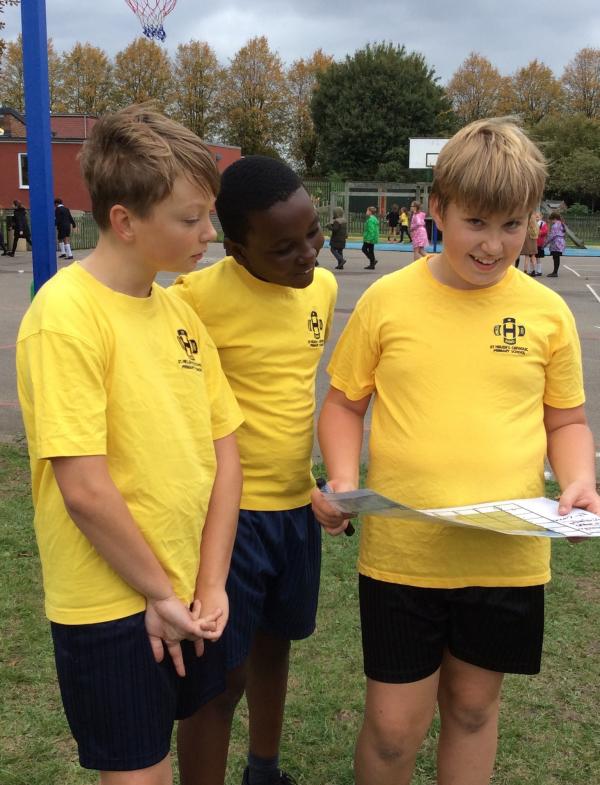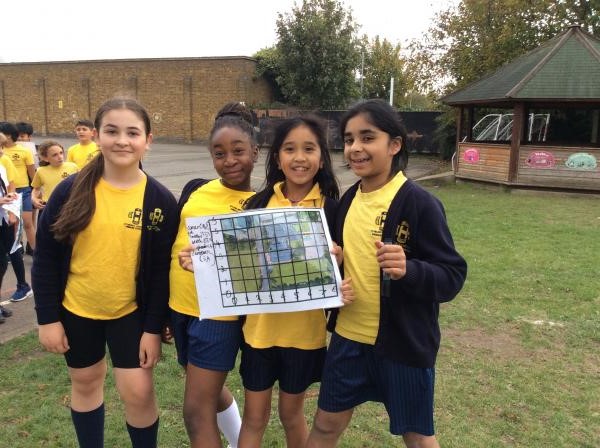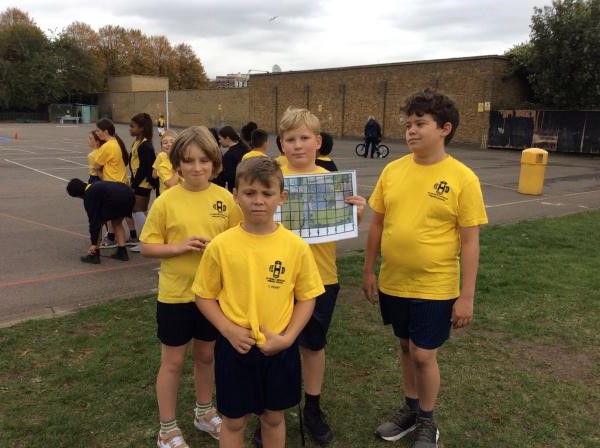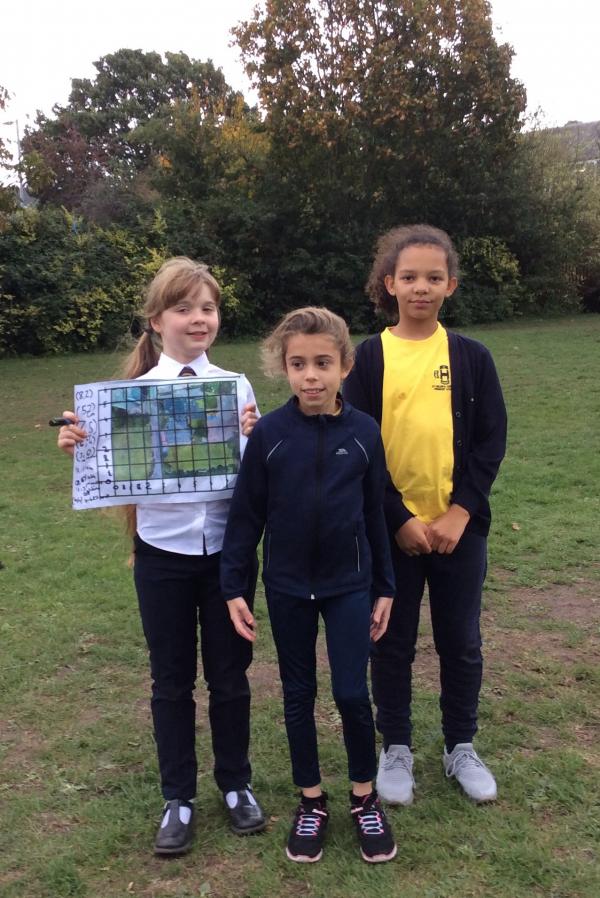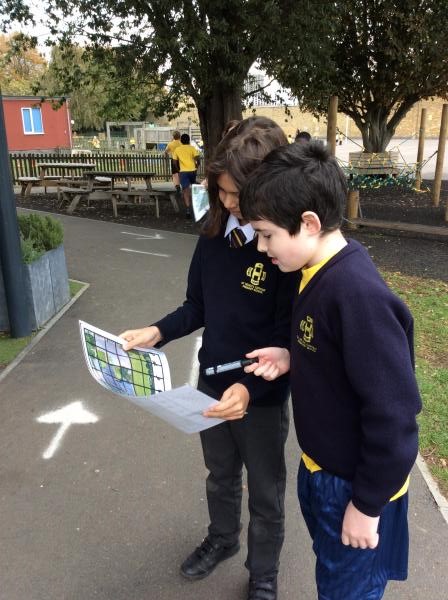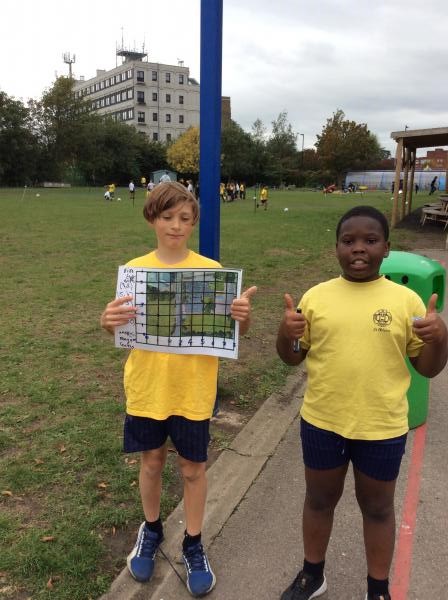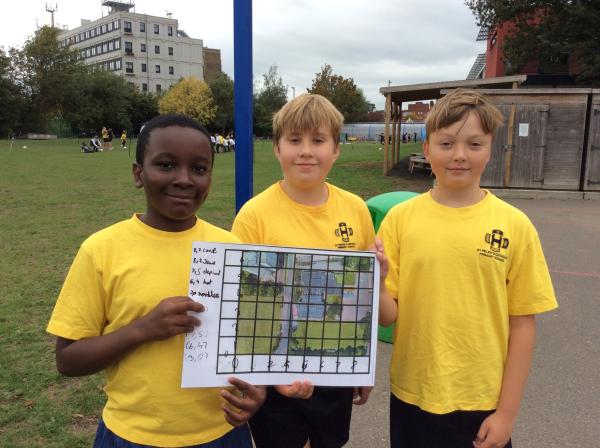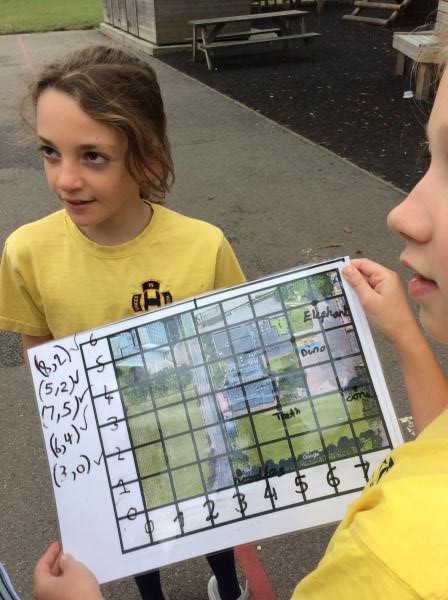 Thursday, 8th October - Beach Trip
Today, in unusual weather conditions (rain!) year 6 visited the Cliffs and the beach. We discussed the pier- its uses and why it was built. Many of the children said they had never visited the pier so perhaps this would be a great family day out!
We discussed the important work of the RNLI and the vocation and commitment they show. A programme I signposted the children to is, Saving Lives at Sea. If they could watch even part of this, it shows the invaluable work of the RNLI.
After a delicious lunch (thank you parents!), we moved onto the beach. Here, we performed a scavenger hunt, made mosaic art work and generally played. The rain did not deter us and we were able to watch the tide approaching and the changing scenery.
Thank you Year 6 for a great day out!
Mrs Miller, Mrs Green, Mrs Monahan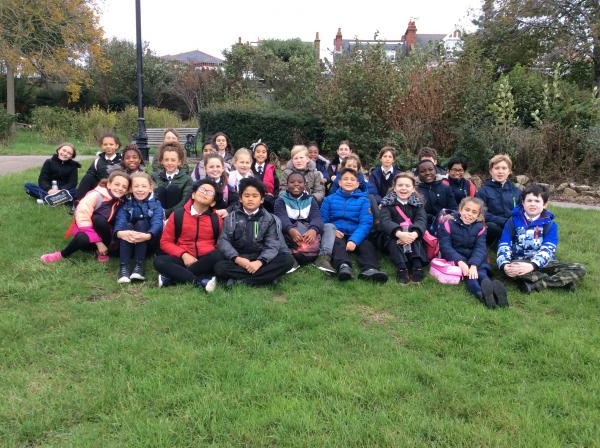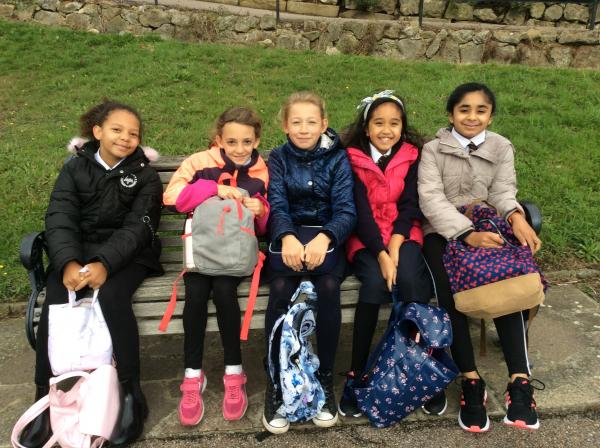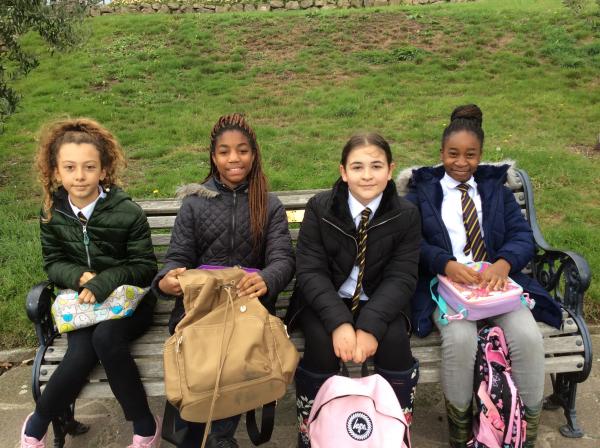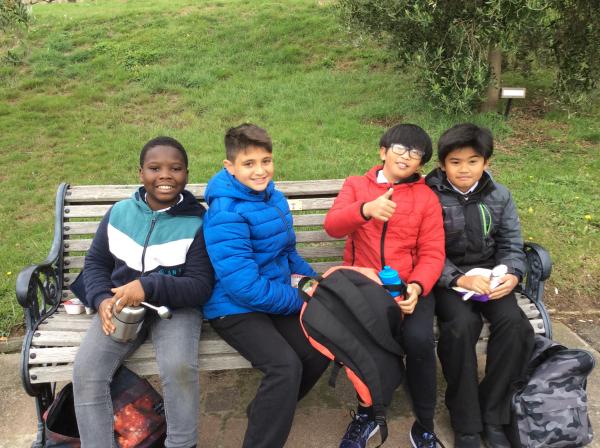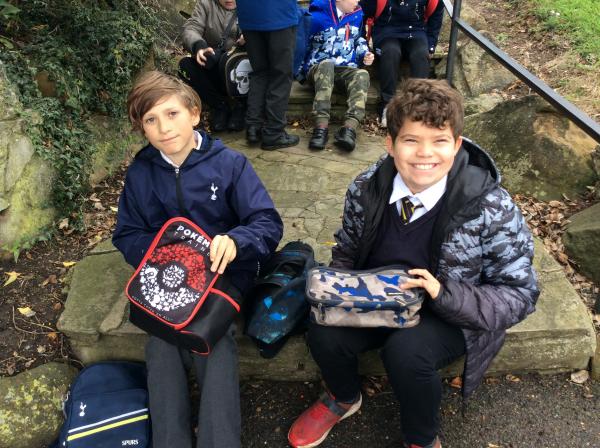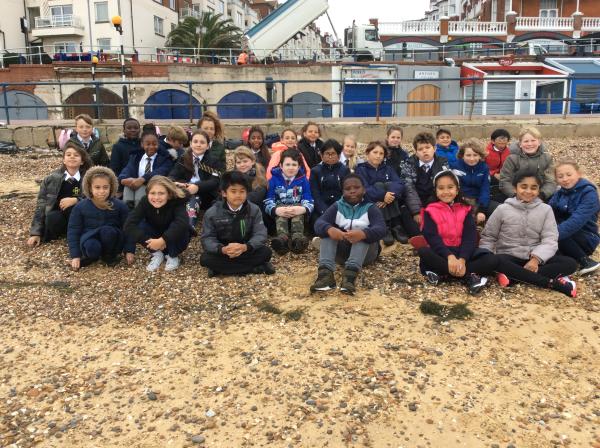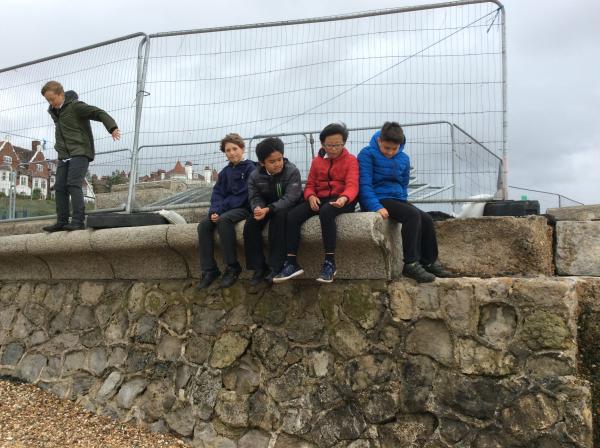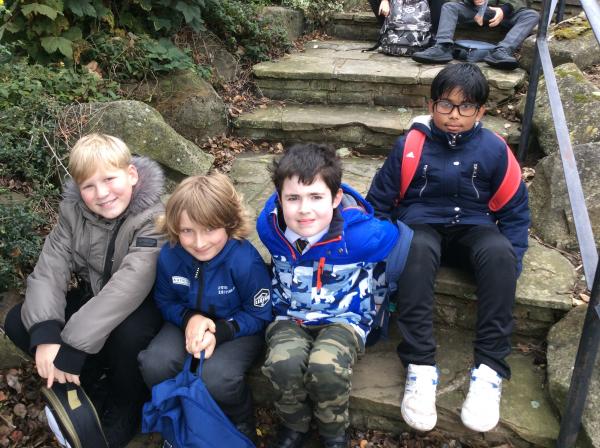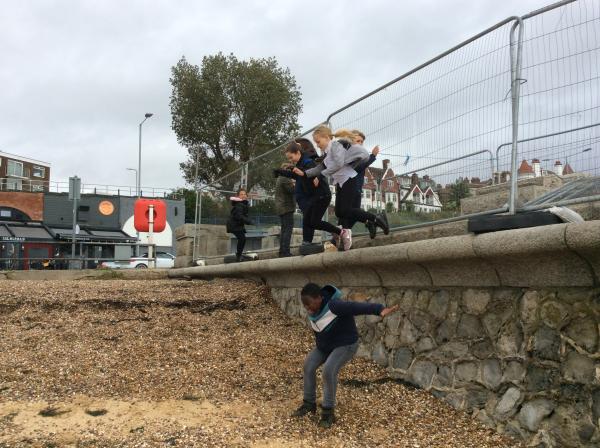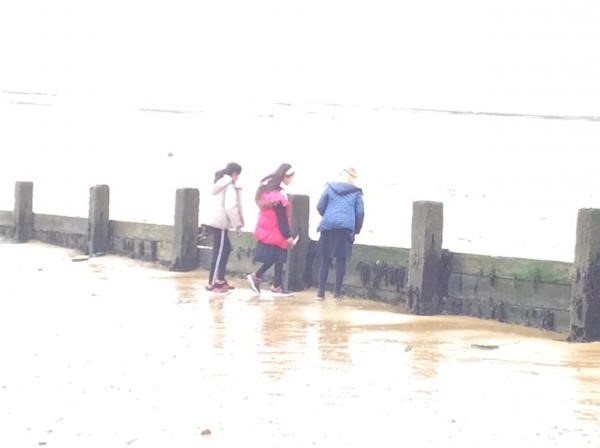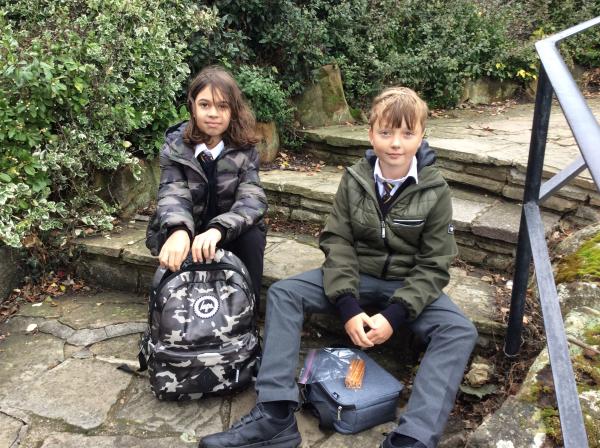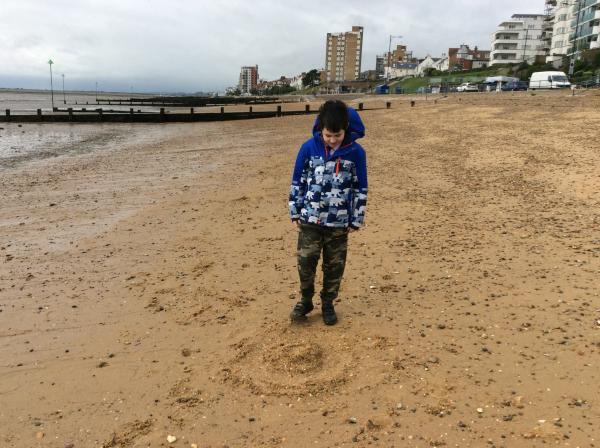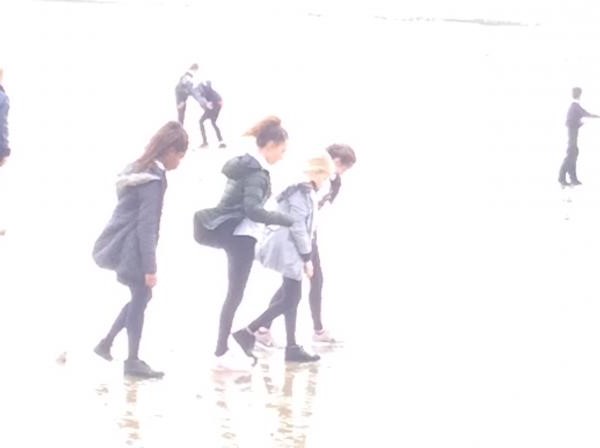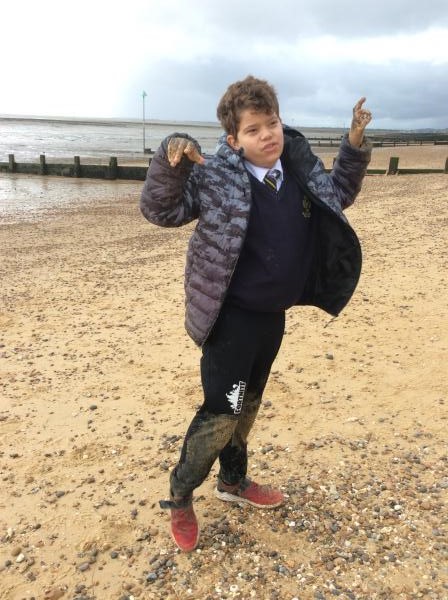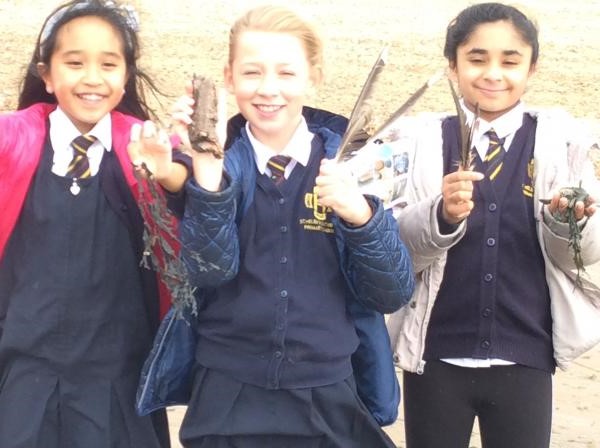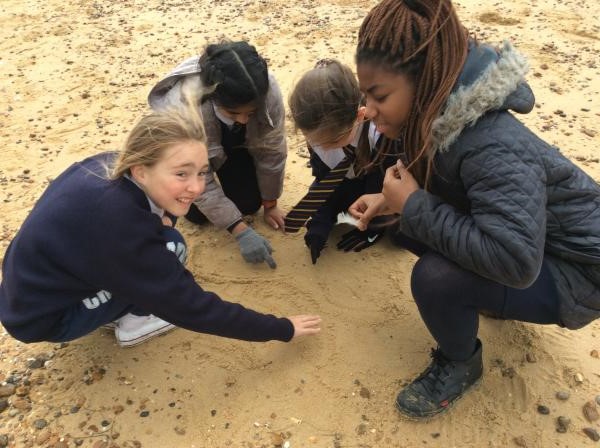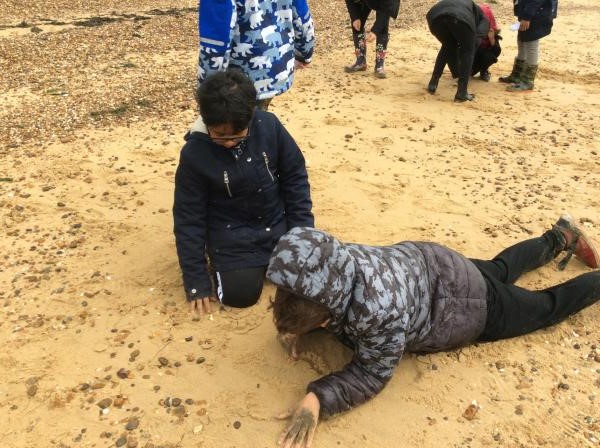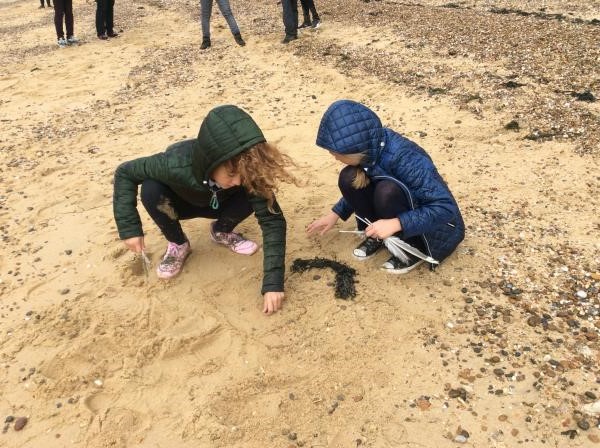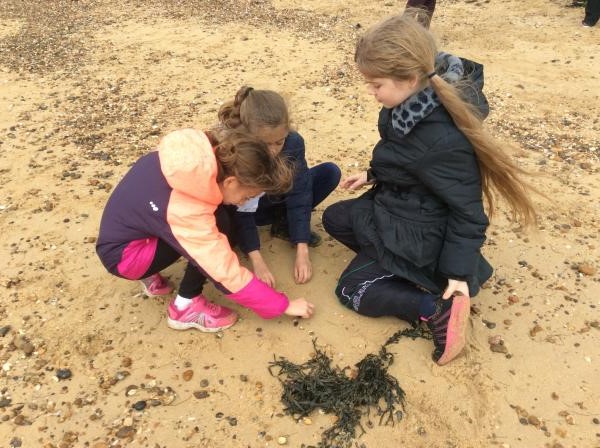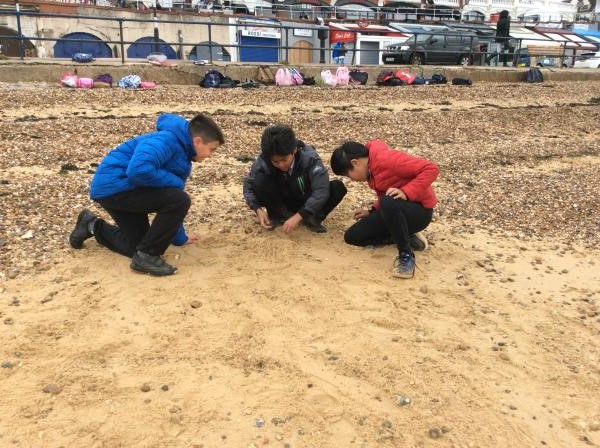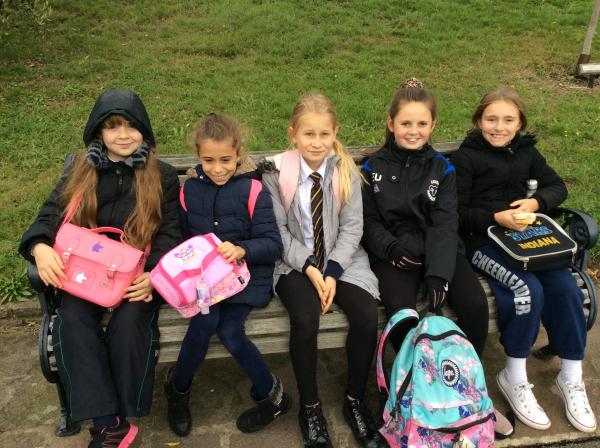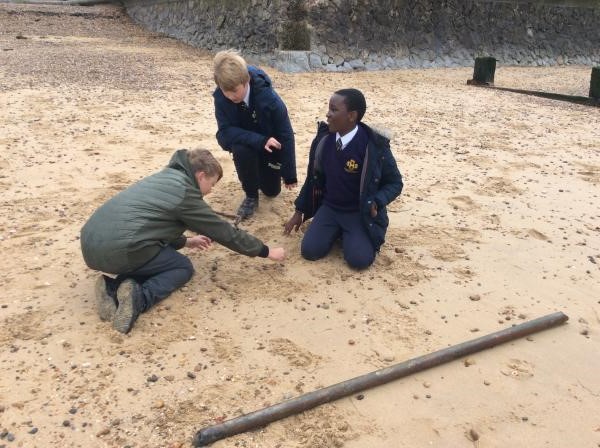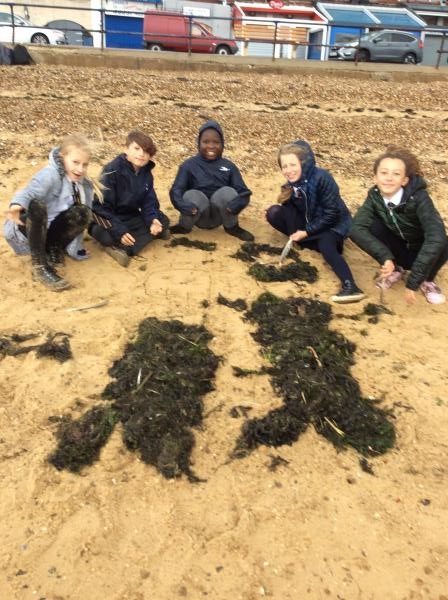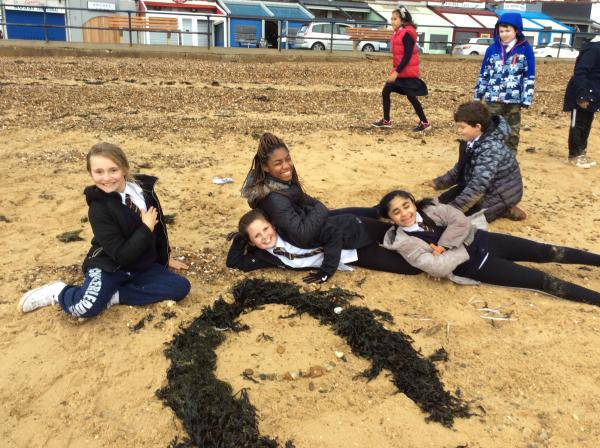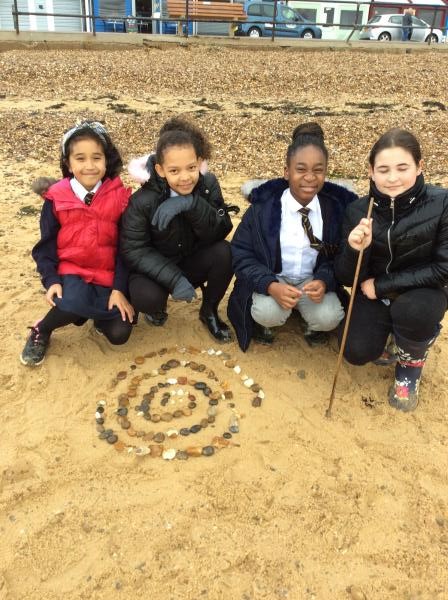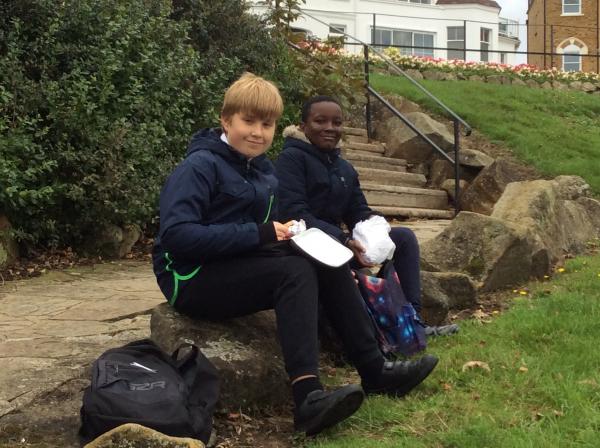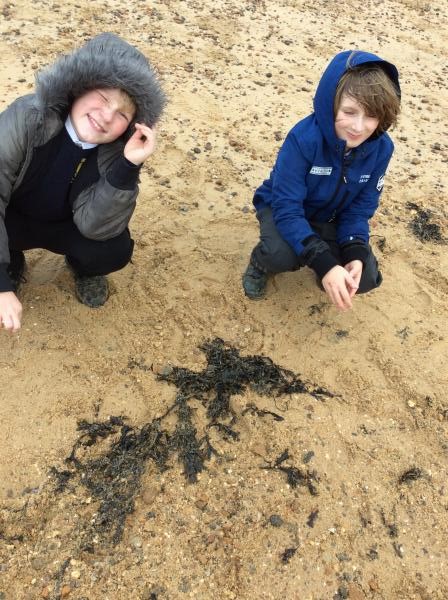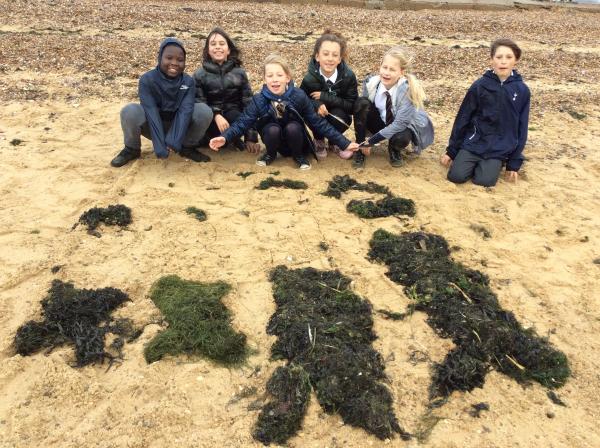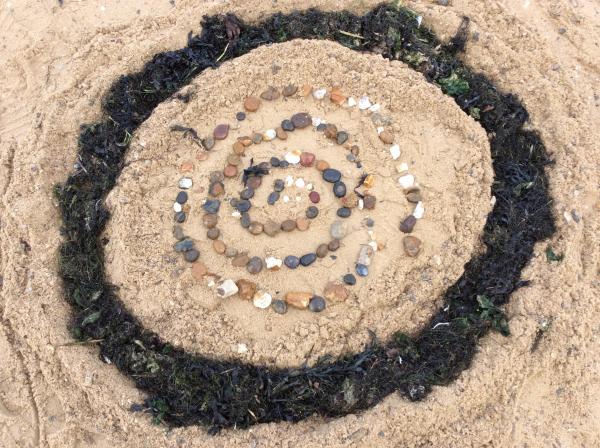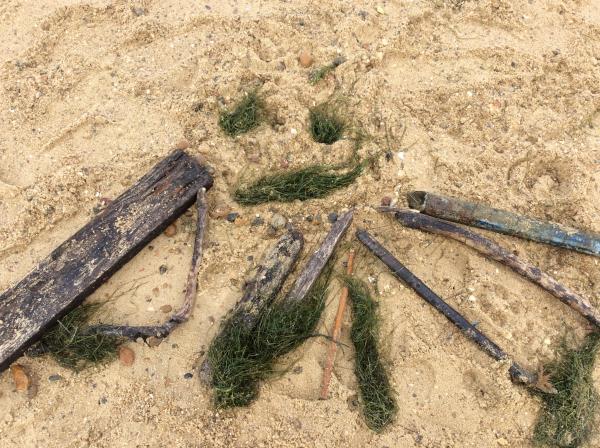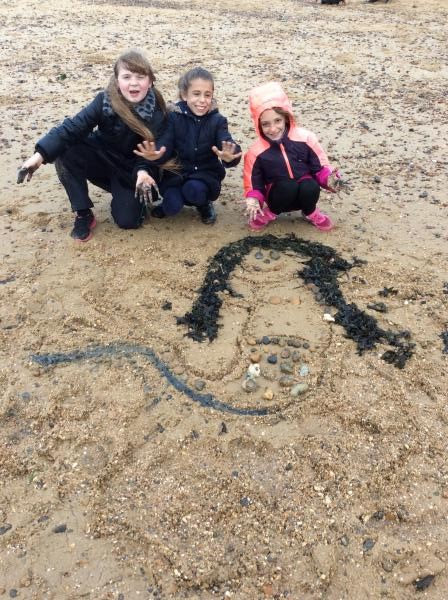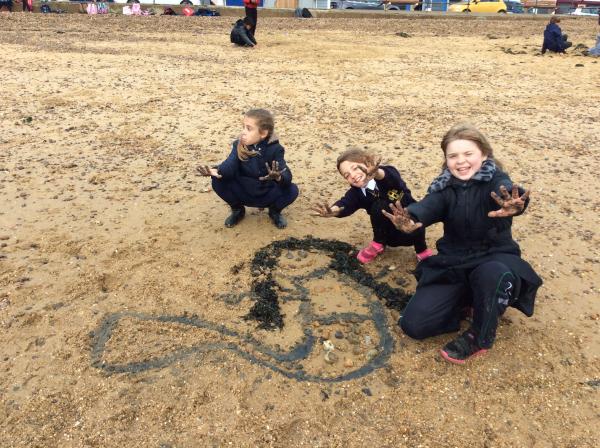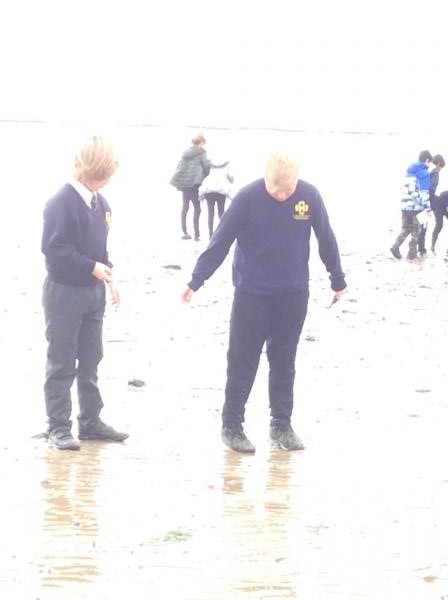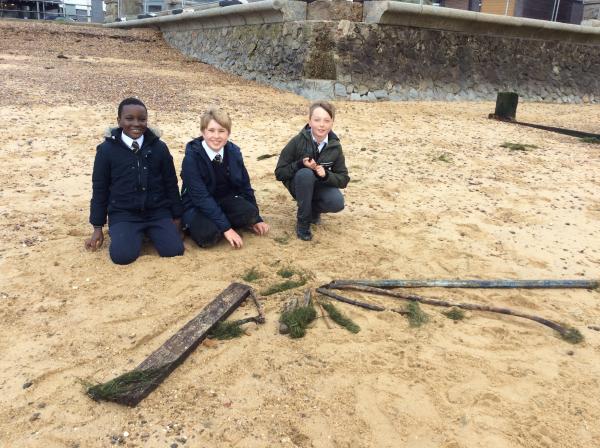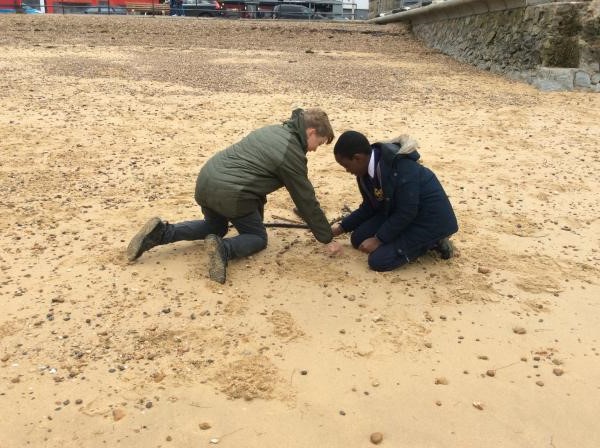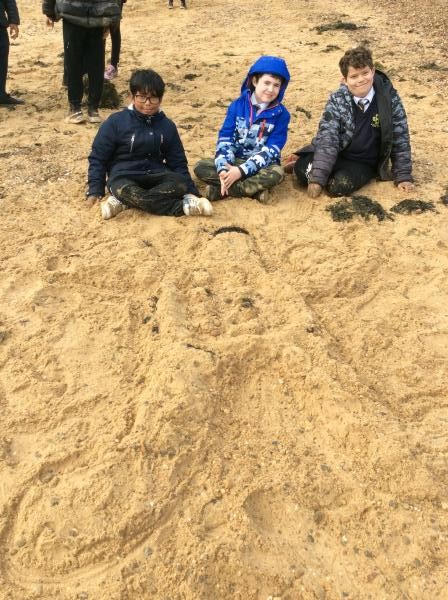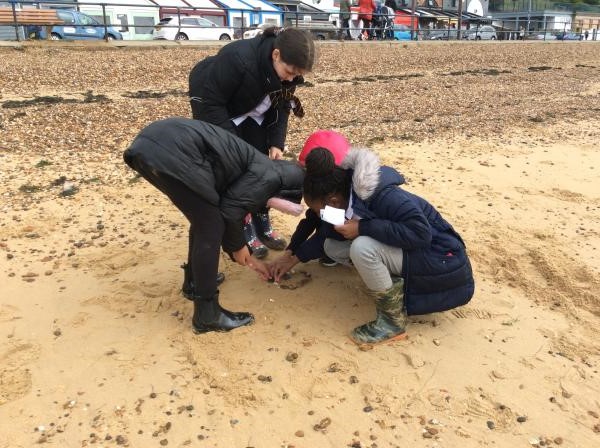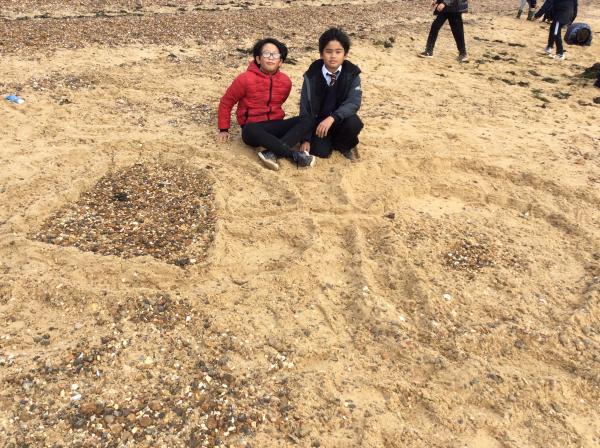 Fingerprints
Following on from our detective work earlier in the term, Year 6 spent the afternoon studying fingerprints. They also looked at footprints gaining information. After this, they moved onto looking at handwriting and fake signatures! Year 6 proved themselves to be adept detectives.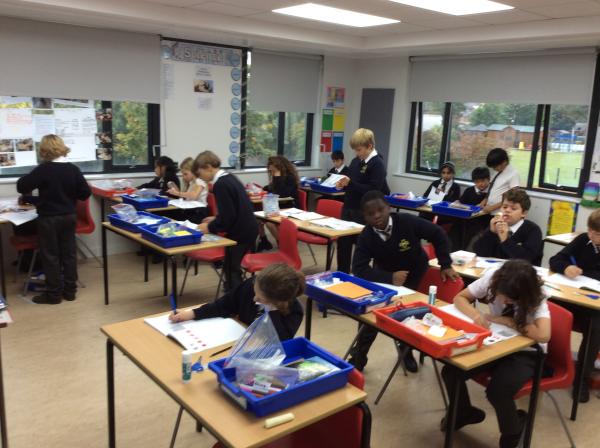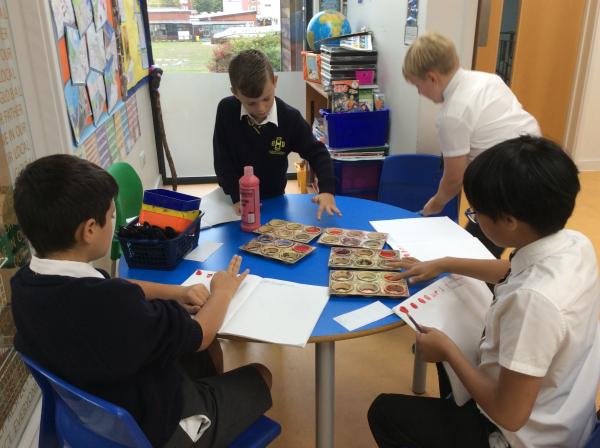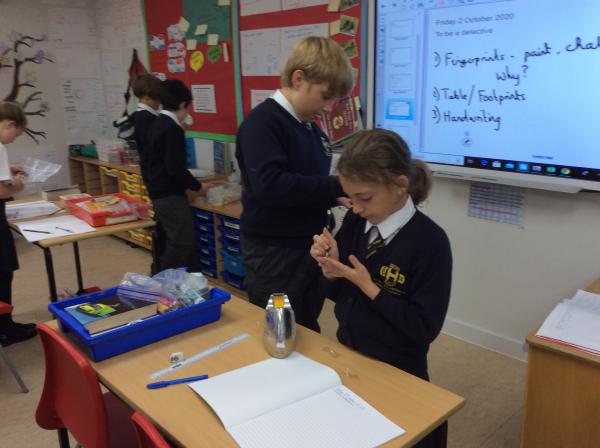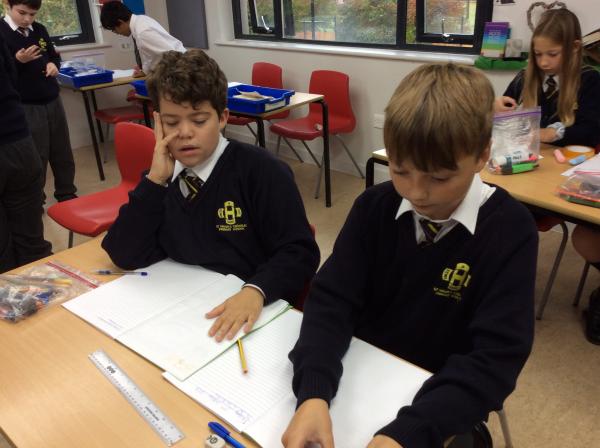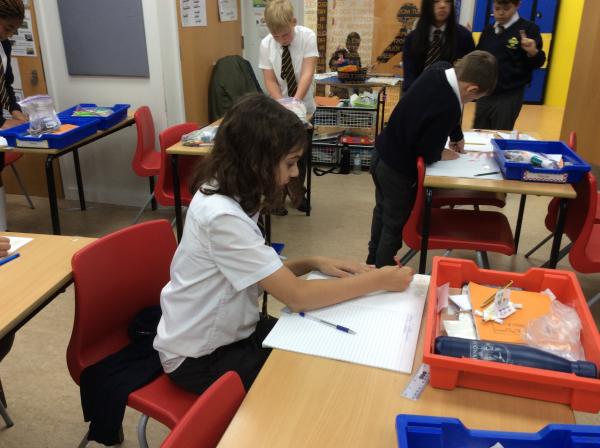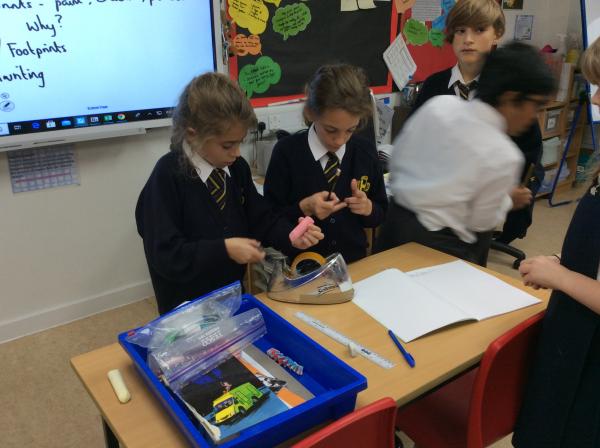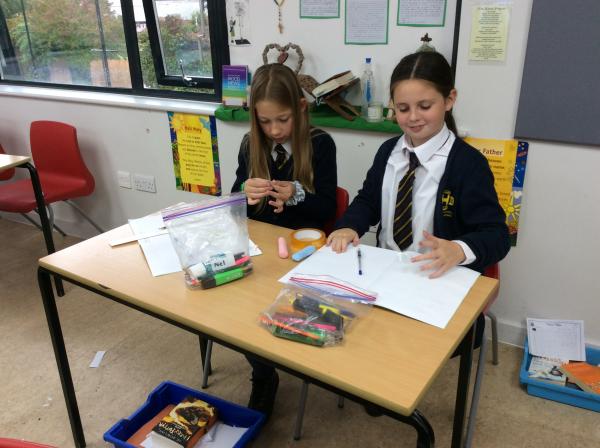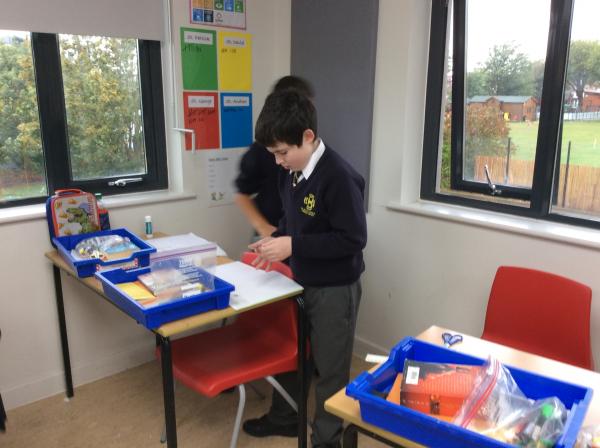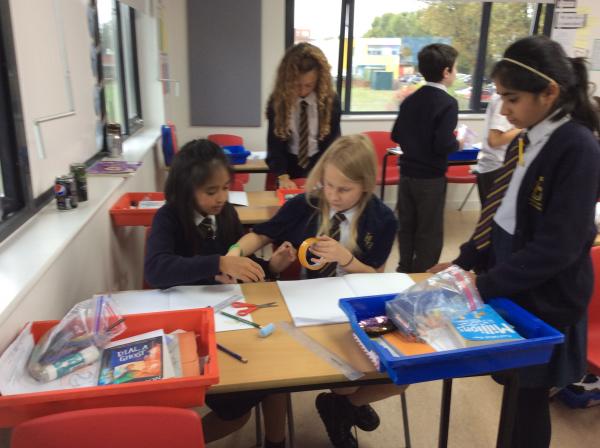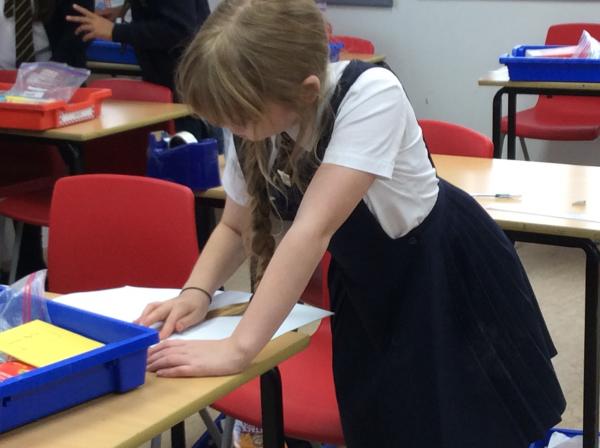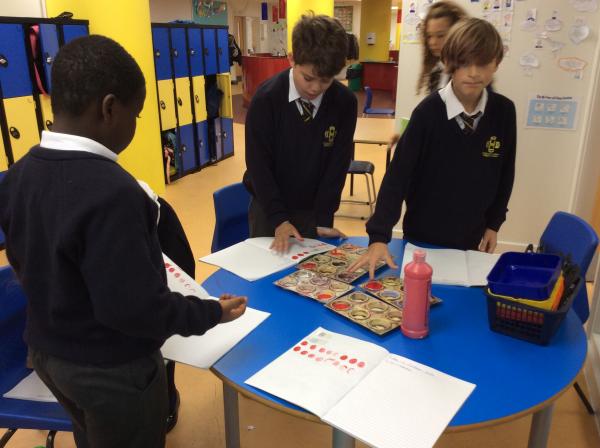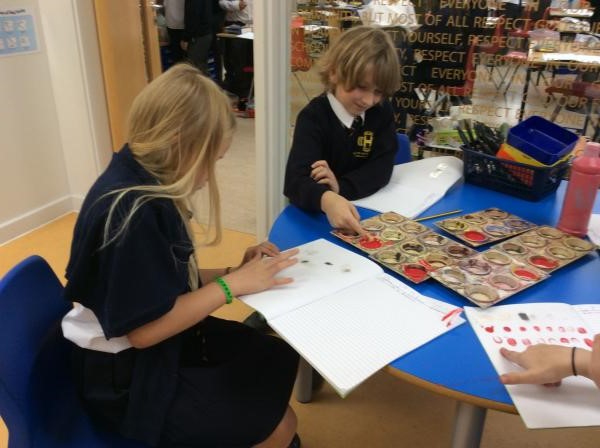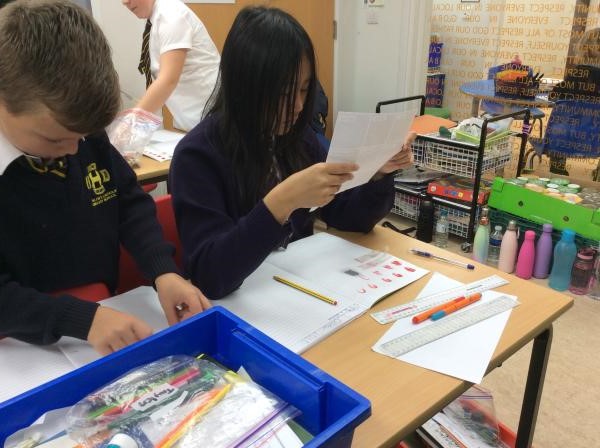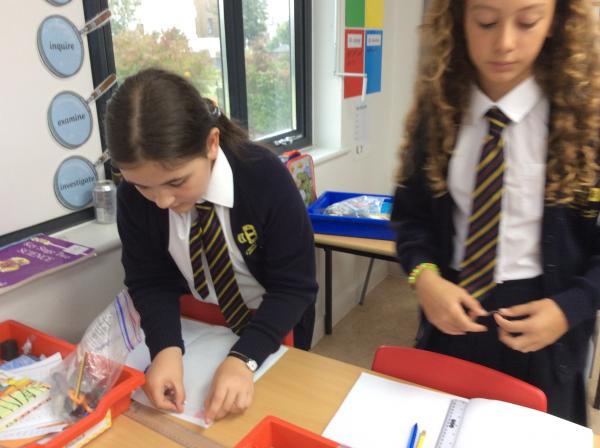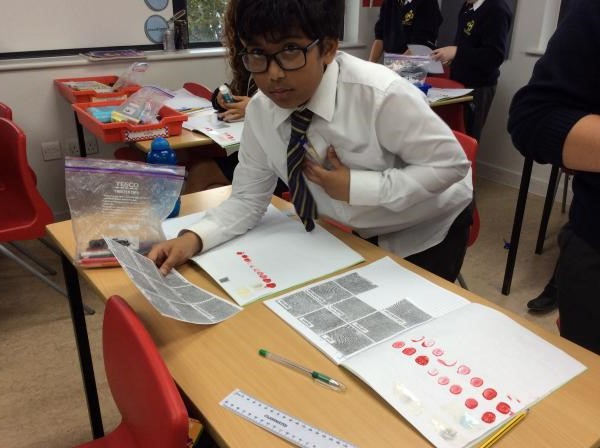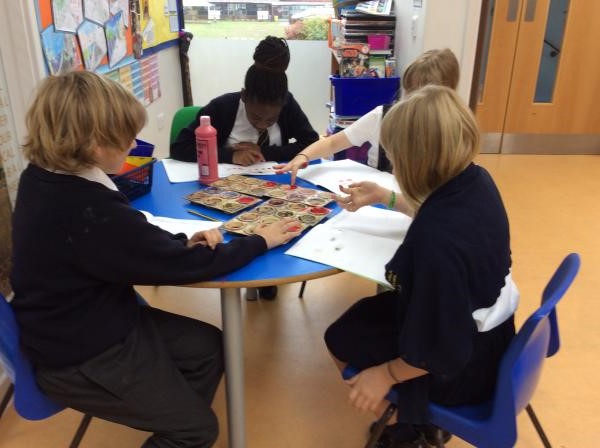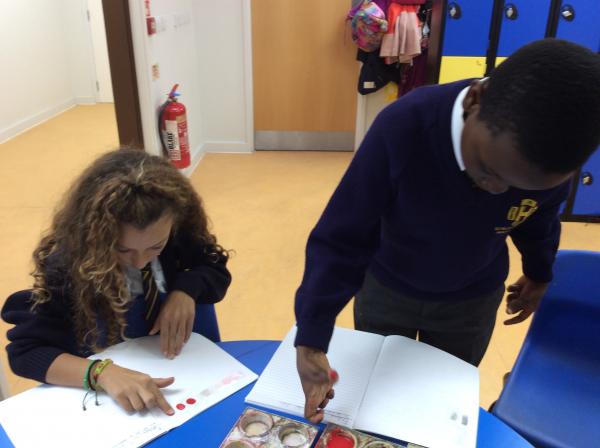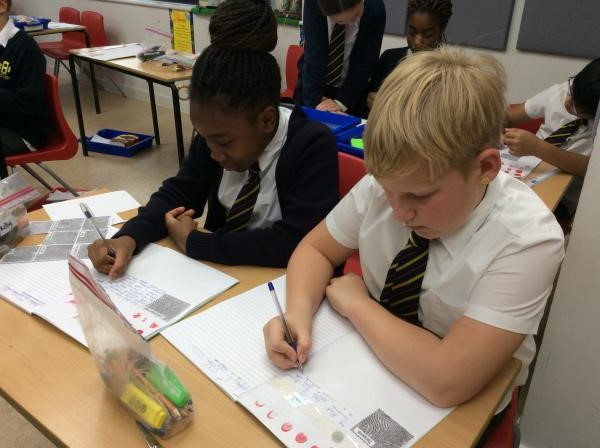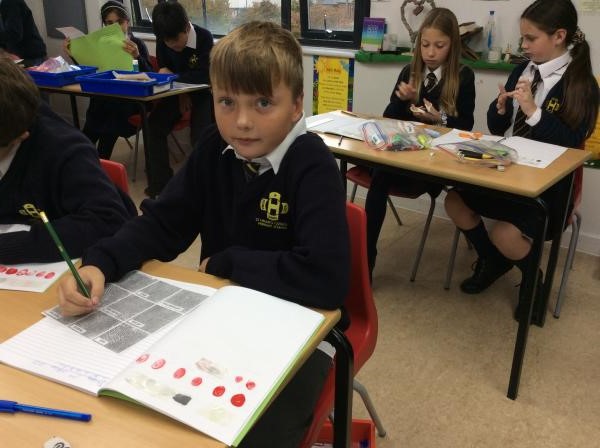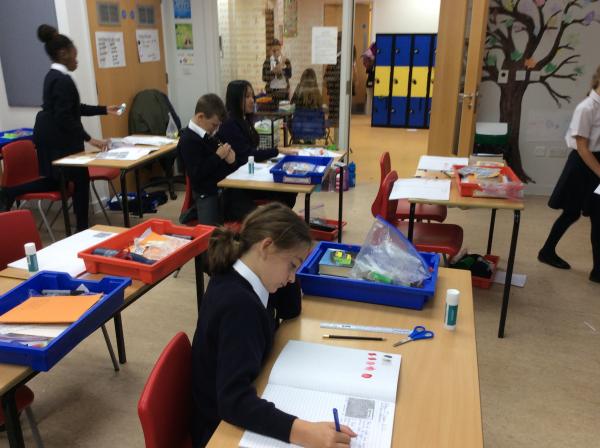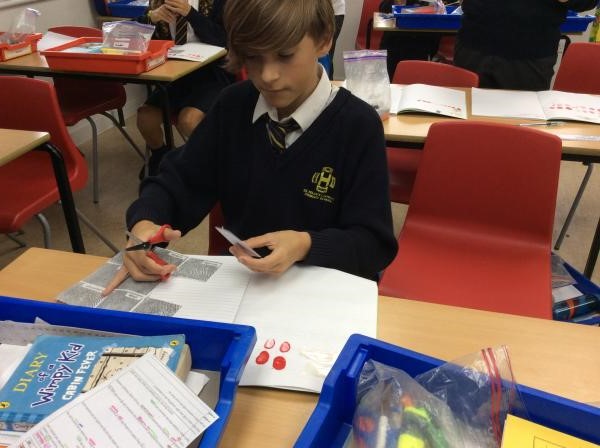 An afternoon of hard work and good fun!
Year 6 undertook an afternoon of jobs on Thursday. They needed to repaint the fences before the winter comes. Thank you Wickes for the donation of green paint. Also, we levelled out the area around the pond- removing stinging nettles and various other plants - preparing the ground for more bark. Thanks Year 6 for all your hard work!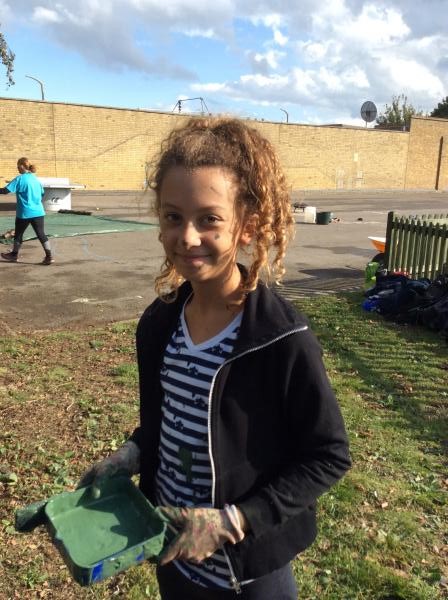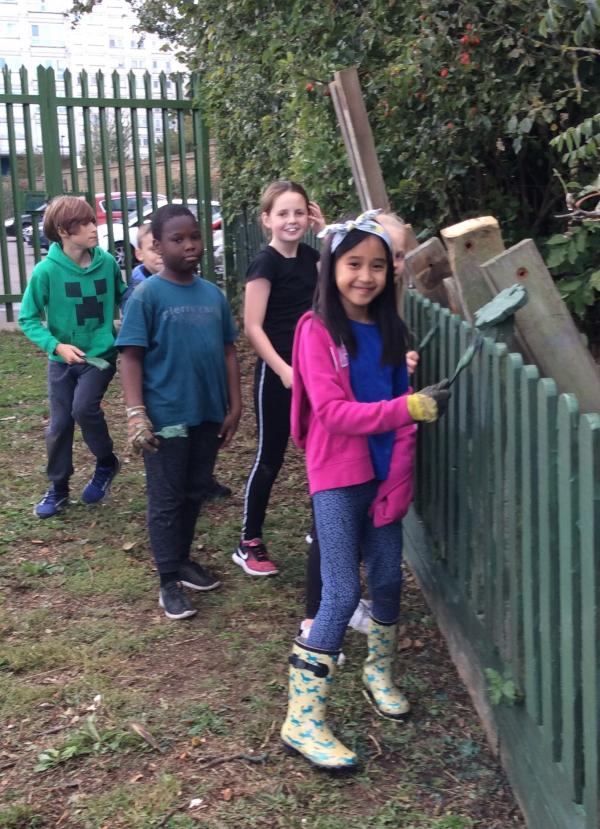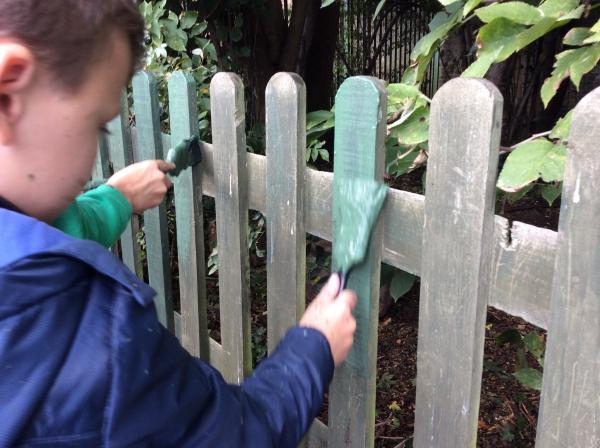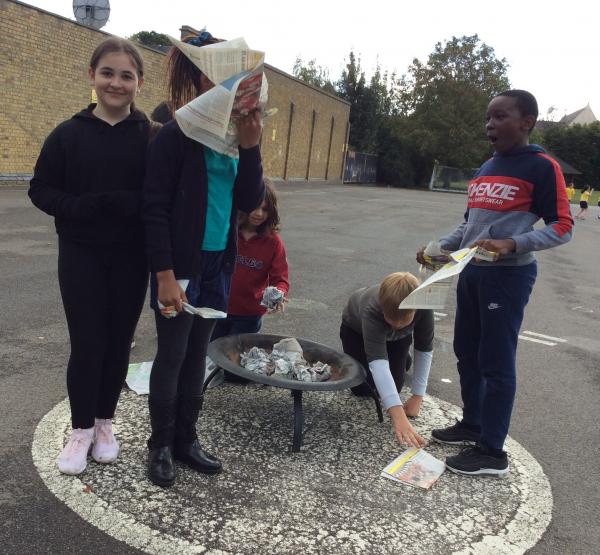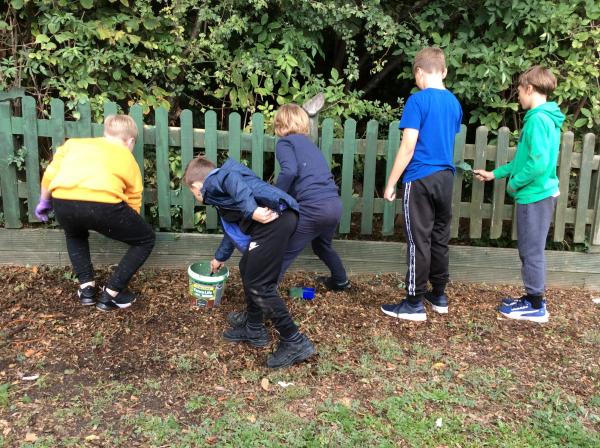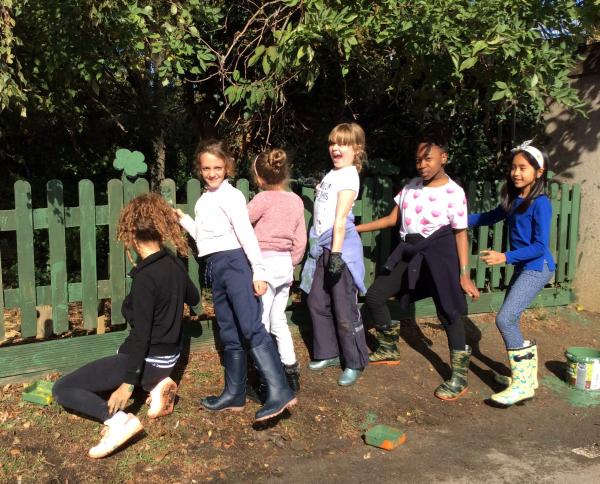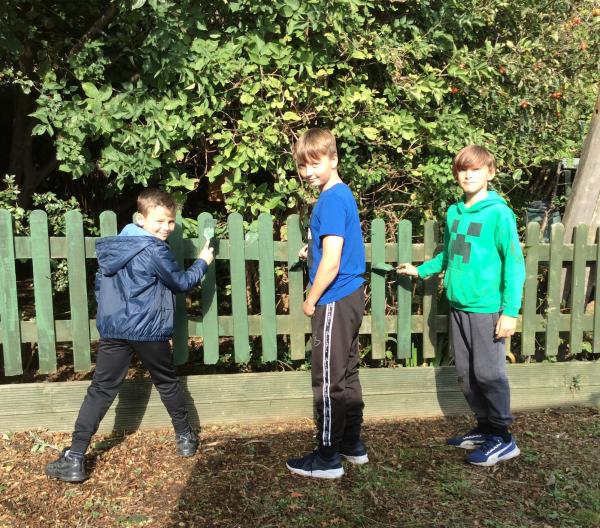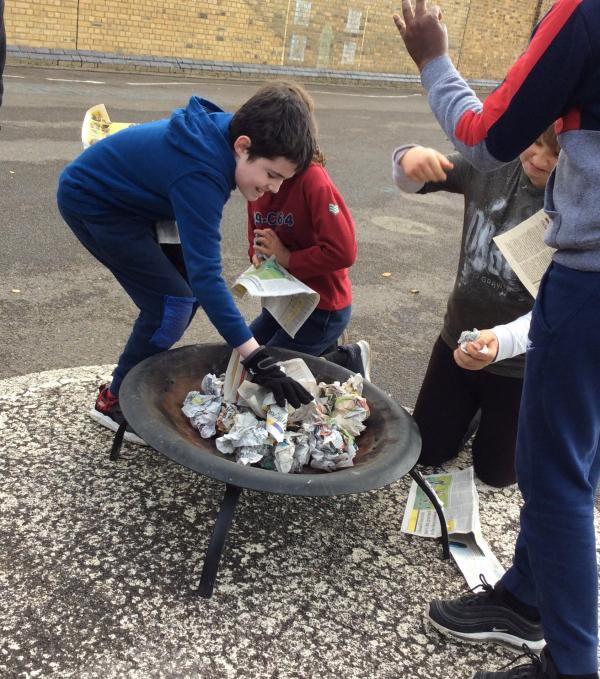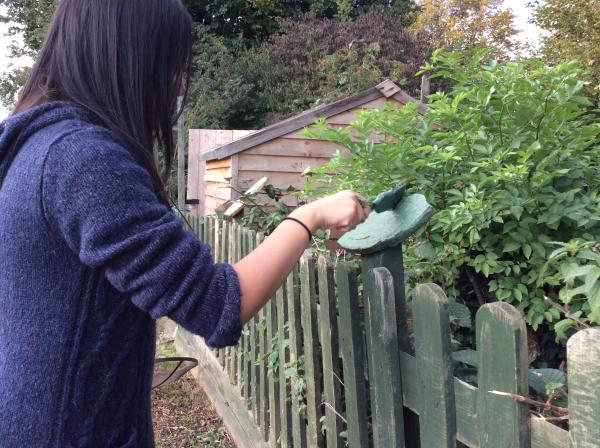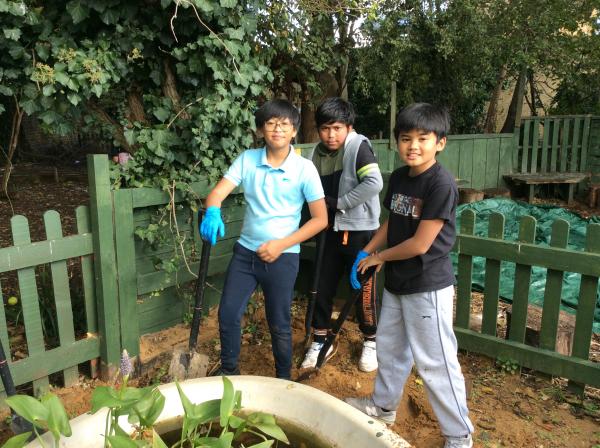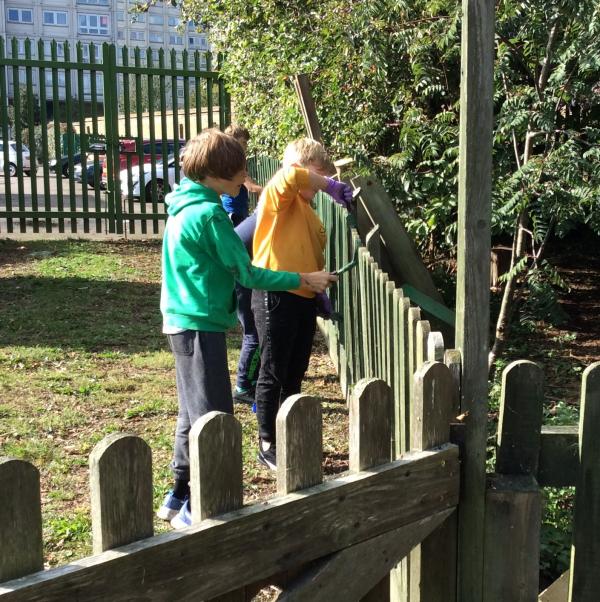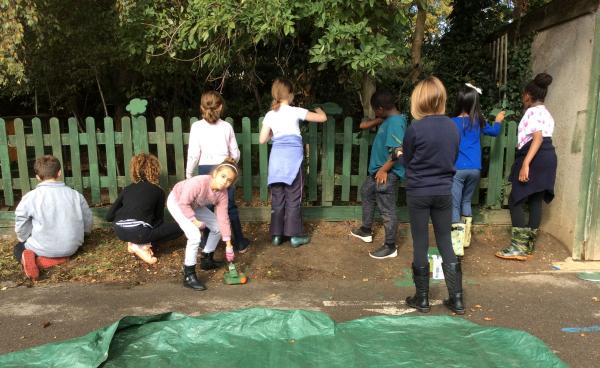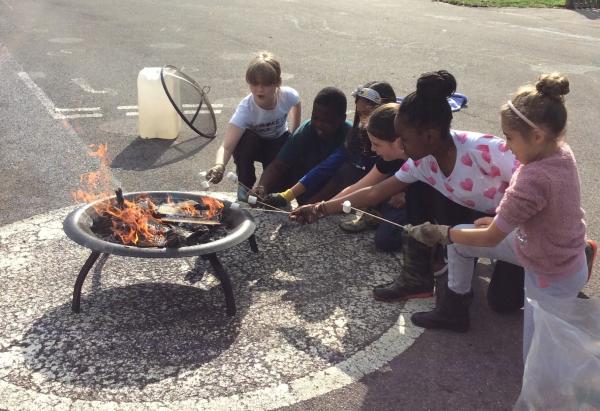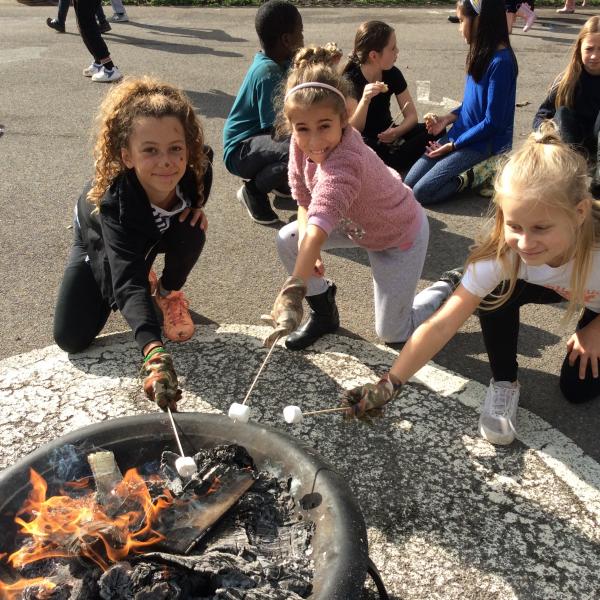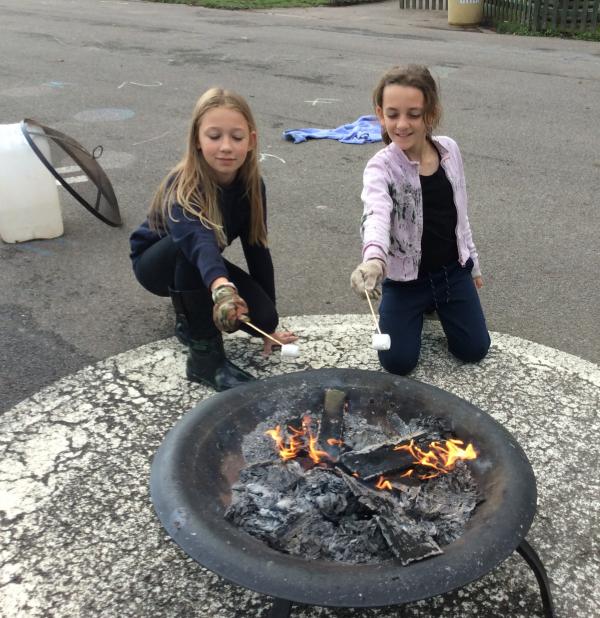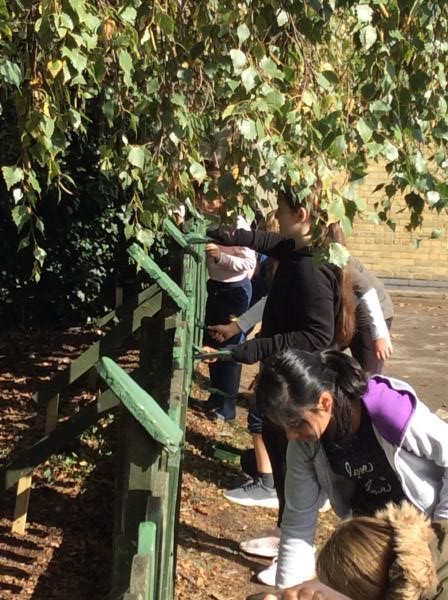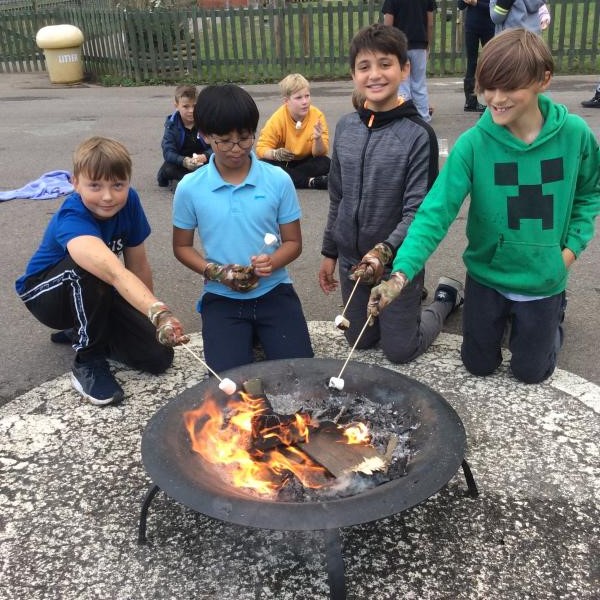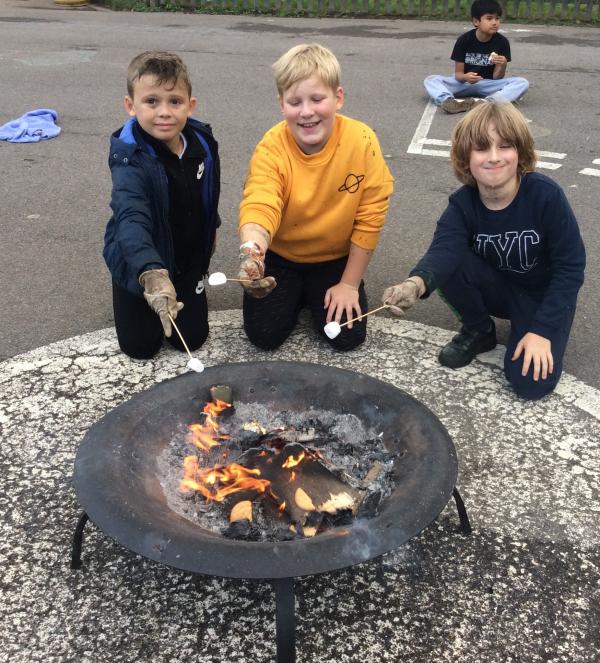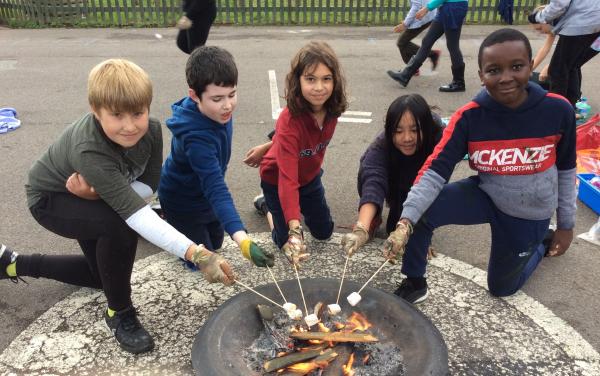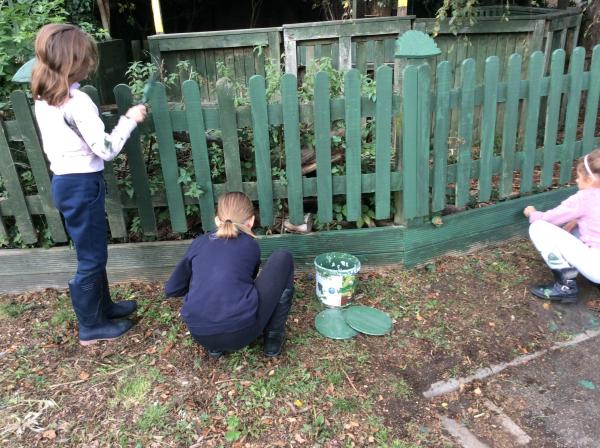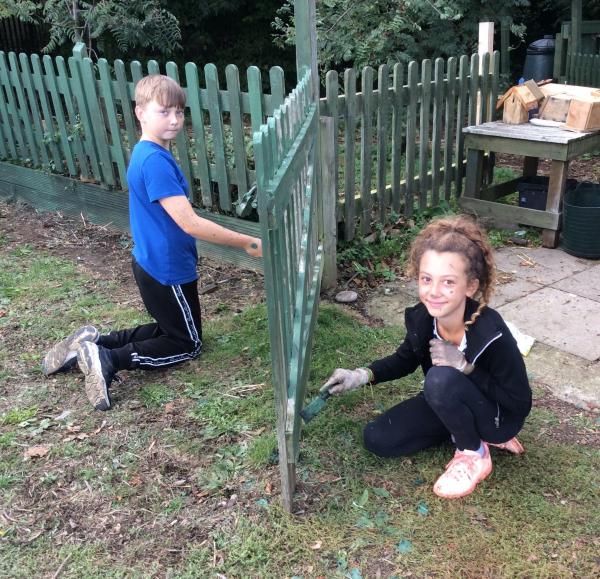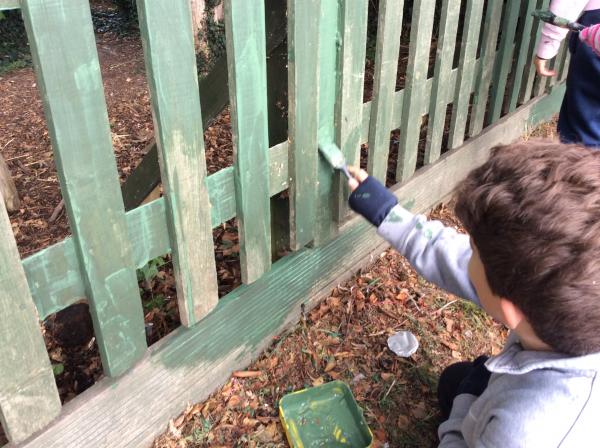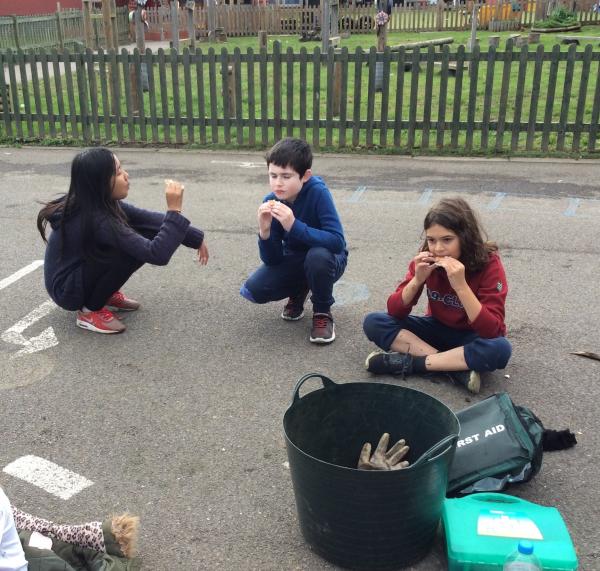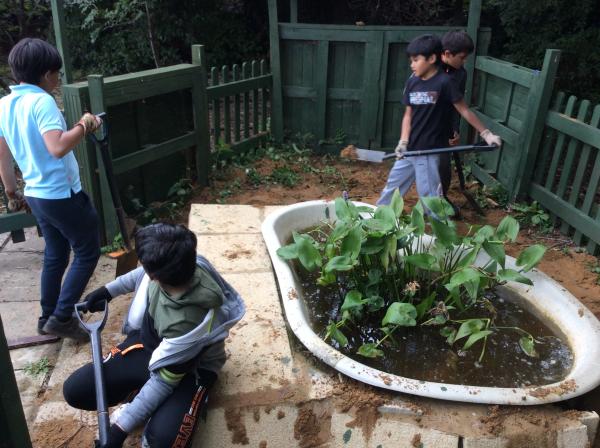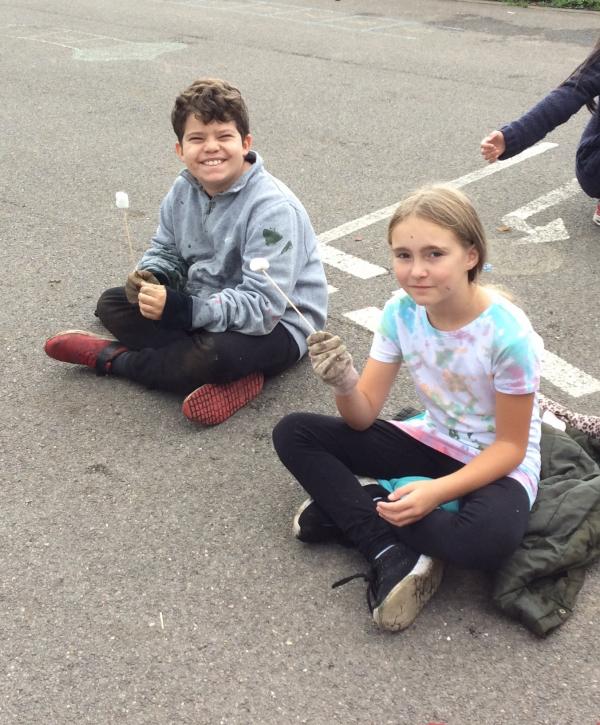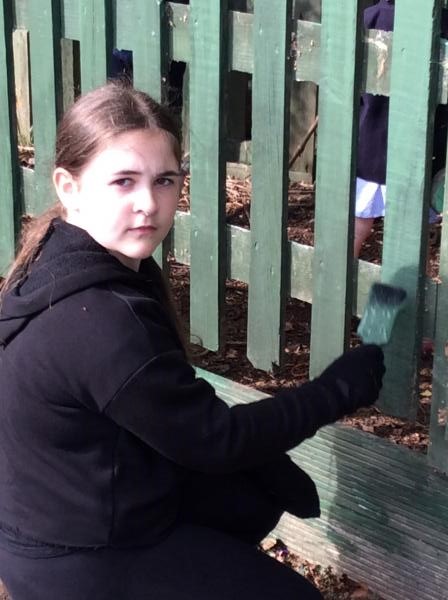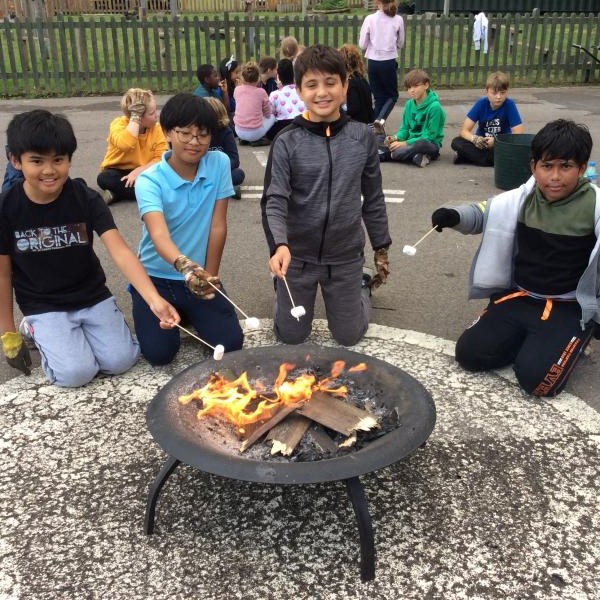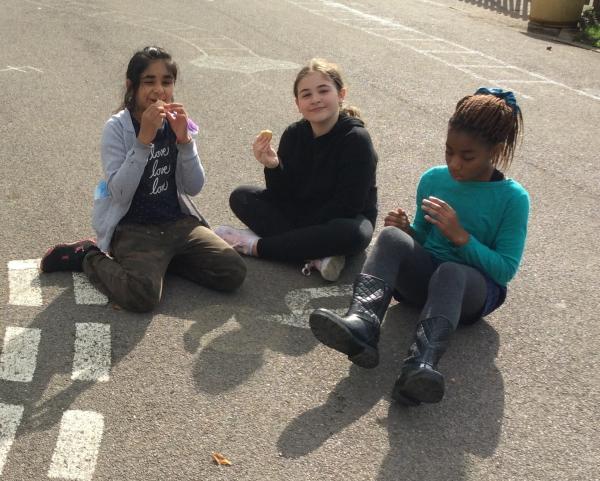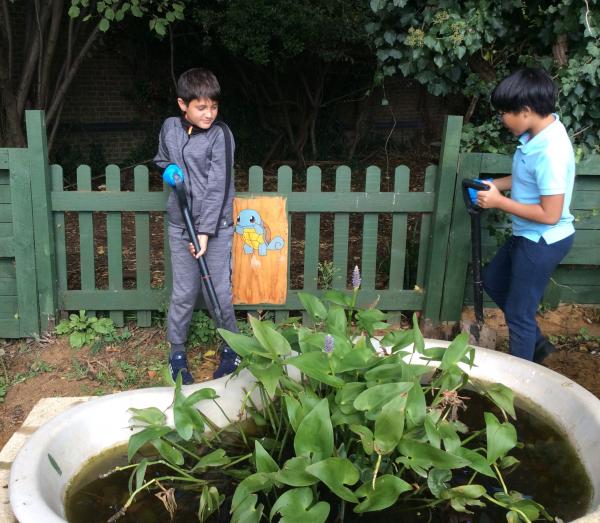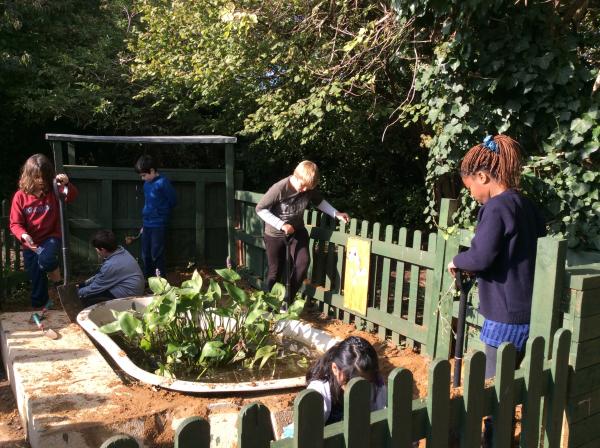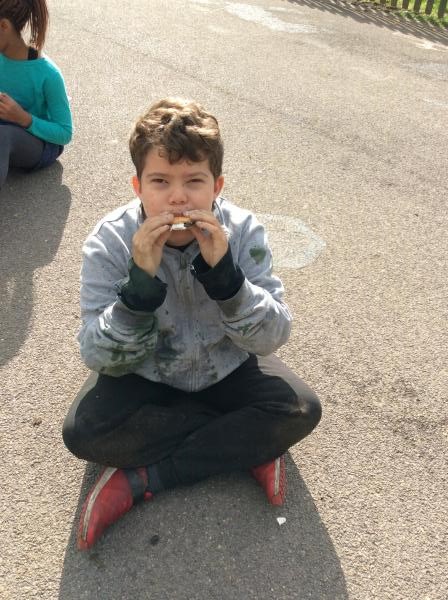 Homework - Book Review
This week, for homework, Year 6 have been asked to design and write a book review. it can be about any book and include any details they wish - favourite information/character/part of book. Why they enjoyed it? Brief story synopsis. Would they recommend it to others and why?
Could they write this up and decorate it ready to go on display please. Thank you.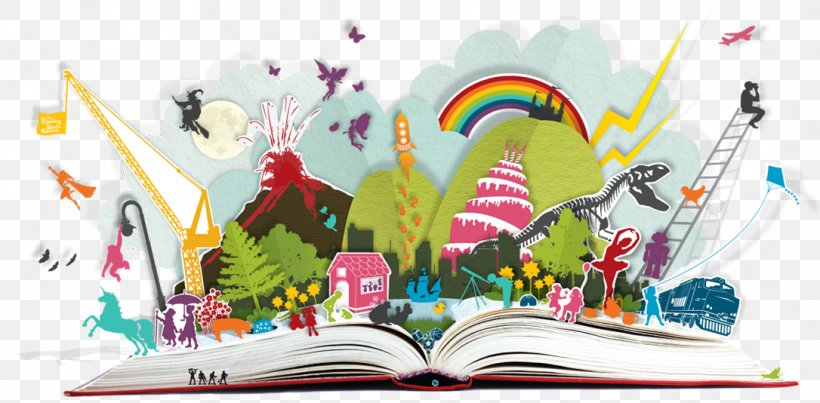 ---
Amazing Artwork
Year 6 have been busy drawing one point perspective pictures and vanishing points.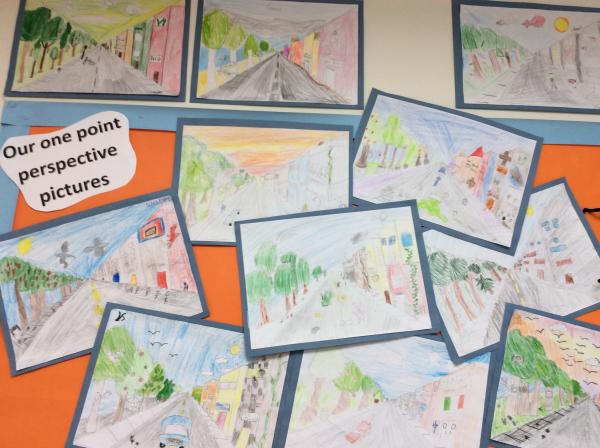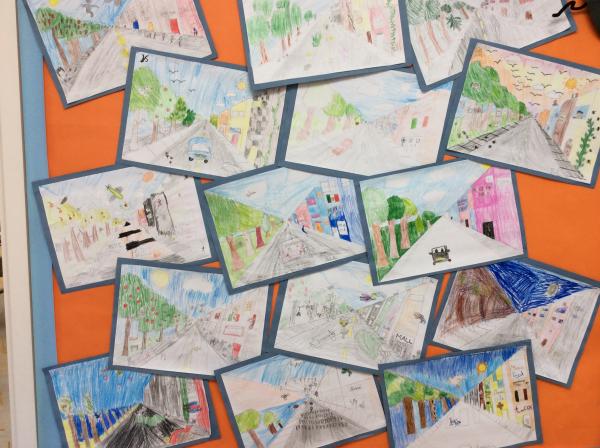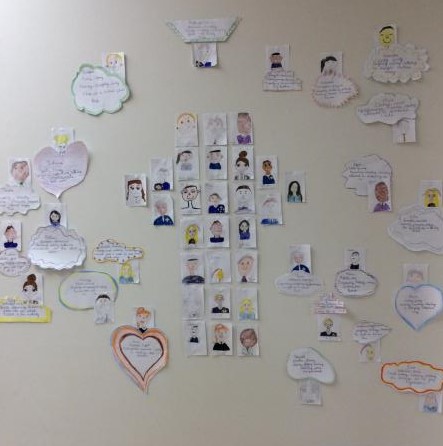 Surprising Science
Thursday, 17th September
Today, Year 6 experimented by mixing cornflour and water together to make beetle blood. We noticed that when we put energy on the mixture, it turned into a solid but when we left it, it was a liquid. This is called a neo-newtonian fluid as it acts as a solid and liquid.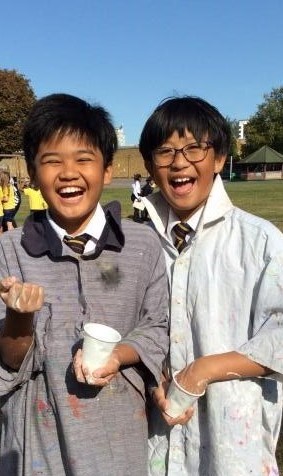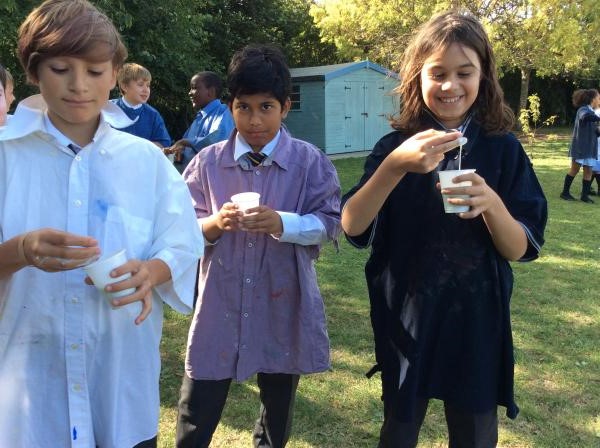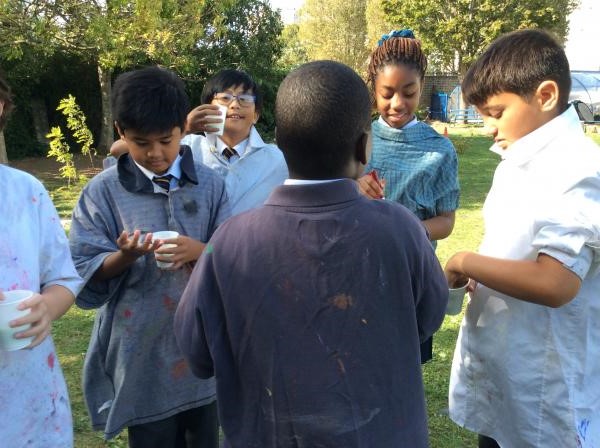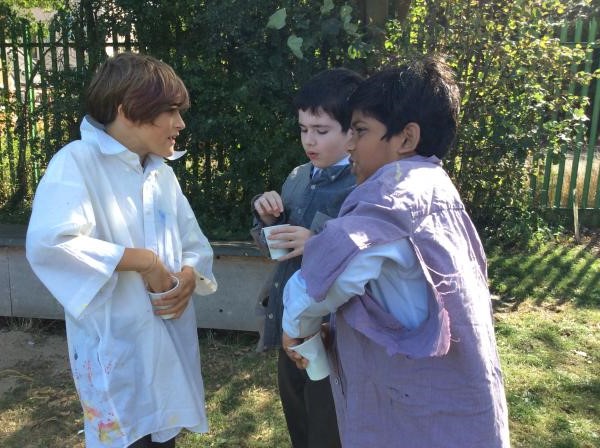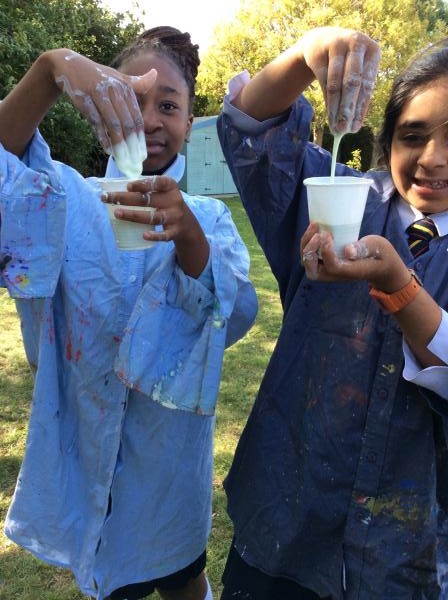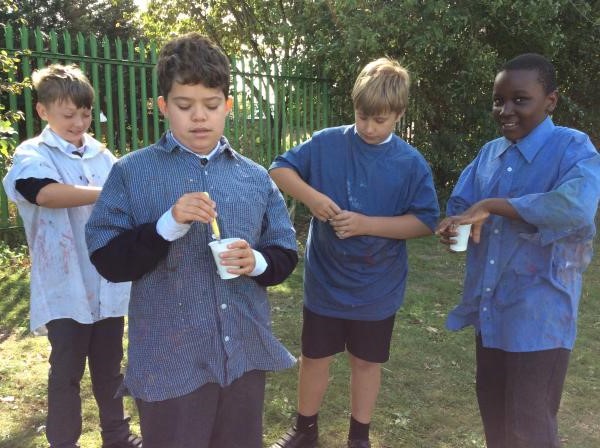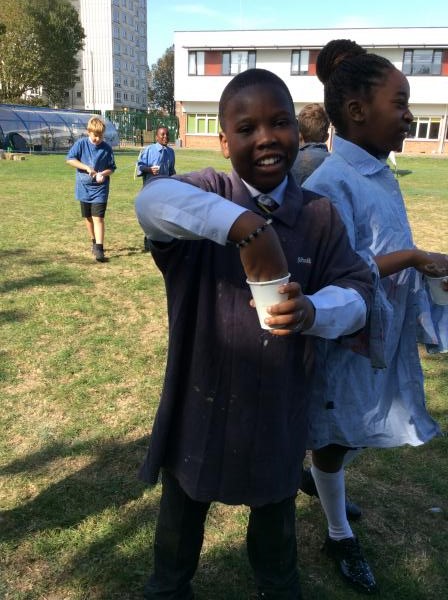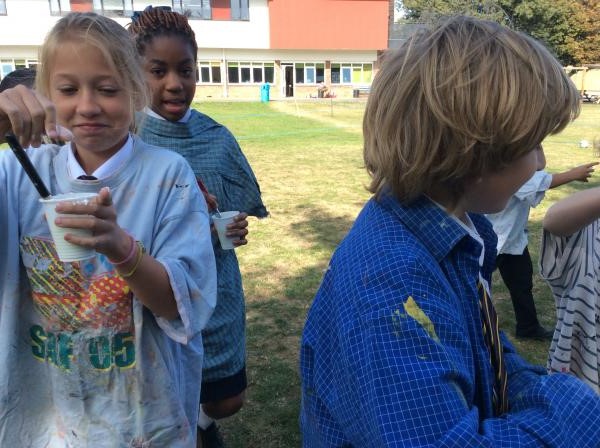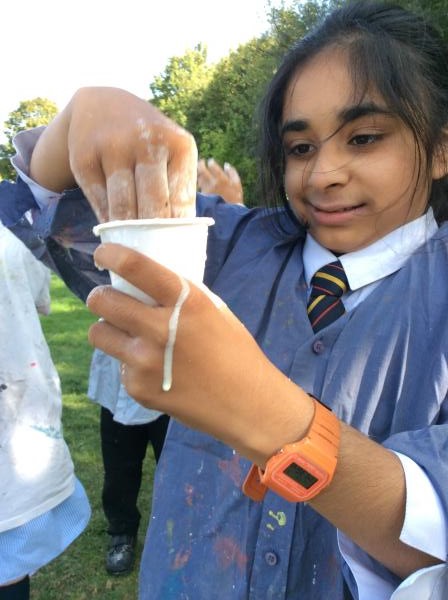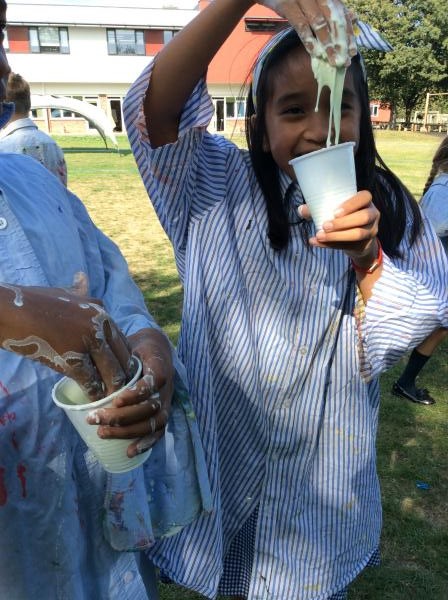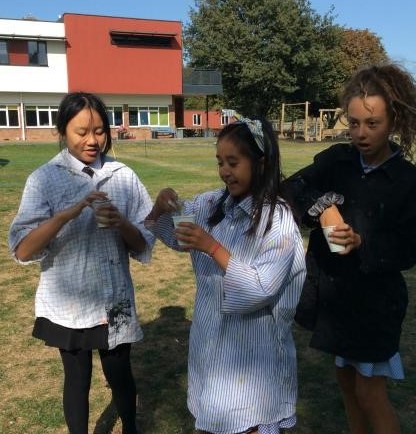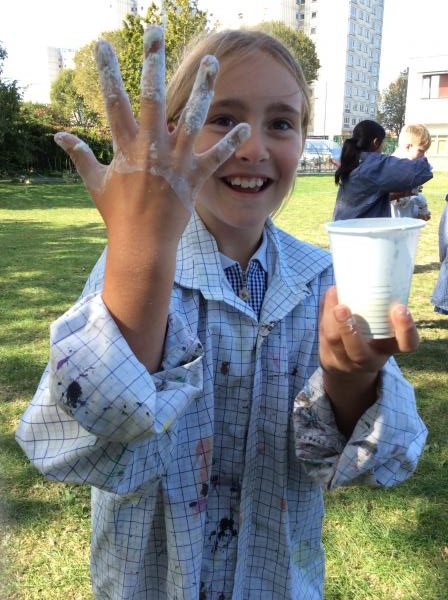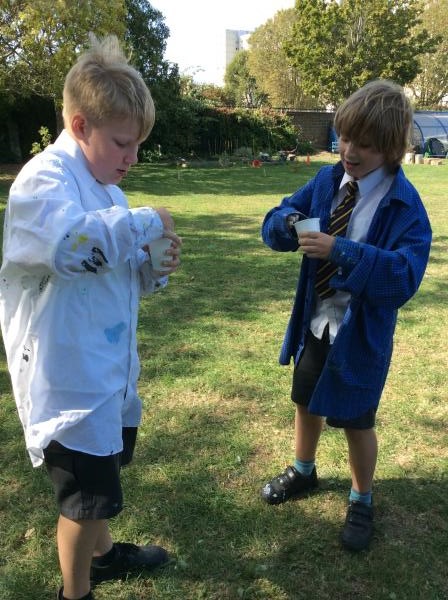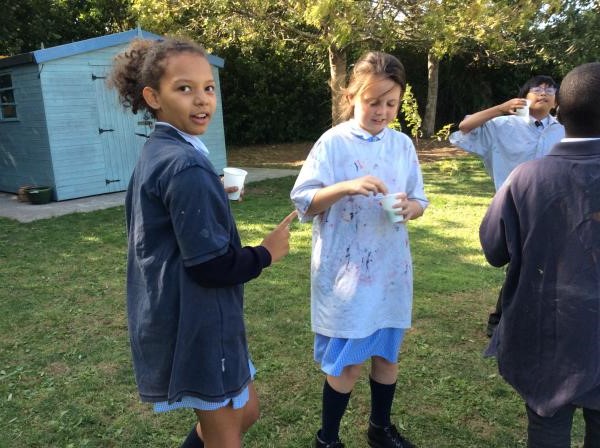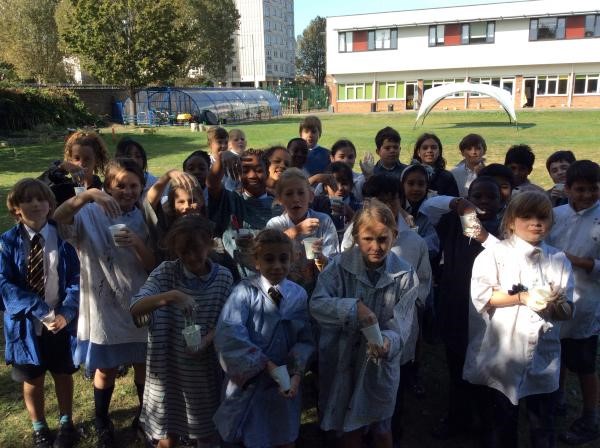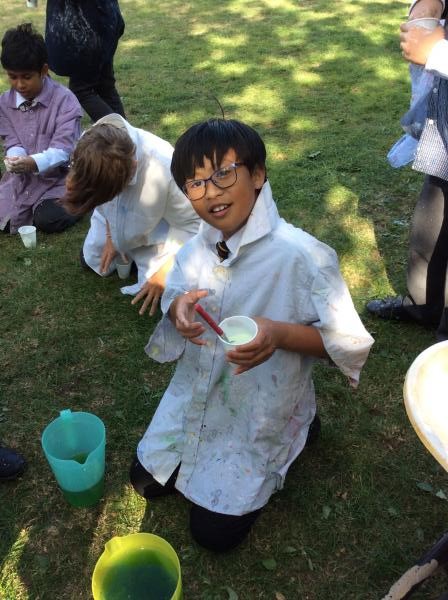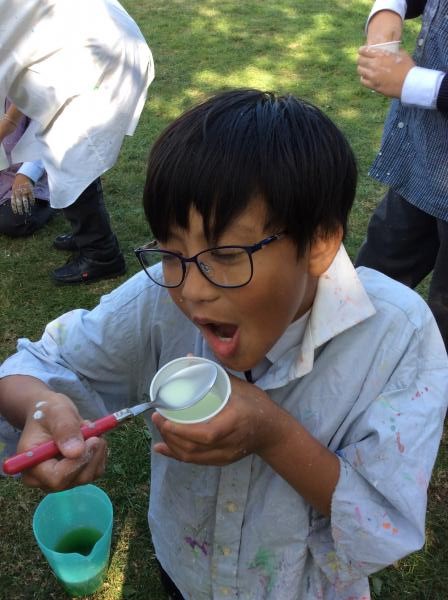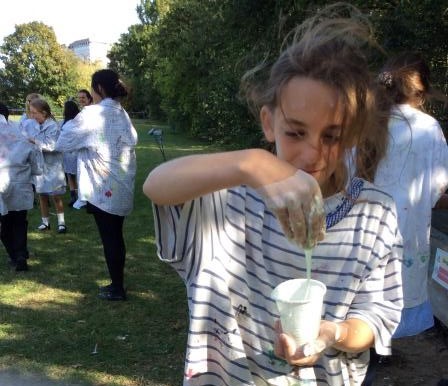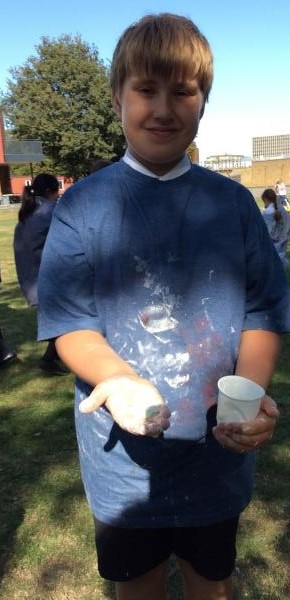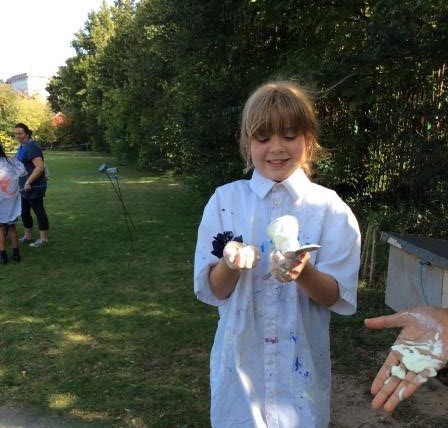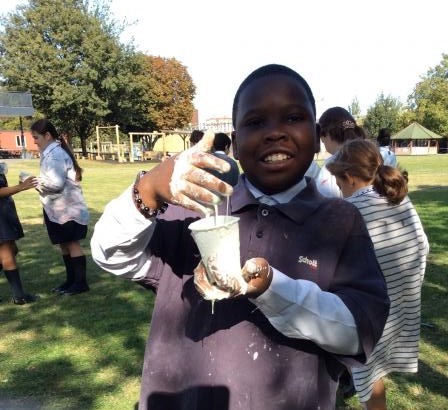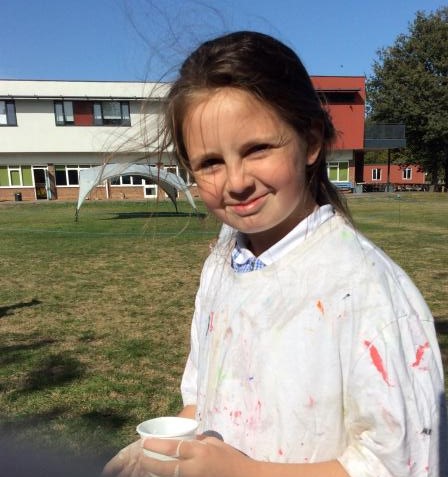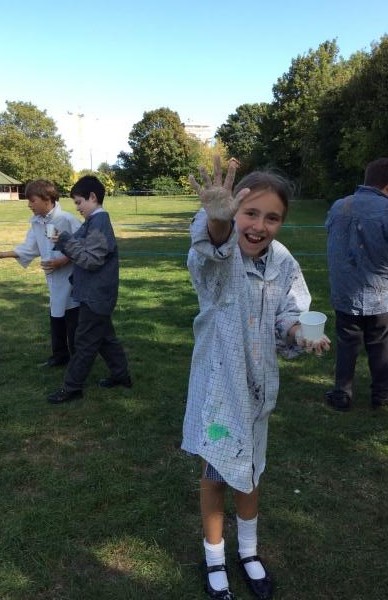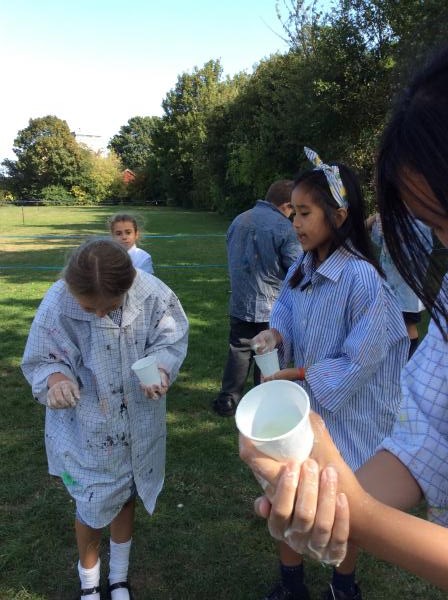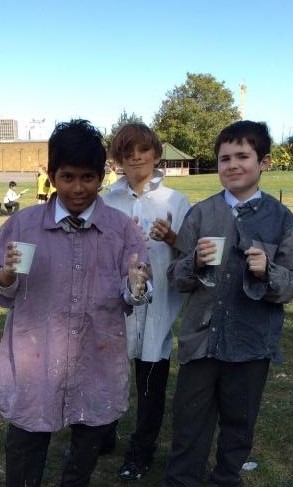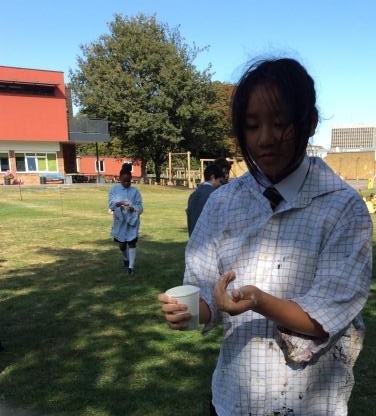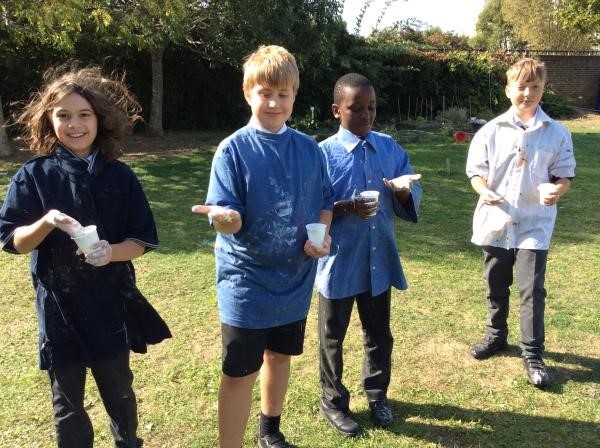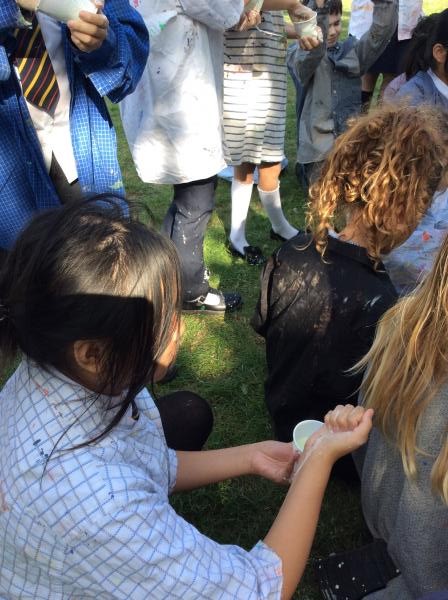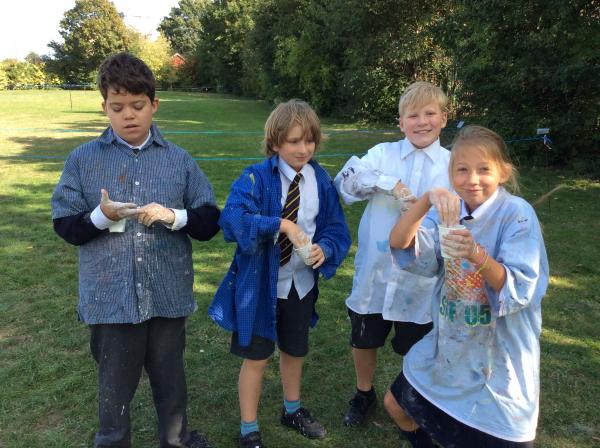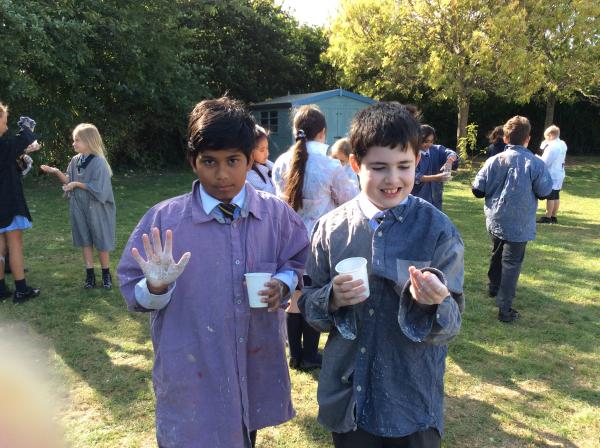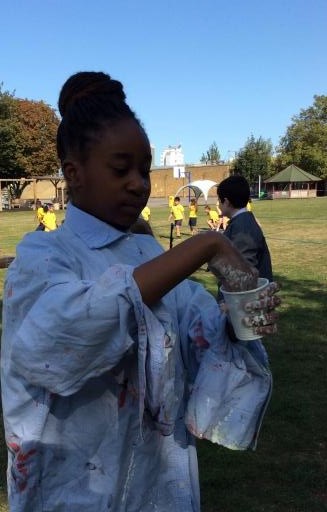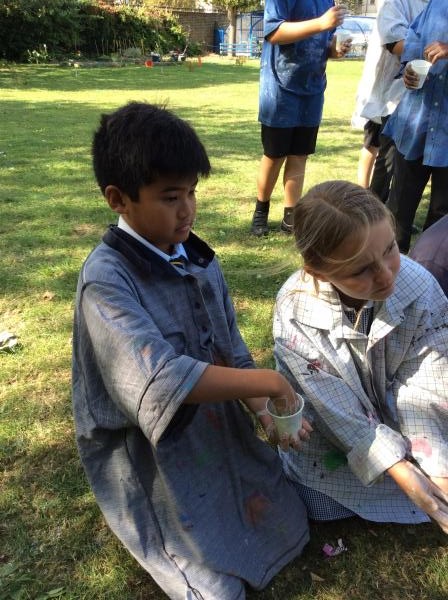 Mystery solved
Year 6 undertook some detective work today. Someone had disappeared and there were certain clues left! Ask your children to explain what clues were recovered. Year 6 described a setting based upon what they had seen.
Good detective work year 6!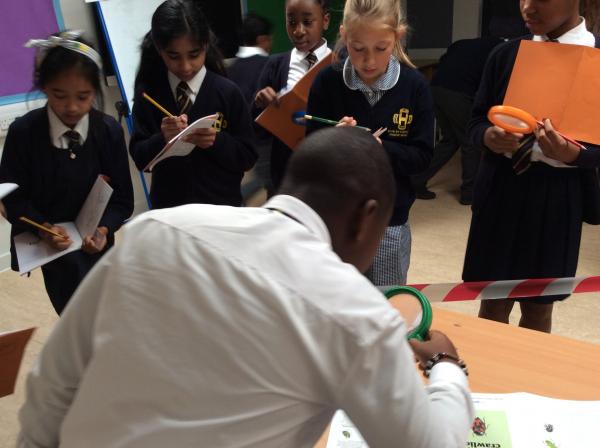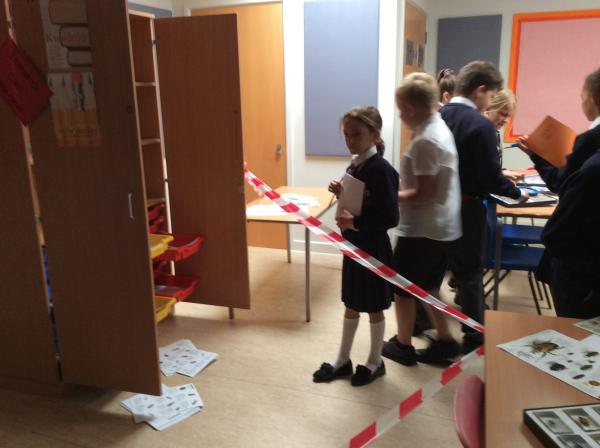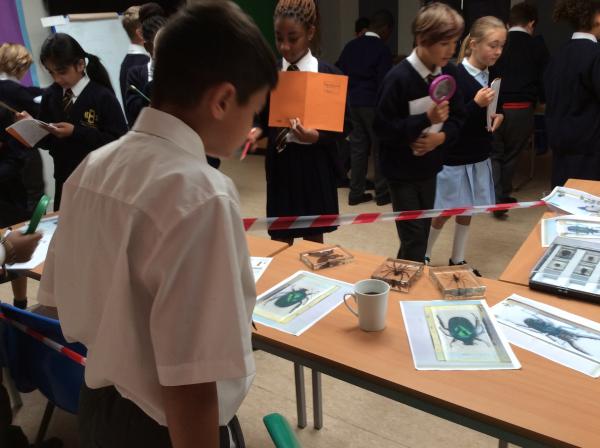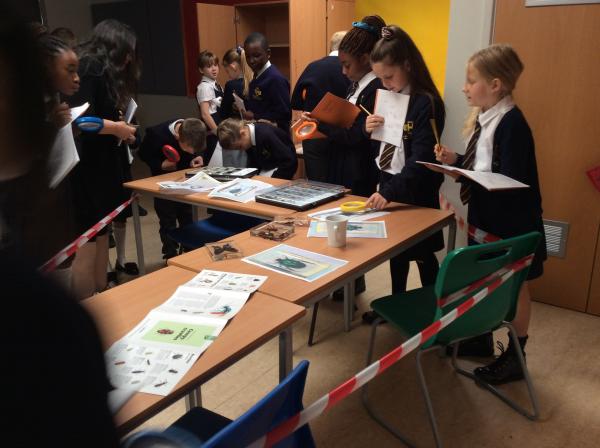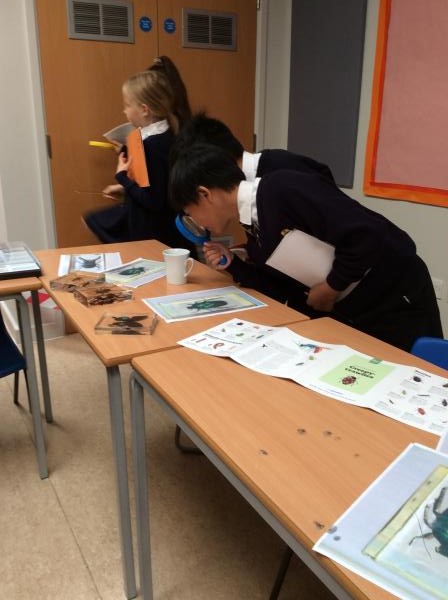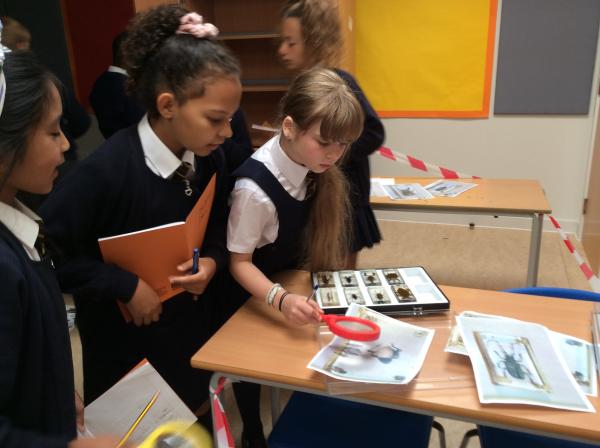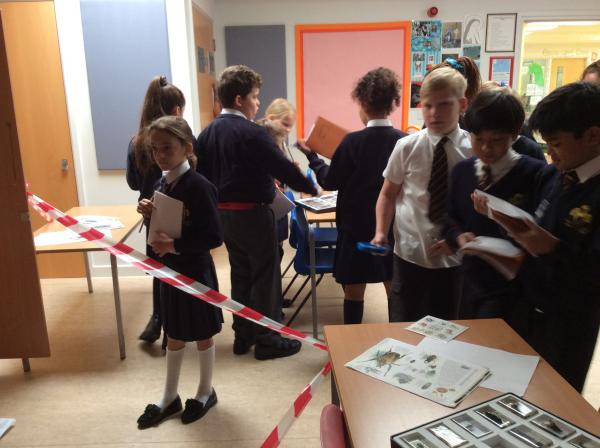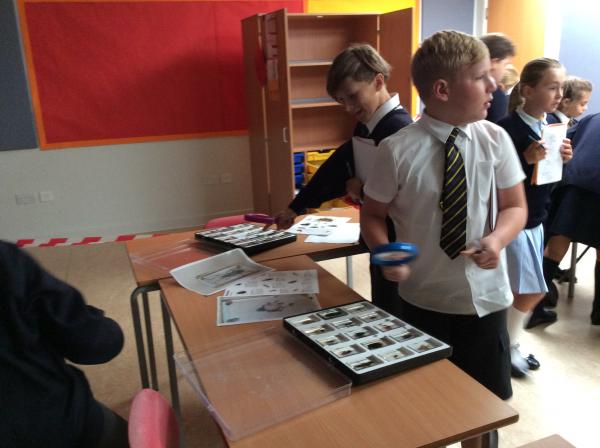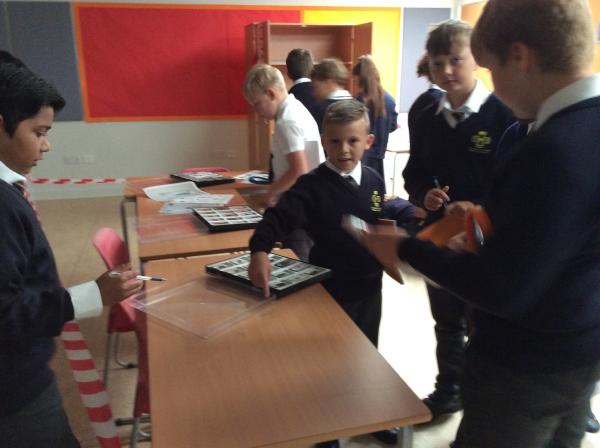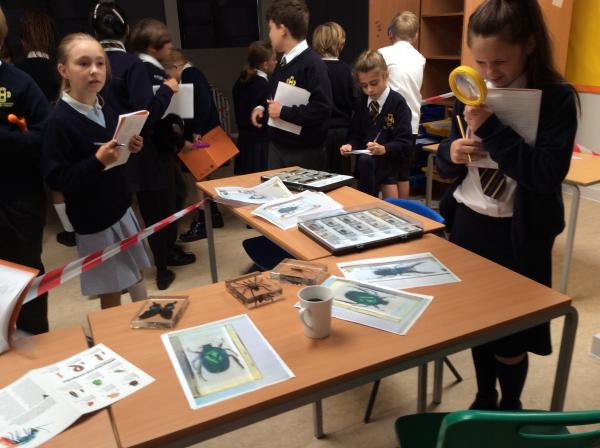 Investigating Balance
Year 6 enjoyed experimenting with balancing cans today. They asked questions :
Does the amount of liquid affect the balance?
Does the type of can affect the balance?
They found some surprising results.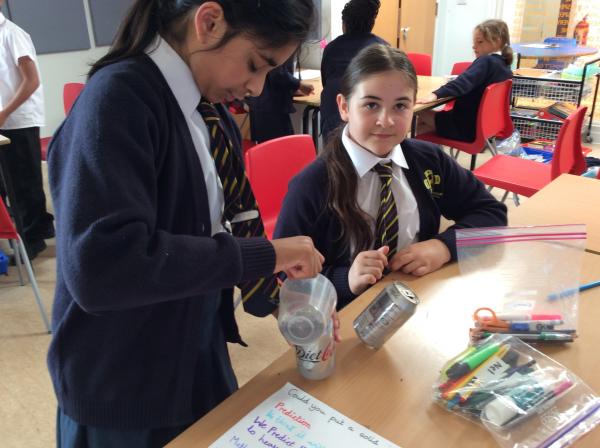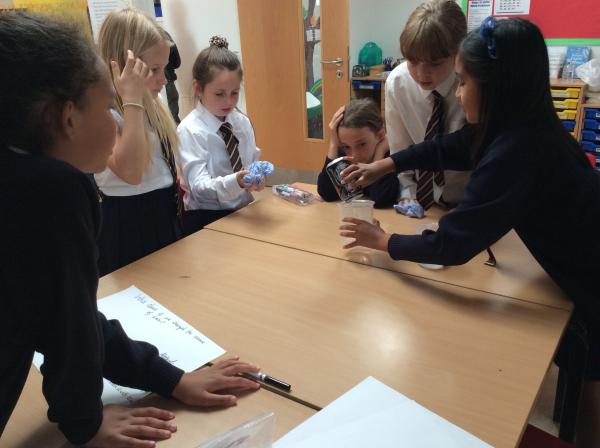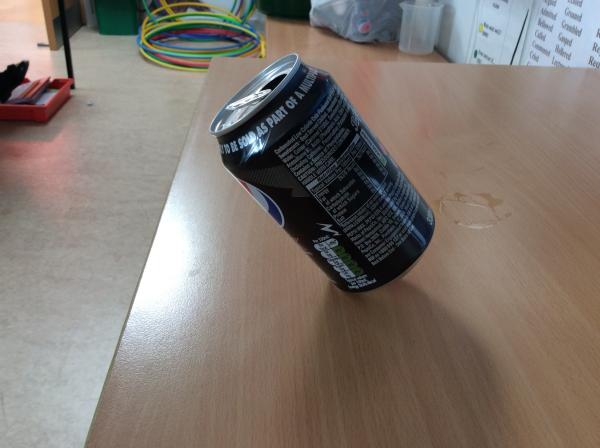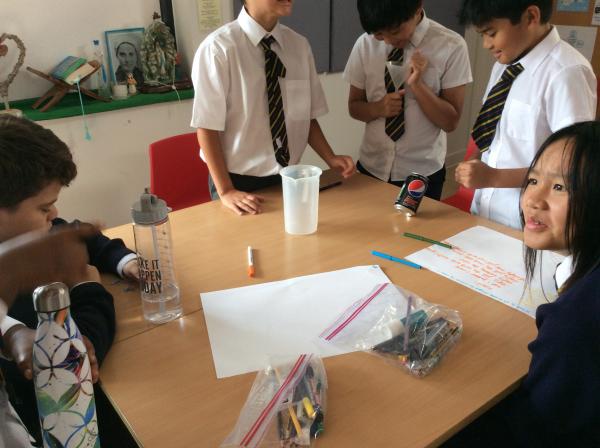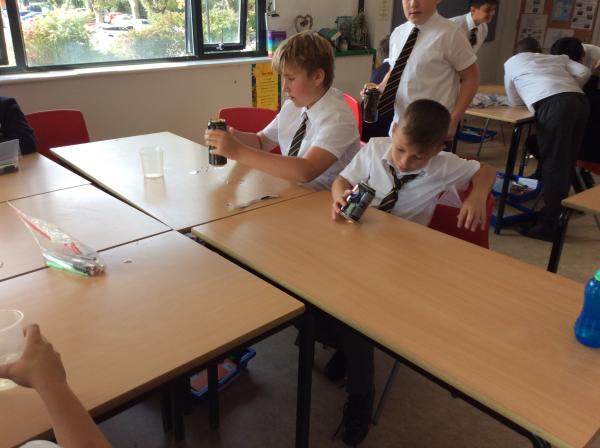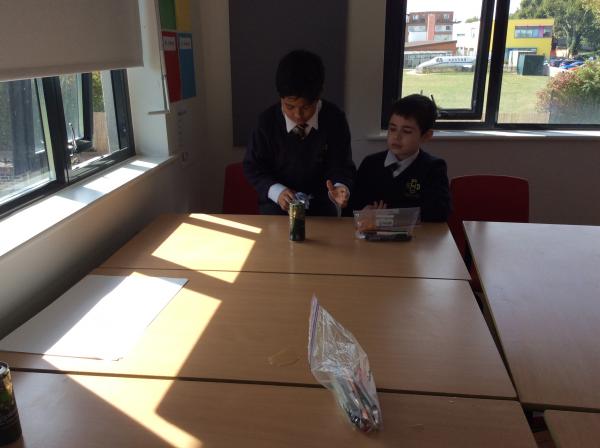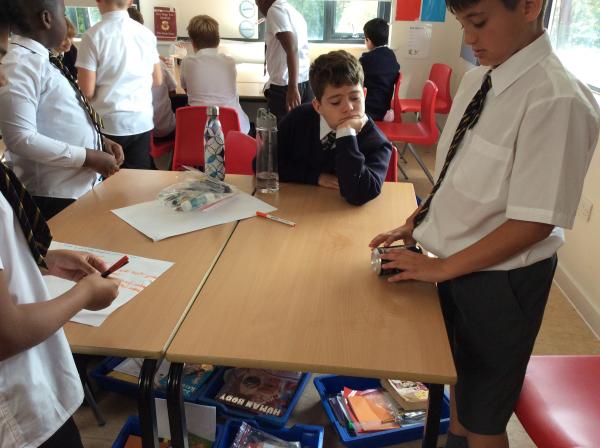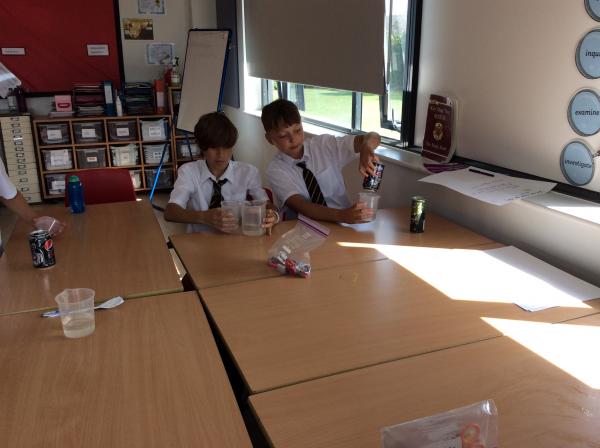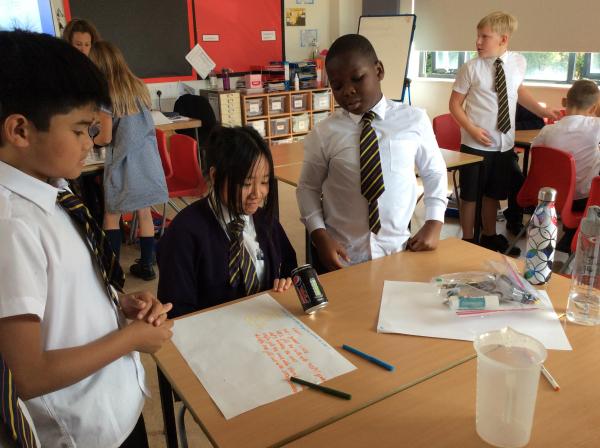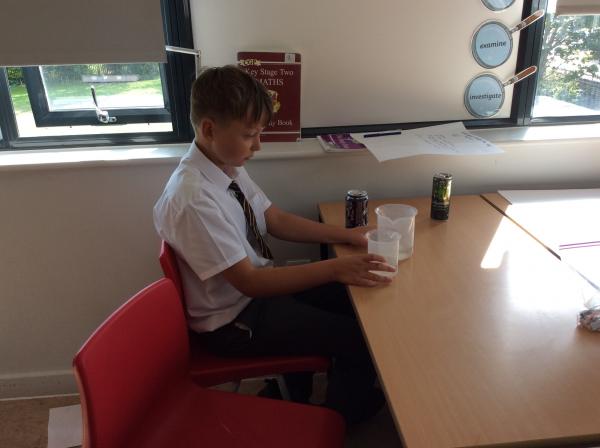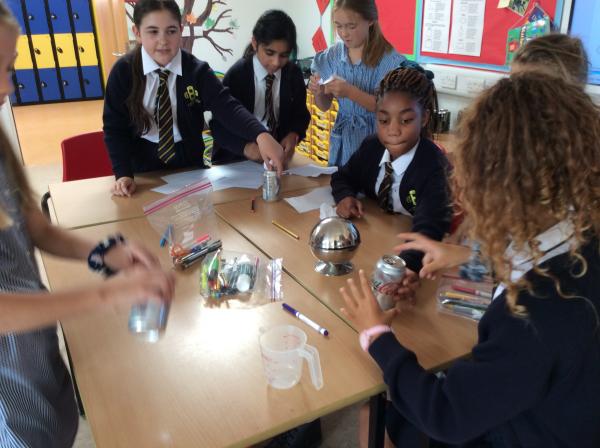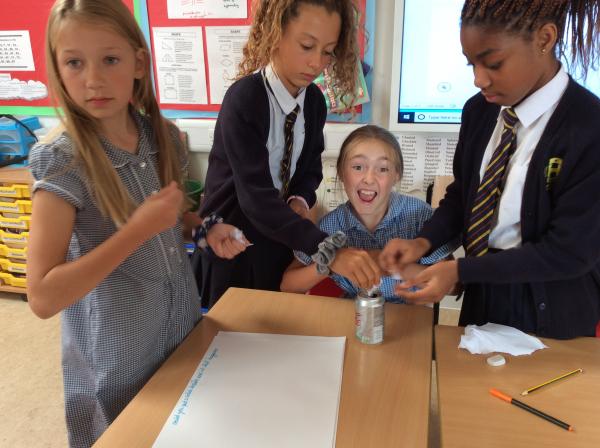 Sorting Shapes
Year 6 enjoyed learning about shapes today and sorting them according to their properties. Lovely to be outside in the sun!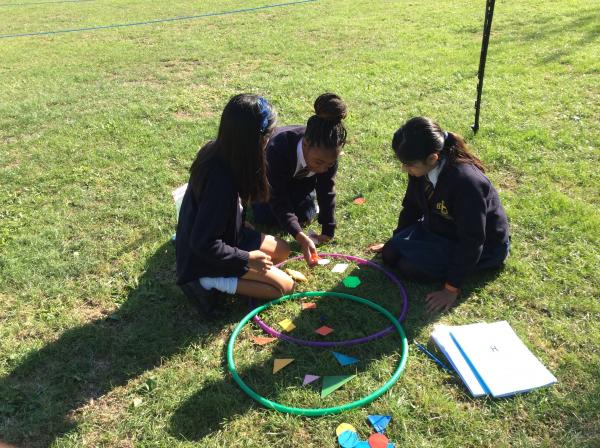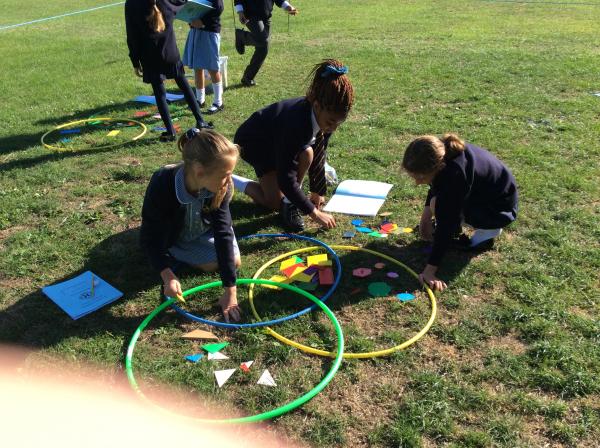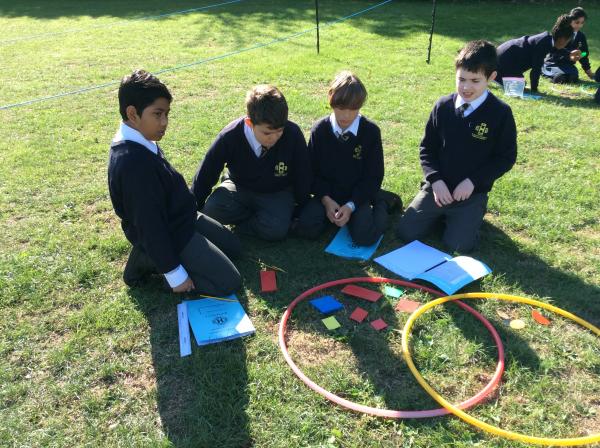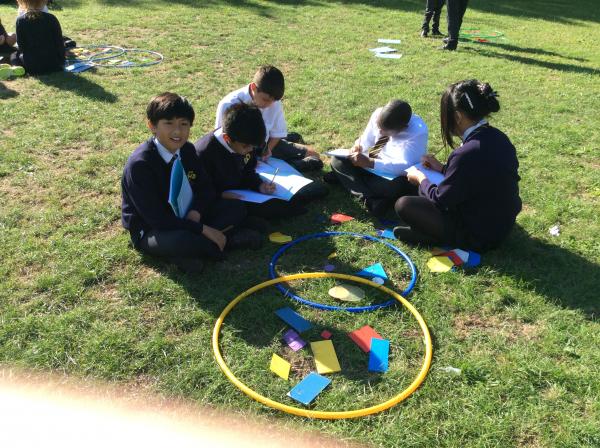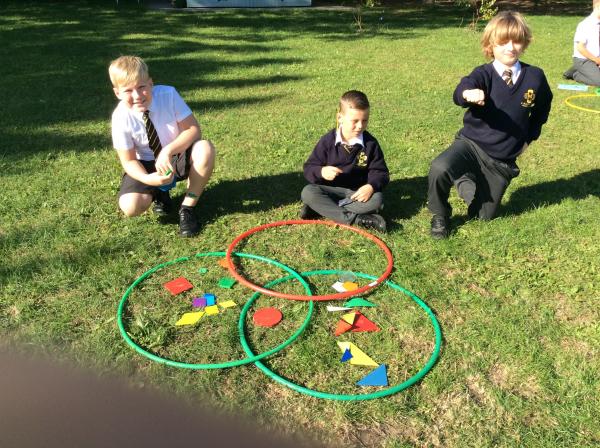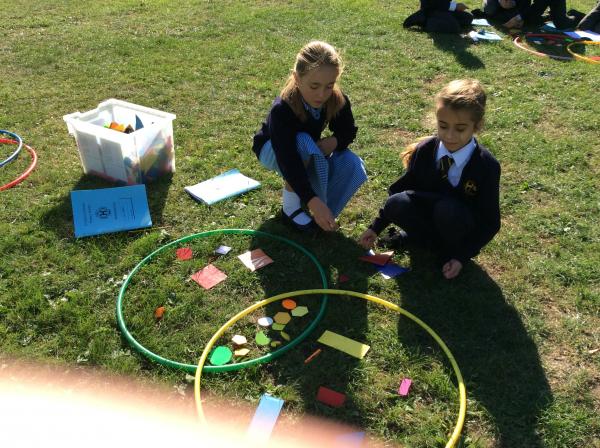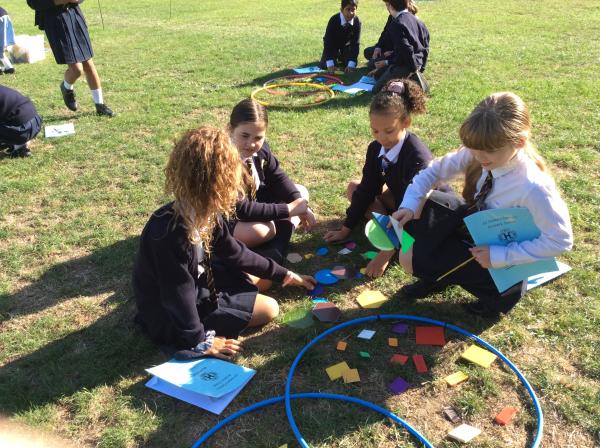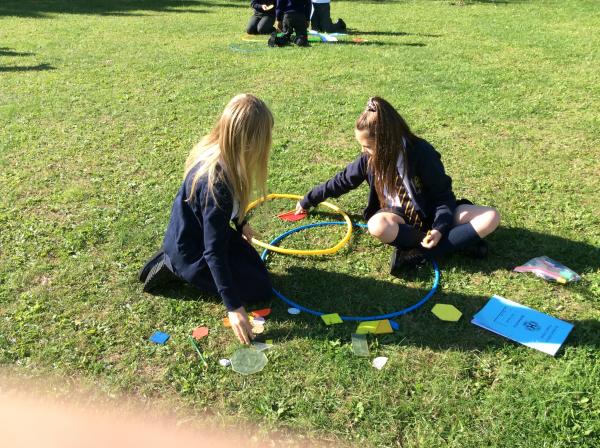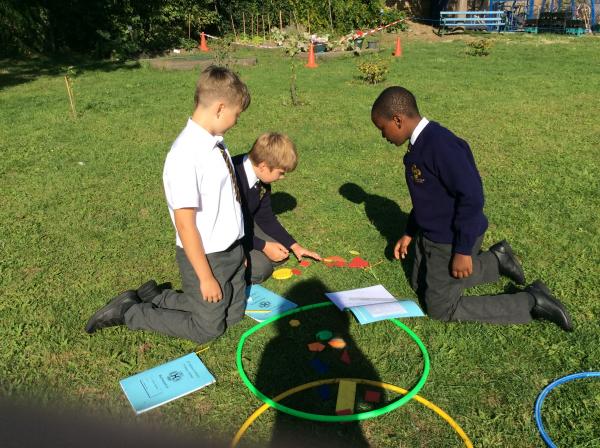 Year 6 Leavers Powerpoint
Click below to view the Powerpoint.
Welcome to your New Class 6
Click below to view the Powerpoint.
Hunting for Fossils
Year 6 enjoyed an hour of fossil hunting today - trying to extract chocolate chips from the cookies! It was a slow and delicate process!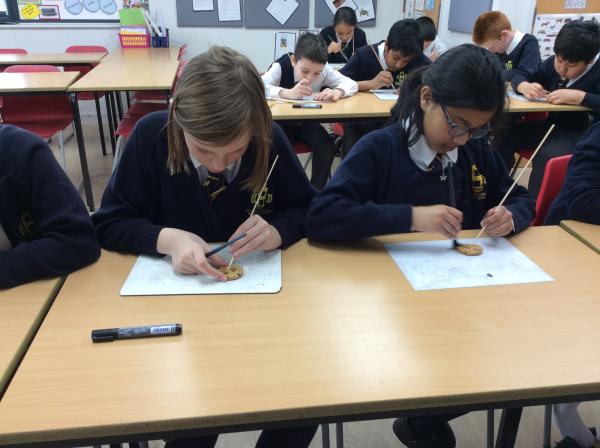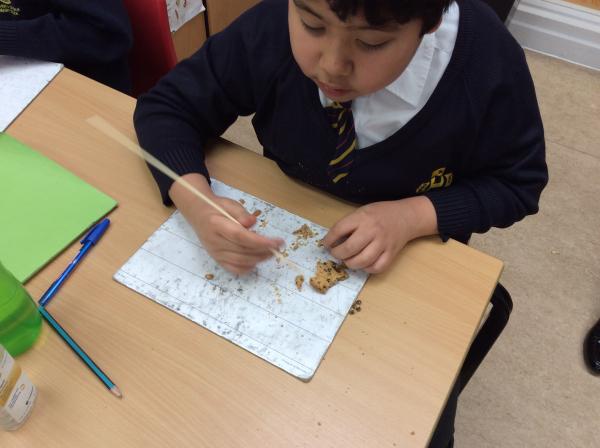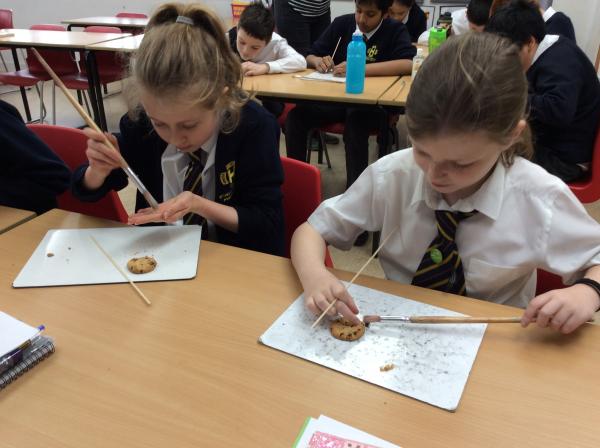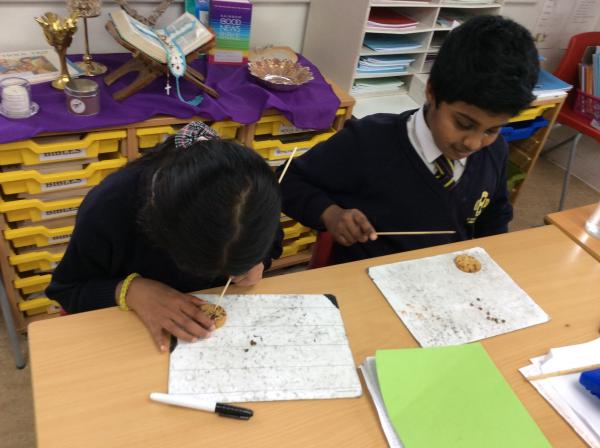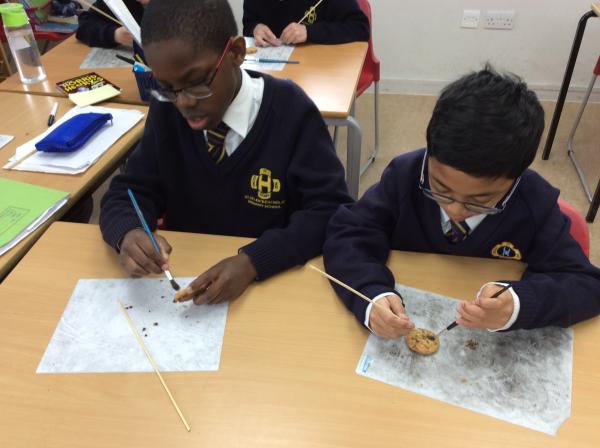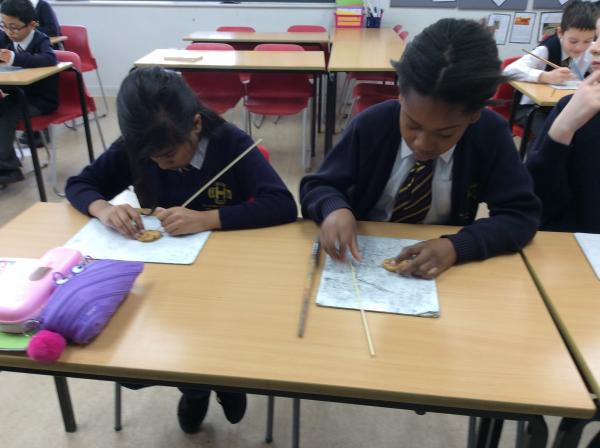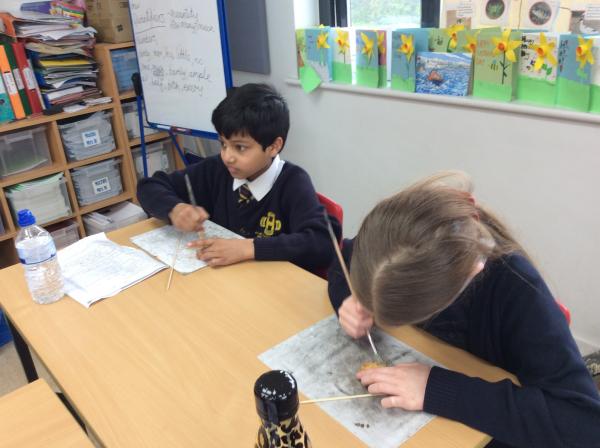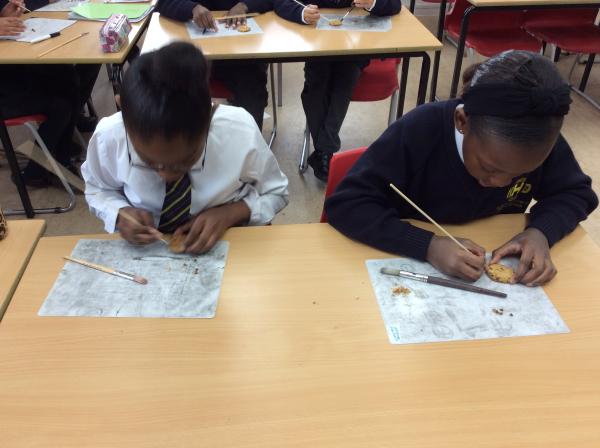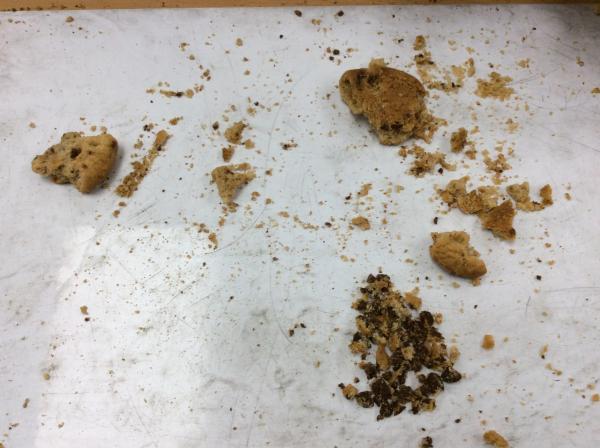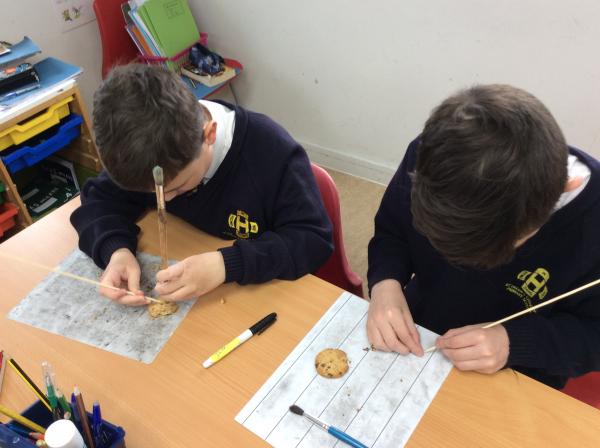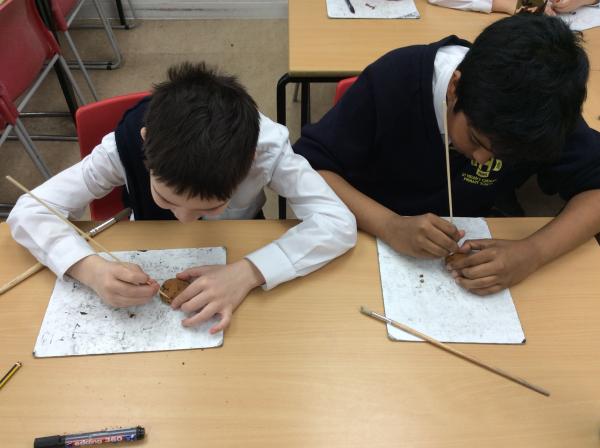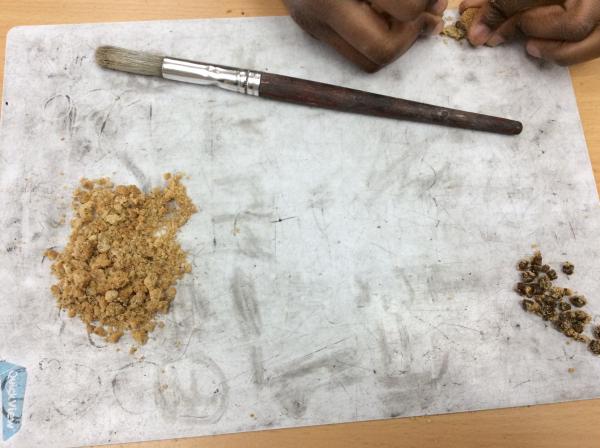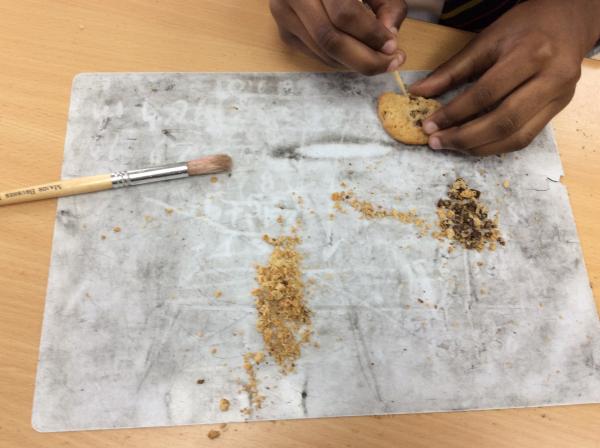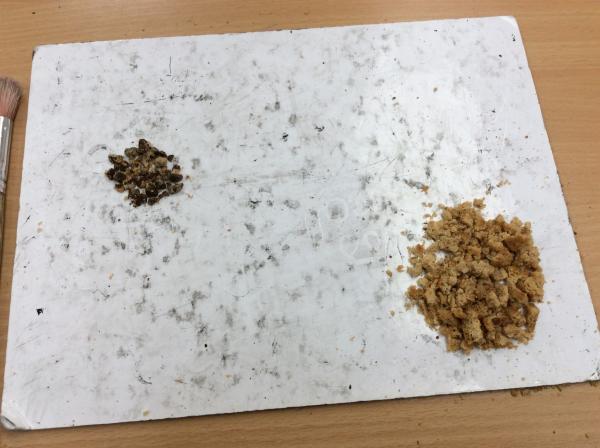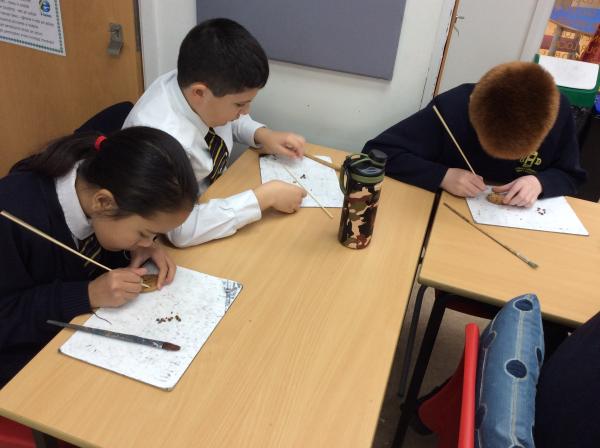 Fascinating Fossils
Year 6 enjoyed their fossil talk from Mrs Howe today. We will be learning more about fossils in the coming weeks so can't wait to get started. It was exciting being able to touch the fossils and see them first hand.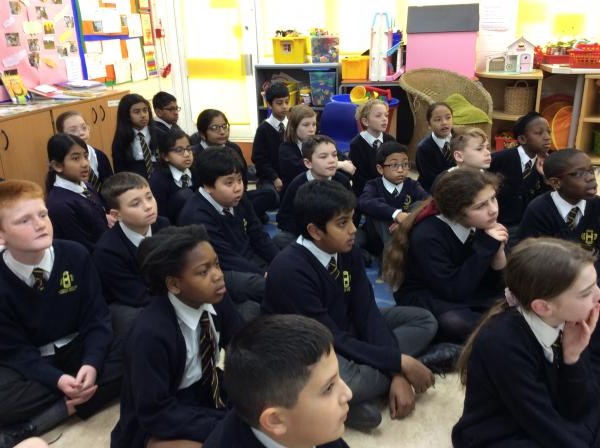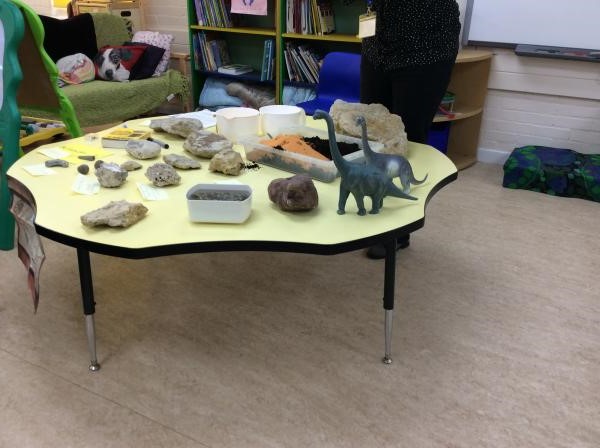 Wind Power
In light of all our work on Zimbabwe, Year 6 were designing alternative energy sources today including the use of wind turbines. Have a look at the making process and also our finished products!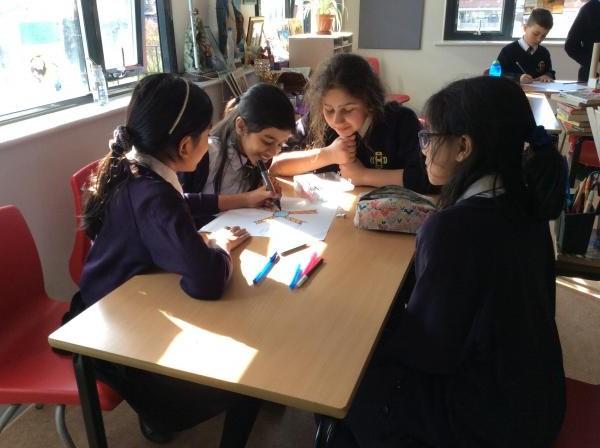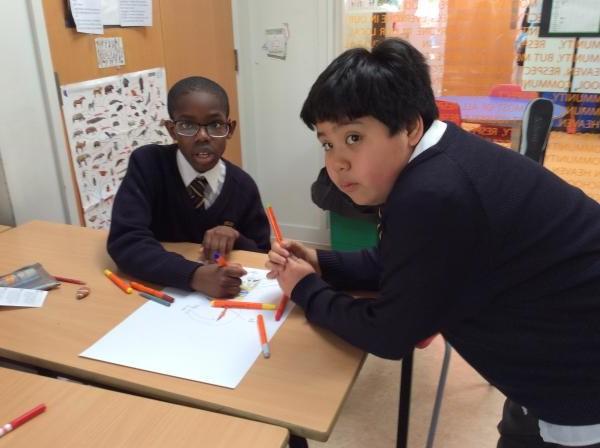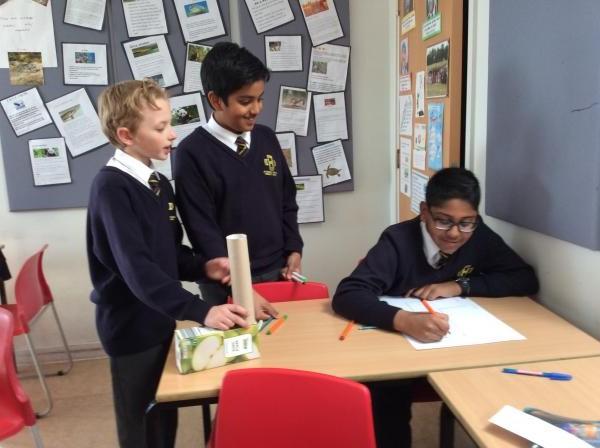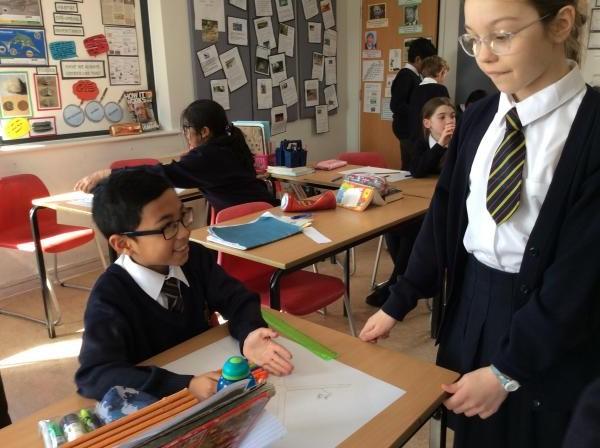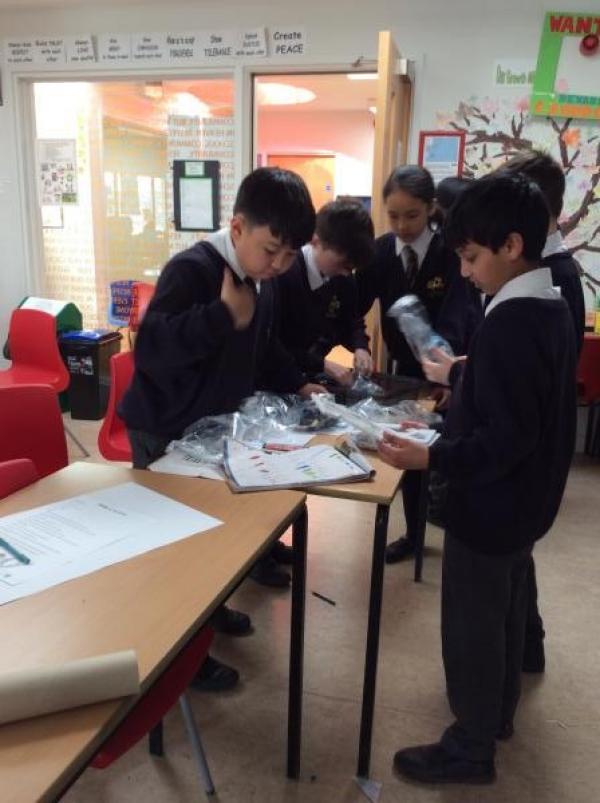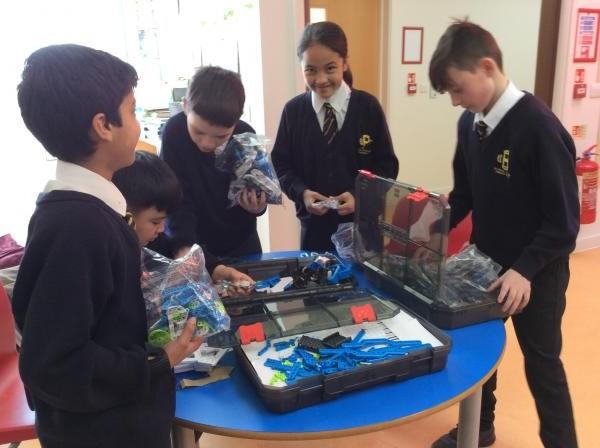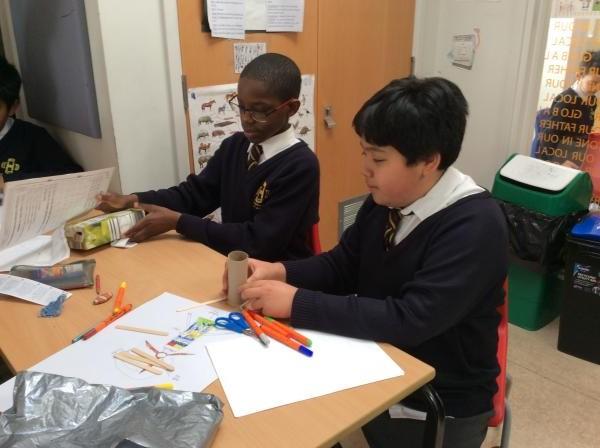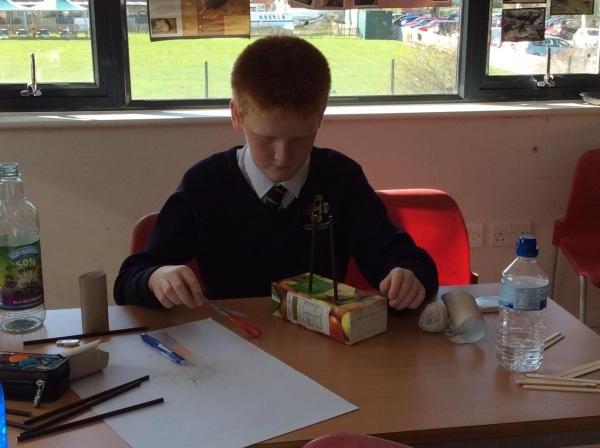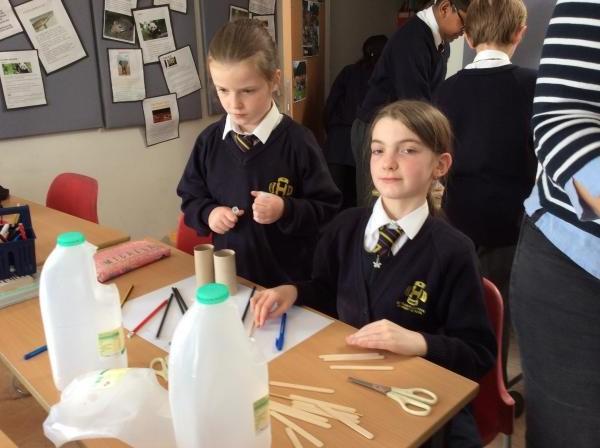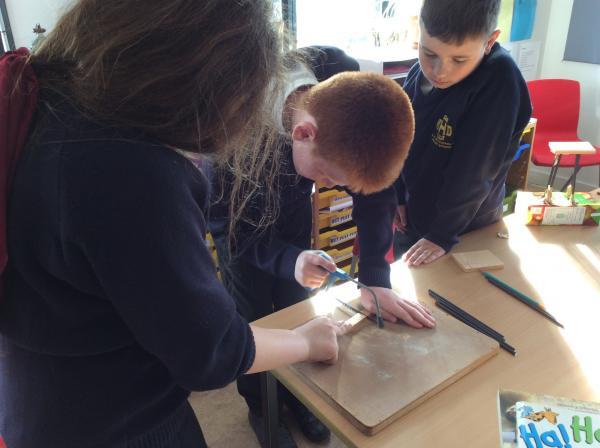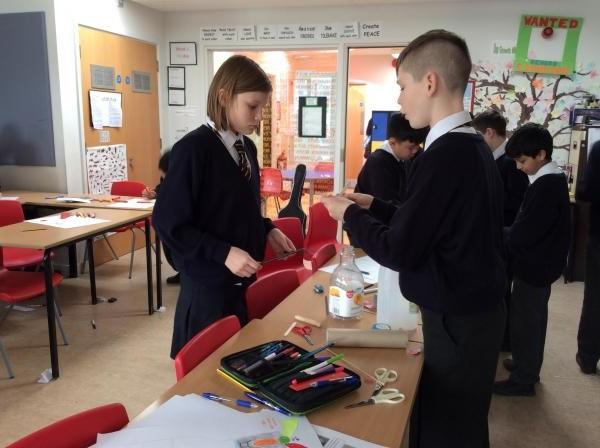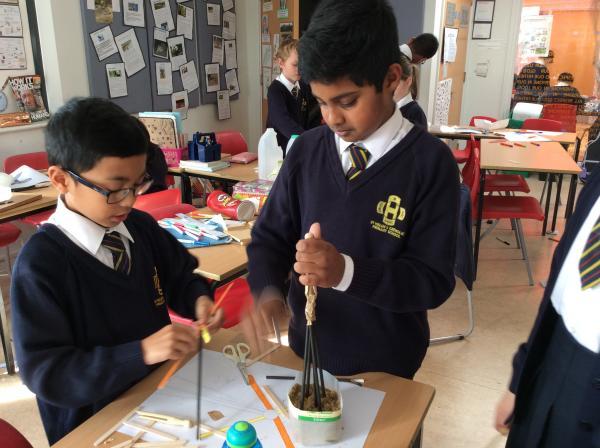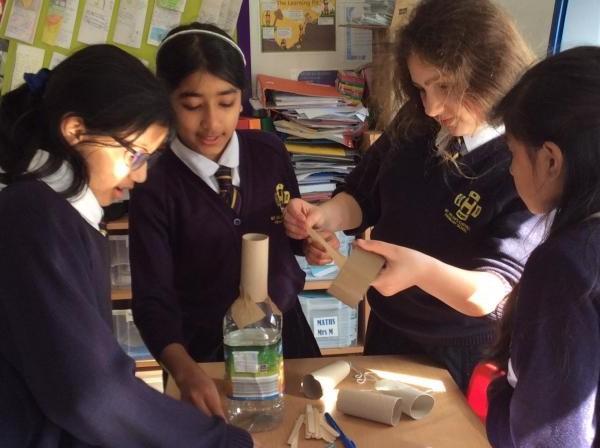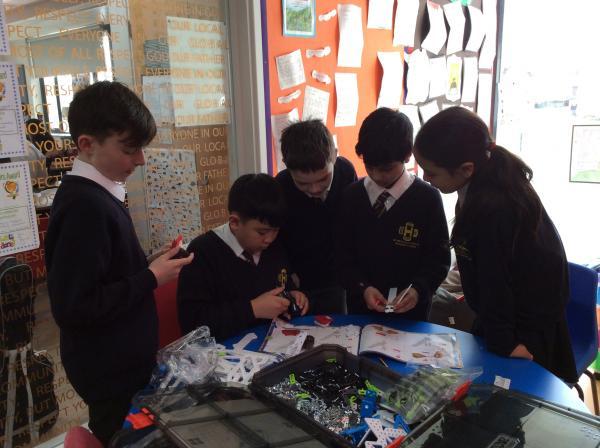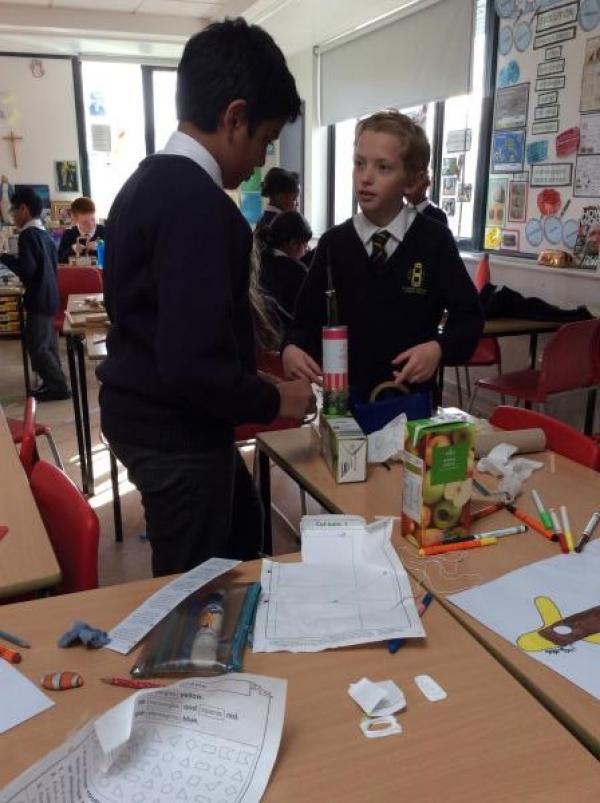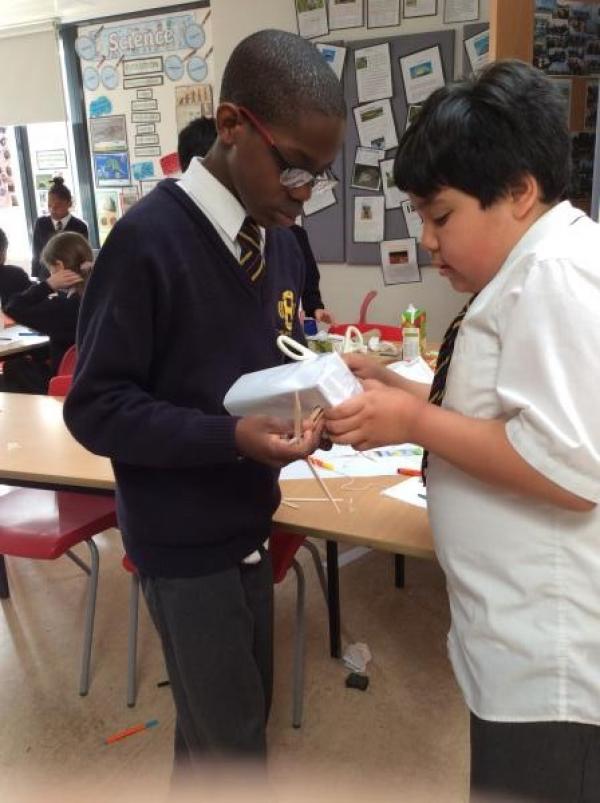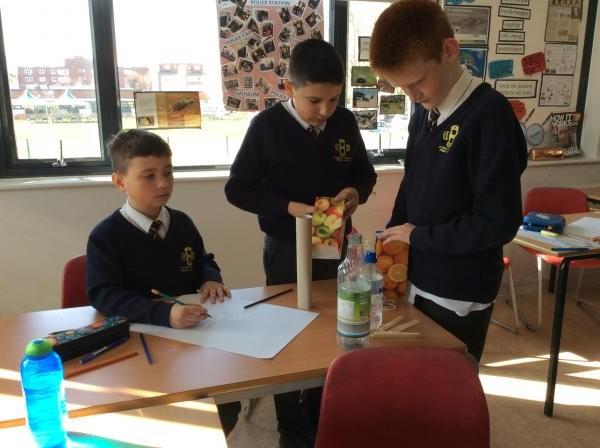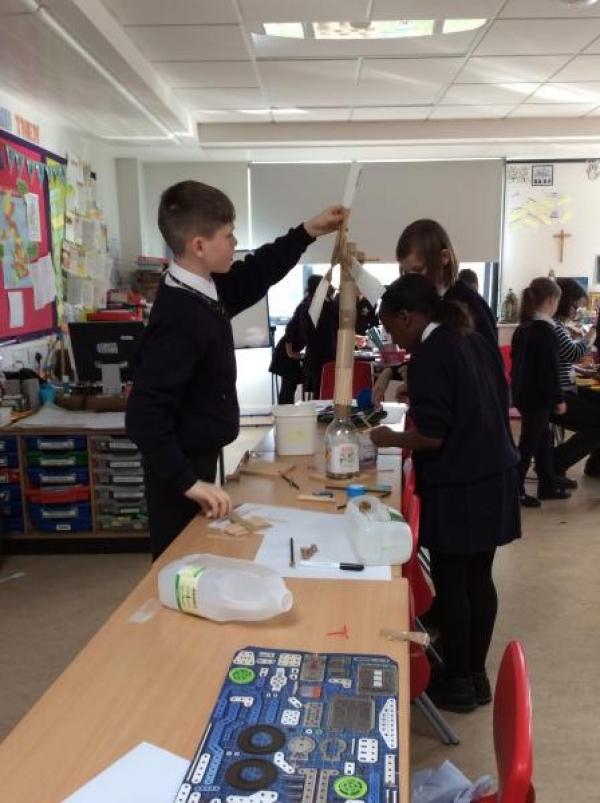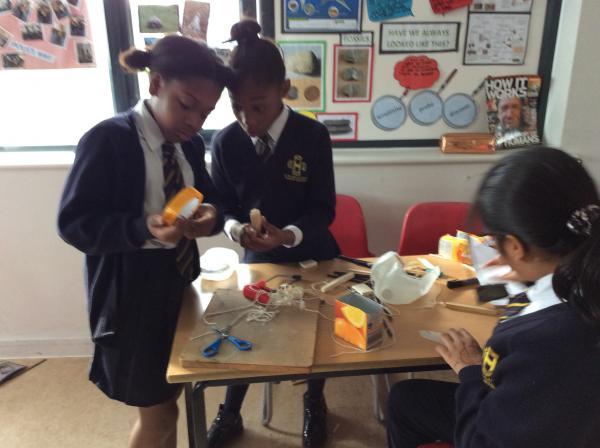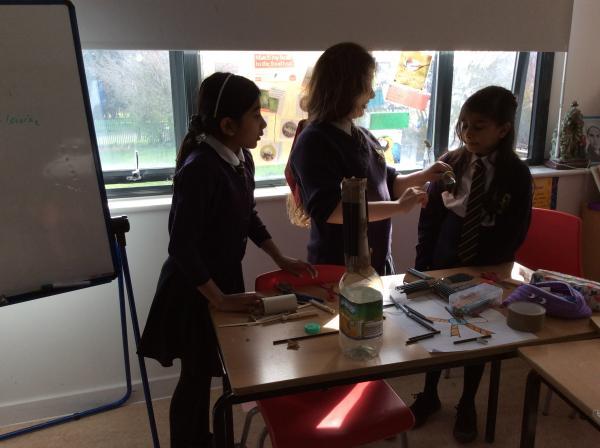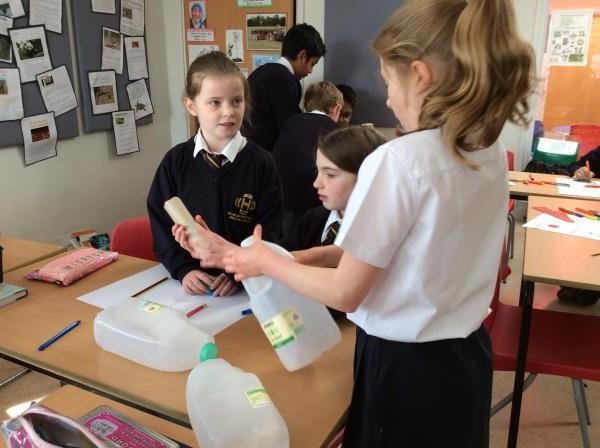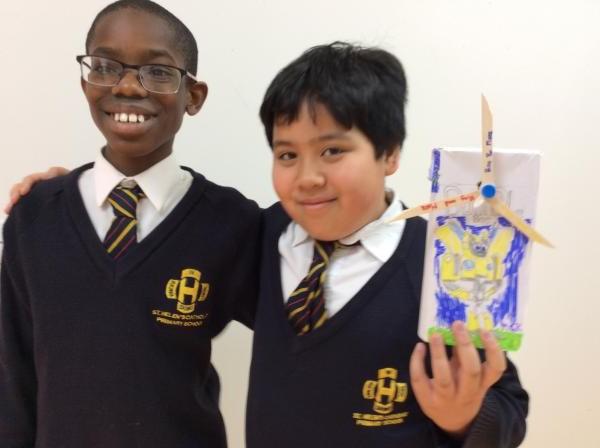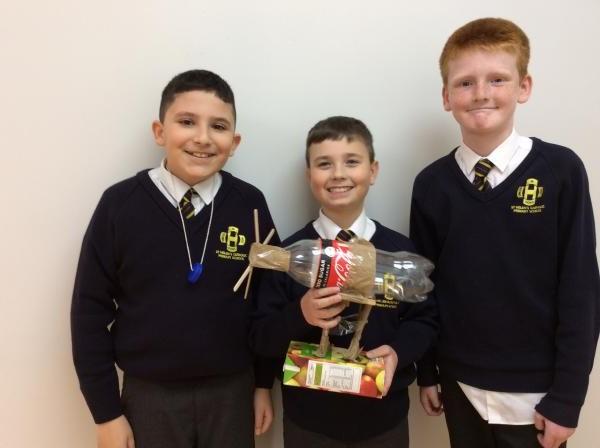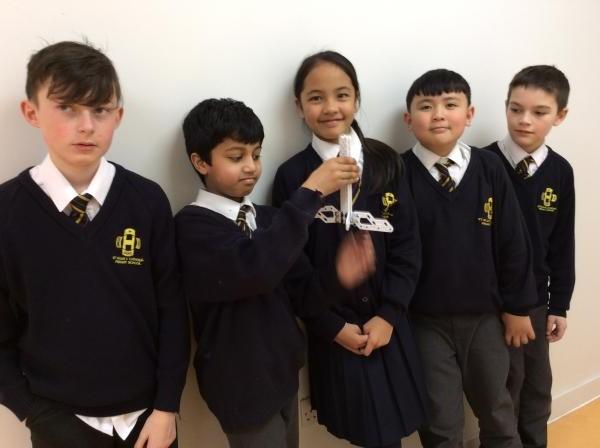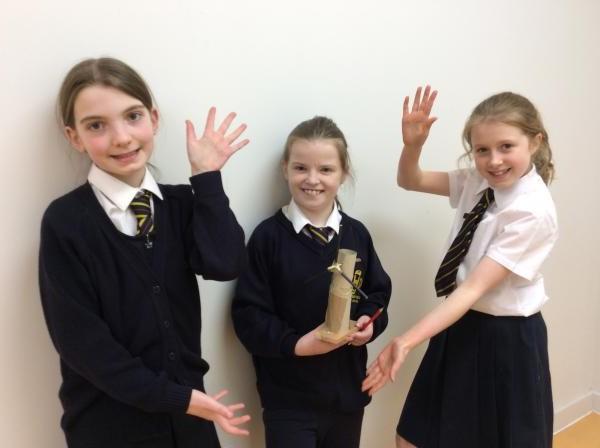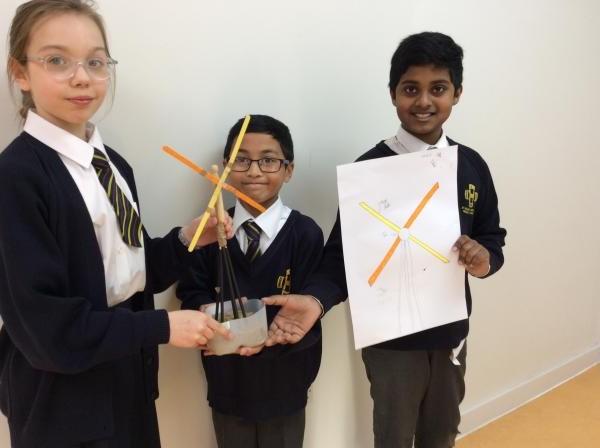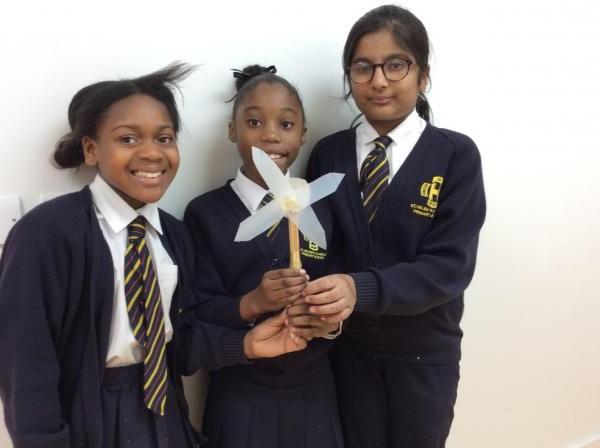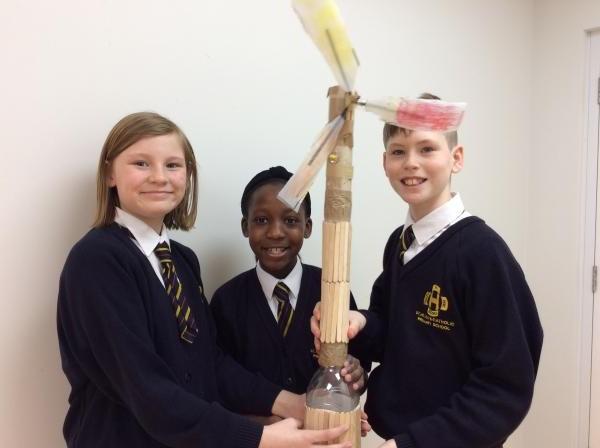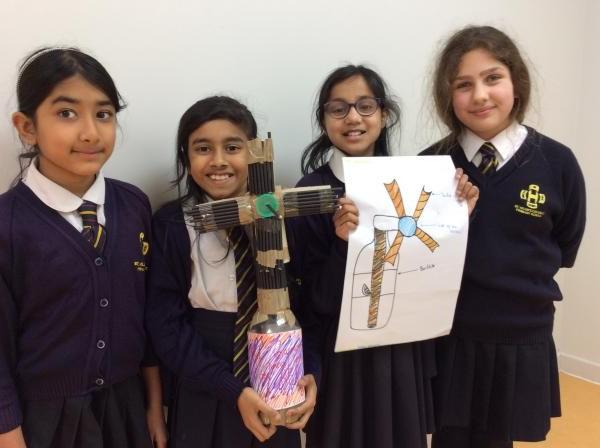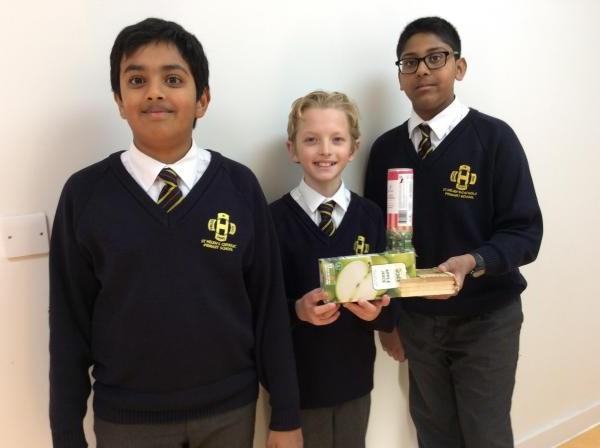 Water Carriers
Year 6 had to carry water as people do in Zimbabwe. They completed the daily mile route but found carrying the water hard going and keeping all the water tricky!
They also attempted to clean dirty water. Ask the children about what filtering material was best - the results shocked us all!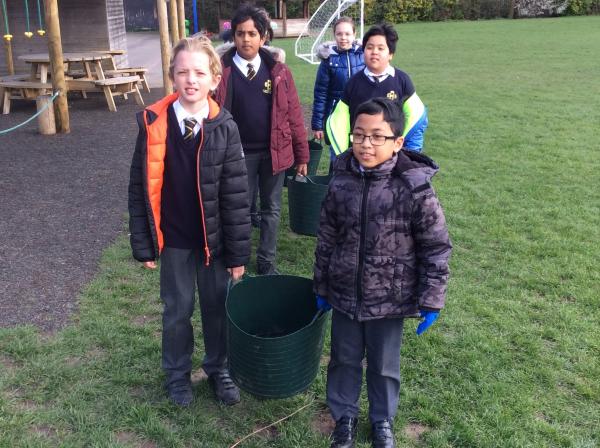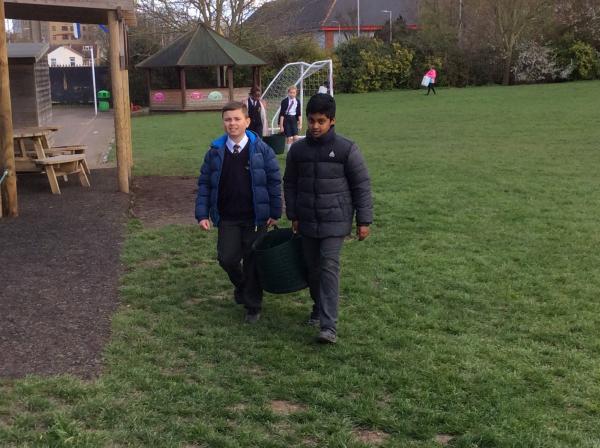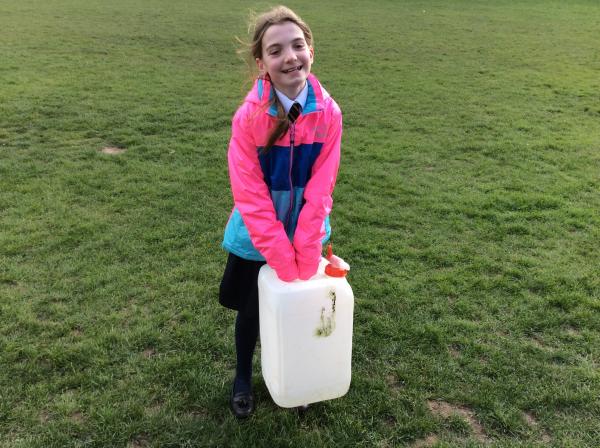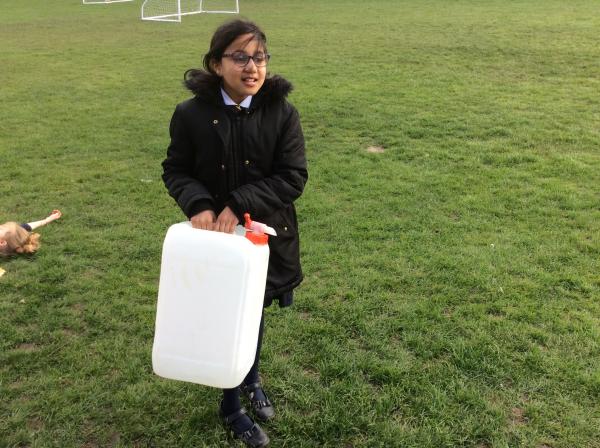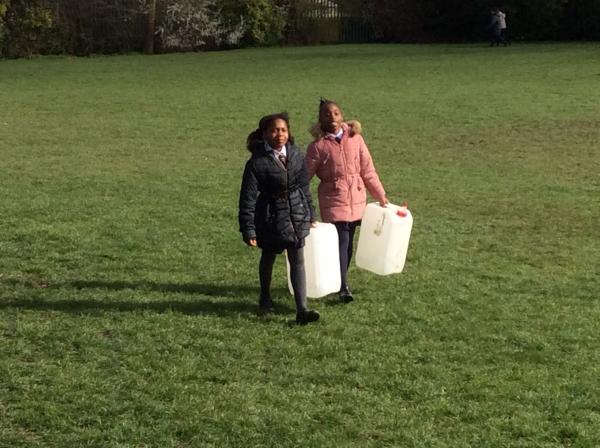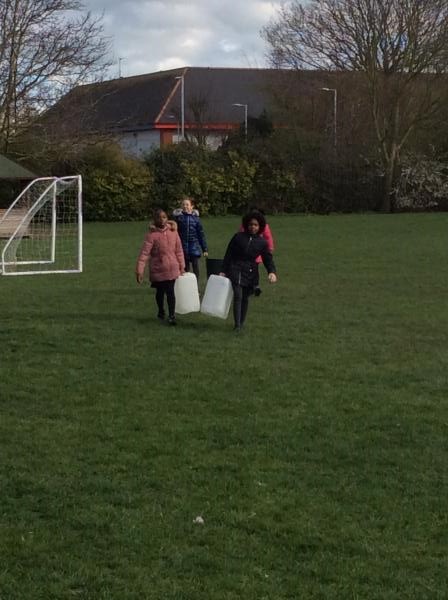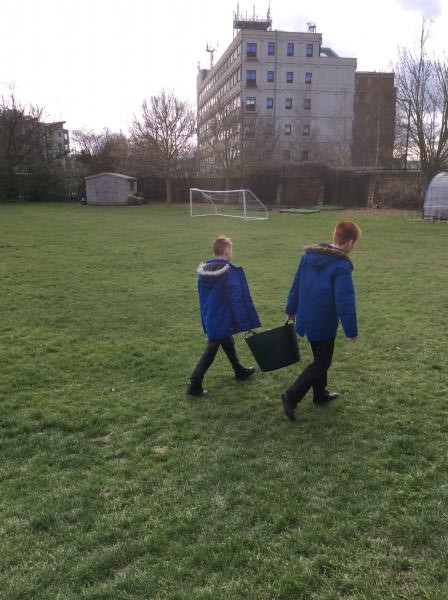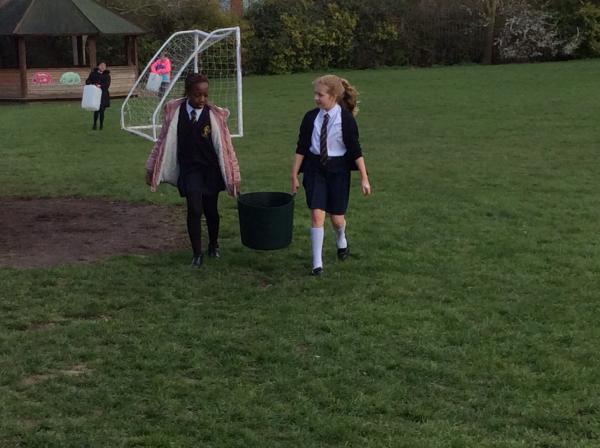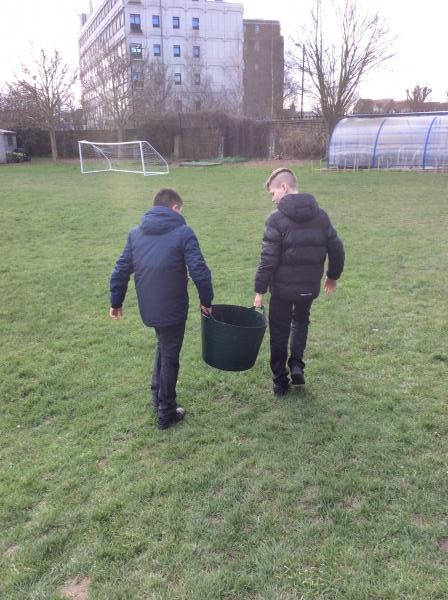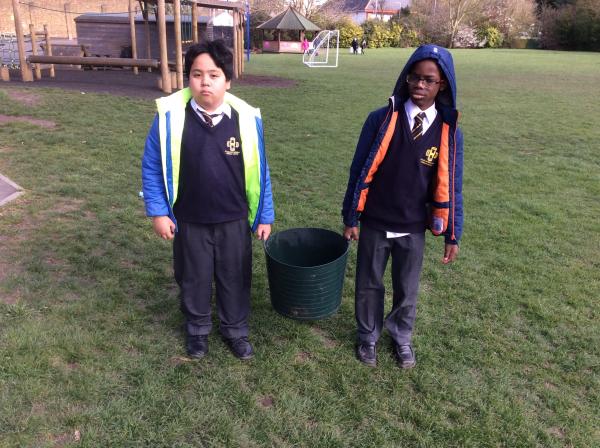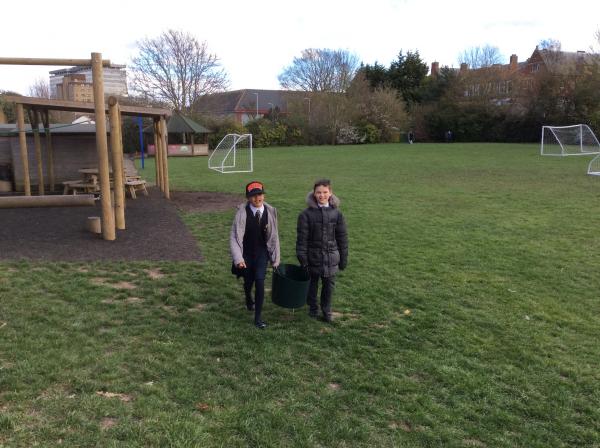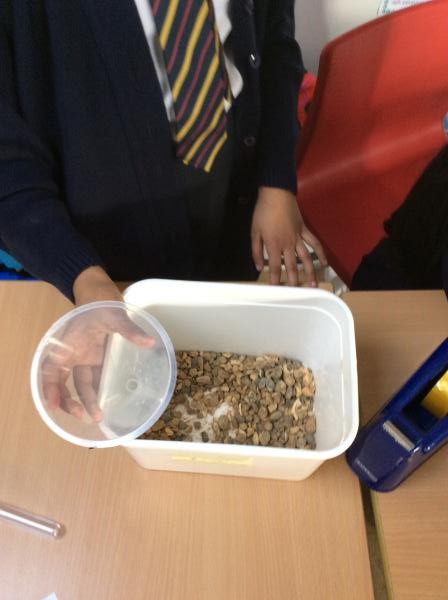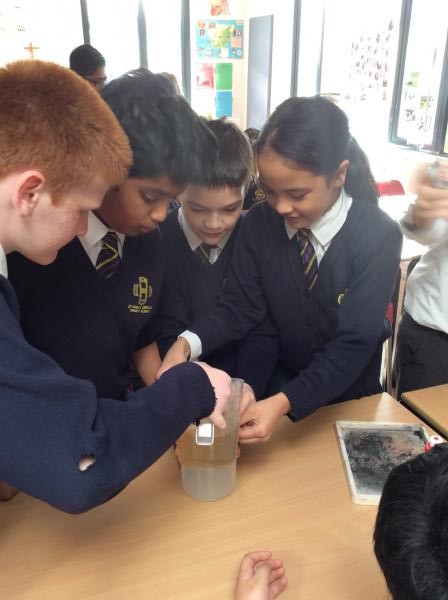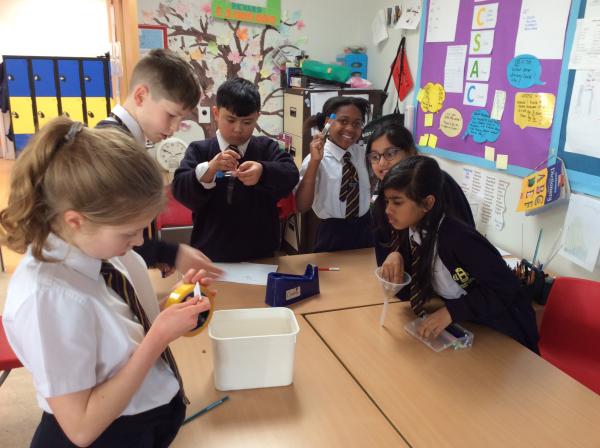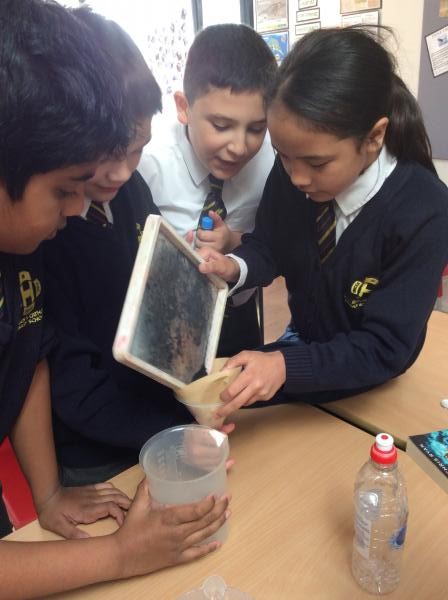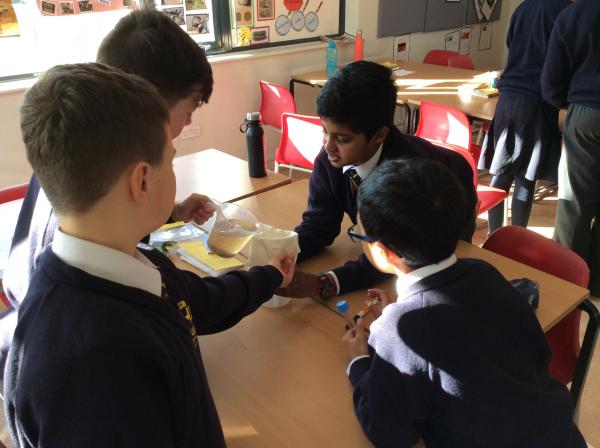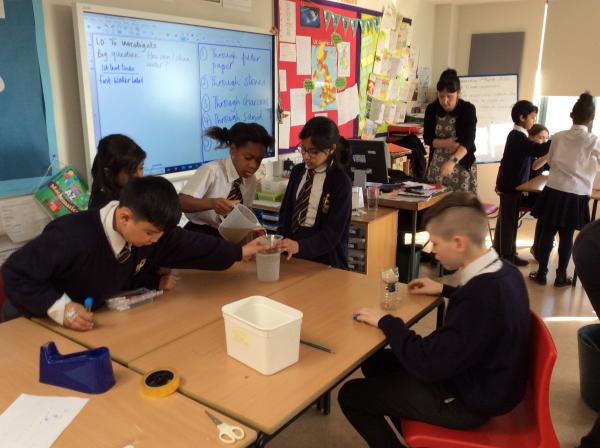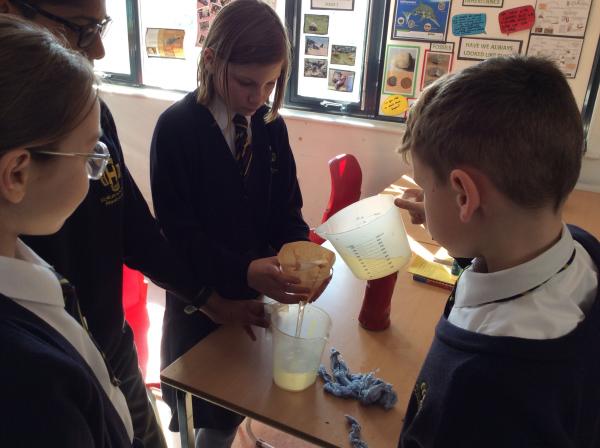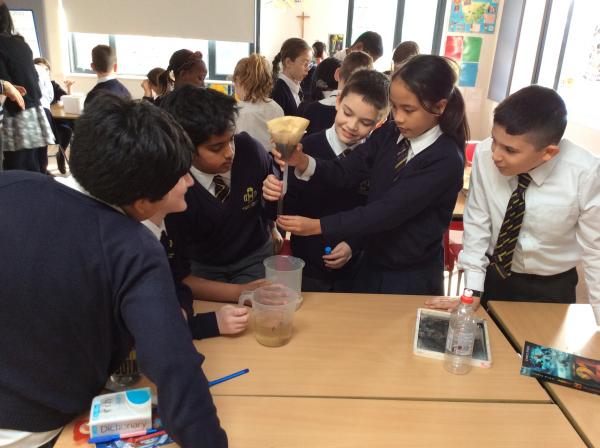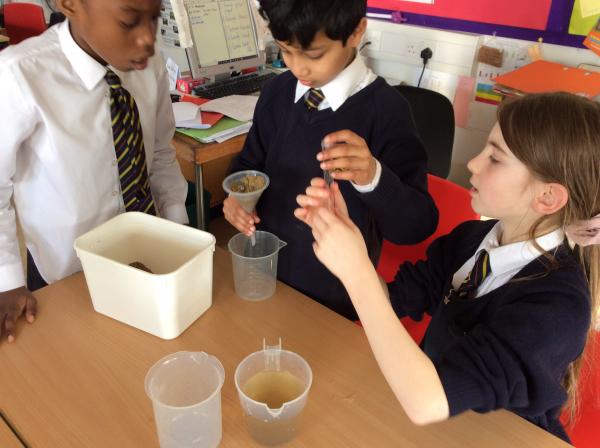 Professor Bubbleworks
Year 6 enjoyed the visit from Professor Bubbleworks today and were given the opportunity to take part in many experiments.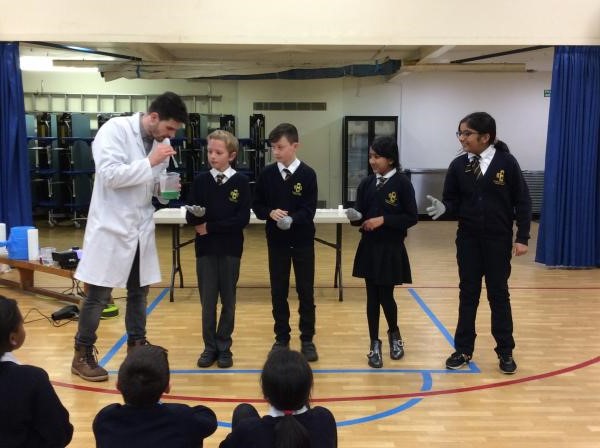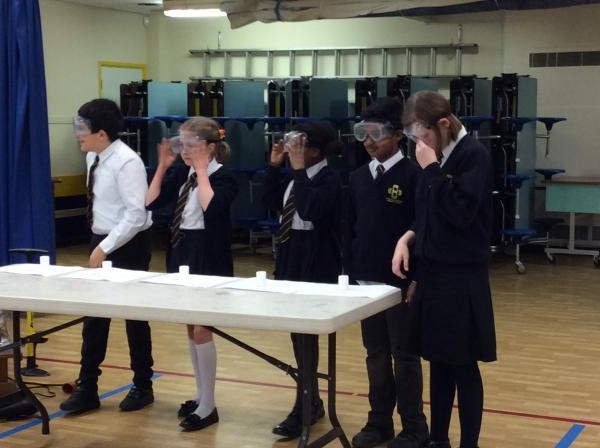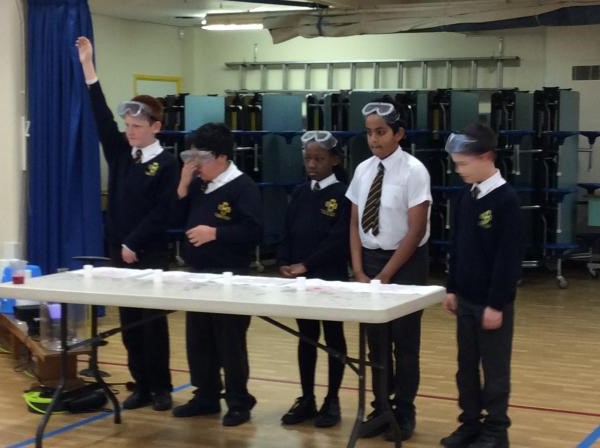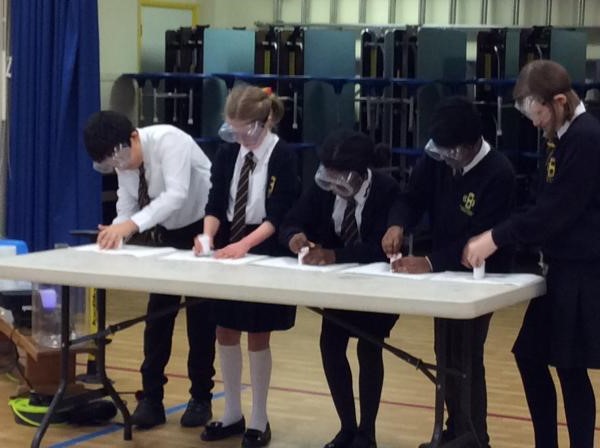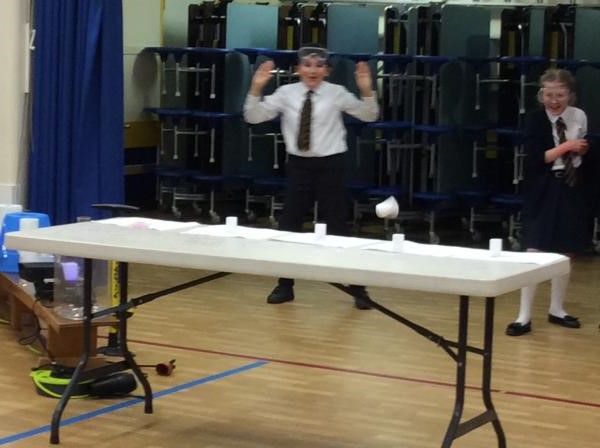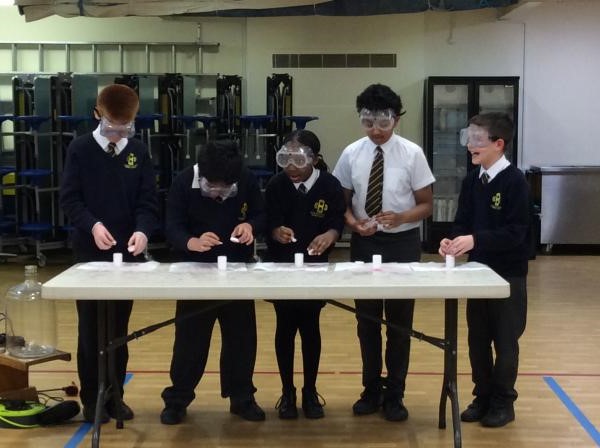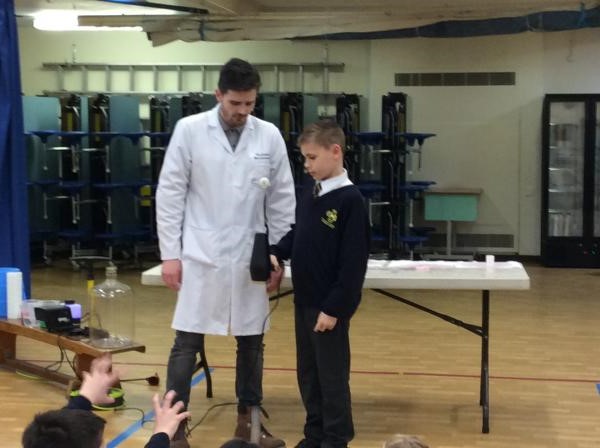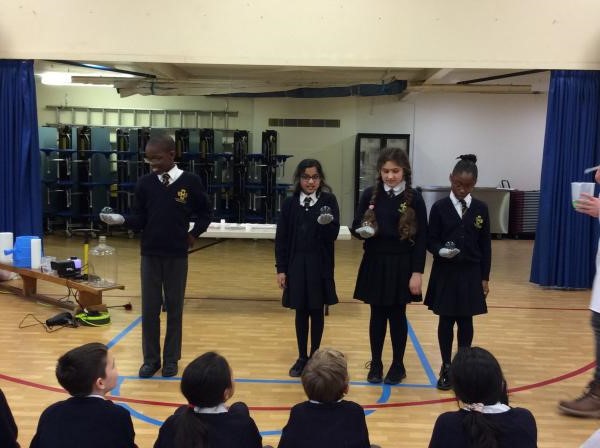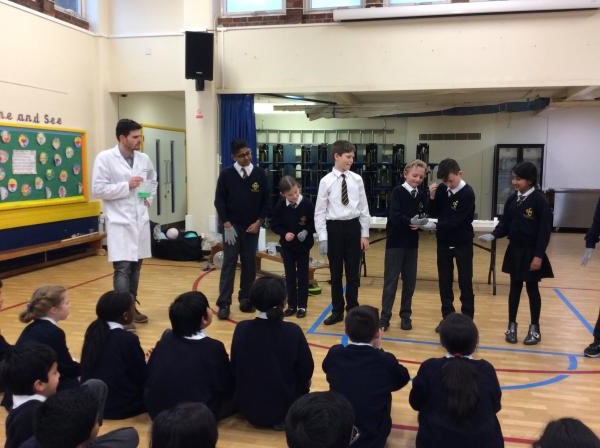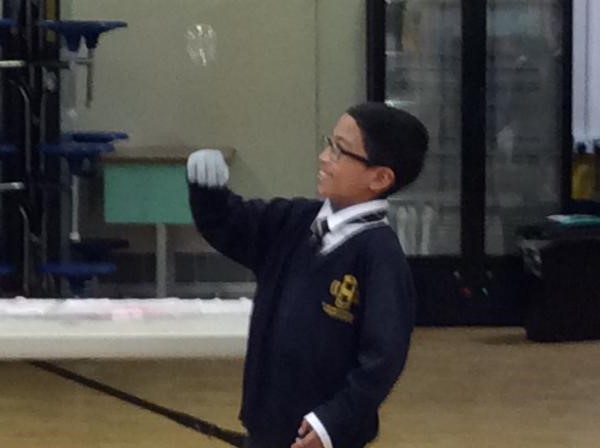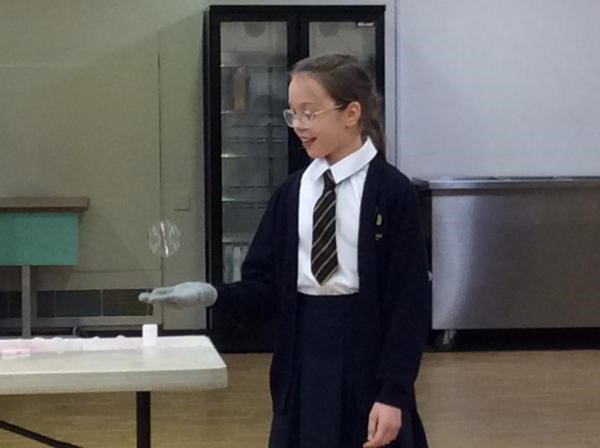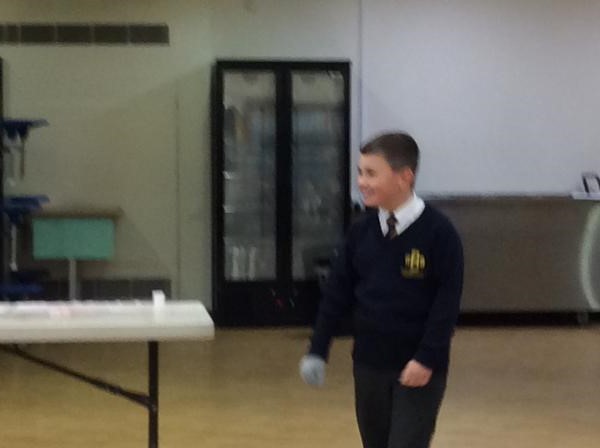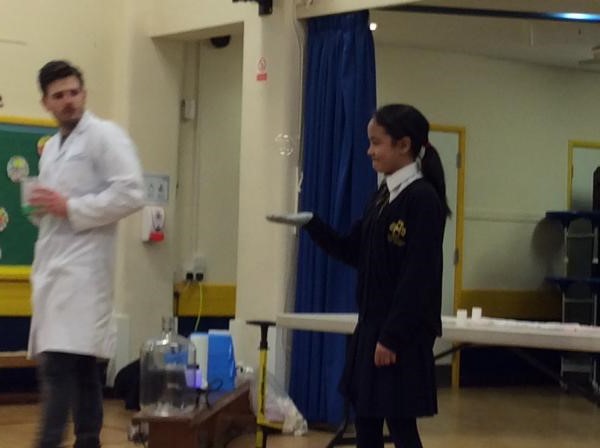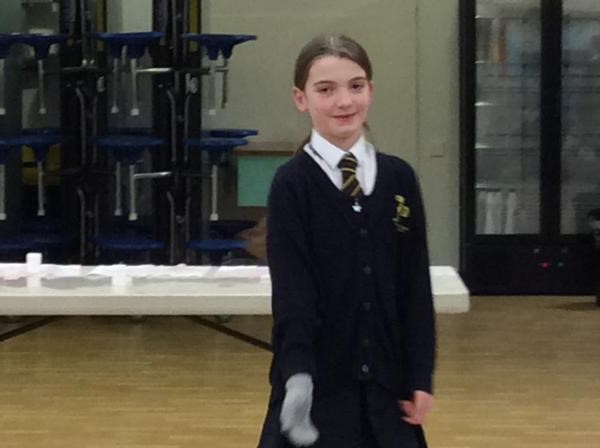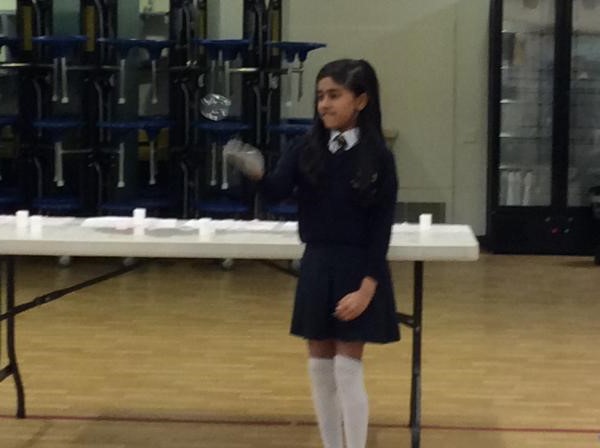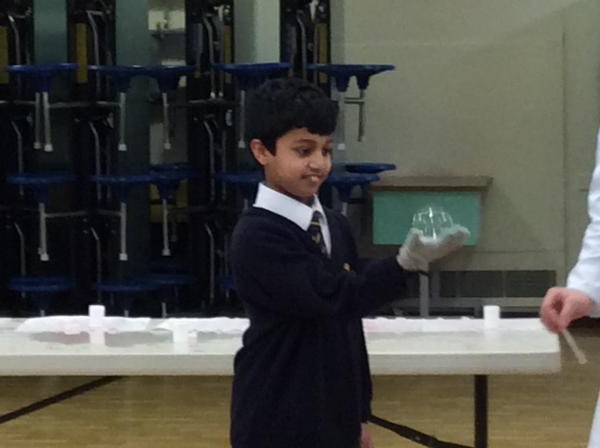 Meccano builds inventive brains!
Year 6 were lucky today and used their Science, Engineering, Technology and Maths skills to build Meccano. The school was lucky enough to receive £400 worth of Meccano for free and Year 6 took great pleasure in testing it for everyone!
So much problem solving and co-operation happened this afternoon!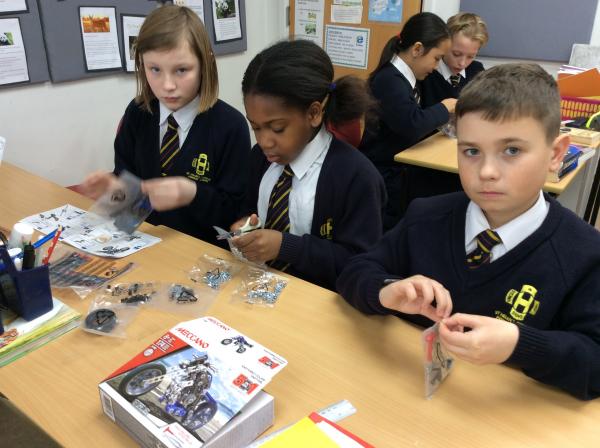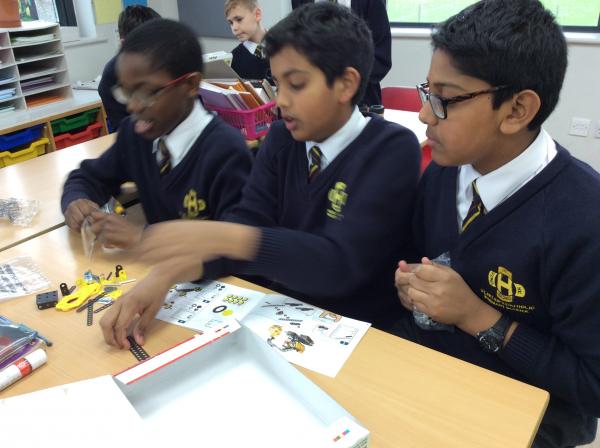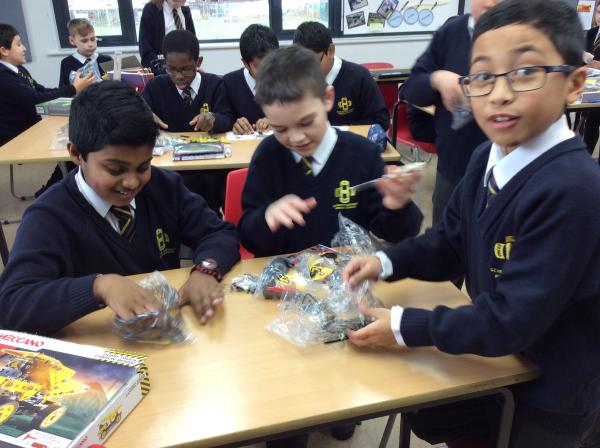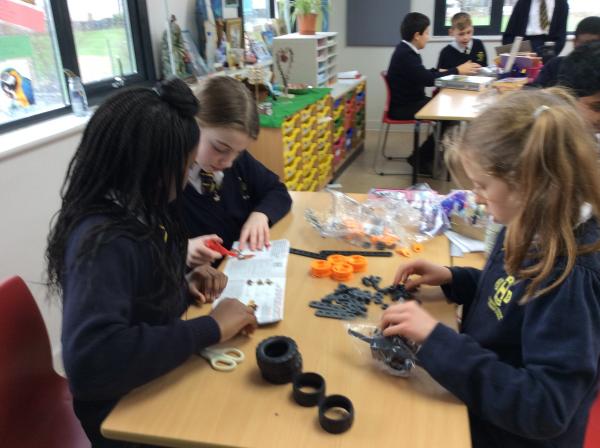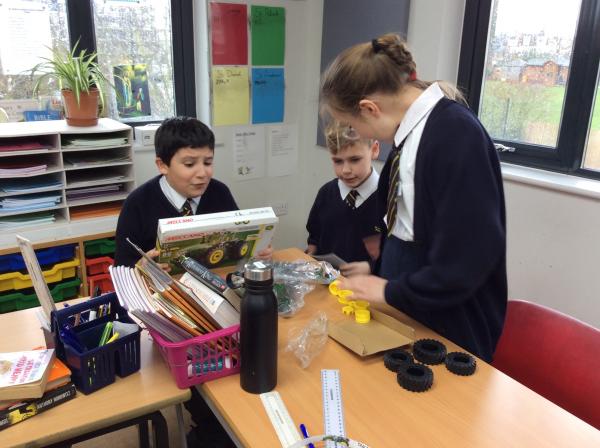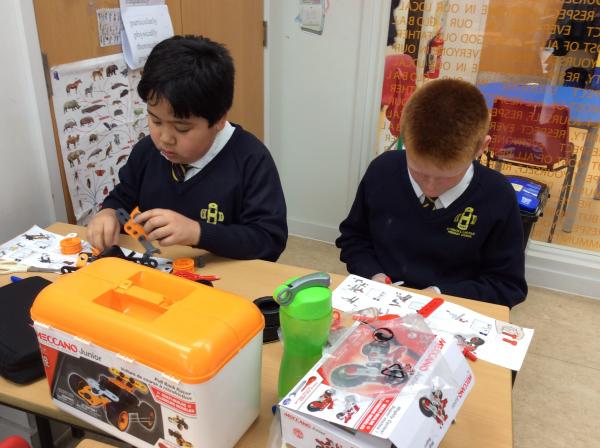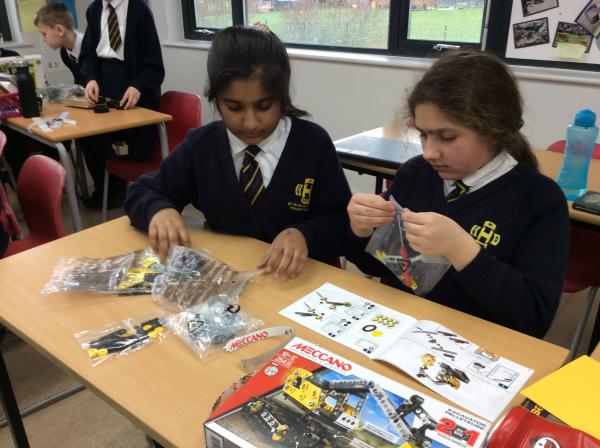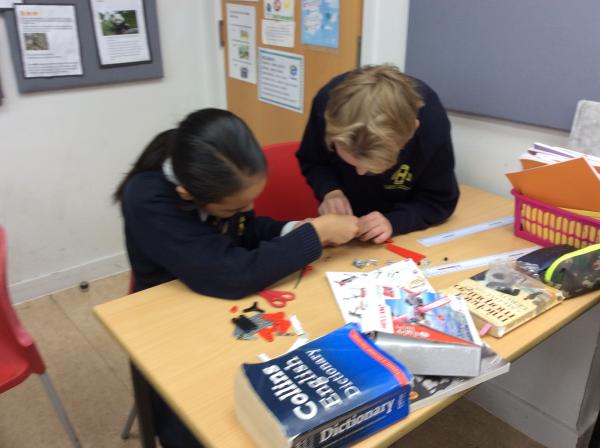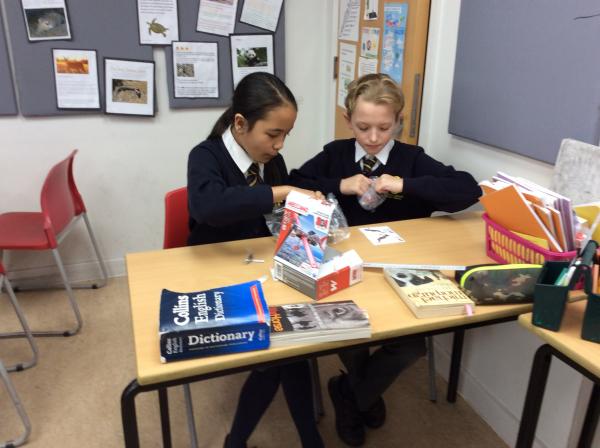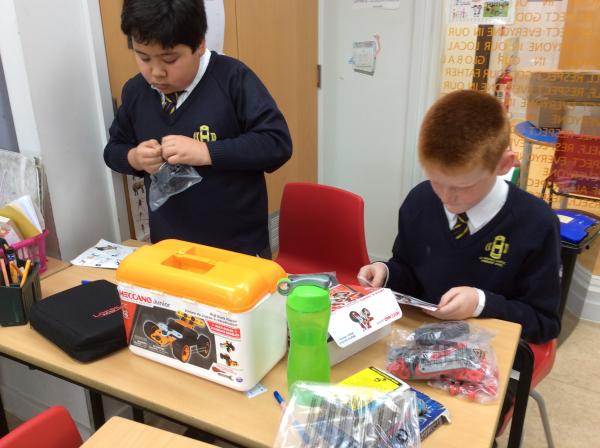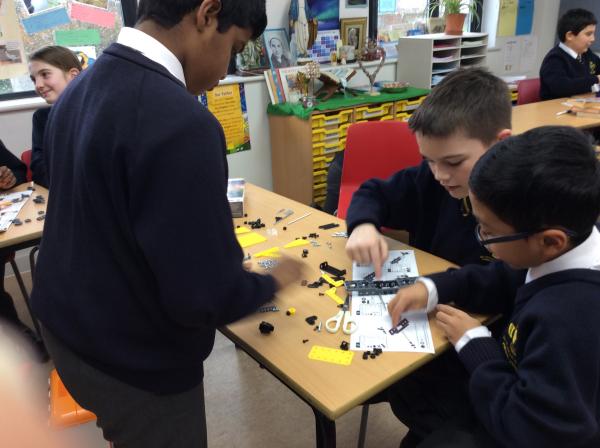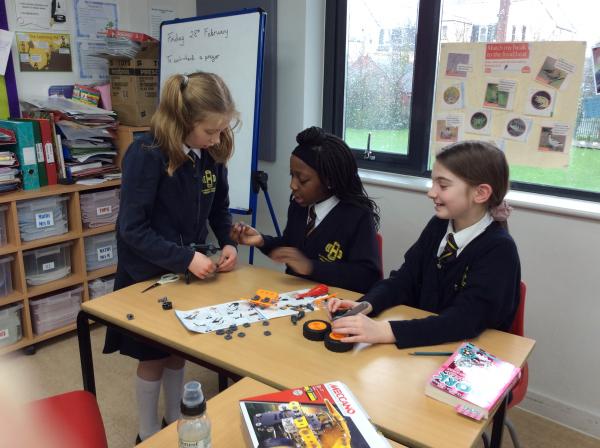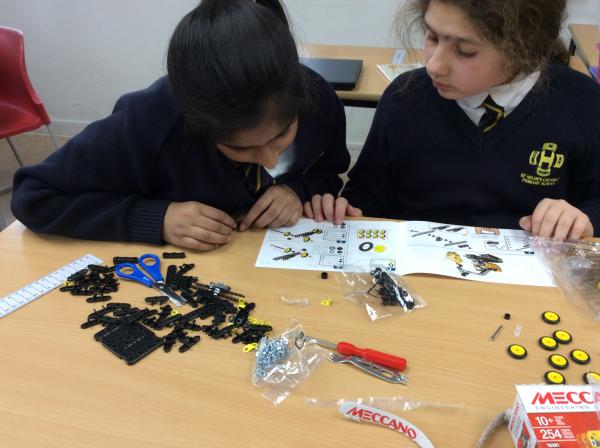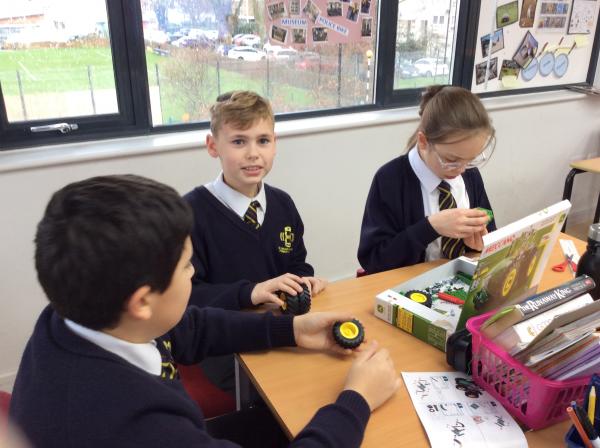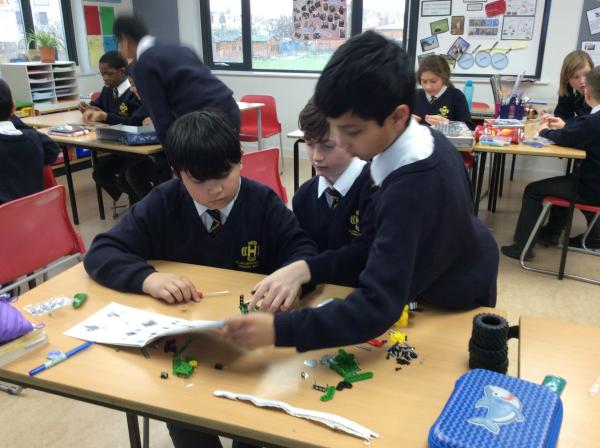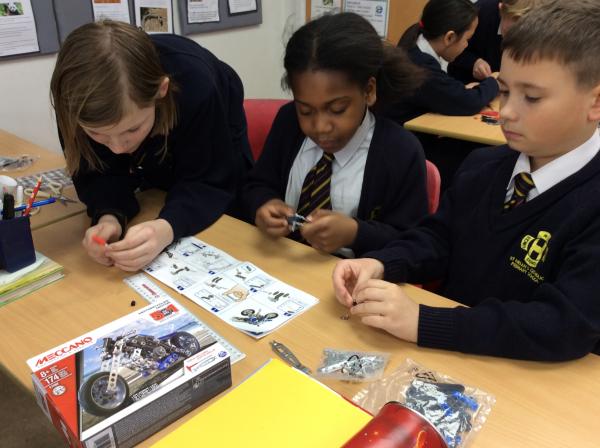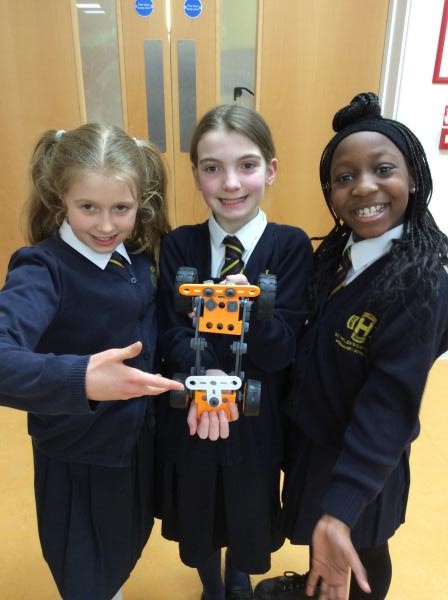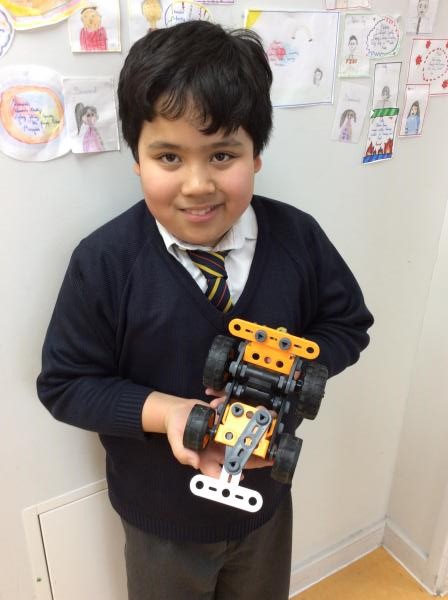 Rock Cakes to raise money.
Year 6 enjoyed making rock cakes today. They are hoping to sell them to the whole school on Friday 28 February 2020.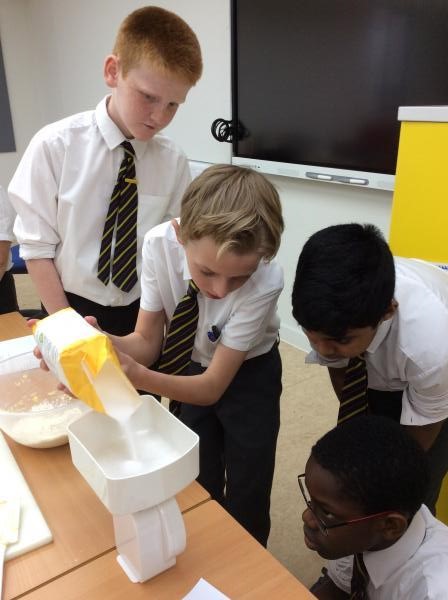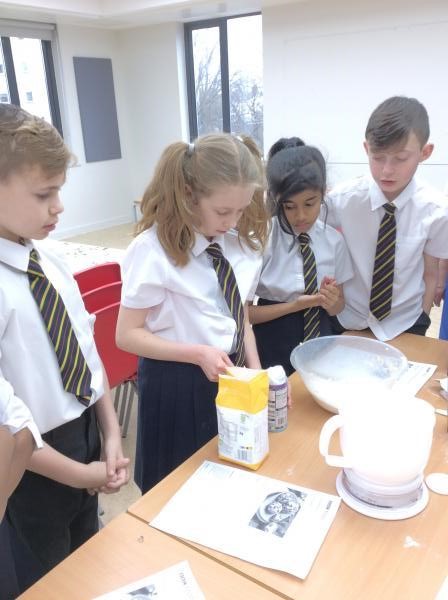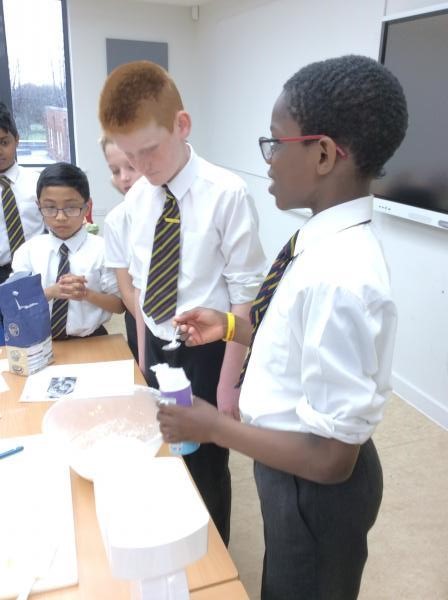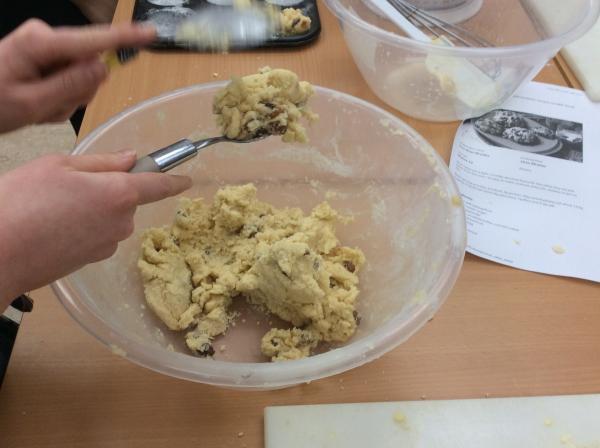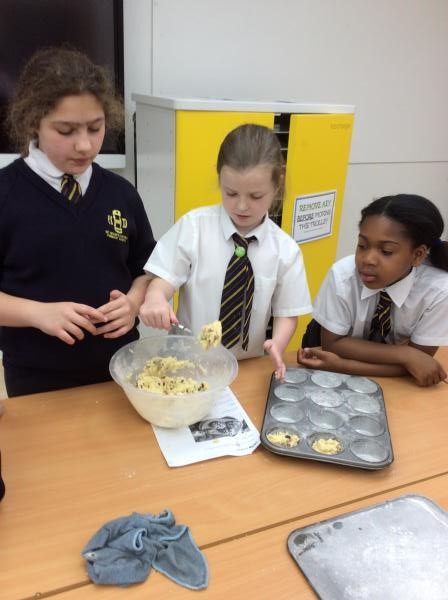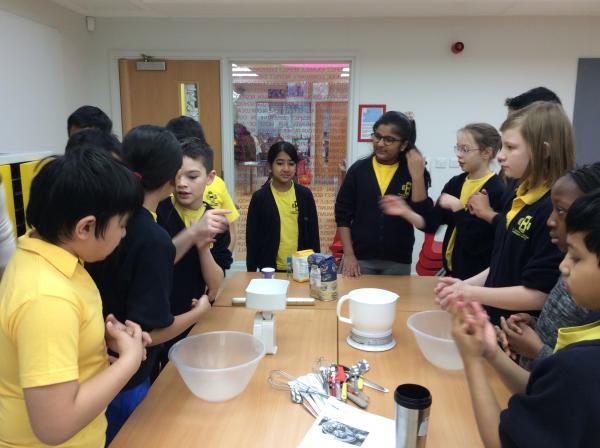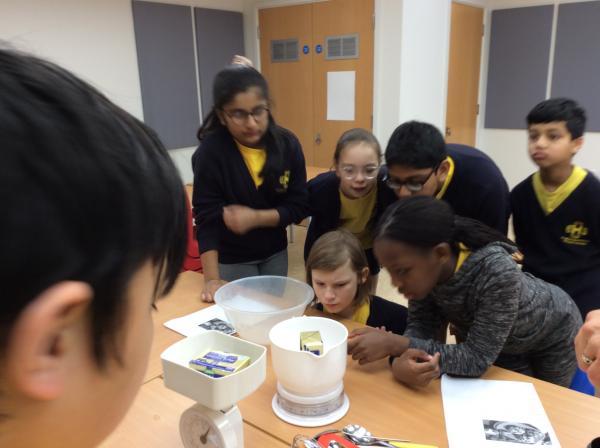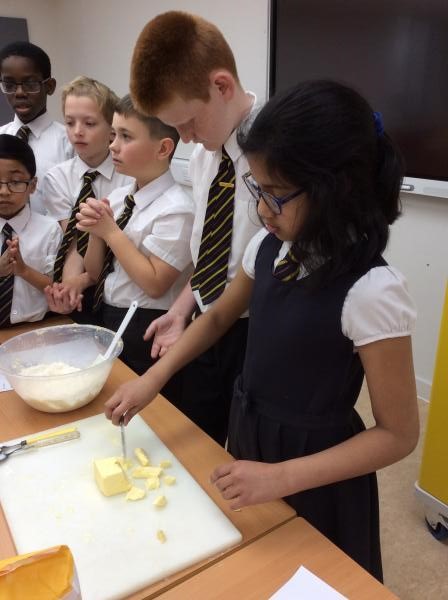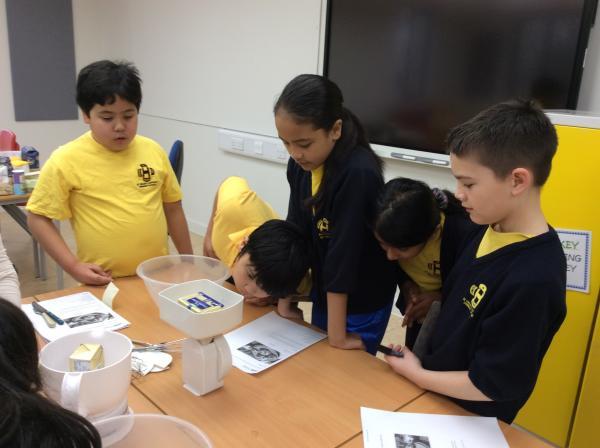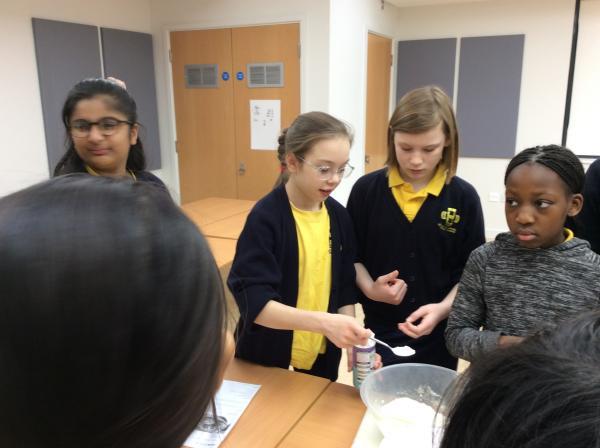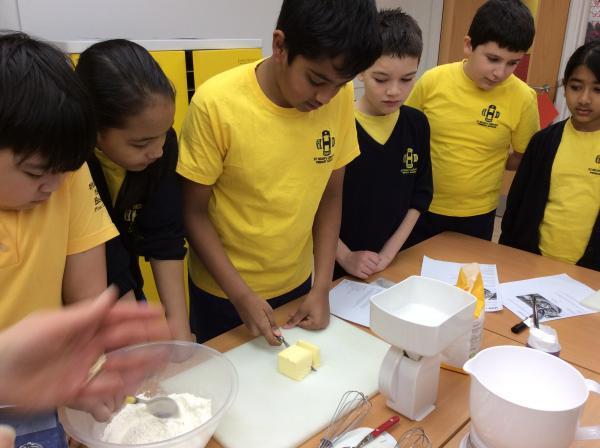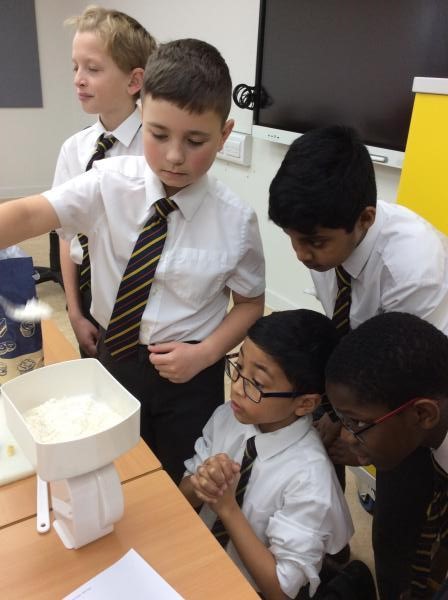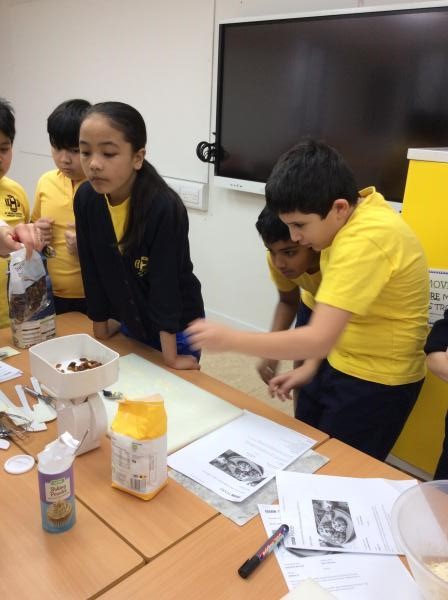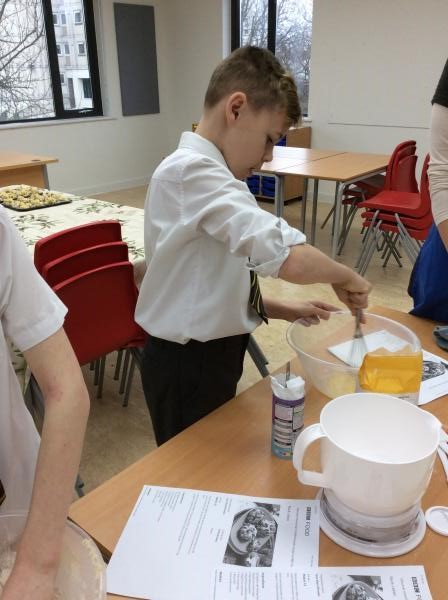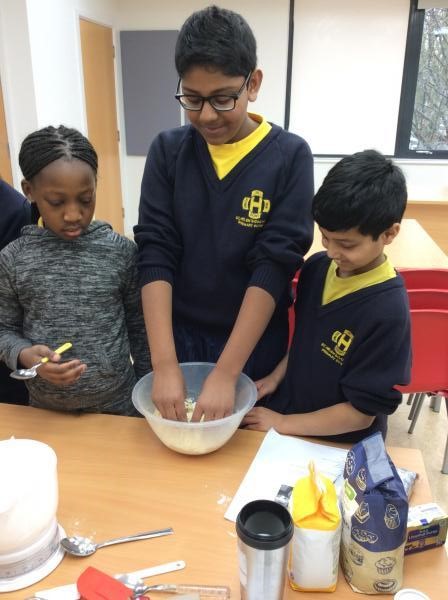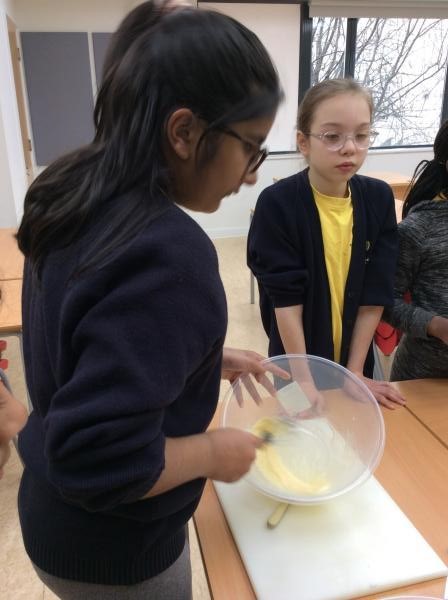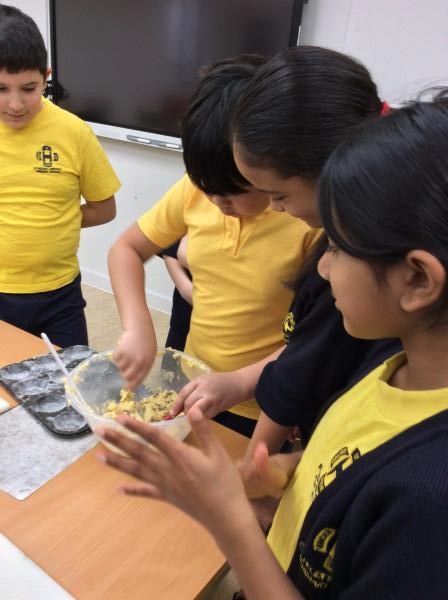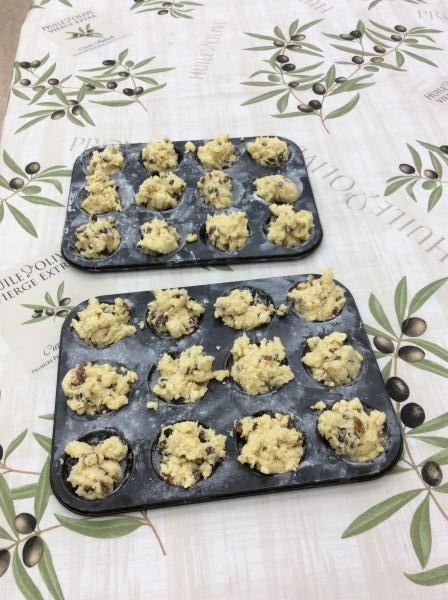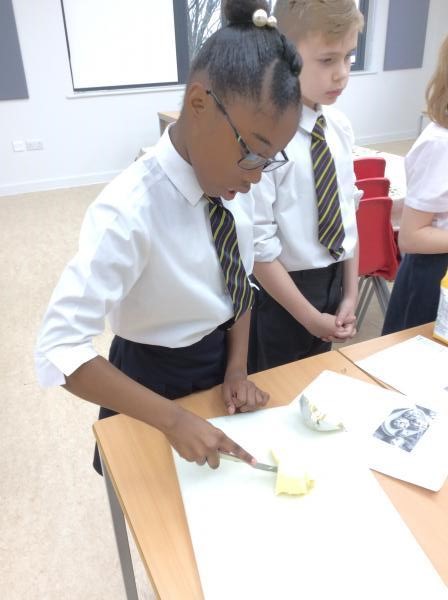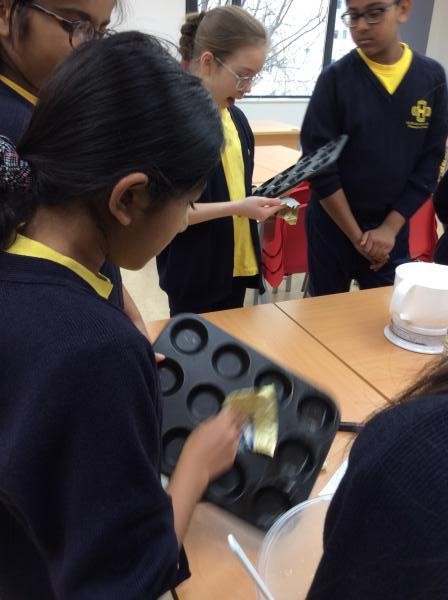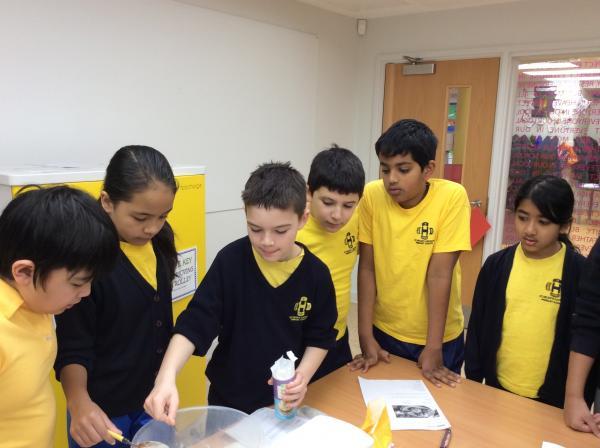 A new class 6!
Today, Year 6 have been looking at differences between species. They were given green for the body, yellow for the features and white for hair. They were asked to create a living thing from their items. Look how different they all are! I think year 6 enjoyed themselves!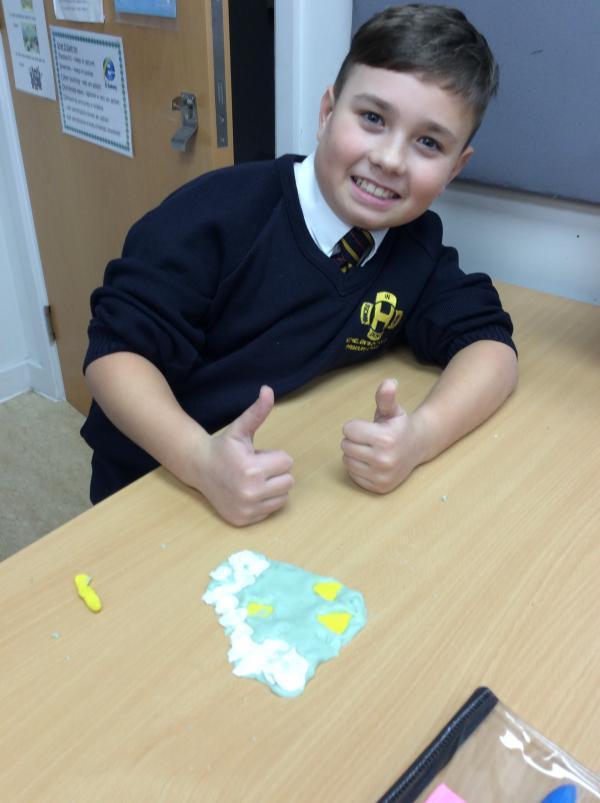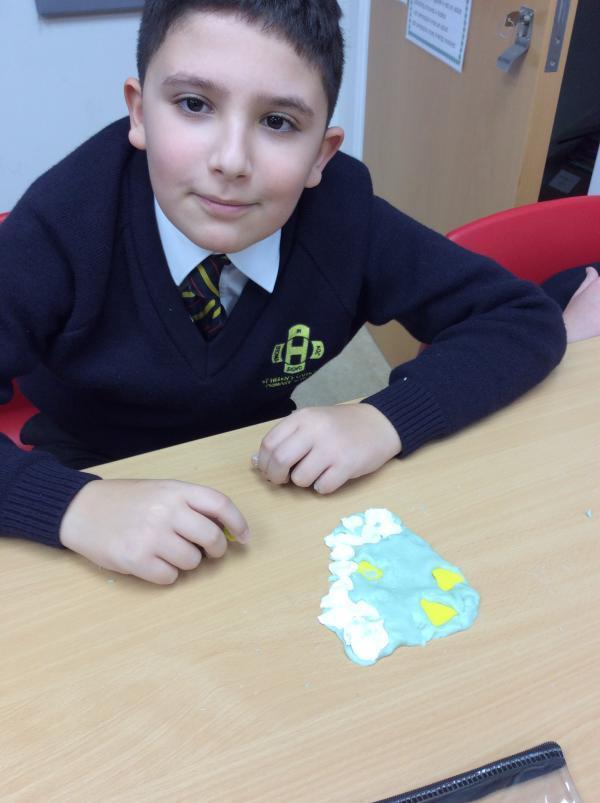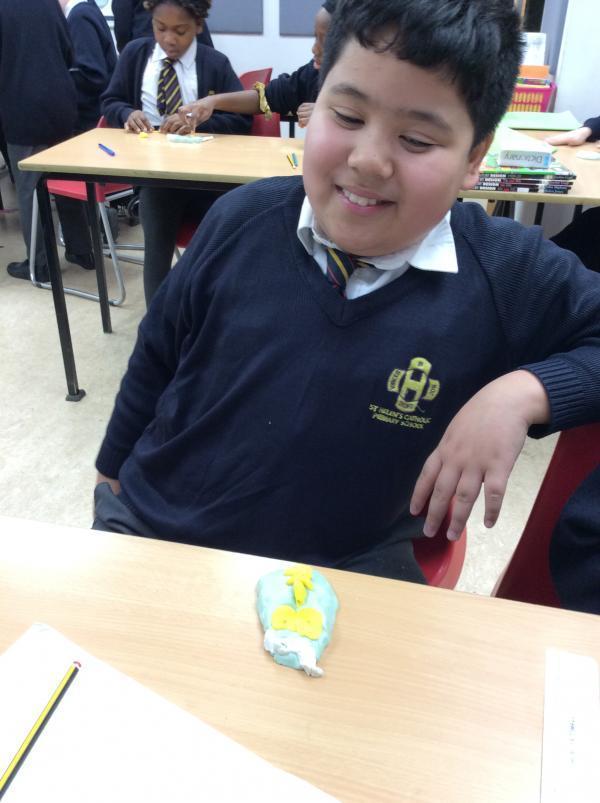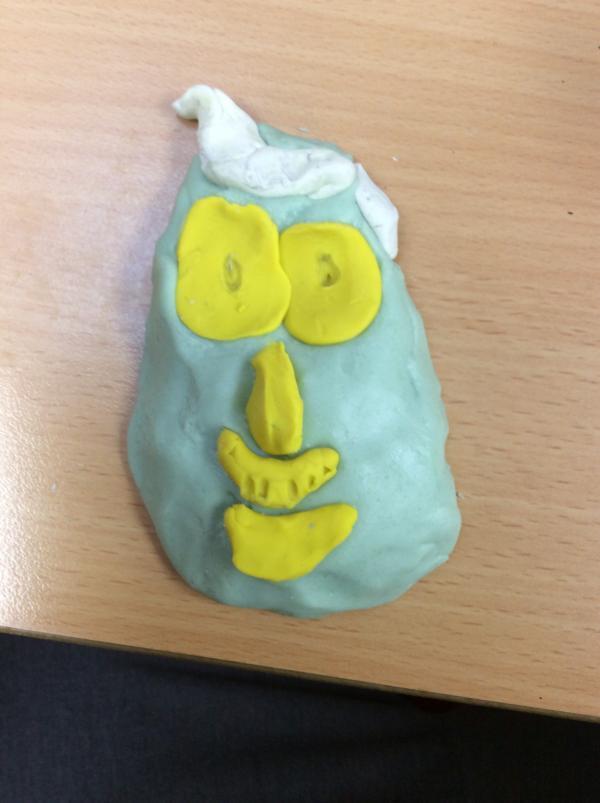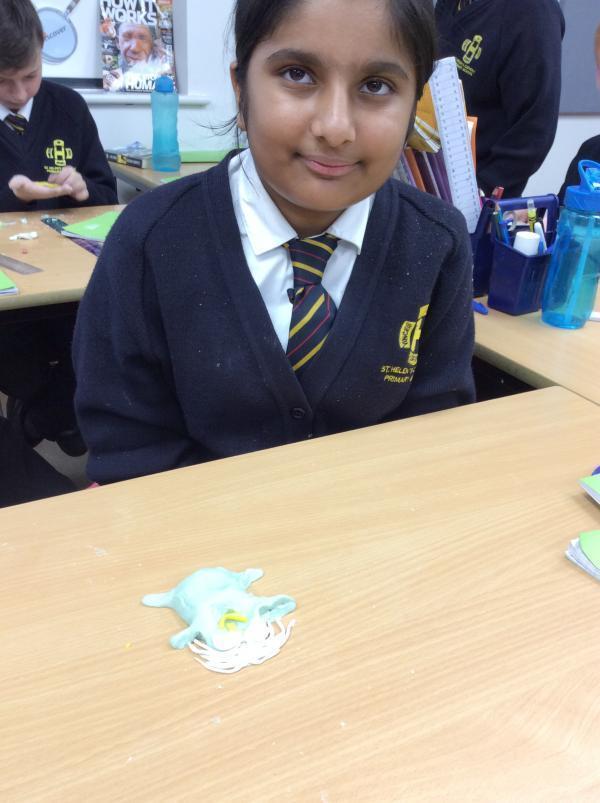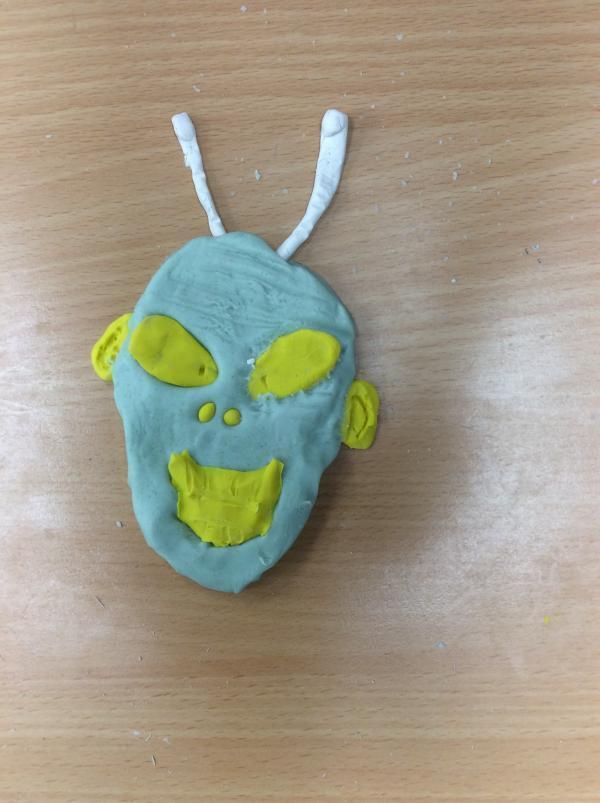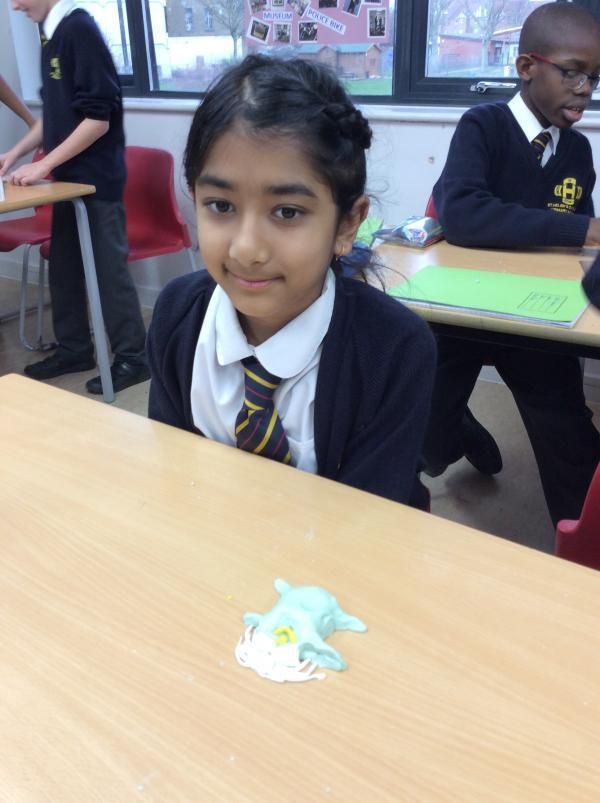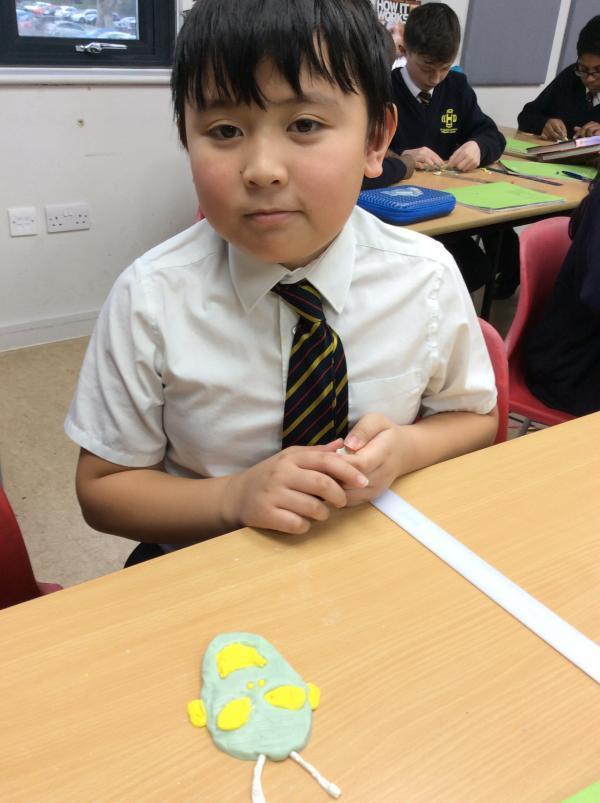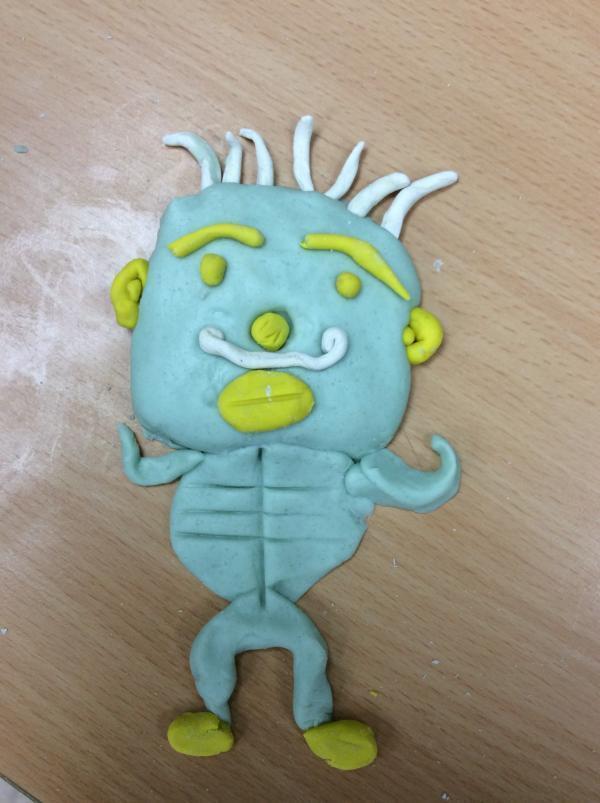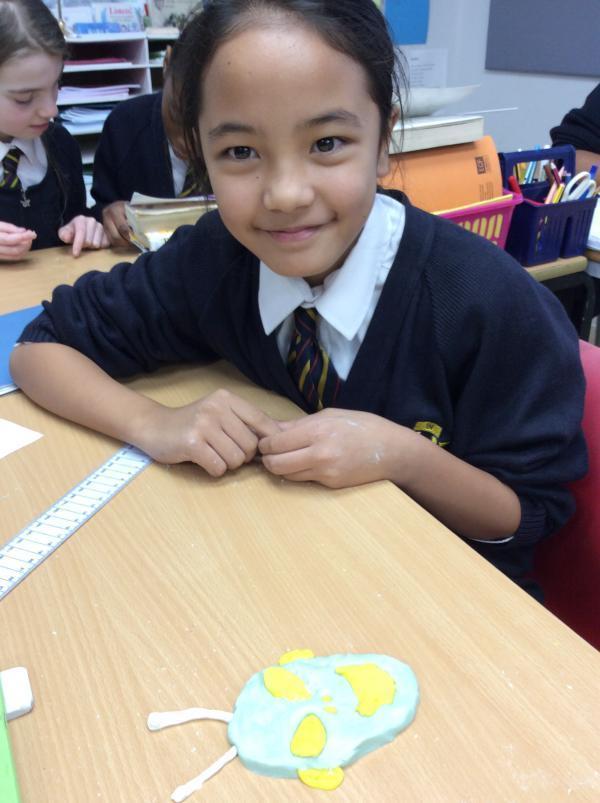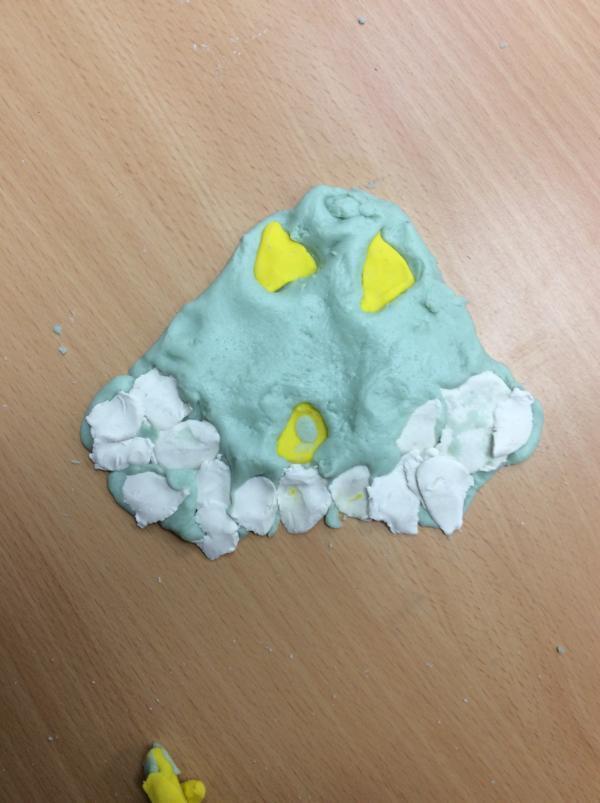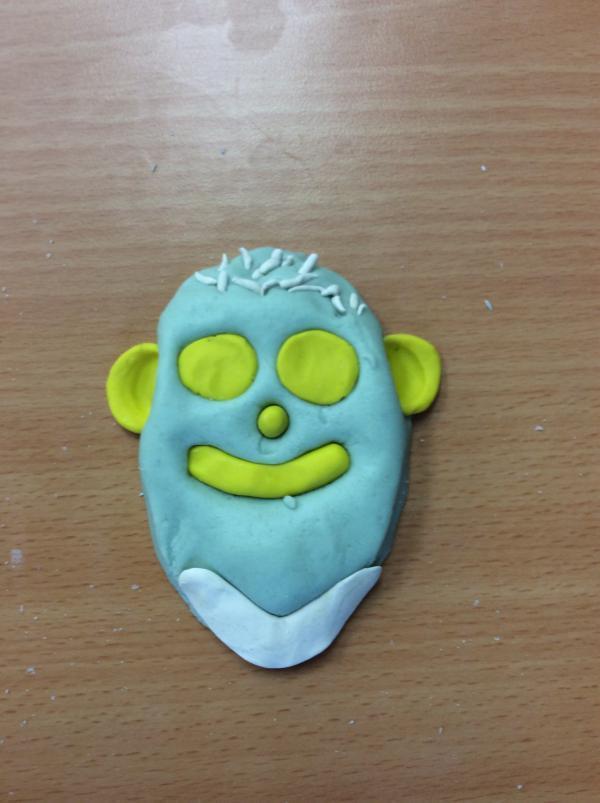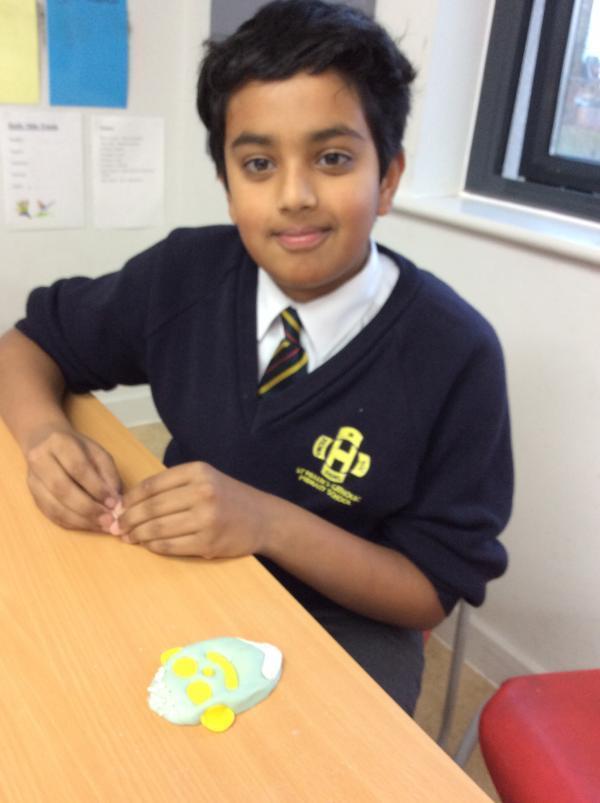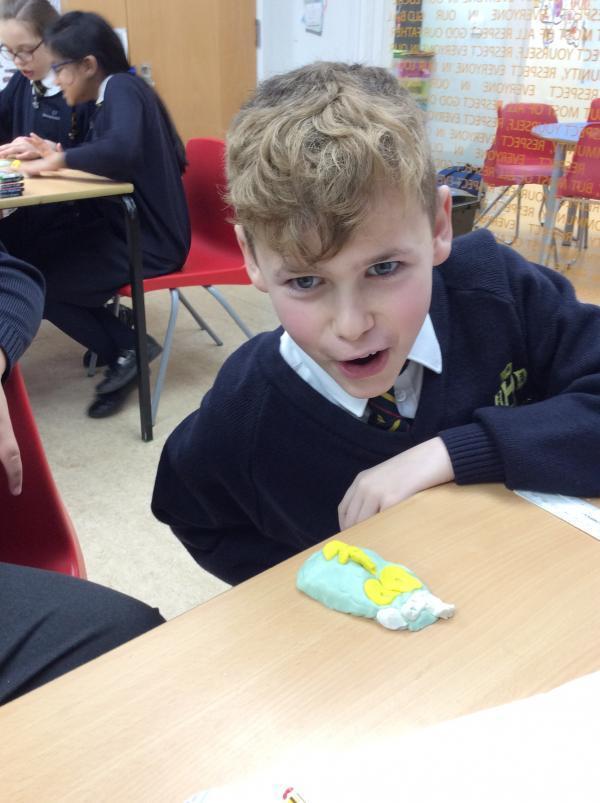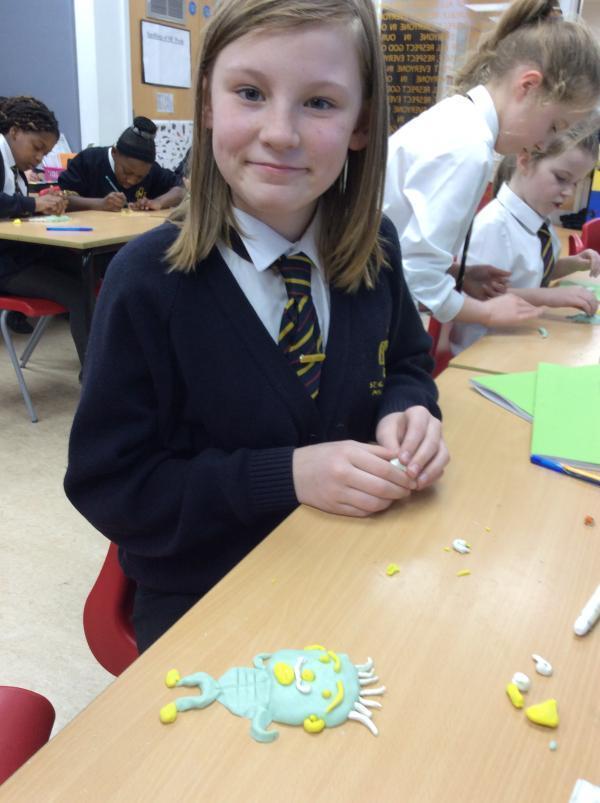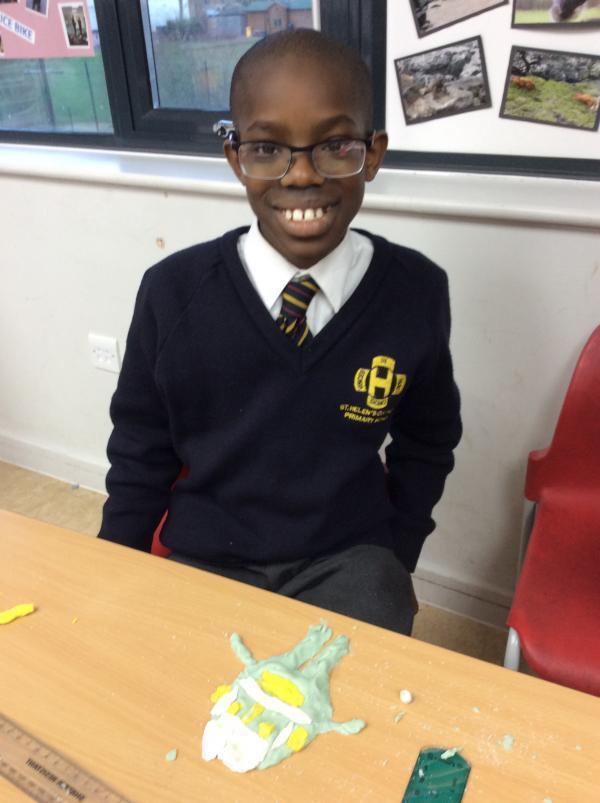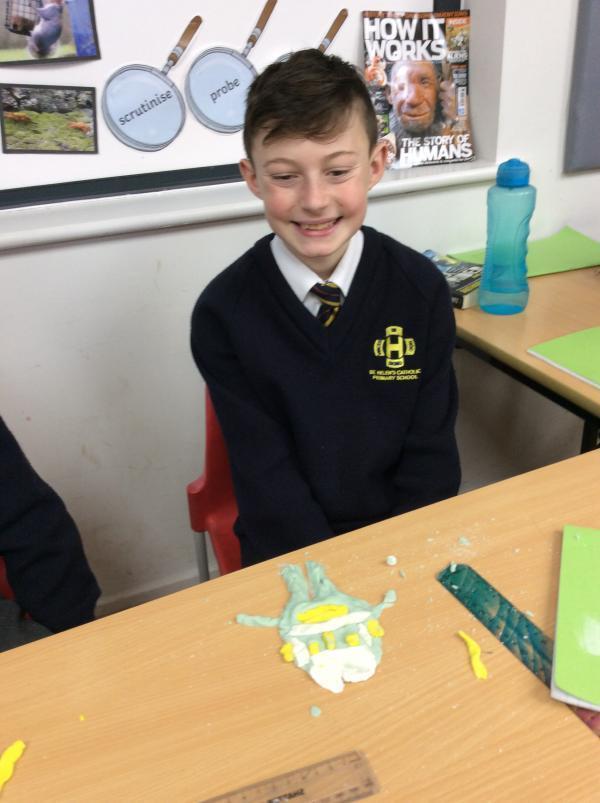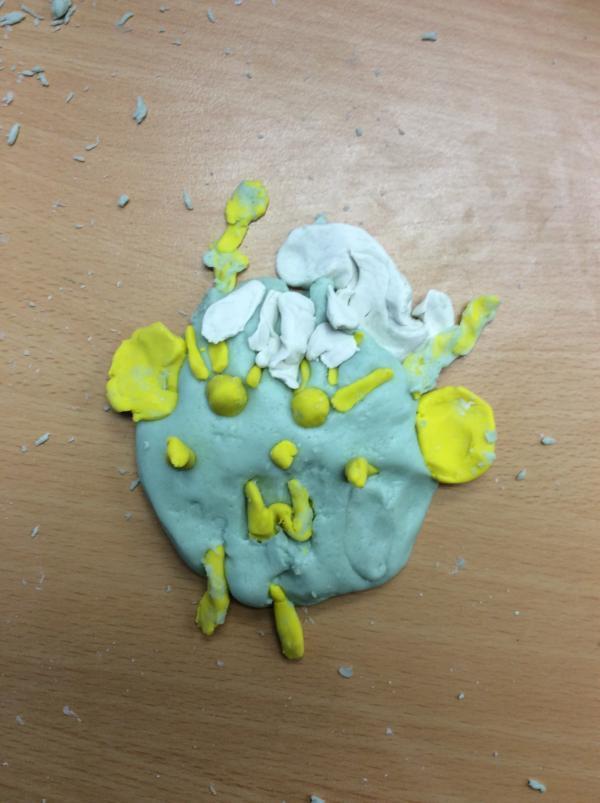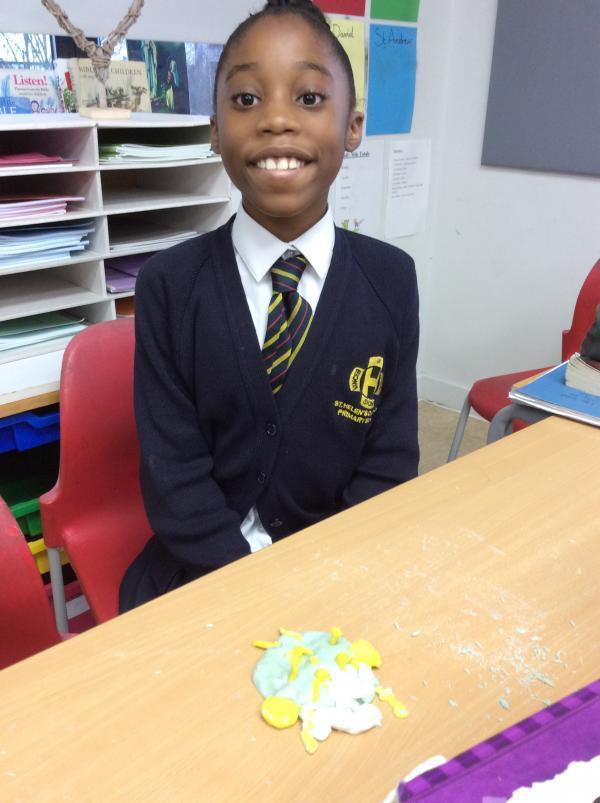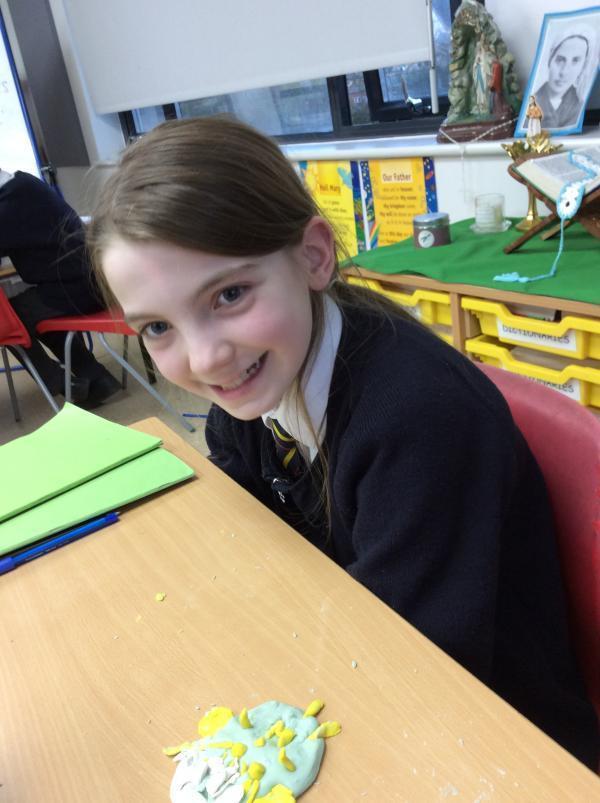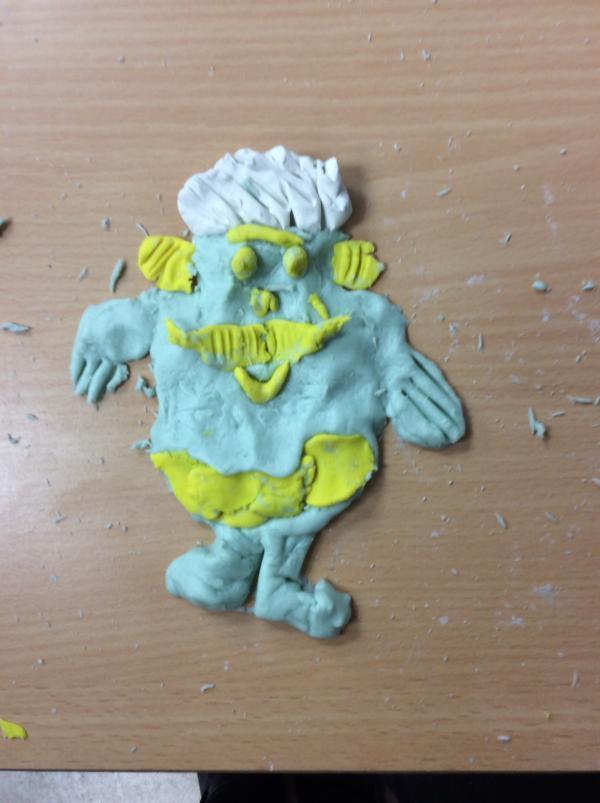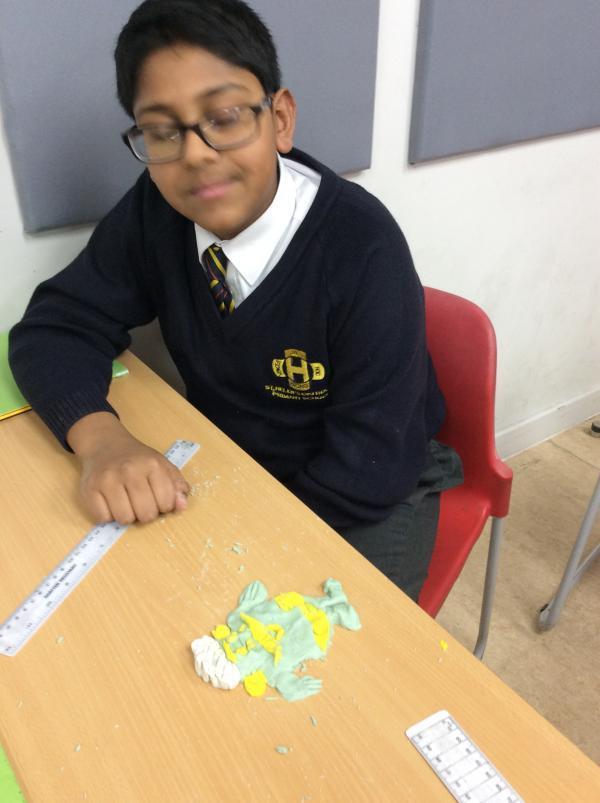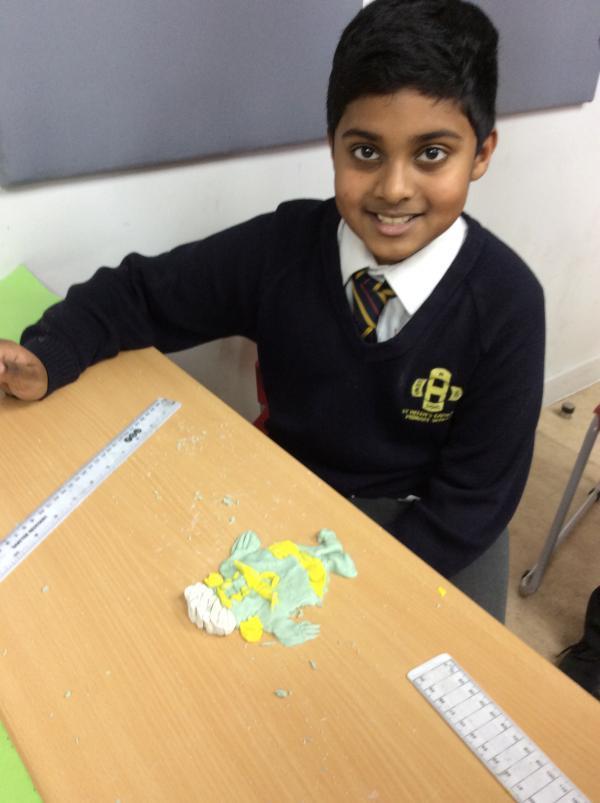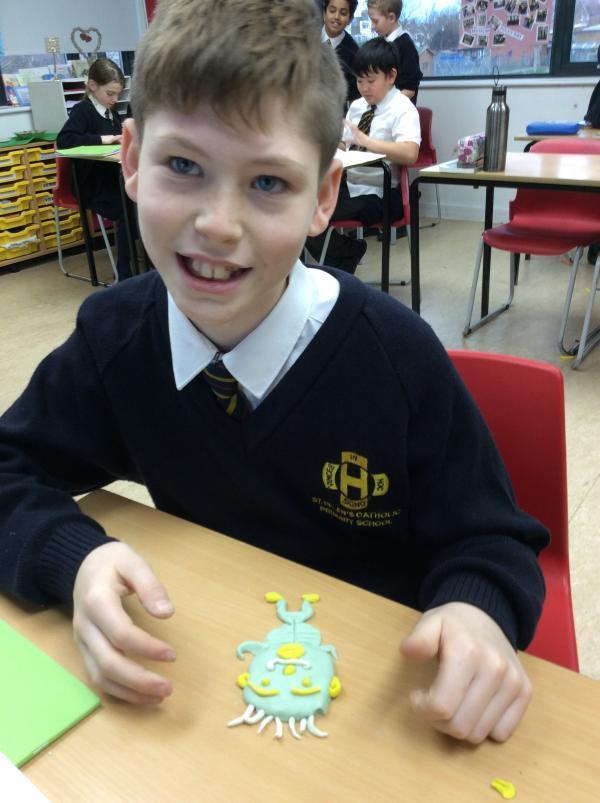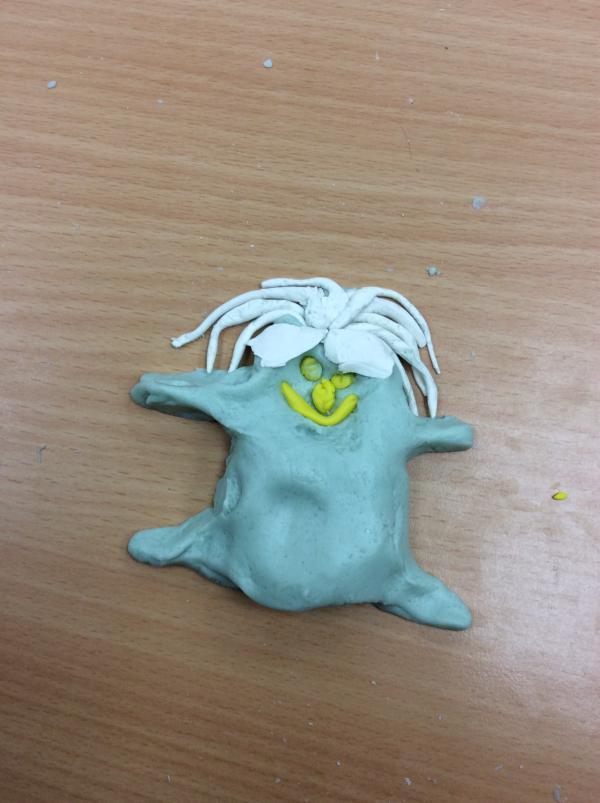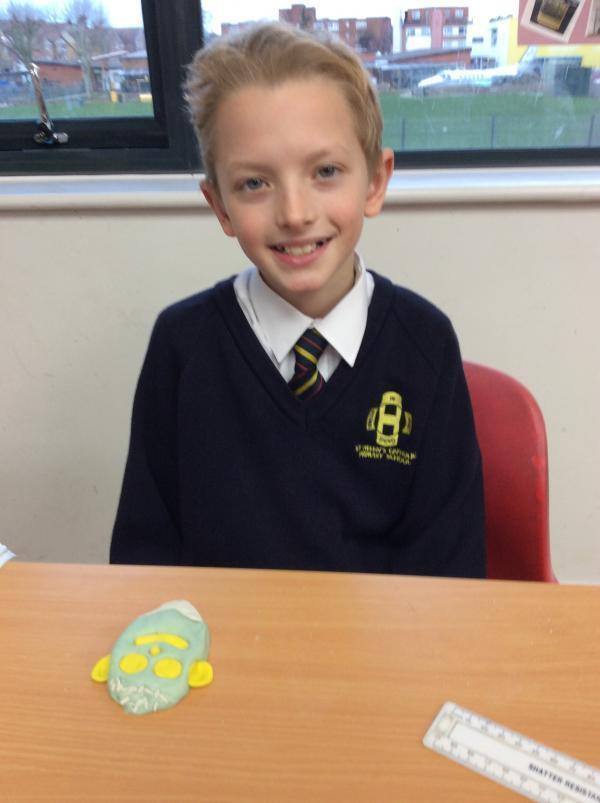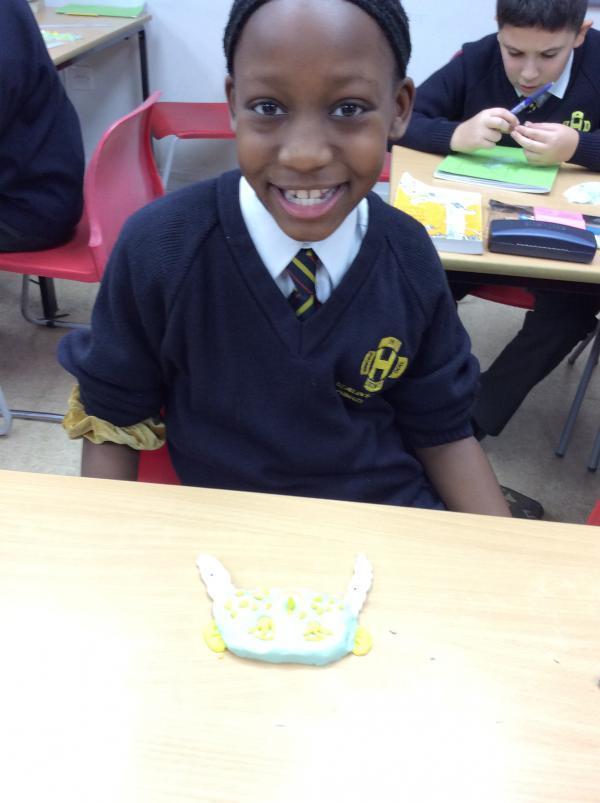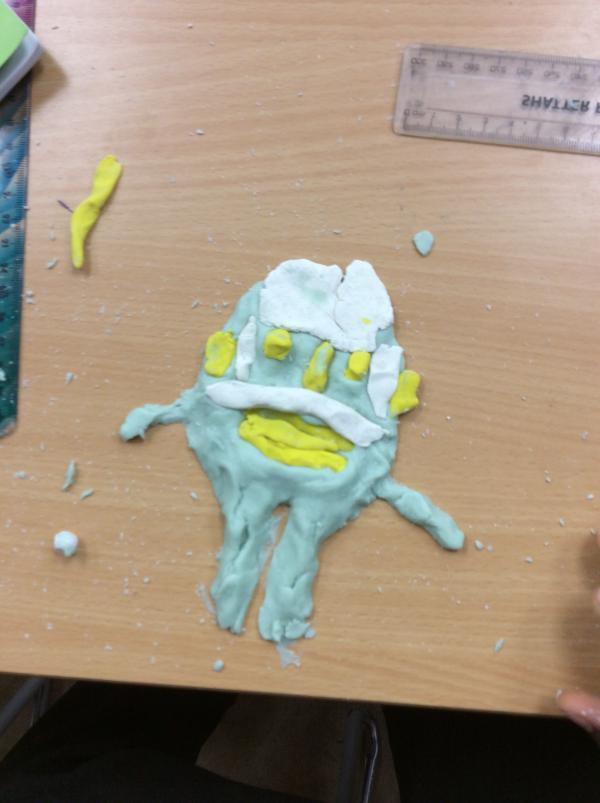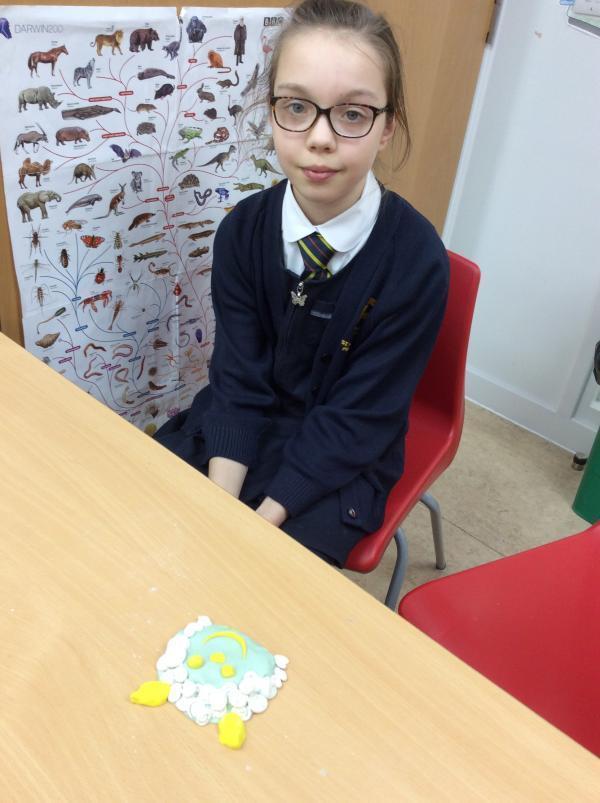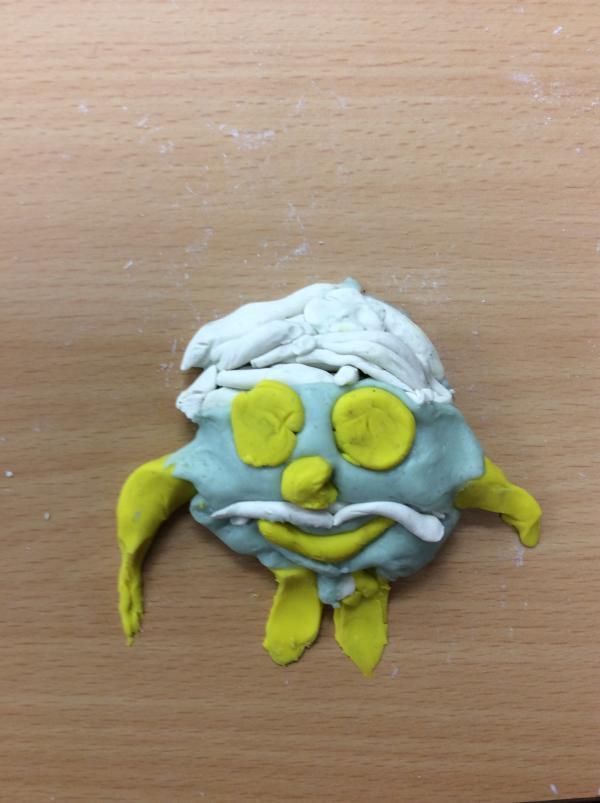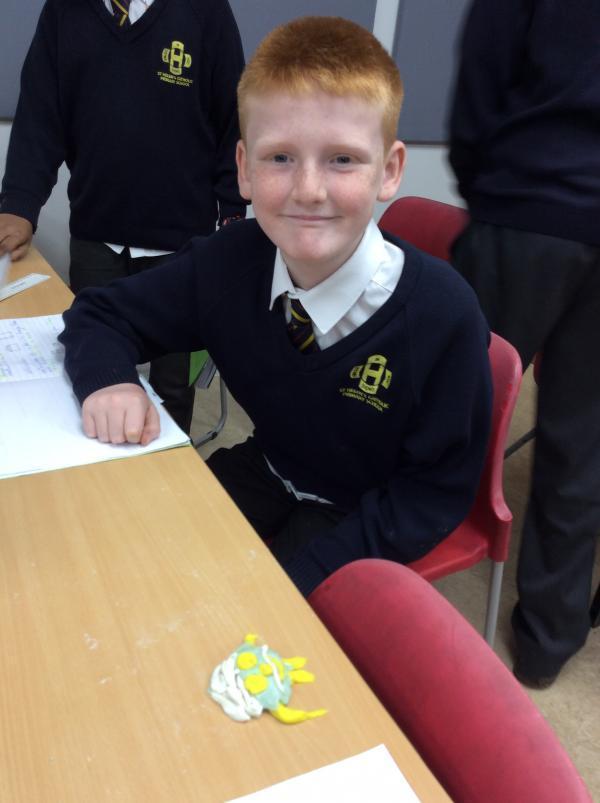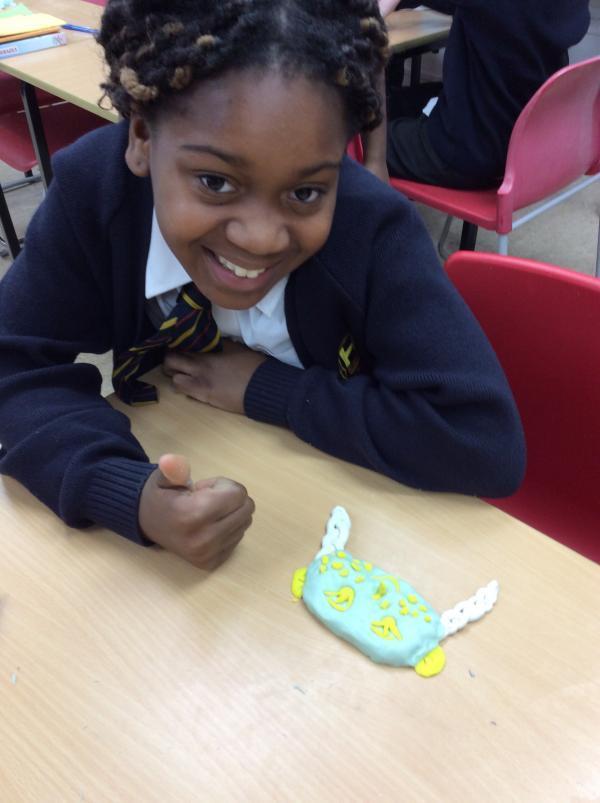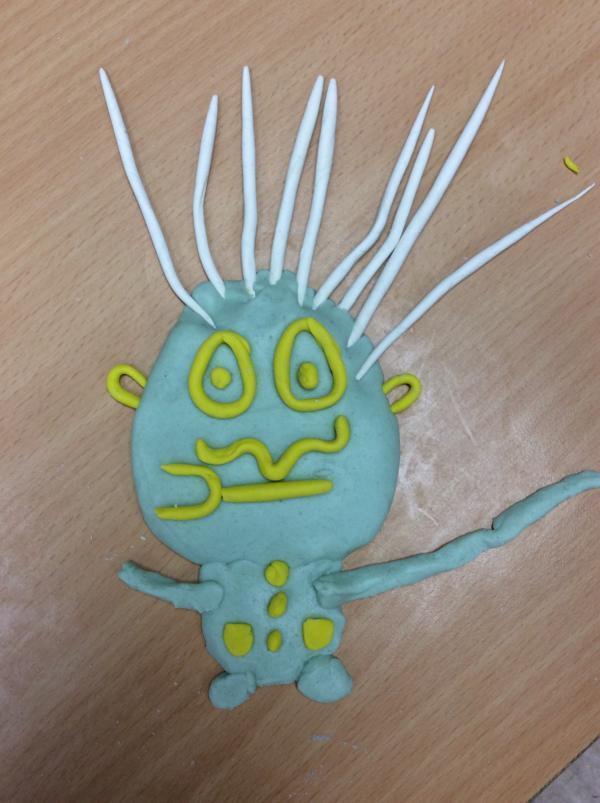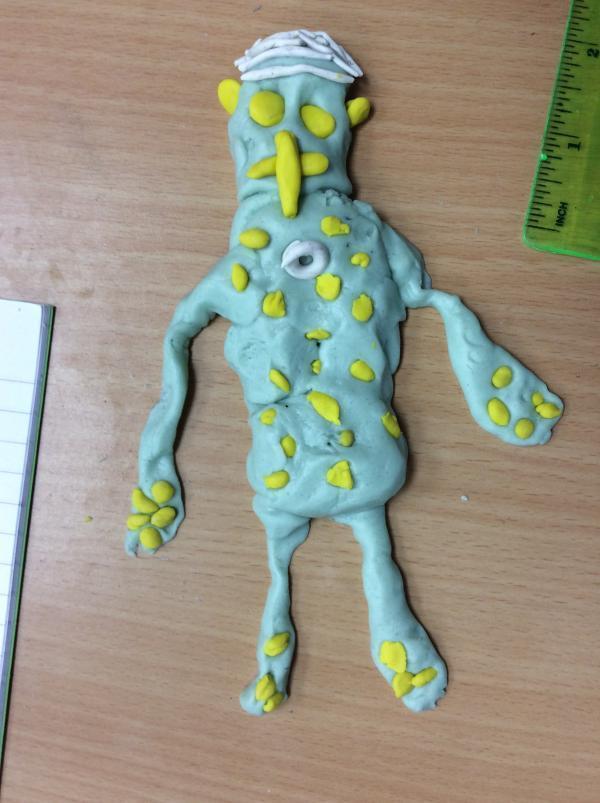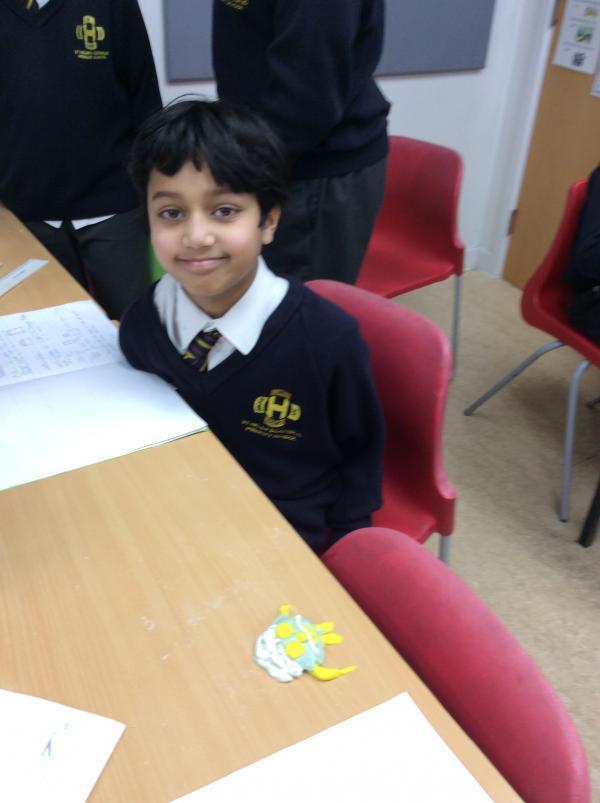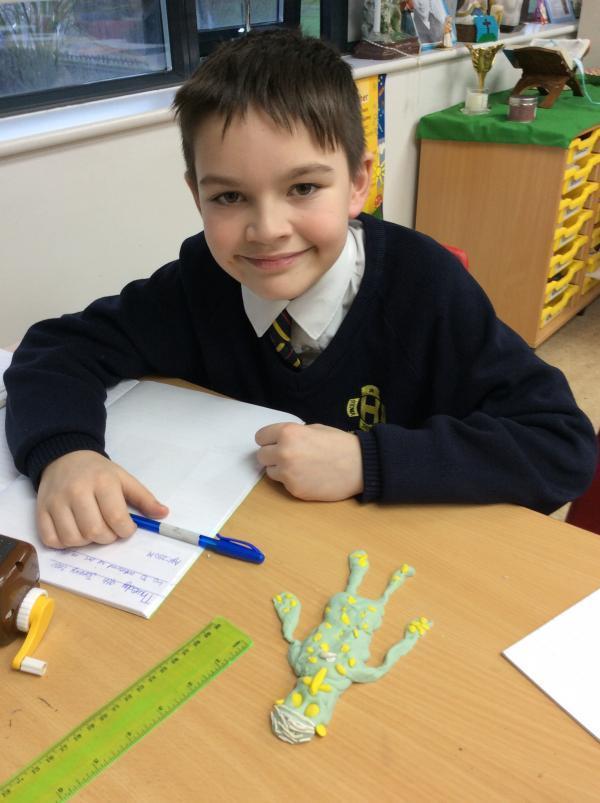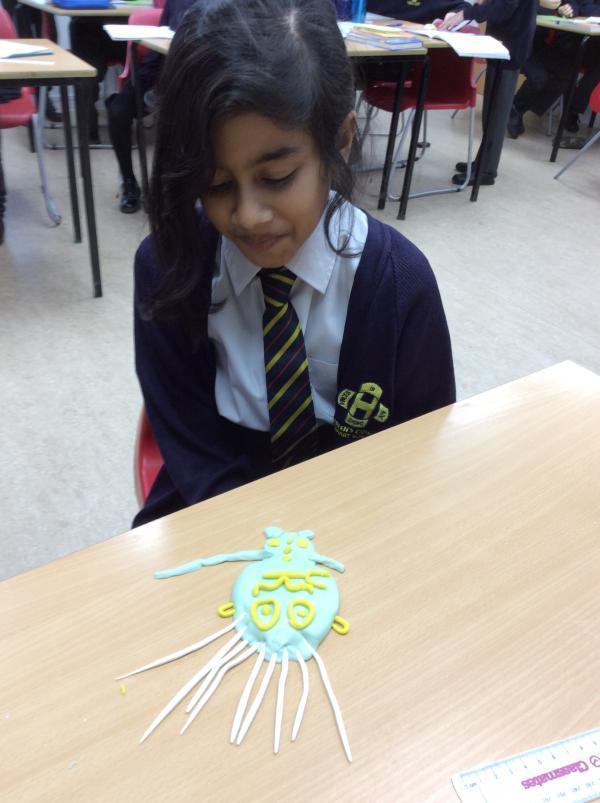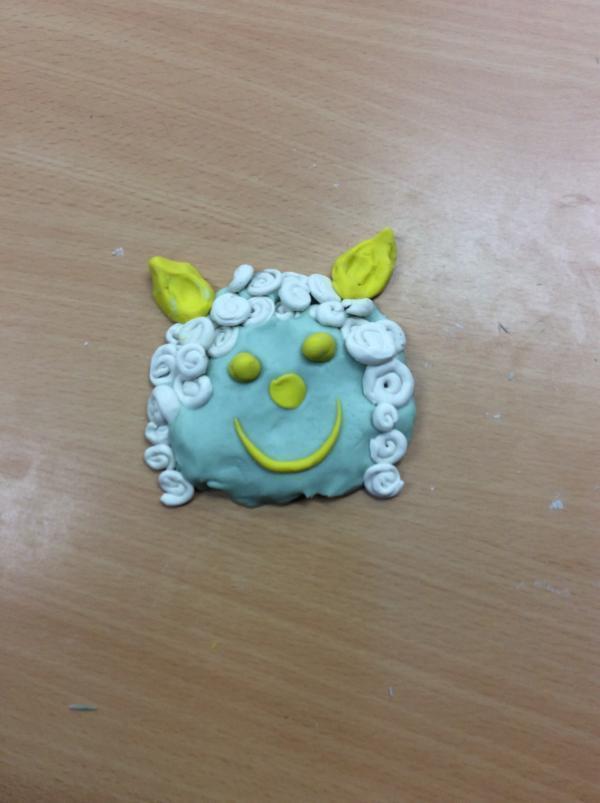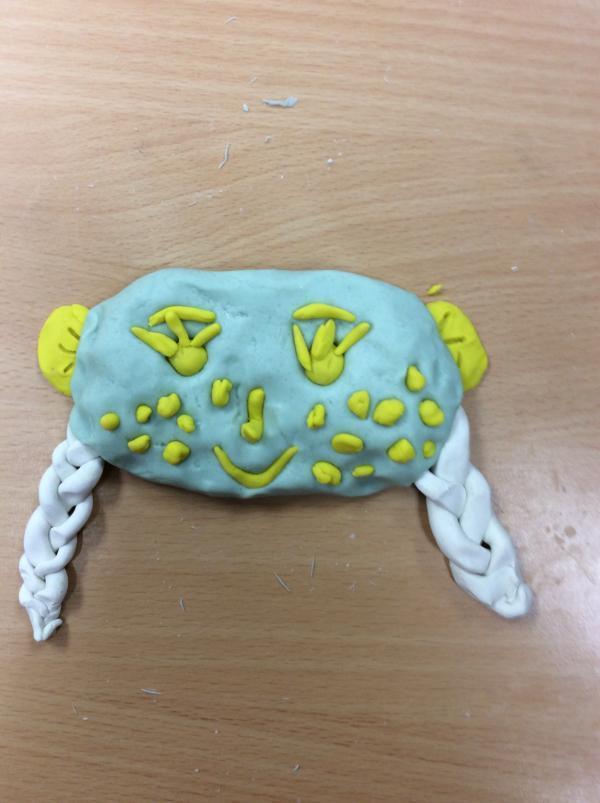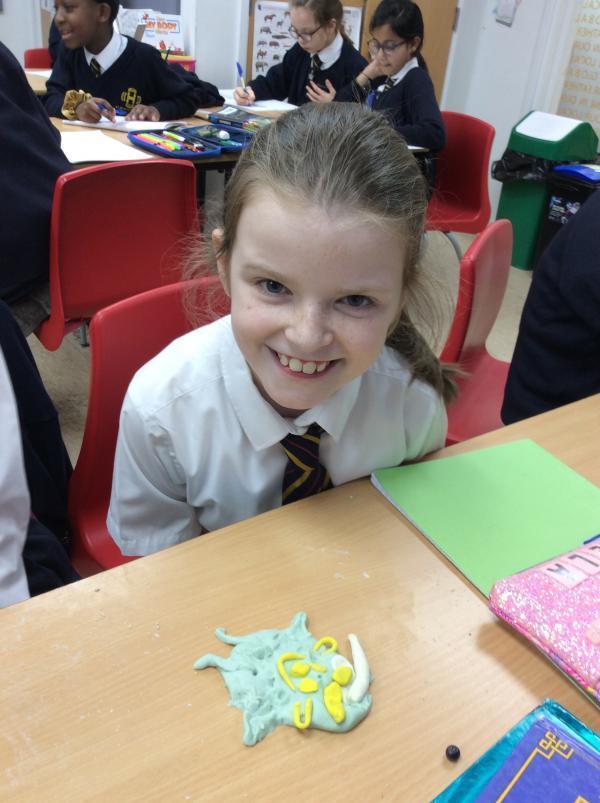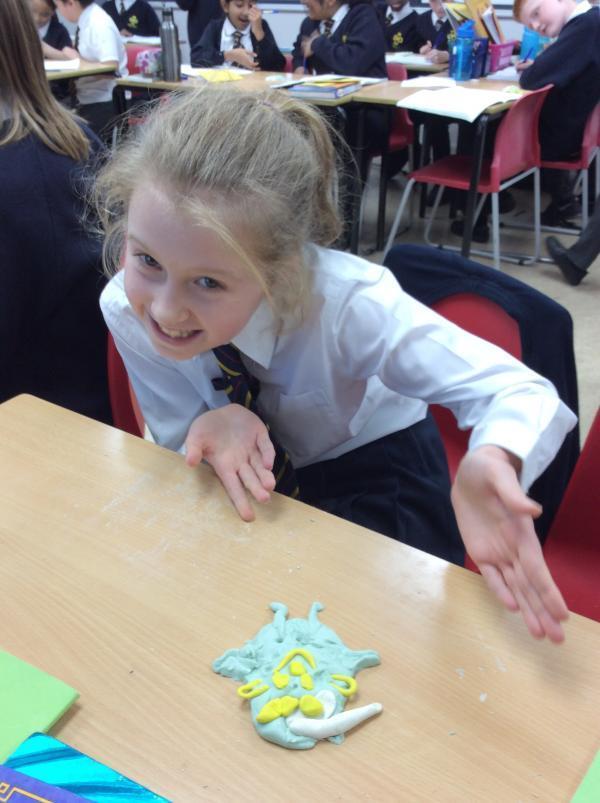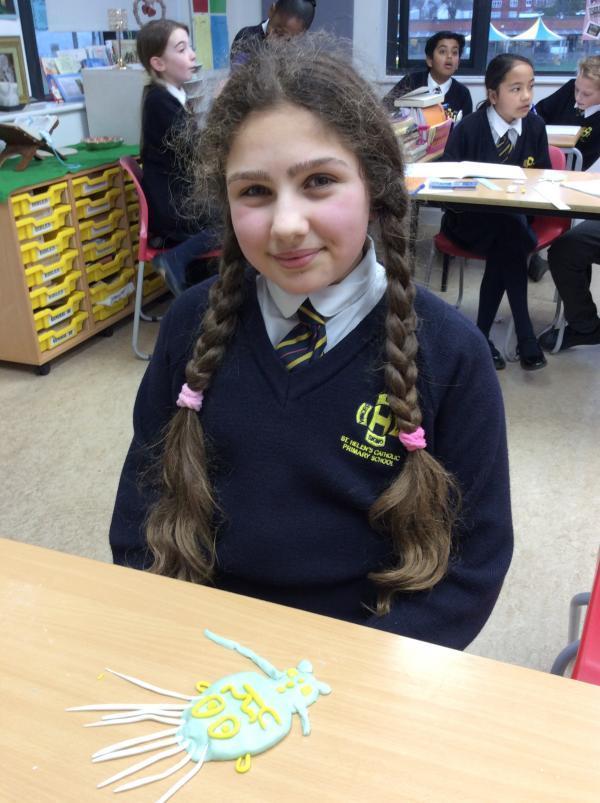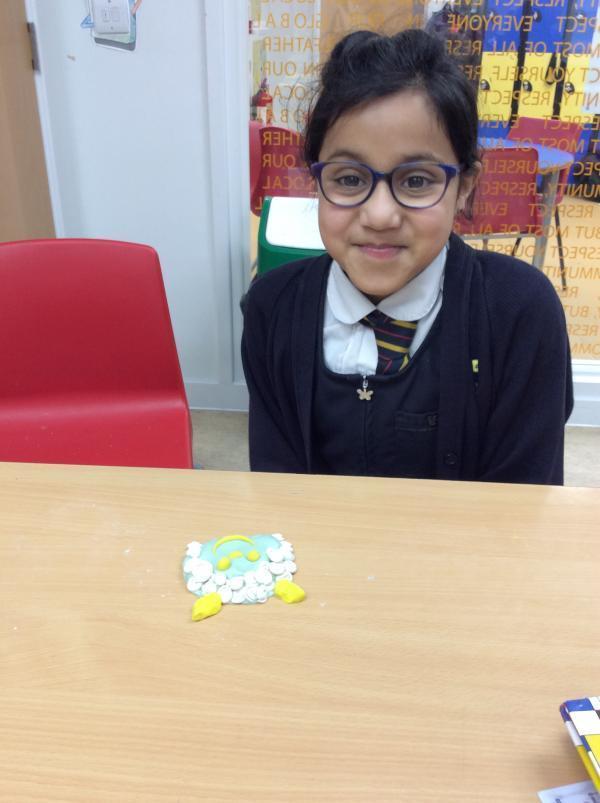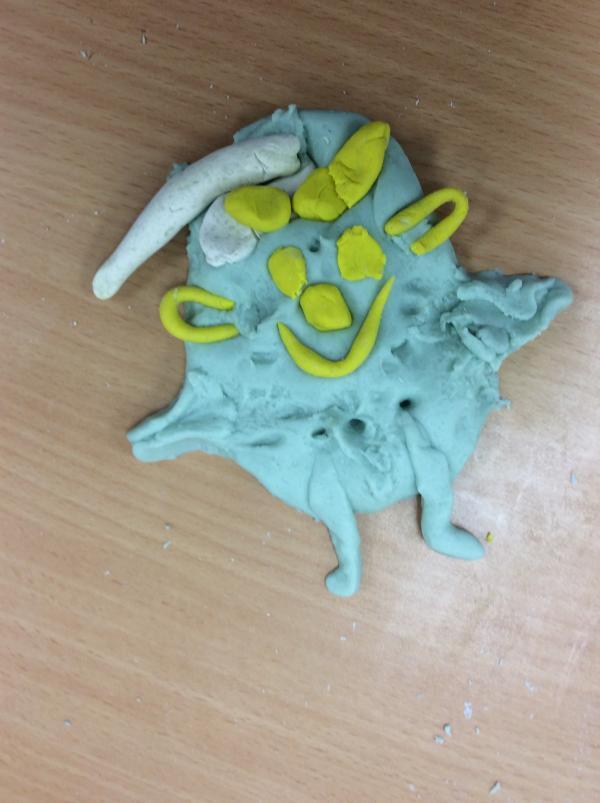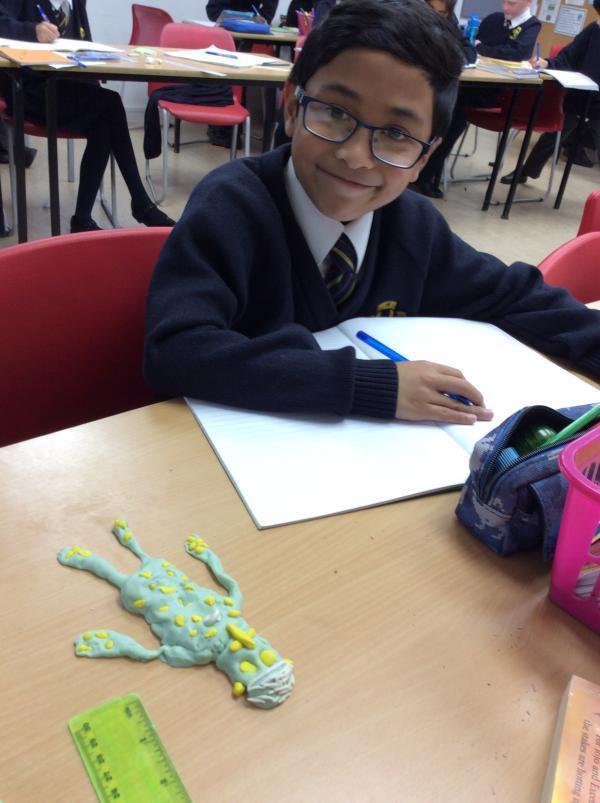 'Hello, 'ello, 'ello - what's going on here then?'
Class 6 had a very interesting trip to Southend Police Station. We could be looking at some future Police Officers here!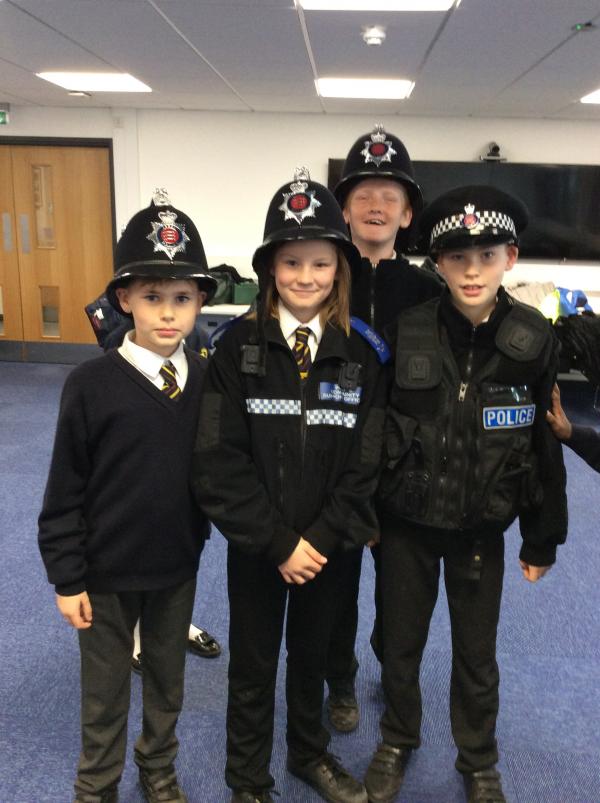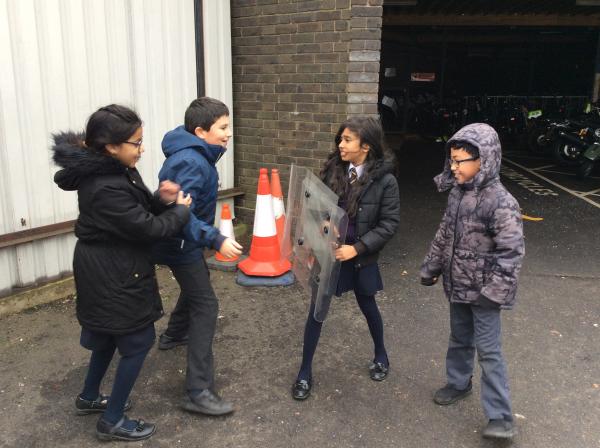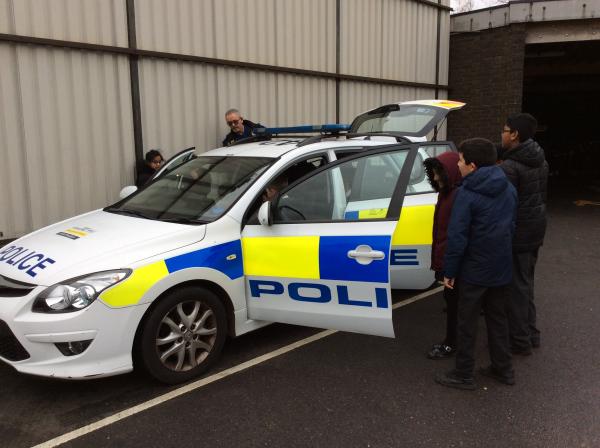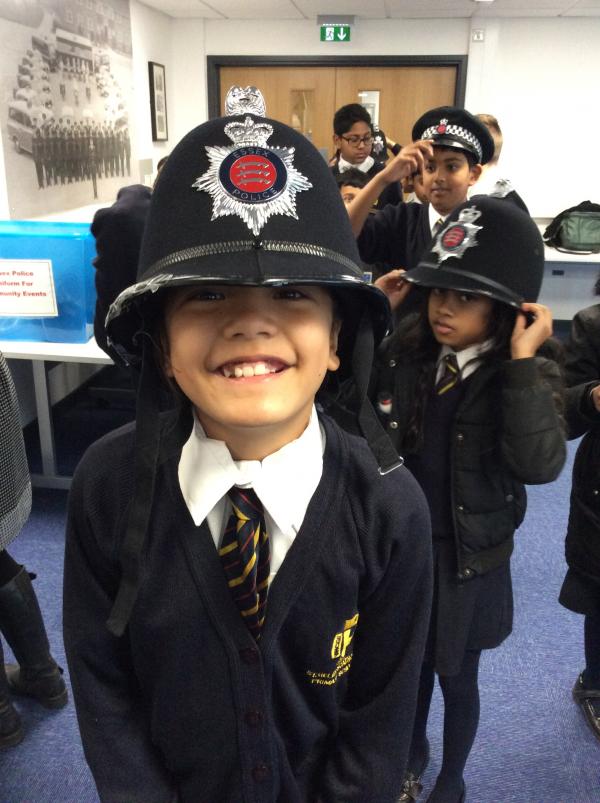 Friday 6th December - Stir Fry Group 3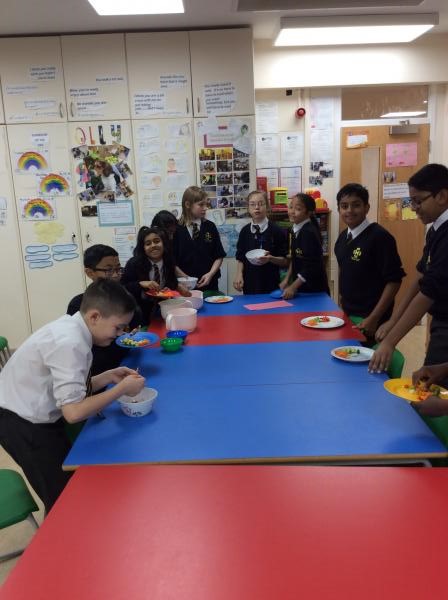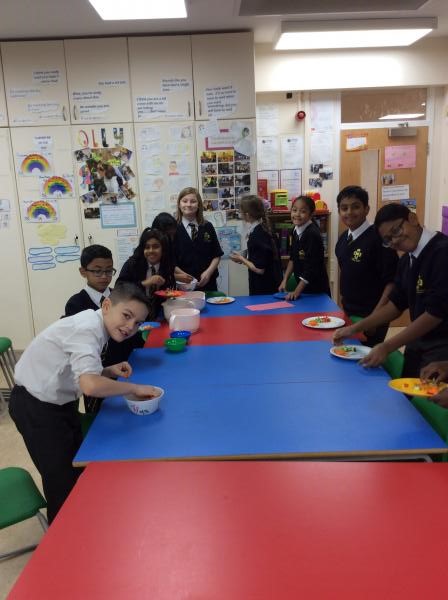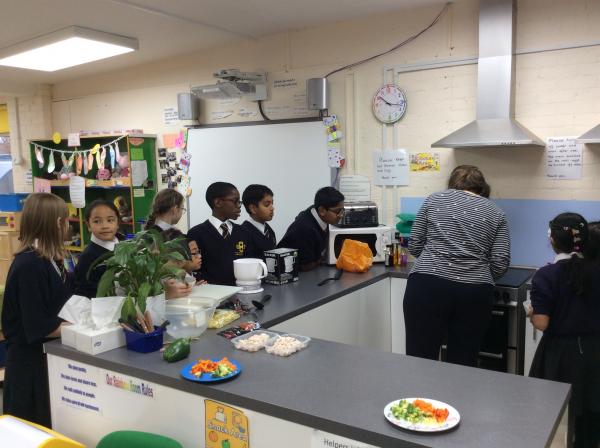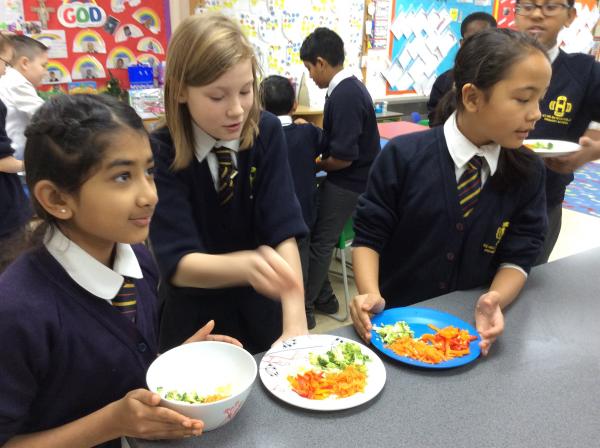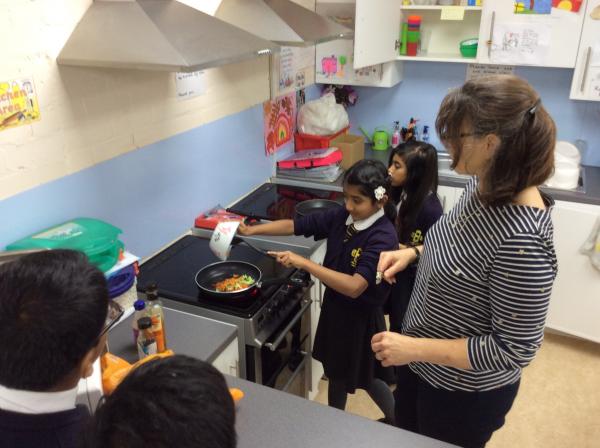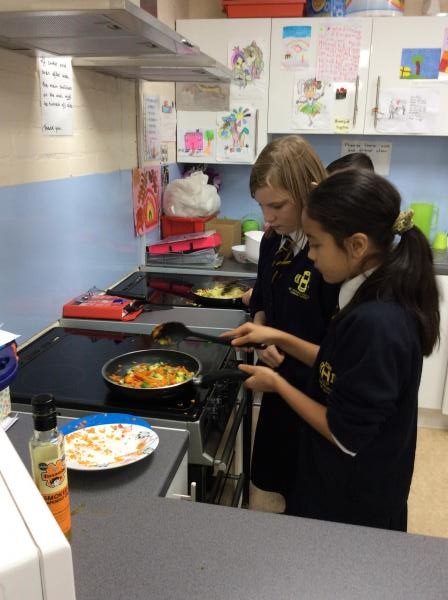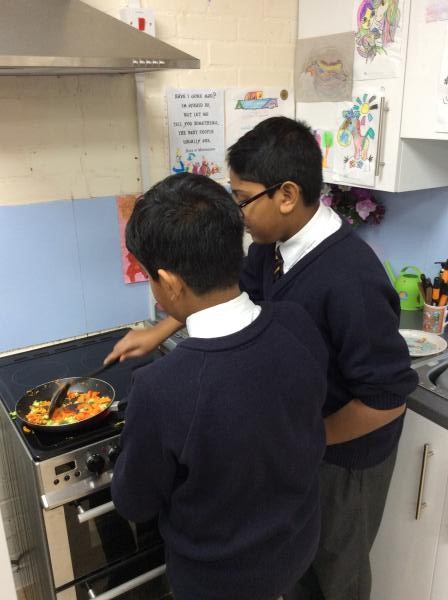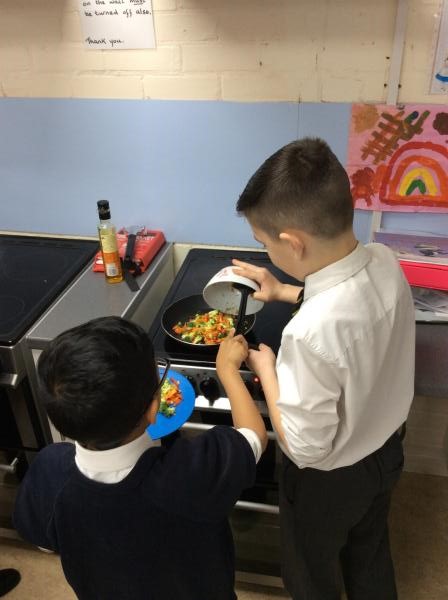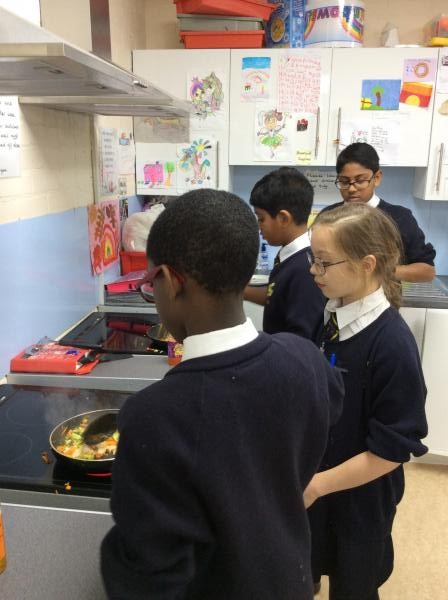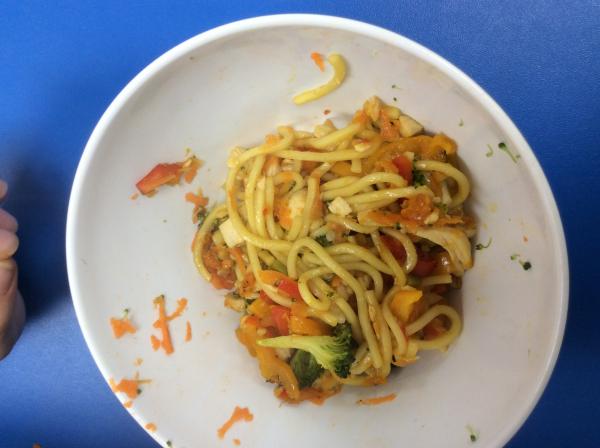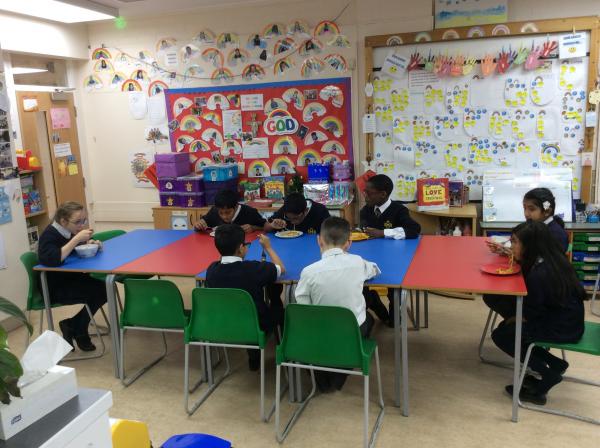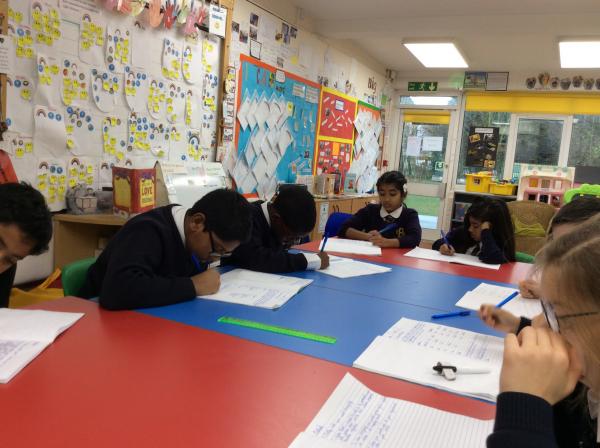 Thursday 28th November - Stir Fry Group 2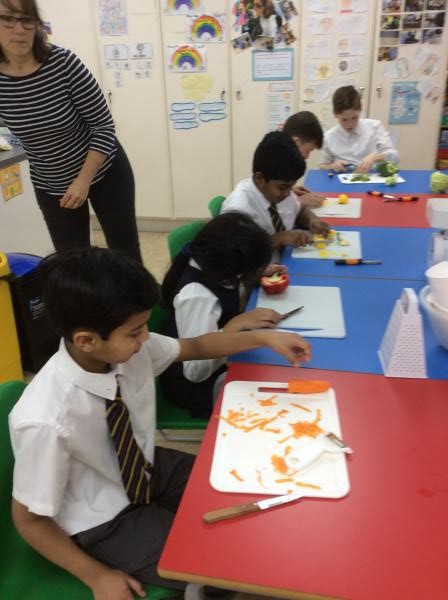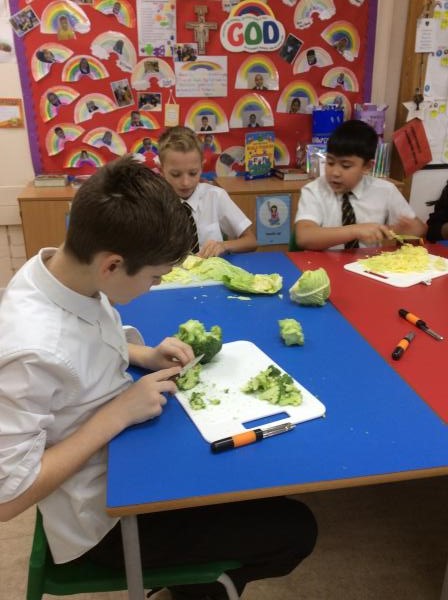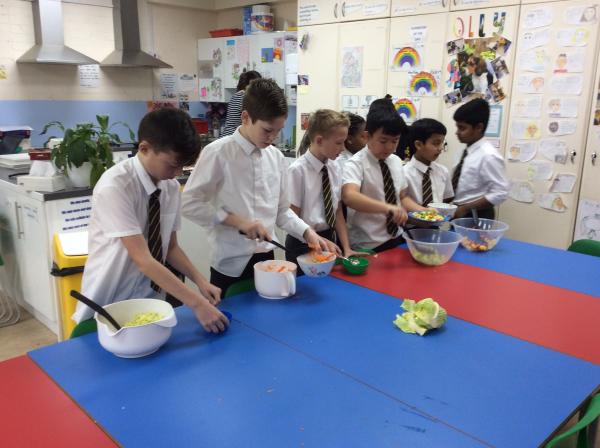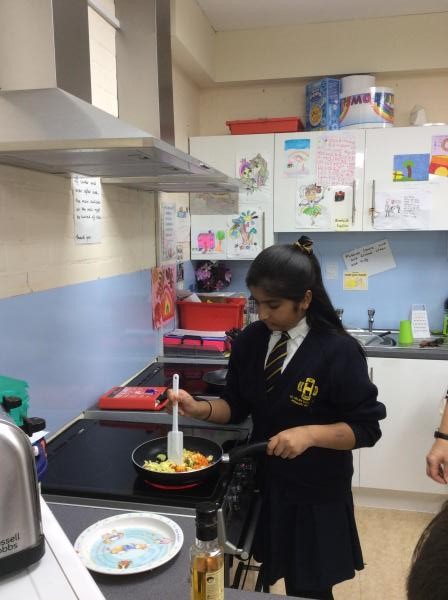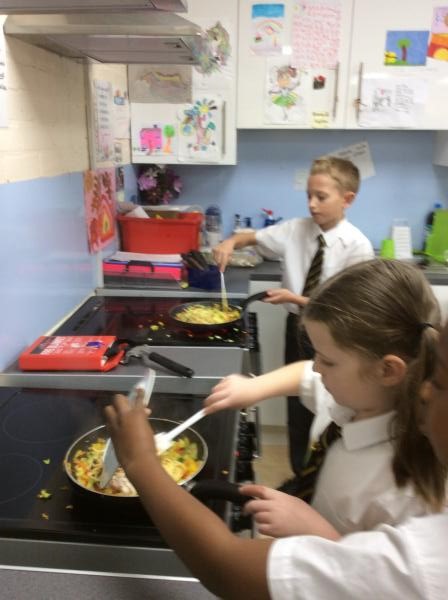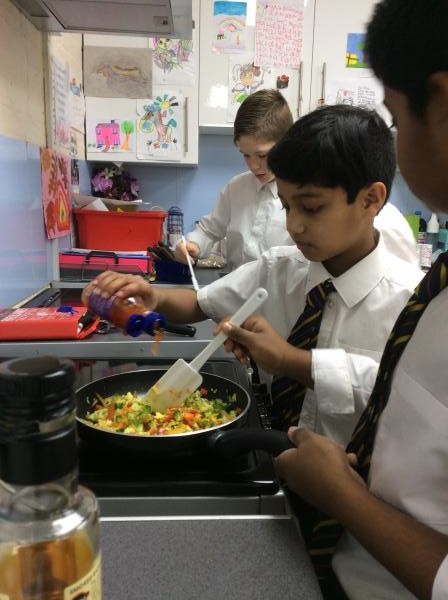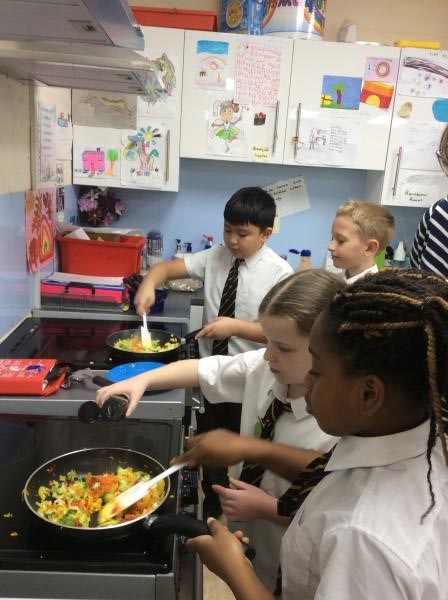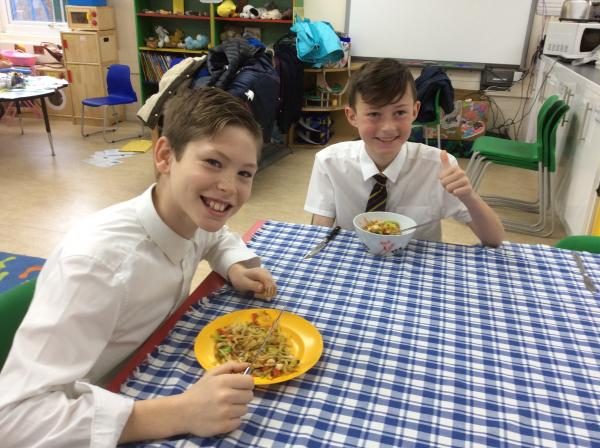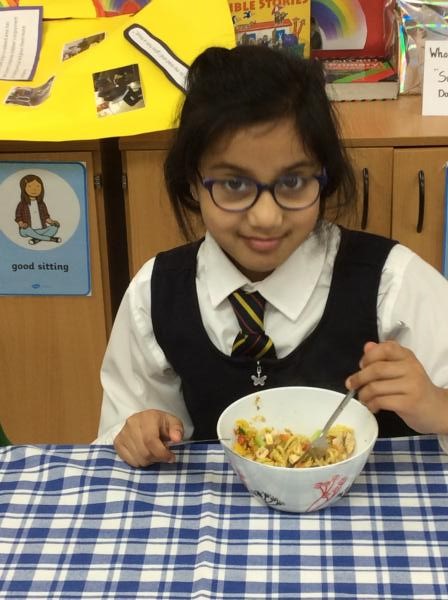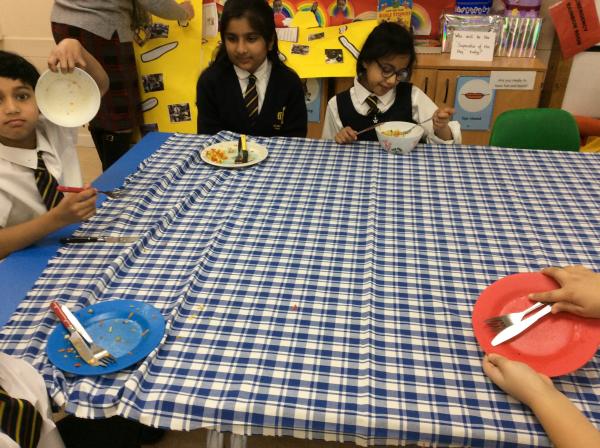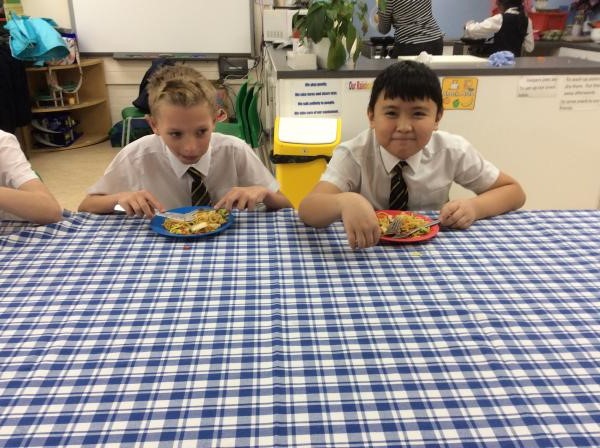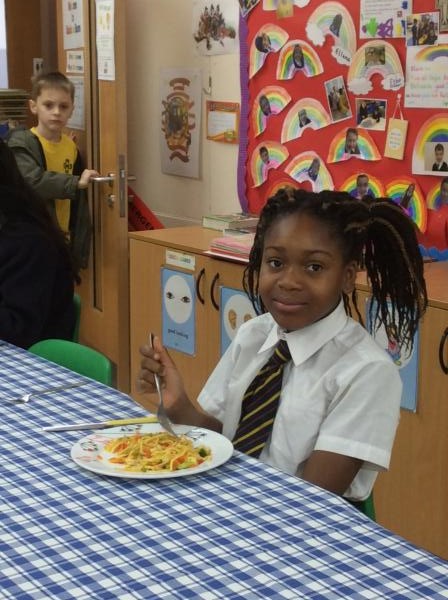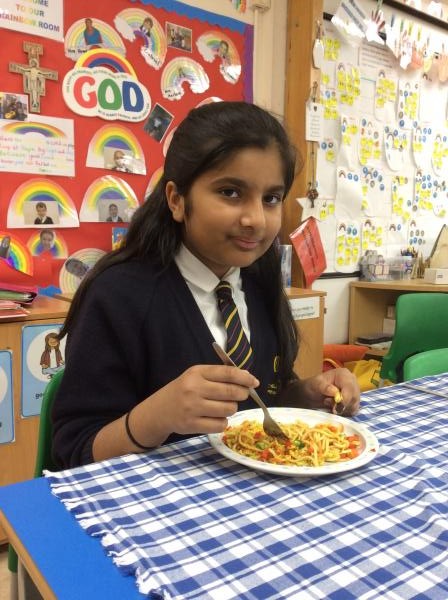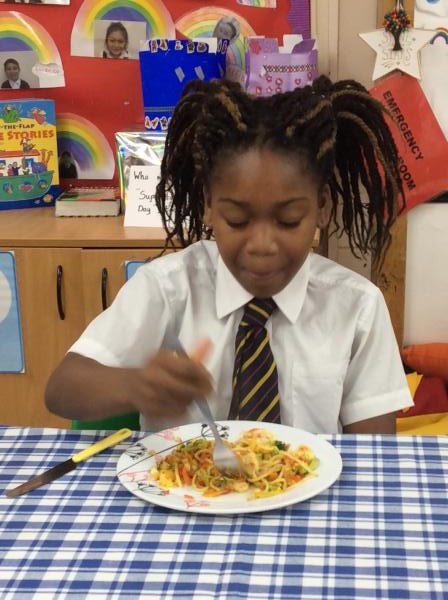 Tree Planting
As part of the Woodland Trust Plant a Tree day, Year 6 organised for years 1 and 2 to plant our trees.
57 trees were planted around the school grounds. Grass was removed, soil dug over, holes dug, trees planted, canes put in to support and protective covers were put around the new saplings.
Hopefully many of the trees will take hold and grow with the classes who planted them!
Thursday 21st November - Stir Fry Group 1
Our first group went shopping today, buying the ingredients for a stir fry. They stuck to their budget and cooked a delicious stir fry which was eaten and enjoyed by all! Not a mouthful left for very hungry teachers!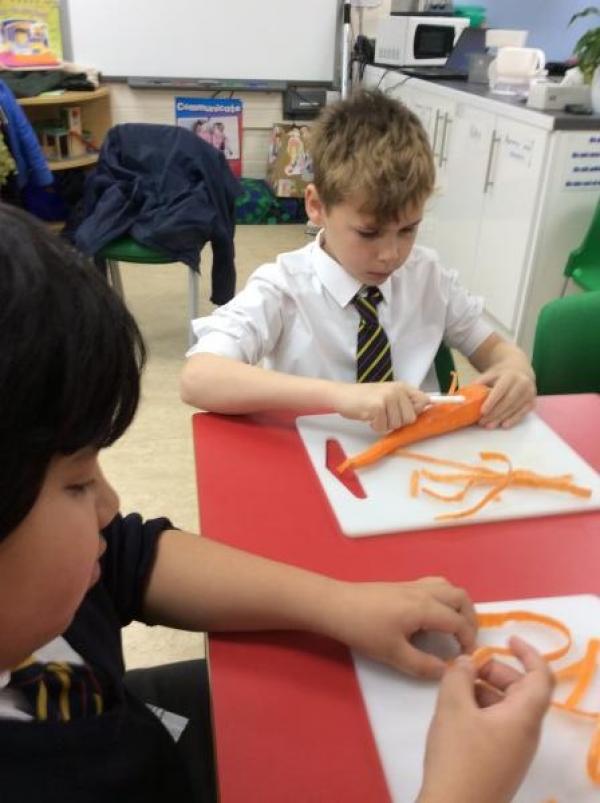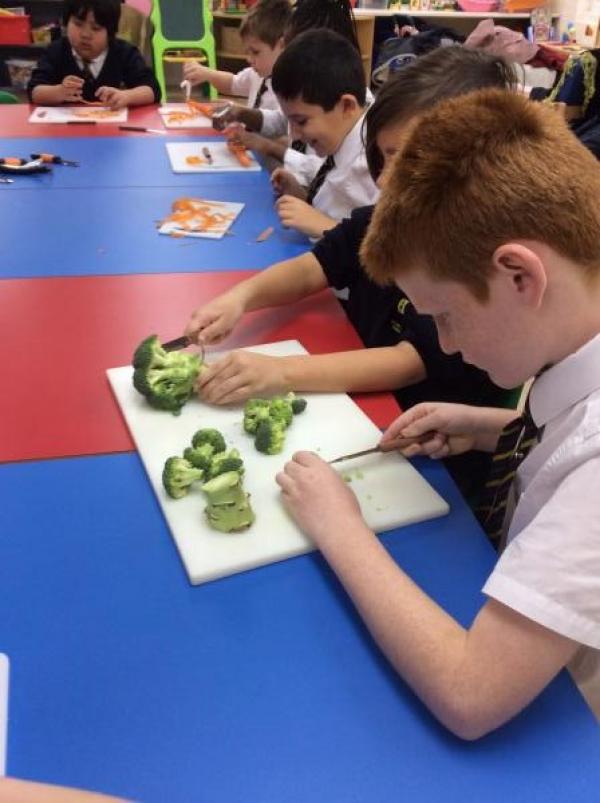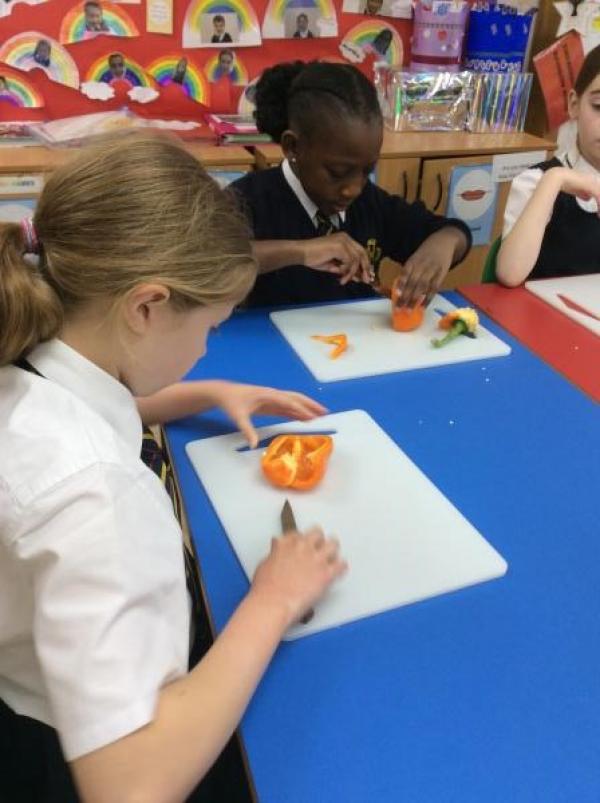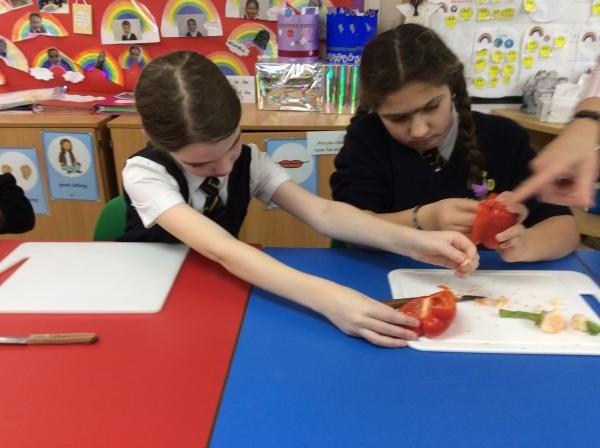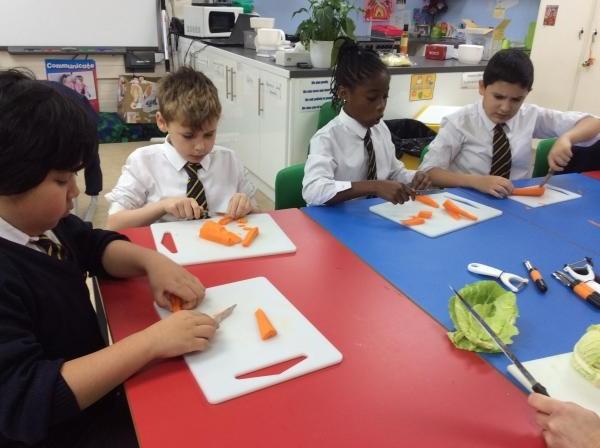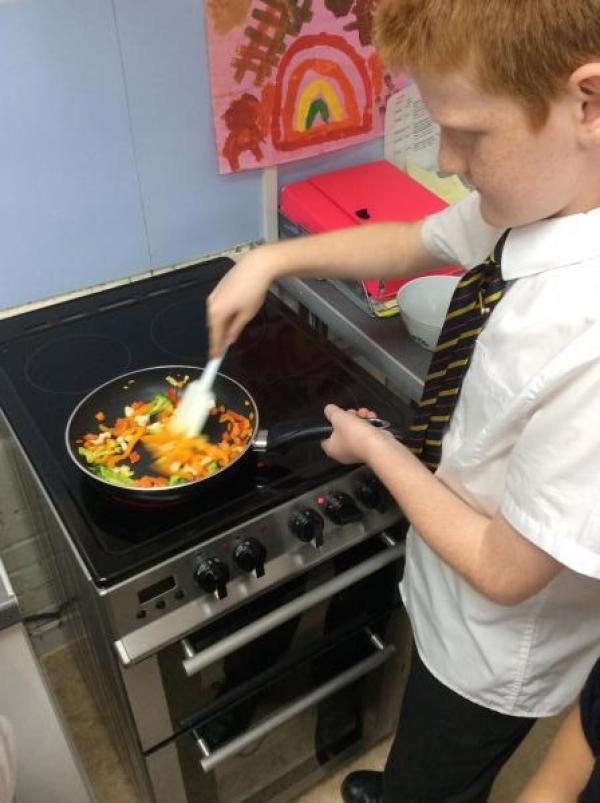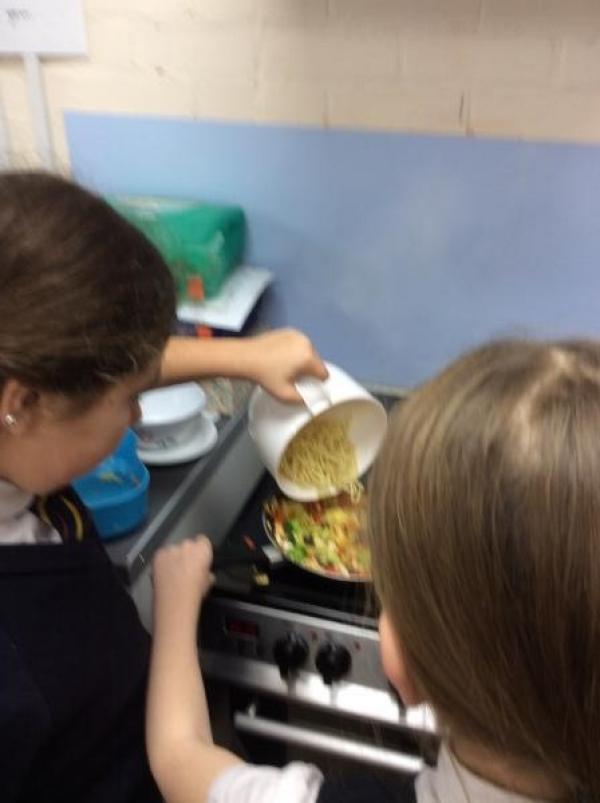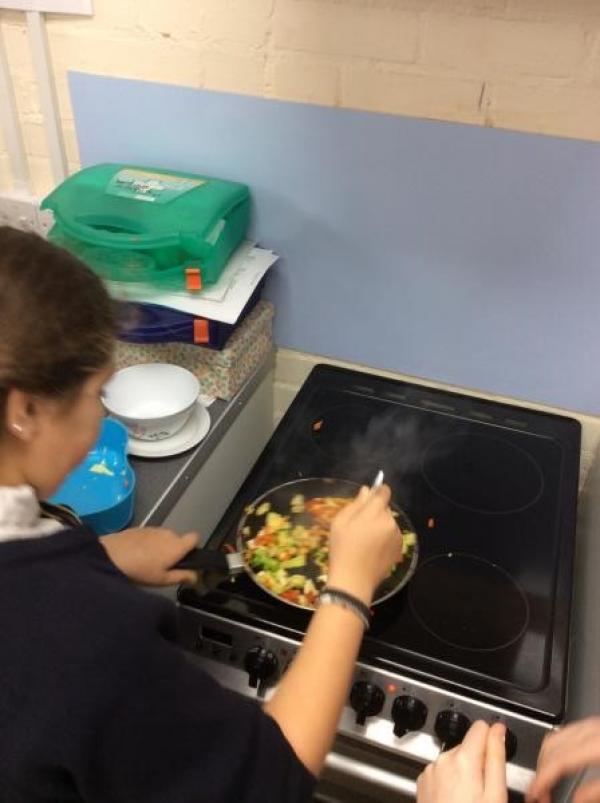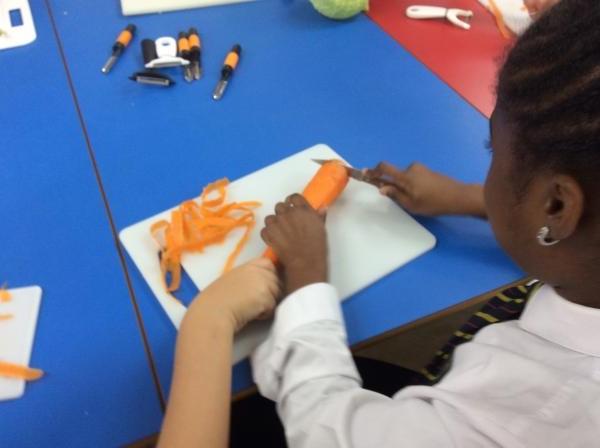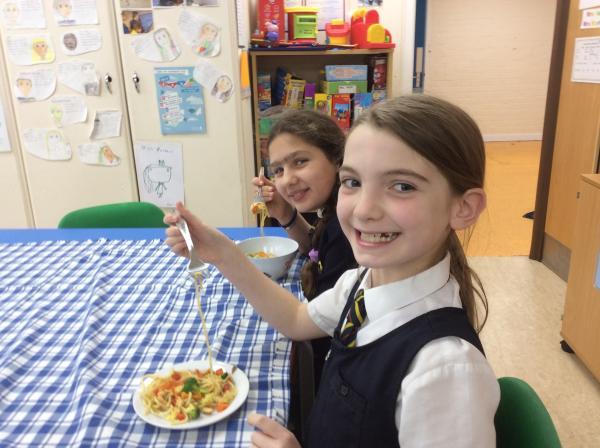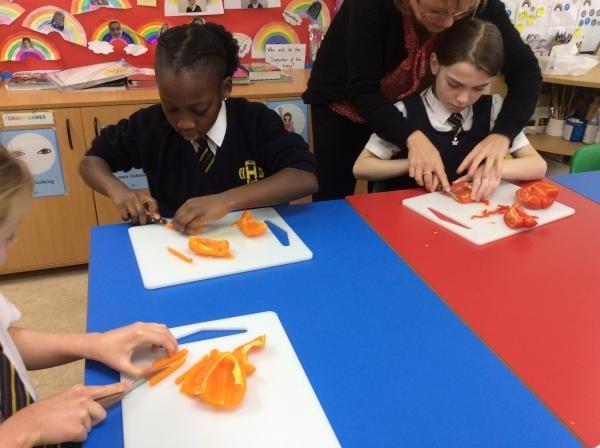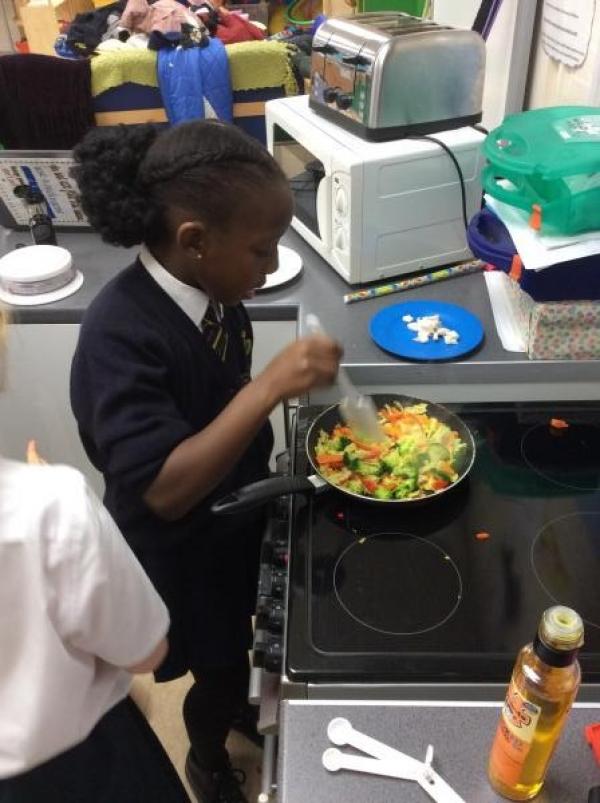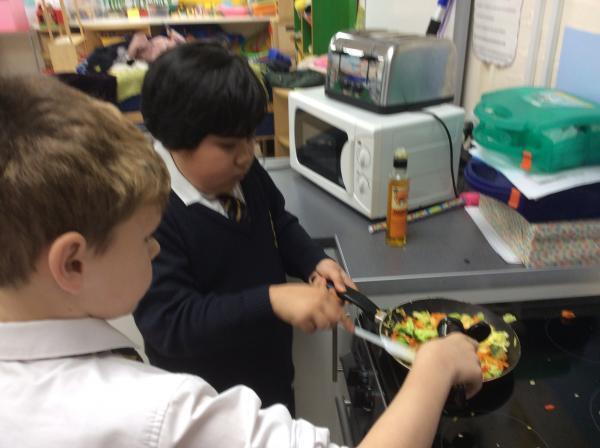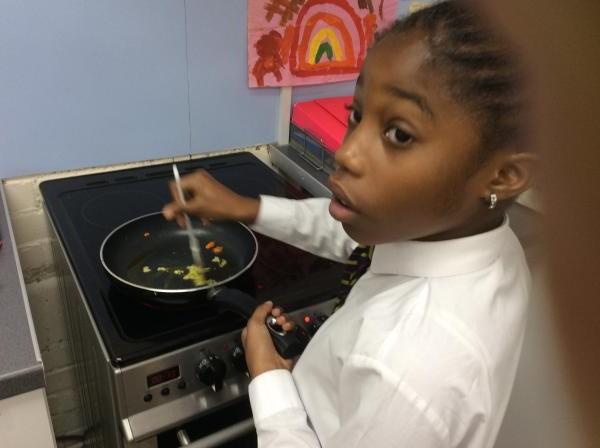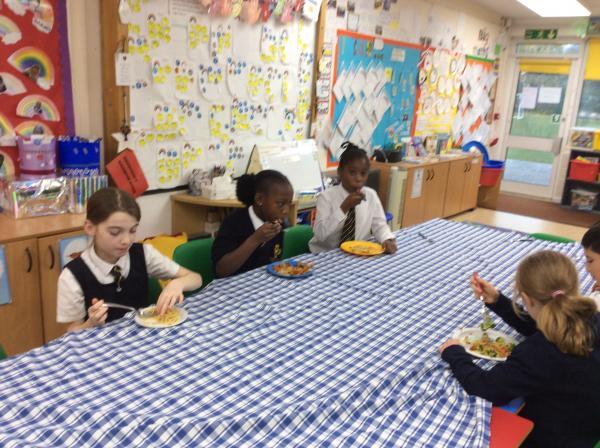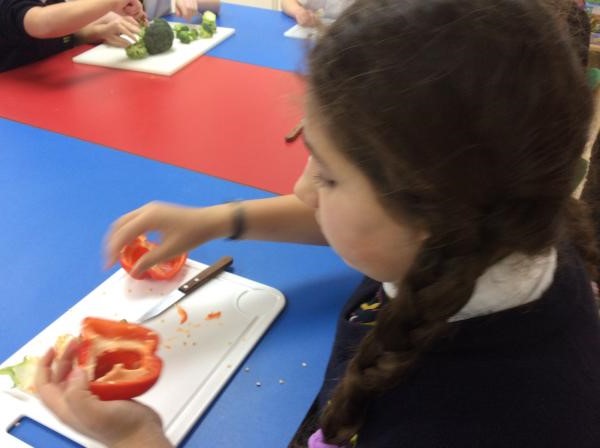 Let's see how Class 6 measure up....
Year 6 enjoying some practical measuring today! Maybe they can practise at home too!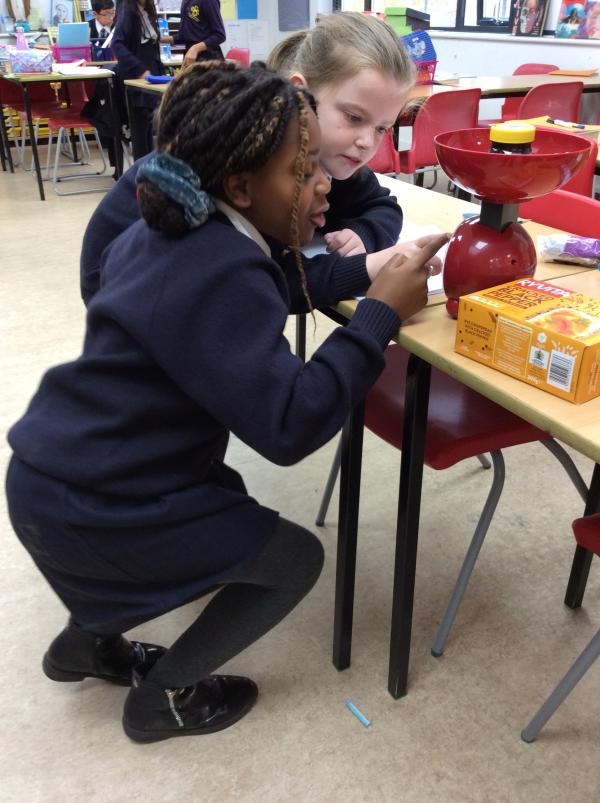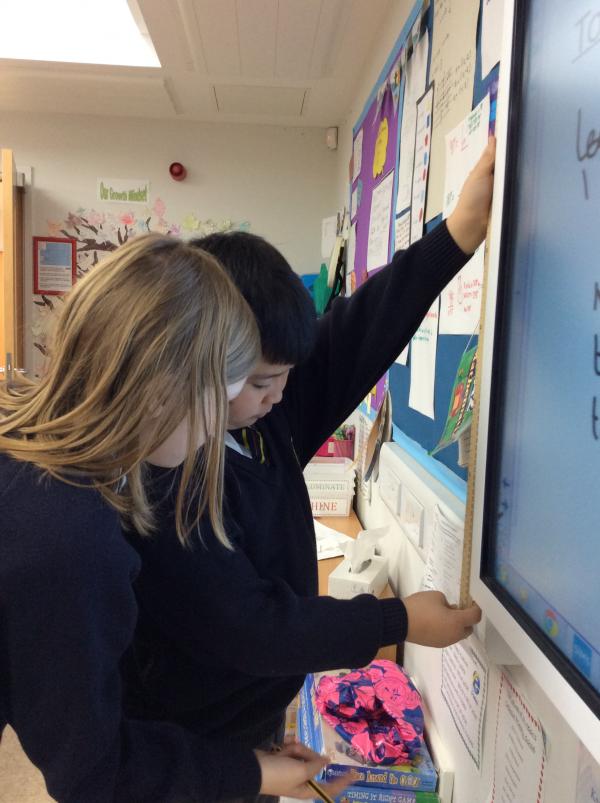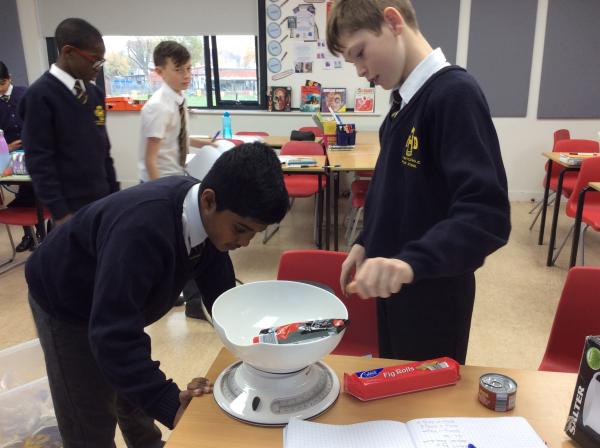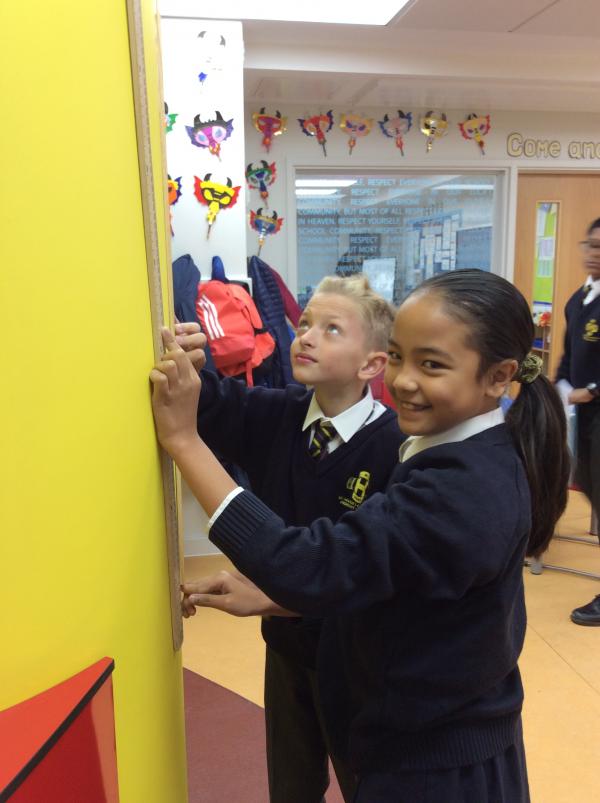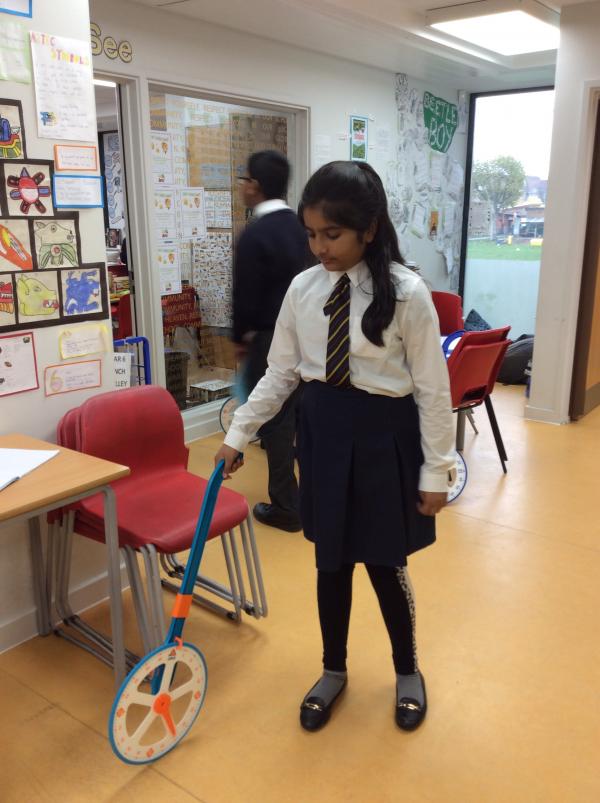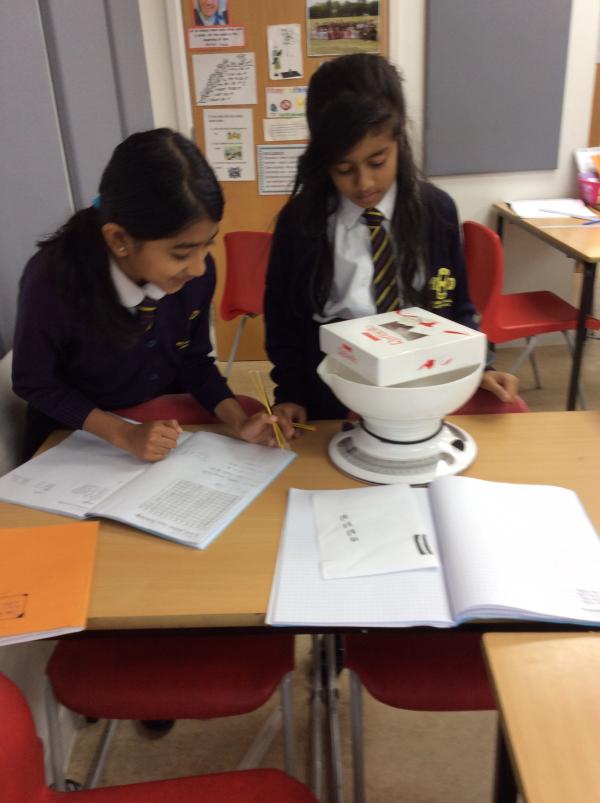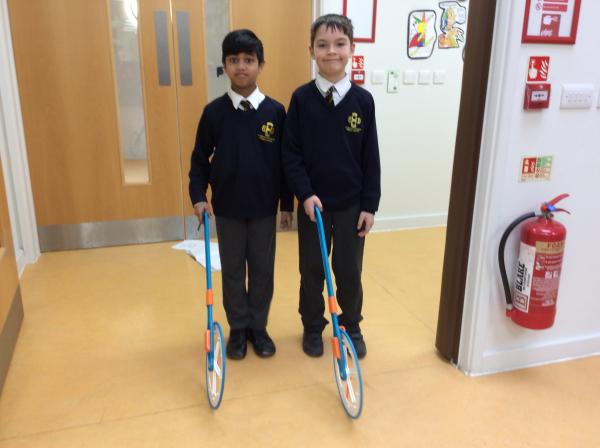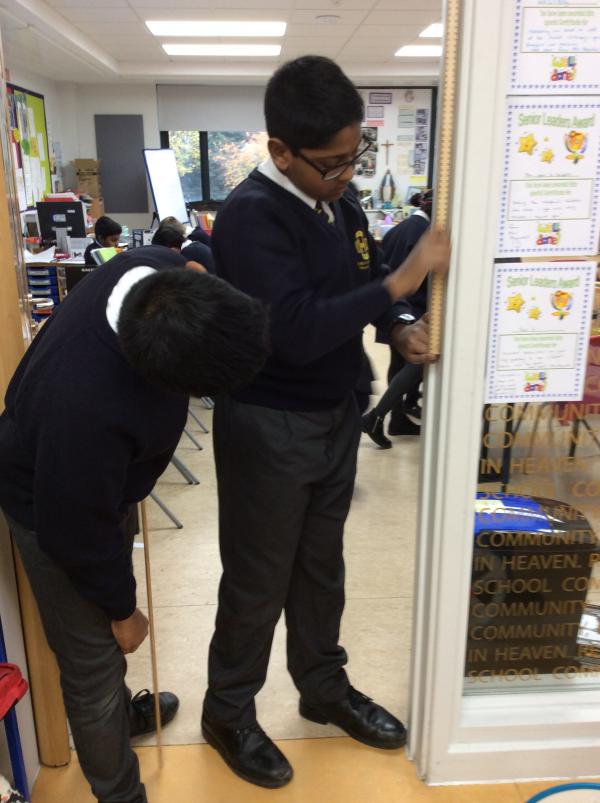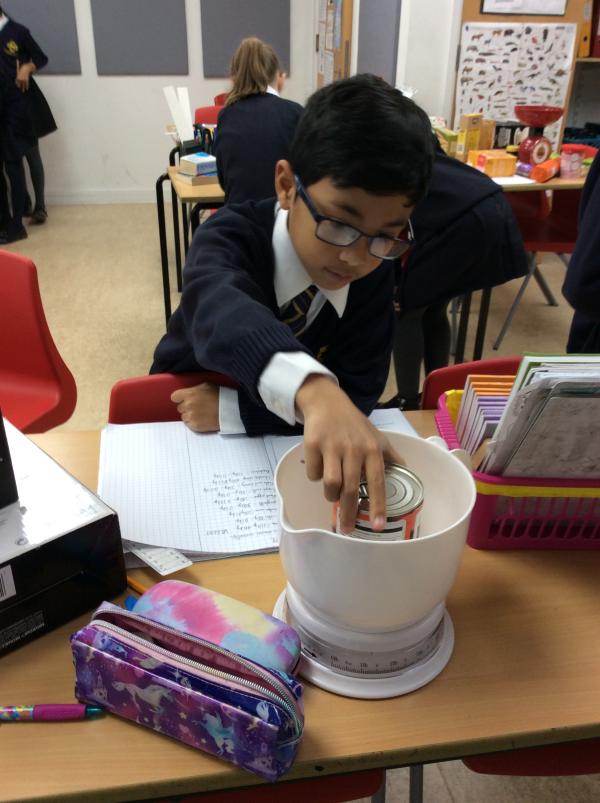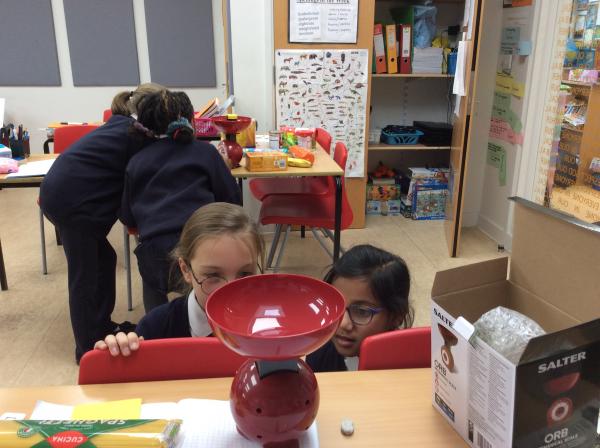 The Explorer
Year 6 enjoyed creating drama in response to the key points from a chapter in our class book: 'The Explorer' by Katherine Rundell.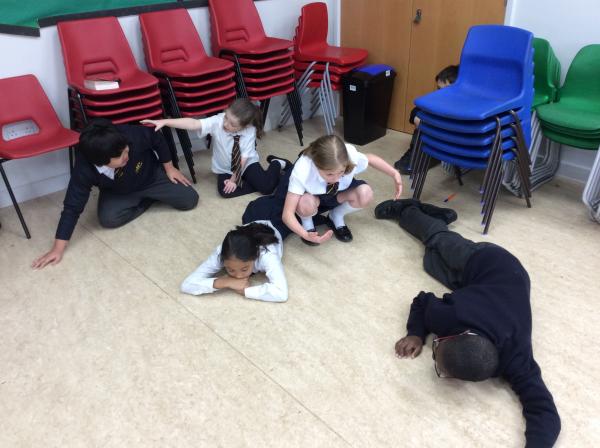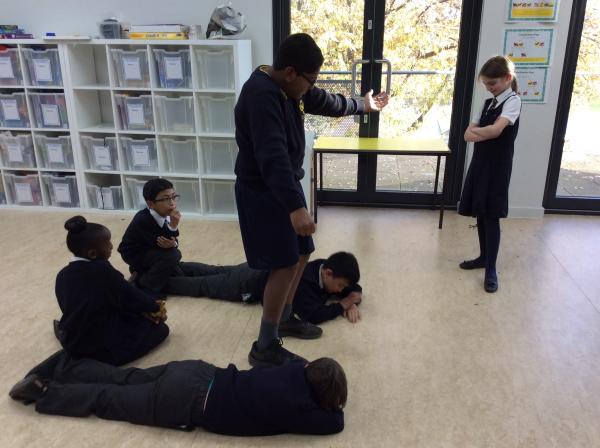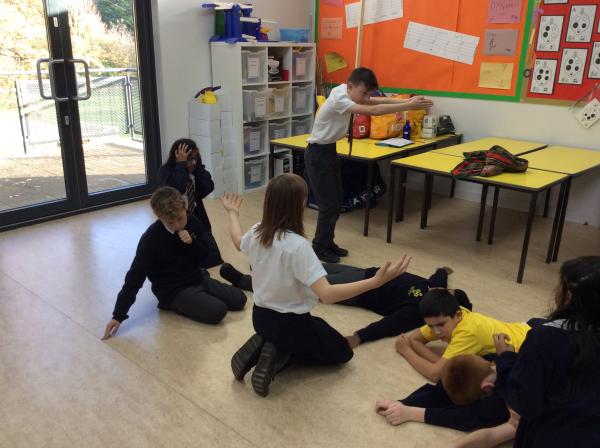 Fascinating Father Basil
Today, Father Basil came to visit Year 6. He discussed his many roles and being ordained, showing us some of the artefacts he has collected from his travels around the world. He impressed us all with the many languages he could speak.
Thank you Father Basil.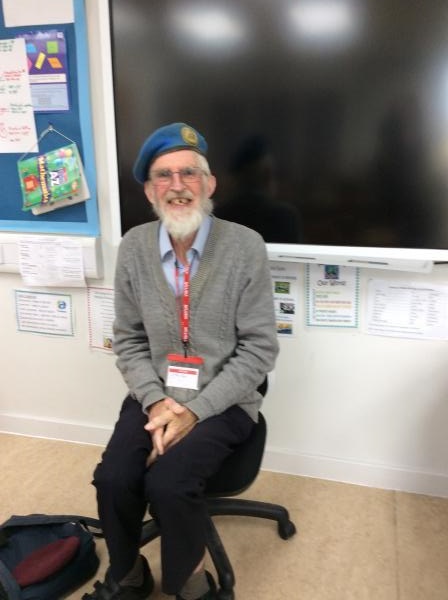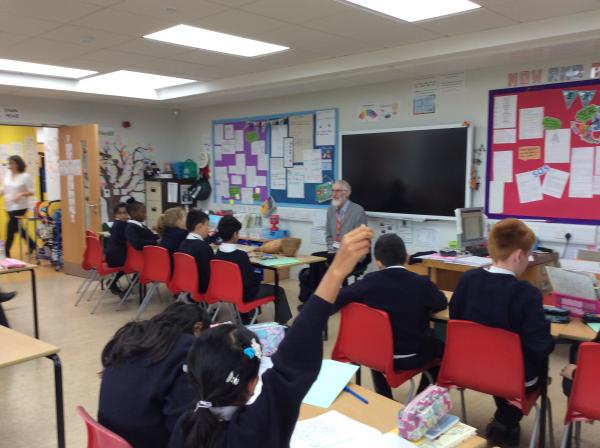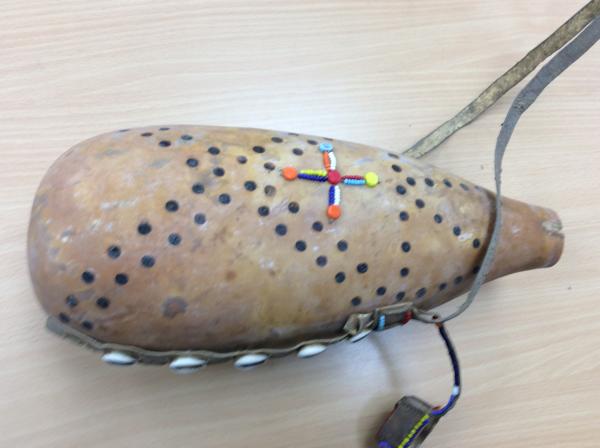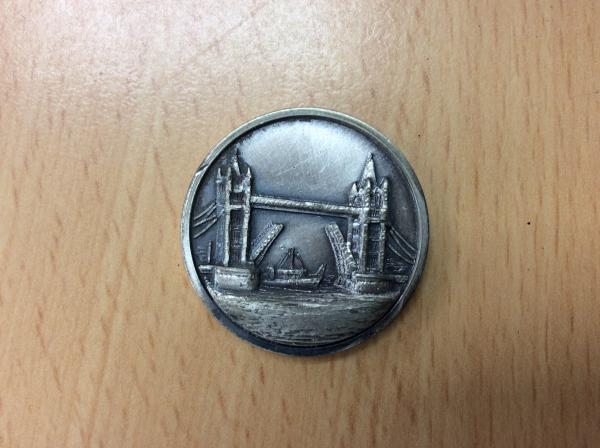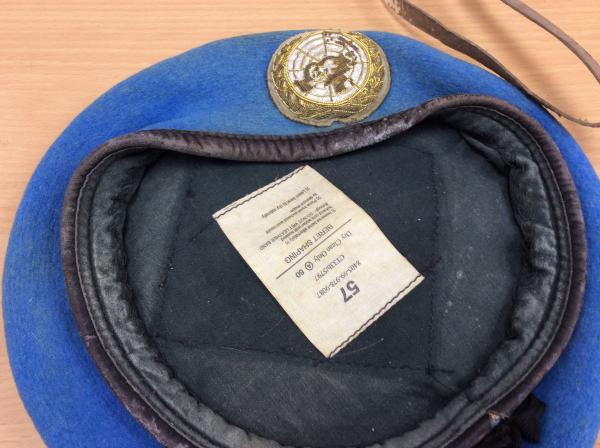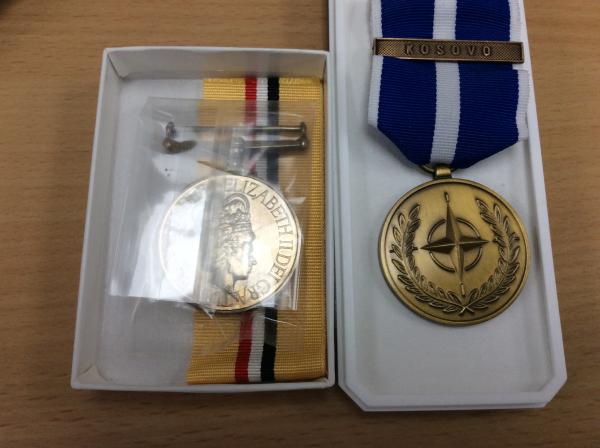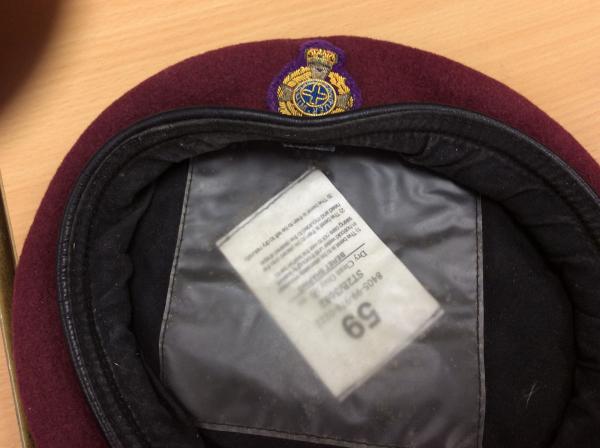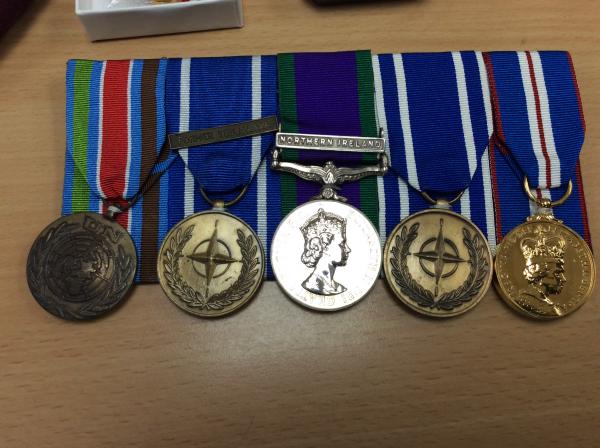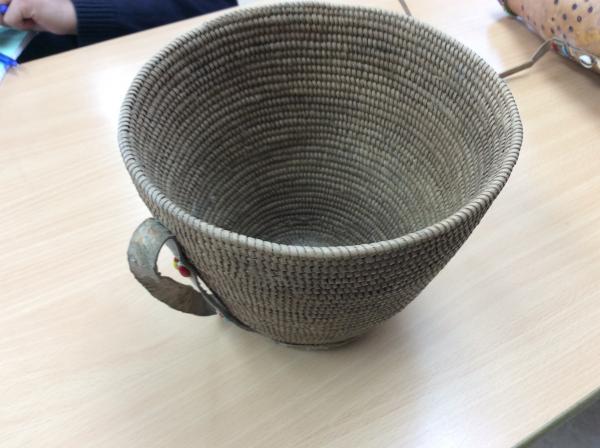 Marvellous Museums
Year 6 have finished their shoe-box museums. Have a good look at their designs and what they have made. They have enjoyed the making process, changing designs and evaluating their project. Well done Year 6!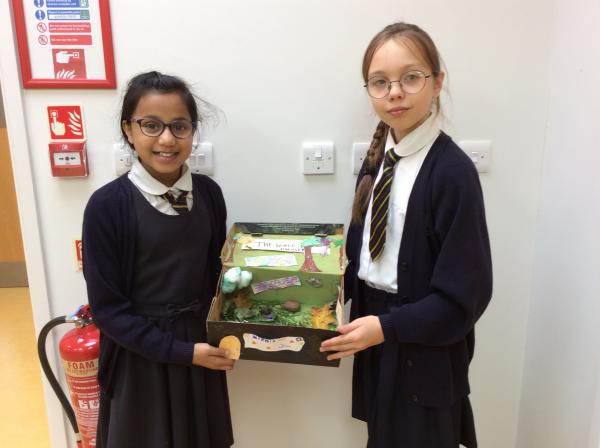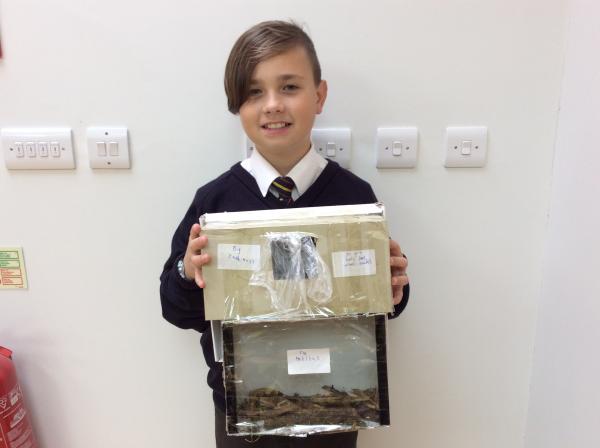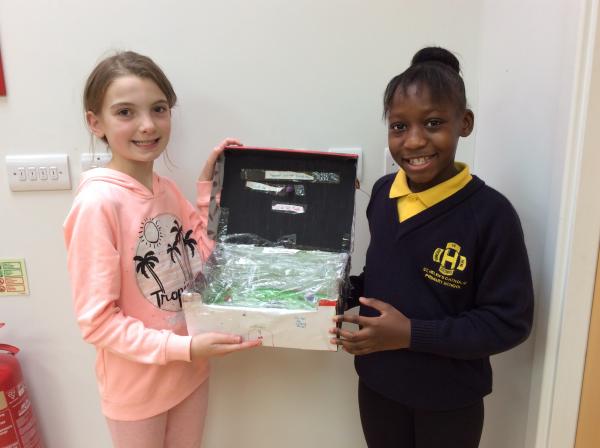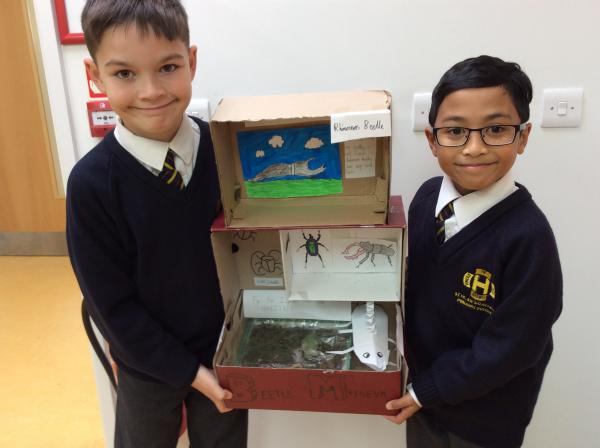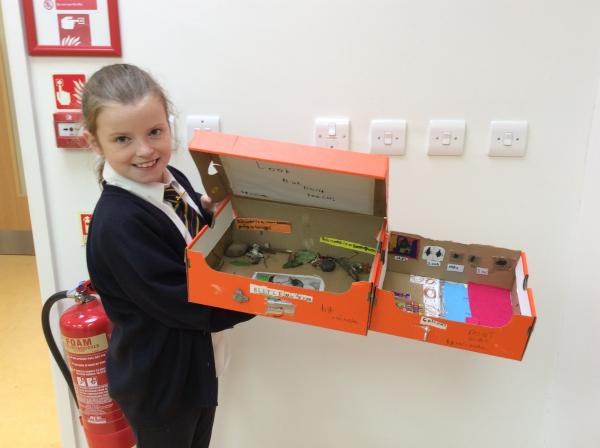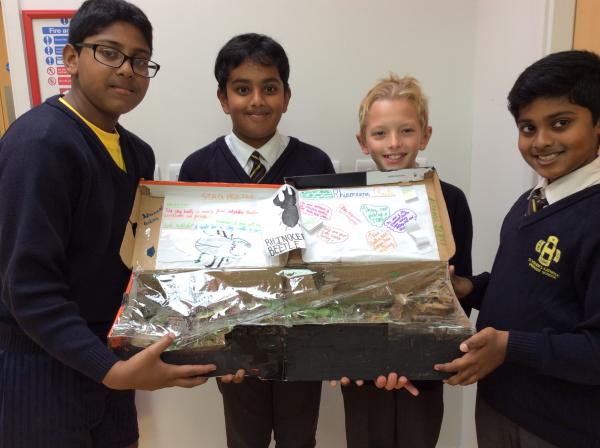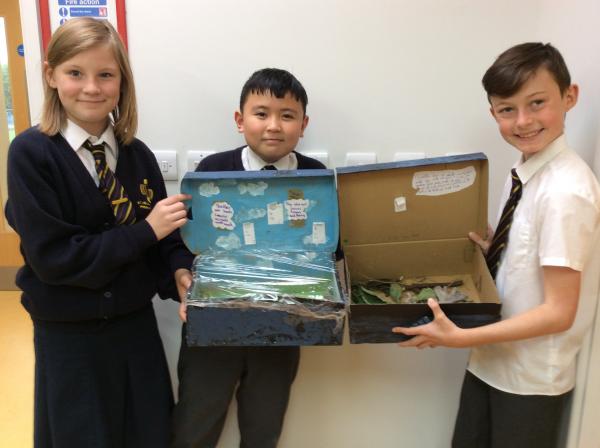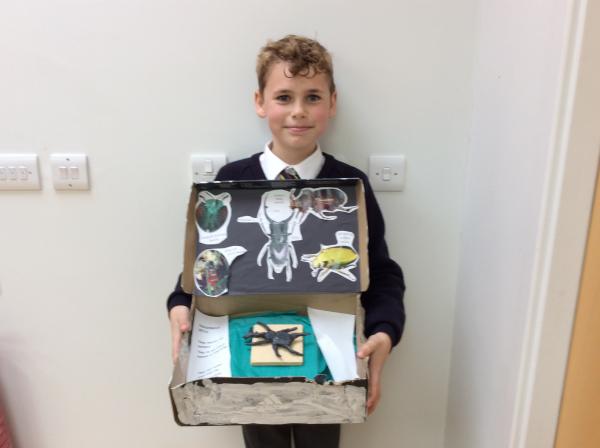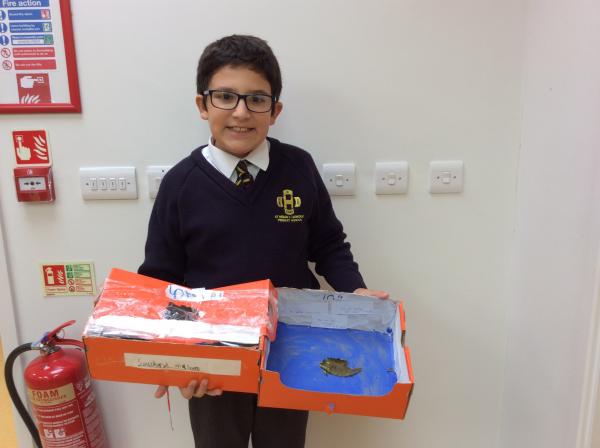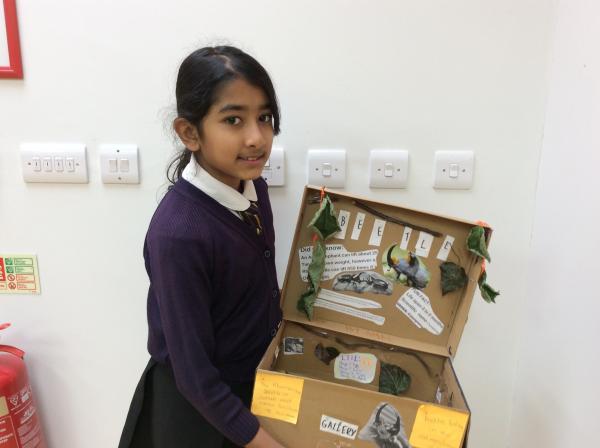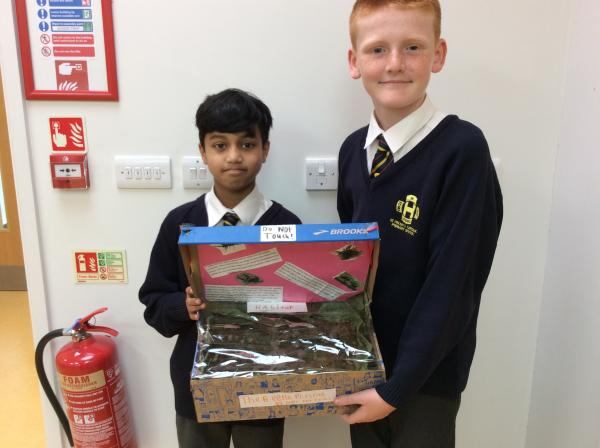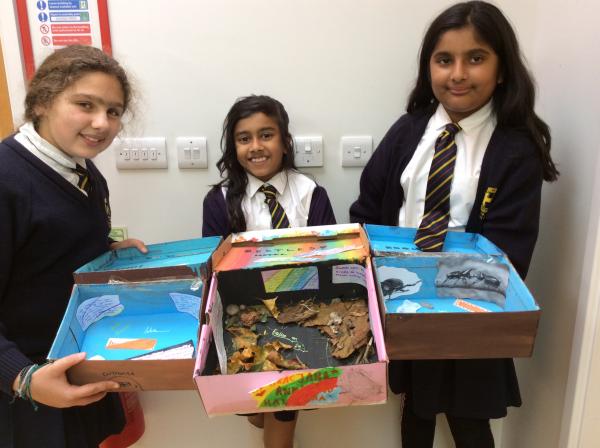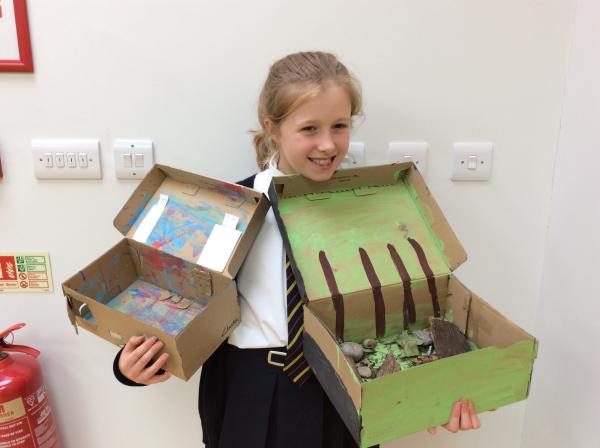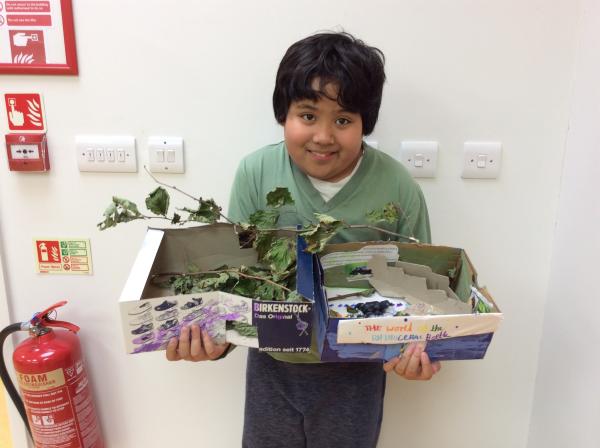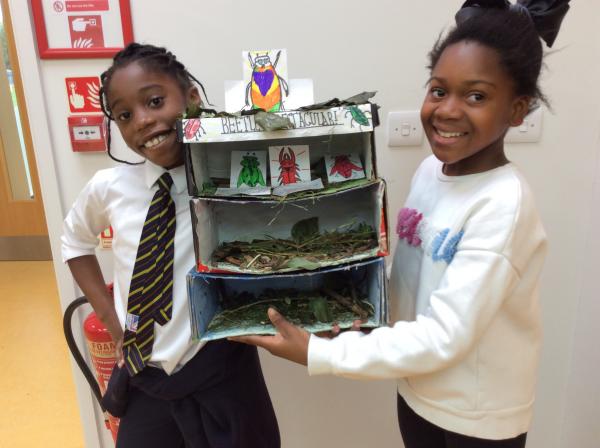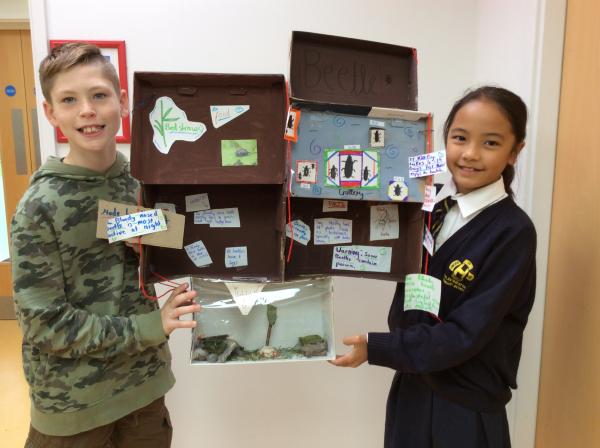 Branching Databases
Year 6 have been using branching databases to classify leaves! We have been learning about what types of trees are in our school grounds.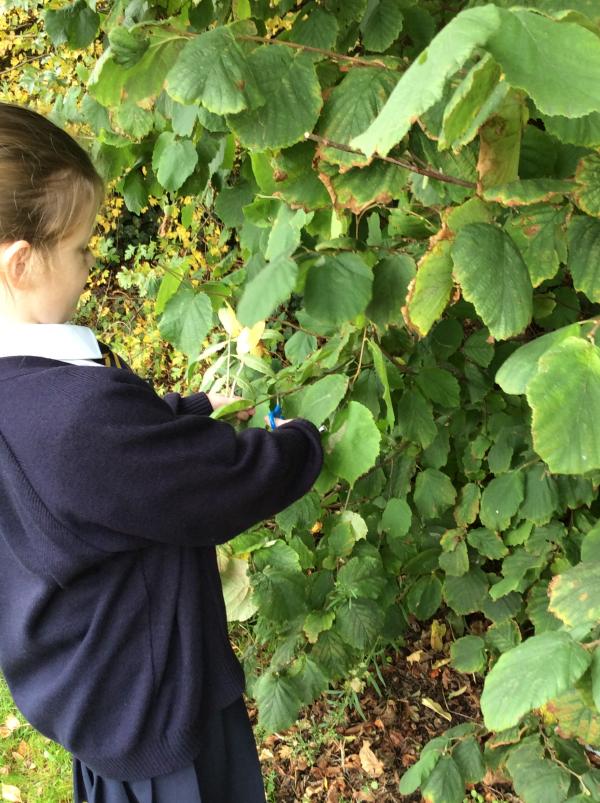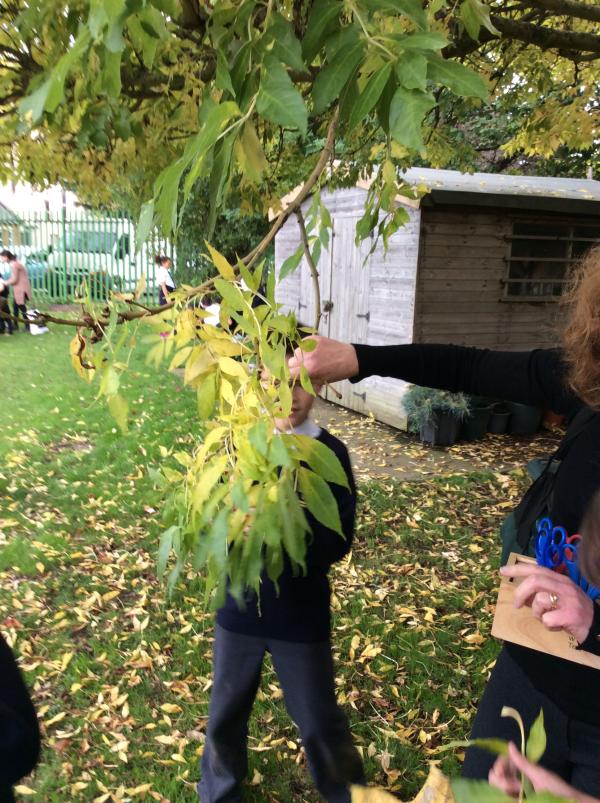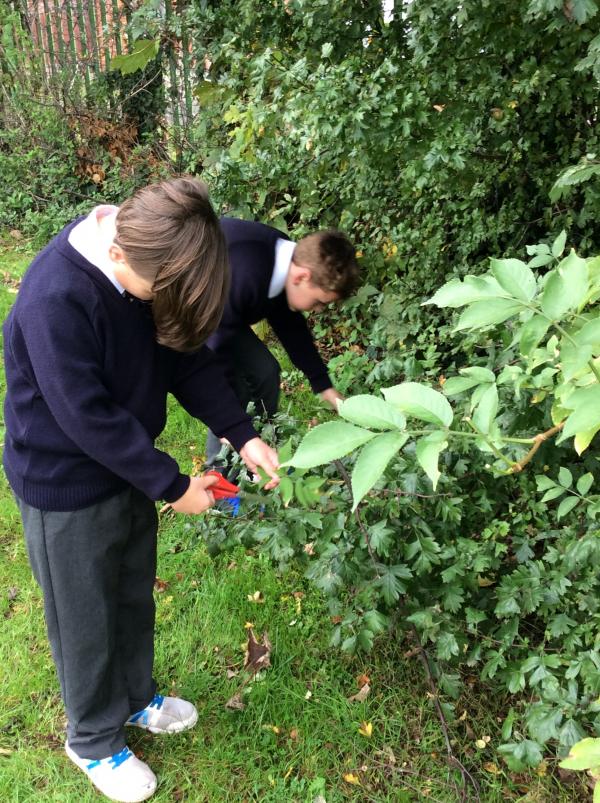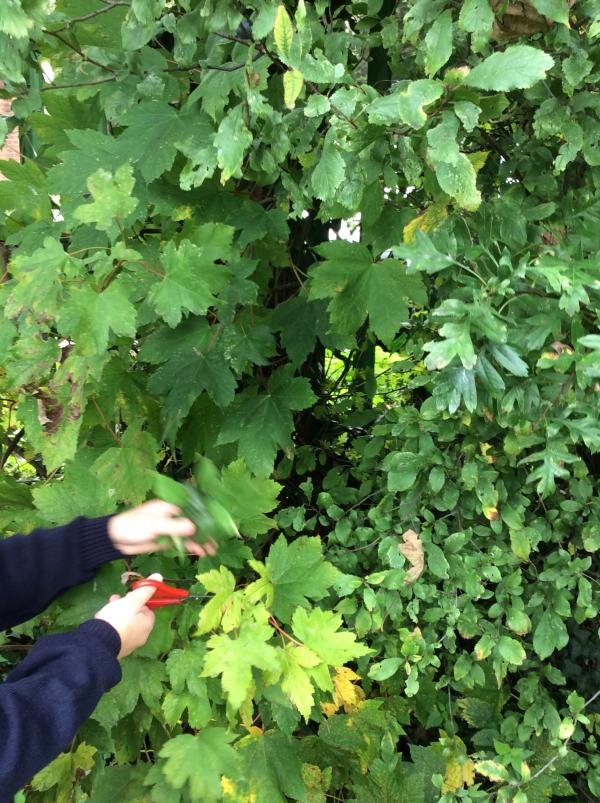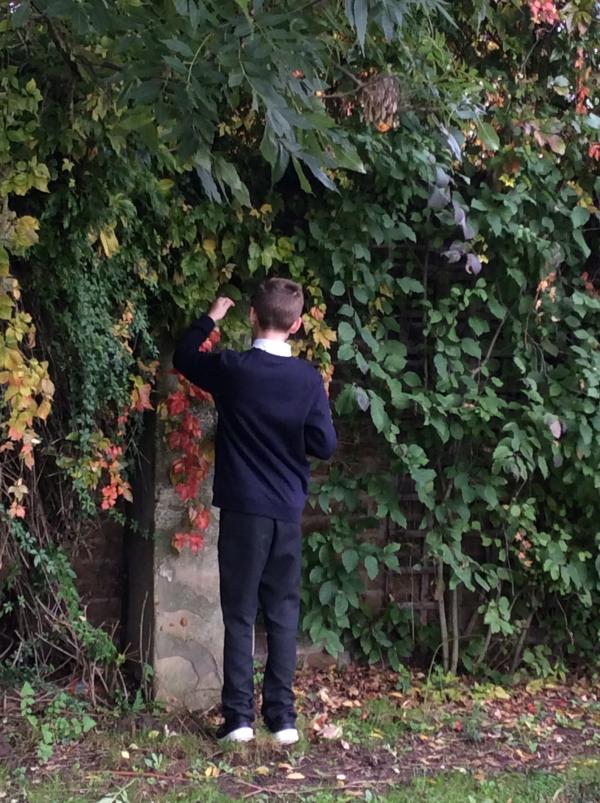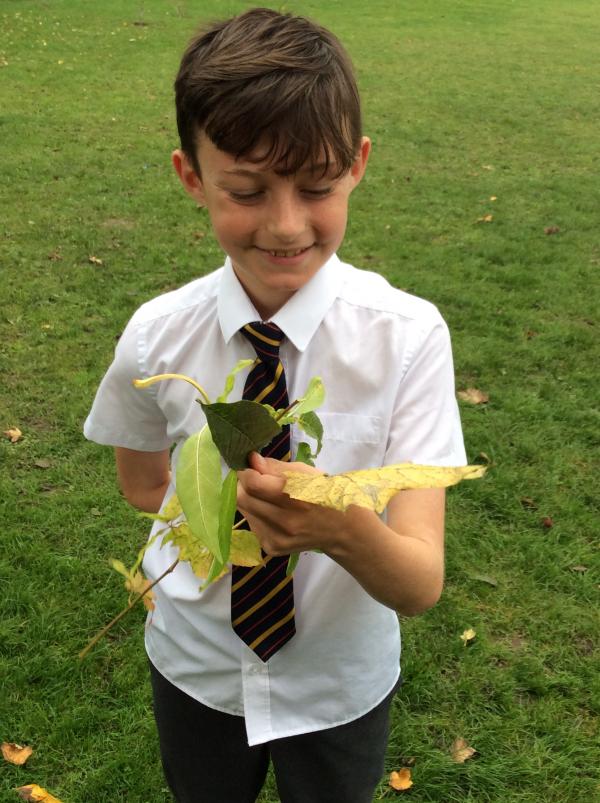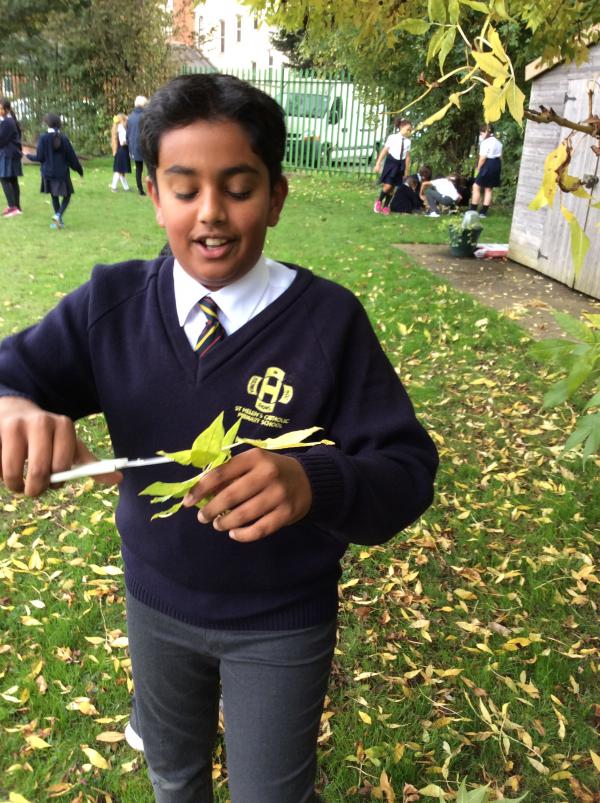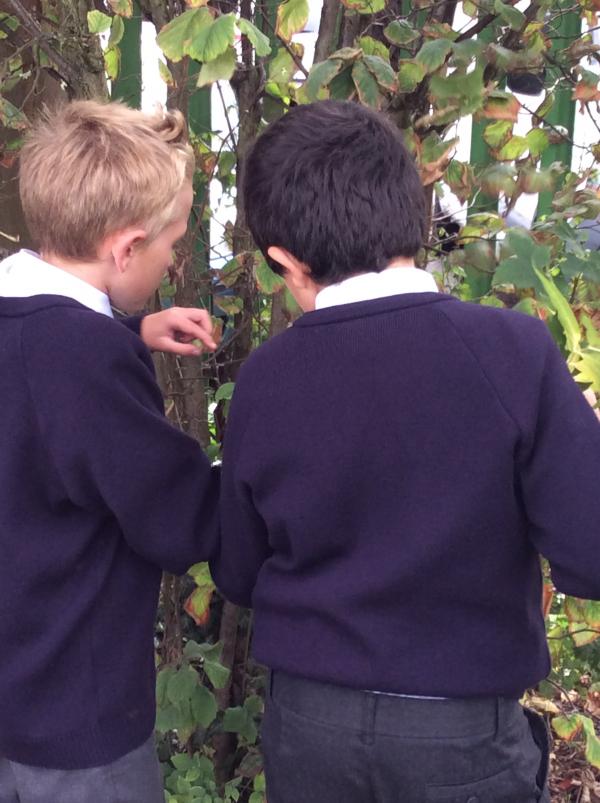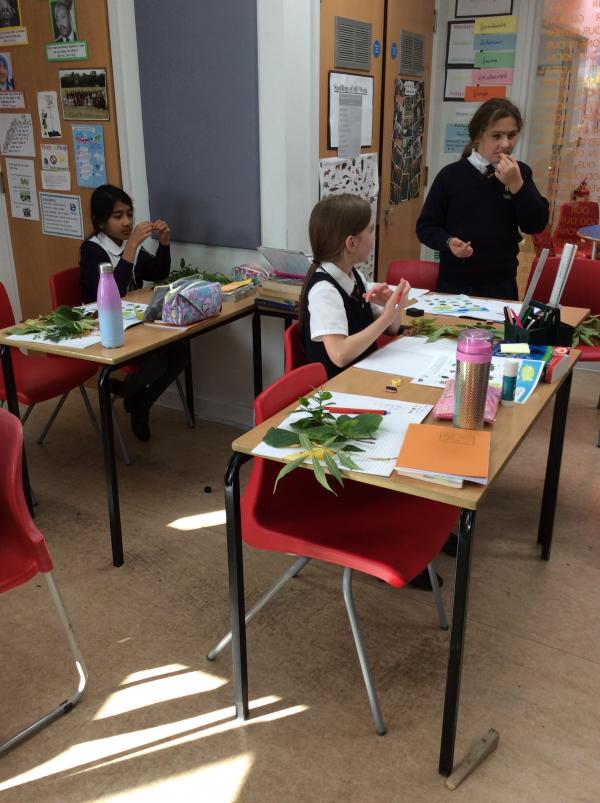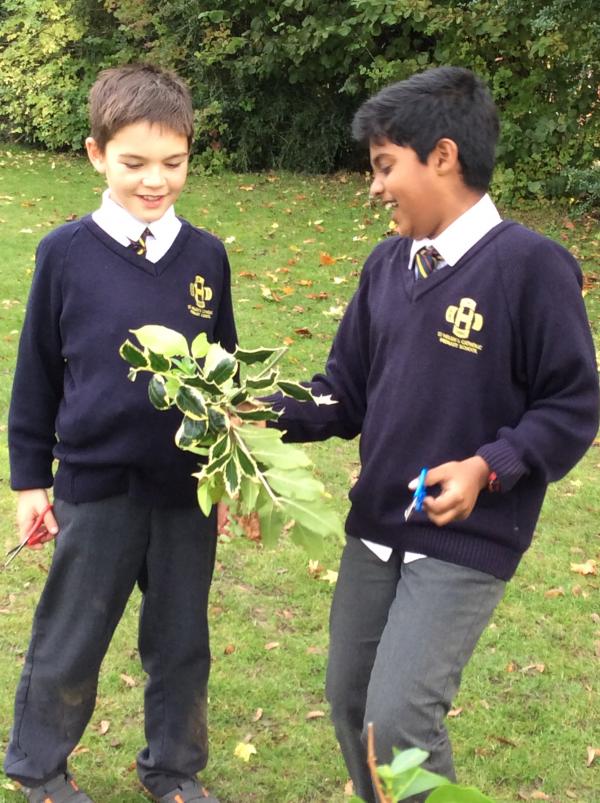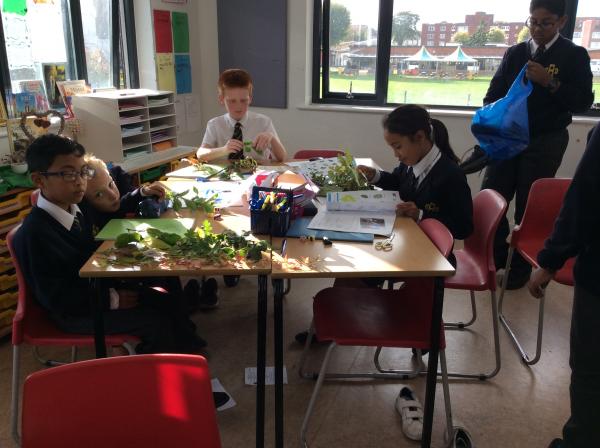 Museum in a Shoebox
Today Year 6 made more progress on their museum in a shoebox. We can't wait to see the finished result!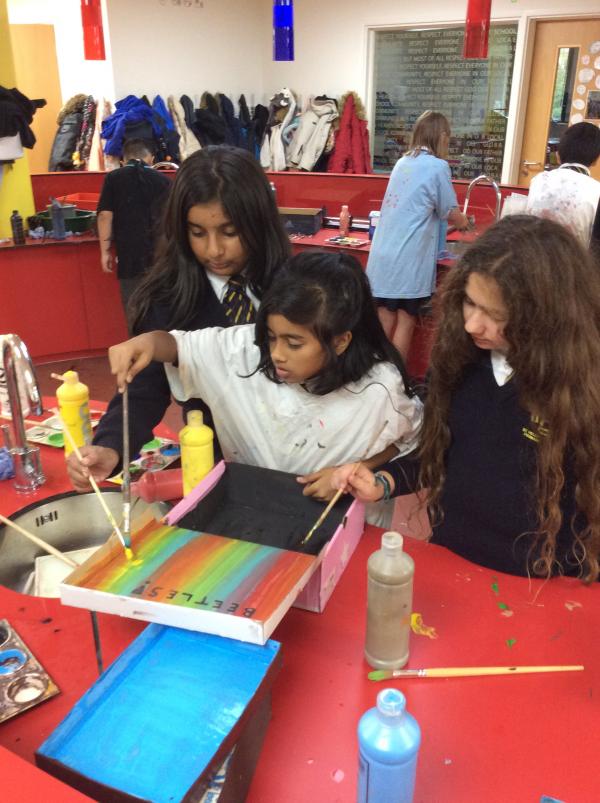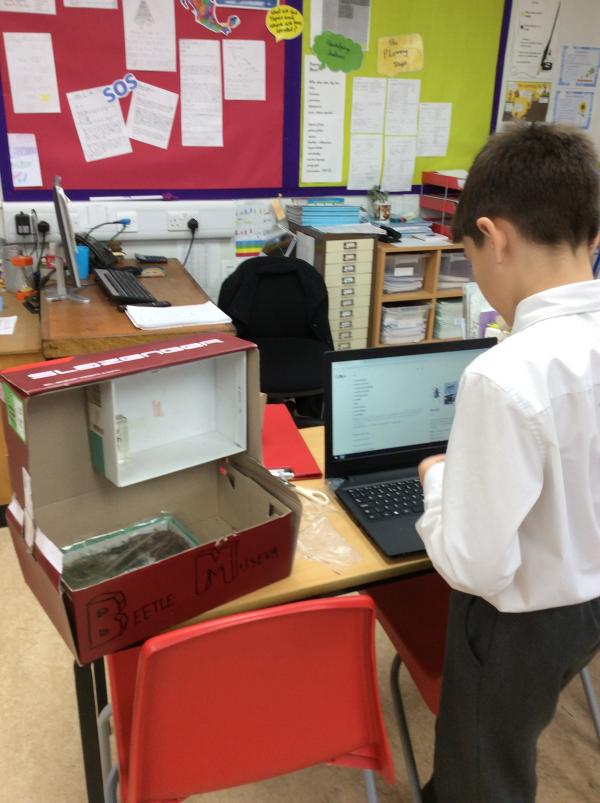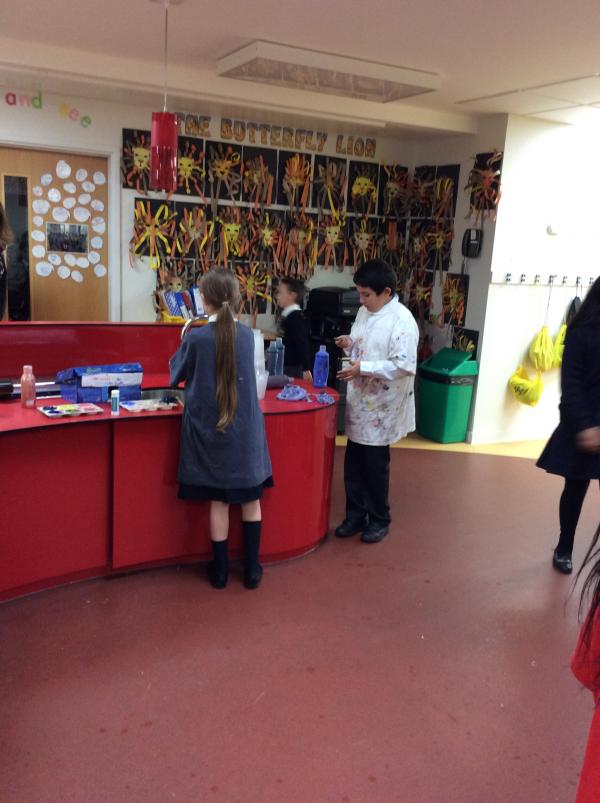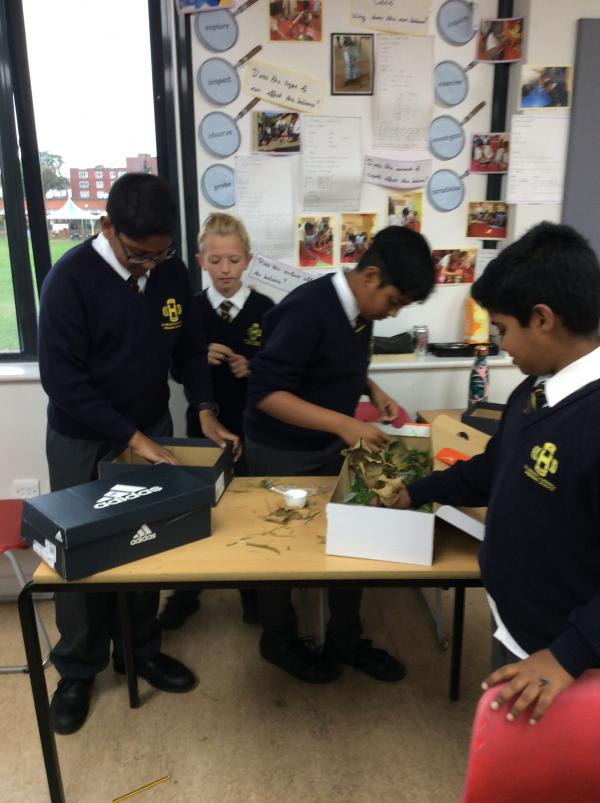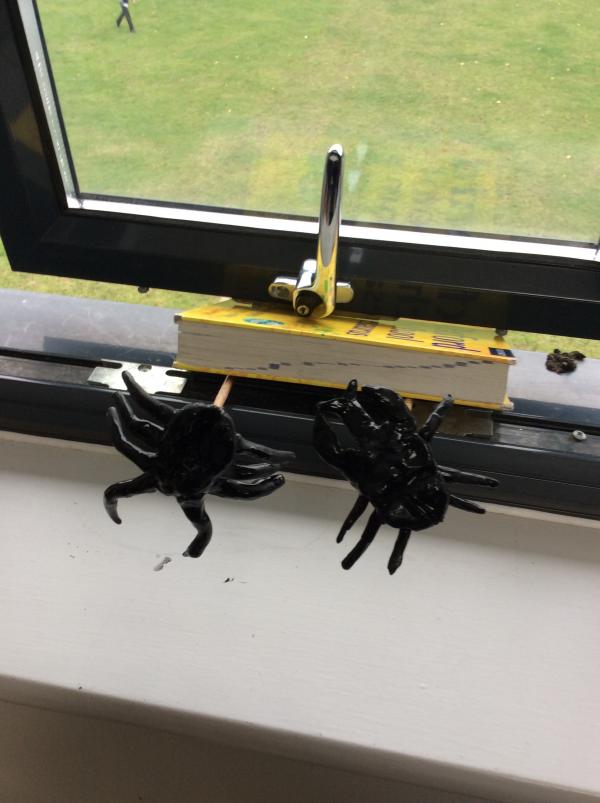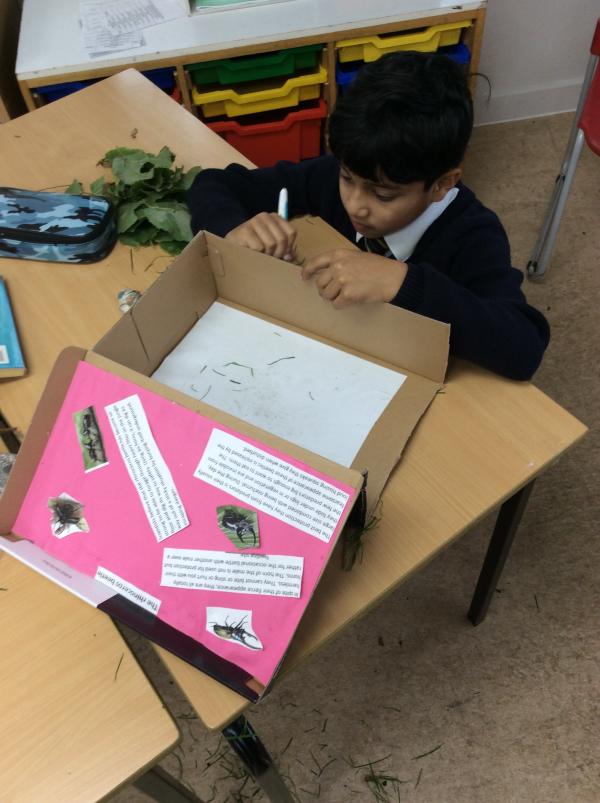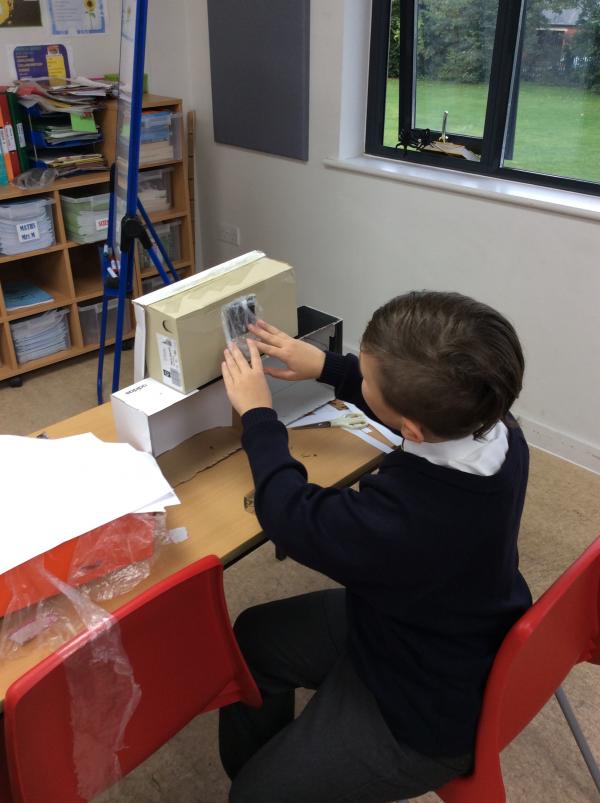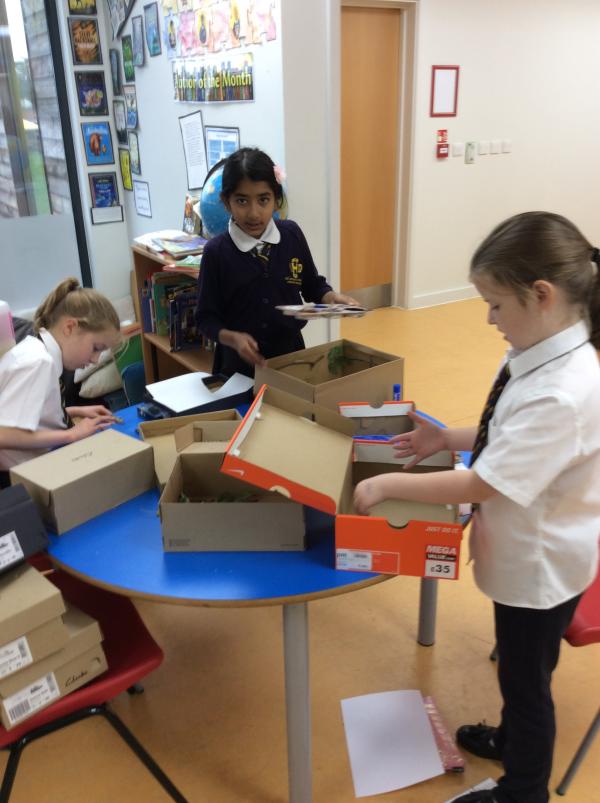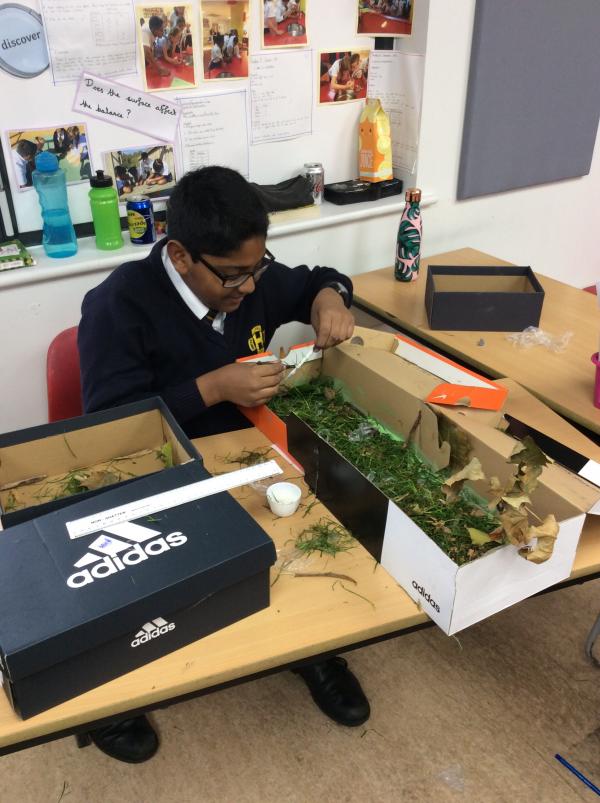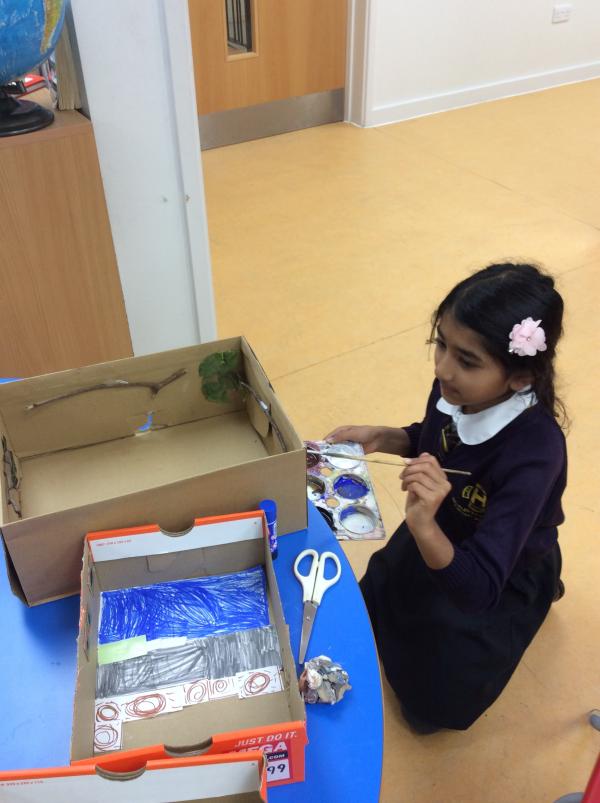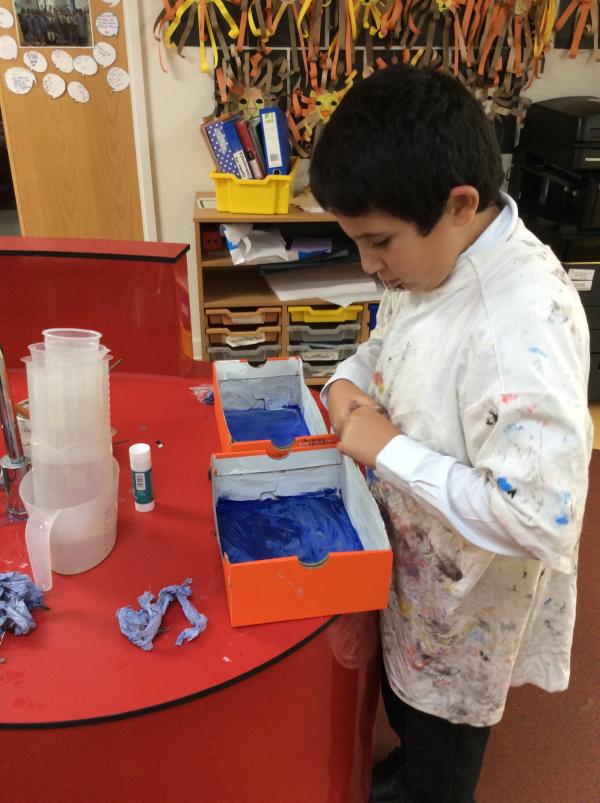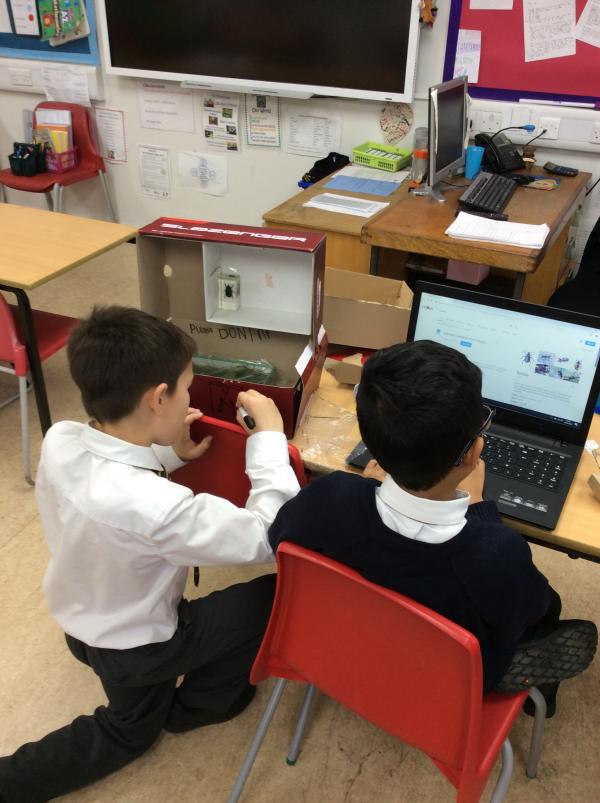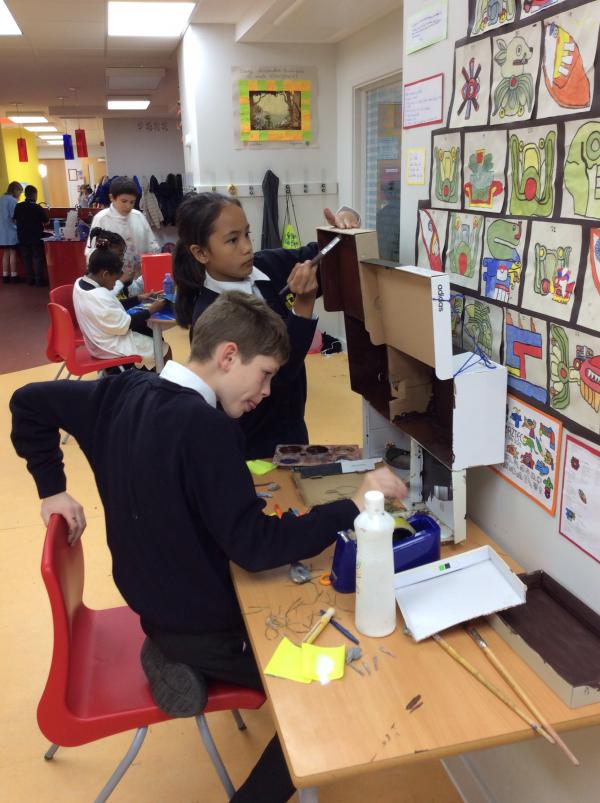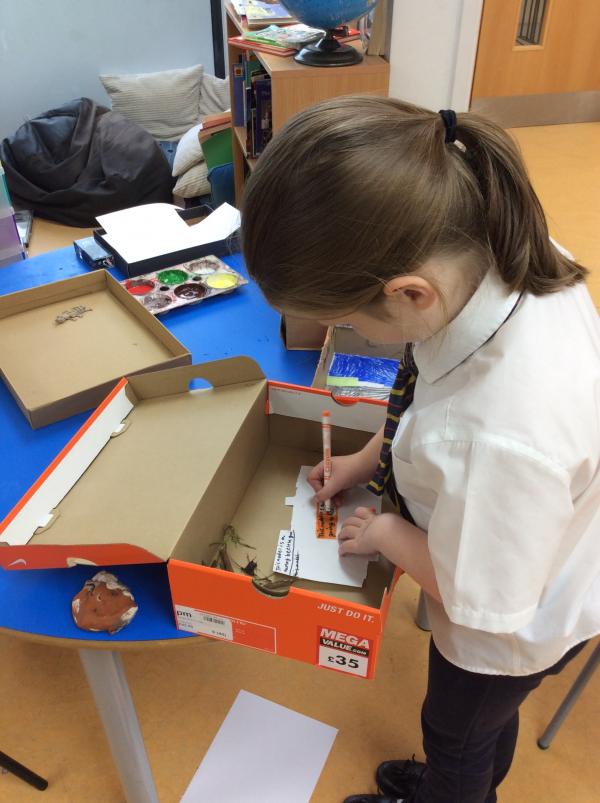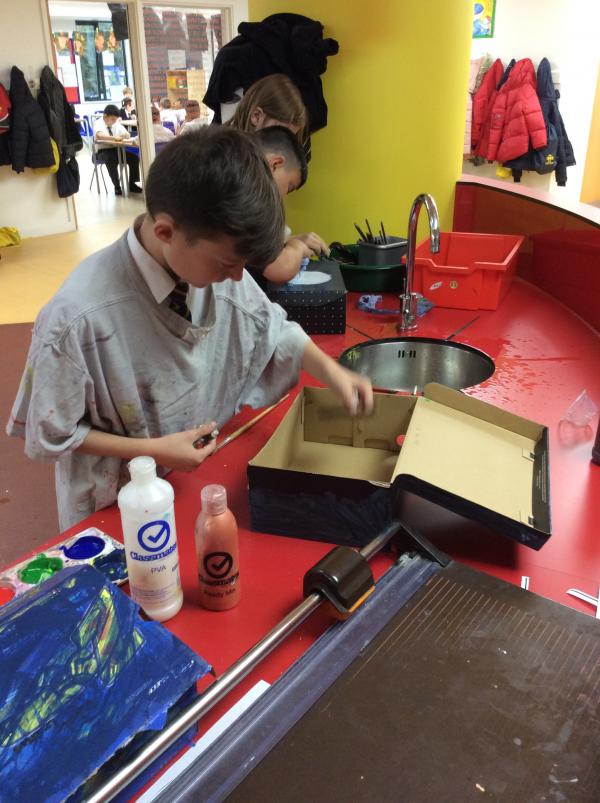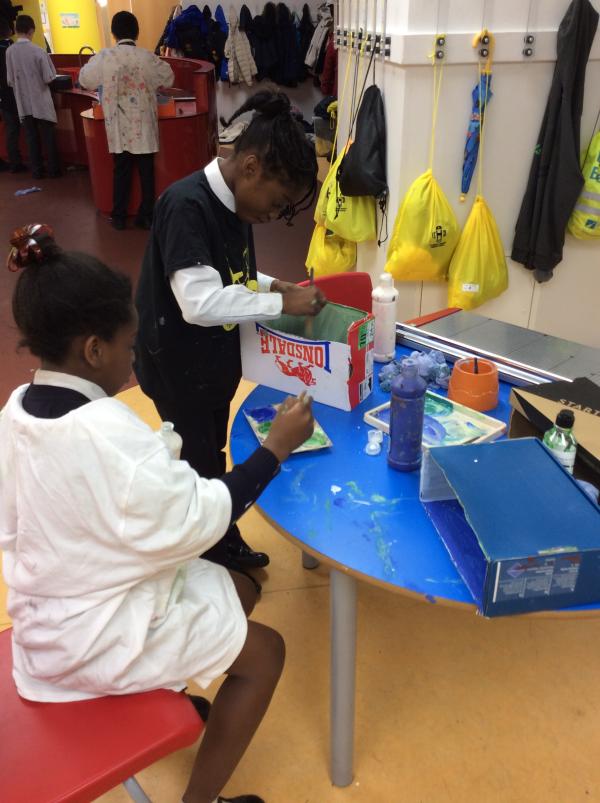 Southend Lifeboat Station and Beach Trip
Year 6 enjoyed their day at the Lifeboat Station learning about the volunteers. They linked it with their RE topic - Vocation and Commitment and learnt about the bravery of the crew and all the volunteers who give up their time so readily to help those in trouble.
After, we moved onto the beach to complete a scavenger hunt, games and mosaic designing.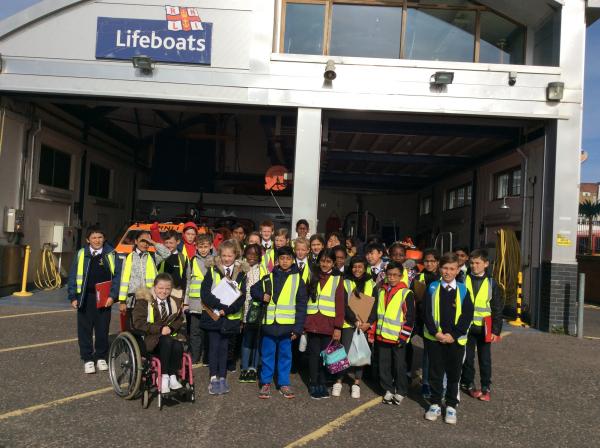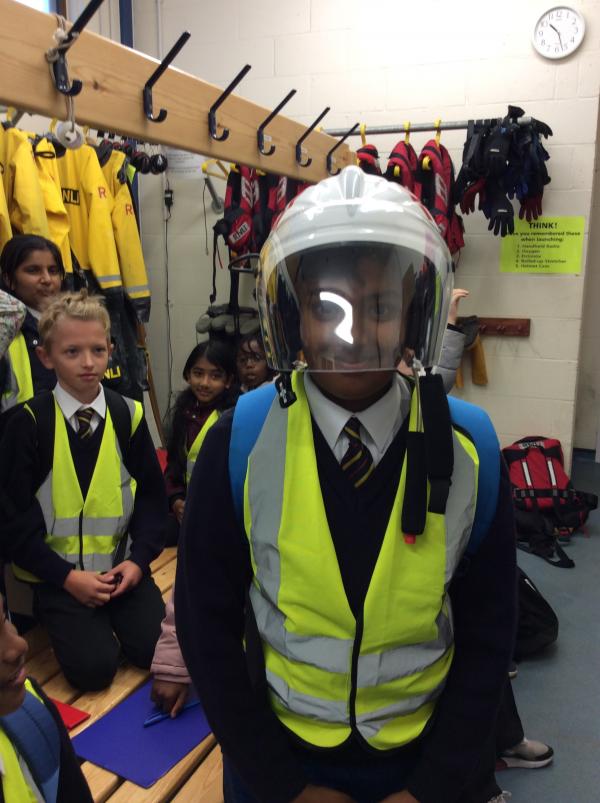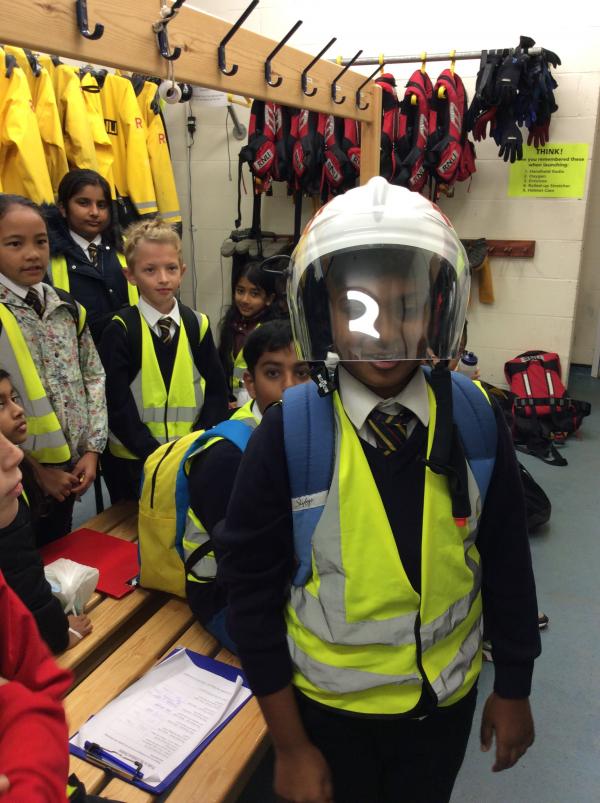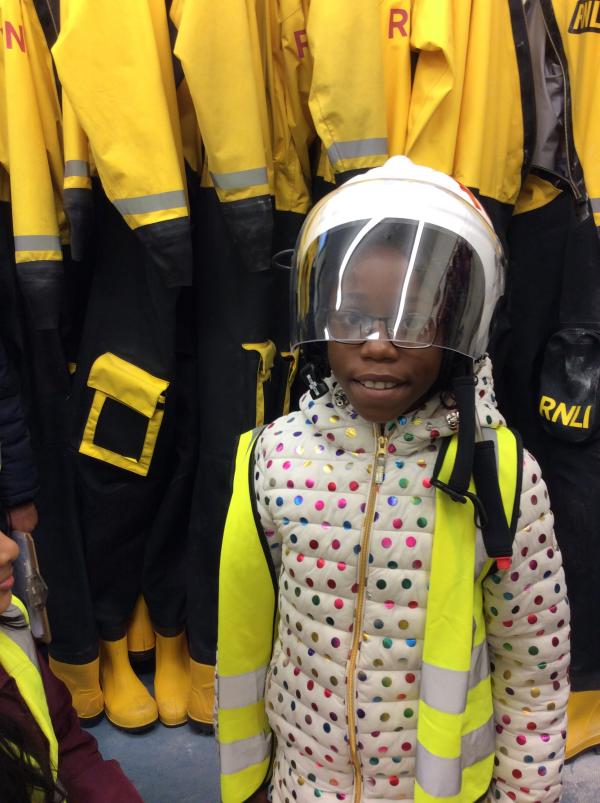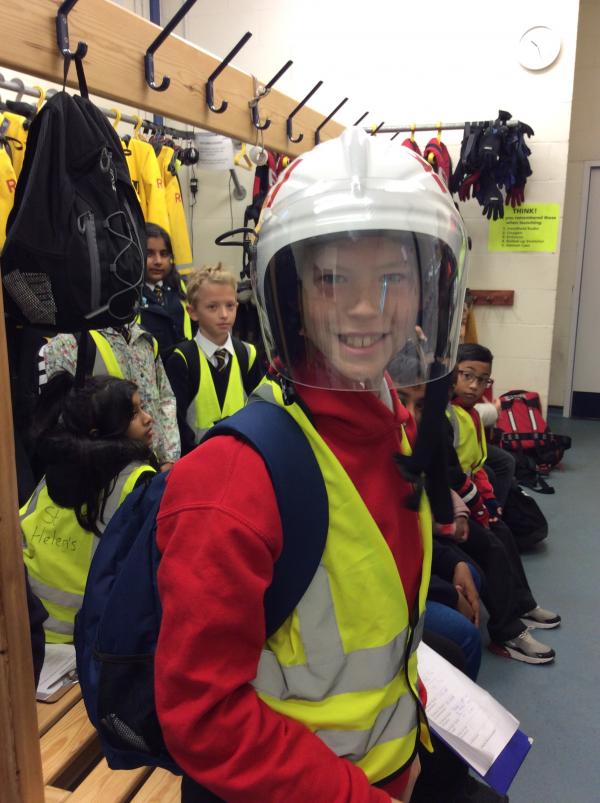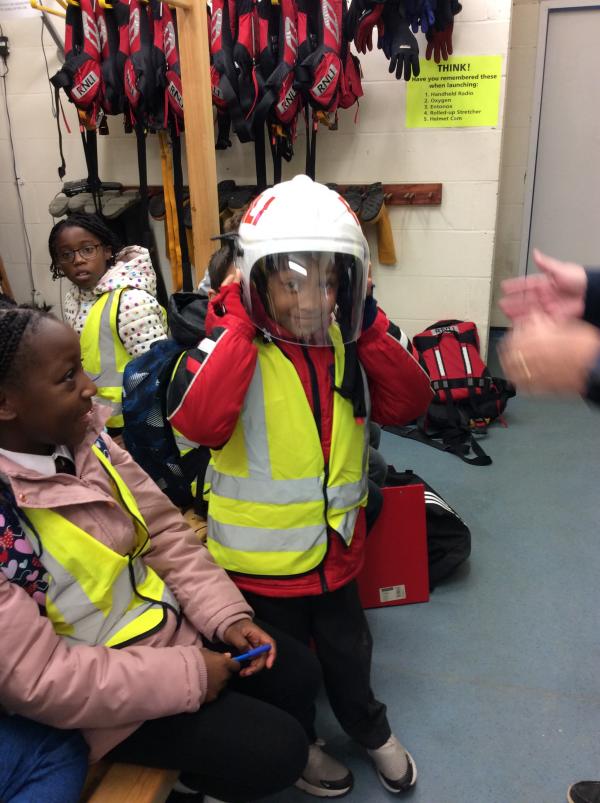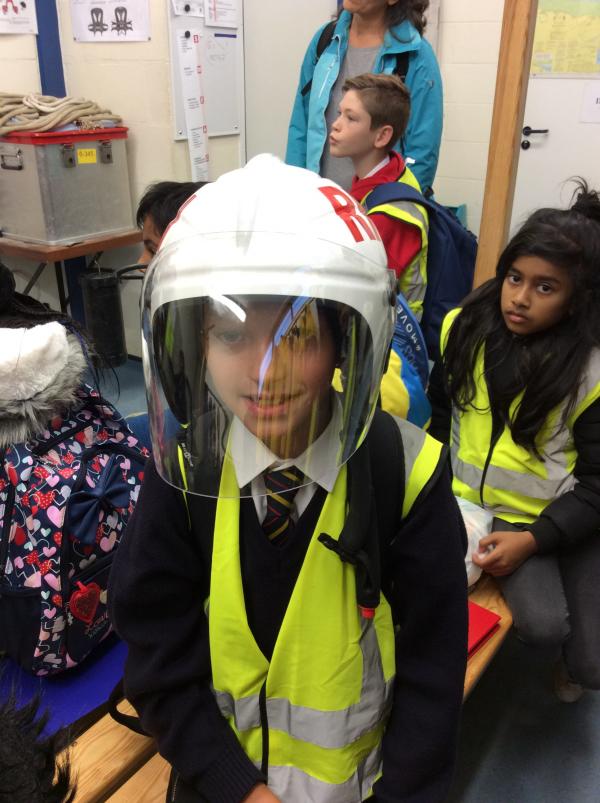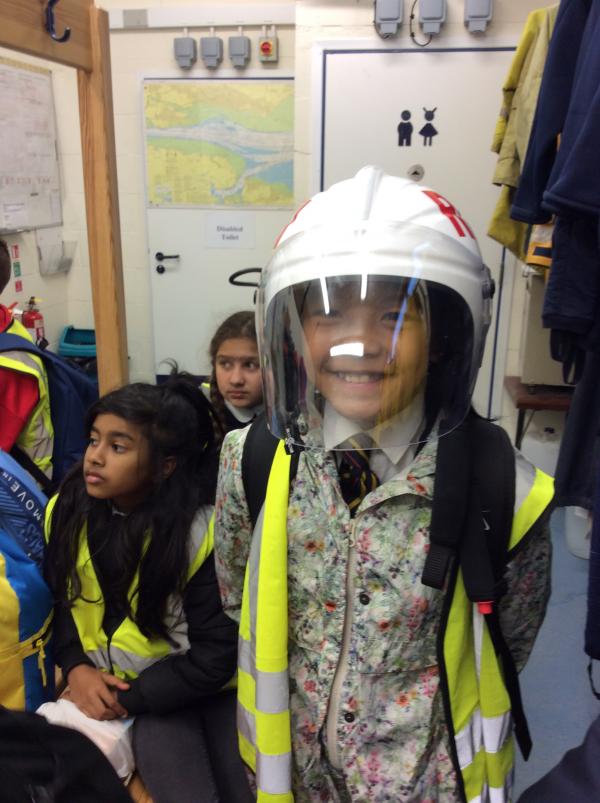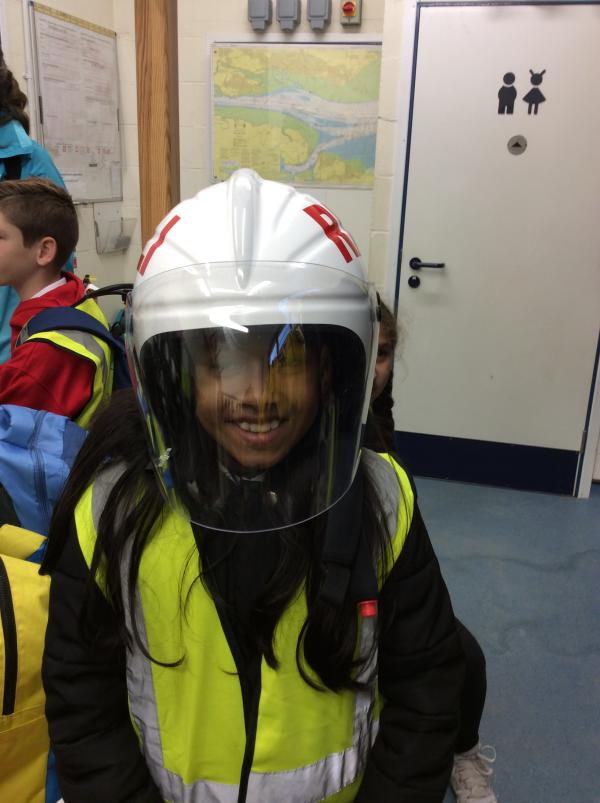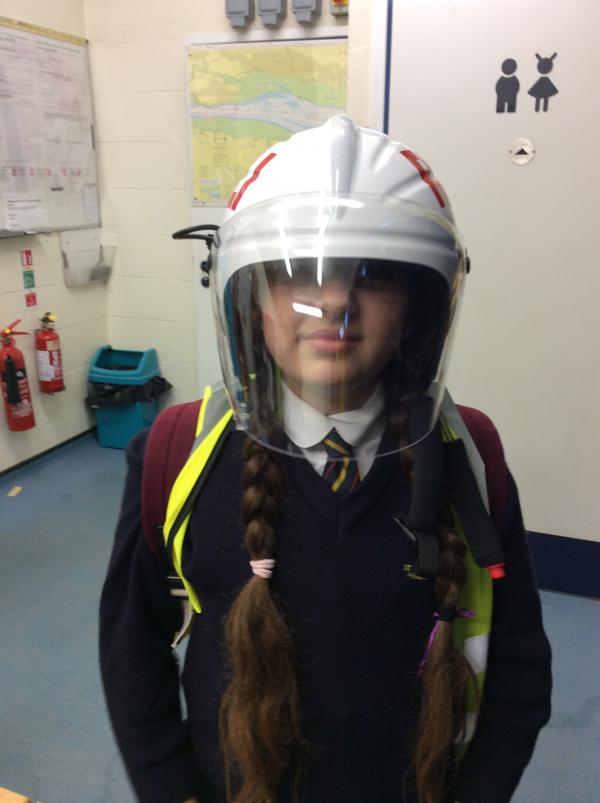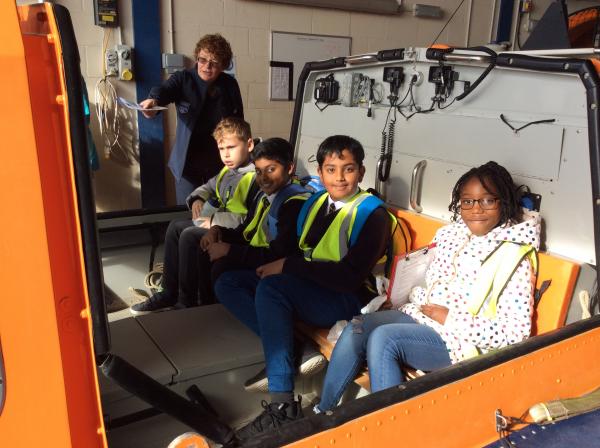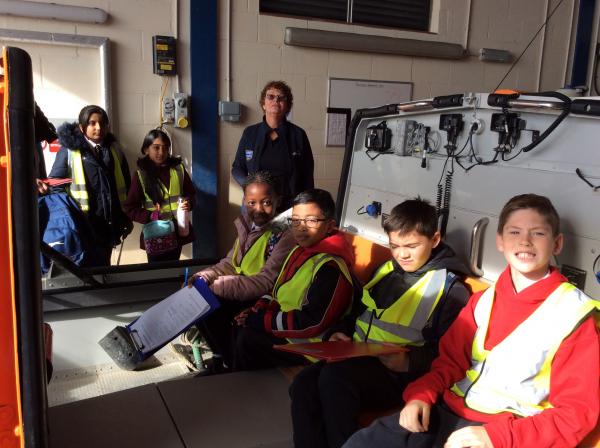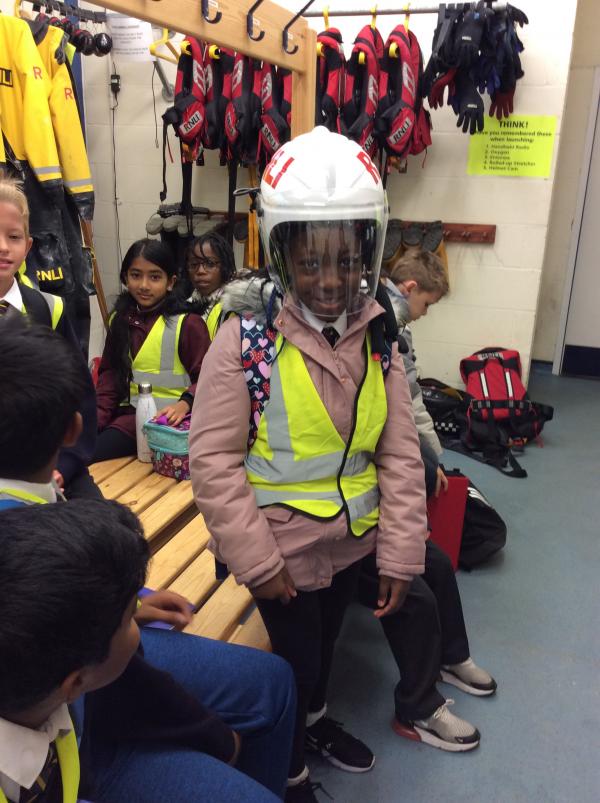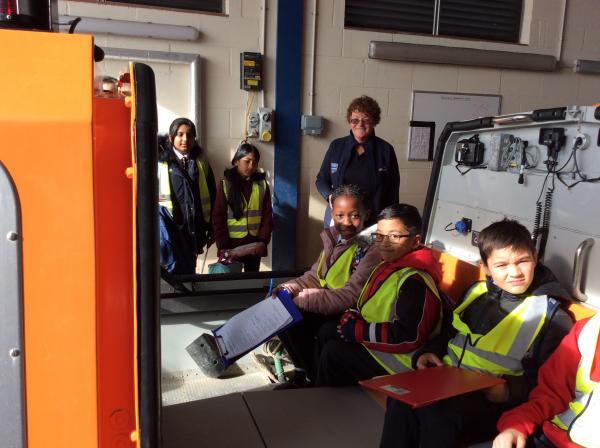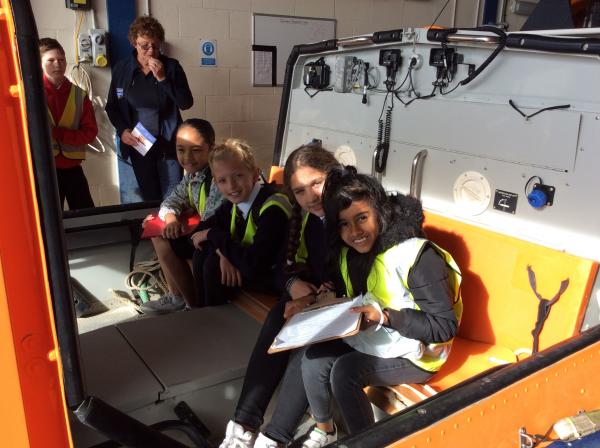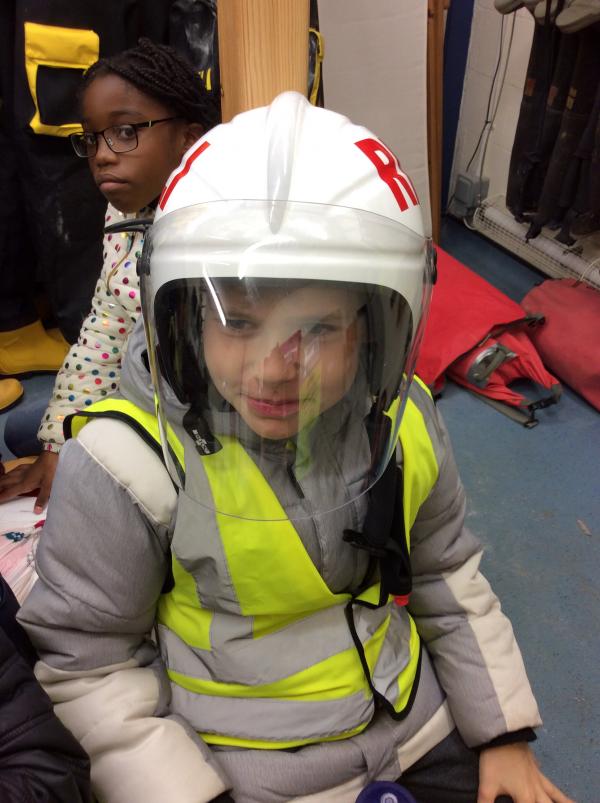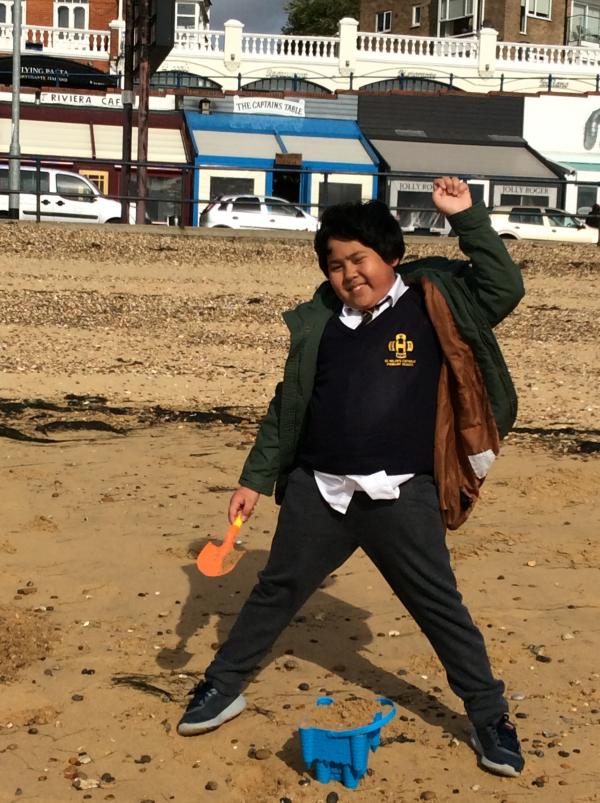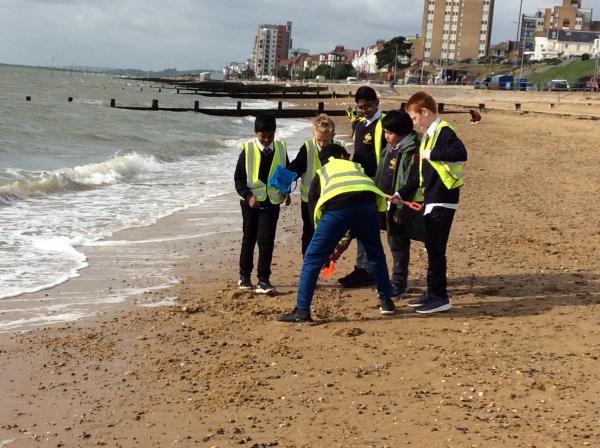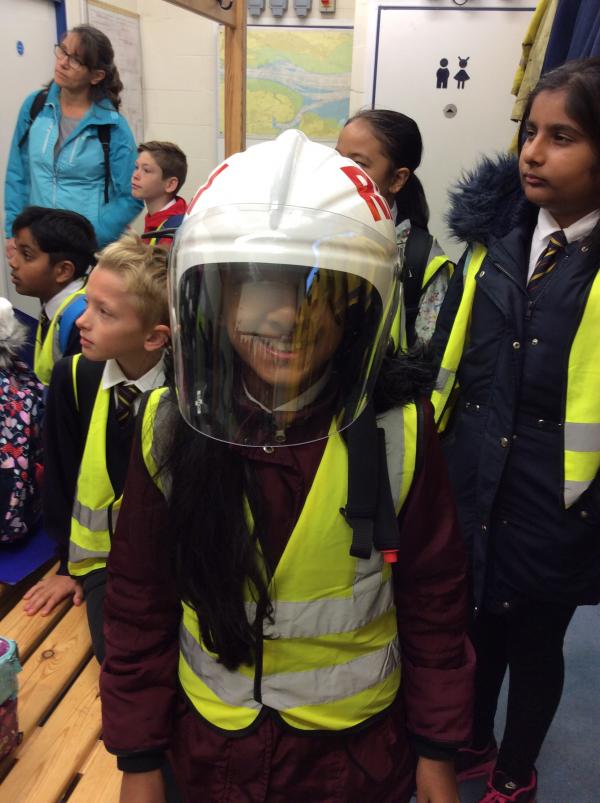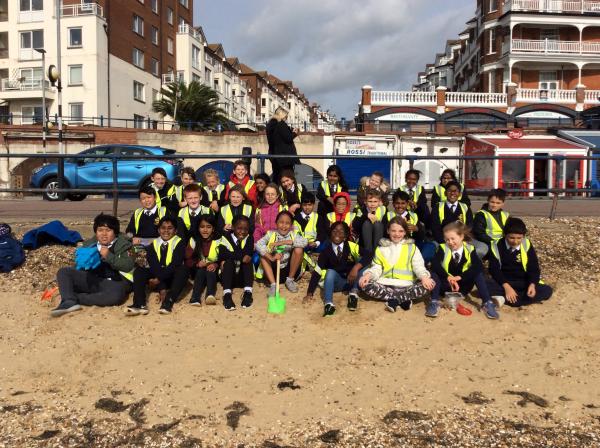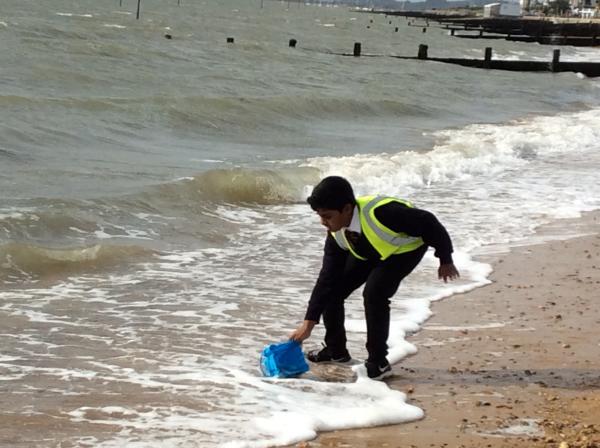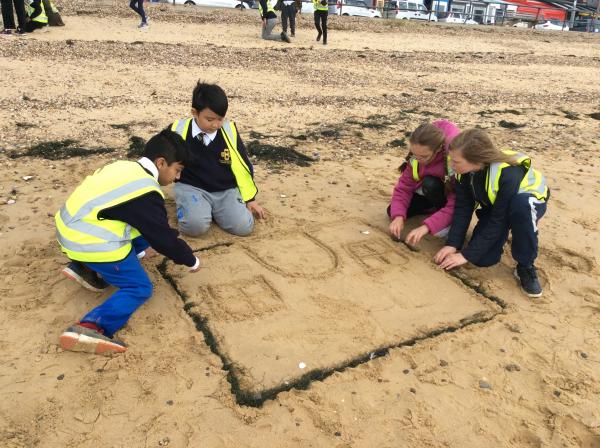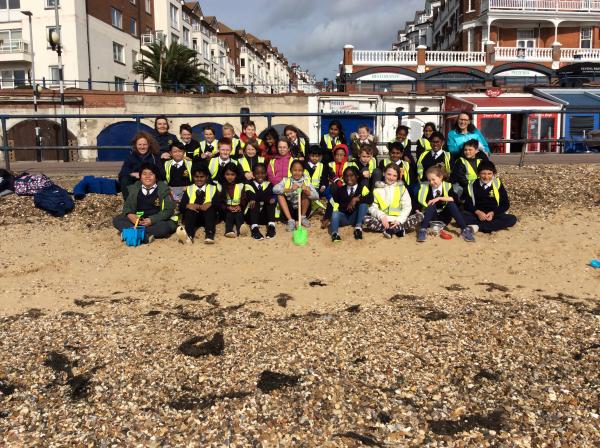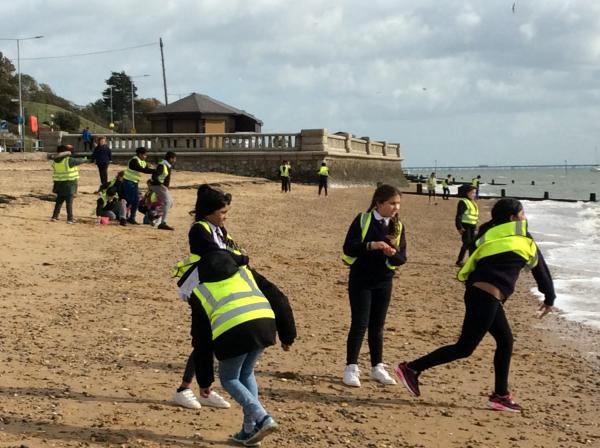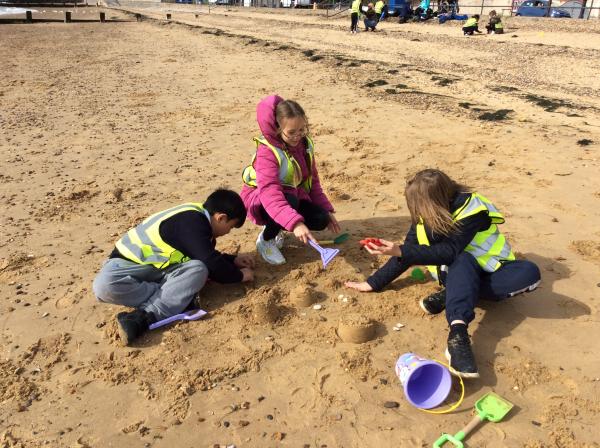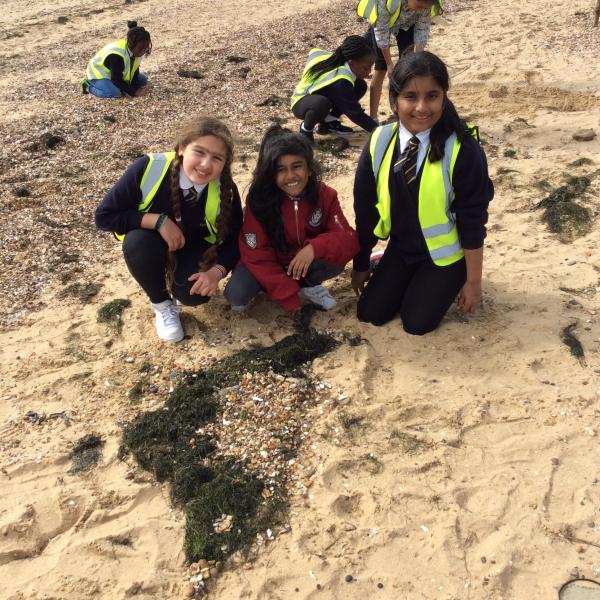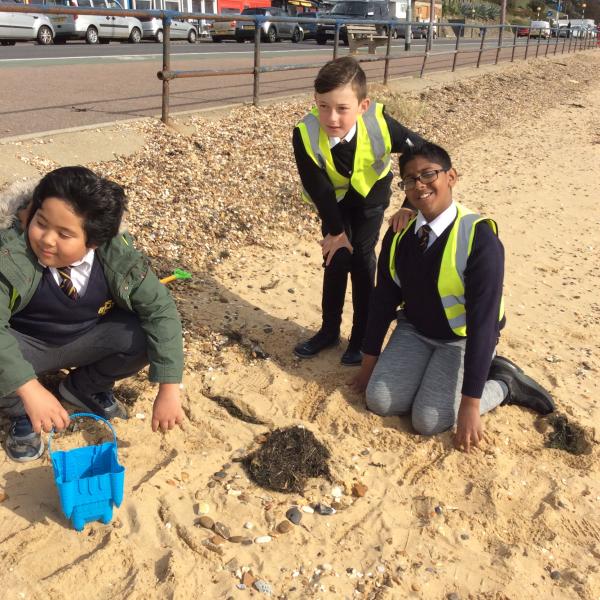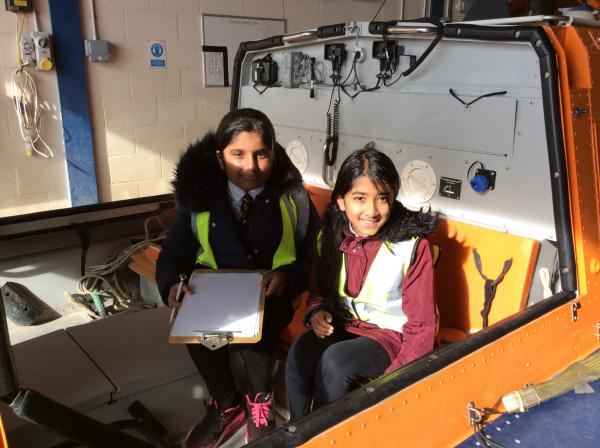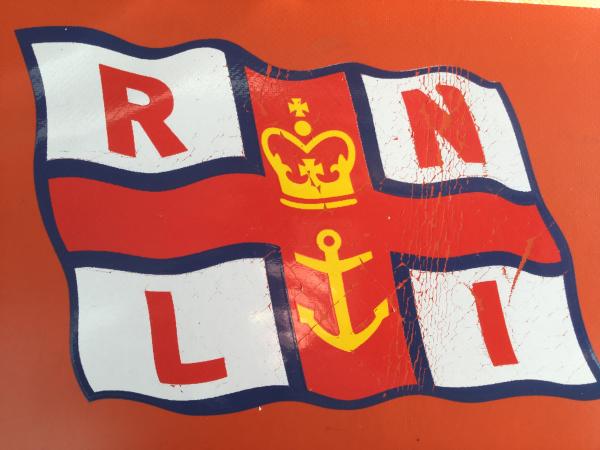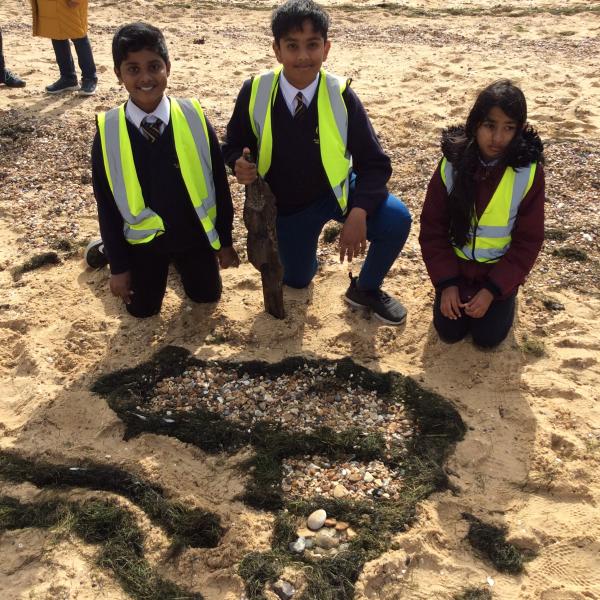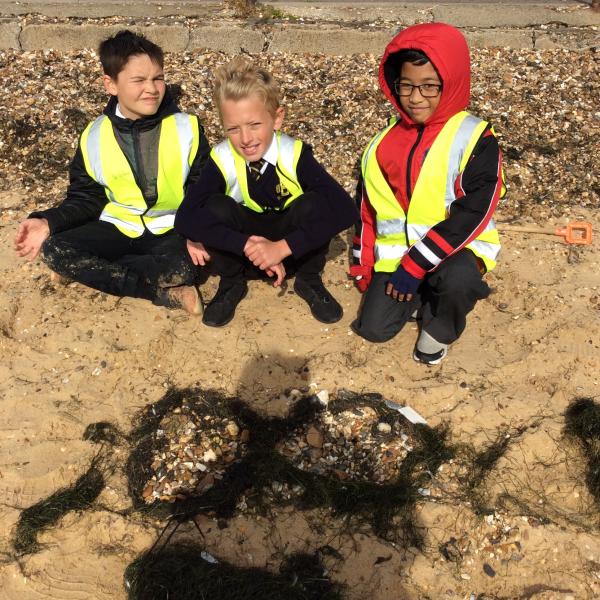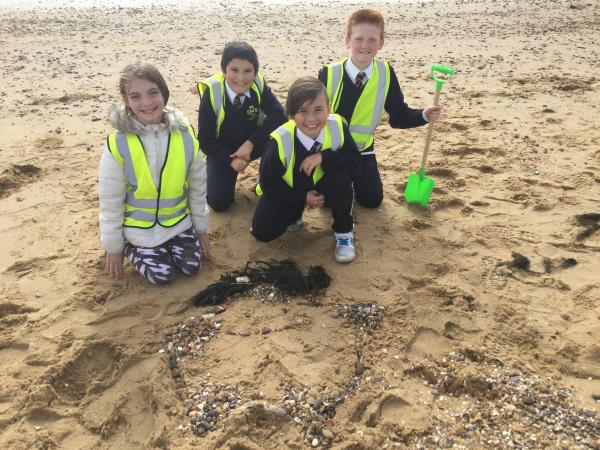 Squared numbers
Class 6 have been investigating Aztec temples and pyramid designs linking it with mathematical squared numbers.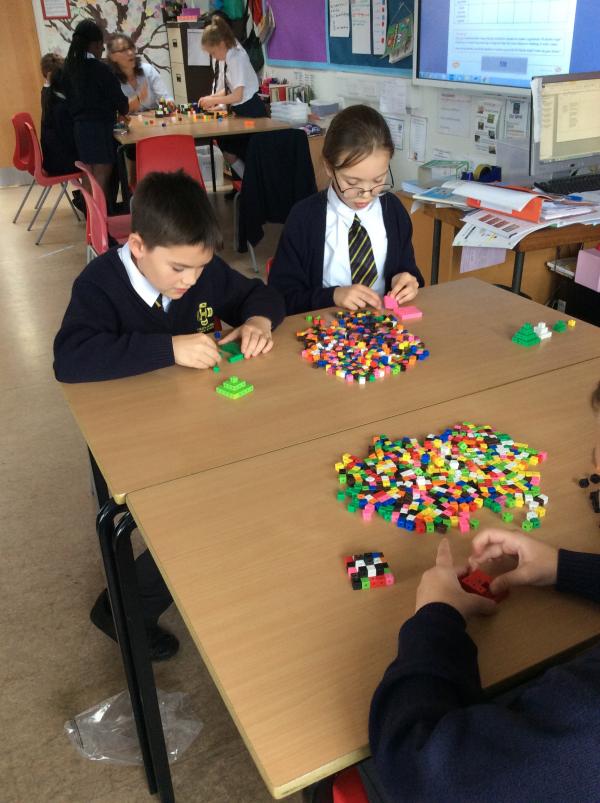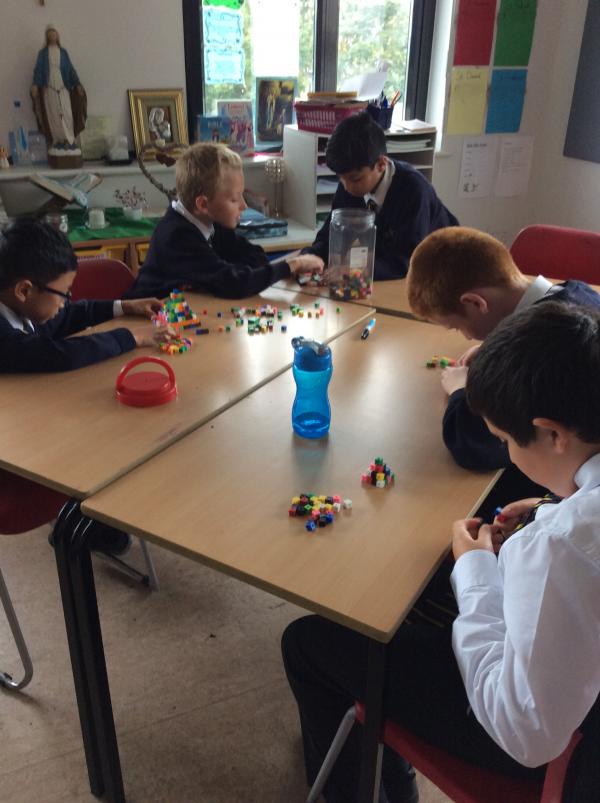 Alcohol Awareness Workshop
Class 6 have had a workshop about alcohol by the London Bus Theatre Company. Have a chat with them about what they learnt.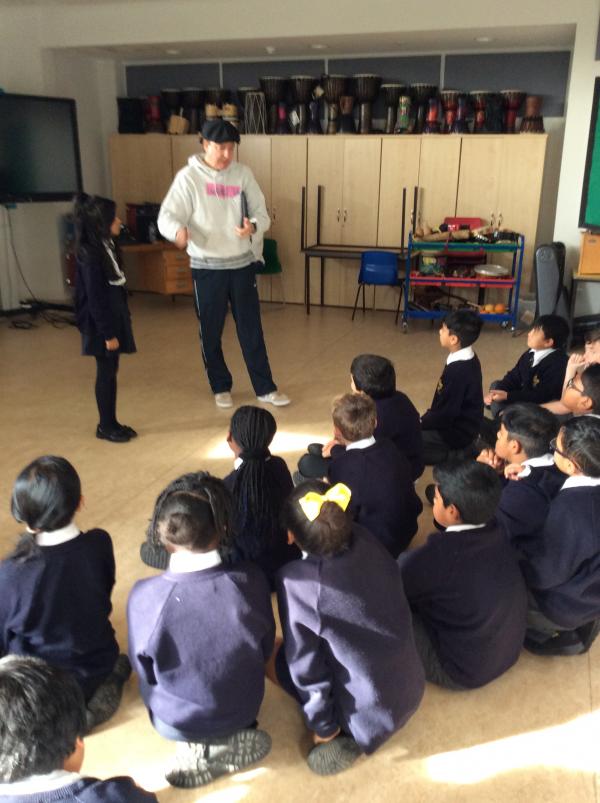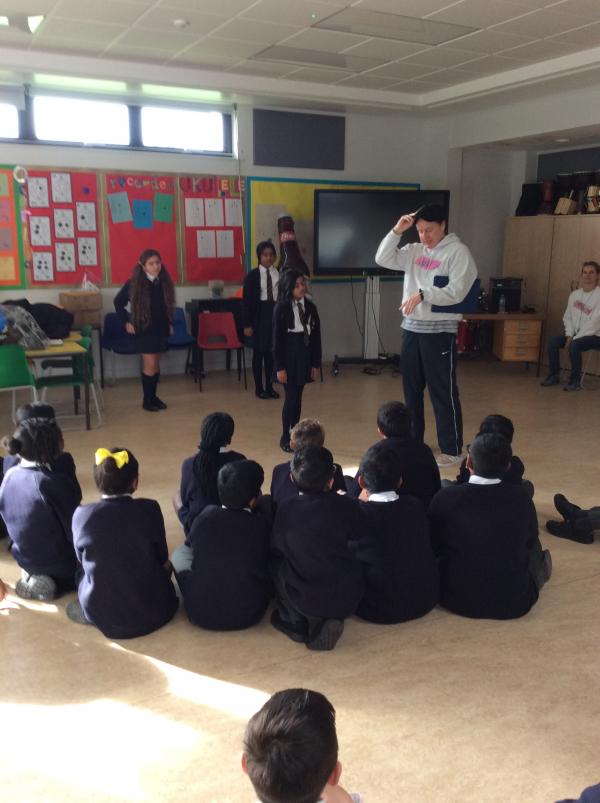 Southend Museum and Beecroft Art Gallery 3.10.19
Year 6 enjoyed their trip to Southend Museum and the Beecroft Art Gallery today.
The Southend Museum was exhilarating to look around. We learnt about many eras in time. This trip has inspired our class to make their museum in a shoe box. Looking at the artefacts and exhibitions has opened our eyes to the world.
By Jered
The Beecroft Gallery was amazing to look around. It made our morning special, it even inspired us to make our own shoe box museum. The art therapy by children was impeccable. It opened our eyes to what some children feel when in care. It was great to see.
By Michaela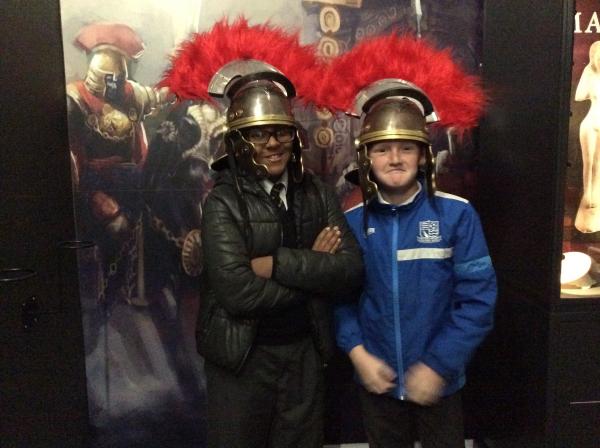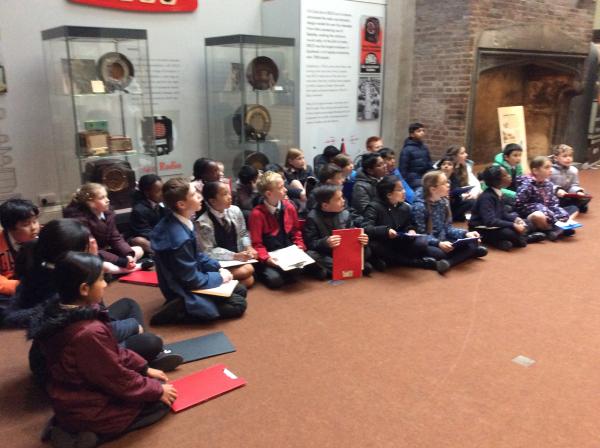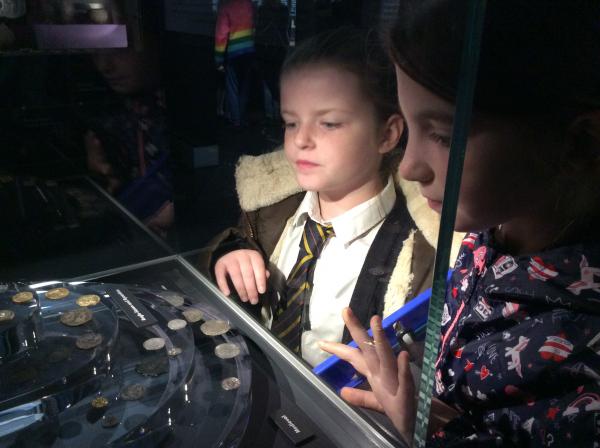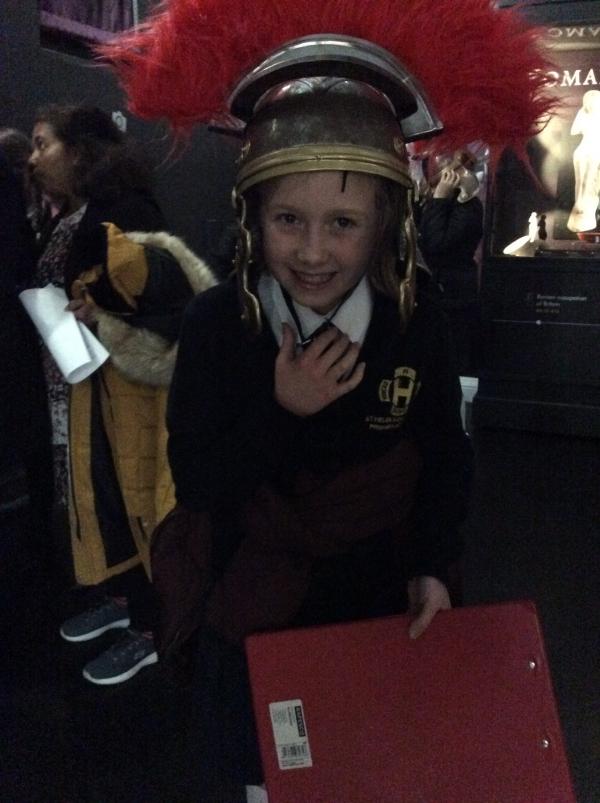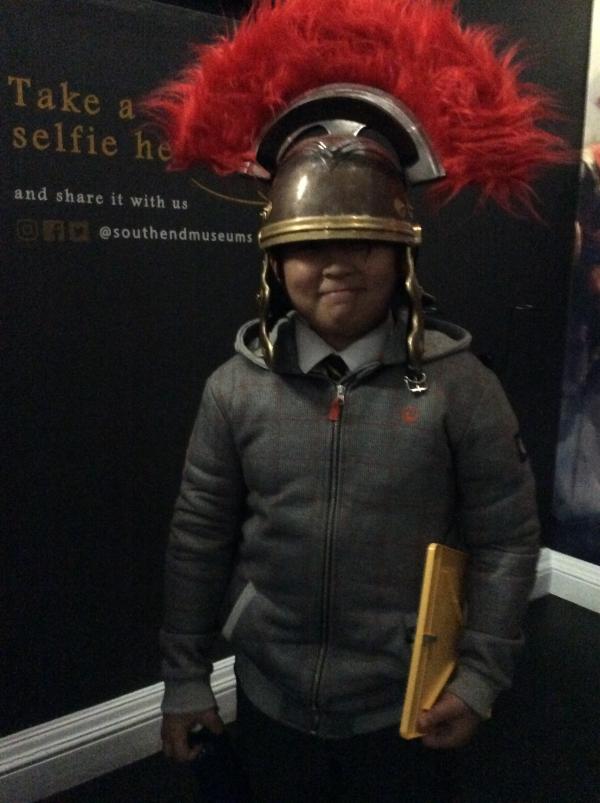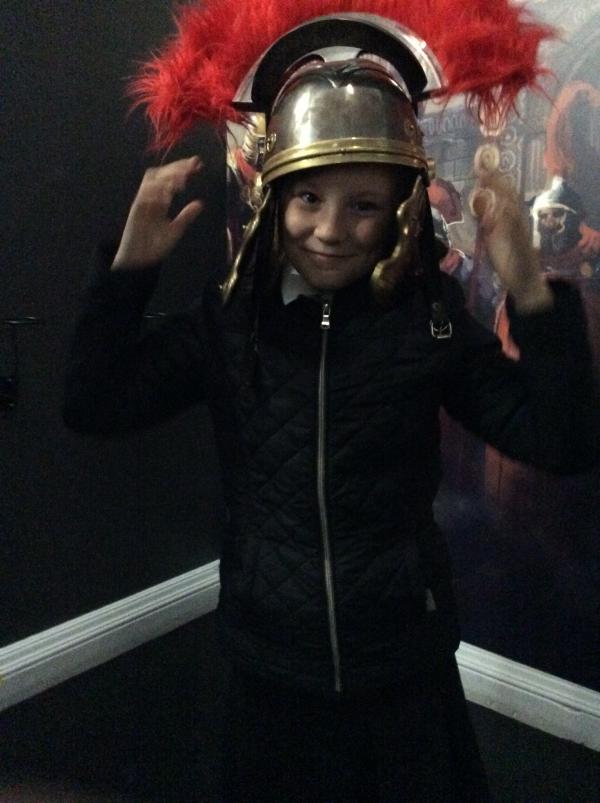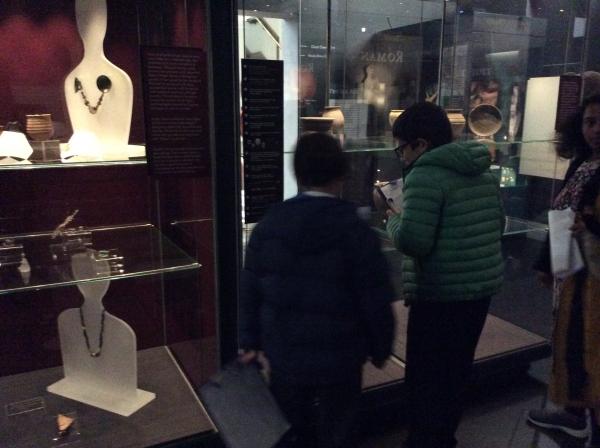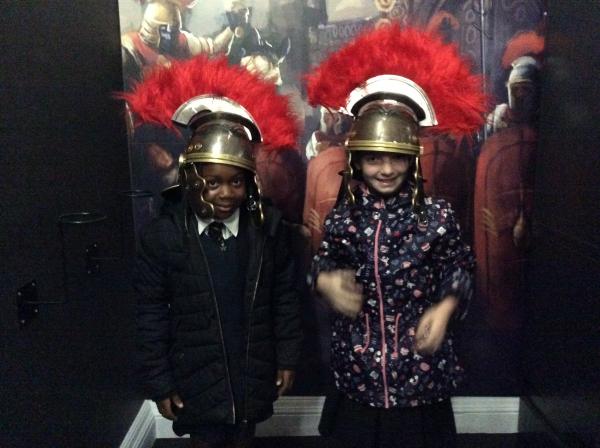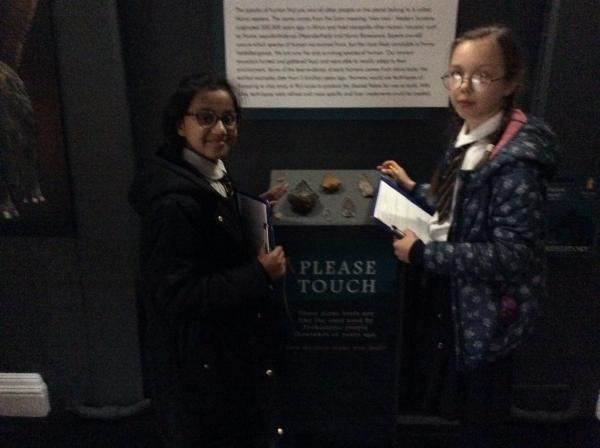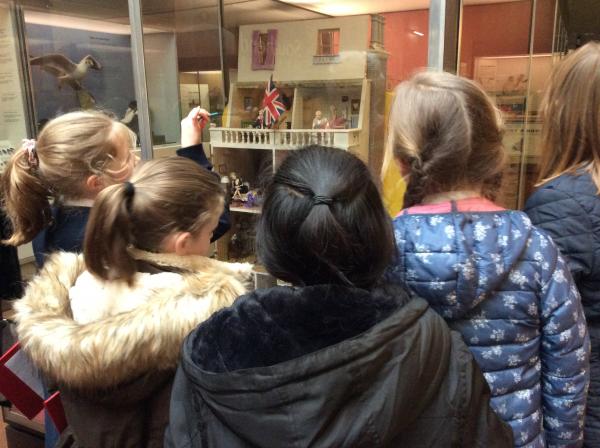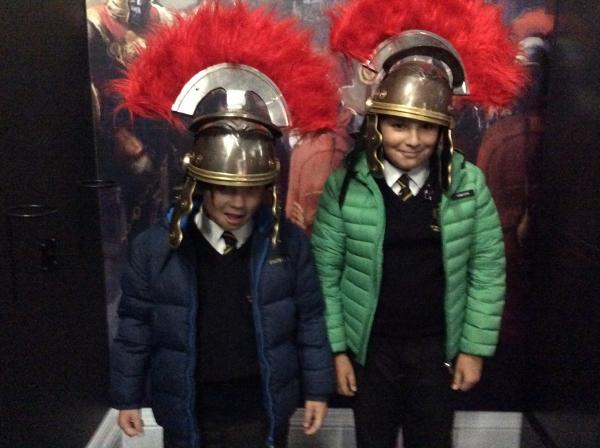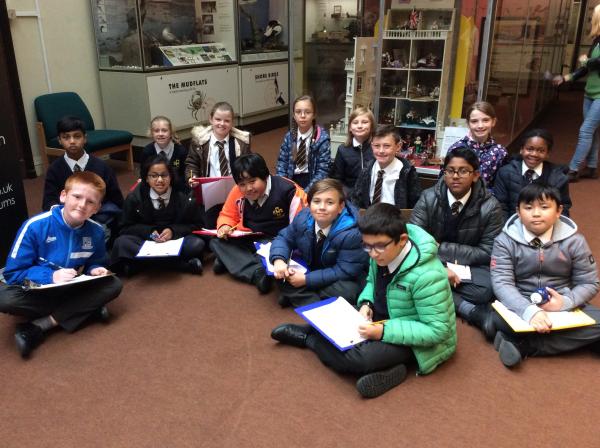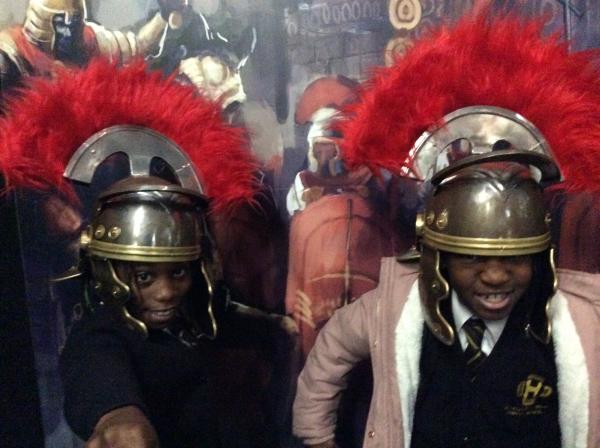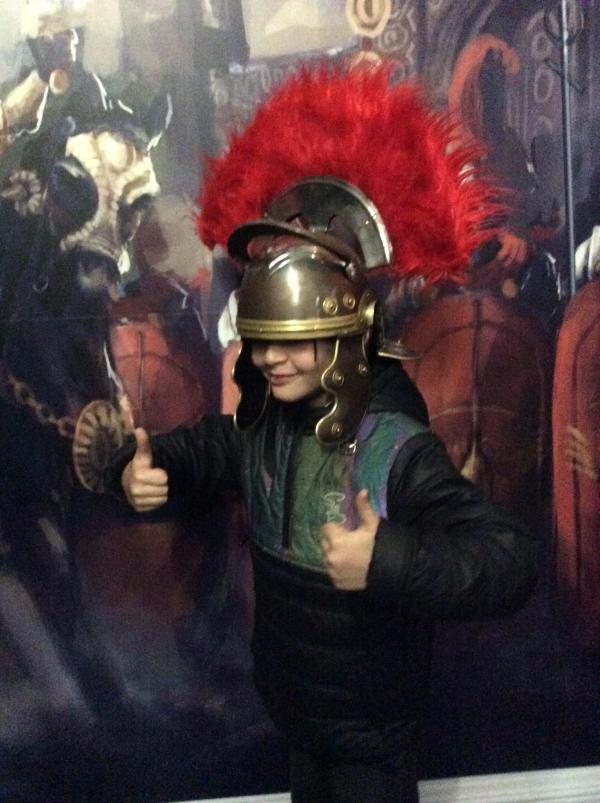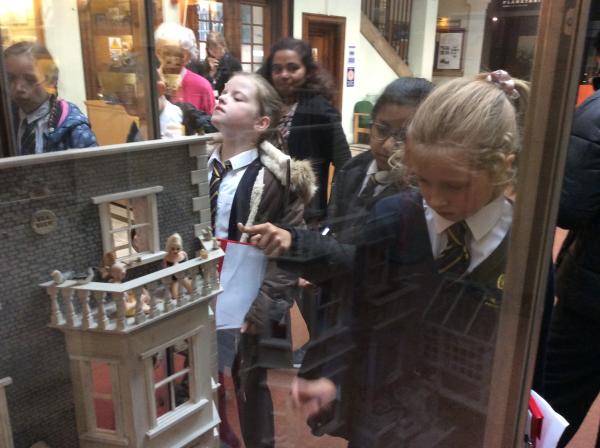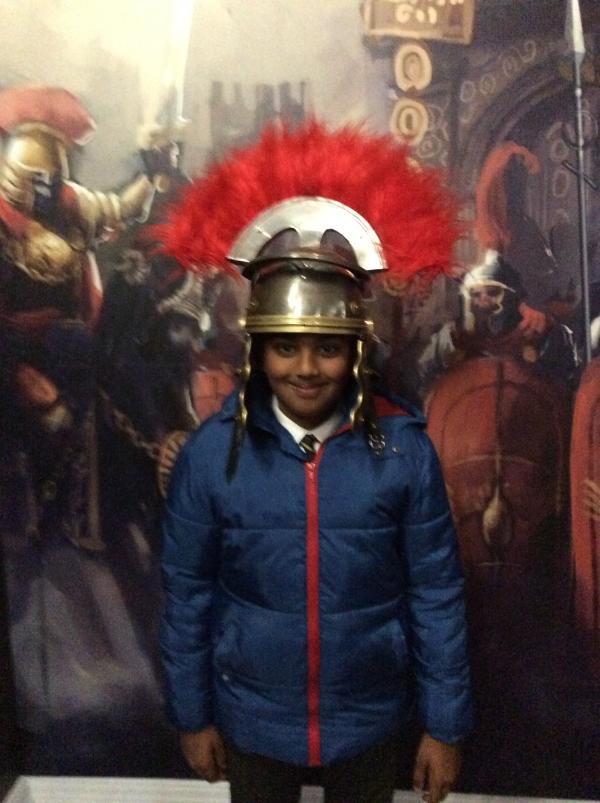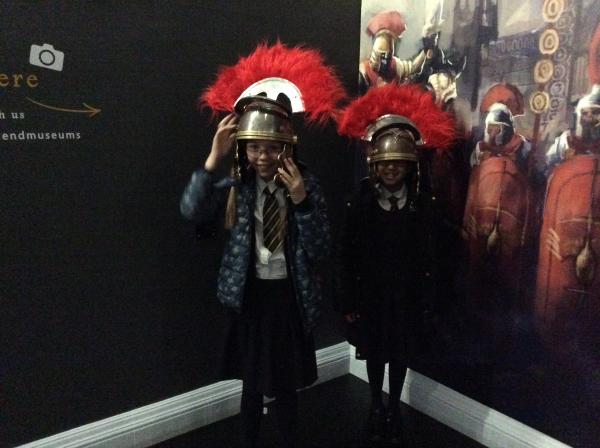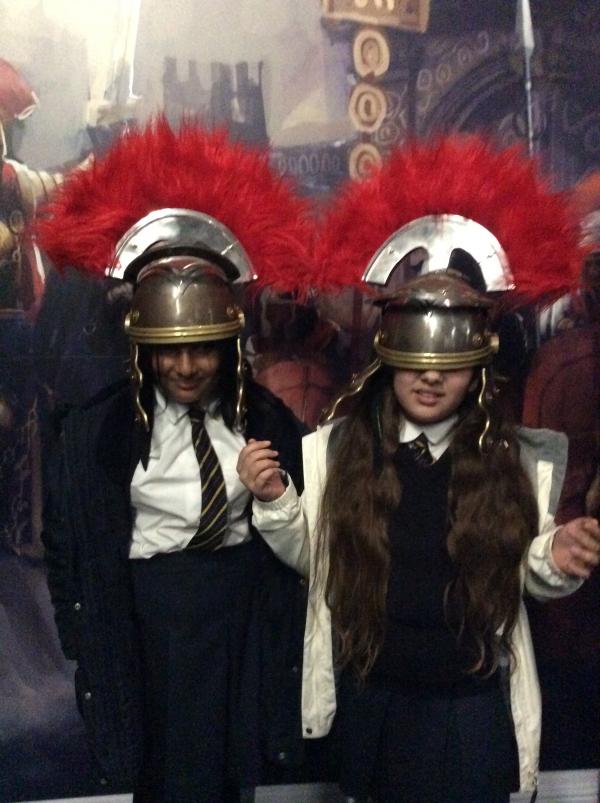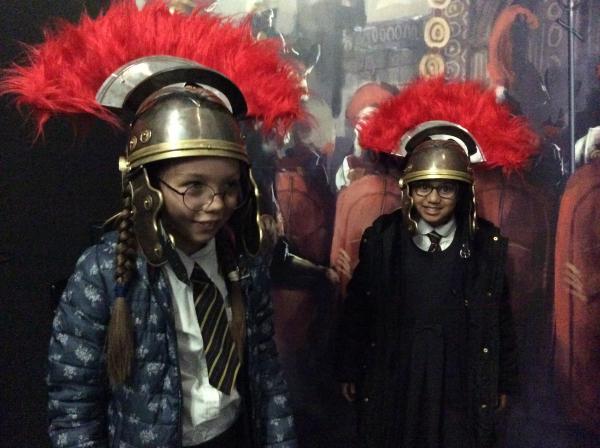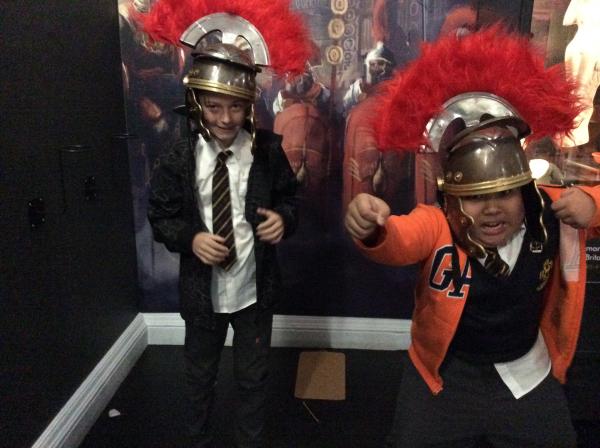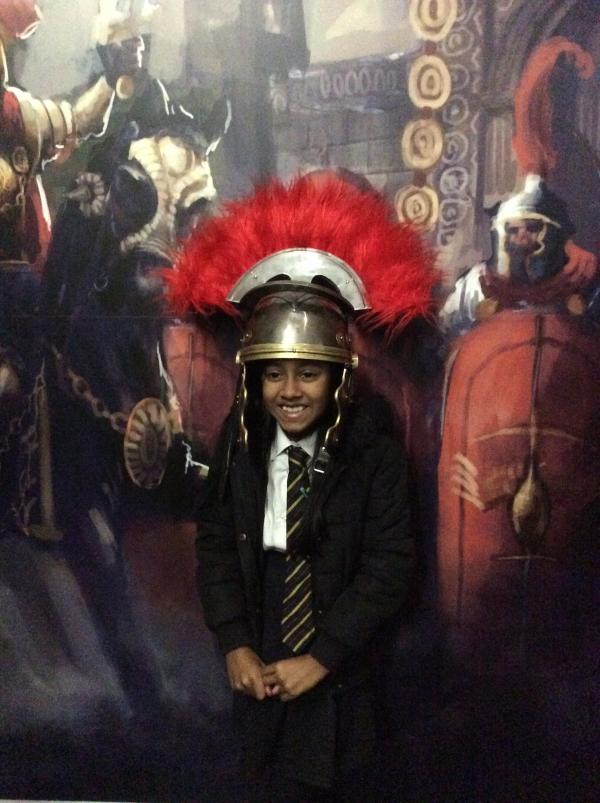 Museum in a shoe box
Inspired by our visit this morning, Year 6 have started their own shoe-box museum. watch this space for our progress!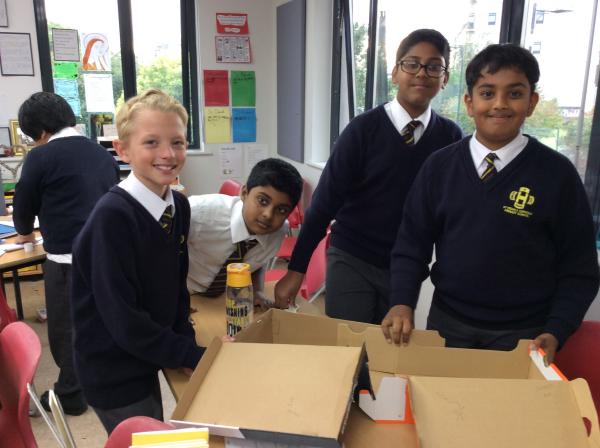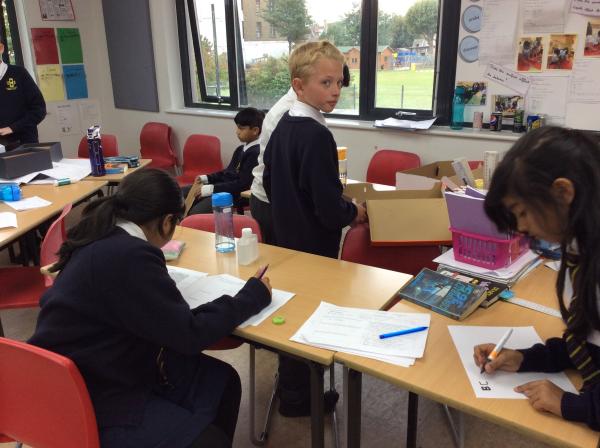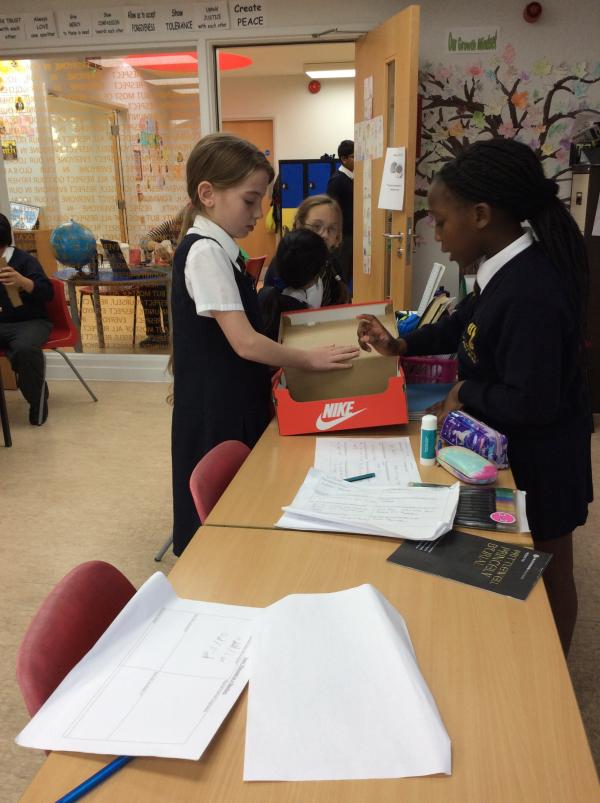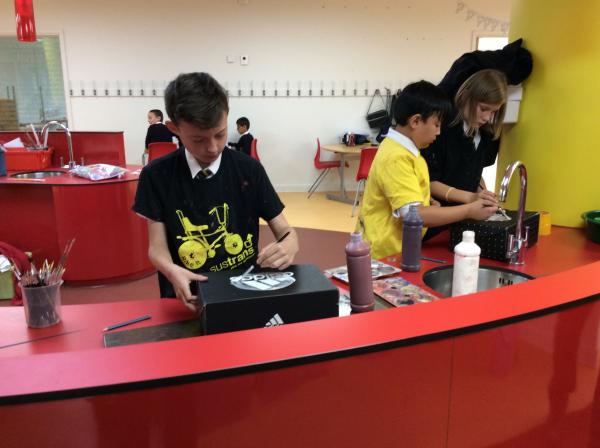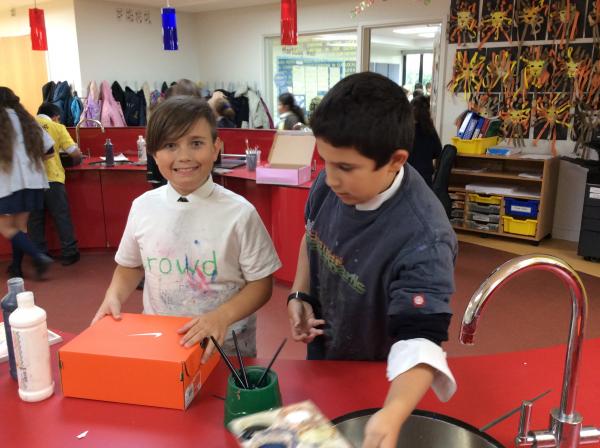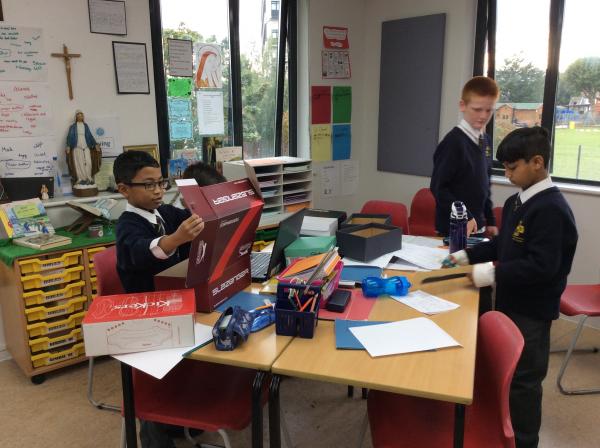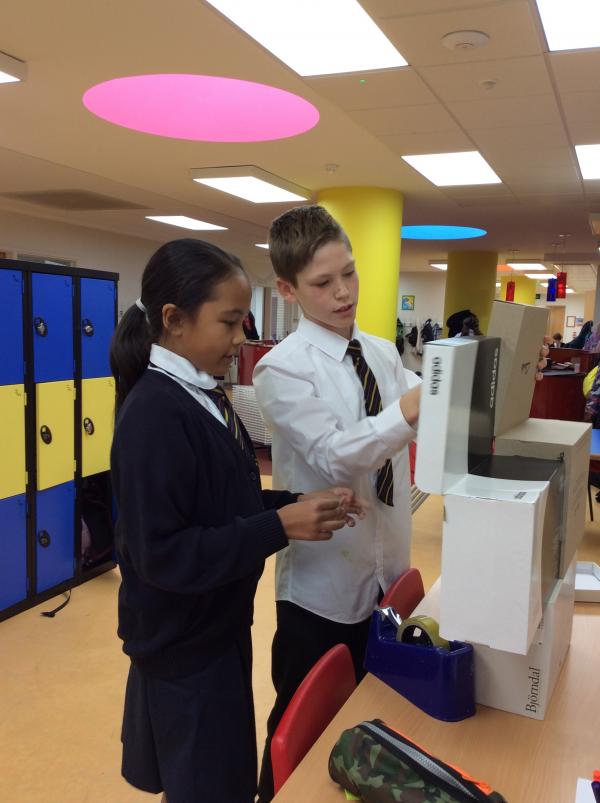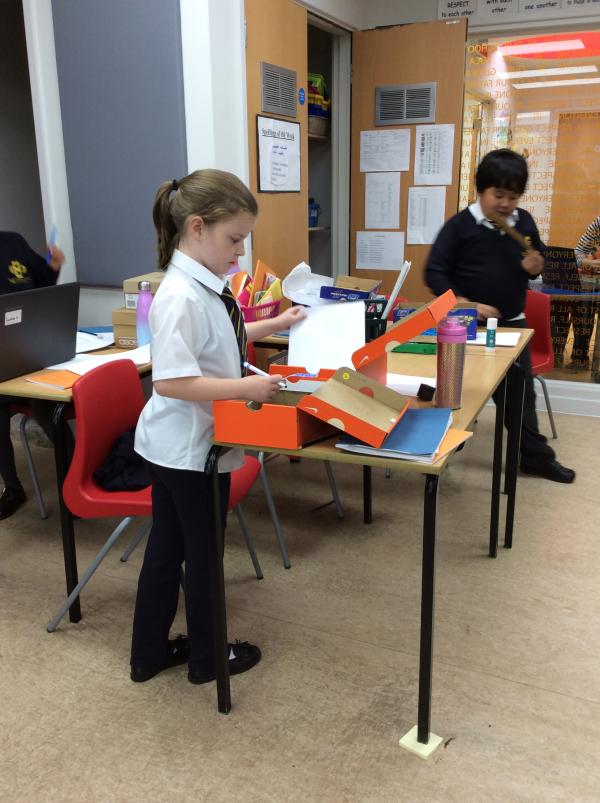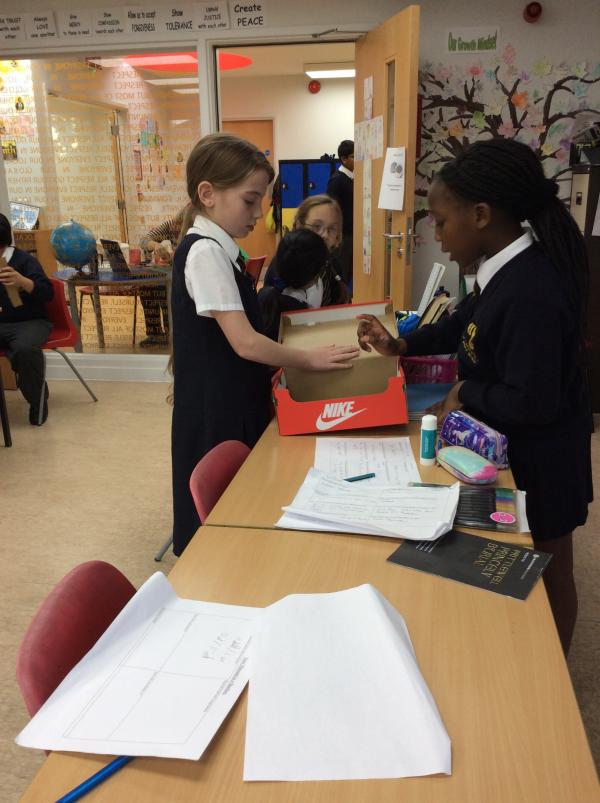 Big thanks for the little bugs!
Year 6 would like to say a thank you to Mrs Bradford-Hughes' mum for her generous donation of the insect/beetle collections. They loved looking at the details of each bug and it ties in wonderfully with our book, 'Beetle Boy'.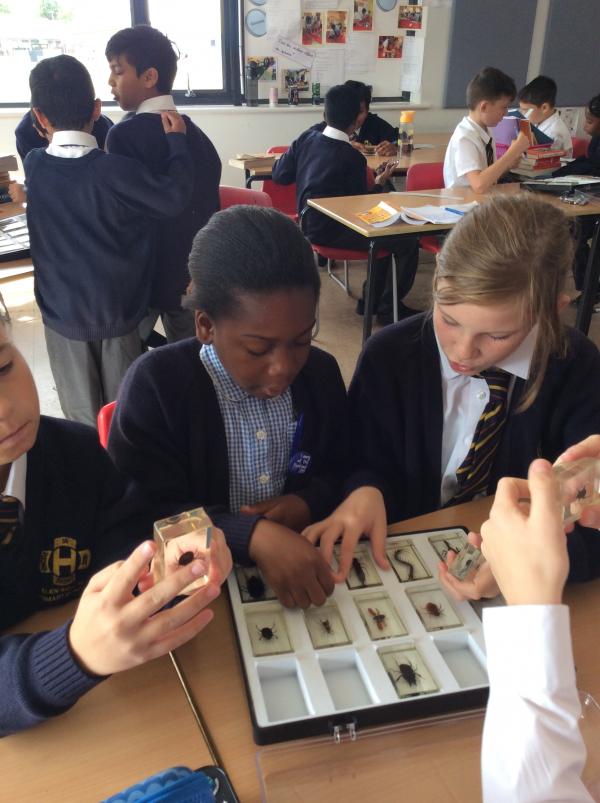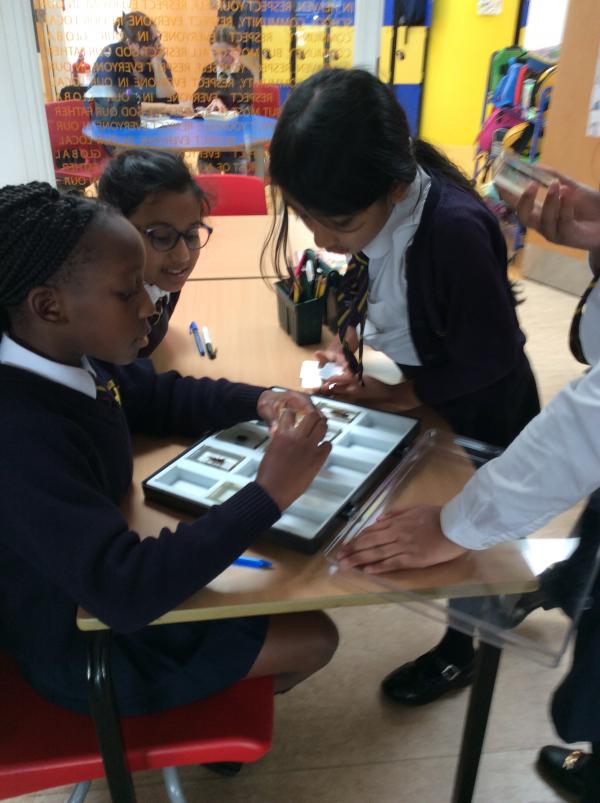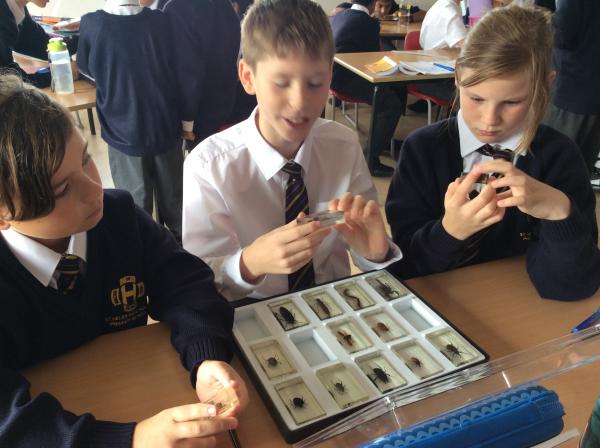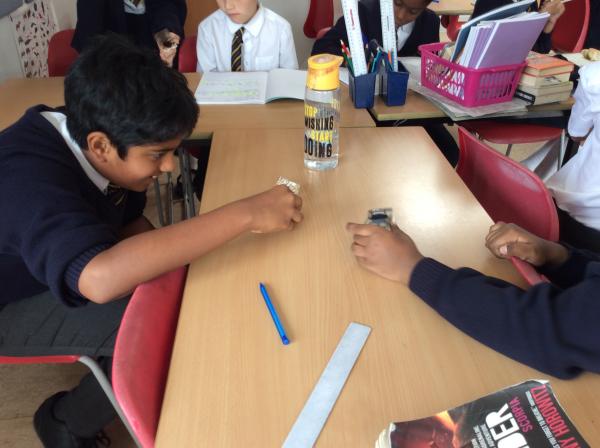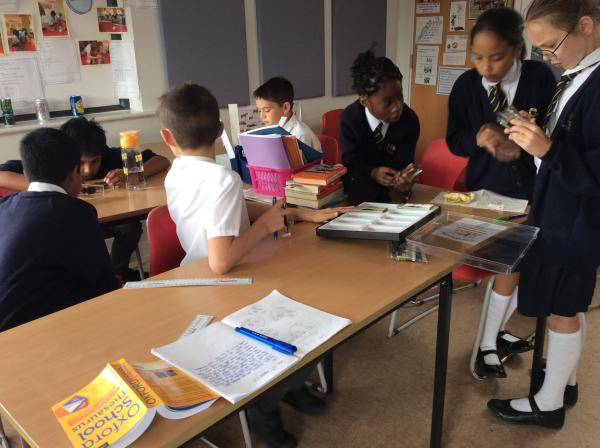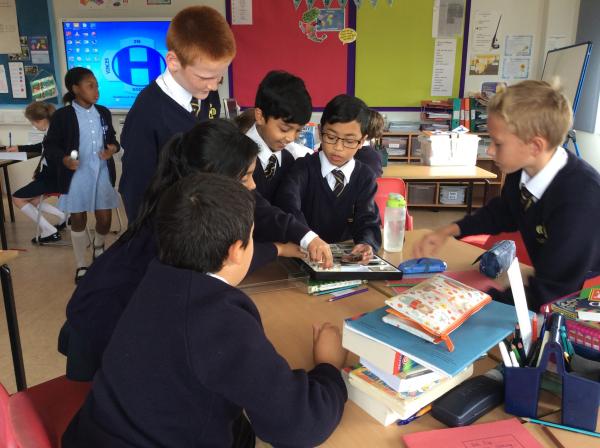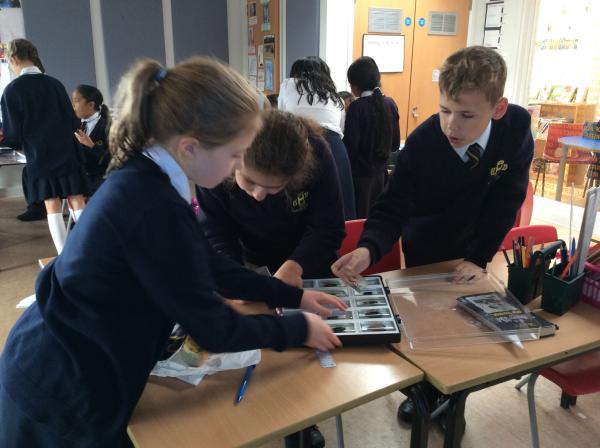 Beetle blood!
Today, year 6 made beetle blood! They found that when you imparted warmth/energy on the mixture, it turned into a solid. If you let the mixture just settle on your hand, it became a liquid.
Some in year 6 related this to Newton's laws! Everyone had fun!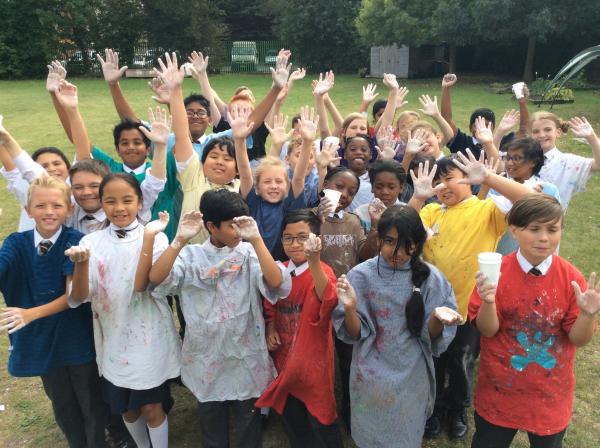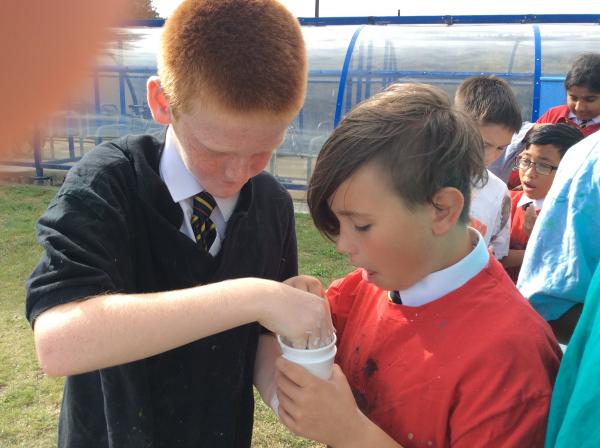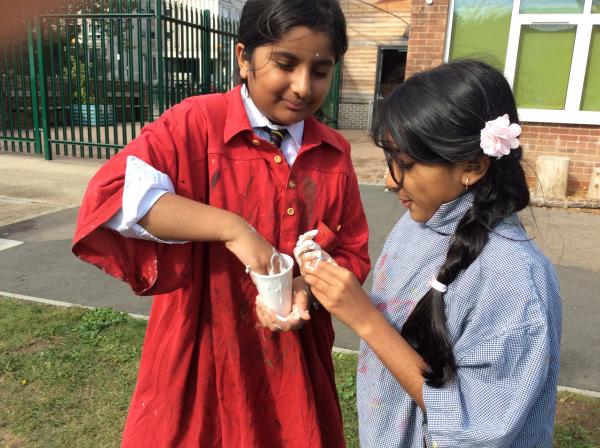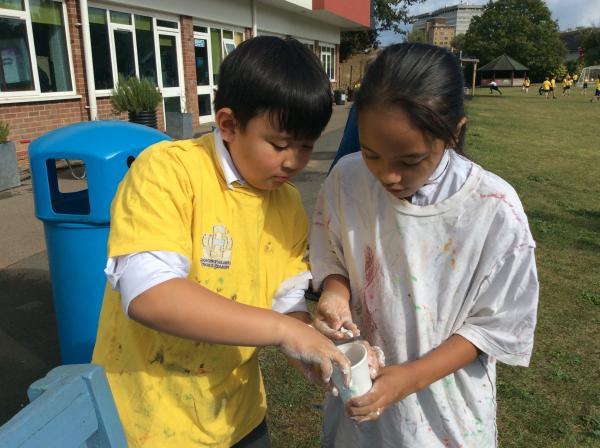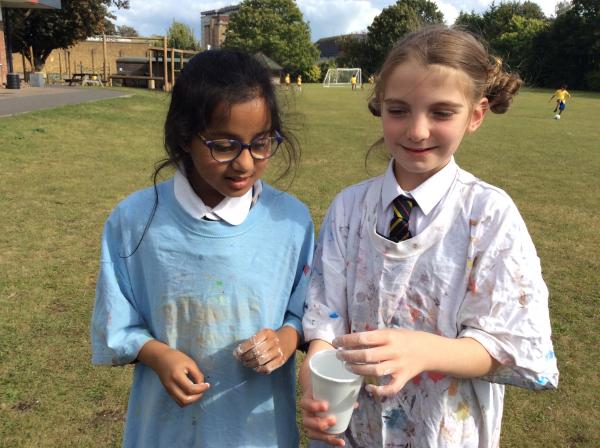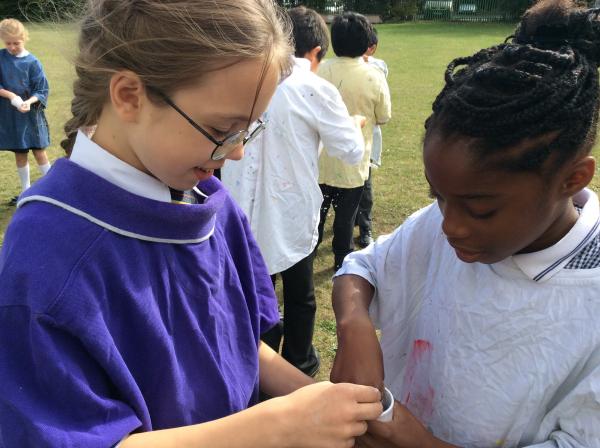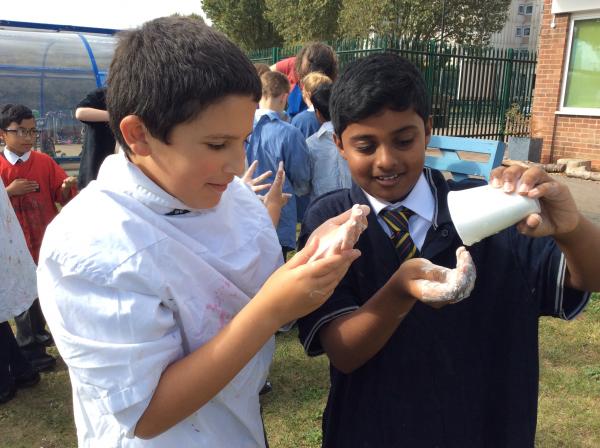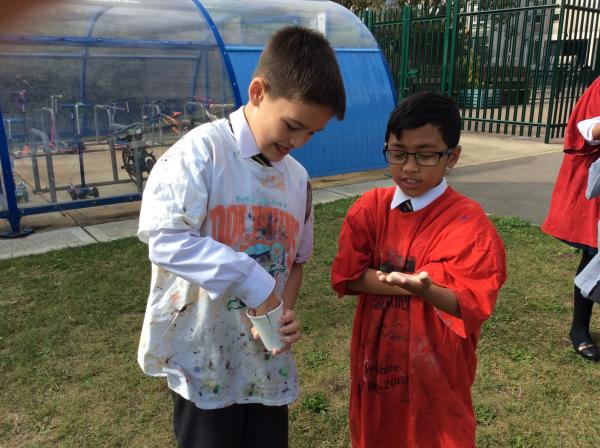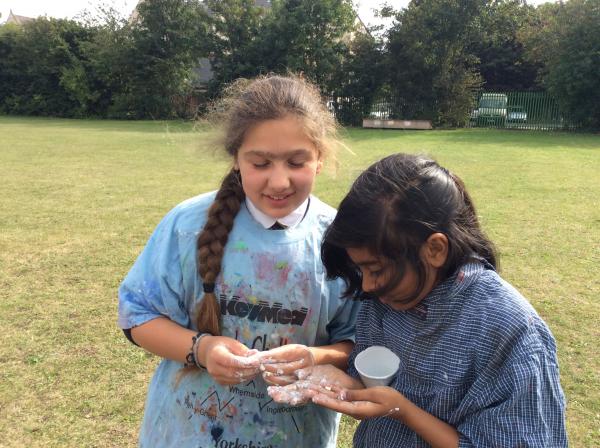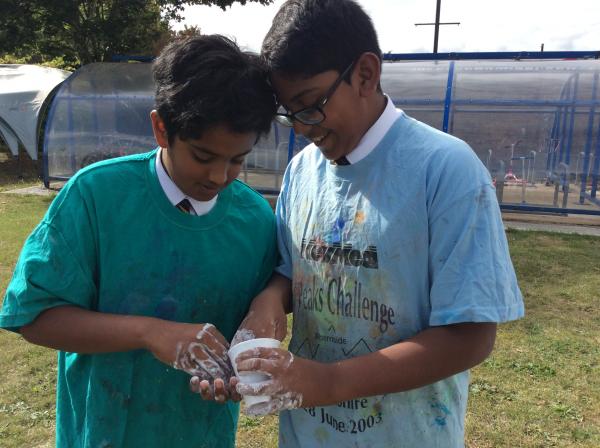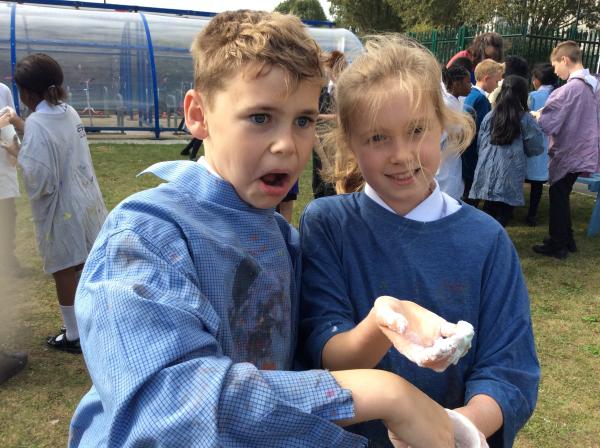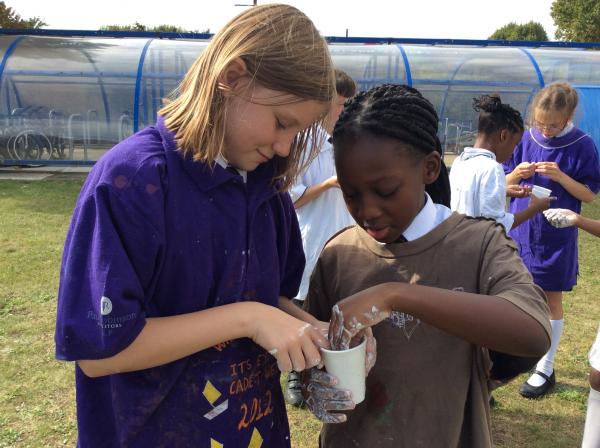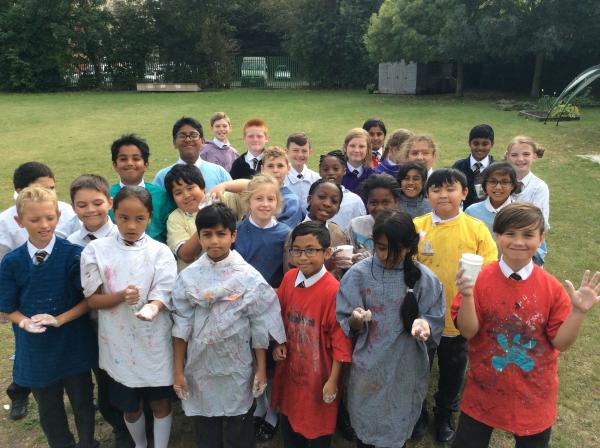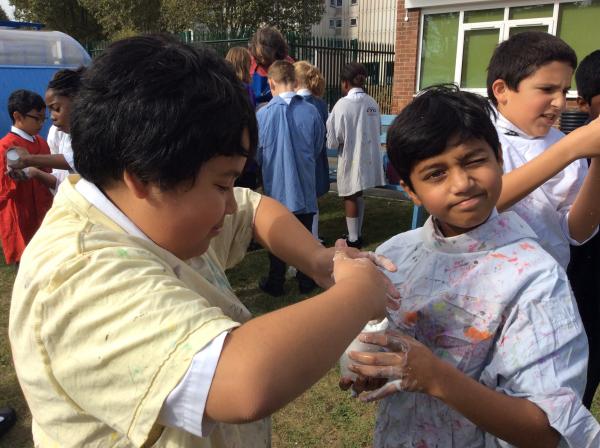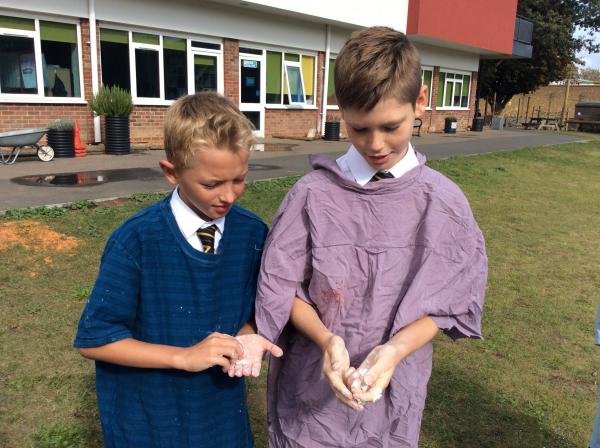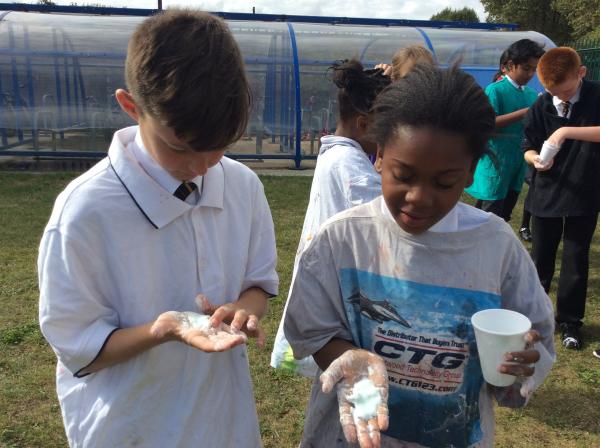 Friday fun in the nature area!
Year 6 have been bug hunting, den building, tree climbing, stick fighting in the nature area today.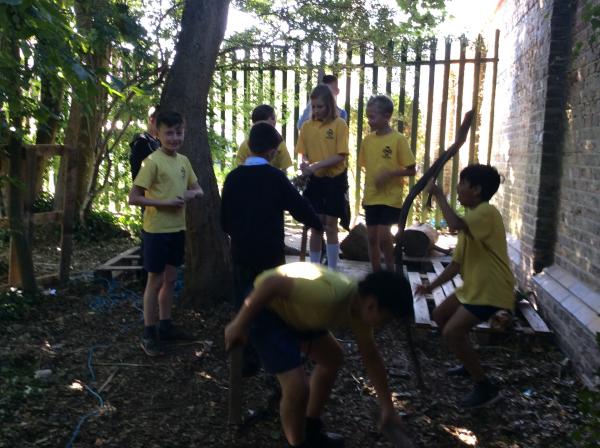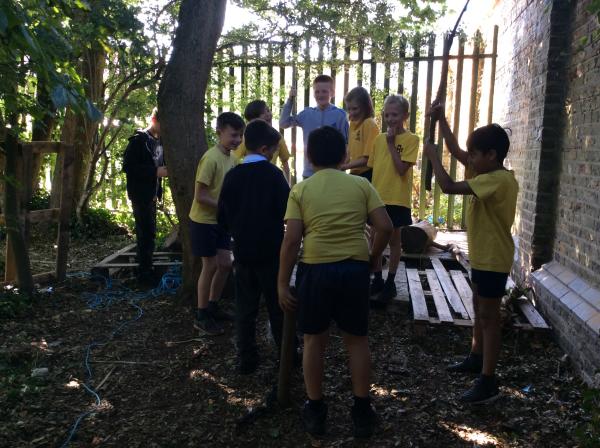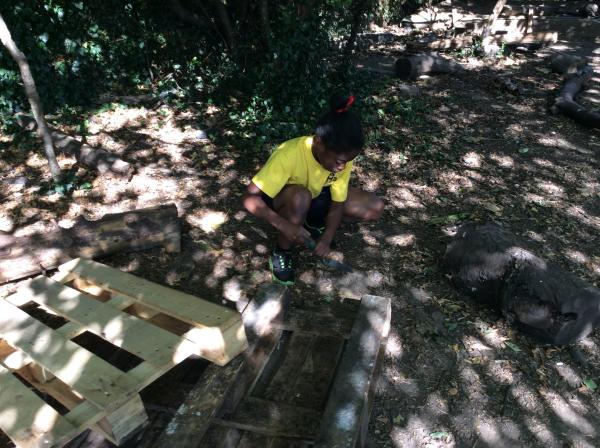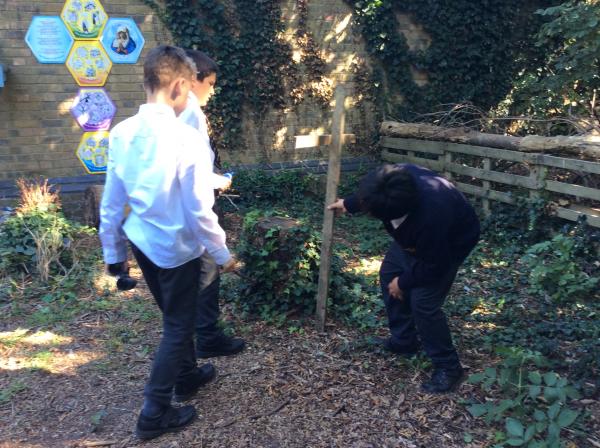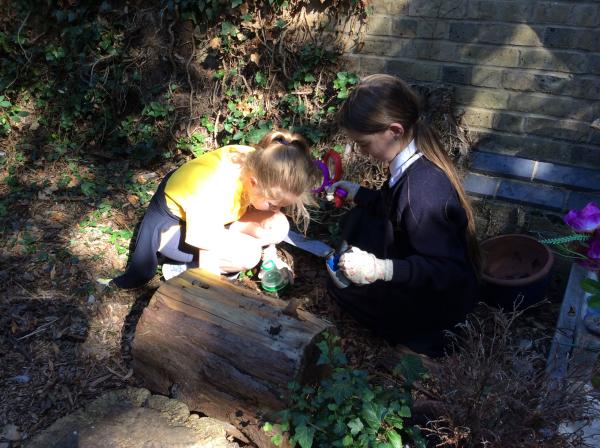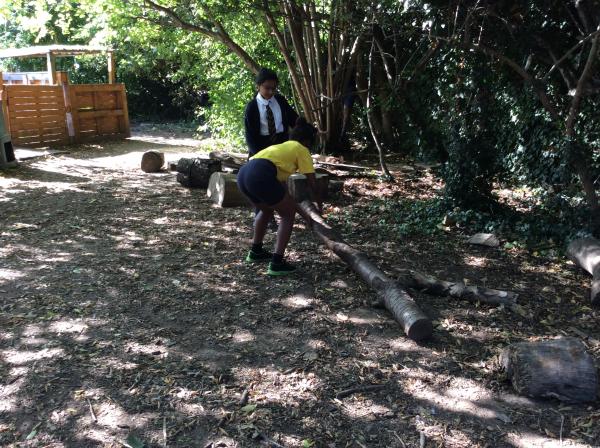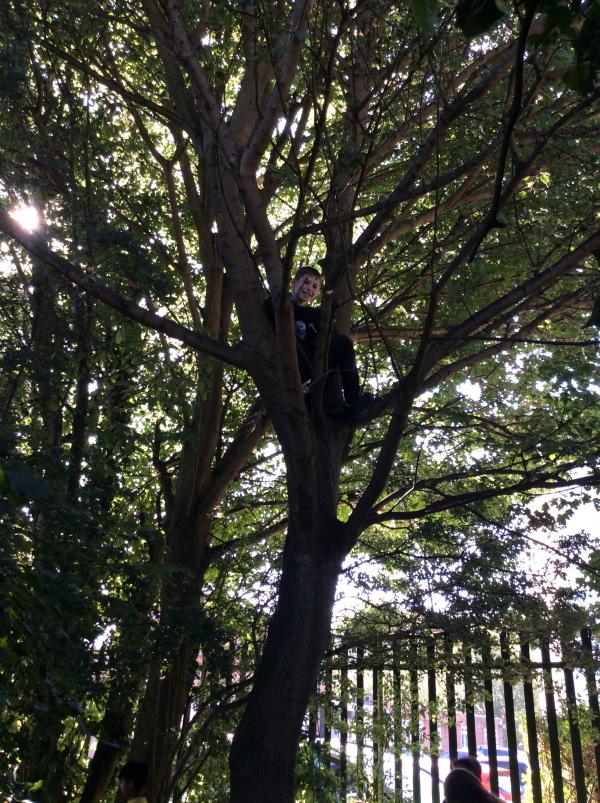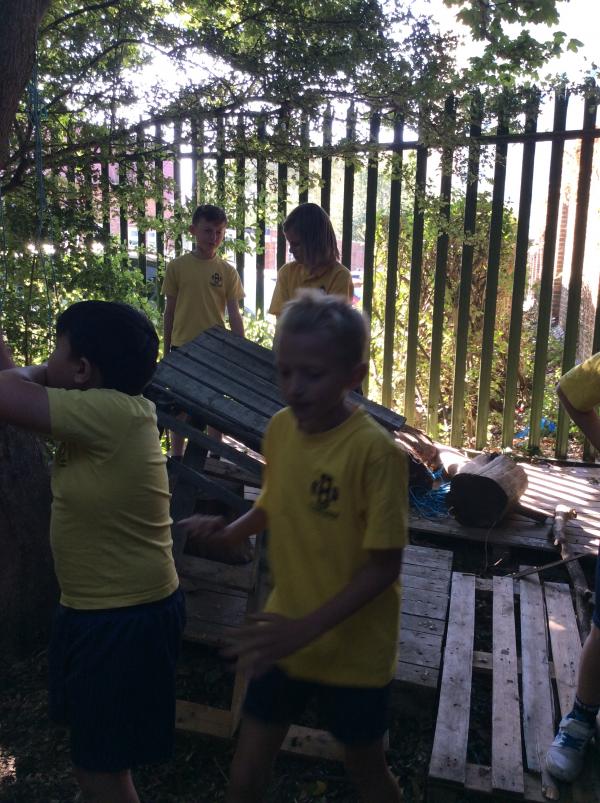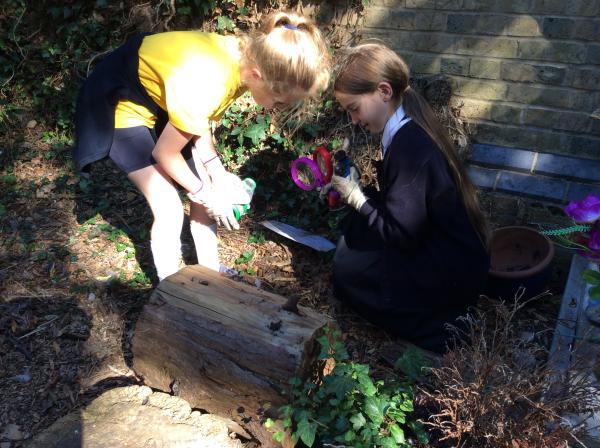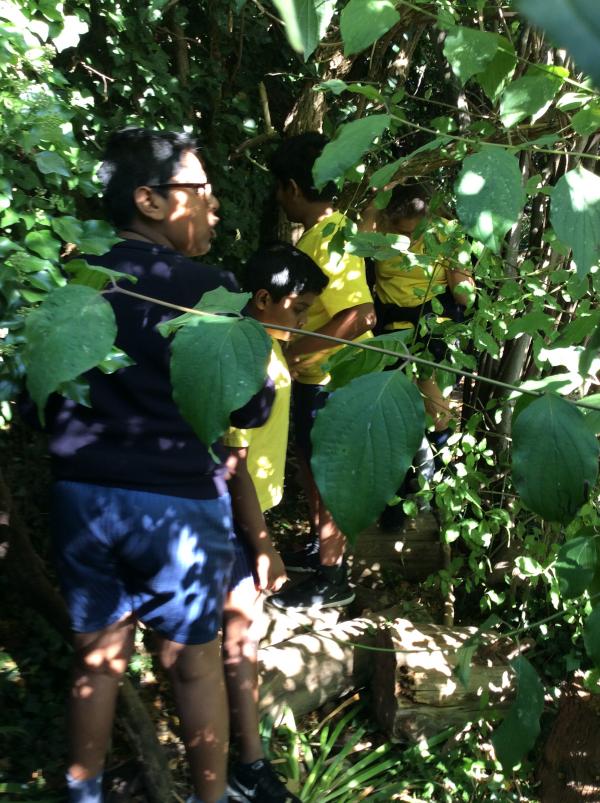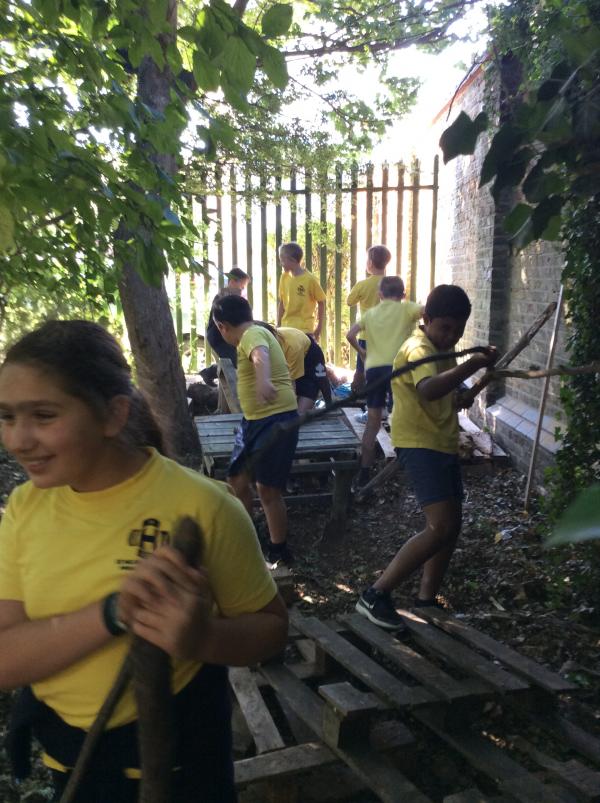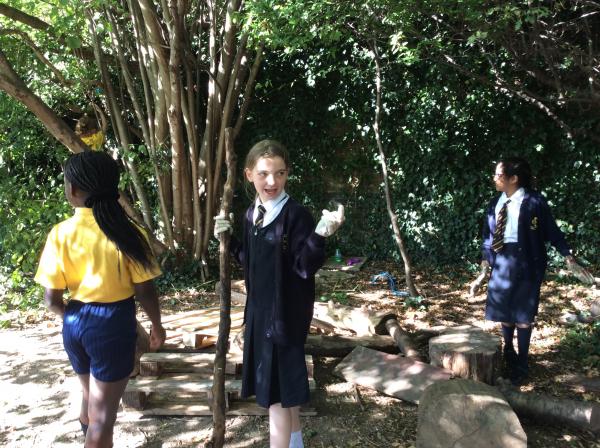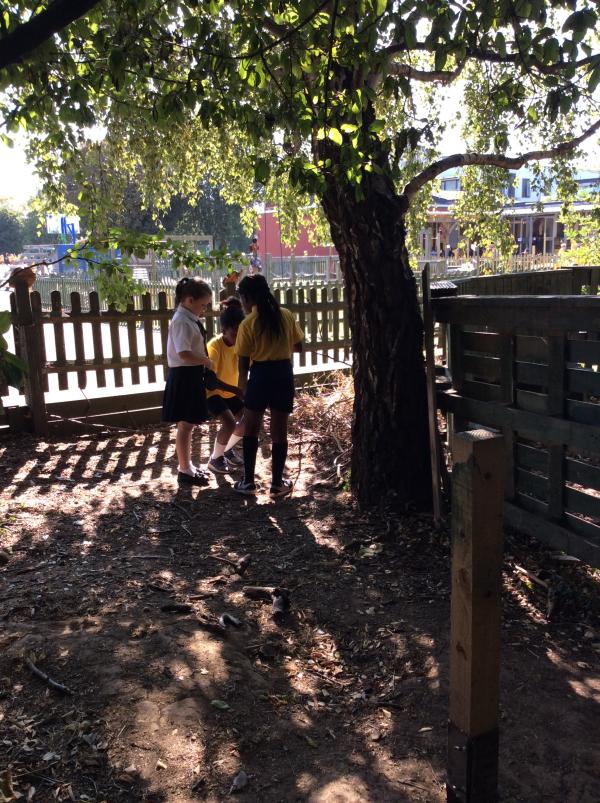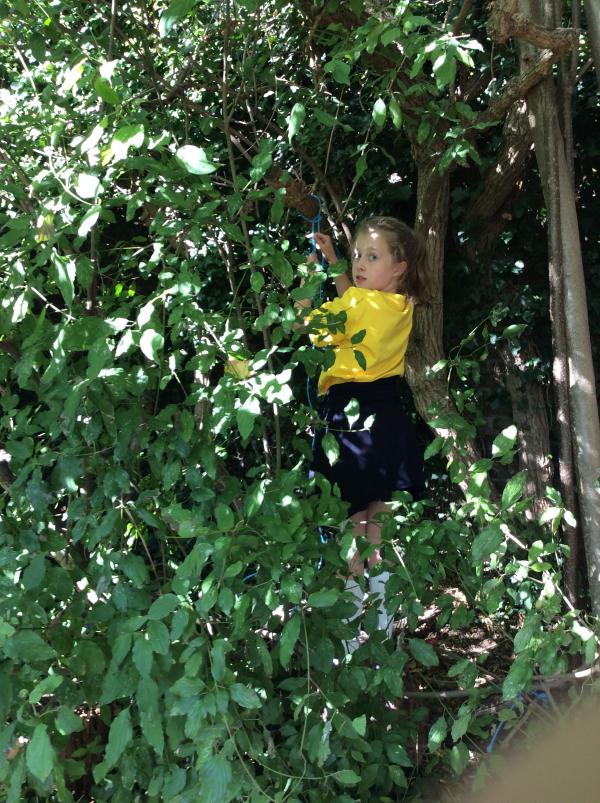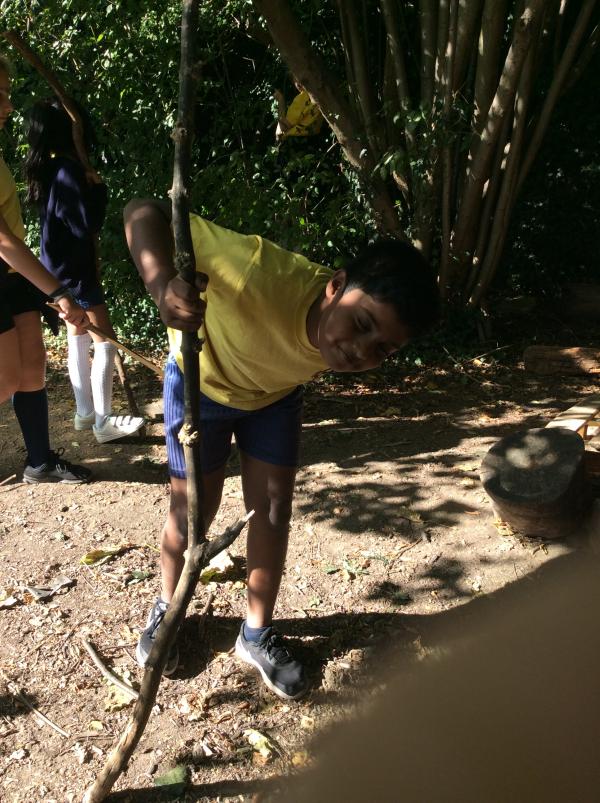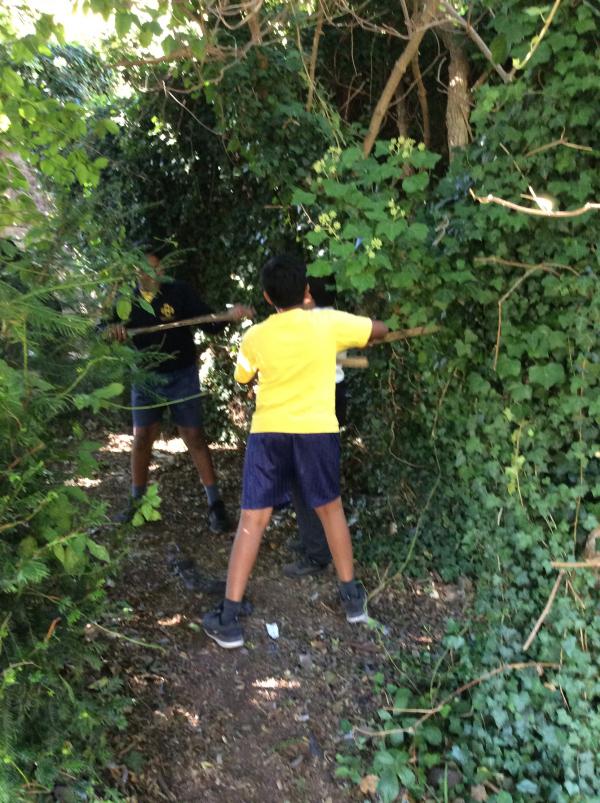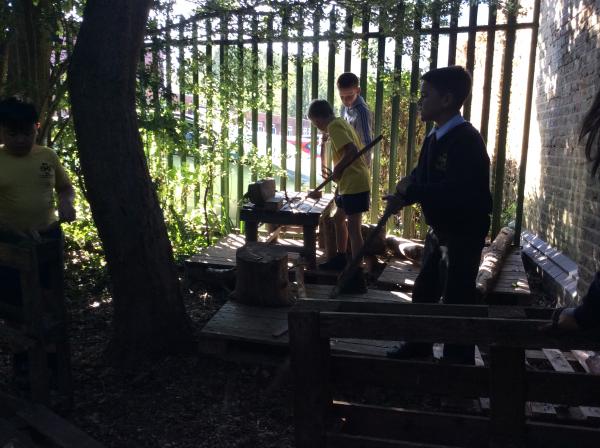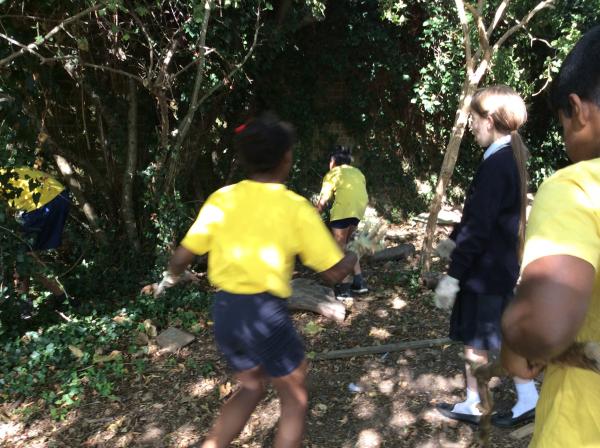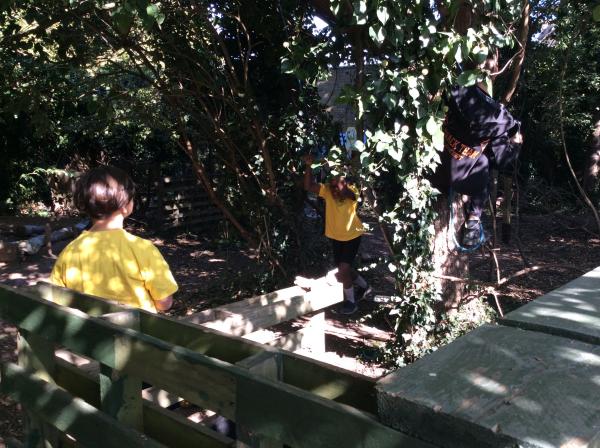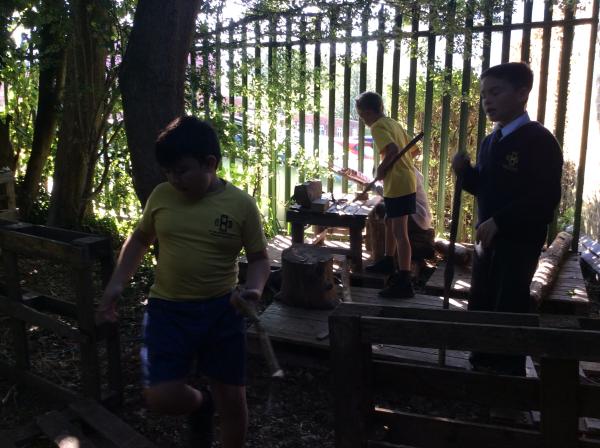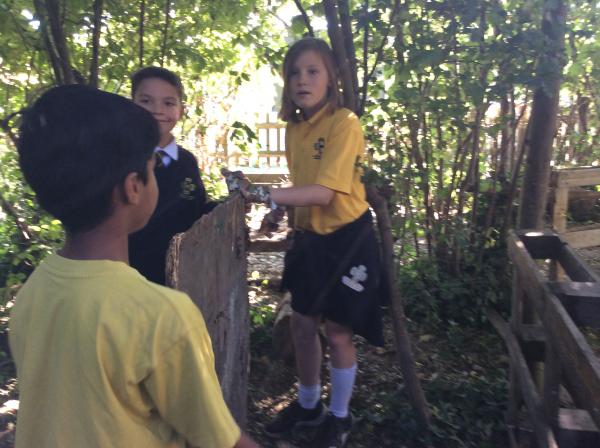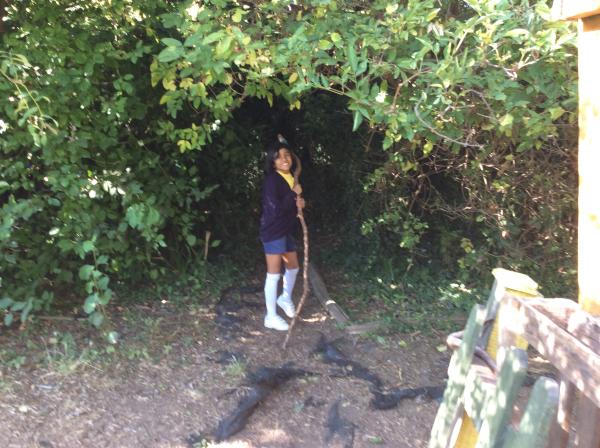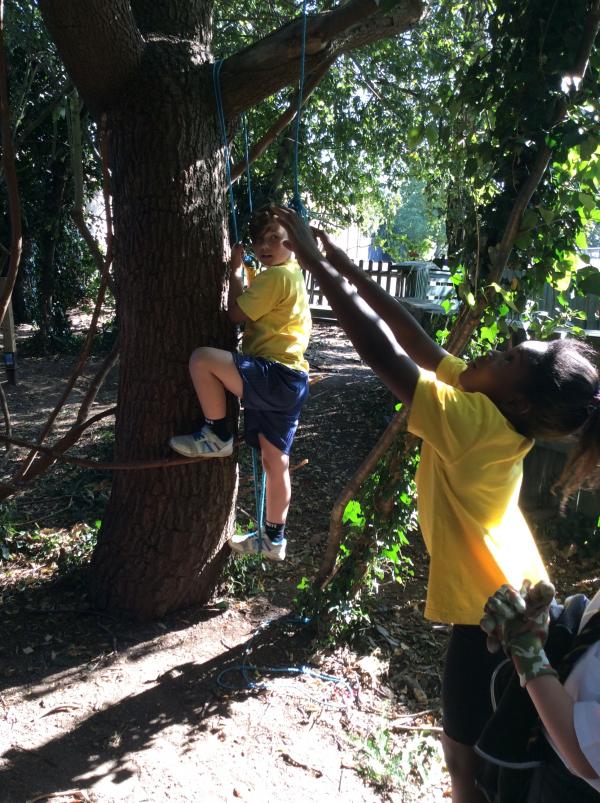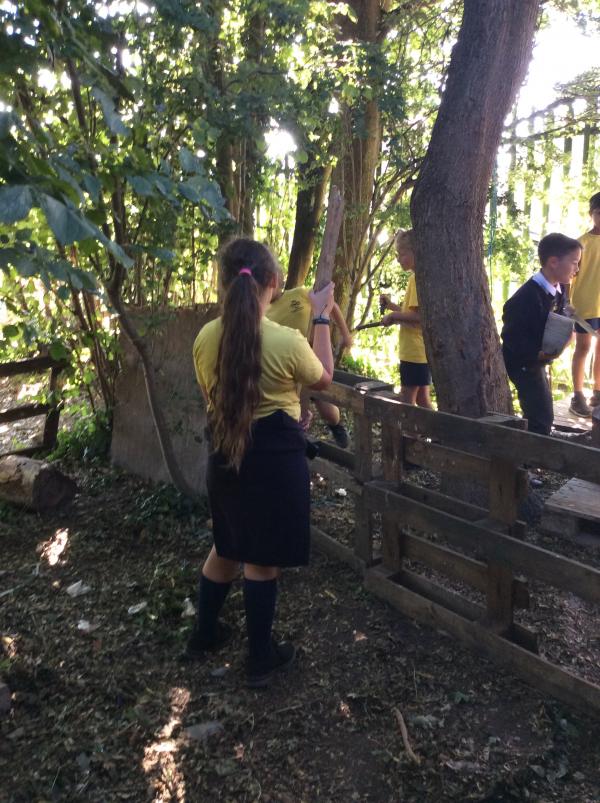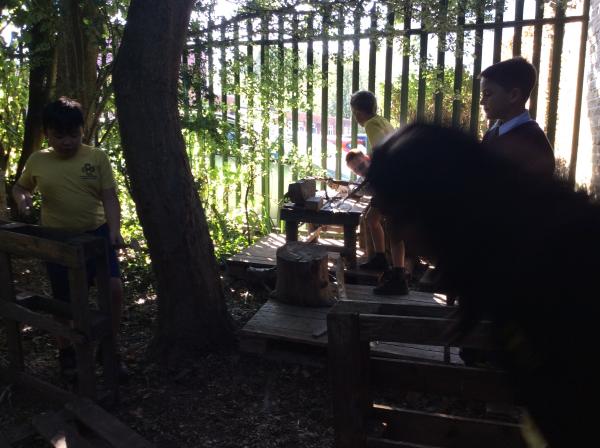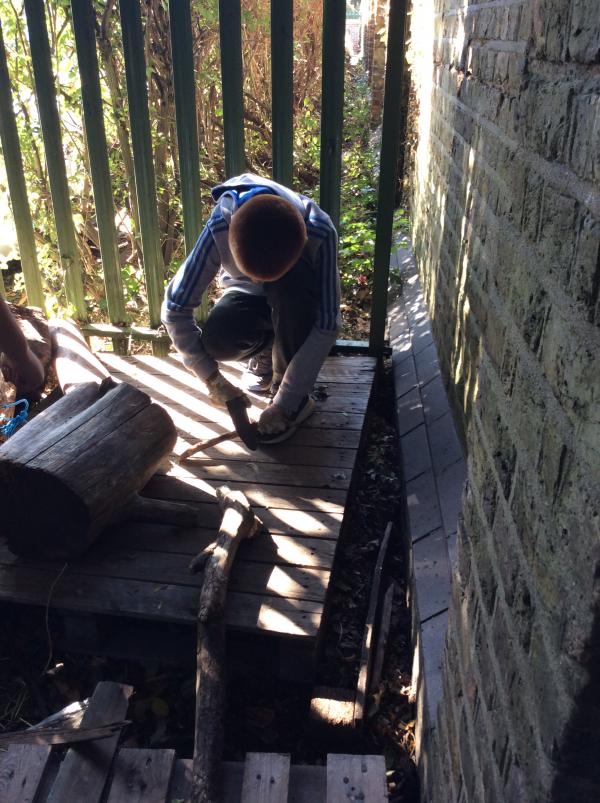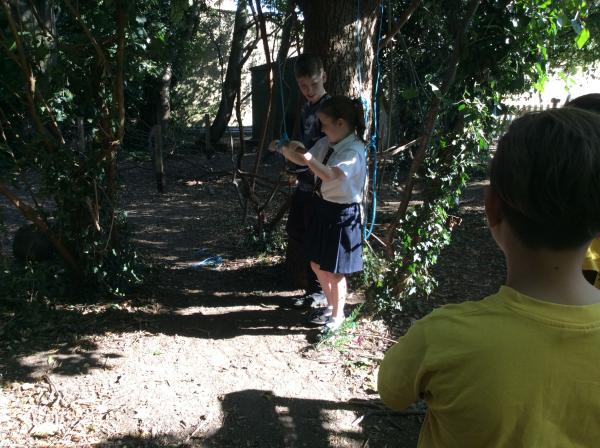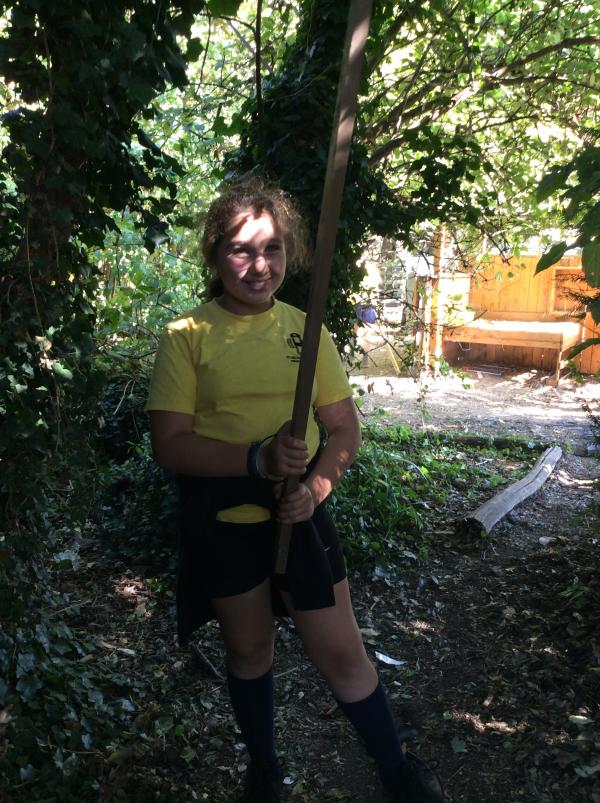 Hello, hello, hello - what's going on here then?
Year 6 have enjoyed a detective day! Firstly, we had to investigate a messy classroom, looking for evidence. In the afternoon, we looked at our fingerprints, footprints and analysed handwriting to give us clues.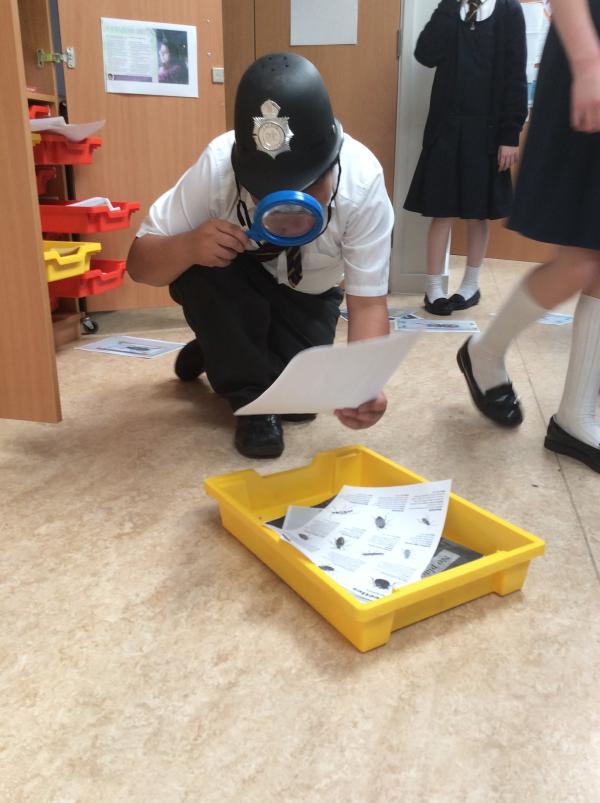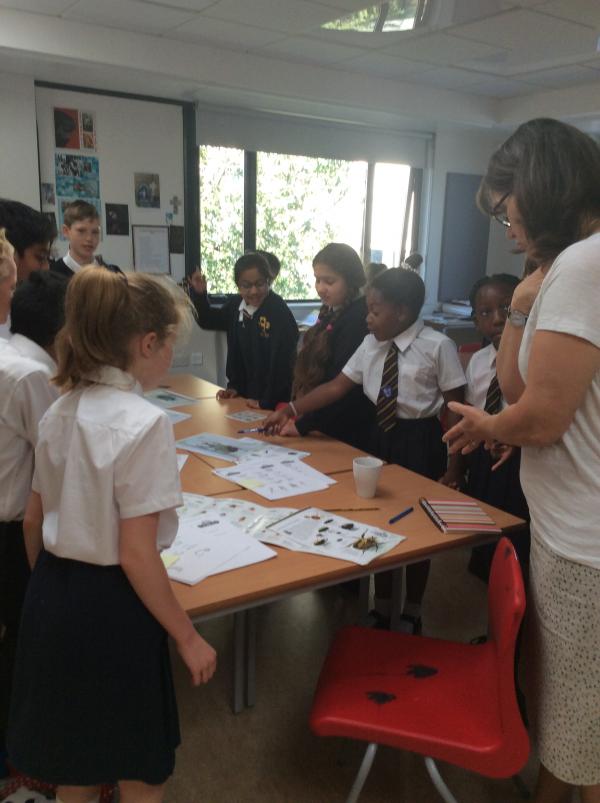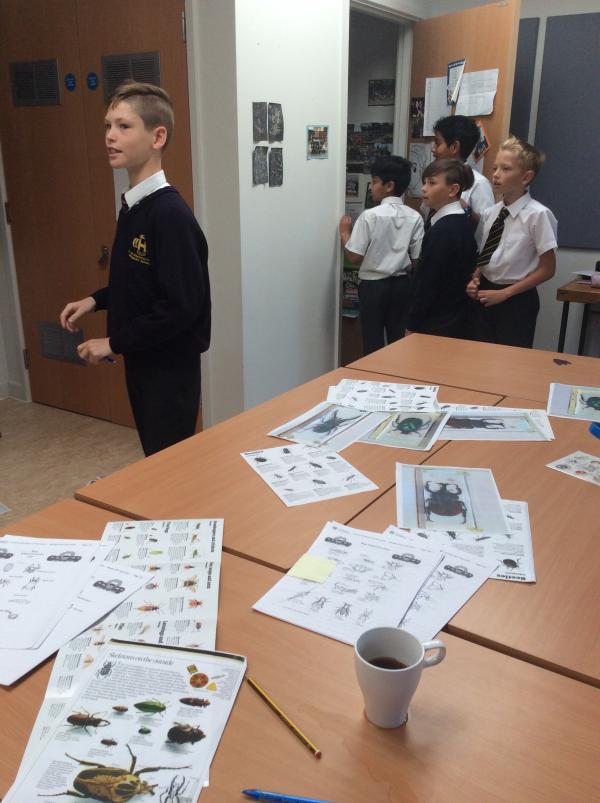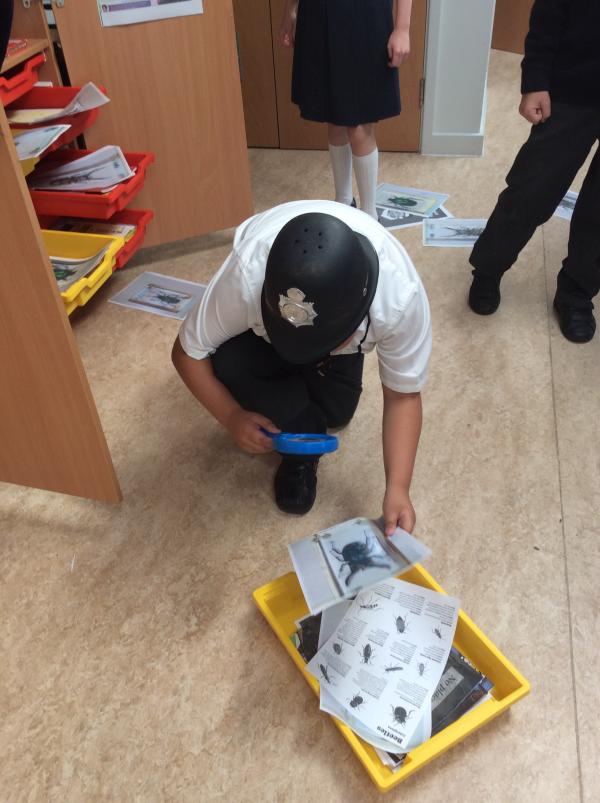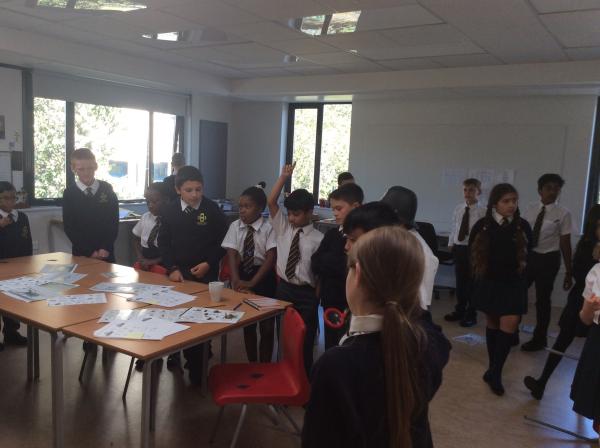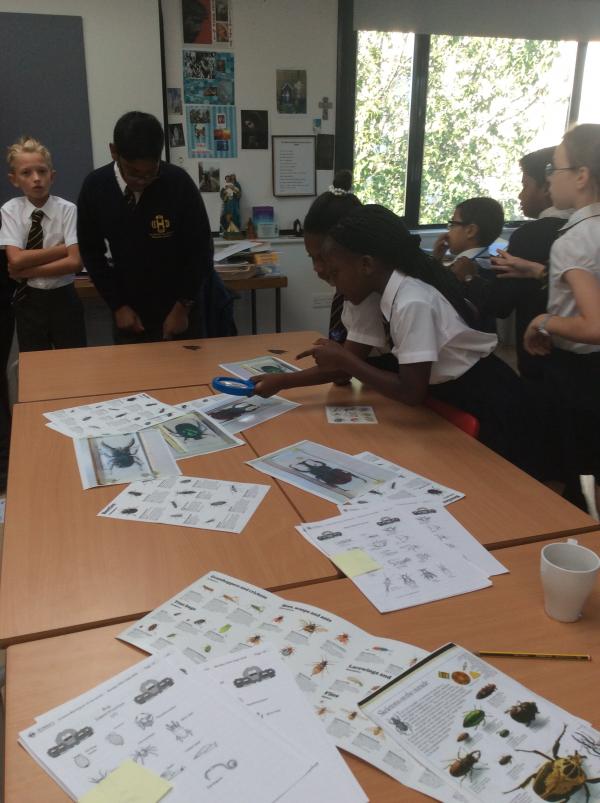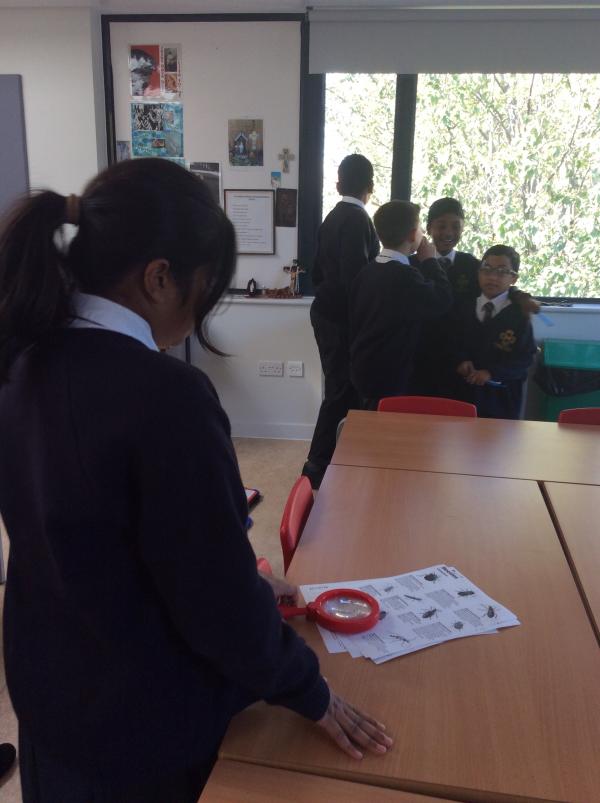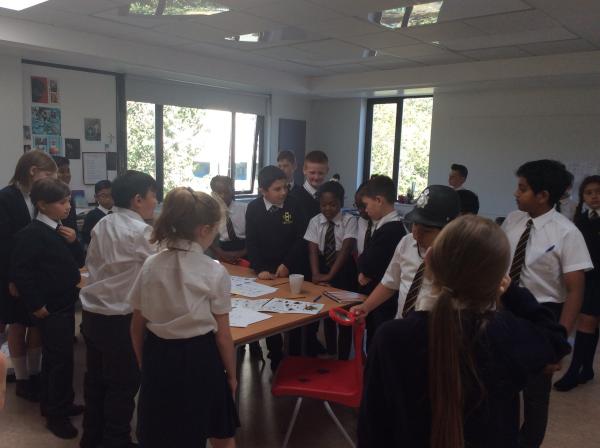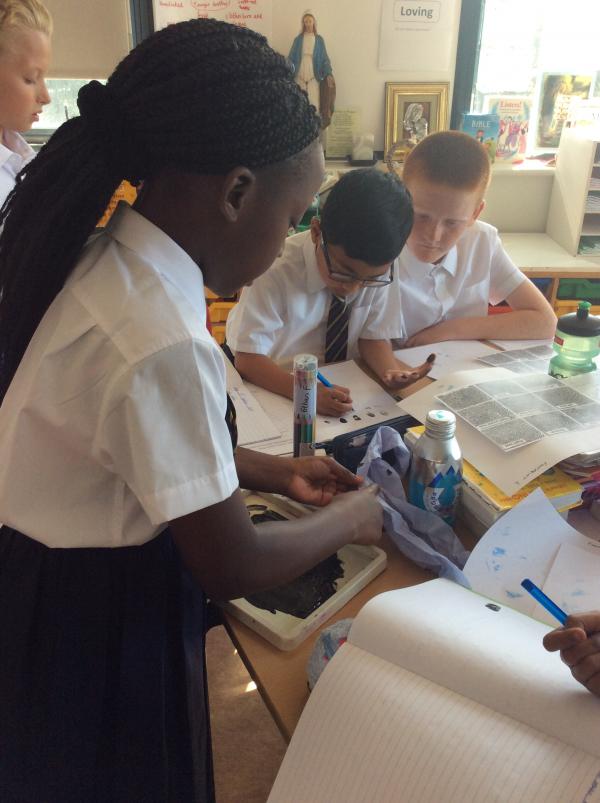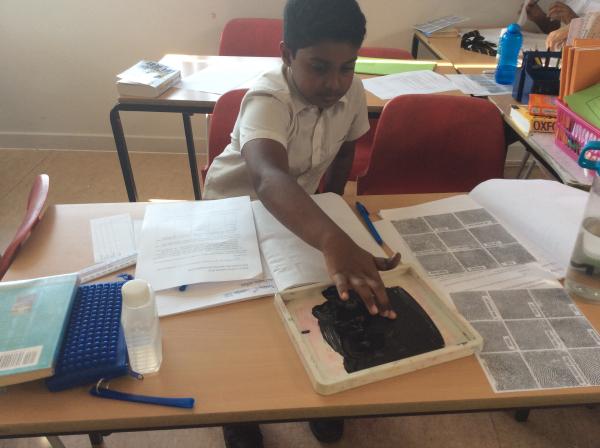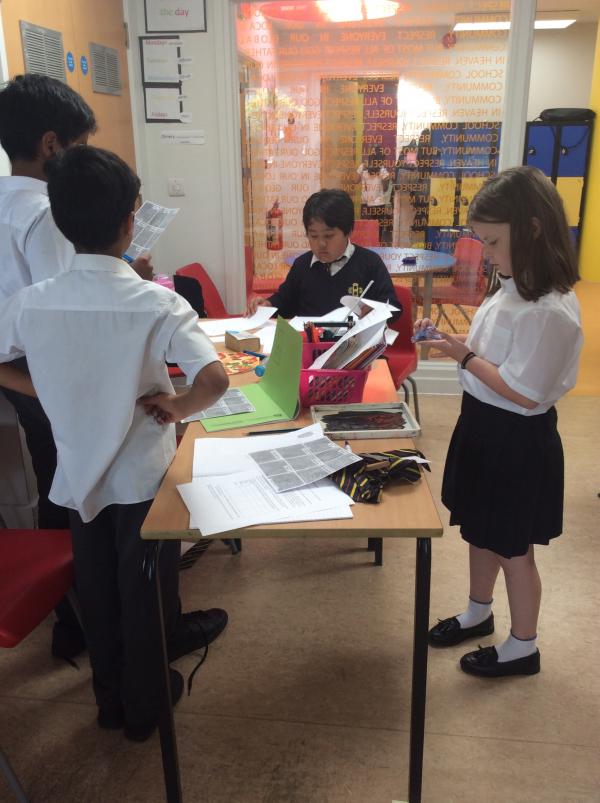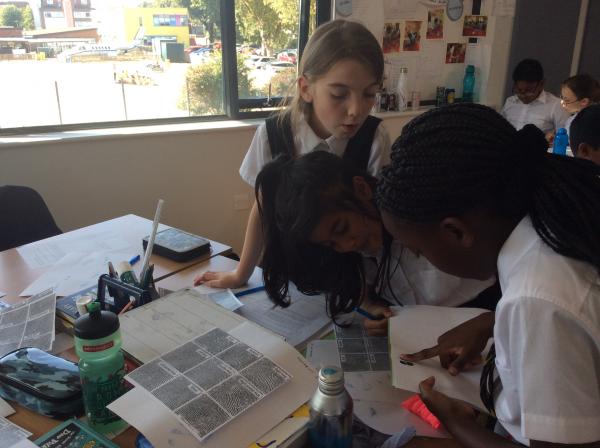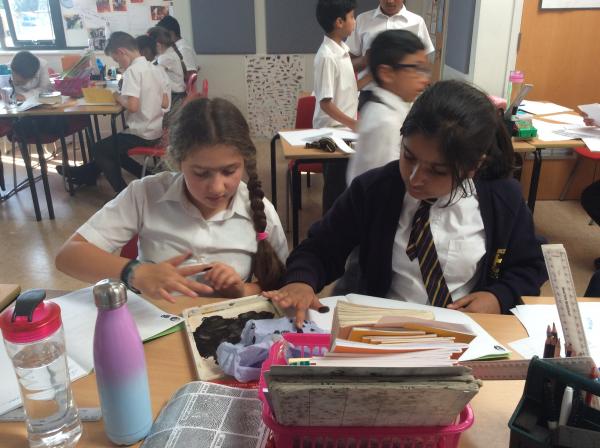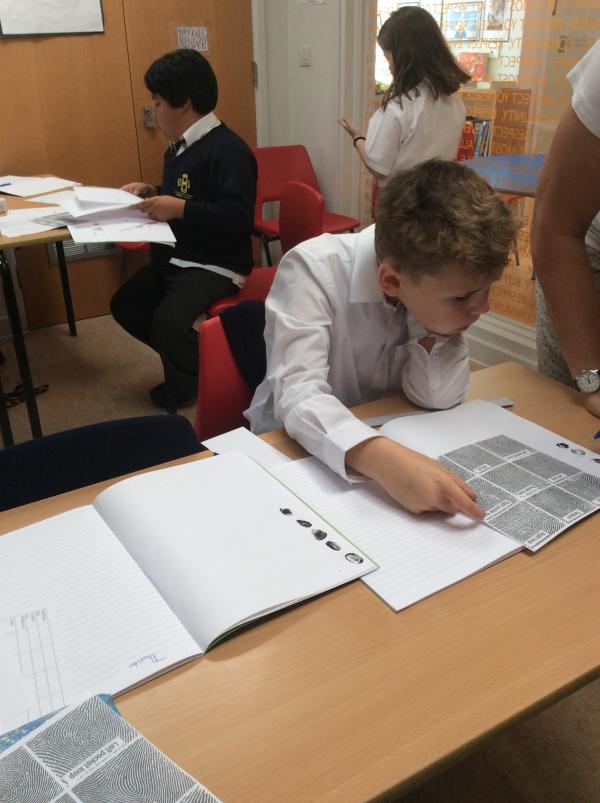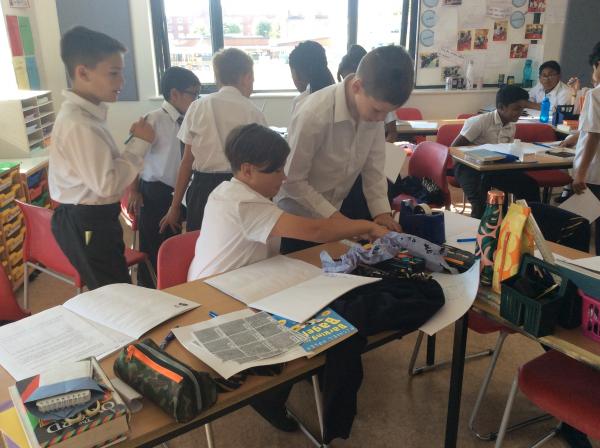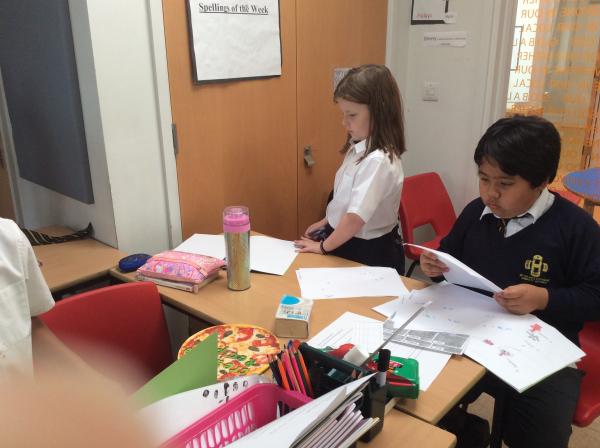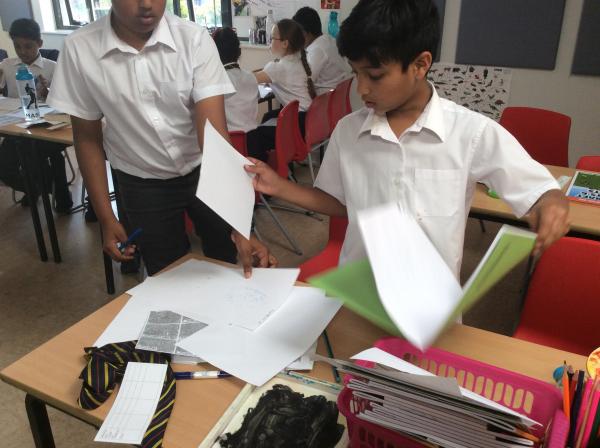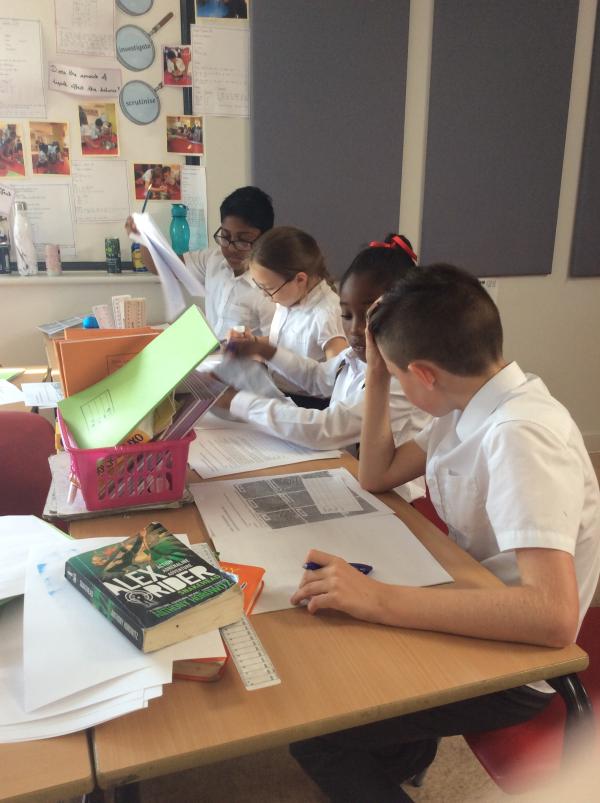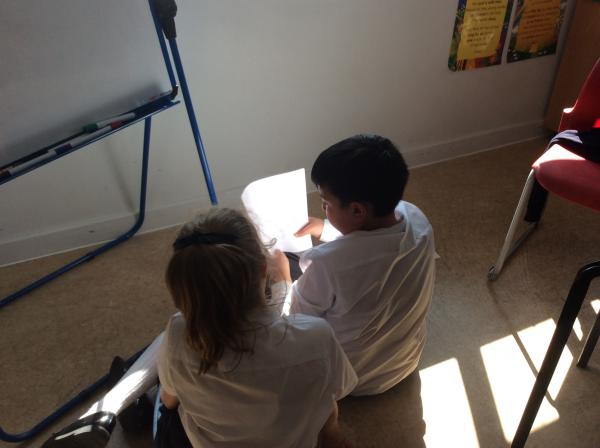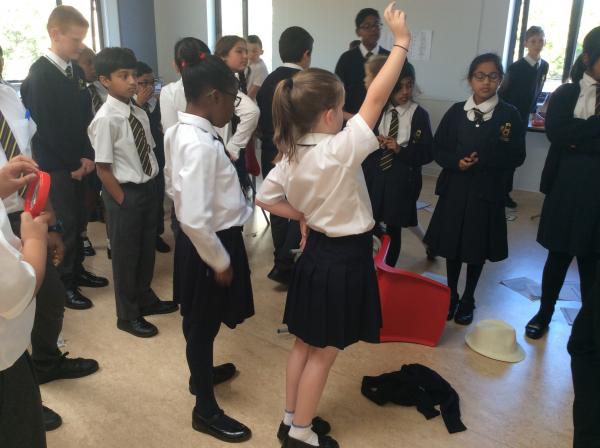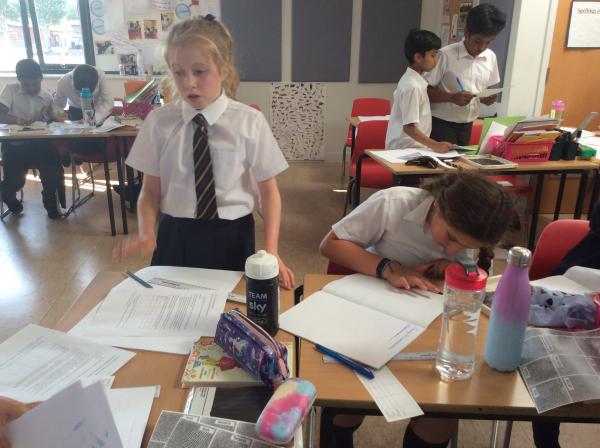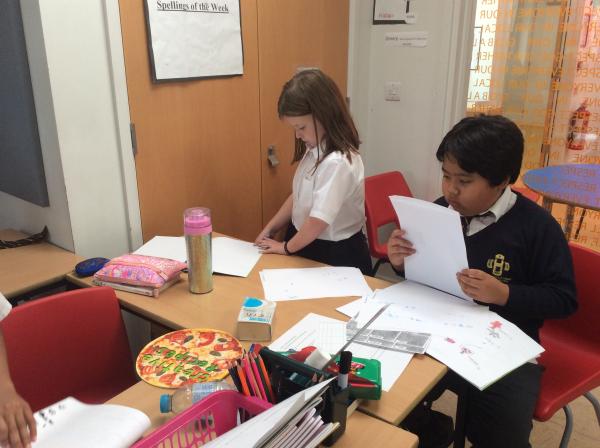 Shape Shorting
Year 6 chose their own categories today and sorted shapes according to their properties. A lovely sunny day made the work easier!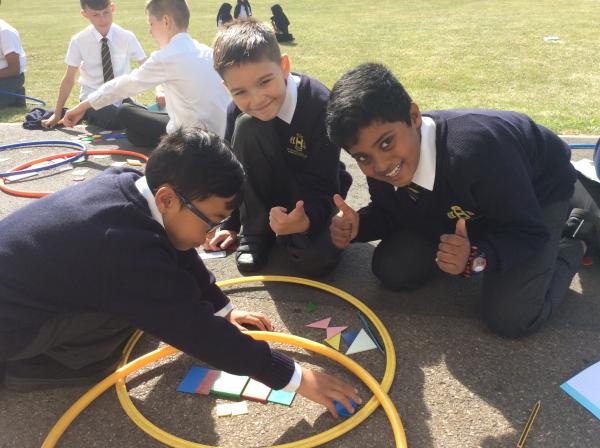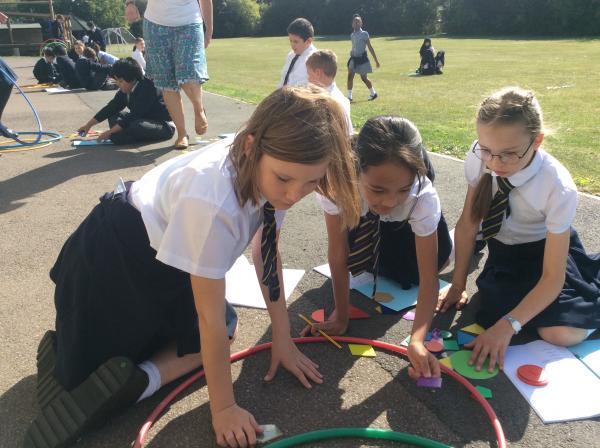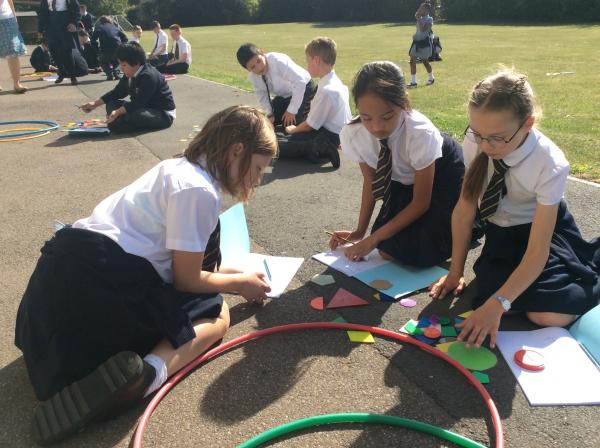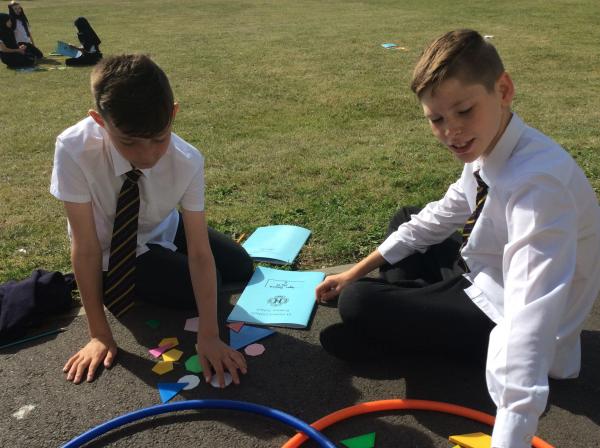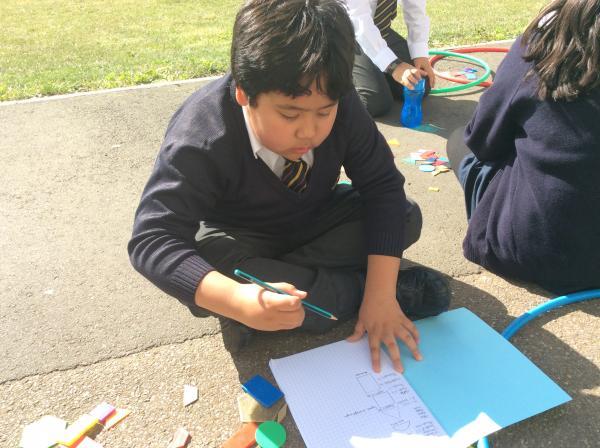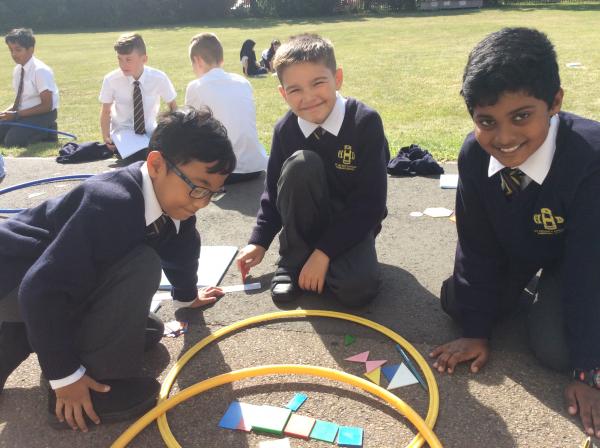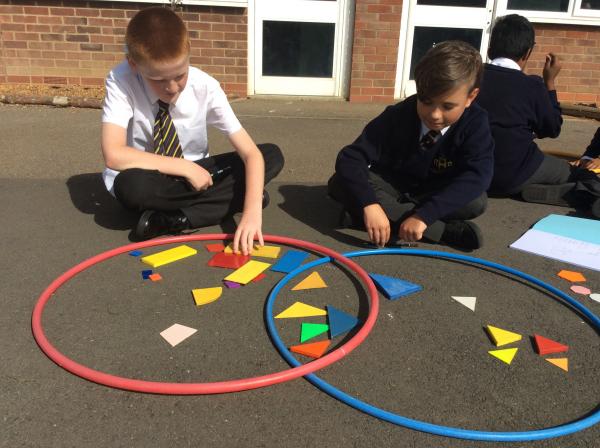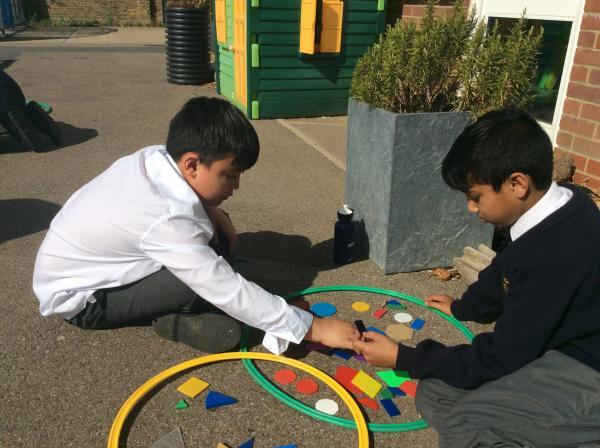 Balancing Cans Experiment
The first day back saw Year 6 experimenting with balancing cans. They tested whether different sorts of surfaces, the water level and the type of can affected the balance. Ask your child to tell you their group's results!