Welcome to Class 4
---
Class Teacher 4F: Mrs Fisher & Mrs Driscoll
Learning Support Assistants:
Miss King




Class Teacher 4G: Mr Gibson
Learning Support Assistants:
Miss Boniface




---
---
The latest news from Class 4
Roman Homework
Wow, we have had so many fantastic pieces of homework for our Romans homework this term that we just have to share them with you! Well done 4G (and parents) - amazing effort!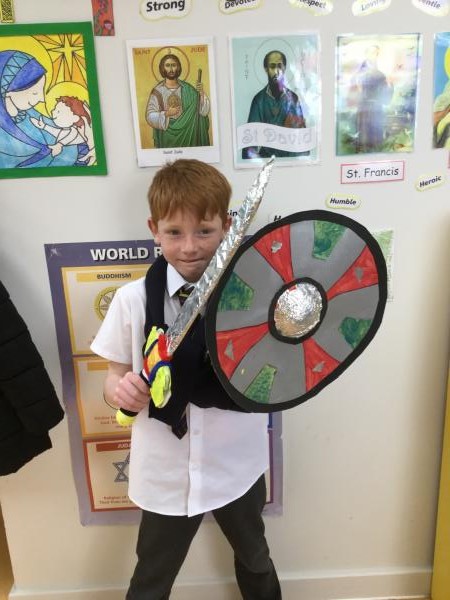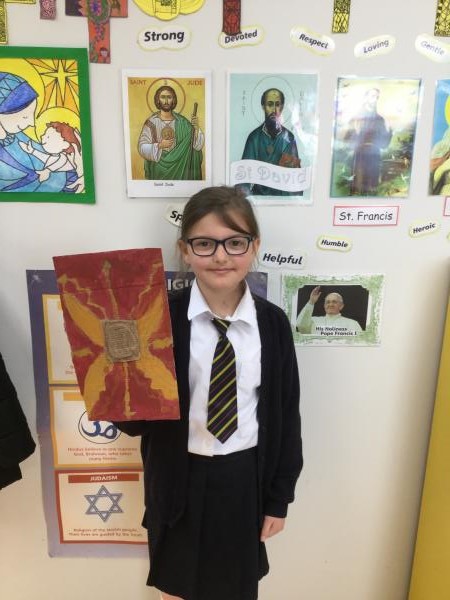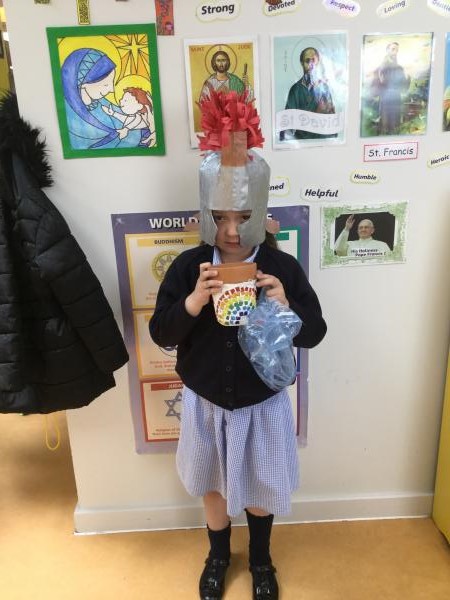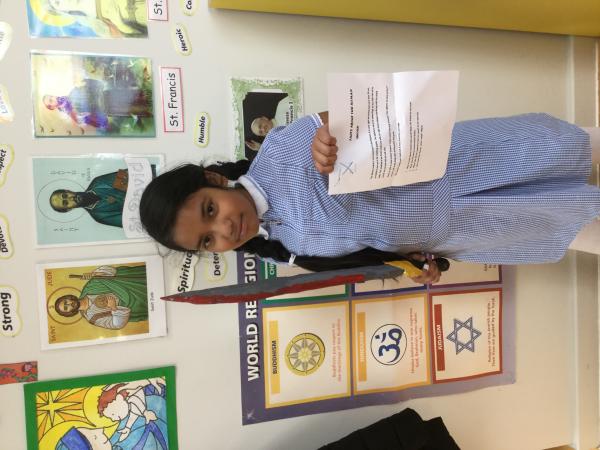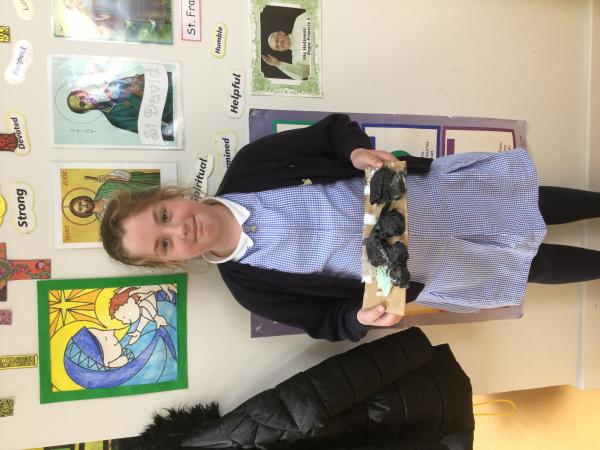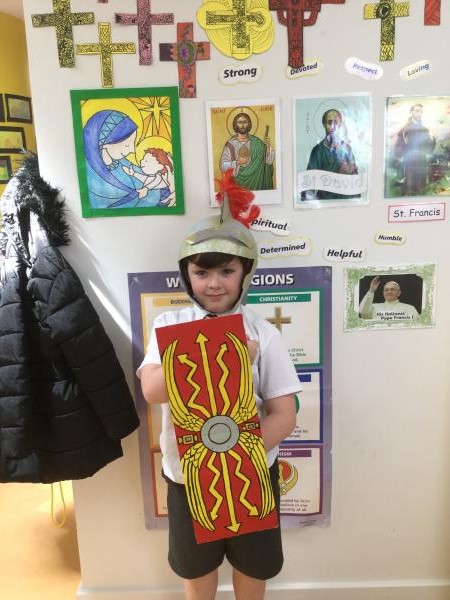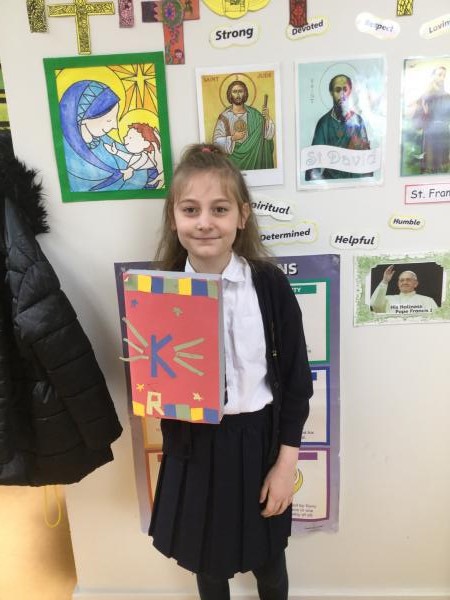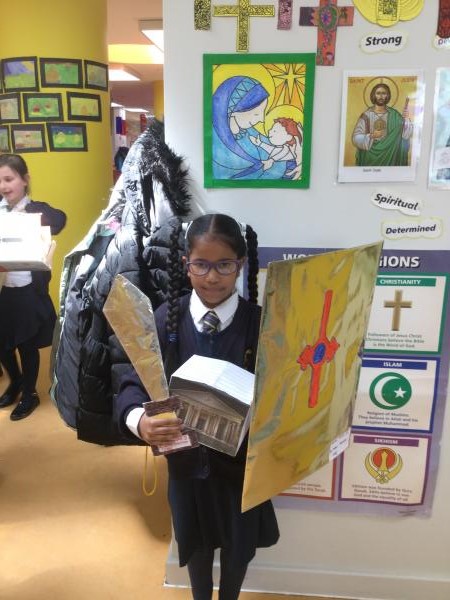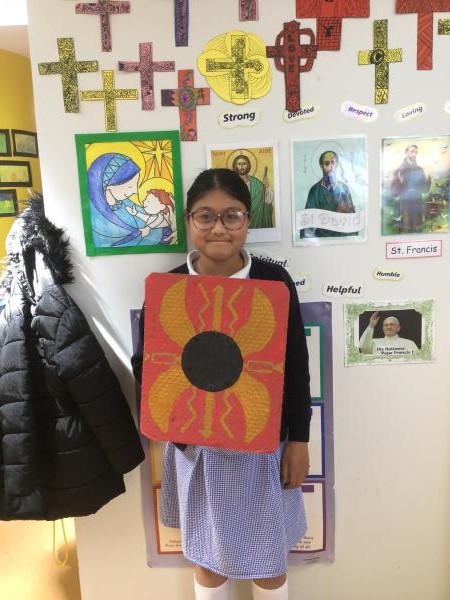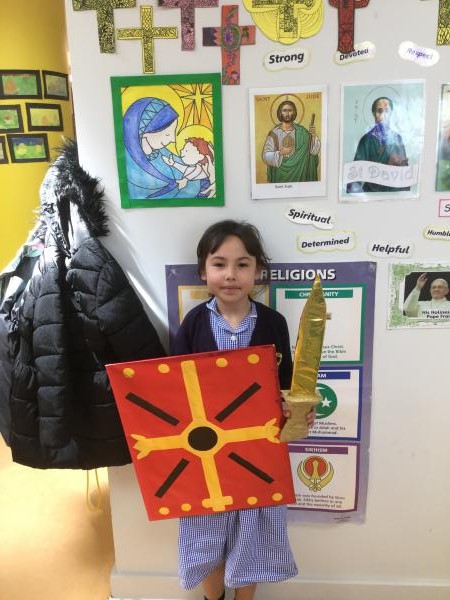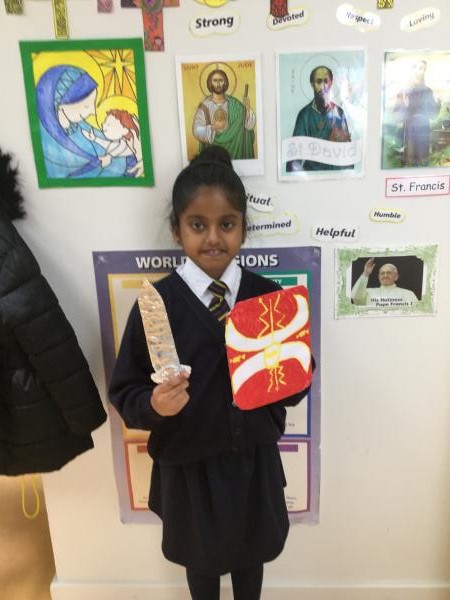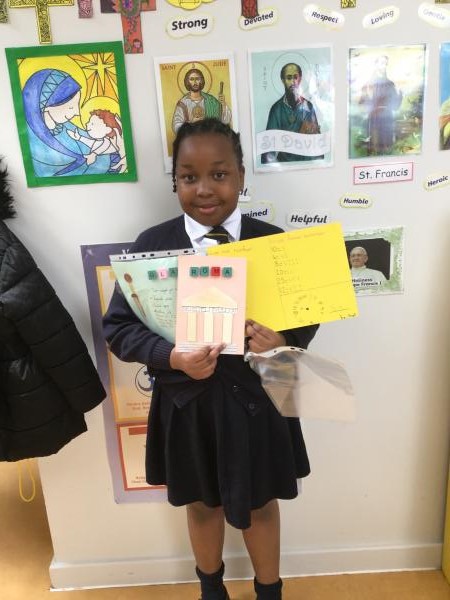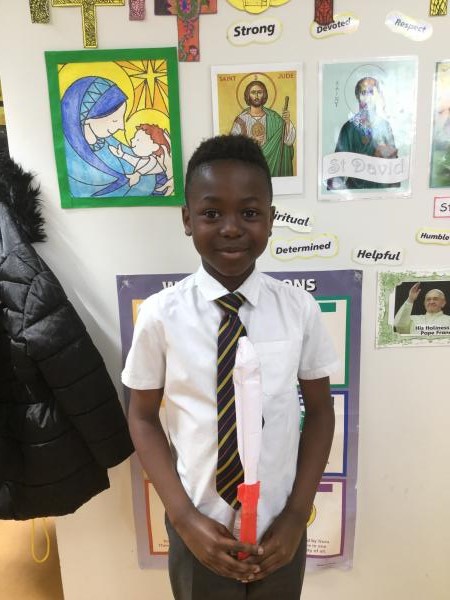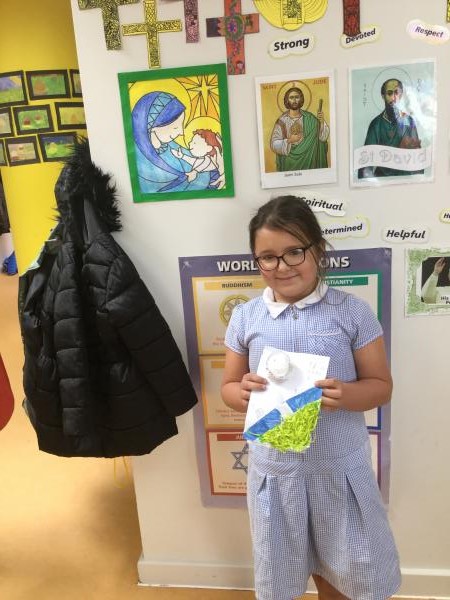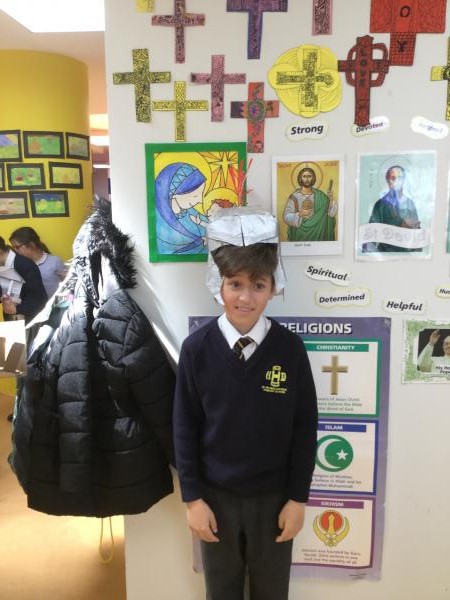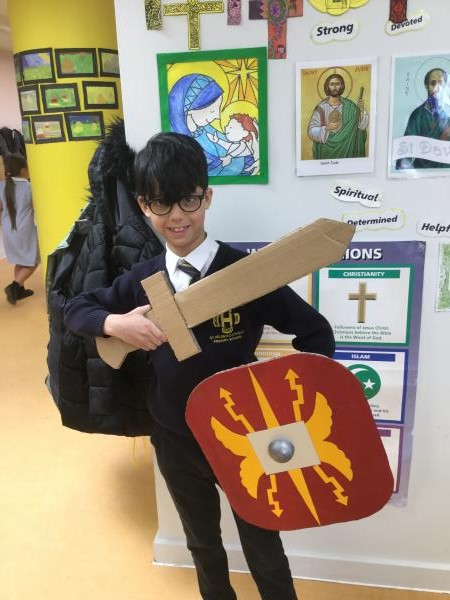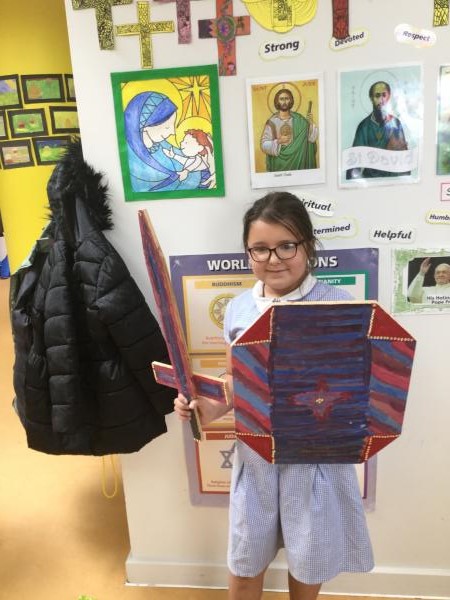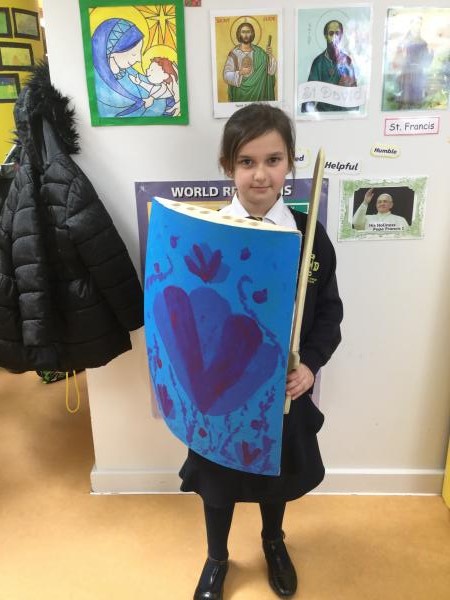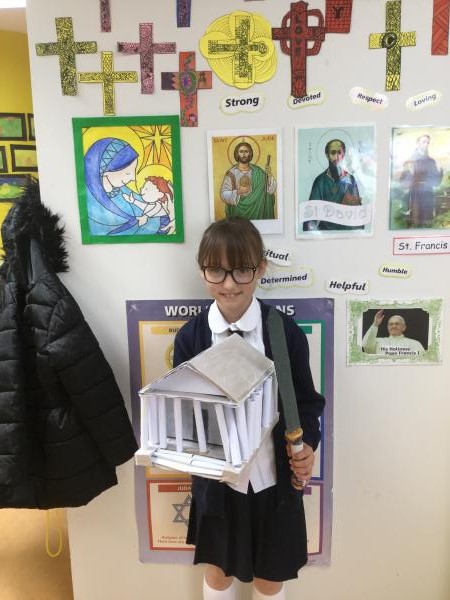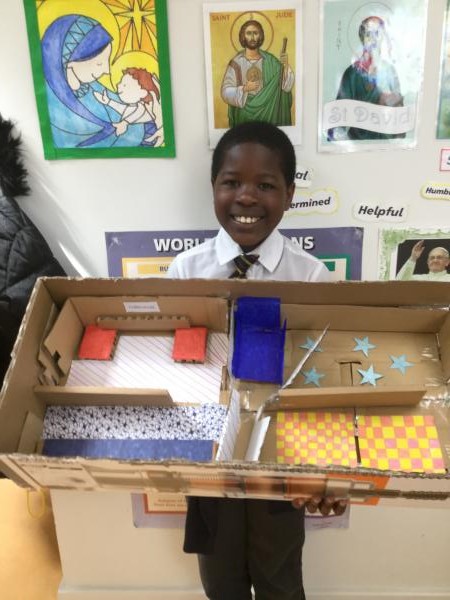 26th May - 4F Nature Area Day
4F visited the nature area today. After clearing rubbish and a general tidy up, they started their own work. Firstly, toasting marshmallows and seeing changes in the state of different materials when they are burnt. After this, animals was the topic. Year 4 could make animal habitats or embark on a bug hunt. Lastly, they all enjoyed a game or two of Eagle Eye - finding some unusual hiding places.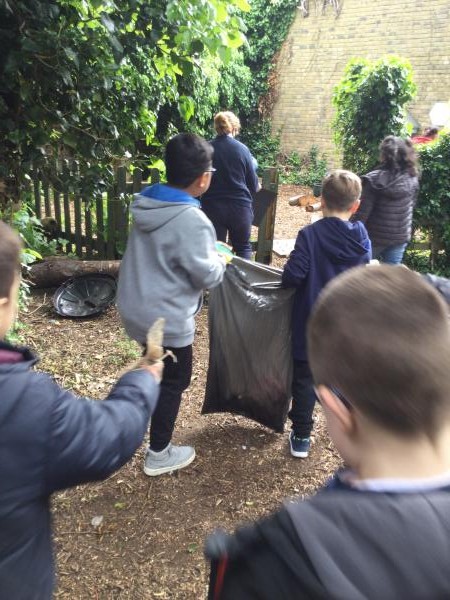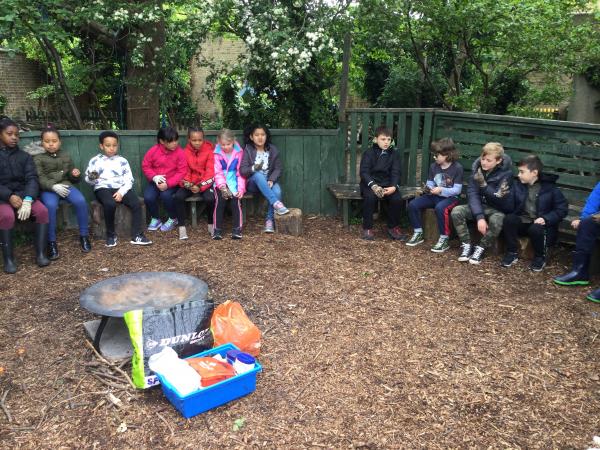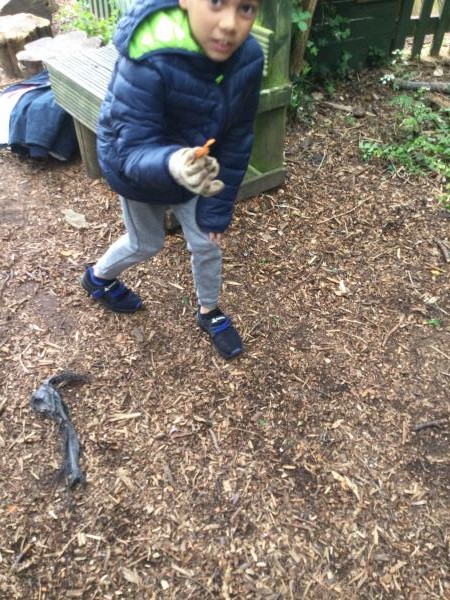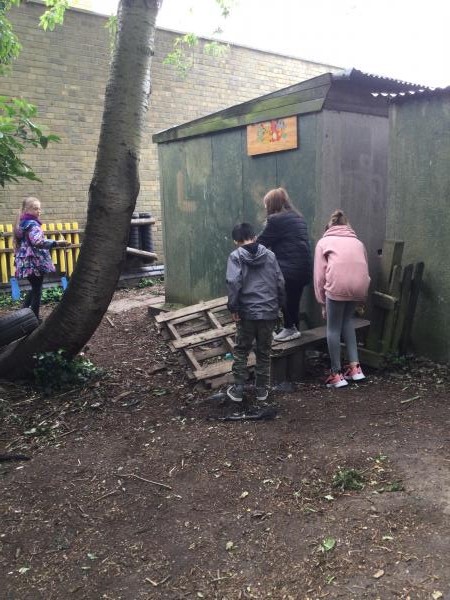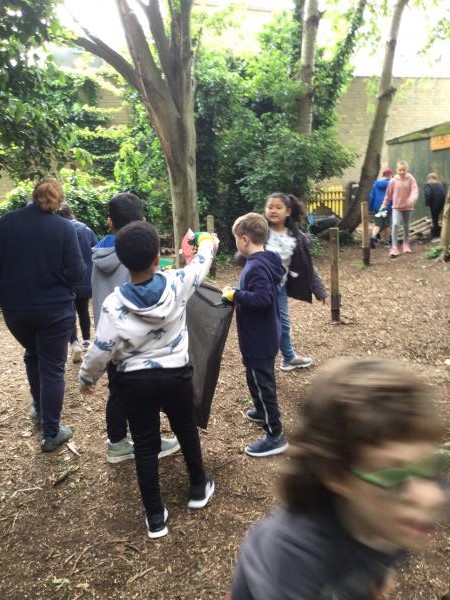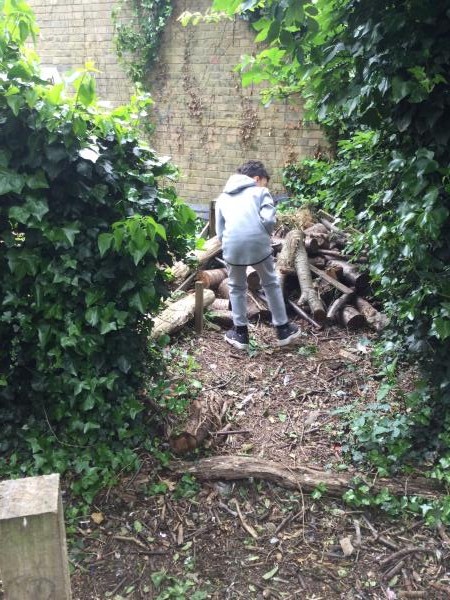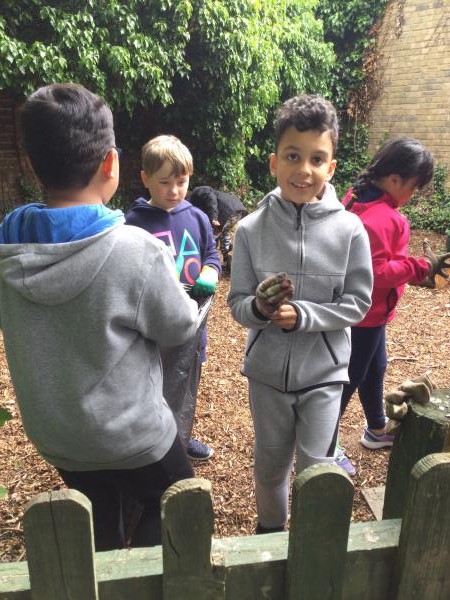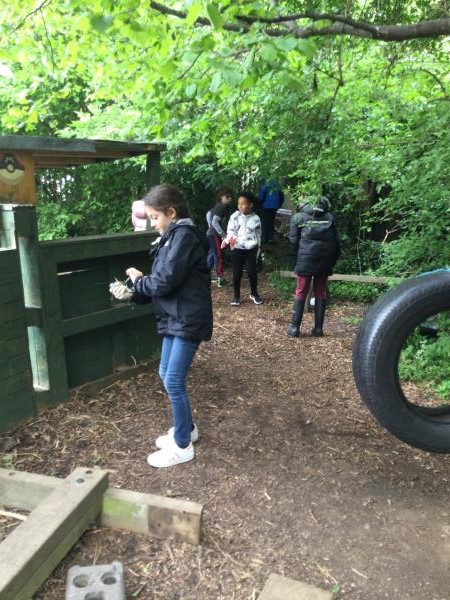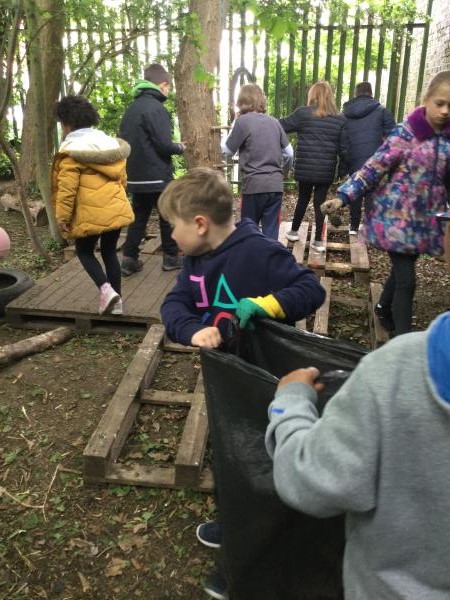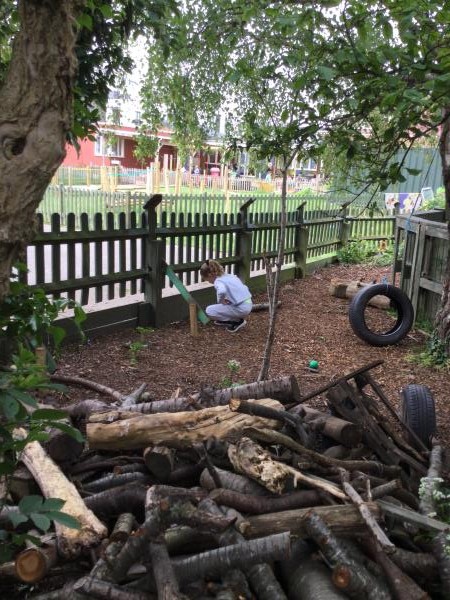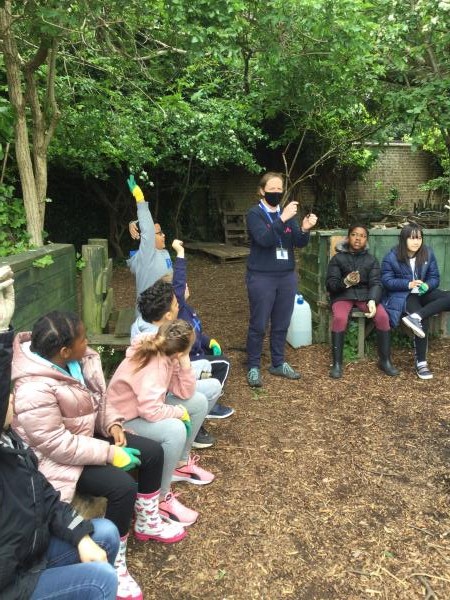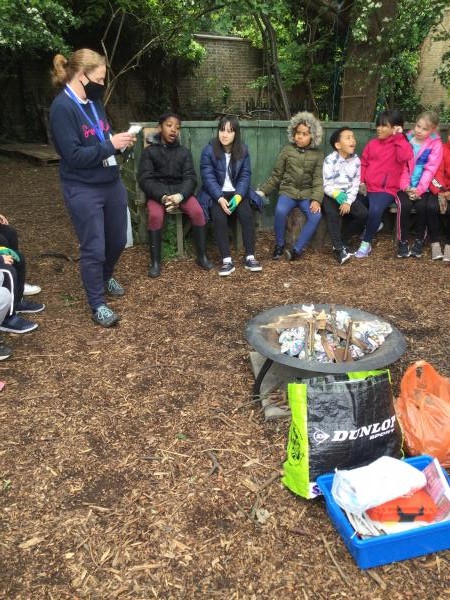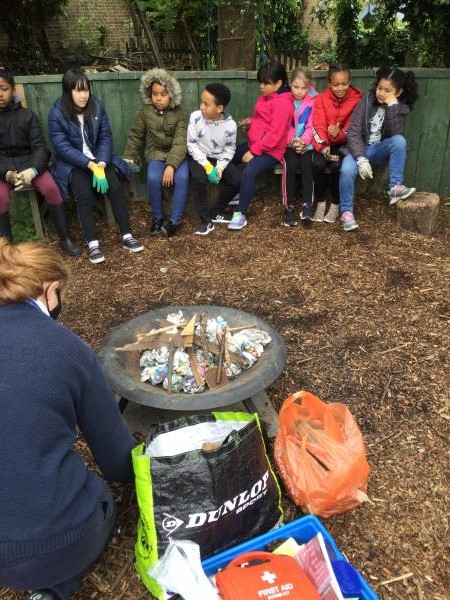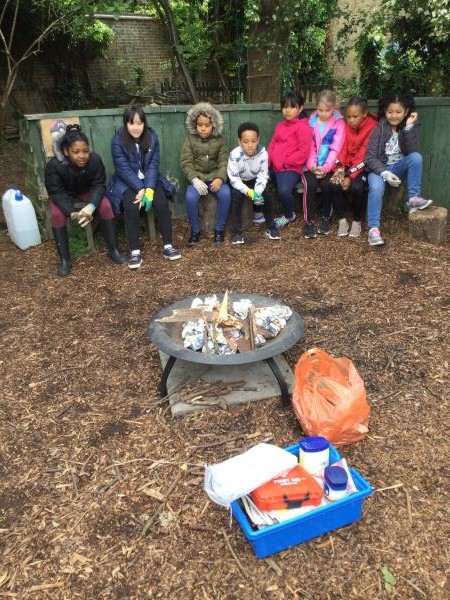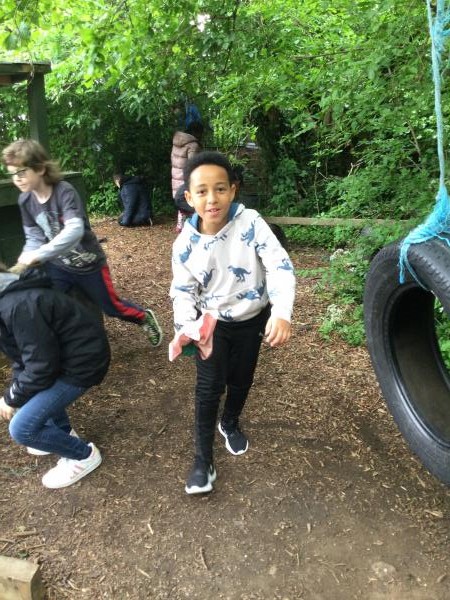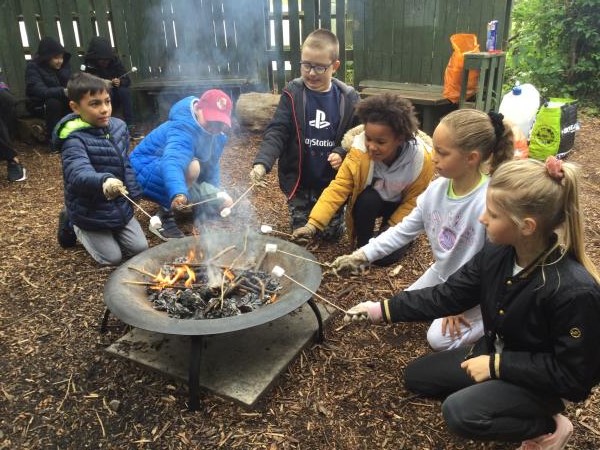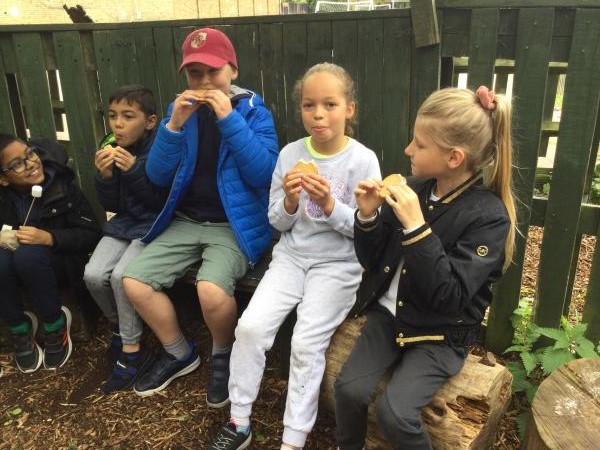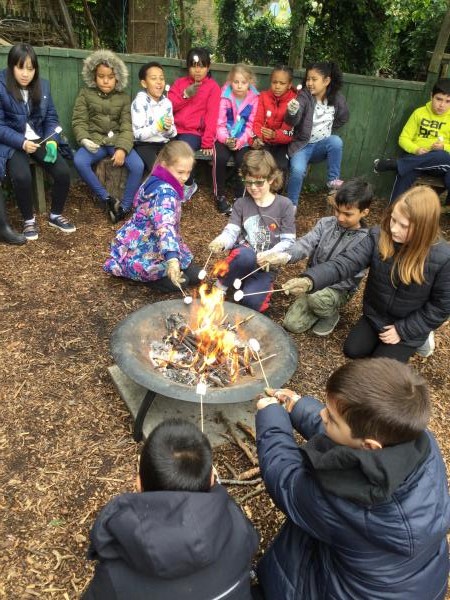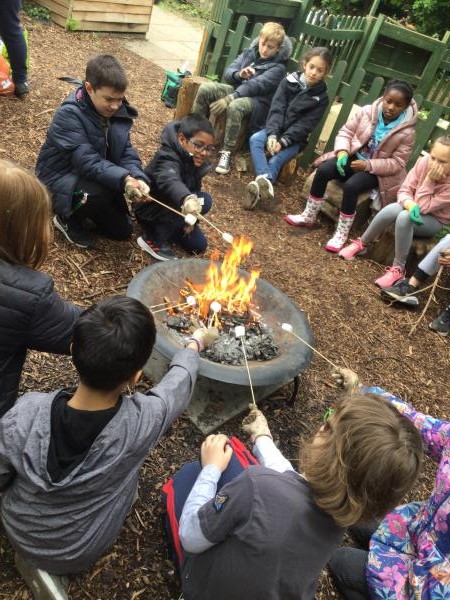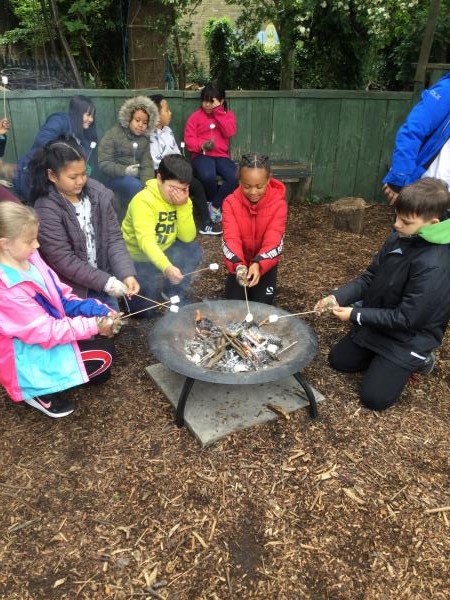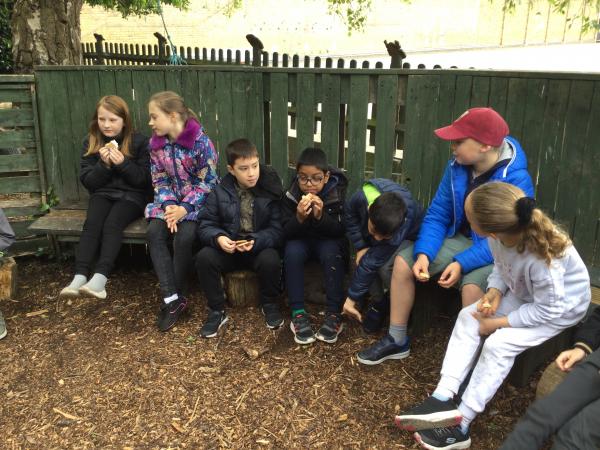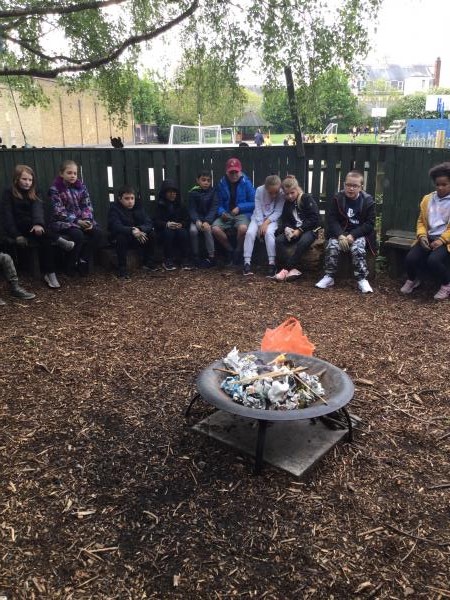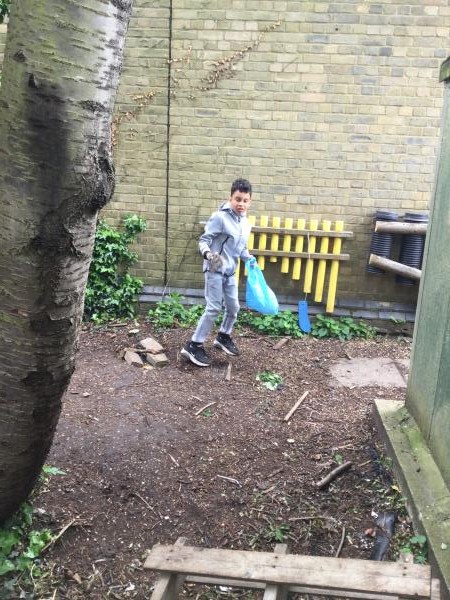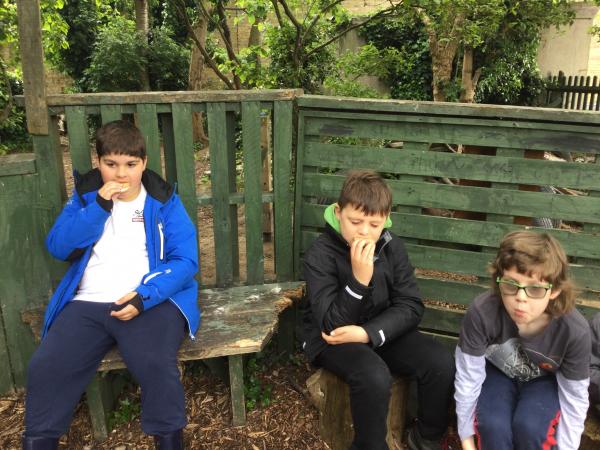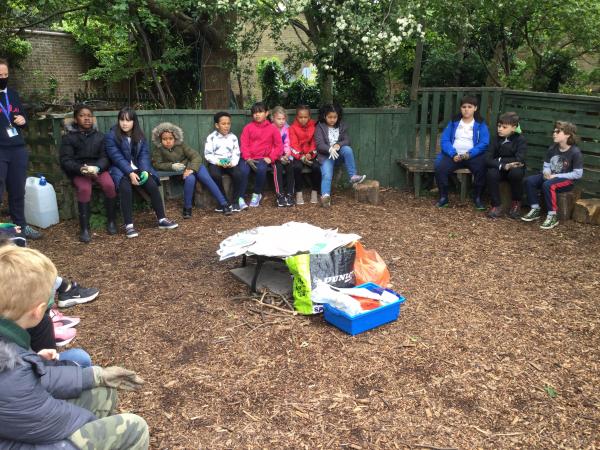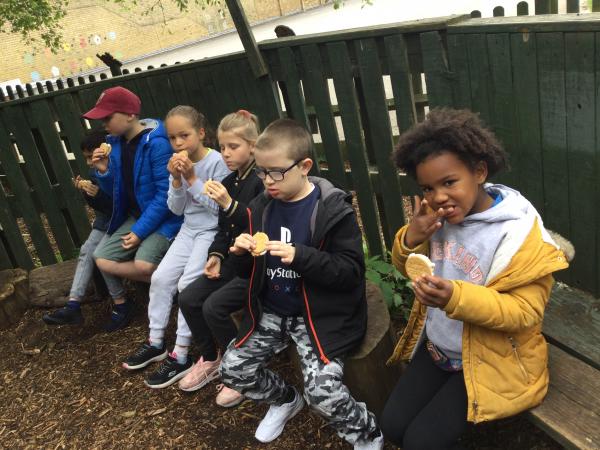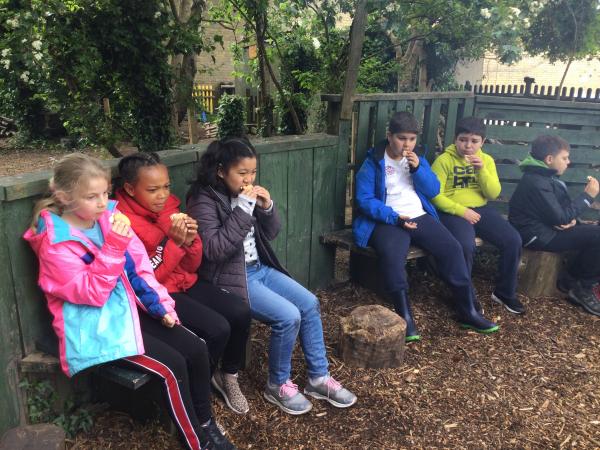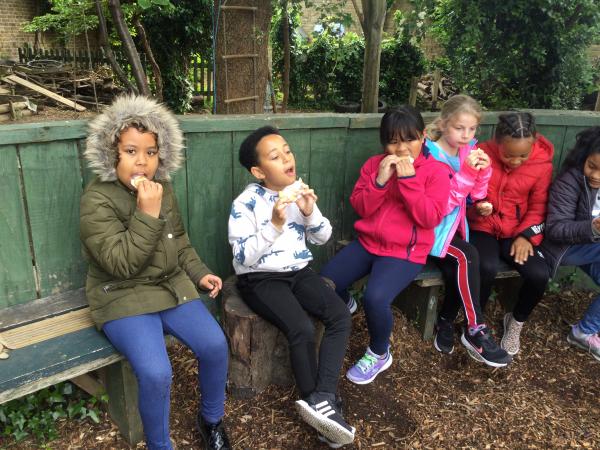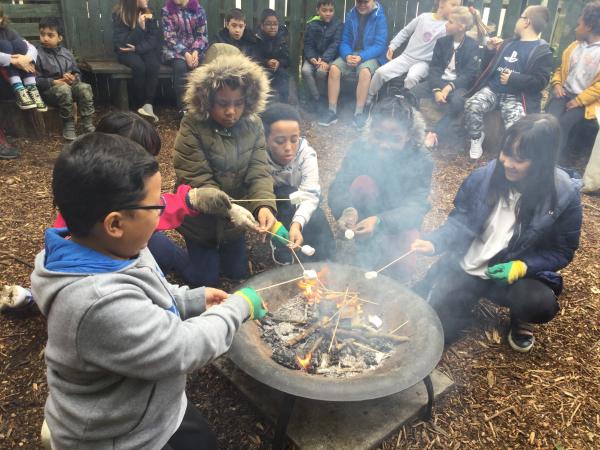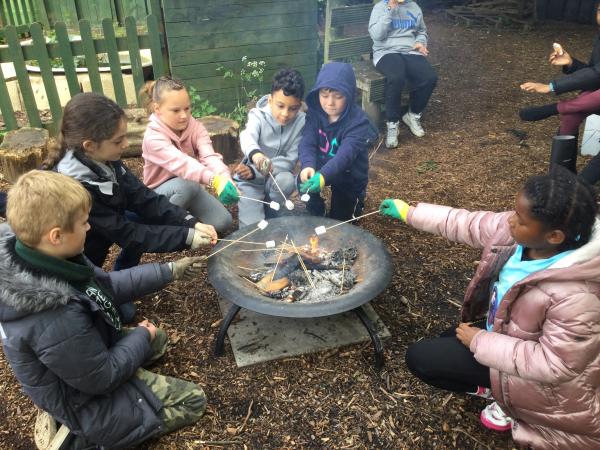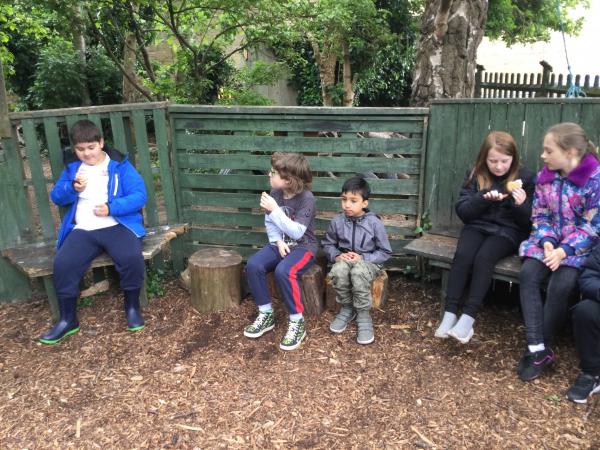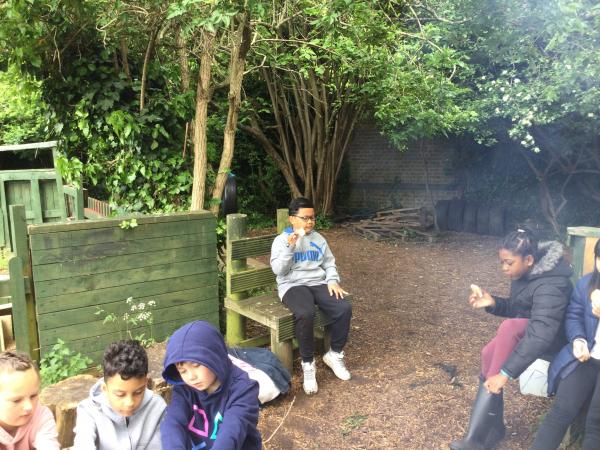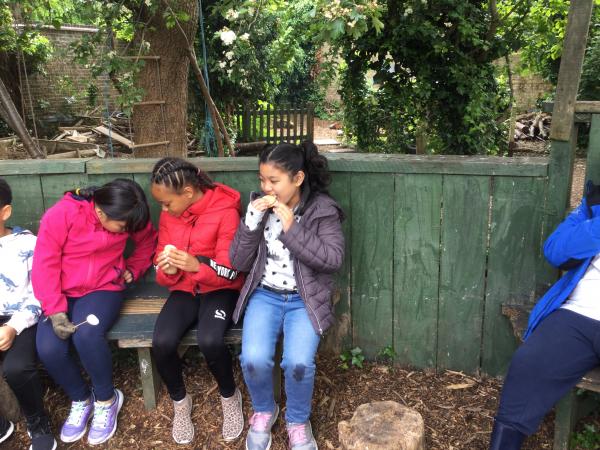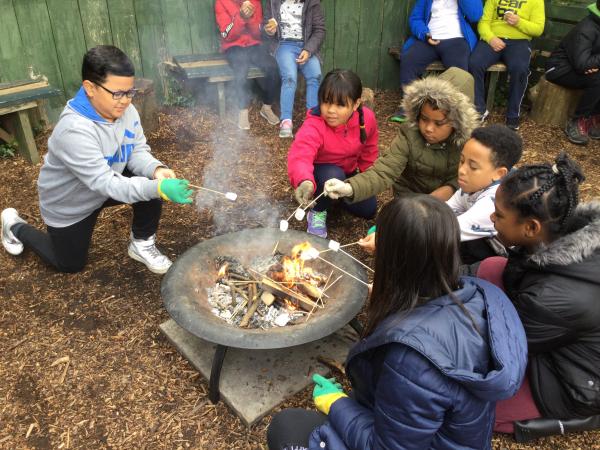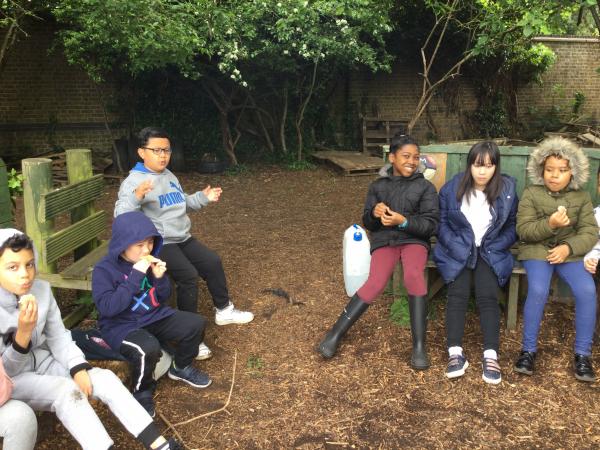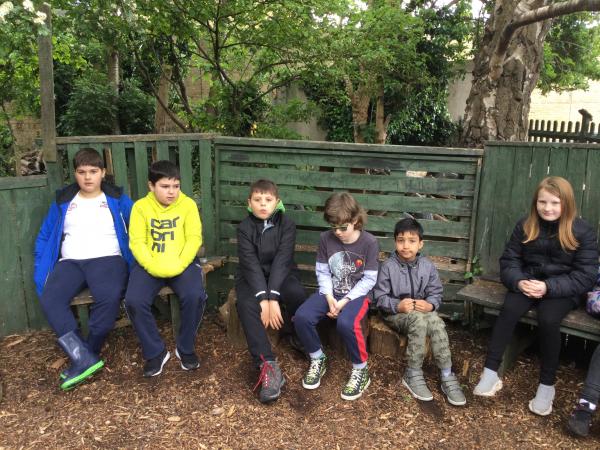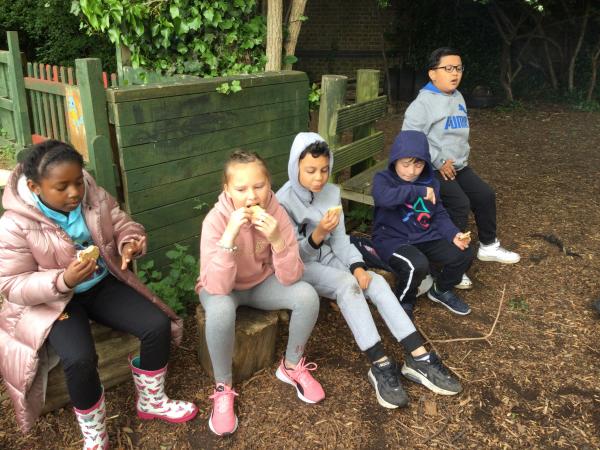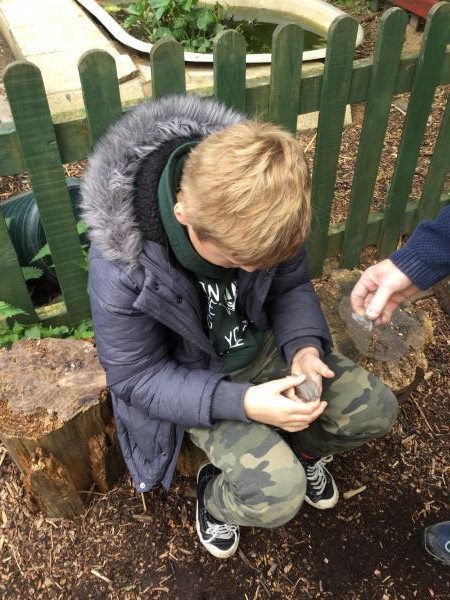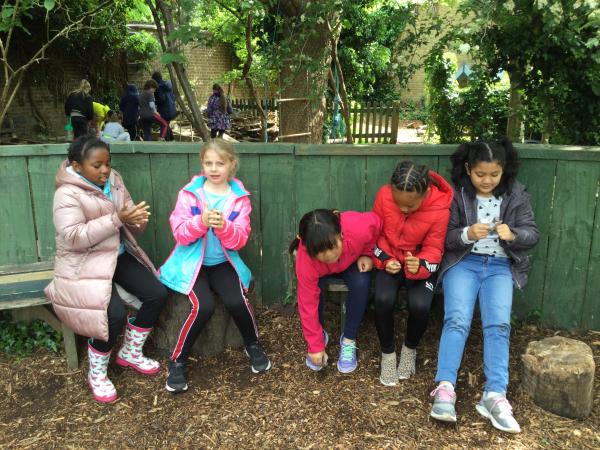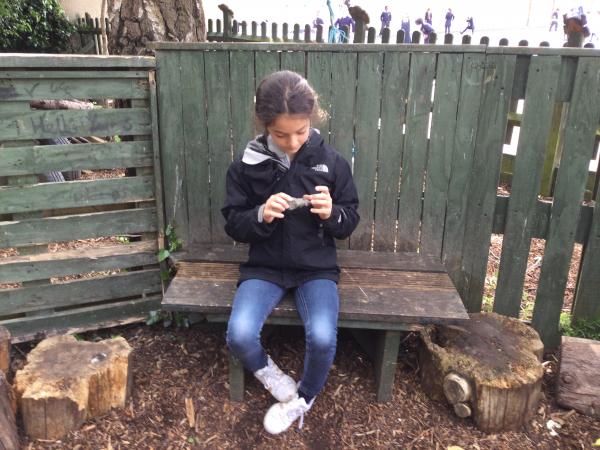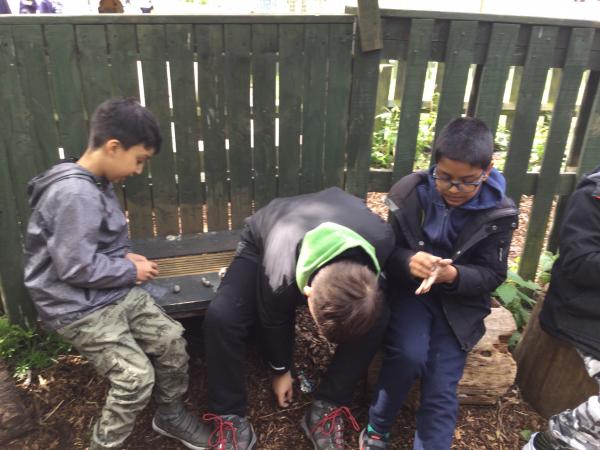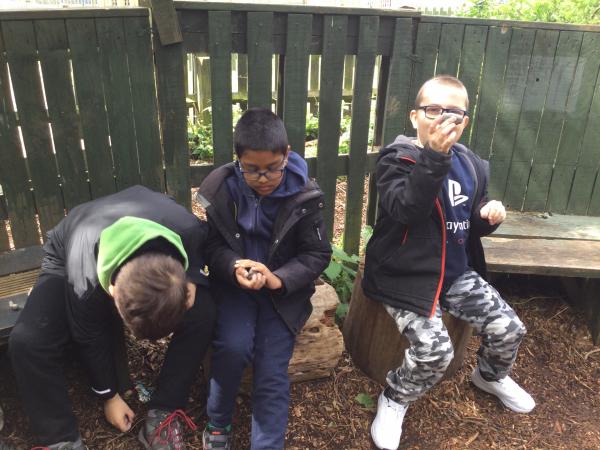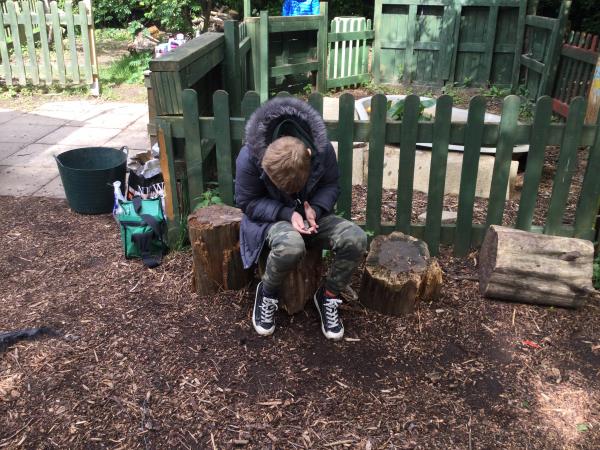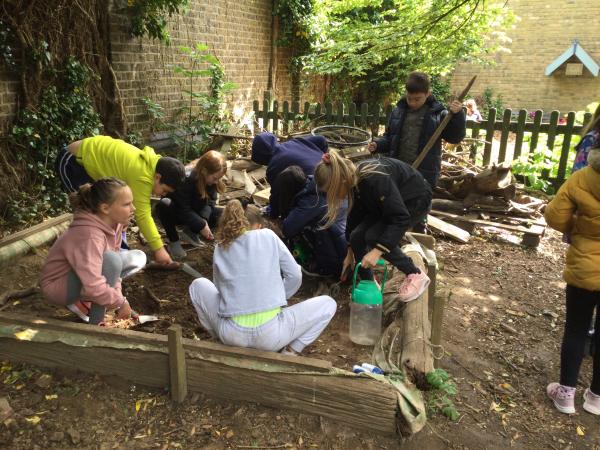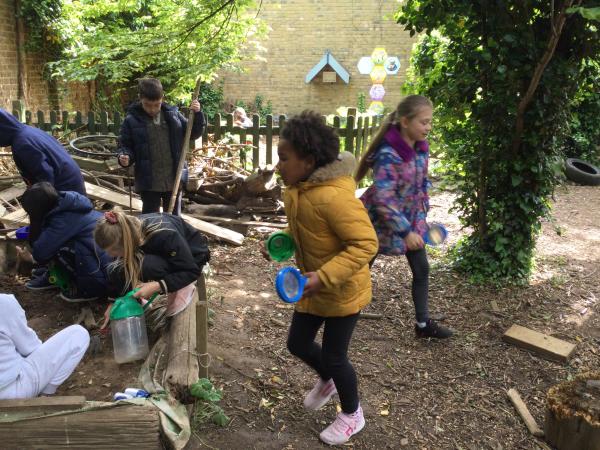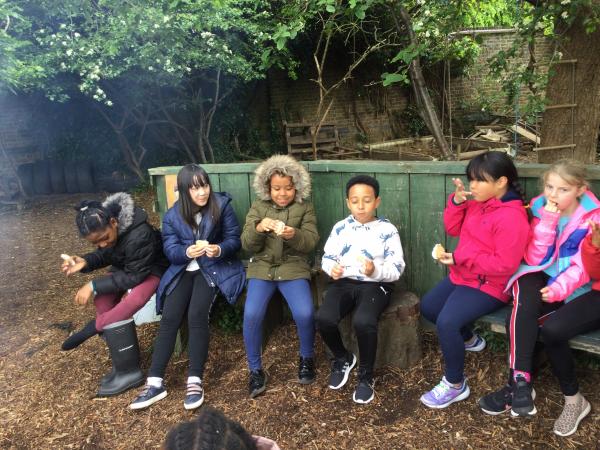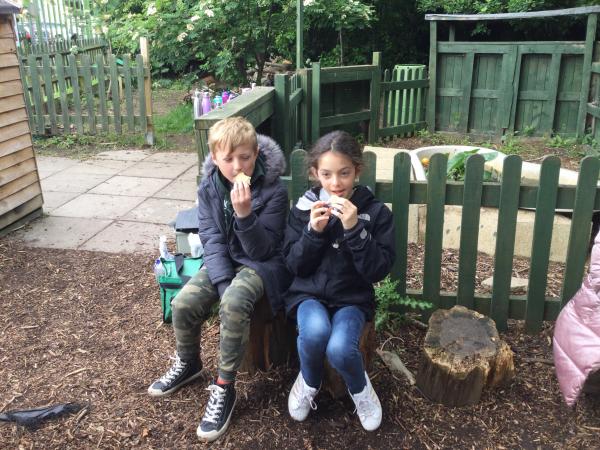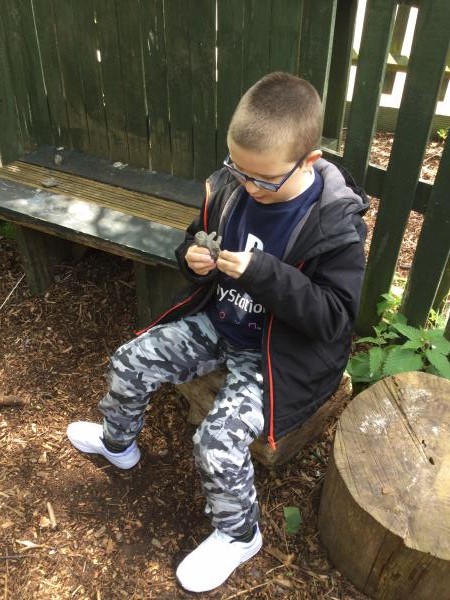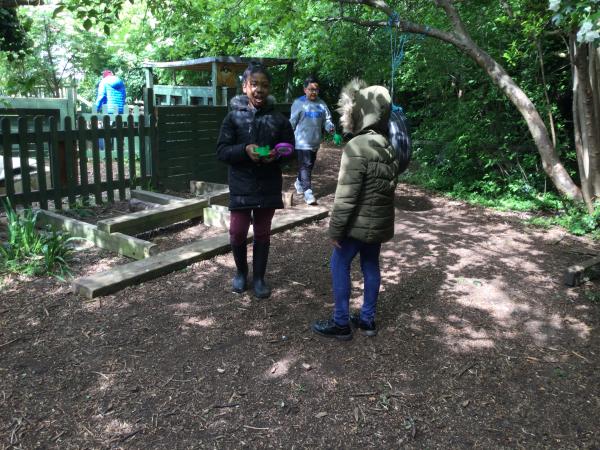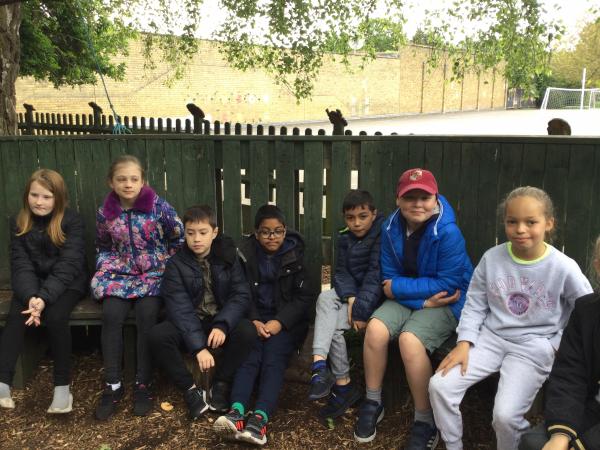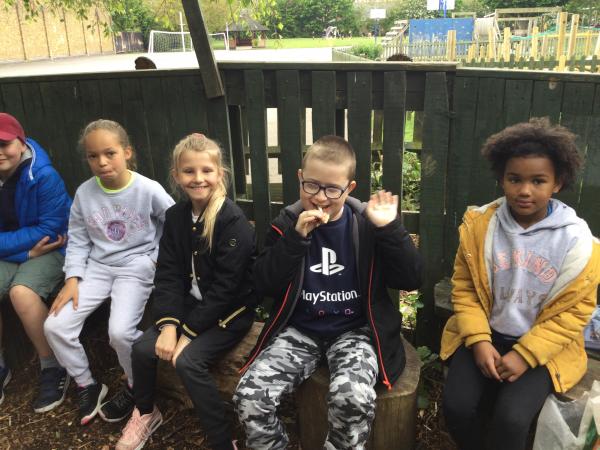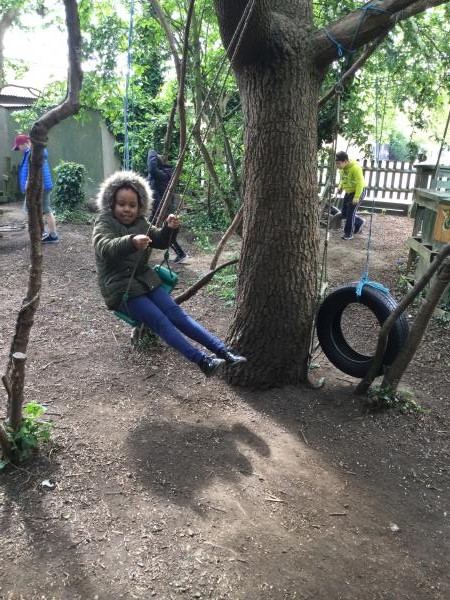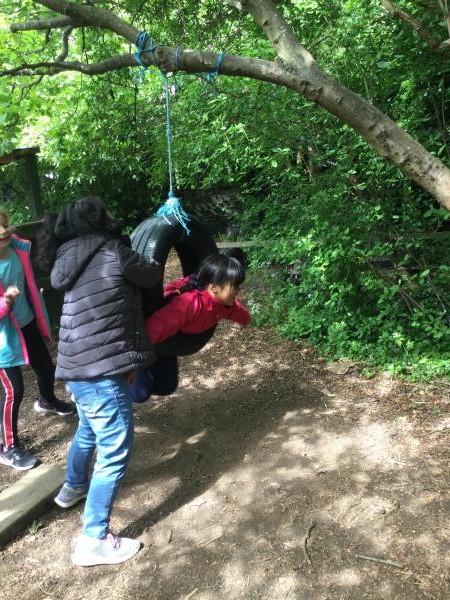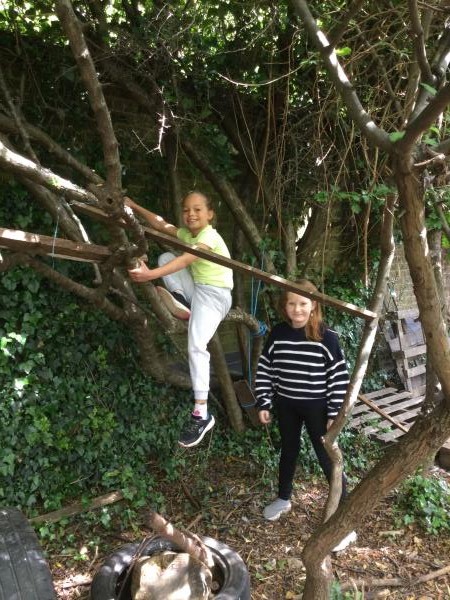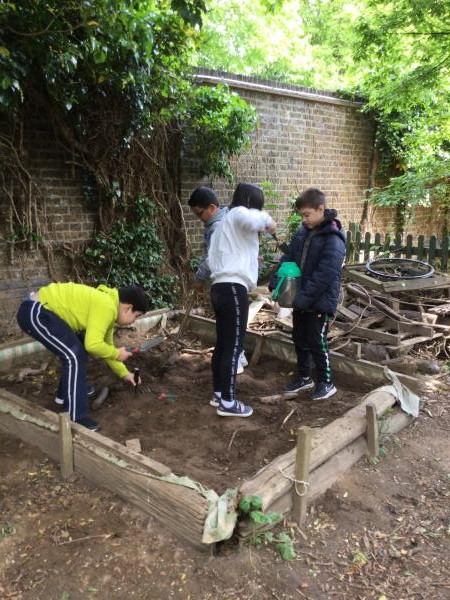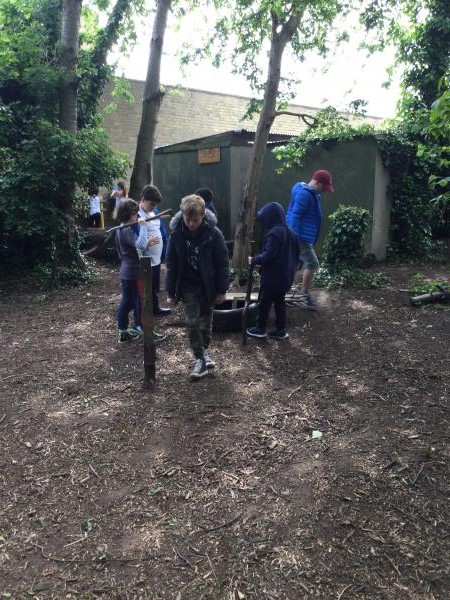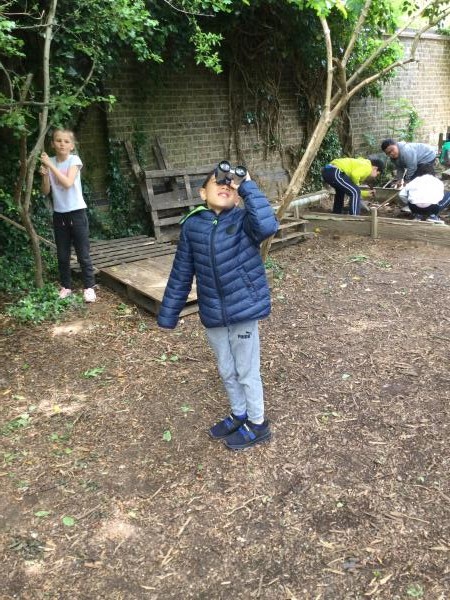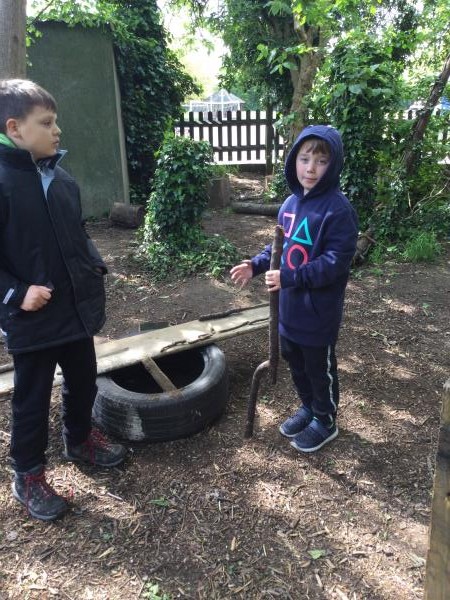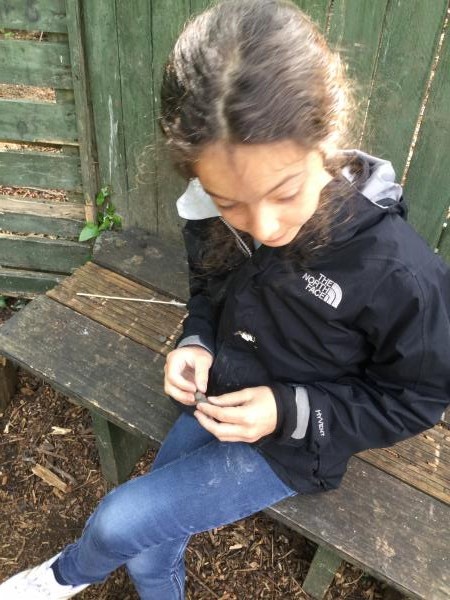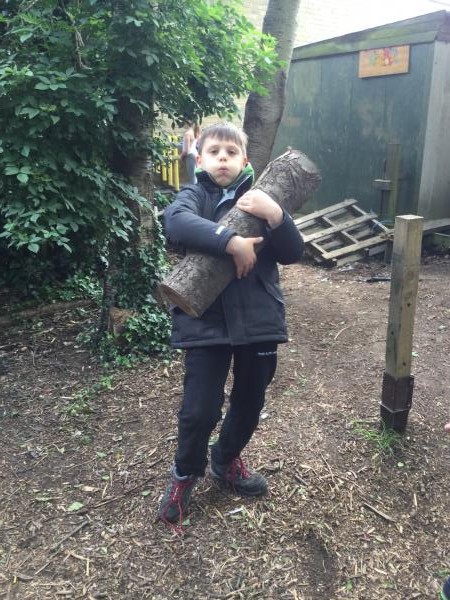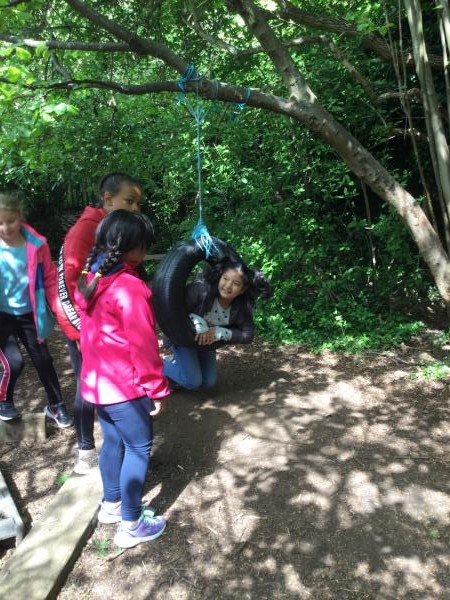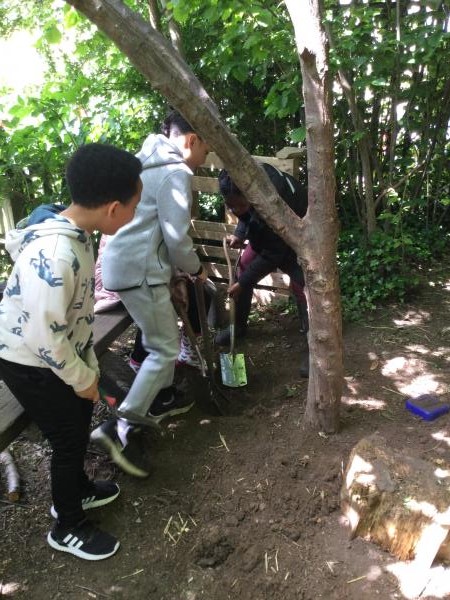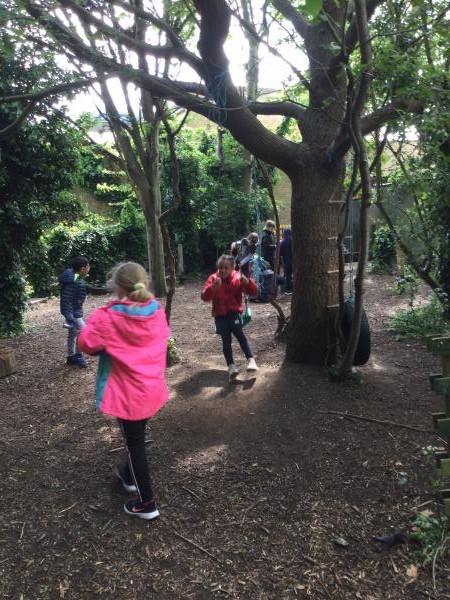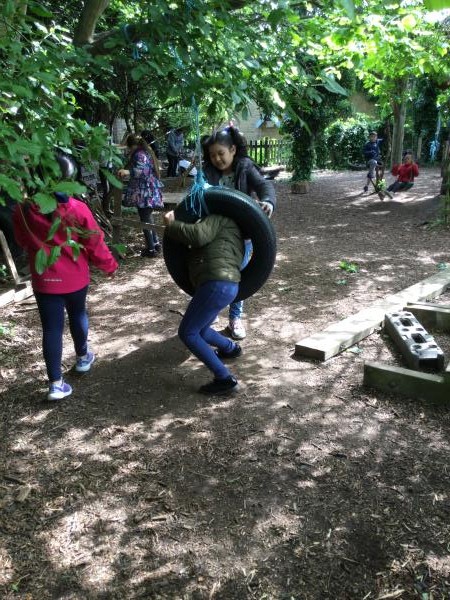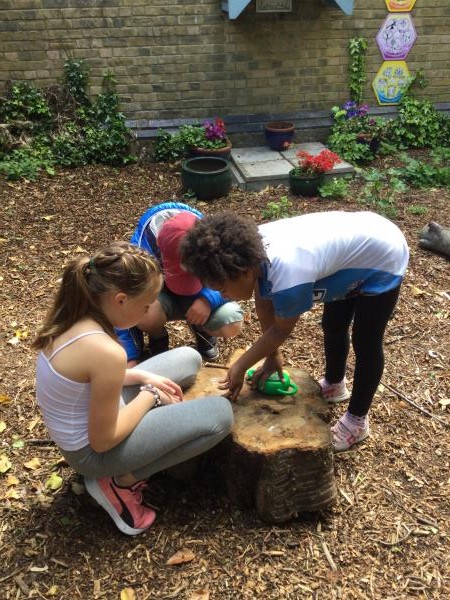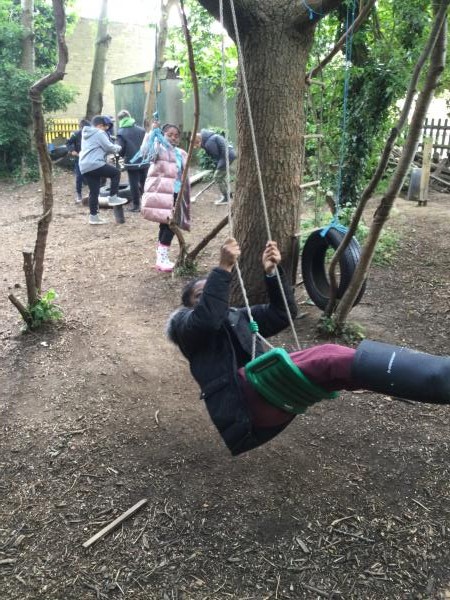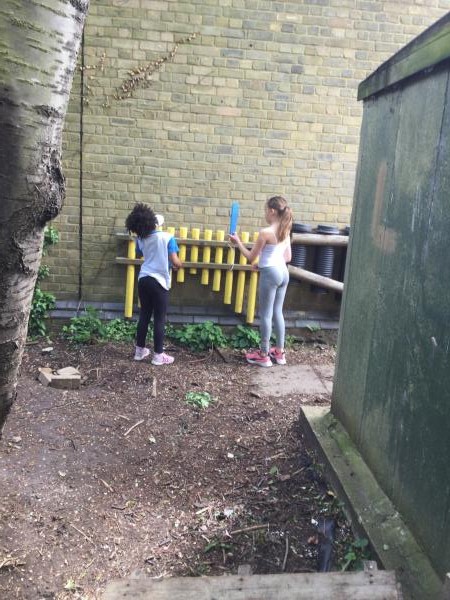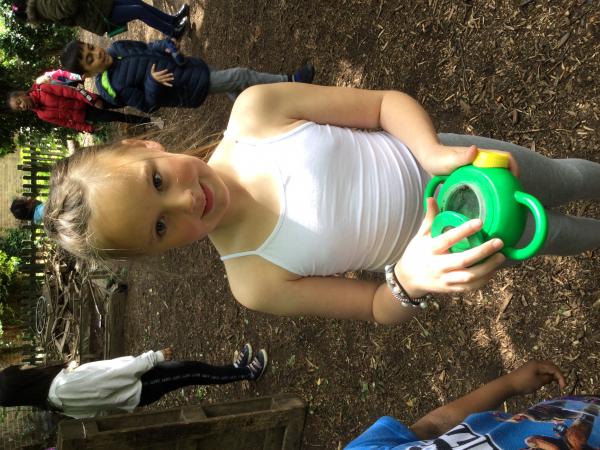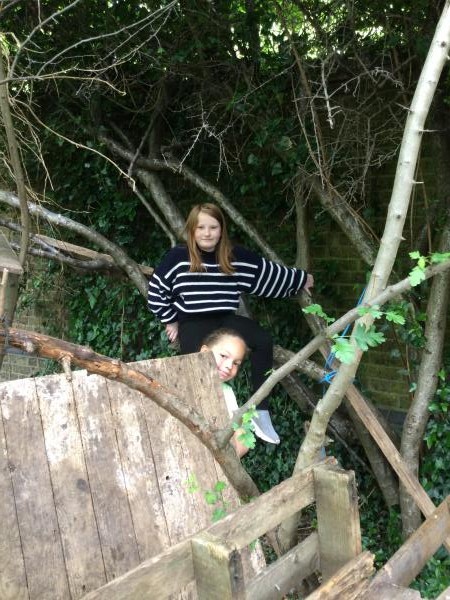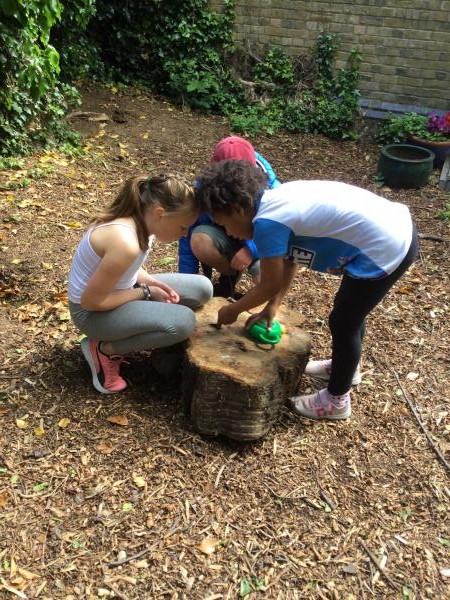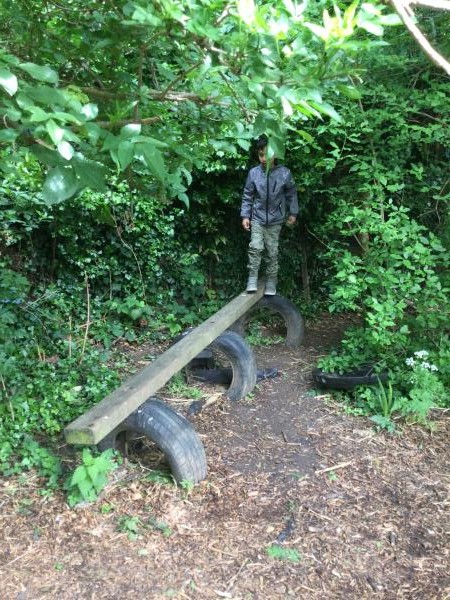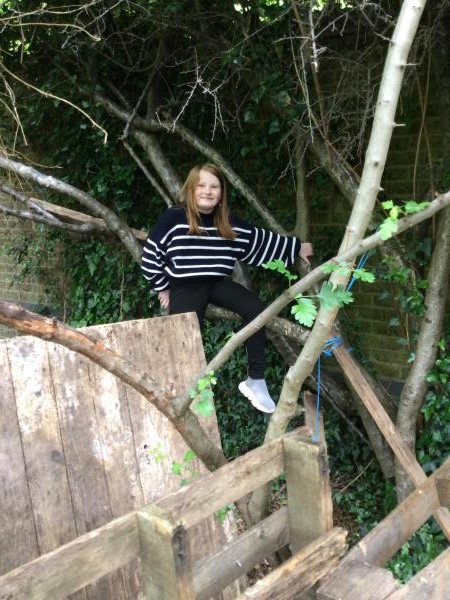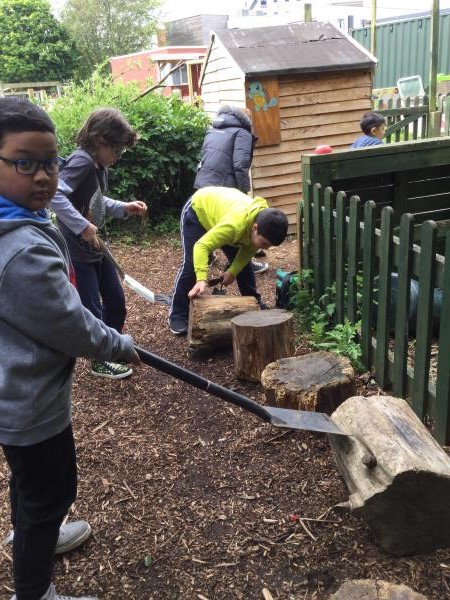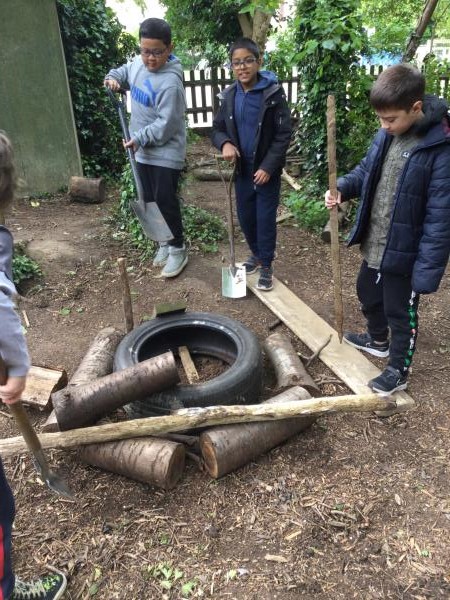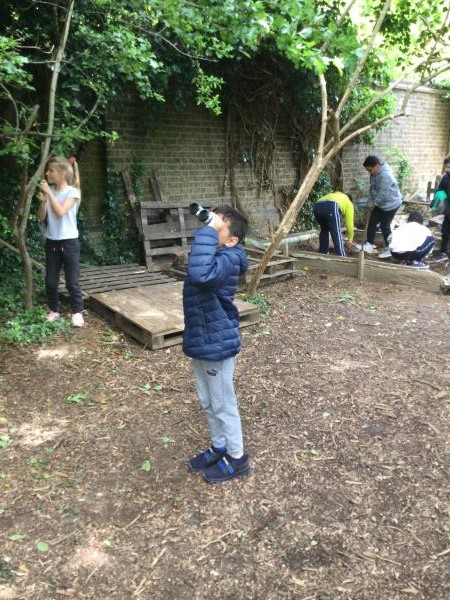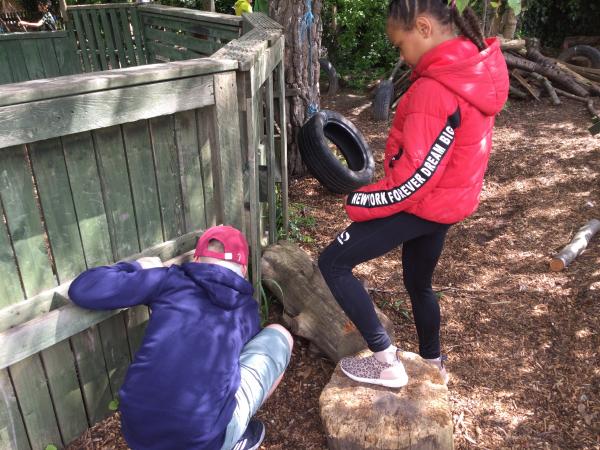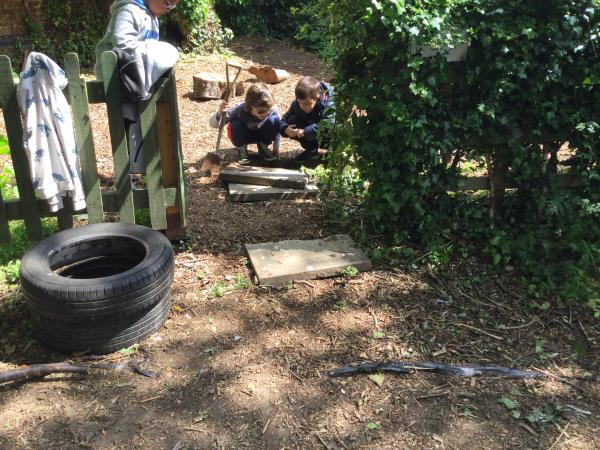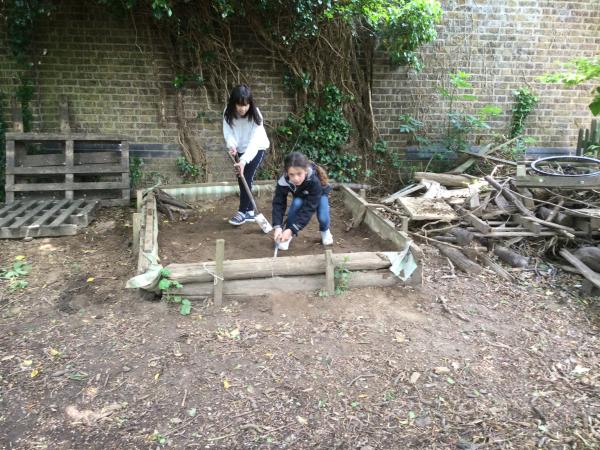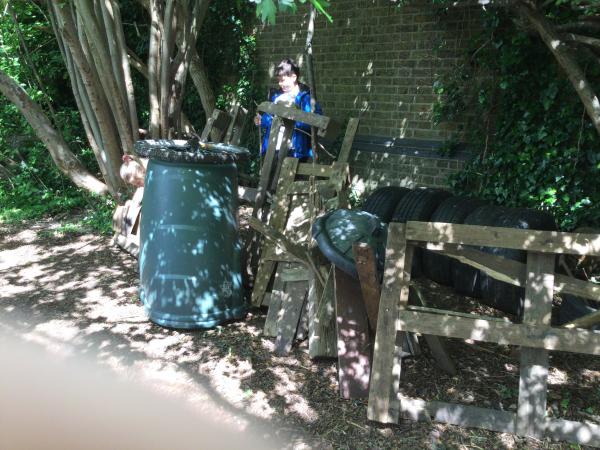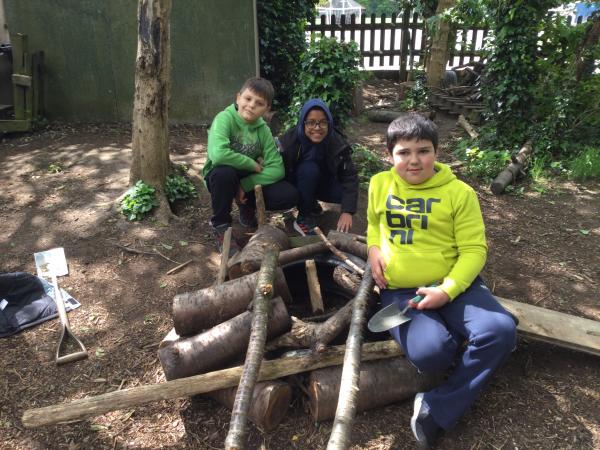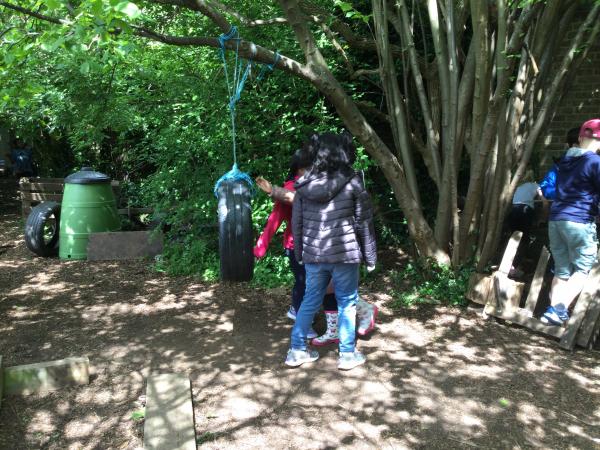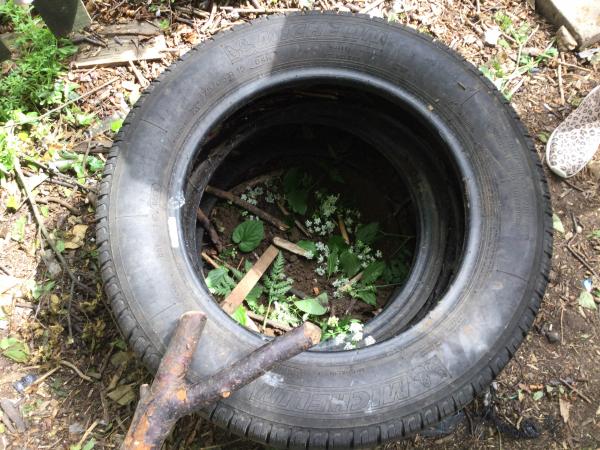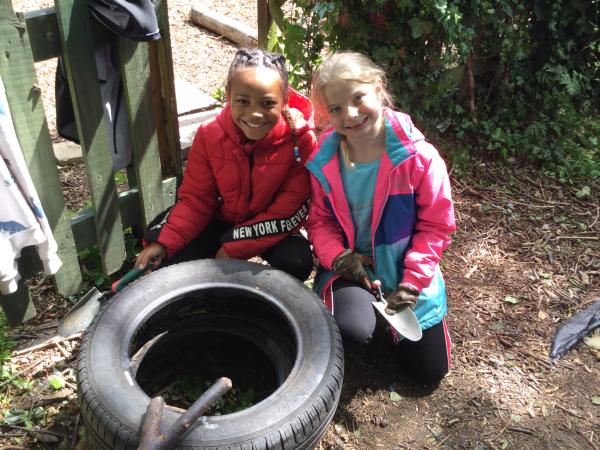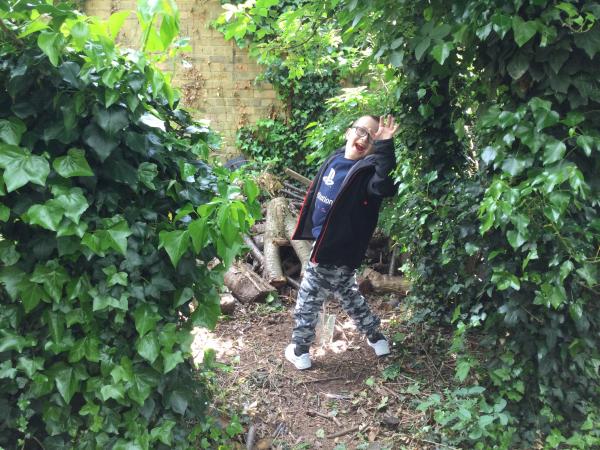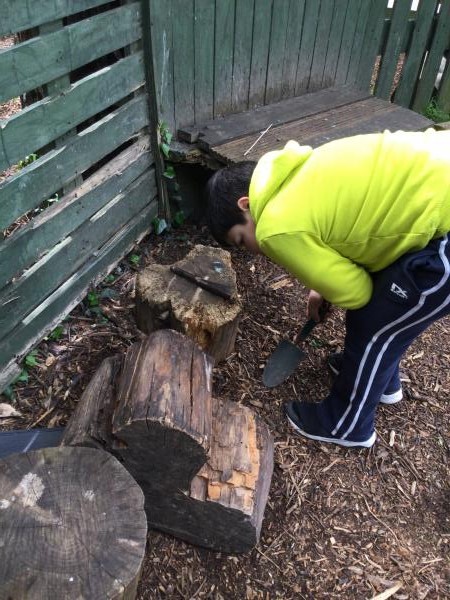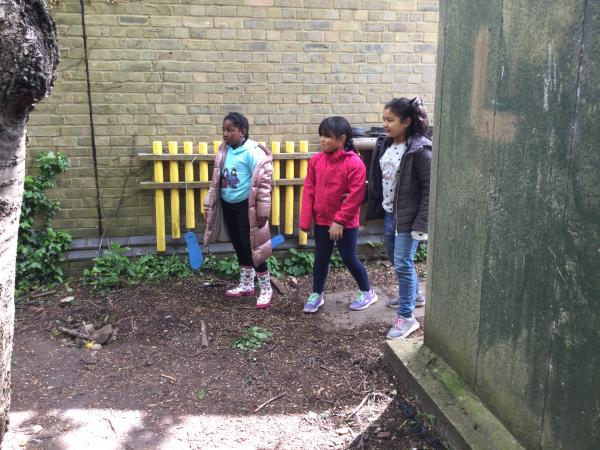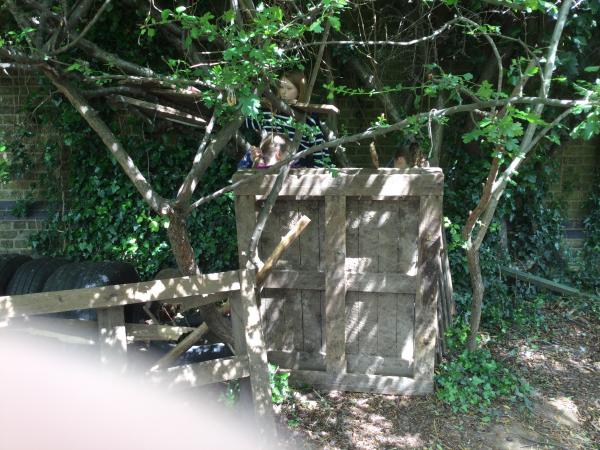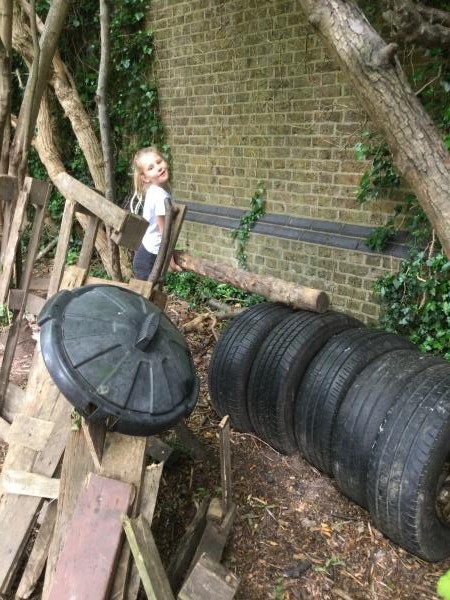 Monet Moment
In a rare moment of sunshine 4G got out their sketching pads as part of our Art Topic on the Impressionist artist Claude Monet. We had been looking at Monet's paintings of cities and wanted to include paintings of buildings in our own 'portfolio's'!
These are some pictures of us sketching and then painting our pictures using Monet's 'dabbing' technique.
Hopefully we will post our finished pictures next week.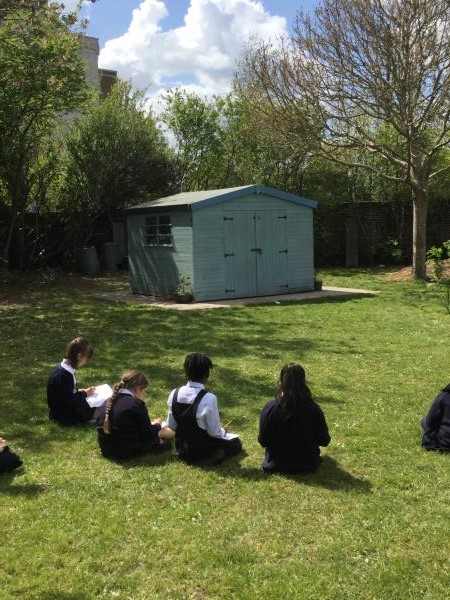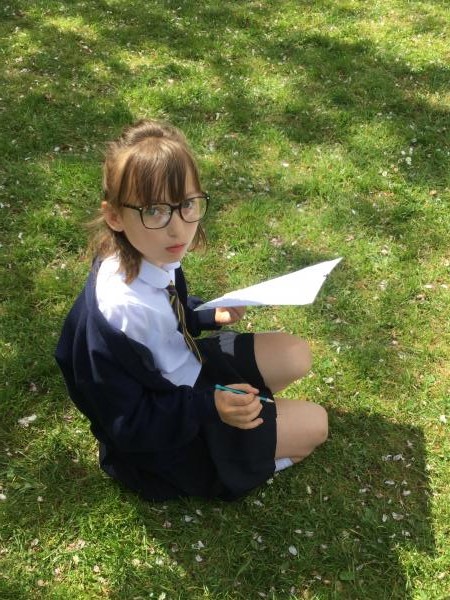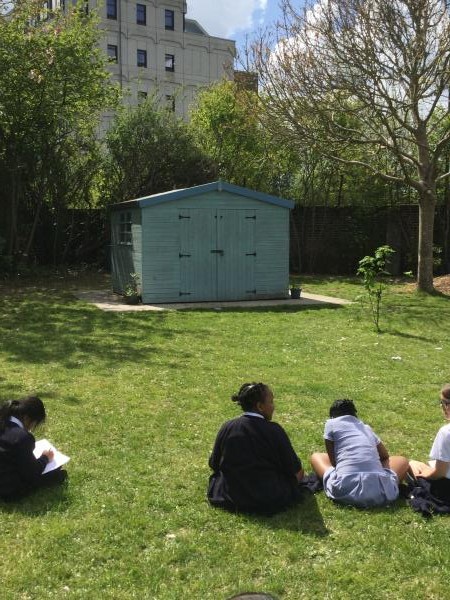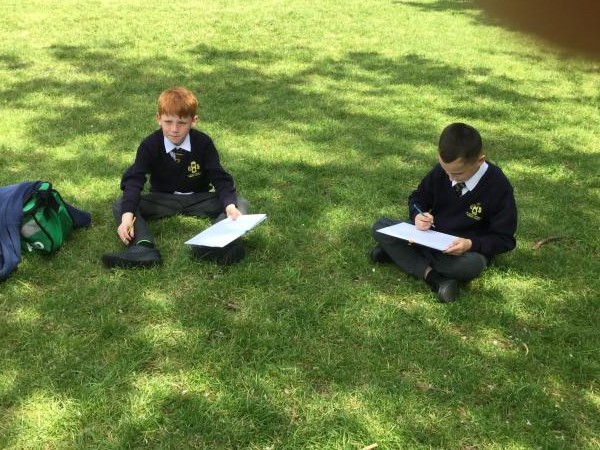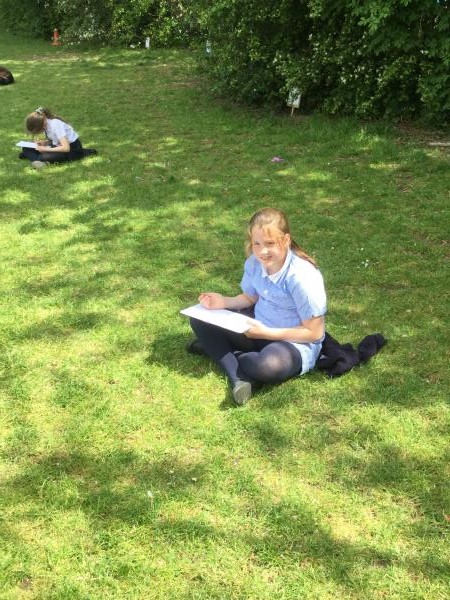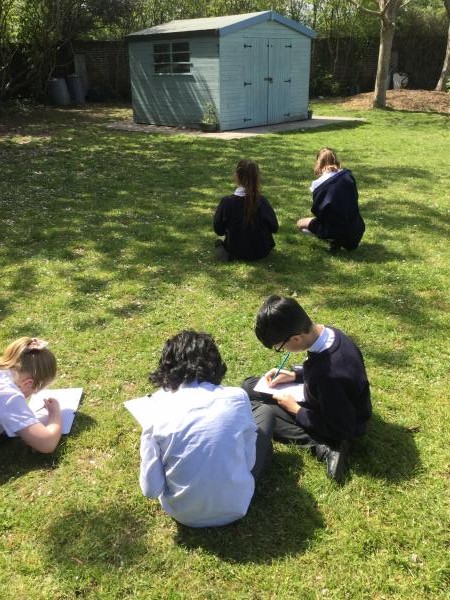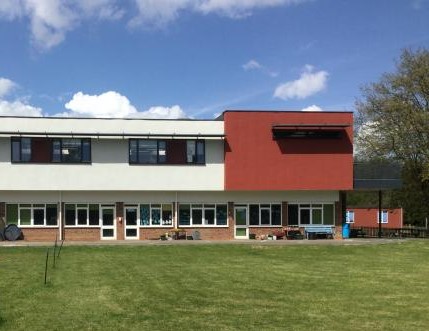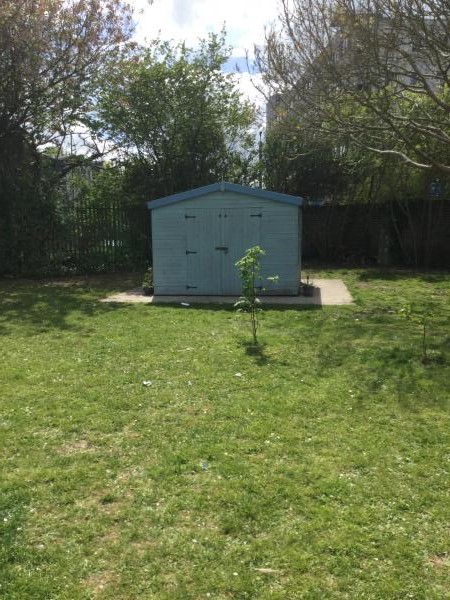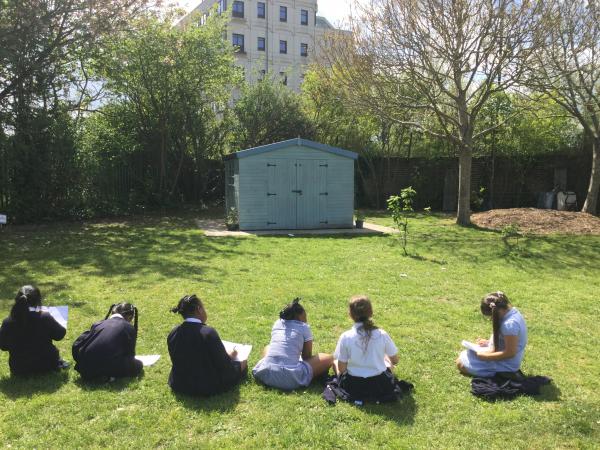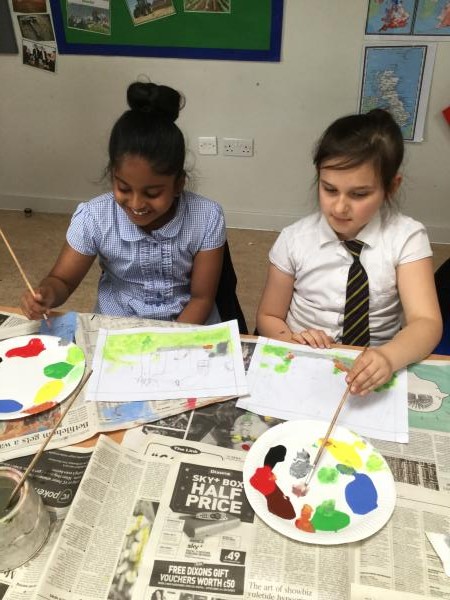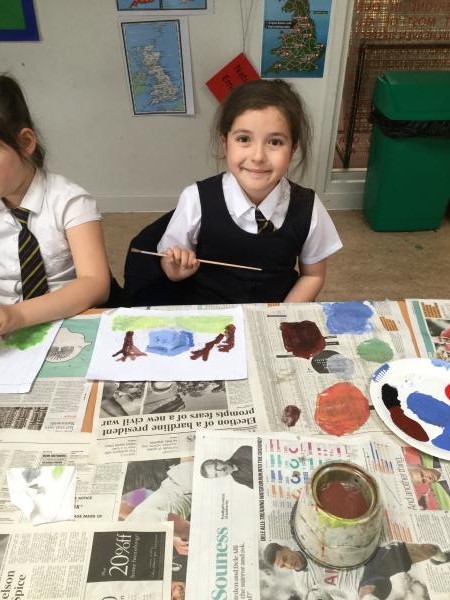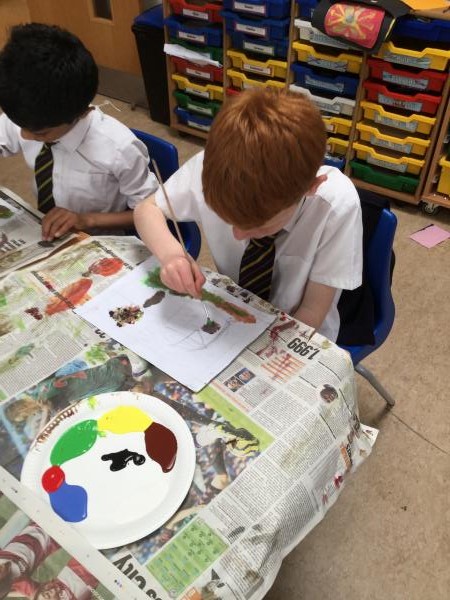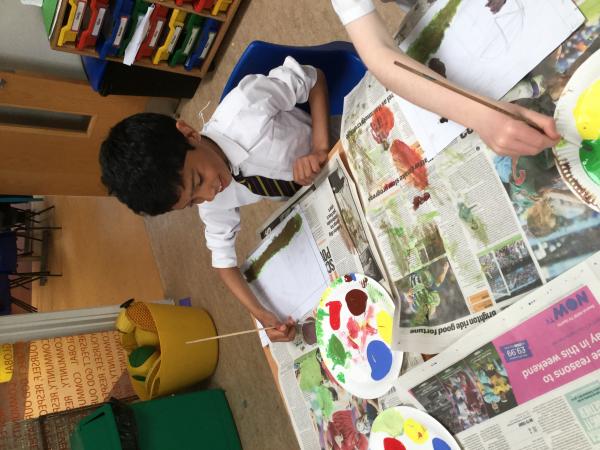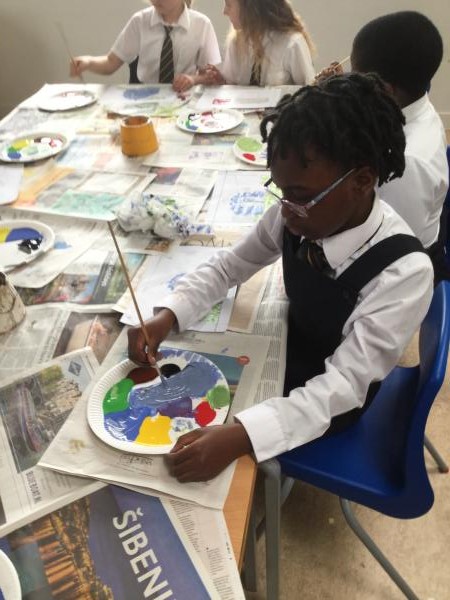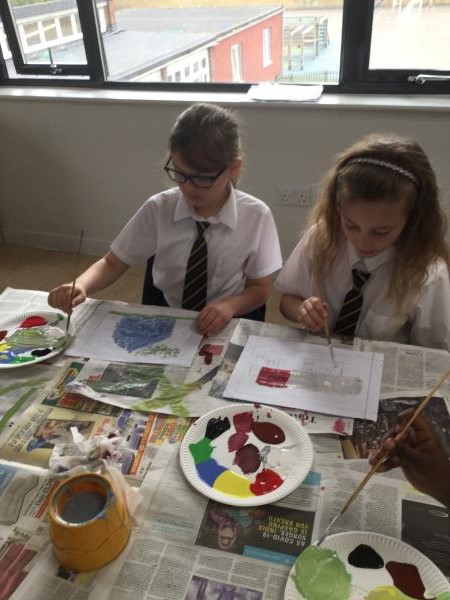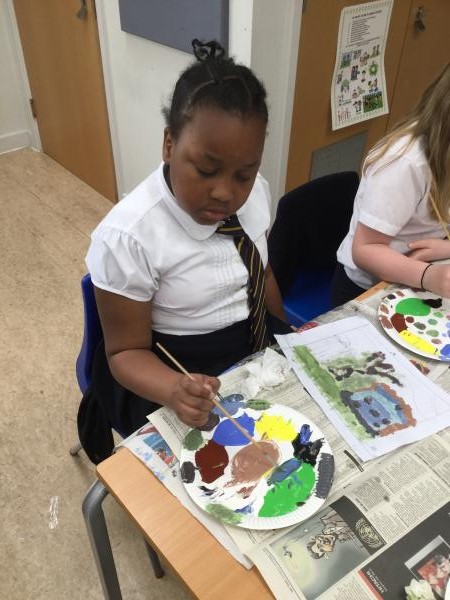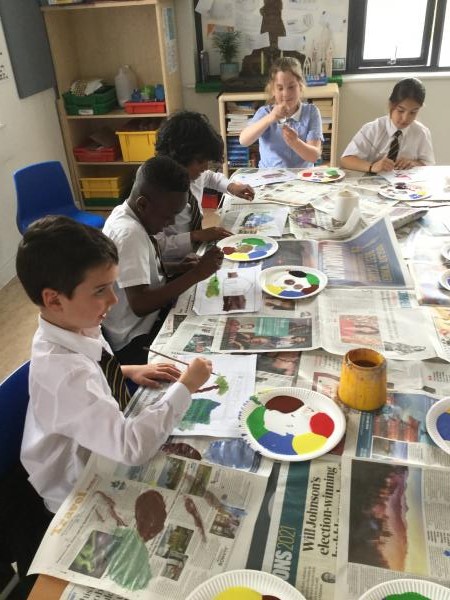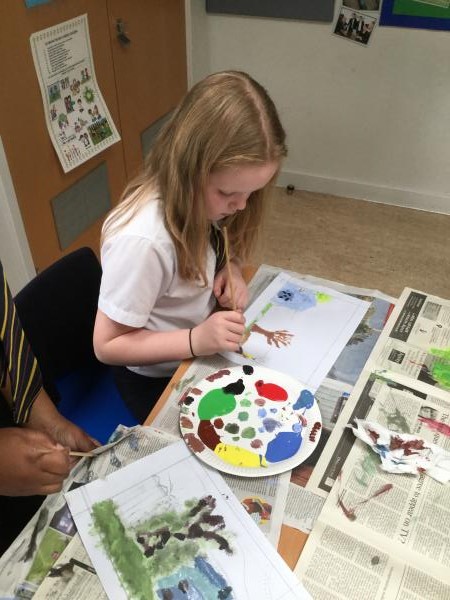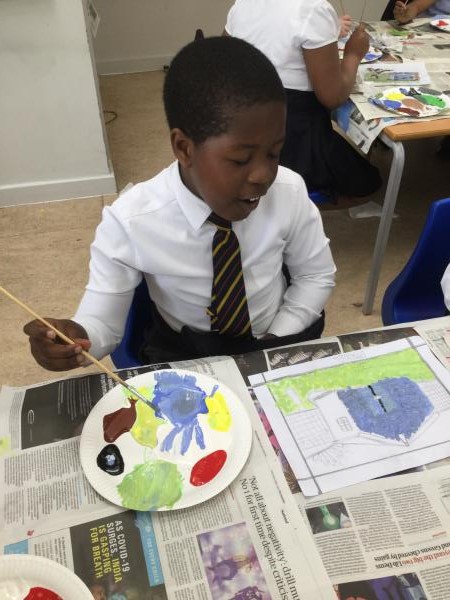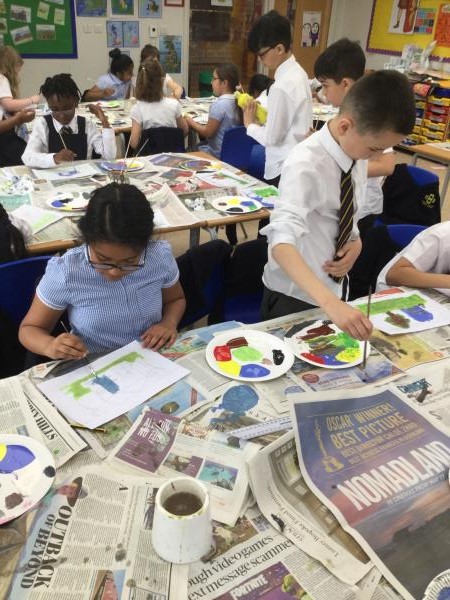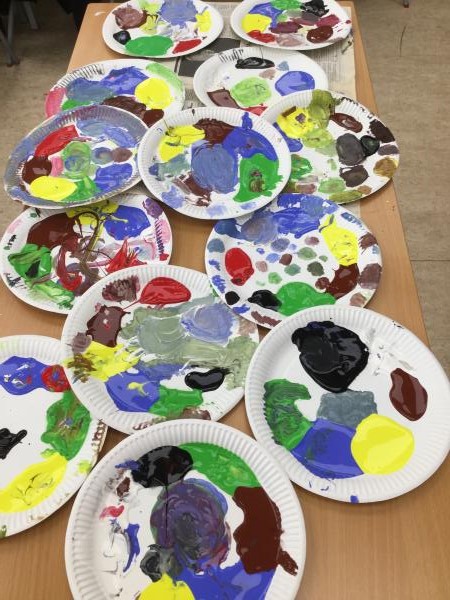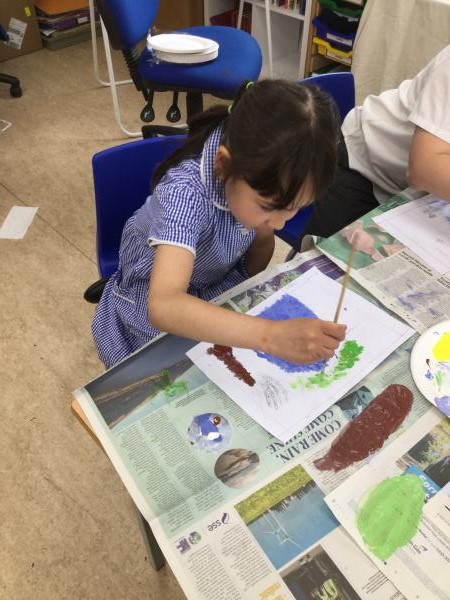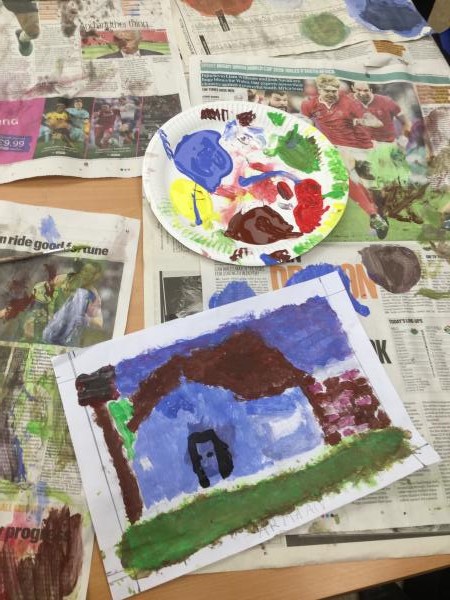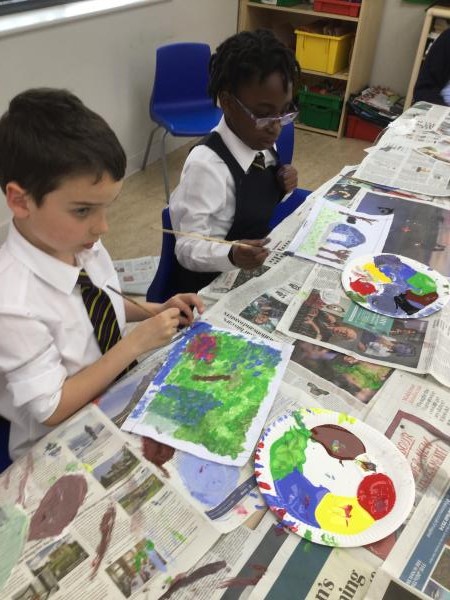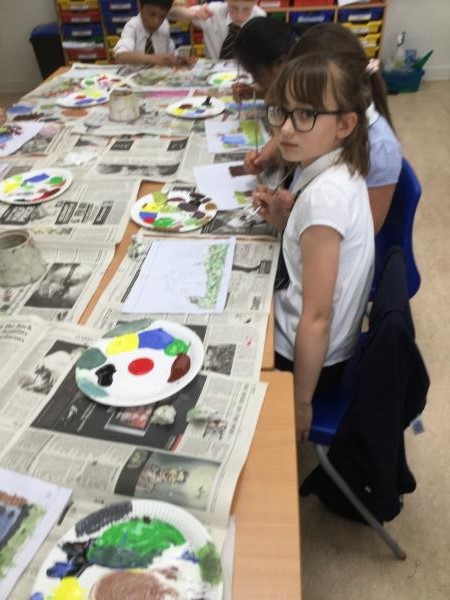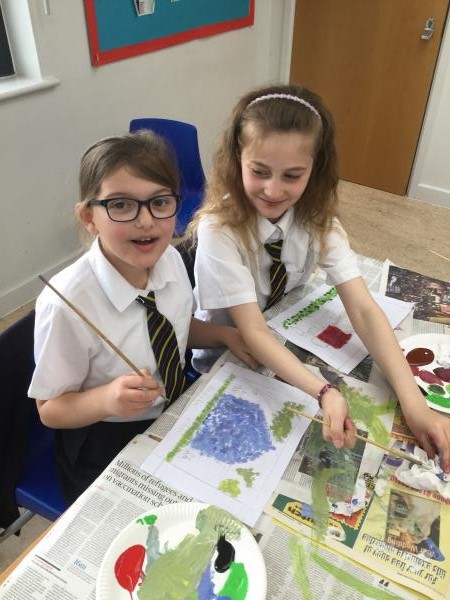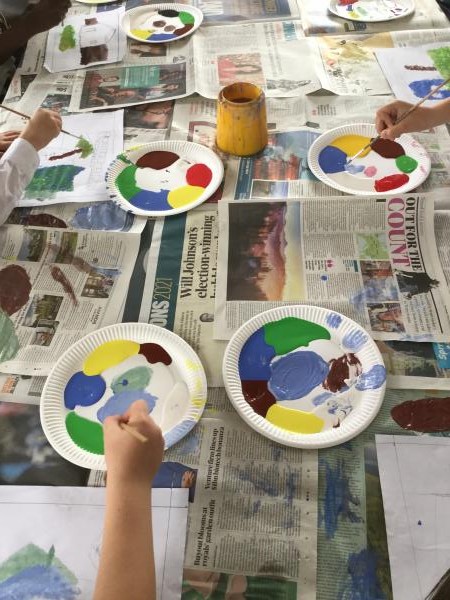 Investigating Solids and Liquids
This week 4G had loads of fun investigating solids and liquids as part of our 'States of Matter' Science topic. We tested the melting point of chocolate and looked at ways that we could narrow down the exact degree in centigrade that the chocolate began to melt. A bit messy but lots of great ideas in the lesson.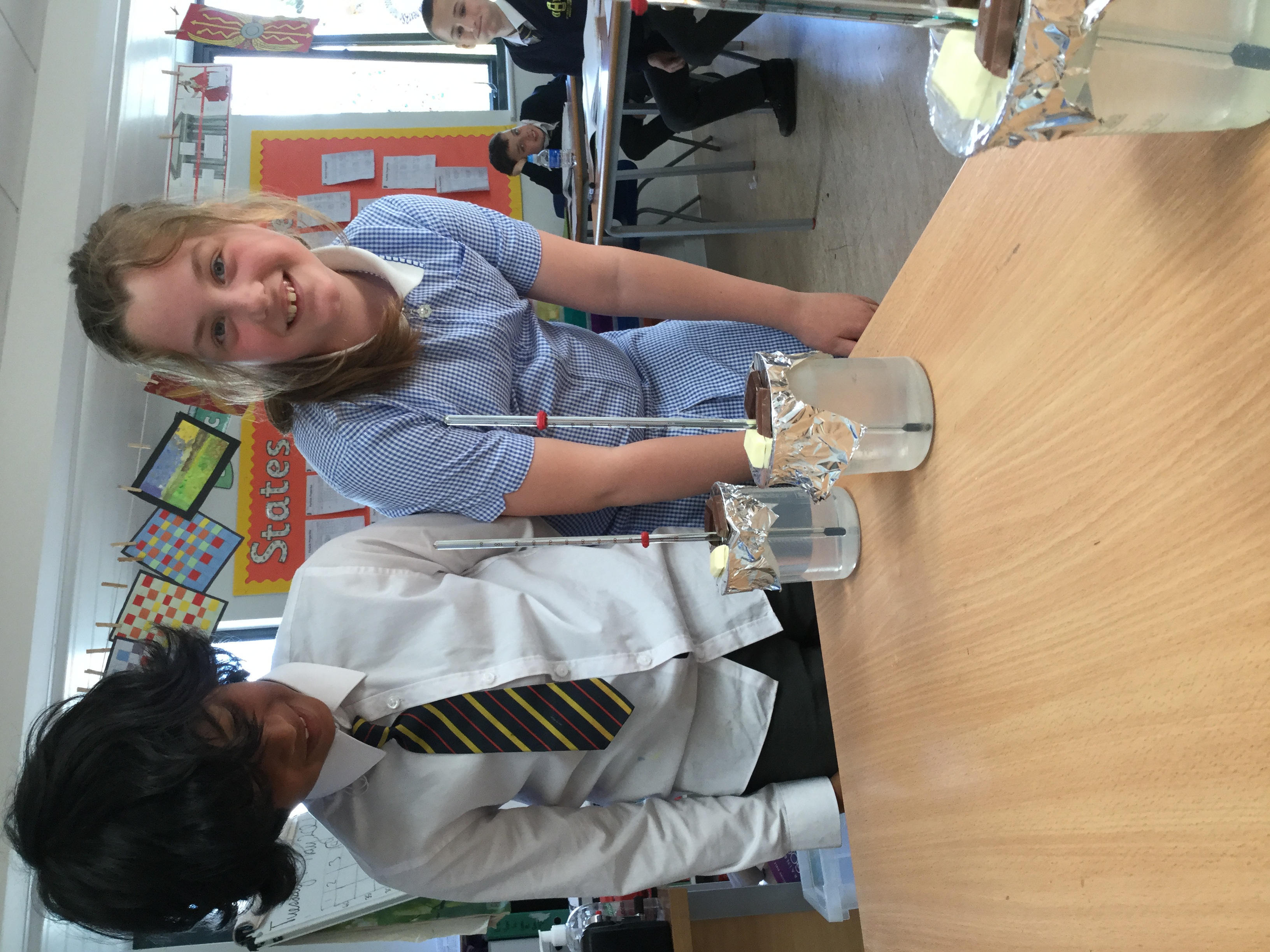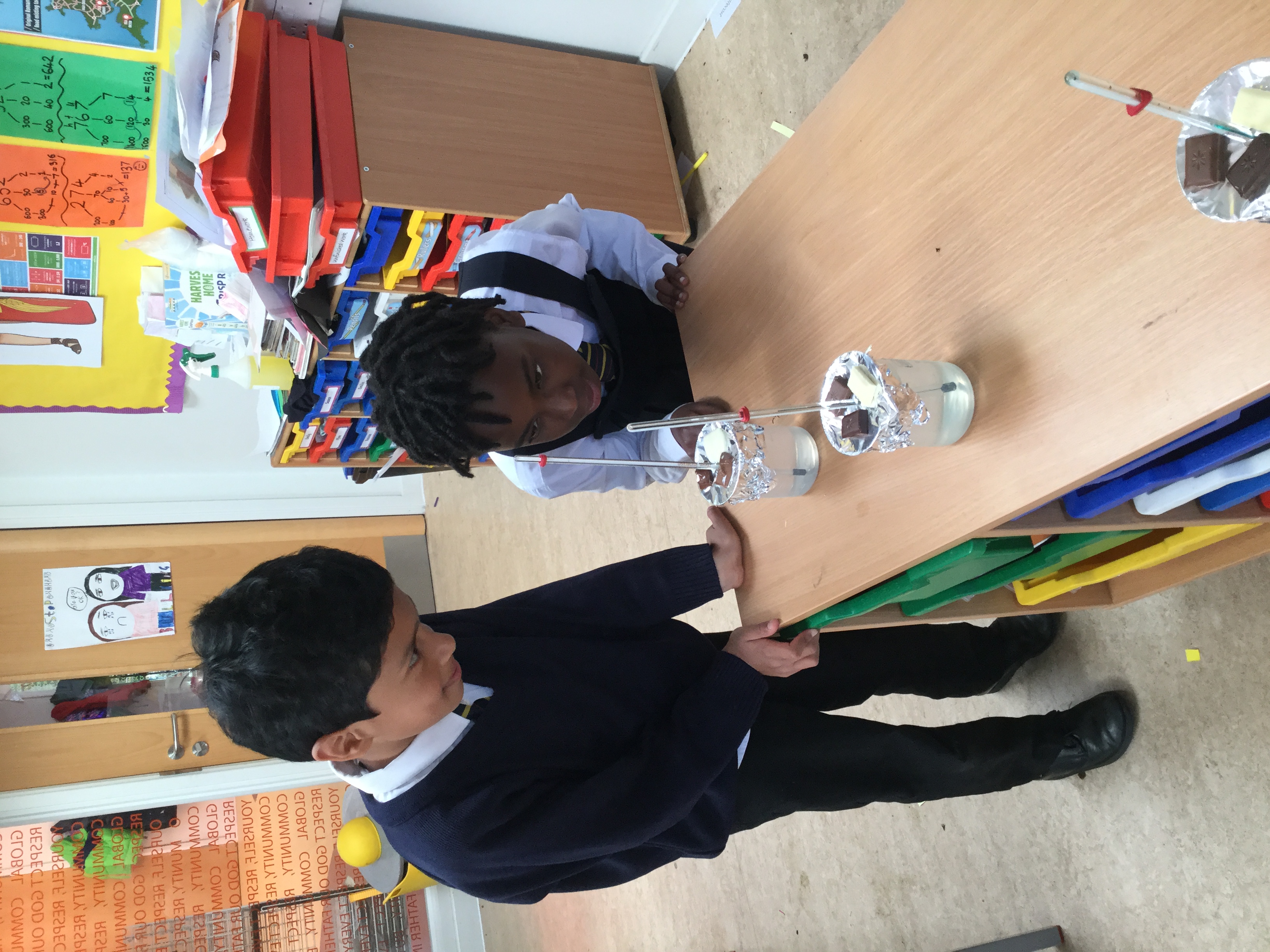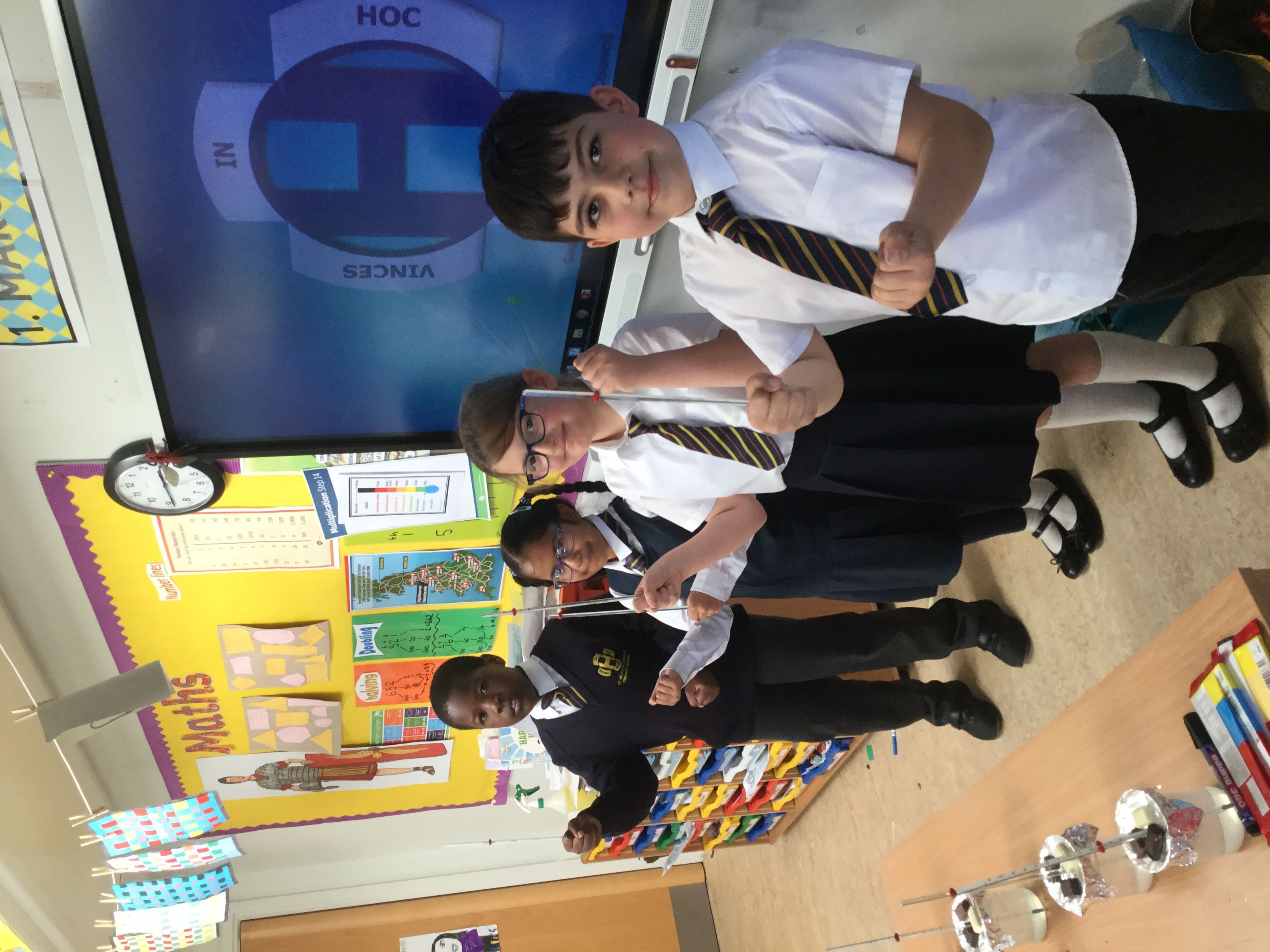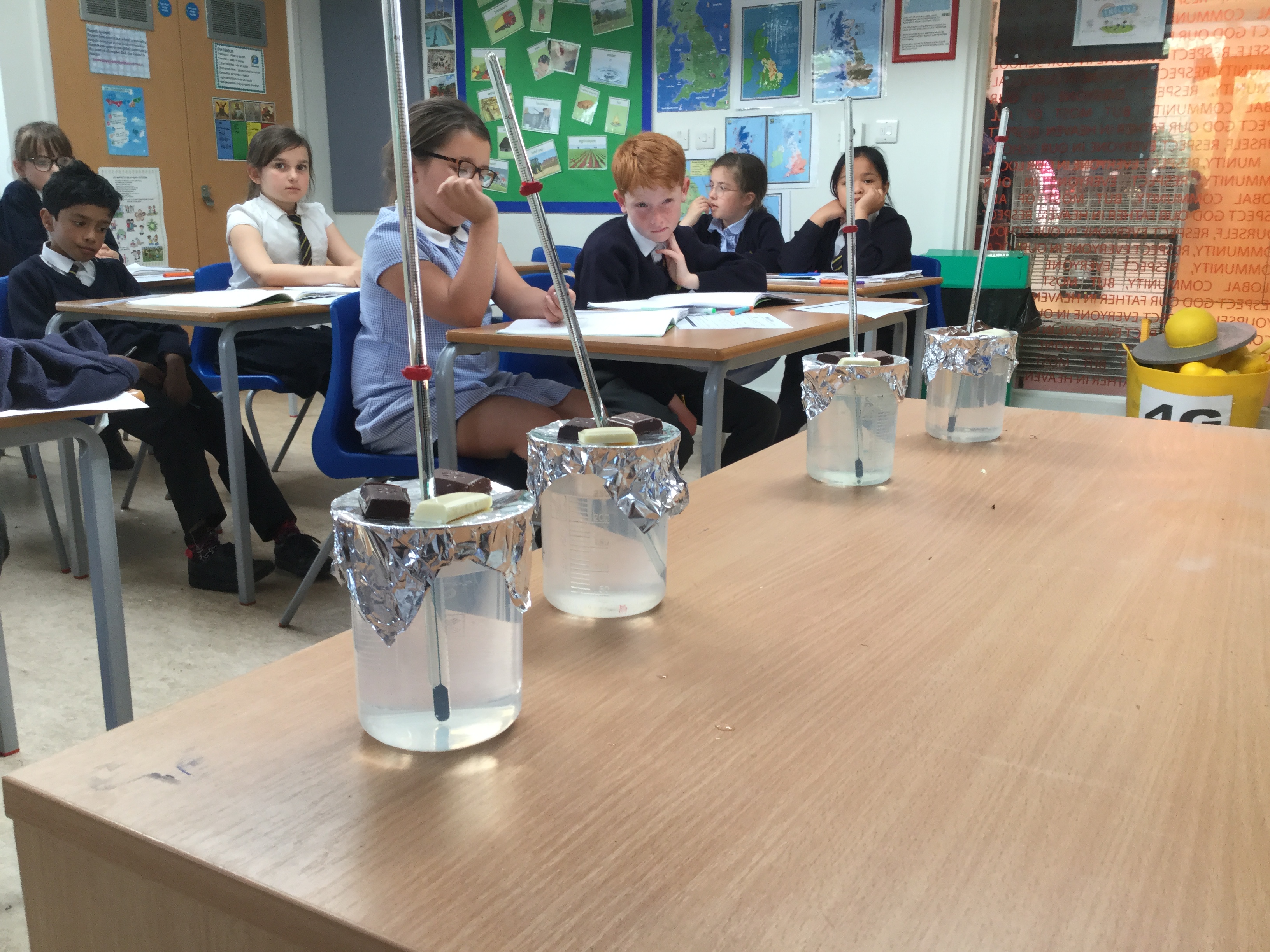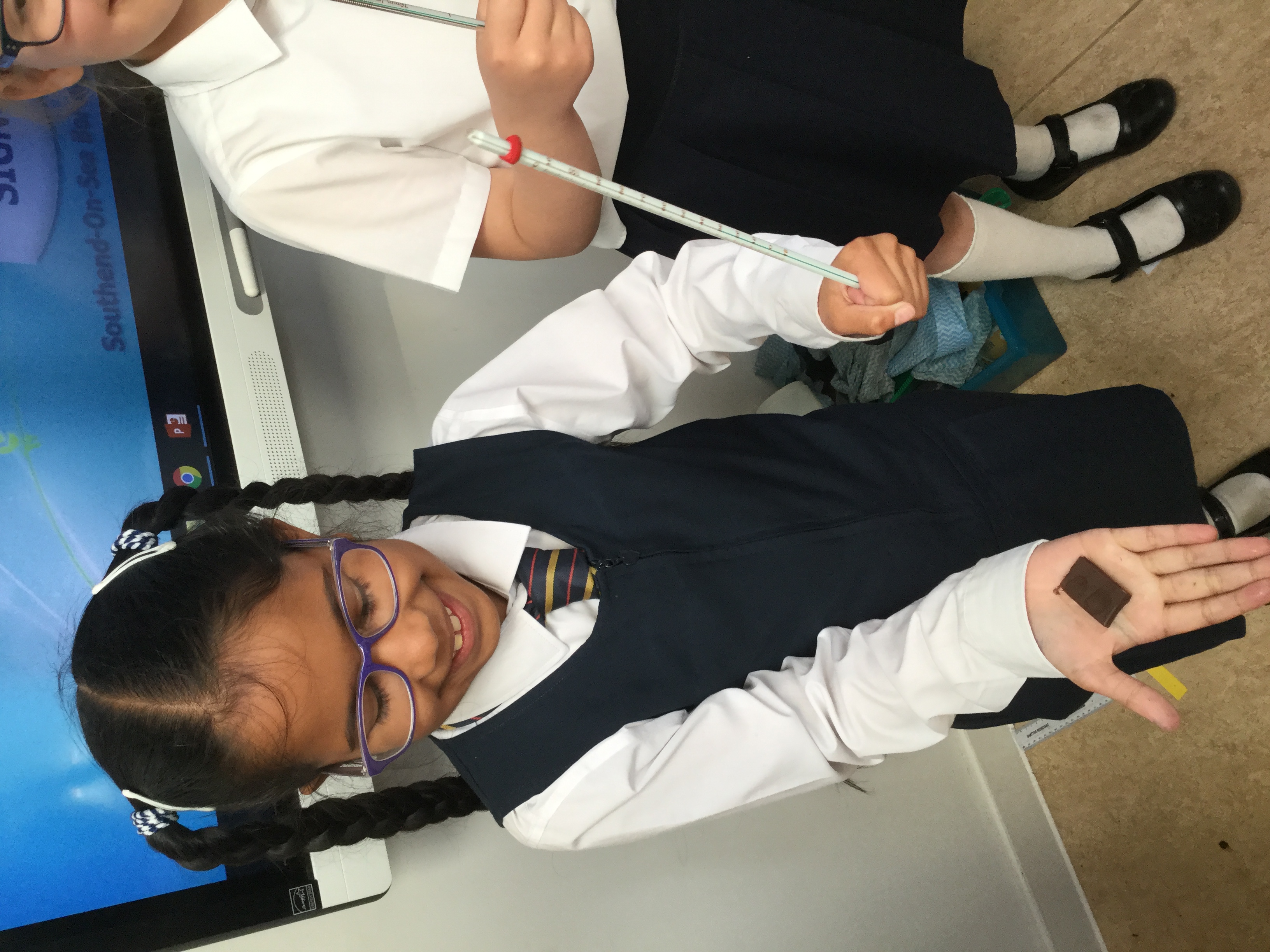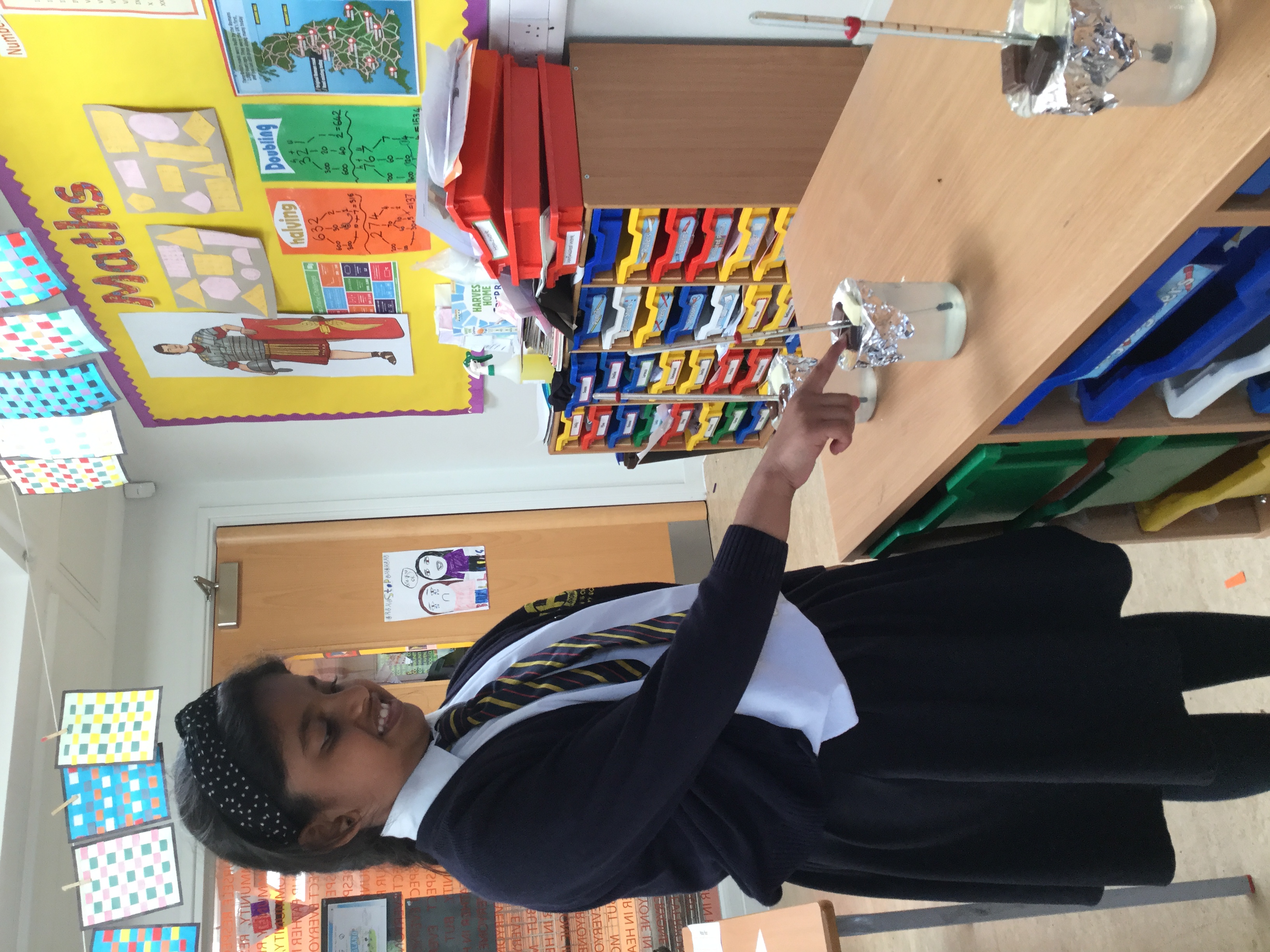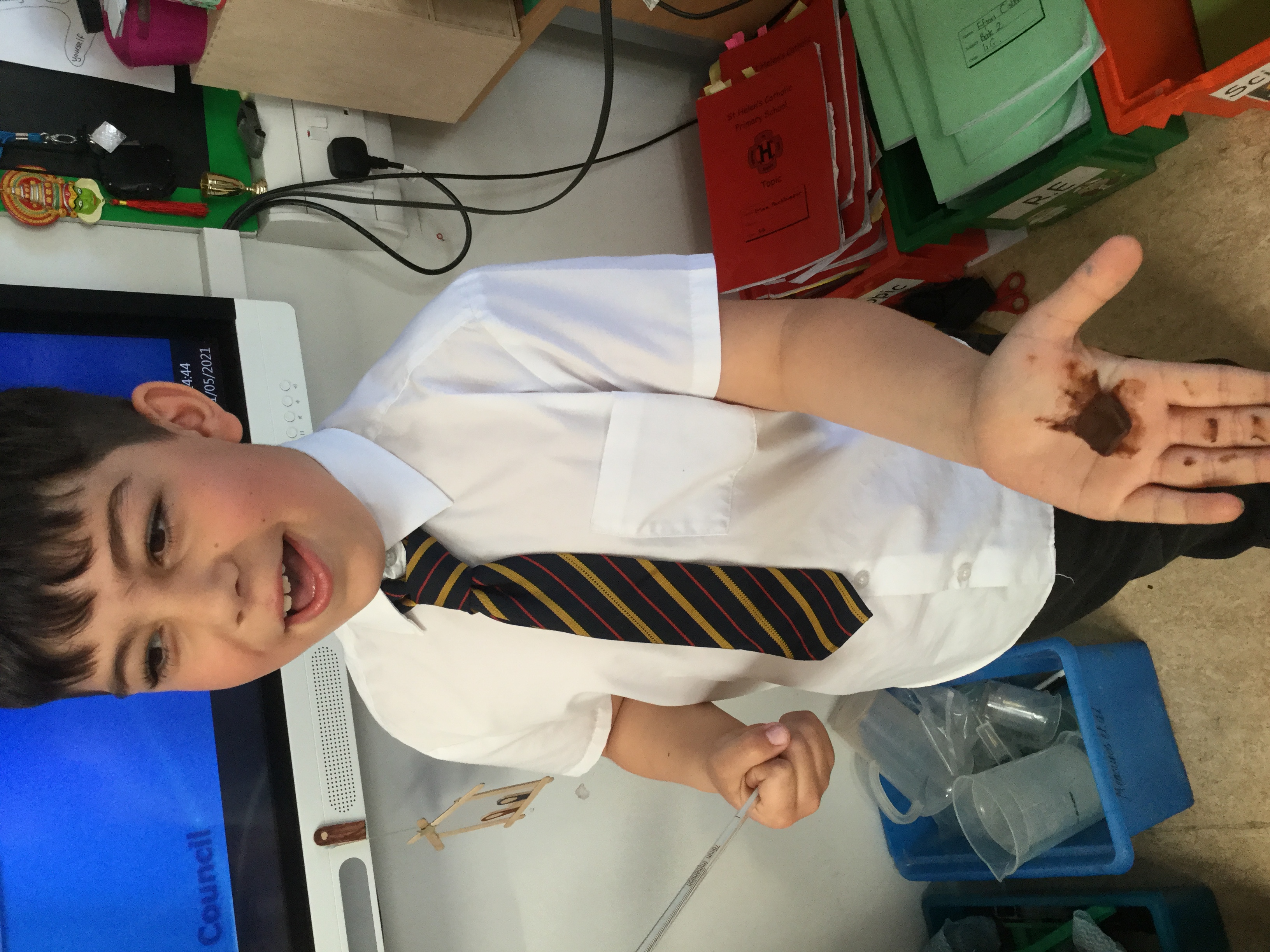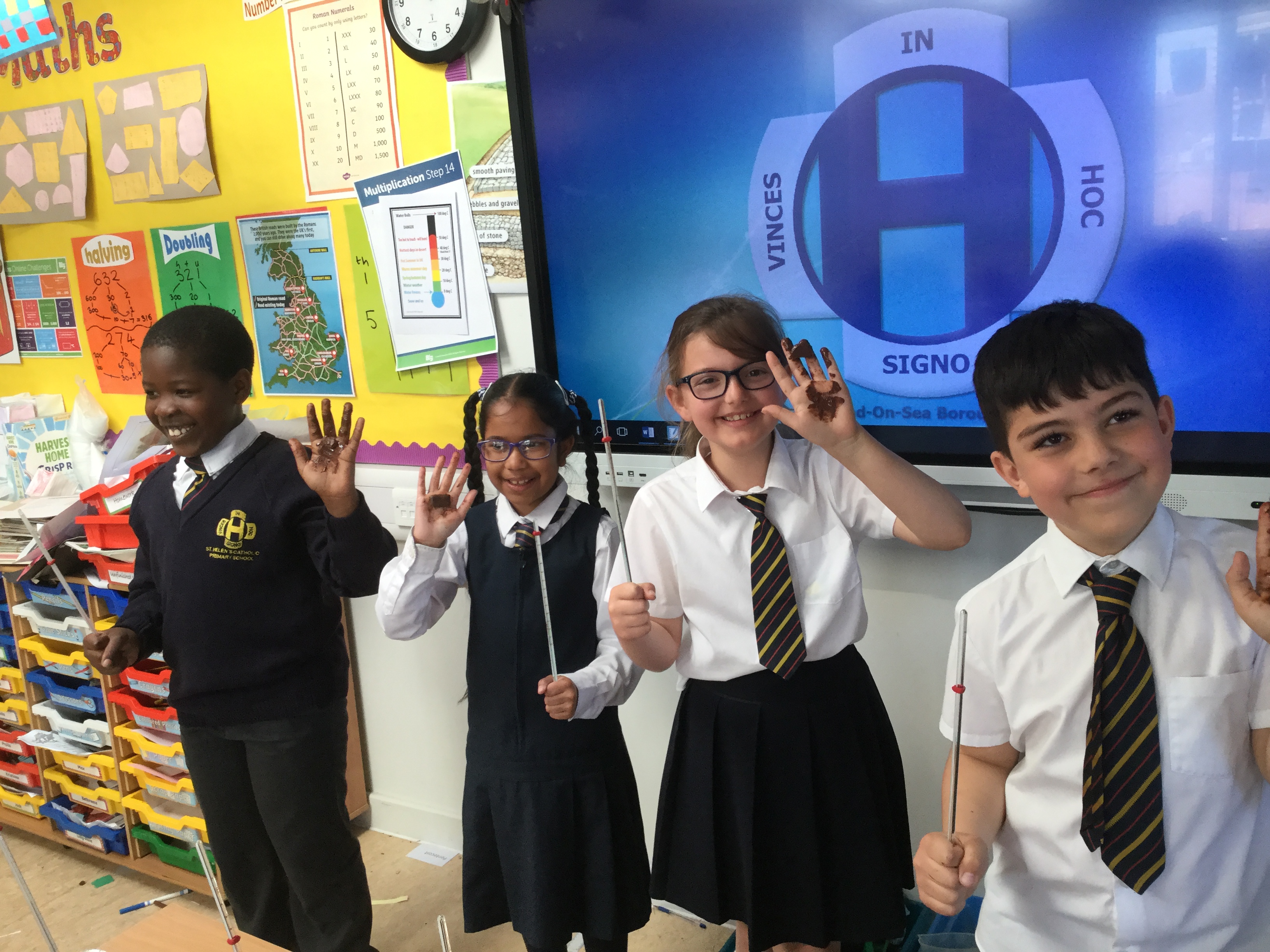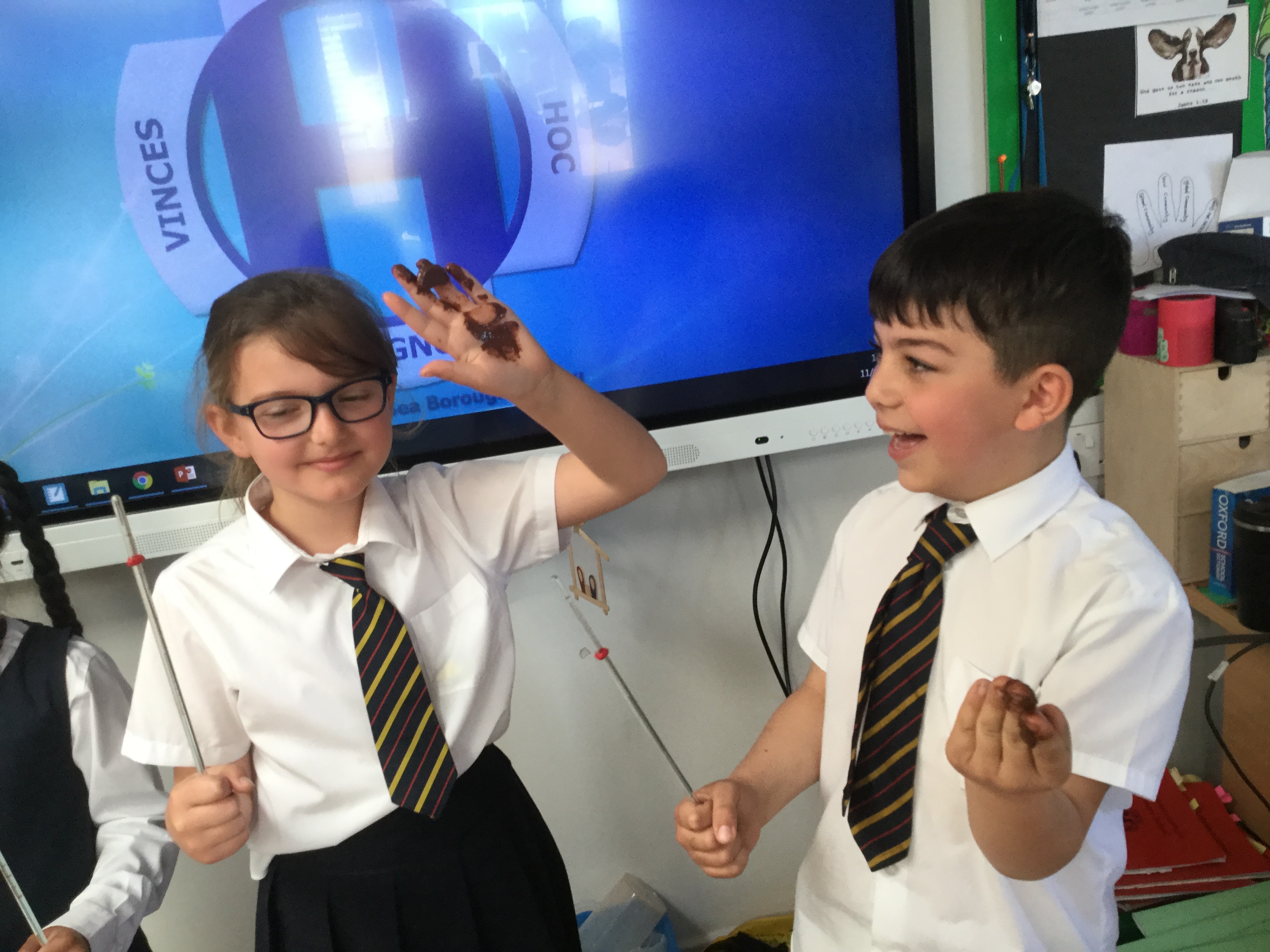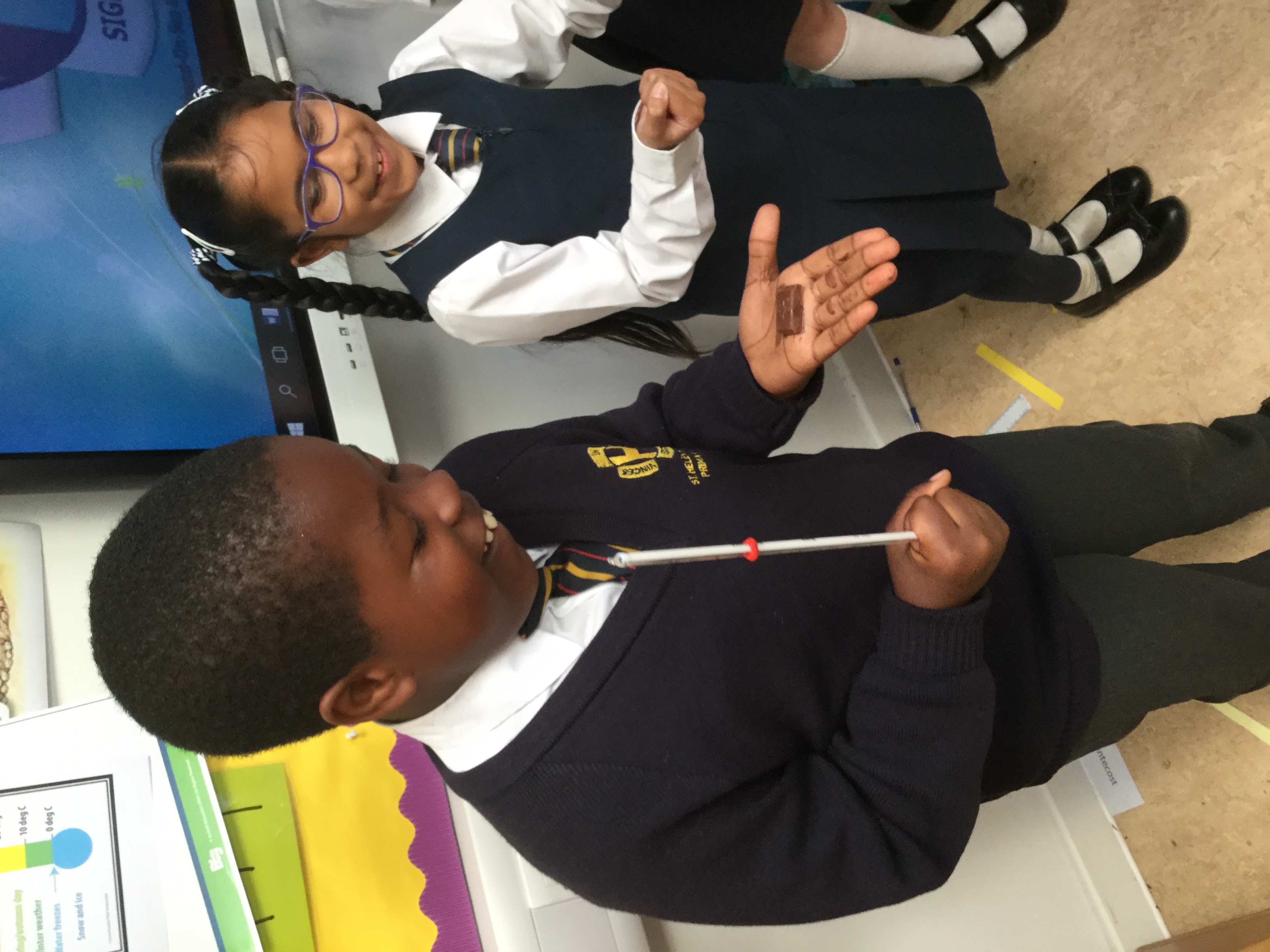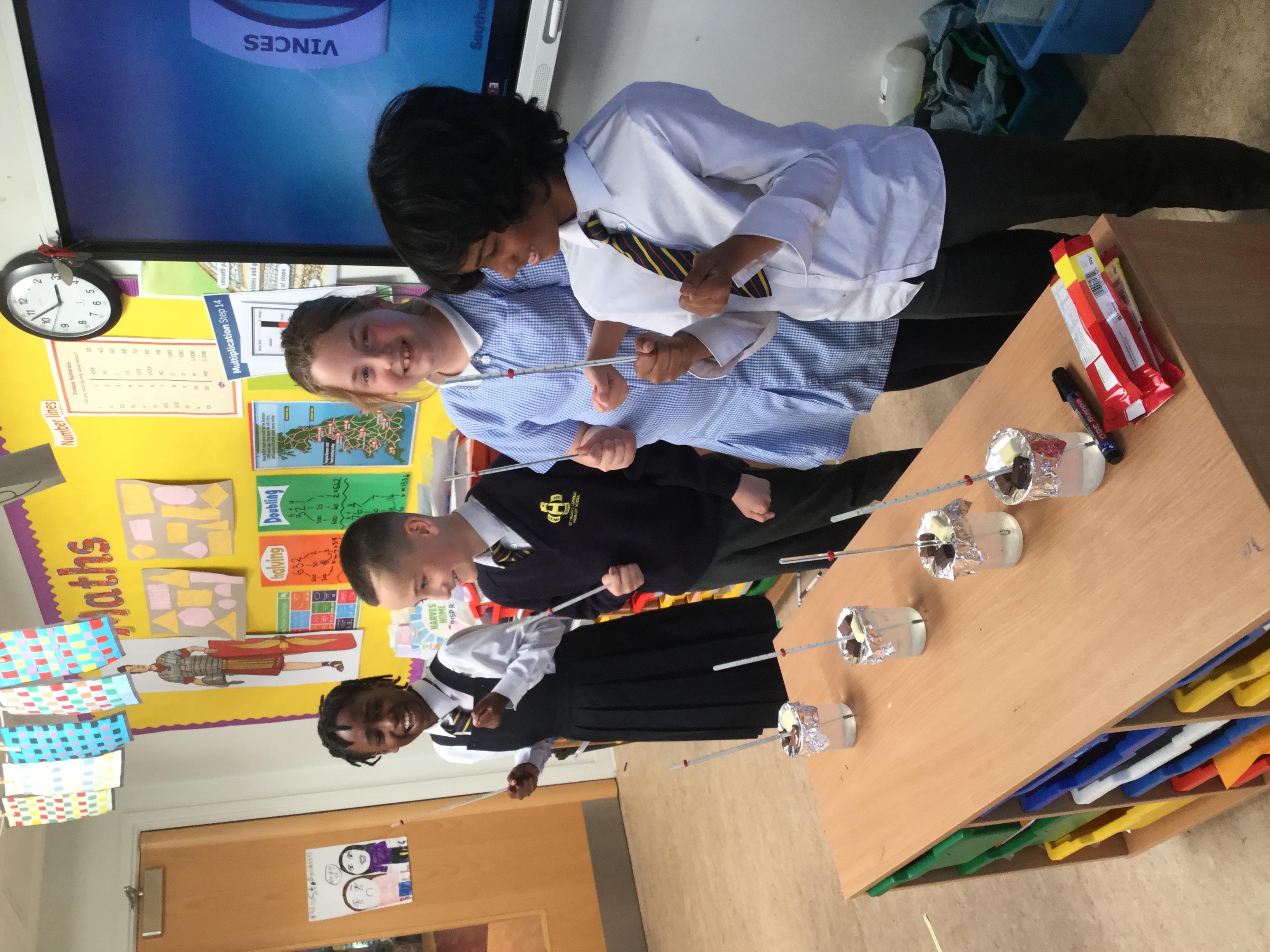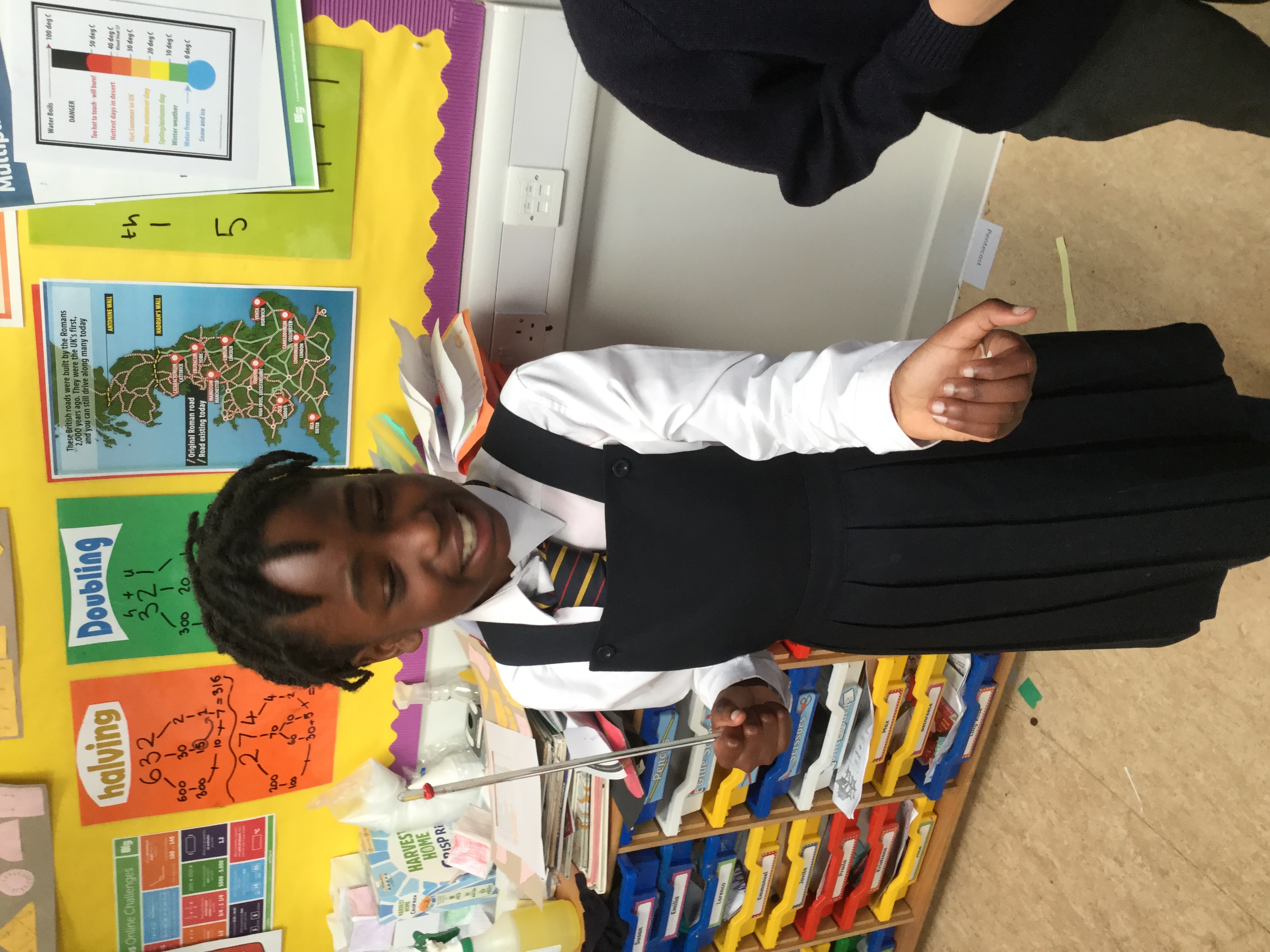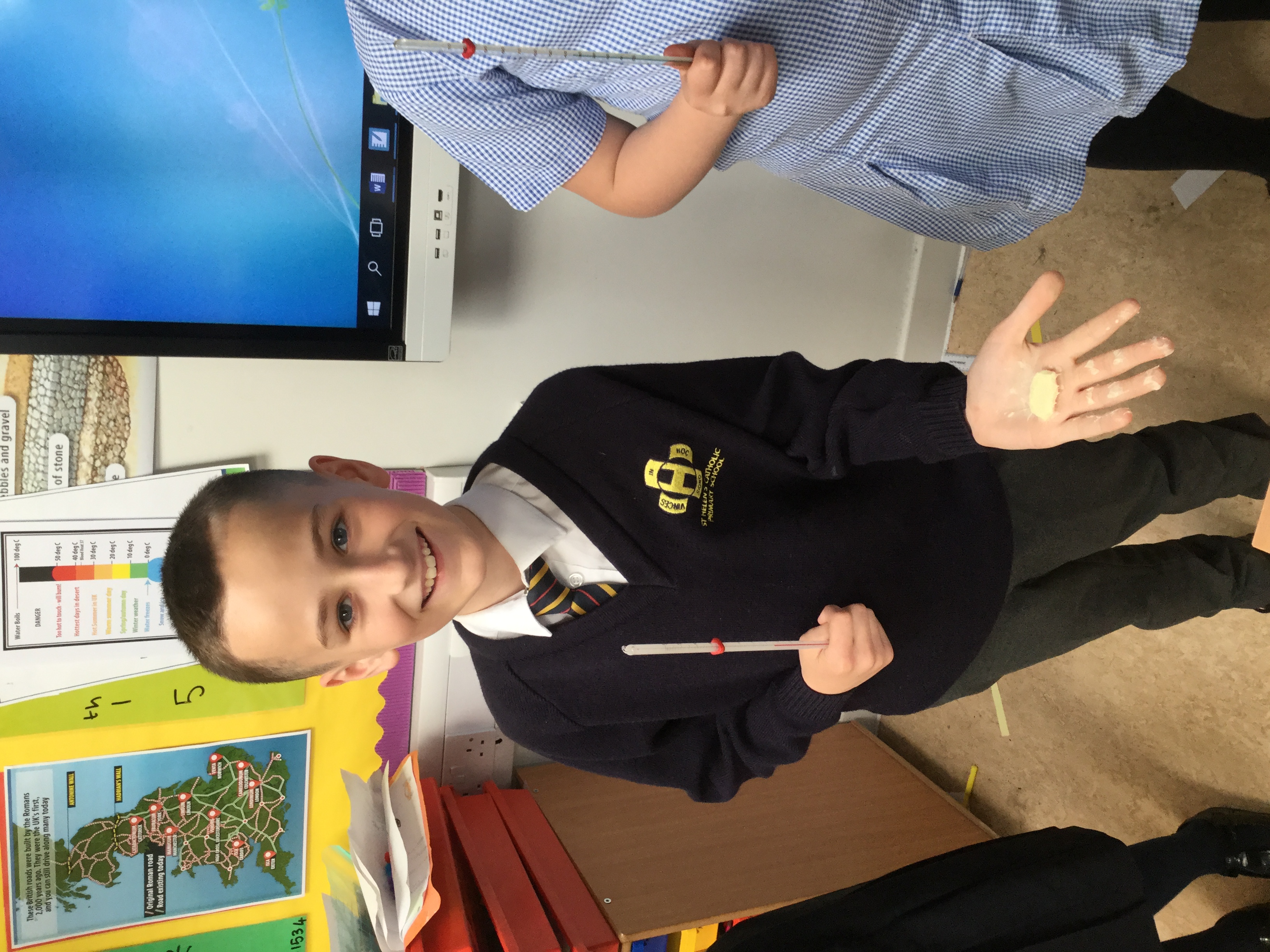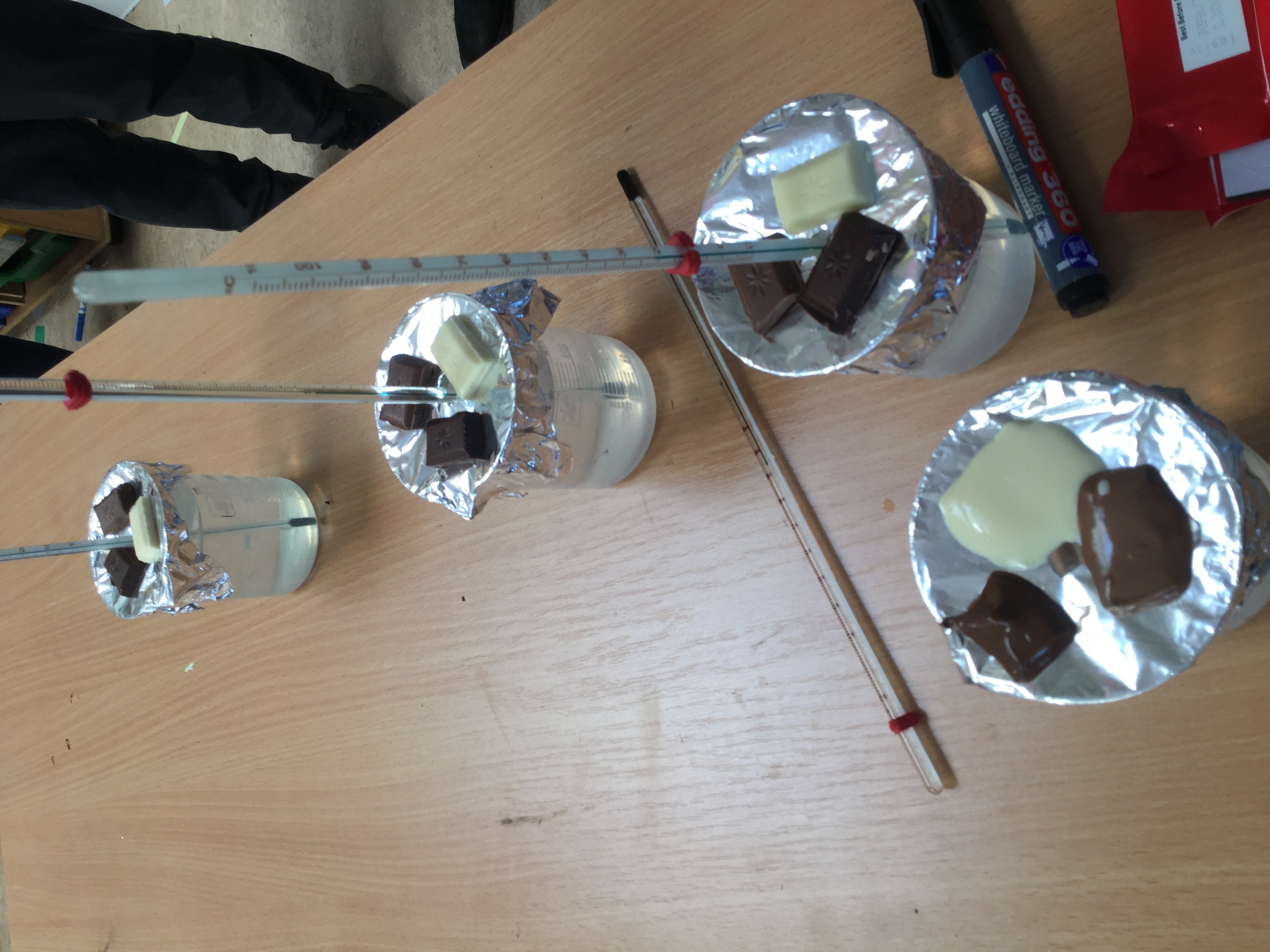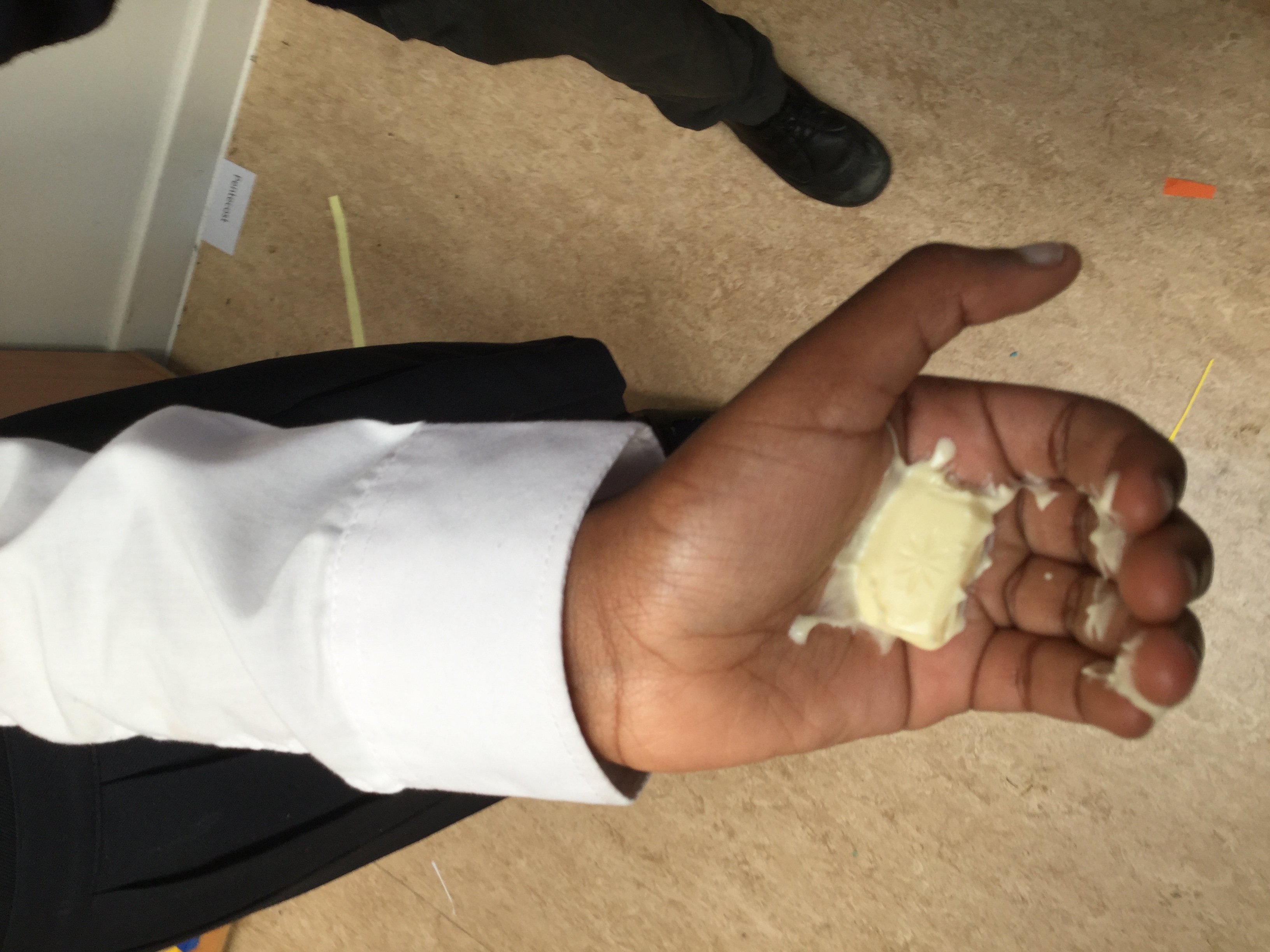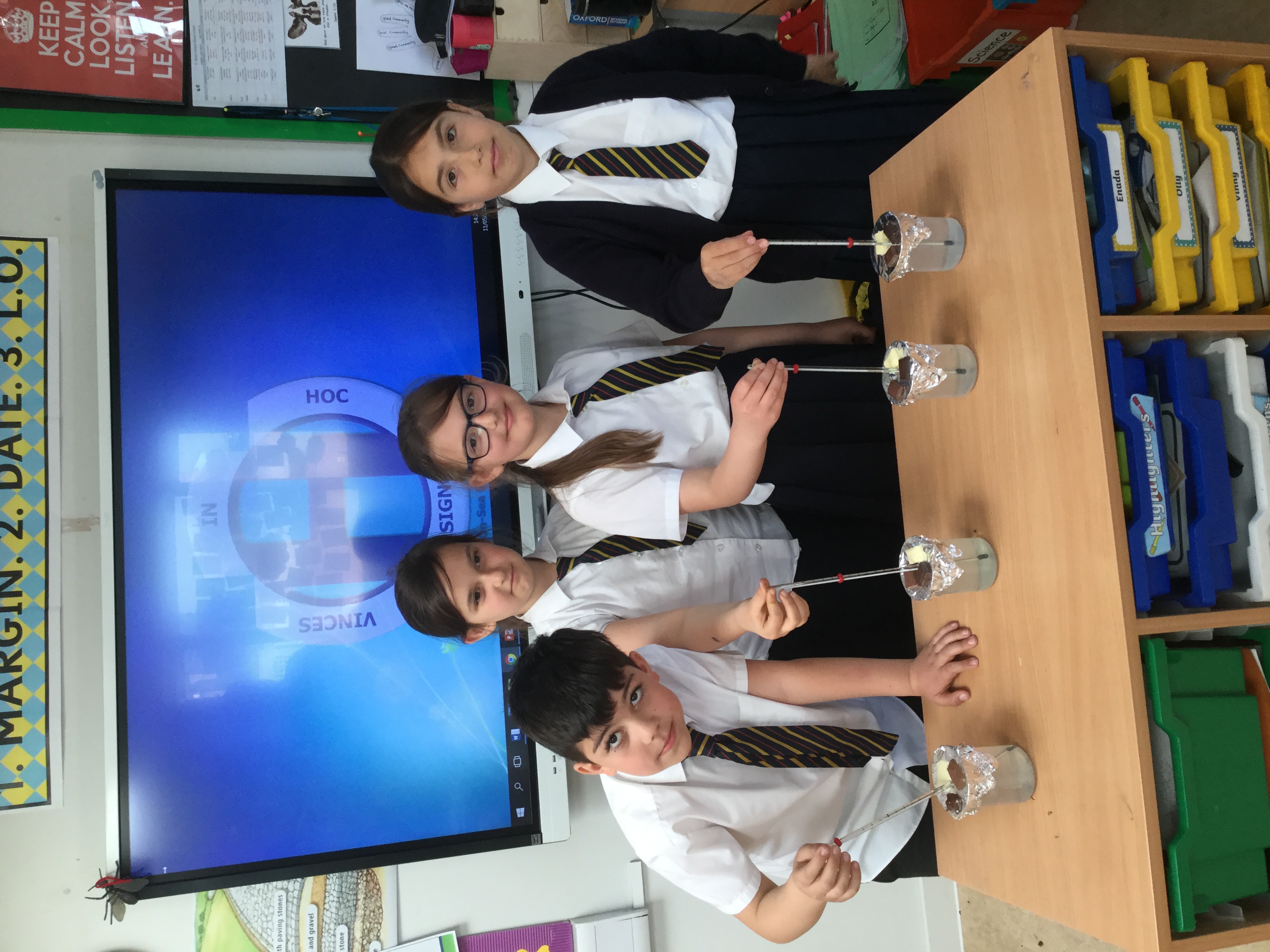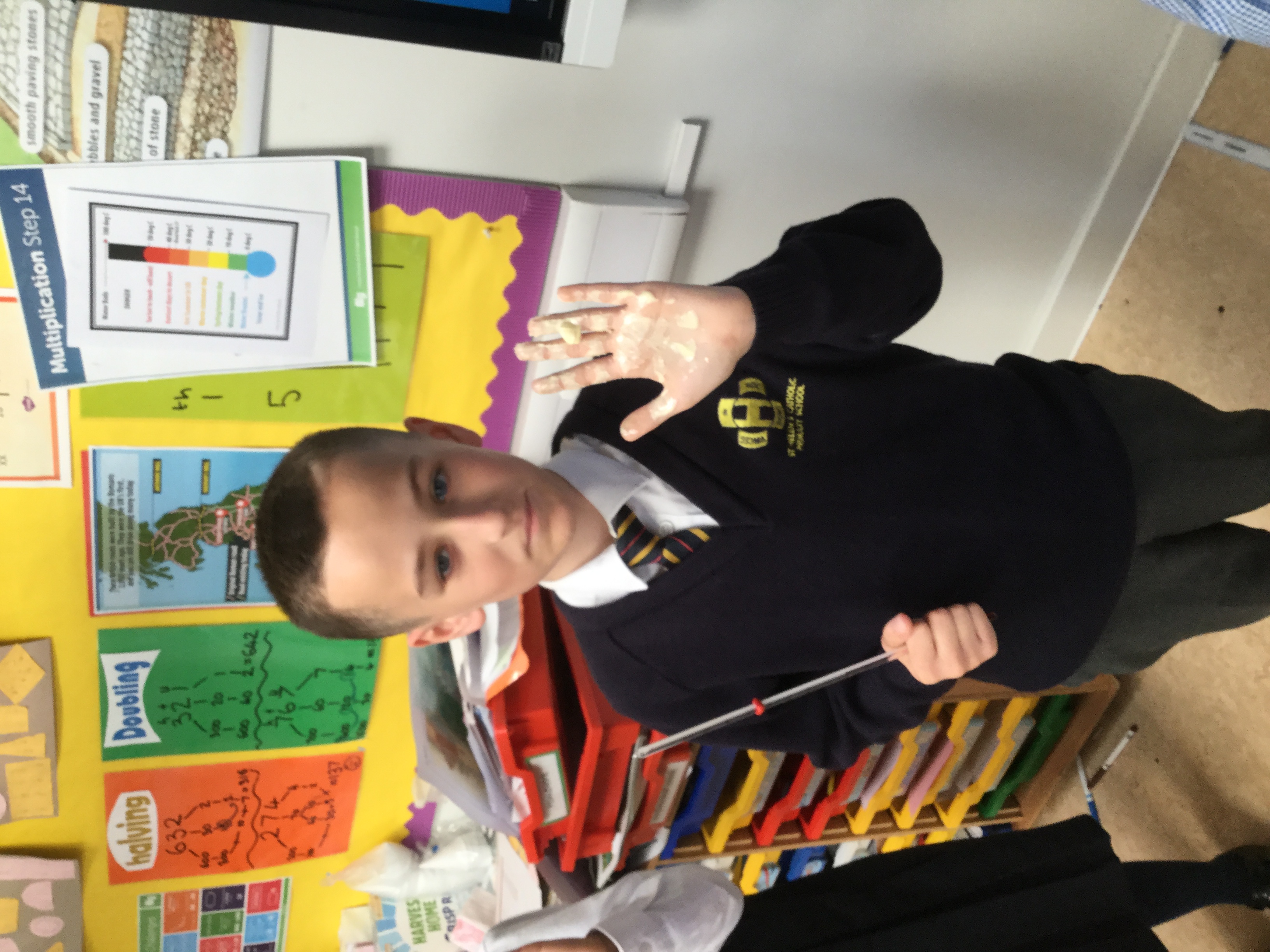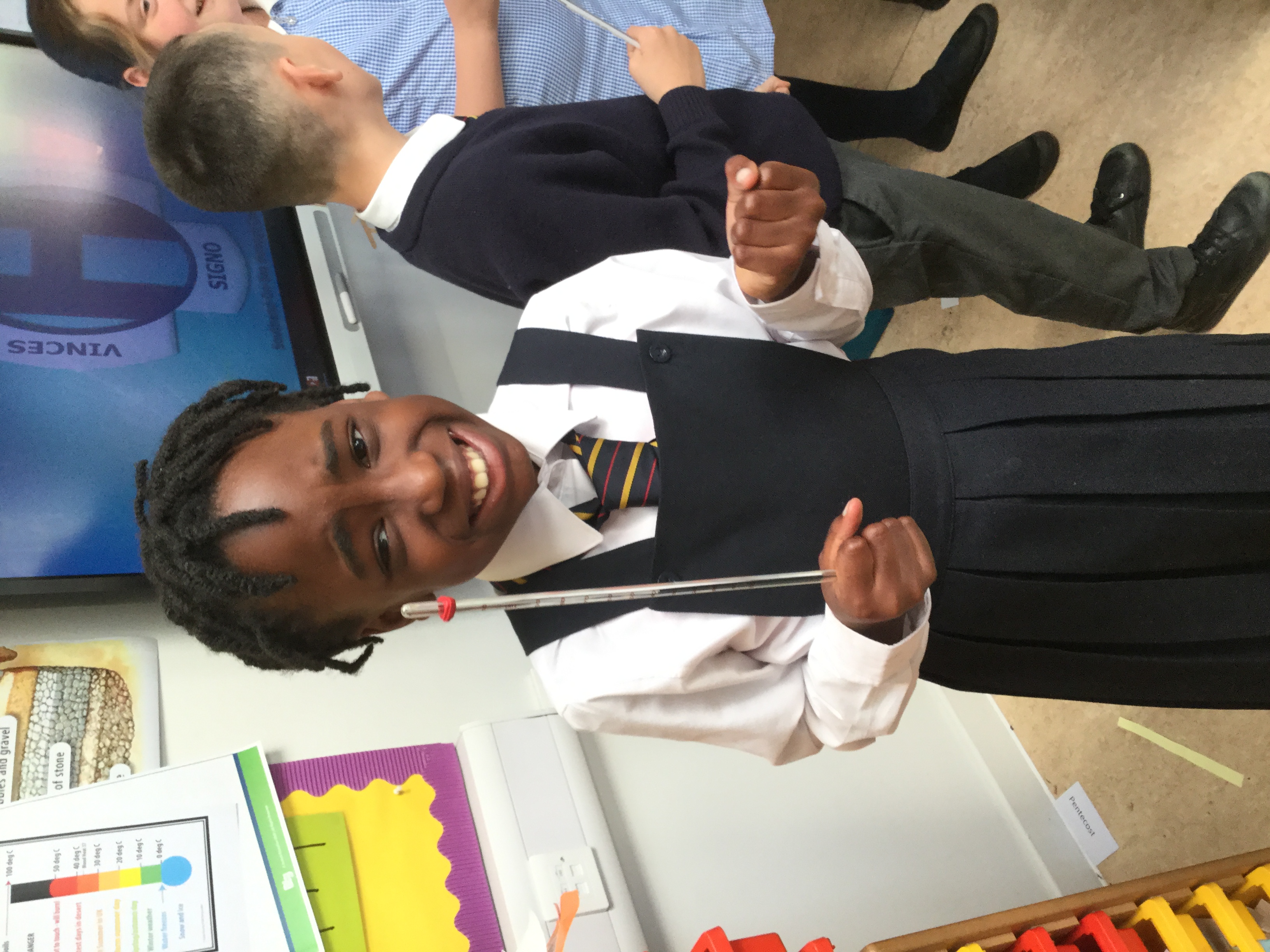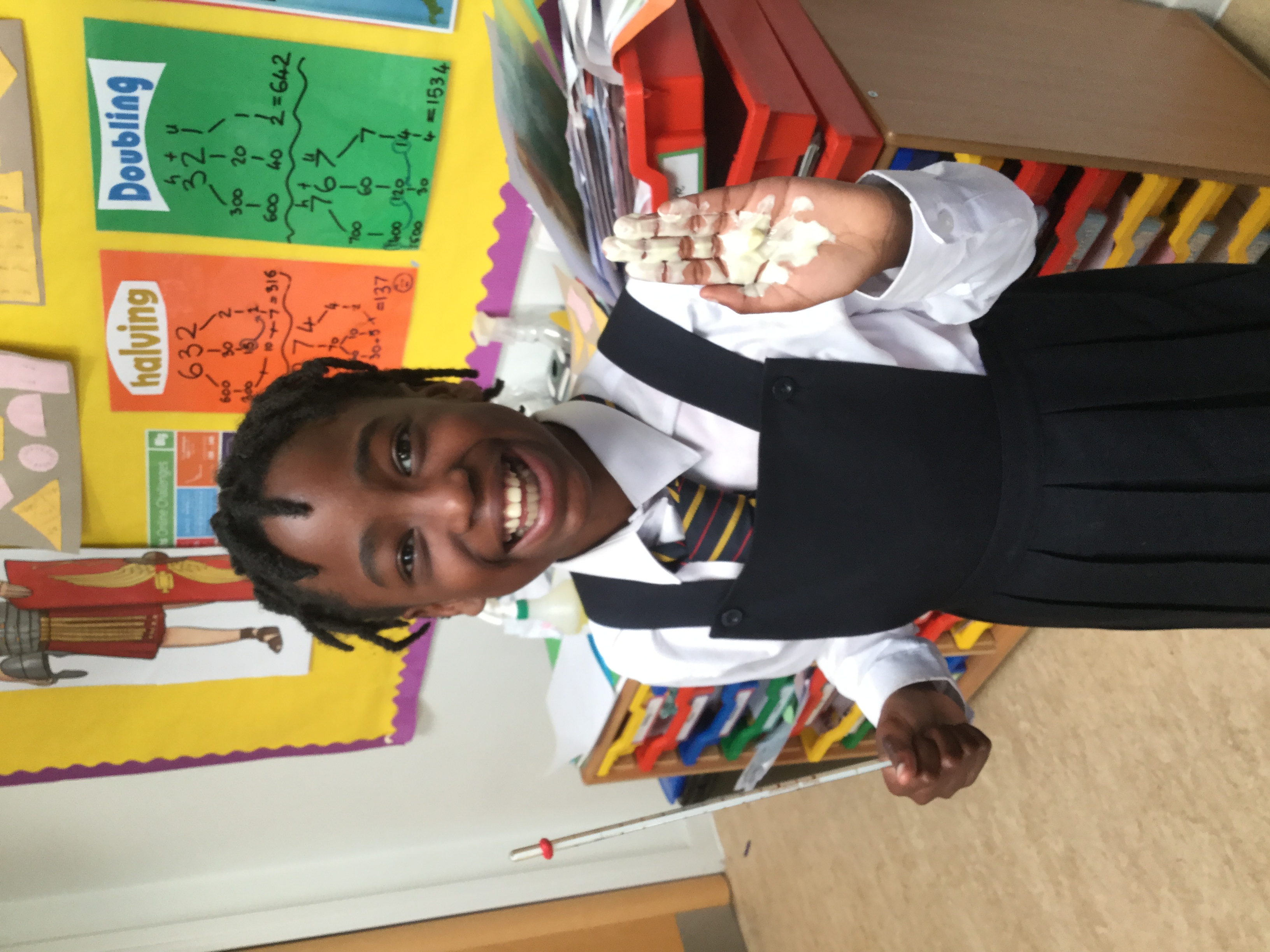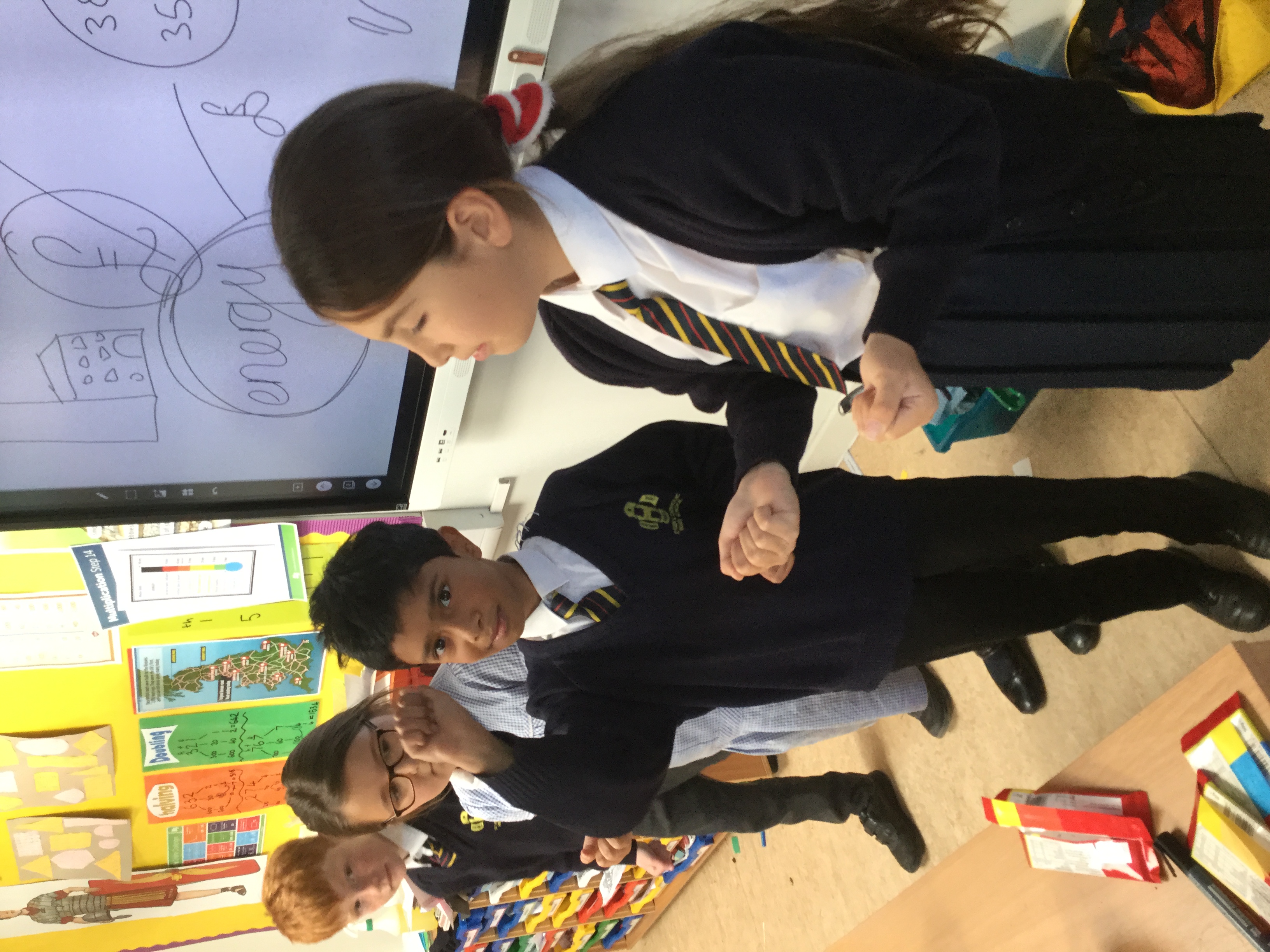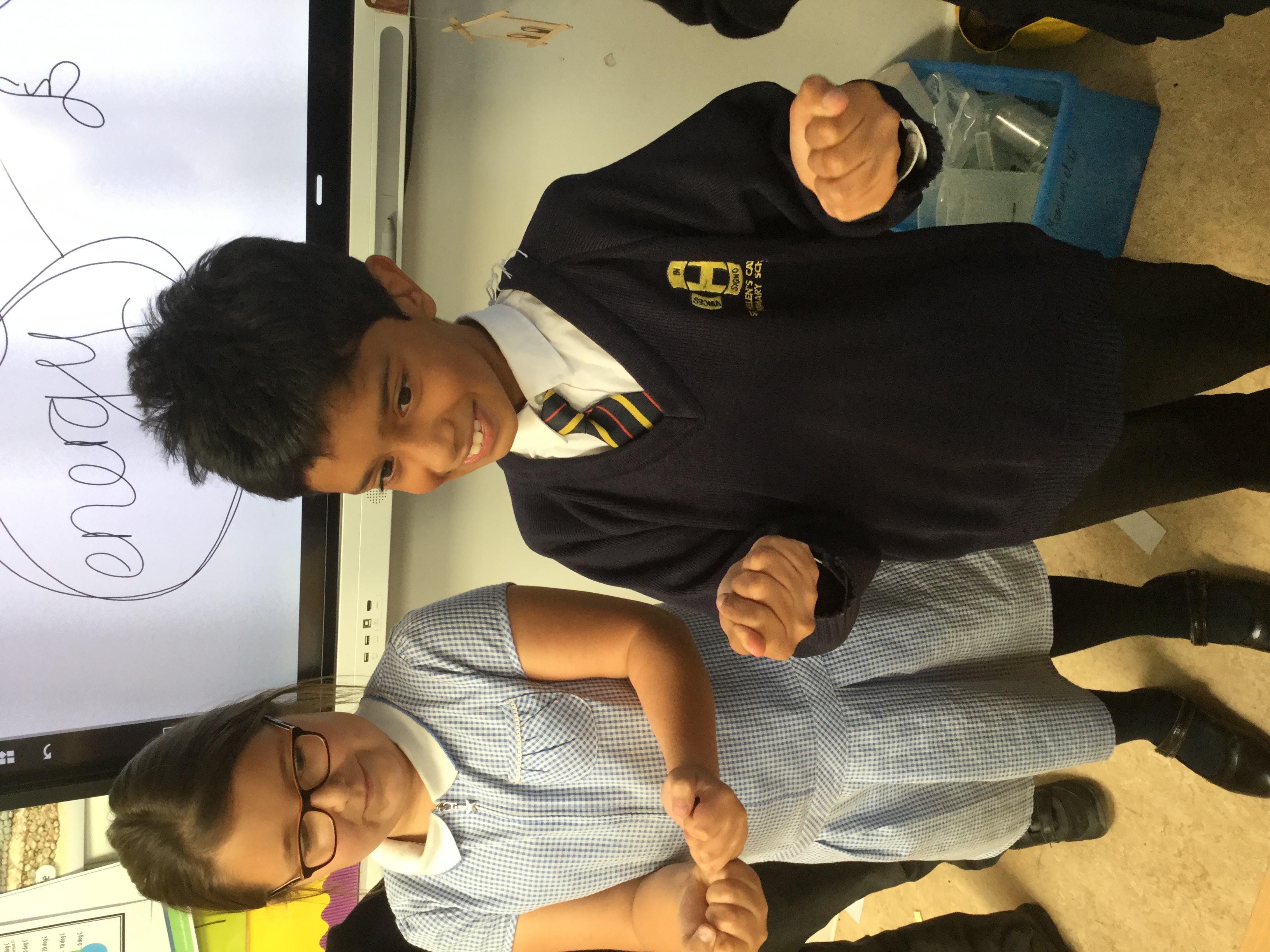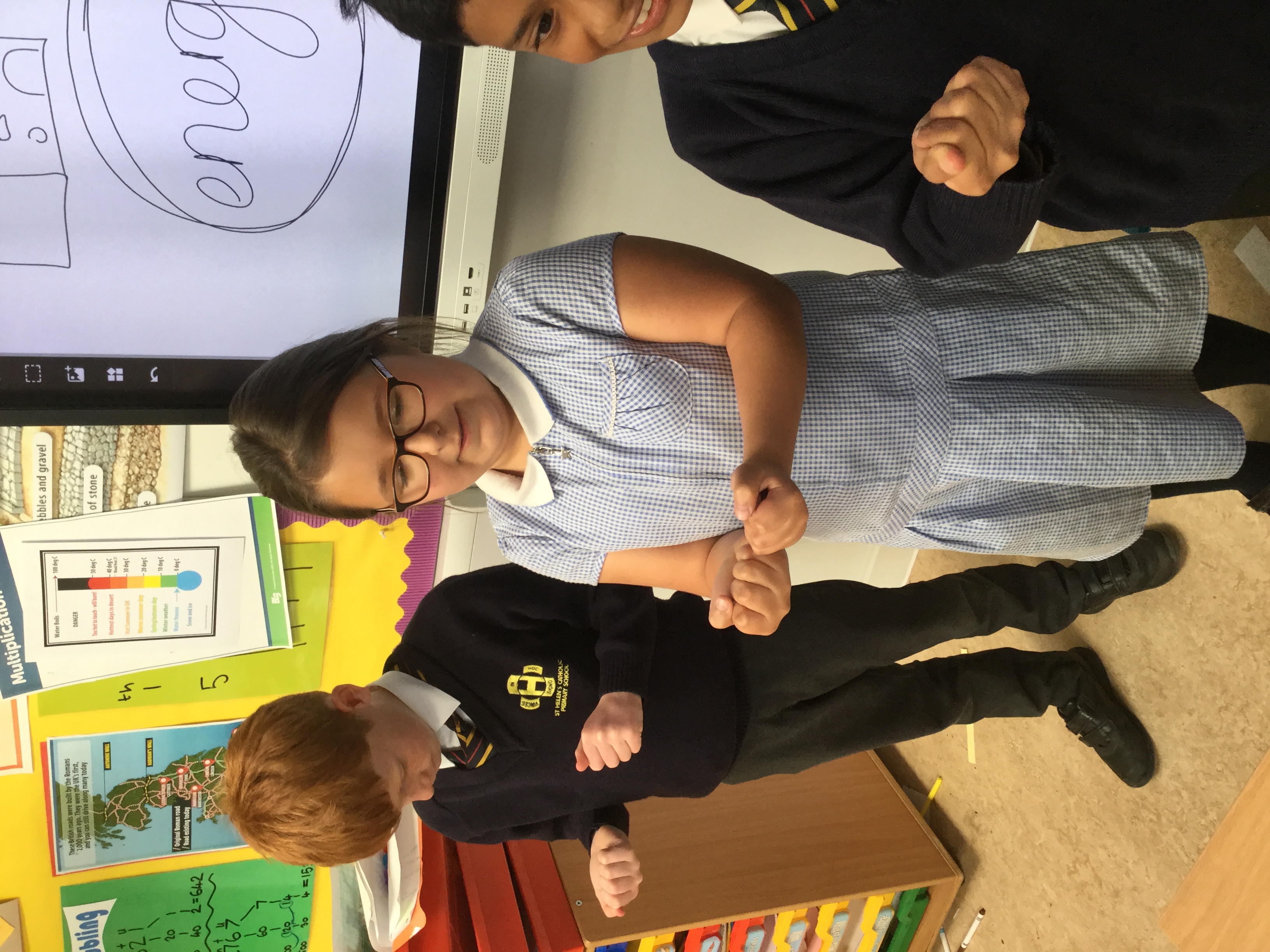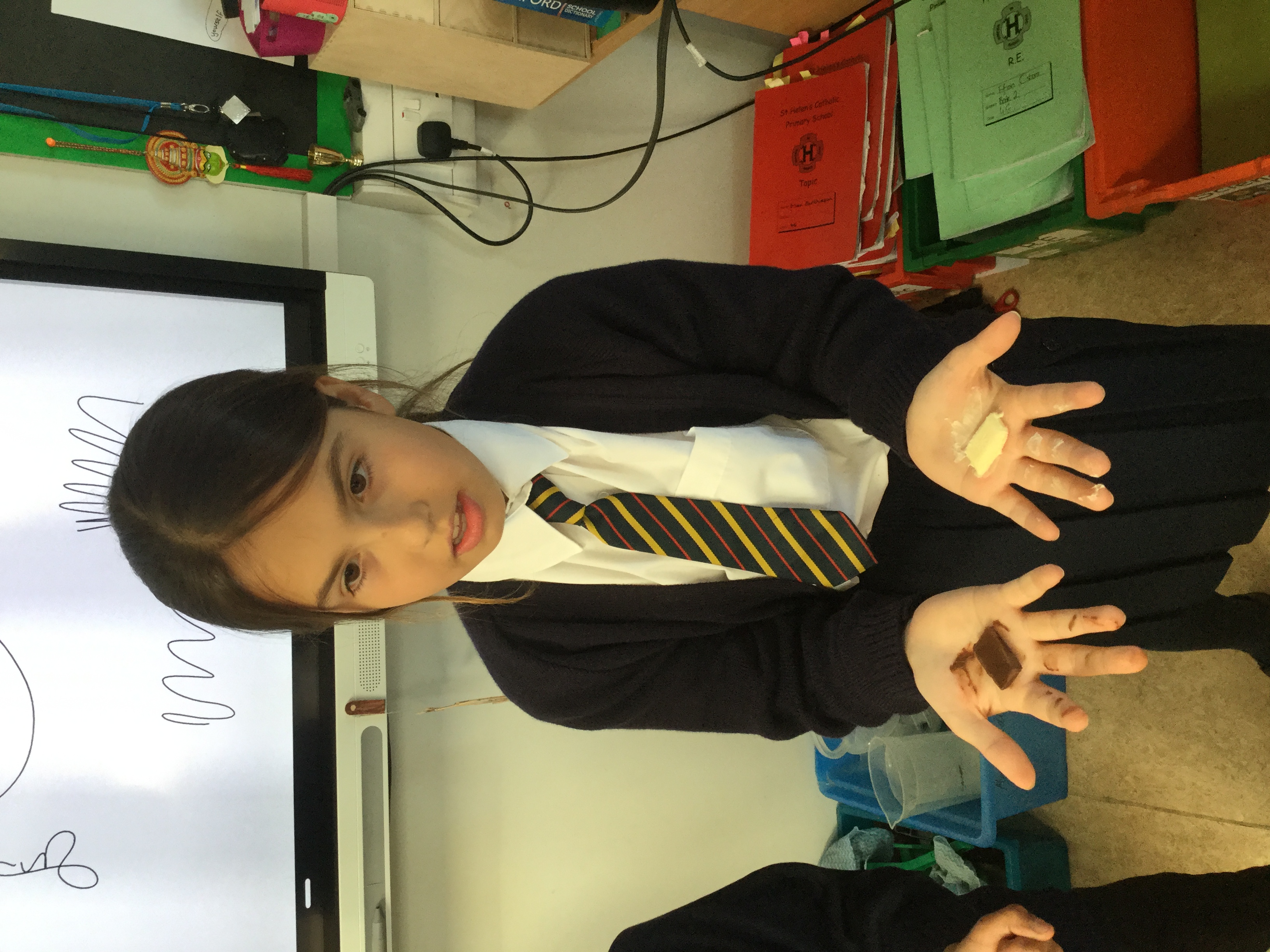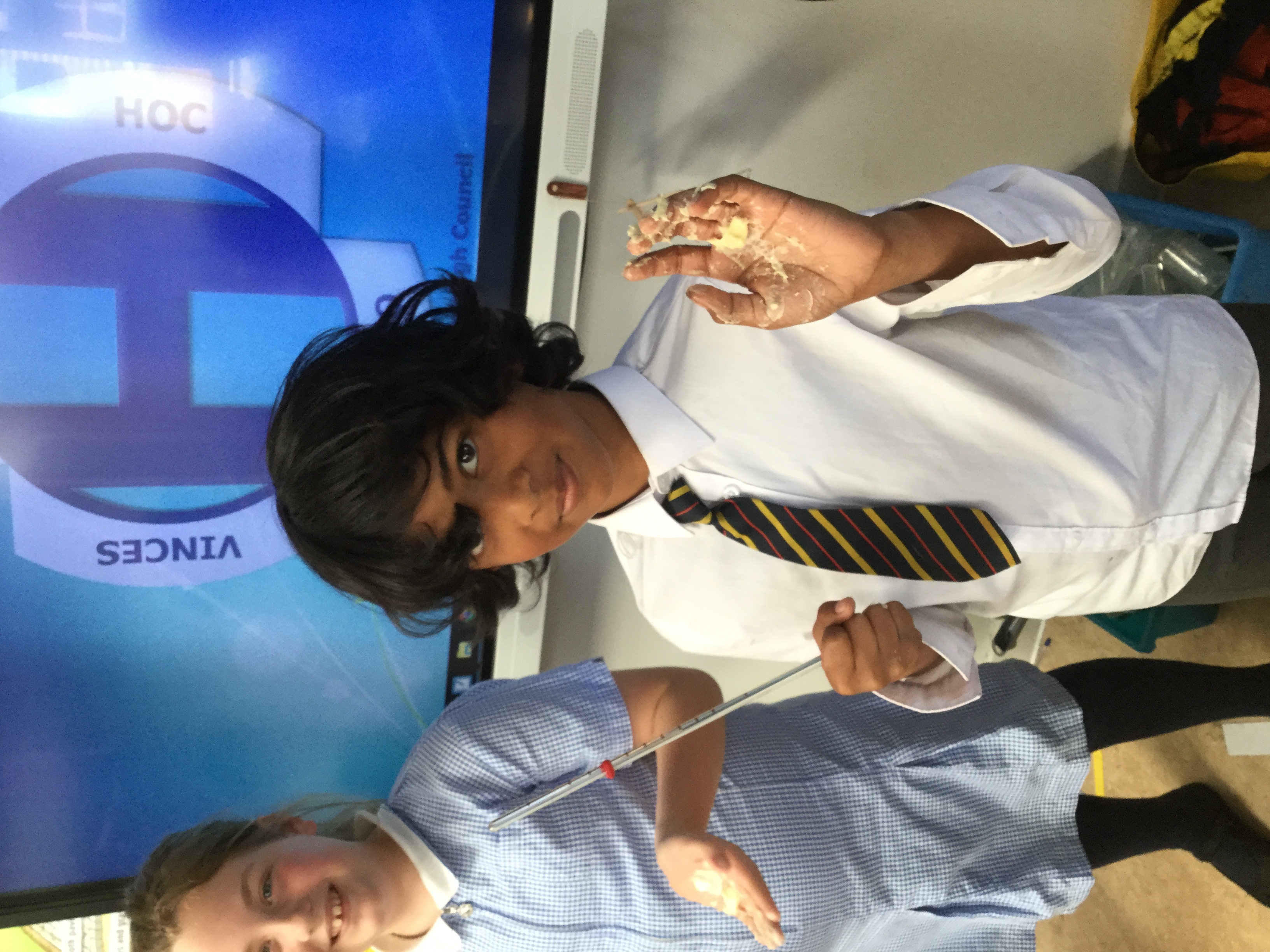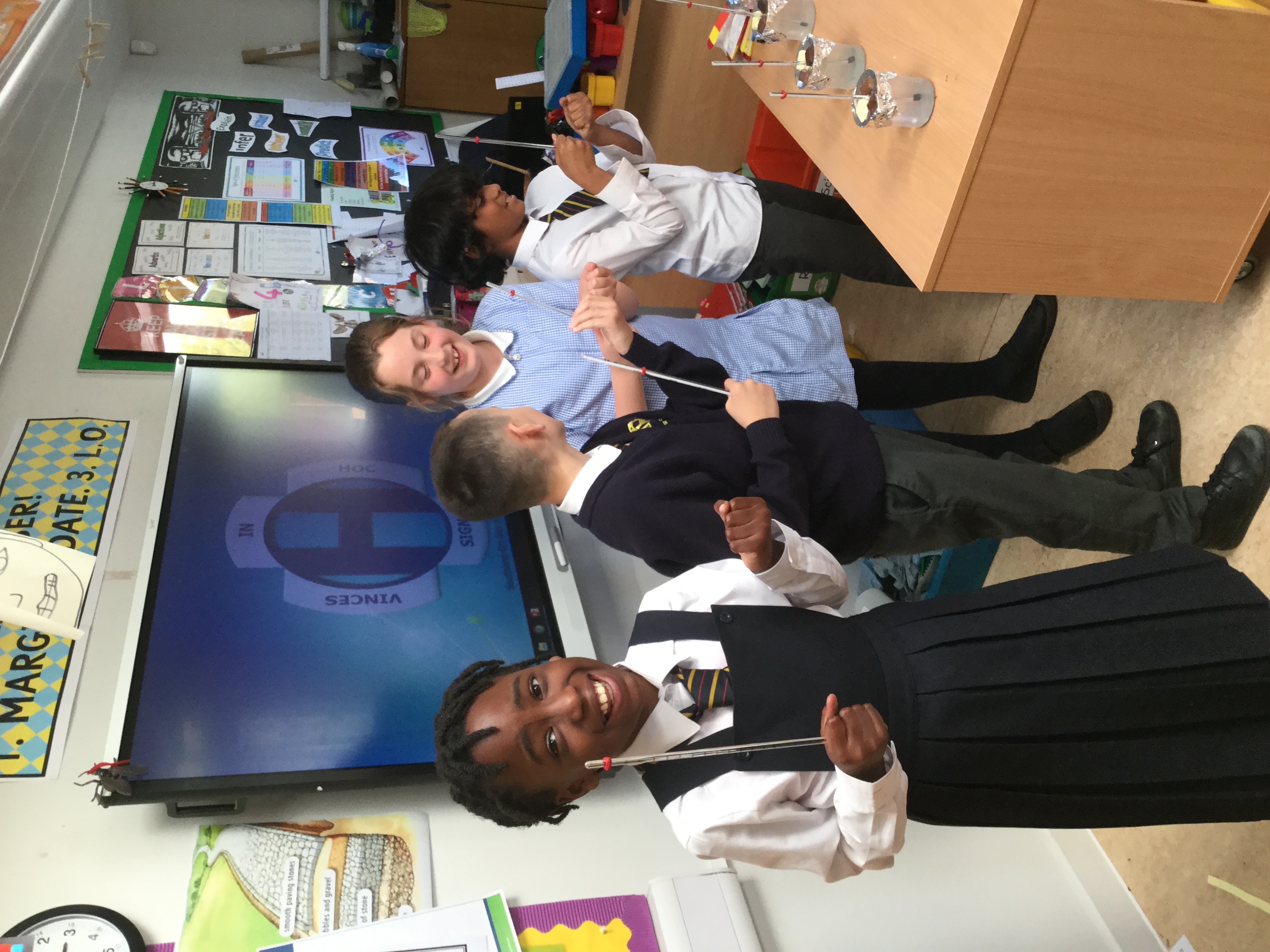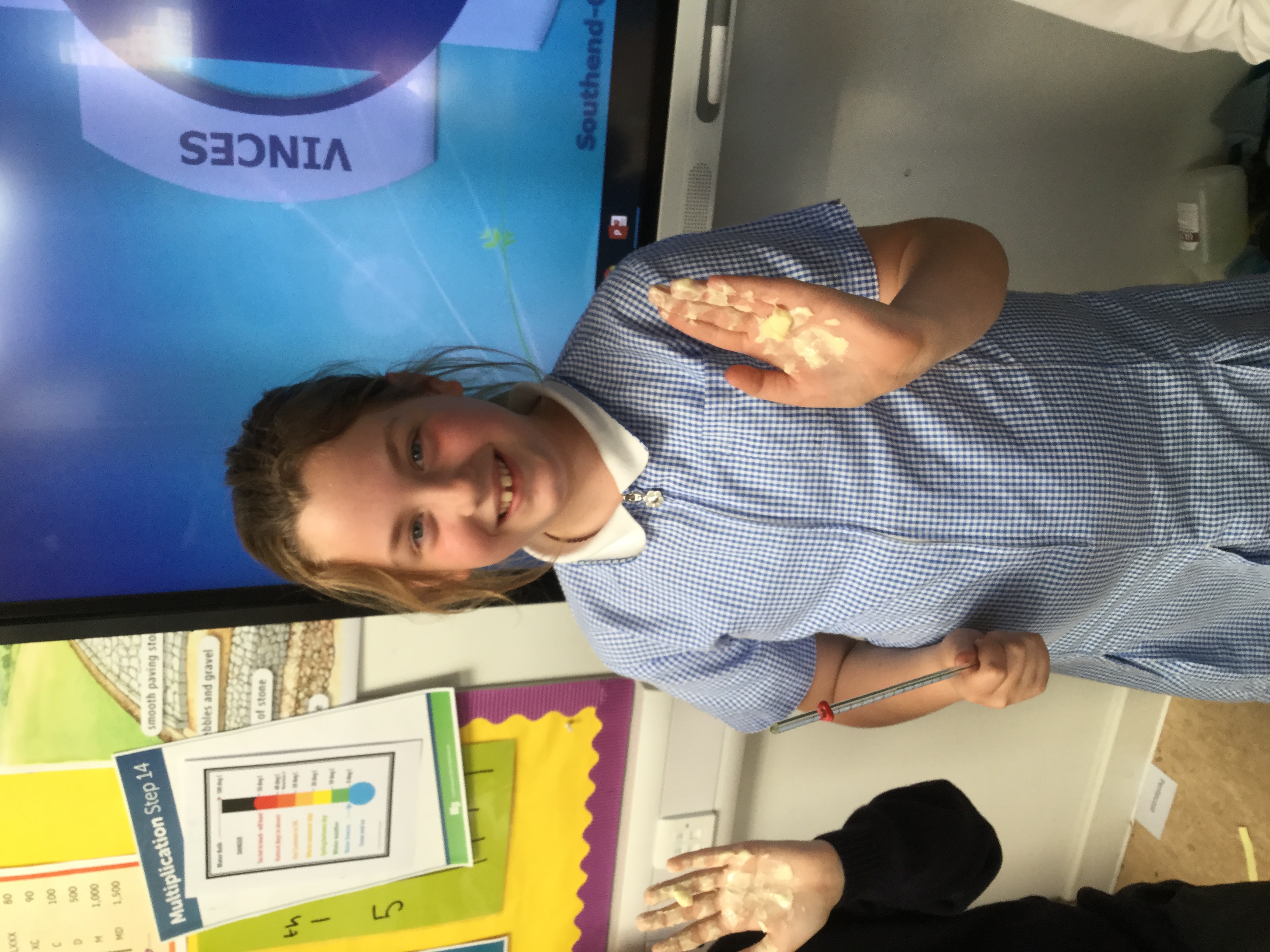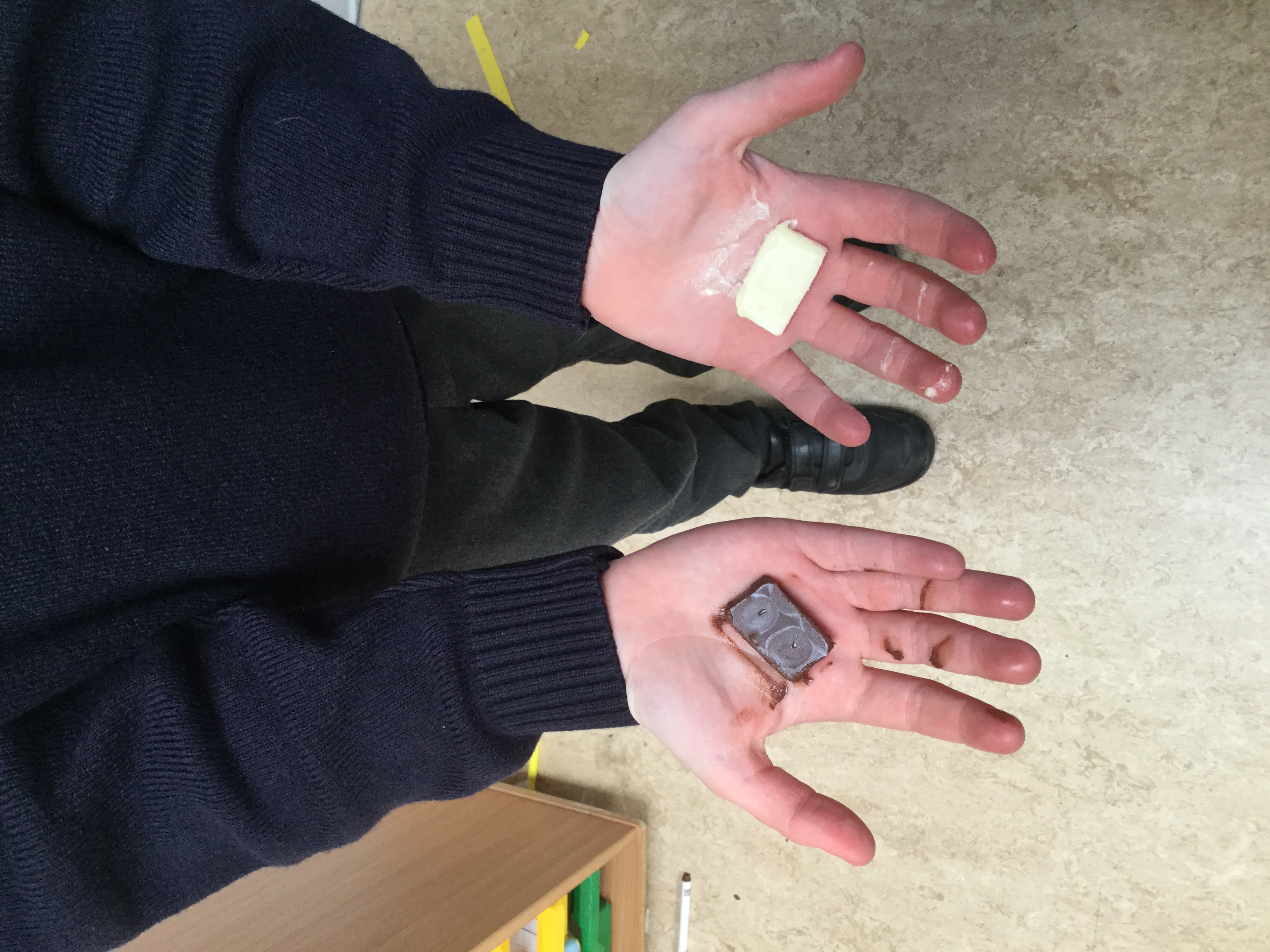 States of Matter
This week 4G had some fun getting to grips with gases as part of our 'States of Matter' Science Topic. We have been looking at fizzy drinks and working out whether or not the bubbles in them weigh anything - The answer was yes they do!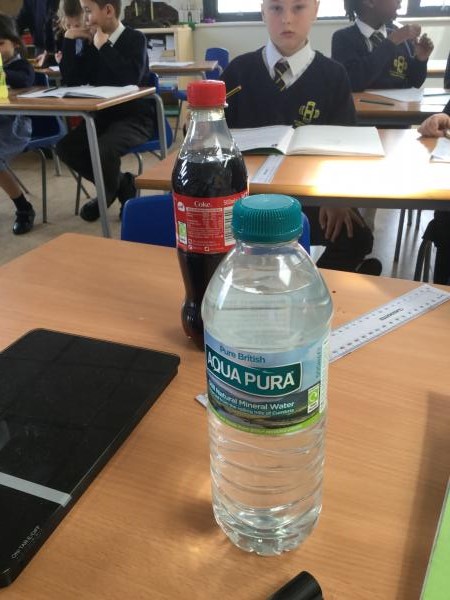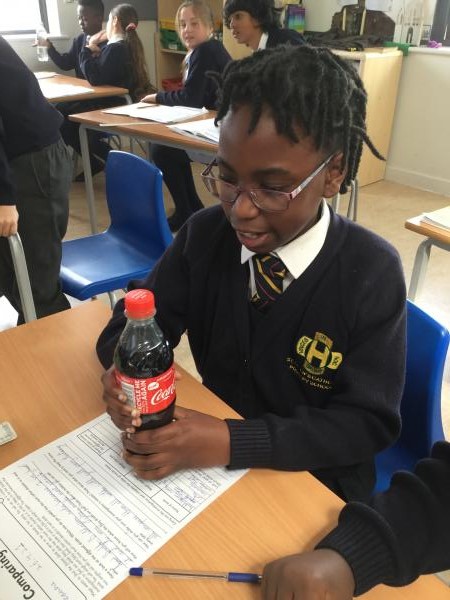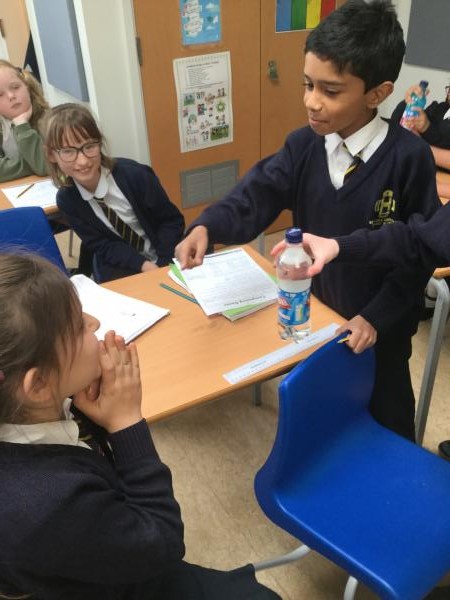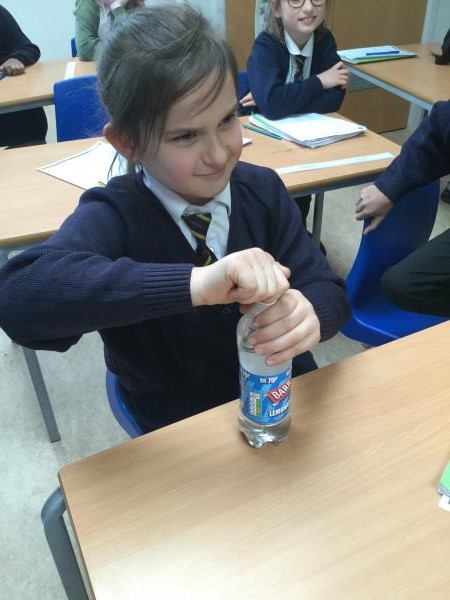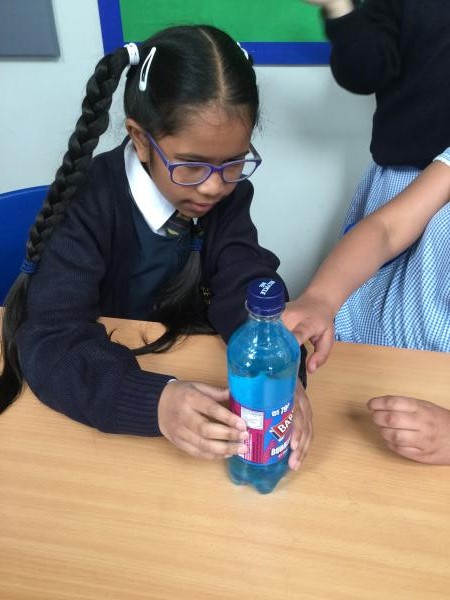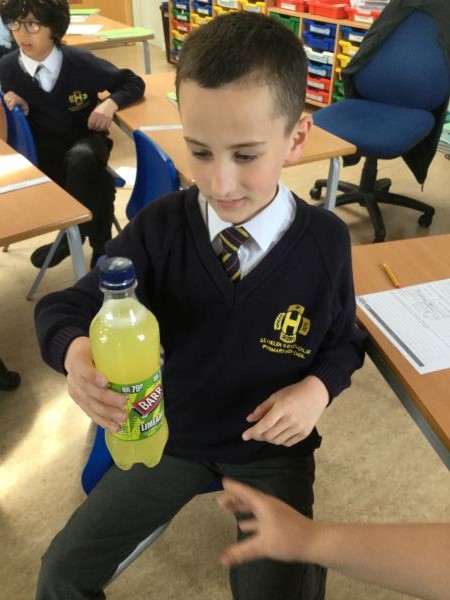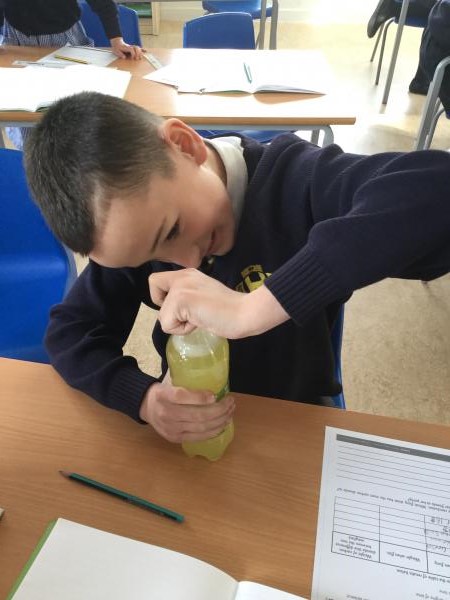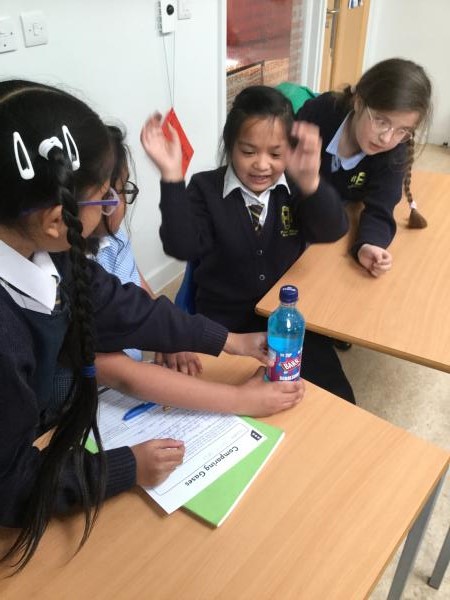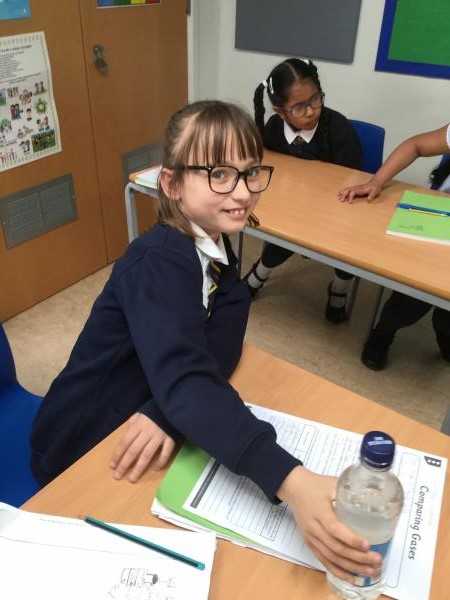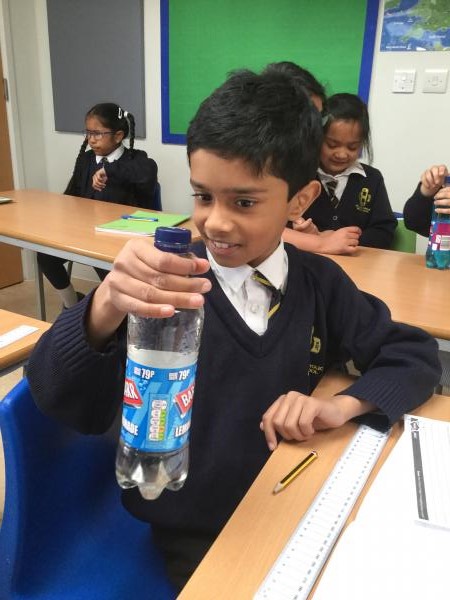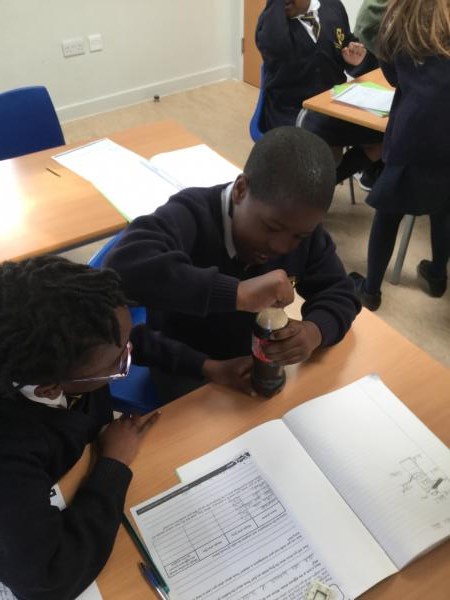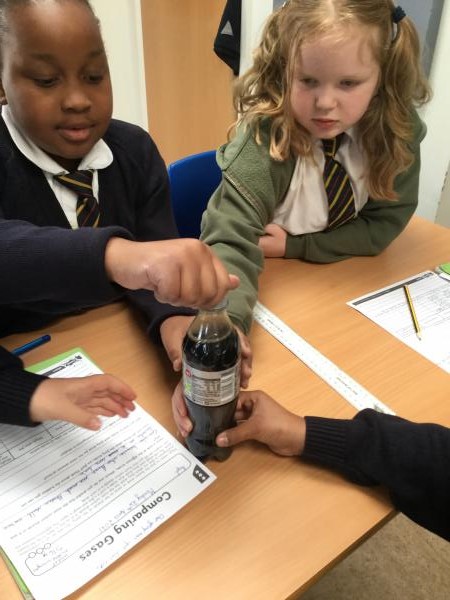 Roman Day
On Tuesday Year 4 had a fantastic visit from Hadleigh Histories, to help us learn all about the different lifestyles of Celts and Romans. We had a go at being archaeologists, unearthing Roman Mosaics and piecing together ancient history. We looked at differences in the way they lived and the types of objects that would have been found in their different homes. Finally, we had a great time at Legionnaires School learning what it was like to be a Roman Army and why they were such an effective fighting unit.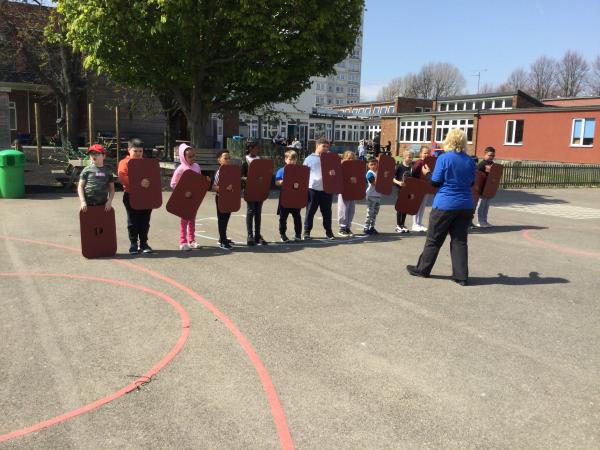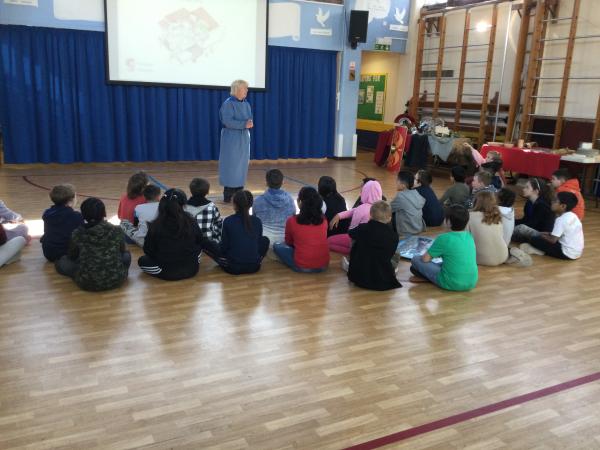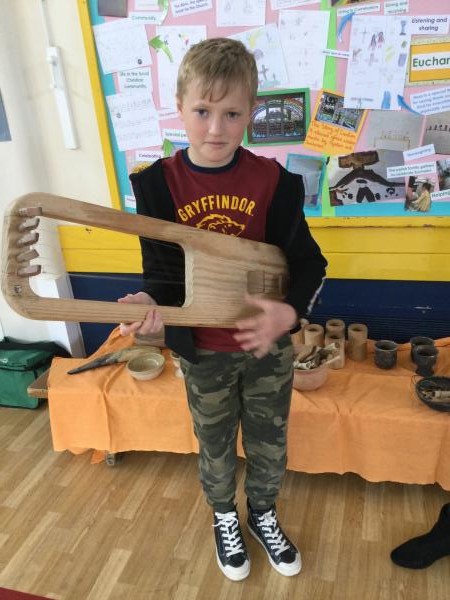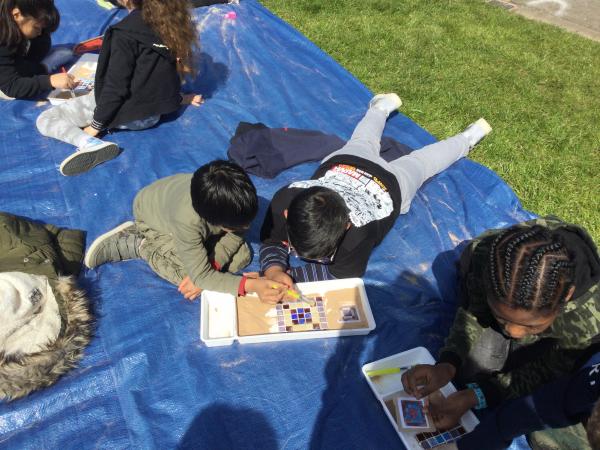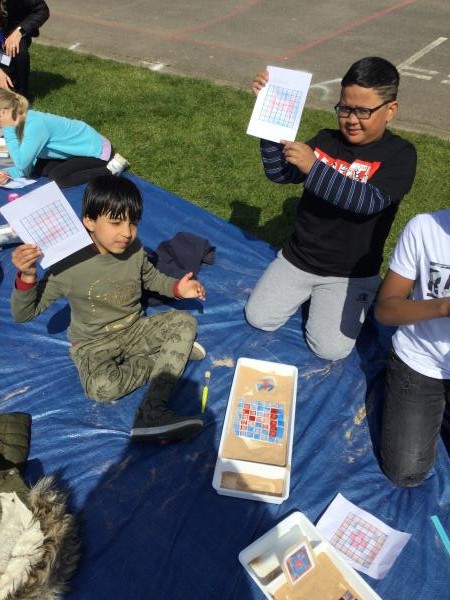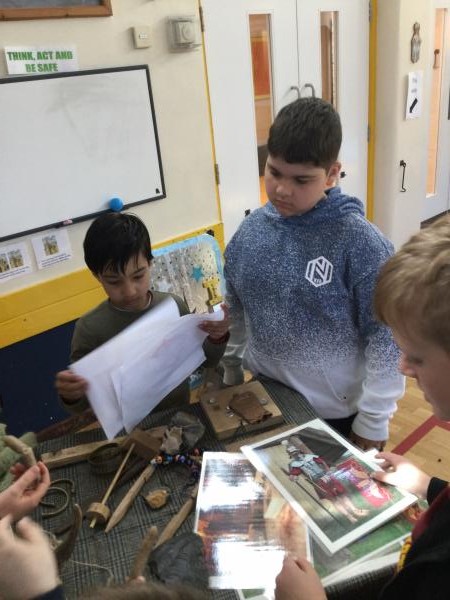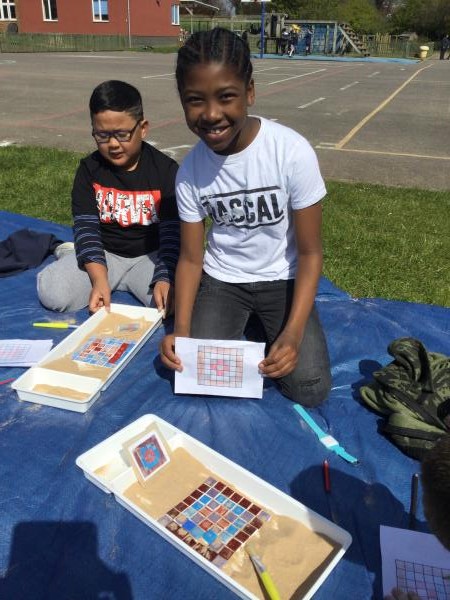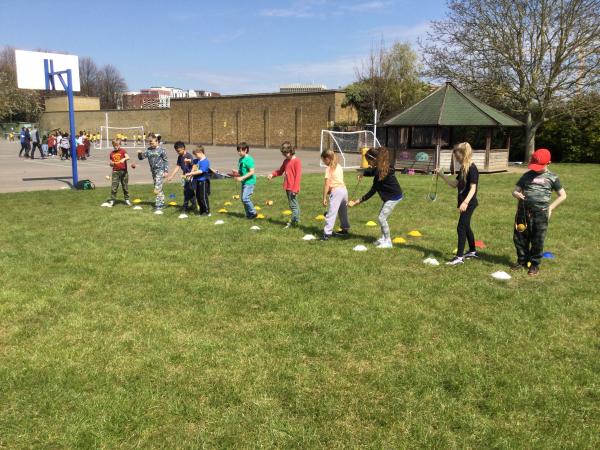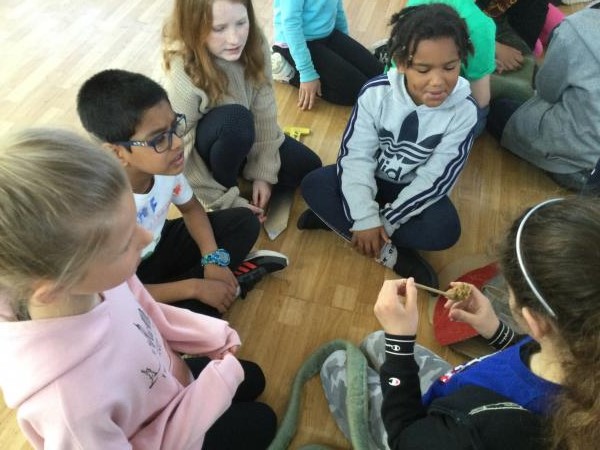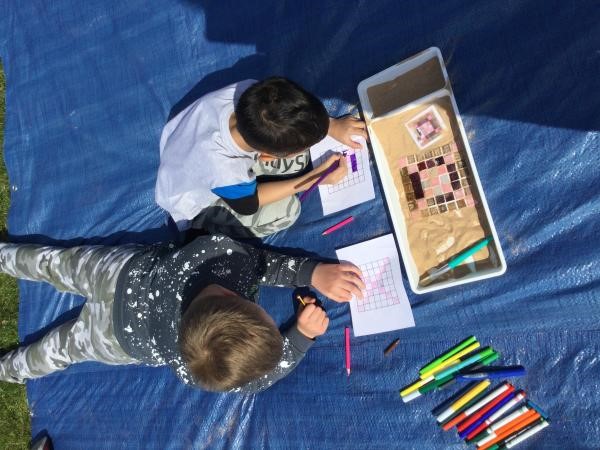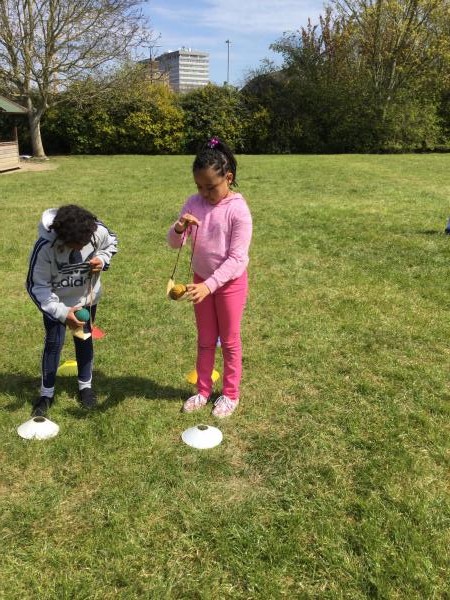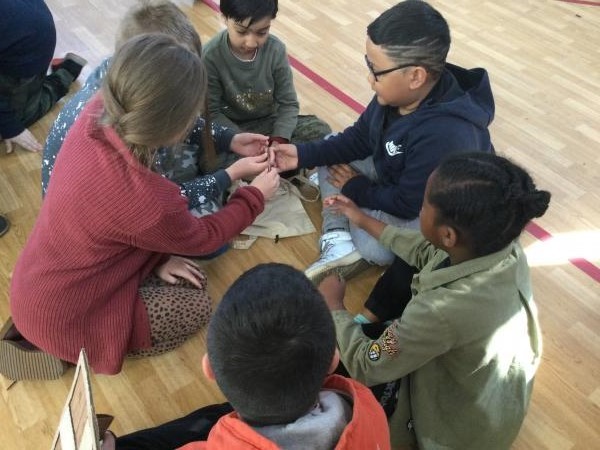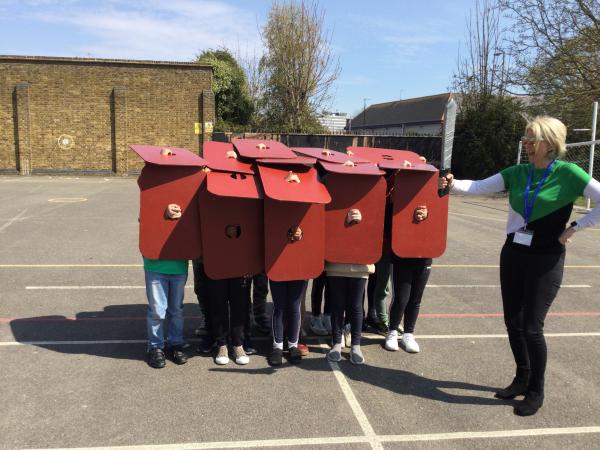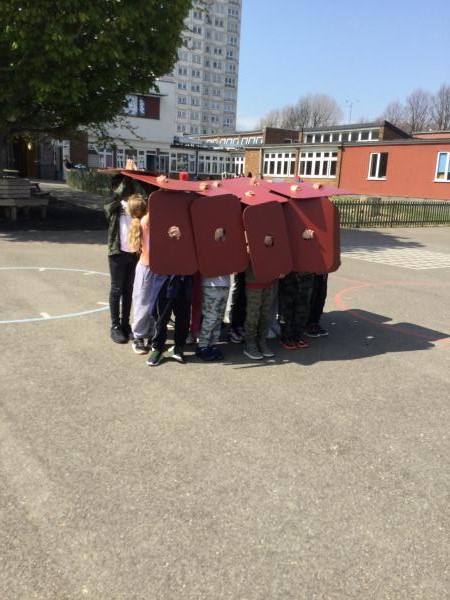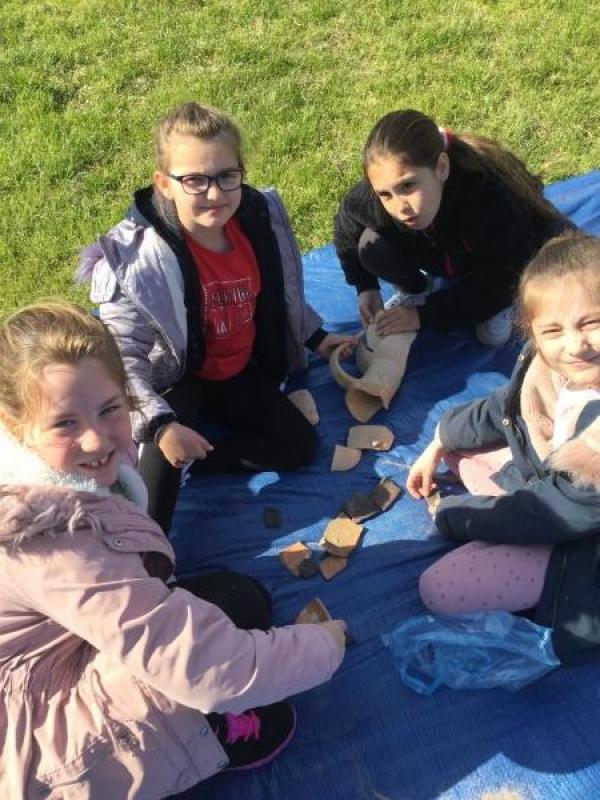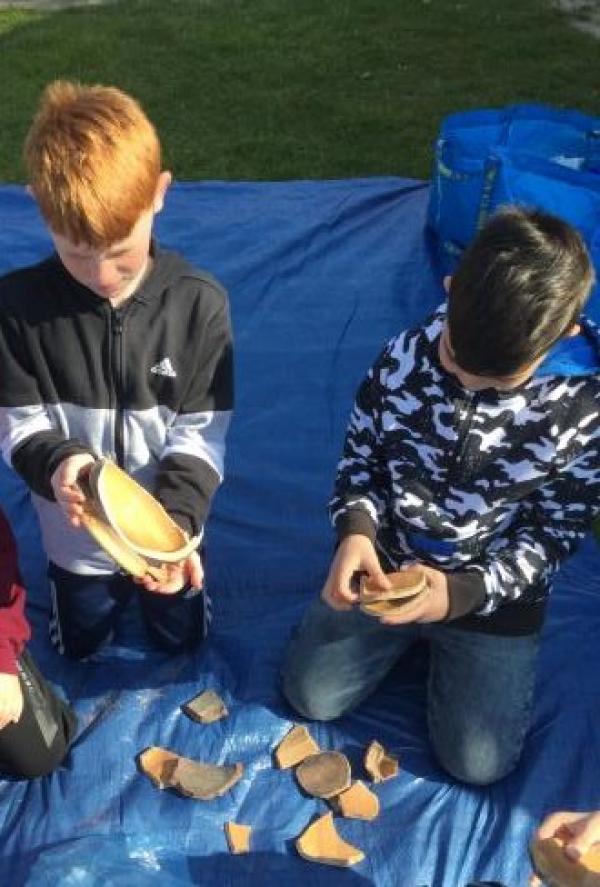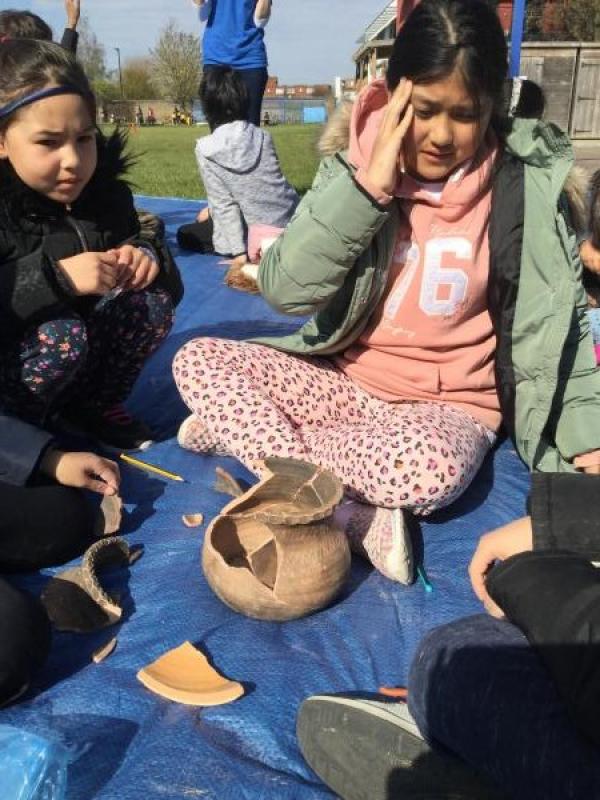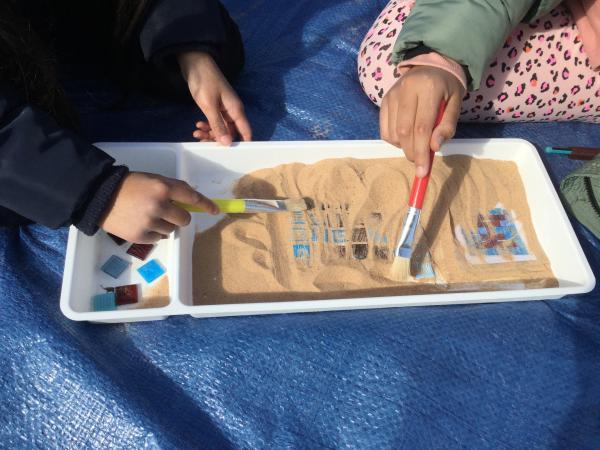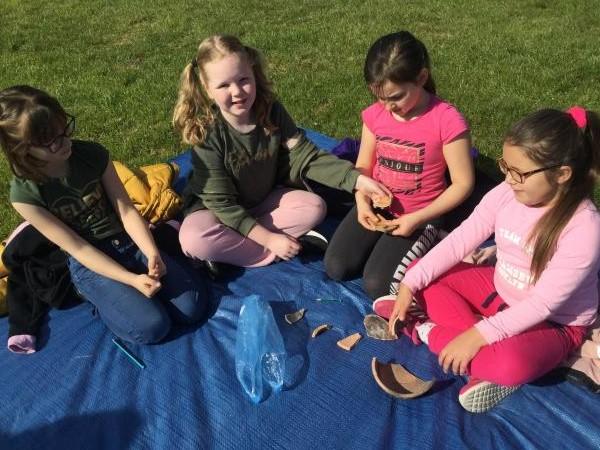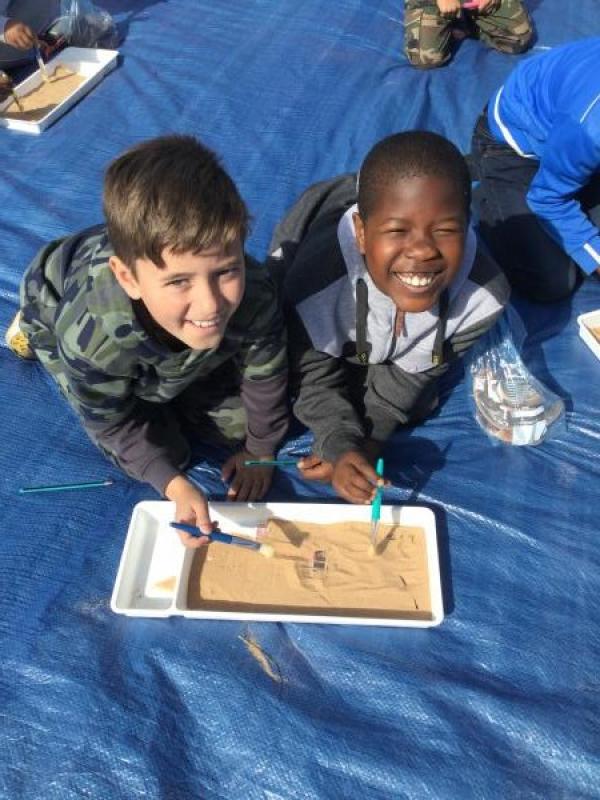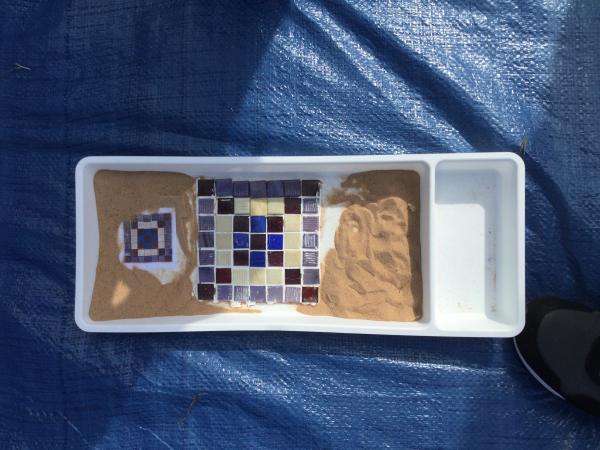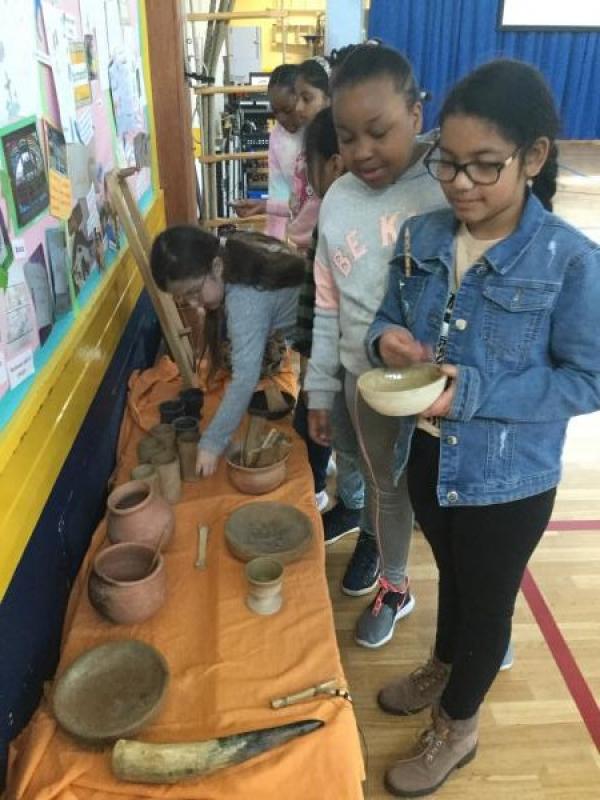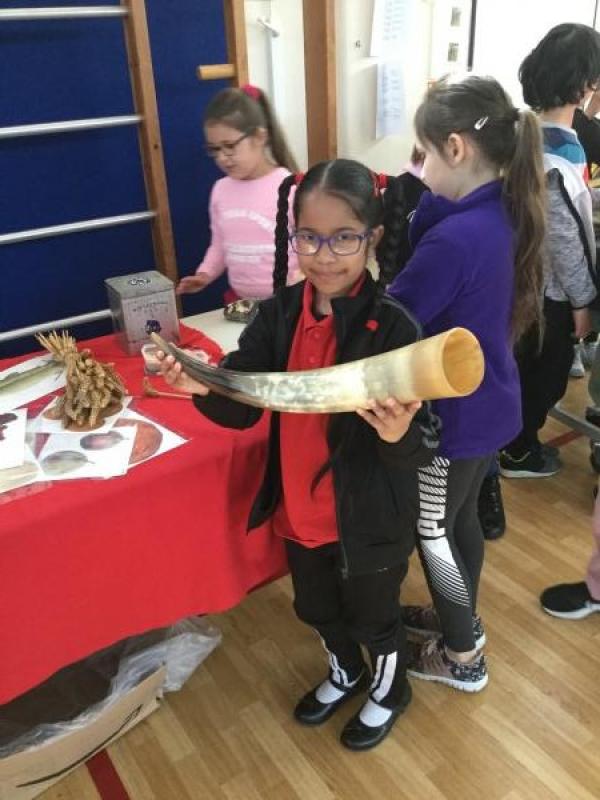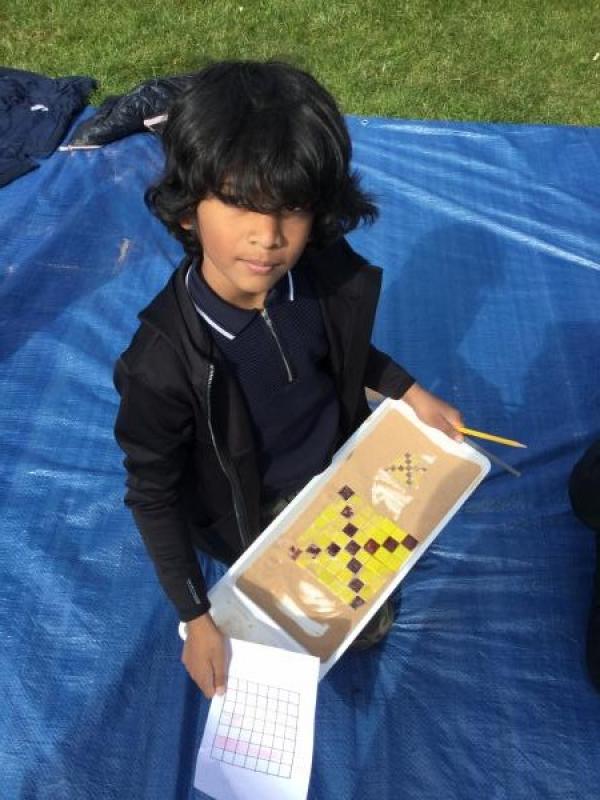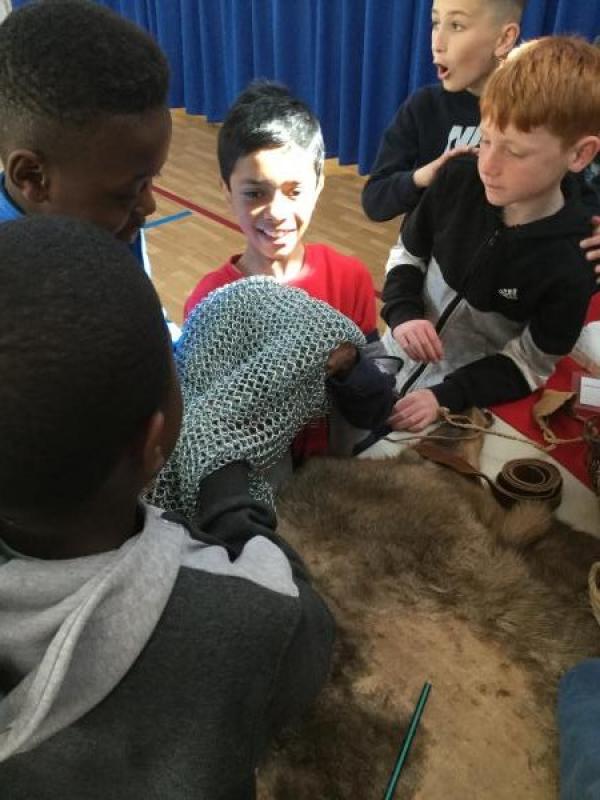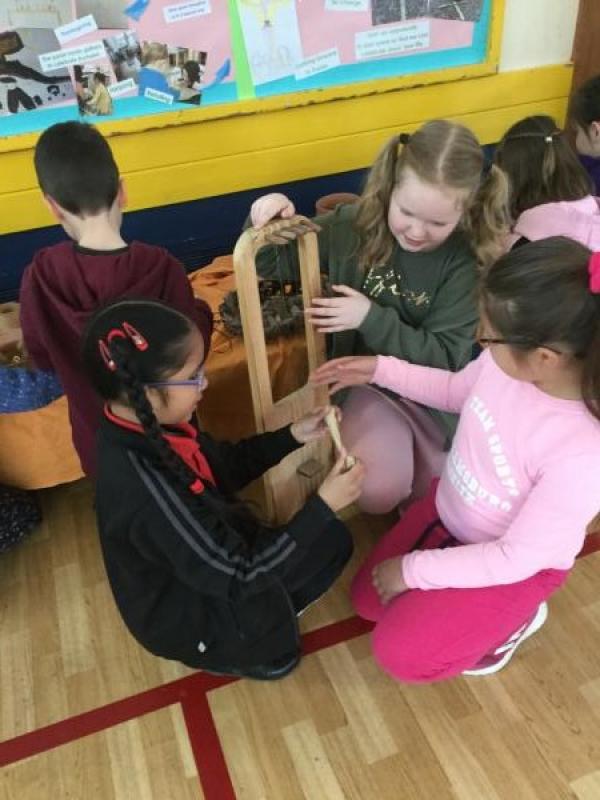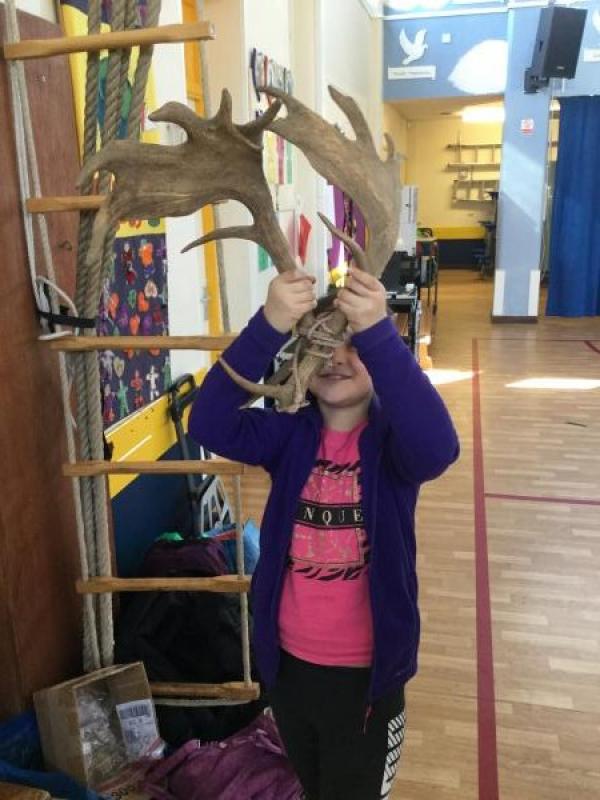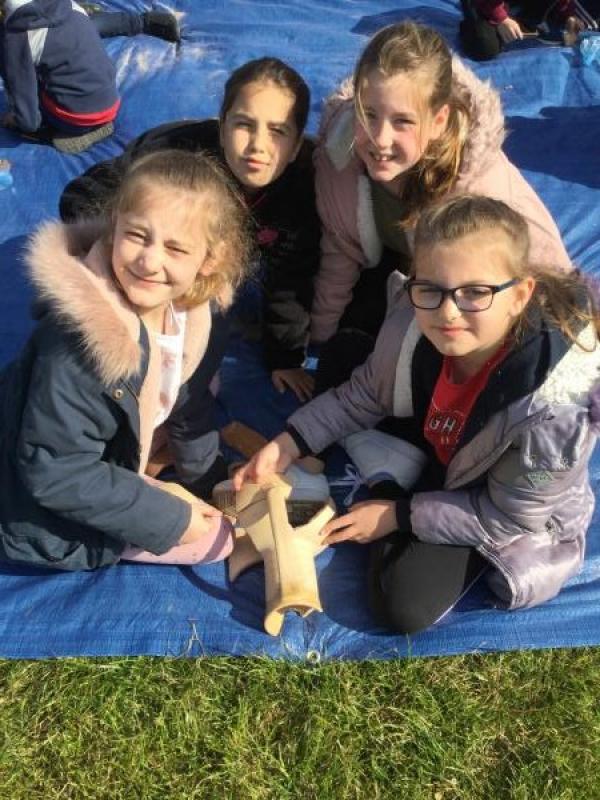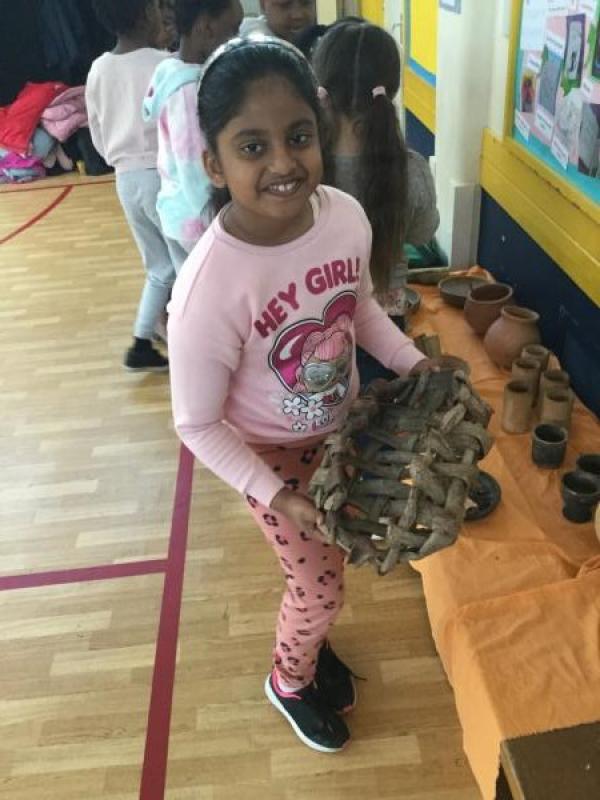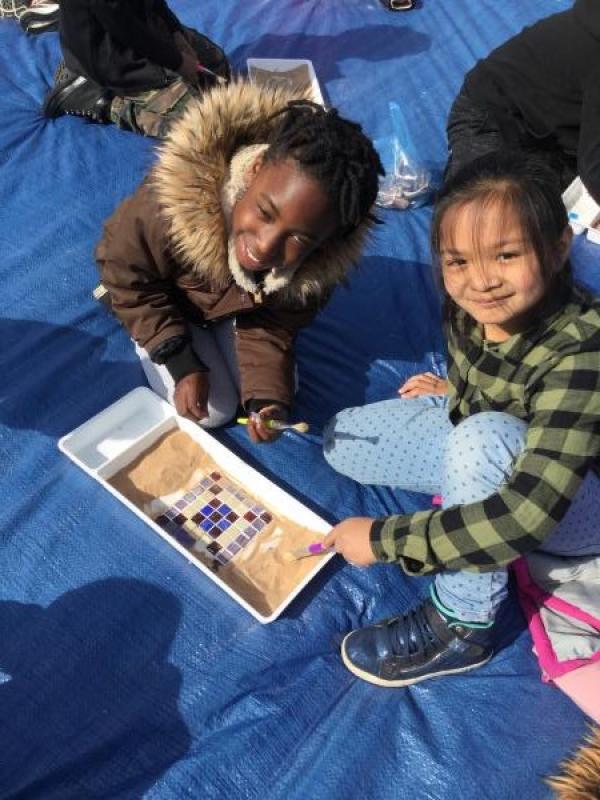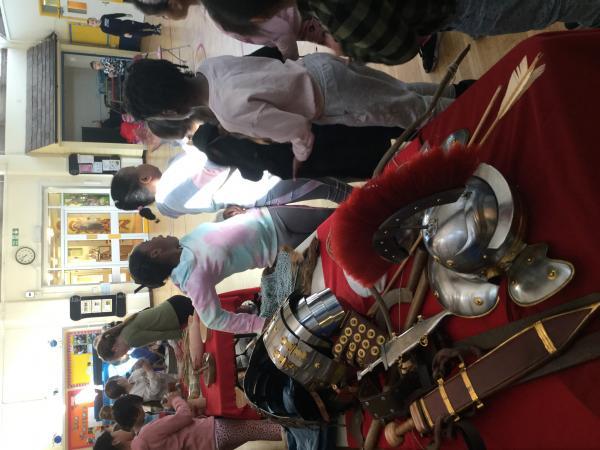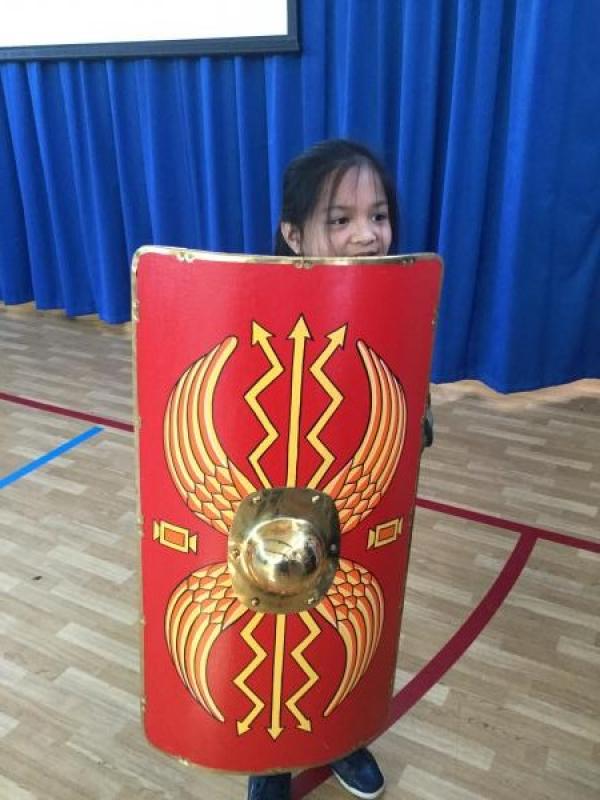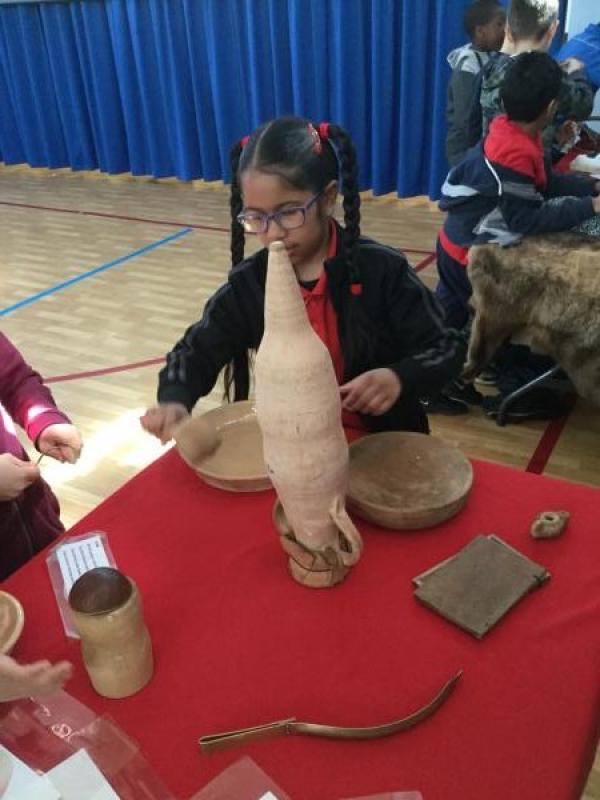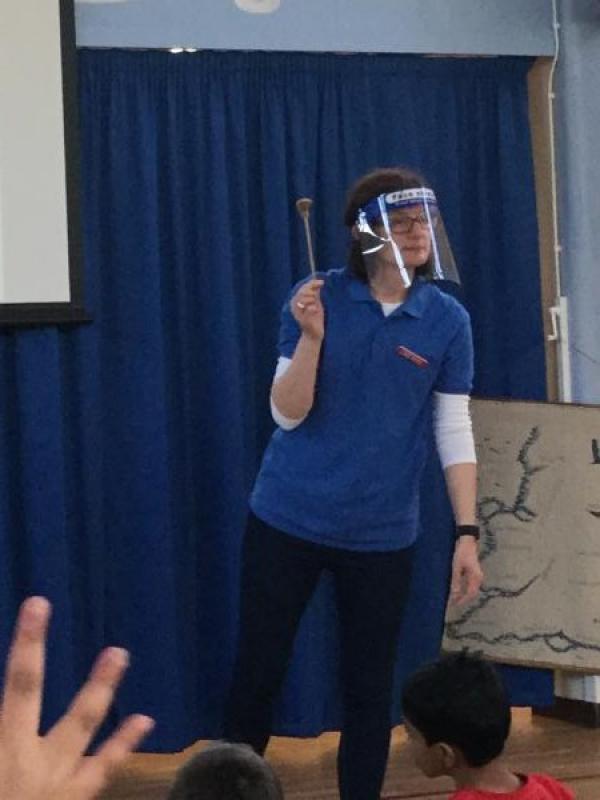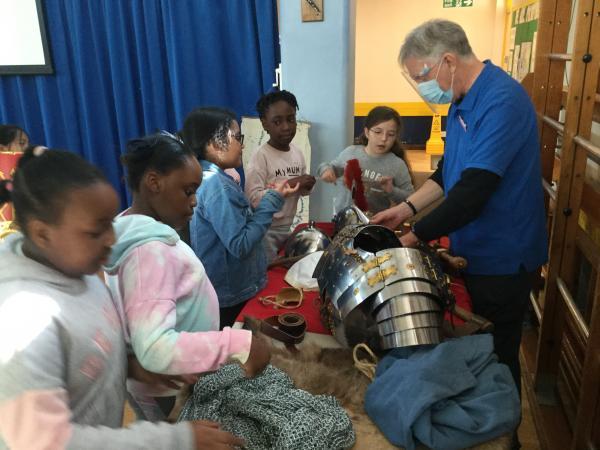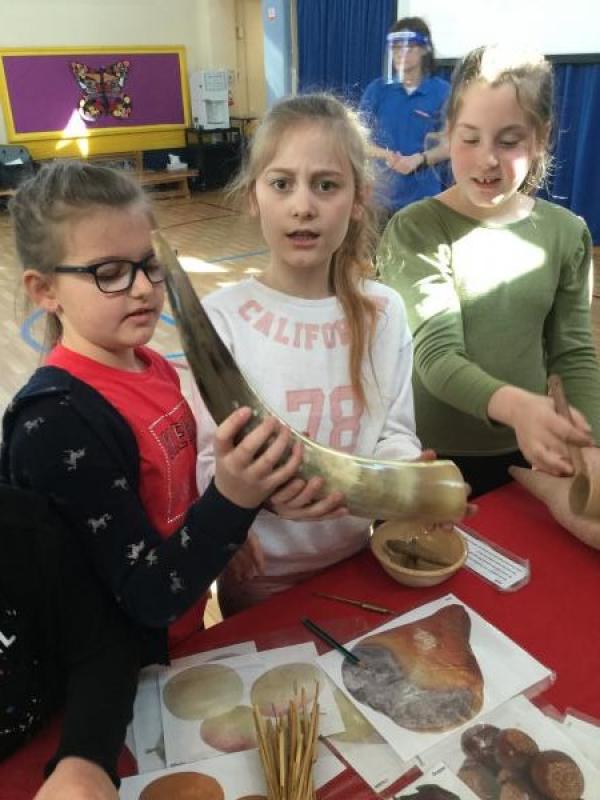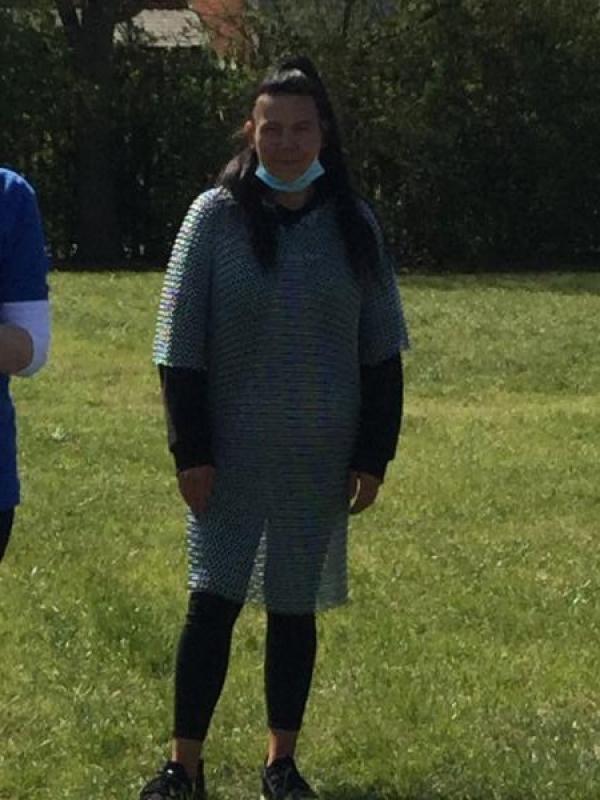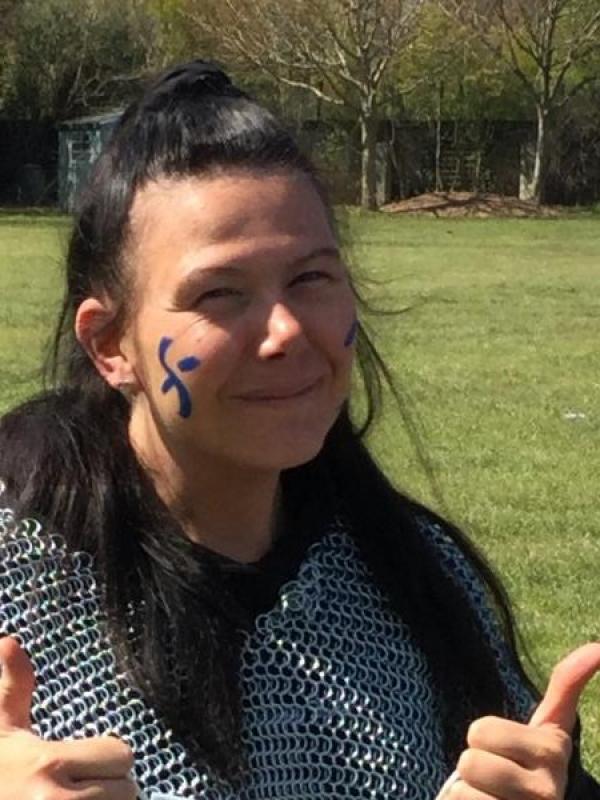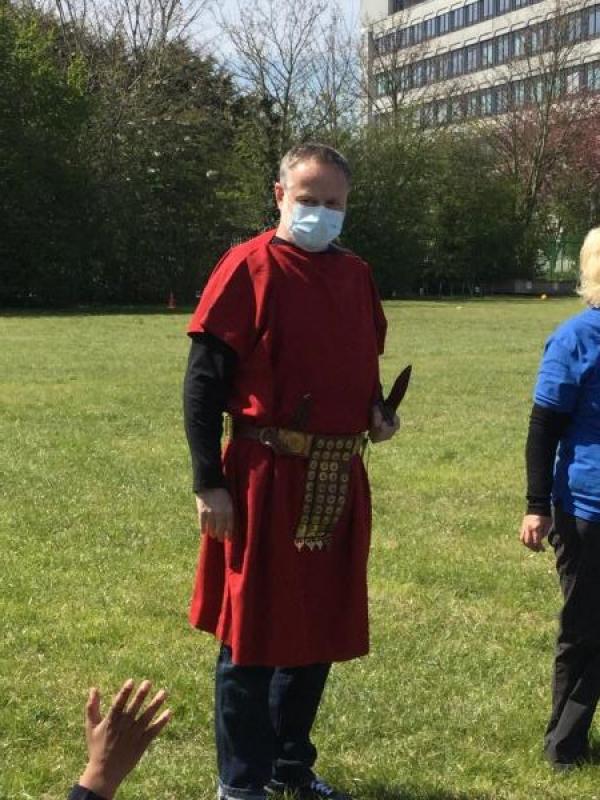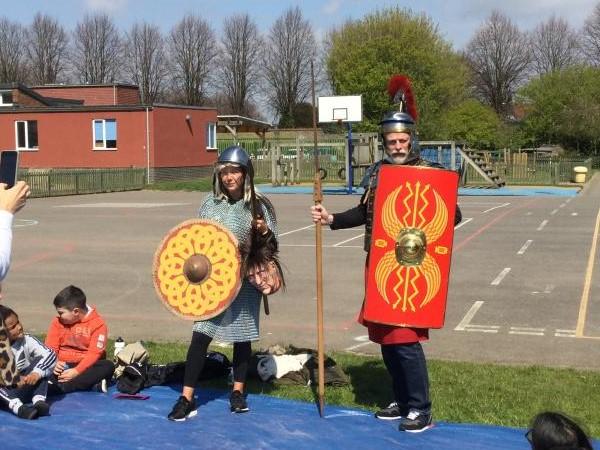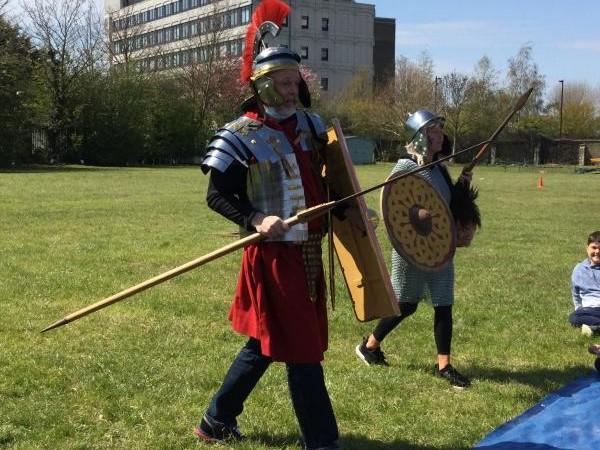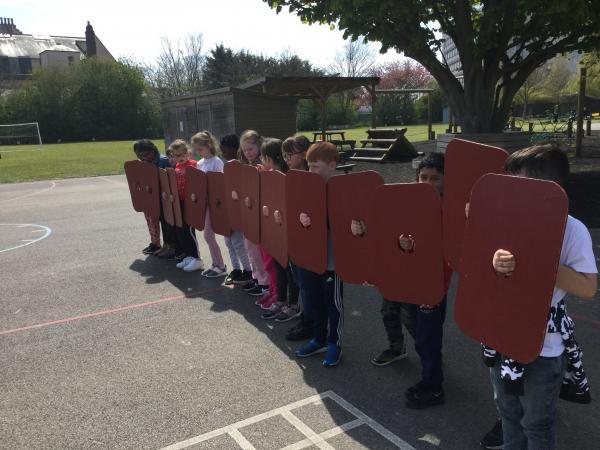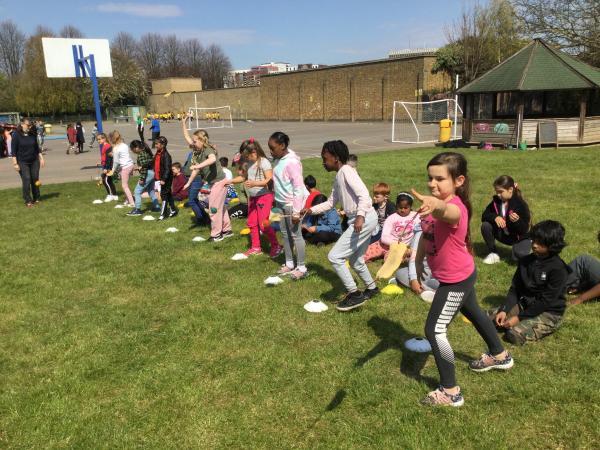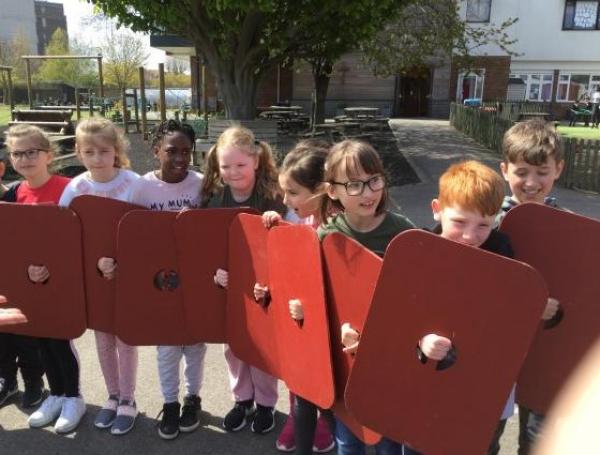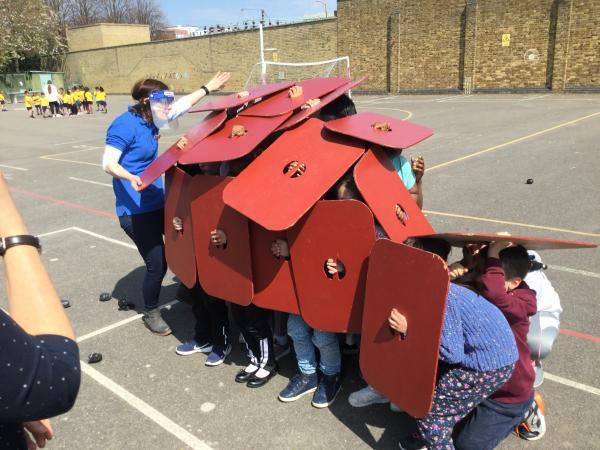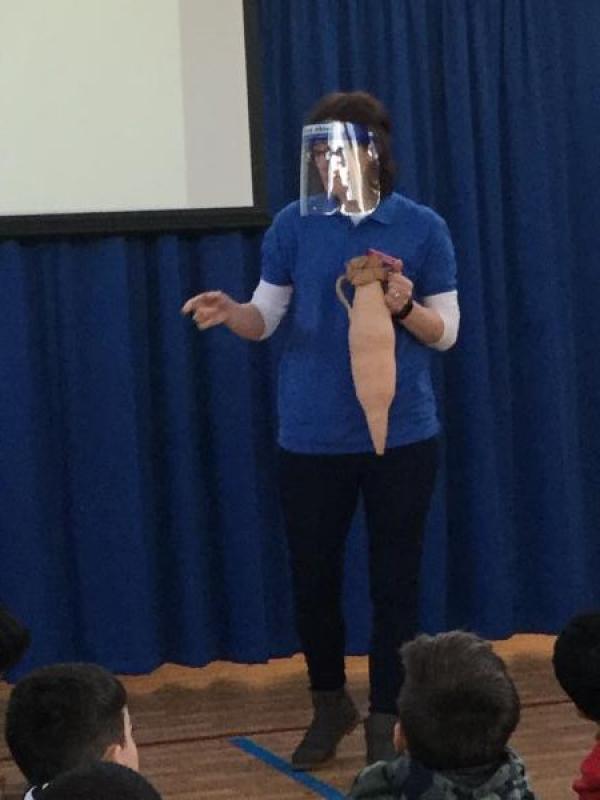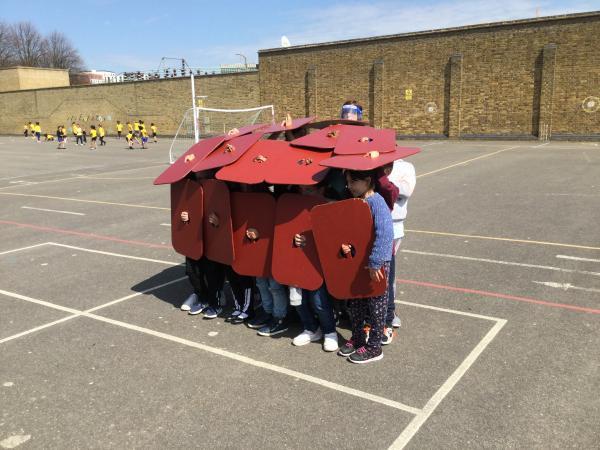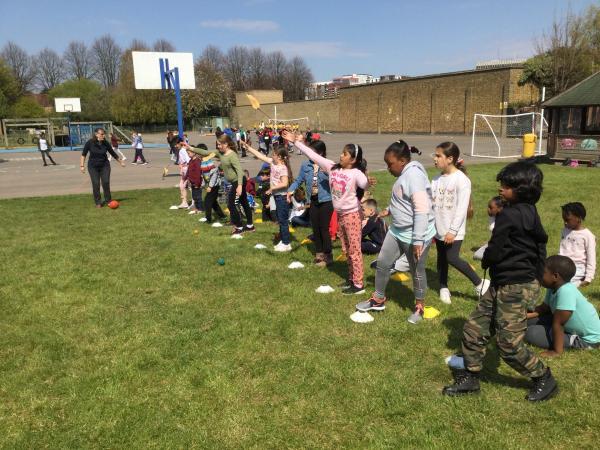 Roman Art
In Class 4G we had some fun this week painting traditional Roman Shields. The children showed some great artistic talent and then made their own unique designs for their own Legions.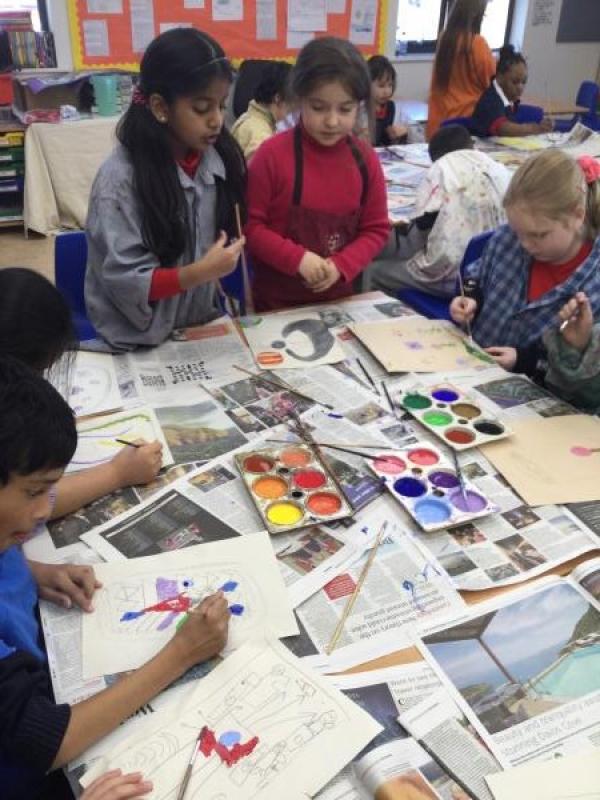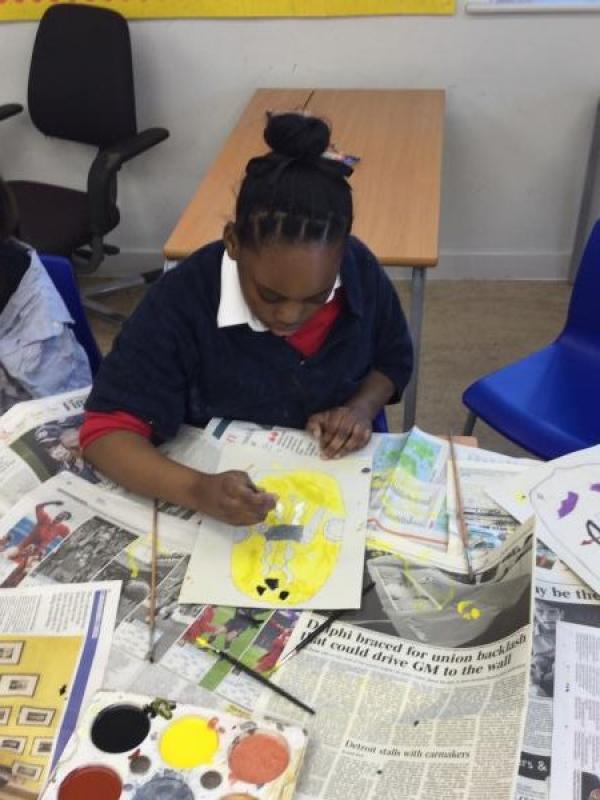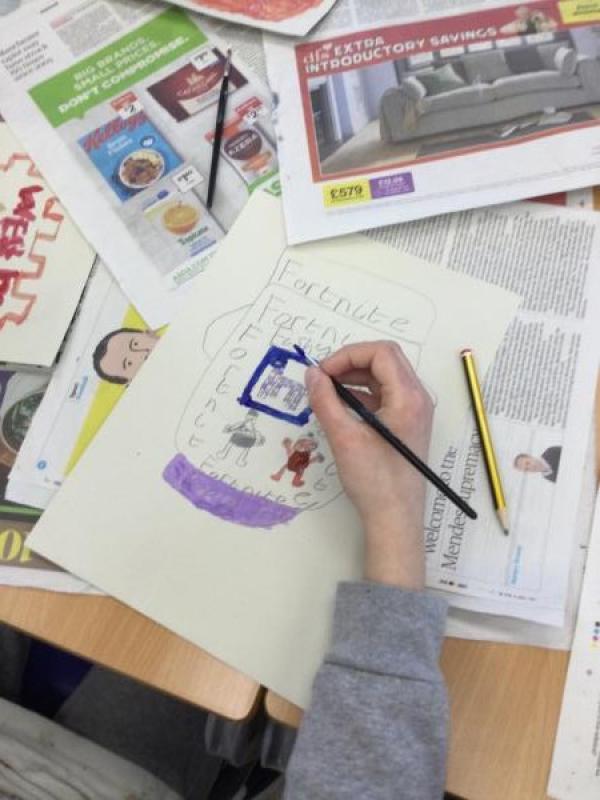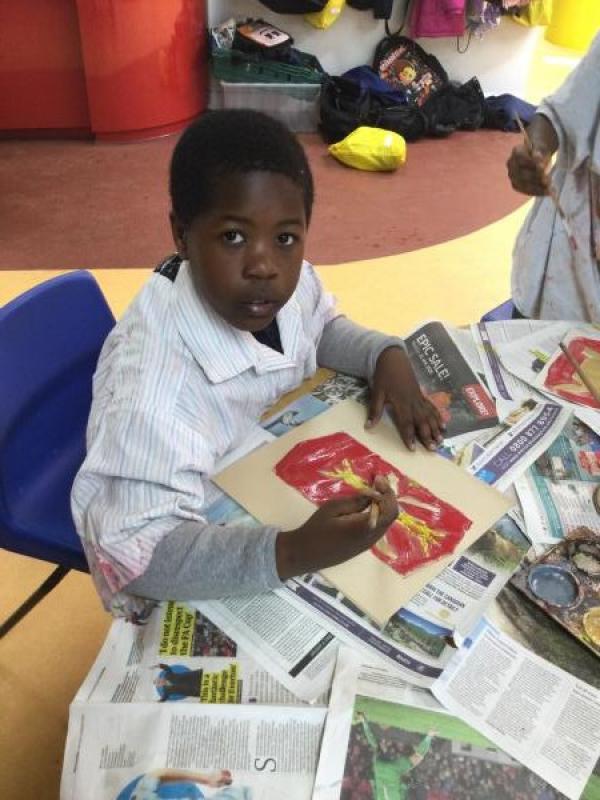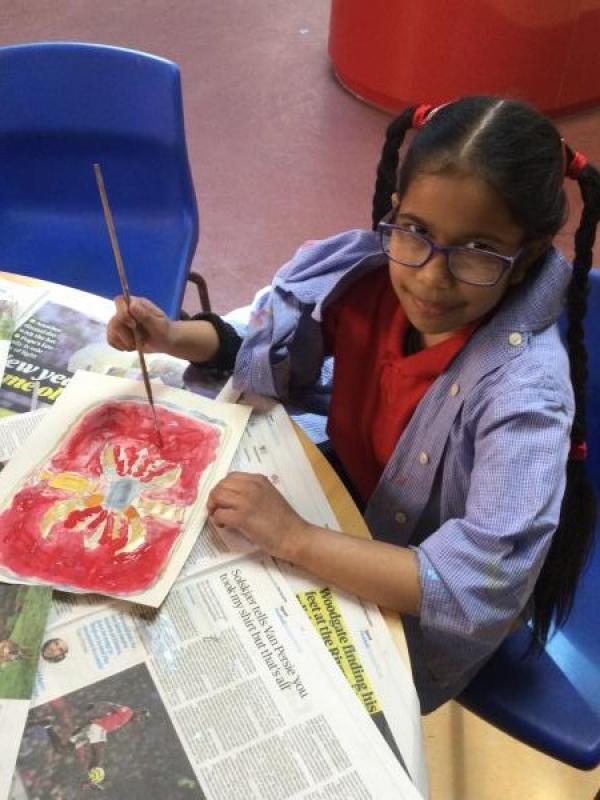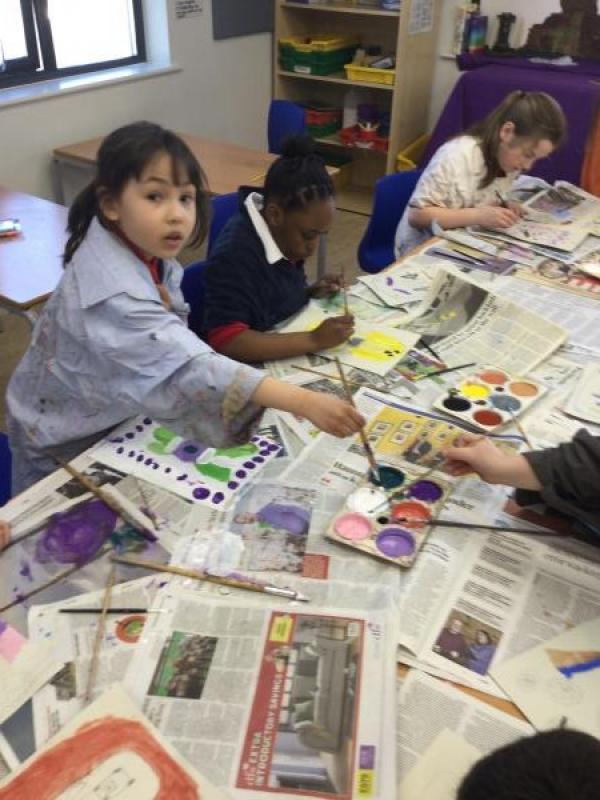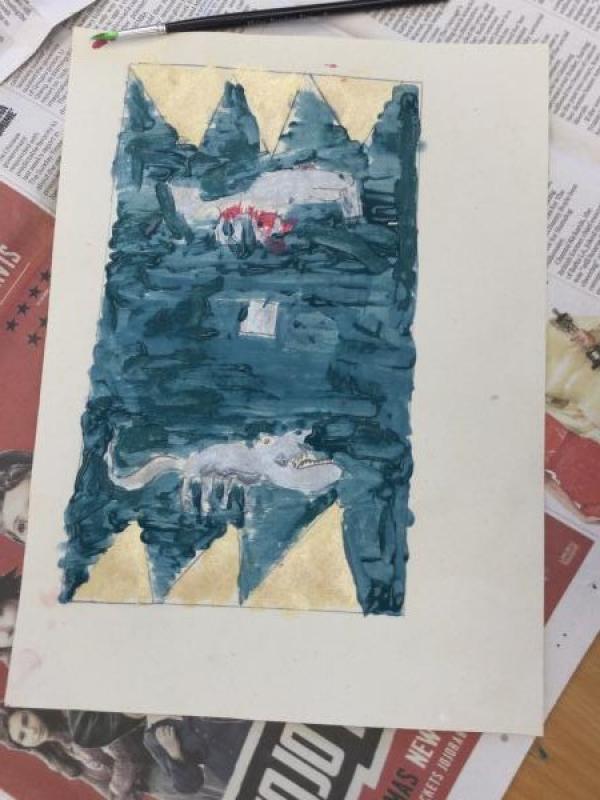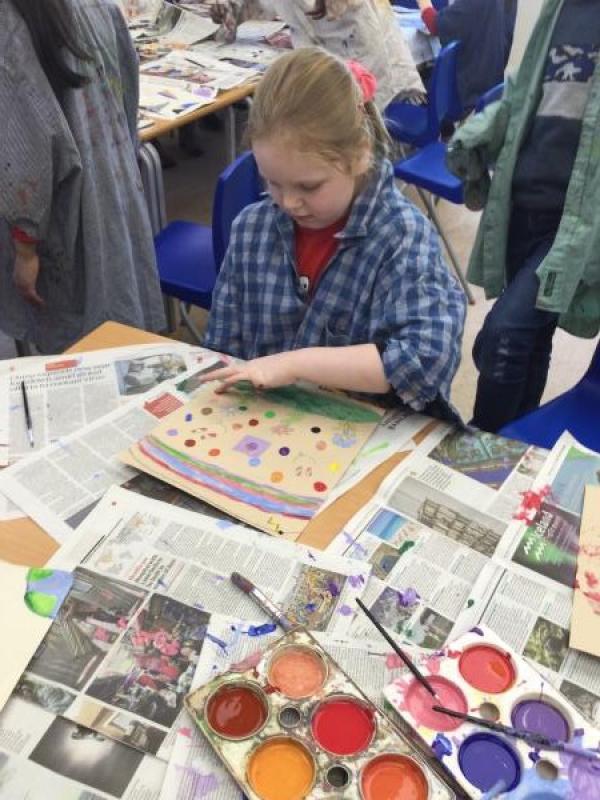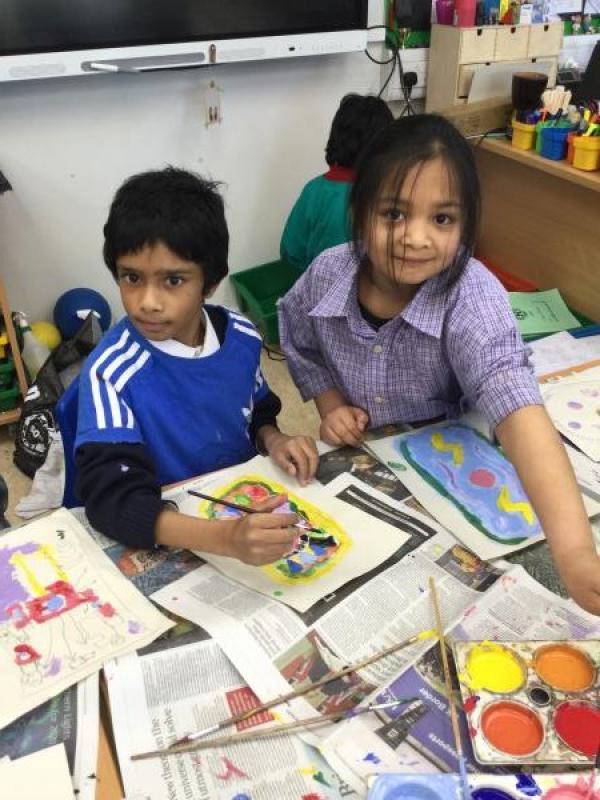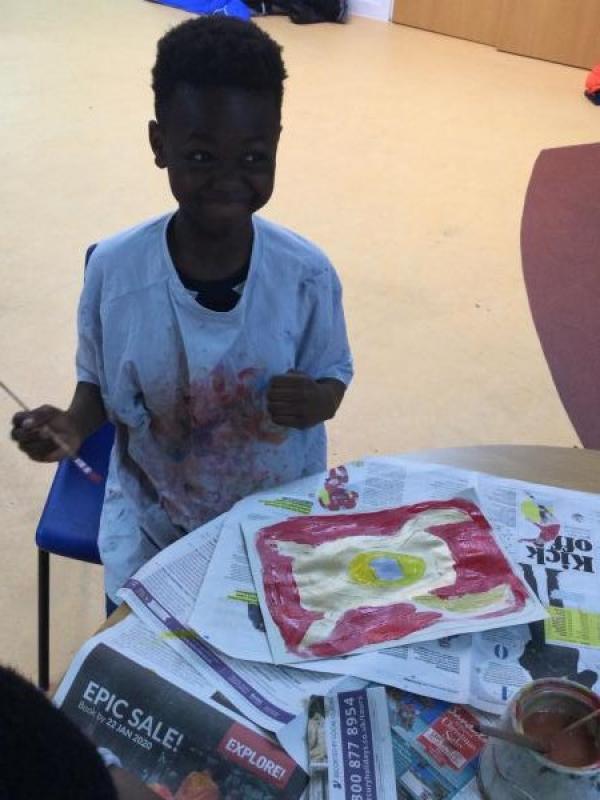 Science Week
Class 4F have been making space rovers, they experimented to see if their Martian marshmallows survived the fall when dropped from table height.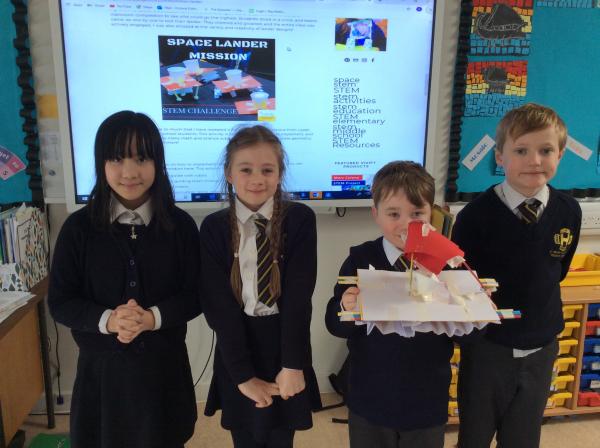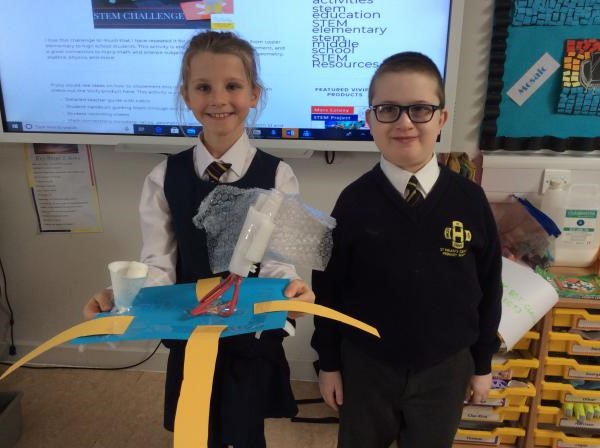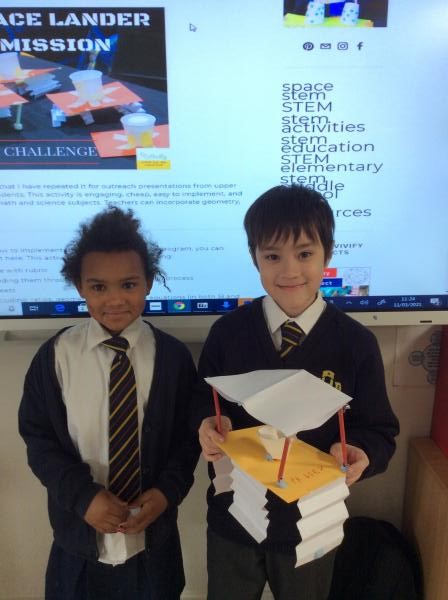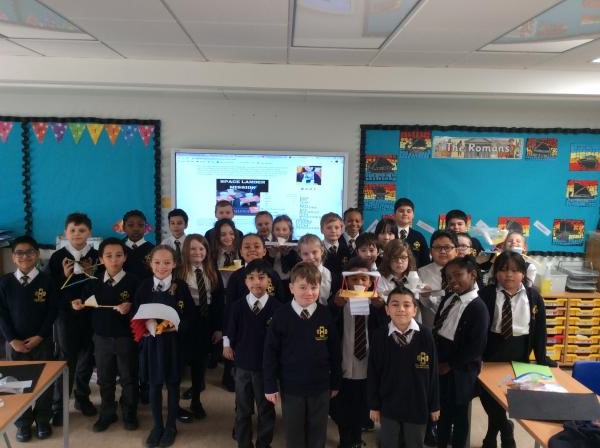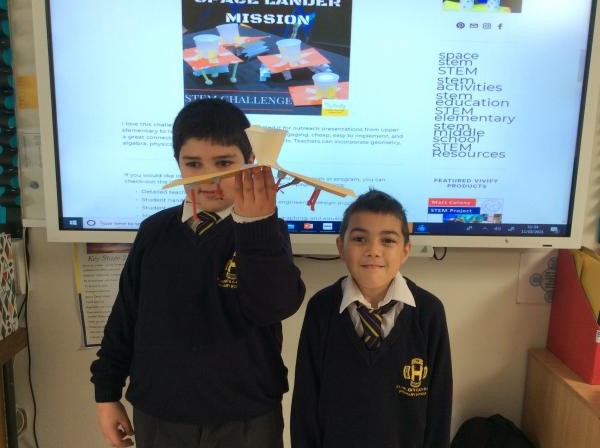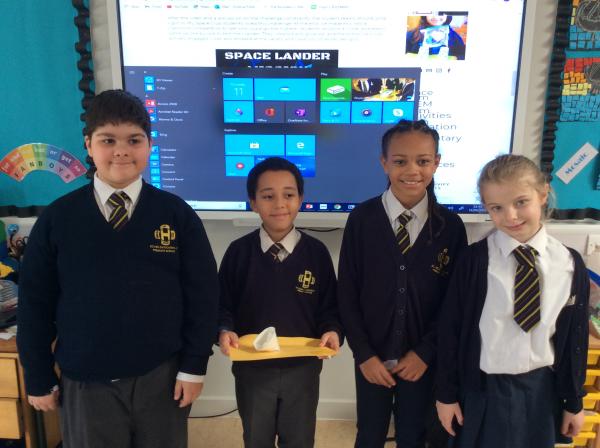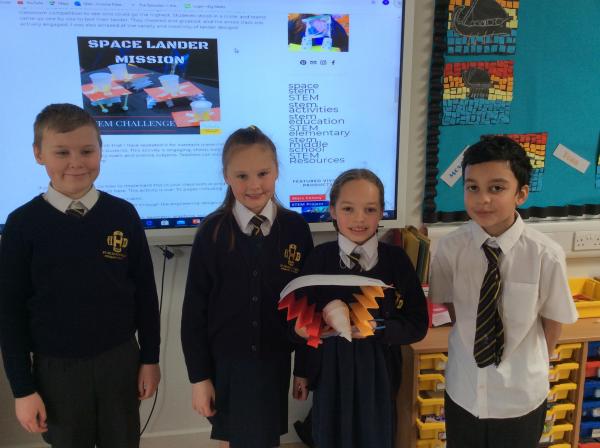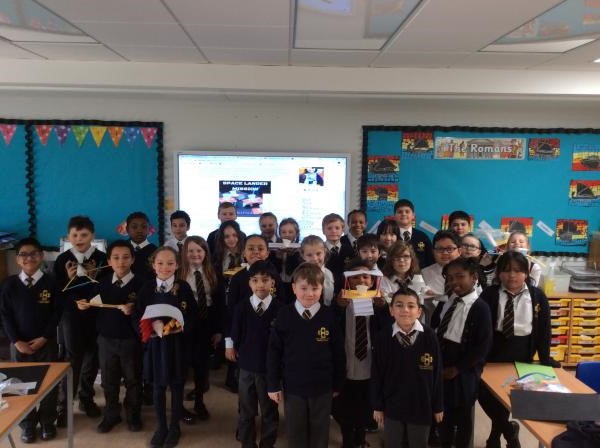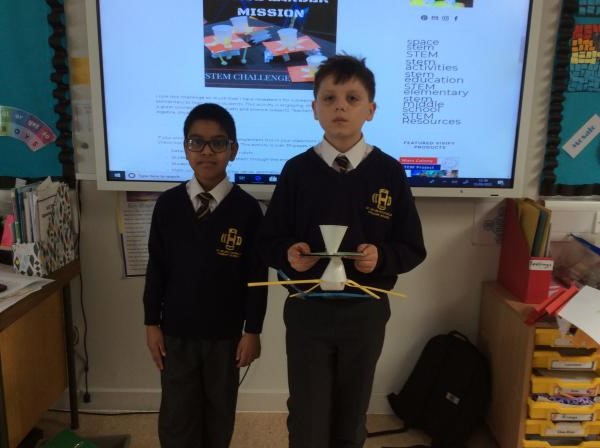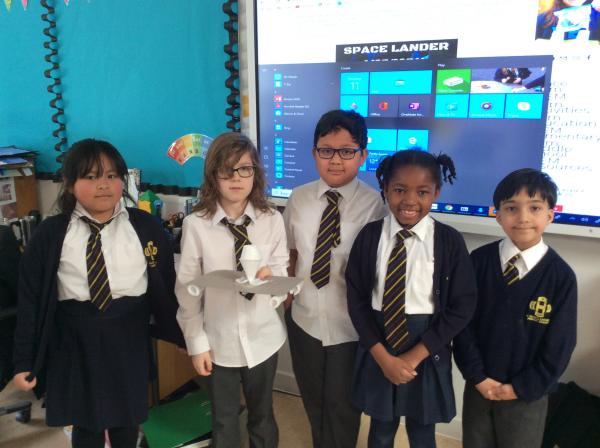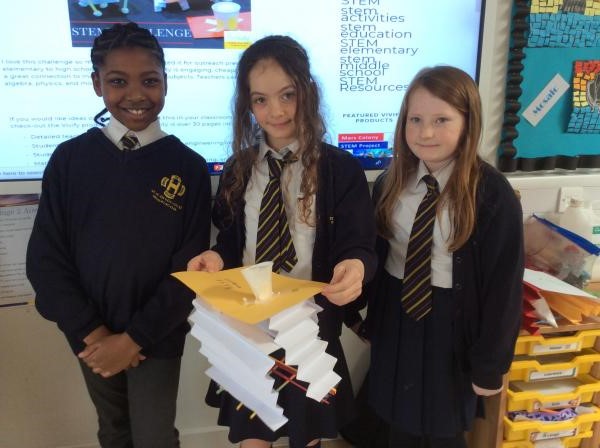 Marvellous Magical Roman Mosaics by 4G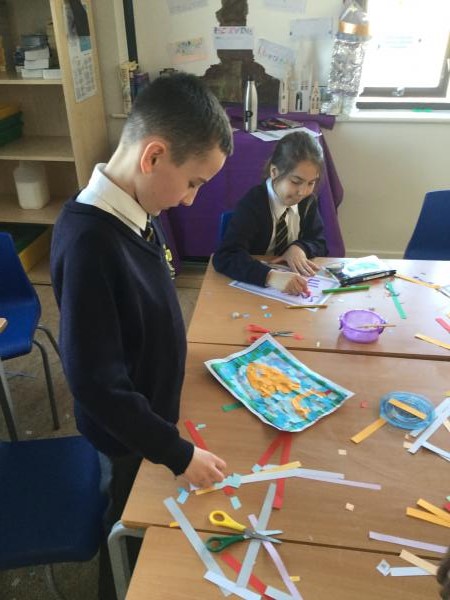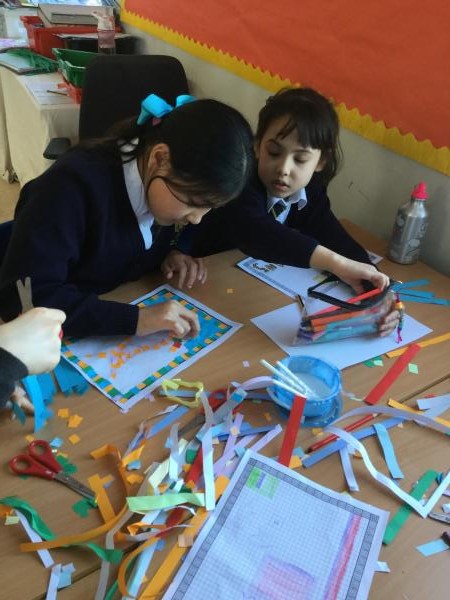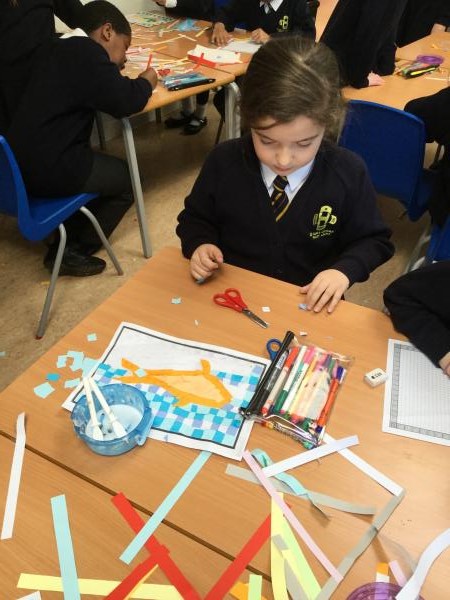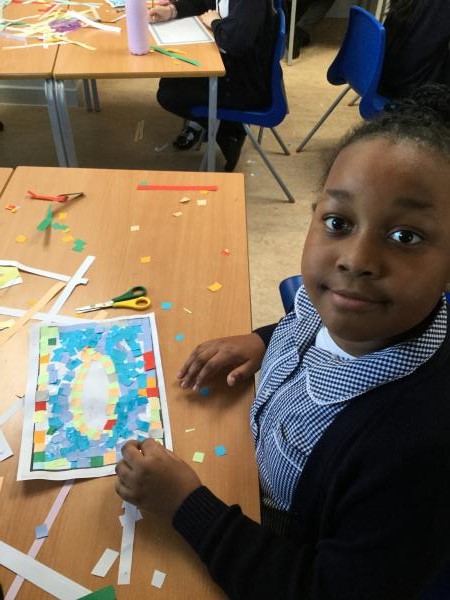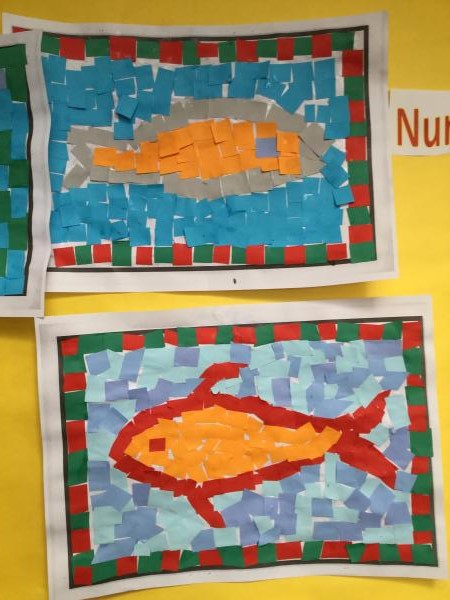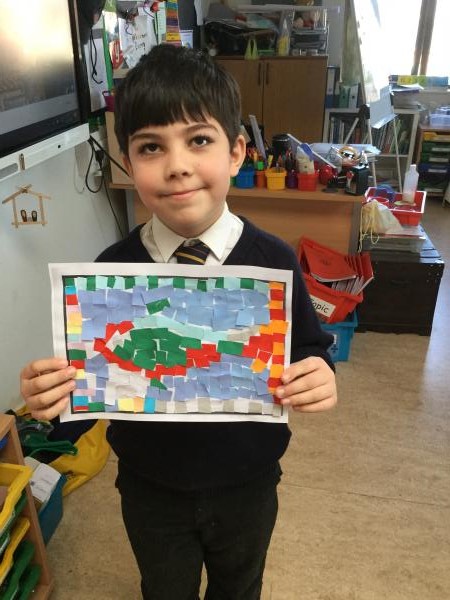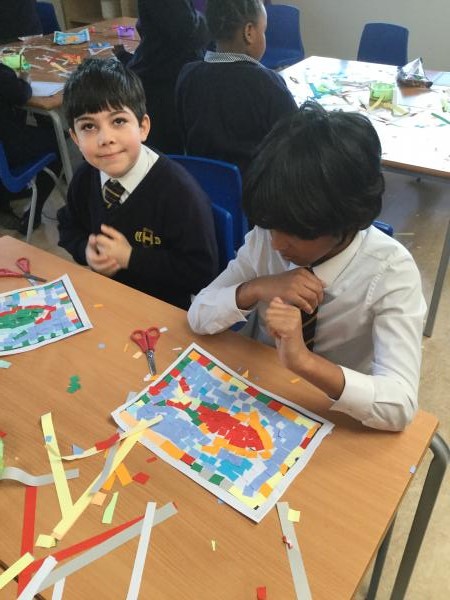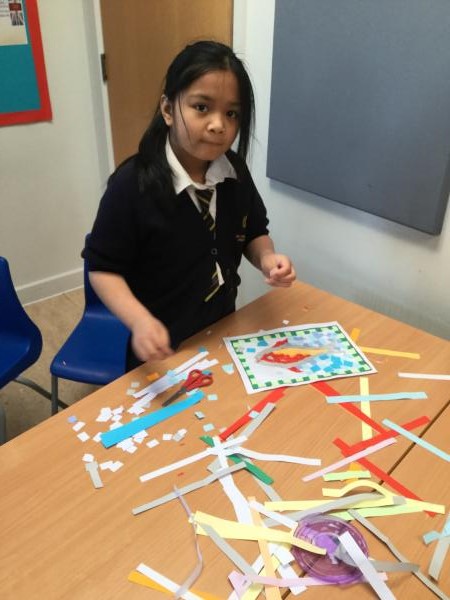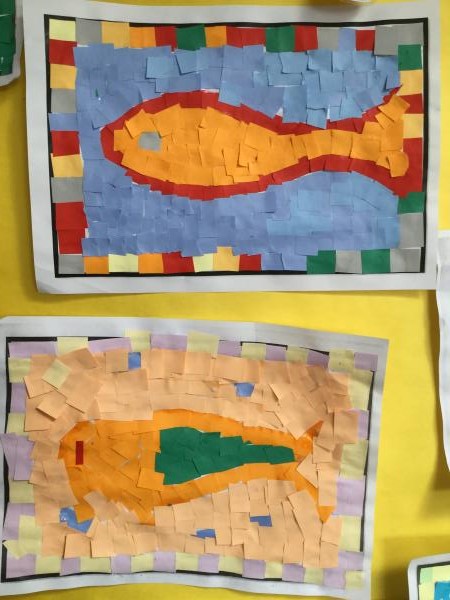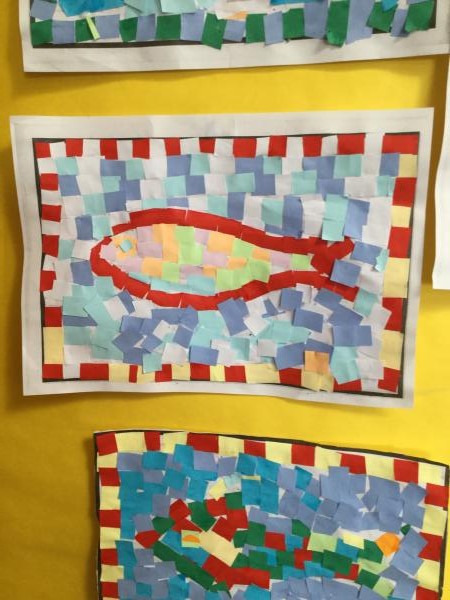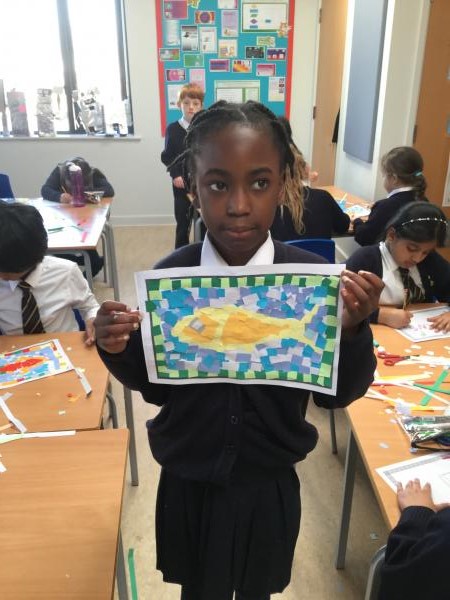 Fun in the Snow
Year 4 had a lovely time in the snow this week - no guesses for who was the target of all those snowballs!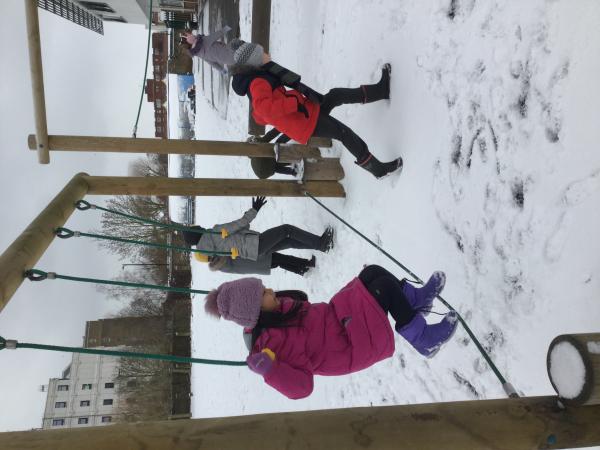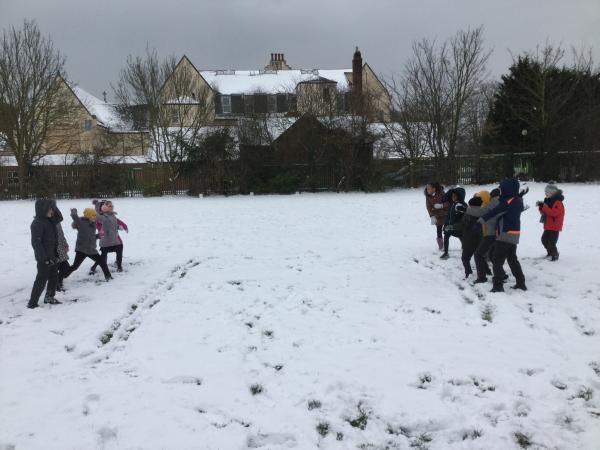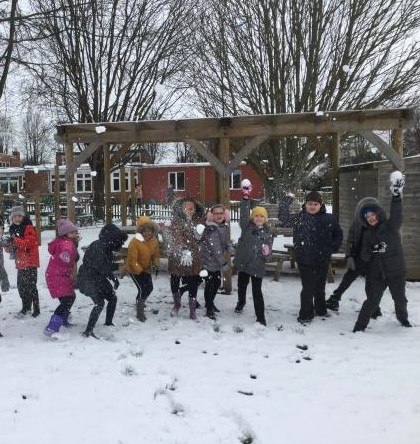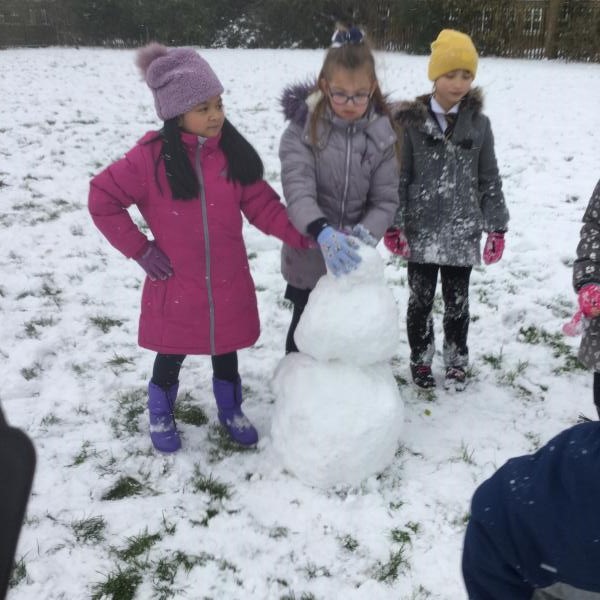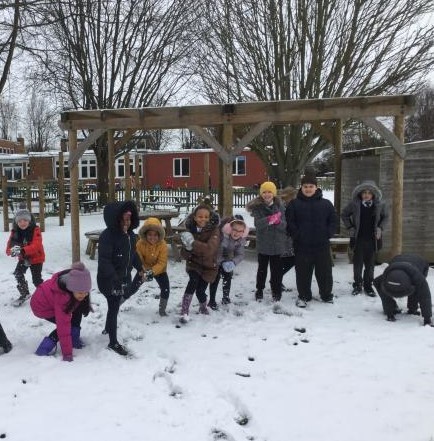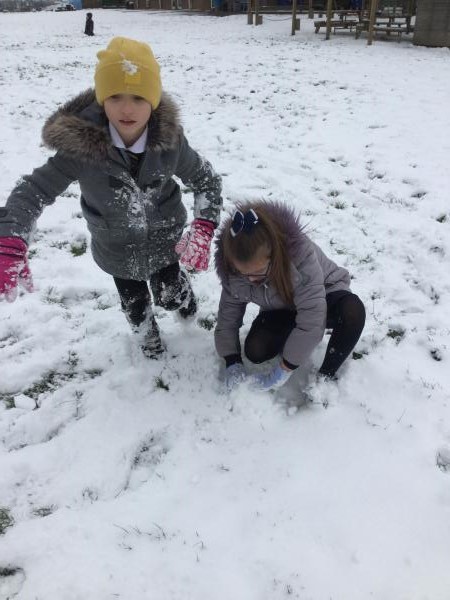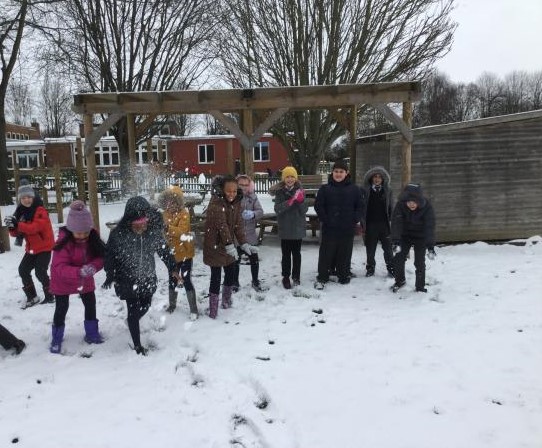 Amazing Art
Year 4 have been really enjoying our weekly Art classes - looking at original works of art and using different mediums to make our own works of art in a similar style!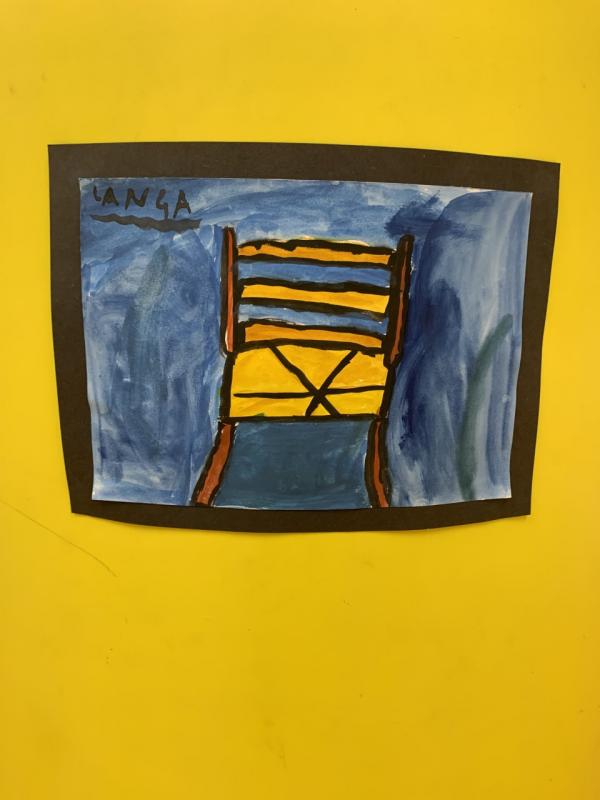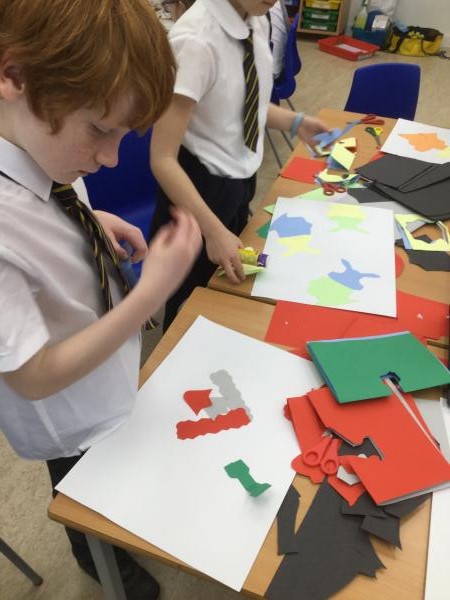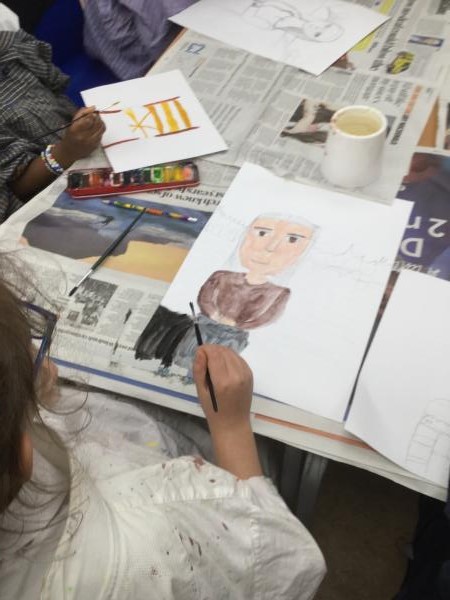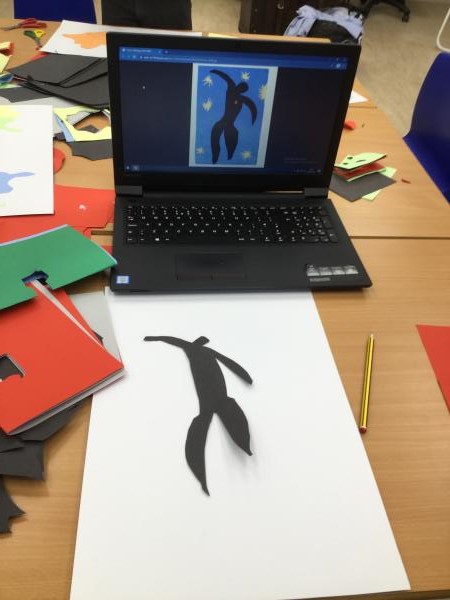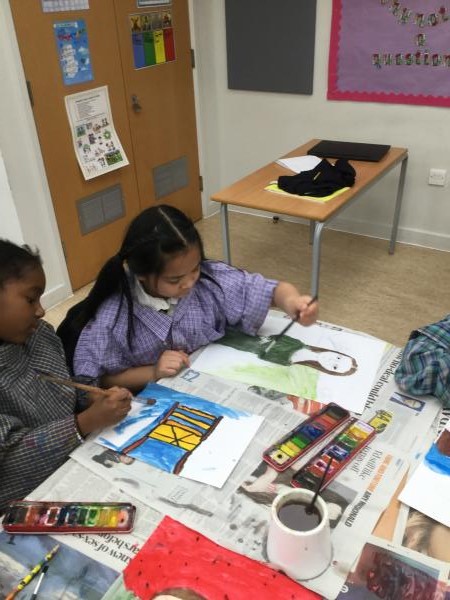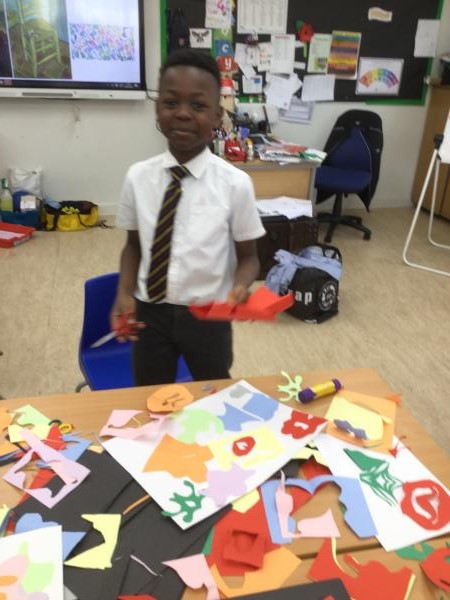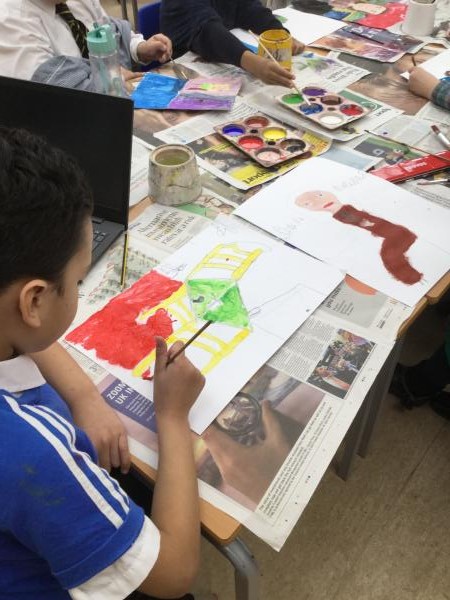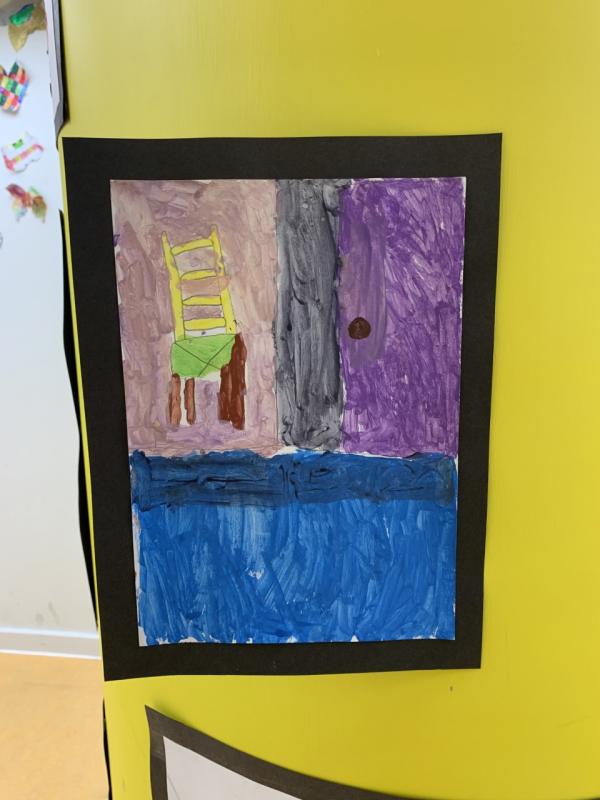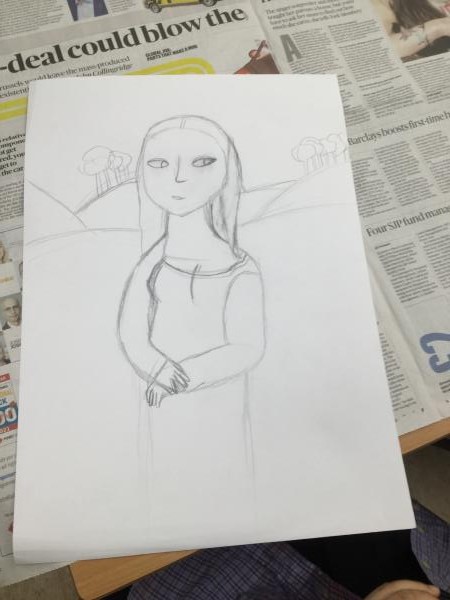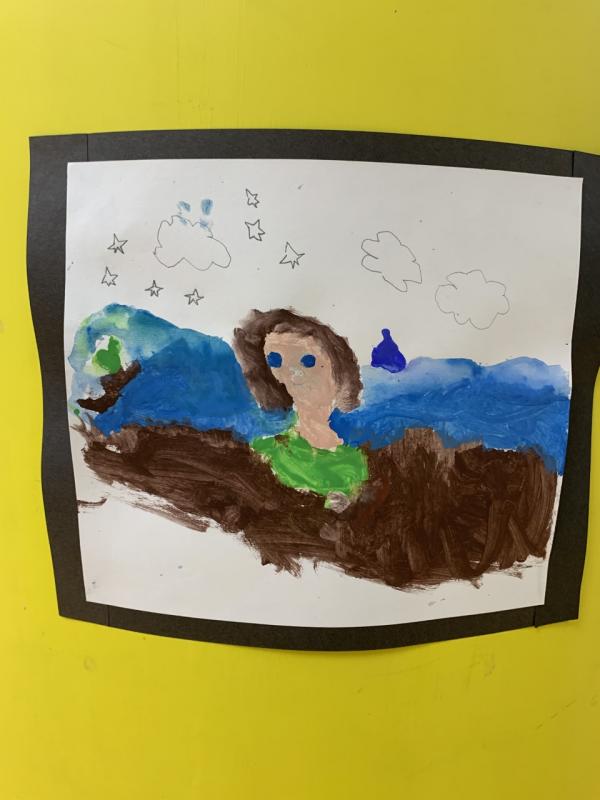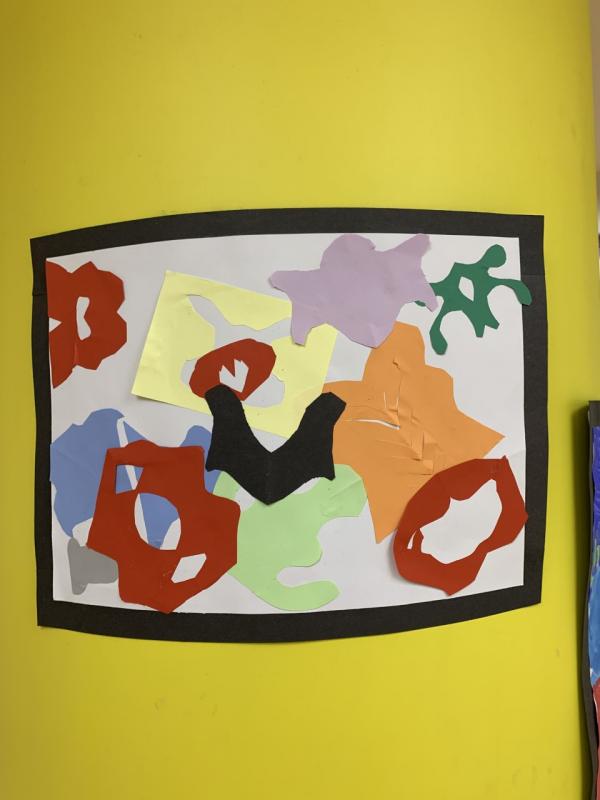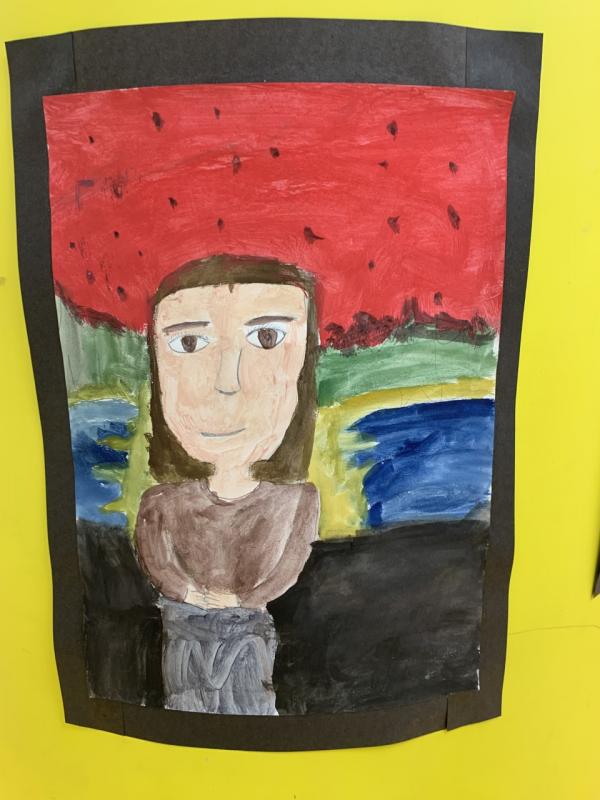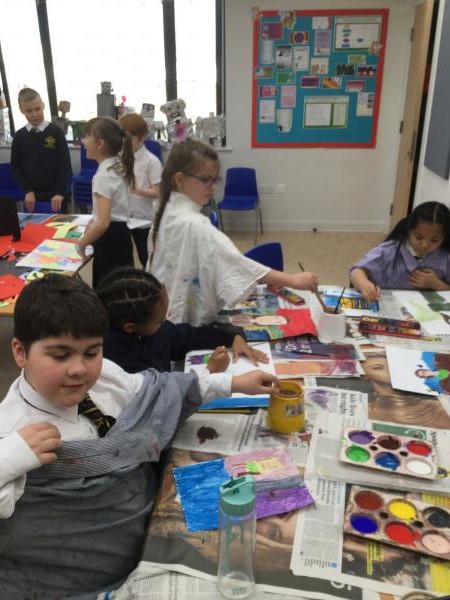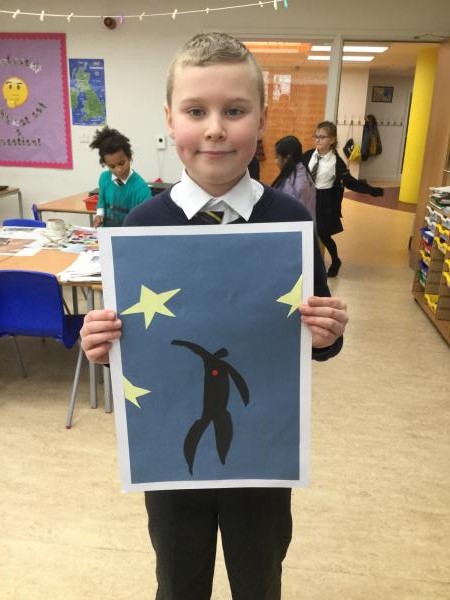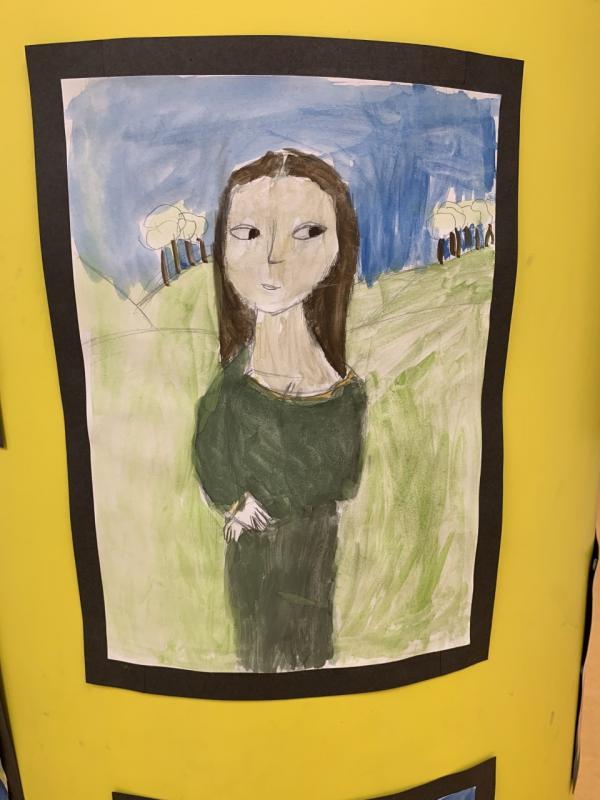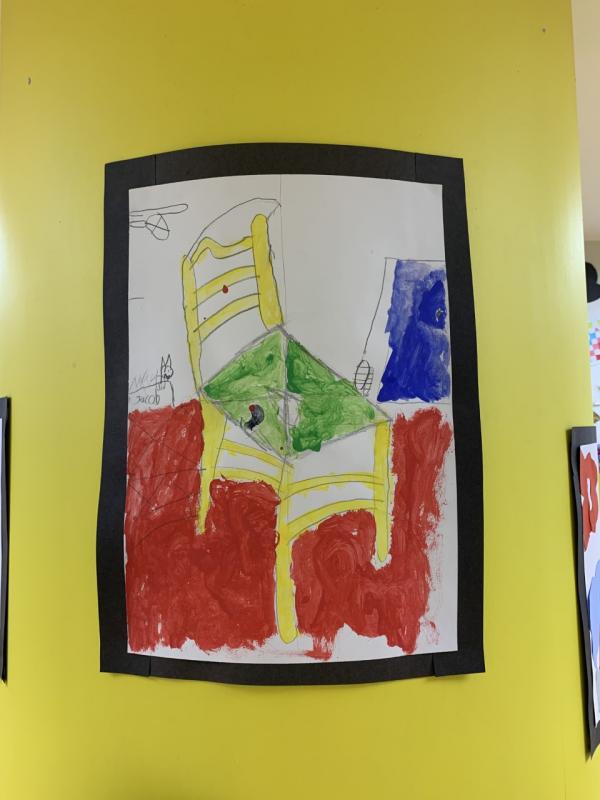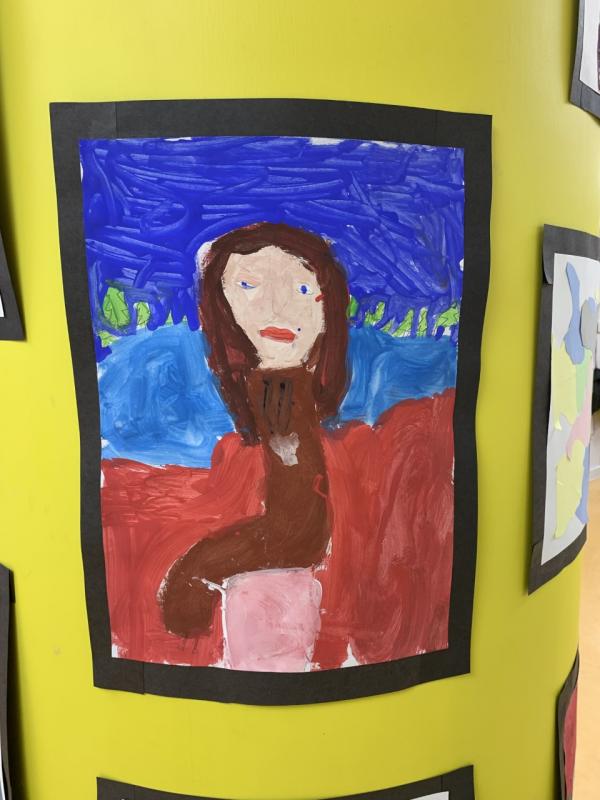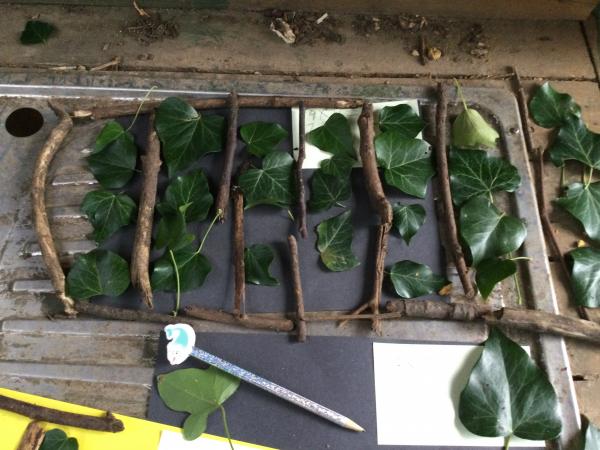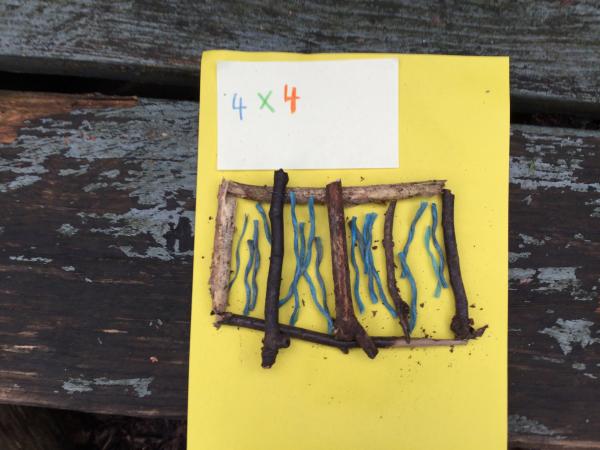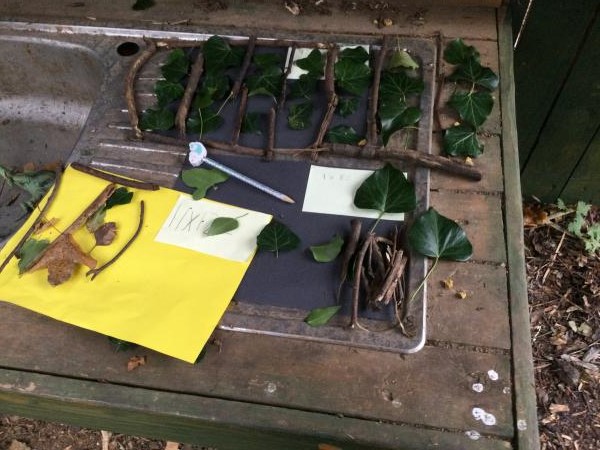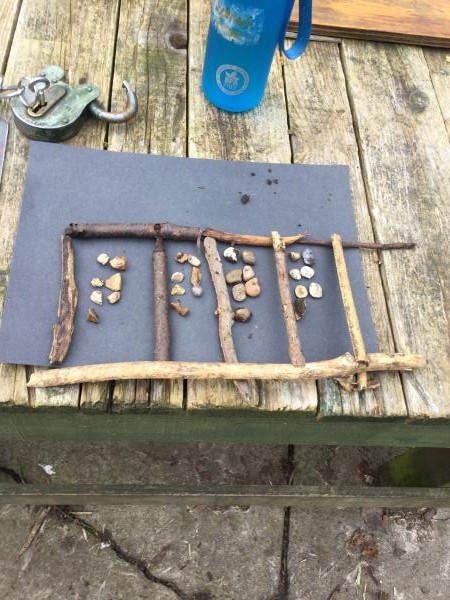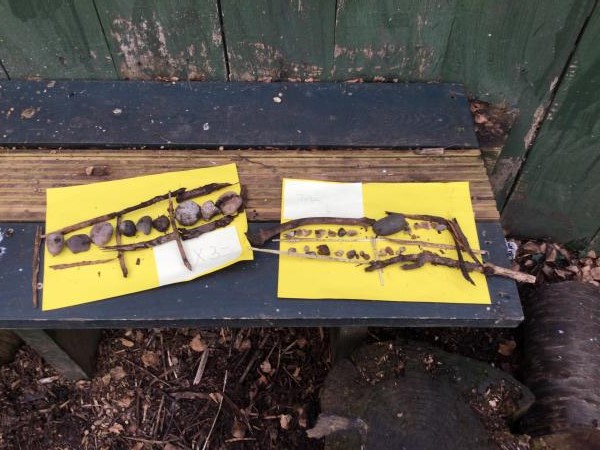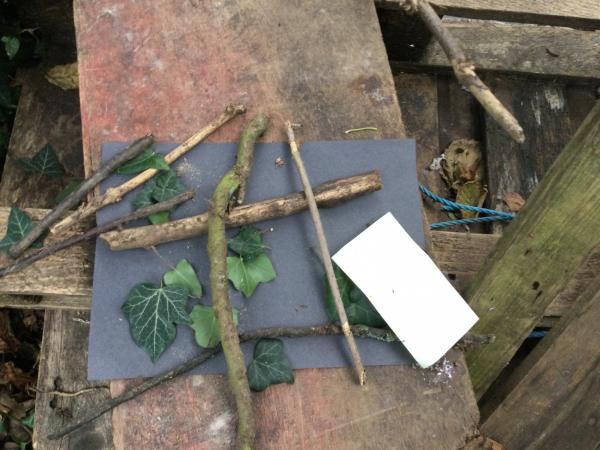 Anti-Bullying Week
Class 4G spent time contemplating the ideas of 'Anti-Bullying Week' this week. We designed posters to support the Schools 'STOP' campaign against bullying, we wore our 'Odd Socks on Friday' to show our support. During the week we worked in small groups writing and developing short plays that dealt with the issues of bullying and how we can combat it in schools. We had some funny moments during our plays but also a lot of serious contemplation of the issues and how we should deal with it. Well done 4G.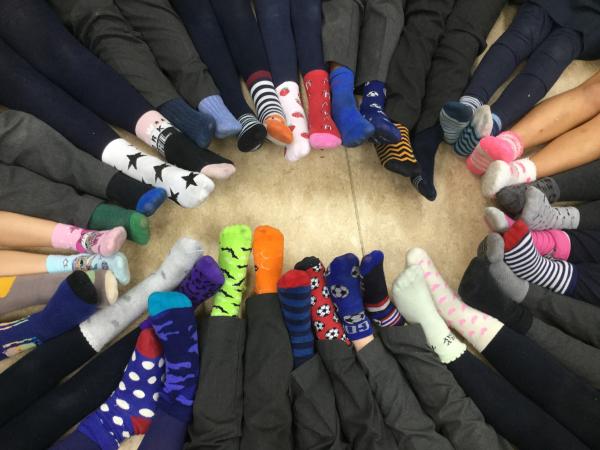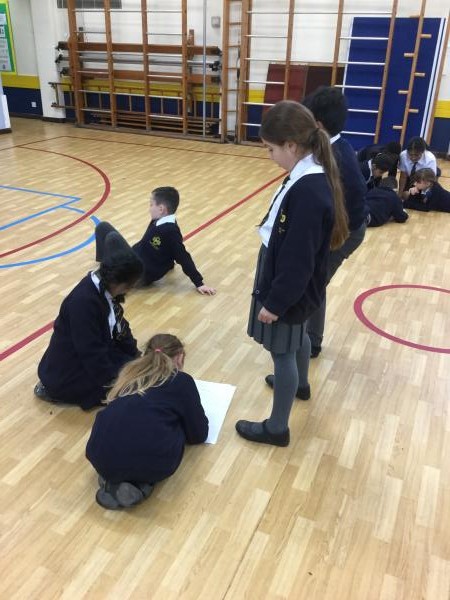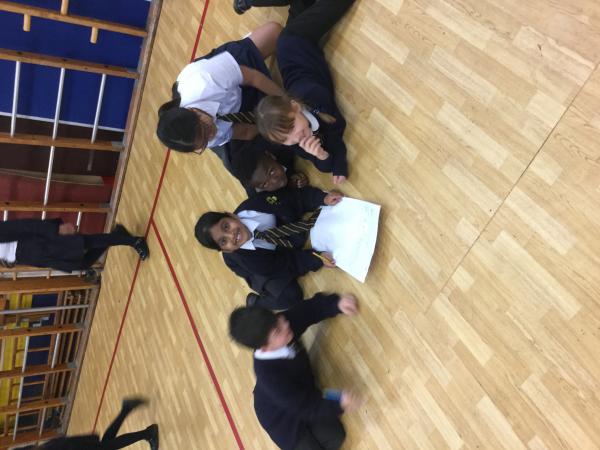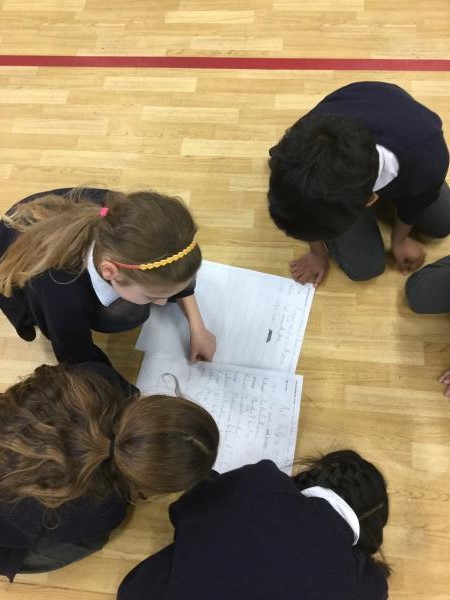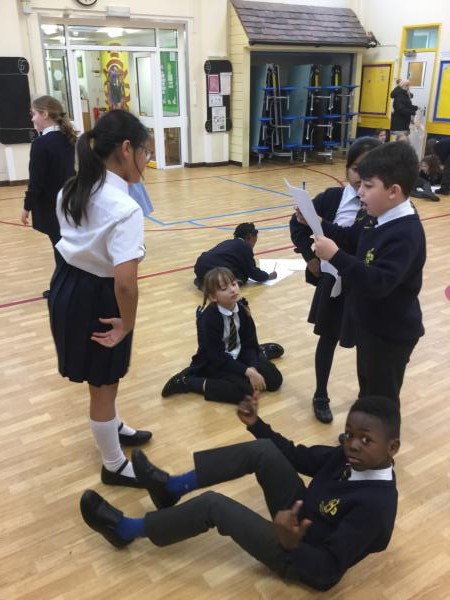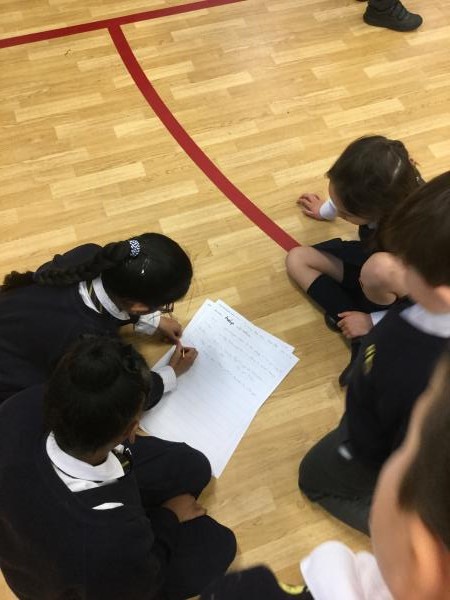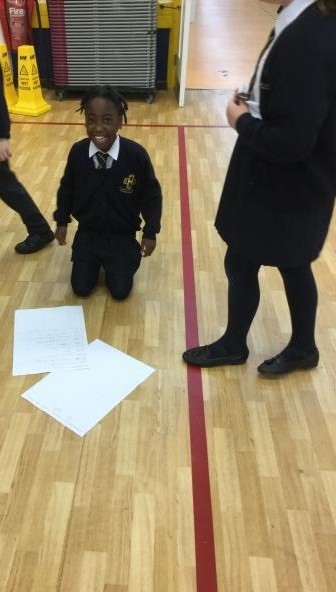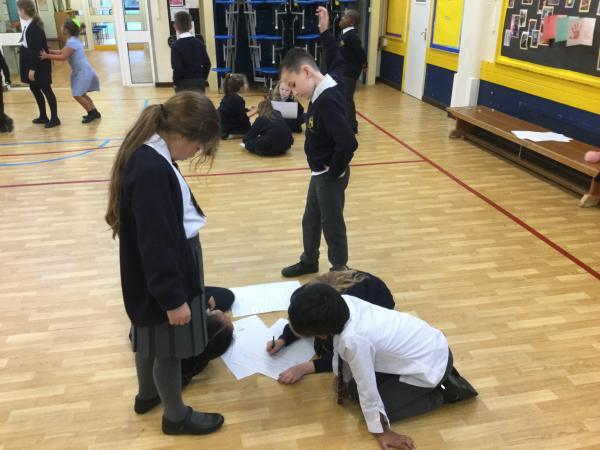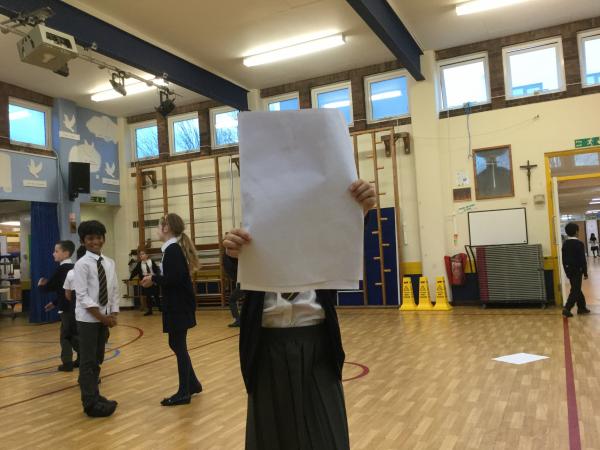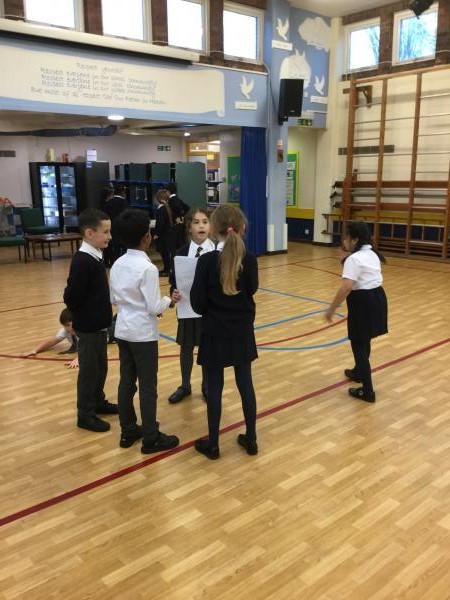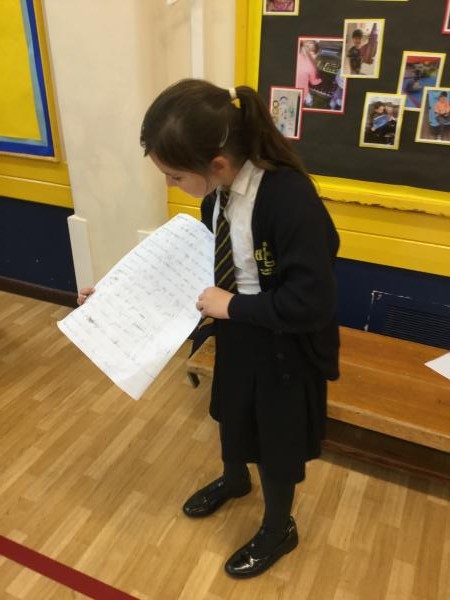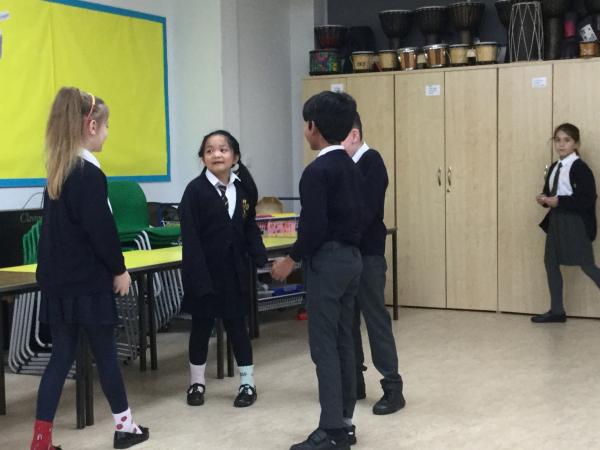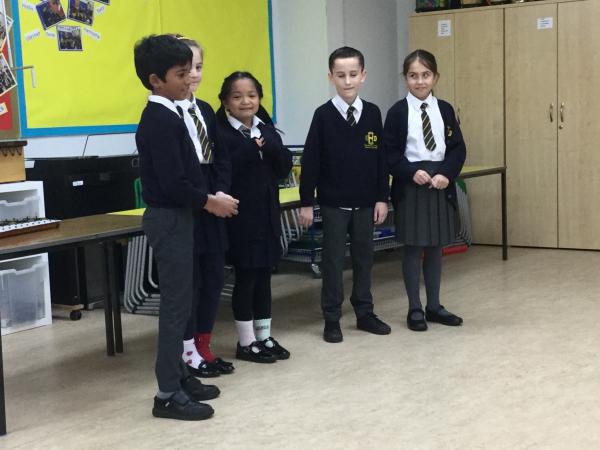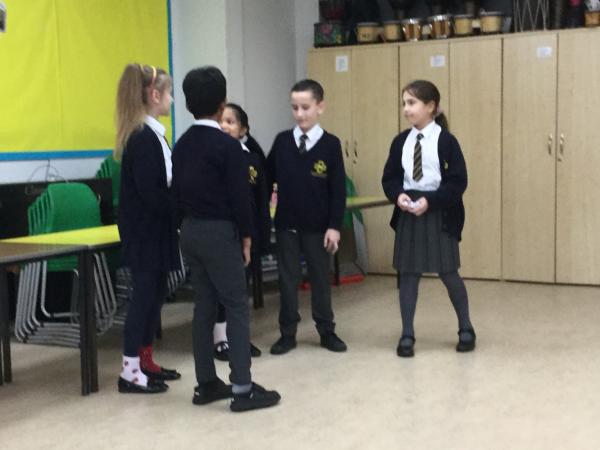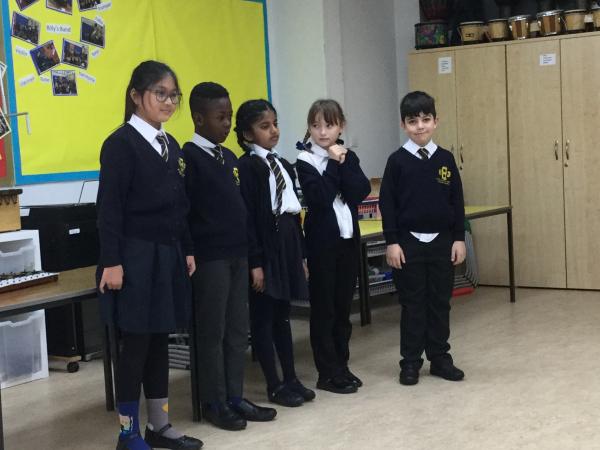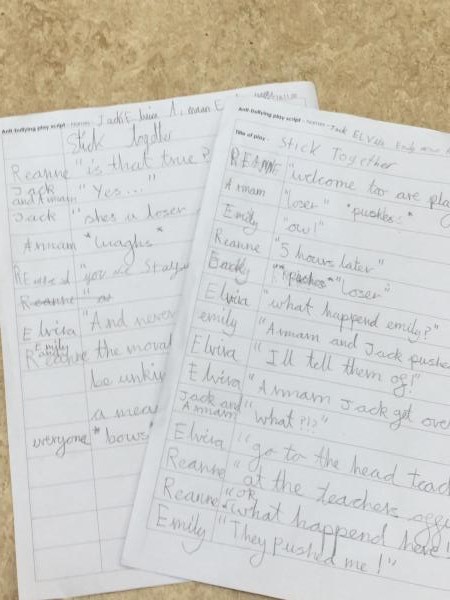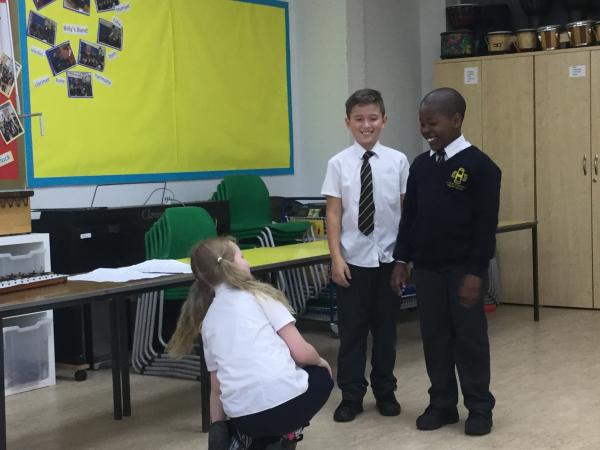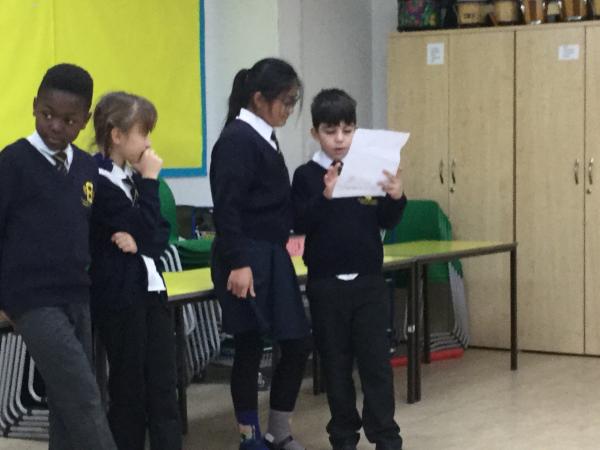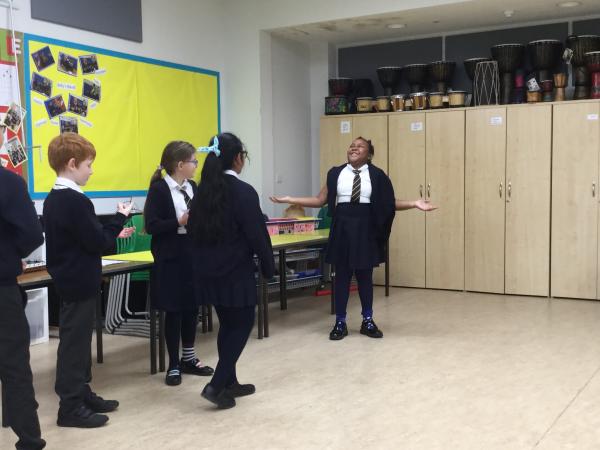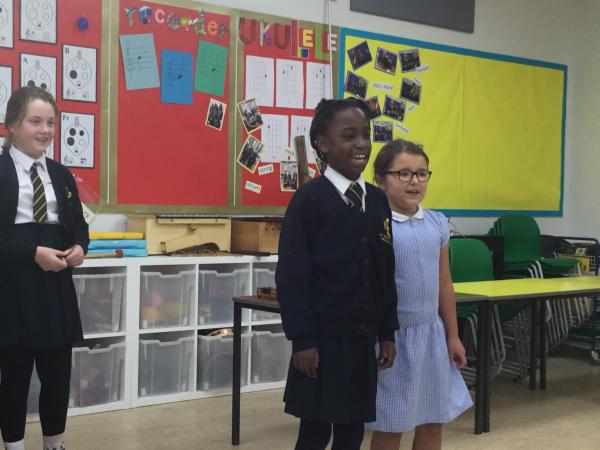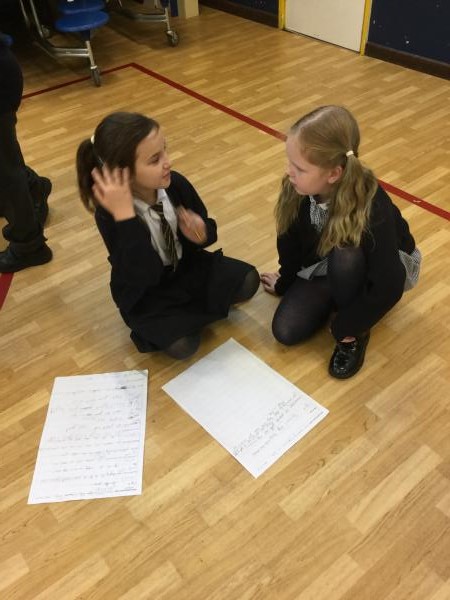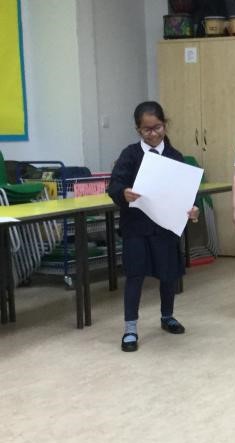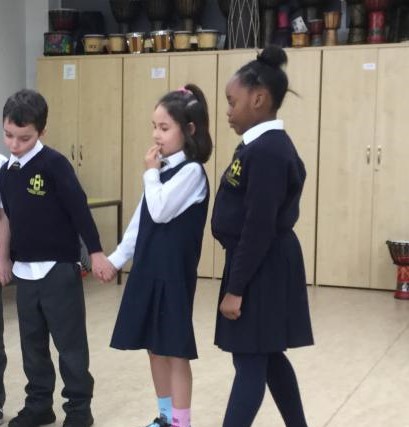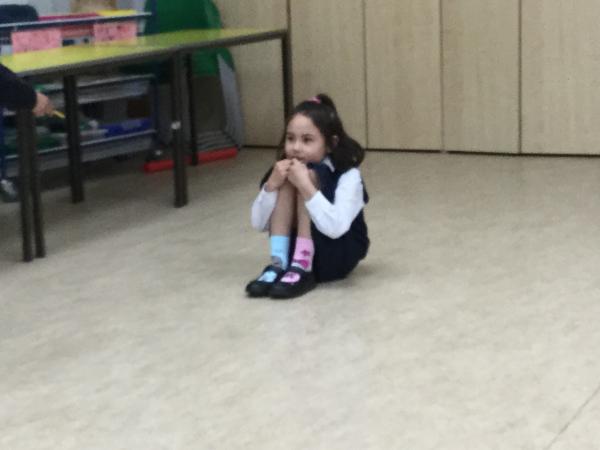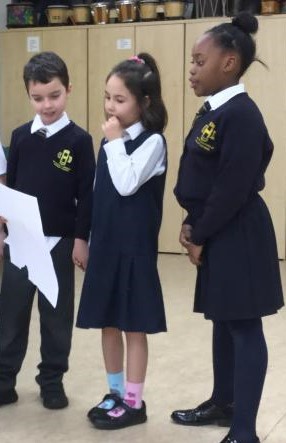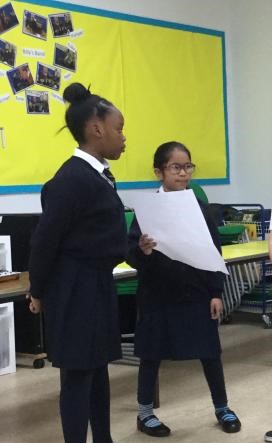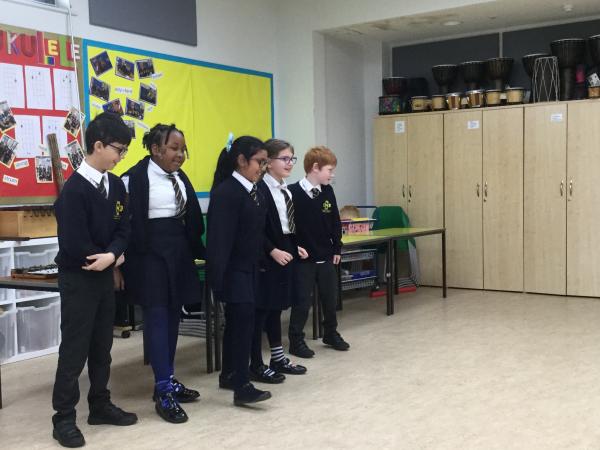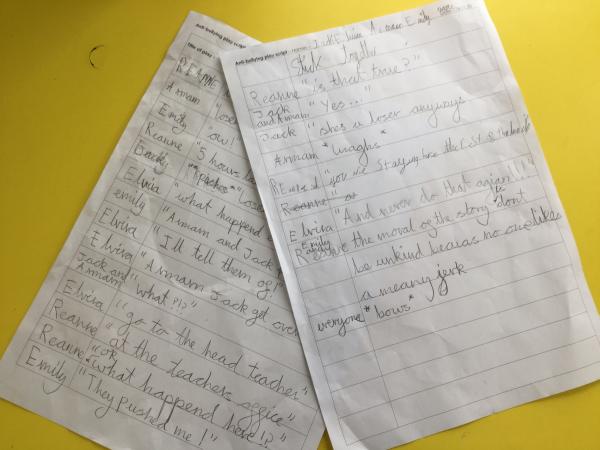 Children In Need
Class 4G had a great time dressing up and supporting 'Children in Need' on Friday the 13th!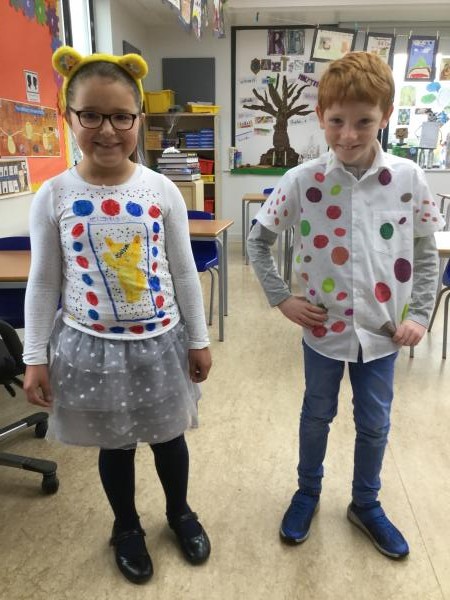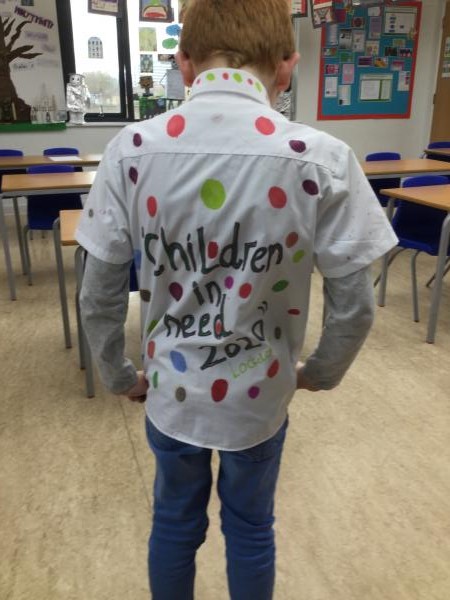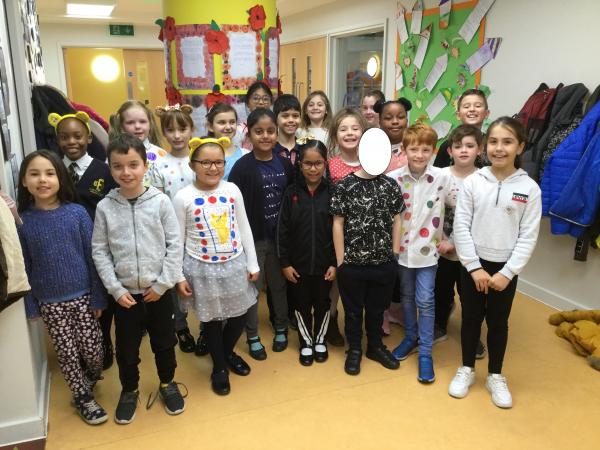 Remembrance Day
4G spent time this week reflecting on the meaning of Remembrance Day and learning why we wear a poppy too. Here are some pictures from our lesson when we made our own poppies as well as some pictures of our display in school.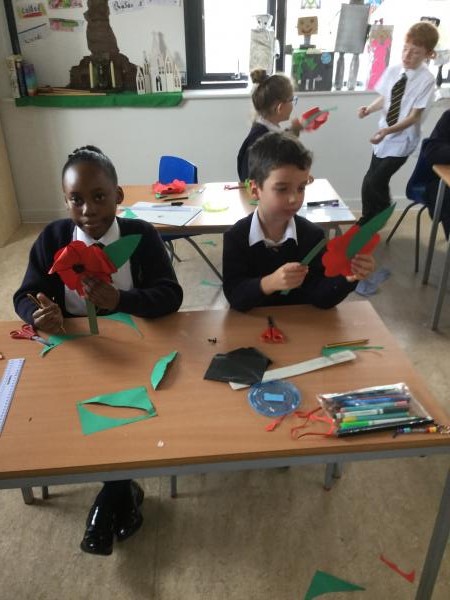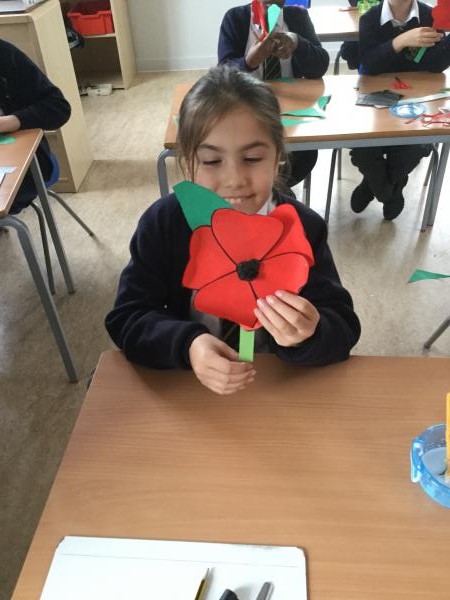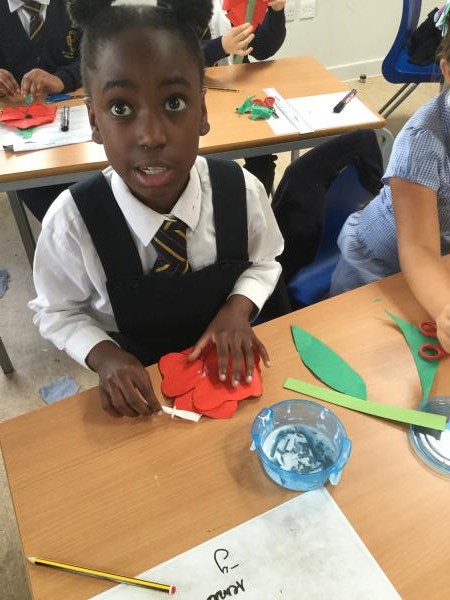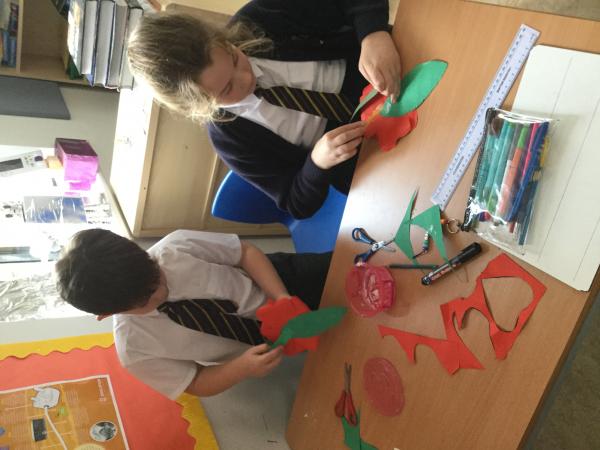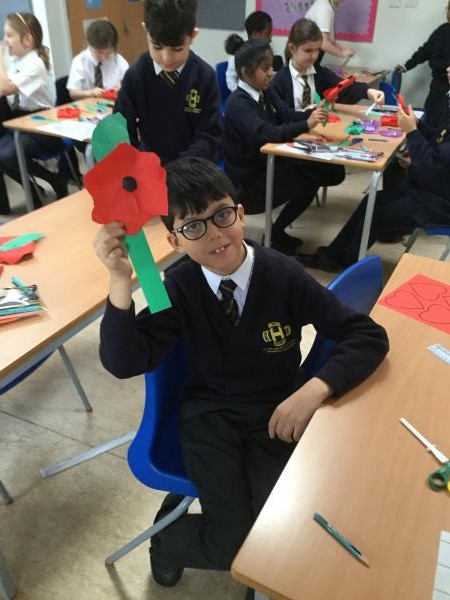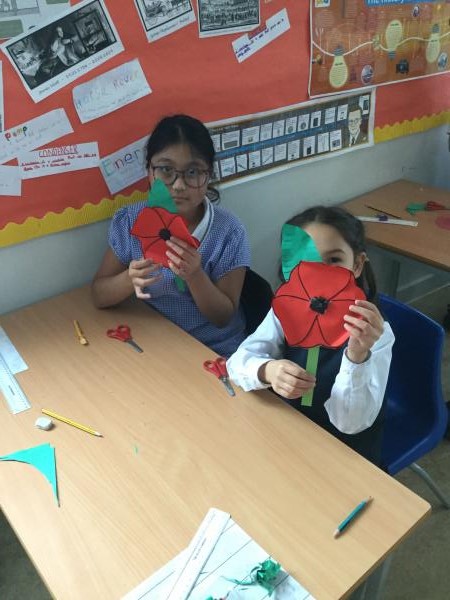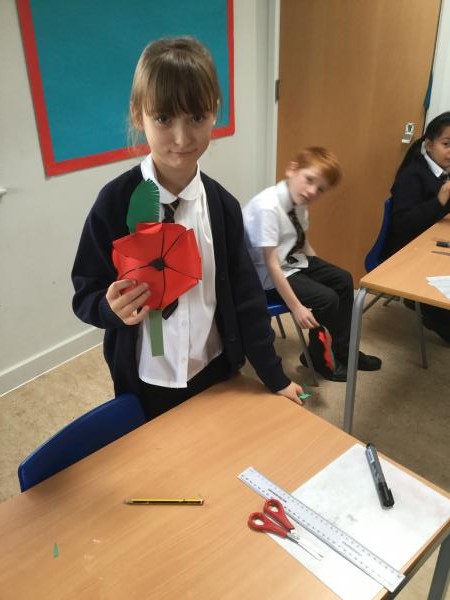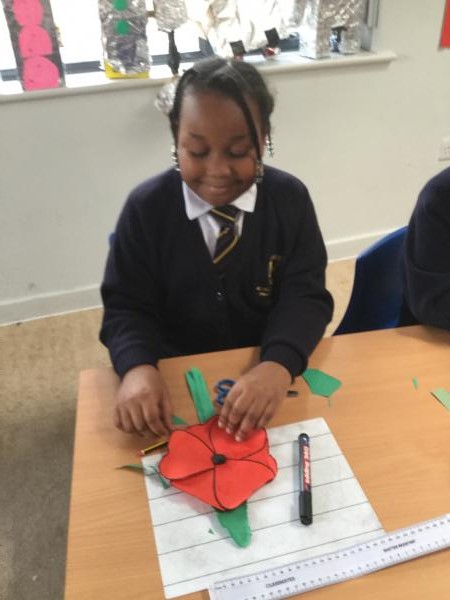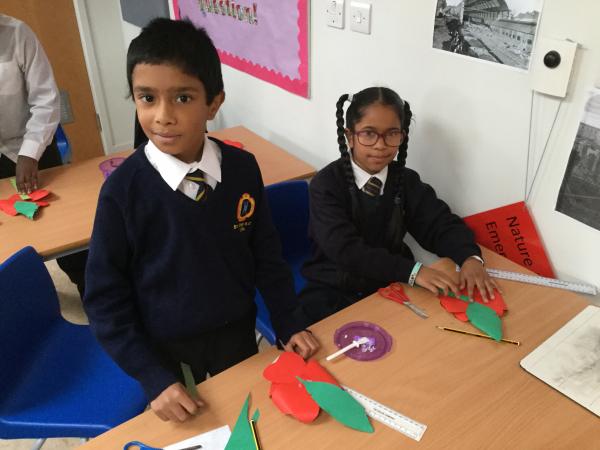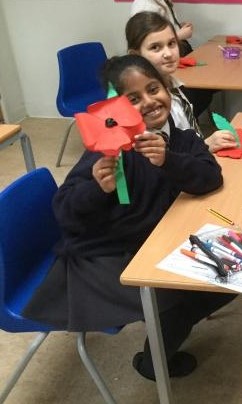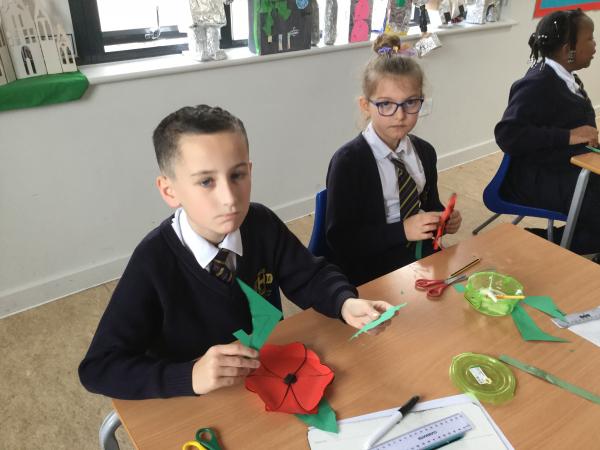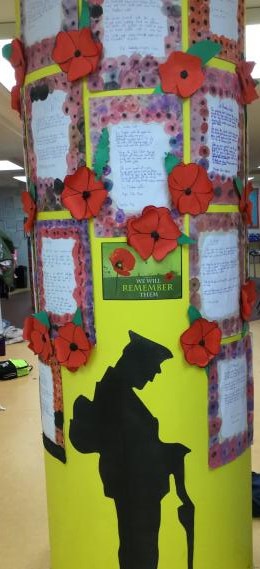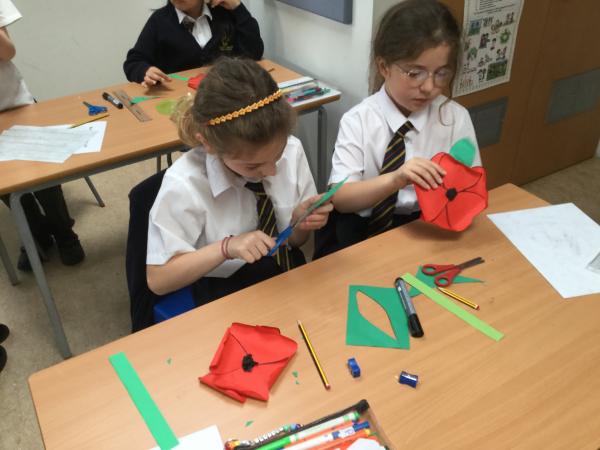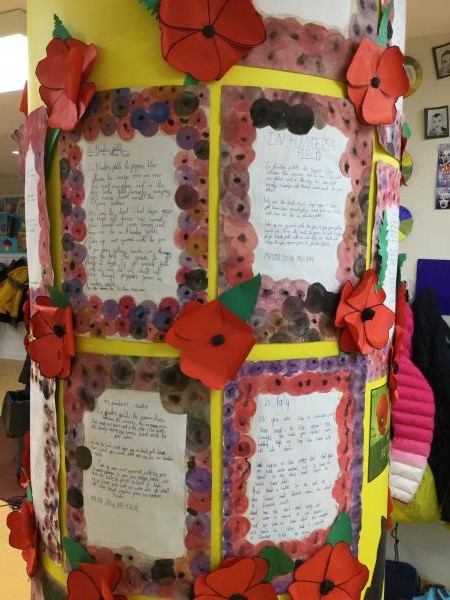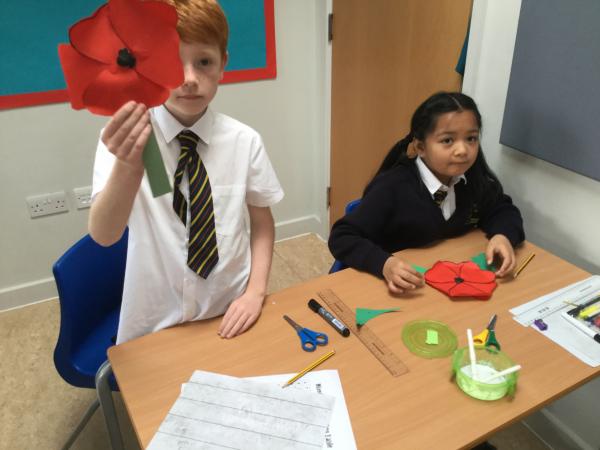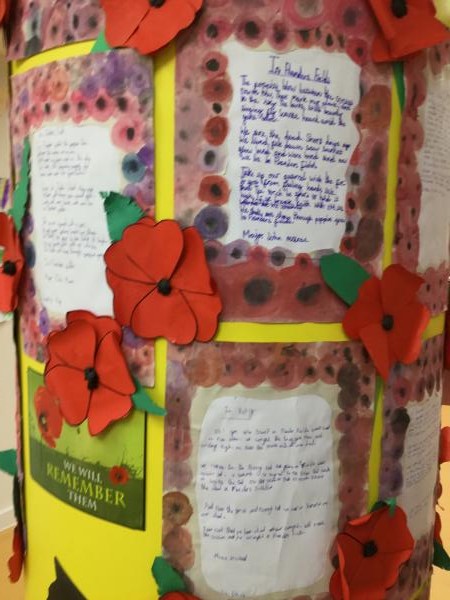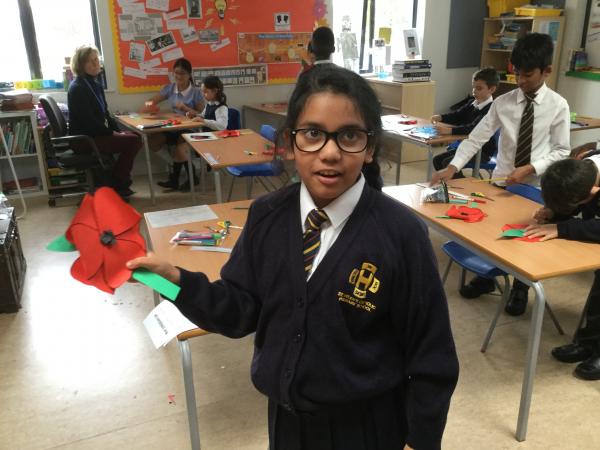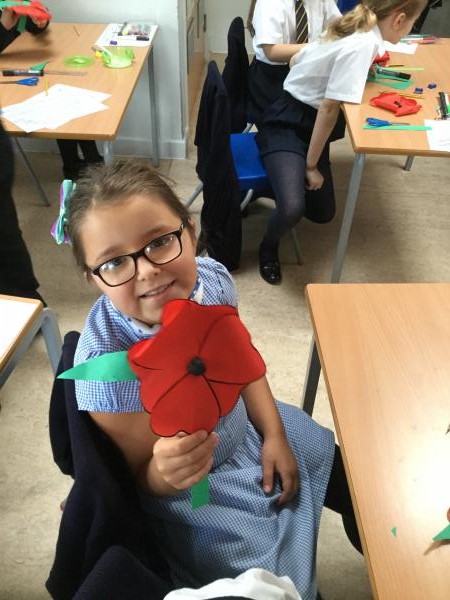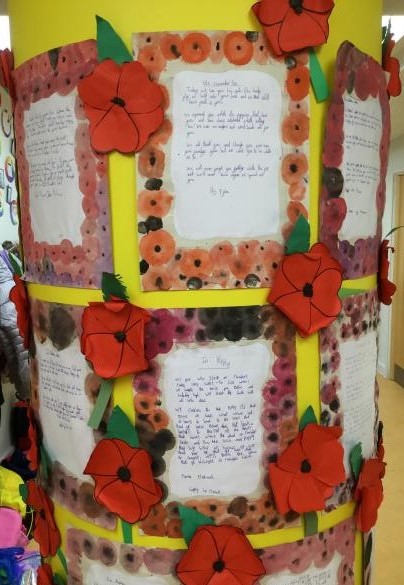 Outdoor Learning Day
Today, as part of 'Outside Learning Day' 4G had a great science lesson attempting to charm worms to make an appearance using sound waves and vibrations.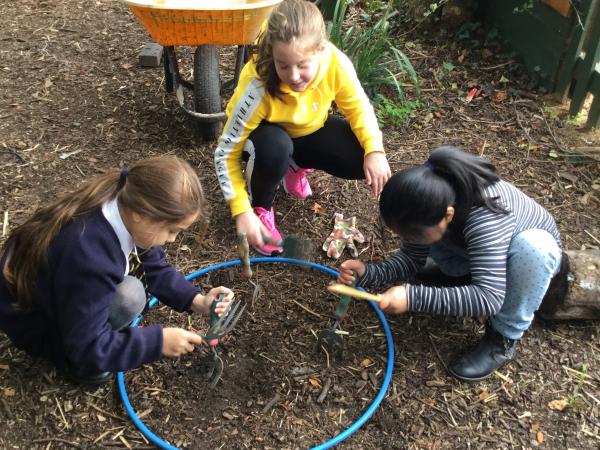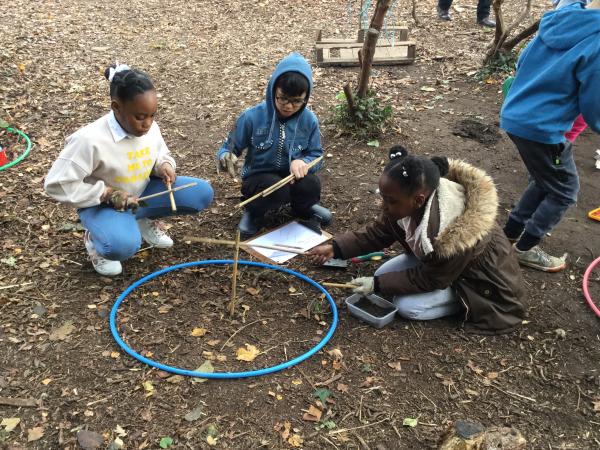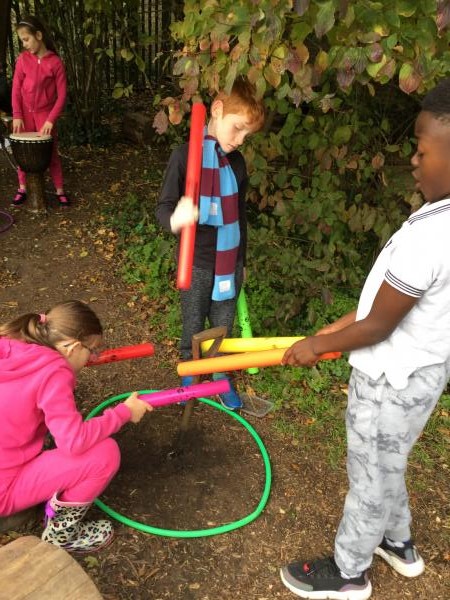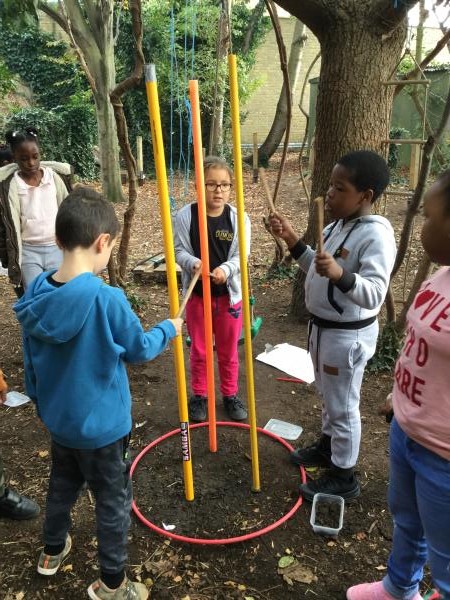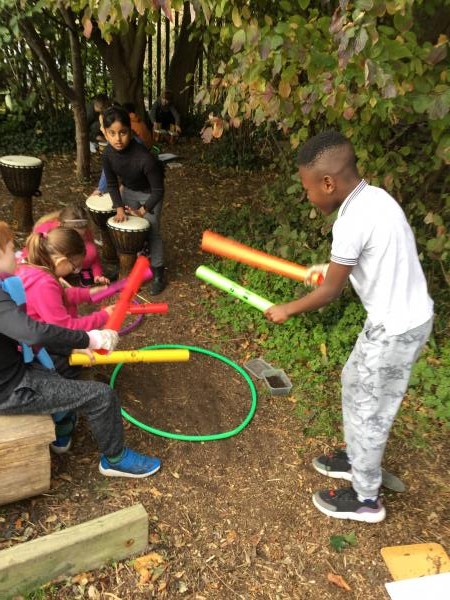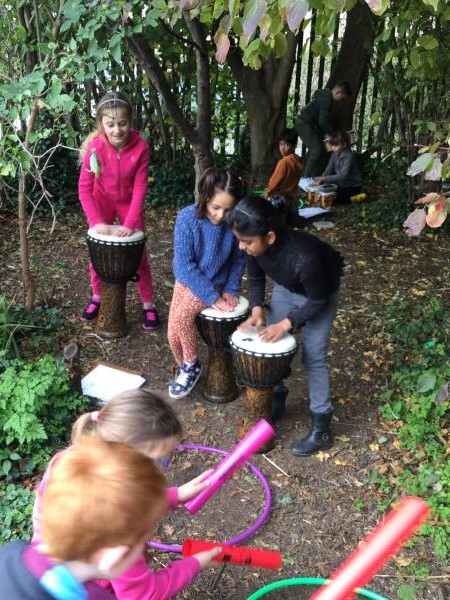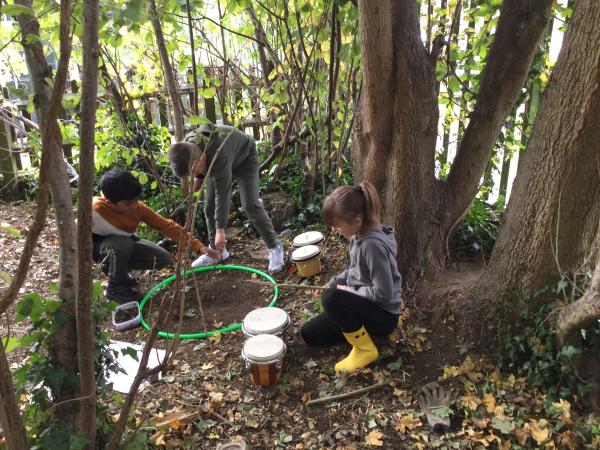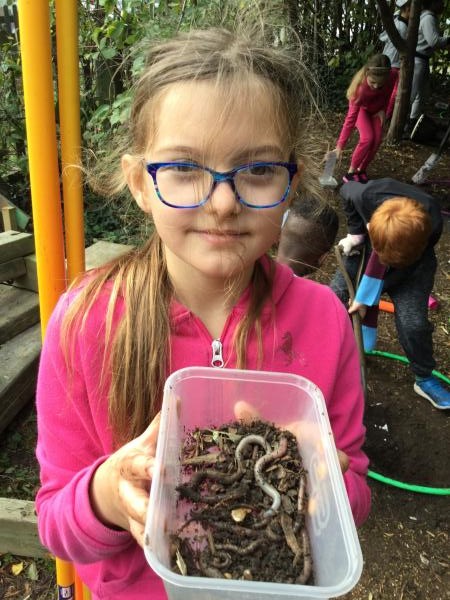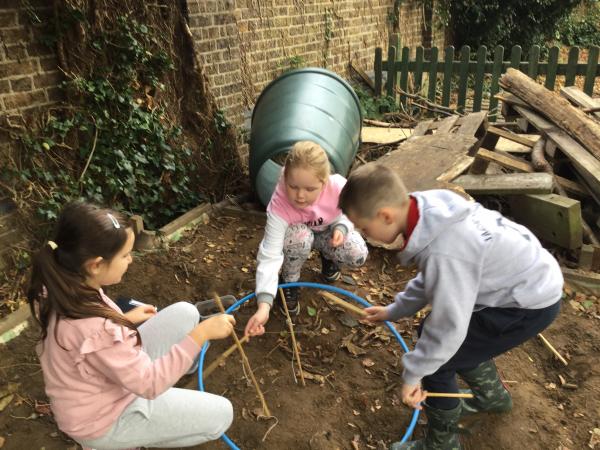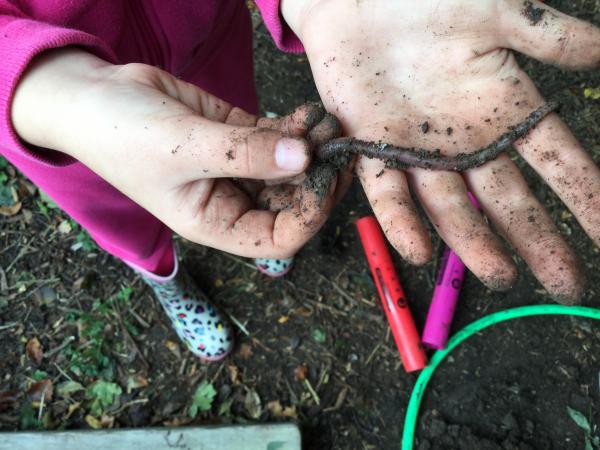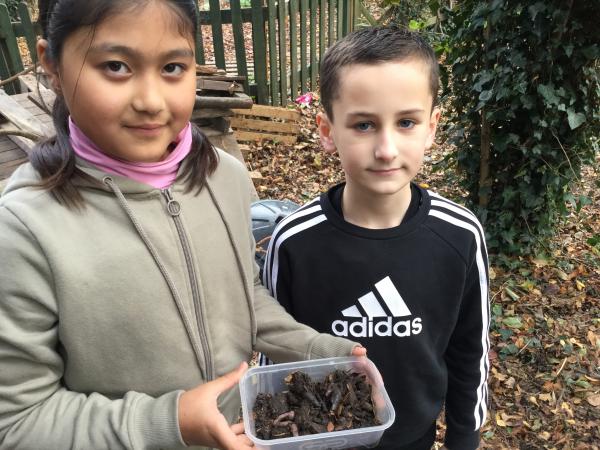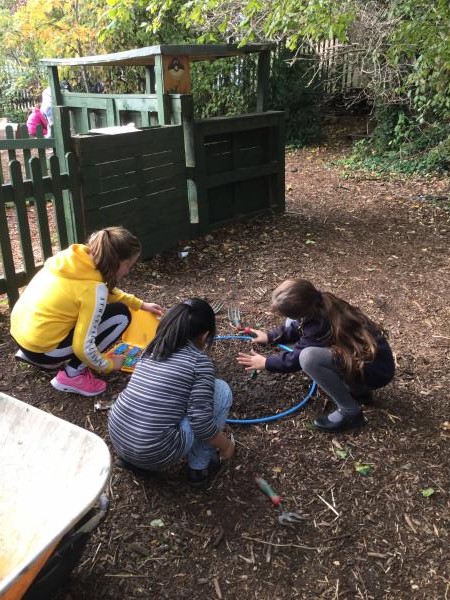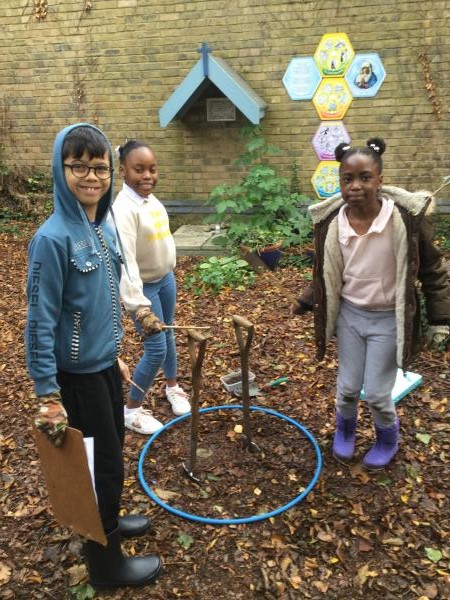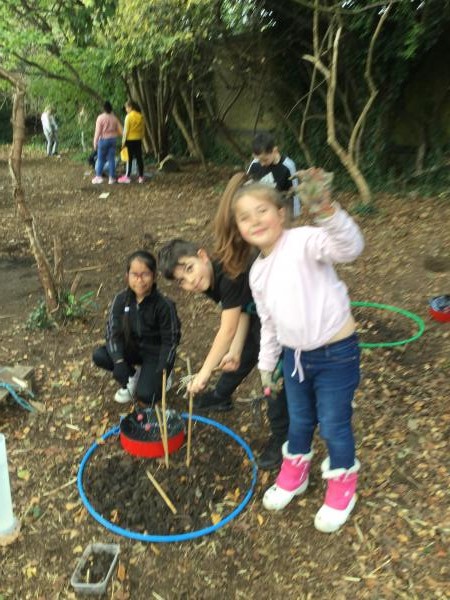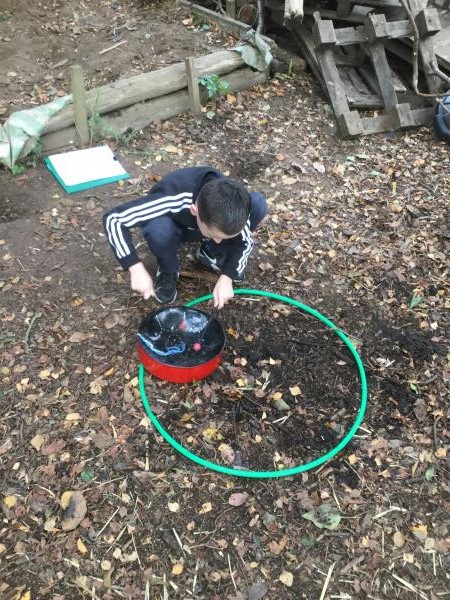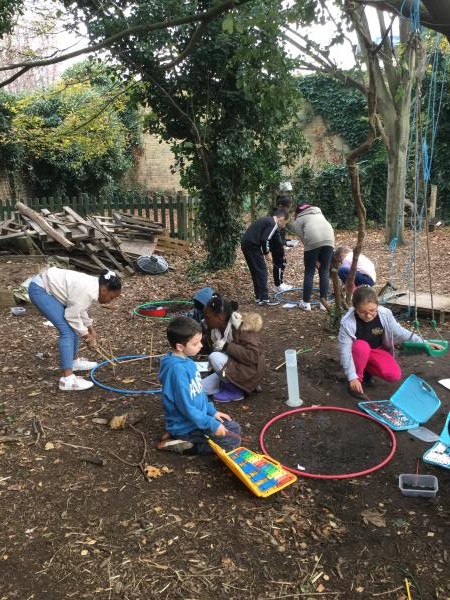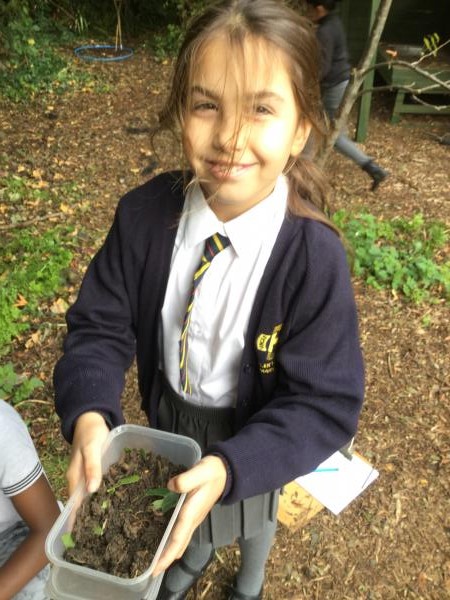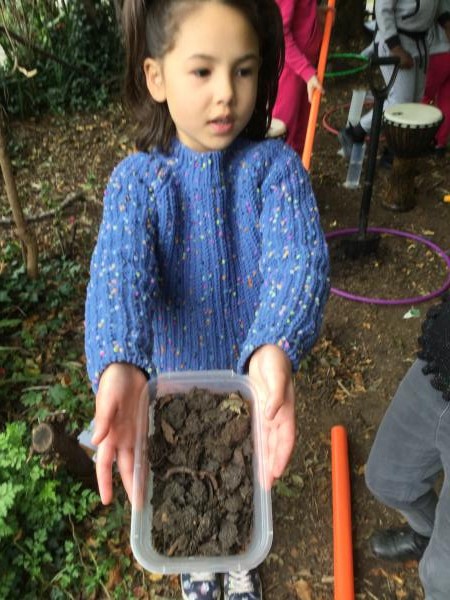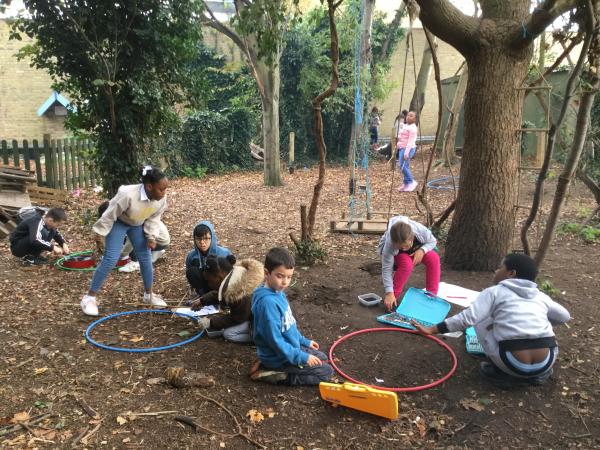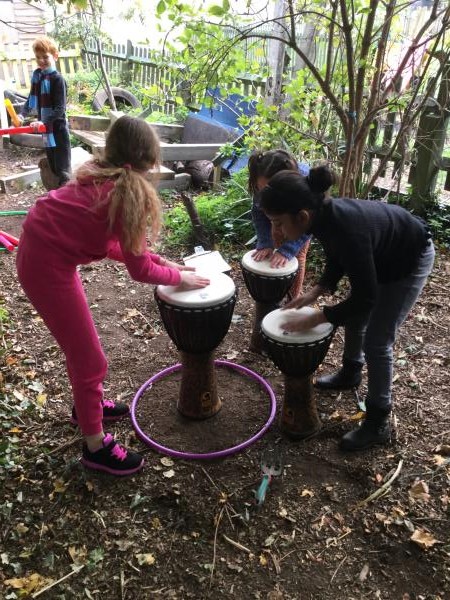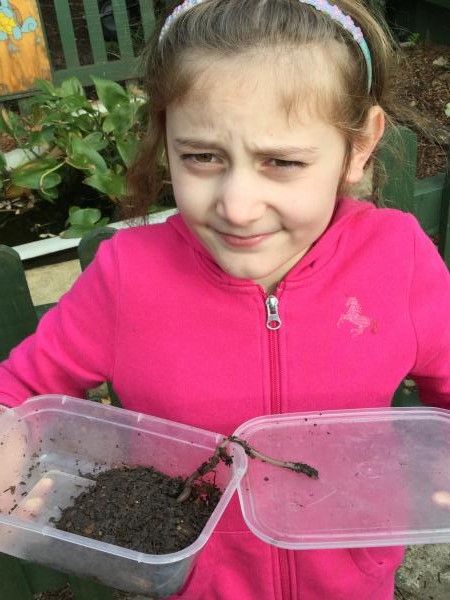 4G's Sound Experience
This week 4G had an amazing visit from the 'Sound Man' to kick off our new topic on sound. We all had great fun trying out different 'sound' experiments and becoming 'Foley' experts making sound effects for a film, 'pew, pew!'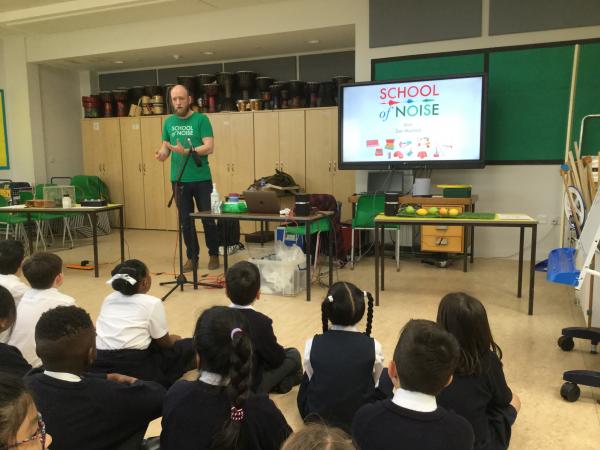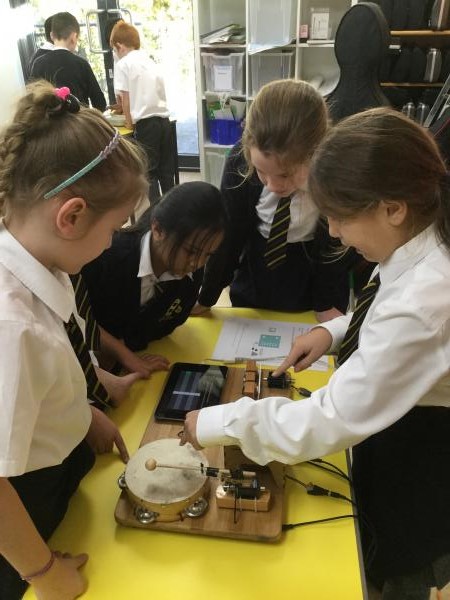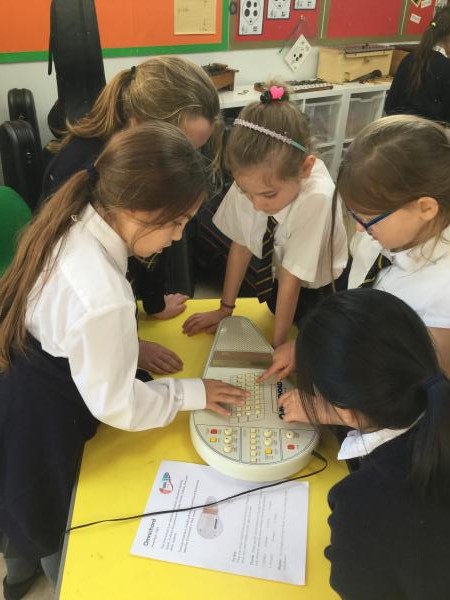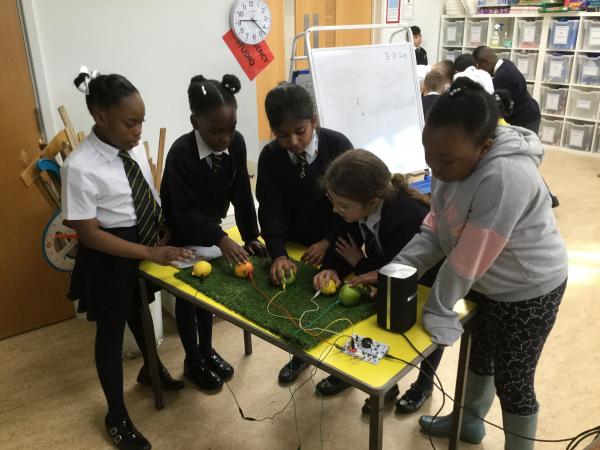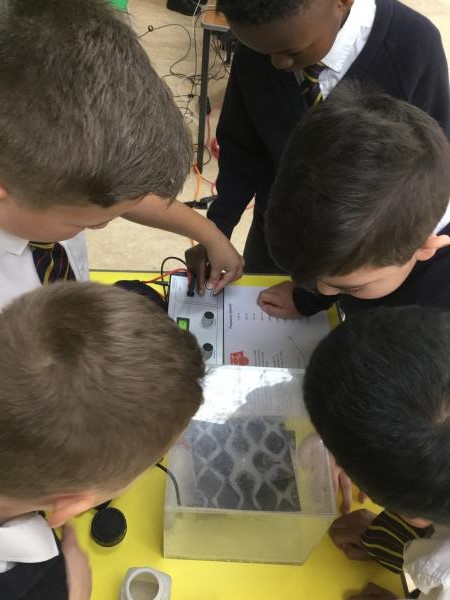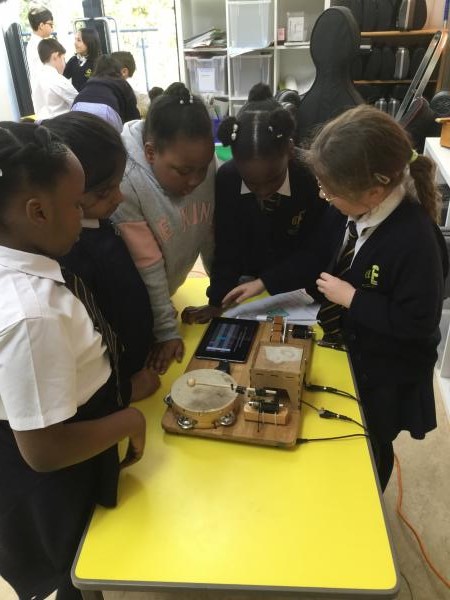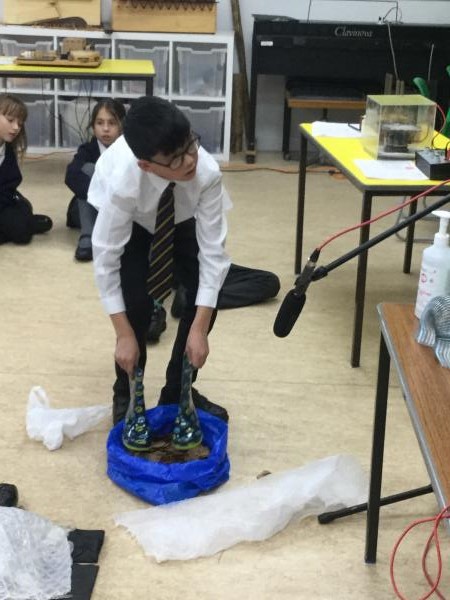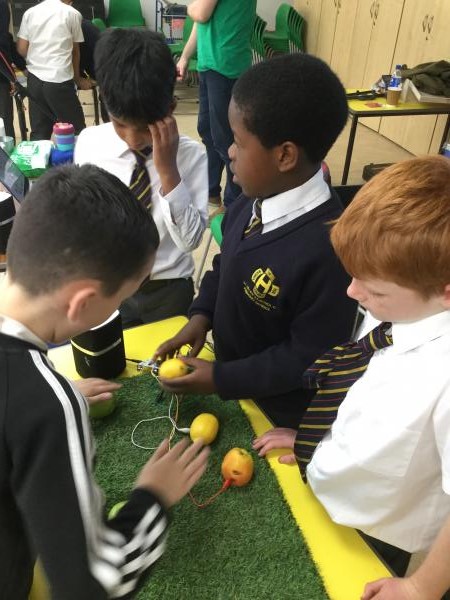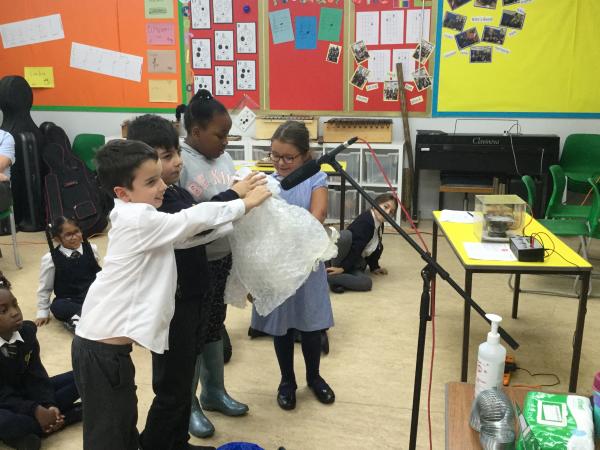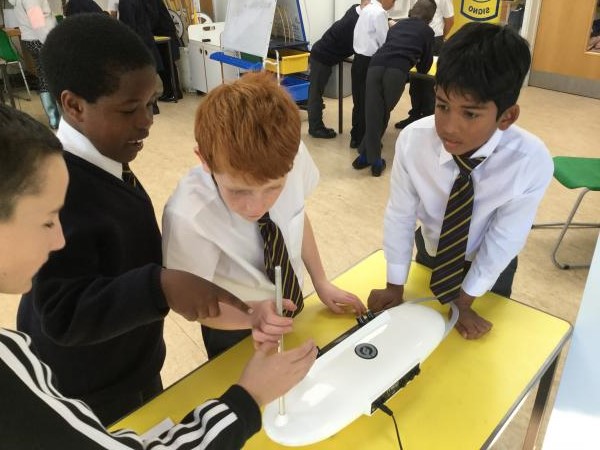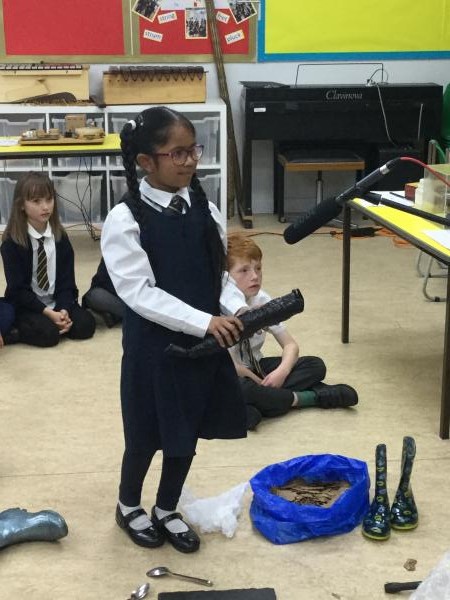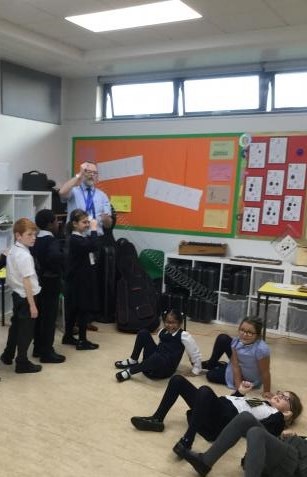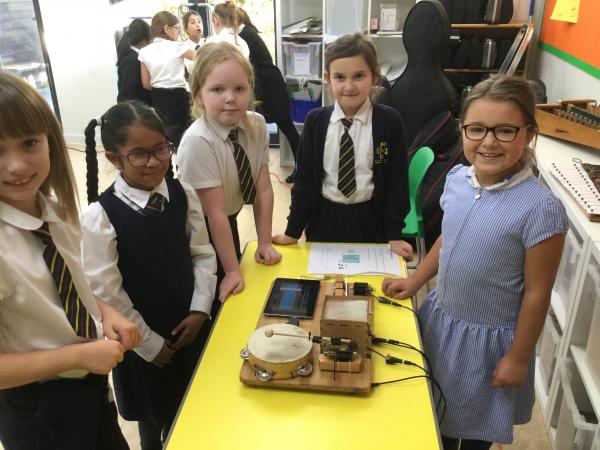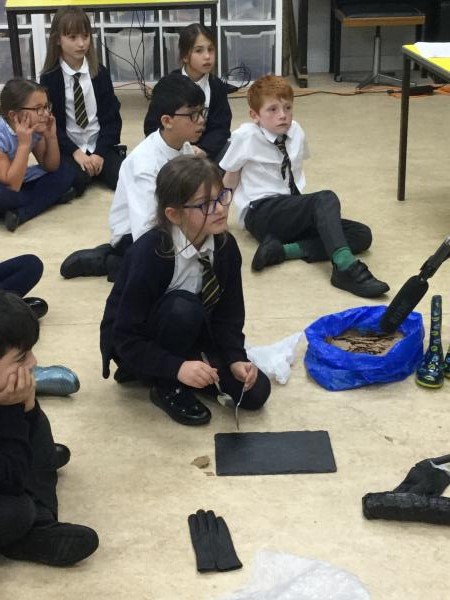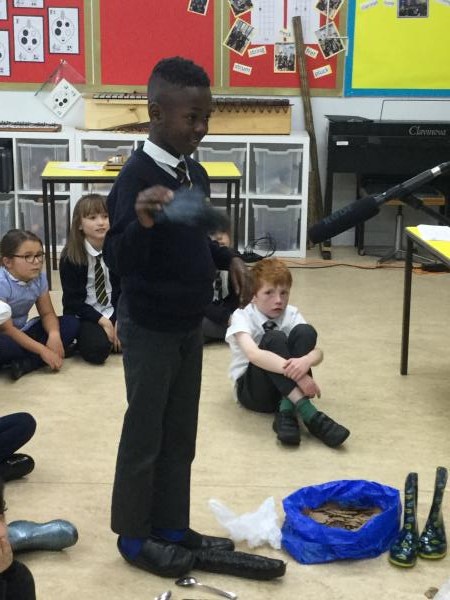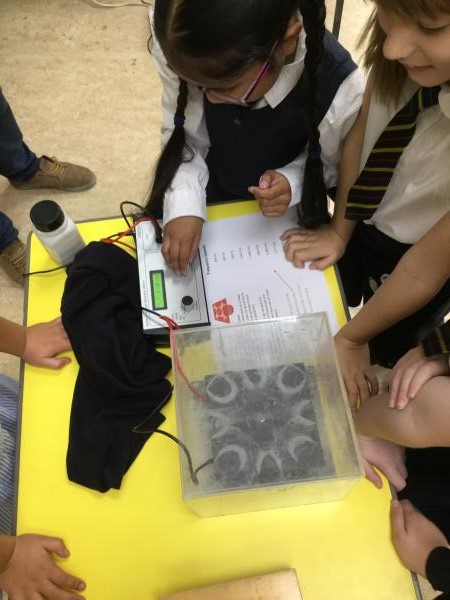 School of Noise
We were thrilled that the School of Noise were able to come into school on Wednesday.
What a fantastic learning experience and an amazing introduction to our topic.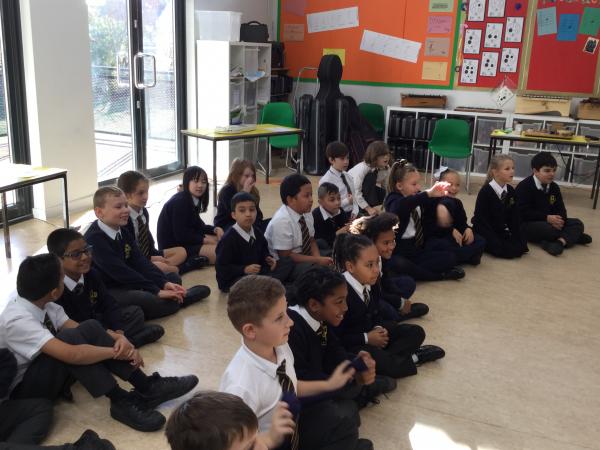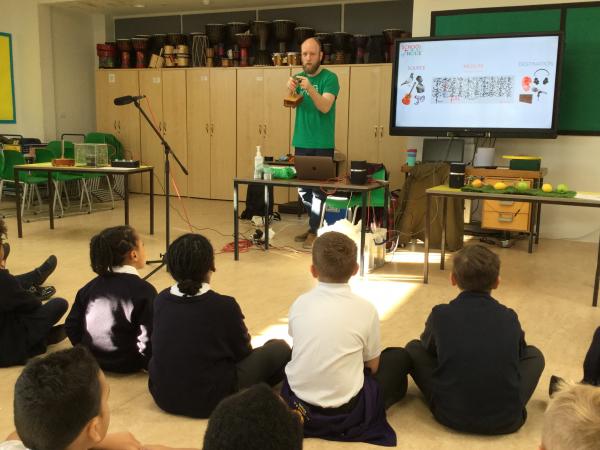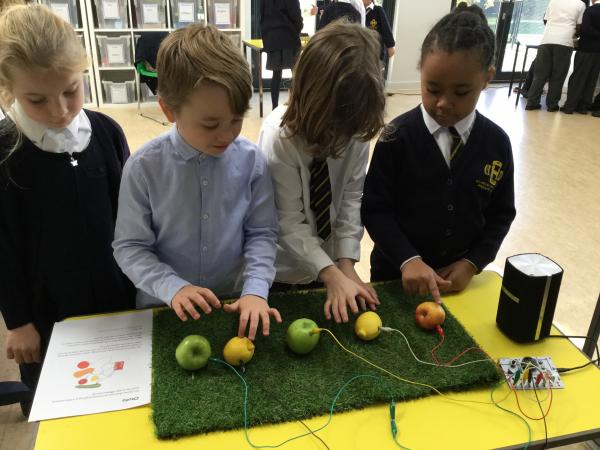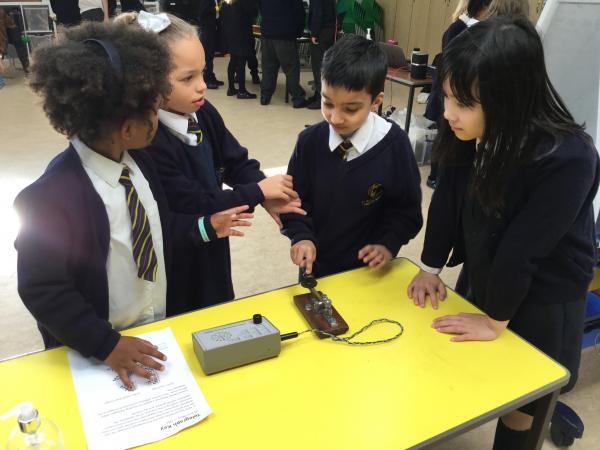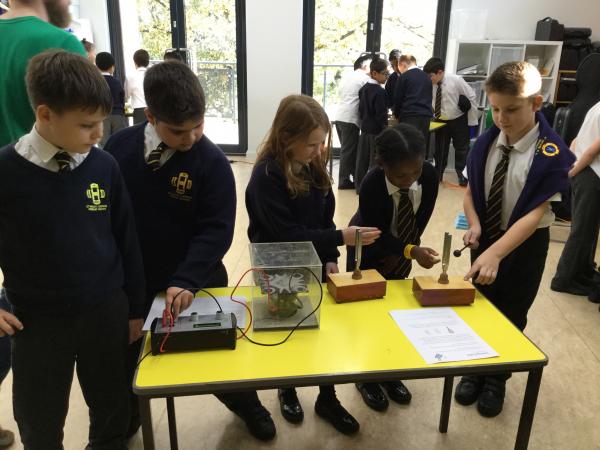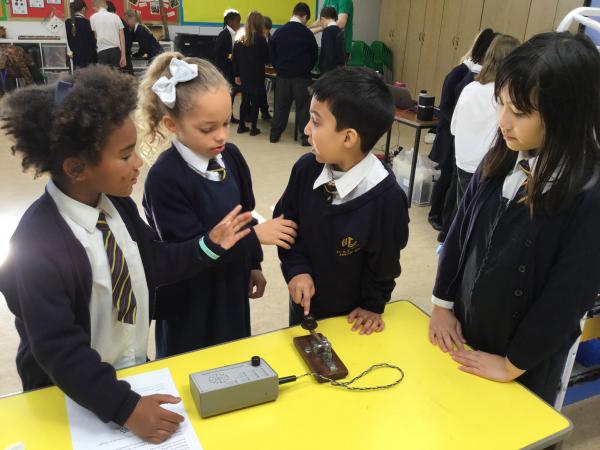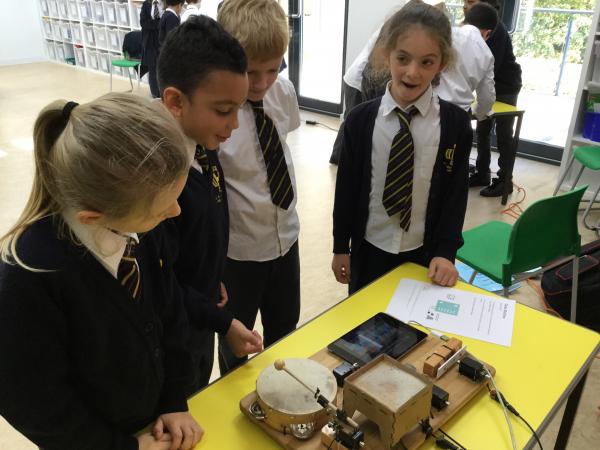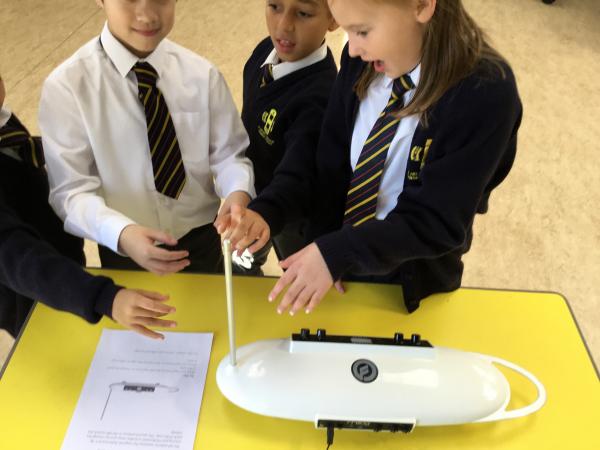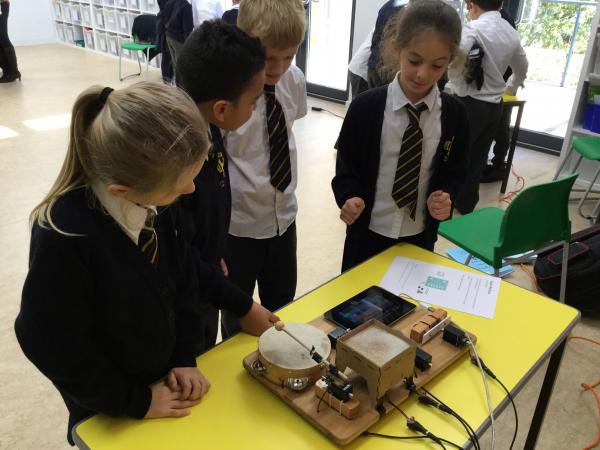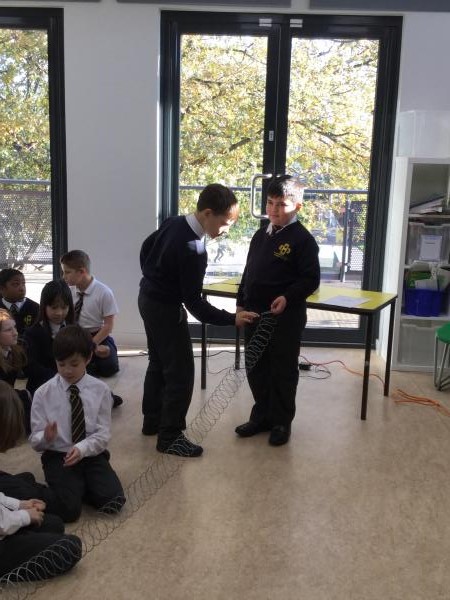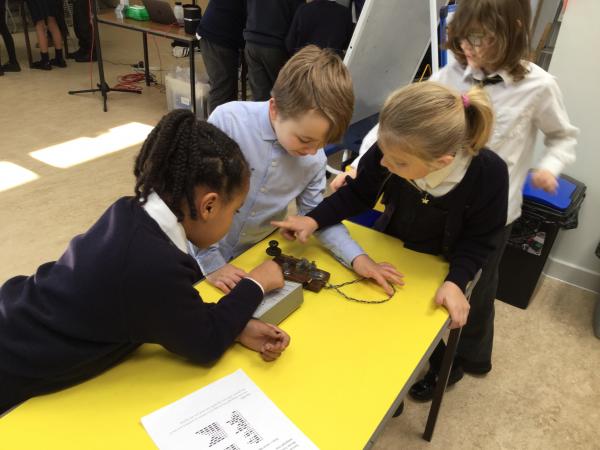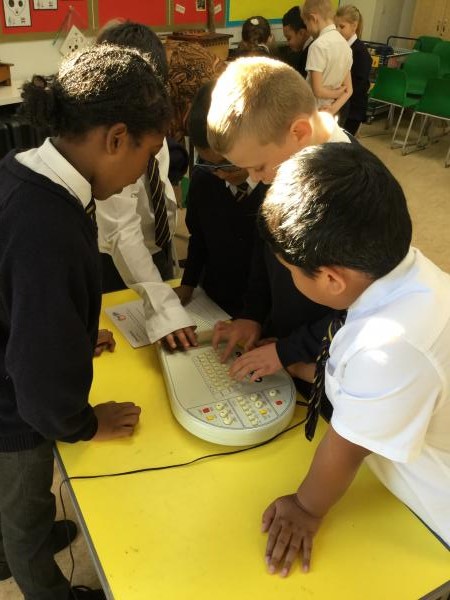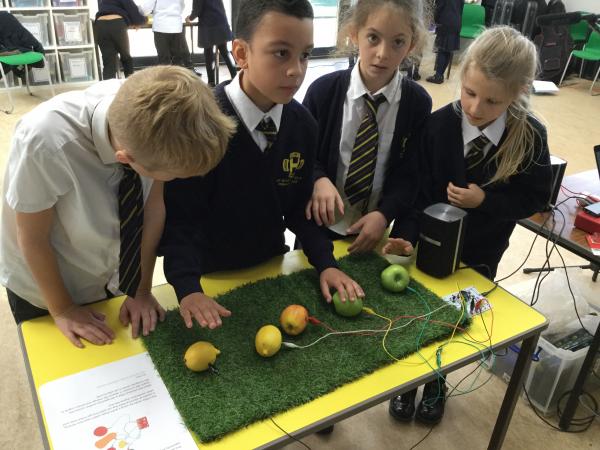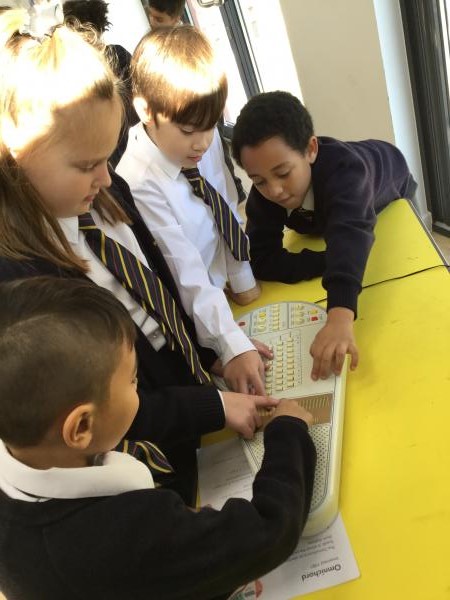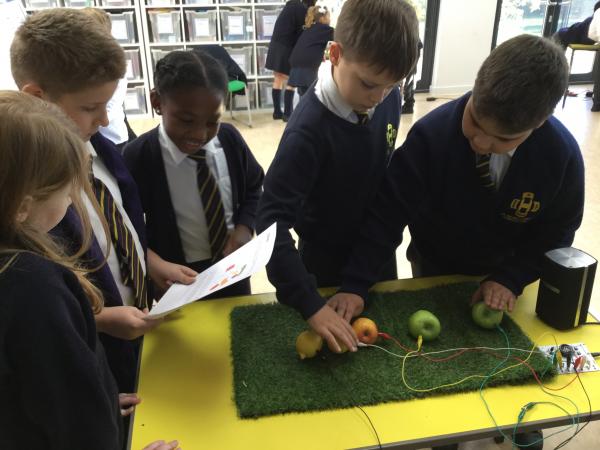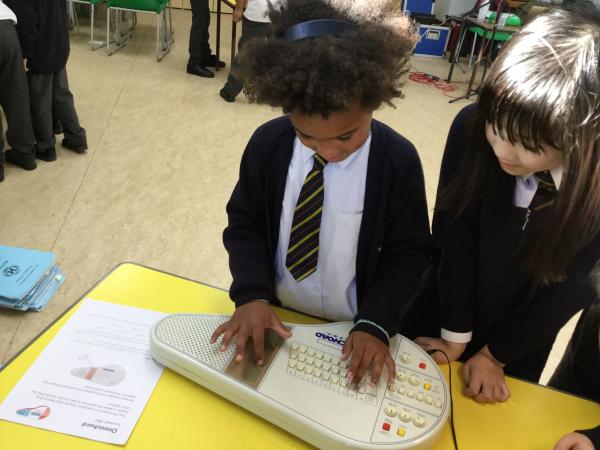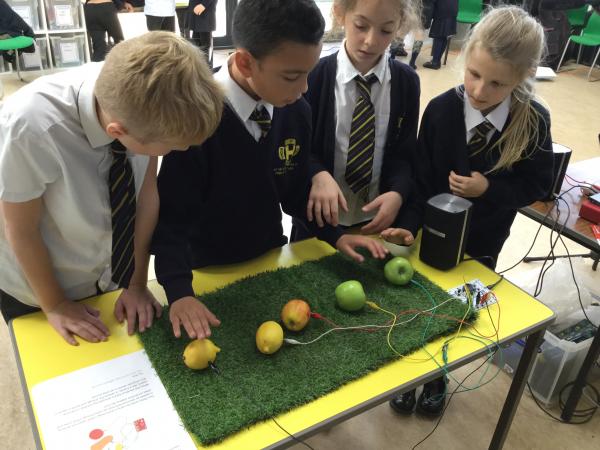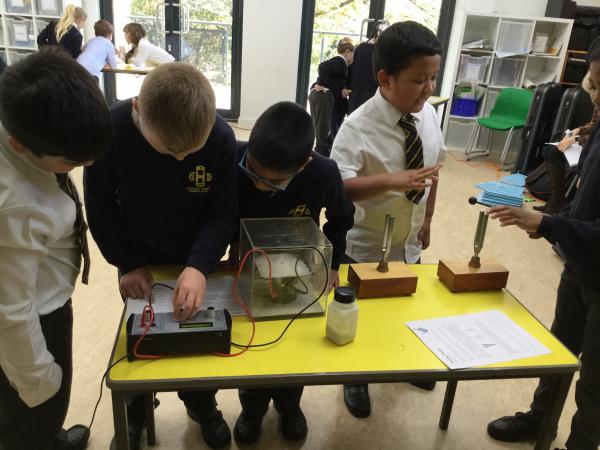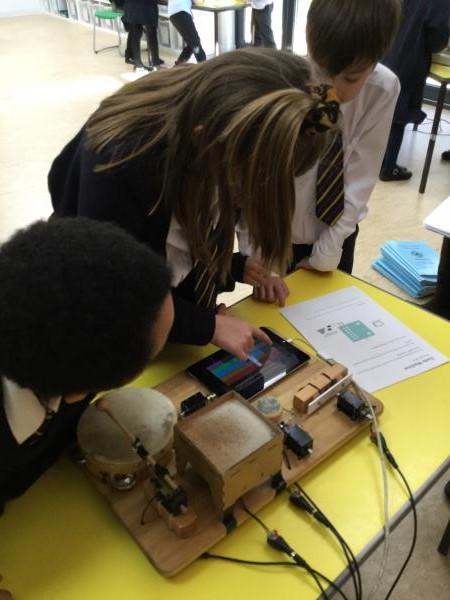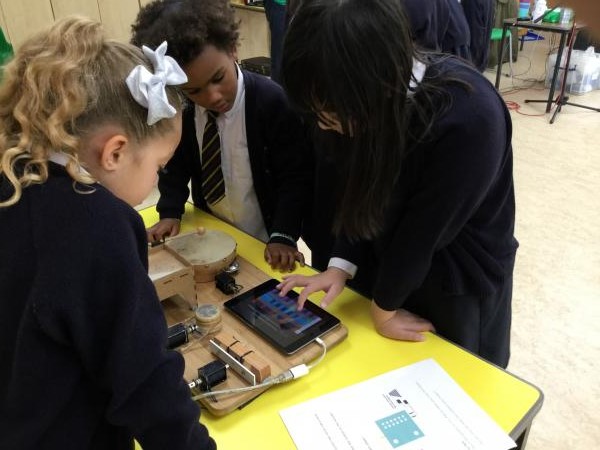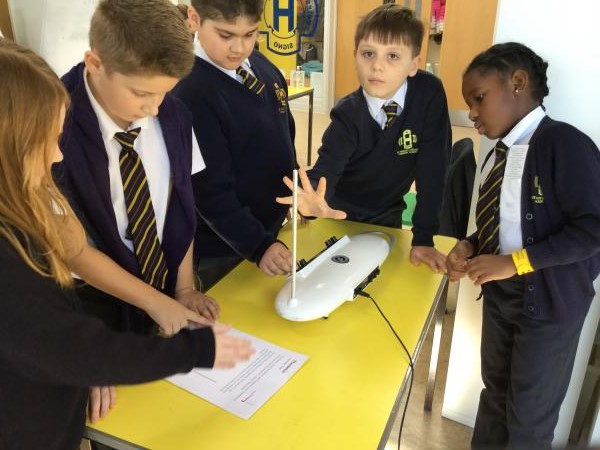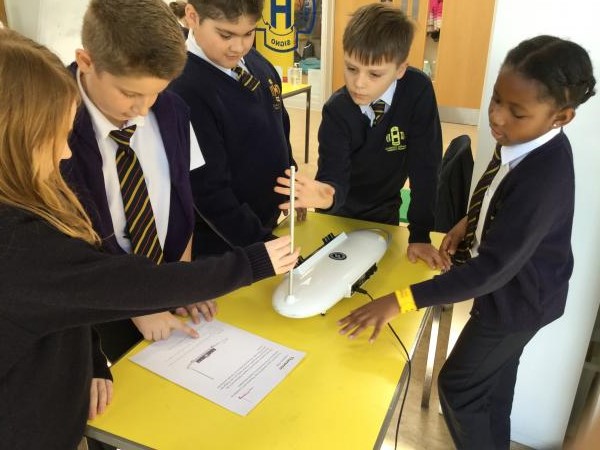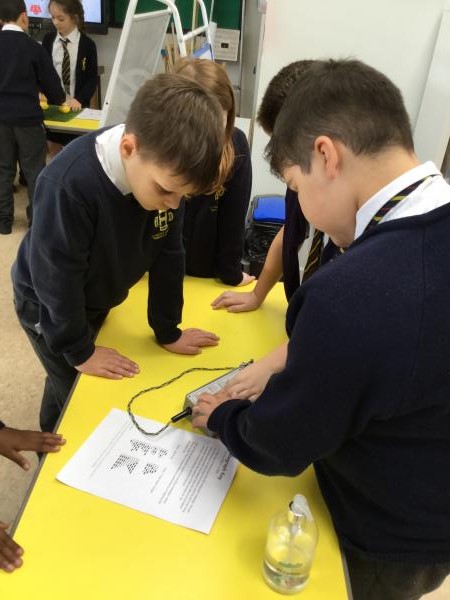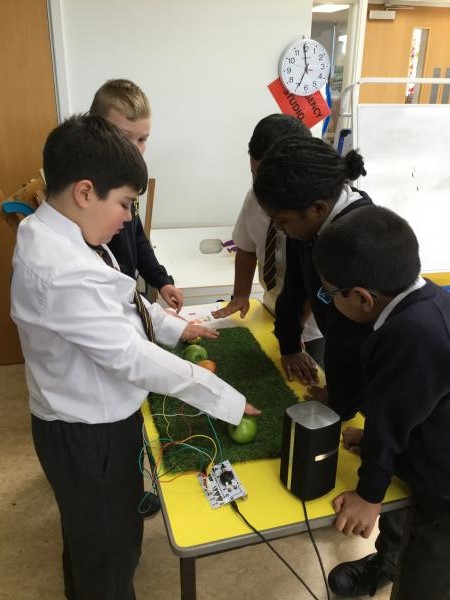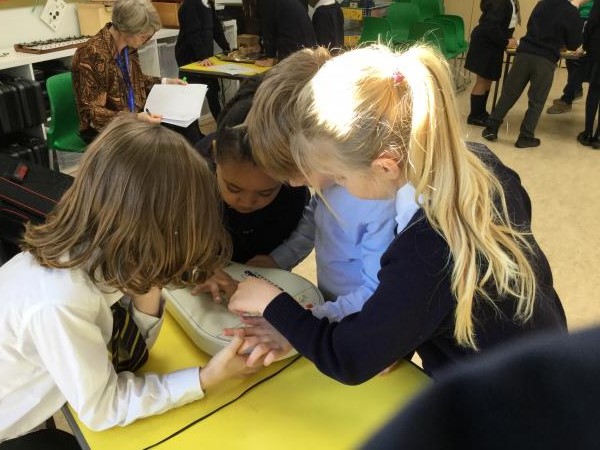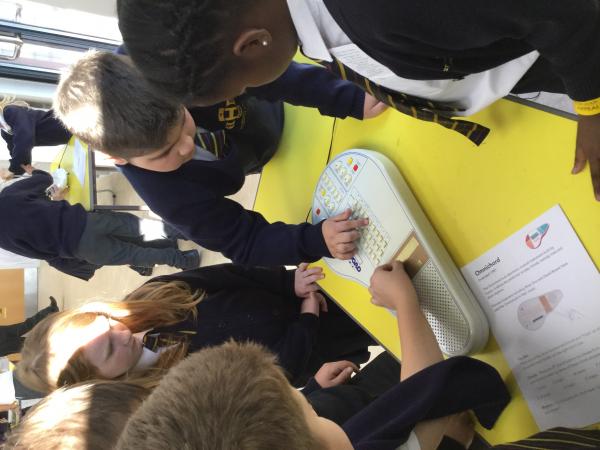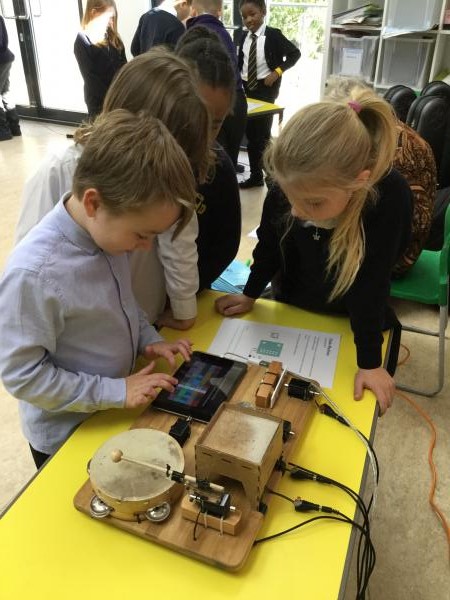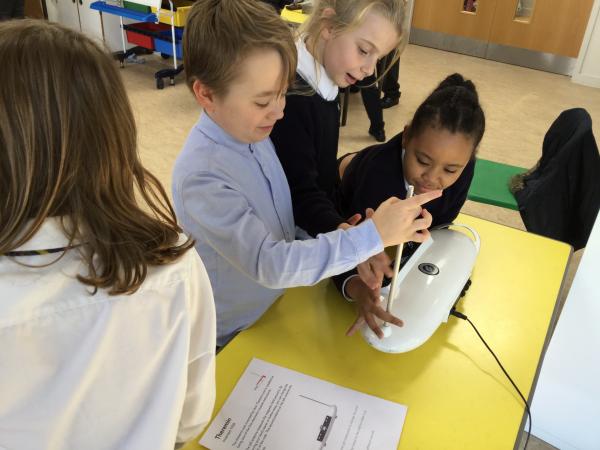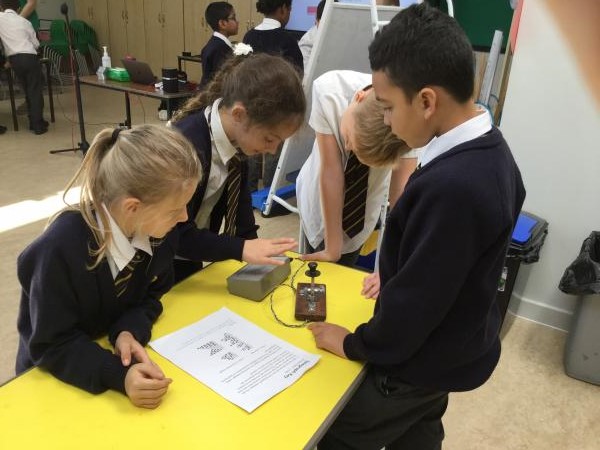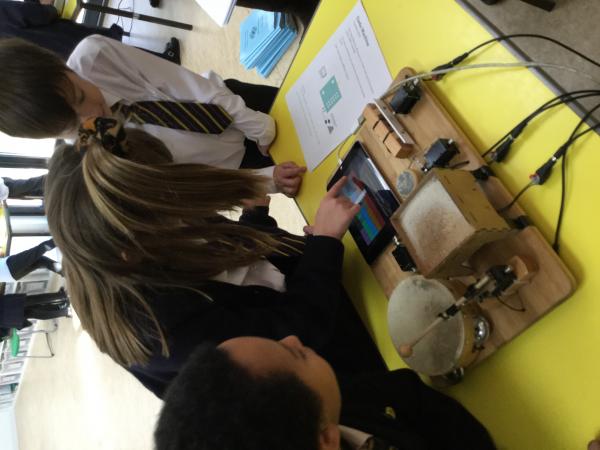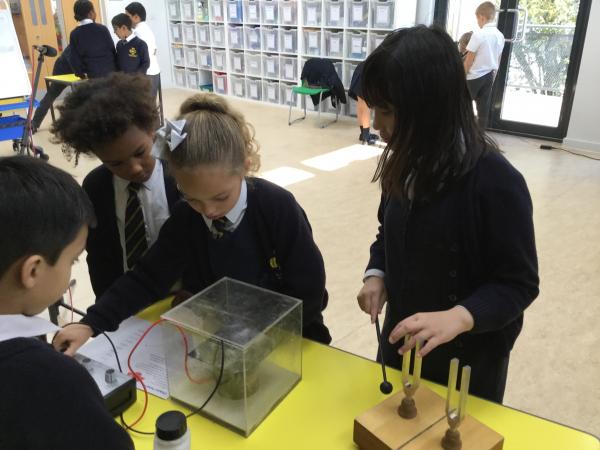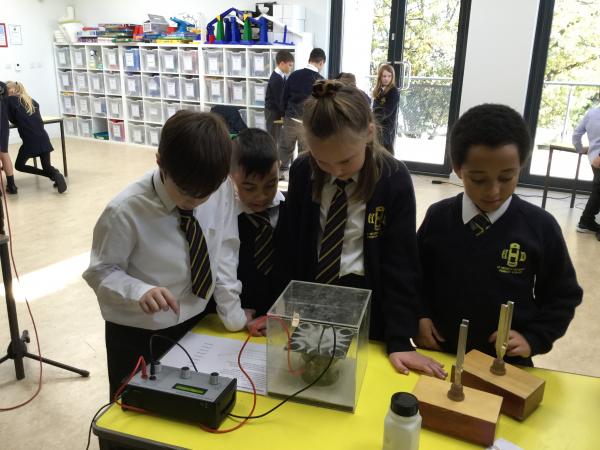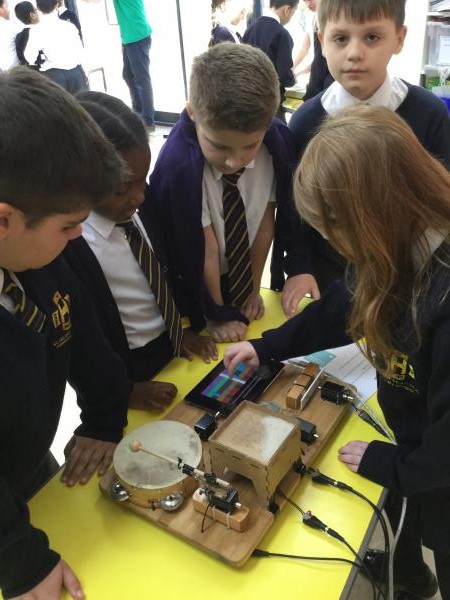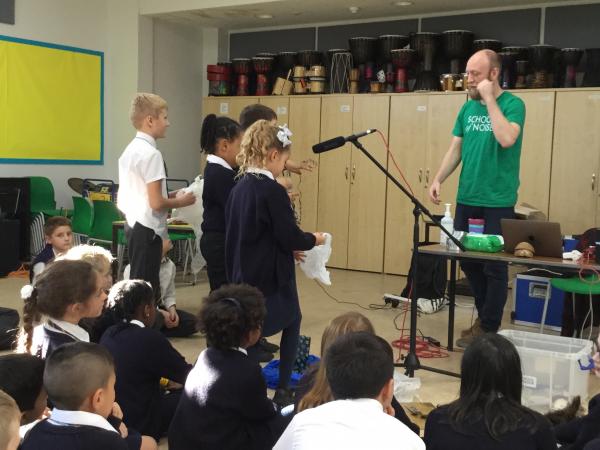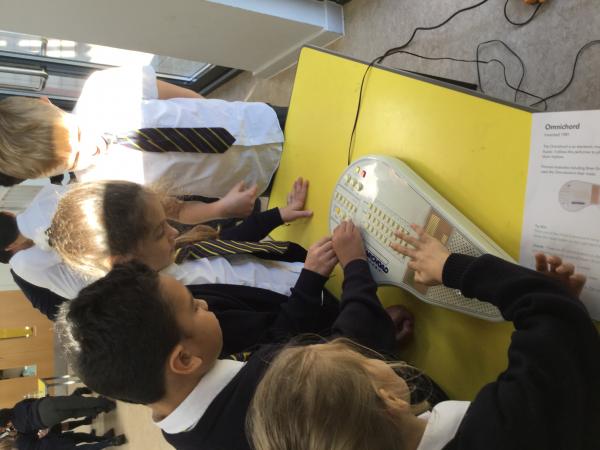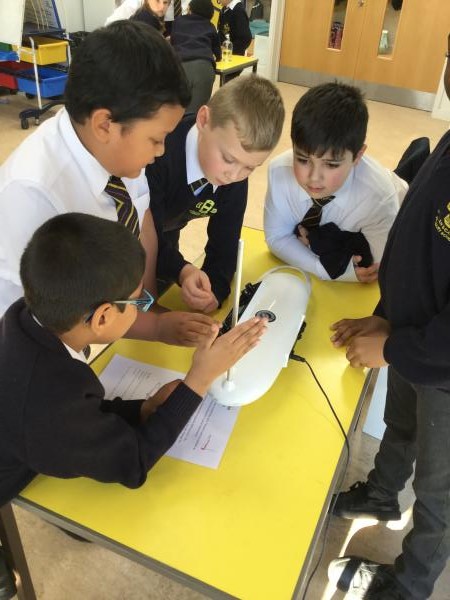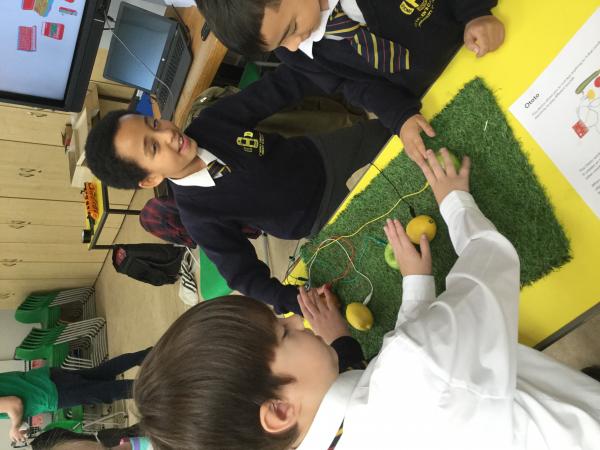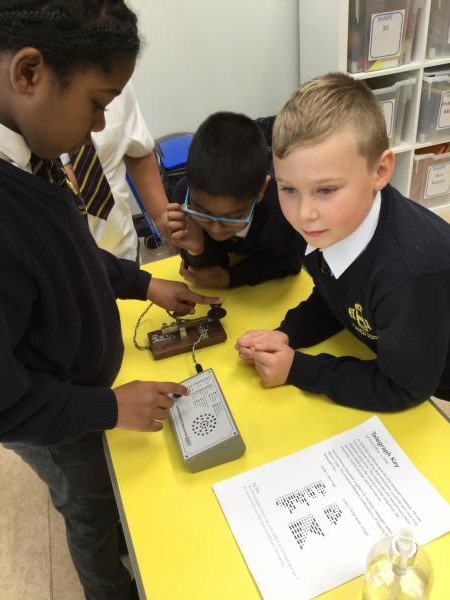 Outdoor Learning Day 5th November
4F got busy using nature to add hundreds, tens and units.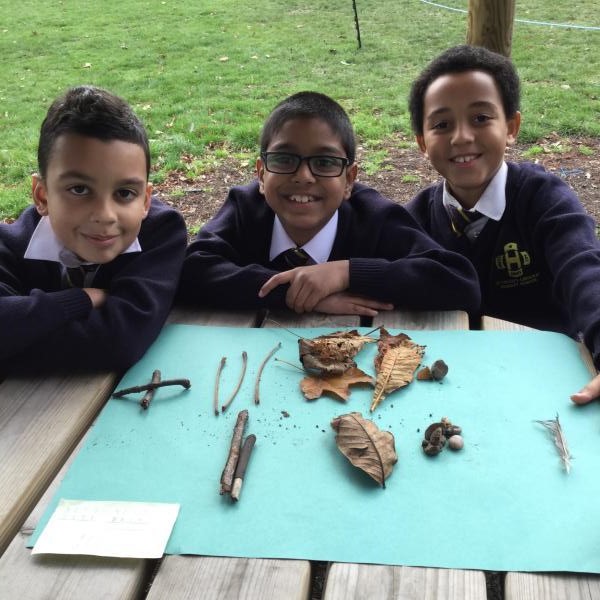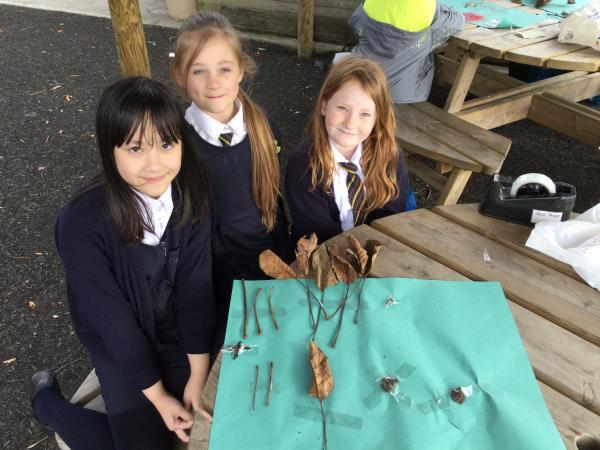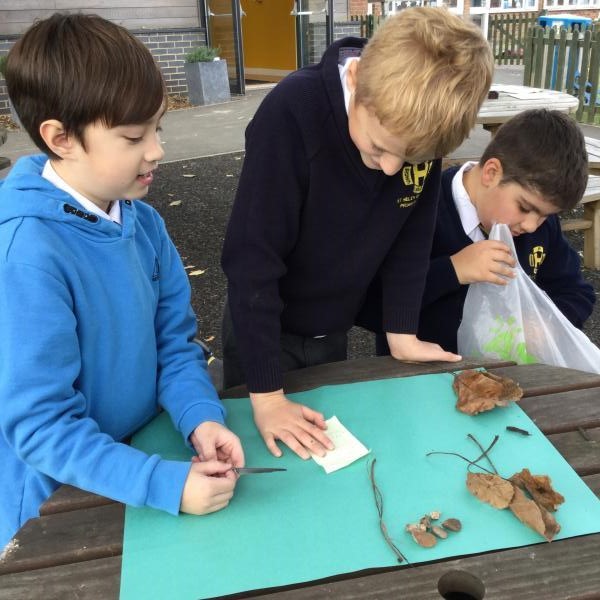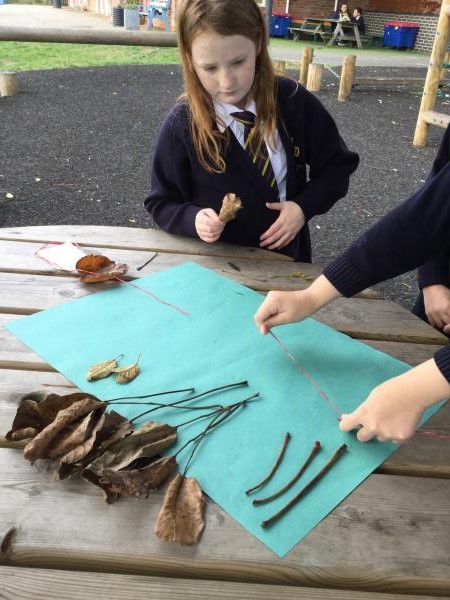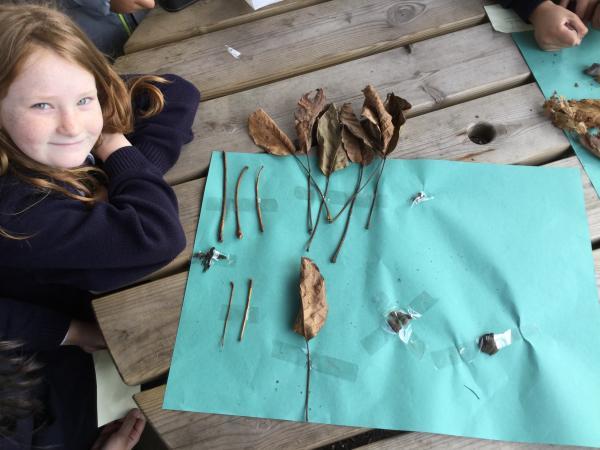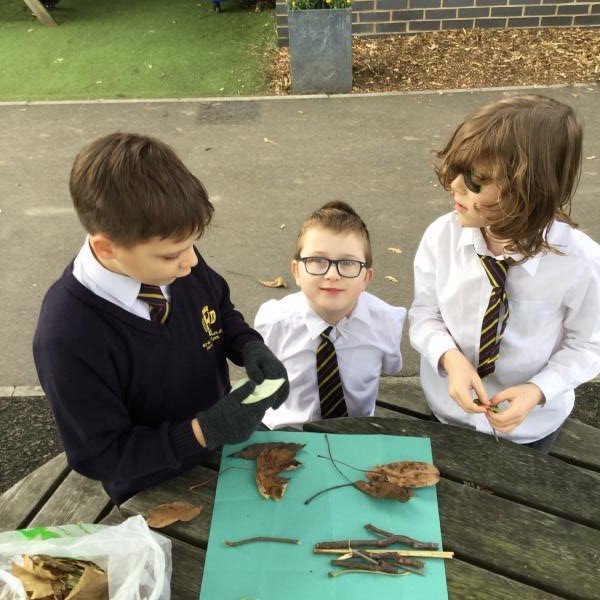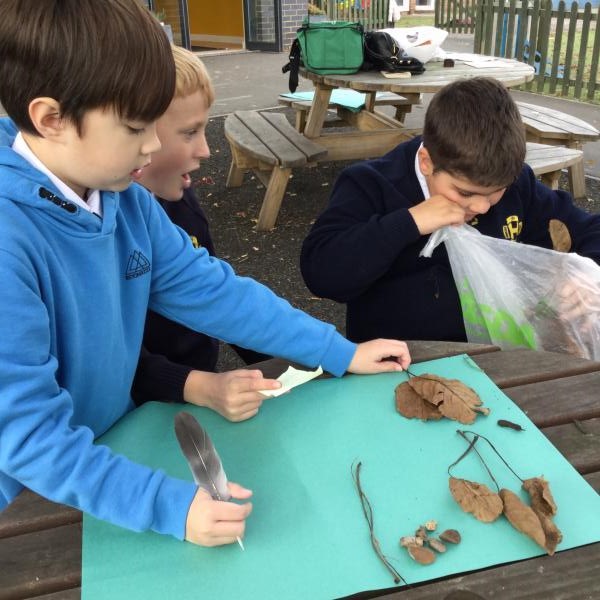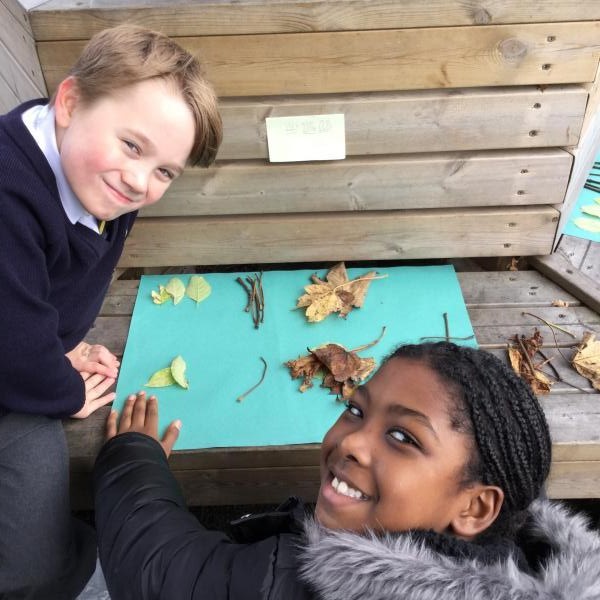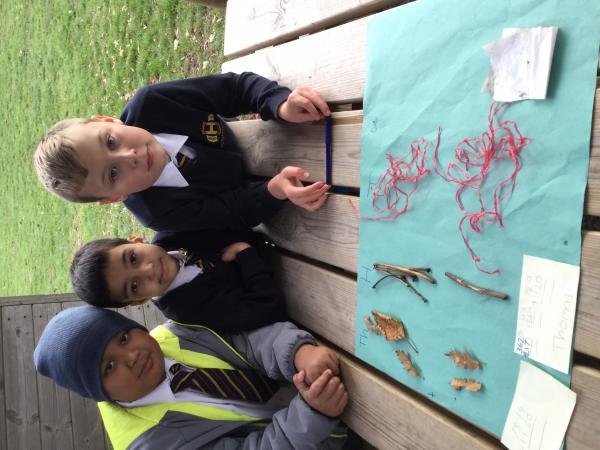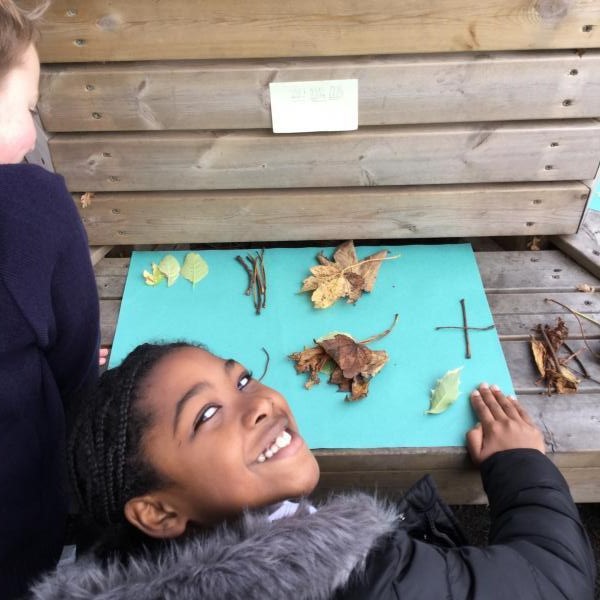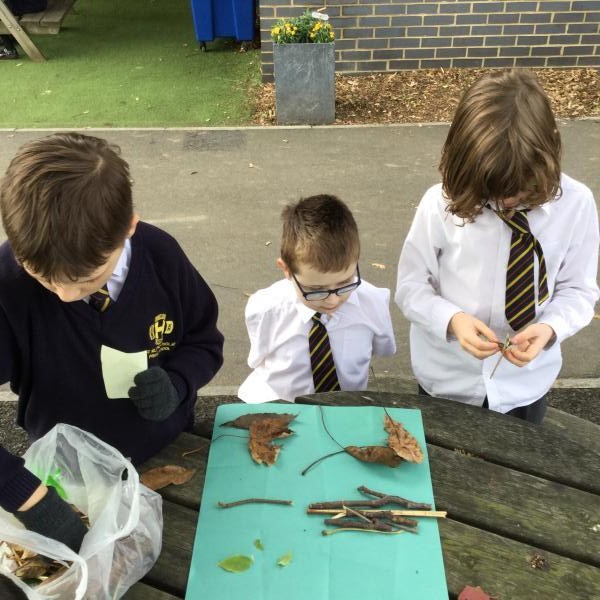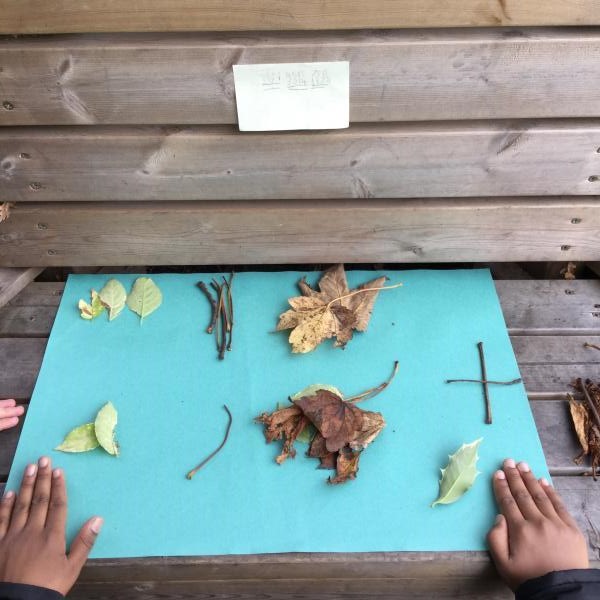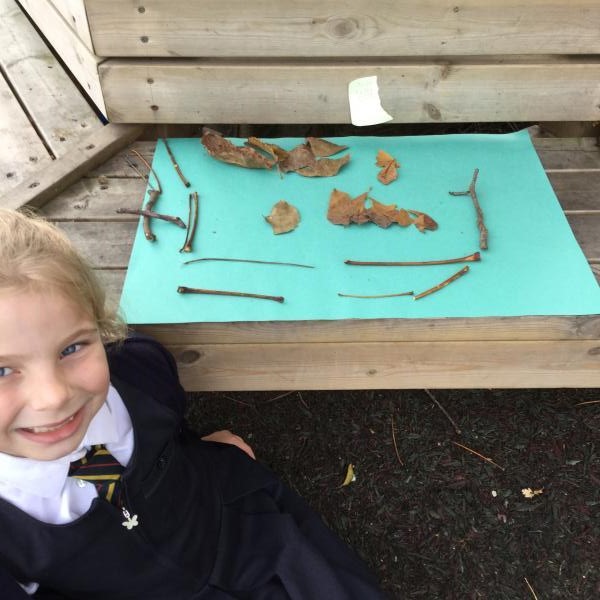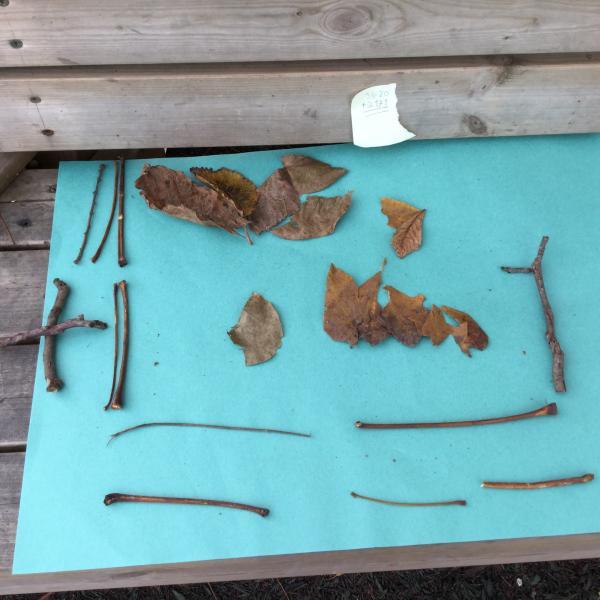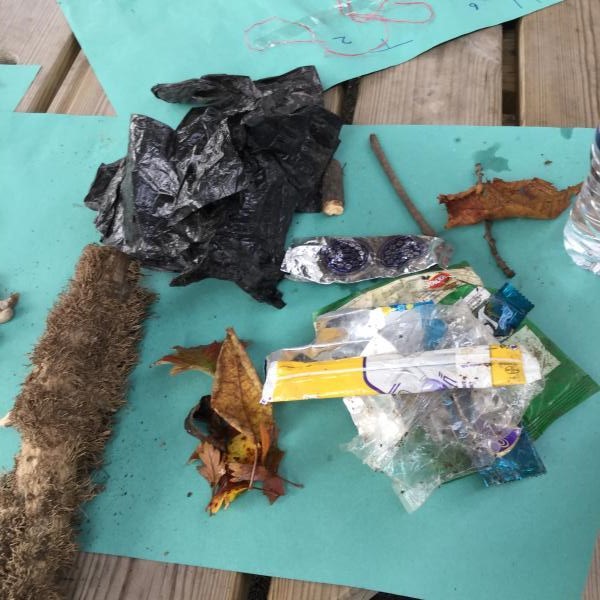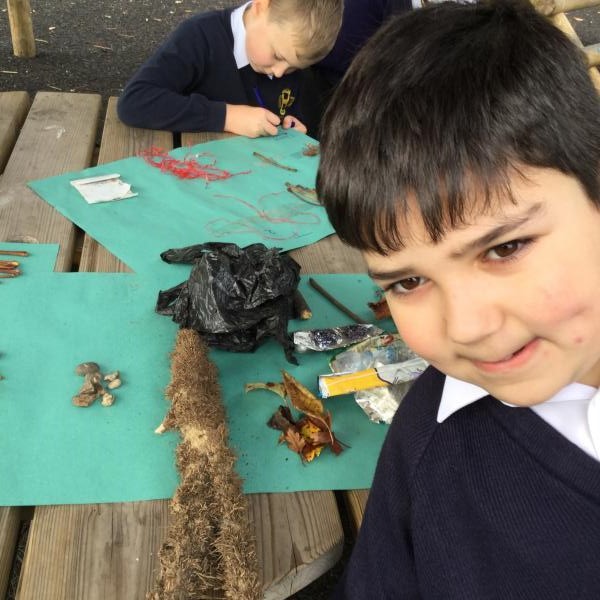 Electrical Circuits
4G have had a great week this week designing electrical circuits (that work!) and looking at different materials to discover whether they are conductors or not conductors. They did really well and had some surprising results.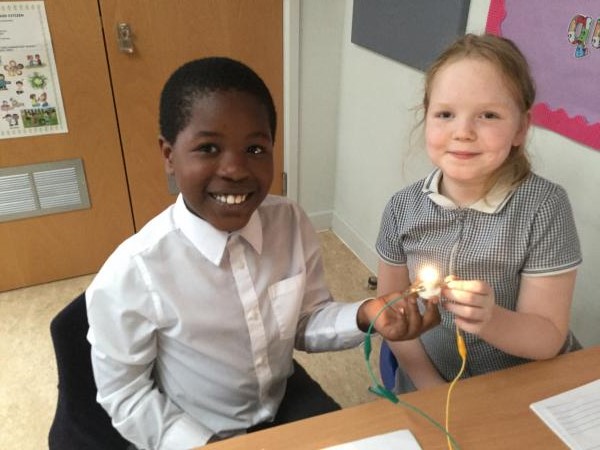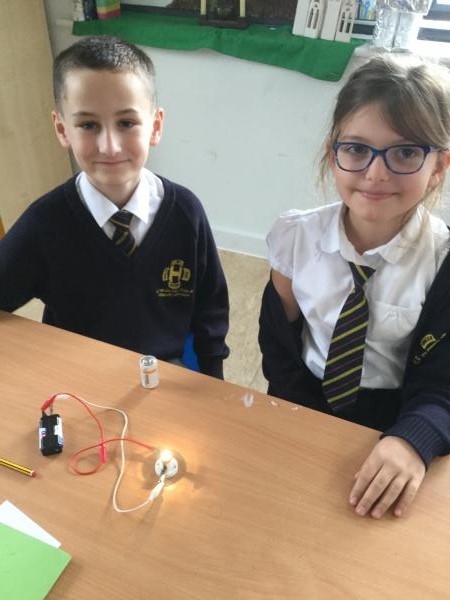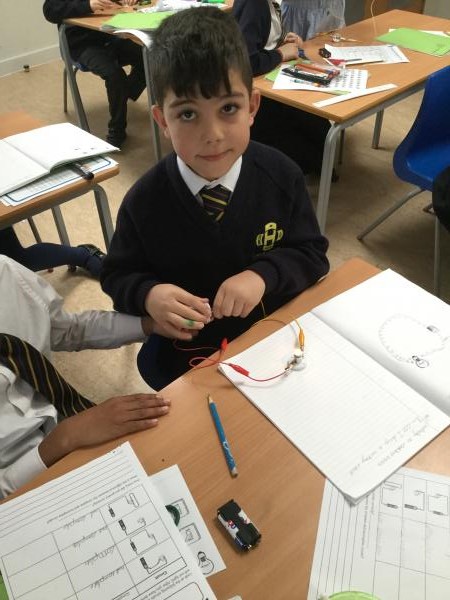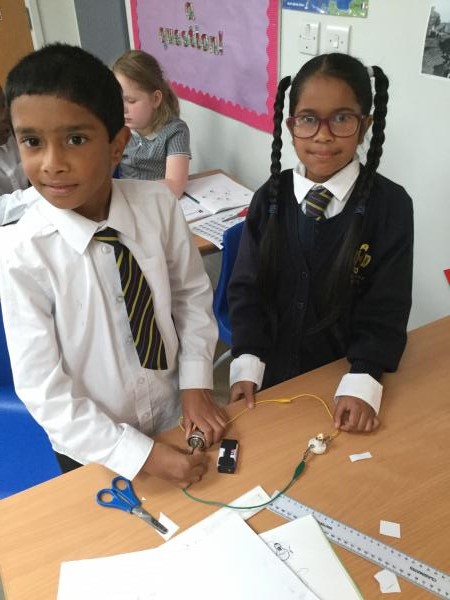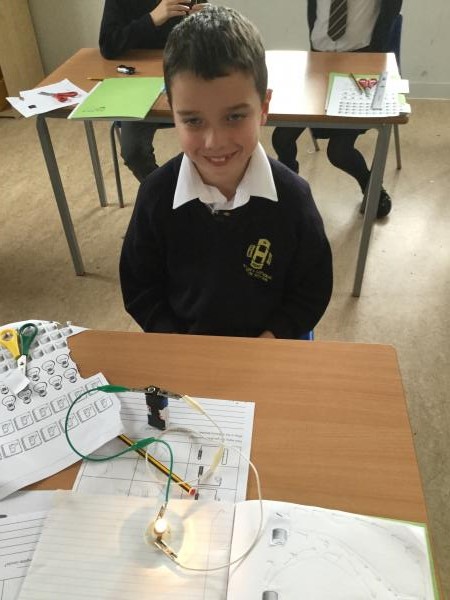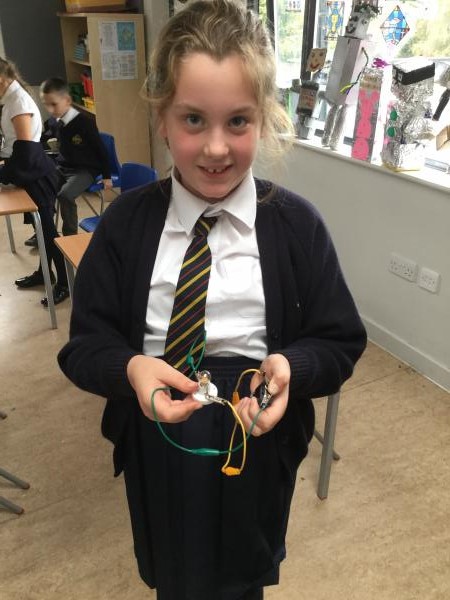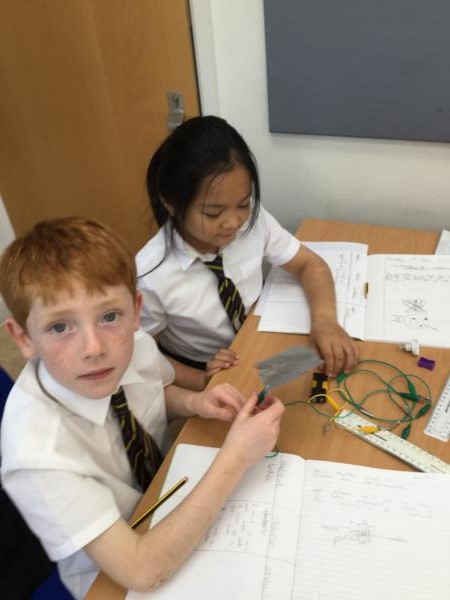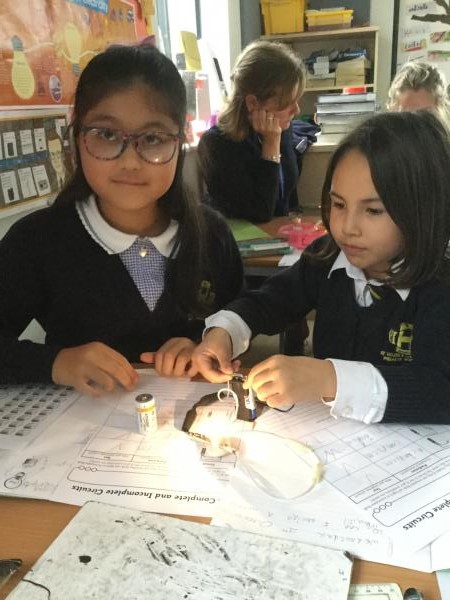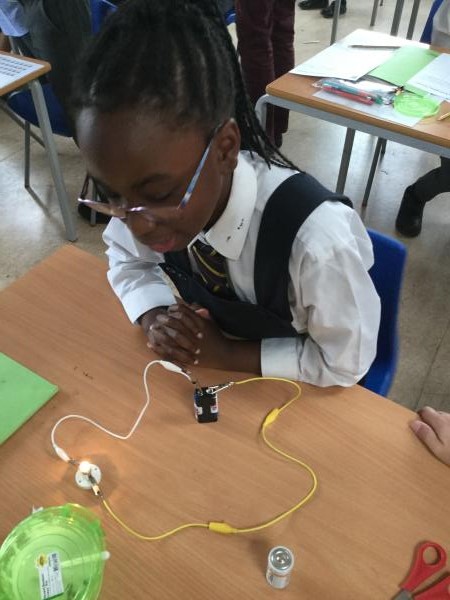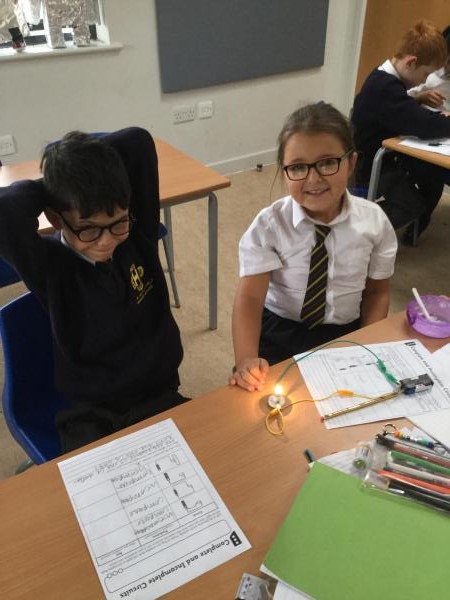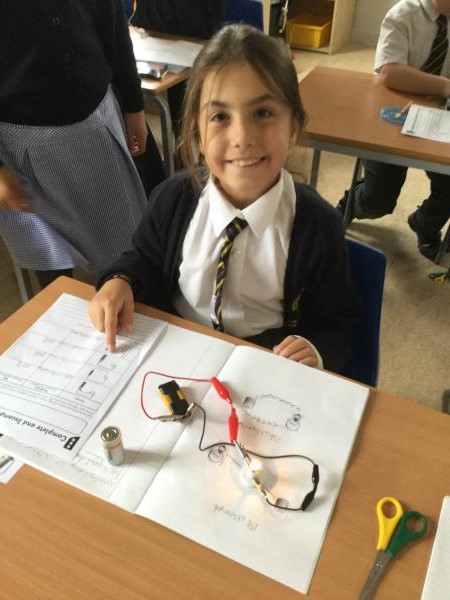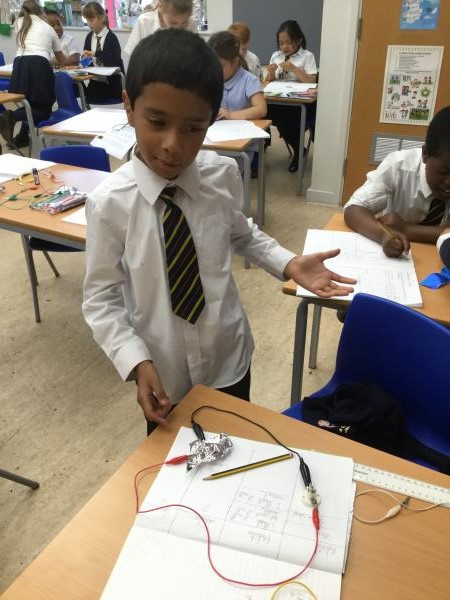 Circuit Components
This week in Science 4F have learnt what the components of a circuit are and made their own.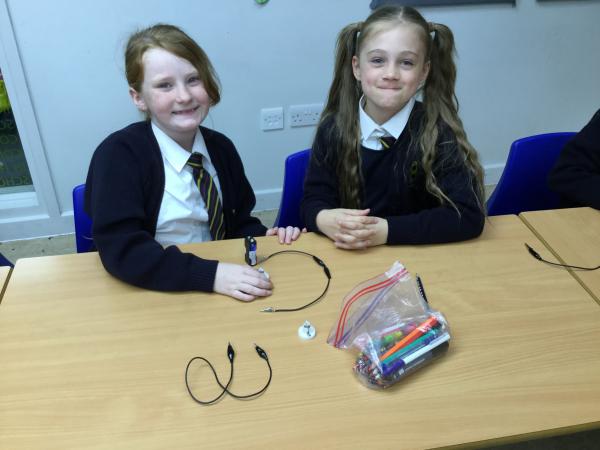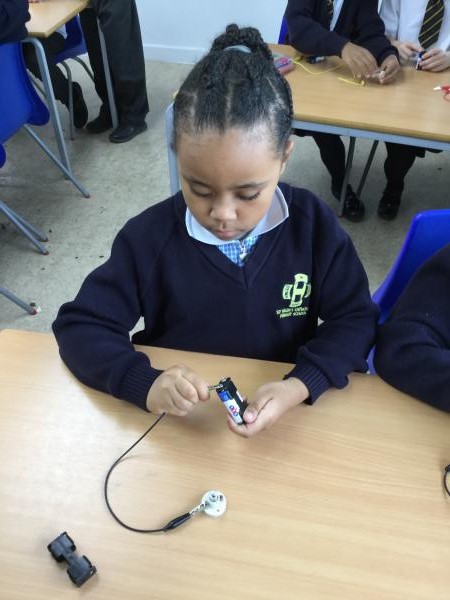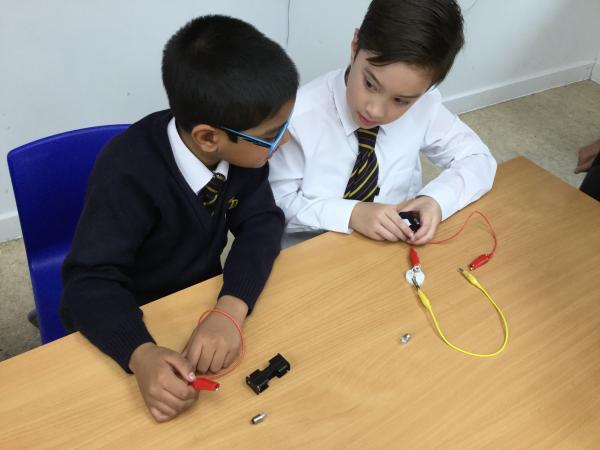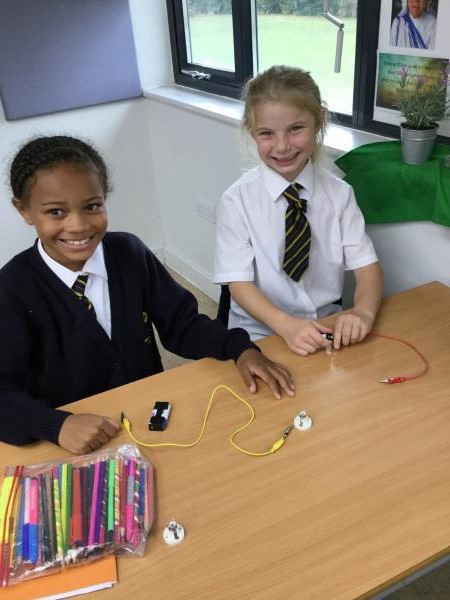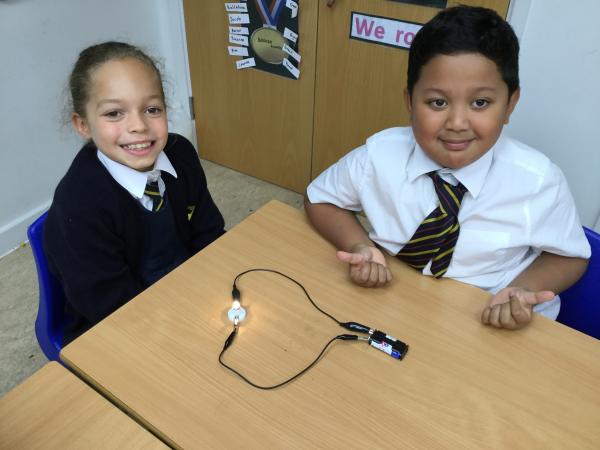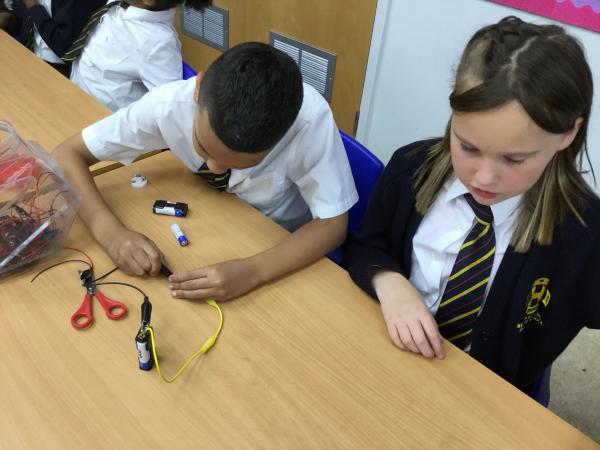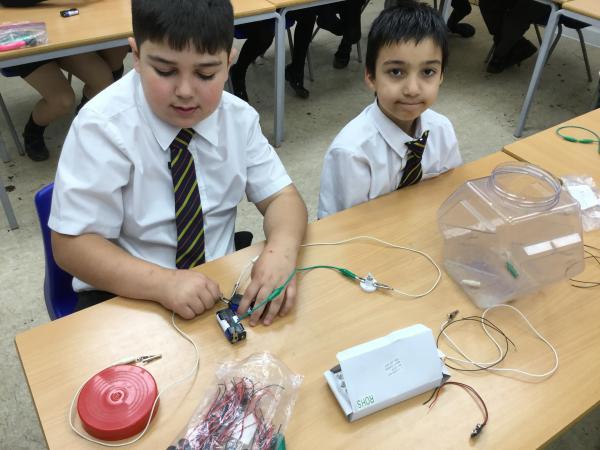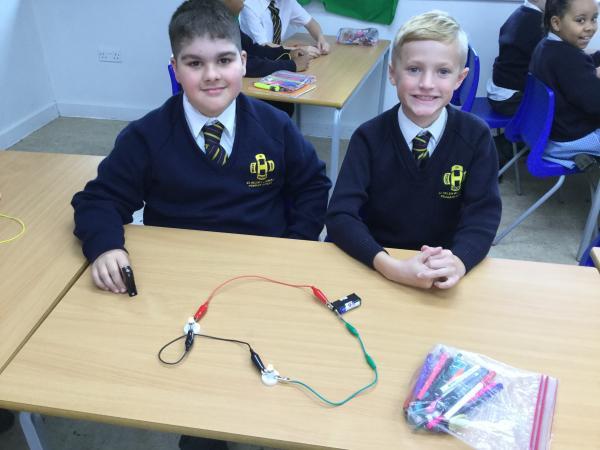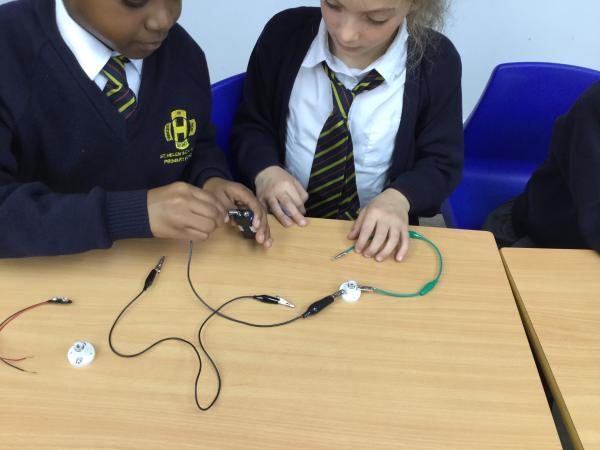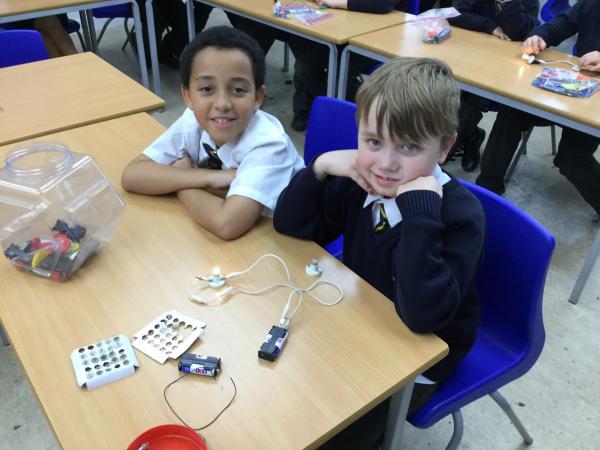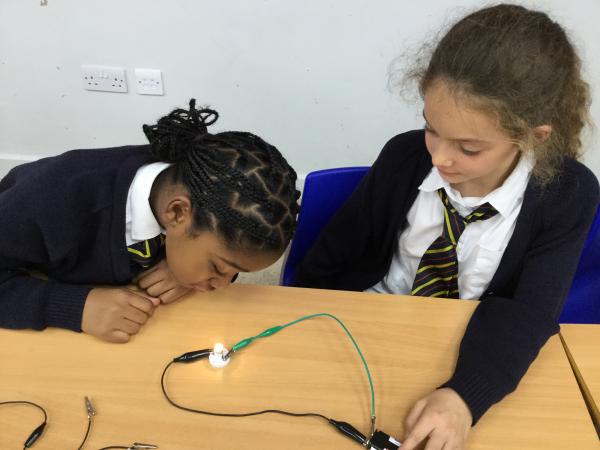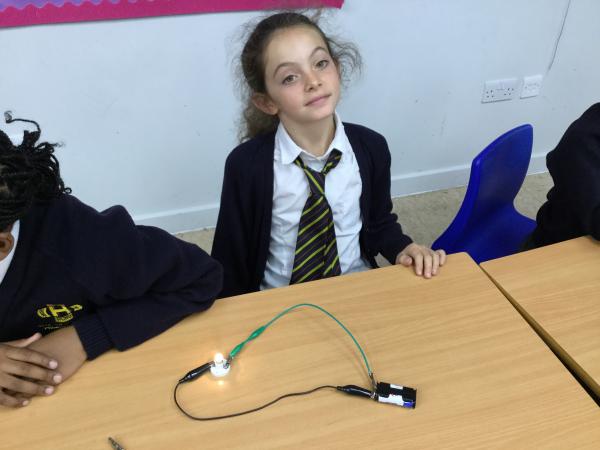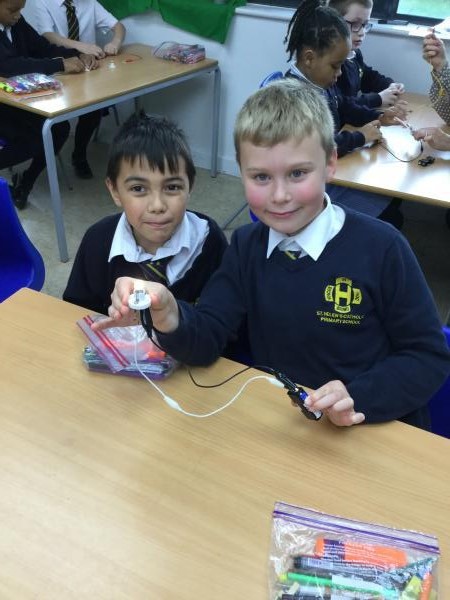 Congratulations - great work with your Times Tables!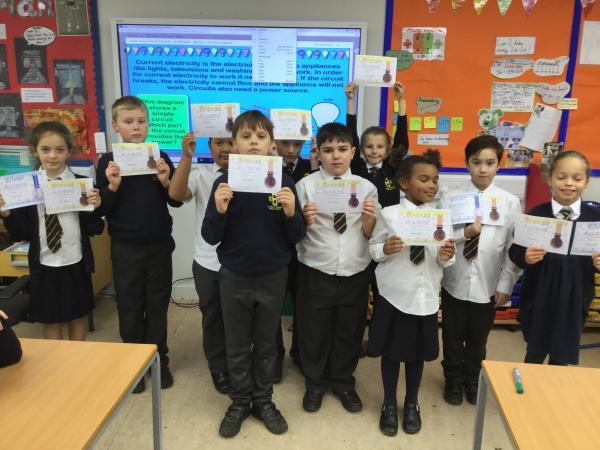 4G get busy in the Nature Area
4G had a fantastic day in the Nature Area this week looking at electricity and circuits , inventing , building and discovering new things too!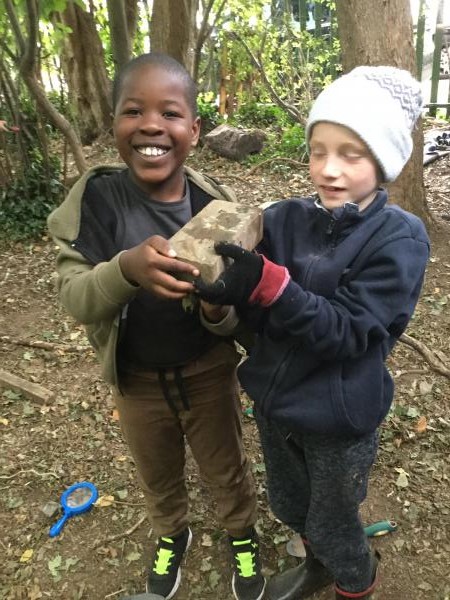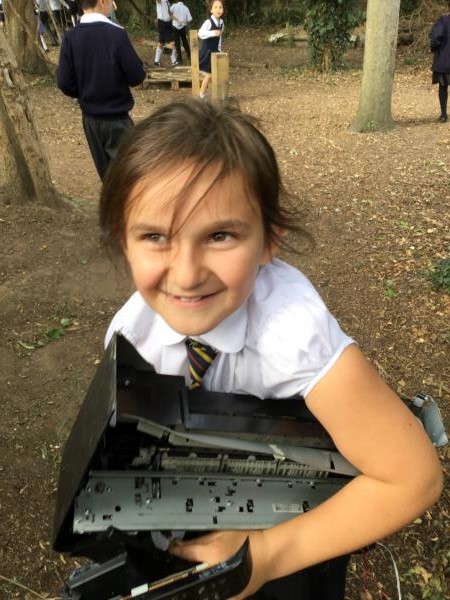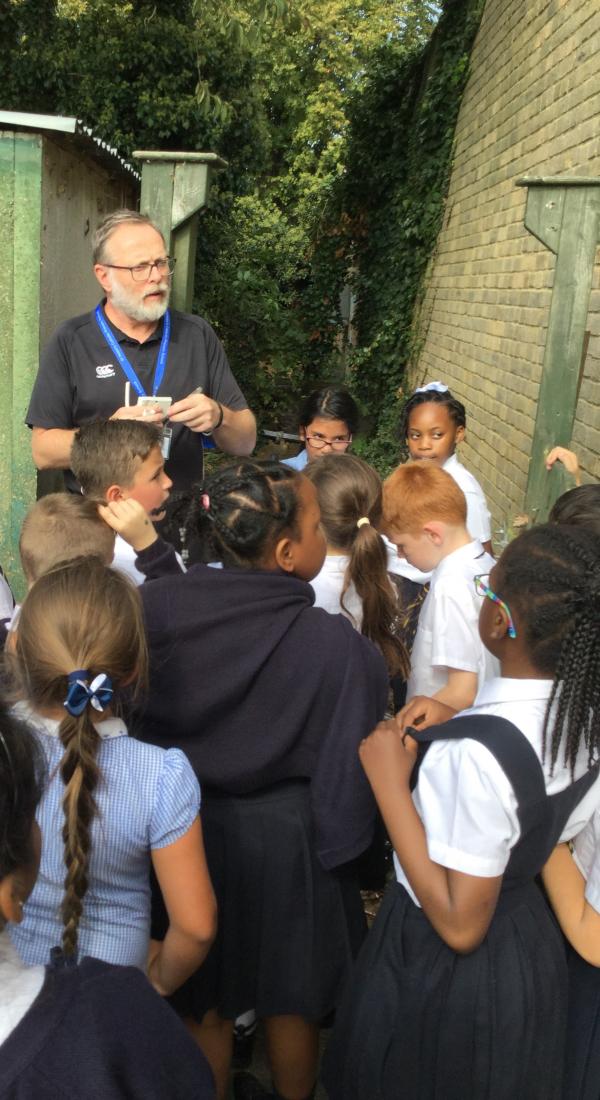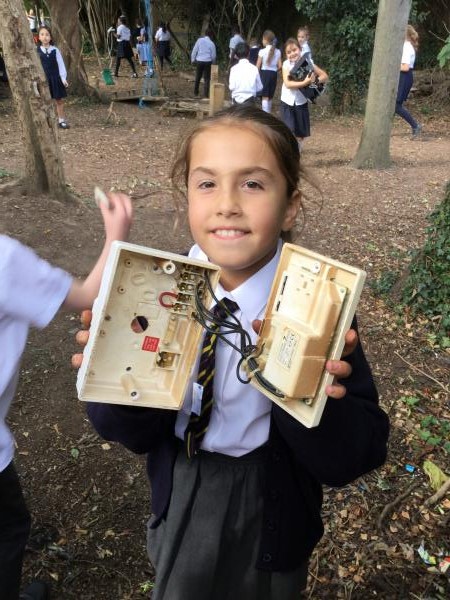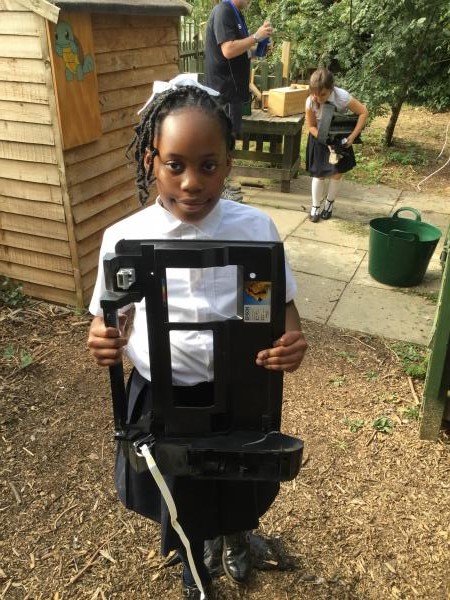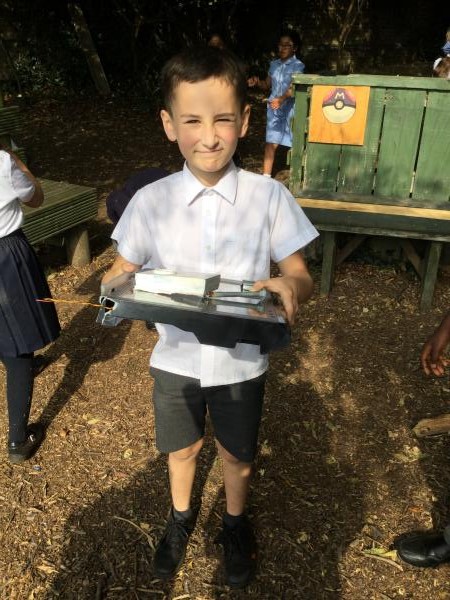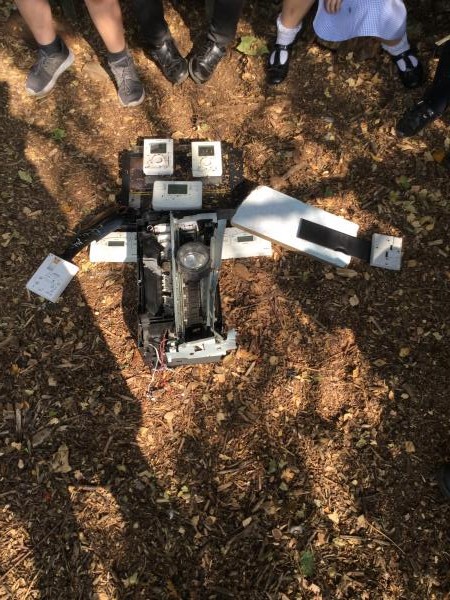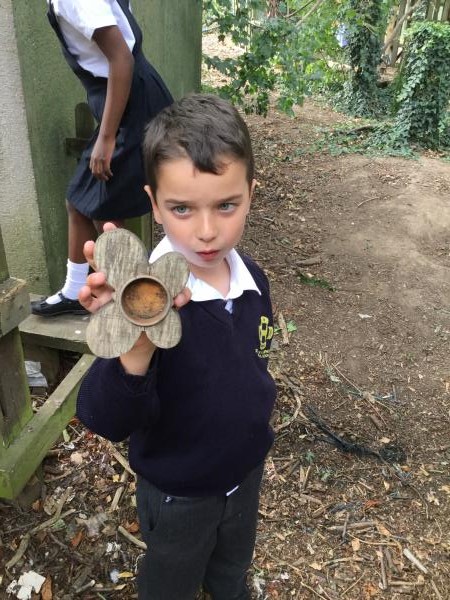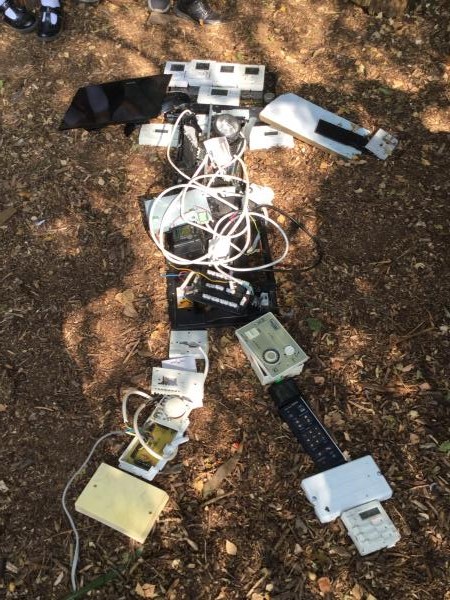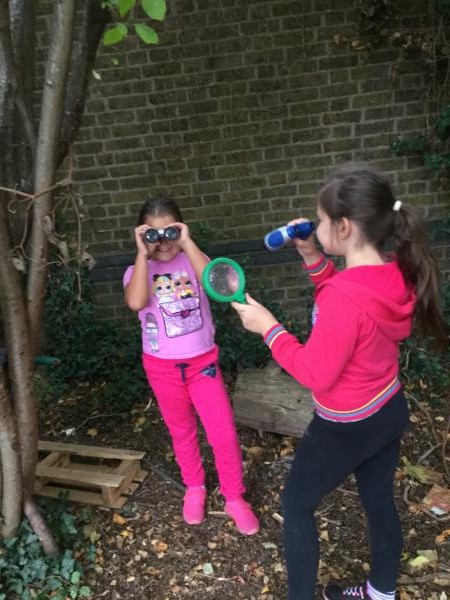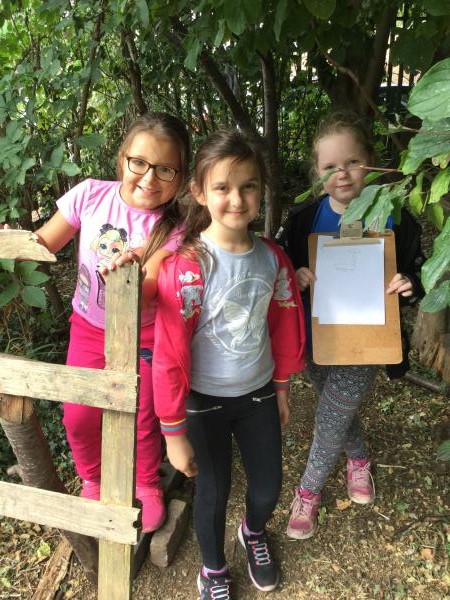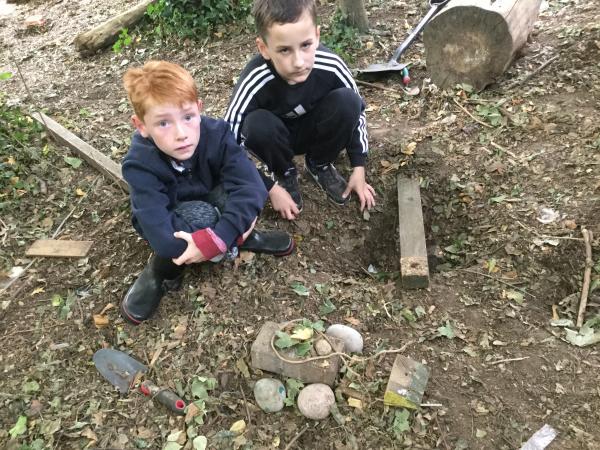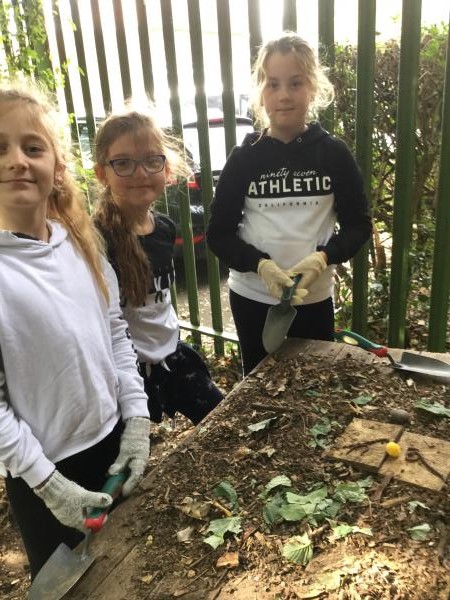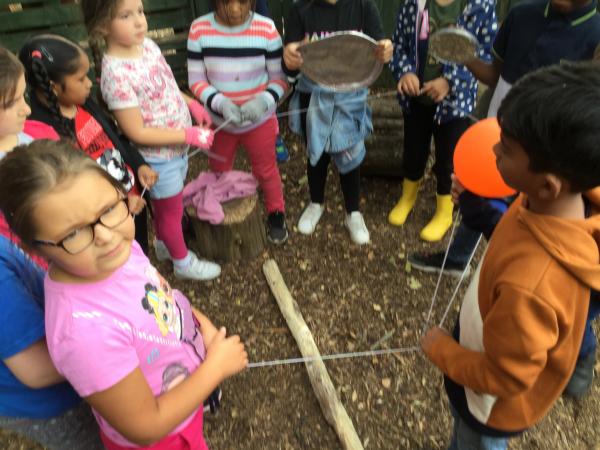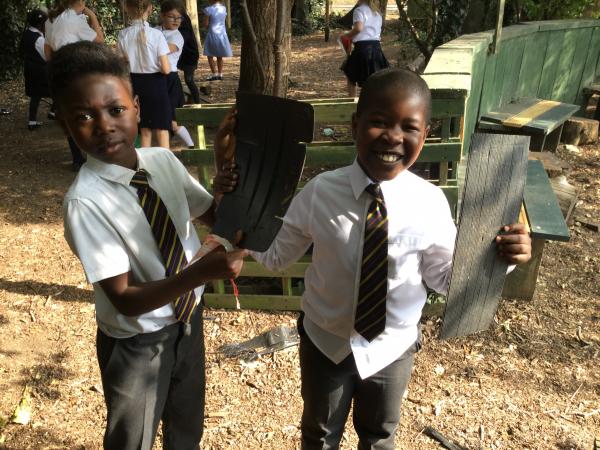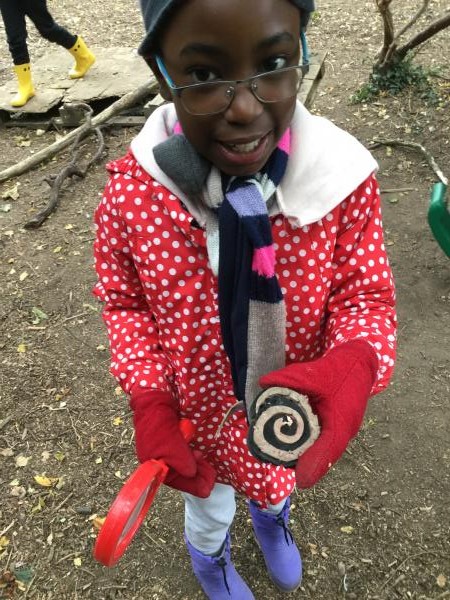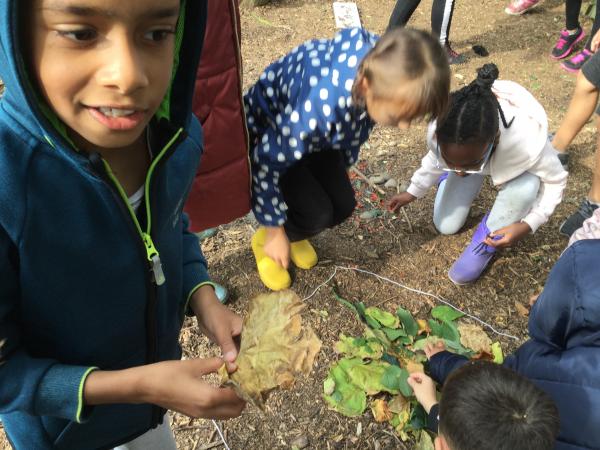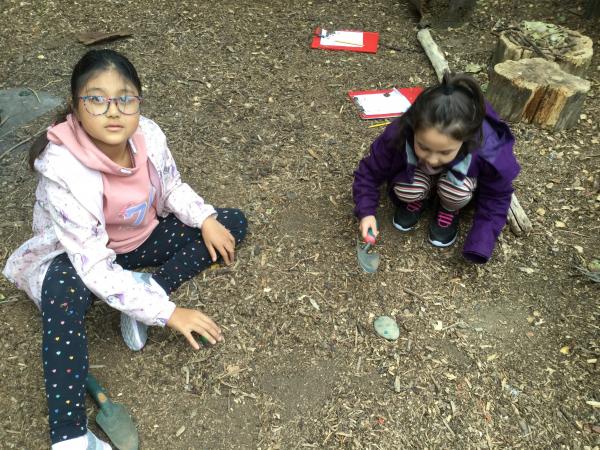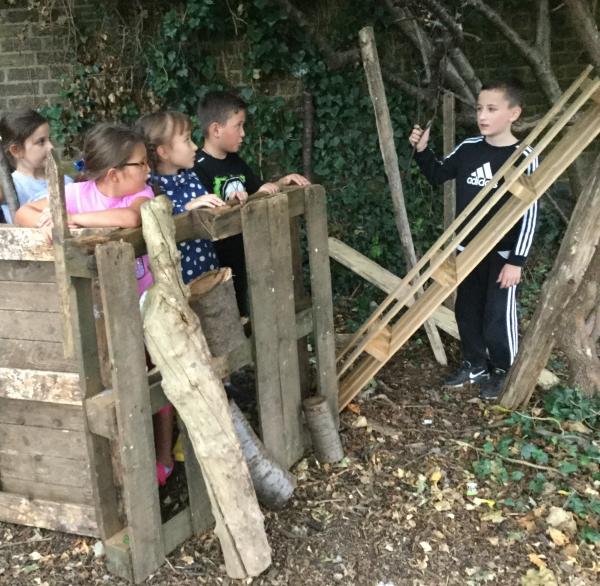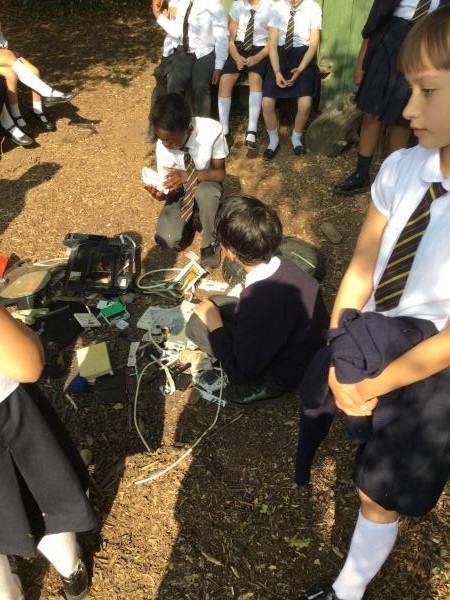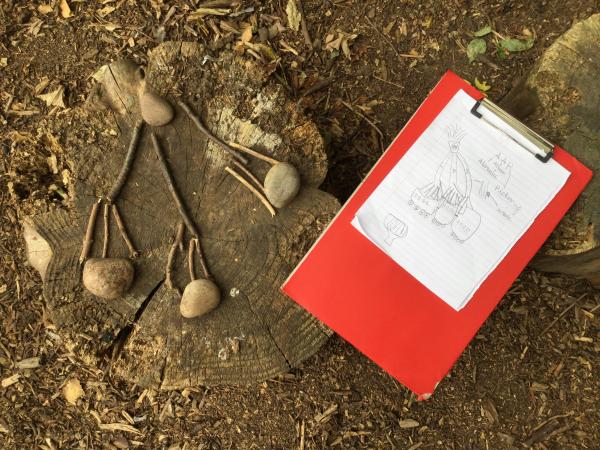 Andy Warhol Artwork
4G showing their artistic talents this week completing their portraits for our art topic on Andy Warhol.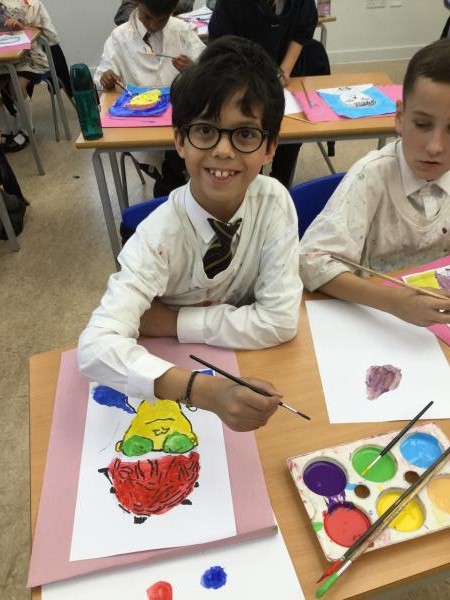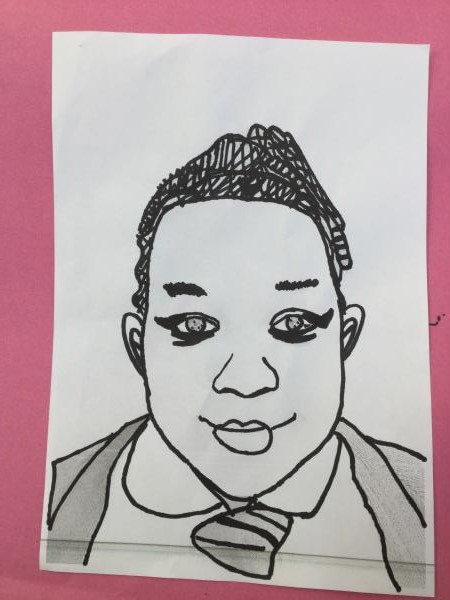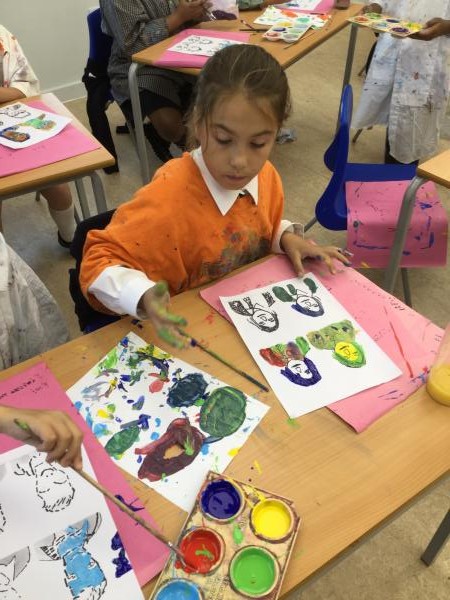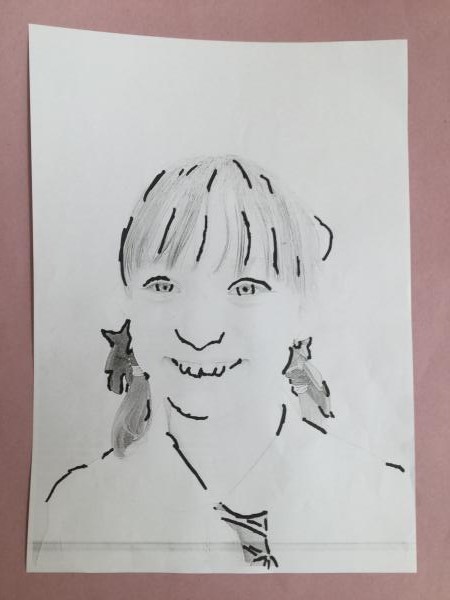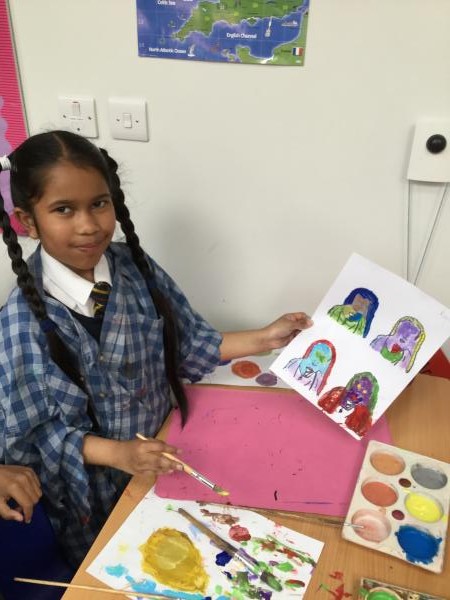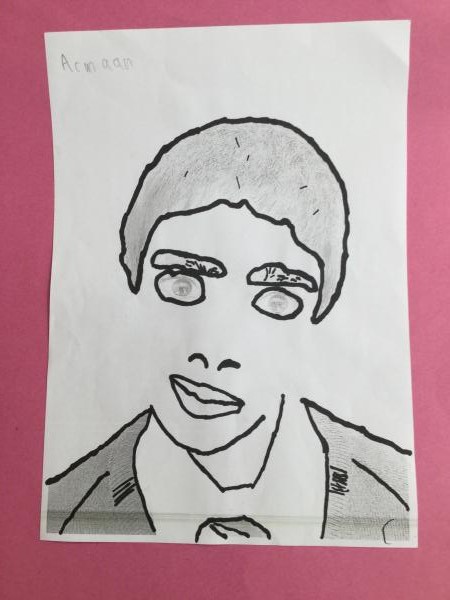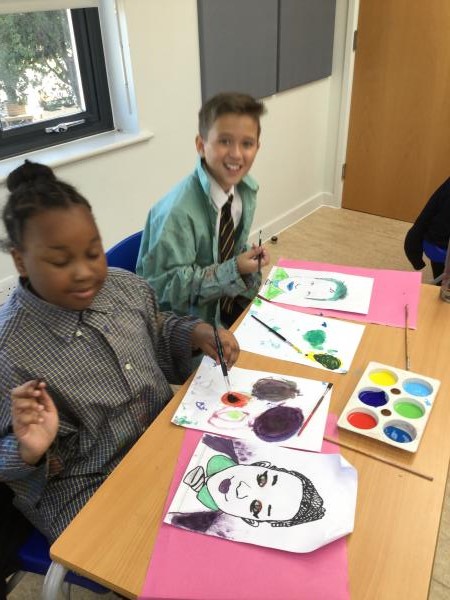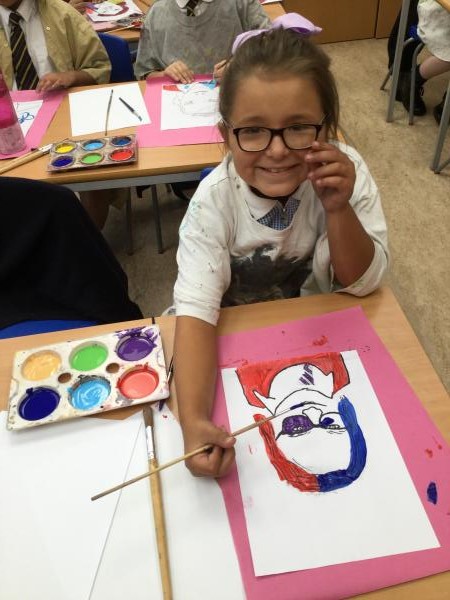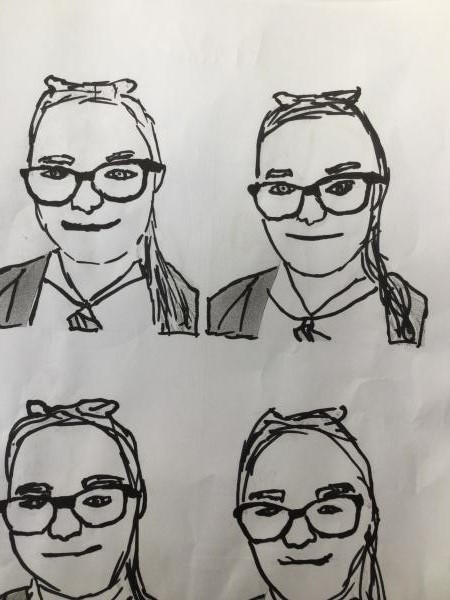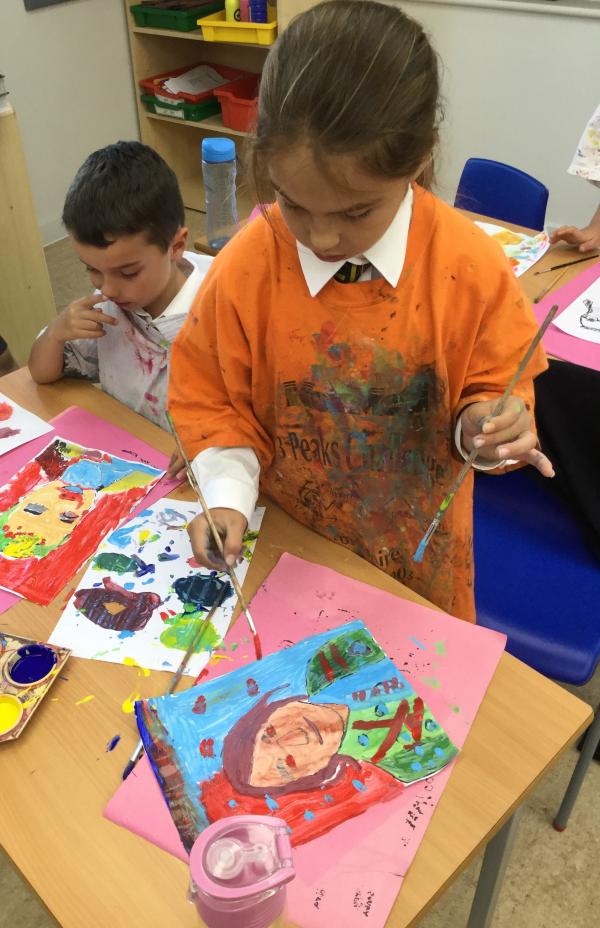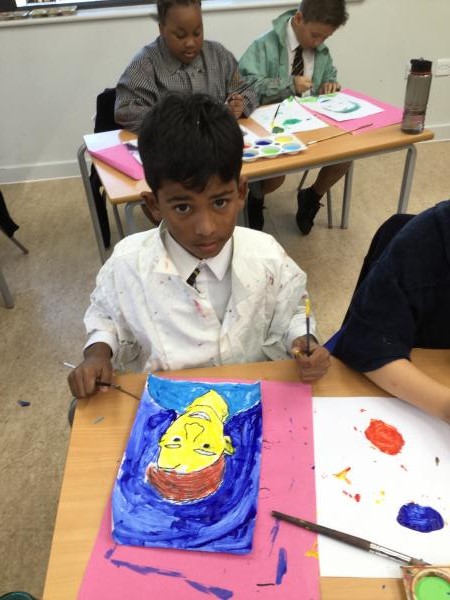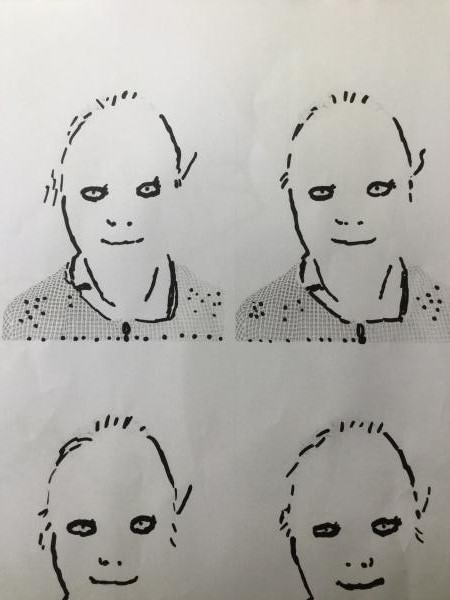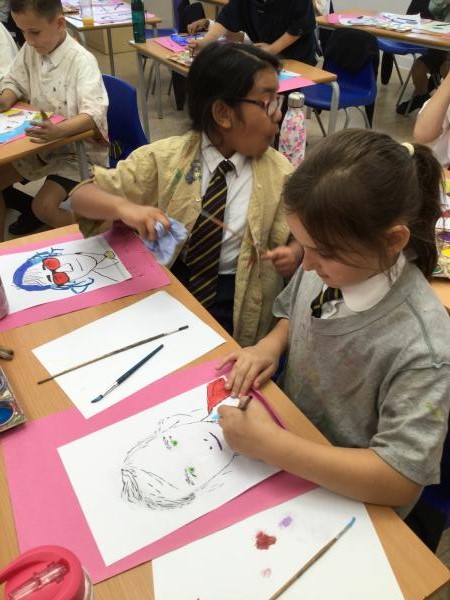 4F Meets The Iron Man
Class 4F went into the nature area to start their new class reading book – The Iron Man by Ted Hughes. They also searched for materials in there to build an iron man.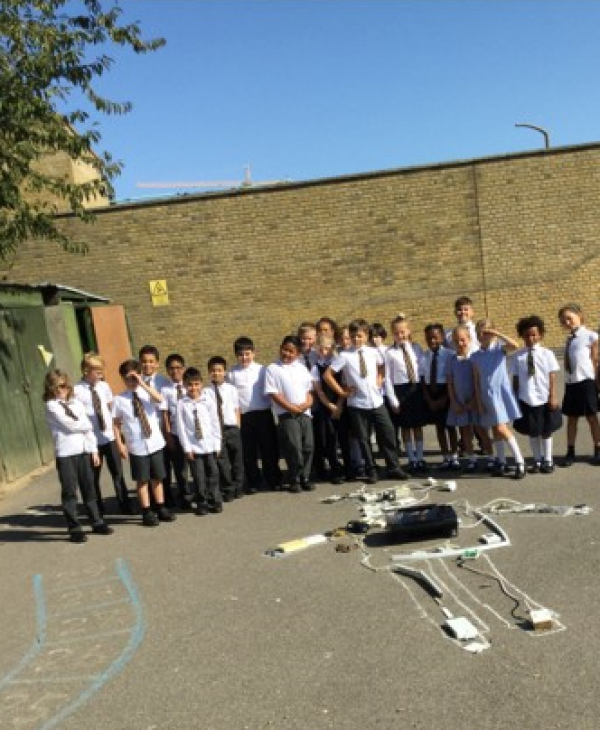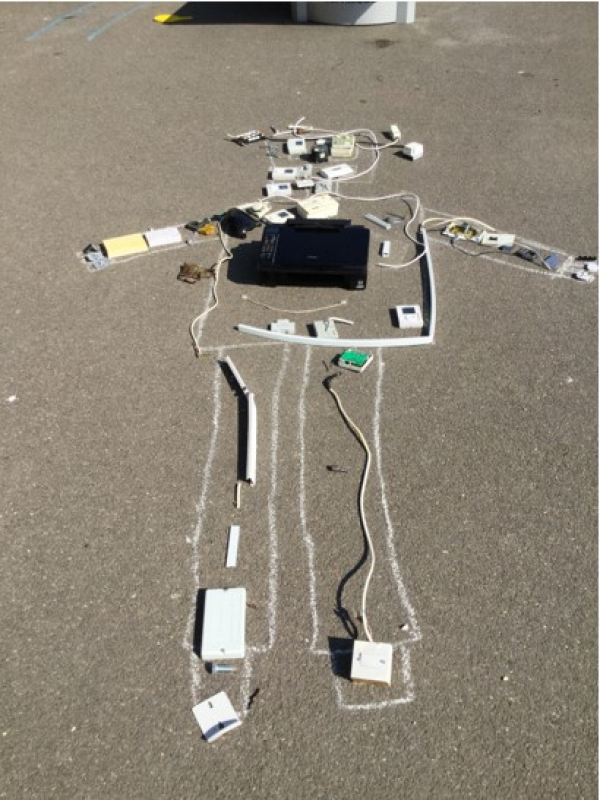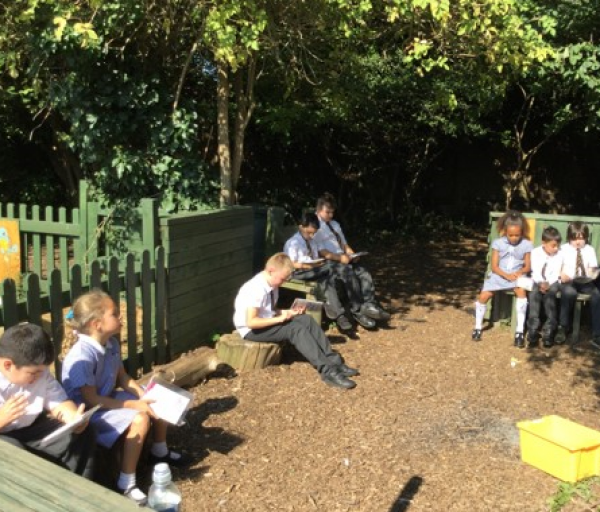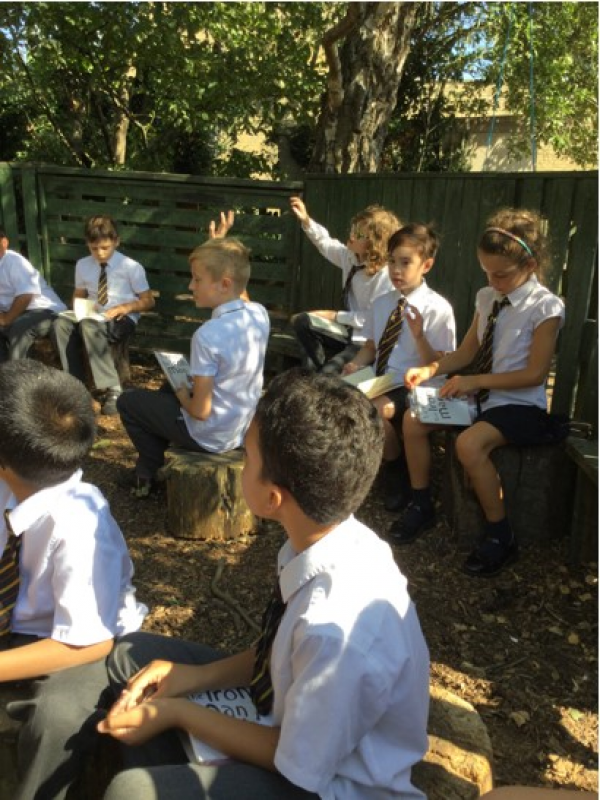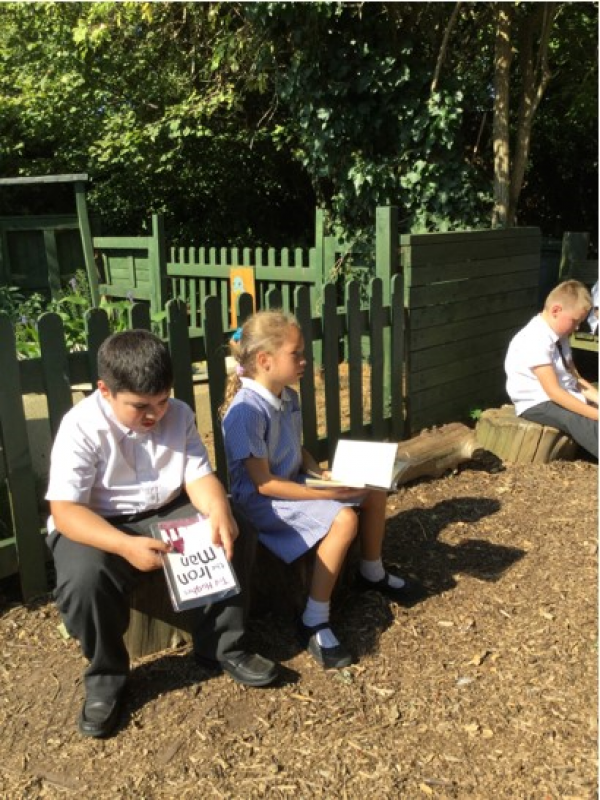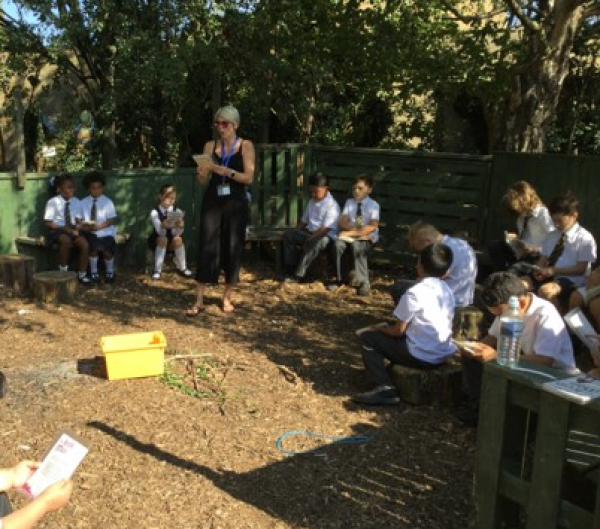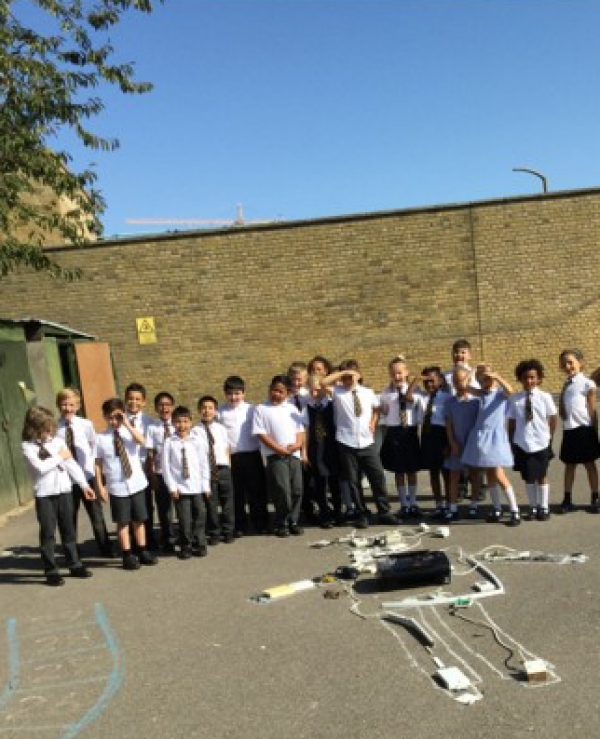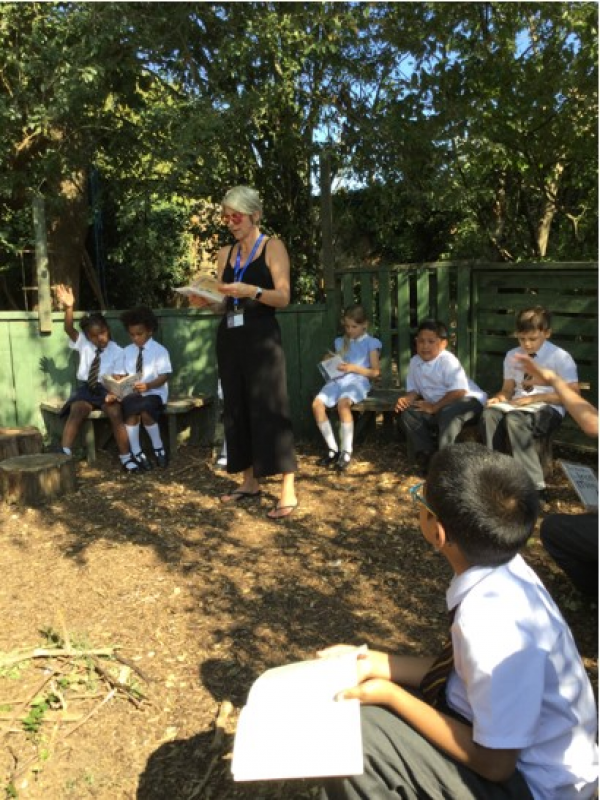 We are back and busy!
What a great first week back for Class 4G.
We had an amazing scavenger hunt in the nature area and then had a great time making ourselves some Ecuadorian Worry Dolls!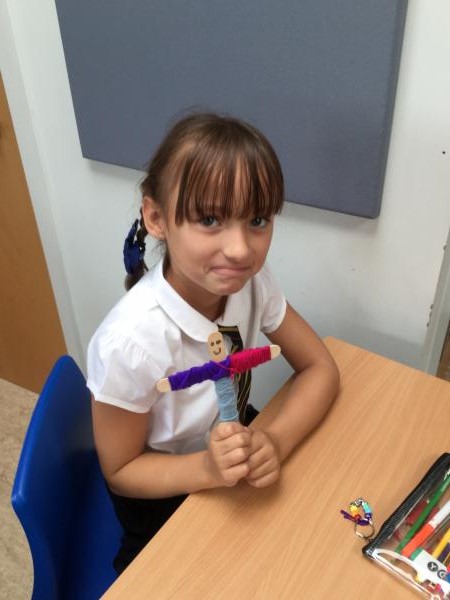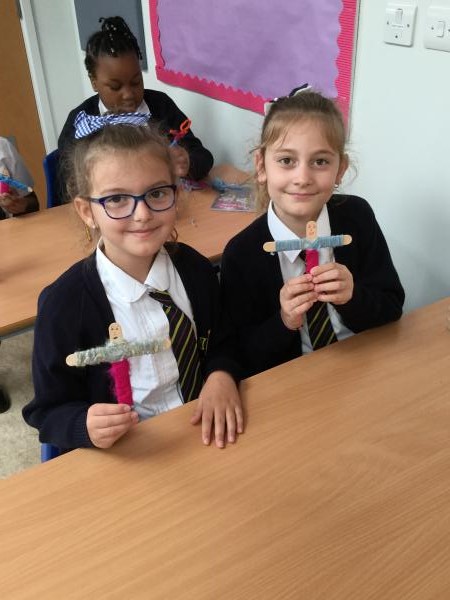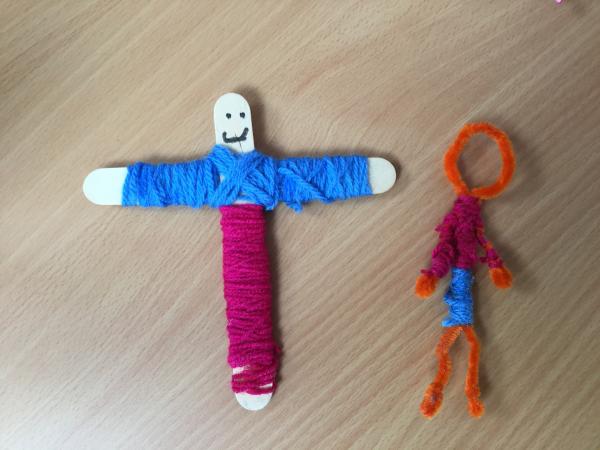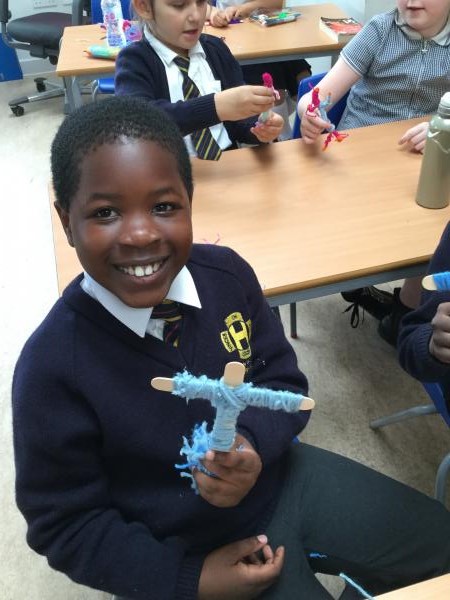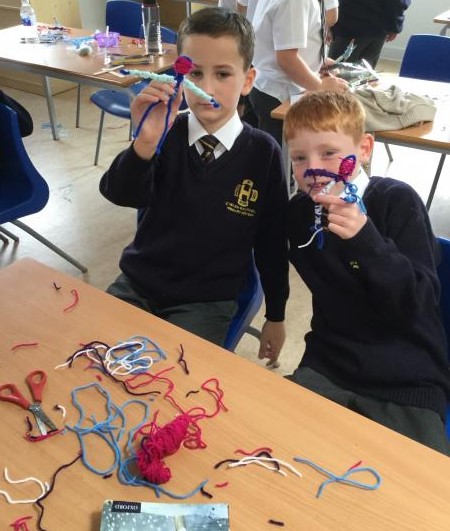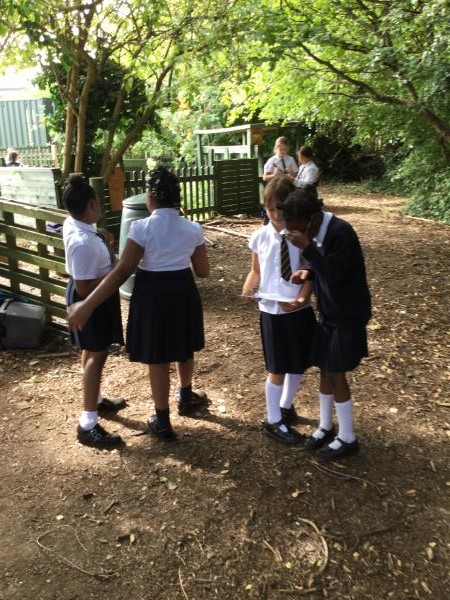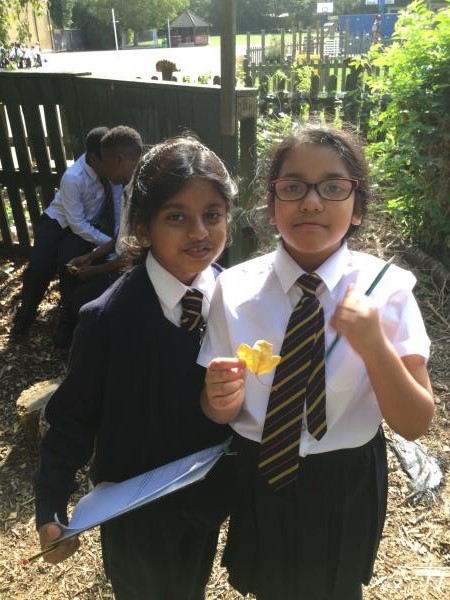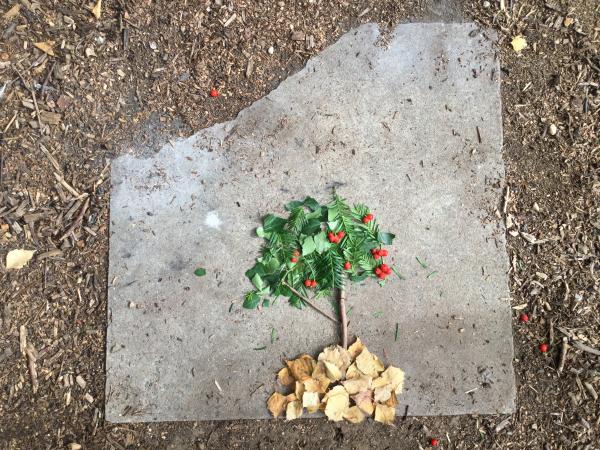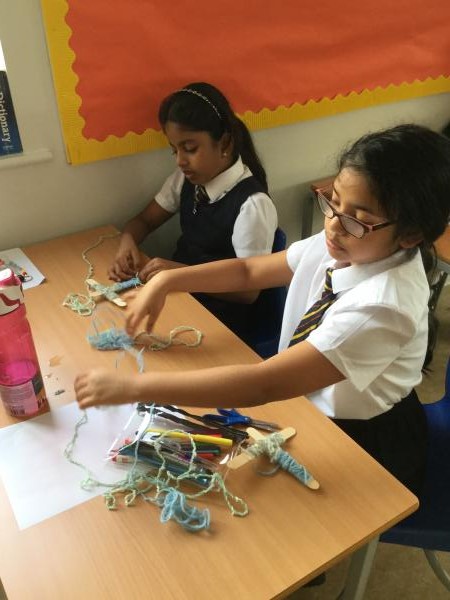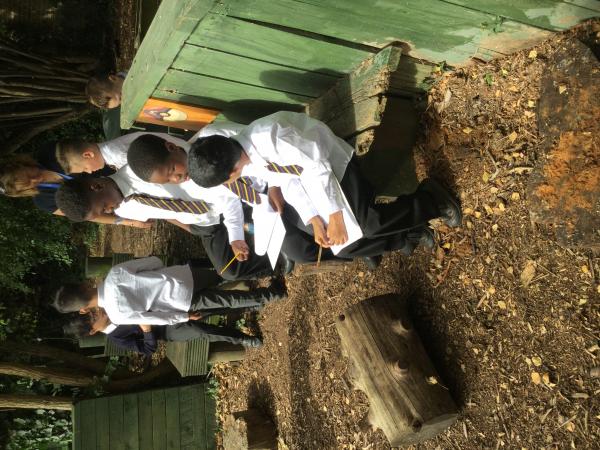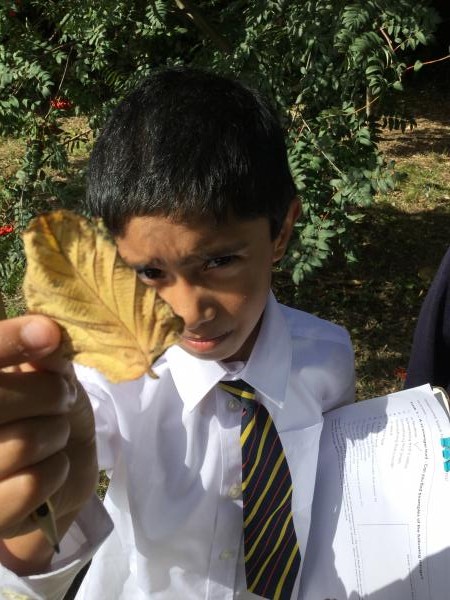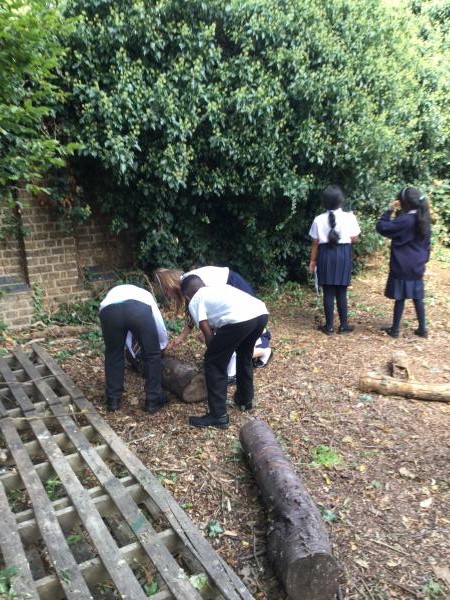 Welcome to your New Classes 4F and 4G
Click below to view the Powerpoints.
Check out World Chocolate Day on the Class 3 page.
D & T in Action
As part of our D & T homework this month the children of year 4 were asked to make something with moving parts, like a toy. Here is what Zoe from 4F has sent in! Amazing work.
Home Picnics
Take a look at the wonderful picnics the children have been making and enjoying. We also have some amazing writing. Lilly decided to make a picture about all the things she likes to take on a picnic. Super work everybody - enjoy your picnics!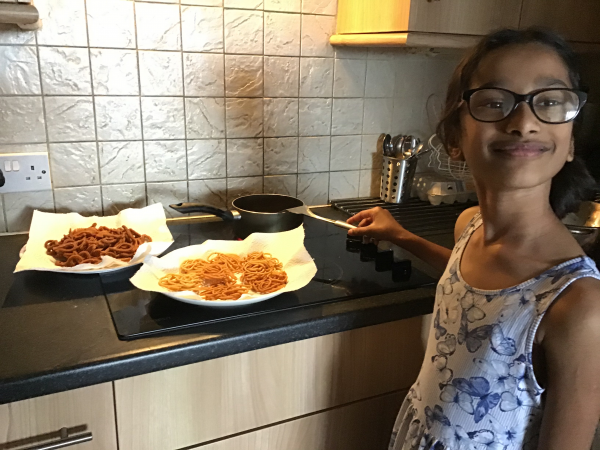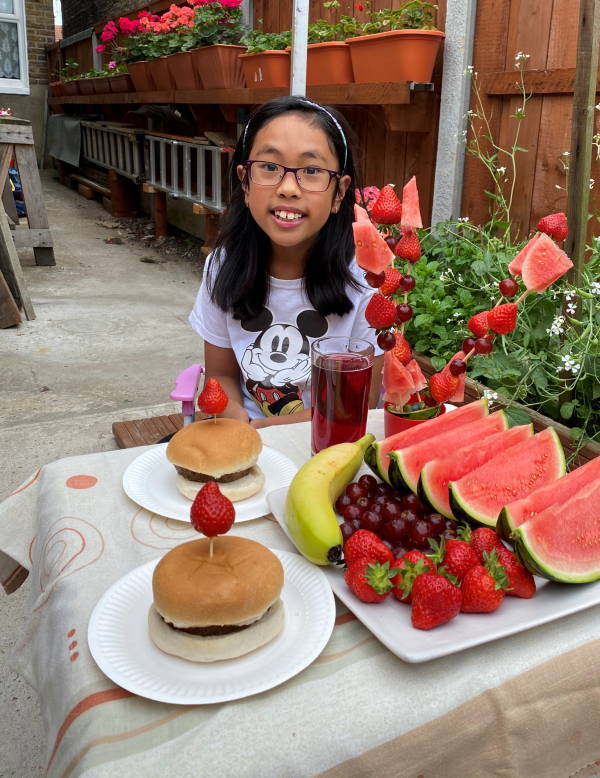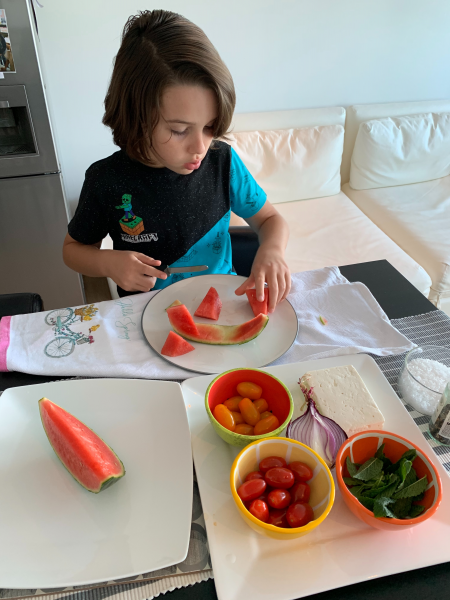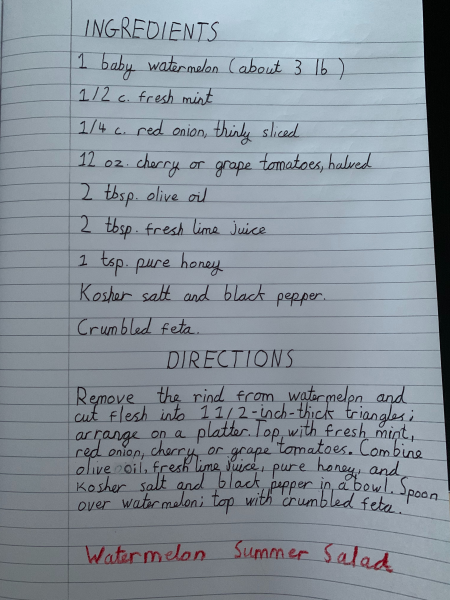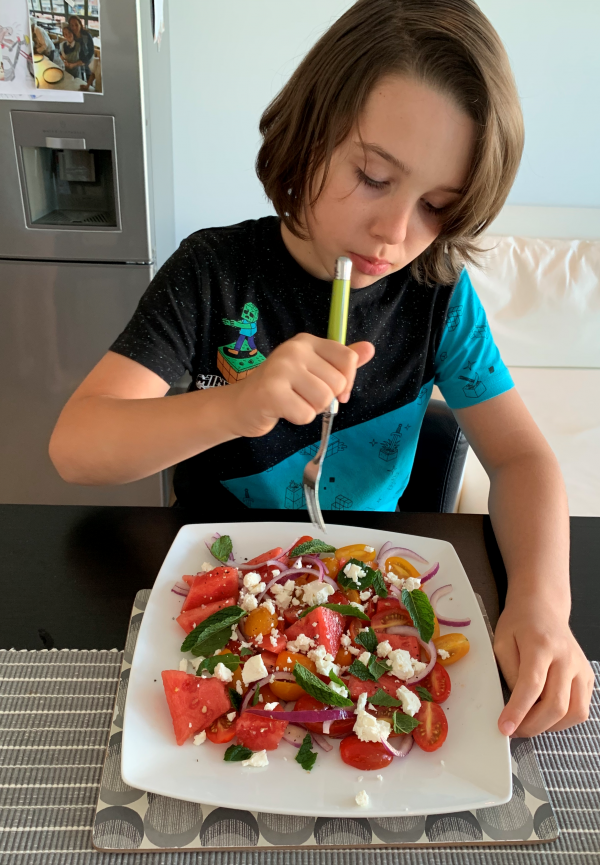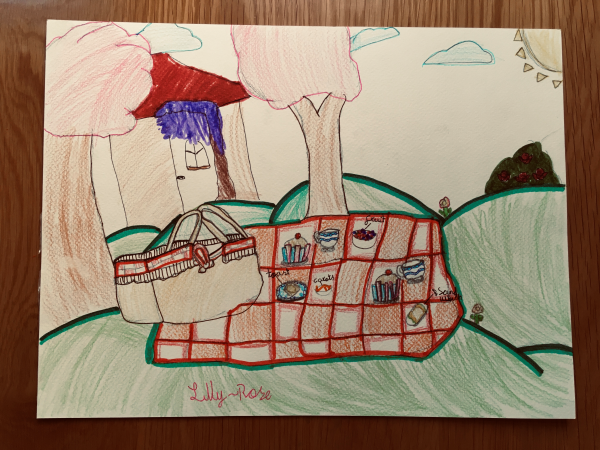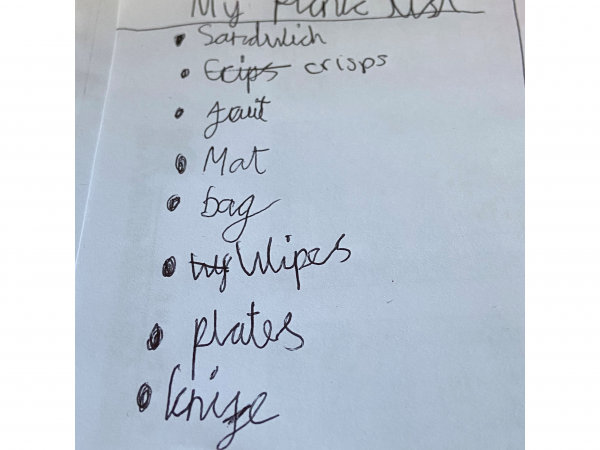 Keep Britain Clean
This week's mini project is to design a poster to encourage people not to leave their litter on our beaches and other beauty spots around the country. Have a look at the amazing posters we have had on the Class 3 page.
Amazing artwork
Sophie had great fun finding out about Andy Warhol and this is the result of her efforts - she experimented with different materials for each soup tin - felt tips, colouring pencils, watercolour and oil pastels.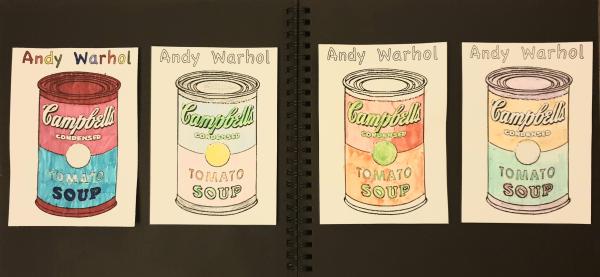 Matisse - Glue, paper, scissors!
This week year 3 and 4 were set a challenge to produce a work of art using only scissors paper and glue - based on the work of the artist Henri Matisse. Have a look at some of the amazing work the children have done.
One pupil has been inspired by the garden, painting over leaves, some leaves were made into stamps and used to print, others like rosemary have been used as brushes. Pupils have made great pictures and some have also completed some amazing writing. Well done to you all, we are adding your fabulous creations daily!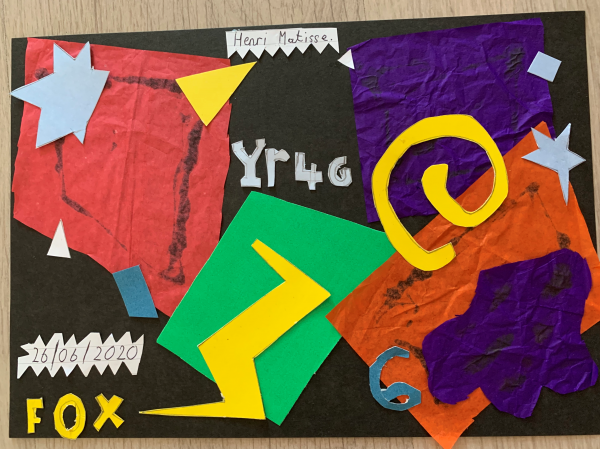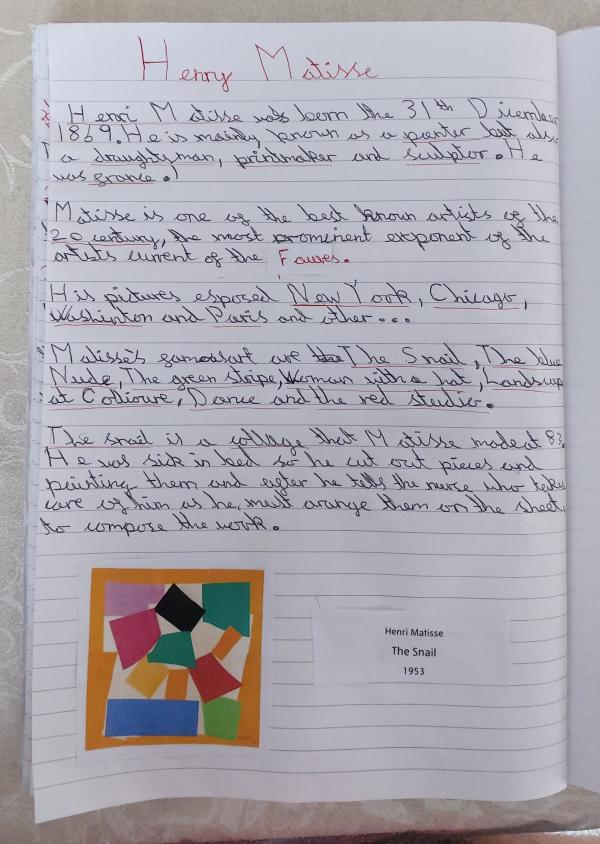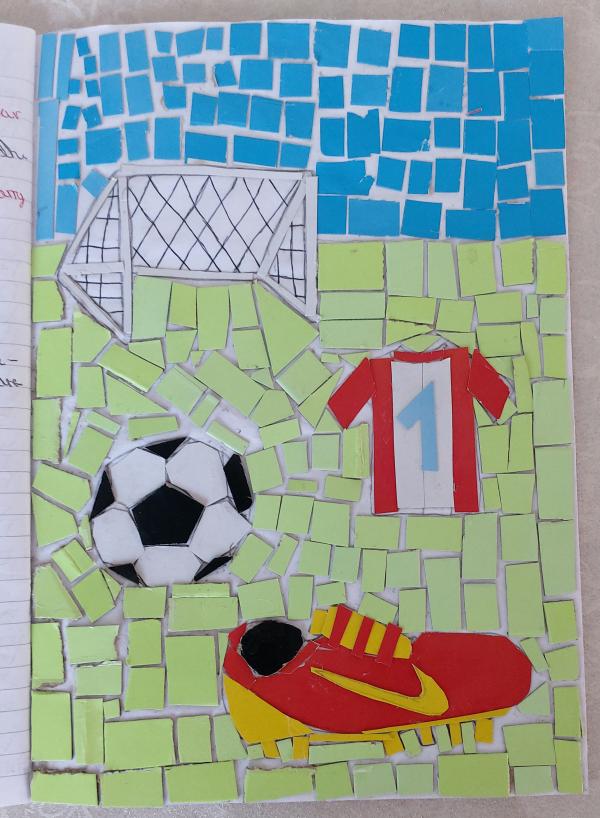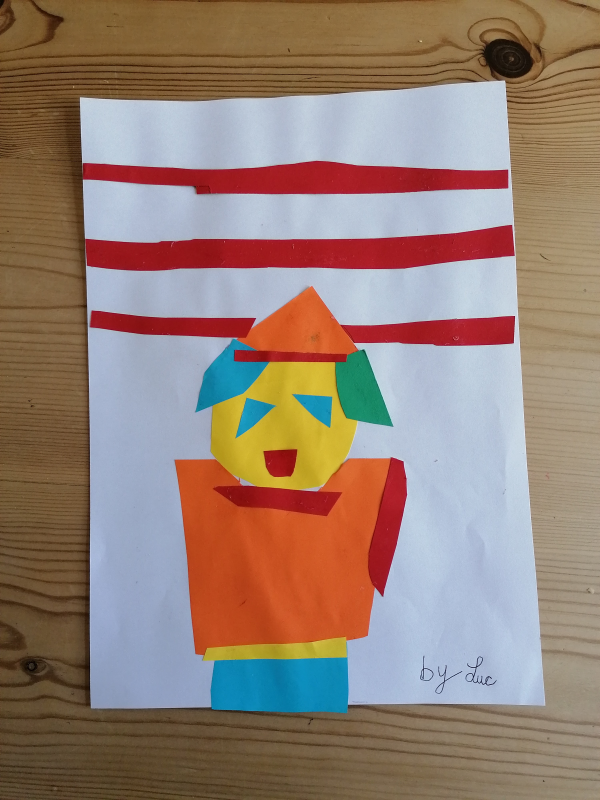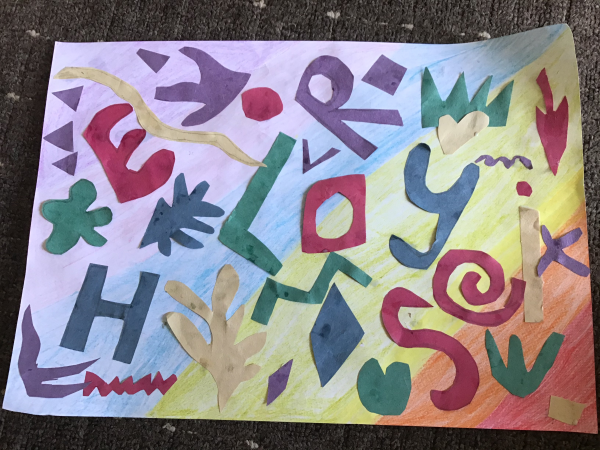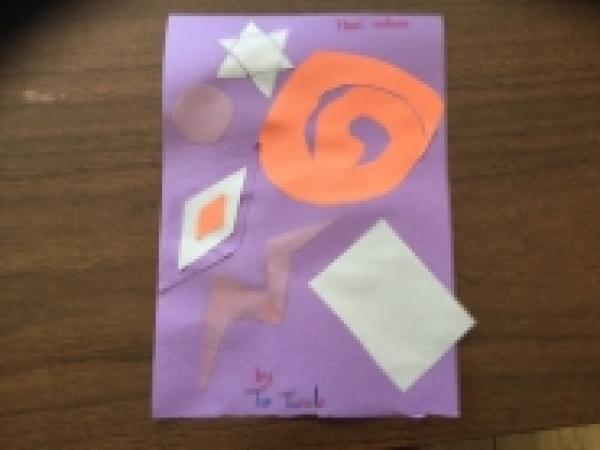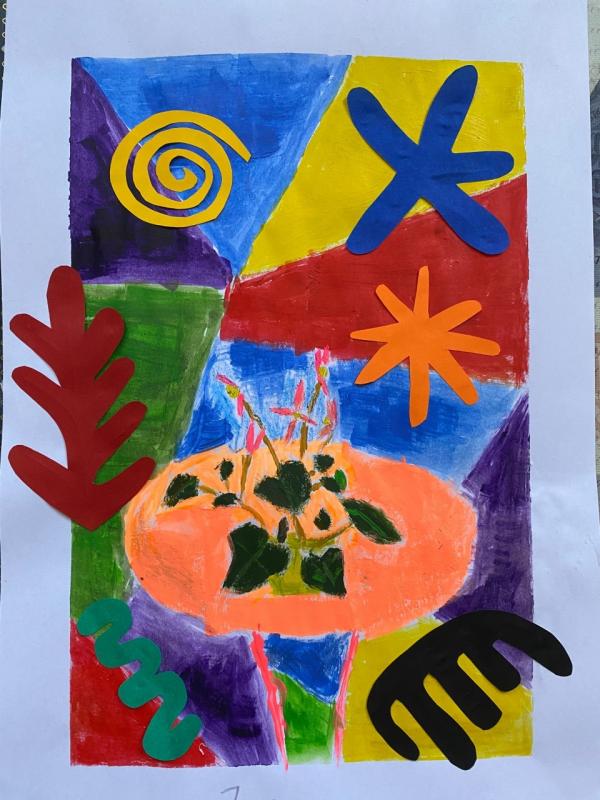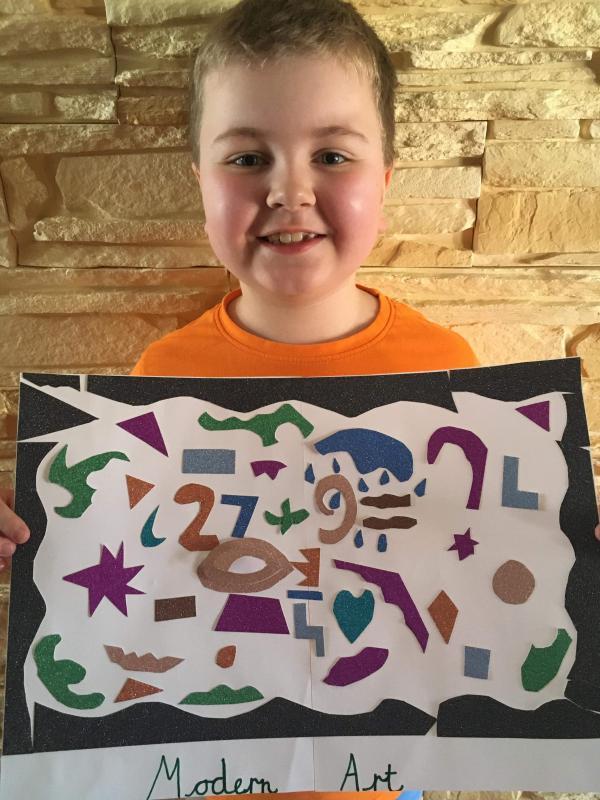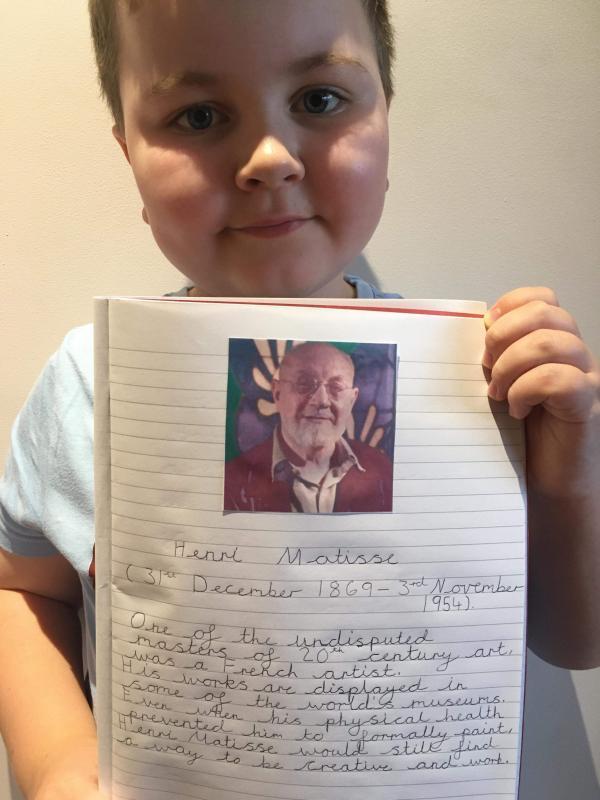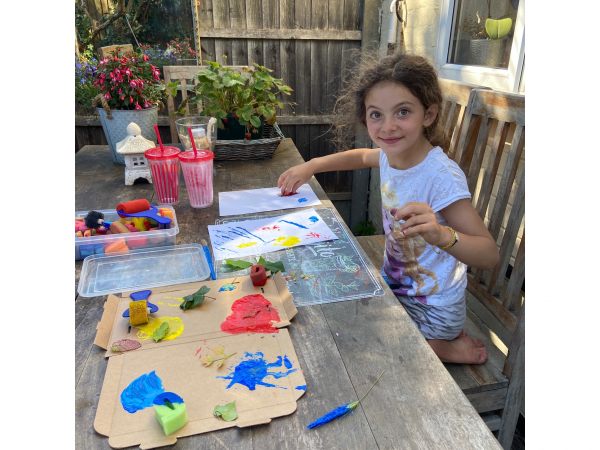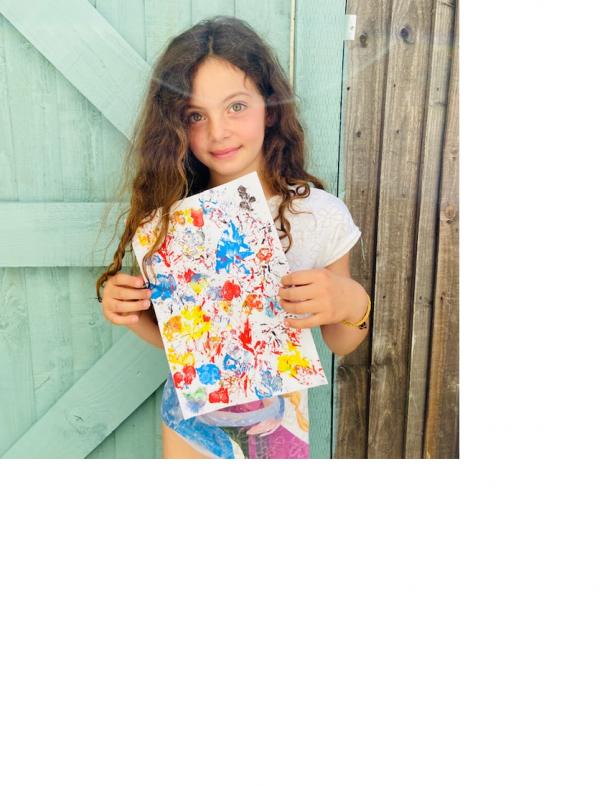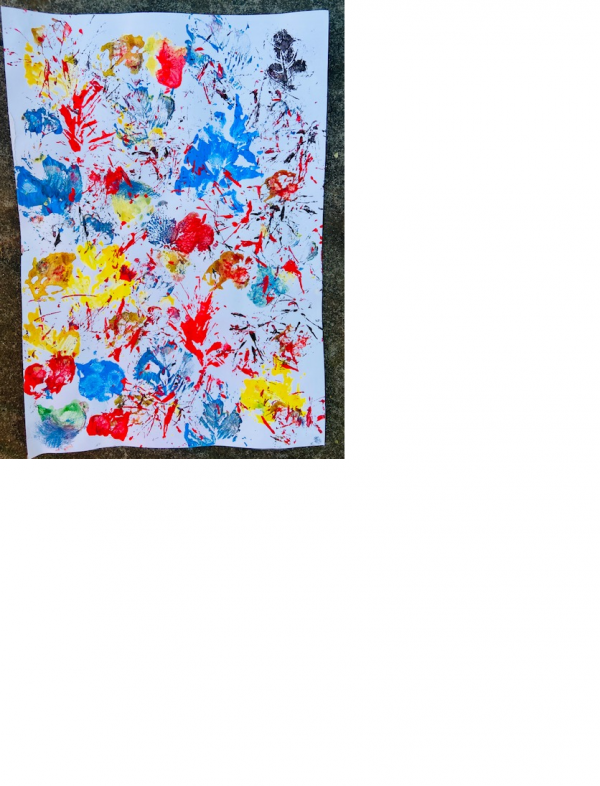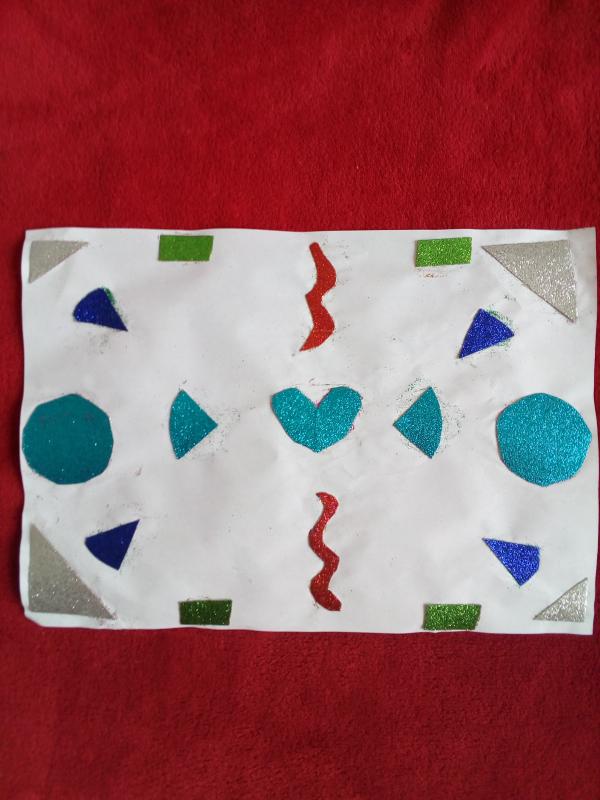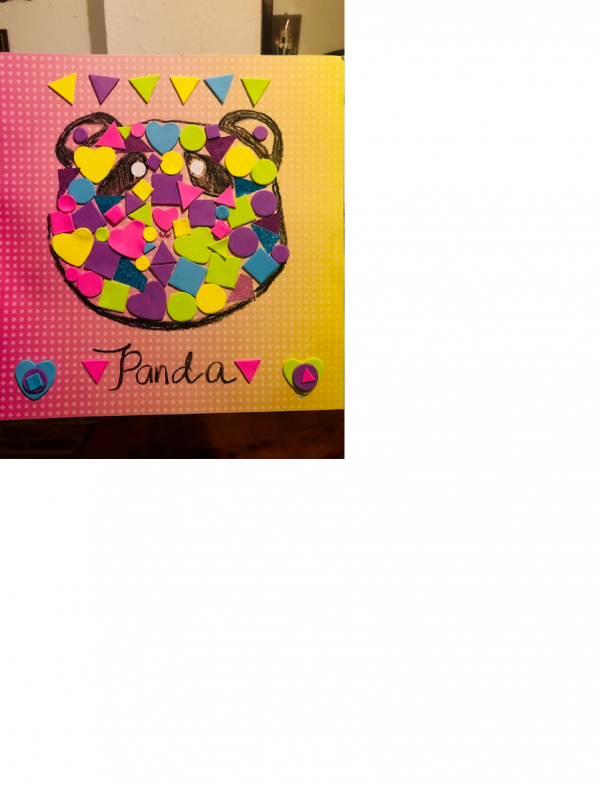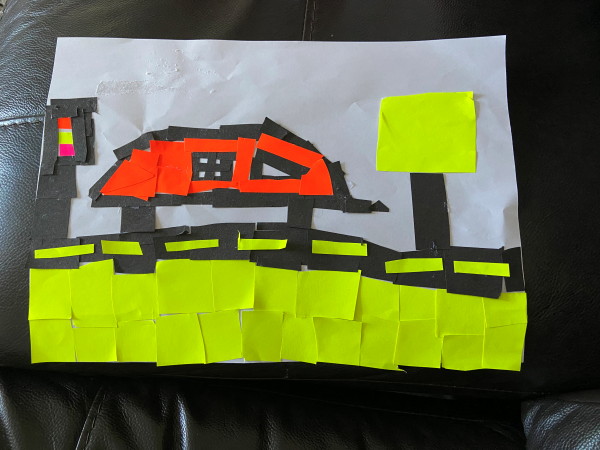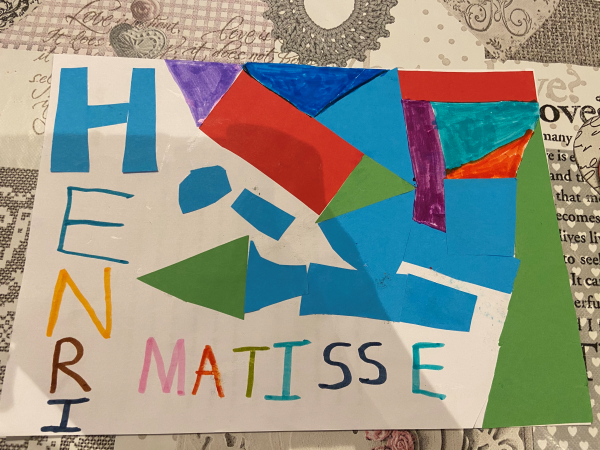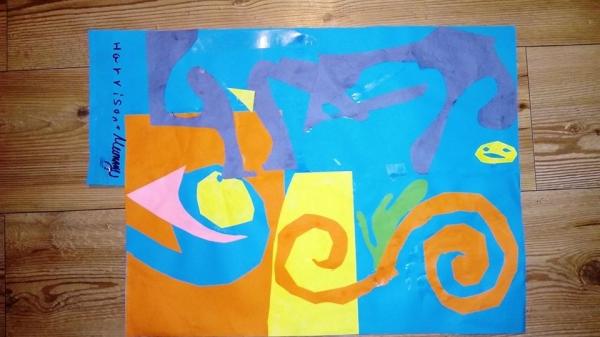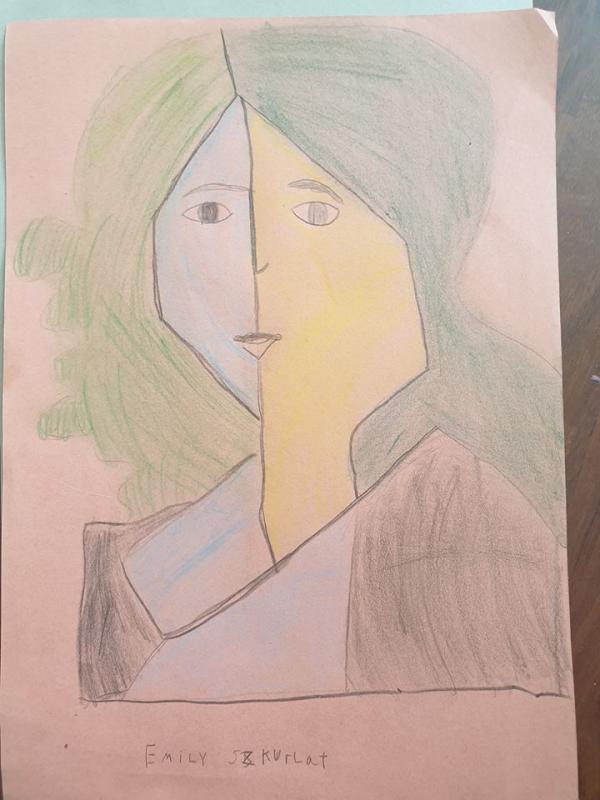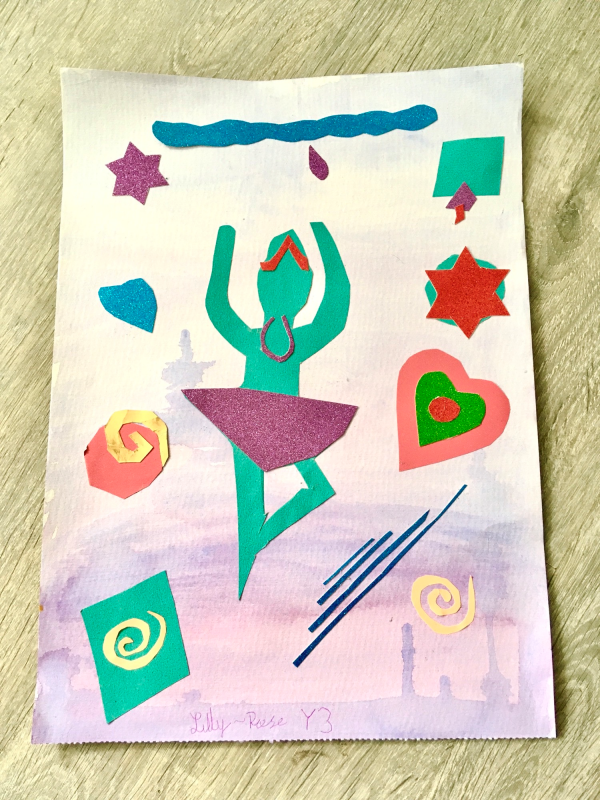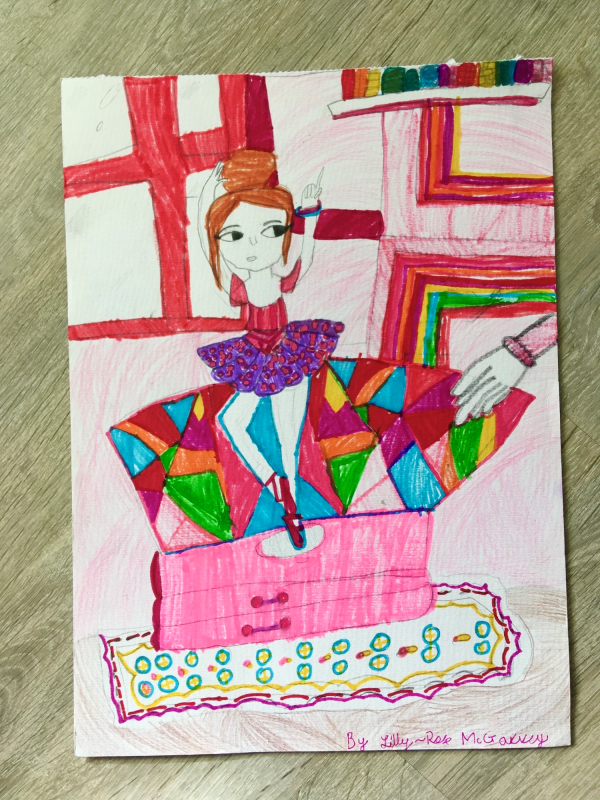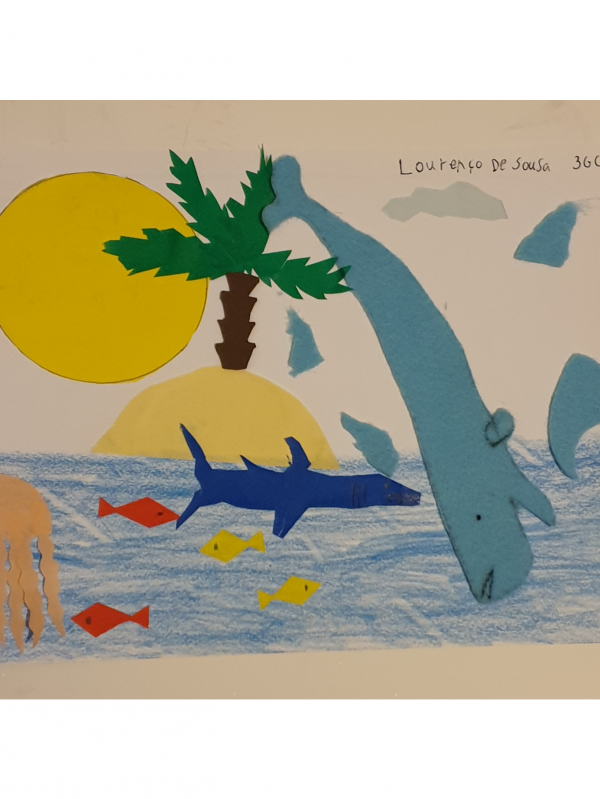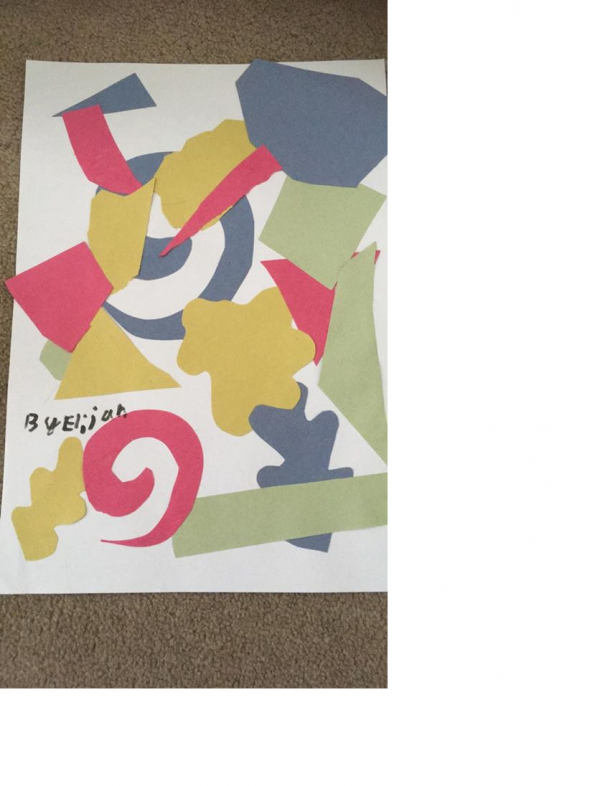 Grand Designs
This week our year 3 and 4 home workers were set a task to redesign the schools outdoor spaces into something new and amazing for everyone - we have had the first designs from Oliver and Zoe. We love the way Oliver has made his design inclusive for the staff with a lovely juice bar too - Well done Oliver and Zoe.
Wow another fantastic piece of work for this weeks mini 'Redesign the school grounds' topic.
We love having a circus big top as well as a castle and a waterslide! Hopefully teachers can go on the 'attractions' too.
Watch out for more designs being added.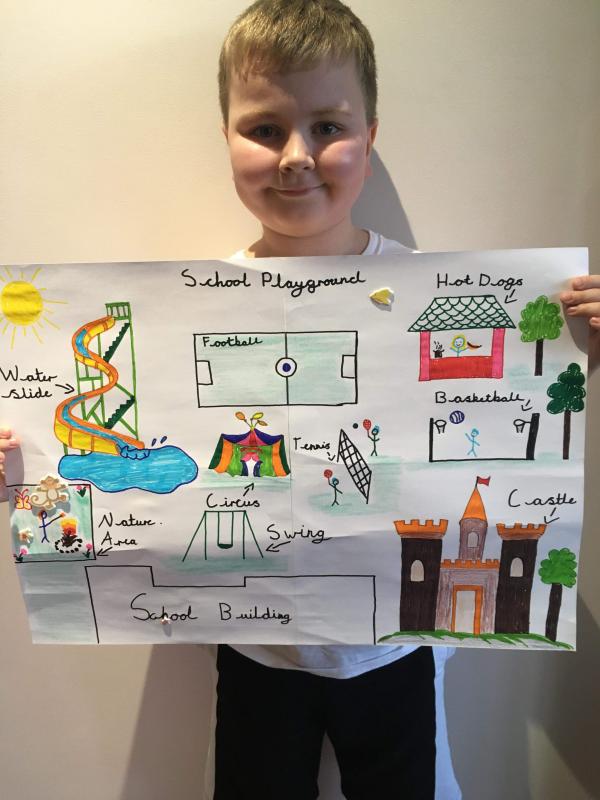 World Oceans Day
A great poster from a hardworking pupil - well done!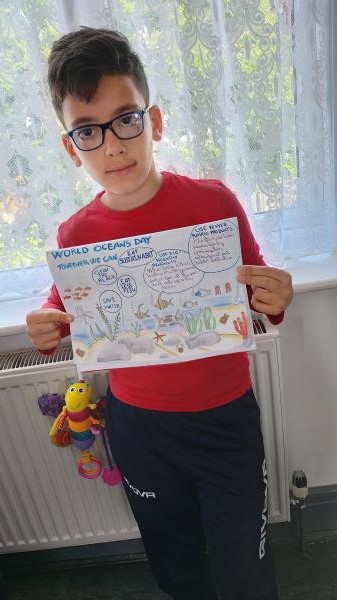 Super Science
Wow - some amazing science experiments are going on at home.
Christian and Madelaine have been growing their own crystals!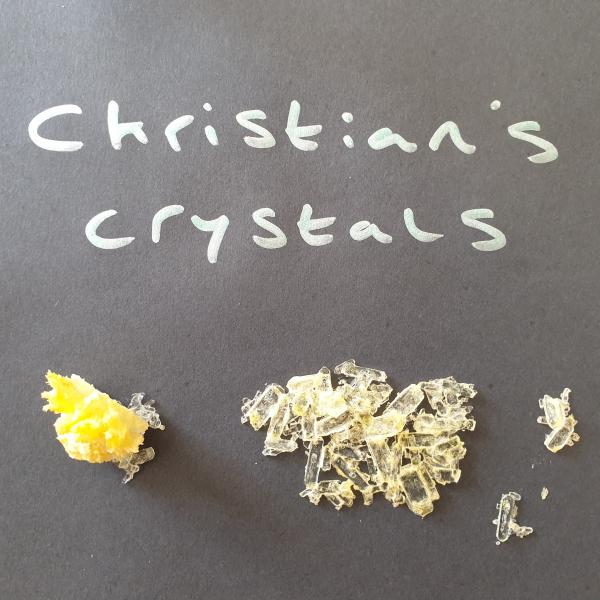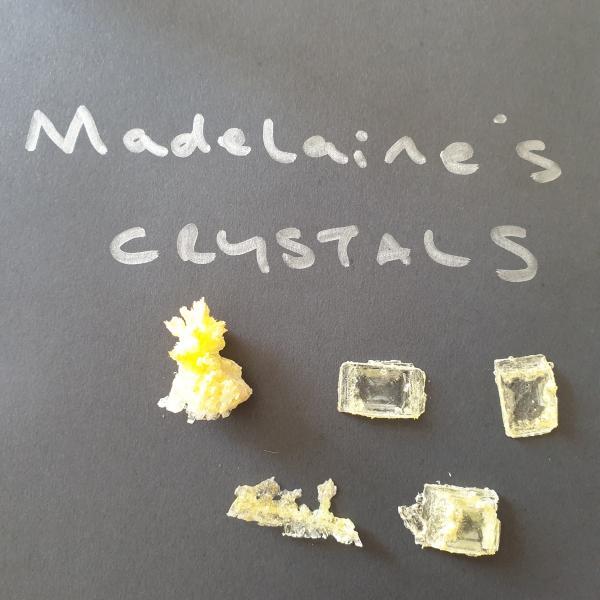 World Oceans Day
Some great work from a year 4 pupil who has really worked hard on our mini topic this week relating to World Oceans Day on 8th June. What a great effort.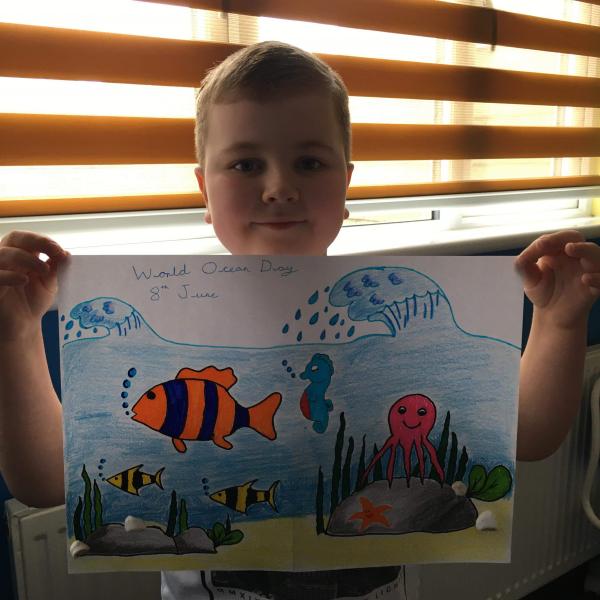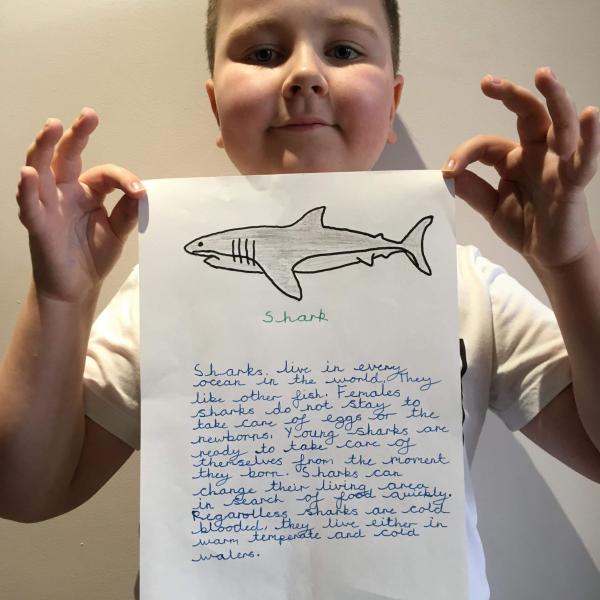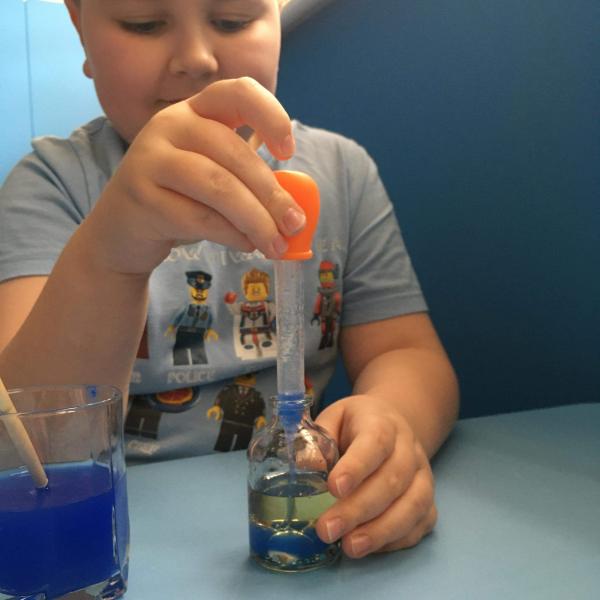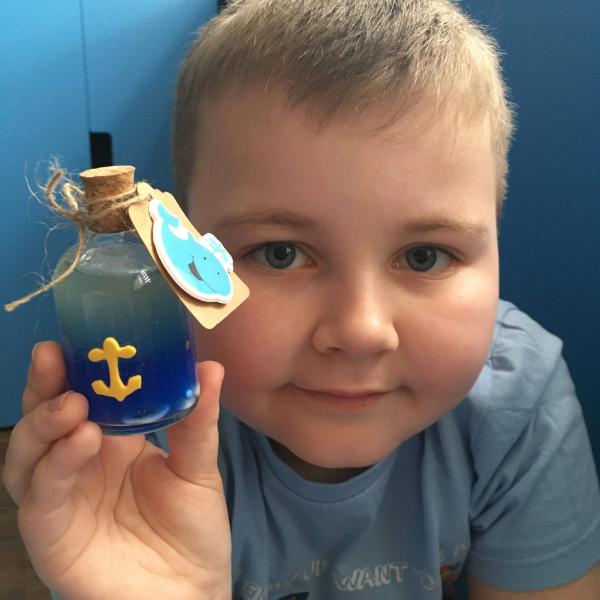 Fabulous Home Learning
Well done Luc, your work is amazing!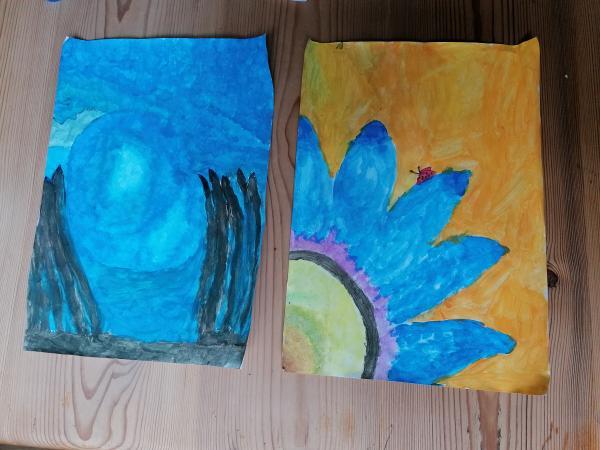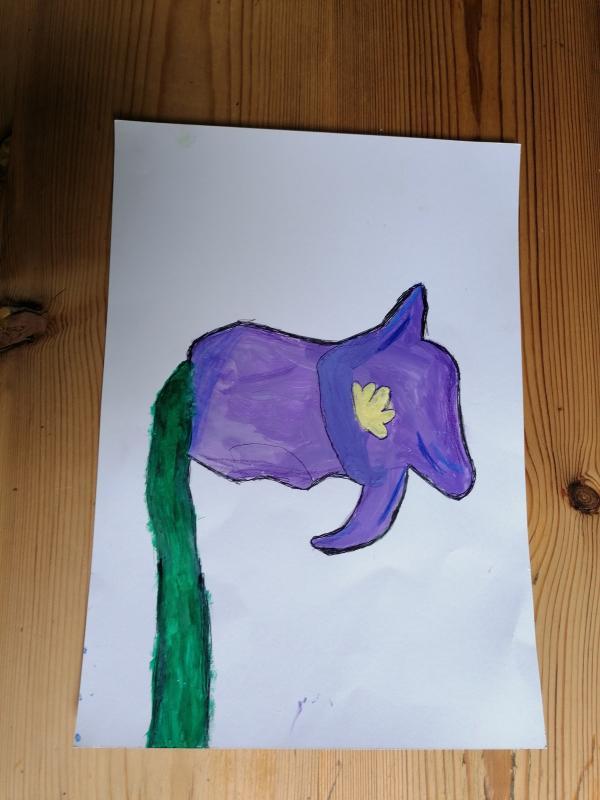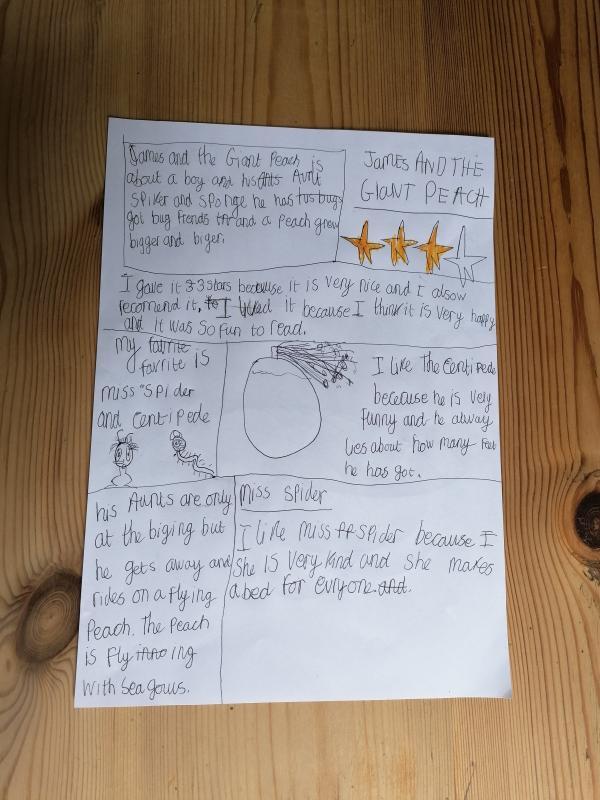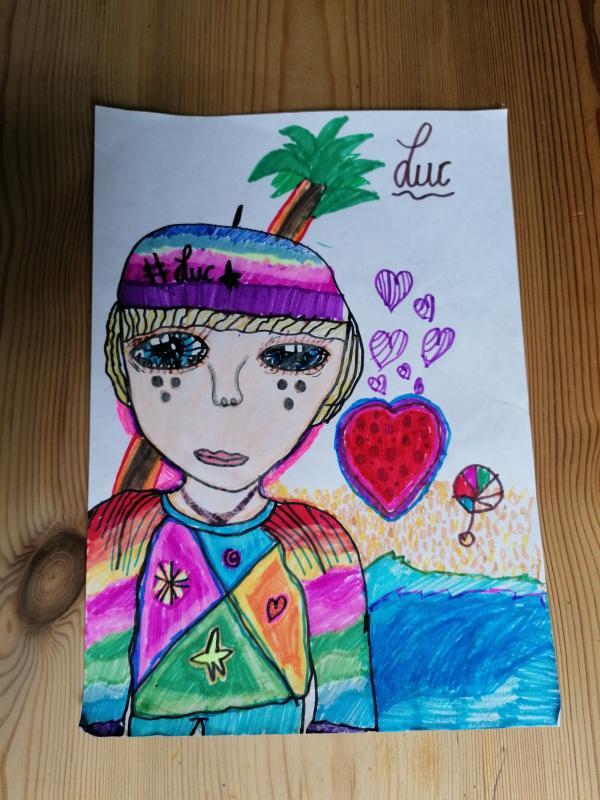 World Environment Day inspires star pupil
A really good bit of home work from a star pupil.
The class were set a home learning task about World Environment Day on June 5th. Have a look at this great poster telling people how to protect our environment and a superb home made plant pot all planted up. Great work.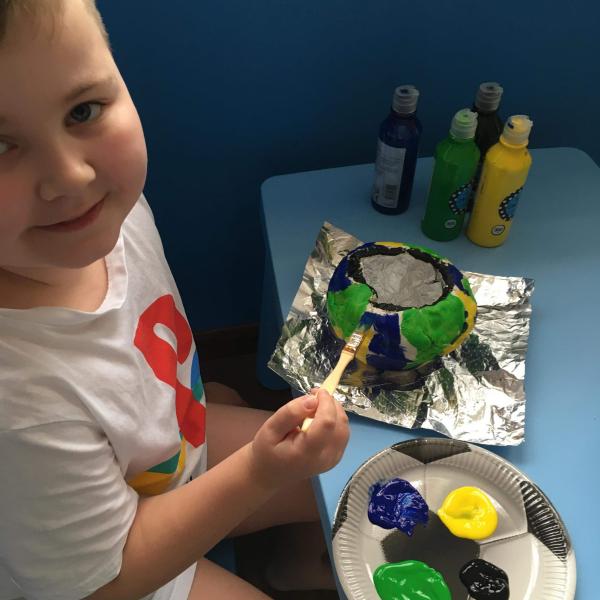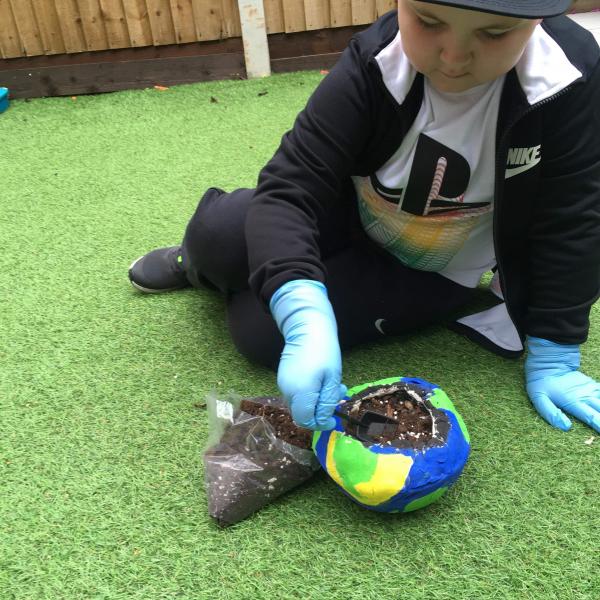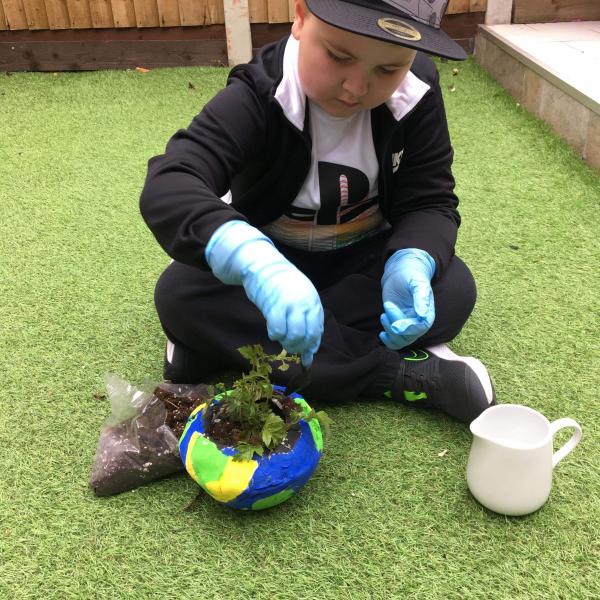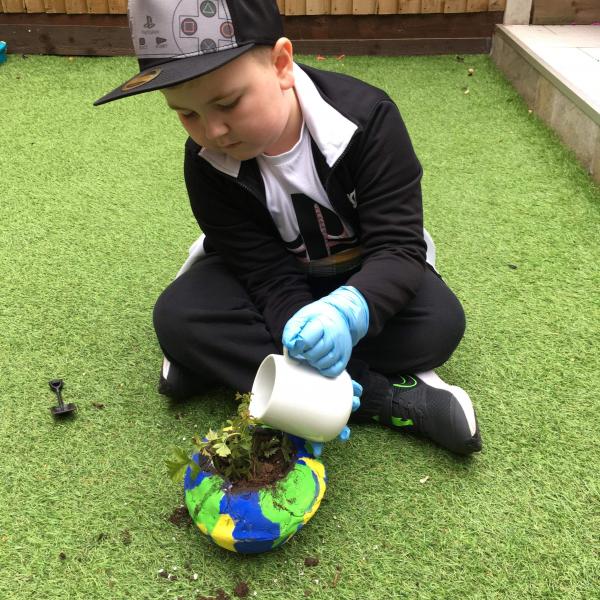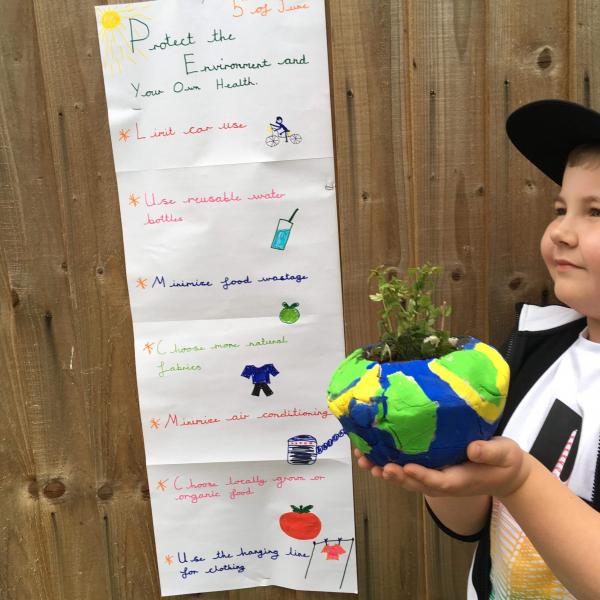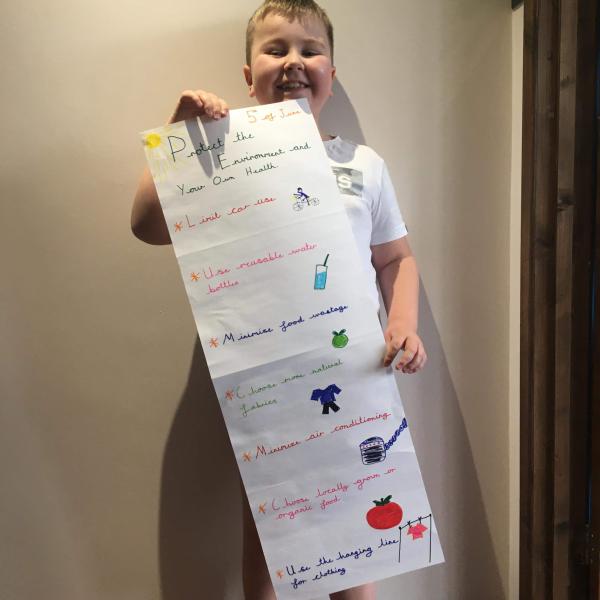 Boudicca Bobble Heads
What a wonderful collection of Boudicca bobble heads. Something to make you smile!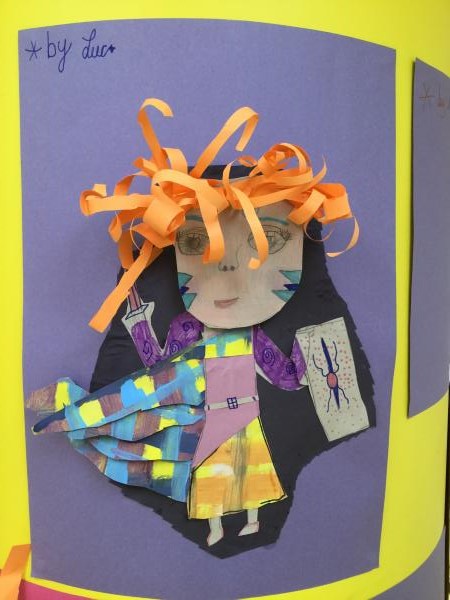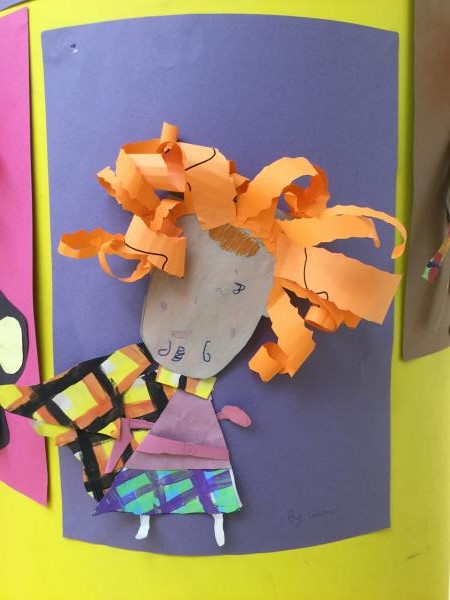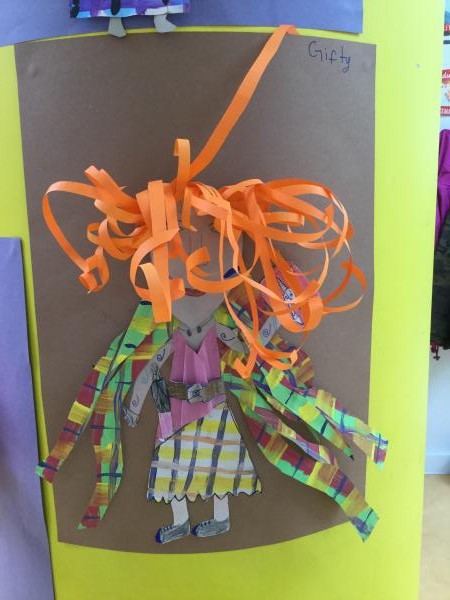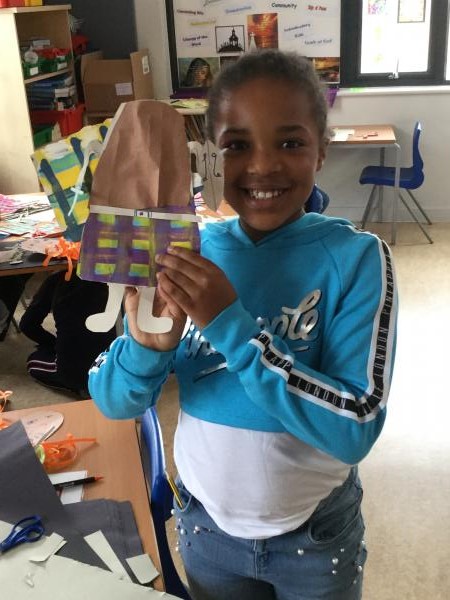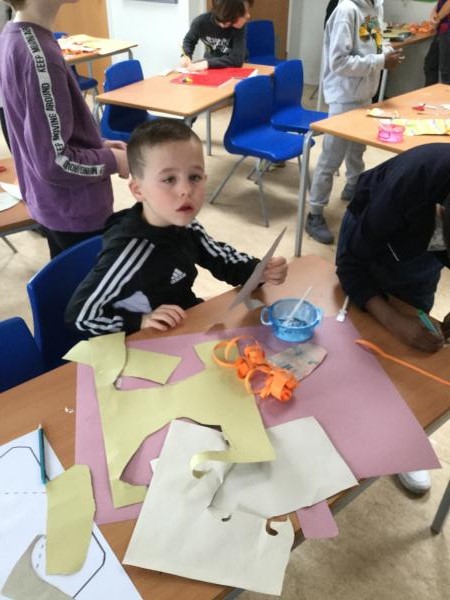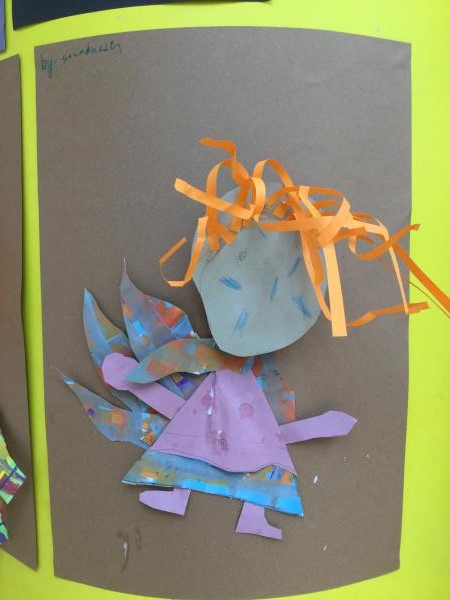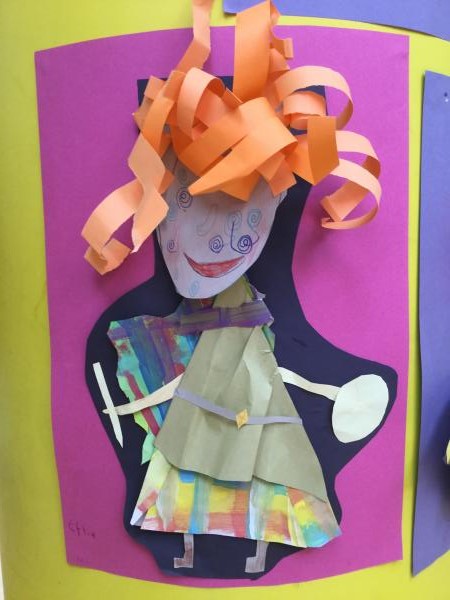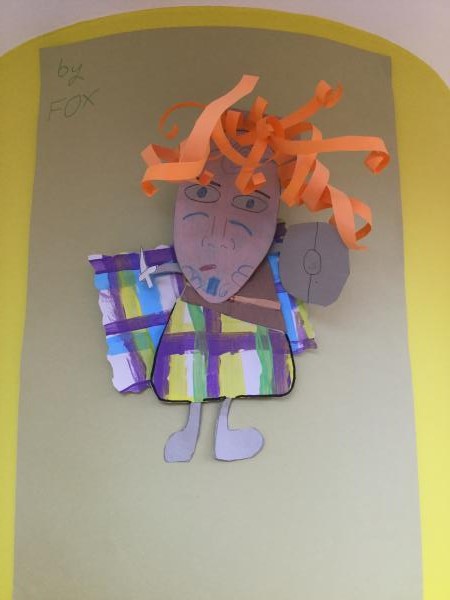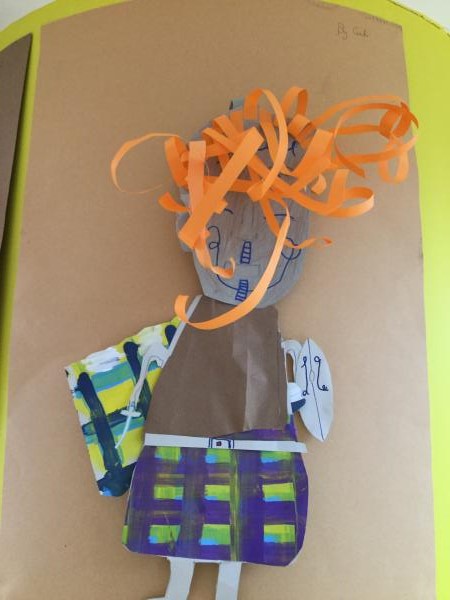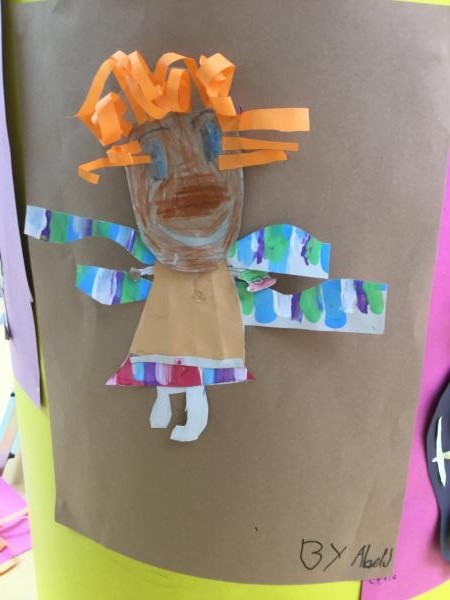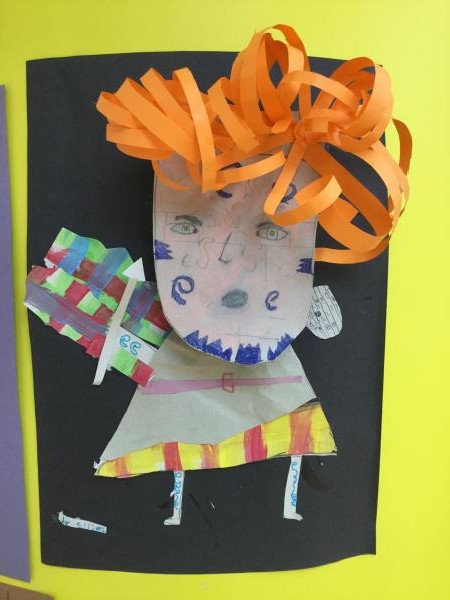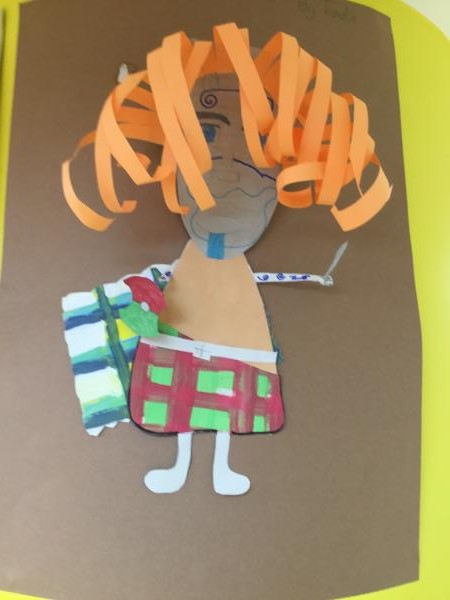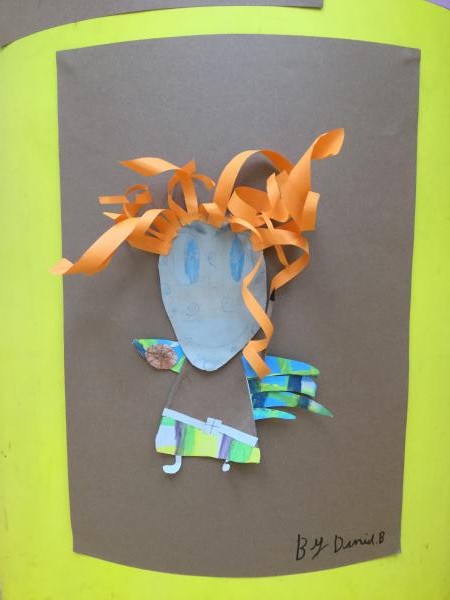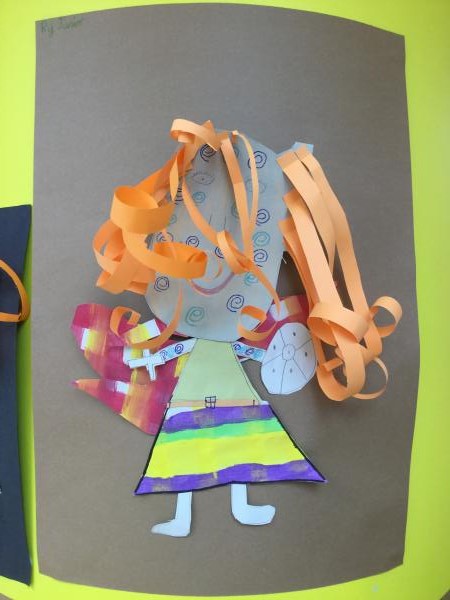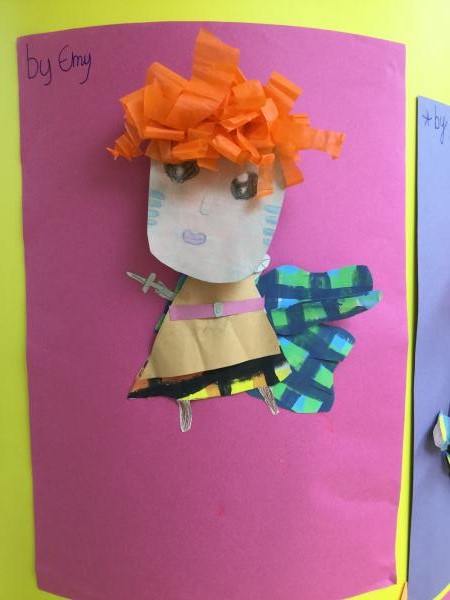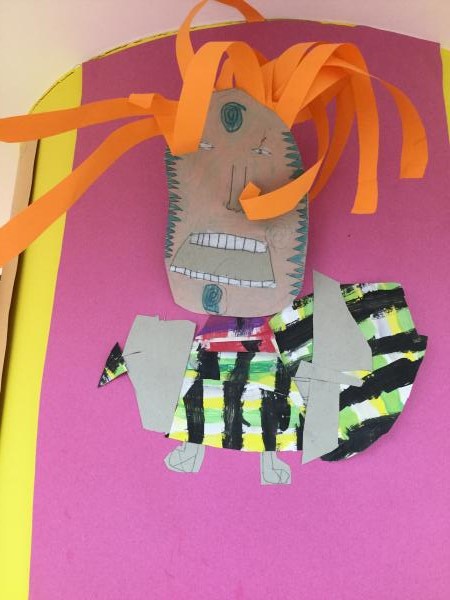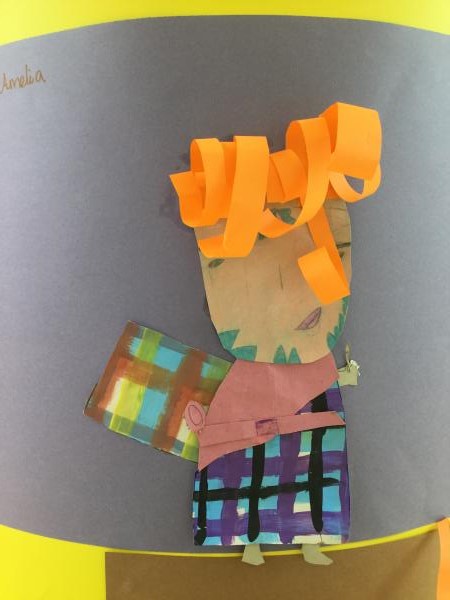 Our Diverse Planet
Class 4F have been very busy during Science week and have produced some fantastic work.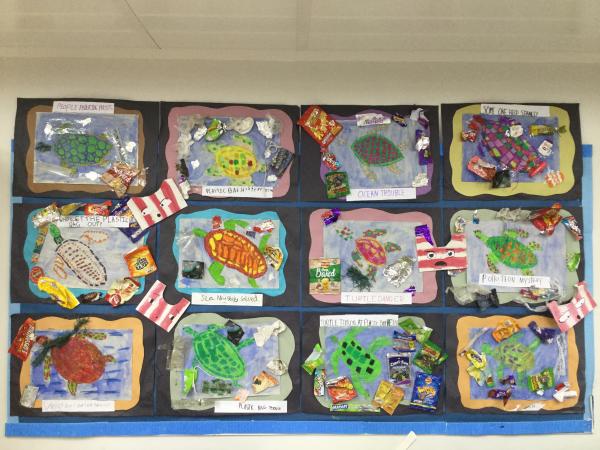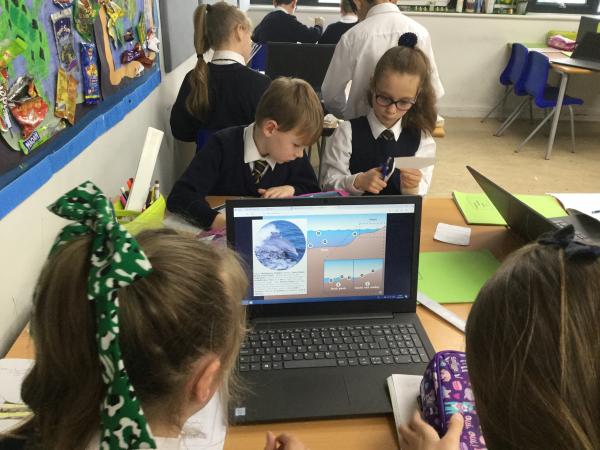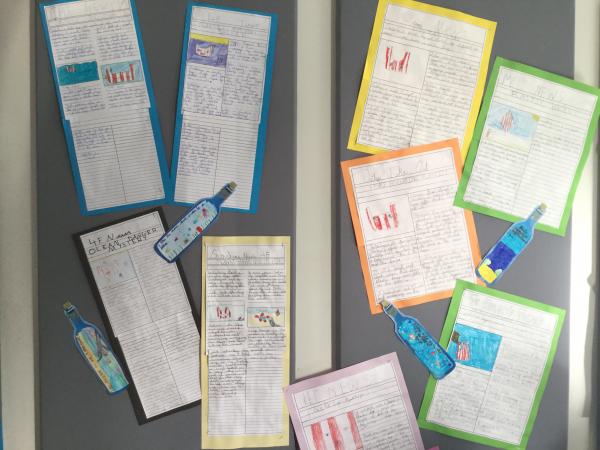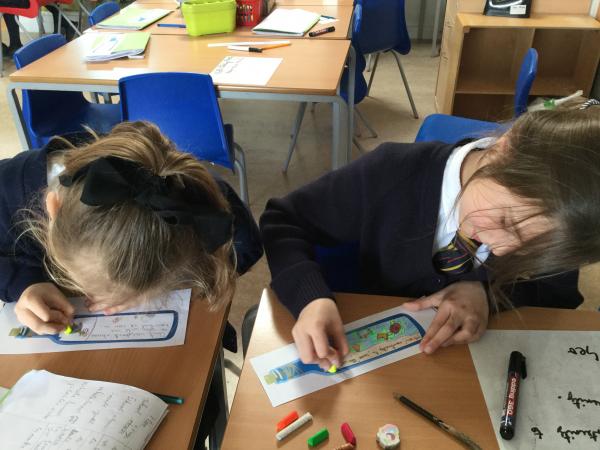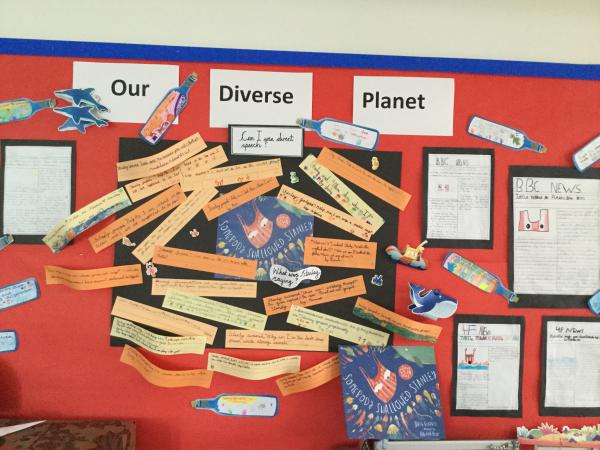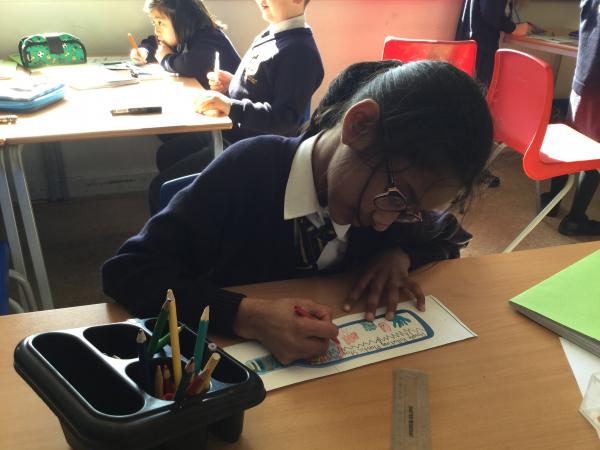 Building A Camp for the Roman Soldiers
4G had a great afternoon in our nature area designing and building a camp site for Roman soldiers as part of our history topic.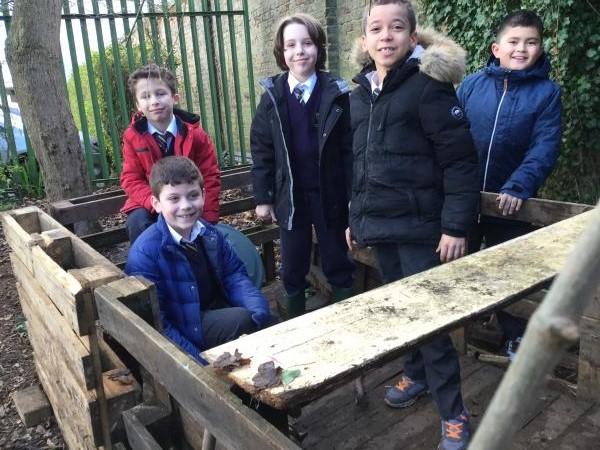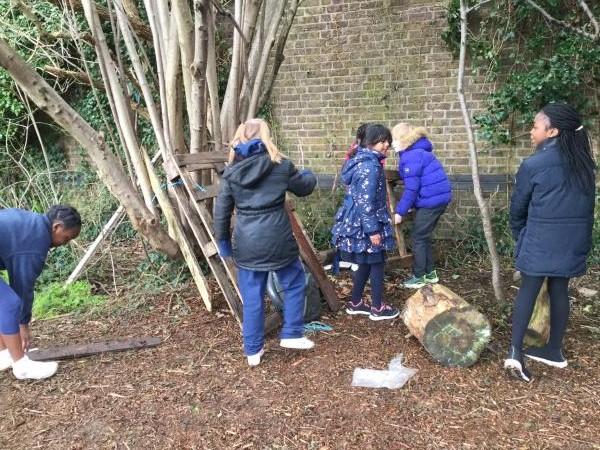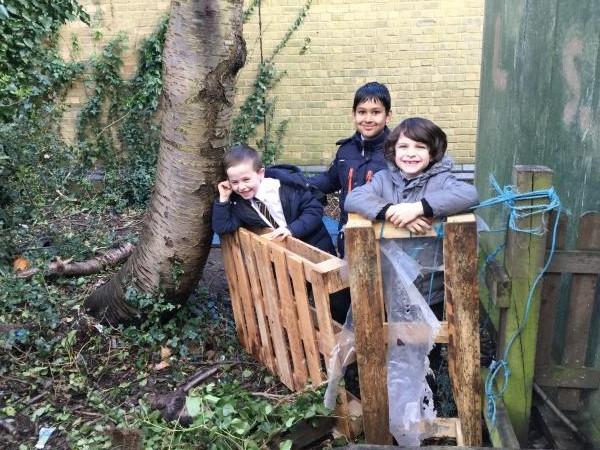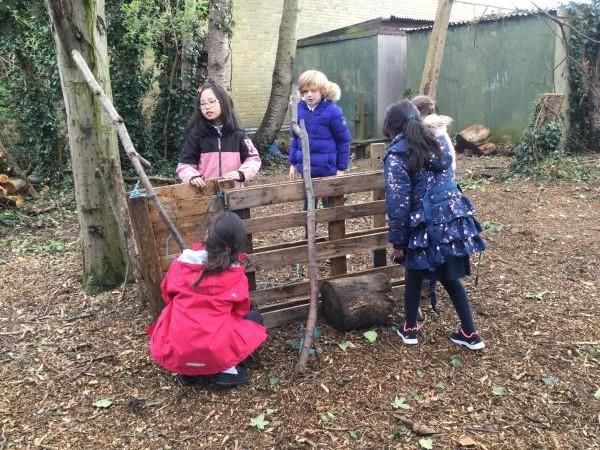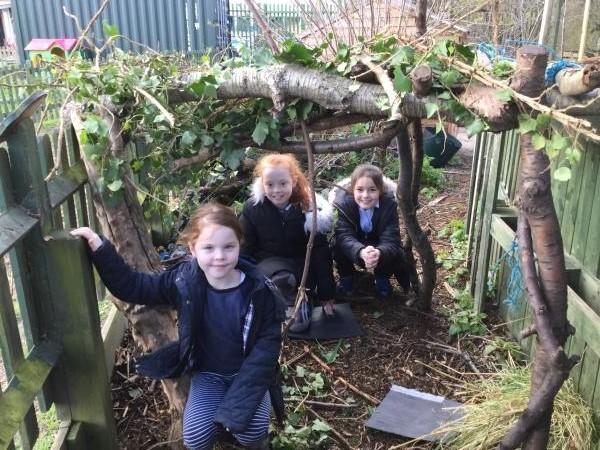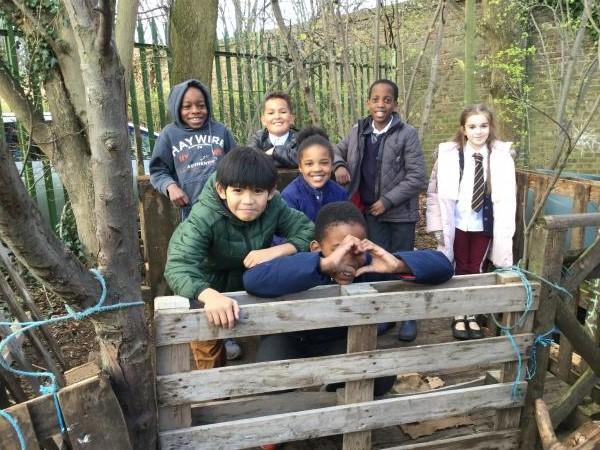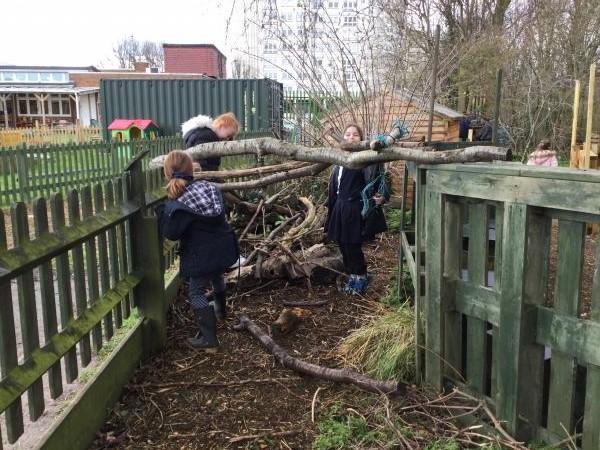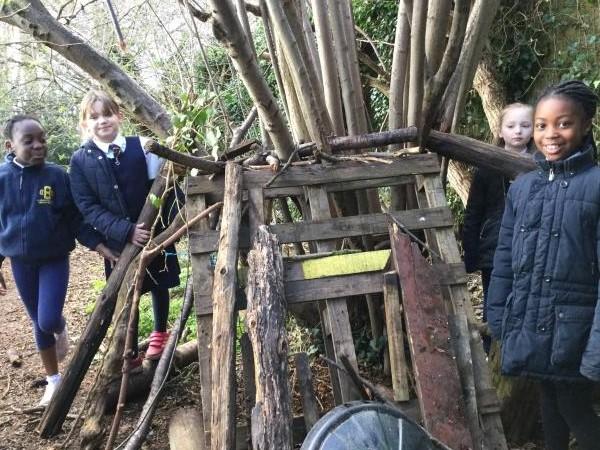 The start of a new display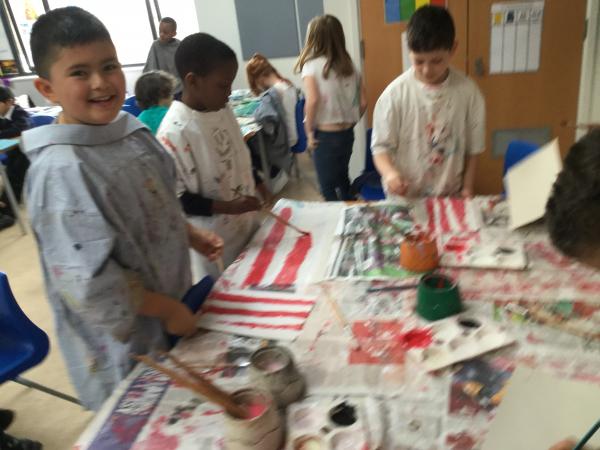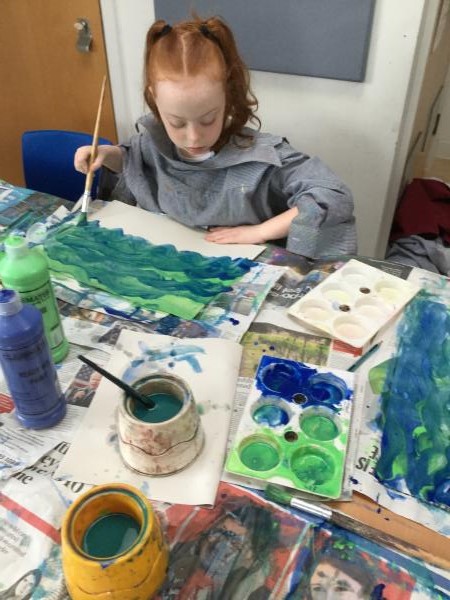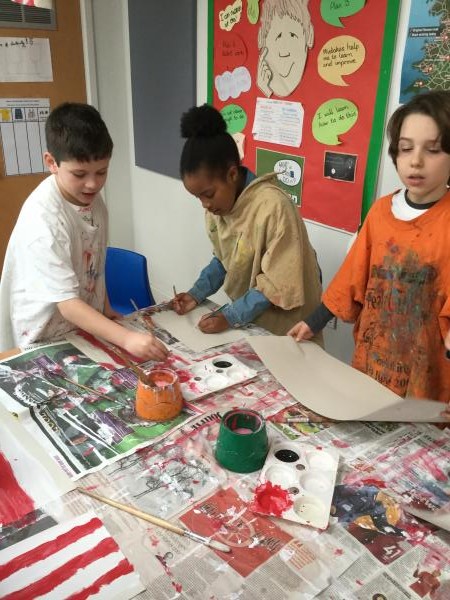 World Book Day
4G showing off their great t-shirt designs and enjoying the reading afternoon in the hall.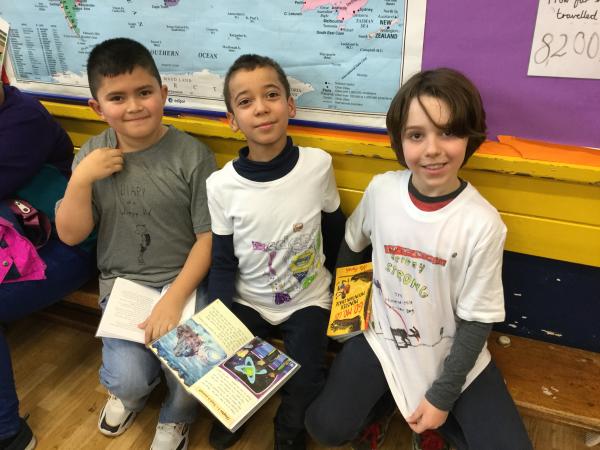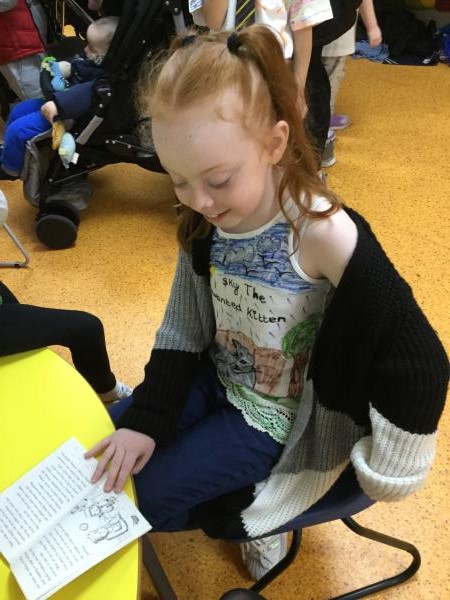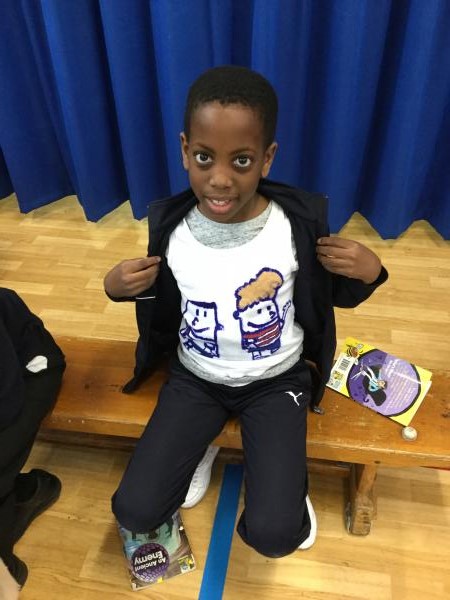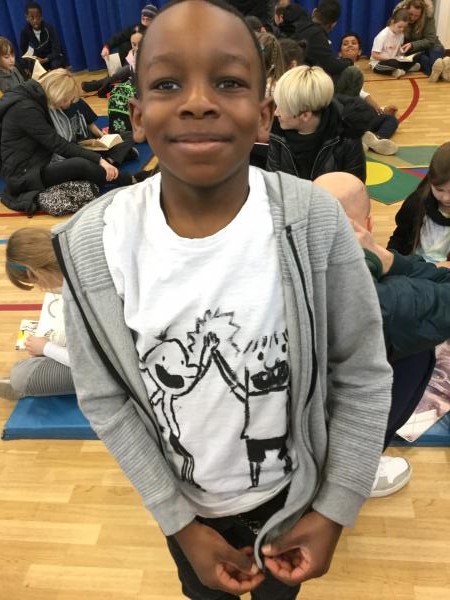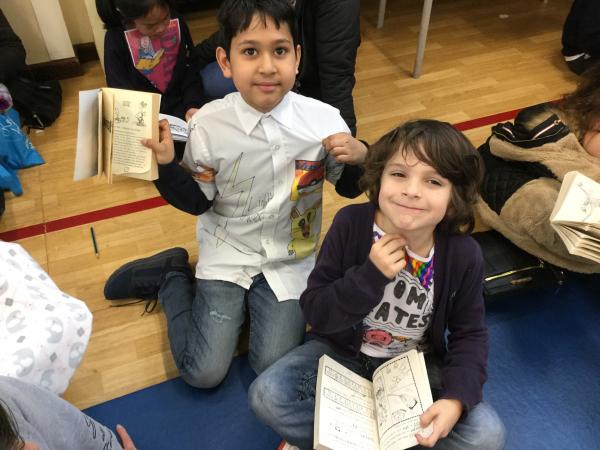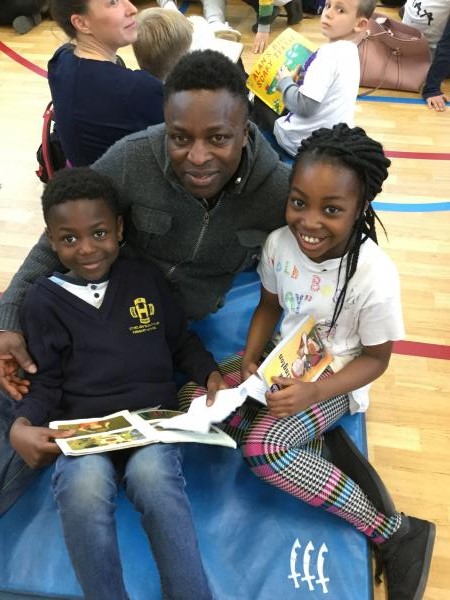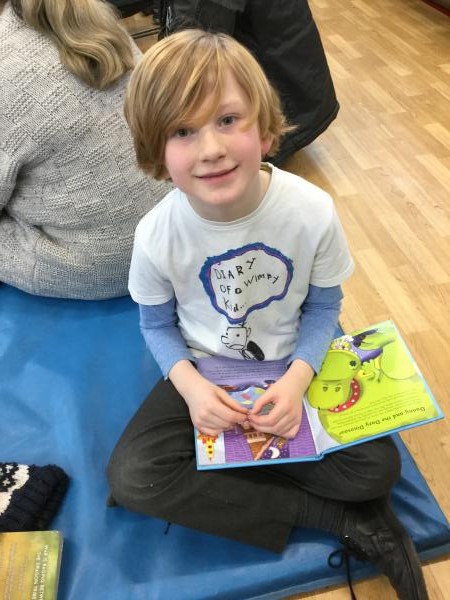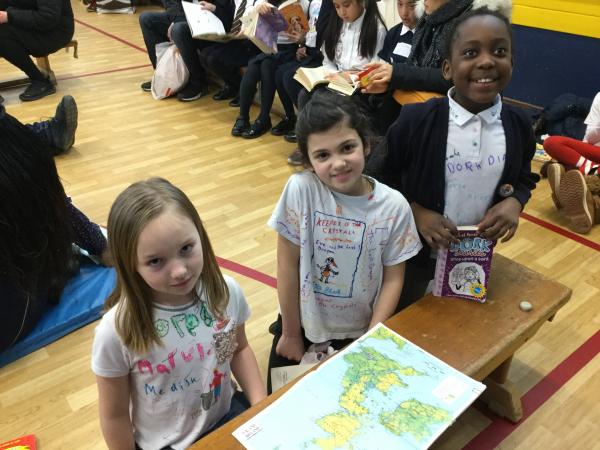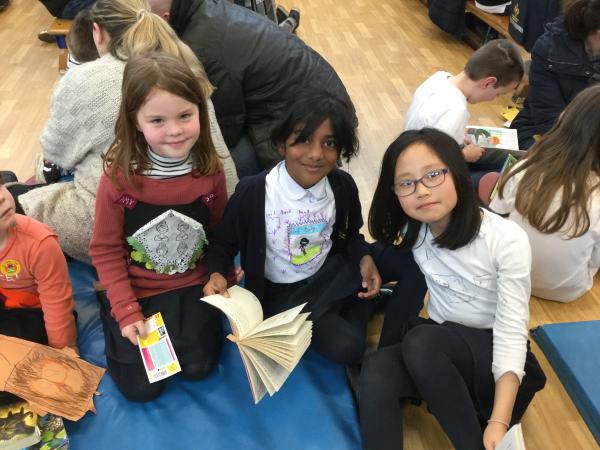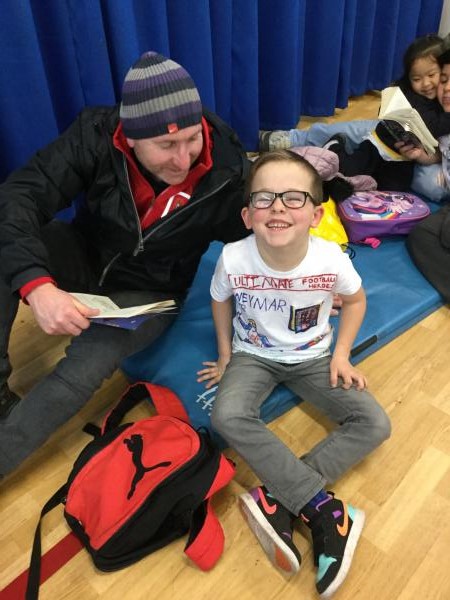 Please hold the line caller.........
4G had a great morning making telephones as part of our Sound Topic. They really worked hard and we even managed to set up a 4 person call!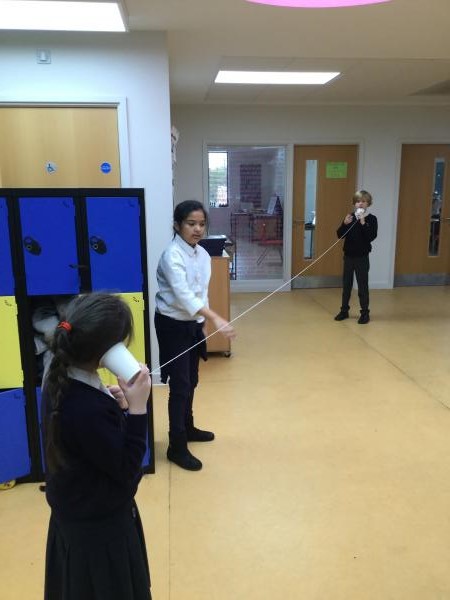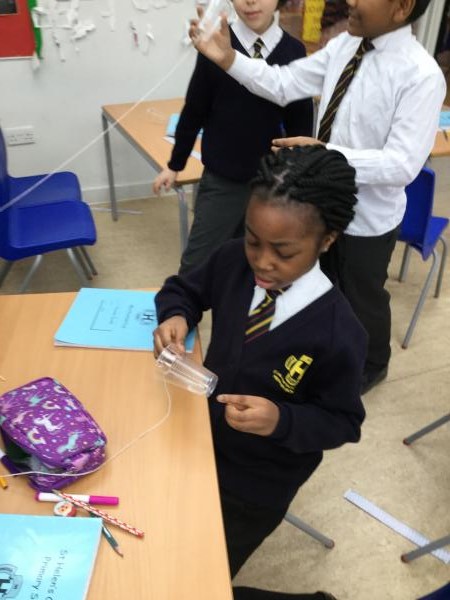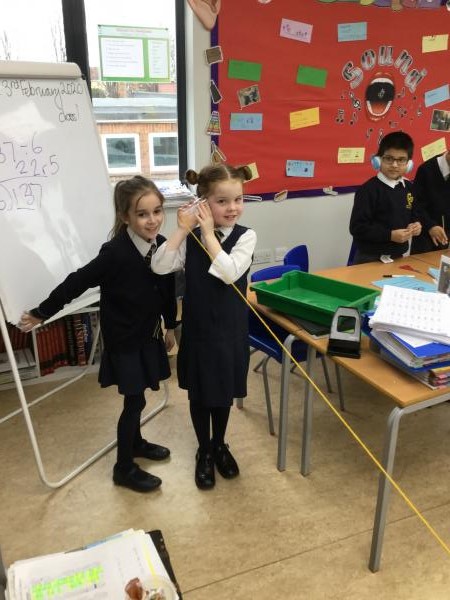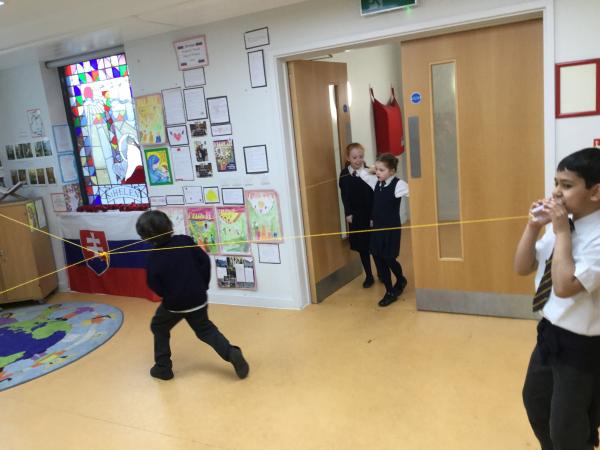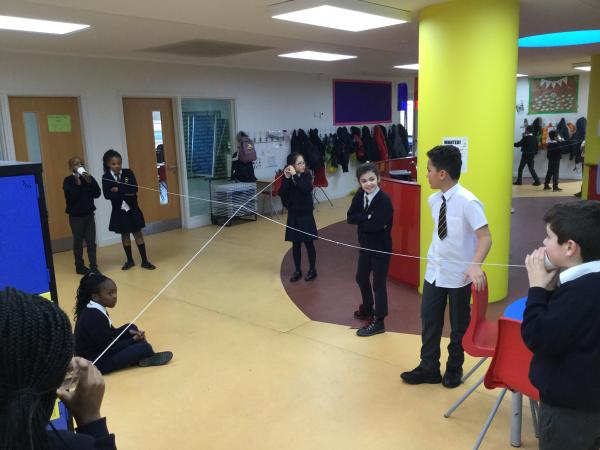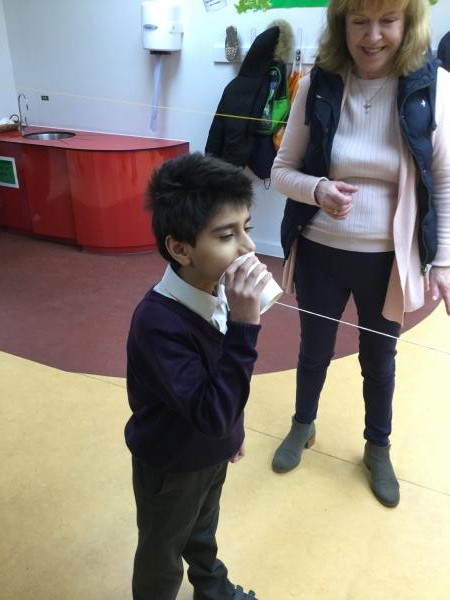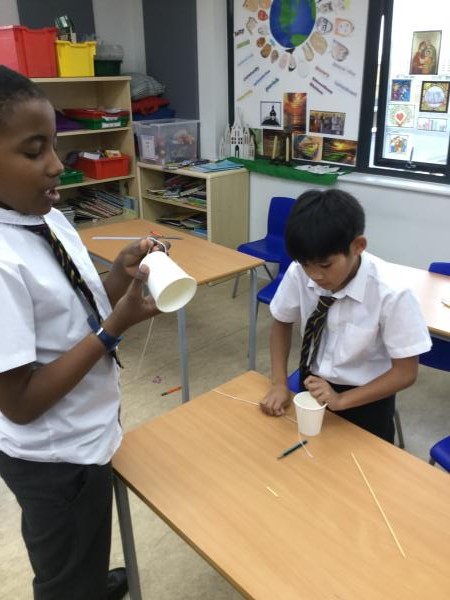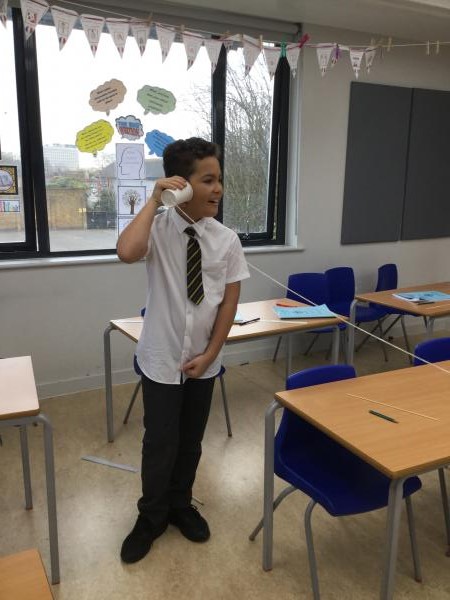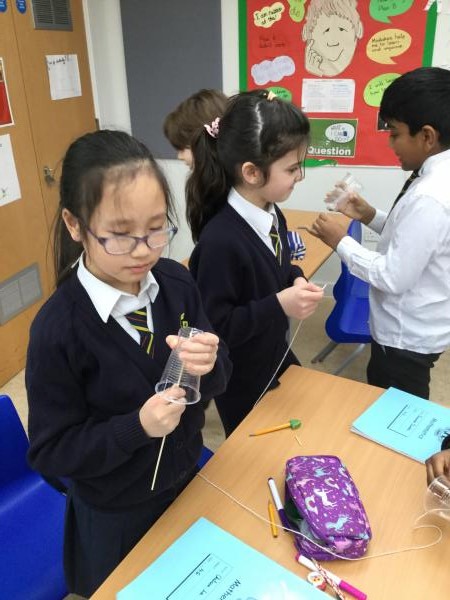 Everybody listening - it's The School of Noise!
4F & 4G had a brilliant morning learning all about sound with 'The School of Noise' investigating how sound is formed and looking at numerous different instruments and machines that produced sounds. The class looked at different ways of producing 'music' and we also had a go at being 'foley technicians' and dubbing sounds onto a film sound track!
A really great learning opportunity for the class, enjoy the photographs.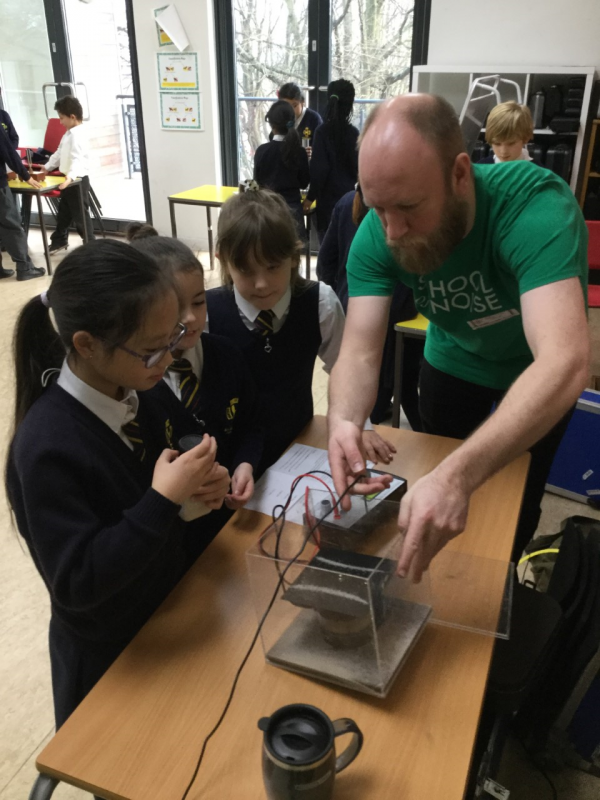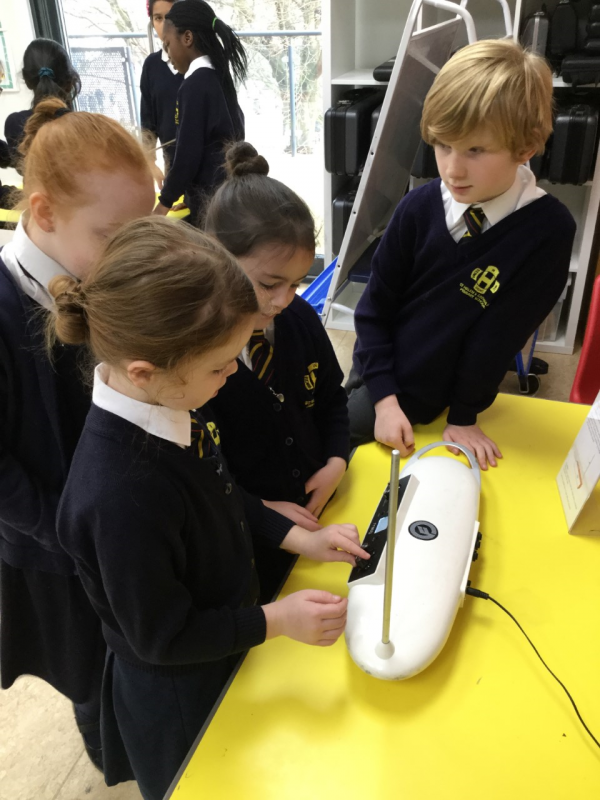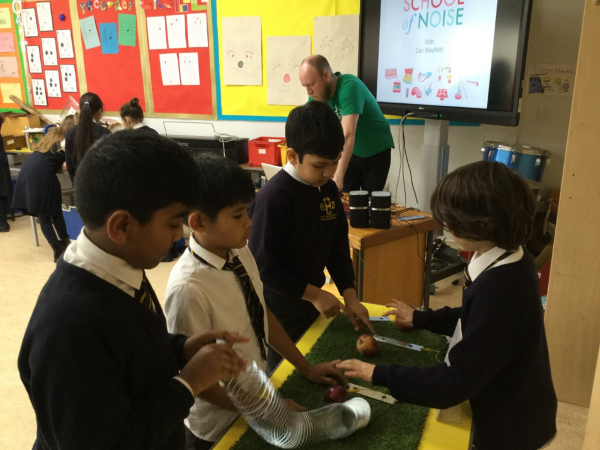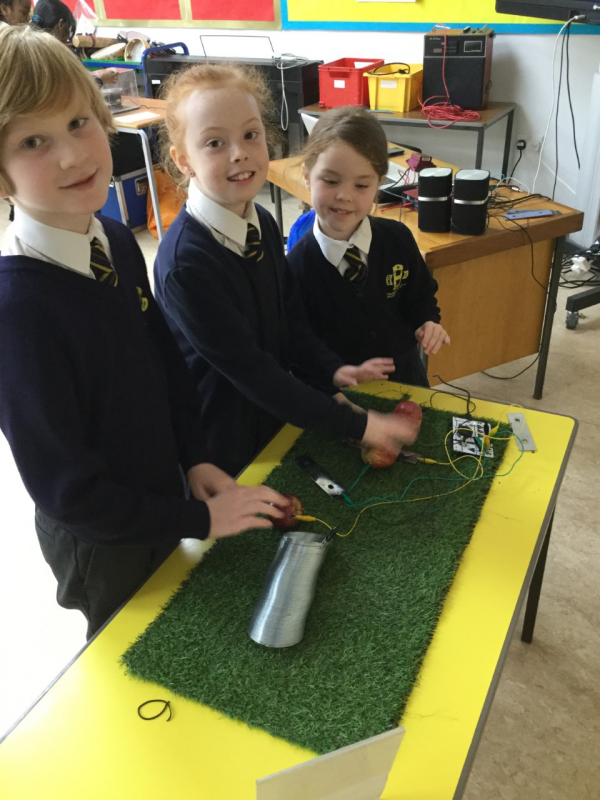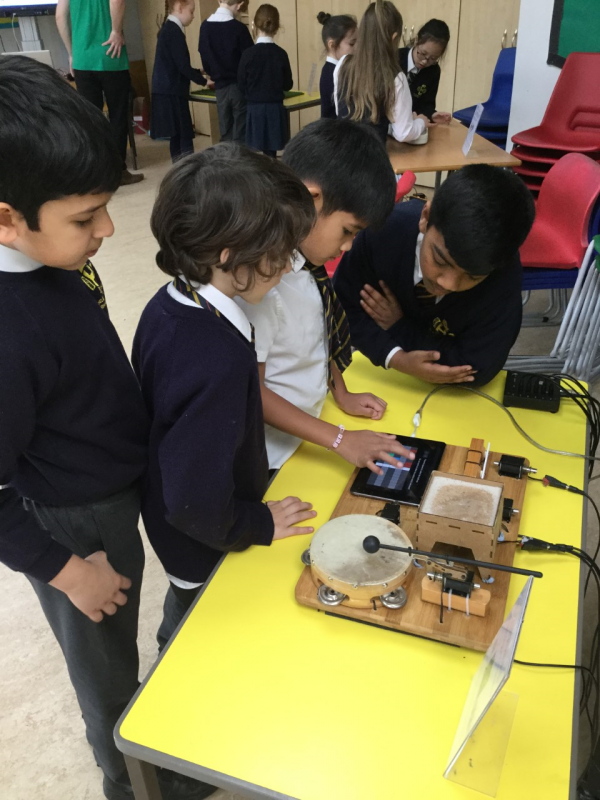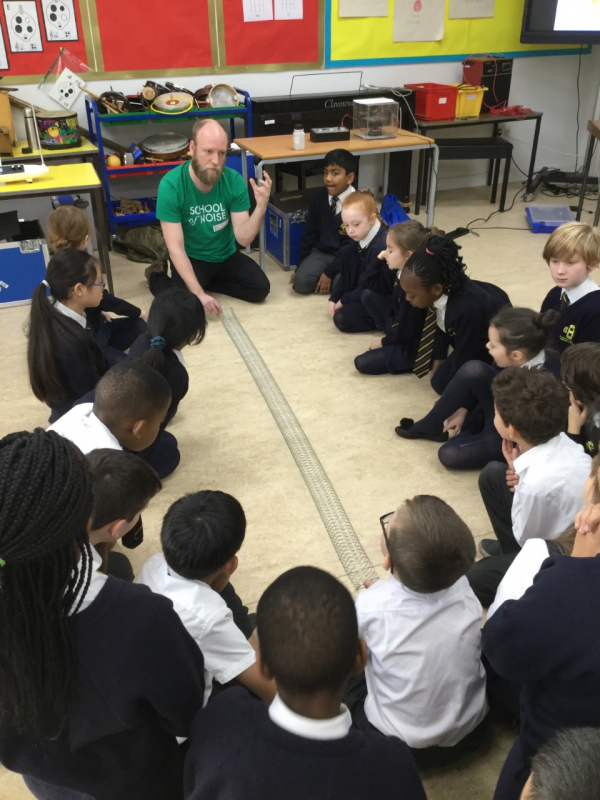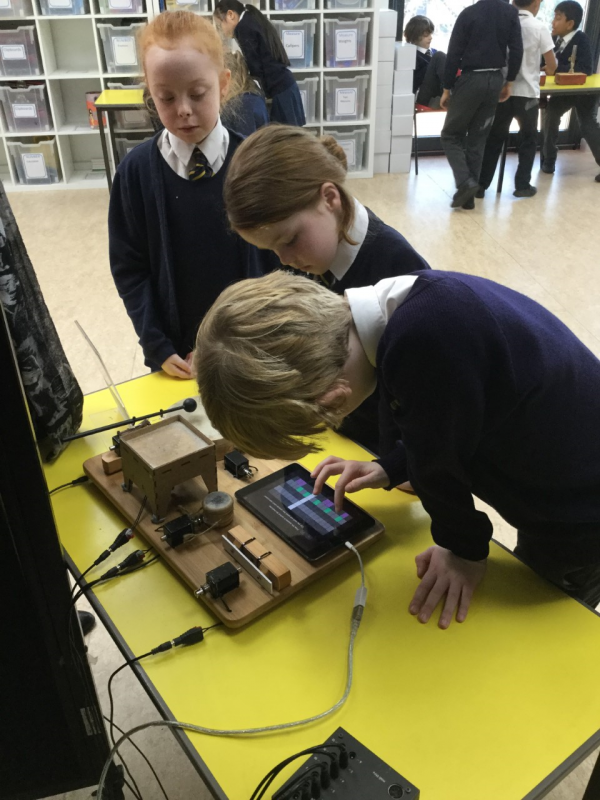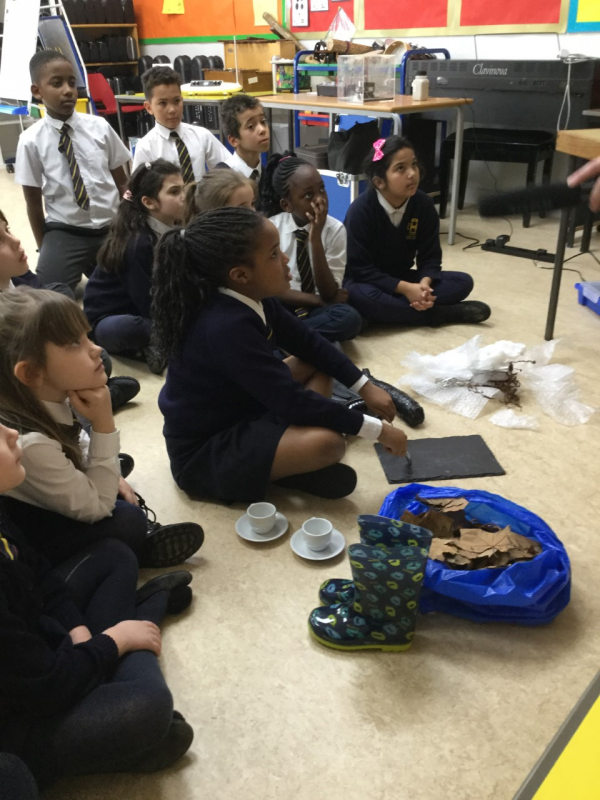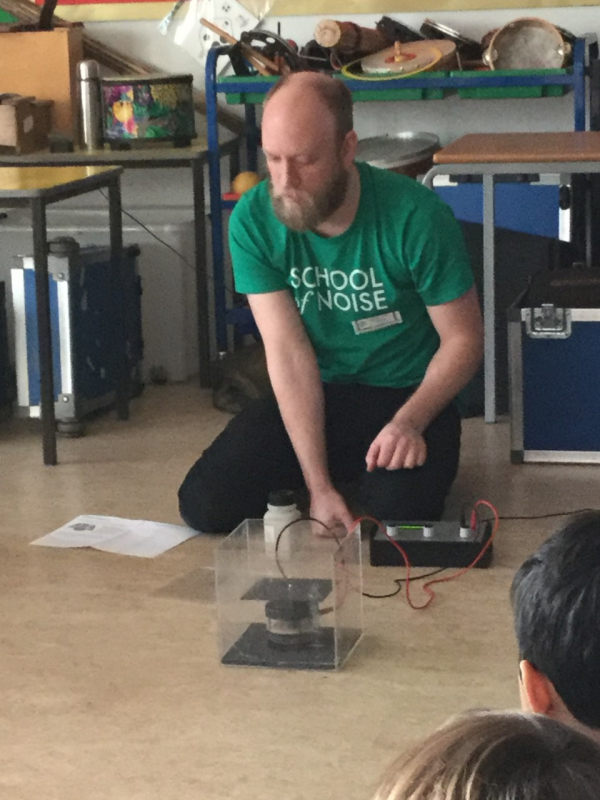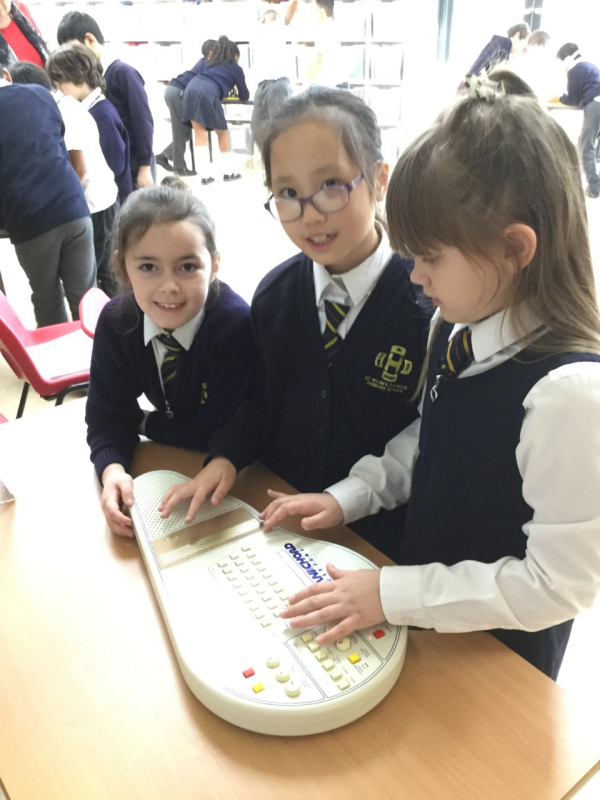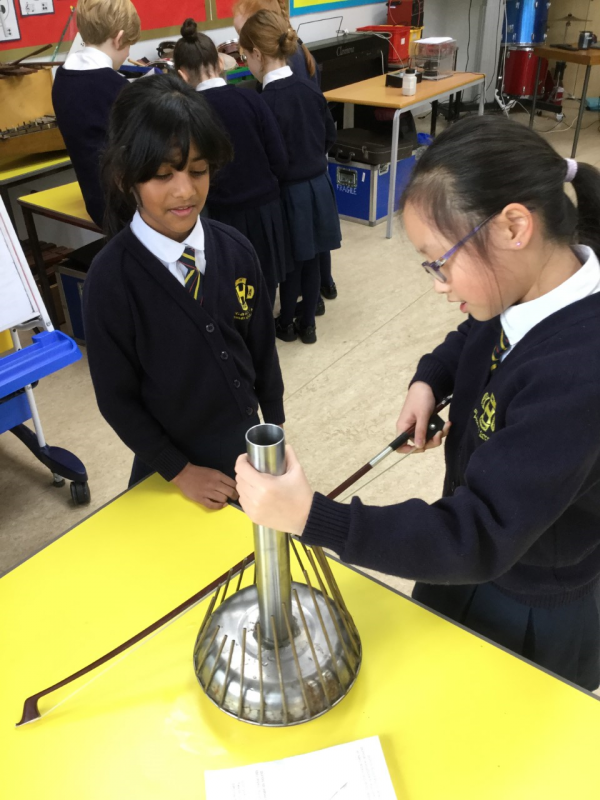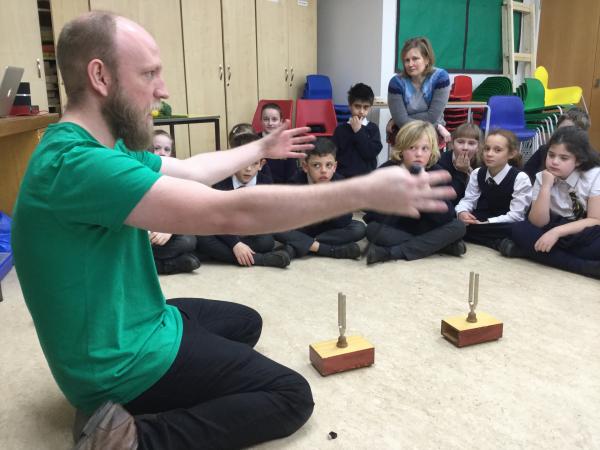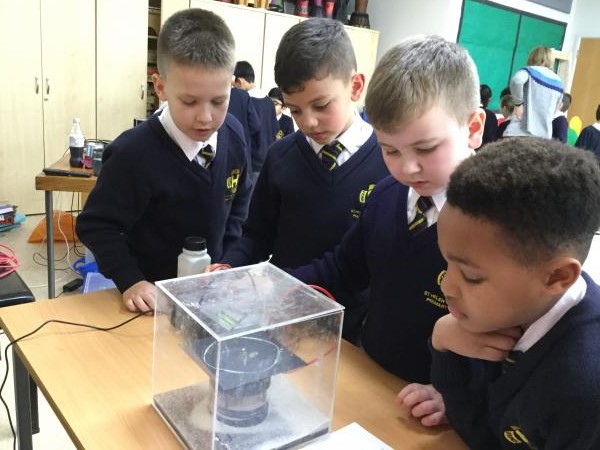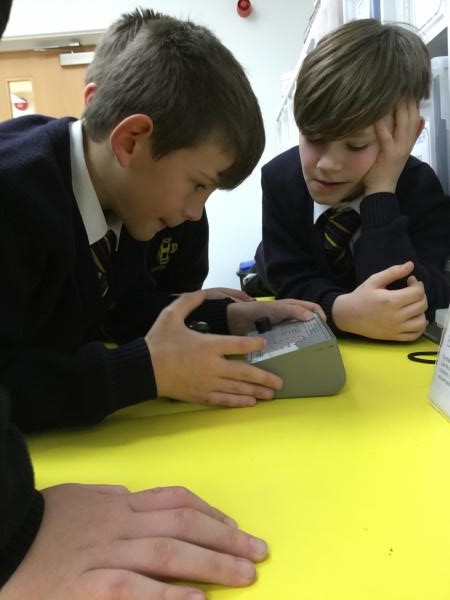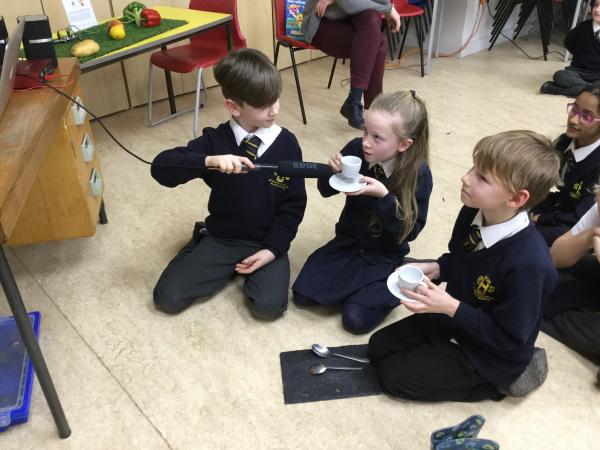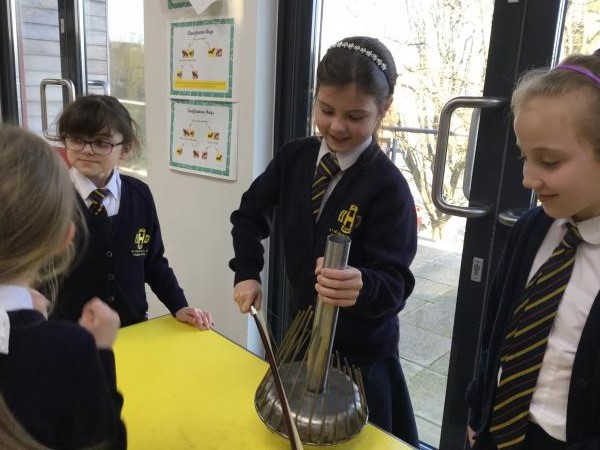 Pizza Express Experience
Class 4G also had a 'taste - tastic' time during our visit to Pizza Express, who kindly gave us lessons in making pizzas: dough tossing and taste testing. What a great trip out to a local business, thank you Pizza Express.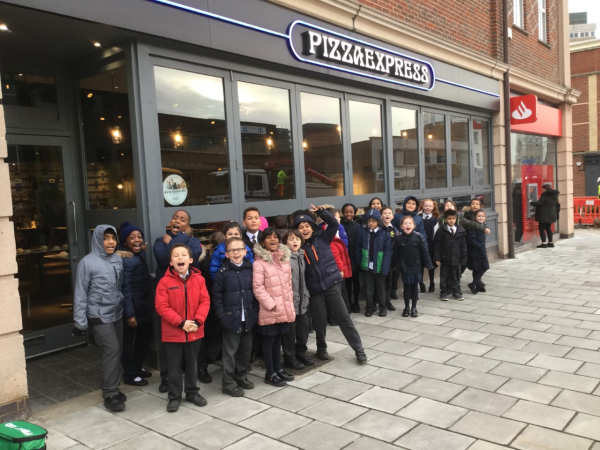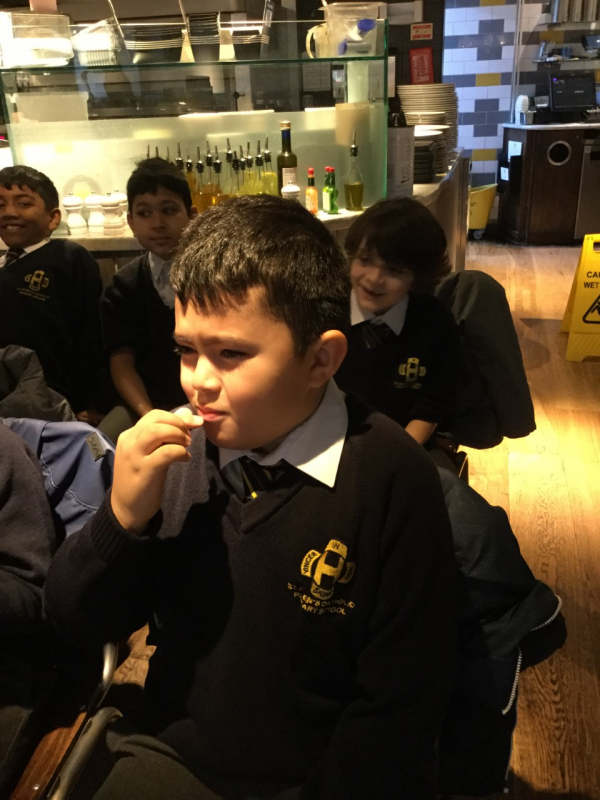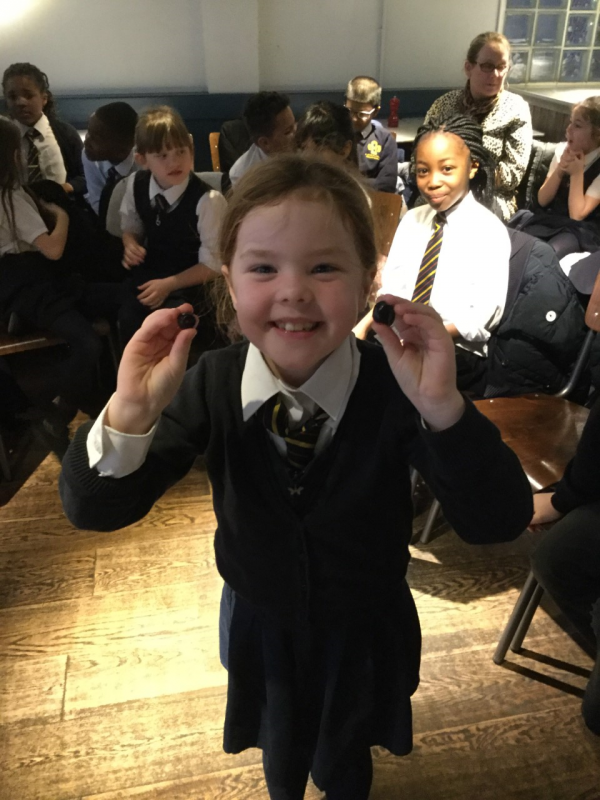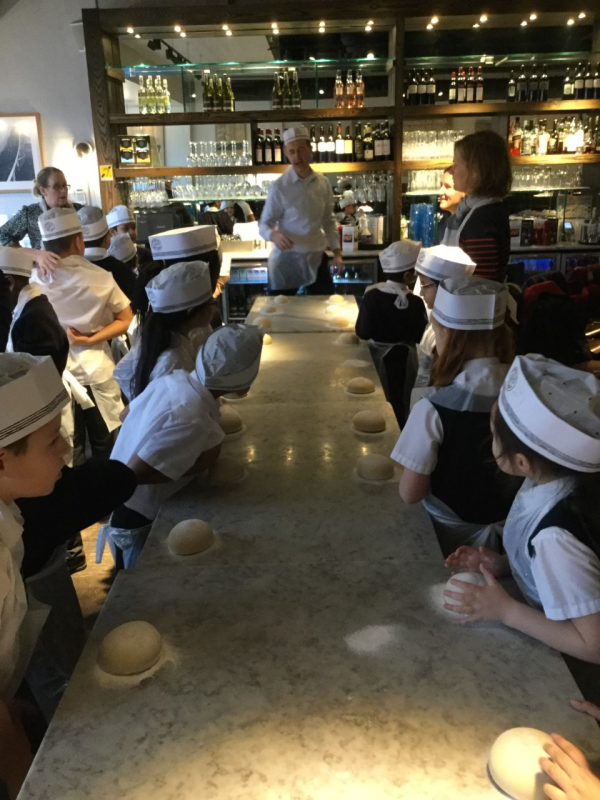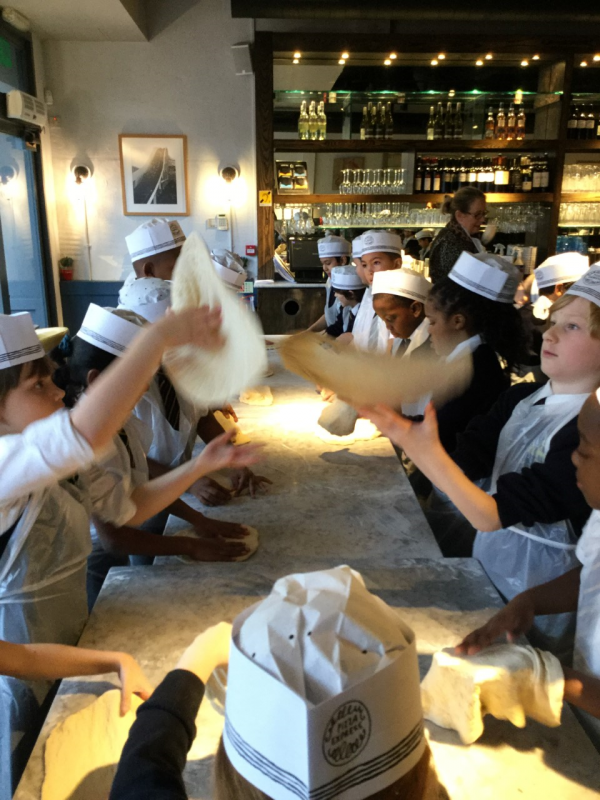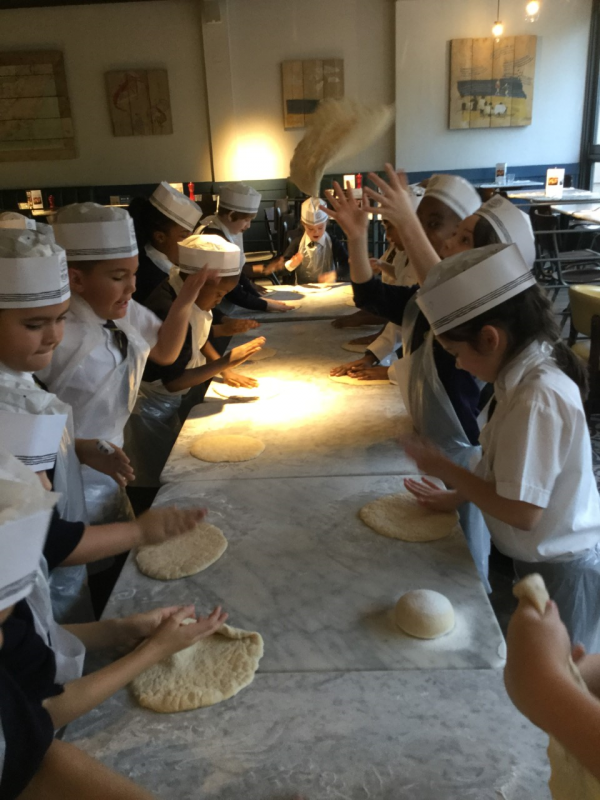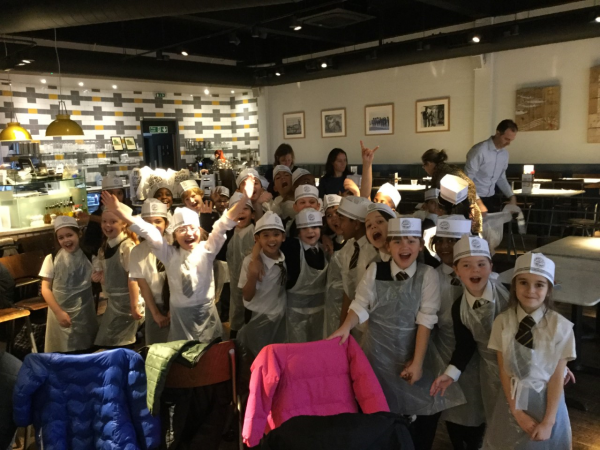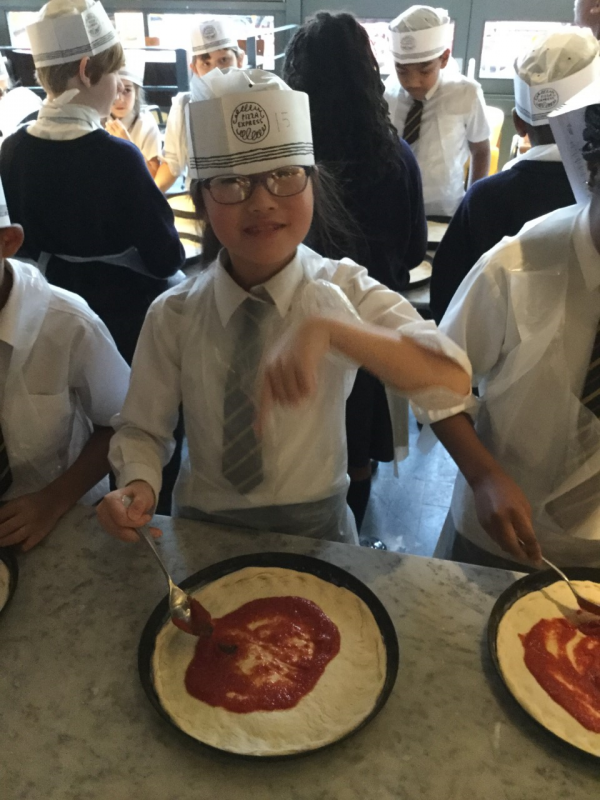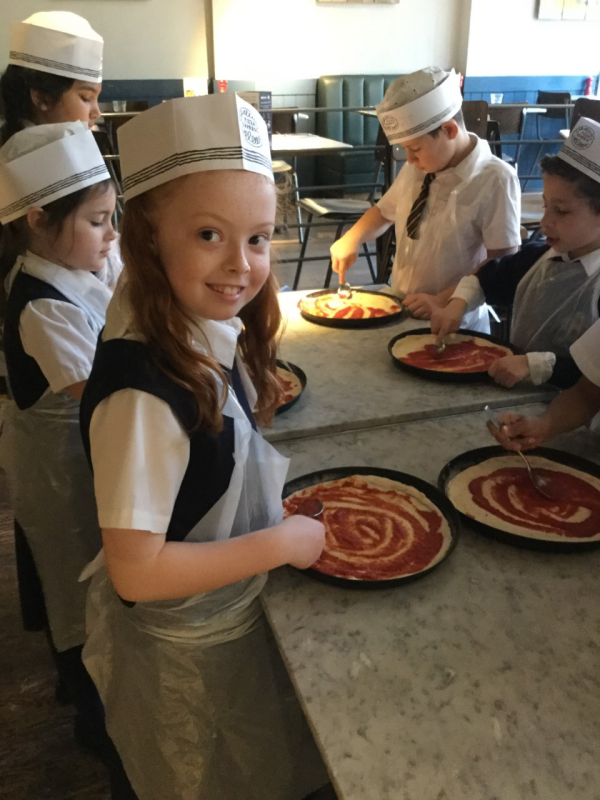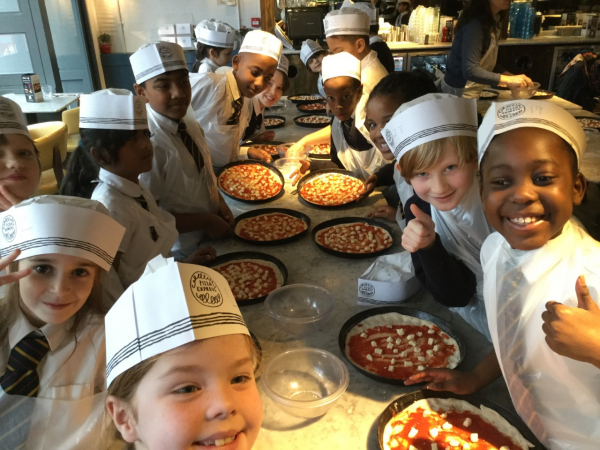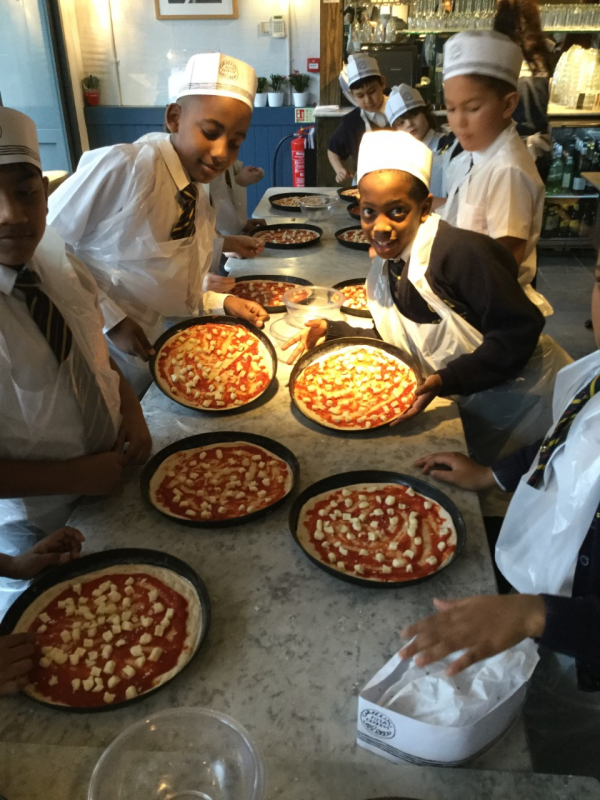 A class of bright sparks!
Class 4G have had a fantastic start to the new year. We have been completing our circuit work, looking at ways to increase the brightness of bulbs, testing items for conductivity and designing electrical switches - there were some really inventive ideas!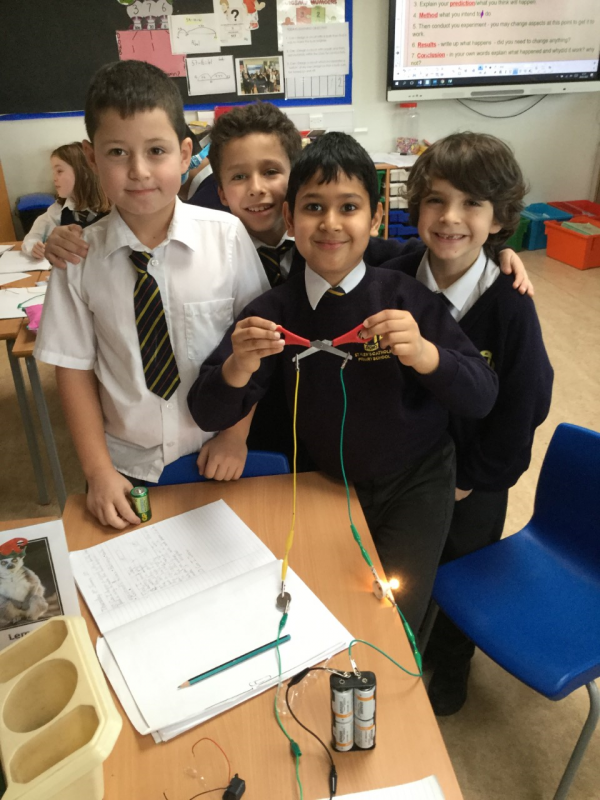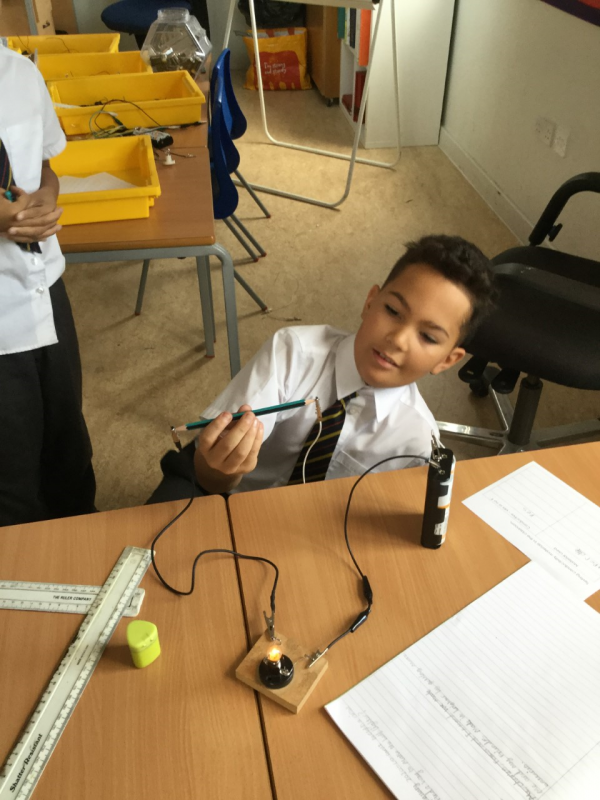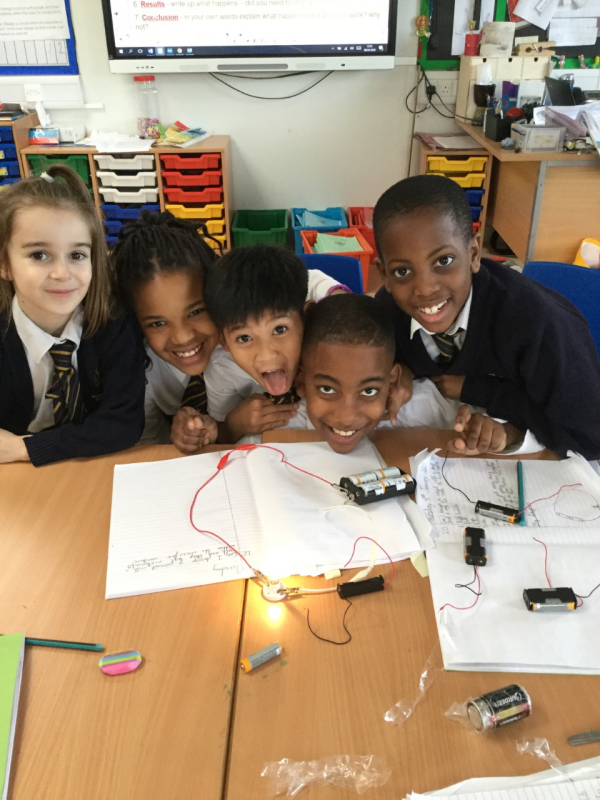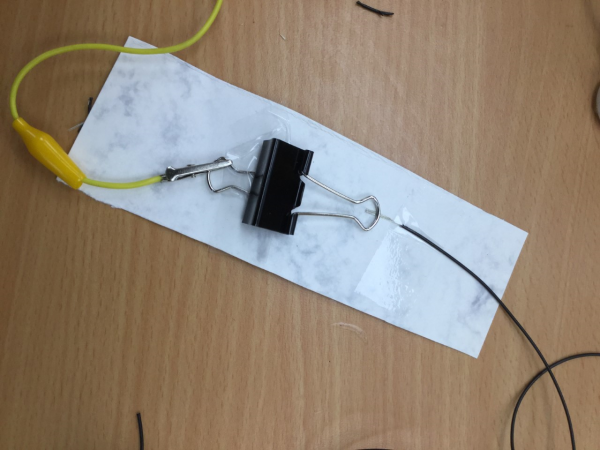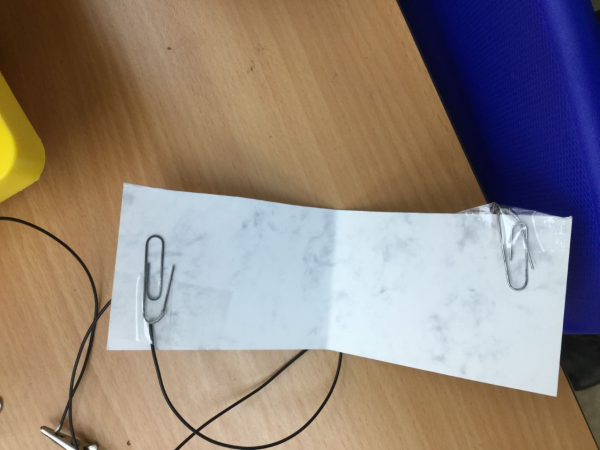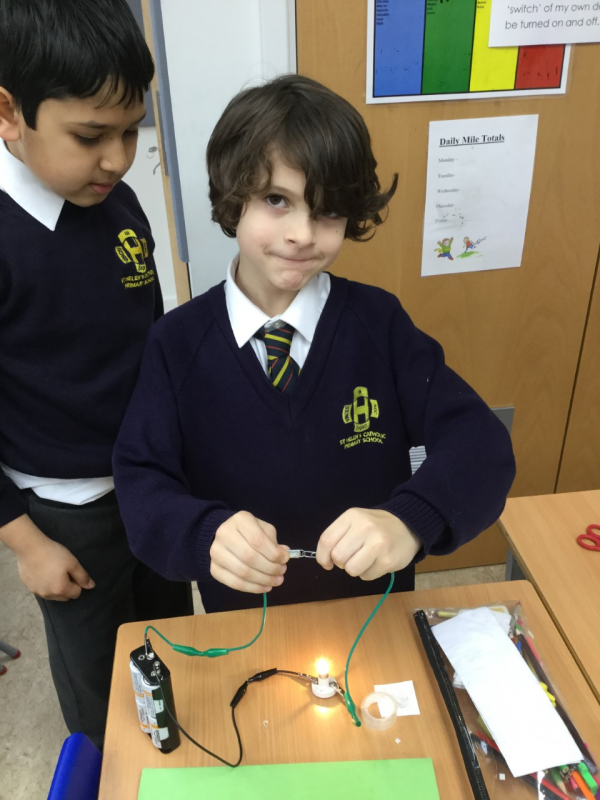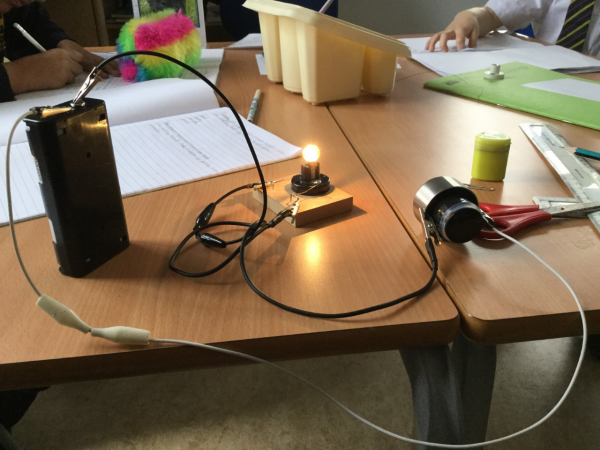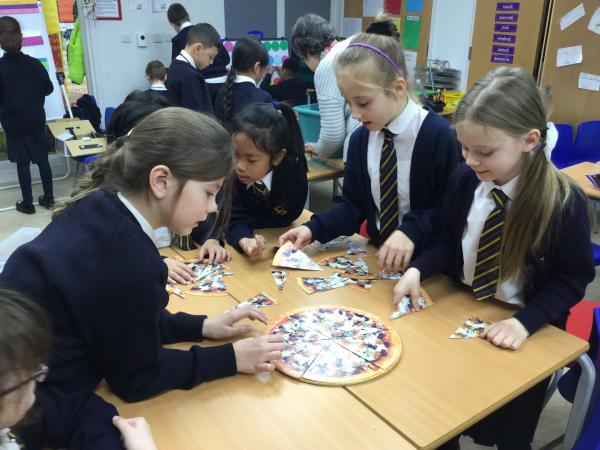 Listening and learning outside
Year 4 investigated different sounds in the nature area . They made their own musical instruments, listened to the birds and watched popcorn explode on the fire whilst listening carefully to the crackling, fizzing and popping!
4G were busy in the nature area - feeding the birds, climbing trees, making and building!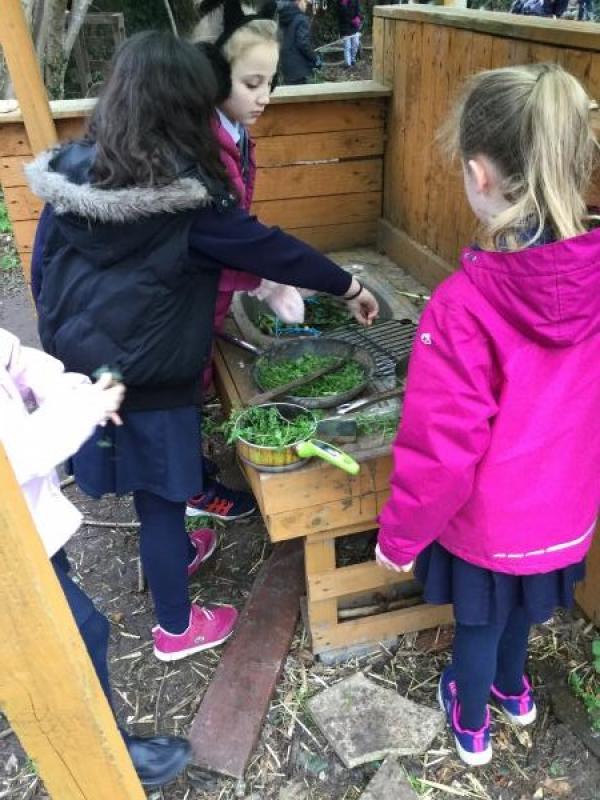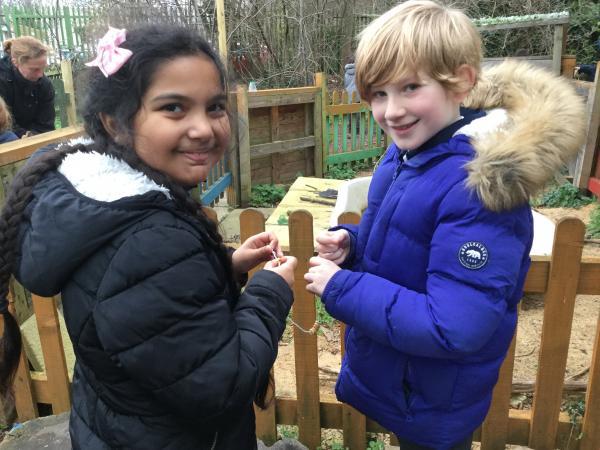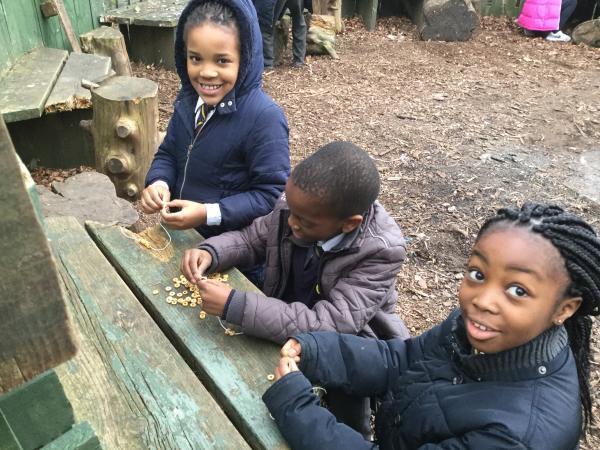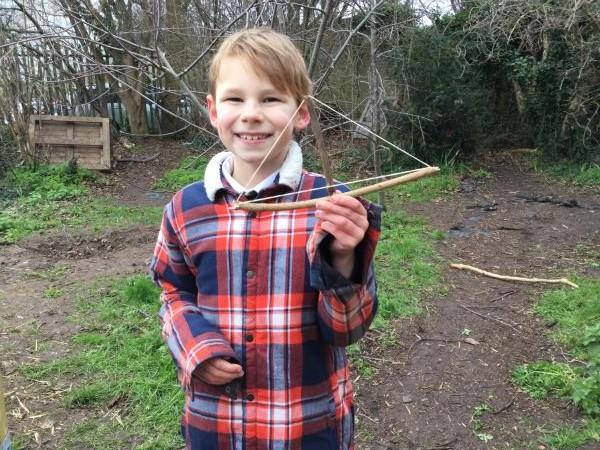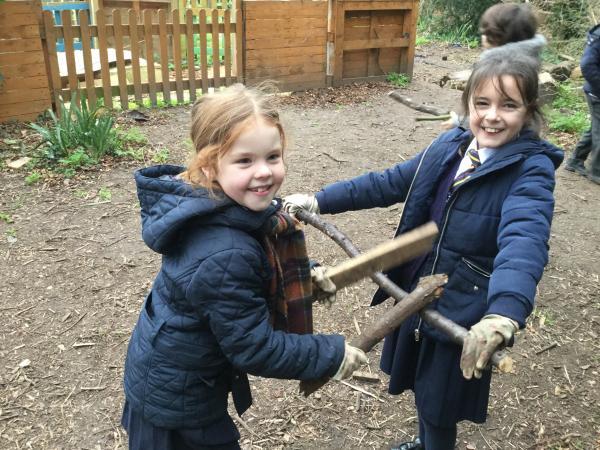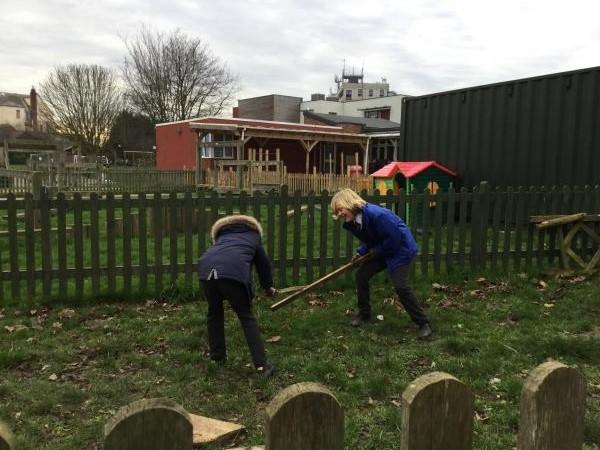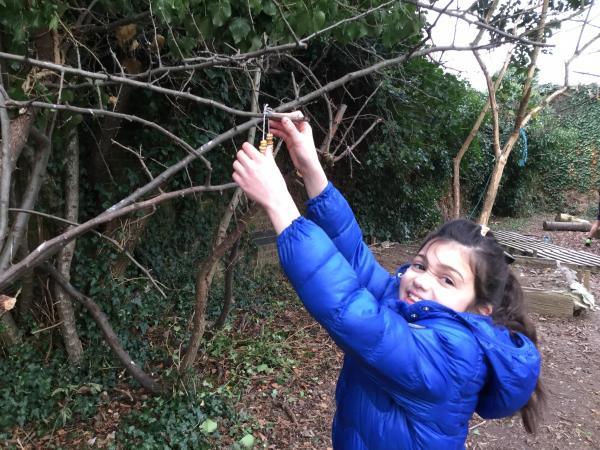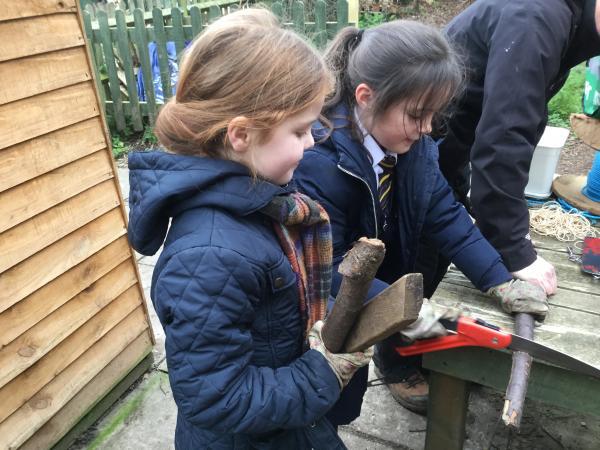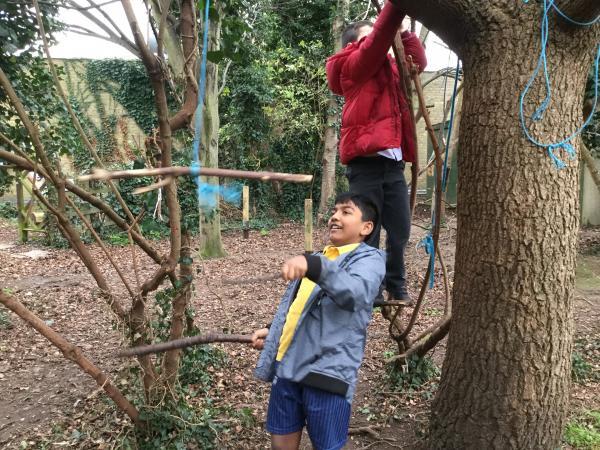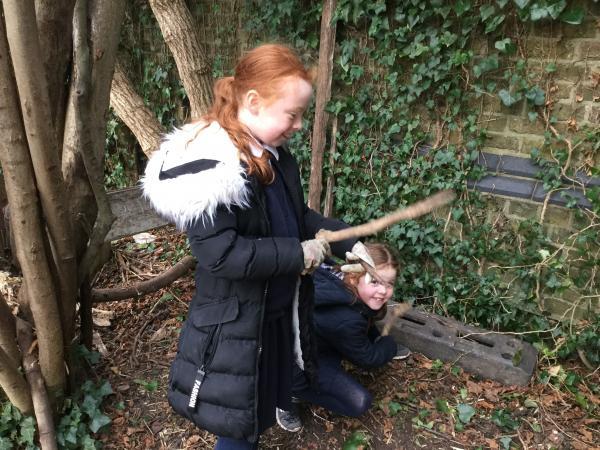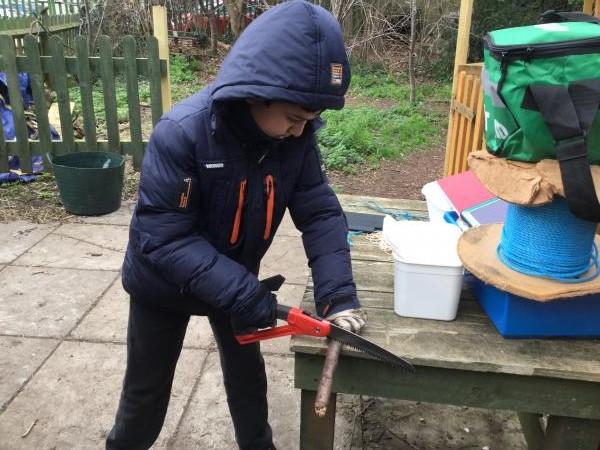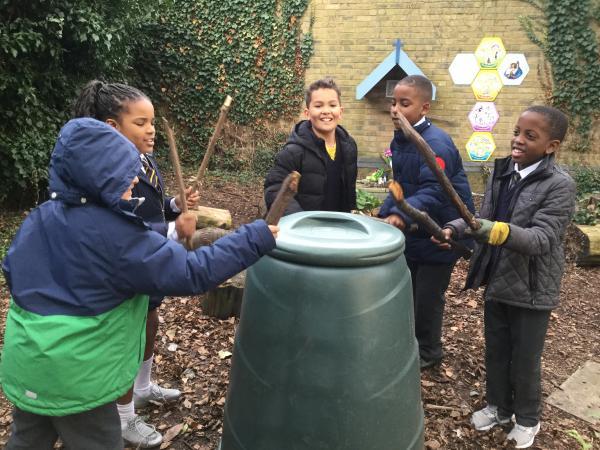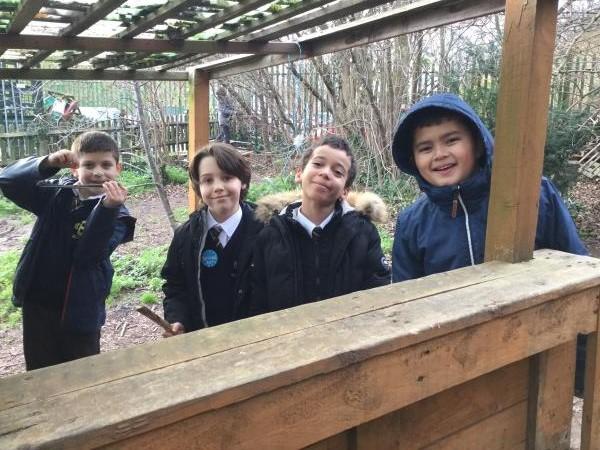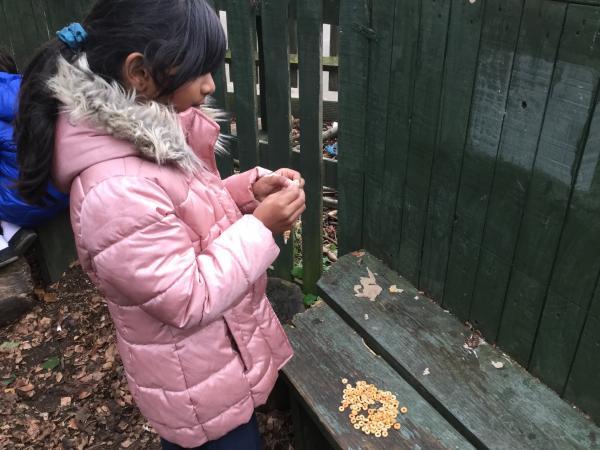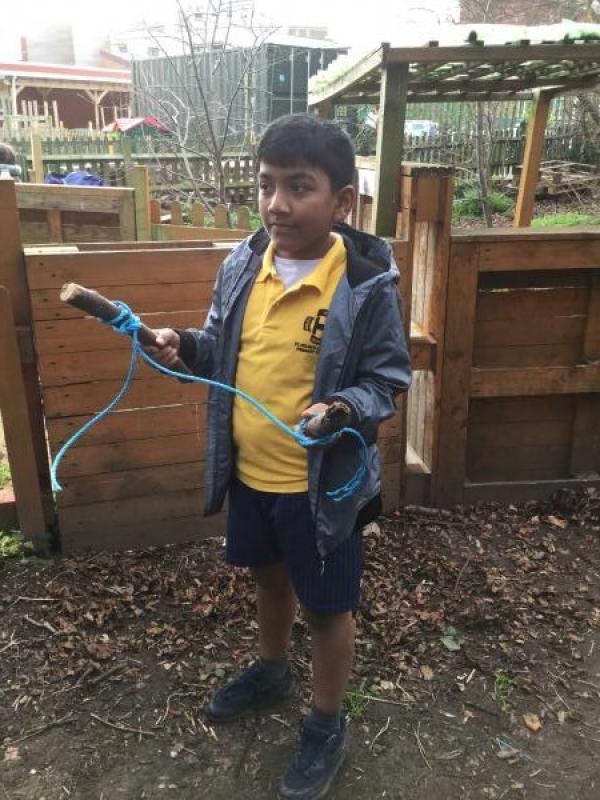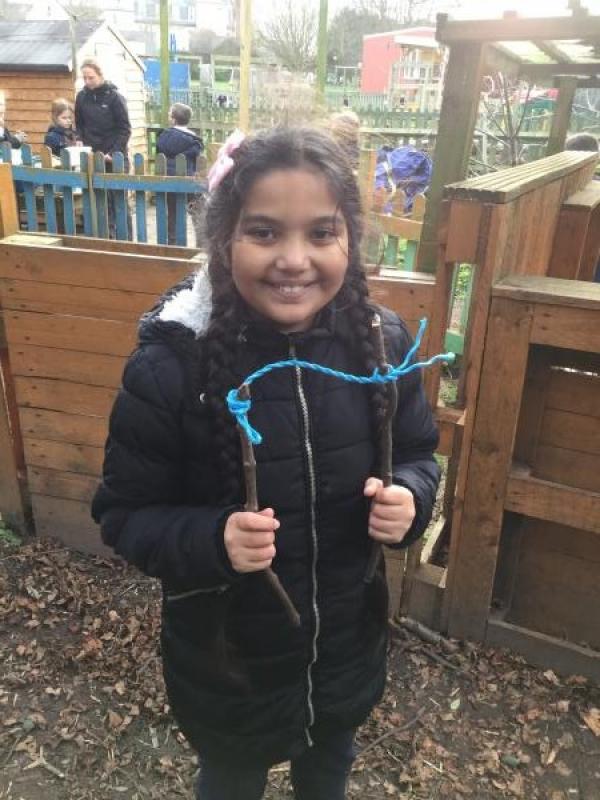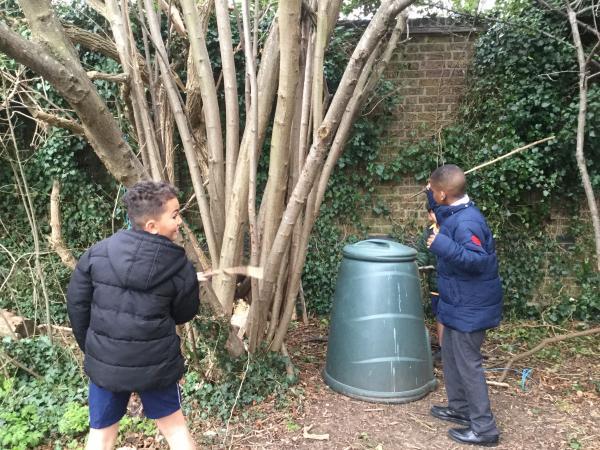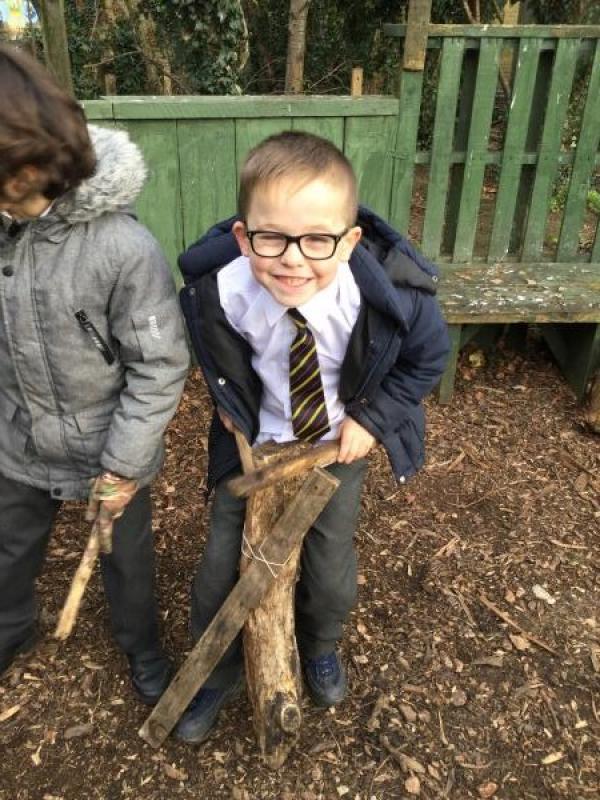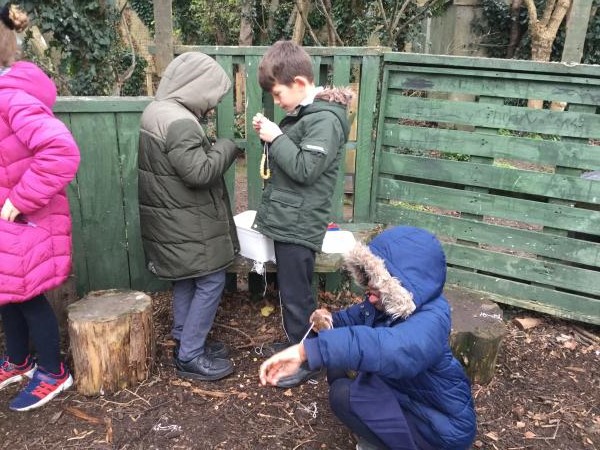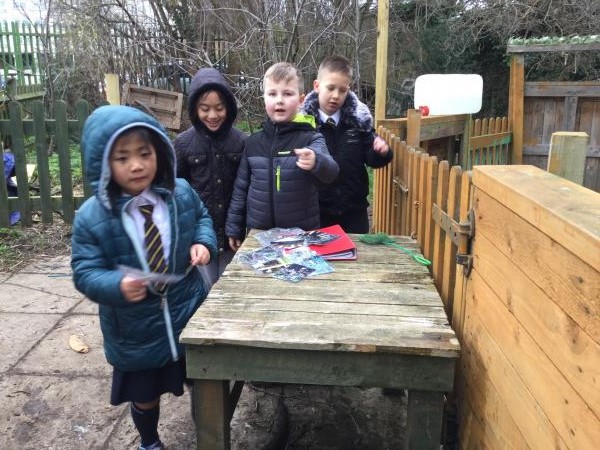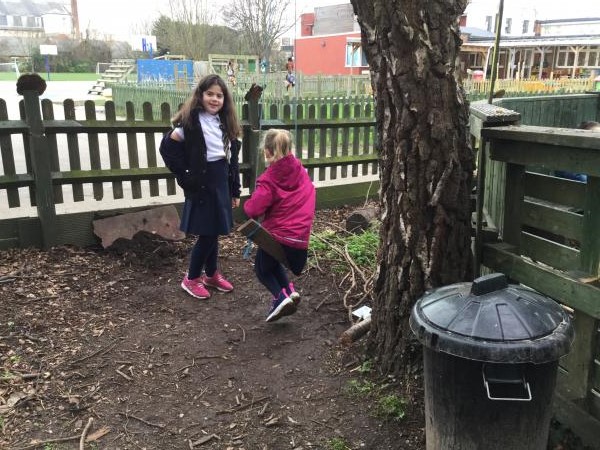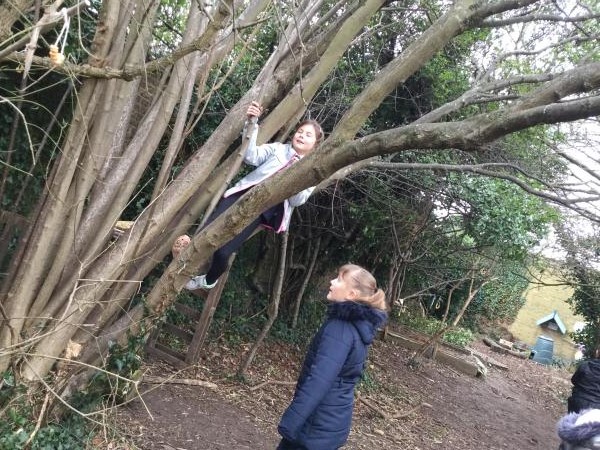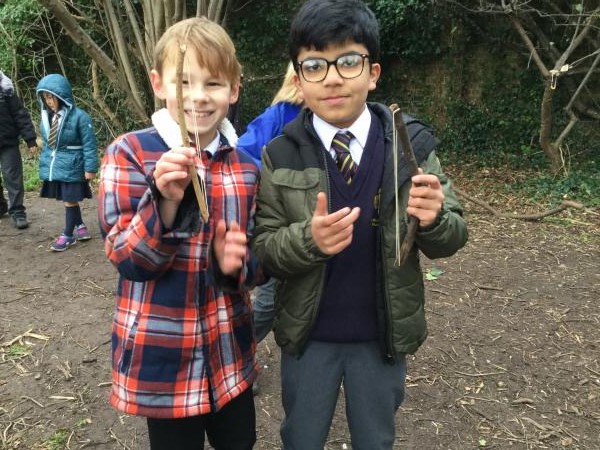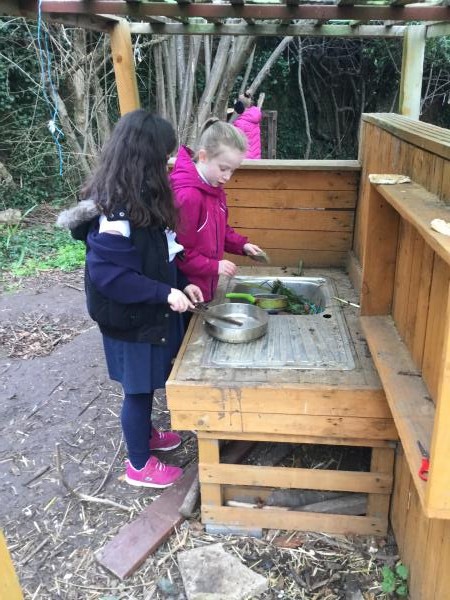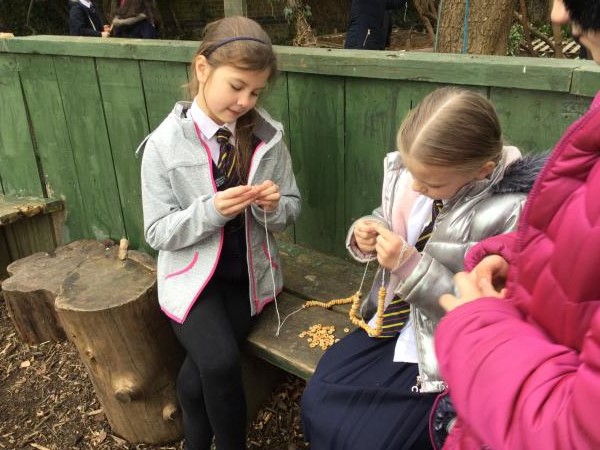 Southend Library
Class 4G had a fantastic time on their visit to the Forum this week. They looked at maps of Southend dating back to 1777! There have been so many changes.
They had the joy of listening to a story in the children's library and were able to check out how the library books are ordered and found out about breaking the code!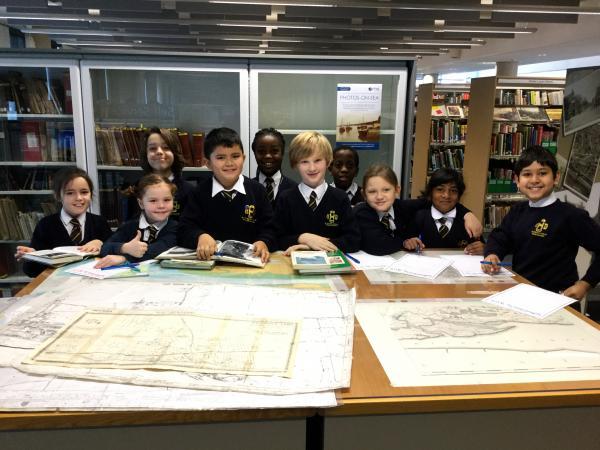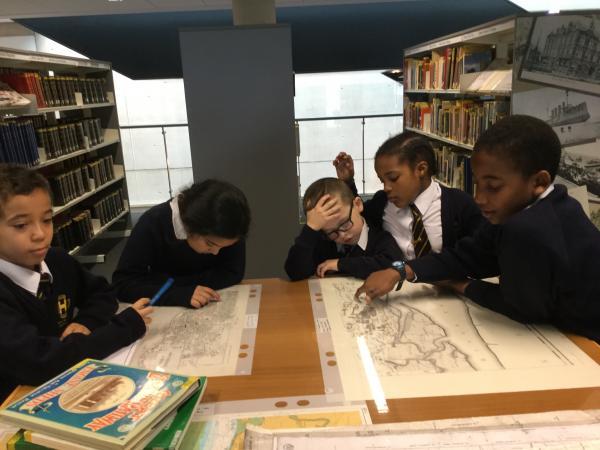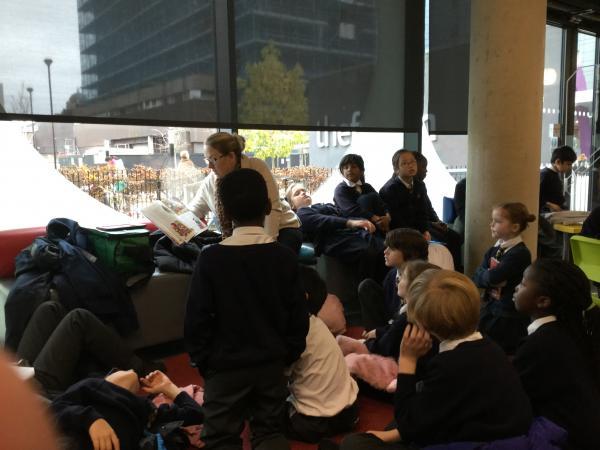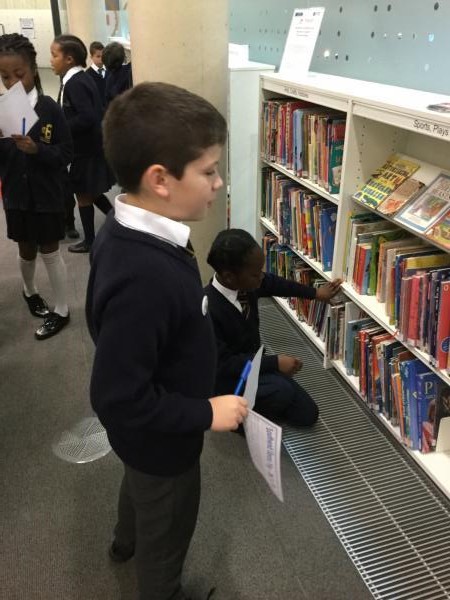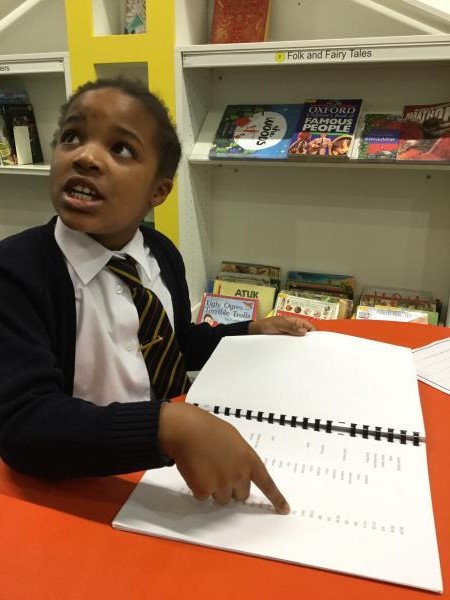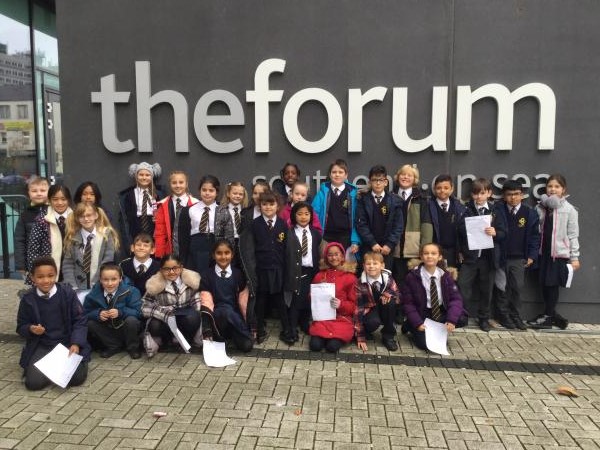 Class 4F visit Southend Library
Life without electricity
4F went into the nature area and thought about what life was like before electricity.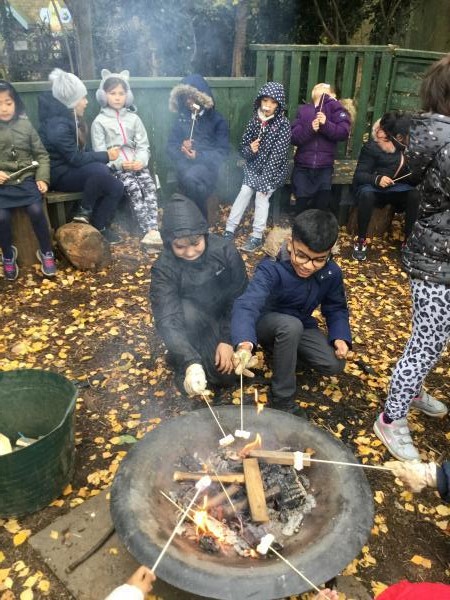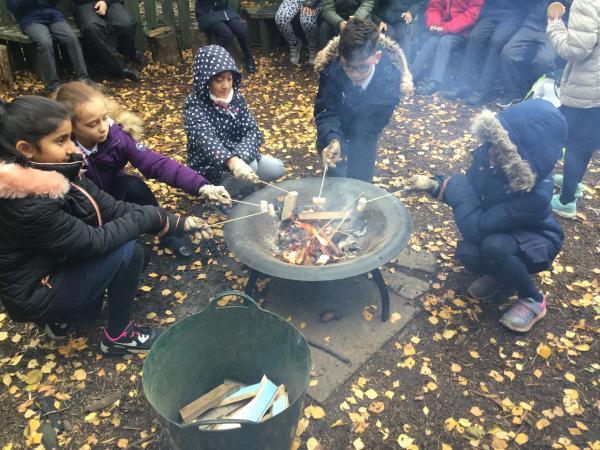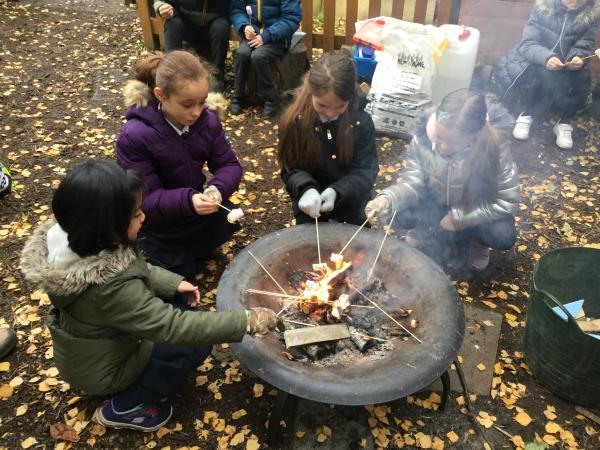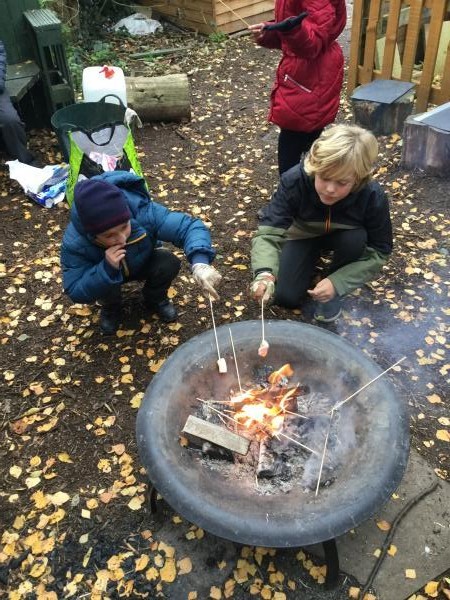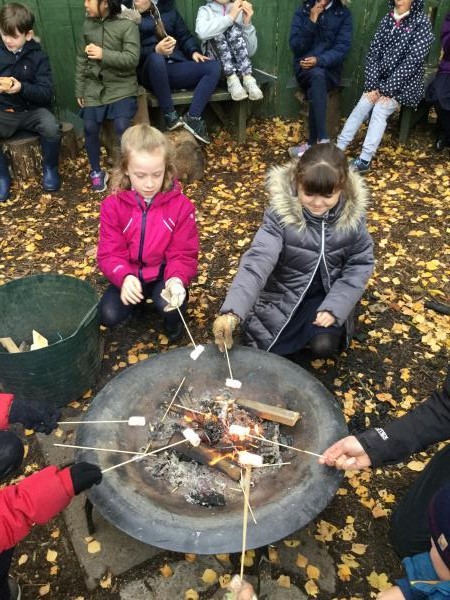 An illuminating morning!
4G had an illuminating morning designing and then building electrical circuits using bulbs, buzzers and switches for our topic work.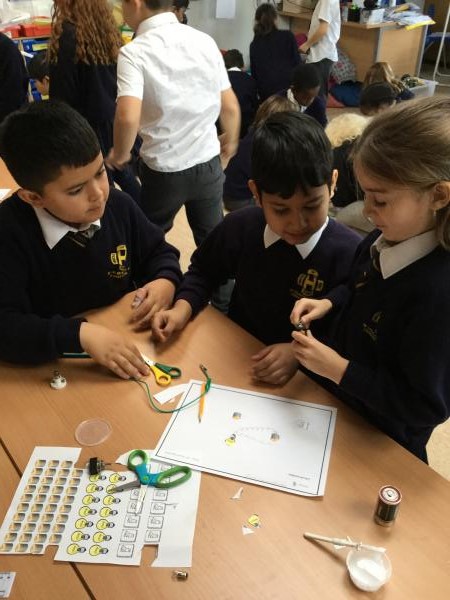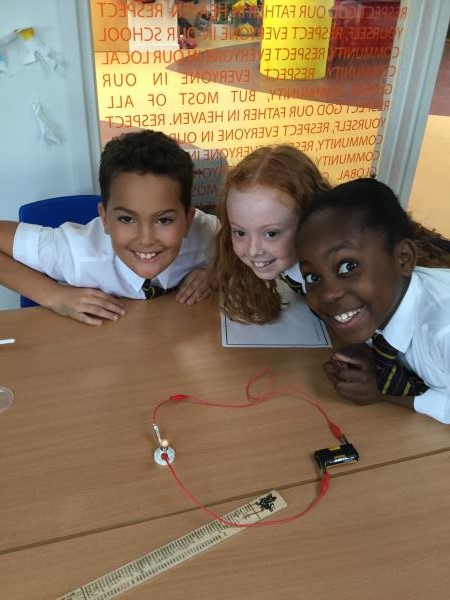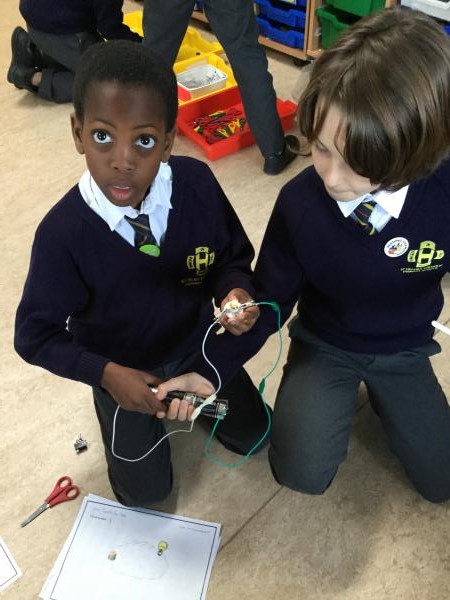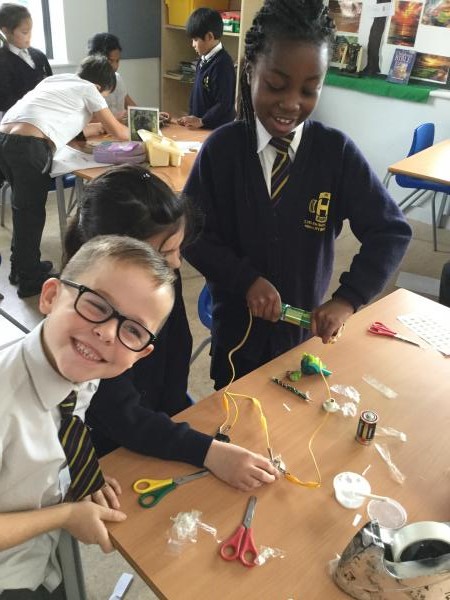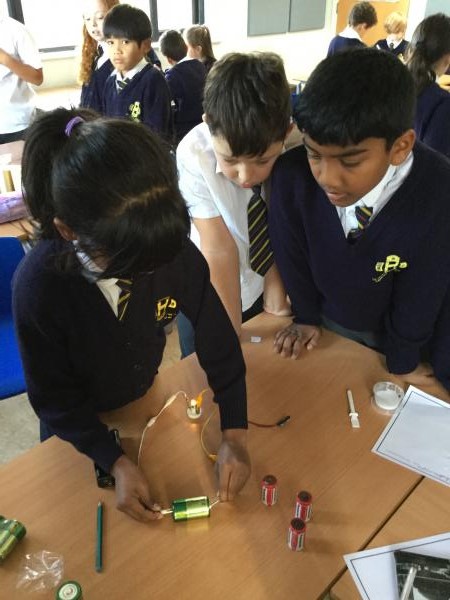 Angry Birds 2
Year 4 had an amazing trip to the Odeon Cinema on the 12th November to see Angry Birds -2. It was all free under the provision of 'into film' scheme - bonus! The children had a great time (and I think all the adults enjoyed it too!).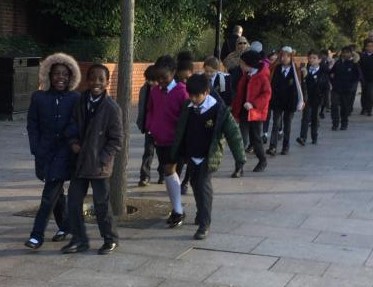 Outdoor Activity Day
For our outdoor activity day we decided, as a class, to do 2 activities. First we spent time investigating electricity around the school for our topic work.
We then took part in a class sketching session. We took time to use our artistic skills sketching different view points and different 'things' around the school as part of a bigger art project on shade and light. Look out for the finished project work later in the year!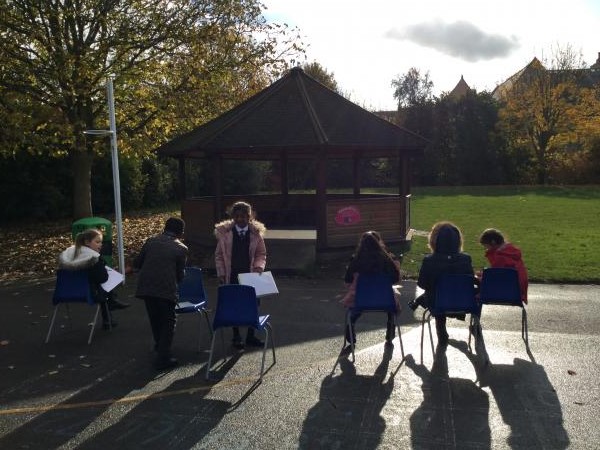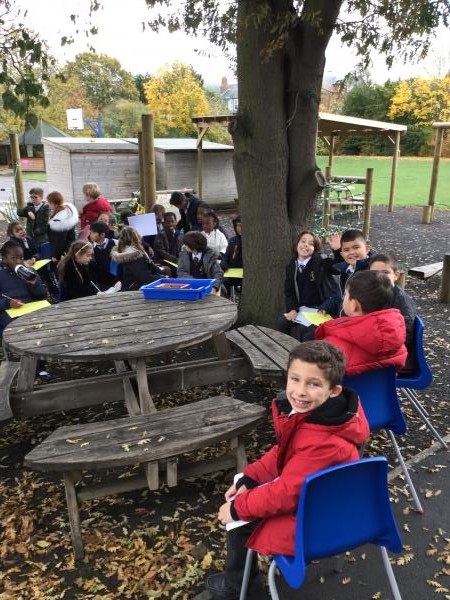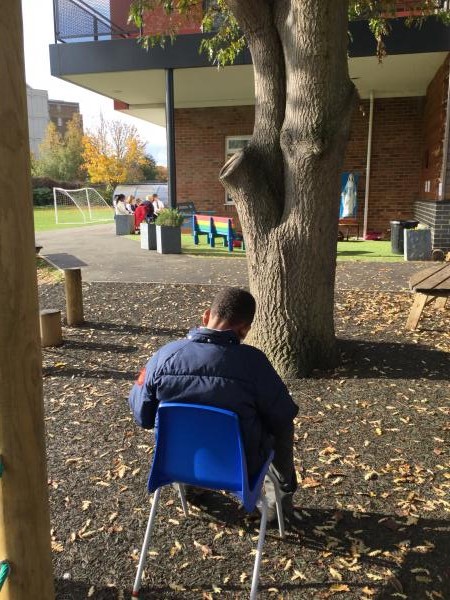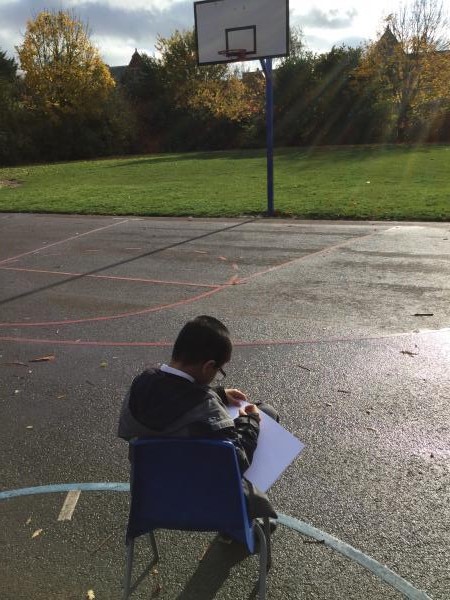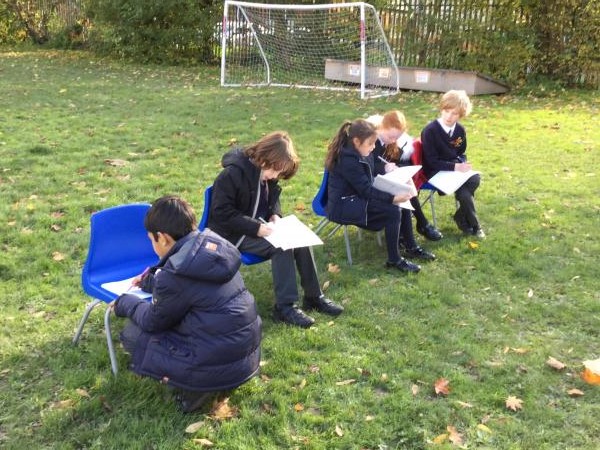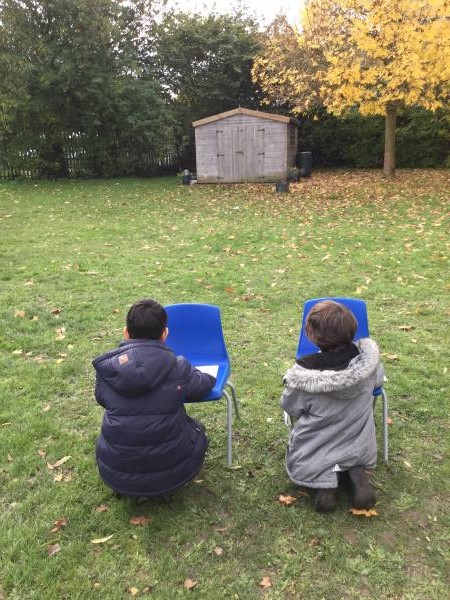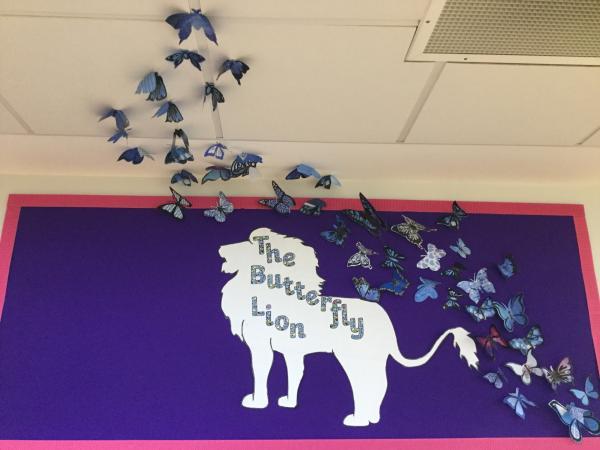 Marvellous Maths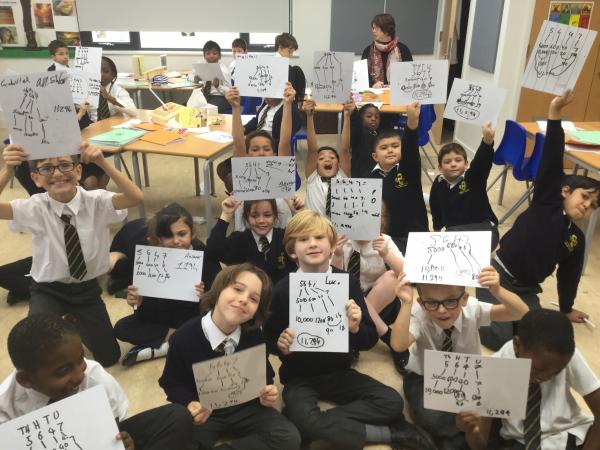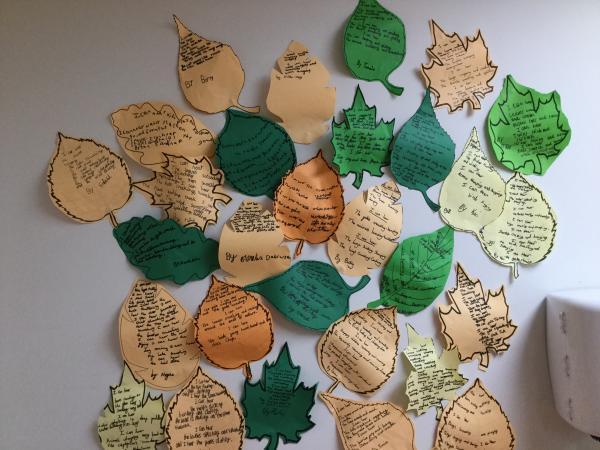 Classifying Animal Groups
The children had a great lesson, testing their patience, classifying different animal groups and working out how to split the groups into separate classes.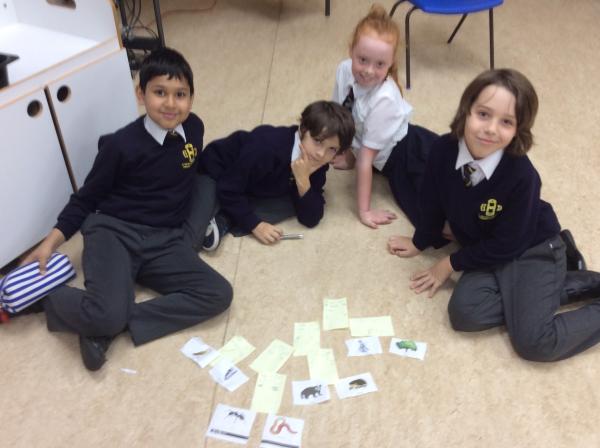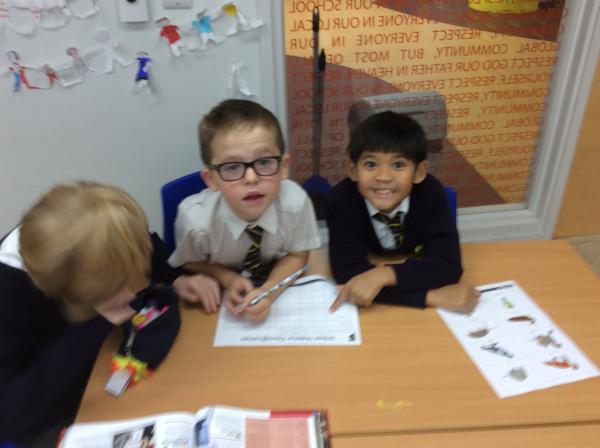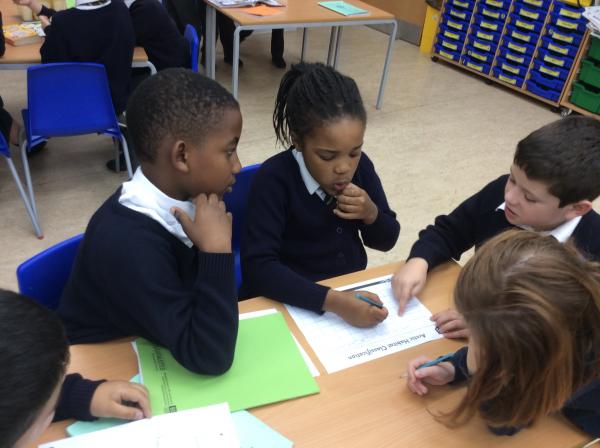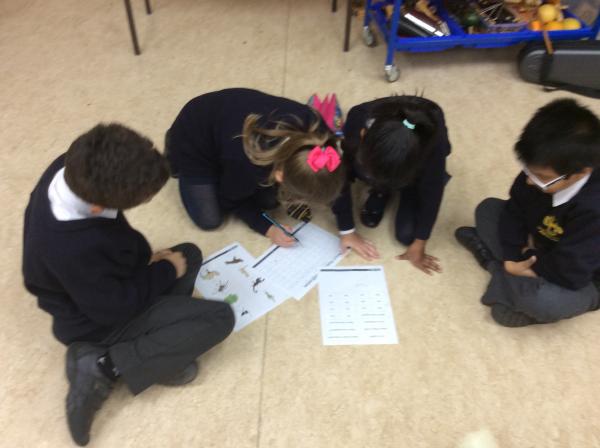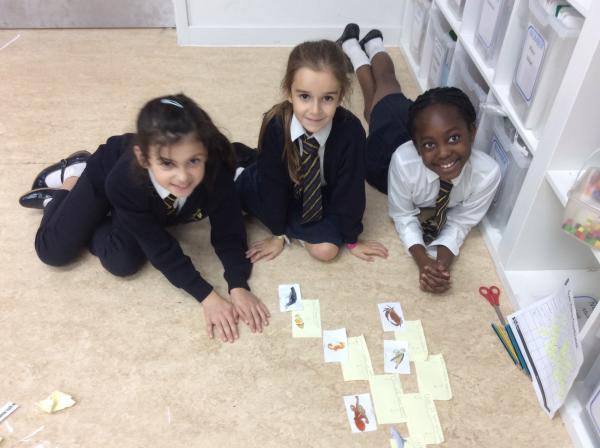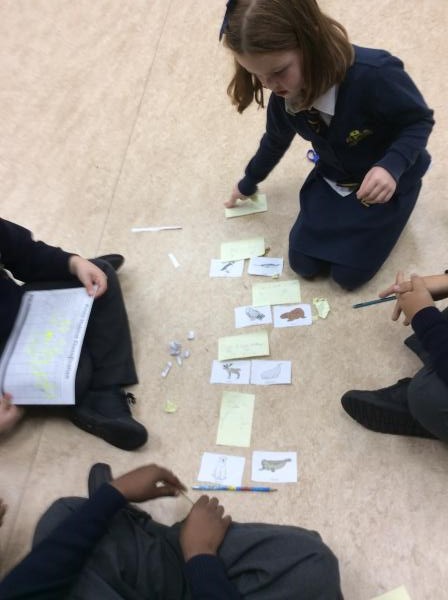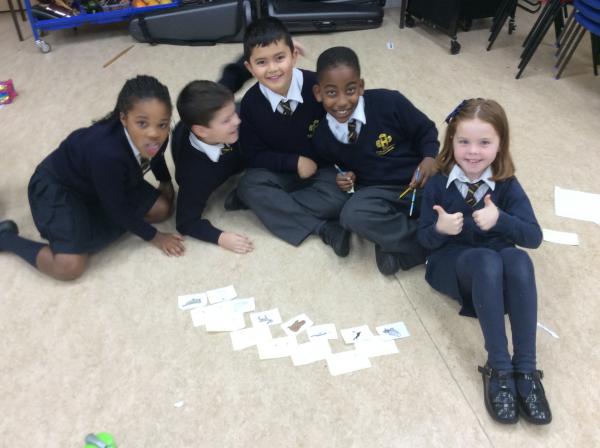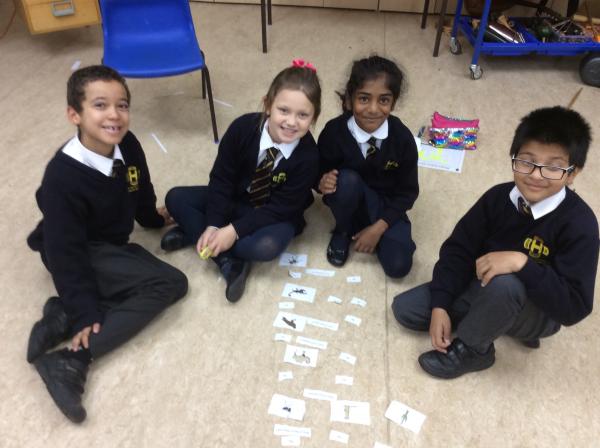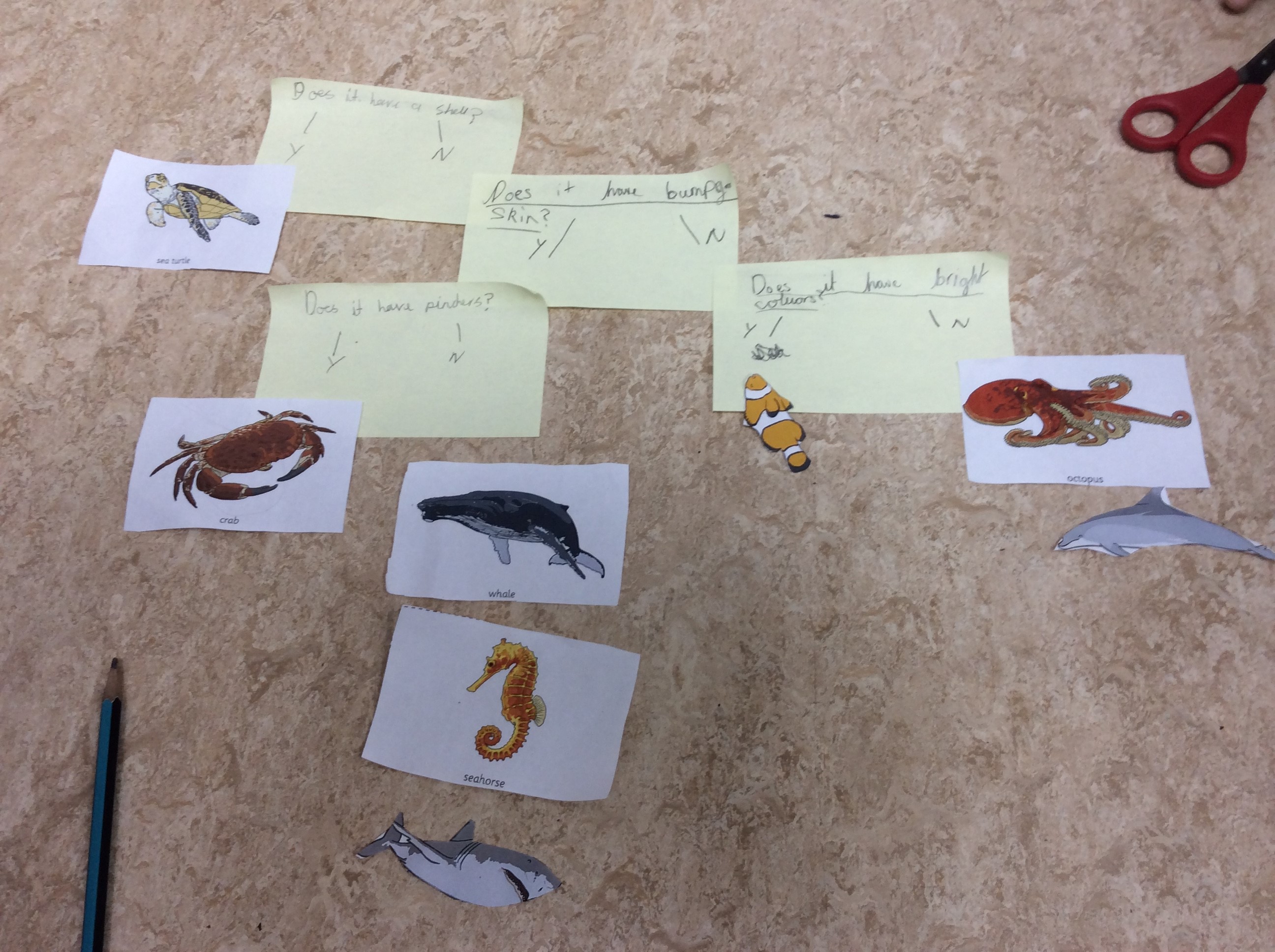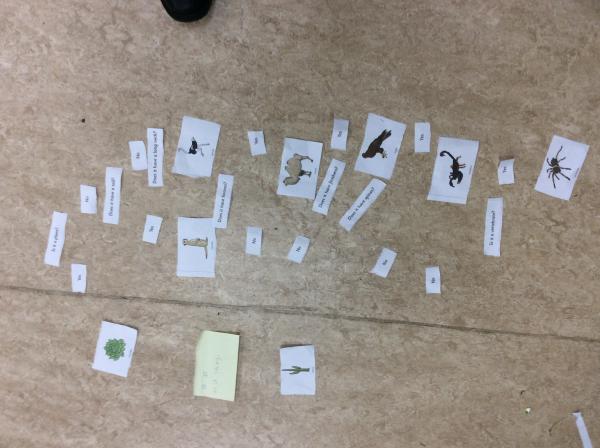 Lion Art Work
Class 4G have had great fun creating our amazing Autumn lion art work display.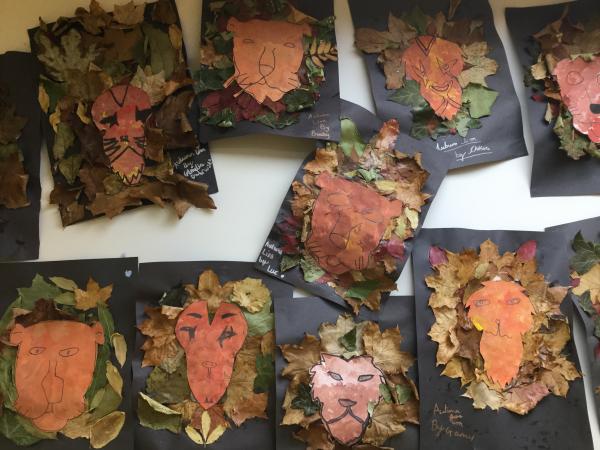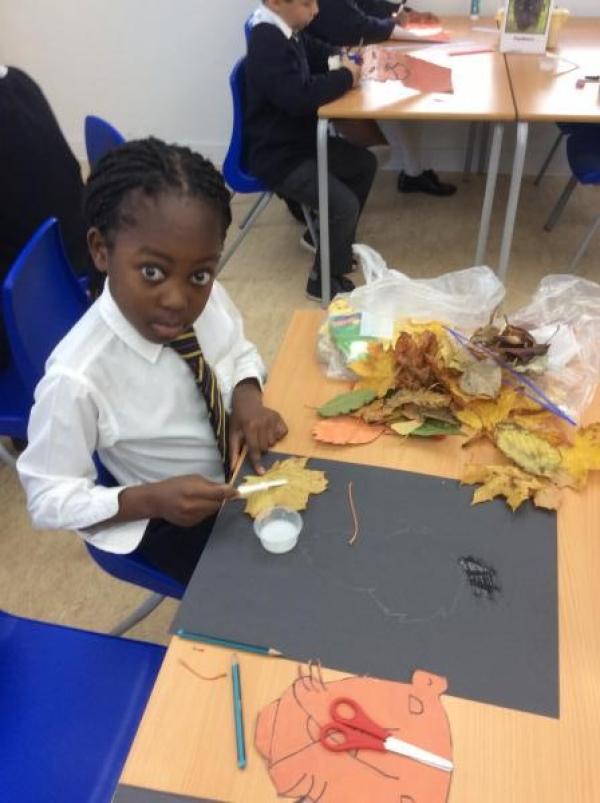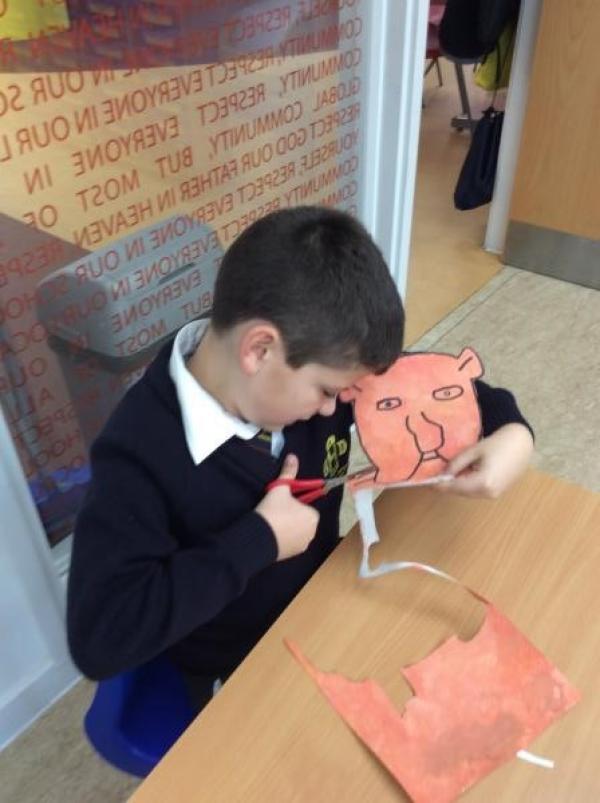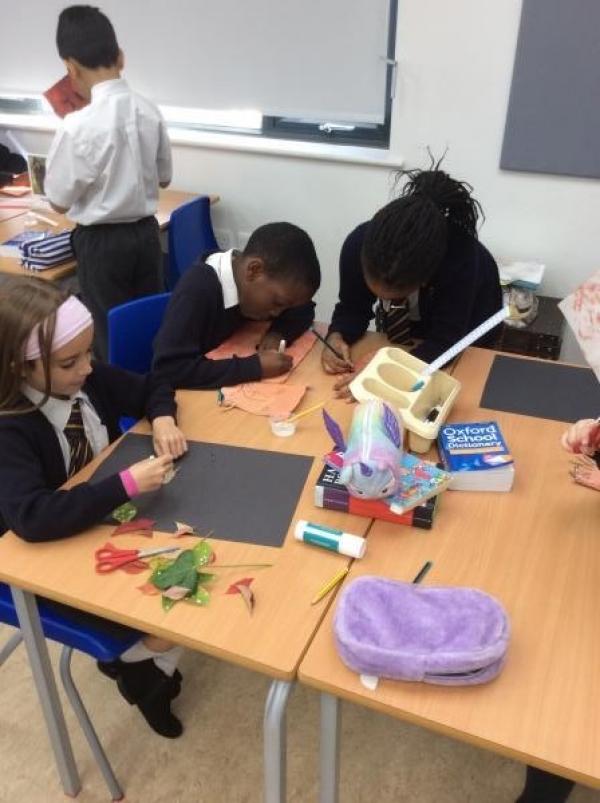 Investigating creatures
Class 4G have been checking out the local habitats and searching for creatures to classify. They have been investigating food chains.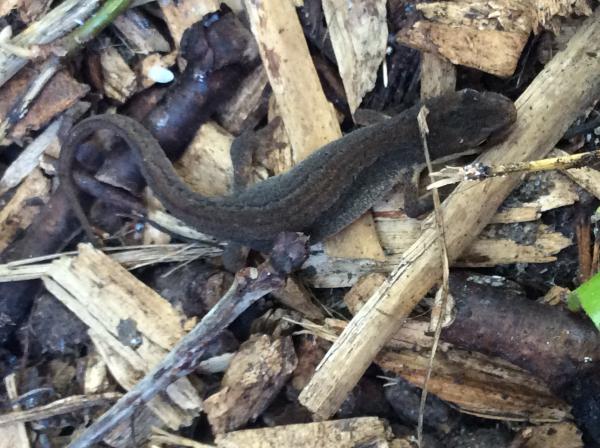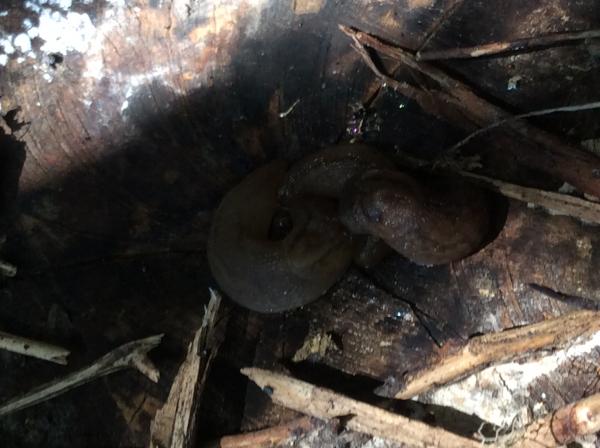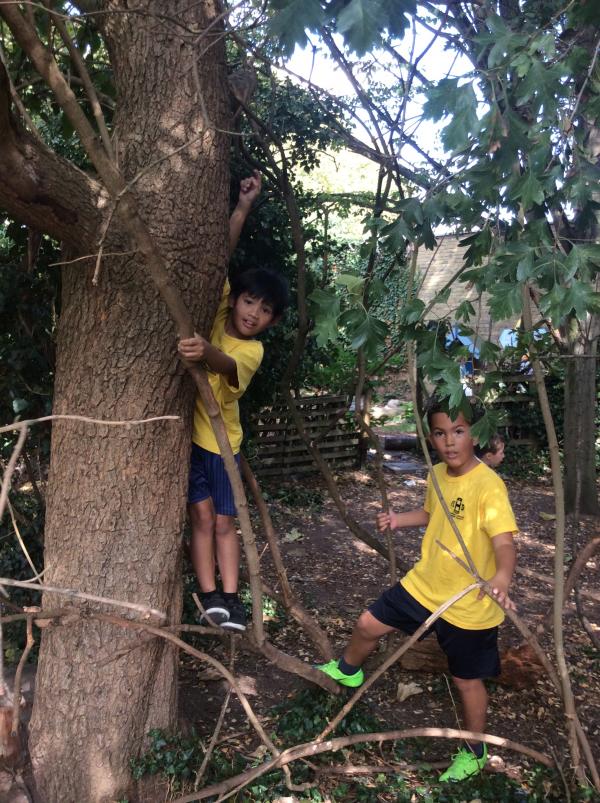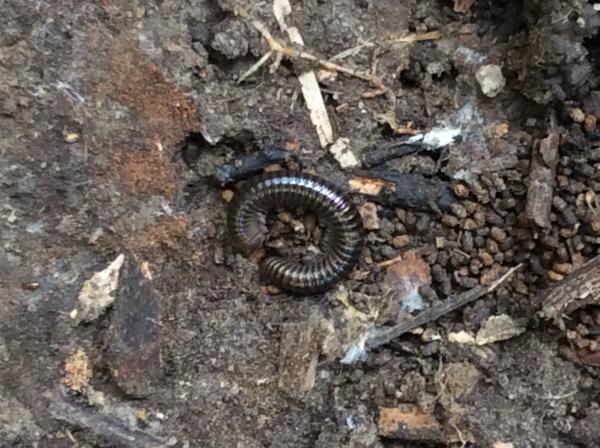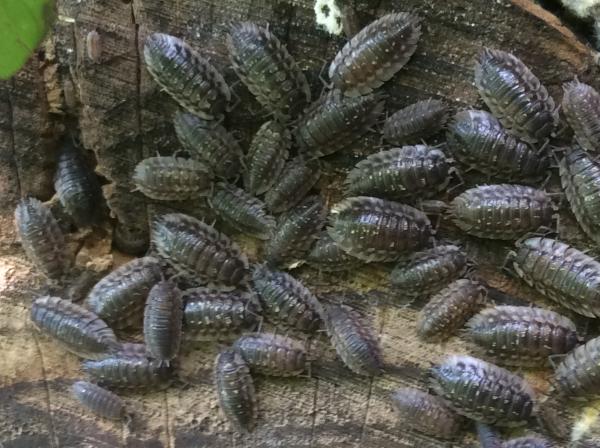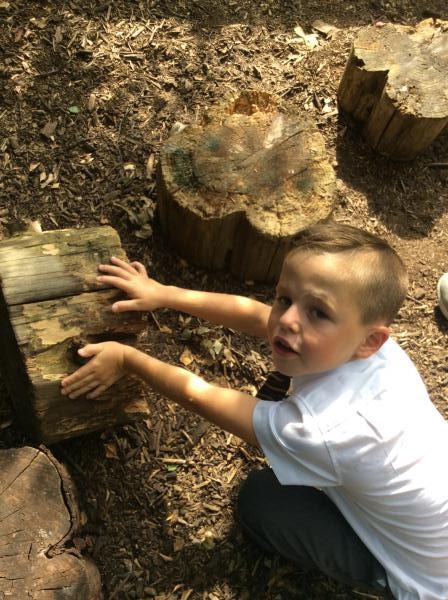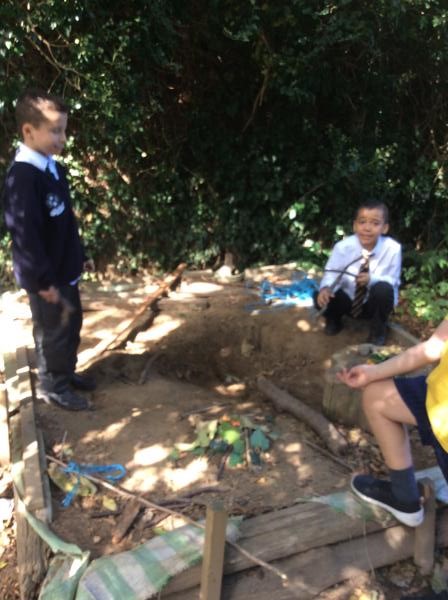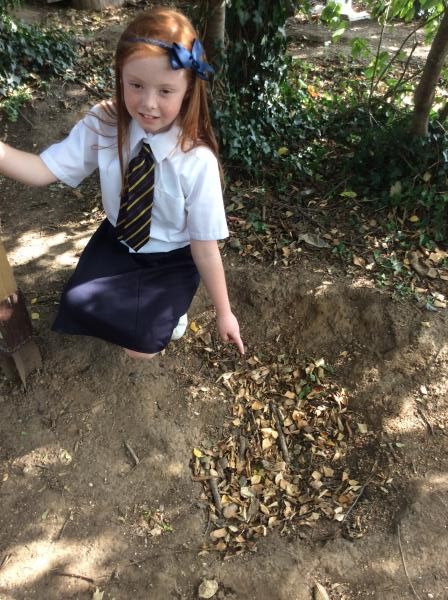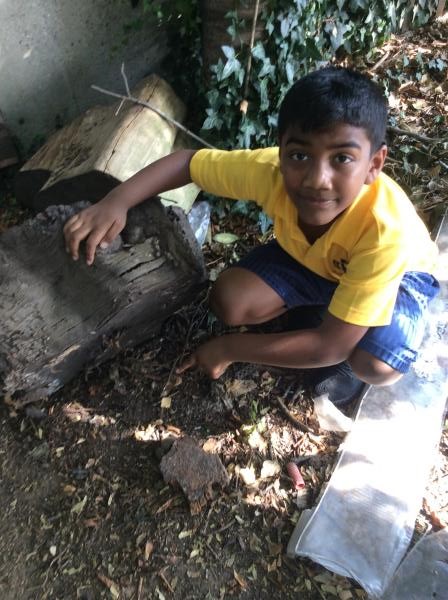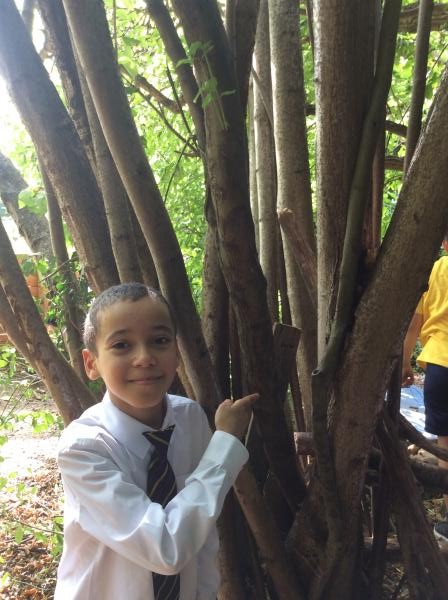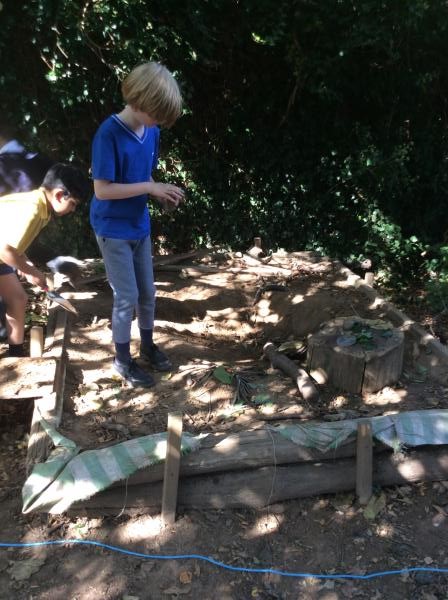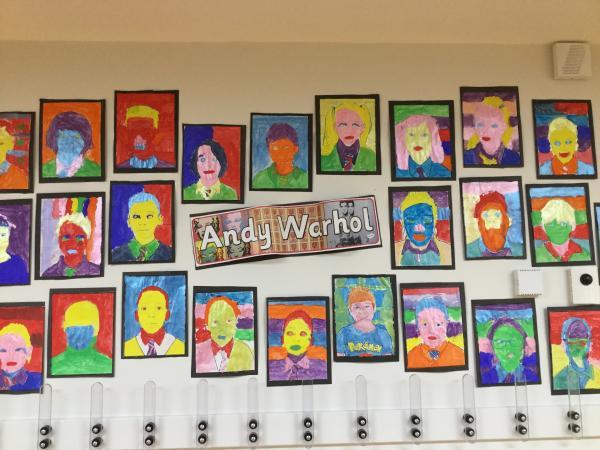 Sorting shapes
Class 4G have been treasure hunting for shapes and doing sorting activities in the nature area.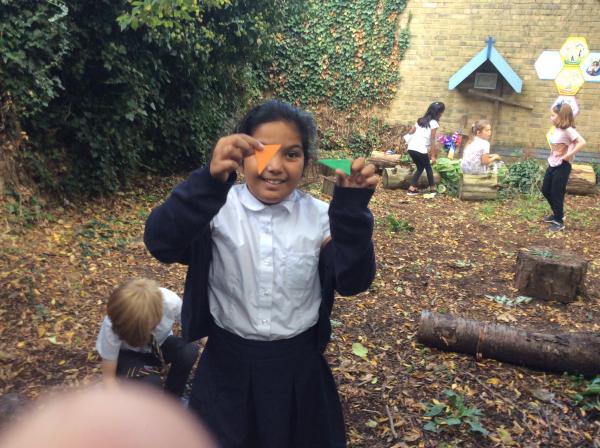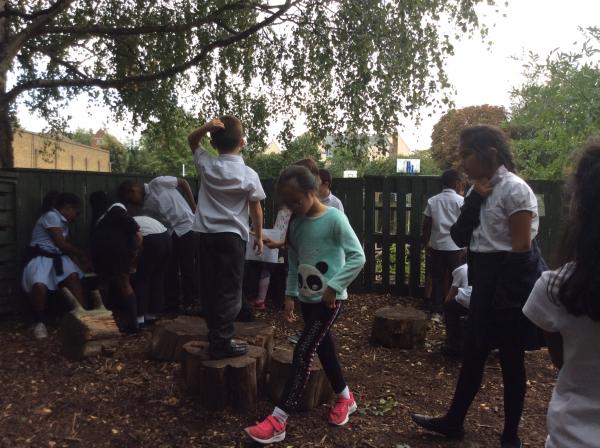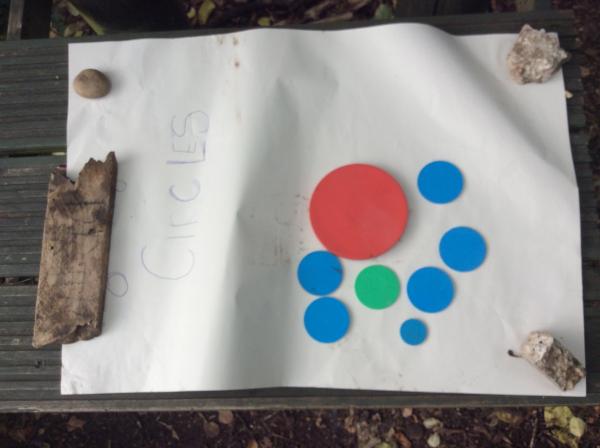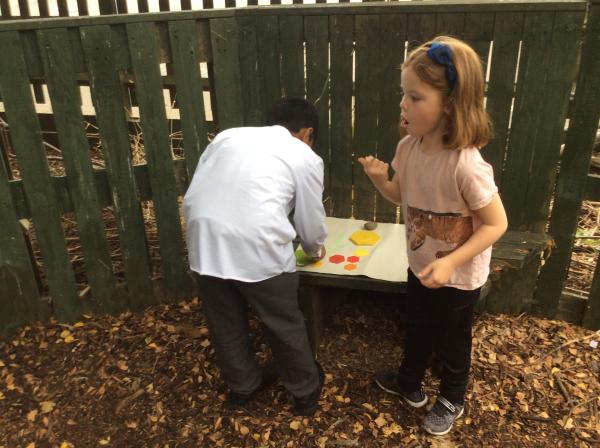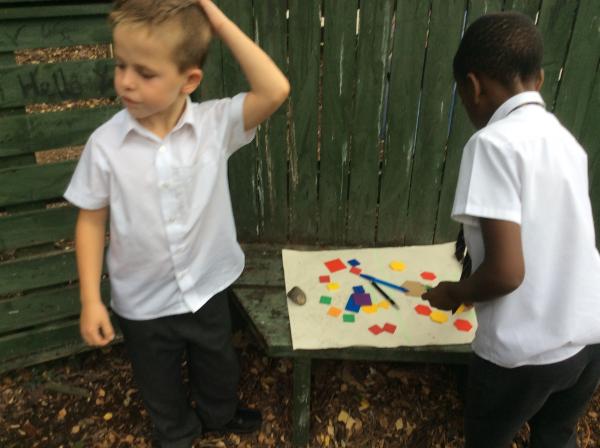 Great Gym Lessons
Some amazing team work in our 1st half term gym sessions !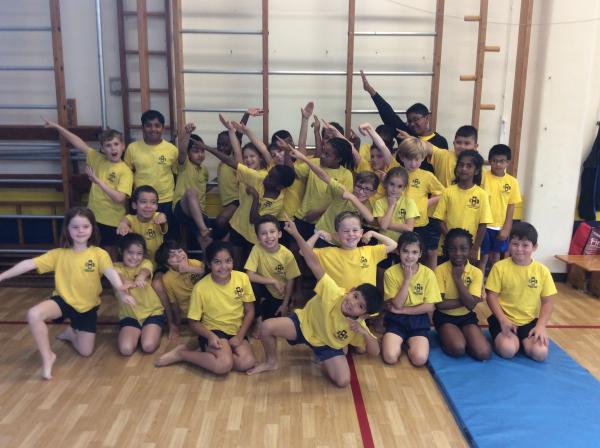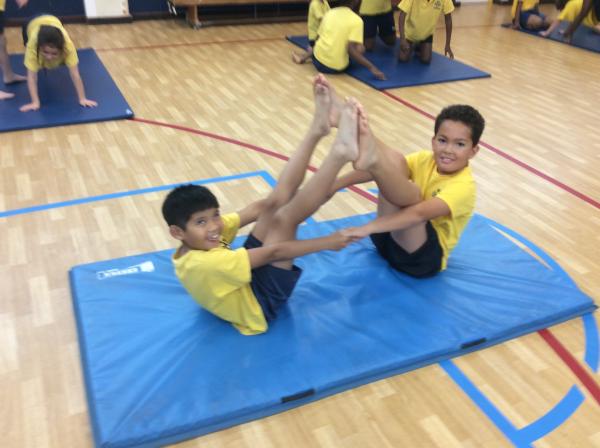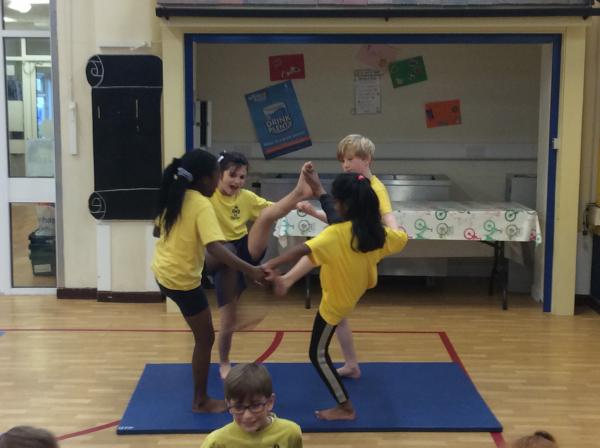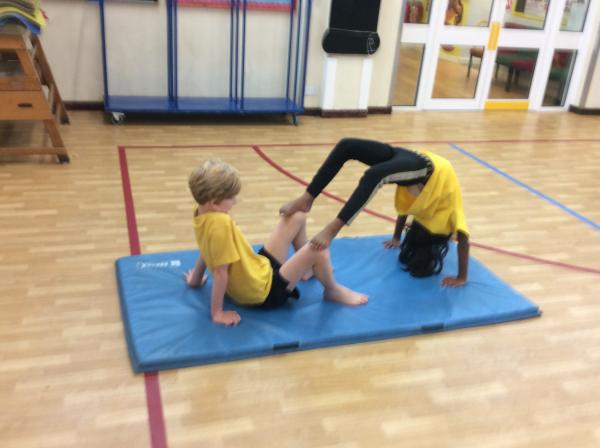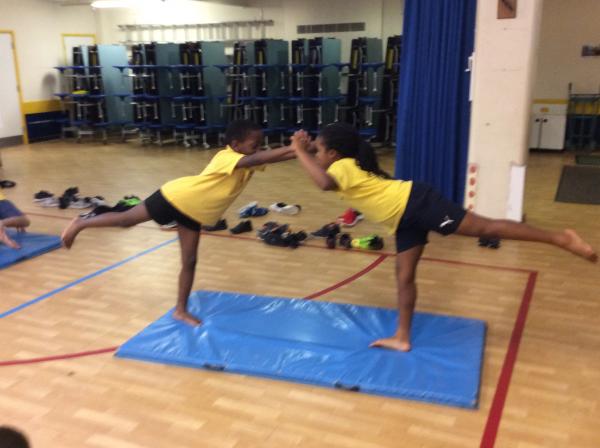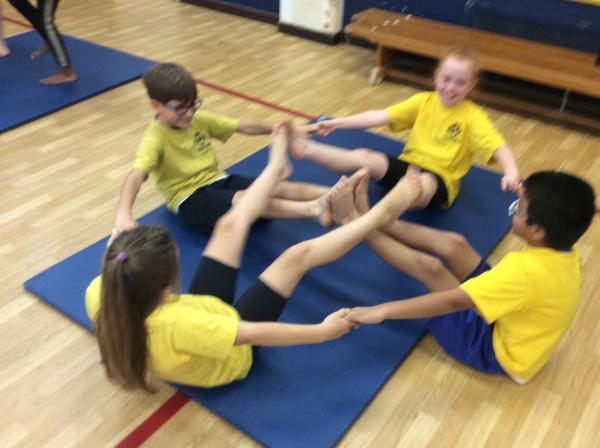 Colchester Zoo
What an amazing trip!